Good afternoon darlings – this is a wedding that's bound to put a smile on your face. Beautiful bride Katie (who can't keep the smile off her own happy face) married her beau David in a gorgeous ceremony at Woodhill Hall in Northumberland on the 1st of April 2017.
These nuptials are a real Springtime affair – a lovely bright day with an abundance of wildflowers and lush green foliage decorating the tipi. The wonderful Matt Ethan was on hand to capture the day in all its glory. Enjoy! We're also delighted to see that Katie really embraced the Love My Dress community when planning her wedding.
"I love the closed Love My Dress Facebook group! The women in this group, as well as the A Life Loved group** are simply inspiring. The positive attitudes are amazing and it was like having a whole team of wedding planners on hand to help with any question. We wanted a relaxed, fun, boho style wedding – flowing dresses, lots of foliage, pretty flowers, candles, wonderful music, too much prosecco and lots of laughs! We did so much DIY ourselves and really enjoyed all of the planning."
Photography by Matt Ethan
**Ahhh, the wonderful, wonderful 'A Life Loved Group'!  We set up this closed Facebook group some 4 or so months ago as a place for those ladies who adore Love My Dress to hang out together whilst we built a brand new blog of the same name. Just incase that's completely confused you, well, we haven't been making any huge public song and dance about it as that isn't our style, but, yes, we are preparing to launch our very own lifestyle blog in the Autumn called 'A Life Loved'.
You can sign up or updates here and follow us on Instagram at @alifelovedblog. Make sure you bookmark alifeloved.com in advance of our launch lovelies – this won't be your regular lifesetyle blog. We're
"We were searching for a venue that could host us for the whole weekend, we had family coming from far and wide so we wanted everyone to be able to make a weekend of it. Woodhill Hall slept 32 in their beautiful quirky bedrooms so it was just perfect, we hosted a BBQ in the Scandinavian style hut on the Friday night, it was great to make sure that we had a conversation with everyone over the weekend."
"We got our rings from Beaverbrooks. David had bought my engagement ring there and loved the service so we returned. We drank prosecco and laughed at how overwhelmed David was with all the choices. The staff are fantastic, I'd highly recommend."
Another Love My Dress find was Hannah at Wildflower. The couple loved every single image in her website so they just had to book her.
"I loved the wild bouquets Hannah created, and trusted her talents so the flowers were a complete surprise when they arrived. My only brief was lots of foliage and eucalyptus with pops of pinky/reds and they were better than I could have dreamt. She also created a beautiful foliage garland for above the top table, and extra garlands for the seating plan and chalkboard."
"To keep costs down a little, I decided to do the table centrepieces myself with extra flowers Hannah had brought. It was so much harder than I thought and Hannah had to step in with advice but I was really pleased with the end result."
Kate's dress was the fabulous 'Carmen' by Maggie Sottero from YAP Bridal Boutique in Newcastle.
"The girls at YAP are simply amazing and I felt so special whenever I visited the boutique, they felt like friends by the time I got married. Jo, the owner, came to dress us the morning of the wedding which was absolutely lovely. I couldn't recommend them enough."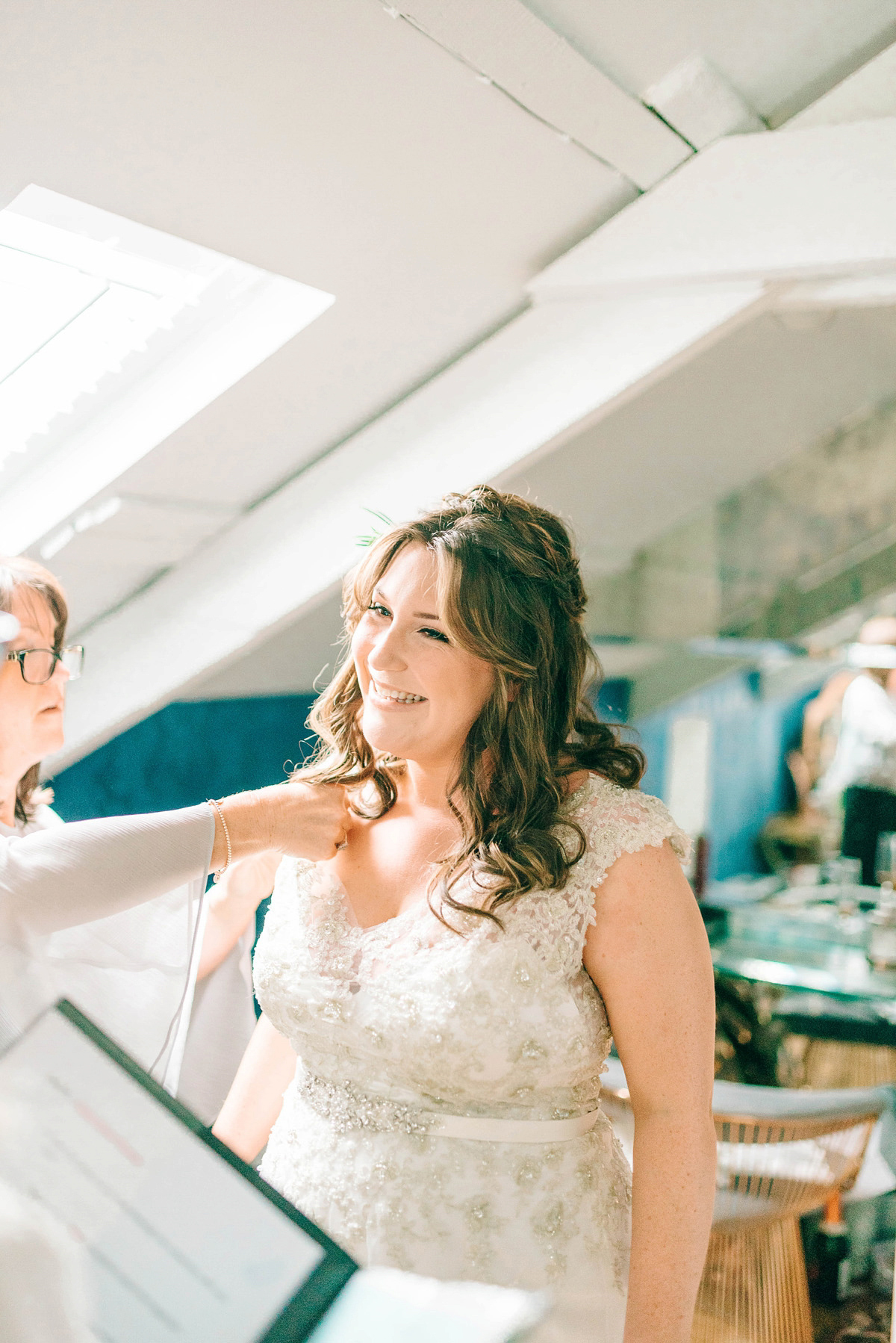 "My rule when trying dresses was that I didn't want anything that rustled, was too big and it needed straps or sleeves. I loved the flow of the bottom of Carmen, and that the slip dress underneath was fitted and showed my shape. I wish I could wear it again."
Amy at Rose and Bird, also a Love My Dress find, was the bride's makeup artist, and Lisa Cameron did their hair.
"Amy was superb, I've never felt as beautiful before! Lisa was also amazing, I changed my mind on the morning of the wedding, from the loose up-do we had practised, and she rose to the challenge. I adored my hairstyle on the day."
"I had a beautiful flower comb made by Hannah at Wildflower, it was perfect. David's only request for the wedding was that I have flowers in my hair as I always wear them on holiday and he loves that."
Kate added a soft full length veil, mint Mimosa's by Rachel Simpson which were a gift from her mum, and the matching clutch, a surprise from her sister. Her mum and sister also gifted her earrings and a bracelet.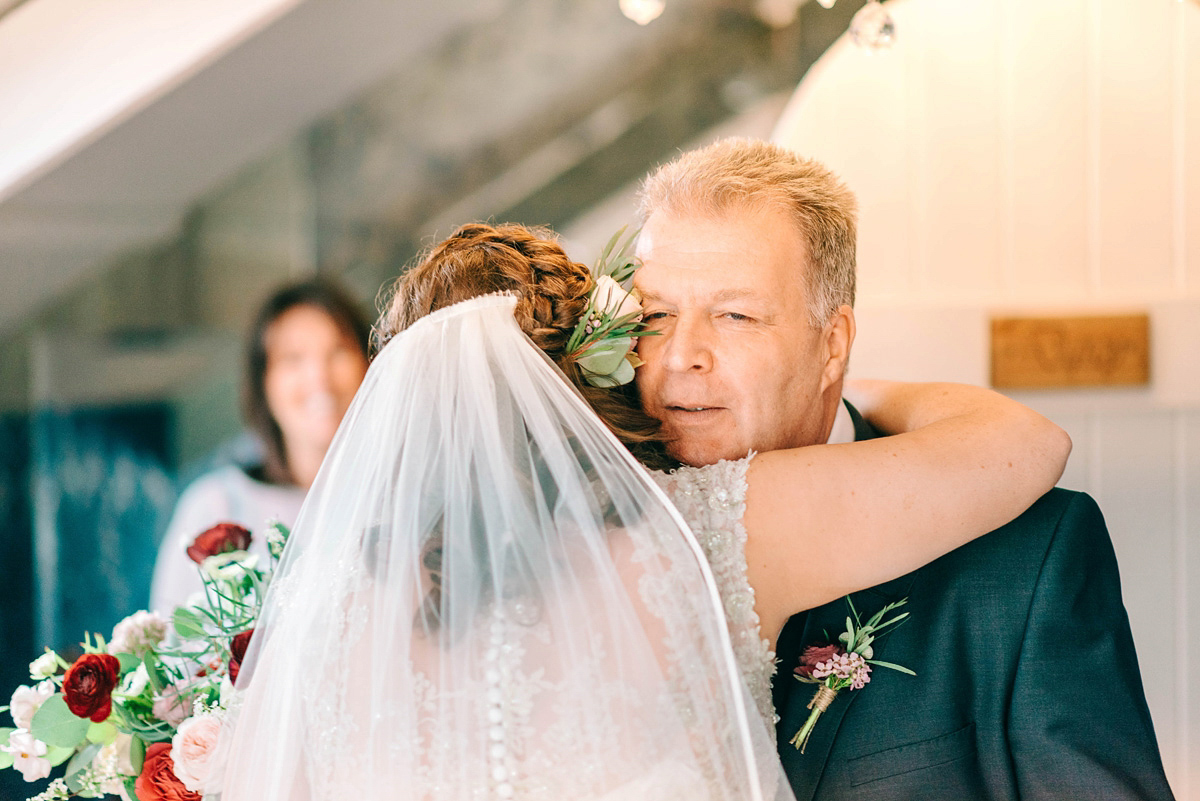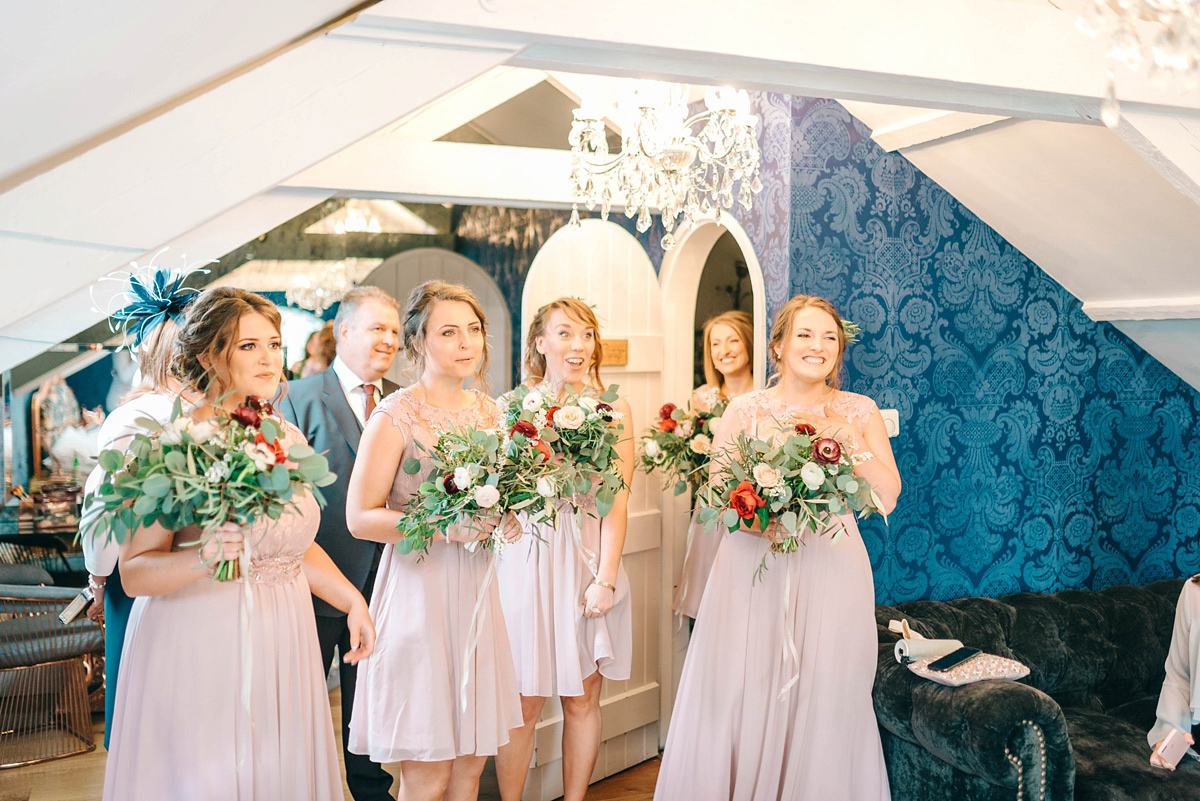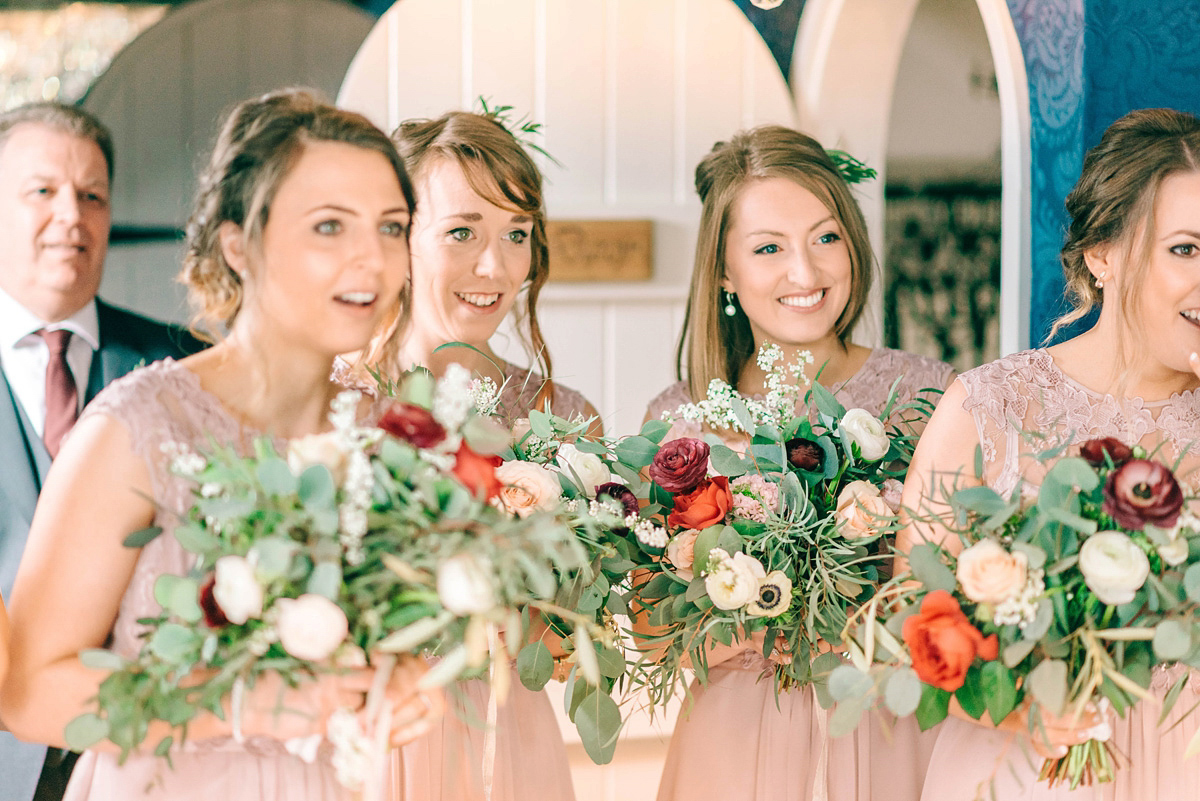 "The bridesmaid dresses were from Coast. My sister had tried on the dress and fell in love but I simply couldn't afford them at the time. Lucky for us, they came on sale and I did some quick hunting!"
"My Maid of Honour, Alice and sister Hayley wore the long versions, and my two other best friends, Emma and Phoebe, and David's sister Jane, wore the shorter versions."
"The beautiful ladies all had eucalyptus combs in their hair, I didn't want anything too big and it just looked simple and stunning. As a present on the morning of the wedding I bought all of the girls a clutch bag from Accessorize for their bits and bobs."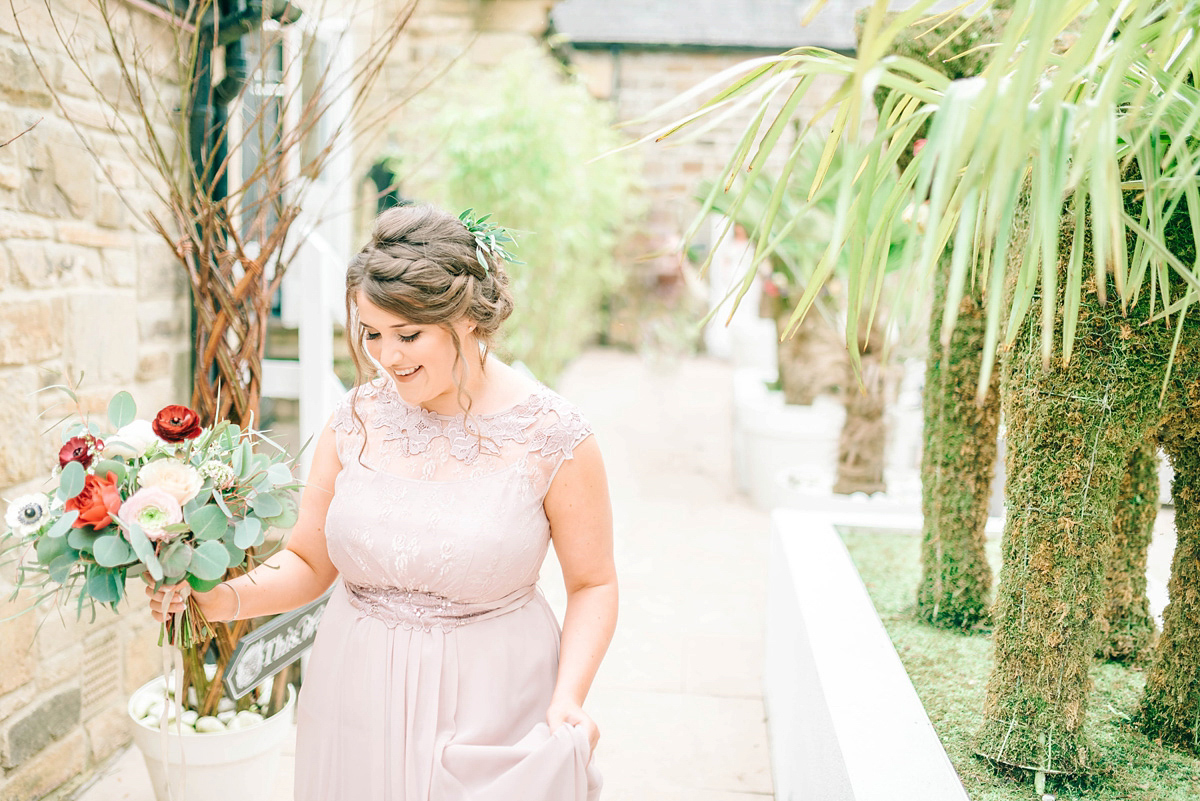 "My lovely Dad, Colin, walked me down the aisle. My surprise to David on the day was Hattie singing me down the aisle to 'Is This Love' by Bob Marley. He's a huge fan so I secretly messaged Hattie to arrange changing the song. It took David completely by surprise and Hattie's version was stunning."
I want to love you, and treat you right,
I want to love you, every day and every night.
We'll be together, with a roof right over our heads.
"We met working as waiting staff at a wedding in Manchester whilst at university back in 2011 – the weddings we worked at were out of this world and have always given us high hopes of what our day would be like. David proposed on a city break to Budapest's Christmas markets.
On the first day we explored the castle and David proposed at the top with a pink sapphire ring and champagne. We had just under 18 months to plan the wedding which felt just right."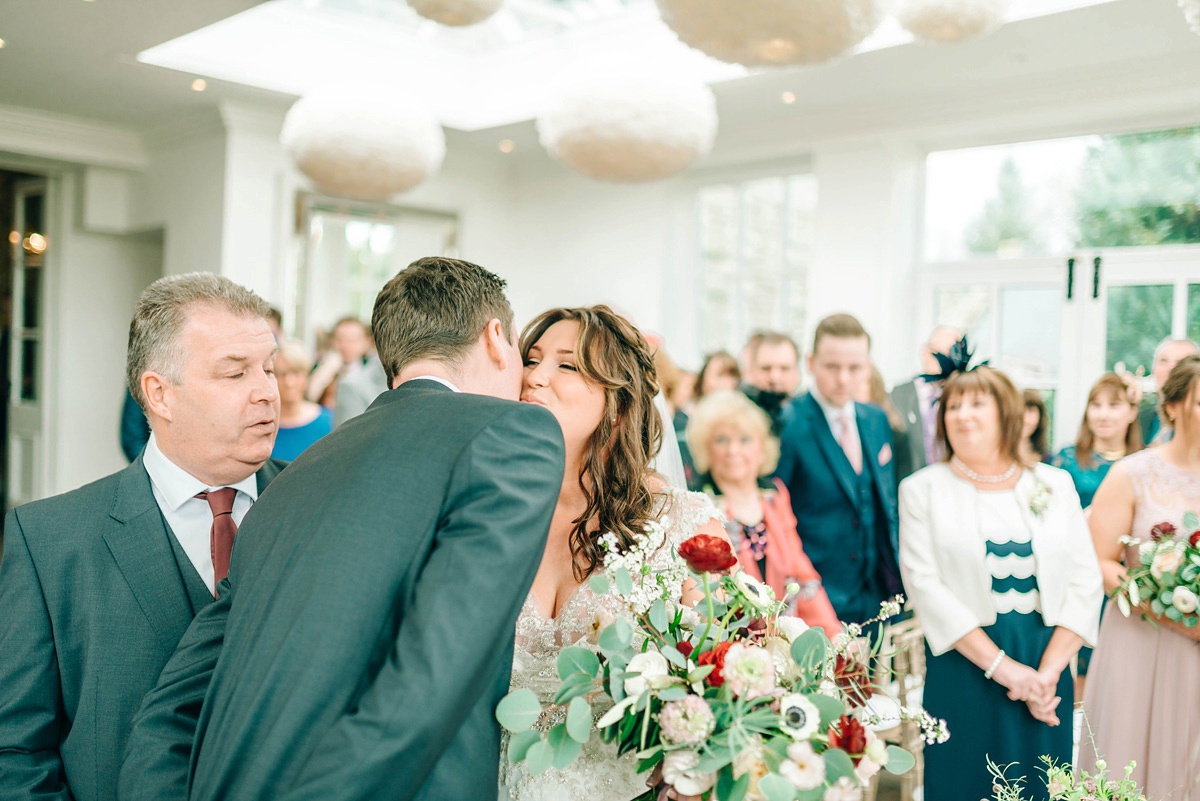 "David chose Slaters for his suit, liking the fact that they would all be specifically tailored and they did a great job. It was also handy for everyone to get them fitted at their local store. He got his tie from Burton which worked out as a perfect match to his buttonhole. I also gave him socks that said 'No Cold Feet Here', and a hip flask filled with Sailor Jerry rum."
"We had two readings, our bridesmaid Emma read 'Marry Your Best Friend' by N'tina Simons (below), and our good friend, James read 'I'll Be There For You' by Louise Cuddon which we chose because it felt silly, like us, and he was the perfect person to read it."
Marry your best friend. I do not say that lightly. Really, truly find the strongest, happiest friendship in the person you fall in love with. Someone who speaks highly of you. Someone you can laugh with. The kind of laughs that make your belly ache, and your nose snort. The embarrassing, earnest, healing kind of laughs. Wit is important. Life is too short not to love someone who lets you be a fool with them. Make sure they are somebody who lets you cry, too. Despair will come. Find someone that you want to be there with you through those times. Most importantly, marry the one that makes passion, love, and madness combine and course through you. A love that will never dilute – even when the waters get deep, and dark.
"My favourite part was the ceremony. Hattie was fantastic and I loved seeing David's face as I walked down the aisle and him whispering 'I can't believe you did that!' in reaction to the song change. I was really nervous about speaking in front of everyone but felt absolutely fine when I was there. James' reading was also great, he made everyone laugh!"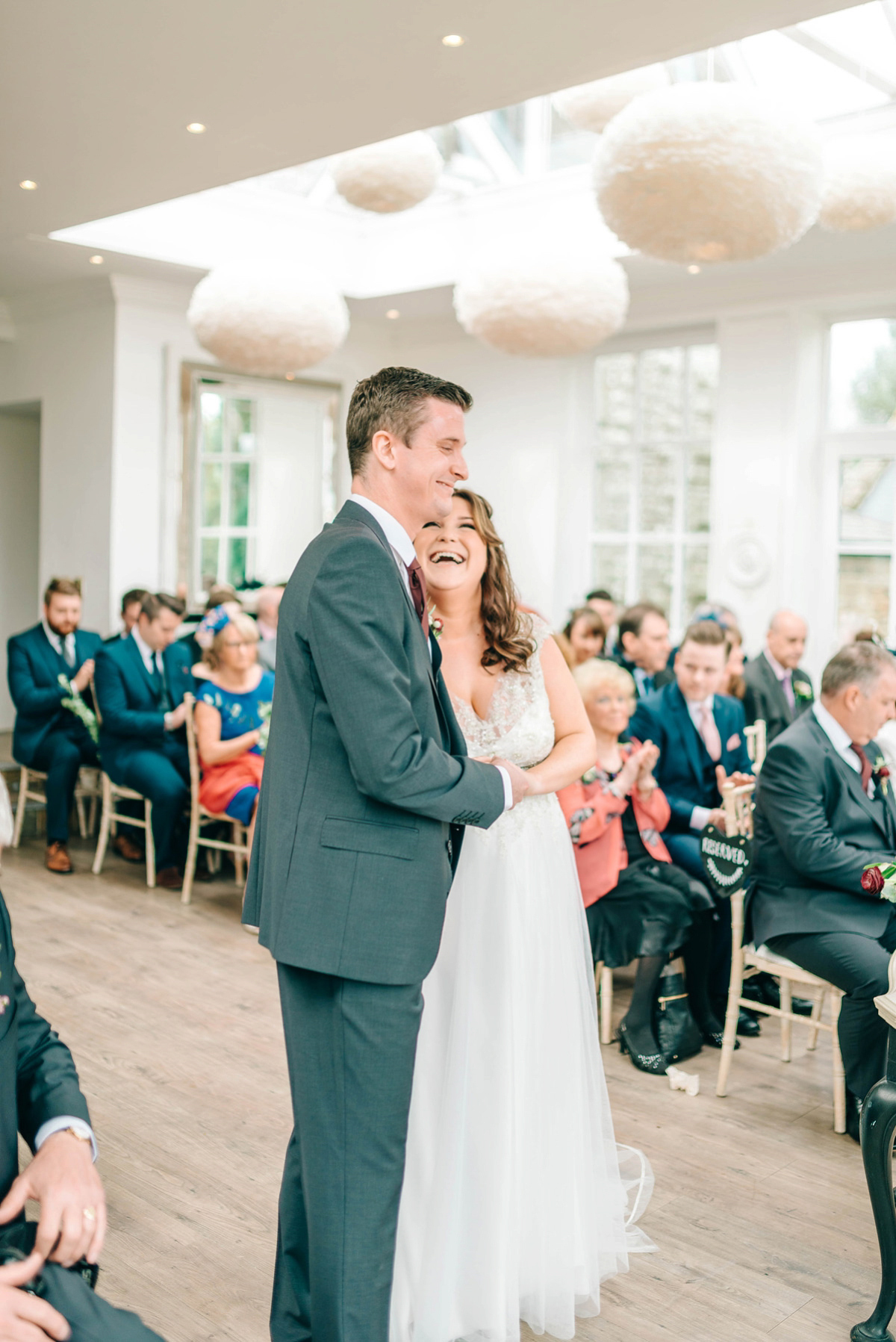 The couple's photographer was the fantastic Matt Ethan, who they had found on these pages.
"We had seen Matt's work on Love My Dress and fell in love with his style of photography. We aren't keen on posing for photos and loved the special moments that Matt captured. On the day, he made us feel at ease and we didn't feel daft like we thought we would, he captured amazing moments with all of our friends and we couldn't be happier! He's such a lovely guy and lots of guests have commented on how great he was too."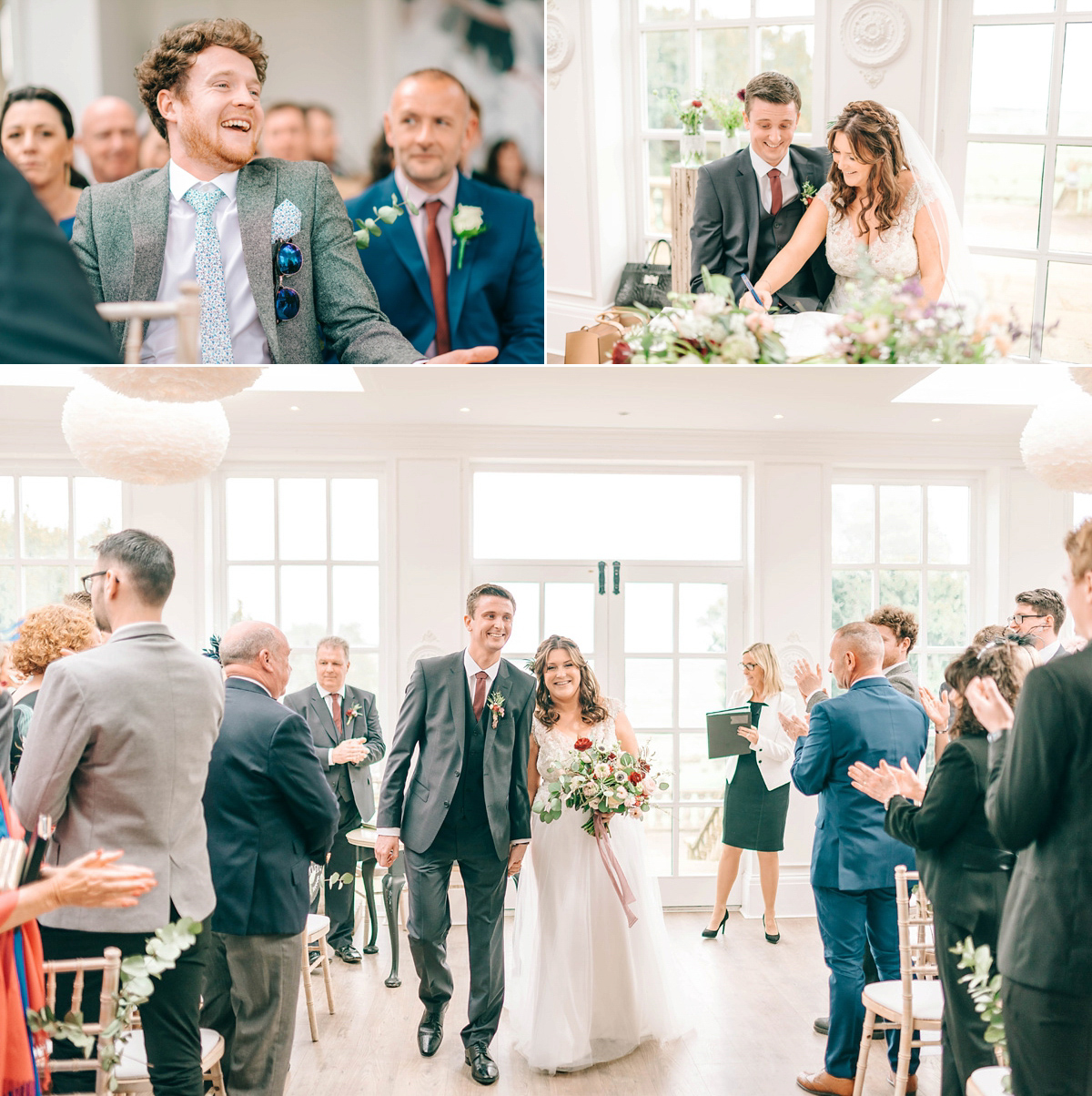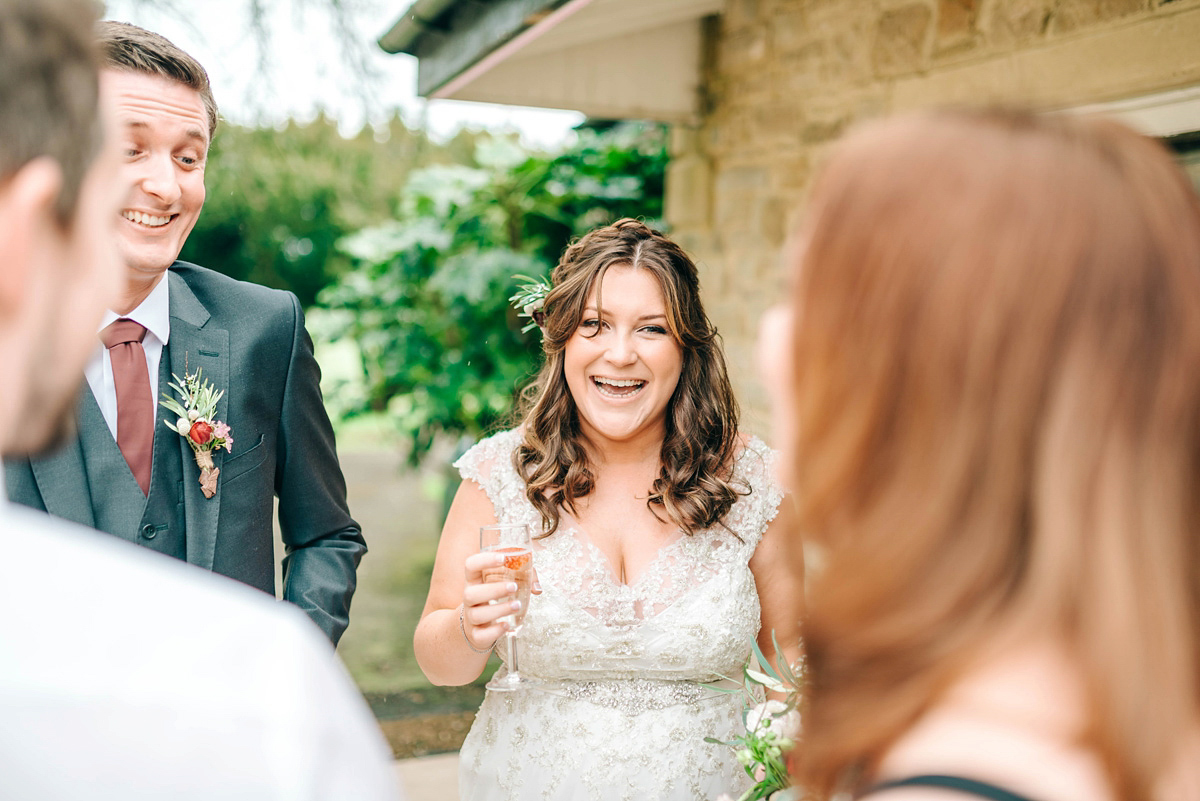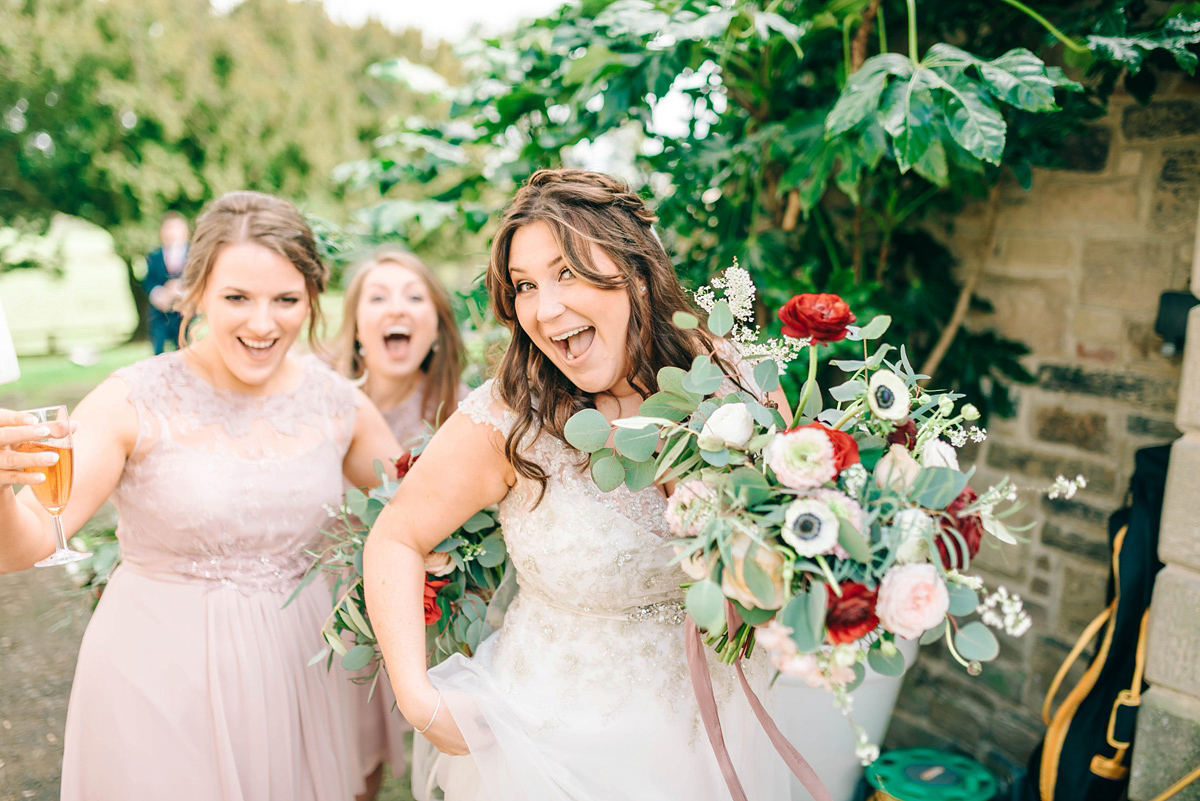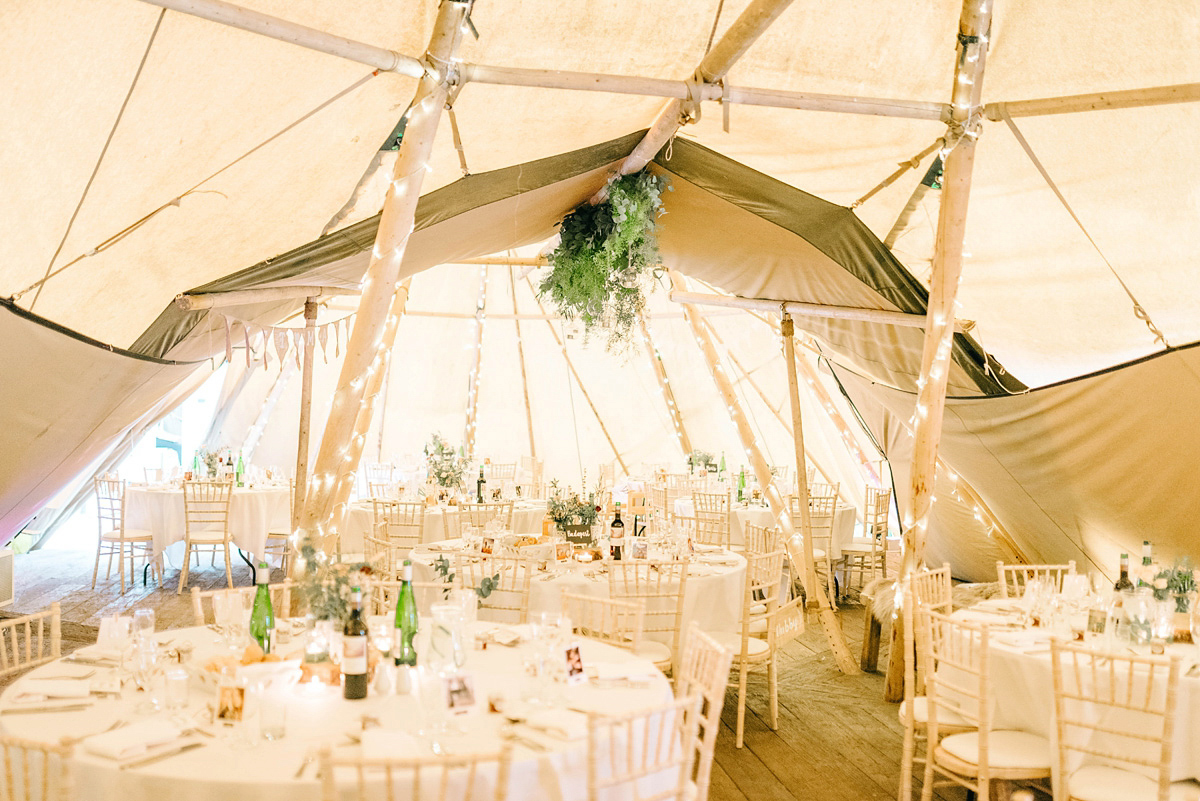 "I'm lucky that my Dad is a carpenter by trade and really got into the wedmin with me. He made the table plan from some pallets and I did the chalkboard lettering and created the tables that we pegged on. We also made the signs together that were at the end of the road pointing to the wedding."
"David and I did most of the decorating with the help of family and a couple of handy bridesmaids the day before the wedding. Woodhill Hall have a prop shop available too which was handy."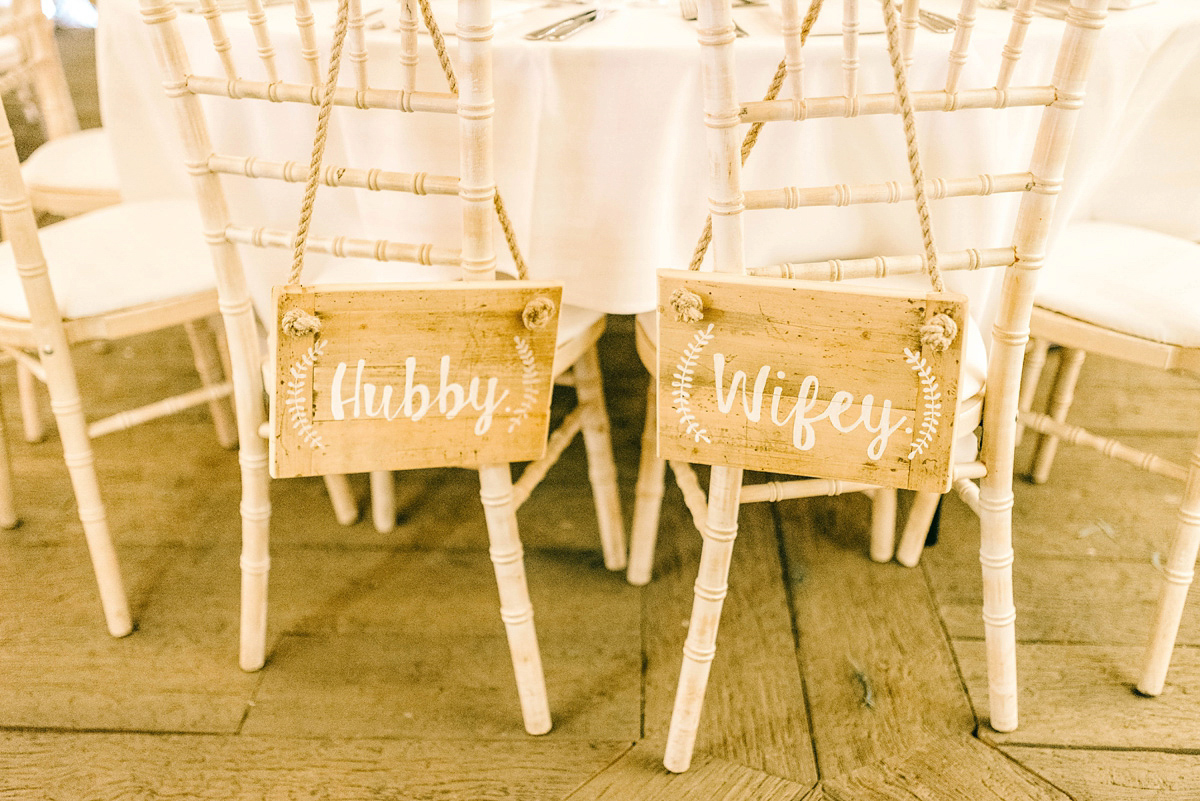 "Rachel at Woodhill set up the crates in the door which looked beautiful and I took on the flower centrepieces myself, using jars and vintage bottles we had collected. We popped the jars on oak slices and added lots of tea lights too. It was nice and simple but had a great effect, and so cost effective."
"We had lots of chalkboards dotted around. My favourite was a vintage easel that I found and painted and popped in the entrance way. To continue the Polaroid theme, we had lots of old photos strung up in the bar area too."
"We gave everyone a mini pot of champagne and strawberry jam with a lace lid from Tiptree. Lots of our centrepiece jars were Tiptree so it tied in nicely."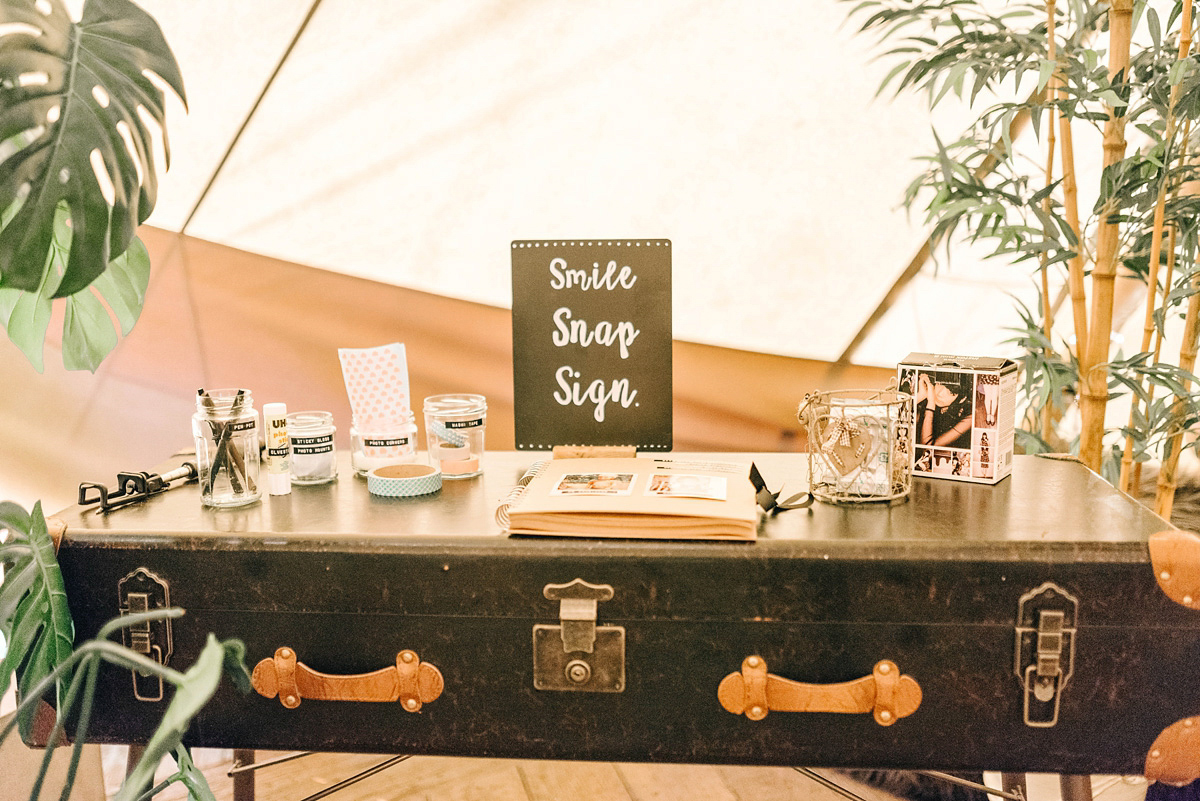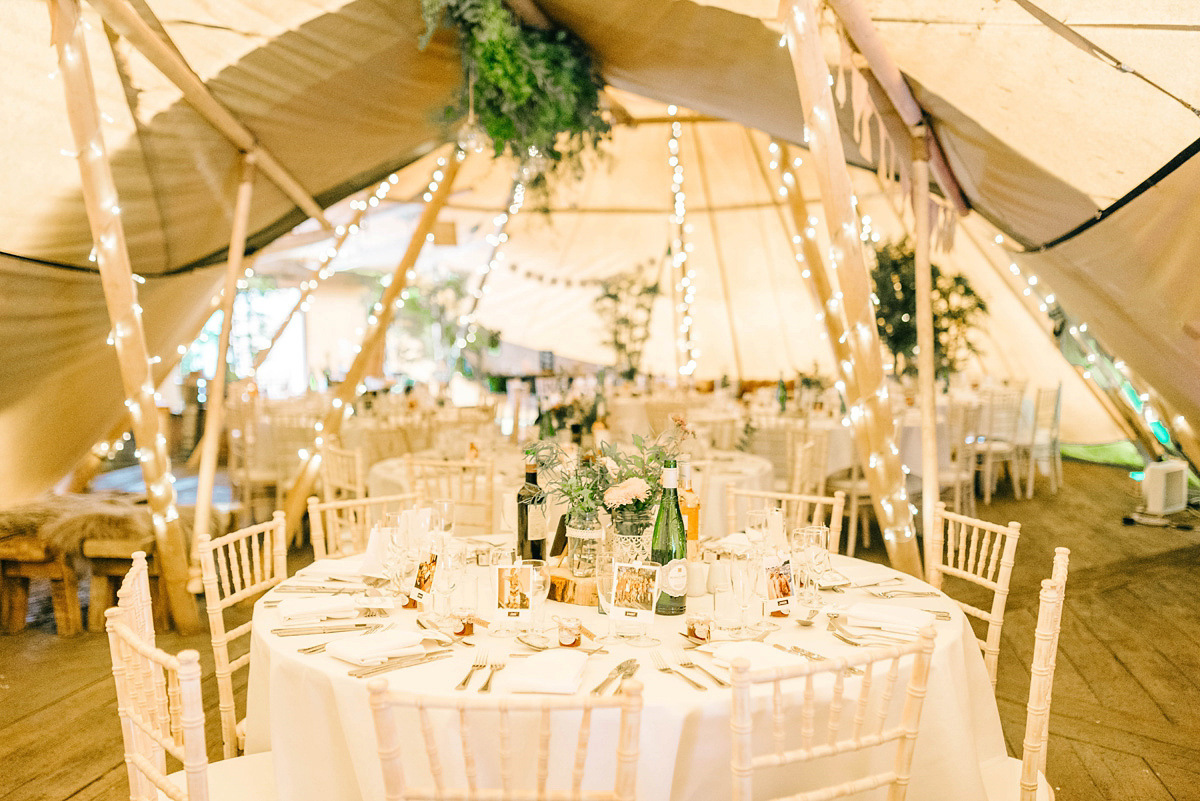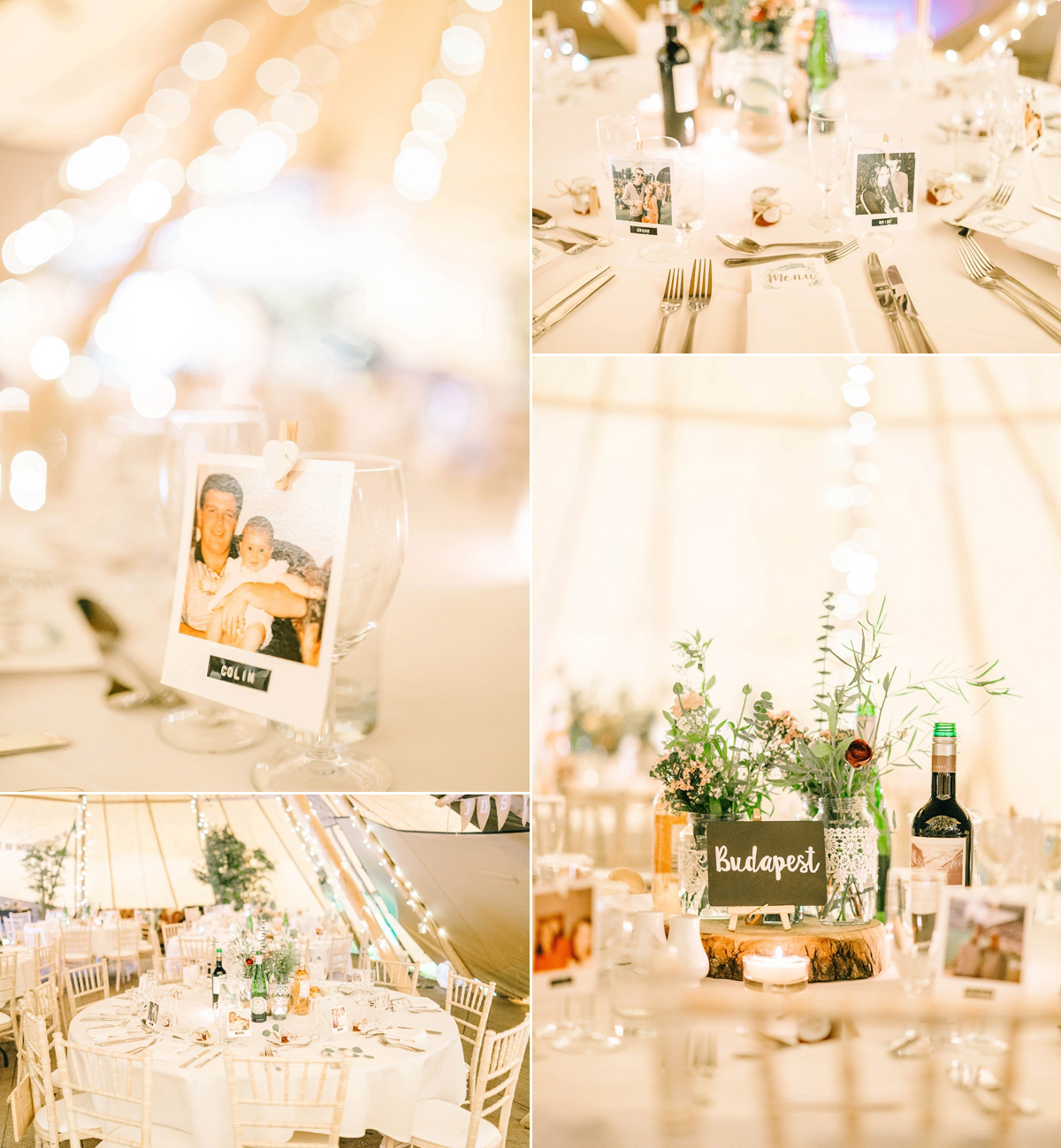 "I designed all of the stationery myself. I love to paint so I created a floral watercolour wreath and put everything together in Photoshop – I was really pleased with the results and wish I could do it every day."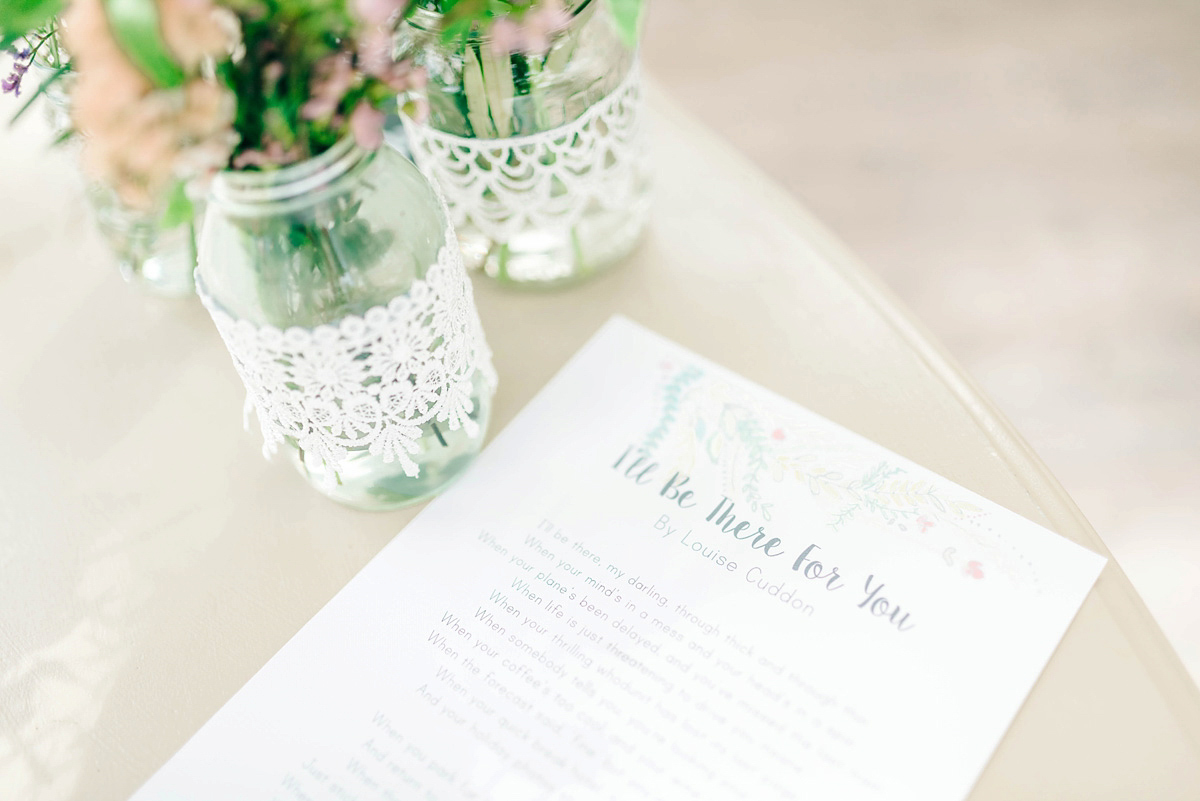 "The place cards were Polaroid photos. We had lots of fun finding the photos, choosing really old or hilarious photos and favourite memories of our guests. They went down a treat and became a great talking point. Some of our favourite images of the day are the ones where Matt catches someone discovering their photo."
"Our cake was created by the lovely Sarah at Stone Cottage Bakery. We chose a semi naked cake with a layer of victoria sponge, a chocolate layer and a lemon layer."
"Sarah decorated the cake with some left over flowers and did an amazing job."
"We had the amazing Hattie Murdoch play during the ceremony and drinks reception. Everyone was so impressed and couldn't believe she was singing live; she ran out of business cards! We discovered Hattie in a bar in Newcastle when she sang all of our 'songs' one after another and we knew we needed to book her."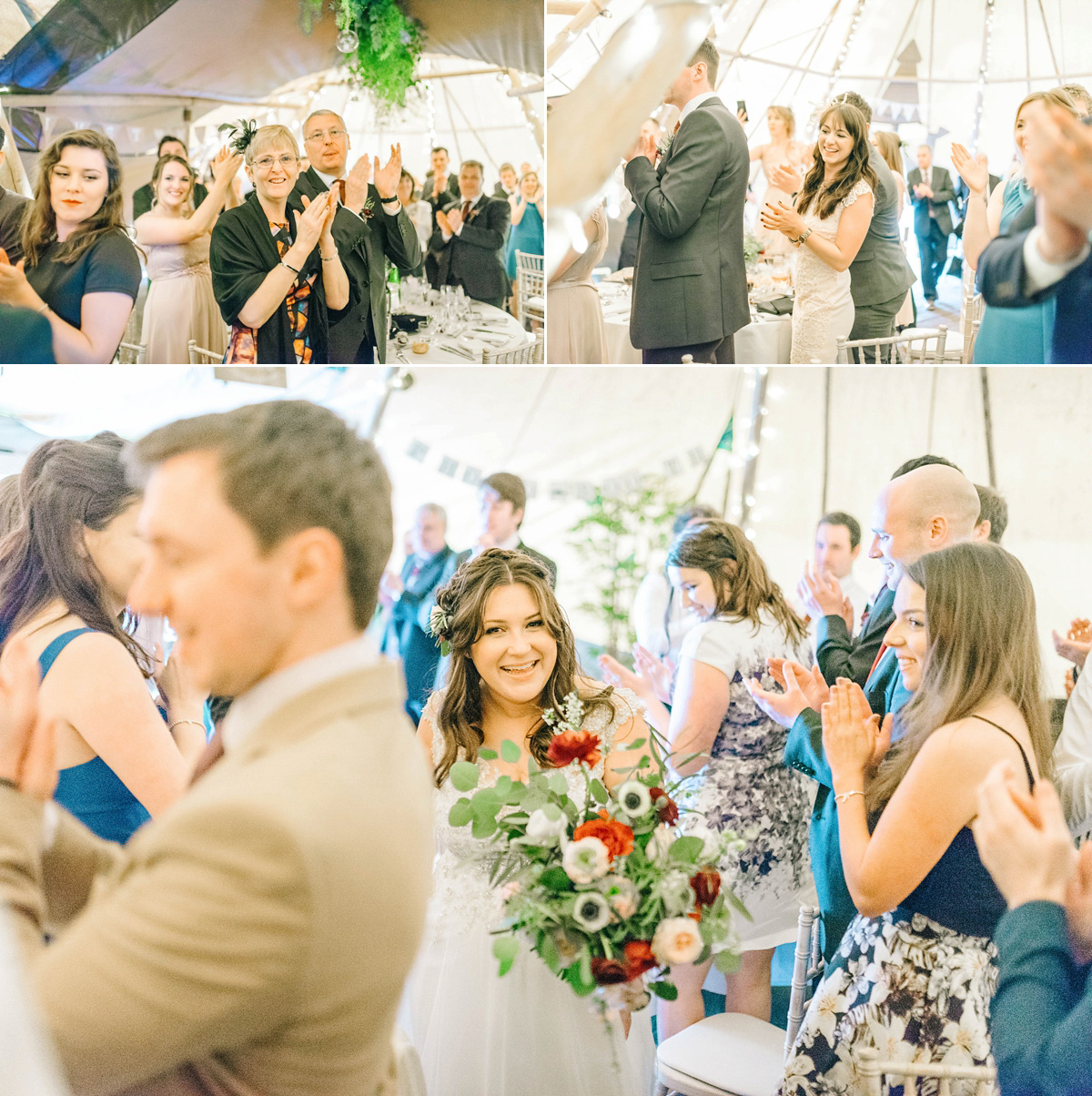 "David's brother Tom's best man speech went down a treat. I seem to talk about our pet rabbit Norah a lot (I took David to my previous rabbit's grave on our first date…) and Tom is a primary school teacher, so he asked his class to write stories about Norah and he read a few out and gave the rest in a book. It was a lovely touch and the stories were hilarious."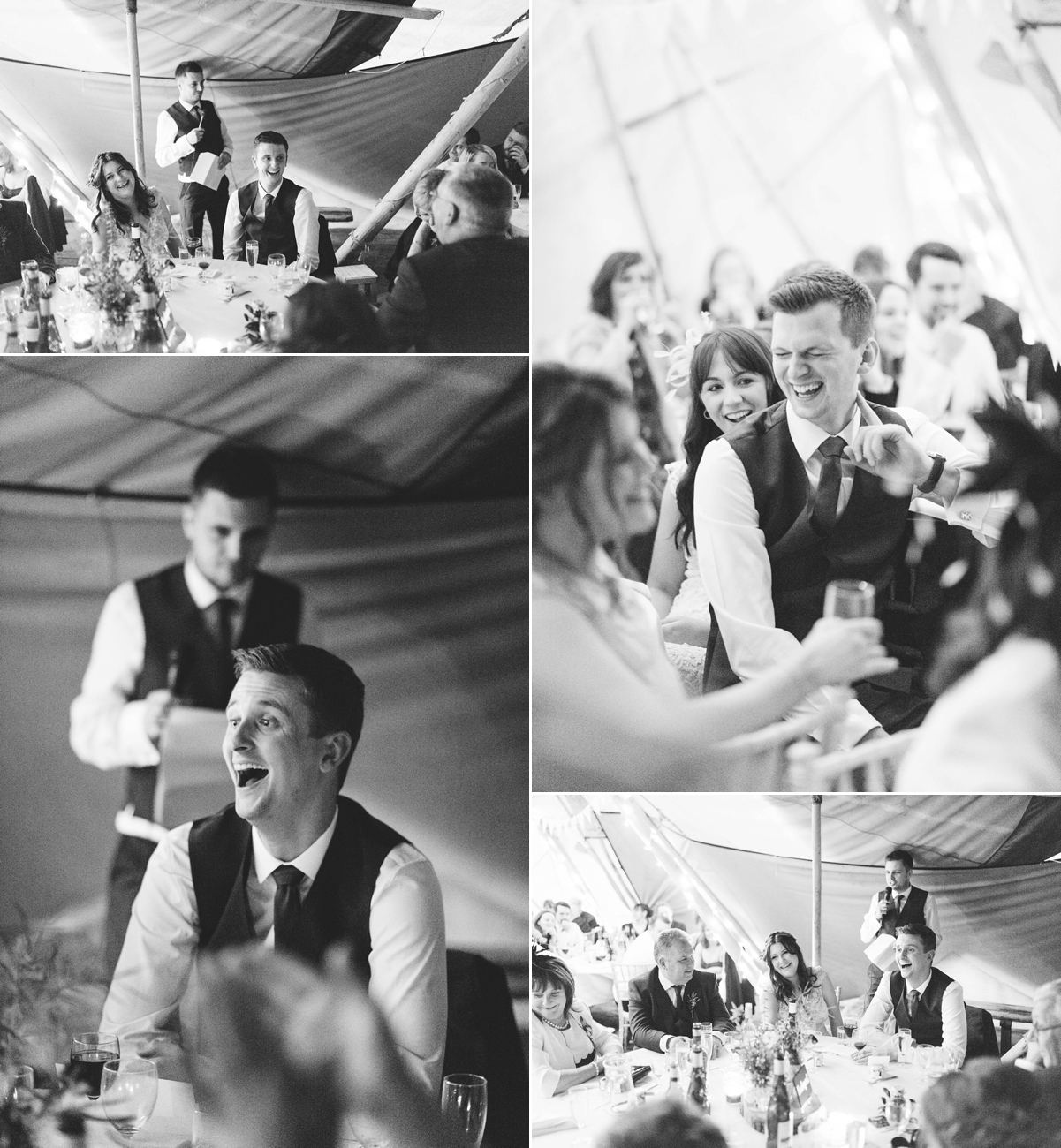 "We had a band called South West play the evening. The dance floor was full – we even had to have more tables taken out of the tipi to make room. The band also learnt 'Fire' by Kasabian, especially for David and his friends. They have a tradition of taking their tops off and twirling them around whenever the song comes on. When it started the boys looked at me wanting a nod of permission. It was so funny and lots of guests joined in."
"The band played 'Ho Hey' by The Lumineers for our first dance and we encouraged everyone else to join in after a little while."
WORDS OF WEDDED WISDOM
"Accept that something will go wrong, and shrug it off. We had sparklers and completely forgot to do anything about them, marshmallows to roast on the fire pit, again completely forgot.
People DO notice the little details, and I was so happy everyone loved the effort we went to with the polaroids.
Everyone took them home and we keep seeing them in friend's homes. We had so many lovely compliments about how personal the wedding was, and how relaxed everything felt. We also made a promise to each other to spend as much time together as possible on the day, making a conscious effort to keep finding one another and holding hands.
On reflection, we really wish we had a videographer so we could watch parts of the day back again. I'd have loved to watch Hattie's song again as I was so in the moment at the time."
"We stuck to budget on most things and had lots of ways of keeping costs down. We chose an April wedding because we still got plenty of Winter discounts and we thought it could just as likely to rain in August. In the end, we were so lucky with the weather and even got to have our drinks reception outside.
DIY helped too, we made a lot ourselves and bought lots on eBay. We also sourced our own alcohol over the 18 months, stocking up at Christmas and New Year when all of the offers are on."
Congratulations Katie and David, your wedding is absolutely gorgeous, thank you so much for sharing it with us. Big love also to Matt Ethan for the sublime (as always) images. You can see more of his work here, often alongside his very talented wife Sarah Jane.
Love Caoimhe xx