Finally Friday is here and tonight my husband and I will be attending our first wedding reception of the summer- I can't wait!  Today's glamorous and glittery day has got me all keen to dress up- you'll be wanting to don your highest heels and sparkliest earrings just to read this one (and why not?).
Meet Anna, a nursery nurse who is currently on maternity leave, and Darren, a Head Chef, who married at Silchester House near Reading on the 14th of May 2016.
"The theme was Hollywood glamour of the 1920's/30's- decadent Gatsby style.  I'm a firm believer that most things look better with a bit of glitter and most of all I wanted a really good party!"
Photography by Natalie J Weddings
The talent behind today's beautiful images is the lovely Natalie of Natalie J Weddings.  We recently featured a really inspiring not-wedding story which Natalie photographed in Vegas- take a peek if you have a few spare moments- it's so uplifting."Natalie is beyond inspirational; not only is her talent, dedication and passion outstanding but she is just an incredible person.  I can't recommend her enough!  She photographed the wedding where I met my husband so I had seen her in action before and her professionalism on the day and the details and advice she put into our package was utterly exceptional."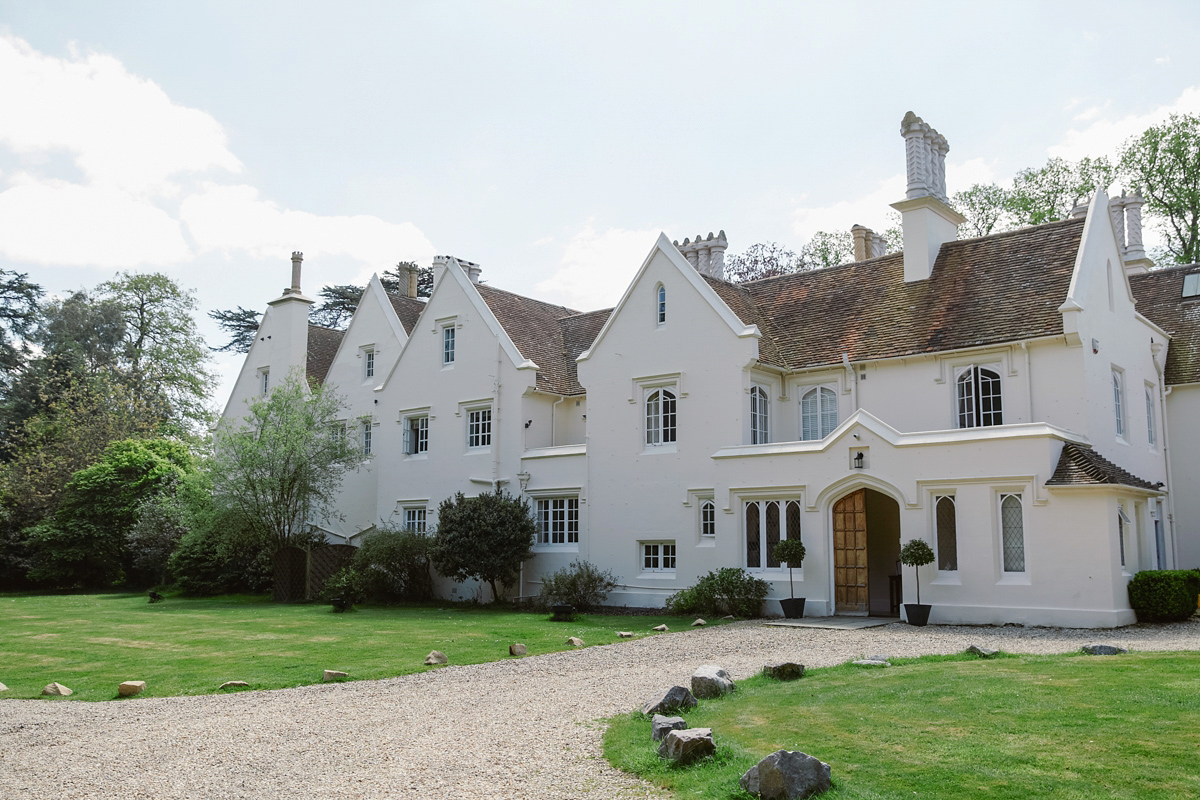 "If you are in the position to book this incredible photographer/artist and all round good egg, you won't regret it."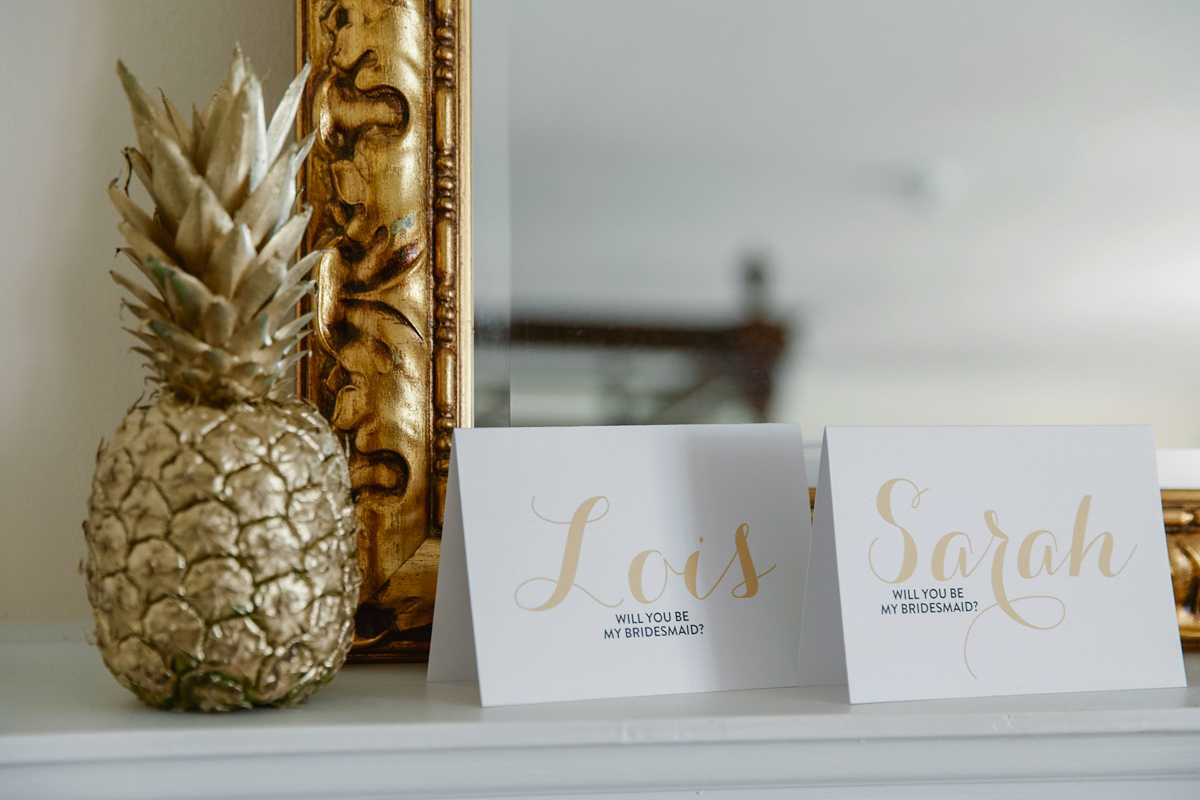 Hair was by close friend and talented stylist Sarah Collins from Albert Fields Salon while make up was the work of Ema from Exact Make up Art via Lipstick & Curls (who Anna found via our Little Book for Brides).
"Ema was amazing, she got the look I was going for instantly."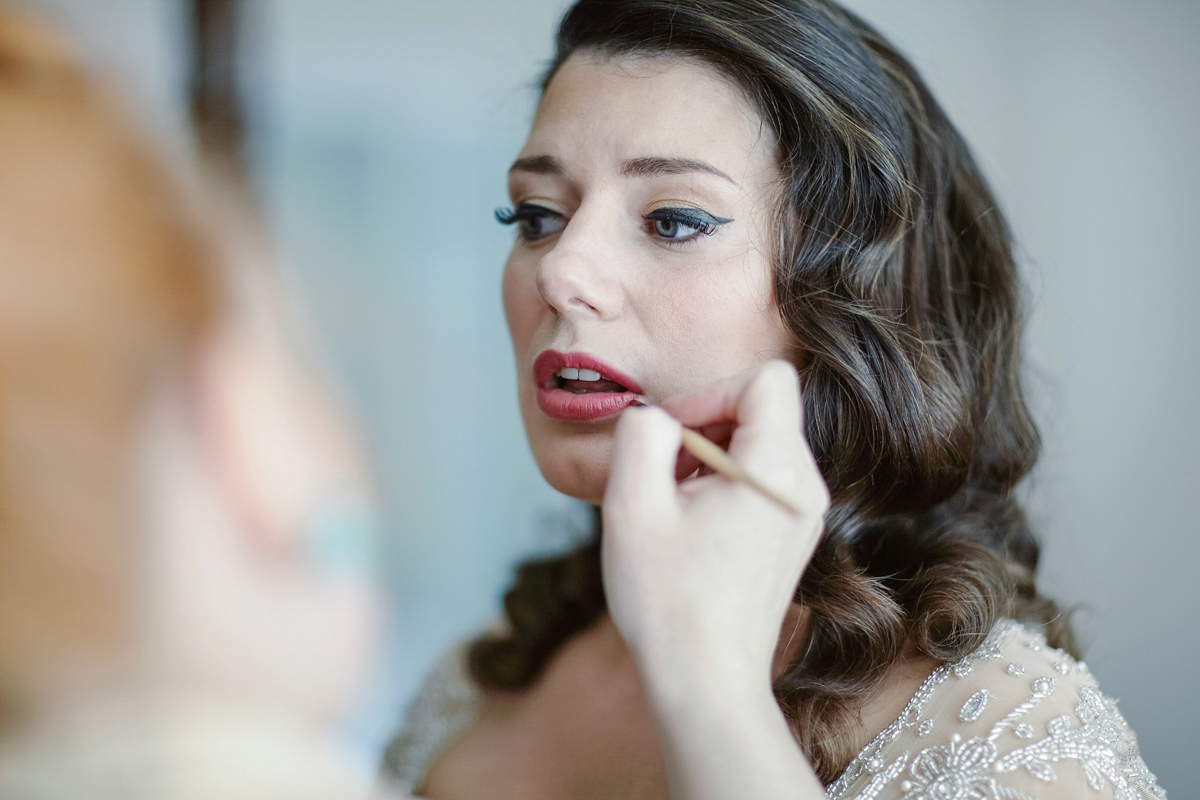 Anna looked fabulous in a gown from Mori Lee by Madeline Gardner, which she purchased from Bride to Be in Reading, along with her veil.
I love the beaded bodice and absolutely adore the cape she later bought to go with the strapless dress- it really adds a bit of extra vintage style to the look.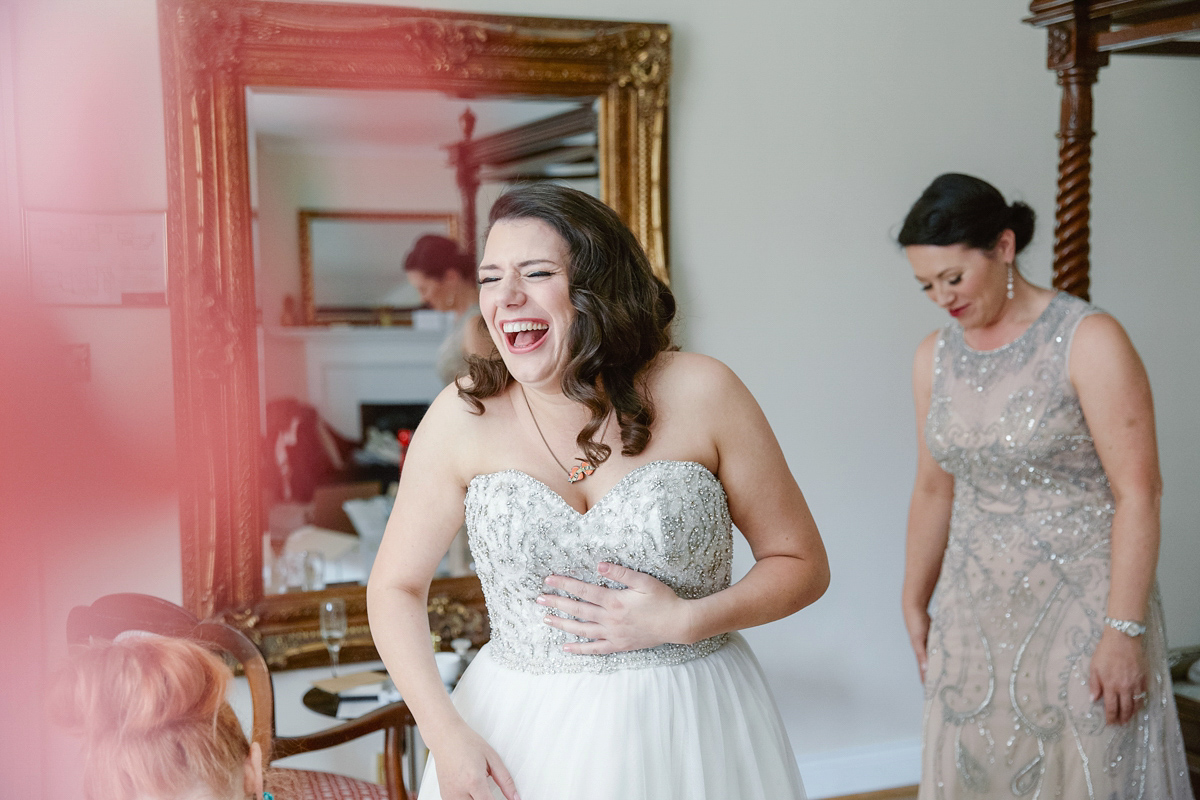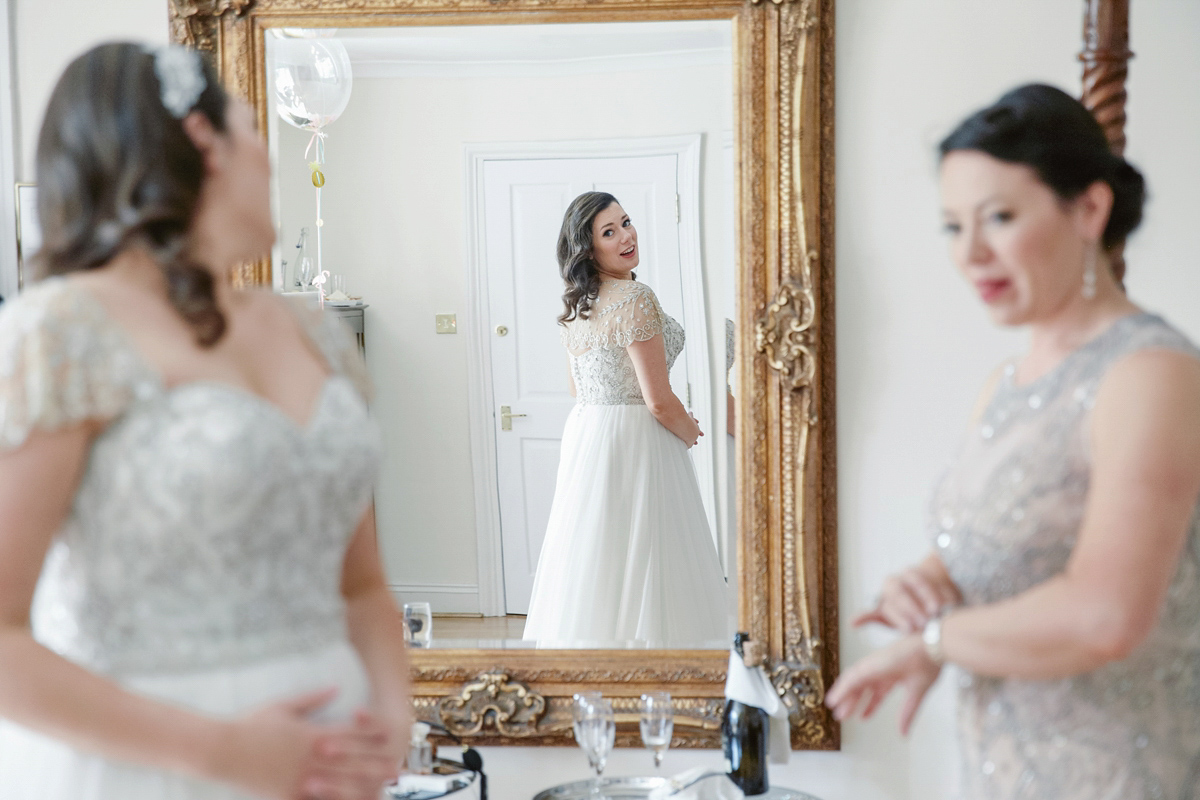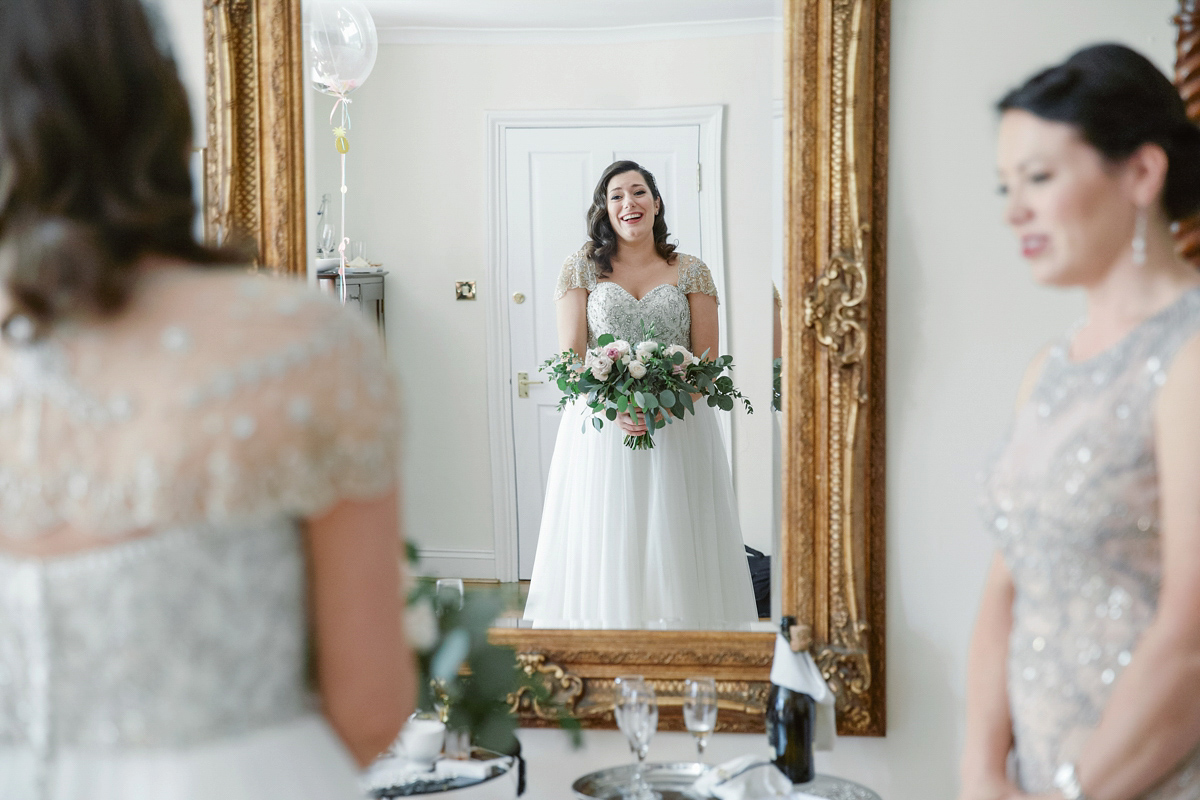 Anna wore a pair of sparkly heels from Rainbow Club, while for accessories she chose a hair slide from No.1 Jenny Packham and diamond cluster earrings, which were a gift from Darren.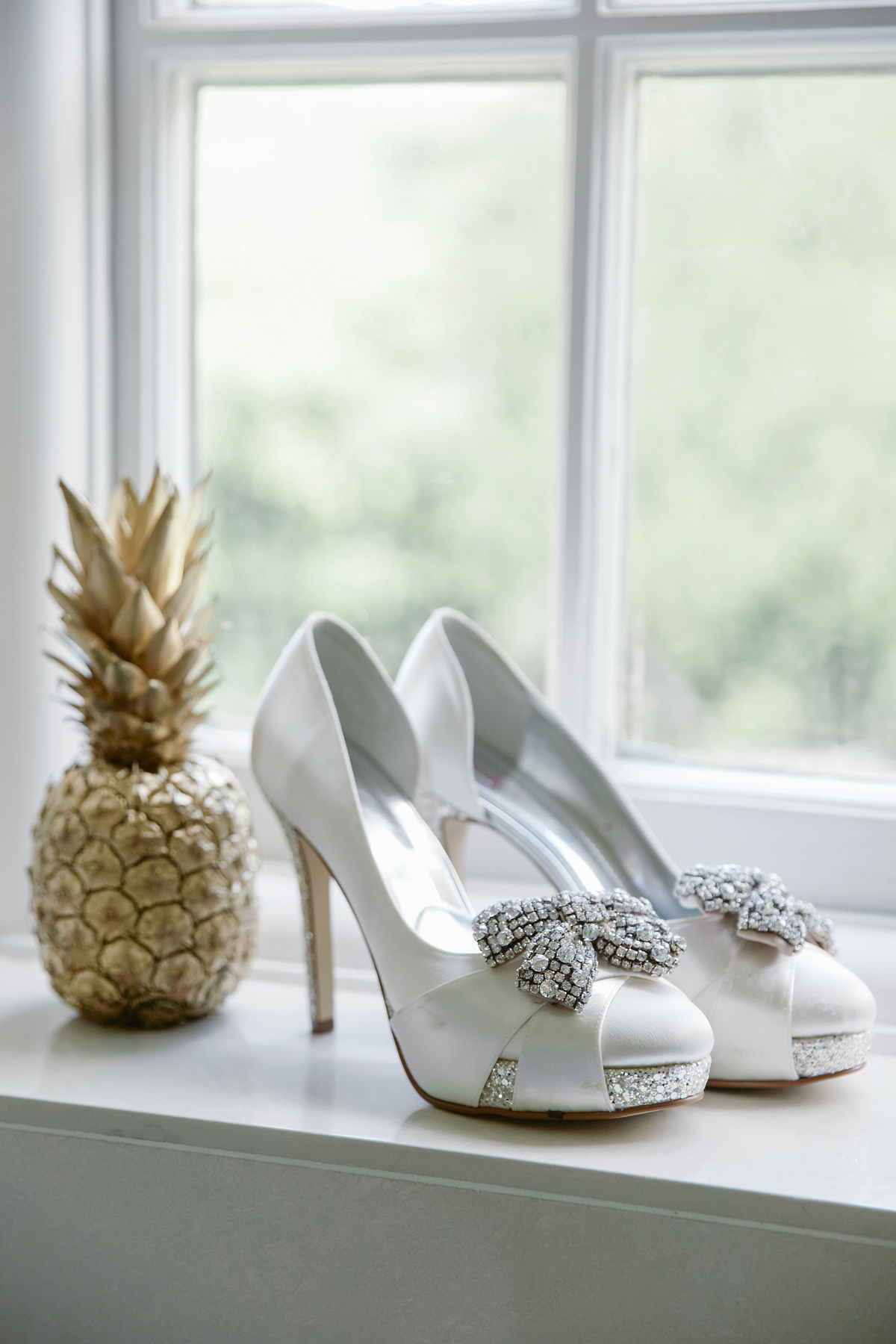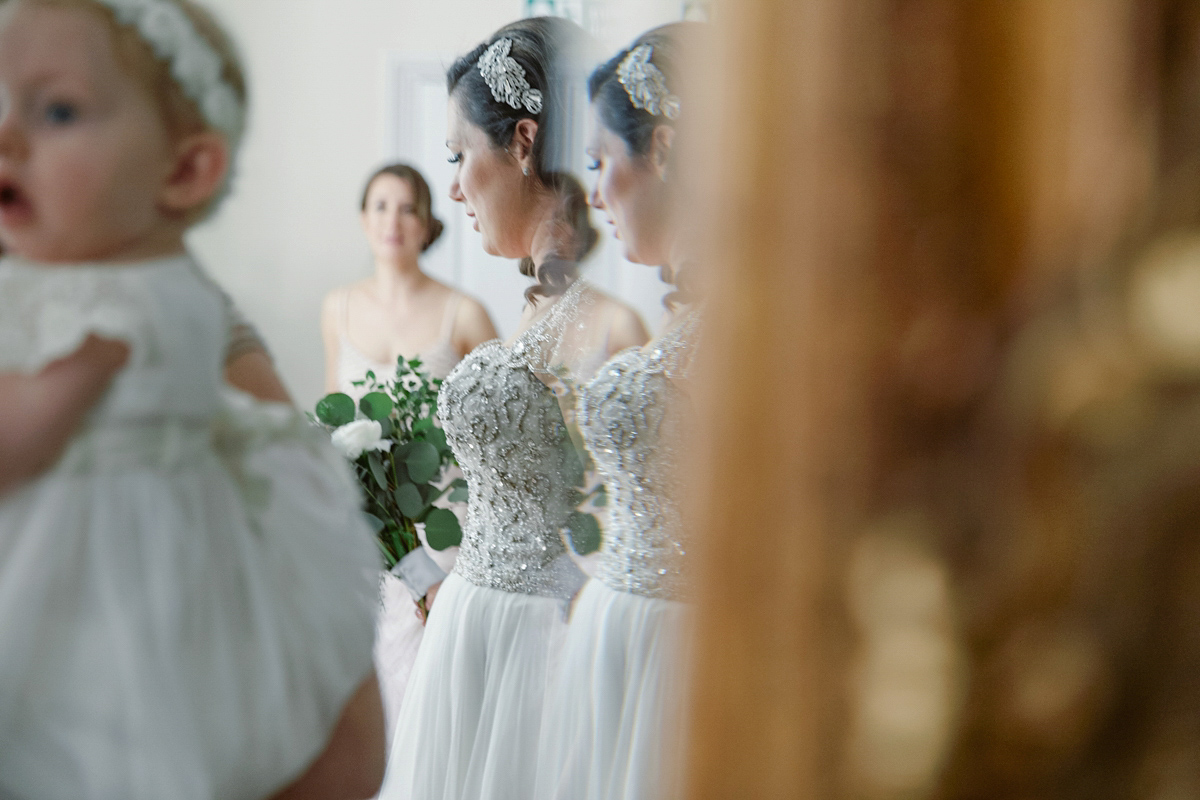 The bridesmaids looked lovely in different beaded gowns in shades of blush (from Monsoon, Adrianna Papell and Gina Bacconi), while the flower girls looked fresh and pretty in dresses from Monsoon, including the couple's baby daughter Erin.
"I did think on the day that any other children we had may be jealous that Erin got to be there when we got married but it turns out I was pregnant with Grace and didn't yet know.  It makes the photographs so much more special knowing she was there."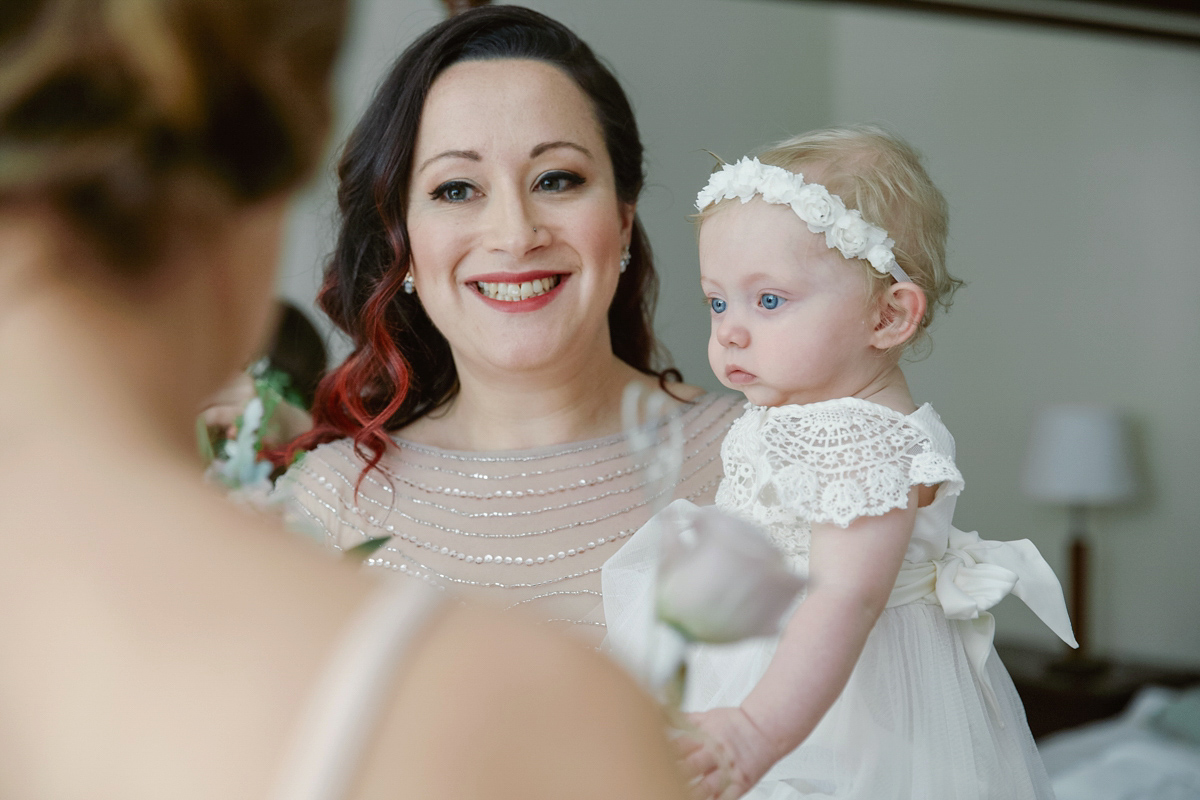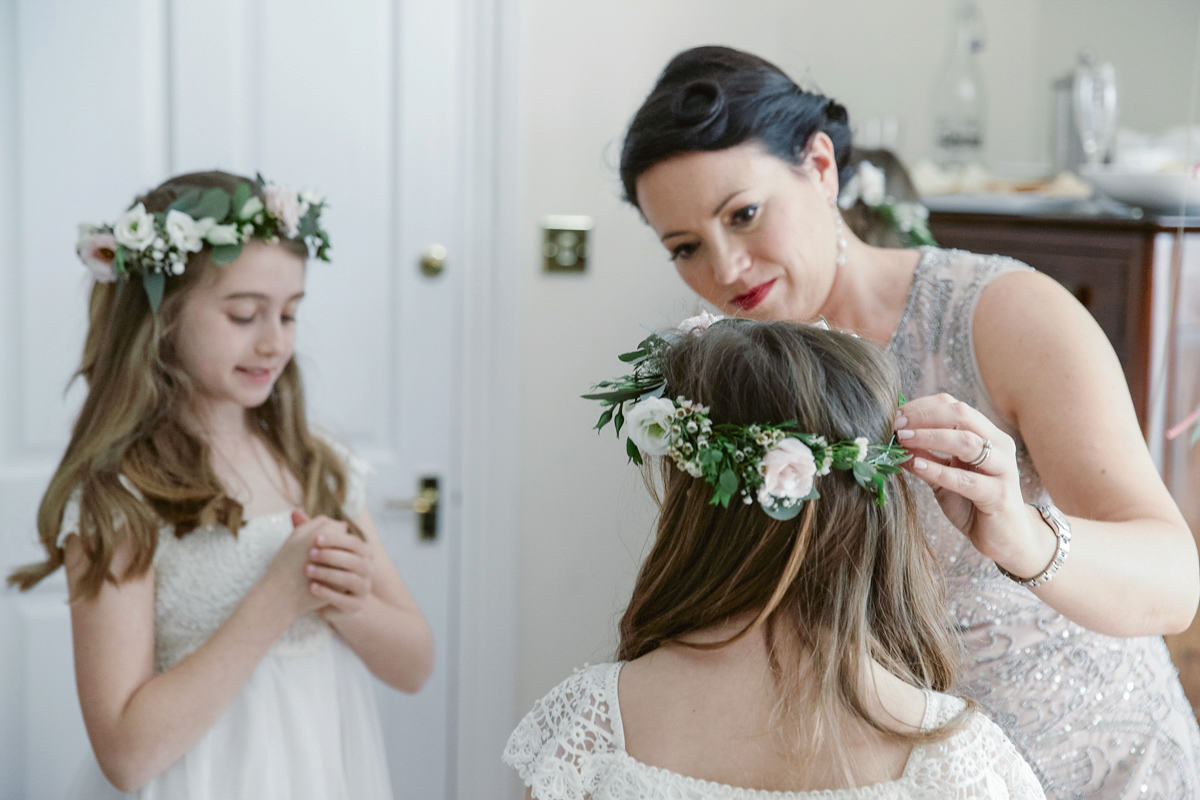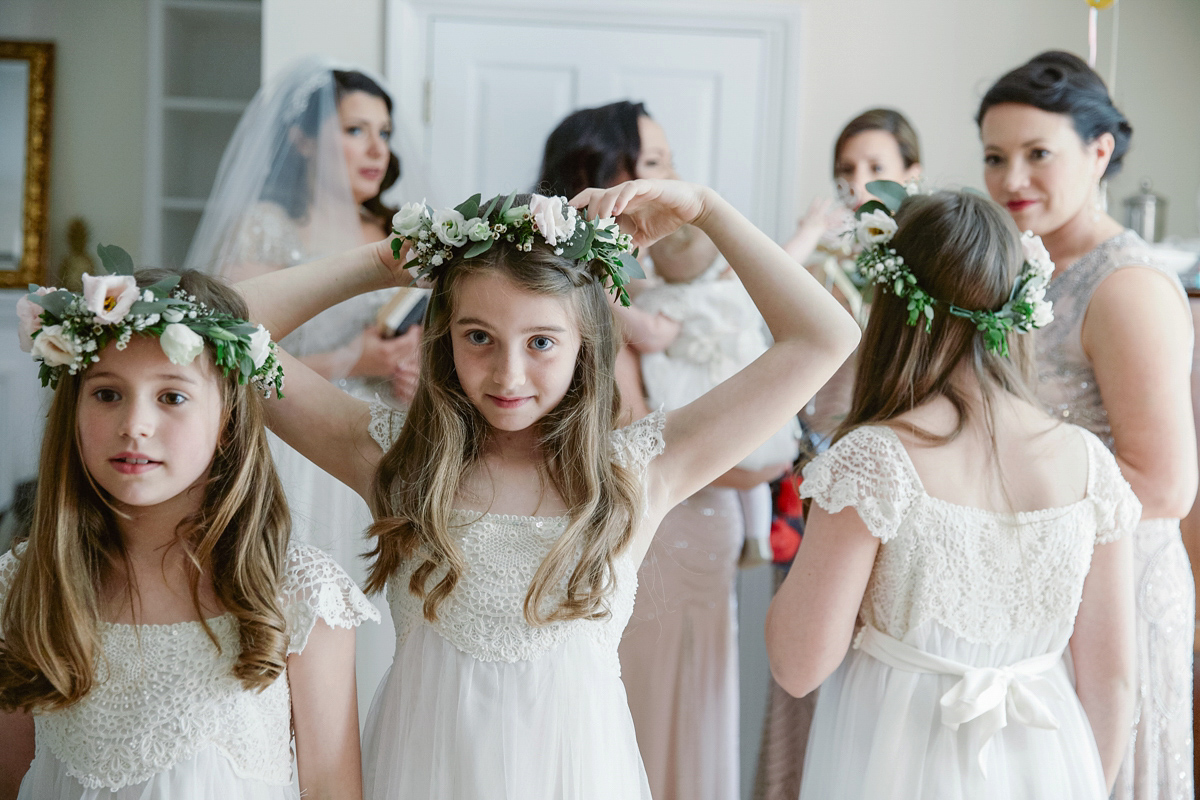 Darren looked extremely dapper in a suit from Moss Bros, worn with Ted Baker shoes, a bow tie from American Vintage and red socks from Thomas Pink, while the page boys looked very smart in outfits from Next.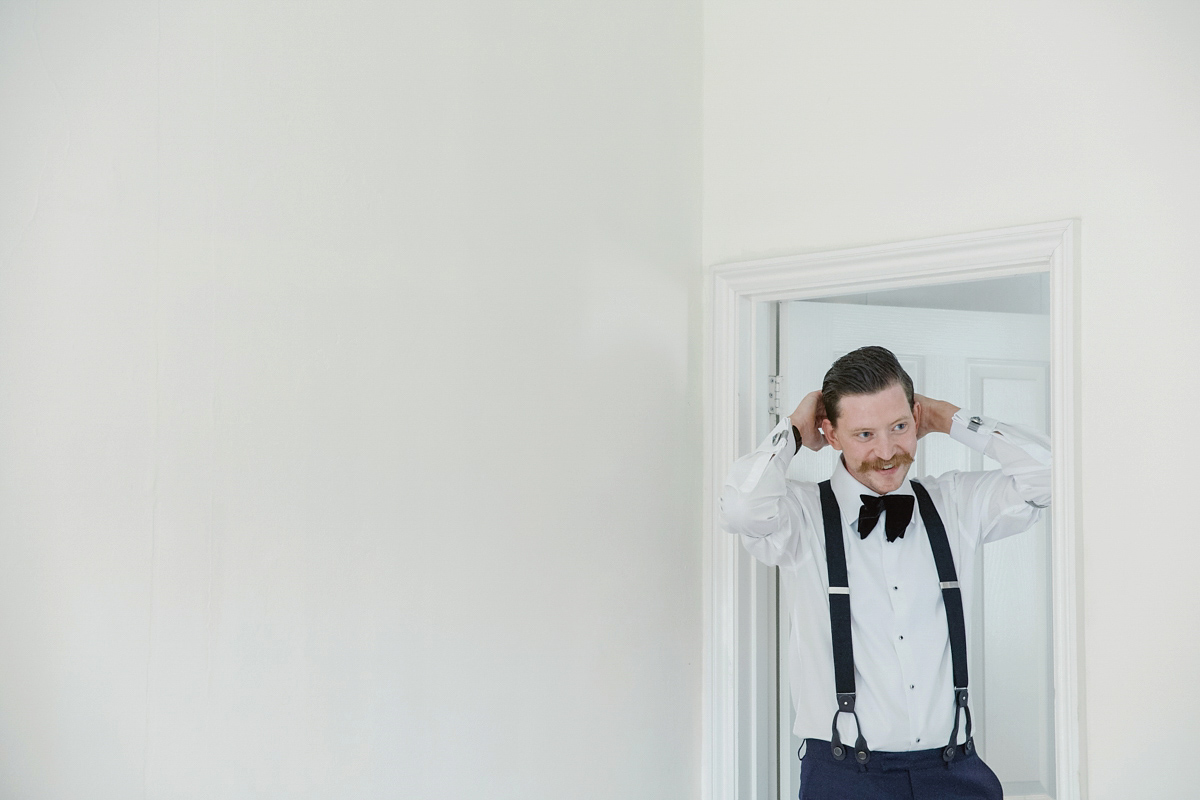 "Back in 2012 one of my best friends got married to a man she had met while on a night out with me.  The universe decided to repay the favour and I was introduced to Darren at the wedding.  We hit it off and at the end of the evening we'd exchanged numbers and Darren had offered to take me out for dinner."
"Despite problems (I had accidentally given him the wrong number) he tracked me down and we had the perfect first date taking in an exhibition at the Tate, strolling along the south bank, drinks at a cheesy bar, cocktails at a less cheesy bar and an amazing dinner."
"We both really value family and Erin was born in June 2015.  Everything I loved about Darren was amplified when he became the most amazing father.  On my birthday, (Boxing Day 2015), Darren proposed with a vintage 1950's ring and we set the date for Oct 2016 as Erin would be walking and I loved the idea of an autumn wedding."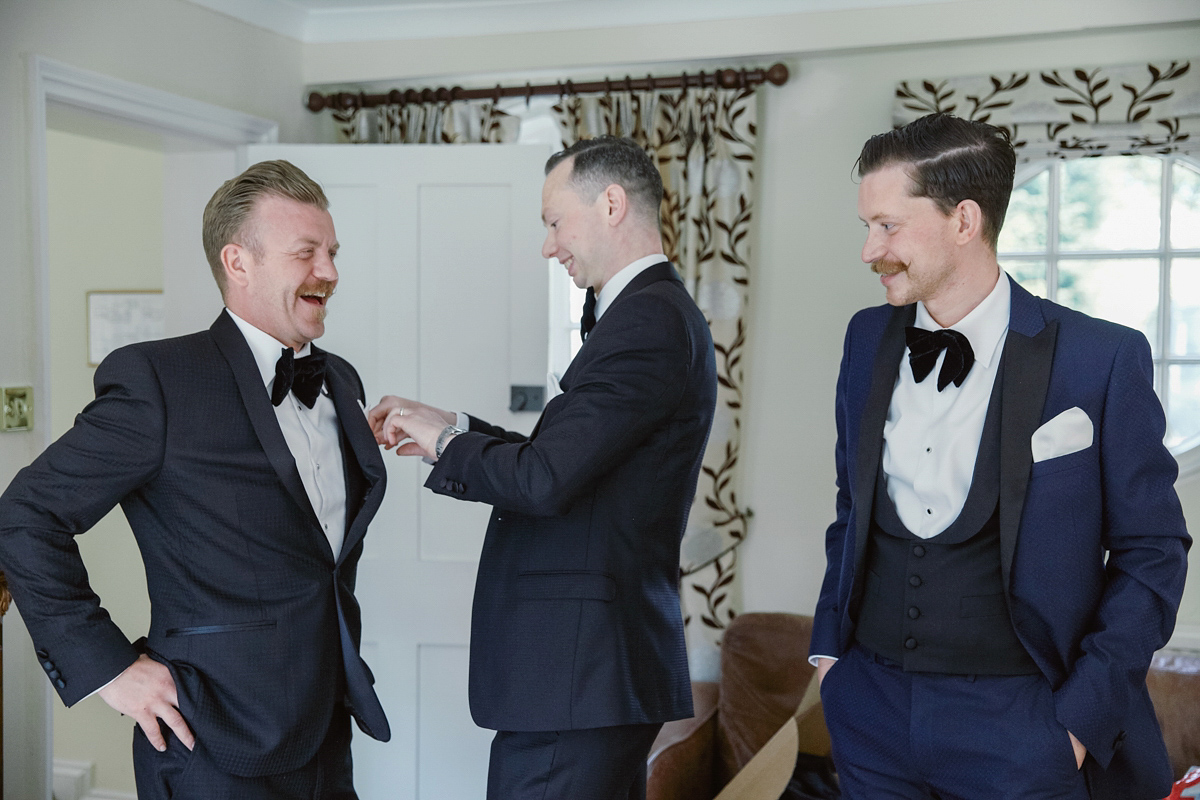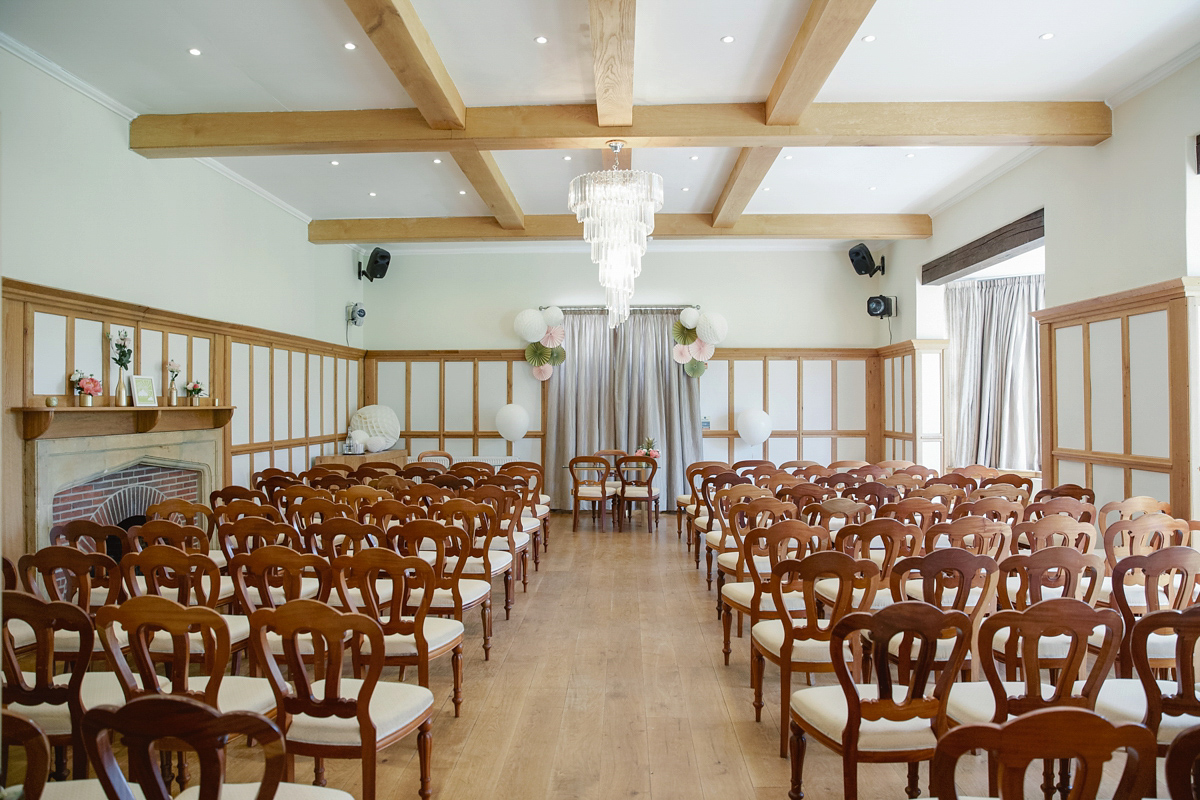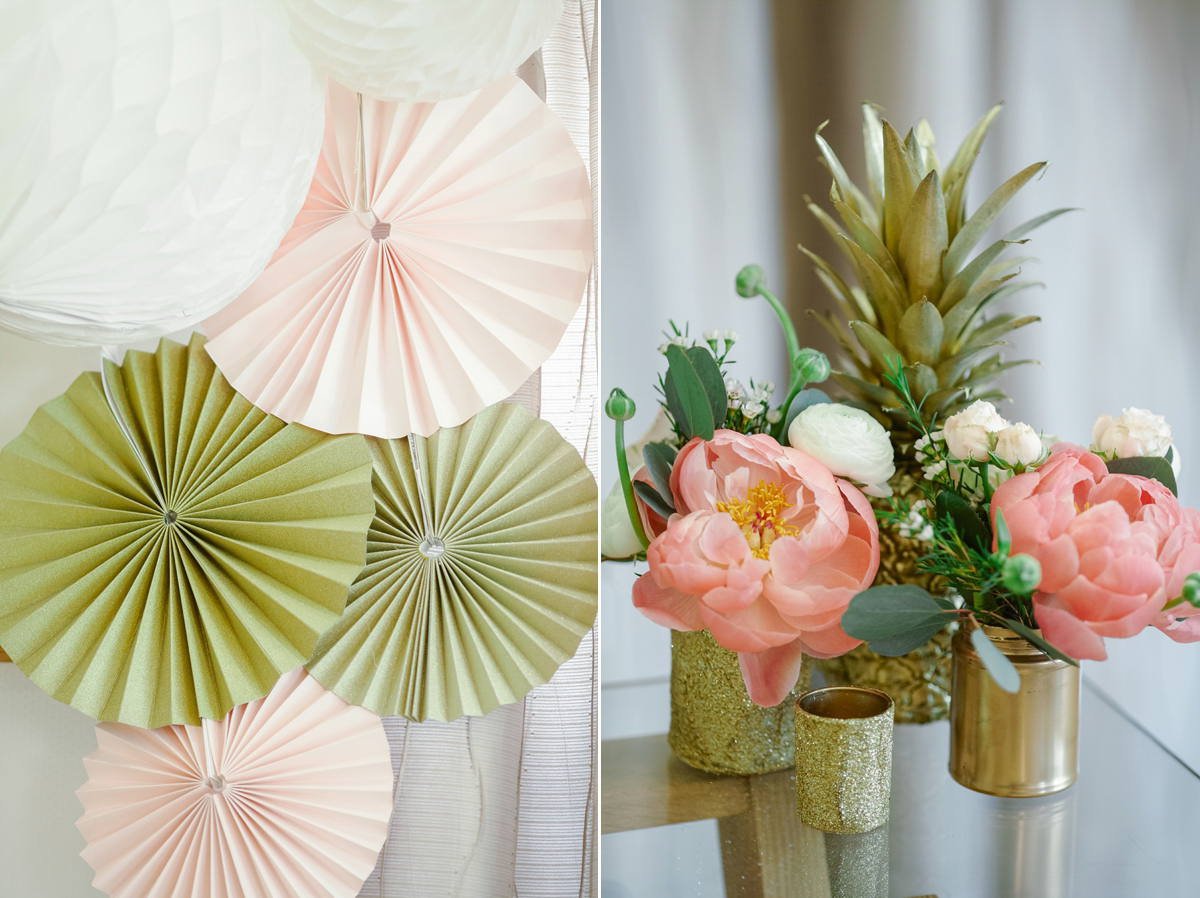 "Then out of the blue our dream (slightly out of budget) venue offered us a deal if we married in May, just four months away.  After checking our photographer (Natalie J) was available, we booked it."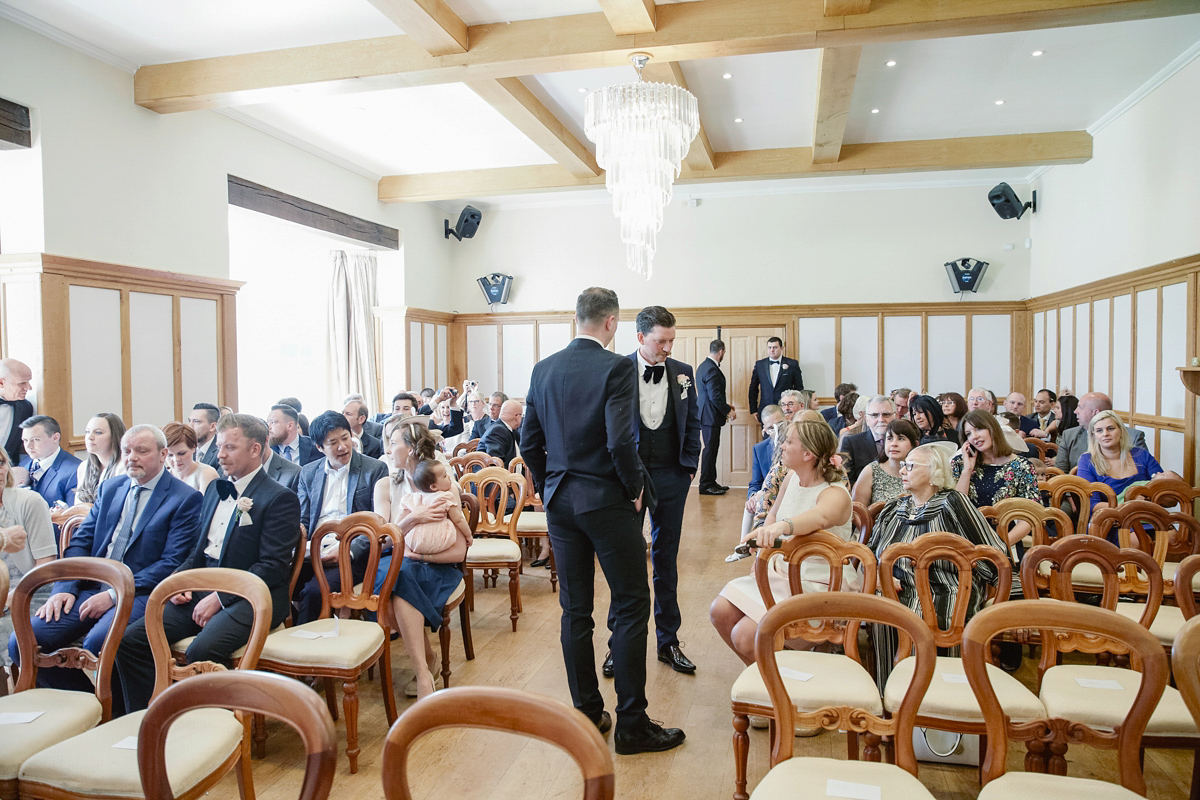 Anna walked down the aisle with her Dad to 'I'll Keep You Safe'  by Sleep At Last, performed live by Micheal Davies, who Anna and Darren met in a pub a few weeks before the wedding and booked to play at the ceremony.  Sadly we don't have any details for him to share.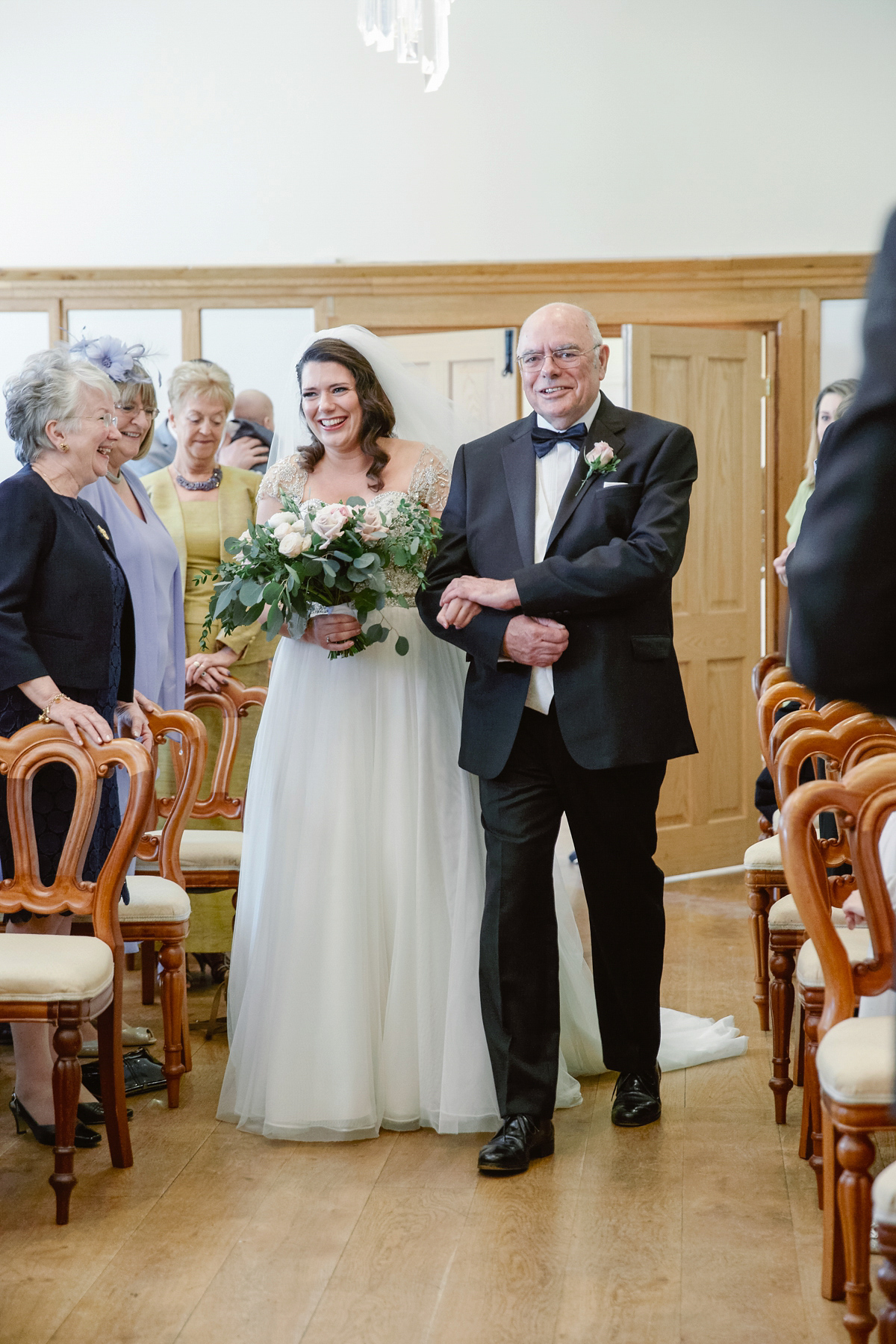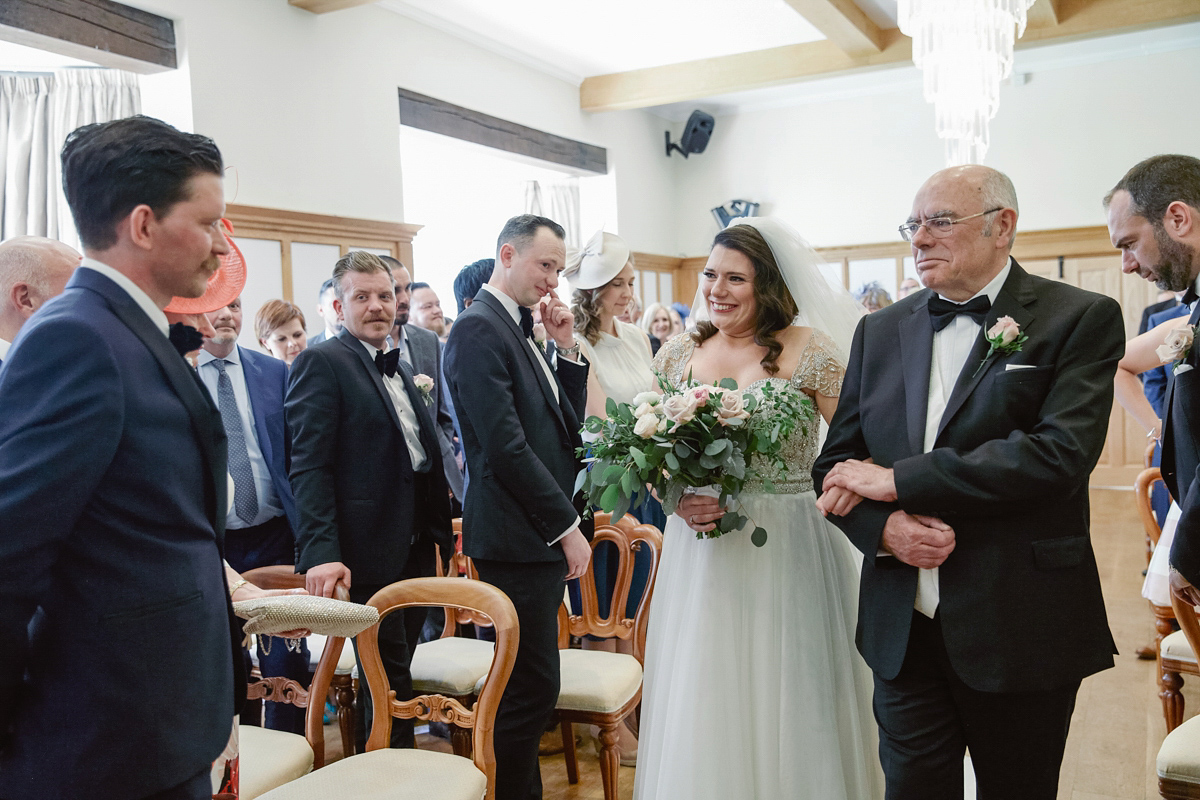 Anna and Darren chose two readings-  'A Good Wedding Cake' (author unknown) read by Darren's brother (with Darren being a chef by trade this 'recipe' for marriage was the perfect choice) and 'I Love You Because' read by Anna's oldest and best friend Hannah.
"On reflection I would have spent more time on our vows – they are the most important bit.  I'm glad that we included something for our guests to respond to though.  Friends and family are so important to us so it was important to include them in this part of the ceremony."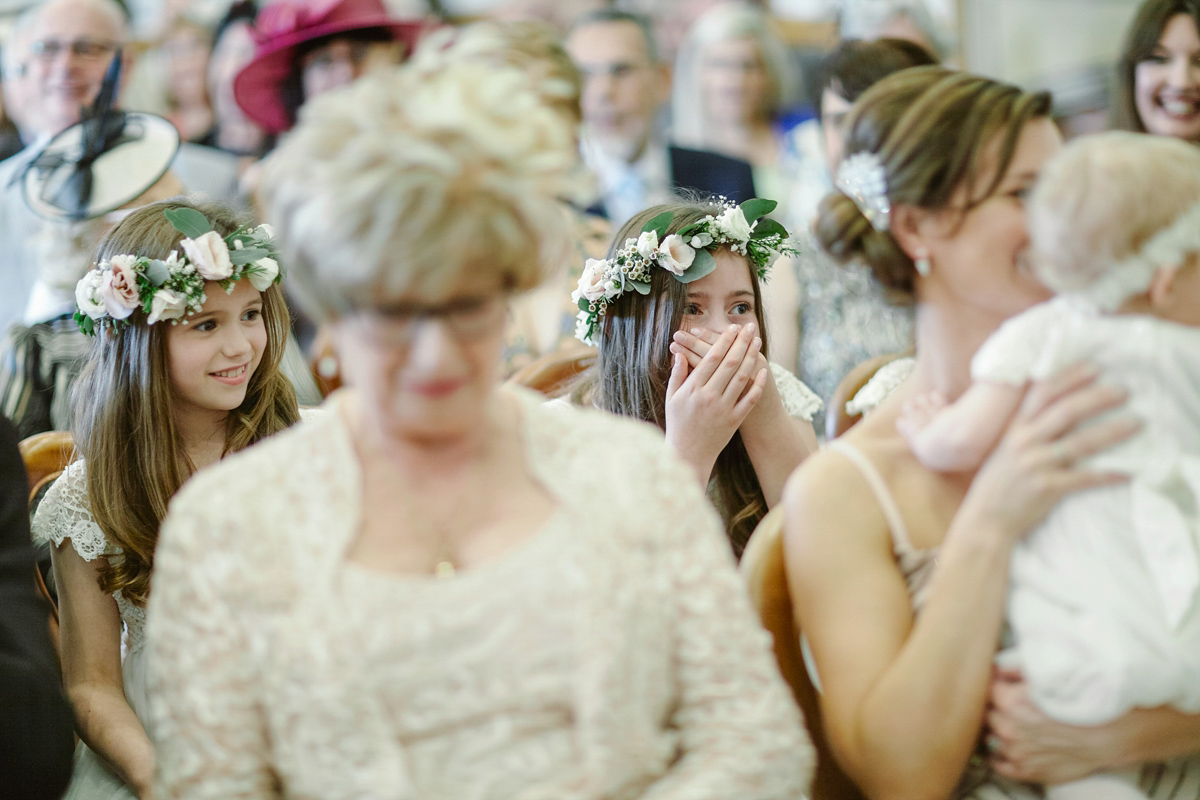 "My engagement ring was from Nash & Co, which is an antiques shop in Caversham, Reading.  My wedding band was my great grandmothers- a hundred year old 22ct gold band.  It was really special to have something from a previous generation."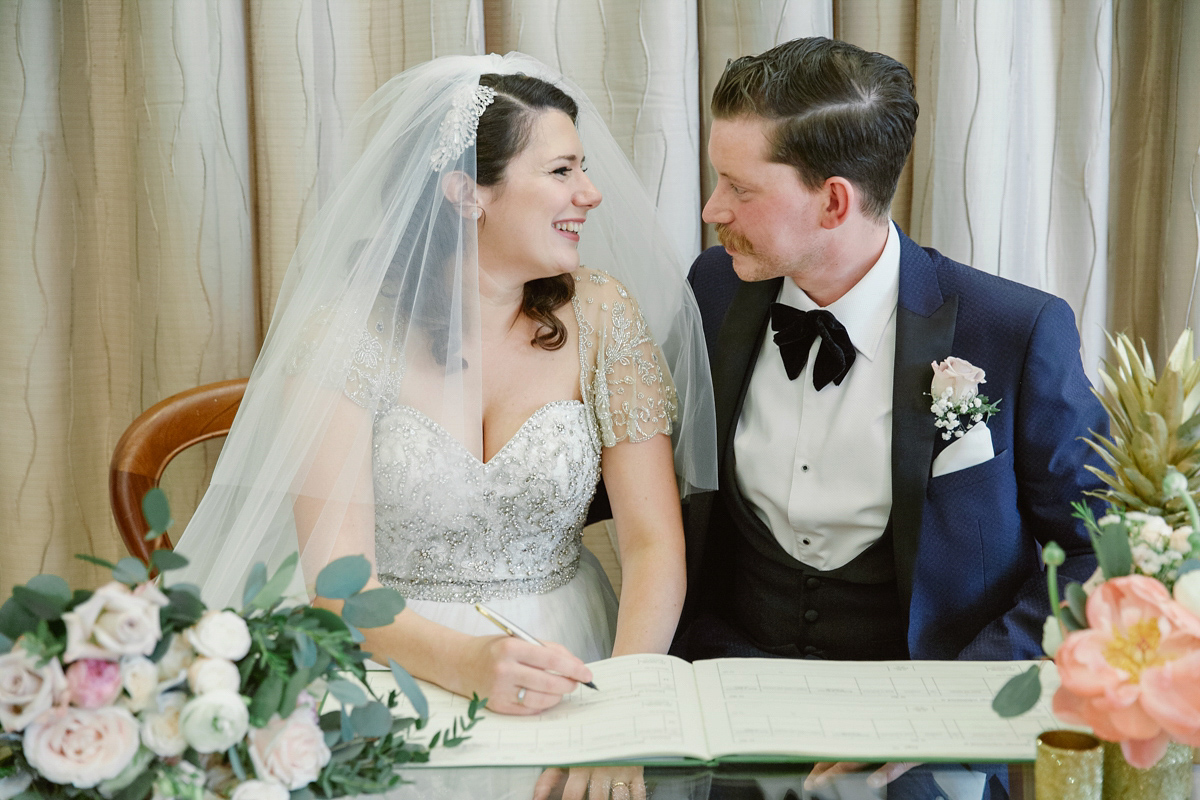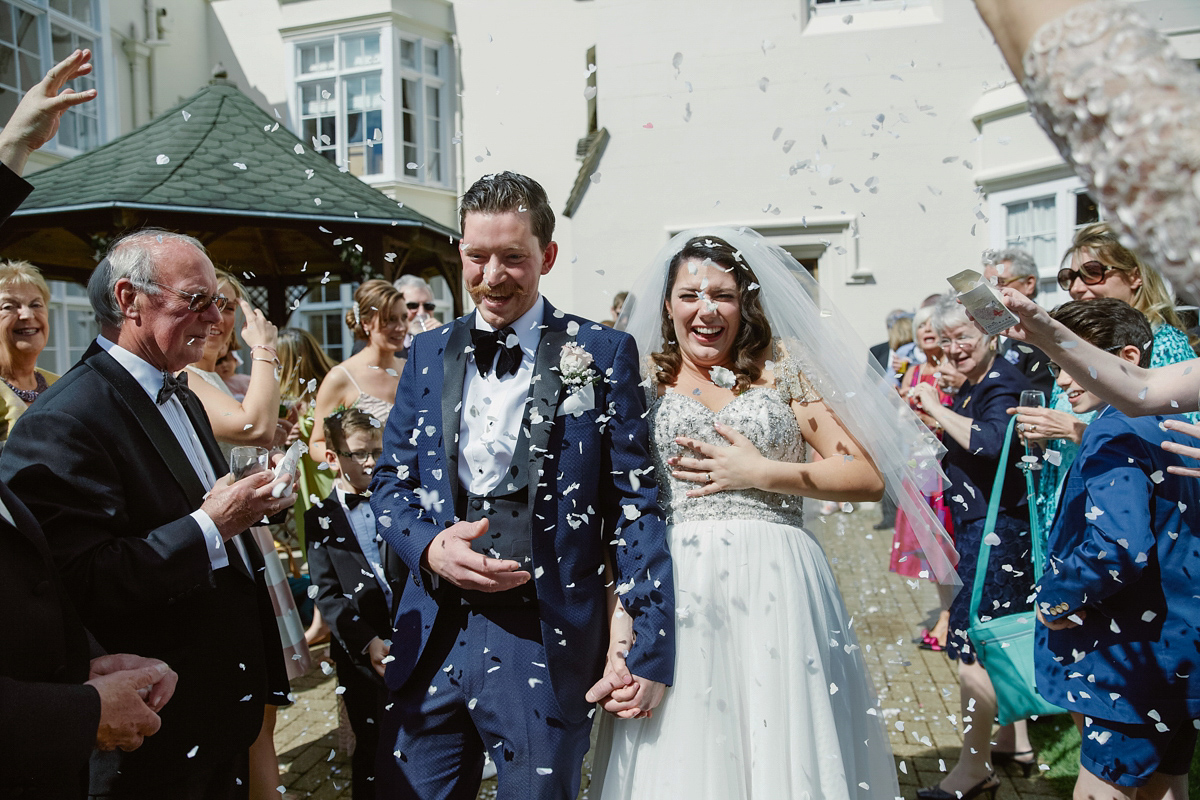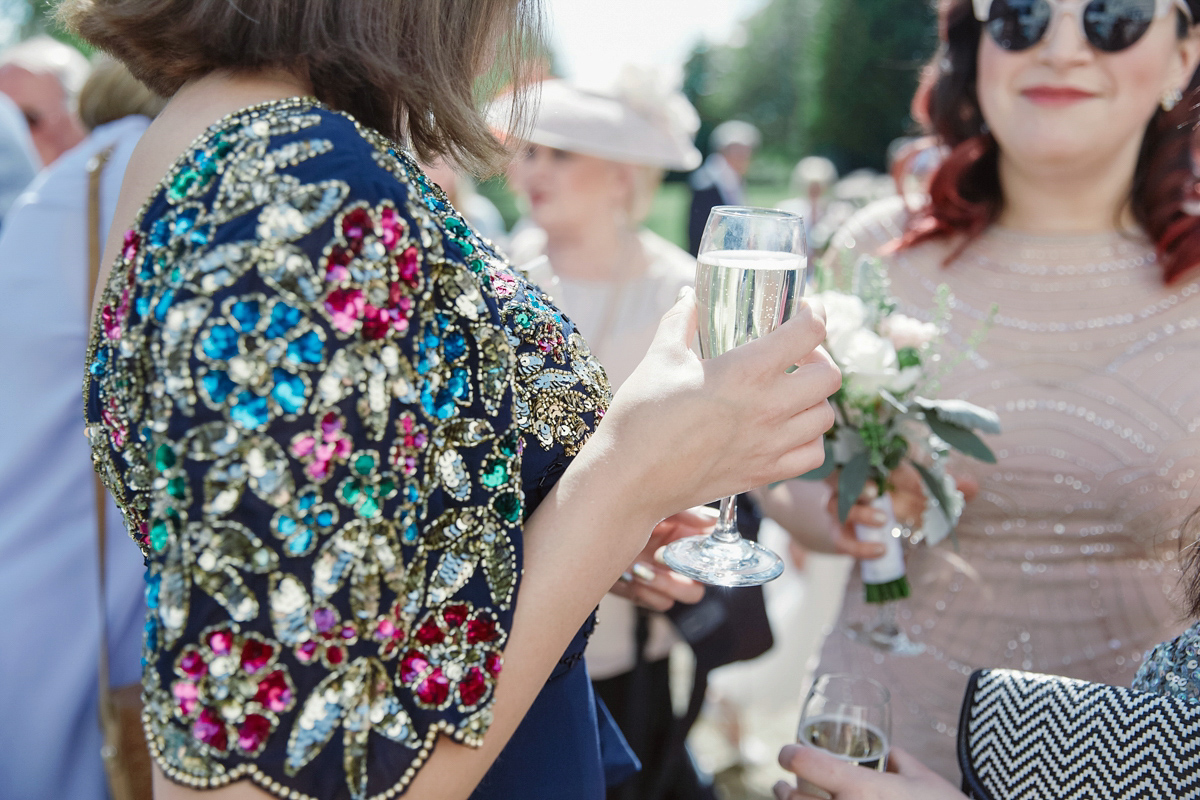 The beautiful florals were the work of Andrea from Sonning Flowers, Reading.
"Andrea was amazing and totally understood what we were going for in terms of a relaxed bouquet.  We had romantic flowers- peonies, roses and stocks- all in pastel pinks and creams with touches of coral.  They were perfect and I cried when I saw them as I loved them so much."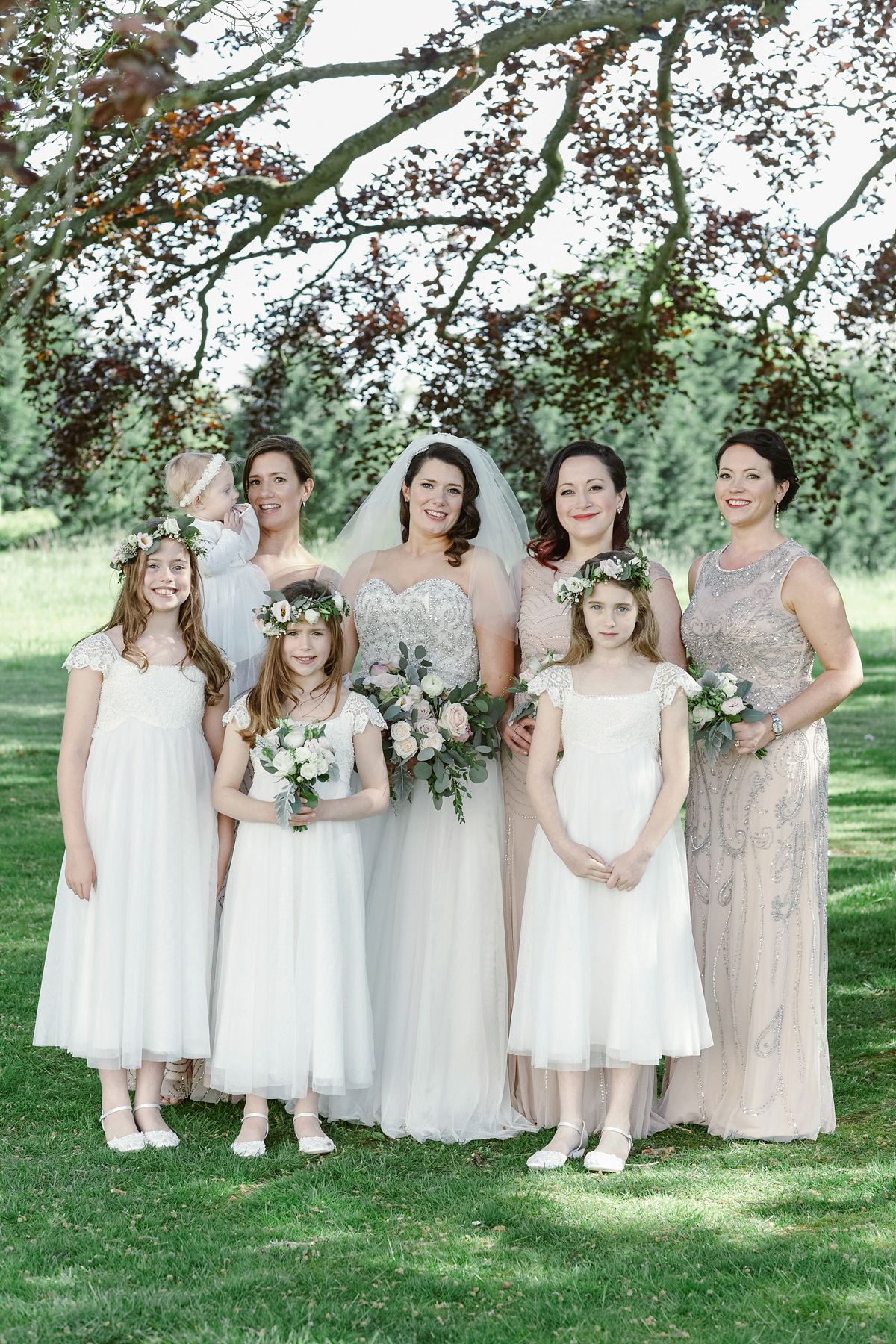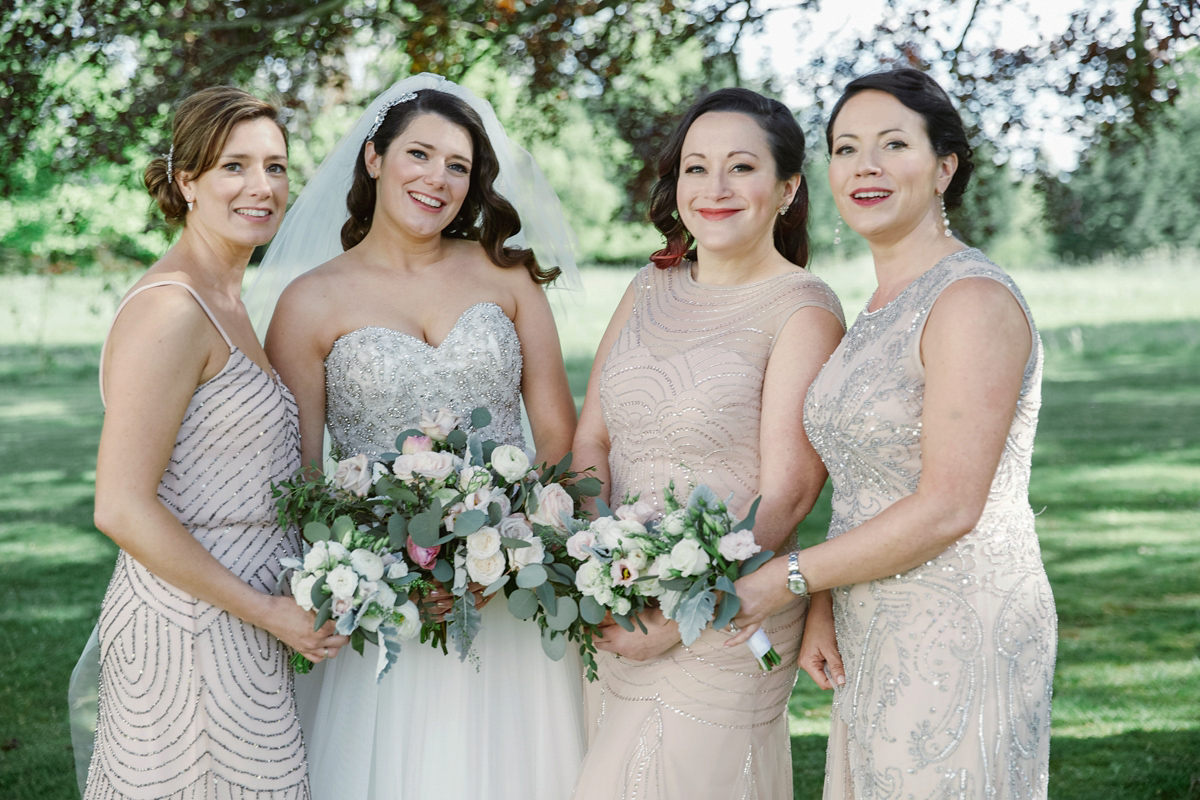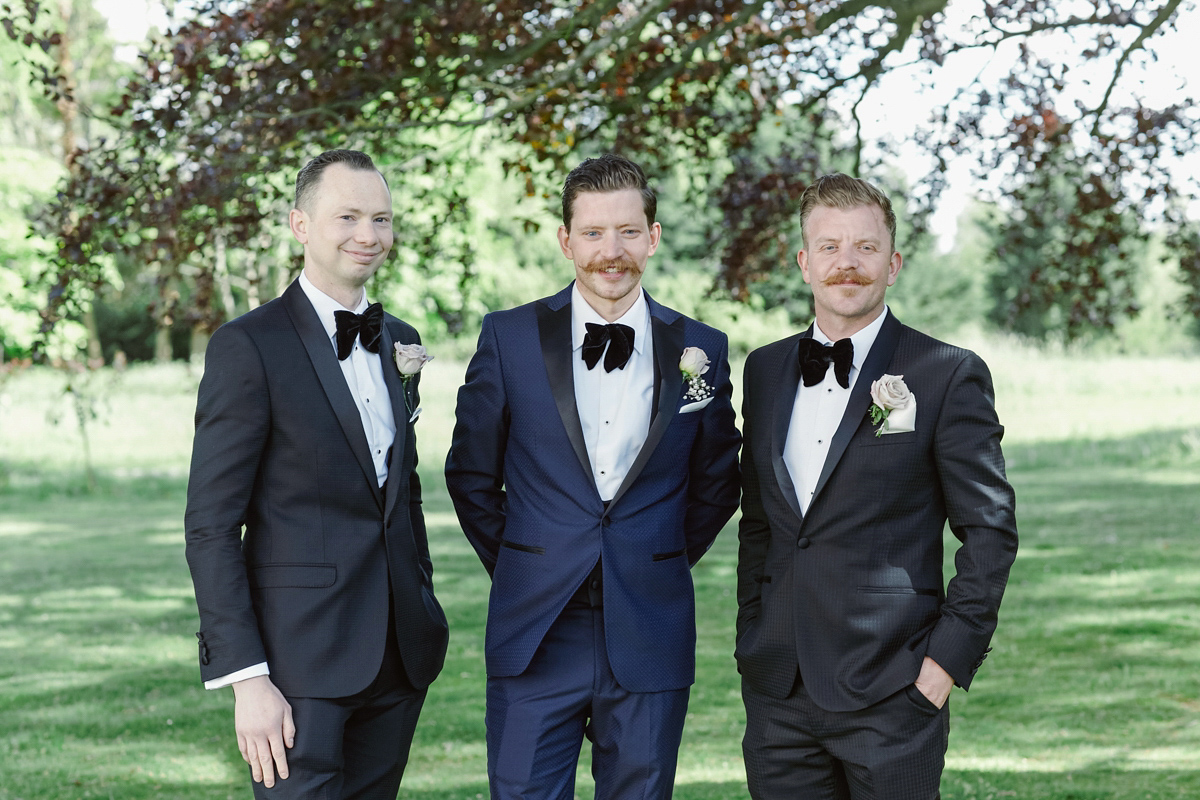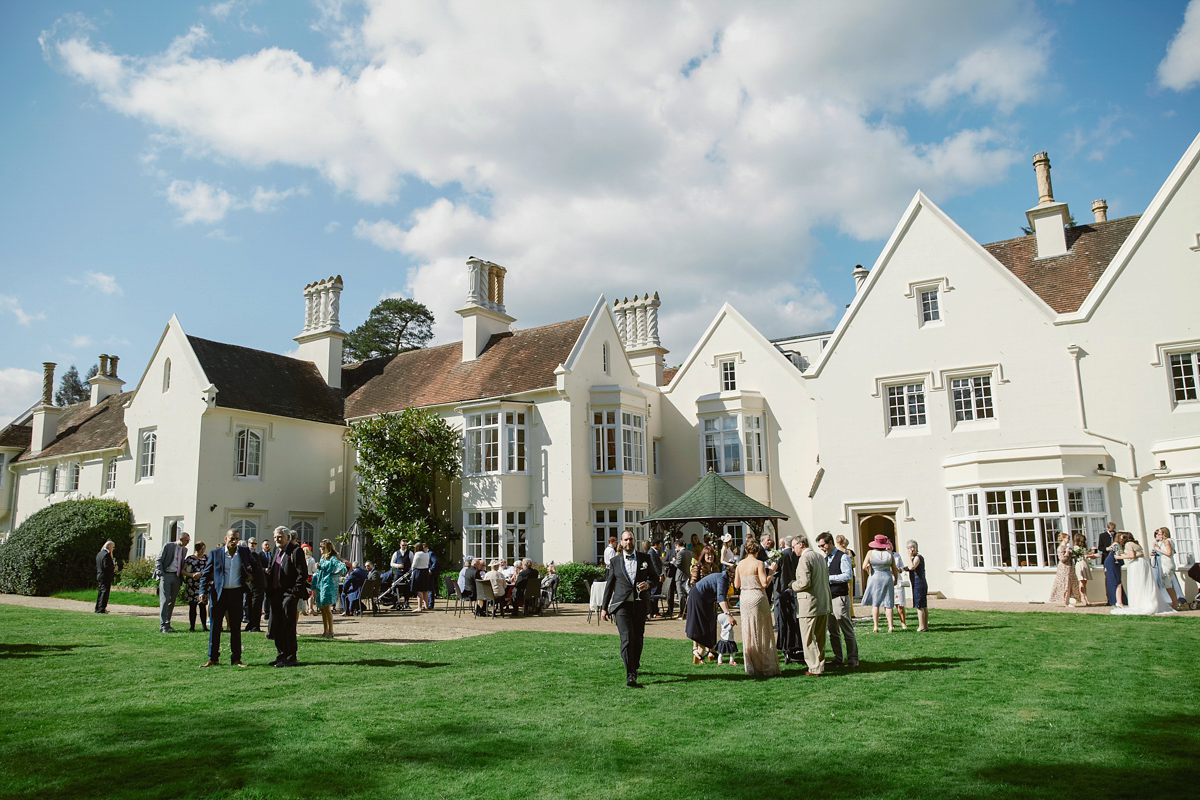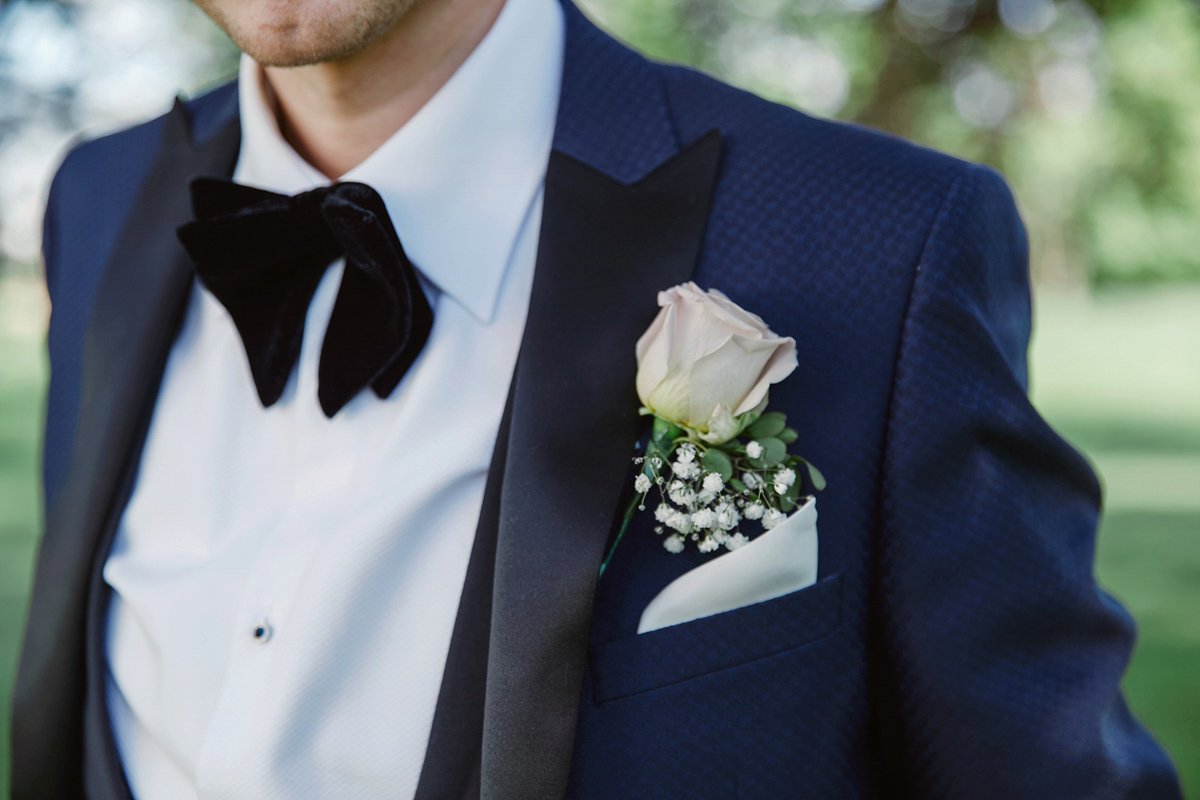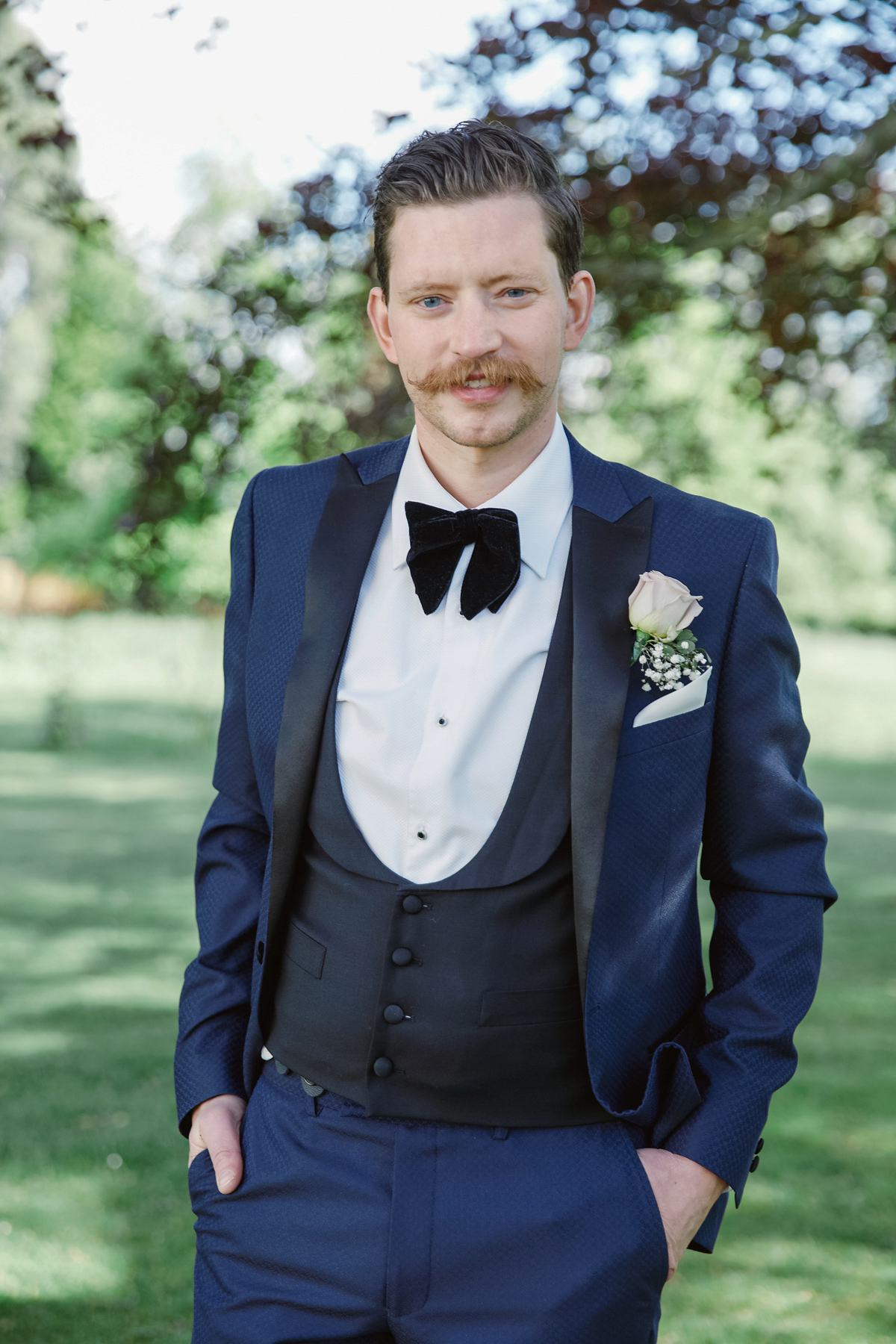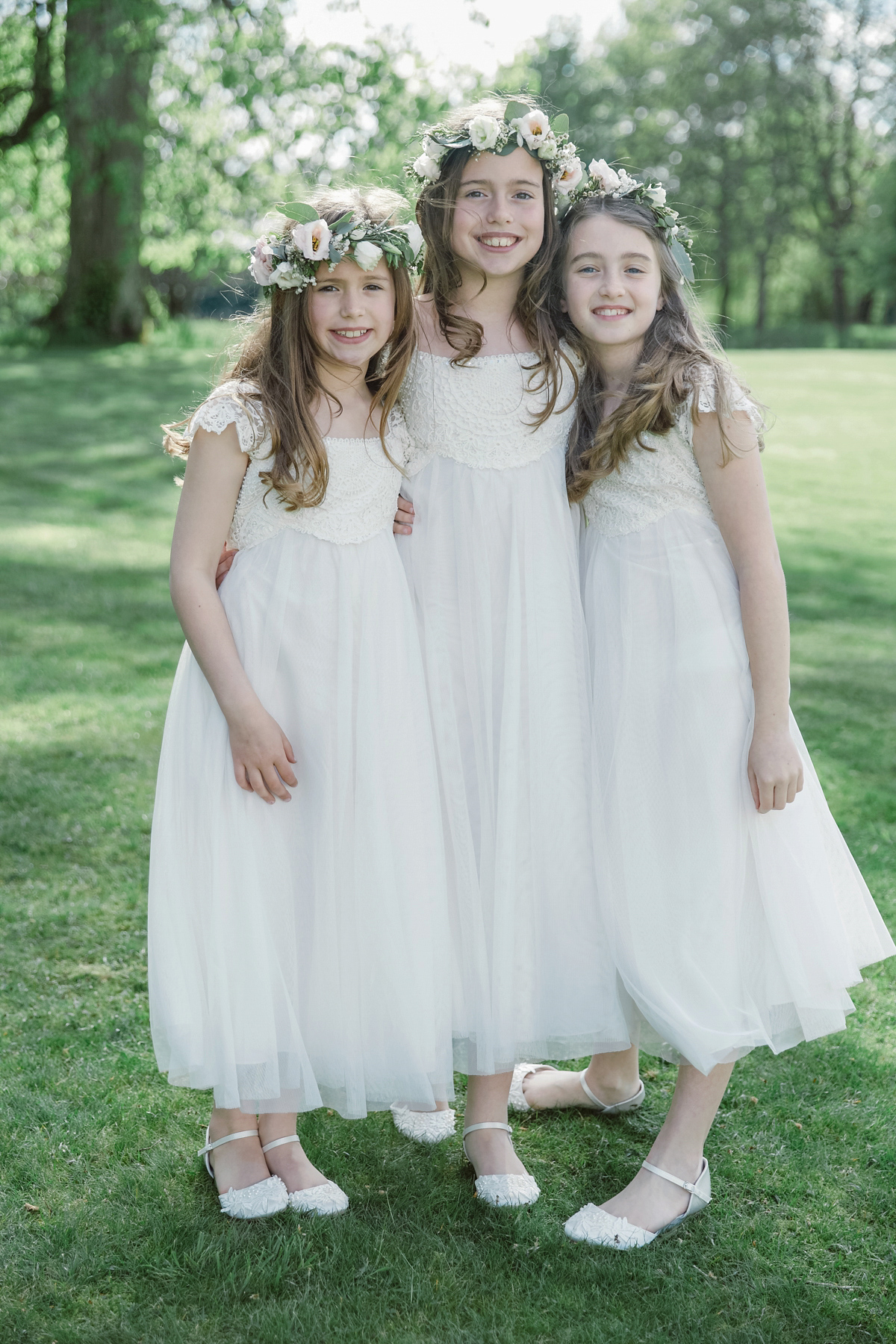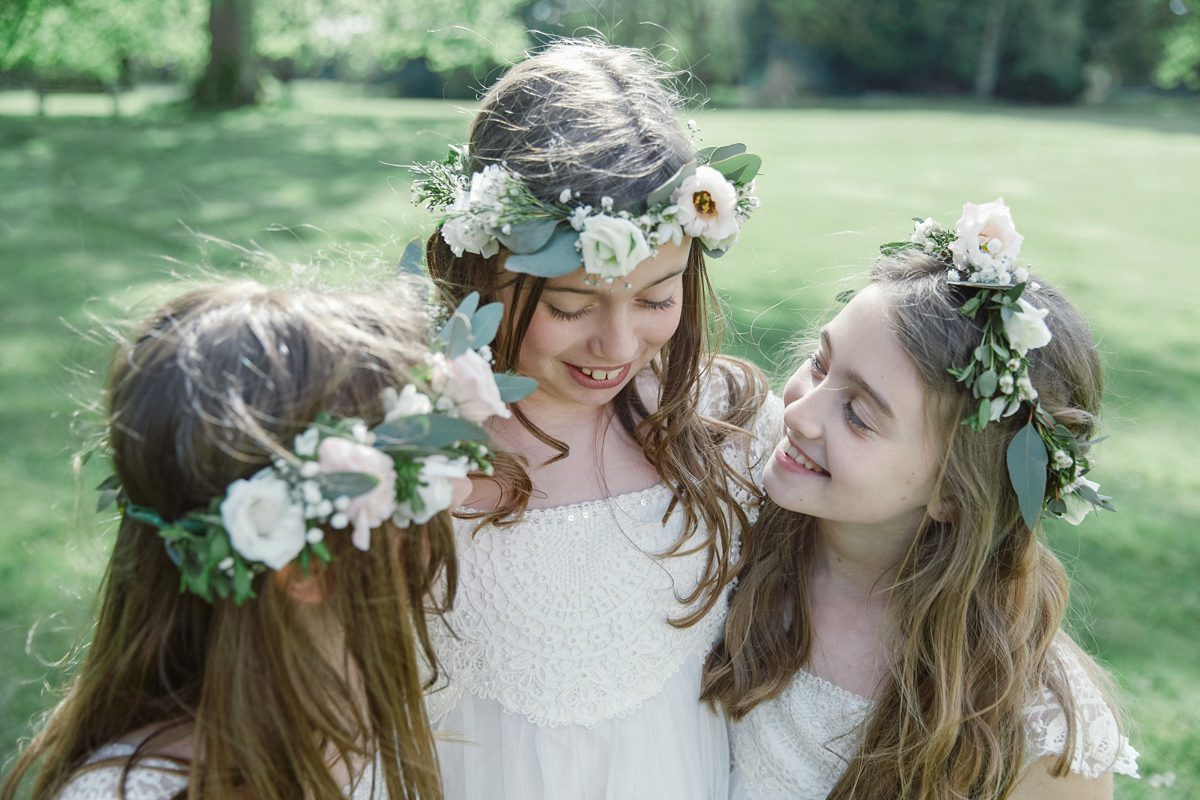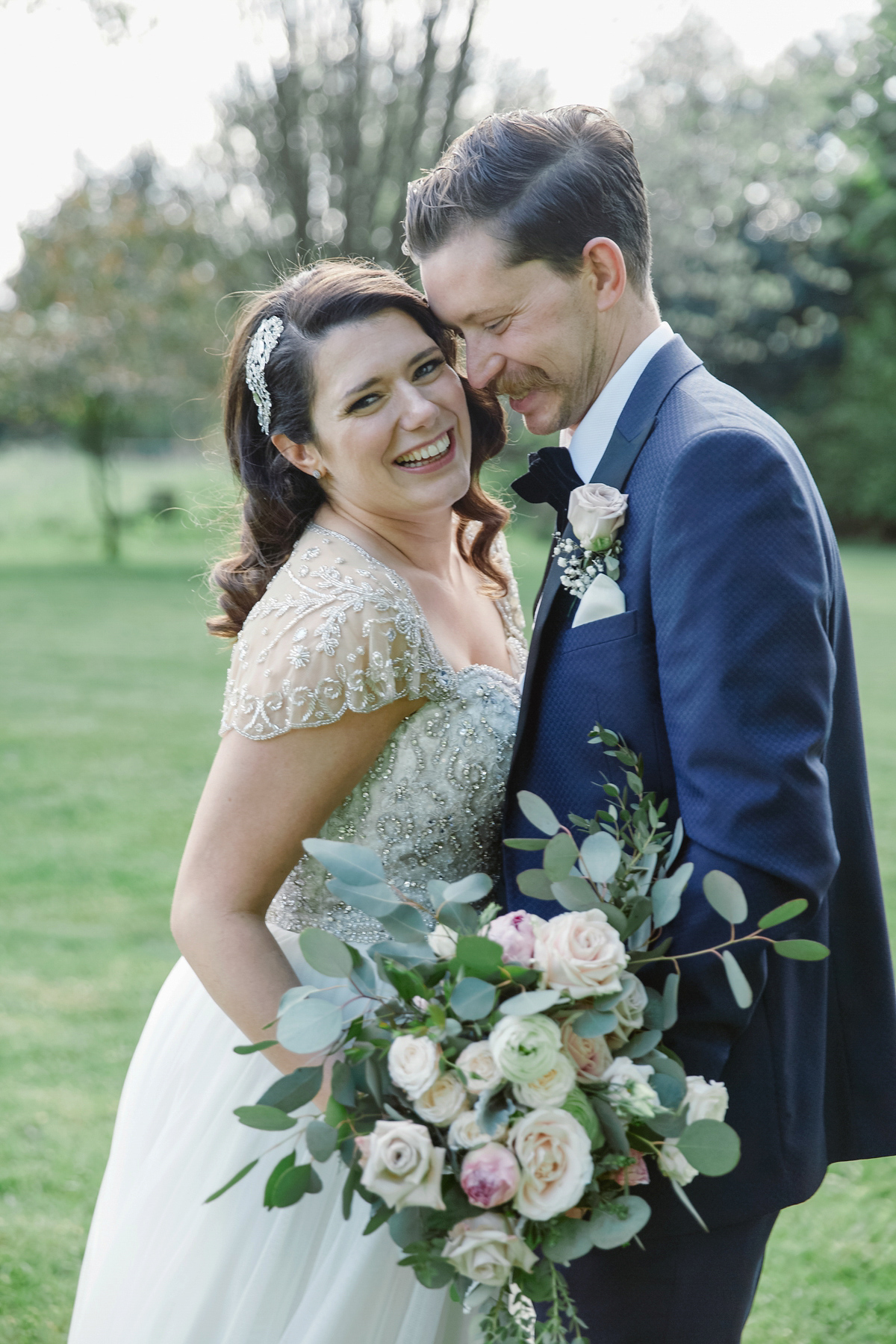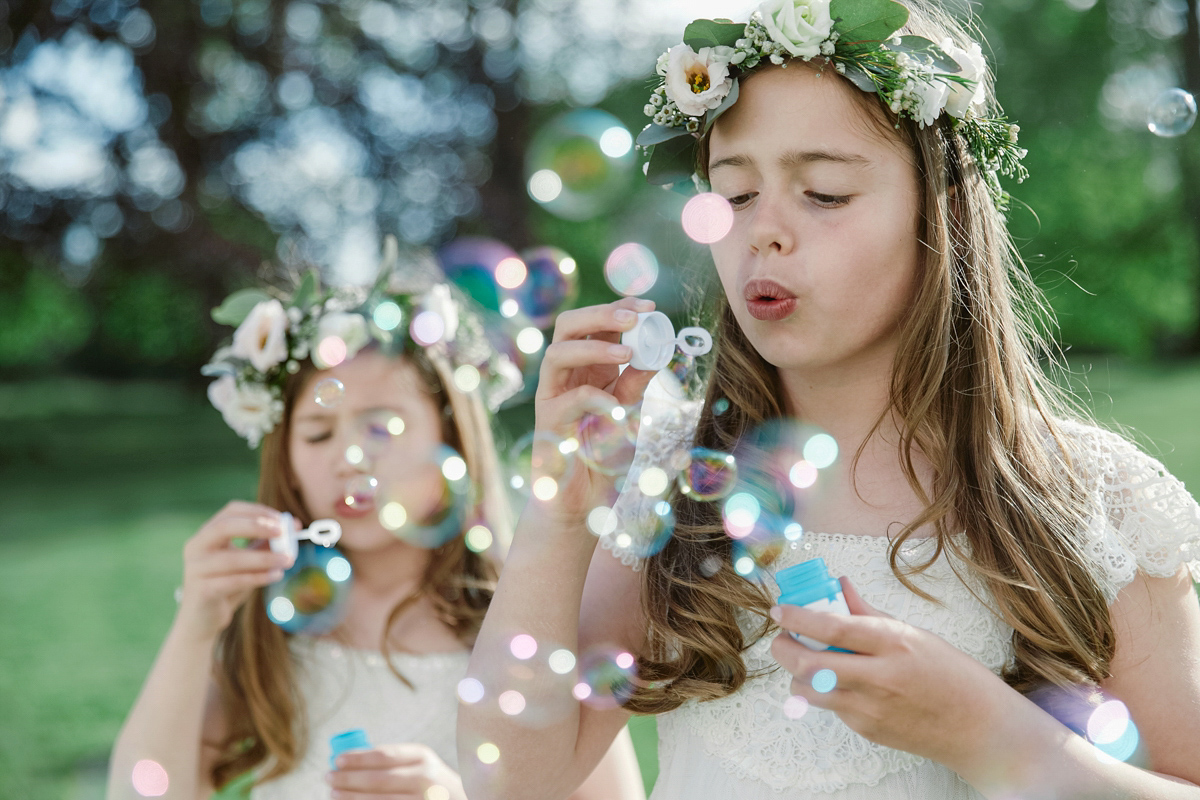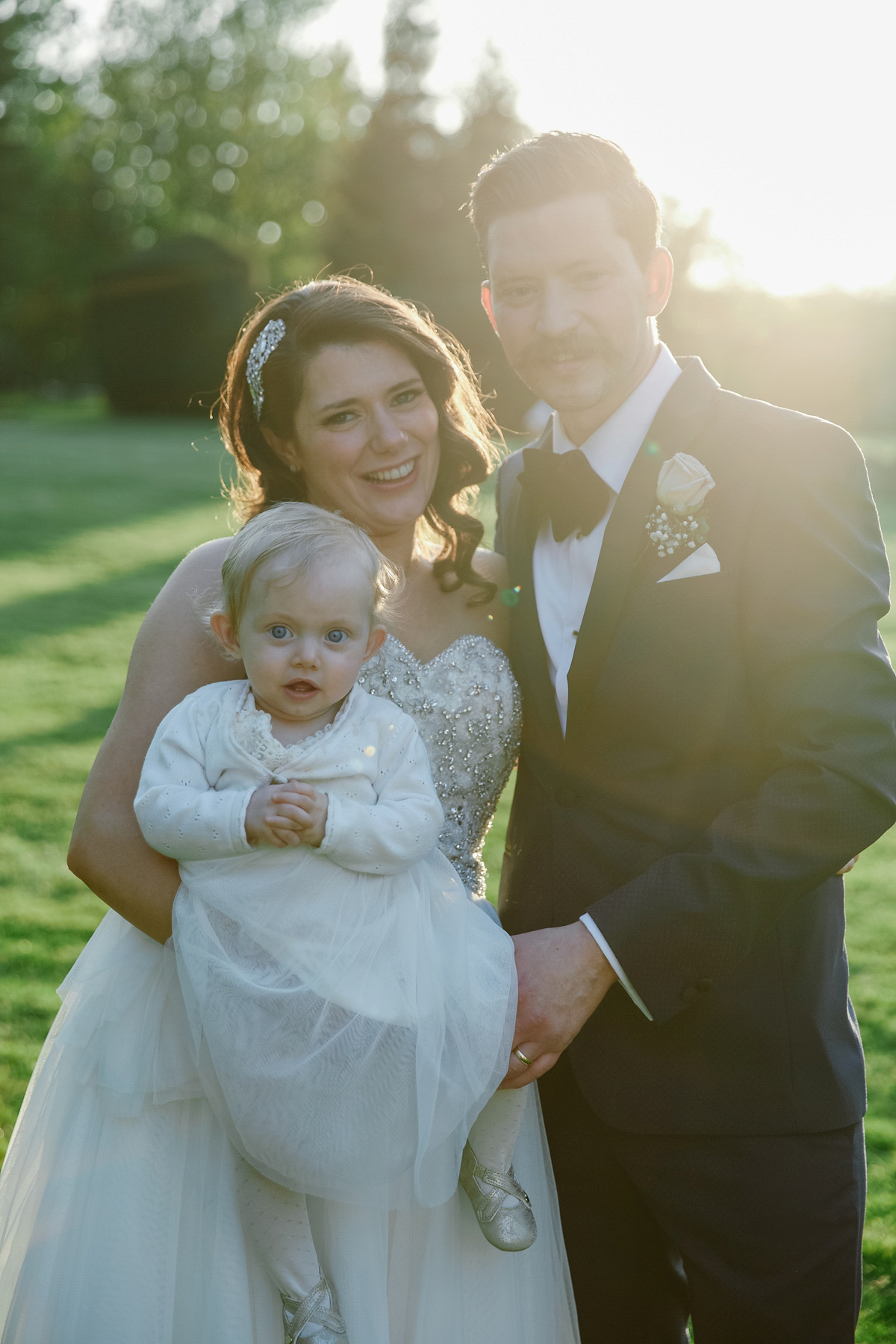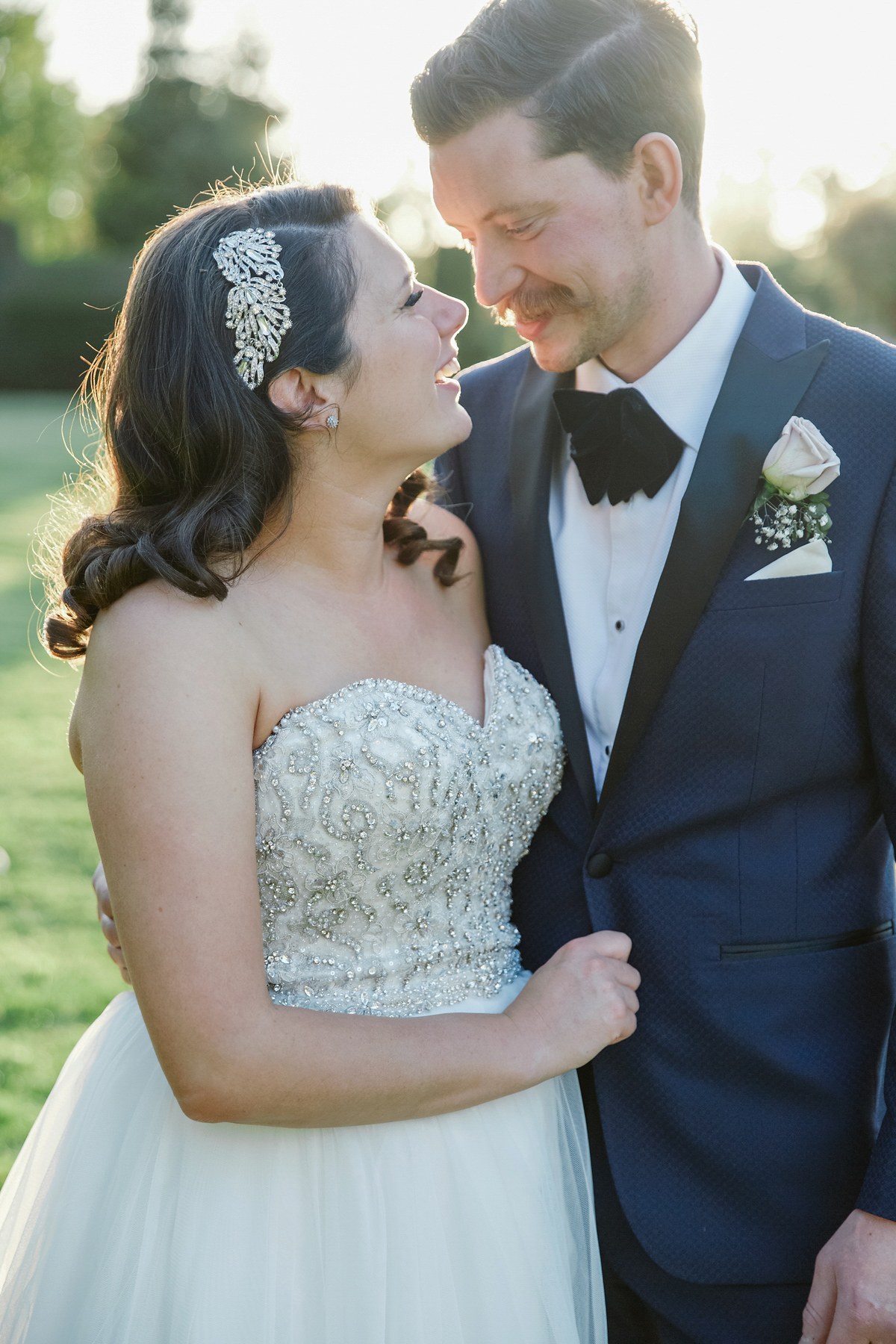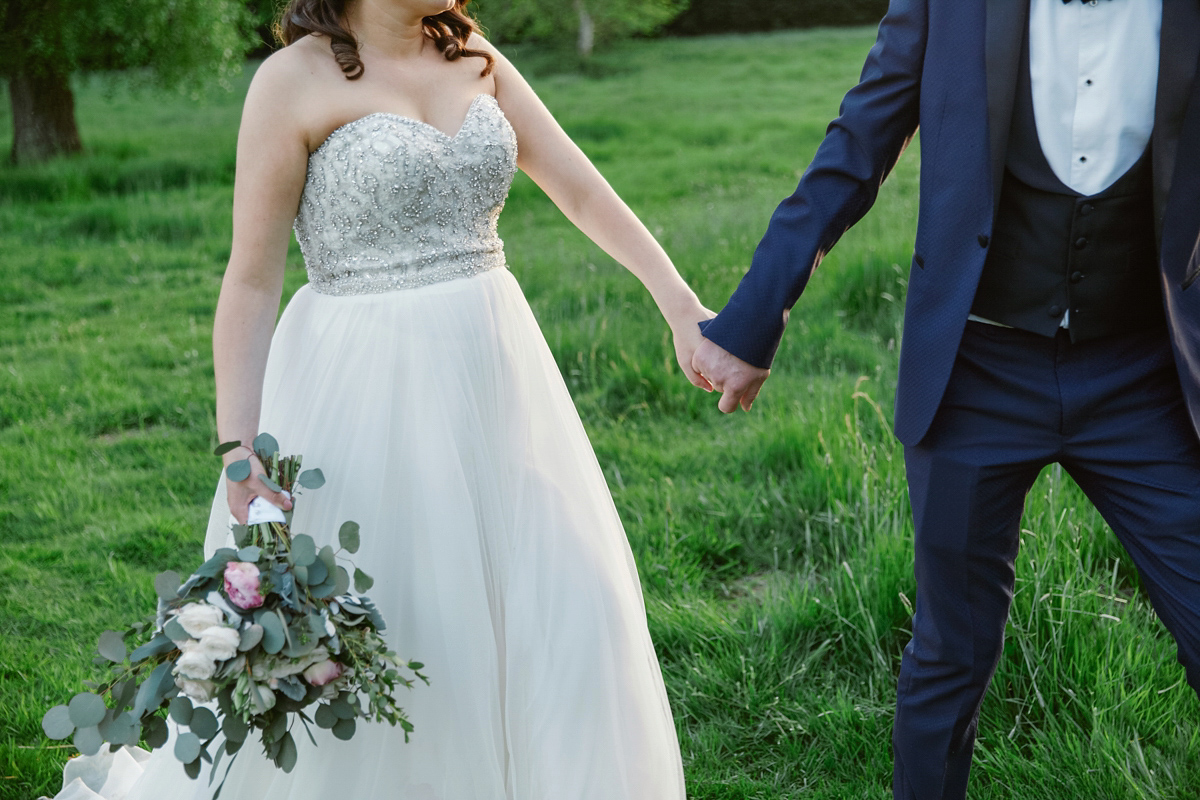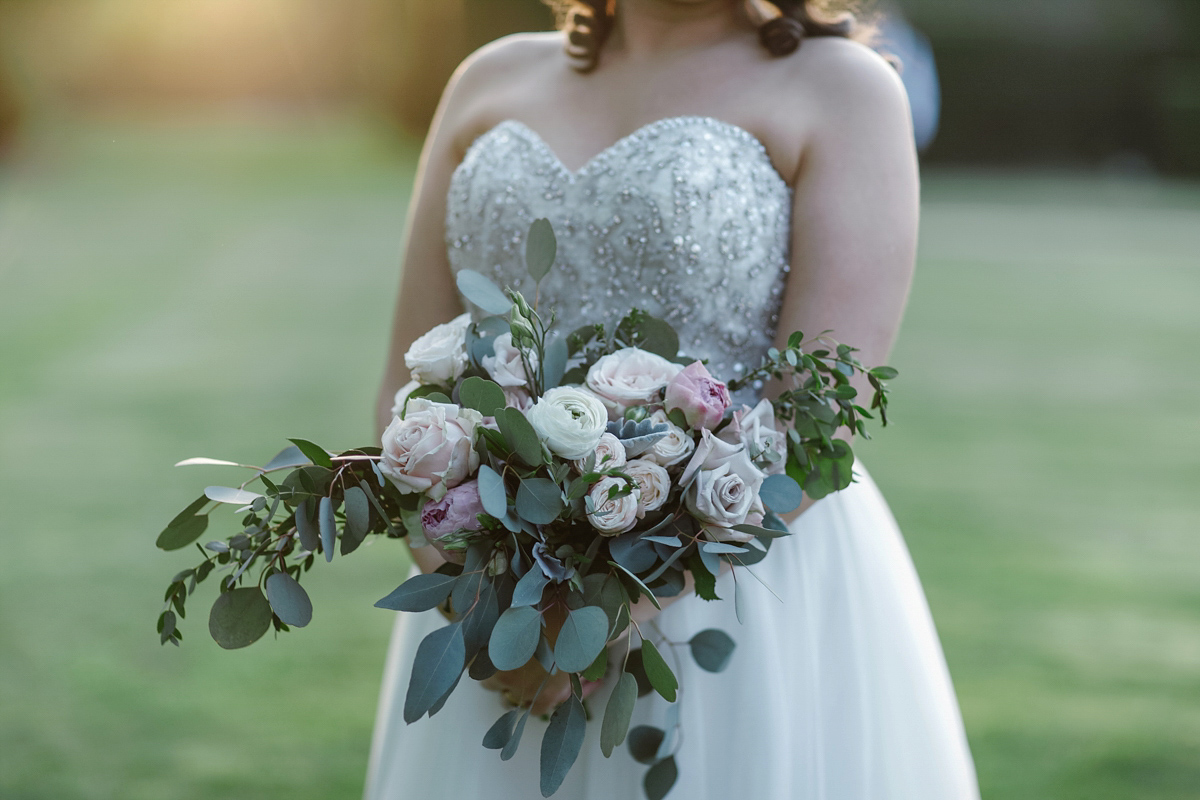 "The decor was primarily pink and gold and we used a lot of Ginger Ray products to dress the venue.  As it was a private house I wanted it to feel like a family home so we dressed it with pictures of all the guests at the wedding and spent hours collecting bottles and jars to spray different shades of gold and dip in glitter."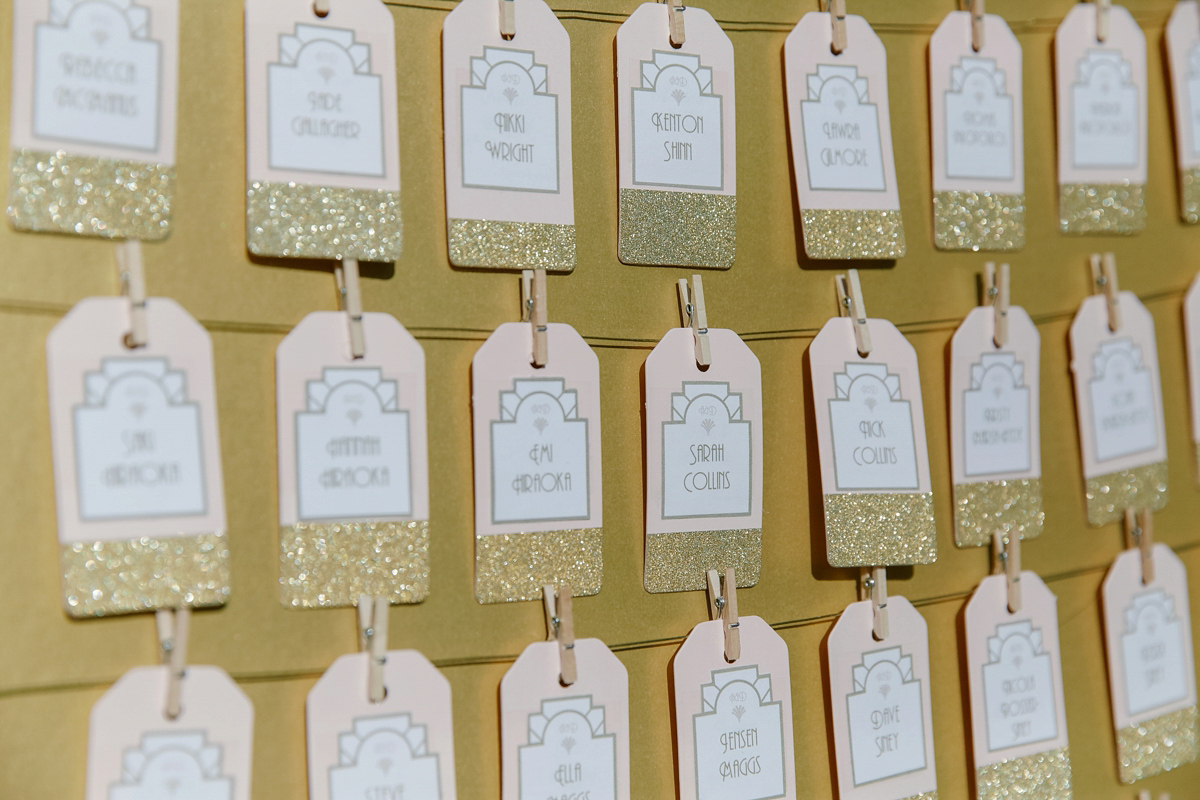 "When we were younger my sister was nicknamed 'Pineapple Parker' so it seemed to fit to have gold pineapples in the mix too.  We also hired sequin tablecloths and runners from Pudding Bridge who we found through Love My Dress."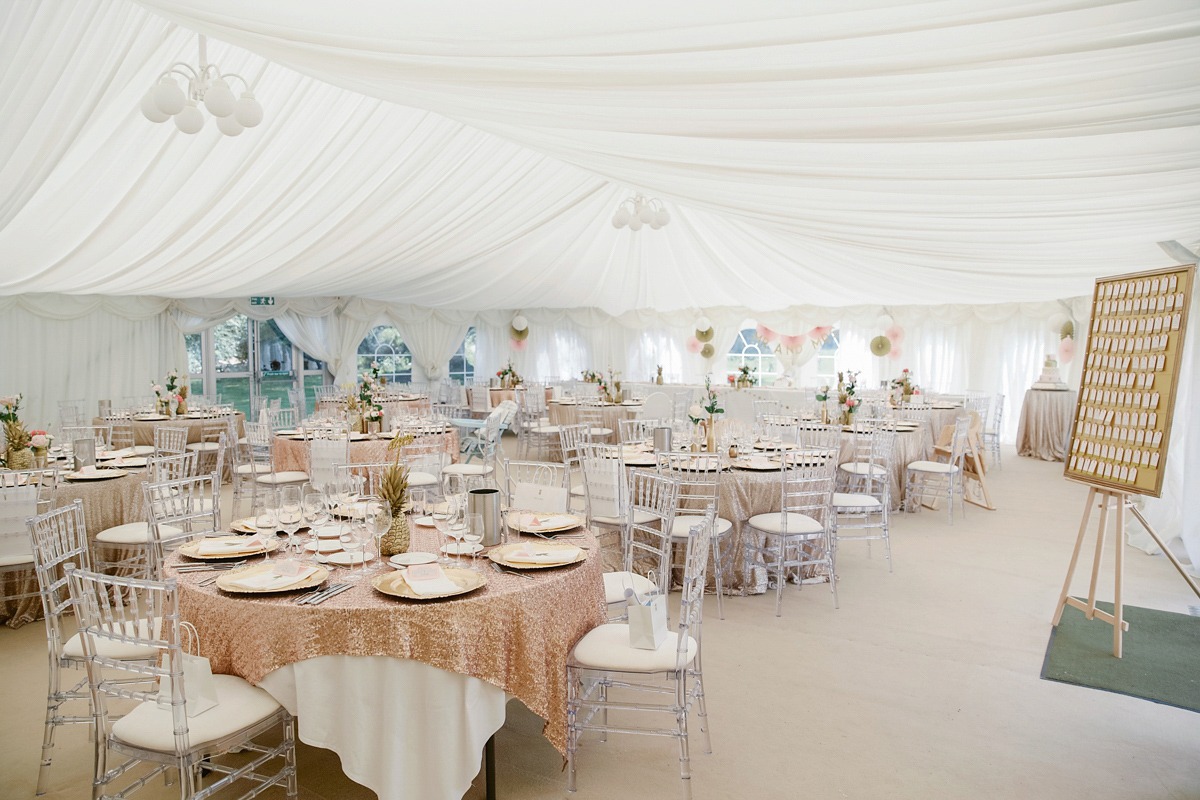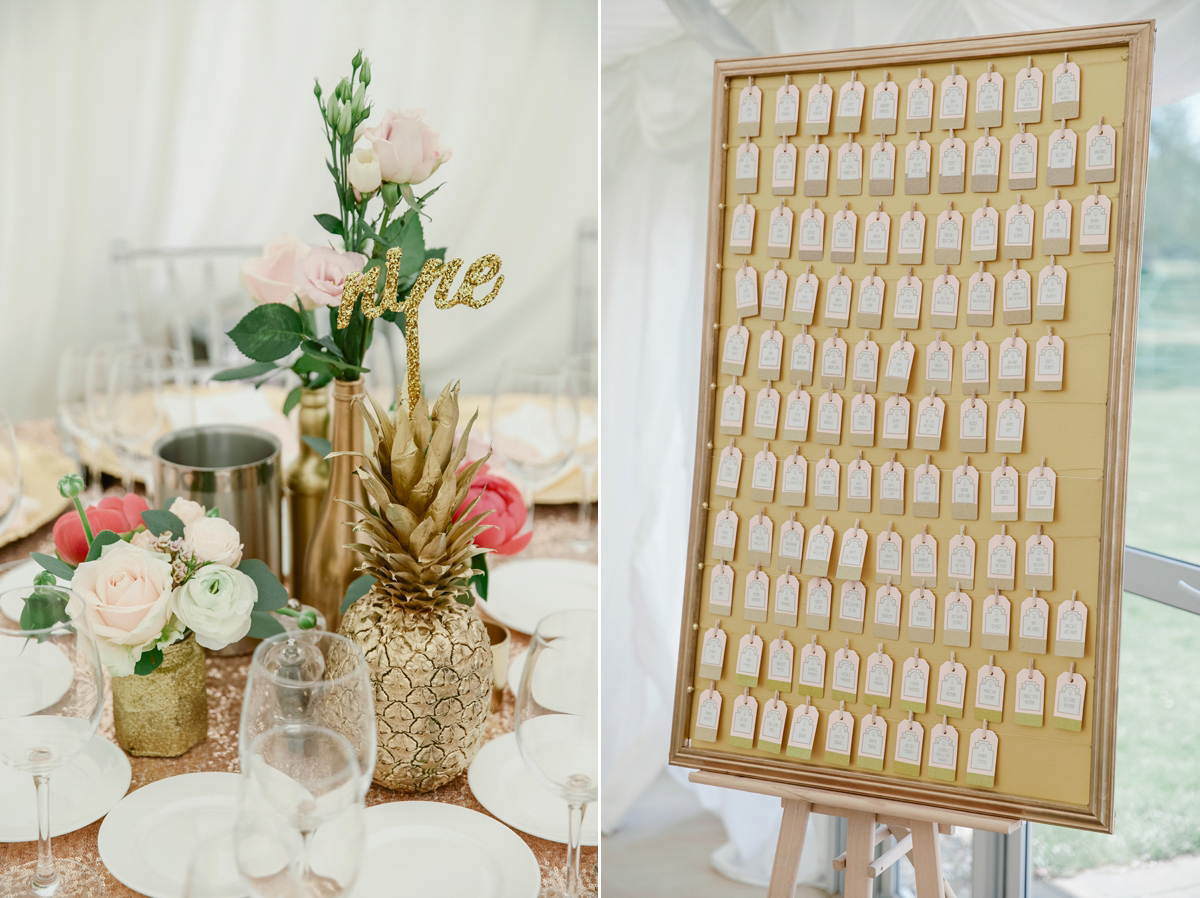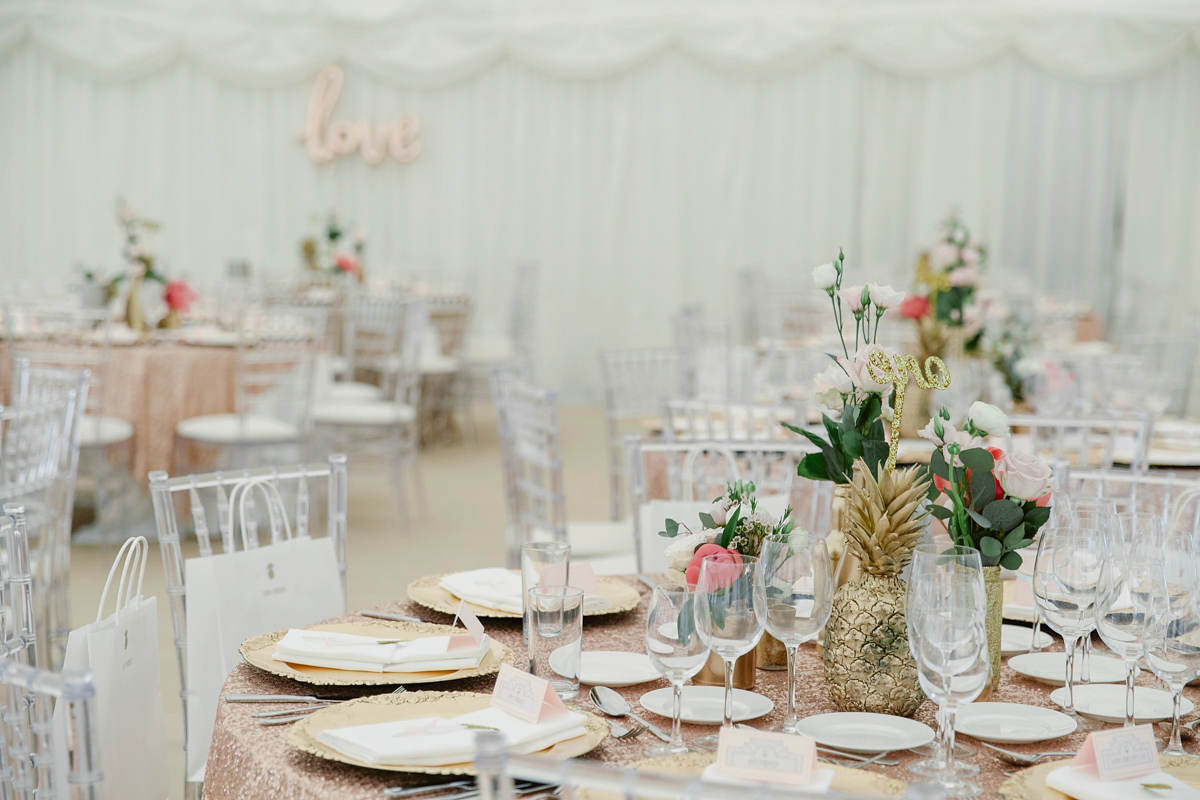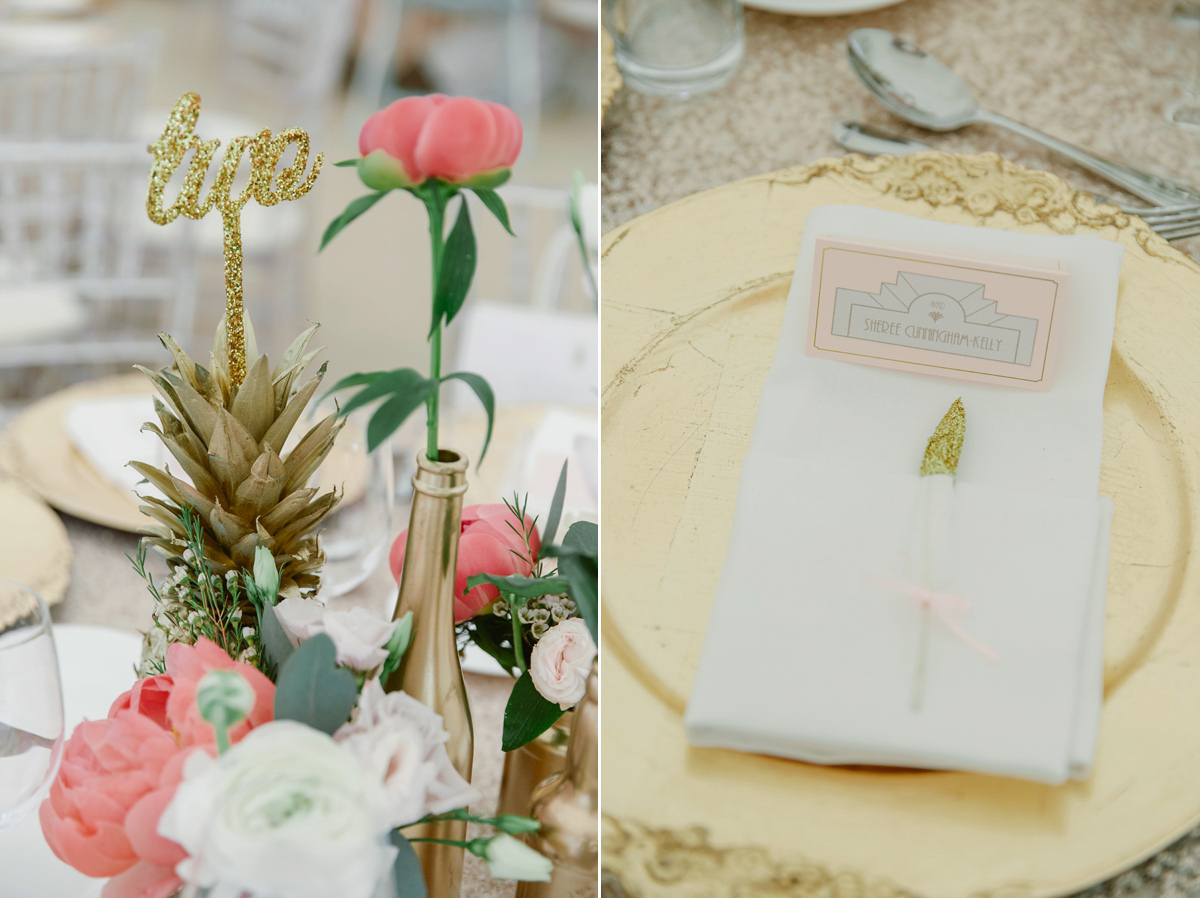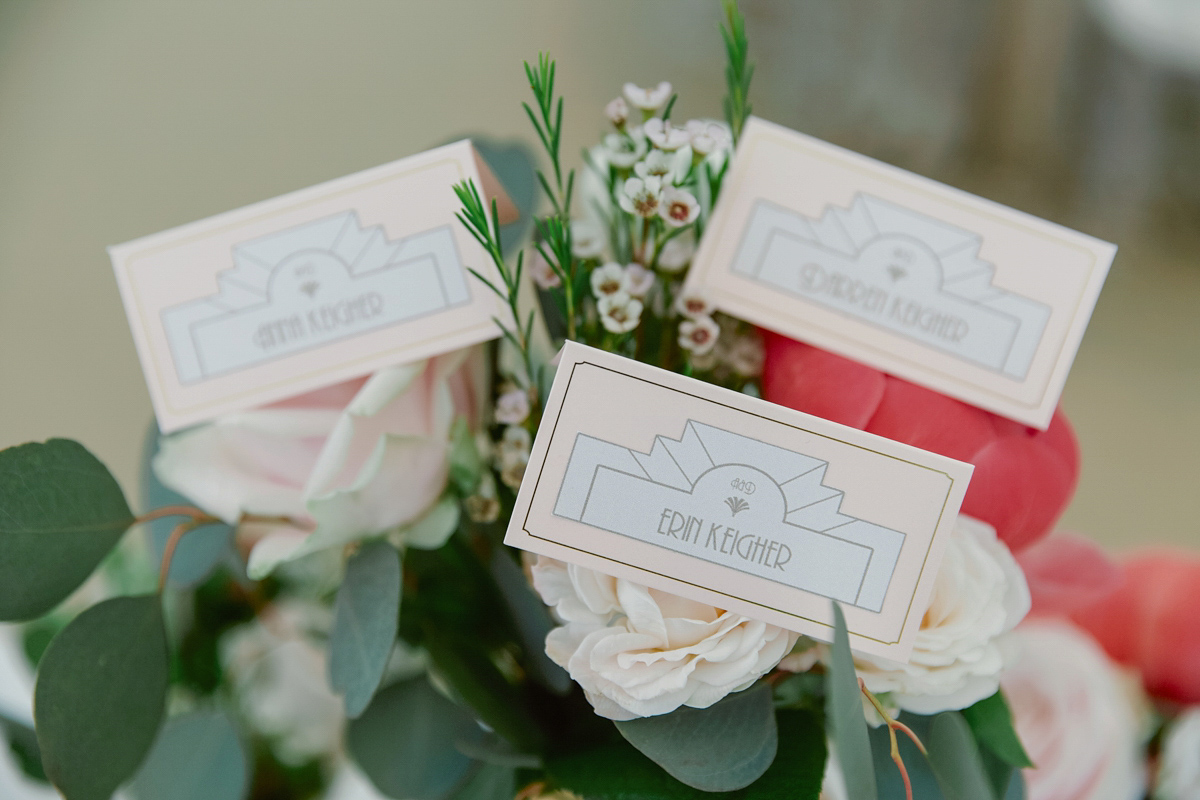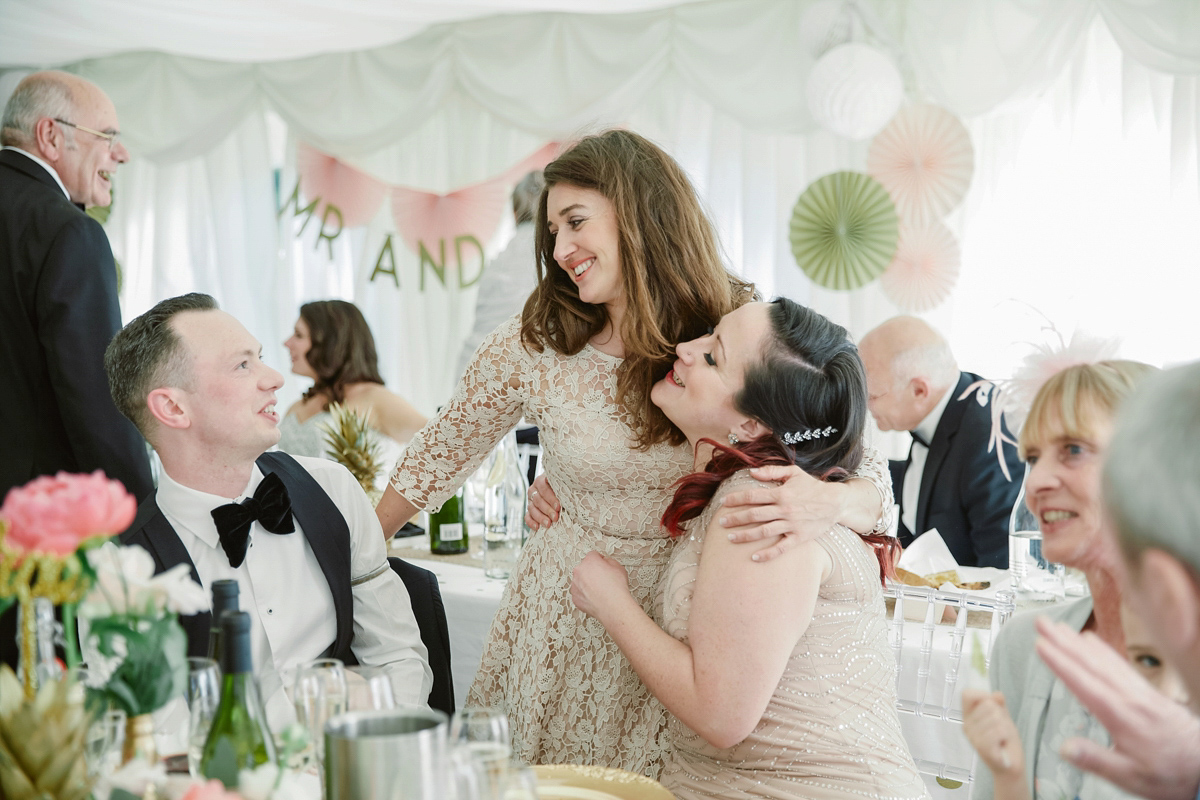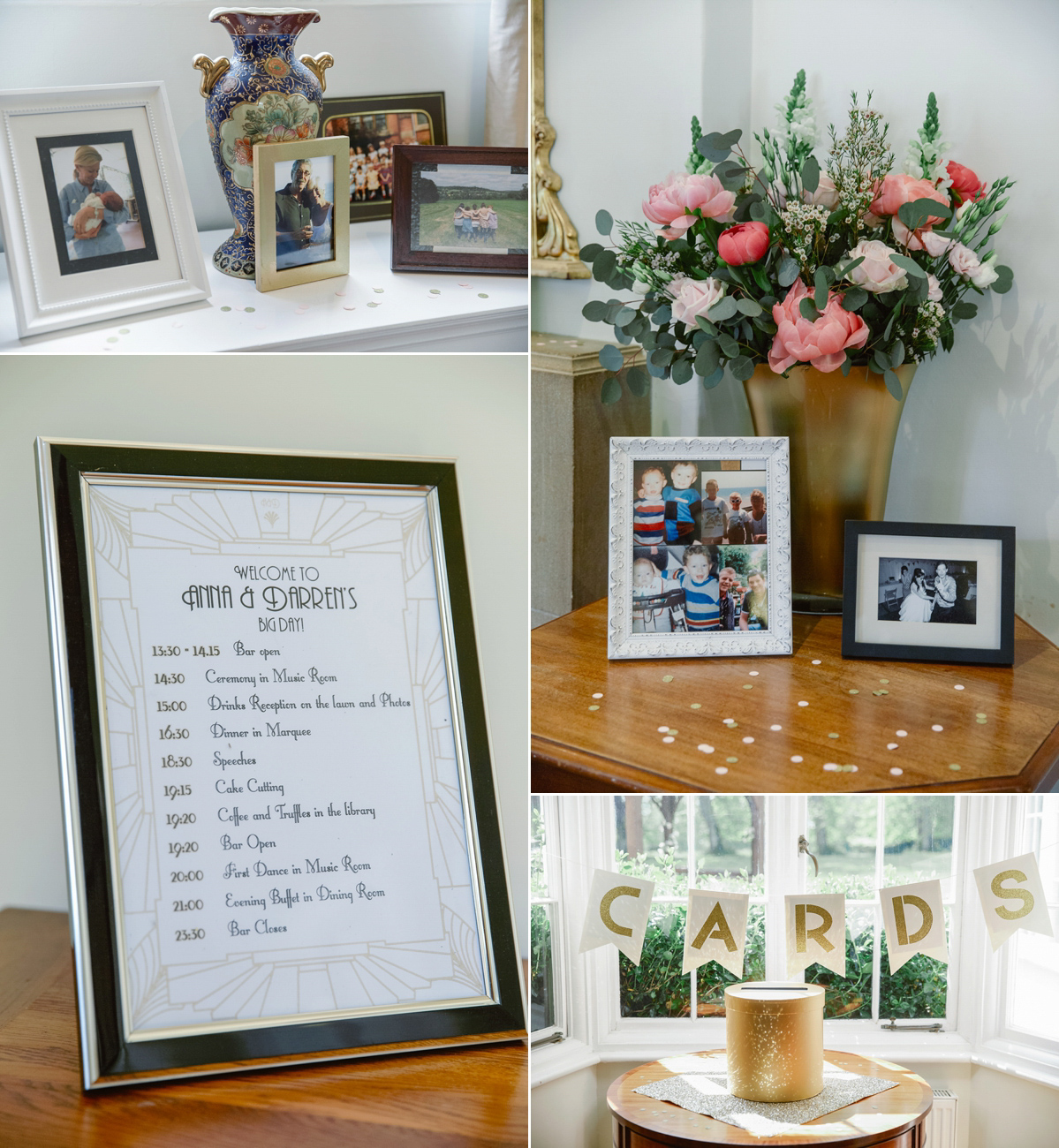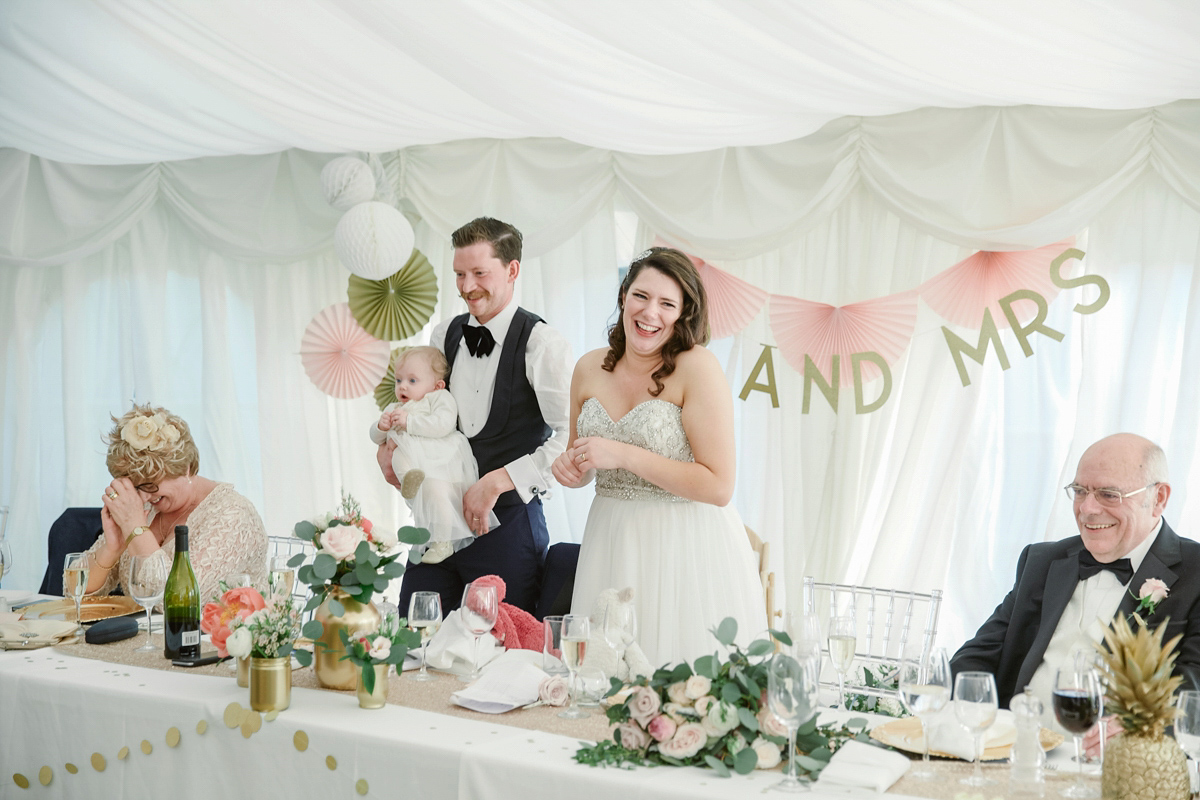 "I designed and decorated the cake myself.  I recently completed a diploma in cake decorating and wanted the cake to reflect the vintage glamour with a bit of sparkle.  The base layer was made by my Mum (a rich fruit cake) and the lemon sponge was made by the venue."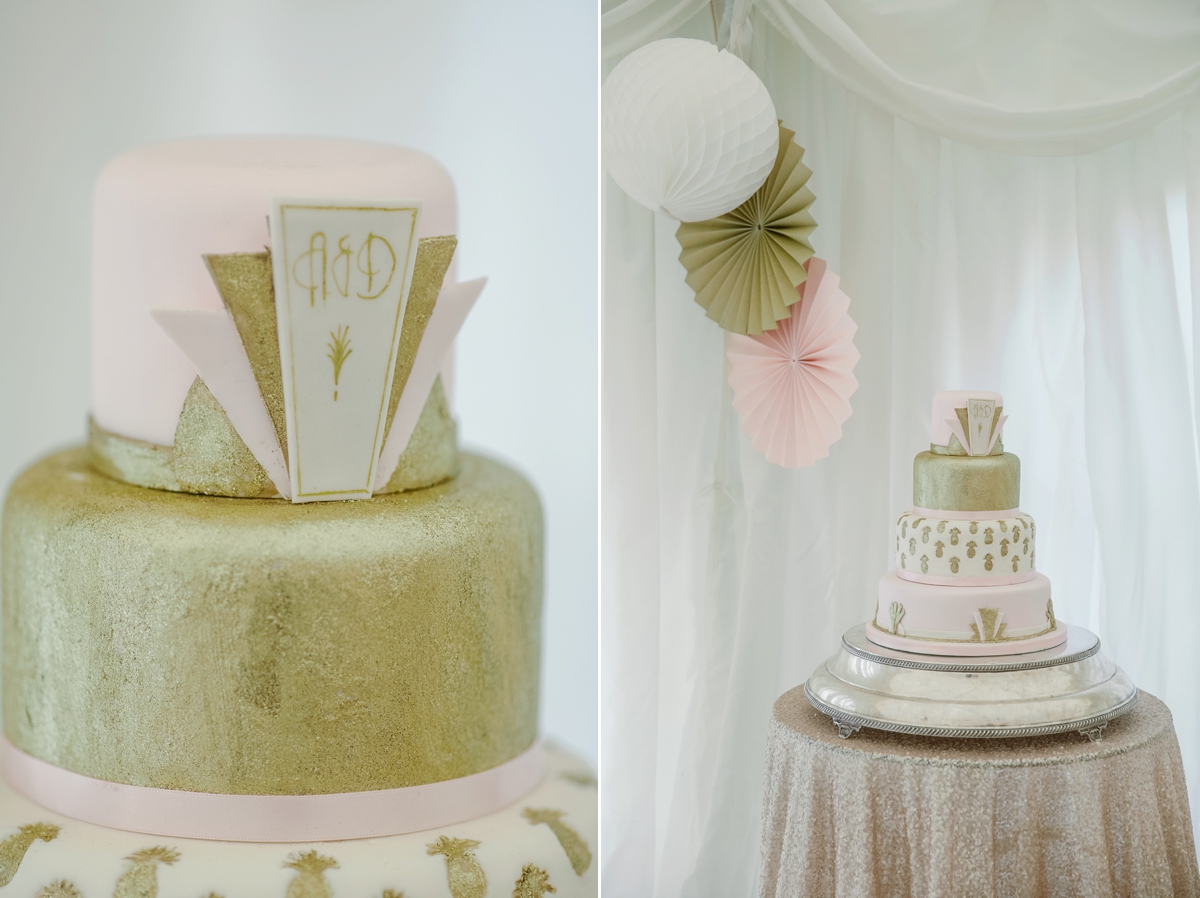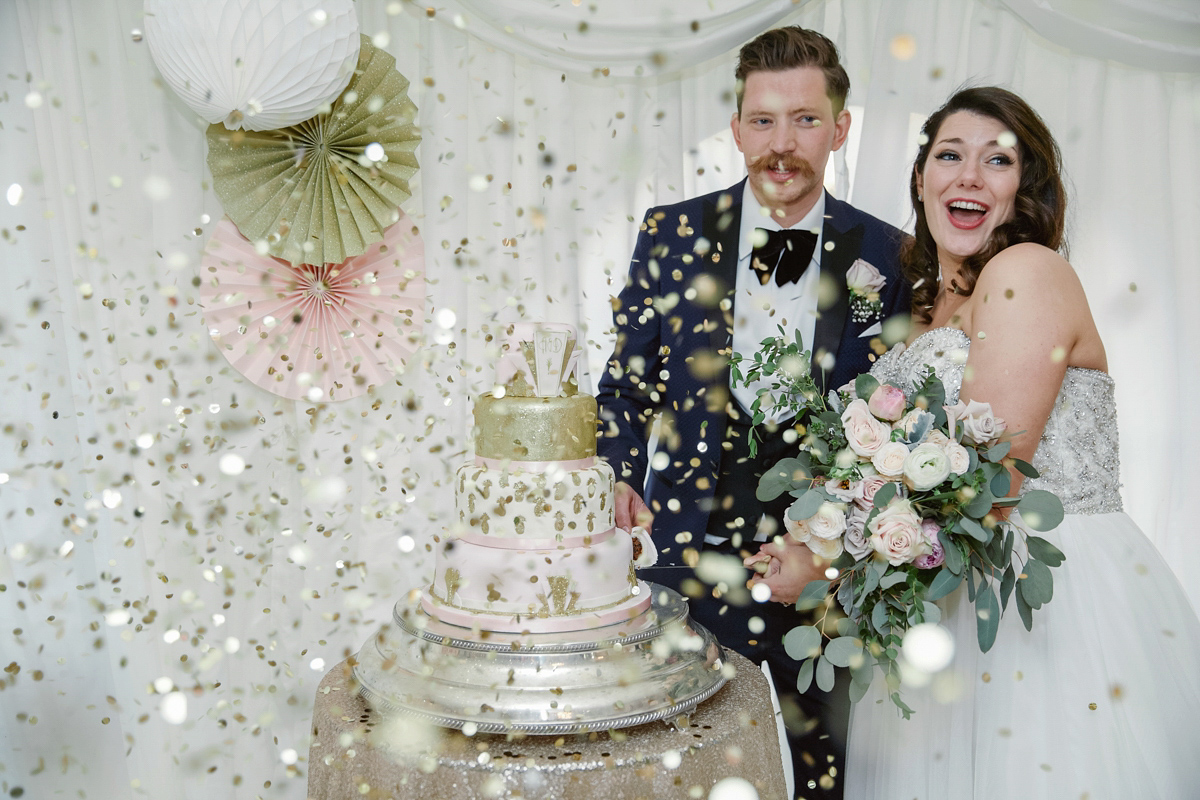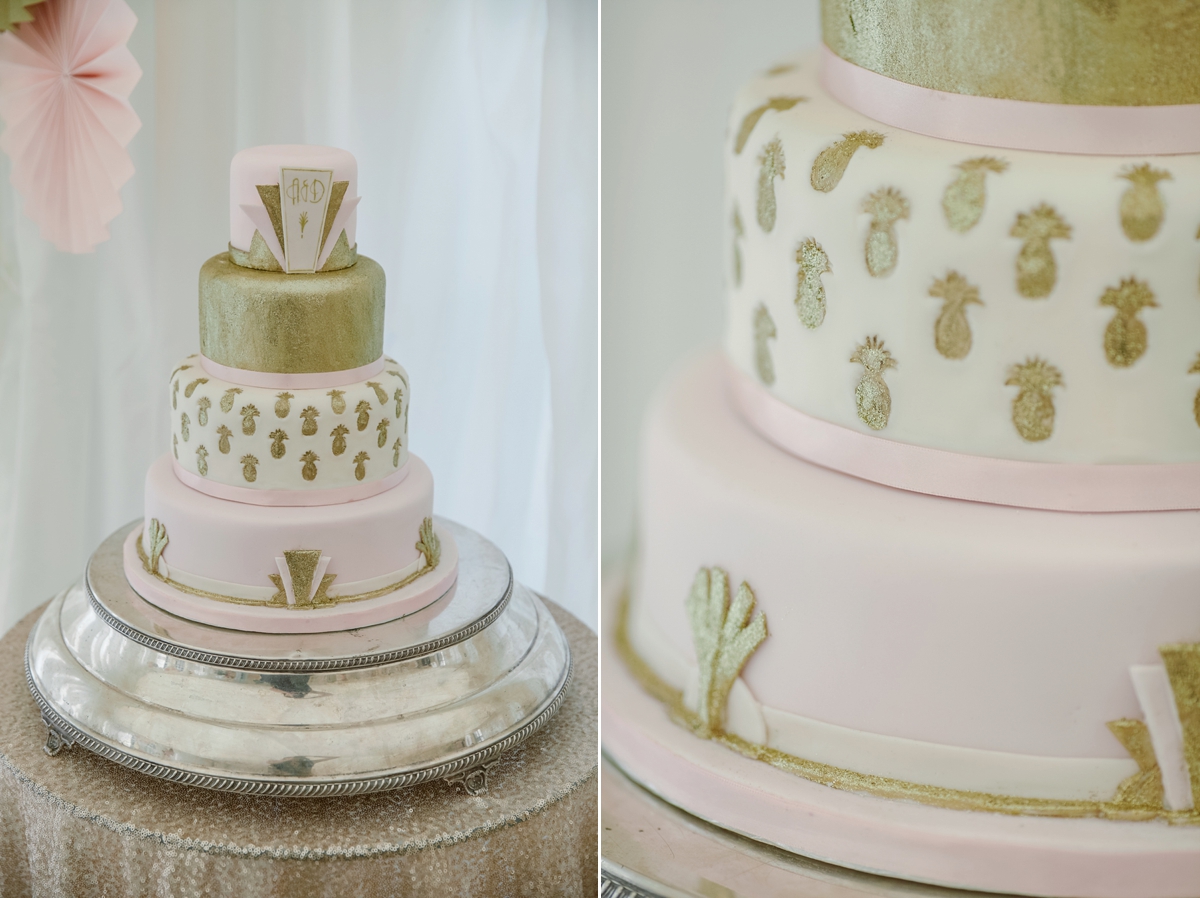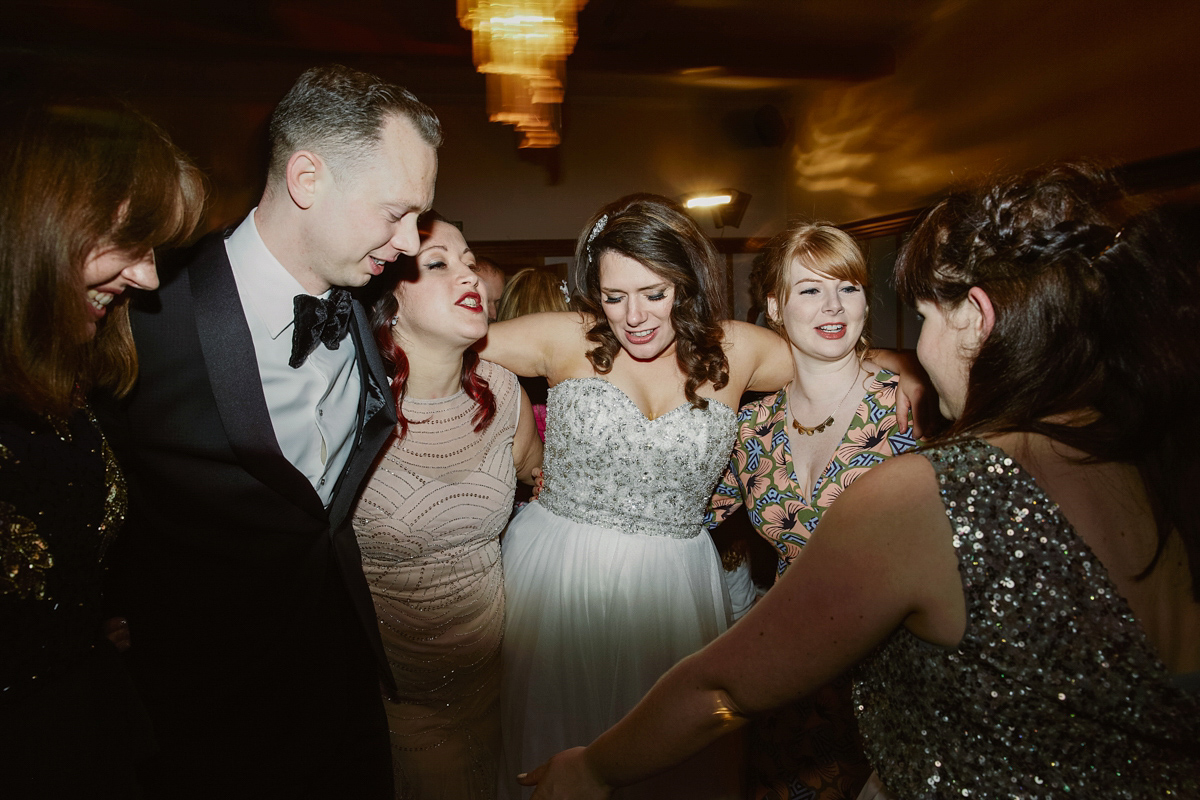 Words of Wedded Wisdom
"Keep a scrap book of your planning.  I had so much fun planning the day and I'm a bit sad that it's over as I only had a short time to do it in, but maybe that's why it was so fun!  It's lovely to look at and I look forward to showing my girls when they are older."
"Make sure you have an outstanding photographer, beautiful photographs tell the story of the day and help recreate the magic."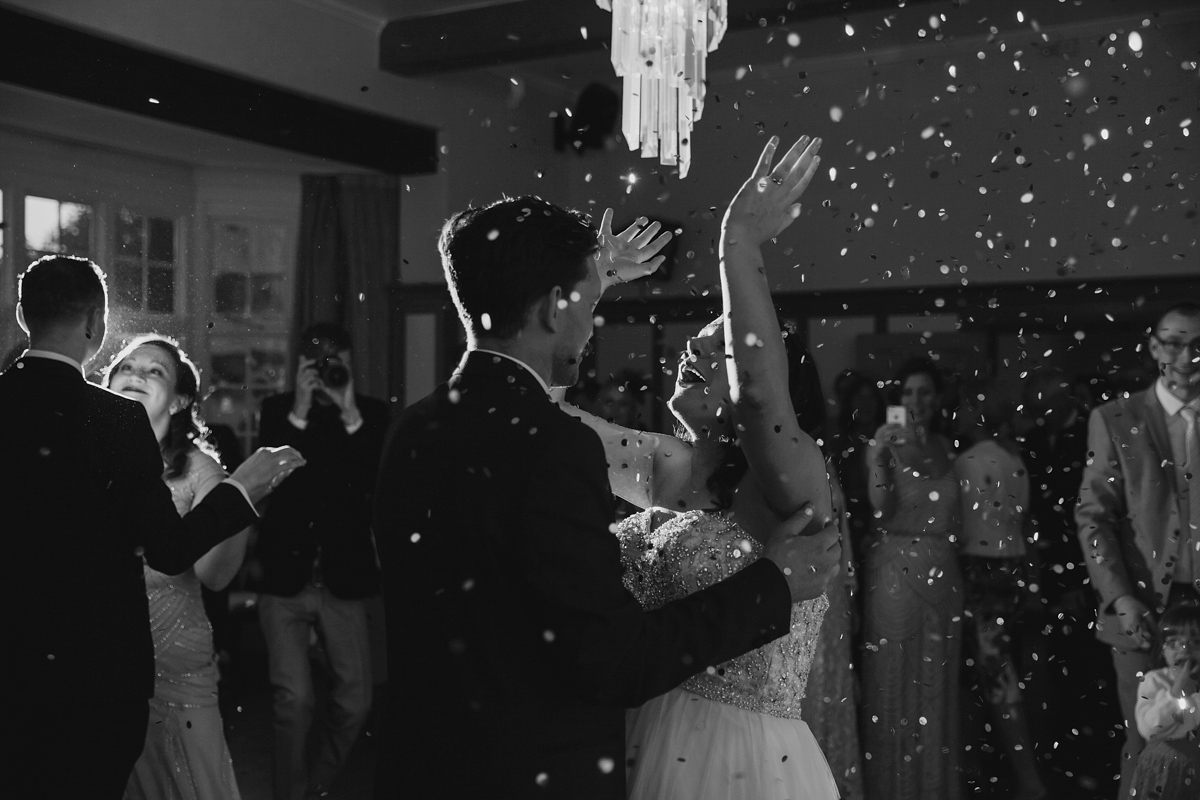 Thank you so much to Anna and Darren for sharing their gorgeous day.  Enjoy your weekends lovelies!
S x
Credits & Thanks
Photographer - Natalie J Weddings
Venue - Silchester House nr Reading
Bride's Dress - Mori Lee by Madeline Gardner, purchased from Bride to Be, Reading
Veil - Bride to Be
Headpiece - No.1 Jenny Packham
Shoes - Rainbow Club
Bridesmaid dresses - Monsoon, Adrianna Papell + Gina Bacconi
Flower girl outfit - Monsoon
Make up artist - Exact Make up Art via Lipstick & Curls
Hair stylist - Sarah Collins, Albert Fields Salon
Groom's Outfit - Suit, Moss Bros; shoes, Ted Baker; bow tie, American Vintage; socks, Thomas Pink
Pageboy outfits - Next
Flowers - Sonning Flowers, Reading
Music - Micheal Davies (no details)
Rings - Nash & Co., Caversham, Reading
Decor - Ginger Ray
Sequinned tablecloths - Pudding Bridge