I love the grand stately homes set in the British countryside and Sledmere House, in the Yorkshire wolds, where today's wedding took place, is quite a spectacular one. Tiffany, the beautiful bride is an archeologist, and she married Yorkshireman Matthew, a press officer, on the 11th of March this year.
There are some nods to the bride's Brazilian heritage, including a Brazilian barbecue and a blue theme to subtly reference the couple's love of Doctor Who. Ambience Venue Styling helped them to set up on the day and everything looks so tasteful and in keeping with the amazing venue. The gorgeous images are courtesy of the wonderful Ally Byrom.
Tiffany purchased her beautiful Watters Gown at Bridals by Lori in Atlanta, Georgia (setting of 'Say Yes to the Dress: Atlanta'), where her parents live, and added a darling lace jacket by Romona Keveza.
"It has a very country feel to it with lots of delicate lace detailing, yet it's comfortable and allows a lot of movement. Having tried on many hot and uncomfortable dresses, I was glad to have something that was beautiful but also practical, especially as we were having a Ceilidh."
Photography by Ally Byrom
"I also added a lace jacket as I wanted long sleeves for the ceremony, with the option to take it off at the reception. Ironically, after all the care I took with it before the wedding, the dress ended up very dirty and partially torn but as the best man said, a non-pristine dress is a sign the bride enjoyed herself!"
Tiffany found her hair and makeup artist Victoria Farr on Love My Dress.
"Vicki was an absolute dream to work with and has come to feel more like a friend than a supplier. From the communication up until the hair and make-up trials and finally the wedding day, she did a brilliant job at keeping me calm and making sure I had the look I wanted. Her main ethos is bringing out one's natural beauty rather than having them look too made up, which is why I chose her in the first place."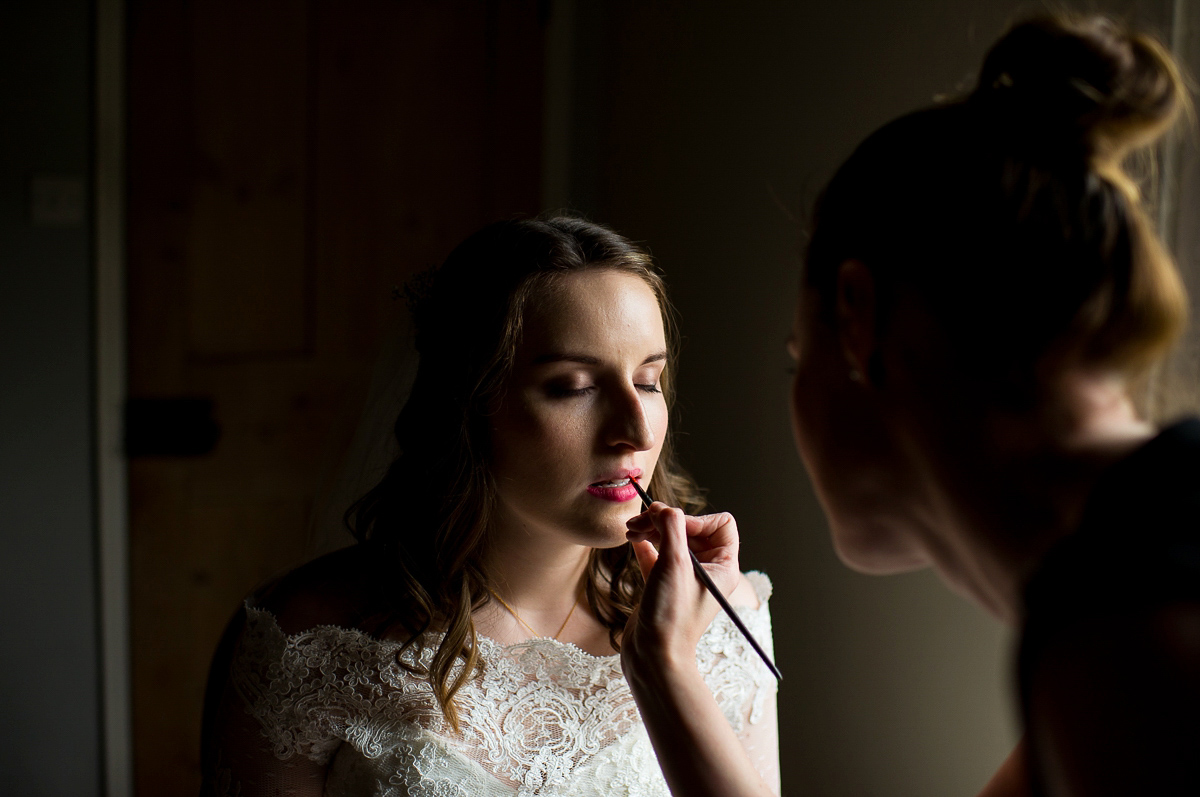 The bride added a Toni Federici veil with sprigs of gypsophila and a pretty pair of navy T-Bar shoes from Debenhams. Her maid of honour gave her a gold necklace with three interlocking rings, engraved with Tiffany, Matthew and their wedding date. She also wore a ring which once belonged to Matthew's great-great grandmother.
"I wanted a delicate spring bouquet with elements of blues and pinks to incorporate both the colour scheme and the feel of a traditional English country wedding."
"The lovely Sarah at The Floral Lounge included some gorgeously scented freesias, gypsophila, and forget-me-nots. It smelled lovely and matched the style of the wedding perfectly."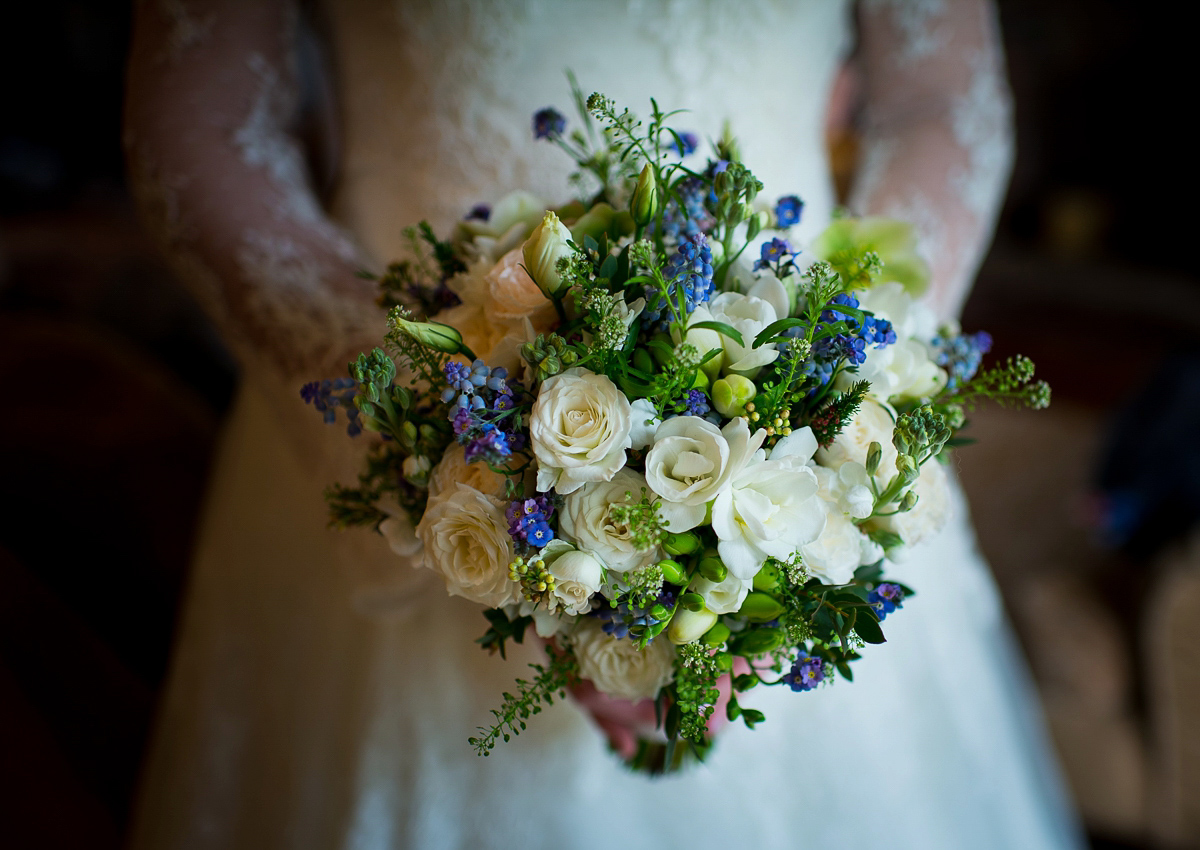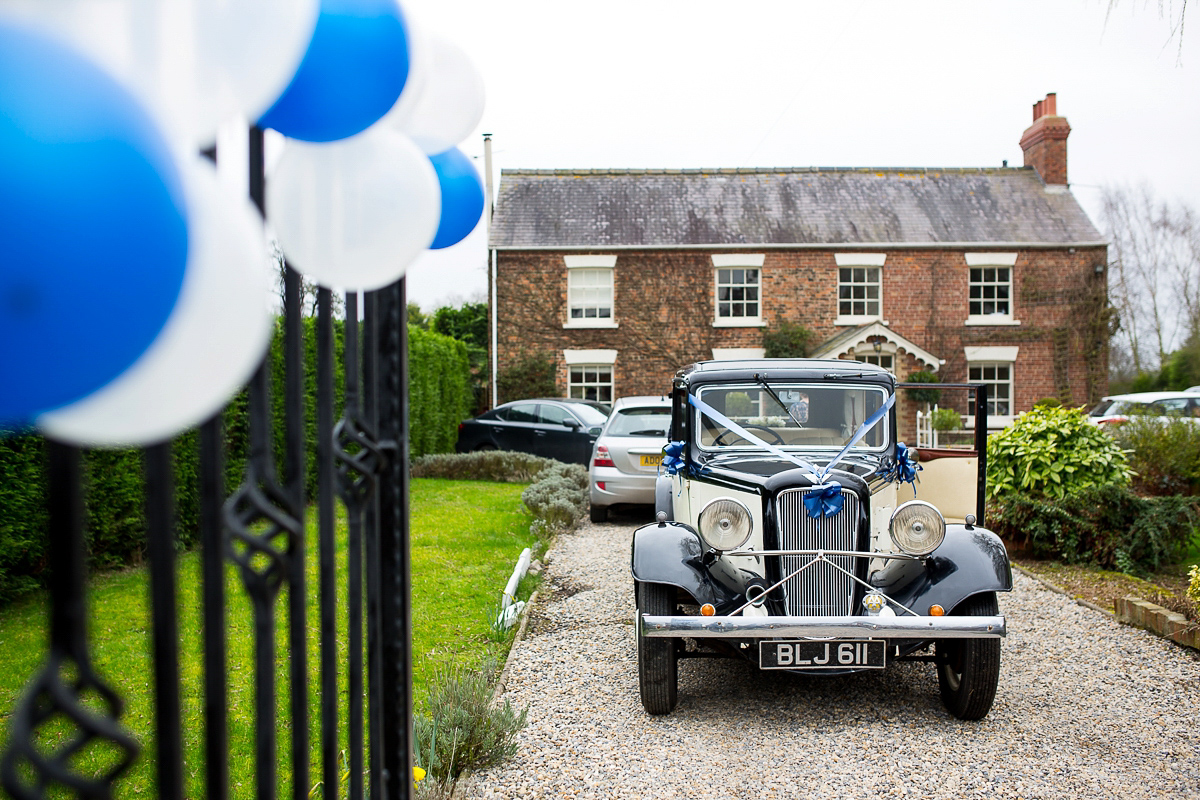 Tiffany chose stunning navy and white lace tea dresses from Chi Chi for her bridesmaids. I adore how the neckline mirrors the one on her own dress. She gave her maid of honour a gorgeous personalised necklace from Etsy and the ladies chose their own shoes.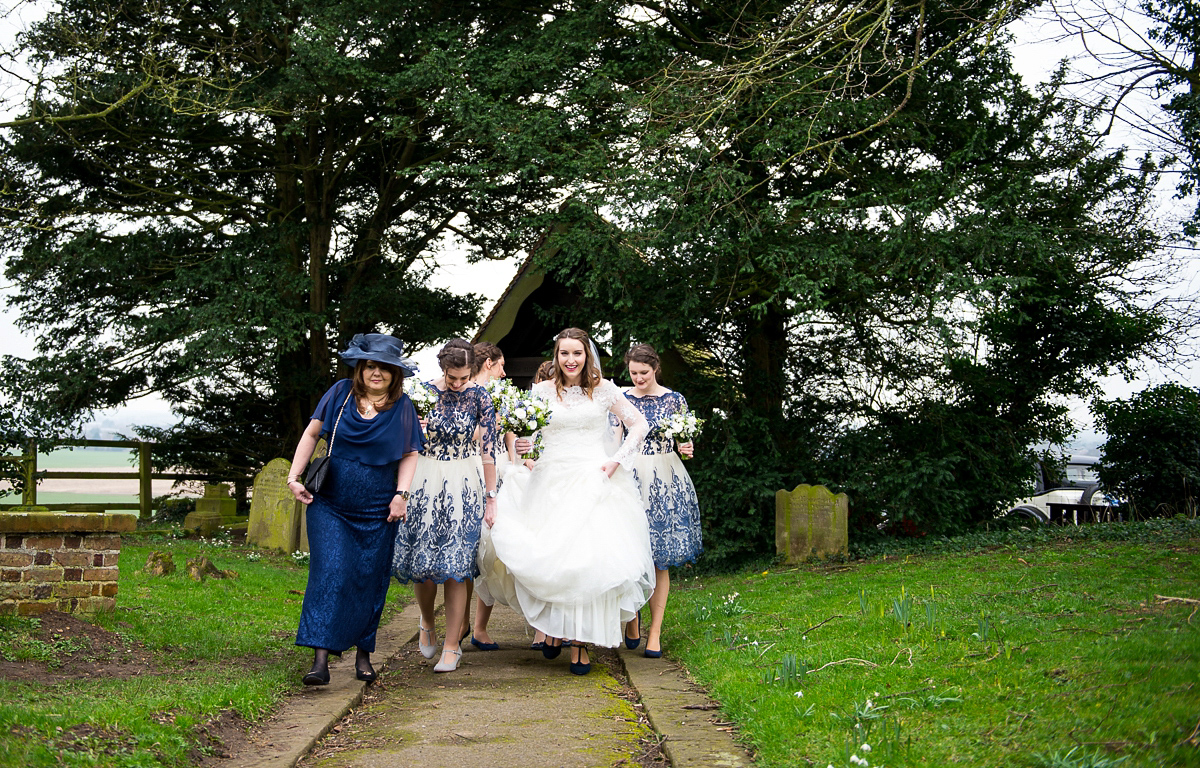 The groom chose a lizard blue lounge suit by Ted Baker and teamed it with an oyster tie and pocket square, with a floral buttonhole, and a hipflask. His groomsmen wore blue Moss Bros Ventuno 21 suits.
"Matthew purchased my custom-made engagement ring from The Garden Workshop in Hatton Garden and had such a good experience there we returned for our wedding bands."
"As is custom in Brazil, where my family is originally from, I had Matthew's name engraved inside my ring and he had mine inside his."
"My father walked me down the aisle to the 'Bridal Chorus' by Wagner. Our readings and prayers were chosen in particular to focus on family, love, and togetherness. My maid of honour read an extract from the Book of Solomon, and my brother read 'Your Castle'."
"We chose 'A Love Poem Between Two Lovers' because it spoke of the strength of everlasting love and 'Your Castle' (below) because we believe it expressed well the need for a private and protected space within your marriage to allow it to grow and develop over the course of a lifetime. The original reading referred to a Walled Garden however Matthew once said that if our relationship were a castle, it would be Krak des Chervaliers so we thought it would be more appropriate to call it a castle, as it was more 'us'."
Your marriage should have within it a secret and protected space, open to you alone. Imagine it to be a castle, entered by a door to which you only hold the key. Within this castle you will cease to be a mother, father, employee or any other of the roles which you fulfil in daily life. Here you can be yourselves, two people who love each other. Here you can concentrate on one another's needs. So take each other's hands and go forth to your castle. The time you spend together is not wasted but invested – invested in your future and the nurturing of your love.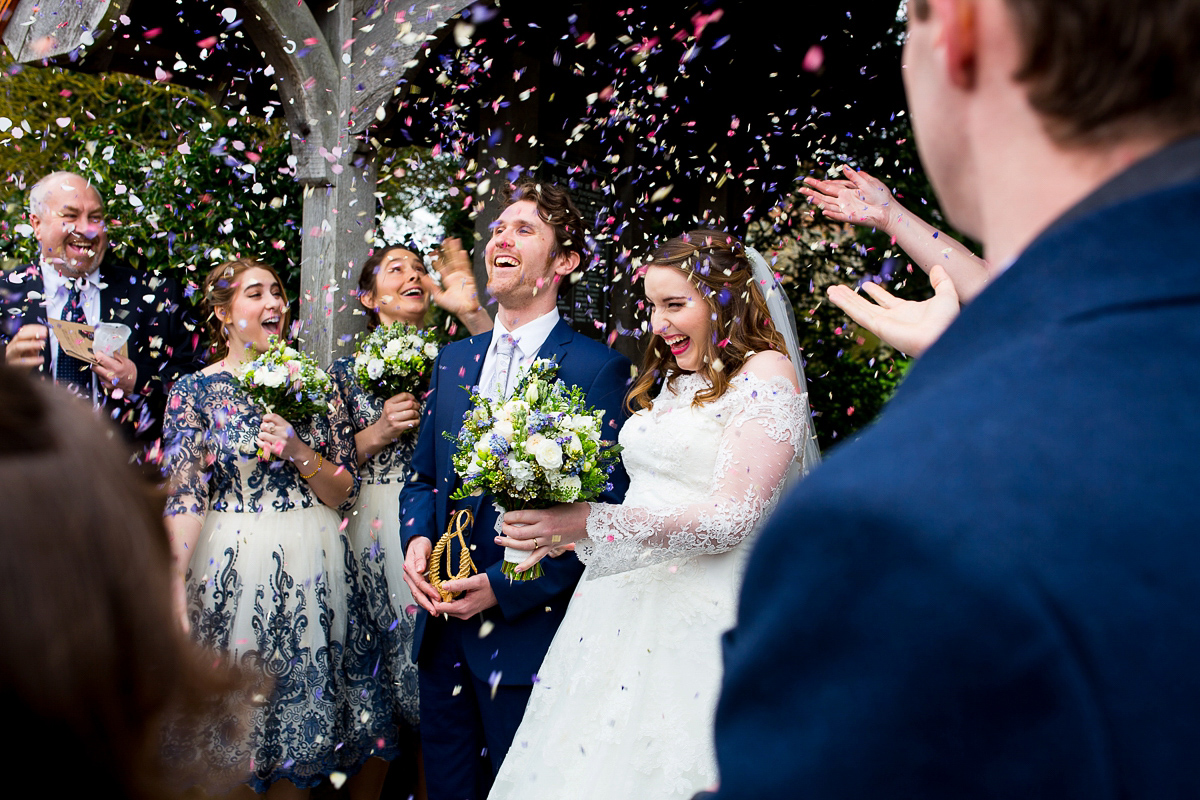 "Sledmere House is located in Matthew's home county of East Yorkshire. We are both particularly fond of the Yorkshire Wolds area, where the house is located. The option of having the formal country house setting for our drinks reception and then the more informal barn for dinner and dancing made it the perfect place for us."
"We met online in the summer of 2013 on Match.com and spoke for a few months but as he lived in London and I lived in Edinburgh, we both joked that it was a geographically undesirable match. In September, Matthew came up to Edinburgh for our first date where I took him to a pub playing live Scottish music.
After that, we alternated weekends with either myself going down to London or him coming to Scotland (a whopping 4 ½ hour train journey each week!) to see each other for the next year or so before I moved down to be with him in London after graduating university."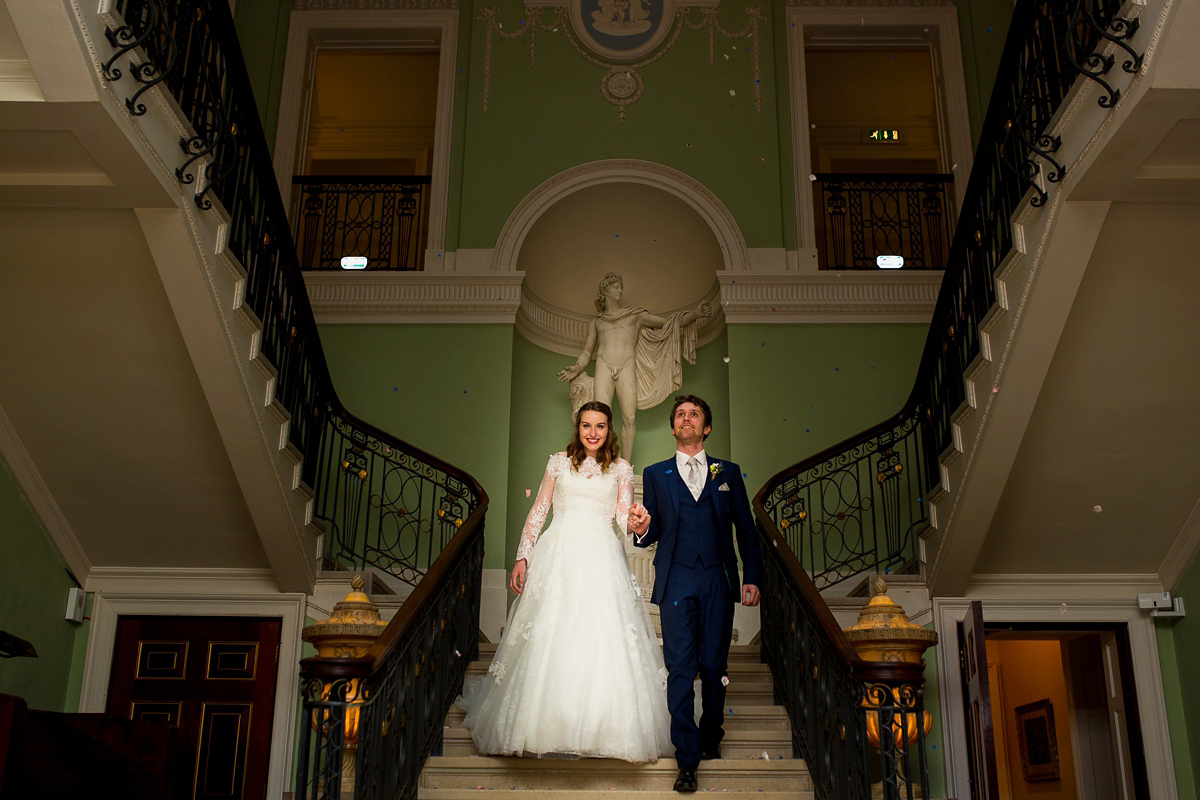 "For our second anniversary, we went on a trip to Prague where Matthew proposed on a rowing boat in the middle of the Vltava River with Prague Castle in the background. We were engaged for around 18 months before the wedding."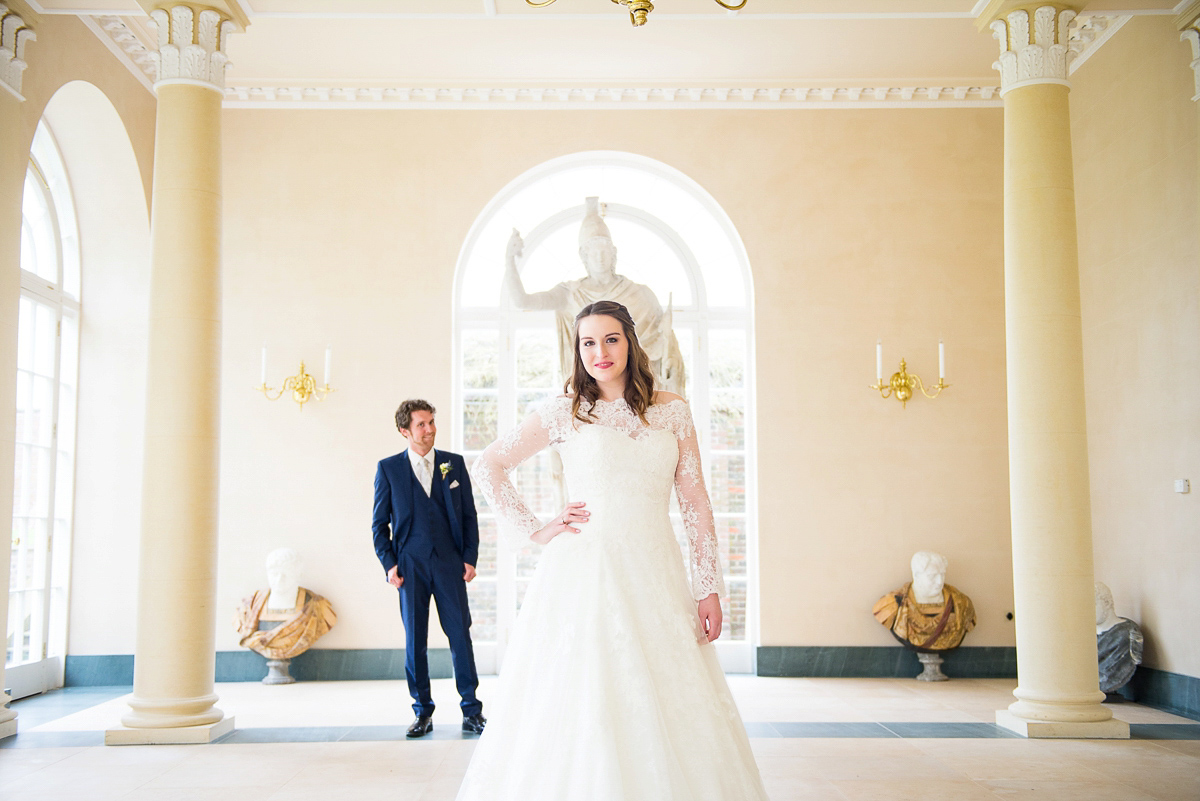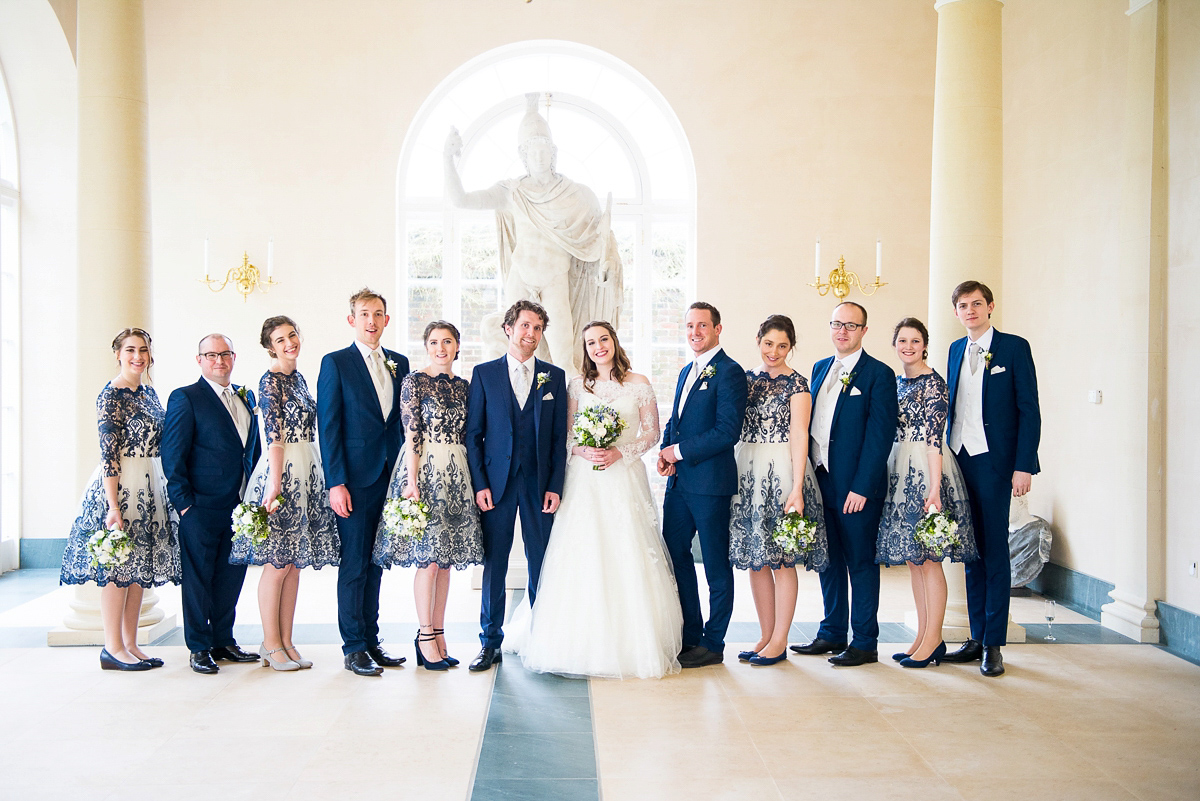 Ally Byrom's images of this wedding are beautiful. I love how she has captured so much of the emotion on the couple's faces, from that first look walking down the aisle, to the joy and fun while they ceilidh danced the night away.
"We knew from the very beginning that we wanted Ally to photograph our wedding, which is why we booked her just over a week after we got engaged. Her candid style of photography appealed to us and after the pre-wedding shoot photos came through, we knew we had made the right choice."
"Ally has a talent for making you feel relaxed so all of the shots came out so naturally, which is exactly what we wanted.
For the few posed photos we requested, she was able to give instructions without everyone feeling herded about. The photographs were always very important to us as they will be the clearest reminder of the day. She and her assistant, Dave, managed to capture the essence of our wedding day perfectly and we will treasure these photos forever."
"We put a great deal of thought into trying to make the wedding reflect our relationship as well as our interests. For starters, we are both 'Doctor Who' fans so the colour scheme was 'tardis' blue. Our relationship was long-distance for about a year so we decided to name the tables after each station on the London-Edinburgh East Coast Main Line and even had little railway station type signs to mark them out. We also had a number of vintage railway posters dotted around the barn, as well as suitcases and trunks for decoration. It was inevitable that there were rustic elements of a traditional English spring country wedding, given the setting."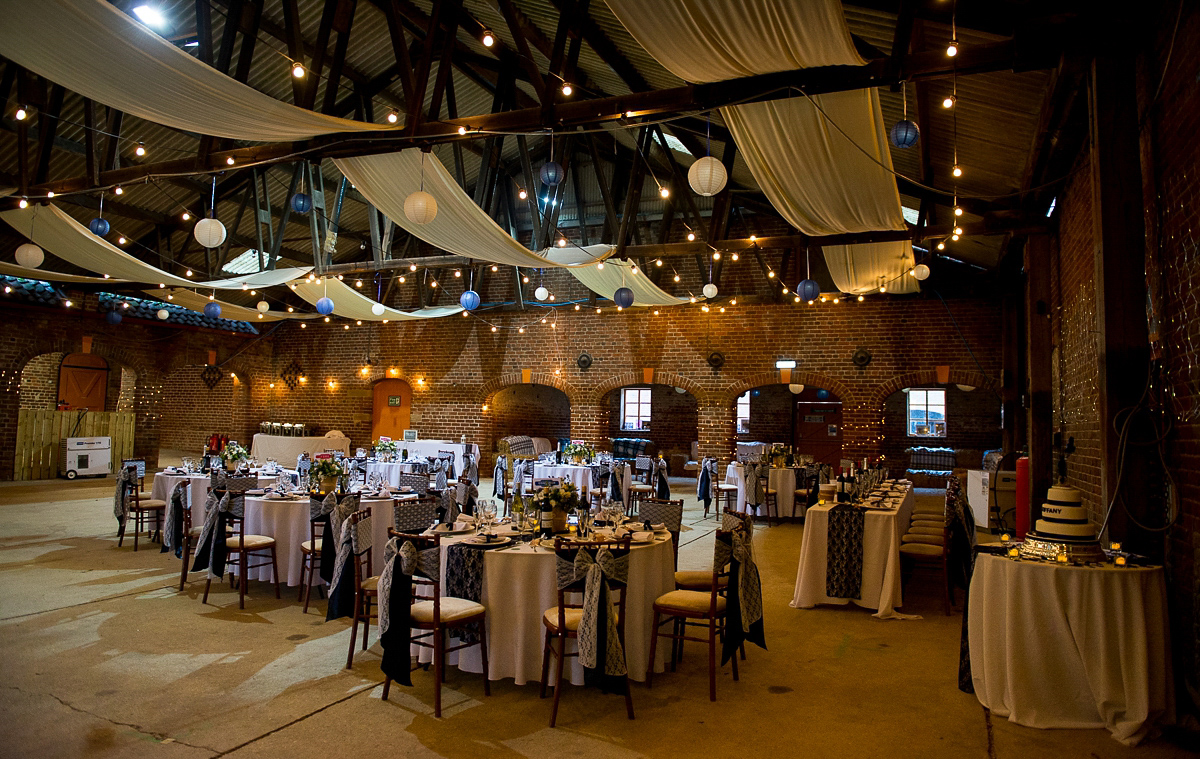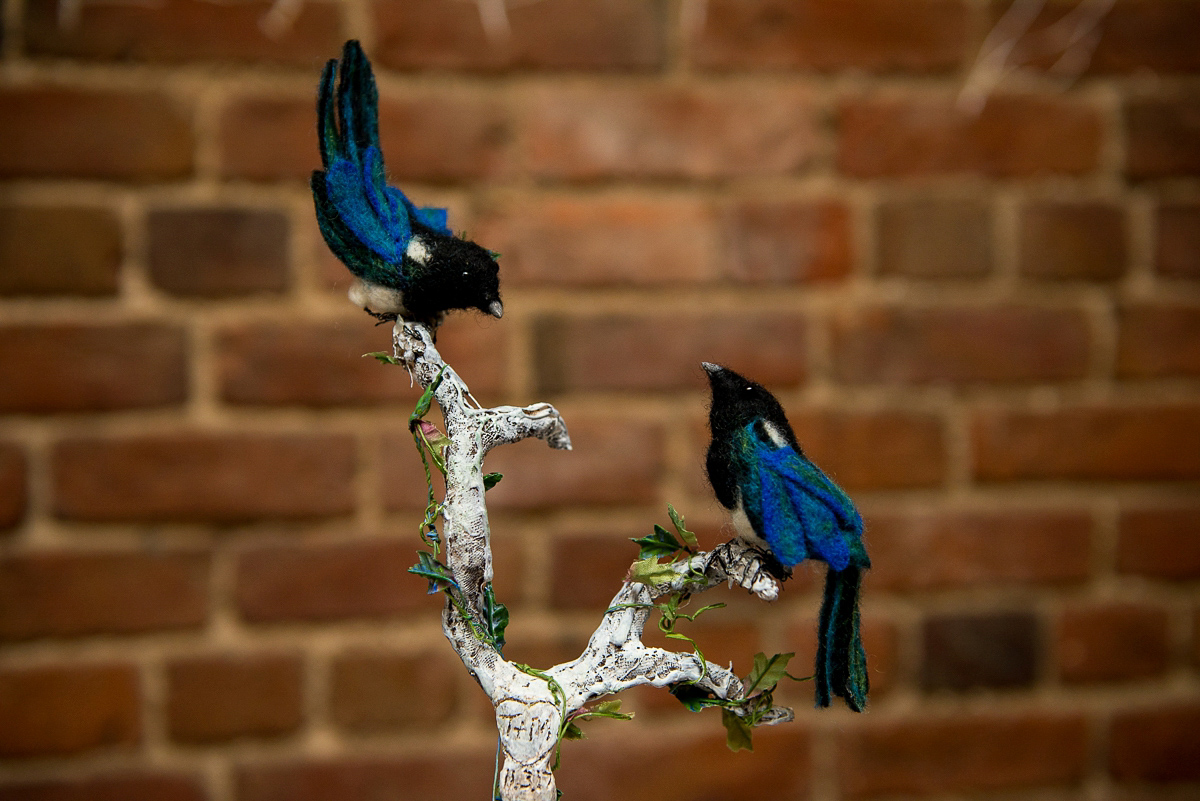 The couple decided to hire Melanie Iredale from Ambience Venue Styling to help them decorate the barn.
"Mel managed to turn my hodge-podge Pinterest board into a coherent plan. I cannot emphasize enough how helpful she was, always in contact, always on the look out for the right colour lace, and full of brilliant ideas. Ever the picky bride, she even sourced realistic looking LED candles after I confessed my hatred of them and they ended up looking spectacular."
"Aside from lending us her own family trunk to decorate the venue, she, her husband, and her daughter all came to the venue to help us set up, she really went above and beyond. Also, when we arrived at the venue, we realised that our parents had colluded together and printed large pictures of us from babies to graduation, which was quite a nice touch."
Matthew and Tiffany commissioned Helen at White Cherry Bakery to make a three tier, white and 'Tardis' blue Victoria sponge cake. She only uses locally sourced ingredients, so the cake was a truly 'Yorkshire' cake. They added a stunning custom-made needle-felted topper with two magpies, from Waggledance Art.
"From branch style to flower preferences, Jennifer kept us informed every step of the way and produced the most beautiful wedding topper which exceeded our expectations. She really paid attention to the little details and it's a memento we will treasure forever."
"Our favours were small packets of Devon fudge, which we tried whilst on holiday in Brixham and arranged to be shipped to Yorkshire for the wedding."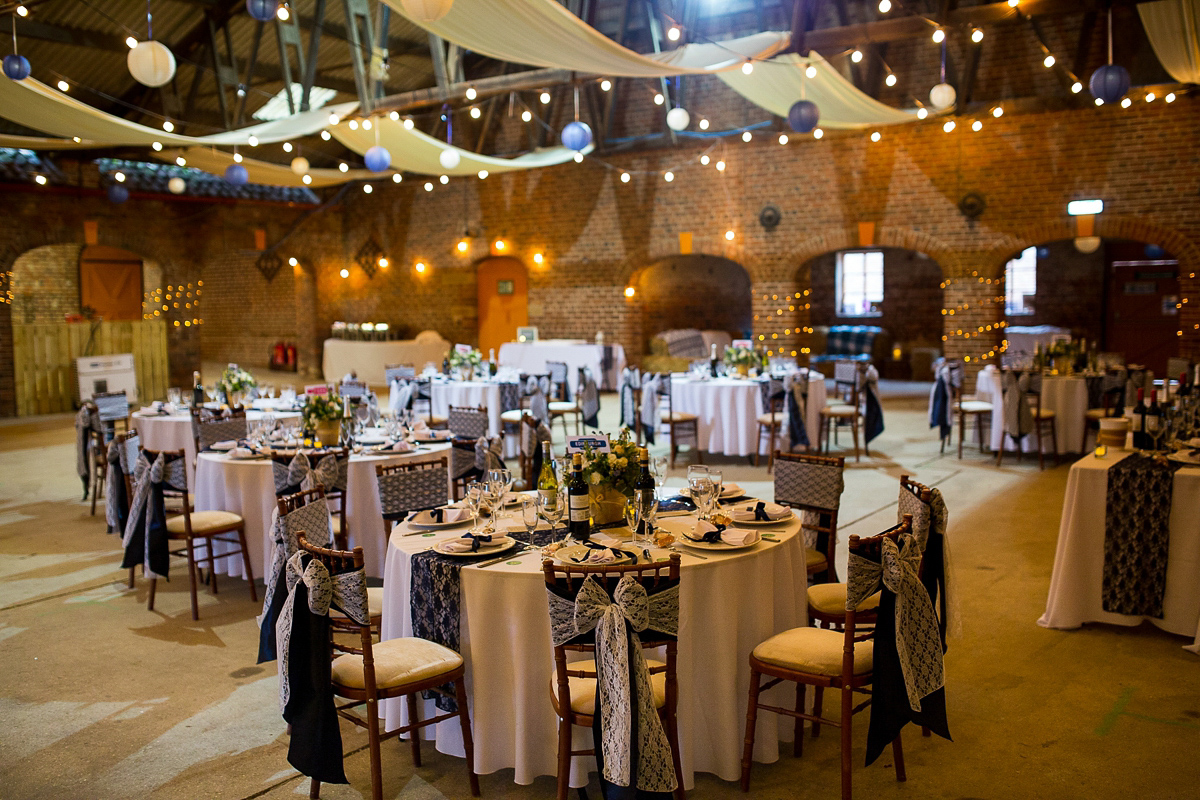 "My favourite part of the day was the drinks reception. It was the first time we were able to mingle with our guests, and it was also lovely to have the run of the house for a couple of hours as we are both history buffs. The guides on hand were very helpful, showing people around, and answering questions about the house and its history.
We opted for their famous Petal Drop on the giant staircase. We were kindly snuck up the back staircase and came down once all the guests were in place with a glass of bubbly in hand!"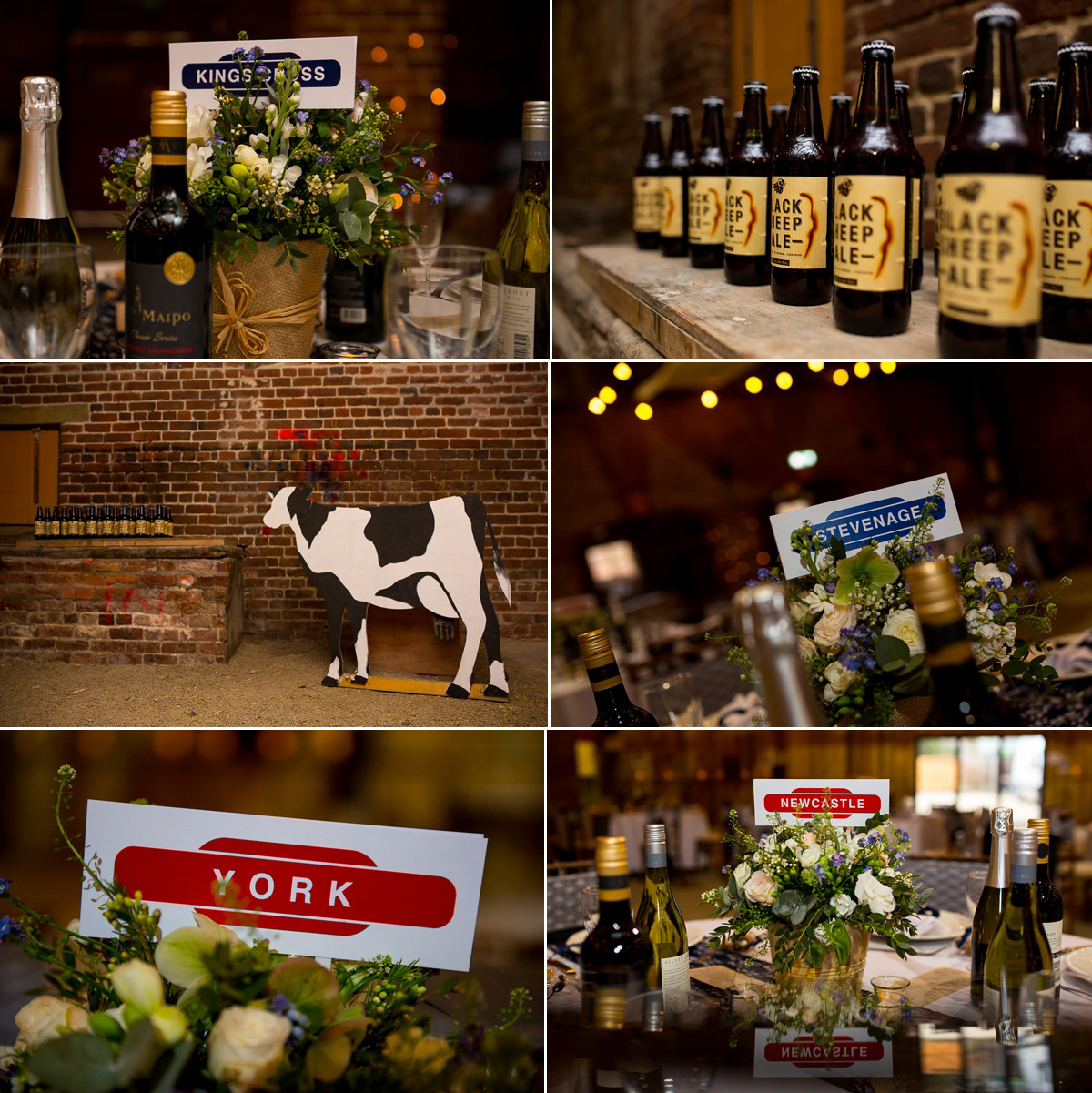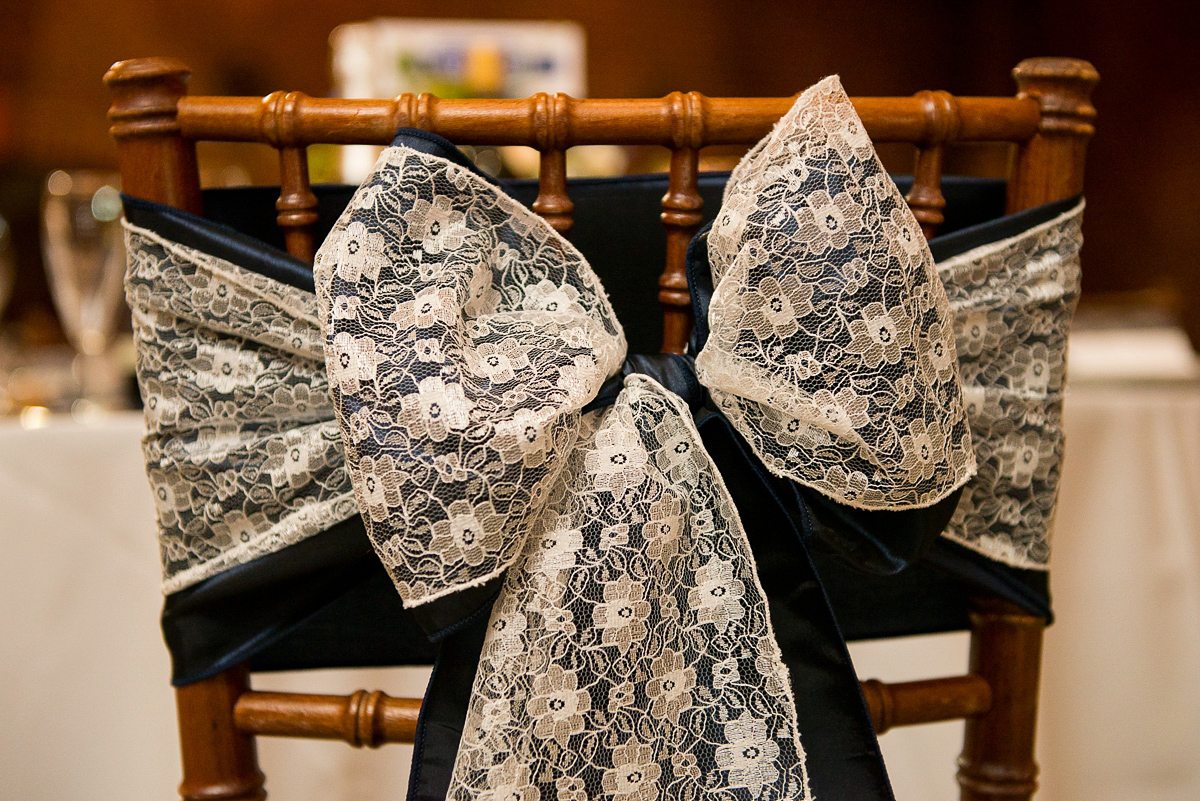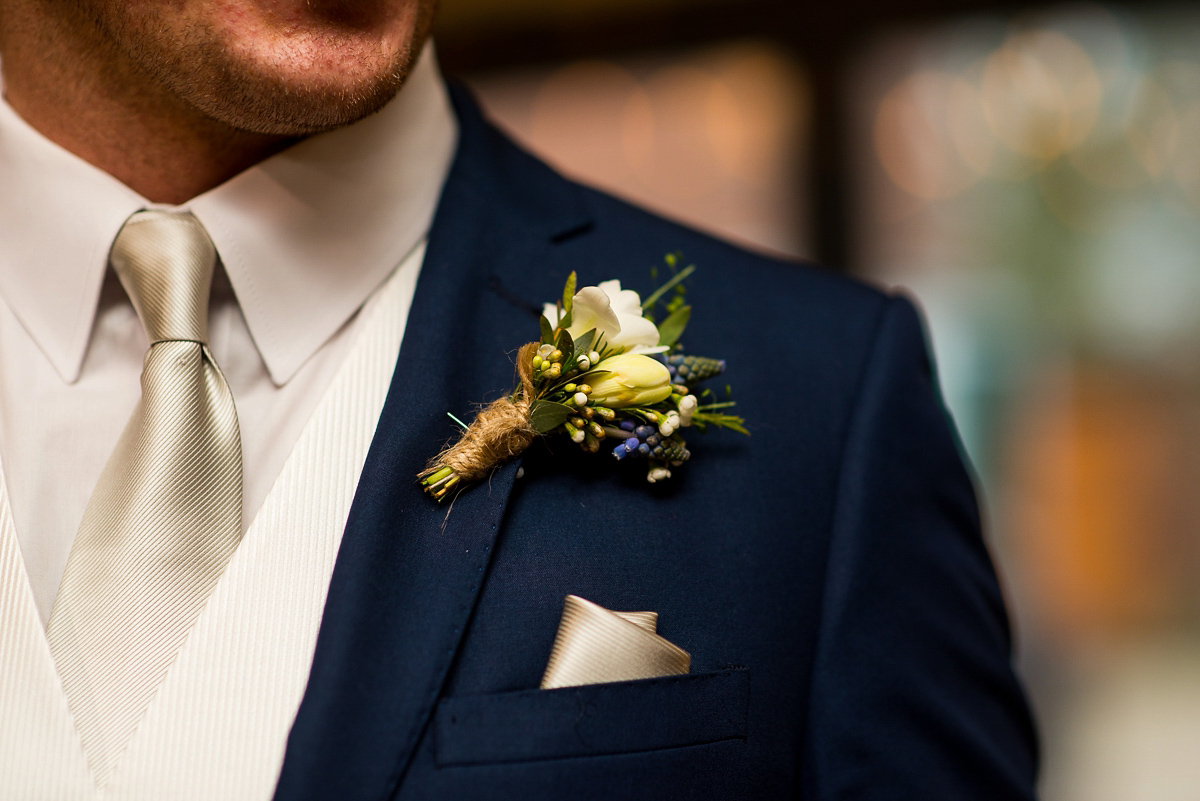 "Our first dance was a cover of 'You Belong to Me' by Kate Rusby, who herself comes from Yorkshire and is primarily known for traditional English folk music. Matthew played it for me when we went up to Yorkshire to look at wedding venues and we fell in love with it."
"As an archaeologist, I particularly appreciated the reference to pyramids on the Nile. The song also talks about belonging to someone even when you are far apart, which was fitting as we used to have a long distance relationship."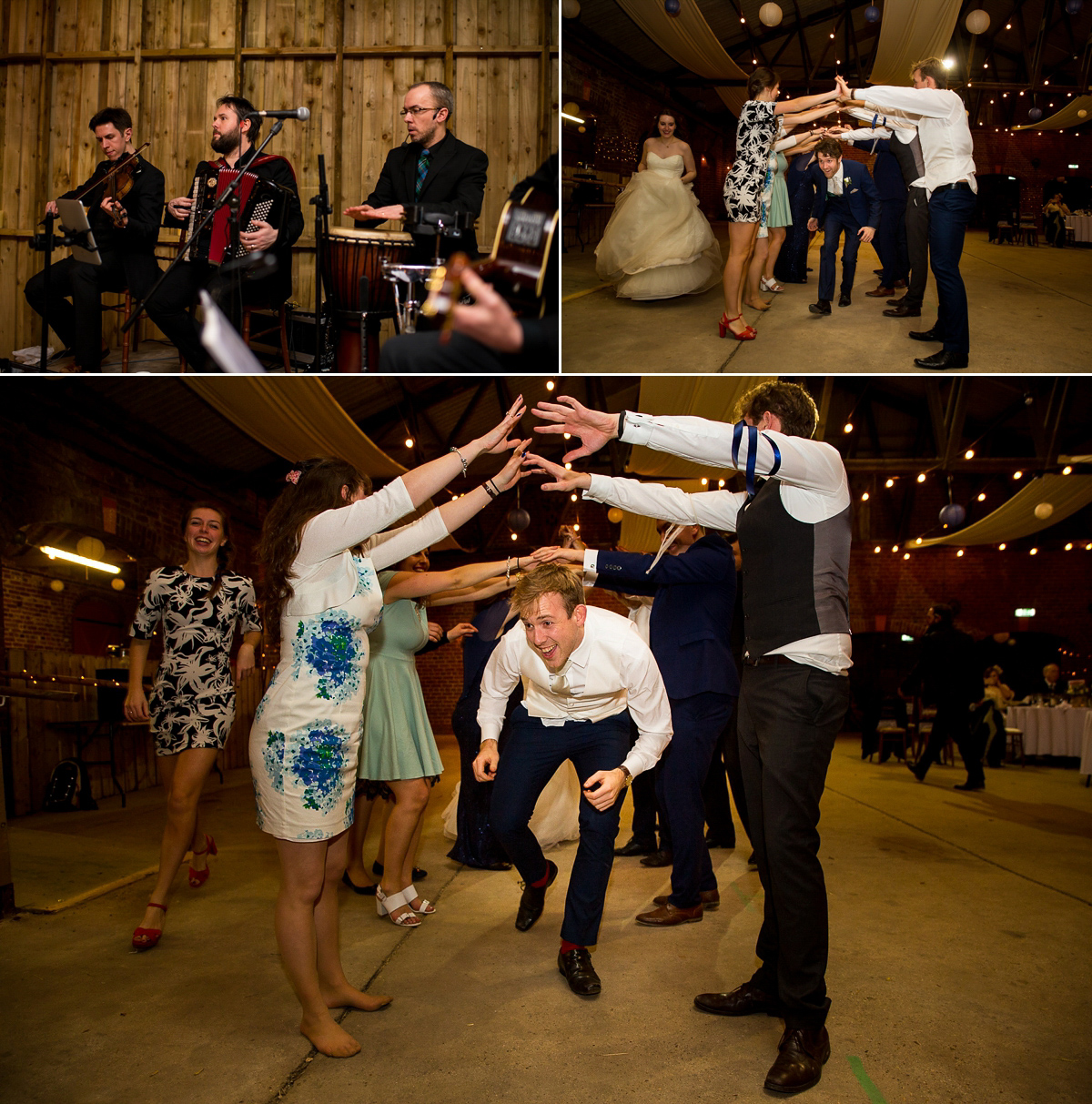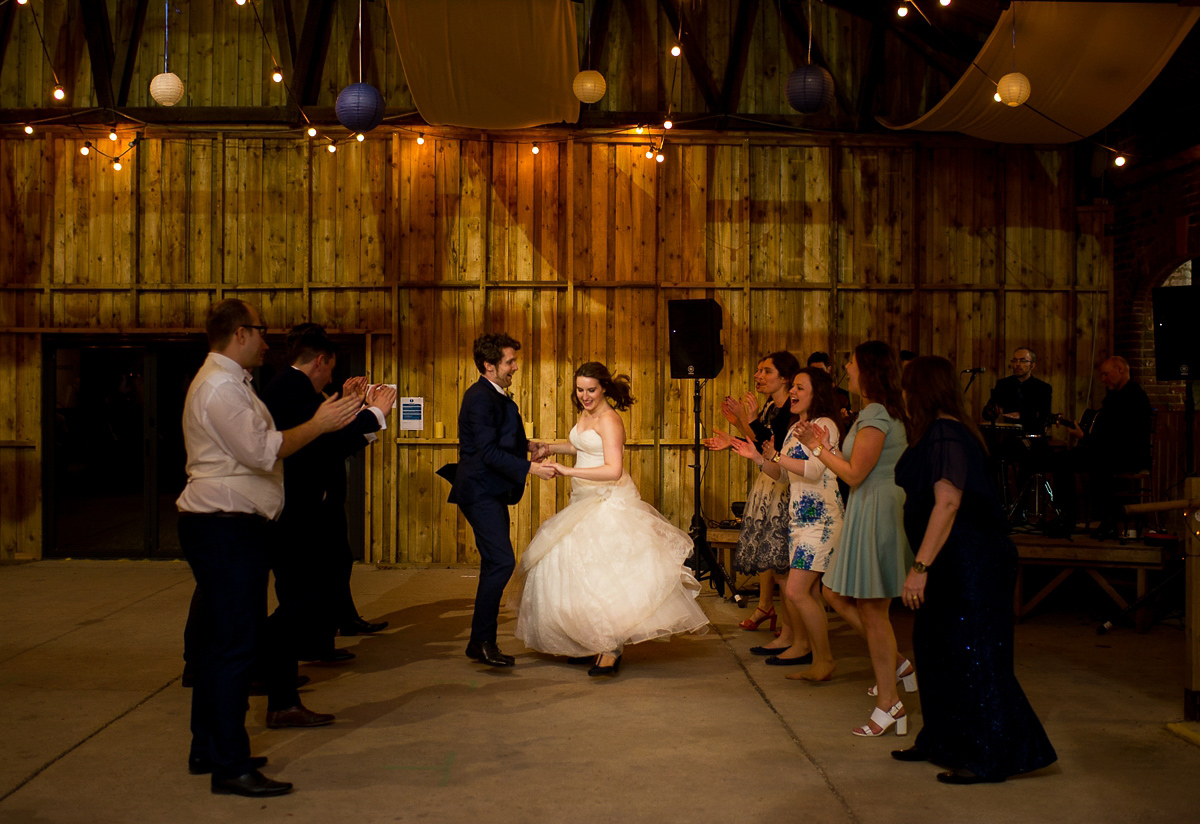 WORDS OF WEDDED WISDOM 

"Spreadsheets are your best friend. I cannot (and don't wish to) tell you how many hours I spent on the Google Sheets Wedding Planner Template which formed the basis of our entire planning process. Being able to access it on Google Drive from any device was a life-saver as I could easily pull up information on my phone, at work and at supplier meetings.
The whole process is made smoother knowing you are in control of everything and suppliers really do appreciate that level of organisation. For instance, a week before the wedding date, I was able to generate a set-up and take-down schedule and circulate it to all suppliers with ease."
"So many married couples had mentioned how they barely saw their other halves as they were too busy mingling so Matthew and I made a pact beforehand to make sure that we actually spent time together on the day.
In all honesty, I wouldn't have changed a single thing about the day. I usually pick things apart and agonise over what could have been but it was perfect in every way. Our original budget for the wedding was £12,000 and we ended up exceeding it, however, this was primarily due to the cost of the honeymoon."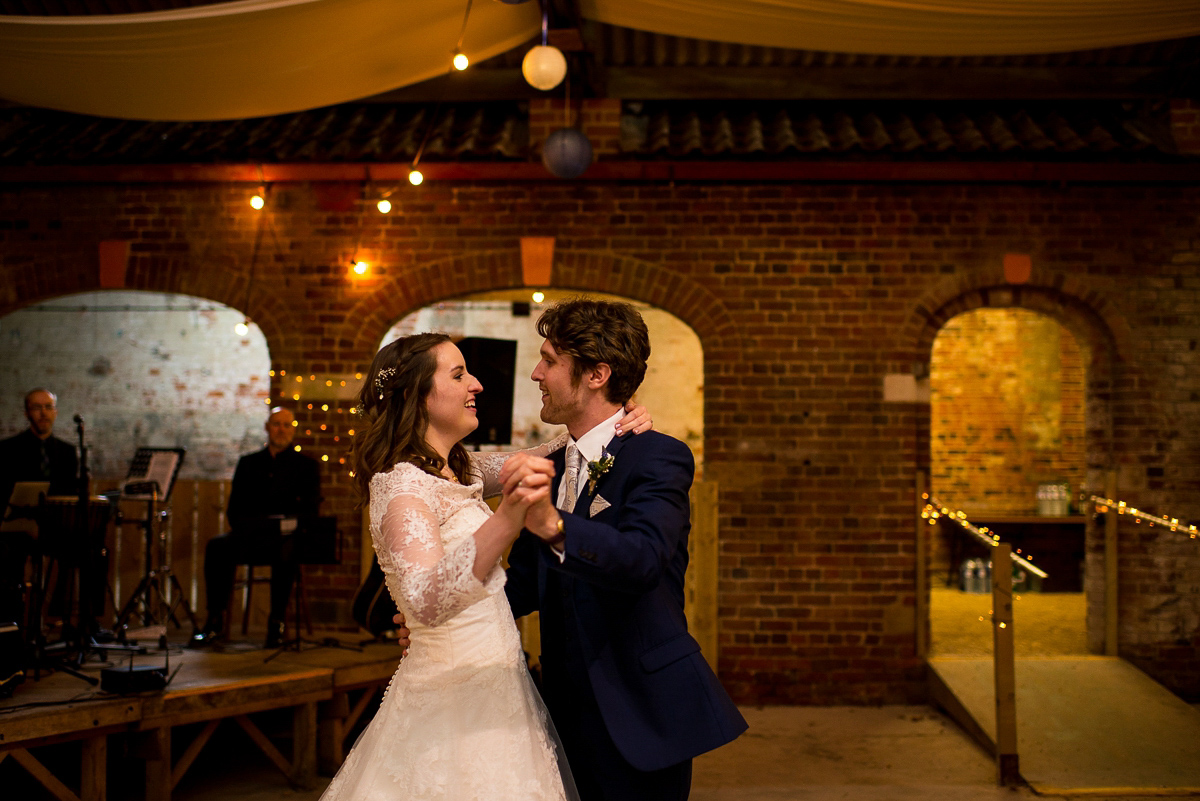 Congratulations Tiffany and Matthew, it has been our great pleasure to share your gorgeous wedding. Thank you to Ally Byrom for the lovely images.
Love Caoimhe x