Readers, you're just going to adore today's super cool and colourful London wedding. Bride Helen looks just gorgeous in a very simple, beautifully cut Jenny Packham gown and the wedding party move from church to boat to lighthouse in an endless array of exciting surprises- so much fun.
Meet Helen and Scott, who met at a friend's wedding in 2009 and married on the 15th of April 2017 in a traditional church ceremony at Chelsea Old Church, followed by a very non-traditional reception on a Thames Clipper boat and a lighthouse-based party at Trinity Buoy Wharf.
The day was captured on camera by the fabulously talented Nick Tucker (described by Emma of Miss Bush Bridal, who used Nick for her own wedding photos, as being someone who creates 'character studies' and 'a sense of time, place and story').  I can see completely what Emma means- these are truly beautiful and interesting images.
"The word 'theme' terrified both of us so we just focused on creating the happiest day possible, packed full of colour pops to combat any April showers and filled with surprises for our guests."
Photography by Nick Tucker
"My best friend Katie had booked some dress appointments for the week after we got engaged so we could make those happy memories before she flew home to Hong Kong.  It was all a bit of a whirlwind and we definitely didn't expect to find 'the' dress but Jenny Packham was our first stop and we picked out a few a bohemian, romantic styles to try, while my Mum snuck in the Fern dress as a wildcard.  Mum's choice was the second one I tried on and as soon as I slipped into it, that was it.  Nothing else came close."
"I loved the simplicity and the glamour of 'Fern' and I also loved how easy and comfortable it was so I didn't need to worry about sitting down to eat or dancing later in the evening."
"I hadn't planned my wedding growing up and the only thing I knew I wanted was Nick Tucker to do the photography.  He manages to capture personalities in the most magical, natural moments – cheeky faces, guilty looks of people sneaking behind the bar, guests dancing like their lives depend on it.  I read somewhere that photos are the memories your wedding becomes and I totally agree – he was worth the investment 1,000 times over."
Make up was the work of superstar Emily McEwan while Elliot at George Northwood did Helen's hair.
"I'll love Elliot forever for jumping in at the last minute.  He managed to make my seemingly undone hair stay done all night."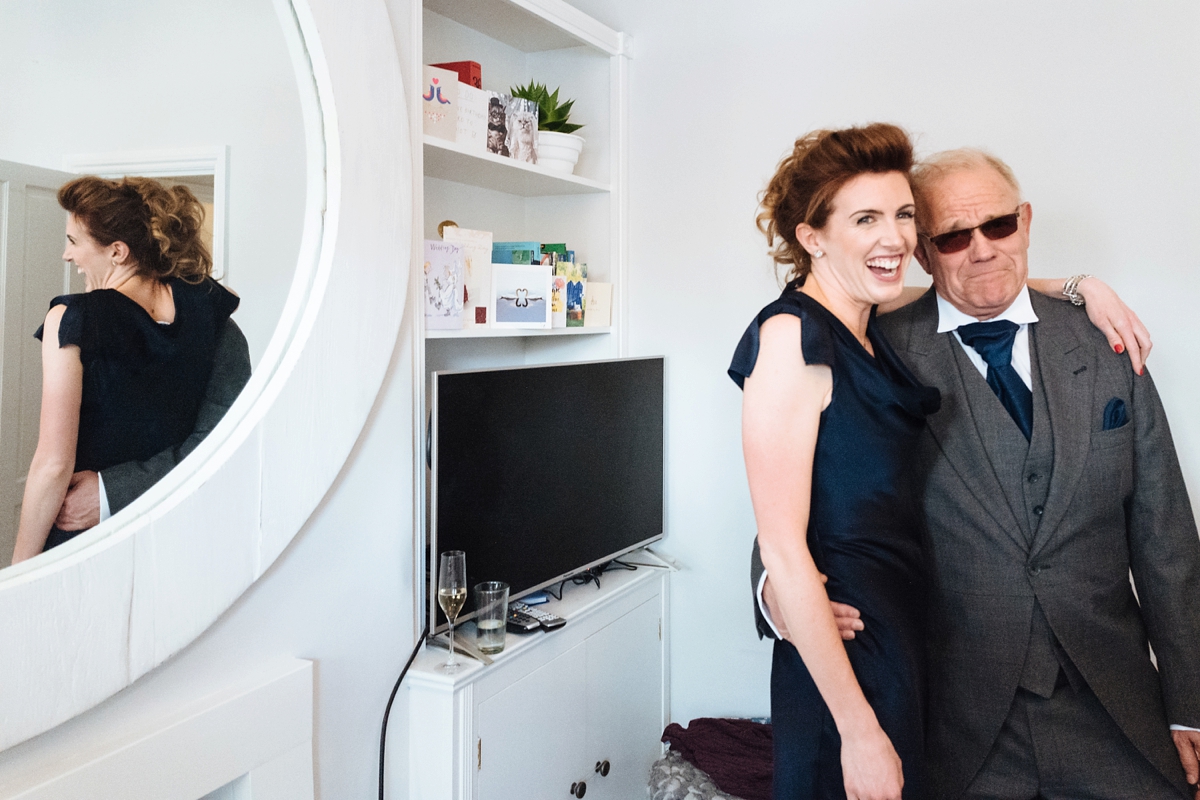 "Bridesmaids' dresses were the one thing that scared me.  With four beautiful girls living in three different countries, I had no idea how we were going to make everyone happy until my Mum stumbled across Ghost."
"The dresses were heavy silk and all fully lined so, although they look slinky and chic, they hang amazingly on different figures. The ladies at Ghost were brilliant too."
On her feet she wore a fabulous pair of shimmery Louboutins which she very sensibly wore in on her hen do.
Helen's Dad organised for her dream Jaguar E-Type to get them to church. The sun came out just in time to put the roof down and she couldn't stop smiling on the drive over.  I just love the photographs where she first sees the car.
Helen picked a beautifully simple cathedral length veil to set off her gown, while for her other accessories she chose a silver ring as her 'something old', sparkly earrings by Lulu Frost as her 'something new' and a hand-embroidered handkerchief borrowed from her Mum to double up as 'something borrowed' and 'something blue'.
"Scott popped the question on a snowy hike up Ben Donich in Scotland.  A rainbow came out right on cue which all seemed a little too picture-perfect for us, but I fell in a bog almost immediately afterwards and order was restored."
"We got back to our favourite Loch Lomond Arms hotel that afternoon to find our closest friends and family also there and spent the next twelve hours celebrating with them."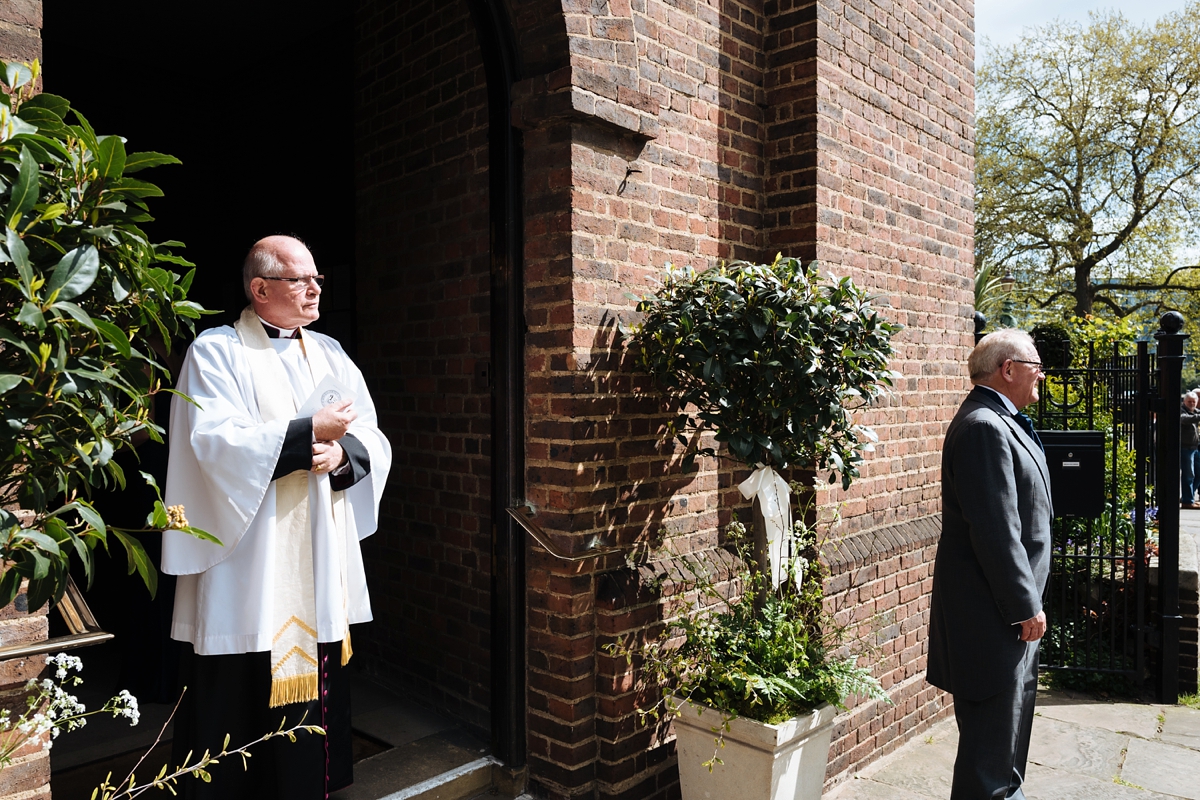 "My Dad walked me down the aisle to Canon in D by Pachelbel.  It was so special, and so surreal. I thought I was about to lose it on those few first steps but he squeezed my arm and grinned at me like a loon and it sorted me right out."
"After all the planning, my favourite moment was something I hadn't seen coming.  I'd prepared for adrenaline, I'd prepared for fighting back tears, but I wasn't expecting the sense of calm which came over me when I got down the aisle and stood facing Scott.  It was amazing."
"We loved Chelsea Old Church as soon as we visited – it's a stunning building with heaps of history and the boys could walk there from where we live.   The thing that really swung it for us was the vicar, David.  We wanted to be married by someone we genuinely liked and he ticked all the boxes.  The service was serious in all the right places but also brilliantly funny in others and he had our guests, and us, in totally unexpected fits of giggles."
Helen and Scott spoke the traditional Church of England vows, while Helen's brother read from the Song of Solomon (2:10-13, 8:6-7) and friend Ed read 'Union' by Robert Fulghum.
"Union gave us goose bumps, and made us take a breath and think about how momentous and exciting what we were about to do really was."
You know all those things that we've promised, and hoped, and dreamed – well, I meant it all, every word… Look at one another and remember this moment in time… Shortly you shall say a few words that will take you across a threshold of life, and things between you will never quite be the same.'
For rings, Scott chose a simple platinum band from The Diamond Shop in Hatton Gardens while Helen's ring originally belonged to her Great Granny and Dan managed to have it restored to its former glory.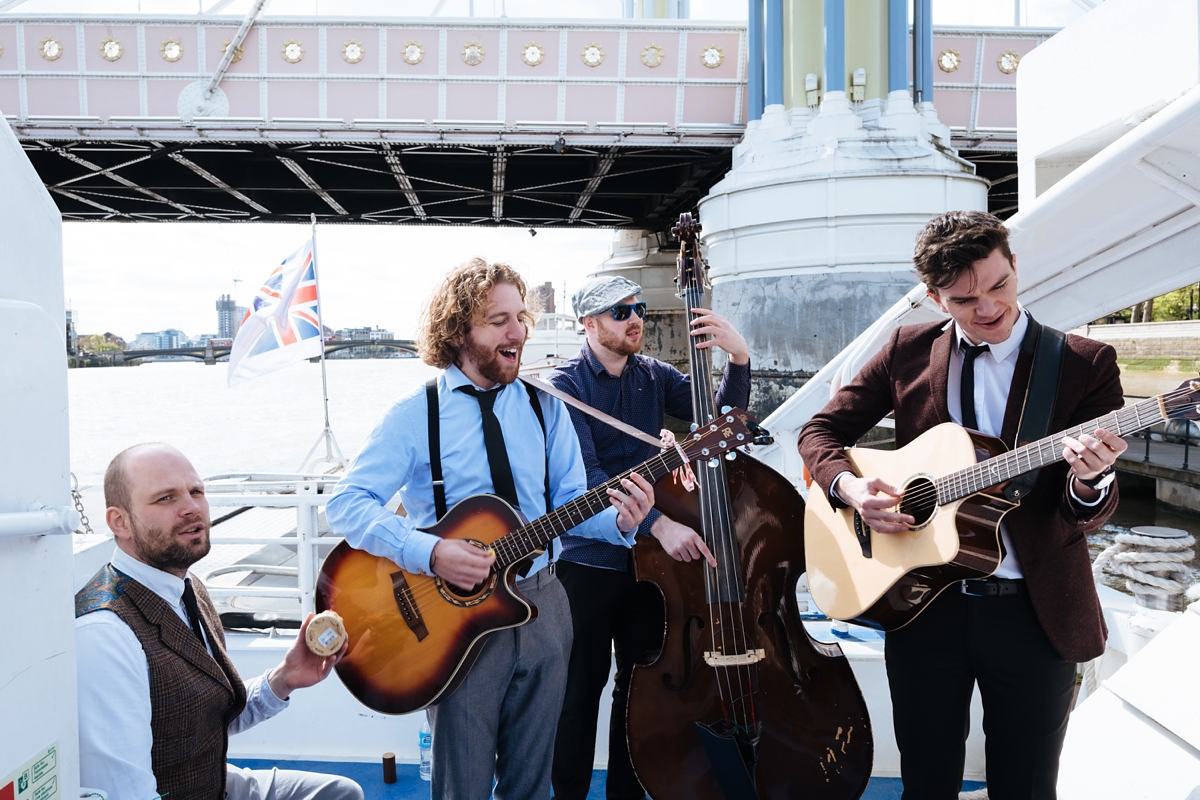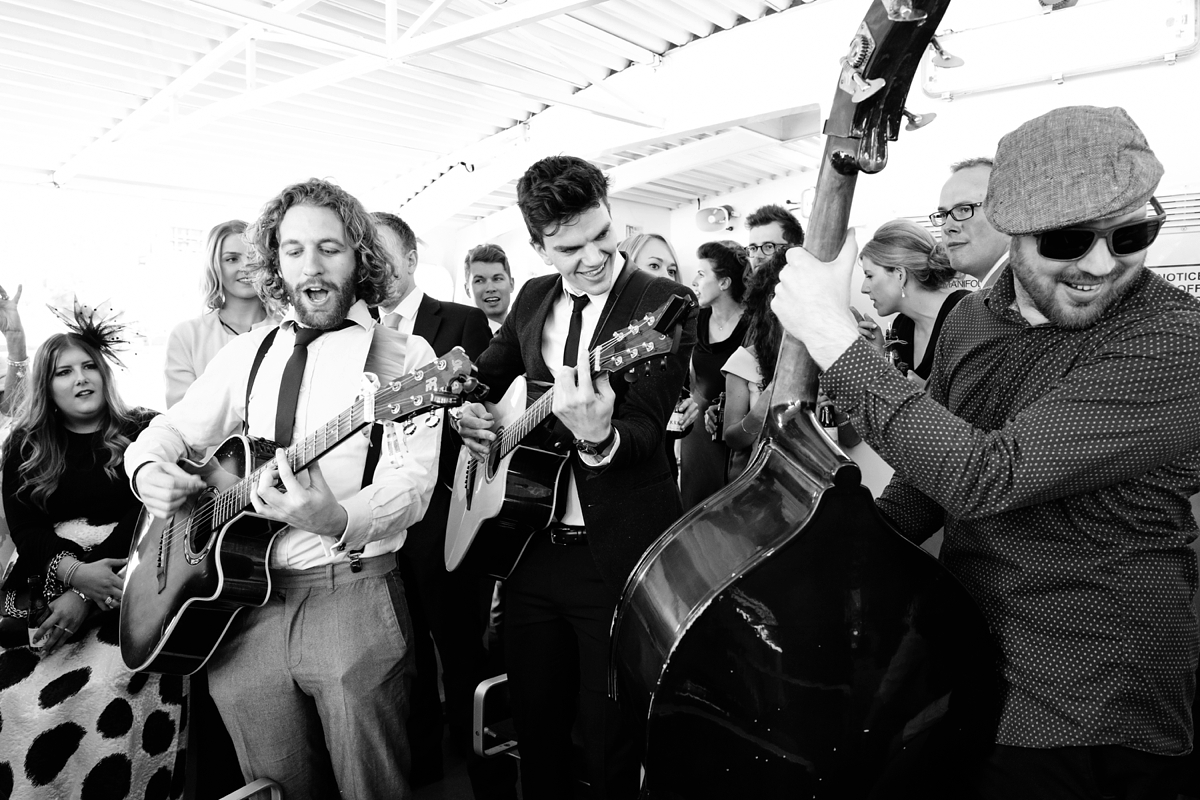 Scott looked handsome in a kilt and accessories by Kinloch Anderson, while the best men and ushers' Black Watch kilts were hired from the Highland Store in Holborn.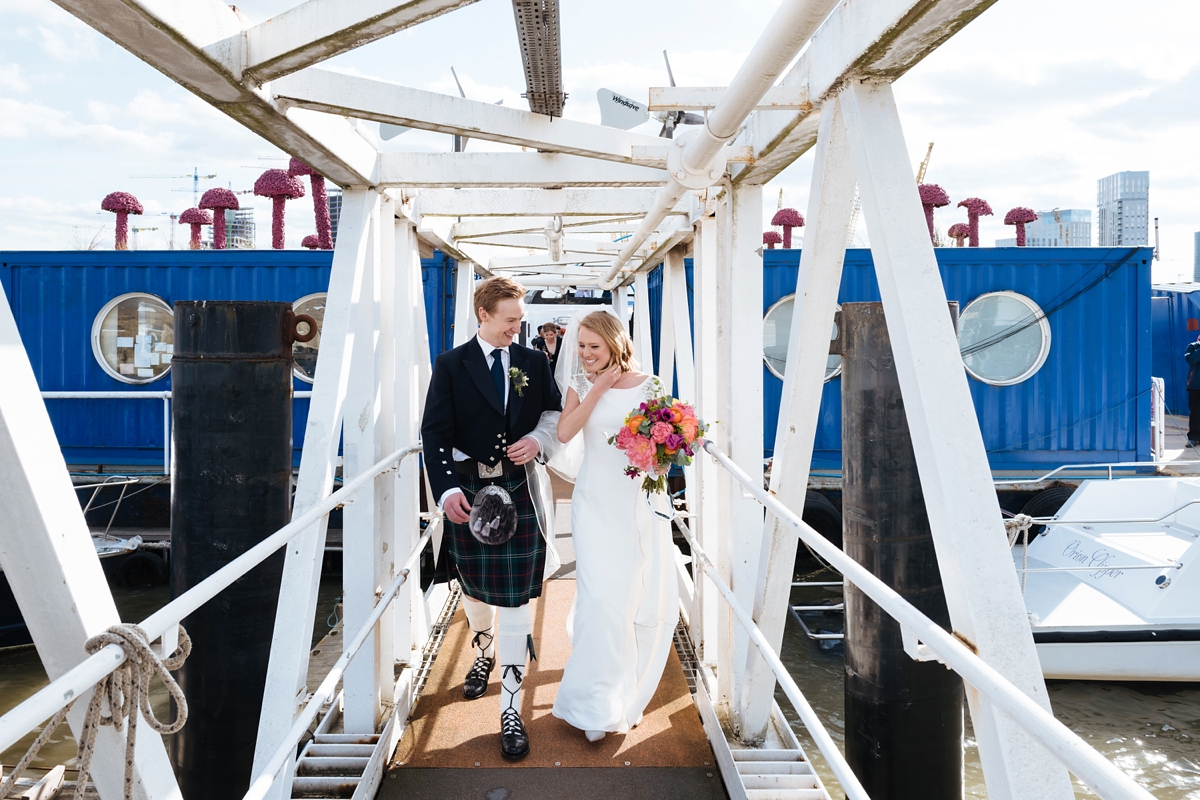 "As guests didn't know what was going on after the church service, a lot of people had assumed we'd be walking to the reception.  Watching their faces when they heard the band playing from the boat deck and realised we were getting on board was priceless."
"We dreamed of hearty, home-cooked, Instagram-worthy feasting platters and Jimmy Garcia (of Jimmy's Pop Up) did not disappoint.  On the day they magic-ed up amazing food and really took charge as well, bringing in all the tables, chairs, crockery, cutlery and staff and setting the whole venue up for us.   Nothing was too much trouble."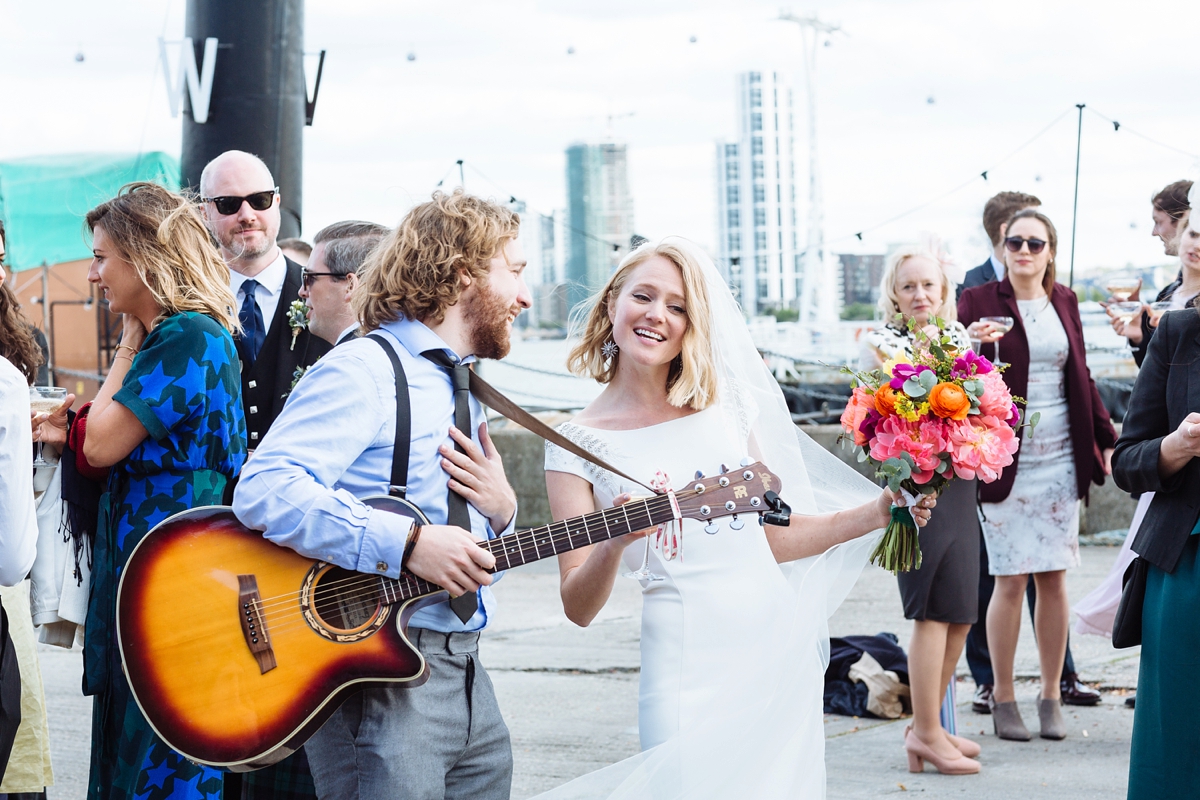 "Seeing the Super Tenants band literally swinging from the boat beams on the way to the reception, Scott shaking maracas and everyone belting out mash ups of 90s hits was one of my highlights of the day.  The band roamed around the boat and canapés, popping up behind unsuspecting guests and taking requests from anyone who asked."
"Annie at Honeybunch London stepped in to be our florist with less than twelve weeks to go and translated our vision into 'a hot mess' and 'a riot of tonal colour'.  It was better than we could ever have imagined – orange ranunculus, coral peonies, hot pink anemones, eucalyptus, pastel and neon Icelandic poppies."
"She worked around Trinity Buoy Wharf's strict hanging regulations (it's Grade II listed) to suspend twenty metres of meadowy madness over our tables – it was a real wow when everyone walked in and helped break up the massive space."
"We wanted our reception to be a complete contrast to our traditional ceremony.  We were imagining an after-party vibe – riotous colour, ridiculous dancing and celebratory bubbles as soon as we stepped out the church so we made two decisions pretty early on –that we'd keep everything past the church service a secret from our guests and that we'd get a dry hire venue we could completely take over."
"We found Trinity Buoy Wharf online and were sold straight away.  The light just streams in, the sun sets over the O2 opposite and, most importantly, it's a lighthouse with its own pier!"
"Our gorgeous friend Megan from The Fine Nib designed our stationery.  Her pieces are always massive talking points and my favourite was our menus, illustrated with salmon wearing Scottish scarves, cows in truffle bonnets and a lighthouse lantern room."
"For favours and place names the wonderful ladies at Quill London handwrote names on little green IKEA water glasses that guests could then take home."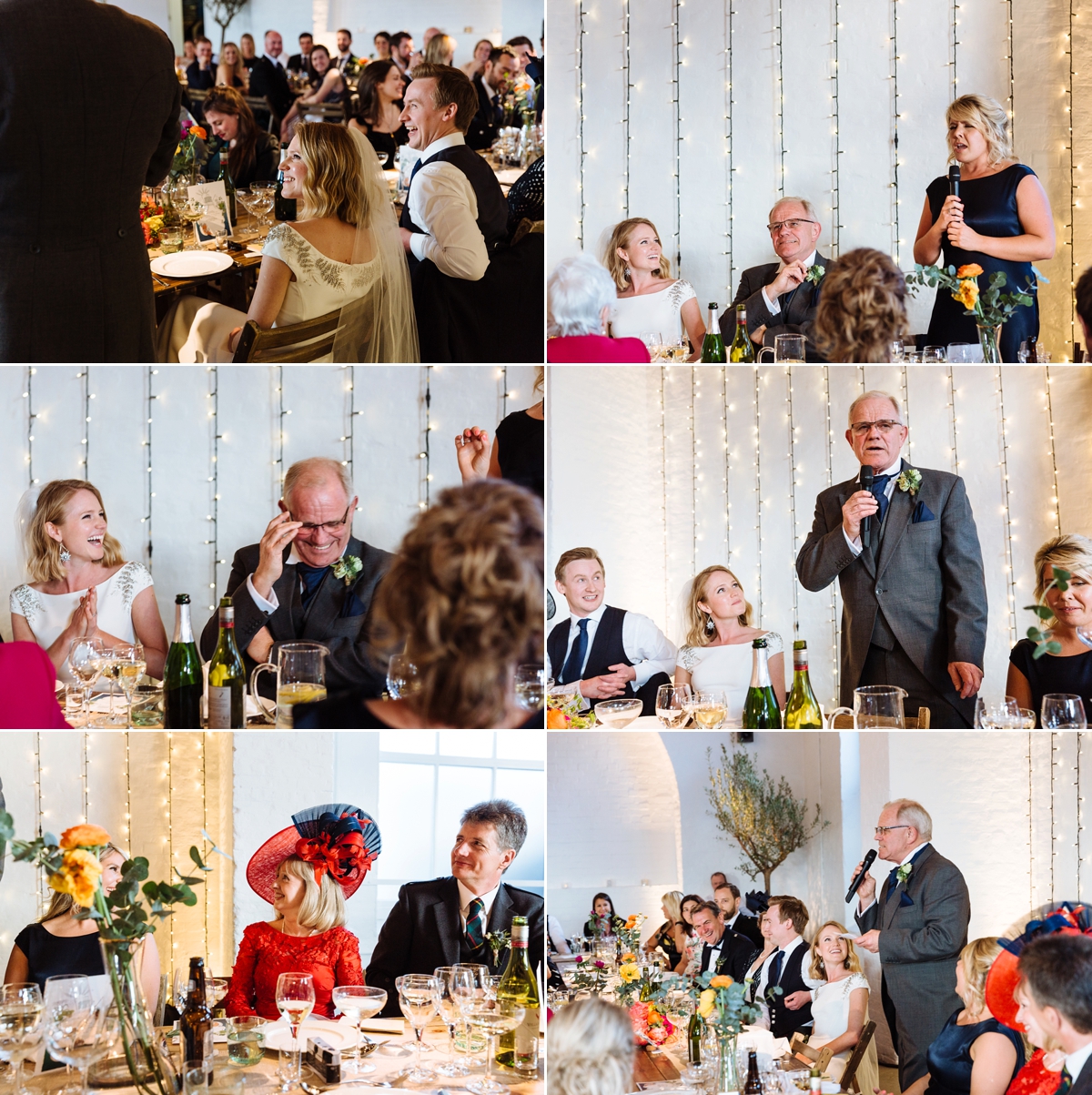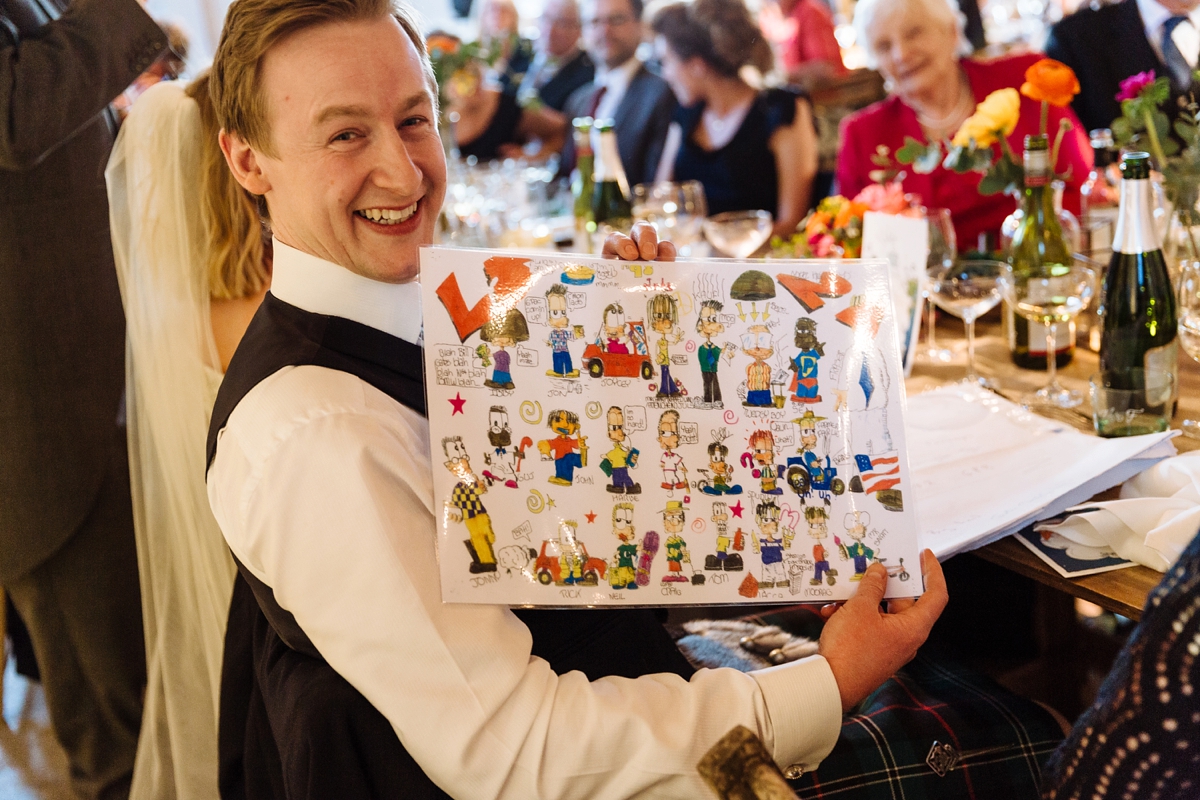 After dinner, Atlantic Soul Orchestra played a couple of sets and got everybody up on the dance floor, filling the venue with timeless, soulful tunes.  To finish the night, Helen's brother put together a fantastic DJ playlist.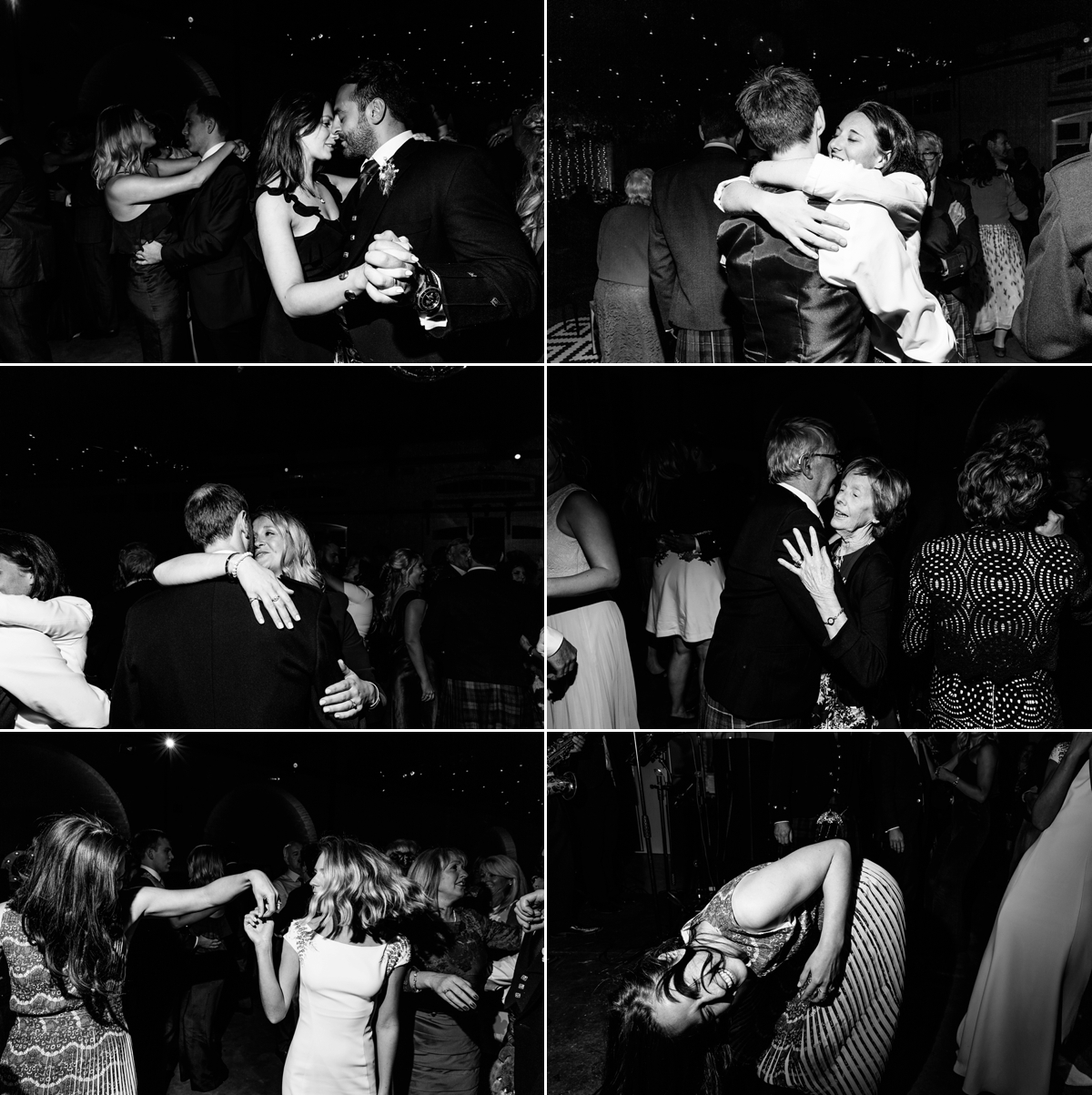 Words of Wedded Wisdom
"Choose suppliers you genuinely get on with as they can take away (or create) a lot of hassle and stress.  Anything that niggles at the start – if they're slow to respond, if they don't respect your budget, if you feel like they aren't really that bothered – will be amplified in the lead-up.  Trust your gut instinct.
(Helen and Scott actually checked out the work of several of their chosen suppliers via Love My Dress once they had written a shortlist, which is a great idea to get a feel for for previous work.)
Have some faith in how brilliant you both are!  Just because you haven't seen it done before doesn't mean you can't do it, and just because others have traditionally done it doesn't mean you have to."
Huge thanks to Helen and Scott for sharing this beautiful and colour-filled day.  I absolutely adore Helen's slim cut and simple Jenny Packham gown.  Take a look here for more brides in this most coveted of designers (usual disclaimer applies- you may be there some time…)
Much love,
Shona x