Happy Monday lovelies! Oh I have such a treat for you today, a countryside garden party with a gorgeous bespoke gown. Iain, who runs a renovation and interiors company, wed Harriet, an interiors and prop stylist, on 20th August last year at Harriet's mum and dad's home in Newton Harcourt.
The lovebirds wanted a day that was both informal and personal, and could think of no better place to hold their celebration than the bride's family home. Let's start with a little peek at their wedding video, lovingly compiled by a friend.
"We wanted it to be an informal, countryside garden party, with lots of input from friends and family. We have so many talented and creative friends, and we encouraged everyone to get involved. Anyone who wanted to help helped, and so over the year and a half of planning we collected lots of ideas from people, things they had made, and music people had suggested. It meant that in the end, it didn't feel like a super planned and designed day, but actually a really personal one, and one that a lot of people were really involved in."
https://vimeo.com/214175693
The lovely Harriet wore a divine gown comprised of two Temperley London skirts bought from Bicester Village. Her mum and one of her old friends from university (who just happens to be an incredible wedding dress maker), along with the bride herself, designed a top using the second skirt and created the most beautiful dress.
Images by Nigel John Photography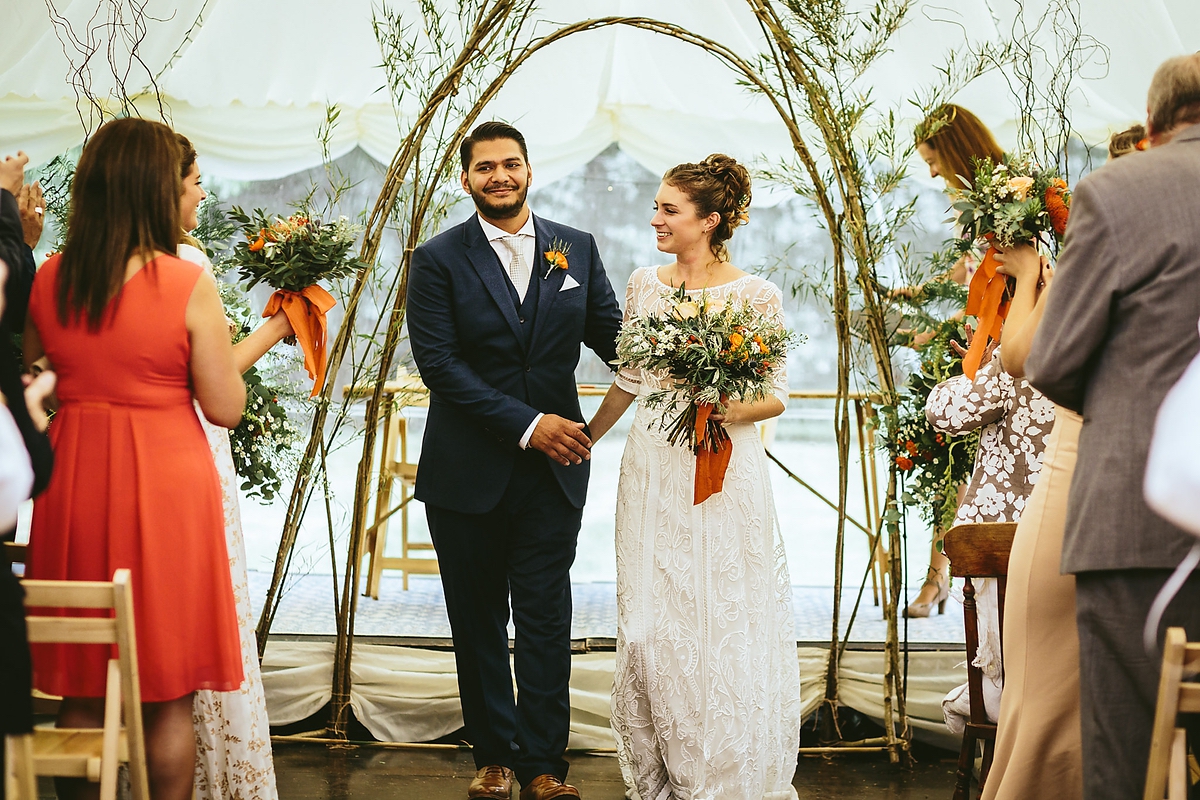 "I wanted something that wasn't too formal, and that had a summertime bohemian vibe. This fabric that we ended up using was so beautiful and unusual. I literally couldn't have wished for more. I struggled to choose shoes as I usually live in trainers, but in the end I chose some copper leather sandals from Office. I wish I'd worn my Converse though."
"We met nine years ago on a beach in Thailand, and spent four weeks travelling together with all my best mates, which was so much fun. I came home and ended up flying to India two weeks later to meet him, I was only 19! And here we are, we've continued to go on adventures over the past nine years and plan to continue."
"Iain proposed in April 2015 on a tiny island in Thailand, almost eight years to the day since we met, with a beautiful Edwardian ring on a street lit by lanterns on the back of our moped."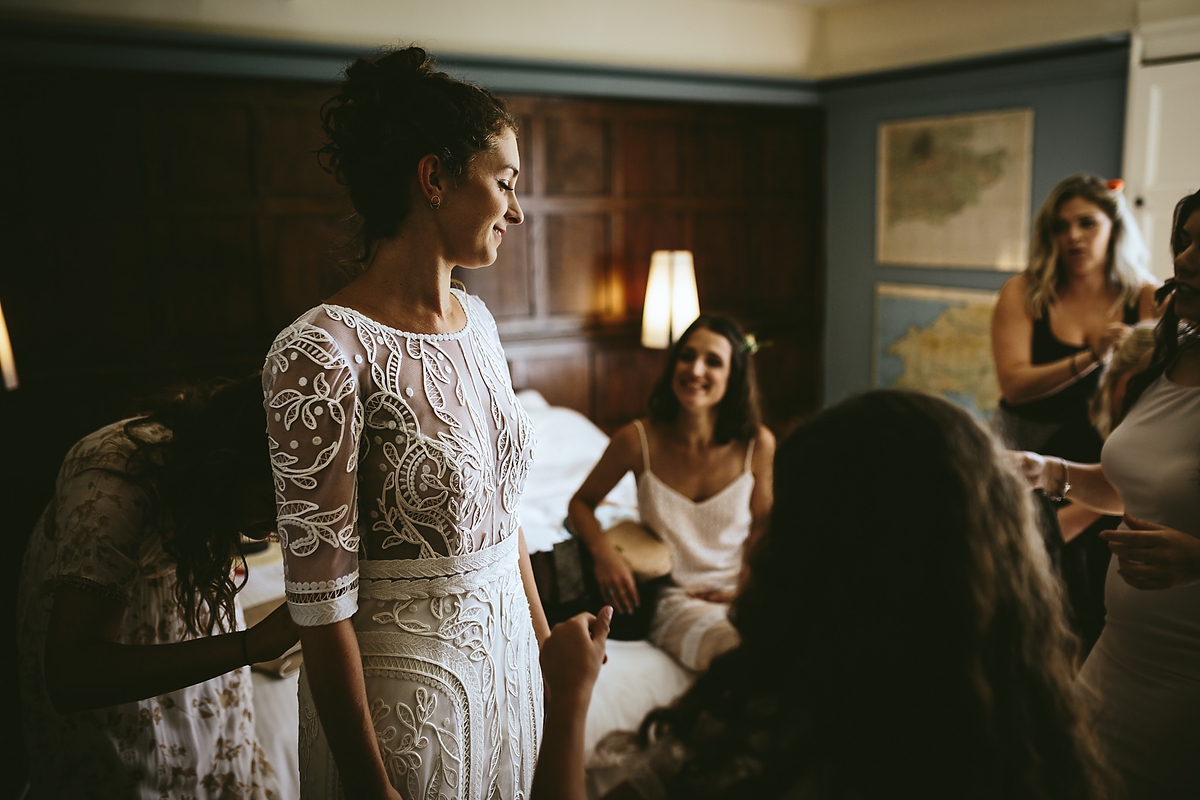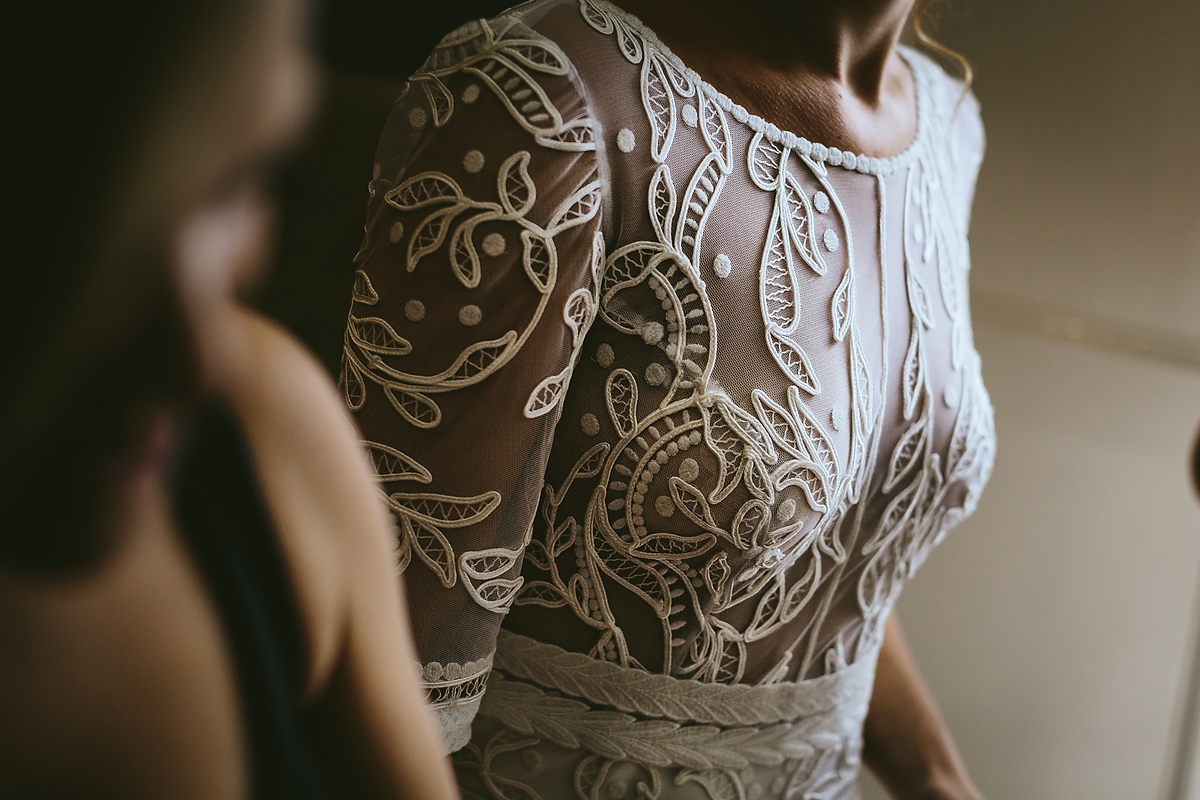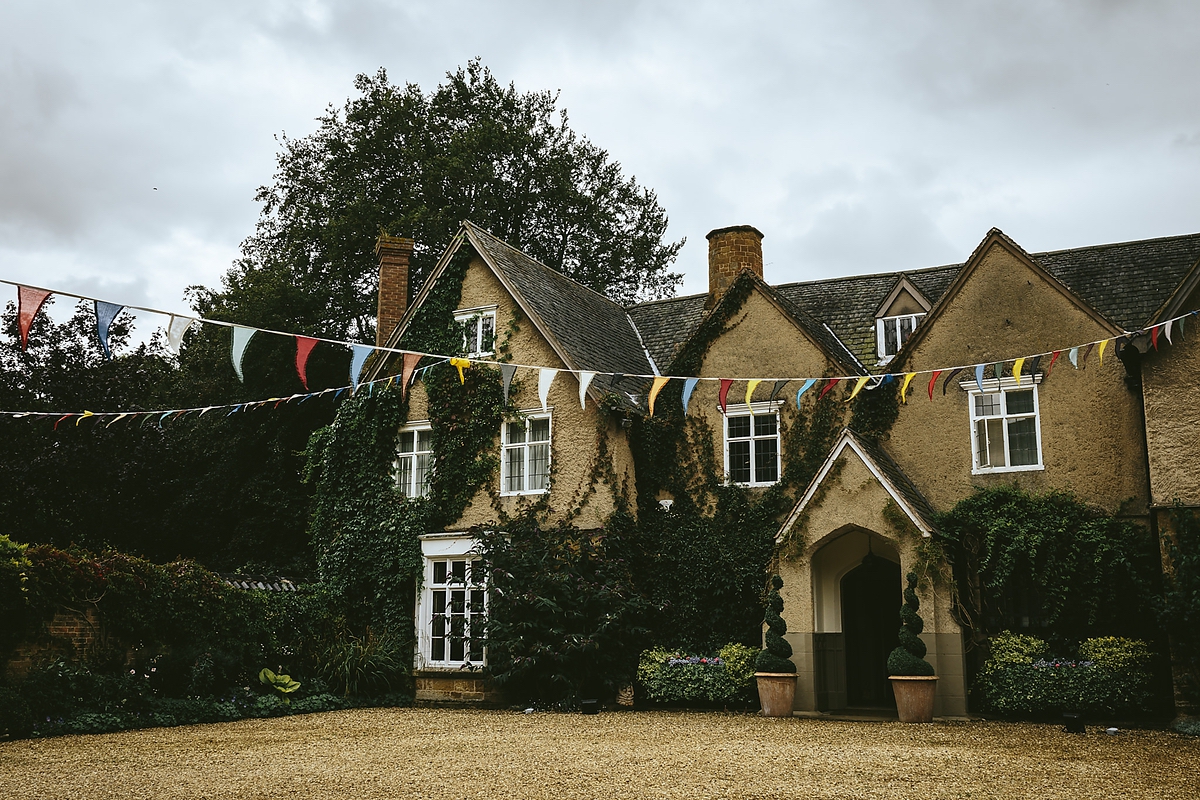 Iain came close to hiring a suit, but in the end opted for a beautiful three-piece navy number from Hugo Boss, which he paired with Russell & Bromley shoes and a white shirt.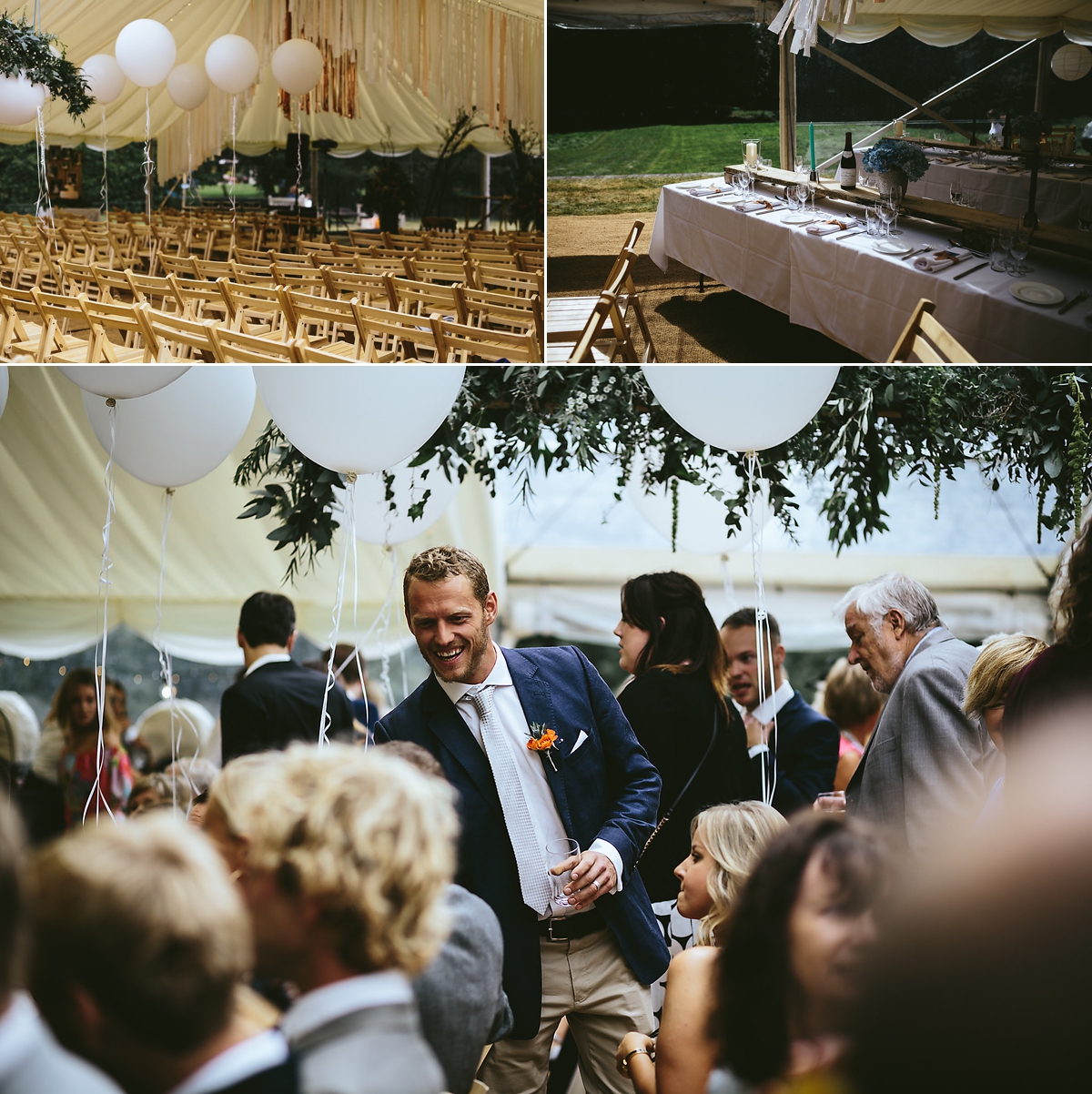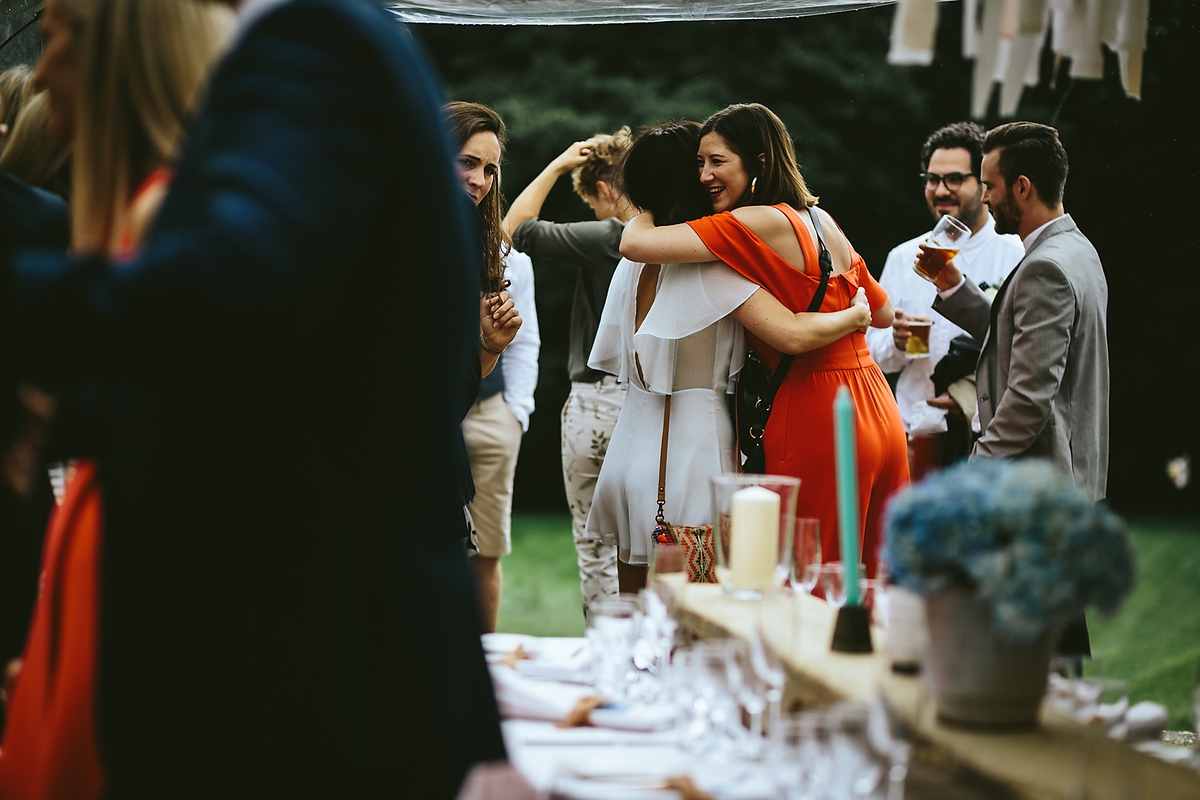 "We drove through the woods around to the marquee in my Dad's old Austin 7. It was the first car he ever owed at 19. We drove around the corner and he was beeping the horn – none of the guests knew what was happening as we appeared out of the trees – nothing like a bit of drama! It was a lot of fun."
Monsoon, one of our absolute Little Book for Brides stalwarts came up trumps for the page boys outfits; cream linen ensembles paired with little waistcoats and ties smattered with cars – so cute!
"For our flower girls we found some super cute little white cotton embroidered summer dresses at Zara and sparkly sandals. Clare, our florist made little floral crowns for them. We wanted the bridesmaids to feel comfortable and didn't want to stick them in a dress they didn't like. So we decided on a nude colour scheme and everyone had different styles and textures. We all had fresh flowers in our hair."
"I'm a stylist and Iain is a maker, so we were really keen to make things and style the day ourselves. We spent the summer of 2016 collecting old bedsheets from charity shops, which we cut into hundreds of strips and made giant tassel fringing to hang in the marquee. It created a really beautiful and dramatic texture, and framed the space really well."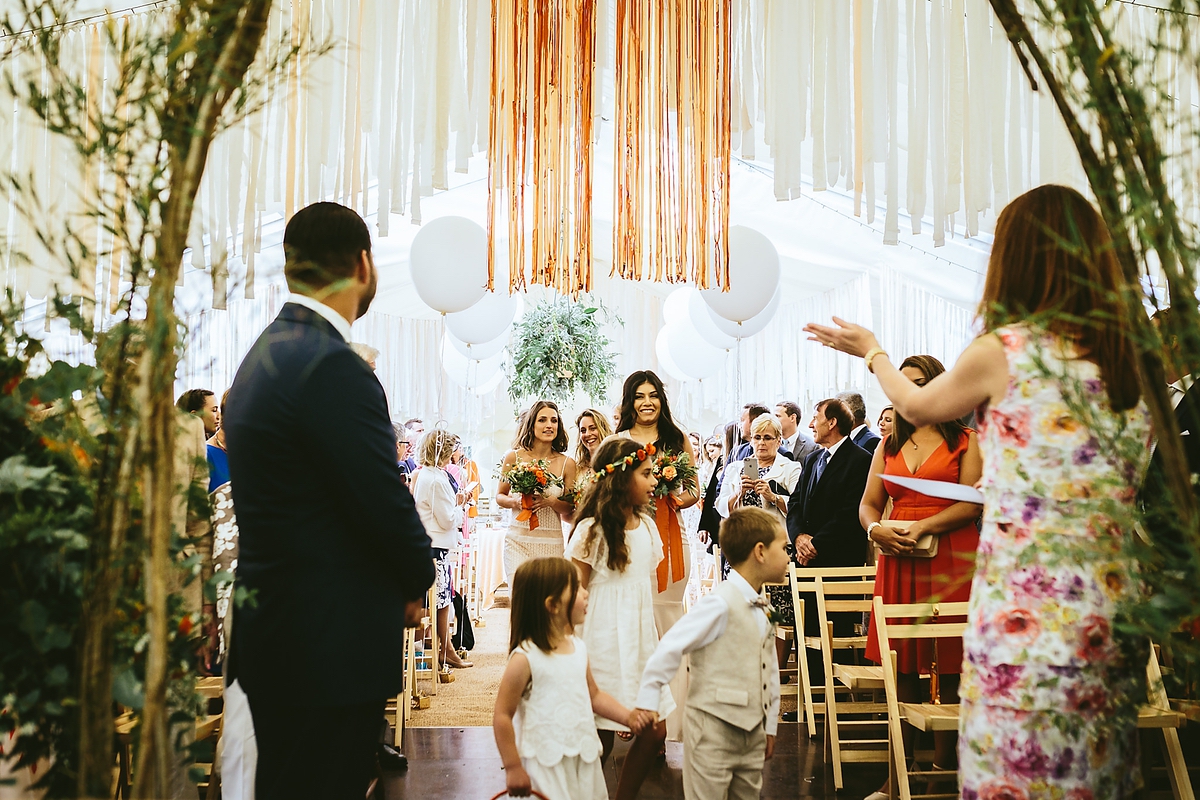 Harriet and her lovely papa walked down the aisle to Hearts & Bones by Paul Simon, an artist they listen to so often at home and the lyrics of this particular track were so beautiful to our bride. I so adore the streamers festooned from the roof of the marquee and that gorgeous twining hazelwood archway, lovingly made by the couples' friends, at the top of the aisle is just divine.
Iain's very favourite part of the day was waiting for Harriet and the girls to enter the ceremony, waiting at the top of the aisle with the sun shining.
"We actually didn't write our own vows, and agreed that we'd both prefer to repeat after Jo, our registrar. We were both quite nervous about the idea of standing up and reading in front of everyone as it is, let alone reading out something that we'd written. In the end, it really didn't matter – when we were standing up there it felt like the most personal thing in the world."
The couple's first reading was by Les, Iain's dad; a really emotional extract from an American Indian Wedding Ceremony, the same reading that Iain's mum, Maureen, had read at his sister Lindsay's wedding. The second was an excerpt from Captain Corelli's Mandolin by Louis de Bernières, read by Iain's cousin, Lauren. The couple loved its honest beauty.
"The third reading was given by our great friend Charlie. It was actually a reading that I discovered framed on the wall at his mum and dad's house a couple of weeks before the wedding. We decided there and then that it made perfect sense for him to read it at our wedding. It was William Shakespeare's 'Let me not to the marriage of true minds'."
As well as supplying their wedding rings, eco brand Kind Jewellery were also the source of Harriet's bespoke rose gold ear cuff, made as a wedding gift by her bridesmaid Tansy. Our bride also wore her Granny's gold signet ring on the day along with jewellery from COOPS.
"Eco brand Kind Jewellery did our rings. It's our friend and bridesmaid Tansy's company, and we loved being a part of the process of making them. Iain went for rose gold, and I went for yellow gold. Both very simple but stunning, and made by hand."
Harriet and Iain brought in a 'day-of' coordinator to ensure everything ran smoothly, and to alleviate the pressure of having a wedding at home, and booked the creative talents of Nigel John to capture every beautiful moment on camera. These images have such a lovely depth of colour and truly burst with emotion.
"We had Zoe help us out in the lead up to plan the actual running of the day. And on the day she was there to make sure everything ran smoothly. Because we had it at home, we were conscious my mum would end running around and wouldn't have time to enjoy it. So we decided to get Zoe on board. She was awesome and we would totally recommend her. It gives you peace of mind on the day to know someone is overseeing everything."
"We couldn't recommend Nigel John enough. We'd seen a wedding he shot in New Zealand that some friends of ours had gone to and they were just the most beautiful wedding photographs we'd seen, just capturing little moments throughout the day, nothing staged or forced."
"He is also a lovely guy, which is really important seeing as you're hanging out quite a lot throughout the day! A special thanks to Nigel for wandering into the house and getting a shot of my dad asleep in his chair at 8pm – brilliant."
"A friend of ours, Charlotte, asked if she could shoot the wedding on my dad's old Super 8 Camera, to which we, of course, said yes. She is an amazing stylist and art director. We weren't even sure the camera still worked so it was a bit of an experiment, but we finally got the film sent off and developed only recently – and it worked! It was so lovely to revisit the day through a different medium."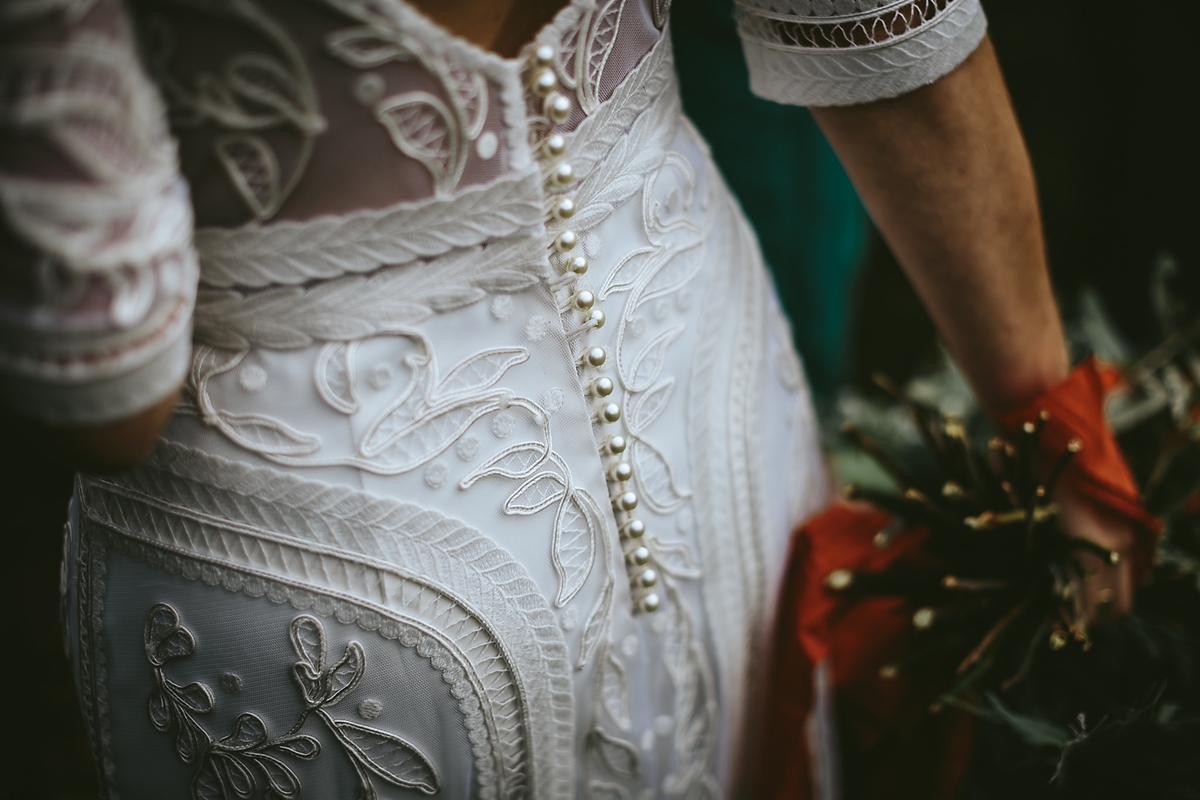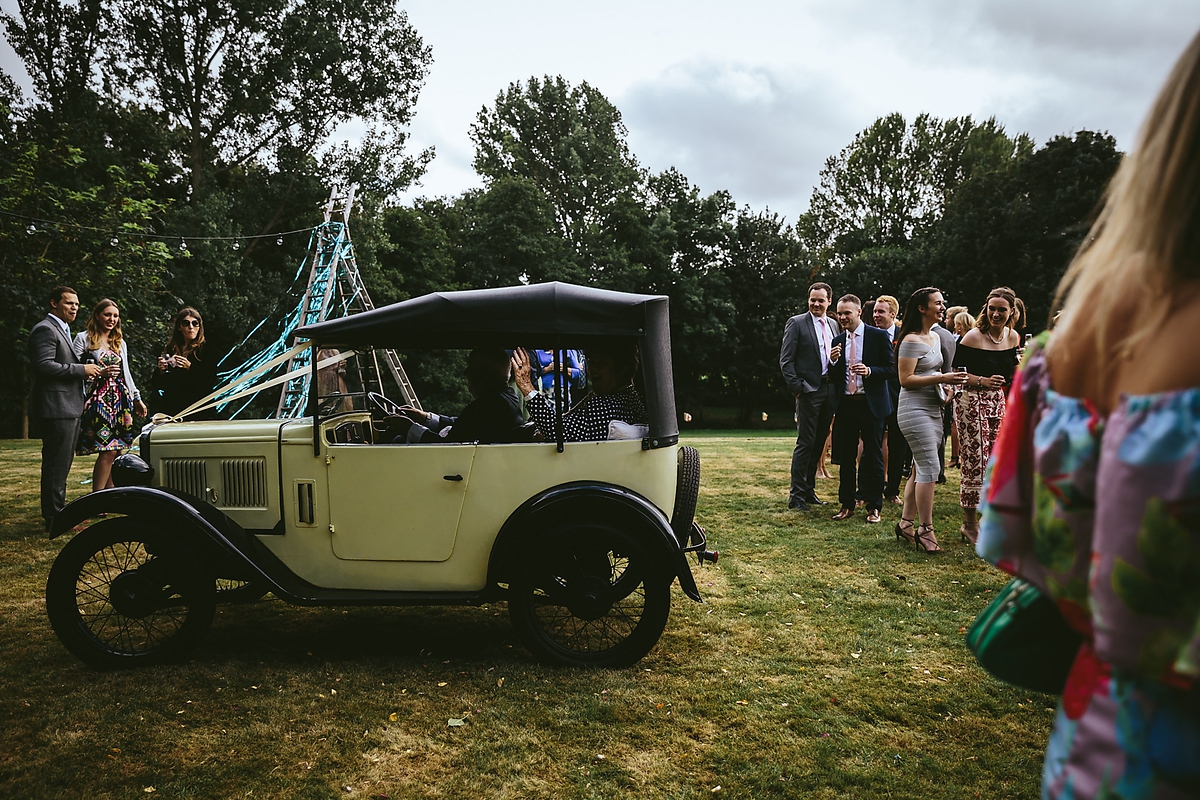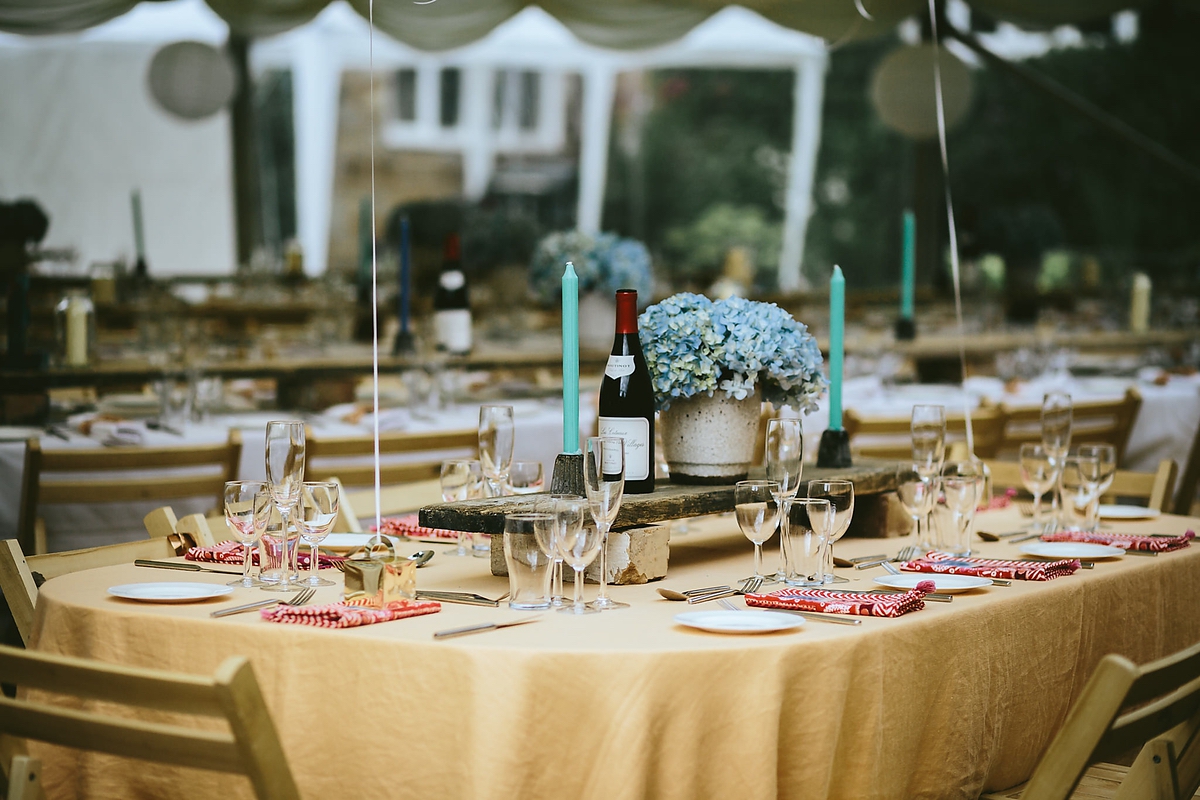 "We were so lucky to have Claire Vickers on board. She is not only an amazing florist but also a great friend of the family. After we'd told her what we wanted we totally trusted her to go ahead and do her thing. She did a stunning hanging greenery plinth that we hung from the ceiling in the centre of the marquee."
"Beautiful pedestals stood on either side of the arch and she arranged gorgeous bouquets using eucalyptus, thistles (to represent the Scottish side of Iain's family), and orange flowers to bring the summer vibes."
Very much in the DIY vein, Harriet and Iain felt very lucky to have so many talented loved ones contribute to the styling of their day. Harriet's sister's boyfriend created the 'food platforms' running down the centre of each table while their nephews, Calum and Oliver, made the table numbers using cardboard numbers and decoupage.
"Our friend Paddy found himself writing up the menu on a chalk board about an hour before the wedding – better late than never, it looked awesome! And our friend Kirstie laser etched our table plan onto a mirror that we fixed into an old door to create a really cool item to keep after the wedding. Iain put a light behind it so that the text lit up."
"Special thanks to Paul, our friend, for wiring it up the night before, it looked amazing. We've made quite a few since – if anyone is interested get in touch with Kirstie ([email protected]). They are a really lovely thing to have in your home."
The speeches were probably Harriet's very favourite part of the day – a truly special part of the celebration. She particularly loved her dad's speech, as well as the hilarious stylings of best man, James, and of course her new husband's moving contribution was just lovely. A family friend, Henry, also acted as MC on the night.
Harriet's bridesmaid, Rachel, designed the couple's wedding invitations, and another good friend, Carrie, sorted the printing for them, while Iain's sister, Lindsay, made the cake. A sleek and luscious peach iced concoction of sponge and fruit cakes, styled with eucalyptus and thistles, it ties in beautifully with the floral elements of the day.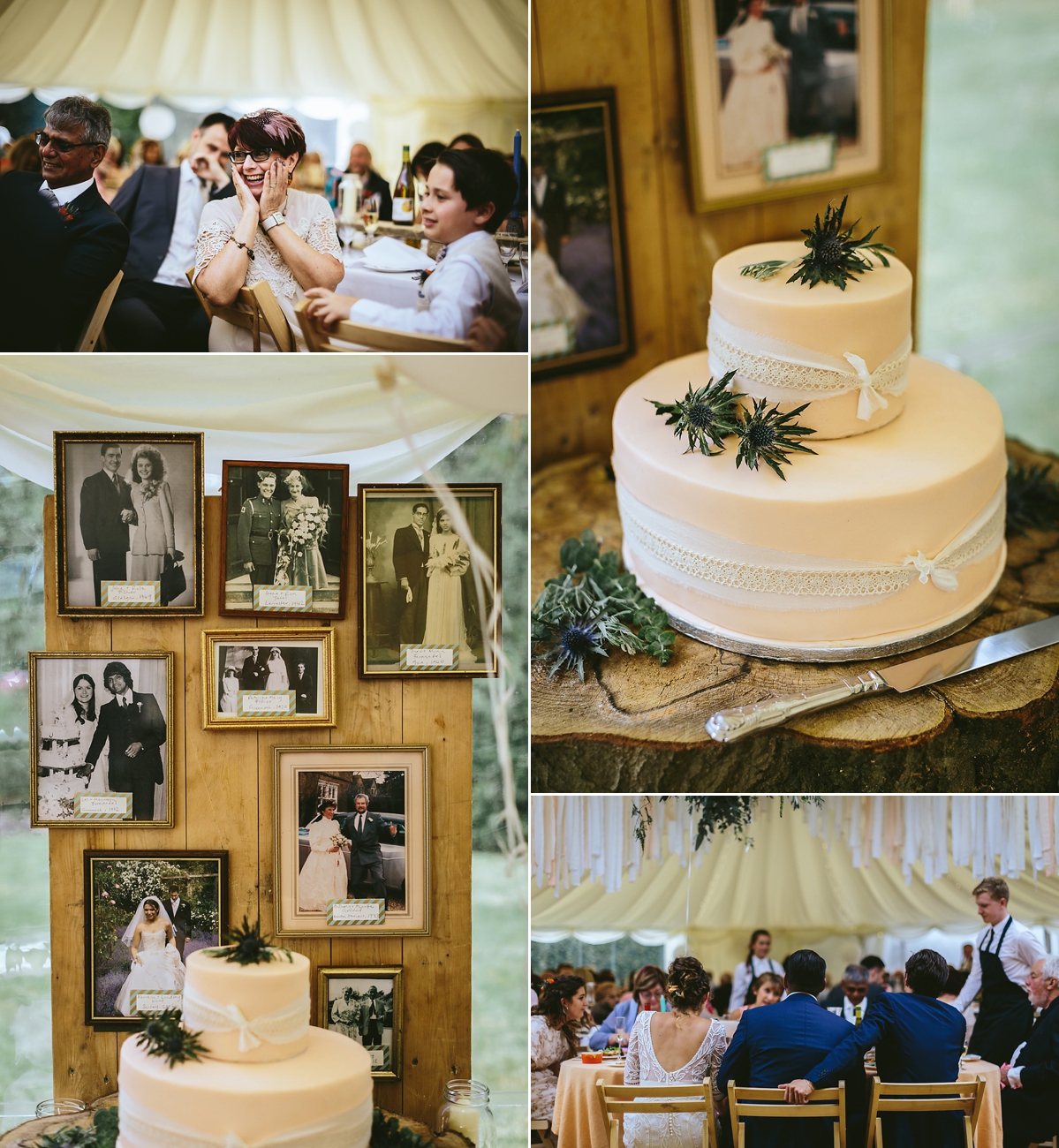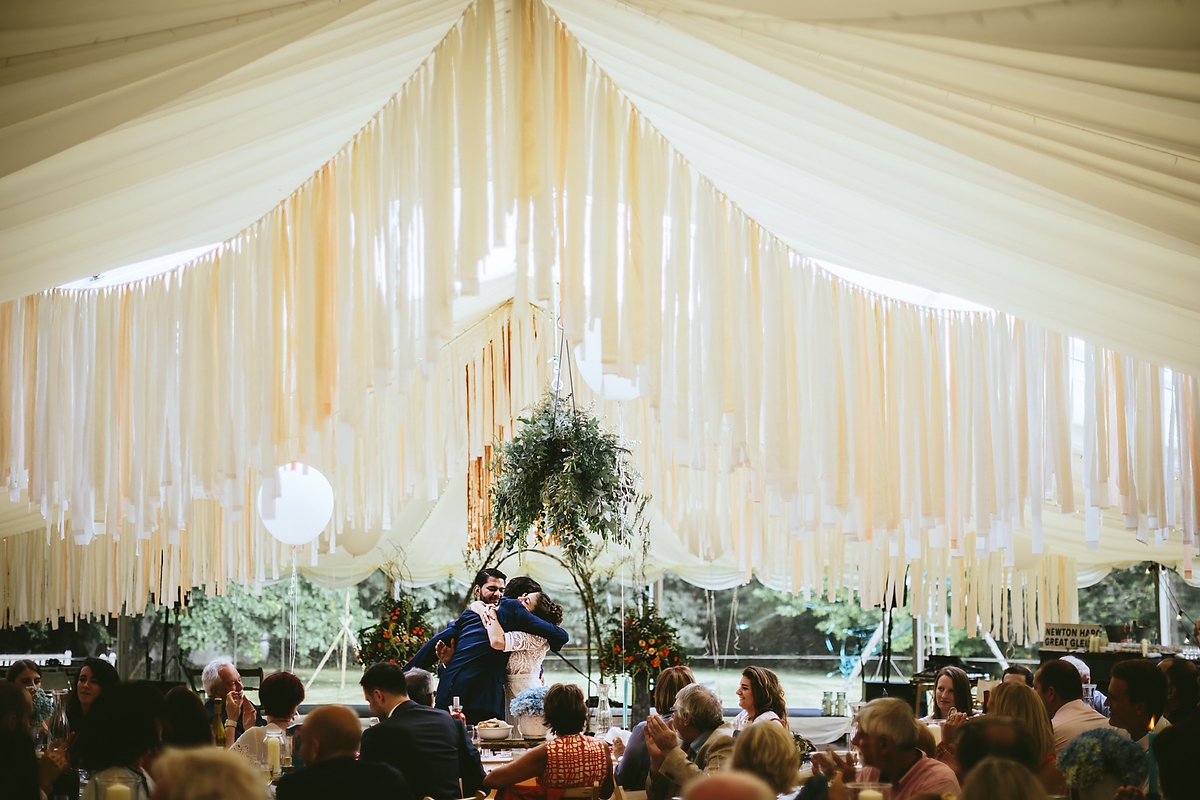 "A good friend Tom Edwards did our food. He is an amazing chef and we designed a menu that was really summery and simple. We had a big charcoal BBQ that we borrowed from the local farm, and grilled lemon and thyme chicken and beef rump, with yummy Ottelenghi inspired salads and homemade flatbreads and focaccia."
"We didn't want to serve the food on plates, we were after more of a big summer lunch vibe so collected lots of odd bowls and plates and served them to a platform down the centre of each table, so people could pass food around and help themselves. At about 10:30 pm he also did the most amazing toasties and fries – salt beef and saukraut and sourdough and cheddar, with pickles – SO GOOD!"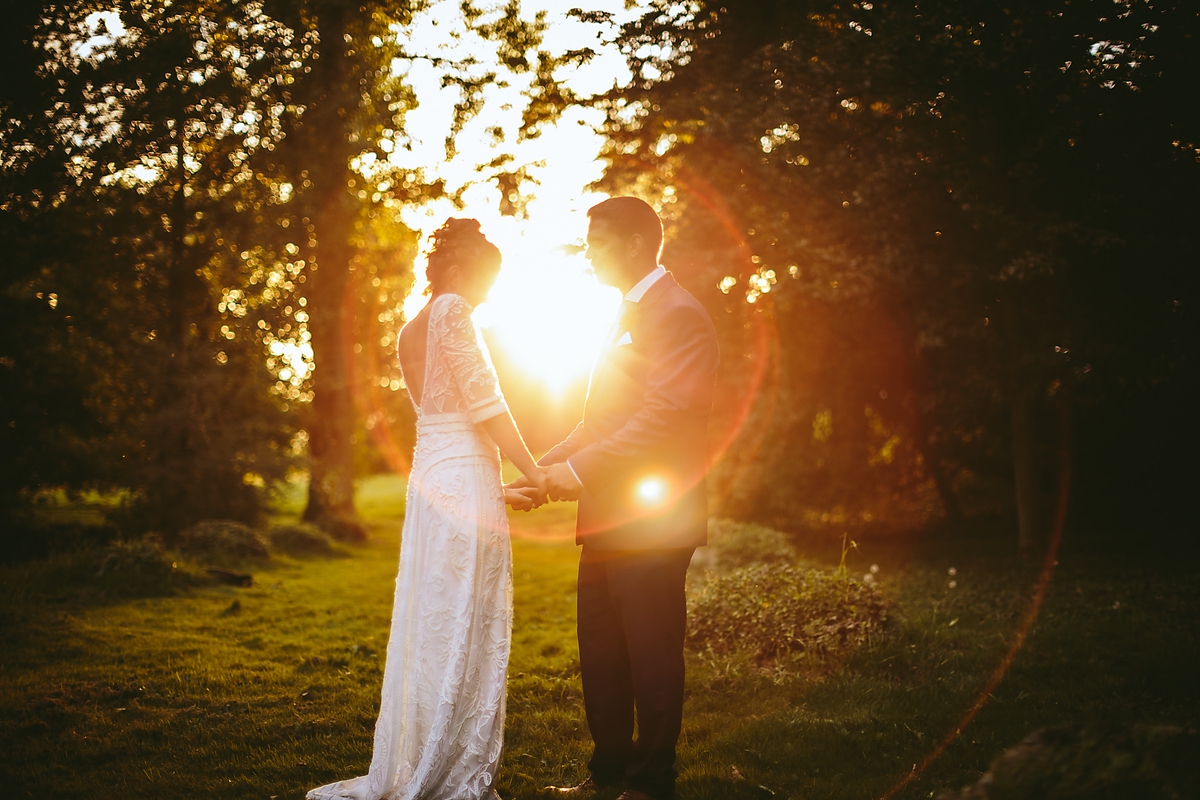 "We had Sugar T & The Swells as our band. They were amazing and perfect to get a mix of ages on the dance floor. We went to see them at a pub in West London and booked them straight away. It took us ages to decide on our first dance and in the end we went for Etta James' 'At Last'."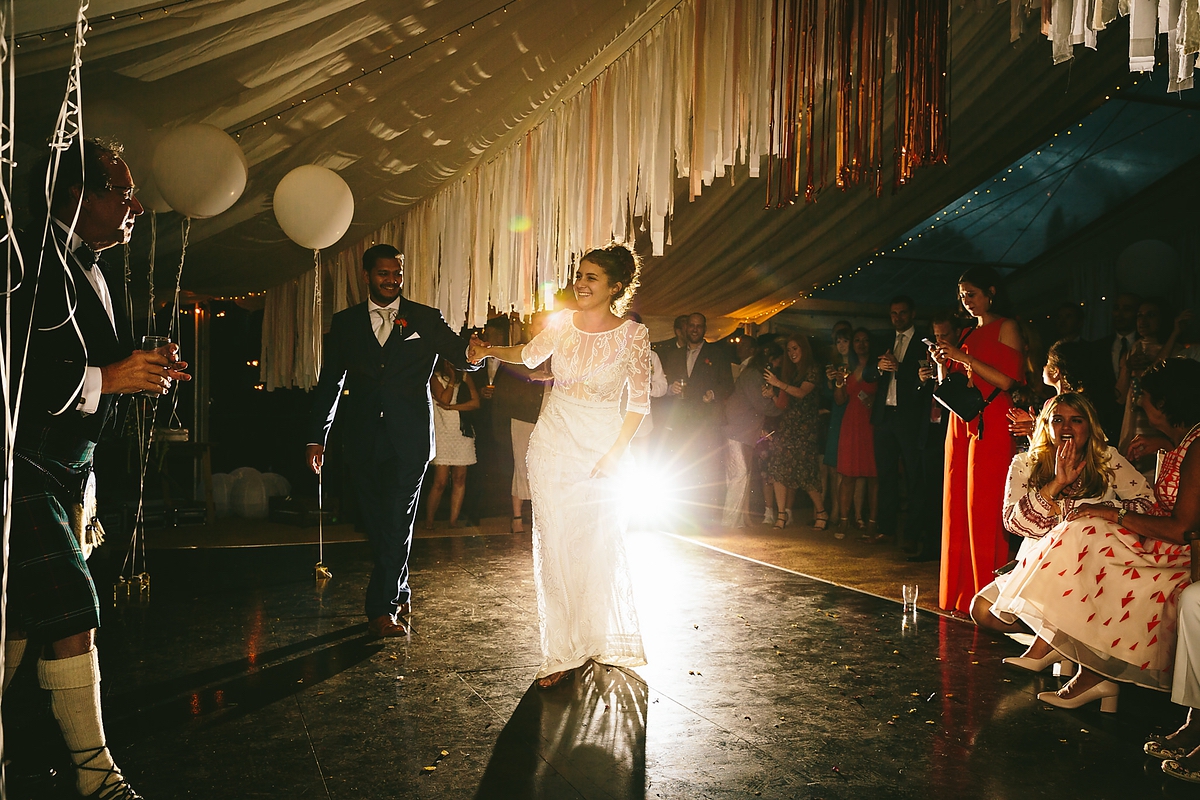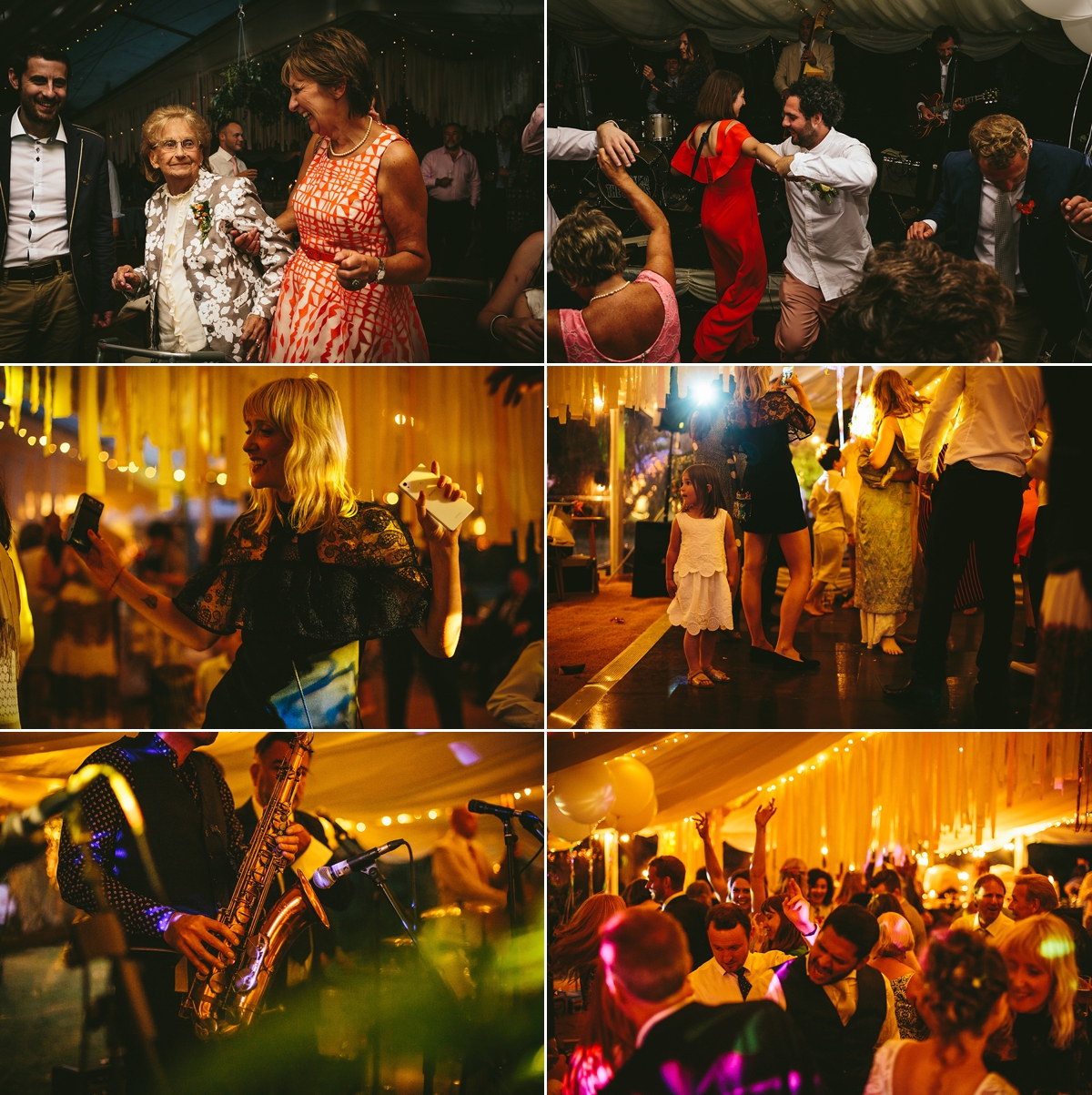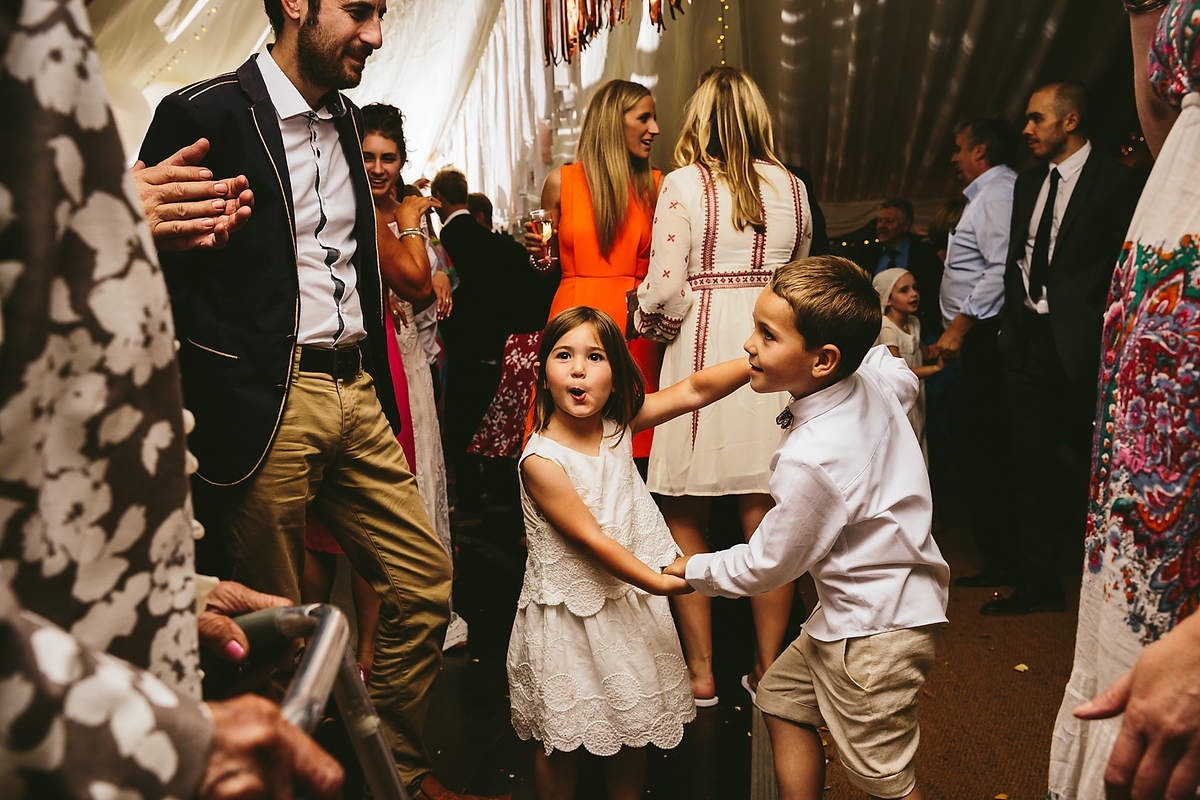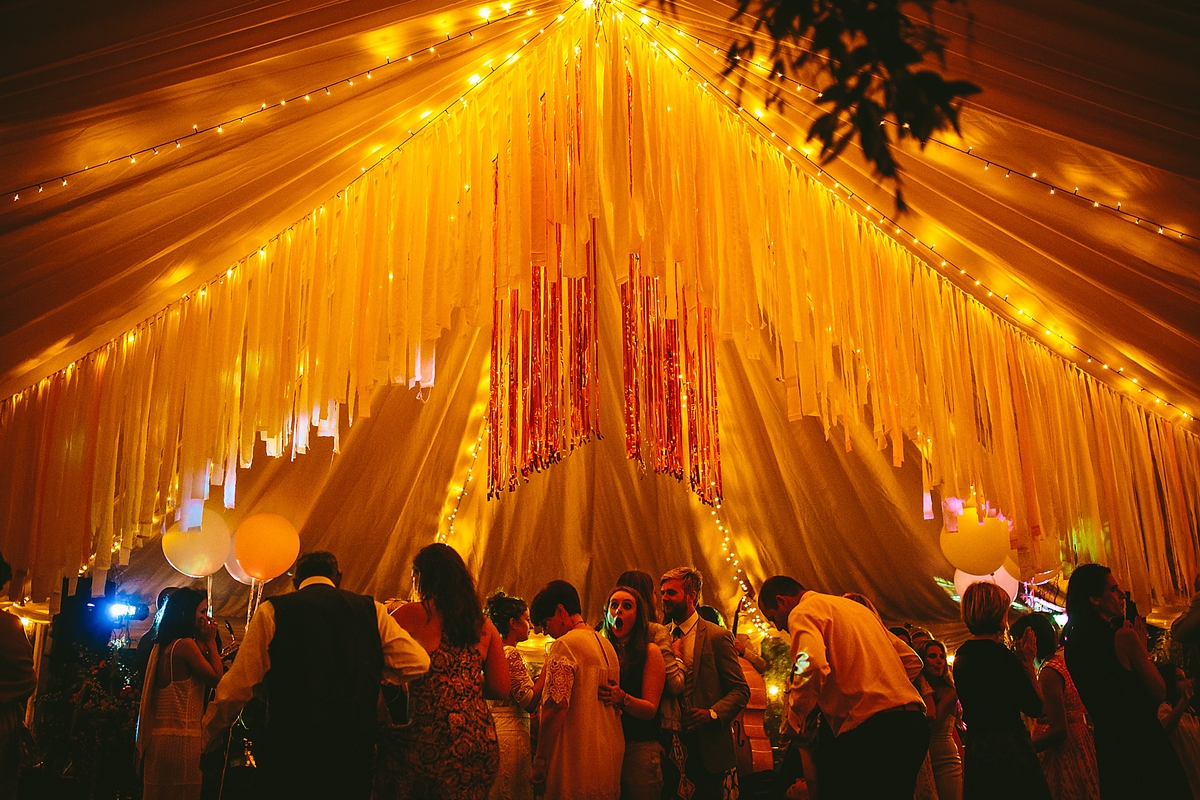 "Our band played it really well, and it's a great song. If we did it all over again, I would maybe go for something a bit more upbeat and fun, so everyone could have had a proper boogie."
"Our good friends, Alex and Daisy, took care of the music later on – everyone was on the dancefloor so they smashed it!"
Words of Wedded Wisdom
"Stay true to what you want to do, remember there are no rules. And get everything done with a week to spare, then get away and relax so that you're in a great mindframe when the day comes."
That is some truly stellar advice from our lovely bride. That just leaves me to say a huge thank you to Nigel John Photography and to Harriet and Iain (flippin' gorgeous Instagram feeds by the way) for sharing this beautiful home made day with us all.
The lovely bride also asked that we give a huge heartfelt shout out to their families and friends for everything they did to contribute to their day – a feat that really could not have happened without all of their help.
With love,
Em x