Happy Saturday lovelies!  I have the sweetest wedding of childhood sweethearts Callum and Jessie to share with you today, so grab a cup of your preferred beverage and relax with this pretty summer wedding.
The couple wed on Saturday 20th May 2017 in a church ceremony, followed by a reception at Dodford Manor in Northamptonshire and wore the most amazing smiles all the way through their laid-back, countryside wedding. The day was captured beautifully on camera by Sky Photography and on film by Molly Jane Lewis.
"We were both brought up as Roman Catholics, so it was important for us and our families to have a church wedding.  My childhood summers spent at my Grandparents's house in the Irish countryside stuck in my mind when envisioning the style of our day and I longed for an outdoor, laid-back, and scenic setting, with lots of greenery."
Film by Molly Jane Lewis Films
"We wanted a relaxed ambience and a natural flow to the day. Callum is particularly creative, so it was really important for us to include as many homemade, personal details as possible.  After all, we should all make our wedding day our own."
Images by Sky Photography
Jessie wore a gorgeous lace gown by Demetrios Bride which she purchased from Bella Sposa in Upminster, Essex.  Its such an incredibly elegant style and I love the long sleeves and cutout back.
"Long before the wedding planning process started, I classed myself as a sucker for lace and knew Demetrios was the designer for me; the lace, the attention to detail, the stunning trains all made the decision easy.  Being a petite bride, I worried that it would be a daunting task to find the dress but a small family-run boutique had just opened in my local town so I called up straight away eagerly asking if they stocked Demetrios. To my absolute joy, they did."
"It was my mum who spotted 'my' dress and as soon as she lowered it from the rail I couldn't wait to try it on.  With its scalloped lace neckline and subtle glistening beading, it had the combination of traditional in style but modern in detail, which I felt fitted perfectly to the aesthetic of our wedding day."
Stationery and paper goods were important to Callum and Jessie, especially with Callum owning his own drawing business, so the couple opted to use small businesses via Etsy and Facebook.
The wooden wedding invitations were the work of Laura M Illustrations, service booklets came from Creationary, table names and place names were by VM Bespoke and the table plan was homemade.
Callum looked super smart in a grey three-piece suit from Anthony's Formalwear in Billericay, paired with his brand new Rolex watch- a wedding present from Jessie.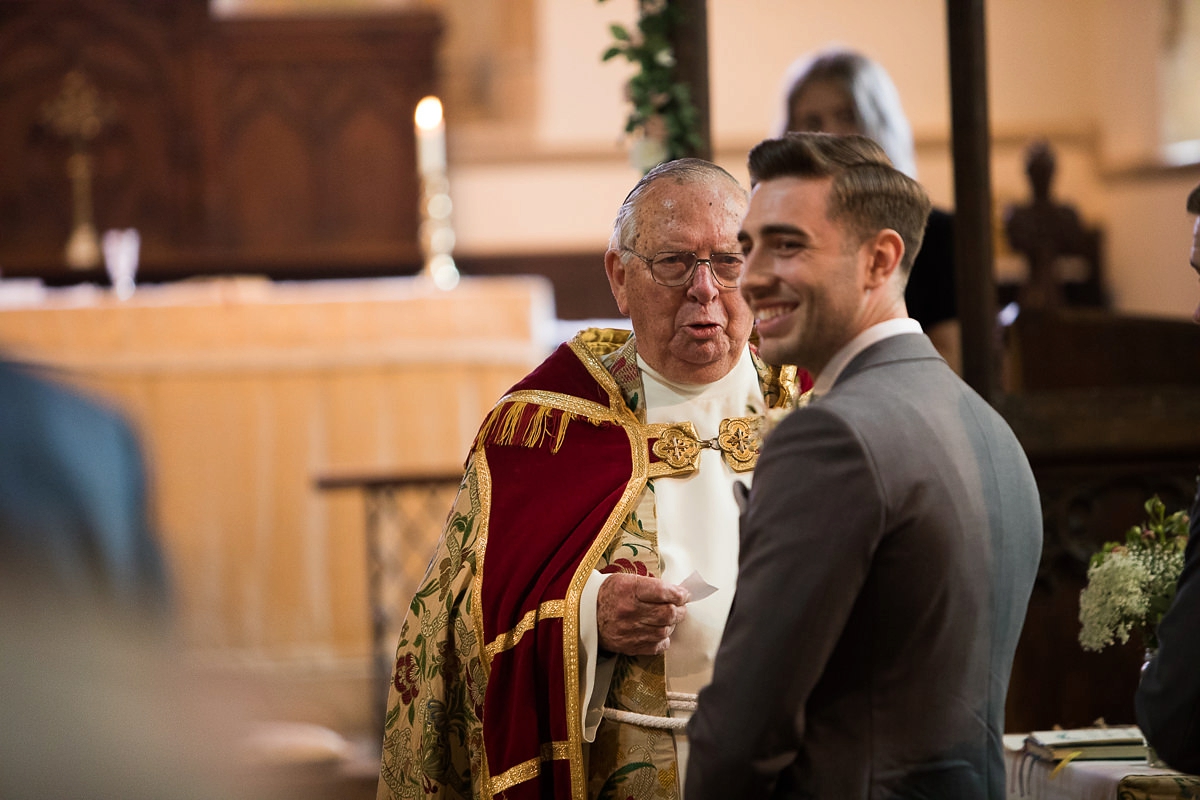 "My Dad walked me down the aisle to the traditional Bridal Chorus.  He described it as the proudest moment of his life."
"We read the traditional wedding vows as it was important for us to exchange such sacred words that have been said repeatedly in the same Church we were married in, and so many other couples will repeat in the future.  Although we were both so nervous, we couldn't stop smiling."
"My favourite part of the day was the moment Callum turned around at the top of the altar, after patiently awaiting for my arrival.  I was bursting with pride the moment I saw him and felt like the luckiest girl in the world.  From that moment on, I just couldn't wait for everything the day was going to bring."
"The wonderful Roz at Field Gate Flowers truly made all my foliage dreams come true.  Roz grows every flower from seed on her own land and it was beautiful hearing the progress of my flowers being nurtured in the lead up to our day.  I wanted greenery everywhere and a wild, loose, very green bouquet with pops of colour."
"A lovely personal touch was a single peony buttonhole (my favourite flower) that Roz made in addition to the grooms party, which was then taken home, pressed, and then placed on my Grandad's grave in Ireland."
The bridesmaids looked lovely in pale green gowns from TFNC at ASOS, while the two flower girls looked very sweet in dresses from John Rocha at Debenhams.  For jewellery Jessie bought each of her maids a pair of  Ted Baker earrings to wear on the day as a thank you for their support and friendship.
"All the girls are different heights and frames, so all I wanted was for them to feel comfortable all day.  The back detail on my dress was one of the standout aspects, so I wanted something similar for the girls.  They all looked beautiful."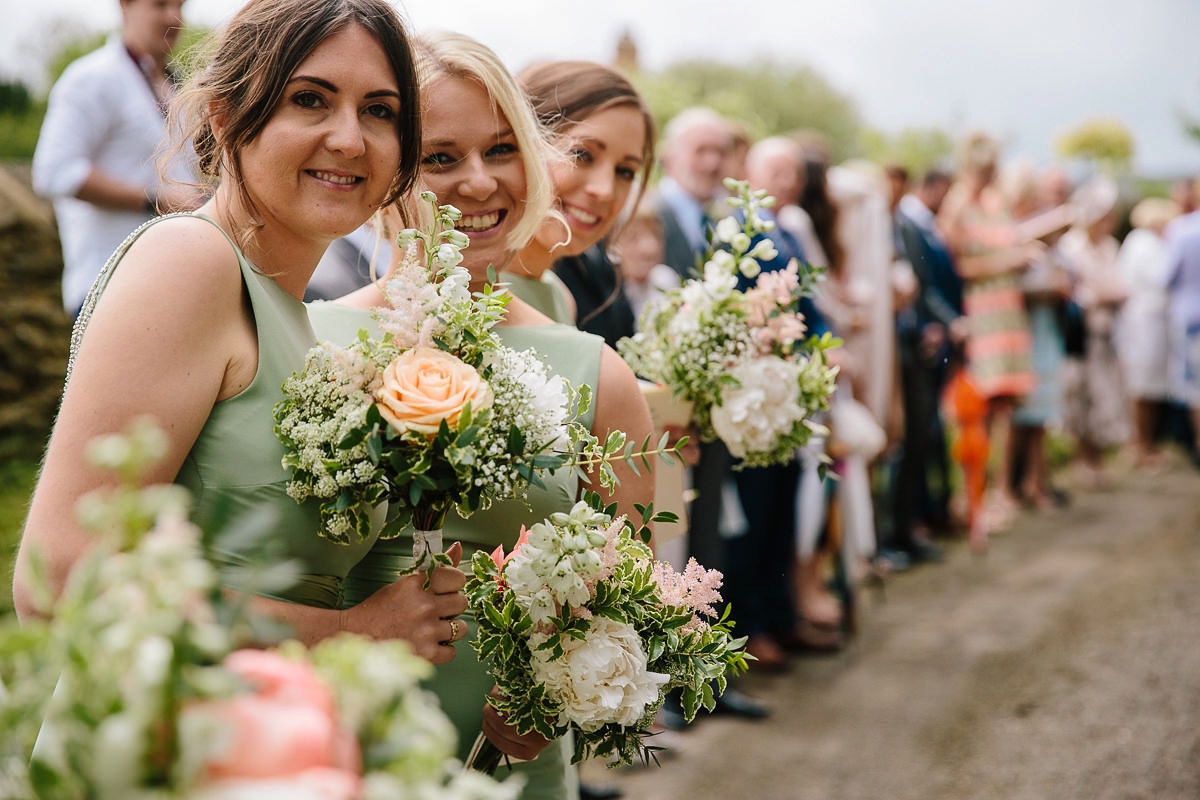 "My Grandad passed away ten years ago and he was my best friend.  Ever since, I have worn his crucifix necklace so it was important to me to wear it on the day too.  In-keeping with the something borrowed, something blue tradition, my mum and I stitched one of his blue hankies (he never went anywhere without one) into my dress, which I then secured my necklace onto.  I really felt like my Grandad was with me on our special day."
"Callum bought me a beautiful Cartier bracelet.  It was made of two entwined links, which he felt was symbolic to the commitment we were about to make."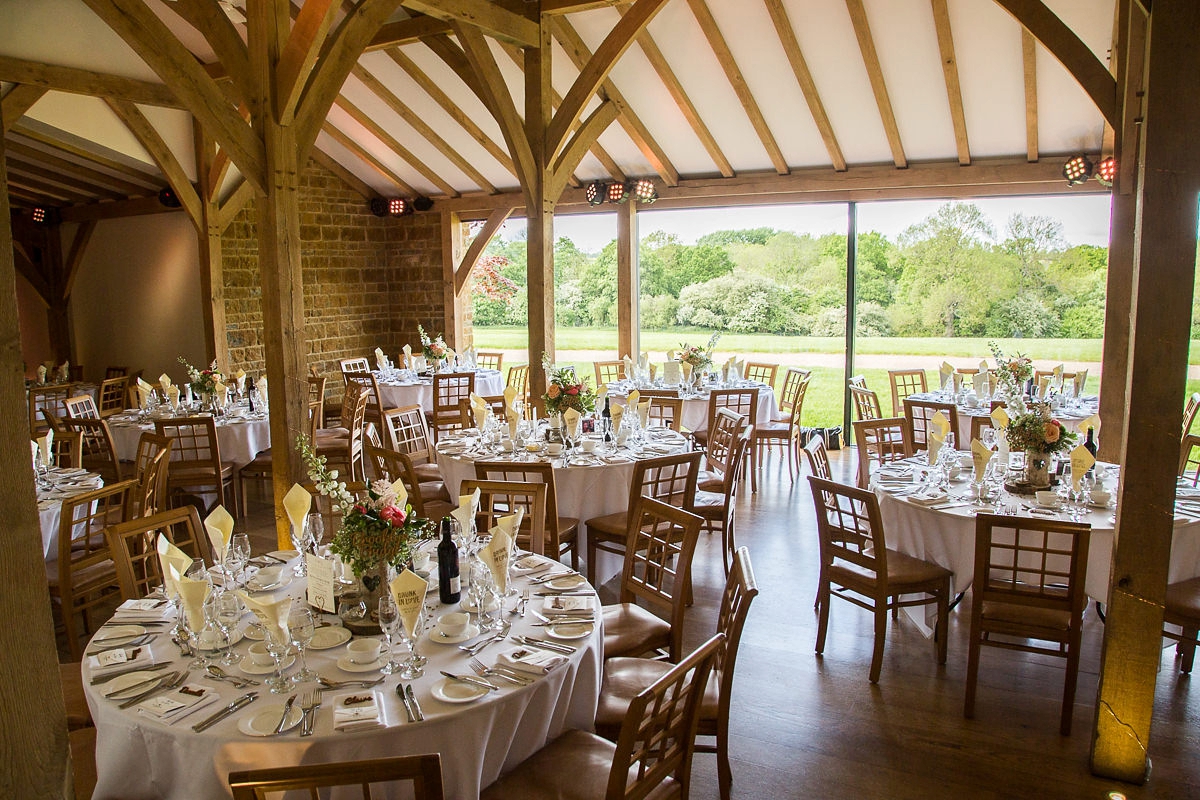 Jessie's grandmother and her sister made the lovely cake and Jessie's mum decorated it with fresh fruit and flowers.  The rest of the day was catered by Jenkinsons Caterers and guests feasted on various pies for the wedding breakfast.
"Simon and Karla at Sky Photography were an absolute dream to work with.  We had an initial Skype call with Simon and knew straight away we wanted to work with them to capture our wedding."
"We were adamant that we didn't want any forced, structured photographs, but more relaxed and subtle and Simon and Karla created this in better ways than we could have ever imagined.  We had requested some sunset shots in the vast fields surrounding the barn and Simon and Karla captured an insanely amazing silhouette of the two of us, with the evening sun beaming down through the clouds onto us."
"Our videographer, Molly Jane Lewis Films, had featured on Love My Dress. We absolutely loved her work; we felt that the natural, quirky ambiance she brilliantly brought to life was everything we were looking for and she is one of the most inspiring, quirky, cool women I have ever met."
"We were quite apprehensive about being filmed for large portions of our wedding day, but she made us feel so relaxed. We received our teaser video last week, and it really captures the spirit of our day and the love that we felt from start to finish."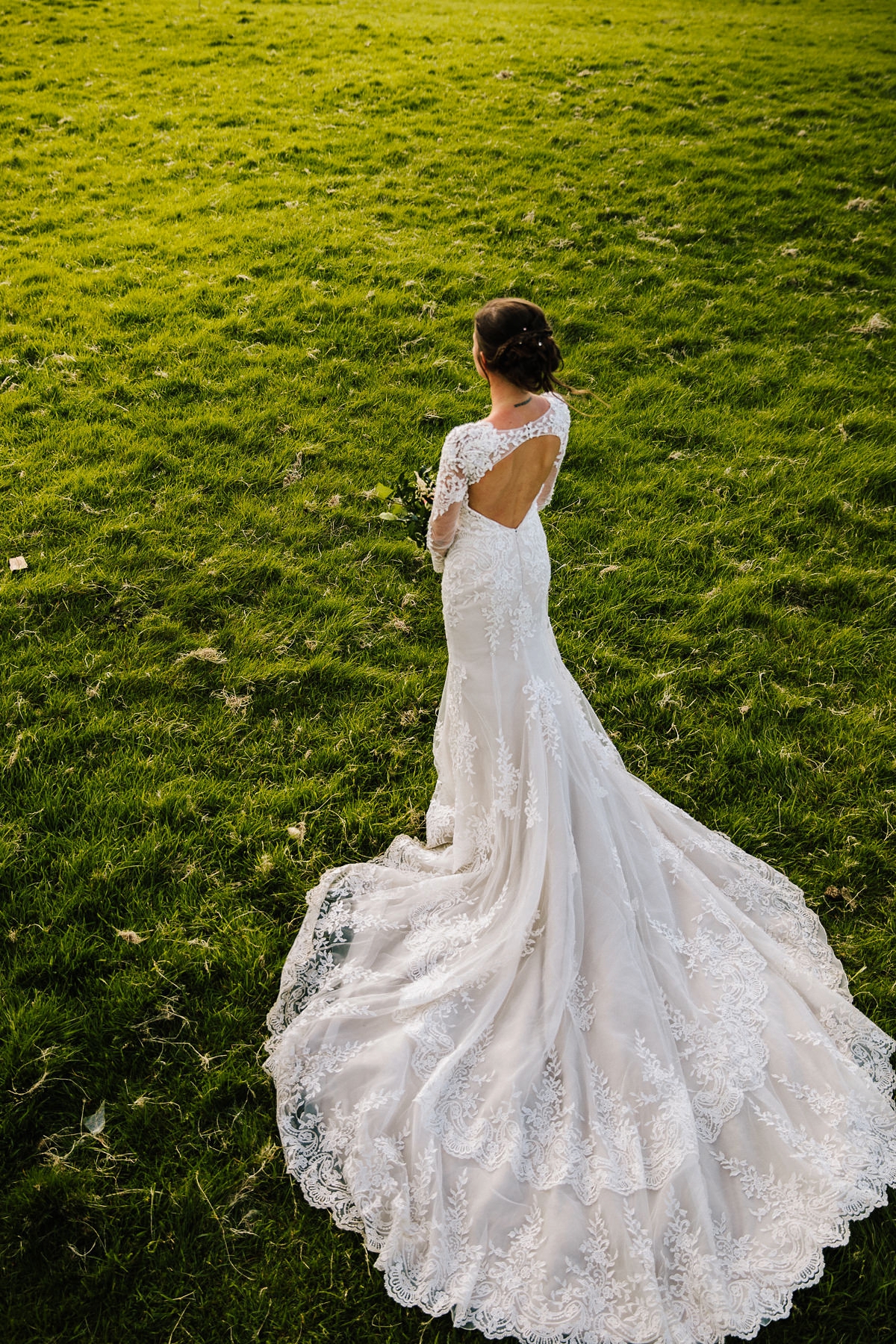 Words of Wedded Wisdom
"You can never be too prepared!  I heard so many times that 'no one else will know if something doesn't go to plan' but all the small details were such talking points at our wedding that I'm so glad I spent the extra time obsessing over them. 
Delegate. There is so much going on that it's important to recruit your wedding party to do any last minute finalising for you."
"Take at least ten minutes with your new husband at some point during the day. We made sure we popped outside after dinner for a walk in the fields, just to spend some alone time, re-live everything that had happened so far and tell each other 'I love you'."
So many thanks to Jessie and Callum- its so lovely to feature weddings of couples who found Love My Dress an inspiration during their planning.
Much love,
Shona x