Happy Saturday lovelies! Hoping this finds you well today, and that those of you who were back to some sense of normality this week after the school hols have survived?!
This afternoon's wedding is a total beaut – Amanda is an editor in the financial services and Iwan is an English teacher (and one-time drummer of The Automatic). The utterly gorgeous pair tied the knot in a beautiful, heartfelt handfasting ceremony on the 24th of September 2016 at fforest Farm in Cilgerran, Wales. I've literally just spent an hour Googling and drooling over this magical place and firmly added it to my "must-see" list on my next UK trip. Amanda so beautifully explains the reason for choosing their wedding venue and I honestly feel like she'd taken me there with these words.
"We fell in love with West Wales and felt drawn to it as our special place that we'll return to again and again, well into our old age. There are just so many happy memories for us here, including one of our first holidays together at fforest, and we've sat on the banks of the river Teifi eating fresh baked pizza after swimming in her cool waters on the hottest summer days. Walking the paths, breathing the air, listening to the ocean and watching it glisten – year round – is where we feel closest, most creative, recharged and most in love."
Images by Photography34
"Tony Wilson from Photography34 saw the nuances of our relationship, our personalities, and captured our spirit as a couple and individuals. He caught every single moment of happiness, whether it was quiet or shared."
"I love reading the narrative of the photos, seeing the character and warmth of our guests, and looks between Iwan and I that I've never seen before. Every photo is delicately composed and beautifully rendered – we were so lucky to have him as our photographer."
Amanda chose a starry veil, the 'Etoile' style by What Katy Did Next, heels from Office and a custom-made crown of silk and porcelain by Lune Bea Bride. Adding a spray of Chanel No.5 (a present from Iwan's mum and dad for her birthday), Amanda then finished off her utterly elegant look with beautiful gifted jewellery pieces.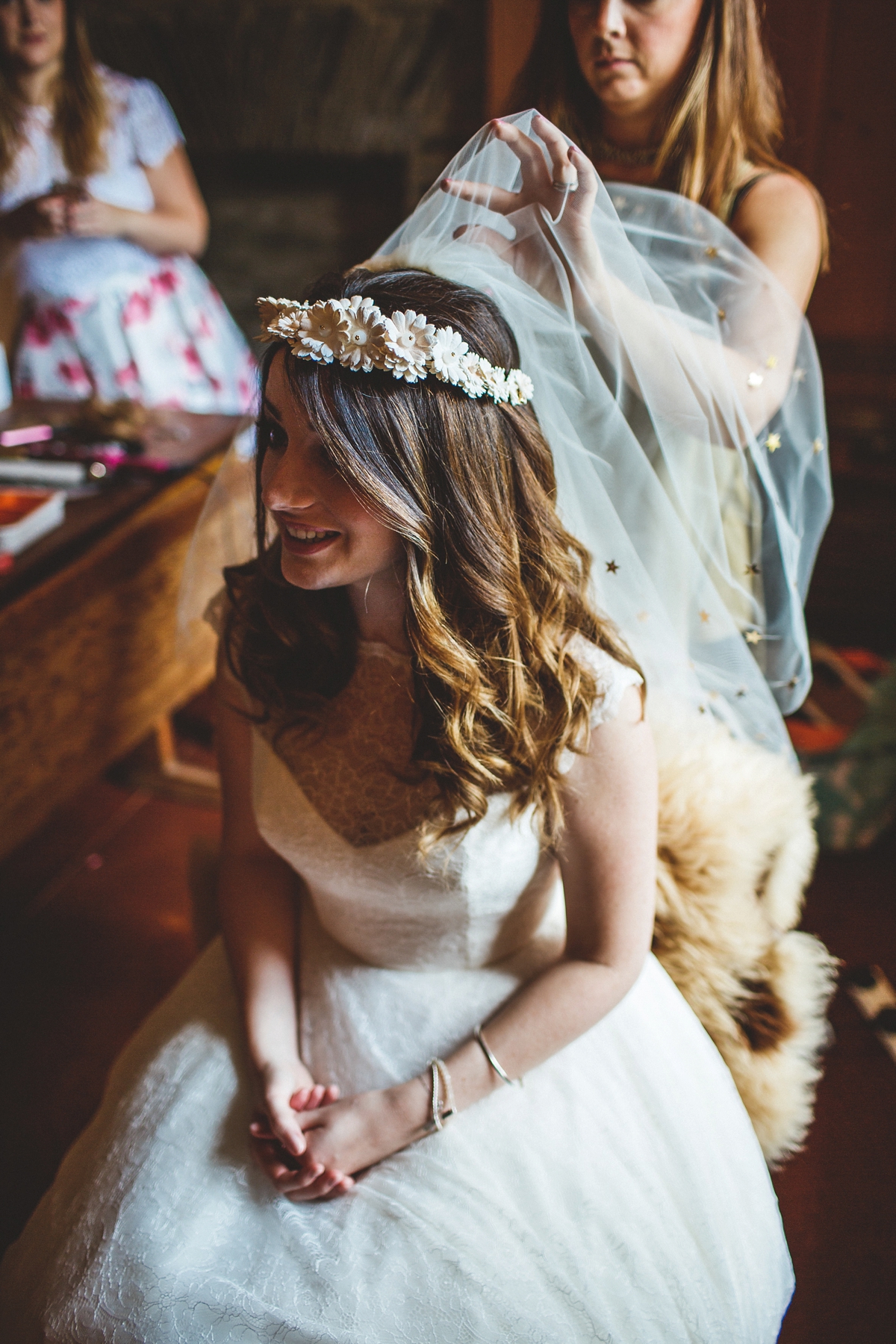 Emma-Jane Walsh from Gemma Sutton was tasked with hair and make-up for the bride and her bridal party, who looked incredible in their two-piece E&W Couture ensembles comprising floral skirts and lace tops. The bridesmaid's accessories were different pieces from the resident designers at Diana Porter in Bristol.
Bridget Clemence from Amaryllis Wedding Flowers created an absolutely stunning array of florals for the couple, including an epic bouquet that brought Amanda to tears upon first sight, and hoops of flowers to decorate the tipi.
"We gave Bridget free reign – she had so many ideas and when I said I loved colour and ribbons, and the idea of decorating the venue with hoops of flowers, there was no stopping her creativity. When the bouquet arrived I was moved to tears – she'd done so much more than I ever could've hoped for; it was wild and ribboned, laden with textures and layers of scent. And, she'd made my flower girl Bob a flower wand which she waved with pride!"
"My jewellery consisted of a set of Alex Monroe gold flower earrings that were a gift from my mum and dad, a silver and gold heart bangle, a gift given by Iwan years previously, and a ChloBo silver tree of life bracelet given by Iwan's parents at Christmas."
I just adore the story behind the moment Amanda knew she had to have her dress – yes, there were tears from both her gorgeous mum and dad! – the very elegant 'Misty' by Stephanie Allin and found via The Mews Bridal in Clifton, Bristol, who gave her a wonderfully personalised experience.
"I found my dress quite by chance! My parents came to visit when I was living in Clifton Village in Bristol – it'd gone 5:30pm and we did a bit of window-shopping as we idly wandered past The Mews. Rebecca and Fran spotted us peering through the glass and hurried over to unlock the door. I explained I'd been trying to get an appointment with no luck and I was hopeful to get in much later in the year. I couldn't believe it, they invited me in to try on the gowns – I had my very own after-hours lock in!"
"I tried on a whole rail of beauties that ranged from vintage Grace Kelly elegance (which I dutifully popped all the buttons off as I bent over to put shoes on!), to 1920s jewelled numbers. 'Misty' was startlingly beautiful even on the hanger – the lace alone is delicate, soft and extraordinarily detailed and don't even get me started on the fullness of the skirt."
"I hardly dared look too closely in case I fell in love with her, but as soon as my eyes met my dad's I knew it was hopeless! He burst into tears, and that set my mum off, and then it was all I could do but surrender."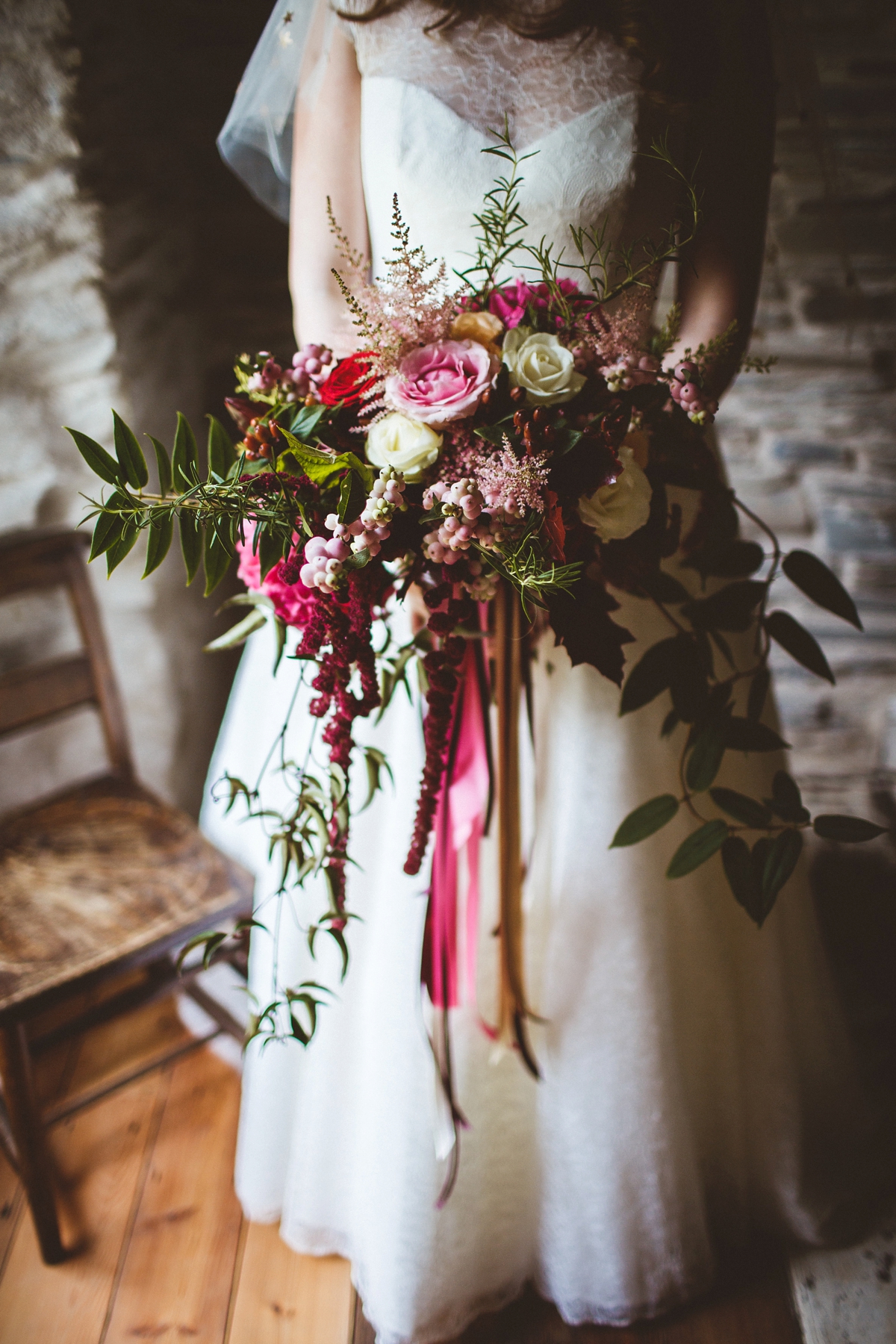 Iwan dazzled in a stylish Ted Baker and Grand Frank tie – and a special friend was in excellent form for his best man role.
"Iwan and I have been together for nearly ten years. We met and chatted the night away in Clwb Ifor Bach in Cardiff on Easter weekend in 2008. I was a year into my degree and he'd just come back from tour in USA – we loved a lot about each other instantly, and were pretty much inseparable from that night! We got engaged on 4th May 2015 on Aber Rhigian beach; windswept and surprised after scaling exposed coastal paths between Cwm Yr Eglwys and Newport."
"Rob Hawkins, Iwan's friend from secondary school and singer from the band days, made an unforgettable speech that had everyone laughing and in tears, foot stomping and cheering."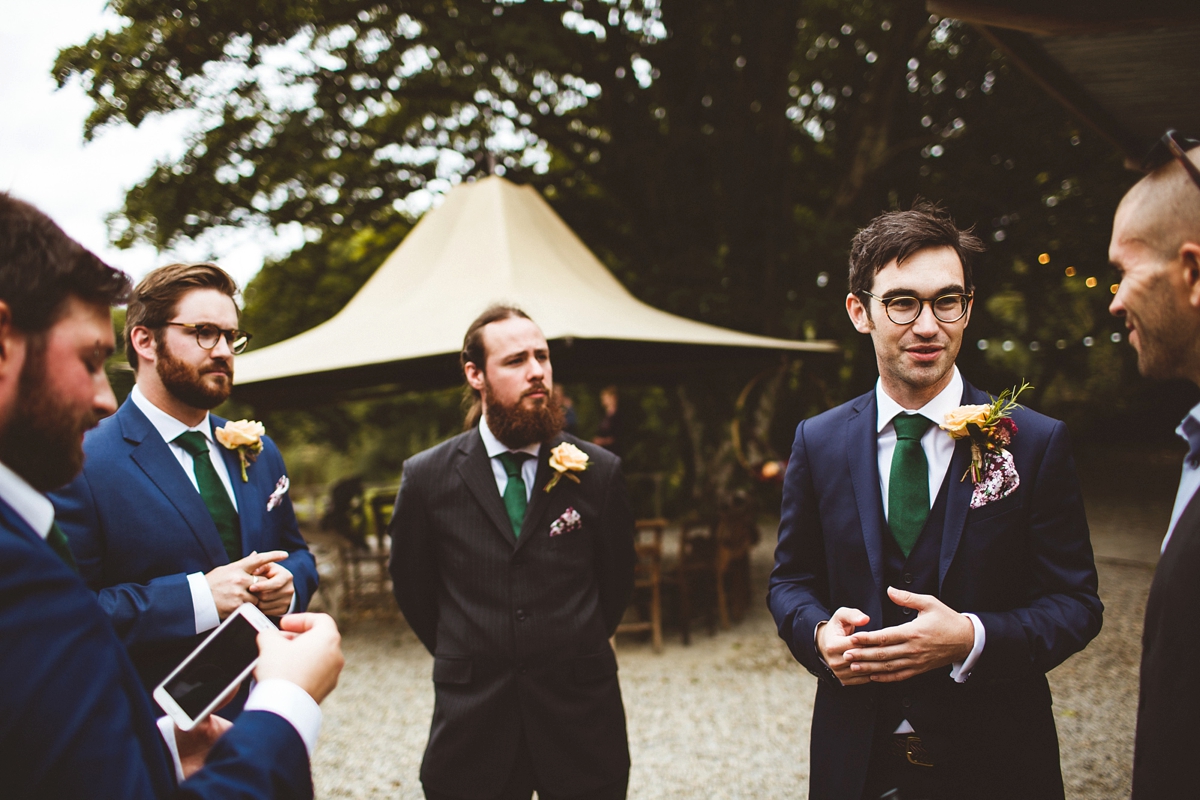 "My dad accompanied me for the aisle walk. I'm a soppy old thing… Pat Macintyre learnt, played and sang 'Love is On the Radio' for me because the lyrics reflect how I felt before Iwan appeared on the scene almost a decade ago. In honestly, I was all at sea in my early 20s, and unsure about almost everything. Suddenly, this wonderful man was in my life (and quite literally, on the radio all the time) and I felt like life ahead just clicked into place."
"Our celebrant, Helen from Treasured Ceremonies, suggested a handfasting ceremony – it was a fantastic idea. As Pat played Al Green's 'Tired of Being Alone', the congregation were given cuttings from a spool of ribbon and invited to the front of the tipi to join our hands together. It was breathtaking to be so close to everyone at that moment – I was choked up. The handfasting didn't only bond Iwan and I, but also our guests. They're all part of our wider family now. It was the perfect moment and my favourite lasting memory of the day."
"I wrote my vows with and asked one of my lovely friends Emma (who happens to be a fantastic writer) to look at them with me before I read them aloud.
Iwan, I take you as my husband. You're the Obi-Wan for me.

I promise when we say 'hello' after work, that I'll hug you like we've been apart for a thousand years. I promise when I'm silent, I'm thinking: "please, stay forever" and contemplating the mystical power that placed me so carefully your arms, because surely it isn't by chance.

When you are away from home, I promise that my nights will be sleepless and fitful, wishing for your return. I promise that when you arrive back at our front door, each waking hour will be filled with symphonies of conversation… even if I do most of the talking while you sink into the sofa with a cup of coffee.

You are brave and tenacious. I can conquer the world with one hand, as long as you're holding the other, I promise you won't ever have to face problems alone.

You're a remarkable, intelligent man. I promise to turn only to you as my wisest confidant. But as our family changes and grows, I promise to share your counsel, attention, and affections. You're too good to keep all to myself.

On your 70th Birthday, when we've been together for 47 years, I'll bake you a banana loaf because it's your favourite, kiss your cheek and say: 'Shall we watch Star Wars?'

And finally, I promise to love you eternally.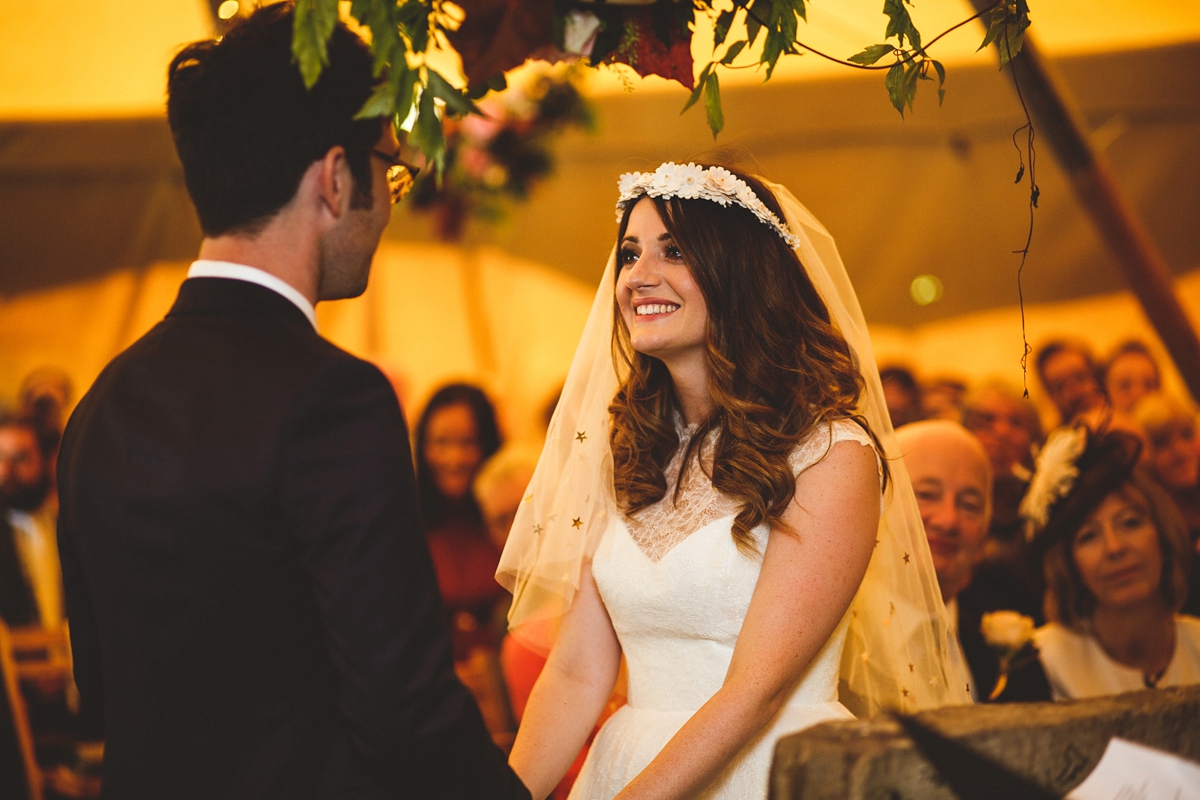 "Our rings both came from Clifton Rocks, in Clifton village. Iwan picked a weathered 9ct white gold band. My ring is made by Cornish artist, Mirri Damer. It pairs perfectly with the engagement ring Iwan gave me (a goldband with a deep blue tourmaline). The wedding band is 18ct gold and pebbled, like a beach, and diamonds glisten from the individual sand speckles."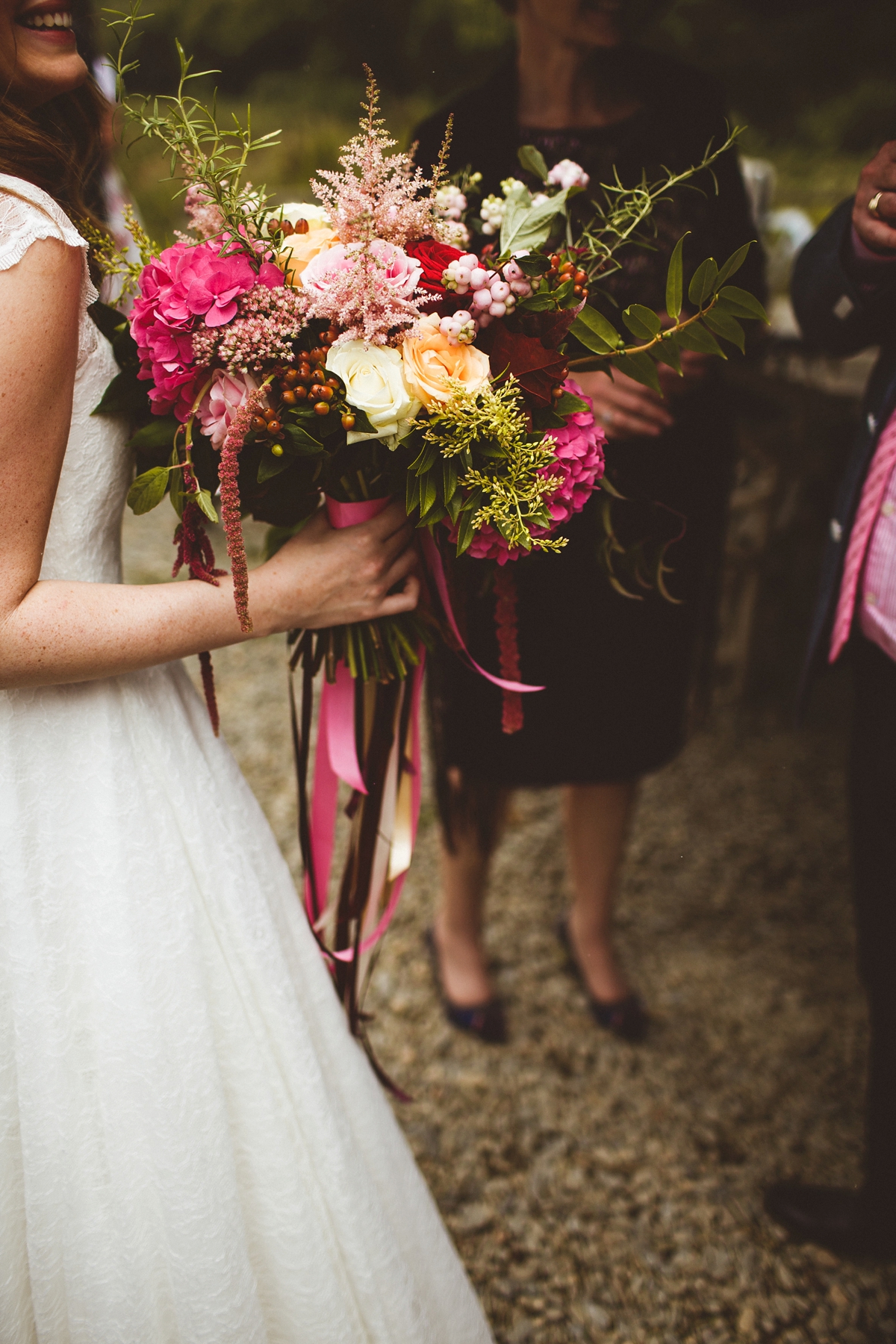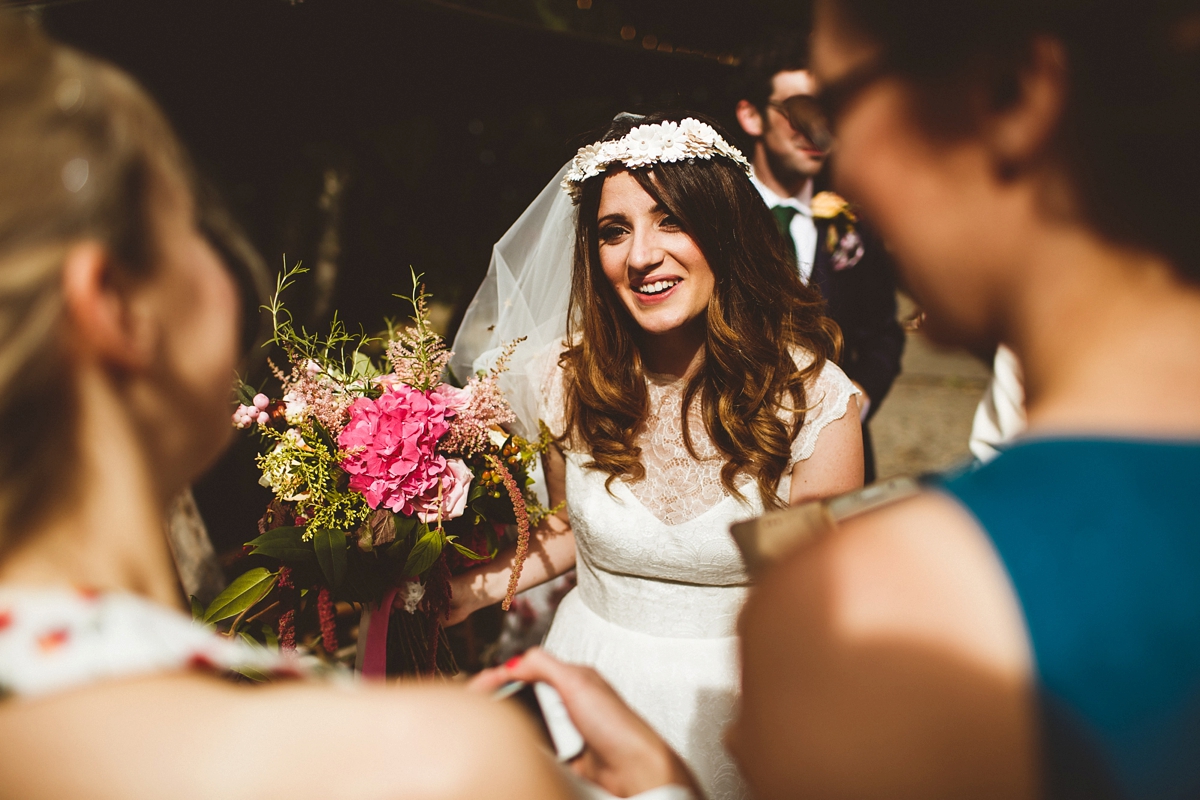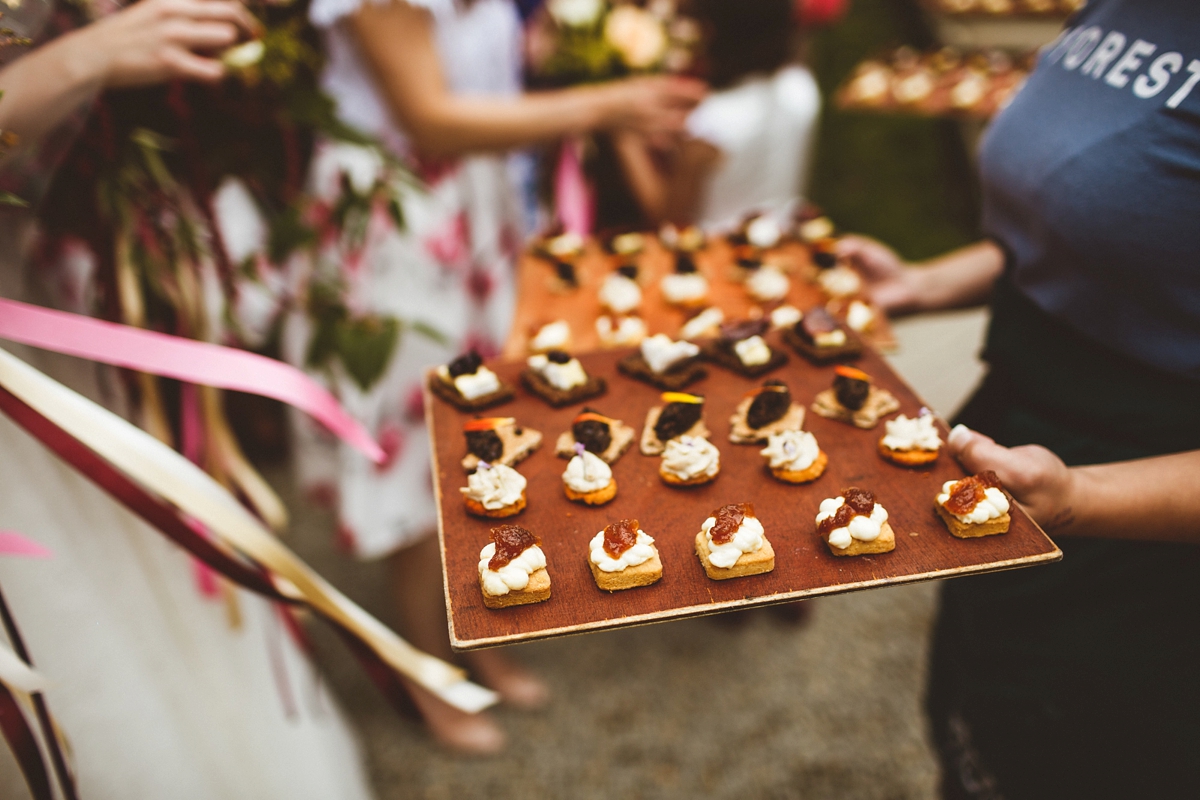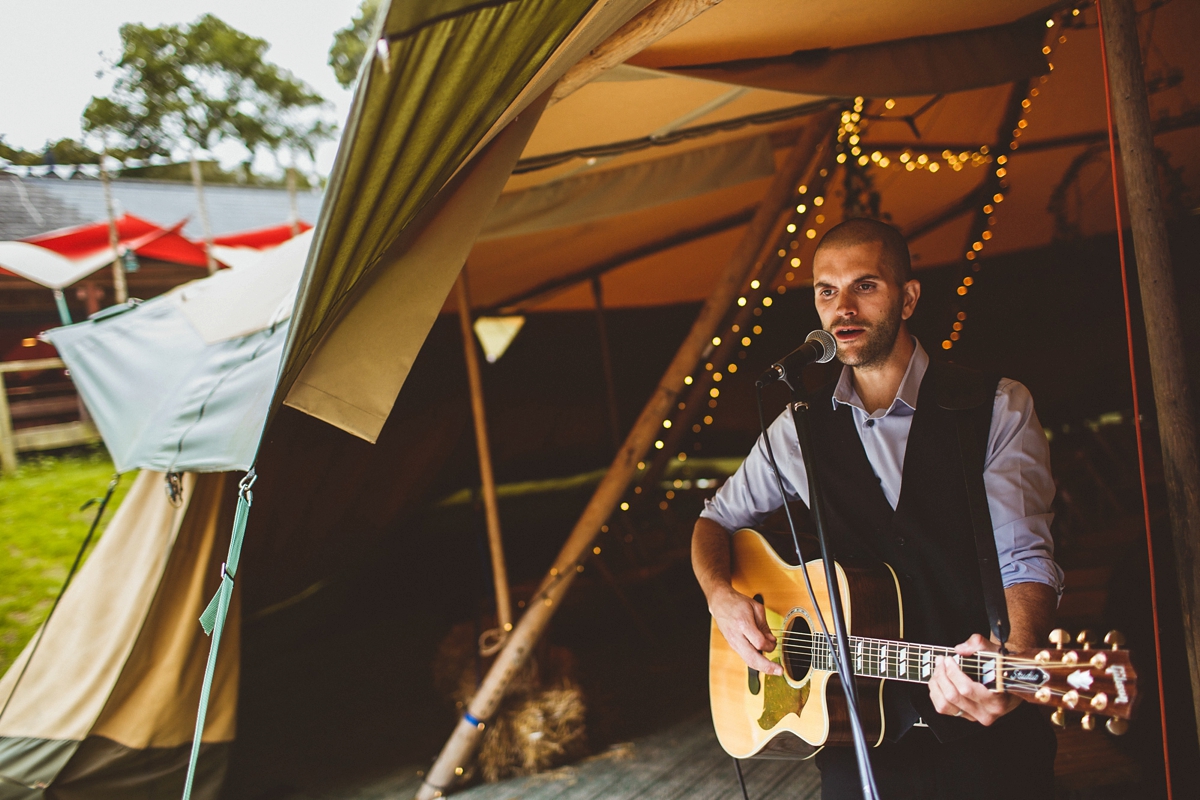 "Anthony Oram designed a wedding poster, favours and name cards for the tables (and a seating plan but unfortunately we couldn't use it as we had some last-minute changes)."
"We did very little in terms of decor, as fforest is so beautiful on its own. I strung up some extra fabric and paper bunting, and made table markers based on The Life Aquatic (I love painting and drawing in my spare time)."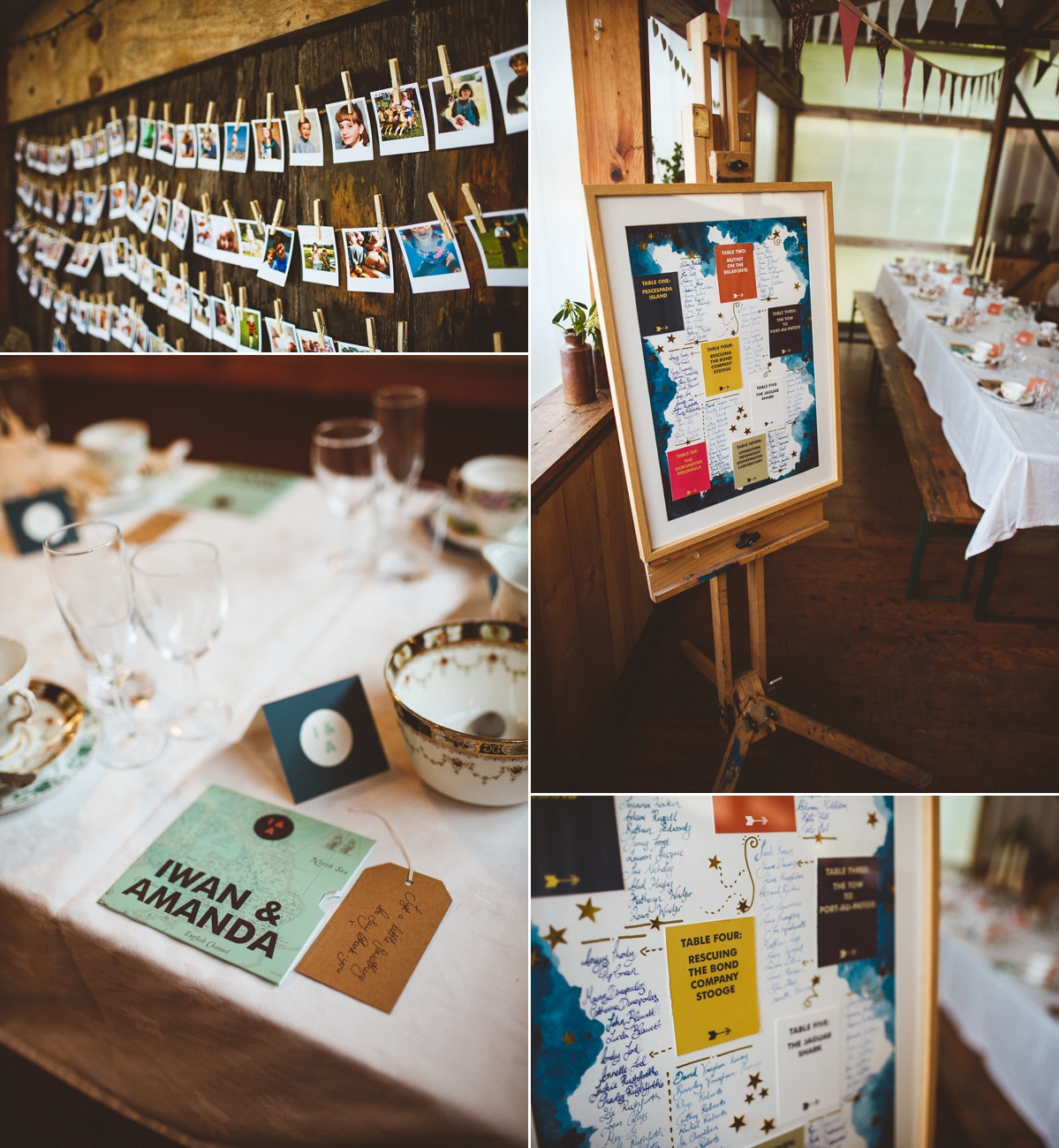 fforest Farm made all of the tasty and fabulous cuisine. And the amazing wedding cake, made by Claire from Cake Carousel, has a delightful story attached!
"Despite it being an unmissable naked skyscraper of a cake, we were all having much too much fun on Saturday and forgot to cut it. So, when all the guests gathered for breakfast, we cut it then! Delicious it was too."
Amanda and Iwan gave each couple two favours. My own hubby laboured over this very task of preparing a mix CD of all our favourite tunes – and I get a little thrill when wedding guests still love it and play it three years later.
"We gave each couple two favours. The first was a mix CD of all the music that's been important to Iwan and I throughout the years (Xavier Rudd, Kate Bush, Minus the Bear, John Grant and Nick Cave, to name a few), and a big bar of 'lust' or 'love' NomNom Chocolate, made locally in Pembrokeshire."
"We had two first dances! Soul lotta funk played 'L O V E' by Nat King Cole to get everyone dancing – it worked! When the band took a break, and all the guests went to gather around the firepits and grab a fish finger sarnie at about 11, we had a secret first dance to 'Northern Sky' by Nick Drake."
"We organised a range of entertainment – Pat Macintyre played an acoustic set before, during and after the wedding, Pembrokeshire Falconry kept eyes on the skies during the afternoon, and Soul lotta funk kept the jams funky until midnight."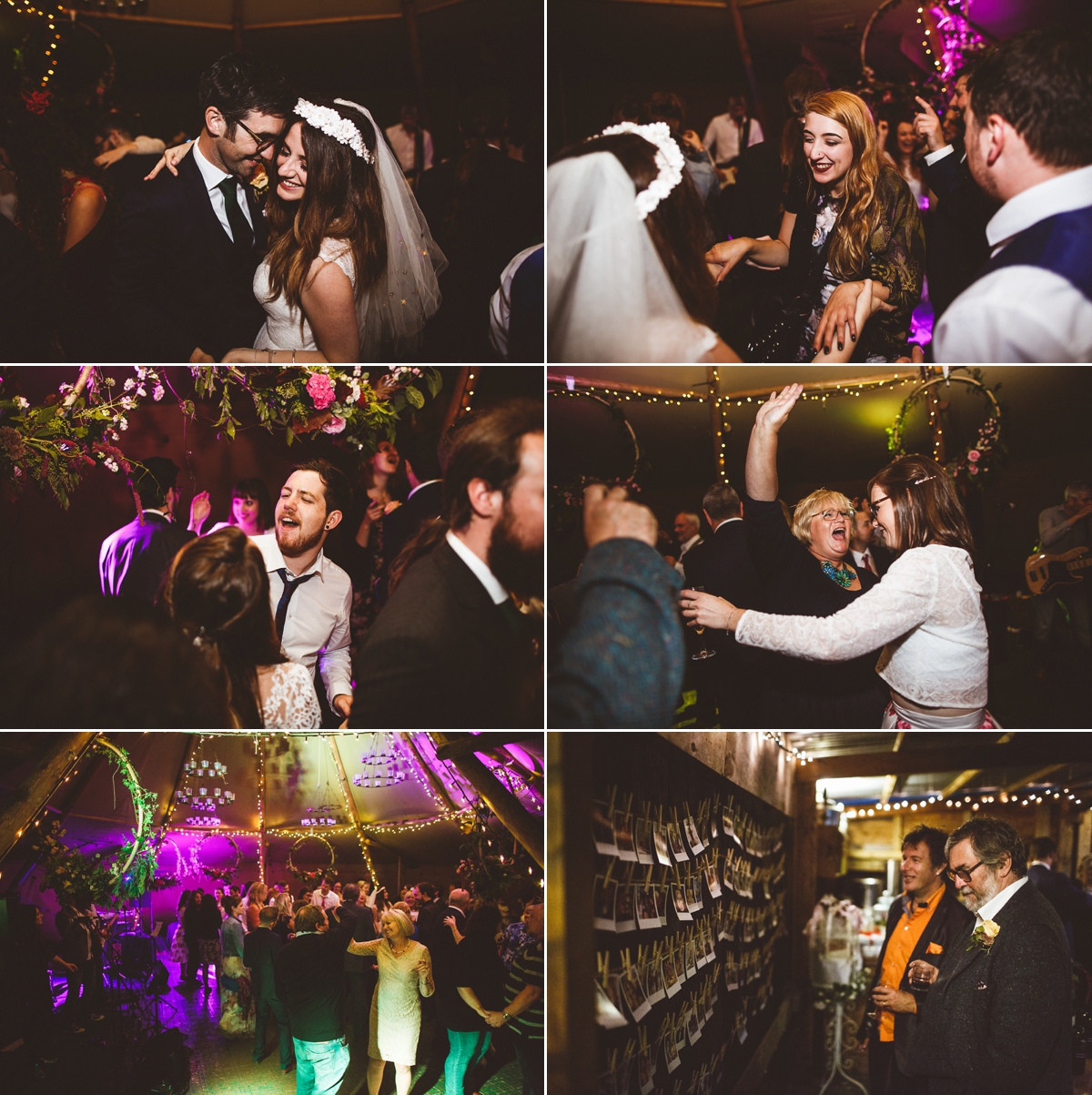 Words of Wedded Wisdom
"The only and best advice I can give is to love every moment, it really is a magical experience. I had no idea it would be as special as it was.
If you have musical friends, ask if they want to bring their instruments – you'll end up singing and jamming as the night turns to morning.
Fish finger sarnies at 11pm are always a winner, as is cutting the cake at breakfast!"
"I wouldn't change anything … except maybe cuddle the bridesmaids, groomsmen and guests a bit more and say 'thank you' over and over to our parents, but I'm pretty sure I did that anyway, haha!
And, if you're writing your own vows, take your time and share them with people you trust. They'll often see what you're trying to say clearly when you feel tongue tied, or overcome by the enormity of the gesture you're making to your husband or wife."
These are the most helpful bits of advice ever, thank you lovely Amanda and Iwan! It's been a real joy to share your beautiful big day with our readers – and wishing you both a very happy first anniversary for the 24th, I hope you have something groovy planned. Also, thank you ever so much to Tony from Photography34 for these heartfelt images of the beaming bride and groom and all of their jolly guests.
For even more Stephanie Allin inspo, take a look here from our extensive archives and have a relaxing rest of Sunday!
Love Jo -xo-