Eco-friendly. It's a modern trend we're seeing more and more with the real weddings we feature on this most beautiful blog and you're about to see below for the wedding of these lovely two.
Bride Rosie, who works for notonthehighstreet.com and her journalist beau Jon, met online via Guardian Soulmates and chose a picturesque setting in the countryside at the idyllic Hawthbush Farm in East Sussex, spreading out their celebrations over the entire weekend of the 5th of August 2017. They actually first came across the venue on Love My Dress and had their hearts set on it from the very beginning.
"We were inspired by the beautiful countryside setting of our venue and really wanted to reflect that in our stationery, décor, flowers and in my dress. We also wanted to be as eco-friendly as possible and tried to choose suppliers that were based as close to the venue to keep things local."
Photography by Epic Love Story 
Rosie's extremely talented sister Elly, from Take it Up Wear it Out, designed and made her dress from scratch. I simply adore the design and it really is so worth going bespoke so you can have exactly what you've envisaged.
"We spent a long time designing the dress; finally settling on the soft tulle skirt with a backless T-shirt style top, as it felt really special but was something I felt very comfortable in. I knew I wanted a twist on traditional white, so we went for a beautiful blue/grey for the underneath layers, then had so much fun choosing the amazing lace for the top and the beautiful silk for the skirt. Elly is a dressmaker by profession and normally makes costumes for tv and films – she is incredibly talented and there's no one else I would have trusted to make my dress!"
"Because of the countryside setting I didn't want to risk wearing heels, so I went for some practical but cool flats from Dune. I had a pair of trainers for the evening but totally forgot to change into them as my Dune shoes were so comfy!"
"I normally wear 'Red Roses' by Jo Malone but chose to wear 'Velvet Rose & Oud', as this felt like a slightly more special version of my everyday favourite."
"I wore a gold bracelet and a pearl ring that I wear most days. Both were gifts from my sister a few years ago. I also wore some really cool rose gold ear climbers that Jon gave me as a gift on the morning of the wedding."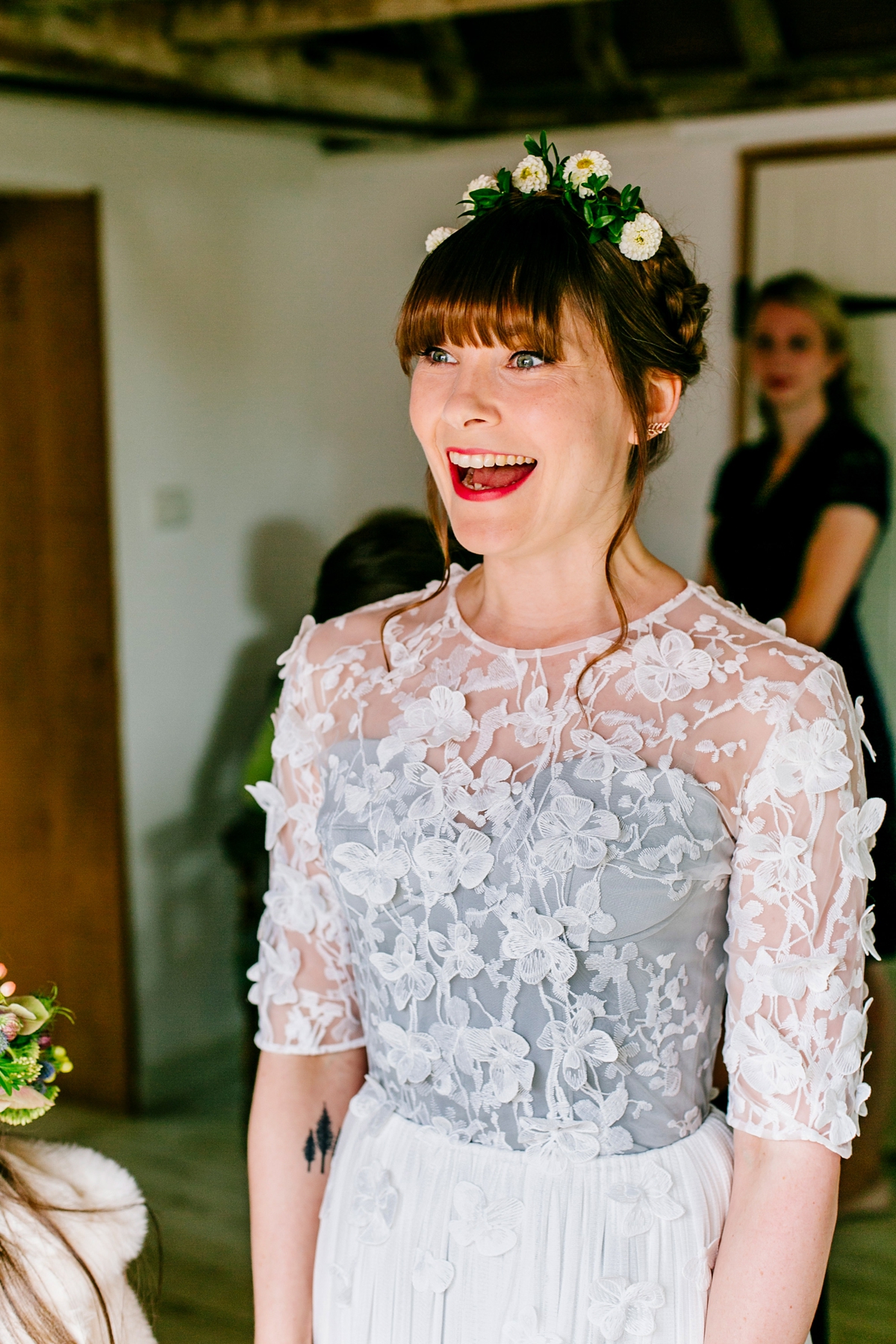 "We met through the Guardian Soulmates website in October 2012. We only sent a few messages back and forth before we agreed to meet in a pub in Tooting, South London. There was a sign on the bar near where we were sitting that said 'Winter is Coming' and we hit it off straight away talking about Game of Thrones!"
"Fast forward a year and a half and we moved in together into a flat on the same road as the pub where we first met. Jon was planning an elaborate proposal on a weekend away in the Cotswolds in April 2016 but he jumped the gun and sprung it on me on a Saturday evening at home. It was a complete surprise and I said yes straight away. We started planning pretty much the next day and were married 16 months later."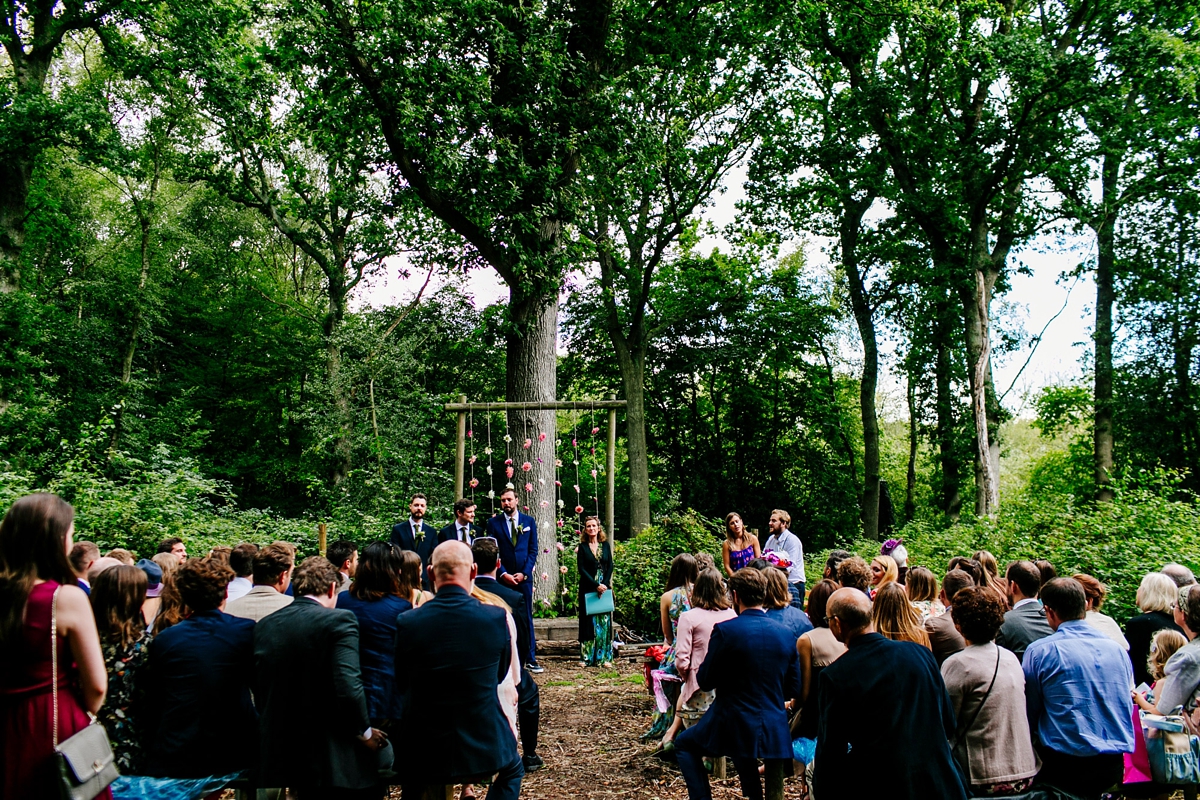 The florist, Sussex Cutting Garden, made lovely little flower pins to weave through Rosie's plaits, which were styled to perfection by Elloise from Powder and Pin.
"My sister handmade her bridesmaid's dress, whilst Carol's was from eBay. They had the same hair pins as me and they chose to wear comfy flats. Both got ready in cotton dressing gowns I'd gifted to them the day before from Susannah Cotton."
Folk duo Sam + Ryan played for the aisle walk, then during the canapés. I just love this sweet, inclusive touch for the walk.
"We wanted to include family and friends from both sides, so Jon's niece, mum and sister walked down the aisle first, then my mum and dad, then I walked down with my bridesmaids. We walked up the aisle to 'I Will Wait by Mumford and Sons', then back down to 'The Middle' by Jimmy Eat World."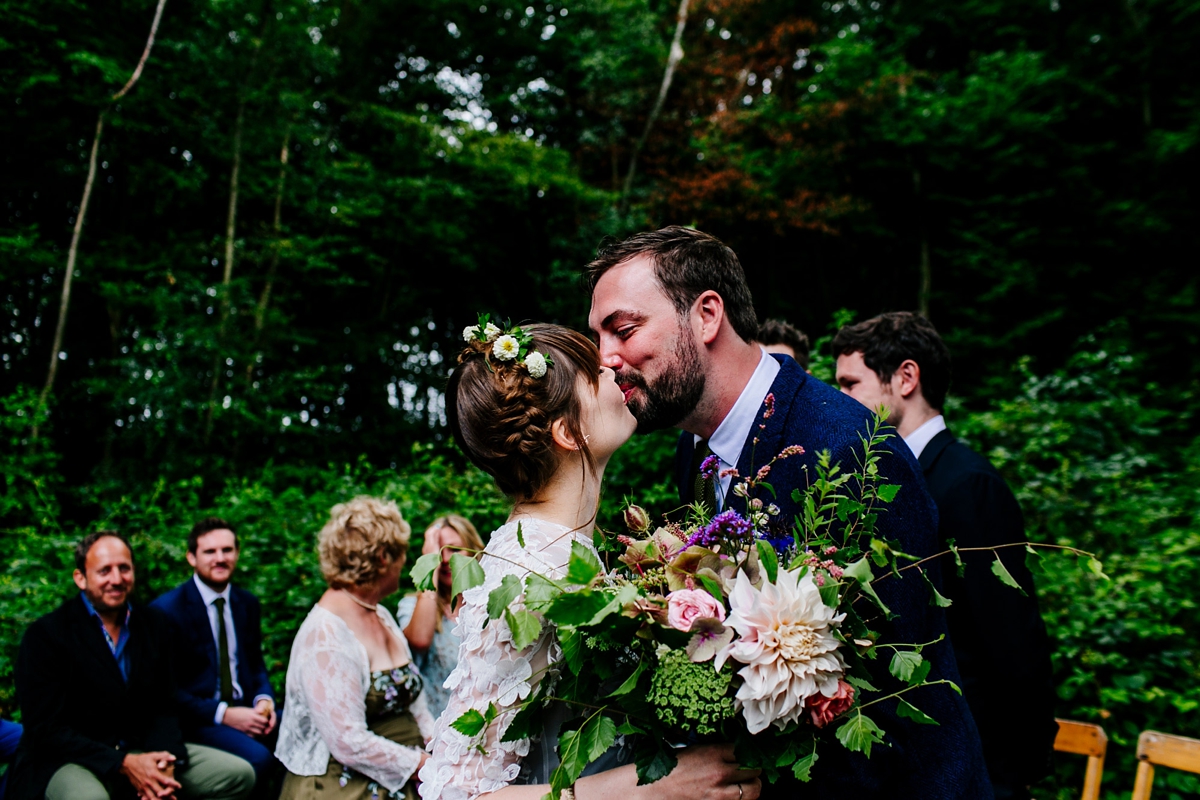 Jon's stylish attire was via ASOS. The groomsmen bought their own suits, whilst their ties were also from ASOS.
"We had an amazing humanist celebrant, Lisa Harmer Pope, who wrote the most wonderful, personal ceremony for us. We exchanged rings and also had a hand-tying ceremony which was lovely."
"Having said our formal vows at a registry office on Thursday, we wanted our ceremony on Saturday to be really personal to us as a couple and to celebrate our relationship."
"In the ceremony we included three readings, each one celebrating a film, song and book that meant a lot to us: an extract from 'Nightmare Before Christmas', lyrics from a Bruce Springsteen song, 'If I should fall behind', and an extract from 'His Dark Materials' by Philip Pullmanan, as below:
"I will love you forever; whatever happens. Till I die and after I die, and when I find my way out of the land of the dead, I'll drift about forever, all my atoms, till I find you again… I'll be looking for you, every moment, every single moment. And when we do find each other again, we'll cling together so tight that nothing and no one will ever tear us apart. Every atom of me and every atom of you… We'll live in birds and flowers and dragonflies and pine trees and in clouds and in those little specks of light you see floating in sunbeams… And when they use our atoms to make new lives, they won't just be able to take one, they'll have to take two, one of you and one of me, we'll be joined so tight…"
"We went for really unique handmade designs for our rings, as we didn't want anything too traditional. Mine was by Alison Macleod and Jon's by Fire White."
Emma from Epic Love Story Photography – and a much-loved Little Book for Brides member – caught the myriad of emotions so beautifully with her natural style and the newlyweds were so impressed with the results.
"As soon as I came across Emma's amazing work, we knew we had to book her; her natural and candid style is so unique and we didn't want anything that felt too posed. We didn't even speak to anyone else and luckily she was available for our date. We met up for a chat and got on so well, it really put us at ease as neither of us are that comfortable having our picture taken."
"She worked tirelessly on the day, battling through the rainstorm with a smile on her face, even when the downpour meant she had a camera malfunction!  Our guests loved her, and she really captured the essence of the day, full of love, laughter, colour and personality.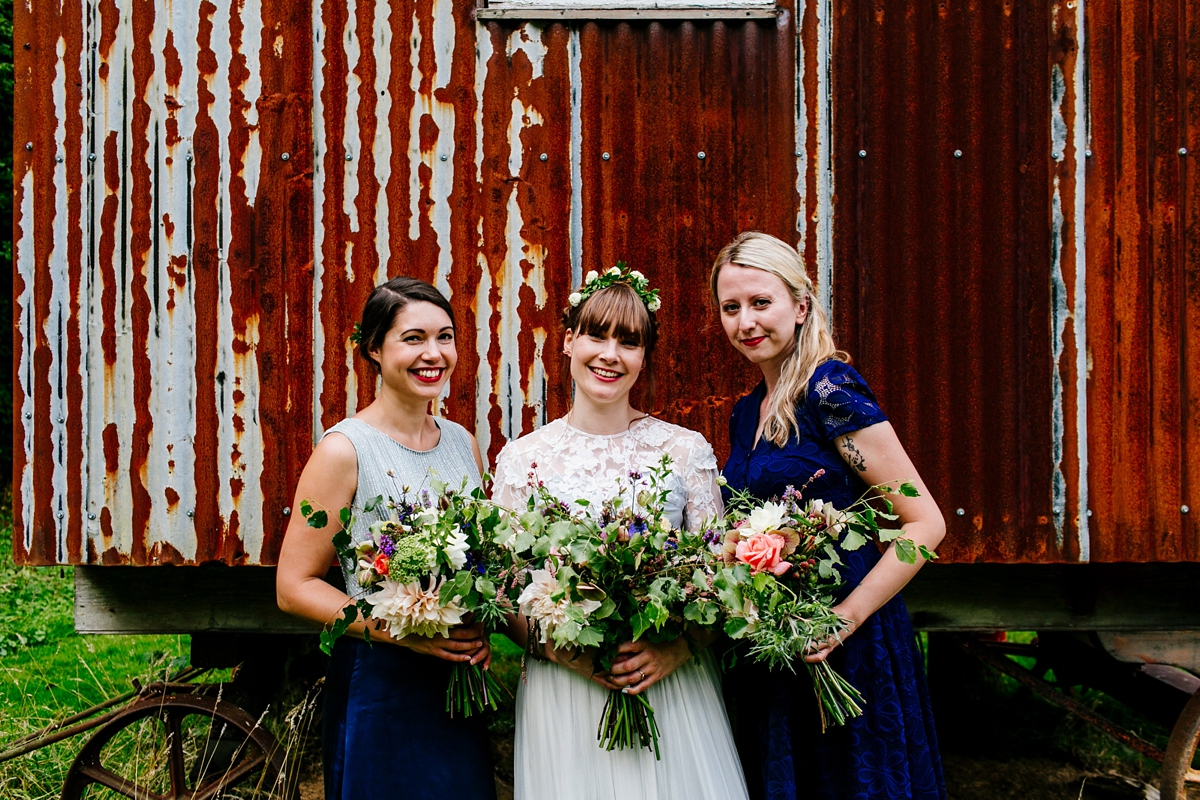 The couple's florist also follow an eco-friendly ethos and prepared absolutely divine displays.
"We came across Sussex Cutting Garden on Google but loved that they were really local to the the venue, and they grow all their own flowers on site on their farm meaning they are really eco-friendly. I wanted a really wild, hedgerow look that suited our venue perfectly and they really did an amazing job; seeing my bouquet on the morning of the wedding I nearly cried! I left it largely up to them to choose whatever flowers were in season on the farm."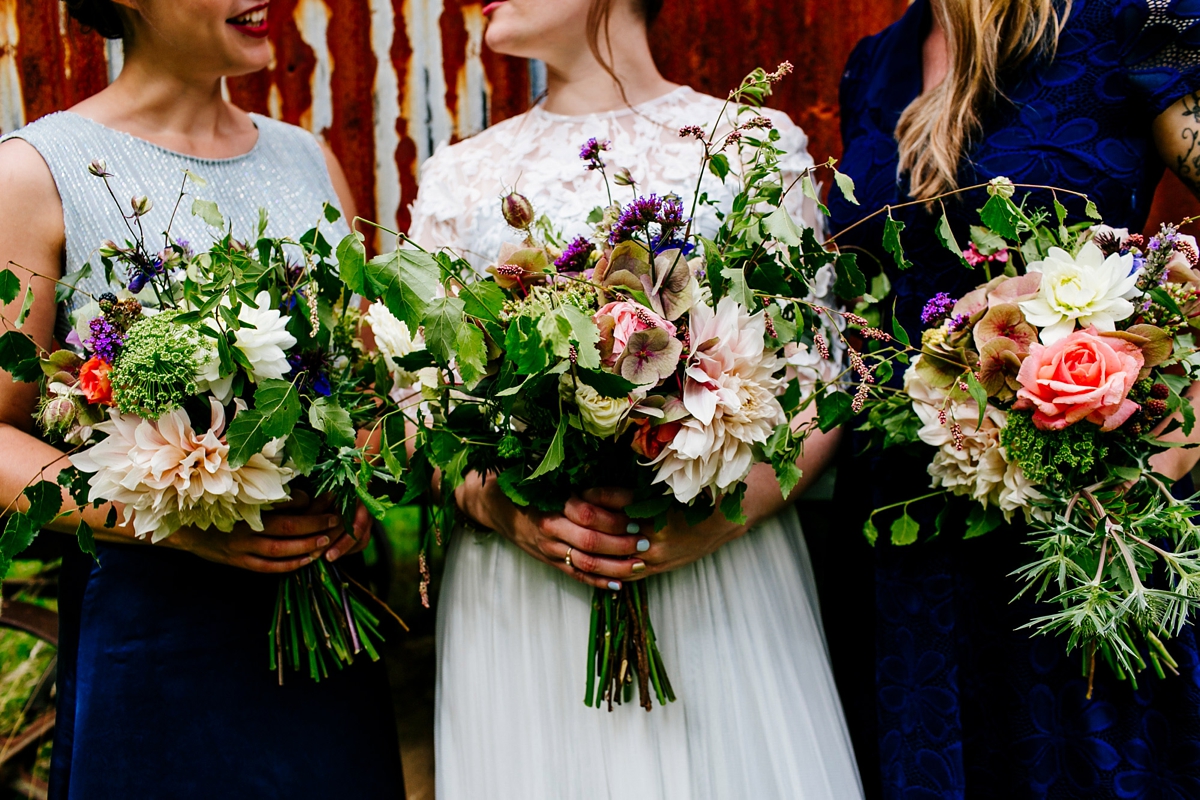 "Kathy who runs Oakfield Farm is based just a few fields over from the venue so they definitely ticked the local box –  we had a hog roast for our main meal on Saturday and the pig was raised by her on the farm. Kathy catered our wedding for the entire weekend, from an amazing paella on the Friday night, to a hangover brunch (complete with Bloody Mary's) on Sunday."
The couple's invitations were from White Willow Paper Co and for the rest of the stationery, Rosie and Jon printed and designed themselves.
They also created their own bunting and decor included fake flower garlands from eBay and pompoms from Hobbycraft.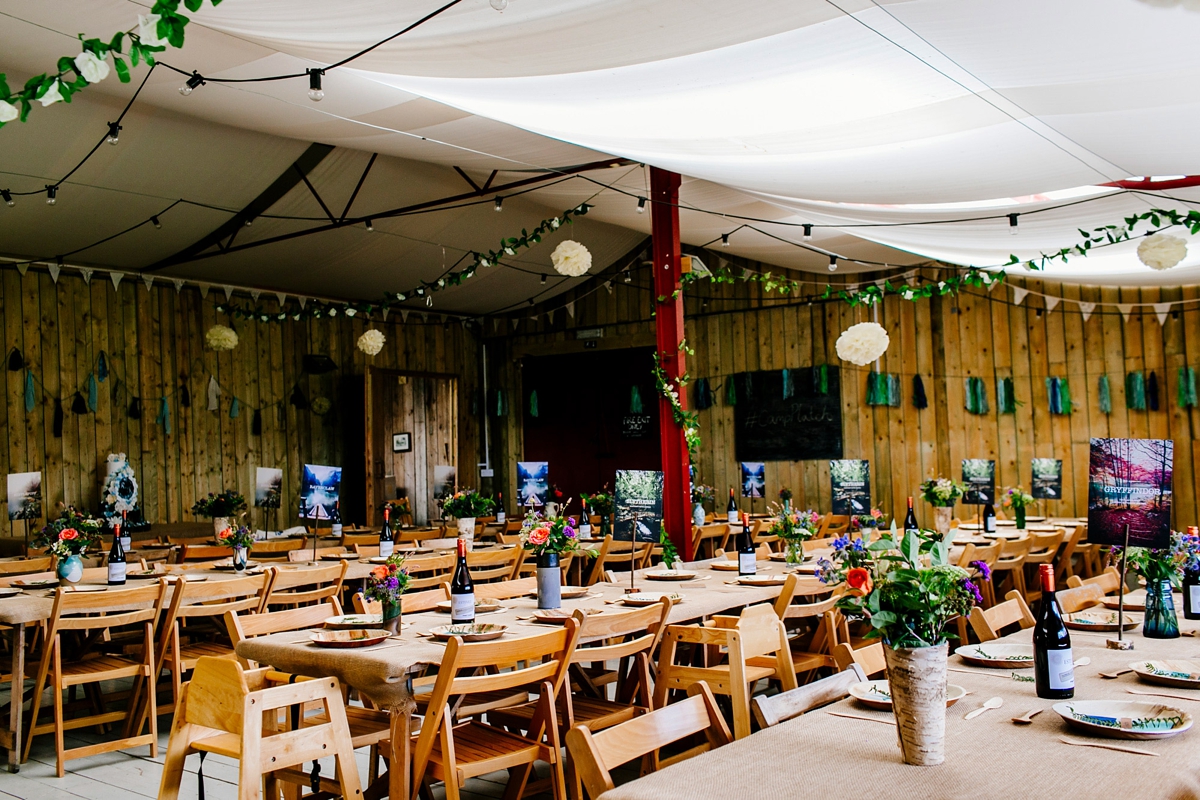 "I've known the Tattooed Bakers for over 10 years and have seen their amazing cake business grow from strength to strength, so there was no question who would make our cake!"
"I shared a Pinterest board with them for inspiration – I knew I wanted a flower theme and loved some blackboard-style cakes that I'd seen, then they came up with the amazing design."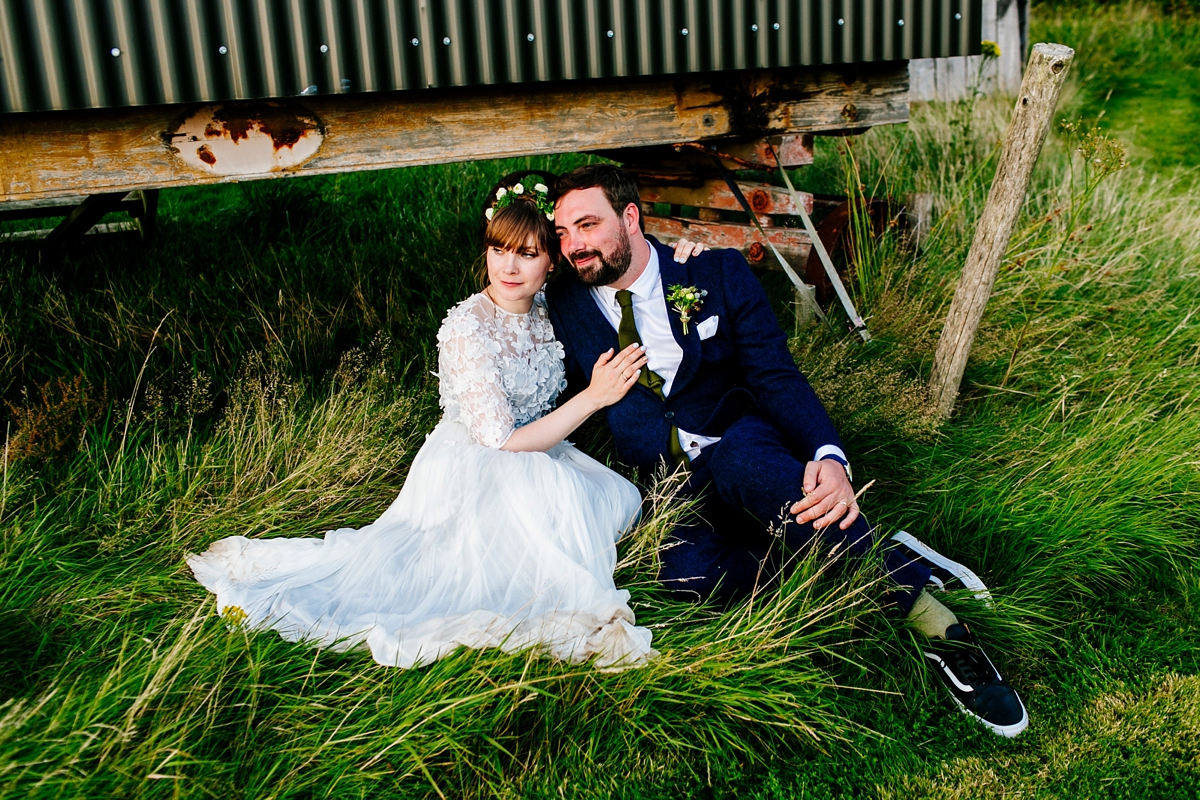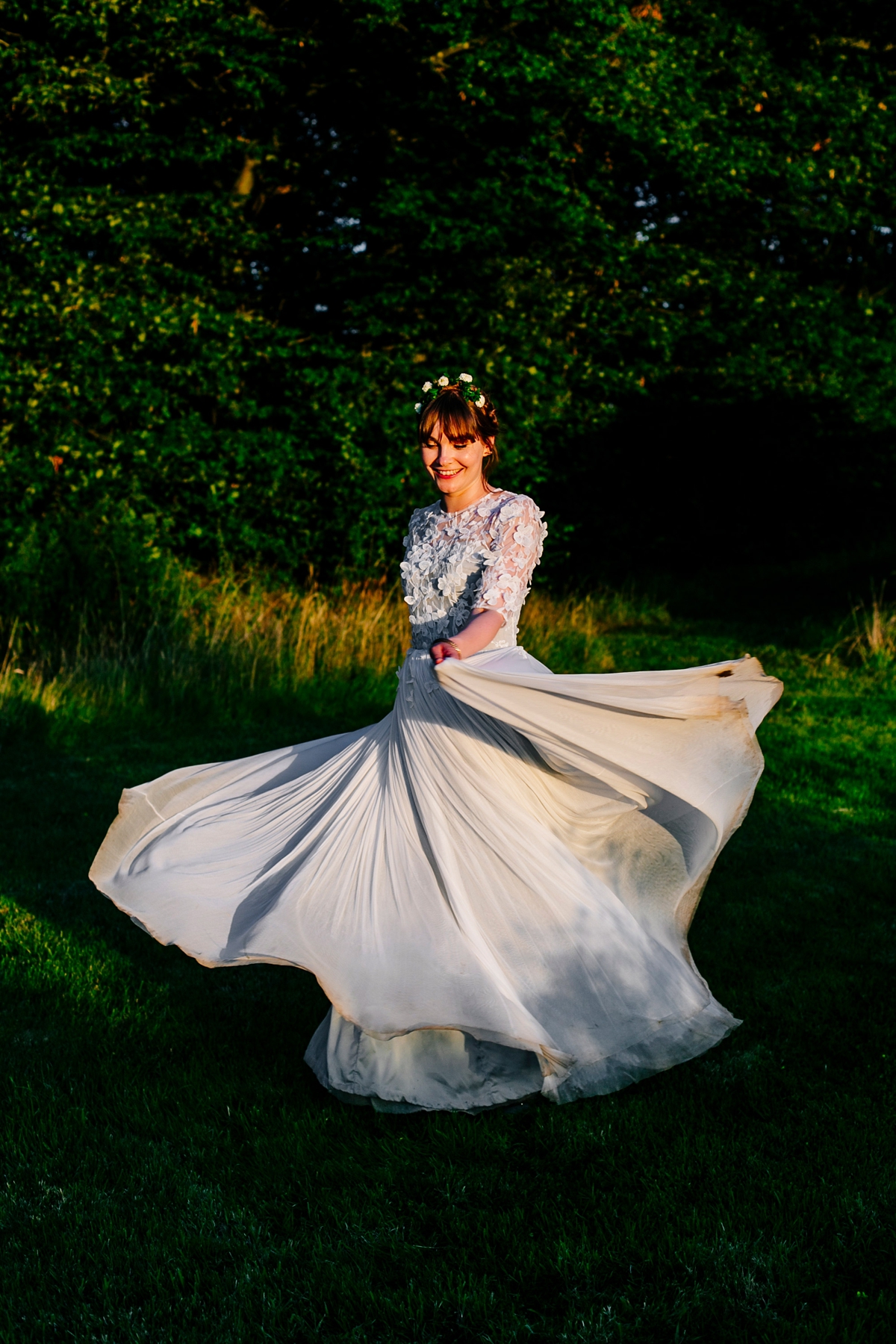 "Our friend Jay DJ'd in the evening and 'The Universal' by Blur was our first dance song – it's one of our favourite songs, and on our first date we were both reminiscing about gigs we'd been to."
"It turns out we were both at a Blur gig at Hyde Park in Summer 2012 before we met. Everyone joined us on the dance floor after the first verse, it was incredibly special."
Words of wedded wisdom
"Don't expect everything to go to plan and don't worry when it doesn't. We opted for an outdoor ceremony; just as I was about to walk down the aisle the heavens opened and we had the most awful thunderstorm and torrential rain! Everyone got soaked, we had to stop the ceremony the rain was so bad.
Luckily our amazing ushers reorganised the ceremony in the barn and although we didn't get the woodland wedding we'd dreamed of, it meant we got to walk down the aisle twice, our guests really bonded and laughed over the ridiculous British Summer weather, and it made the whole thing so memorable for everyone. My dress had about 6 inches of mud on the hem by the end of the day but people kept coming up to me to comment on how much they loved the ombre dye effect! I was having so much fun it just didn't matter."
"I honestly wouldn't change a thing and I'd urge other brides to just go with the flow of the day and embrace whatever happens!
We used Love My Dress lots! It was actually the first wedding blog I every seriously looked at, even before getting engaged. The website is so easy to use, and a fantastic, inspirational resource. The Real Weddings in particular are great – such a wide range of styles, budgets and themes."
I'm so chuffed to hear that LMD was such a handy resource for you Rosie and Jon! I still get chills every time I see a new real wedding pop up and it always takes me right back to my own big day. Thanks a million to Emma for sharing the couple's magical day filled with so much love, laughs and sunshine.
Lovelies, be sure to take a look at these other eco-friendly weddings we've previously highlighted, if you're thinking of going for a similar style.
Love Jo -xo-