As I write this I've just returned from a family reunion up in Yorkshire. We had thirty two out of a possible forty family members, and it was so brilliant to spend time and relax together.
The children played games, we had a few walks, and there was a late night game and jigsaw session fuelled by cheese, biscuits and grapes, red wine and coffee. And you? Did you do anything lovely?Now, North Wast England isn't an area I know very well at all, so the photographs of today's wedding really have inspired me to visit the area. Louise and Adam married in a church wedding at Holy Trinity Church in Washington, Sunderland, County Durham on 29 April 2017 followed by a reception at Eslington Villa, Low Fell, Gateshead.
Their day was filled with touches of green – the bride's favourite colour – and had a timeless, elegant feel in keeping with Louise's love of all things vintage. I was delighted to read that she was inspired by other Love My Dress brides, too. The Villa offered a beautiful backdrop for Louise to dress up with subtle vintage flourishes. She collected jars and teapots throughout her engagement, but the main decorations were the opulent flowers by Events by Dragonfly.
"Green was always going to be part of the theme! It's my favourite colour hence the engagement ring and as everything I do is vintage that was the only theme there was going to be! I originally wanted a 50/60s diner/rockabilly theme however after finding my dress the theme geared more towards a timeless vintage style."
Photography Rosie Images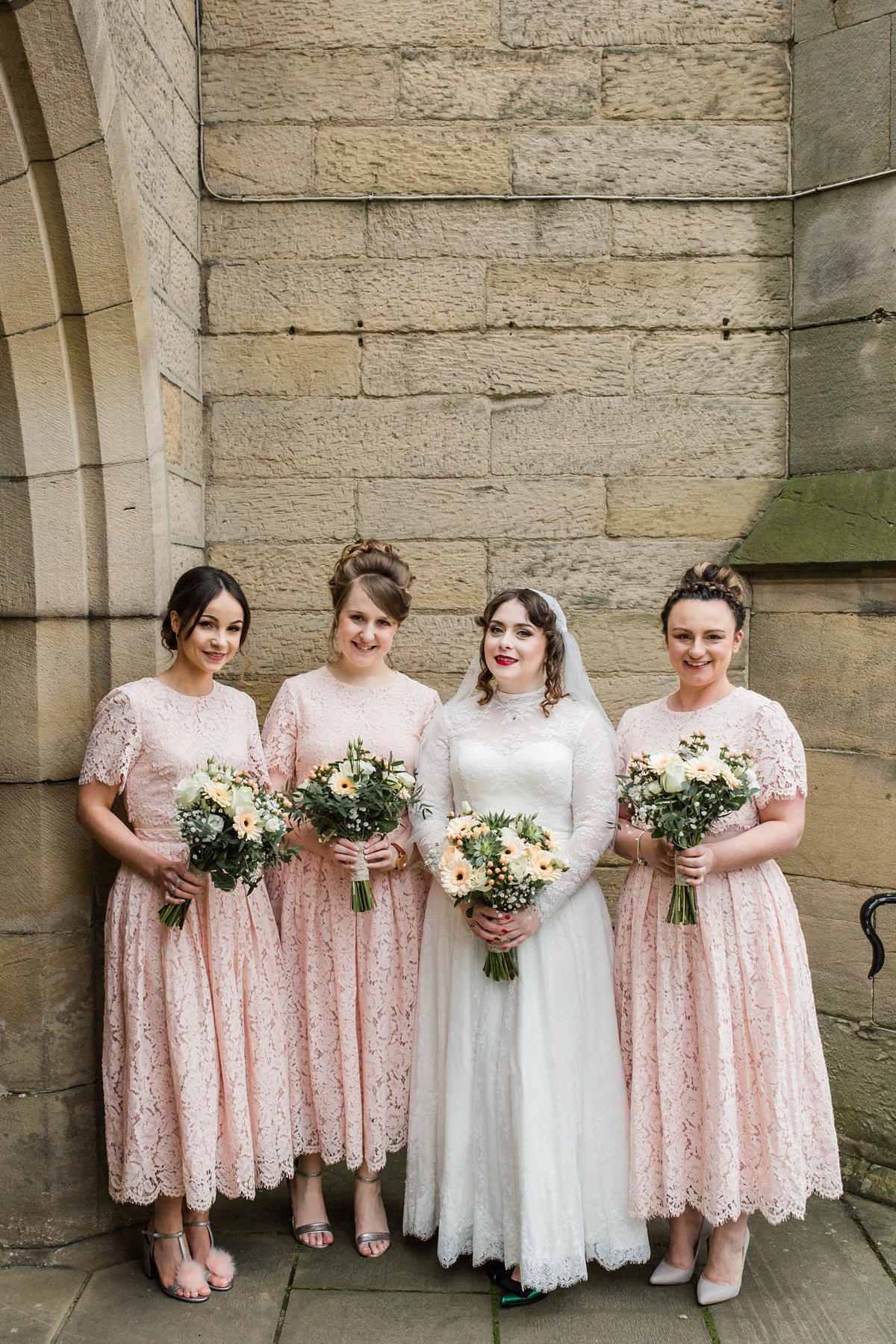 Rosie's style certainly captures the timeless feel that the couple created. I love the shots of Louise's gown hanging up – just look at that detail. Louise's perfect gown was a floor-length Pearla Rose design, with a high-necked bodice, long sheer sleeves and a narrow cream velvet band at the waist.
"Ever since I can remember I always wanted a 50's style short dress. It was just something that felt me. My heart was so set on this style of dress that nothing in my head was comparing to the dress that I'd swooned over on Pinterest. Until, that is, I went and tried it on and my dress dreams were shattered. I felt short, dumpy and not like a bride. My dress journey was so stressful that I didn't even want to go try on any more dresses! I was at my wit's end when I decided to visit Vintage at Number 18.""Lynne was extremely comforting and I immediately felt relaxed there. I only picked two dresses to try – my dress being the first one I tried. I loved it. I always said point-blank that I didn't want a full-length dress but there I was standing in one."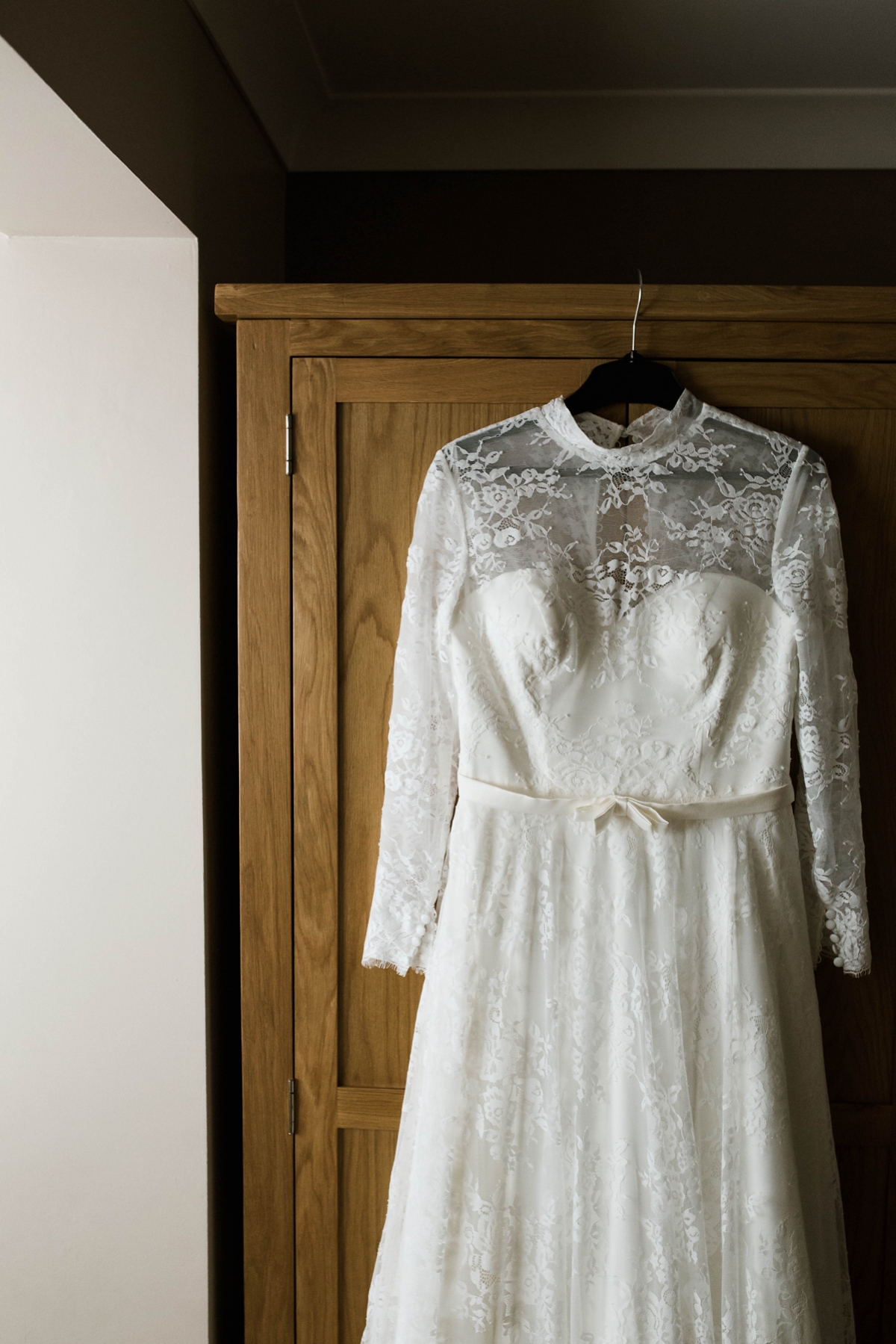 "I finally felt like a bride. My main point is that you might think you know exactly what dress you want and it might match the theme of the wedding you want, but that's not to say it will suit your body type! Go into it prepared but try not to do too much at once – three shops in one day was the worst for me! But just like the man of your dreams, there is a dress out there somewhere!"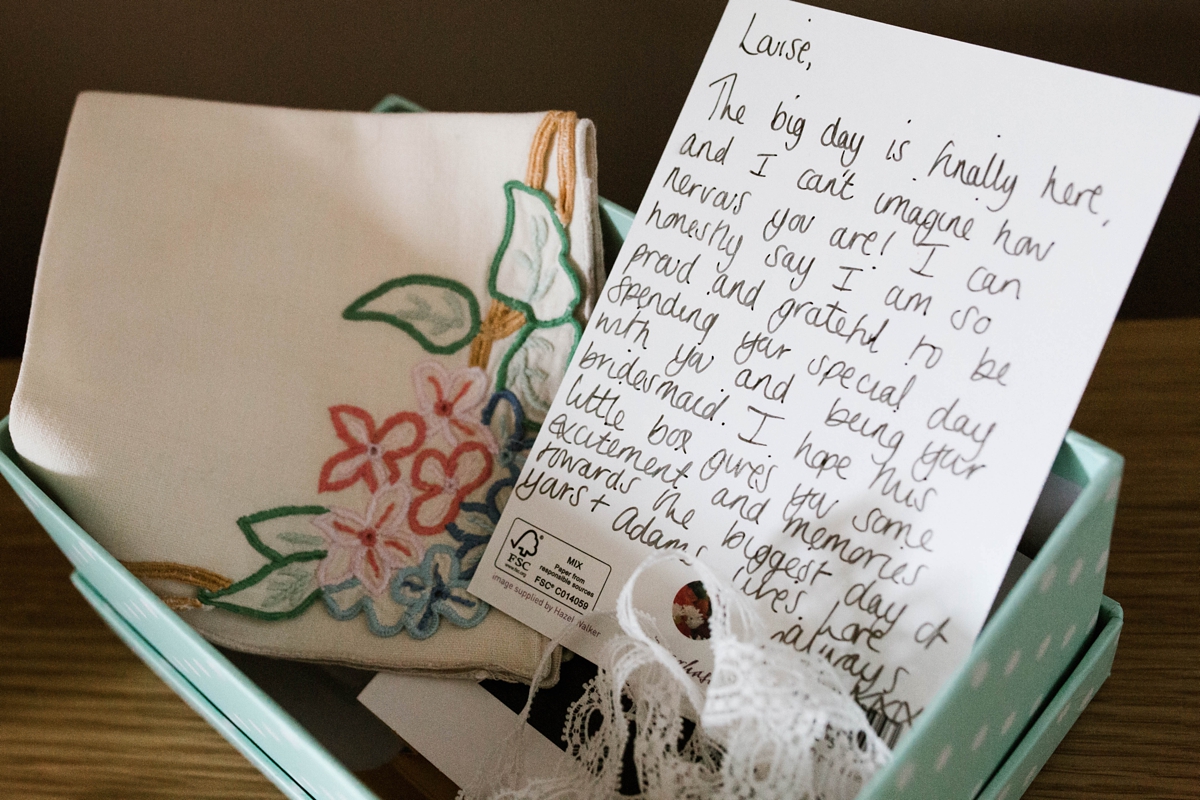 Louise wore a necklace and earrings from Nomination, a graduation gift from her parents and a Nomination bracelet with an extra 'something blue' charm, given to her by her chief bridesmaid. As green is Louise's favourite colour she chose a pair of Mulberry metallic green bow pumps.
"Green is my favourite colour and my engagement ring is emerald so these were a must. I swooned over them for a few months then they went into the Boxing Day sale and I knew it was meant to be."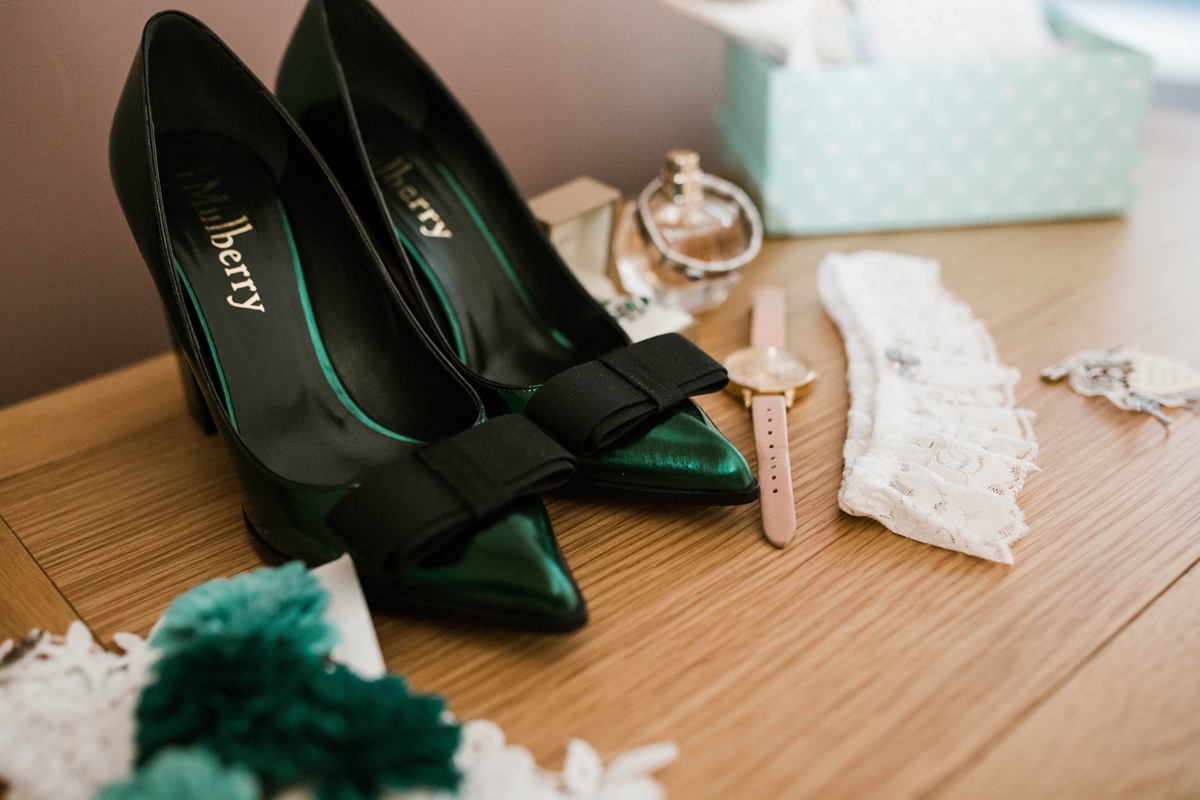 Louise's gorgeous curls needed little attention other than the addition of some H&M flower clips, but she asked Eleanor of Pocketful of Posies to apply her make-up. She matched her bright red lip colour to her manicure for a lovely pop of colour.
"Eleanor recently started this business and she is great! It was her first wedding but she was perfect. I had so many compliments on my make-up and it stayed on even until the next day."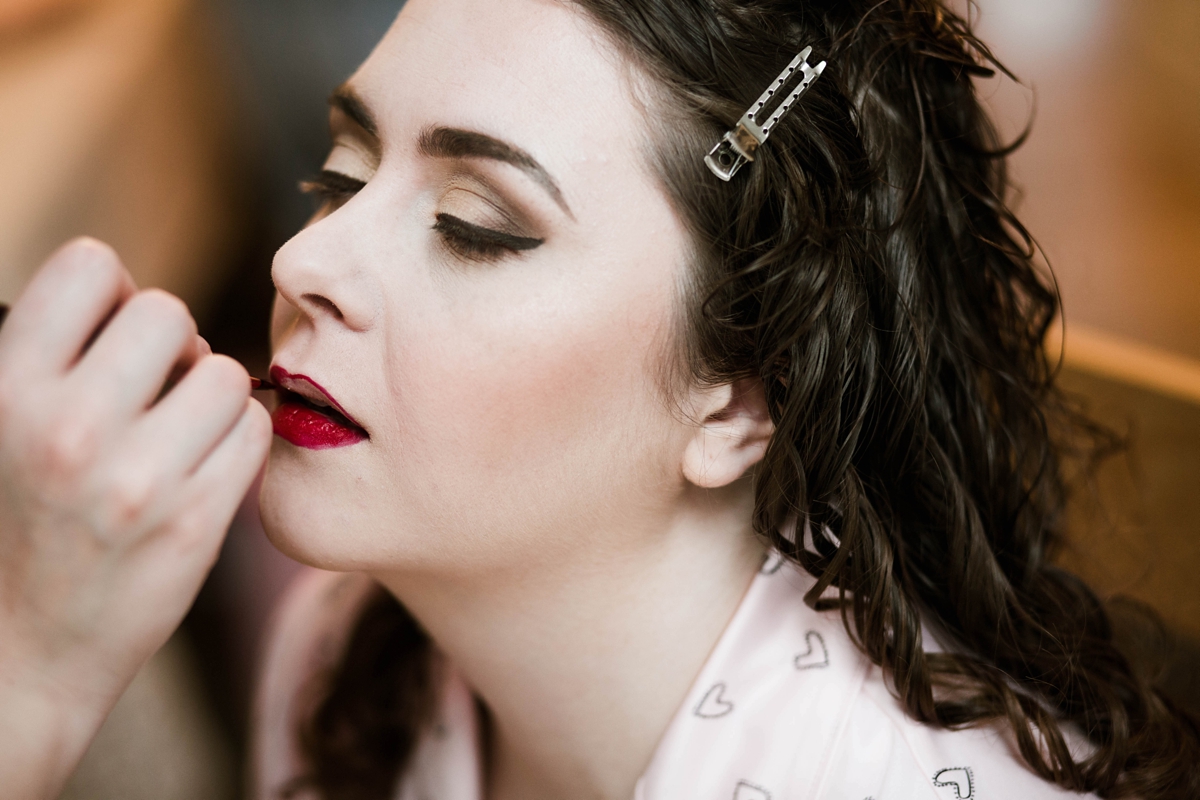 More vintage vibes were added by a flowing Juliet cap, inspired by bride Imogen's style as seen on Love My Dress.
"As I have curly hair I didn't want to do too much with it, then after seeing yet another Love My Dress blog I knew that a Juliet cap was for me. I contacted Kelly Spence about the veil in the blog but the lead time was too short."
"Then I found Blossom and Bluebird on Etsy and there was so much choice I was like a kid in a sweet shop. I loved how delicate this design was and the beads on the side gave it that extra special feel. Another thing that I loved was the attention to detail with the packaging and the personal note she sends – such a nice touch."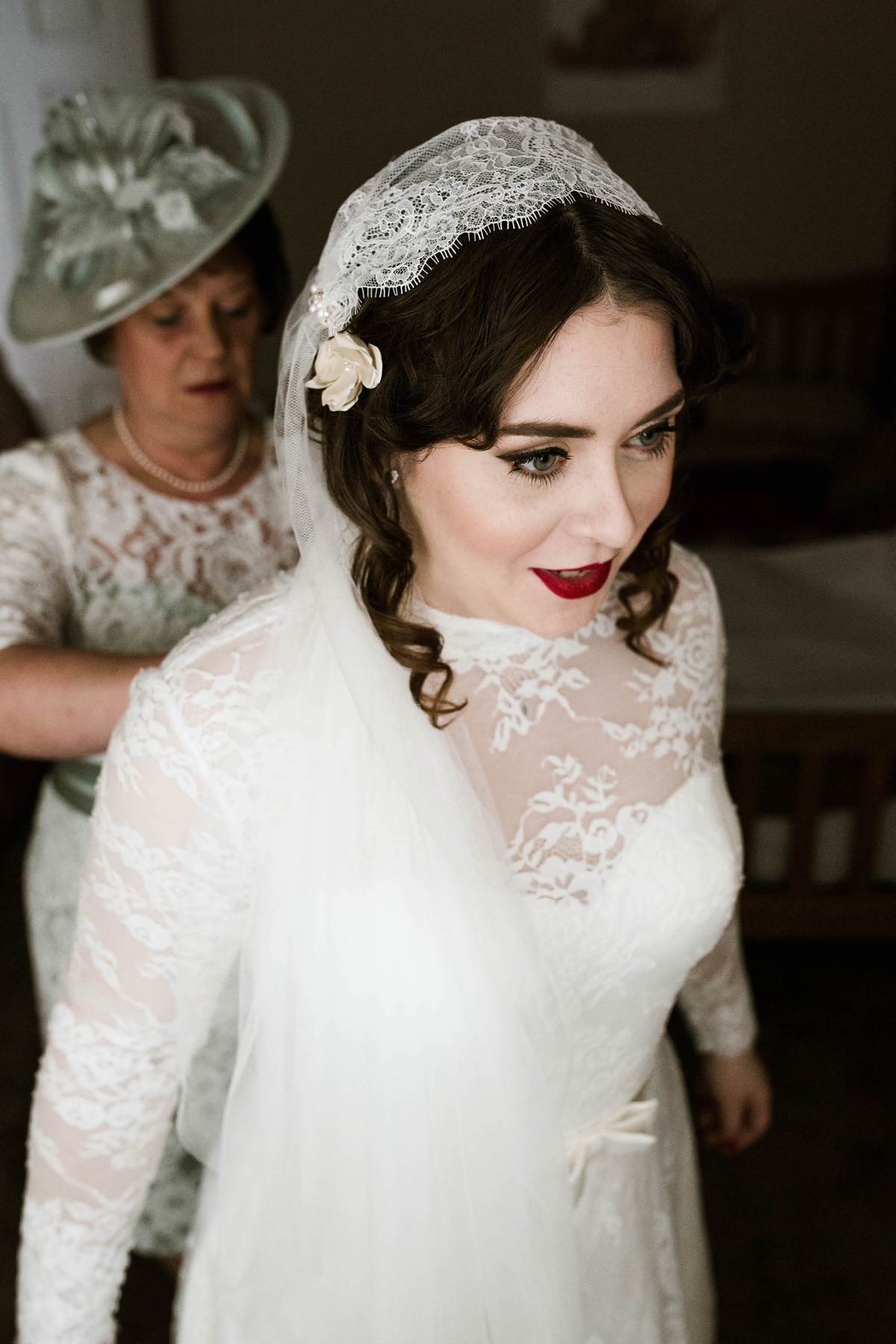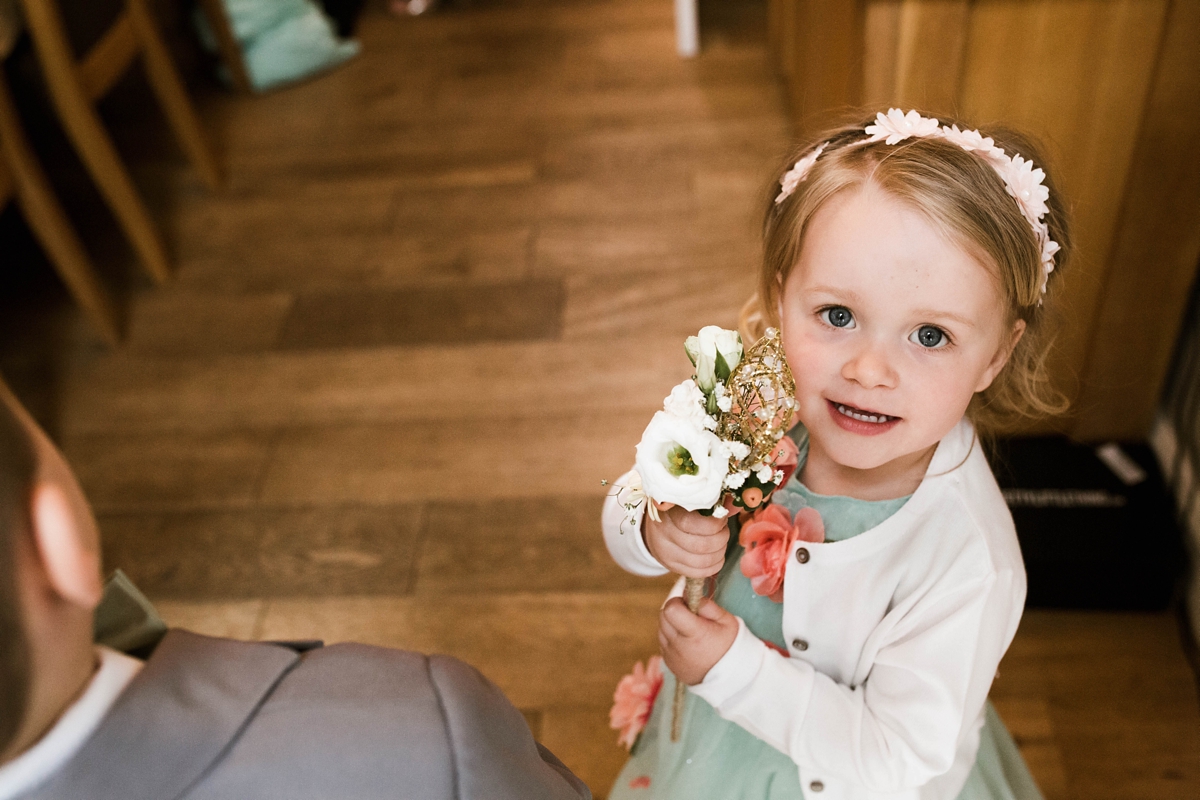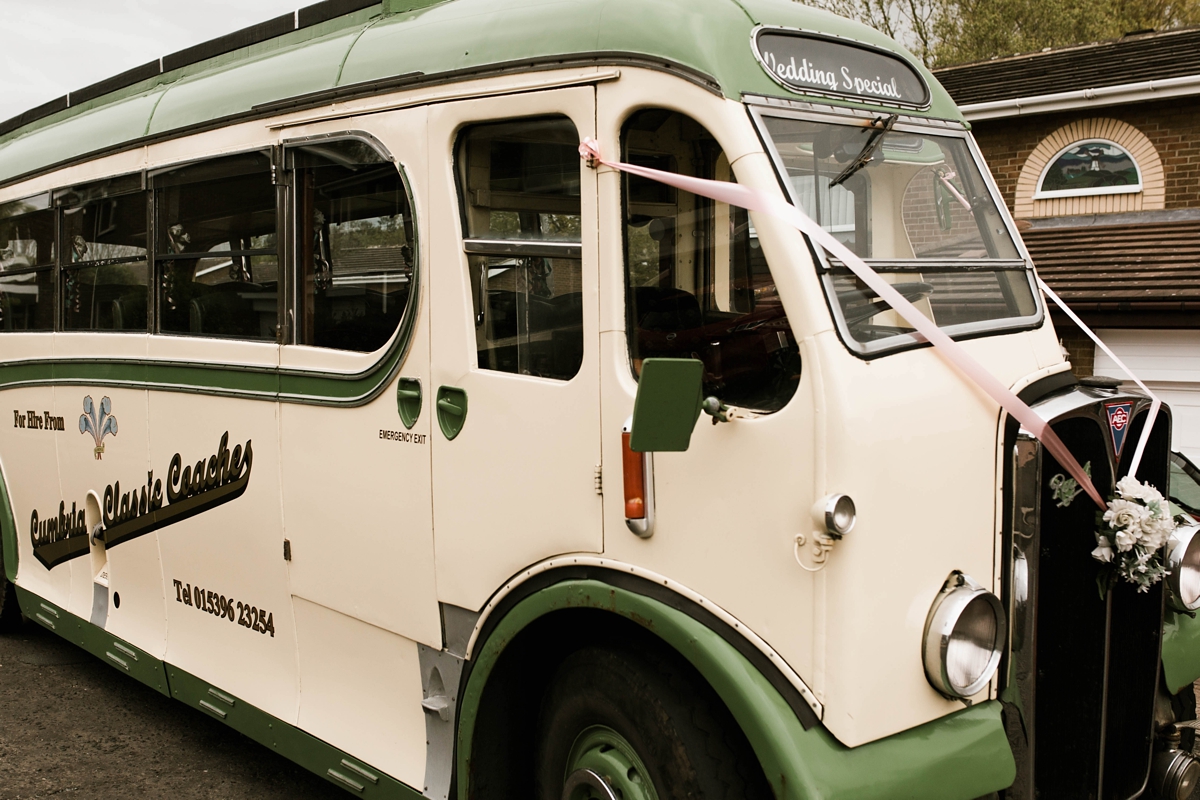 It's not often you see a groom in green, and Adam looks fantastic in his bespoke, made-to-measure suit from Mayo Clothier and floral tie. The pair were inspired by seeing groom Harry in a racing green three-piece on Love My Dress.
"I stumbled across Mayo Clothier on Instagram and loved the shade of their bottle green suit. We were a little dubious ordering a suit online but their measuring guide made it so easy. We loved the fact you build your own suit and specify everything even down to how many pockets, and Adam had his initials and the date embroidered inside which was a nice touch."
Louise chose Events by Dragonfly to put together the fresh white and peach-toned flowers. I really love their presentation in teacups and bowls – such a cute touch and a way of adding a vintage feel to their decor.
"The girls are so down to earth and friendly I knew right away they'd be fab. They helped me with so many ideas and it was such a weight off to be able to hand everything over to them and know I was in safe hands. The flowers were better than I imagined and lasted for weeks afterwards. We supplied our own crockery so that guests could take some flowers away with them after the wedding. Everyone loved it!"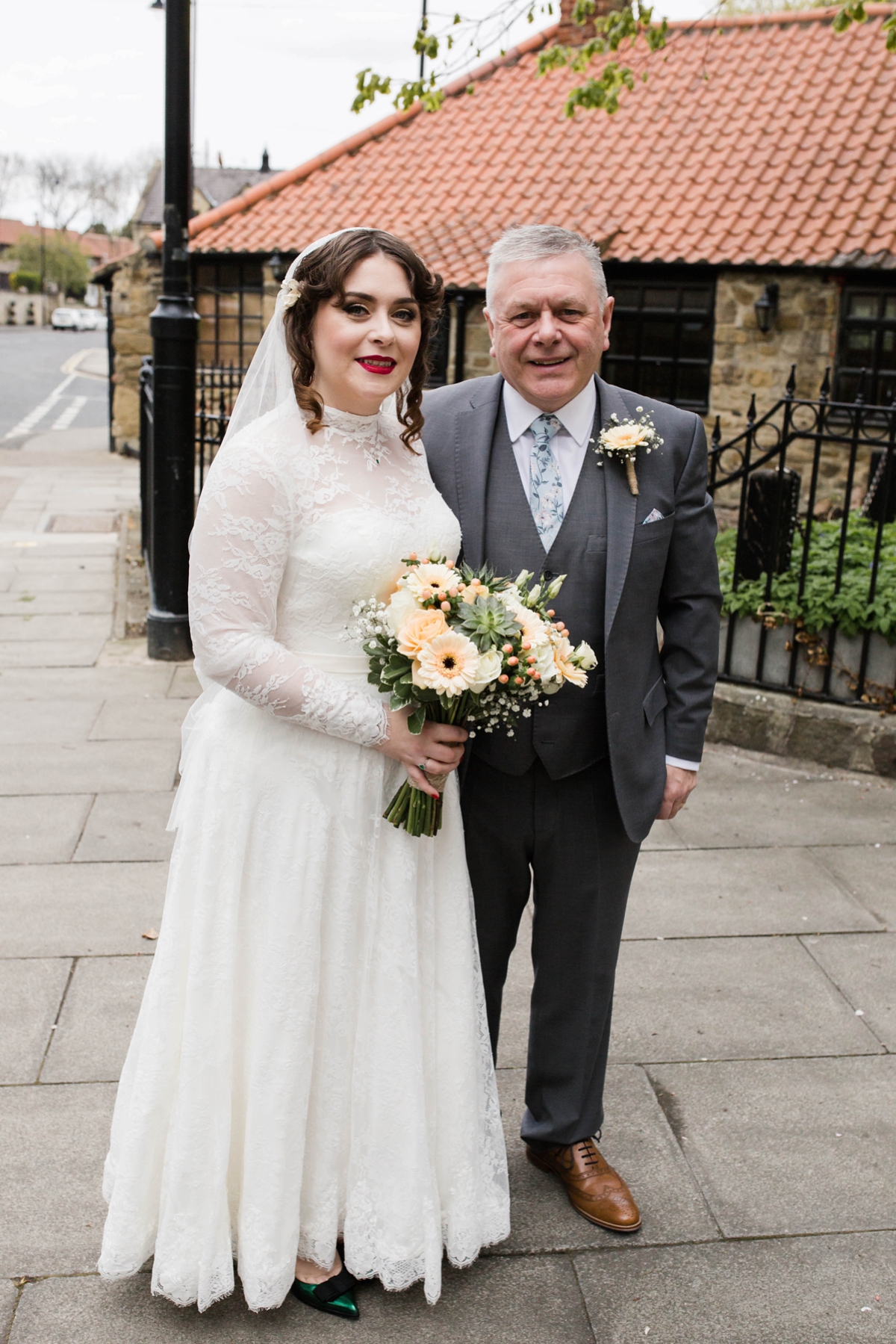 Louise's bridesmaids wore fetching mid-length lacy ASOS gowns, whilst the cute little flowergirls were in Accessorize and page boys wore smart Roco Clothing suits.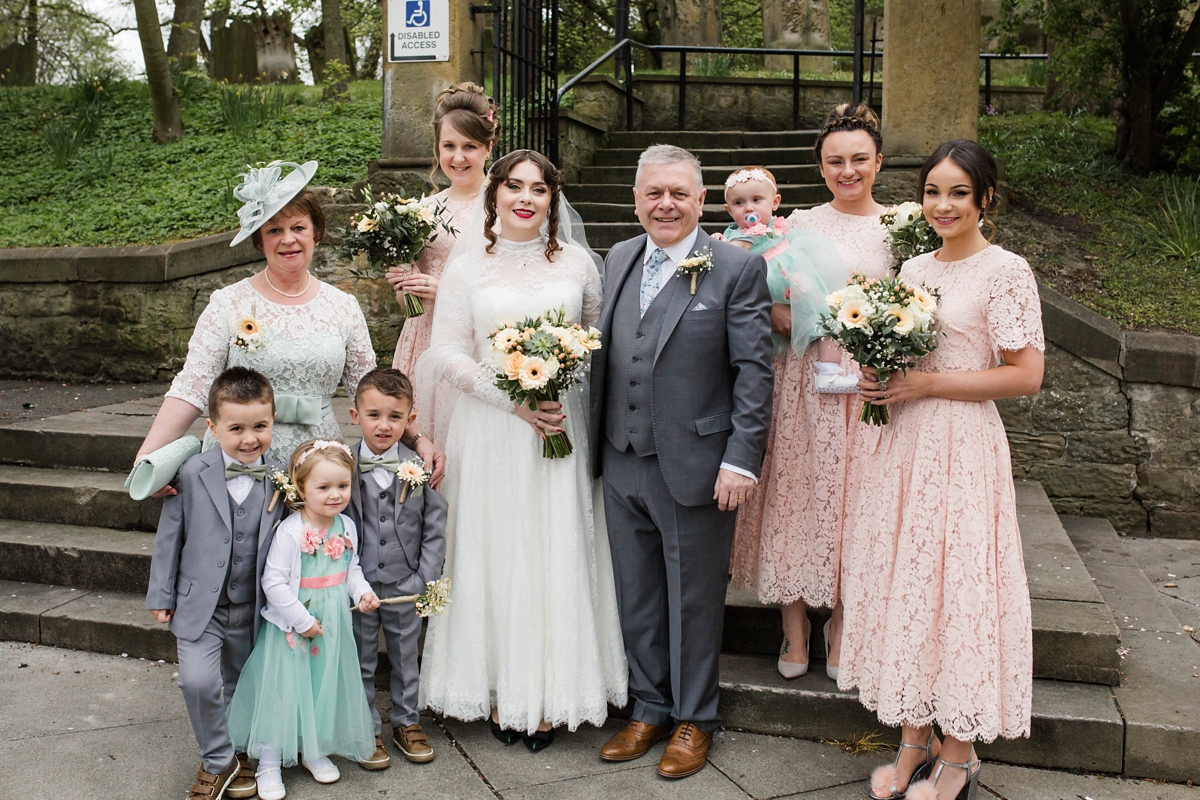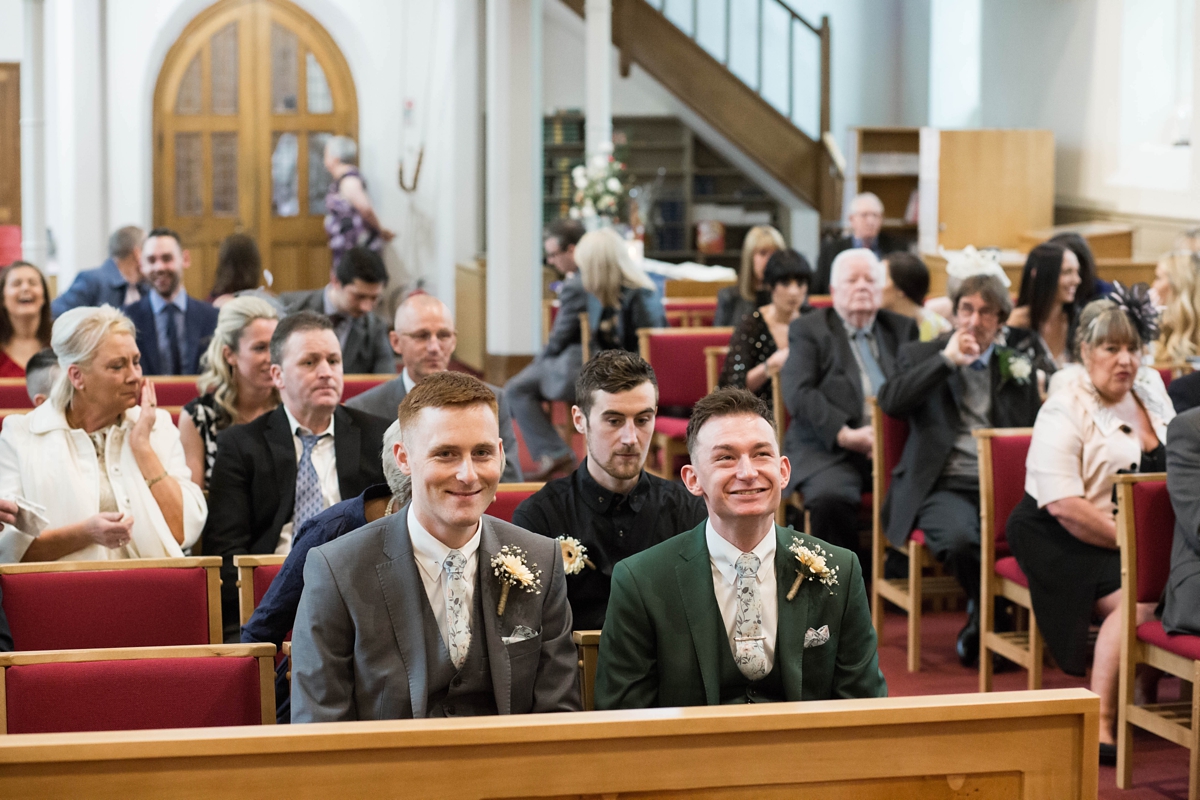 Louise was whisked to the church in her colleague's car, then walked down the aisle on her dad's arm.
"We chose this church as my parents were married here and I was baptised here so it was keeping with family traditions. It's also only one third of a mile from our house. We wanted to make the most of the organ; I walked down the aisle to 'Trumpet Voluntary' by Jeremiah Clarke."
Traditional vows, and rings from Goldsmiths, were exchanged. As Adam is a chef, and Louise's Fraser Hart engagement ring is a beautiful emerald, finding suitable wedding rings proved somewhat of a challenge.
"With Adam being a chef he can't have any markings so his ring is as plain as can be; he got it in brushed palladium. Because of the setting of my engagement ring I was really worried about what style ring to wear. I first of all looked at 'V' wishbone-shaped rings but something about them didn't feel right."
"I knew that I was often going to be wearing my wedding band alone as emeralds are soft stones and shouldn't really be worn daily. We went back to Goldsmiths to try Adam's ring and after much deliberation and fifteen rings later I picked mine too."
The couple found readings to reflect their view of their relationship. As well as Corinthians 13, which centres around the true meaning of love, they chose a poem by Steven Curtis Chapman.
"Adam and I have been through some pretty tough times over the years. It's really important within a relationship to take the good with the bad, regardless of what life throws at you. We chose Steven Curtis Chapman's 'I Will Be Here' as the words really portray this. It's about being there for someone when they need you the most."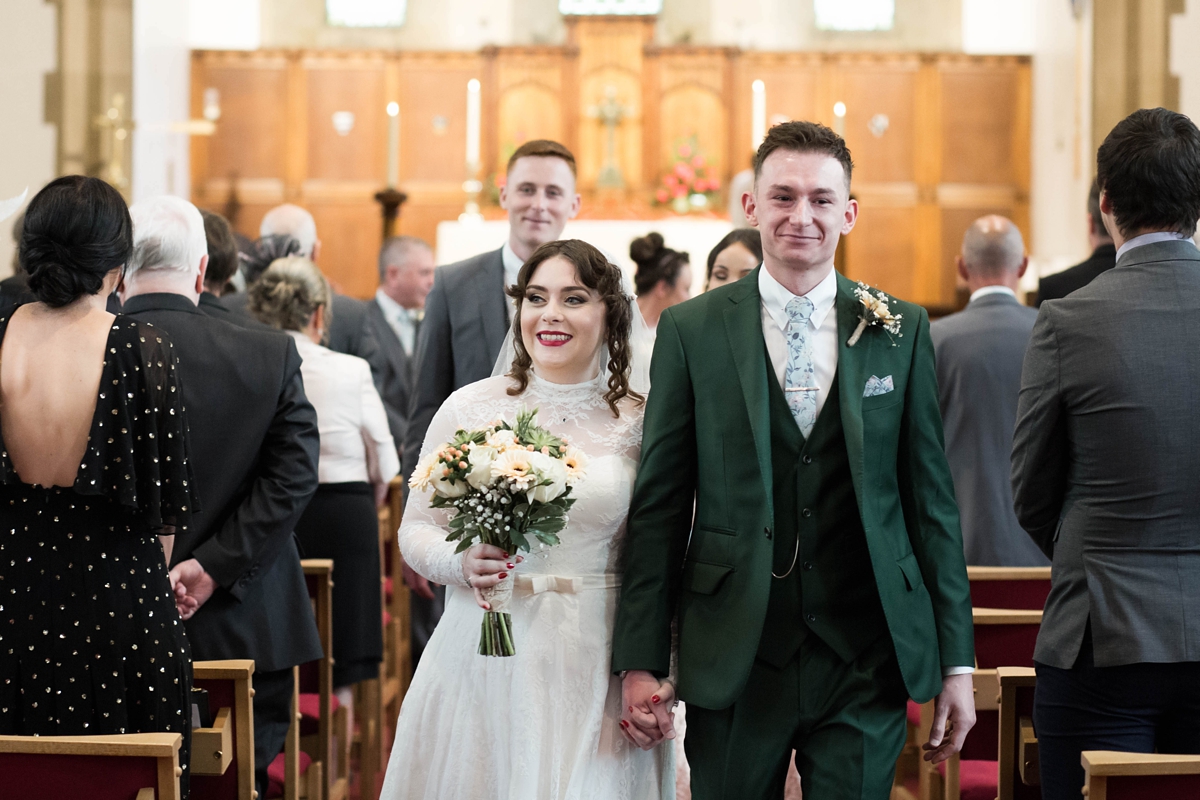 Adam, who is a chef and Louise, an IT consultant, met through a mutual friend and got engaged in January 2015 under the Eiffel Tower.
"Adam pretended to get a photo but got someone to video it! We had been engaged just over two years by the time we got married. I didn't want to get married too soon so that we had enough time to plan (and save)."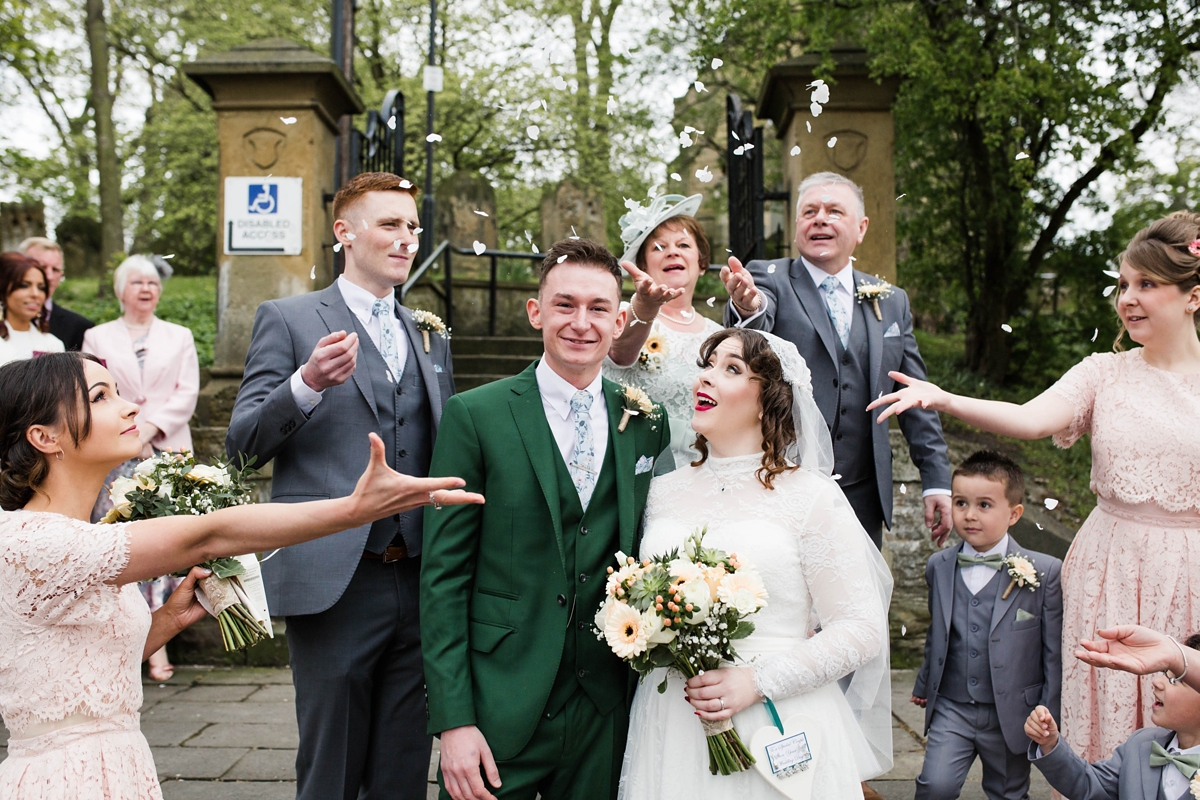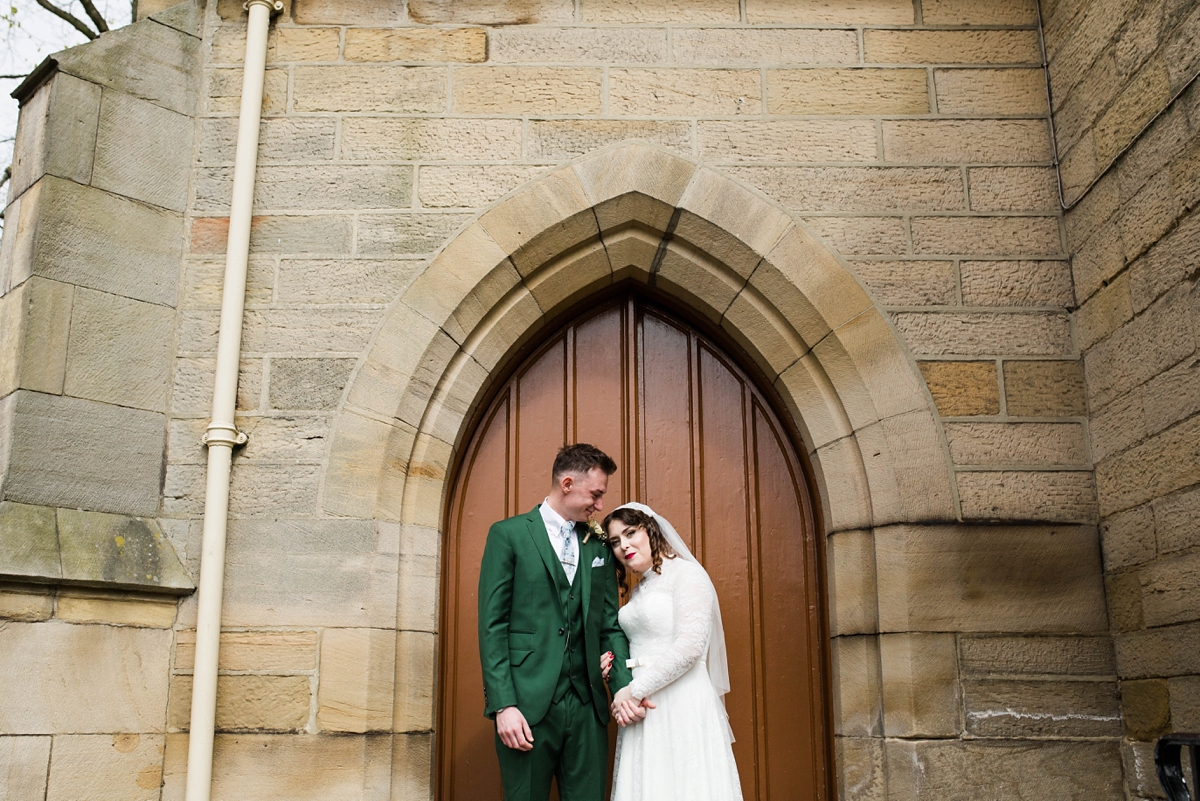 Louise and Adam asked Rosie Images to capture their wedding day, having known her through family.
"We knew of Rosie before the wedding as she is from the same area, our parents know each other and she had photographed my nephew before. When we met up with her we knew straight away it was the right decision."
"Rosie is so down to earth and relaxed. All of the guests commented on how good she was and we didn't ever feel like the day was taken up with photos . Half of the time I didn't know she was there – especially during the speeches and in the church."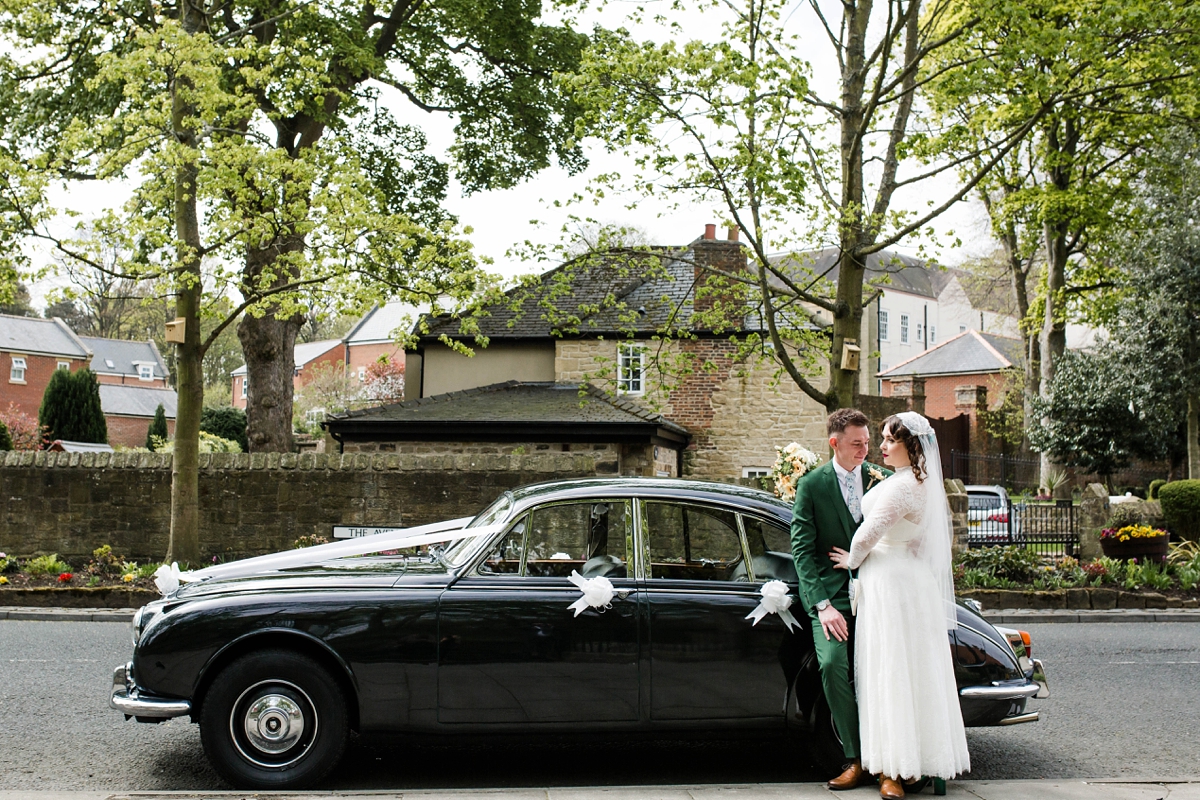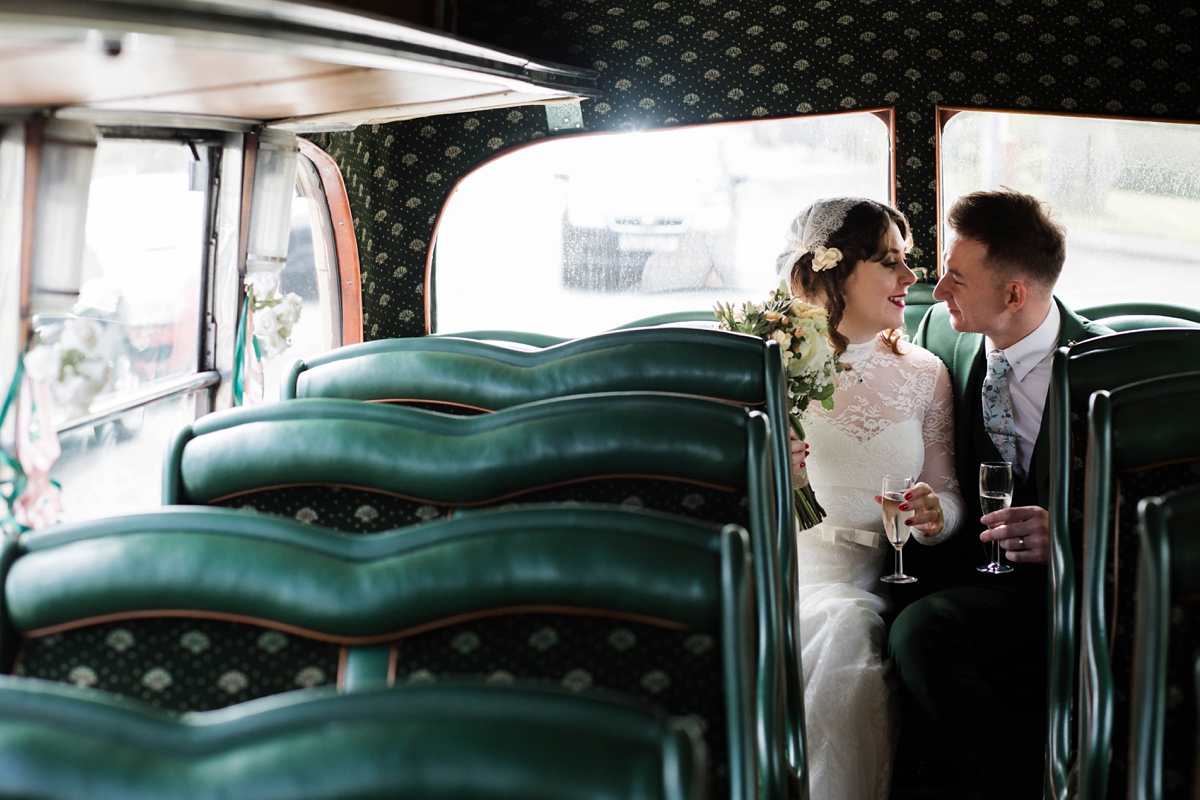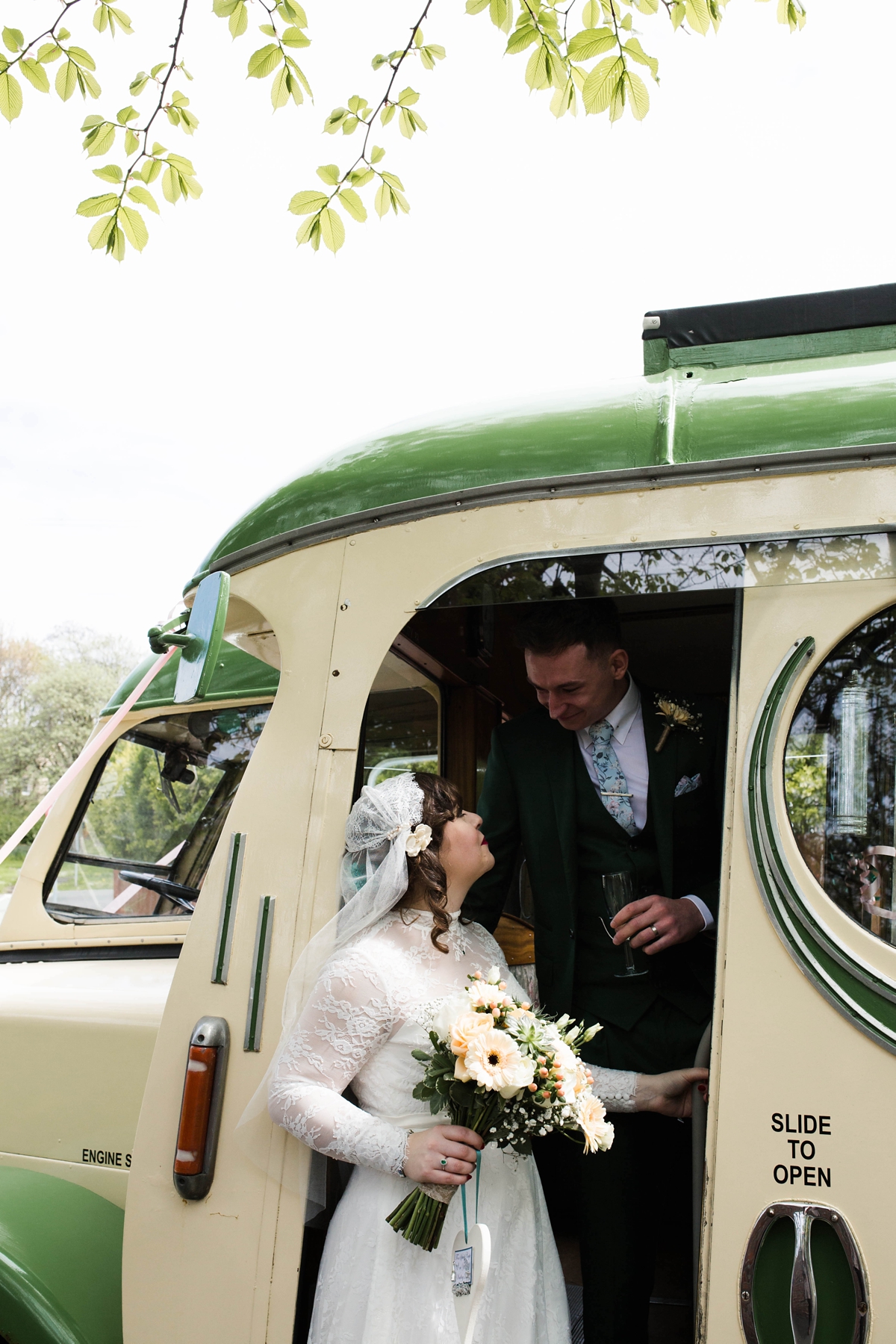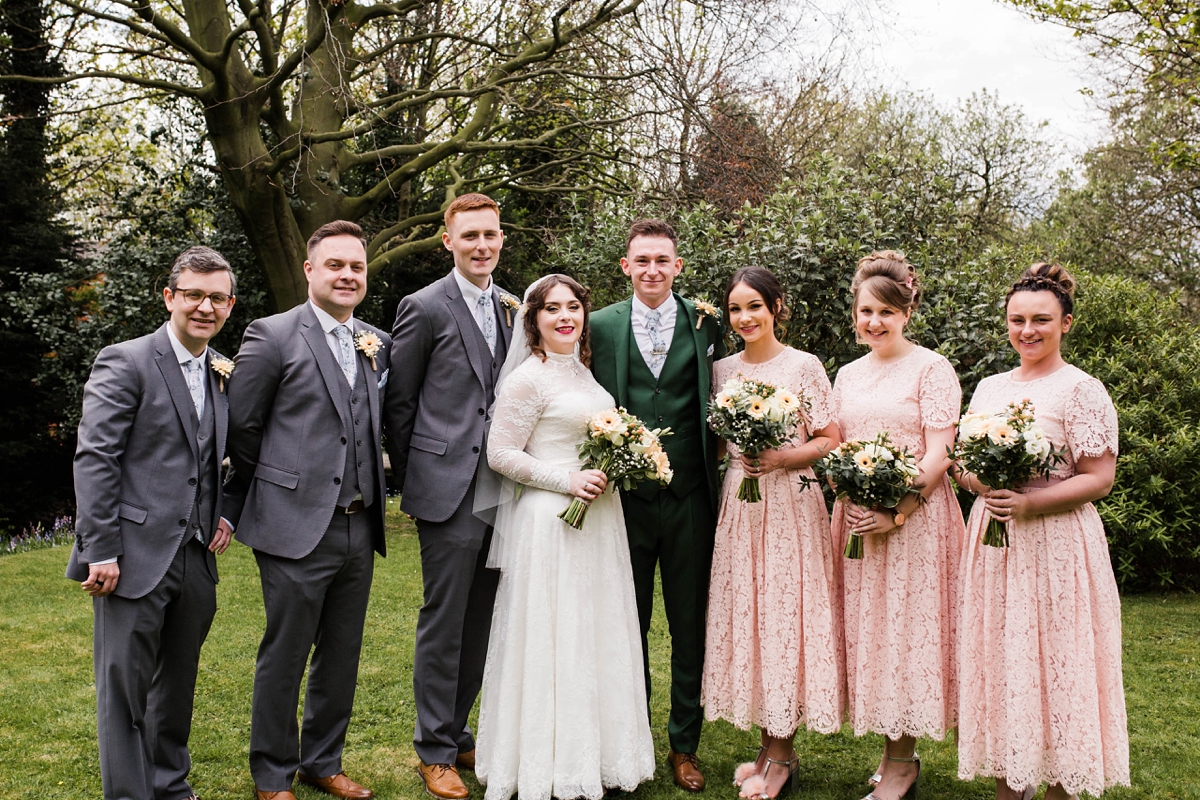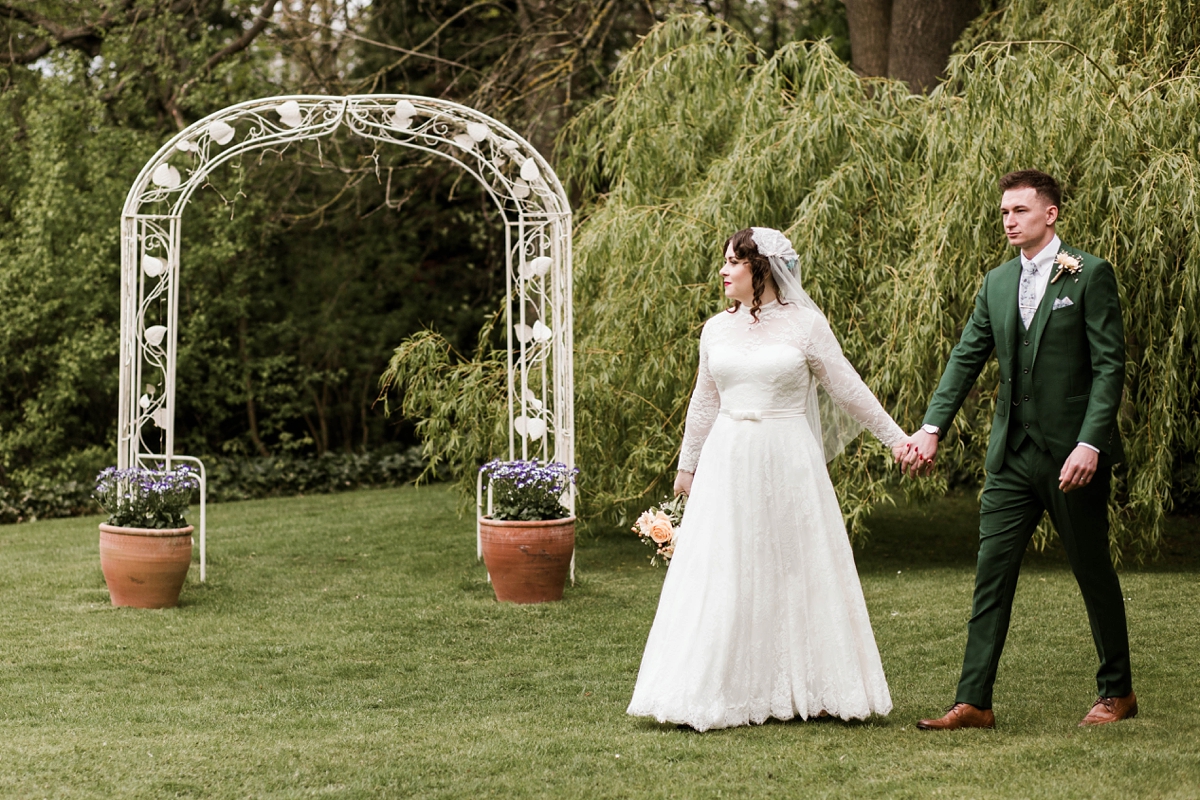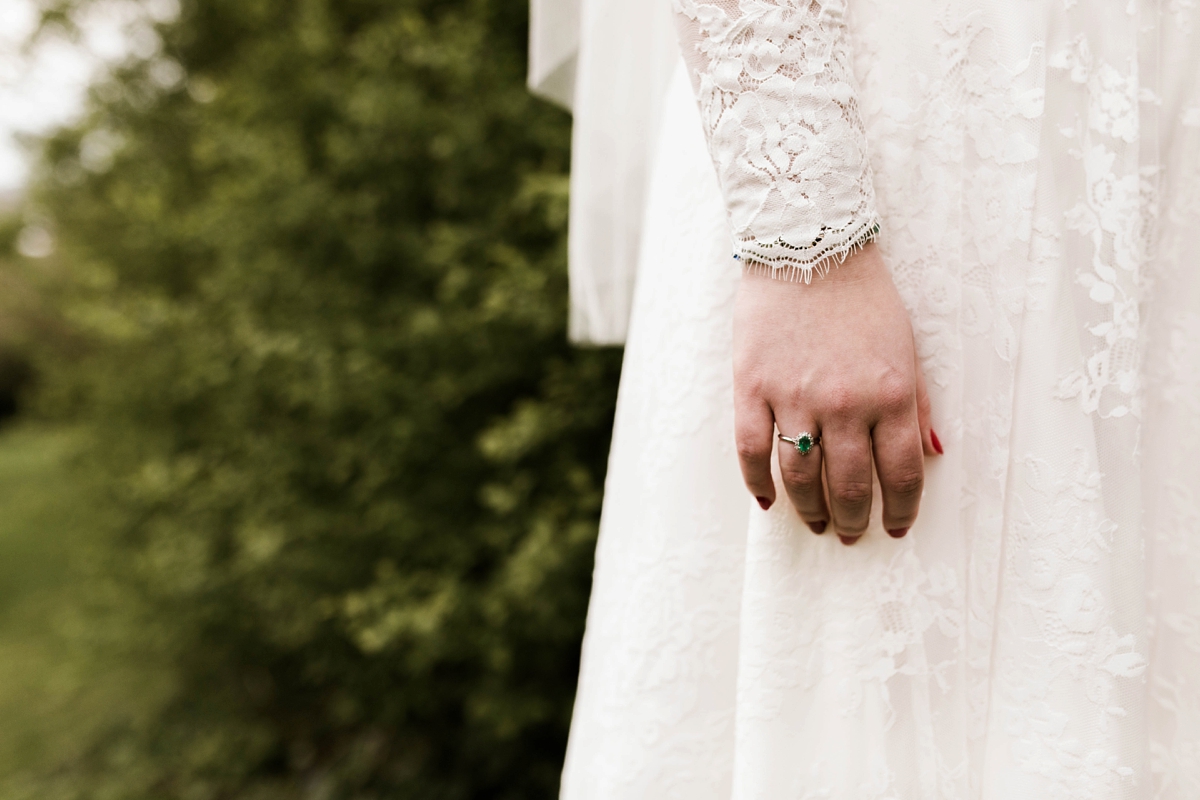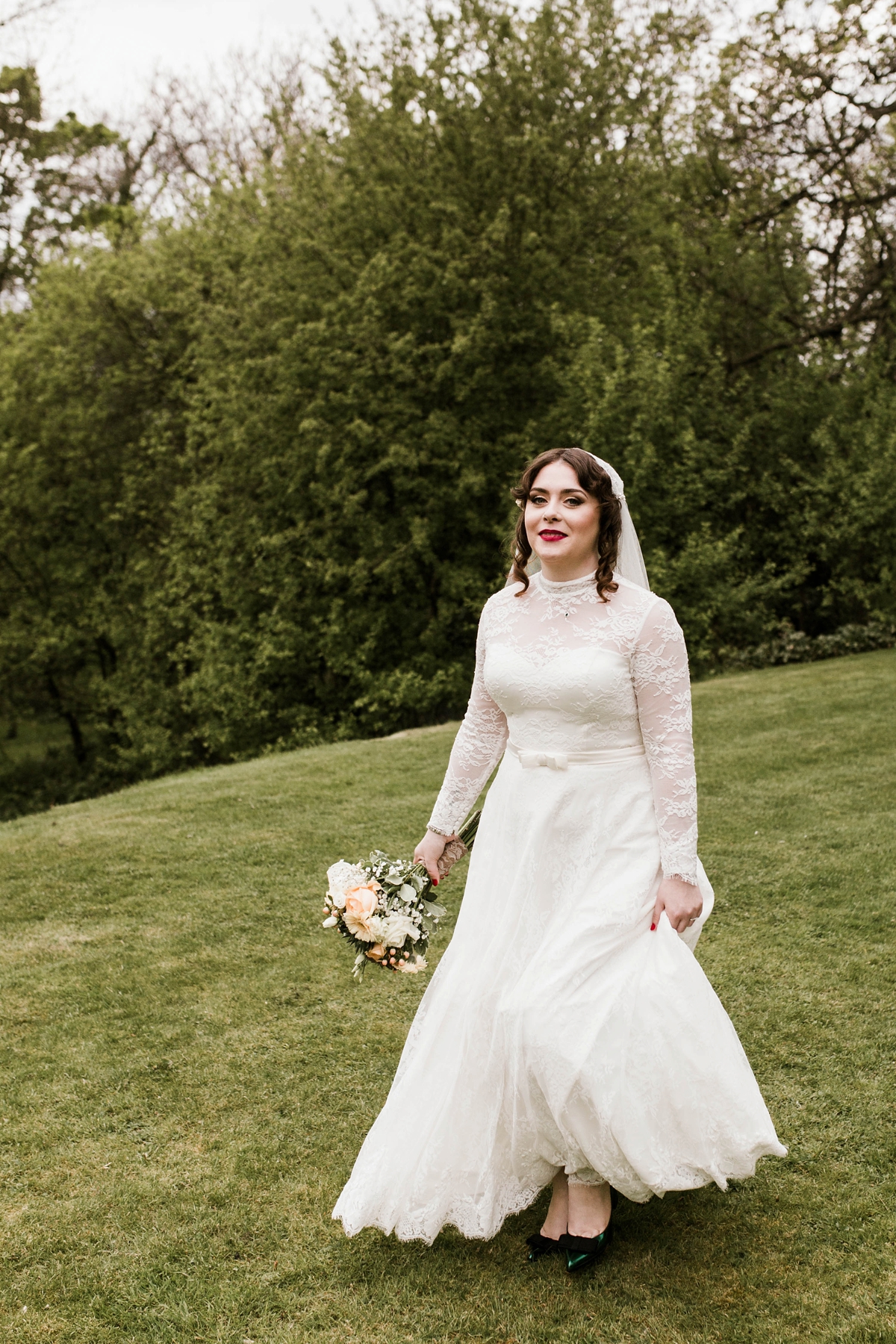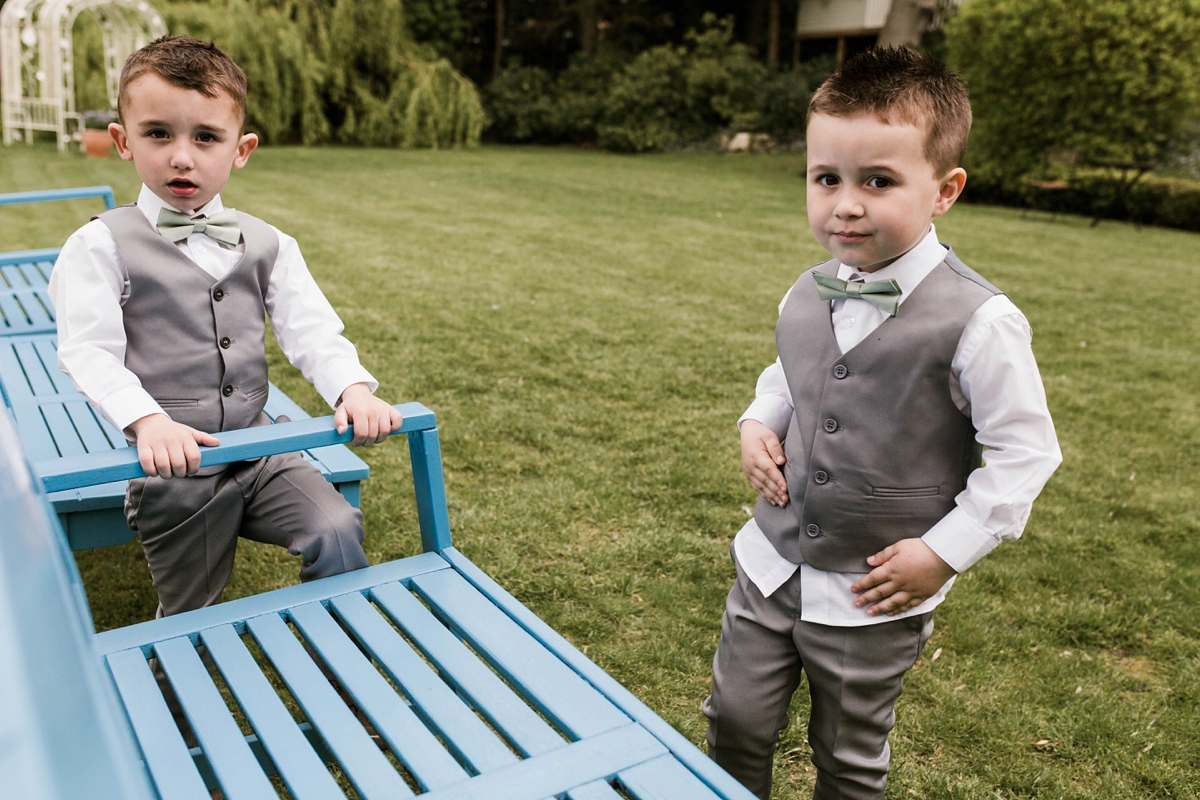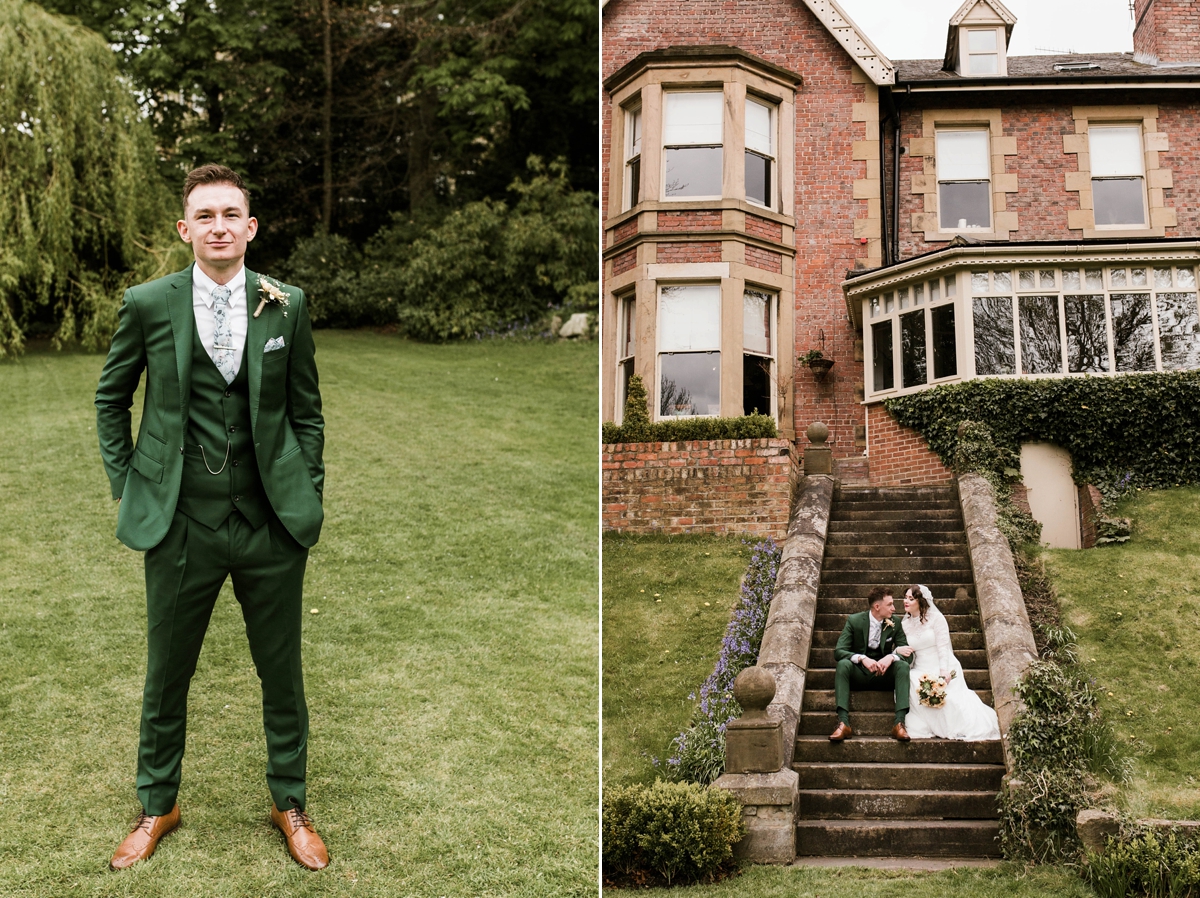 As a chef, the food element of his wedding was super-important to Adam. Eslington Villa is well-known for its culinary prowess so was an easy choice for the couple.
"Eslington Villa is known for its award-winning food and has an AA Rosette. A really nice touch was that we were able to choose three options (meat, fish and vegetarian) and send out menu cards with the invites. Everyone was really impressed and said it was a nice personal touch instead of just being stuck with food you don't like."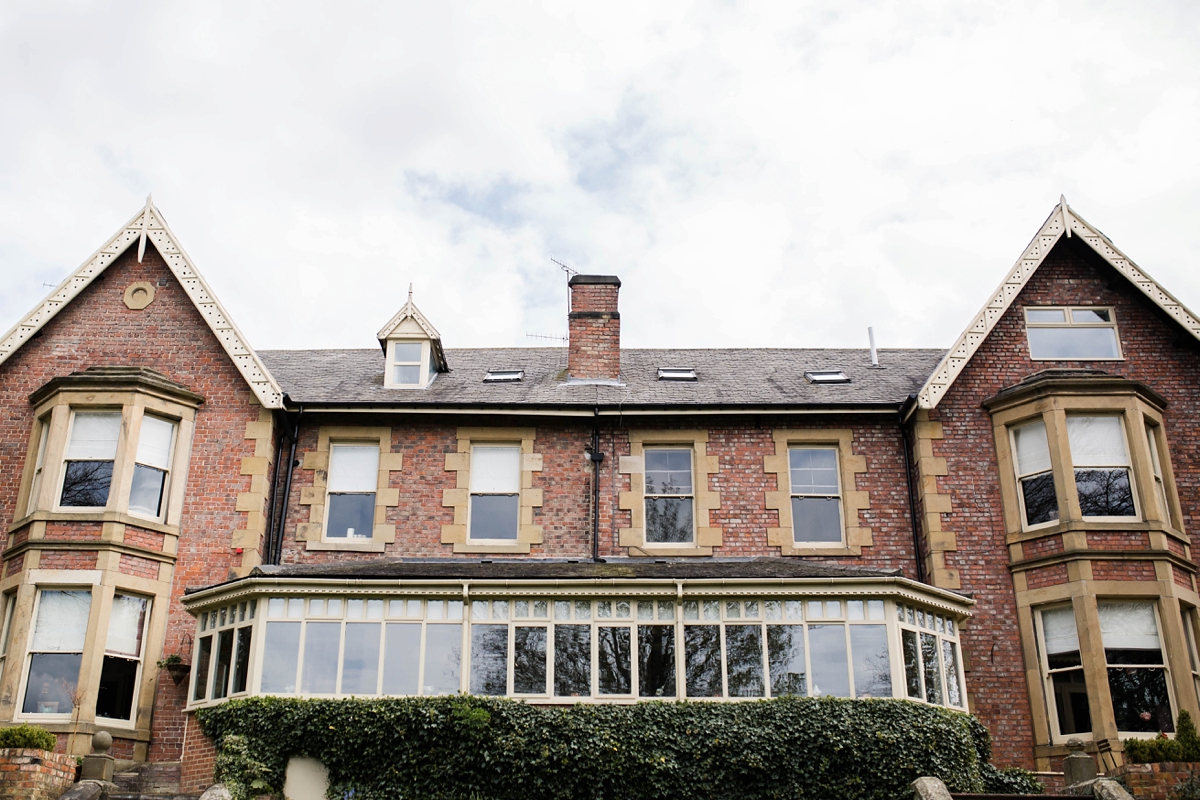 After the ceremony, guests were in for a real treat with a variety of musical entertainment. The couple hired The North East Singing Waiters for the wedding breakfast to wake the guests up and get them dancing between their main course and dessert, and The Doo Wop Dollies, the singing group which Louise belongs, to performed too.
"I'm part of this vintage close harmony group so of course the girls were going to perform. I also joined them for one wedding related song – 'Apple Blossom Time' by The Andrews Sisters."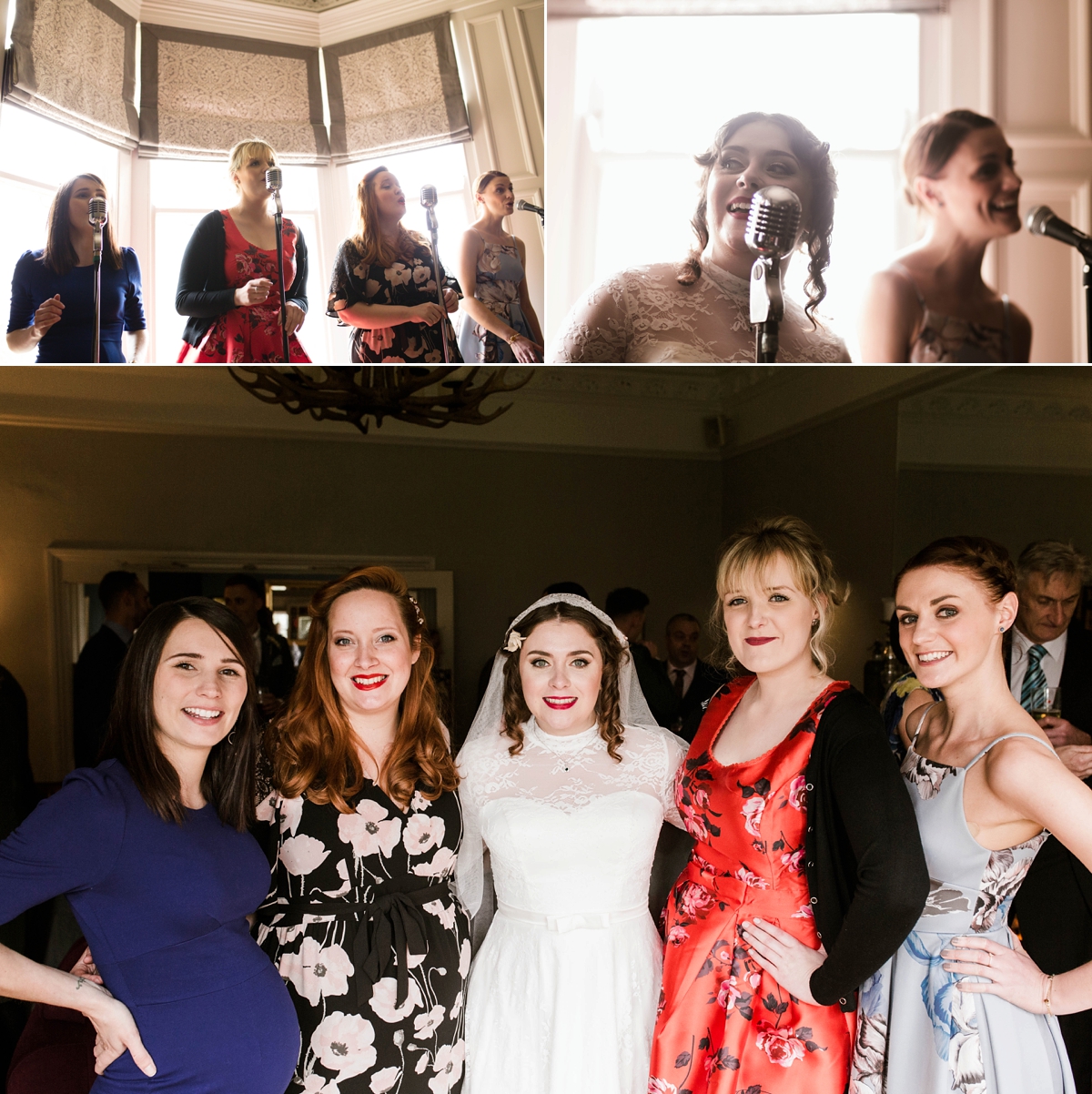 Louise was creative with her wedding favours, choosing succulent candles for the ladies and mini Kraken rum bottles for the men. Her cake was made by her mum – so clever!
"She's been doing family cakes for years so it was always going to be her. We had a 'dummy' cake decorated so that it could remain on display all evening. It's basically polystyrene decorated – which ended up rather amusing while trying to cut it!"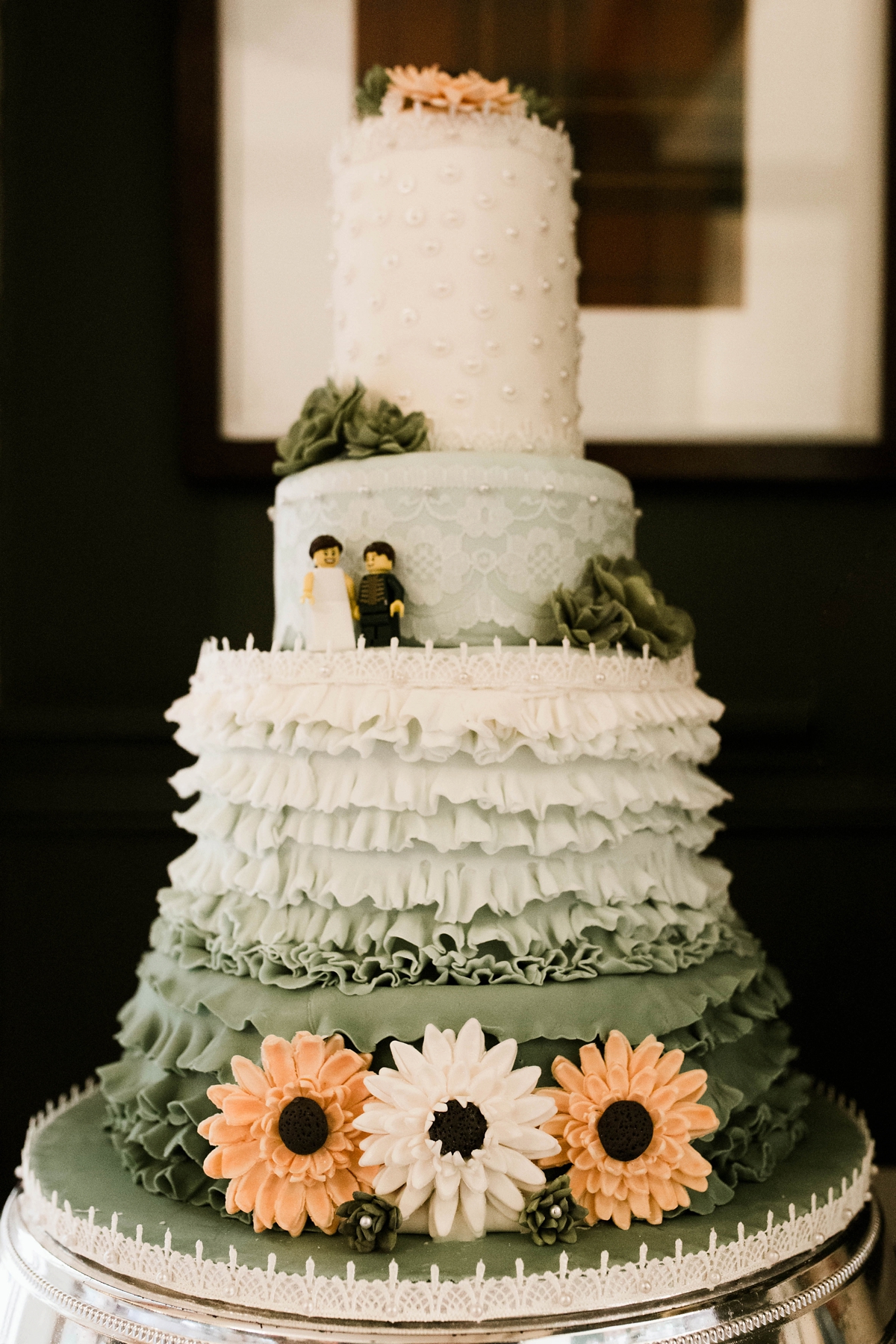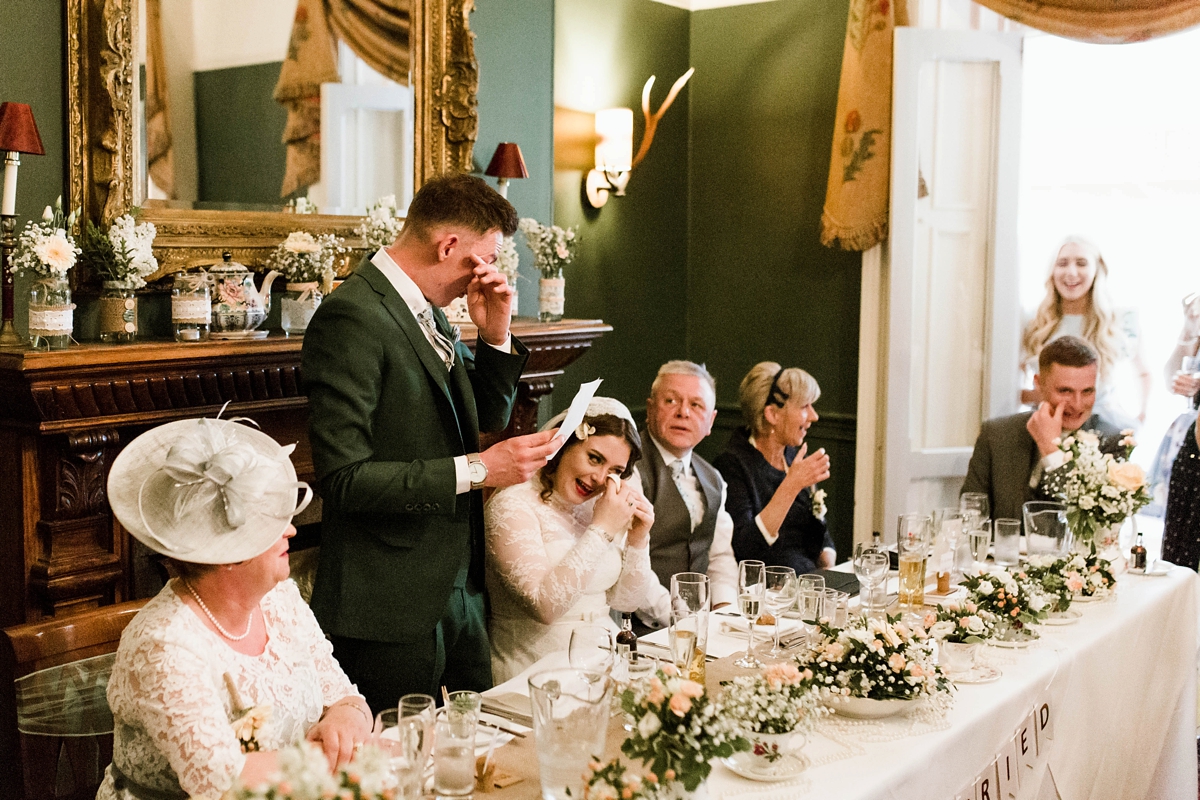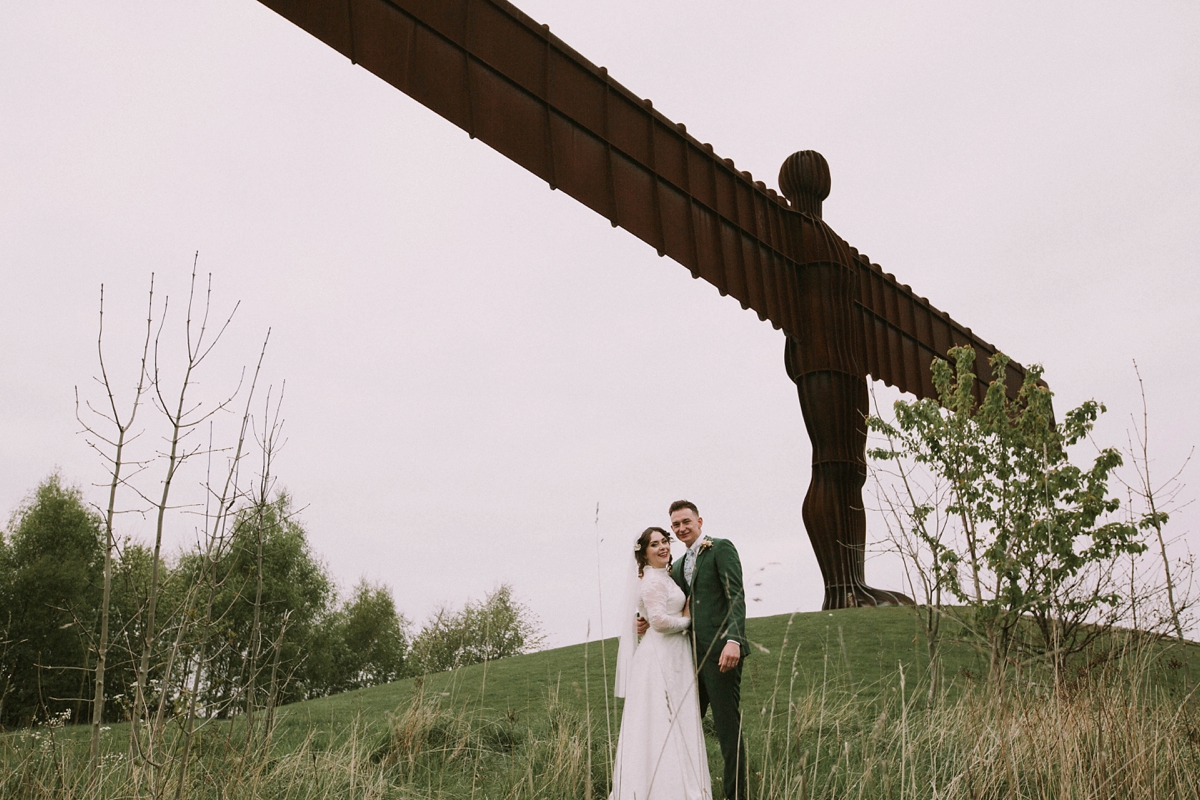 In the evening, The Long Tall Beatles were a real surprise for the wedding party.
"As a die-hard Beatles fan and to keep in with my original 50s/60s theme, The Long Tall Beatles were one of the first things we booked after the venue. As the evening room as Eslington is kept separate so no one could see them setting up. It was a great way to kick off the night and have a bit of a boogie."
Like many couple, Louise and Adam struggled with their choice of song for the first dance, eventually choosing 'Baby I'm Yours' by Arctic Monkeys.
"We have never really had 'A Song' and when choosing a first dance we were really torn. There were so many but some of the lyrics were about breaks ups. We also wanted a song that wasn't too fast or too slow to be able to dance to it."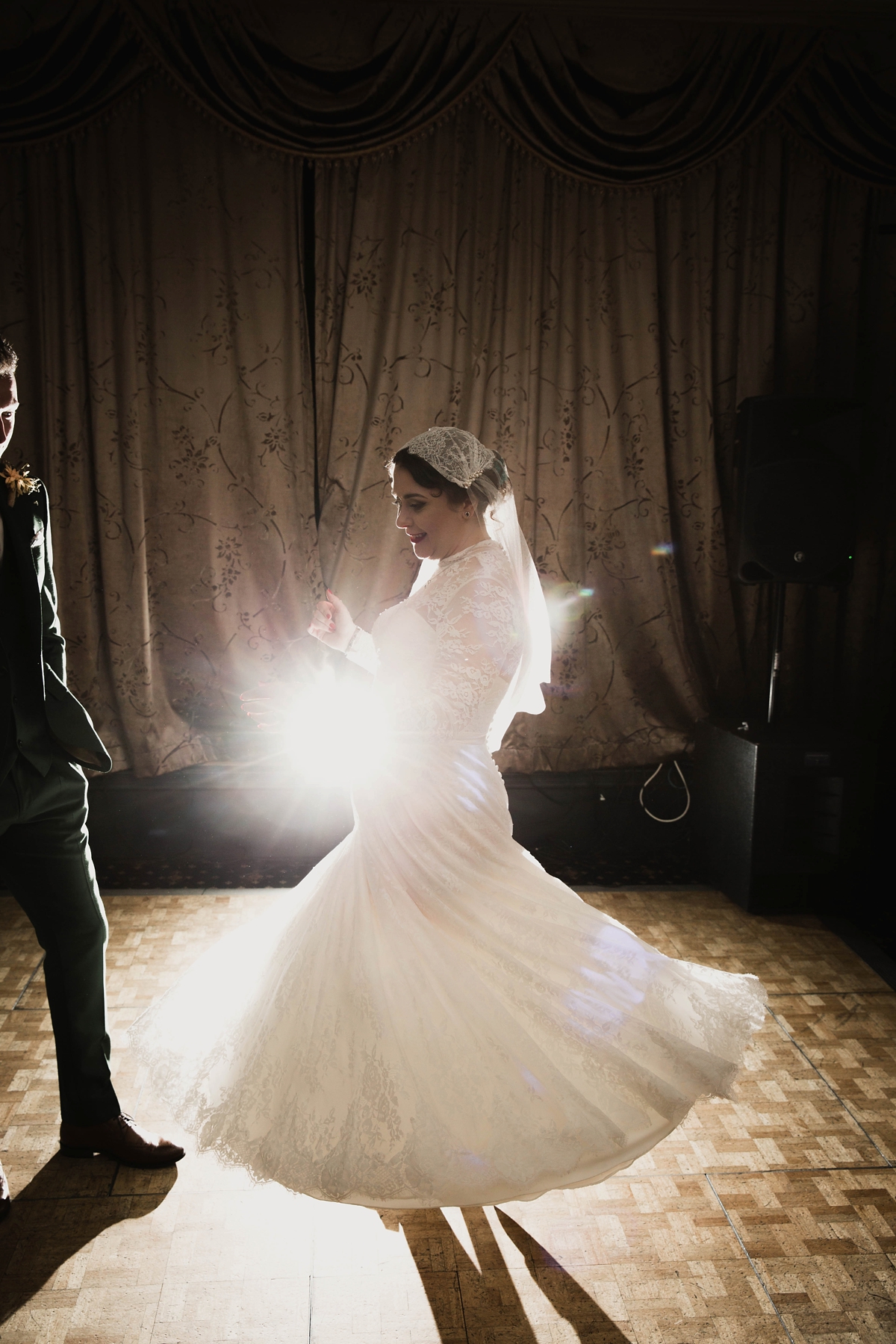 Words of Wedded Wisdom
"Make sure you do everything for YOU, not because someone else thinks you should have it or it's what everyone else has. The most important part about our day is that everything we picked we personal to us and I think it really shone out on the day. All the guests commented how everything was 'so us' which was something that was always important. Just be true to your heart and the rest will be easy!"
"The only thing I'd have done differently is to set aside some time for Adam and I alone. Everyone told me this before the day but I didn't think too much into it but I really see what they meant. We were so wrapped up in the day that before we knew it, it was over and we'd hardly seen each other."
Well, how beautiful! And how lovely to see green (also my favourite colour) running through the day. I've been blown away by these photographs from Rosie Images, so thank you for sharing them today. Sending so many congratulations to Louise and Adam; thanks so much for your insight into your day.
Bride and Groom's Instagram – @louise812 @arichardson04
Ele xx