I've been blogging now for 7 years – a milestone I wrote about this weekend on Love My Dress. Throughout this time, I have not and cannot ever imagine tiring of weddings. It's a question that's asked often; 'but doing it all day, don't you get fed up of seeing so many weddings'? I really, very genuinely don't.  In fact and on the contrary, as each day passes, and the Love My Dress real wedding archives grow richer with fresh content, I fall in love with weddings a little more. I know that sounds completely poetic and over the top, but, it's entirely true. I'm fascinated as much as I am inspired by the weddings we share – I'm intrigued by the snapshot they provide into our modern day culture of wedding planning, and view of marriage.
This particular wedding submission made me stop in my tracks. Social media manager Imogen married her beau Matt, an entrepreneur on 16th July this year at the majestic Chateau de la Motte Beaumanoir, nestled beautifully within the bucolic French countryside at Pleugueneuc. The film maker (who was also the photographer on this occasion) has captured the the essence of this beautiful wedding so tastefully.  His skilful documenting of such a heartfelt speech by the groom brought tears to my eyes.  I urge you to stop whatever you're doing this lunchtime, find a quiet space if you can and immerse yourself fully into the beauty of this wedding day celebration – it really is quite special.
"A celtic handfasting ceremony should be outdoors, within nature, so having a beautiful ceremony spot was high in the criteria for our venue. We wanted to draw on my Scottish heritage, but organise our wedding in France where we lived. Brittany was the obvious choice, both for the Celtic connection and because it was a region we had fallen in love with visiting with friends for surfing trips."
Film + Photography by Lifestories Wedding Photography
Imogen's divine beaded gown was 'Jayne'', by our Little Book For Brides wedding directory member,  Eliza Jane Howell, in antique silver, which she purchased from the Plume Paris boutique.
"My veil was custom-made by Kelly Spence. After seeing another bride in a Kelly Spence juliet-cap veil on Love My Dress, I just had to get in touch with her. I absolutely adore my veil, and I'm heartbroken I won't get to wear it again. The flowers on the cap were made with silk and brocade taken from my Grannie and Mum's wedding dresses, finished with seed pearls from my gran's dress. Working with Kelly was just a dream."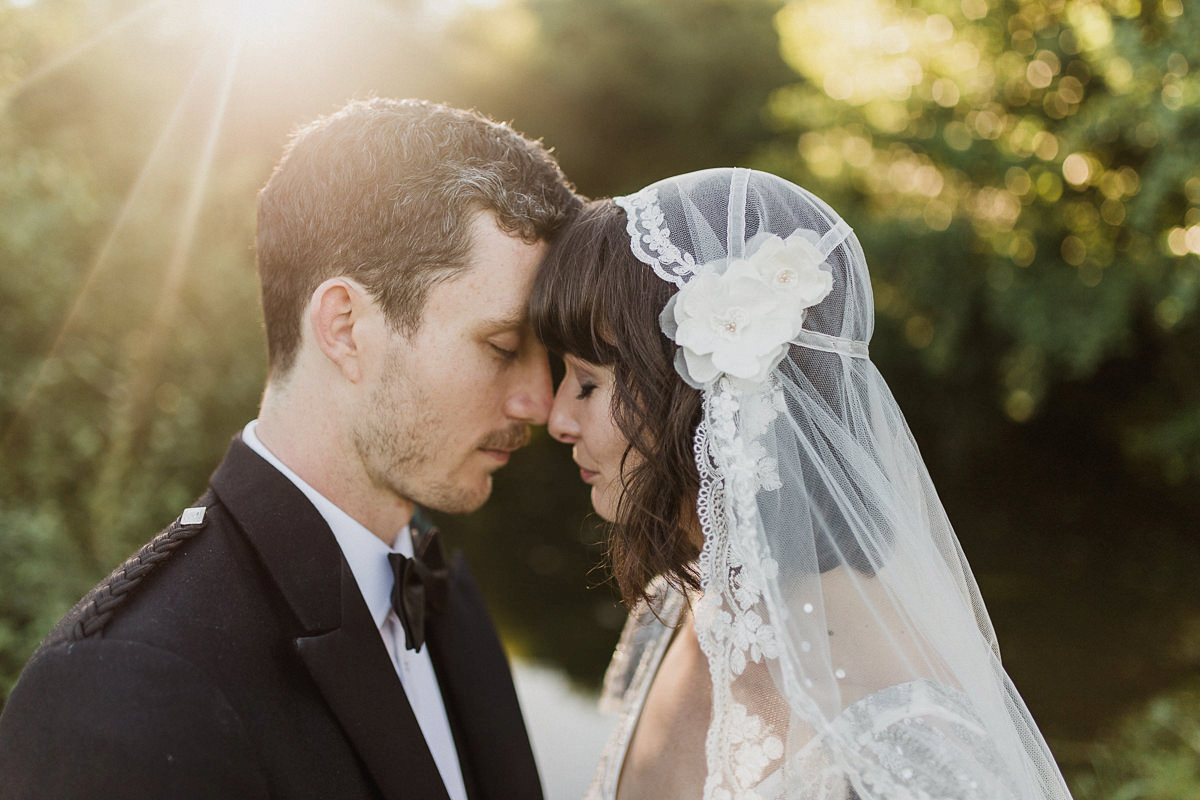 "Ever since seeing Kate Moss' John Galliano wedding dress and juliet cap veil, I had envisioned an unstructured, bohemian 1930's inspired look with wild flowers, antique tableware and kilts. We wanted to work with as many textures as possible, from the lush greenery of the chateau's park, to the bridesmaids' silk dresses, my Eliza Jane Howell beads and tartan." 
"I'm a wordsmith by nature, so I was always going to be fussy about all things stationery. I found Elisa from Designed with Amore on Etsy and she had the most perfect ready-made design for us with wild bohemian foliage that picked up the greens and blues of our colour scheme, printed on beautiful linen paper. She was a delight to work with, so generous with her time and so fast. The calligraphy for the invitation envelopes and place cards was the one DIY project I allowed myself, since I had been wanting to take up calligraphy for years and the wedding gave me the reason to start. I picked an ancient French script called La Ronde which looked very Celtic."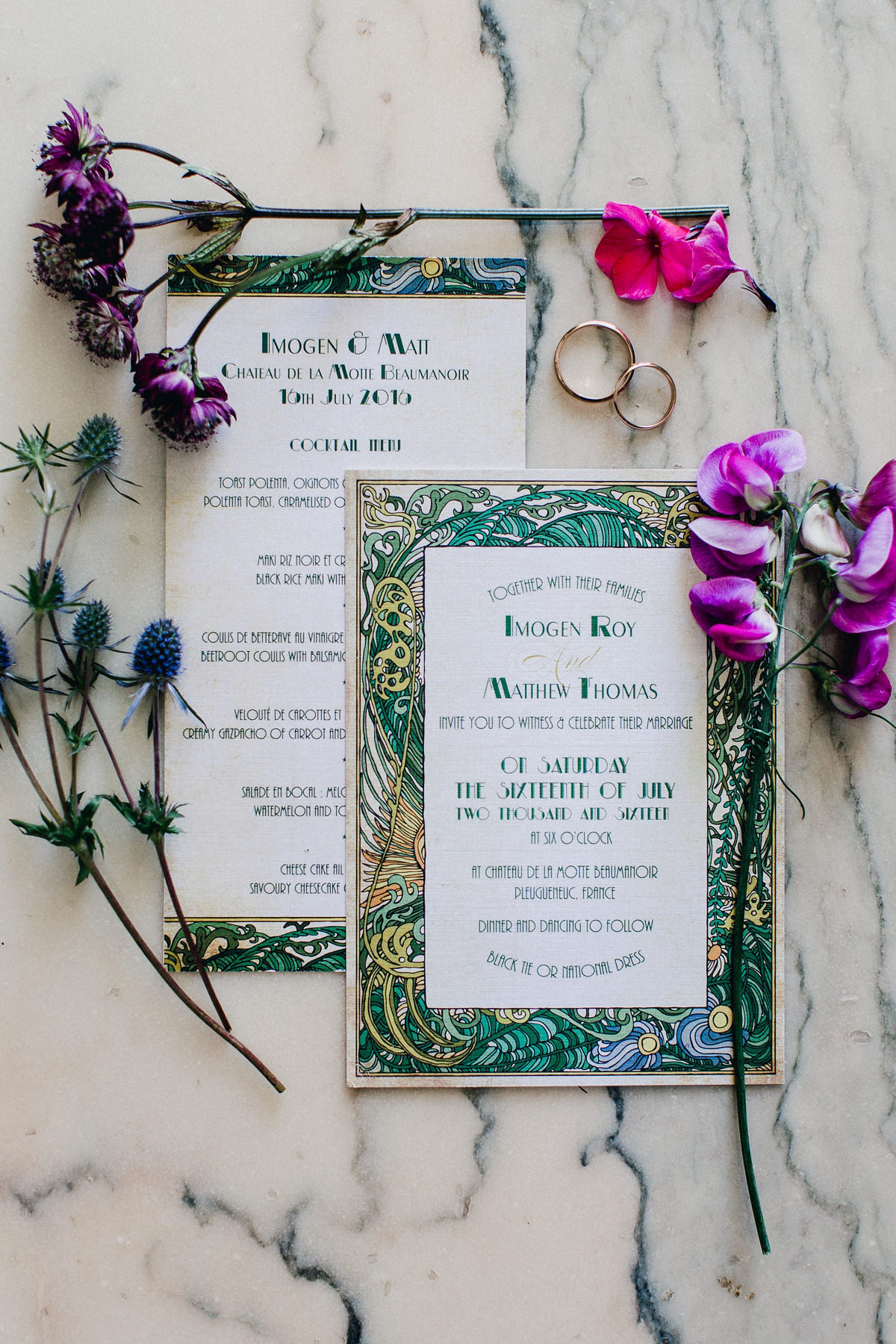 "I had never imagined getting married, so had absolutely no idea where to start looking for my dress. Originally I didn't want a white dress, but I couldn't find anything that looked ceremonial enough. In the end of months of searching, I came back to the Jayne in silver – the first dress I had seen and loved online. I loved the bias-cut and the asymmetrical beauty of the beaded pattern, which made me think of sun, moon and stars."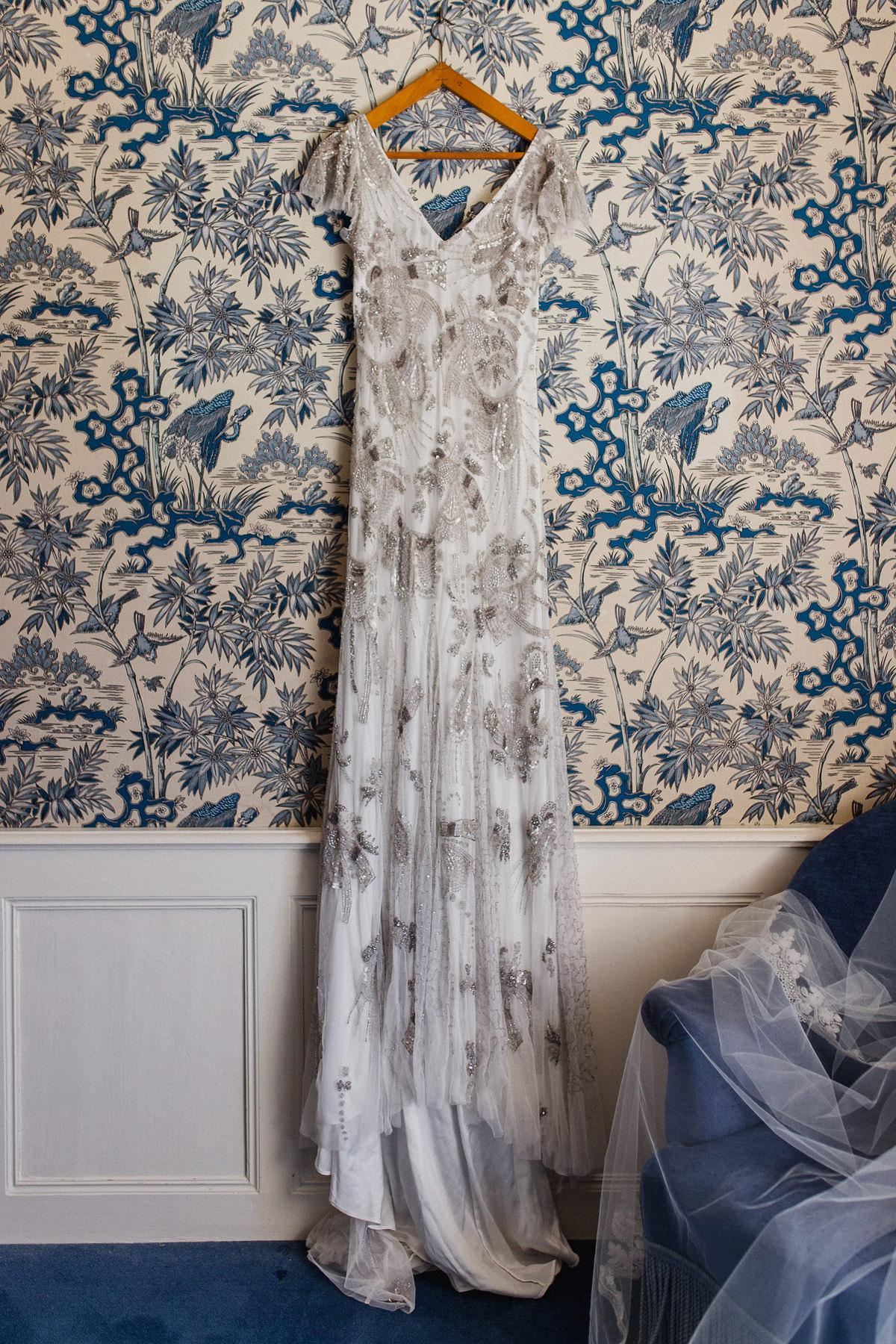 "I wore blue velvet shoes by Laurence Dacade. I was set on wearing blue velvet shoes, and these were perfect with a chunky heel for an outdoor ceremony on the grass by a lake."
"They were sold out worldwide until I found my wedding fairy godmother on eBay, selling a pair in my size for a fraction of the price!"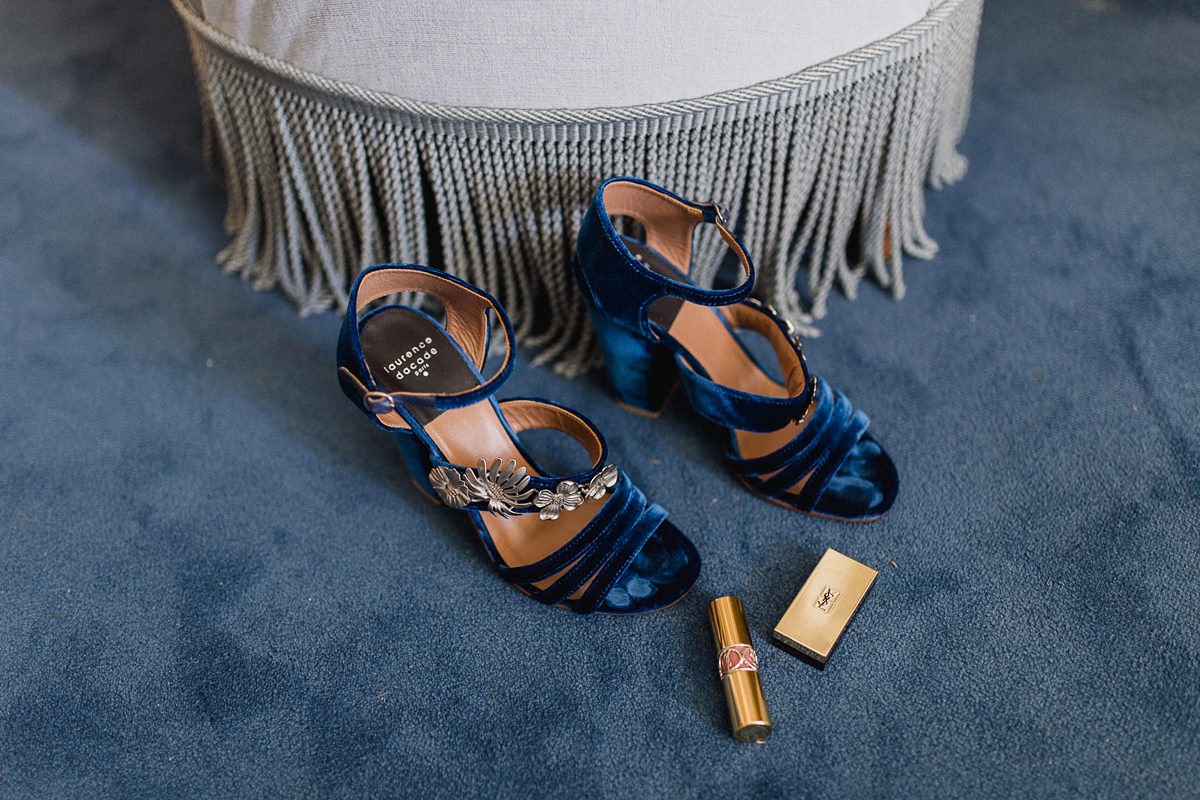 "Our rings were from Paulette a  Bicyclette in Paris. We chose these rings because they use fair mined gold, and having ethically-sourced rings was very important to us."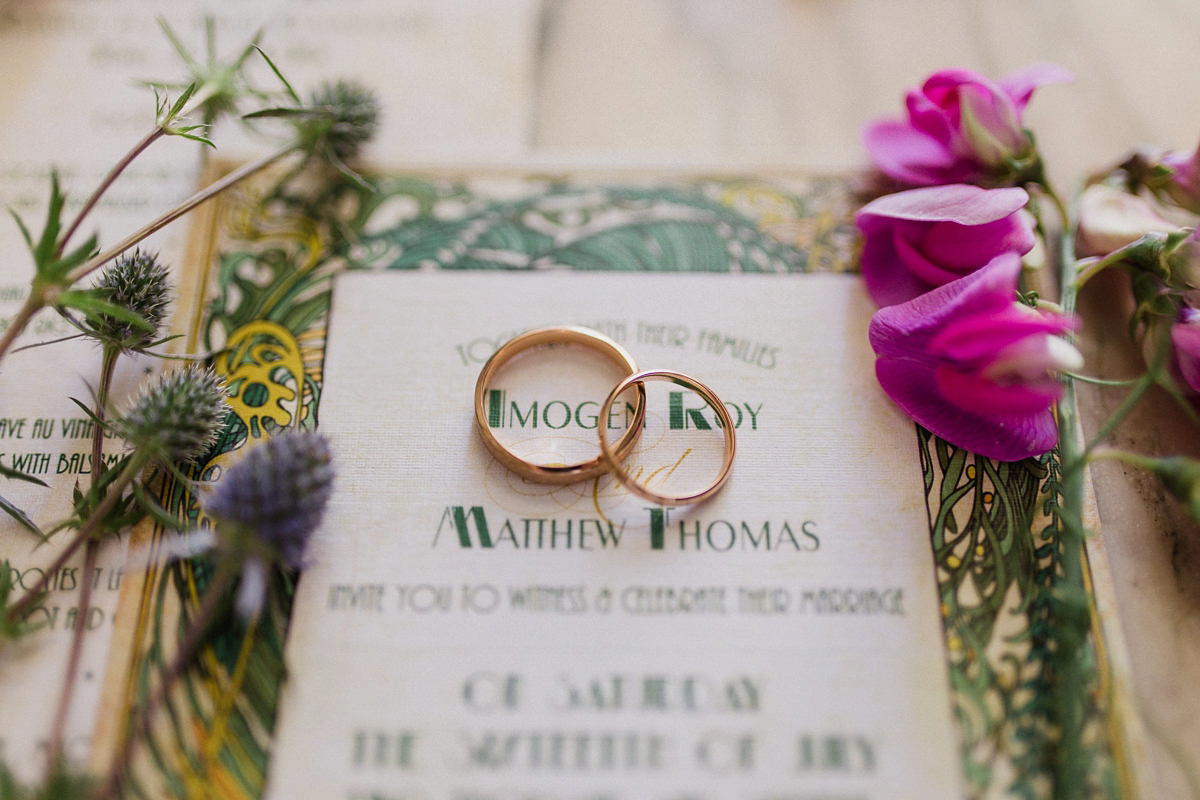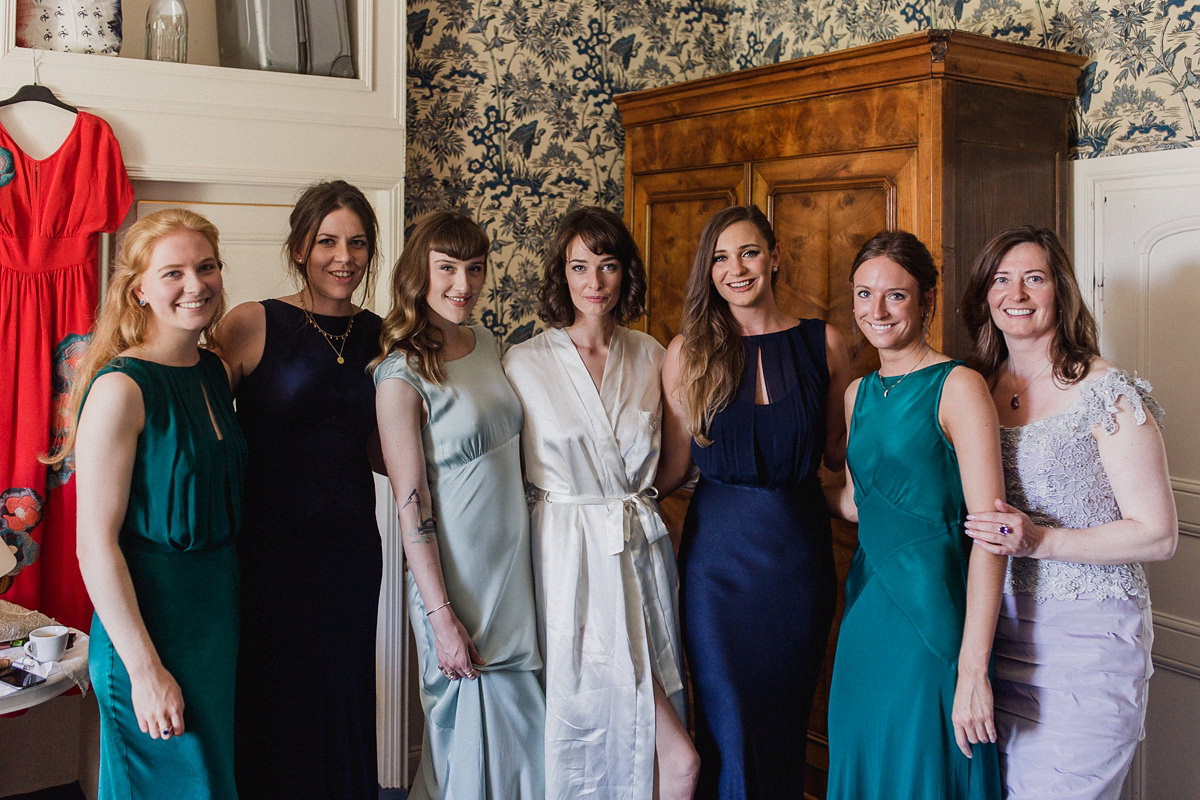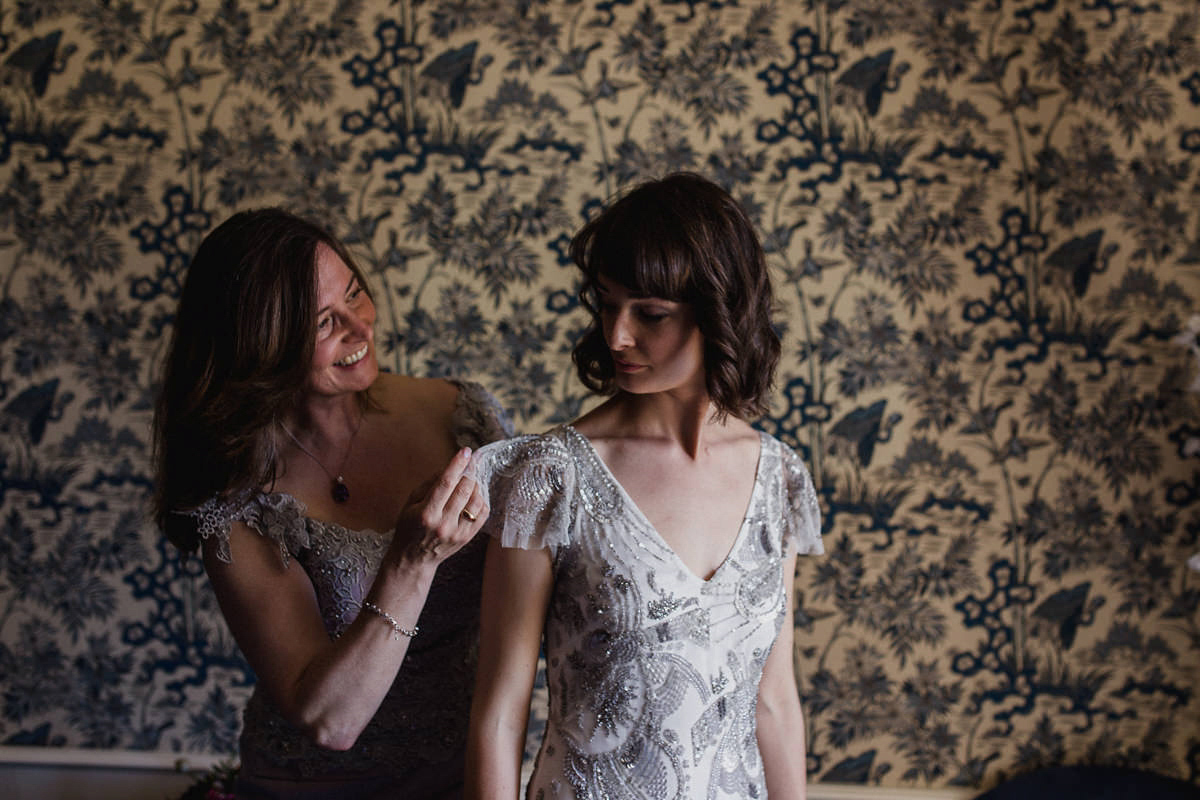 "For fragrance, I wore Tom Ford's Noir de Noir, my first christmas gift from Matt (I'm very frugal with it)."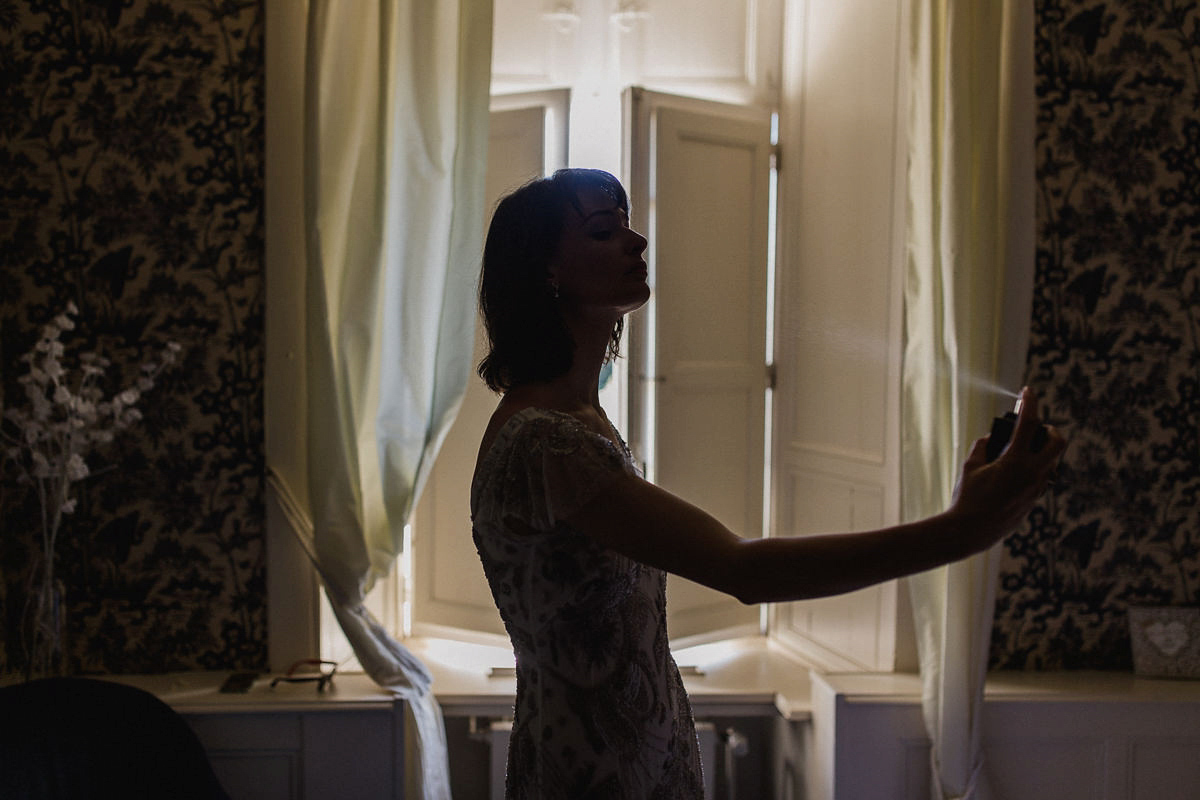 "Although we both find flowers beautiful, we were very conscious about waste and the environment. Clementine of Bloomette was a perfect partner as she sources all her organic blooms locally and seasonally, and she did a beautiful job of creating a wild bohemian look for the bouquets using sweet peas, garden roses, and poppies."
"My bouquet included giant protea – national flower of South Africa – and Scottish thistles, as a nod to our respective countries. She created a beautiful petal circle for our ceremony.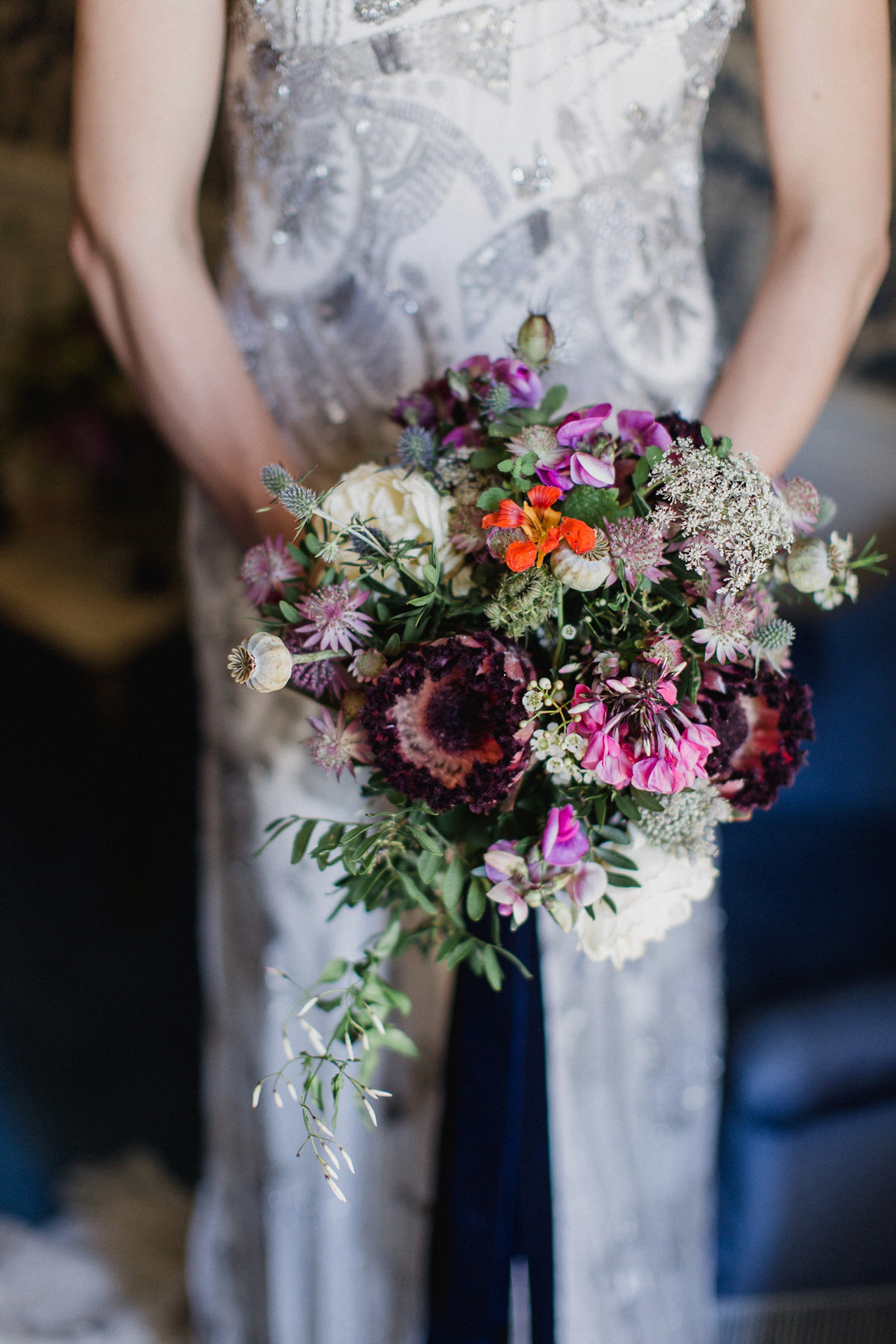 "Matt proposed with a beautiful 1920's/30's gold and diamond ring, and he'd convinced the skeptical jeweller to swap out the original opal for a deep blue lapis lazuli – my favourite stone. That lapis blue then inspired the touches of deep blue velvet that were peppered throughout."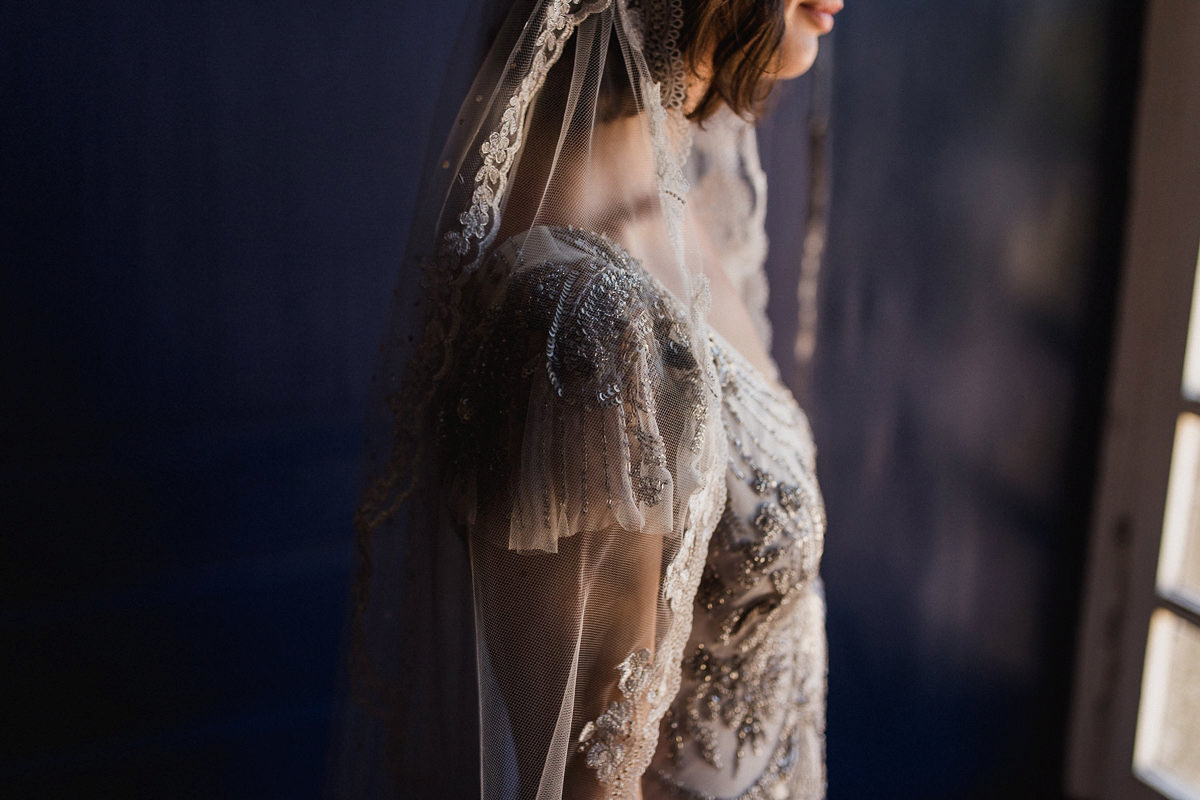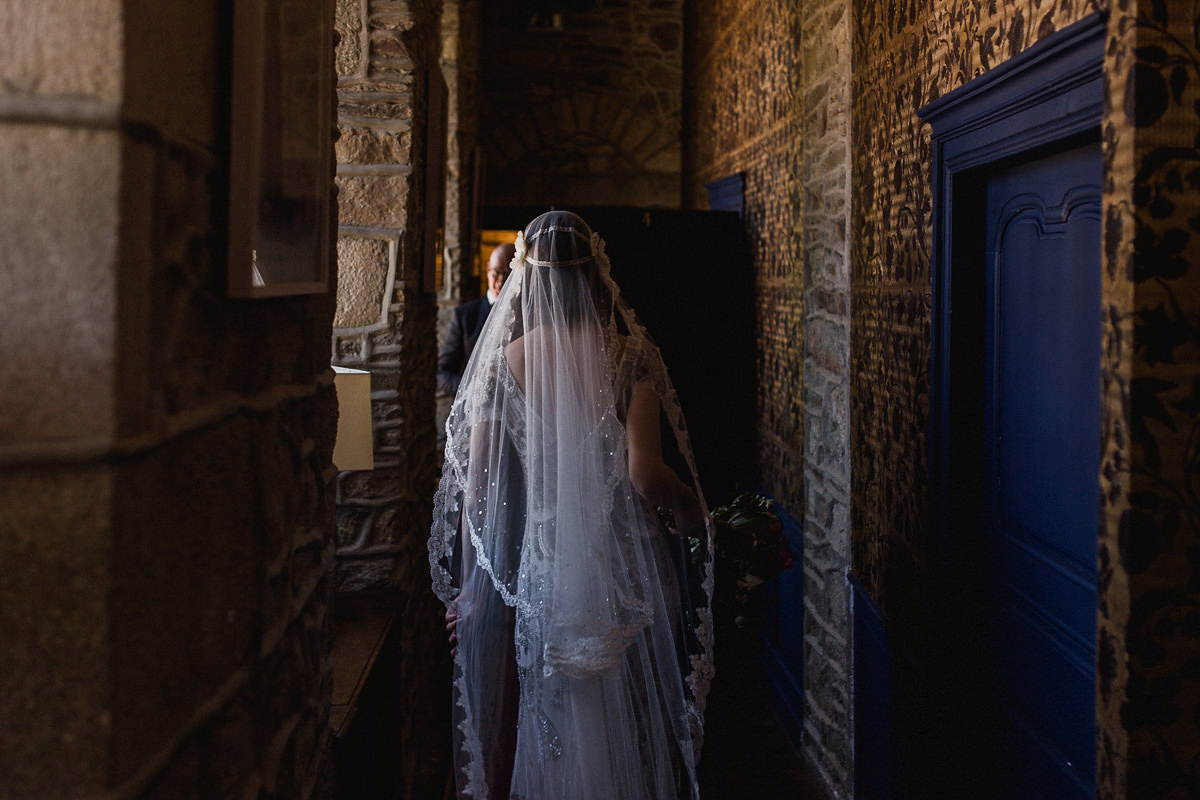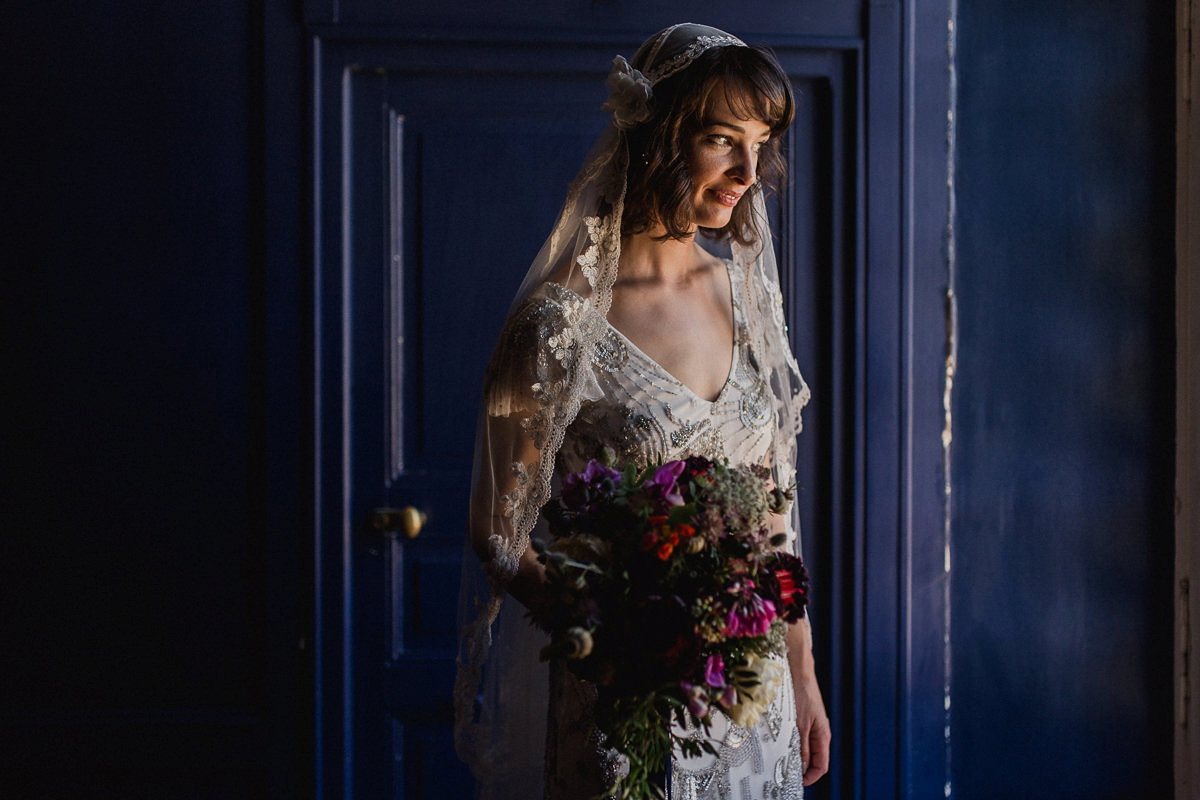 "I wore a pair of Stephanie Browne Bocheron earrings, a gift from Matt. In return I gave him a pair of 1930's lapis lazuli cufflinks on the day that I found on a trip to Berlin."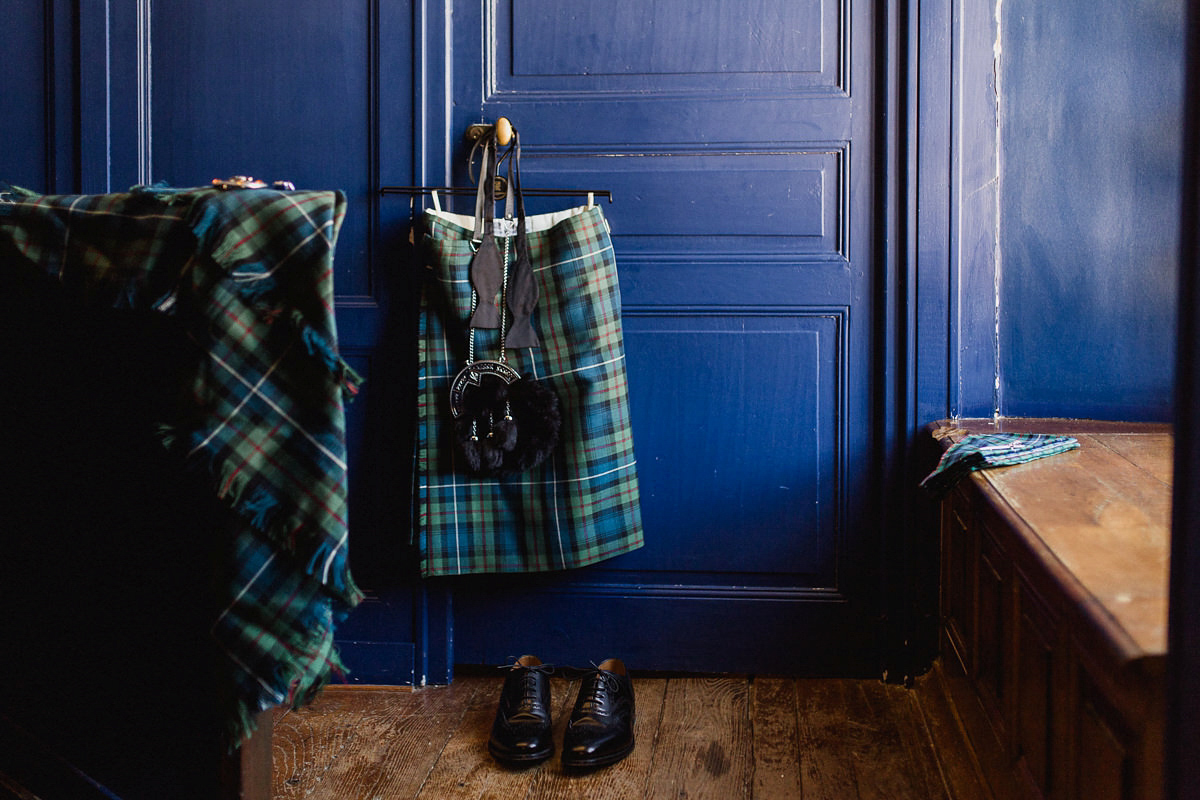 "We met at work on a photoshoot at Aynhoe park in March 2012. He was assisting a London photographer, and I was an assistant at a luxury fashion label in Paris.
There were over 50 people on set, and all day long amazing music was keeping us going. The electric mix of 70s rock, 90s electro and under-the-radar indie bands was so akin to my own music taste, I just had to meet the person behind it."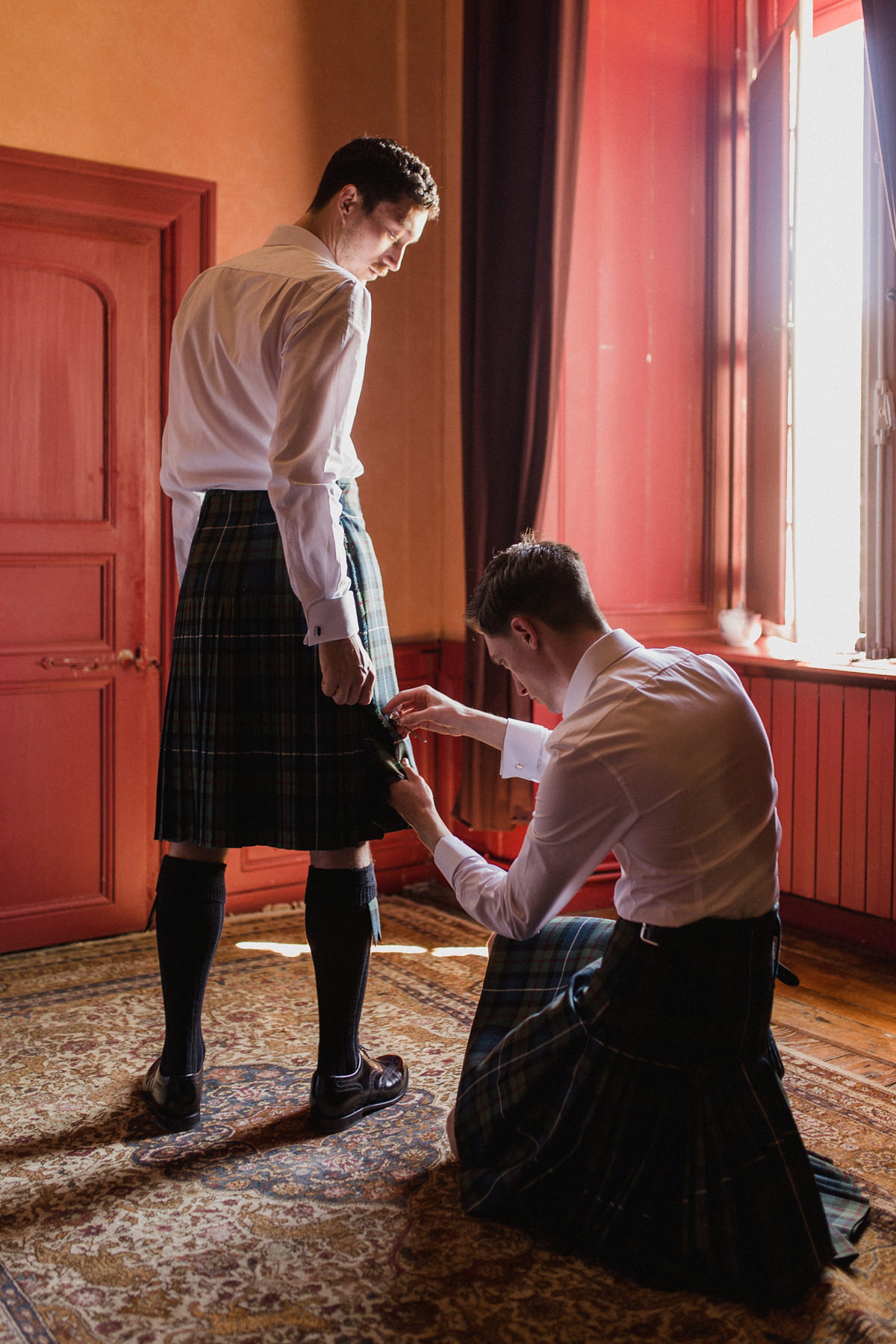 "I asked one of the photo assistants who the DJ was, and they pointed to this tall, dark stranger in an aviator jacket manning the digi booth. Before I had a chance to approach him, he had disappeared. But fortunately we were reunited at a different location on set the next day, and he was firing out amazing tunes again."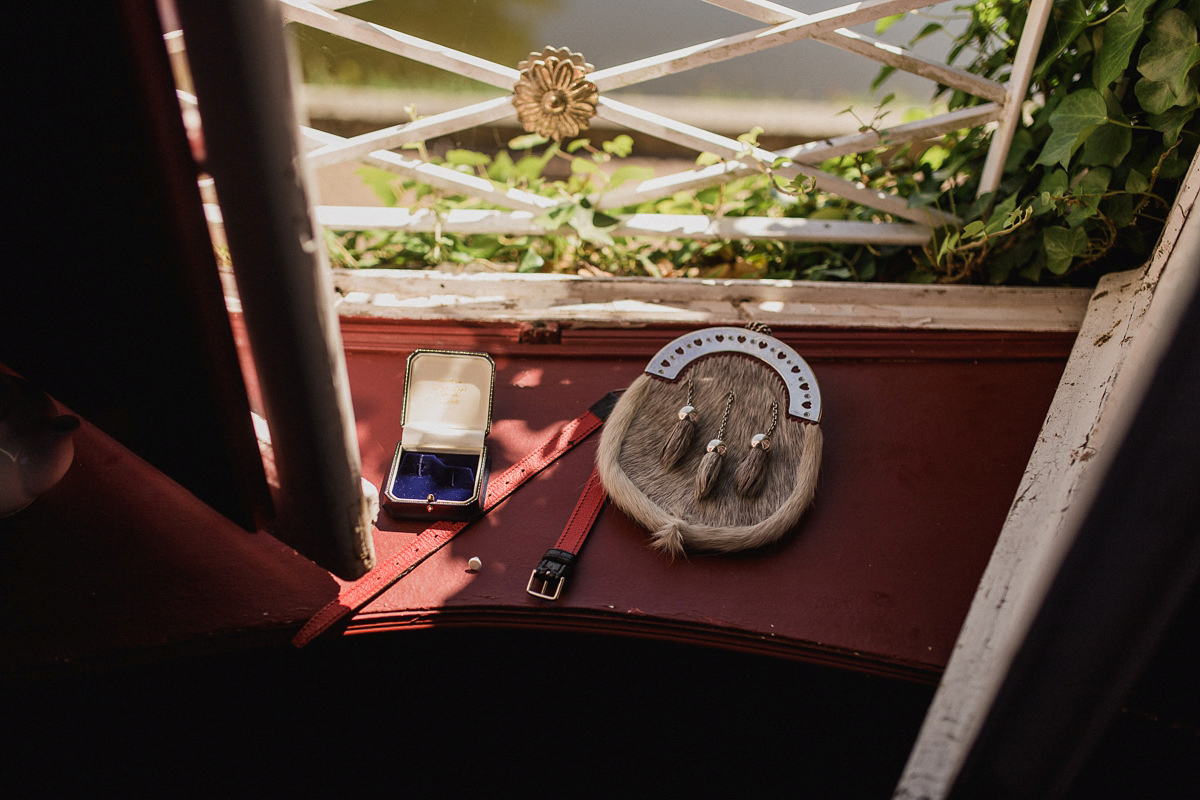 "I think the song that prompted me to go and speak to him was 'Will Do' by TV on the Radio. He invited me first to play ping pong with his friends the next day (I said no) and then he tried his luck again with an invite to a rave in Archway (I said yes). Four years later, after convincing him to move to Paris, I said yes again when he proposed under a willow tree in Reims during my birthday day out. We were engaged for 15 months before the wedding."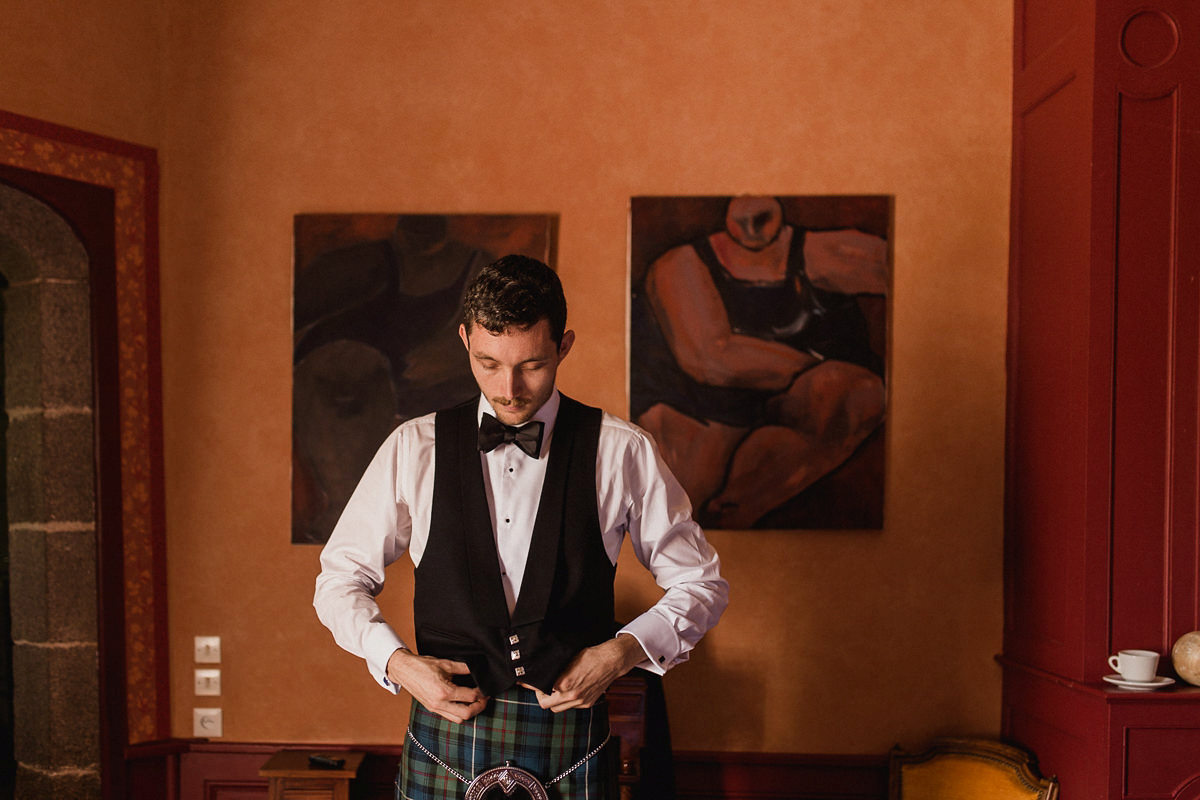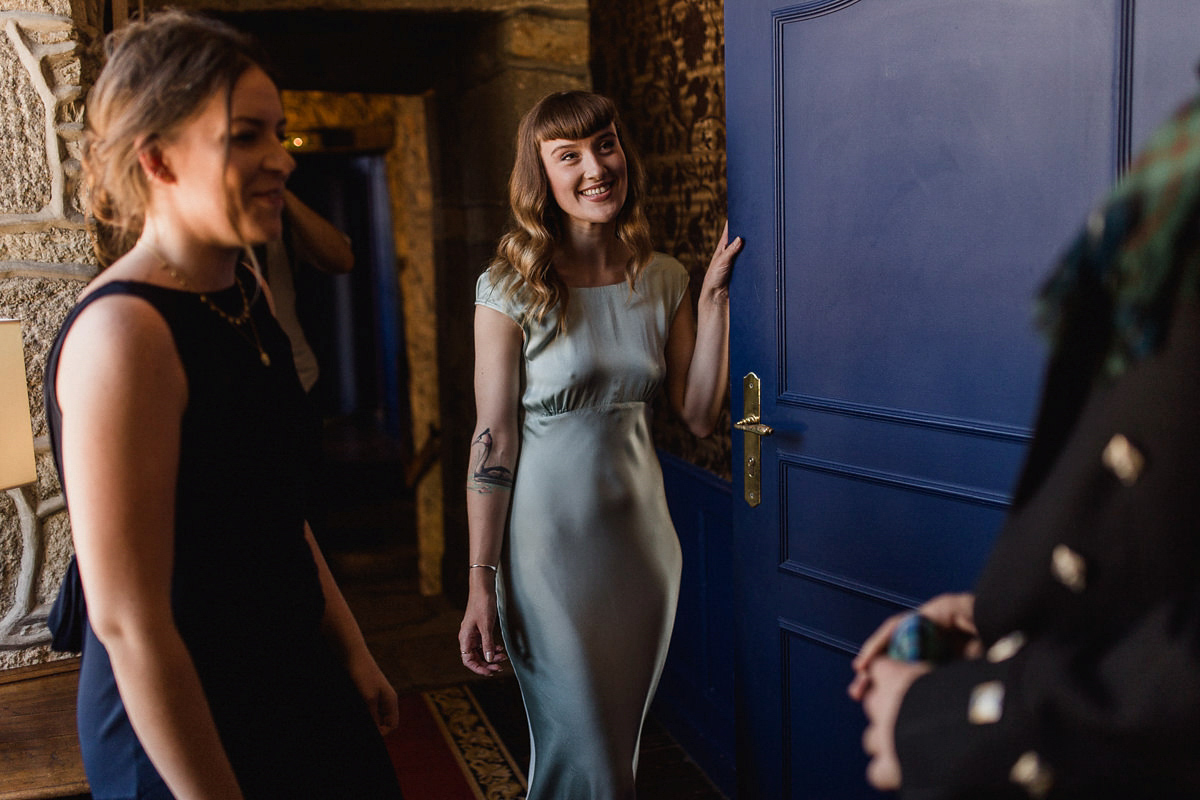 "Matt wore the Robertson tartan kilt, representing the clan heritage of one side of my family, and a Fraser of Lovett crest plaid brooch as a nod to the other half."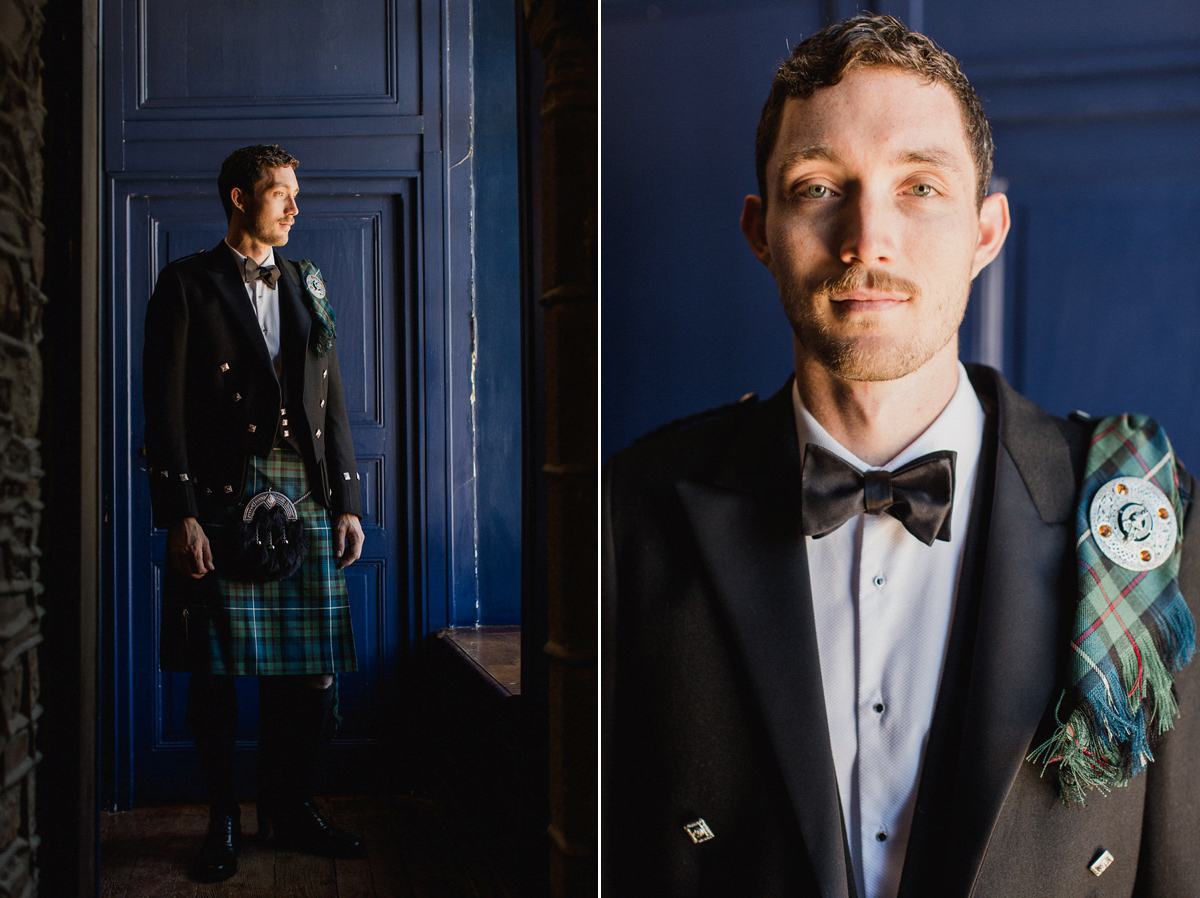 "We fell in love with the beautiful mini castle with five guestrooms before a serene lake ringed by trees, which we were able to enjoy to ourselves for 4 days."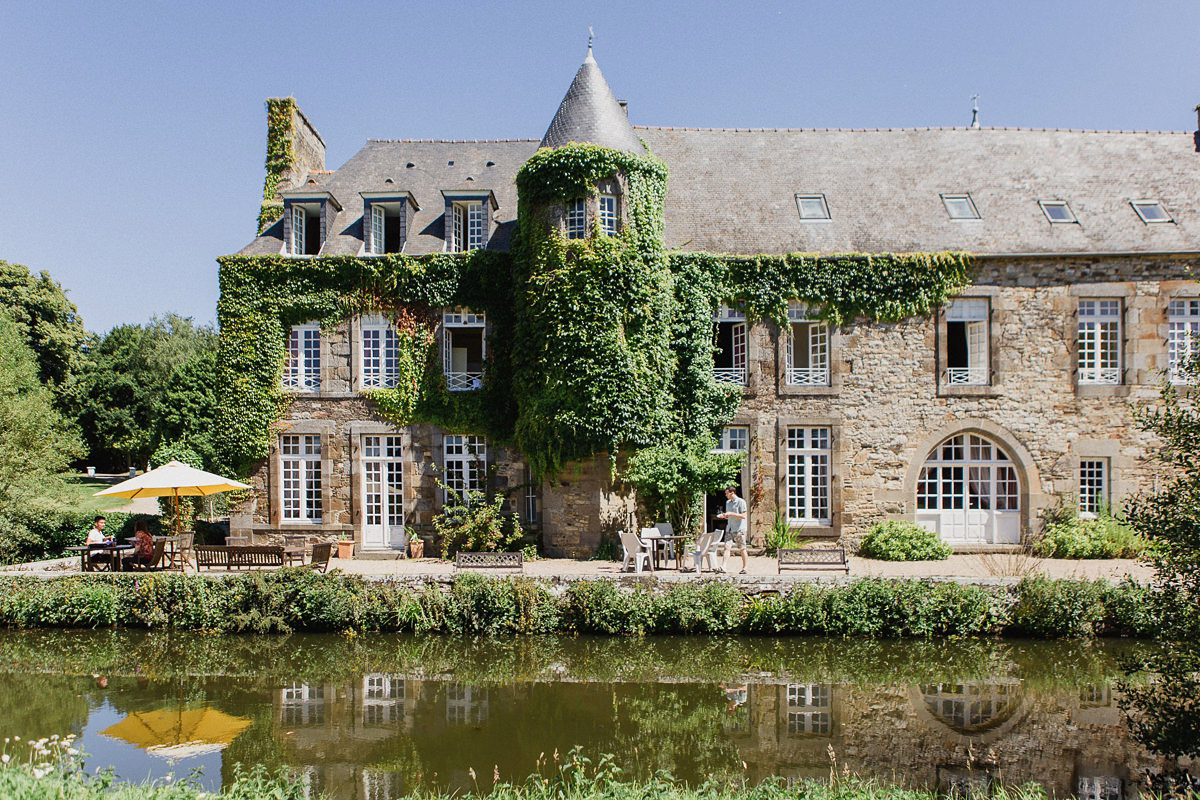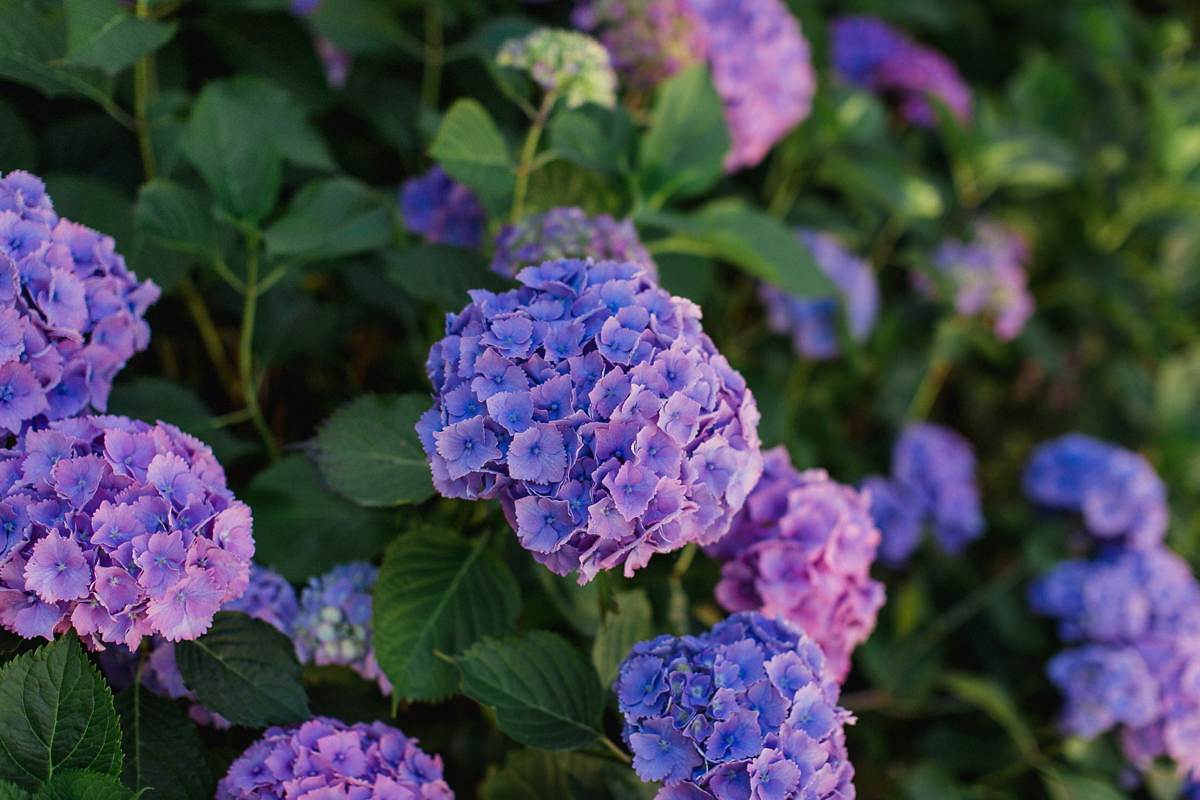 "I was thrilled that my bridesmaids picked out the tones the Robertson tartan perfectly in their Ghost London dresses!"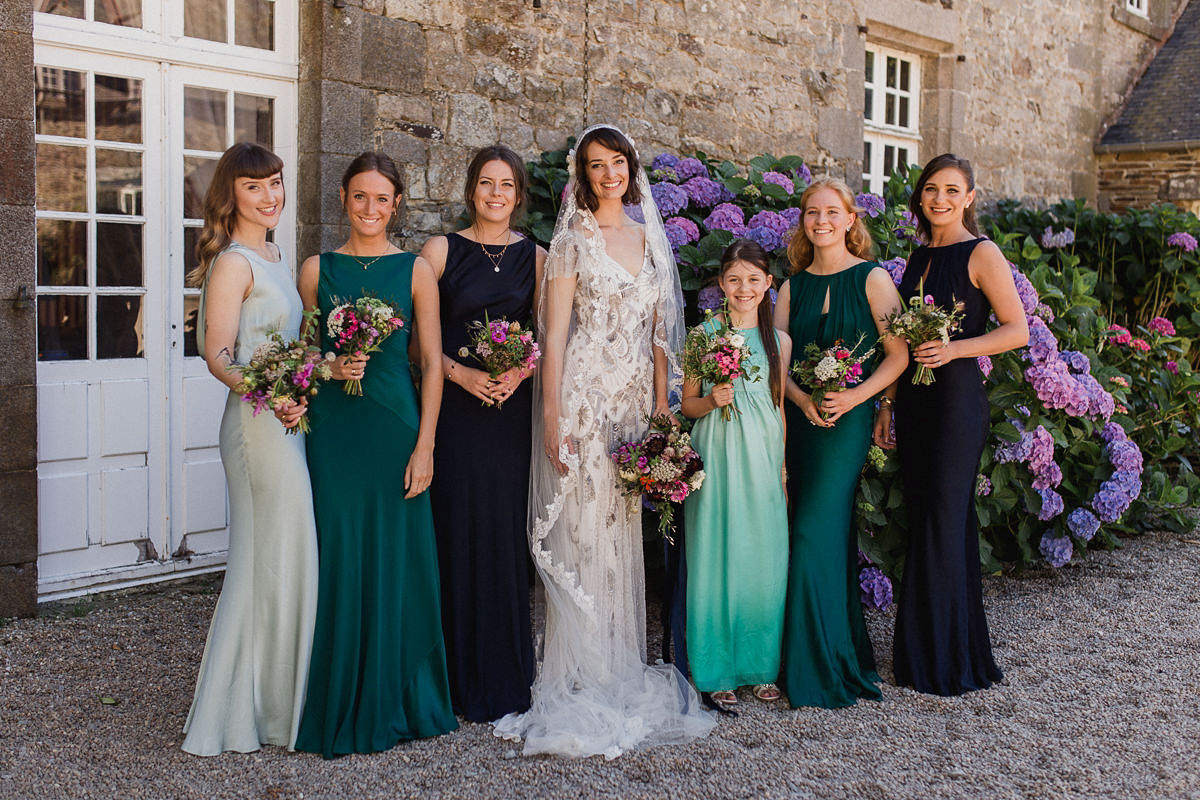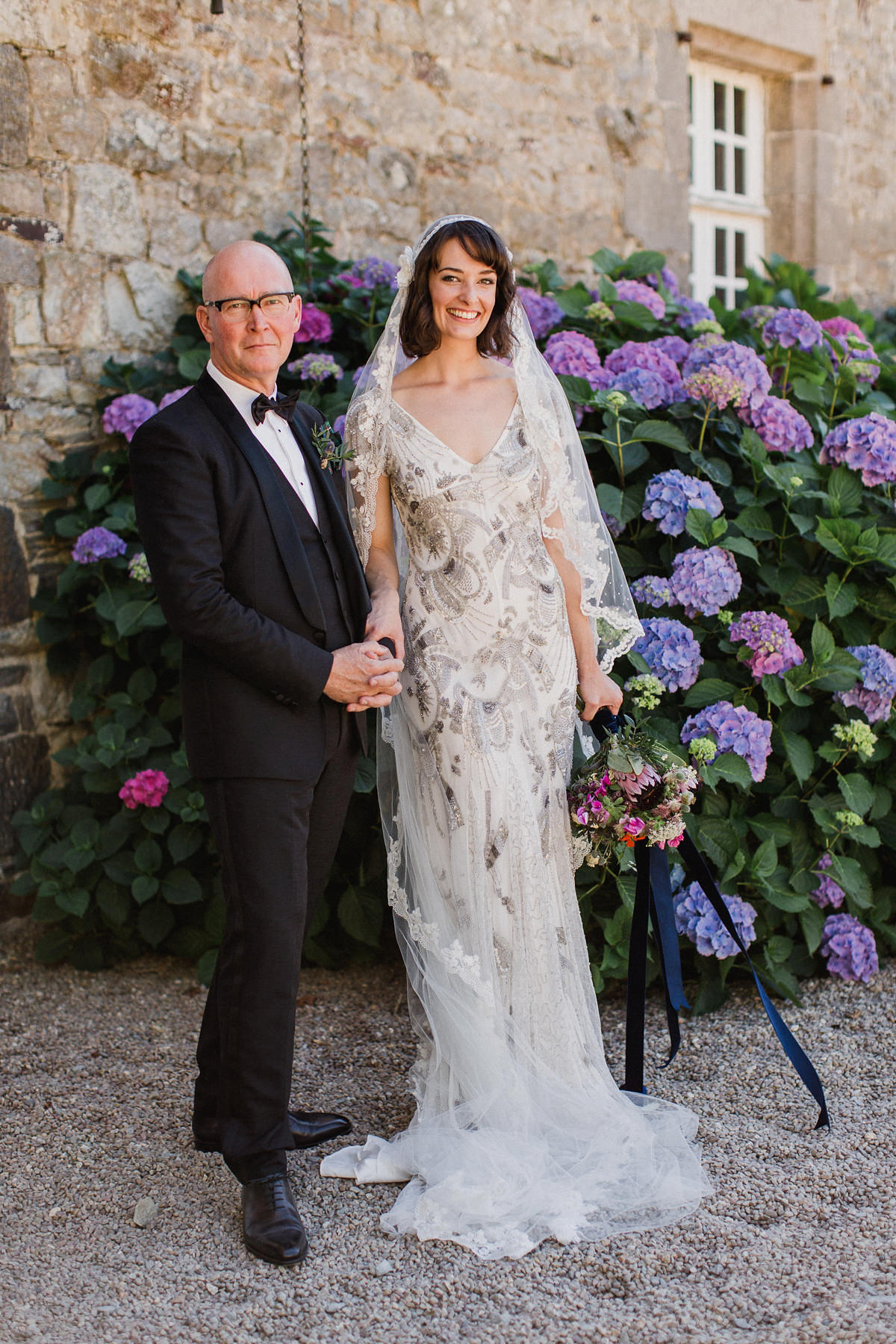 "It was always going to be Highland Cathedral on the bagpipes that would accompany me into the ceremony. I deliberately gave myself a marathon of a walk so I could try and compose myself before arriving in the ceremony circle."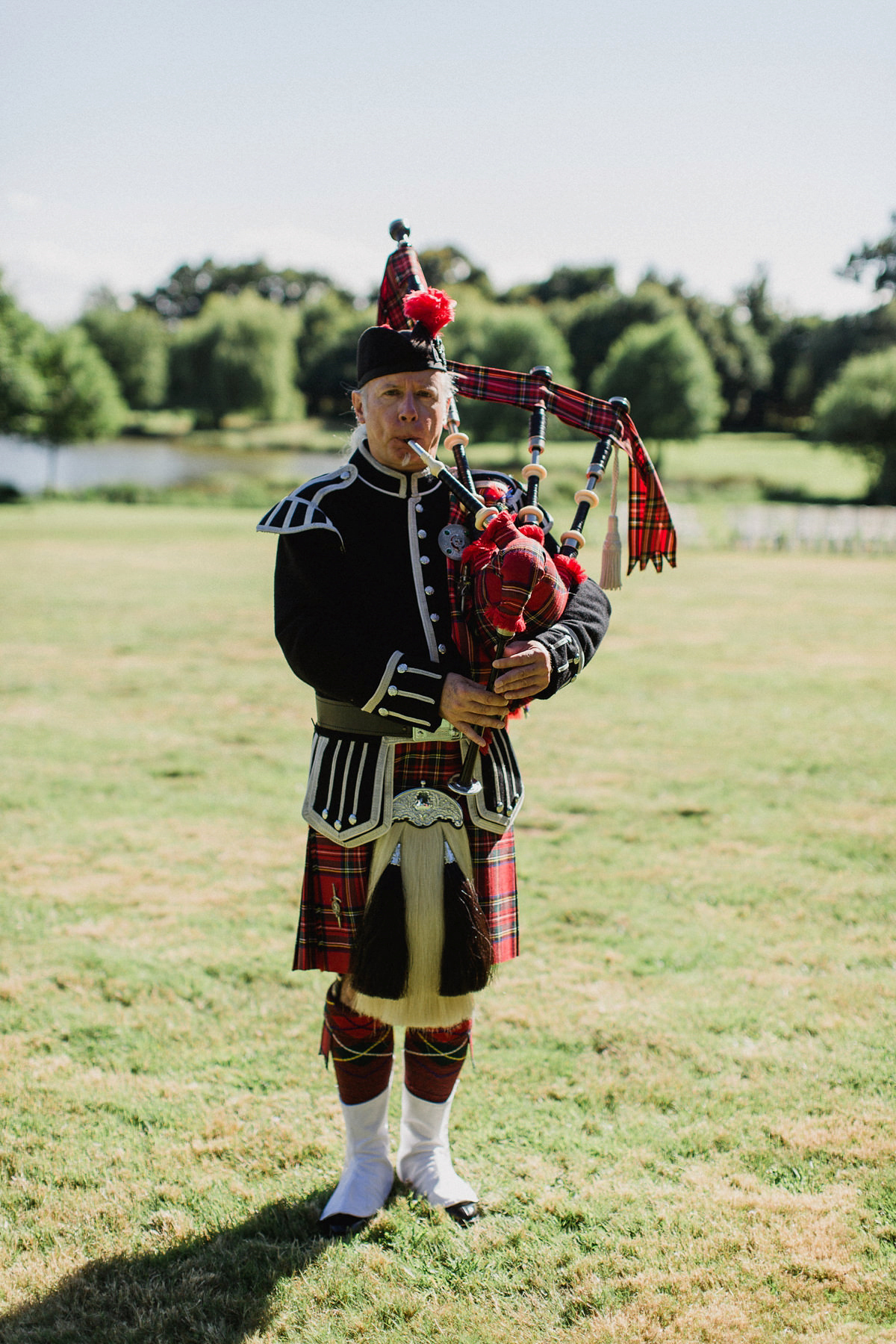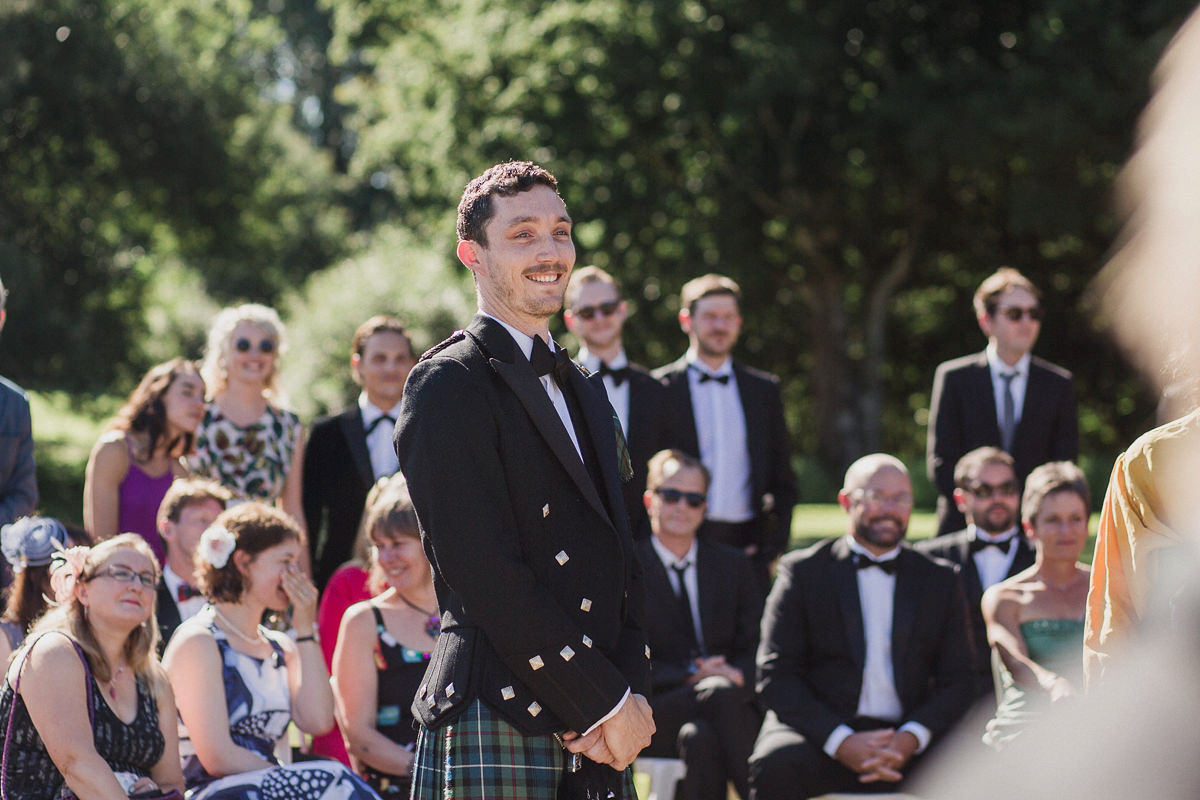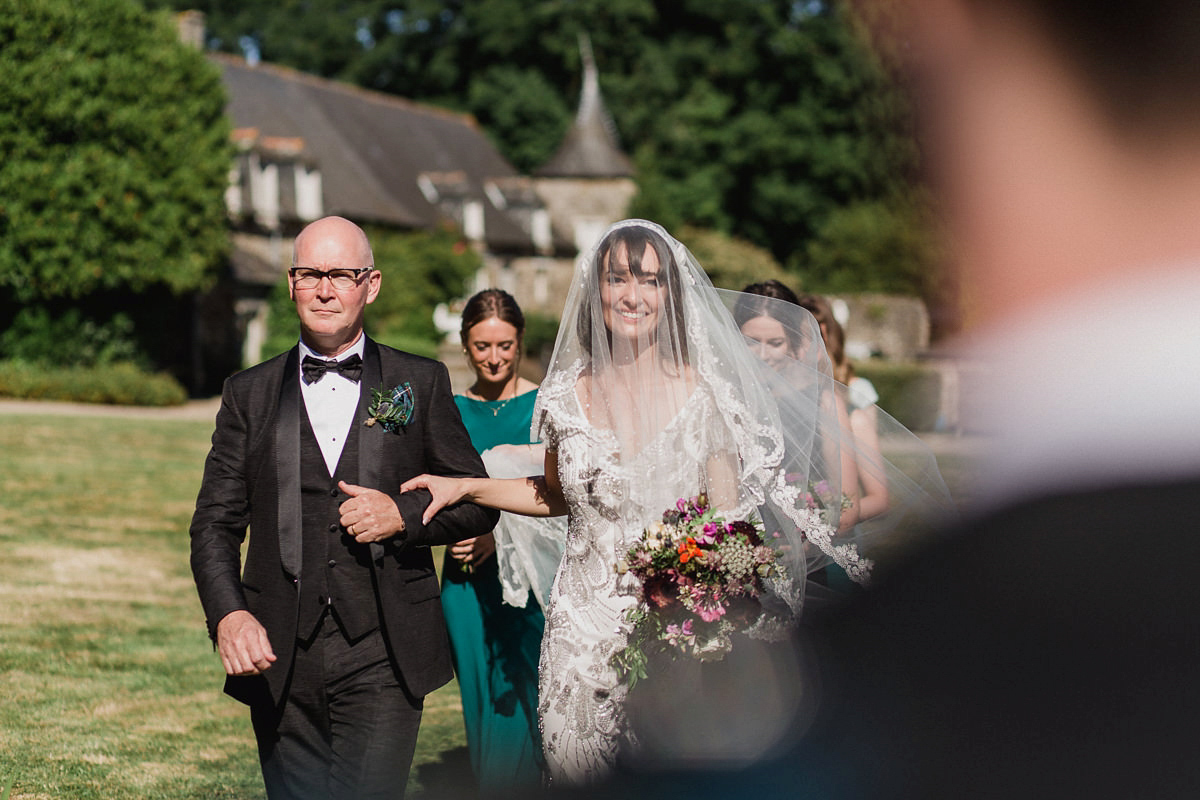 "We decided to write three vows together, and three individually that would be a surprise until the day. We spent months working on them, and it made the ceremony all the more personal and emotional for us."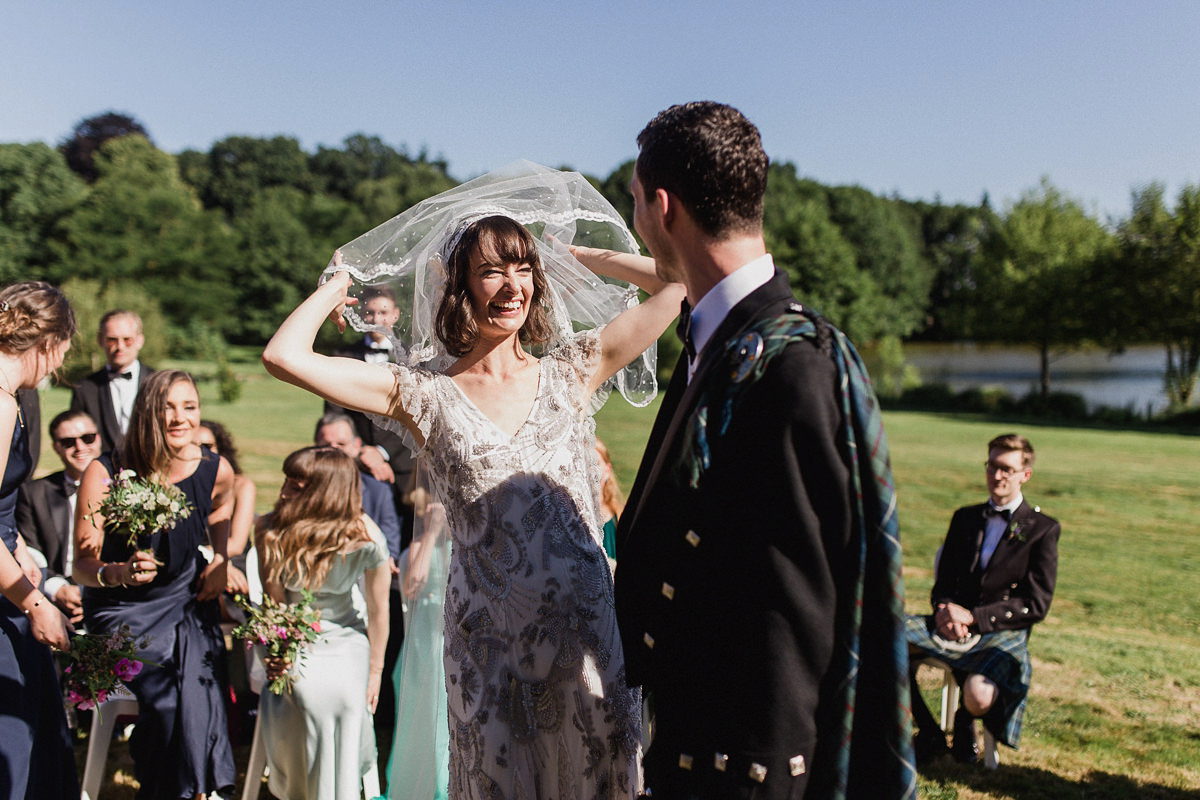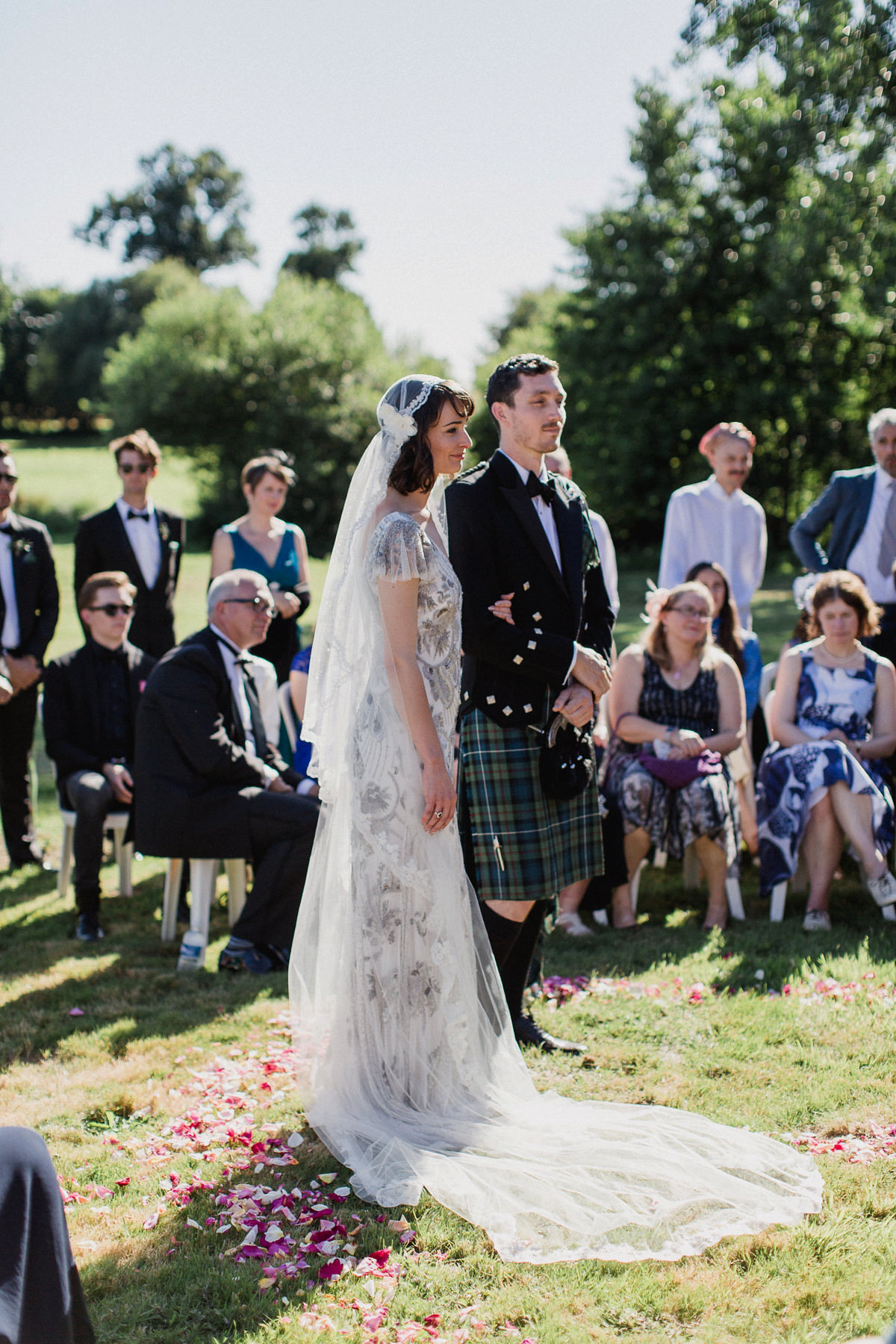 "Our 'Wedding Guardian' (like a Godparent to our marriage) Andrew, read Kahlil Gibran's 'On marriage'."
Let there be spaces in your togetherness,
And let the winds of the heavens dance between
you.

Love one another, but make not a bond of love:
Let it rather be a moving sea between the shores
of your souls.

Fill each other's cup but drink not from one cup.
Give one another of your bread but eat not from
the same loaf

Sing and dance together and be joyous, but let
each one of you be alone,
Even as the strings of a lute are alone though
they quiver with the same music.

Give your hearts, but not into each other's
keeping.

For only the hand of Life can contain your hearts.
And stand together yet not too near together:

For the pillars of the temple stand apart,
And the oak tree and the cypress grow not in
each other's shadow.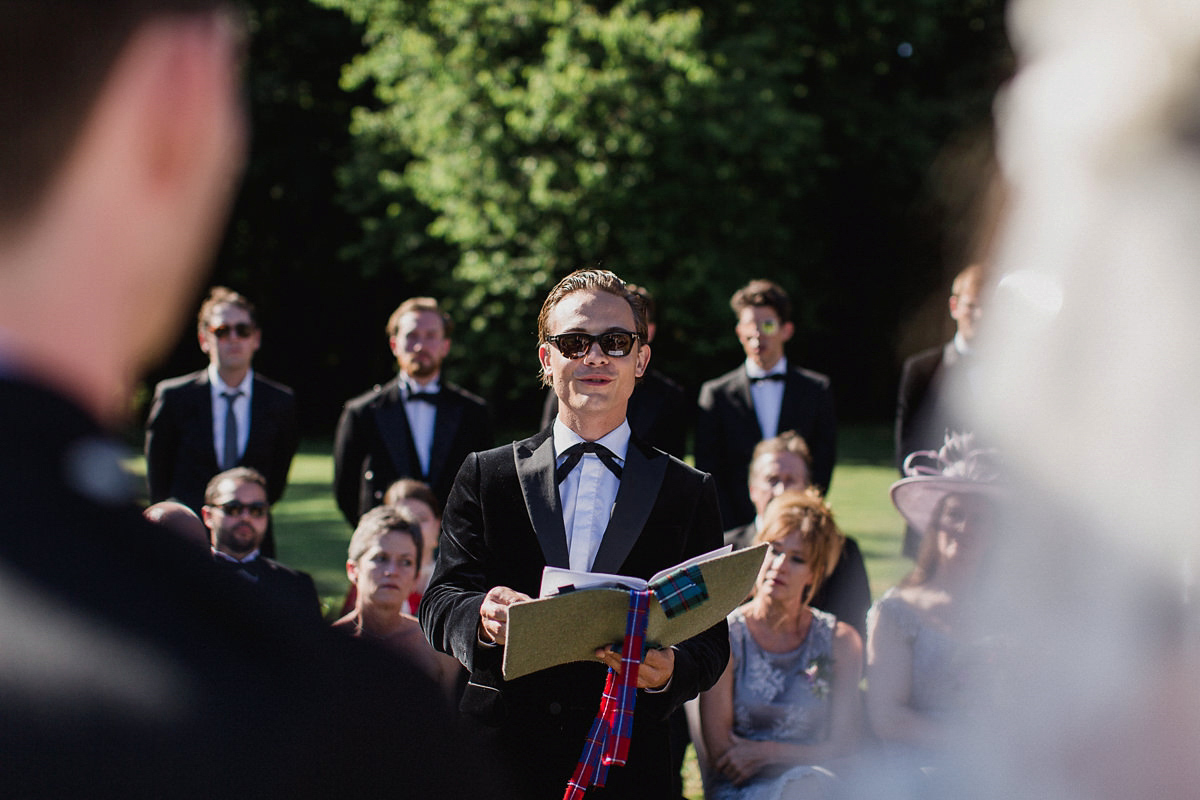 "My Mum read this beautiful anonymous Celtic wedding blessing as well as a 19th century Gaelic poem by Skye poet Neill MacLeoid."
Matt hold tight to your beloved and look into her
eyes. Repeat this blessing from the land of the
Gael as if they are your own words.

You are the star of each night,
You are the brightness of every morning
You are the story of each guest,
You are the report of every land

Imogen hold tight to your beloved and look into
his eyes. Continue this blessing from the land
of the Gael as if they are your own words.

You are the kernel of my heart
You are the fact of my sun
You are the harp of my music
You are the crown of my company.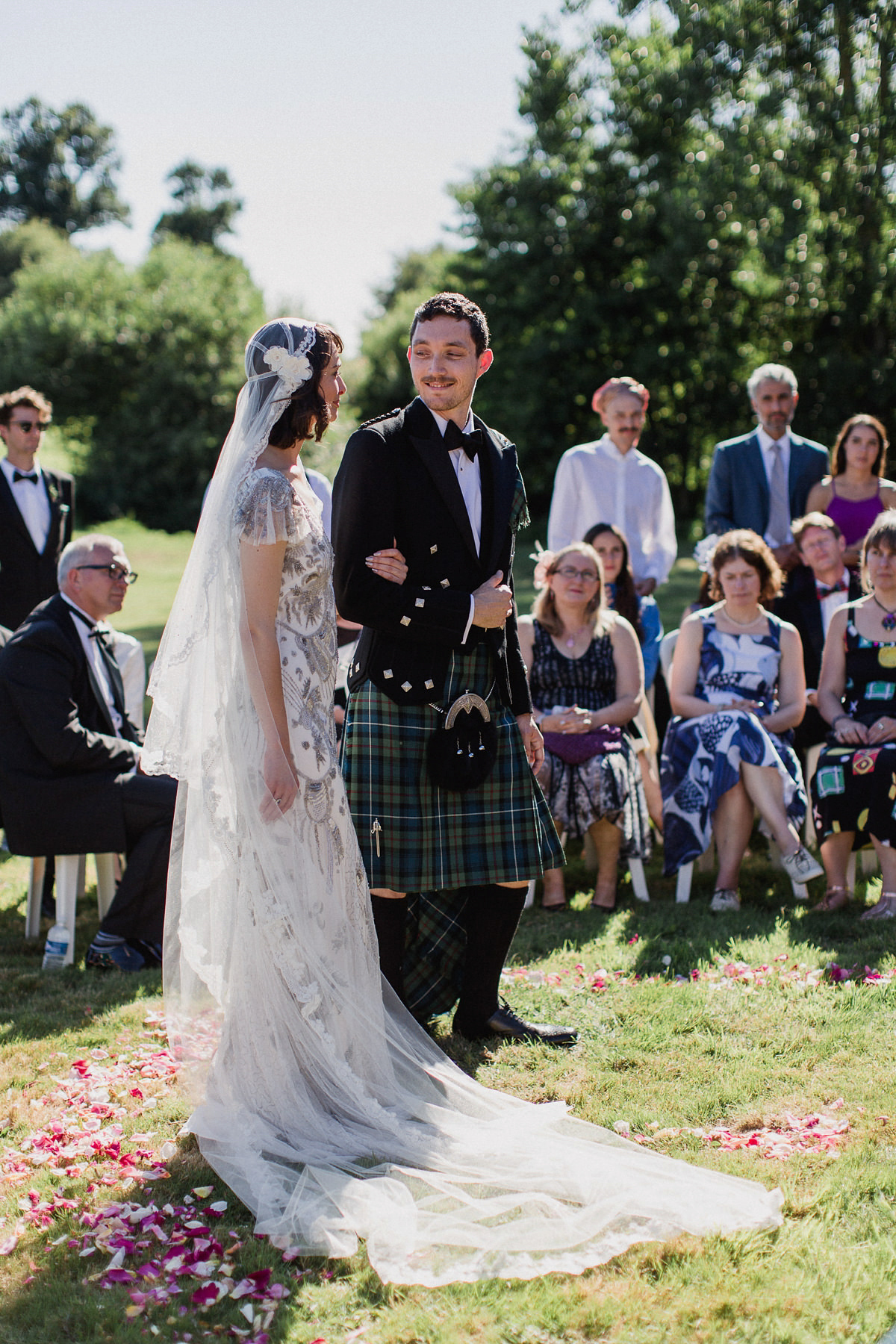 "Without a doubt, our ceremony was our favourite part of the whole day. It was really important to us that the ceremony reflected us, and we chose to have a Celtic hand fasting in the Scottish tradition that acknowledged us making a non-religious commitment to each other as equal partners before a circle of our family and friends."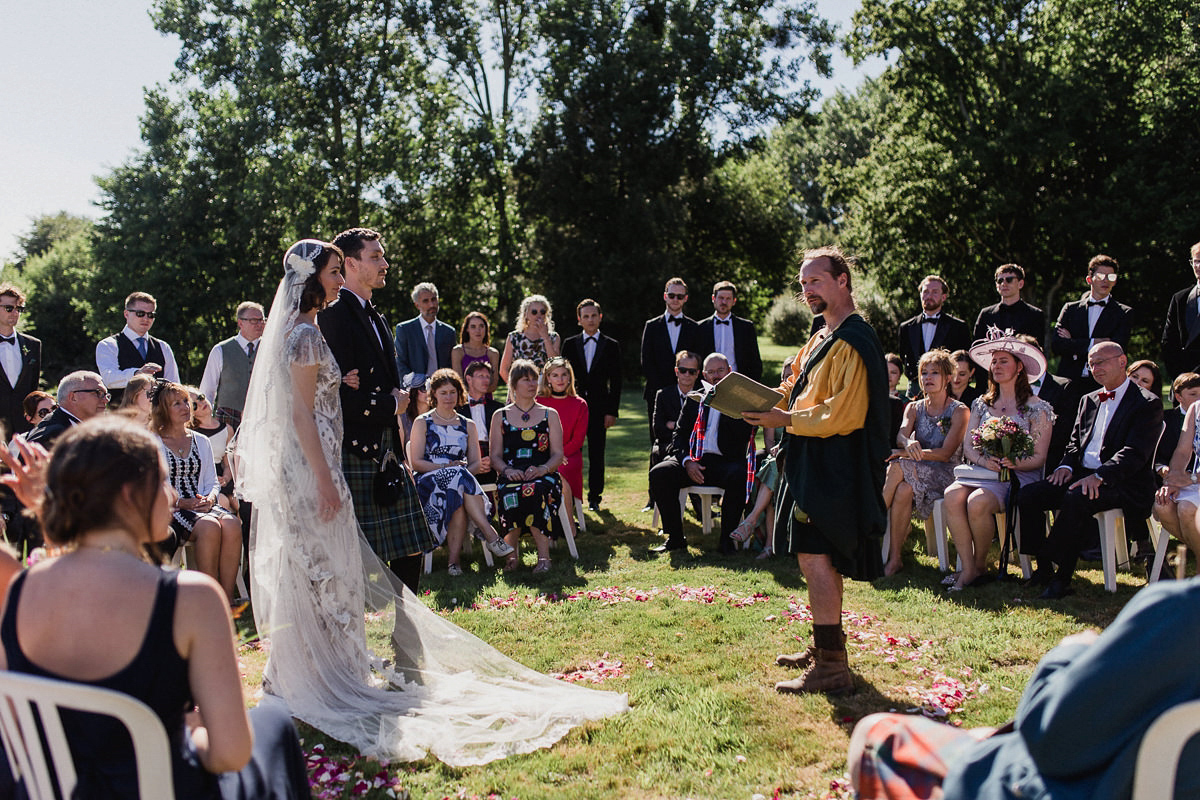 "Neither of us had attended a hand fasting before, but we put complete trust in our, officiant Scot, and he wrote an incredibly inclusive, personalised and memorable ceremony for us, full of wisdom and wit."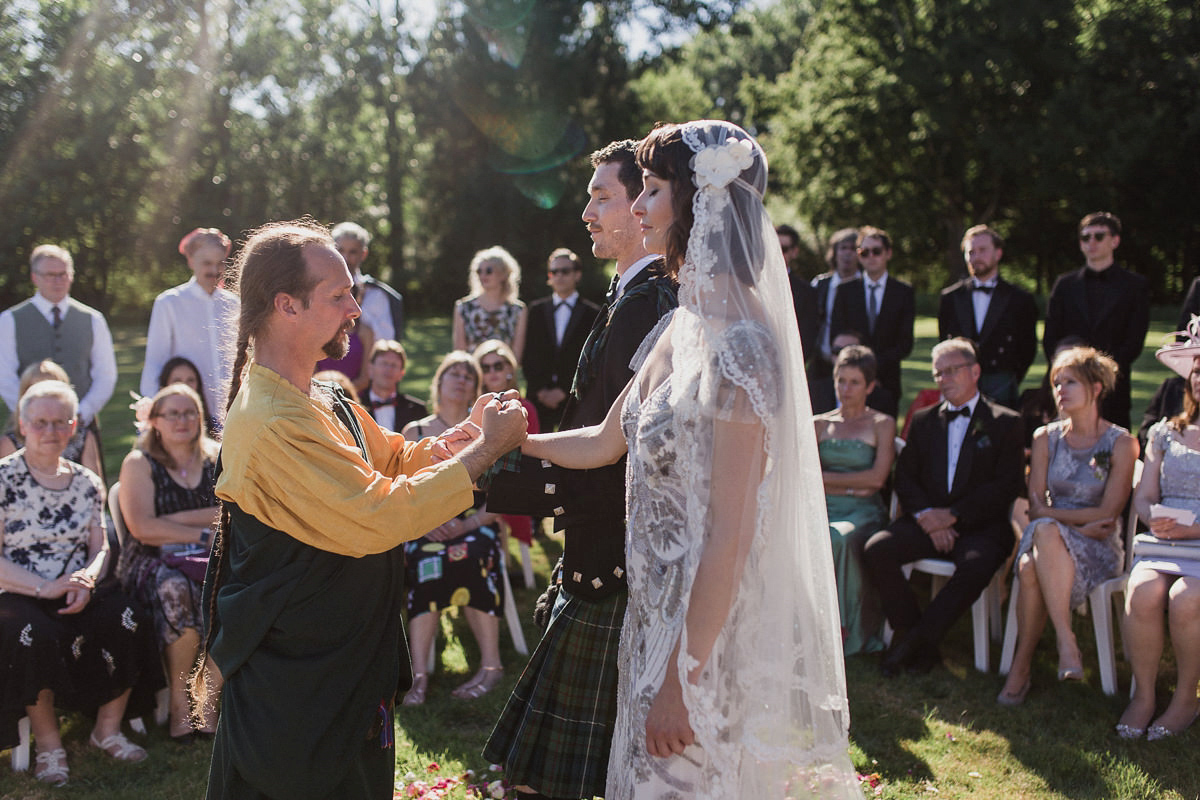 "The ceremony completely set the tone for the rest of the evening. We feel incredibly lucky to have crossed paths with this wonderful man, who took the train all the way from Inverness to France for us!"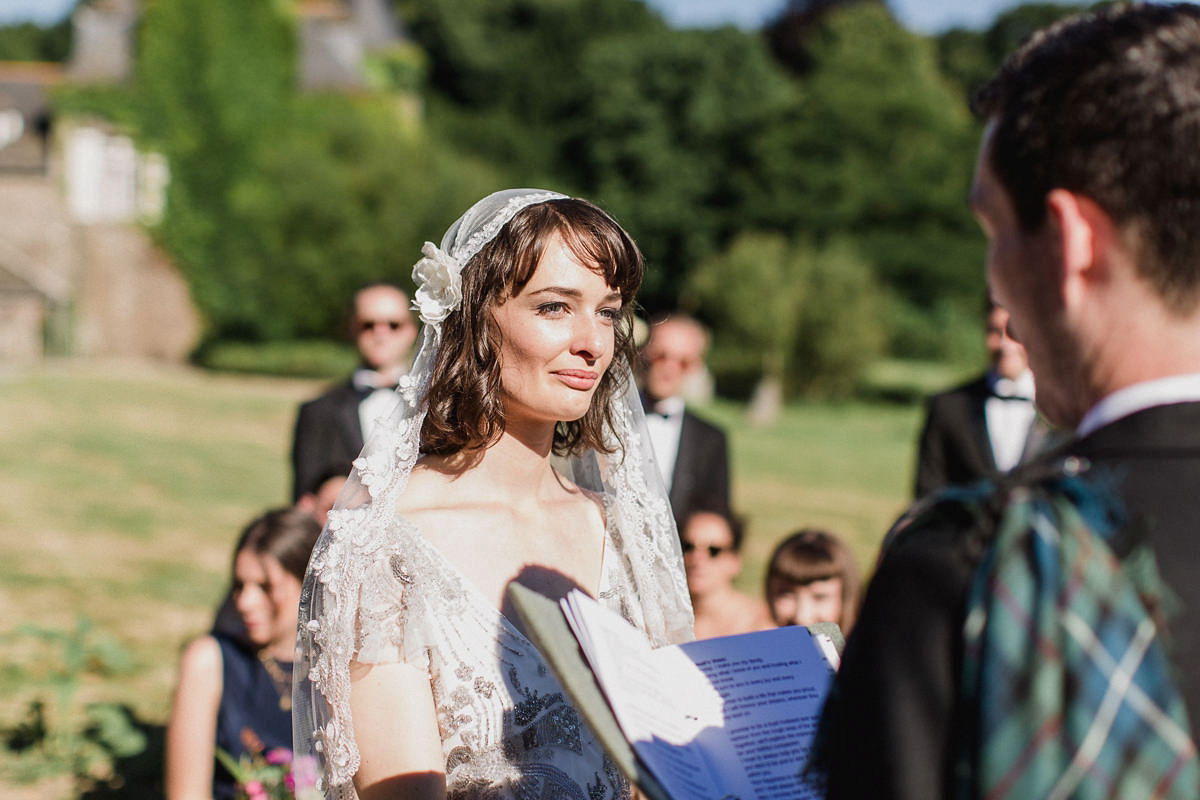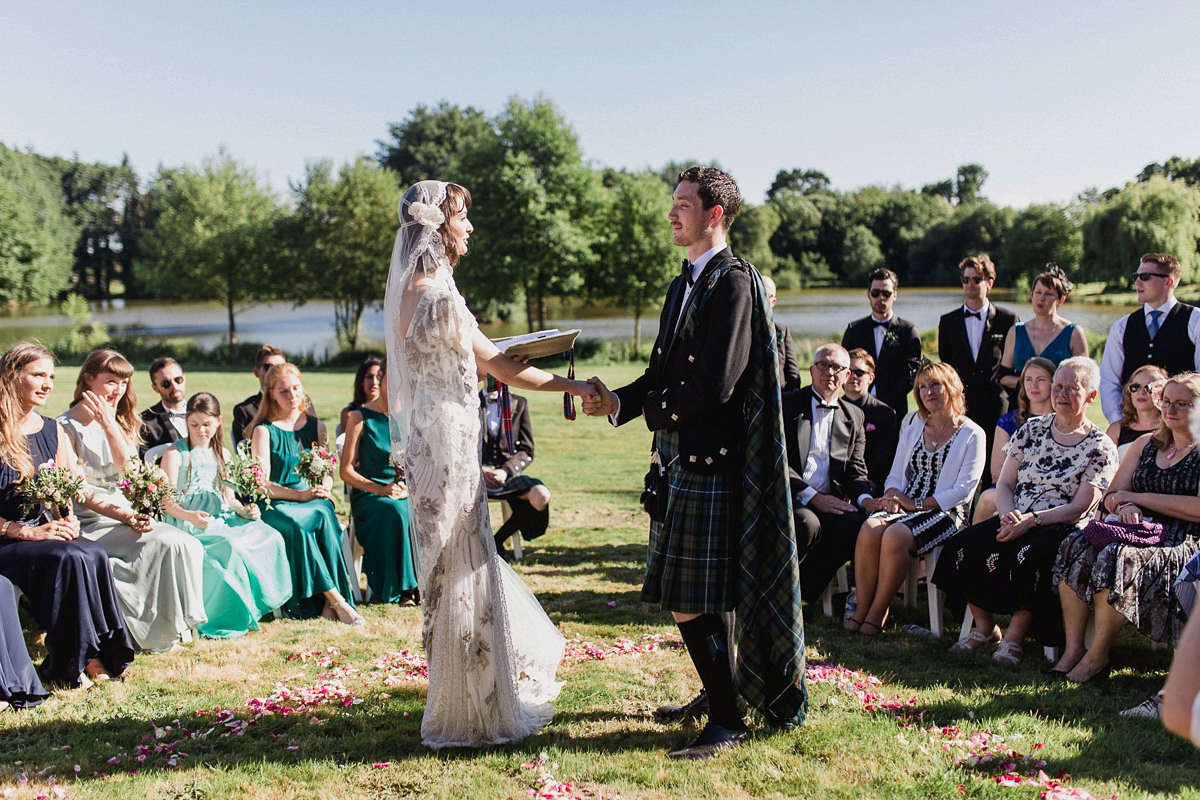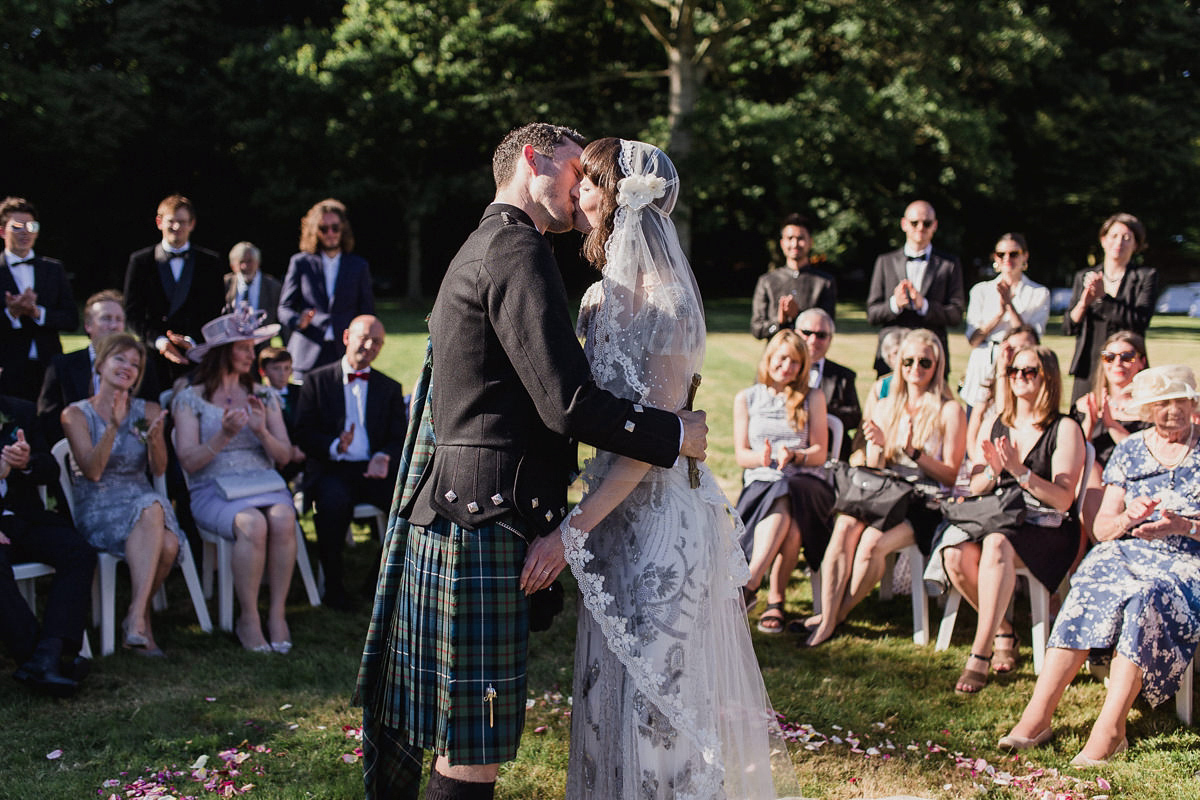 "There were a couple of beautiful and spontaneous moments that we'll always remember; Immediately after the ceremony, we were standing at the centre of the circle, hands fasted together, bathed in light, in love. And being at the centre of the circle just drew everyone in towards us. Everyone wanted to come forward and embrace us, so we ended up with a thirty-minute circular receiving line of sorts, but it was so moving."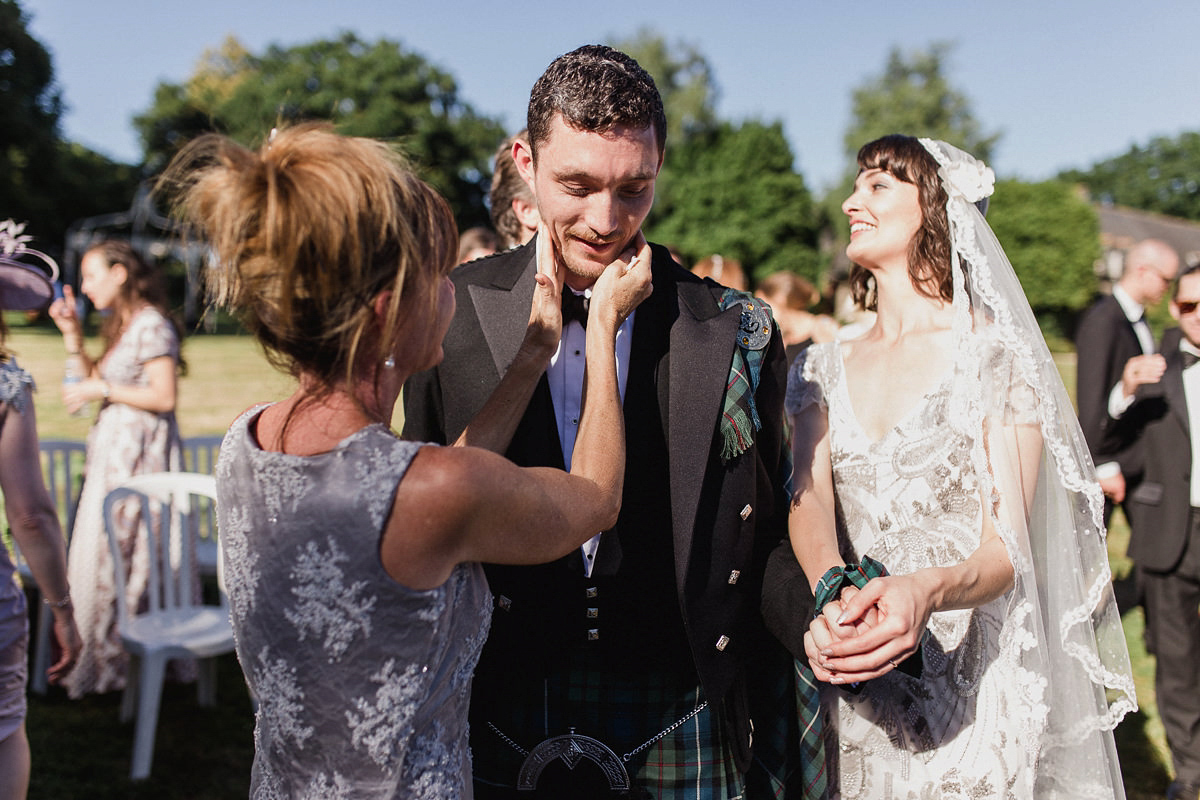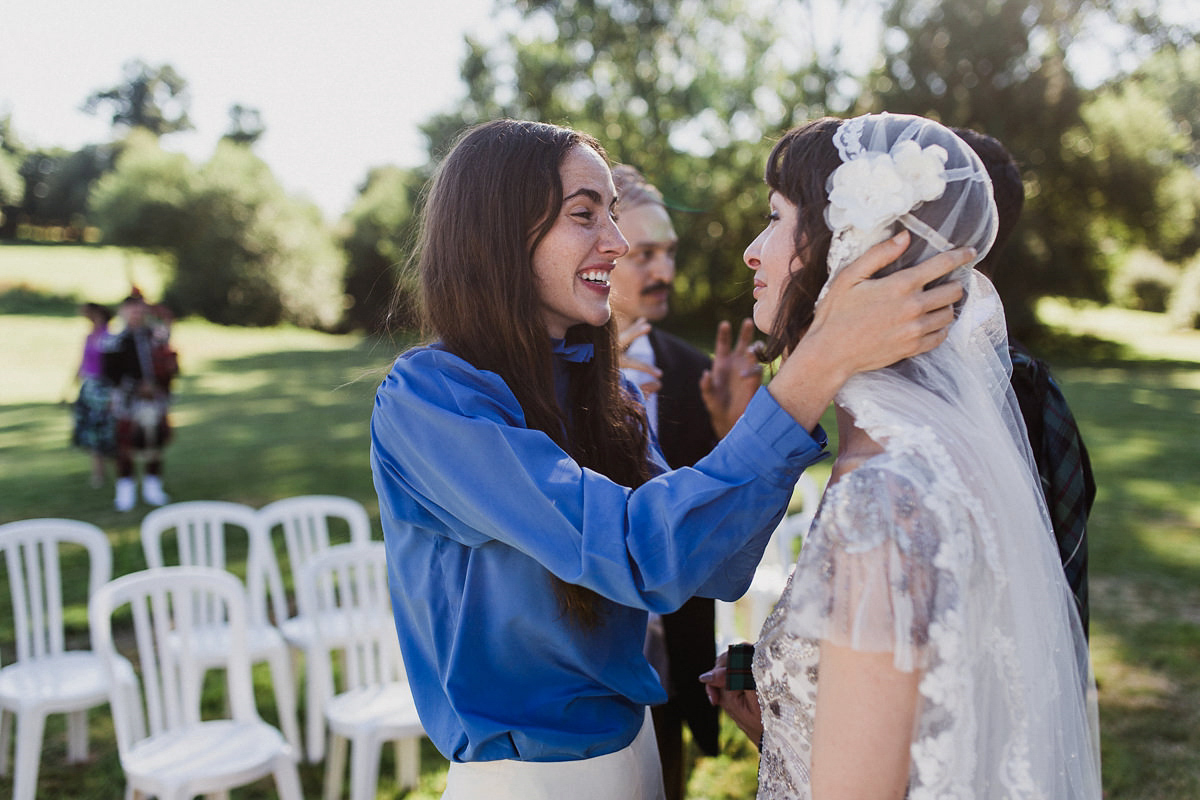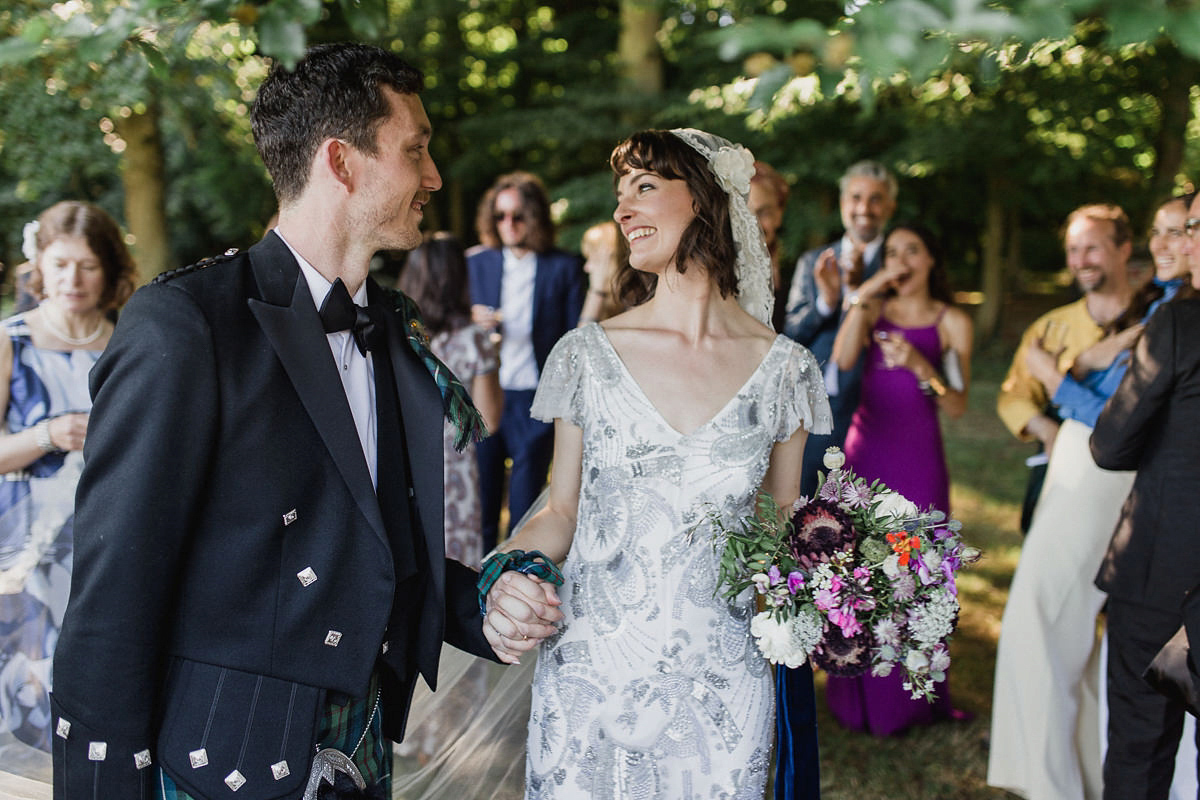 "One of our favourite wedding finds was our guestbook by Spellbinderie. FounderKaren lives in Lyon and rebinds battered but beautiful French books from the 19th and early 20th century into guestbooks. Ours was a 1923 edition of the Swiss Family Robertson and had a gold heart on the front cover."
"Matt and I met because of music, so music on the day was really important to us. We met the most charming swing jazz band playing on the street in Le Marais in Paris one Sunday afternoon, so we asked Ze Buci Bees if they would play at our wedding. Audra and the boys put so much care and attention into the event, learning new songs for us and dressing the part for the '30s vibe. My Aunt Madge and her partner Eric drove all the way from East Germany to play, and we had a fabulous Breton piper who had a full Scots repertoire!"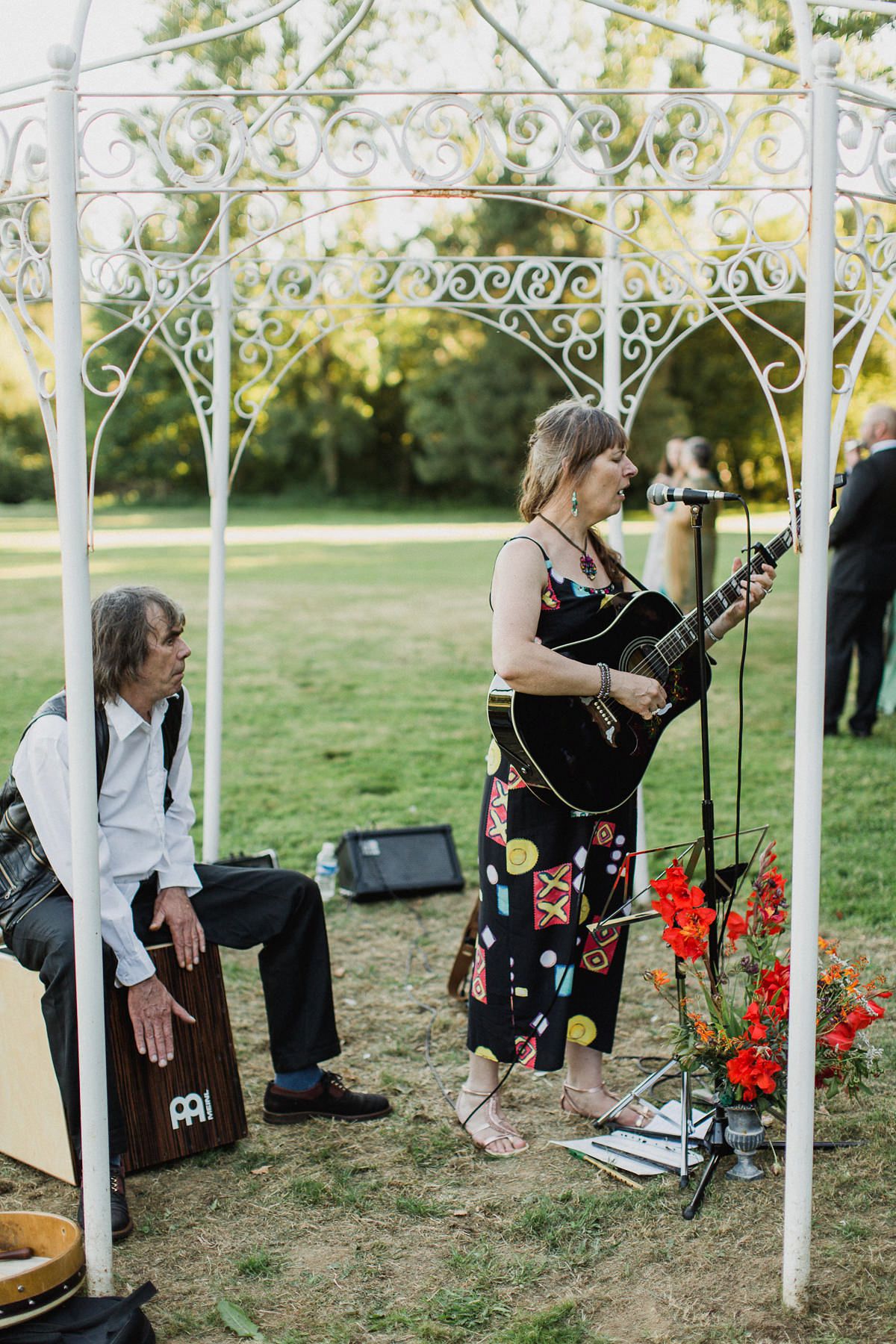 "We couldn't recommend our photographer Yann Audic of Lifestories enough. He photographed our engagement pictures and our small legal ceremony in Paris, so by the time the big day came round he knew us really well. His pictures speak volumes about his skill at seeing what's the most important at a wedding."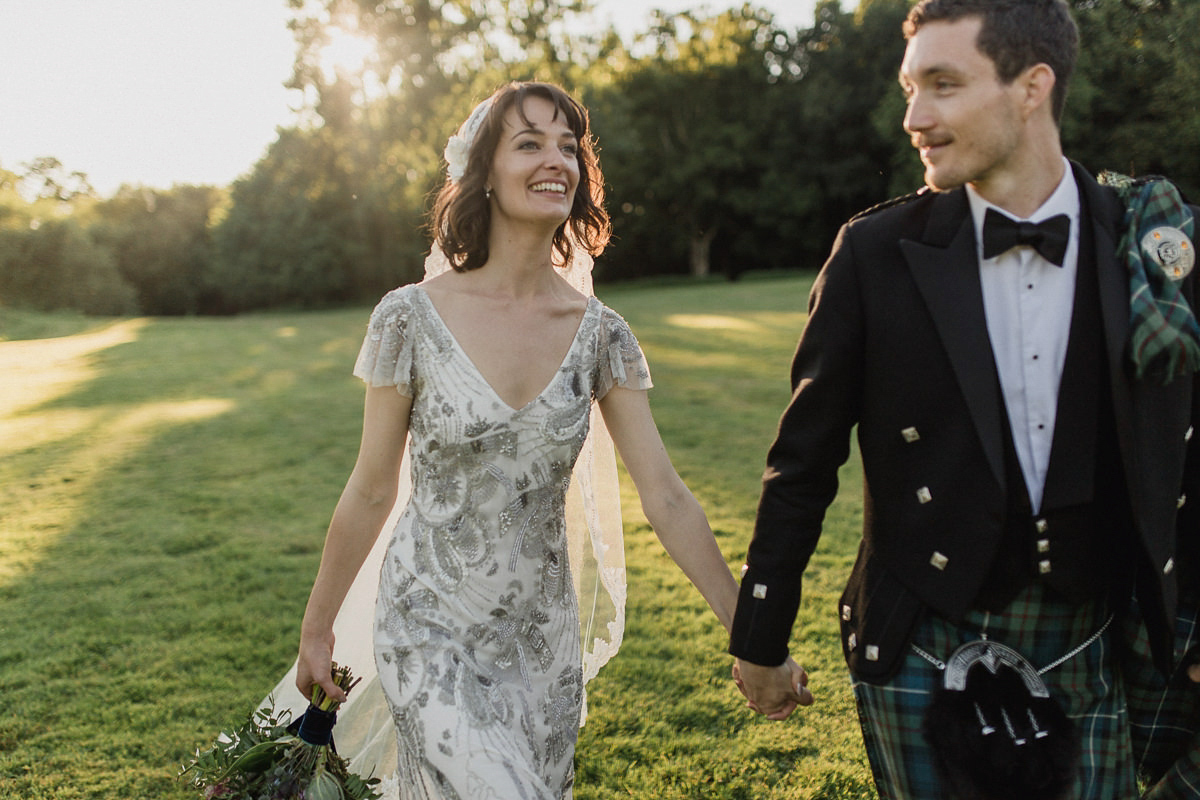 "He's a pro at putting people at ease and capturing the magic in front of his lens without needing to resort to overly stylised images."
"Some of the group shots he was able to get in a one shot. Just what you need when time is running through your fingers on the day!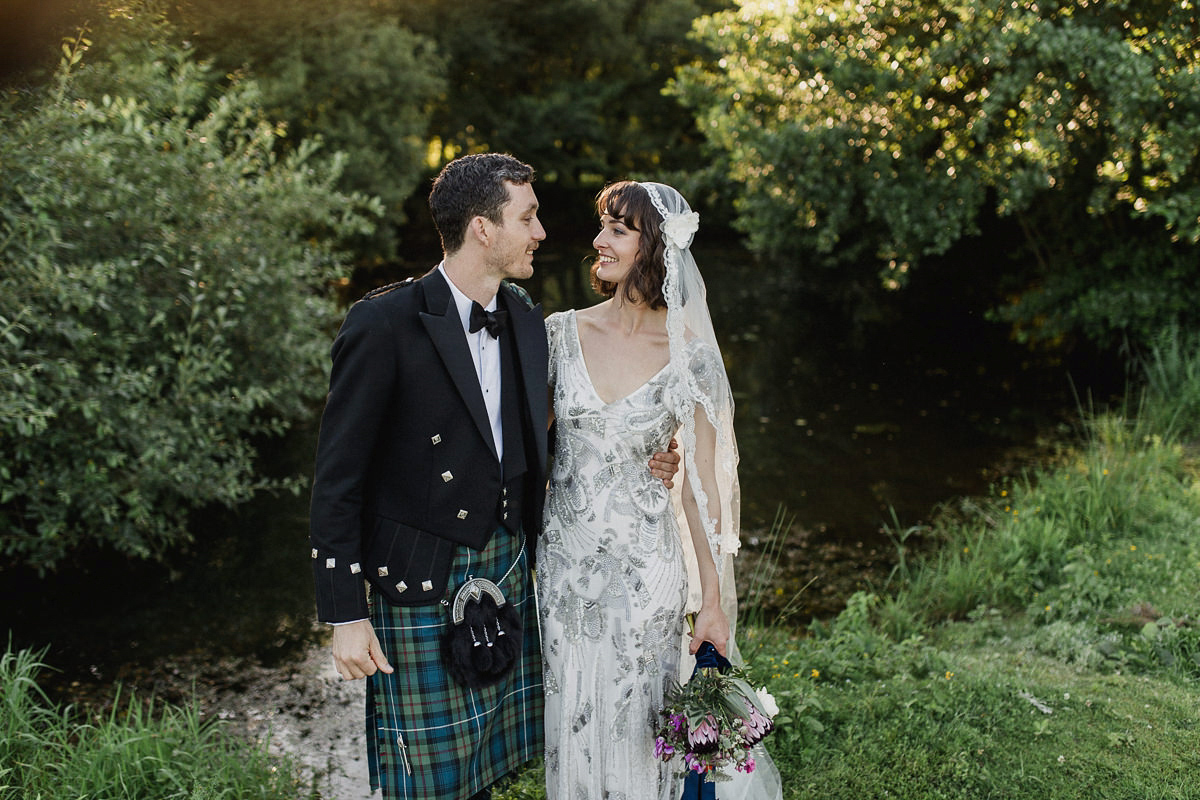 "Matt is also a photographer and so the pictures were really important to us and Yann exceeded our expectations."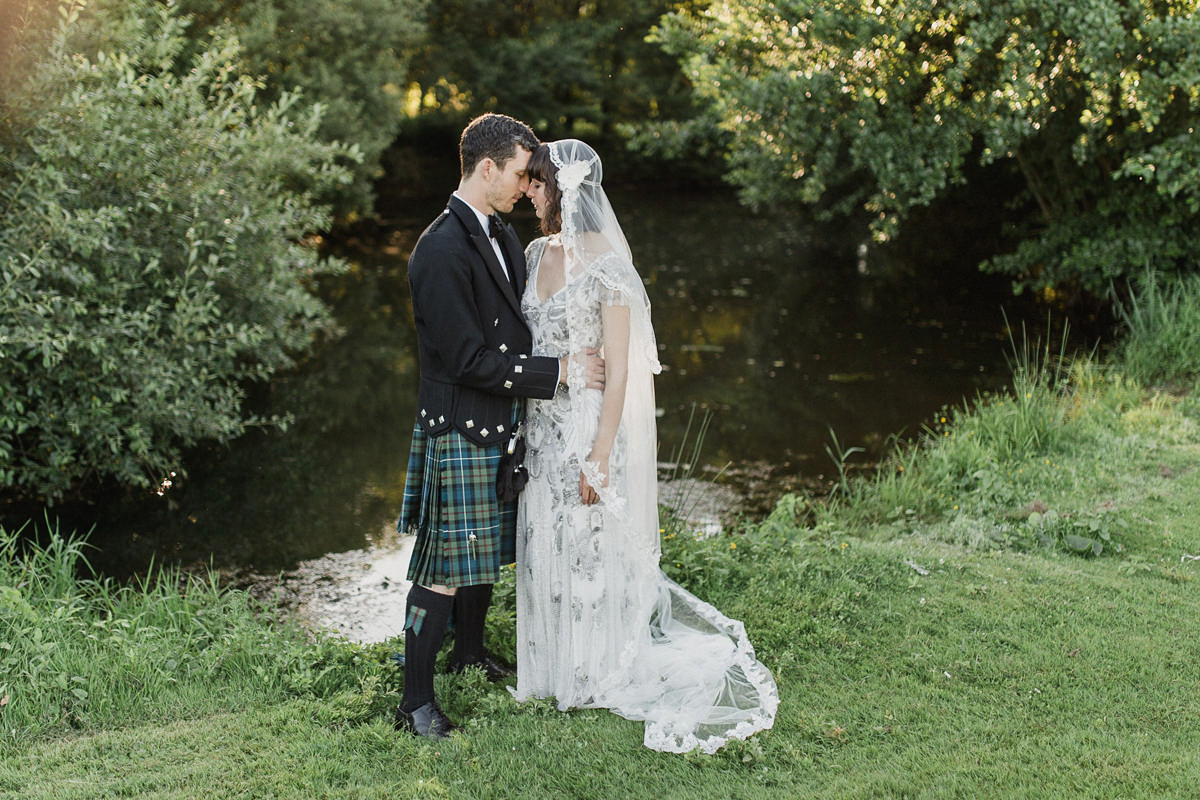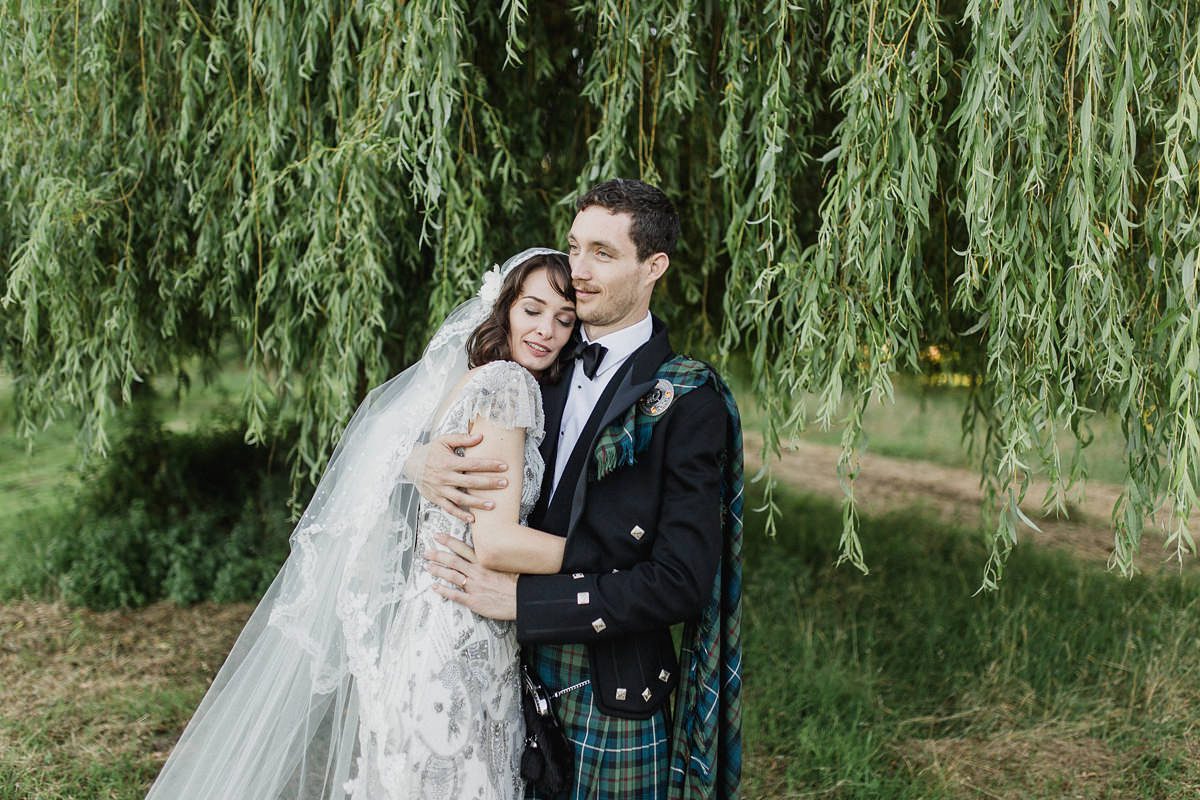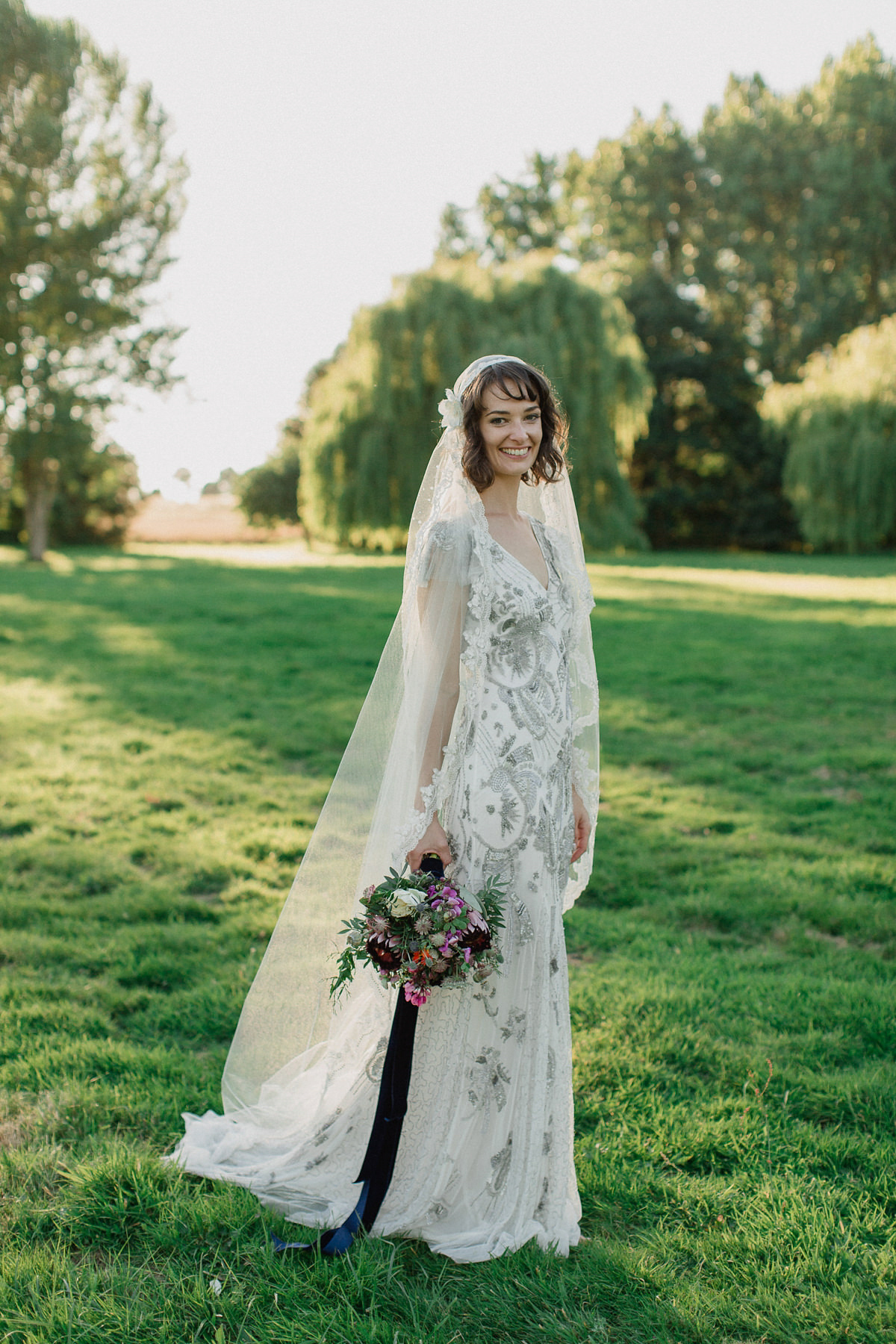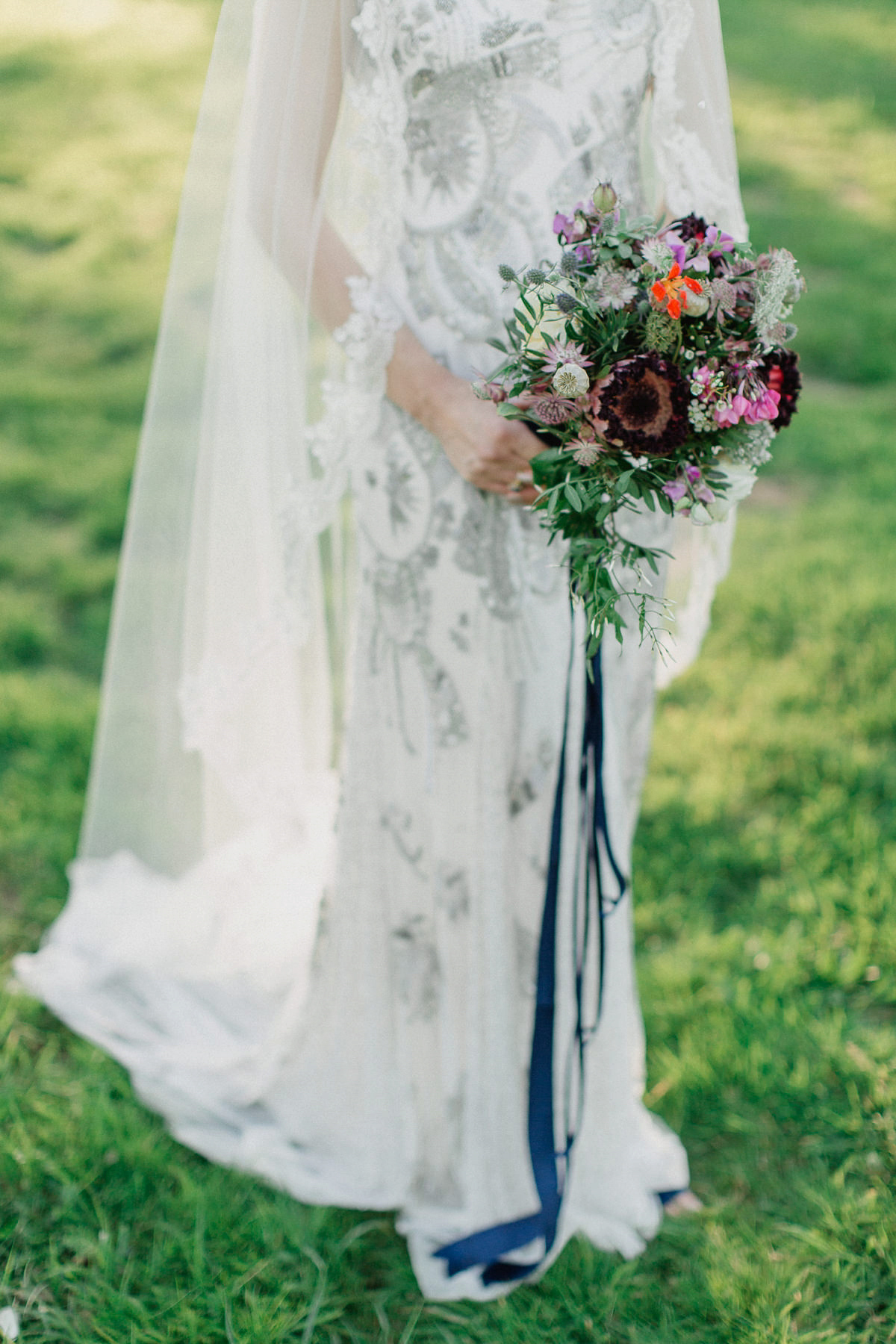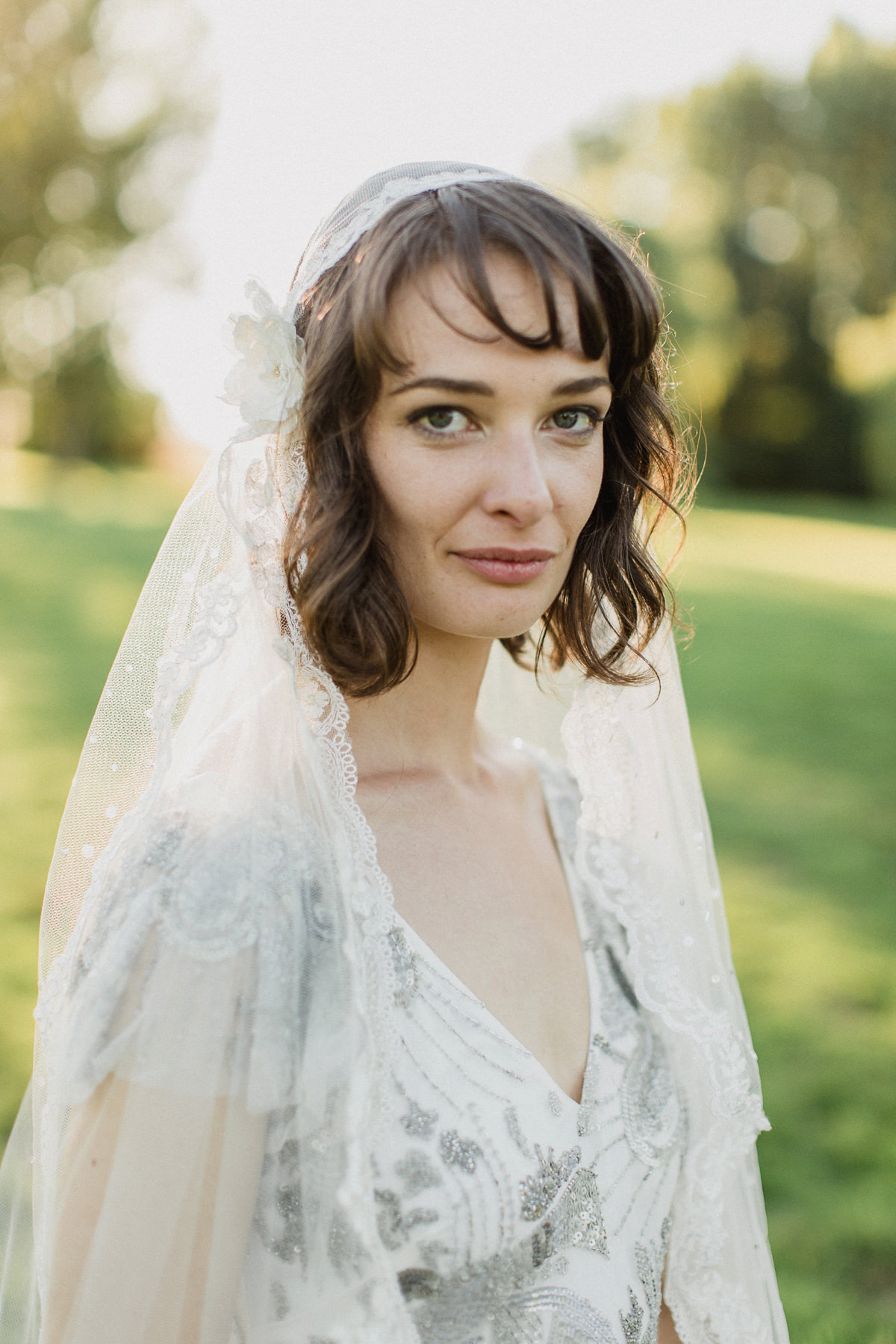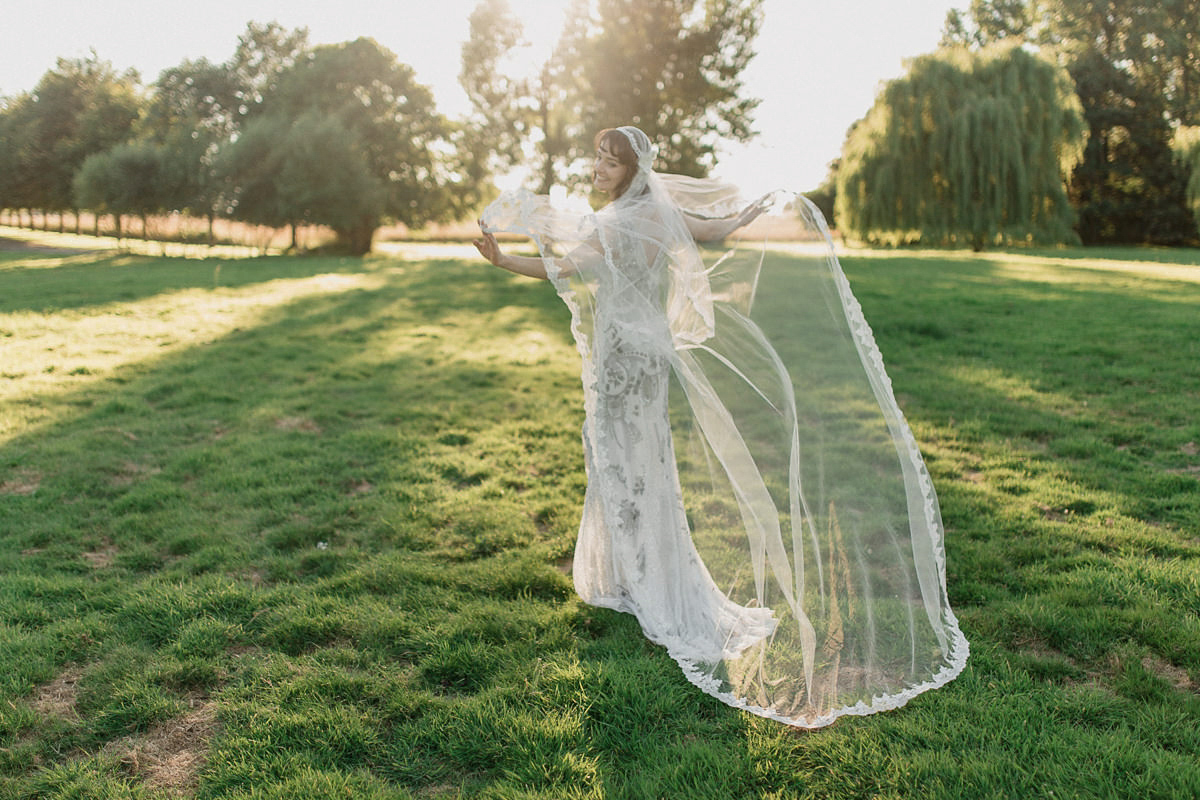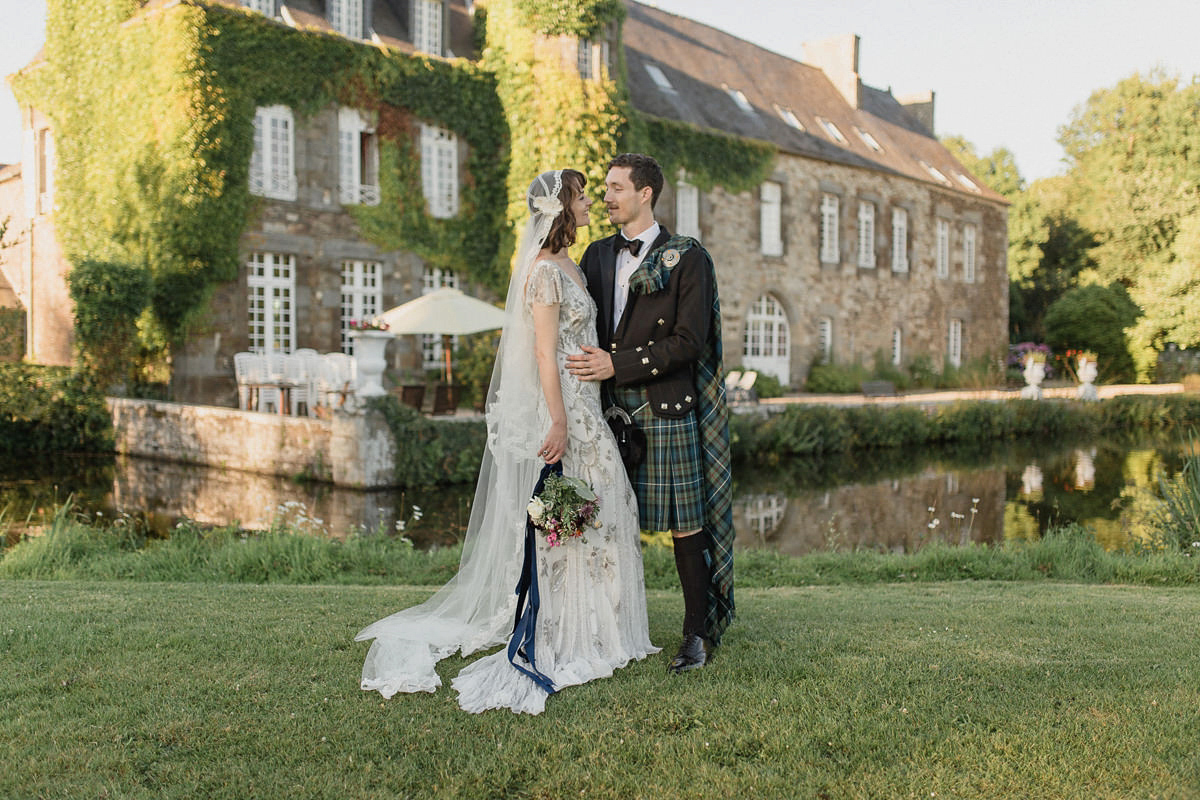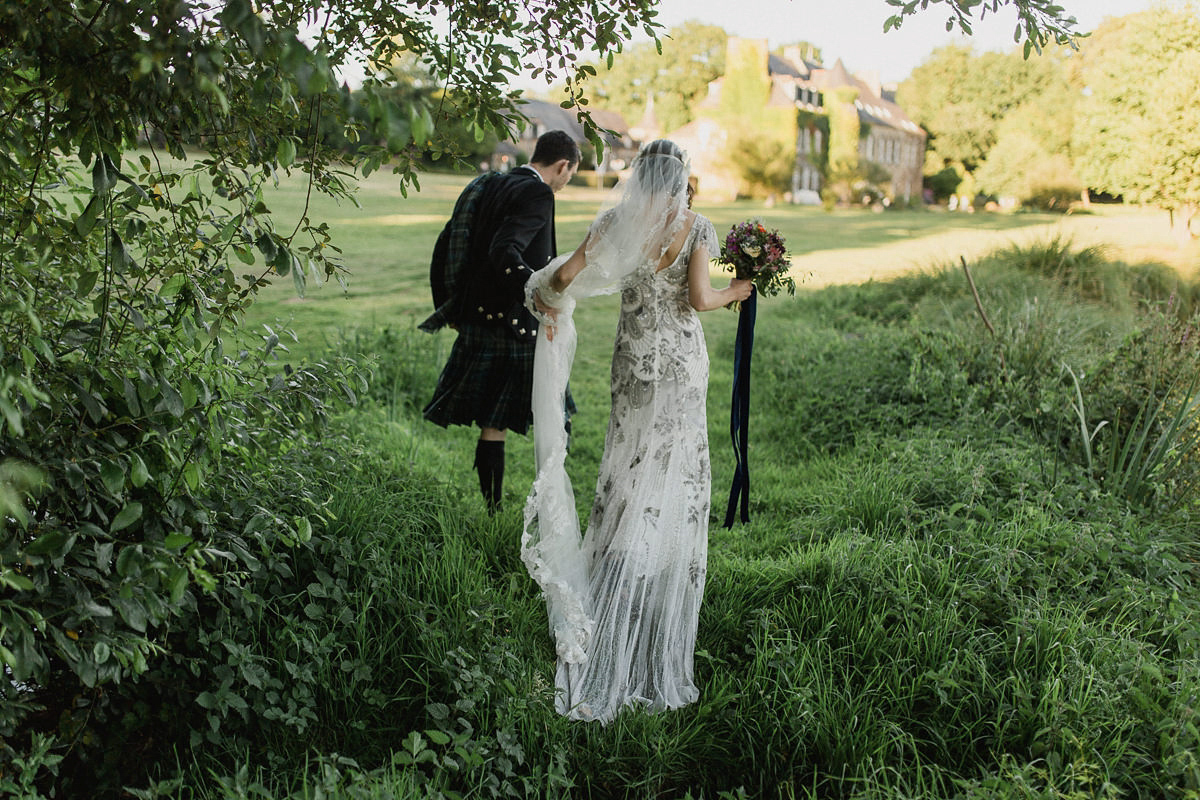 "Then once everyone was quaffing and nibbling away at the cocktail tables, Matt and I were piped into the reception and my mum and two aunts acted as bridesmaids, carrying my veil and hooting with laughter. It ended up being one of the best photographs."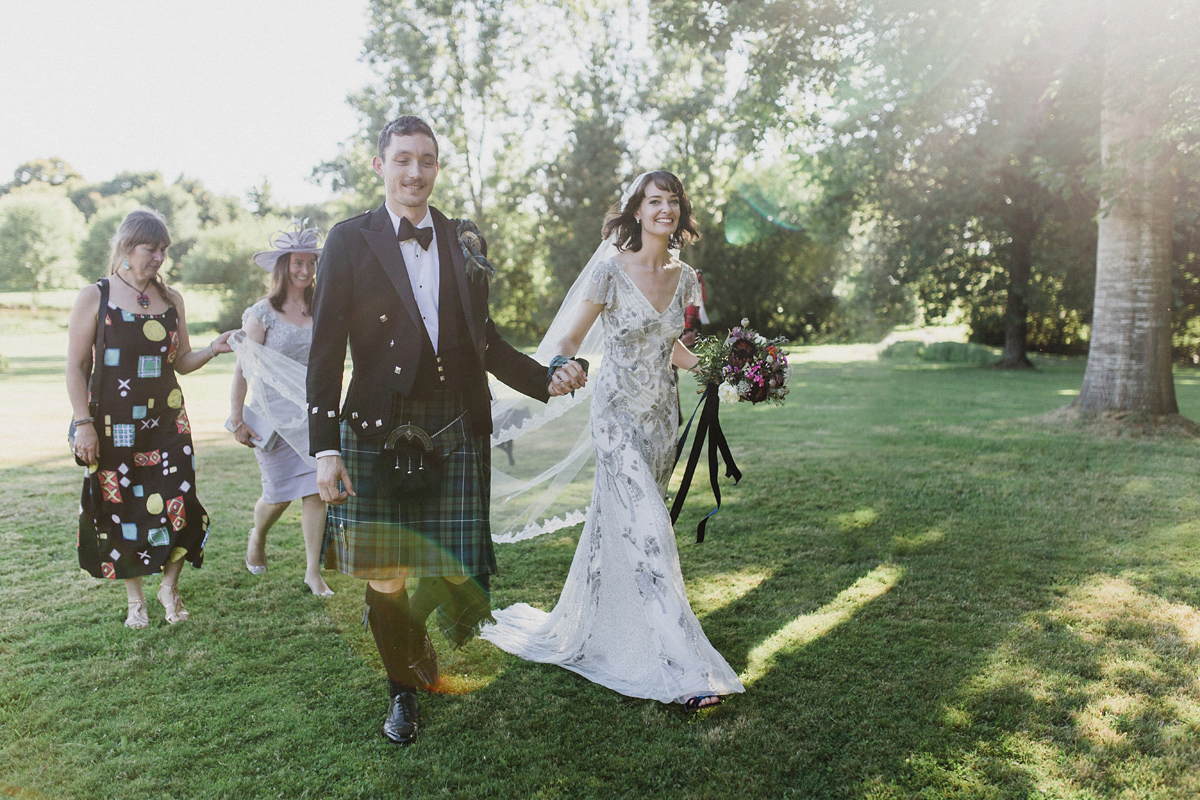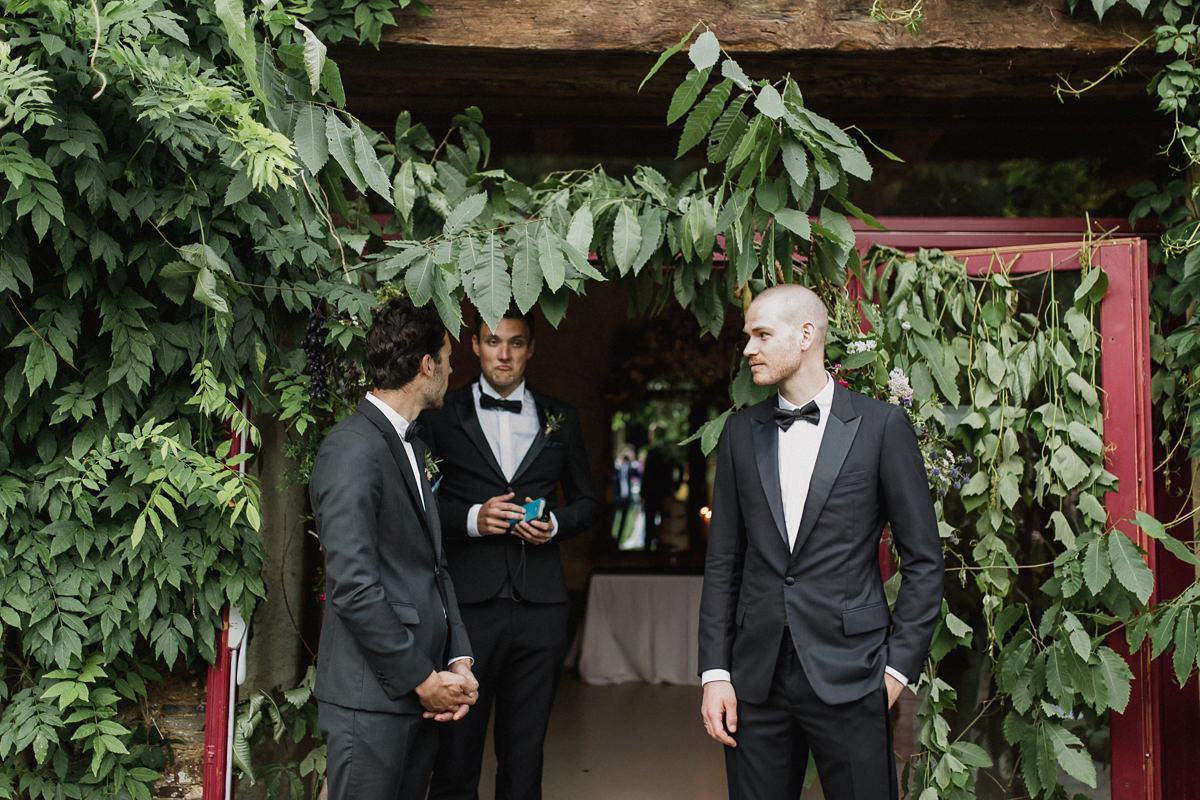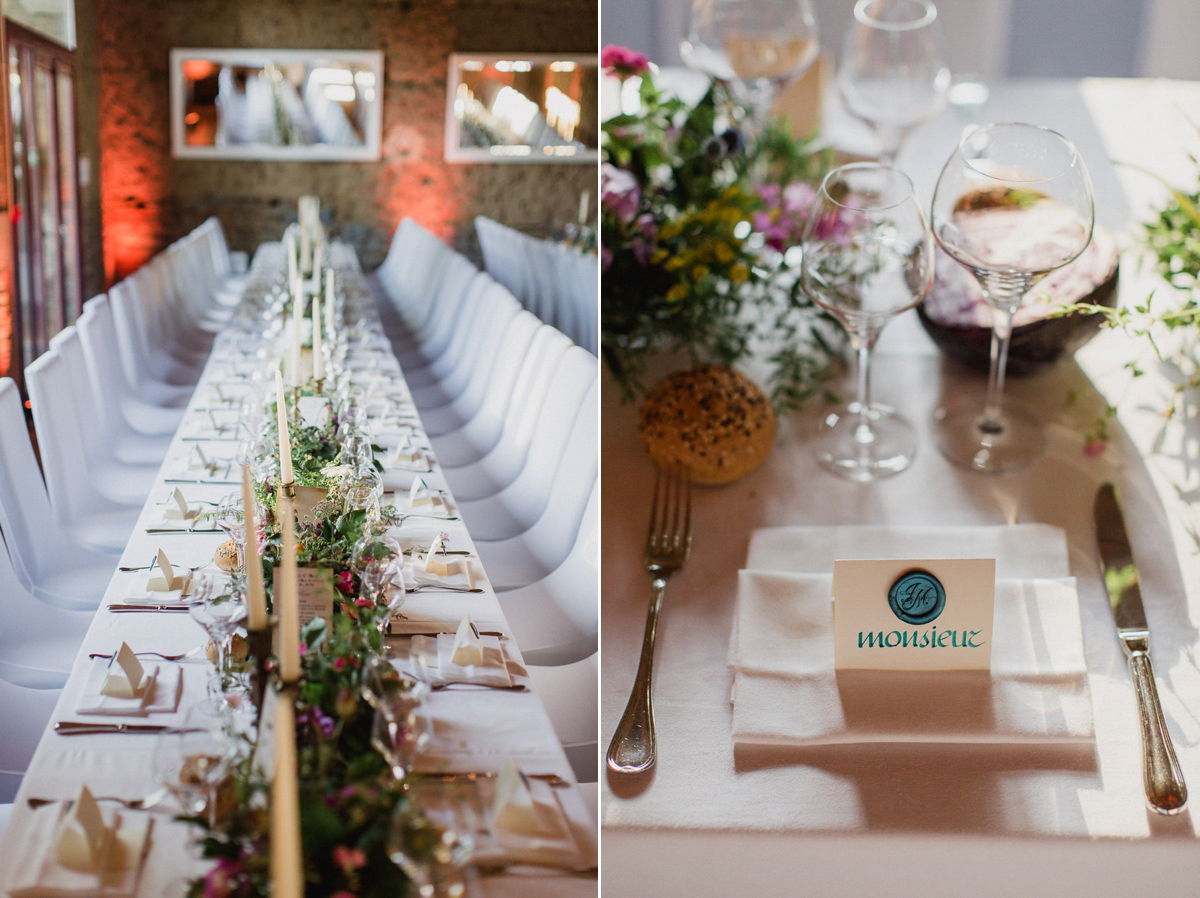 "We wanted the dining tables to resemble fine art still life paintings, with wild flowers, antique brass candlesticks and fruits and vegetables. Clementine of Bloomette incorporated some wild looking purple and yellow carrots into our arch – someone fed them to us on the dance floor along to chanting about fertility offerings…they were delicious!"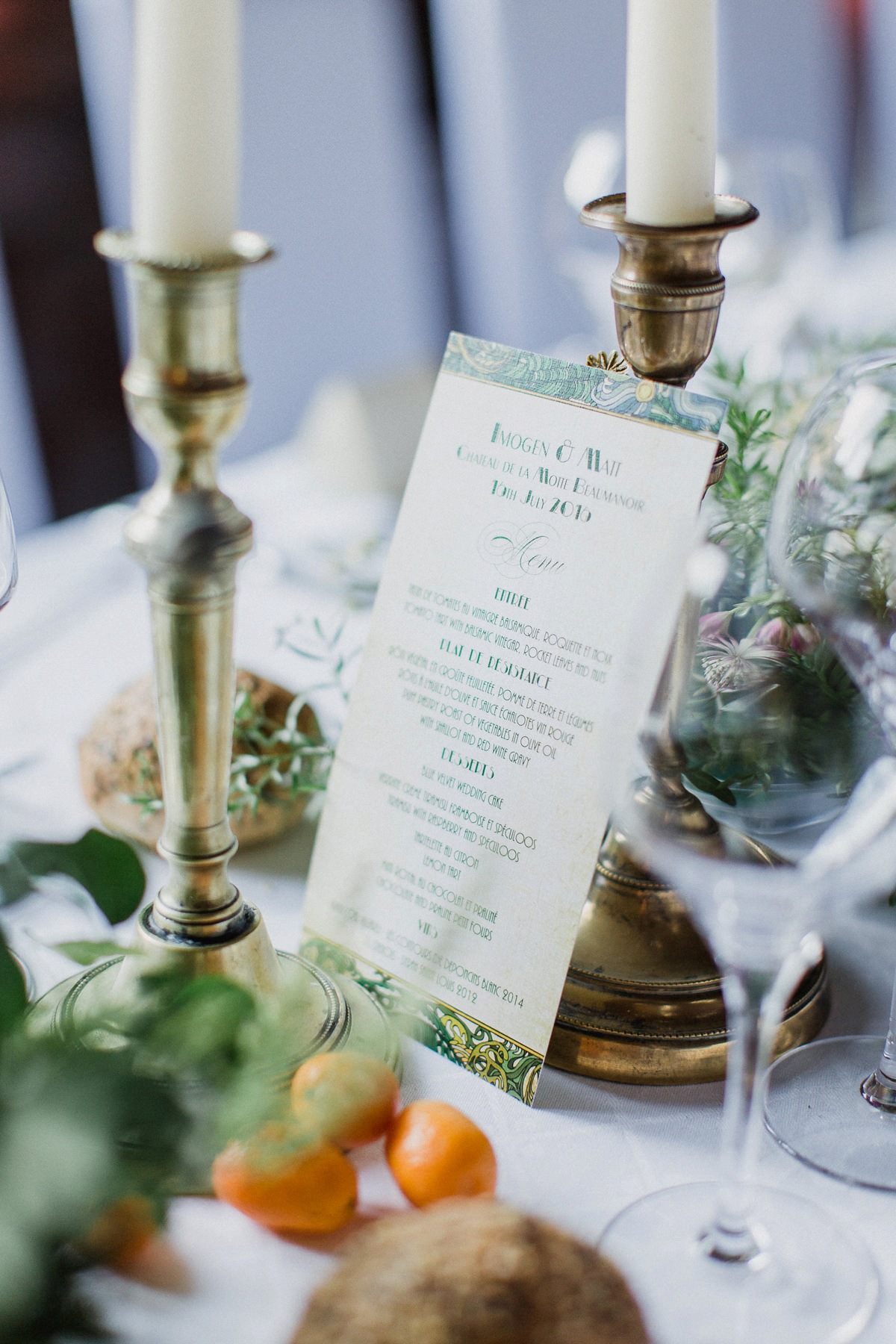 "Our beautiful little cake was blue velvet on the inside, decorated with gold leaf and wild plants. It was created by Beatriz Belliard Cake Design."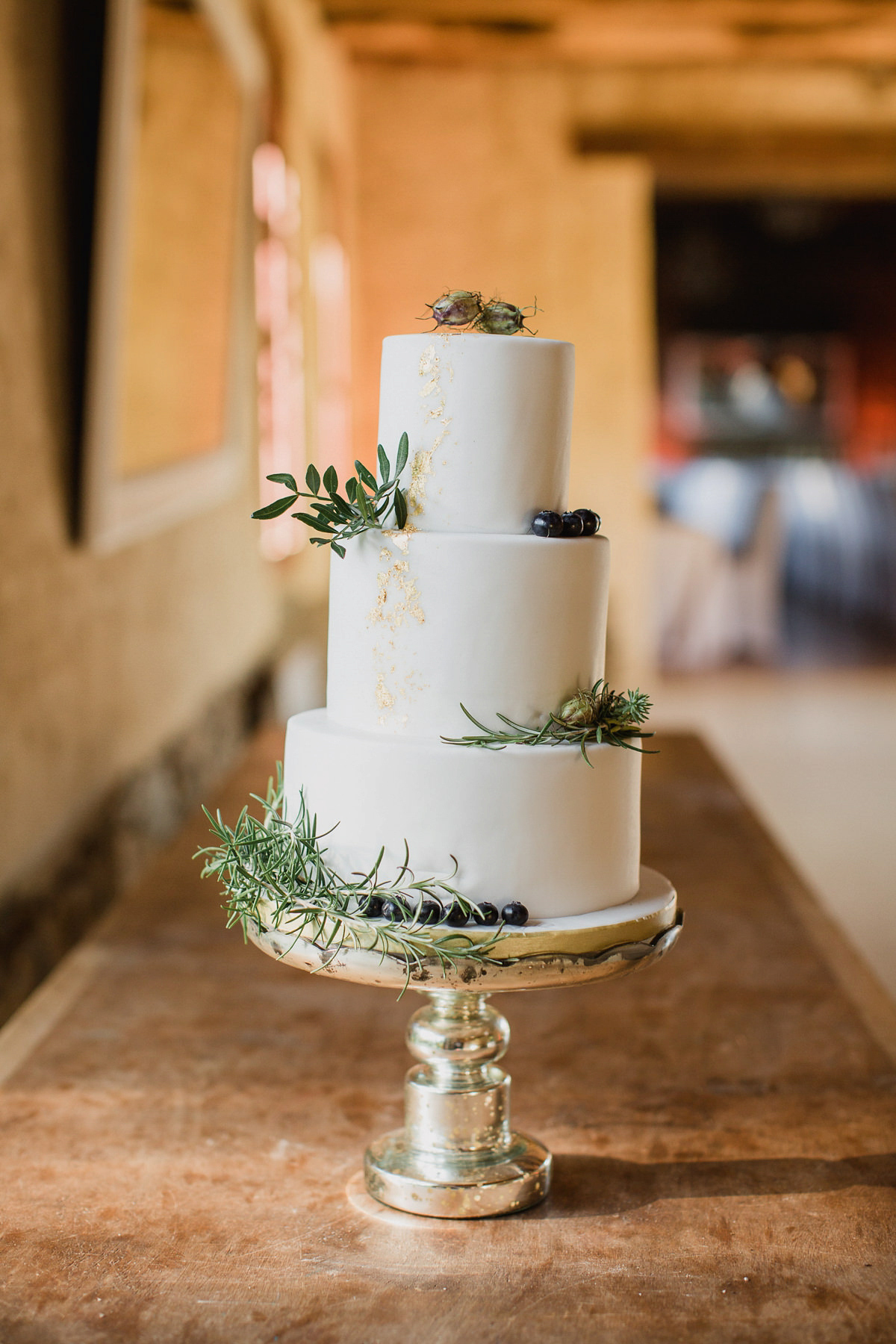 "Without Nancy from Fete in France, I don't think we could have found the perfect caterer. Out-of-the-box food options like vegetarian or vegan are pretty limited in France, so we were amazed to find out that Mélanie of Les Doigts dans le Pot lived just a few miles away. Her incredible plant-based creations went down a storm on a hot day, and I think we changed some people's minds about vegan food."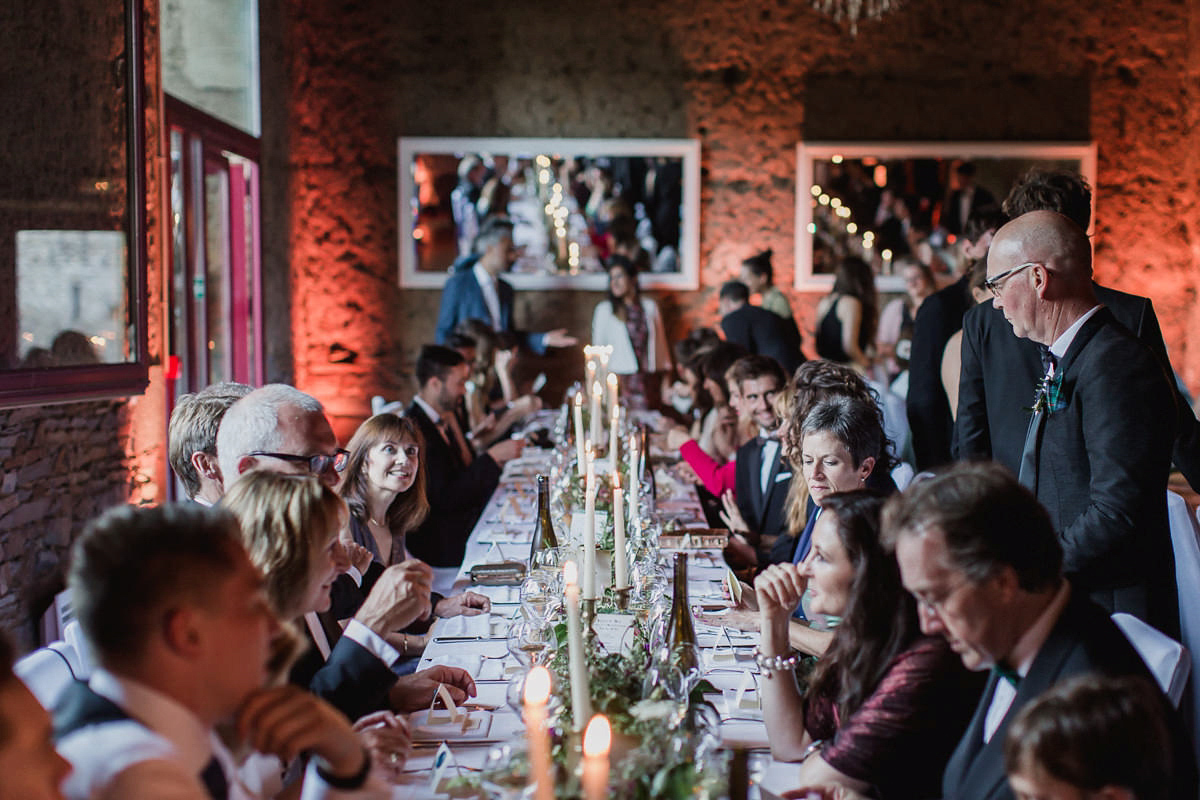 "We wanted to create as little waste as possible, hence the edible fruit table decorations, so buying loads of decorating stuff for us just wasn't an option. All of our guests looked so elegant! Our people were the decoration. We were really disciplined about not getting carried away with Pinterest-y inclinations. If it wasn't going to either feed our guests or make them feel fuzzy inside, we didn't do it."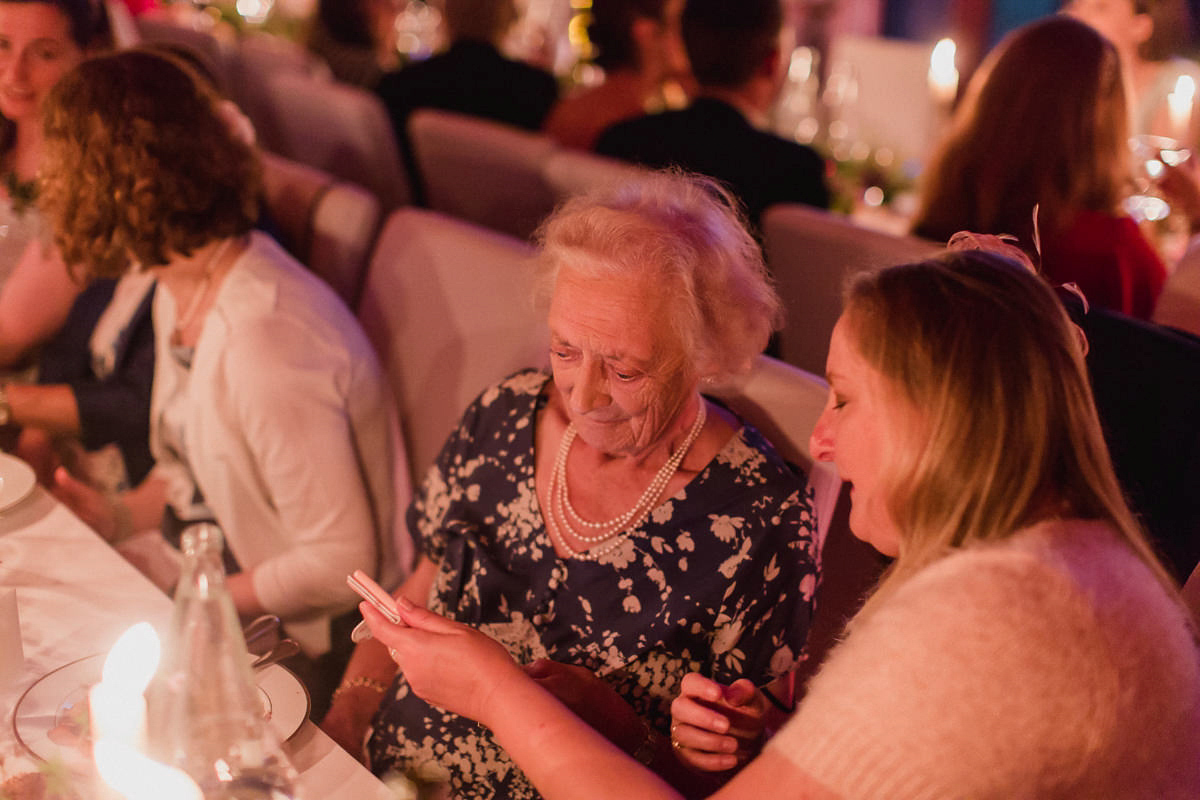 "Instead, we poured our energy into writing 7000 words of handwritten thank you notes as favours for each guest, telling them what they meant to us in our lives. These were under the napkins at dinner and went down a treat. Some people were crying -again – at their seats."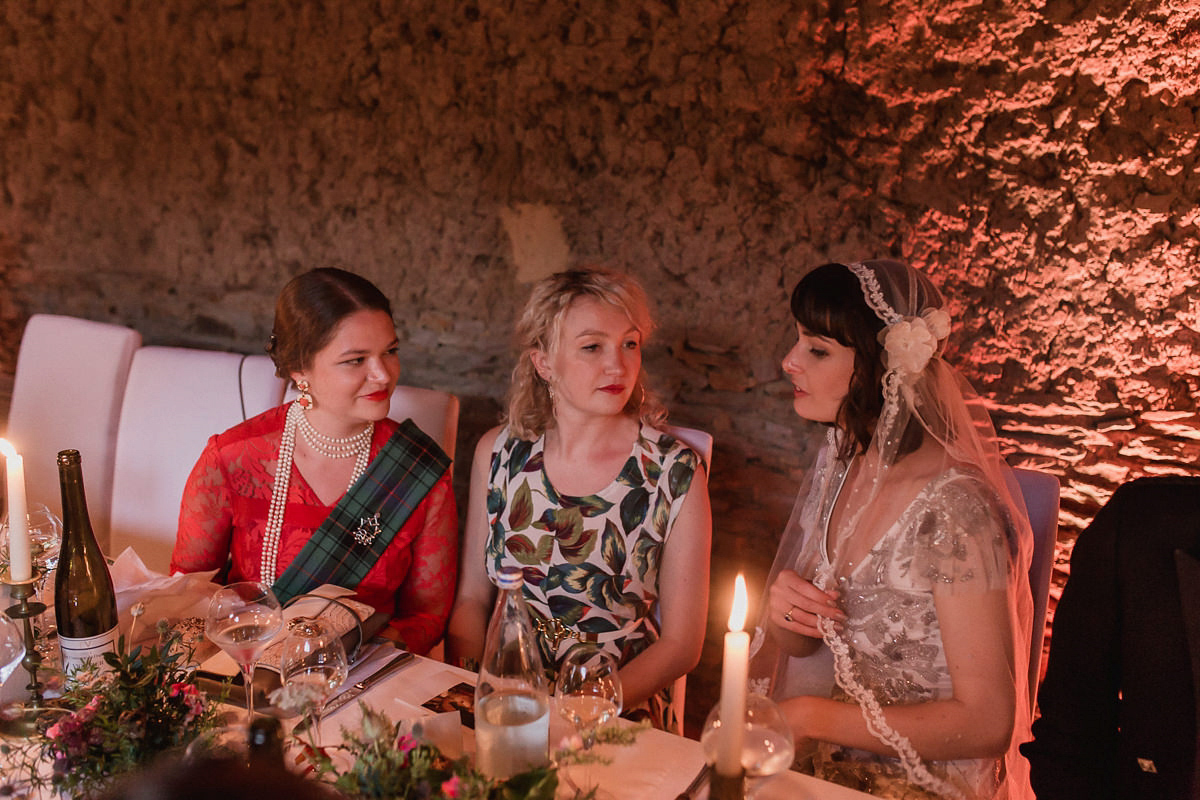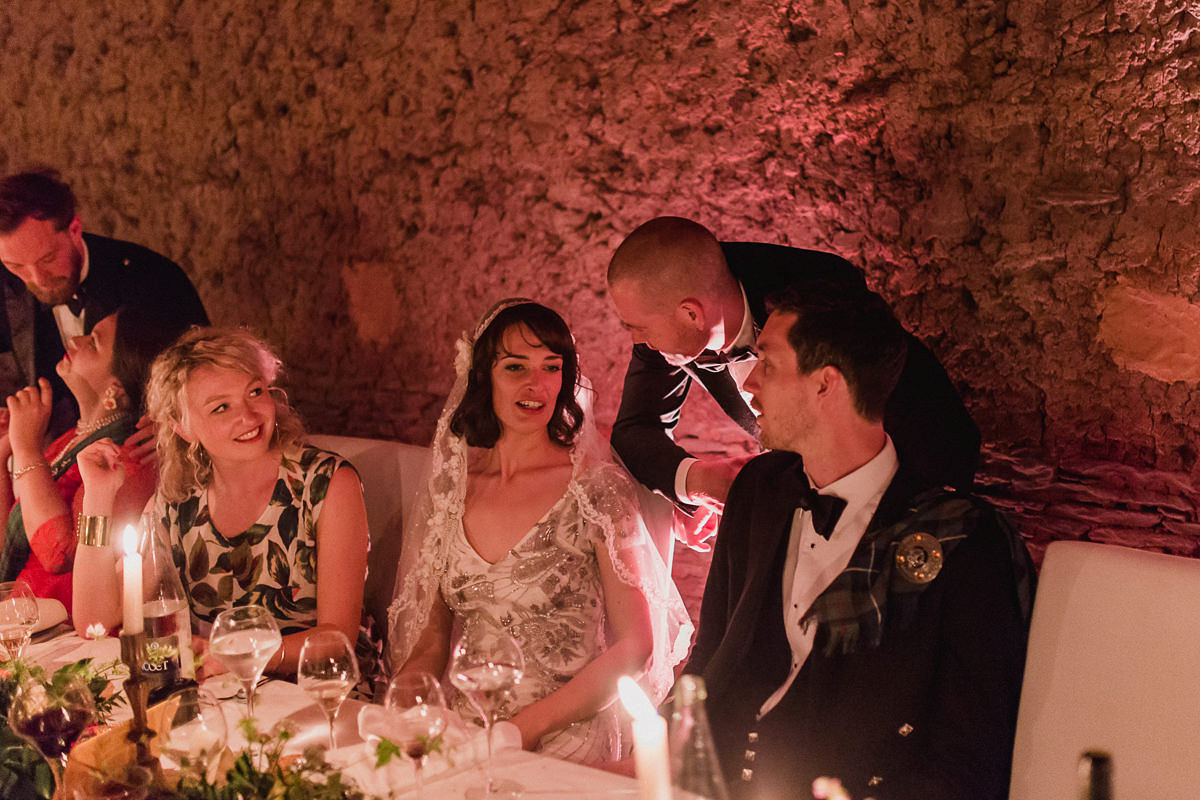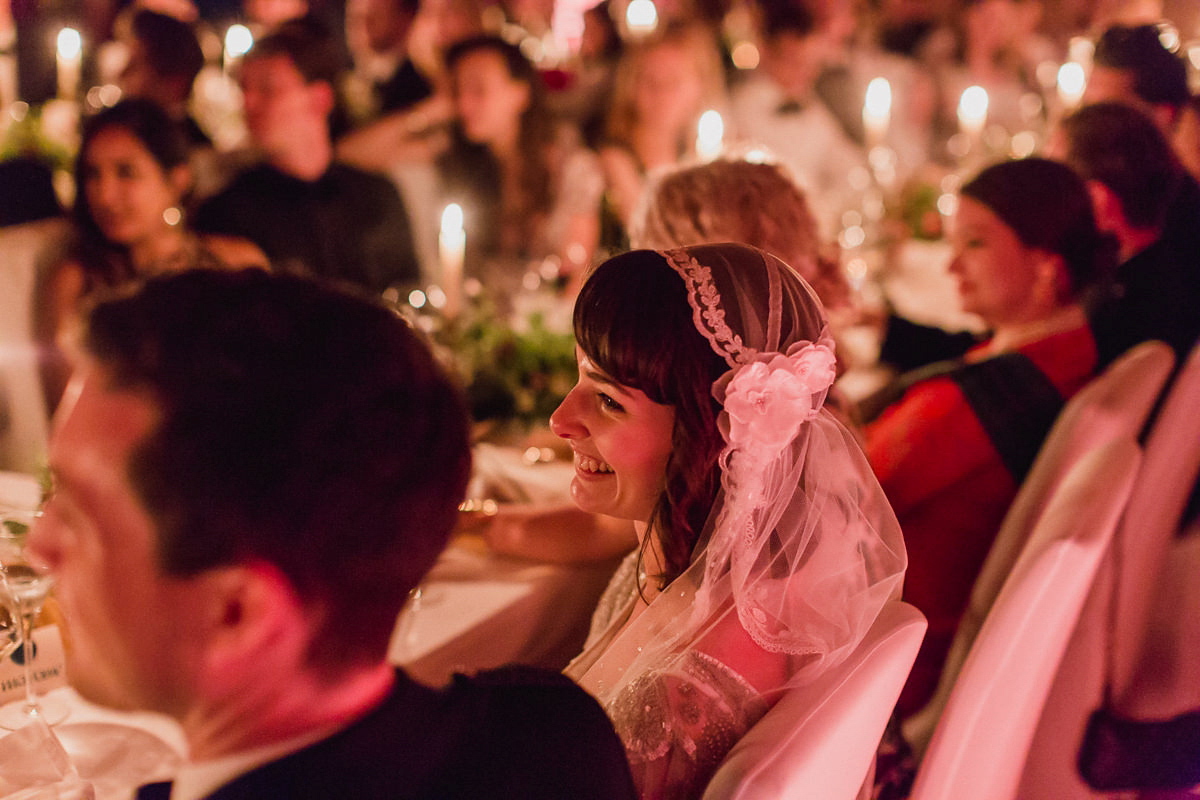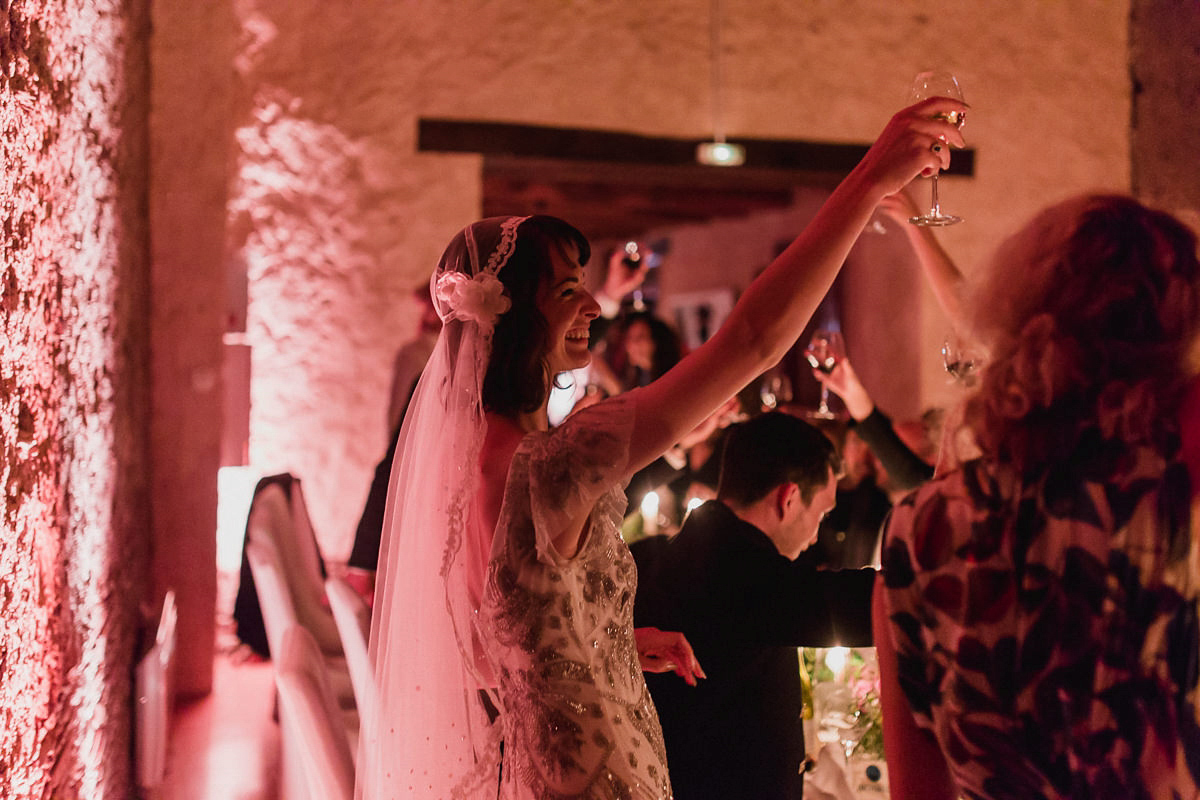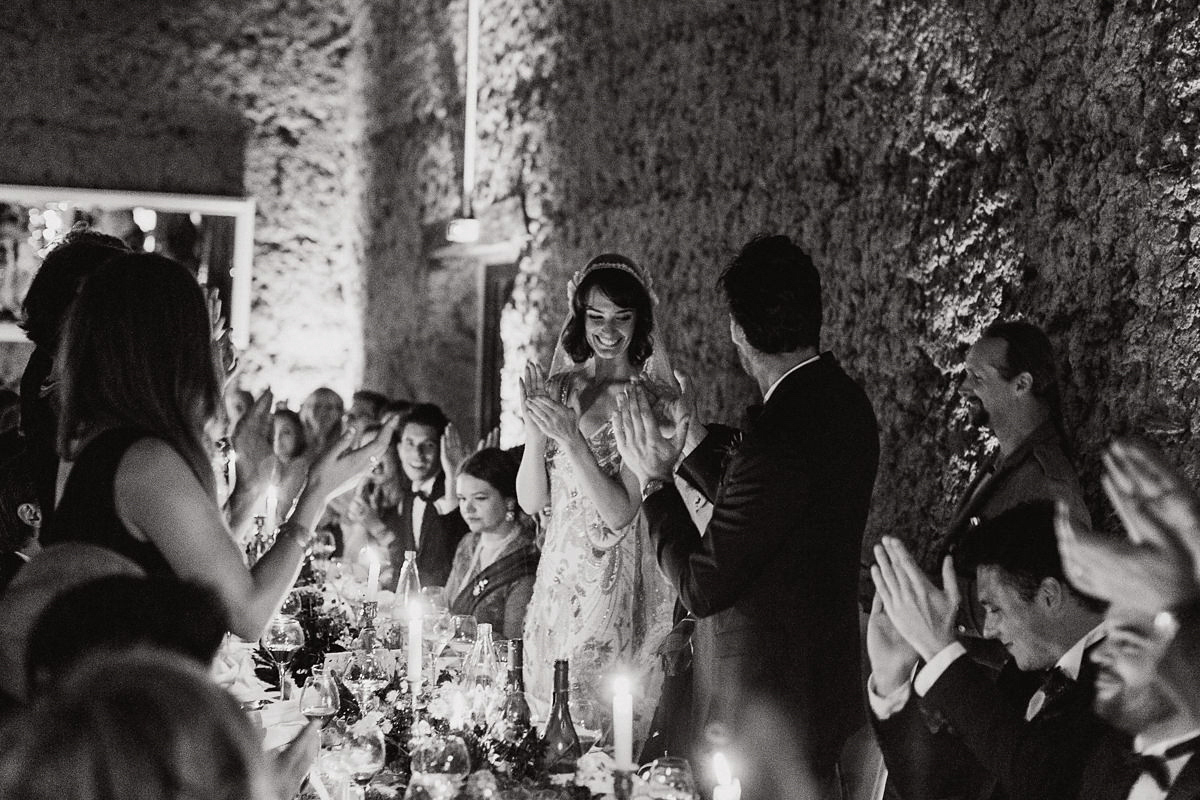 "Our first dance was to 'Temps de l'Amour' by Francoise Hardy. We found choosing a first dance song really hard, as most of our favourite songs have desperately bleak lyrics or too many rude words. Hardy's song captures that unique French quality of being melancholy and simultaneously upbeat, and seemed the most fitting for us, getting married in our twenties, with very little emotional baggage."
"I changed into an Eliza Jane Howell crystal headband for dancing – it was another eBay find."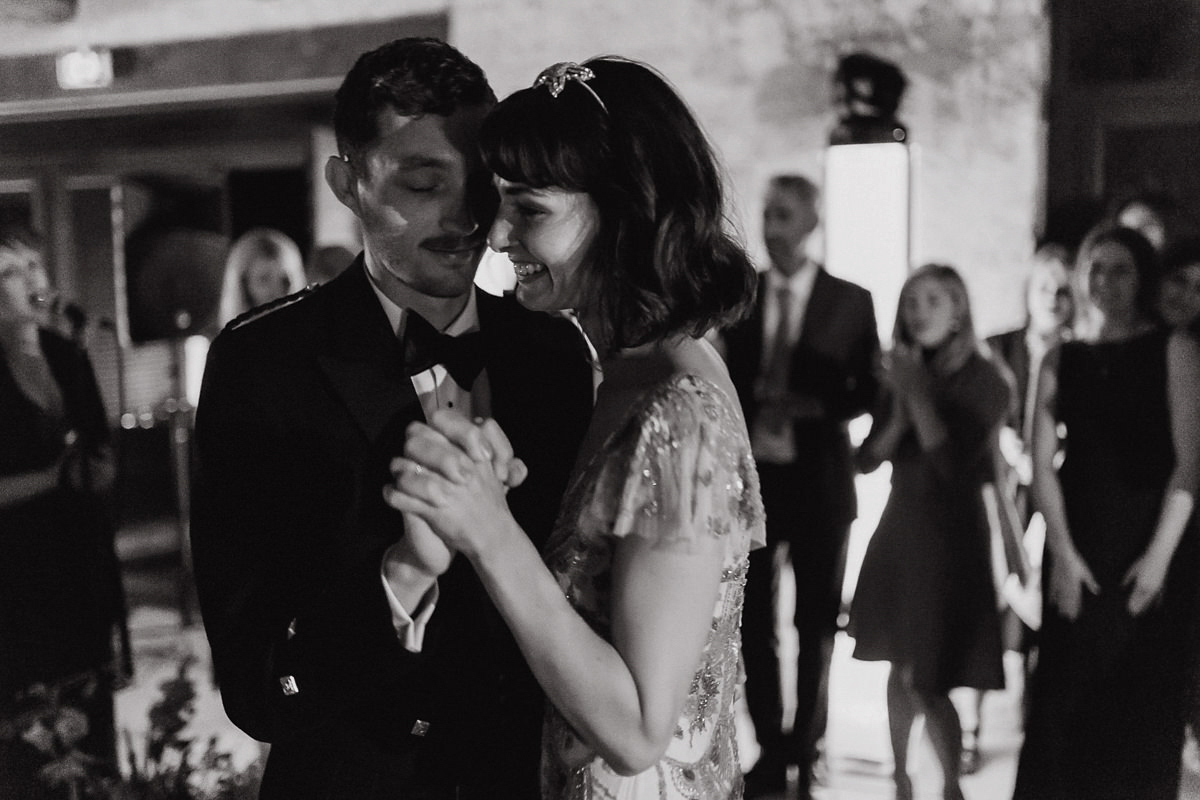 "The French lyrics translate roughly as "It's the time of love, the time of friends and of adventures. Time comes and goes, and we're carefree in spite of our wounds. Because the time of love…it's long and it's short, it last forever, one remembers it. At 20, we tell ourselves we rule the world, and that all there'll be all this blue sky before us forever."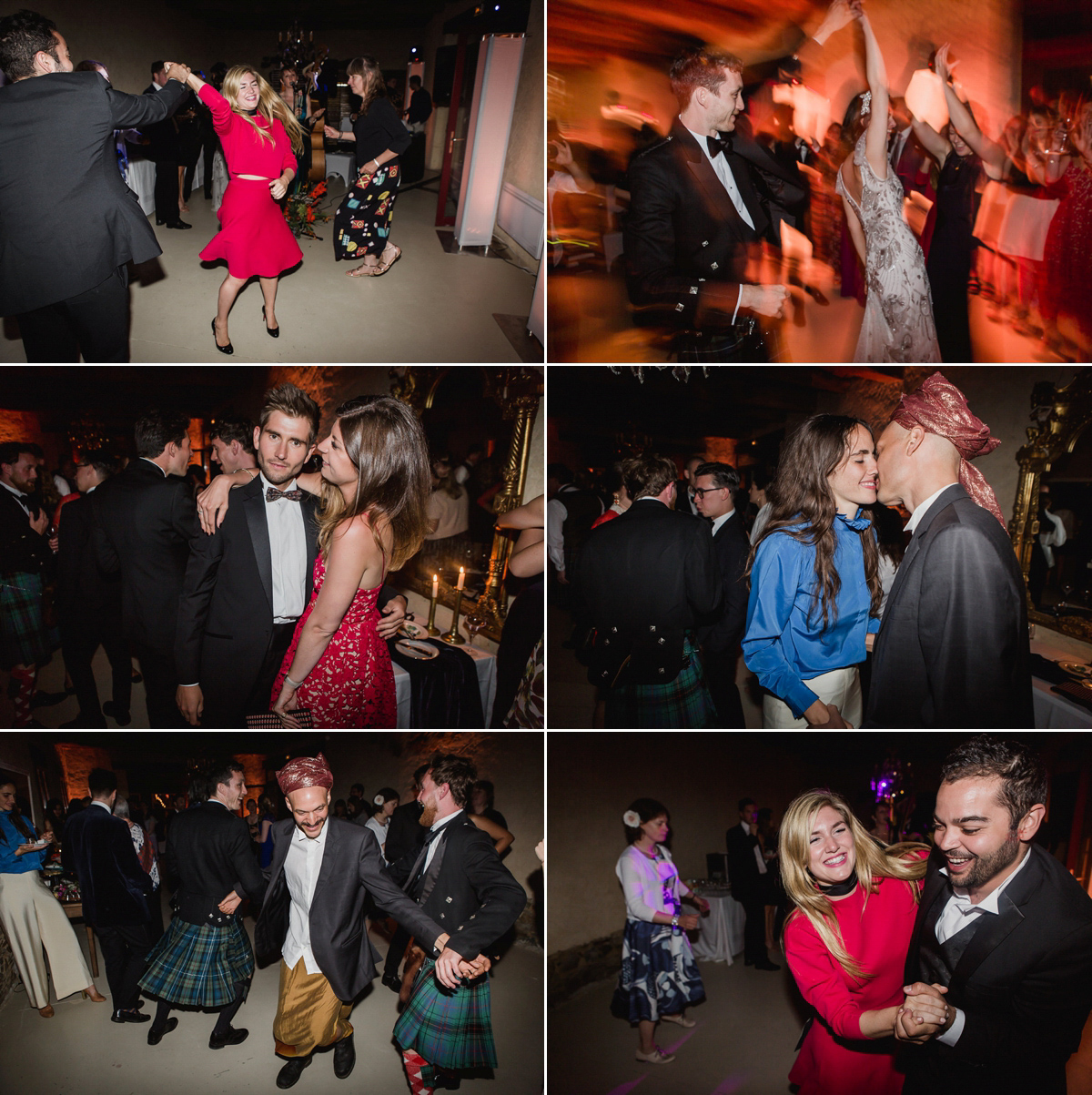 Words of Wedded Wisdom
"Much as your friends and family are full of enthusiasm for your wedding, it can be a lonely place for you and your partner as you navigate one of the most emotional and transformational periods of your life, dealing with changing identities, responsibilities and family wishes. Neither of us had attended a wedding as adults before we married, and I found the community of Love My Dress brides-to-be and newlyweds so incredibly supportive, insightful and nurturing. It really helped to have those unbiased opinions and to know that other couples were navigating the same challenges as we were, some with far greater burdens than we had to bear. So if you haven't joined the group yet, do so now!
We'd wholeheartedly advise to make room in your budget for a wedding planner. Nancy worked on our wedding for a whole year, coming on weekend scouting trips with us to Brittany twice. Just like Yann, Nancy was super professional, super present for us and a pleasure to hang out with. On the wedding weekend, I don't think I saw her or Anne stop or stand still for a full 12 hours, they were incredibly hands on. It made such a huge difference – wedding planning was great fun for us, and in the build-up to the wedding we could focus on the significance of our marriage and our family could enjoy being guests. We slept so well the night before as we knew everything was taken care of."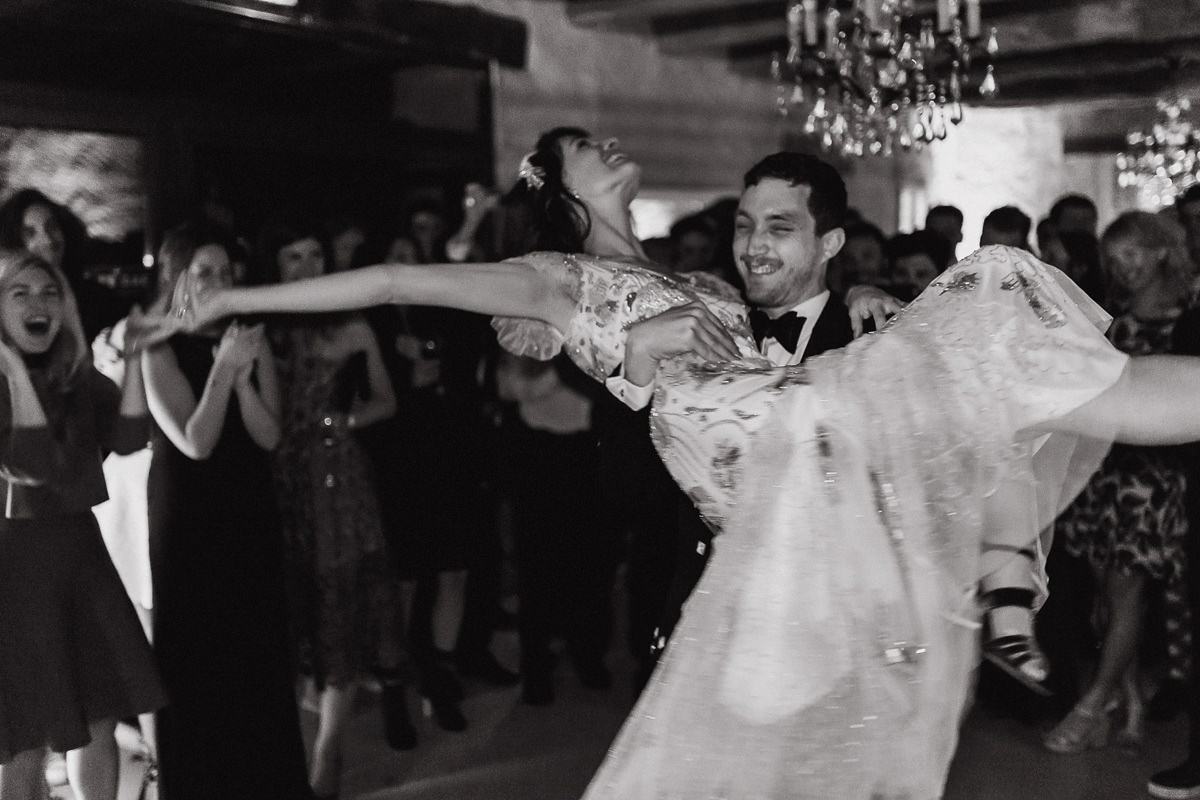 Magical. All of it. I just adore this wedding so very much. Imogen and Matt – thank you from the bottom of my heart for allowing me to share your most beautiful wedding. I'm so touched that you have taken the time to share so much helpful detail. I know that many, many of our blog readers will be hugely inspired by your beautiful wedding.
Love Annabel x