Ohhhhh Scotland. You stole my heart back in 2011 on my first trip to Edinburgh on a blue sky and sunshine day – and that spectacular first view of the castle from Arthur's Seat will forever be etched in my memories.
Scotland is the setting for the summer wedding of these adorable high school sweethearts you're about to see. Kayleigh, a primary teacher, married James, an architectural technician, on the 2nd of July 2016 at Kirknewton Stables in West Lothian, just outside Edinburgh. They put on the most relaxed party for their guests with loads of delicious food and funky tunes – and were inspired by this very blog where Kayleigh discovered The Wedding Collective.
"We knew we wanted a relaxed day with good food, music that we love and a party feel. Pinterest and wedding blogs like Love my Dress were a great source of inspiration – I liked the mixture of budgets, the supplier recommendations and the search function on your blog!"
Photography by Lauren McGlynn
"Love MY Dress introduced me to the The Wedding Collective which is where we found most of our suppliers. I went along to one of their wedding fairs and it felt really good to chat to quality suppliers who were creative and understanding. A few times during the initial planning stages I felt like a bit of a fraud because I didn't see myself as very 'bridal'. Meeting some TWC suppliers made me realise that 'bridal' could be whatever I wanted, and that was important for me." "Good photography was really important to us and we budgeted accordingly. Lauren of Lauren McGlynn Photography was one of the suppliers I first met at a TWC wedding fair and after looking through her work and chatting with her for a while I knew she was for us. I was so happy that she was able to do our date! Lauren captures light beautifully and had lots of natural pictures of people smiling. I would say that James and I are not the most comfortable in front of the camera, but Lauren and Katy made us feel very relaxed. We absolutely love our photos, and I find that even now I go back to look at them and find something new to love."
"Euan Gilmour of Gilmour Digital is a really lovely guy and we were honoured to be one of his first wedding clients. We didn't originally think we would be able to get a videographer but I am so delighted that we did. He captured the day perfectly in the little preview.  I watched it about a million times when he sent us the link!"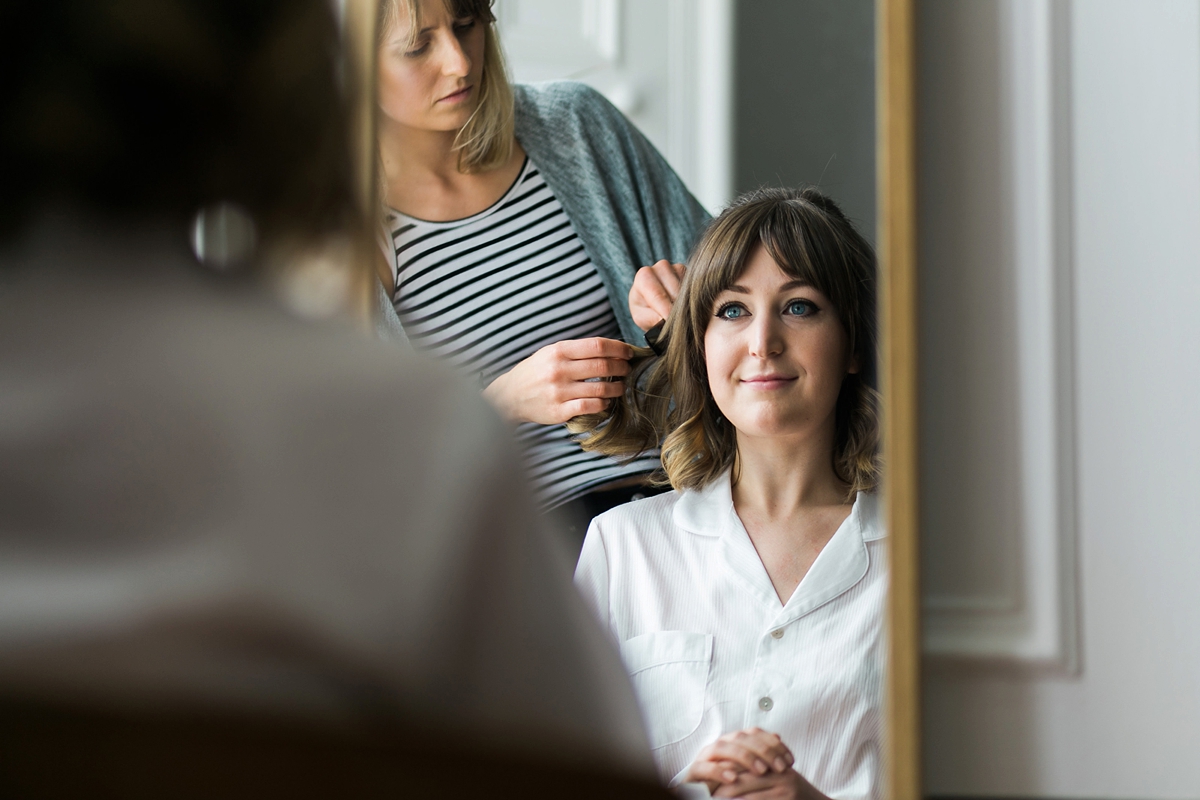 Kayleigh chose the beautiful 'Torum' style by Charlie Brear from Lamesley Bridal in Edinburgh. She wore it with a polka dot tulle overskirt from E&W Couture via Etsy – I just love this look. Have you seen our extensive collection of Charlie Brear gorgeousness from the Love My Dress archives?
"I was quite adamant that I needed a dress that I could eat and dance in, and this dress ticked those boxes. I loved its simplicity and how I felt when I wore it. I avoided traditional wedding boutiques at first and was open to different colours and styles other than the traditional white dress. I booked an appointment at Lamesley Bridal out of curiosity and this was the second dress I tried on. I didn't have a 'moment' though and felt a bit nervous about that for a while. But I kept comparing everything I tried on thereafter to that dress, so in the end I thought f**k it, I'll just get it!"
The stunning bride added comfy heels from New Look, her own jewellery, and the loveliest floral crown by I Heart Flowers that just pops with accents of blue. Kayleigh did her own makeup, whilst her pretty hair-do was created by her friend Danielle Whytock.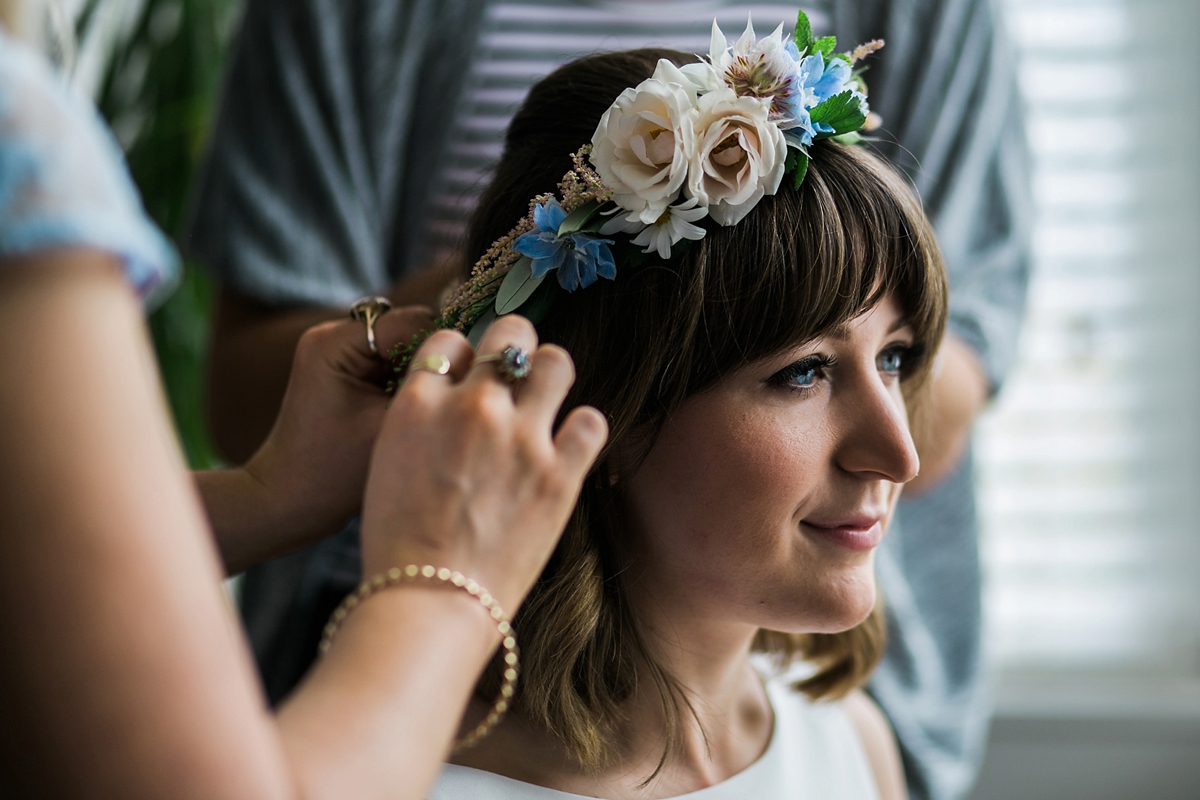 The beautiful three maids complemented Kayleigh in their baby blue floor-length ASOS gowns. The ladies wore their own shoes and a pretty hair accessory from Monsoon to finish off their elegant look.
"We met in our high school art class, with thanks to an alphabetical seating arrangement. After a bit of persuasion from James we eventually got together aged 17. 17! Even to me it seems crazy that we've been together since then. We were actually voted 'Most Likely to Get Married' in our final year, so it was fate!"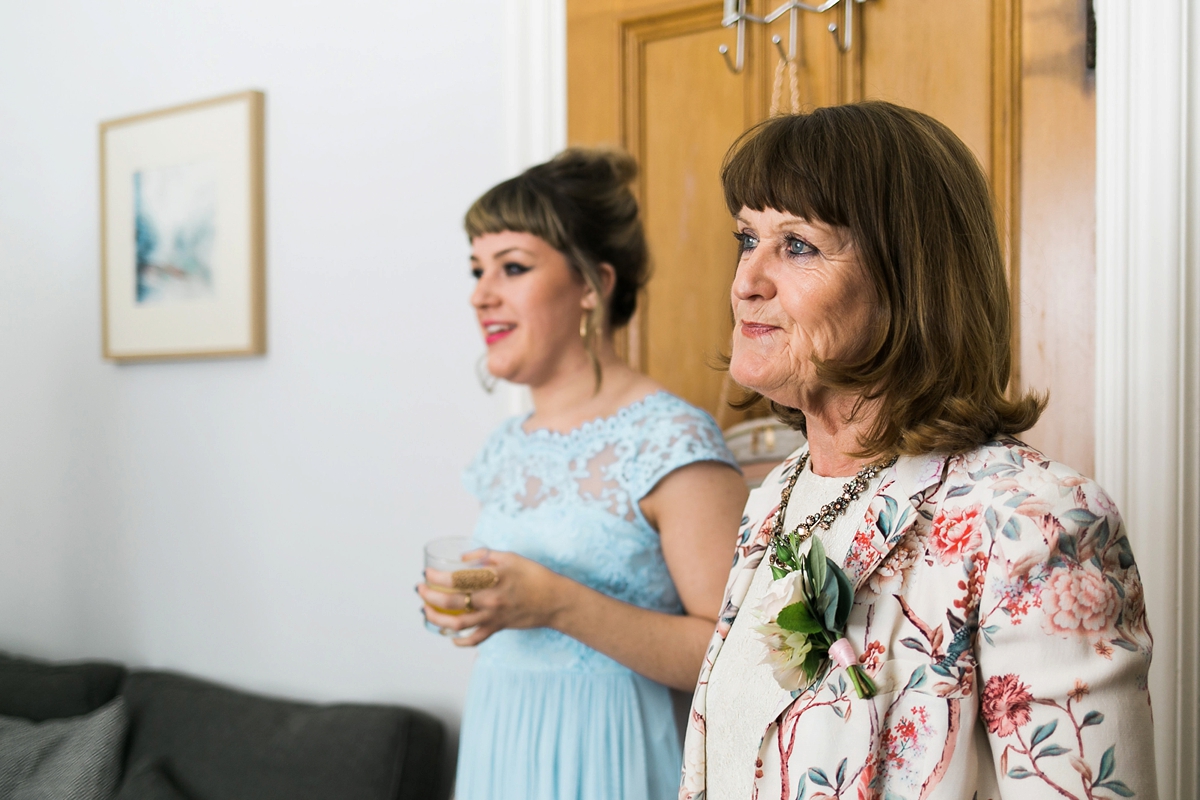 "Our florist was I Heart Flowers, aka Sophie, who we also found on the TWC and she was a gem! I know very little about flowers and phoned her with a mish-mash of different ideas and colours that I wanted and she turned them into the most beautiful bouquets, button-holes and flower crown.
They smelled amazing too, it was magical. When the flowers arrived at my door I can't describe the happiness I felt. I think that was the first moment I felt properly 'bridal'!"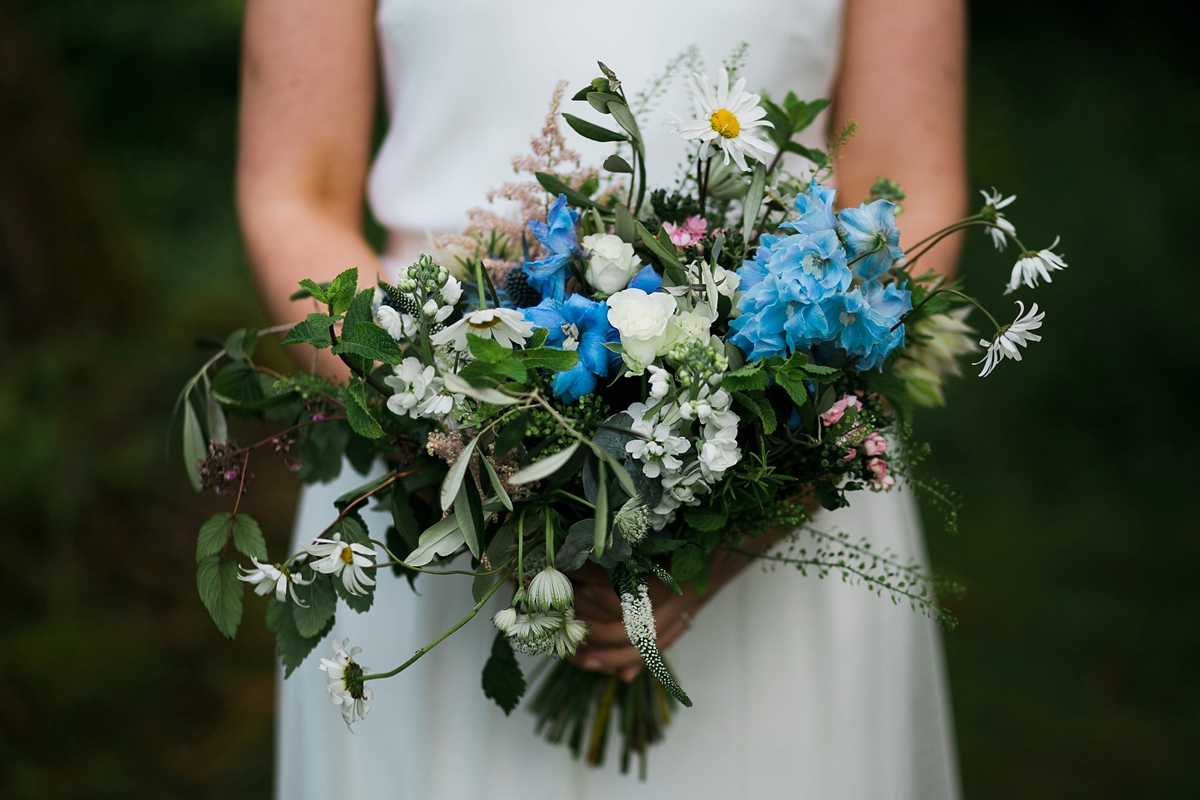 "We didn't get engaged until seven years later, in 2012. James proposed on Christmas morning in my mum's living room. I had no idea it was happening. He actually tried to get me to stand up (so that he could get down on one knee), telling me there was another present under the tree."
"Needless to say I did not get the hint and decided to ungracefully forward roll towards the tree instead. I was disappointed that there wasn't actually another present. I got quite a stern 'stand up' from mum and James eventually managed to propose! We didn't start 'serious' wedding planning until a couple of years later, after I'd finished studying."
The kilts for the fellas came from The Kilt Hire Co. – how resplendent do they look in their full Scottish attire?
"My dad passed away when I was younger so James and I did think about walking down the aisle together, or me walking with my mum. But in the end my brother was really pleased to be there with me and I was glad we walked together. I think it was quite a special moment for my mum too. 'Let's get married' by the Proclaimers was the tune for the aisle walk – James is a true Leither."
"Having a humanist ceremony meant that we could tailor our vows and tell our own story. We had a lovely celebrant Fiona Thomas who helped us with this and provided examples, which was very helpful. We're not very good at public affection but I do feel that the ceremony reflected us as a couple quite well, with humour and emotion too. We knew that we wanted our vows to reflect the fact that we had already been together for a while and that we are equal partners. I was definitely not going to 'obey'! We answered together."
"I love Jackie Kay and we chose this beautiful Scots poem as one of the readings during the ceremony. It is both realistic and romantic, and it still makes me happy to read it today."
Whether the weather be dreich or fair, my luve,
if guid times greet us, or we hae tae face the wurst,
ahint and afore whit will happen tae us:
blind in the present, eyes open to the furore,
unkempt or sharply dressed, suddenly puir or poorly,
peelie-wally or in fine feckle, beld or frosty, 
calm as a ghoul or in a feery-farry,
in dork December or in springy Spring weather,
doon by the Barrows; on the banks o' the Champs d'Elysees,
at mid-nicht, first licht, whether the mune
be roond or crescent, and ye be o' soond mind
or absent, I'll tak your trusty haund
and lead you over the haw – hame, ma darlin.
I'll carry ma lantern and daur defend ye agin ony enemy;
and whilst there is breath in me, I'll blaw it intae ye.
Fir ye are ma true luve, the bonnie face I see afore me; 
nichts I fall intae slumber, it's ye I see swimmingly – 
all yer guidness and blytheness, yer passion.
You'll be mine, noo, an' till the end o' time, 
ma bonnie lassie, I'll tak the full guid o' ye'
and gie it back, and gie it back tae ye:
a furst kiss, a lang promise: time's gowden ring.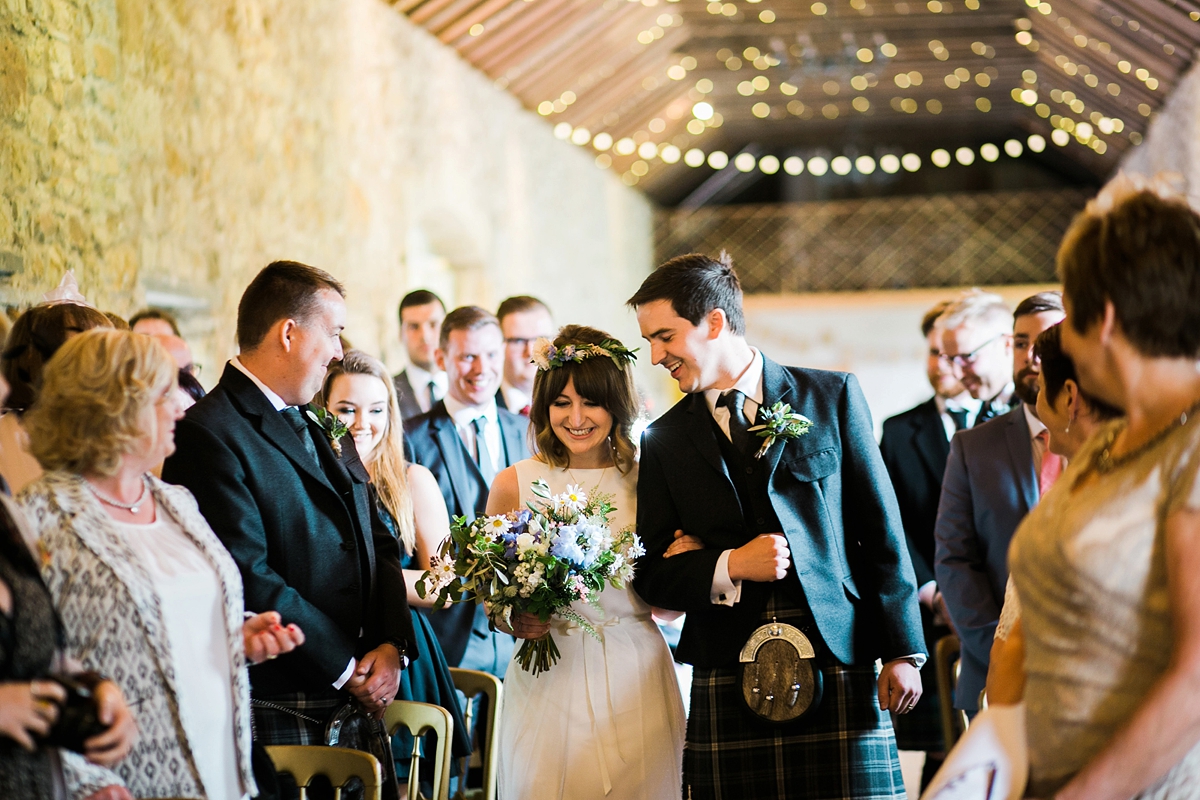 "We had almost run out of budget by the time we got round to thinking about rings. I chose a lovely silver ring with pearls by Sarah Brown Jewellery and James chose a ring from an online shop".
"I love my ring but we've agreed that we will buy ourselves new rings in a few years time when we've got a bit more money! It will definitely be another Sarah Brown design for me, just with a bigger budget this time."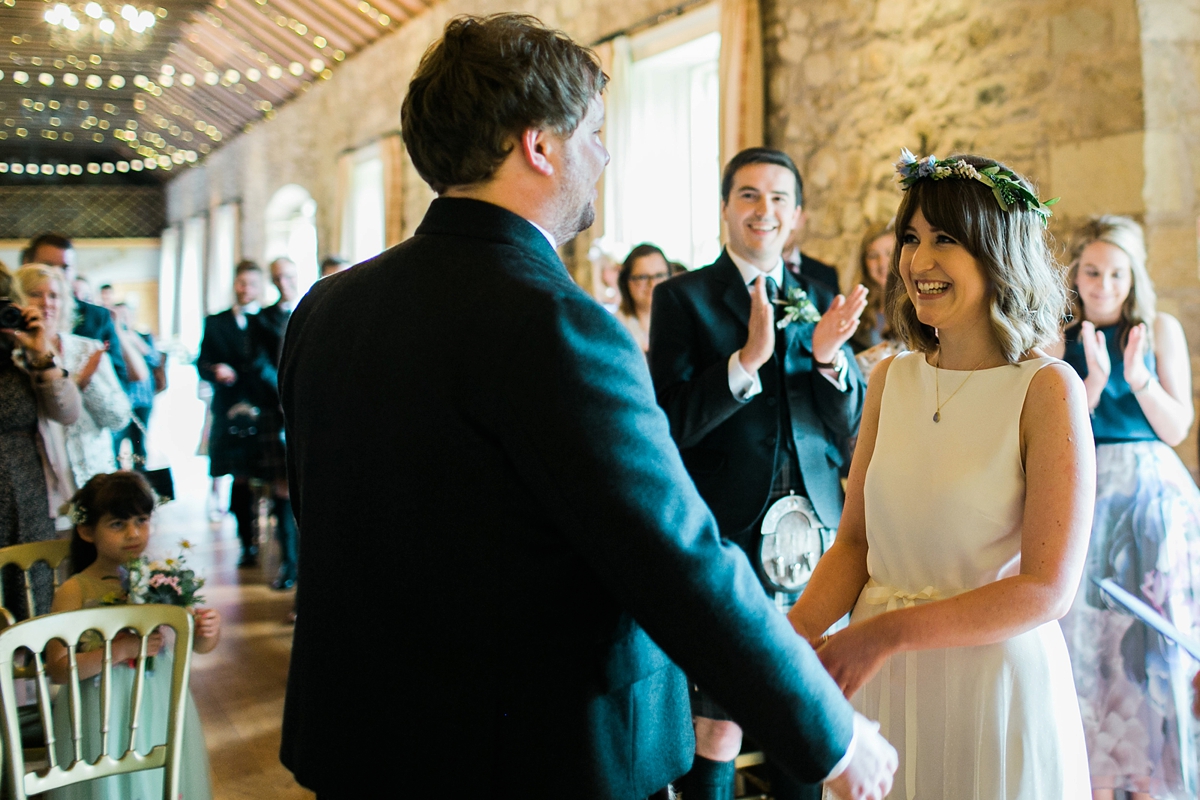 "We knew that we wanted nice lighting and we were pleased to see that the venue had already hung fairy lights on the ceiling beams, which looked great. We added festoon lighting that we got from Ikea and a fairy light curtain found on Amazon. My amazing bridesmaids set up a 'Pimp your Prosecco' station and the wee touches that you see were gathered from shops like Hobbycraft, TK Maxx, IKEA and our own home."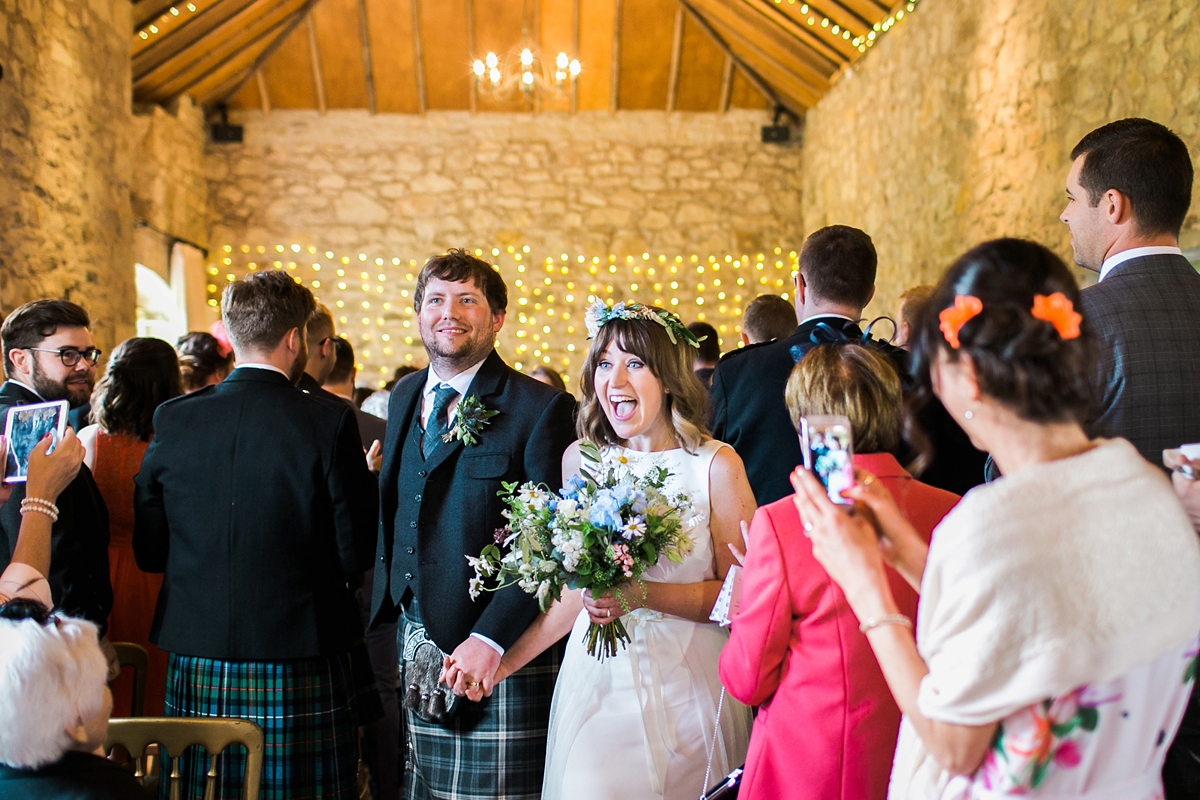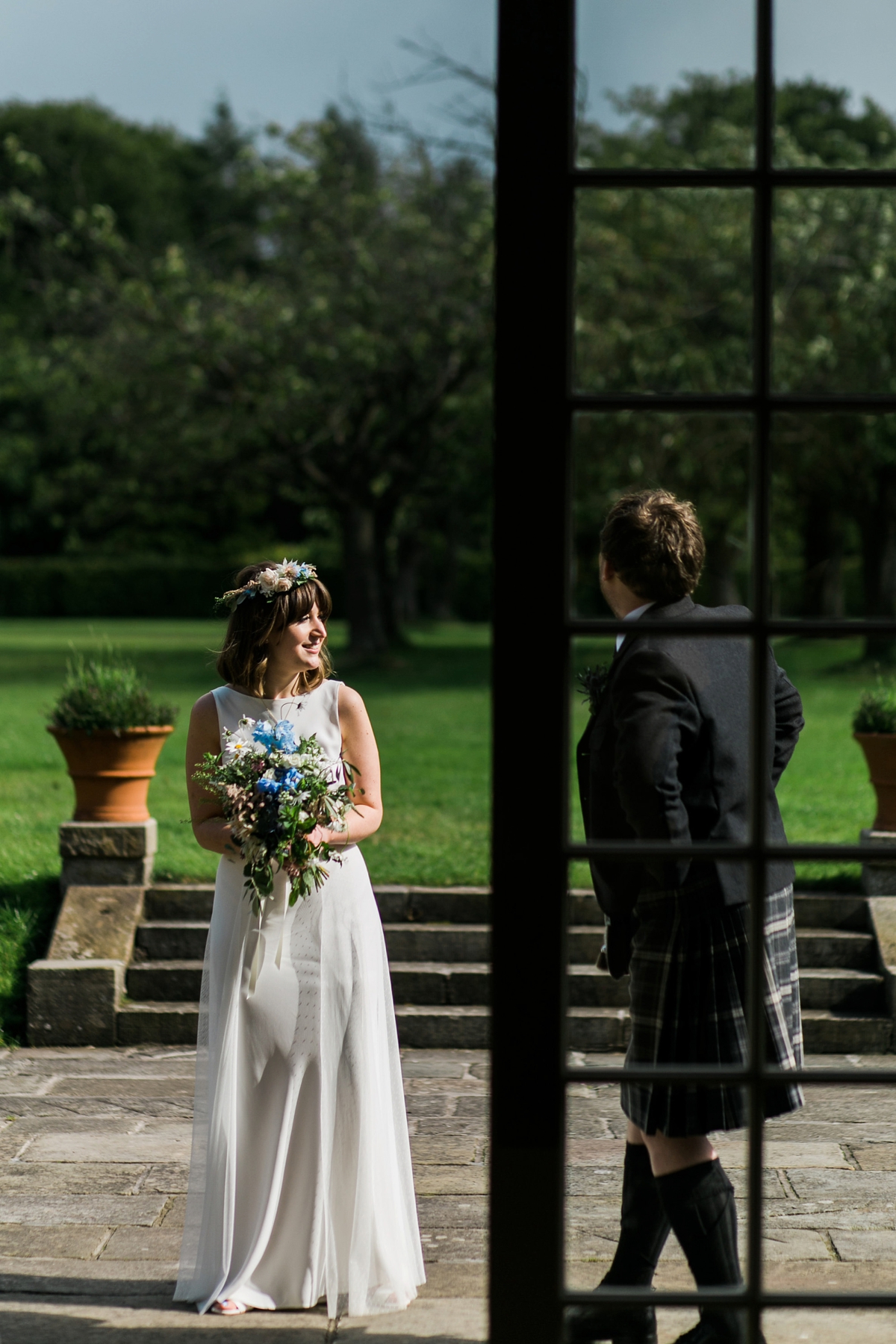 The sweet flower girl's dress was from Monsoon, who create such lovely styles for the wee helpers, don't you agree?
  The creative bride designed all of the stationery herself, with printing via printed.com, after a 'graphic design 101' crash course, producing a fabulous result.
"My sister gave me a quick lesson on how to use Adobe inDesign and I got started. It did take me aaaages but I was really pleased with how everything looked in the end and it was great to have that sense of ownership too. It also saved us quite a bit of money, always a good thing!"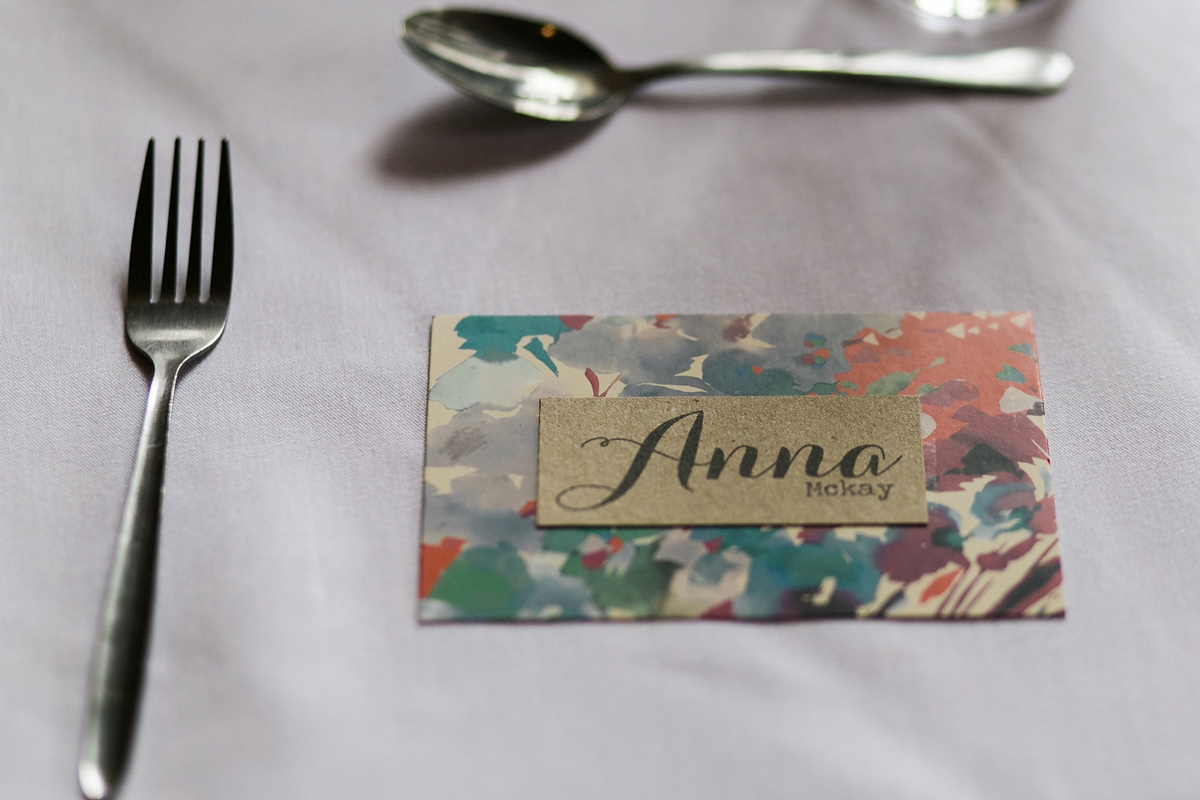 "We headed up to the venue the day before the wedding to set up and decorate with my bridesmaid's Denise and Anna, my brother Callum, best man Michael and James' mum Janis. It was great having them there with us and I felt the decoration was truly a team effort. I wanted the space to feel light and natural, and the Kirknewton Stables itself did most of that. We loved the stone walls, wooden beams and big windows, so tried to highlight these with the lighting and decoration. A lot of the 'styling' relied on what we could pick up within our budget too – thanks Ikea!"
"The flowers for our centrepieces and general decoration were bought from supermarkets and lovingly arranged by James' mum. She is wonderfully creative and spent the day before the wedding with us at the venue filling jam jars and bottles."
"I teach Primary One and received a very cute video message from my class on the day, which was a total surprise! They wished me a happy wedding day and sang a song. It was a really special moment."
You may drool with when you hear about the couple's caterers and the evening macaroni cheese bar. Yes, you heard that right. Late night mac 'n' cheese. What a brilliant (and totally scrumptious) idea!
"Hiring Lazy Sunday Catering was definitely one of our biggest and best decisions. I first chatted with Carole over the phone and spoke about what we envisioned for the food. She understood straight away and from that point on the service was exceptional. We opted for a 'grazing table', which combined starters and canapés, then we had a 'sit down' main, followed by a dessert table. The styling was beautiful and we had lots of comments on how good the food was."
"We were really lucky to have Jen overseeing the day, ensuring everything ran on time and to plan. She even brought me a wee sample of the grazing table when I had been too busy with photos and chatting, which did not go unnoticed! The best part (and one of the things that sold them for me) was the macaroni cheese bar that was set up in the evening – perfect dancing fuel!"
James and Kayleigh's tempting cake was made by their friend Alan, a chef, as a wedding present.
"We made a Spotify playlist and played this through speakers that we hired from Pegasus Sound and Light in Edinburgh. We asked all the guests to request a song on the RSVP and then tried to accommodate everyone's requests. My brother was in charge of the playlist on the night and was able to seamlessly add a couple more songs when we were running slightly short, which was perfect."
I love the choice of song for the couple's first dance which they say was very apt for them – 'Growing Up Beside You' by Paolo Nutini. And aren't these shots simply wonderful of the guests getting down with funky dance moves? There's no greater feeling than freedom on the dance floor.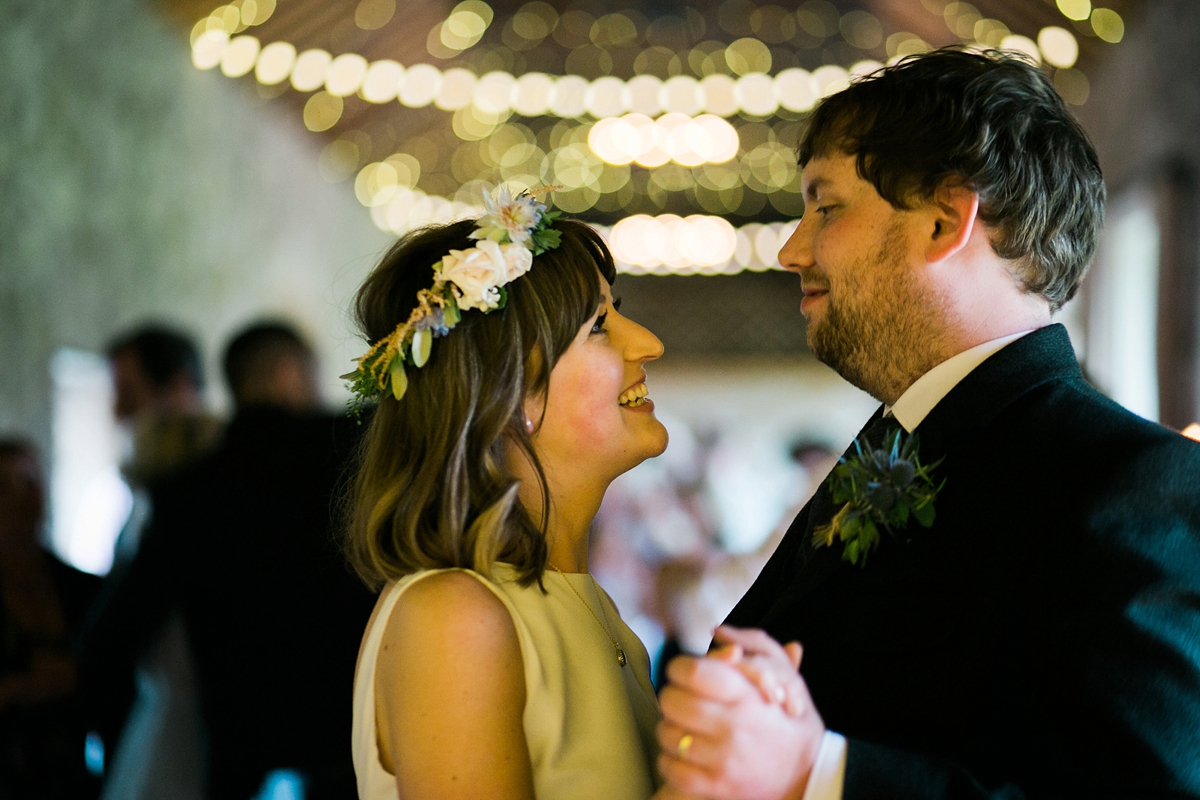 Words of Wedded Wisdom
"Savour the quiet moments. Invest in good photography. Surround yourself with positive people. Choose suppliers that you trust and share the vision for your day. And don't worry about not feeling 'bridal' – I'm pretty sure everyone is just winging it."
"I'd read and heard lots of advice from others telling me to try to take it all in, to slow down and take a moment to look around. I'm so glad I did. Some of the best moments were the quiet ones: waking up with James in the morning, getting ready with friends in my living room, laughing with my brother in the car on the way to the venue, peeking round to see our guests before the ceremony, taking a moment with James after the ceremony to look around. There are the big moments too of course, dancing surrounded by your friends and family and feeling the love. And did I mention the macaroni cheese? We felt so lucky – I cried when I took my dress off at the end of the day!"

Right, that's it. I'm on my way over to bonny Scotland! Thank you to Lauren for sharing the couple's day and these stunning shots – and thank *you* lovely James and Kayleigh for these wonderful wise words that really do say it all.
And lovelies, be sure to take a look at this sweet video by Euan Gilmour of Gilmour Digital, who captured such special moments of Kayleigh and James' delightful day.
Have a relaxing weekend lovely ones!
Love Jo -xo-