Tomorrow is my (and my husband's, obviously) fourth wedding anniversary and I have absolutely no idea where the time has gone.  What I do know is that in that time the wedding industry has gone from strength to strength and I'm really quite envious of those of you who are marrying now or have recently been married as the choice of everything just continues to grow and improve.
There is so much talent out there and, thanks to social media, its more accessible than ever before! Meet Betsy and Dan, who married on the 13th of May 2017 at The Normans, Bilbrough, York (a very new venue).  The couple were set up by Betsy's brother and Dan's sister in law and Betsy's engagement ring was also made by her talented brother, award winning jeweller James of House of Powell.
Today's fabulous images were captured on camera by Paul and Kelly of Paul Joseph Photography, who we don't hesitate to recommend for a second as wonderful wedding photographers.
"We can't speak highly enough of Paul and Kelly.  They create fun quirky and individual shots that really resonated with us.  Neither Dan nor I are comfortable in front of the camera, so we arranged a 'Love Shoot' – the four of us pottering around Leeds and getting some incredibly vibrant and gorgeous shots in front of street art.  It was a great way to get to know them, and we love the photos too.  When the wedding pictures arrived, we couldn't have been happier- they really captured the fun, casual, full-of-love day that we wanted."
Images by Paul Joseph Photography
"I had in my head the most elegantly tasteful thing in the world – all crisp white, silver and greens.  Then we realised that that's not very us.  We're a daft couple really, not the most romantic, and we wanted our wedding to reflect that.  That's where riots of colour came in, and it really informed every choice we made after that.  I was constantly fighting a battle of 'cool colour' rather than four-year-old-birthday-party, but we think we nailed it in the end."
Hair and make-up was styled by expert Aimee Long.
"After seeing a friend of mine looking glowing still at 10pm on her wedding day, I knew I wanted to invest in make-up and hair.  Aimee totally got what I wanted."
Betsy's beautiful gown was by Martina Liana and purchased from Angelica Bridal in London.  Alterations were by Once Upon a Dress in York.
"It was really simple and classic, but also flattered my shape.  I loved the neckline, the gorgeous buttons running all the way down the back, the slightly stretchy crepe, the crisp whiteness of it."
On her feet Betsy wore sparkly gold shoes from ASOS, while for added bling, she chose a chapel length, single tier veil, encrusted with silver Swarovski jewels which she bought online (store unknown).
"My earrings were made by my brother, James (House of Powell).  I'd inherited some pearls which James matched with some new ones and made the beautiful earrings that I wore.  They felt really special."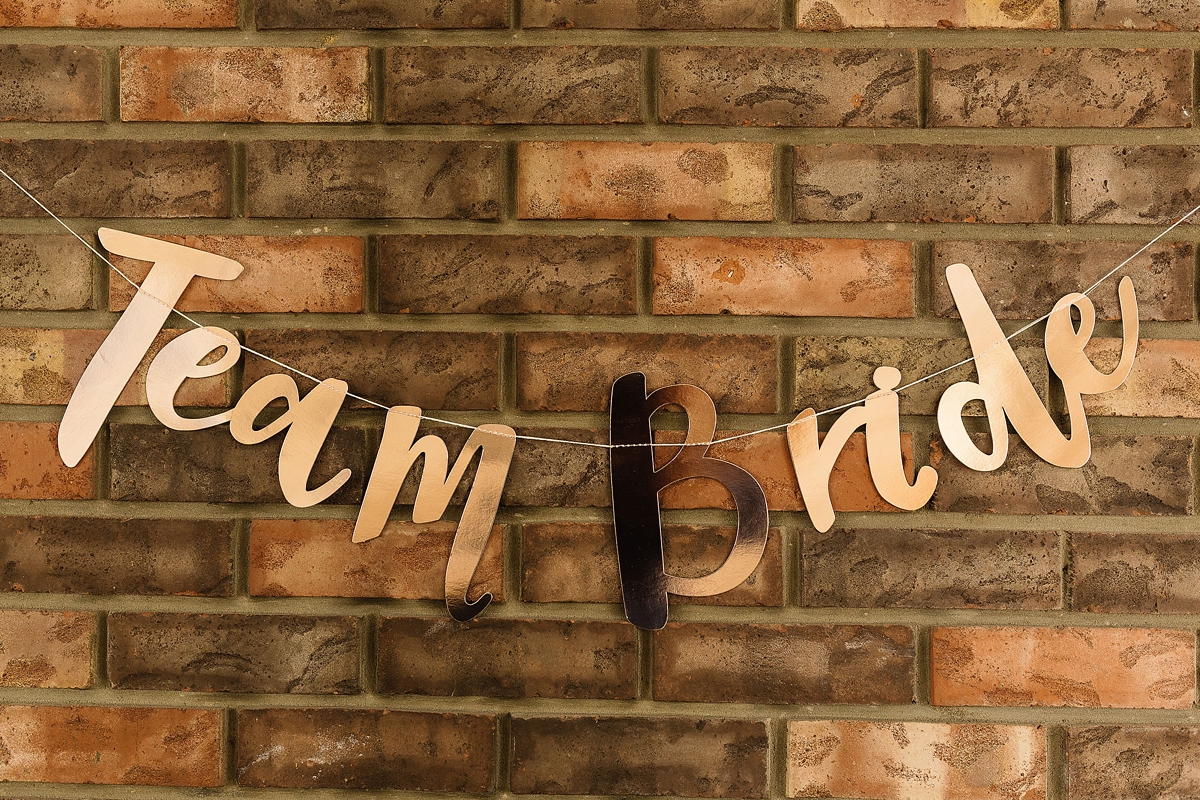 The bridesmaids looked lovely in cobalt blue dresses from The Daintyyard via Etsy while the little flower girl looked very cute in a dress from Marks and Spencer, customised with blue ribbon.  Betsy's brother also made all the bridesmaids beautiful gold knot rings which Betsy gave them as gifts.
"They'd each chosen a different colour gold, so we had rose, white and yellow. I wanted them to have something that they could keep and wear forever." 
Dan and his ushers (and pageboy, in a mini version) looked very smart in suits from York Hire Wear, who also handmade a waistcoat for Dan in a multicoloured grey tweed, as a gift from his wife-to-be.
"Dan had an elaborate proposal planned, including a hike with a champagne picnic, but I'd been off work with a cold the week before and wasn't having any of it. In a panic, Dan rang my mum and after some quick improvisation, we headed into our home city, York, for a walk.  After pottering around one of our favourite parks, Dan whipped out a copy of my favourite book (To Kill a Mockingbird)."
"Dan said he'd finally read it and loved it but that he preferred our story.  He then got down on one knee, pulled out a ring box, and asked if we could start a new chapter. After a teary 'yes', we went to one of our local restaurants for tapas and sangria.  Eighteen months later, almost five years to the day we first met, we got married."
"We stumbled upon The Normans at our first (and only) wedding fair.  We pounced on the owners, Laura and Oliver, and didn't let go until we had our date booked.  It was perfect for us – a beautiful blank canvas.  Not too rustic, but still warm and happy looking. We didn't even care that they hadn't held a 'proper' wedding yet; we knew they were the guys for us."
"Some family friends did the flowers, and they knocked it out of the park.  I handed over a list of flowers I love and the colours and they did the rest."
"When I went to see them the day before the wedding as they were pulling everything together, I burst into tears.  I was so overwhelmed but all their hard work and how wonderful everything looked."
"When browsing pinterest I came across a beautiful wedding that used bright balloons really well, and that was a lightbulb moment.  We worked with a great company called Balloon Talk."
Betsy walked down the aisle with her dad to 'Bright' by Echosmith.
"We thought long and hard, and eventually went for 'Bright' as I just adore the lyrics. The moment it came on, I practically bounced down the aisle." 
Dan and Betsy chose three readings for their ceremony- 'A Vow' by Wendy Cope, 'The Life That I Have' by Leo Marks and a piece Dan put together himself from favourite song lyrics called 'Die A Happy Man'.  What a wonderful idea.
"My brother James (House of Powell) and Dan worked together on my engagement ring so for our wedding rings, of course we went to him again."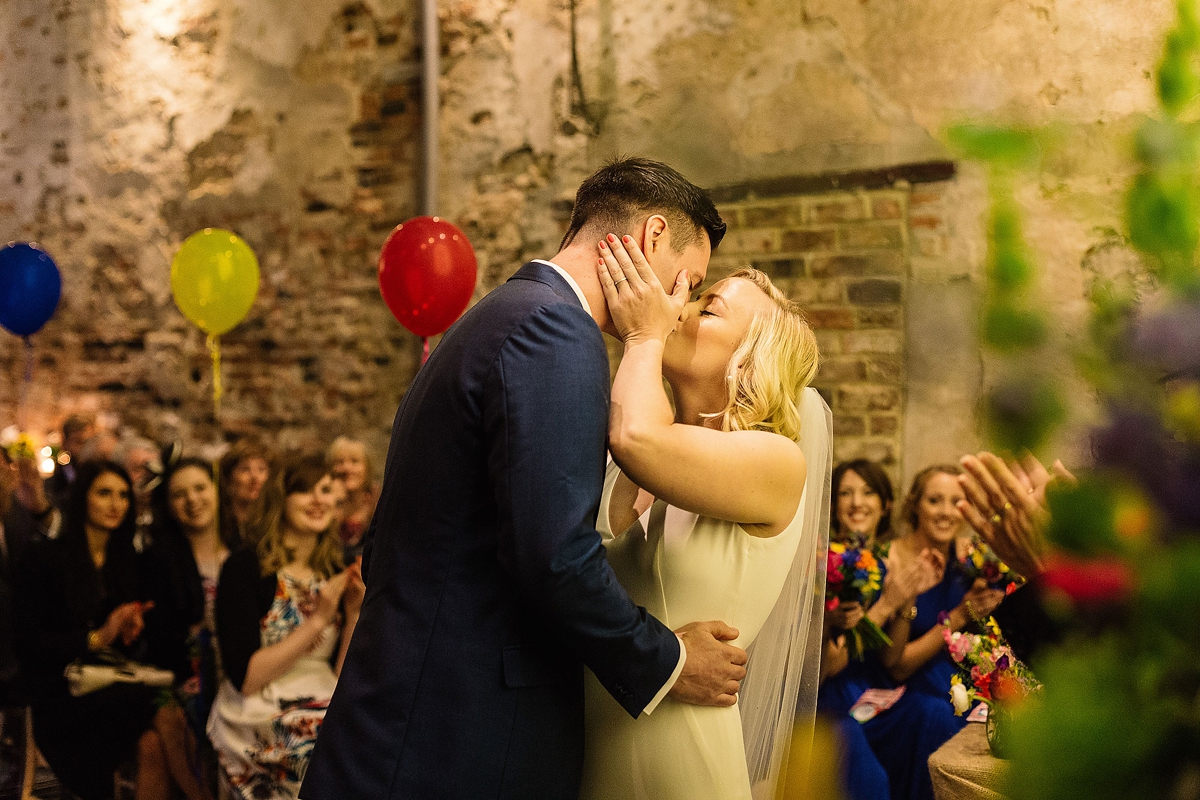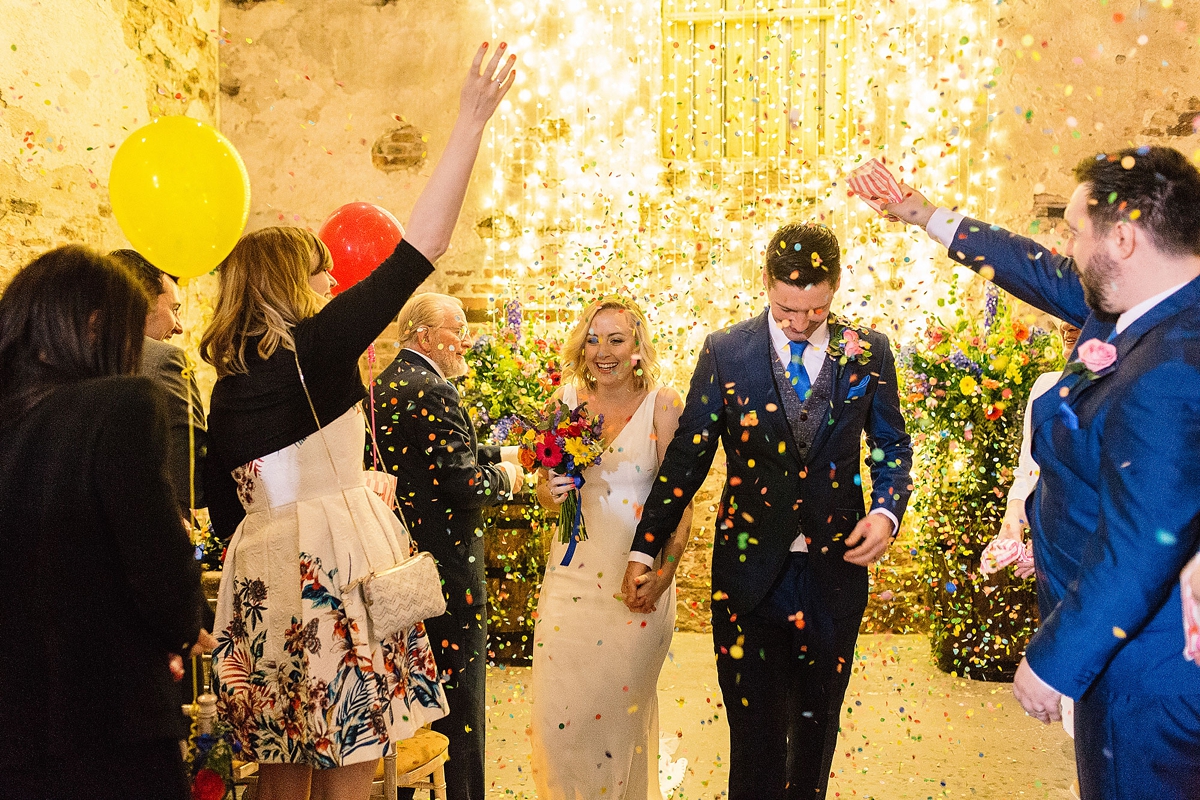 Food was the work of Purple Chilli Event Catering, who went all out.
"We majored on the canapés, skipped a starter and went straight into massive sharing boards of baked camembert, manchego, blue cheese and fig salad, chorizo, olives and so on.  The boards were a huge hit and it really helped with the informal vibe.  The food was delicious."
"For the evening we hired a fabulous burger van- Kerbedge– which went down an absolute storm.  They were served from this really cool vintage burger van, and we were able to have them park the other side of the barn, and do this 'reveal'."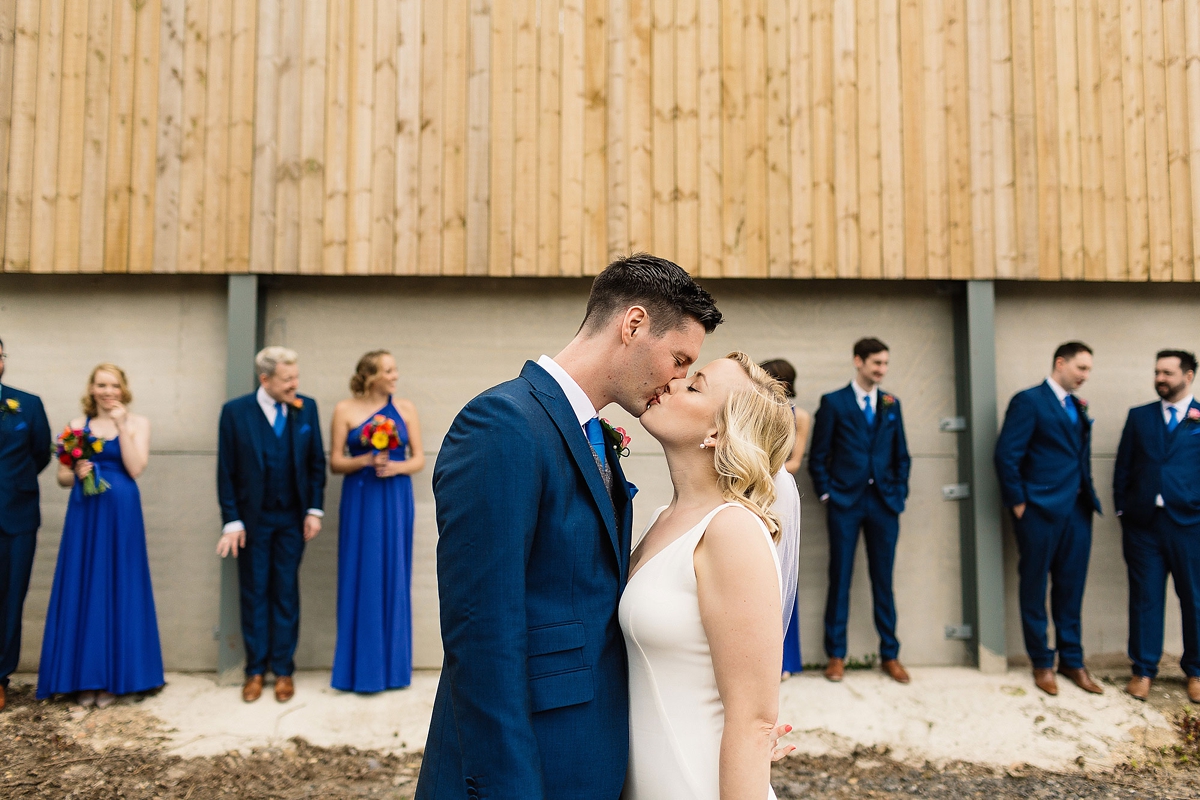 "Our amazing cake supplier was Lois from Miss Friday.  She's a friend of a friend and makes the best brownies in the world and she also makes the best wedding cakes too.  Lois was a dream and did all our desserts too – the most delicious chocolate brownies, mini pavlovas and lemon posset – all served from a pop-up dessert bar."
"Our entertainment was the unforgettable The Entertainment Company.  Dan loves music so he was desperate to have a live band, and these guys got the party started and kept it going. They were brilliant. So much energy – playing golden oldies, classics, floor fillers and new songs."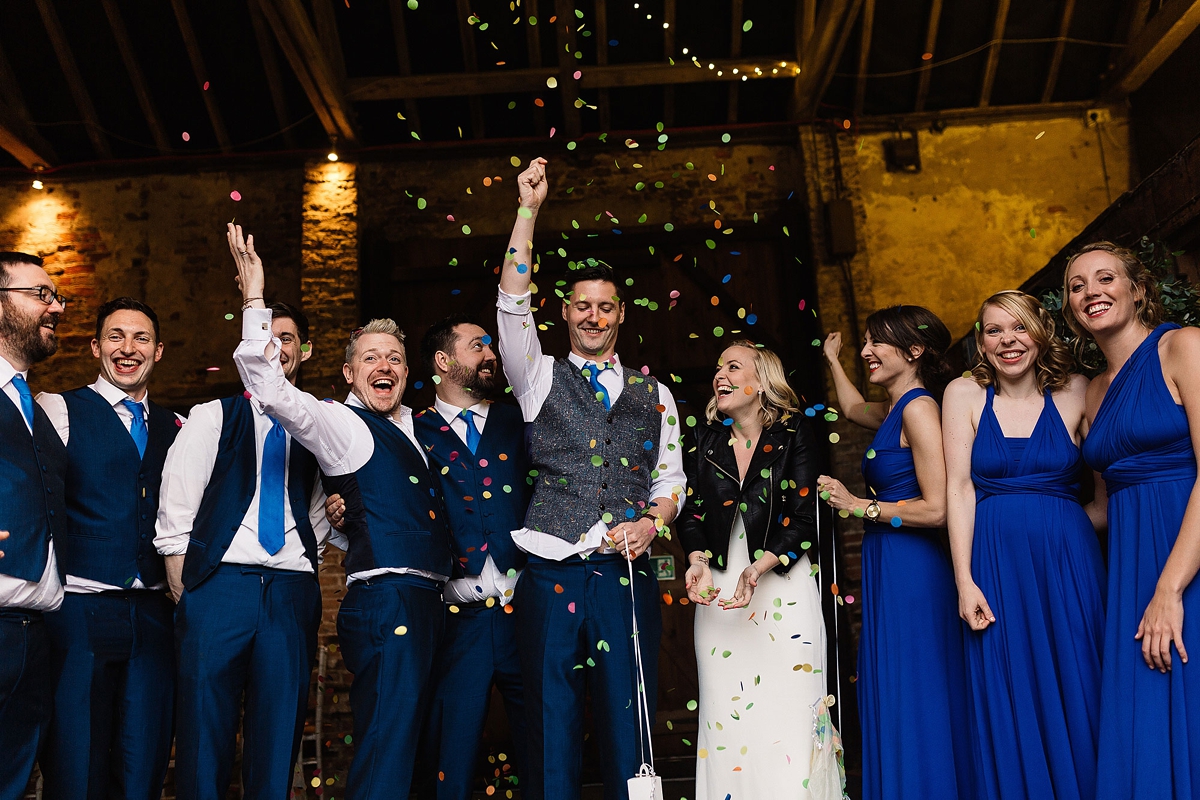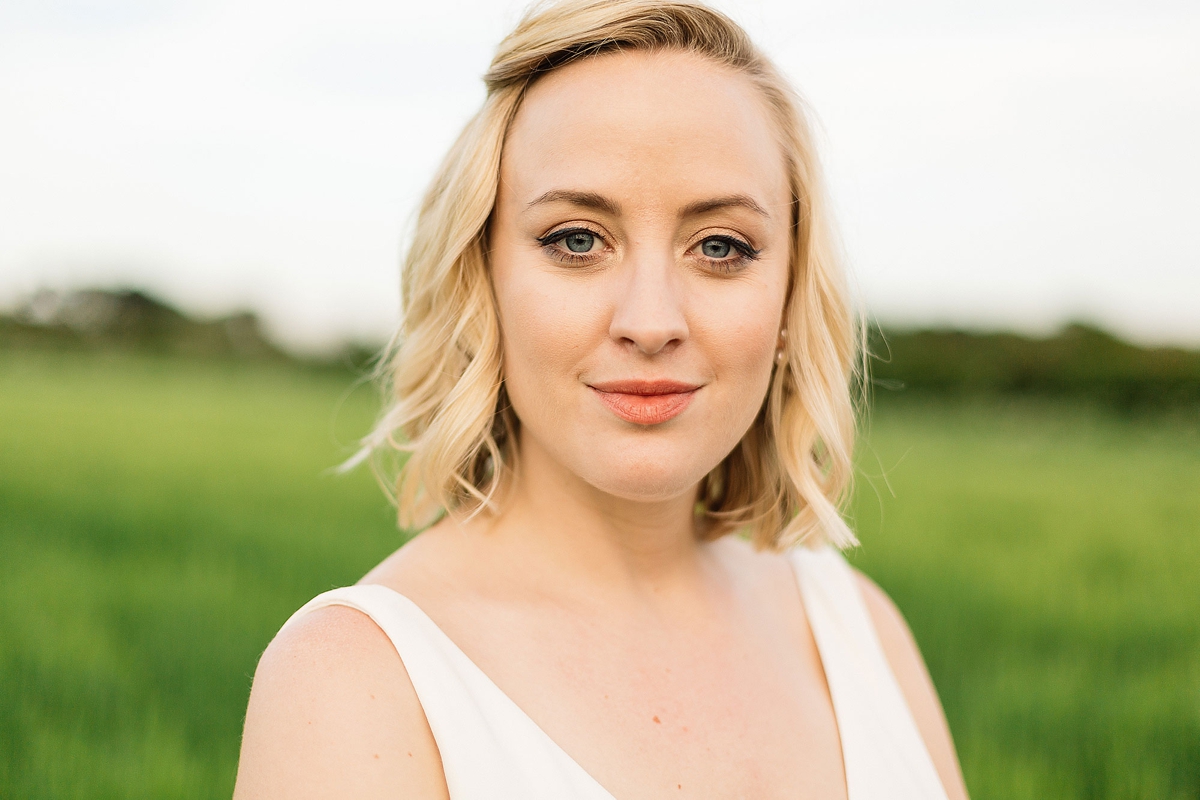 Words of Wedded Wisdom
"You've heard it all before, but this is you and your partner's day; don't let anyone else persuade you otherwise, even if they're footing some of the bill.
Make a budget and stick to it.  
Enjoy it all- it goes so fast.  
Know what you're prepared to compromise on, because chances are you'll have to somewhere.
Oh, and make sure you sort your SEPARATE transport home from the venue.  We got on the coach with the rest of our guests, when all we really wanted to do was snuggle up in a nice taxi and be delivered straight to our hotel."
Huge thanks to Betsy and Dan for sharing their beautiful wedding day.  Don't you just love how fun and joyful the whole day is?  If you're a balloon fan too- take a look here, for some more beautiful colour-filled days.
Love, S x