How is everyone today? I've just returned from a work trip to London, and have come back with a horrific cold. Outside the sun is shining brightly and is surprisingly warm – I really wish I was out there walking along the sea front. As I really feel quite rotten though, I'm intending to curl up on the sofa and catch up on missed episodes of Victoria.
The sun was certainly shining brightly for today's Love My Dress Wedding, captured by our treasured Little Book for Brides members Folega Photography. Natalia and Lloyd celebrated their marriage in a sunny outdoor ceremony on 25 May 2017, at Bleasdale Village Hall, Lancashire. Their day blended the bride's Canadian heritage with Lloyd's Lancashire roots and was a relaxed, informal affair, officiated by one of their friends.
Natalia looks so lovely in her short wedding dress from ASOS. She wanted something similar to what her mother wore when she married her father, and it matched the casual, relaxed feel of the day.  The V-back and cuffed elbow-length sleeves are so simple and elegant, and the style skims perfectly over her beautiful baby bump. Its simplicity was offset by a chic birdcage veil, and being shorter lets her embroidered cream and blue Irregular Choice pumps shine.
Photography Folega Photography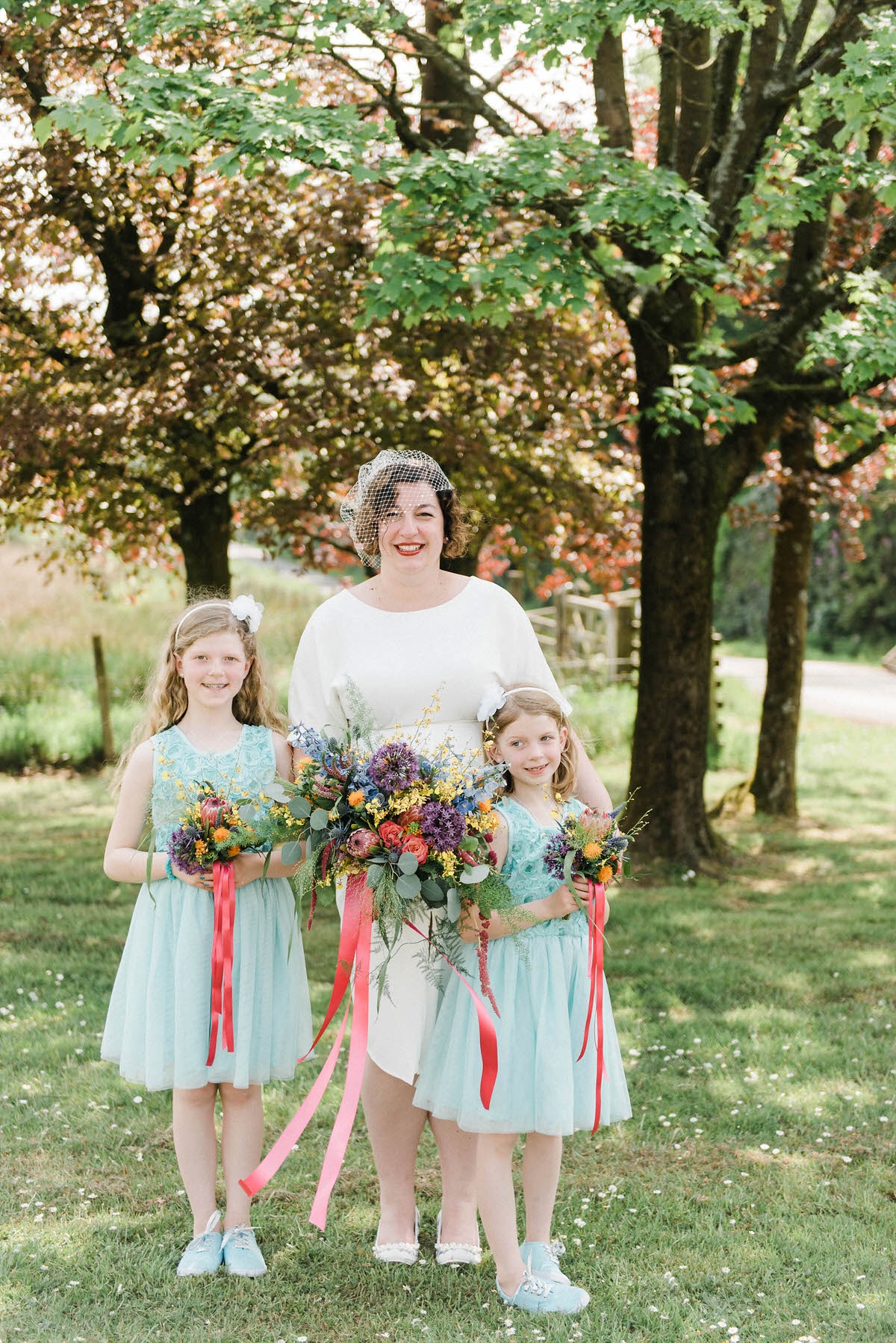 These images by Sarah Folega of Folega Photography capture the lovely Lancashire countryside marriage celebration. The pair had married previously on 1 July 2016 in a legal elopement ceremony in Bolton, but gathered their friends and family together this summer for a real party. They chose to hire Lantern & Lark's luxury cabins for a whole week to allow their Canadian guests to relax together.
"An Area of Outstanding Natural Beauty, it was reminiscent of the wilderness of Canada but with lovely English countryside remoteness. Jeremy Duckworth at Lantern & Larks was incredibly helpful and went above and beyond to help us have the best time possible. A real selling point were the self-catering cabins being so near the hall along with no wifi or electricity at the campsite. Everyone was present and enjoying the time together, not on devices."I always love hearing about how couples got together, and Natalia and Lloyd have a long cross-Atlantic history together. Originally meeting back in 2002 whilst Natalia was on an extended trip visiting a friend in Brighton, their friendship grew until Natalia returned to Canada, inadvertently breaking Lloyd's heart.
They remained in touch, catching up again in Bolton, when Natalia was back in the UK. In the meantime, both had got married, and Lloyd had a son. Now, over to the couple to finish the story, in their trademark upfront and honest way:
"Fast forward to 2013, when Natalia came back to London to work as a tour guide travelling Europe. Lloyd insisted on visiting her and they had a lovely afternoon in Clapham. A few minutes before he was due to depart Lloyd told Natalia that his marriage was 'up the spout'. After she clarified what in fact 'up the spout' meant she was empathetic to his sad news and they said a quick goodbye."
"As soon as the door closed she felt the strongest desire for him to come right back. After a hysterical call to her aunt Linda in Toronto to process what had just happened and admit she had always believed Lloyd to have been 'the one that got away.'"
"Natalia had a lot of mixed feelings about this news. She had just taken the job opportunity in Europe to be free and travel. Here was Lloyd opening up old feelings and possibly changing Natalia's course in life. Linda insisted Natalia tell Lloyd she had feelings for him."
"A few weeks of texts and emails passed by and eventually Natalia asked if he told her the news of being available as a friend or more. His reply was that they had always been more than just friends and he had fancied her since the moment they met. That clinched it, the moment of truth! It was a thrilling and difficult time.
A year of dating long distance, getting to know Lloyds son and adjusting to a life in England went by. In 2014 Natalia moved up to north England and they all moved in together."
"It has not always been the perfect story book romance, there has been homesickness and other difficult real life issues to adjust to, but the love is true and constant and it's a happiness neither of them have known before. It truly did feel like the right time to celebrate their relationship with everyone they love."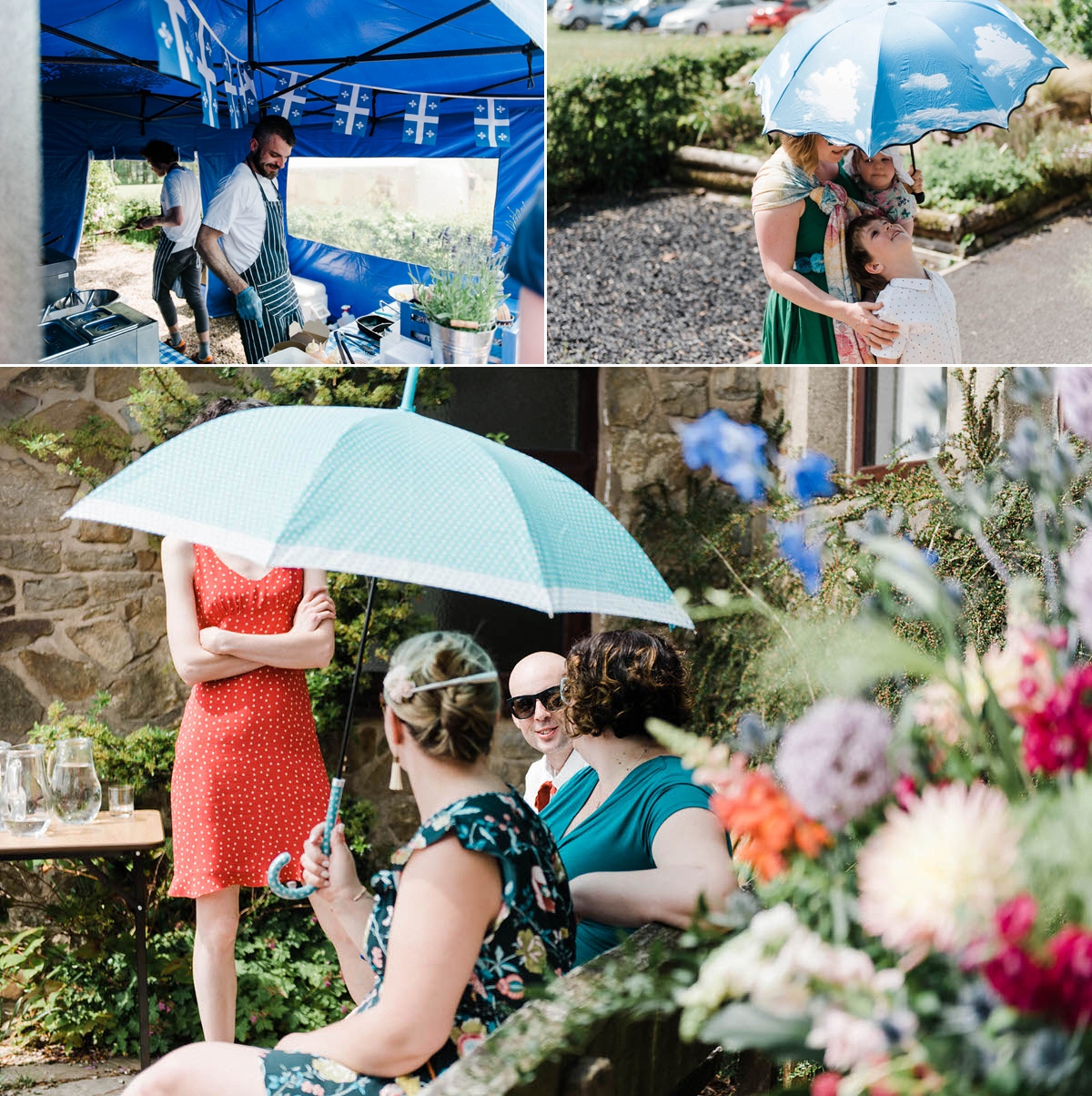 The flowers by Wild & Wondrous Flowers are magnificent, and really celebrate the beauty of English-summertime blooms. I love the different textures used and the hedgerow feel with the trailing orange ribbons.
"Wild & Wondrous Flowers of Horwich create really stunning creations, eco-friendly and local. We gave very little guidance and the flowers for the elopement and the secondary wedding were just stupendous."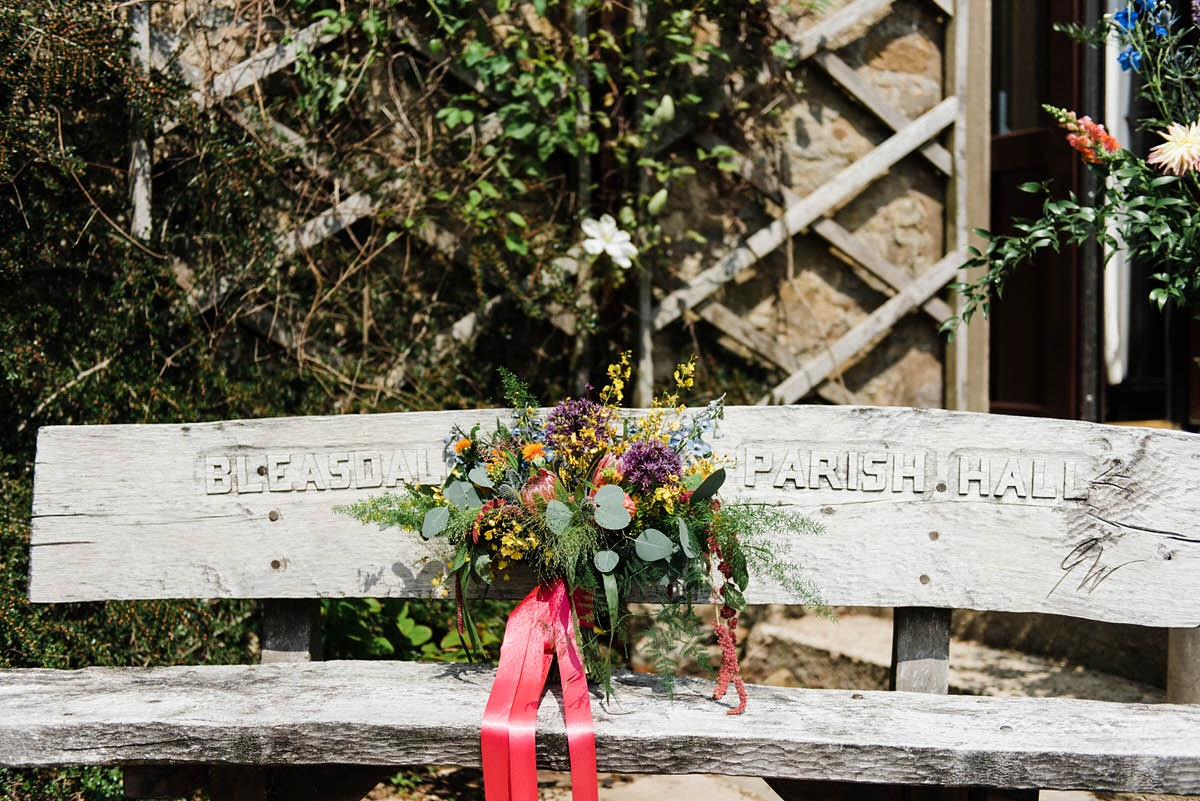 The local village Parish Hall was used as their base, but the weather was so lovely they were able to marry outside. I adore the simple set up, with an aisle strewn with flower petals.
[ASD-TOP-THREE]
Lloyd's son and their two little flowergirls walked up the aisle first, followed by Natalia and her father Frank. The music chosen was an acoustic version of Eurasia's 'Always' – Lloyd sang this and played it a lot for Natalia in their early days of dating.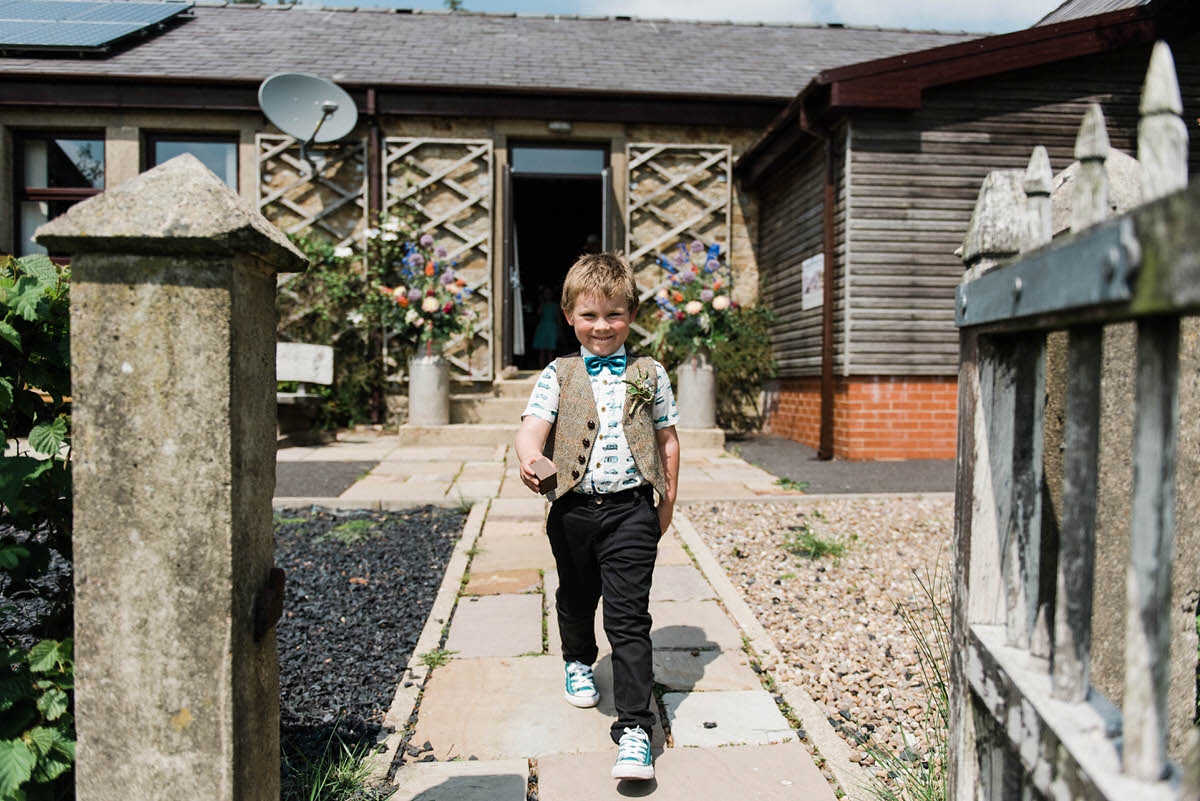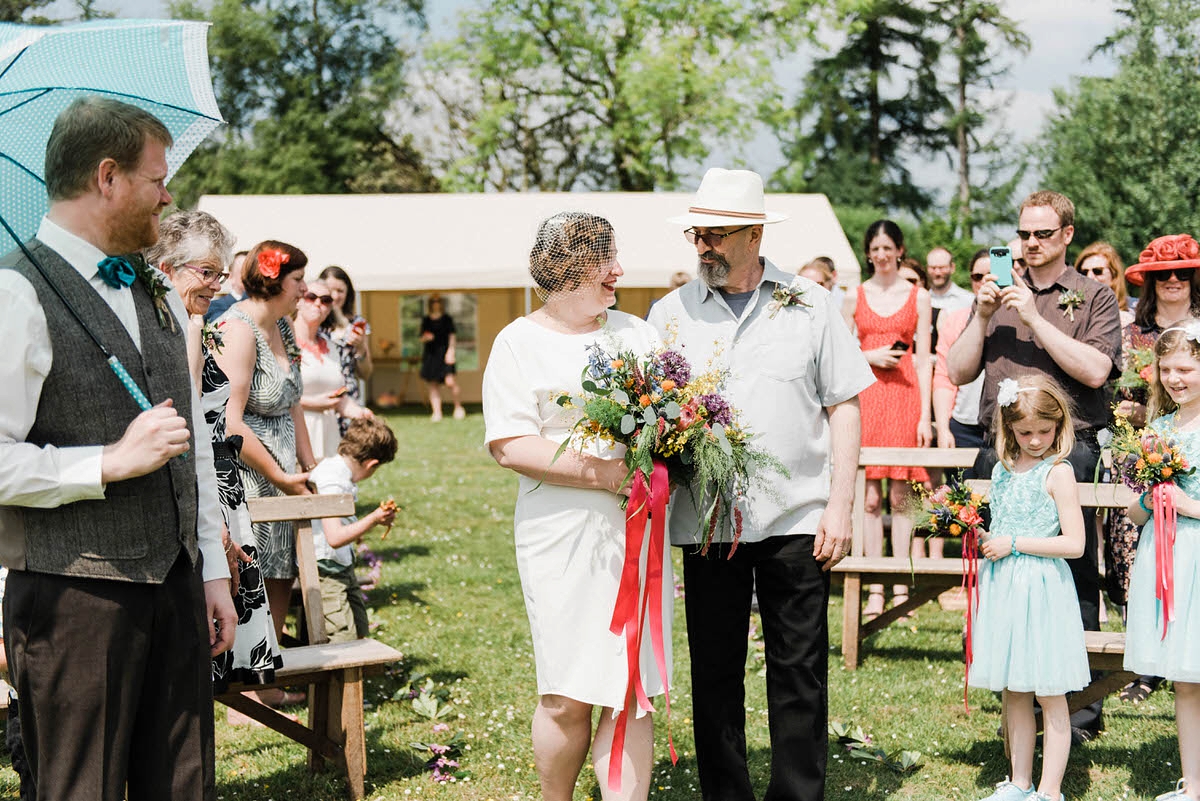 The couple asked their best friend to act as officiant for their celebration ceremony.
"We had a friend read the officiant role from the ceremony of the elopement. Being our second marriages for both we wanted to emphasise how much the support of our friends and family meant to us. We did amend the vows from the standard ceremony options provided by the registry office, melded the ring portion from one to the vow section of another."
"We wanted the mention of love more than legal obligation and no mention of God or religion. It was lovely to have a second chance to say them and to have our best friend be the officiant in an unofficial capacity."
The couple's rings were bespoke by Justin Duance, crafted from laburnum wood, palladium and a Canadian diamond. Natalia's engagement ring was also Justin Duance, made using gemstones selected by the couple.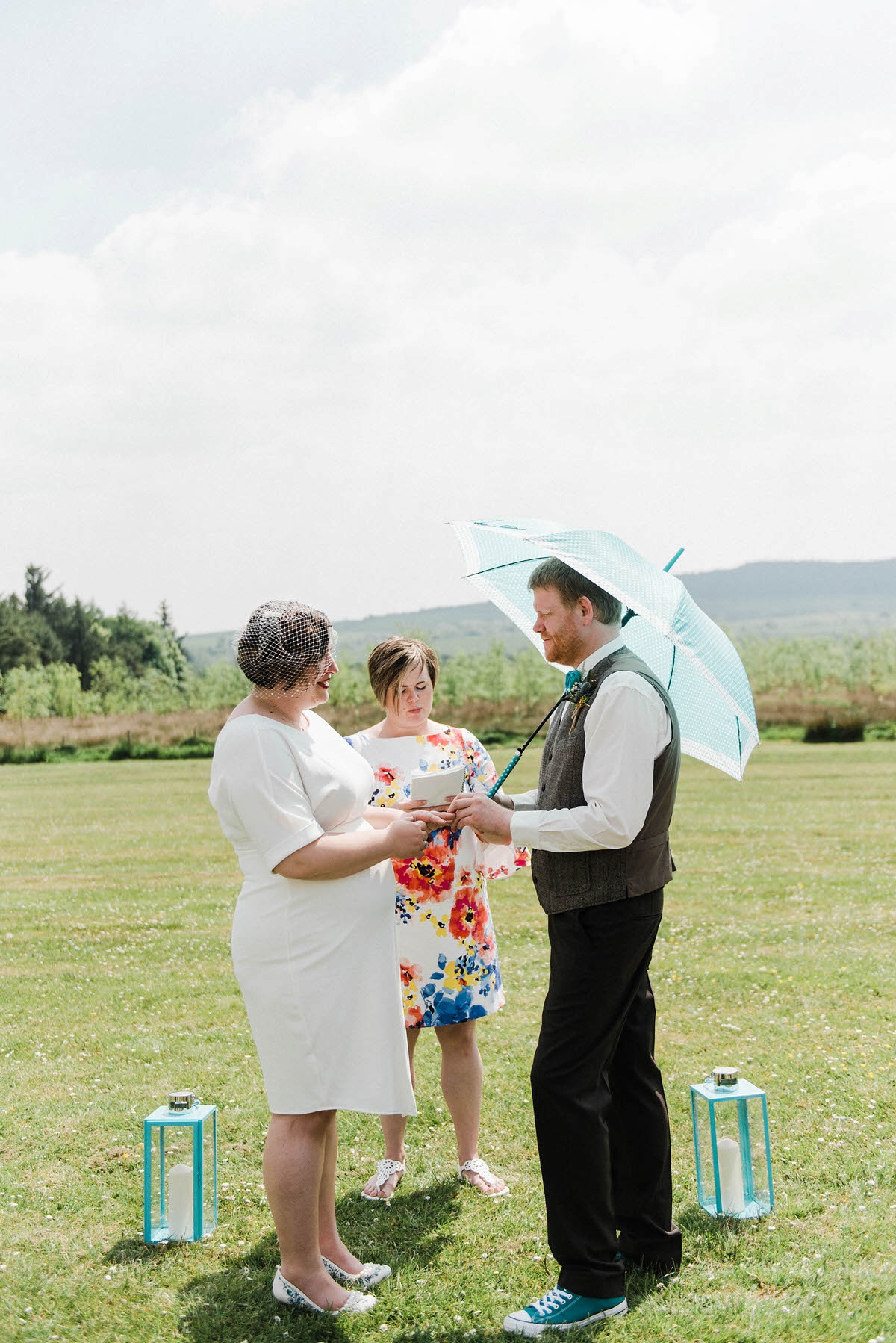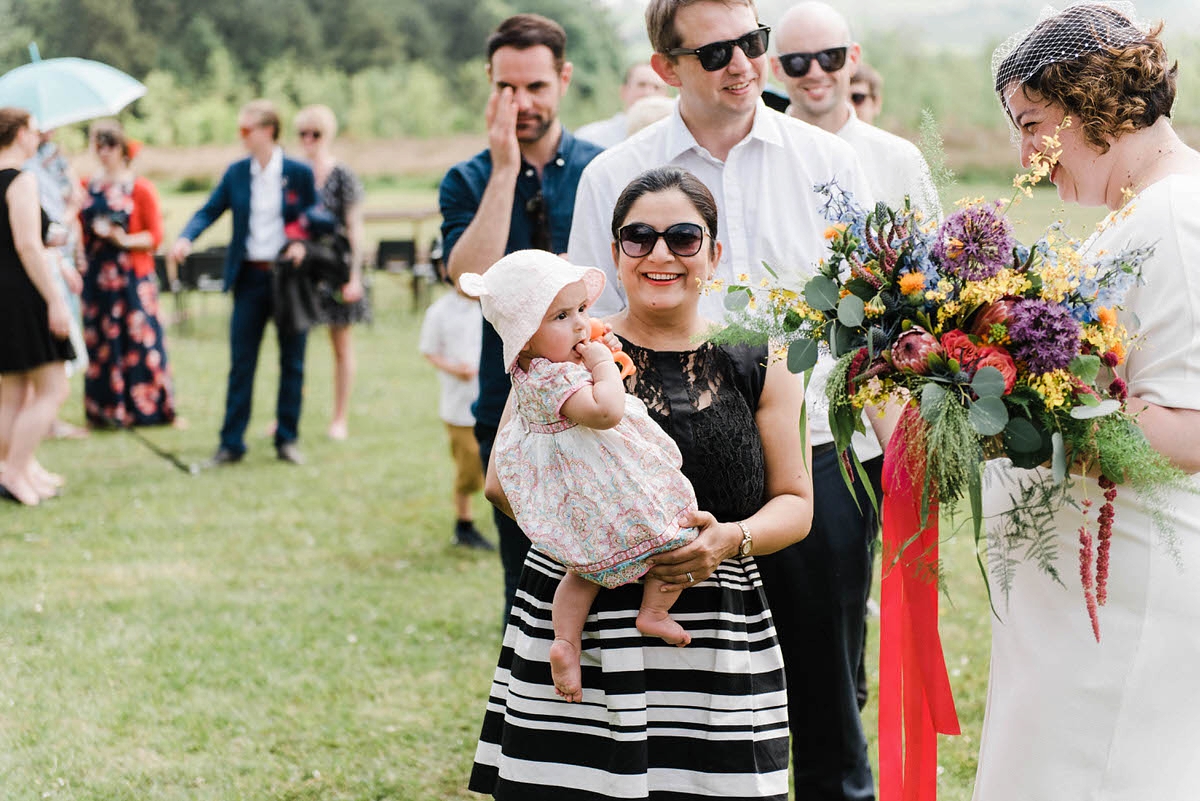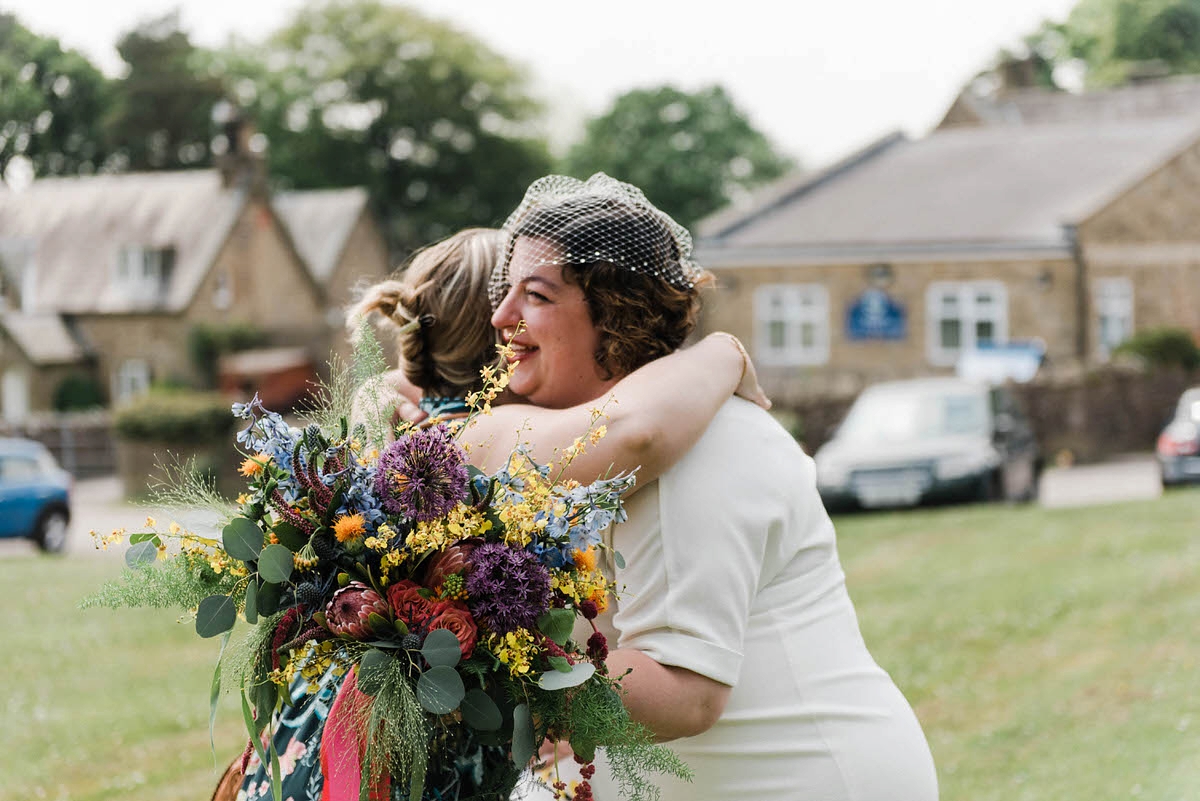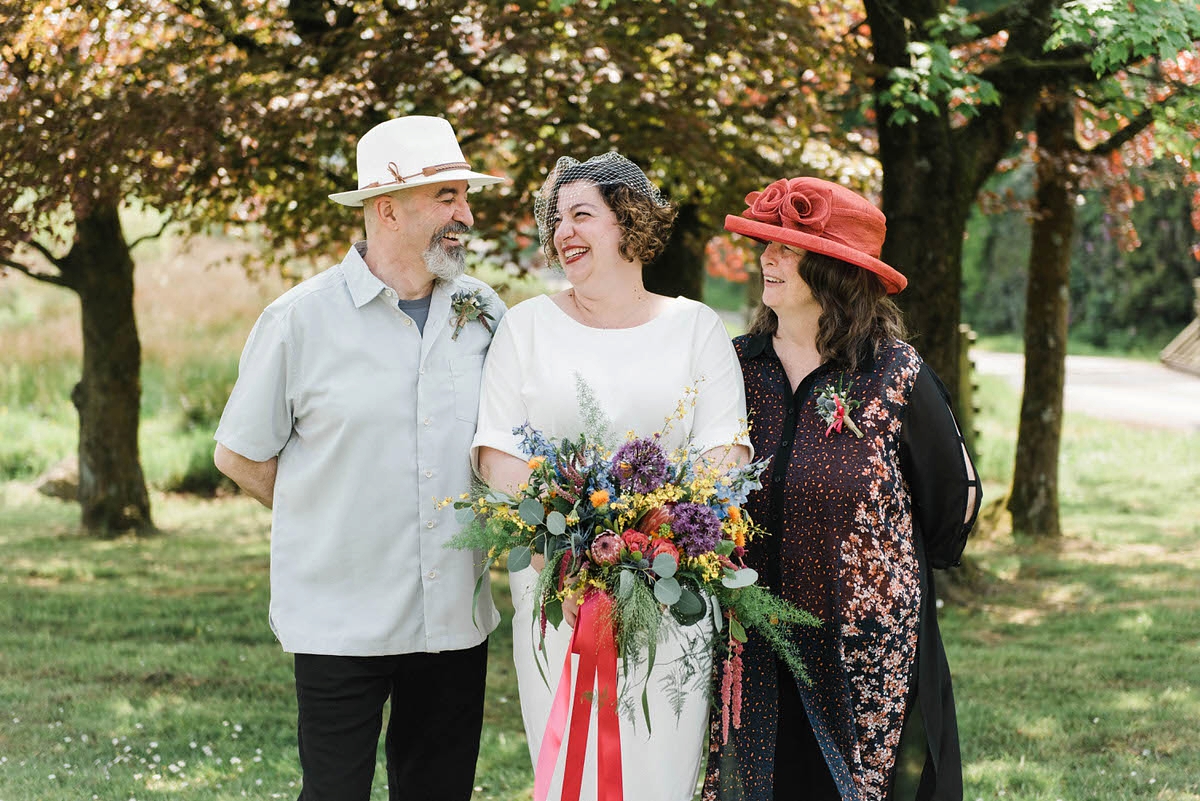 Just take a look at this table laden with cakes and sweet treats. Kate Sully of Sky Meadow Bakery in Brighton baked these creations.
"Her work is immaculate to look at and tastes divine. Taste was a key factor in our decision as Natalia is a foodie, so not only was it amazing to have loads of input into the styling and decorations but the flavours were being raved about for days after. The two-tier layered lemon cake and one-tier layered Black Forest cake at the wedding celebration were totally devoured and were so fresh and delicious."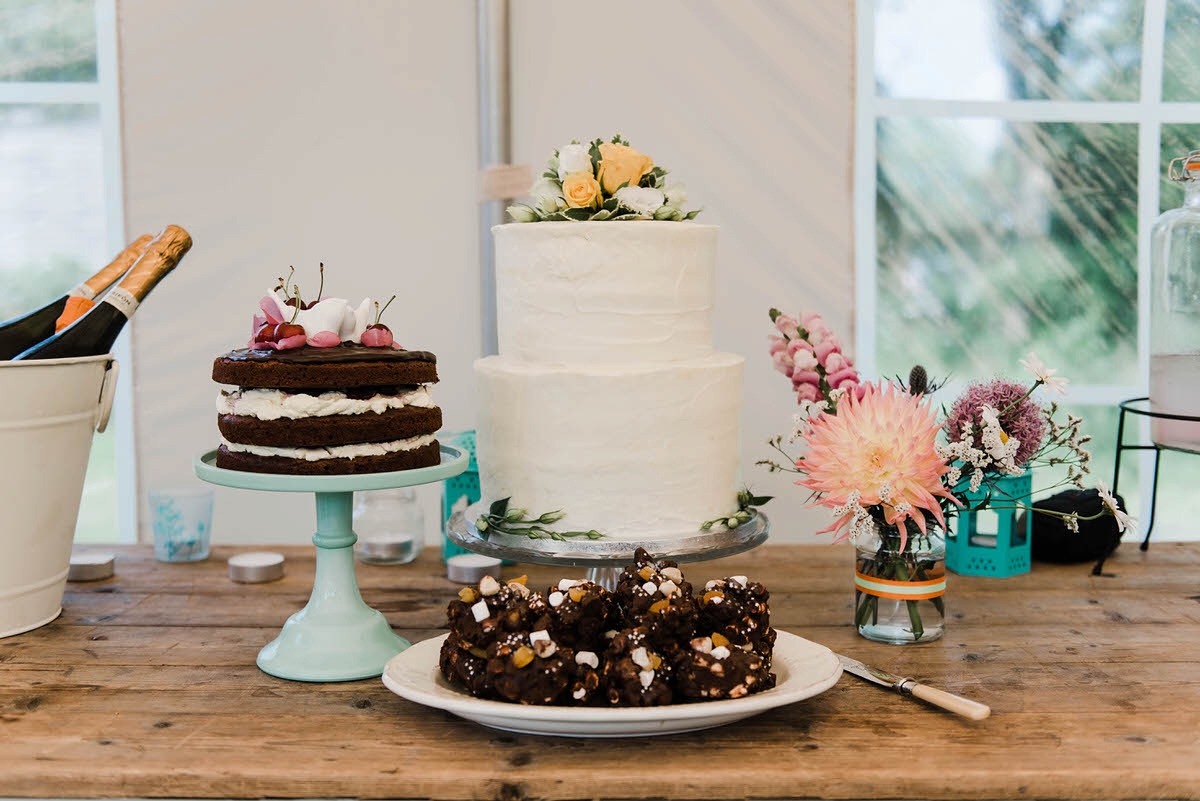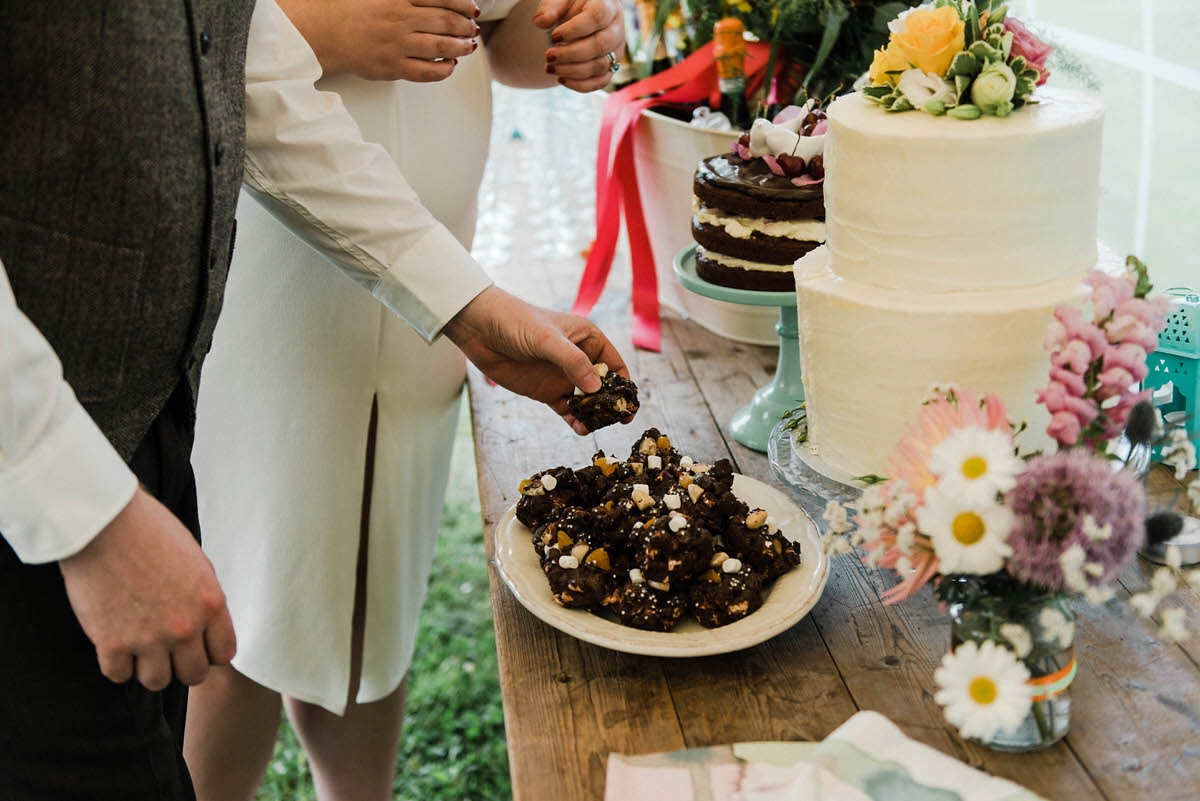 The couple chose crowd-pleasing party food for their savoury options. As well as delicious-looking fresh Woodland Rover pizza (actually baked in a Land Rover), there was Canadian 'Poutine' provided by the The Blue Caribou Canteen. If you've not heard of it before, it's a Québécois dish made from French fries and cheese curds topped with gravy. The favours were also foodie; Purdy's maple syrup-flavoured chocolates from Canada brought over by Maid of Honour Sam as a surprise.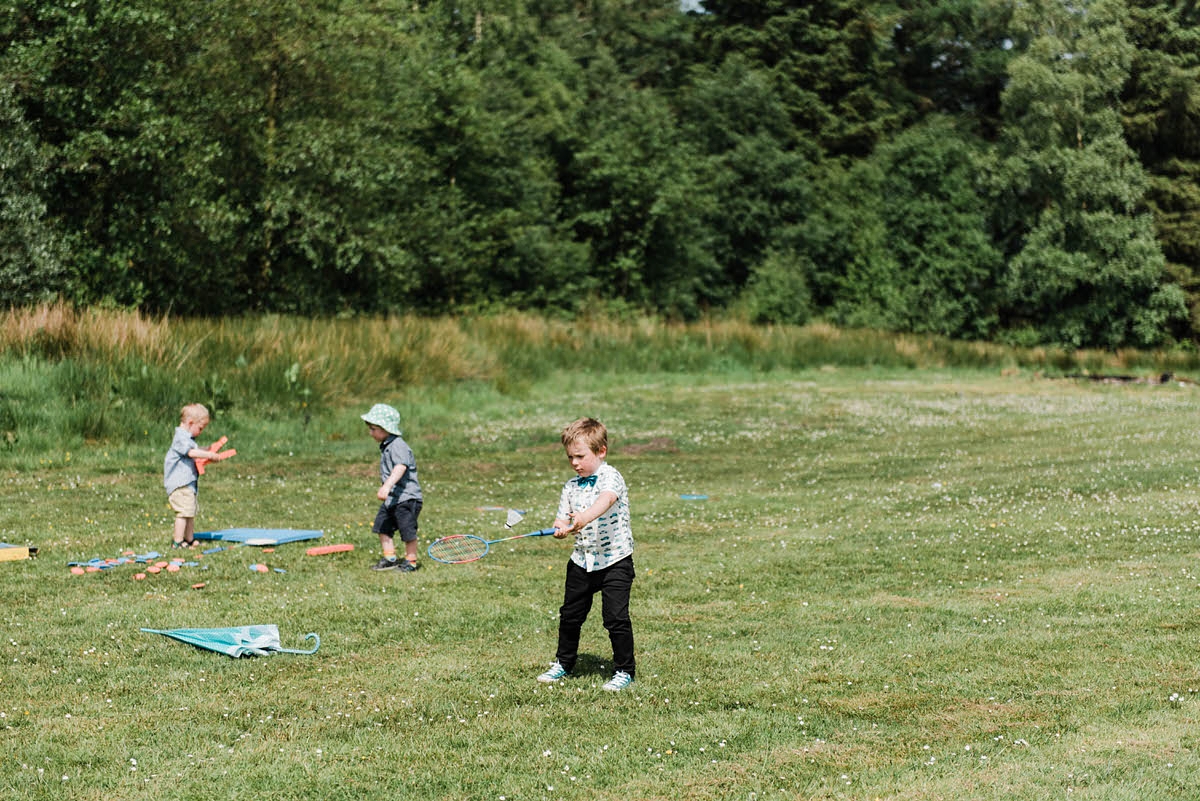 After the ceremony the guests had time to chat and relax before a party in the marquee. Folega Photography took the couple away for some portrait shots in the surrounding woodland. The results are fun and relaxed, with a really joyful edge.
"Sarah is highly recommend for professionalism, kindness and fitting into the group for really amazing candid shots as well as lovely posed images. We loved her work so much we hired her for the second ceremony and our new-born baby shoot in the fall."
"Photos were the most important and in fact largest part of the budget and with Natalia being an amateur photographer always behind the lens, the right choice was super-important. We could not be happier with her style and the photos of both events so far. There may never be another time our families and friends will be all together in one spot, so these prints will provide happy memories for a lifetime."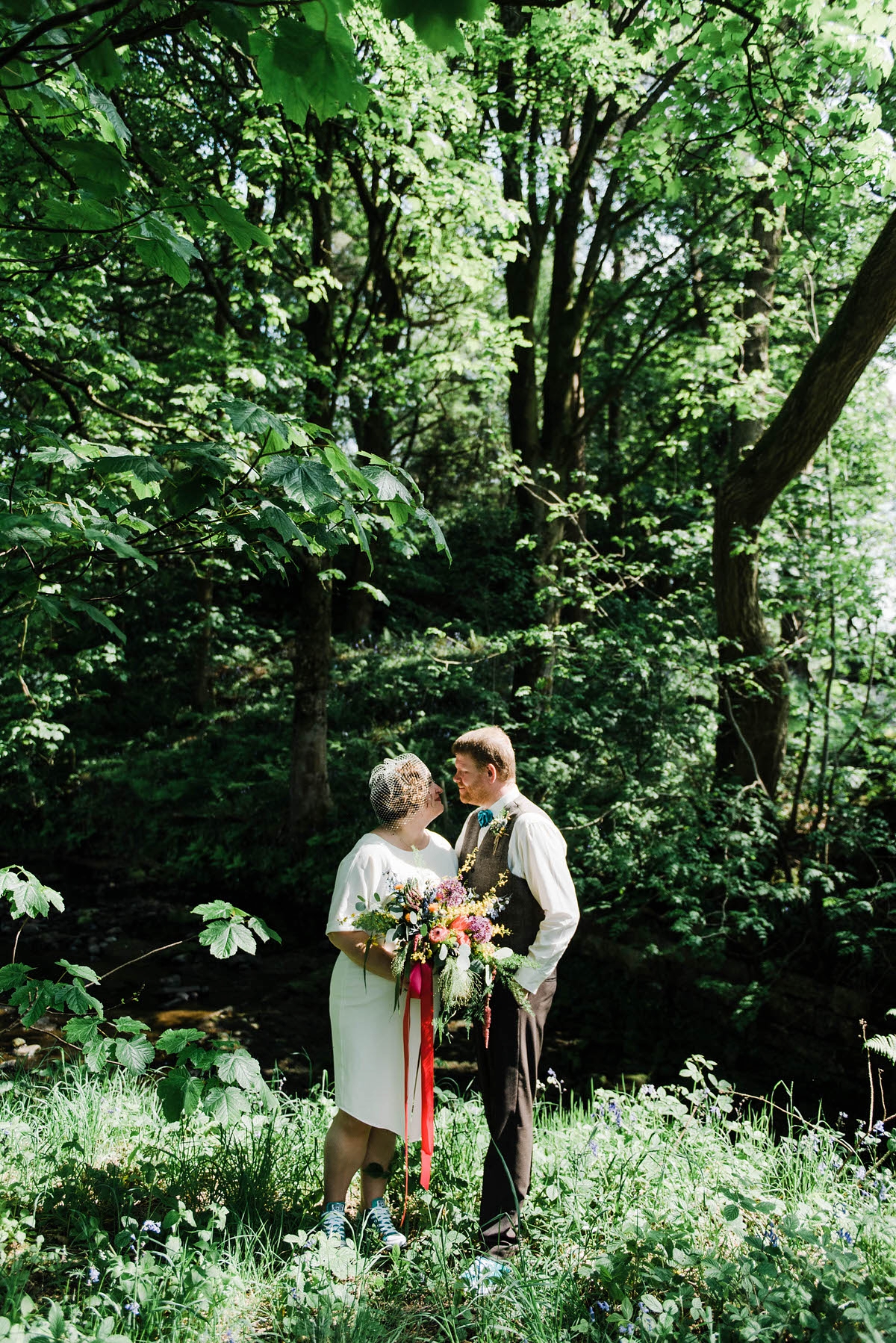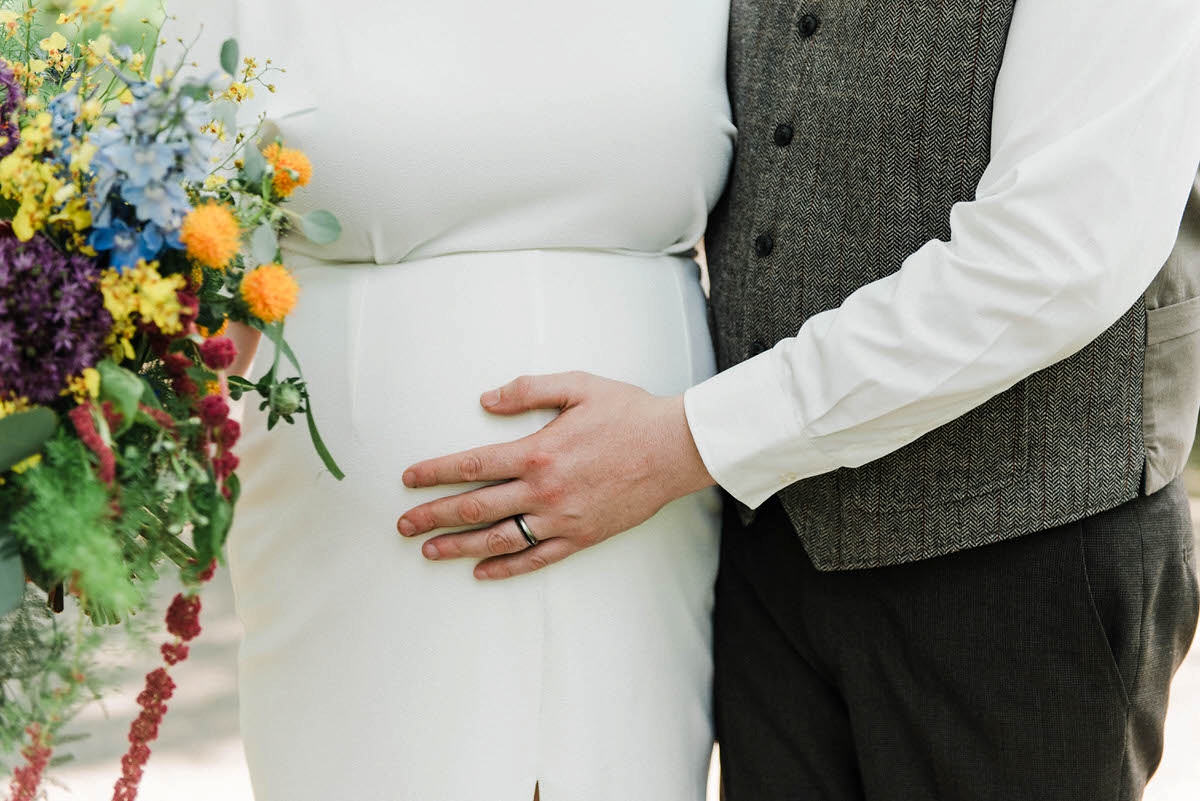 Words of Wedded Wisdom
"Remember it is about the relationship between you and your fiancée that has to last a lifetime; it's memories for your life to share. It is not about anyone else, or how much you spend or how perfect the day is."
"It is about the commitment and love and having people around you who genuinely care for your well-being as a couple and individuals. The key for us was to have a relaxed and casual atmosphere where we could all be ourselves and truly enjoy lots of time together."
Well thank you Natalia and Lloyd for sharing your countryside wedding and for your honesty about planning a second wedding. Sending so many congratulations on the birth of your baby son too – if you'd like to, you can follow Natalia on Instagram here for some gorgeous pictures of the new arrival. And many thanks also to Sarah Folega. Find out more about her on her Little Book for Brides listing here, and take advantage of her special offer too. There's also plenty more of her work on Love My Dress for you to enjoy.
Ele xx