What age is too old to have an advent calendar? With December just around the corner I'm looking forward to the daily 'treat' of opening up a little window to discover the picture and chocolate underneath. I hope that it's not just me?
There's a real treat for you today; the autumnal Scottish wedding of Gill and Andy who married on 29 October 2016 at Tarbert Parish Church, Argyll with a reception at Crear, a modern studio venue right on the coast. The day was characterised by seasonal mists, warm tones of berry reds and greens with cosy, creative touches, influenced by the rural location. Film Worldly Nomads. Andy, an offshore surveyor proposed to Gill, who works as a project manager, between Christmas and New Year 2015, four years after meeting her in a Glasgow nightclub. They were lucky enough to find their reception venue the very next day.
"Andy proposed on a visit to an estate in Argyll that he used to work on when he was a student. He worked on the farm there and it is in a beautiful setting overlooking the west coast of Scotland and the Isle of Jura. Andy had always wanted to get married at a venue on the estate called Crear so we popped in the morning after we got engaged, just to 'have a look'. We bumped into the lovely Julie at Crear who was happy to show us around even though we just turned up, still giddy from the excitement of the day before!"
Film by Worldly Nomads
How brilliant to hear that Gill had great support from the Love My Dress private Facebook group in the run-up to the day.
"Join the Love My Dress Facebook group. It is a wonderful source of support, advice and ideas. I joined quite late in my planning process and I wish I'd joined earlier."
Photography Adam and Grace Photography
Gill's grown-up bridesmaids were dressed in long, elegant Ghost gowns in pale pink, selected at Glasgow's Melle Cloche. Like the bride, they wore fresh flower clips in their hair. And how cute is the flowergirl in her pretty white Monsoon dress with its pink sash?These lovely photographs are by Adam and Grace Photography. I especially like their cinematic-style shots of the misty Scottish landscape and Crear decorated with hundreds of fairy lights.
"It was such a pleasure to work with Adam and Grace. We booked them having never met them which was a bit scary but they came over from Northern Ireland to do an engagement shoot with us in the summer in Perthshire and they were brilliant. It made such a difference having the shoot as we knew what to expect on our big day and we were much more relaxed. They captured everything so perfectly and so many details we would have otherwise forgotten. They were everything you'd want in a photographer; discreet, relaxed and professional."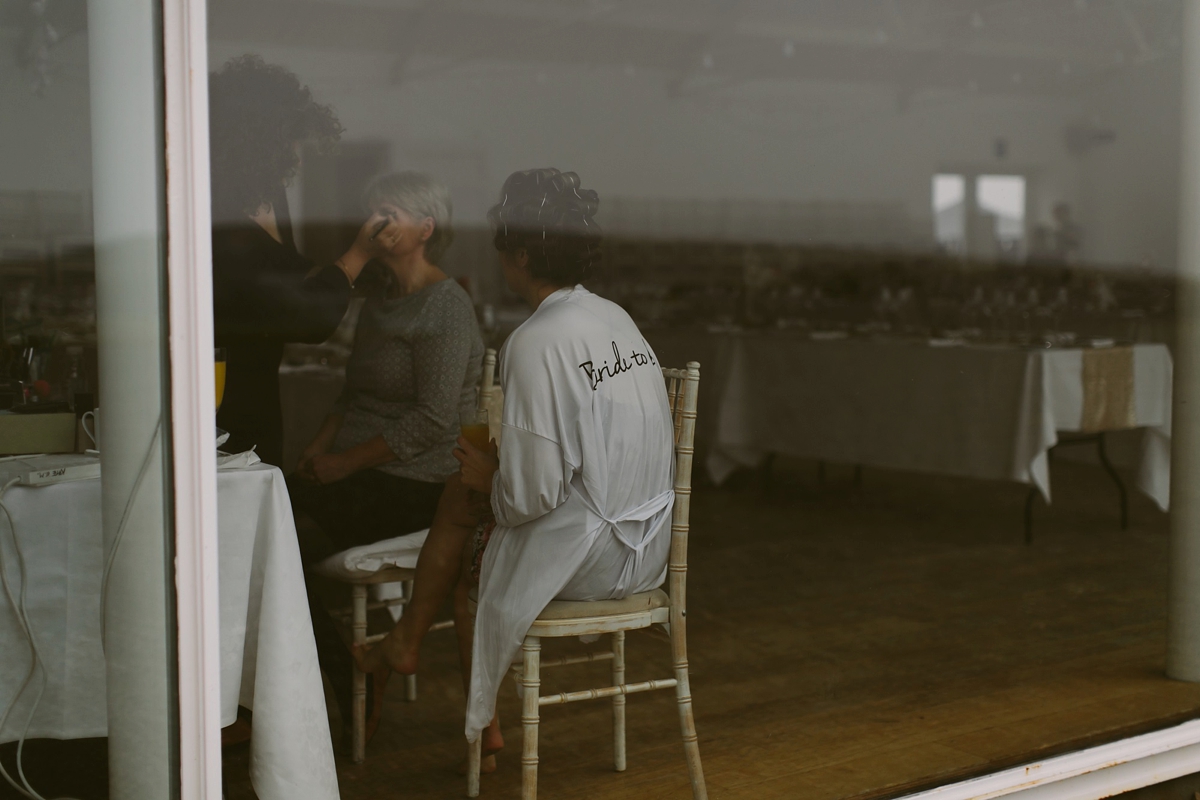 Worldly Nomads captured and edited the couple's delightful wedding video.
"We are so glad we chose to have a video of the day; there is something about film that captures more than a still photo can. We had seen Barry's work online and his style was exactly what we wanted. He is very good at what he does, discreet and so professional. It is something we'll treasure forever."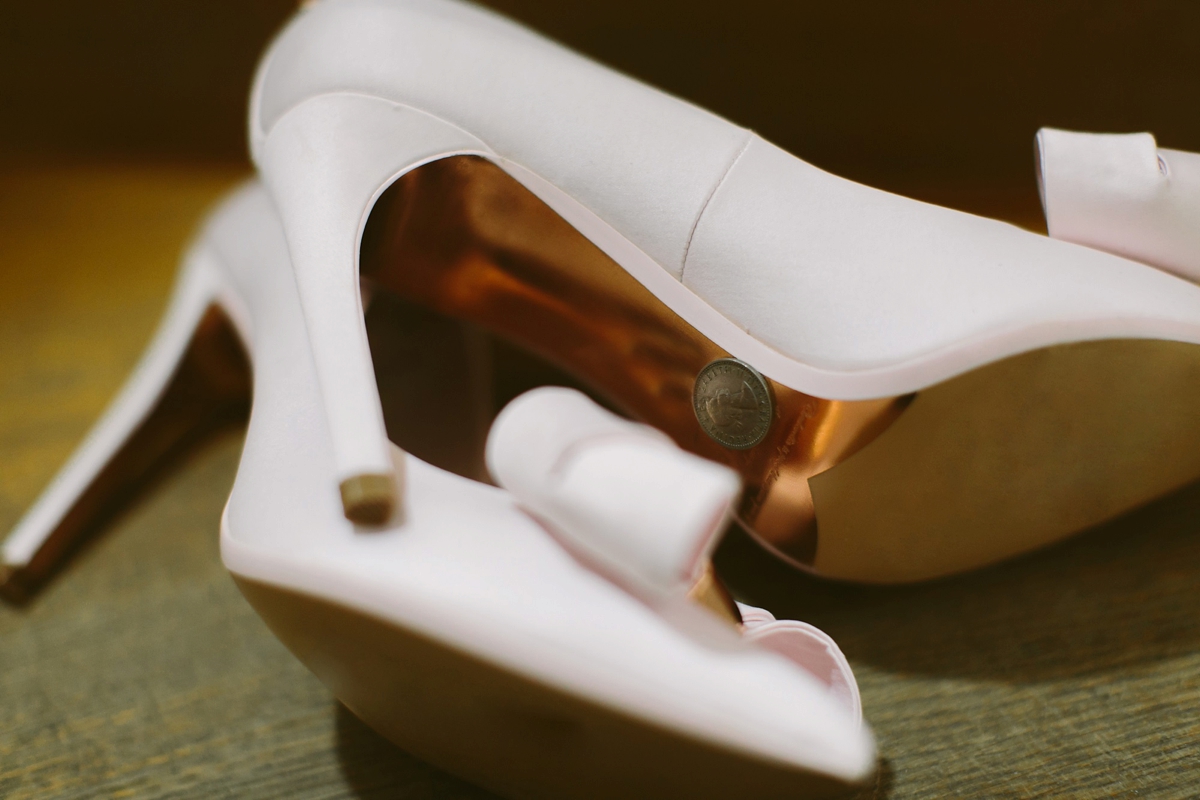 You may recognise these pastel pink heels with their oversized bows as a distinctive Ted Baker design. I just love the combination of modern shoes with the more traditional gown. Gill also wore a Monica Vinader bracelet and earrings, a gift from Andy and had a simple fresh floral clip holding back her hair. I love her relaxed bridal look of discreet and pretty make-up and long curls styled by Kate Elliot-Muir.
Like many brides, Gill chose to layer different perfumes for a unique scent.
"I had a bridal consultation at Jo Malone in Glasgow and they were wonderful. I love peonies but getting married in late October I knew there was no chance of having them in my flowers so it was nice to have them in my perfume instead. I layered English Pear and Freesia with Peony and Blush Suede."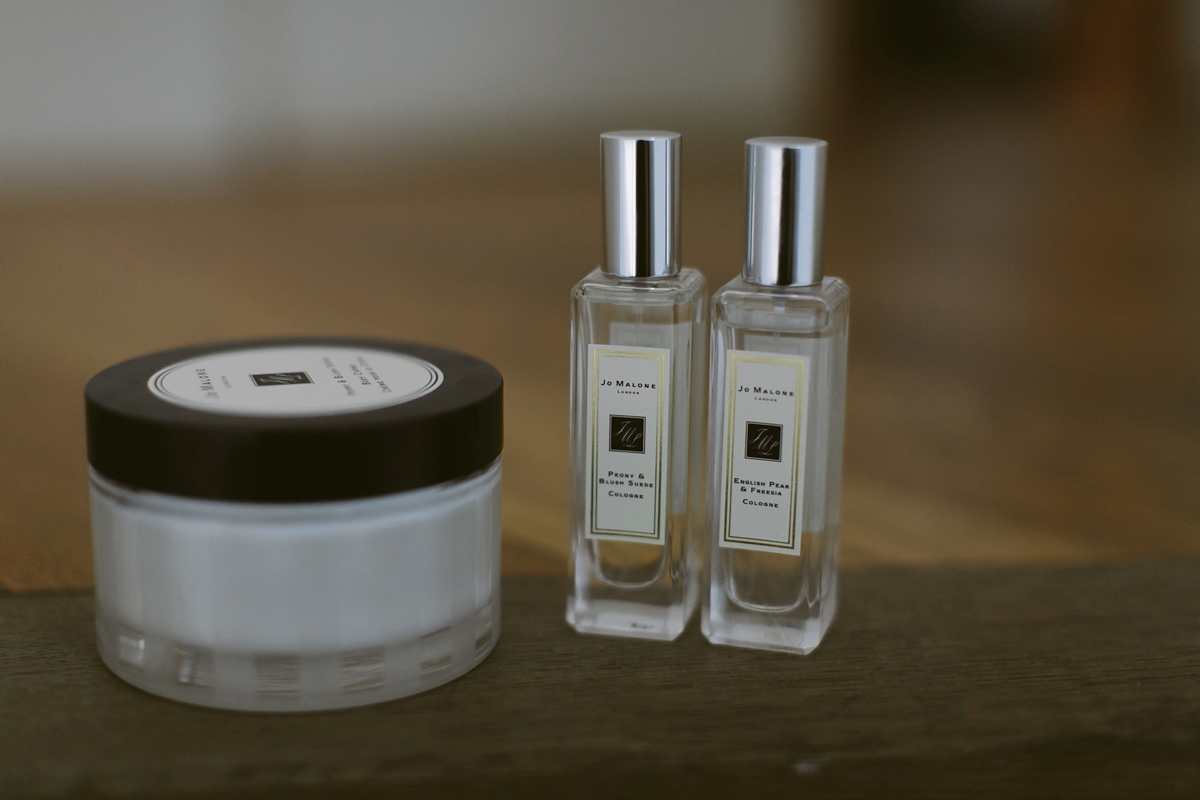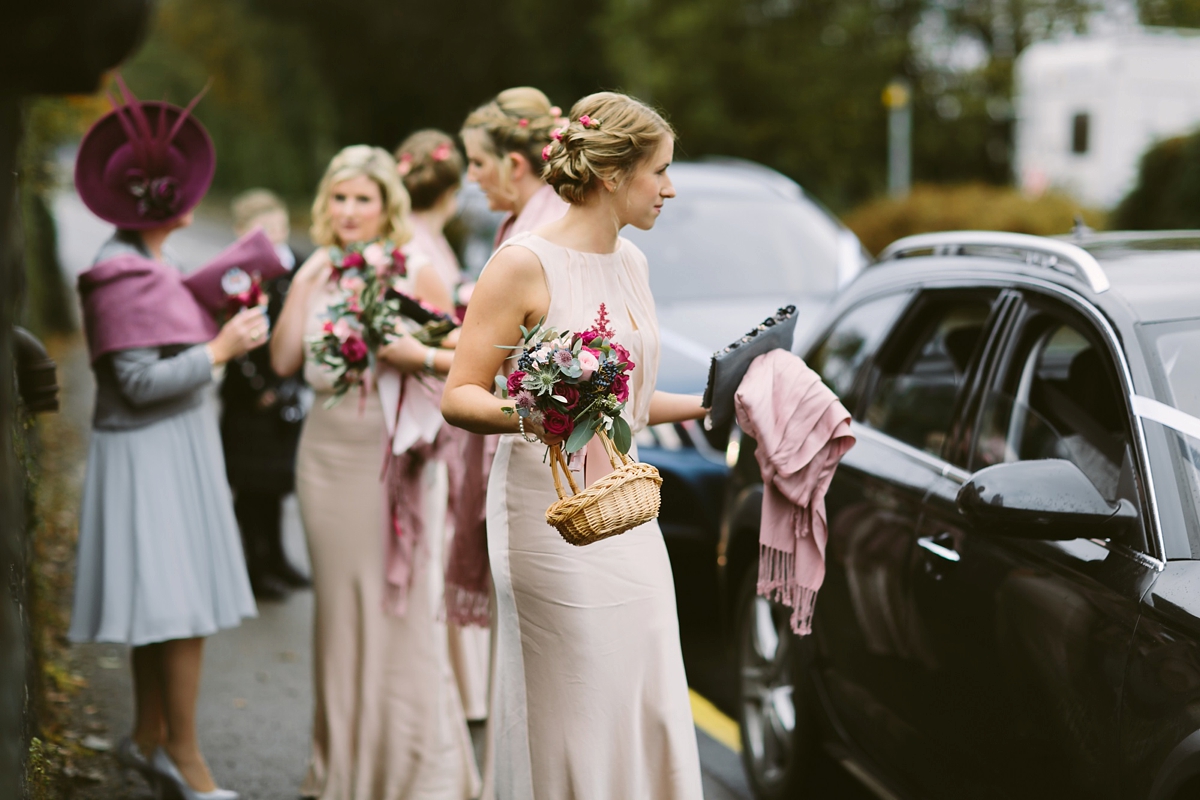 "Immediately, we fell in love with the beautiful surroundings, relaxed atmosphere and that we could have it for three days over a long weekend. We then visited a number of churches in the area. Tarbert really stood out as it is in such a lovely, pretty fishing village and in a beautiful setting; high on the hill looking out over the marina and it was a perfect place for our guests to base themselves."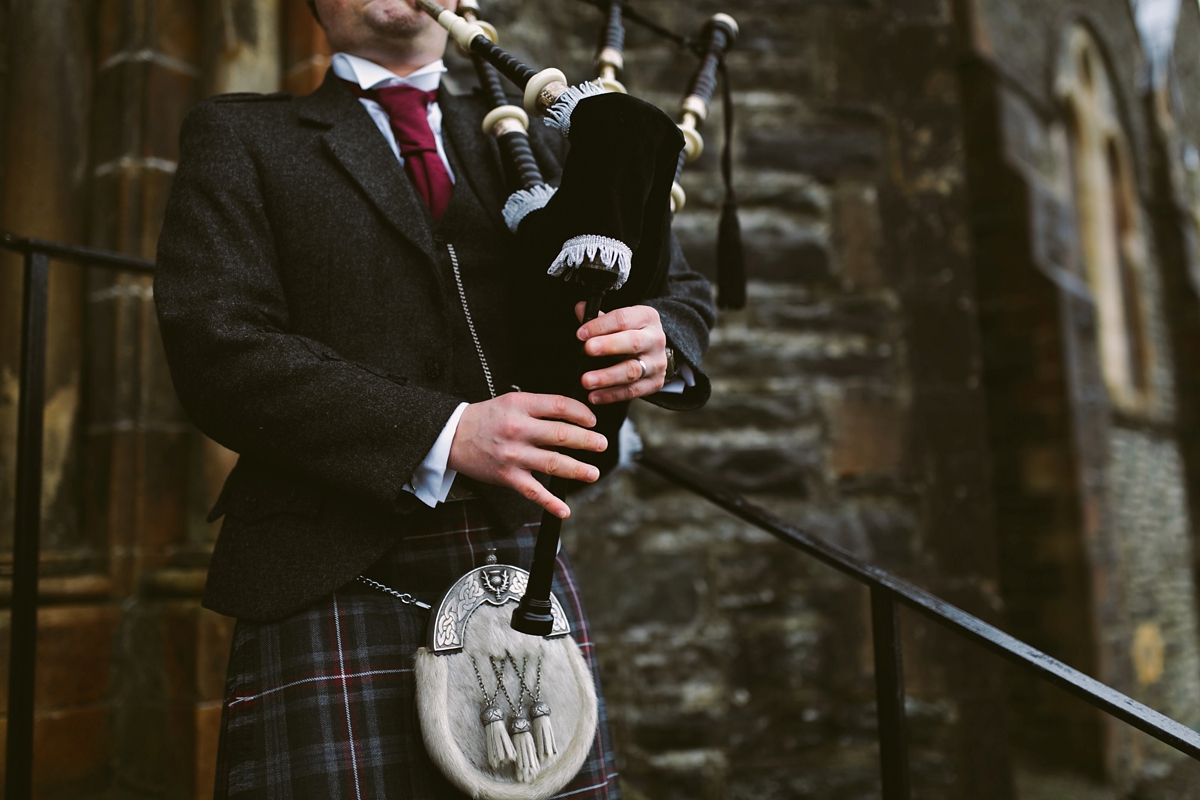 The bride found her fitted Pepe Botella wedding gown at Christie Couture in Clarkston. Its lace cap sleeves are so dainty yet perfect for the cold October weather and its pure white shade looks lovely with the warmer tones of the wedding flowers.
"I found the dress on the first day of trying on dresses but returned after a few weeks of trying different options. I couldn't get it out of my head! I realised quite early on that I wanted something fairly fitted and I loved the shape and the detail. It did get very dirty as the day went on but I was traipsing around in muddy fields during the photos and so I felt it was a sign of a good country Argyll wedding."
It's always so lovely when brides borrow items from their family and friends, and Gill's long, satin-edged veil which flows over the gown was her 'something borrowed' from her future mother-in-law.
"I always knew I wanted a veil. I love the drama of it and when else in your life can you wear a veil? After choosing the dress I knew that a satin edge would be perfect. My mother-in-law mentioned that I could use her veil. Despite being 30 years old it was in perfect condition and the style was ideal. It was lovely to be able to use it again."
Tarbert Parish Church was the venue for the service and Andy travelled there in his own vehicle.
"Andy's pride and joy is his Land Rover Defender and he took great joy in driving it to the church with his best men of the day."
"Our Minister Fraser is a close family friend I have known since I was born. From the first few days of planning we knew we wanted Fraser to marry us. A few months before the wedding we met Fraser to discuss our vows and their meaning. It really helped to put everything into perspective."
The bride entered the church with her step-dad Charles.
"I really expected to be overwhelmed with emotion while walking down the aisle and was so worried I wouldn't be able to hold it together. But in the moment I was so excited about seeing Andy and having all my favourite people under one roof in such a special place that I was overwhelmed with joy rather than anything else!"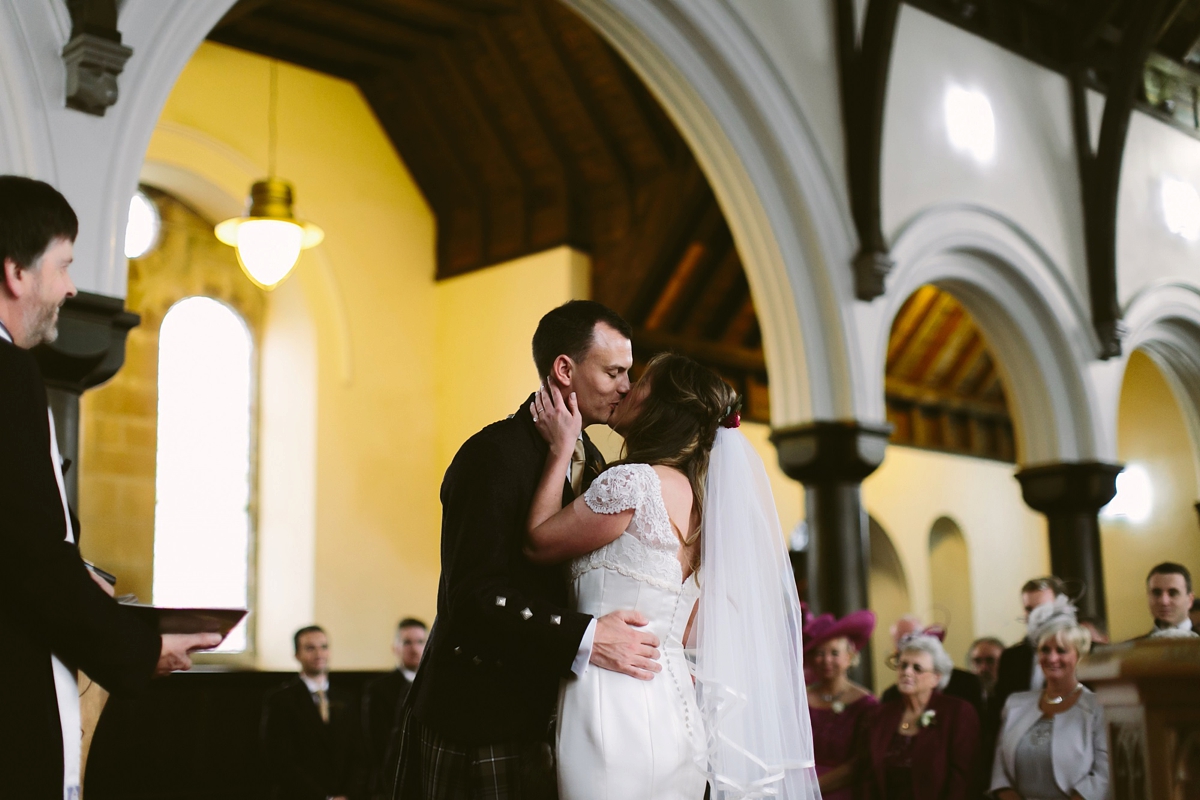 Their two readings were Corinthians 13:1-8 and 13 and 'The Wedding Reel' by Valerie Gillies, chosen for its Scottish feel from a book given to them by Crear. The lovely quotation below is Gill's favourite part of the poem;
"As silver buckles on a belt are clasped
so linked in love they'll live and hold at last
As two streams flow to join the greater river
the land between is fruitful, blessed for ever
As verse and tune match one harmonious ideal
you'll dance barefoot in the first wedding reel."
The couple's wedding rings were found at Laings, Argyll Arcade. They chose to add inscriptions on the inside of their initials and the wedding date – is this something that you would consider?
"Choosing our wedding bands was one of the easiest decisions of the wedding planning. I had tried on a wedding band when we chose my engagement ring that I loved and Andy was keen to have yellow gold, the same as me."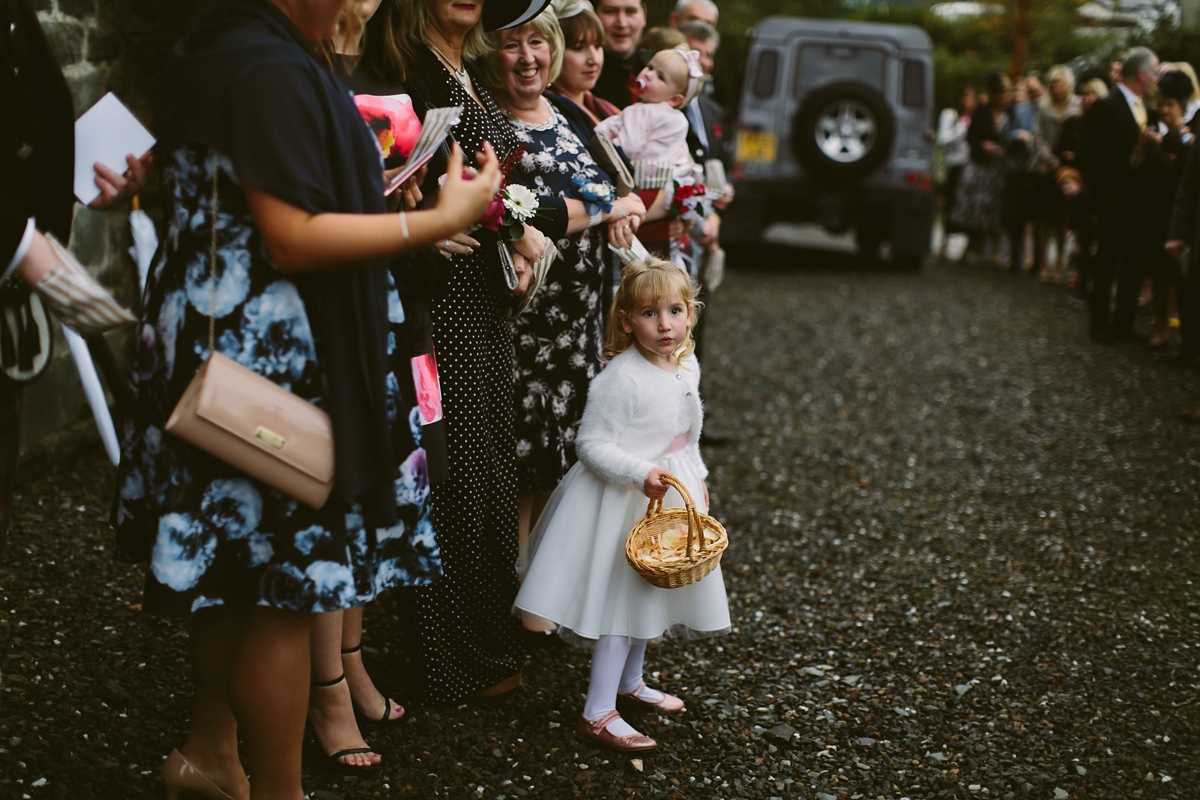 The groom and his party dressed in traditional tartan kilts hired from James Robertson Kiltmaker in Glasgow.
"We wanted a neutral, muted tartan with grey tweed jackets and the selection was excellent. James also made Andy's sporran which was a wedding gift from me. It is really special as we chose every detail so it's totally unique."
Their unusual buttonholes with their soft pheasant feathers were created by Ginger & Lime, who did all of the seasonal wedding flowers.
"The bouquets and centre pieces had lots of texture and colour mixed in with some pale shades, roses, thistles, eucalyptus, berries and flowing ribbon."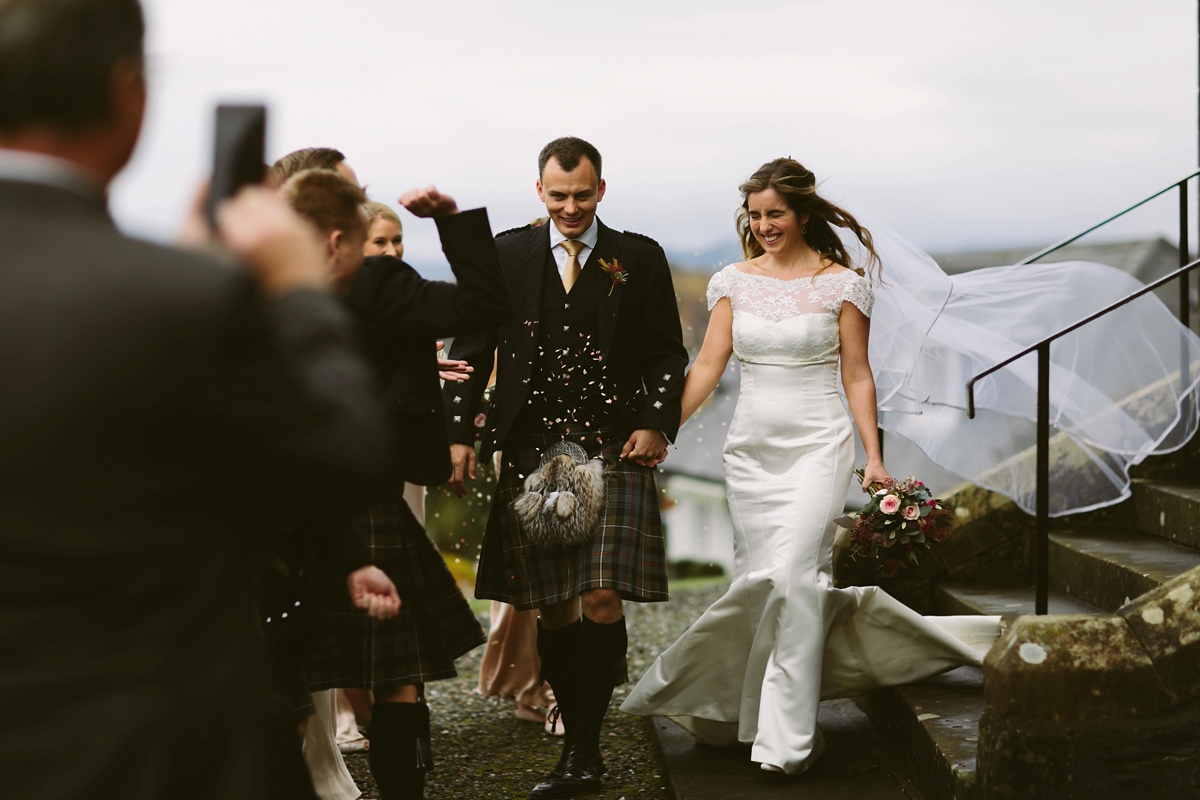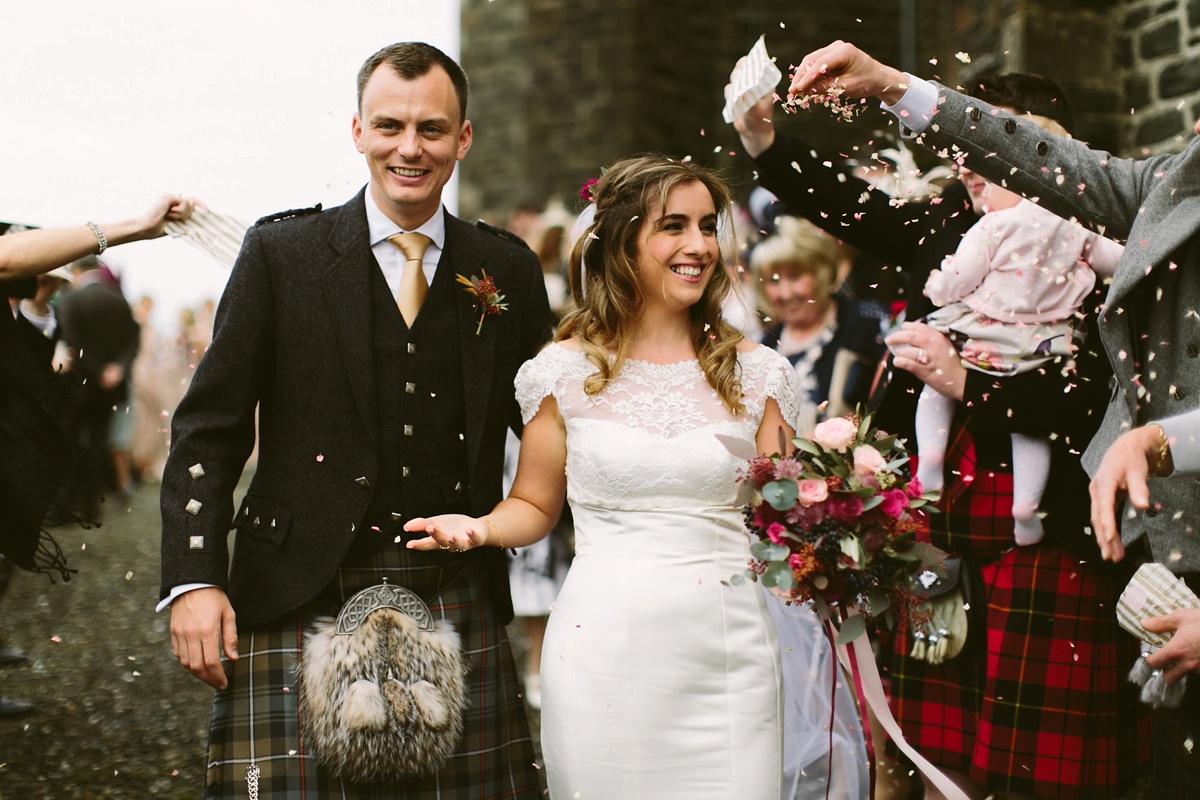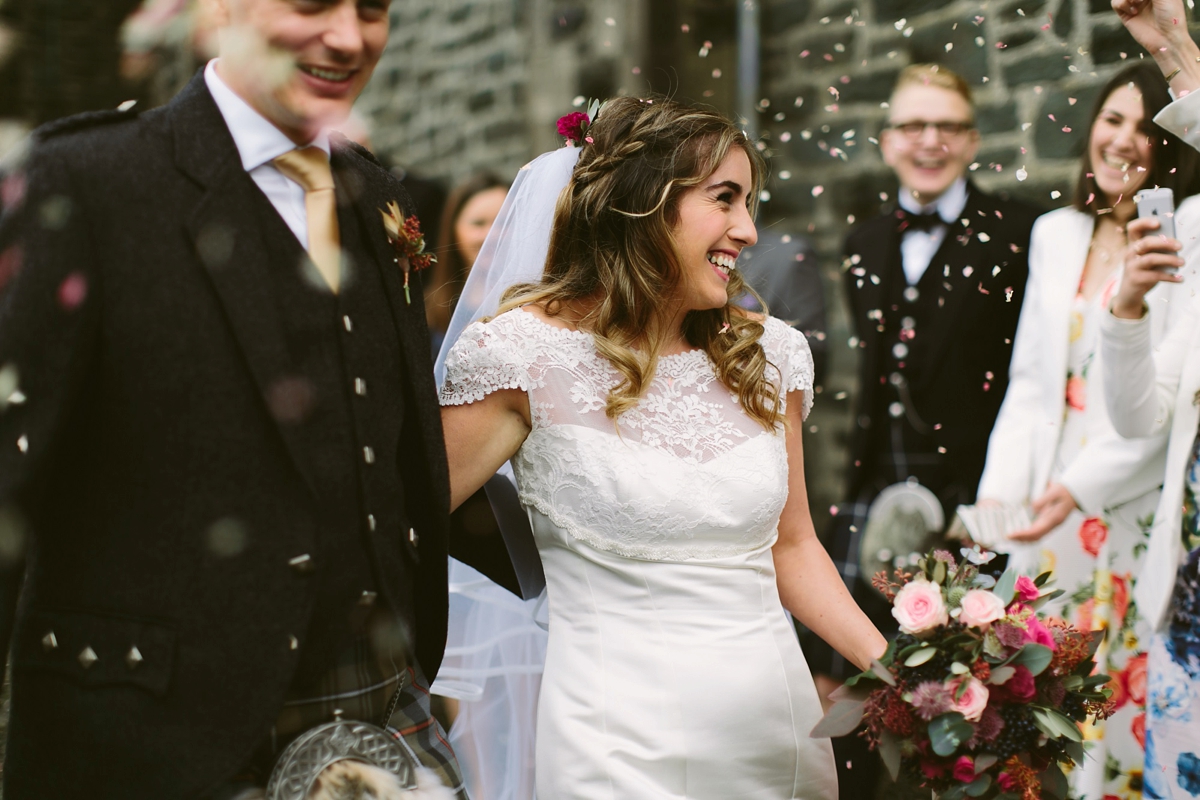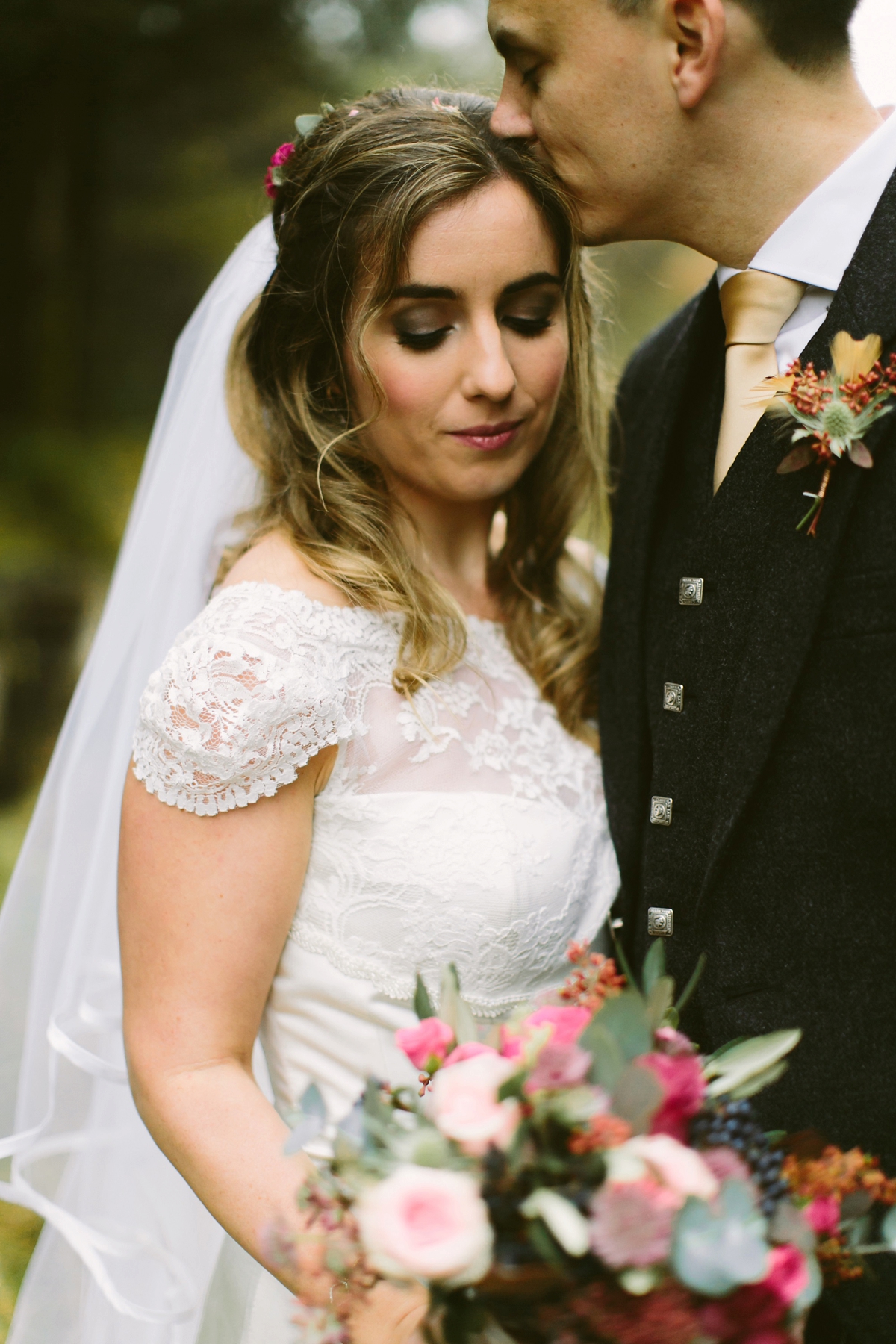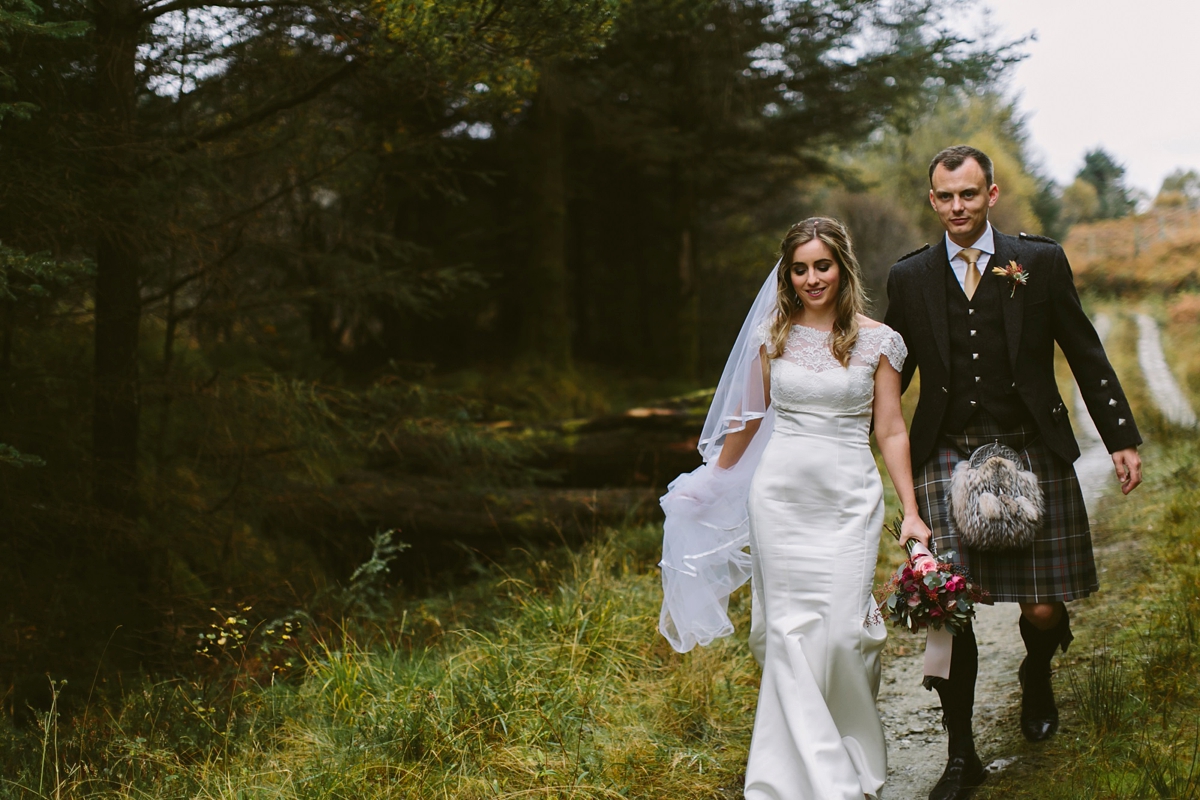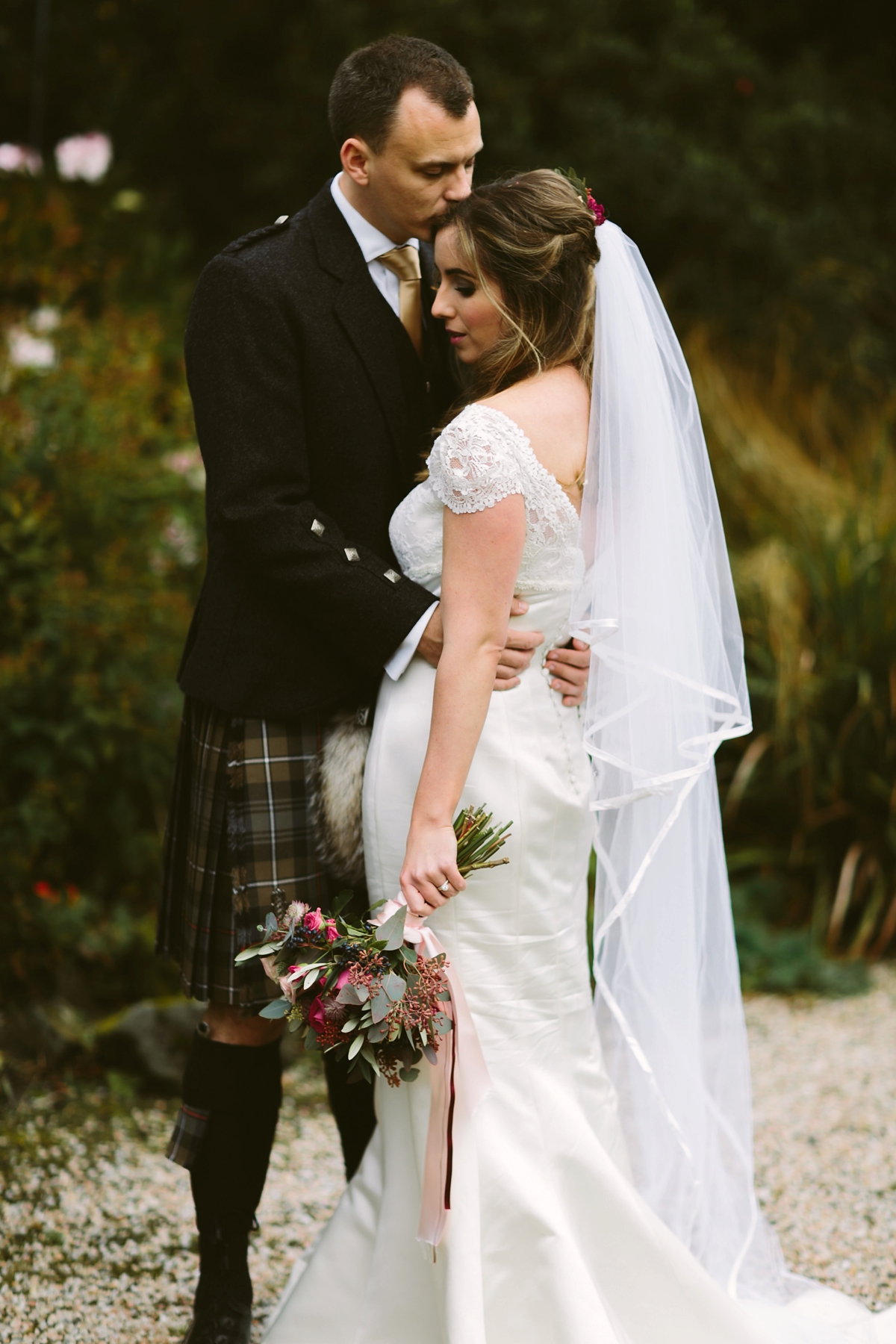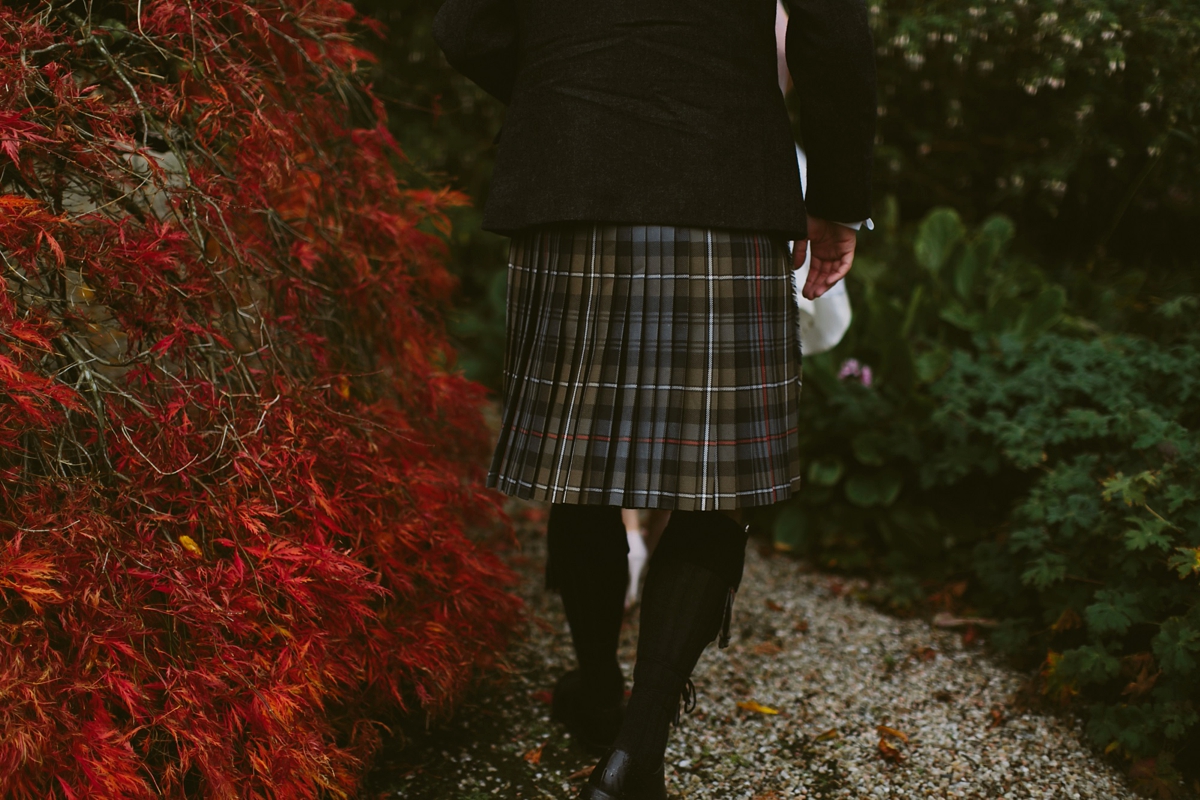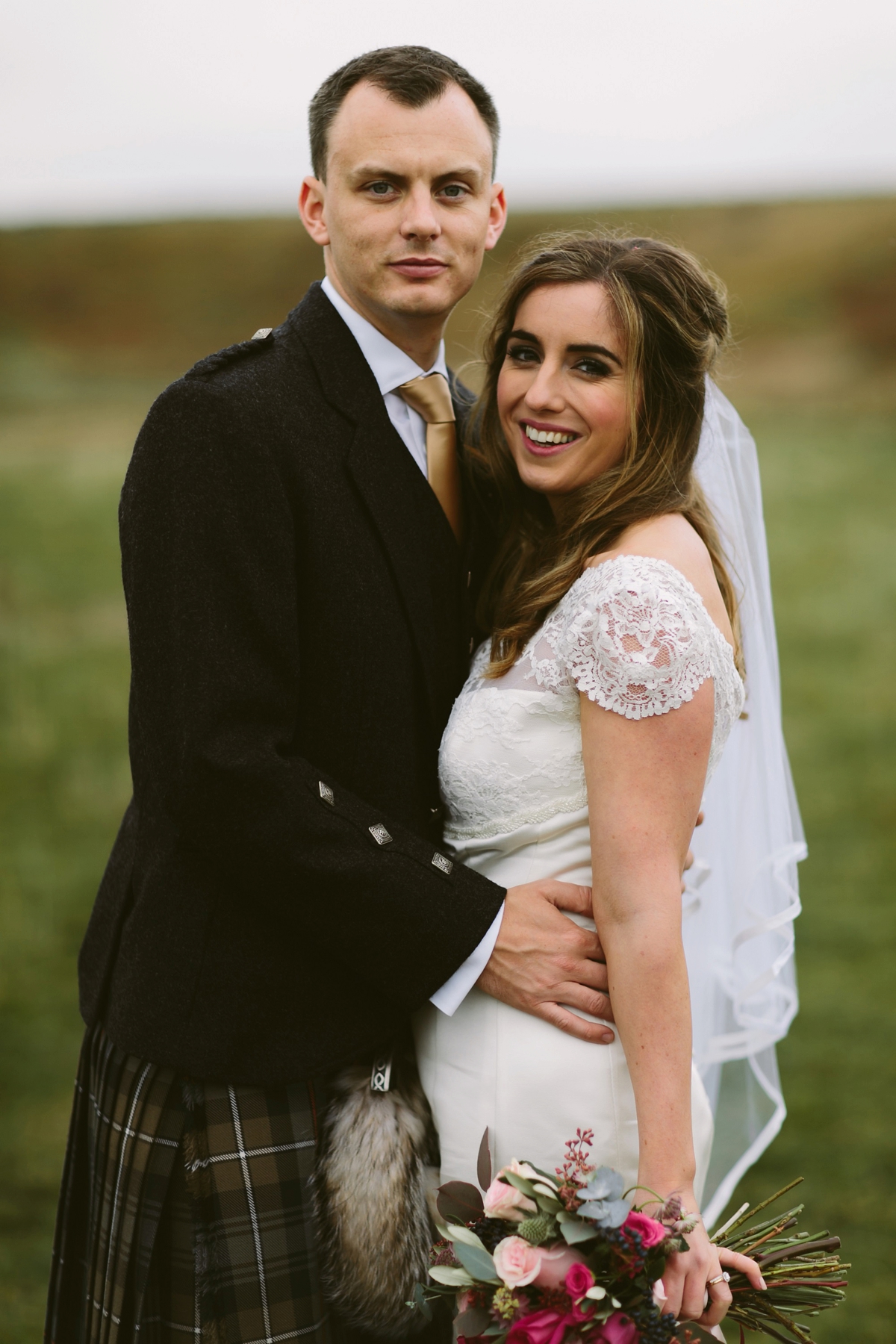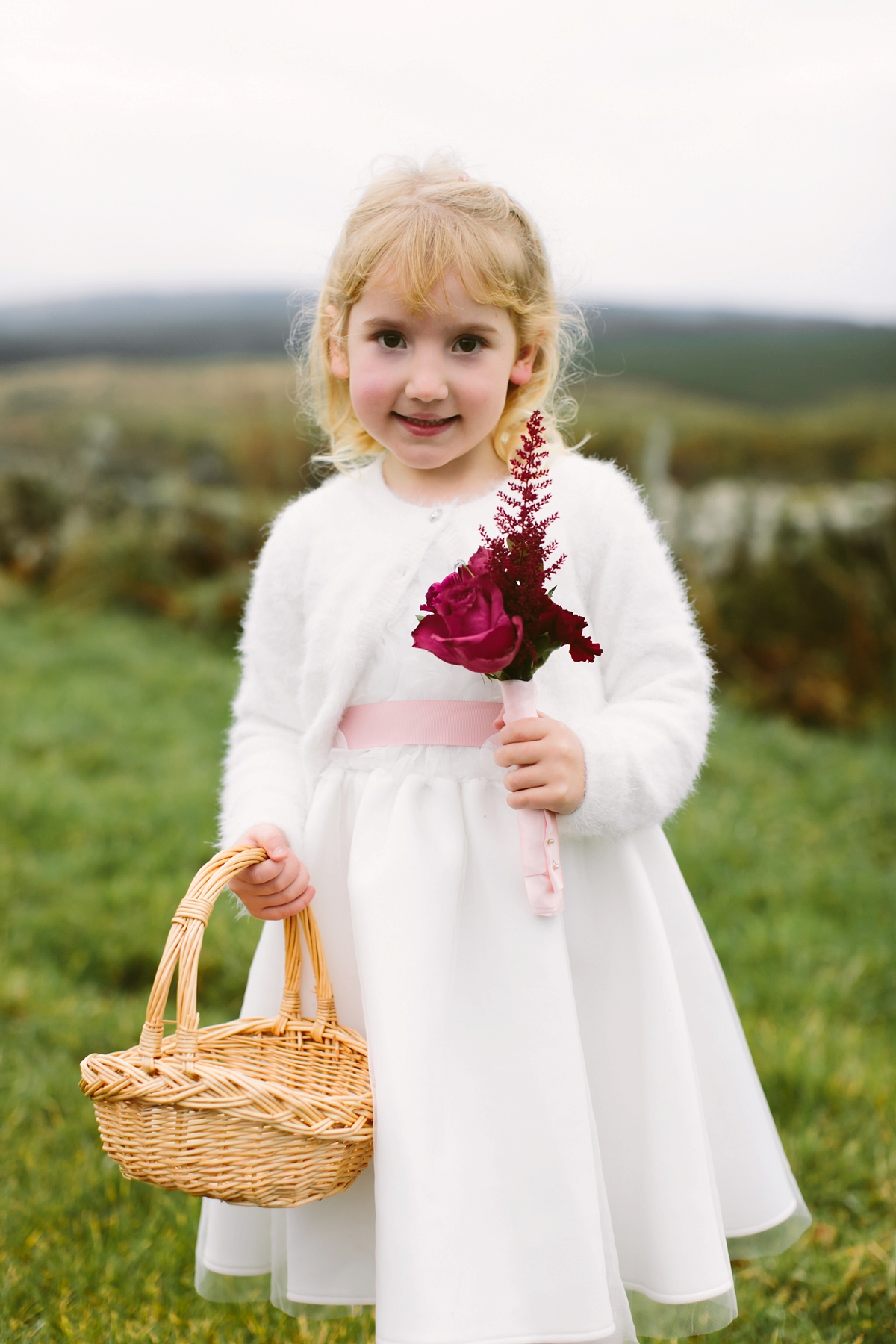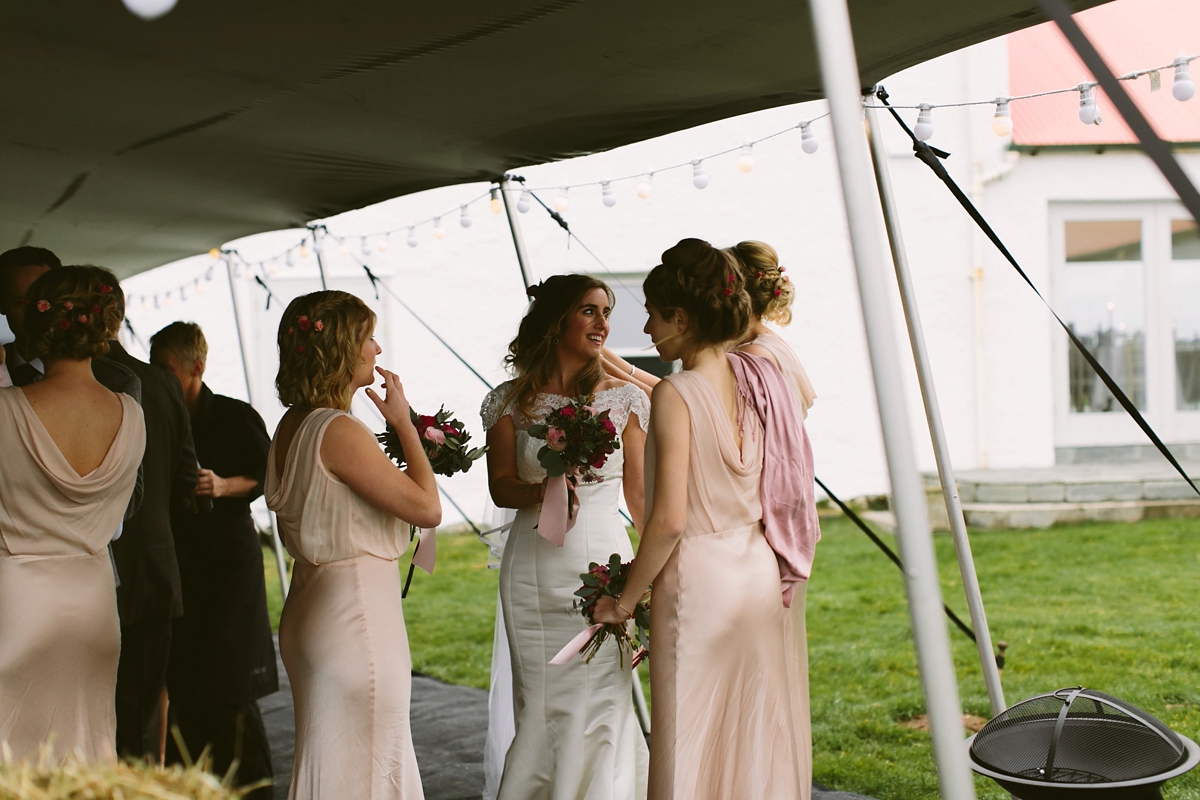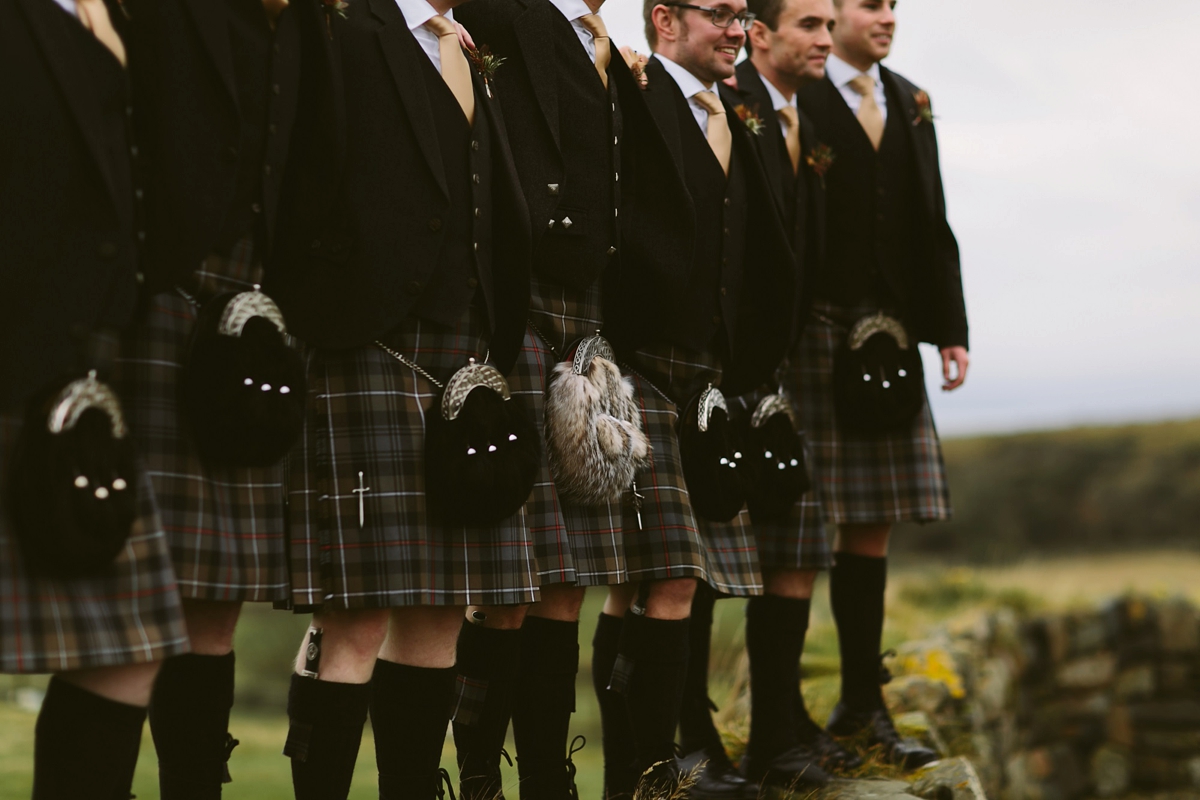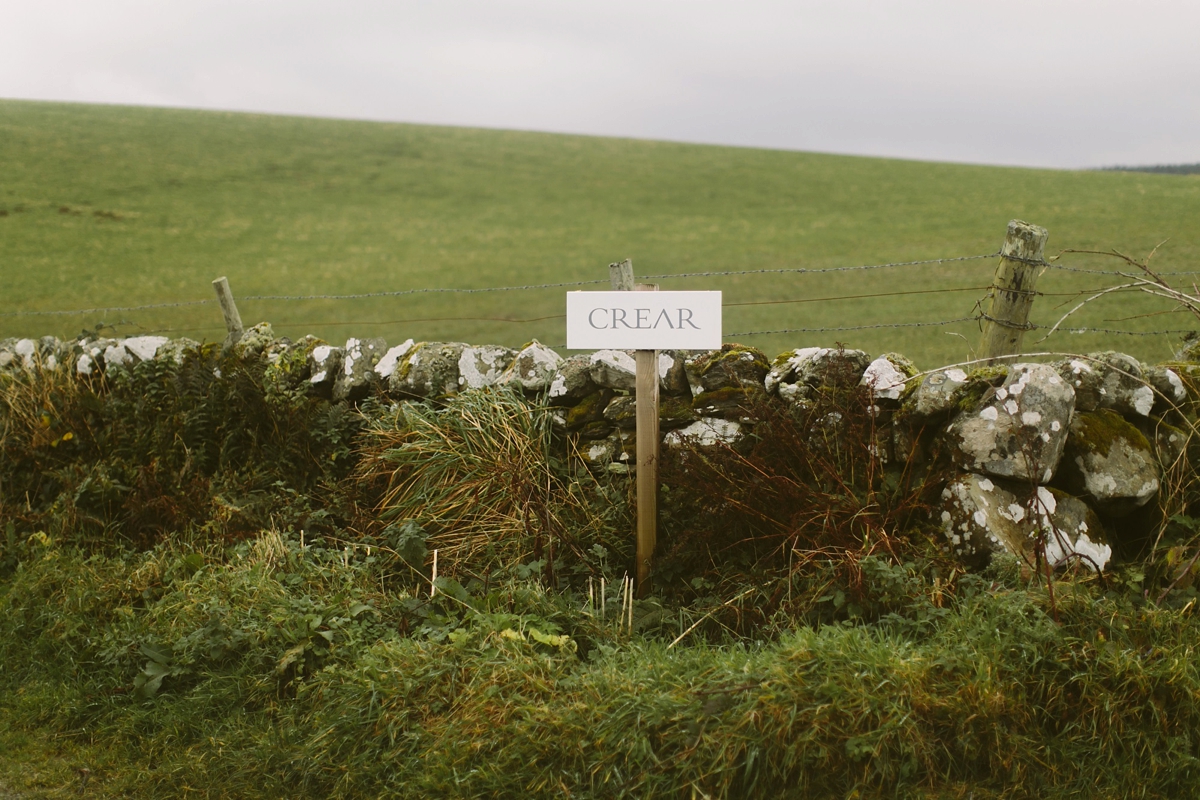 One supplier who they found through the brilliant Wedding Collective fair was their stationery designer Lindsay of A Little Thing Called Love, who created this striking pink peony design.
"I met her at the Wedding Collective Fair and it turns out she was a fellow Crear Bride. I had admired her wedding on Love My Dress in the planning stages. Lindsay created our order of service, menus and the table plan – we love how they turned out."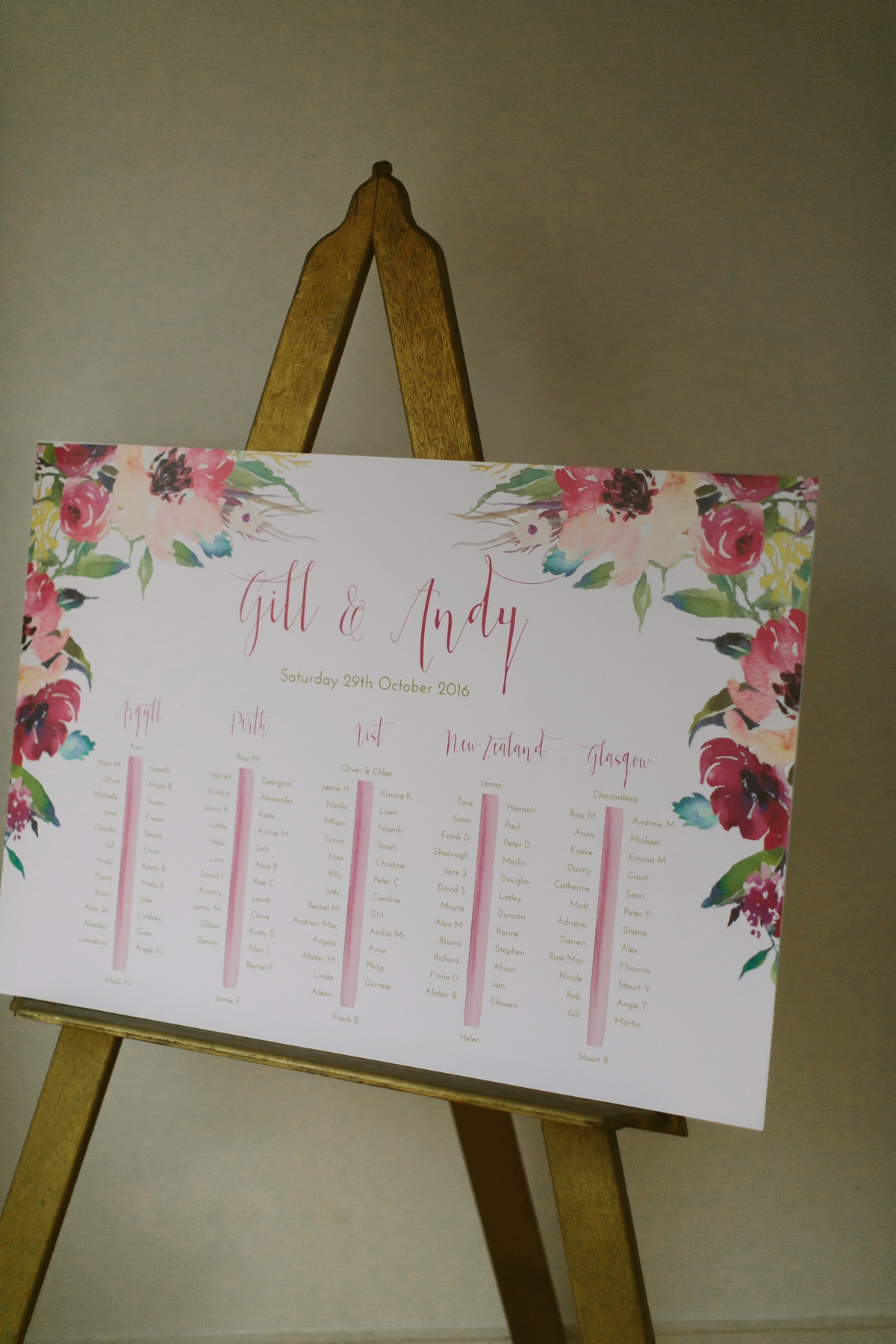 The modern-style venue looks so magical with its hundreds of fairy lights and candles. The couple chose to celebrate rural Scotland and the time of year in their styling.
"The best thing about Crear is the view and the surroundings; it's impossible to compete with that. Being in rural Scotland in Autumn the styling came together quite easily; berry tones for the bouquets with lots of texture, antlers borrowed from relatives, pheasant feathers from my uncle's farm and sequin table runners to add a touch of glamour."
"We knew it would be dark at night and we wouldn't have the view so in the evening we had lots of fairy lights and candles inside and outside, fire-pits, sparklers, hay bales borrowed from the farm and cosy tartan rugs."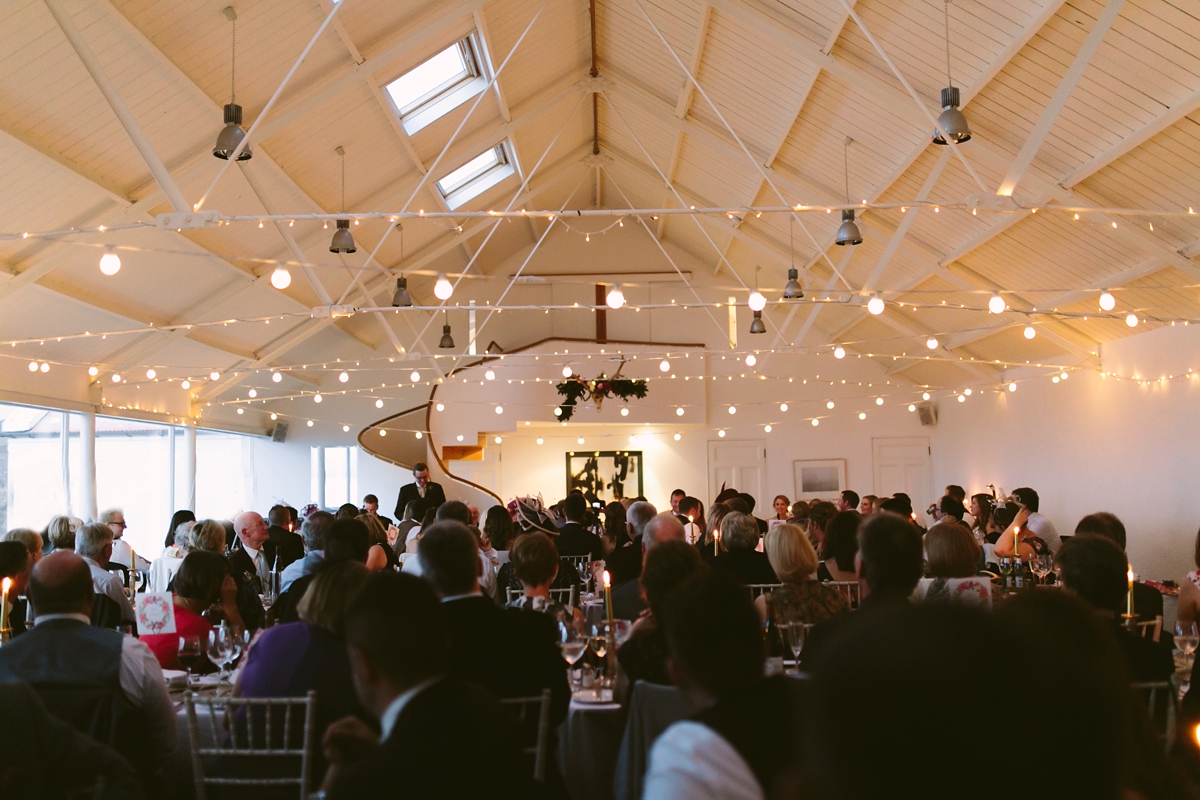 The wedding breakfast was provided by the Crear team and the five-tier naked cake, which sounds just scrumptious, was baked by 3D Cakes of Glasgow.
"We chose a simple cake that we could decorate with flowers and a cake topper from Etsy. It tied in really well with the other styling. The tiers were fruit cake, toffee, Victoria sponge, carrot cake and chocolate orange."
The couple and their guests celebrated with a traditional Scottish ceilidh, played by Jim Jam Ceilidh Band. If you've ever attended a ceilidh you'll know how fun and energetic they are, and a wonderful way to get everyone on the dance-floor. Despite the Scottish feel of the entire day, the newly-weds added an American vibe in their choice of first dance.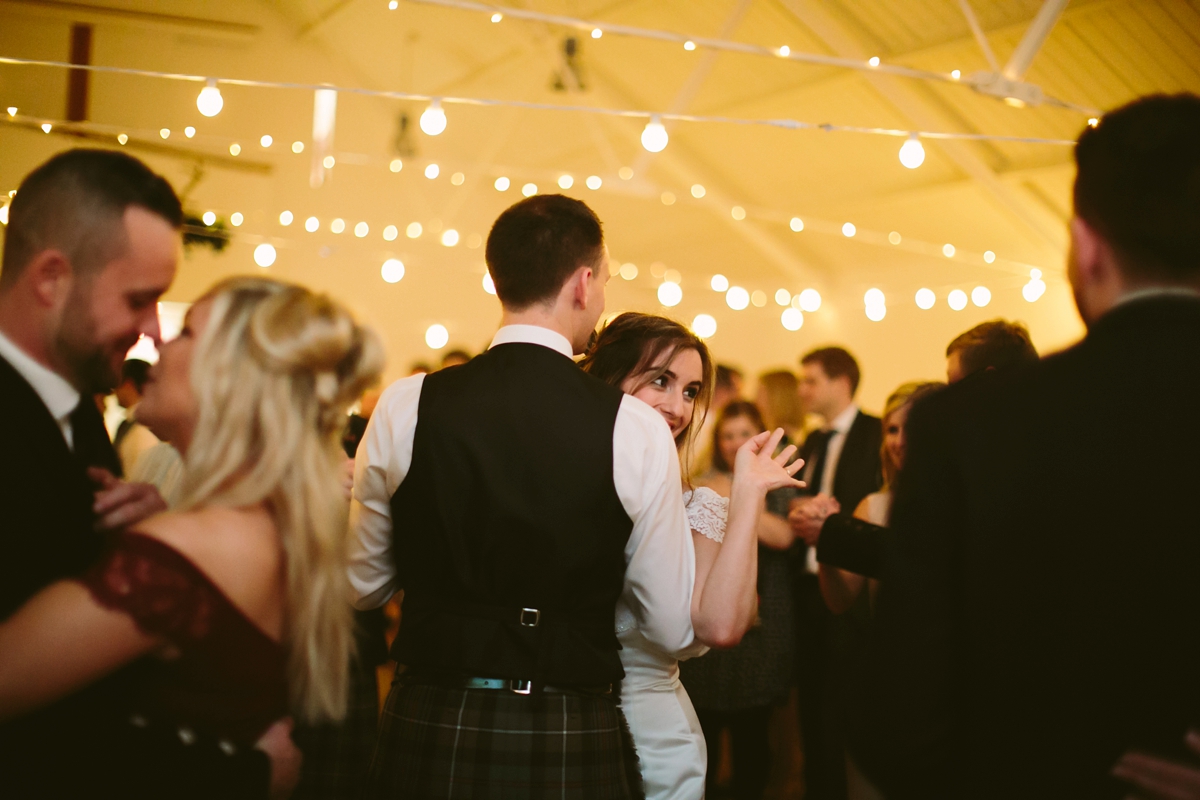 "We chose 'To The Moon and Back' by Luke Bryan as our first dance song. We have been huge country fans since we went on an American road trip in our first year as a couple. Even though no one knew the song it was unique and the lyrics are very apt for a first dance song. The love, happiness and positivity throughout the whole day was amazing."
Words of Wedded Wisdom
"Don't do things because they are conventional. Do things because they are right for you as a couple."
"Don't overstretch yourself with your budget – you have to find some places to compromise."
"It's easier said than done but try not to worry or stress in the run up to the wedding. We planned our day in ten months. It was intense and I wish we had been a little more chilled about it but I think if we had double the amount of time we'd have still been stressed and worried!"
"We left so much stuff three hours away in Glasgow; my handbag, an usher's outfit and other things we needed. In the end our amazing friends stepped up and we managed to get everything in time but you just have to accept that something will go wrong and try not to let it get to you. You are there to marry your best friend and all you actually need for that is each other and the paperwork."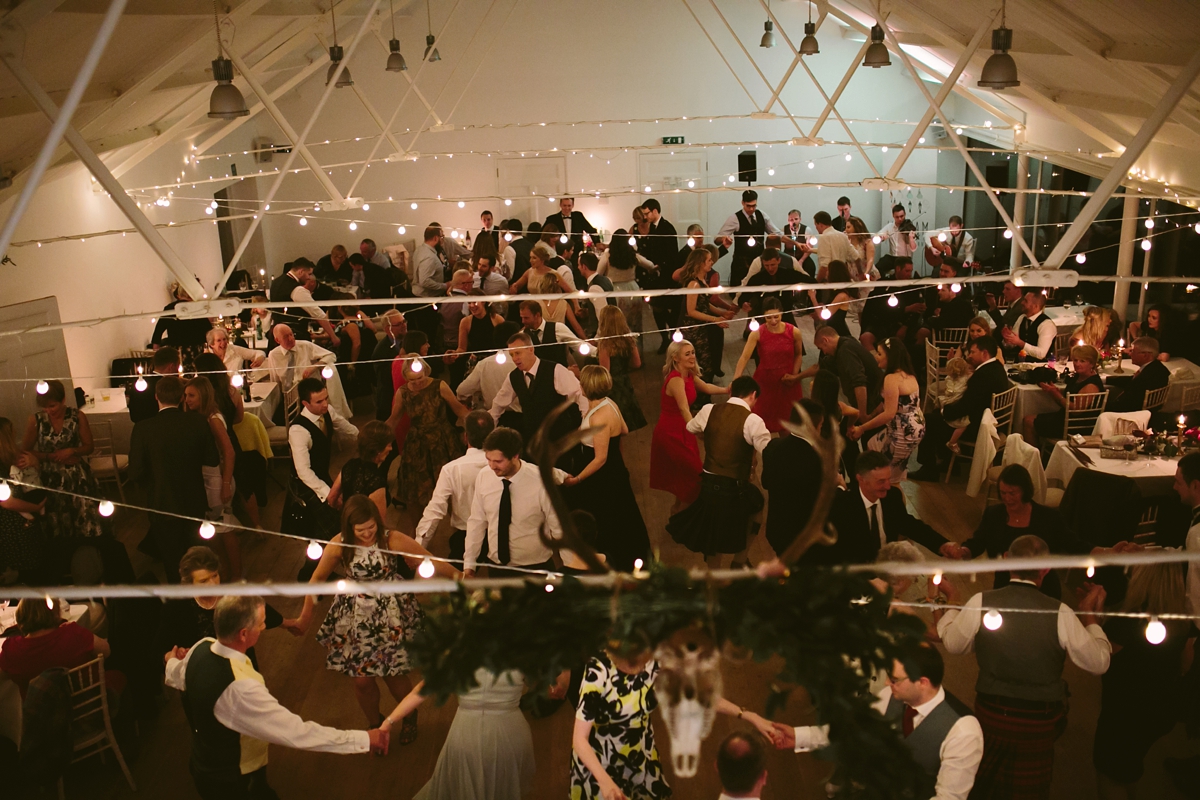 Adam and Grace Photography, thank you so much for your beautiful and atmospheric photographs of this special day. It's been wonderful to share it with you all, so sending many congratulations and thanks to the newly-weds Gill and Andy. Have a lovely day, everyone, and don't forget to head to Facebook to join our private
Love My Dress Facebook group
.
Ele xx
Love My Dress Wedding Directory Members
The below suppliers and venues featured in this article are part of the Love My Dress Wedding Directory.