Wherever you are right now, I'm about to whisk you off to bridal nirvana. Oh yes, that's right, let's take a little journey together shall we and step inside Halfpenny London's fabulous boutique.
Not only that but we're doing so in the company of the wonderful Kate Halfpenny herself so let's lose ourselves at the home of the most luxurious British bridalwear for modern brides. Now, as you probably know, Halfpenny London is just one of our all-time favourite bridal labels.
Kate Halfpenny designs for real women and the dresses and separates that she creates are off-the-scale fantastic. Her use of fabrics, her selection of embellishments and the designs that are luxurious and creative are just superb.
It's so easy to see why brides fall in love with Halfpenny London dresses because all of us at Love My Dress have too. Ask us to select our favourites and we'll pick out any number of pieces from the collection and we'll all mention the London boutique too because honestly, who wouldn't want to choose their dress here? Let's take a tour of No. 10 Woburn Walk with Kate herself as our guide.
Image by Annabel Beeforth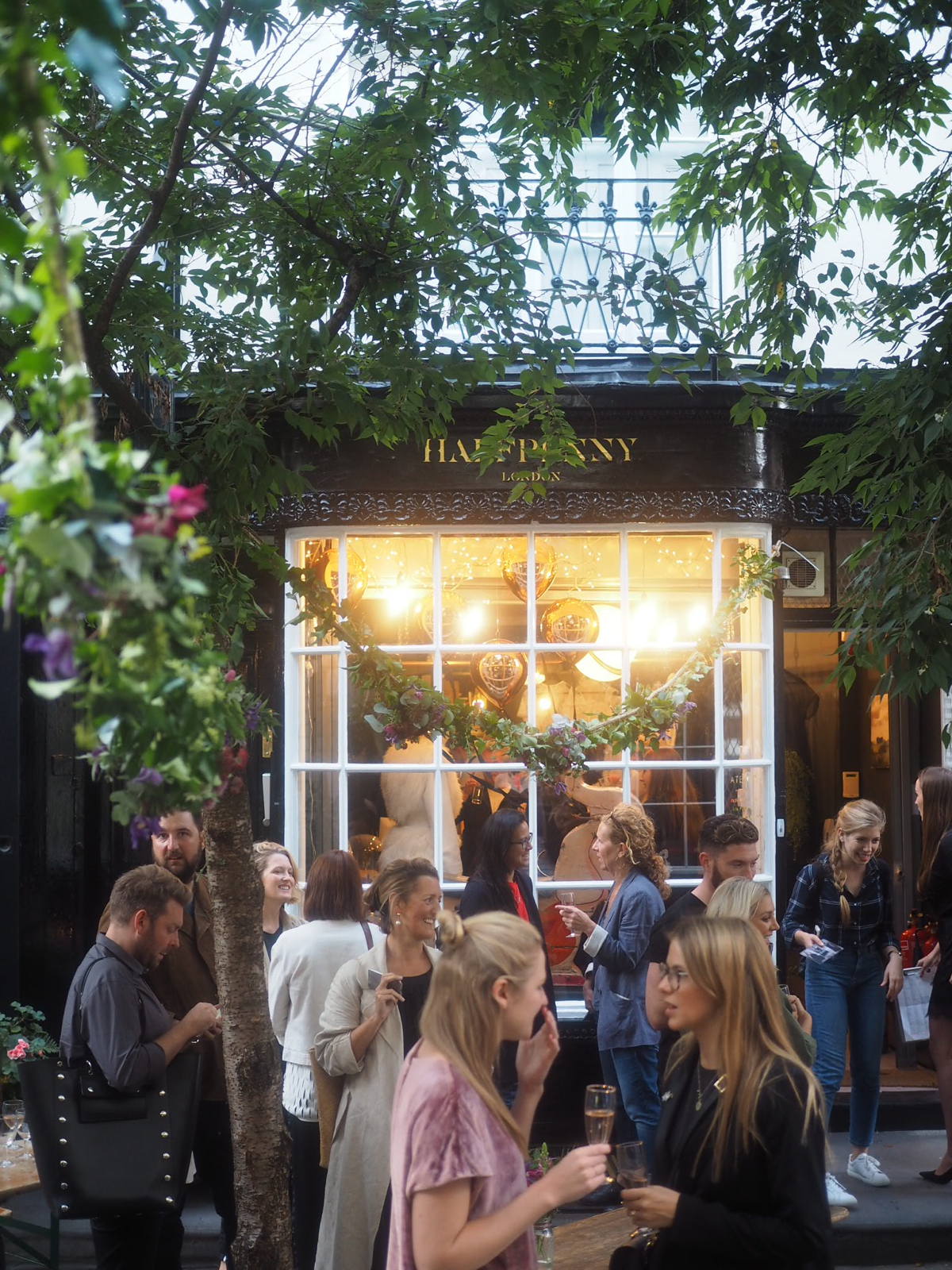 Where will we find the Halfpenny London boutique?
"The Halfpenny London boutique is in the heart of Bloomsbury, on a pedestrianised cobbled walk. It's close to St. Pancras and Kings Cross and we're just a heartbeat from central London. It really is a wonderful location. We were also lucky enough to get the building opposite this year so we now have numbers 9 & 10. One is our Design Studio and Atelier where we make a lot of the dresses and the other space, No. 10 Woburn Walk, is the boutique and fitting rooms."
What made you choose this location?
"I had always been looking for a central London boutique and had never heard of Woburn Walk when I found the shop to rent in 2012. When I came down to view the shop, my heart melted – it was like a picture postcard. The location is so central – we're on every bus route and minutes walk from the largest train stations. Our international guests can take the Gatwick express almost to the door or the Eurostar is just a hop away."
Tell us more about the design and decoration of the boutique…
"I'm obsessed with interiors and love nothing more than dreaming up colour palettes and sourcing furniture so it was a joy to style the shops interiors. The walls in the boutique are Farrow & Ball 'Downpipe', which is a dreamy dark grey. The floors are 'Hardwick White', the perfect light grey beige colour.
Images supplied by by Claire Graham
"The rails are literally plumber's copper pipe which I used in the garage of my house 10 years ago when I used to sell the dresses from home. I've always tried to create more interesting fixtures and fittings than the norm. The furniture has a mid century, modern feel. There are large mustard chairs and a neon in the window making the store feel fun."
How would you sum up the atmosphere/ambience in the showroom?
"It's like being in someone's front room only you're surrounded by rails of gorgeous dresses. It's very relaxed and chilled with soft music. Brides and their parties never want to leave!"
What can brides expect when they visit you for their appointment?
"You have an hour and fifteen minutes with us and in that time you can try on as many dresses as you like. You can choose dresses or separates that you've seen on the website or found in the store and my stylists or myself will also make suggestions.
"We don't mind if you bring your friends and family or come alone. Often it can be so overwhelming to bring too many guests, we like you to see how you feel in the outfit rather than everyone bombarding you with opinions. It's a fun experience though and it's so nice to share it with people. We just want you to enjoy the whole process. Don't be shy to try on dresses you never imagined yourself wearing. You can sometimes be so surprised."
What's the difference in visiting a designer's own showroom versus trying on collections at a local stockist?
"Obviously we have more choice as we have a sample of every dress that we've ever made. However the stockists have incredible edits of the gowns and if there is something specific from the collection you want to try on the we can always send it up to your nearest stockist. We also host Trunk Shows and Designer Days with our stockists where the new collection will be shown. They're gorgeous events and myself or one of the team will always be there."
Do brides come from far and wide to visit you?
"We have lots of brides visit us from far and wide. We're so lucky they love what they see and they'll travel to come to us. We also have new stores announcing in the US this year so we're starting to get a really large international following."
How can brides prepare for their appointment? Is there anything specific they need to bring/wear?
"It's a good idea to start thinking about your underwear. If you want a super low, plunging back dress and need some support, it's a good idea to have a look at what's available so you know what you can get away with. There would be nothing worse than not feeling supported in the dress on the day and some bias slip dresses or less structured dresses don't work so well with cups being added. Don't worry though – there are some incredible body suits and low back corsets out there these days."
When do you offer appointments and how can brides book?
"You can call the boutique on 020-3441-8894 or email [email protected]. We don't charge for midweek day-time appointments however due to demand we charge a small fee for evenings and weekends."
Image by Annabel Beeforth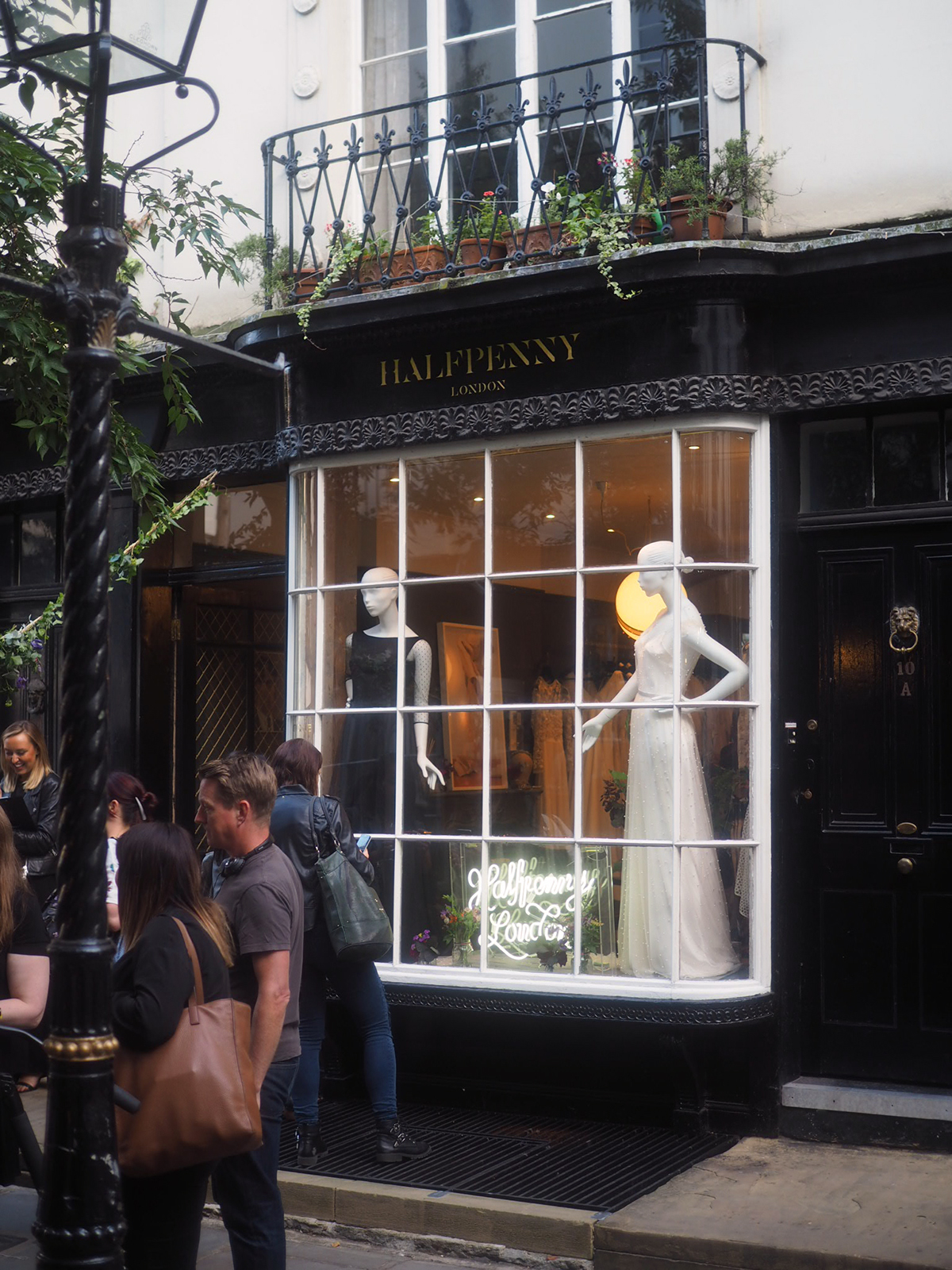 Thank you so much Kate for that peek into your stunning boutique – I can absolutely see why people who visit never want to leave! It's a dream of a space in which to choose your wedding dress.
To find out more about Halfpenny London, to view the collection, check stockists or to make your appointment to visit the London boutique, do take a look at the website .
Love,
Tamryn x