Hello readers, It's Michelle Kelly here, wedding planner at Pocketful of Dreams. We're back with our annual wedding trends roundup for you, sharing our thoughts about the top wedding trends, influences and ideas to look out for and be inspired by in 2018.
Before we do that, a little context if I may. As UK wedding planners we work with style-conscious couples to plan boutique luxury and elegantly understated weddings, in a variety of bucolic settings. We're most definitely inspired by what we see around us: the beauty of nature and wide open spaces, organic influences and artful craftsmanship.
It's fair to say that we're big believers in the statement;
Trends come and go, but style is timeless
It's our job as a wedding designer to really understand our wedding couples, so that we may weave in their own character and personality to their wedding design. Ultimately we want to create an atmosphere that feels just like home to them. Whilst we're aiming for the wow-factor, we want to ensure their day is also punctuated with personality and that each detail is entirely relevant to the couple we are designing for. So we're looking for that careful balance between trends and timelessness.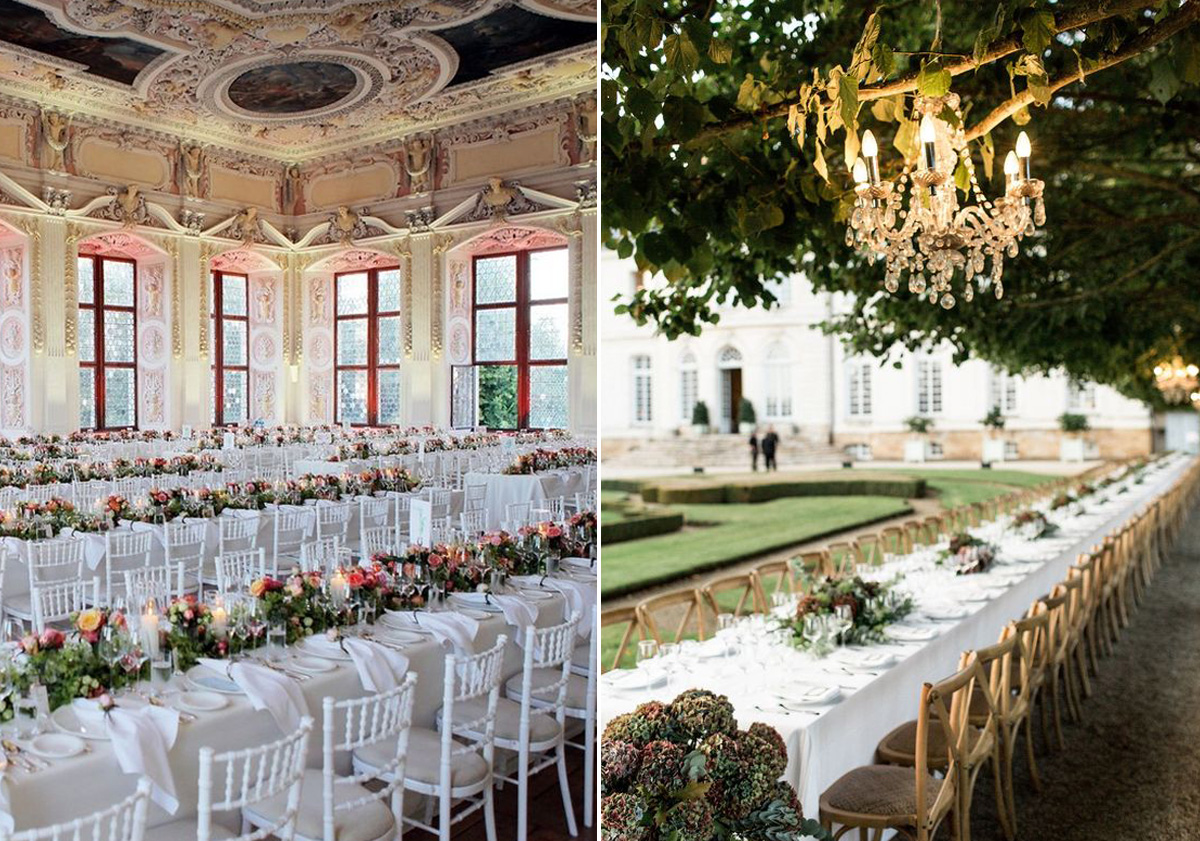 Trends vs Timelessness
We spend time unearthing what's currently influencing our couples, those elements that shape their lives right here and now. That could be something really simple, like a love of carefully crafted mocktails and cocktails or the fact they can't live without their daily super coffee. Or it could be more of a general way of living, one that has become so ingrained into their psyche that it's now a value to live by: like mindfulness, veganism and a focus on wellbeing.
Sure these are trends right now, but they will feel timeless to our couples as it's authentic to how they live right now. Of course they may not always live this way, but isn't that the beauty of weddings? The chance to capture a moment in time, to look back and celebrate who you were 'back then', to see how your journey has unfolded and what has shaped and influenced your own world.I know that 'trends' has become something of a dirty word in the wedding industry, but honestly as a designer it's crucial for me to have an eye on them. That doesn't mean I'm about to add marble, copper and geometrics into every wedding design, unless of course my couples love them. Instead I will continue to look for those 'forever trends', the ones that are more about creating emotion, feeling and the ultimate celebratory experience. As really these are the ones that will always be in style.
It's not just about what we think either, as our friends across the wedding industry are also sharing their predictions about the future of weddings.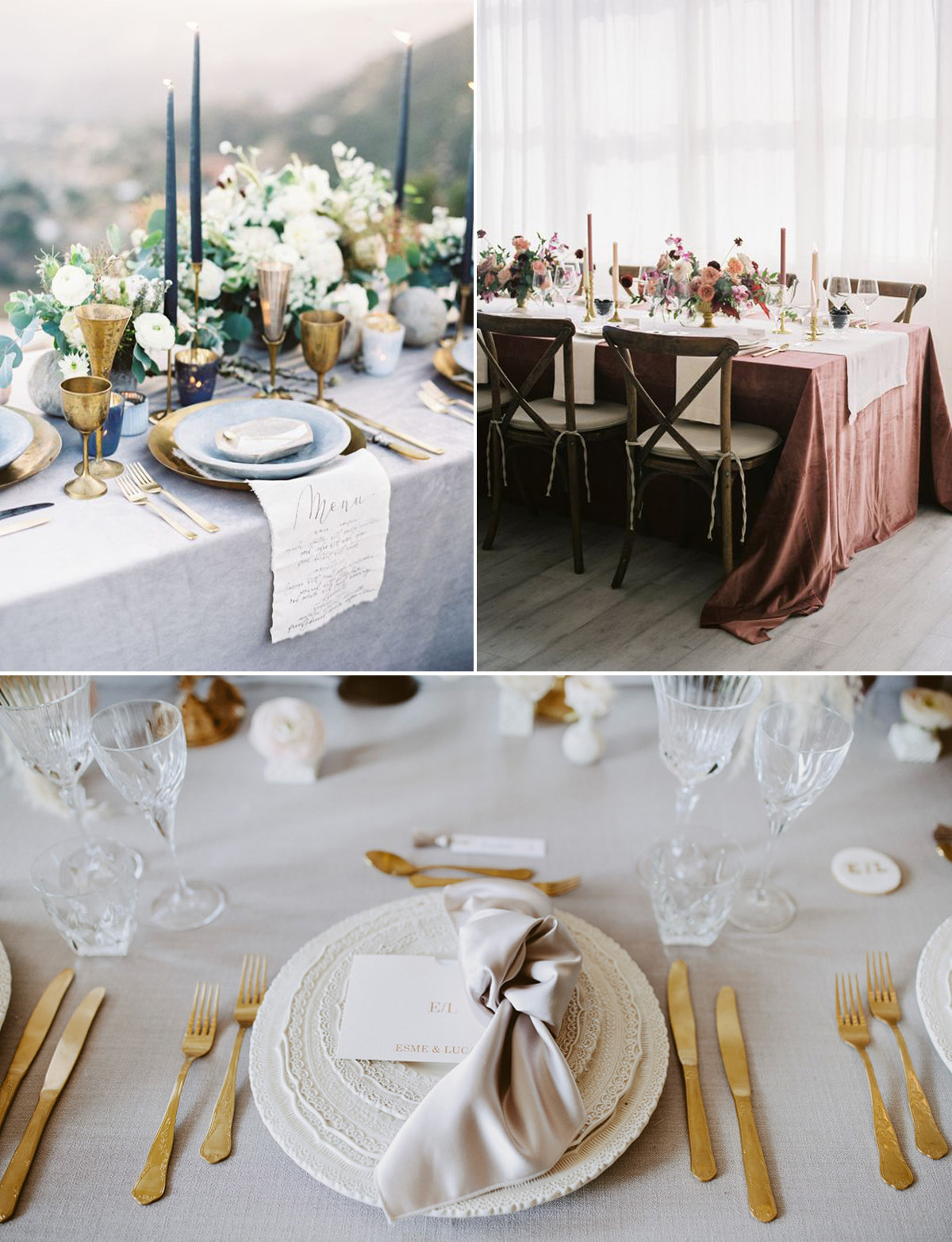 An Emphasis on Texture
Texture is something I've been talking about for many years (see our 2016 wedding trend report) and it's still at the forefront. From tactile table linens in raw silk, hemp, creased french linen and luxe fabrics like velvet (tipped to be everywhere in 2018), through to blind embossed print designs and deckle-edged handmade papers. Even crockery has seen a rise in more textured detailing of late.
It's all about enhancing that sense of warmth and comfort, but it doesn't necessarily have to be all laidback and rustic. It can have an elegant and luxurious edge to it too. I'm finding luxury design to be less about ostentation and more about understated elegance and playing up textures really helps to give a design depth.
Unique and Interesting Spaces
We're seeing couples seek out more unique and architecturally interesting spaces for their wedding celebrations. Be it abandoned ruins or ancient forests as a ceremony setting, through to those blank-canvas, raw venues that have an industrial feel. These spaces are the perfect backdrop to more elegant styling, offering the ultimate hi-low mix to keep things understated.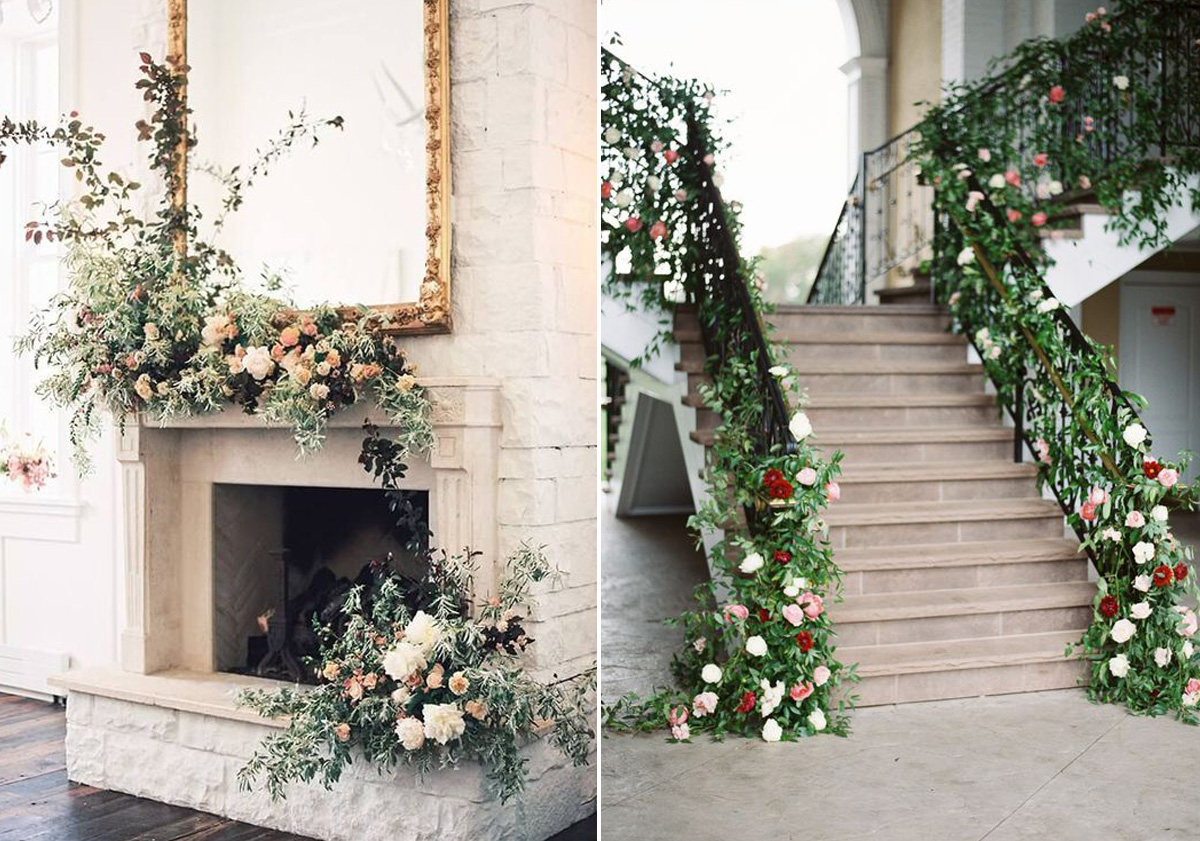 Living Decor
Think beyond the centrepiece to floral decor that feels really organic, like it's always meant to be there. This is a trend that has been steadily growing for the past few years and is heavily linked to that desire for understated and unfussy design. For 2018 we predict this will be even more prevalent with everything from living wall backdrops and botanical bar designs, through to plant-lined aisles and even more creative floral ceiling designs.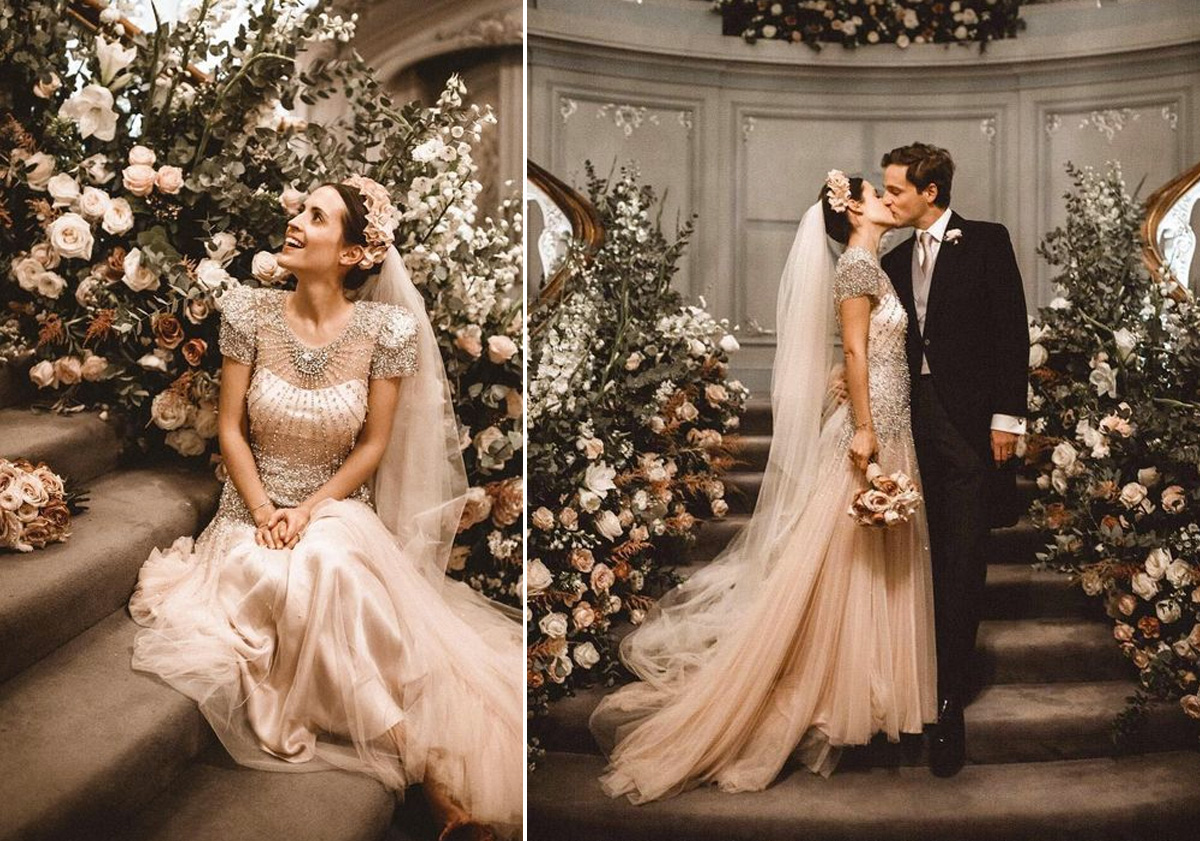 To embrace this trend choose florals that blend well with the space, everything from vines growing up staircases, to undulating fireplace garlands, to bursts of florals that look as though they have sprung up from the ground. It's about creating wow-factor, but also accentuating all the best features of the space, creating a little drama as you go.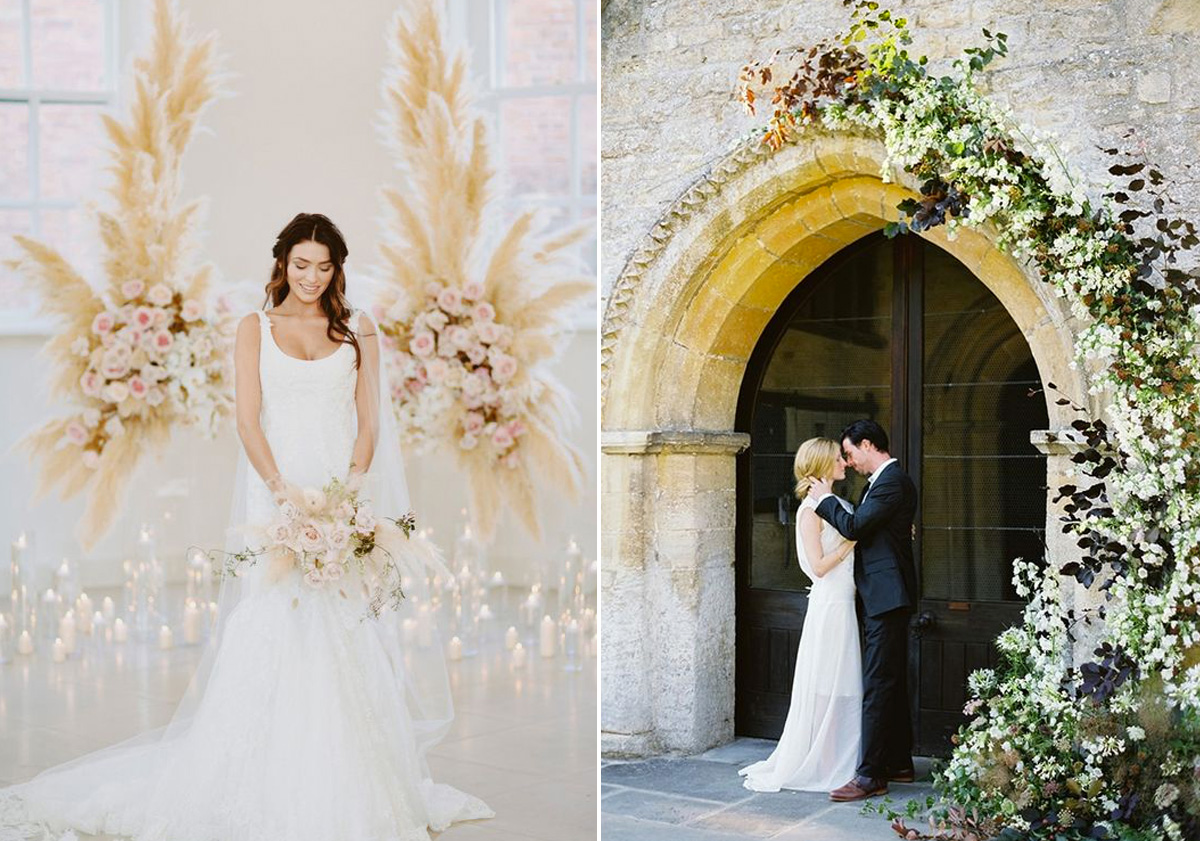 Wreaths at any time of the year are becoming more popular and we've all seen plenty of circular backdrops popping up all over Pinterest. I predict floral designers will start to move towards creating more unique and architecturally inspired backdrop and archway designs, to really stand out from the crowd.
The New Bouquets
Whilst we'll always love loose and wild freeform bouquets bursting with unique florals and foliage, we are seeing a slight twist being added. And that's a move towards a more singular style of bouquet, so rather than mixing florals it will be about choosing one unique floral element and using it en masse for a chic aesthetic.
Another style that's having a resurgence is the teardrop shape or cascading bouquet, perfect if you still adore the wild look like us, but want something a little fresher.
Candles Everywhere
Candles, candles and more candles. This trend isn't going anywhere soon and why should it. Candlelight offers such a romantic feel, and not just once they are lit, but seeing rows of beautifully coloured taper dinner candles makes a real design statement.
Pattern and Print
Influenced by our rich history, we've long been intrigued by centuries old decorative arts. Now we're seeing a real resurgence of these delightful designs peppered into chic wedding designs. From Chinoiserie and the iconic blue and white Ming vases, to the enduring appeal of De Gournay prints. Expect to see much more pattern and print being used across 2018, a refreshing change after so much neutral.

A return to elegance
There's a real return to formal elegance emerging, but this time around it's very discreet, unstuffy and understated. Couples want to encapsulate that laid-back vibe of a garden party or festival style wedding, but for it to feel like a more formal dinner party in classic black-tie cocktail wear. Like stepping out of the pages of Vogue, there's an air of fashionable sophistication and intrigue, yet it feels oh so effortless. Couples don't want to look like they've tried too hard, so authentic style and considered design is key here.
Dries van Noten called it, dedicating his Spring/Summer '18 show to:
The Optimist, she knows the rules to break the rules. Cocktails at five. Addicted to fun and elegance…

Transparency
Something we talked about back in 2016, we're now seeing more and more of this popping up everywhere from venues and tents with clear roofs through to stationery with the introduction of transparent papers and fabrics.
Colour is returning
Colour is back with a bang. With a melting pot of influences at play almost any colour palette is open for consideration in 2018. The overall vibe is about artful drama with interesting colour pairings inspired by the design world.
Greenery will continue to be a bedrock of most wedding designs, paired with more natural and stripped back barely there tones like almost mauve, harbor mist and coconut milk, grounded by sailor blue – a navy-like shade that's big for 2018.
Pantone's spring colour forecast predicts "a kaleidoscopic bounty of uplifting shades and feel-good tones" think bright and zingy yellow against tomato red, pink lavender, arcadia green, lime punch and ultraviolet which is Pantone's colour of the year. It's a fun and quirky shade meant to evoke originality and visionary thinking.
Much more my thing are the lush, dark and moodier colour palettes with more intense details, as seen across the interiors world. Benjamin Moore paint specialist has chosen Caliente, a beautiful brick-red shade, as their colour of the year, it is strong, radiant and full of energy. Pairing well with marigold (another hot colour for 2018), smoked oyster, rose and even shades of brown.
We can't wait to use more dramatic floral prints and dark and moody colour palettes, with contrasting textures and details.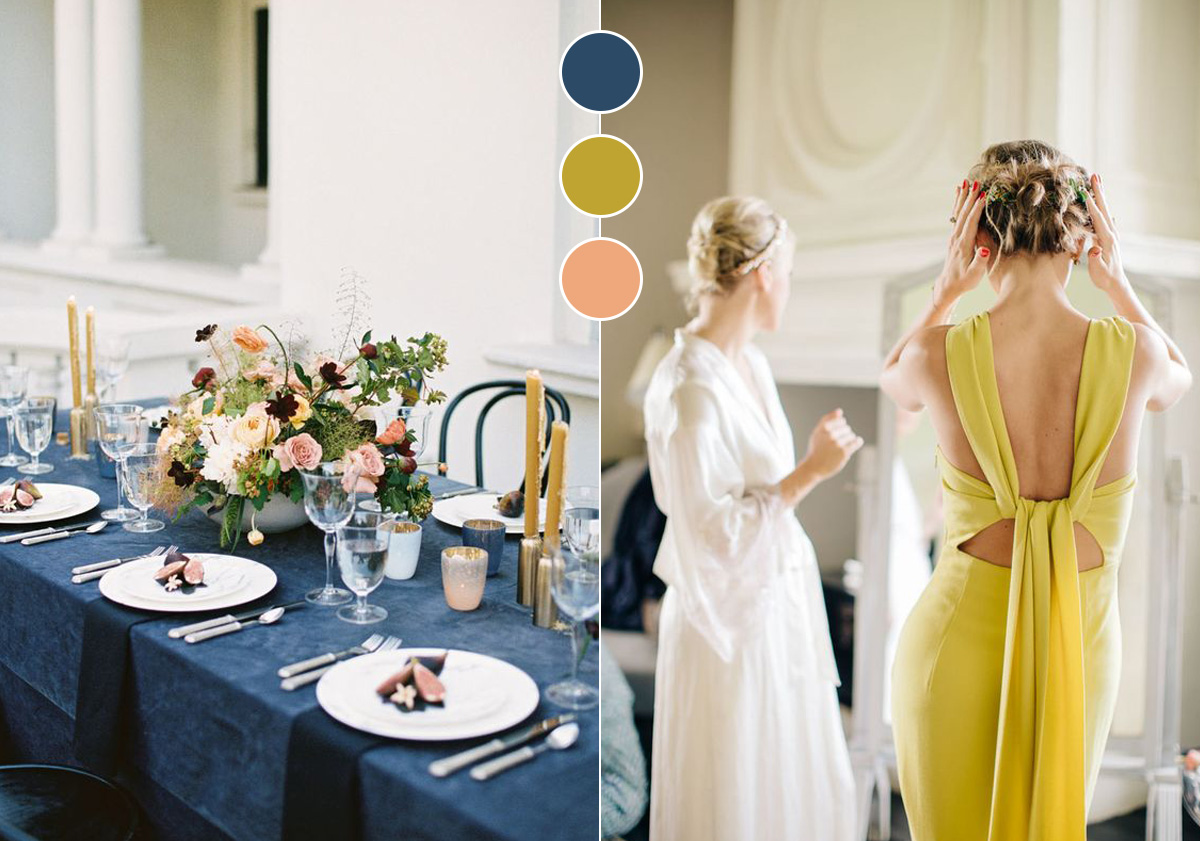 Silver Metallic Accents
We've always been big fans of metallic accents, often featuring aged gold, brass, copper and even rose gold into our designs. For 2018 we predict a resurgence of silver, pewter, chrome and even crystal.
Make a weekend of it
Over the past few years we've definitely seen an increasing trend in couples wanting to extend their celebrations past just one day. With a weekend wedding you can do just that and really spoil your guests who may have travelled from afar, allowing them to embrace the destination and all it has to offer. You can treat them to an itinerary of activities spanning an entire weekend rather than trying to cram everything into just one day.
Stationery goes beyond paper
Think tactile materials and uniquely artistic designs, with everything from paper to leather, suede, wood, perspex and even fabric to print upon.
Designs are either subtle and pared back with a barely there design  or more is more with intricate illustrative designs.
Wax seals are still going strong and it is so satisfying to watch them being created, just hop onto instagram and to watch countless videos of this in action.
Lorna McGinnigal of EYI Love Stationery said "Customised and illustrated maps are very in demand for 2018 – often detailing places of interest or recommendations from the Bride and Groom, with many beautiful and intricate foil designs of some of the most beautiful and prestigious venues included". She added "We've also seen lots of unique personalisation requests with us adding calligraphy names and wording to everything from personalise shells, to marble coasters and even perspex placecards"
Elevating The Ordinary
A trend seen in the fashion world to add a sense of fun and whimsy, we predict we'll see more and more of this popping up across weddings. With ever more intricate and creative ideas for displaying the standard element such as the escort card display or table plan.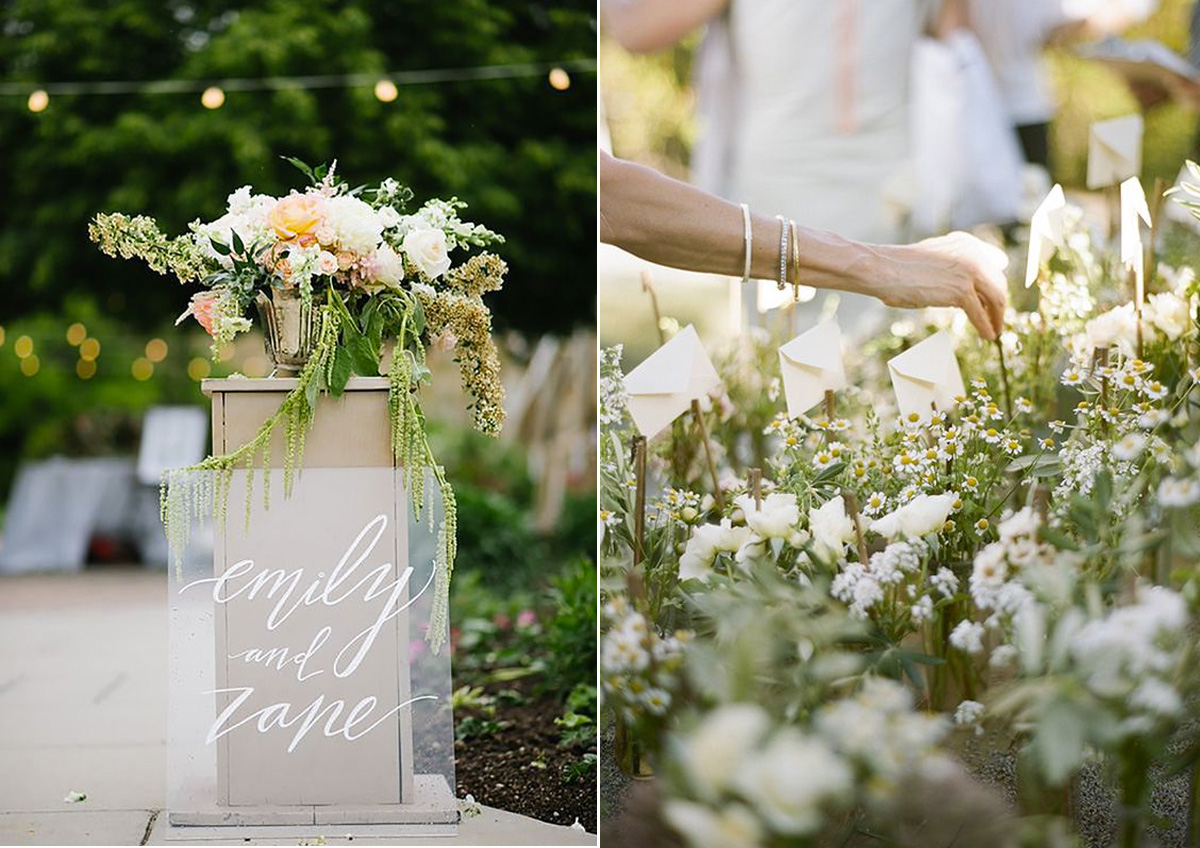 High Low Food
Food is still about tasty, wholesome and hearty fayre over anything too formal or fussy – couples want to create that foodie experience through their menu choice as though guests are dining at their favourite restaurant.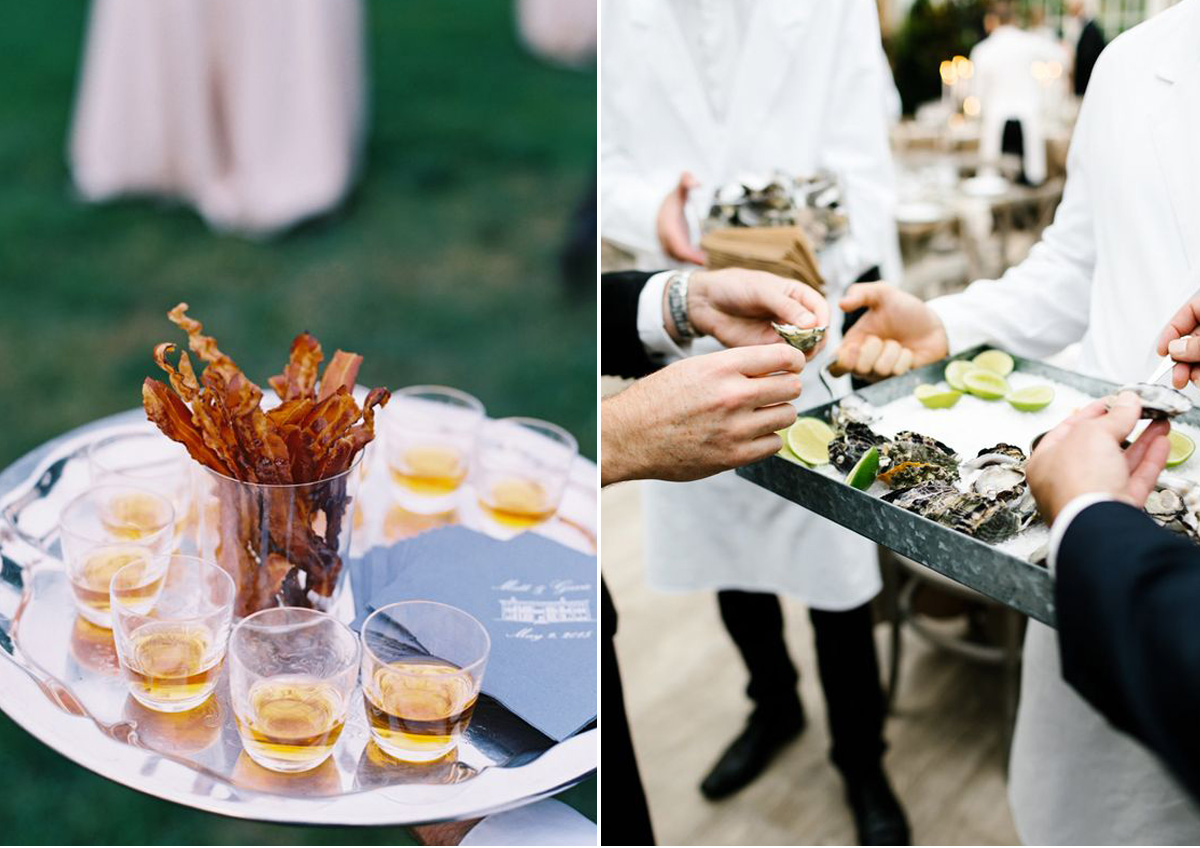 Locally sourced, seasonally inspired is a must as is a high-low mix of elements, offering comfort classics created with more extravagant ingredients, like Lobster Mac and Cheese. Another trend we're seeing is pairing food and drink, particularly during cocktail hour. Bourbon and bacon anyone?
Interactive stations
Decadent food stations are a great way to add in wow-factor and interactivity to the dining experience, with some couples doing away with formal dining altogether in favour of something more relaxed yet still refined. Think overflowing feasting tables filled with bitesize mouthfuls of deliciousness, or make-your-own stations for the ultimate in interaction.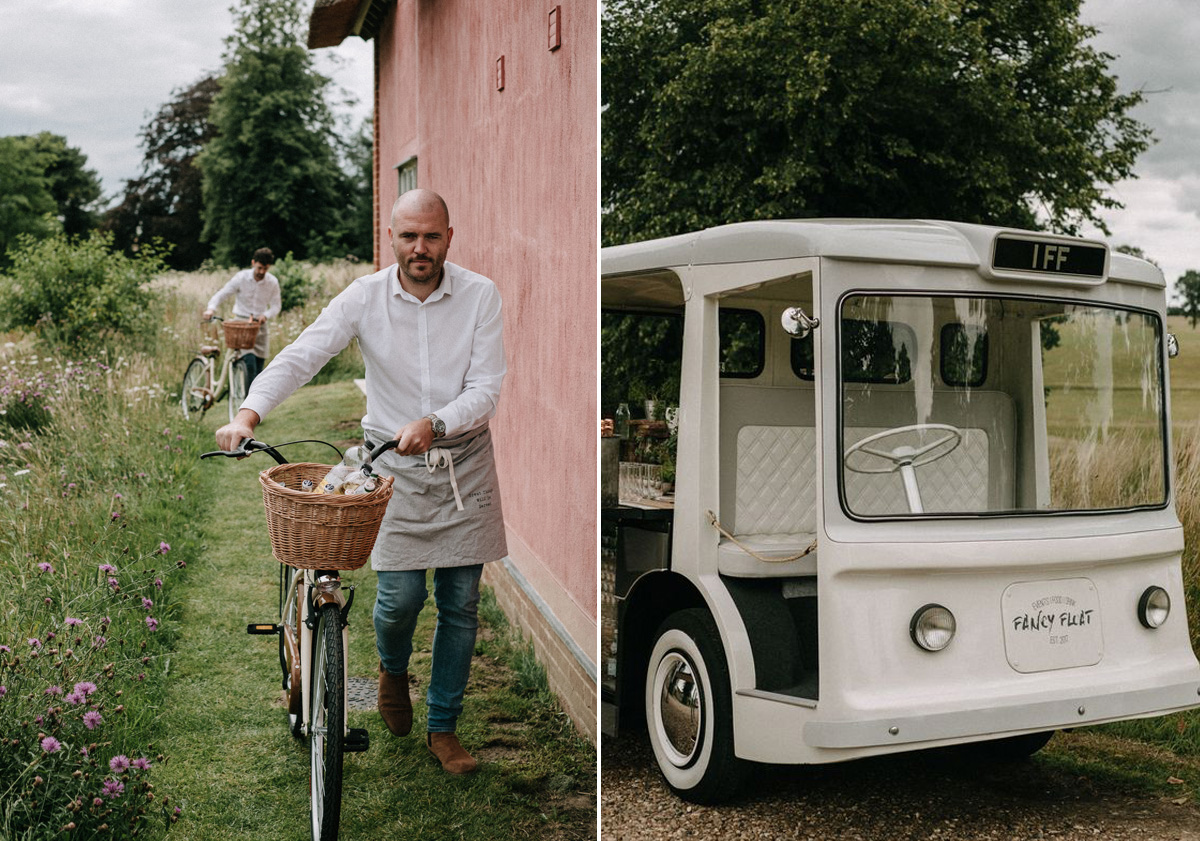 Pop-up Cocktail Bars
Like the food truck trend, pop-up bars are all the rage. From vintage milk-trucks and prossecco vans, to apothecary style bars serving intoxicating infusions, it's all about adding a sense of quirky fun.
Photobooth's Get Creative
No one can deny how much fun a photo booth is, but having seen them around for many years now couples are yearning for something more original. It's all about creating never been seen before scenes that feel relevant and unique to the couple, with more innovative backdrops (see Vogue's hall of mirrors for an example) and interactive props.
The After Party is no longer an afterthought
The after-party is going strong and now considered a key element of the day in itself. With more emphasis placed on surprising guests with hidden spaces to be revealed later in the day, from rave caves to chill-out lounges to midnight dancing in woodlands. Think about how you can keep the party going all night long.
Entertainment that Flows
In 2018 it will be less about having a musical backdrop to certain portions of your day like the ceremony and then dancing after dinner. More about creating a true flow of entertainment that feels seamless throughout the day and takes guests on a journey. So think about how the soundtrack to your day flows from one scene to the next.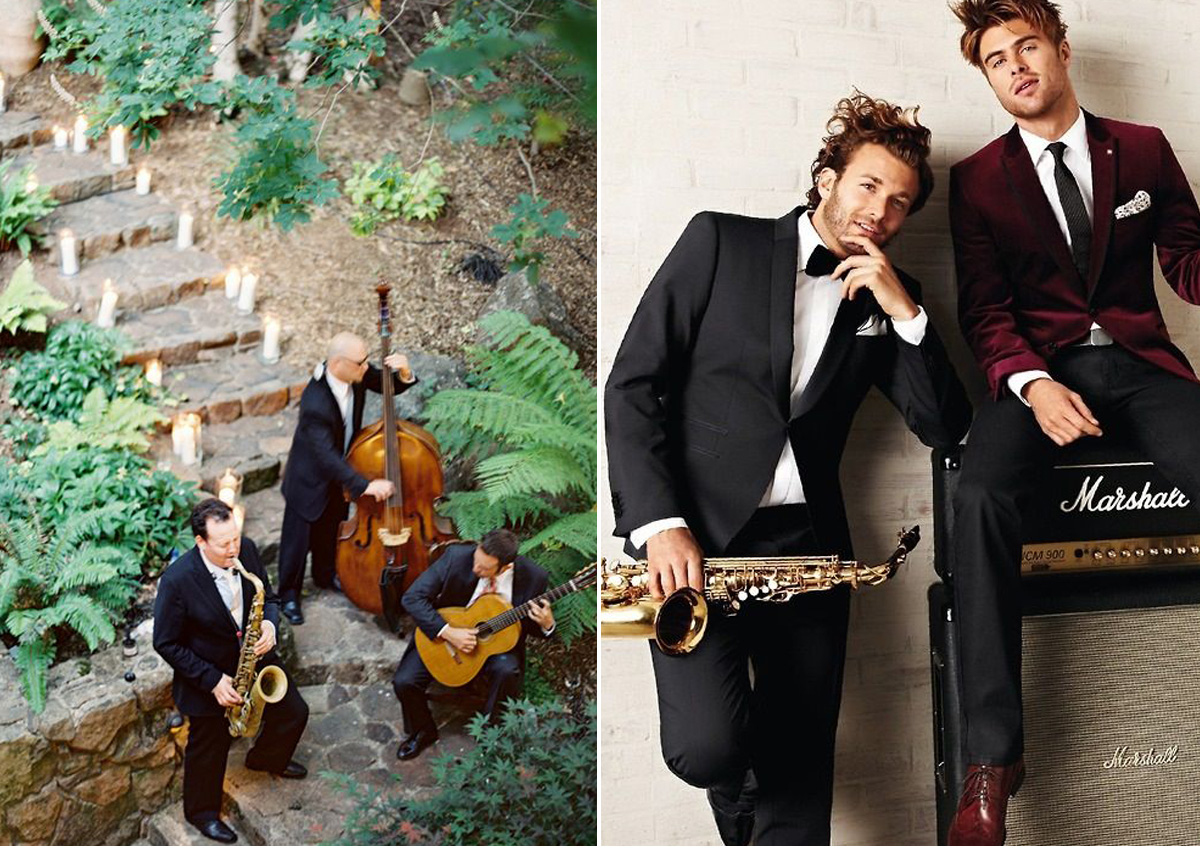 Còsagach – Snug and Warm
And if the Scottish tourist board has their way, we'll all be talking about Còsagach before the year is out. Dubbed the new Hygge, Còsagach is based on an old Gaelic word for feeling snug, sheltered and warm. The premise is about getting away from it all, relaxing and unwinding and focusing on your own wellbeing. Something, I like to feel, we offer a moment of with our wedding celebrations and experiences.
2018 Bridalwear Trends
Marion Mathews at Jesus Peiro gave us her predictions for the future of bridalwear..
We predict the beginning of a new era for the 'socially conscious' bride, inspired by Meghan Markle, she'll care about where and how her clothes are made, and will turn to designers with ethical credentials for the biggest fashion purchase of her life – her wedding gown."  She added "there will be a focus on quality, individuality and a return to luxe as an antidote to throwaway and fast fashion.Marion Mathews at Jesus Peiro
Whilst Emma at bridal boutique Miss Bush echoes this view
With the white noise of infinite choice and a never-ending stream of 'inspiration' comes analysis paralysis. As such good boutiques are reducing choice for a more heartfelt shopping experience. More passion, more expertise and a reduction of the carbon footprint of the very 'un-green' textile industry. Brides are now expecting us to be experts in our pared back, sports luxe, first lady looks. For 2018 expect clean lines, textured fabrics impeccable made to measure, atelier services and a thoroughly traceable, ethical production process.Emma Meek, MD at Miss Bush
Emma notes that a sneak preview of the Jesus Peiro '19 collection and the fabrics being used in the Suzanne Neville and Sassi Holford '18 collections are featuring pure silk crepes, silk pique, sculpted cloque with the most minimal level of embellishments.
Marion Mathews at Jesus Peiro added more tips on what to expect from 2018 bridalwear trends:
Iconic-inspired structure
Cut-out empire lines
Rich, full, floor length gowns
Understated structure  – oblique and crossed shapes, along with straight necklines
Flowing, flouncy and floaty; exquisitely feminine.
Romanticism: structured silhouettes, lace roses and curly flounces
Whilst Annika from Netherlands renowned Bridal Boutique Wild at Heart, as reported for The Bridal Edit, tells us to keep a look out for:
Pearls! Modern designers have found great ways to make them look cool and classy.
3D embroidery is definitely here to stay.
Ruffles and/or layered skirts.
Mix & Match. create a unique look using layers, separates, skirts, dresses, overcoats, pants, etc.
Statement sleeves. From fitted long sleeves to bell sleeves or floor length flowy sleeves
So there you have it, our bumper trend report for 2018. Ultimately your wedding day is a chance to celebrate you and your love, so if you feel drawn to any of these ideas then go for it. Do all of what you love and none of what you don't, is our advice.
Wishing all of you 2018 and 2019 wedding planning couples lots of love and luck with your journey into married life. Enjoy every moment!
If you want to get supported by the experts to create your own wow-factor celebration, where every detail is carefully considered and flawlessly executed, then do get in touch to discuss our wedding planning services. Contact us at [email protected] for more information.
All image credits found here.