I have such a colourful, fun-filled wedding to share with you lovelies as we get stuck into the working week!
Bride Hannah is a primary school teacher and groom Adam works as a public speaker and leadership and development coach. They married on the 19th of August 2018 at Gurrow Point in Dittisham, Devon; bringing together a myriad of elements of their cultures. Location was key for their travelling guests who made a holiday out of their trip to England for the couple's riverside wedding.
"We wanted the wedding to reflect both of us and where we are from – I'm South African and Adam is Irish, so we wanted to represent both cultures and identities in our day. We also wanted to show our love of adventure, fun and the outdoors."
Images by Clare Kinchin Photography
Hannah's stylish dress was from BHLDN and bought in New York. I love the intricate pattern – and the beautiful bride paired her dress with a veil from our Little Book for Brides member Britten.
"My stylist Reagan was a star; she knew the dresses so well and helped pick out the one. I was very lucky to be taken by my mum on a mother and daughter trip to New York which was our hen week.""Adam and I met in Serrve Chevailler in the French Alps whilst taking part in the army ski racing divisional competition. Adam was a captain in the artillery and had competed in the racing for a few years whereas I was in the Oxford Officer Training corps team having never skied before. However, we didn't meet actually skiing or even on the slopes but at a fancy dress party held at the end of the racing."
"Early on in the evening I met Adam and quickly introduced myself and my palm bruise (following a spectacular downhill crash) and spent the rest of the night chatting. Adam and I got engaged last summer while we hiked self supported from Chamonix to Zermatt. We were engaged for one year and two days."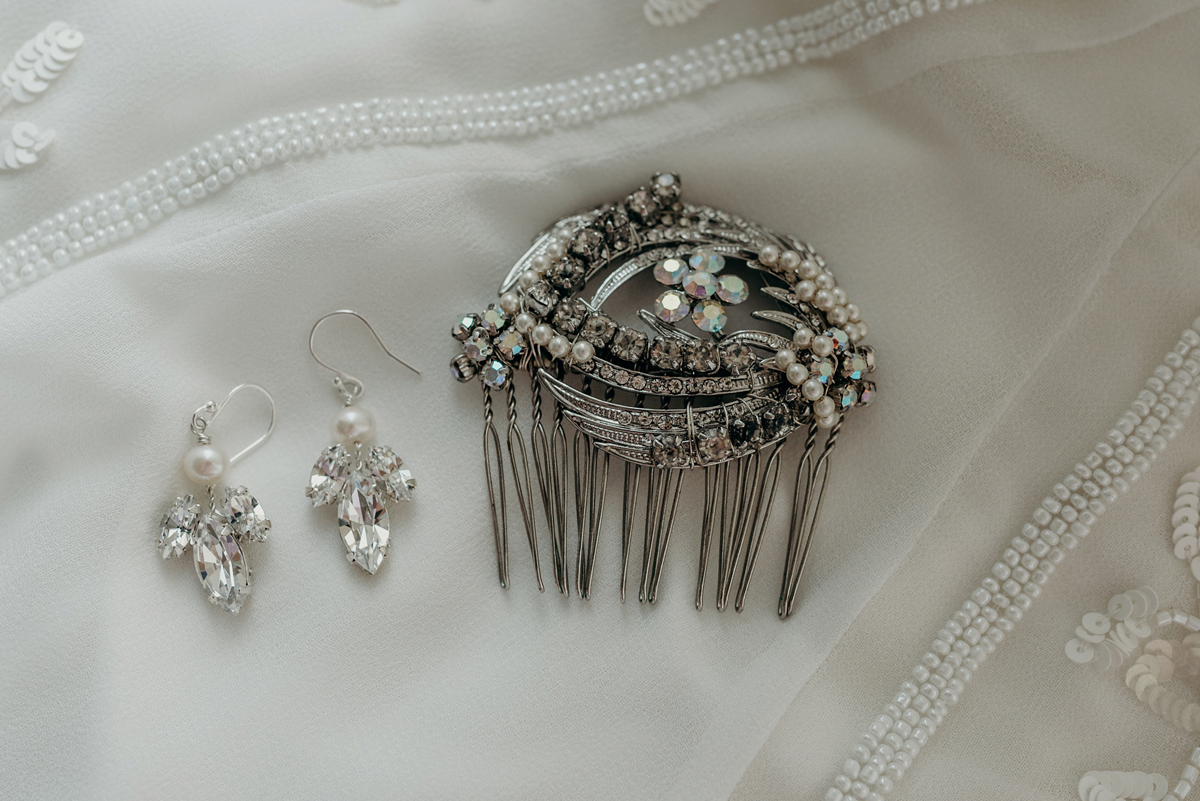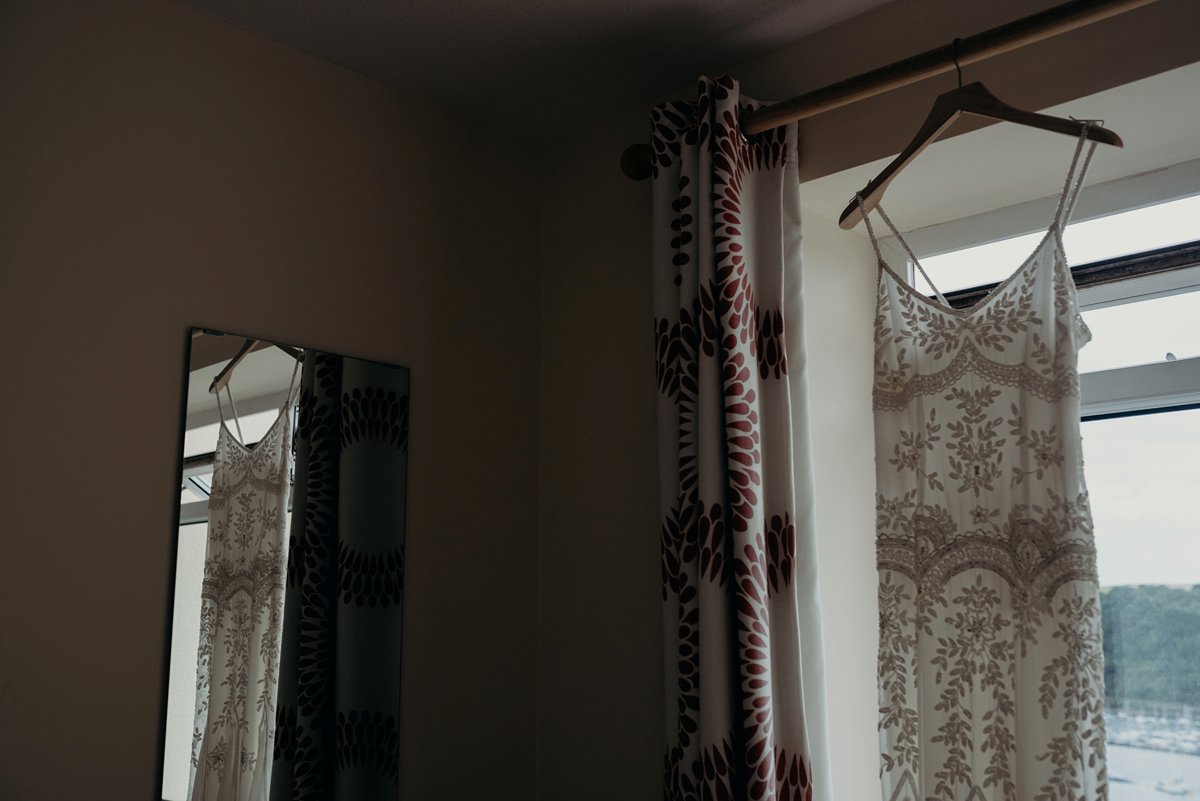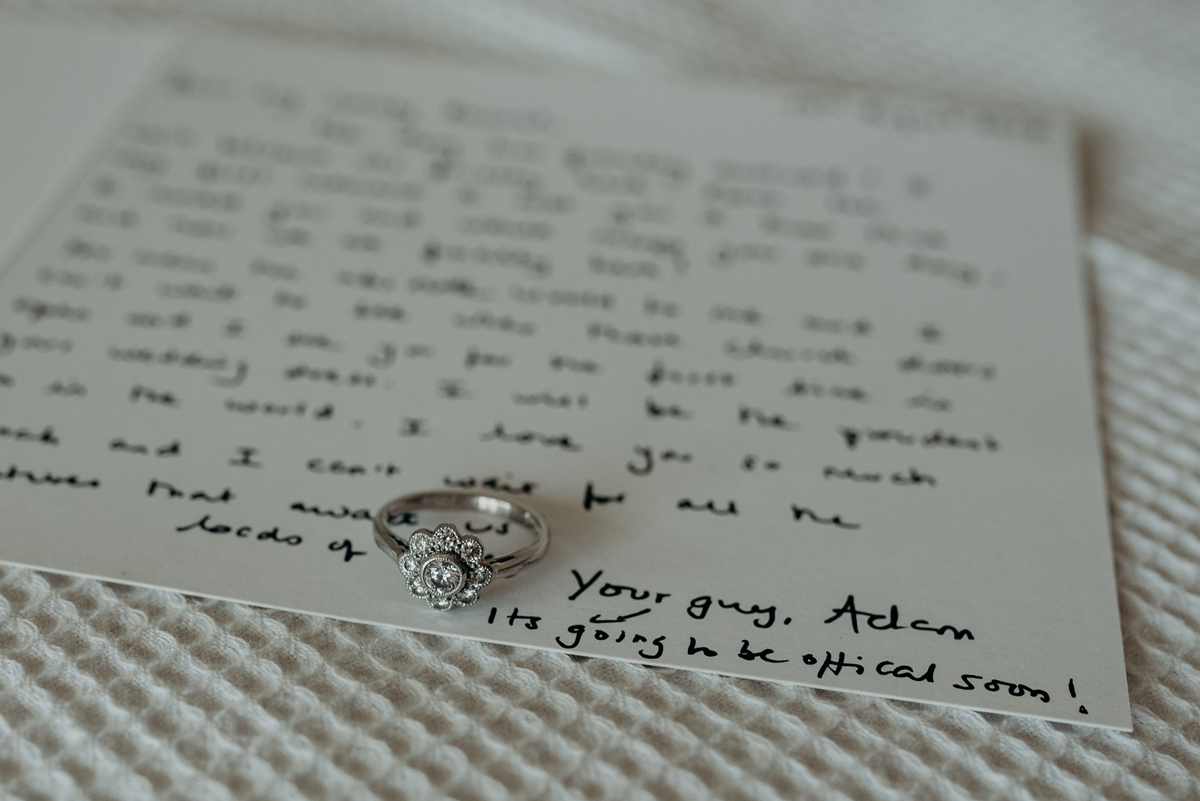 "I did my own make but my hair was done by Grace from Lips and Locks.  She was fantastic, really lovely and people complimented me on my hair on the day and ever since then."
"She also did my mum's hair and makeup as well as a couple of bridesmaids, aunt and even Granny; all of whom loved her and their hairstyles."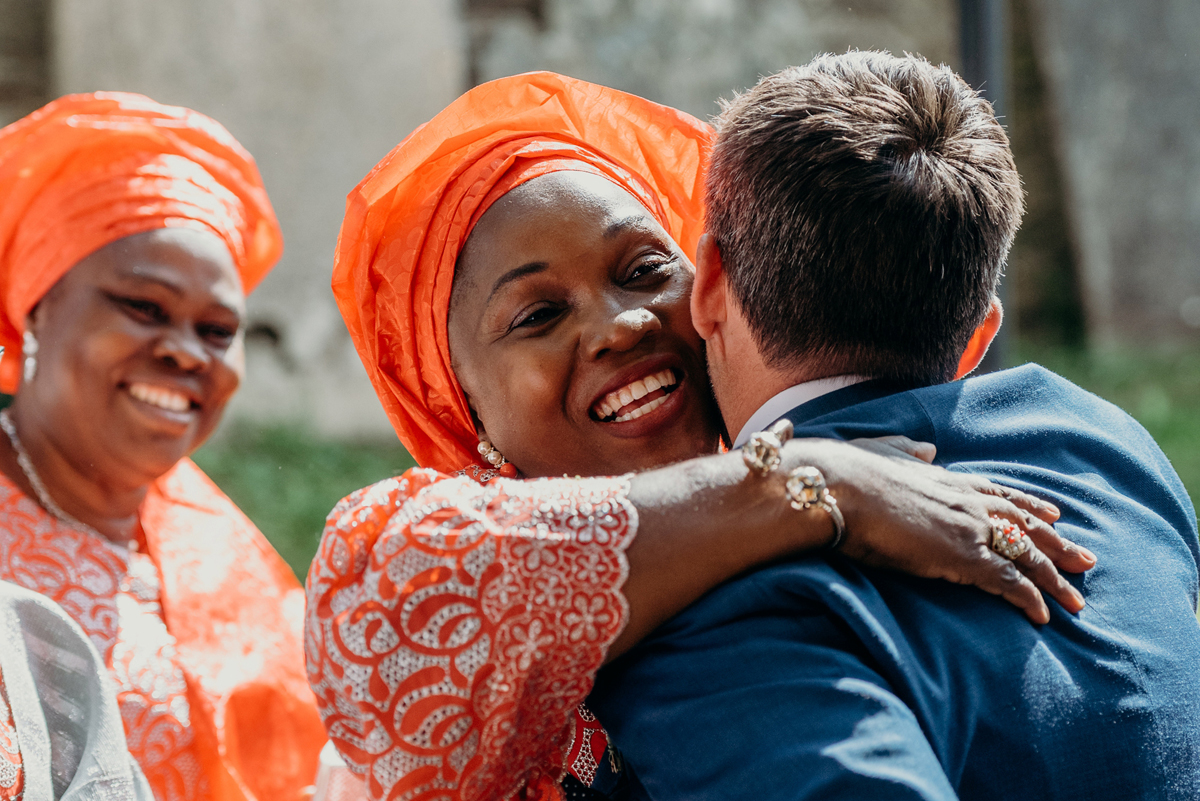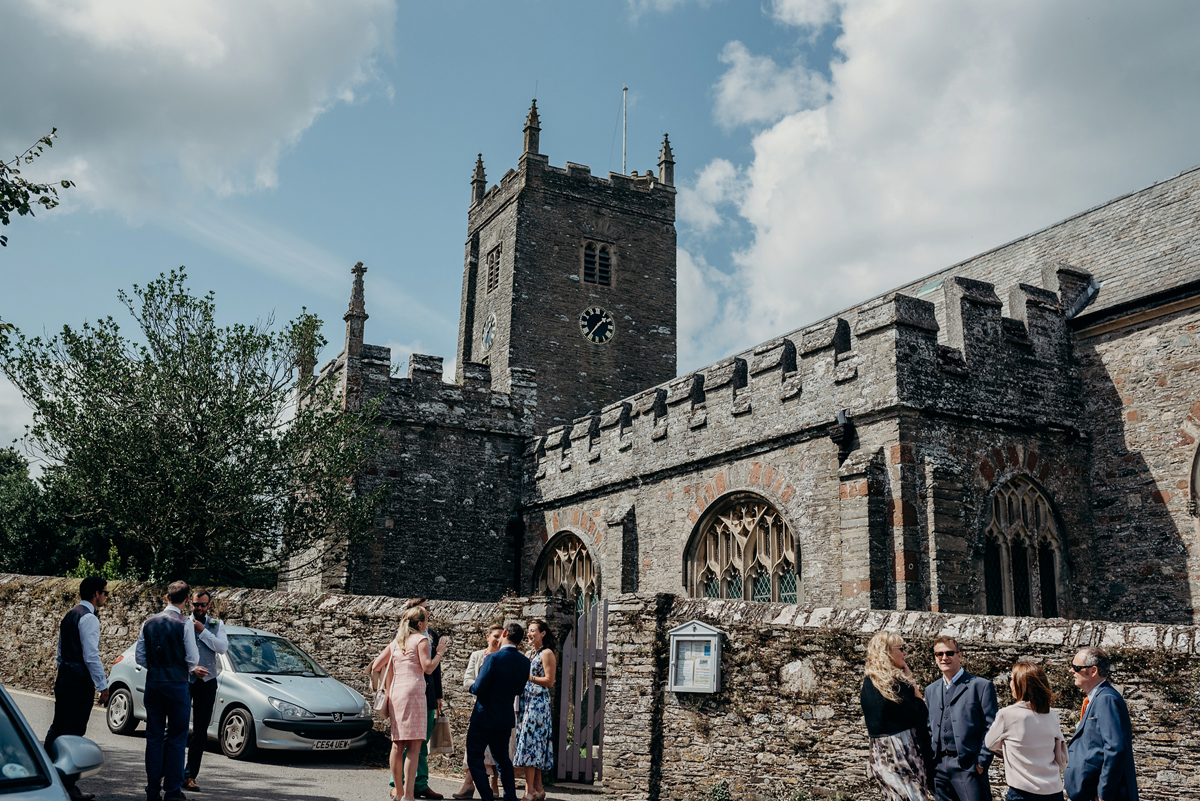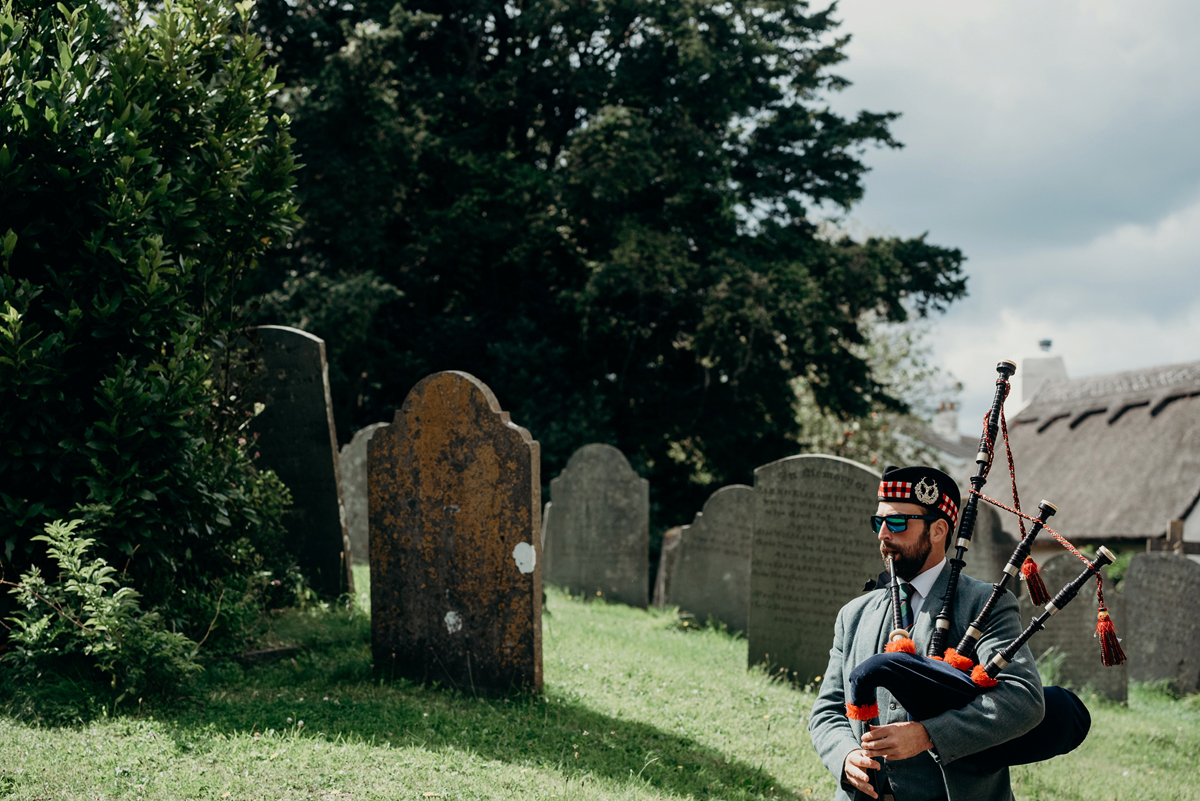 "Our florist was Kris from Dutch Quality Flowers in Totnes. He was a  recommendation from a girl, Ella, who I met at a church service. She was married in St Georges' the previous July. She also recommended the hairstylist Grace from Lips and Locks. Kris was fantastic on advising flowers that were available and what would work well with our theme and colours. He made the bouquets, buttonholes and supplied the flowers for the church and reception. On the Friday before the wedding, my Gran, aunts, mum and godmother arranged the flowers for the church and reception."
"I asked my bridesmaid's to wear a pair of shoes they had which were comfy and as the dresses (supplier unknown) were long, you couldn't see them so it didn't matter to me what they looked like. It was more important that the girls would be comfy and able to dance the night away. As a gift for the bridesmaid's I had a pair of earrings made for each of them. I was able to select the colour of the crystals for each of their earrings from Britten, who were so helpful."
The wee little helpers also sported colourful tributes to the couple's heritage.
"My mother and I made the flower girl skirts. We sourced the tulle from a shop in the garment district in New York and the band was made from some Nigerian fabric. We got the tops and cardigans from Next as well as the sparkly shoes. Our flower girls were my goddaughter Thomasine, Adam' niece and goddaughter Isabella and my niece Paige. Our pageboys were Freddie (Adam's Nephew) and Alfie (my nephew) and their outfits where from Next. I made the little bowties from the same fabric as the girl's skirt band."
An important factor for the couple was being able to reflect Ireland and South Africa in their decoration. In the church they arranged fabric bows tied onto the side of the pews in the Irish flag colours, but were African pattern fabric. The main flower arrangement in the church had King proteas, which are the national flowers of South Africa, and Irish bells to represent Ireland, whilst all the flowers were placed in grass baskets sourced from Nigeria. And Hannah and her crafty mum prepared the colourful bunting.
"We had bunting made from fabric my mum sourced from the fabric market in Lagos, Nigeria. We had talked about the style of print and colours I was wanted to use and she then went wild at the market finding these. Mum then kindly cut and then sowed the triangles for the bunting and I was left with the easy job of putting the bunting together."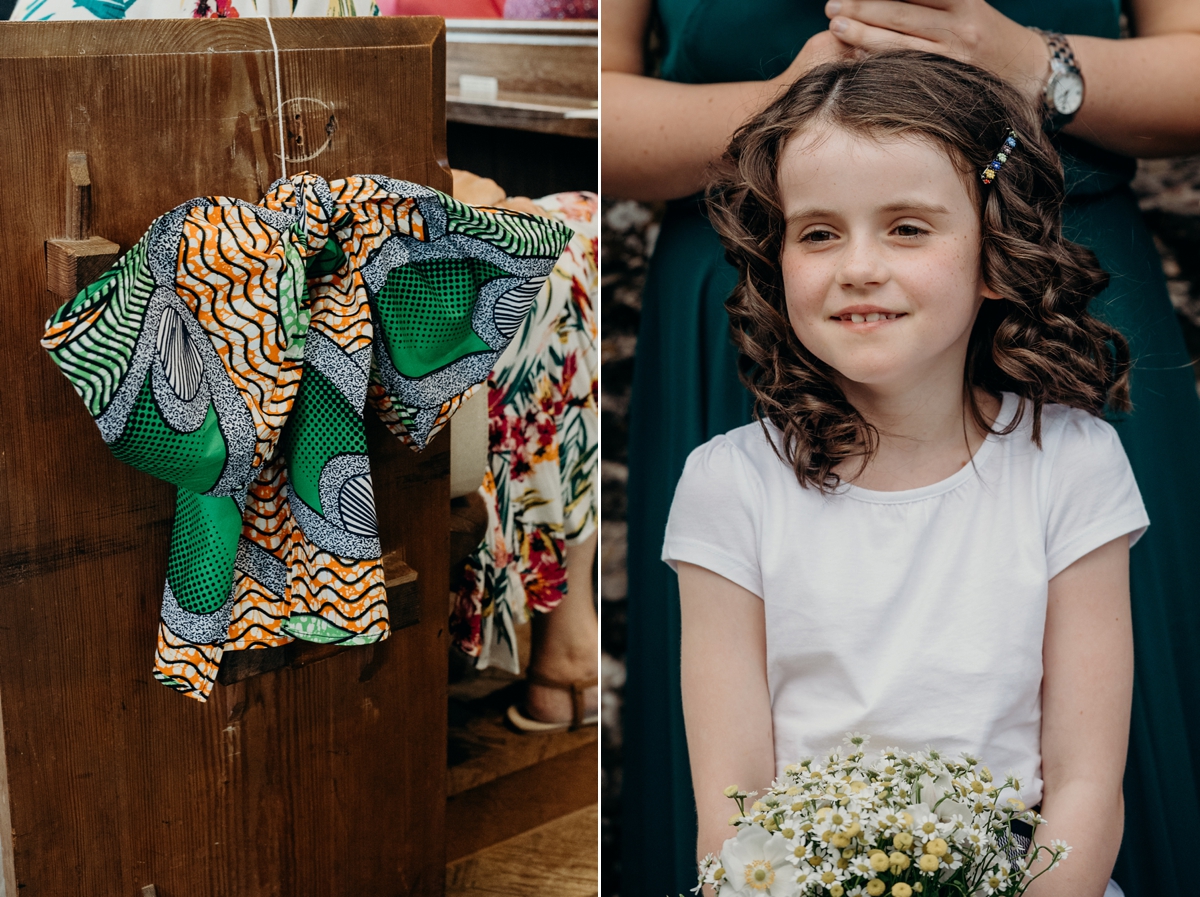 "My dad accompanied me down the aisle. We hired a string quartet to play music while the guests arrived and then for the bridal procession they played Beethoven's 5 secrets by 'The Piano Guys'. This piece of music is a mix of his different pieces and one that I love and knew would be the music I wanted to walk down the aisle to. It has a great build up and creates an incredible atmosphere."
"We had Father Bob from the parish officiate and he was fantastic – so many people said how they really enjoyed the service and how personal it was. We used the church vows."
"Following the marriage surgery the church ran before the wedding, with other couples that were being married, we learnt more about what the meaning of the words and knew they were perfect."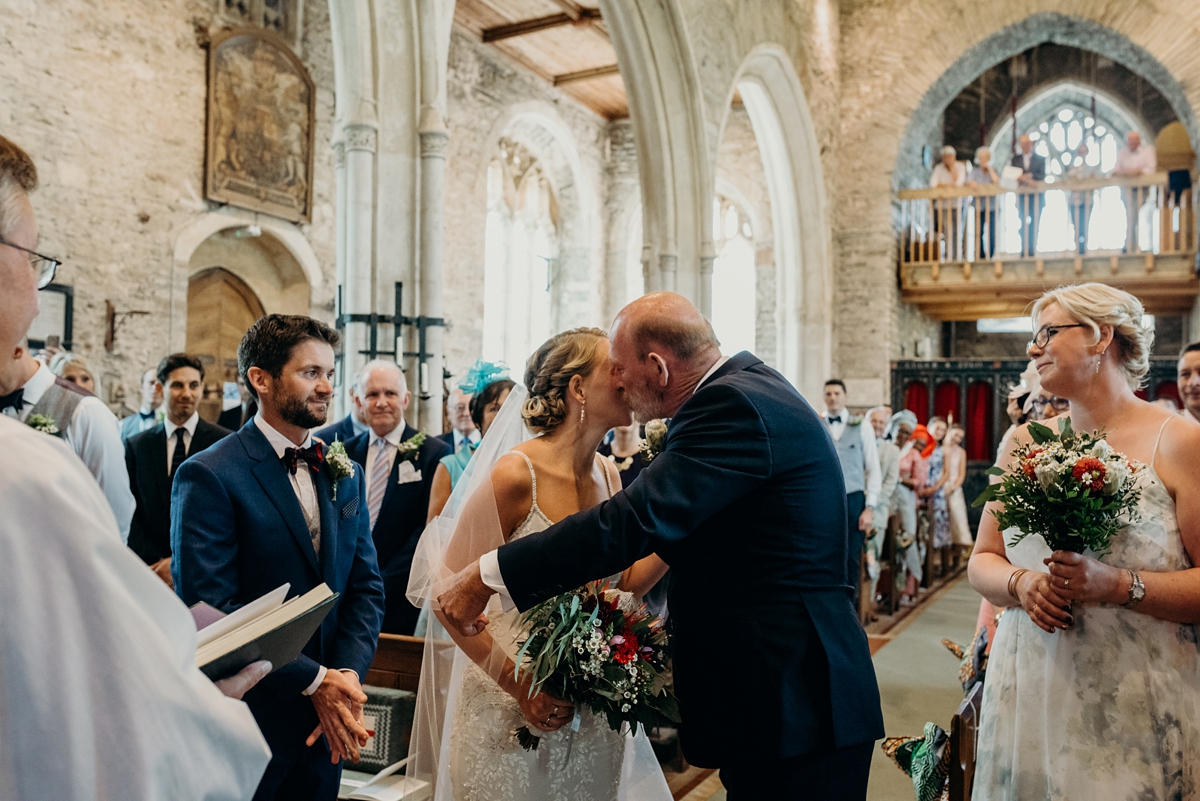 "We had three readings. Our first reading was 'Marriage by anon' which was read by one of the ushers, James. He was brilliant and actually knew it off by heart. Our second reading was a tailored section from 'The places you will go' by Dr Suess. Adam's niece and goddaughter Isobel who is 7 read this. She was word perfect; she had learnt it off by heart and read with incredible intonation, there wasn't a sign of nerves at all. Our third reading was 'Songs of Solomon' – Chapter 6 and 8."
"This was read by two of my friends who I lived with at university. This reading is a bible reading and even though I had read it so many times and listening to it being read on the day, the words and their meaning really hit me. We chose our first reading, as it was fun. The second reading was chosen as both Adam and I have travelled a lot and travel a lot together. The third reading was chosen as it is simply beautiful – and when sitting at the church listening to the meaning of the words they really hit me and I was quite emotional, rather unexpectedly."
The couple's ring were via Gold and Platinum Studio in Bath and where Adam had Hannah's engagement ring made. For Adam's ring, they had a mountain silhouette etched in around the band.
Adam's stylish suit was from Charles Tyrwhitt – and the cheeky groom kept his suit a secret from everyone, including his bride! His waistcoat was from Wood's of Shropshire and both Adam and his party added pops of colour and paid homage to the couple's backgrounds with their accessories.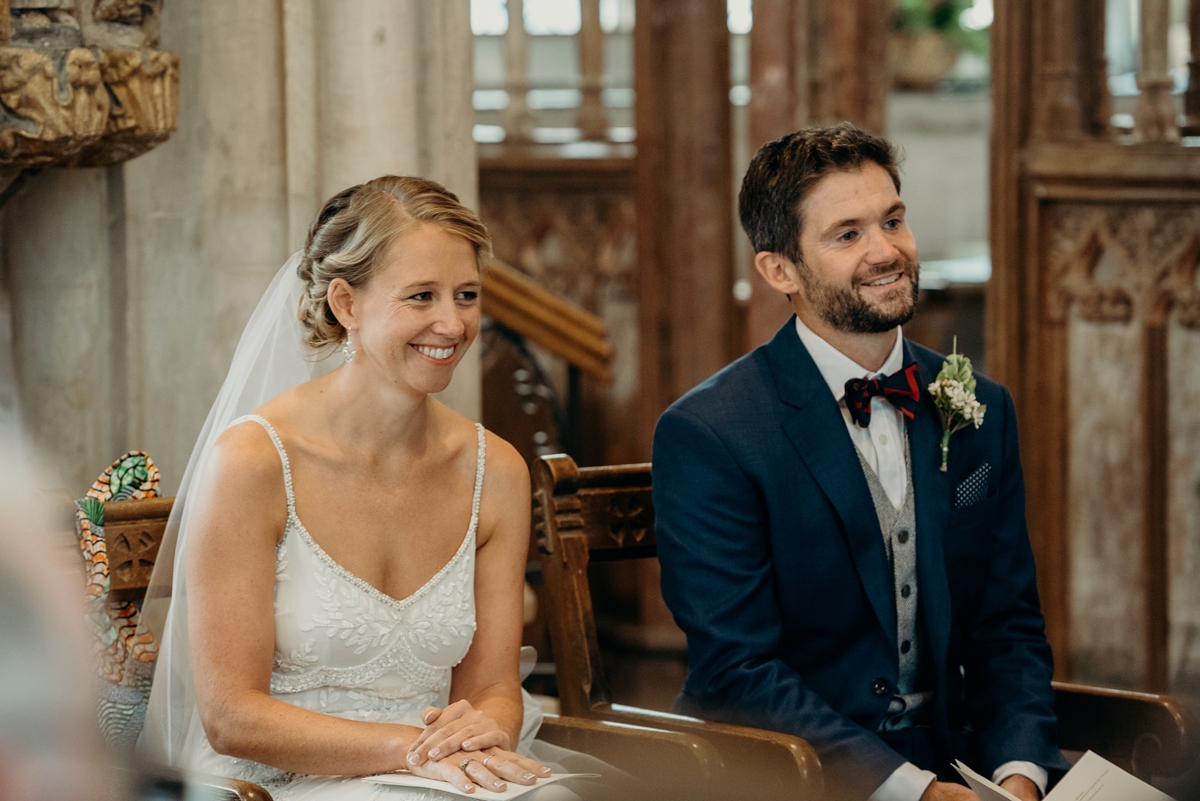 "Adam's bowtie was an artillery bowtie (the army have set design ties for the different corps) and an African fabric covered belt. The best men and ushers all had; the same waistcoat, this was the same as Adams, an African belt that was sourced from Lagos, Nigeria and a handkerchief. I made every one a handkerchief, which had a Protea and a shamrock embroidered on opposite corners with their initials and date of the wedding."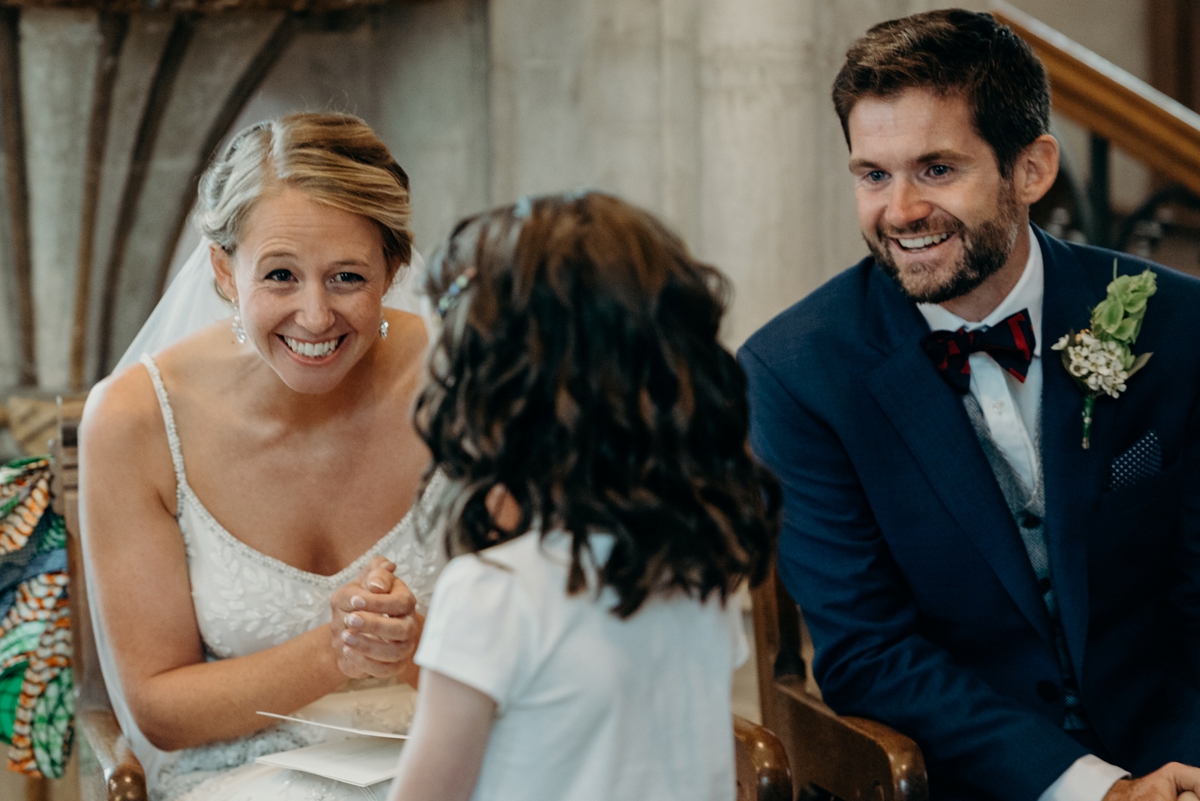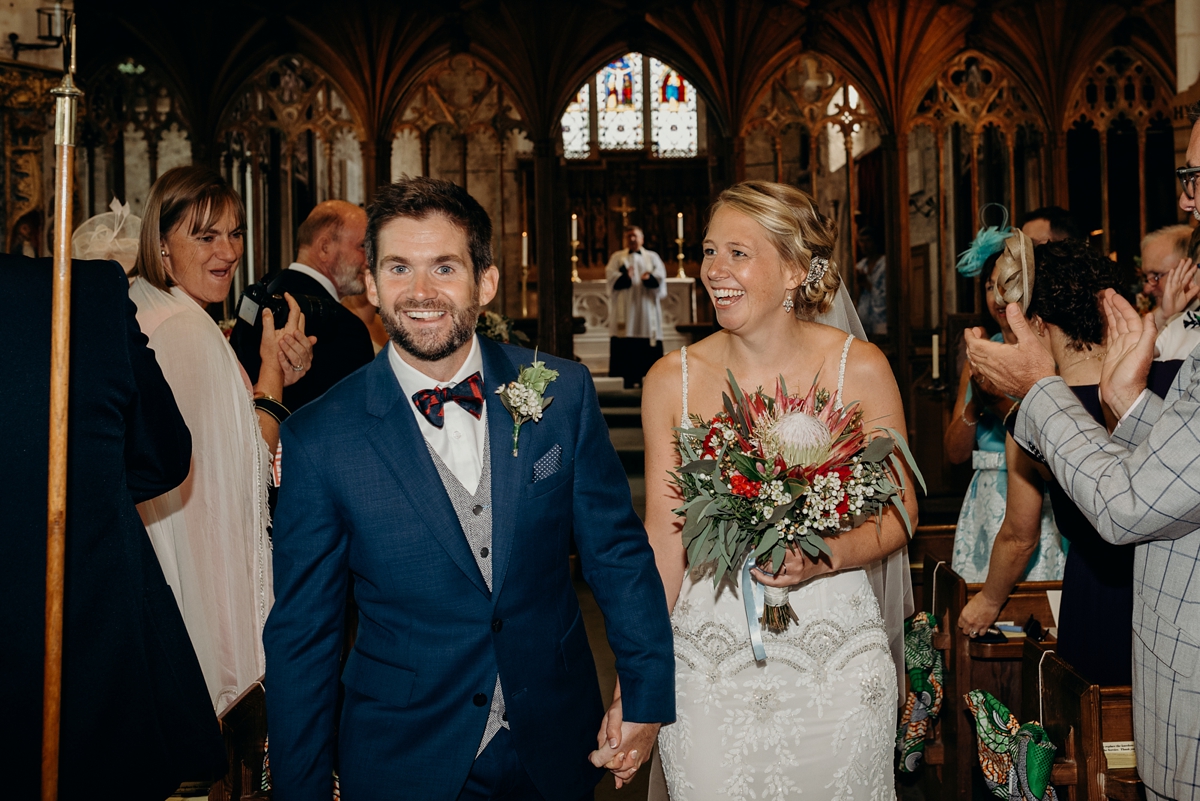 "Our photographer was the fantastic Clare Kinchin Photography. We cannot express how chuffed we are with the photos. She captured so many of those special moments during the whole day; we are truly blown away by the pictures she took."
"She seemed to be everywhere without even being there. She dealt with the group photos so professionally, as it's tricky getting groups together and instructing them."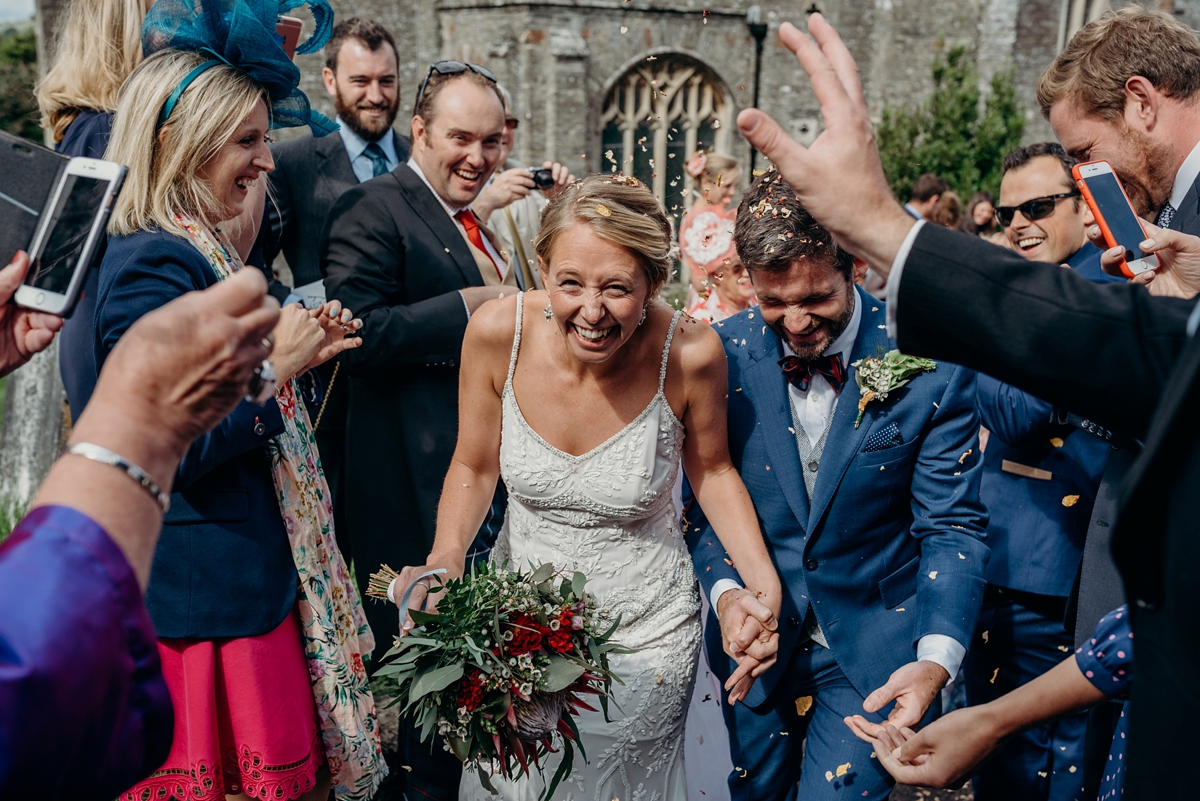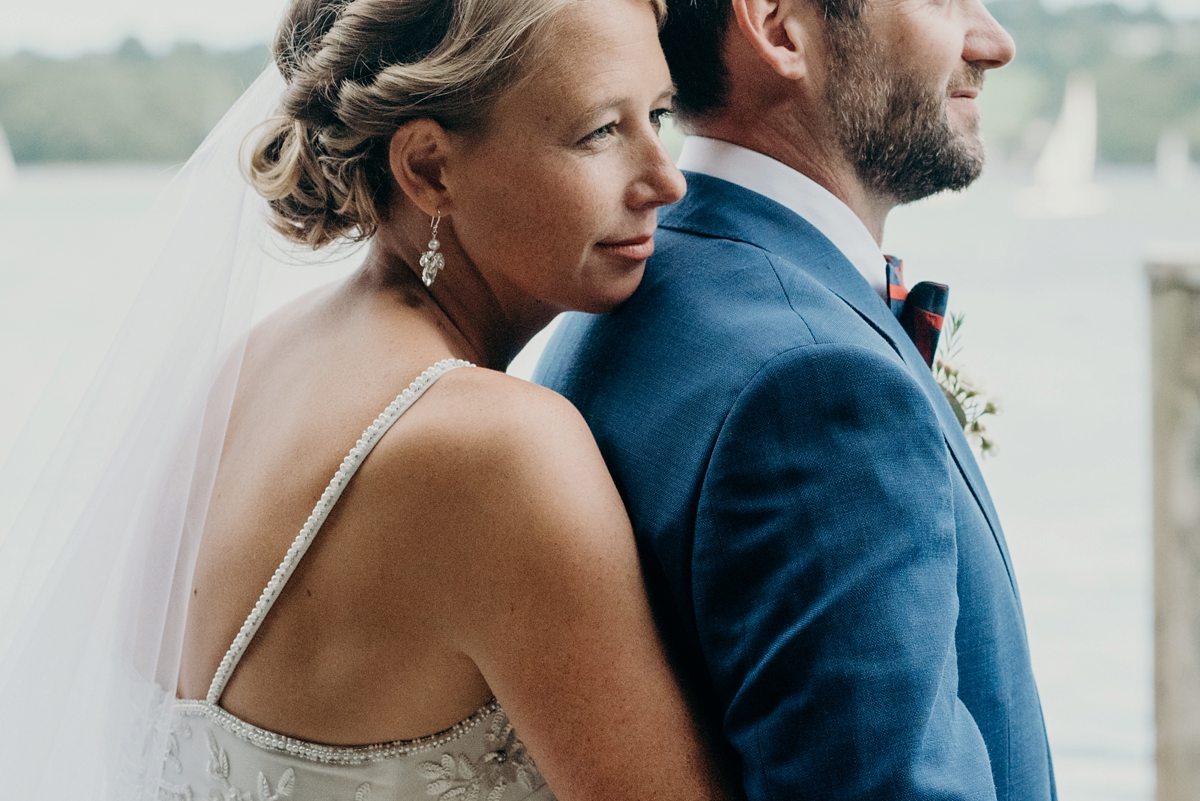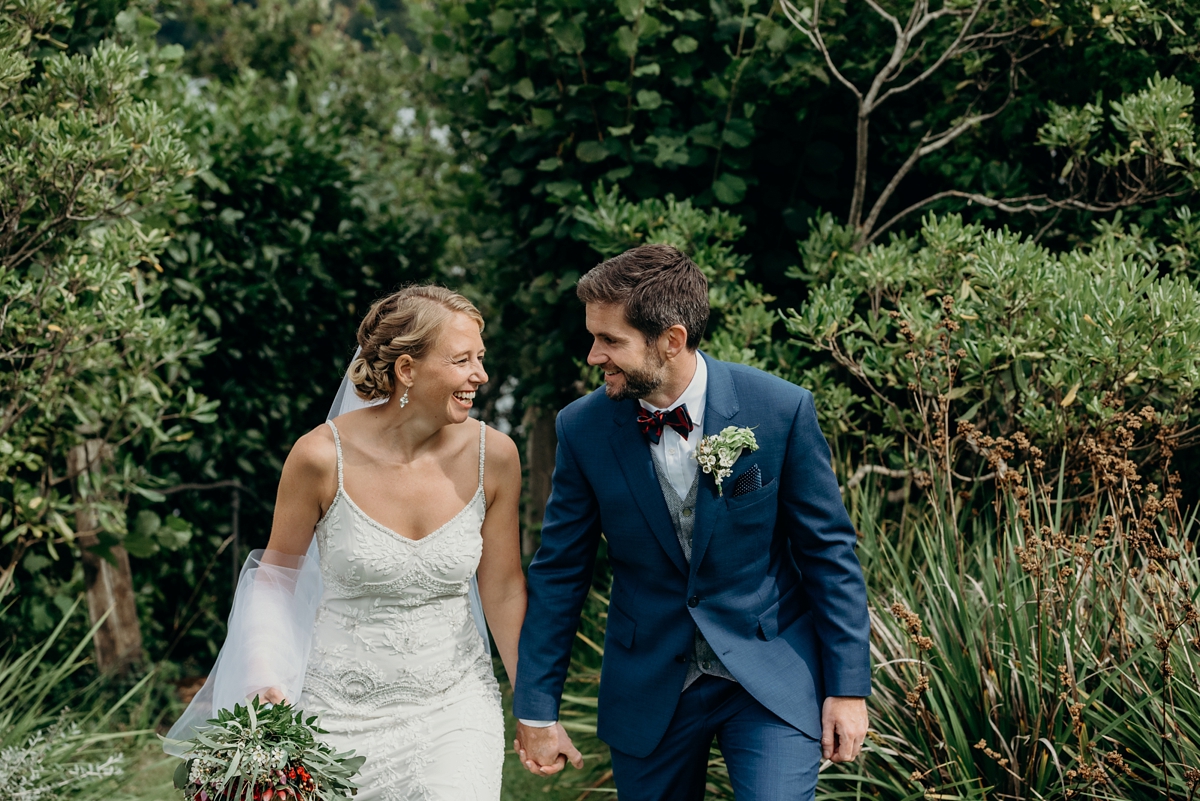 "We hired a bar from the marquee and I come up with the plan to create a cover for it. Adam's sister Nina and her husband Ryan did most of the painting, which was the front of a pub in Dunfanney in Donegal. This is a pub that we always go to when in Donegal. When Adam's sisters got married there, they had part of the reception at the pub. It's a staple of what Ireland is to us and especially special to Adam and his family."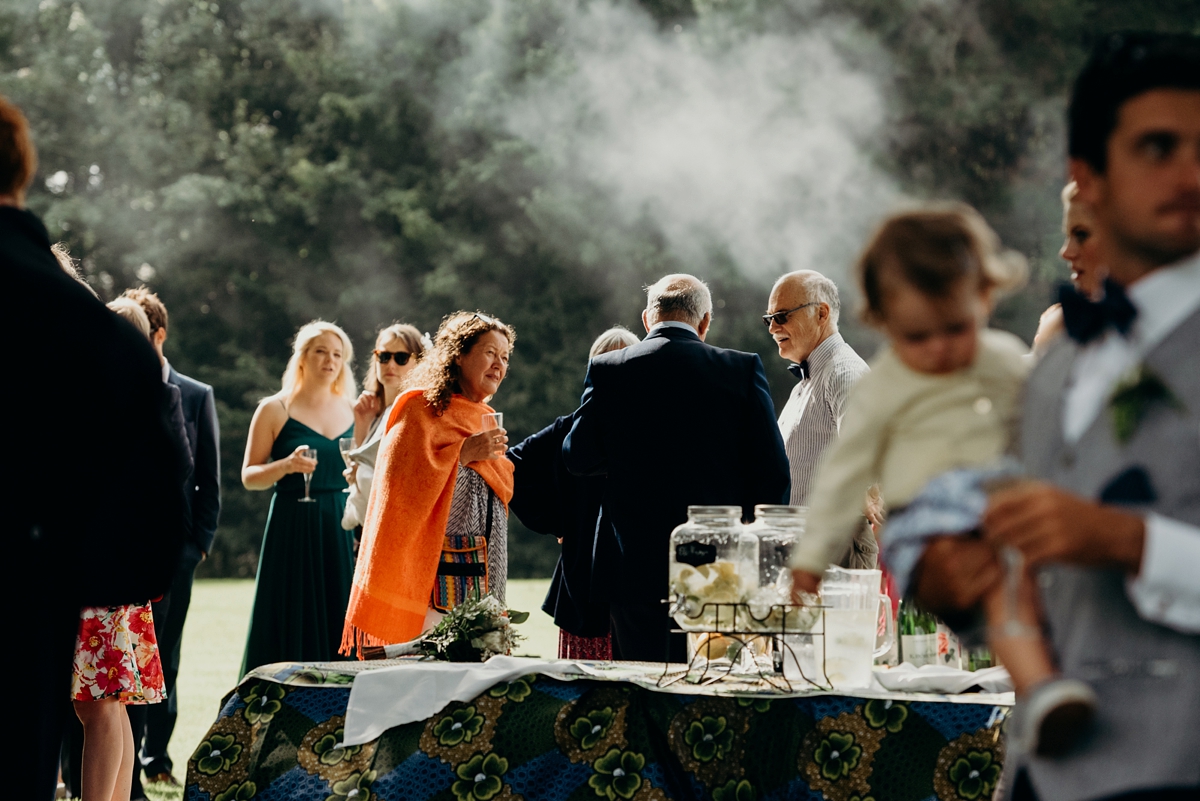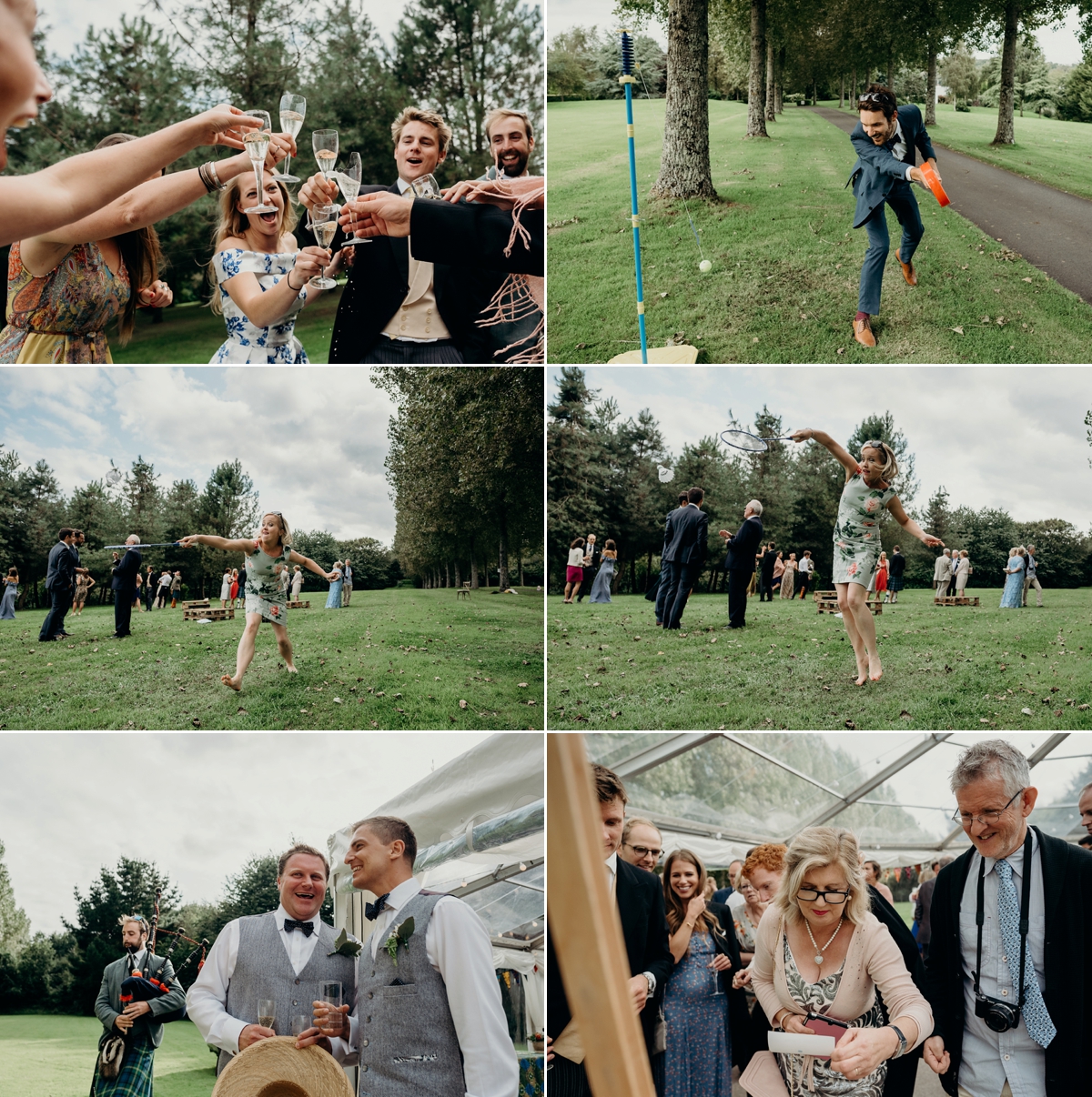 "We used Entertaining Food as our caterers and Elaine and her team were incredible. We emailed a variety of caterers and asked if they would be able to supply an Asian themed wedding meal. Elaine was instantly so enthused by our ideas and when we had our tasting, we were blown away with the flavour."
"On the day, the meal ran smoothly, the staff was so attentive and nothing was too much. At some point after the meal I overheard two of my guy friends praising the Massaman curry declaring it was the best wedding food they had ever had."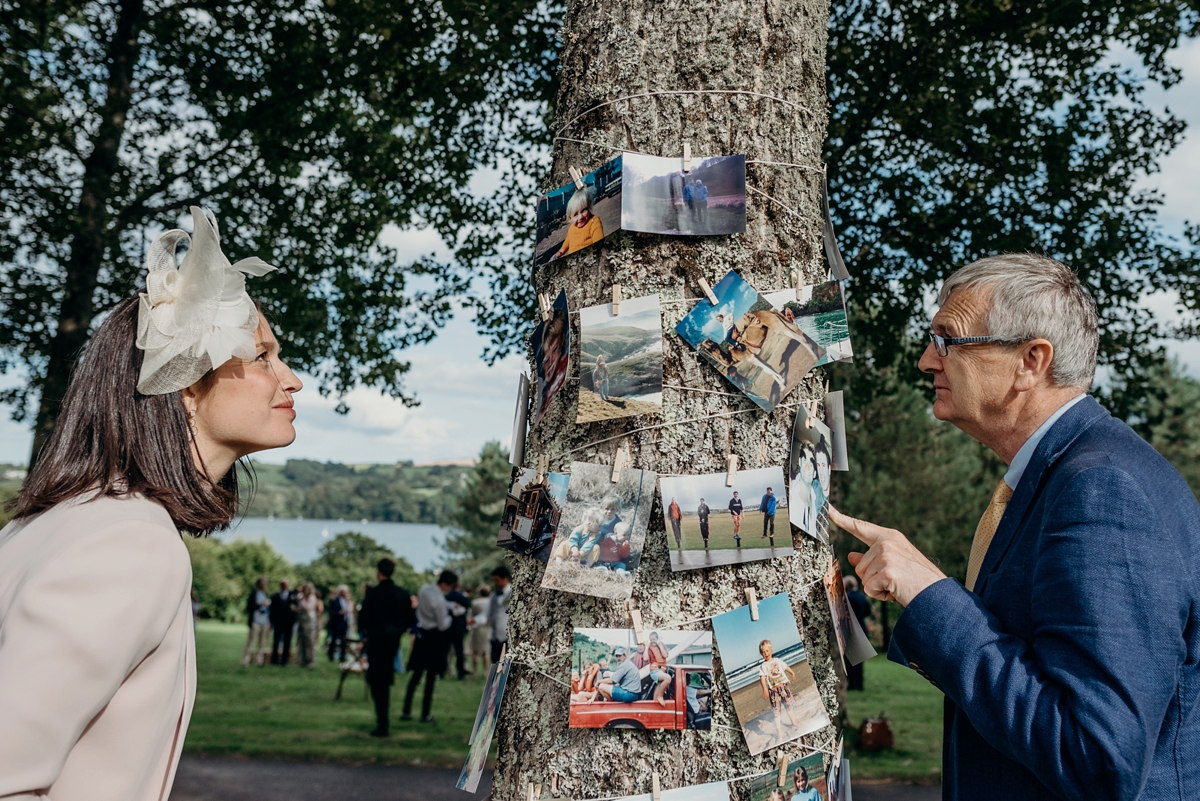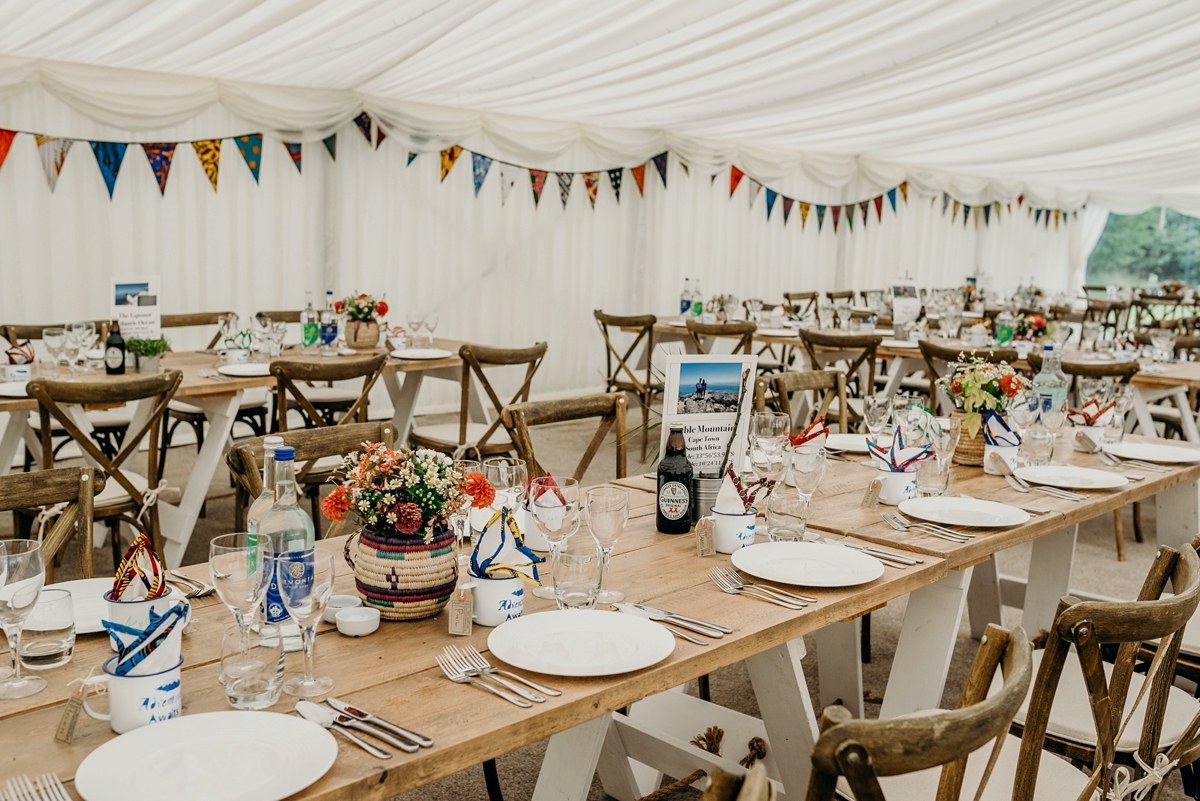 Hannah and Adam made their stationery, with help from the bride's creative granny.
"We made the order of service using an illustration my Granny drew. I ordered a stamp from the English stamp company from notonthehighstreet.com and then made the tags. I then asked my Granny to write the names as she has amazing calligraphy handwriting. In true creative style of my gran she got carried away and drew different illustrations on each of the place cards."
"She created a set of 19 images that she drew on the back of each card, all African and Ireland inspired. For the people she knew she tried to match the picture to them, for example one of my uncles was an elephant. These were then tied onto our wedding favours."
"As favours, we gave each guest an enamel camping mug from love tiki that we personalised with a stencil made by a friend from my hockey club, Claire Connell (she also makes amazing cards and wedding invites.) The design was of Mount Muckish in County Donegal where Adam spent his summers and where his family have a holiday home. After I had painted the stencil, Adam then wrote our initials and the date of the wedding on the mugs. We also had napkins for each guest."
"I sourced plain white napkins from Amazon and then sent these to Nigeria with my mum. She sourced different fabrics, which were then made into bias binding and sown around each napkin by a tictic man."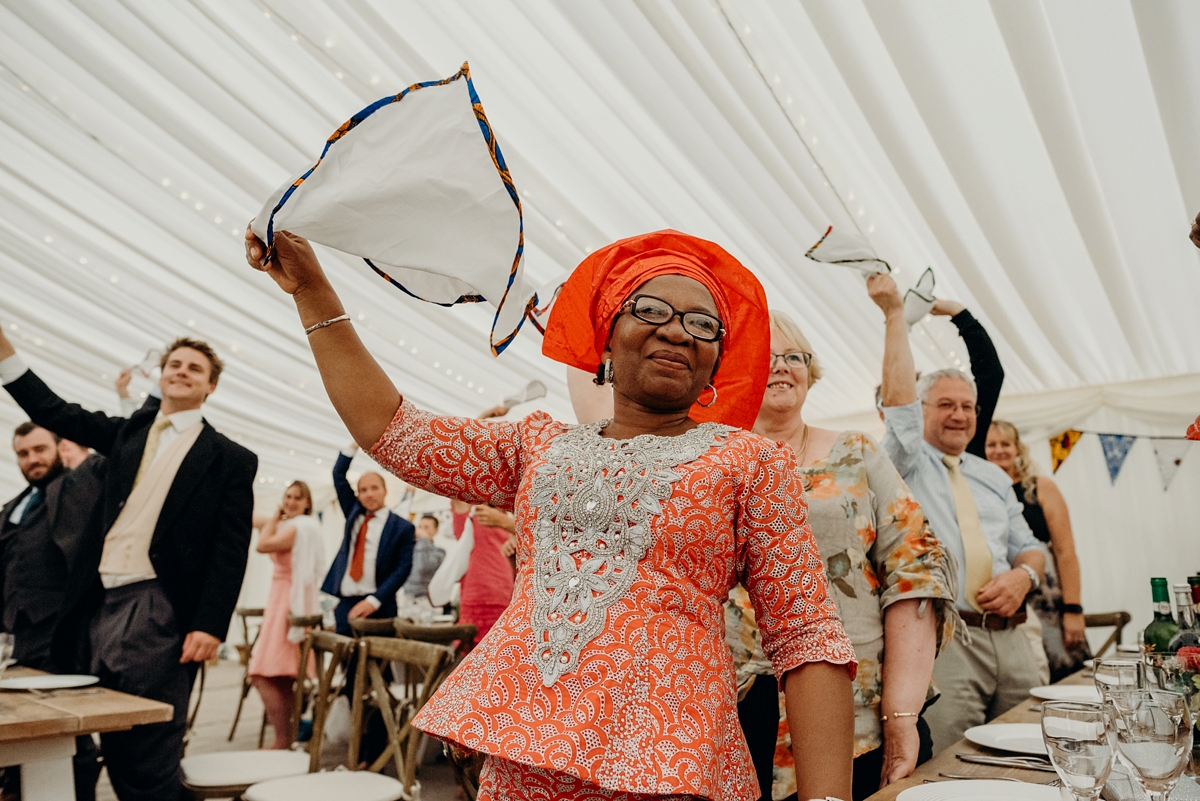 "The cake was made by Adam's mum – she is a fantastic cook and baker. We gave her a picture of what we would like and the flavours for the different layers. Adam's parents live in Belfast so they made the journey to the wedding with the cake in the boot of their care carefully positioned to avoid any damage!"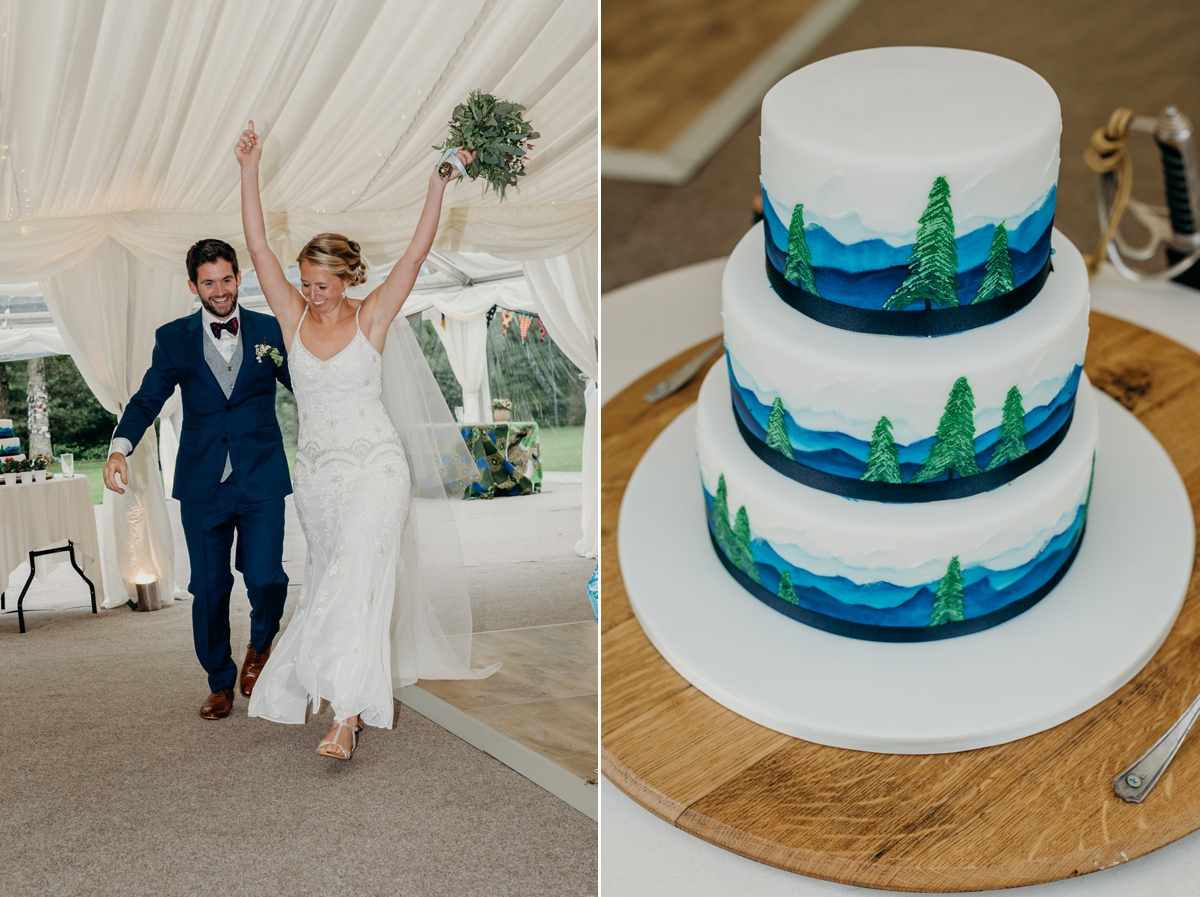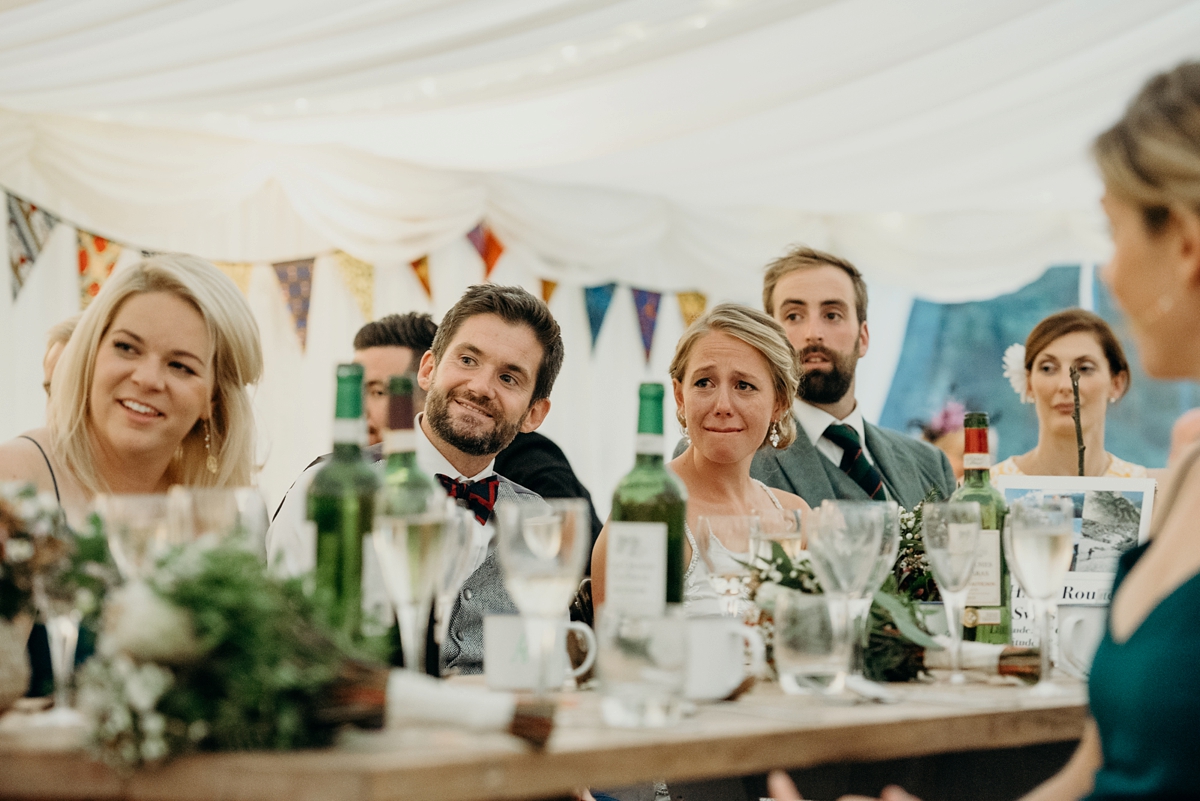 "We chose 'Lover of the Light' by Mumford & Sons for the first dance. This has been one of my favourite songs for years and then on a drive down to Devon we listened to a few options and once we listened to this we knew it was the one we wanted. It has great lyrics, tempo and sounds a little Irish too."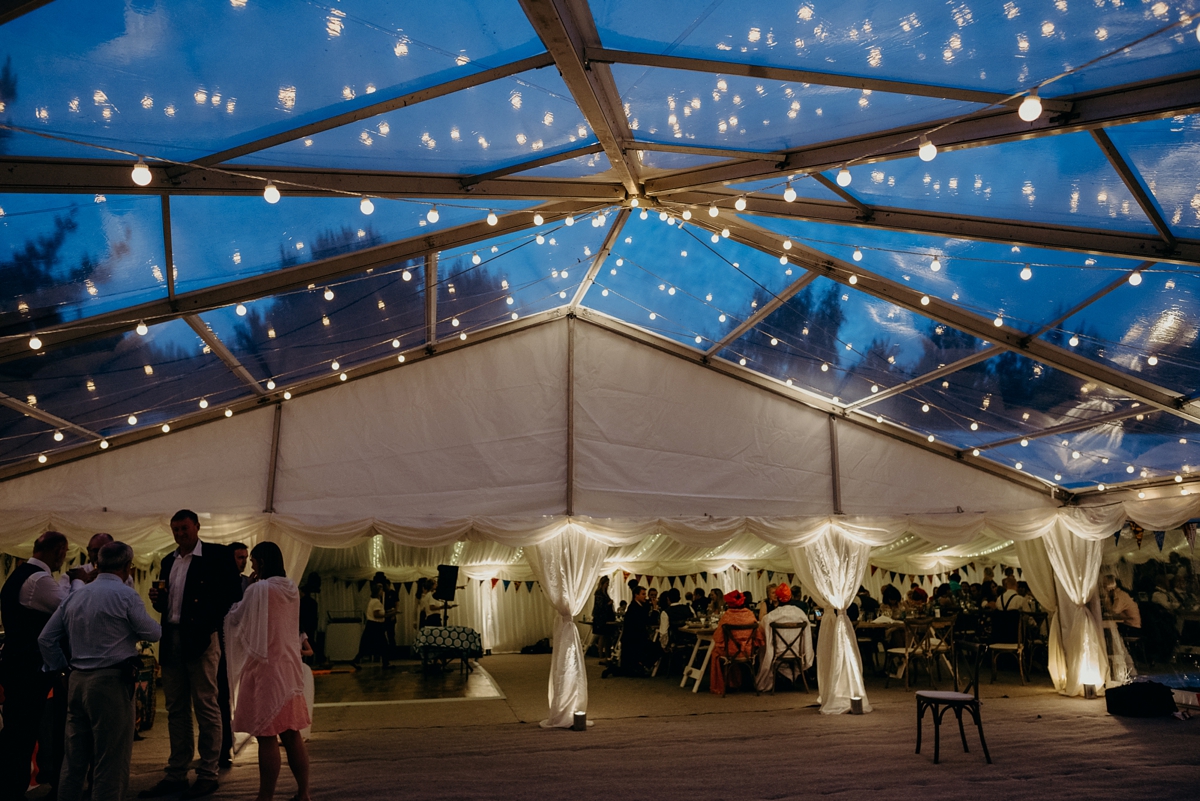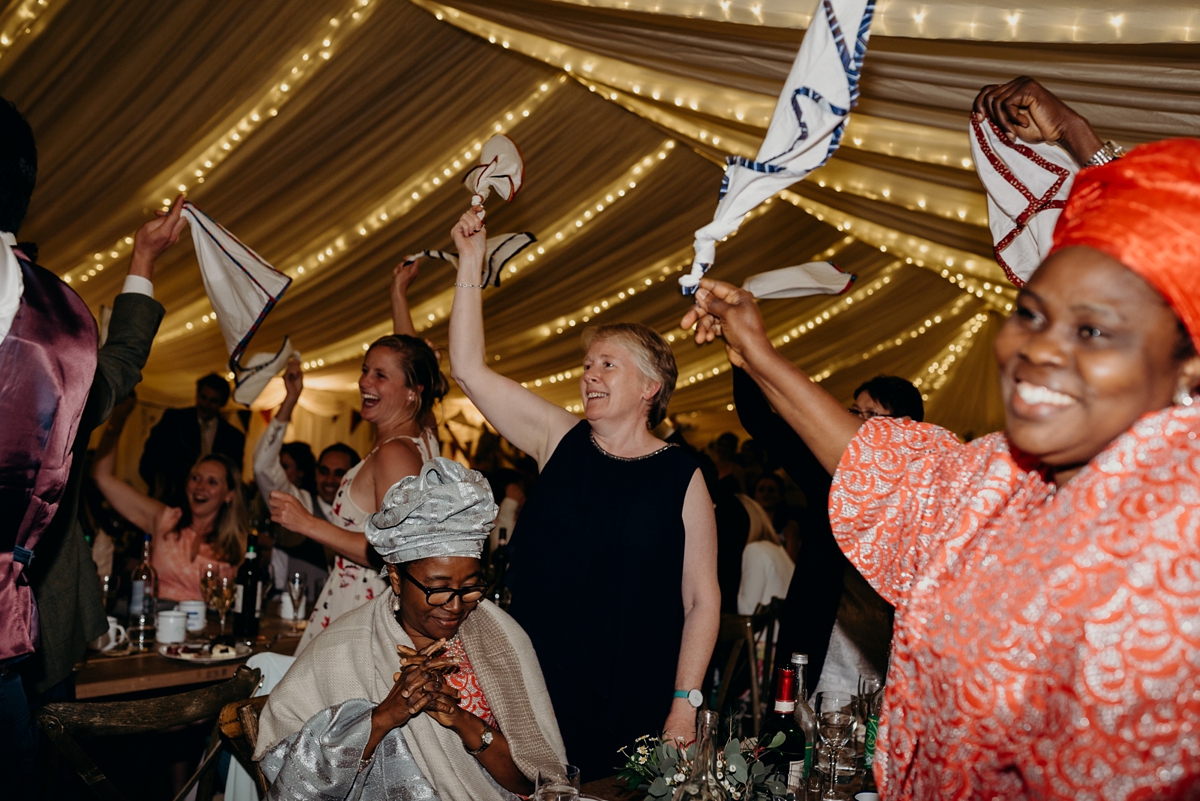 "I could not choose a favourite part, there were too many for different reasons. My dad's speech was incredible. He is a man of few words but his speech was amazing and made most people there cry. He also had a special country and western song sourced and we danced to that following his speech. Equally, I loved the moment Adam and I walked out of the church as husband and wife. Adam's favourite part of the day was when I walked into the church and down the aisle."
Words of Wedded Wisdom
"The days leading up to your wedding will fly by, there is never enough time so try to make sure you have all those little bits done in plenty of time. Soak up everything and realise that things might go wrong but that's life and you simply have to make do, as it will always be ok.
The most important thing about the wedding is you as a couple, getting married, not the decoration. Yes, it might not turn out exactly as planned, but no one else is going to know and most of the time everyone won't even notice."
"Don't try and do everything yourself; if people offer to help, take it, especially in the few days leading up the wedding, delegation is your friend.
When planning, decide on what is important – food, music etc. Spend money on that and not what you think a wedding should have."
"Our budget was around £20,000. We were very fortunate that both our parents contributed to the wedding. I think we were a little over budget as I am sure is the case for lots of couples."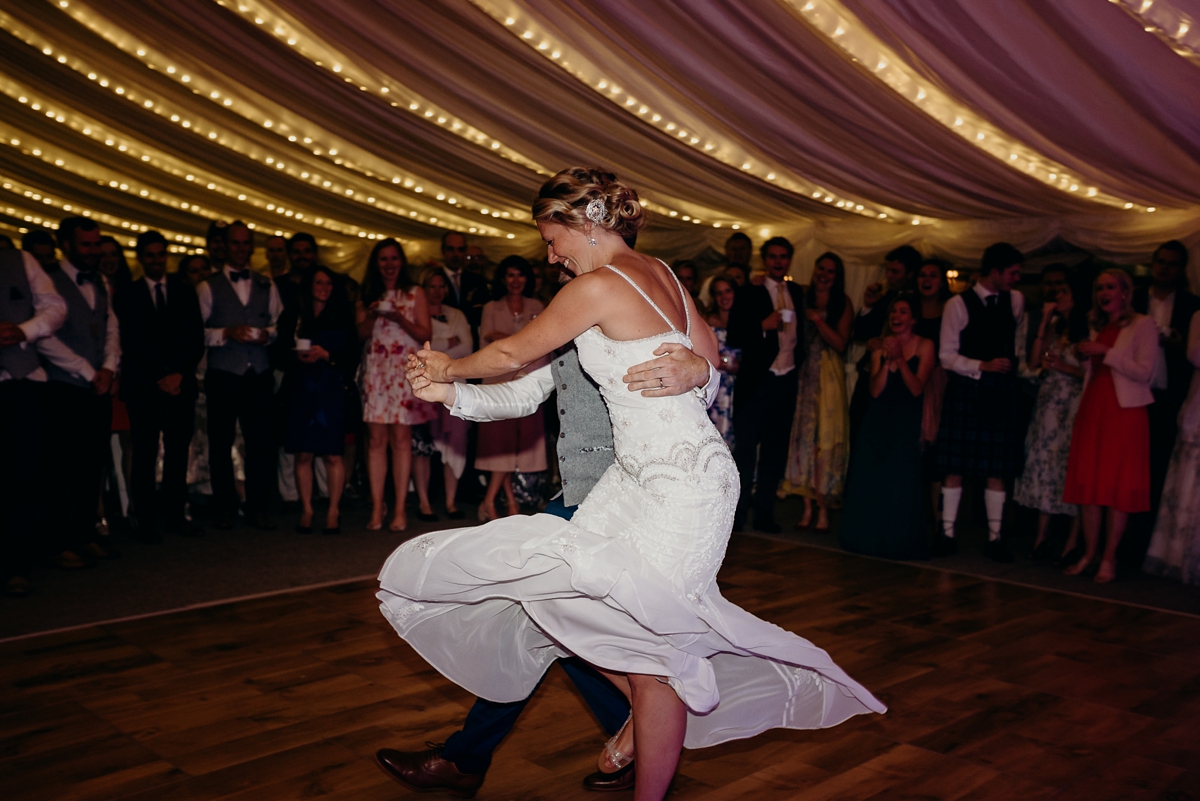 Thank you Adam and Hannah for sharing your big day – I just adore all of the little Irish and South African touches that made your wedding so personal. And a big thank you to Clare for catching such delightful shots of the happy couple having a ball with family and friends.
For even more inspiration, take a peek at these other fusion weddings we've previously highlighted on Love My Dress.
Love Jo -xo-