Today's wedding is just glorious lovely readers-  I guarantee it'll add a little sunshine to your day too.
Ciara and Lloyd married on the 12th of August 2017 at the stunning Chateau de Cazenac in the Dordogne region of France, surrounded by their friends and family.  The day was planned by Beth at Marry Me in France and captured in glorious detail by Jonny Barratt Photography.
"The overall theme was laid back décor with nothing deliberately matching – although I did carry the foliage theme into some of the stationery and table plan which was all designed by my talented Mum, Oonagh Moore at Foxglove Stationery.  My favourite colours are aquamarine and cornflower blue so it was easy to choose bridesmaid dresses and shoes."
"I (Ciara) had been to the Dordogne on holiday as a child and always loved the area.  I thought France was the perfect destination for a wedding as it offers beautiful weather, fantastic food and wine and the chance for our family and friends to have a proper weekend break.  The main draw of the chateau itself was that it sleeps up to forty five people on site which meant that half of our wedding party could be together for those four magical days."
Images by Jonny Barratt Photography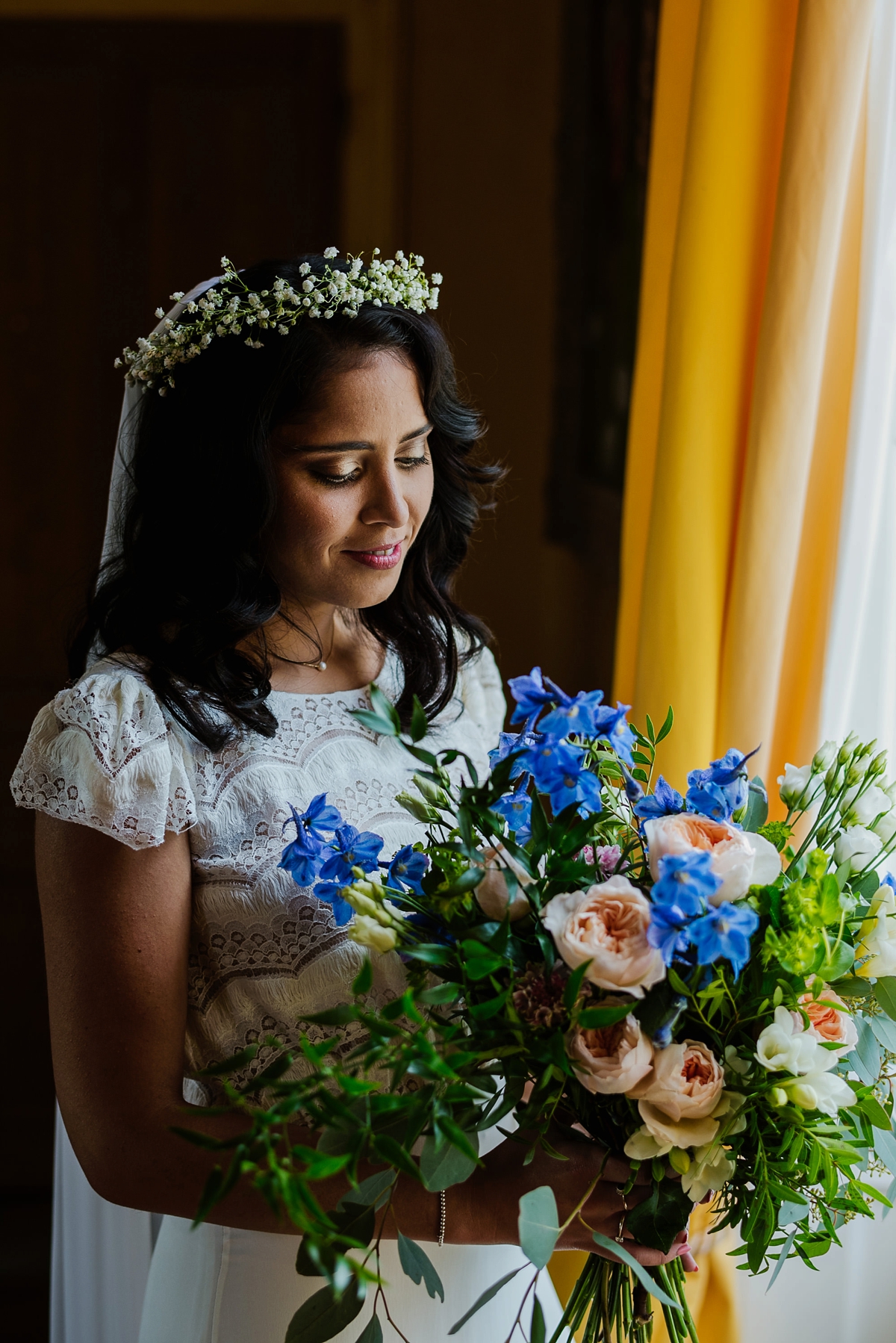 Ciara wore the gorgeous Verlaine dress by Laure de Sagazan, which she purchased from The Mews of Notting Hill, London.  I completely adore the fabric of the bodice and the cute capped sleeves.
"I discovered Laure de Sagazan and The Mews of Notting Hill through Love My Dress and I knew almost immediately that no other designer would do.""I knew I wanted a Laure de Sagazan dress from the moment I got engaged – the lovely team at the Mews encouraged me to try on a design and I felt tingles all over my skin so I knew it was the one.  When purchasing wedding dresses friends had advised me that you often pick something you would never expect to pick which in my case turned out to be completely accurate."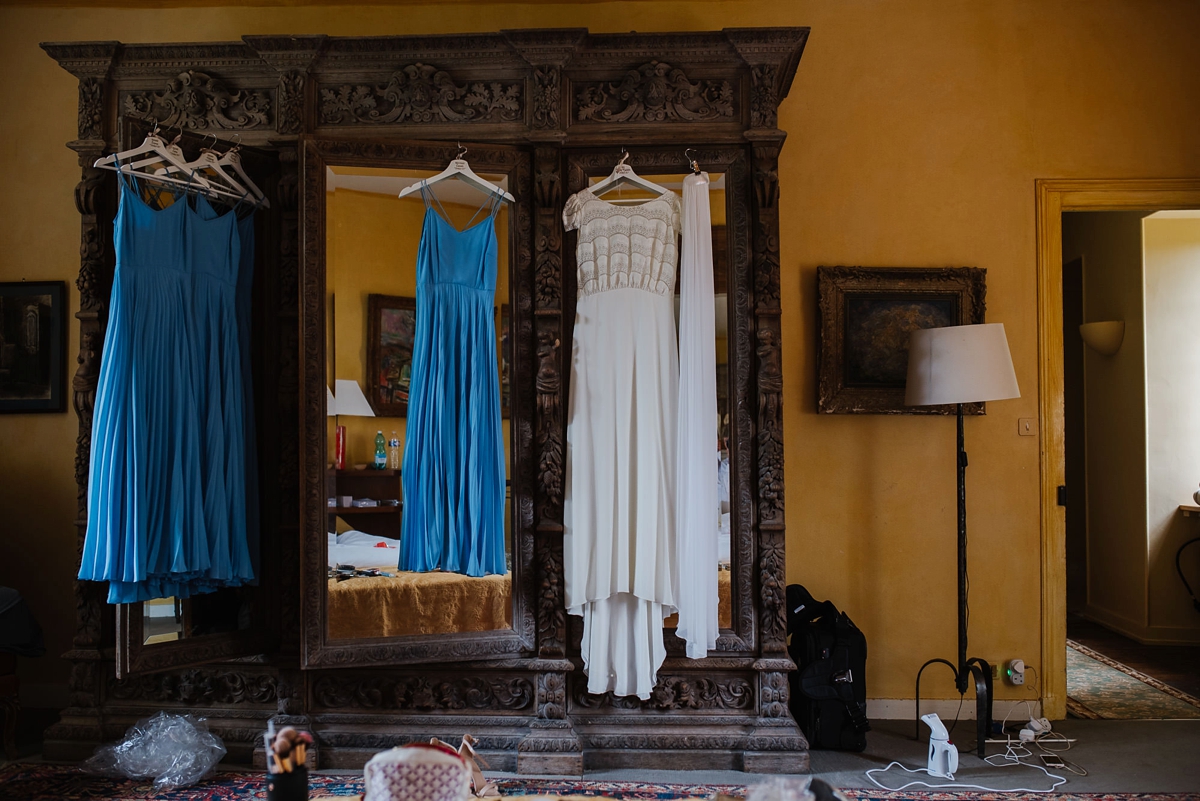 "One of my favourite items were my shoes.  I had a vision of pastel blue suede sandals but couldn't find them anywhere in the UK."
"In the end I had them shipped from Anthropologie in the USA.  The iridescent heel was a gorgeous flash of colour under the dress."
To complete her look, Ciara also wore a gorgeous veil which was handmade by Belle and Bunty in Kentish Town, topped with a crown of gypsophilia.
Hair and make up were the work of Jane Emerson of French Perfection (make up) and Emma Willett of Emma Louise Hair Stylist.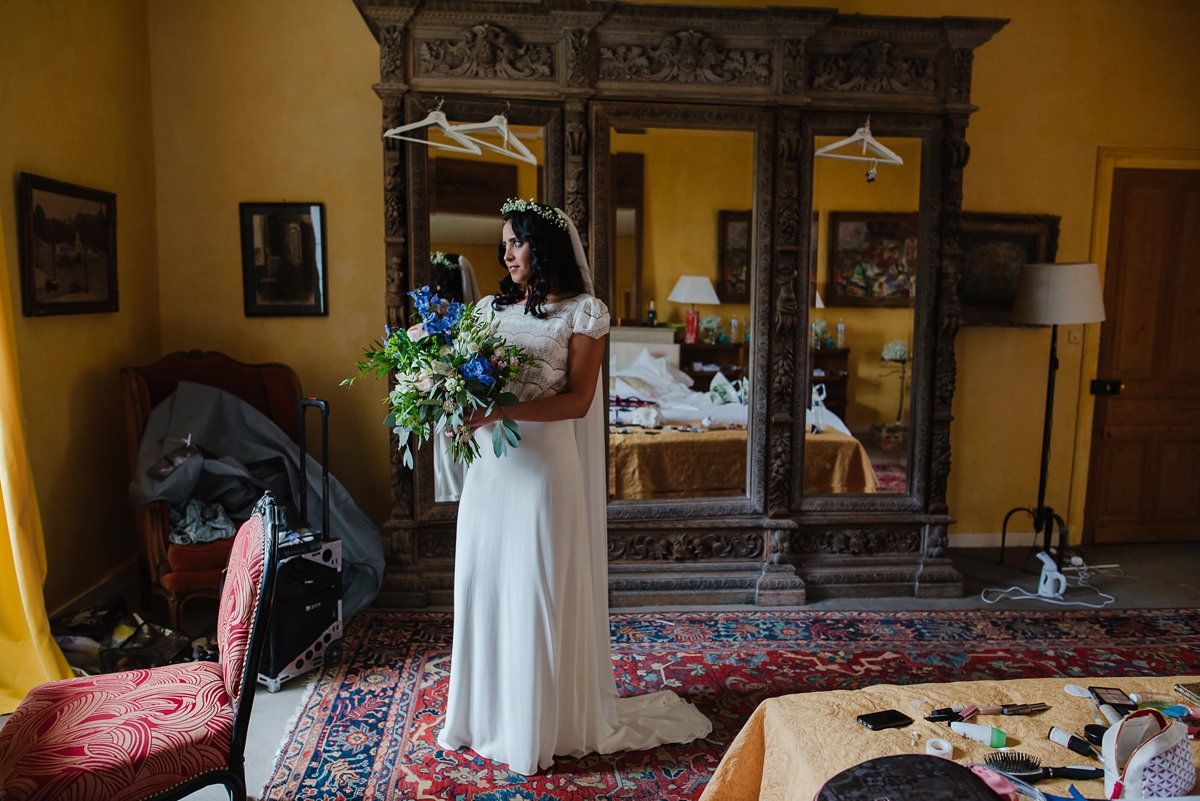 "Lloyd surprised me with a beautiful pair of pearl and diamond earrings to wear on the day – which was lucky as I hadn't had time to buy any to wear myself.  My necklace matched those of my bridemaids which were a gift from me on the day."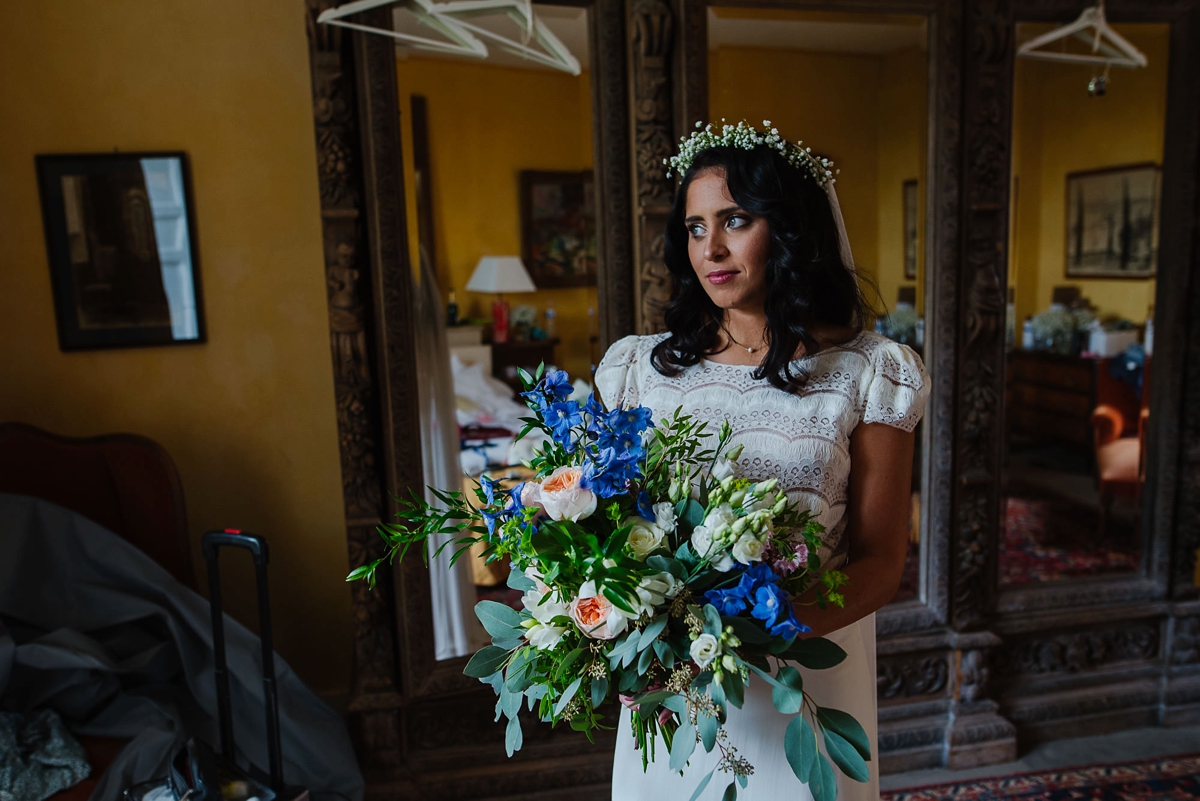 The bridesmaids looked fabulous in cornflower blue gowns from ASOS, worn with their own shoes in nude or gold tones.  I love the pleated skirts, which add so much movement and style.
"The bridesmaid dresses were the bargain of the century.  I purchased all five on sale for next to nothing and then spent a lot of time with a local dress maker getting them perfectly adjusted and altered to the girls' figures.  The alterations cost more than the dresses but it was well worth it.  The girls felt great in them – particularly as the fabric was so light and comfortable in the climate."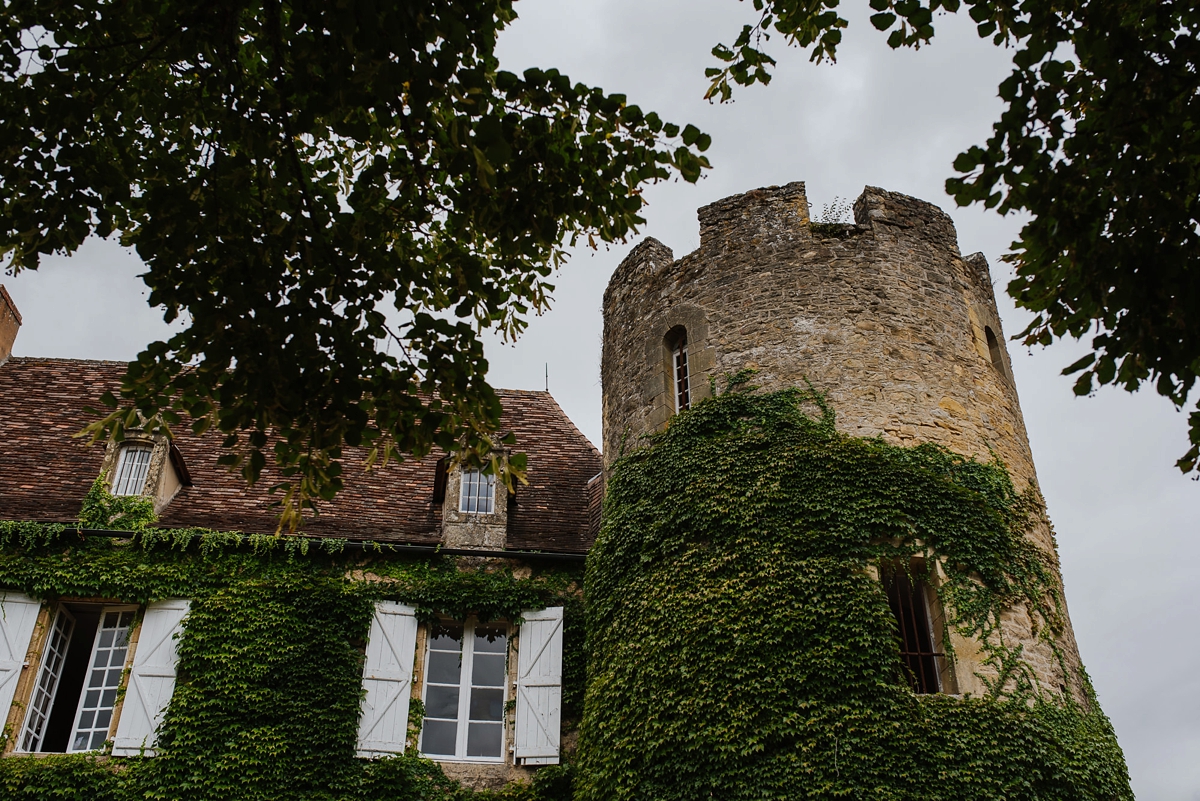 Ciara and Lloyd met the way many of us do, through mutual friends and they were together five years before Lloyd proposed while on holiday in New York.
"Lloyd proposed on the High Line in Manhattan (three days into a month long trip around the USA).  He waited until it was almost closing time so we had the entire place to ourselves, except for a jazz saxophonist busker who was finishing up for the evening.  He took me to a vantage point under the guise of kneeling down to take a photo of me. As I was waiting for the photograph to be taken, he got down on one knee and produced the ring."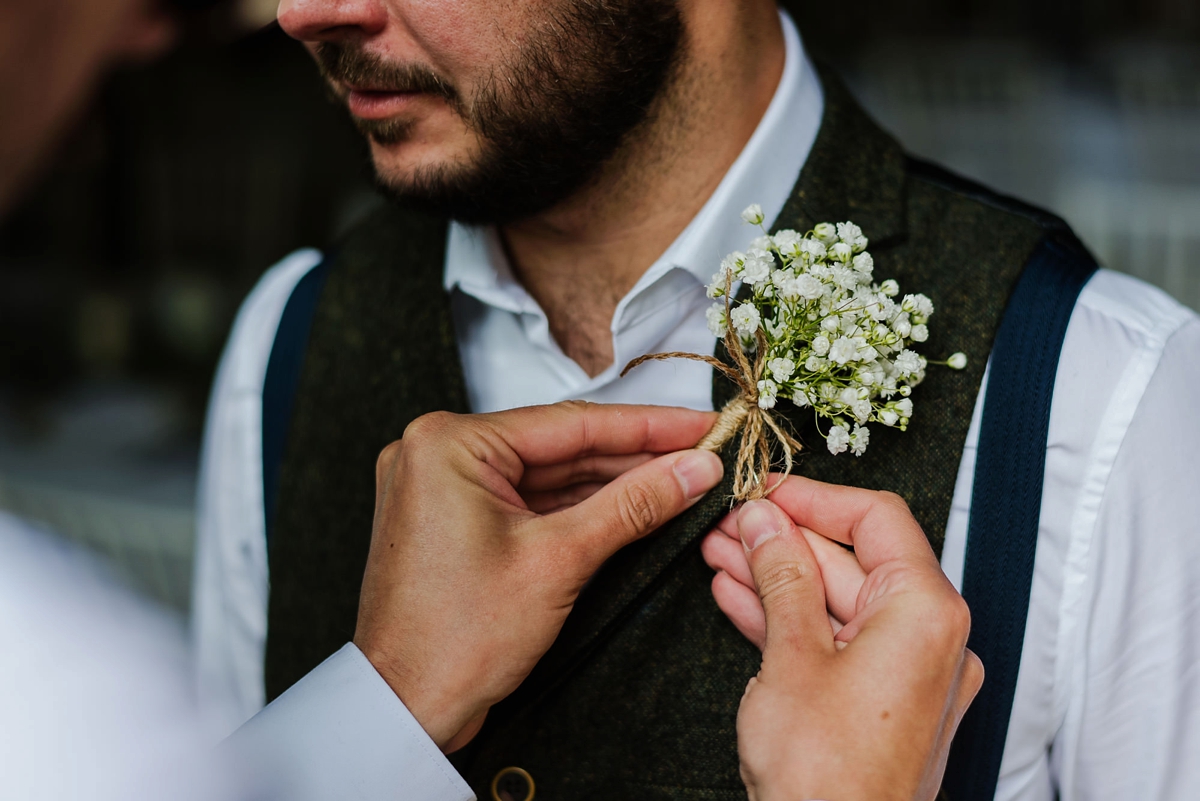 Lloyd looked very smart in a checked trouser and waistcoat pairing, worn with a floral tie and pocket square from River Island and a pocket watch, which was a gift from a family member on the day.
"I wanted vibrant, candid shots which captured the mood of the day and relaxed poses of our friends in their element.  I love documentary photography and Jonny Barratt was the perfect choice for the style we envisaged.  He had a lovely energetic energy and is really easy to get along with.  He understood what we wanted to achieve and managed to get all the group shots taken with minimal disruption to our day. He was a joy to work with."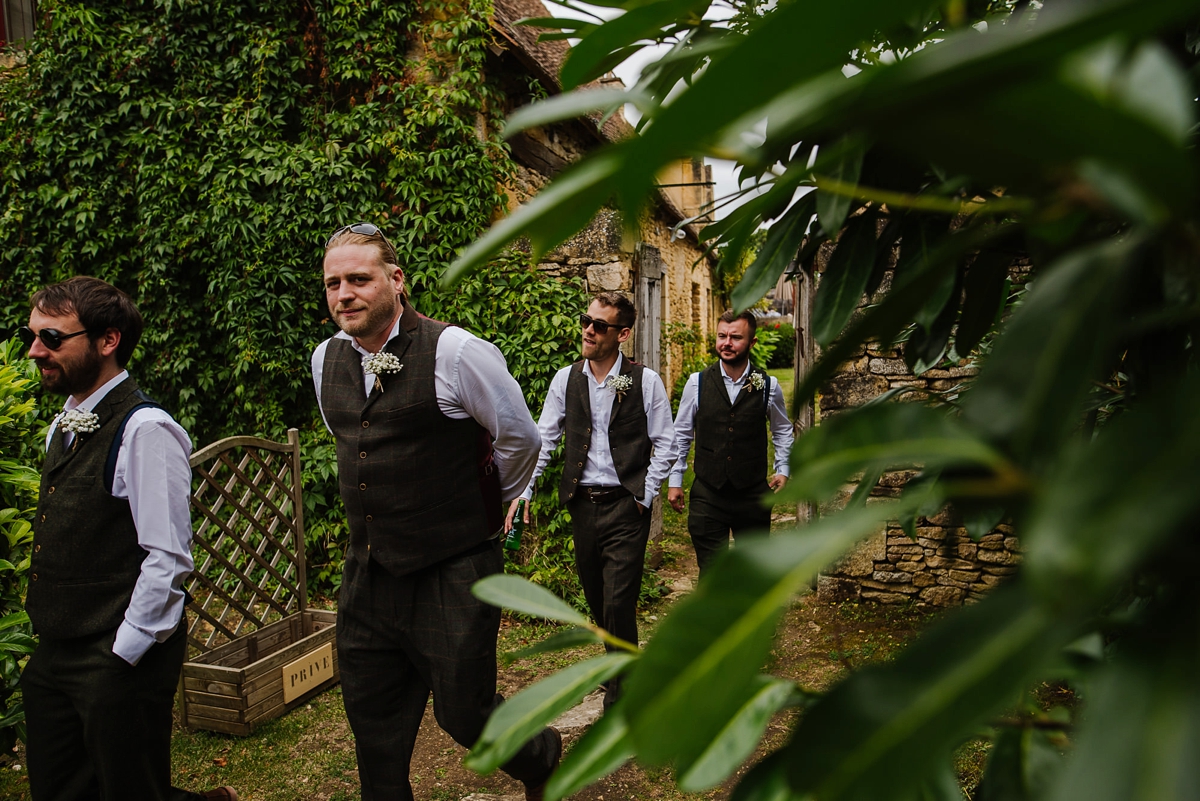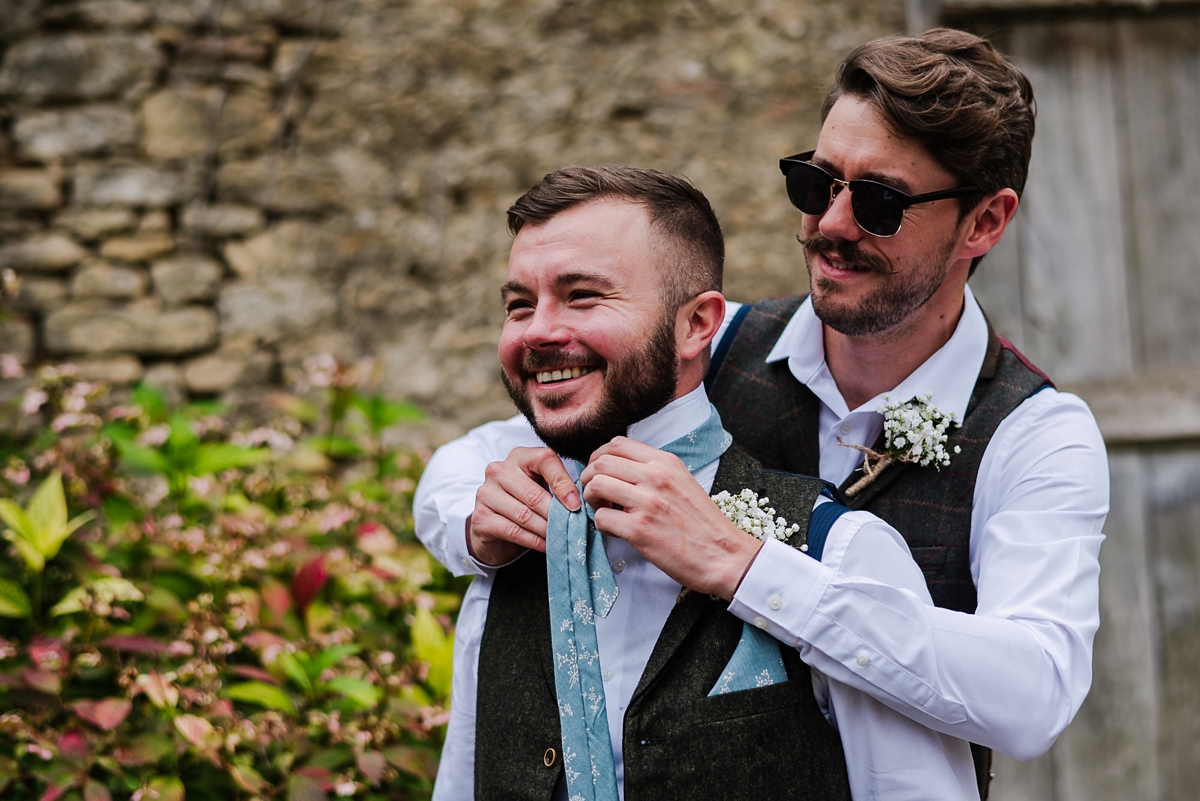 The beautiful flowers were by Jennifer Moss.
"I wanted wild foliage juxtaposed with blousy flowers and pastel shades – nothing rigid and formal but more fluid and wild."
"Our florist produced the most amazing unstructured bouquet and captured my ideas perfectly.  It was a beautiful contrast to the simple baby's breath posies carried by the bridesmaids."
Ciara walked down the aisle to 'Hoppipolla' by Sigur Ros, with 'You're So Cool' (the theme to 'True Romance') played in the interlude.  Later, the couple had their 'confetti moment' to 'All You Need is Love' by the Beatles.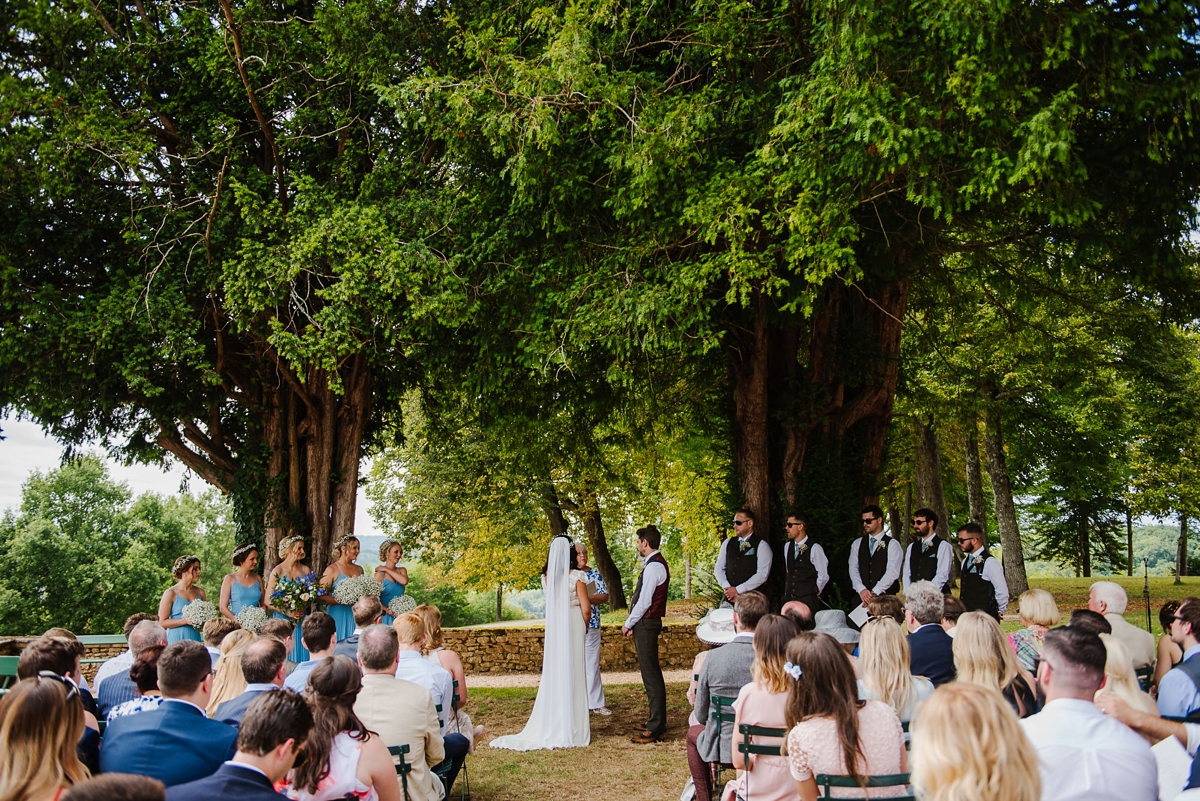 The ceremony was led by Jean from Celebrants in France.
"We tailored the first part of our vows and used that to lead into more traditional wording.  It felt appropriate to keep an element of those time-honoured words that have been spoken countless times before but adapting the wording to make it personal and meaningful to us."
"For readings we had the lyrics to Nick Cave's 'Into My Arms', as well as a beautiful extract from Captain Corelli's Mandolin by Louis de Bernières."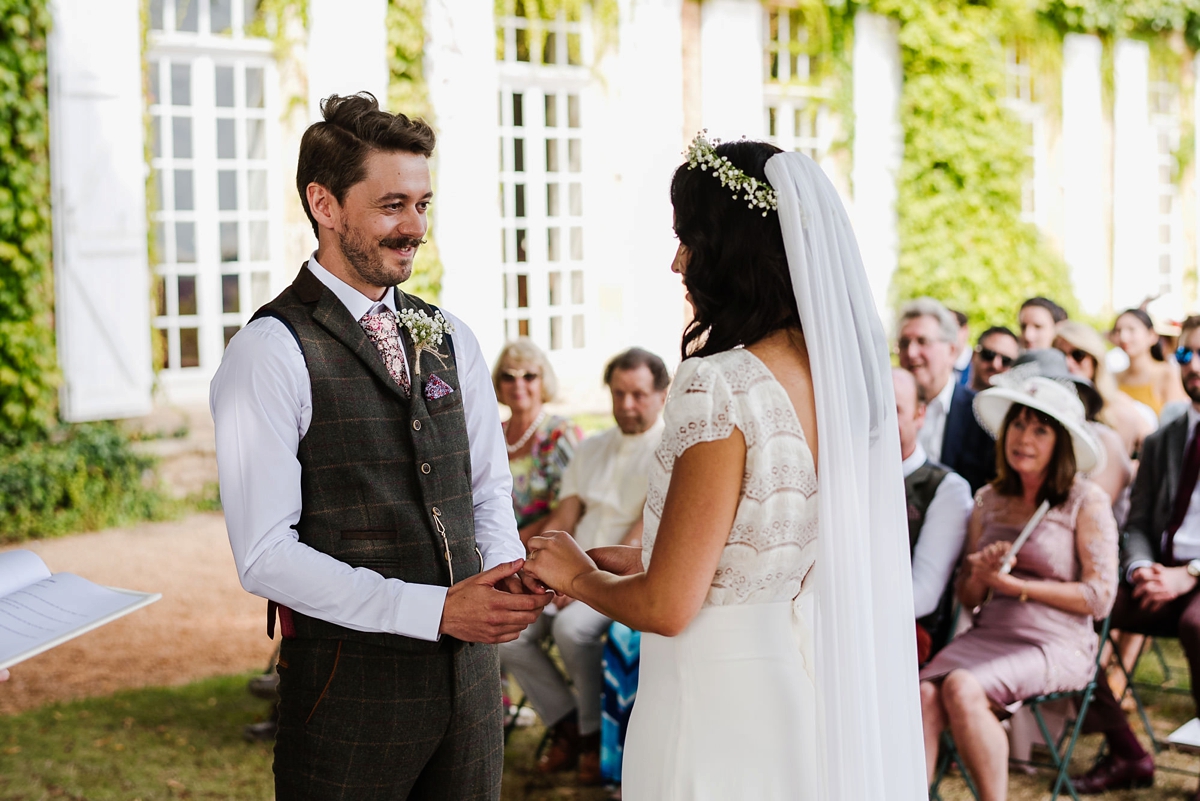 To compliment the vows they had just spoken, Ciara and Lloyd exchanged rings, which they purchased from London's Hatton Garden.
"At the end of the ceremony our celebrant presented us with a sealed wooden box.  It contained the questionnaires we had filled in prior to crafting our humanist ceremony together with a bottle of Bordeaux wine.  We are to open the box on our fifth wedding anniversary (or earlier if we ever experience a stressful point in our marriage).  It is intended to remind us of our beautiful wedding day and all the reasons we married each other in the first place."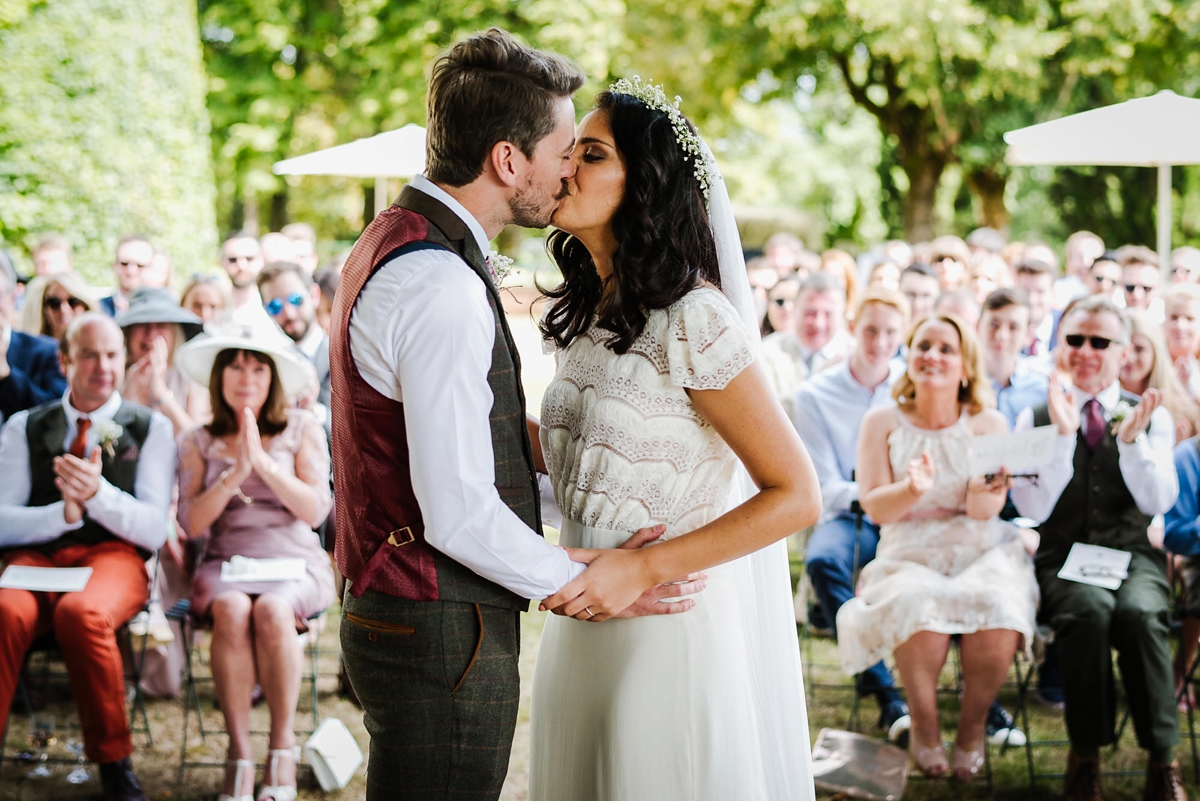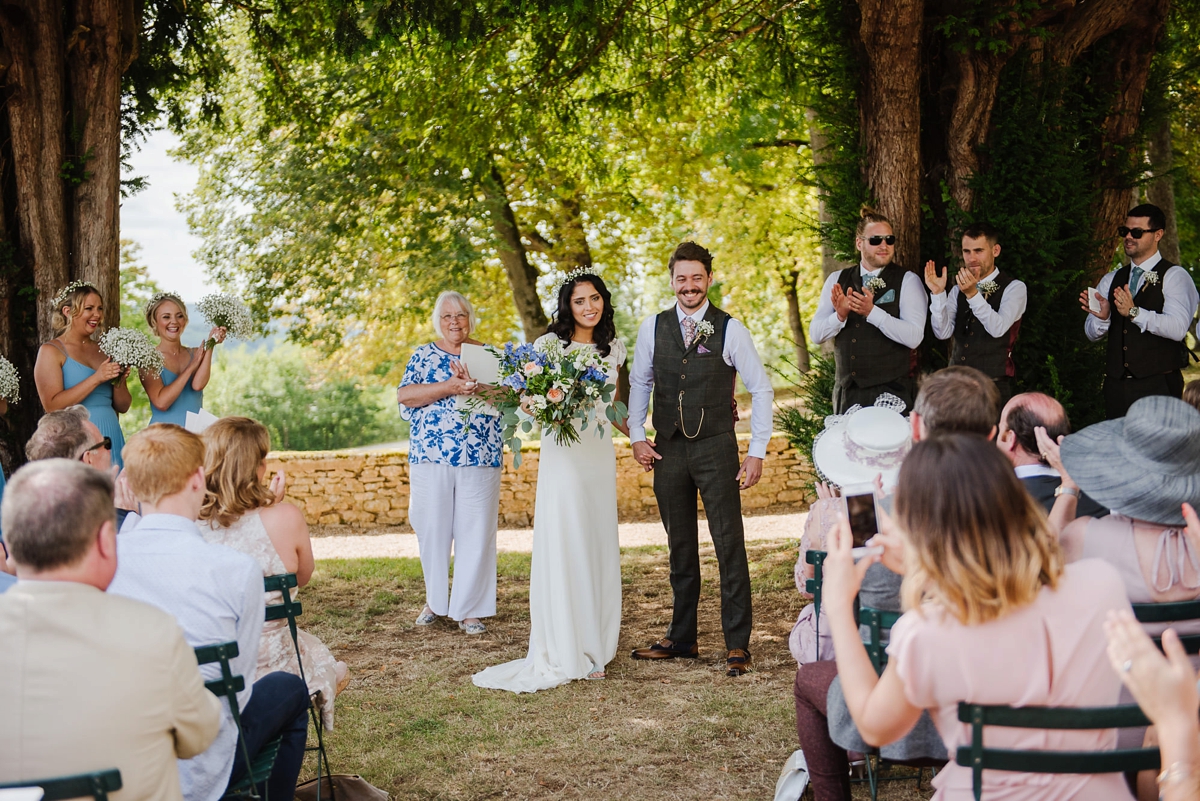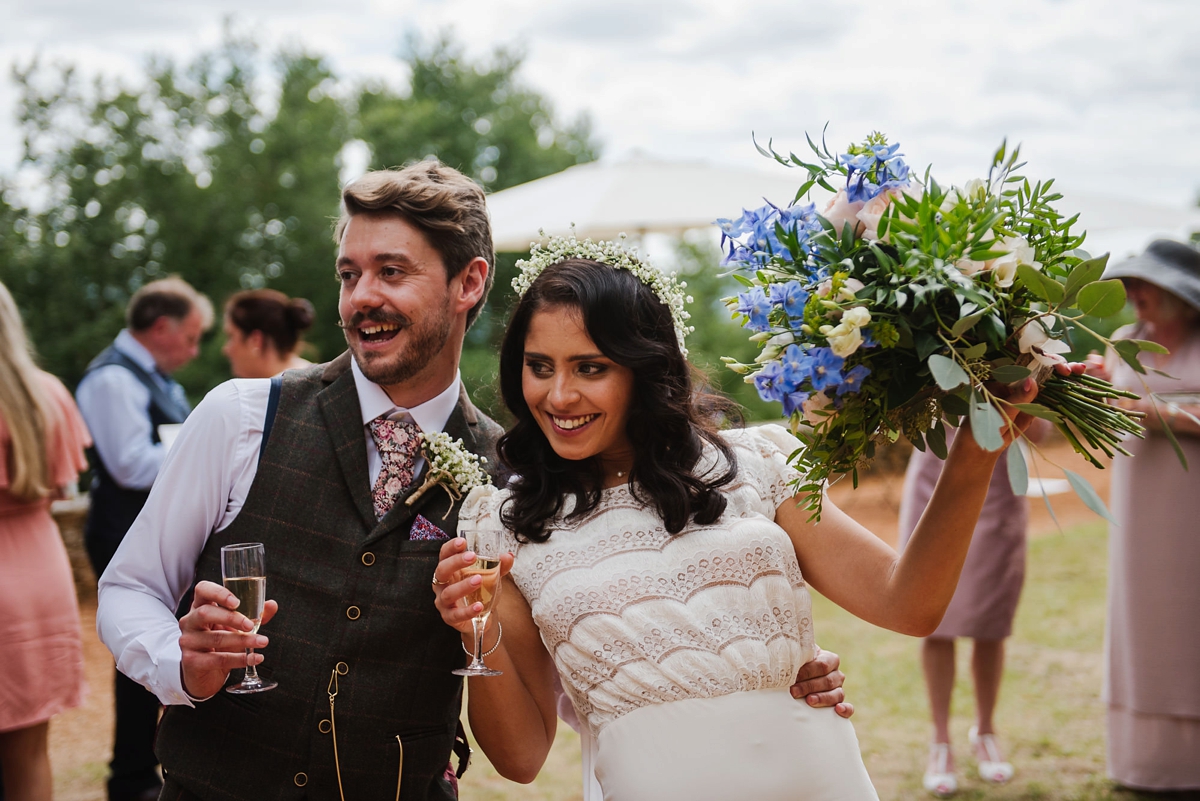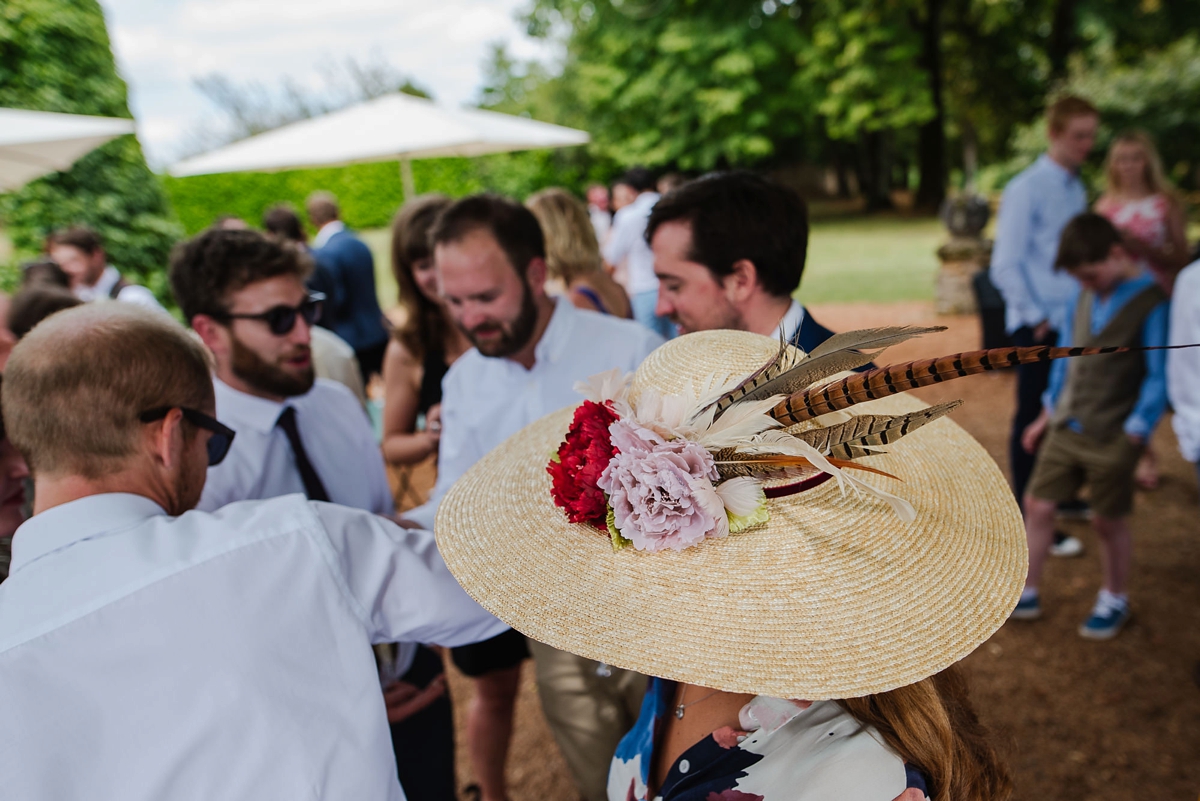 Catering was the work of Chez Amis, while the cake was from a local patisserie organised by Marry Me in France.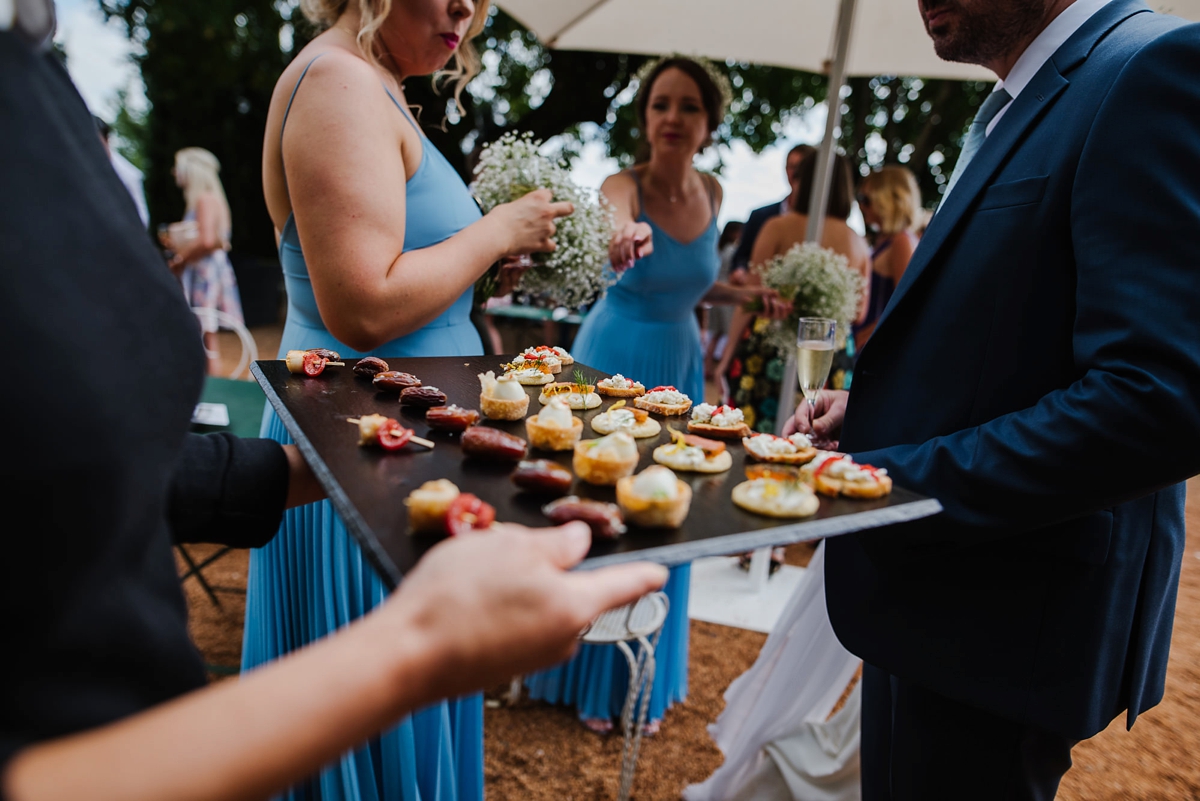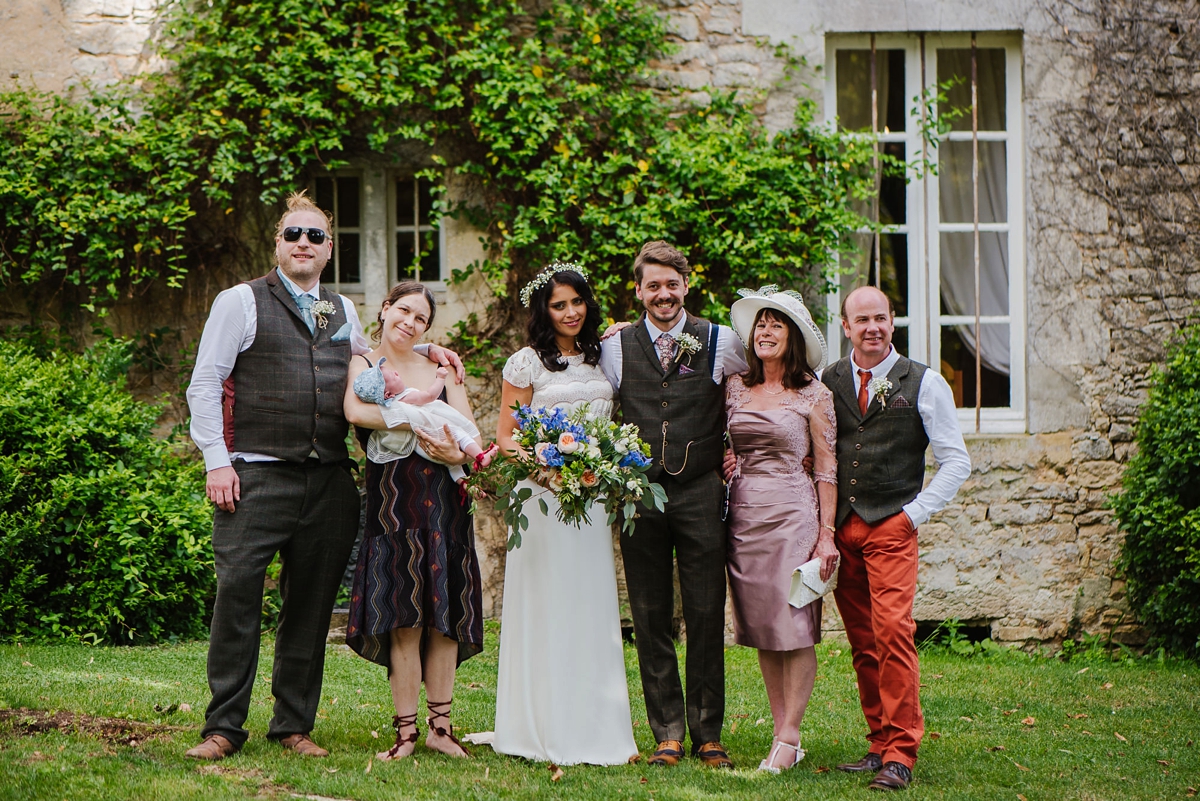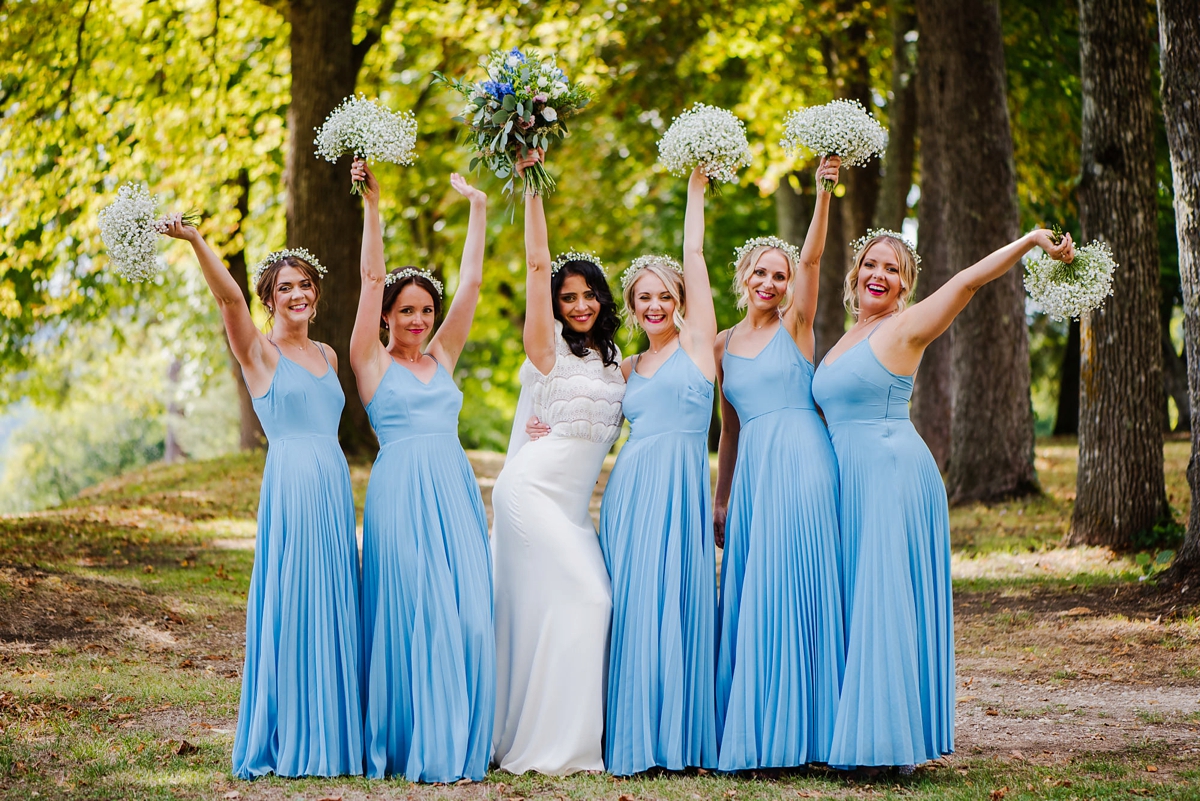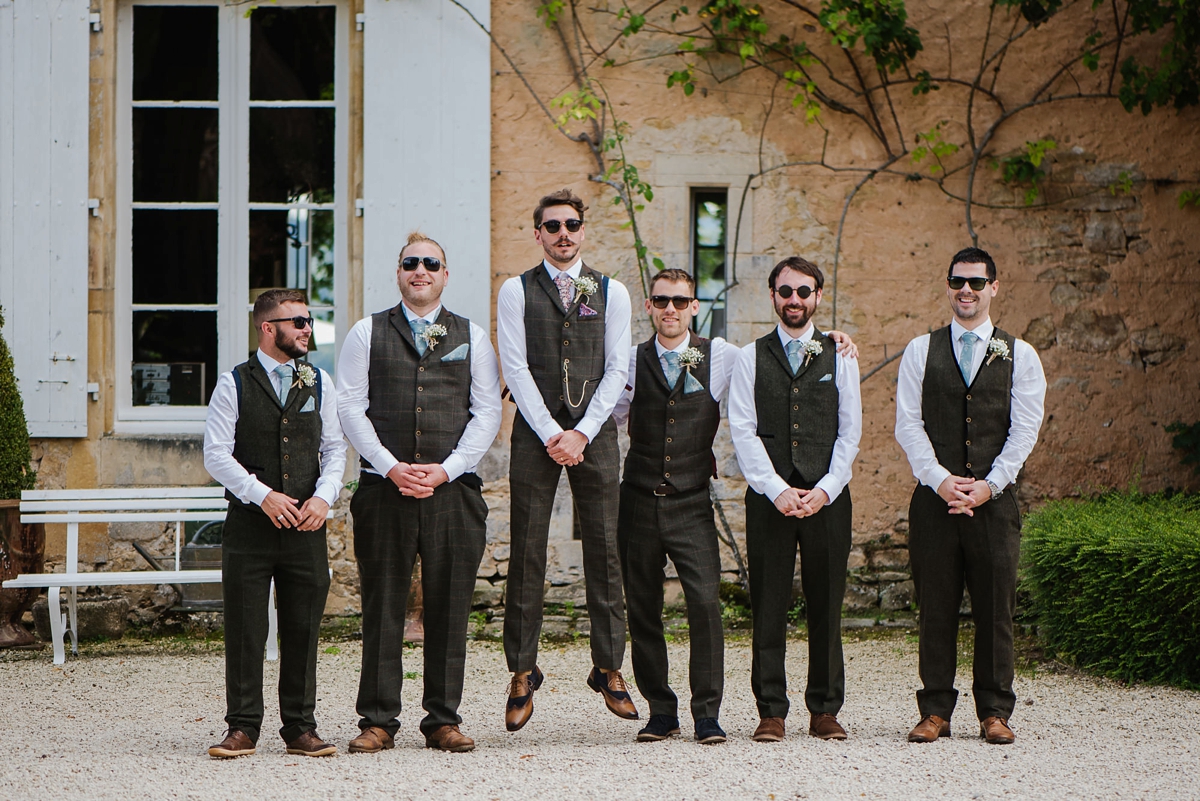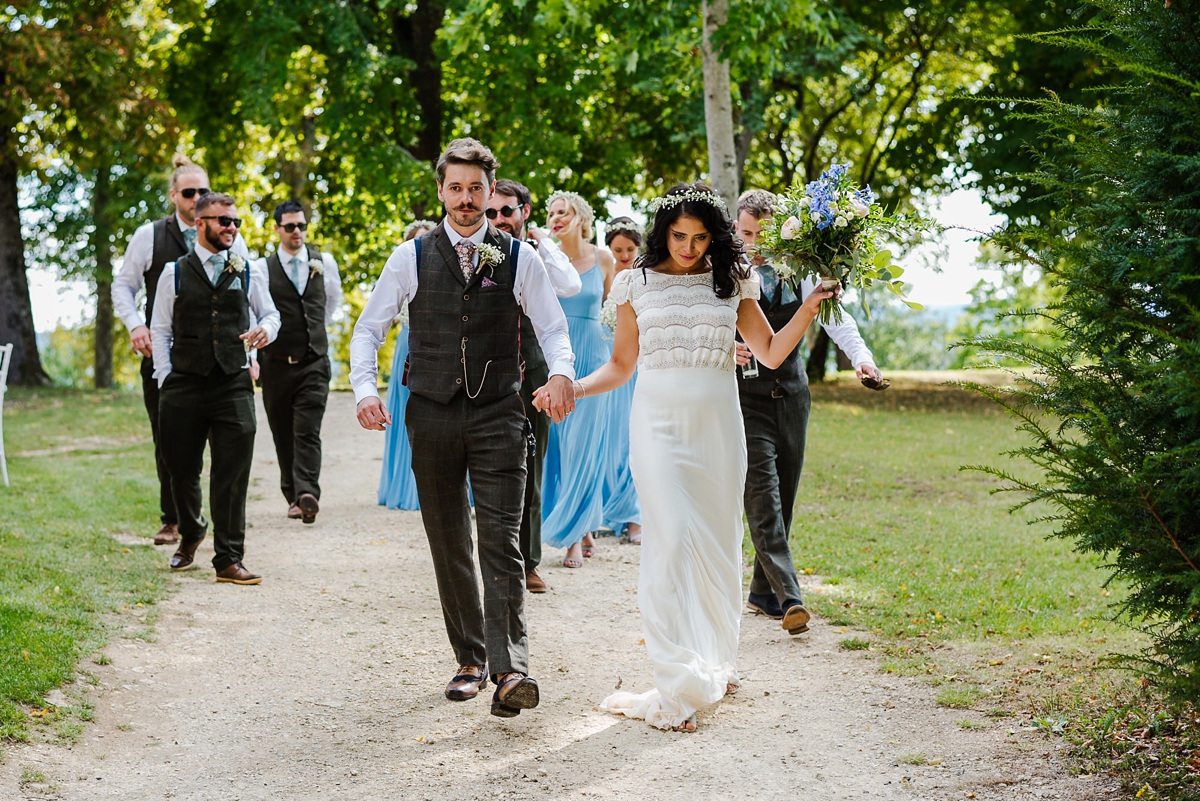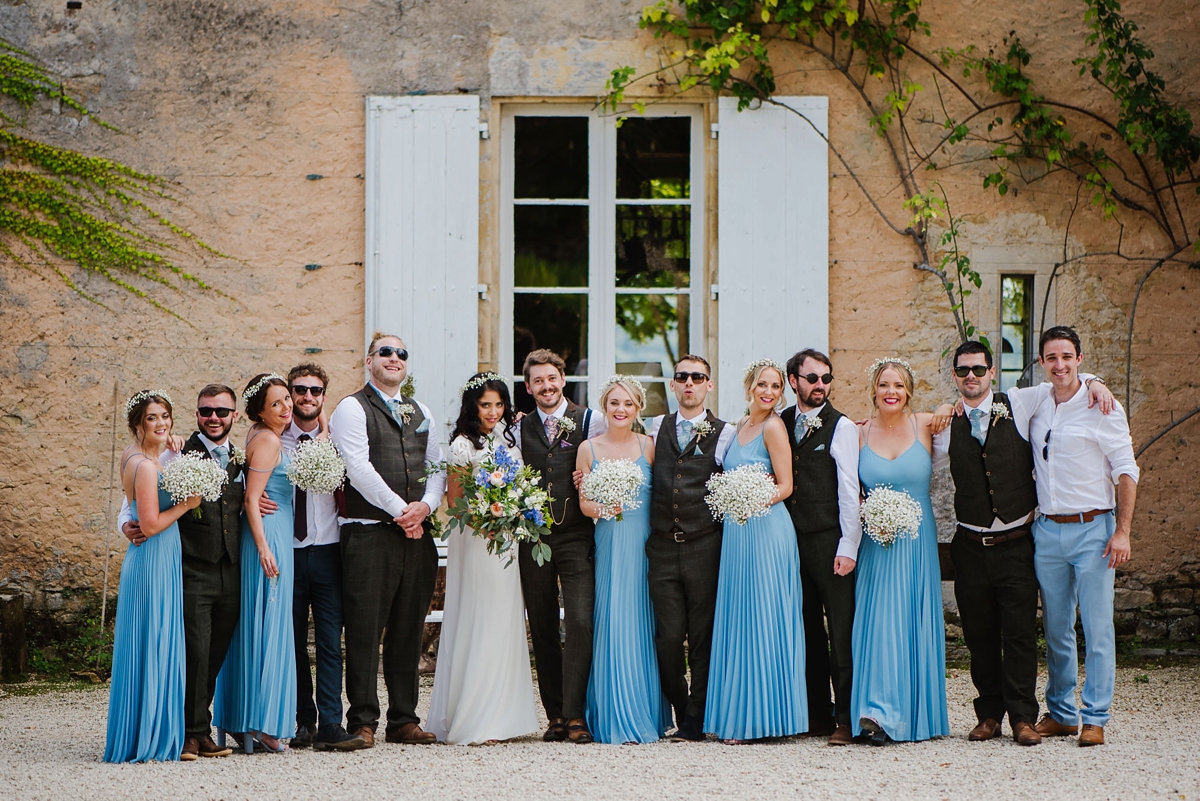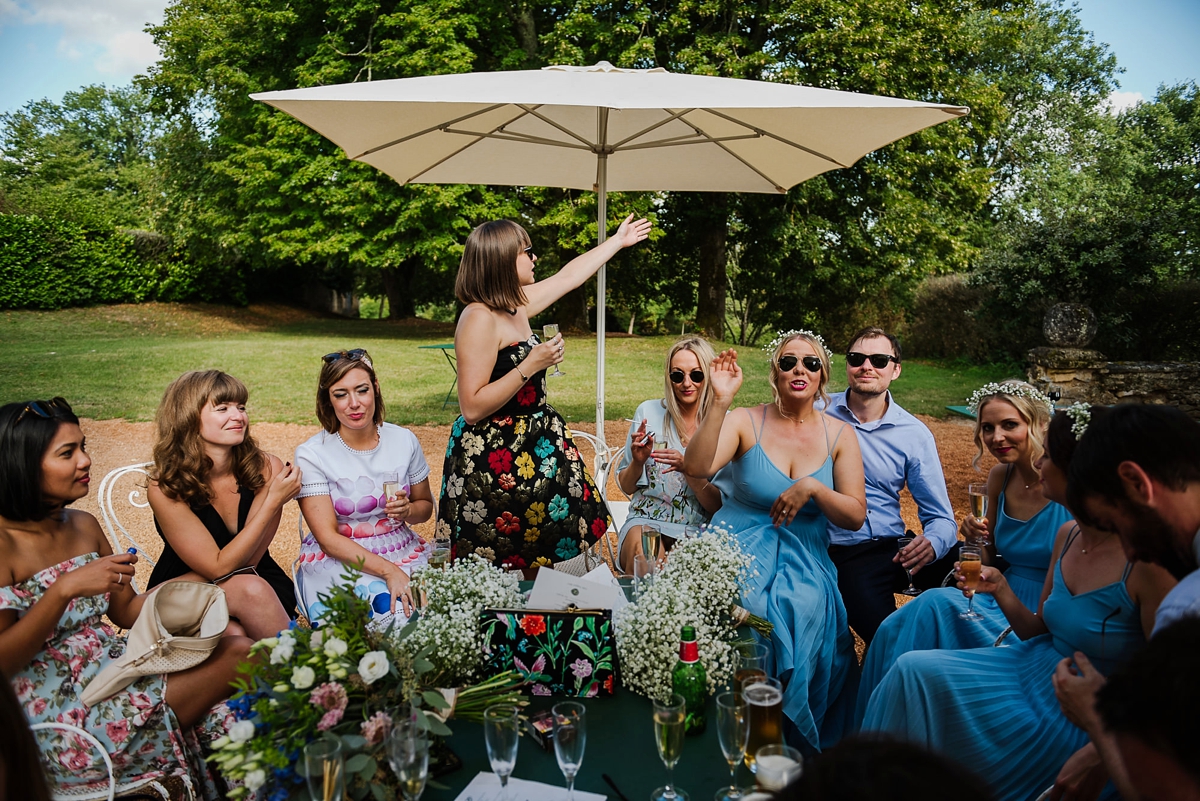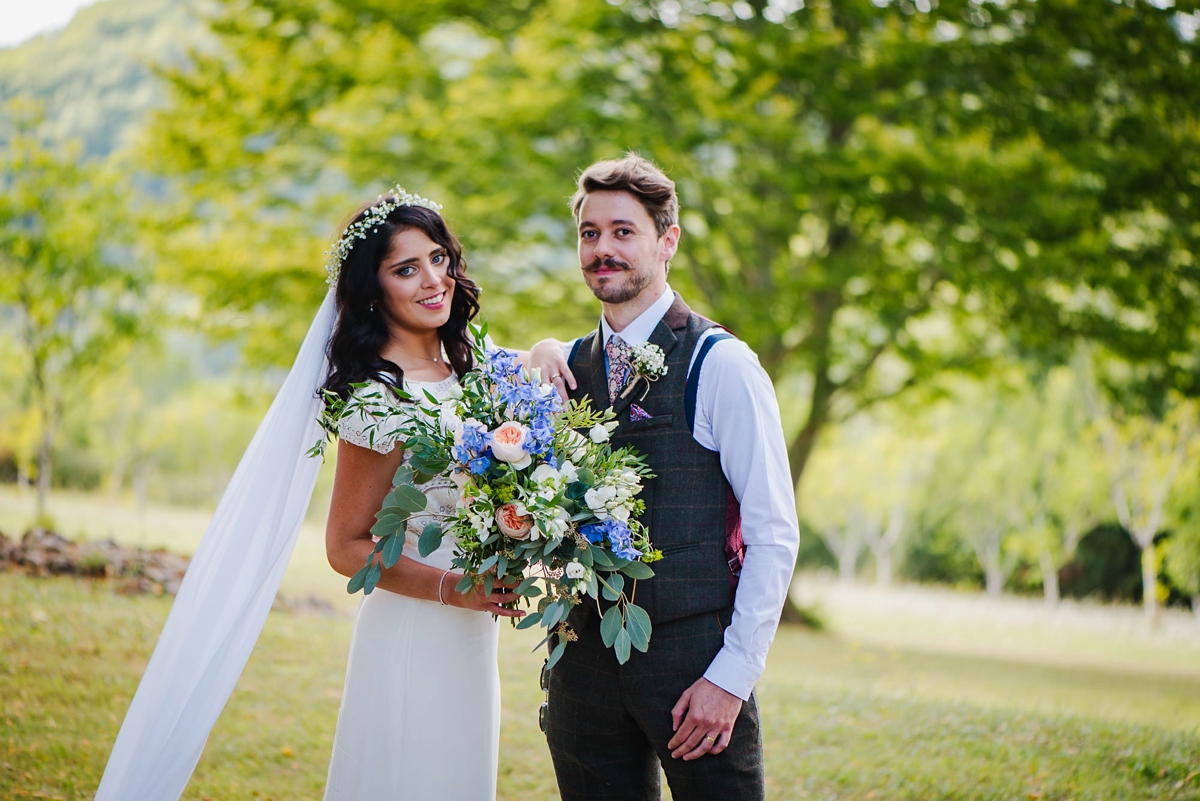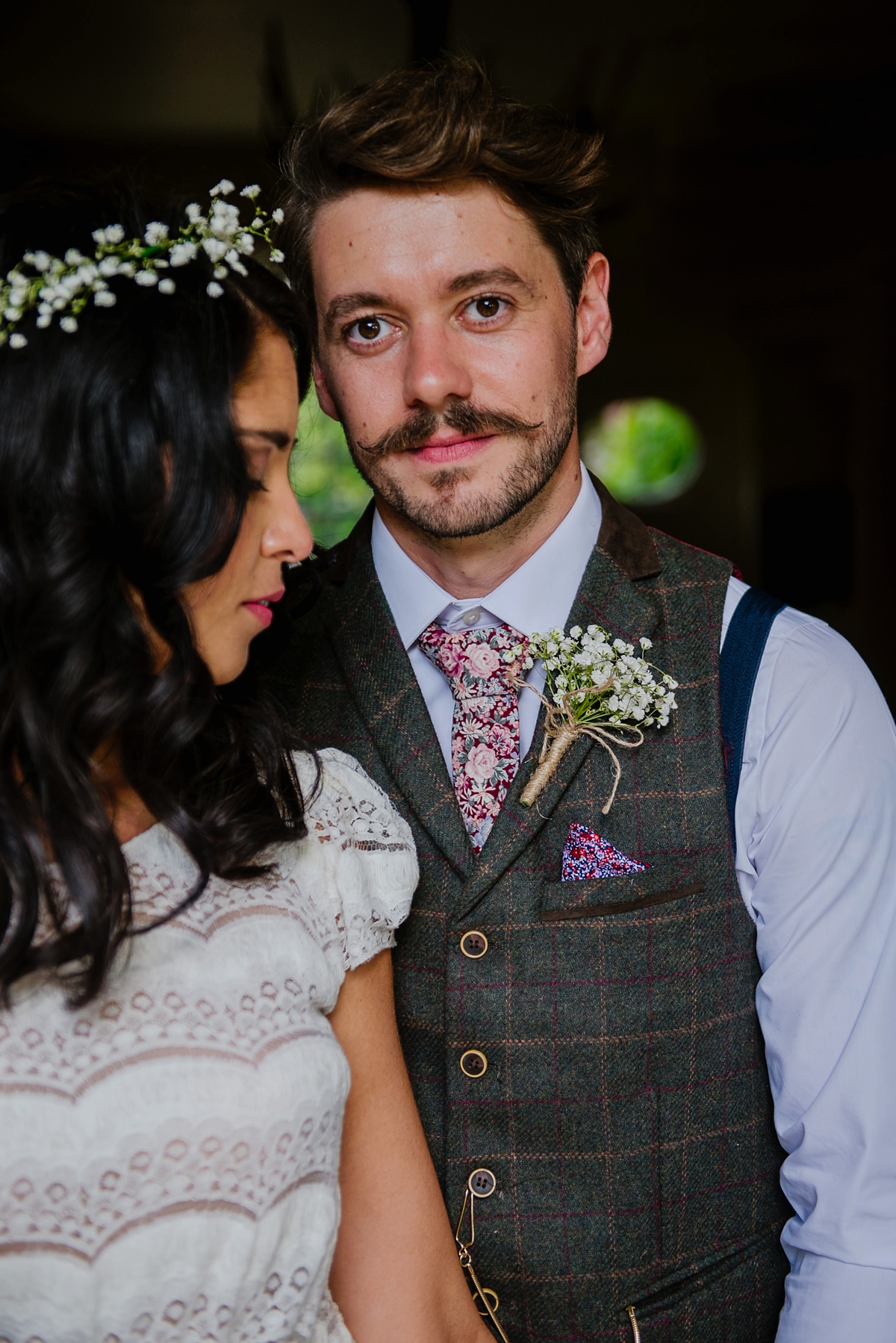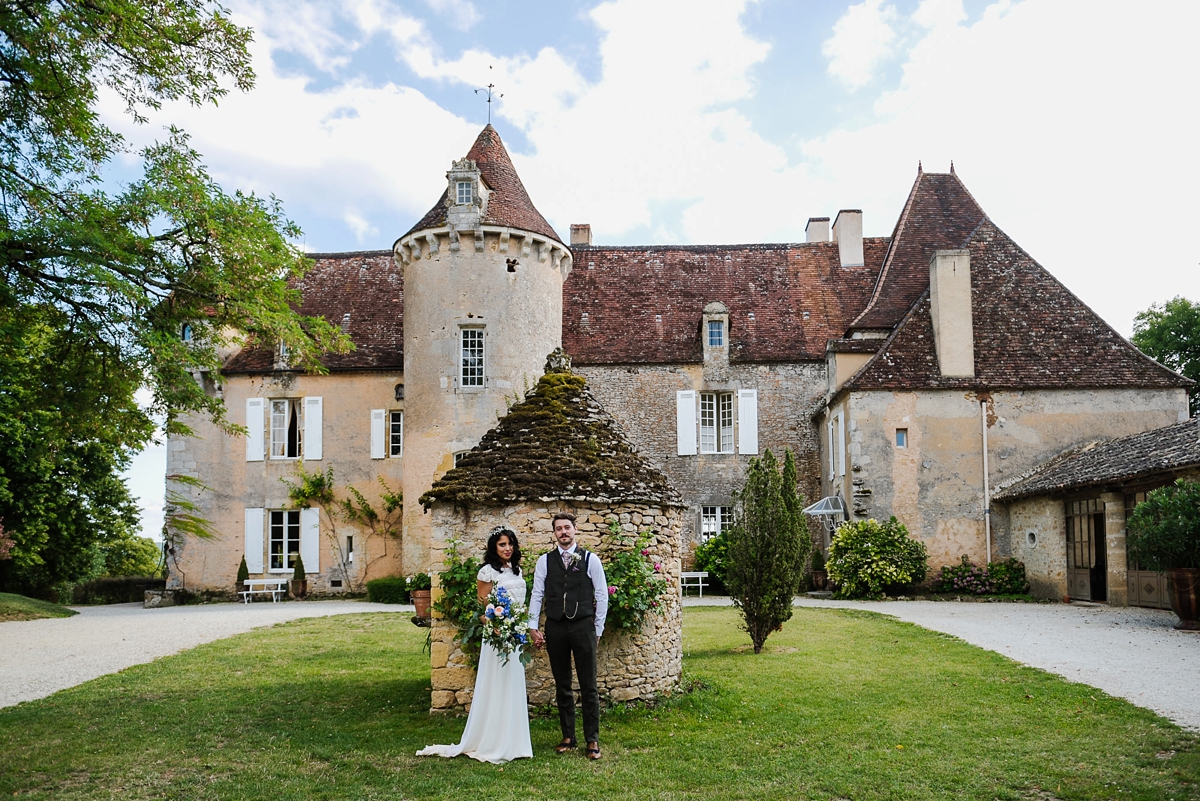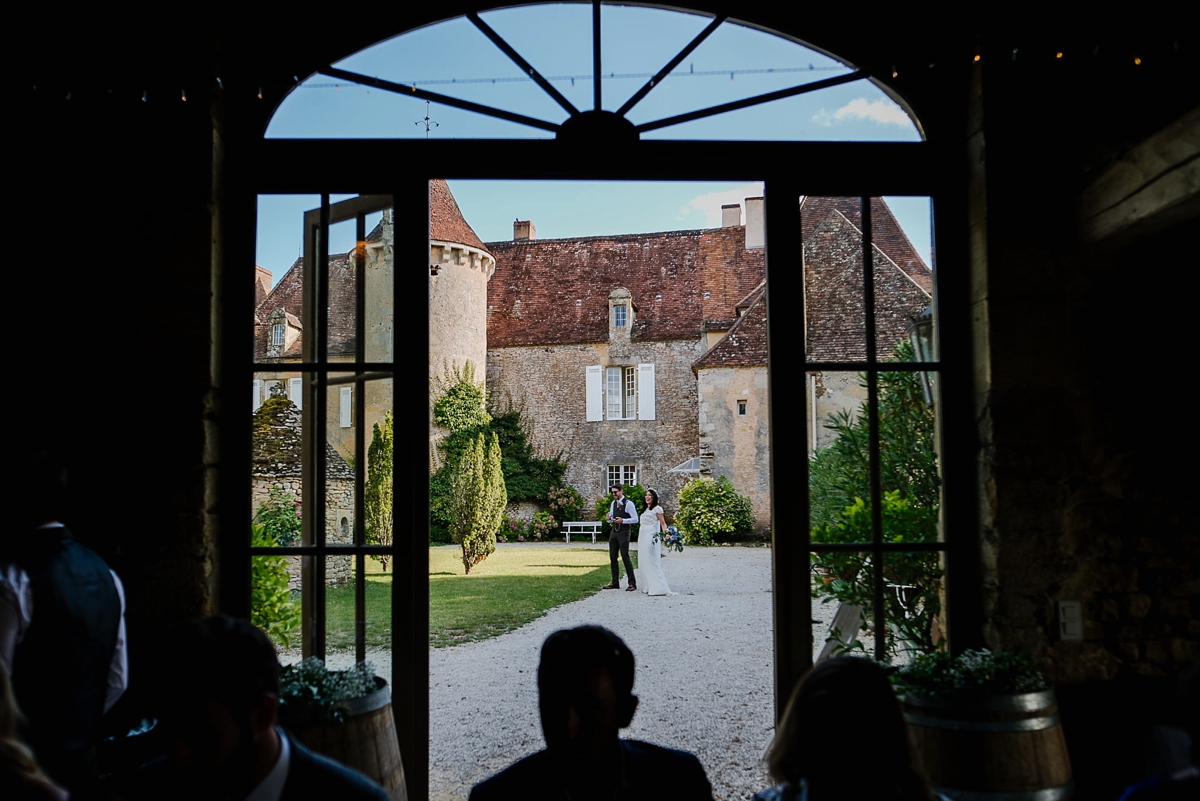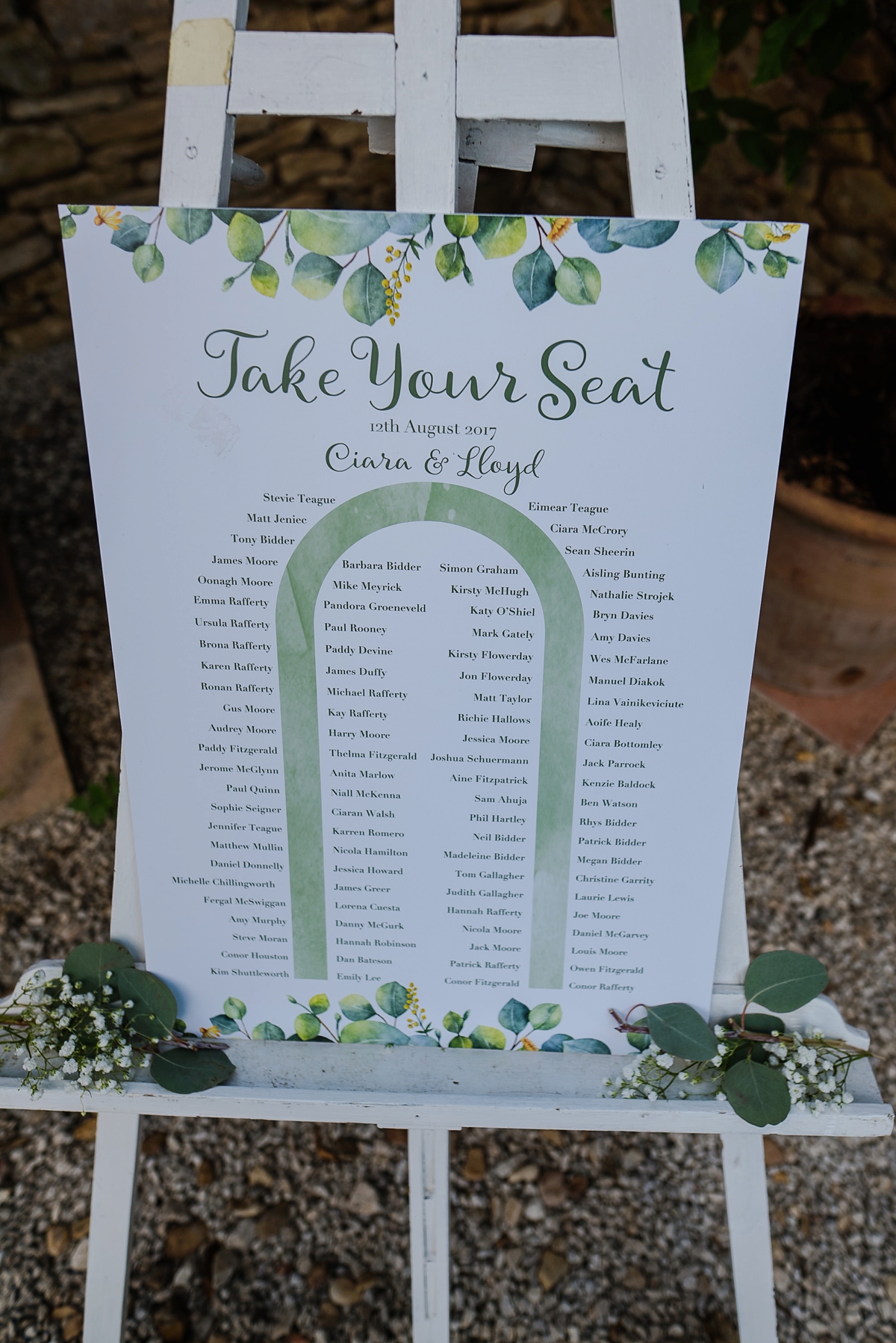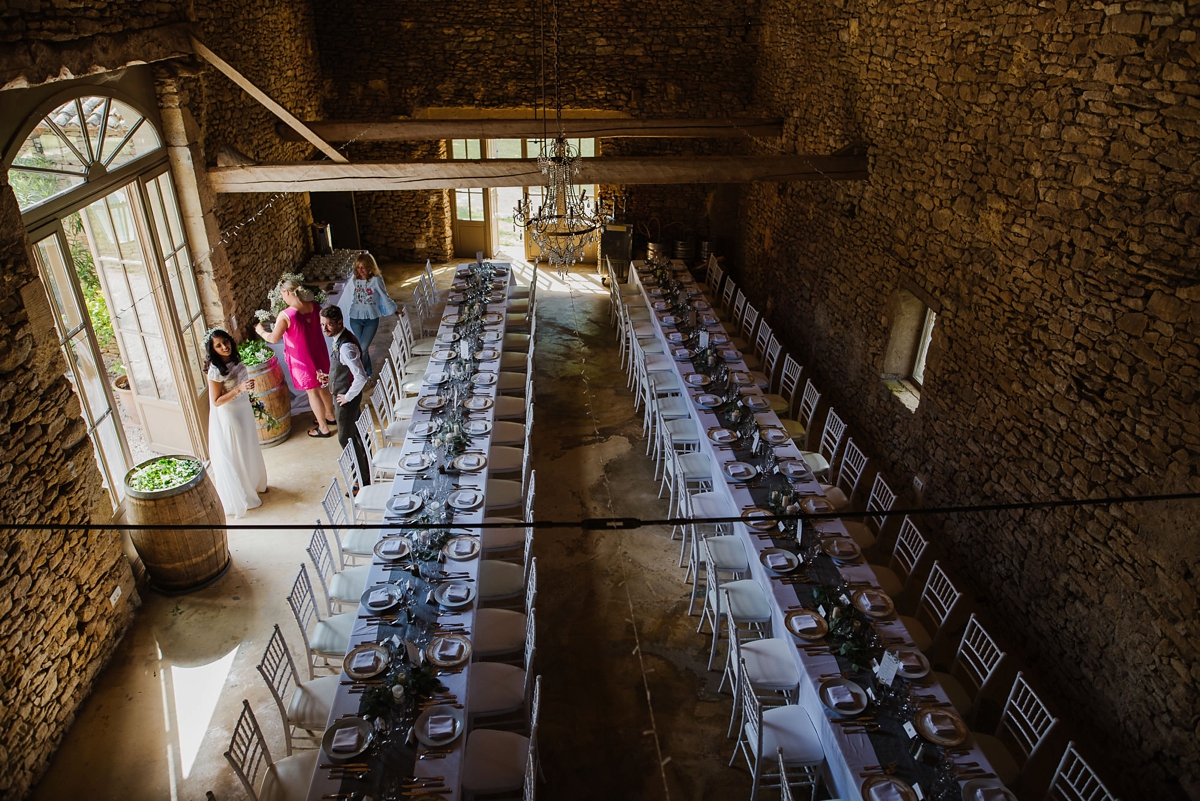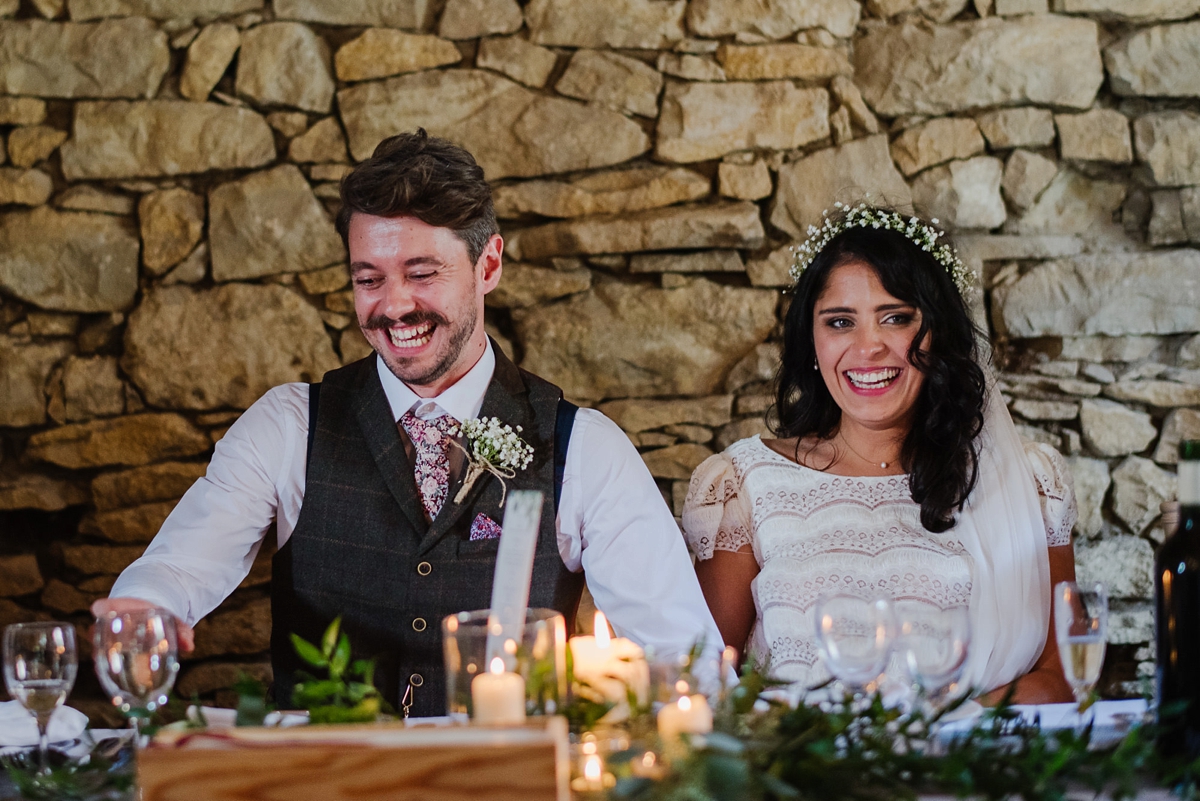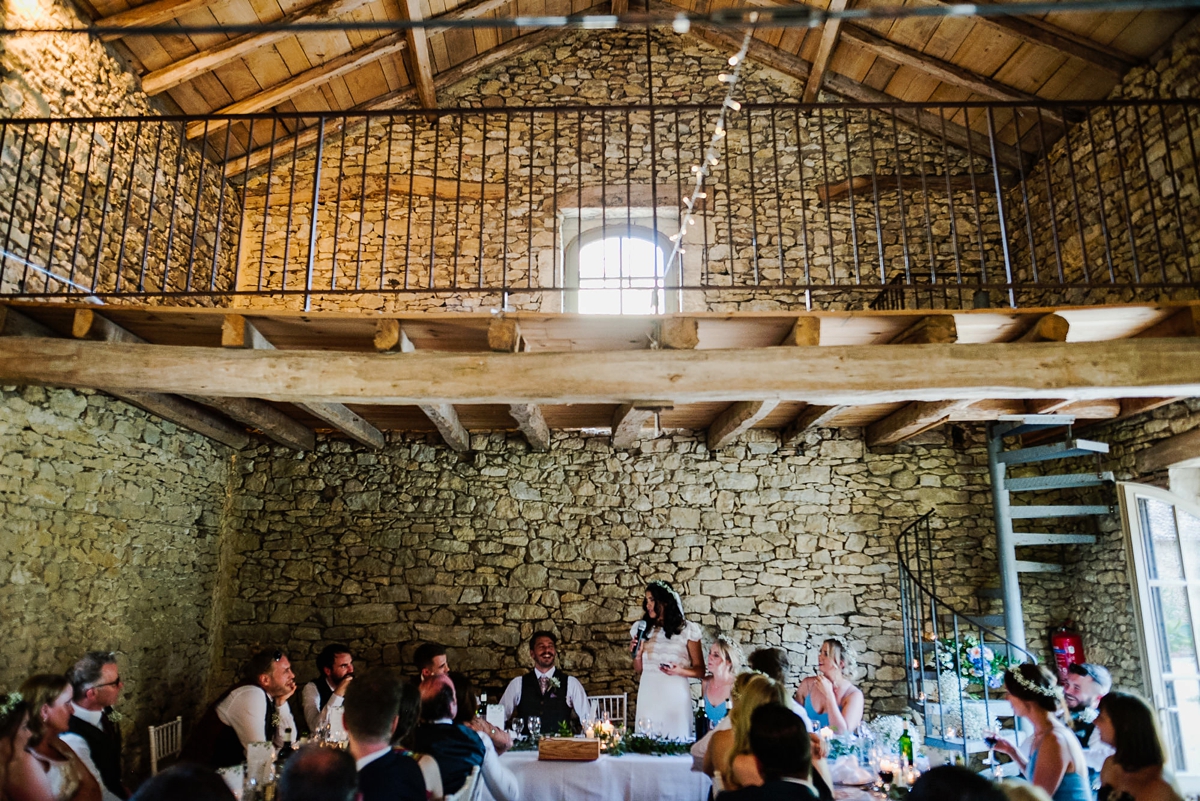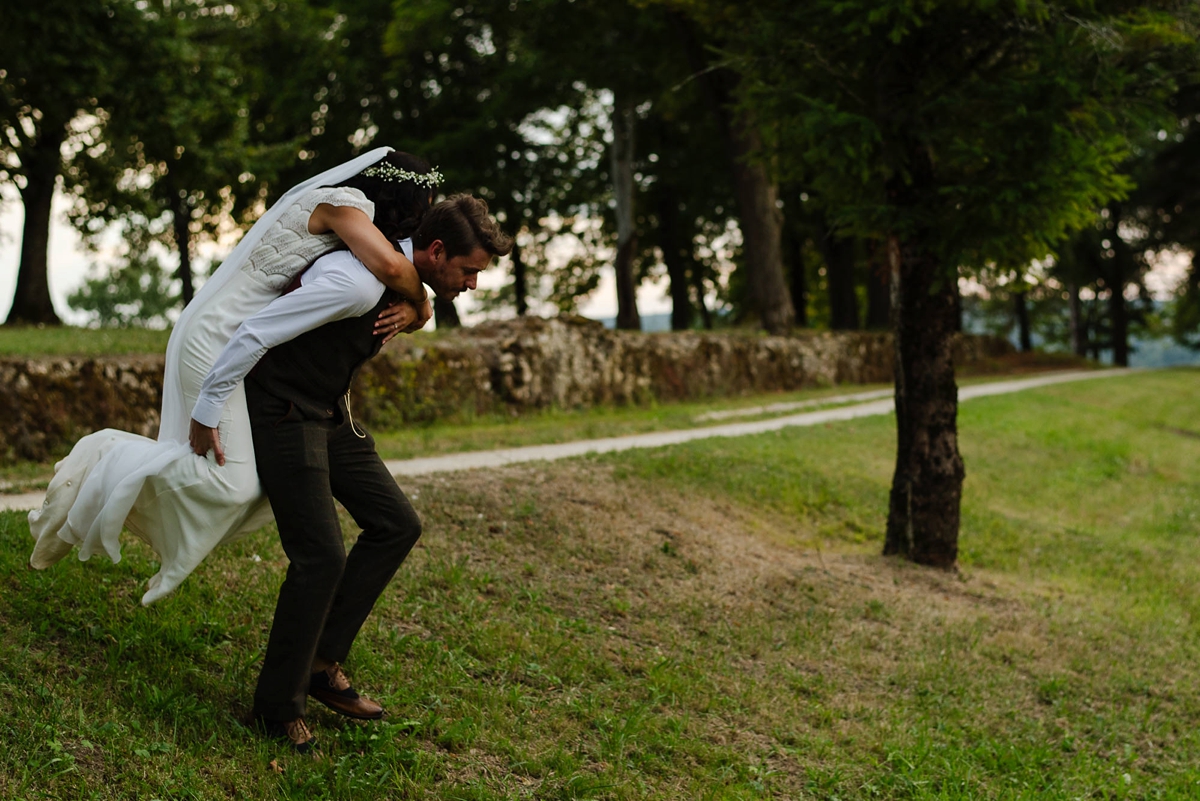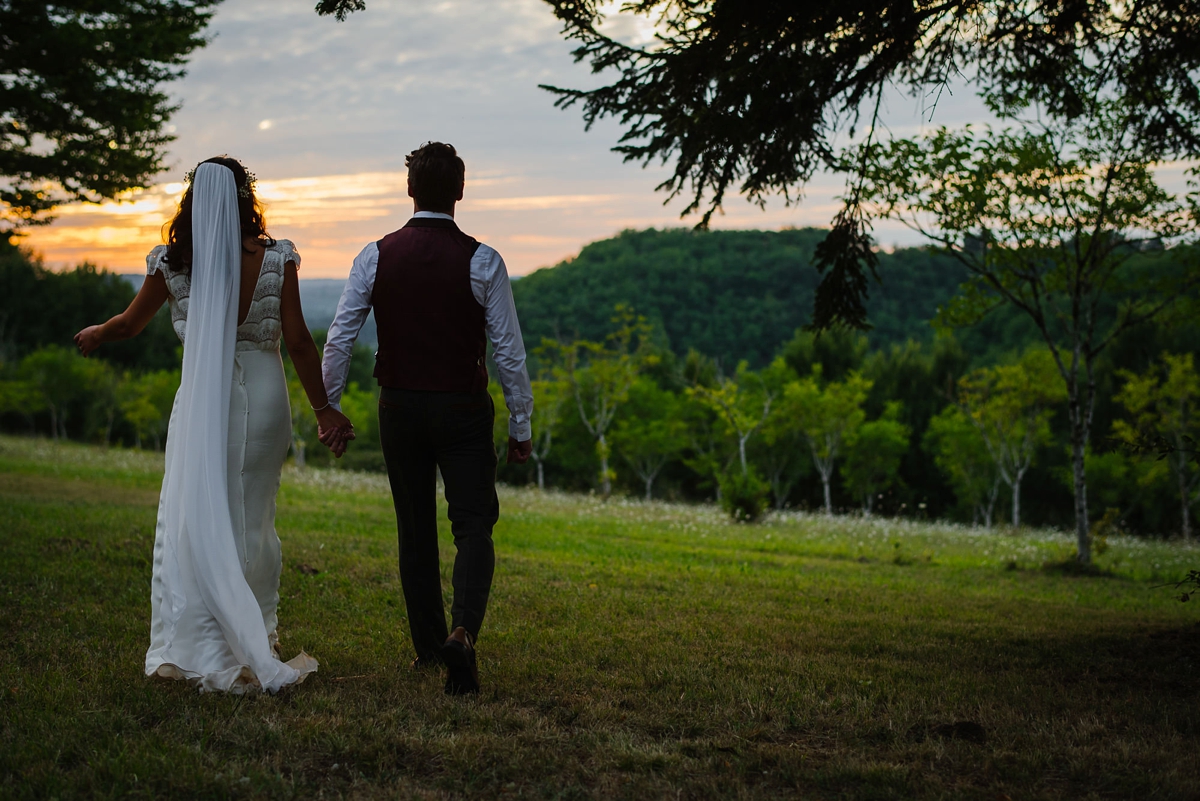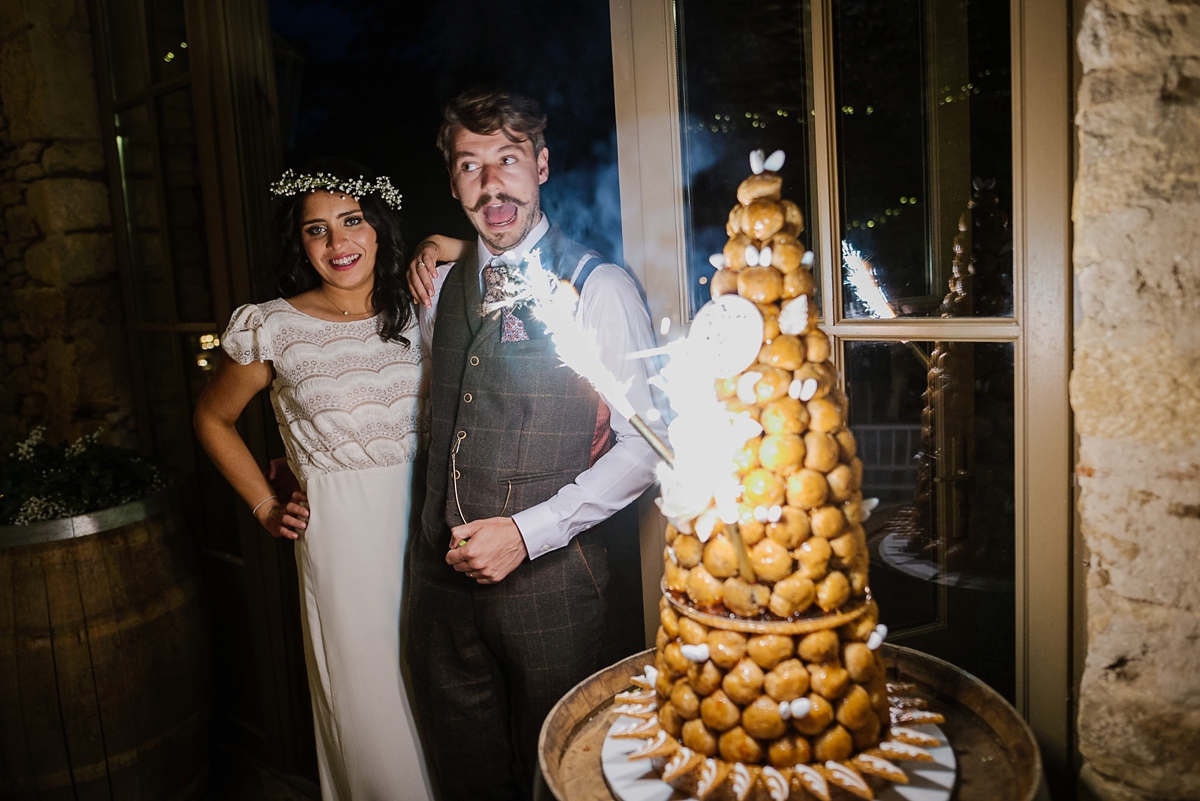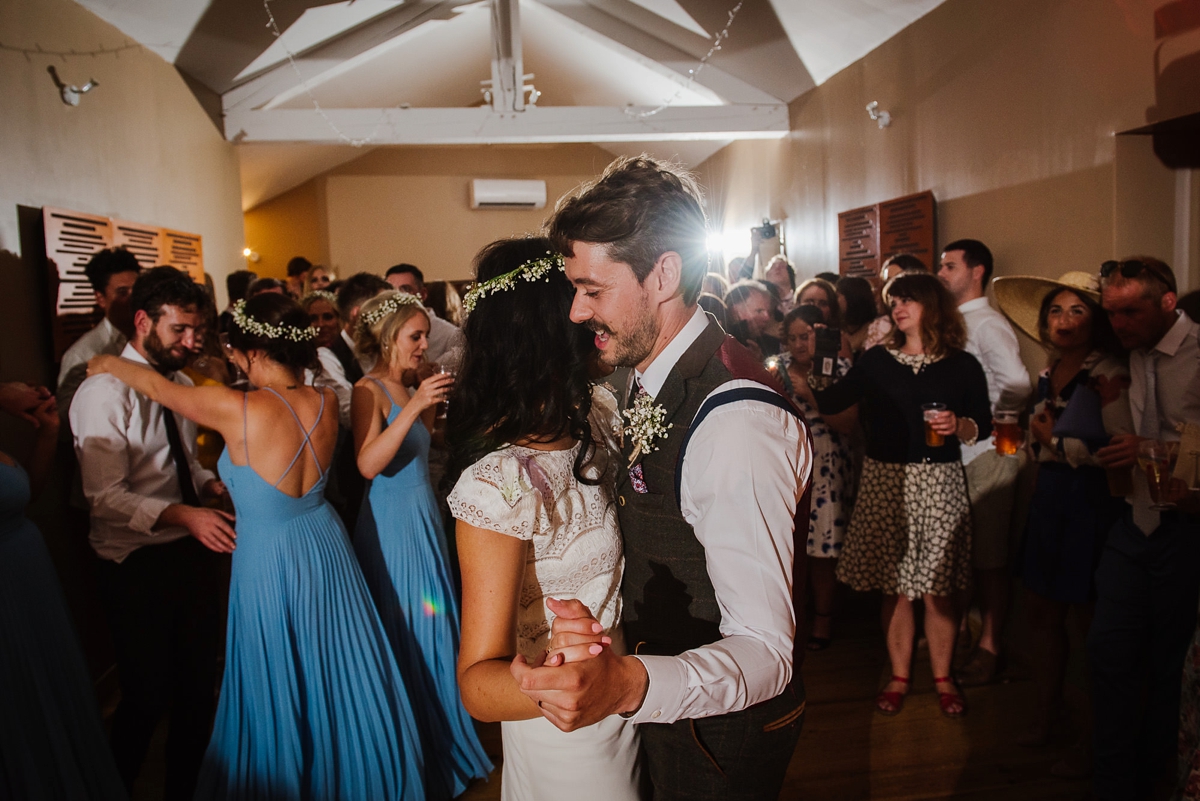 Entertainment came in the form of Hicksville Swing Band, followed by the best man doing a DJ set and the newlyweds danced their first dance to 'Harvest Moon' by Neil Young.
"We didn't want anything too soppy or cheesy and this song has a beautiful simplicity and romantic melody and seemed fitting with the general atmosphere of our reception. Our guests loved it and formed a circle around as we danced, singing and humming along with the track."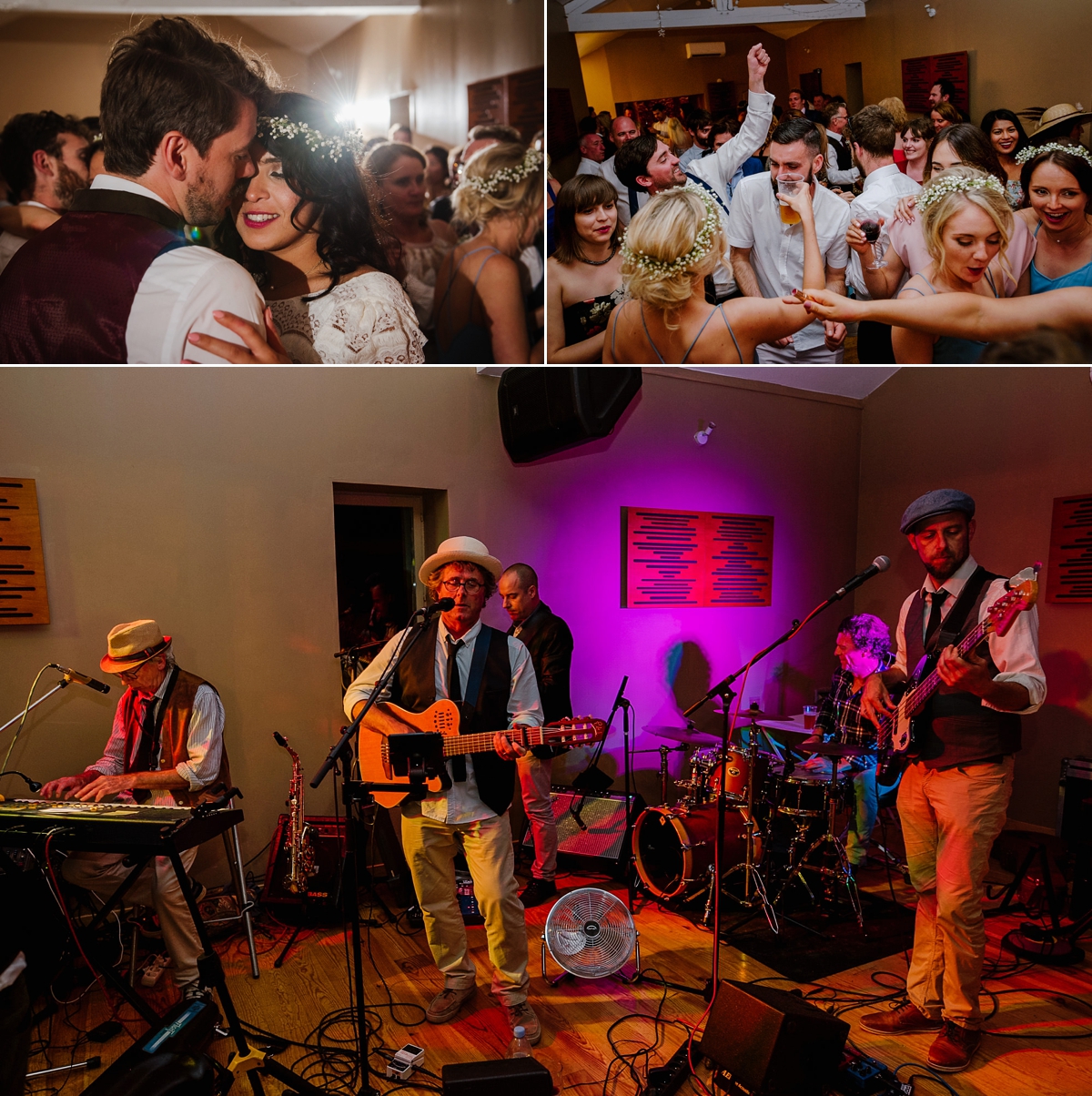 "The whole day was truly magical.  I particularly remember relaxing a lot after the speeches – we could finally let our hair down and party!  If I could change one thing it would be to hire a videographer.  I had some piecemeal footage from friends phones but it would have been amazing to have a full video of the day to look back on."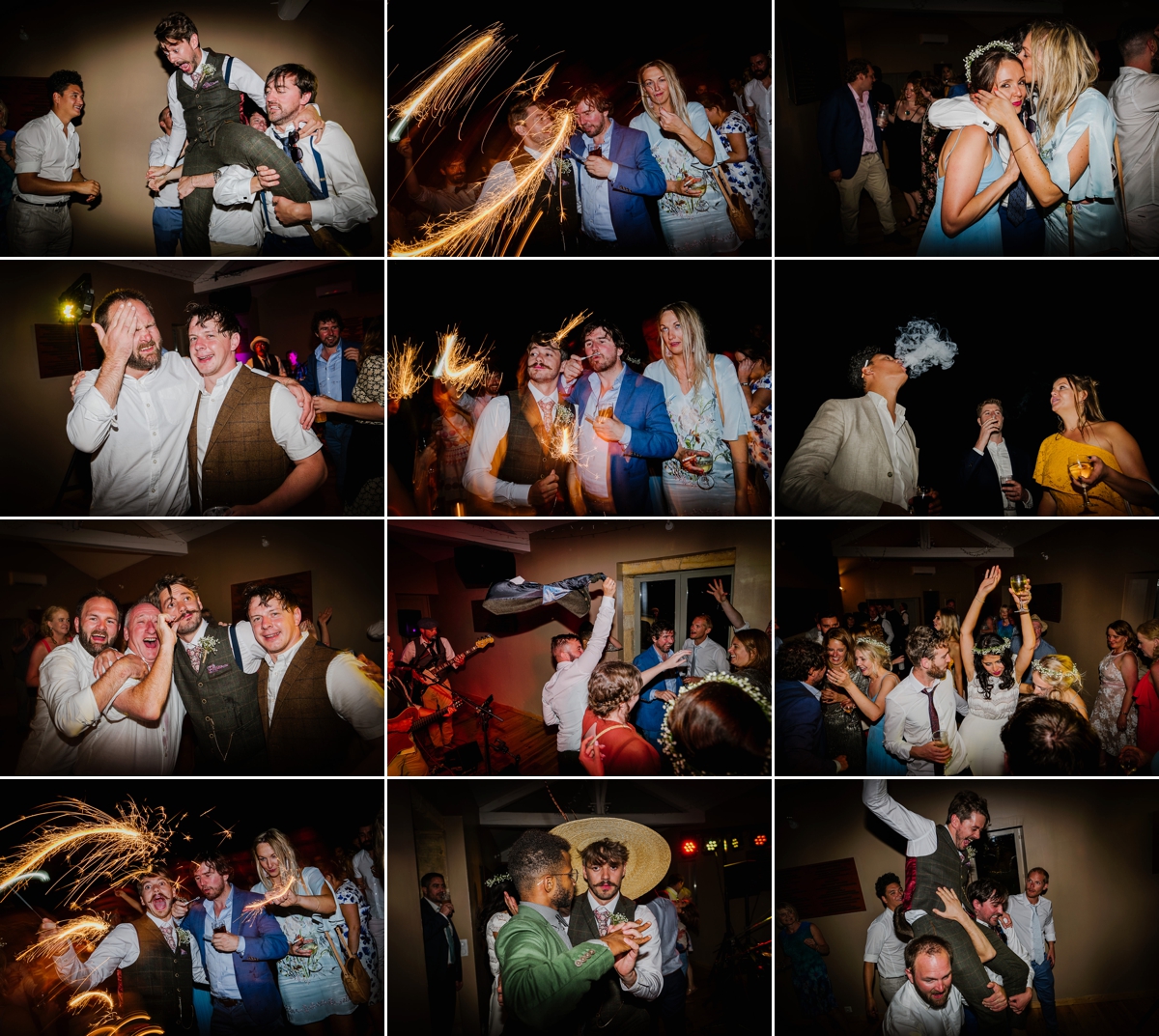 Words of Wedded Wisdom
"The cliché is true- it all goes by in the blink of an eye and you wish you could do it all again.  My advice is to have a late afternoon ceremony to give yourself plenty of time to get ready and relax in the morning.  Try and savour as many moments as possible and accept that you won't get much time with everyone."
"Finally do not stress about the tiny details.  No one notices or remembers them.  If you have plenty to eat and drink and plenty of music your guests will have a fantastic time."
So many thanks to Ciara and Lloyd for sharing this beautiful day.  If a French wedding might be your kind of thing, take a moment to have a look through previous weddings in La Belle France which we've featured in the past.  If its Ciara's dress you've fallen for, take a peek here for previous weddings featuring Laure de Sagazan dresses.
Much love,
Shona x