Happy New Year lovely readers!  Thank you for joining us in these first shiny new days of 2018. Although there isn't a single person on our 60+ person wedding list I wouldn't invite again (and many people I wish we had known well enough to invite at the time) I do love a little wedding, done in the simplest but loveliest of ways.
Adam and Nina, a product manager and journalist respectively, married in a small ceremony on the 21st of July 2017 at Harrogate Register Office, followed by an afternoon tea reception in the Imperial Meeting Room at Betty's.  This day is so pretty and I love the fact that the important thing at the end of it all is most definitely the people involved.
These beautiful images were taken by our Little Book For Brides member, the incredibly talented and very lovely, Georgina Harrison.
"I wasn't prepared to settle for anything but the best when it came to photography, as this is a permanent reminder of your special day.  That's why I knew I had to have Georgina Harrison, who just so happens to be one of my best friends and who I have known for more than twenty years.  As we only had family as guests at the wedding, it was really special having her there.  Georgina's eye for detail, relaxed style and stunning photographs made her the perfect choice.  She is so passionate about capturing your day and producing beautiful pictures – her warmth and humour put everyone at ease.  Seeing her work was a pleasure and I feel very fortunate that I was able to bag her."
Photography by Georgina Harrison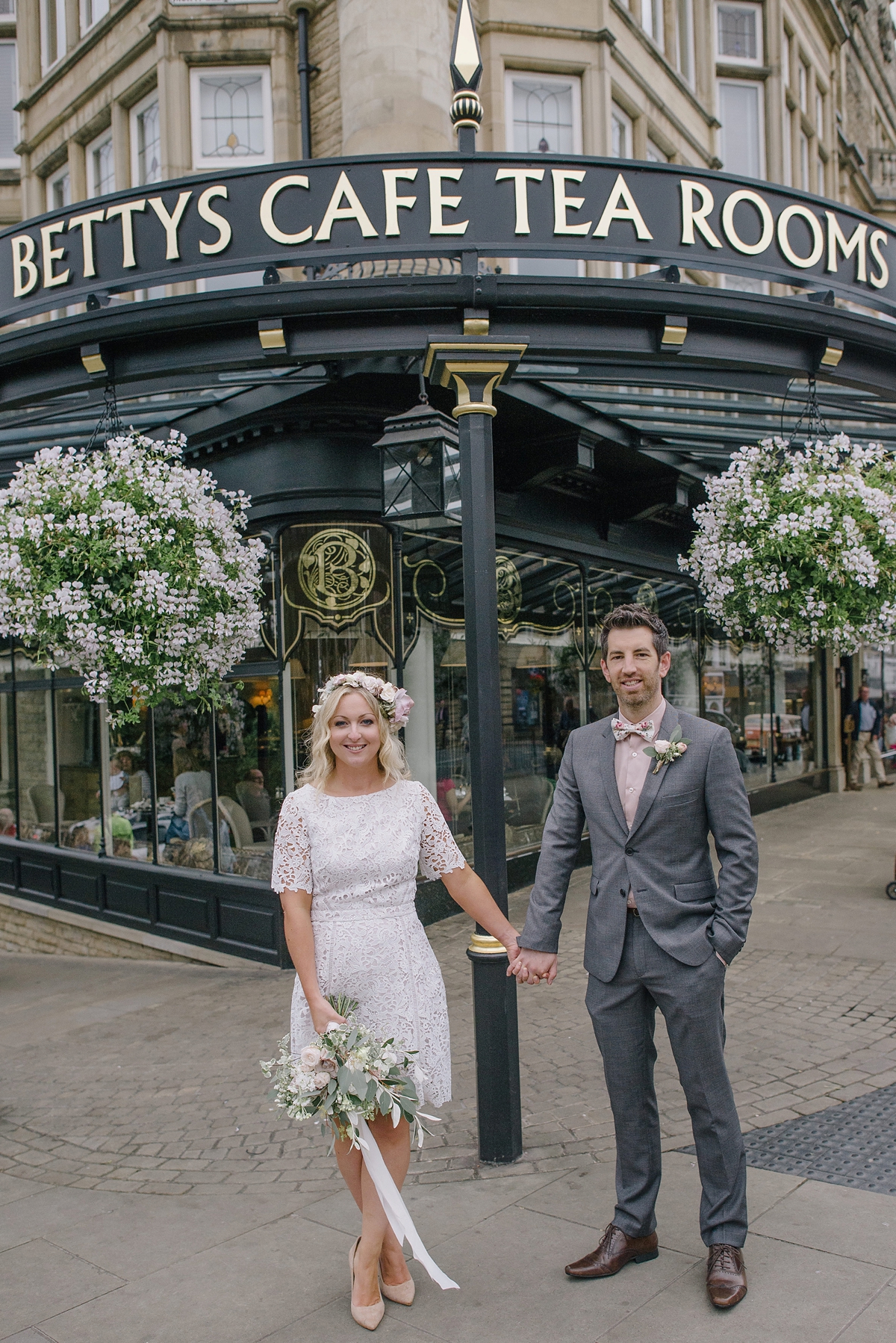 "We chose the venue because we wanted quite a casual wedding and as register offices go, Harrogate's is in an attractive setting next to the famous Stray and the building itself, Bilton House, is also lovely.  We chose Betty's because it epitomises Harrogate and after relocating as a family from Whitby almost two years ago, the town is very precious to us.  As a former reporter at the Harrogate Advertiser I have written lots of features and articles on Betty's over the years and it is truly a magical business – so I knew they would look after us."
Nina looked lovely in a funky knee-length lace dress from Reiss.  It has a bit of a 60's vibe and fits this laid back day perfectly.
"I didn't want to spend a fortune and, as I wanted it to be quite a chilled, casual day, I wanted something elegant, but not a big traditional wedding dress.  The Eleania dress fit the bill perfectly.  I really loved the off-white/ash lace and the cutout detail on the back.  I loved the shorter length and the fit.  The best thing about it is I can wear it again!"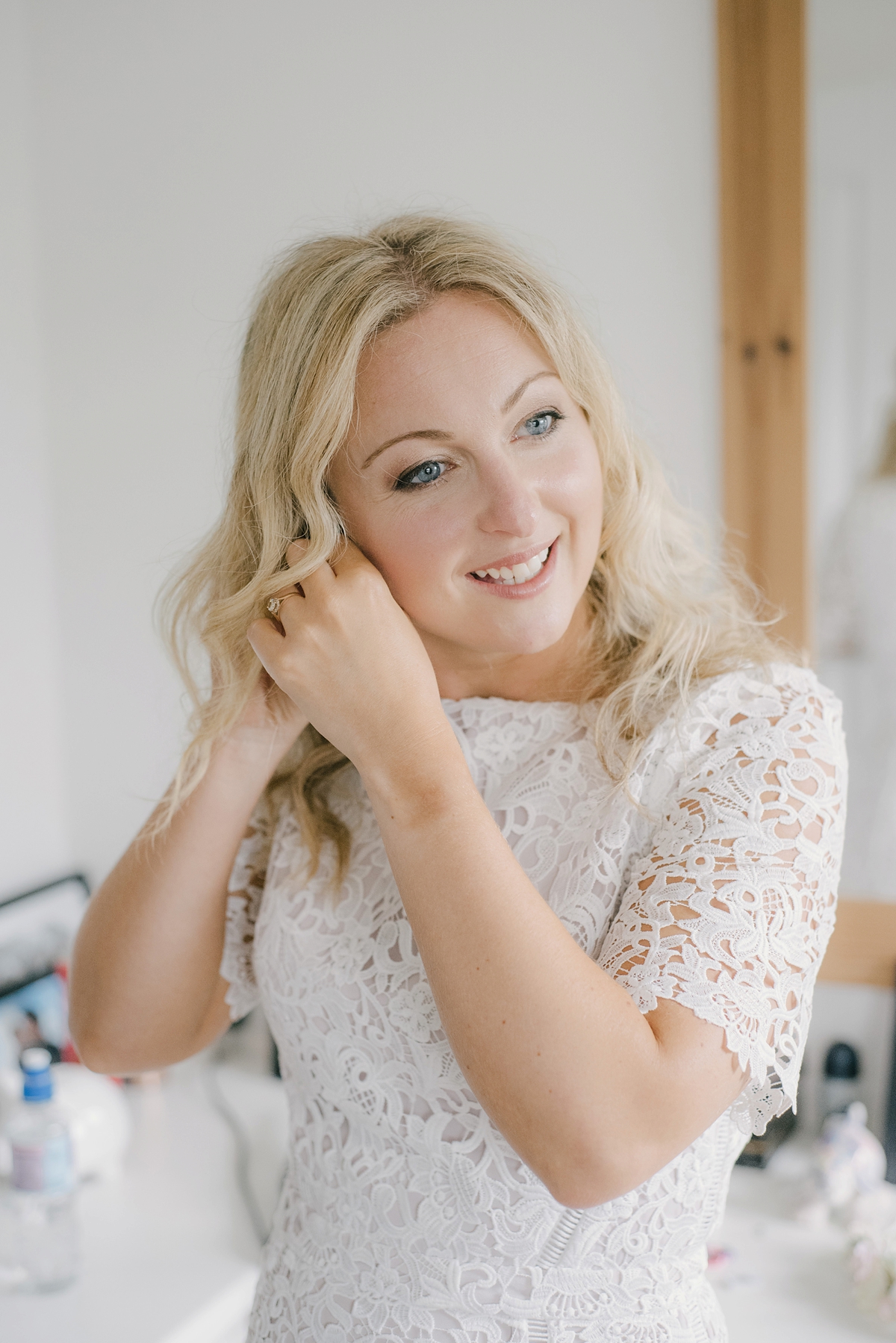 On her feet, Nina wore pointed court heels in a neutral dark blush suede which she purchased from Office, while on her hair she wore a bespoke handcrafted floral crown made from silk flowers, made by her childhood friend Michelle McHugh Budd, from The Shepherd's Purse in Whitby.  I remember visiting The Shepherd's Purse on holiday in Whitby years ago and I now follow them on Instagram– they have so many gorgeous things!
"I have known Michelle since I was four-years-old and she amazingly talented, so it felt special to be able to wear one of her designs."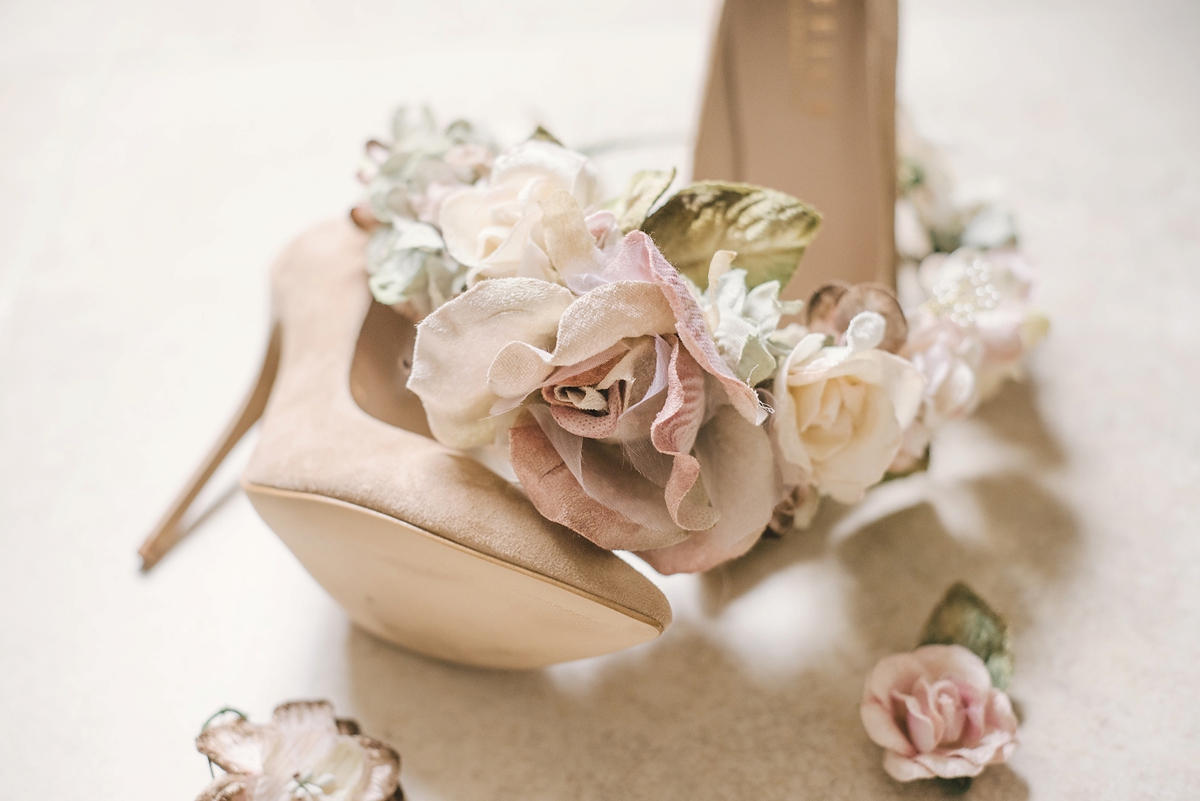 \
For scent, Nina chose her favourite Flowerbomb by Viktor & Rolf (delivered to the house on the morning of the wedding by Adam) and for jewellery she opted for diamond and pearl drop earrings, loaned to her by her mum.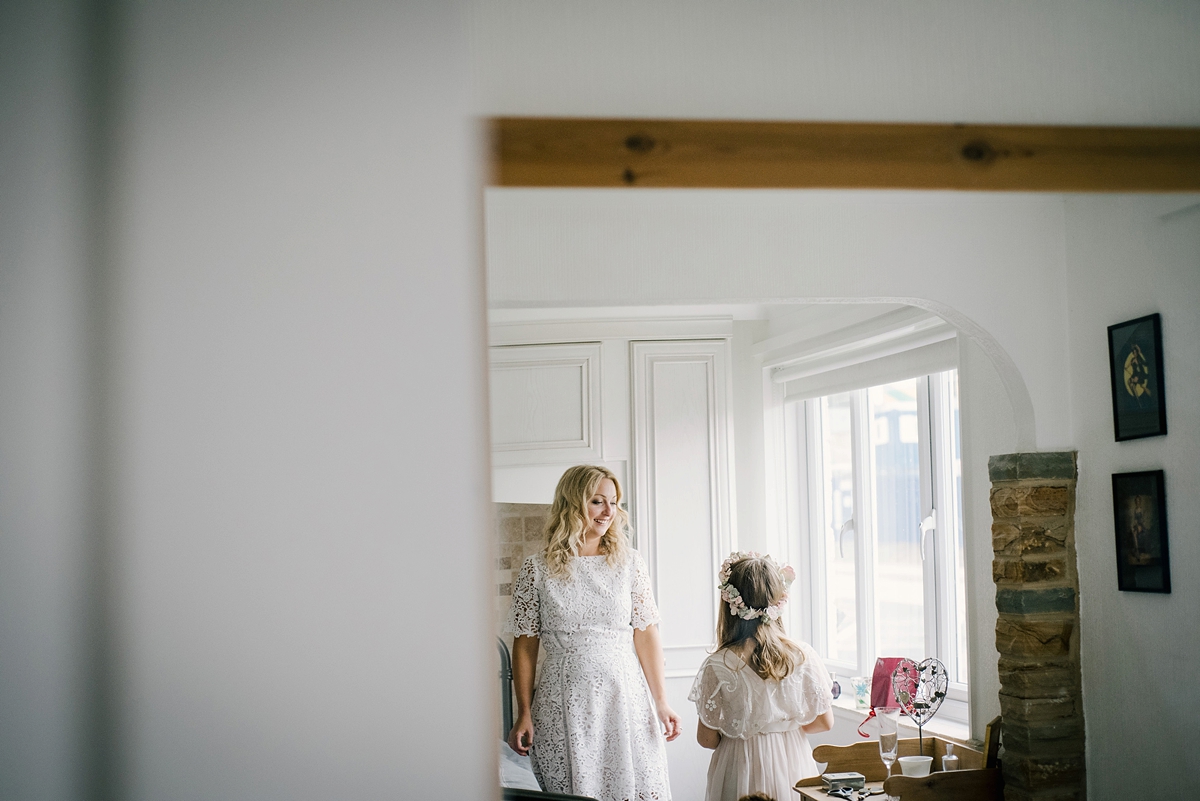 "My hair was done at Westrow the day before while my make-up artist was Michelle McHugh Budd, from The Shepherd's Purse in Whitby.  Her whimsical, bohemian style is just beautiful.  I also had a fabulous spray tan from Coco Tan and my nails and eyebrows done by Samantha Hamp."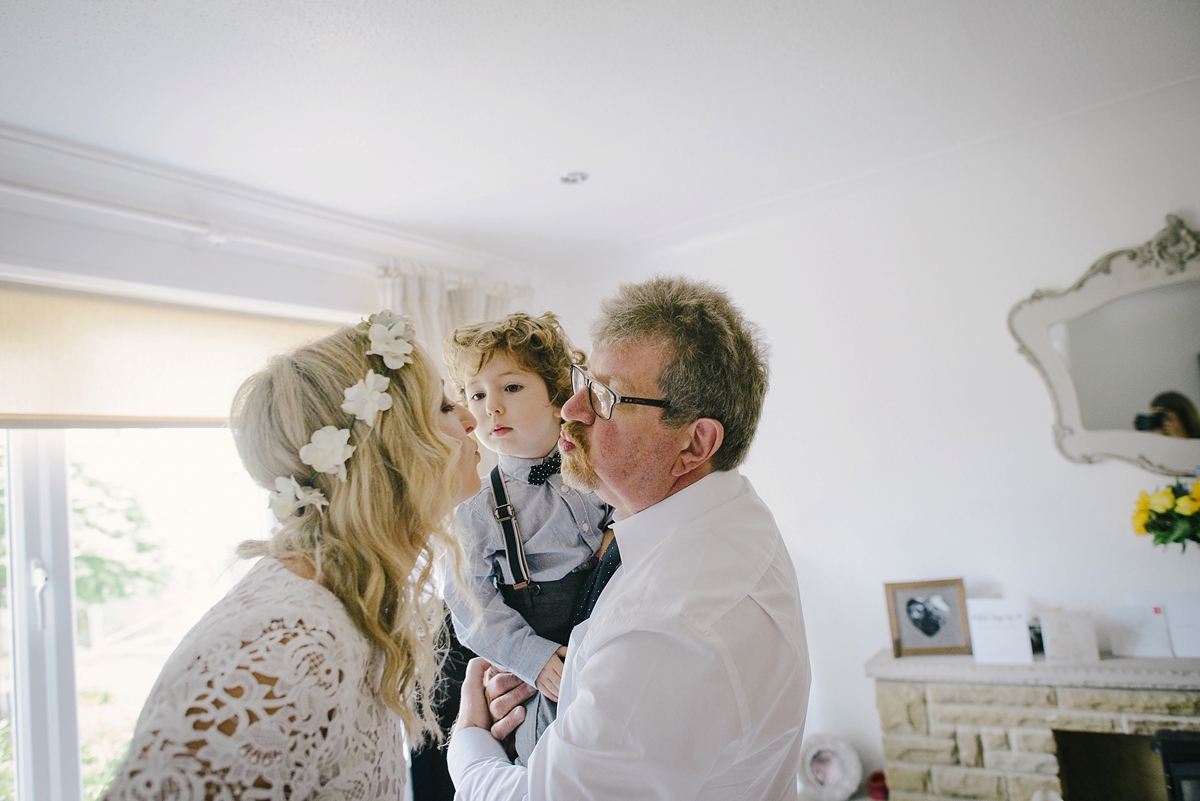 The wonderful flower arrangements were the work of Lucy MacNicoll Floral Design.
"I chose Lucy because I stumbled across her floral boutique and immediately fell in love with her style.  I threw a few ideas at her and the end result was everything I could have hoped for and more, just stunning."
"I carried a natural hand-tied bouquet featuring a mix of flowers with delicate foiliage, peonies, roses, stocks, veronica, astilbe, wax flower, hypericum bound with ivory ribbon."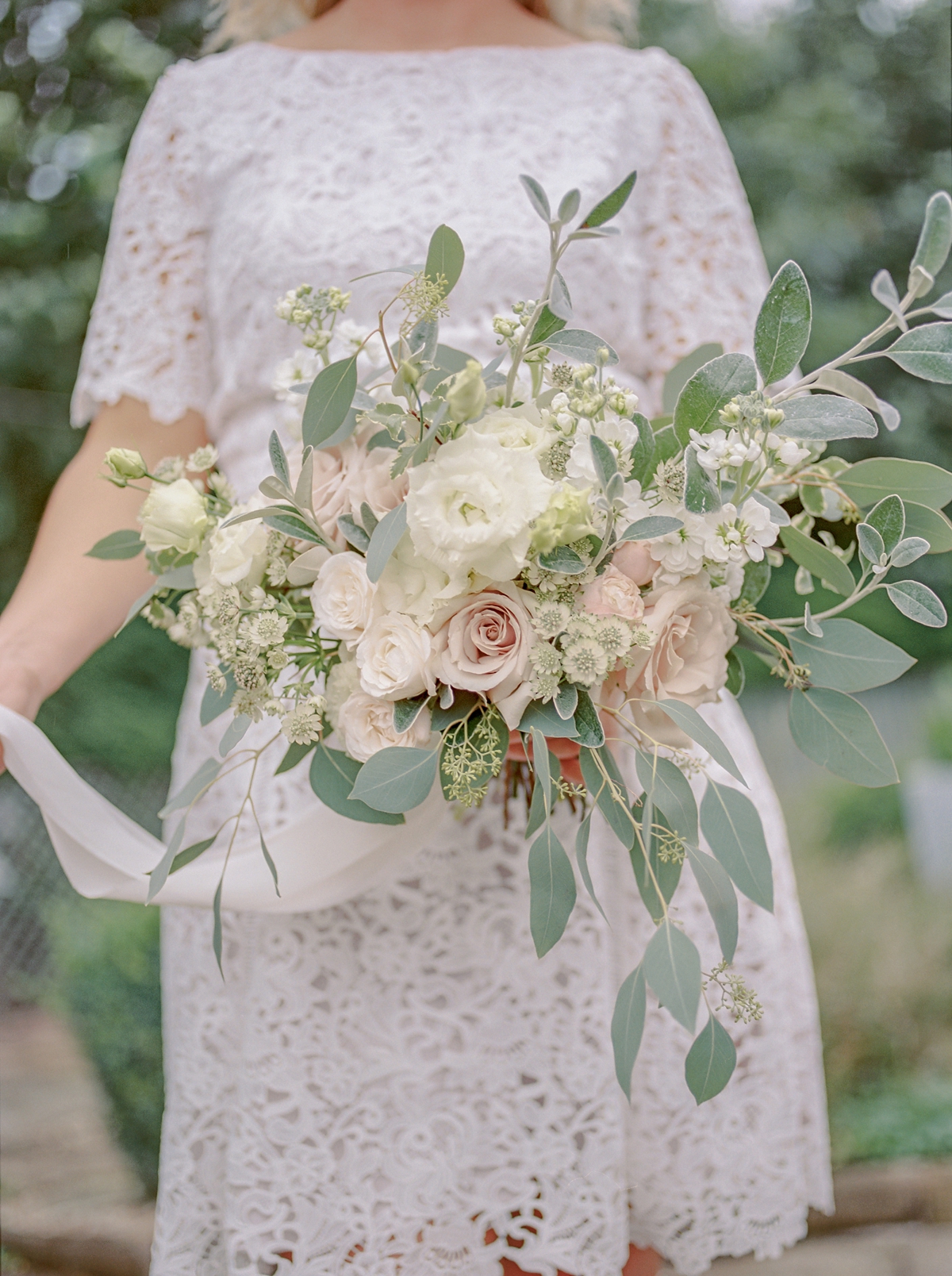 Adam looked very smart in a charcoal grey suit and blush pink shirt from Paul Smith, paired with a floral bow tie from Etsy.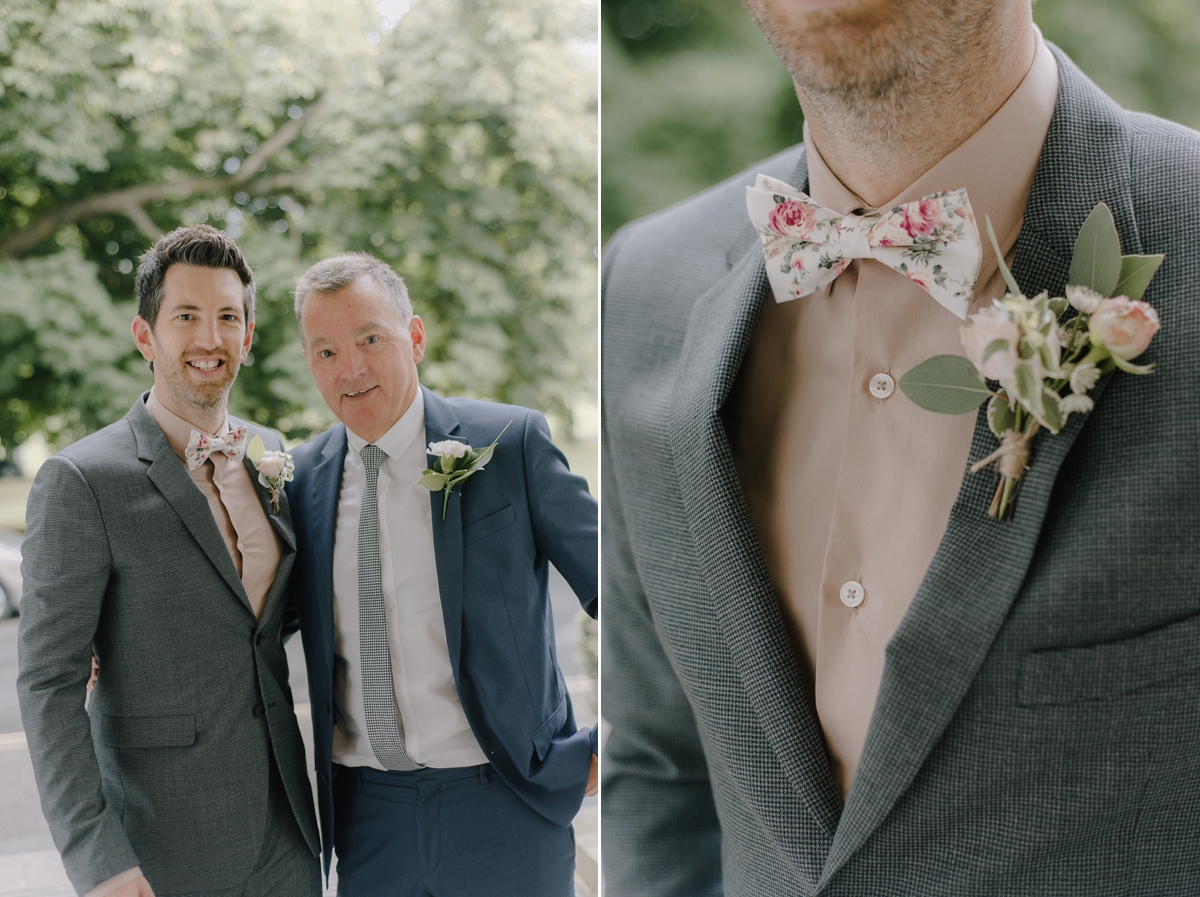 Flower girl Ruby looked beautiful in a pale pink sequin and tulle dress from Monsoon, worn with a smaller version of Nina's flower crown, while ringbearer Noah was gorgeous in high-waisted trousers, shirt, bowtie, braces and Converse-style shoes (with monster face on the backs) from Next.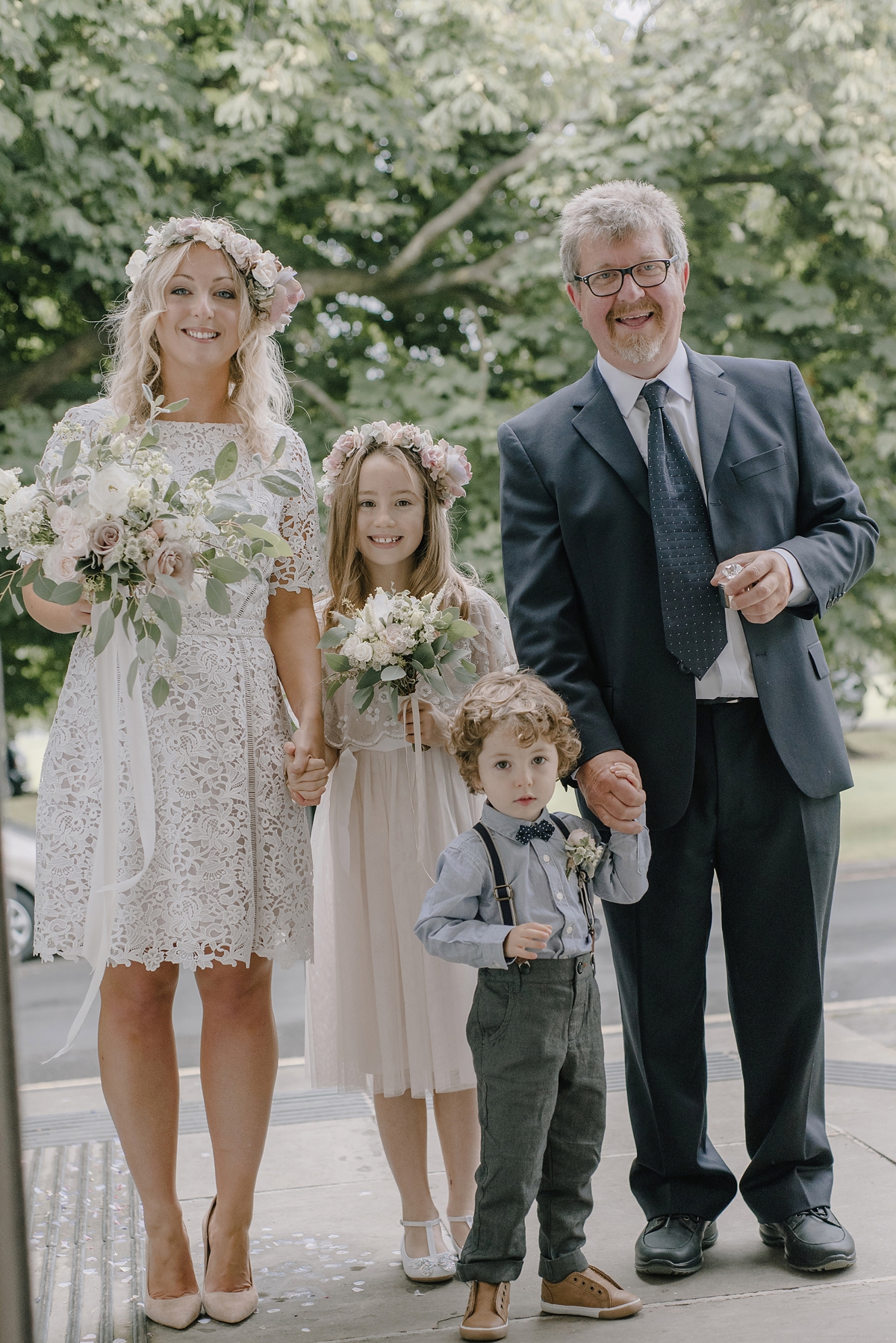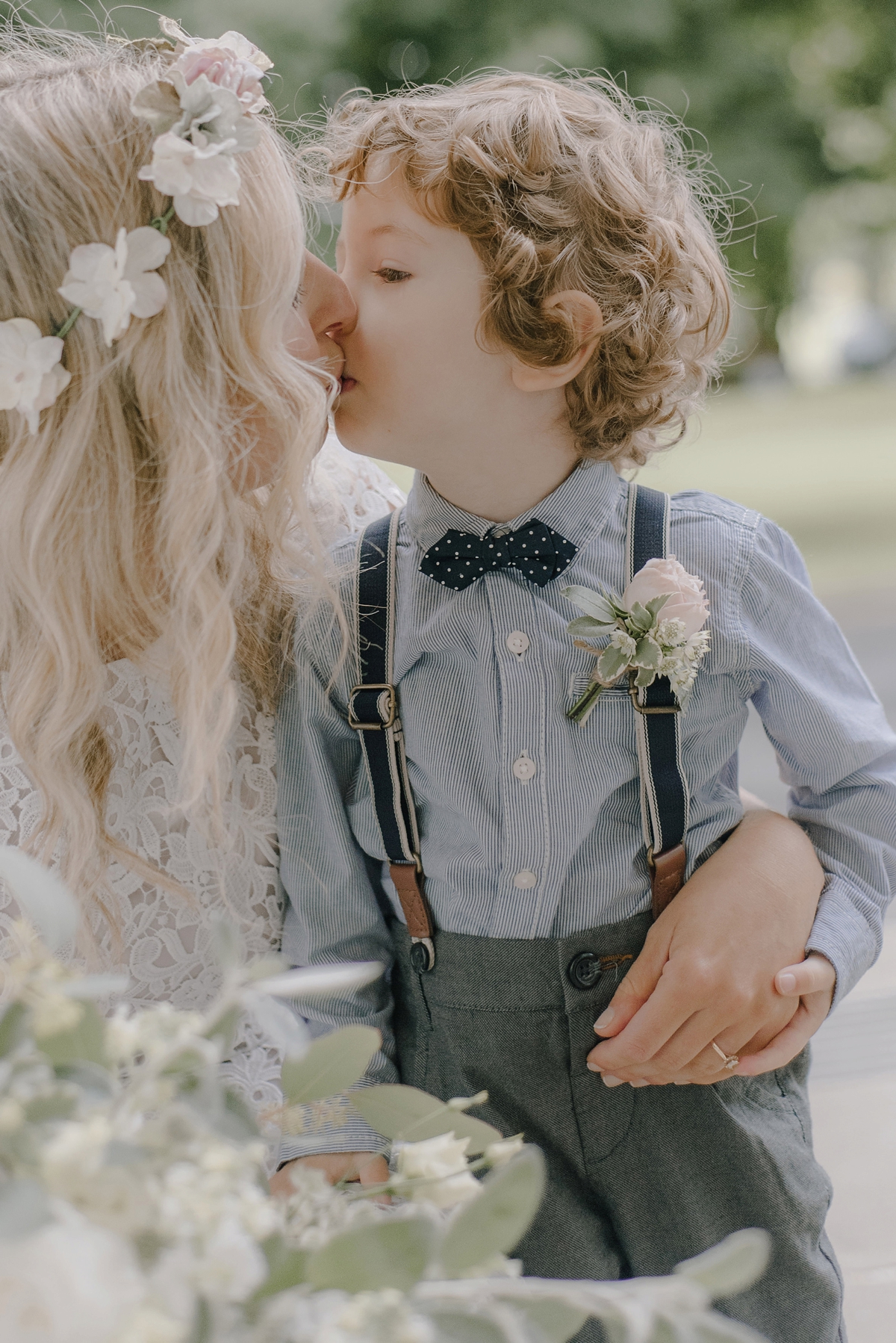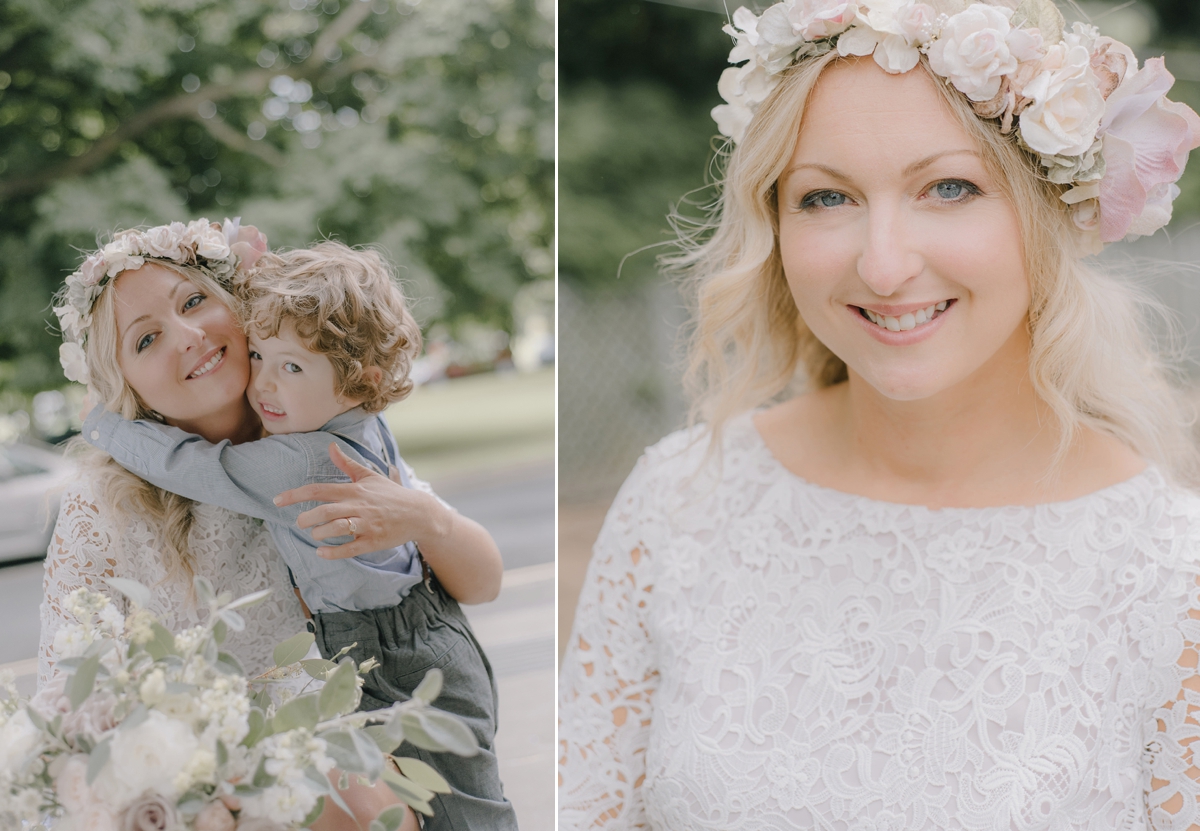 Nina was preceded down the aisle by her stepdaughter Ruby and son Noah as flowergirl and ringbearer,  Noah carrying a little bejewelled pot containing the rings and Ruby carrying a miniature version of Nina's bouquet.
Nina's dad then accompanied her down the aisle to 'A Thousand Years', by Christina Perri.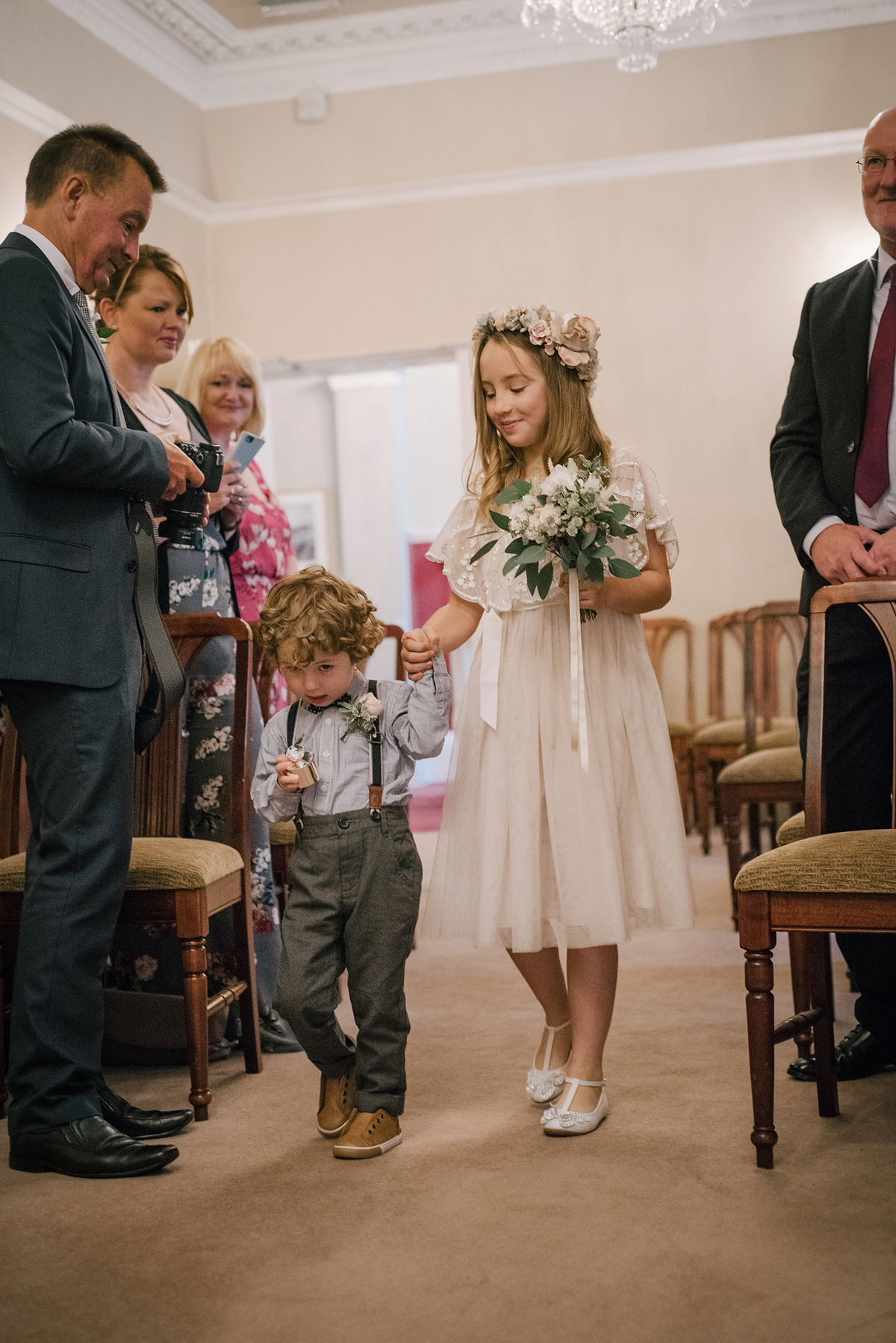 "Ruby performed a reading.  It was very emotional as she started crying and set everyone else off, including the registrar.  We chose a quote by A.A. Milne as we have read Winnie the Pooh to both of our children and the words resonate and just sum up our relationship."
"My ring is a handmade 18ct rose gold bobble band, which we found in the Saltbox Gallery in Helmsley, North Yorkshire.  I fell in love with the unusual design.  It was made for me by Louise Dwyer, a very talented jewellery designer.  Adam's ring is a plain matte Titanium band bought online from Star Wedding Rings online."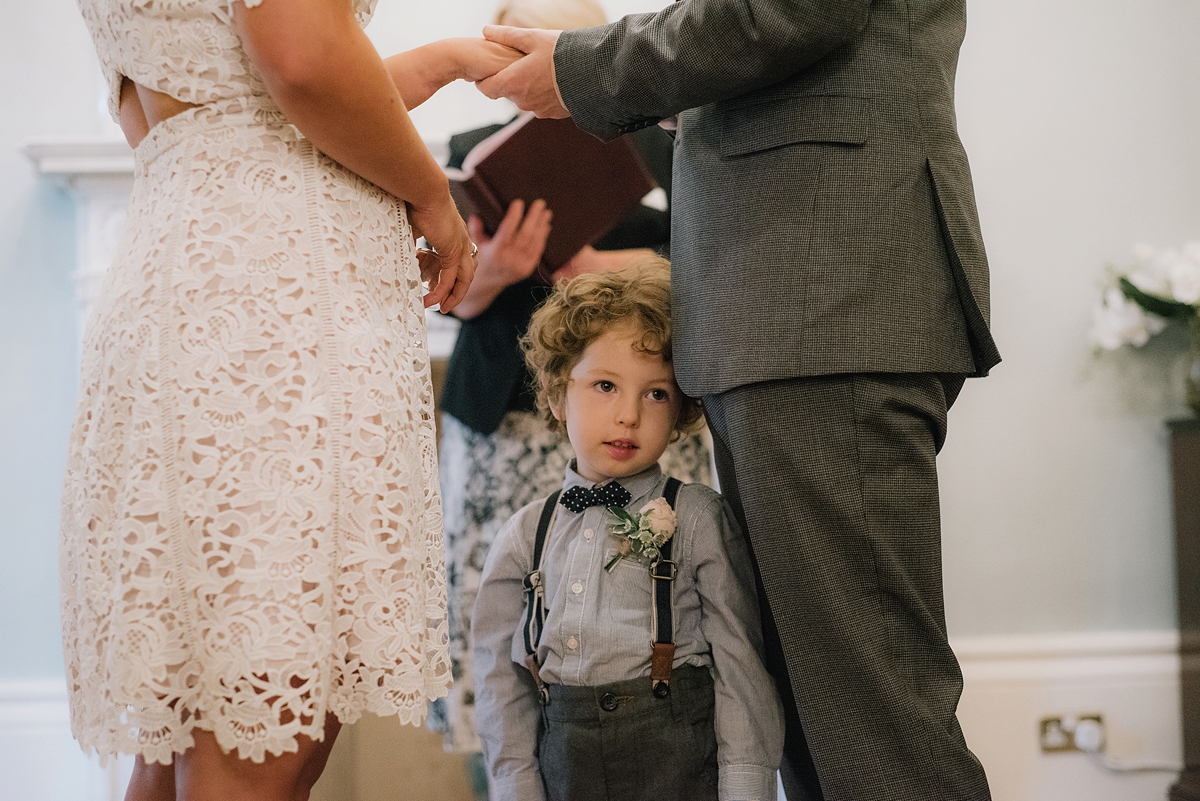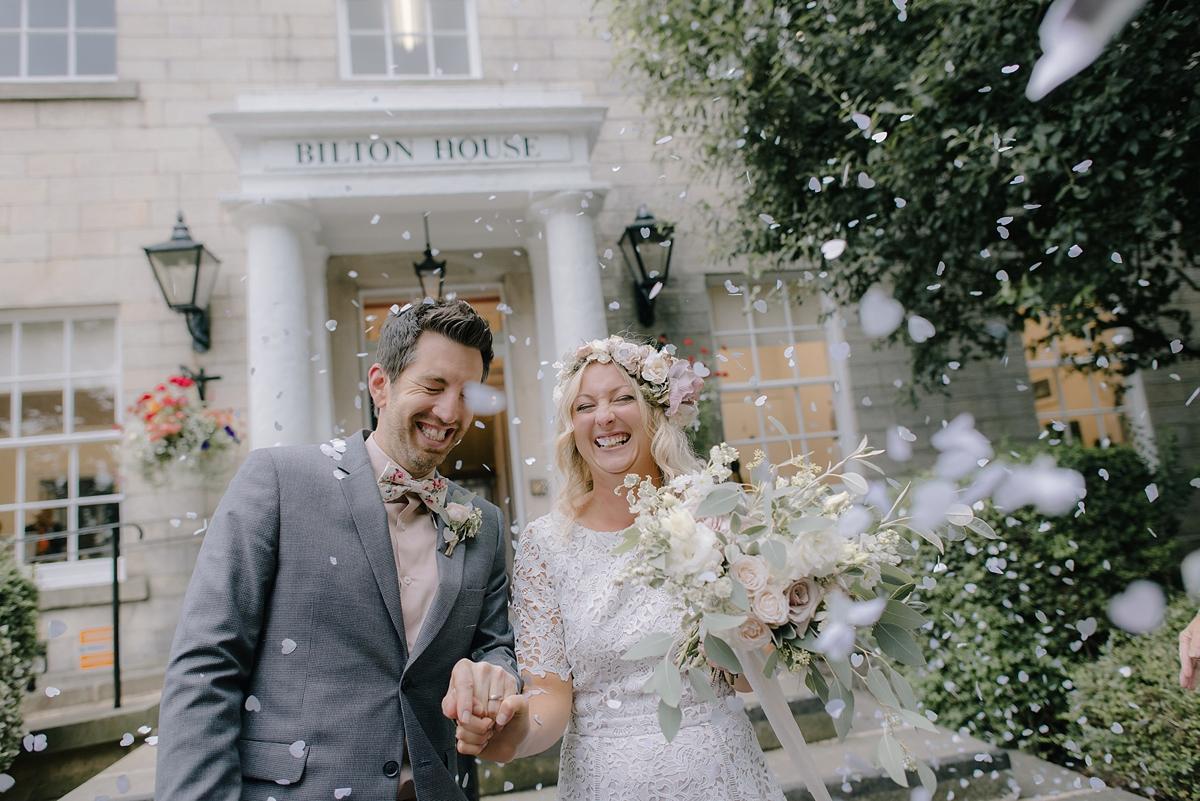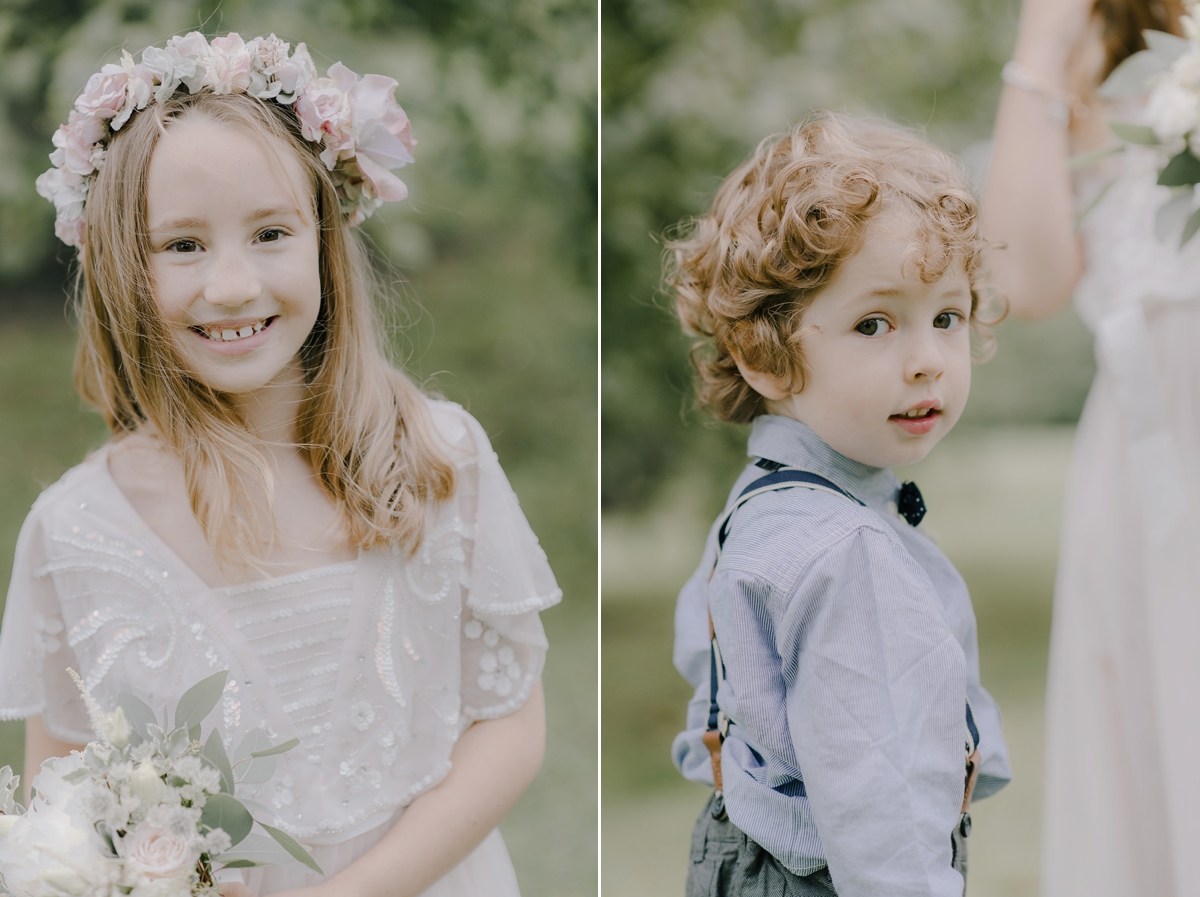 "We met in 2011 when I was working as a reporter at The Yorkshire Post and Adam was working as the digital editor at the Scarborough Evening News.  We were reporting on the same story and the rest is history.  In 2013 we had a little boy, Noah, and last November Adam popped the question."
"He took me on what I thought was a shopping trip to York and said we had to meet his sister and aunty at the Museum Gardens – a very beautiful park in the city that we have visited many times – when I got there they put headphones on me and my 'happy song' was playing ('You make my dreams come true' by Hall and Oates)."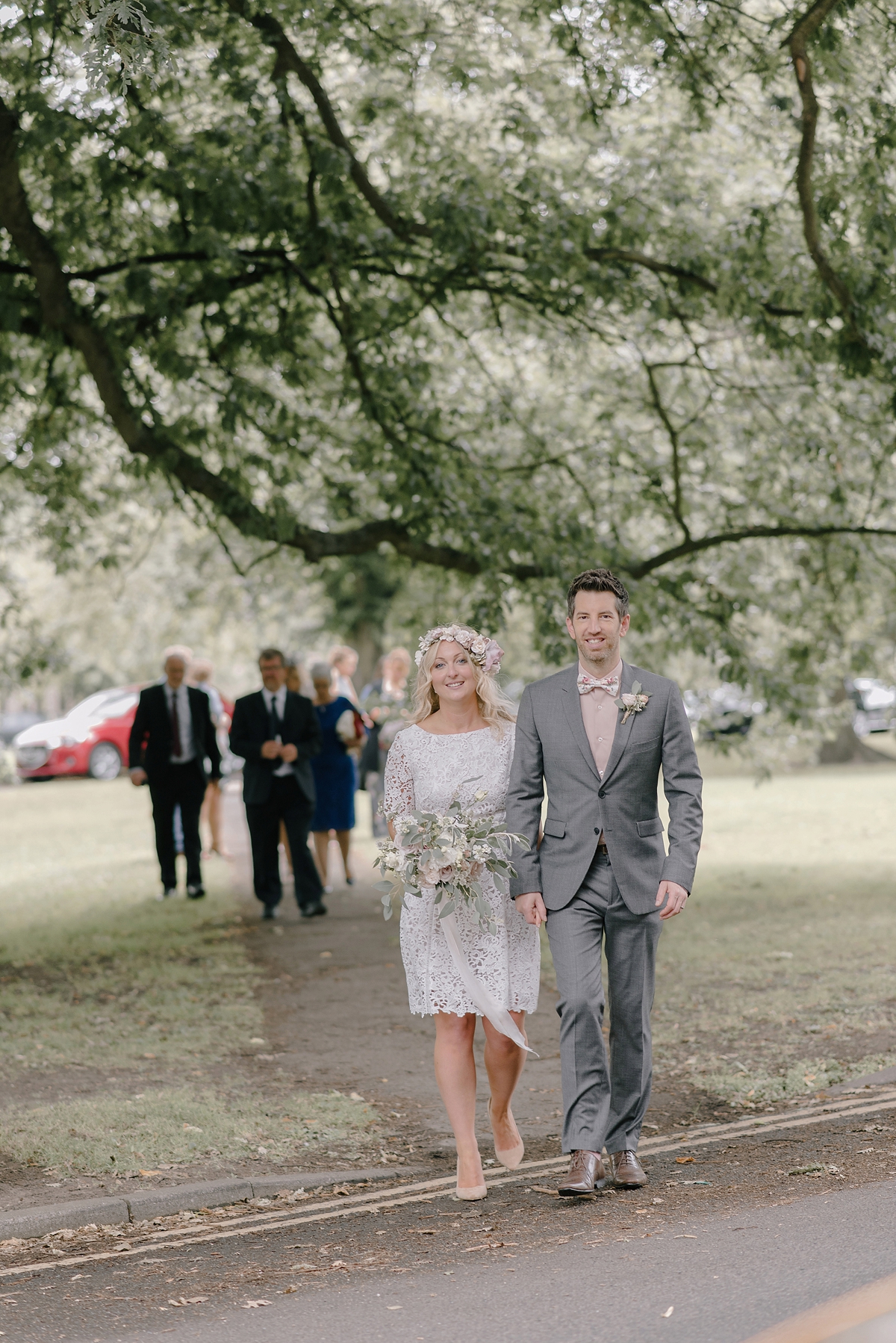 "He then led me through the gardens and at different stages along the way my family and friends all started walking out from behind walls and bushes. When we got to the ruins of St Mary's Abbey he got down on one knee in front of everybody and proposed and everyone cheered.  It was amazing! It turns out he had been planning it for months."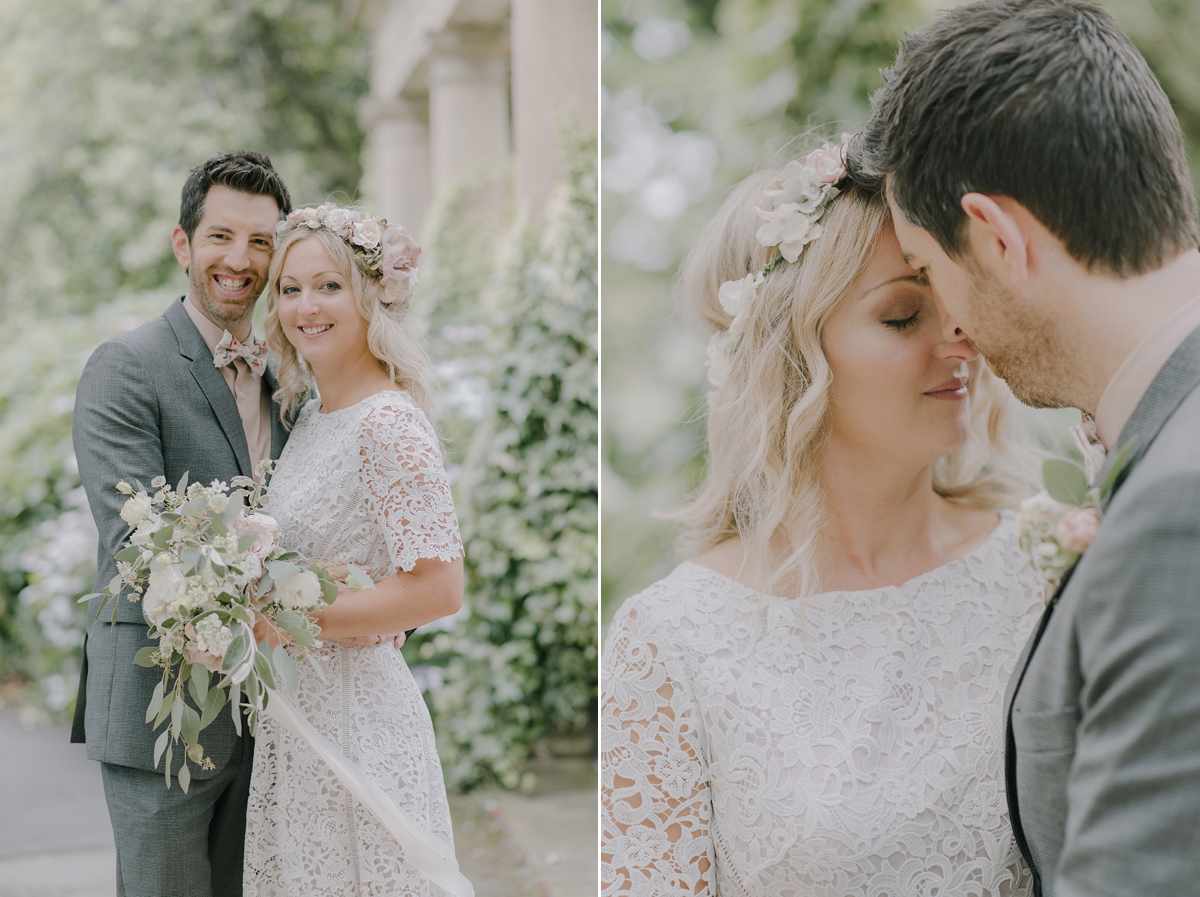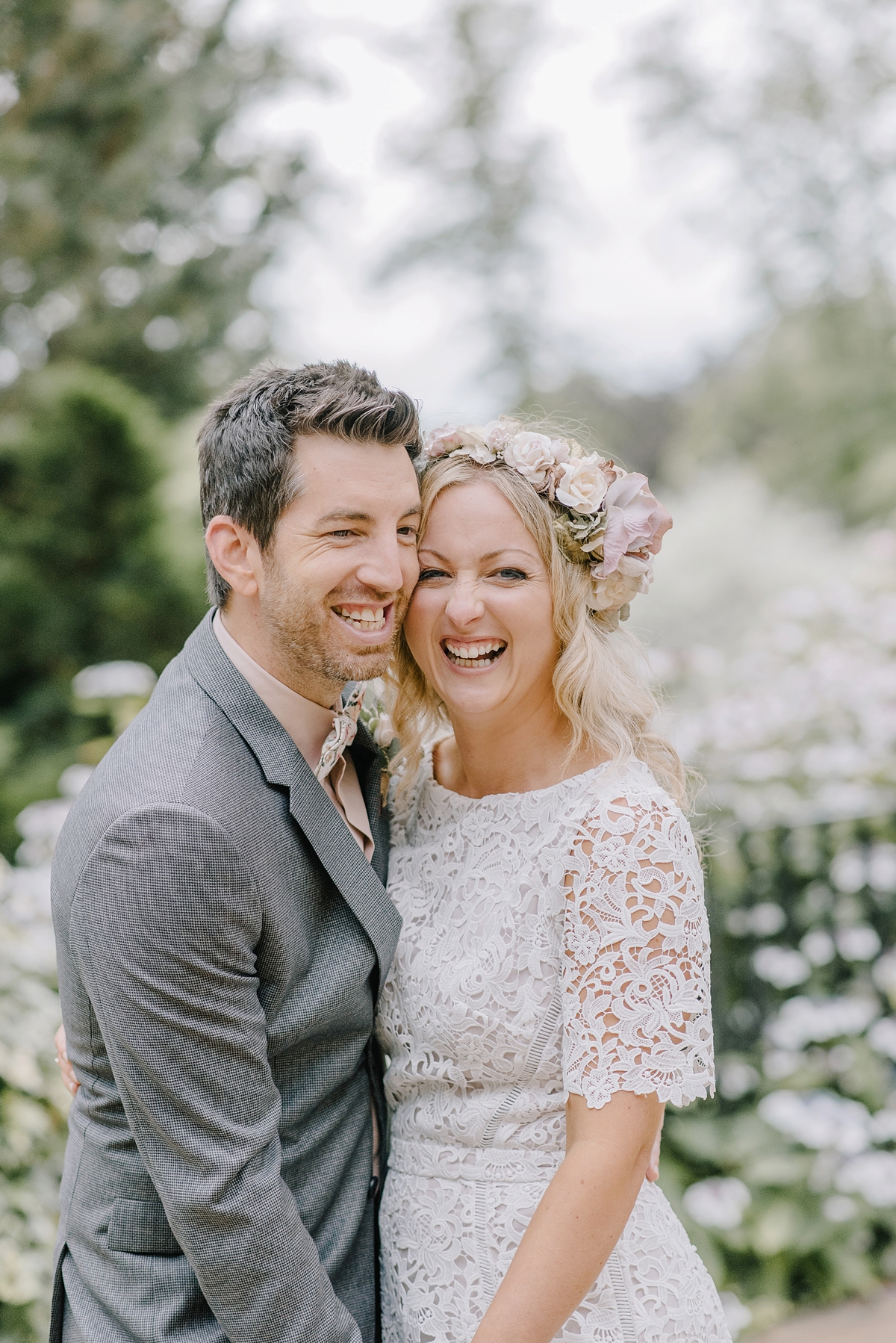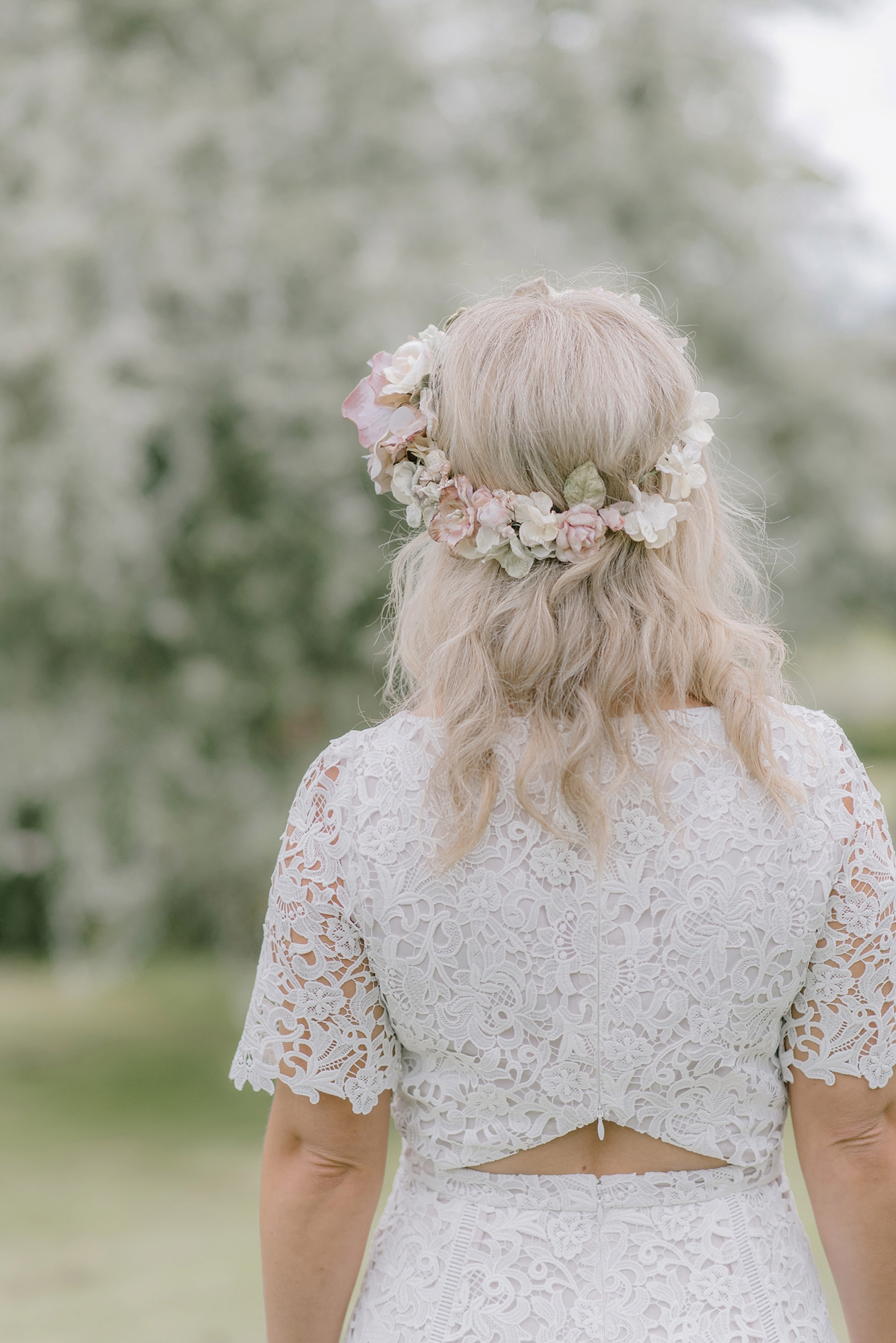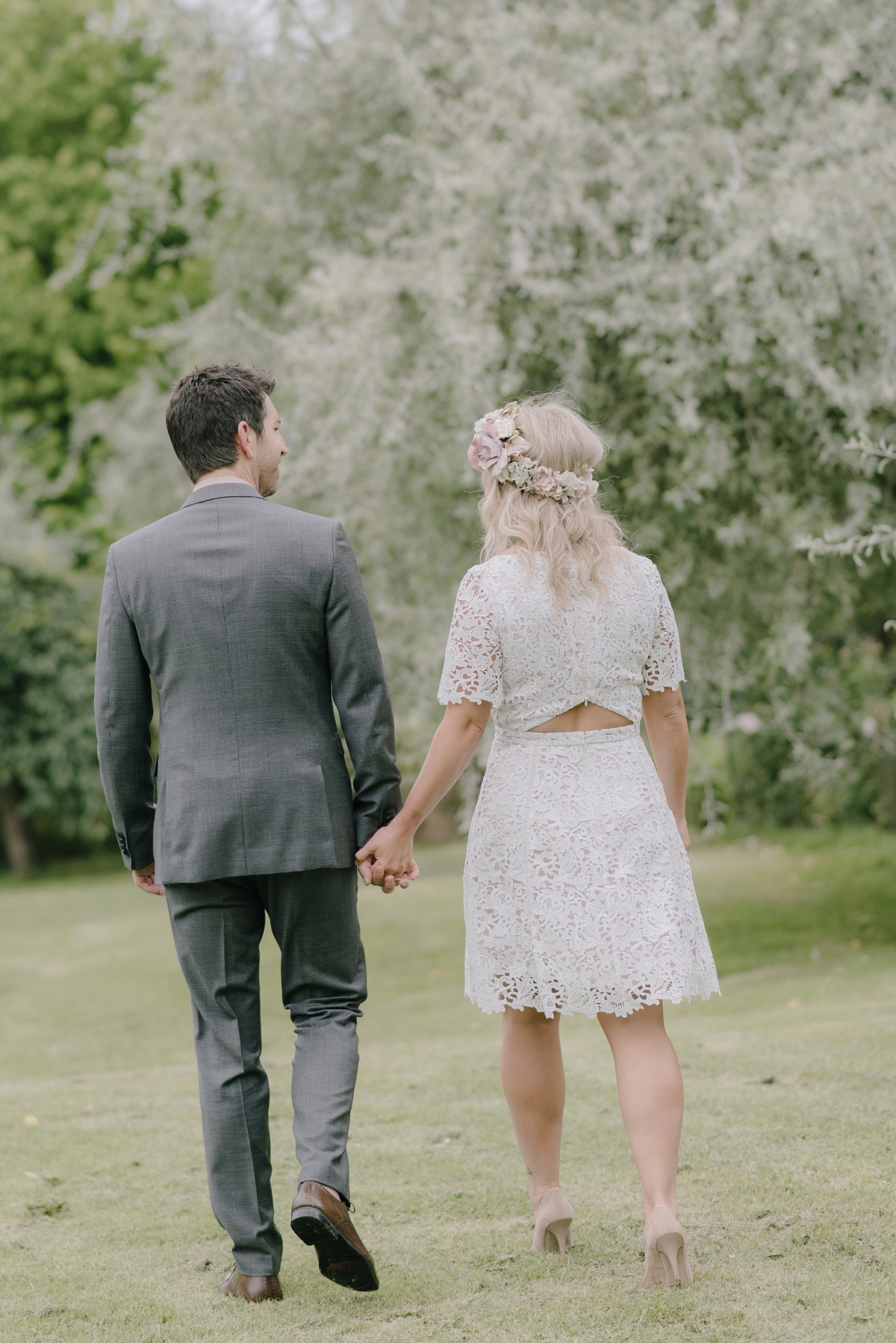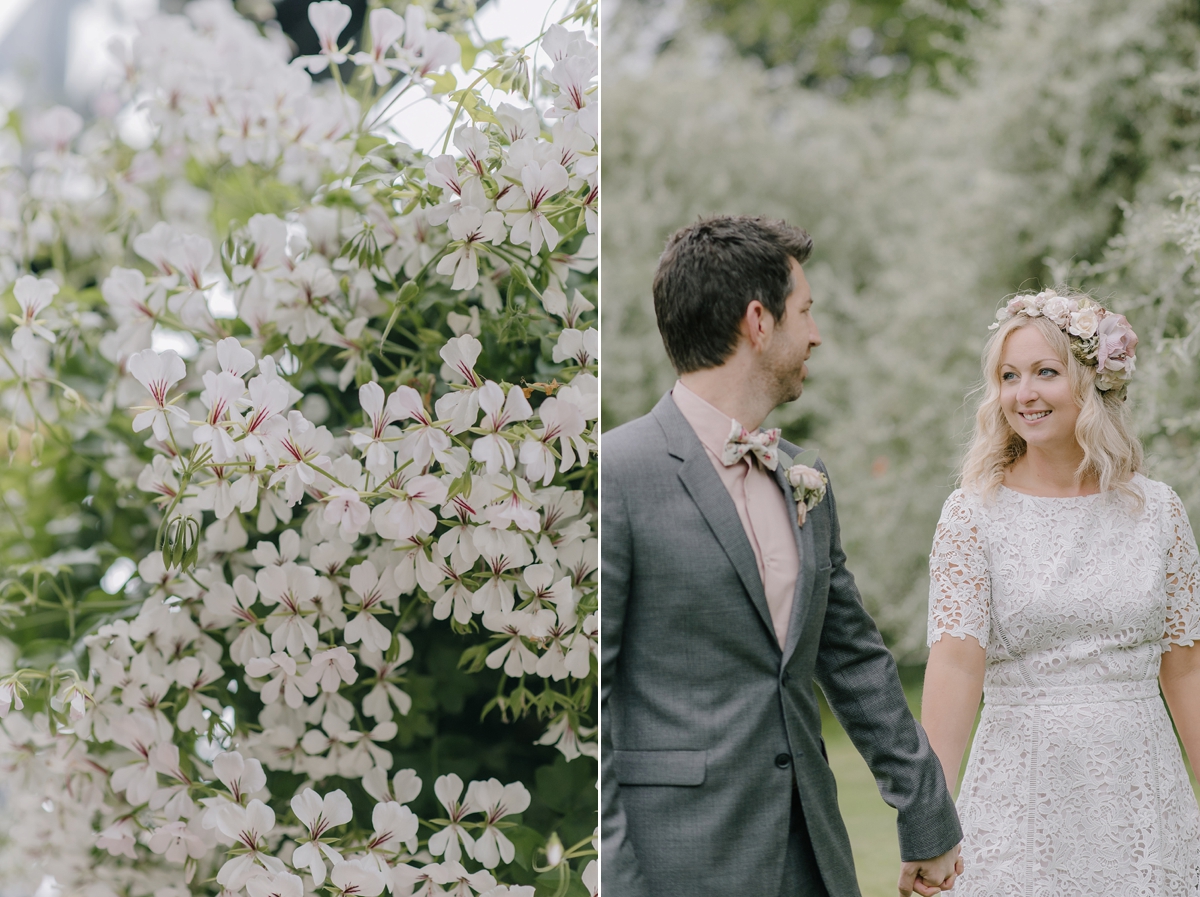 After portrait photographs in Harrogate's beautiful Valley Gardens Nina and Adam joined their guests for a luxury Lady Betty's afternoon tea at Betty's tearooms.
The room, already beautiful, was further decorated with a lightbox, which spelled out 'Mr and Mrs Meads say I do', and tea lights and little white roses on the tables.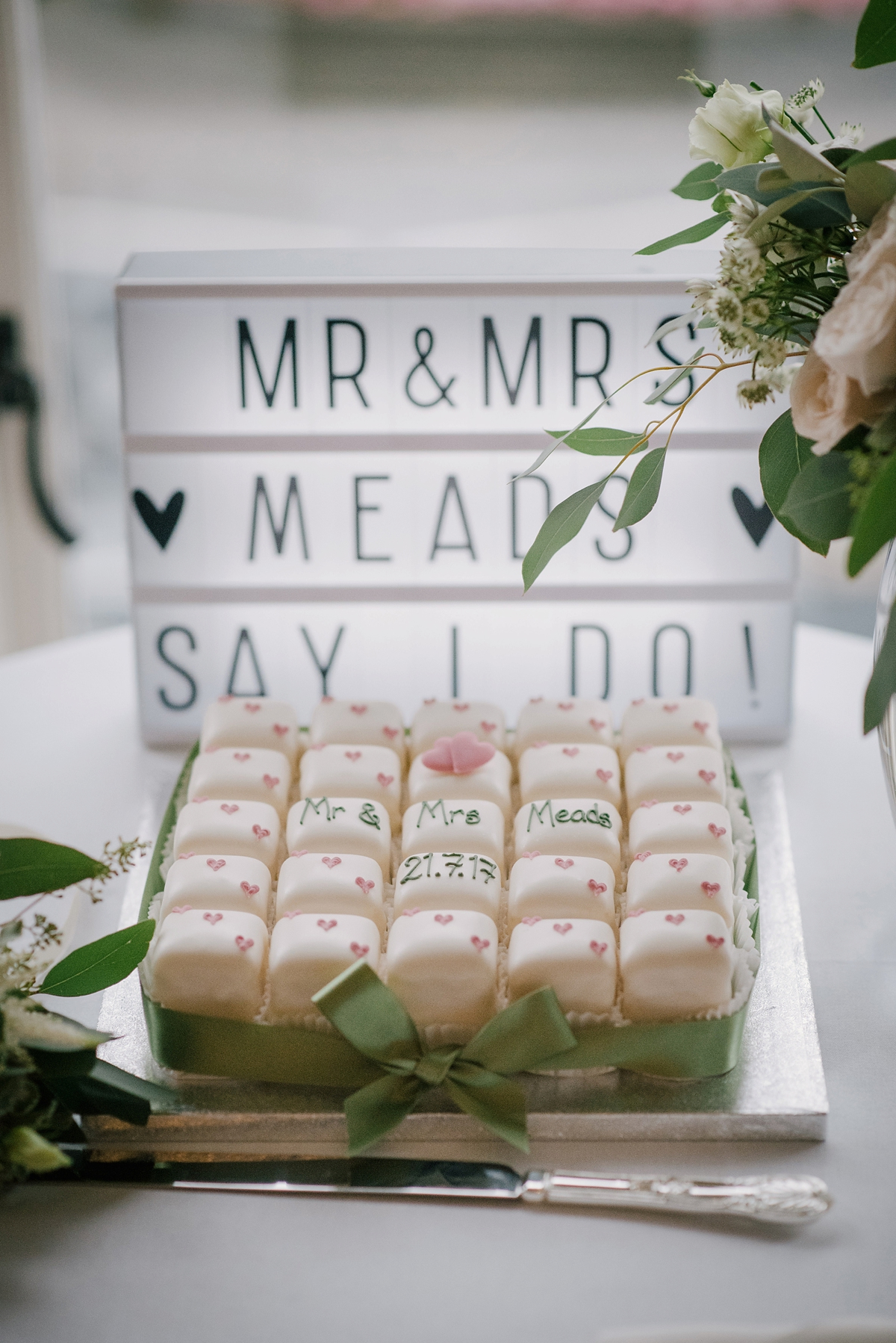 Of course, the cake had to be a Betty's special.  It featured twenty five small cakes – fondant fancies covered in ivory icing, decorated with pink hearts and piped with  'Mr & Mrs Meads' and '21.7.17' in olive green icing.  Favours too were by Betty's, with milk, white and dark chocolate hearts covered in gold, silver and bronze foil for guests.
"We made place cards using dusky pink card and unicorn and rainbow stickers from Paperchase – I just thought they were cool."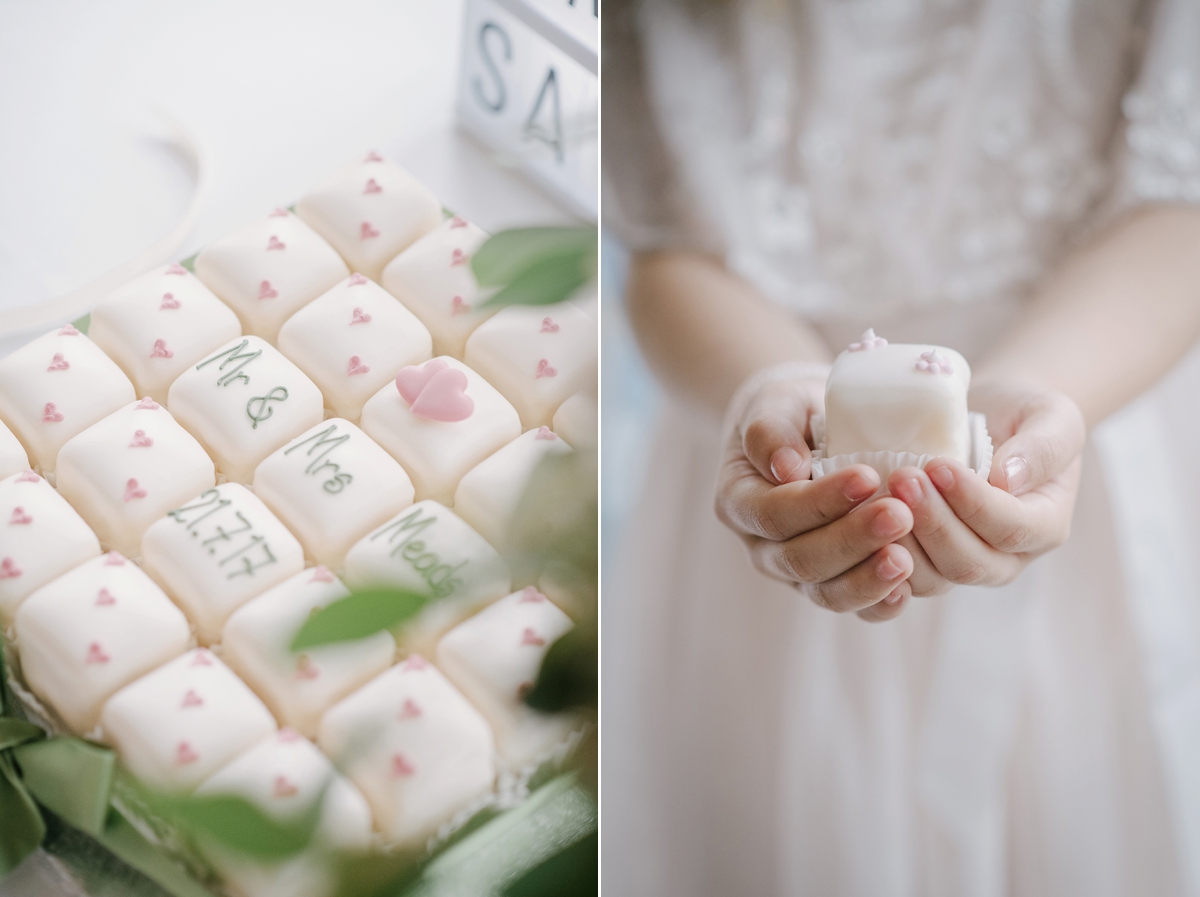 Words of Wedded Wisdom
"Make your day about you and no-one else.
You don't need to spend a fortune for it to be perfect, but when you do splash your cash spend the money on what is important to you and make savings elsewhere."
"Don't sweat the small stuff; remember what the end goal is – marrying the man/woman of your dreams."
Huge thanks to Nina and Adam for sharing their gorgeous day with us all.  If small weddings are your thing, you must have a look here for lots of beautiful bijou inspiration.  Each and every one is just lovely.
Love, S x