The other day someone made the mistake of asking me if I didn't get bored looking at the 'same thing' over and over when writing up wedding features- they regretted this as I then spent a good twenty minutes showing them the wealth of individuality  in all the weddings we have on our lovely blog.
Today's wedding features an amazing short structured dress and a small wedding party- tomorrow's might have a two hundred strong guest list and a blue ballgown- the beauty of it all is the difference.
Robbie and Stella married in style on the 1st April 2017 with a multi venue wedding starting at The Builders Arms in Chelsea for pre-drinks, moving to Chelsea Old Town Hall for the ceremony, to The Ivy Chelsea Garden for dinner and finishing at a private townhouse on the Kings Road for an after party and accommodation (and where everyone also got ready that morning).
"There was no theme to our wedding but we wanted to ensure that it was elegant, timeless and also reflected our personalities.  The Kings Road is a fashionable location as opposed to formal and as the wedding reception dinner was intimate we asked everybody to dress like they were going out for a super special dinner (hence I went for a short dress)."
Images by Paul Santos Photography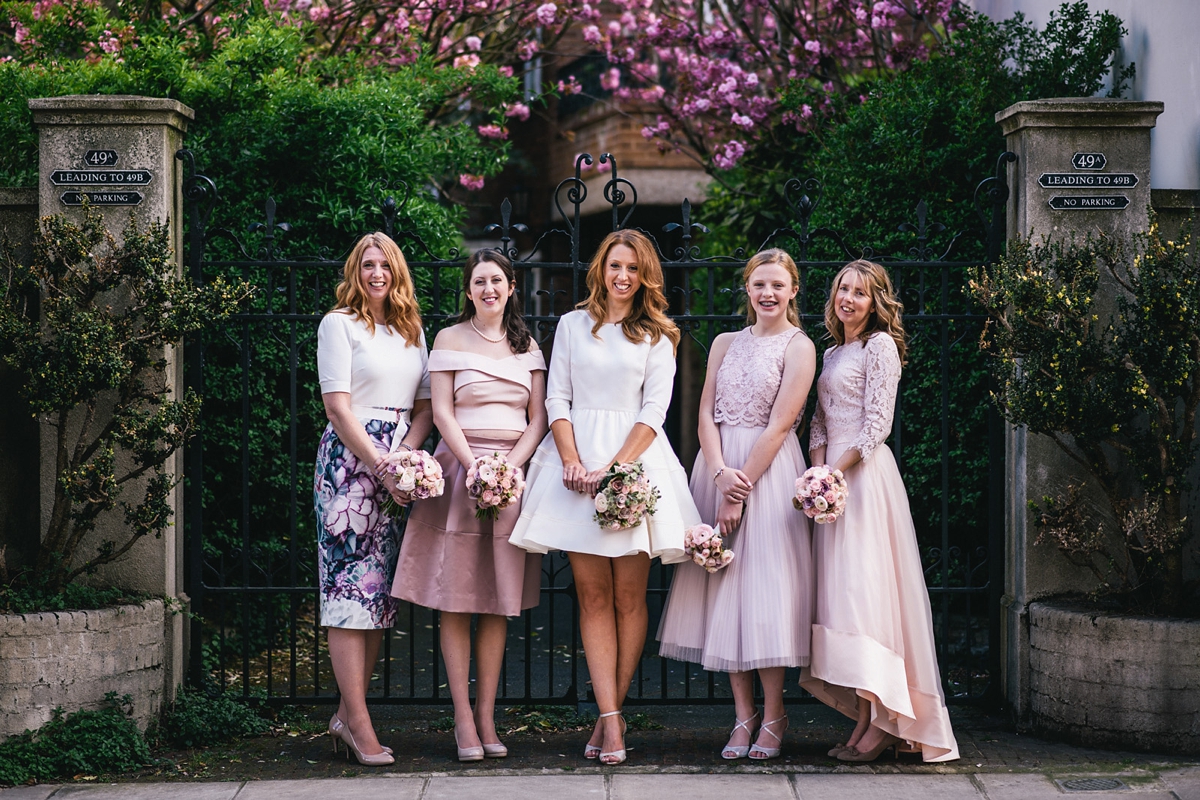 "The bridesmaids were meant to mismatch so that they each wore something that made them feel comfortable and special. It was also important to me that everybody was super elegant and dressed like they were going for a special meal at the Ivy to keep the day less formal and more about good times.  The only thing that matched was their flowers, and the only must have was that their outfits blended in with my bouquet choice.  They wore a mix of Ted Baker, Coast and ASOS."
"Rob and I met in 2007 when he asked me to meet him at a property as his client required an interior design consultation.  Over the years we spoke on and off for work purposes but never in a million years did we ever expect that we'd be happily married one day!  In 2012 Rob made contact with me and our friendship quickly flourished.  Within three months we were living together and after three years we decided to tie the knot.  Timing is everything."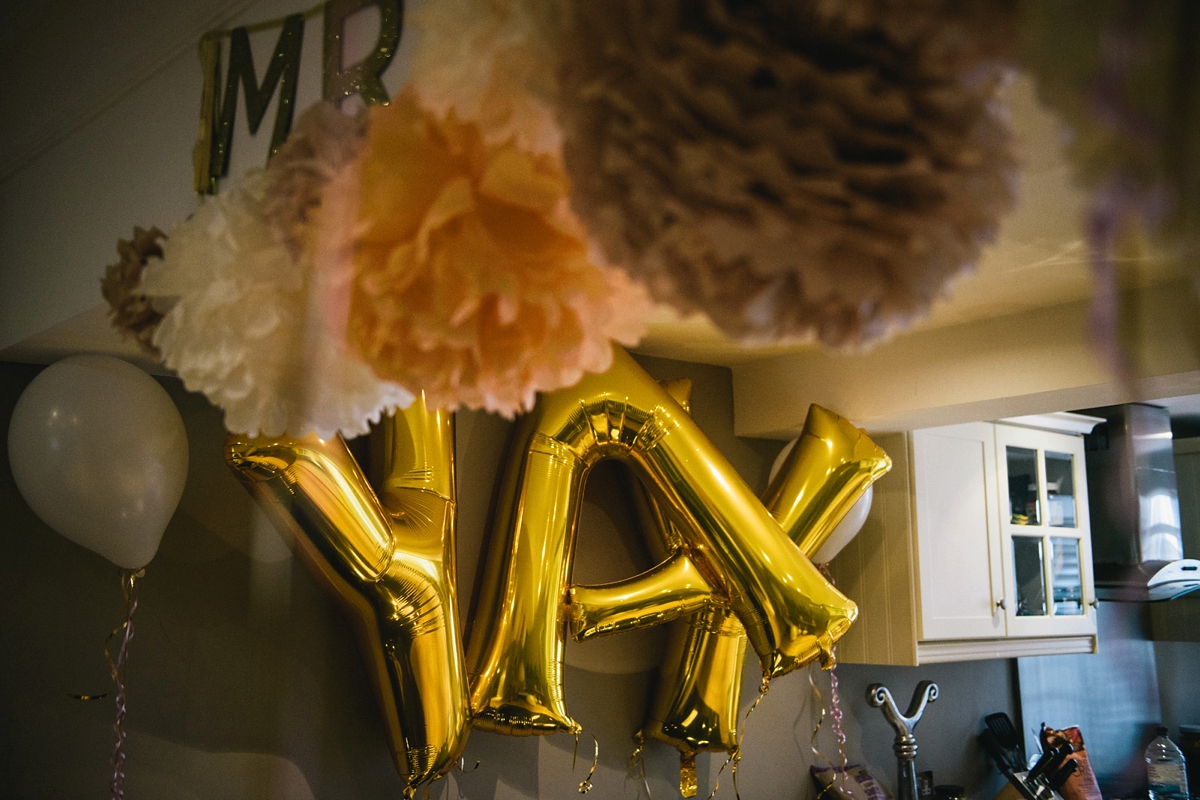 "Rather than announcing our engagement we announced that wanted to get married and that we wanted to do as soon as my sister could travel home from Dubai. We told our immediate families on Christmas Day what we wanted to do and the quickest time we could get everybody together again was April Fools day."
"To us, it wasn't about getting married; it was about being married.  Our extended family and best friends had no idea what we were planning until they received a card on the morning of the wedding.  They were all thrilled."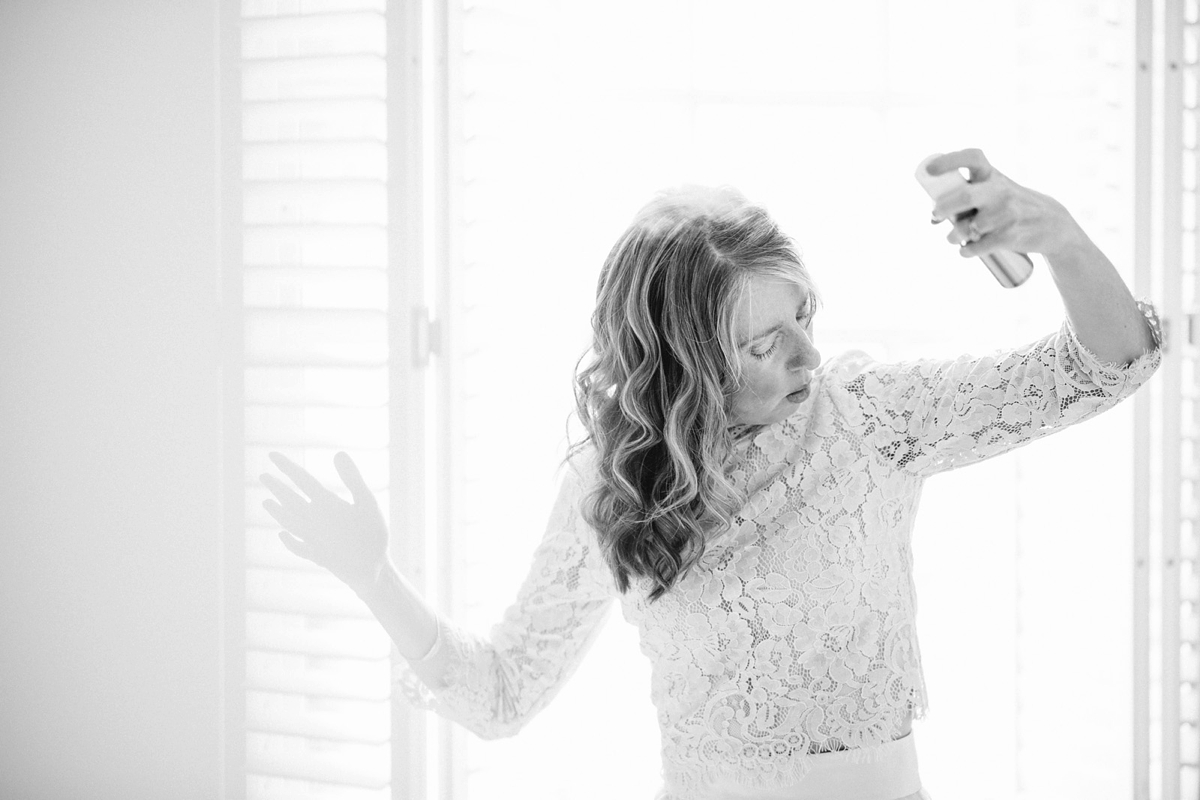 With a short dress you need fabulous shoes and so on her feet Stella wore 'Annie' by Jimmy Choo, while for scent she chose Eau Duelle by Diptyque.
For jewellery she opted for Pave Initial Mismatched Earrings (in 'R' for Robbie) by Tai Jewelry and make up and hair were the work of Danielle of Tori Harris Make Up.
Stella looked fabulous in Alexis by Delphine Manivet, which suited both her and the dressed-up yet fun style of this wedding beautifully.  Like Stella, I adore the structural shape.
"I wanted my dress to be a reflection of me so selected something that everyone would think was a 'Stella' dress.  I absolutely LOVE the structure of the bottom of the dress and how if flares out, the fabric is divine with discreet piping around the skirt and the short length is balanced by a sophisticated high neck and three quarter length sleeves.  It's un-fussy, very timeless and if it was a different colour I'd want to wear it to work most days."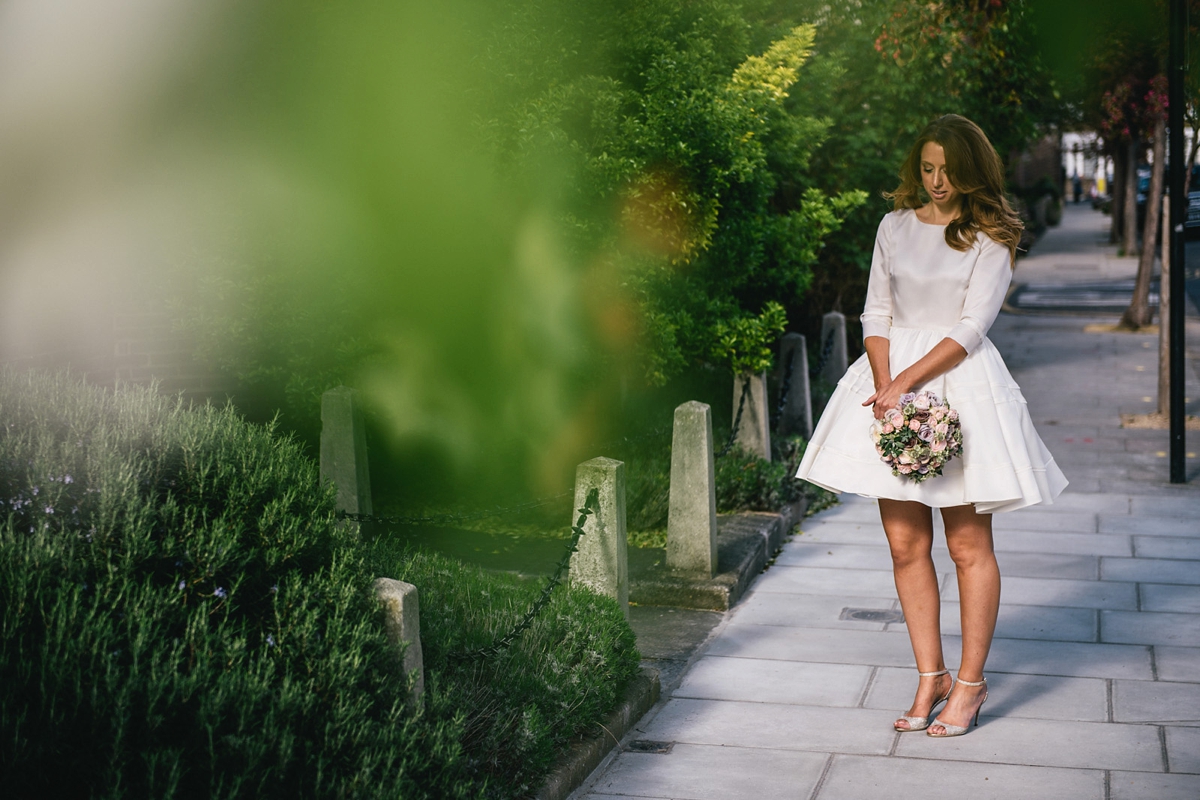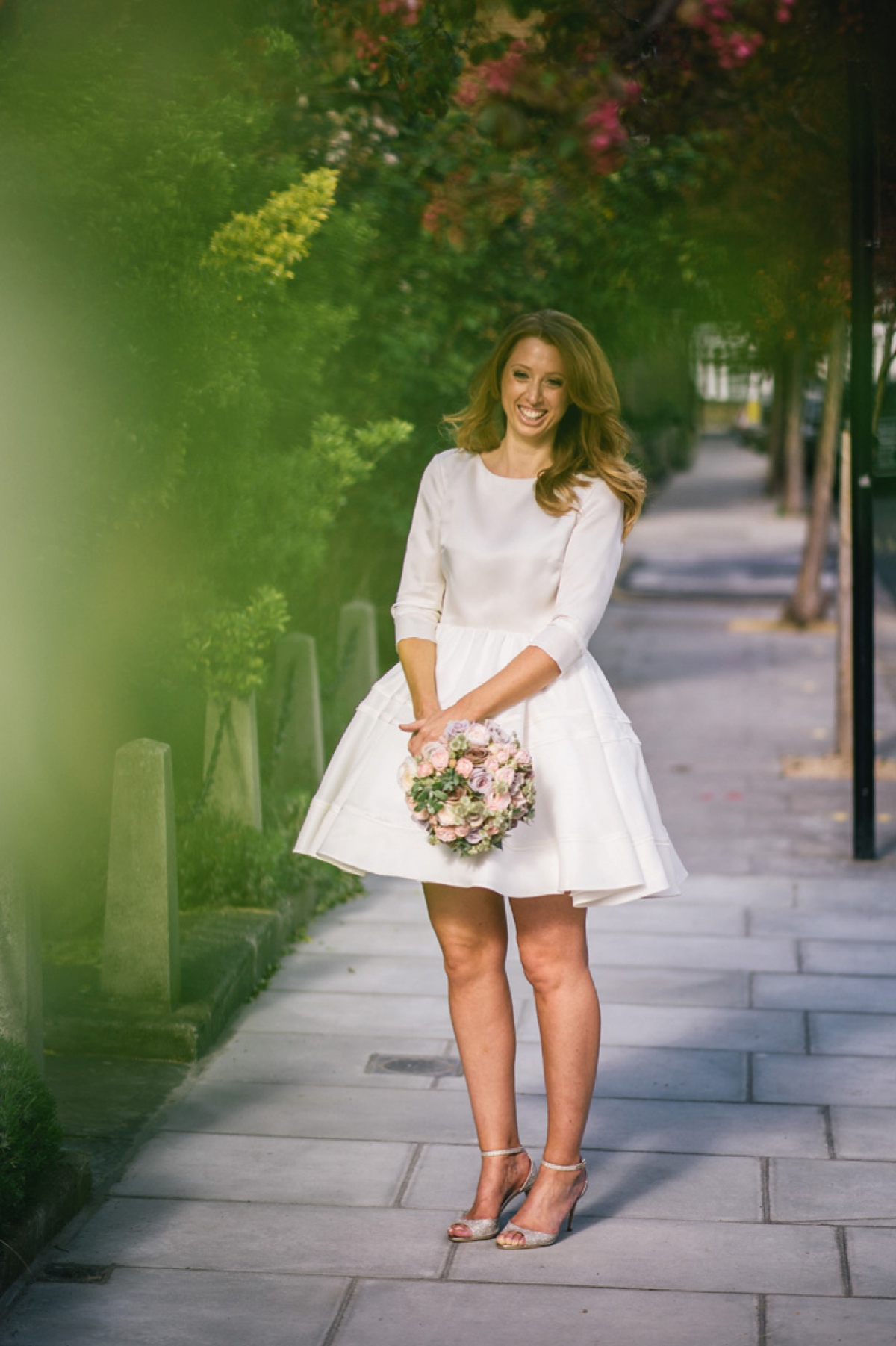 The stunning flowers were the work of Nikki Tibbles at Wild at Heart.  A lovely touch was that as there were only twenty-seven guests, everyone had a button hole or corsage to wear.
"I have always been a fan of Nikki's work and having Wild at Heart flowers on the day was a no brainer.  I had a beautiful bouquet based on their 'Pimlico' design which included vintage roses, Astrantia and soft grey foliage with the addition of pale pink 'Hanoi' Ranunculas.  The array was very sophisticated and timeless yet the foliage gave the flowers a wild twist."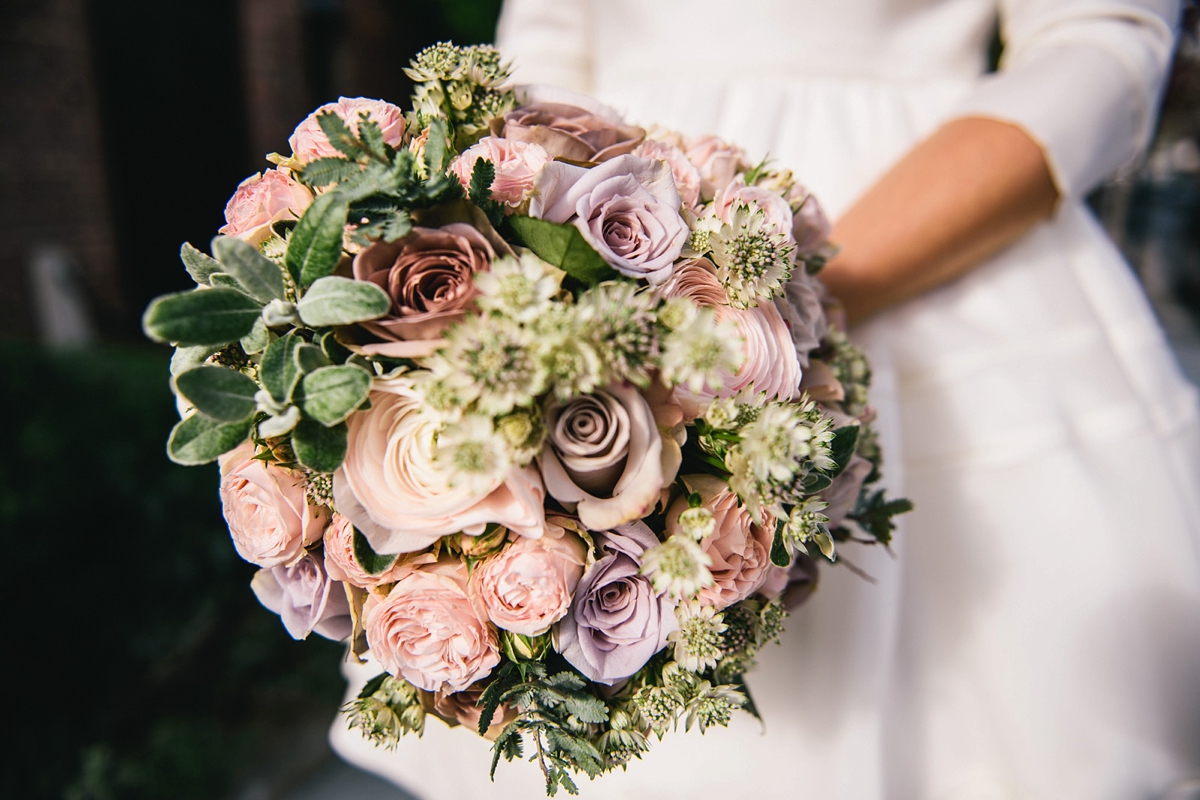 Robbie looked very smart in a suit he already owned, worn with shoes by G-Lab at Grenson.
"Robbie is a massive fan of Grenson shoes so he designed his own pair for the day with G-Lab, where you can make your shoes to your own specification from the colours, sole, stitching, eyelets and laces."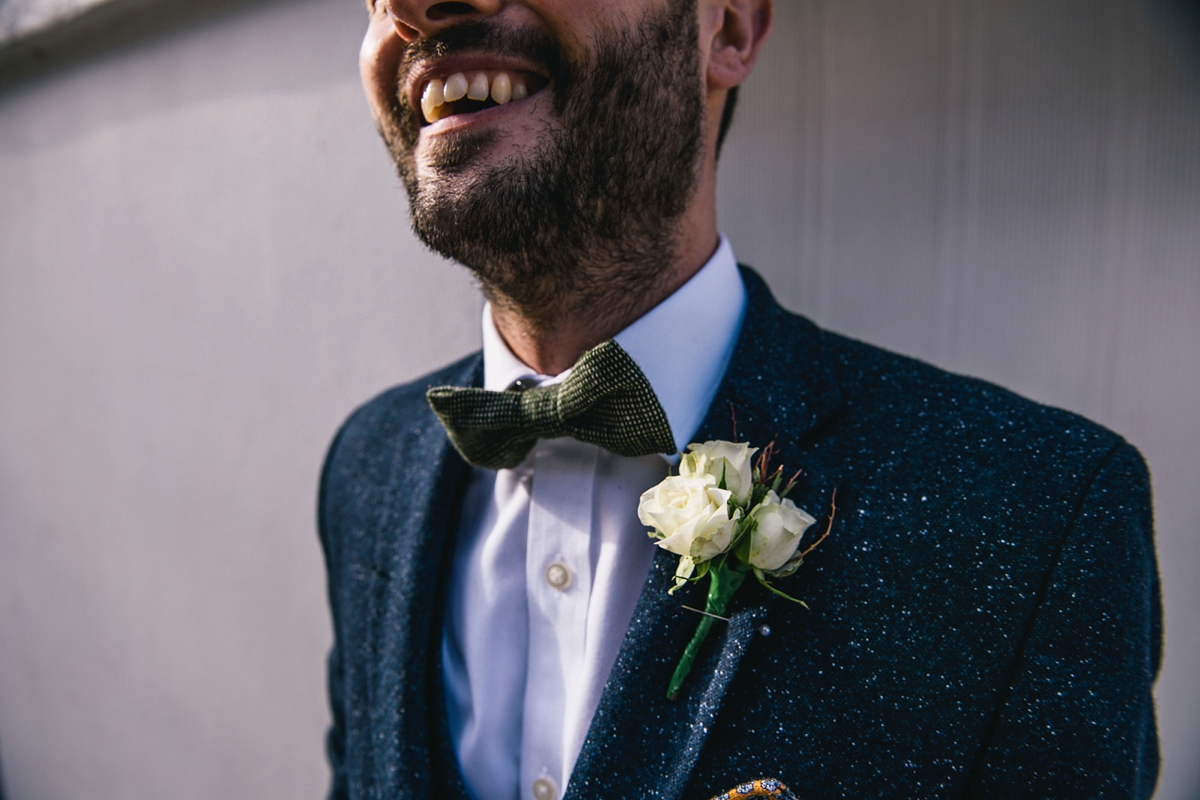 "Robbie and I know the Chelsea area really well and spent three years living together in neighbouring Fulham.  Knowing that a move out to Buckinghamshire was imminent, it really appealed to have such an epic day in a part of town that we loved so much, almost like a final farewell and send off to our new life."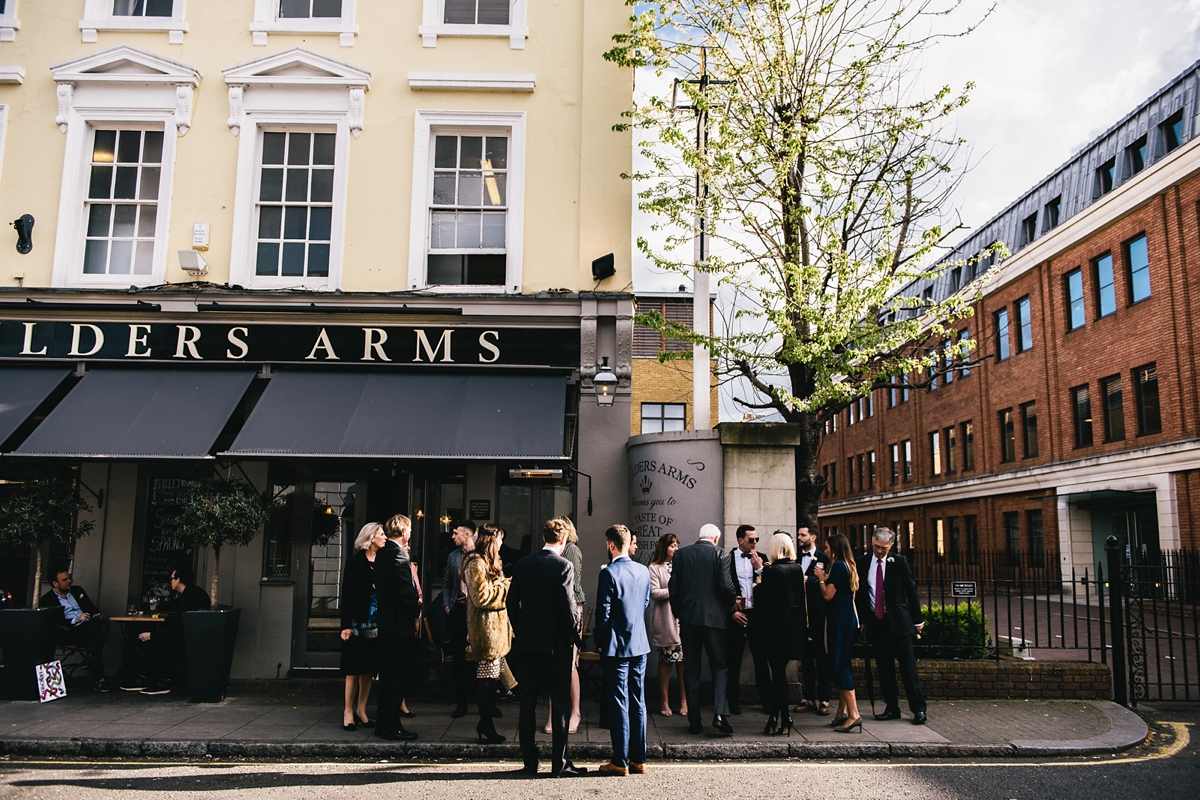 Stella walked down the aisle with her father to 'Here, There and Everywhere' by the Beatles, played as a piano instrumental by Giovanni Marradi. (They later exited to a favourite of mine, 'Happy Together' by The Turtles).
Robbie's sister-in-law read a slightly tweaked version of 'Thank You' by Led Zepplin.  It started with the beautiful lines:
If the sun refused to shine
I would still be loving you.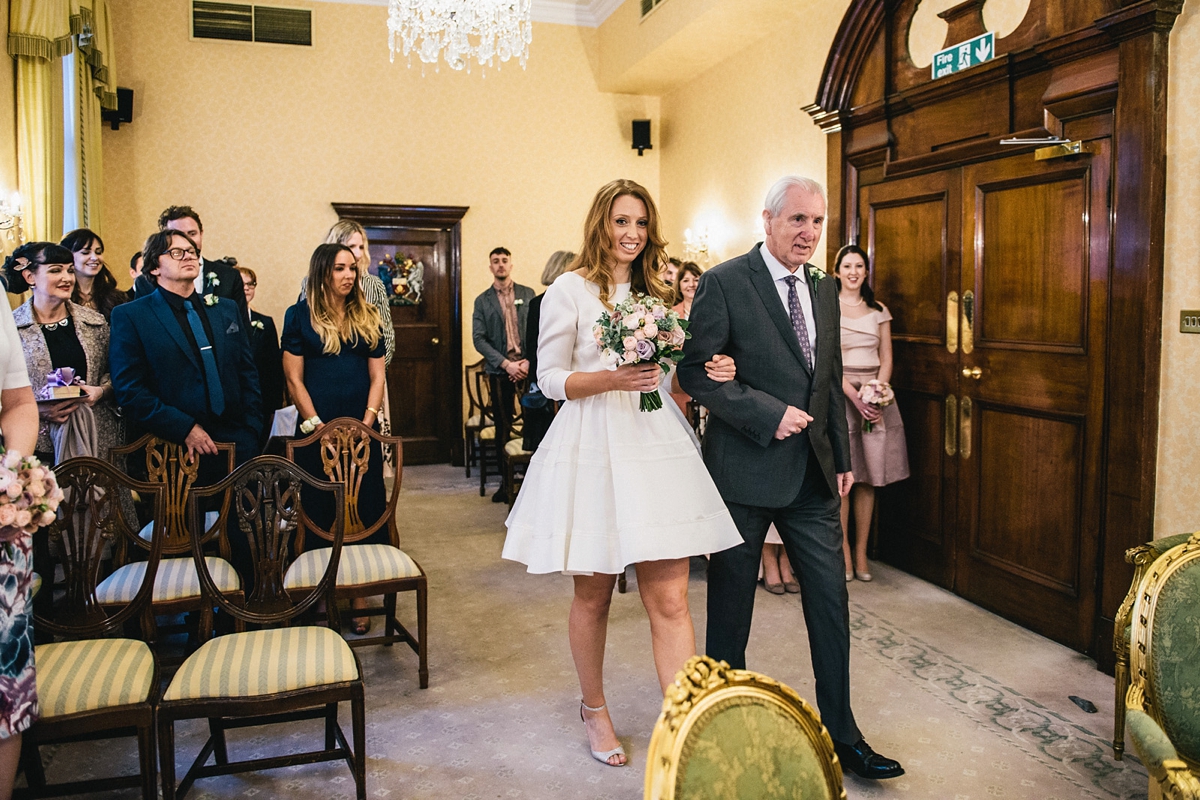 "As we never had an official engagement I never had an engagement ring out of choice.  I liked the idea of having a sophisticated diamond band that I hope to add to over the years and stack with alternative band styles."
Stella and Robbie's rings came from Neweys Jewellers in Birmingham.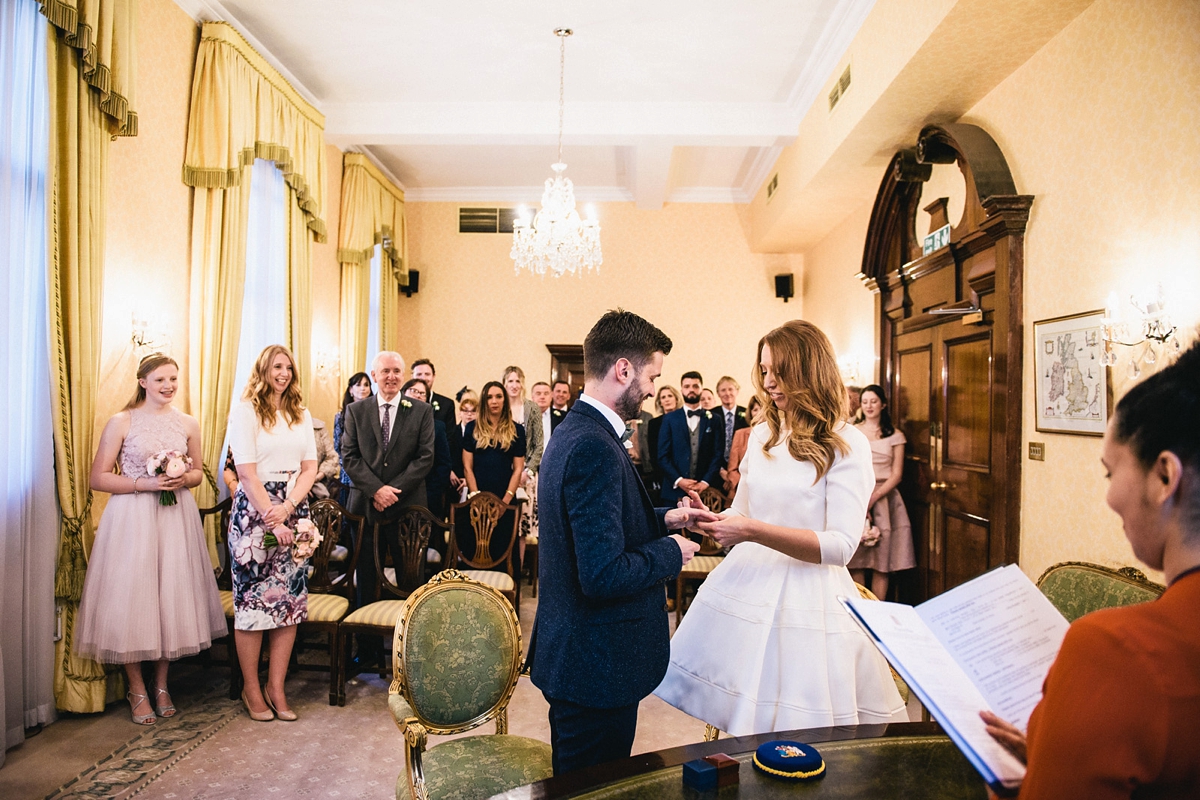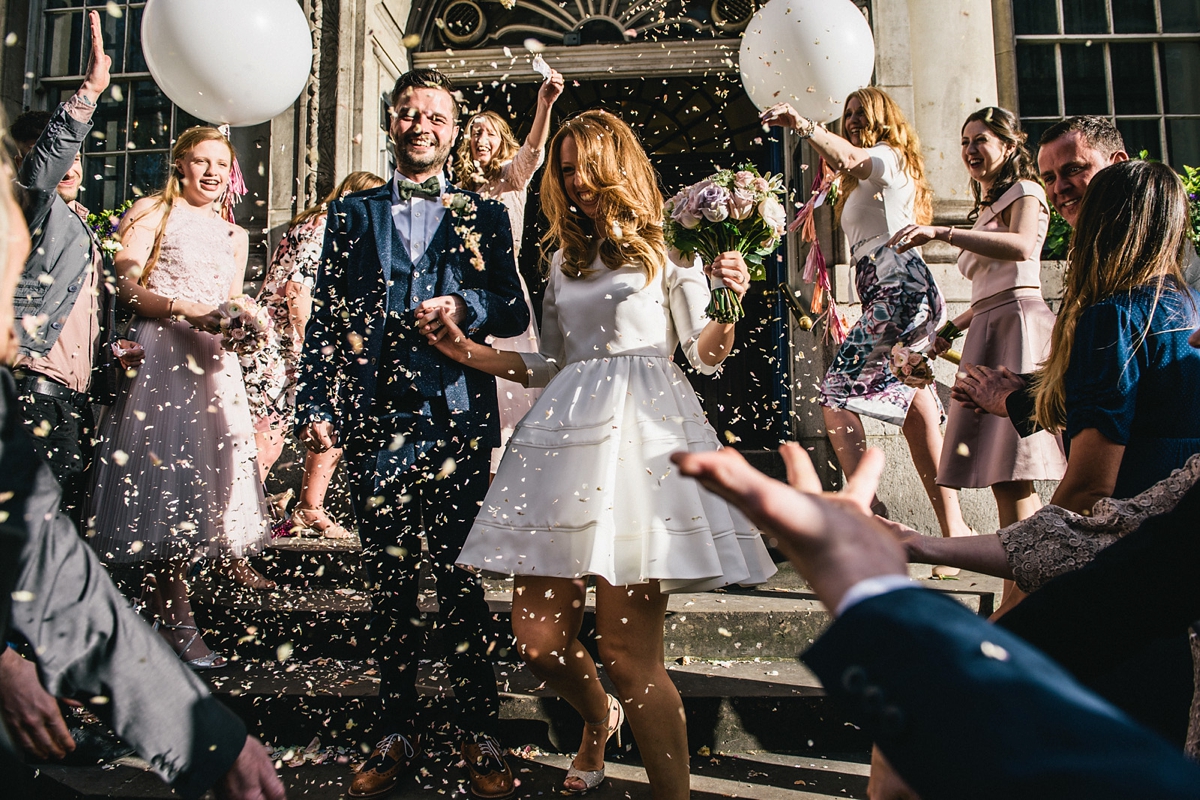 Robbie and Stella chose award winning photographer Paul Santos to capture their big day on camera.  Paul is a member of our Little Book for Brides and also one of my personal favourite photographers. I just adore his work, which we have been lucky enough to feature a few times before.
"Paul was our wedding must have. As soon as we clicked onto his work we knew that he was the photographer for us.  Super cool and very abstract, we knew that we would be left with amazing photography that would compliment the art on our walls at home without crowding it with super cheesy wedding shots.  The photography provides us with our most cherished memories and considering that not many people got to spend this magical day with us, we are super proud to show them such awesome snaps."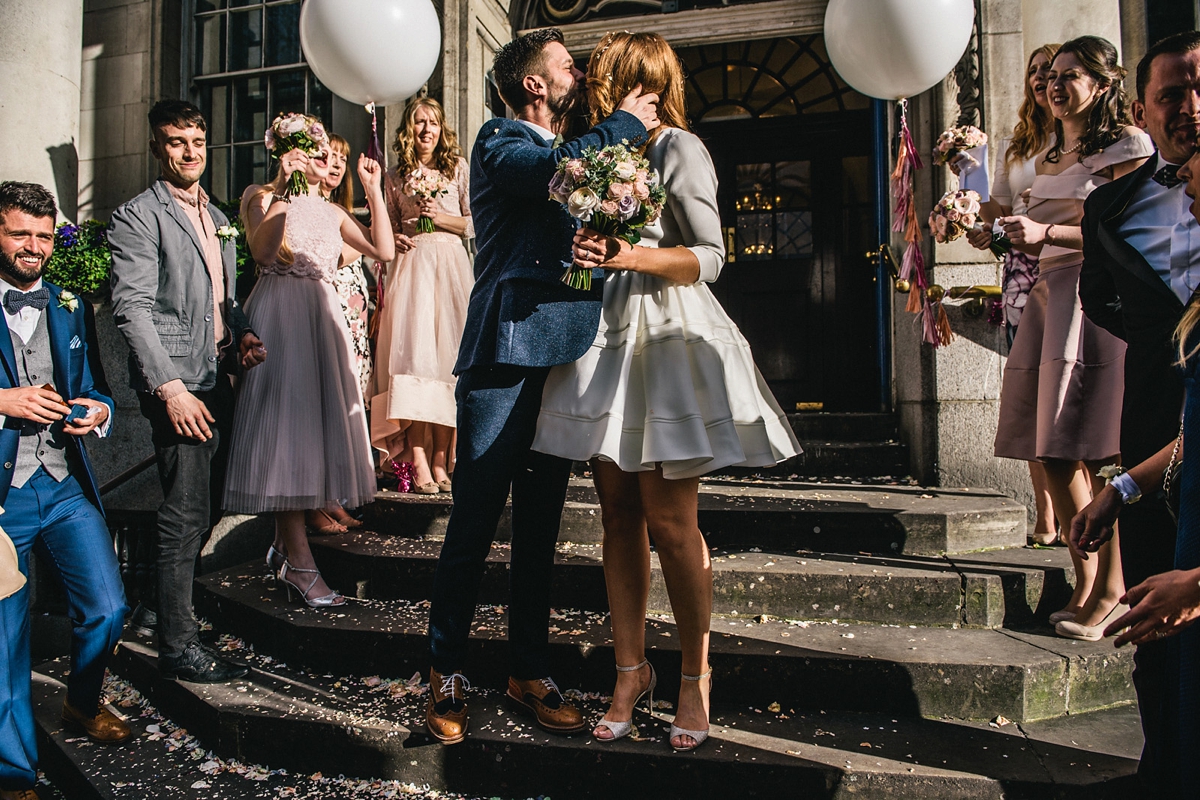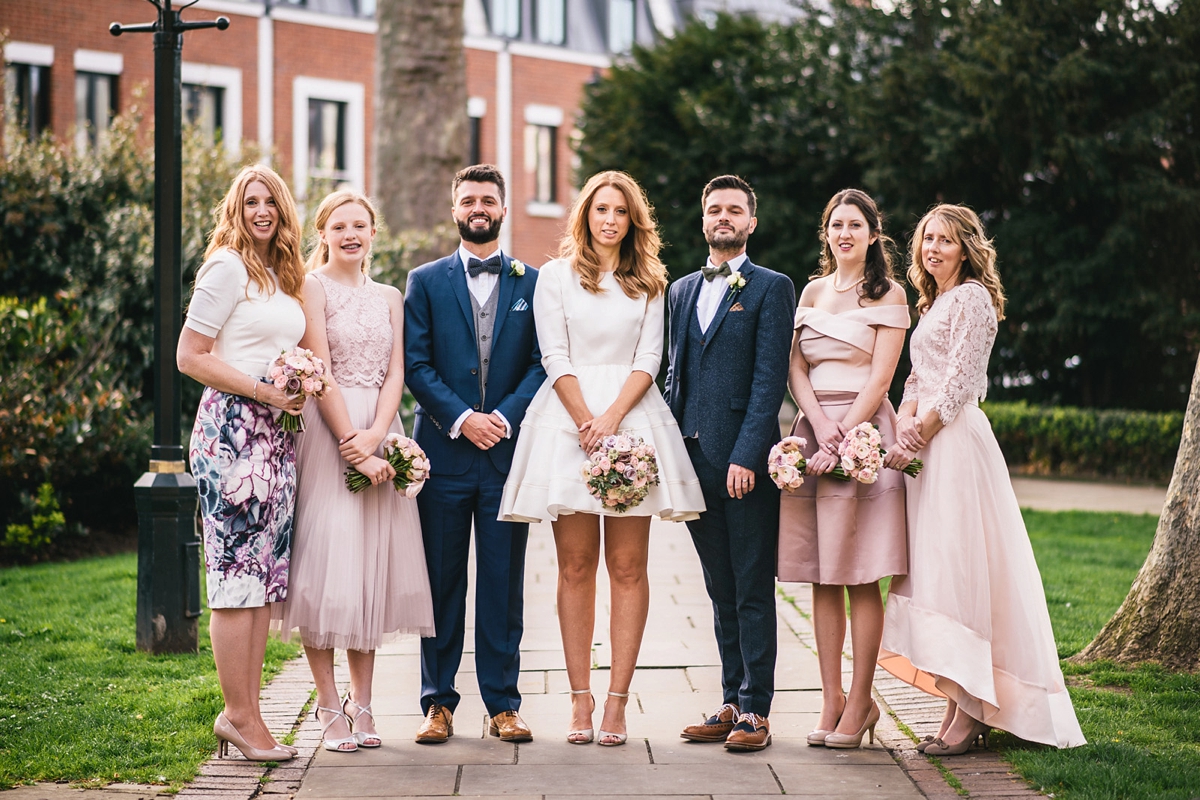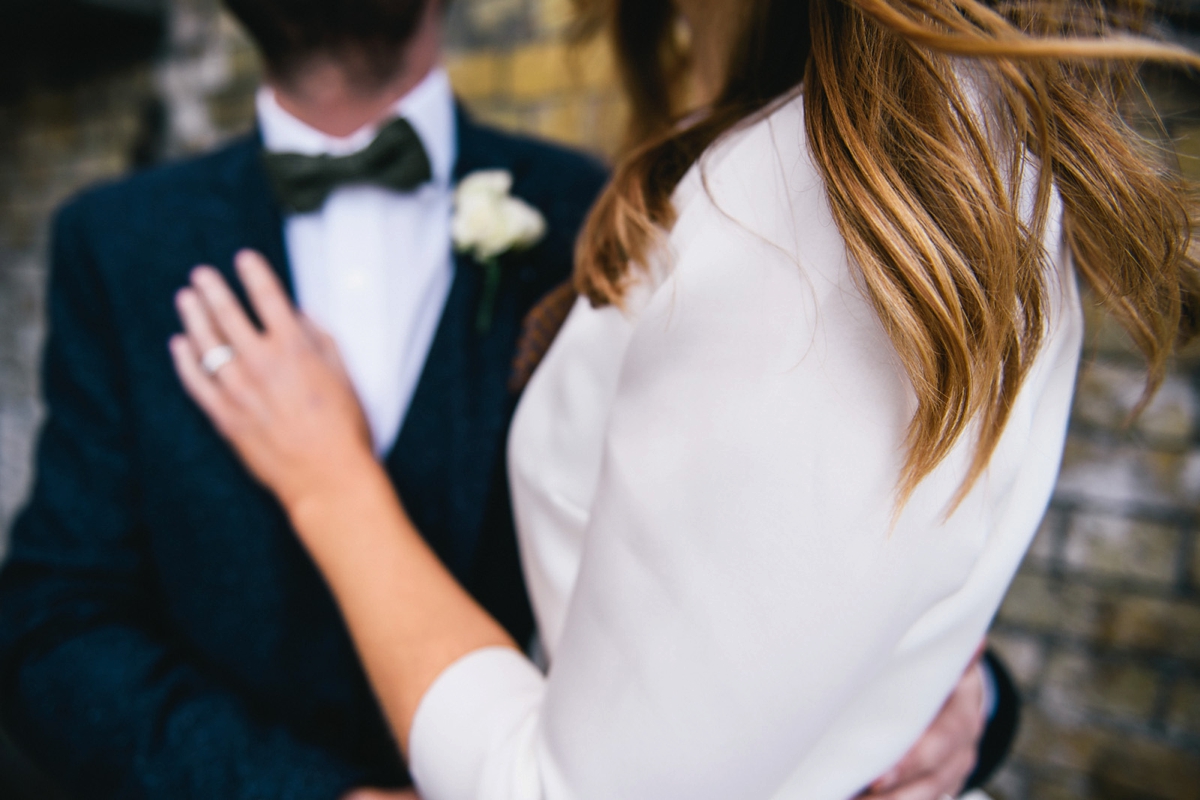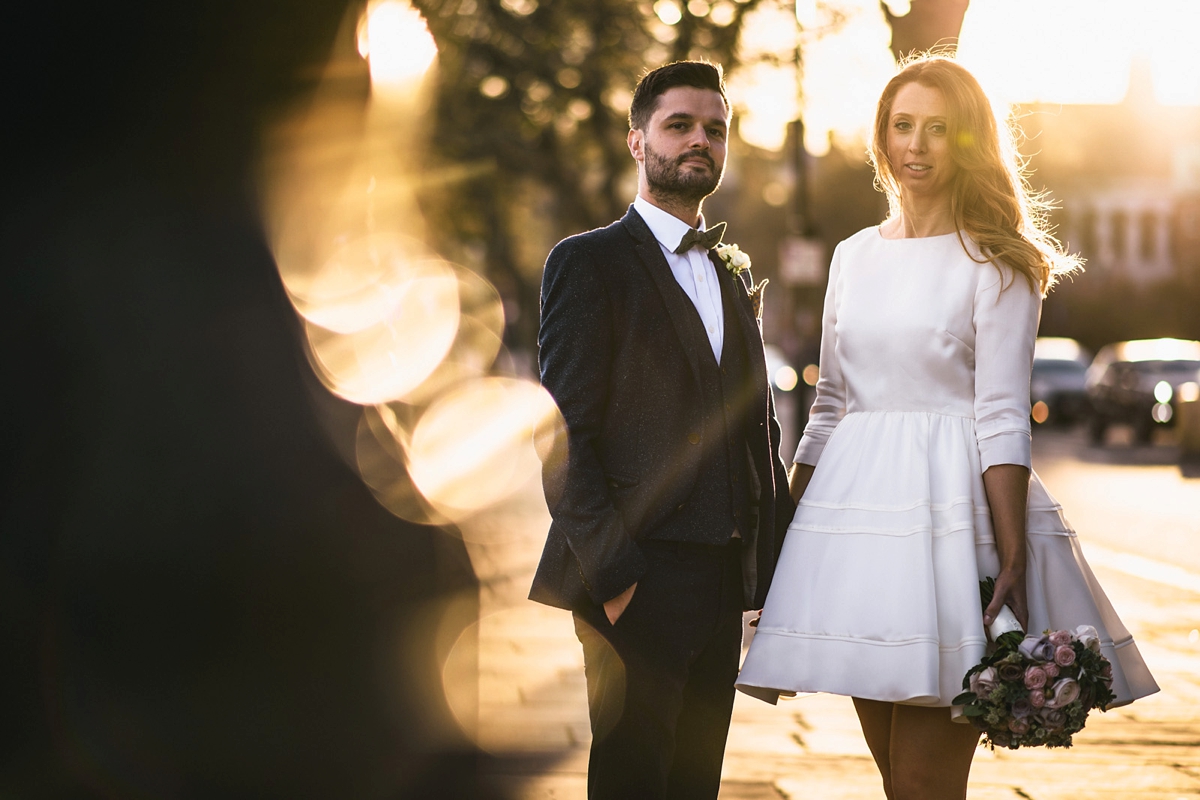 "As we were having a super small wedding (twenty seven including us) we were able to treat our guests to something extra special and hired the private dining room at The Ivy Chelsea Garden.  With such a small crowd the family really got to know each other.  There was such an atmosphere there could've been a hundred of us."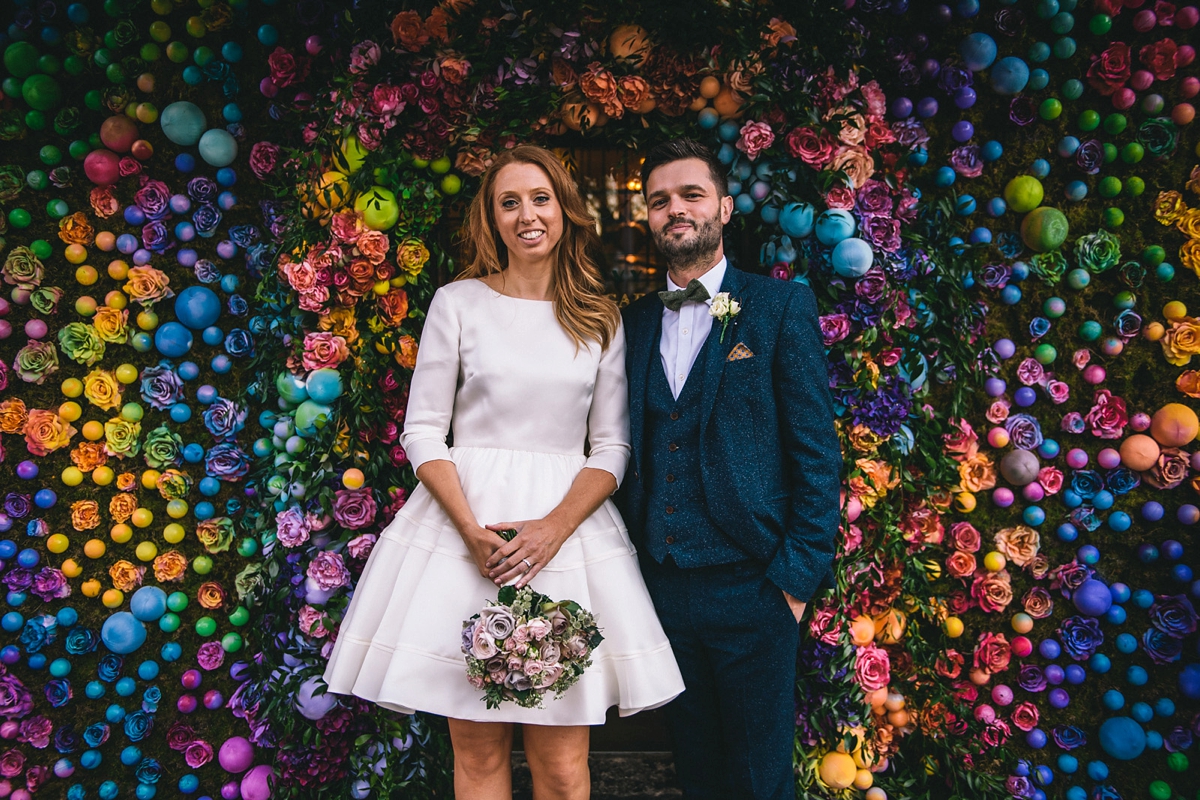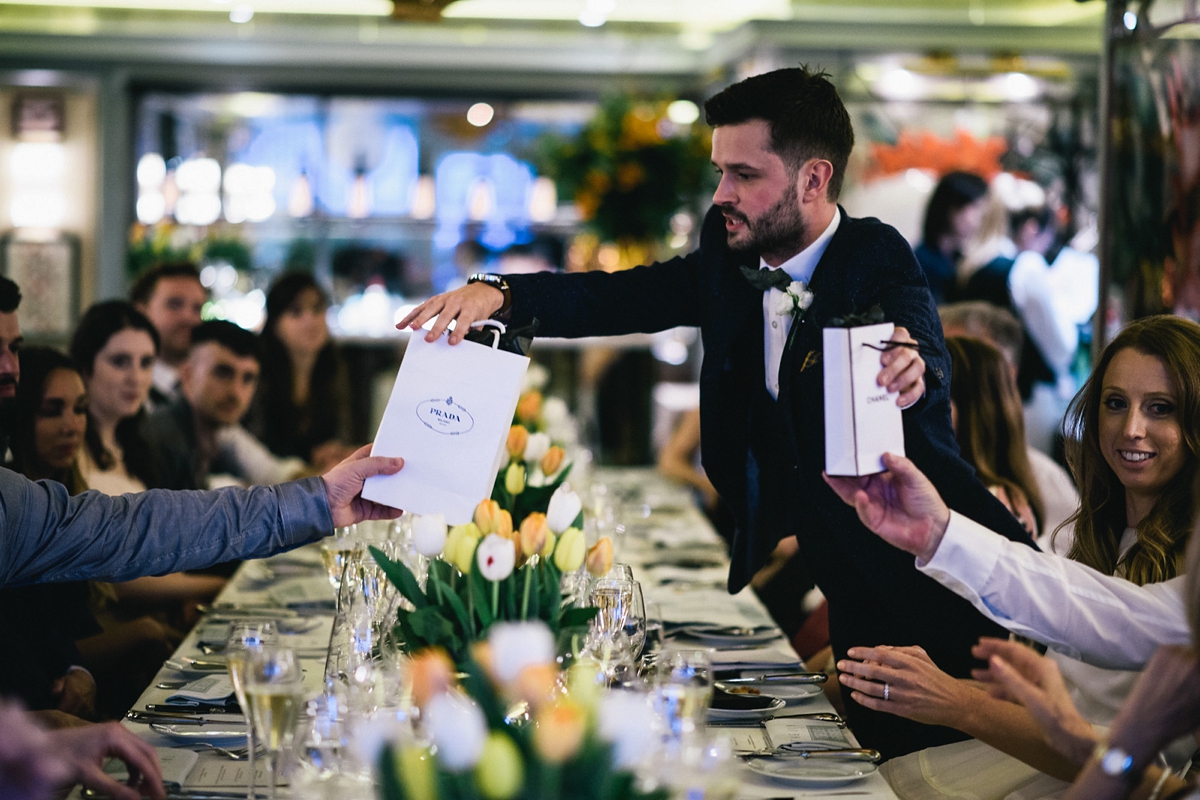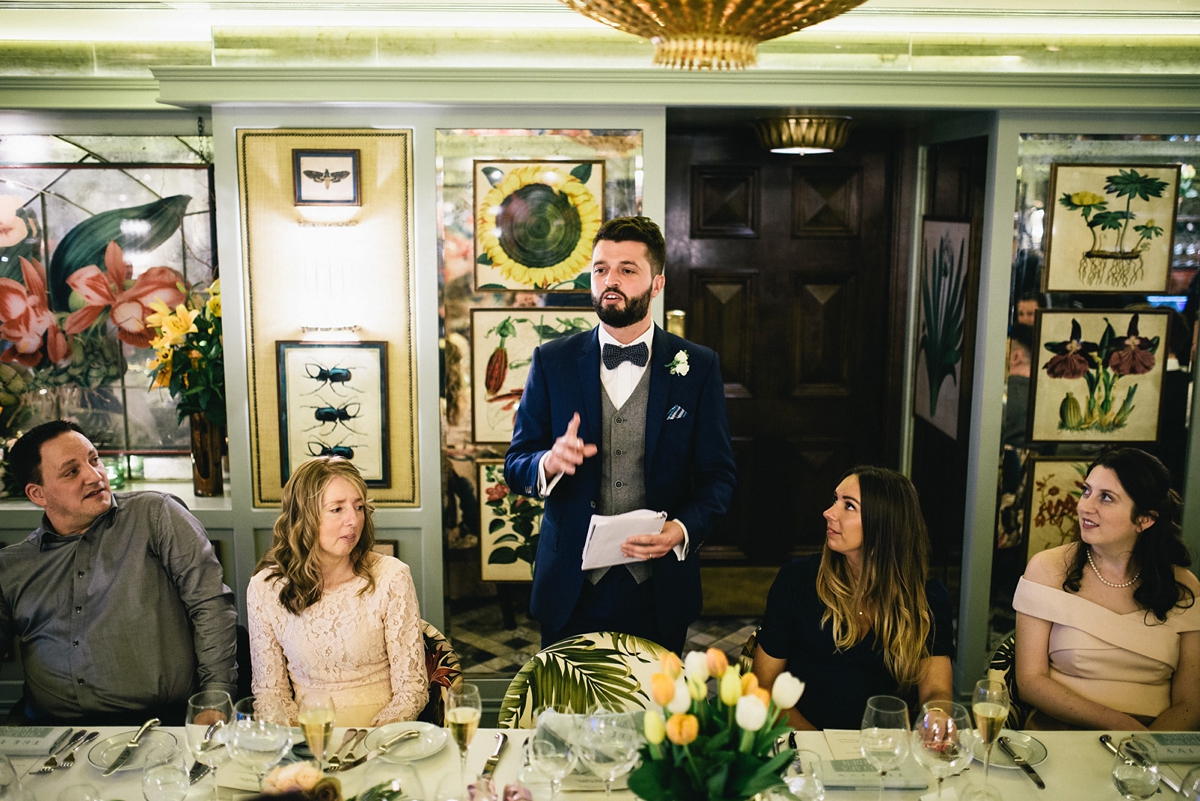 The wedding cake took the form of a chocolate Guinness cake with vanilla buttercream by Rania at The Custom Cake Boutique
"We knew that a chocolate and guiness combo would be a winner with the Dads and I have to say it was the most exquisite cake I have ever tasted!  The semi-naked buttercream finish kept the design contemporary and was complimented by a floral topper by Wild at Heart."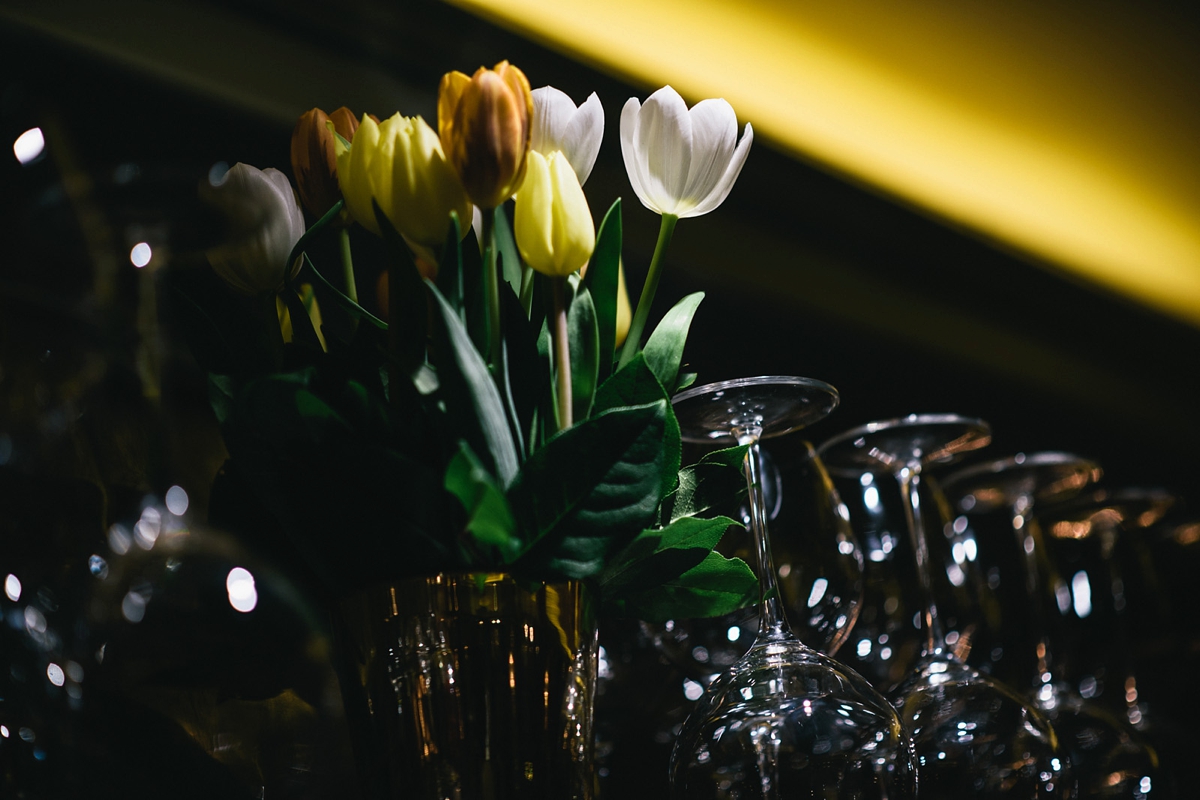 "Our favourite part of the day has to be during dinner when everybody was starting to get a bit rowdy.  Kevin (dad of the Groom) did his speech which included his own performance and Uncle Roger played his medley.  Everybody was so upbeat and there was lots of laughter."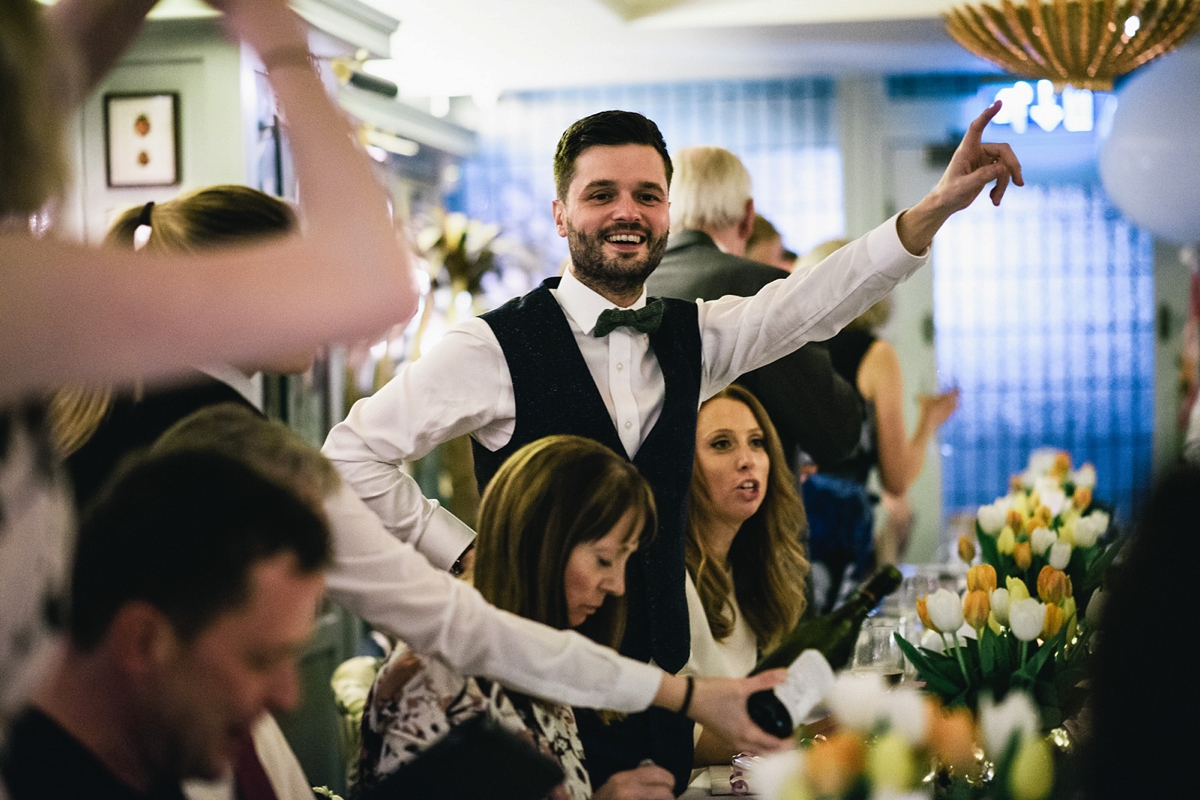 "For entertainment, Uncle Roger played a Beatles medley on his own guitar.  The Father of the groom also got all guests singing a few tracks as part of his speech.  The Ivy didn't know what had hit it!"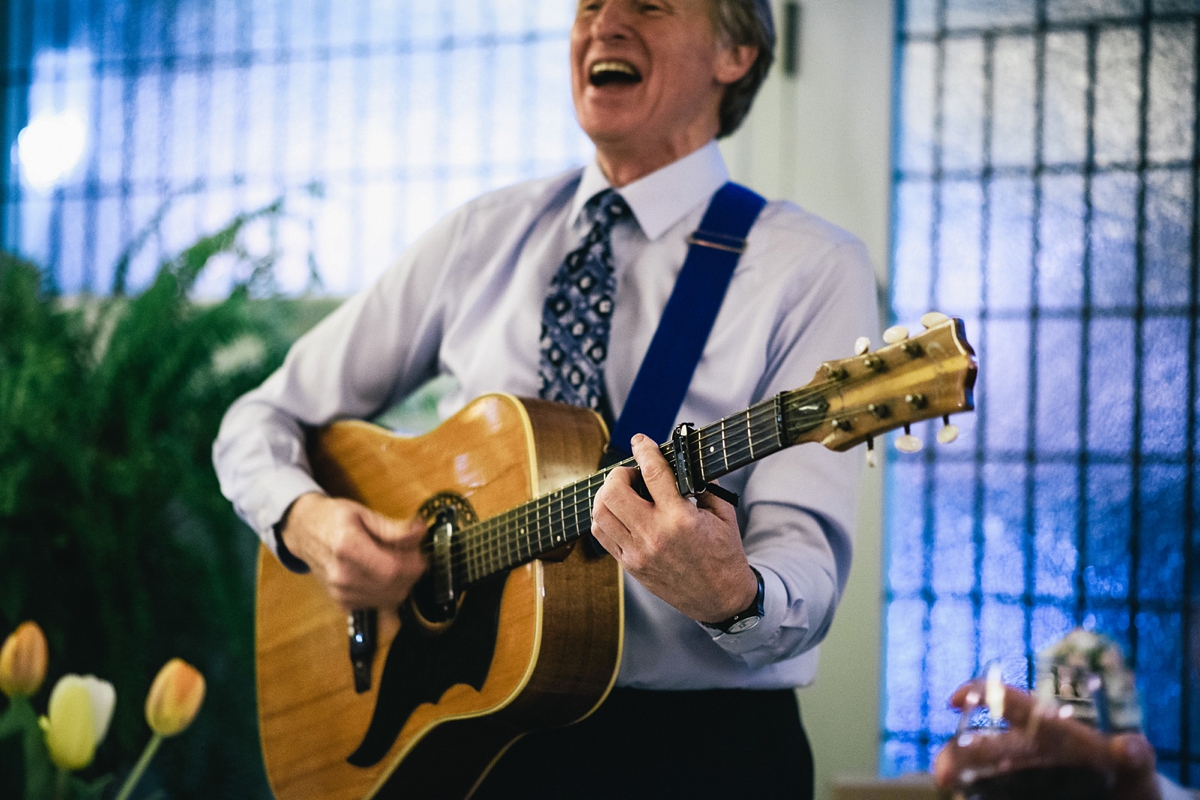 "The Ivy took care of the decor although the rented townhouse had a treatment that included lots of paper pom poms and helium balloons."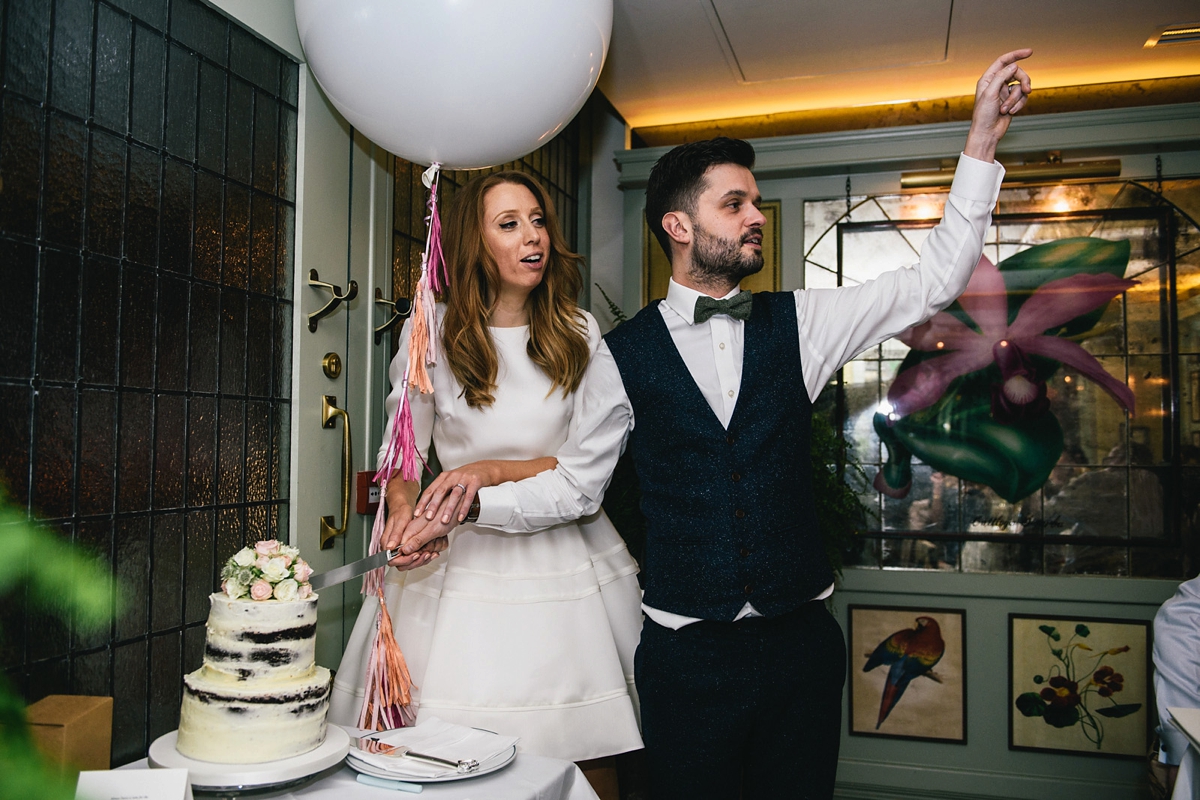 Words of Wedded Wisdom
"We focused on 'being married' and making sure that our guests had a fun and memorable time. We could still be planning our big day now but less than a year later we are living life, settling into our new home and cherishing our fun memories."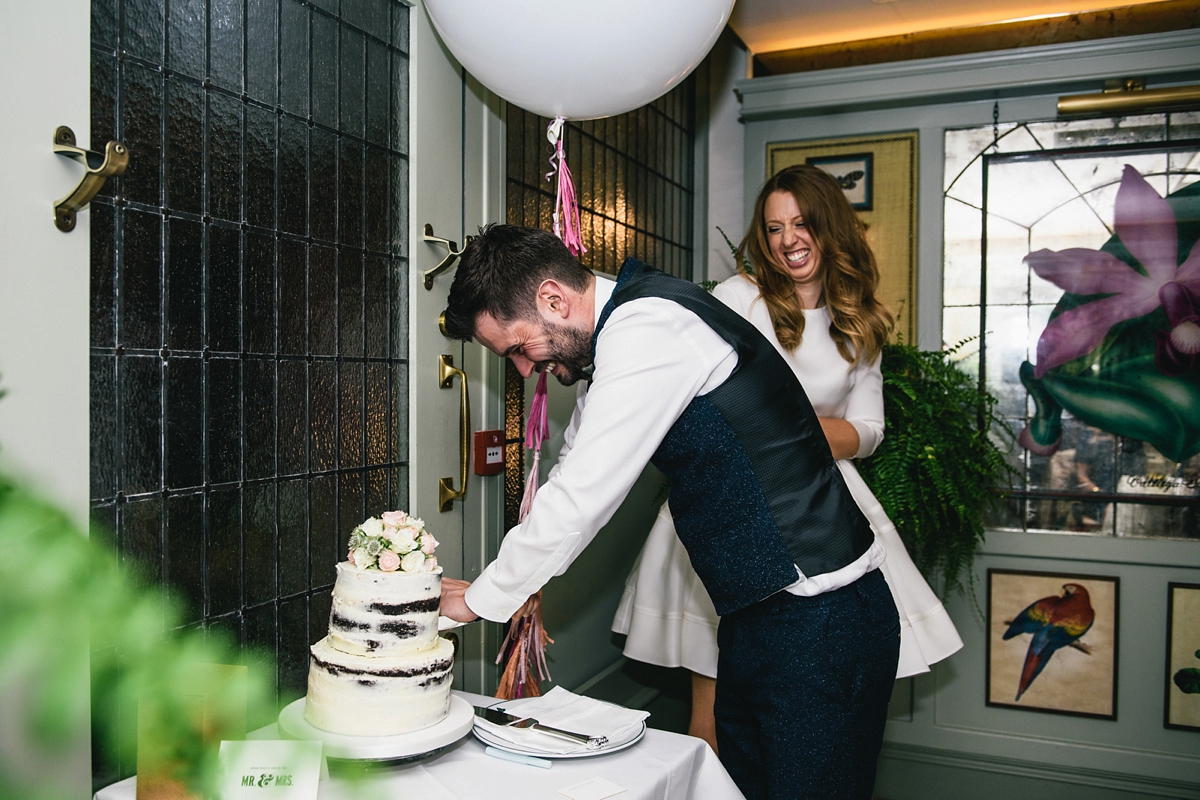 Huge thanks to Stella and Robbie for sharing this most beautiful and inspiring of days.  Something about it makes me feel all fresh and happy inside, I hope it does the same to you.
Love,
S X