As I was driving through the Lincolnshire countryside the other day I saw such a welcome sight; a blanket of snowdrops just coming out under the trees. I hope that you are all enjoying the first signs of spring too.
Today's wedding is one for all of you brides-to-be who love 1920's and '30s vintage style. The bride and groom are Jo, a PR director and Liam, a clinical psychologist. They married on 10 June 2017 at Clissold House, Stoke Newington, London and created a relaxed, family-focussed celebration for their guests. Individually and together they've spent a lot of time in Clissold Park so it was fitting for the pair to marry in the adjacent house. As Jo and Liam are drawn to simple and elegant lines, the house with its Art Deco styling and family-friendly approach was a lovely backdrop for their day and their loose green and gold theme.
"We are both drawn to the 1920 and 30s era and to simple elegance and style without any frills, and Clissold House offered that. But more than anything, we wanted a very relaxed day, in a place where children could play freely and where we didn't feel constrained by convention. The loose green and gold theme (sometimes teal and gold, sometimes any-colour-green, and gold!) reflected our Art Deco leaning."
Photography by Annelie Eddy Photography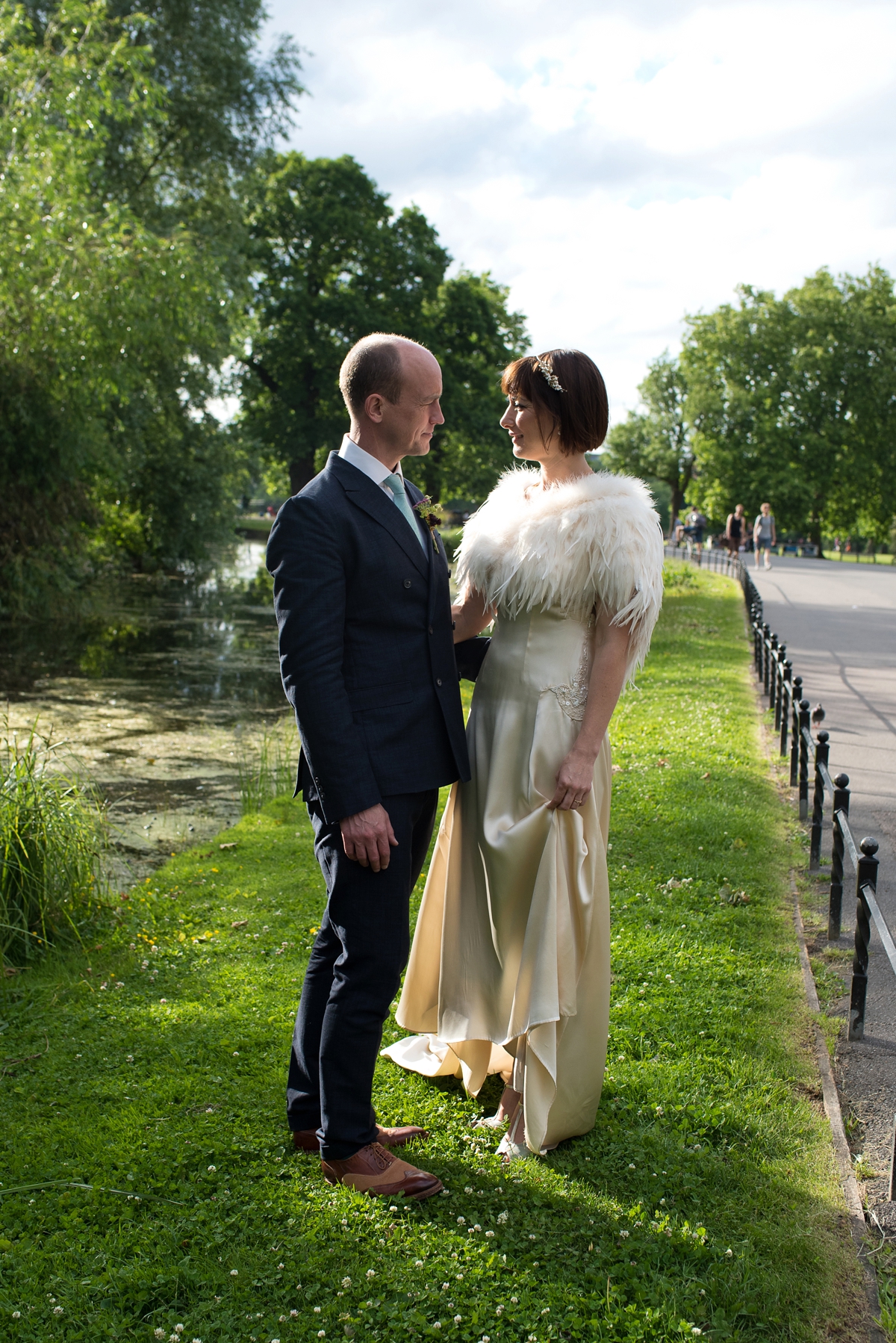 "We have spent many hours in the park; Jo used to live opposite the park and ran around it and picnicked in it in child-free days. We have since spent time together there with the children in the playground and skate park, and eating ice creams from Clissold House!"fBridal boutique Elizabeth Avey in Greenwich was a treasure trove for the bride to find a genuine vintage gown. She opted for a 1930s, flowing silk embellished design in off-white silk with a dipped hem at the back. How glamorous does she look? Please do visit Elizabeth Avey's listing on Little Book for Brides for more of her beautiful vintage gowns.
"I loved the depth of the colour of the silk, and the unusual 30s style; short at the ankle with the beautiful clover-shaped train. I also loved the contemporary twist with the beaded birds on each hip, one of them with a green beaded eye."
Liam has two children from a previous relationship and the couple have a daughter together, and they really are at the heart of their day.
"We met at a friend's birthday do and had an interesting year or so trying to work out what a blended family might look like – Liam has two children from a previous marriage – before having our own daughter. We got engaged on Lake Atitlán in Guatemala just over a year before our wedding."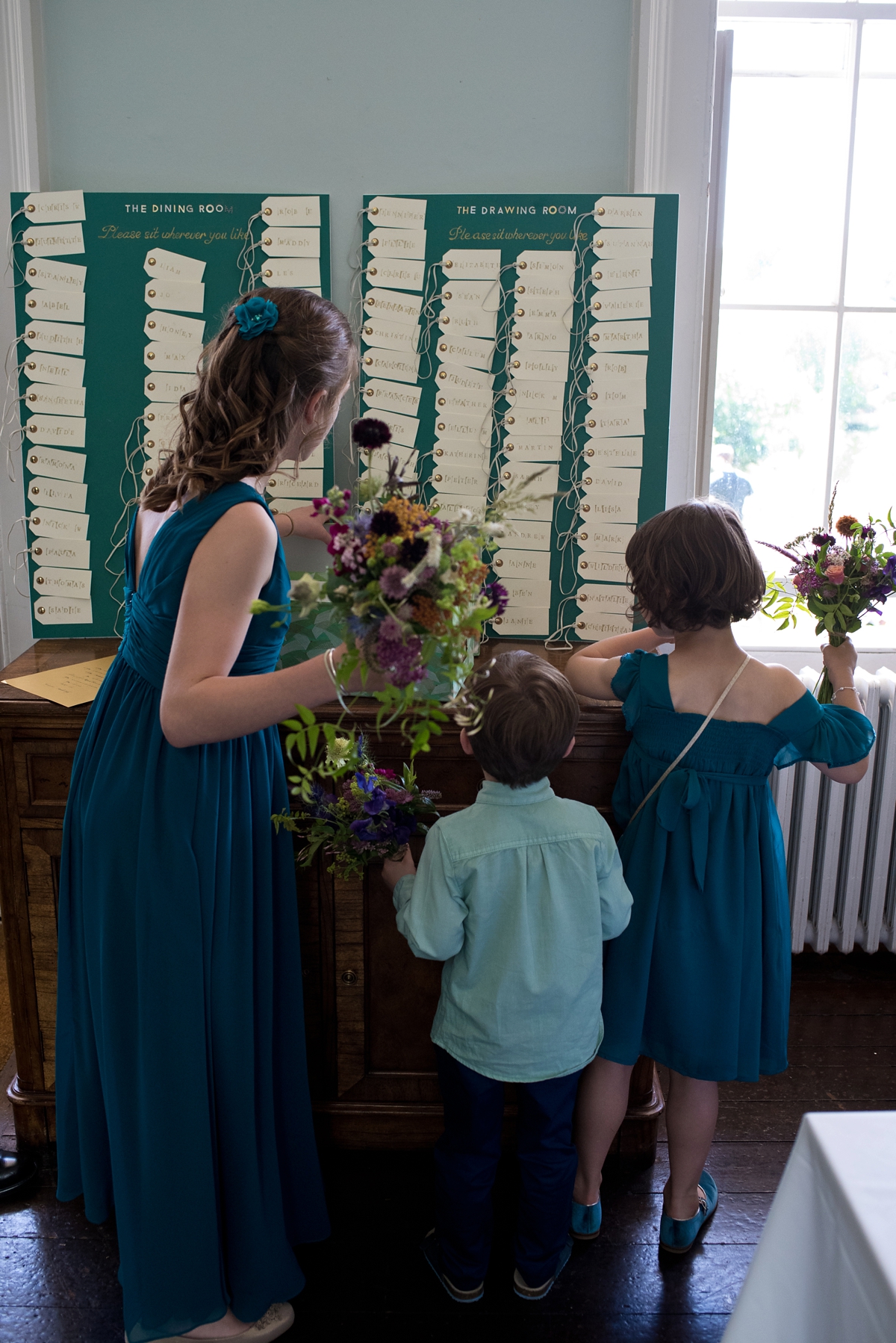 The bride entered the ceremony room as London Grammar's 'Rooting for You' played. Hackney Registrars led the ceremony, and Jo and Liam specifically requested that their vows emphasise kindness. Their two readings were heart-felt and personal – James Dillet Freeman's 'Blessing for a Marriage' and an extract from Captain Corelli's Mandolin by Louis de Bernières.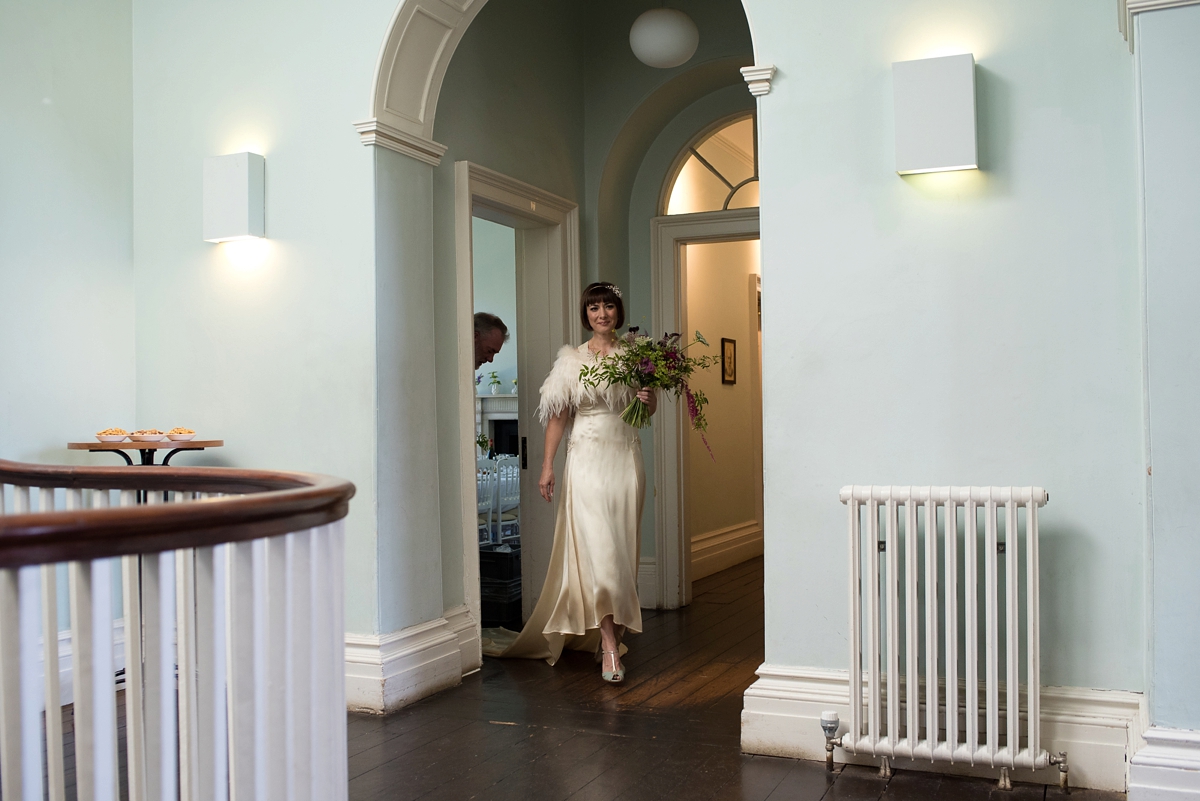 In keeping with the teal décor at Clissold House, the bridesmaids and flowergirls wore a variety of gowns in deep green, accessorised with touches of gold.
They all carried natural, wild-feel bouquets put together by the Urban Flower Company in Crouch End.
"They did the wonderful unstructured and slightly wild bouquets and large vases."
Jo is blessed with super-shiny hair and it looks incredibly chic in a sleek bob which was styled by Chloe Zumeris at House of Locks, Newington Green. Topped off with an Olivier Laudus tiara worn on the side of her head, she looks show-stoppingly elegant. Make up artist Nikki Palmer applied her make up, using dramatic eye makeup to really highlight her gorgeous features. Around her neck she wore an Amy Keeper necklace and completed her look with Mirri Damer earrings.
The groom created his own smart look with a classic Jigsaw suit and pale turquoise Ted Baker tie, softened with a wild and natural buttonhole.
Both Jo's engagement and wedding ring came from jeweller Mirri Damer in Cornwall.
"I love my unusual wedding ring, especially as Mirri only deals in ethically sourced diamonds. Liam's is by Justin Duance, which we found in Mirri's shop too. We liked the fact that the rings mirror each other: mine is made up of small layered shapes built on top of each other whilst Liam's has small pummelled shapes hammered out."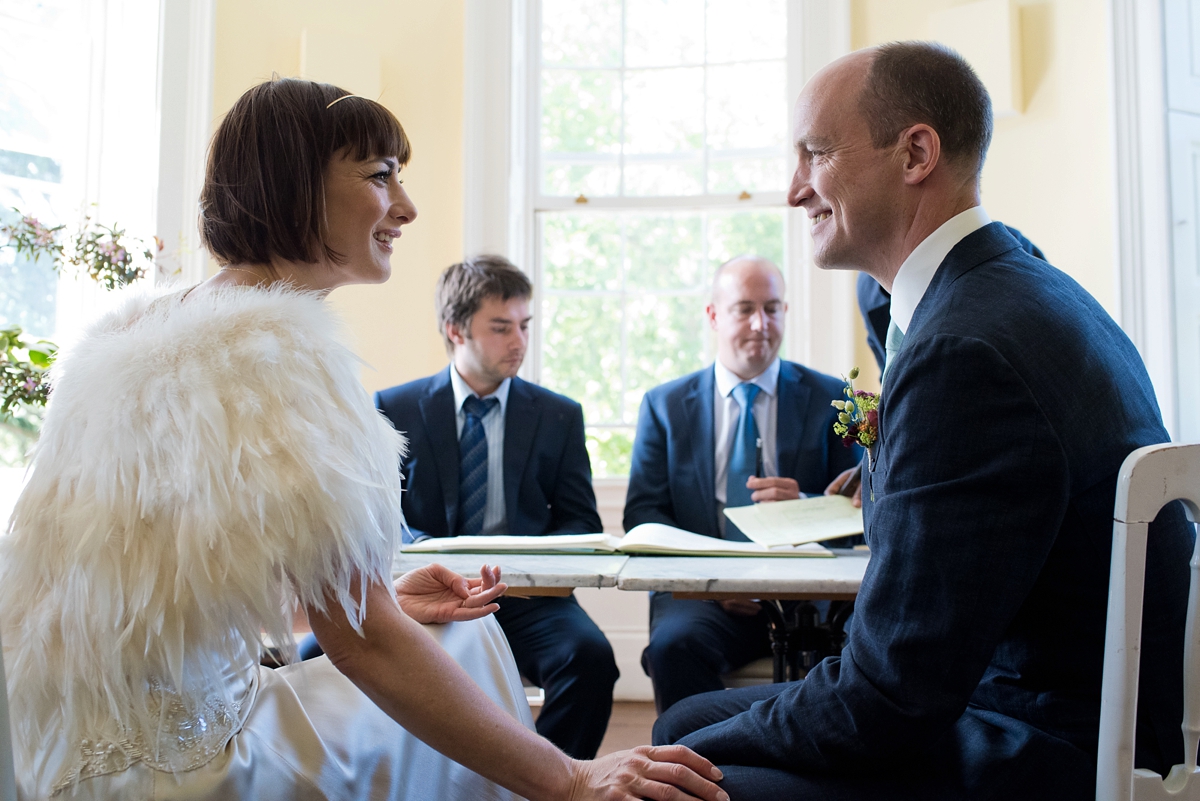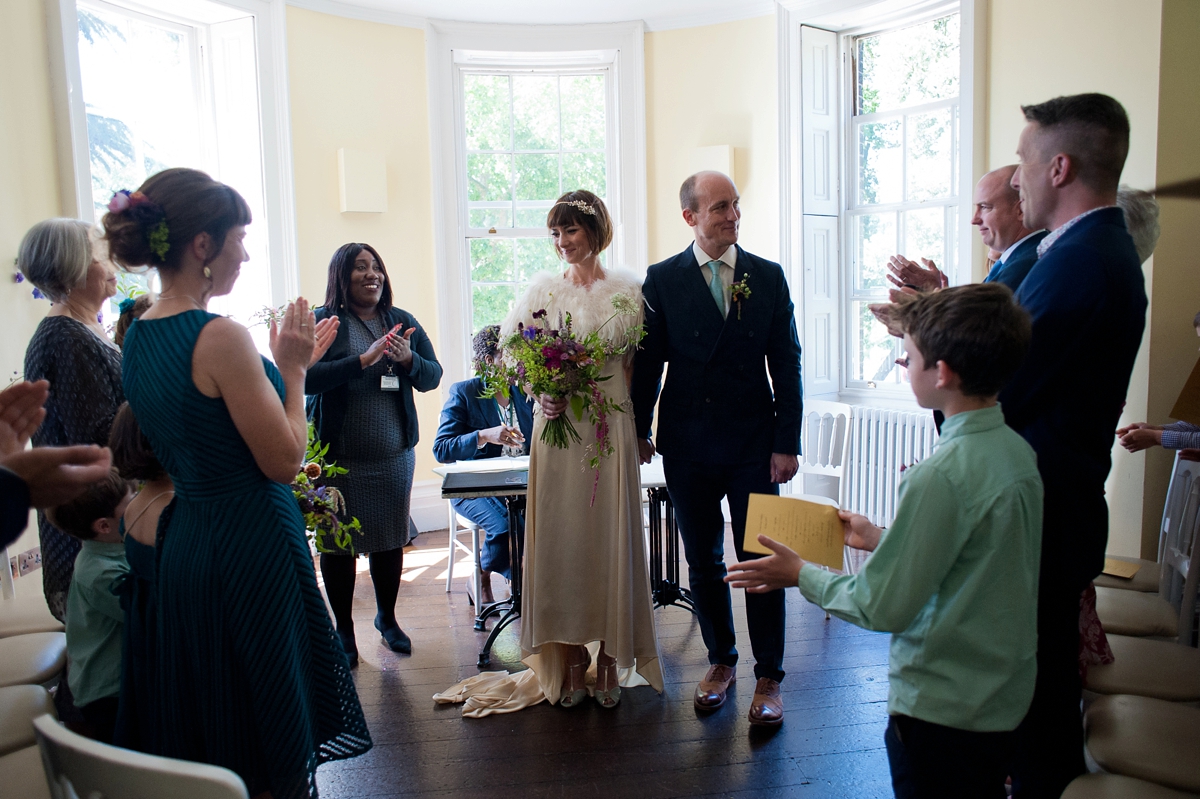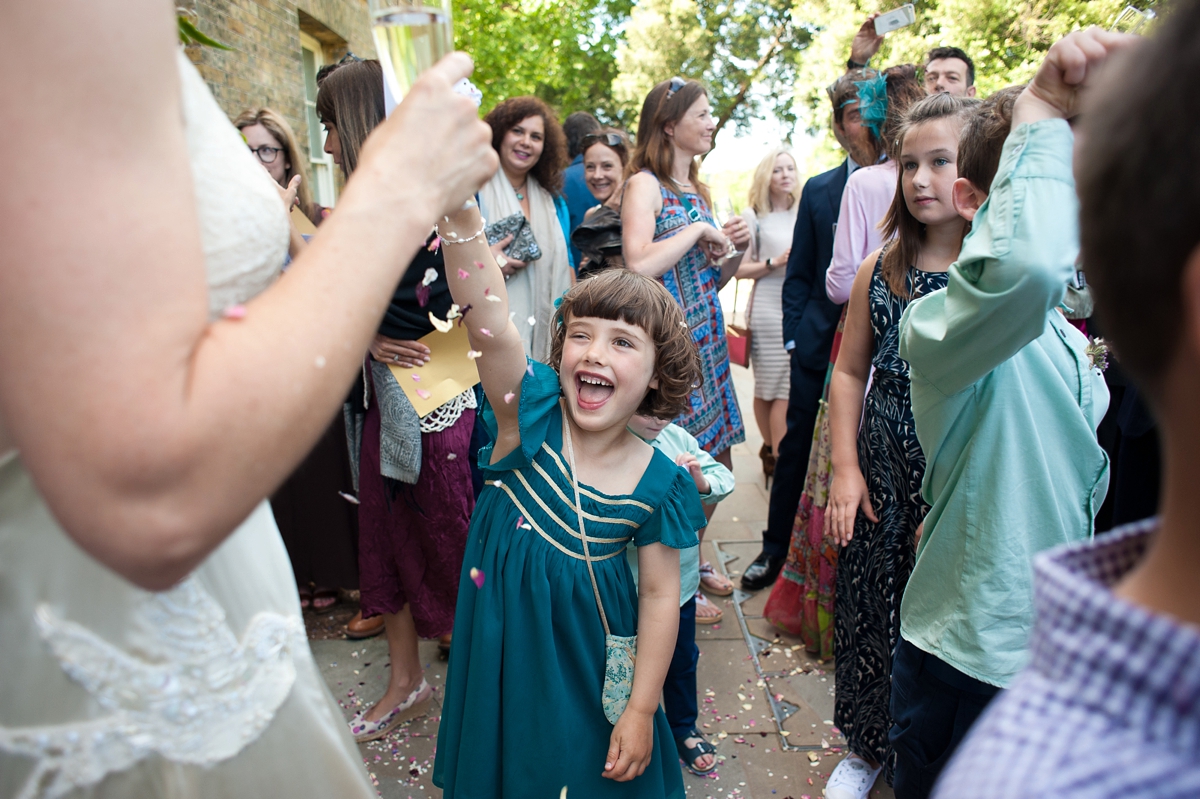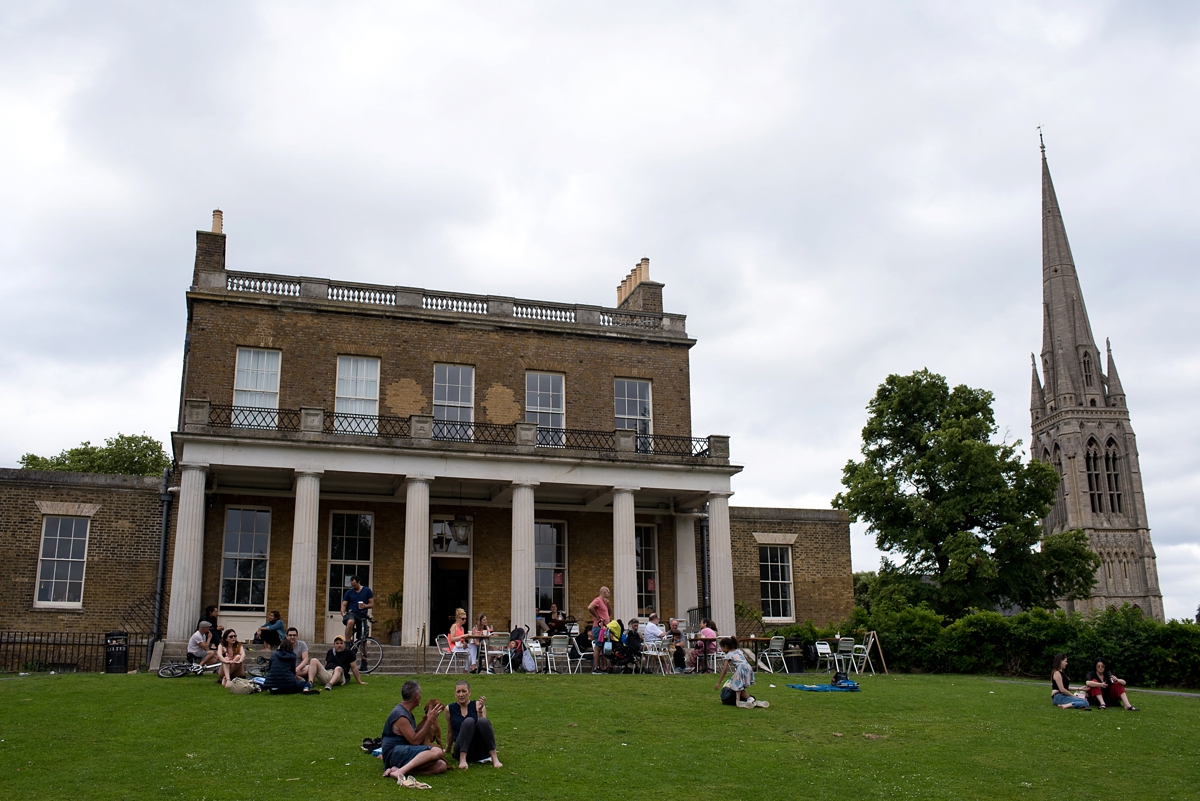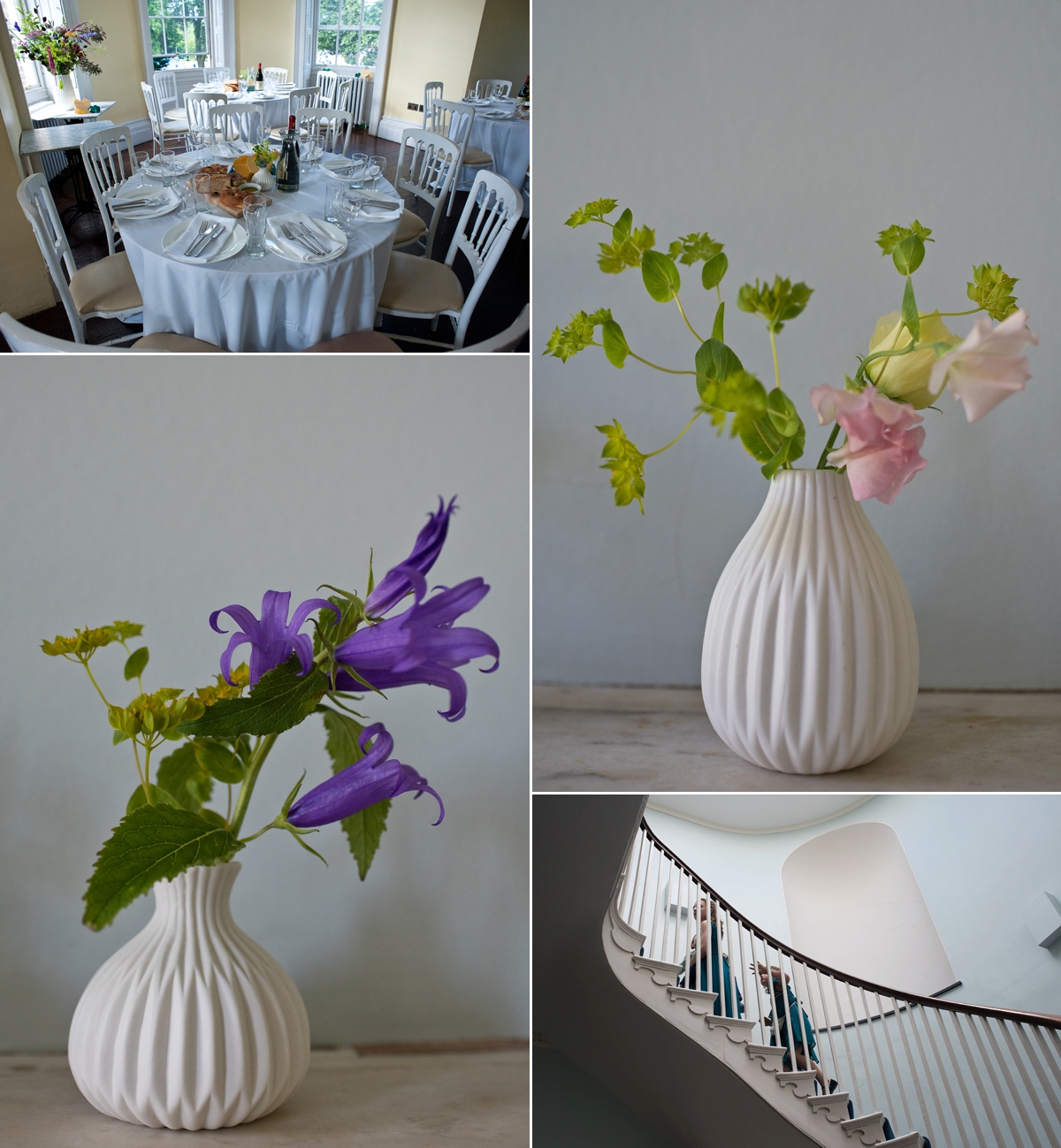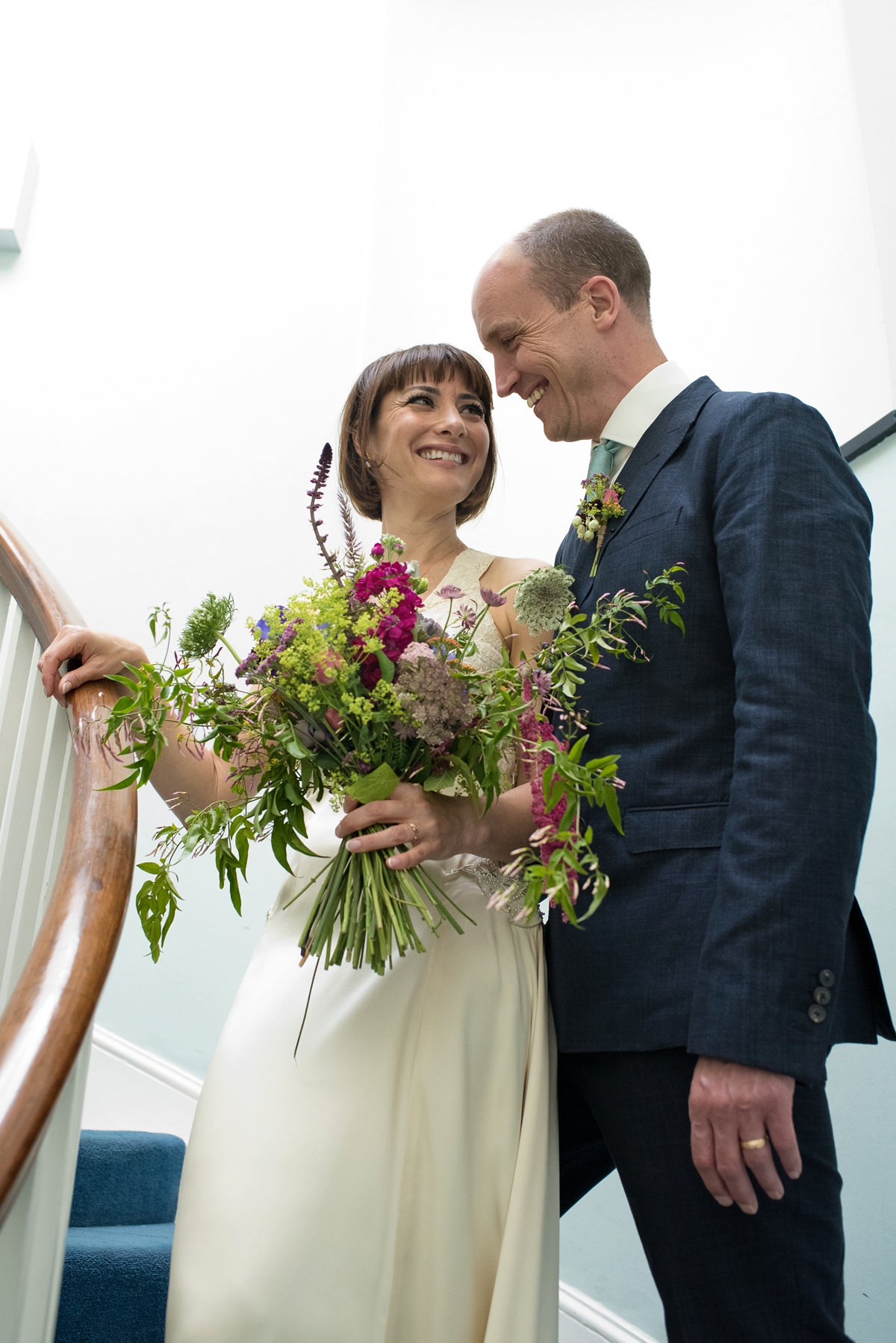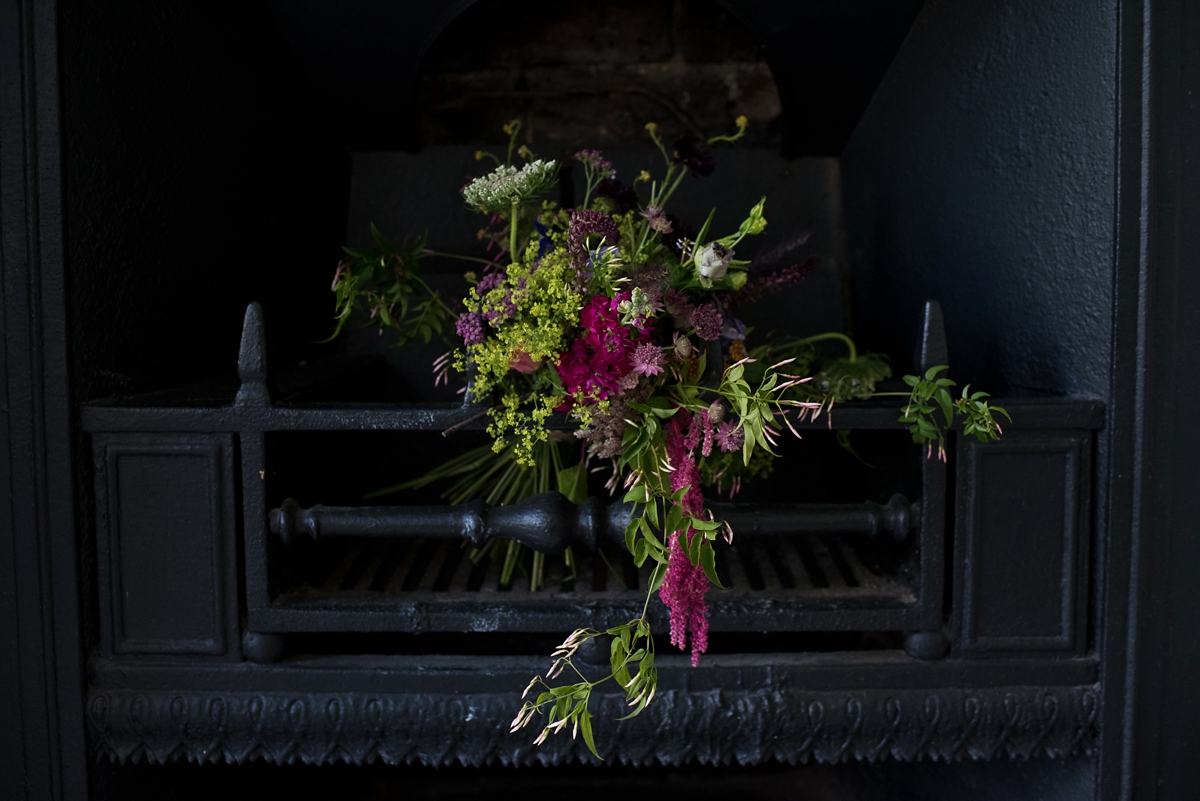 You may notice lots of white geometric vases filled with sweet bunches of flowers. These were created by Stoke Newington florist Botanique and Jo and Liam gave them to their guests at the end of the day.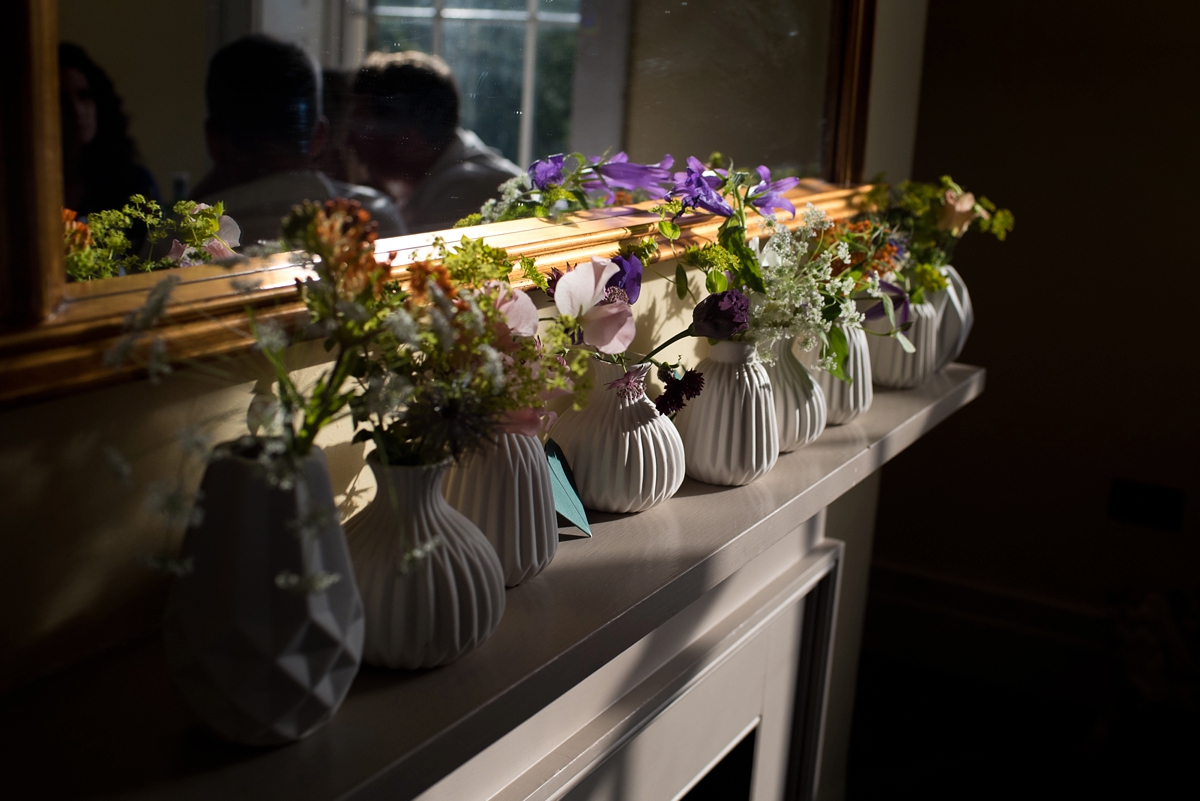 Clissold House is such an elegant, stylish venue with its clean, classic lines and bold colour scheme. Jo and Liam added some lovely touches of origami hearts and hanging lights to fit in with the green and gold colour scheme. They created a special 'playroom' – so much fun for the little ones – with childcare and entertainment from The Flying Seagull Project and Bespoke Babysitting.
"It was definitely worth paying to have Bespoke Babysitting there on the day. Even though many of the kids ended up staying with their parents for some of the day, it was great that they could drop into the babysitting room and play games and be read to in very safe hands."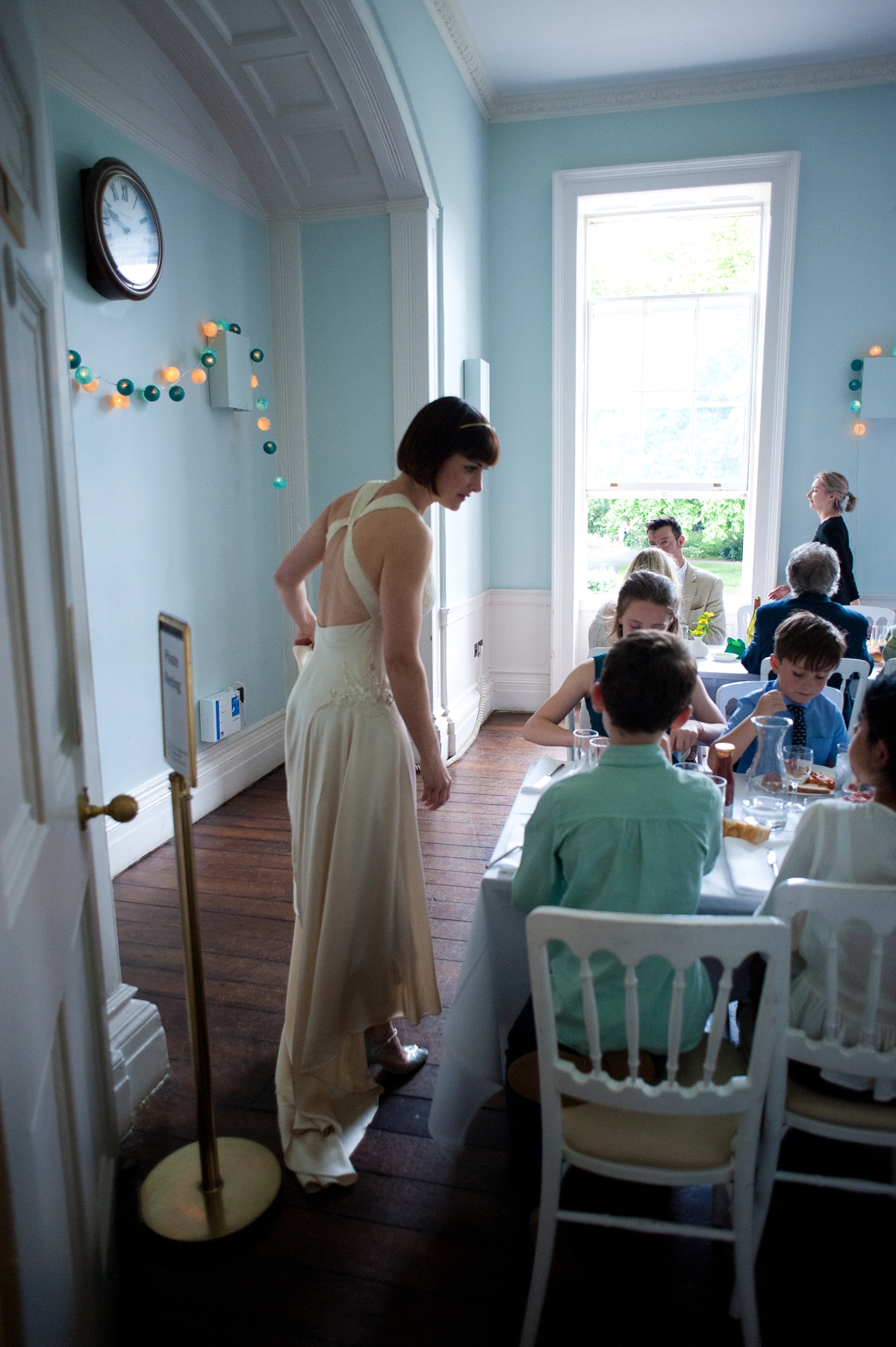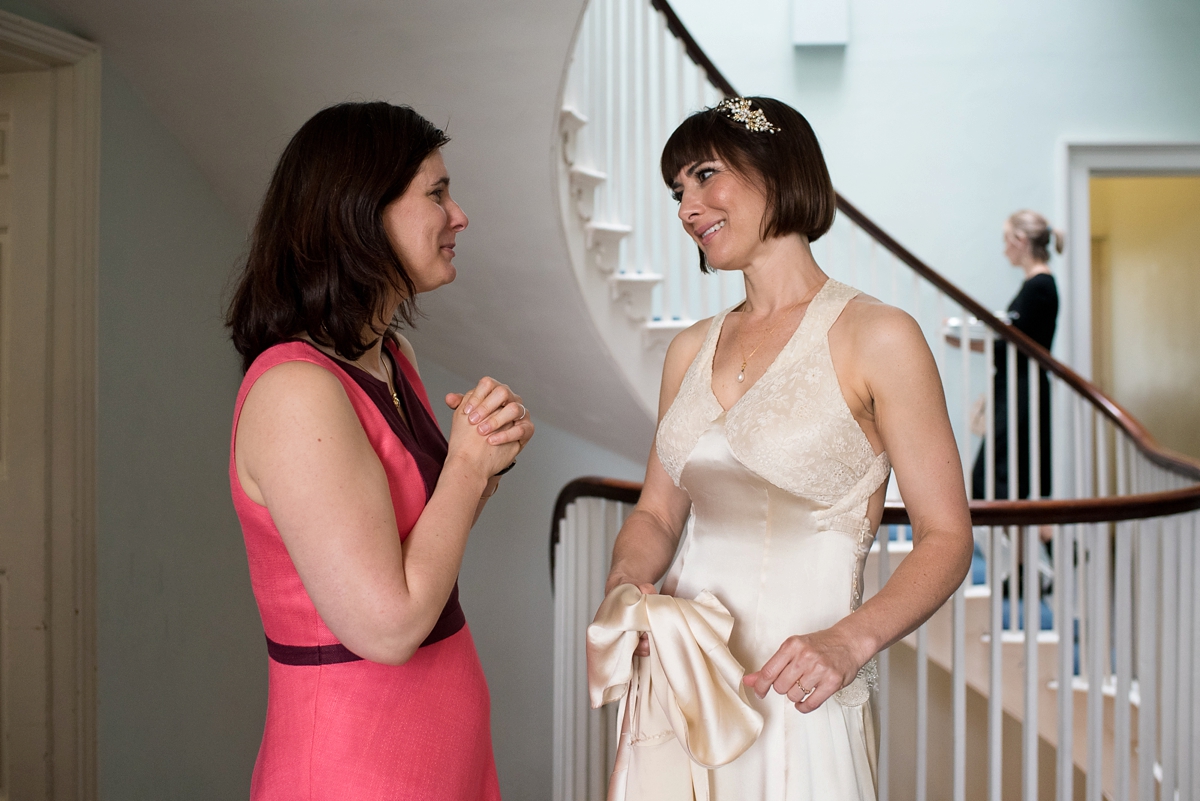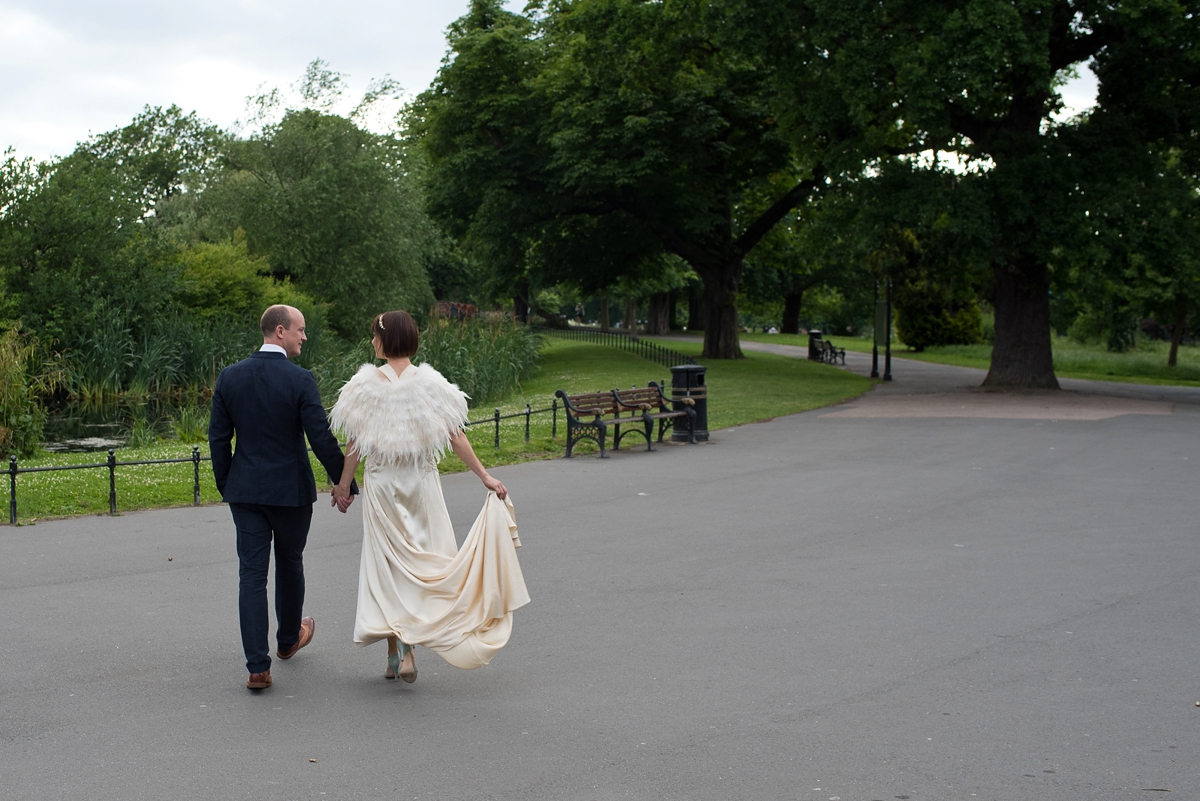 Photographer Annelie Eddy has captured the era-inspired feel and family vibe of the day in a really relaxed way. The unposed photographs of the wedding party are real favourites of mine.
"Annelie captured our day perfectly and was a real pleasure to work with."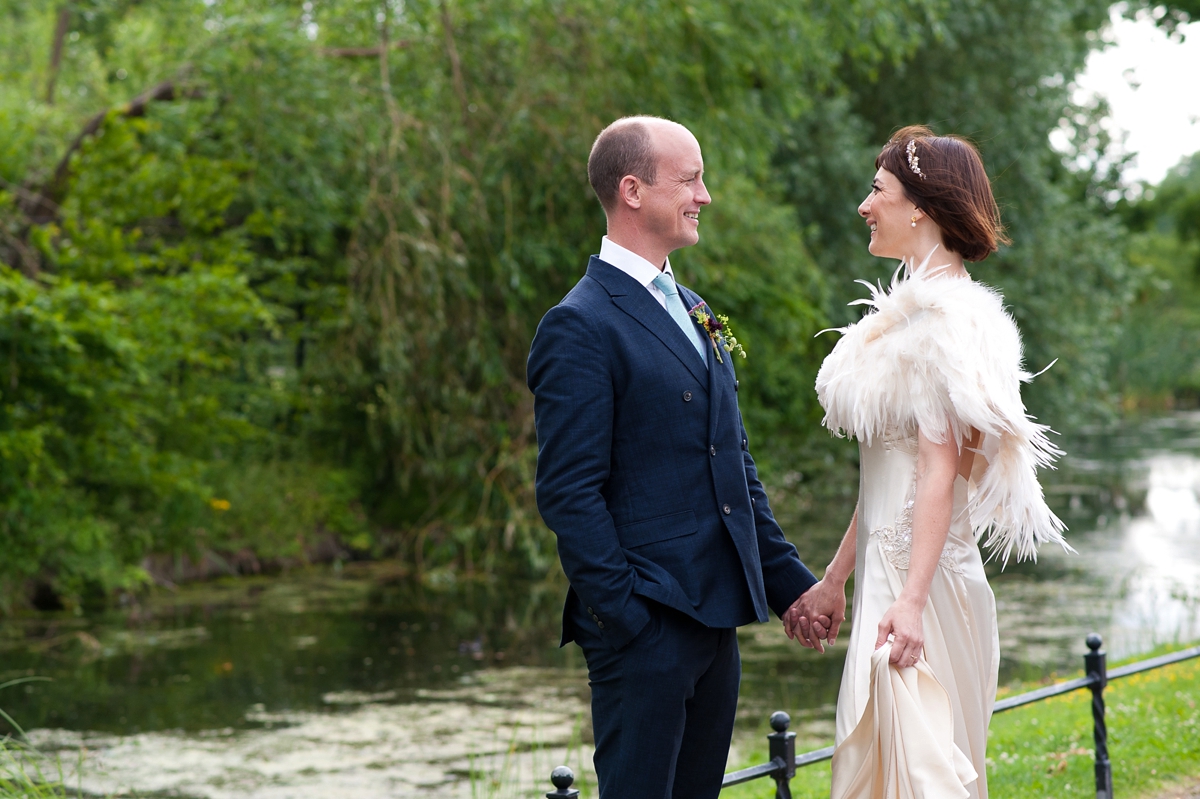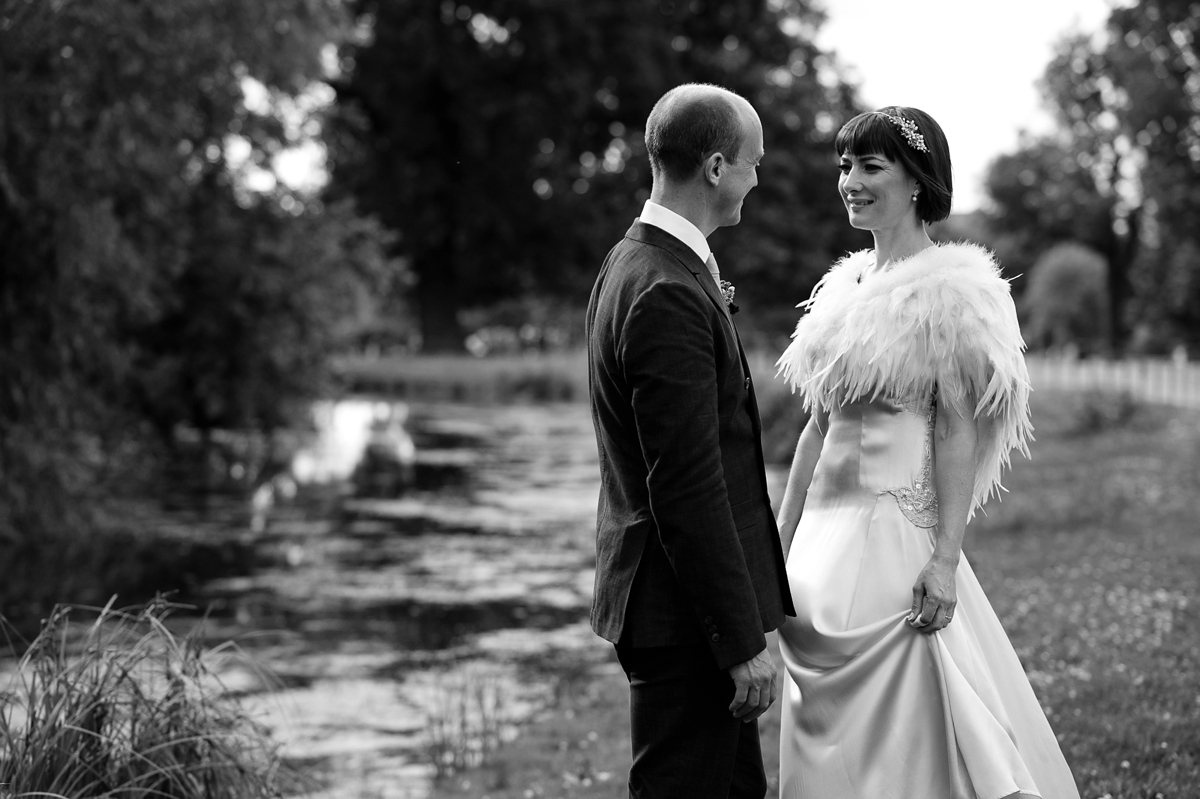 The wedding day was a beautifully warm, sunny day, meaning that the newly-weds and their guests could relax and spend time outside in the sunshine.
"We loved hanging out with our guests outside after the ceremony, with Prosecco and summer sun."
Ottolenghi provided the most delicious-looking feast during the afternoon and the smallest dairy in the UK, Wildes Cheese in North London, created the amazing cheese cake.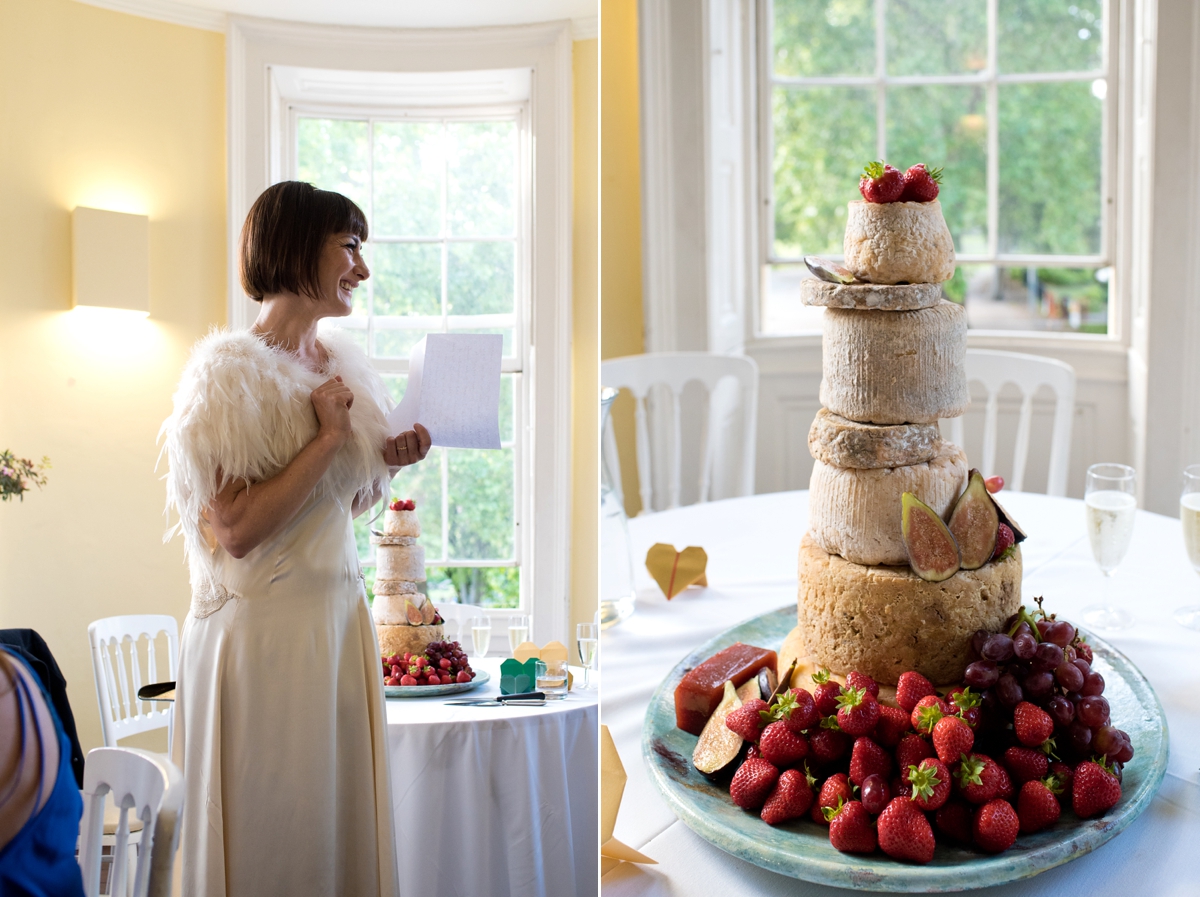 Latin swing trio Ruta Di Trio were there in the evening to entertain the guests, but the summer weather meant that some guests missed their fabulous performance. The first dance must have been spectacular as the couple learnt to tango to 'Todo Te Nombra' sung by Canaro Fama.
"Because it was such a lovely day and evening, people were milling together outside with drinks, watching the kids roll down the hill. That was all very lovely but consequently not many guests heard or danced to Ruta Di Trio. I wish we had all danced the night away together with the band as they were fantastic."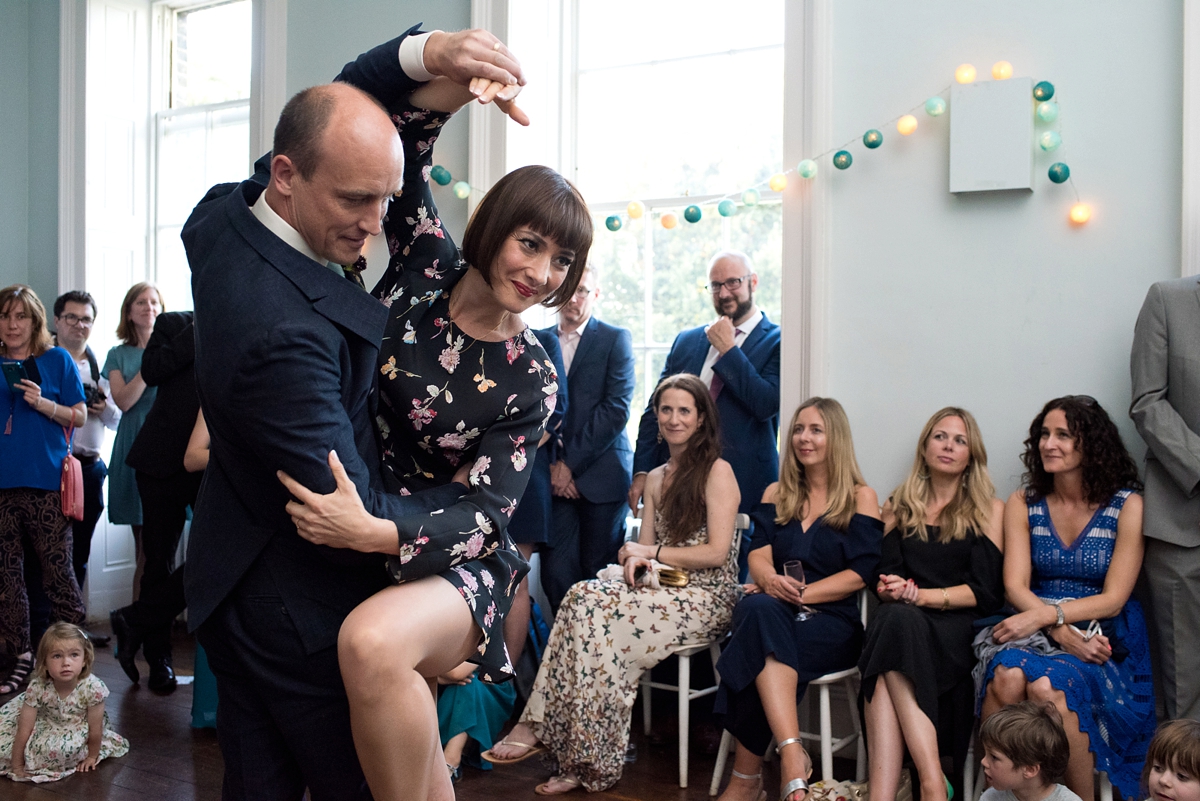 Words of Wedded Wisdom
"Invite the people you love and enjoy spending time with; what then can go wrong?"
"We didn't want a particularly manicured look to the day, so we got away with doing the décor ourselves. That meant it wasn't perfect, but it was what we wanted."
"Be yourselves; that also feeds a relaxed and fun day."
Jo and Liam, thank you so much for sharing your day with us today. That vintage gown is divine, and what a sumptuous feel you've created with the accent colours of green and gold. As always, we've loved sharing Annelie Eddy's photography today. If you've been inspired by this era-inspired wedding then we have so many more for you to enjoy on Love My Dress here.
Ele xx