What could be better on the last day of February than a laidback, boho wedding in the heart of the England countryside? I really love hearing about the weddings of members of the Love My Dress and A Life Loved groups, so let's get started.
The bride and groom are Clem, a software developer and Tim, who works in communications for start-up Fat Lama. The pair wed in a beautiful Church of England ceremony on 5 August 2017 at St Peter's Church, Ibthorpe, Hampshire with a barn and marquee reception in the gorgeous garden belonging to Clem's mum's neighbour. Clem and Tim chose Richard Skins Photography, who we are delighted to list on our wedding supplier directory Little Book for Brides, to capture their day in all its countryside, sunlit glory. Influenced by the Aussie style of the bride's Grace Loves Lace gown, the day had a relaxed, informal vibe, with pretty pastel wildflowers and swathes of deep green eucalyptus; a look they created with the help of some very talented friends and family members.
It's wonderful to hear that Clem found many of her suppliers through our Facebook group for brides-to-be actually purchasing some items from other members.
"Join the closed/private Love My Dress Facebook Group! It's a judgement-free space with other brides who share the same concerns and excitement as you do. The 'we did it's at the end of every week as people say their I do's and share their top tips and photos are so valuable and heartwarming. I found Love My Dress after most of our key suppliers had been chosen but the Love My Dress Facebook group was essential for many recommendations including printing, my bra, bridesmaids dresses, makeup and thank you cards. Reading Love My Dress was part of my morning routine and I would load up new features on my phone before getting on the train."
Photography Richard Skins Photography
I'm sure you'll be as in love with Clem's Grace Loves Lace gown as I am. It's the Inca gown, which the bride found at the brand's London concierge. I love the daring low back combined with the long sleeves and intricate boho-style lace which flows over the nude lining.
"I've loved Grace Loves Lace since I discovered the brand when my sister got married in 2013 but as they didn't have a showroom then in the UK, I assumed it was never going to happen. I went to one other wedding dress shop and felt quite flat after trying on very traditional dresses."
"I was excited to get an appointment at the GLL Concierge and the team were lovely. Ahead of my appointment I asked Tim to pick me out a dress to try on – it was a really funny experience, especially since not a single dress in his shortlist was in mine. Unfortunately the dress he picked for me looked the worst on – but I could have bought any of the others!"
"Inca was my favourite for the low back and elegant lace. The lightweight silk and lace fitted like a glove and it was easy to move and dance in, which was important for me."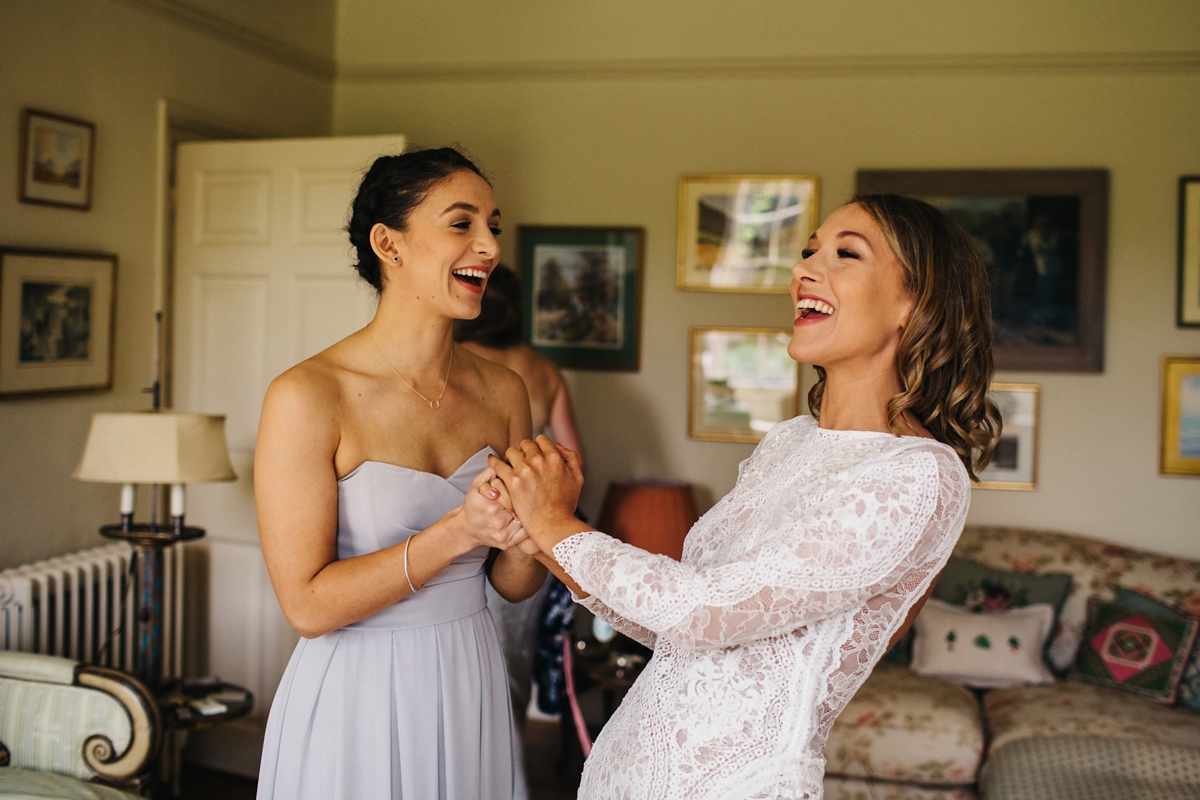 To top off her laidback and relaxed look, she wore a delicate flower crown on the back of head, and her mid-length hair was left down in soft curls.
"My sister's friend Lucy Edgar, who I've known since I was five, kindly offered to do my bridal makeup. She's done the makeup for several brides and is very talented with the makeup brush. We spent a couple of fun trial sessions at each other's places trying different looks. It was the perfect excuse to super-power my makeup collection with her product suggestions."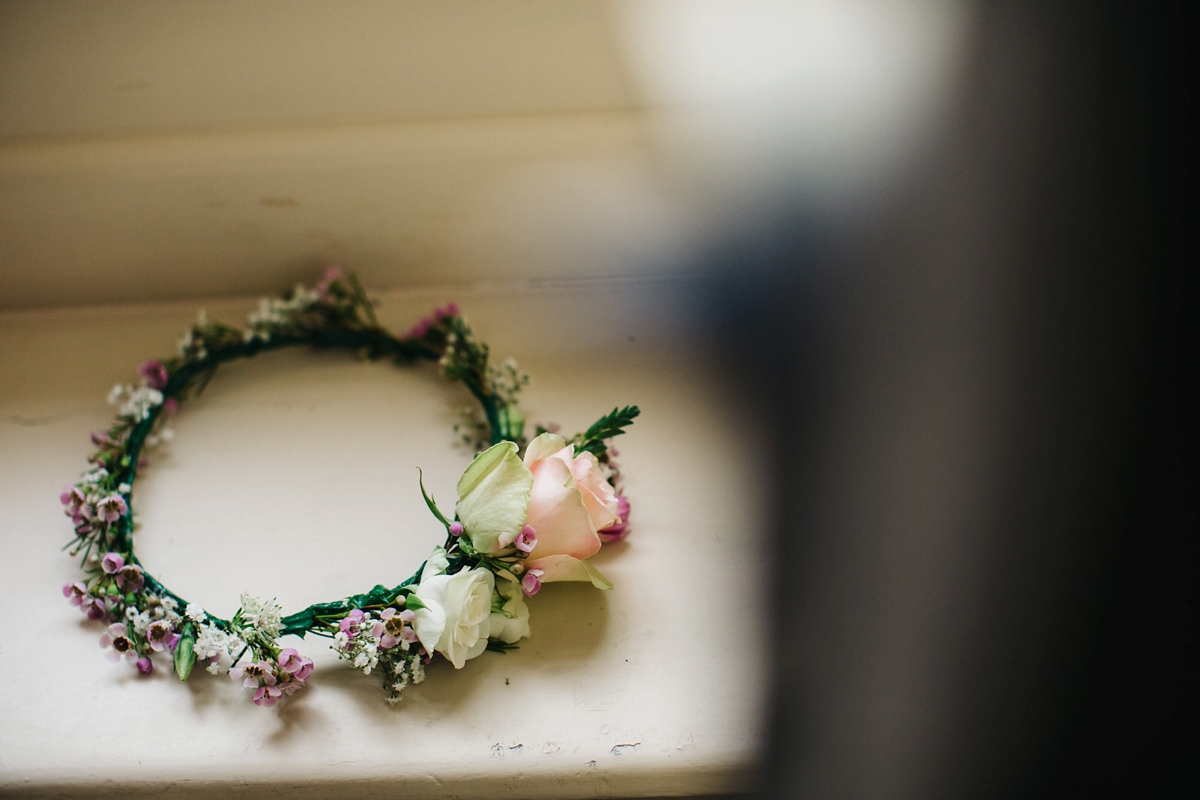 "She was also a lovely calming presence on the day and it felt really special to reminisce about the years we've known one another."
Her ethereal veil is also by Grace Loves Lace and has actually featured on these pages before; Clem bought it from bride Sarah (whose brother is dating Clem's sister). In a last-minute change of plan, Clem wore block heeled M&S shoes borrowed from one of her bridesmaids, as the Hobbs shoes she'd intended to wear kept catching on the back of her gown.
"I wore earrings gifted to me by my friends on my hen do and a ring from my sisters, which we bought for one another. It's made by Wild Fawn Jewellery, an eco-friendly and handmade jewellery designer. My sisters wore their rings on the day too."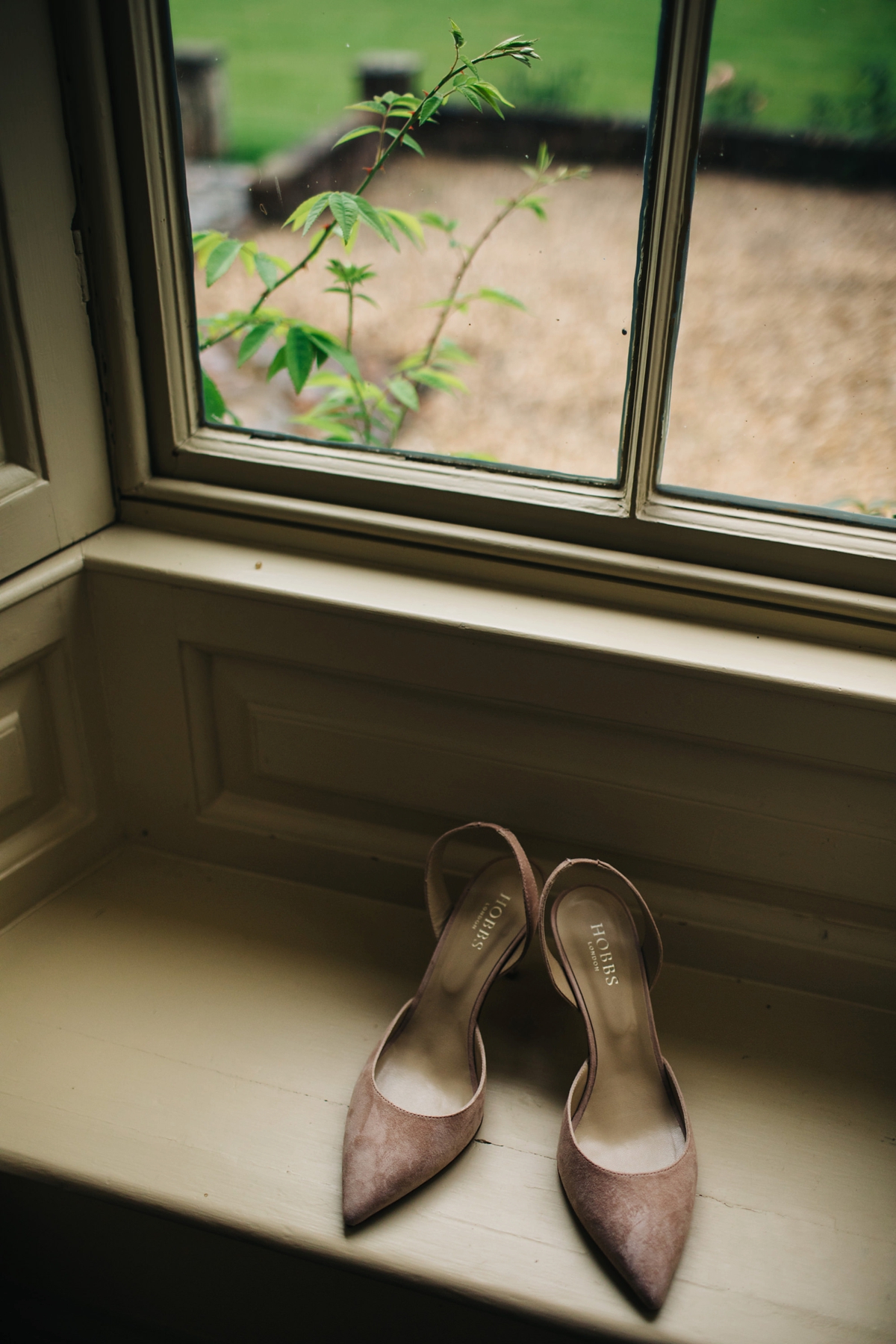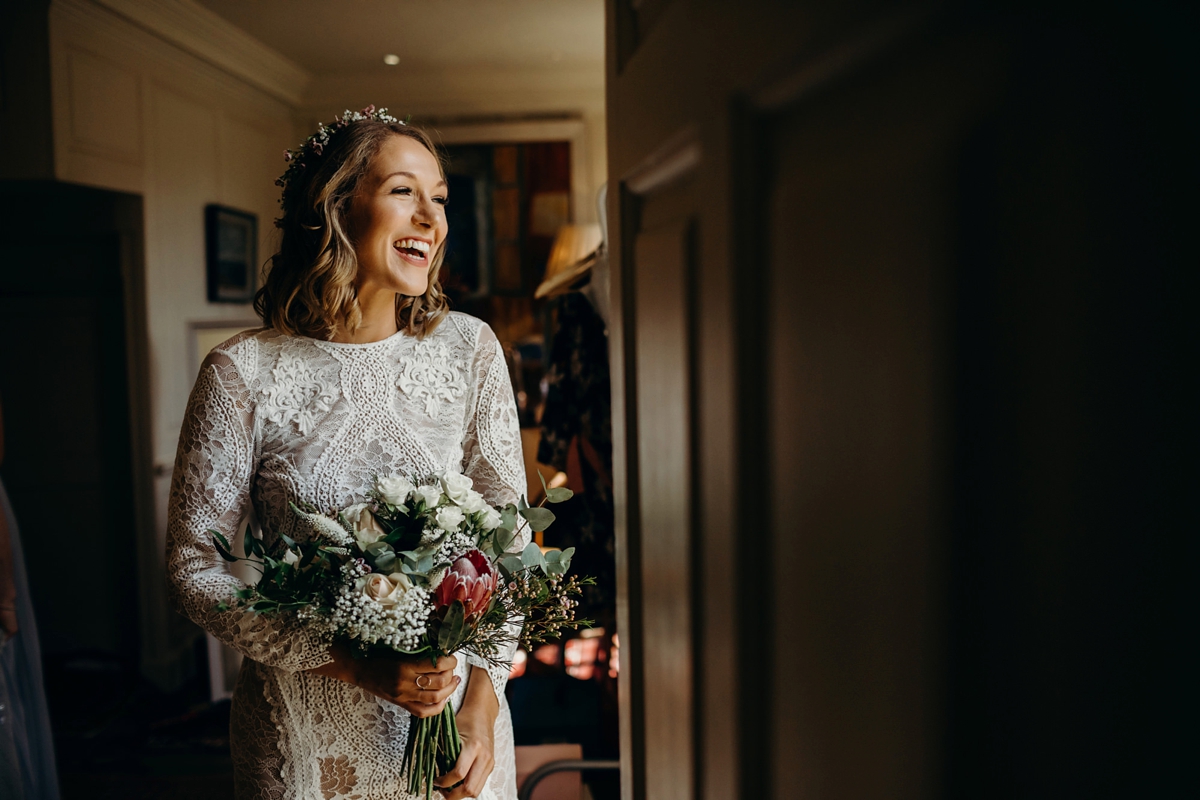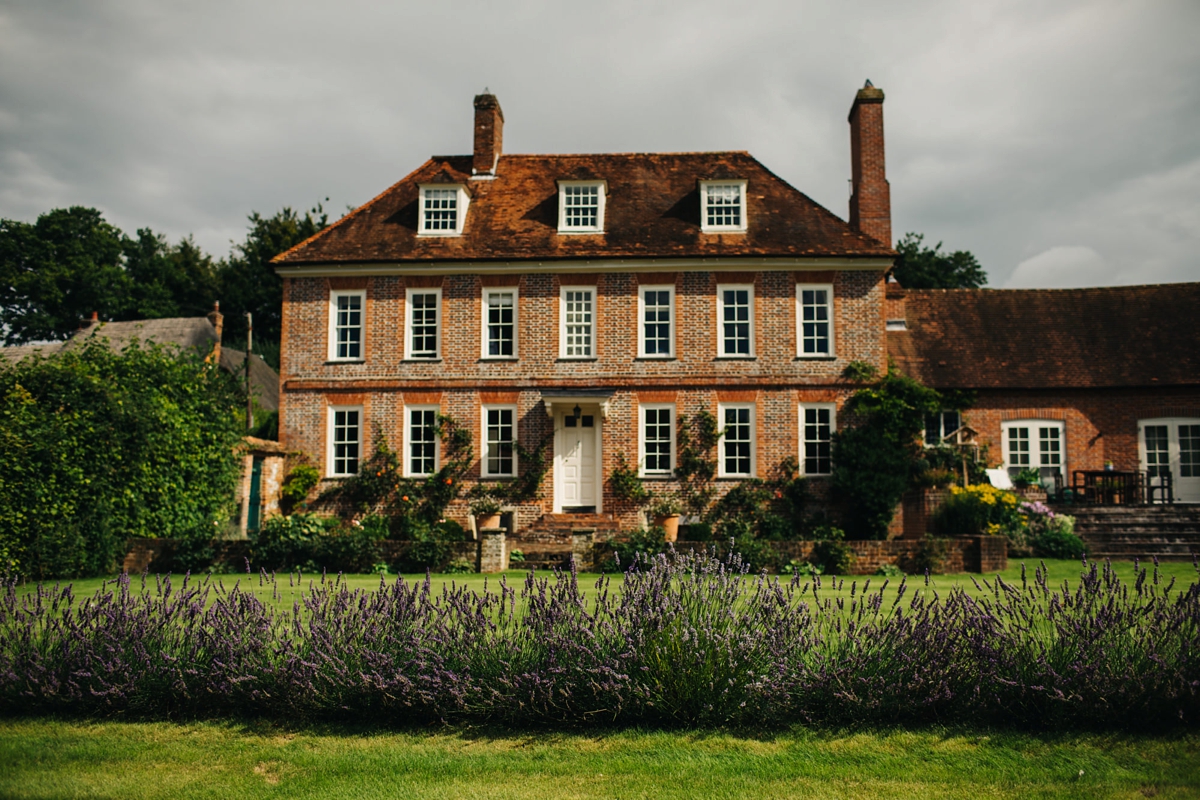 The couple called on a family friend to act as florist – how incredibly talented she is to put together these wild and loose arrangements.
"Our florist was a friend of Tim's parents and she absolutely blew us away! We opted to have green as the primary colour and she crafted eucalyptus table runners, displays of deep green leaf and huge flowers, gorgeous green and white button holes and bouquets, including mine which featured a deep red protea (my late grandmother was South African) and arrangements in tiny vases dotted around the barn and marquee. It was all relaxed and effortlessly beautiful."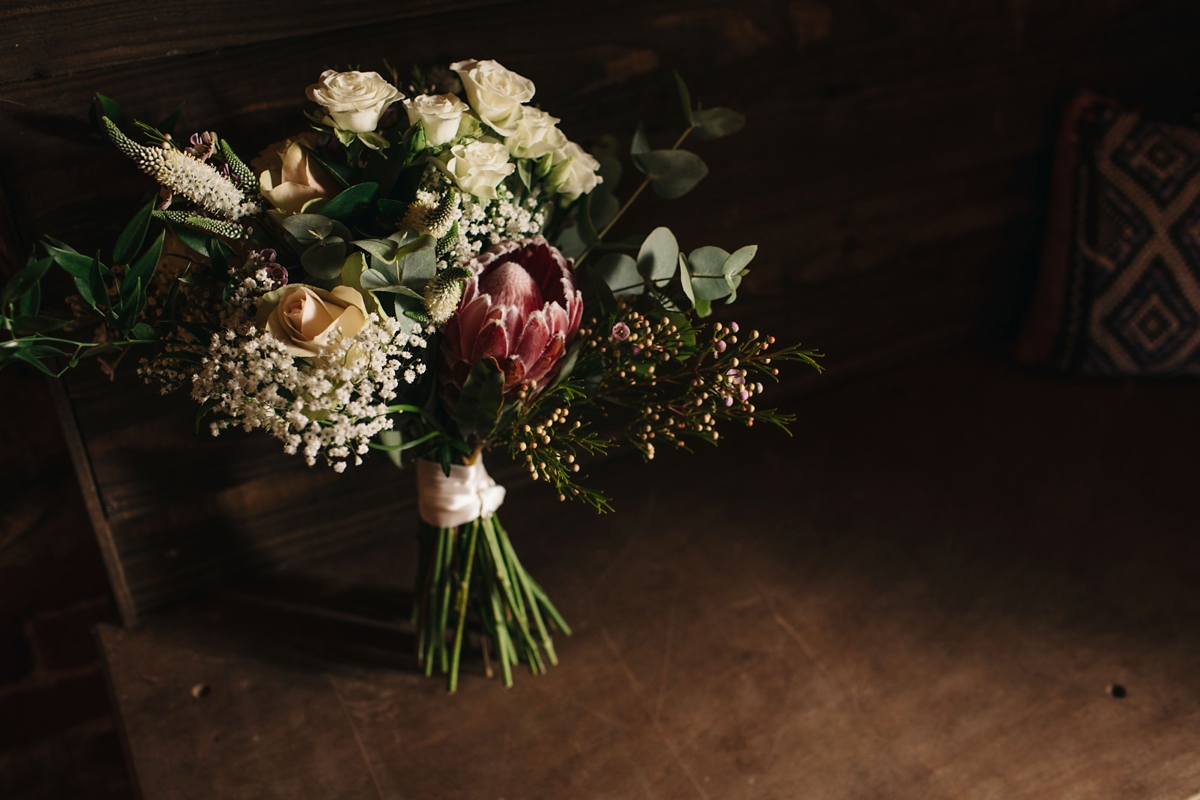 The groom's summery suit was a charcoal Ted Baker number from Moss Bros, which he teamed with a pocket square from John Lewis, shoes from Topman and a bright coral tie.
The couple have a long history together, meeting when they were teenagers.
"Tim and I met through a mutual friend at the peak of our awkward teenage years. Despite the ginger mullet and brown corduroys I fell totally in love with him. About two years later he noticed me back. We've been each other's rock and best friend ever since."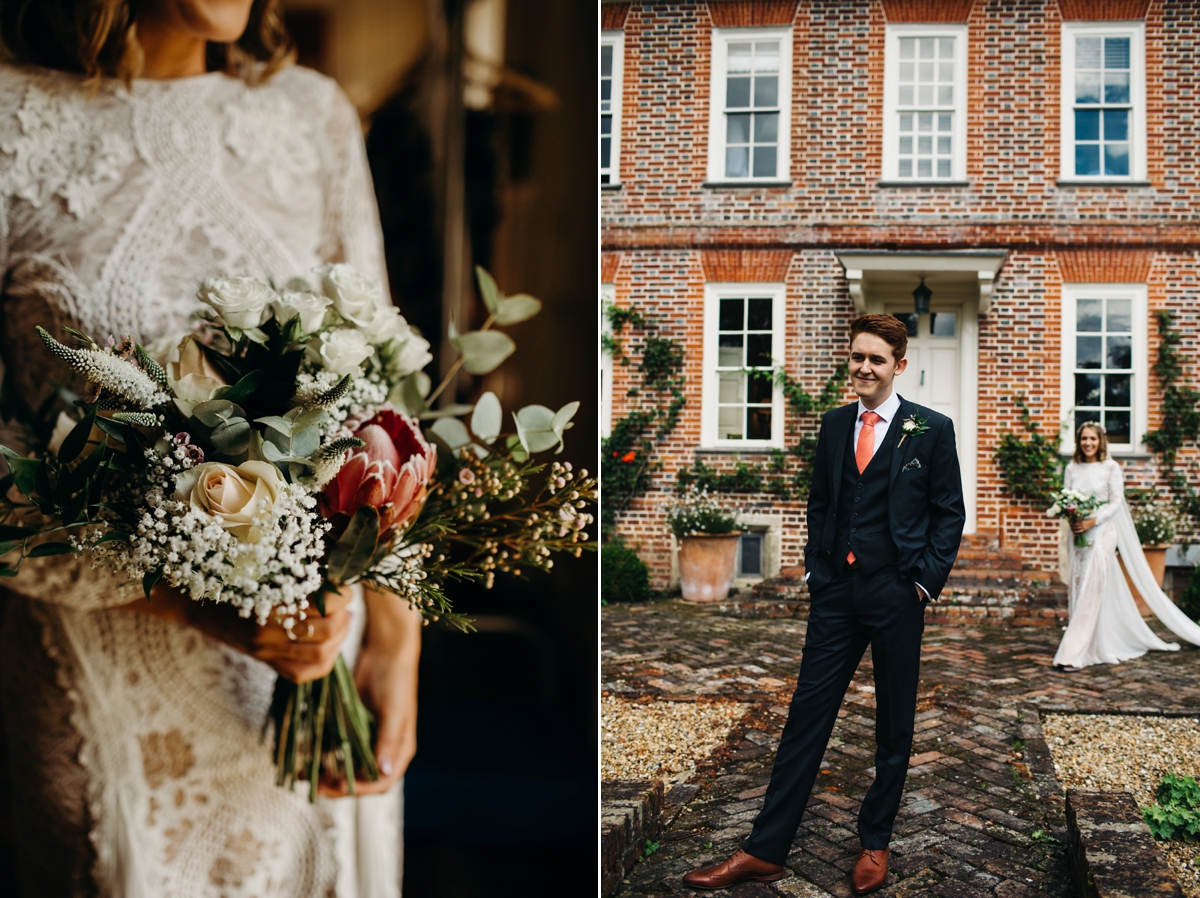 "Tim proposed in May 2016 on a cycling trip to the Isle of Wight. I had an inkling the proposal was coming as he'd insisted on bringing a bottle of Champagne we'd been gifted months earlier but not touched, on a strenuous bike ride and up a steep hill for a picnic spot with a view. So sure was he of my answer, he kept me waiting until we'd finished the picnic and most of the Champagne before asking me to marry him!"
We have the incredible Richard Skins to thank for these wonderful photographs. From the 'first look' to the sunset shots, the love and joy of the newly-weds shines so brightly through.
"I cannot possibly speak highly enough of Richard. You can feel the emotions he captures – his photos are dynamic, warm and full of personality. When I first saw his work from a wedding attended by my sister Sarah there was no question about it – he was going to be our photographer and we booked our wedding date around his availability. He was always professional and easy to speak with, talking us through his documentary style and love of a sunset photoshoot, and he took time to find out the details of our big day."
"Richard was wonderful on the day and we received so many compliments from our guests of how friendly he was. Neither of us are particularly comfortable in front of the camera but he was unobtrusive, made us laugh and put us totally at ease. His photos are sensational and he smashed our already super-high expectations. Getting those sunset photos after forecasts of rain and a morning of thunderstorms was such a special moment, even if it did involve climbing over fences and styles in my dress."
Matching the muted colours of the wedding flowers, the grown-up bridesmaids wore simple, long gowns in soft shades of grey which Clem bought from Emily Barnes, who is now one of our A Life Loved members. Thank you Emily!
"I found my bridesmaids' dresses from another Love My Dress Facebook Group member. She had sourced the perfect mix of three, full-length grey dresses for her wedding the previous year and I knew they were ideal for my bridesmaids as soon as I saw them. I drove with my mum to the Cotswolds to pick the dresses up and we made a day of it. The final dress was a bit more tricky, but we found a beautiful dress on ASOS and the bridesmaids all looked fabulous."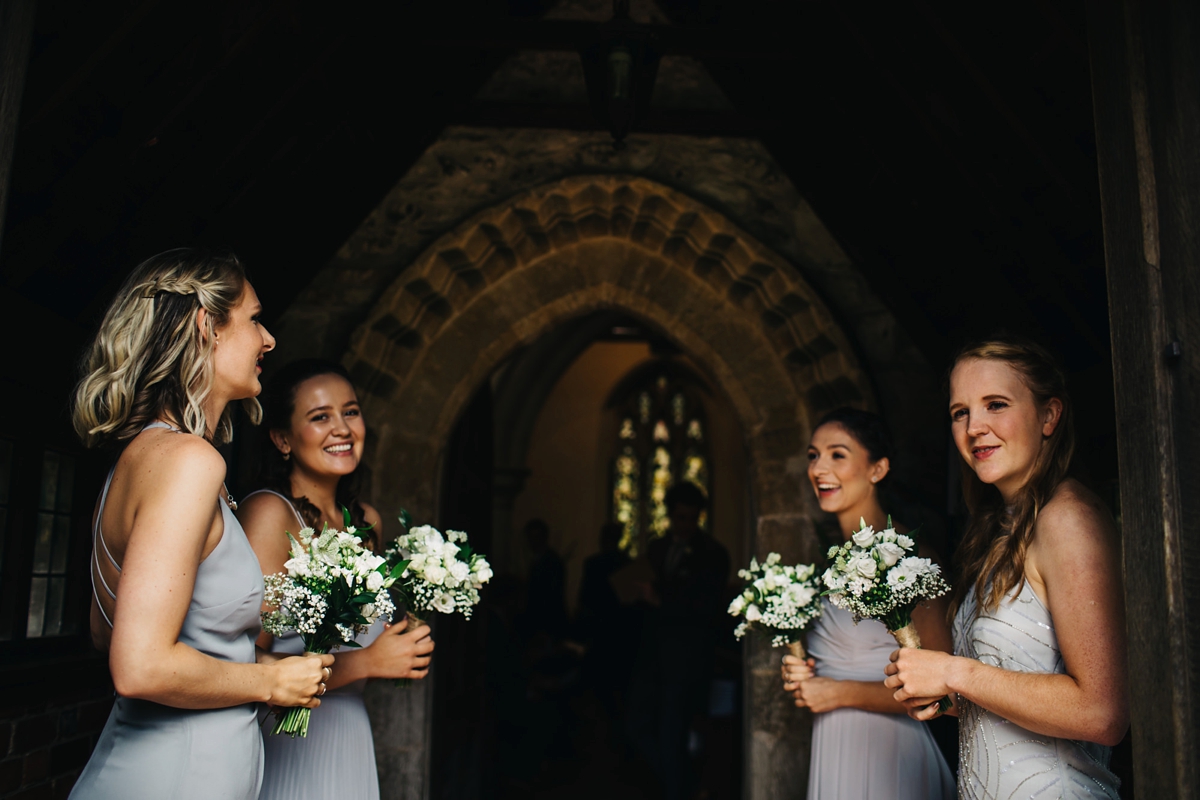 "A good friend sketched beautiful designs for us of the church and a floral wreath with our names, which Tim used to adorn all our stationery. He loved getting creative, designing our orders of service, invitations and menus, on the back of which we – thanks to an idea taken from Love My Dress – created a cross-word with silly questions about us to keep people entertained waiting for food. A bridesmaid, who is a dab hand at calligraphy, wrote up the order of the day, signs and adorned chalkboards with slogans which all looked very professional."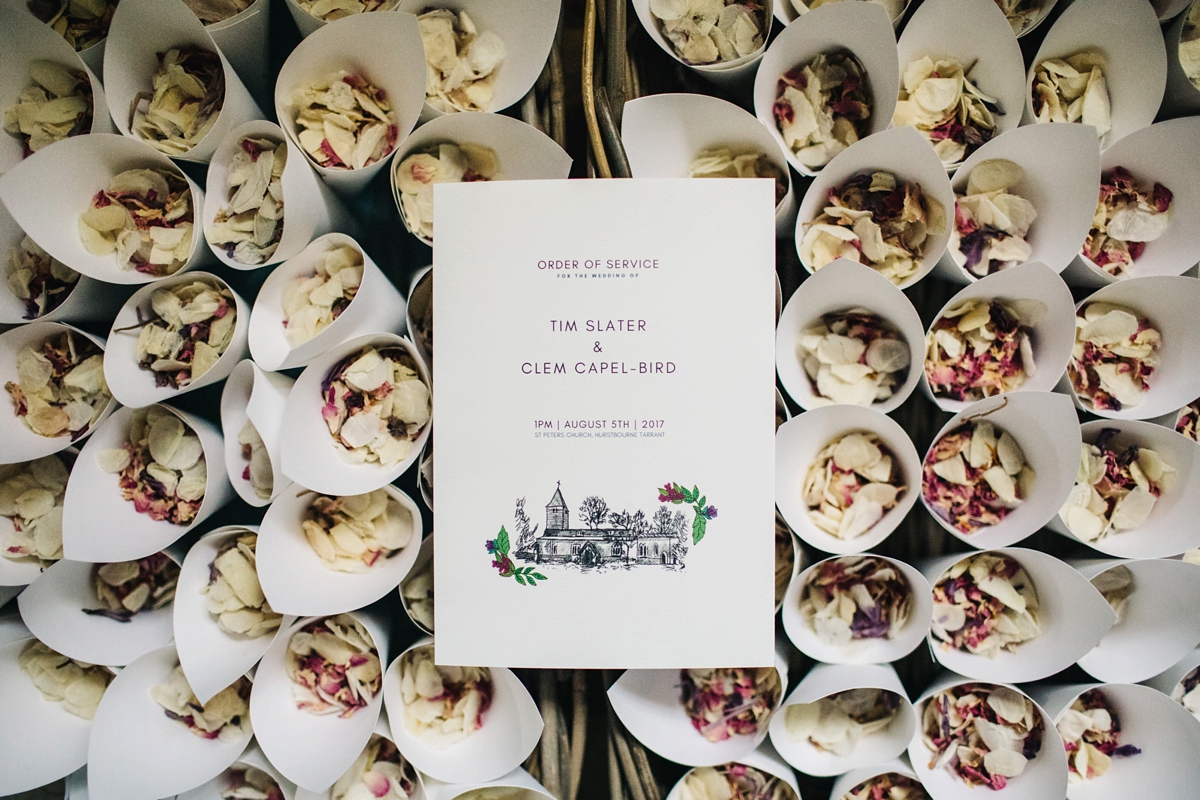 As the church was only a mile from Clem's mum's house, the bridal party hopped into her car for the short journey to the ceremony where the bride walked down the aisle with her husband-to-be. This is such a lovely idea – have any of you lovelies considered this? The service was made so personal by asking the family vicar to marry them, and including their family in key decisions.
"The church, less than a mile down the road, was an ideal spot for the ceremony. The team there were very welcoming, allowing us to have our own vicar and organist."
"I had always planned to walk down the aisle alone but when Tim suggested we walk down together it turned a moment I had been very nervous about into one of my favourite moments of the day. Halfway down, we turned to each other to acknowledge how incredibly special it was to be arriving into the church with each other to marry."
"Tim's mum masterminded our ceremony music, as it was part of the day which was particularly important to her. She suggested John Stanley's 'Trumpet Tune', which she and Tim's dad had walked out to at their wedding over 35 years ago. The timing worked perfectly and we reached the front of the church on the last bar!"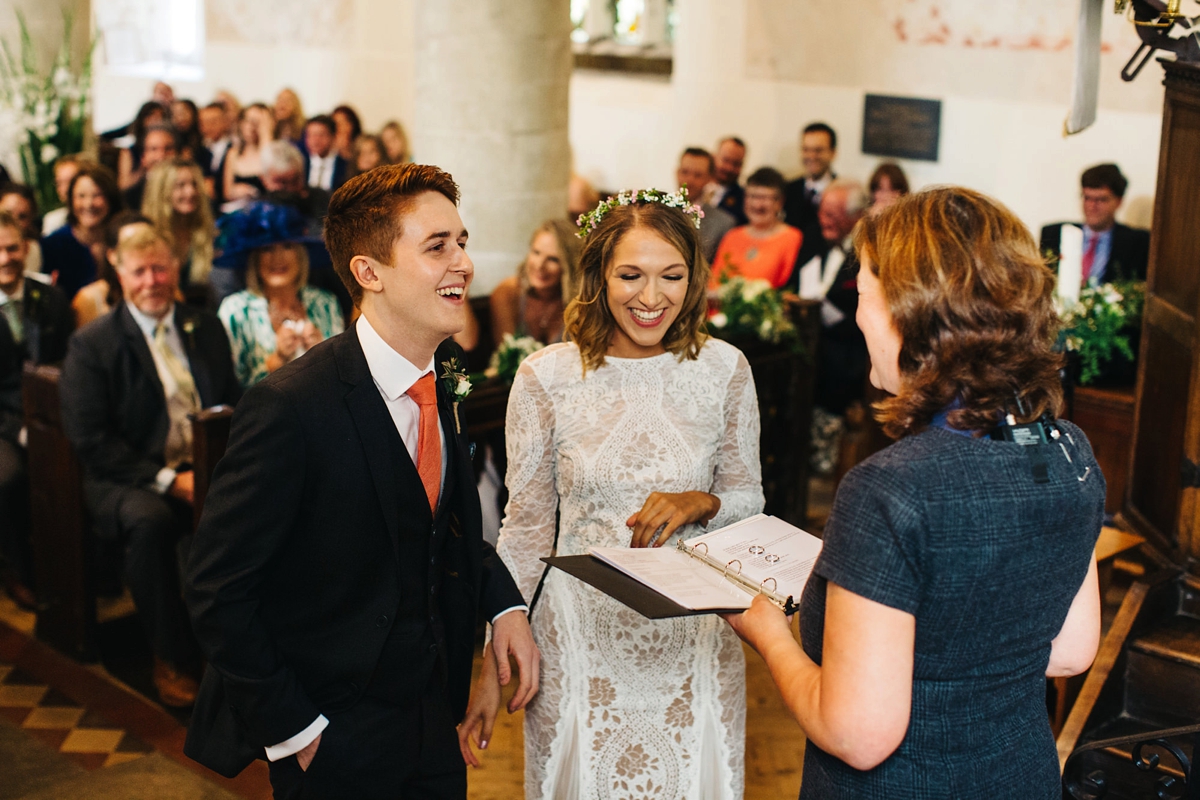 "We asked a vicar to marry us who we both knew from Tim's family church and she delivered a beautiful service, full of warmth and love. She had taken the time to research our reading, Margaret Atwood's 'Habitation', and spoke beautifully on marriage as something built from the ground-up, separate from the physical trappings, where a couple learns to adapt and evolve and make a home."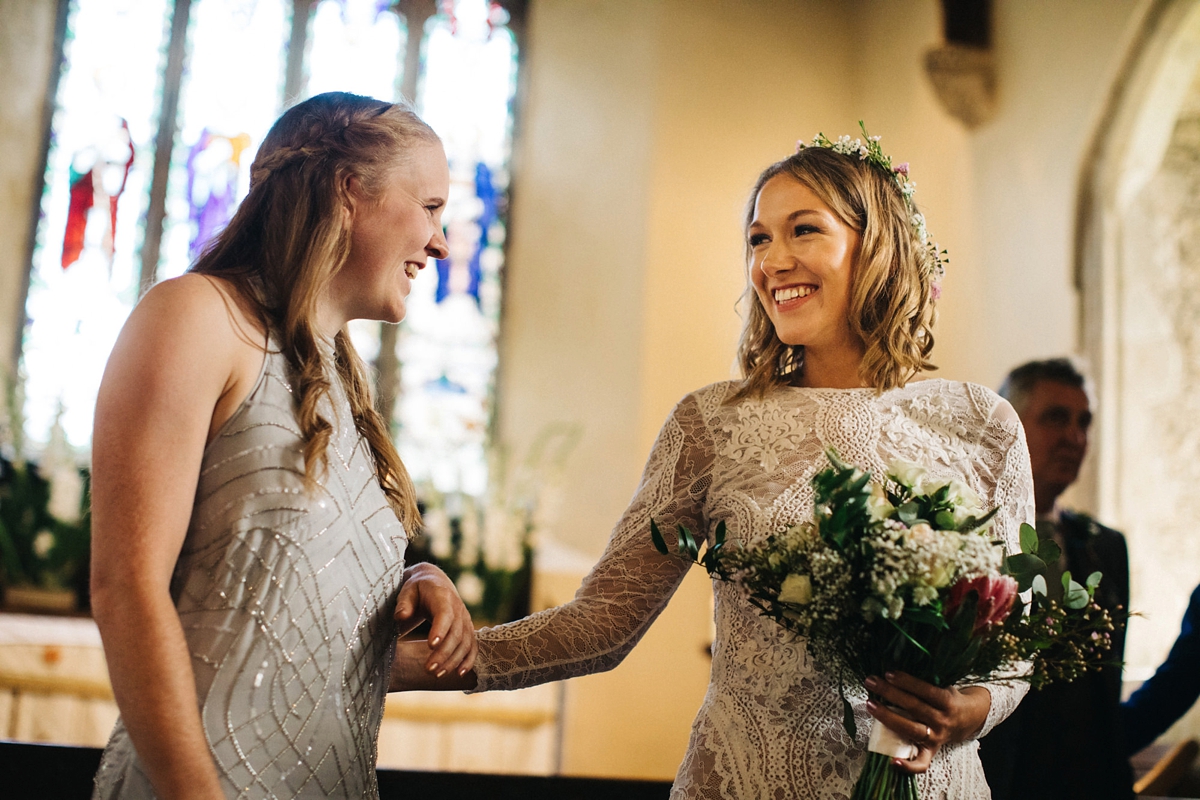 The couple exchanged second-hand rings, as well as traditional Church of England vows, to wed.
"Tim comes from an incredibly talented musical family and we were lucky for the day to be full of music from family and friends. During the signing of the register, we had four of our guests (three of whom are professional opera singers) sing 'O Magnum Mysterium' which filled the church and moved Tim to tears. At the final 'Amen' Tim's brother's band The Brass Funkeys struck up a cover of 'Call Me Al' and continued to play for us when we realised the heavens had opened and we couldn't leave the church building anytime soon. We had a mini-party in the church waiting for the rain to ease off."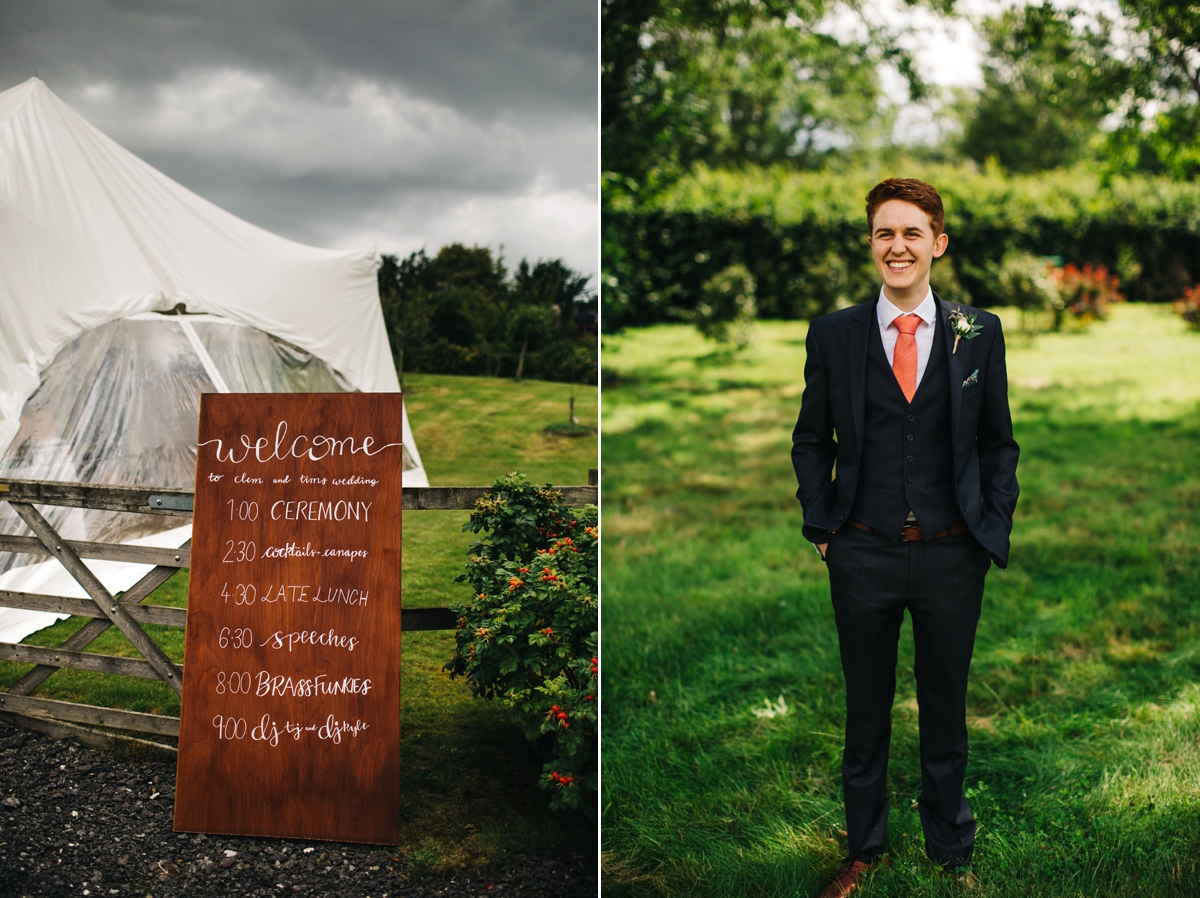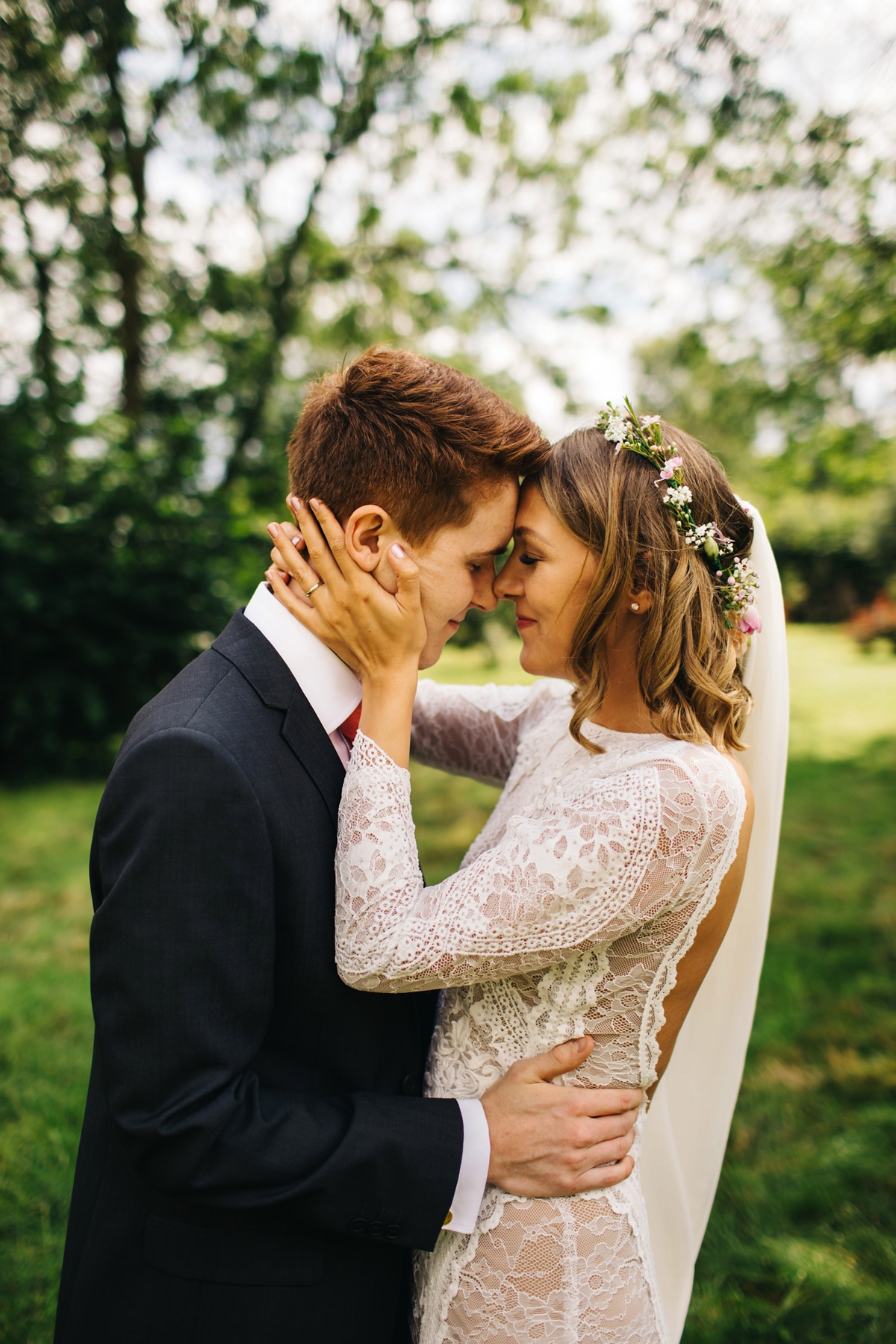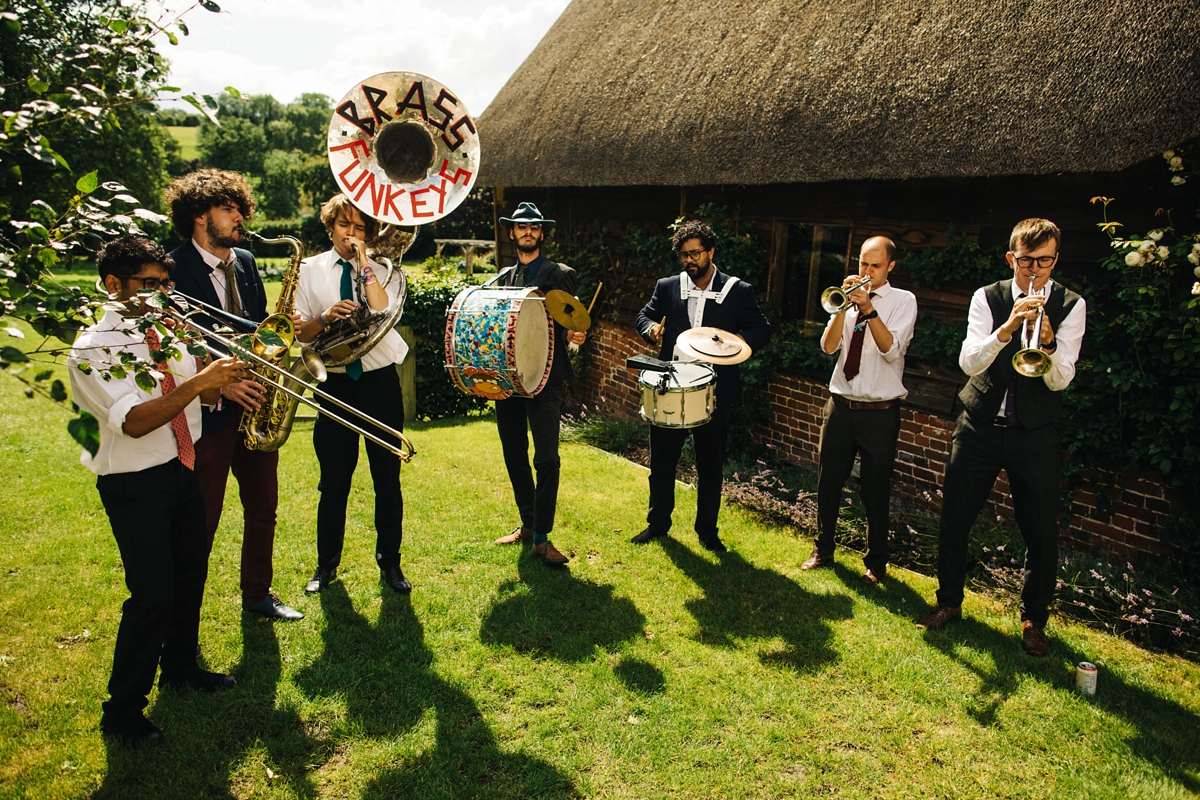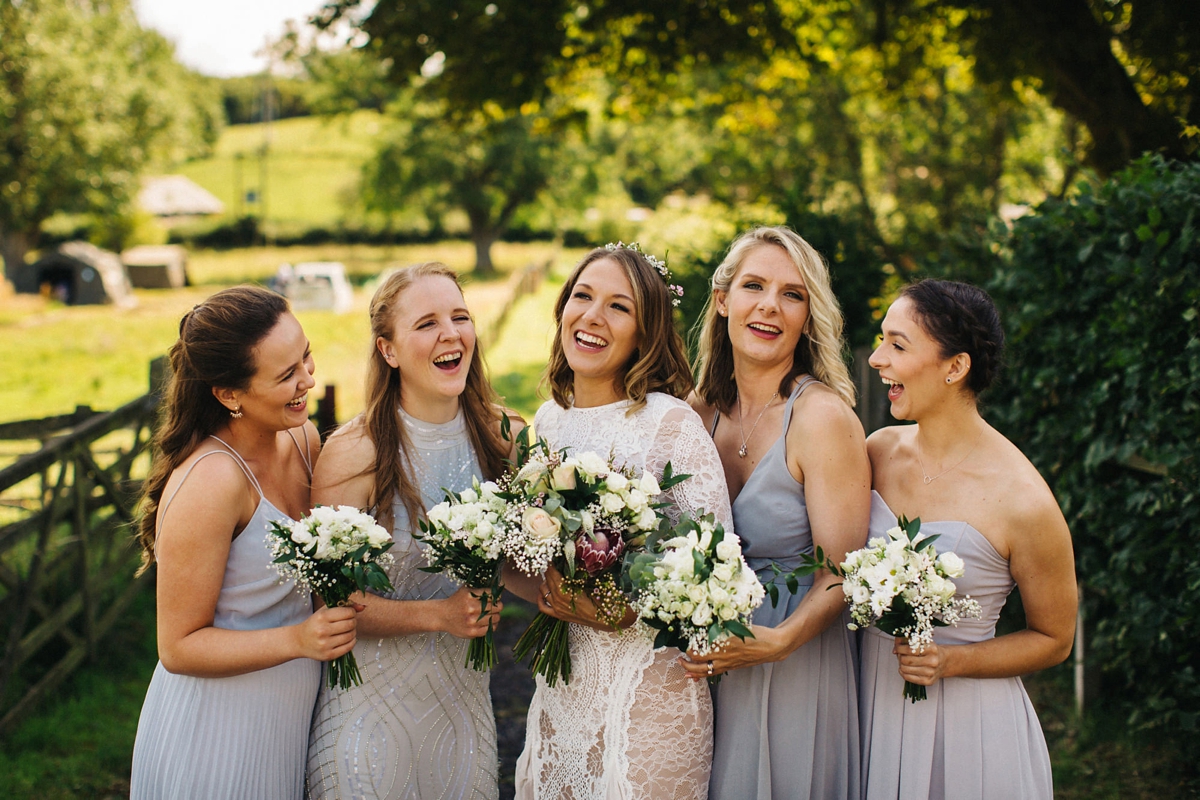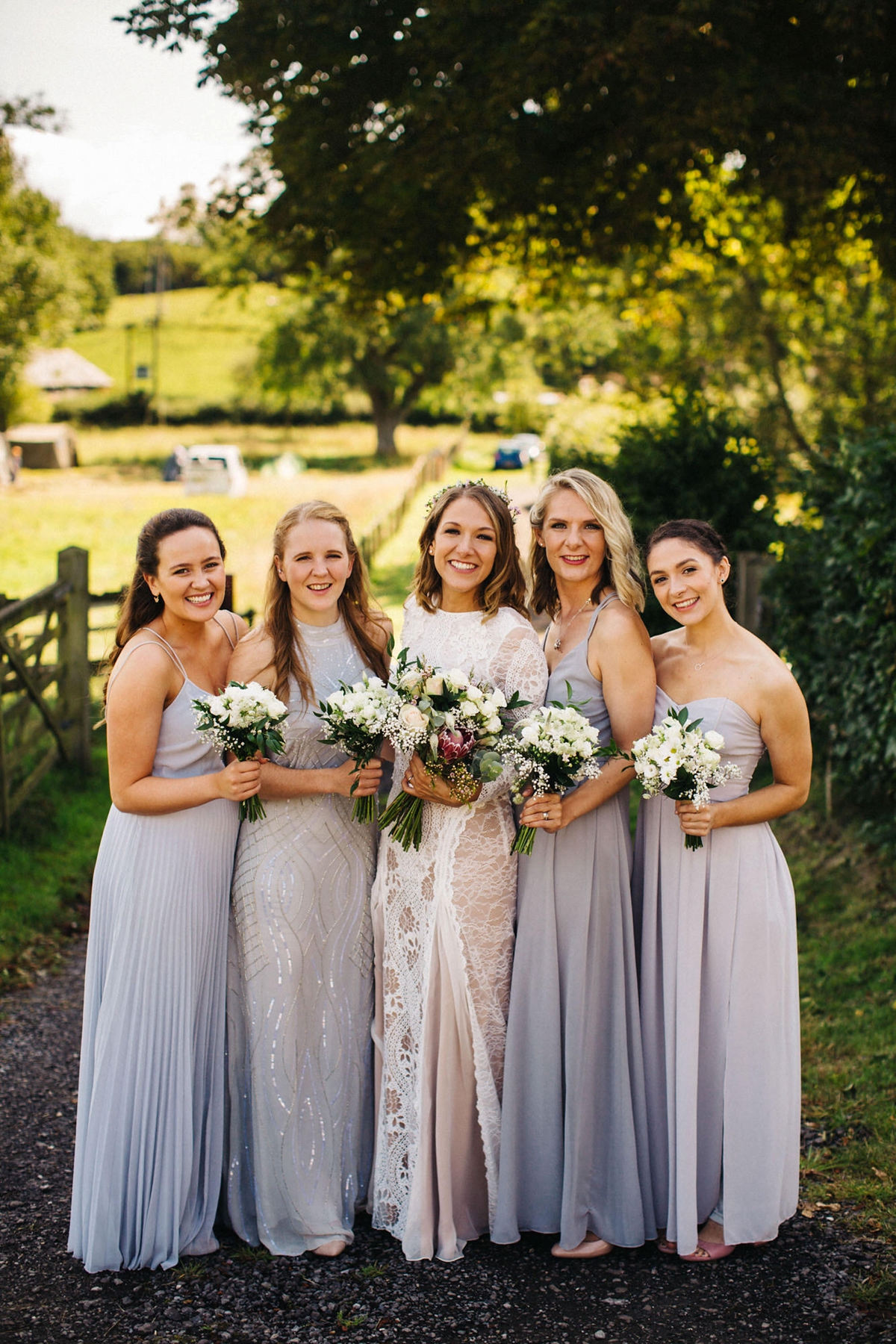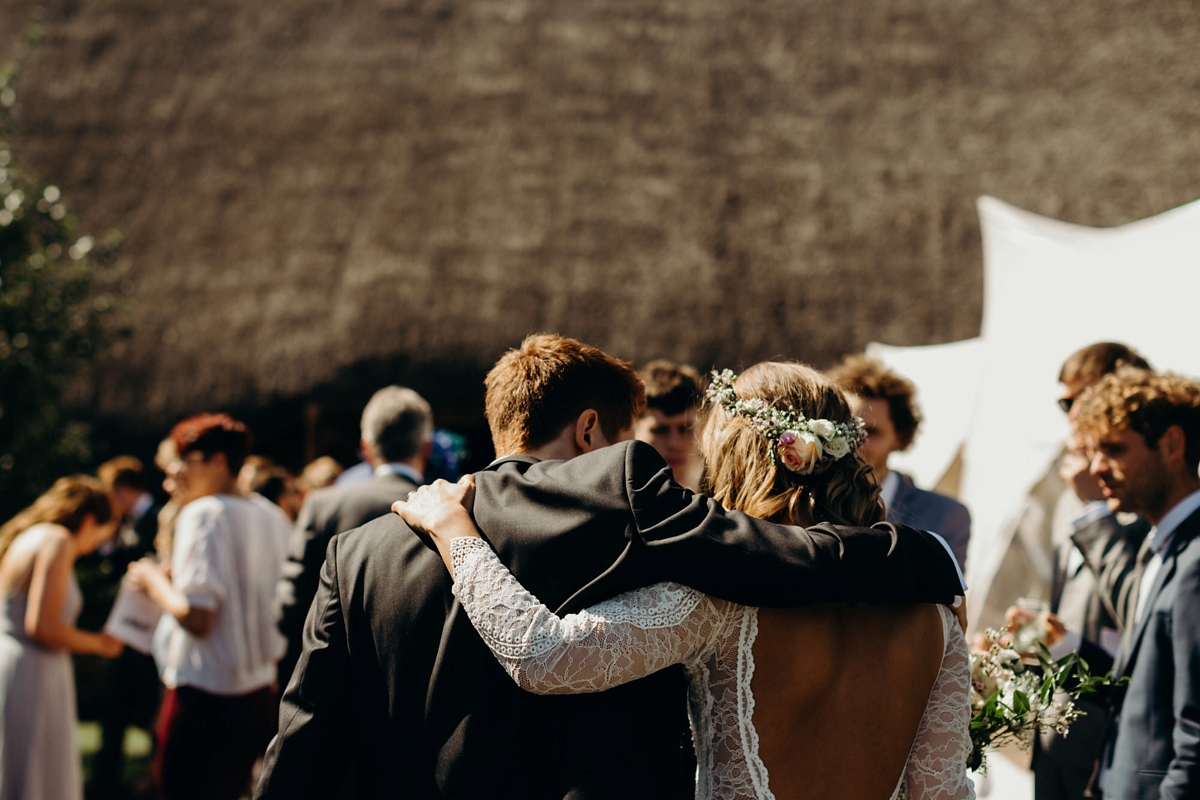 This gorgeous venue is the barn and garden of Clem's mum's neighbours. They kindly allowed access for the whole wedding week, giving the couple plenty of time to dress it so beautifully. Over to Clem for details about how they put together this relaxed look.
"We were incredibly lucky with our venue, a gorgeous barn owned by my mum and step-dad's neighbour. They offered us free reign of their barn for the wedding week, a generous offer we didn't think twice about accepting."
As soon as the weather allowed, the newly-weds and their guests returned to the barn for the party to kick off. Seated on these simple, rustic trestle tables made beautiful with the abundant eucalyptus, they enjoyed a buffet from Cashew Catering. The team also provided the tiered cheese cake, and the couple held a 'bake-off' for the evening food – such a fun idea and a great way to keep the clearer-uppers happy.
"The spread was amazing and the minimal left-overs fed the clean-up team the next day. Cashew Catering provided a gorgeous and colourful buffet for us, as well as knock-out canapés and evening cheese cake. Tim and I have been vegetarian for years, so putting on a good veggie spread was very important to us and Cashew, as well as specialising in vegetarian catering, provide mostly organic food. Everything tasted delicious and we received lots of compliments."
"The team went above and beyond, helping serve drinks and preparing the barn from day to evening. My only regret is that I had such little appetite from all the adrenaline I couldn't eat much of the humongous plate I served myself. Thankfully we'd enjoyed a fabulous food-tasting in the months before the wedding."
"It was both an exciting and massive task to be able to transform the space exactly how we wanted. It took a team of ten (at least, each day!) four days to clear the spiders, clean and decorate the space for it to be wedding-ready. My step-dad put on a well-stocked bar with friends, we hired a marquee for extra space and were able to invite everyone we wanted. We set up a campsite in a field, providing breakfast and painkillers for the campers the next morning."
"Aussie laidback style was our biggest decor inspiration. We bought large kelims and faded rugs for seating areas and as picnic blankets, rented boho furniture and textiles from Scenes and Stories and chose loose flower arrangements. The style and day were informal, just how we wanted it."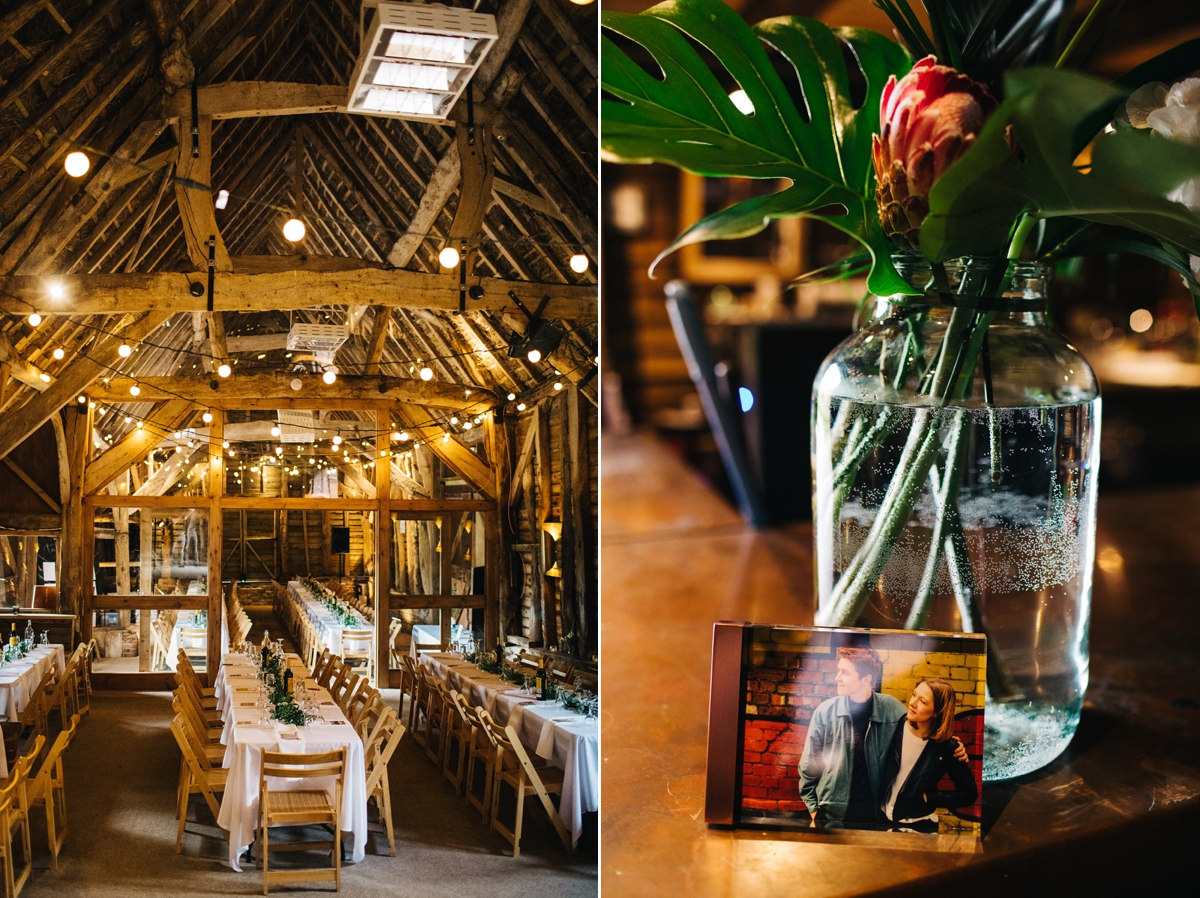 "Our venue had never been used for a wedding before and we had free rein to decorate it how we wanted, an exciting but also mammoth task. We rented all our furniture and linen, as well as some decorative pieces including a chalkboard for the table plan from Southern Furniture Hire, a local and family company."
"We bought festoon lighting and stocked up on mismatched tea lights to give the barn a warm glow in the evening. We set up a boho seating area in the marquee complete with superfluous peacock chair and had a cocktail bar (which did not last long!) surrounded by crates and flowers. We made full use of the beautiful 20 foot copper bar in the barn for an evening bar, run by my step-dad at absolutely-not-London-prices."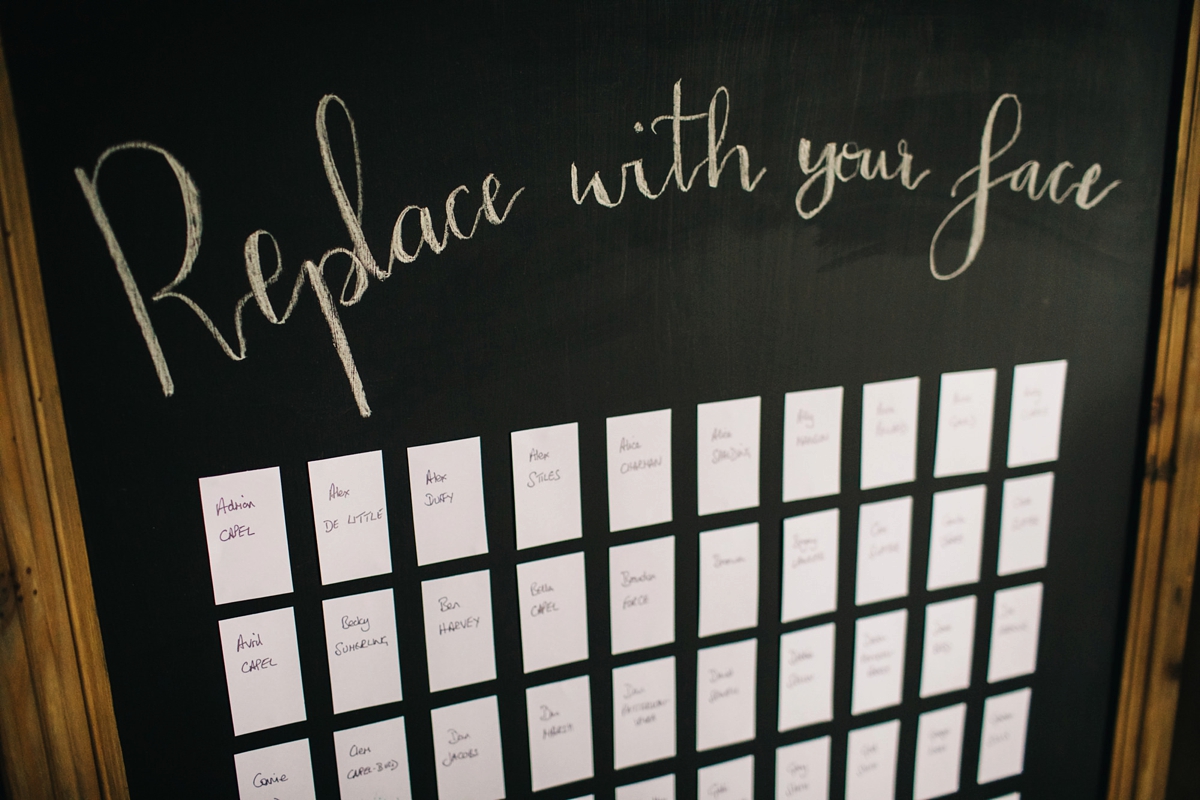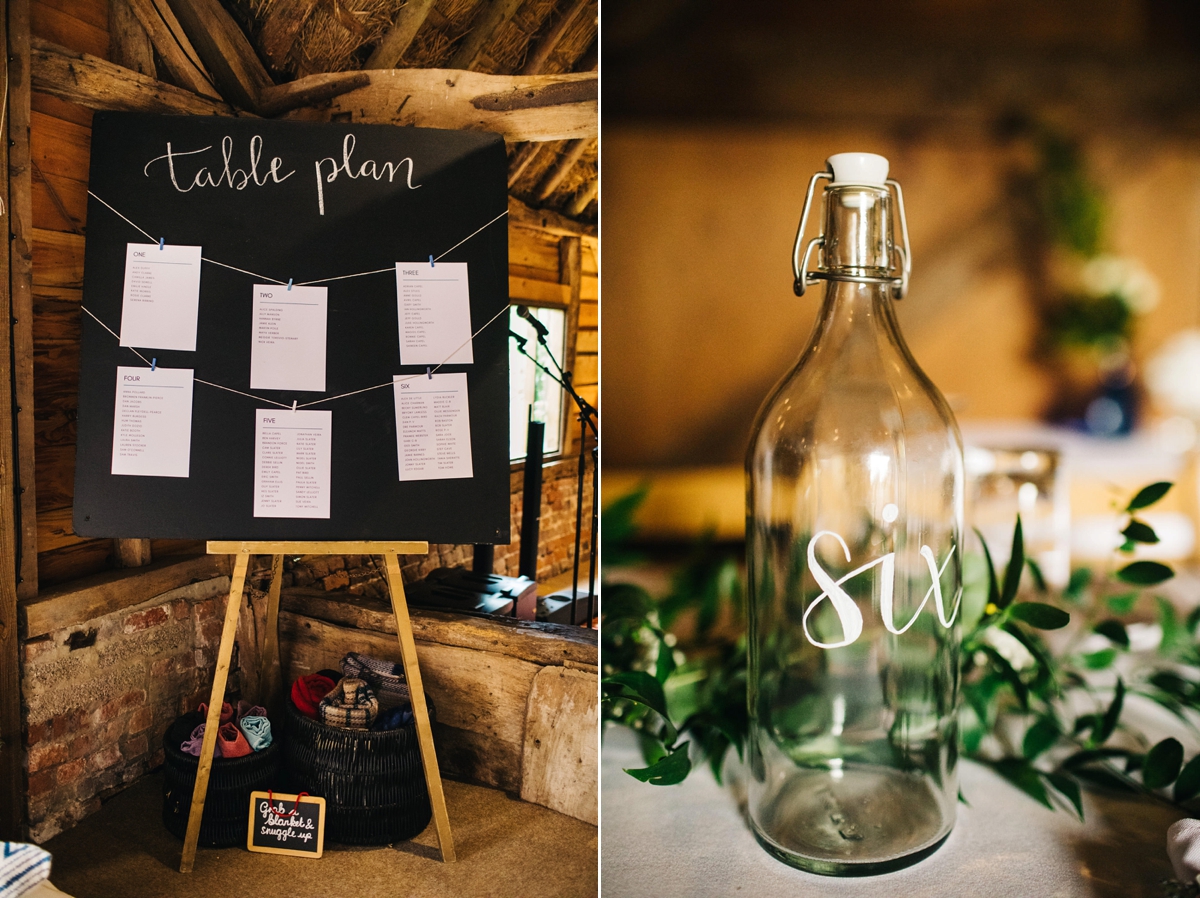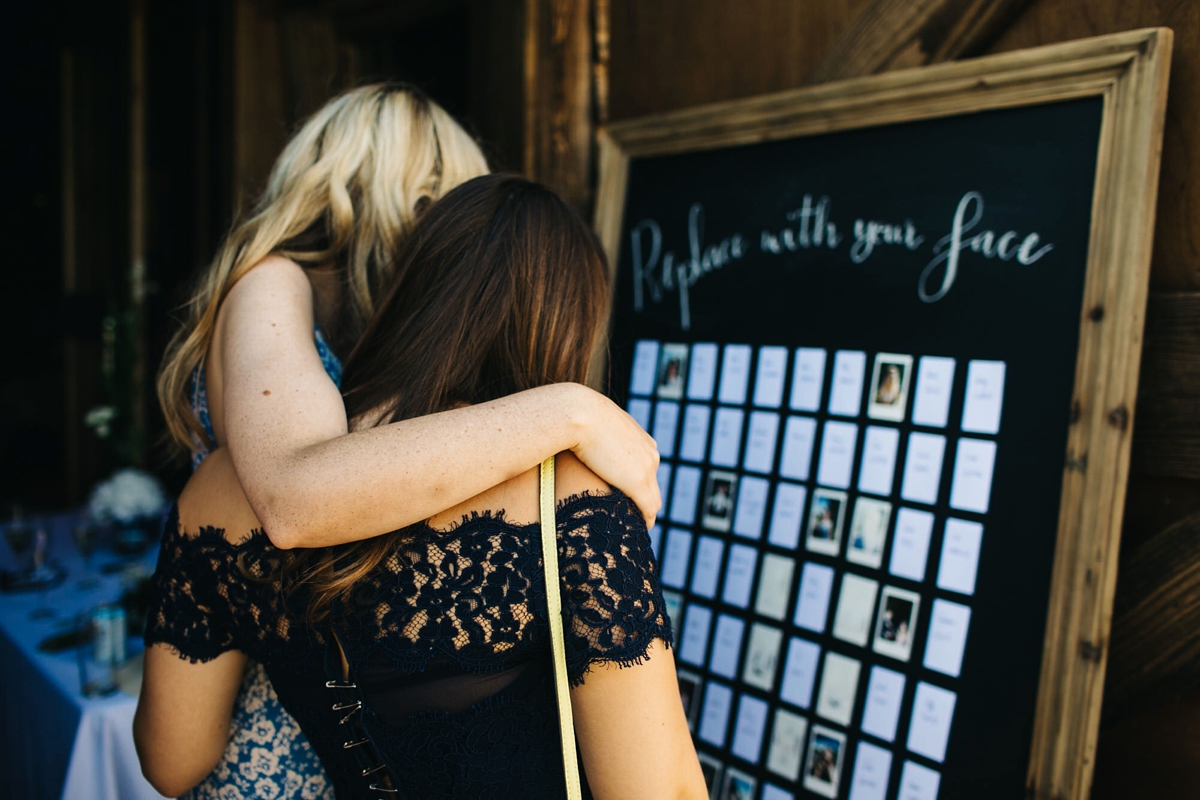 "Another idea we took from Love My Dress was to write messages to guests on postcards as place settings. People were complimentary of the thoughtful touch and many took theirs home. Although, be warned if you like this idea, it's no small task – start early!"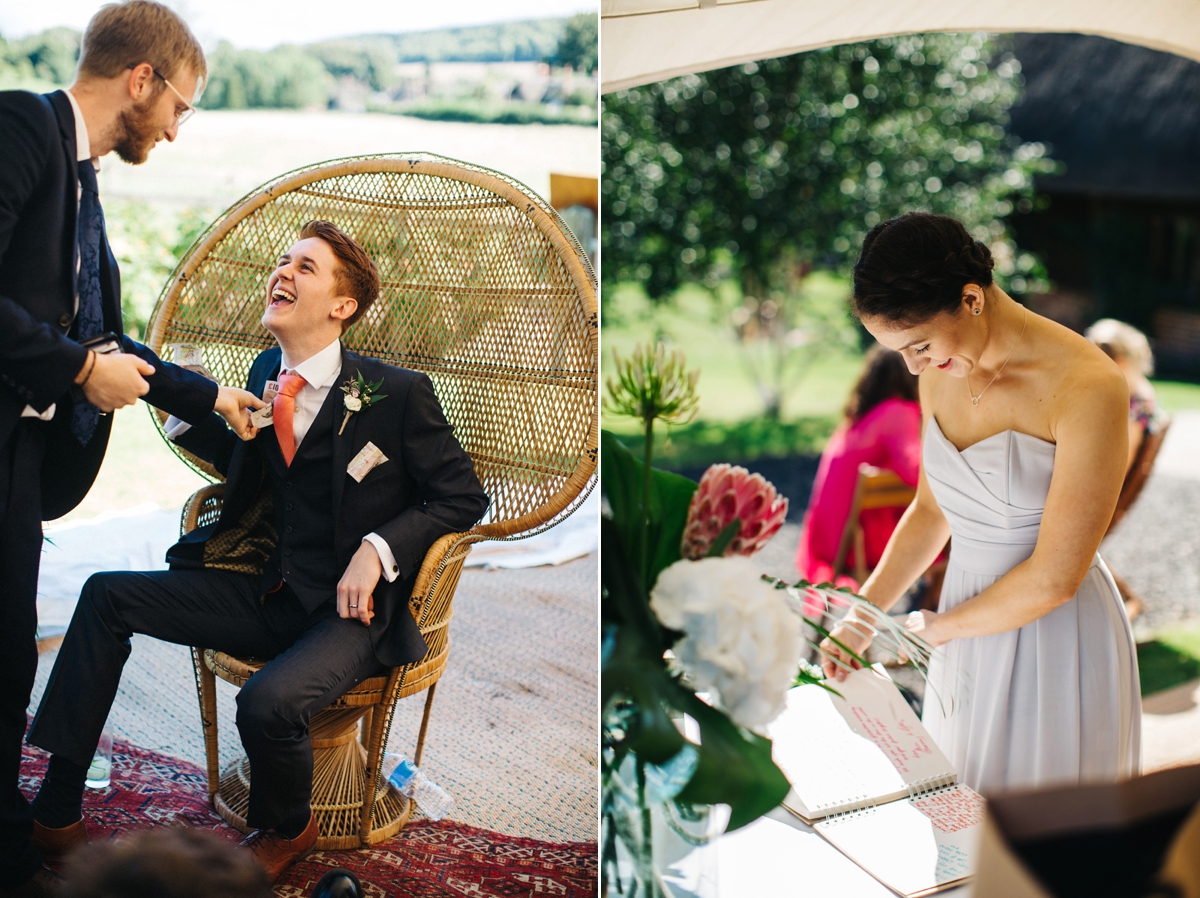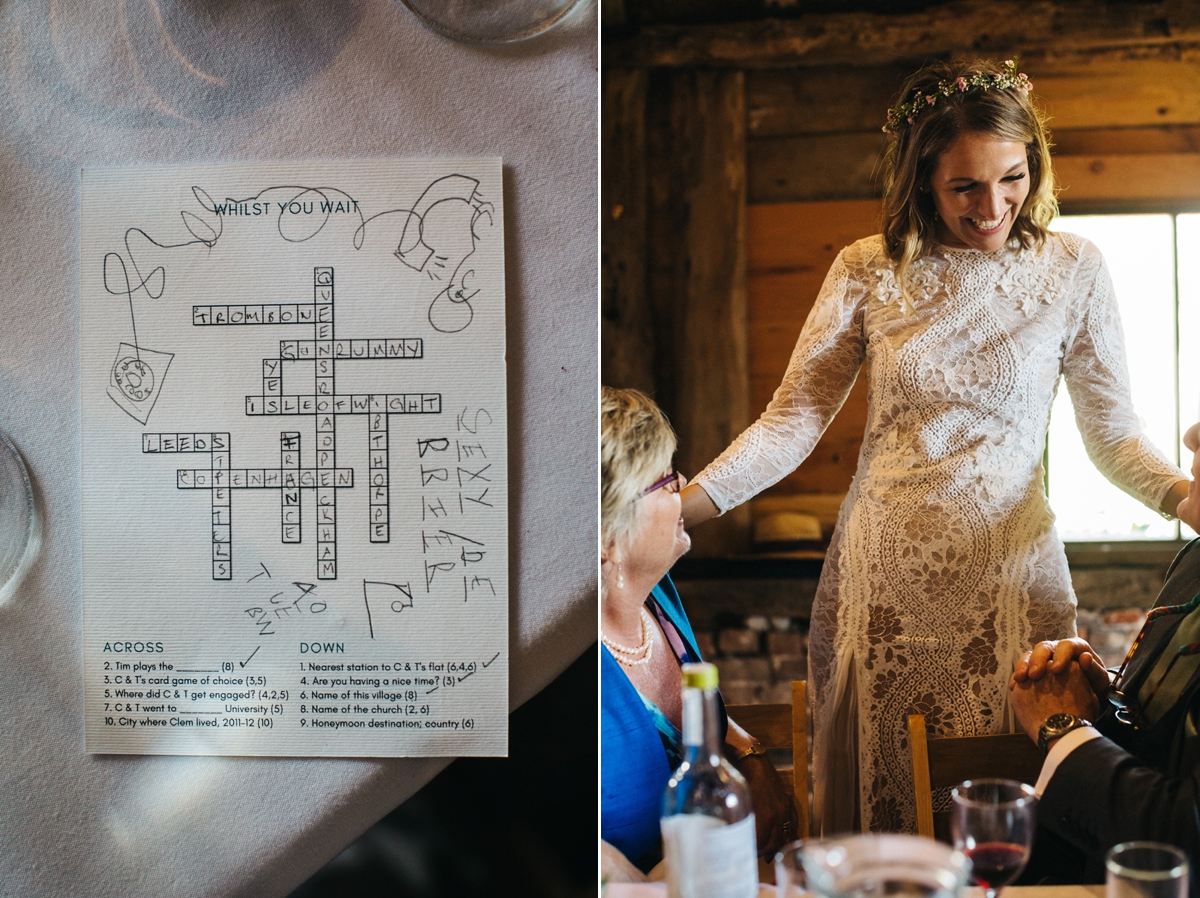 In a break from tradition, the newly-weds delayed their speeches and gave them once the evening guests had arrived. I really like this idea – one for my notebook!
"The speeches were a real highlight. We did them once our evening guests had arrived, something friends had done the year before and we had both liked and enjoyed. We started with a joint speech thanking our parents, which I proudly kicked-off with 'on behalf on my new husband and I' to applause, before Tim and I spoke individually about each other and our wedding parties."
"My mum gave an amazing speech leaving many an embarrassing story 'hanging'(!) and my maids of honour spoke with great humour and emotion. We finished with a best man speech for which the photos speak for themselves. Tim's brothers made use of letters and gifts we had sent in those awkward teenage years to great effect!"

"Our first dance was to Adele's 'Make You Feel My Love' performed by two of our close friends. We were both captivated in that moment and it felt like there was no one else there. We chose the song because it was one which always lifted our spirits during many years of our long-distance relationship. The Brass Funkeys played an evening set, which Tim's brother joined on sousaphone, to a packed, high-energy dance floor."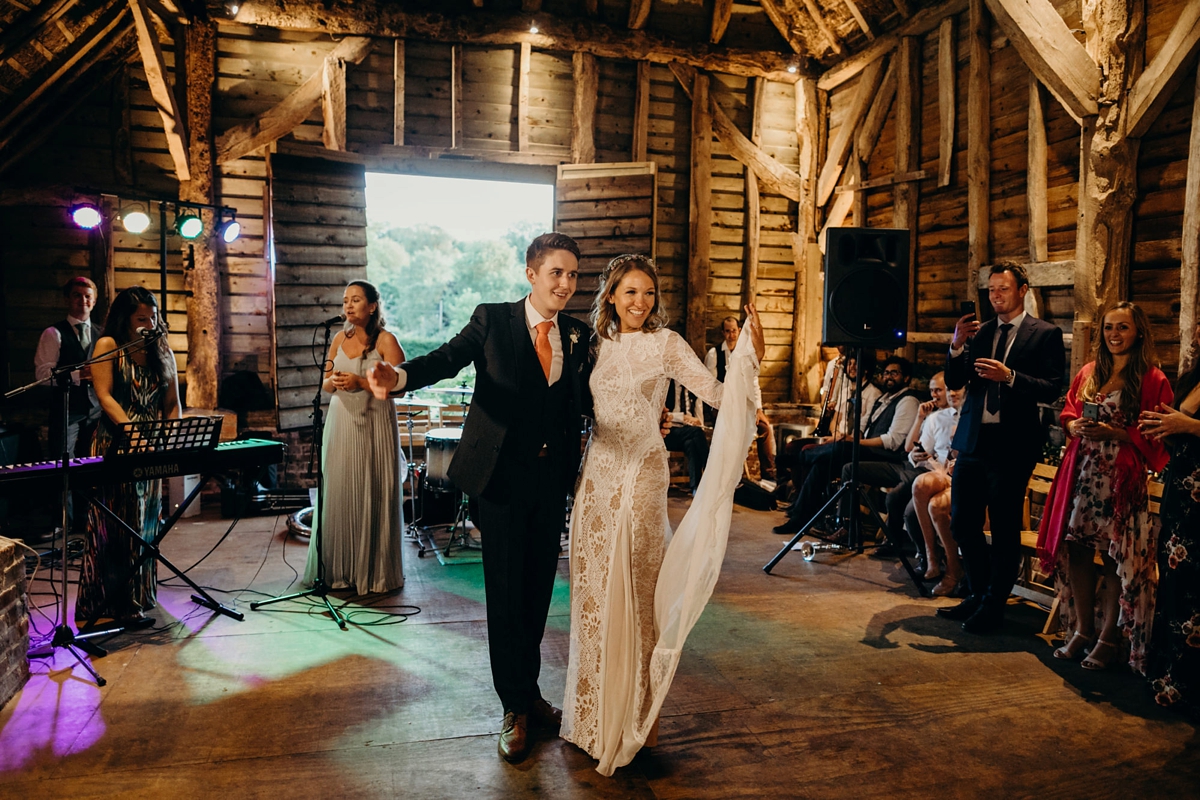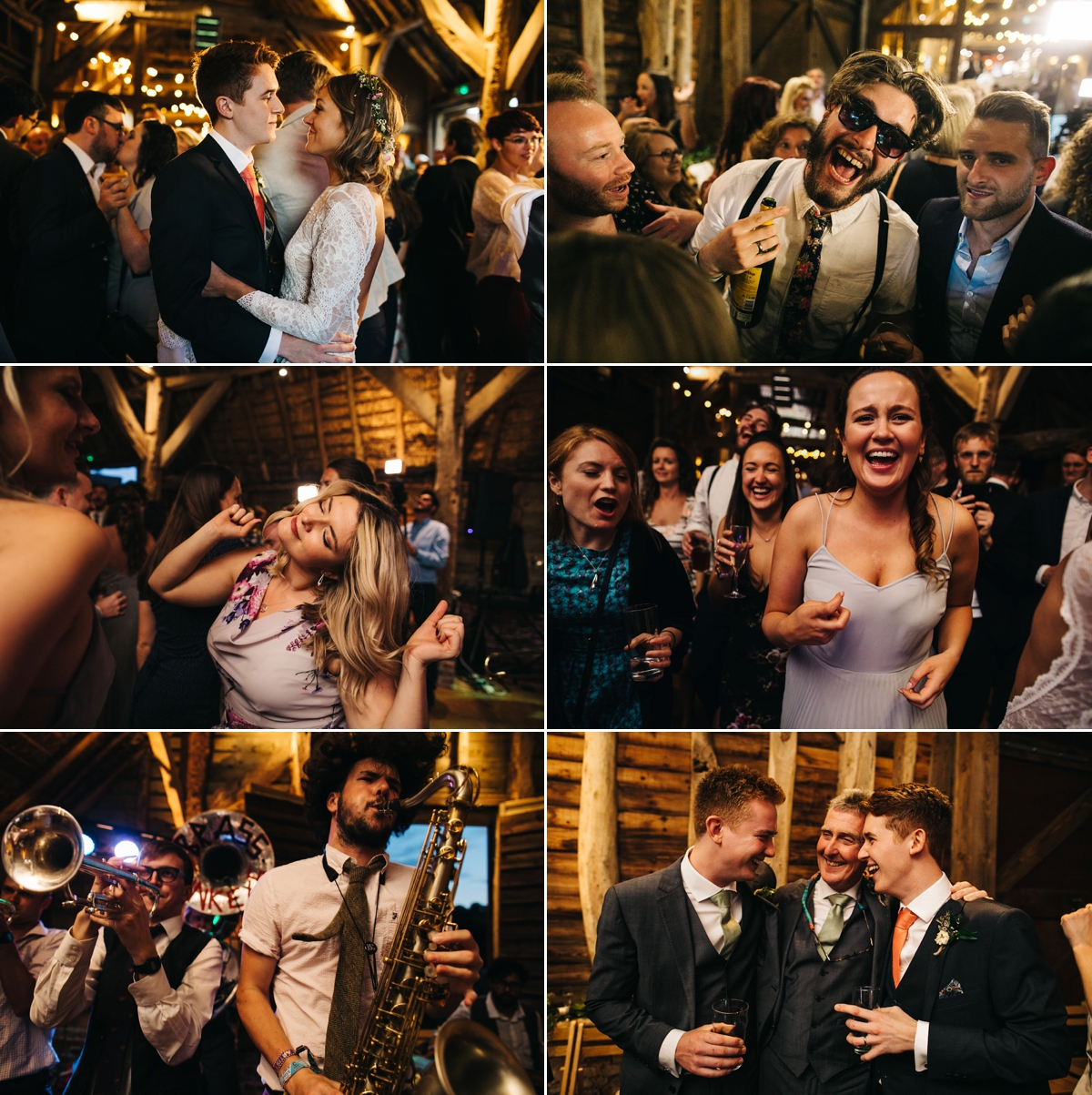 Words of Wedded Wisdom
"Have the day you want to have! We felt no tie to traditions which didn't represent us as a couple and stood our ground on decisions which, when it came to it, everyone loved."
"We managed to stick to our budget by prioritising what was and wasn't important to us and accepting offers of help from family and friends. Using connections was essential in us being able to stick to budget; music, flowers and venue being the key areas."
[AD-EXTRA]
"Finally, find a photographer whose work you love and push your budget as far as you can. The day will go so quickly and you want someone who makes you feel relaxed in front of the camera and takes photos you will adore for a lifetime."
Clem and Tim, we're so grateful that you shared your beautiful day with us, and I'm really pleased to hear that our Facebook group was so useful and supportive. As ever, thank you Richard Skins Photography for your divine work. If you've been inspired by this boho style then you can get plenty more ideas on Love My Dress here.
I hope you all have a wonderful first day of March – the date always holds a special place in my heart as it would have been my late grandma's birthday so I always associate lighter evenings, cheery yellow daffodils and fresh green leaves coming out with her and her home in the Yorkshire countryside.
Ele xx