This beautiful set of images was sent in by florist Rachel Grimes.
We hope you adore the modern bridal fashion by London based House of Ollichon and photography by the incredibly talented Joanna Brown. Rachel talks us through how these images came to be.
"I had two objectives when I started to plan and think over this shoot; I wanted a bride in trousers and I wanted to work with the one and only Joanna Brown, a fantastic Brighton based photographer. I have been following Joanna on Instagram for so long – she is a master of light and darkness in photographs and her eye for detail, and an unusual shot, are second to none."
Images by Joanna Brown
 "Jo was the first industry fellow I approached and to have her on board gave me the confidence to pursue what was my virgin shoot. Jo combined digital with film during the day. Every time a Polaroid was taken we all huddled round to watch as the image appeared slowly on the paper. Film is not dead! Long live film.""As for the trousers – this proved more difficult than I had expected! After many searches online, I finally came acrossHouse of Ollichon via Cat's (of the Most Curious Wedding Fair) Instagram feed. Here is a brand that is wholly feminine, fierce and elegant; I fell in love! Everyone involved in the shoot wanted a pair of the soft satin bloomer trousers they provided!"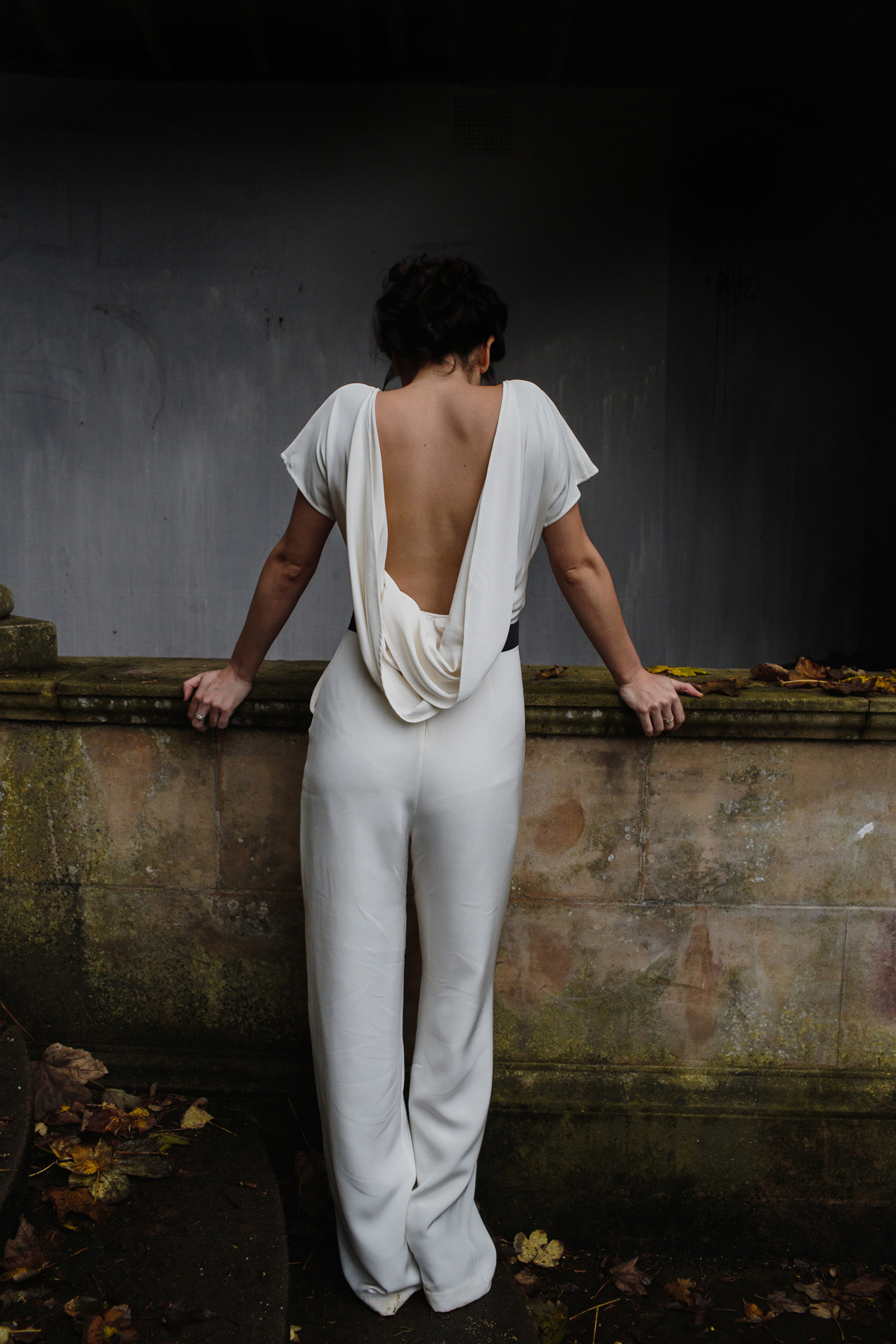 "They sit perfectly in the waist and flow generously to the floor – comfy and elegant. And the crepe de chine jumpsuit epitomised 1930's glamour whilst being utterly modern. The jumpsuit truly is a modern classic."
"I had a few ideas for flowers, but knew that above all, I wanted the colours and textures to be a beautiful homage to the new season. Autumn is such a bountiful time in nature; some flowers are still in bloom, others have gone to seed, producing new colours and shapes to play with.
Foliage is turning and changing colour every hour every day, which can introduce a different hue to a fixed palette."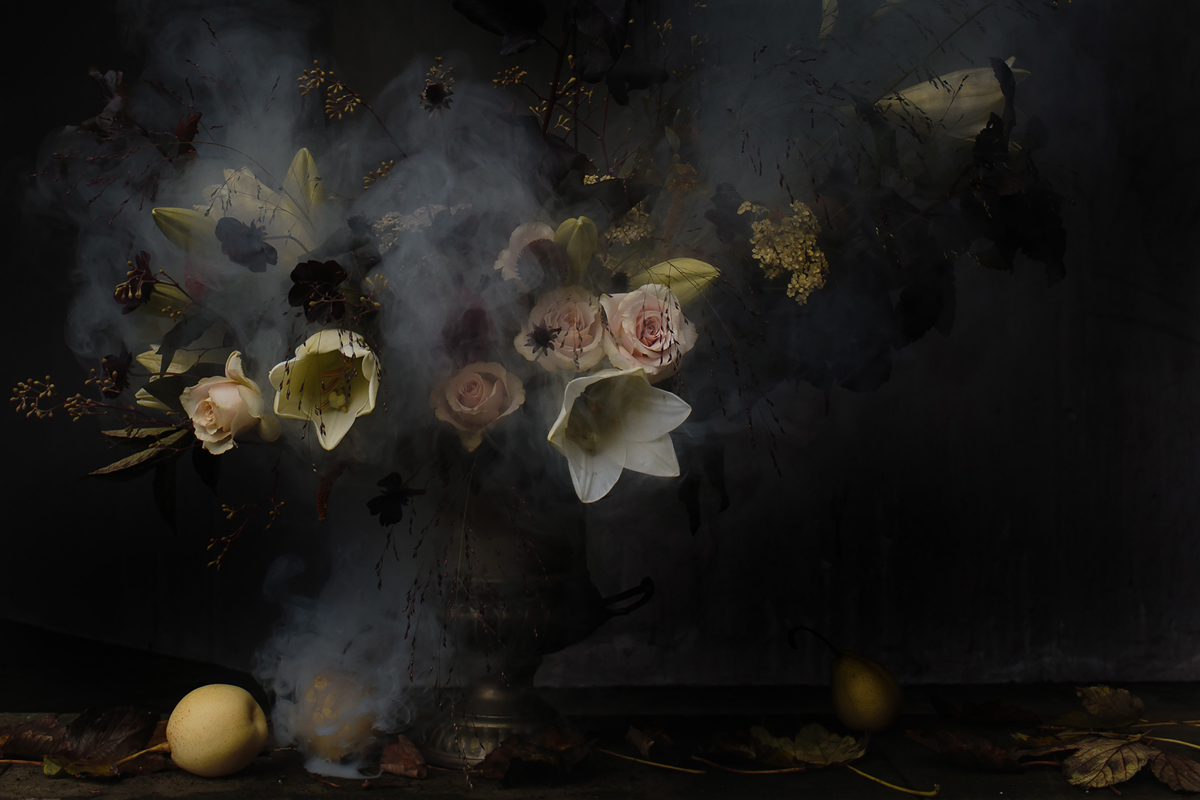 "I had to plan ahead with ordering, but the bouquet and urn arrangement were made complete with British grown foliage and flowers supplied by the Real Flower Company.
This is a wonderful company with an extensive cut flower and foliage farm in Hampshire and links with an ethical and sustainable farm in Kenya."
"I cannot speak of them highly enough. In the end, the palette was nude, claret, cream, black and white. Hot pink and turning trailing foliage added unexpected pops of colour.
I loved creating these arrangements and particularly enjoyed how the arrangements worked so well against the sandstone of the Italian Gardens."
"I know so little about makeup so made a search for a local makeup artist and came across Lucy Meyer. Lucy has travelled extensively across Europe working backstage for huge international fashion houses, I could not believe that we were living in the same, sleepy seaside town and that she wanted to take part in the shoot!"
"Lucy created two distinct looks for the day; a strong lip to accompany the jumpsuit, and a softer, rose pink shimmer to work with the mystical vibe of the trousers and cropped top. Lucy also introduced me to the work of Tim Walker (I'm ashamed that I had not seen his photographs before this) and was a massive fan of the smoke bombs I had bought for the day."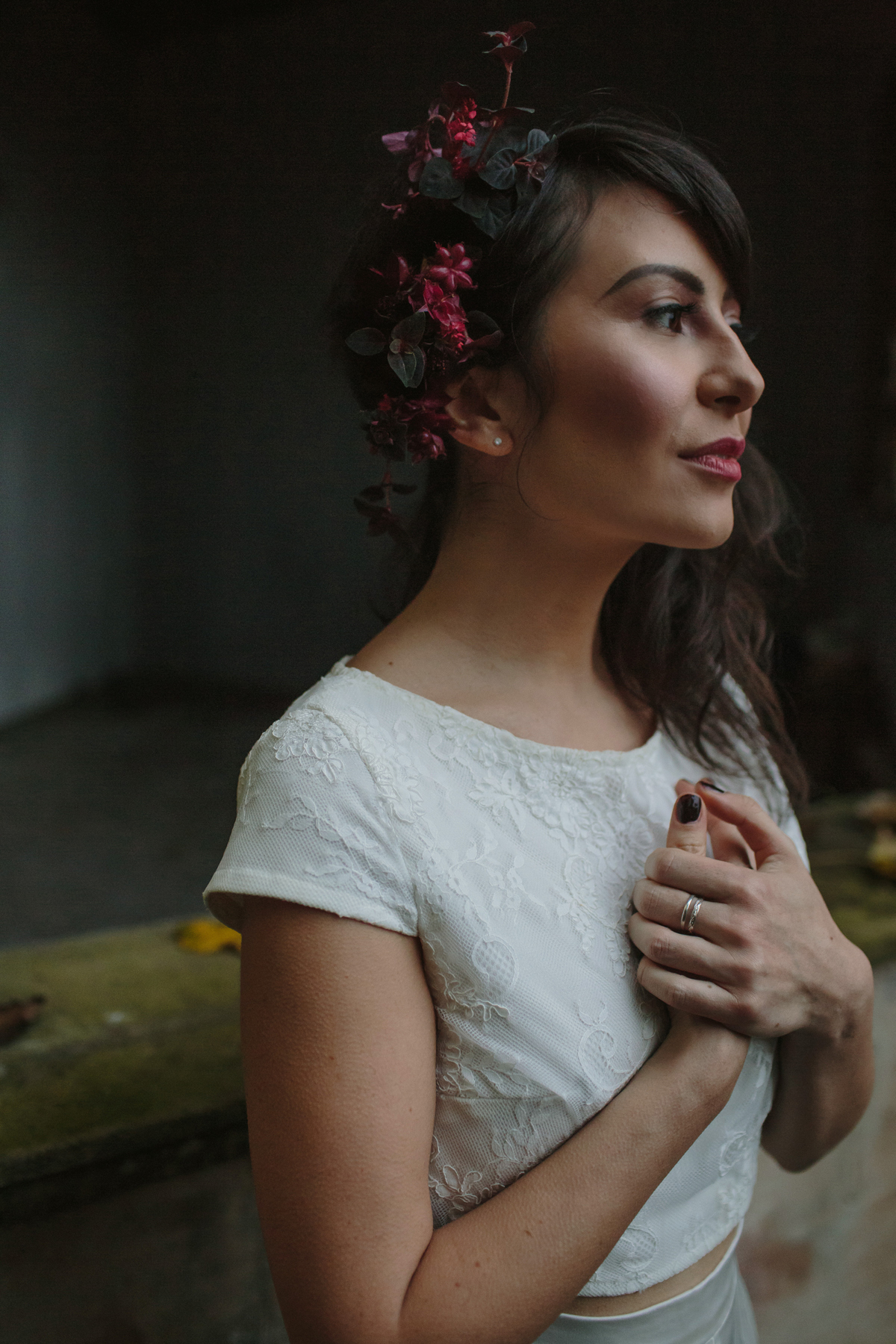 "Our model, Vanessa, is an old University friend of mine. She is a little fizzing ball of fun, laughter and silliness! It was so wonderful to work with another wonderful woman and she was so receptive to our direction.
In her real life, Vanessa is a musician, composing film music and working on her folk ensemble too."
"The finishing touch for me was the more-than-floor-length veil, generously supplied by Seni Dey. Such a simple accessory added the mystery and peculiar romanticism I wanted as part of the trouser and cropped top ensemble."
"The day was magical. There was only a hint of rain, the leaves had shed some of their dying leaves, and the damp air had bought out the colours in the sandstone around the amphitheatre in the gardens. Our bride exuded strength and fierce femininity, but was full of grace."
"The long shimmering lines of the jumpsuit and trousers flowed elegantly to the floor and black seed heads and opening Roses added detail. To work with women who are masters of their craft to produce images of a woman embodying strength, joy and a little mystery was the greatest privilege and full of delight."