I don't know about you lovelies but I'm really looking forward to this weekend! It's going to be one of complete relaxation; catching up on the blog posts I've not had chance to read this week, eating good food and plenty of chilled vibes. And what better to way to kick things off than with a gorgeous new real wedding right here on Love My Dress.
Art Director Anais and Advertising Manager Will tied the knot at the Town Hall Hotel and Apartments in London's Bethnal Green on Sunday 8th July 2017, followed by a reception at Sager + Wilde. Anais chose a beautifully simple floor-length box cut gown by Charlie Brear for the ceremony, which she then switched up for the after-party to a wide-leg V-neck jumpsuit.
"I didn't plan to but I ended up buying two outfits from the Charlie Brear showroom in Queen's Park at a sample sale – a very simple strapless sheath dress, and my dream jumpsuit! I liked the simplicity of the dress, the unusual cut and the neckline, which really stood out to me. I'd known when I first started looking that I wanted something extremely minimal, comfortable and easy to wear. The dress was the first I tried on and I ended up coming back to another sale to get it six months later, despite trying on many more (in more than one continent!)."
Images by The Curries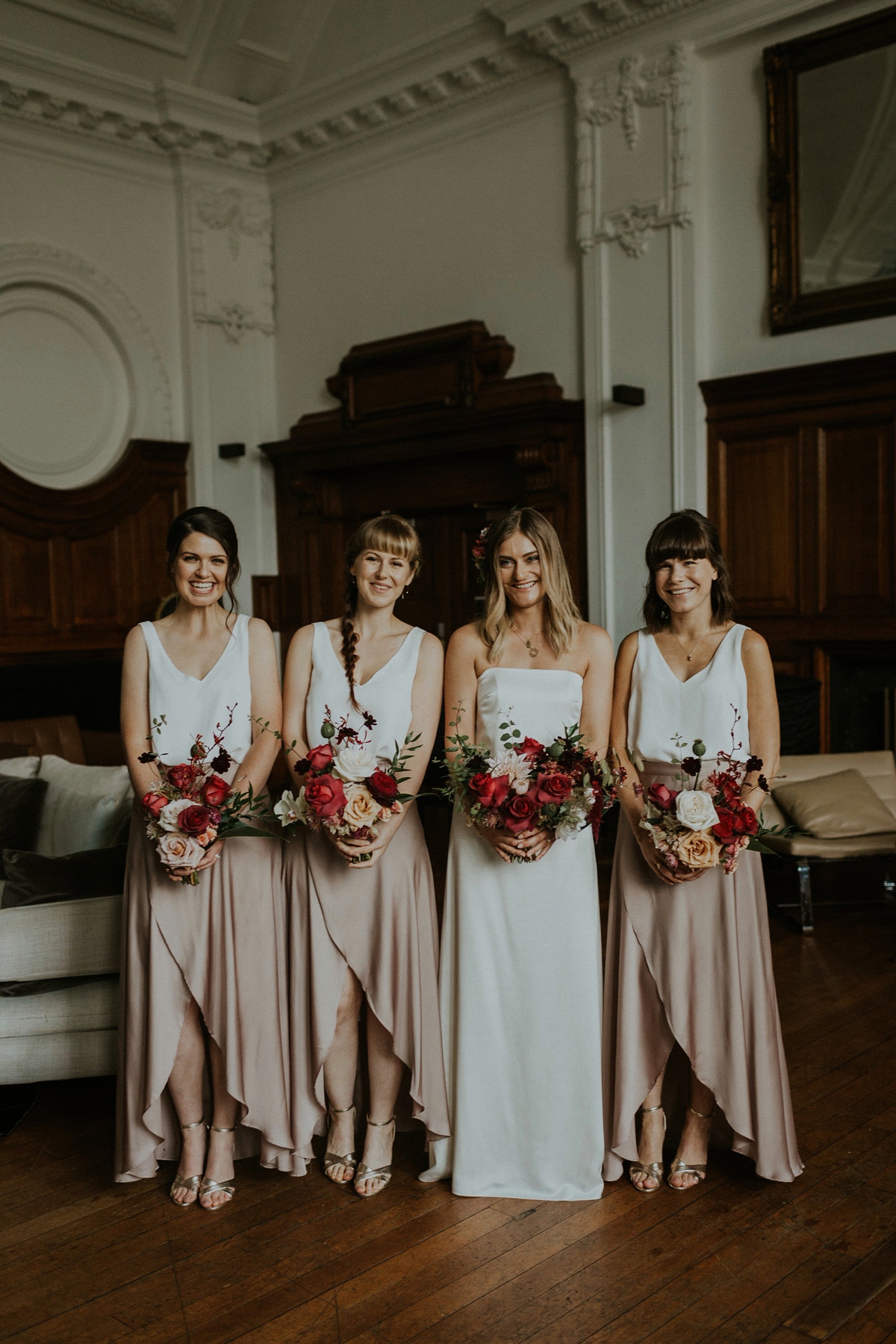 "We wanted to keep our day low-key and intimate with only out nearest and dearest friends and family present, so we were on the lookout for a venue with the right amount of space that wouldn't feel either too empty or too cramped with our 60 guests – which is a much more difficult task than we first imagined! We loved the idea of getting married in an urban environment that reflects our lifestyles. We live very centrally in London so a convenient, stylish and relaxed location seemed like the right thing for us to do.""When it came to planning the wedding I'm lucky enough to work closely with the wedding planning team at Union & Co. Alison and Carrie are stylish, talented and experienced wedding planners so it really was a no-brainer for us to have them on hand to help with any silly questions we had whilst wedding planning, and they took care of the details and coordination on the day."
"I chose to keep it casual and not have a veil, especially as I'd bought two outfits. I opted instead for a floral hair slide provided by our florist Palais. I bought a pair of velvet green Miu Miu platforms for my bridal footwear. Again, it was love at first sight and I had comfort in mind. Platforms are great if you want extra height but feel uncomfortable spending a night in heels."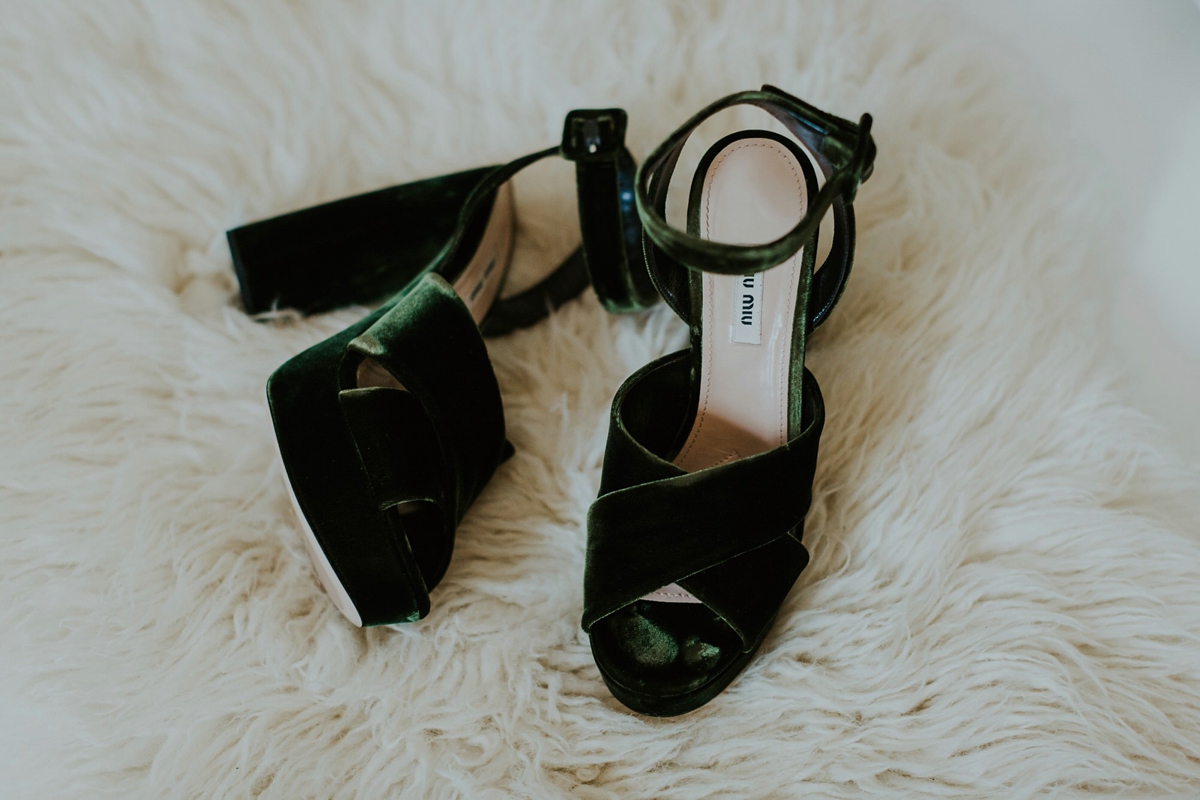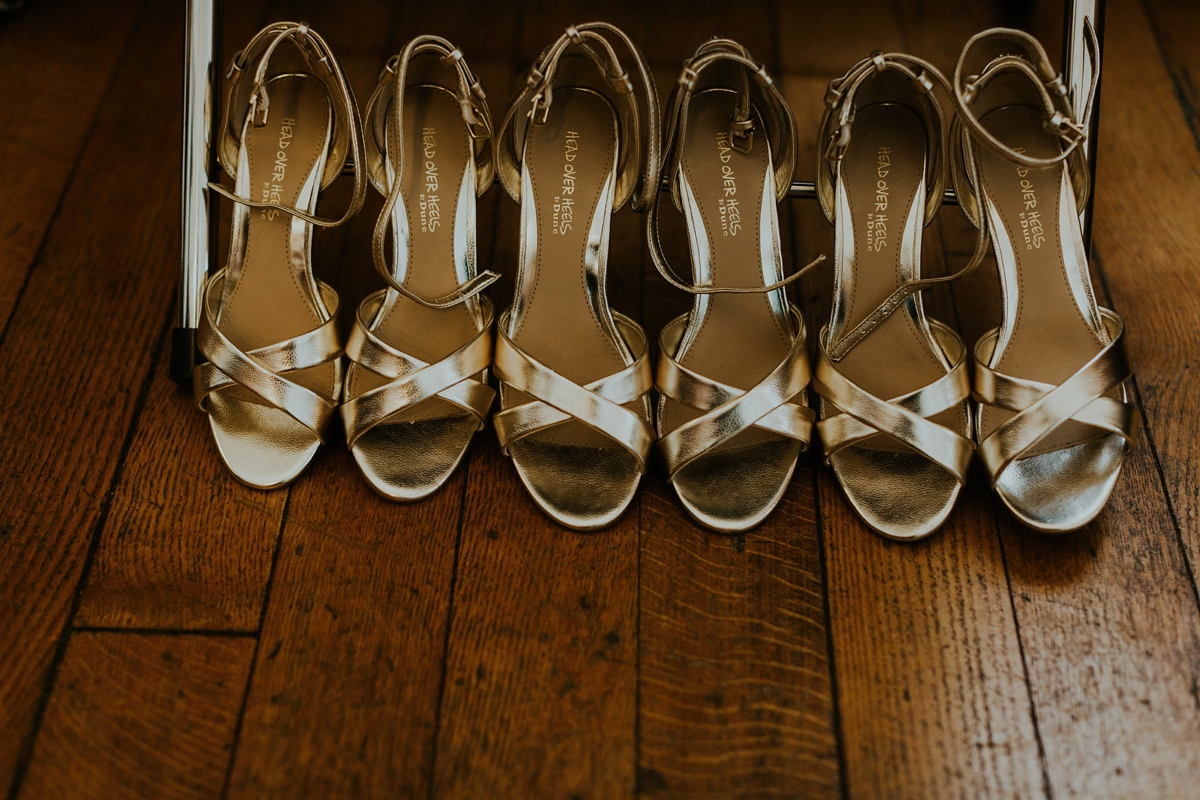 Most of Anais's jewellery was from either her existing jewellery collection or from members of the family.
"A lot of the jewellery I wore I already had though I did buy earrings Wwake at Net-A-Porter. My necklace was from Myia Bonner and I had it re-dipped for the occasion. My other necklace was a gift as a child from Maltese family and I wear it every day. I also wore my grandmother's gold bracelet as it was important to me to have a piece of her memory with me."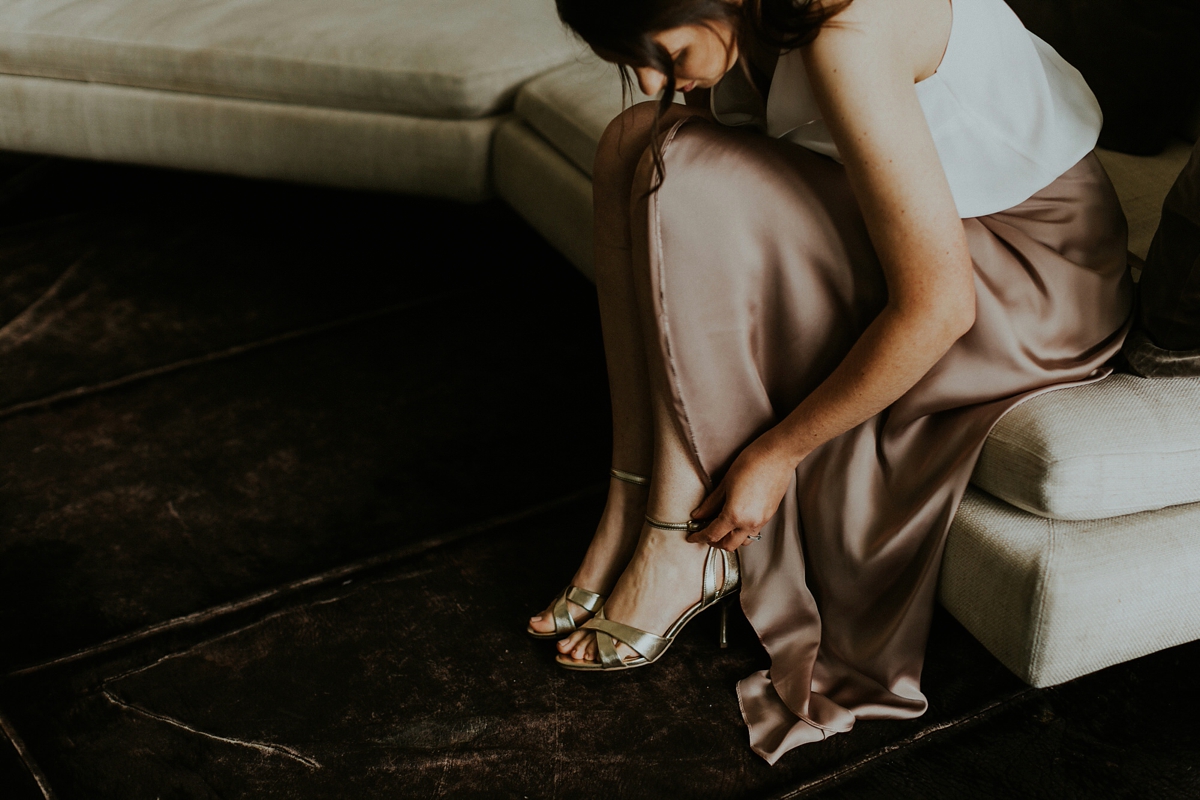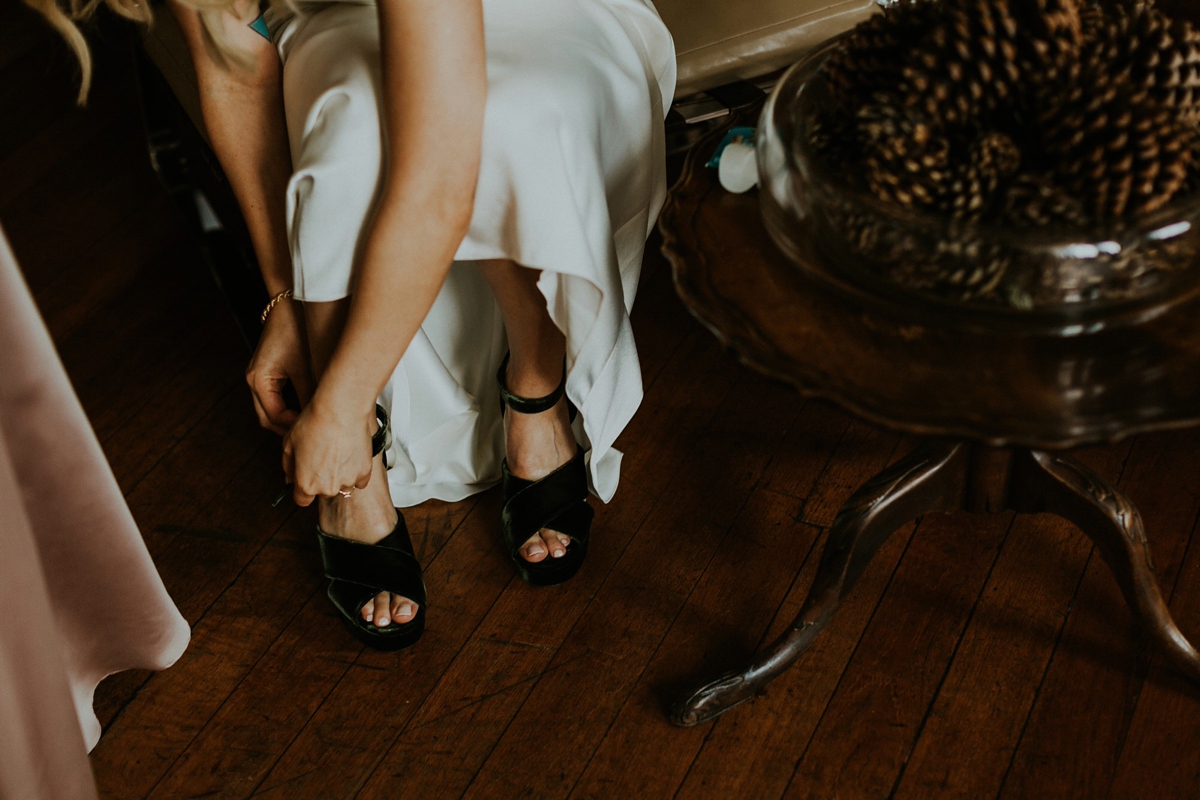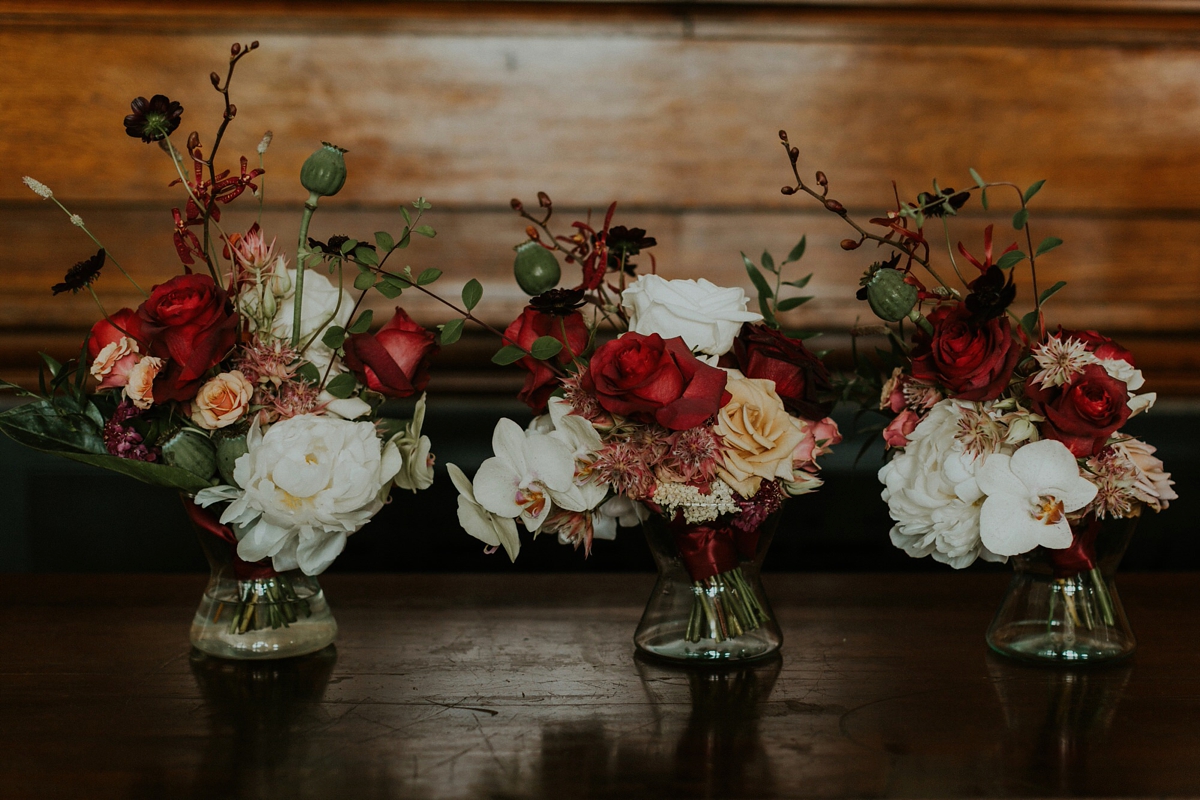 Keeping up in the style stakes, the groom chose the navy Soho suit from Paul Smith on Floral Street, Covent Garden, and wore it with a green grenadine tie from Drake's, Crockett and Jones shoes and Pantherella socks. The groomsmen wore suits hired from Moss Bros with ties from Charles Tyrwhitt and wore their own shoes.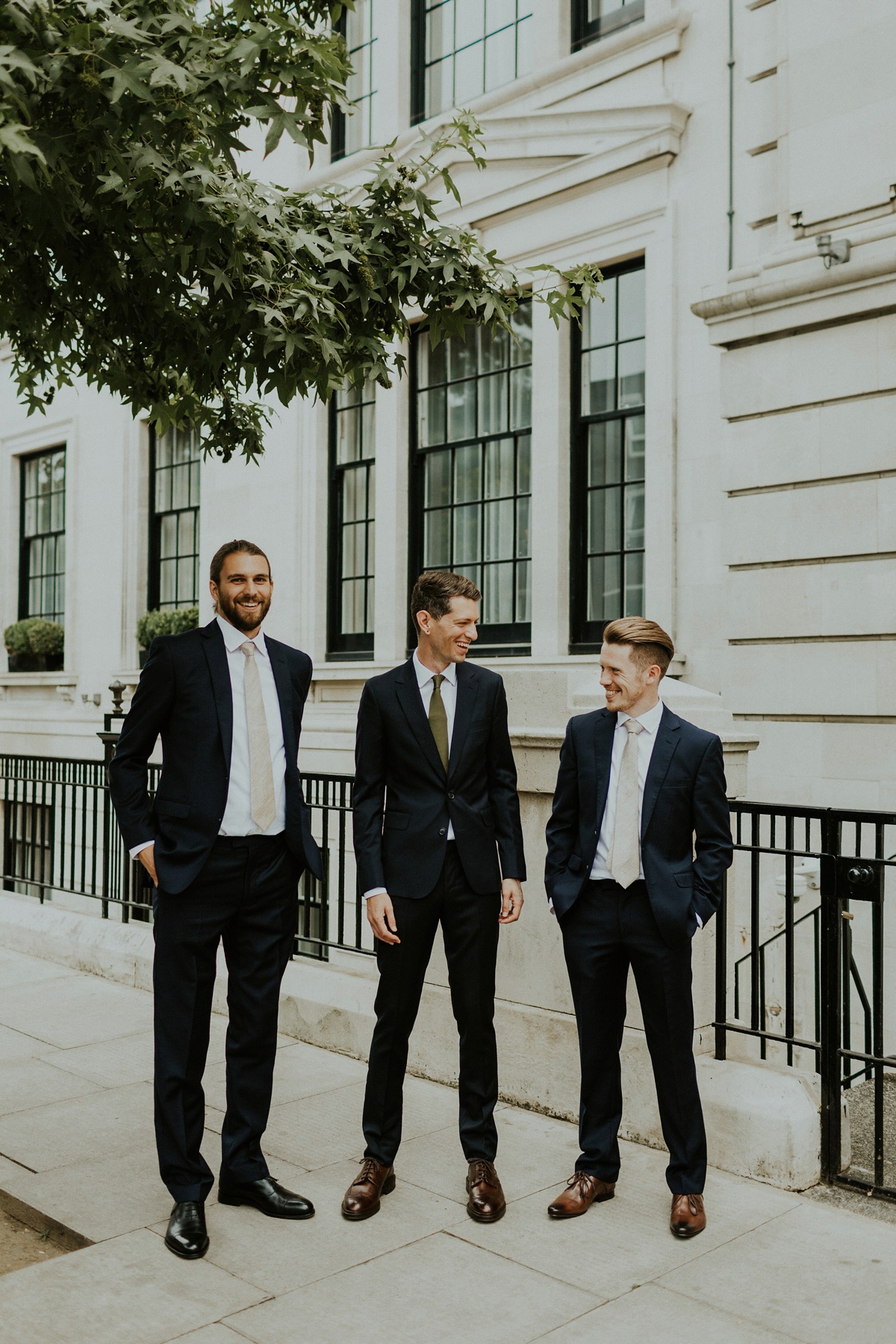 "The Town Hall Hotel has lovely character and atmosphere, and it's mixture of modern interiors with the original 1930's designs really resonated with both of our styles. Sager + Wilde was the perfect choice for our intimate celebration. We're big fans of their food and it's located across the road from our ceremony venue, with just the right capacity. We loved everything about this venue; the food, the wines, and the whole look and feel of the place was just right for what we had in mind."
The couple's engagement story really is a gorgeous one and also one they'll be able to share with the grandchildren one day!
"We met whilst living in Norwich. We'd both attended art school there and had mutual friends, so it was only a matter of time before our paths crossed. We were on holiday in Sardinia last July when we got engaged. We had just celebrated our 7th anniversary as a couple and Will took me out on a boat at the crack of dawn."
"We stopped the boat off the shore of one of our favourite spots on the island, a beach we have great memories of being at together as we've been there three summers in a row! We had the anchor down taking in the remarkable views on the quiet sea when Will popped the question with a beautiful ring he'd had made. We knew we wanted a summer wedding so we started planning a few weeks after we got home, and a few months after that we set the date."
The bridal party carried gorgeous red blooms within their bouquets made by London-based florist Palais, broken up with soft pink flowers and green foliage.
"Palais are so creative. We wanted a green, tropical, botanical look but also wanted to include dramatic big blooms. Emma and I went back and forth with ideas and species selection and came up with the perfect creative response to my difficult brief. She and Union & Co decorated the reception tables beautifully and the bouquet and ceremony arrangement was incredible!"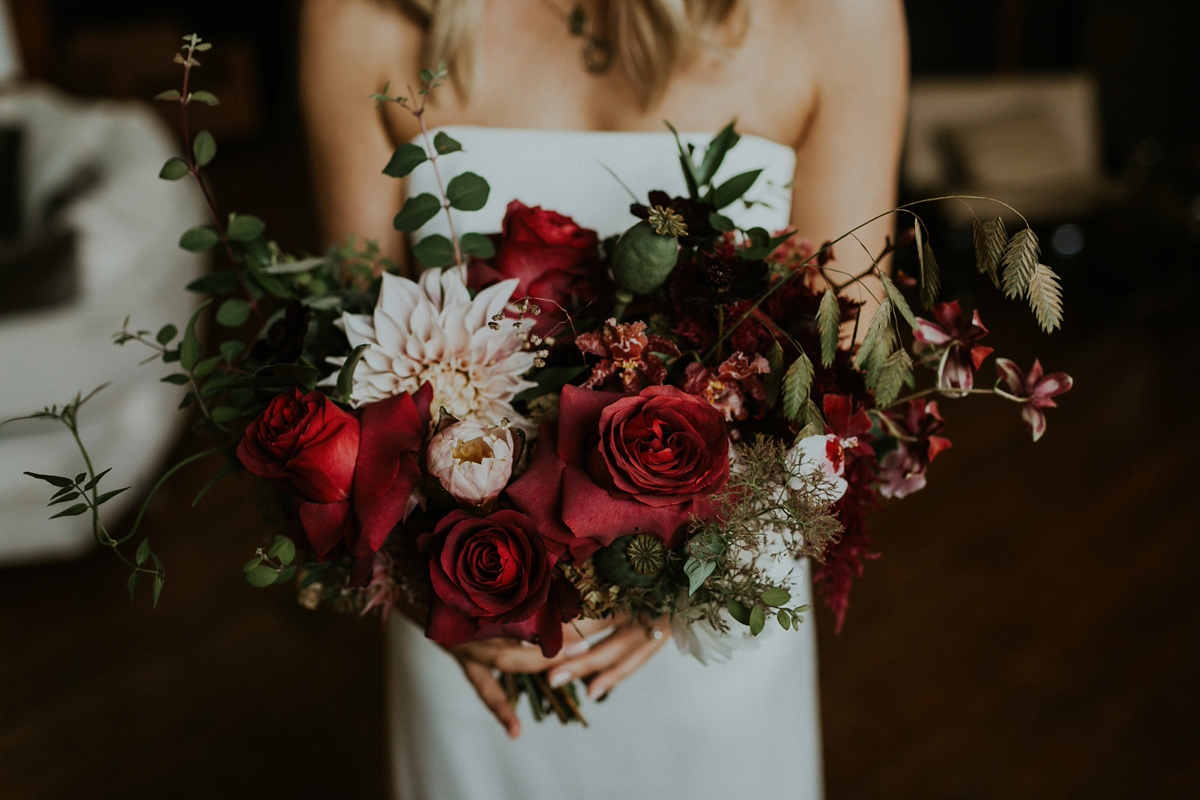 "We were really inspired by the textures and colours of old Hollywood glamour, but wanted to keep everything quite fresh and modern too. I got particularly hung up on finding a shade of '80% red, not too coral and definitely not pink' for the flowers, but I couldn't seem to describe what I meant or find examples anywhere! Luckily Palais were fantastic at interpreting my mad ramblings and sourcing the perfect flowers. I liked the idea of red as it's usually more of a winter wedding colour, so hopefully looked a bit unexpected."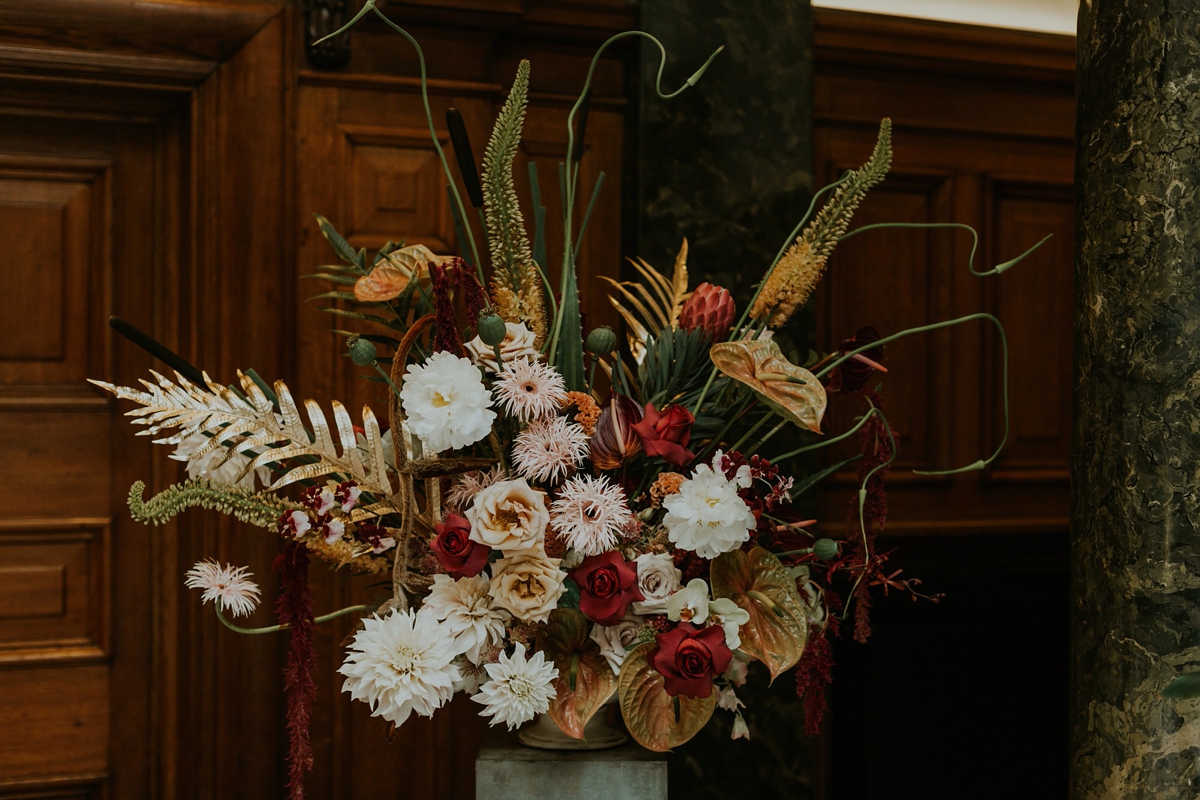 With every detail taken care of, the bridesmaids were not overlooked. Anais chose the same look for each of her besties; a silky blush pink skirt paired with a white V-neck sleeveless cami top each.
"I bought the outfits from ASOS with the help of the girls. I pieced them together over time as it was important to get something that all my bridesmaids felt comfortable enough to wear, but also worked within the theme. We definitely didn't get it right first time but we got there in the end. Their outfits are now one of my favourite details of the day.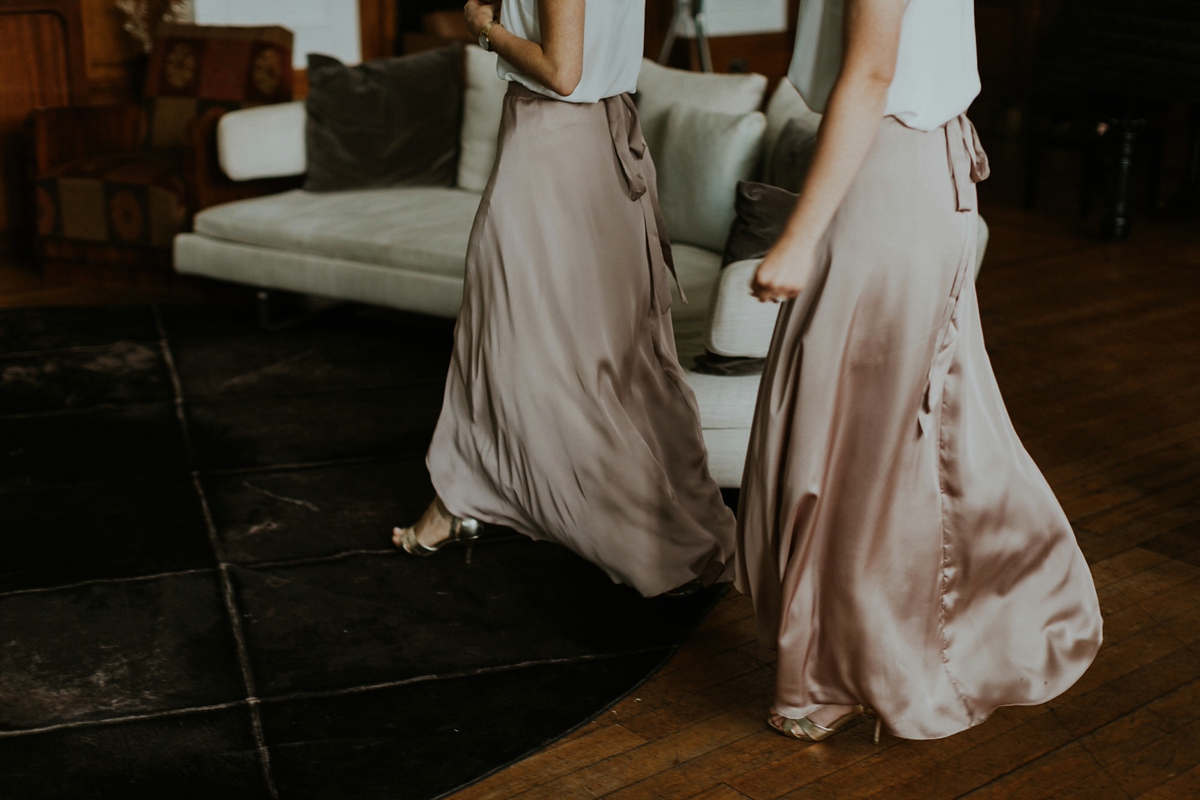 "Their shoes, also from ASOS, were so pretty, classic, and in the perfect metallic gold colour, and were also low enough for them to walk comfortably in. Instead of hair accessories, I had their hair styled uniquely to flatter each bridesmaid."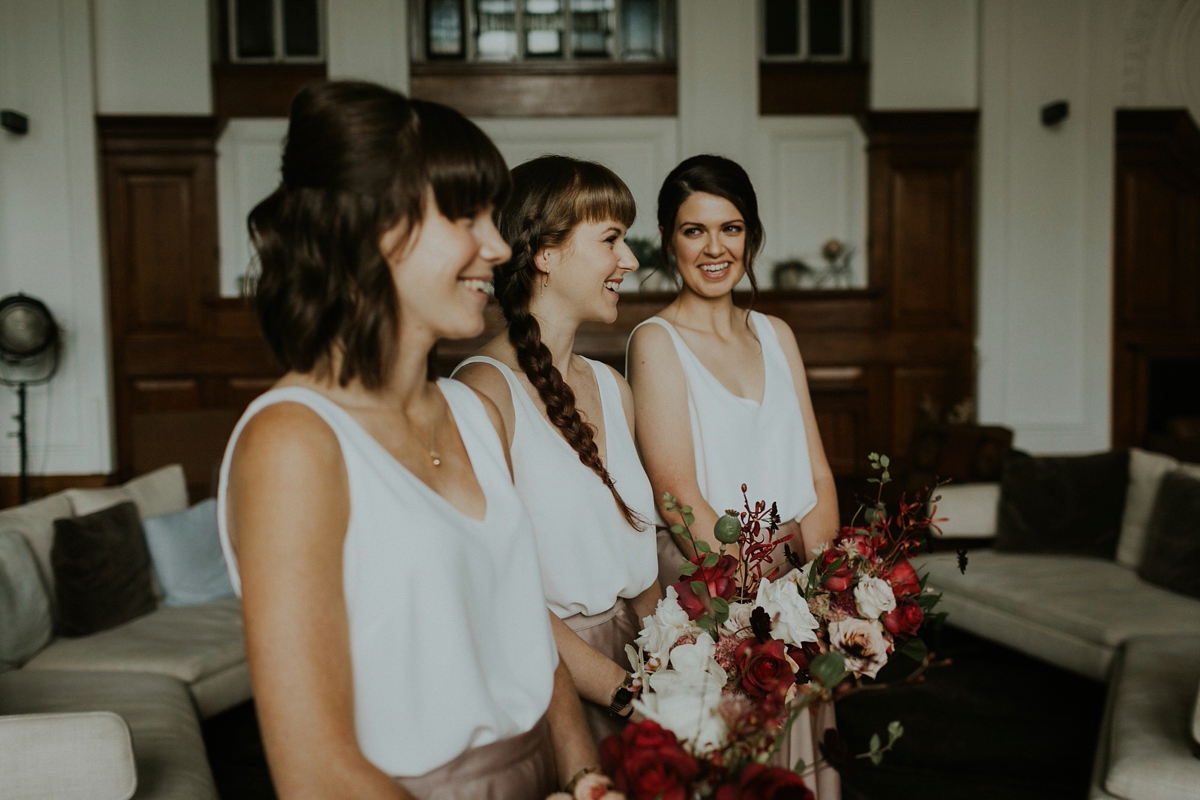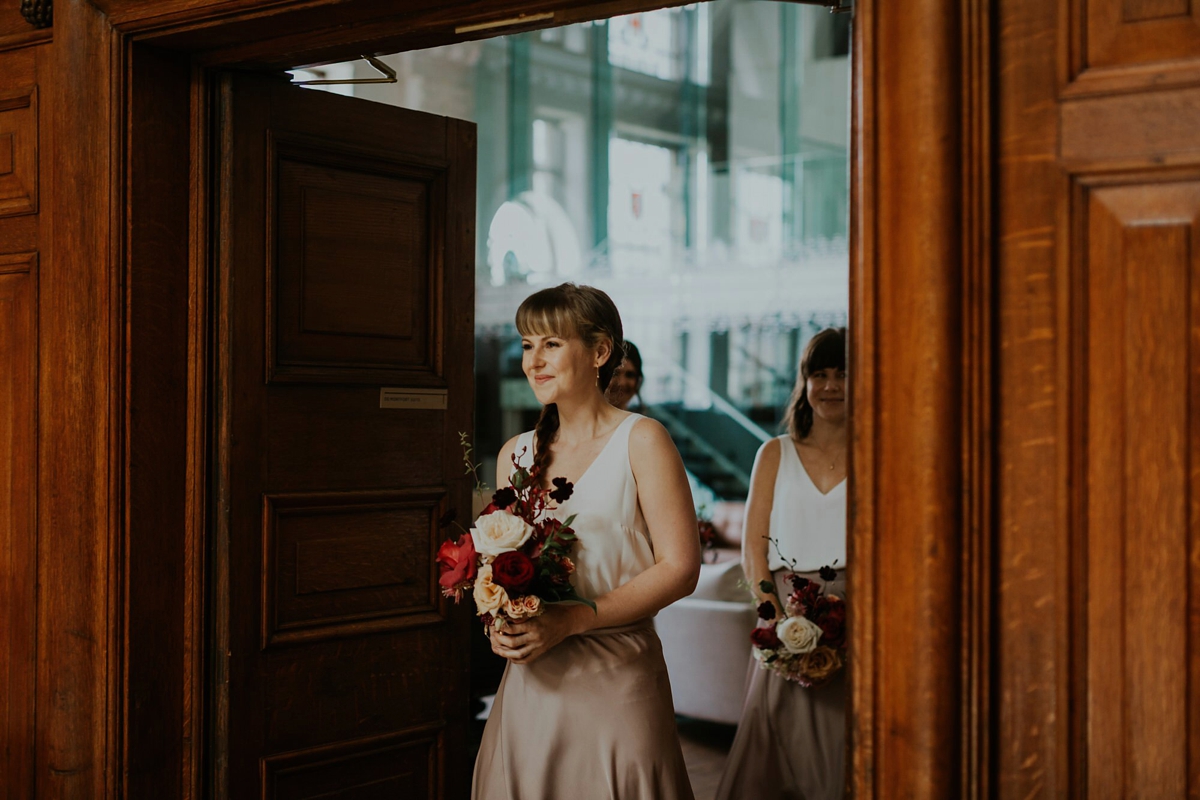 Although a non-religious ceremony, Anais still held onto some wedding traditions including having her dad walk her down the aisle.
"He gave me some calming wise words before our descent and made sure I didn't bolt towards Will at my usual stride. I think we were both proud to be there together. We walked down the aisle to Holocene by Bon Iver, which is a really memorable song for Will and I. It was such a moving moment, I was just so shocked to see all my beautiful friends and family looking back at me, then I saw my groom Will grinning from ear to ear. It was just an incredible moment I couldn't have imagined. I felt privileged and very lucky."
"We decided to use scripted vows for the ceremony as we didn't want to prolong it, add pressure and potentially make mistakes! We saved all the emotion for the speeches which were all very heartfelt, tear-jerking and entertaining! Rich, our best man, delivered a really funny speech and in really good taste. The jokes about Wills 'hangry' moments were spot on. People laughed and cried their way through all of the speeches."
"We chose Bei Hennef by D H Lawrence for our reading, which was read beautifully by our friend Amy. We interpret it as a poem about those wonderful moments when you're not distracted and busy with life's commitments and little troubles, and you can see with clarity just how amazing your lives are together."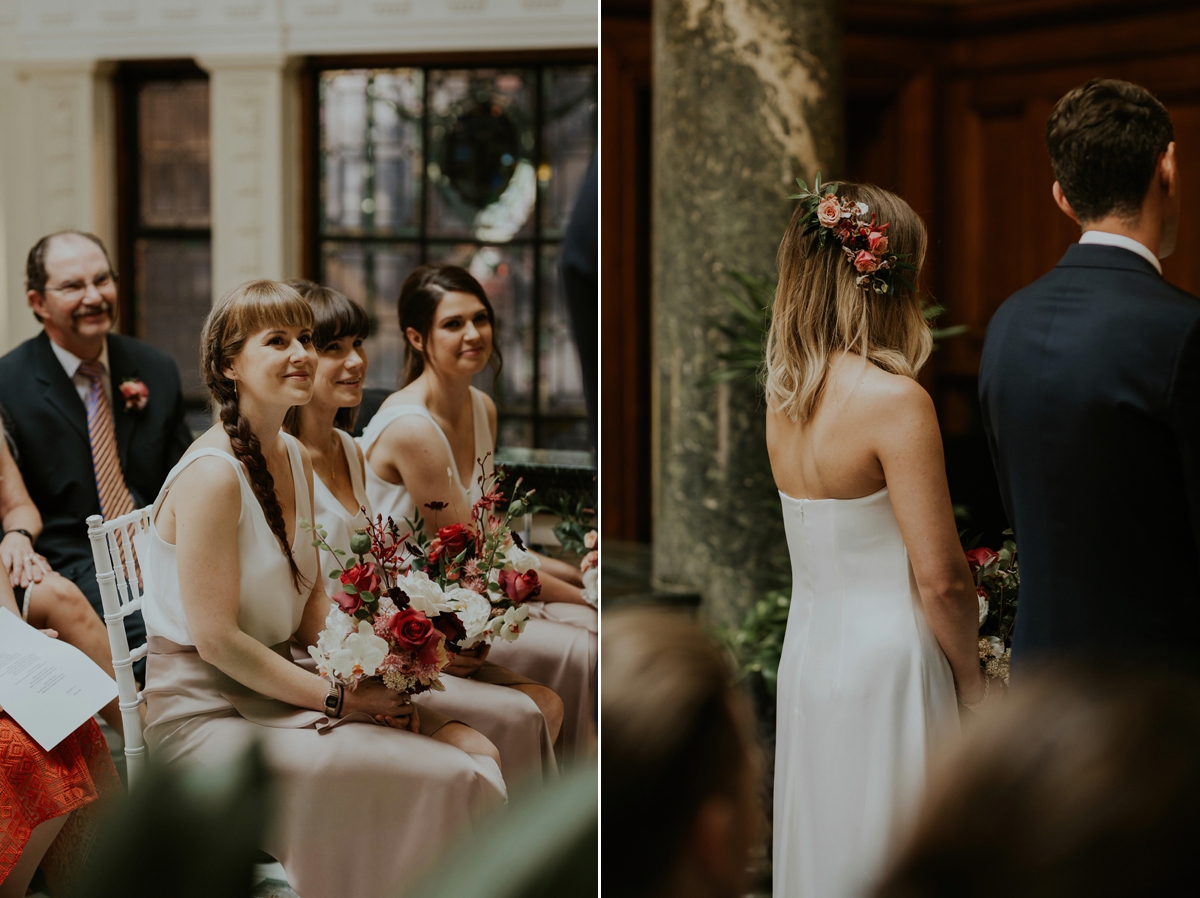 The couple's wedding rings were made in Malta at a family friends jewellers.
"Fine jewellery is an institution in Malta and it was a special detail to have part of my Maltese heritage represented in the rings. Will had the engagement ring made in Hatton Garden, as we wanted to choose the Asscher cut diamond and be a part of the design and crafting process."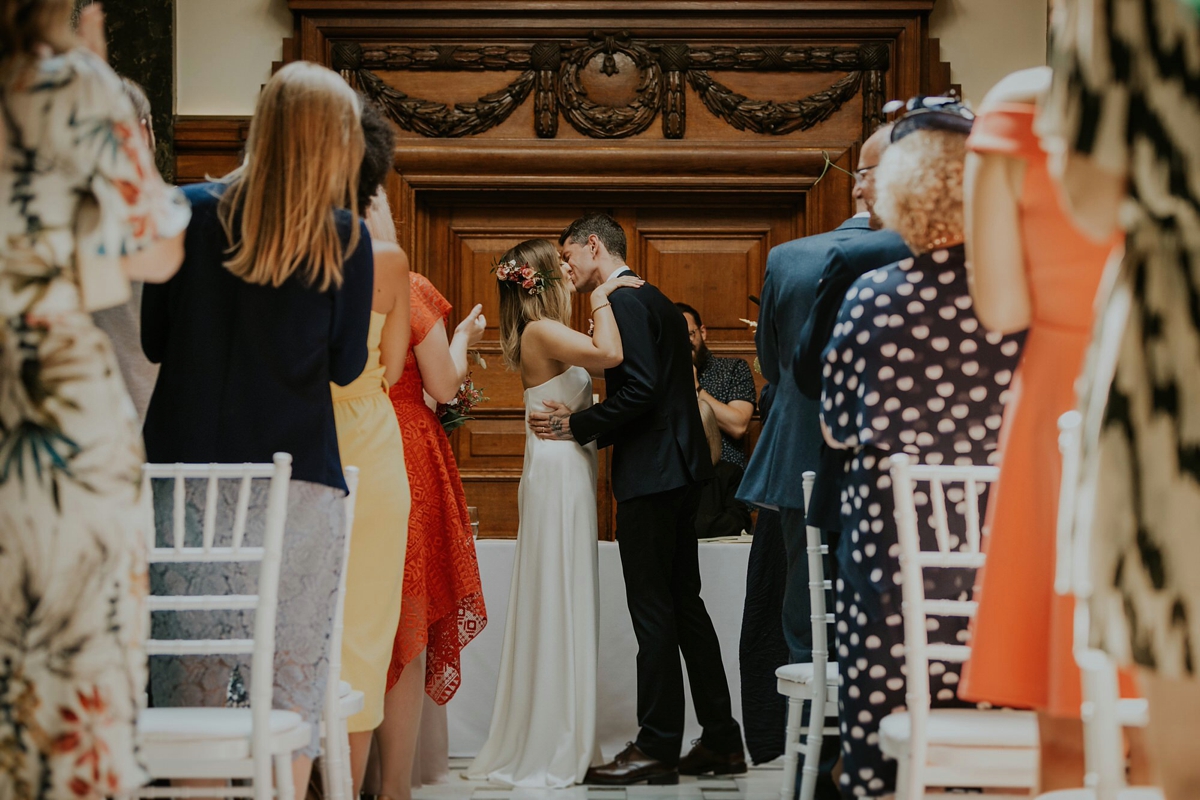 Capturing the whole day on camera were the utterly brilliant photography team The Curries.
"They're super talented at what they do and are a great team! We were amazed at how well they captured the emotions and details of the day, and they were a joy to have there with us. I happened to stumble across their stylish shots and when we Skyped with them, we just knew it was the right fit. We were worried when we realised they were based in Glasgow but it turned out they were relocating to London around the time of our wedding!"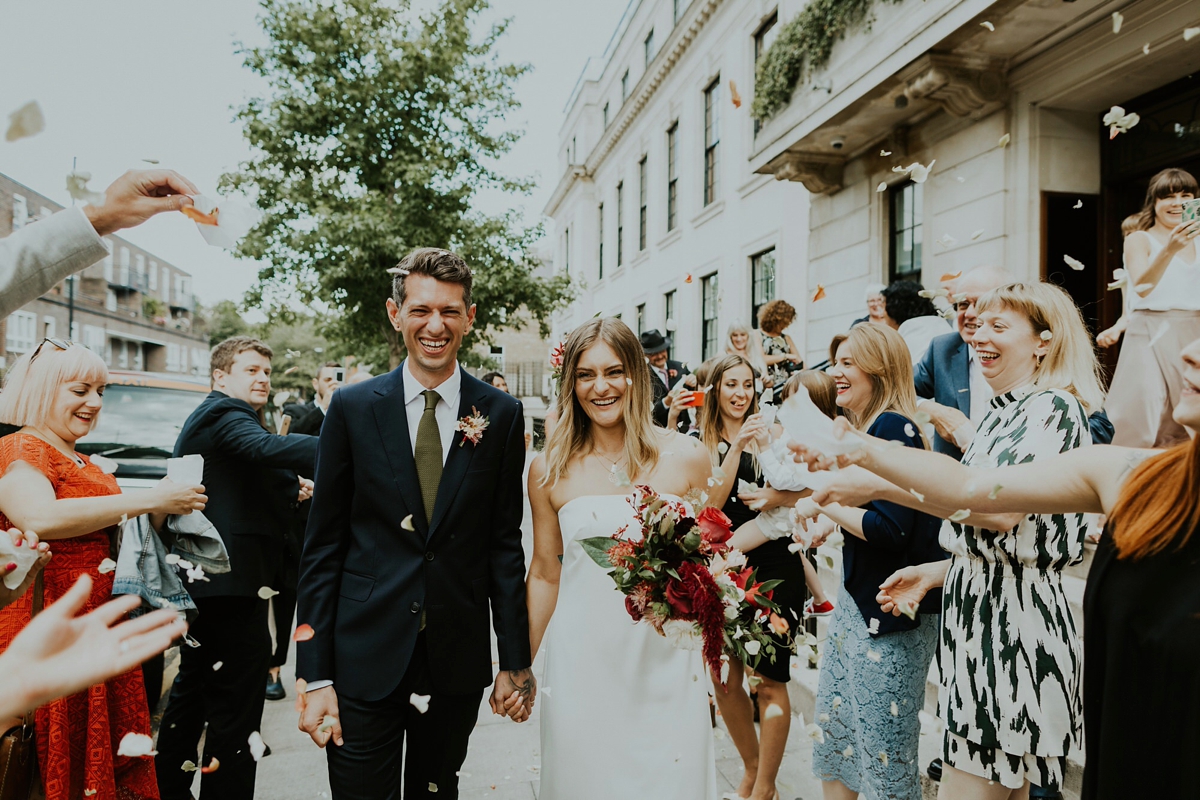 "I also wanted something I would wear again! I wore Elie Saab Le Perfume as my scent. I used to work for a wedding magazine about 6 years ago and whilst working there I slowly collated ideas and 'when I get married' favourites over time. This perfume was one of them, along with the style of dress I chose, it's just a beautiful delicate bridal fragrance."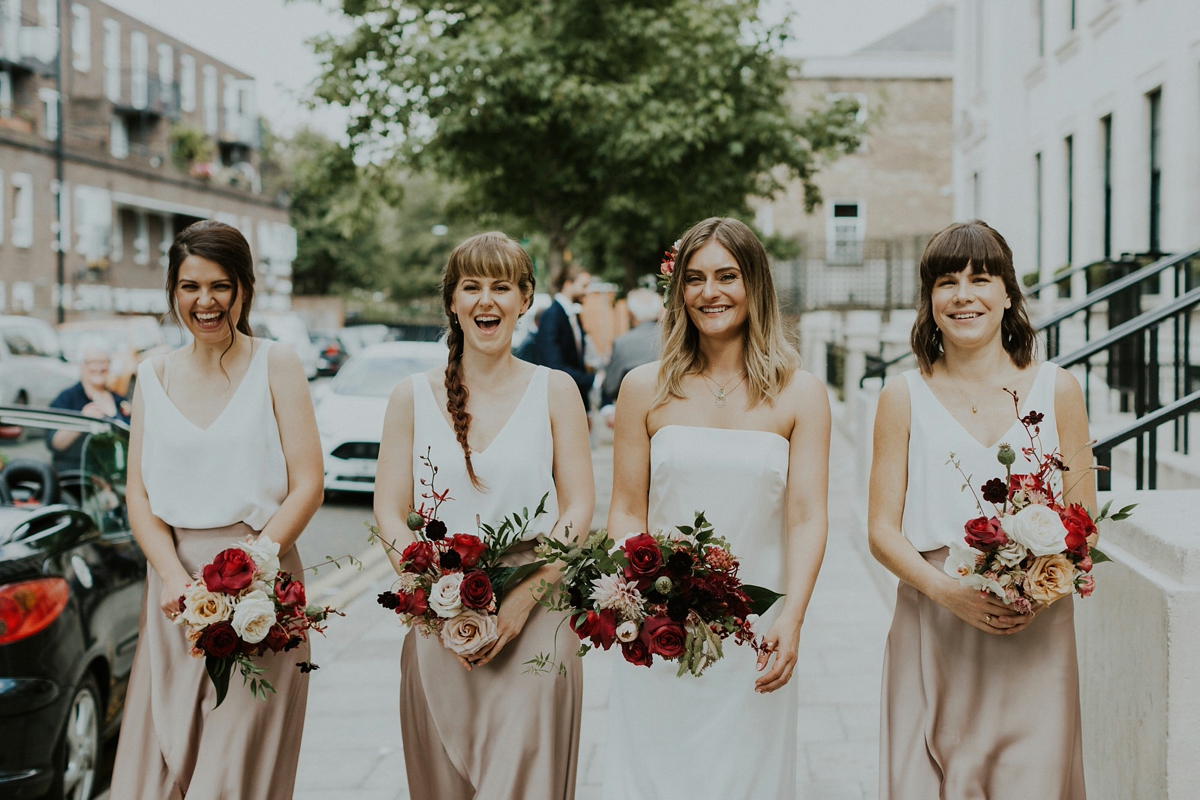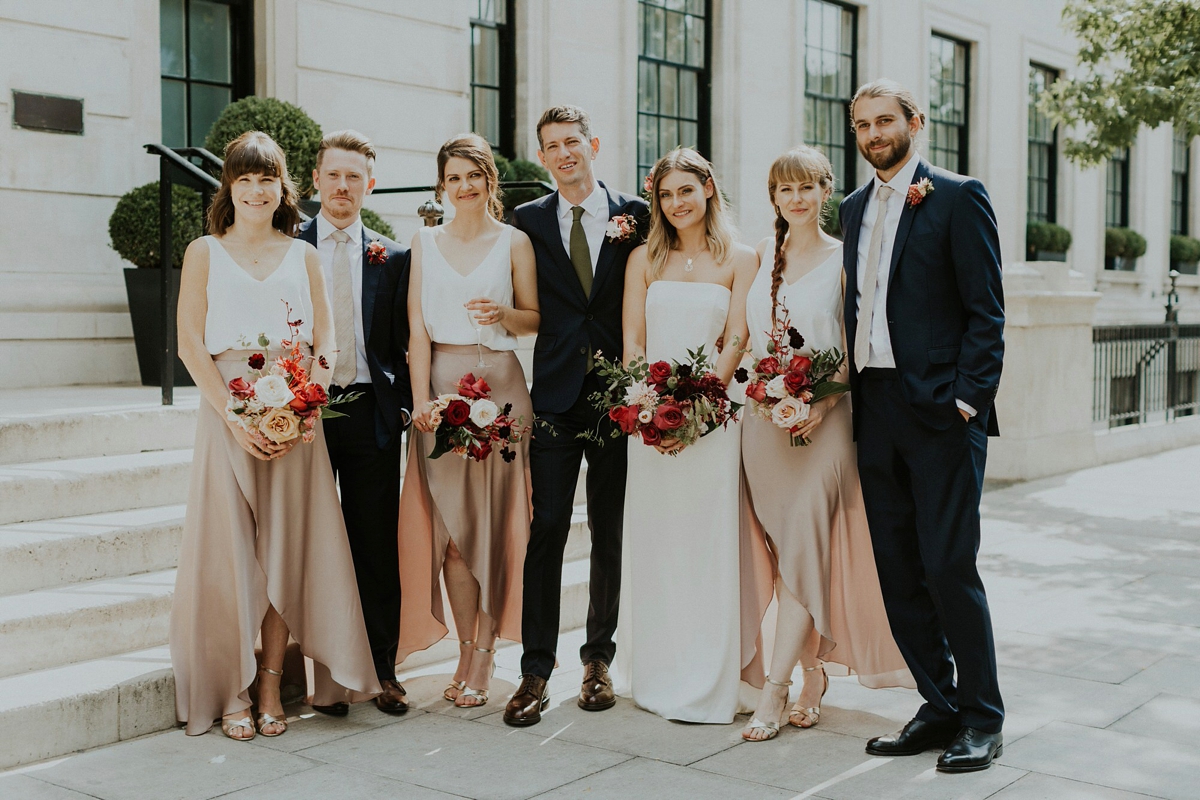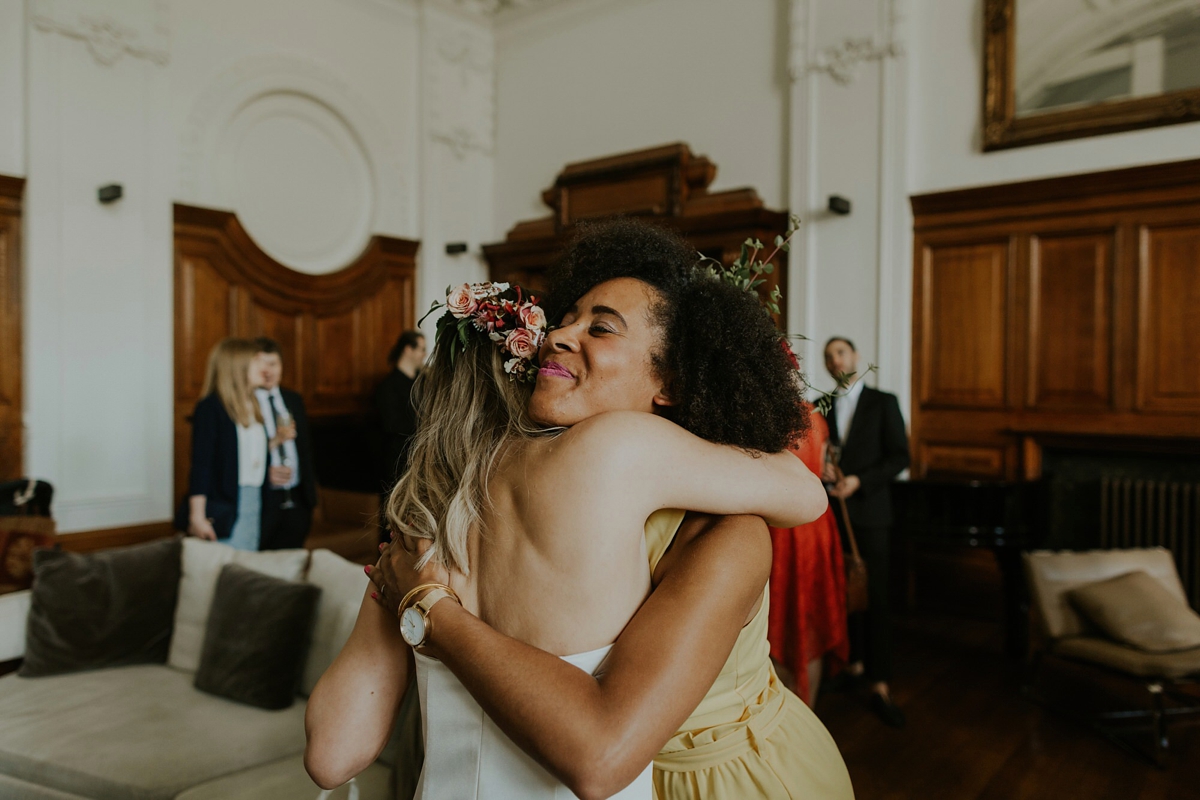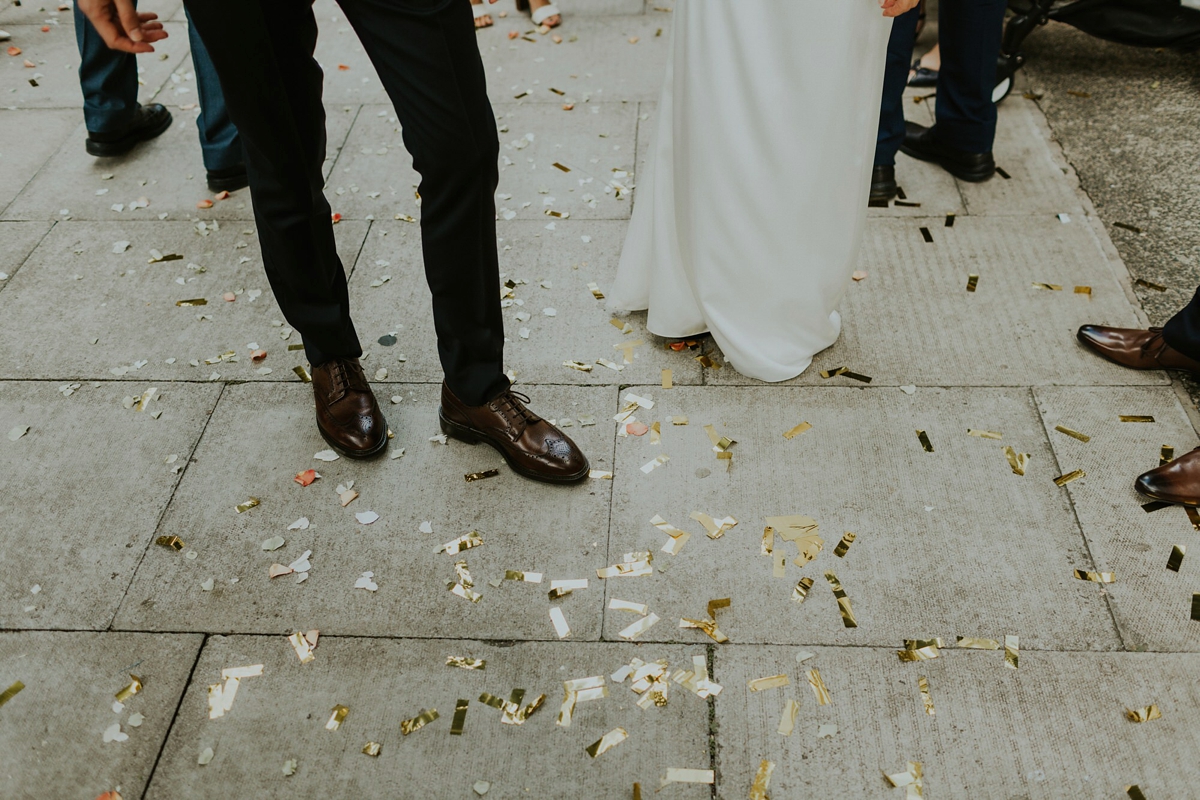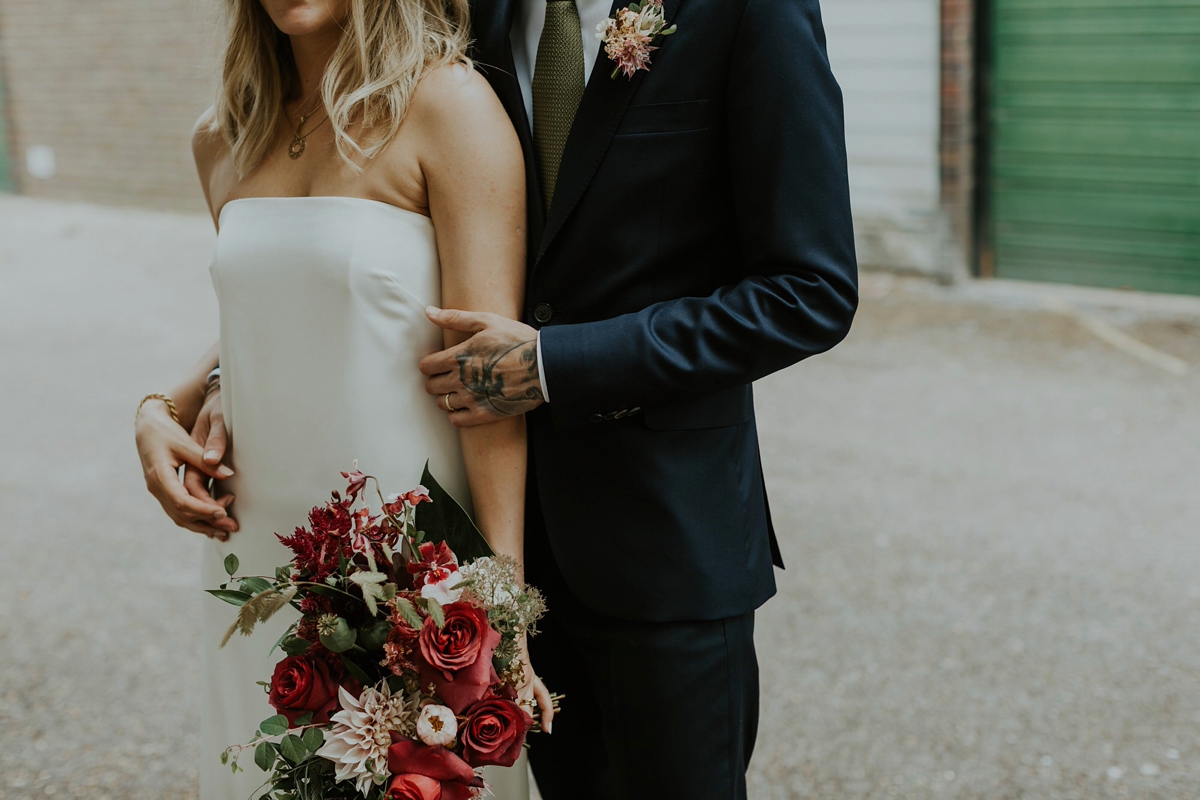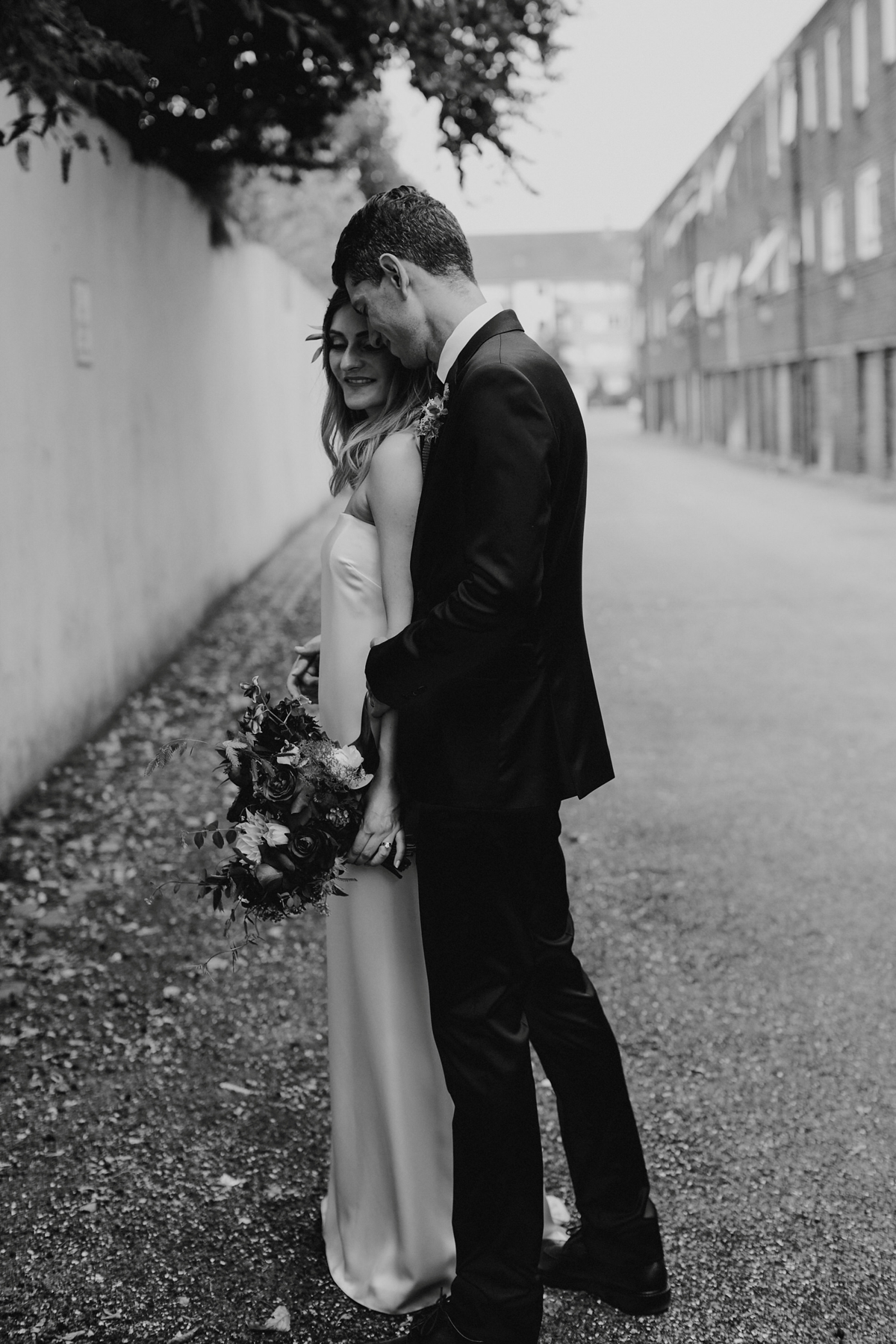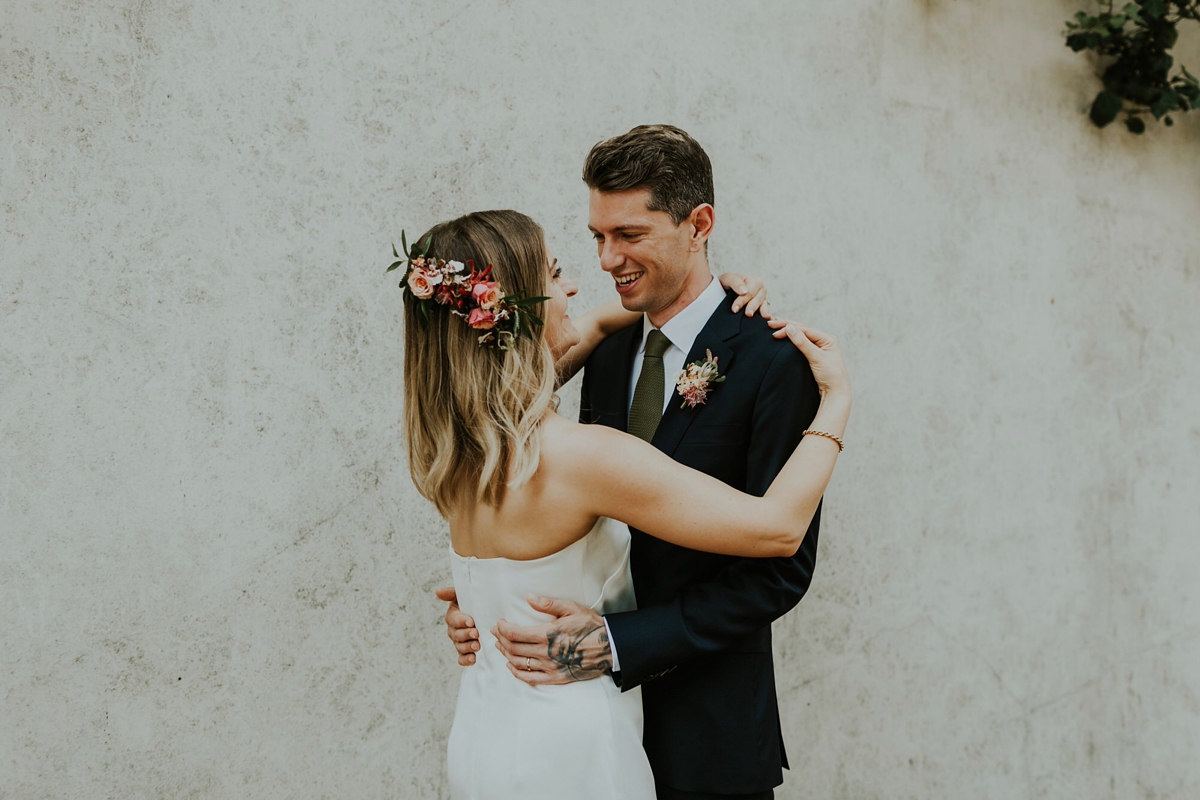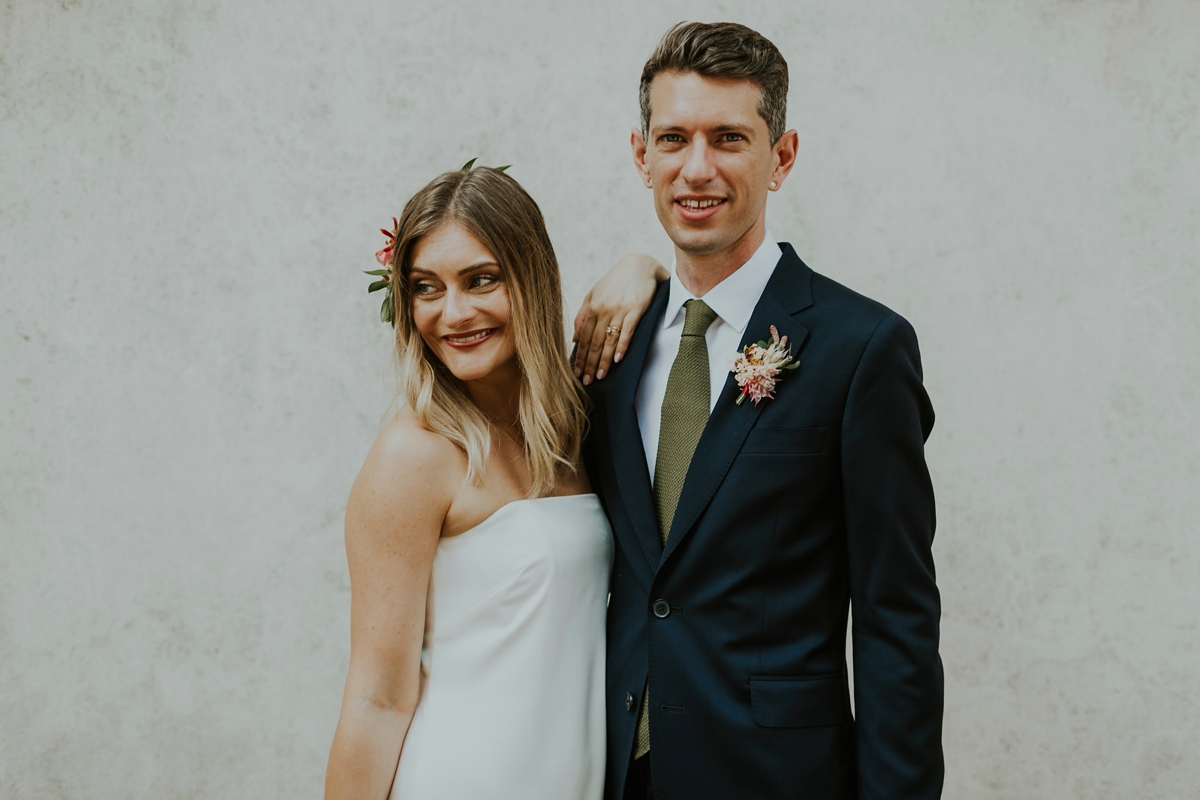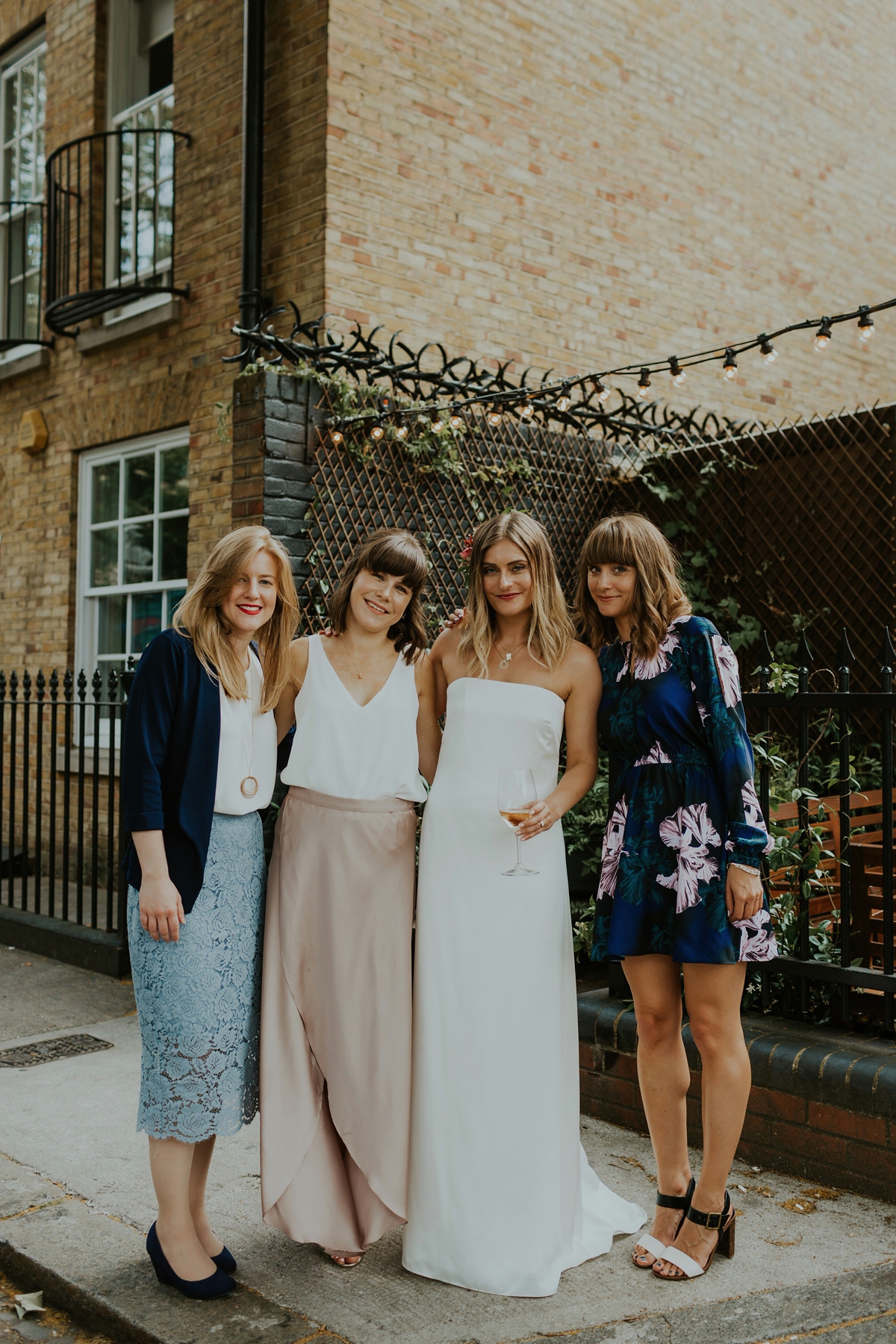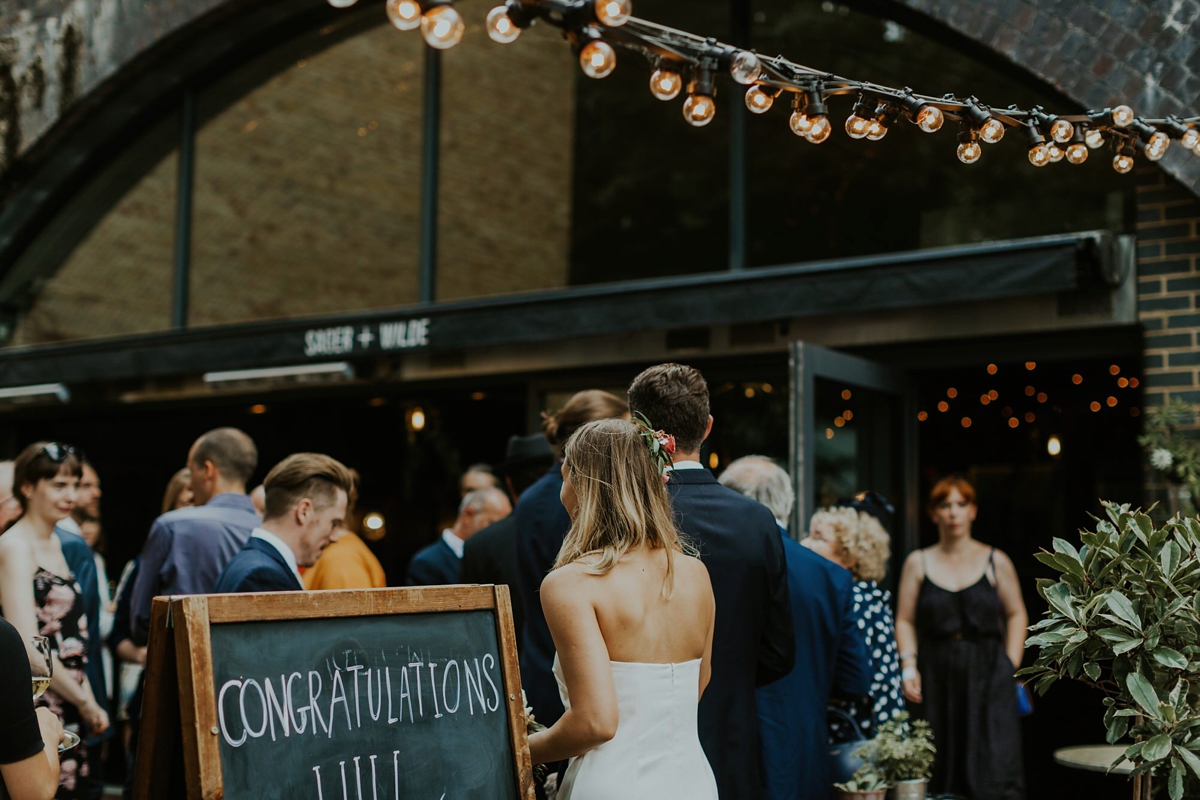 In lieu of favours, Anais and Will donated the equivalent amount on behalf of each guest to Barnados children charity, and the rest of the finishing details Anais took care of herself.
"Being an art director with a background in graphic design, I designed, printed (with a little help from Moo.com) and trimmed everything myself, from the invitations to the seating plan, and labels to menus. It was a lot of work, especially when I had a future husband who works in advertising with lots of opinions of his own!"
"We used a box from West Elm for cards, festoon lights which we bought from Amazon, and ribbon from a haberdashery to add those finishing touches. Our venues were so beautiful in their own right that there wasn't much need for more than that, we just added beautiful flowers, garlands and the menus."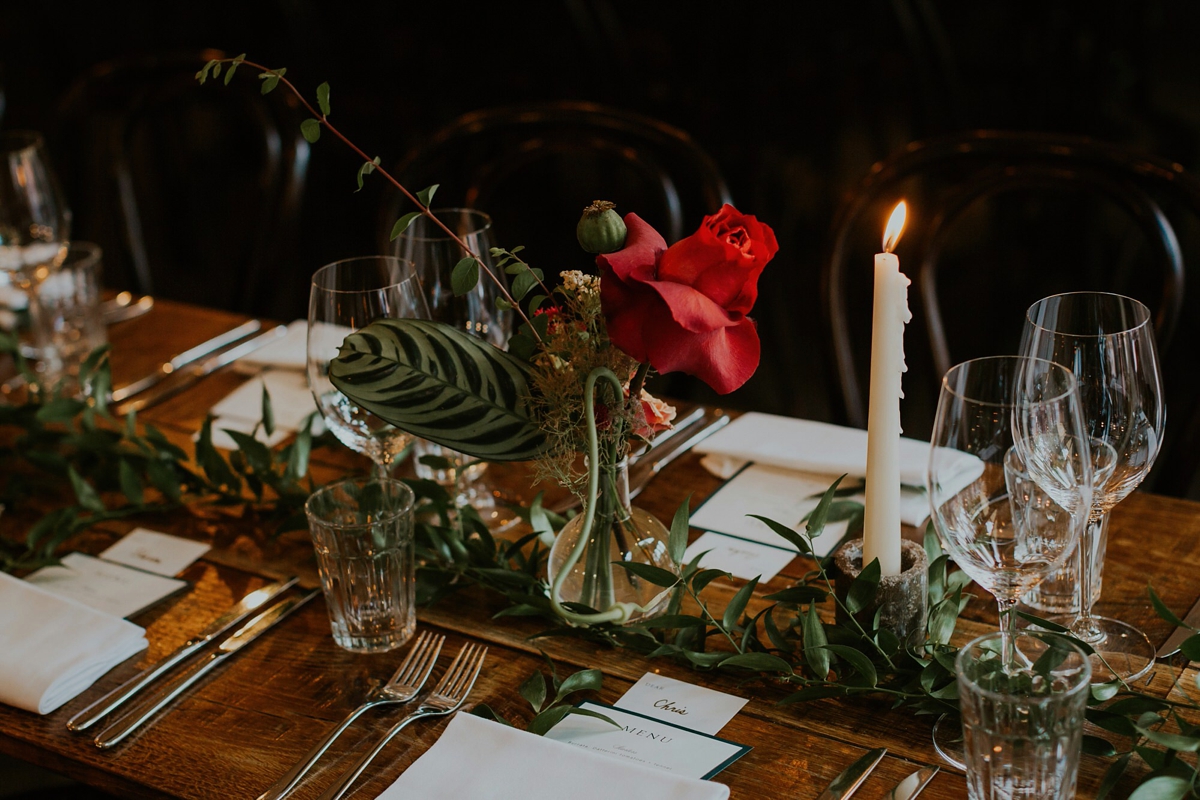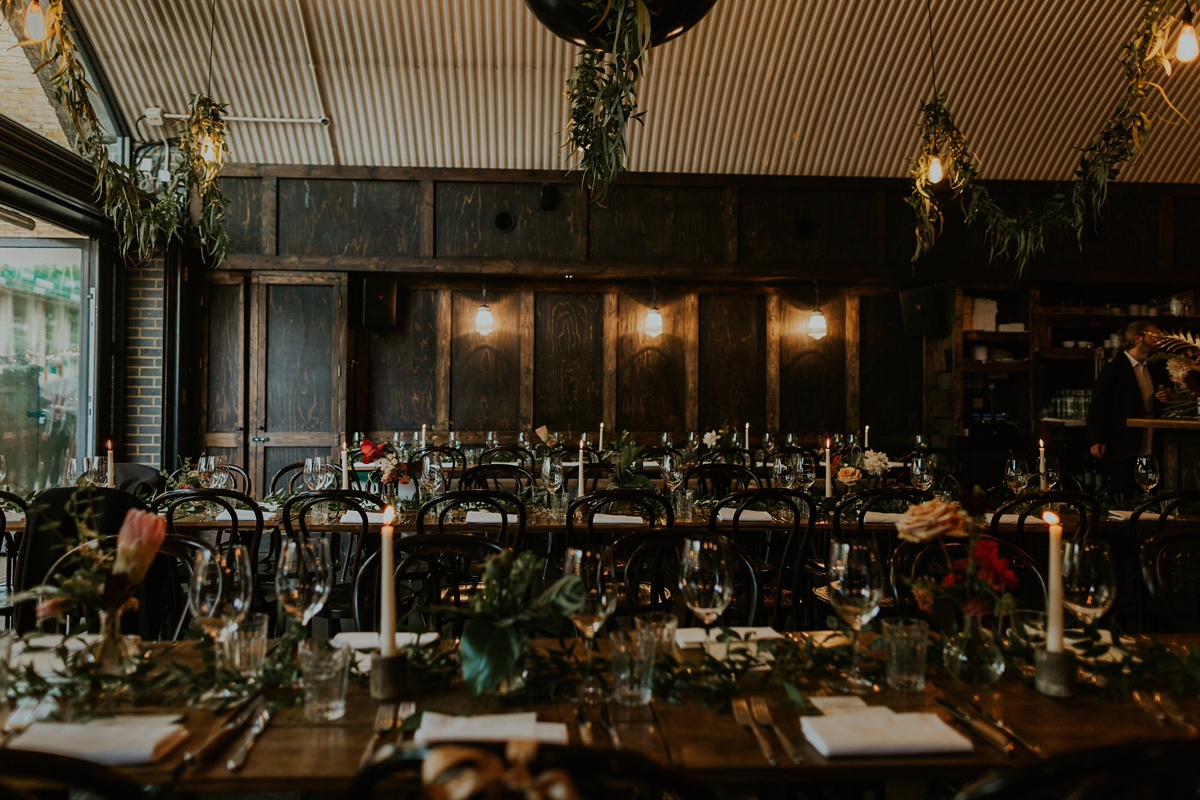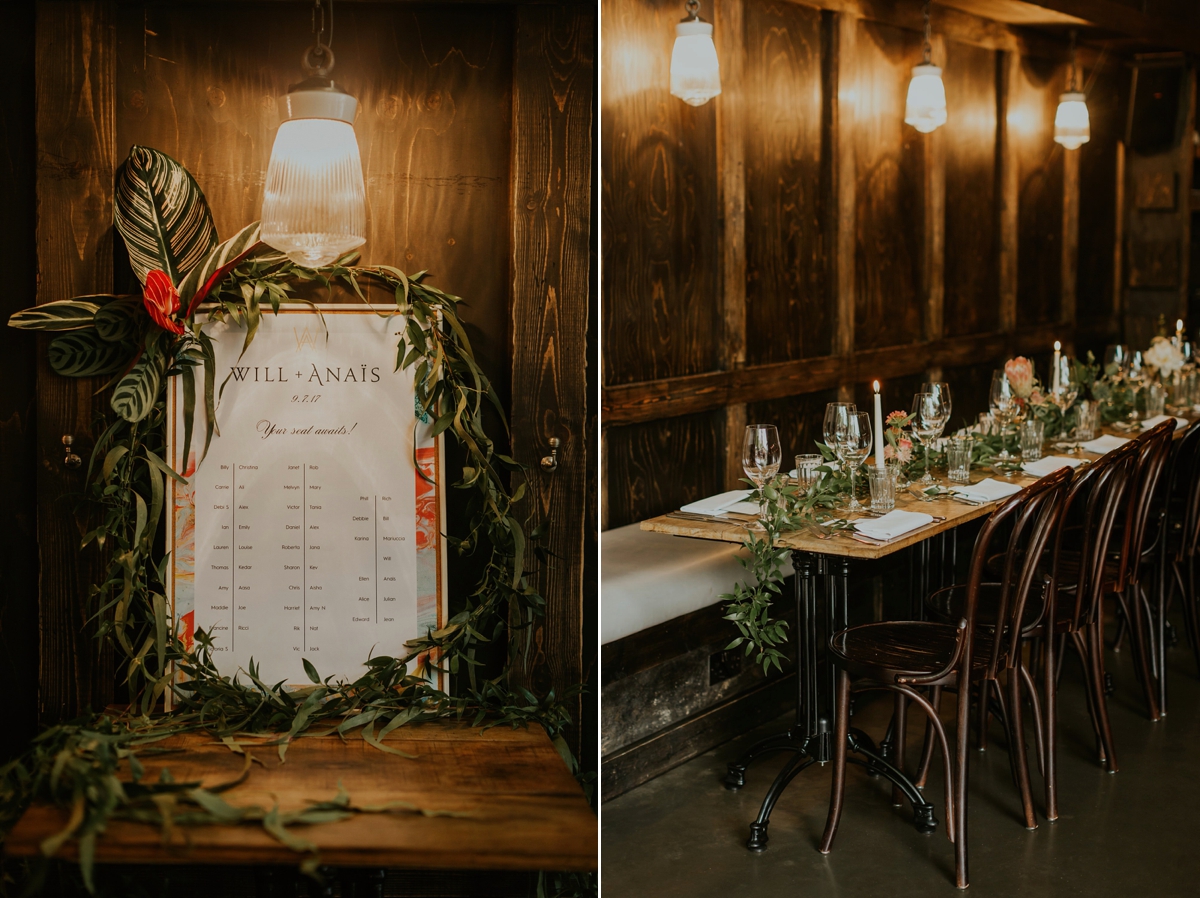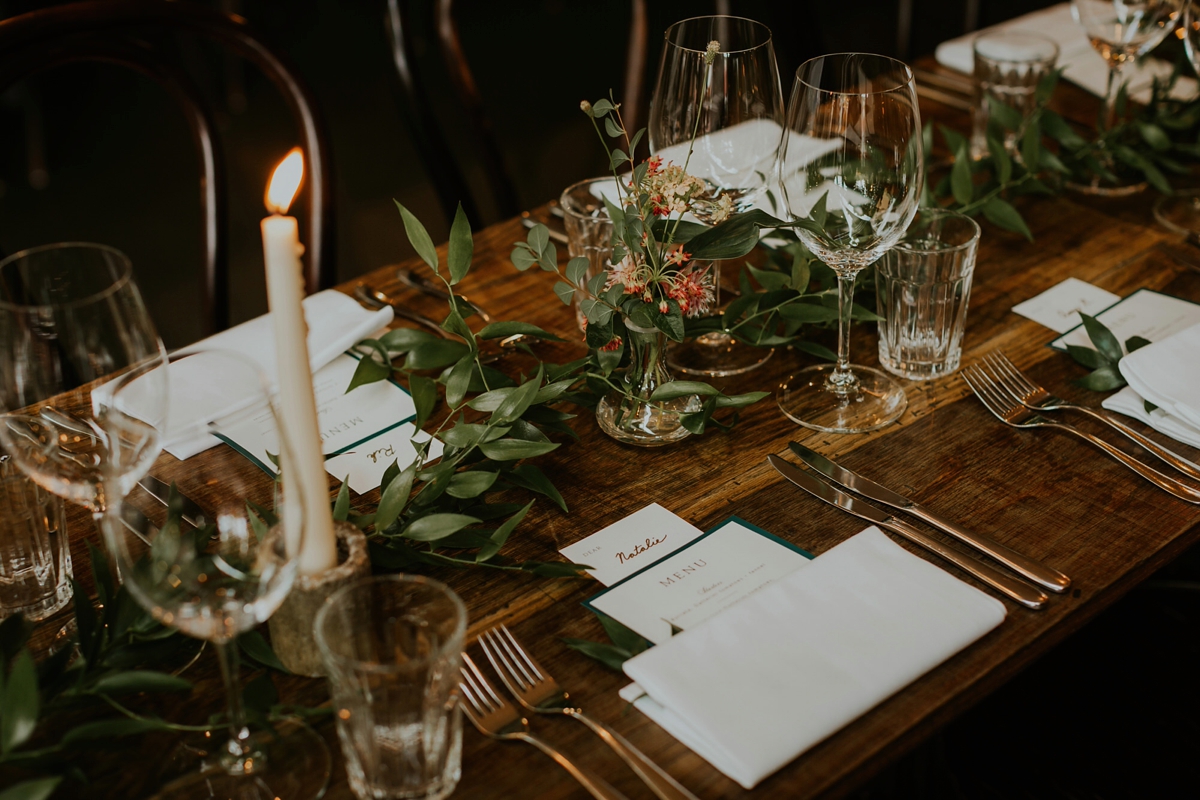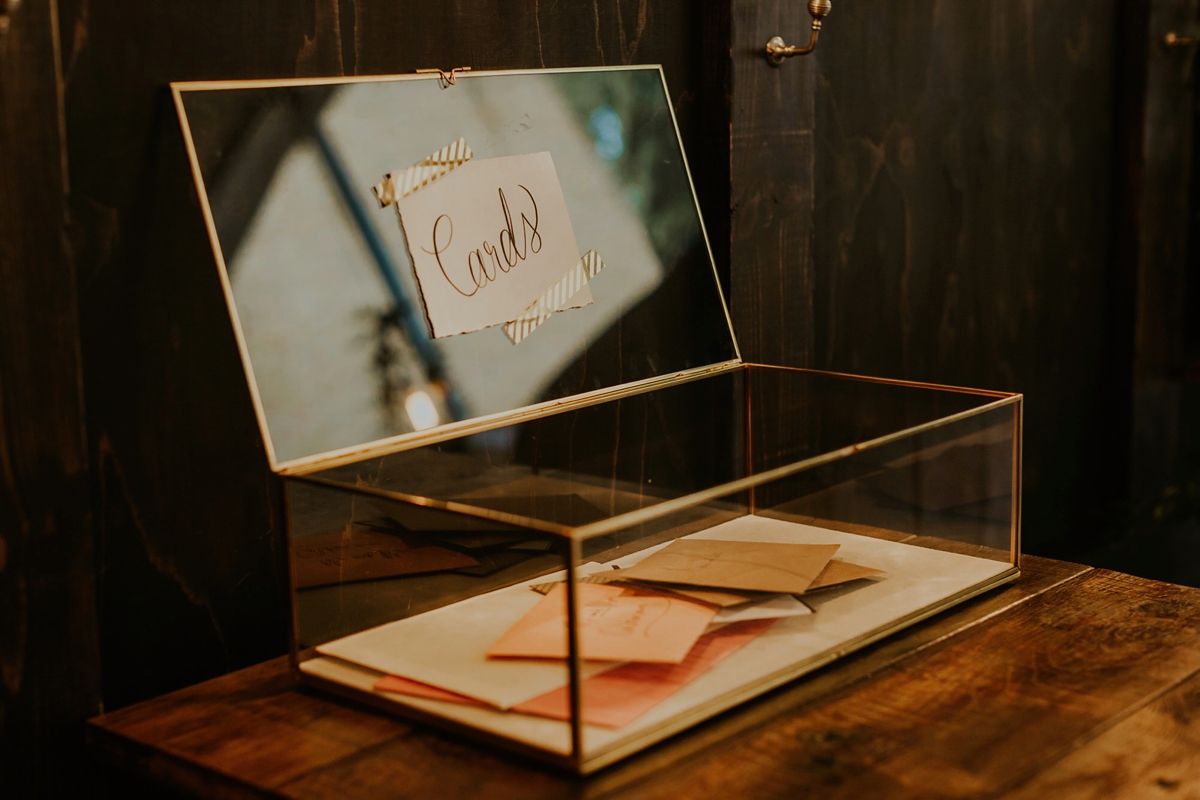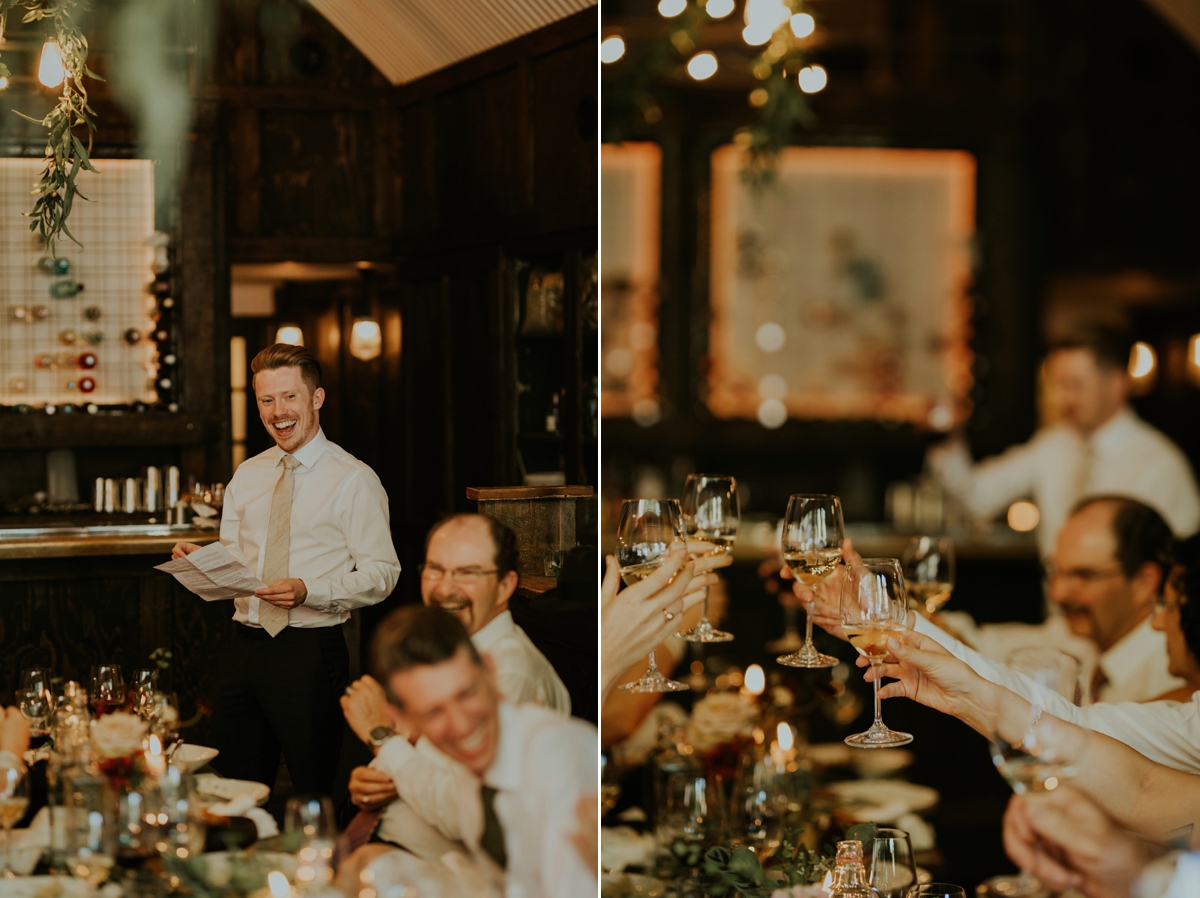 "My second visit to Charlie Brear was where I saw the jumpsuit on the rack. I'd never seen anything like it, I couldn't keep my eyes off it and the sales girls convinced me to try it on. Once I did I just knew I had to have it for the evening, it was perfect. I think Charlie Brear have now added it to their mainline collection for 2018."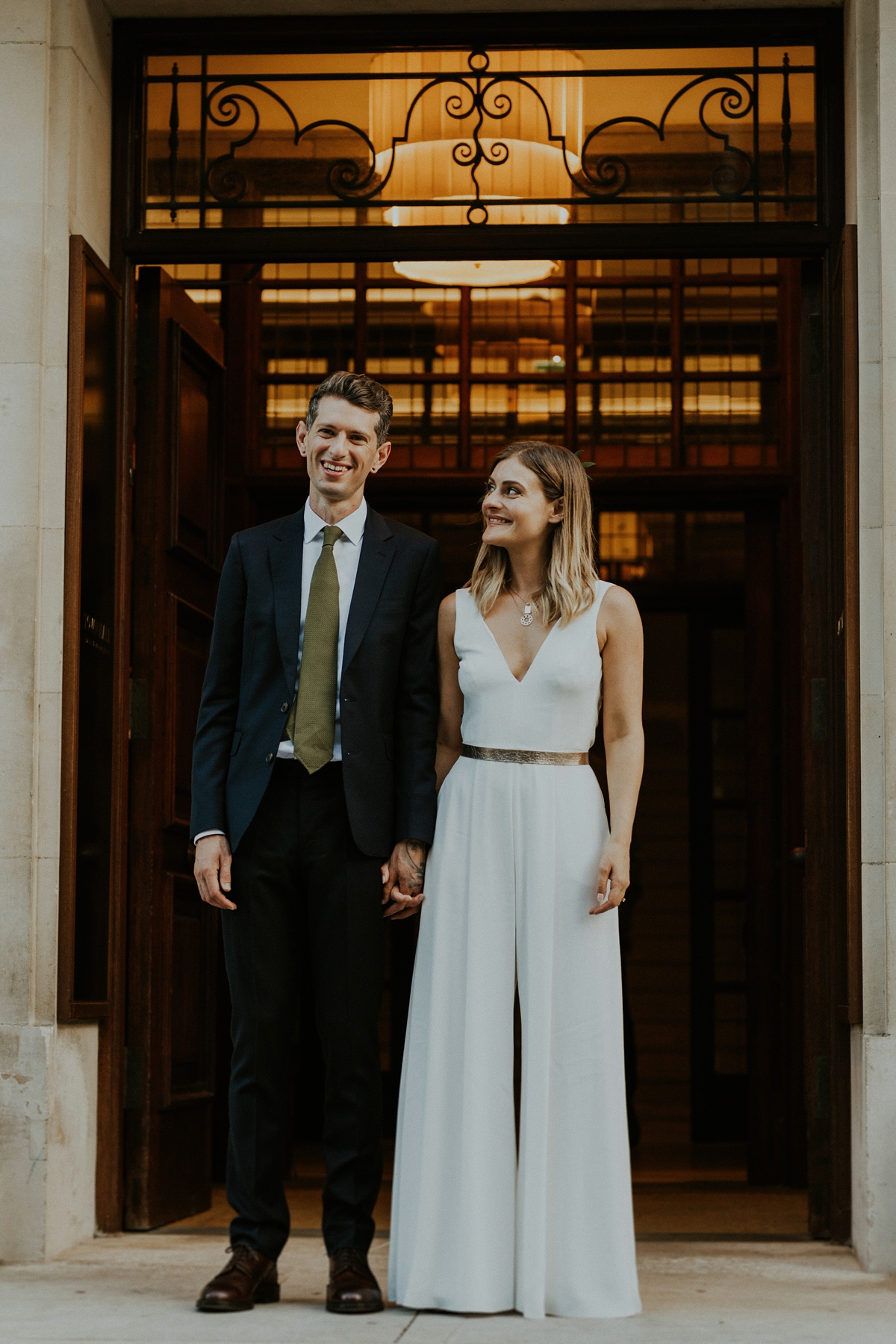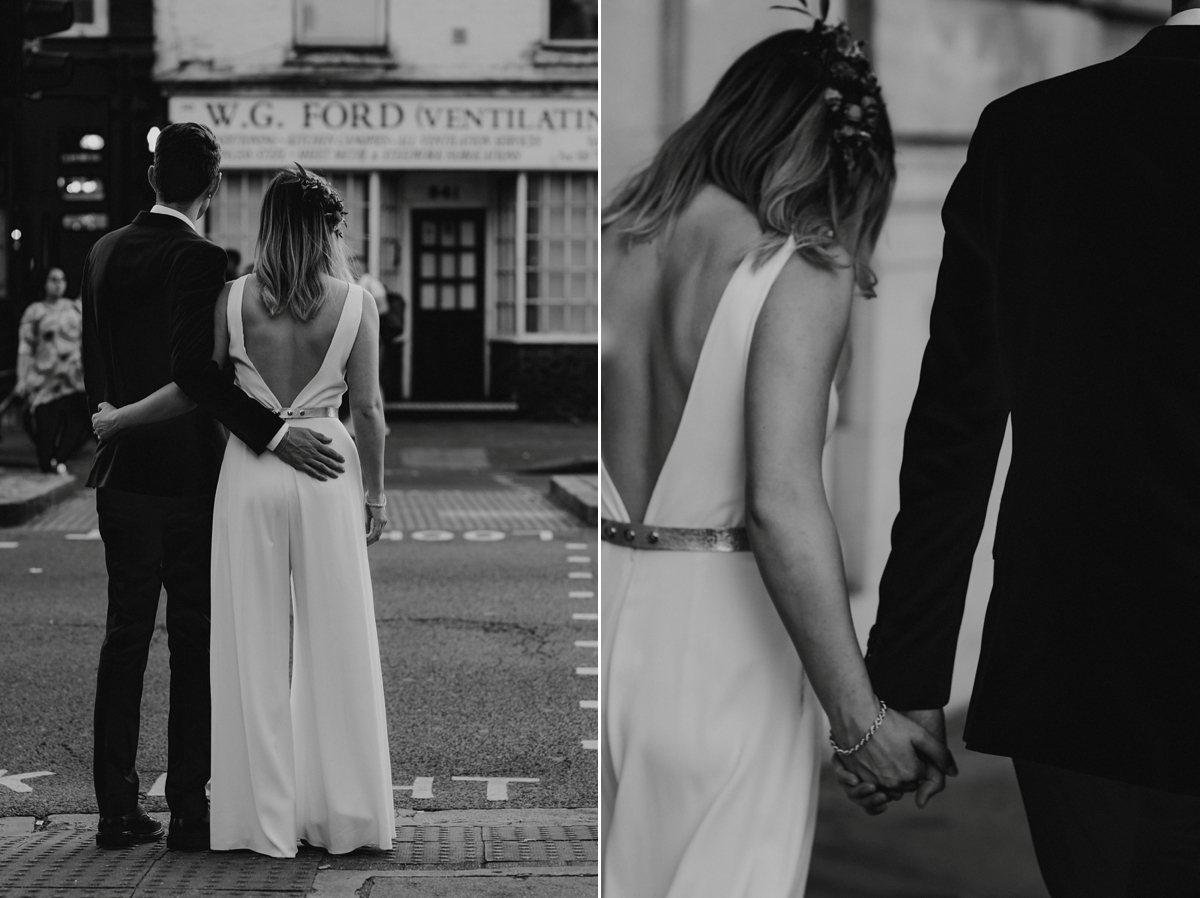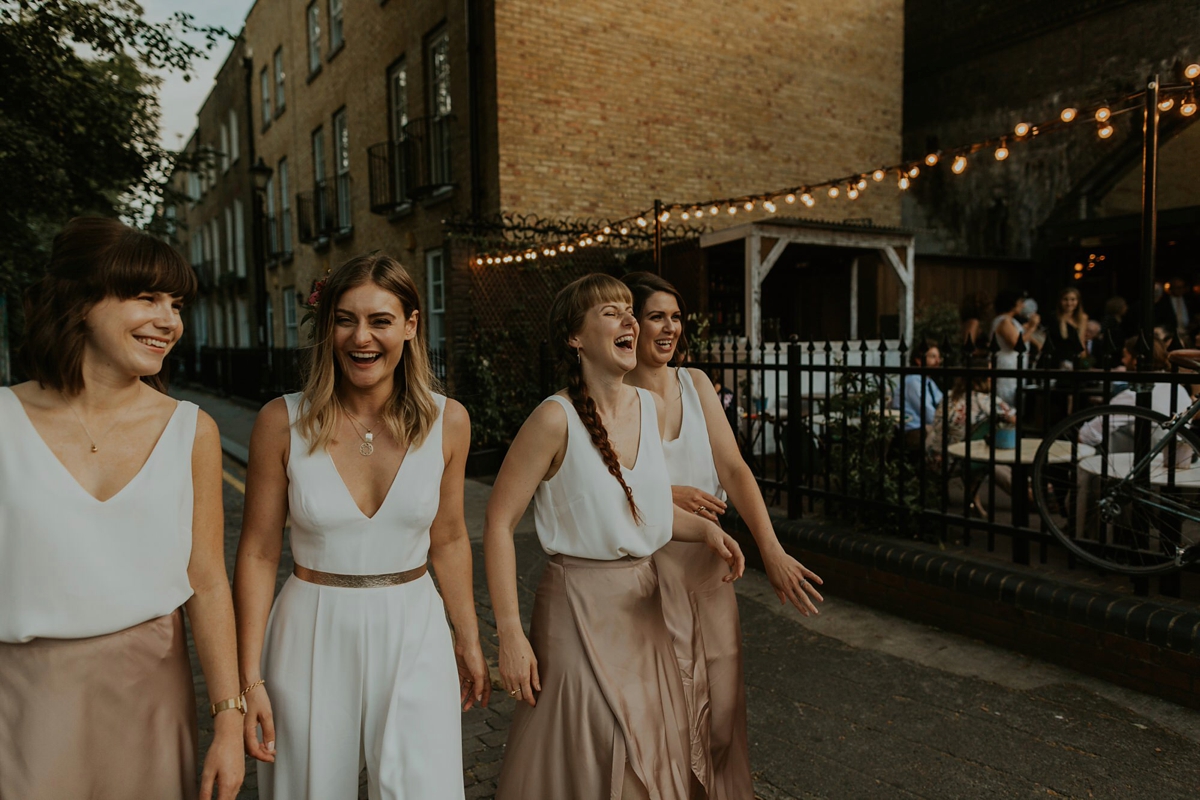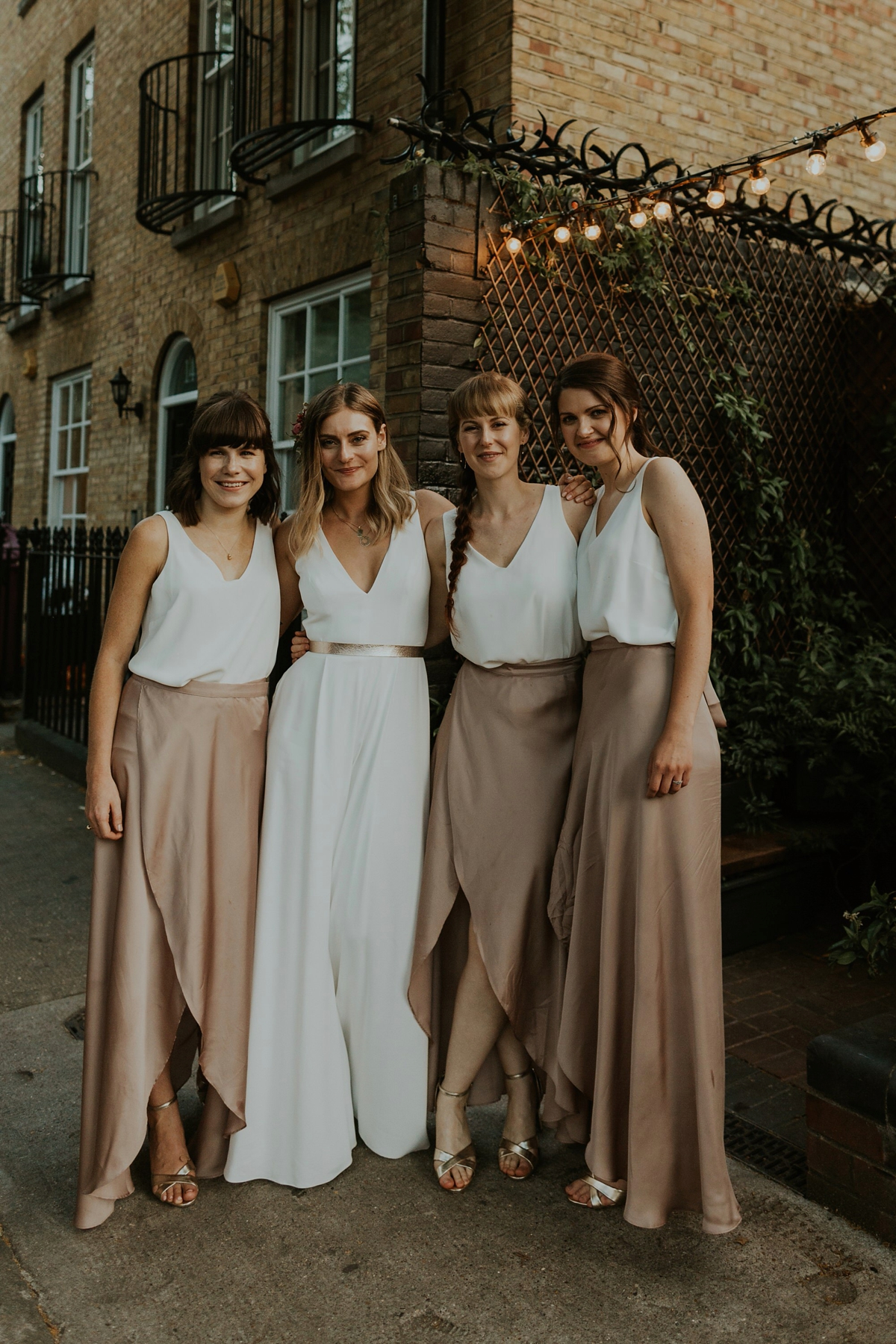 Keeping it within their inner circle, the lemon and passion fruit flavoured wedding cake was made by a talented friend.
After finally settling on Here Comes The Sun by The Beatles as their first dance track, the couple kicked off the party with a meticulously hand-picked playlist for the evening's entertainment.
"We spent hours honing it and making sure it was full of classic tunes we both loved and that would get our guests up and on the dance floor."
"We just had a fantastic time and it was totally a once-in-a-lifetime moment having all of our loved ones in one room, and is a memory we'll cherish forever. We both count seeing each other at the aisle as our favourite memory. Seeing Will's face as I walked towards him was a beautiful moment. and I couldn't wait to get to the top of the aisle and hug him! The speeches and private moments when we stole away from the crowd for a few quiet moments for photographs were also a highlight."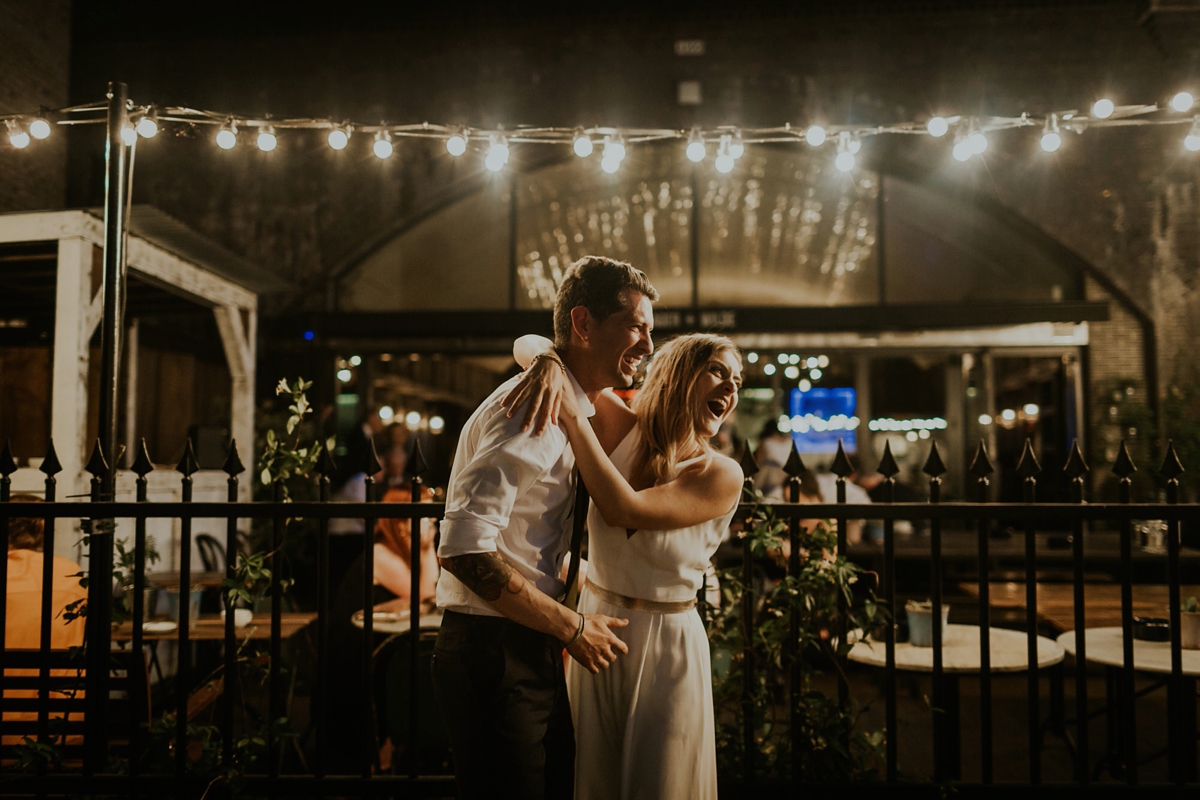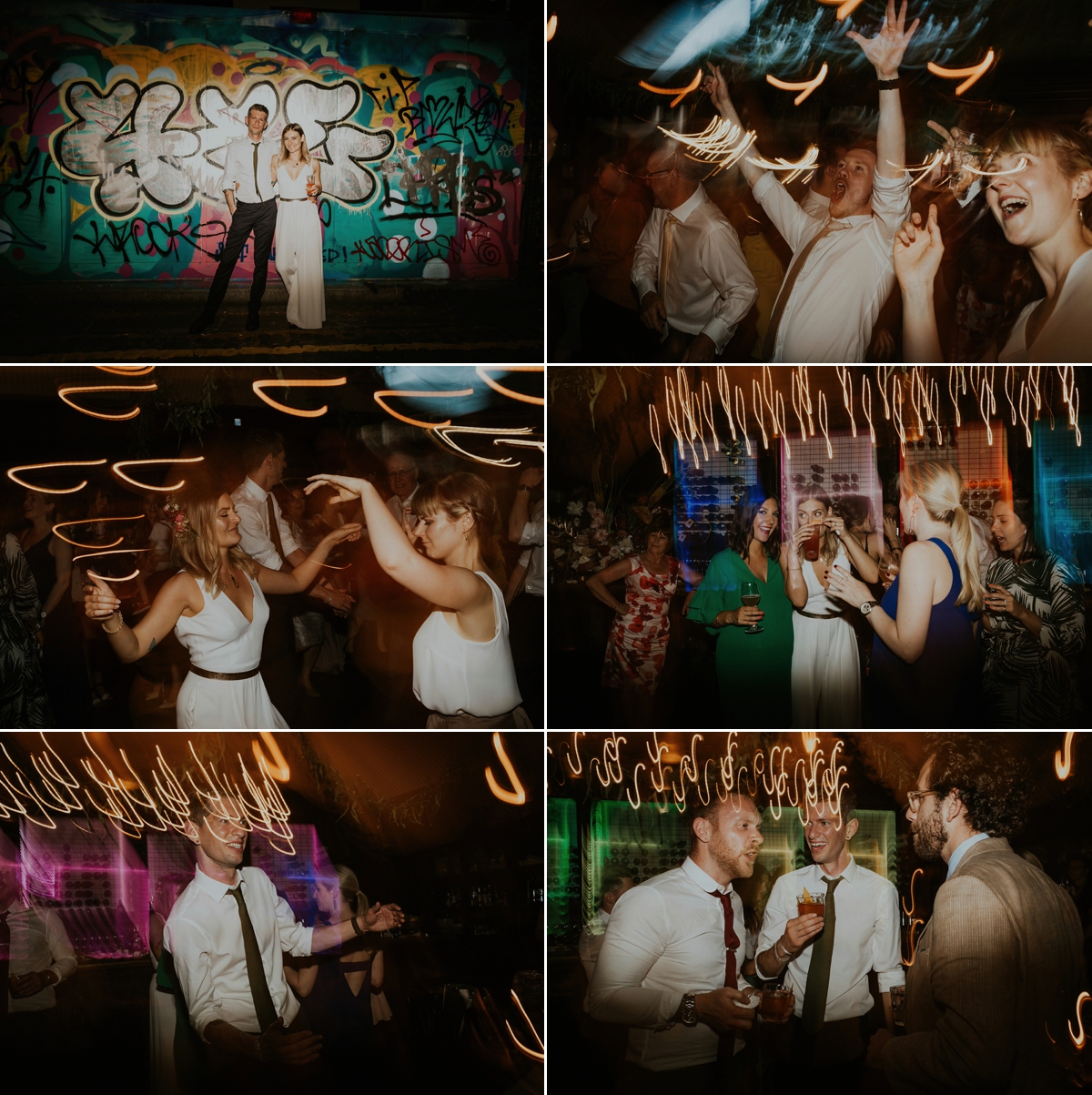 Words Of Wedded Wisdom
"I think if we could do it all over again we wouldn't stress or over think everything and just enjoy the journey. No matter what happens, you're marrying your dream partner and you will enjoy it."
"I do wish we had spent the extra on a videographer. There aren't many videos from the day and the ones we do have from people's phones are really precious to us. I think the only other thing is that I forgot to apply the red lipstick I had planned to wear with the jumpsuit for the evening as I was having too much fun!"
A big thank you to Anais and Will for sharing not one, but two completely gorgeous bridal looks, and to The Curries for capturing it all on camera and sharing the day with us.
Until next time…
Much love,
Holly