We're being whisked away to a Croatian island paradise today for a spectacular summer wedding filled with joy and light. It's double the fun for me too, because this is also my very first feature as a member of the Love My Dress team, and I'm thrilled to be a part of this beautiful corner of the internet.
Niki and Rory married on the 26th June 2017 at Fort George on the island of Vis, off the Dalmatian Coast of Croatia, and what a dramatic and beautiful part of the world it is. Both from South Africa, the couple took the decision to go for a destination wedding, originally considering a ceremony in the middle of the Namibian desert underneath the stars. Croatia won out, however, being a favourite destination that Niki and Rory were keen to share with family and friends in a relaxed and rustic celebration with accents of antique gold and lush summer greenery.
The Croatian coast also carried an extra special significance for Niki and Rory, as they were engaged on a sailboat just a few kilometres off Dubrovnik. Sharing a love of travel, adventure and a 'life less ordinary', the couple adopted the same adventurous approach when it came to planning their wedding.
"We didn't want a normal wedding and we didn't want it to come and go too quickly, so we dared to get married thousands of kms from home, in a place unfamiliar to all but a few of our guests. We wanted to share this beautiful country with our family and closest friends, and so the idea was hatched…and it was the greatest decision we made."
Images by One Day Studio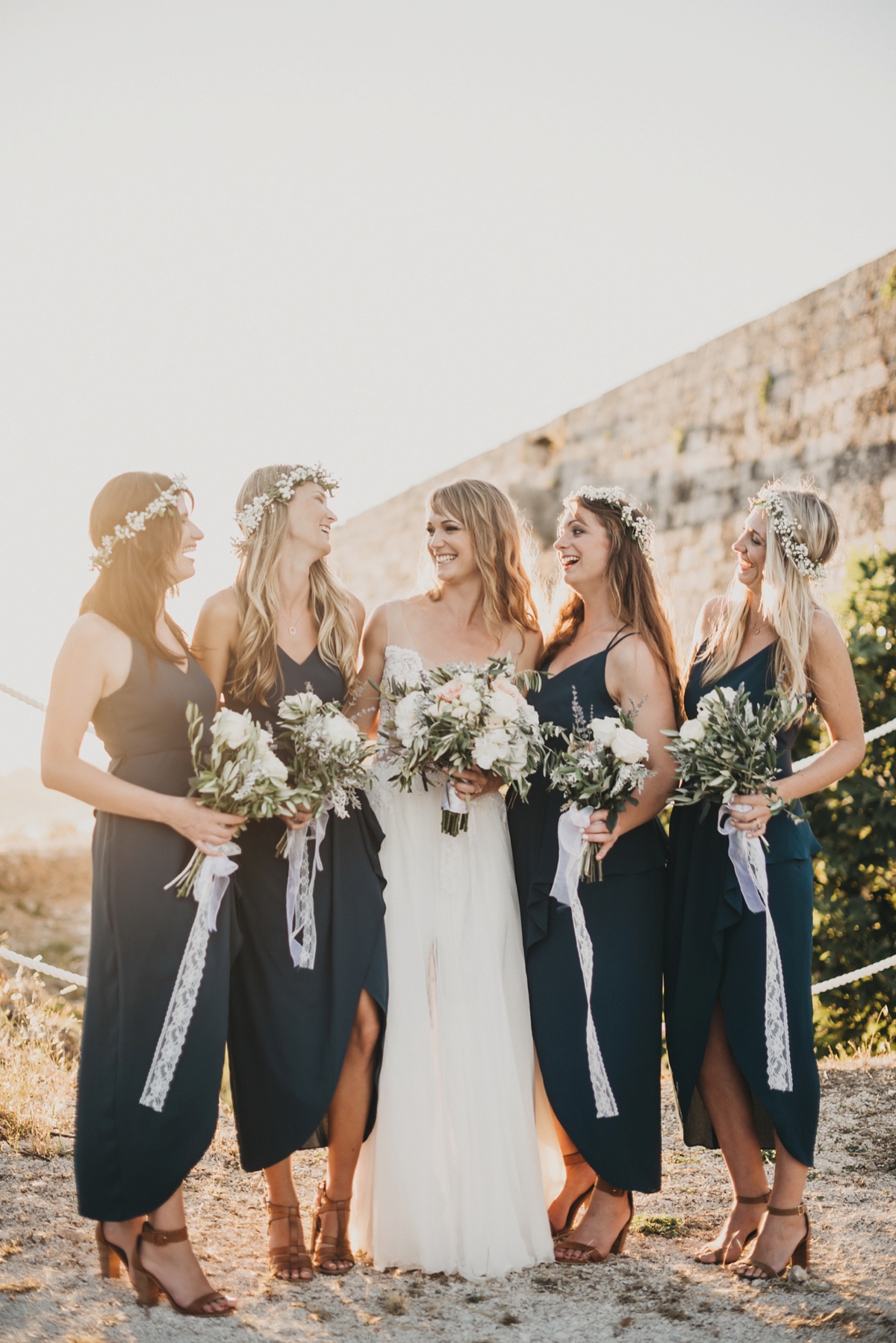 This and other thoughtfully curated pieces adorned the venue, courtesy of Boleka Event Hire, from candelabra, vintage suitcases, macramé bowls and crystal vases. Ivana Knezovic from Promessi Weddings and Events helped the couple plan this, and ensure the other aspects of their day went off without a hitch.
"Marina and the team at Fort George, Ivana and her team at Promessi and our wonderful photographers at One Day Studio were a pleasure to work with and they made sure everything ran smoothly and everything was catered for. I highly recommend them for their professionalism and for all they did to make the day so special for us."
Niki and her bridesmaids look like they had great fun getting ready together, enjoying a pre-wedding swim, the amazing sea views and helping one another with their complementary navy blue dresses from Forever New, Gypsophila flower crowns and matching sandals.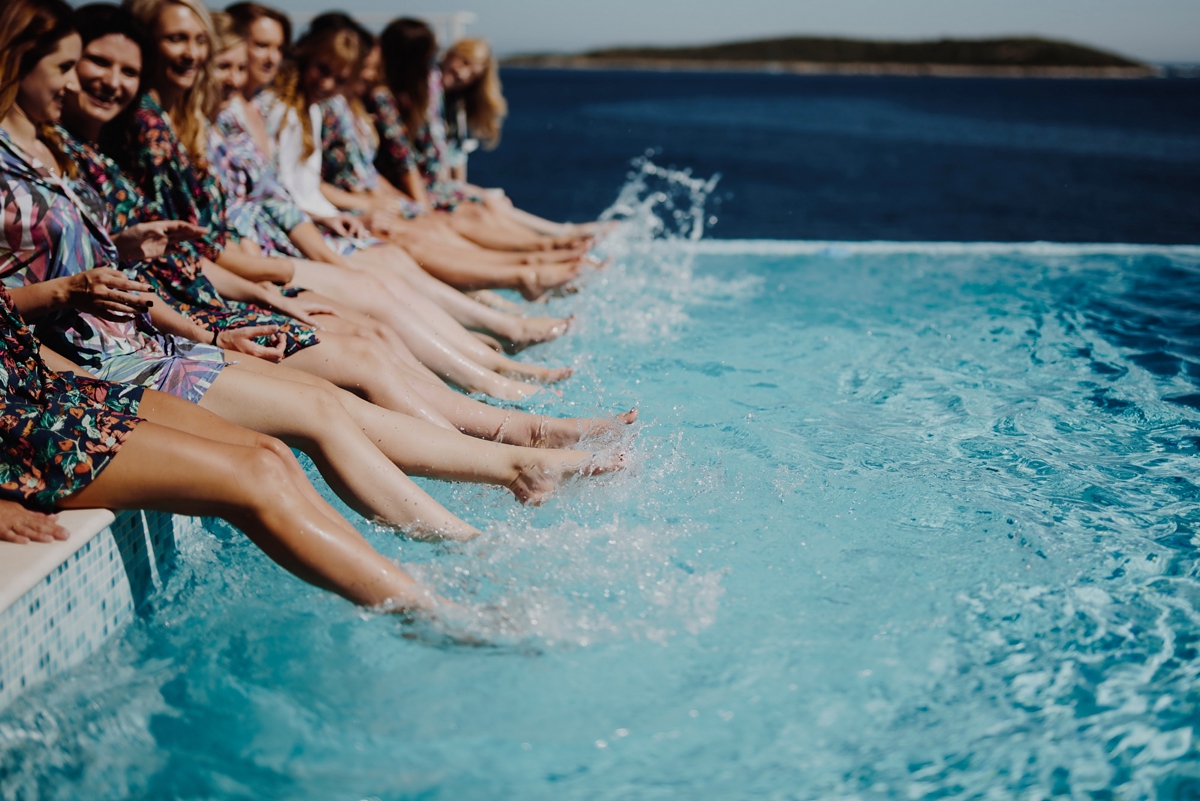 Hair and make-up artist Lisa Jericevich created Niki's soft and stylish look; hair in relaxed waves, and a smoky eye paired with a classic nude lip.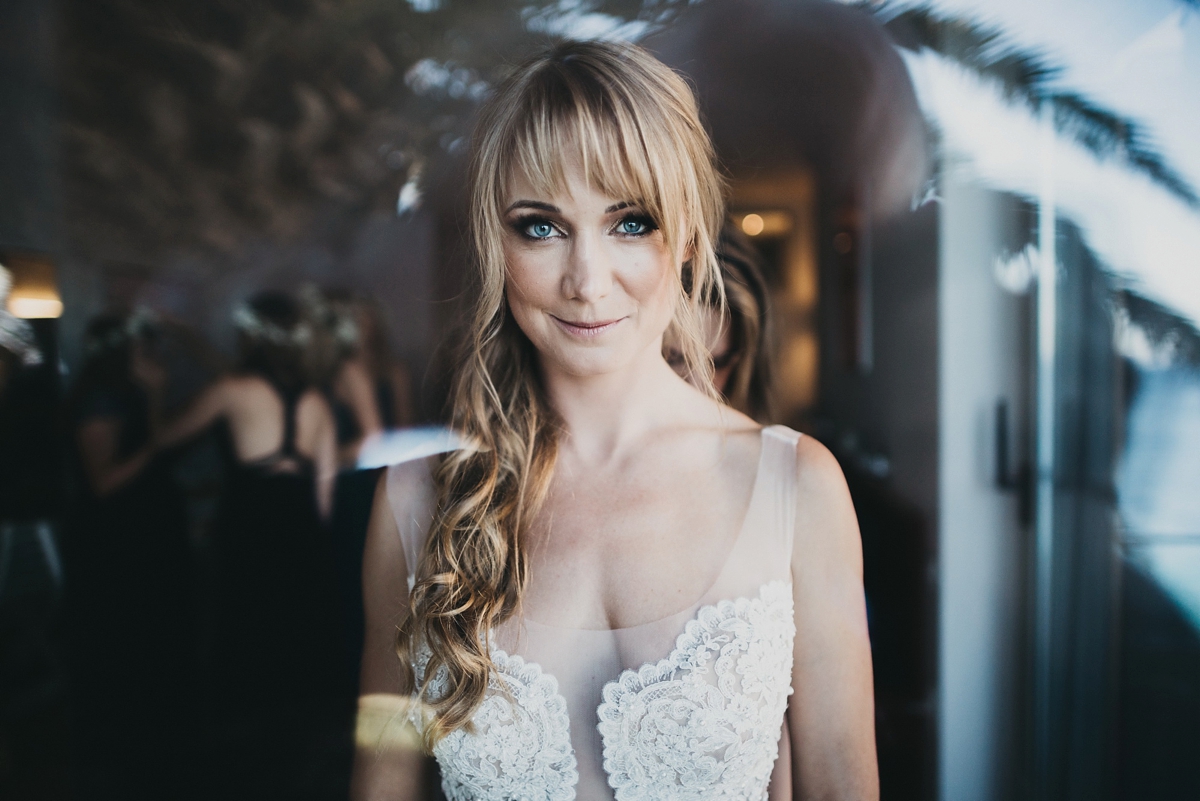 Niki's striking gown is by Bulgarian designer Vesselina Pentchevaa, and the perfect choice for a summer's day by the Adriatic sea. I adore the contrast between the delicate shoulder straps and skirt, with the intricately detailed lace and the dramatic neckline and back.
Niki wore her dress with a simple comb of Gypsophila in her hair, and pretty gold jewellery.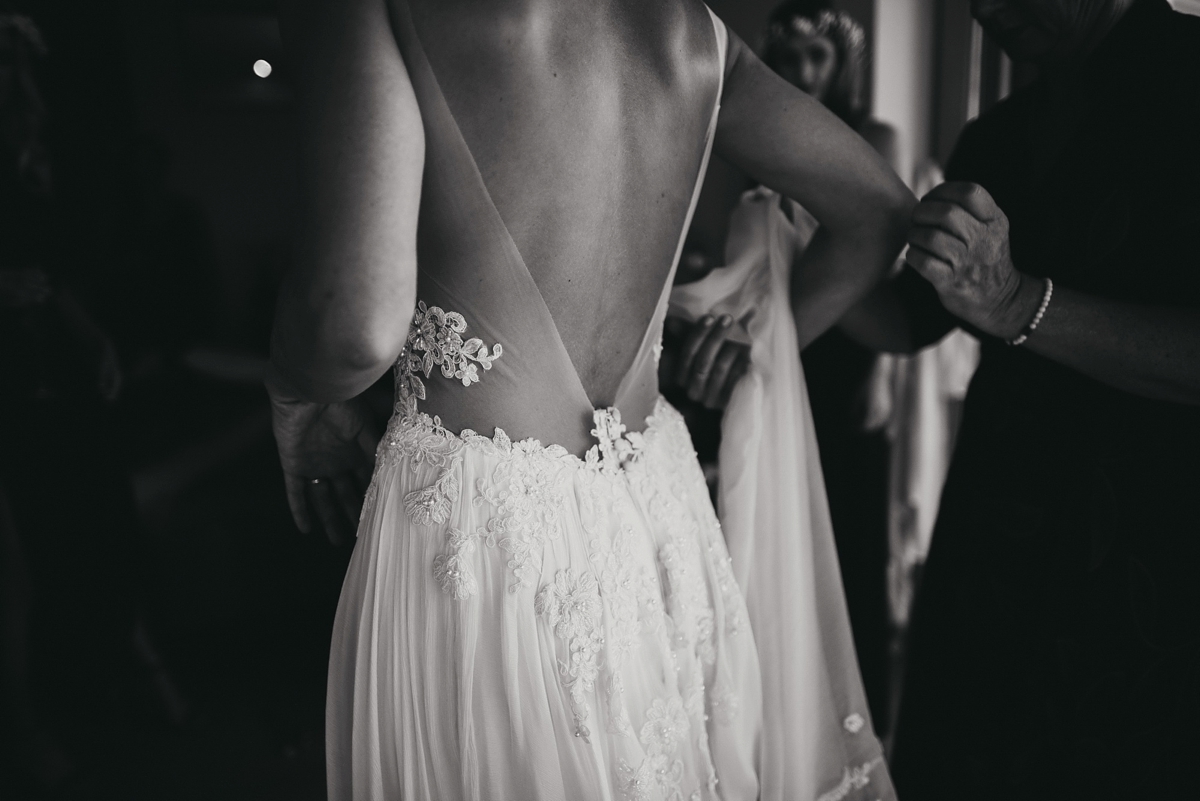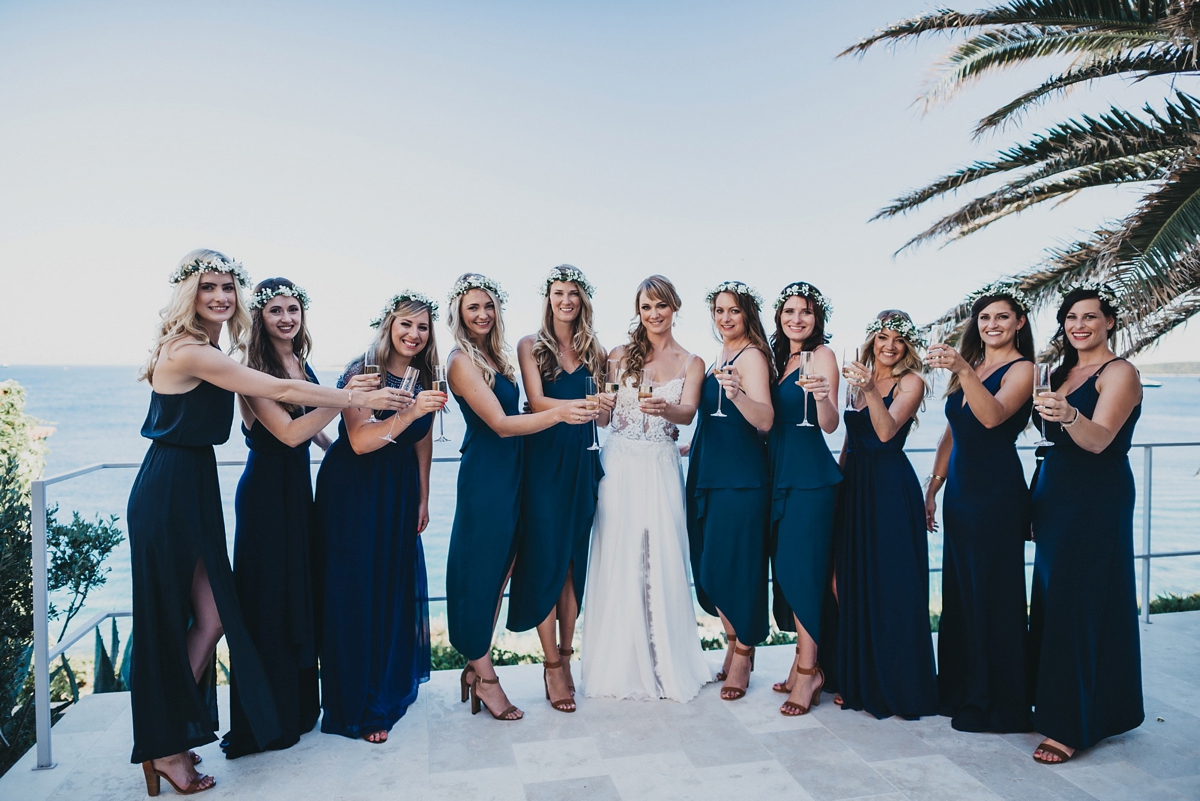 Rory and his groomsmen looked to be having just as much fun during their preparations, with Rory looking sharp in a three piece suit from Tiger of Sweden, Thomas Pink and Hugo Boss bow tie. Bow ties for the groomsmen came courtesy of Mrs Bow Tie, with Studio W trousers and shirts from Country Road.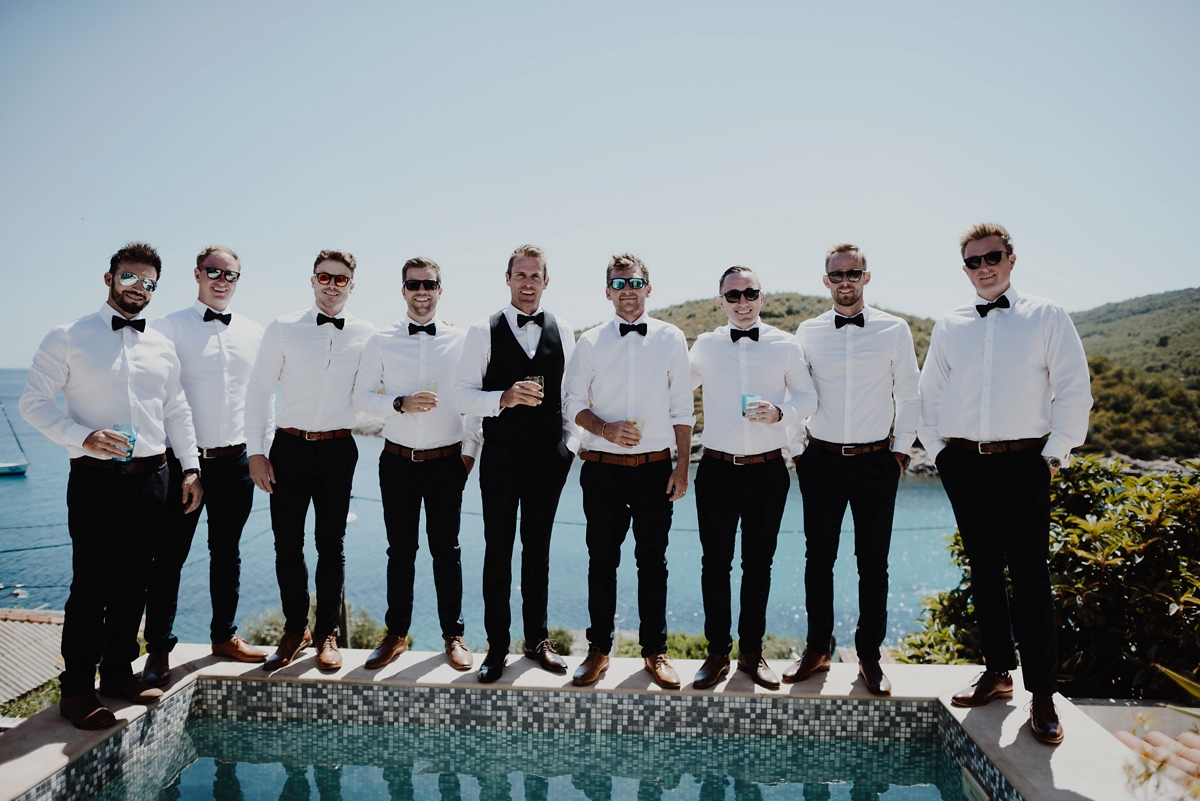 "We initially thought we would be lucky to get 30 guests to join us on this adventure across the globe, we were pleasantly overwhelmed when we had 71 people join us. What an honour it was to have all our closest friends and family in the most beautiful location we could have chosen."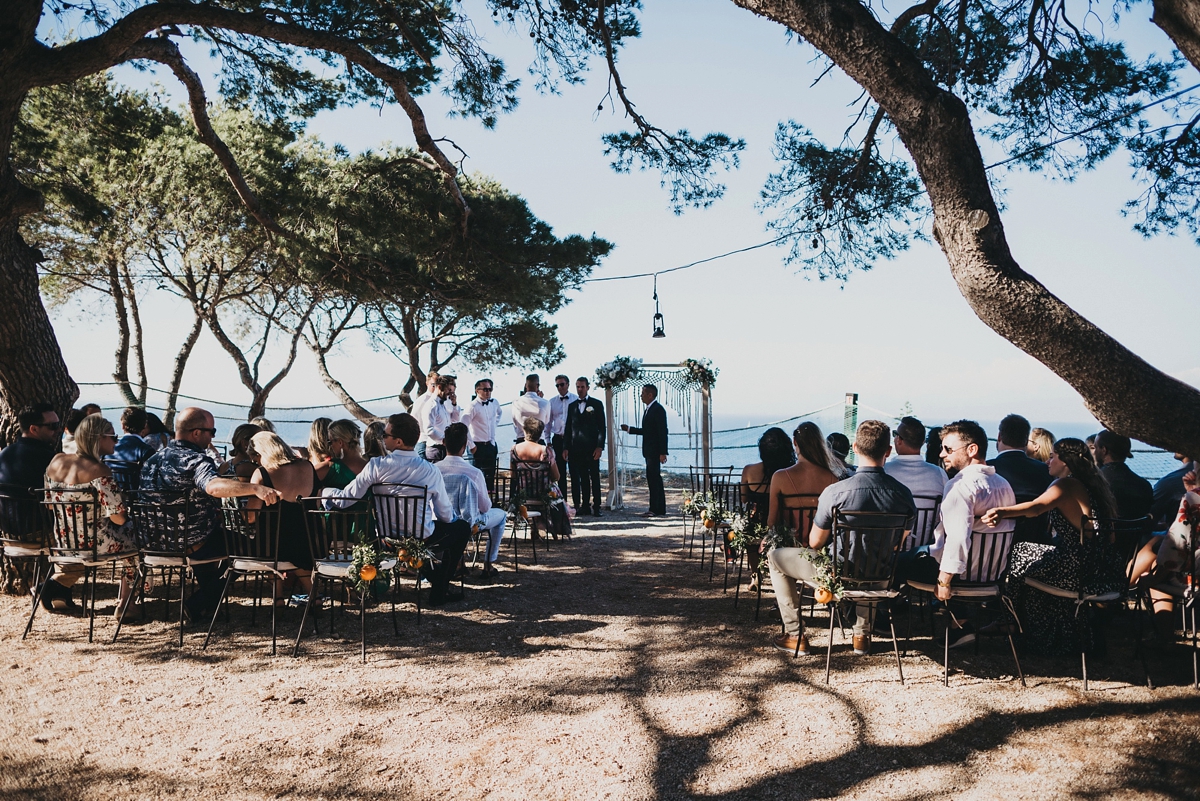 "We found Fort George online and knew it was the place for us, but a little uncertain to commit to it, we decided to travel to Vis to see the venue. It exceeded our expectations…the venue was a perfect match for us. It was so beautiful on its own, with its rustic chic feel we had to do very little to make it ours. Come 17 June 2017, we had our bags, our moms, our wedding outfits and our closest friends jetting off a little island in the Adriatic for a 3 week holiday and wedding celebration in between."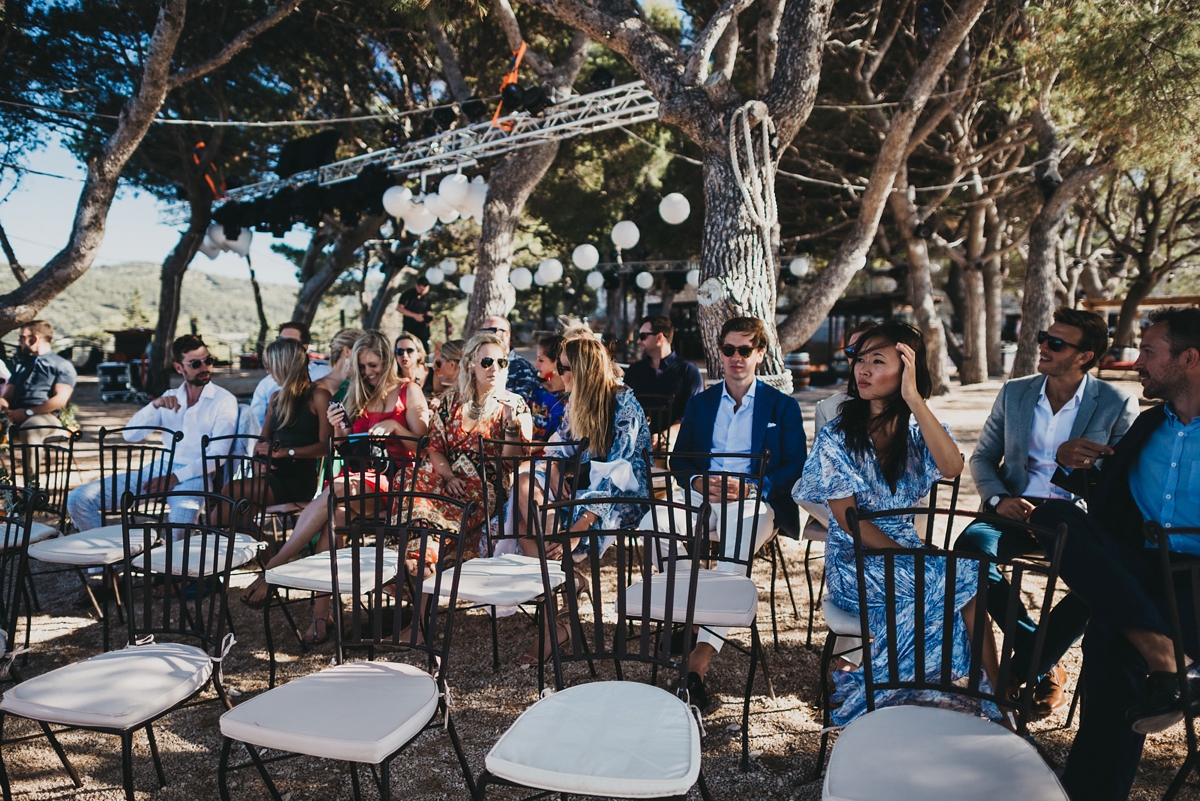 Floral arrangements for the bridal party and venue were by Cvjetni Studio Mirella, with oranges and olive branches and other seasonal greenery in relaxed bunches and garlands on chairs and over tables, weaving what must have been a deliciously scented spell on a warm summer day.
Niki and her bridesmaids carried fresh, summery bouquets of blowsy white blooms, accented with blush pink and more lovely sprigs of olive and other foliage.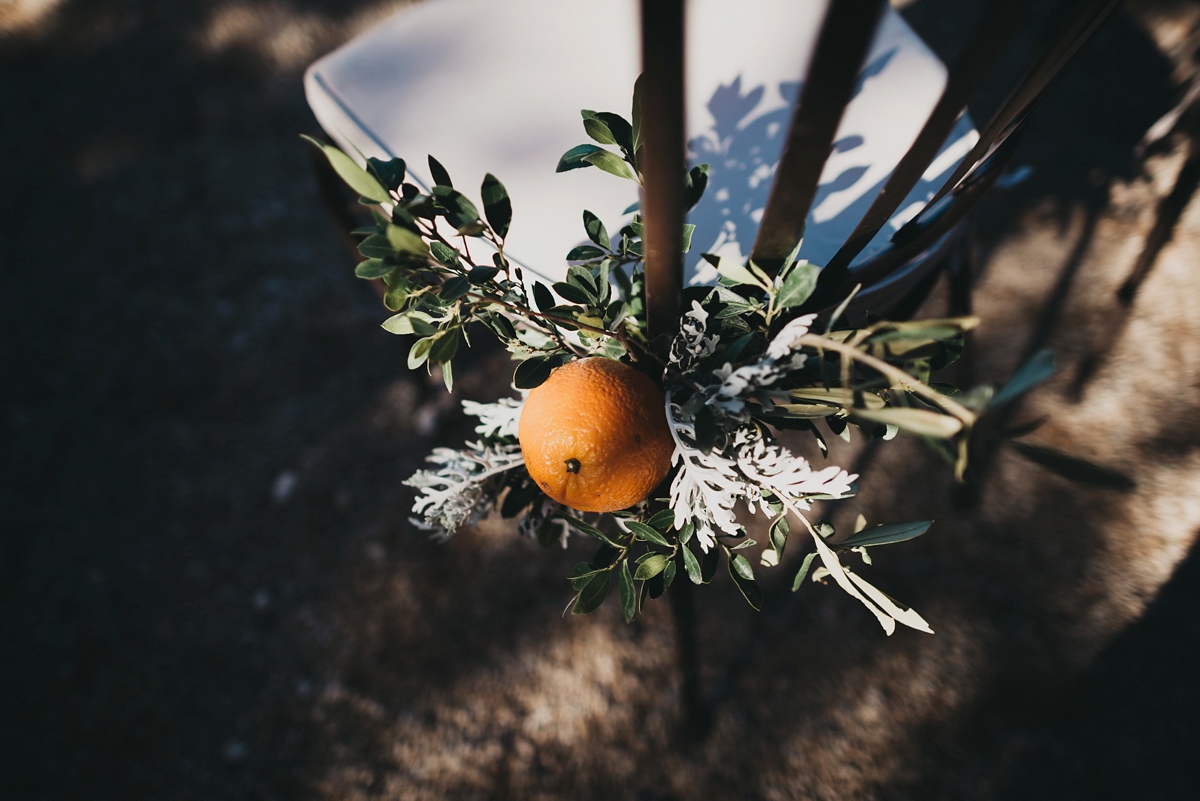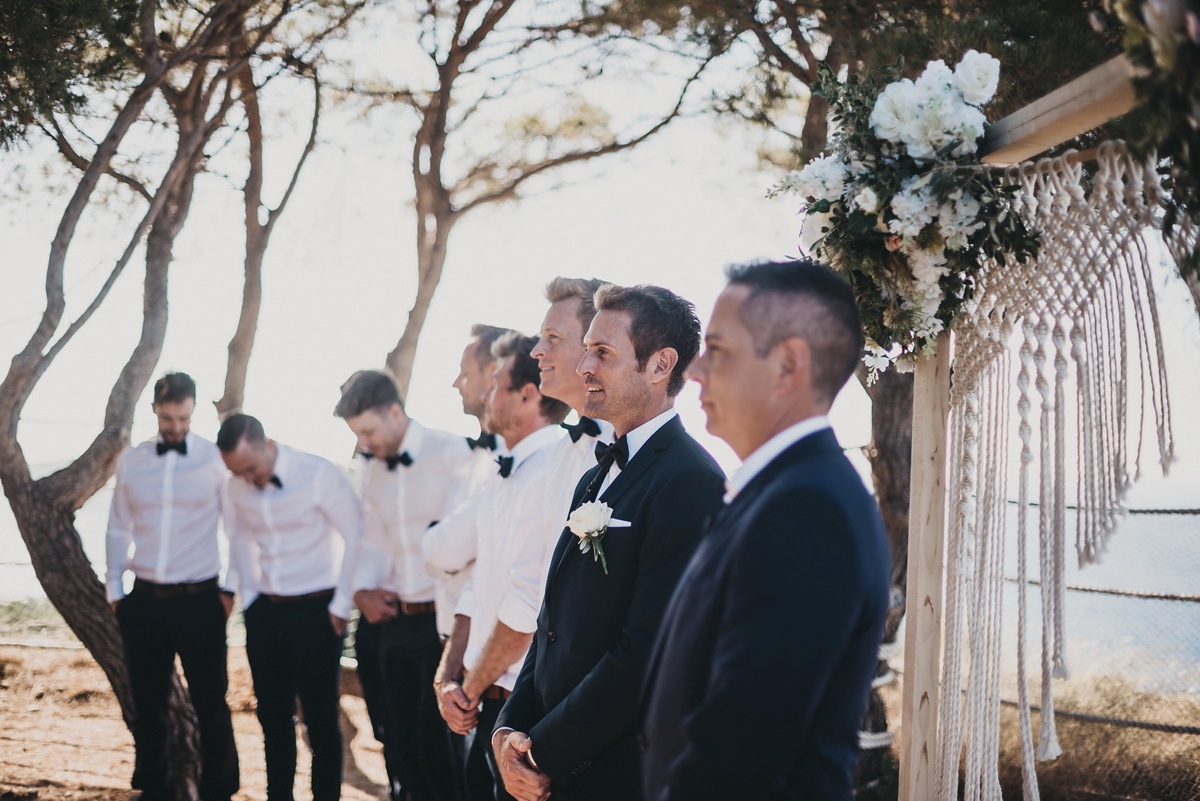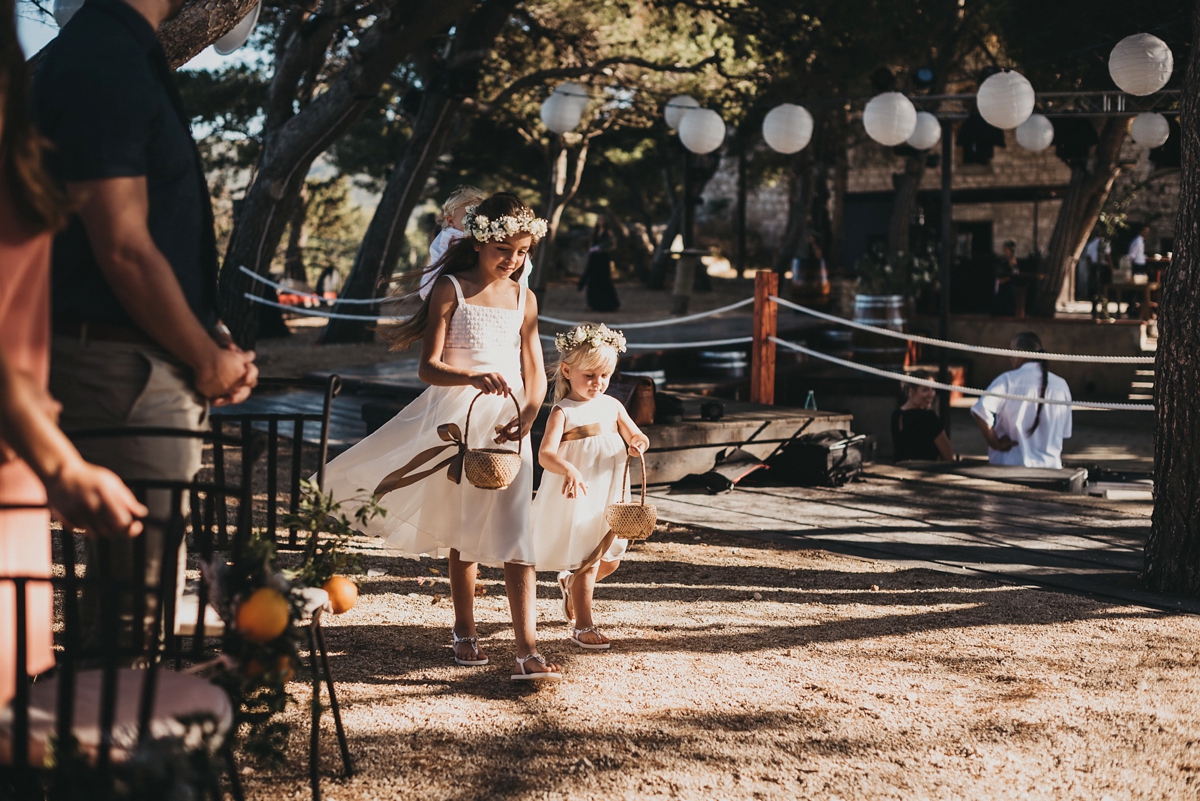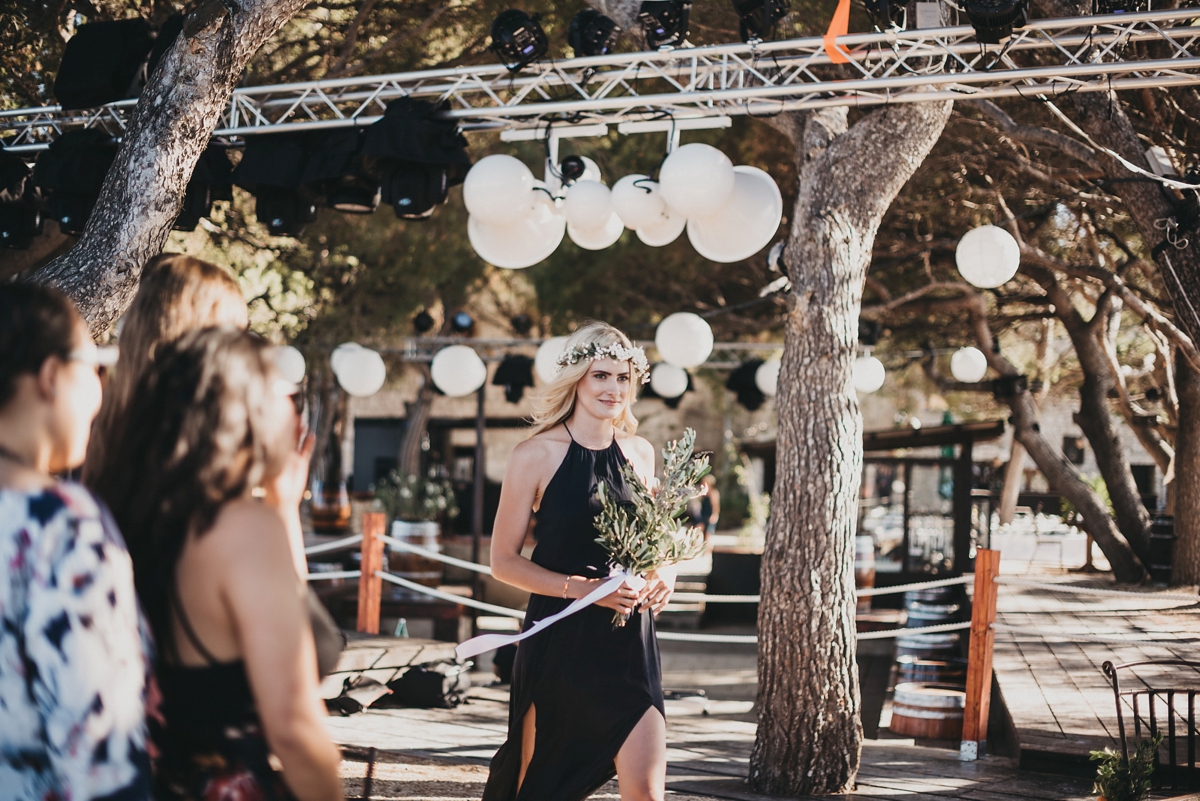 How proud and happy did Niki's mum look as she accompanied her daughter down the aisle to meet Rory and exchange their vows beneath a rustic wooden arch decorated with macramé.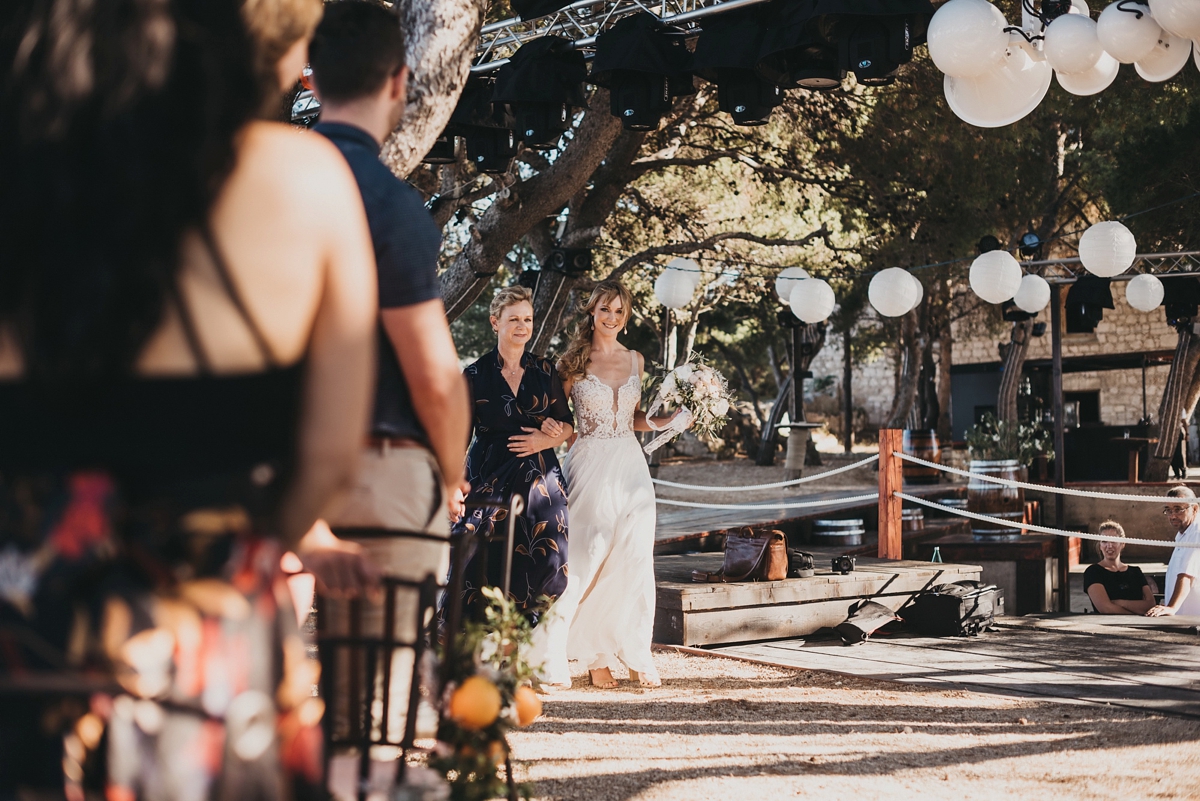 '" will never forget the moment on top of that hill – The trees rustling in the warm breeze, sailboats speckled in every direction and looking around and at Rory thinking, we did it, we are here."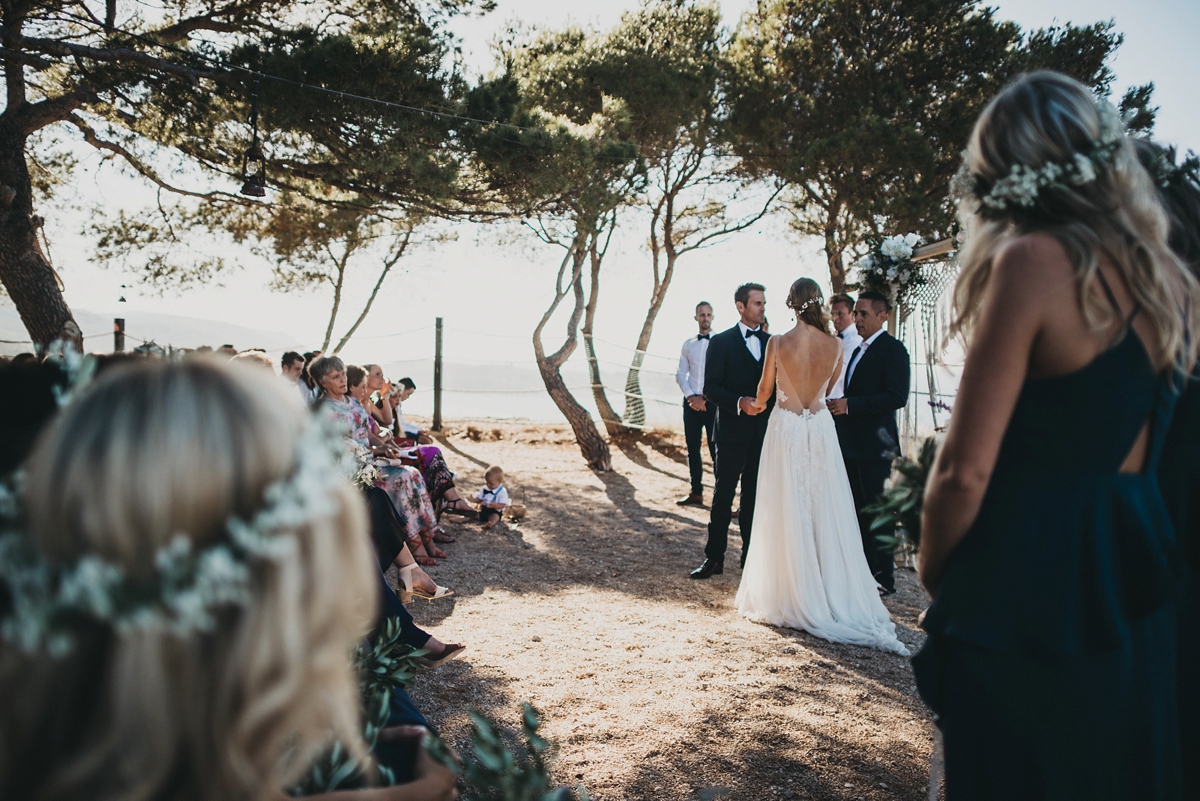 One Day Studio perfectly captured the spirited, joyful heart of Niki and Rory's day, and it's a pleasure to share their work with you. The azure Adriatic provides a breathtaking backdrop, with the sparkling water rising to meet bright blue summer skies and the wild island beauty of Vis. One Day Studio captured this and all of the little details throughout Niki and Rory's day.
I particularly love the shots of the couple together just before sunset, as the golden light gradually changes until the couple are silhouetted against the sea and the sky.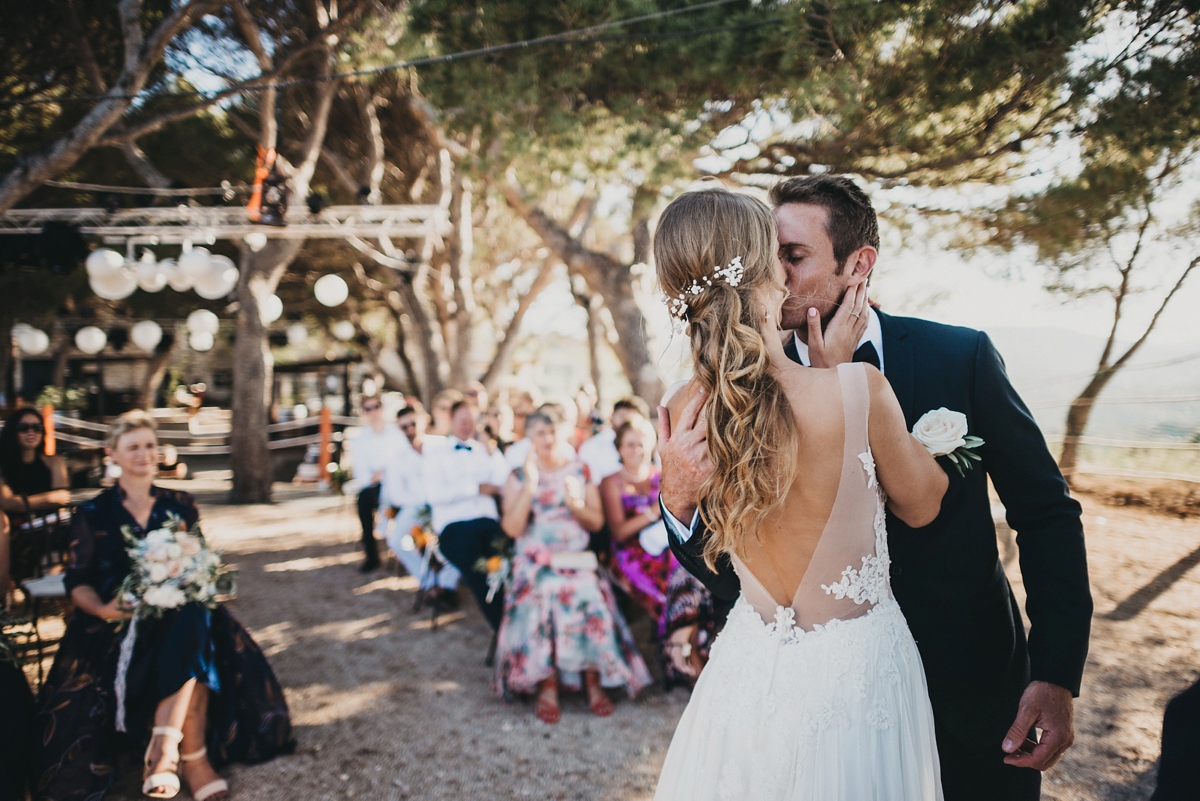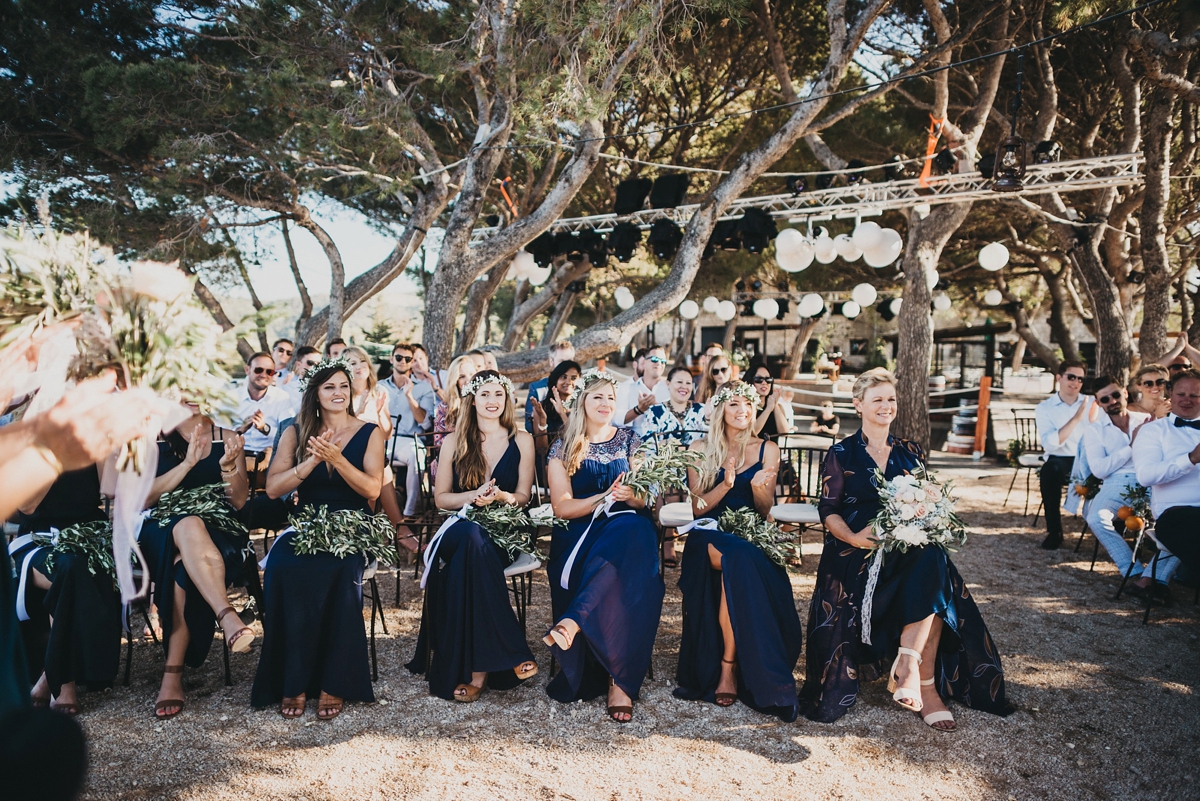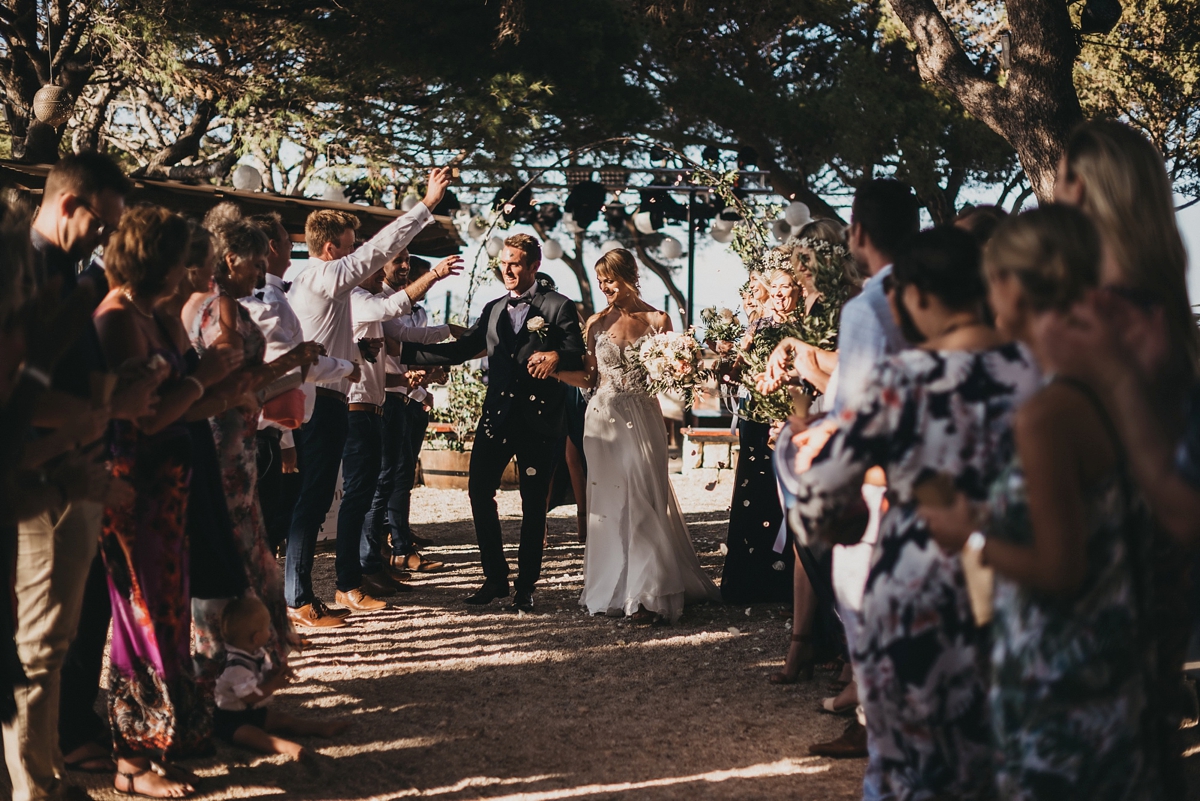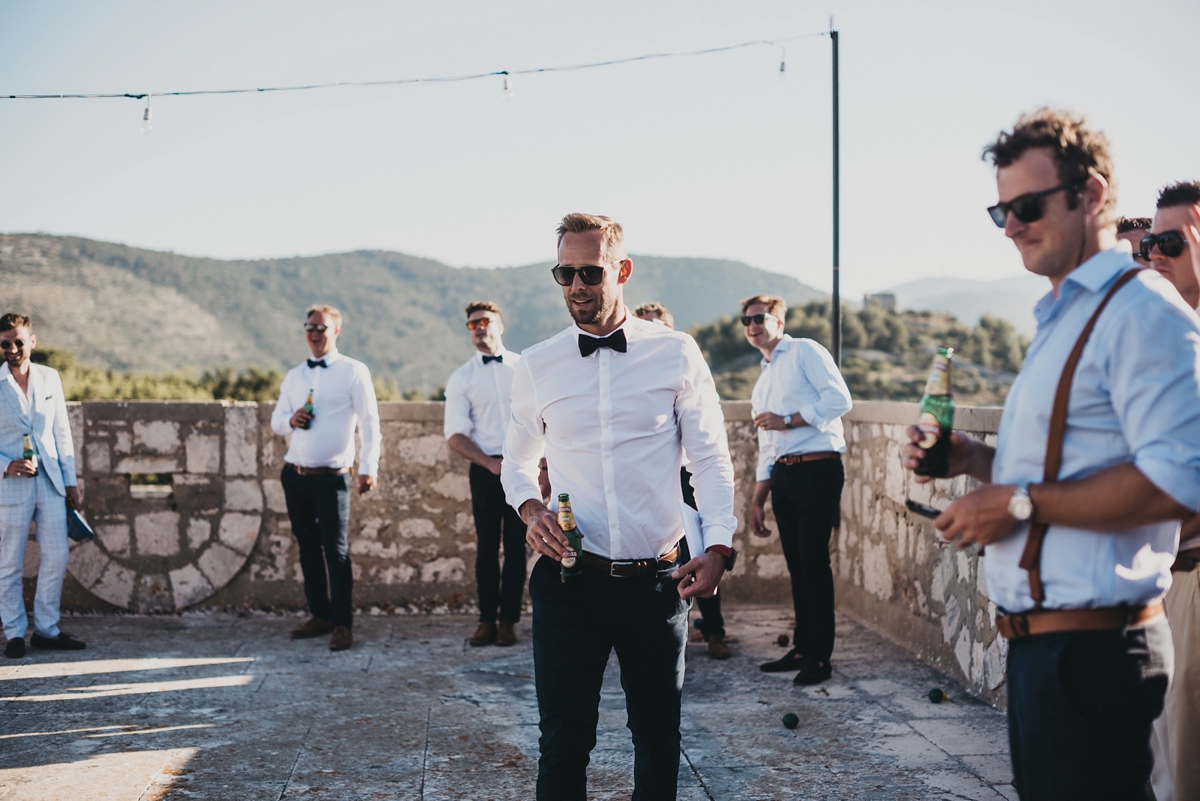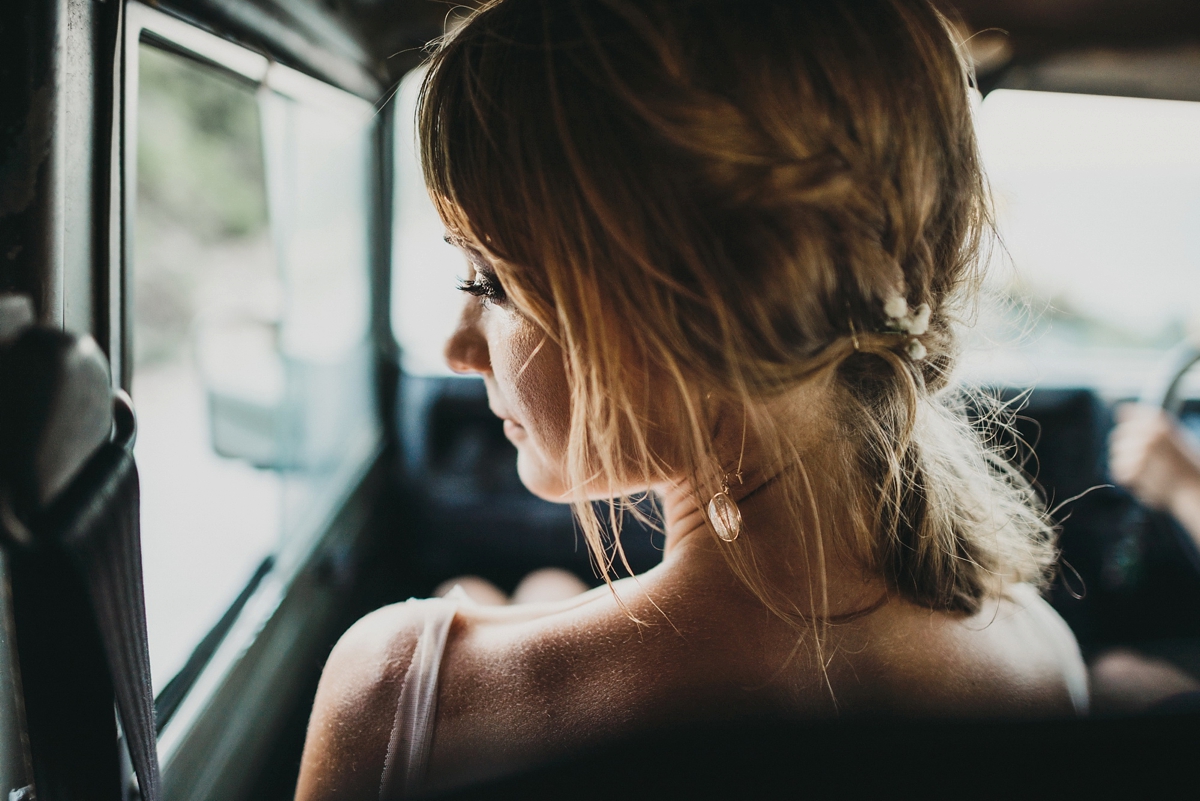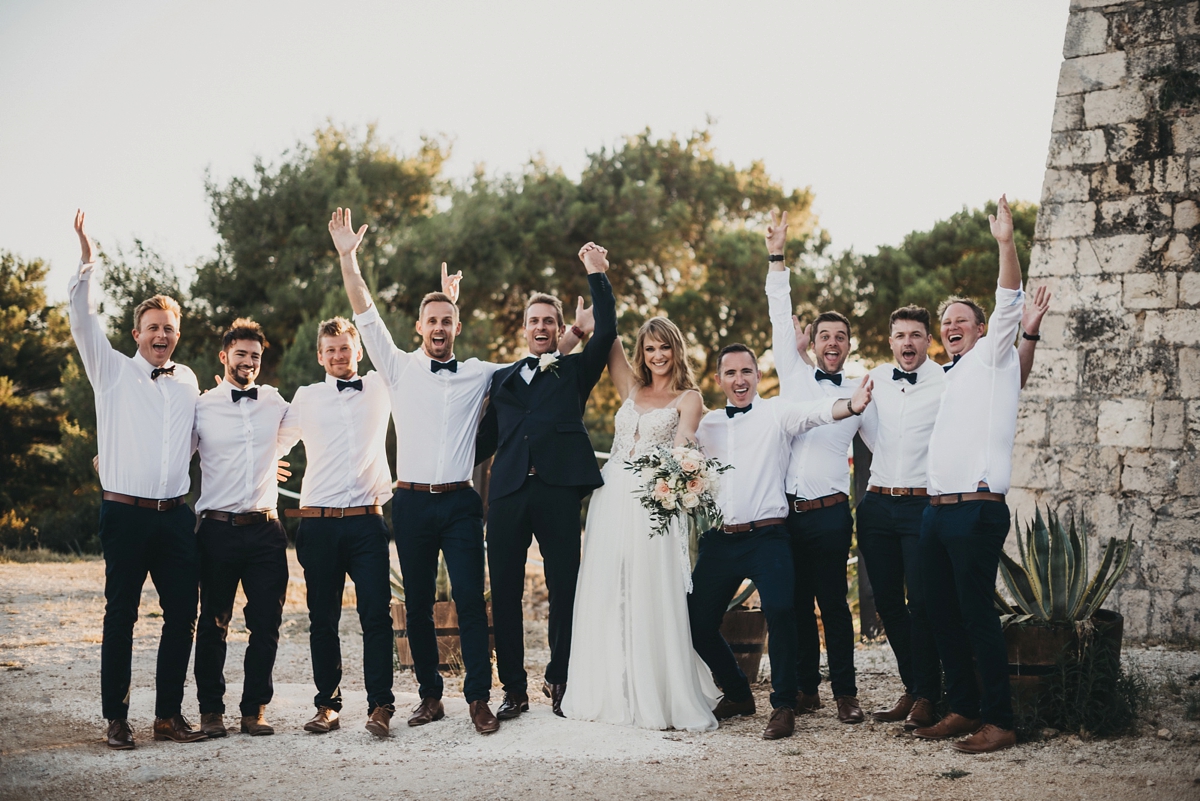 Phlo Stationery designed stationery for the day, in keeping with the relaxed, bohemian feel, and as well as tables laden with garlands, candles and crystal vases, guests also received hand-painted, personalised pebbles by Olivia Post at Wild Minds – such a lovely reminder of a happy day.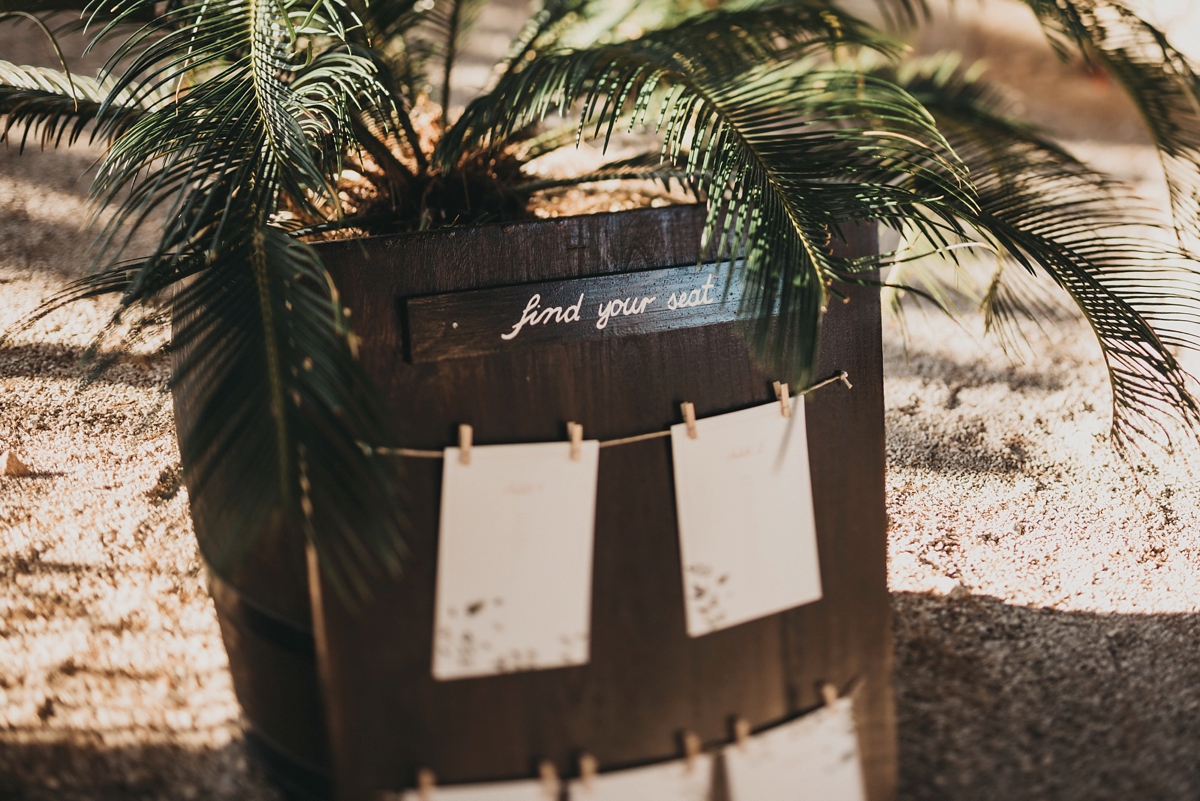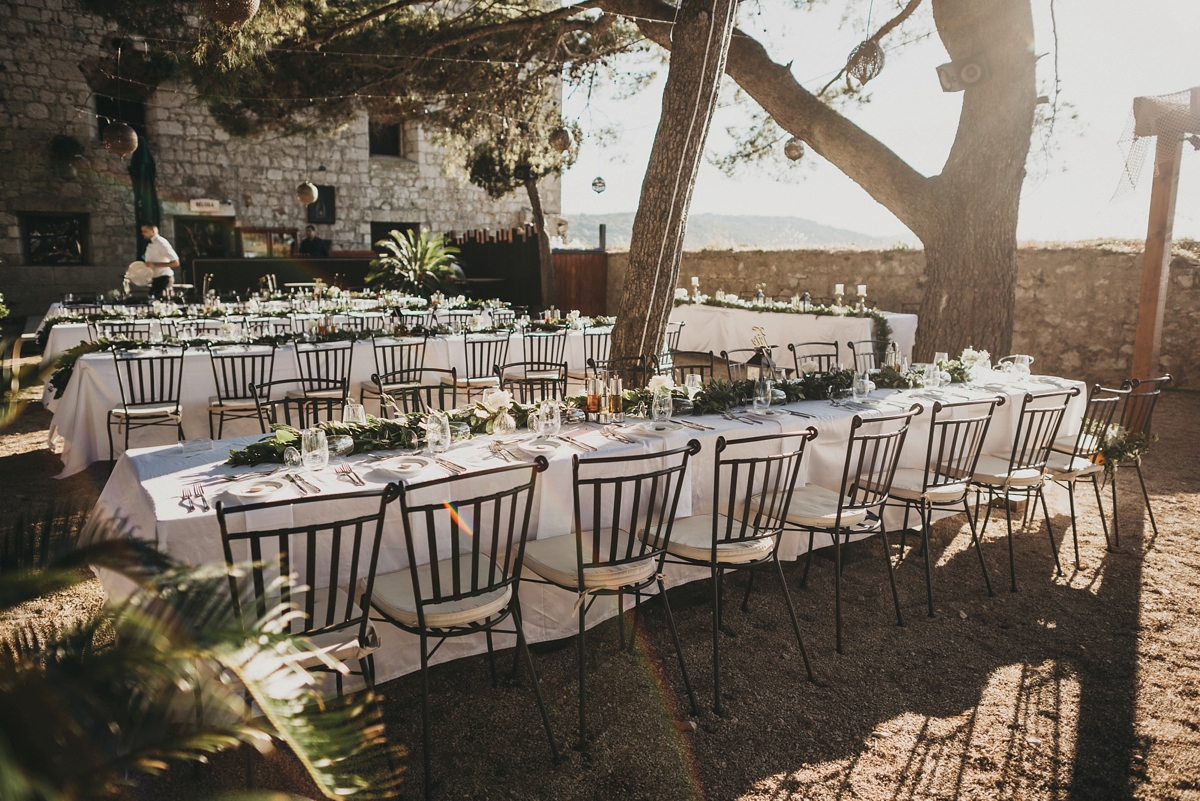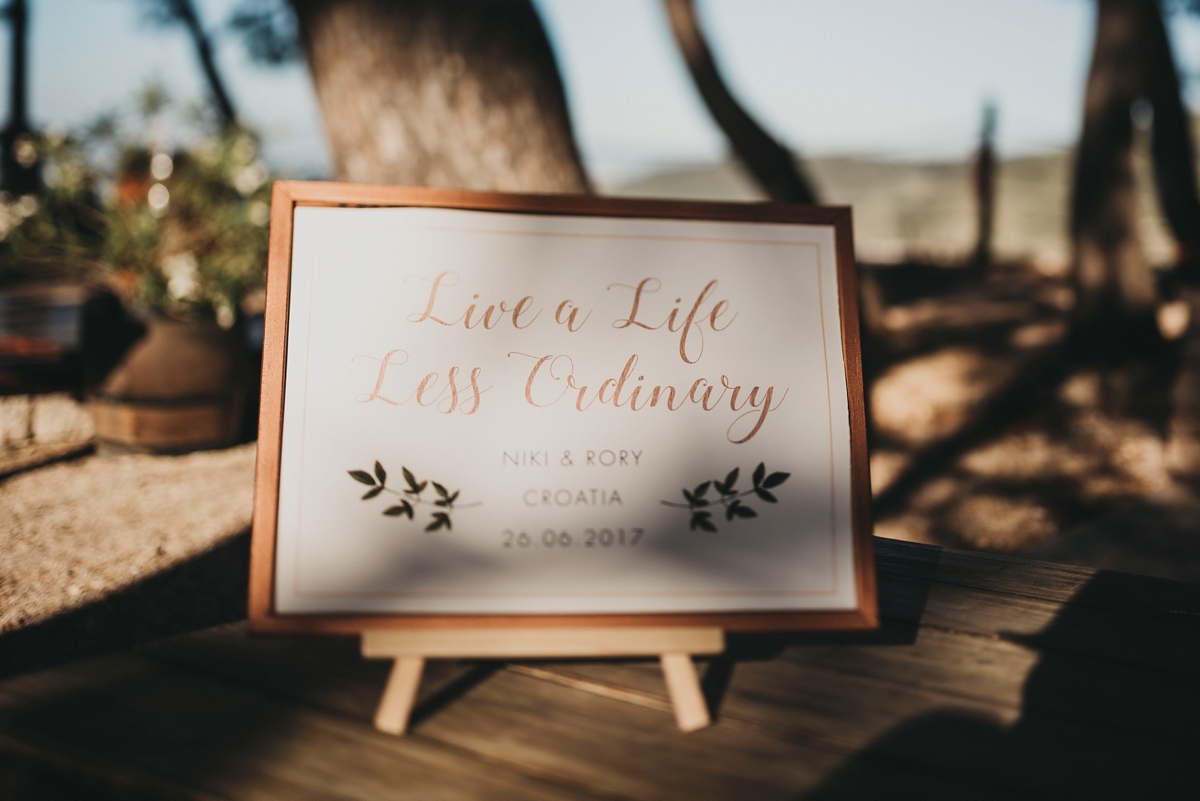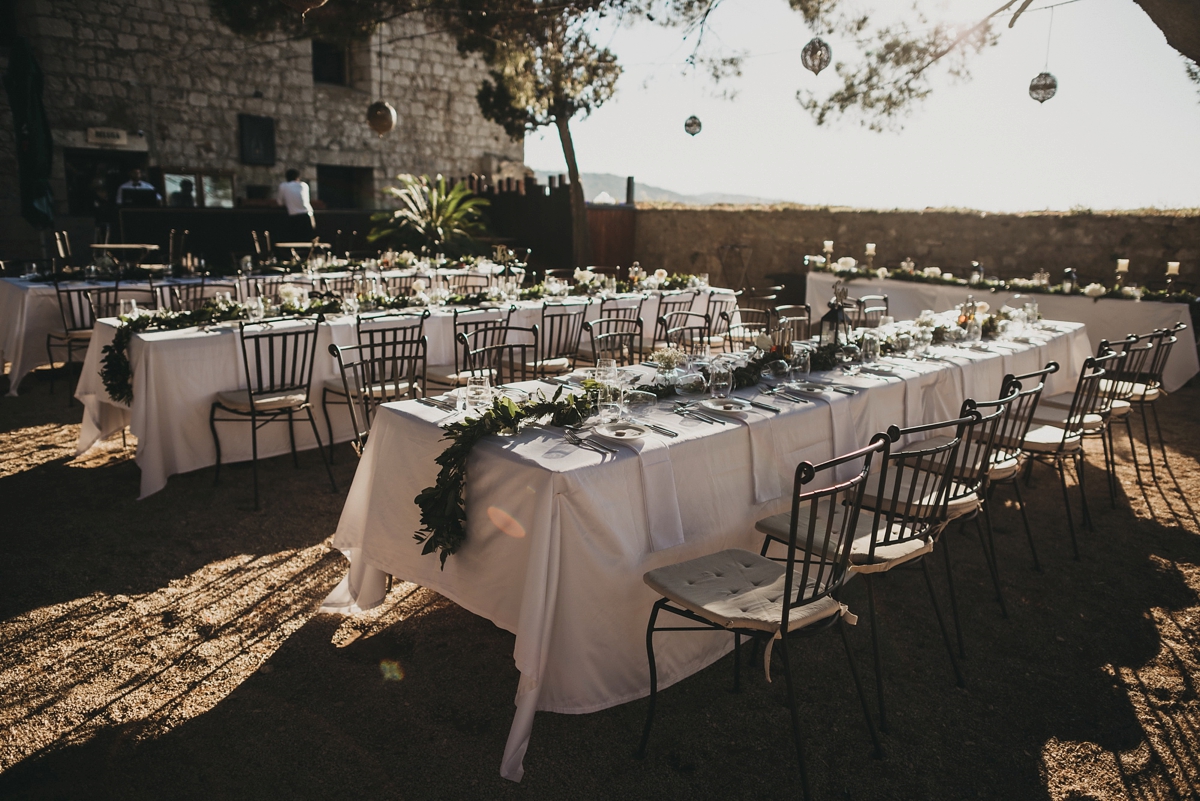 The team at Fort George created a wonderful Dalmatian feast with Croatian wine, cocktails and prosecco for Niki, Rory and all their guests.
"With twinkling fairy lights and amazing Croatian food and wine, it truly felt like a medieval fairy tale."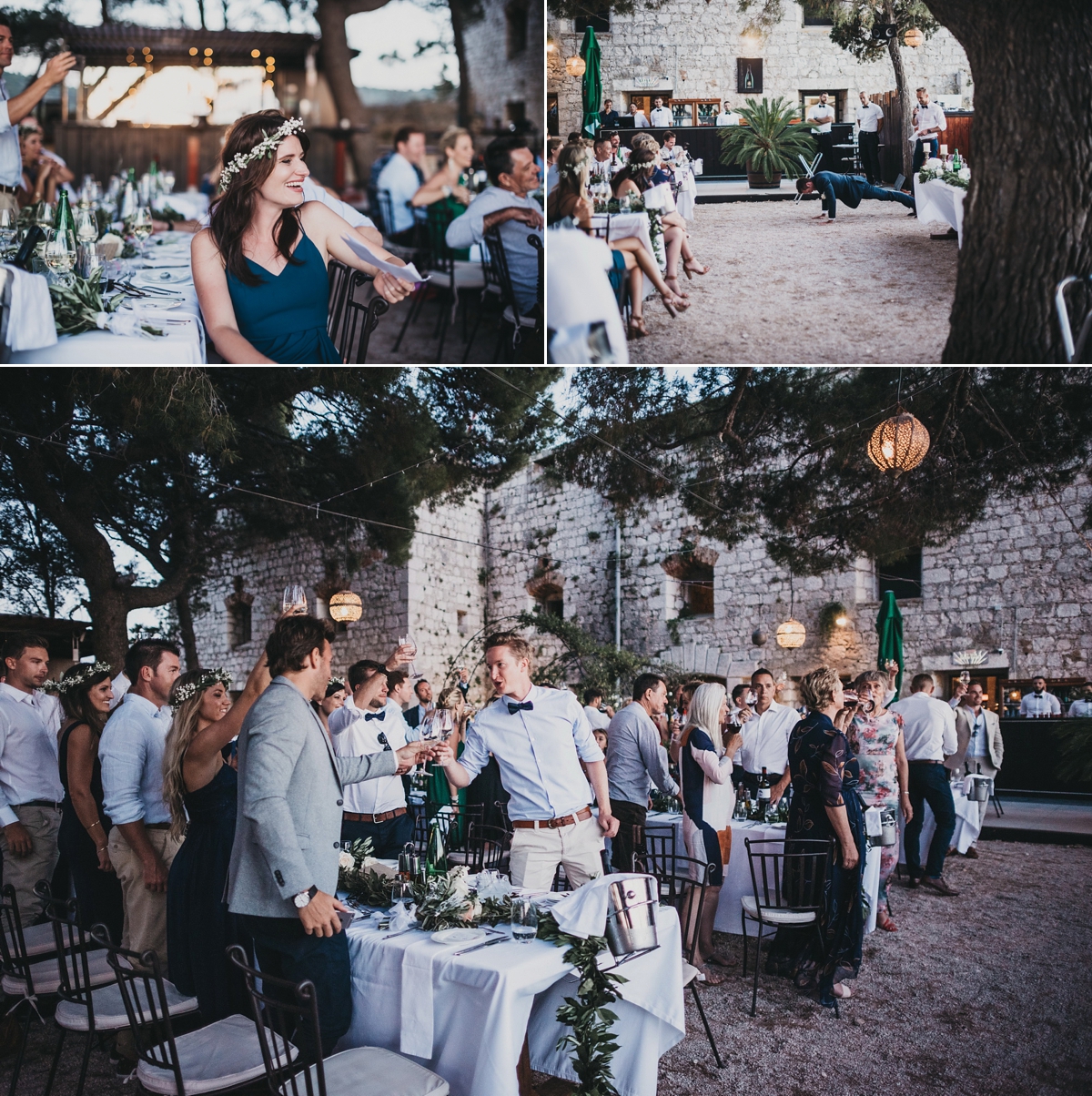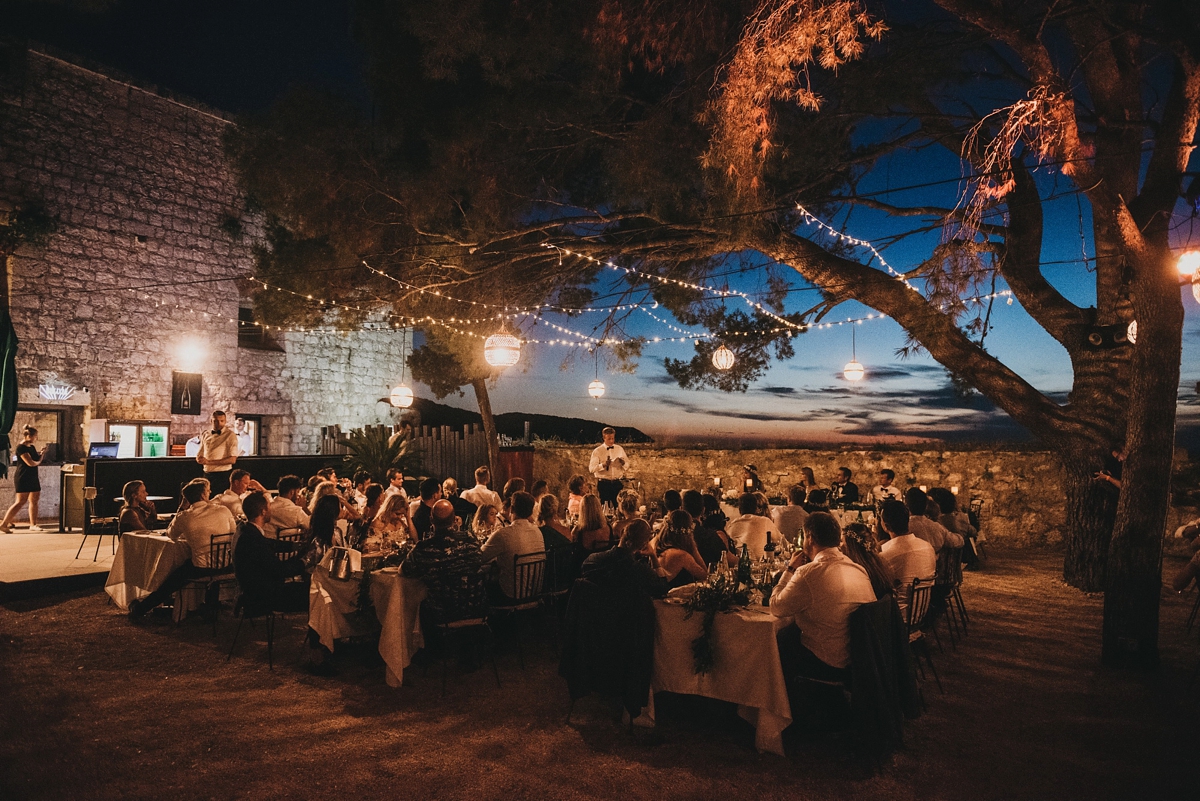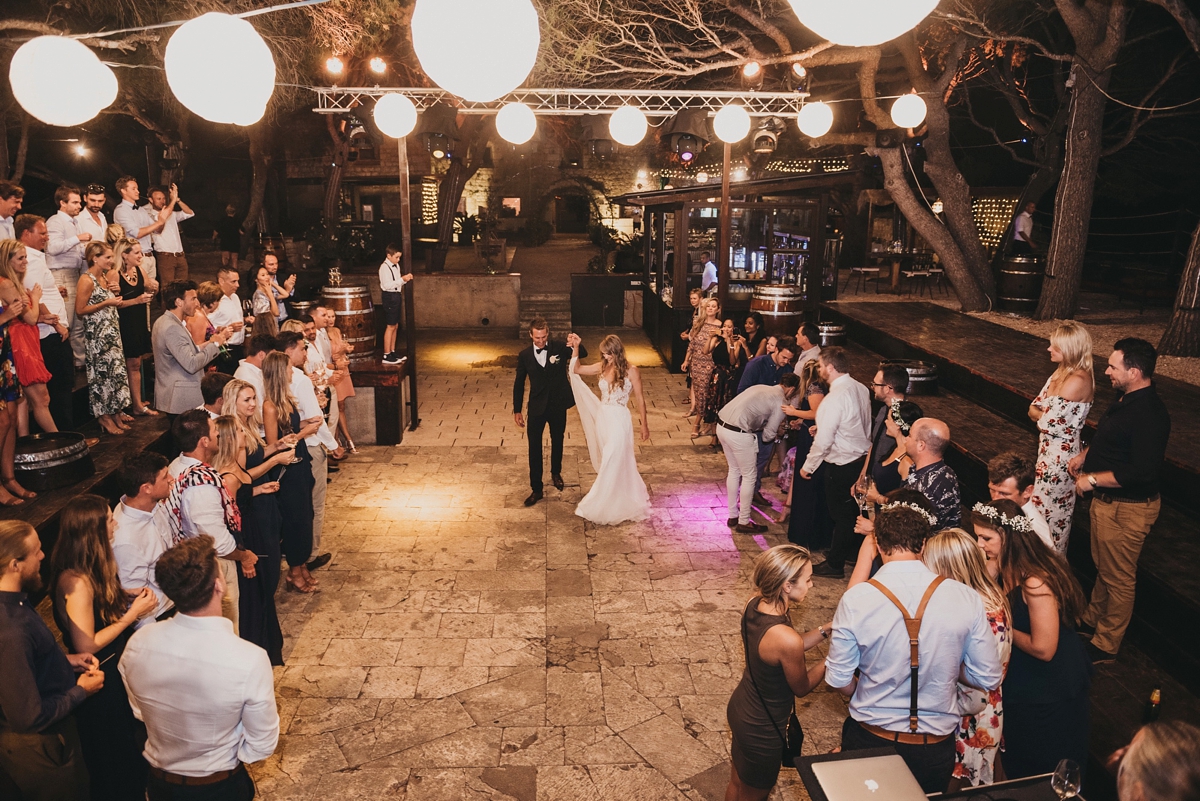 "From the build-up of the day, pre-wedding cocktail parties mixed with a miraculous thunder storm, a beach buggy filled to the brim with 12 laughing ladies for my mini-hen party͛, to the wedding day where the day started with a swim in the ocean, to the moment where my bridesmaids, mom and the first ladies sang at the top of our lungs in the bus on route to the venue – Everyone dressed up, looking beautiful, all a little nervous and trying to not melt in the heat."
"To the breathtaking sunset that was our dinner backdrop…to the all-night dancing. Through to the after party where we found ourselves swimming in the sea as the sun came up, it was the perfect day for us and we couldn't have imagined it any other way."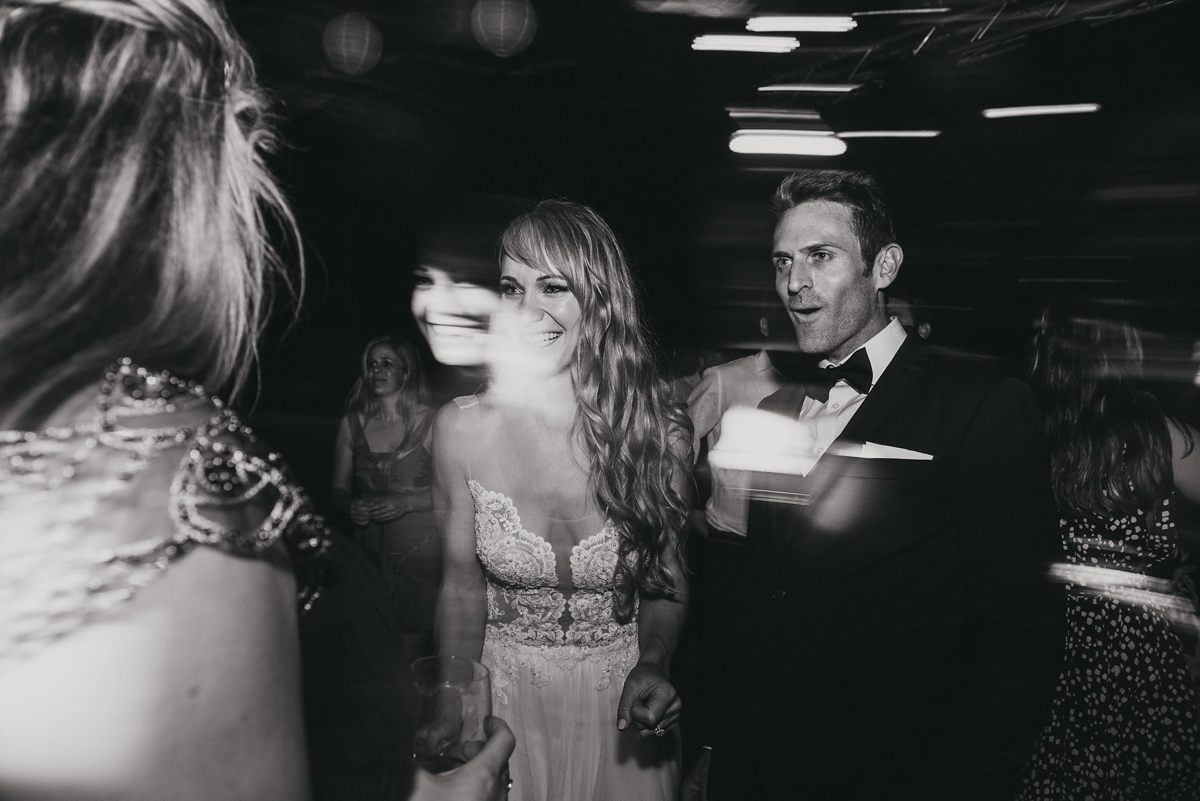 Words of Wedded Wisdom
"My advice for anyone planning their wedding, keep it simple but keep it unique, don't sweat the small stuff (maybe leave that to the experts) and don't forget to take it all in, it happens once so make the most of it."
"Time is precious, especially time spent with all your family and friends in one place. The people at your wedding are what make it special, take care of that and the rest will take care of itself."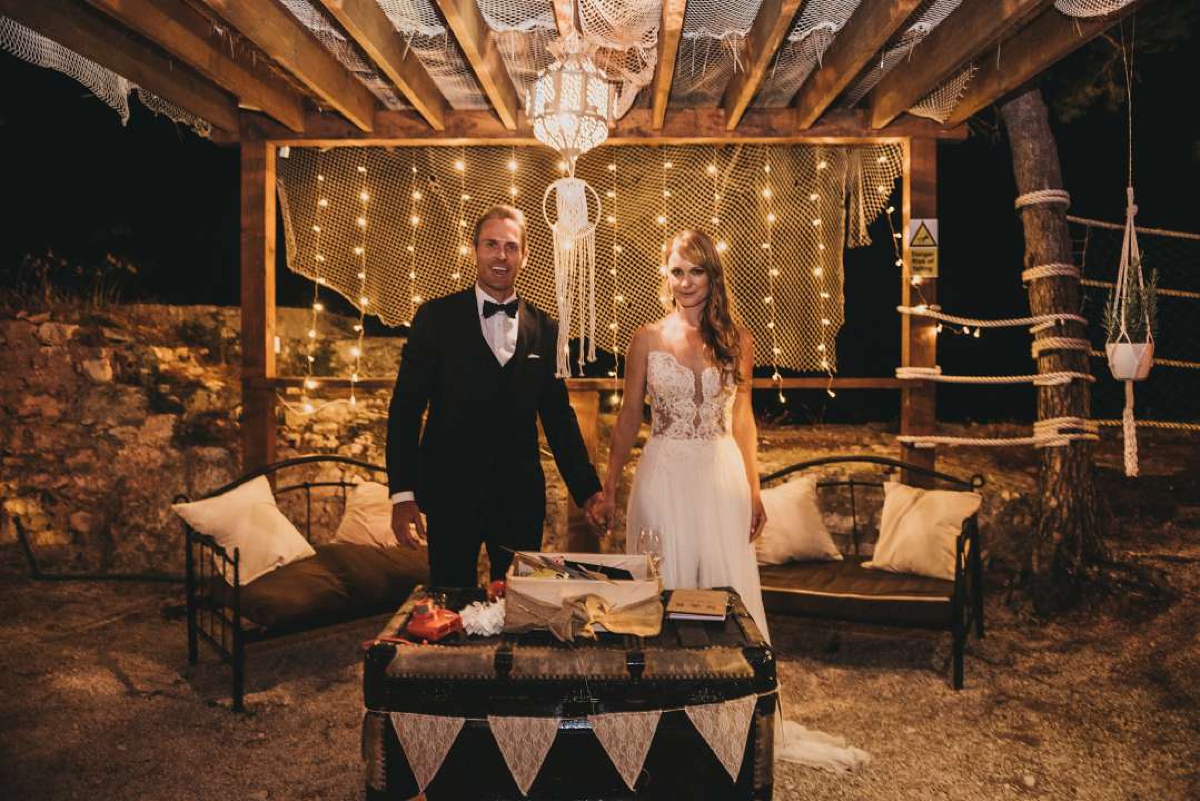 Thank you so much Niki and Rory, and to One Day Studio and Promessi Weddings & Events for sharing this glorious, sun-drenched day with us.
With love,
Laura