I love when a wedding pops into my inbox and I'm blown away by the dress. Particularly when the dress has been made by my all-time favourite wedding dress designer (*insert heart eye emoji here*). I think it's safe to say I can't wait to share this wedding with you lovelies and the dress fits in with London's hottest wedding venue just perfectly. So what are we waiting for, let's begin…
Today's bride and groom Duncan and Louise were married on 30th September 2017 with a ceremony at The Asylum in Peckham, London, followed by a reception at The Star pub in Highgate. On hand to capture the beautiful bridesquad on camera was our Little Book Wedding Directory member, photographer Heather Shuker of Eclection Photography. We're really proud to recommend only the best suppliers in the industry through our Little Book. By the way – there are some BIG things a-happening behind the scenes regarding our directory…. 🙂
"I met Heather at The Most Curious Wedding Fair just days after Duncan and I were engaged. We got chatting and clicked straight away. I felt really comfortable with Heather and she gave great advice on wedding planning. I just knew we had to have her be part of our day. When we met together we booked her straight away!"
Images by Eclection Photography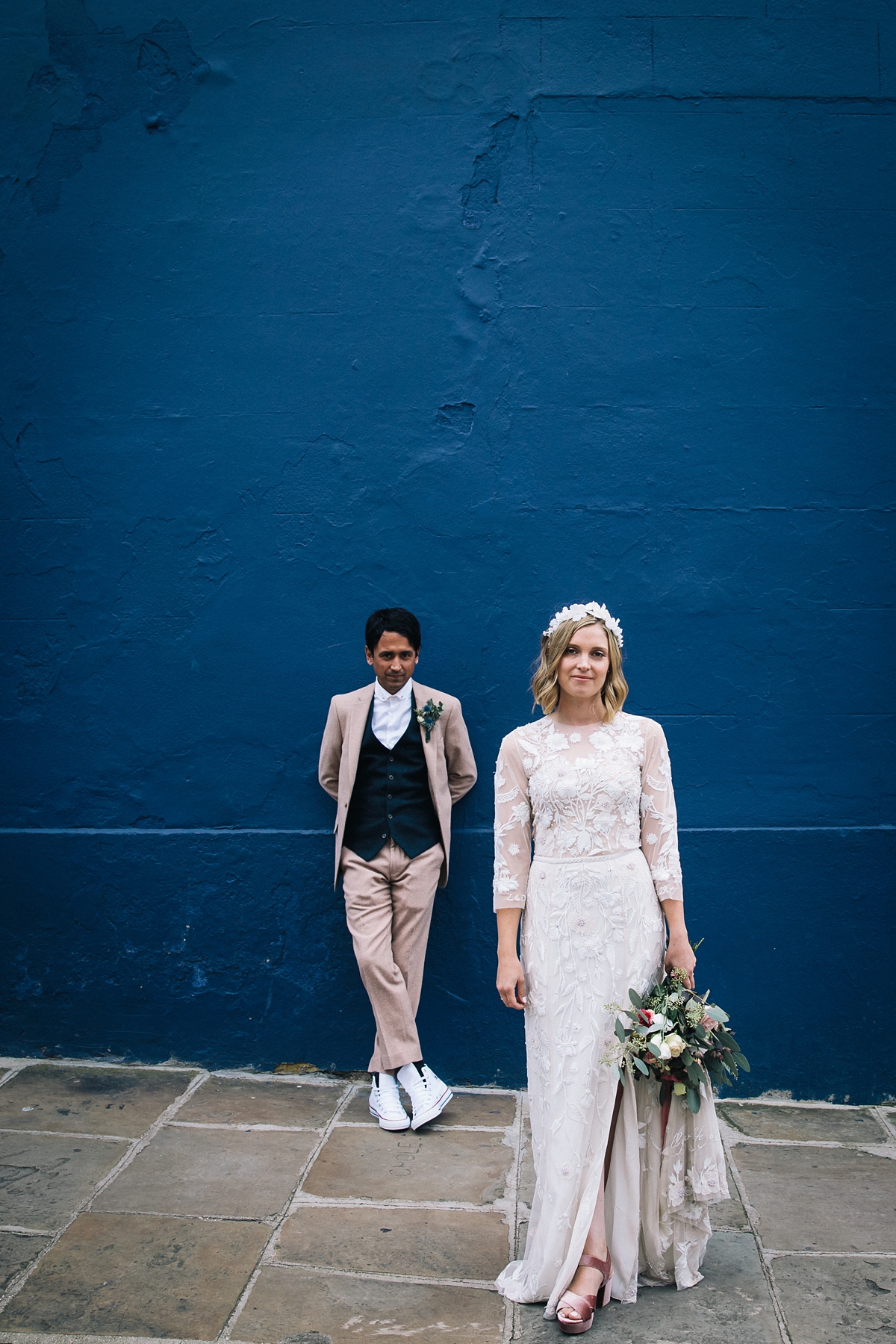 "Heather's pictures have a really unique quality about them that captures the essence of you. She doesn't put you in uncomfortable positions or take you away from your guests for large parts of the day, instead she fits her pictures in almost without you knowing. I would also advise doing 'nearly married' shoots with your photographer if you can."
"It's a great opportunity to spend more time together and for your photographer to see what works for you as a couple and what doesn't. It made us feel more at ease in front of the camera on the day because we'd done it before and we knew what Heather was trying to achieve. I really think the pictures are better for it."
We don't like to burst our own bubble but its wonderful news to learn when our brides discover something as important as their wedding dress designer on Love My Dress, which is exactly where Louise first found designer Hermione De Paula.
"I came across Hermione's beautiful dresses on Love My Dress and knew I'd found the one for me. I was convinced she would be fully booked but I got in touch anyway and it turned out they had space to fit me in. I knew I wanted something that was both relaxed but beautiful, and something different. Hermione's dresses are both delicate and feminine, but strong and rebellious."
"The dress really was something I felt so comfortable in and it reflected our relaxed day without fading into the background. I also loved the personalisation element. I really wanted to have a few surprises for Duncan on the day and the sewed some lyrics from the song Blackbird by The Beetles into my dress. I've had so many compliments on the dress – it was a memorable one."
To compliment her extremely on trend dress and gothic venue, Louise found a handcrafted white floral headpiece by Luna Bea.
"I actually fell in love with Lou's headpieces before I'd even found the dress. They are exquisitely hand crafted and are really special pieces to wear. I couldn't believe how well my favourite headpiece, the Ophelia, went with my dress. It was like they were made for each other!"
Louise also wore Lipstick Rose by Frederic Malle as her scent, and with notes of roses and violets, it was the perfect reminder of their special day. Jewellery was kept fairly minimal with gorgeous opal and diamond stud earrings from Maria Tash via Liberty London and a gold ring with turquoise and seed pearls; a family heirloom passed down to her.
The bride also kept her hair and make up look simple with a softly waved down-do by friend and local hairdresser Nadia Rasool, and minimal make up perfectly applied by make up artist Kate Balding.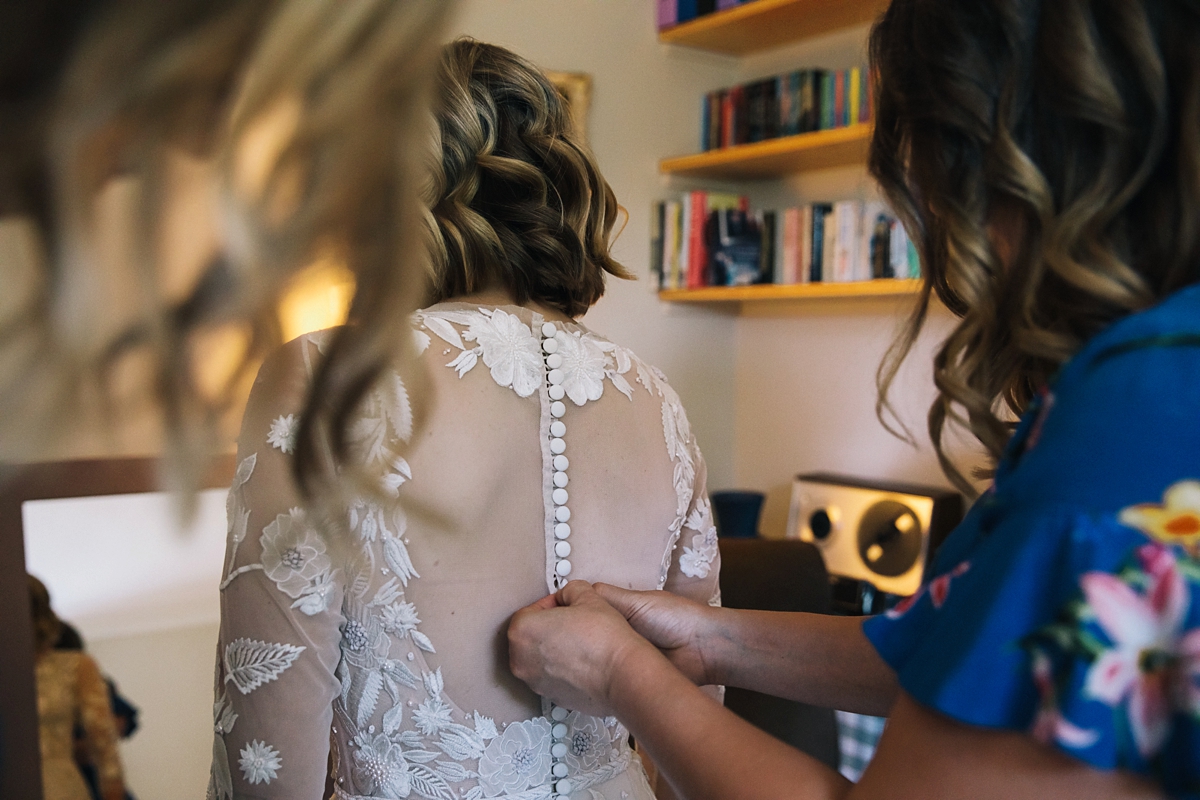 "Kate was a very special find. She's not only a talented make up artist who enhances you on the day, but she's also a great addition to your wedding morning. She's so much fun and makes everybody feel at ease and keeps you laughing all morning!"
Louise's bridesmaids looked equally as cool and fit right into their surroundings in floral blue floor length dresses from Ghost and stud earrings by Wolf and Moon.
The blooming beautiful green and pastel coloured floral arrangements used throughout the ceremony venue were expertly created by florists Floral Evolution.
"Catherine at Floral Evolution was a joy to work with and created beautiful flowers for our big day. We wanted relaxed and informal displays, incorporating garden flowers and a mix of muted shades with a brighter blue running through."
"We wanted to transport our flowers over to the reception venue so Catherine came up with displays that were easy to move. Watching the boys move them was one of my favourite things on the day – they all mucked in."
"Catherine created the most amazing displays that sat in the aisles, making it look like you were walking through a meadow, they were just breathtaking. The arrangements which sat either side of the altar were so impactful too, they were huge!"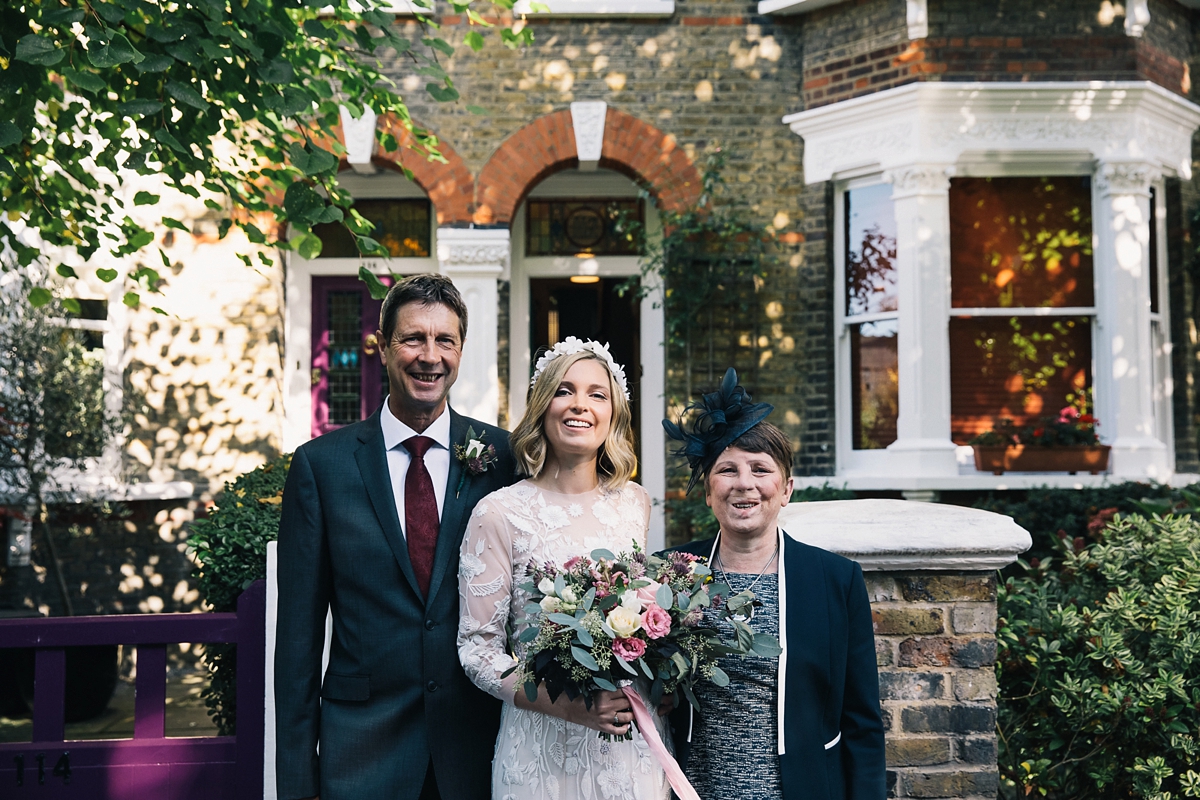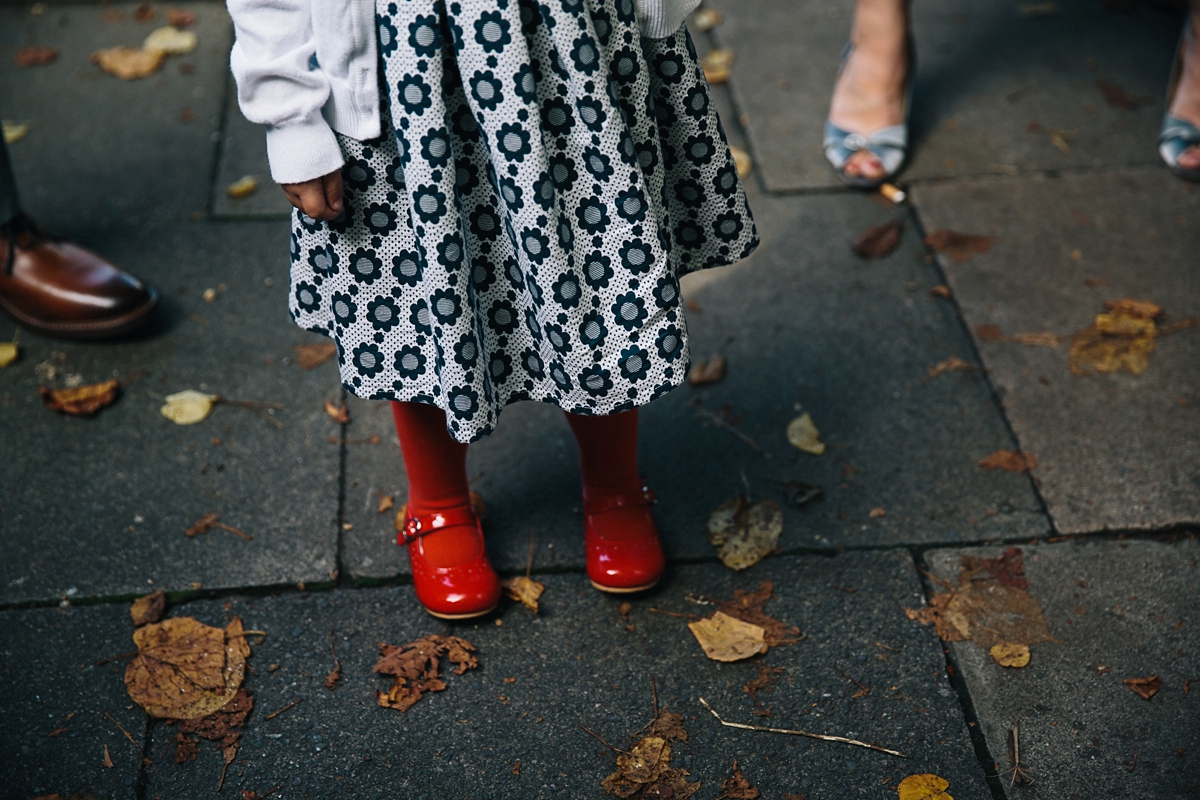 "Duncan stumbled across The Asylum before he proposed and knew it was the perfect venue for us. We went to see it within the first few weeks of being engaged and booked it on the spot. It's the most breathtaking venue and we just knew we couldn't get married anywhere else."
Louise also enlisted the help of a second florist Violet and Frederick to create the bridal bouquets, buttonholes and arrangements for the reception venue.
"Pushkin at Violet and Frederick is a very talented florist and who also did the flowers for both of my sisters weddings. Again we chose an informal, relaxed style using garden flowers and splashes of colour, including some yellow that would stand out against the suits. Pushkin did an amazing job of creating bridesmaid bouquets that fitted perfectly with their dresses. My bouquet was more muted to fit with my dress and so was Duncan's buttonhole to match his suit. We had garlands for our table arrangements with beautiful flowers weaved between. They fitted with our informal setting and longer tables perfectly."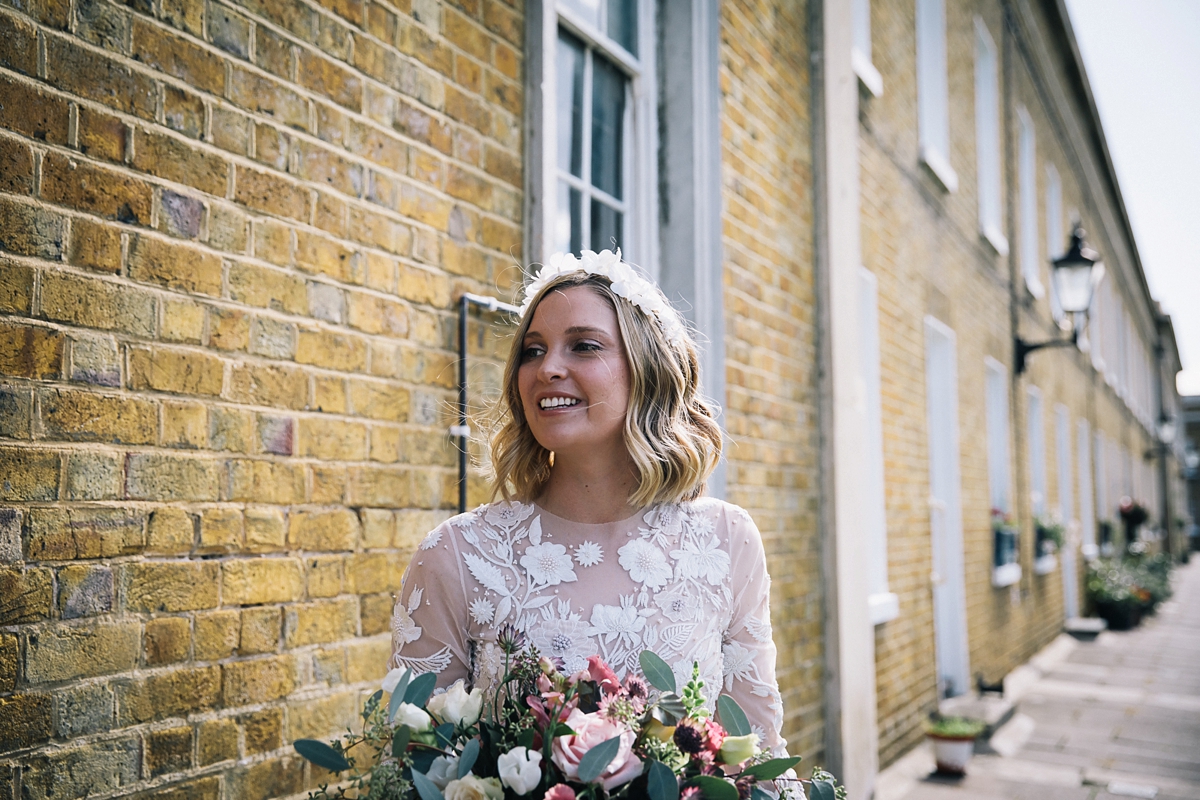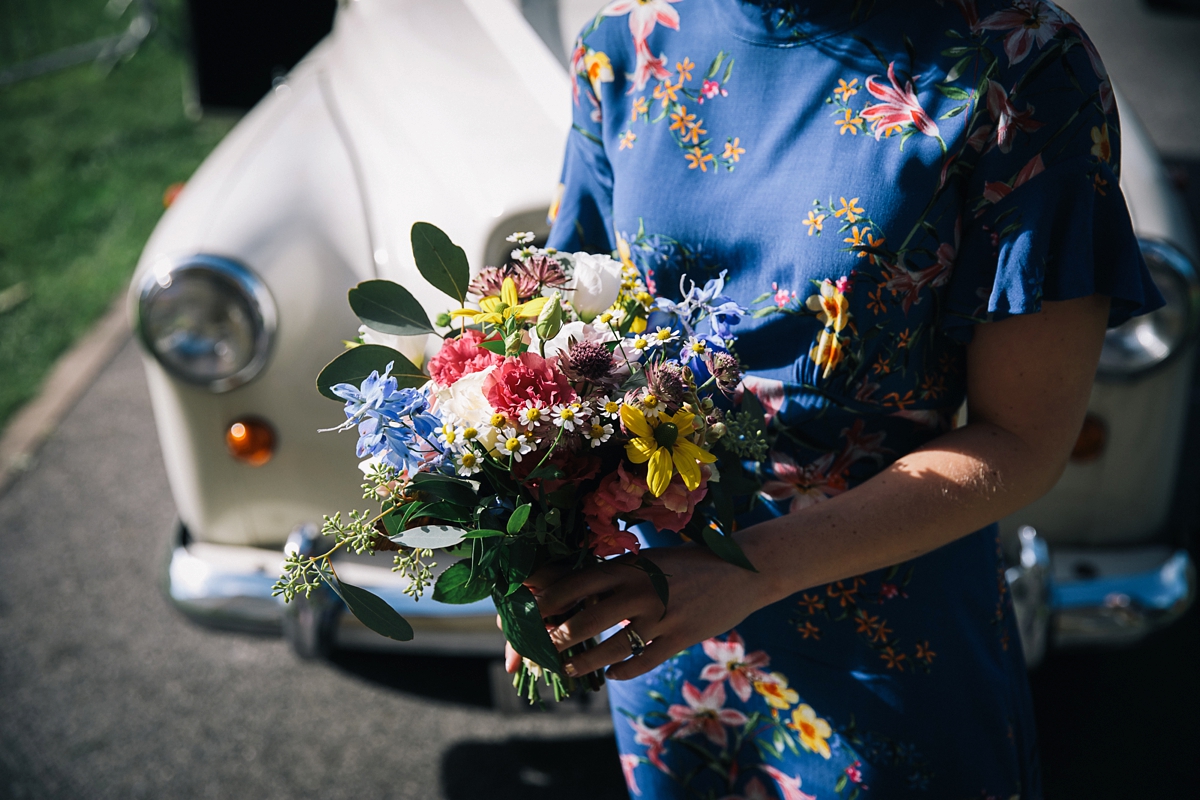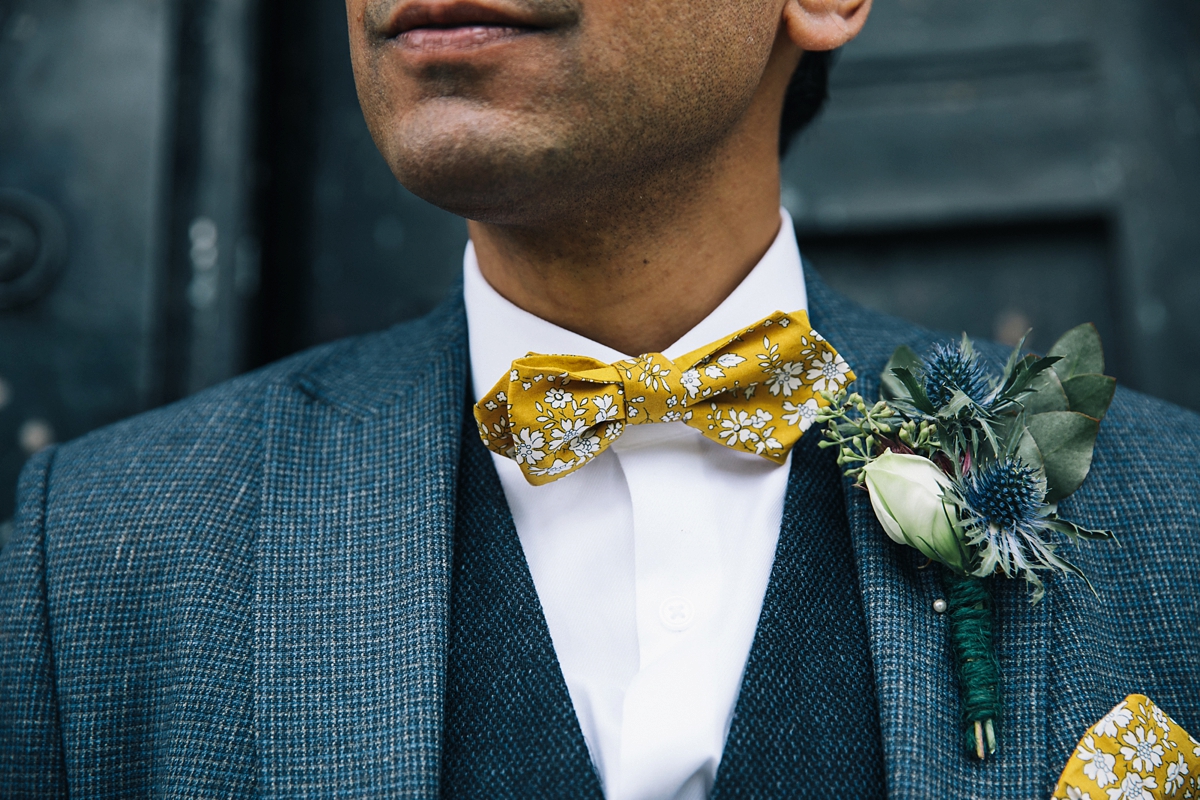 Louise's dad accompanied her down the aisle to Blackbirds by The Beetles played by acoustic guitar. She was met at the end of the aisle by her groom Duncan dressed in a 3-piece suit from ASOS and Topman, accessorised with a bow tie and pocket square from Le Colonel Moutarde and Loake shoes.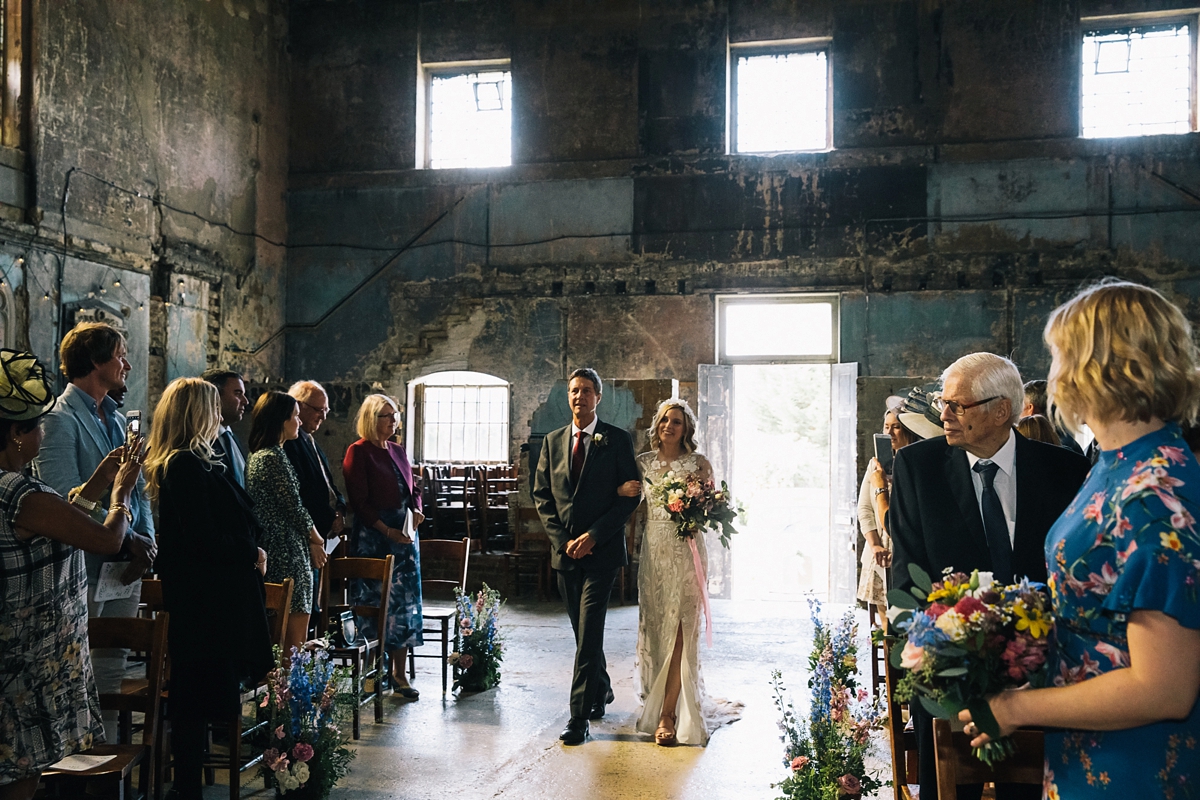 The couple swapped rings which both dated from the 1930s and were purchased from Gray's Antique Centre.
"We've always loved antique jewellery because of the craftmanship and the history that goes with the piece, so we knew that our wedding bands would have to be period. Duncan chose my engagement ring so well that the band had to compliment it. We love that they're both so unique and our bands look like they were meant to go together."
Tying in with the recurring theme of music, the bride and groom tailored their vows by reciting a passage from the Bob Dylan song Nobody 'Cept You'.
"We also knew we wanted to have a choir for the ceremony as it was such a special part of the proposal and really suited our venue. So instead of having a reading we had choir The Bellaphonics sing Here Comes The Sun by The Beetles. We chose it because it's such a happy and uplifting song and puts a smile on your face as soon as you hear it. It was one of our favourite moments of the day and allowed us a few minutes to compose ourselves too."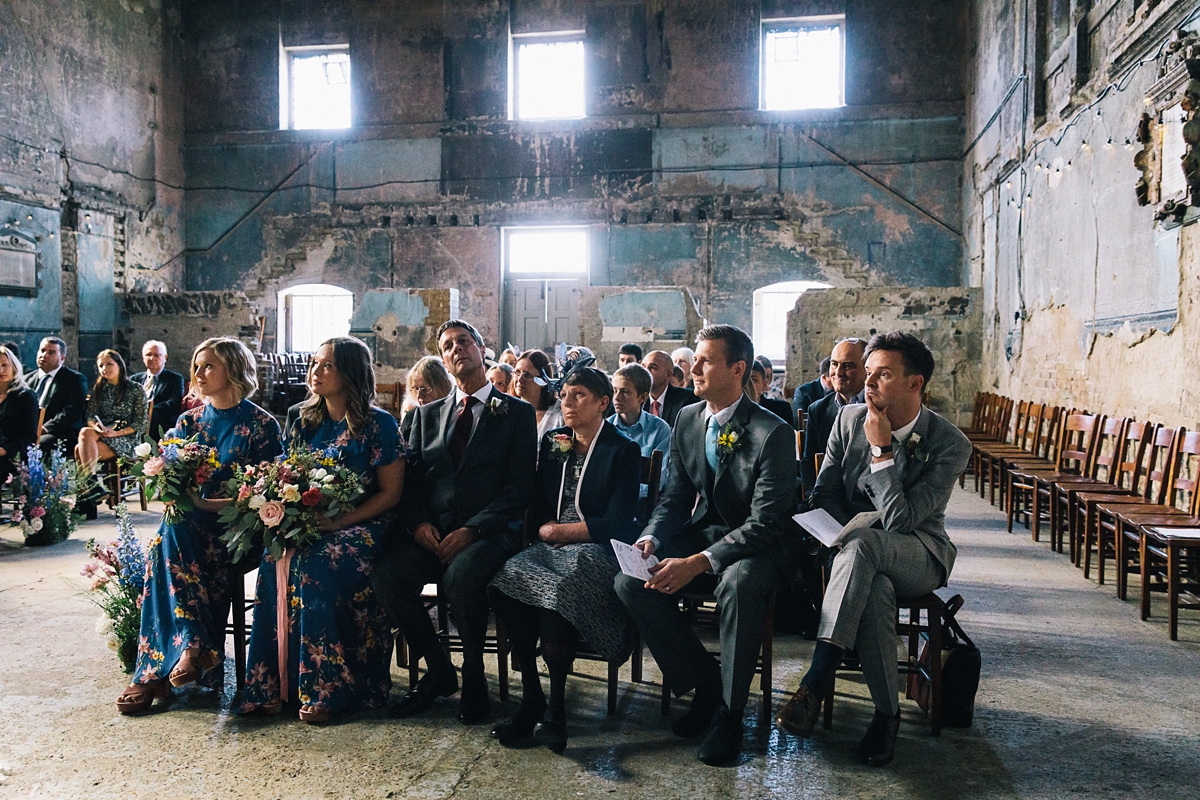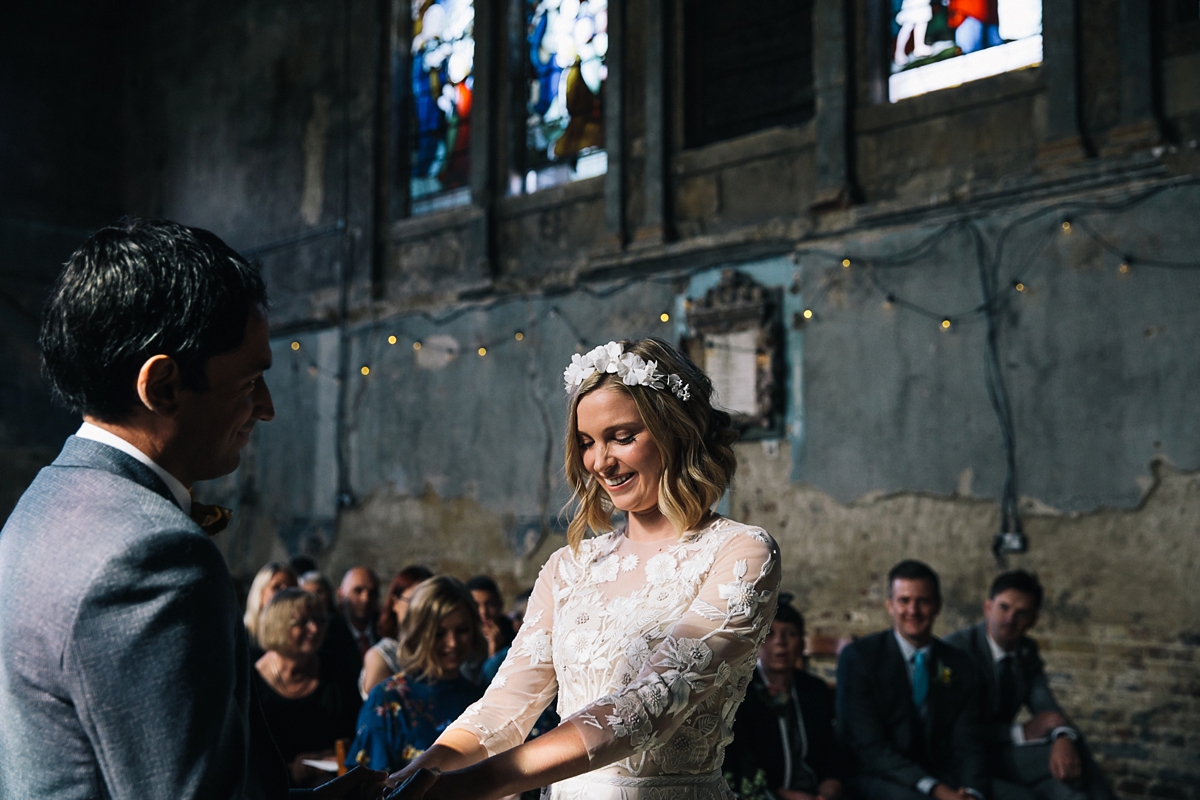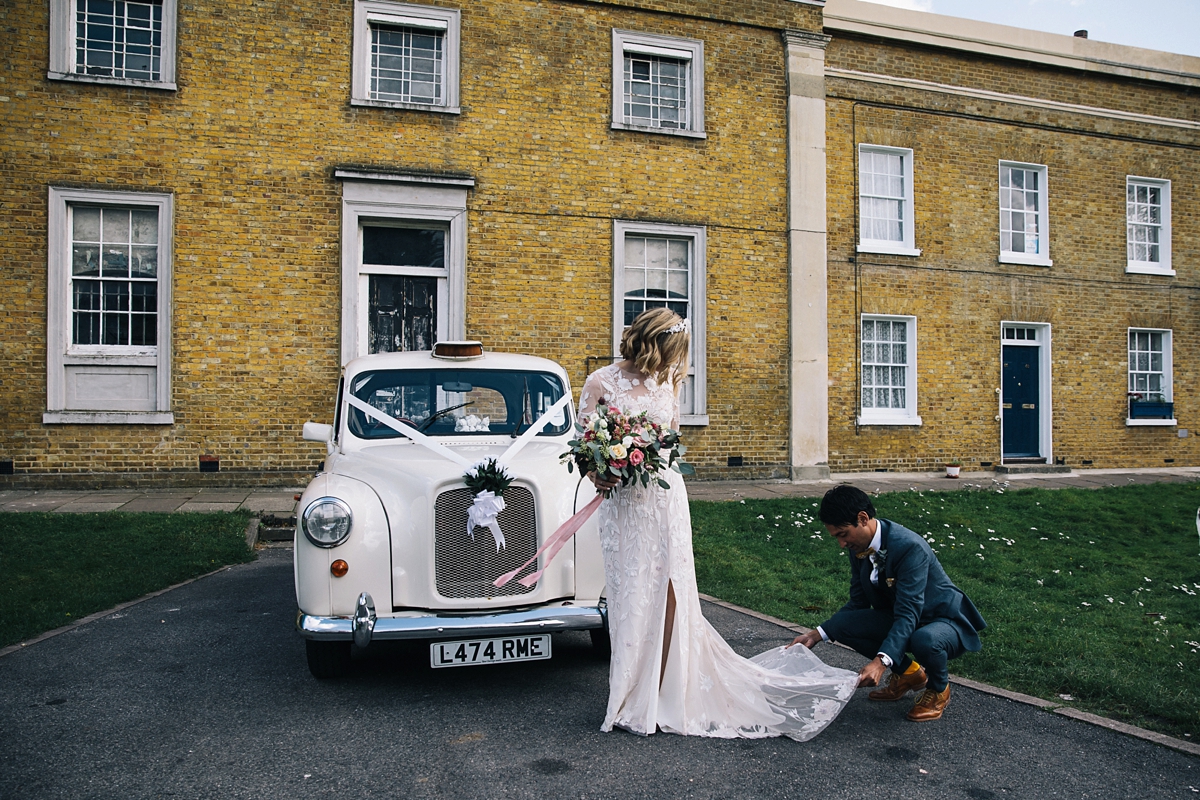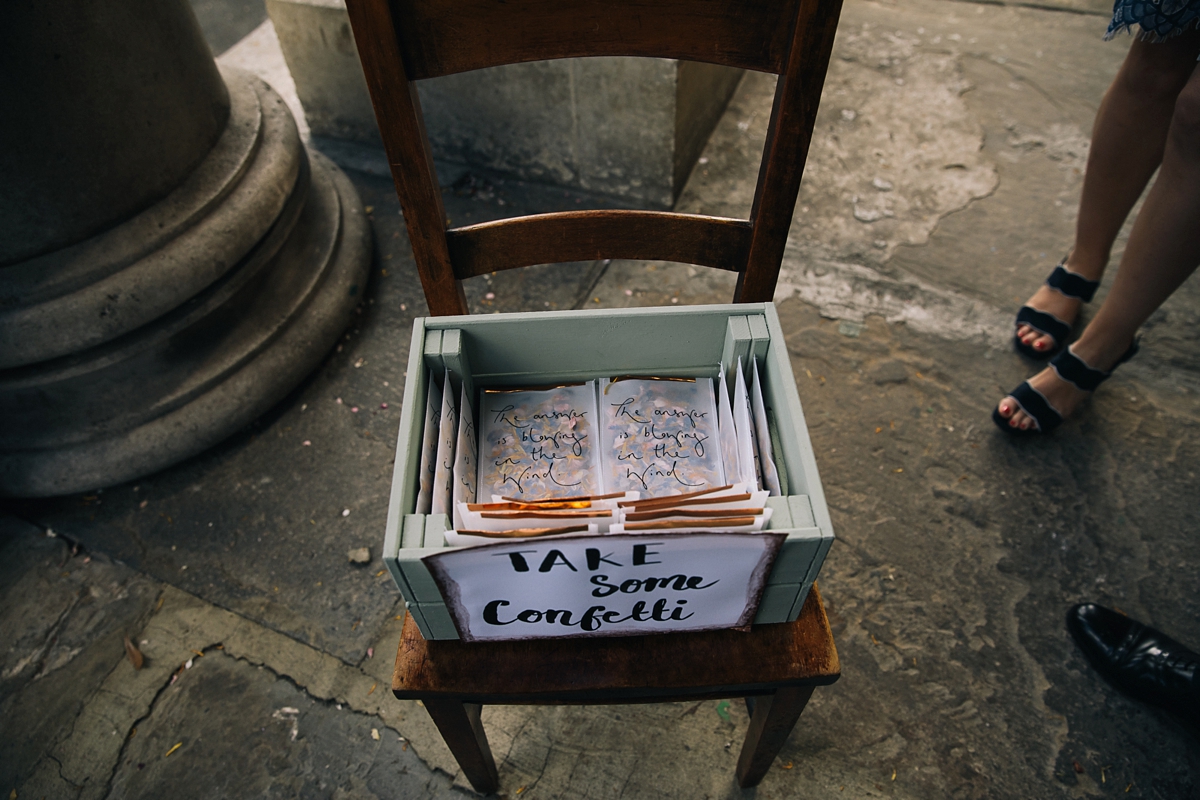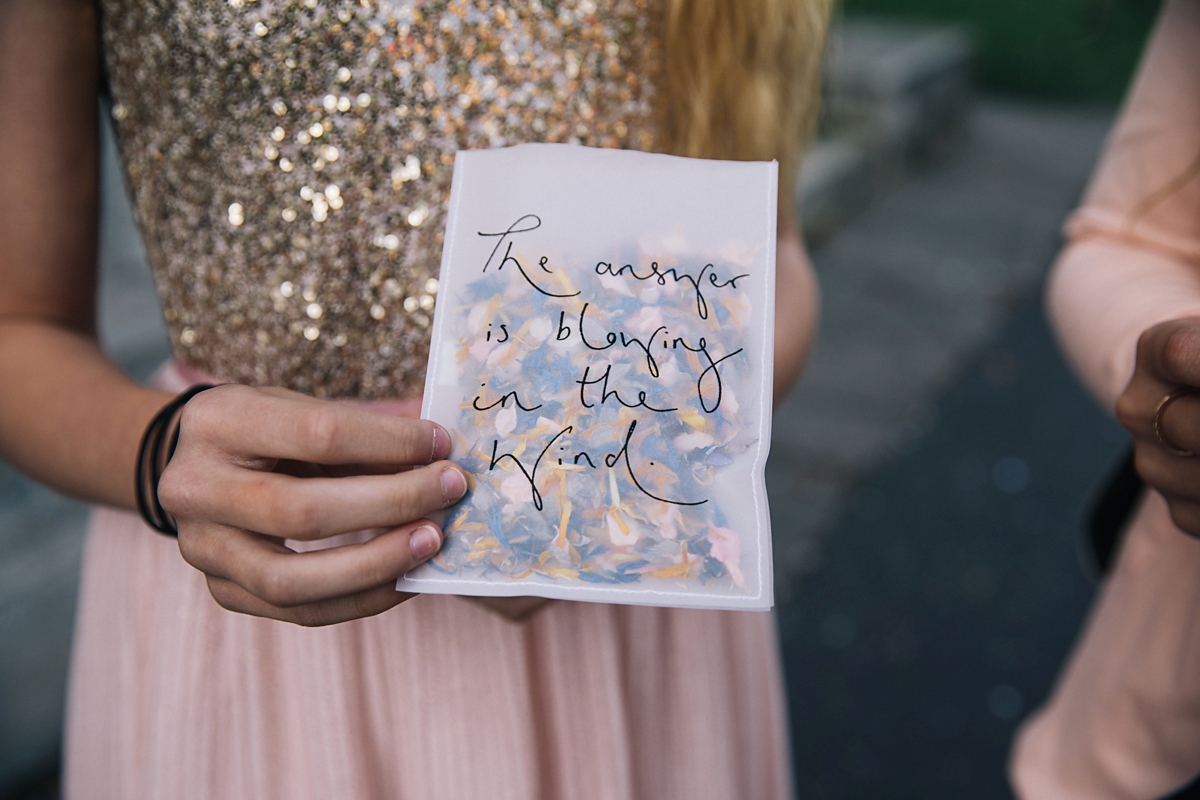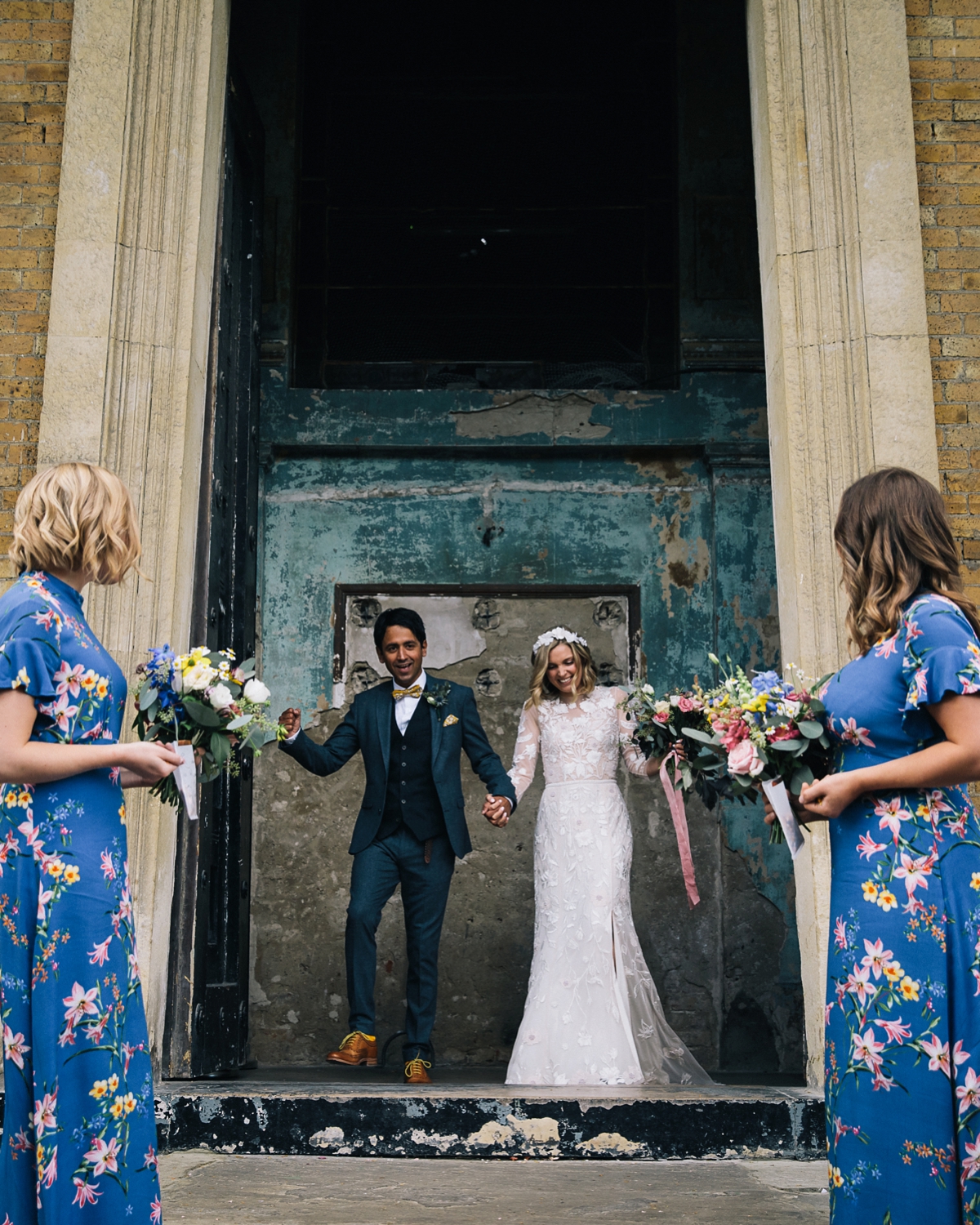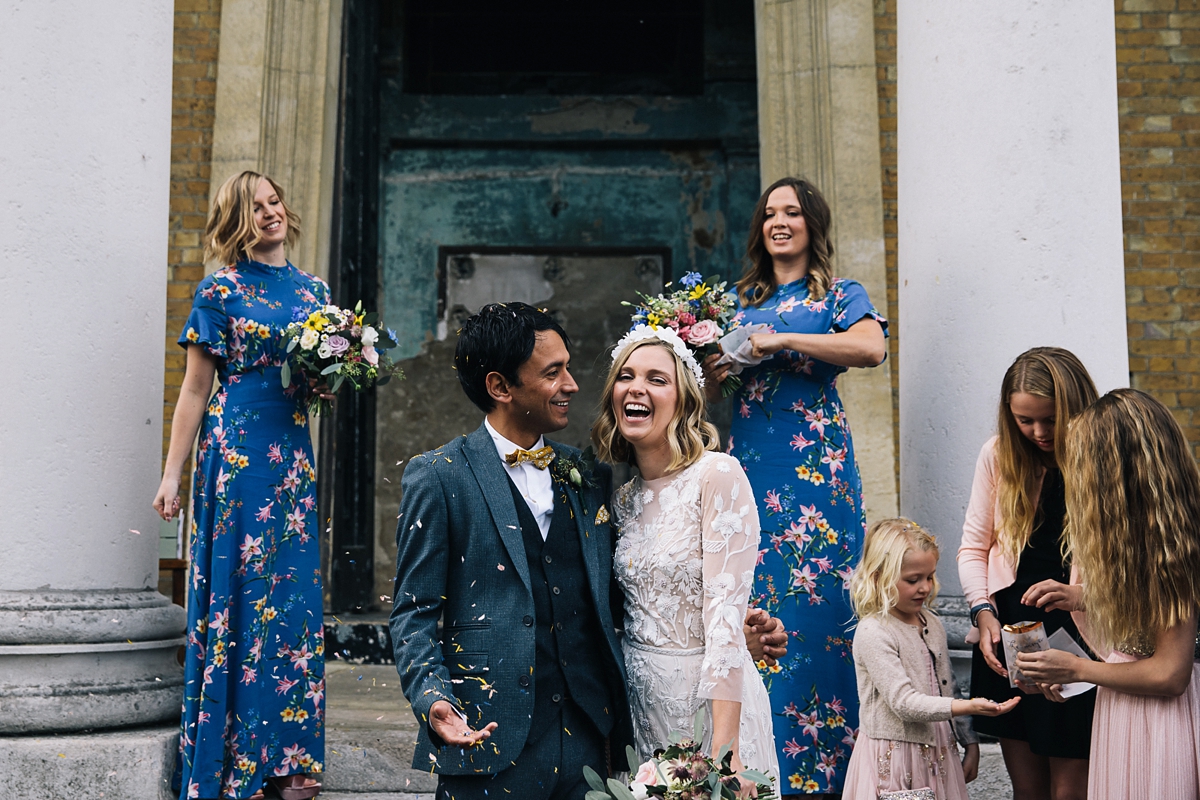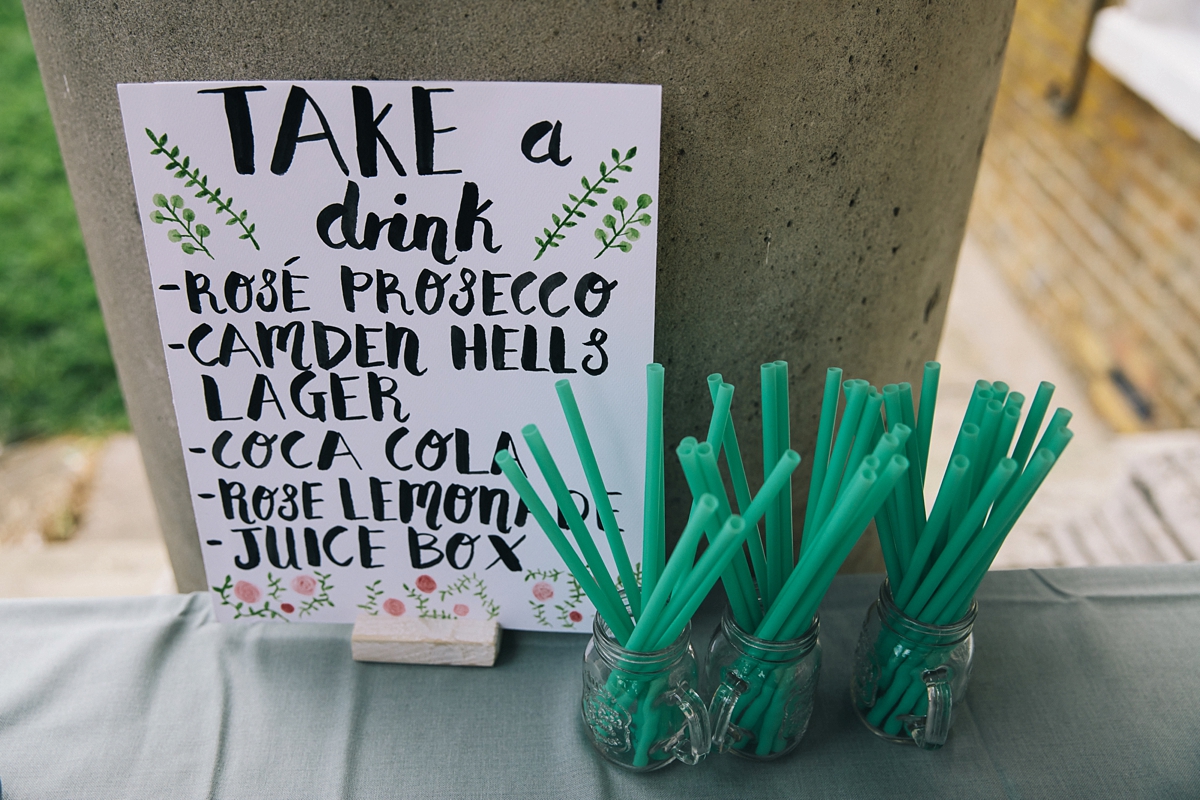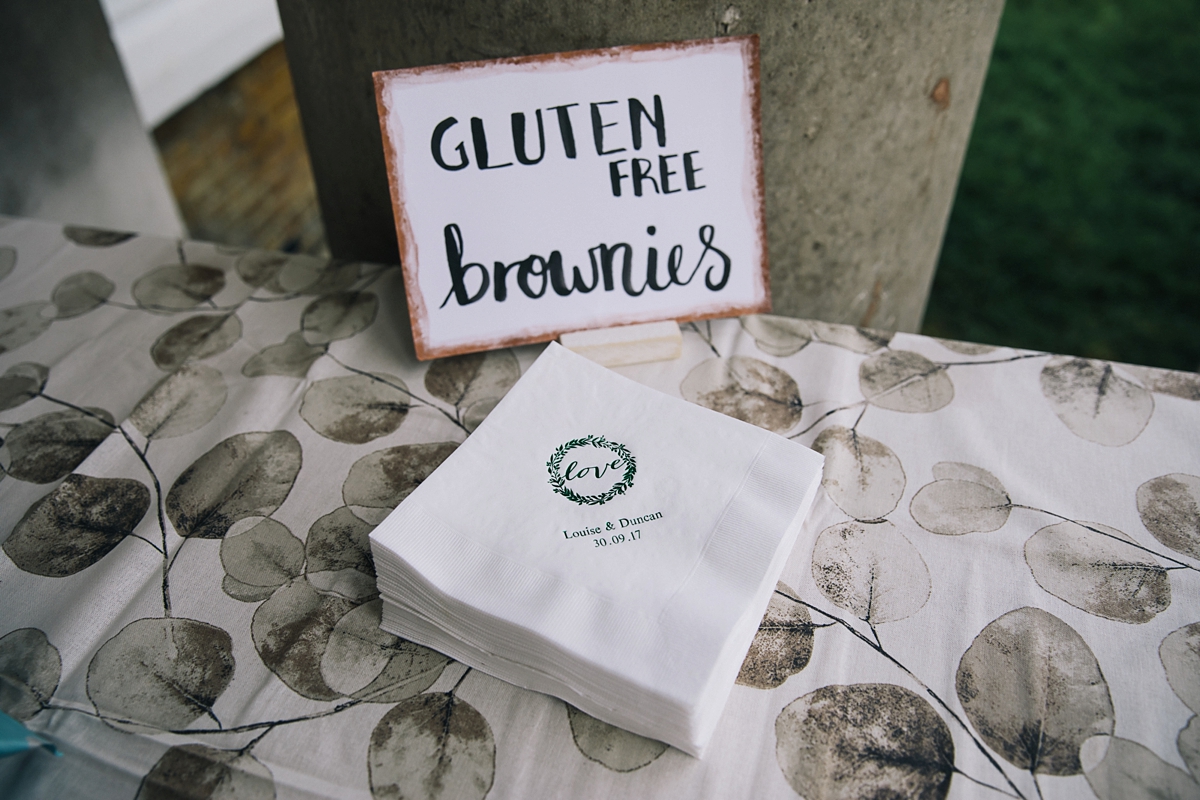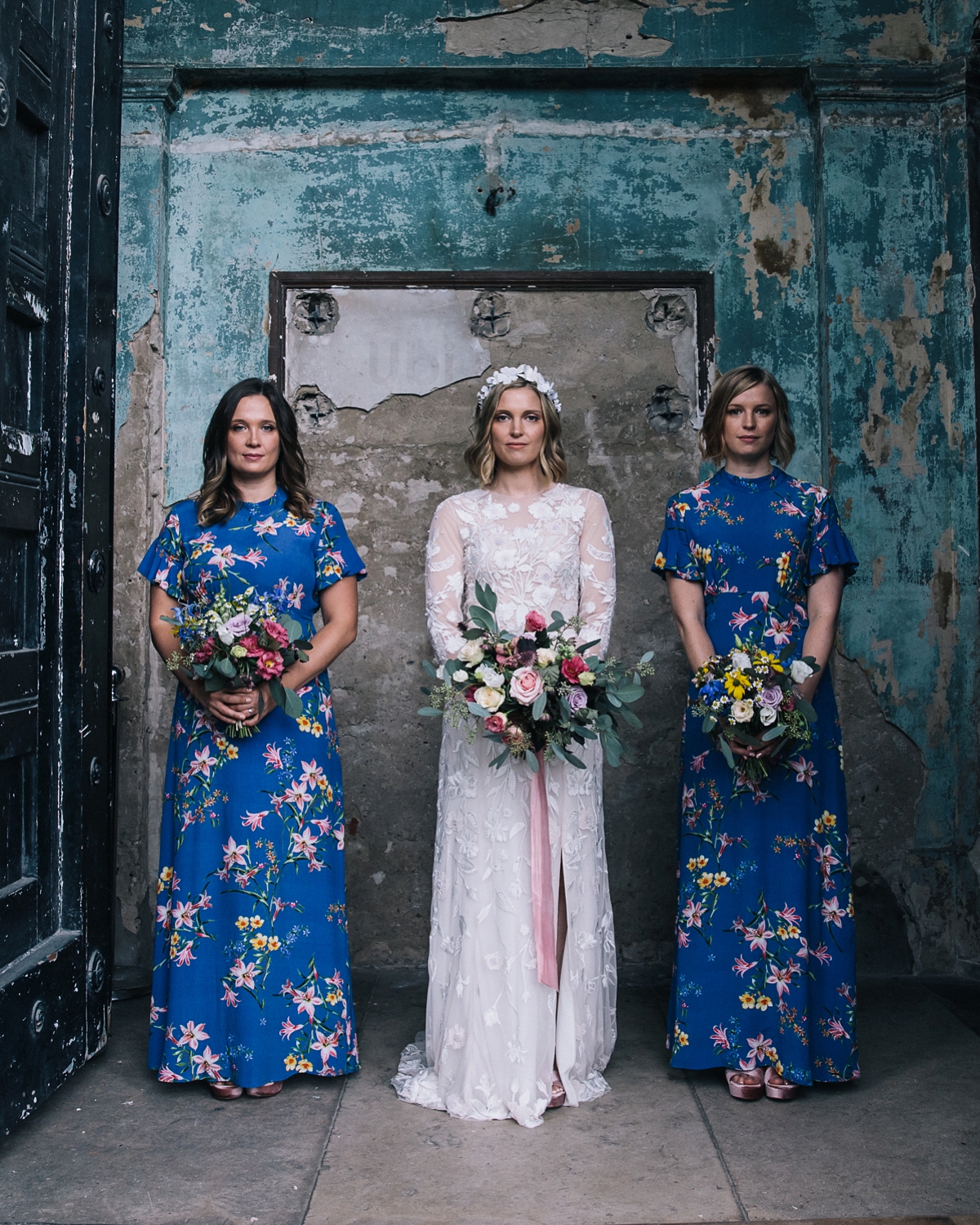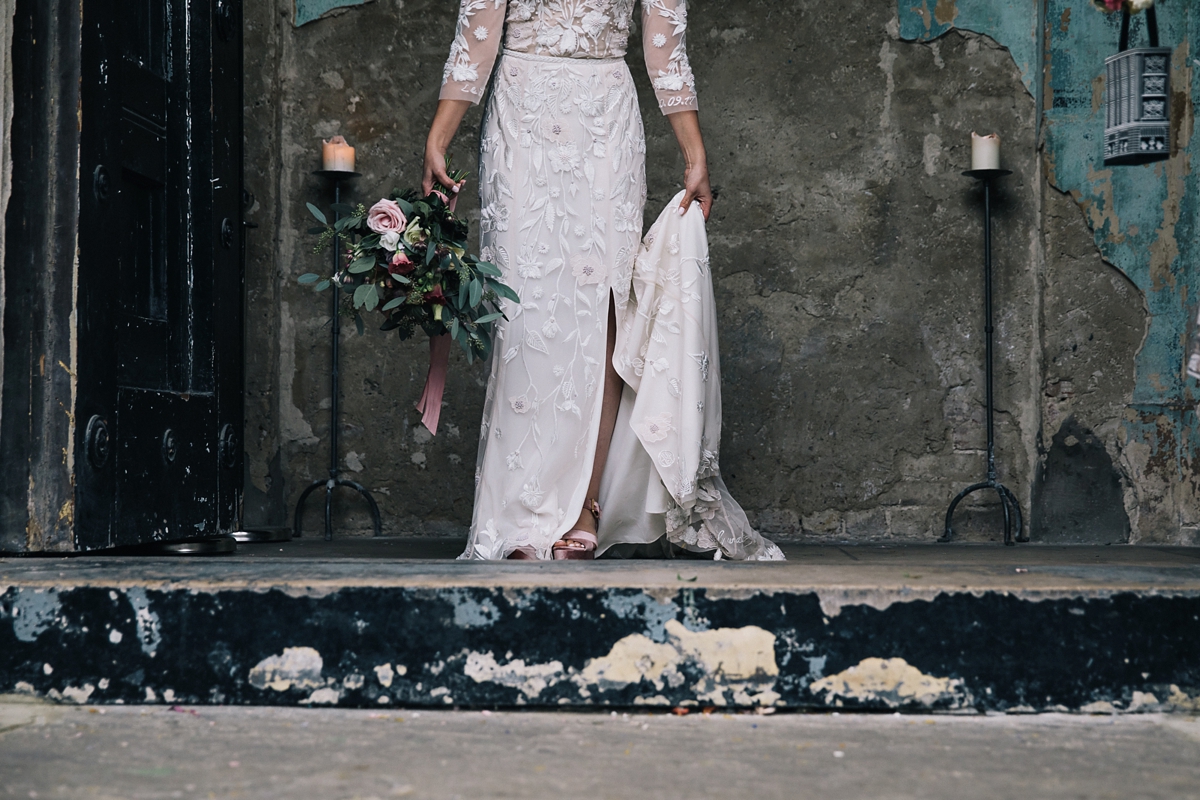 An informal reception at The Star pub followed the ceremony with guests transported from one venue to another in a wedding party bus from Red Route Master.
"We didn't have a typical after wedding party with a DJ so we decided not to have a first dance. We did however pick a track Pink Champagne by Caitlin Rose, that if we felt like having a moment at the time, we could, but we were having way too much fun to take much notice!"
"We wanted to have the reception closer to home in North London so scouted our local pubs as we wanted somewhere relaxed and informal. We just fell in love with The Star as soon as we saw it and with it being just a few minutes away from our house, it made a great spot. It's the perfect London boozer, full of character but with huge windows which make it light and airy."
Oh Squirrel also helped with the stationery on the day, from confetti packets to the banners that sat either side of the altar.
"Katie at Oh Squirrel was a very special find for us and her touches really made the day. She created so many elements and pulled everything together with a focus on song lyrics. We opted for her botanical wilderness package which included beautiful handwritten script that really complimented our style. She was so much fun to work with and we will treasure her pieces forever."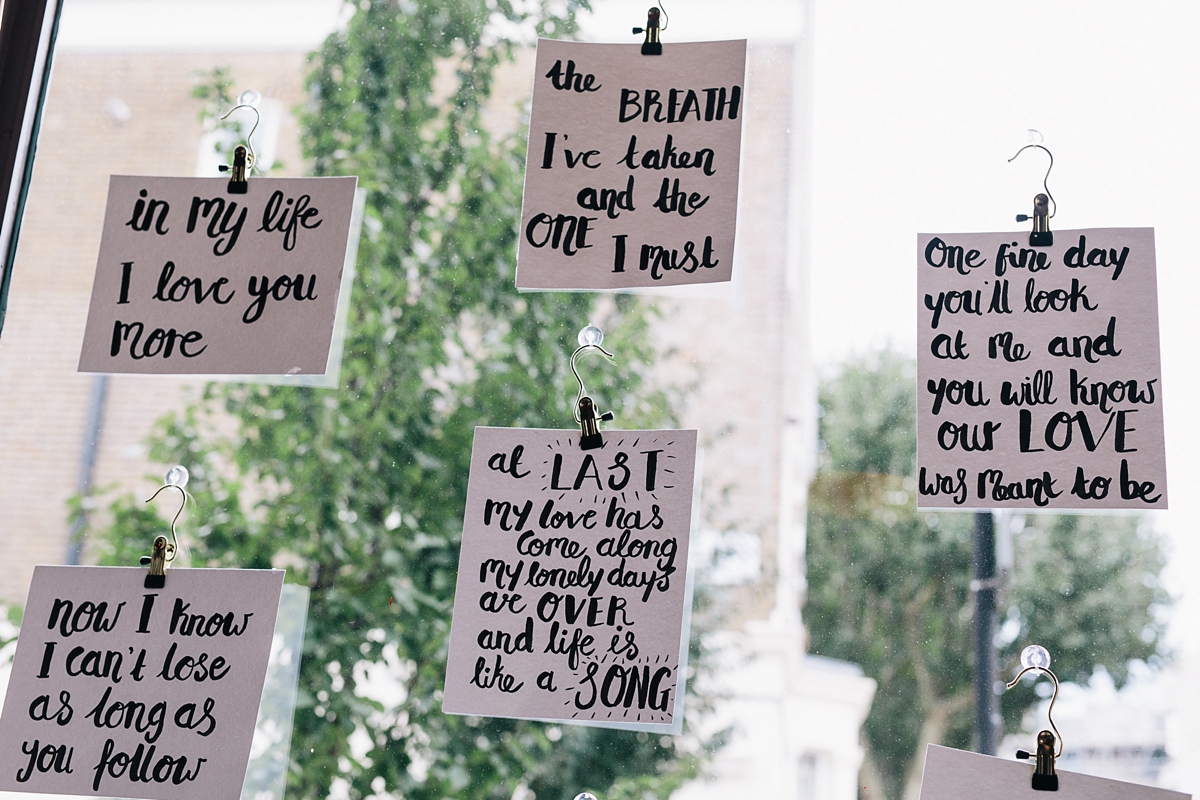 With a big focus on their guests, Louise wanted to spoil them even more with the favours.
"We had a seed packet made by Oh Squirrel and filled it with Seedballs Bee Mix because we like the idea of everyone building a little patch to support the bees. We also put together fun goody bags for all the kids with things that would keep them entertained. They were a huge hit and included gifts of handmade soap and a candle for every couple to take home with them."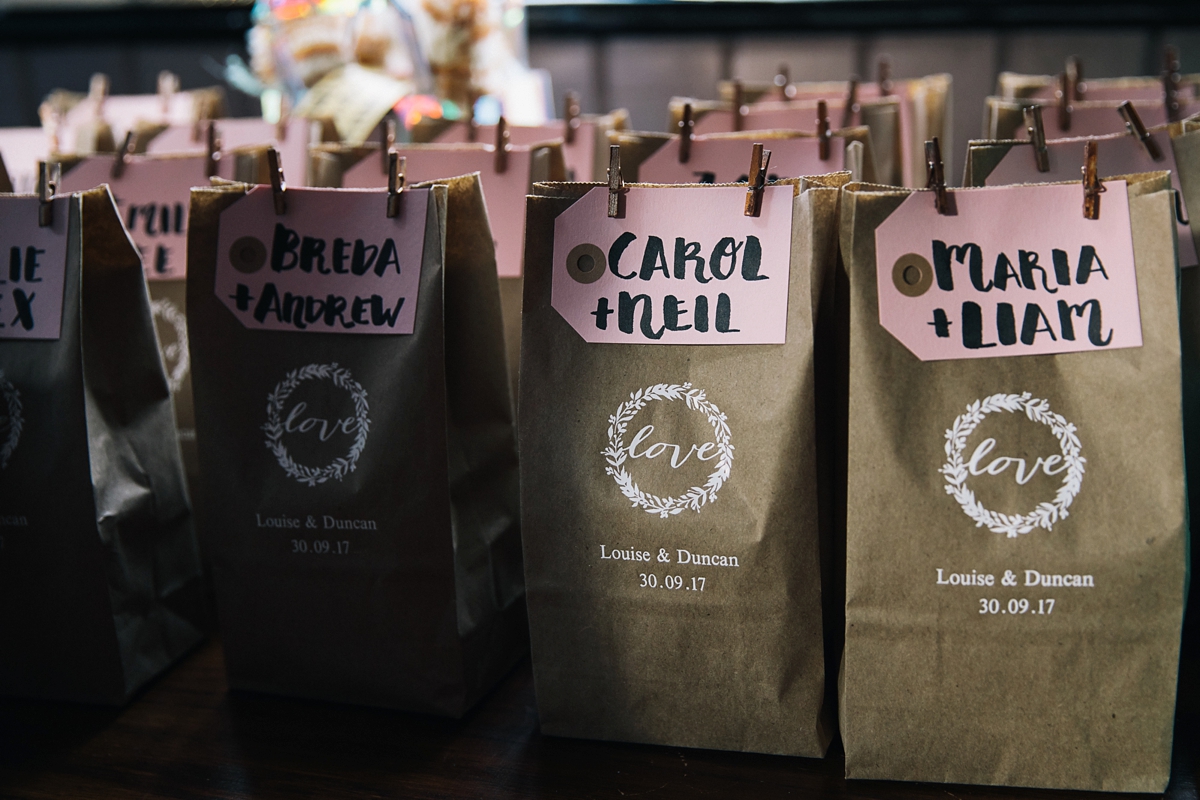 The pair chose Ginger and the Whisks to create their gorgeous two-tiered wedding cake.
"Natalie from Ginger and the Whisks creates the most amazing cakes with incredible flavours, and names them after women of rock music…we were sold! We opted for a 'Supergroup' cake which was a 2-tier cake consisting of the 'Stevie' on the bottom; chocolate salted caramel flavour, and the 'Patti' on top; a pistachio and rose cake. We had so many compliments on the cake, and Natalie was a dream to work with. We cannot recommend them highly enough! We also had some amazing snacks at the ceremony to tide everyone over until the wedding breakfast, including rainbow brownies from the Meringue Girls."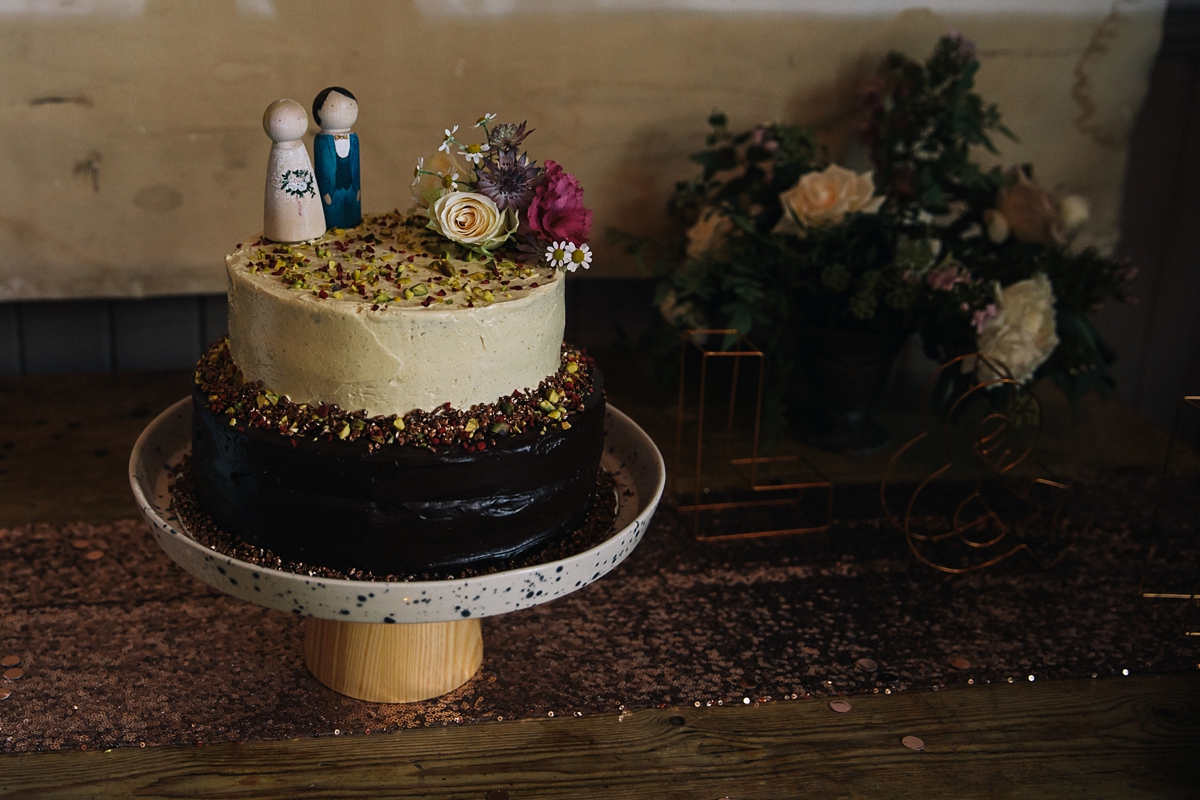 Reflecting back on the day, one of Louise's favourite memories was when she first met Duncan at the end of the aisle with the choir singing in the background.
"It was a truly beautiful moment and gave us a chance to take everything in. Just looking around at the setting and how everything had come together; our families, friends, flowers, decorations, choir singing, it was amazing. And then we were married. It was an overwhelmingly happy and beautiful moment."
"We can honestly say we wouldn't have done anything differently. Lots of thought and planning went into making things happen but on the day, all that mattered to us was that everyone was having a good time and we think we achieved that."\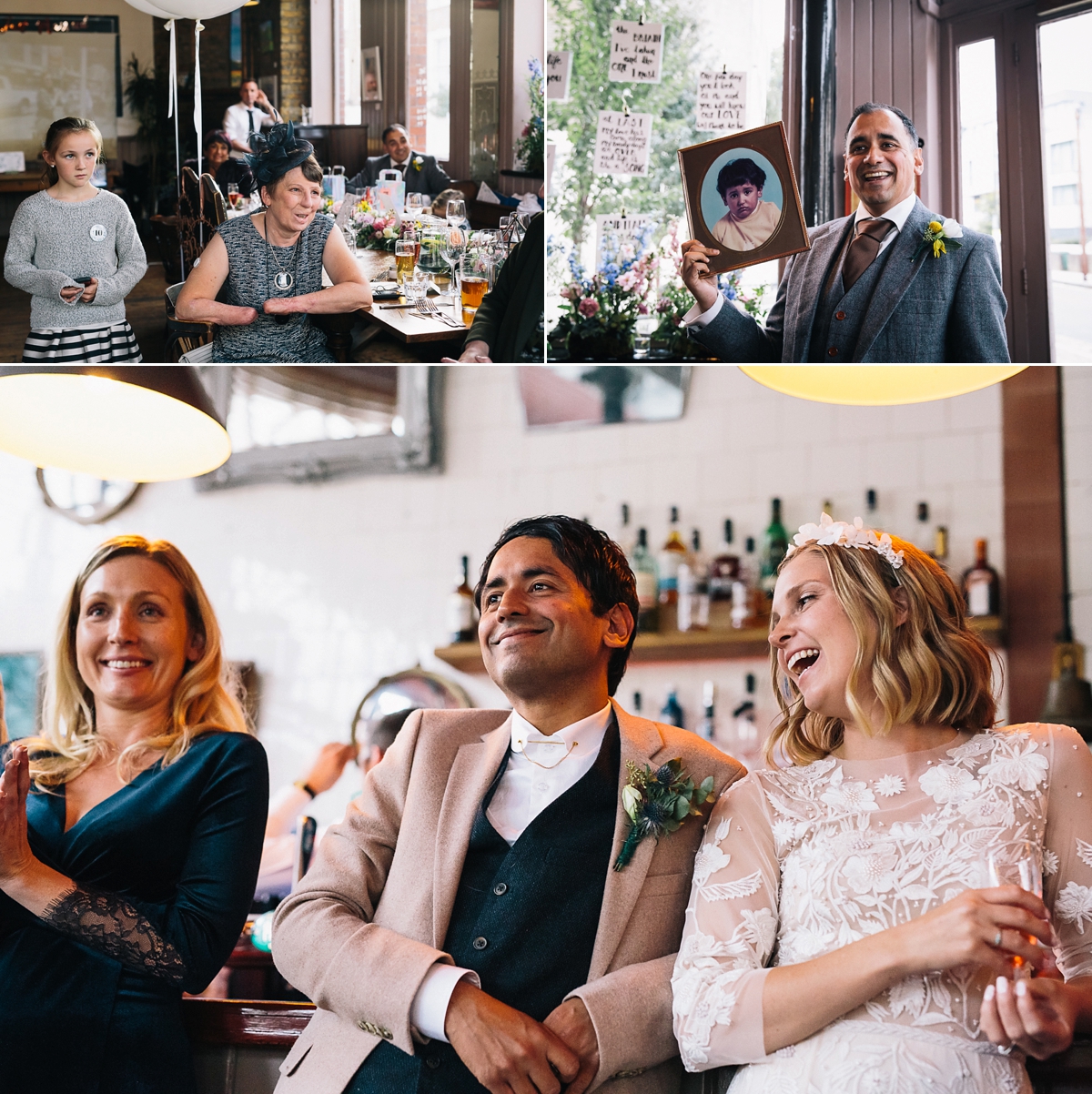 Words Of Wedded Wisdom
"Hire small businesses and suppliers for your day if you can. Everyone involved in making our day happen added something we couldn't have done without them, and they really cared about making it special for us."
"I'd also say trust your suppliers advice. They have done this many times over and are experts. If you are open and flexible they might have suggestions that you haven't even thought of. We had a vision but didn't ever have a prescriptive idea of the day so I think everything came together so organically and worked better than we could have ever planned."
"Agree on the most important focus of the day and keep that in the forefront of your mind when making decisions. Our focus of the day was our guests. We had an intimate number and tried to think of ways to make the day extra special for them and it was all so appreciated. Especially the goody bags for the kids which kept them busy and having fun!"
Thank you so much to Louise and Duncan for sharing their special day with us, and showing us that gorgeous Hermione De Paula dress. And a special shout out to Eclection Photography who I think you'll agree did an excellent job of capturing the mood and feeling of the day.
Until next time…
Much love,
Holly x