Hello lovelies! I do hope you're well. Today's wedding just goes to show that you don't need to plan a high maintenance day for it still to be a simply gorgeous and super special occasion. All you need are your loved ones, your favourite venues, fireworks and a whole lotta fun…
Stills Producer Maria and Set Designer Dom were hitched on 21st October 2017 at Shoreditch Town Hall, followed by a reception at Rochelle Canteen. Both working within the creative industry themselves, the stakes were high when it came to choosing a photographer for the day, but after a recommendation from a work colleague, they settled on the talented Nick Tucker.
"In keeping with the relaxed nature of the day, we didn't want to have any formal posed pictures. We would both feel too awkward and staged. Nick was an absolute pleasure to have at our wedding and he has managed to capture so many lovely, funny and special moments. As we didn't pose and weren't really aware of the camera, I was actually worried there may not be a nice image of us both together, not mid conversation or making silly faces, but in the end there were too many to choose from!"
Images by Nick Tucker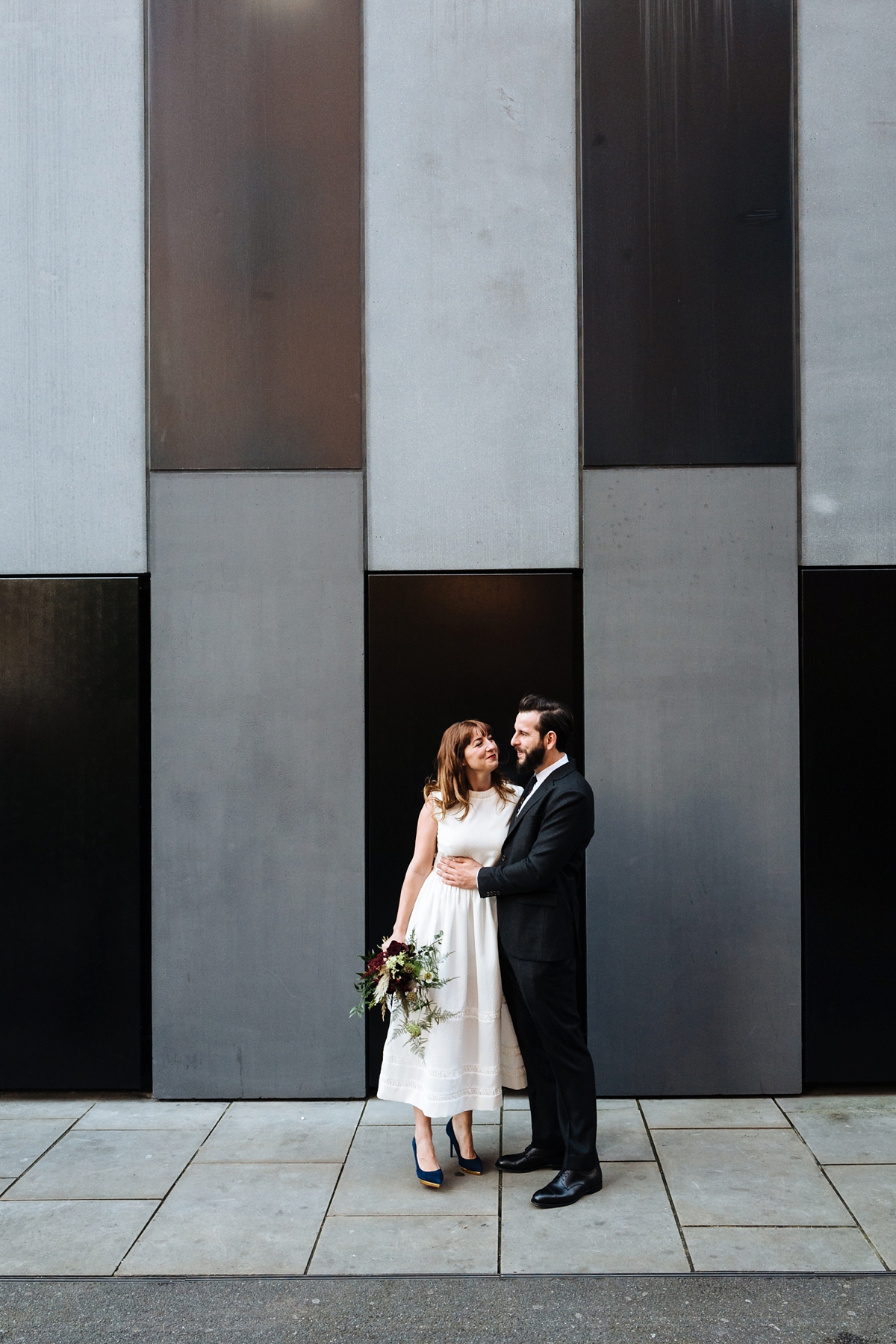 With a relaxed, cool London vibe being the order of the day, Maria needed a similarly relaxed but equally as cool and elegant dress for the wedding and eventually opted for a perfect ankle length sleeveless Emilia Wickstead dress.
"Although it's not one of her wedding designs, the simple white dress was perfect. When I bought it I was with my husband's mother. She was renewing her passport and afterwards we walked over to Harvey Nichols for lunch. We passed the Emilia Wickstead store on Sloane Street and the dress was on the mannequin in the window.""I commented on it as we walked past and then insisted we go in for a look. It was actually the only one left in the store, and had to be taken off the mannequin. Luckily it fit and was in the sale too! We went for lunch to mull it over, during which time I bought my shoes from the Charlotte Olympia concession in Harvey Nichols – a pair of navy blue suede platforms – and went back to try it on with the shoes when I bought it there and then. It was the first and only dress I tried on as I didn't visit any wedding dress stores."
"I bought it from the Emilia Wickstead store on Sloane Street which is absolutely beautiful! Pale marble, brass and lots of pink velvet. I also went for an evening cover up which was an embroidered kaftan from Mango, but actually tracked down on eBay as it was sold out in the shop."
"Though it wasn't the first wedding dress I've bought…I wear a lot of vintage and originally really wanted to find a beautiful vintage dress. However, it was proving really difficult to find something I loved. I bought a dress from Etsy but when it arrived it just felt too formal and restrictive. I didn't want to feel self-conscious so resold the dress on eBay. The Emilia Wickstead dress was perfect for me – it's a very similar style to dresses I wear regularly, had pockets, and I can wear it again!"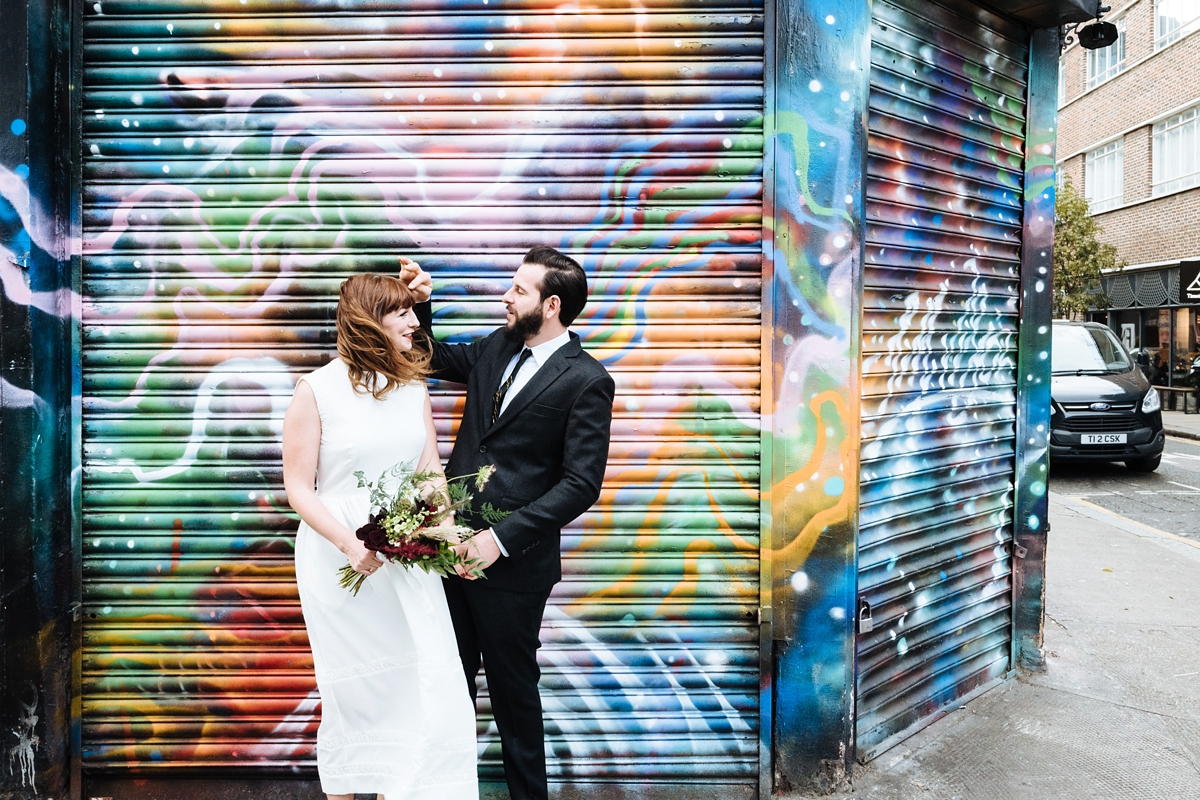 Maria and Dom first met when they worked for the same photographer. After being together 5 years and investing in their own flat together, Dom popped the question at home with a beautiful antique engagement ring.
"I was really surprised as marriage was never one of Dom's priorities, but he knew it meant a lot to me. Both our parents are divorced so it was not a decision we took lightly. Both our mothers are teachers and I really wanted my god-daughter to be able to attend the wedding from France, so it was important to us that the wedding was in half term."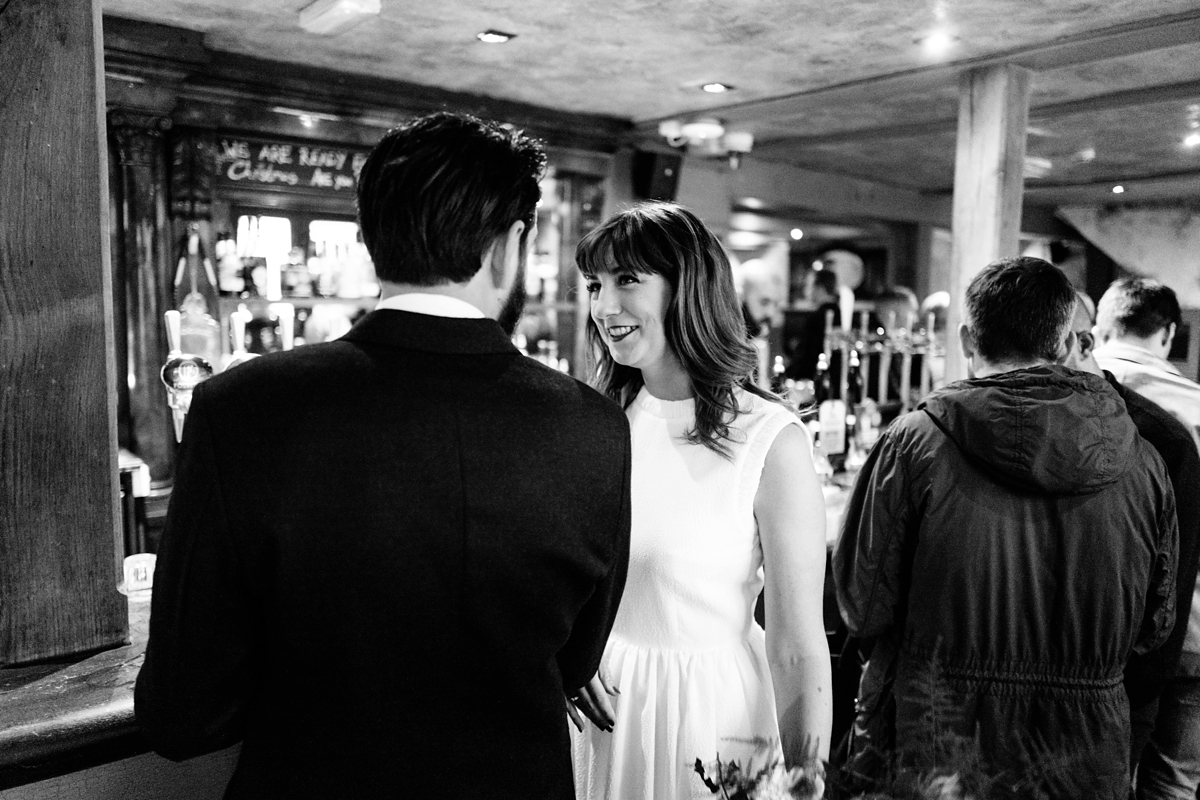 The beautiful and autumnal buttonholes, bridal bouquet and floral decor were all created by the wonderful London-based, and one of my personal favourite florists, Grace and Thorn.
"Grace and Thorn are based around the corner from us and I had bought flowers from them many times before. I love their wild, natural aesthetic – nothing is too contrived. We met before the wedding to run through ideas and were immediately on the same page. Lots of foliage, ivy, ferns, greens, with some Anemone's and berry colours mixed in. They also created two wonderful fireplace centre pieces for the ceremony and two overflowing shelves filled with a beautiful garland at Rochelle Canteen. As we had so few decorations the flowers were really important and they really did exceed our expectations."
"As we both love greenery and ferns, we knew that plants would need to play a large part in the styling of the wedding. Other than that though, we just wanted to keep everything classic and easy. As Dom is a set designer and we both love vintage, I think guests expected us to have a much more elaborate theme, but we really just wanted simplicity and hopefully timelessness. Our venues were both beautiful and our florists captured the mood perfectly."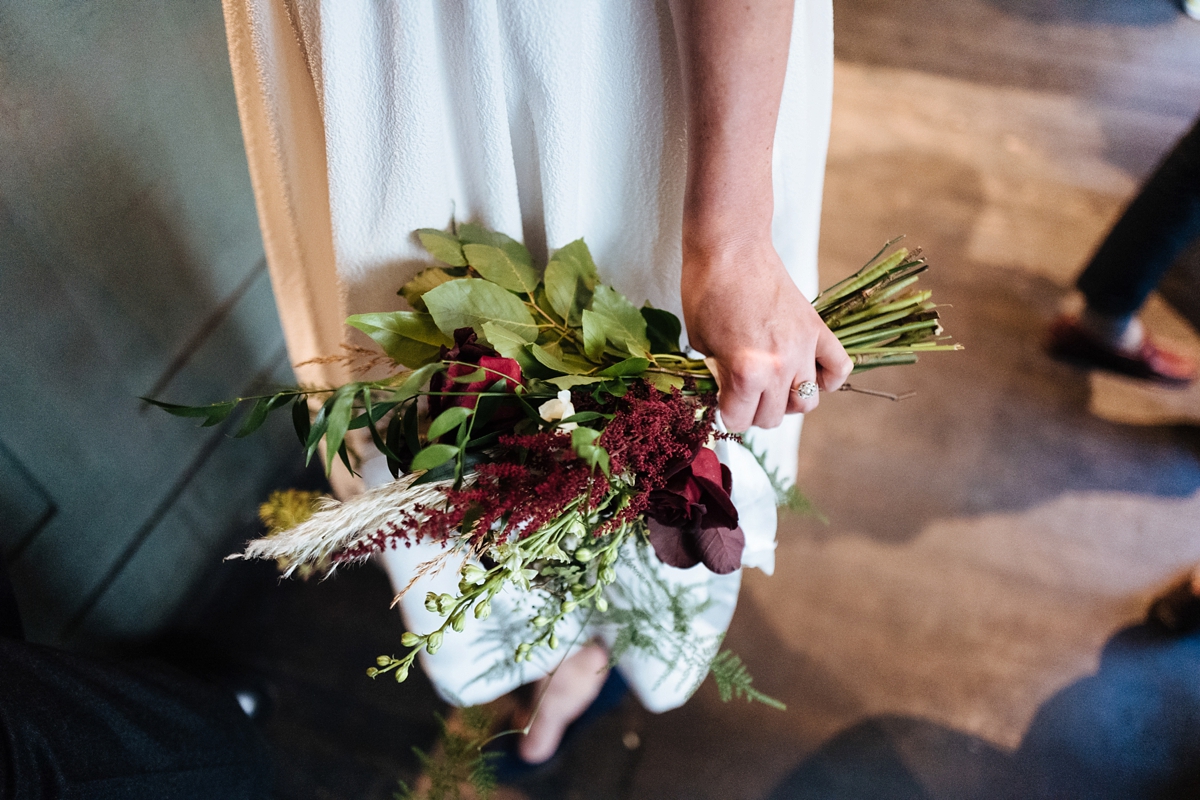 The bride's accessories were kept simple with a mix of borrowed jewellery and antique pieces, finished off with a spritz off Le Labo.
"My pearl earrings were borrowed from my brother's wife who is one of my good friends and were my 'something borrowed'. I wore my engagement ring, an art deco gold and platinum ring with tiny diamond chips and a pearl in the centre, from Gray's Antiques market near to Bond Street. My only other jewellery was another antique ring that Dom had actually given to me a few years before. I also had a sixpence in my shoe, given to me on the morning of the wedding by Dom's mum."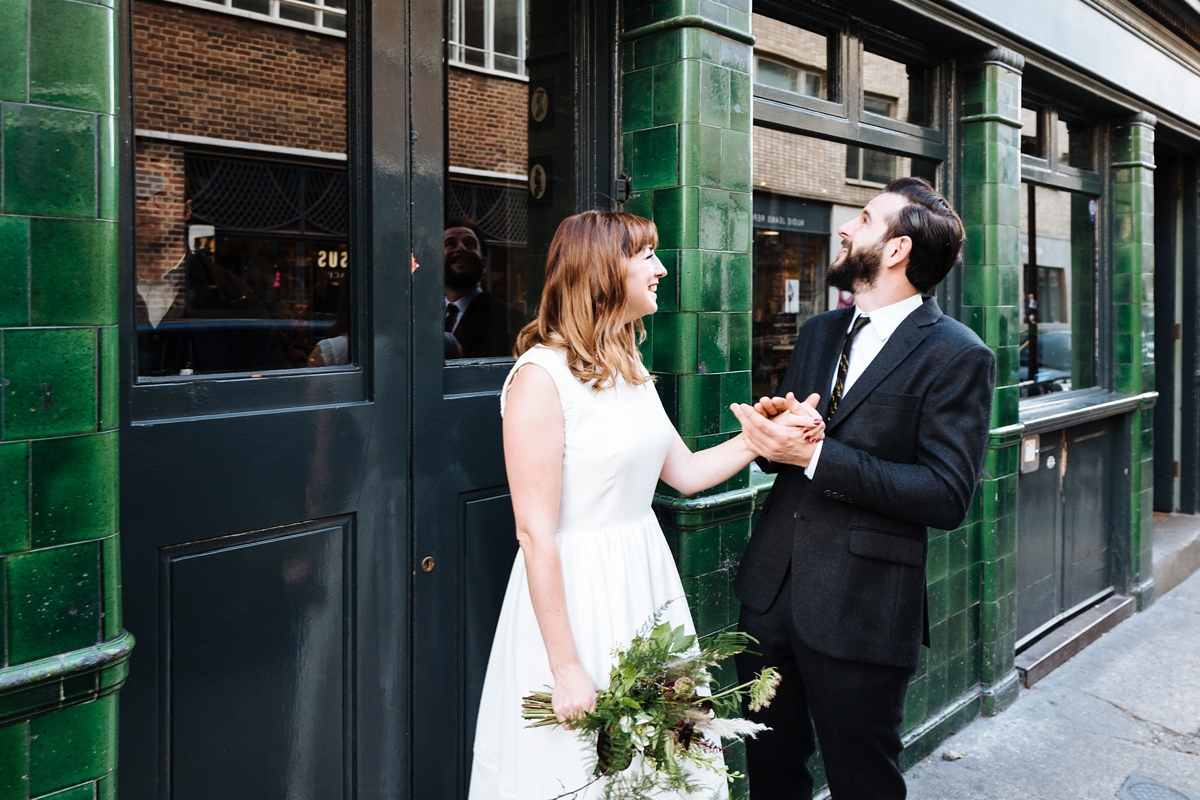 "Dom and I both wore Le Labo. We stayed the night prior to the wedding at The Boundary and had brought with us our usual perfumes, both Prada. However in the miniature toiletries in the bathroom was Le Labo Santal 33. We both loved it and wore it for the day. Now I need to purchase a bottle for at home!"
Groom Dom looked very dapper in a simple dark charcoal suit by Beggars Run, worn with a pair of Churches shoes.
"Dom originally really wanted a simple black, well-cut wool suit but after a visit to Beggars Run, he decided on the charcoal instead. We left his suit quite last-minute and only picked up the finished suit and shirt the day before the wedding. Ciarn did a lovely job though – the process of having the suit tailored was really un-intimidating and the finished result was beautiful and timeless."
"I bought Dom a pair of Churches as a wedding present a few days before the wedding. He had a pair of Mr Hare shoes that he was going to wear but he had always wanted a classic pair of Churches. I really wanted him to be as comfortable on the day as possible so splurged last-minute!"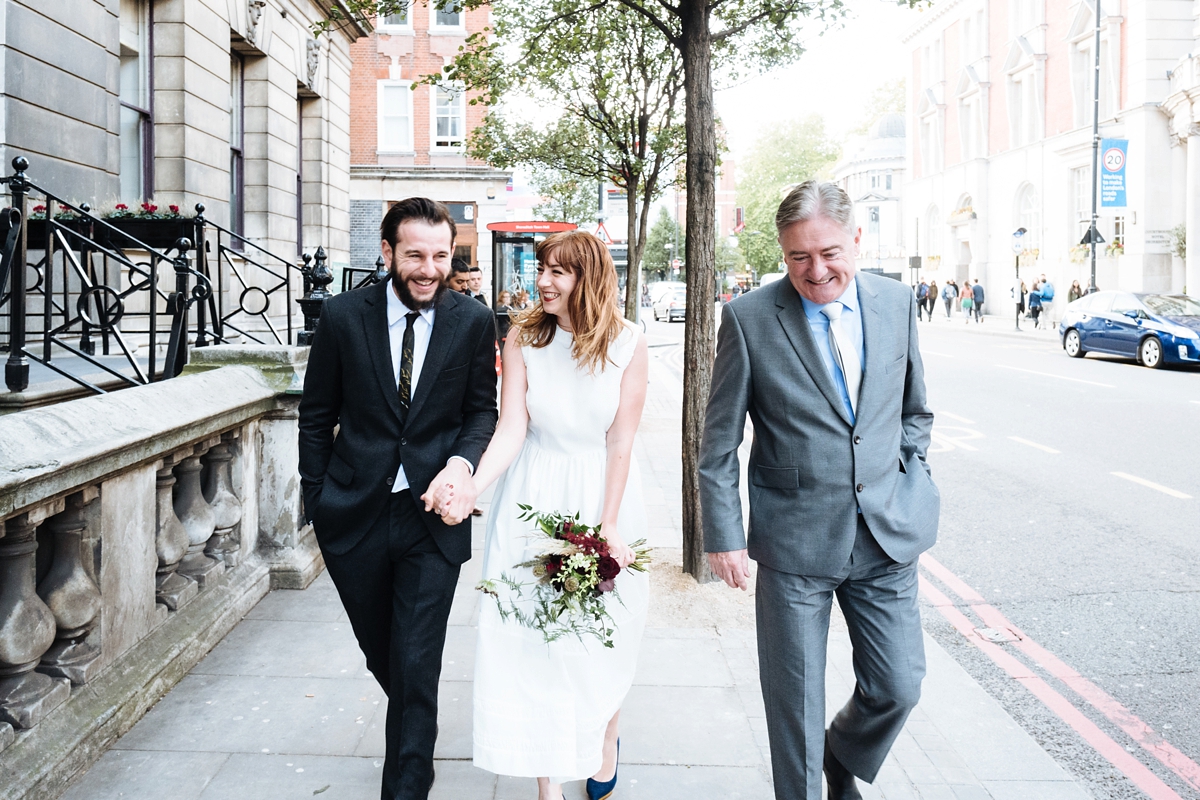 On the morning of the wedding Maria booked herself and her mum into the Cheeky Parlour opposite her hotel for a blow dry and manicure.
"I only wanted a blow dry as my hair is usually quite an untameable mess! I did my own make up with a few new purchases. I bought so many new lipsticks in the lead up to the wedding as I couldn't decide on one. I eventually went with a very natural Bobbi Brown shade, but at least now have lots of lovely new make up!"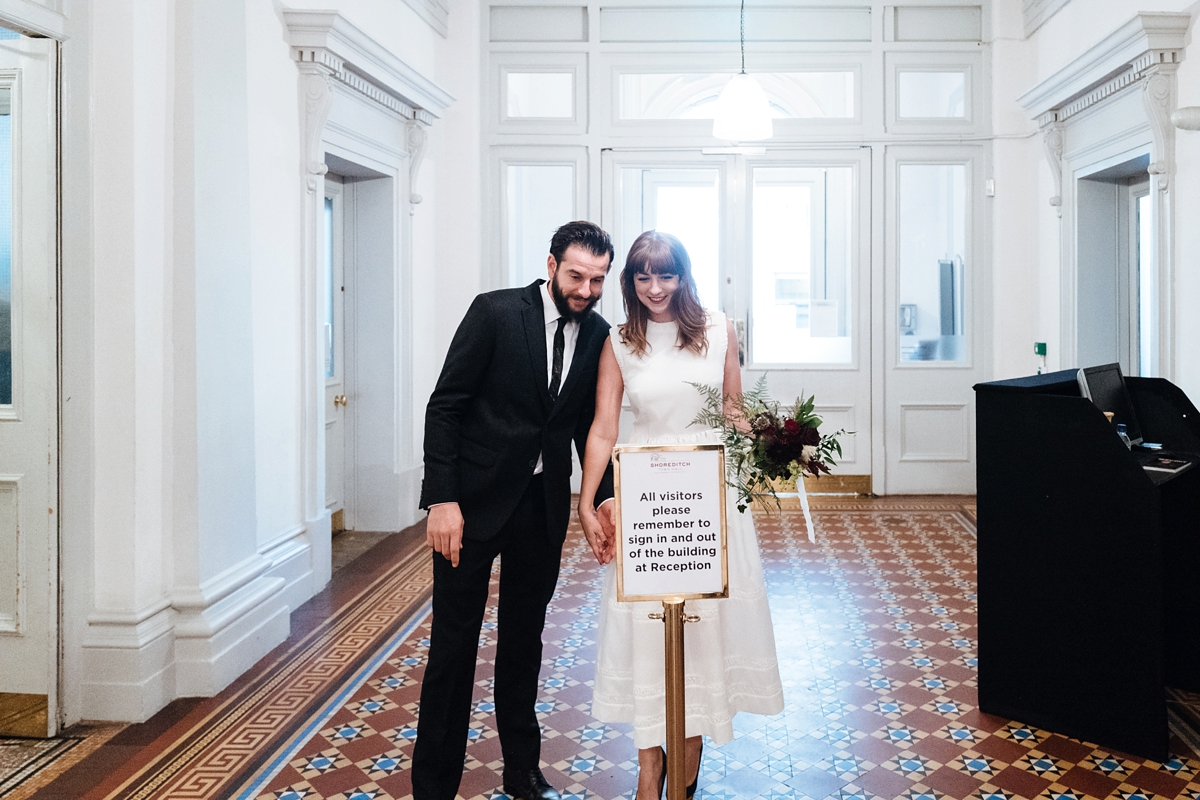 Not ones for wedding traditions, Maria walked down the aisle with Dom, rather than her dad, to Love and Marriage by Frank Sinatra, played by a pianist.
"We didn't follow tradition and got ready together and travelled to the venue together too. It was important to us both that we were together to calm our nerves but also to spend as much time together as we could. It was actually pretty calm. We were ready early and stopped at the pub on the way to the venue with our photographer. I'm the only girl in my family, with two brothers, so hoped my dad wasn't upset at missing the chance to walk me down the aisle, but the time Dom and I spent together at the beginning were some of my favourite moments."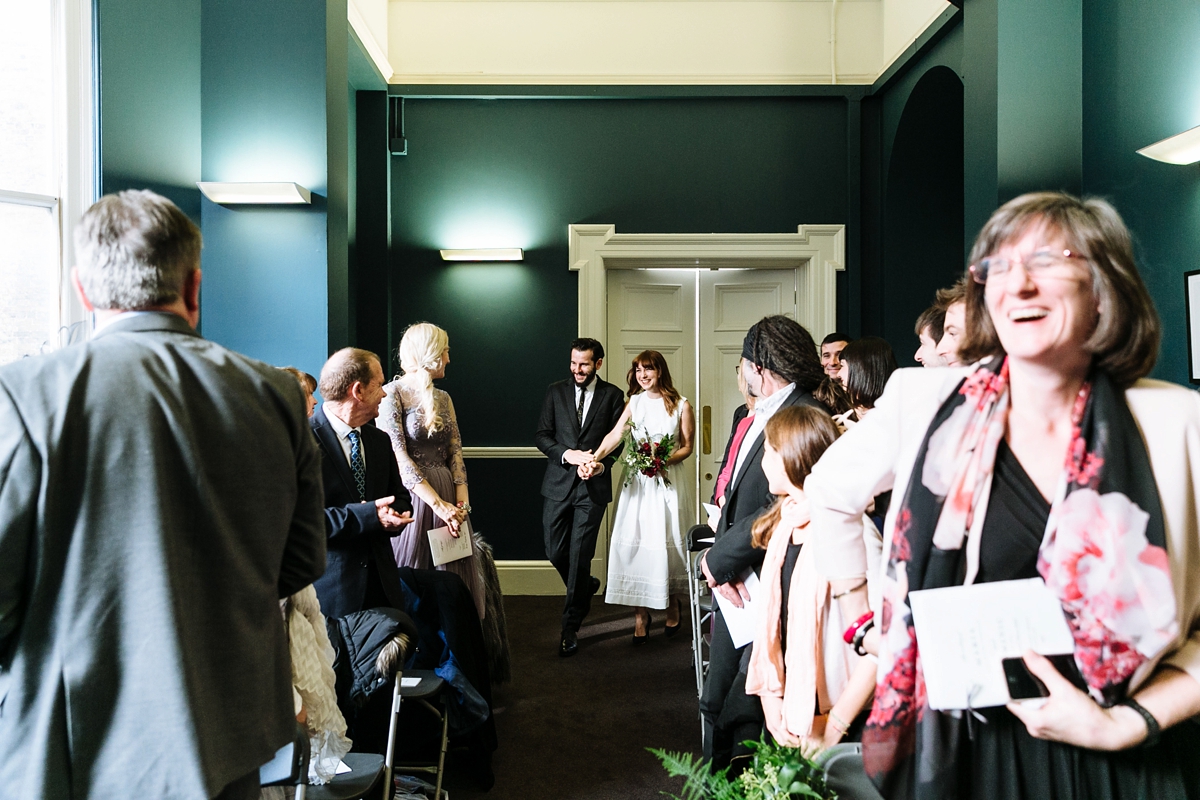 "Although my brother is a pianist, I really wanted him to be able to enjoy the day and not have to 'sing for his supper' so we hired a lovely pianist for the ceremony, Richard Sully. He was great, a really lovely personality for on the day who shared his piano with my god-daughter and brother and provided beautiful music."
"The Frank Sinatra song was a nice comic song to walk down the aisle to, but also a very apt start to the ceremony – it made everyone laugh! We walked out to the end song from Bugsy Malone."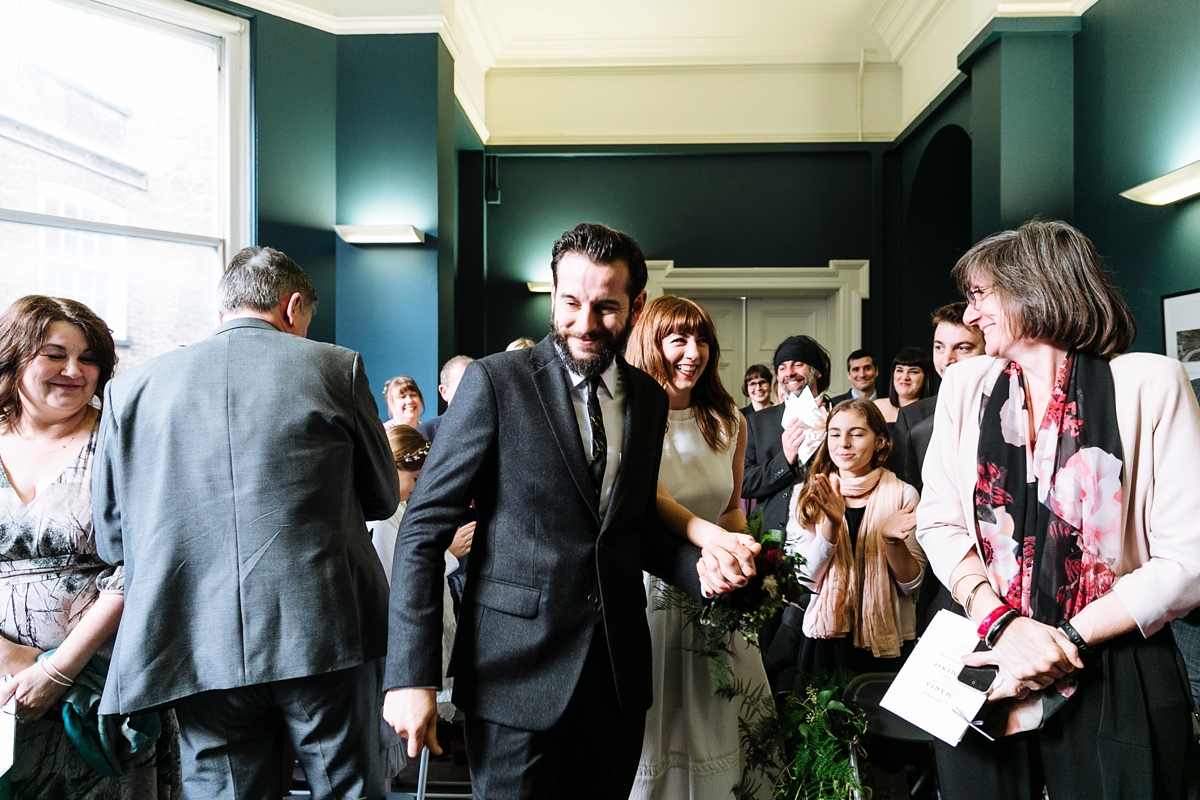 After considering tailoring their vows, in the end Maria and Dom decided not to but did choose two readings; an excerpt from Les Miserables read by Maria's brother and a touching poem by Stephen Curtis Chapman called I Will Be Here, read by Maria's best friend Madeleine. Two registrars from Hackney Council officiated the wedding and the couple swapped rings made by one of Maria's close friends Eleanor Patton Jewellery.
"I'm very lucky in that one of my closest friends is a jeweller. She took my engagement ring to make a cast and designed the wedding ring in a crescent to fit around it. It's made in a style that we can add diamonds to at a later date which I love."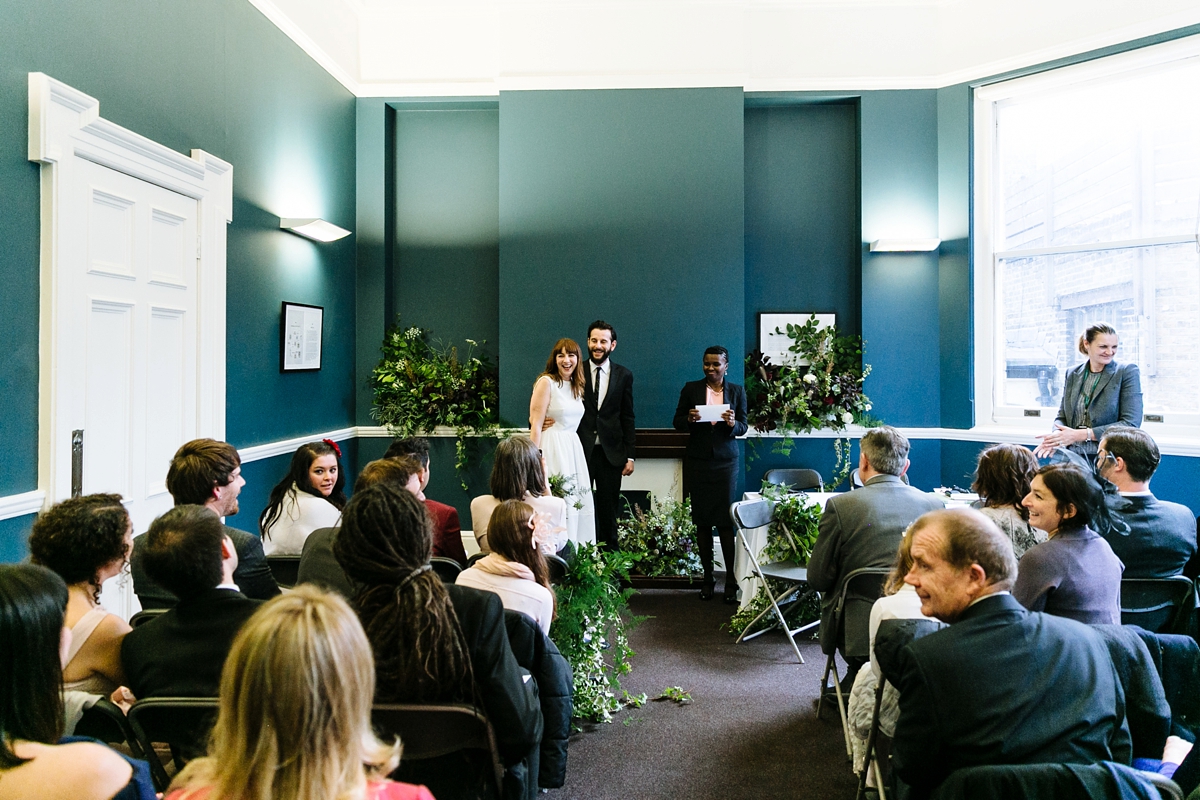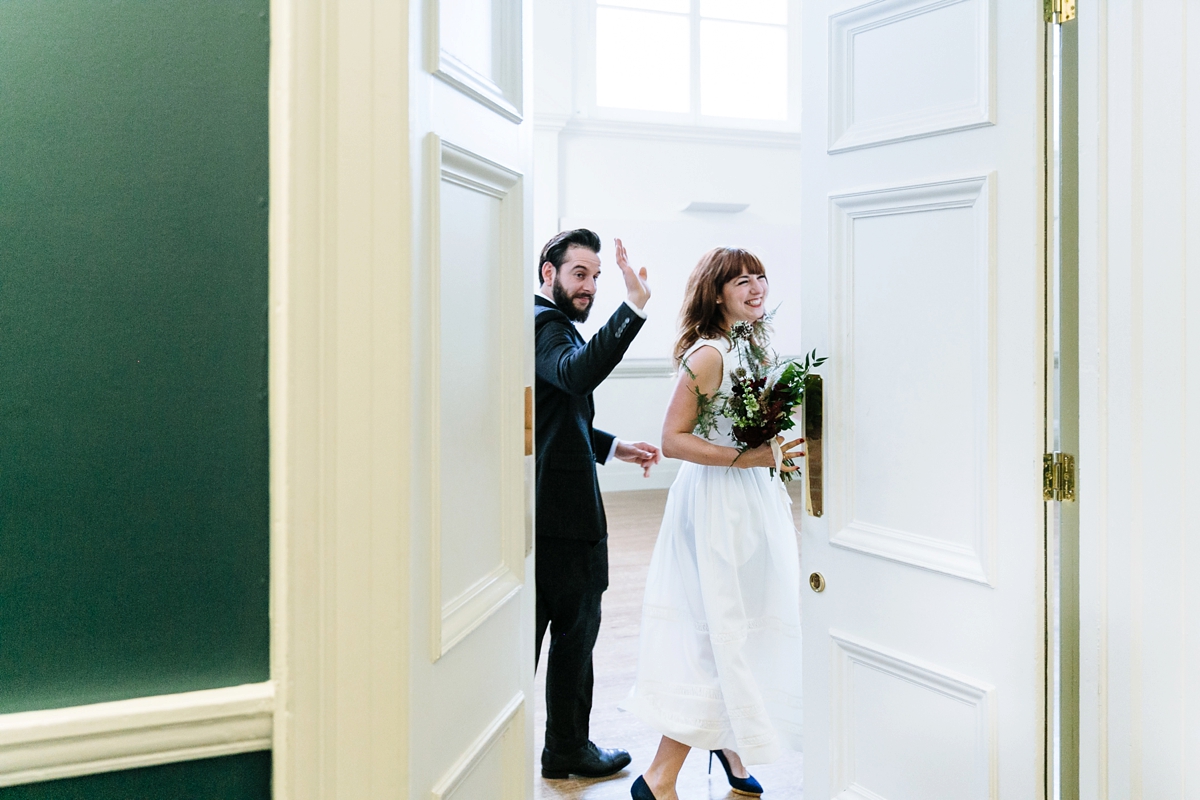 Wanting to keep the guest list small, Maria opted not to have bridesmaids, and instead asked her god-daughter to be ring bearer and confetti distributor, a very important role indeed.
"The guest list was so small and only my best friends were present, so if we'd have had bridesmaids it would have been most of the guests!"
For their stationery, the couple indulged in some DIY, making use of a letterpress Dom already had.
"Dom has a letterpress machine in his workshop so we designed and made our own wedding invites and save the dates. We lined envelopes with handmade paper from Paperchase and painted the edges with metallic paint. We actually have tonnes of invites that didn't quite make the cut at home still! It was not an easy process! The order of ceremony was just an Etsy template I downloaded and filled in, and the menu's were printed by the canteen. The lovely name cards at the place setting were hand written by Charlie Whiskey."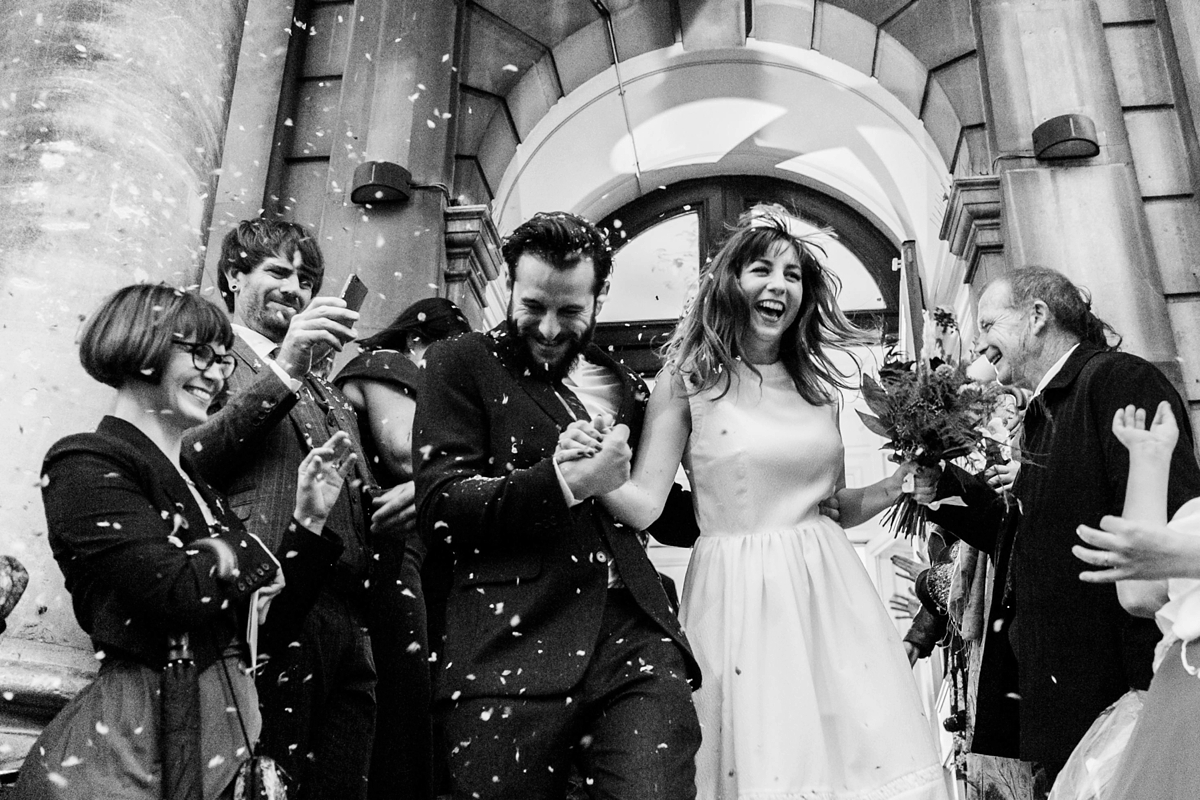 Following the ceremony the newlyweds and their guests hot footed it over to the Rochelle Canteen for a delicious feast created by the team at Arnold and Henderson.
"As our office is in the same building as Arnold and Henderson, it was lovely to work with people I know. Margot and her team did an amazing job and the menu was incredible! There was so much food we couldn't get through it all but it was all delicious."
"We began with canapes outside around open fires, the pumpkin arancini being a favourite, before moving inside and sharing large plates which we could help ourselves to – another feature which kept the evening relaxed and not too formal."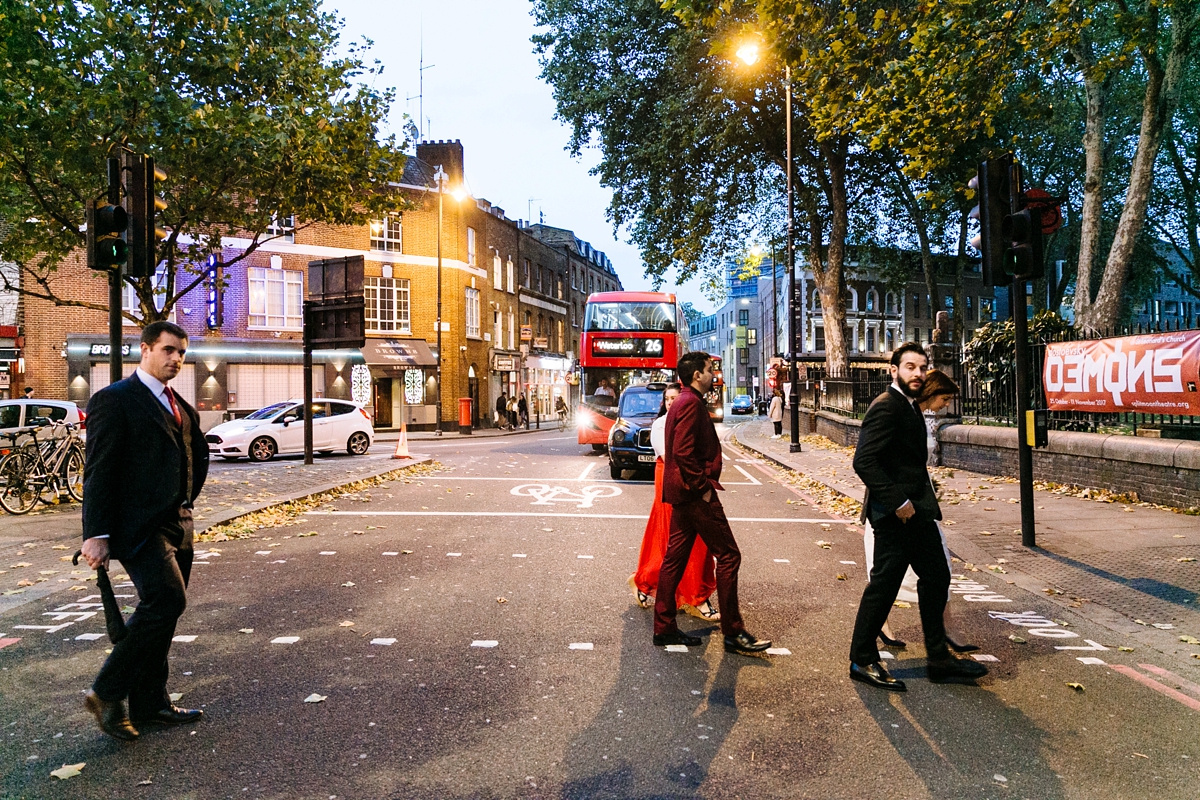 "After the reception venue, we then went on to a cocktail bar called Hopscotch on Brick Lane. We both live and work locally, in fact my office is actually in the same building as Rochelle Canteen. We really wanted to feel comfortable, be somewhere local and be able to walk between venues. It meant that we were much more relaxed on the day as we were familiar with the area, and now everyday I arrive to work, I have happy memories of our wedding!"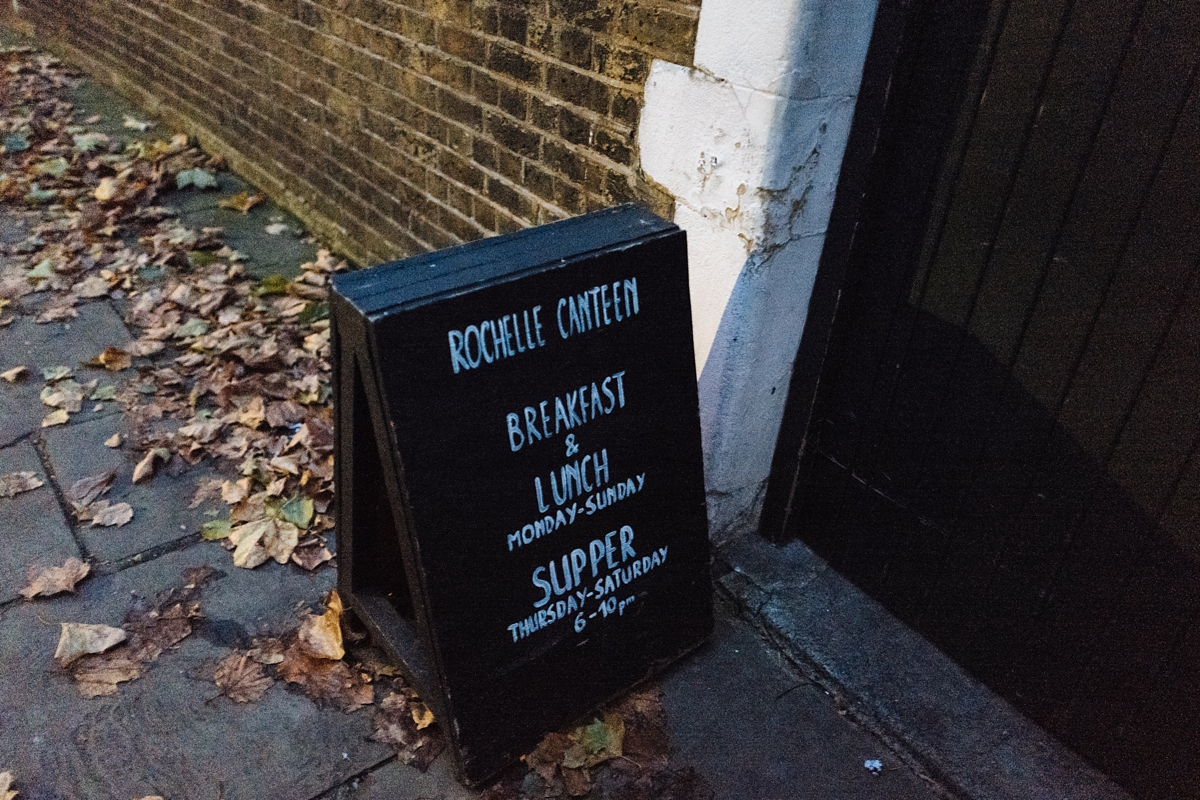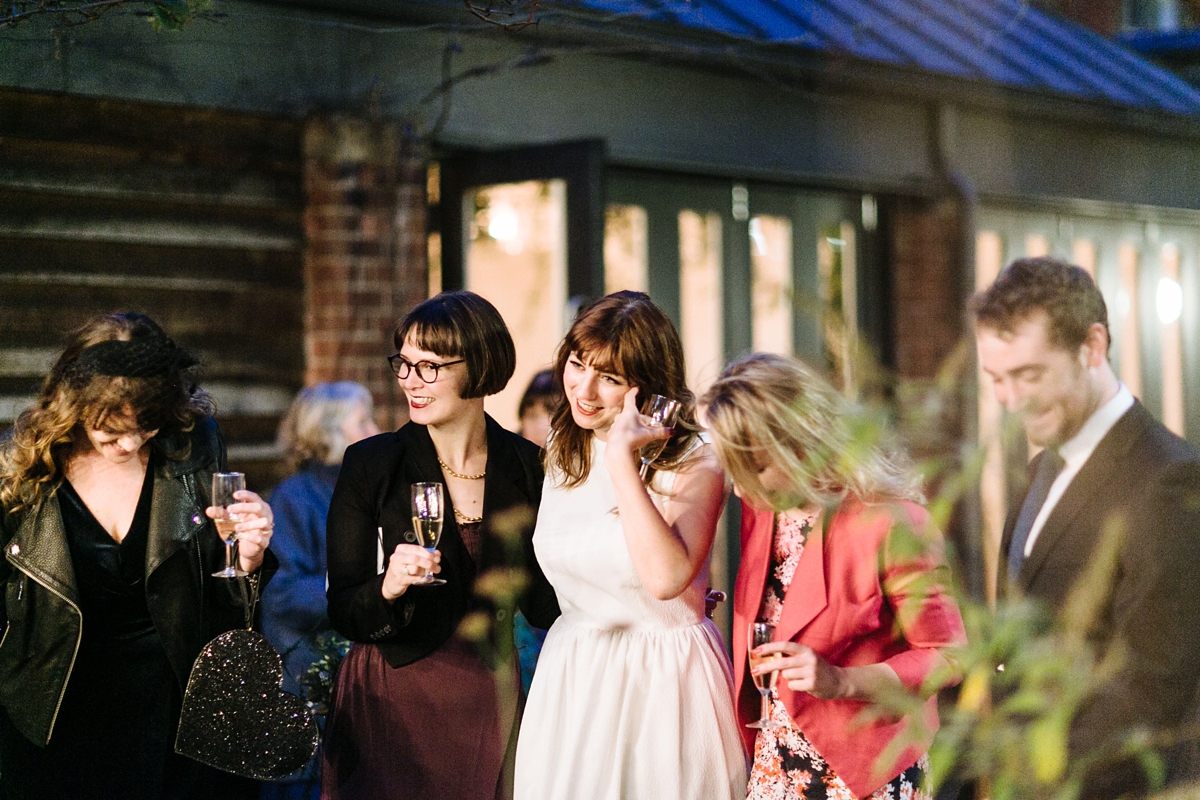 On her favourite parts of the day, Maria describes having all of her favourite people in one place as an amazing experience, as well as ending the night in the hotel suite with room service.
"The whole day went past in such a blur! Everyone says that it does but I couldn't believe just how quickly it passed. We loved every minute and despite how small it was, I felt I still didn't get chance to speak to everyone enough!"
"It was so lovely to have all of our nearest and dearest with us on our wedding day. They all mean so much to us so to celebrate with them all was amazing. Another of my favourite moments was the speeches. We originally didn't want any as we didn't want to put any pressure on the guests, but so many people ended up standing up and saying some words! My dad's speech was very touching and my brother also made a really funny contribution."
Maria wanted the greenery of the floral decorations to do the talking and only opted for a small selection of other decor pieces, including a selection of mismatched brass candlesticks collected from eBay and Etsy, beautiful linen napkins from Not Perfect Linen on Etsy, and a selection of dried confetti petals from the Botanical Farmer.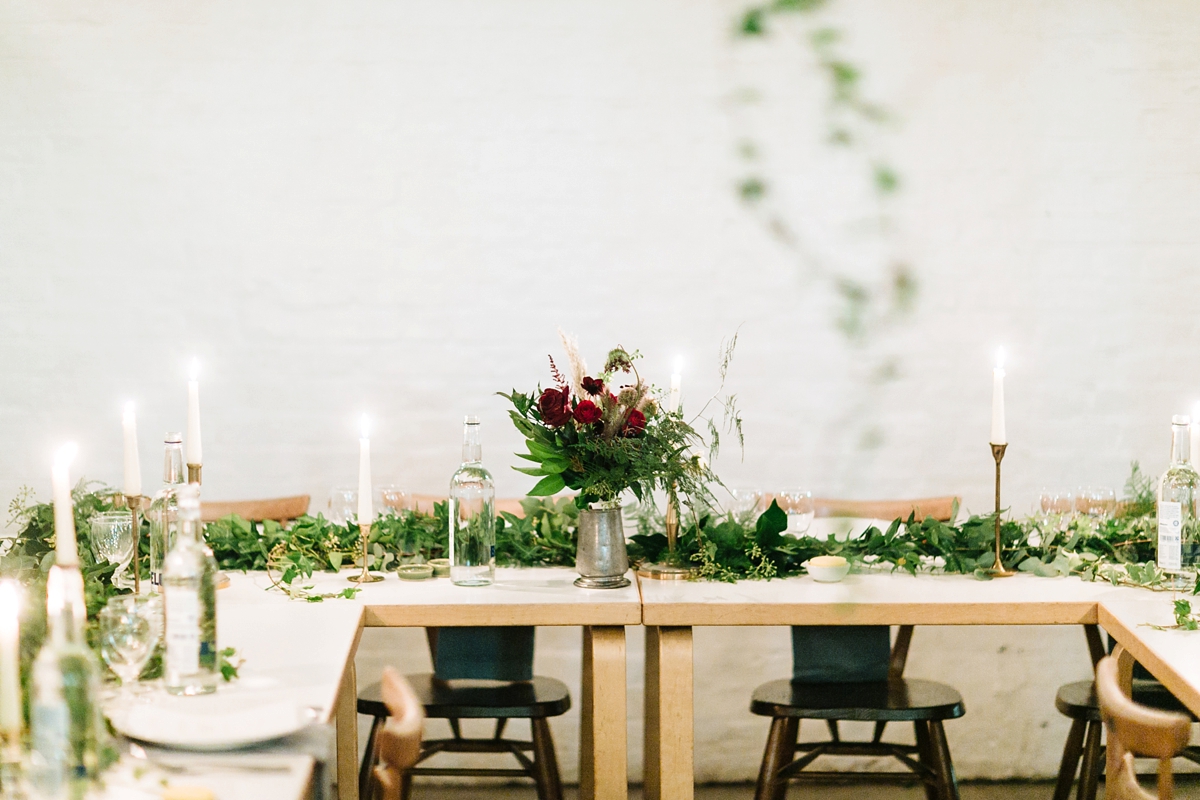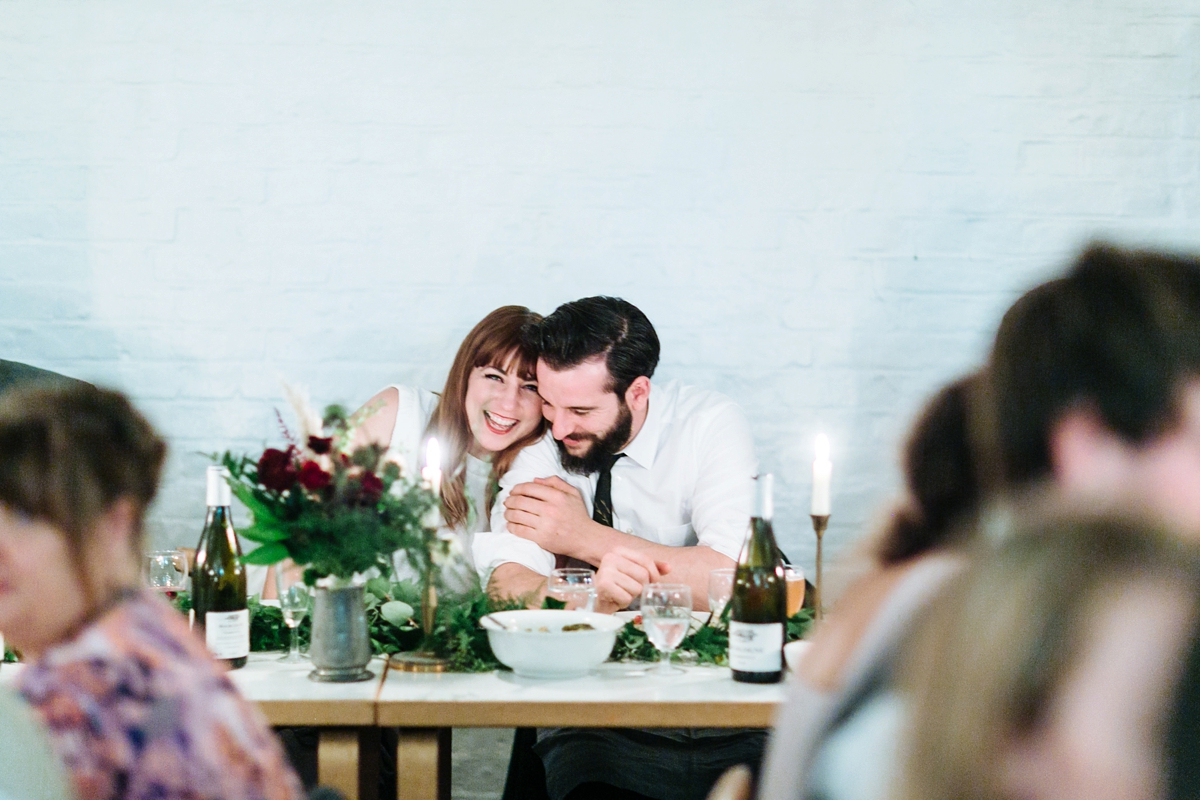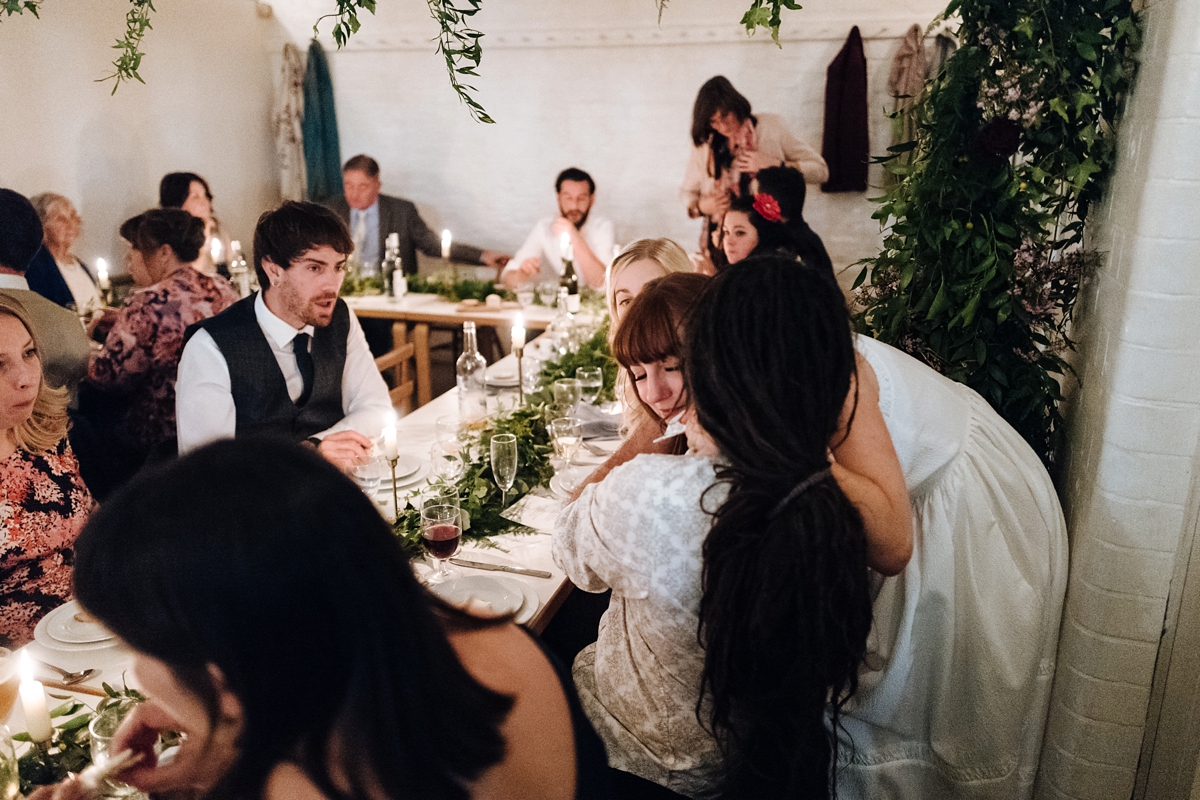 Before leaving guests, were treated to a bag of boxes of wedding cake to take home with them.
"We didn't originally plan to have a wedding cake but my aunt ended up making us 3 as a wedding gift! We had a beautiful three-tiered naked chocolate cake (Dom loves chocolate!), a very traditional iced fruit cake (as my aunt knows we love vintage, she made it as traditional as possible) and finally, the only cake we requested, a birthday cake for my youngest brother's girlfriend. It was her birthday on our wedding day and we wanted to take time to sing Happy Birthday to her so she wasn't forgotten!"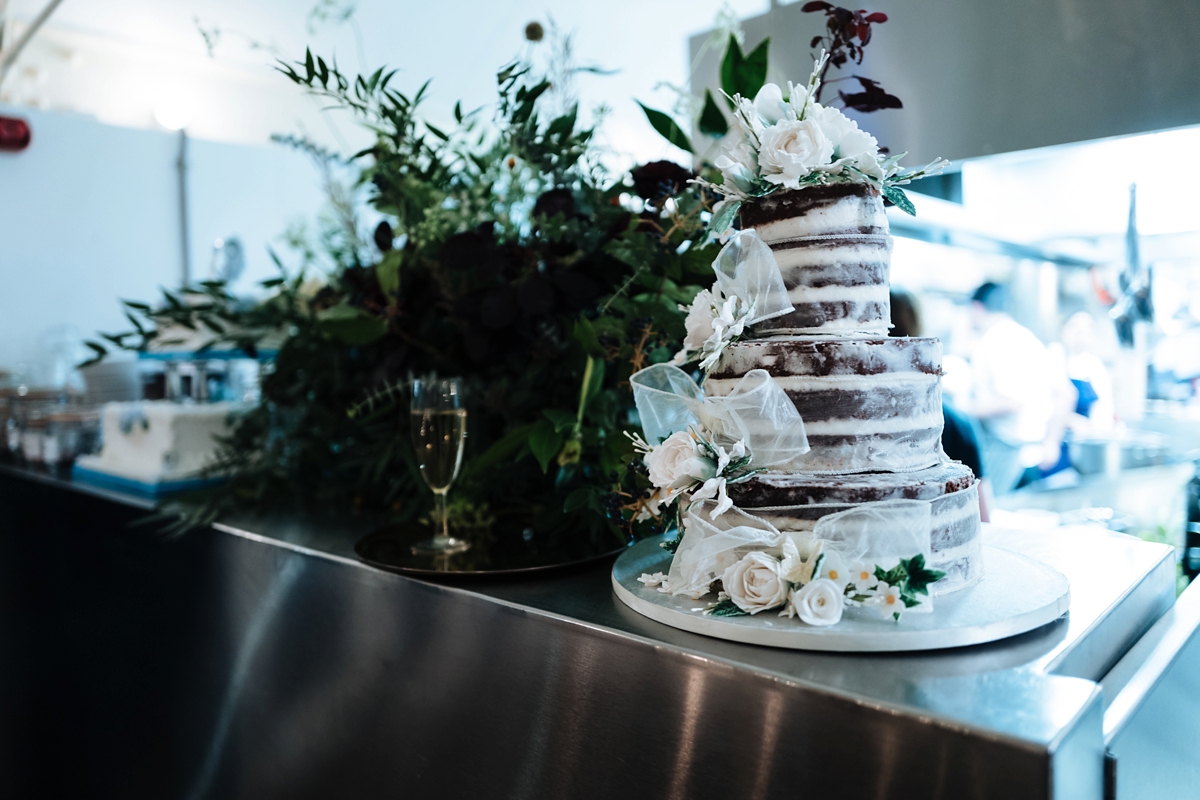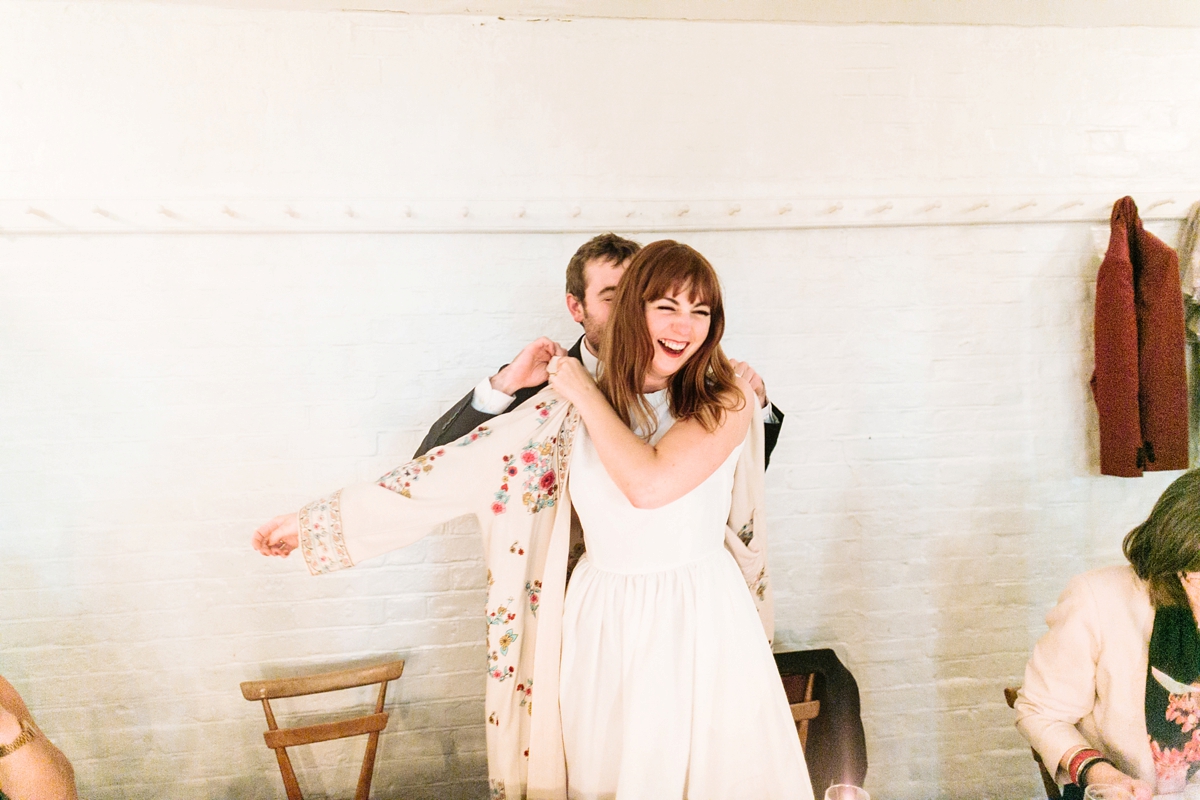 The night was ended on a high with a firework display in the school grounds, sparklers and unofficial after party at cocktail bar Hopscotch.
"The fireworks were a great way to signal the end and move guests outside. We then had a much smaller unofficial after party at Hopscotch and all ended up back in our hotel suite with room service in the early hours of the morning!"
Words Of Wedded Wisdom
"I was so nervous in the lead up about lots of little things. Of course we weren't at the ceremony venue before the guests and as a control freak, I was worried about vendors turning up, people sitting in the right places etc. You really do just need to trust your friends though and relax, because in the end it will all sort itself out and nothing really matters that much on the day. My friend Piera was perfect at looking after any organising that needed doing in my absence."
"I would also say that you just have to accept your family and their quirks, and embrace them! You can't control what everyone will wear, do and say and thank goodness as everyone's personalities add so much to the day."
"I would definitely recommend investing in a good photographer. I was really nervous about having my photo taken but also really wanted some good images as those are what we will be showing our grandkids in the future! The photos are all you will have to look back on the day with. Nick was great and I would highly recommend him!"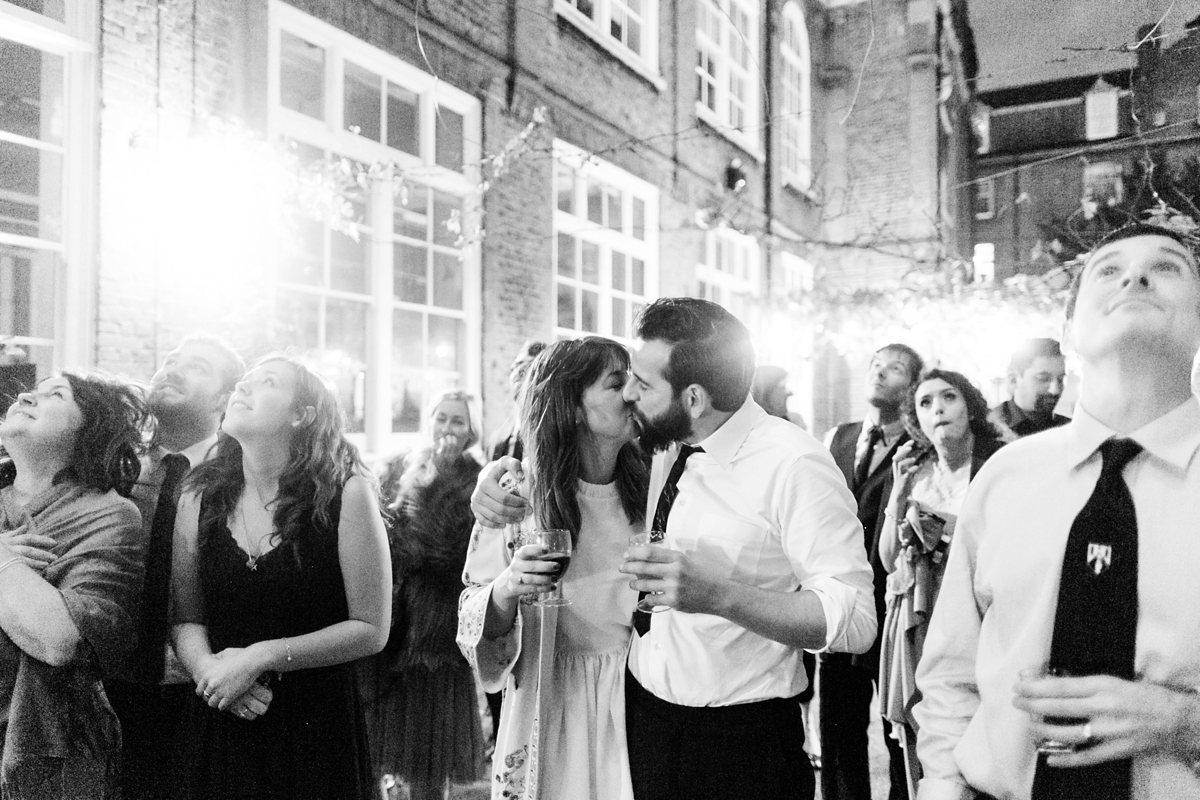 What a wonderfully laid back and relaxed day – testament to all Maria and Dom's planning and hard work – congratulations guys! And a huge thank you to Nick Tucker for capturing it all on camera.
Until next time…
Much love,
Holly x