Good afternoon lovelies, have you had a chance to enjoy our wedding of this morning yet? Or our post for the day over on A Life Loved?
Our afternoon feature is the wedding of beautiful Emma and her husband Alex, both Senior Health Care Professionals, who tied the knot on 8th July 2017 at Christ Church Heaton in Bolton, Lancashire, followed by a reception at The Wellbeing Farm.
Emma's gown was the beautiful 'Willow' by Jenny Packham, a dress she actually found via the Preloved website. Brides, if you are a Jenny Packham fan, you must take a look at her latest 2019 collection that we shared on Love My Dress recently.
"It was the only dress for me. I loved the back of the dress, the whole detail, the champagne colour and the length. It was simply perfect."
Photography by Jo Bradbury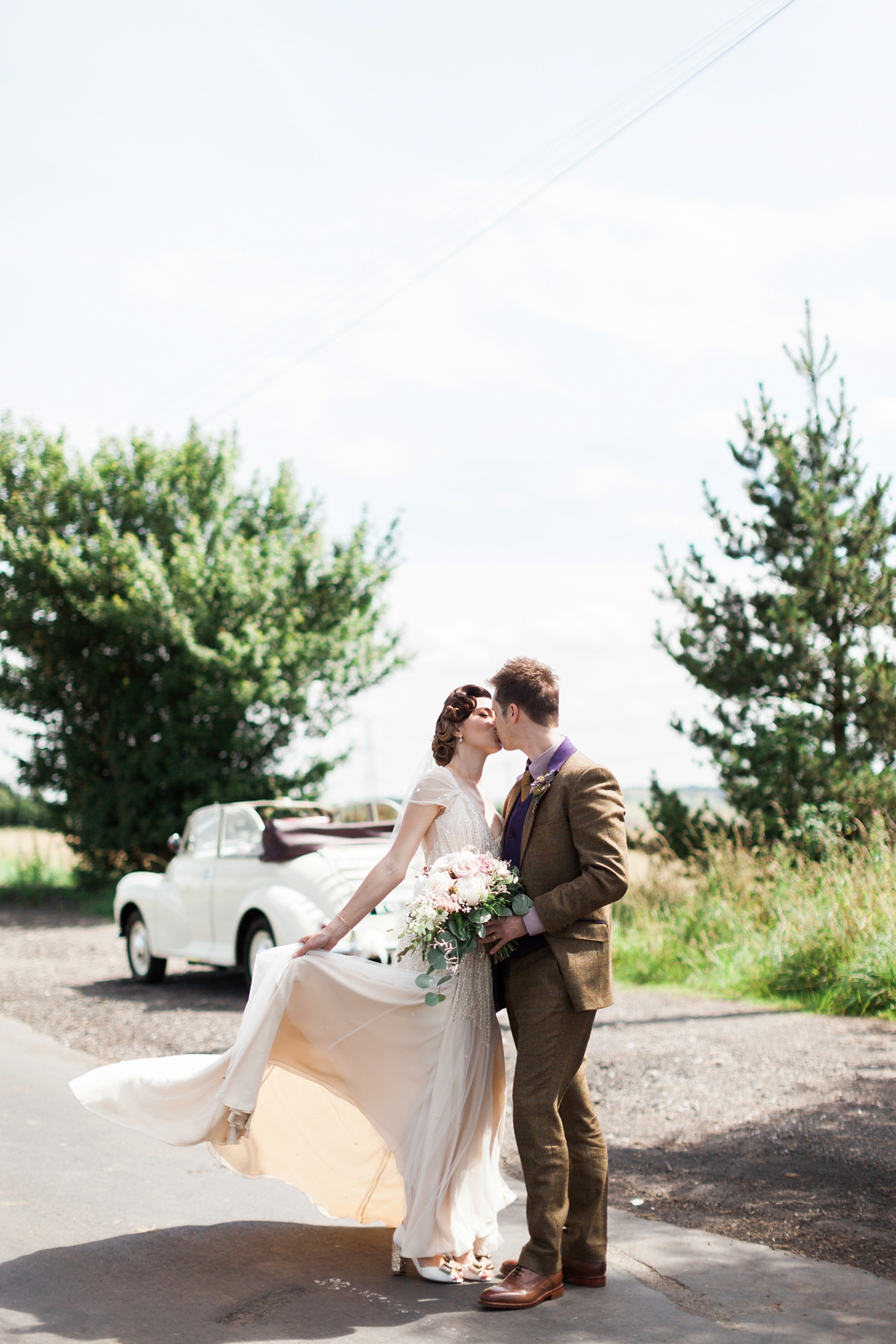 "I have always been vintage inspired and have grown up always loving the 1920's era. We also both have a love for the countryside. Alex is fond of country style and village life and these two went well together on the day. We had lots of flowers, pastel colours, bunting, cupcakes, vintage cars, champagne and tasty food."
"Our photographer Jo Bradbury was a naturally easy going person. Jo delivered exactly what we wanted on our big day – her talent, taste, warm and kind nature shone through. Our guests commented that Jo merged in like one of our guests because she made everyone feel comfortable."
Emma's hair and makeup artist was Bethany Jayne Davies, who styled her hair into the most elegant of 1920's inspired up-do's.
"Bethany was accompanied by an amazingly talented colleague, Aimee, who assisted in mine and my bridesmaids hair and makeup. I was particularly happy with my eye make-up – I wanted a subtle coral eye colour which I felt would complement my dress. These two very talented ladies made me feel sensational."
"We met at work, in the hospital. Fell in love instantly and have been inseparable since. Alex surprised me by asking me to marry him on a city break away."
"I was so shocked, I walked away! We had been engaged for two years and eight days before we married."
"We chose to marry at Christ Church as it is a meaningful place, Alex grew up there and was christened at the church. We chose the Wellbeing Farm wedding venue as it suited our personality, fun, quirky and relaxed. Ironically we now live in the same village."
The groom wore a bespoke suit from Alexander James in Manchester. He also wore his father's vintage wrist watch and shirt.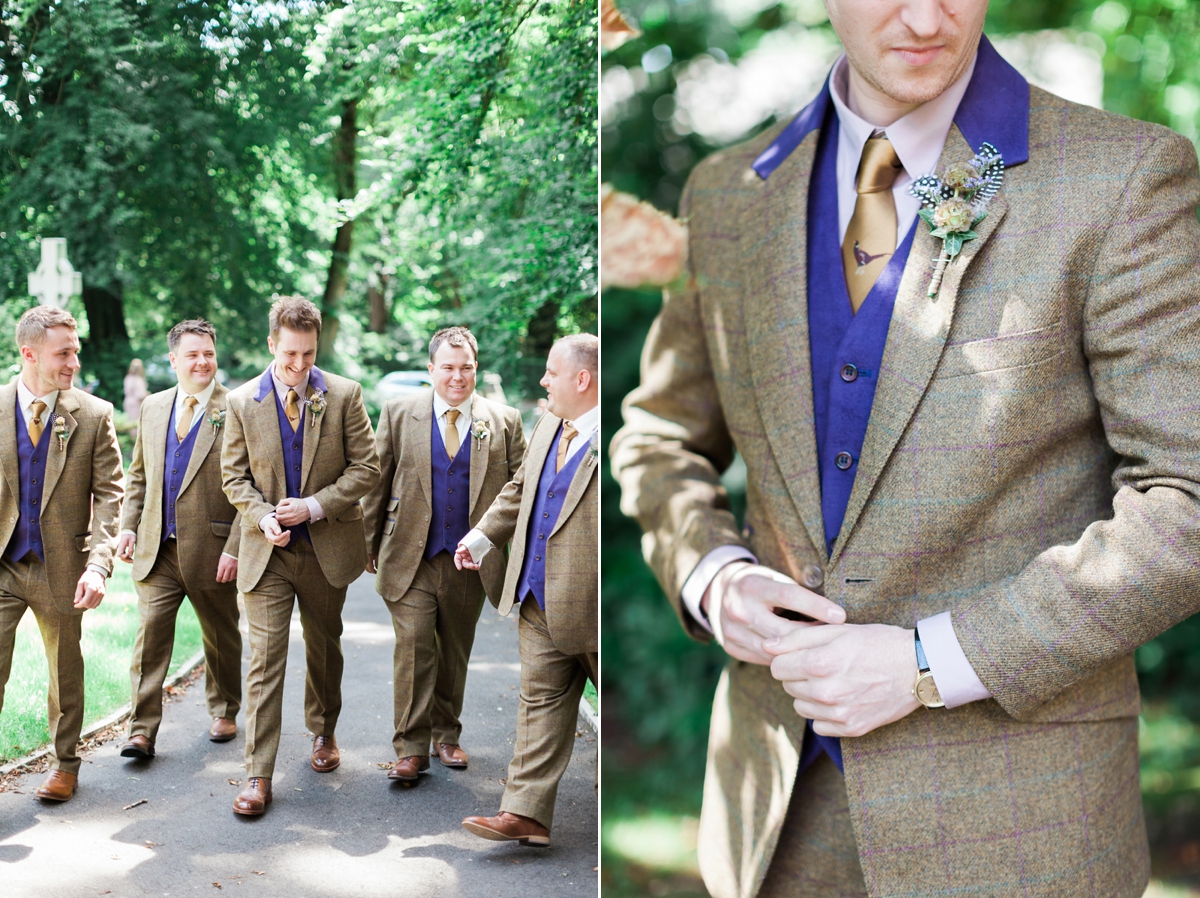 The bridesmaids wore multiway dresses in tulle by designer Kelsey Rose in an elegant mauve shade. Each was tailored to their individual size and shape.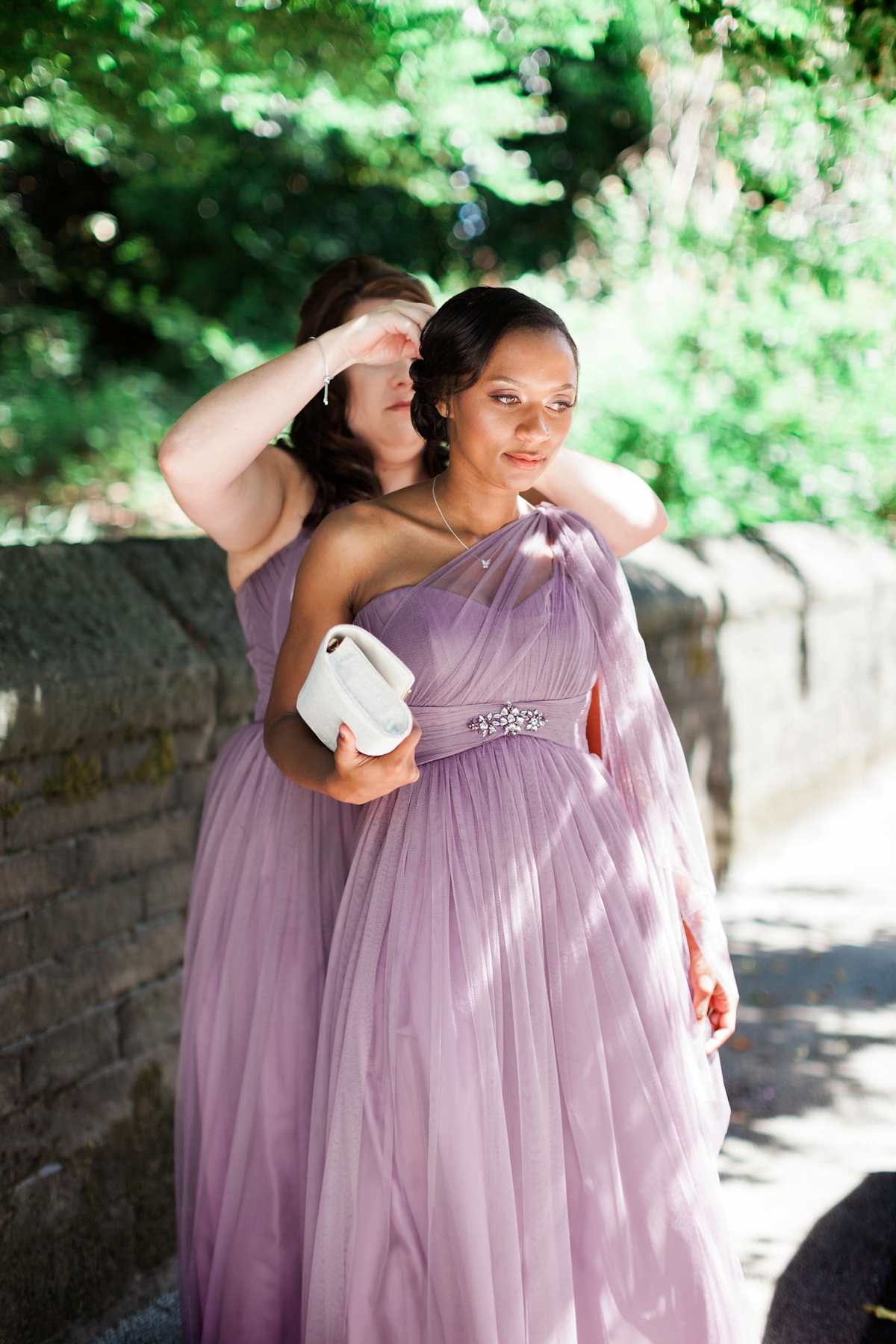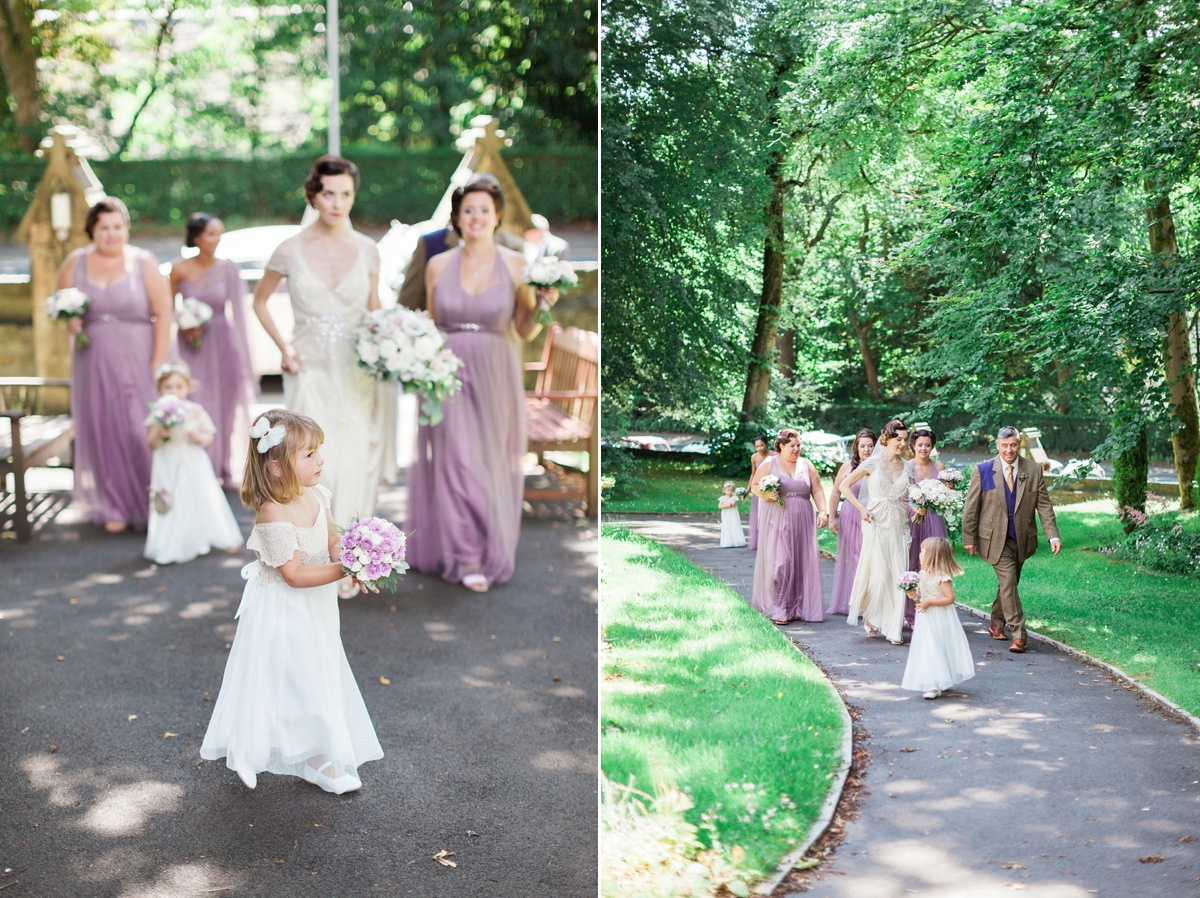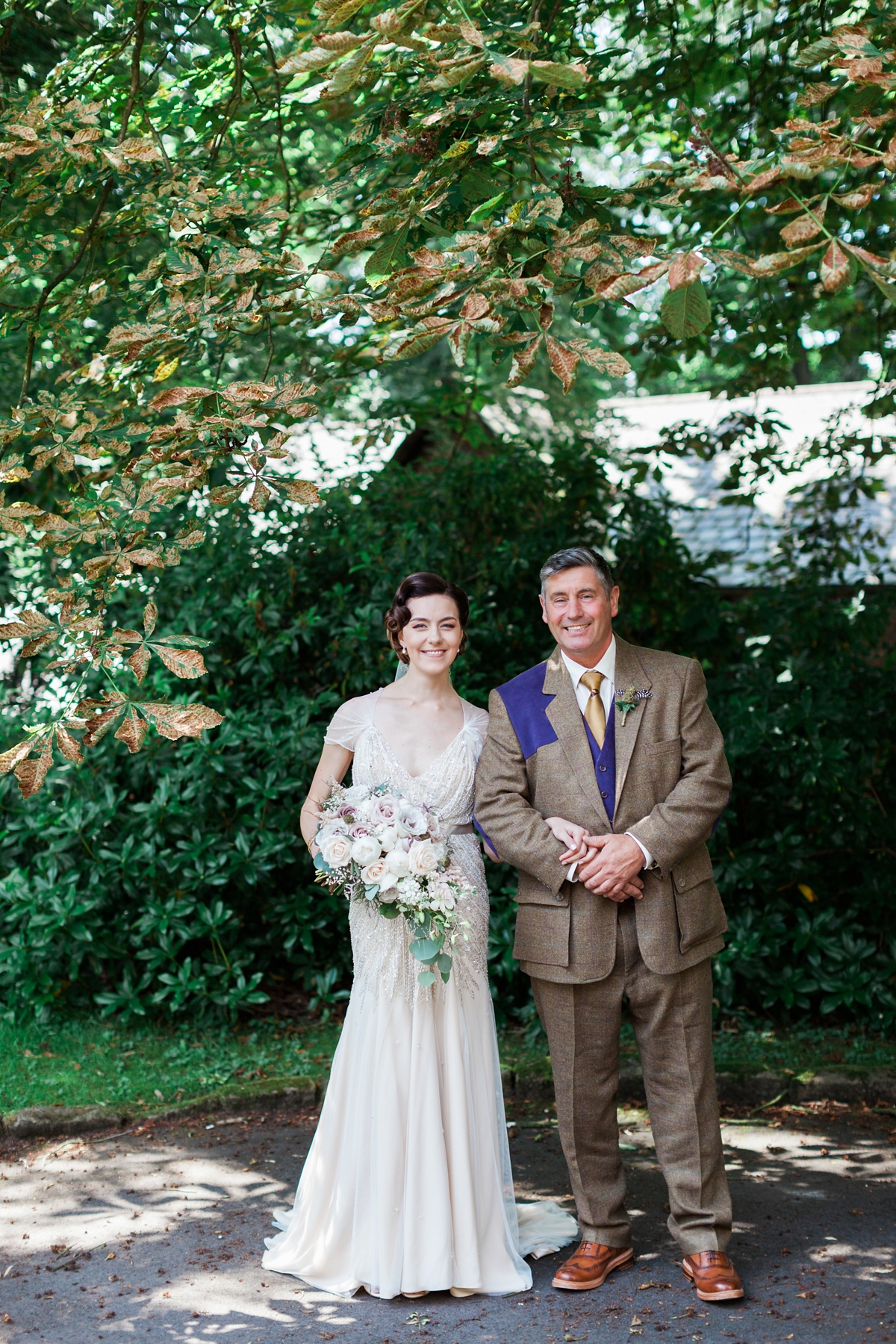 The bride's veil was a bespoke creation from The Dressing Room in Lancashire.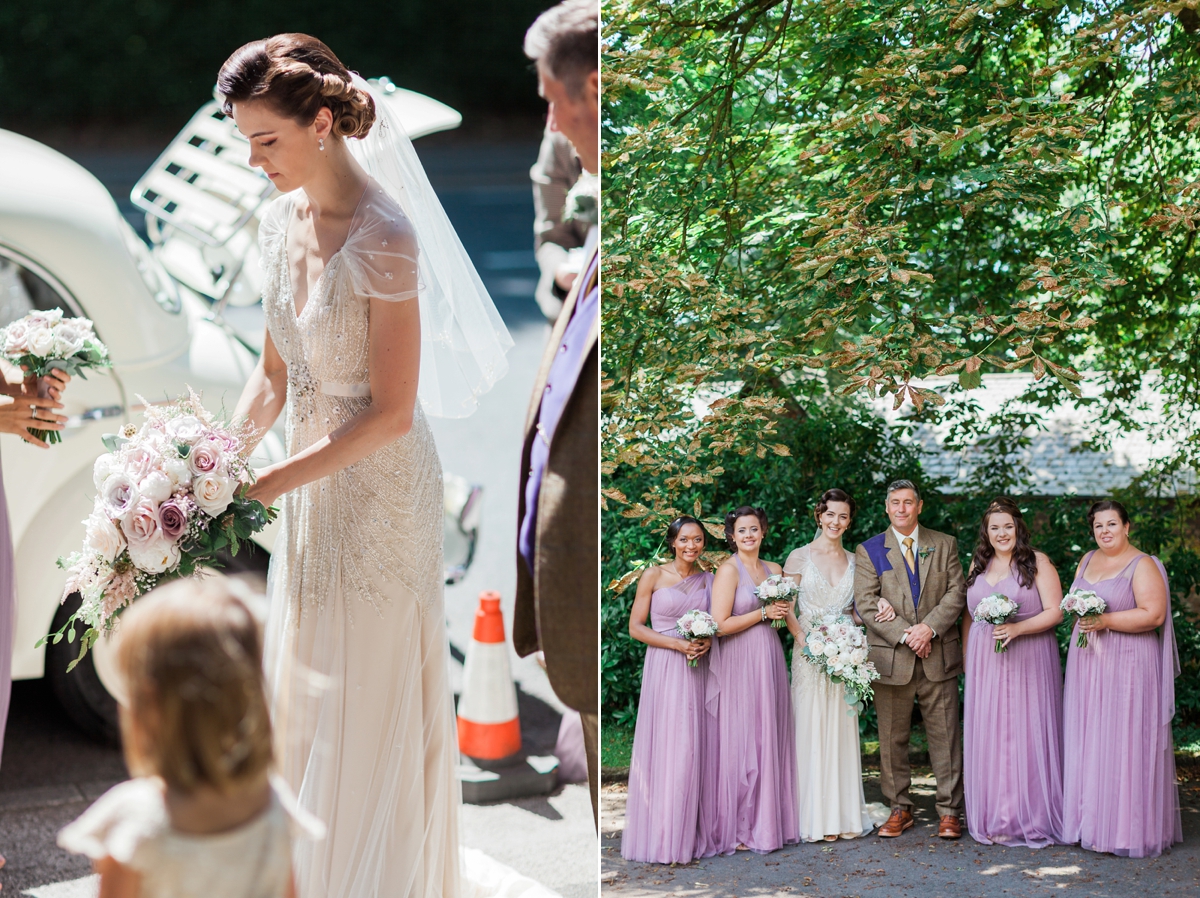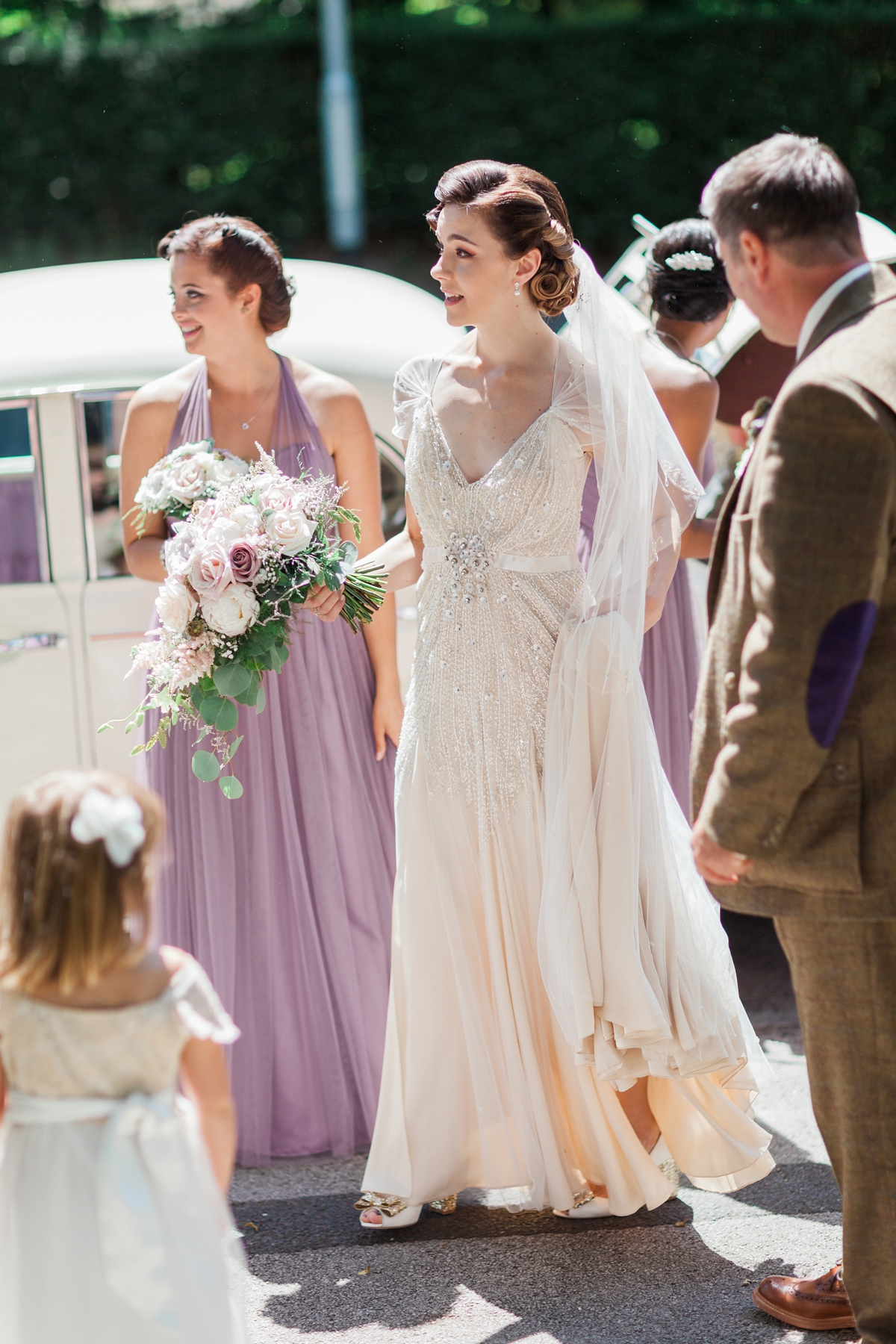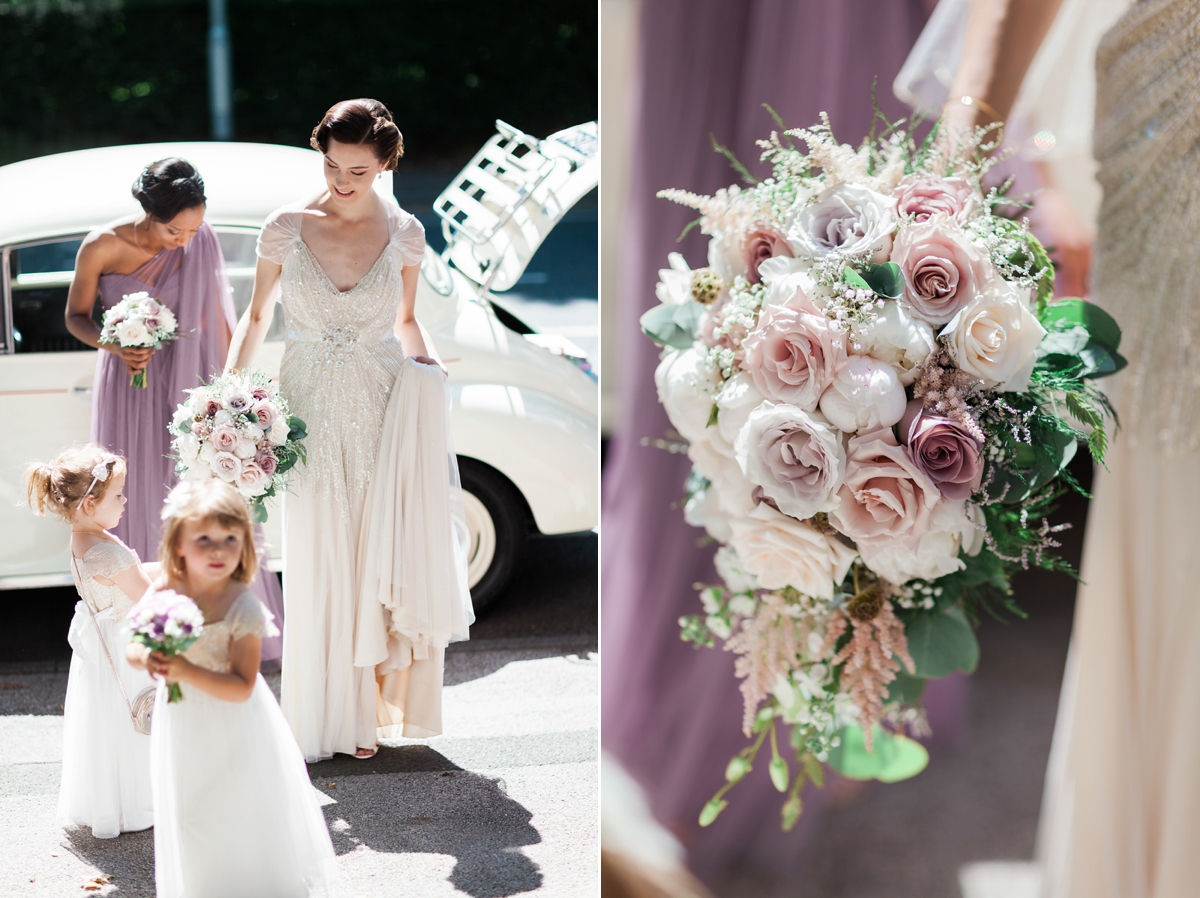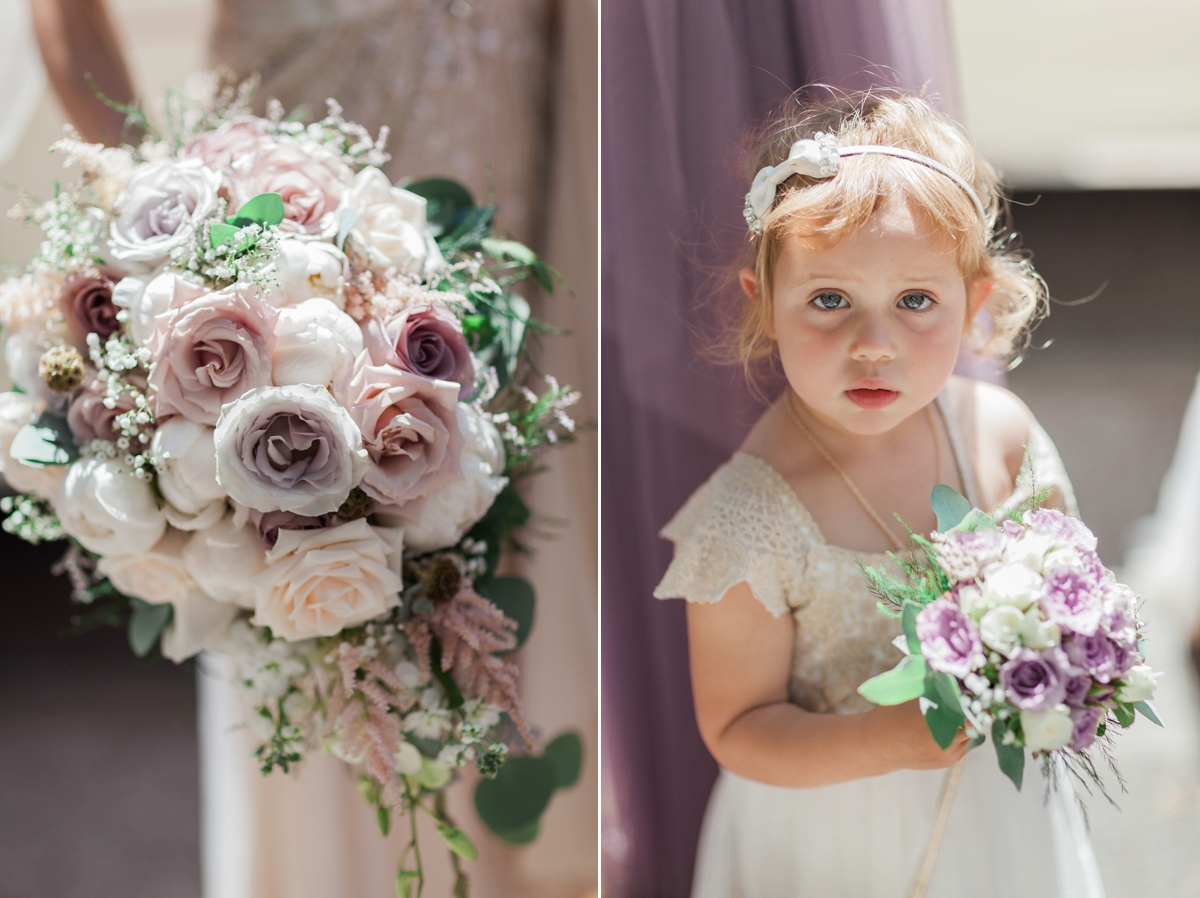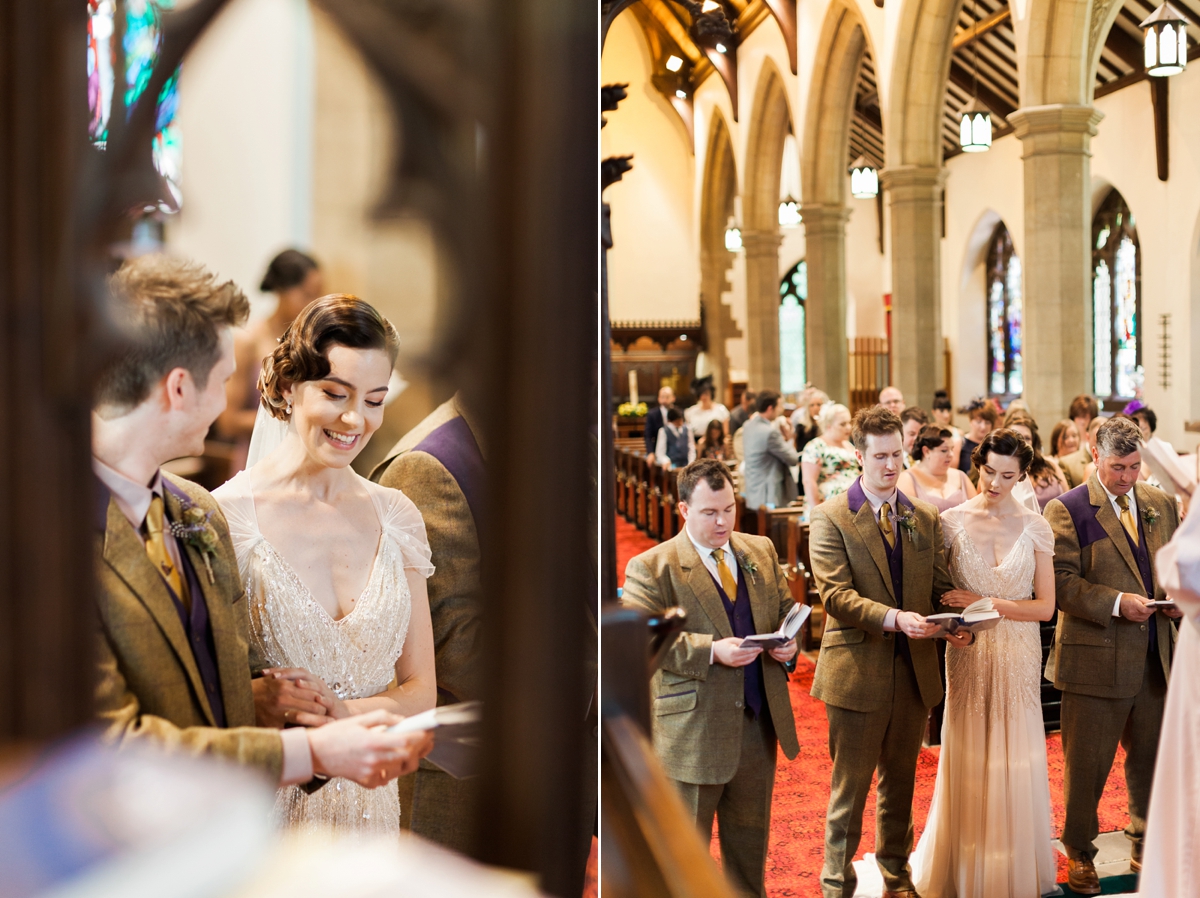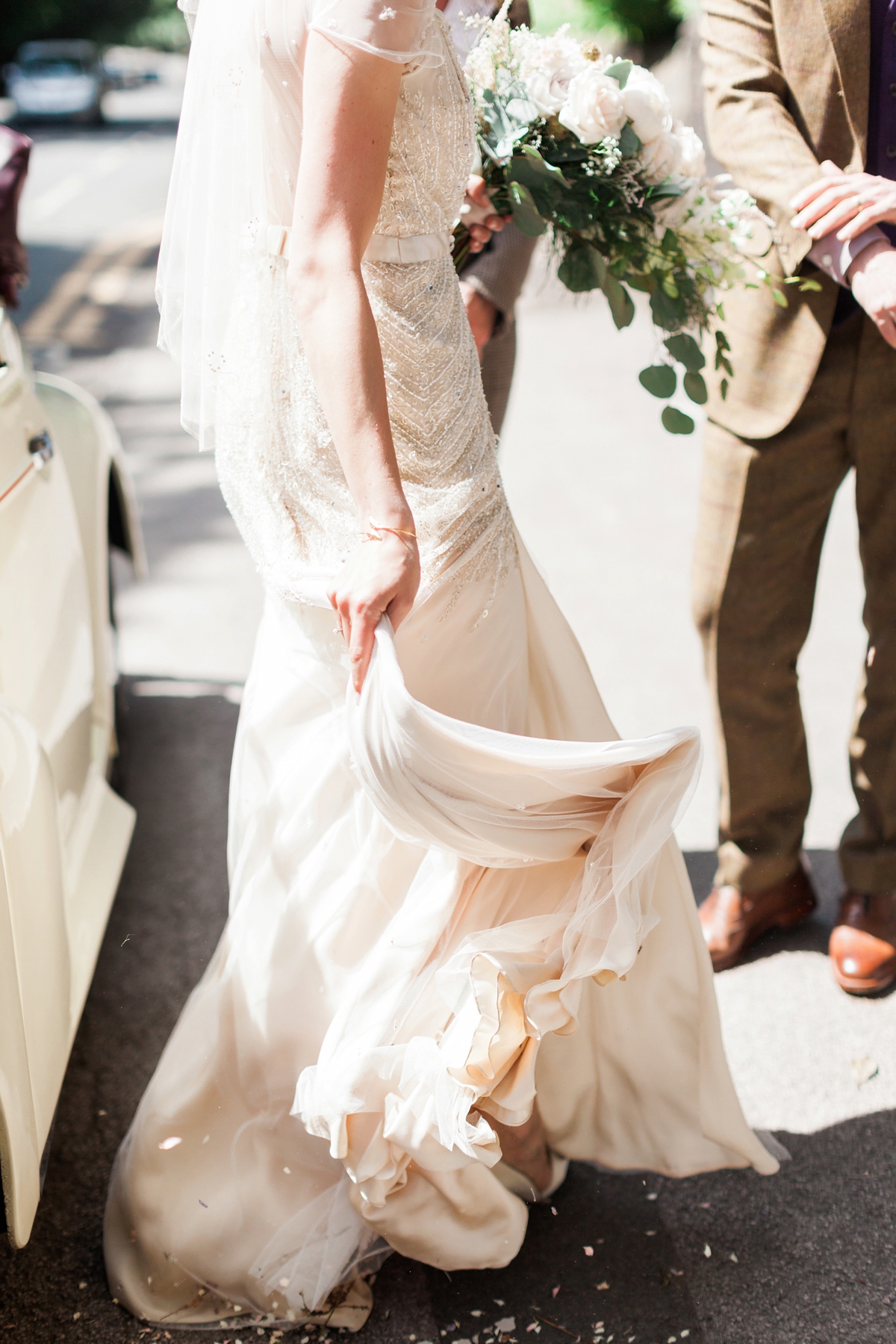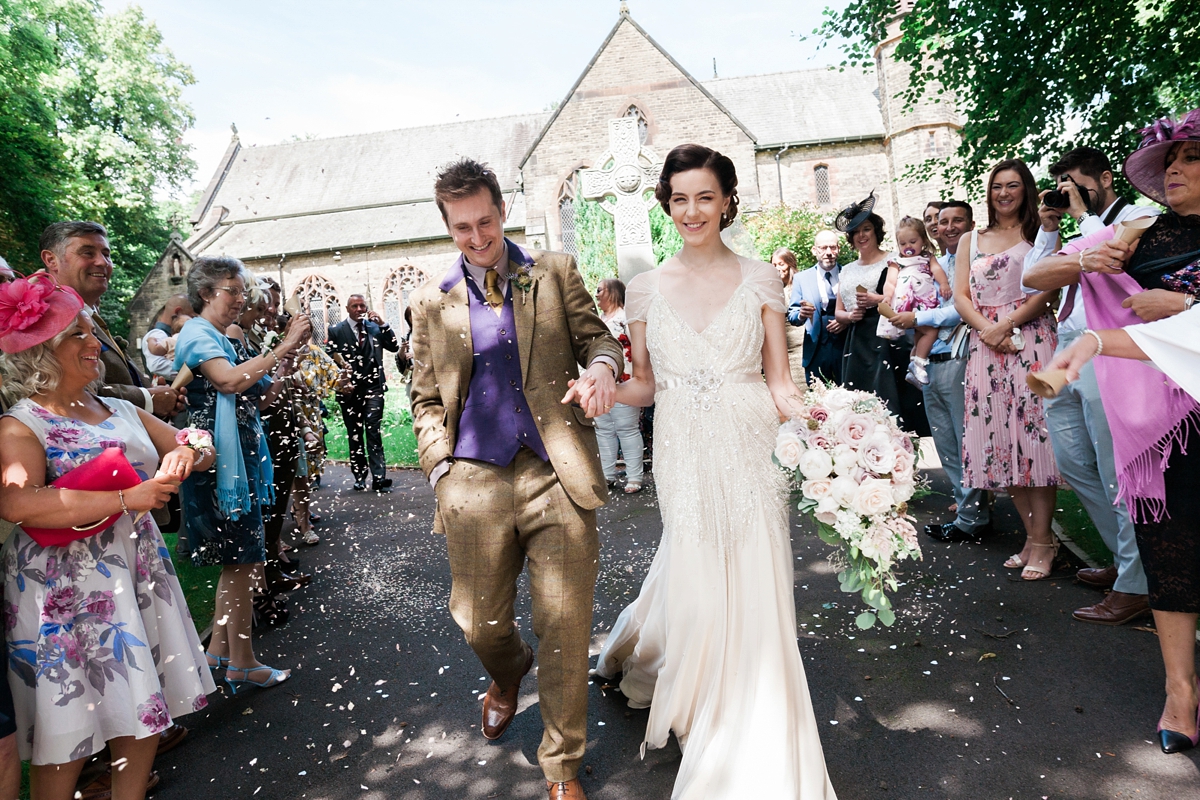 The couple hired transport from Posh Pampa Campa and Regent Classics.
"Geraldine at Regent Classics drove me to the church with my Uncle Anthony in a Moris Minor – and then drove Alex and I onto The Wellbeing Farm after the service.  We had the roof down on the convertible Morris Minor after the service all the way to the farm, with a glass of fizz in our hand." 
"The campervan from Posh Pampa Campa transported the bridesmaids."
"We also passed our cottage in the village and there were many people waving, cheering and beeping their horn which made us both giggle, especially as we are a very private couple."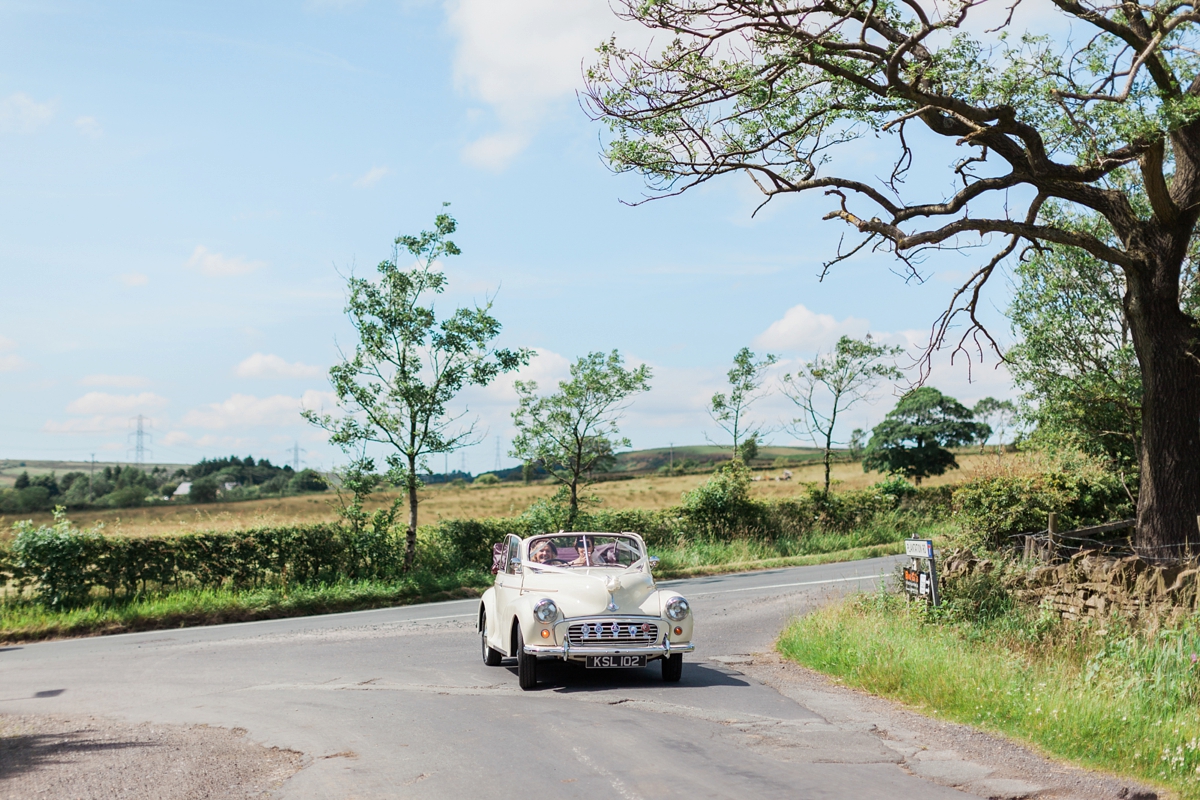 The couple hired florist Victoria Scaldwell of Lancashire Floristry.
"Victoria is an amazing, talented, kind, caring, dedicated lady who describes herself as an overworked flower fairy.
Victoria went above and beyond on our wedding day. The major part of the room décor was carried out by Victoria. Her flowers were exquisitely beautiful. My bouquet was 'out of this world'."
"Victoria dressed our pet dog, Marilyn the pug, so that when she made an appearance at the wedding reception she was part of the wedding too. Victoria's work was sensational, she worked immensely hard in ensuring we had a perfect day. Even the day after, Victoria was back at the Wellbeing Farm, wrapping flowers in bunches so that we could get them home easily.
I was really keen to have peonies in my bouquet and although, almost out of season on 8th July 2017 – Victoria made this happen and my bouquet was perfect."
Emma's fabulous shoes were the 'Becky Gold Bow' heels by Charlotte Mills.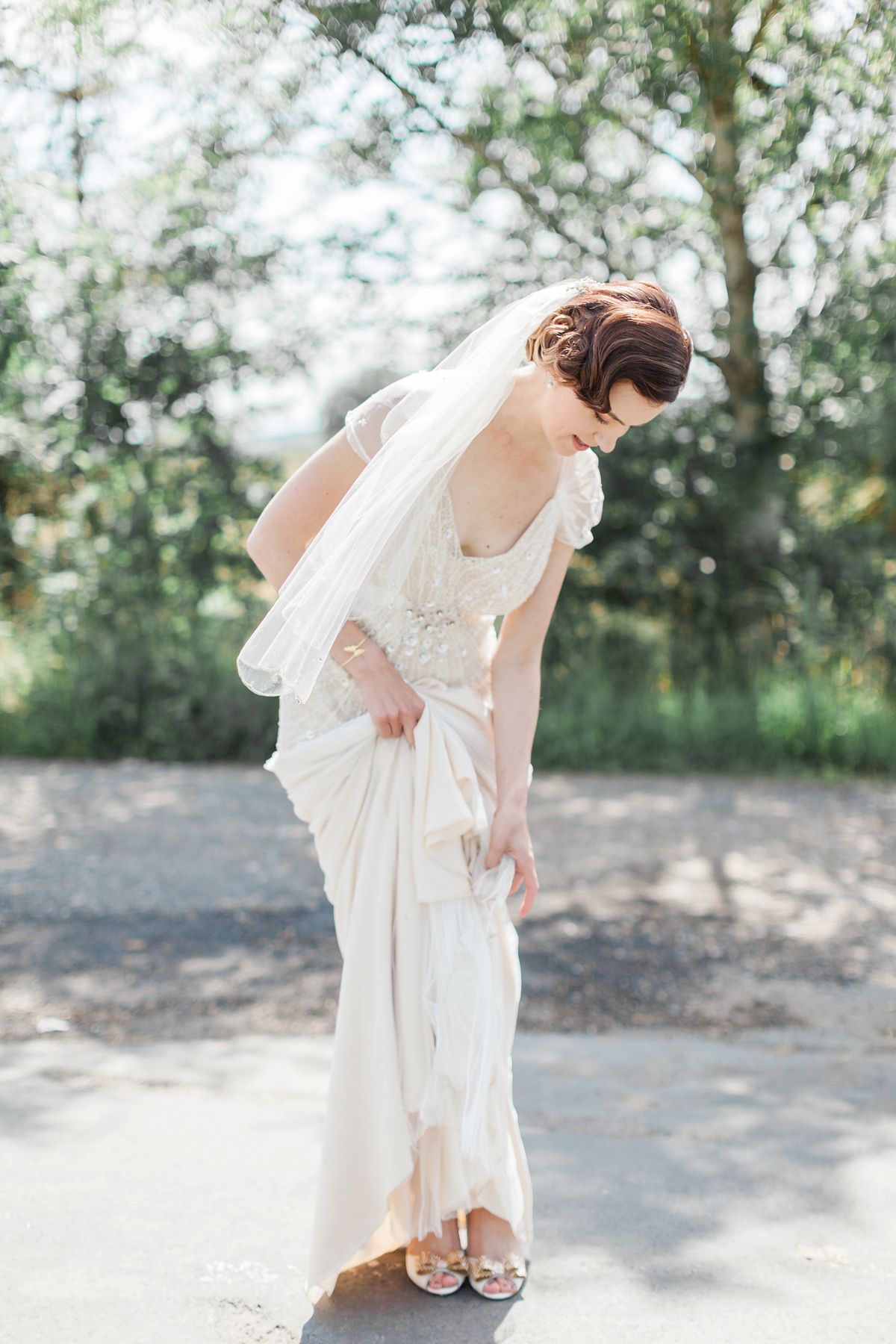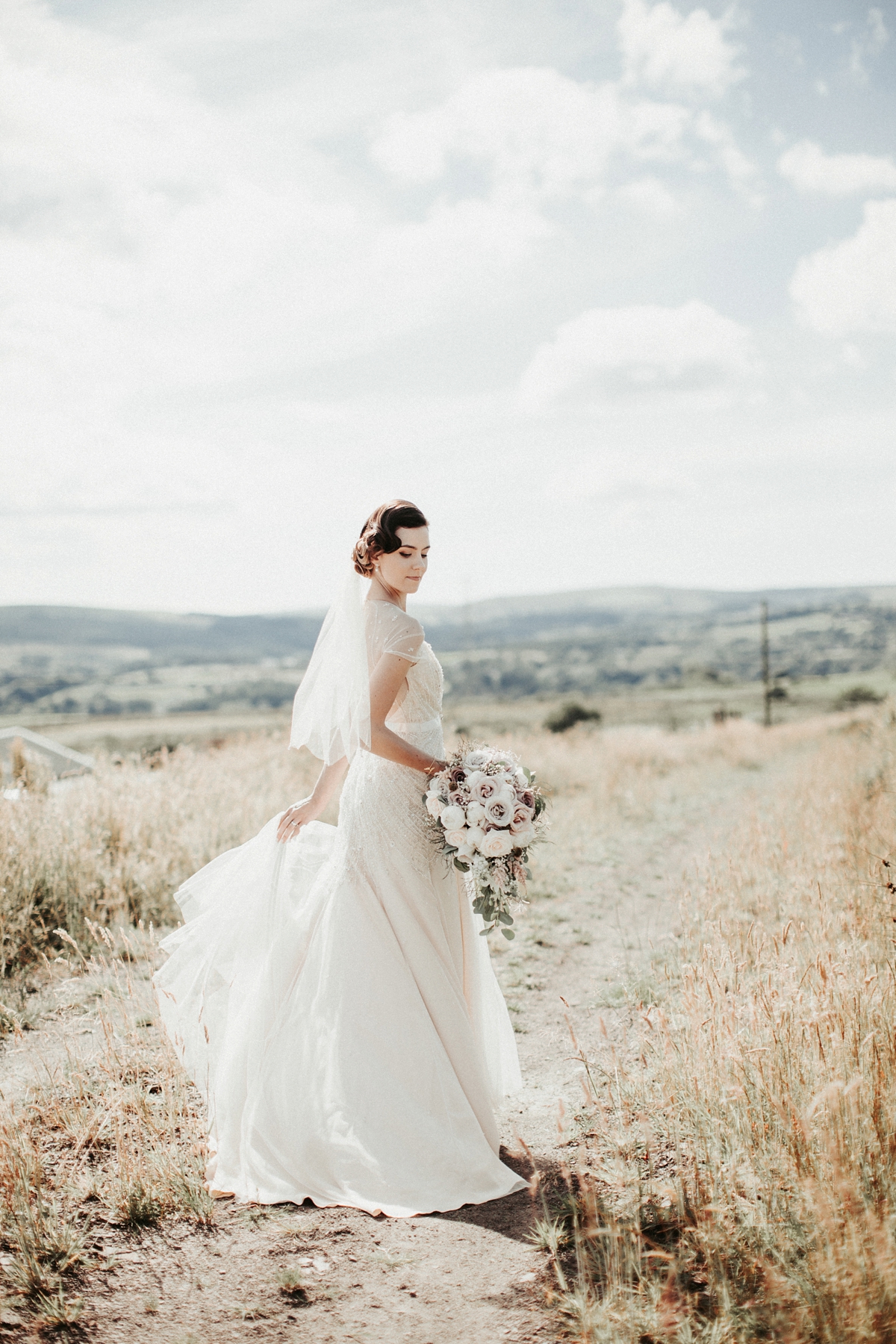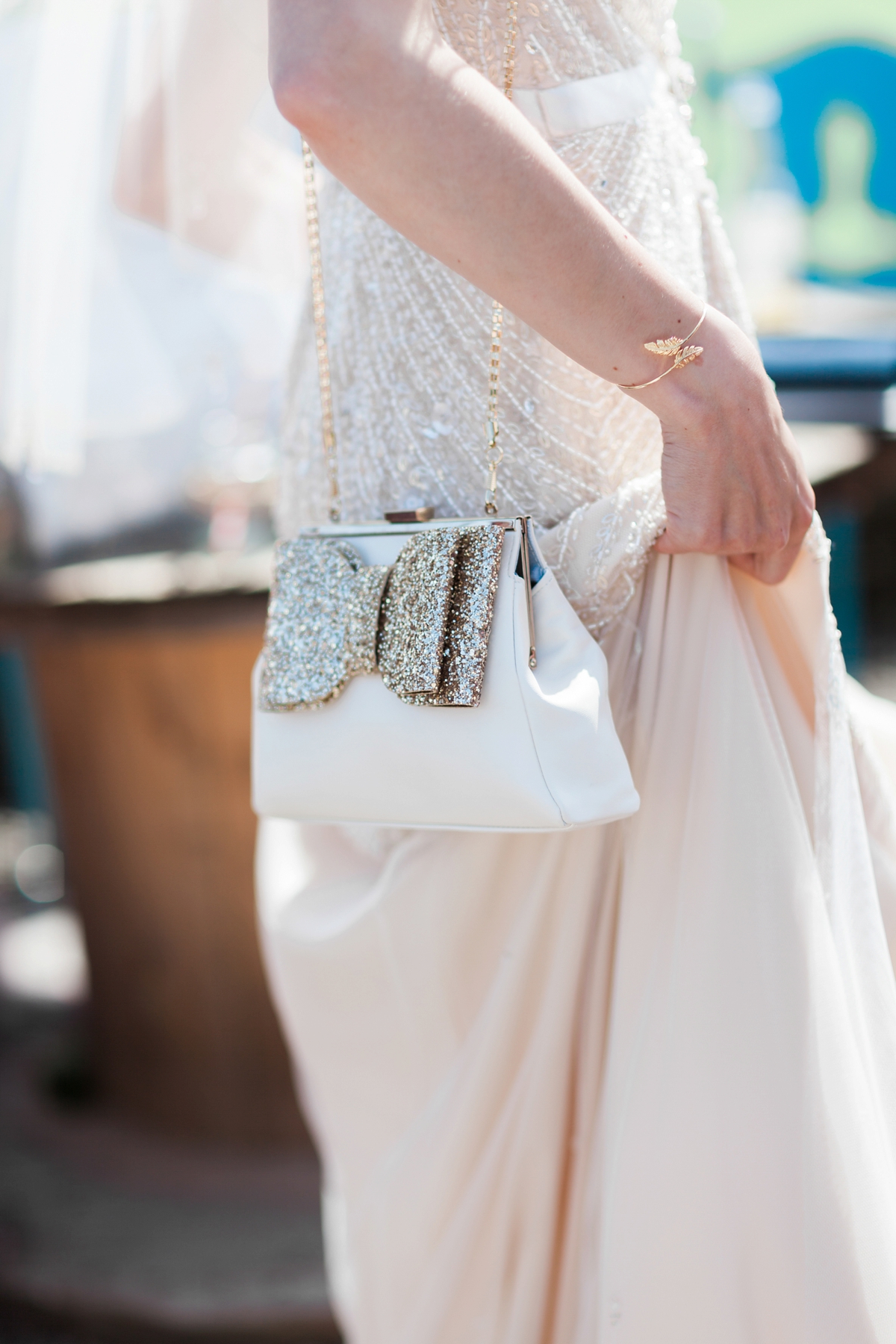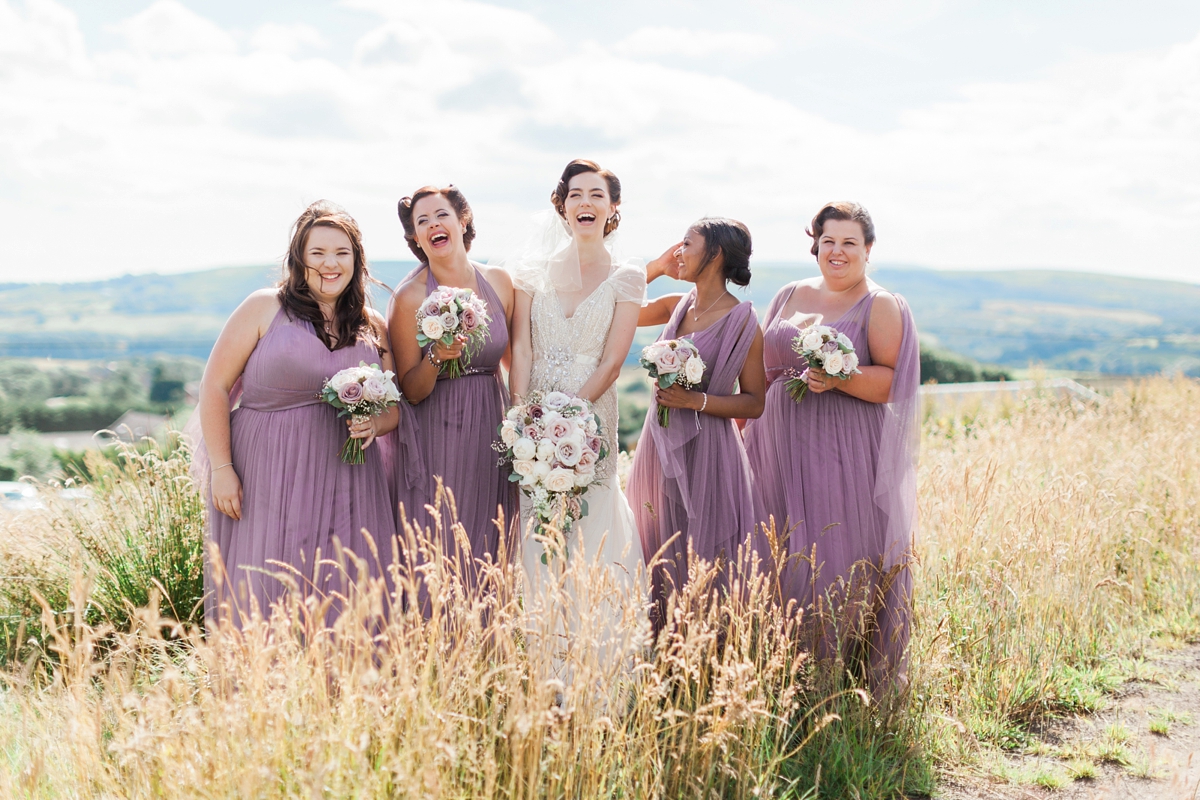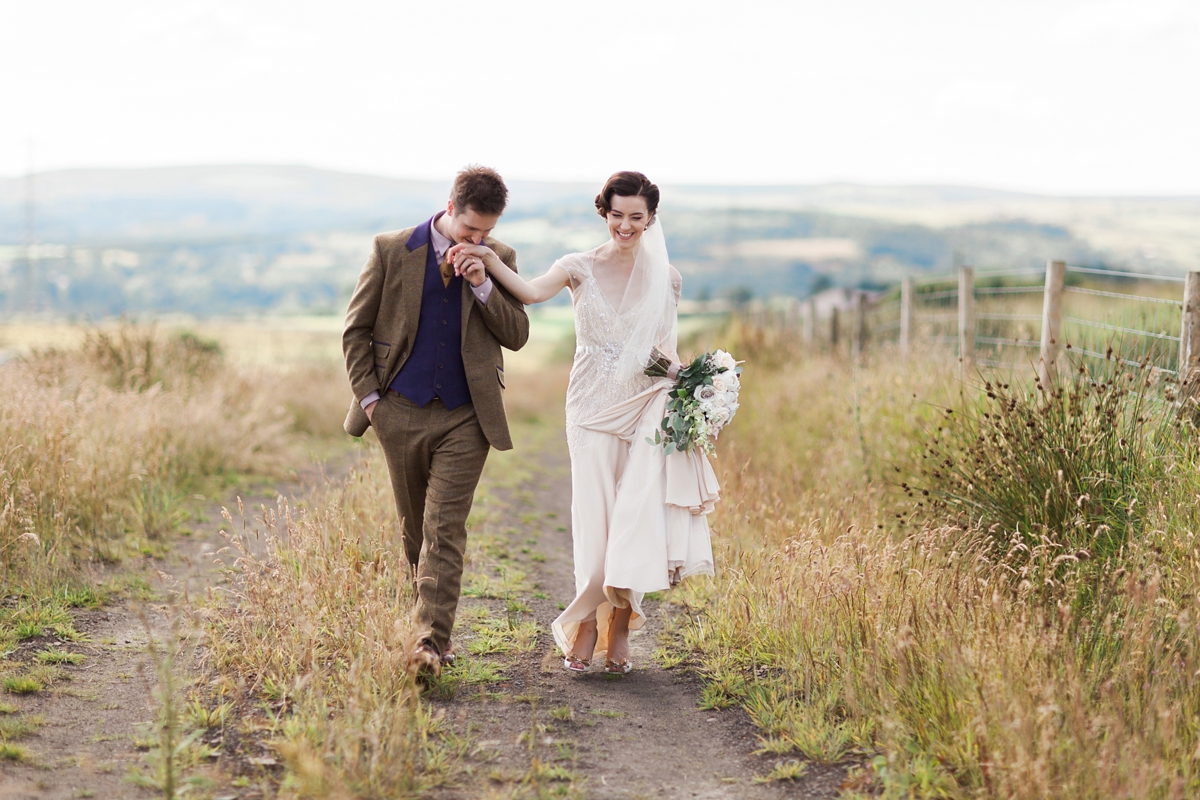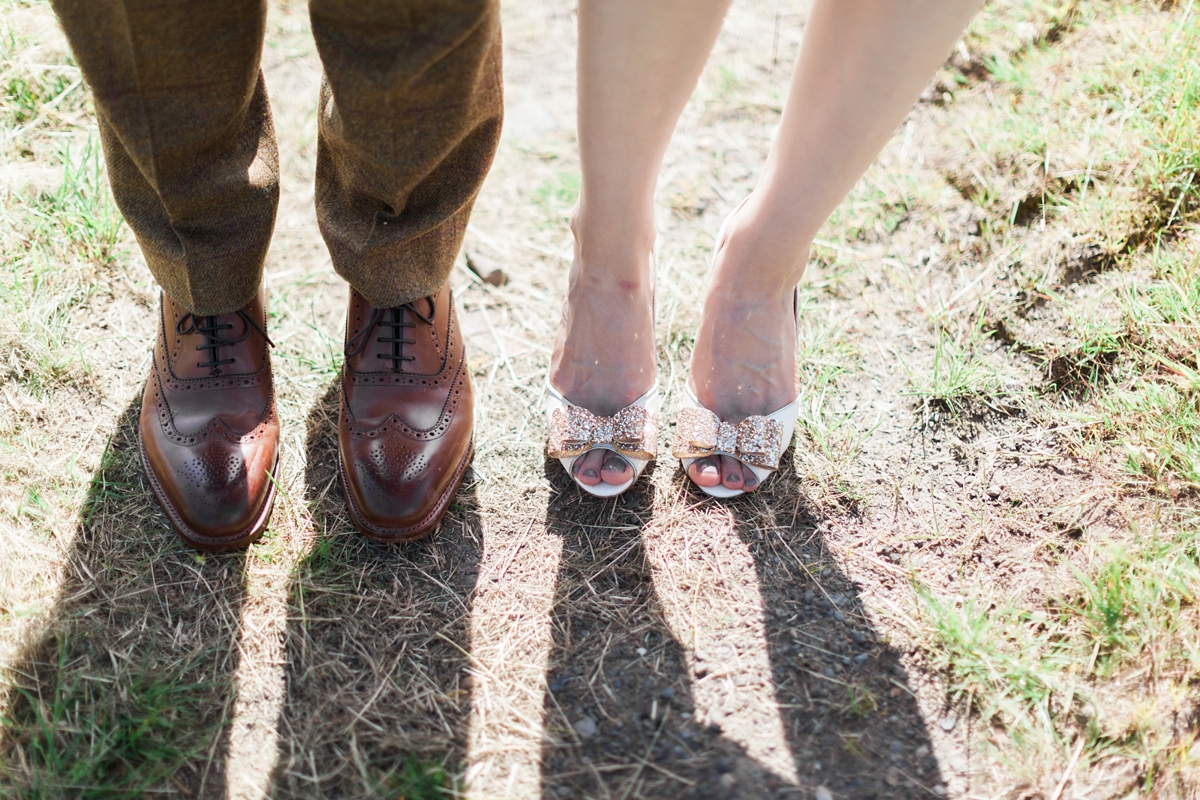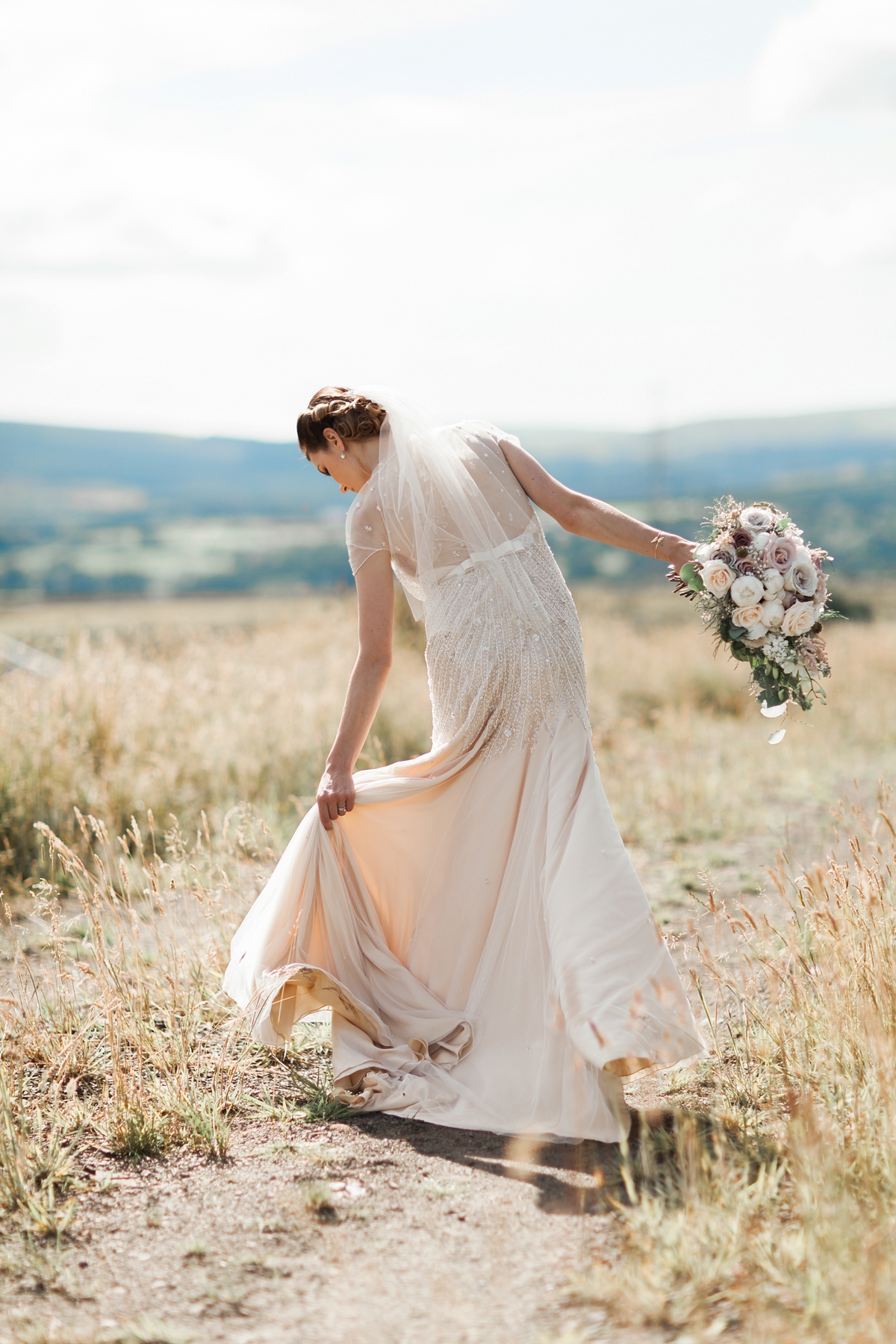 The couple filled their venue with pretty colours that beautifully complimented the wedding party's choice of clothing.
"Our stationery was supplied by Hannah Weeks who provided a bespoke wedding illustration. Hannah went above and beyond for us both – designing and providing the table plan, all table names, place settings and the order of service for the church ceremony."
The couple gifted guests with Bolton Hospice Scratch cards as wedding favours. If one was a winning ticket, a pasty from the local shop was the prize.
"Also, each guest had their name cut out of wood as their place setting. These were also taken home by the guests. These were supplied by 'Love Rosie' based in Egerton, Bolton. Love Rosie also dressed each chair and supplied table runners for all of the wedding breakfast tables. Hessian and lace."
"We had an immense number of fresh flowers and used over 200 vases in all. We used bunting, lace and hessian table runners and bows tied to chairs. A vintage wooden post box for our cards. Personal pictures of us both as children were also tied to the toilet doors. We also hired a large popcorn machine and had a cupcake cart."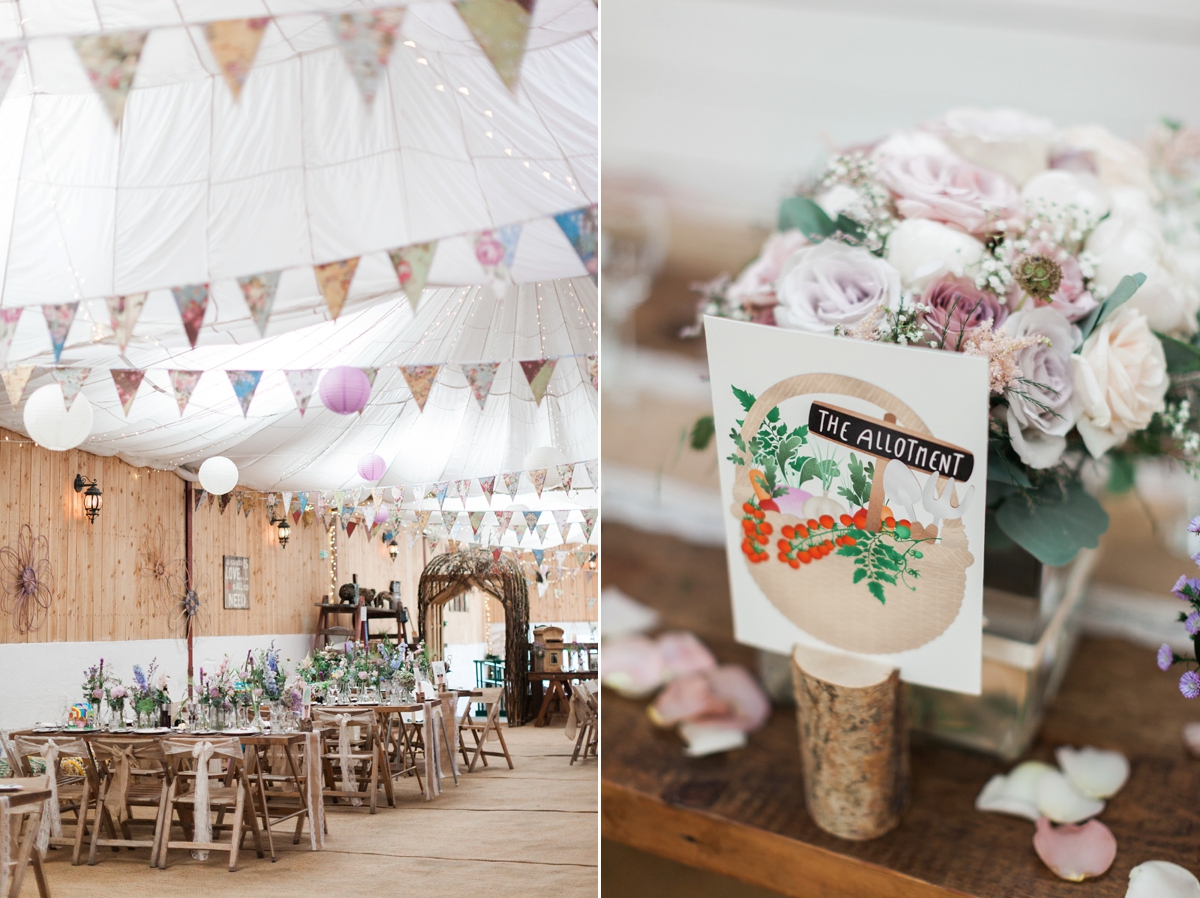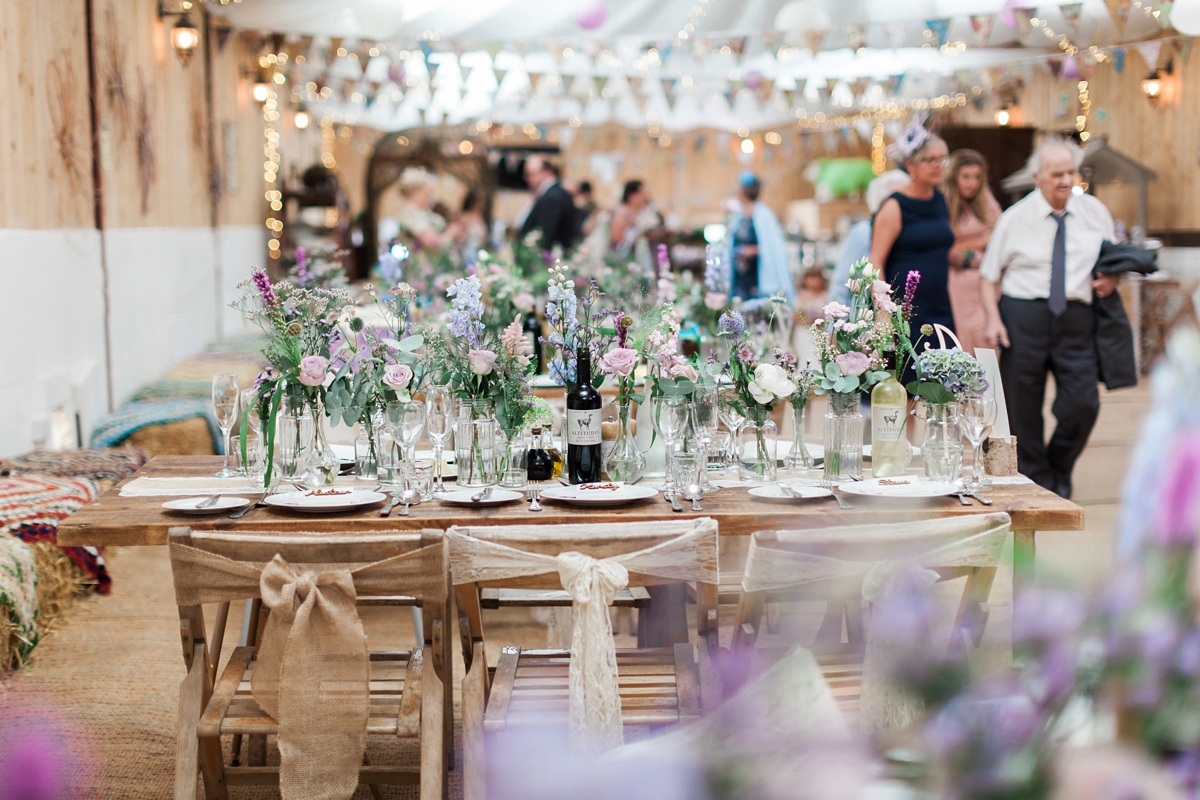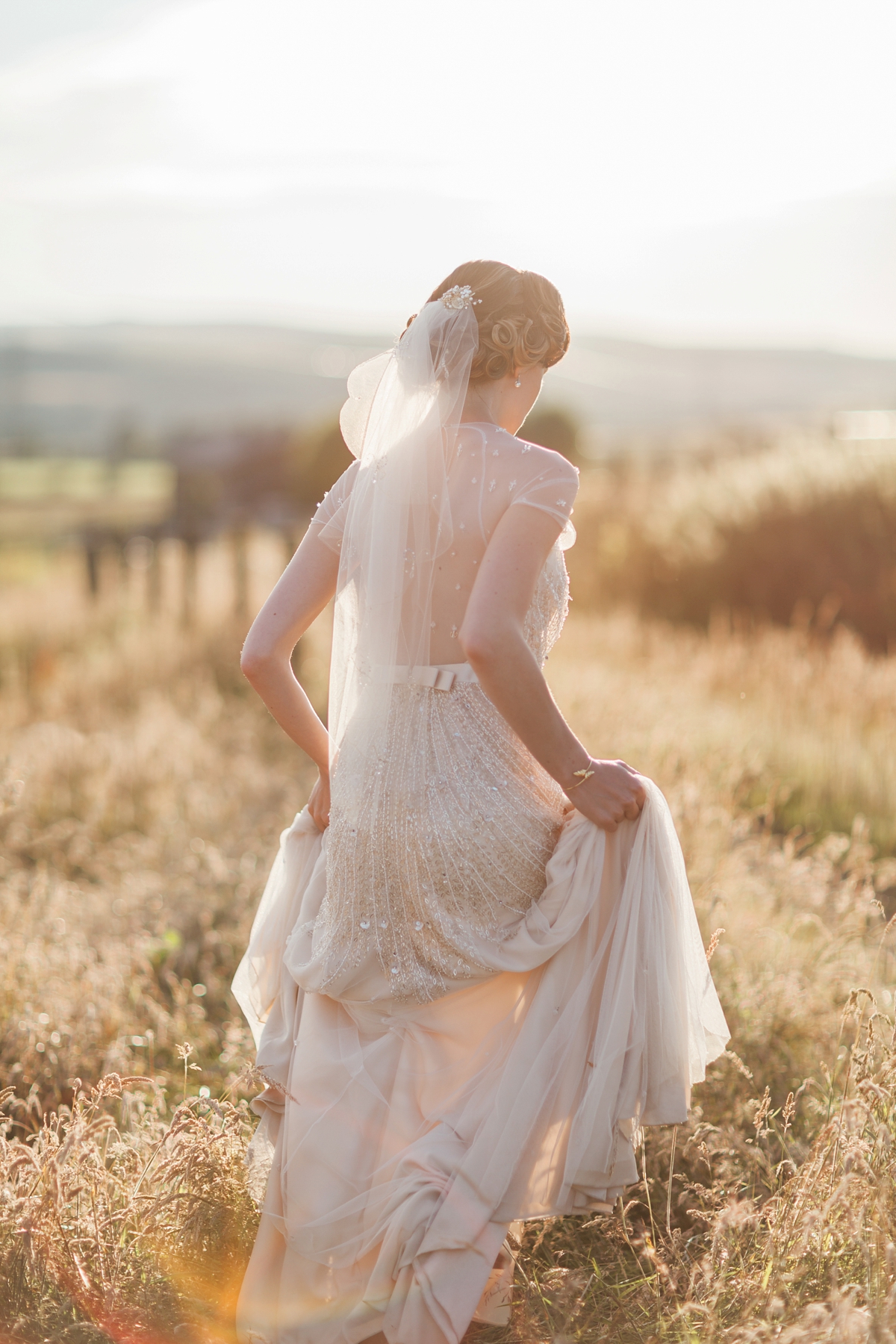 "The Wellbeing Farm provided all of the catering – what an amazing chef! The cupcakes were supplied by 'The Vintage Cupcake Kitchen' based in Uppermill, Saddleworth in Oldham."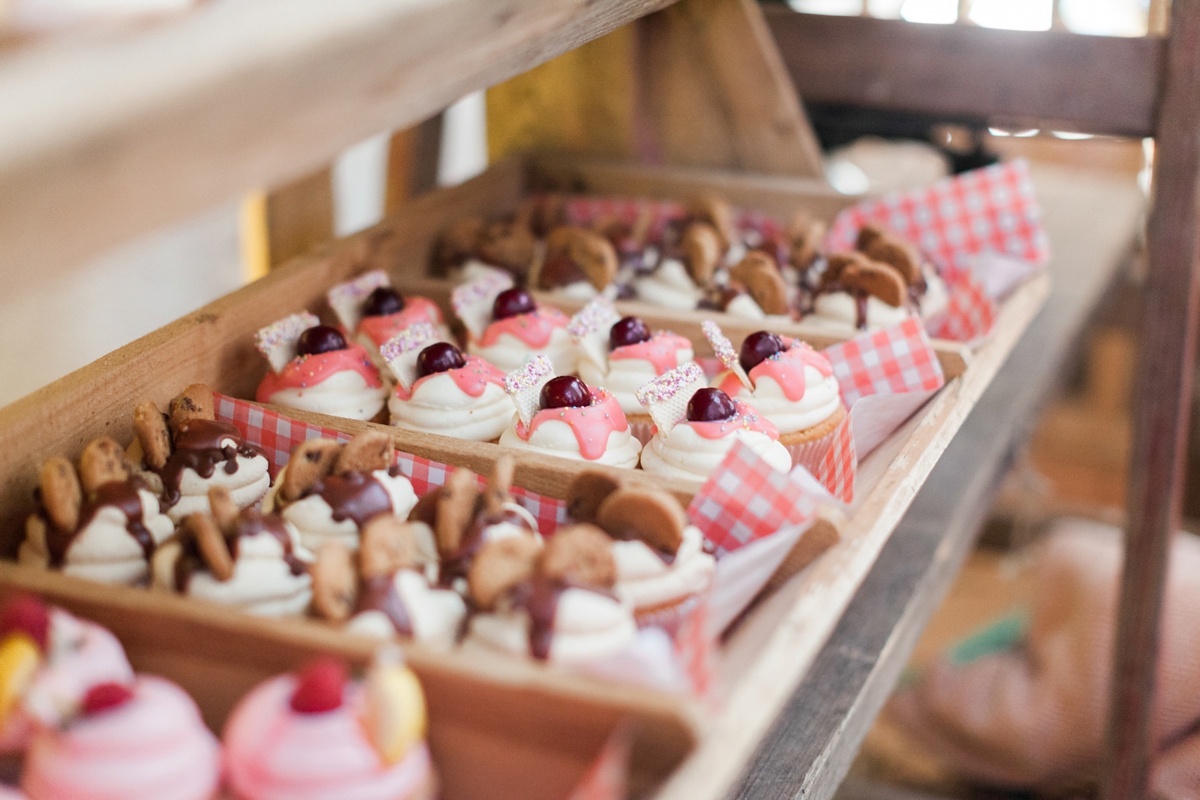 "Our cake was all cheese, with a different cheese for each layer. It was dressed with tiny wooden mice, grapes, edible flowers and a wooden Mr and Mrs Lewin pierced through the top layer.  The cake was complimented with baskets of crackers, celery, carrots and condiments to have with the cheese."
"We chose a wedding cake made of cheese because we adore cheese (we love a cheese and wine evening) and we knew we would have cupcakes and popcorn so we did not want too many sweet things. The supplier of the cake was obtained through our venue."
The couple's first dance was to Frankie Valli's 'Cant Takes My Eyes Off of You'. 
"We both have a fondness for vintage and old era and after seeing Frankie Valli himself in concert, decided on this song. It was performed live on our wedding day by The Funtime Frankies – it was incredible."
Words of Wedded Wisdom
"As a bride, we all want a perfect day, it is only natural. However, I believe that the minor things that may not go smoothly won't ever be noticed by your lovely guests that have a full belly, a glass of fizz in their hand and the excitement of the day they are sharing with you."
"Also, Love My Dress the blog is amazing and I would recommend it to anyone. We are honoured to feature in it. Thank you."
Love Annabel x