I have to be honest. I stumbled through the door this evening after teaching Pilates completely tired out and lacking in energy.
Yet when I opened up the email that contained all the photographs for today's wedding, I perked right up – total invigoration! From the fluidity of the beautiful wedding gown, the intense aquamarine hue of the bridesmaids' dresses and the overall gorgeousness and love captured so candidly by the photographer, I hope you adore this wedding as much as I do. The bride and groom are Kate, a PA, and Joel, an accountant, who celebrated their love in a ceremony on 19 August 2017 at the uber-cool Loft Studios, Kensal Green, London – an industrial-style location that is modern and chic – perfect for the simple and stylish celebration that the couple wanted. Their day was characterised by opulent flowers and foliage in tones of green and cream, and a wonderfully laid-back atmosphere.
Kate found lots of inspiration for her wedding on these pages – thanks so much Kate for your kind words.  Her figure-hugging gown that flows so fluidly and luxuriously is by Sabina Motasem from Heart Aflutter bridal boutique.
"I used Love My Dress so much for inspiration. For the majority of people, planning a wedding is totally new so it just helps to immerse yourself into the world of weddings, it really helps focus what you do want and what you don't.  I loved the simplicity and elegance of the dress, I loved the clean lines and classic feel – not over the top,  but still had an impact."
Images by Lisa Jane Photography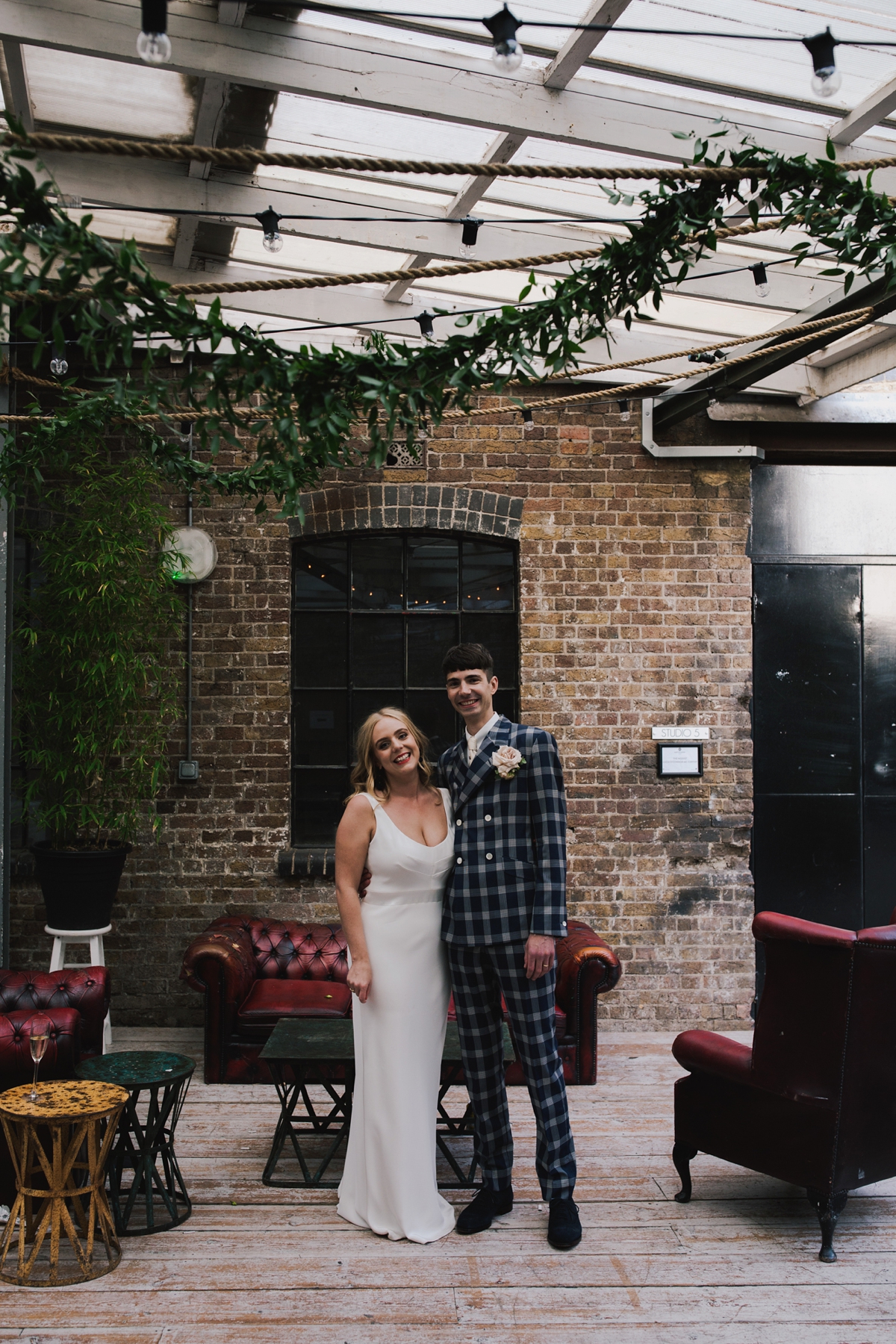 These joy-filled photographs are by Lisa Jane Photography, who really has caught the love, laughter and vibrancy of the day. I love the intensity of the colours and how candid her shots are – especially those of the guests relaxing and enjoying being together.
"Lisa was incredible, she was so supportive throughout the entire process and on the day, she was the one person who really held things together. She took time to understand the dynamics and as we didn't have a specific wedding planner she really took control and ensured things ran smoothly. I loved that she didn't take us off for hours to have photos and understood we just wanted to be with our friends and family. I would absolutely recommend her."The sumptuous blooms in soft tones of white, cream and nudes, by Scarlet & Violet, add such a luxurious touch to the modern lines of the Loft. I love the look of the long trestle tables down the centre of the room.
"We wanted to steer clear of a theme for the wedding so didn't want to commit to a specific colour but also didn't want just stark white. When I met with Vic she was so good at understanding what I wanted without me even knowing myself! The main flowers we went with were Quicksand roses and Café au Lait dahlias and Vic ran with that and created stunning bouquets for me and my bridesmaids and breath-taking displays."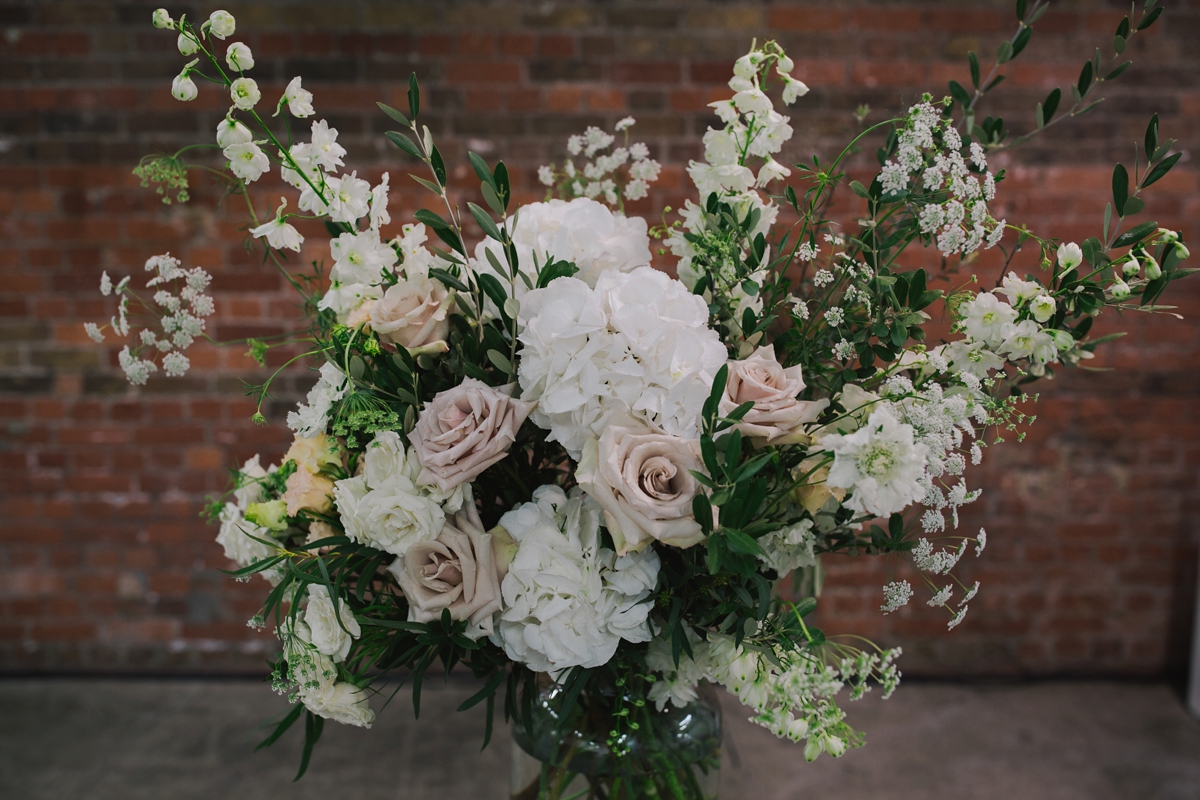 I love the bridesmaids' multiway ASOS gowns in that intense aqua hue. They are so elegant and classic, and stand out beautifully against the stark backdrop of Loft Studios.
"I bought them all Gold Star bracelets from Missoma which they wore and then any other jewellery was their own and I encouraged them to wear what they wanted to give their dresses their own unique look."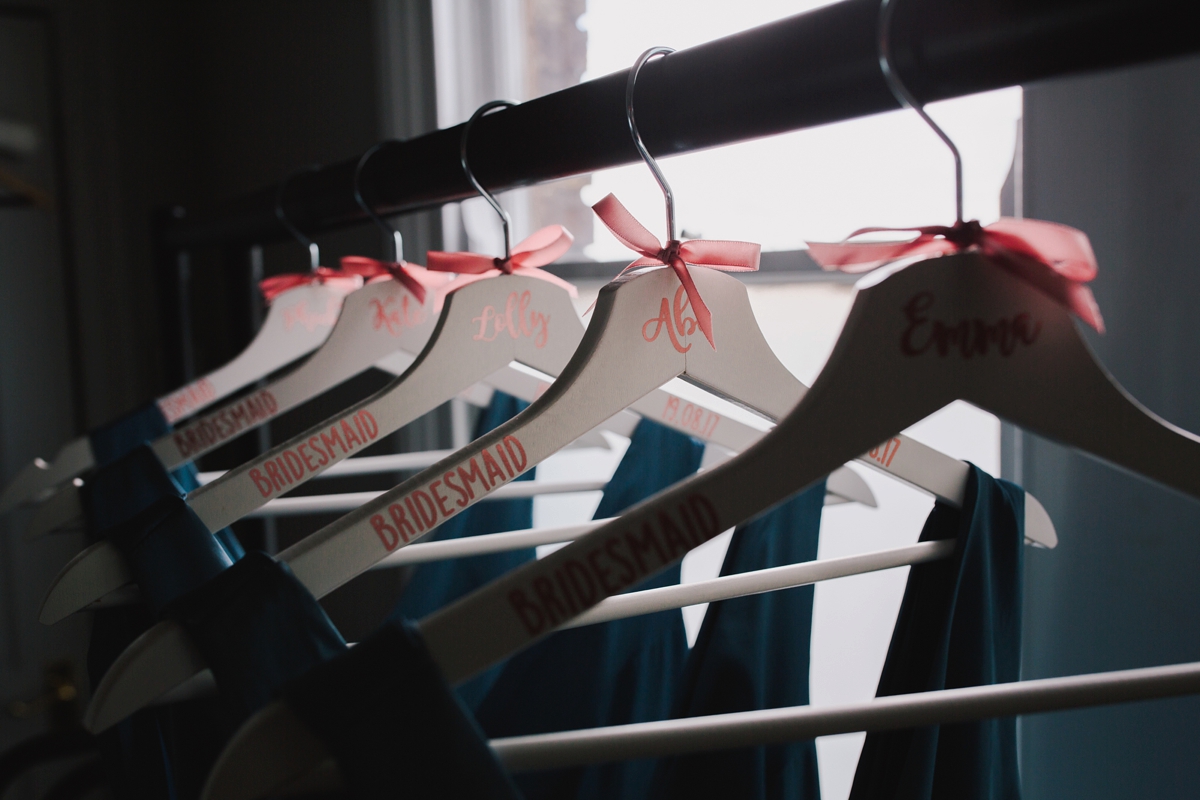 She opted to keep things simple, adding pretty Gucci sandals and earrings from J. Crew, a gift from her work friends. For a personal touch, she also wore two borrowed gold bangles from her untie and Joel's grandma.
Kate looks absolutely show-stopping, and I love the bold red lip. Her blonde waves and striking makeup were created by Victoria Ralph Hair and Victoria Reynolds Makeup.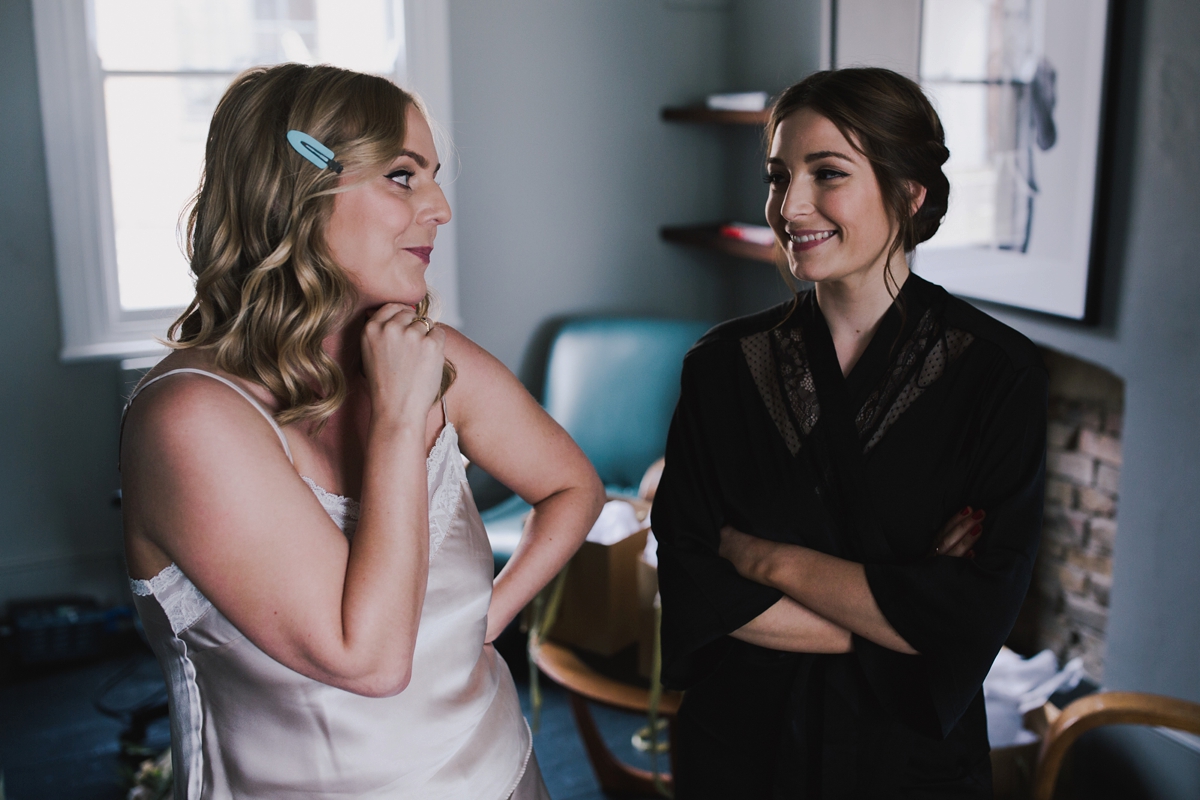 "My best friend used both these wonderful ladies on her wedding day (you can see Emma and Scot's wedding on Love My Dress here) so it didn't make sense for me to try and find anyone else as I already knew how good they were. They were both so great to have in the morning getting ready, kept the mood light and just really understood what we were all trying to achieve."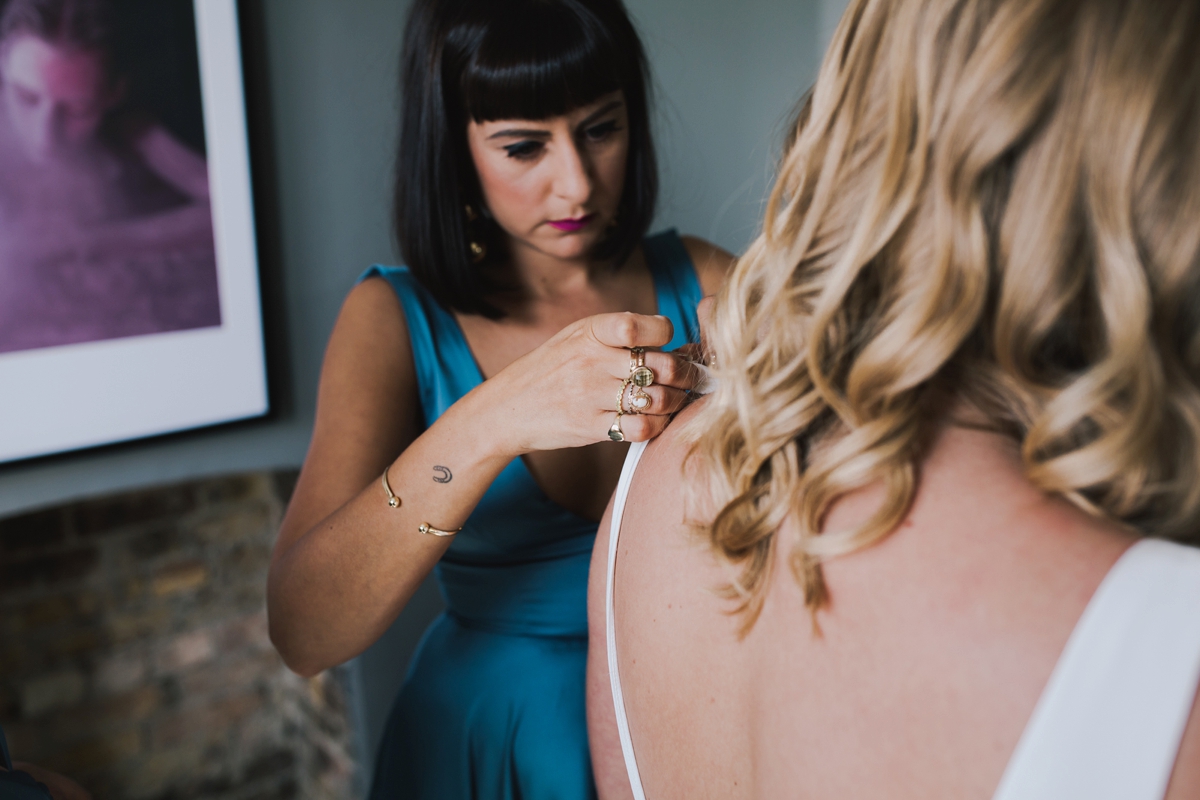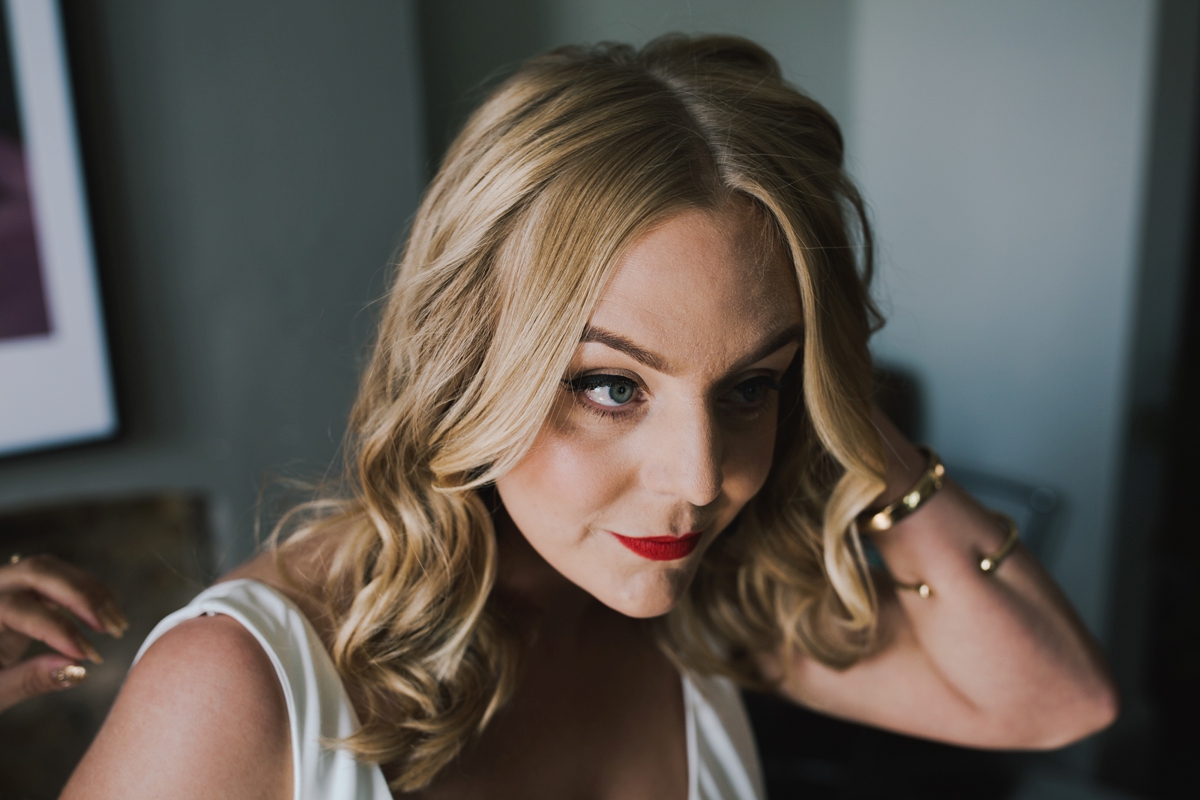 The groom totally rocked his own, cool style. His striking checked suit was designed by Mark Powell of Carnaby Street, from whom he also chose a tie and vintage tie pin.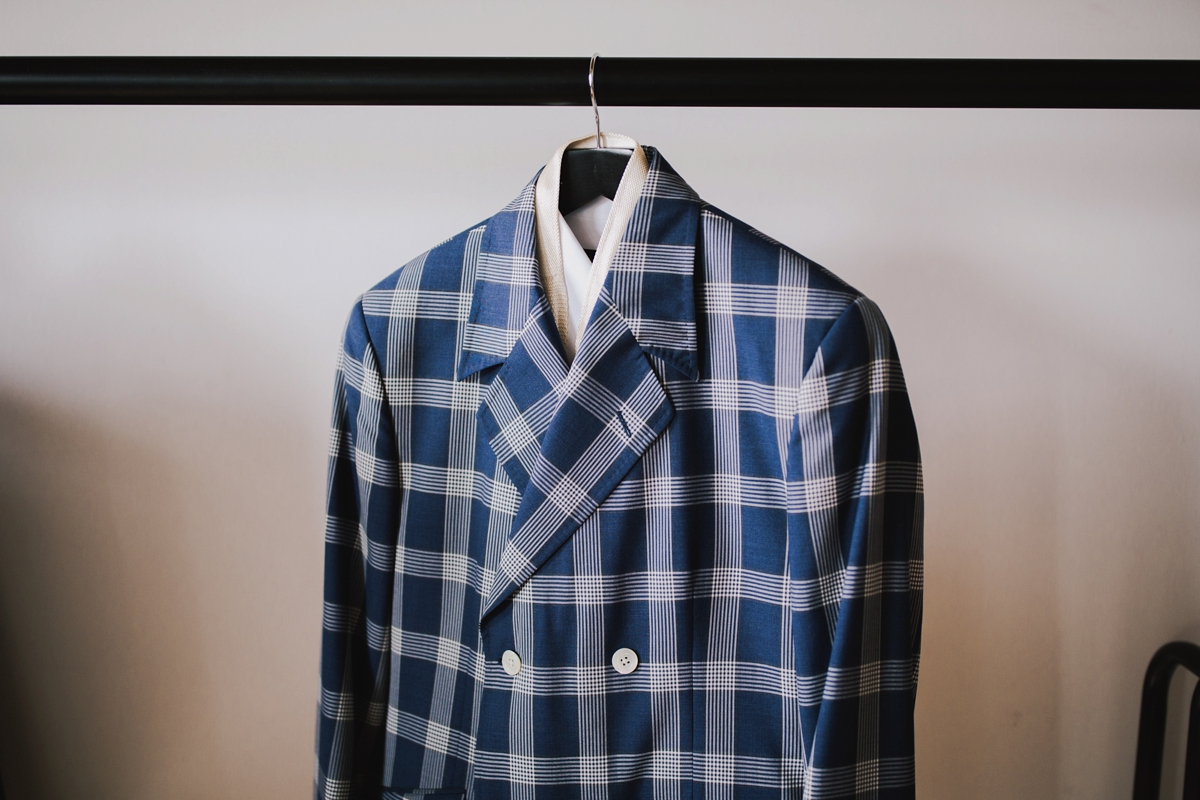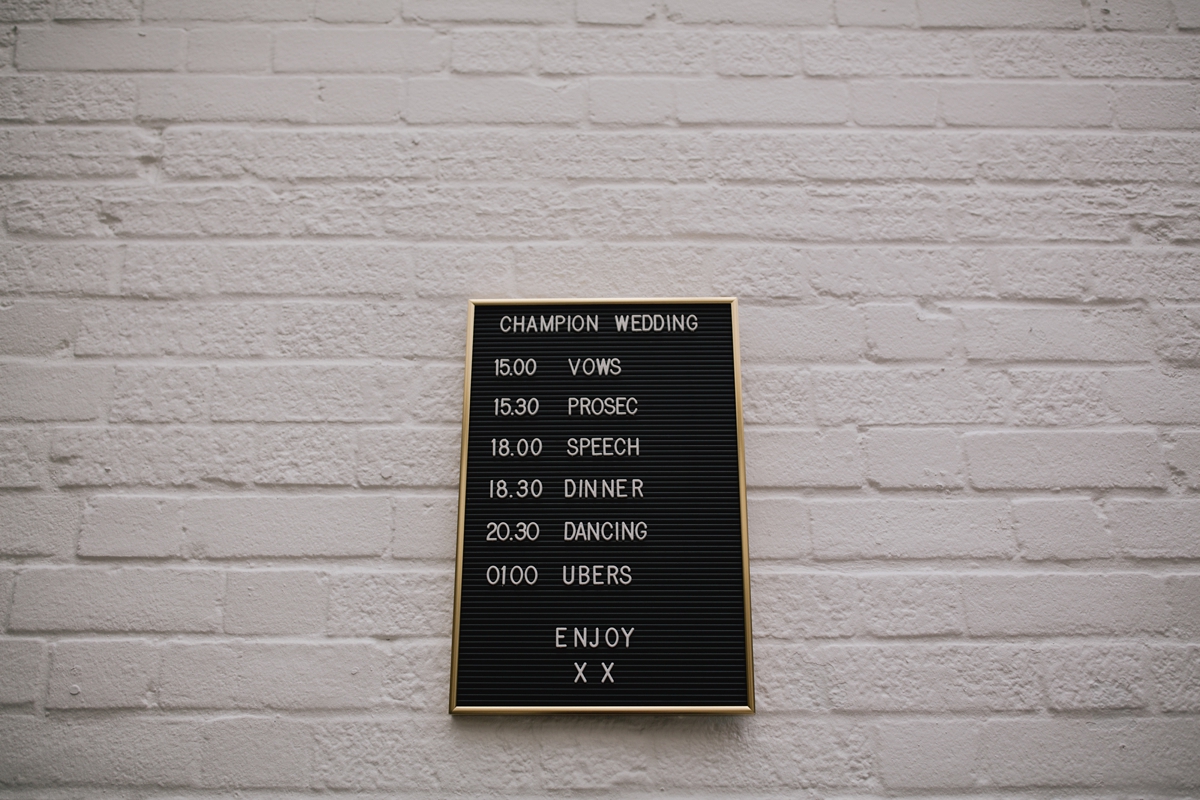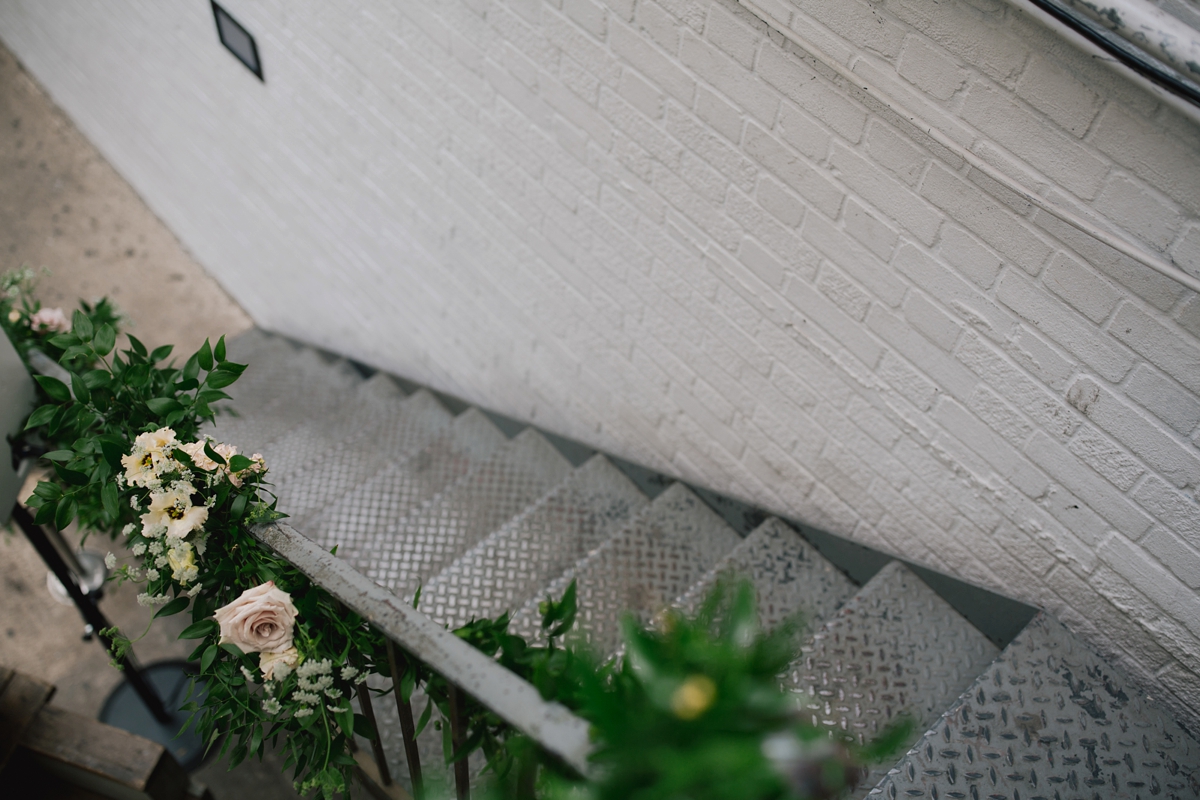 Kate and Joel met in their second year of university, at the University of East Anglia, Norwich.
"We had been together for nine years when we went to Brighton for a day, one of our favourite places. Joel suggested we have a walk round The Lanes and steered me in the direction of the wonderful antique jewellers that fill them. We chose the ring together then went and sat on the beach where Joel asked me to marry him. It was very low key (I would have hated a big down-on-one-knee situation). We were engaged fifteen months before the wedding."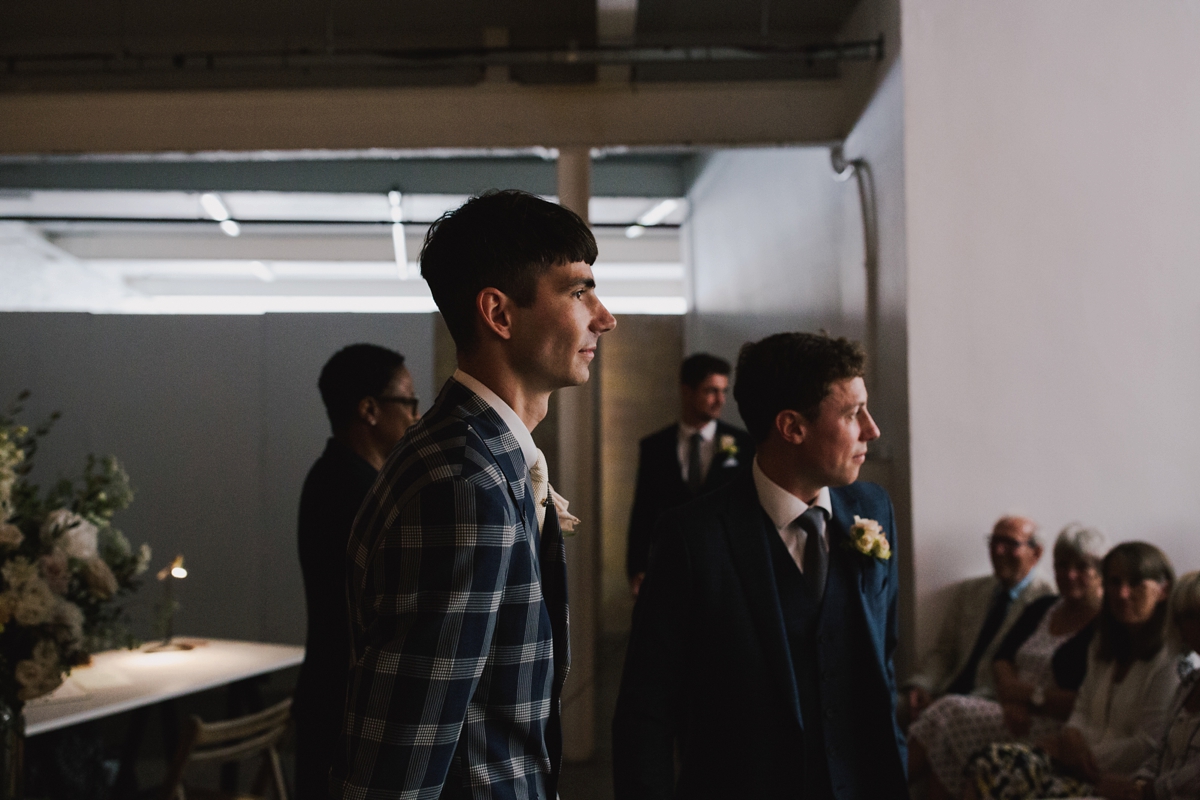 Joel and Kate chose the song '(Today I Met) The Boy I'm Gonna Marry' by Darlene Love as the bride walked down the aisle. Their plain gold wedding bands were found at a Hatton Garden jeweller.
"We kept our vows simple and short; neither of us revel in the idea of standing in front of an audience so we chose the suggested ones which suited us perfectly."
"My dear friend Katie did a reading; 'The Alchemist' by Paulo Coehlo which she chose for us. We are not a soppy couple so were dubious about having a reading but the passage Katie chose was perfect and a nice way to break up the ceremony."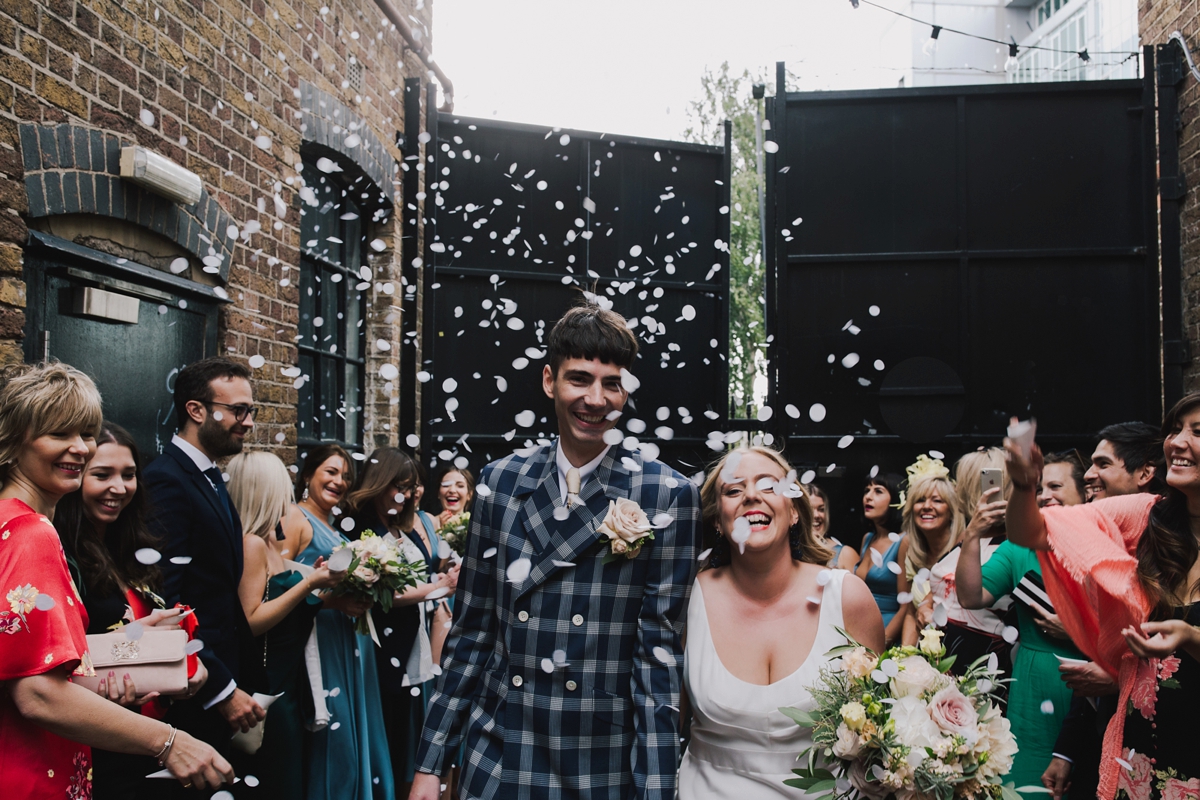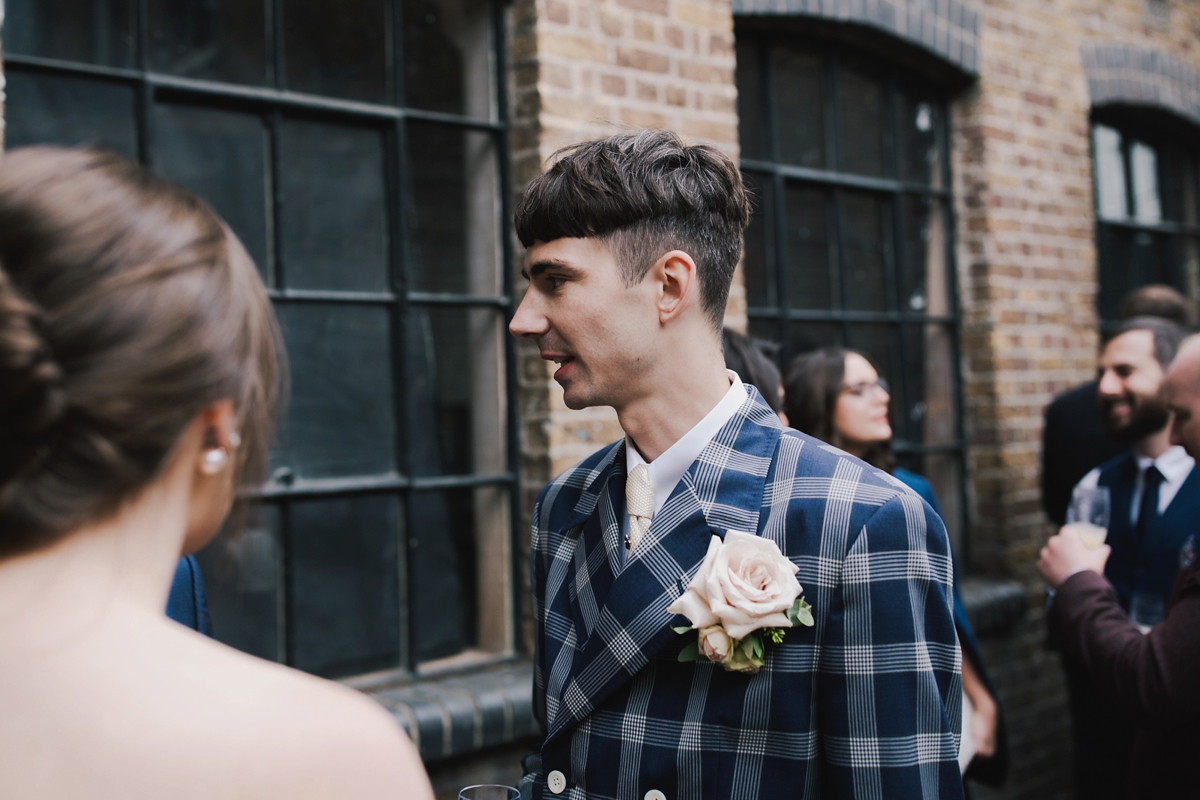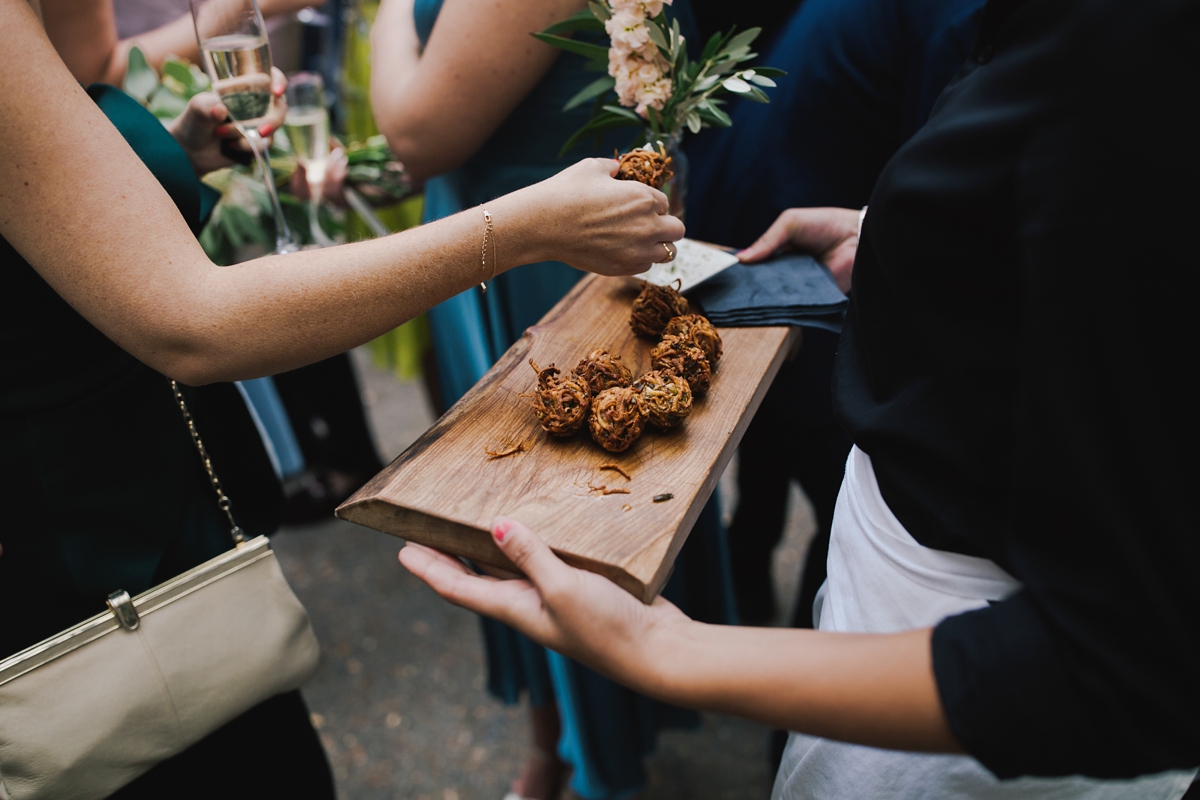 The good weather meant the wedding guests could relax and enjoy canapés and drinks in Loft Studio's cute courtyard.
"Ali and Phoebe from We Are Ravenous were superb in the planning process and totally took care of everything. They said we were the most laid back couple they had worked with but I think that was just because they made it easy to work with them. Their staff were all amazing and everything was done with huge smiles."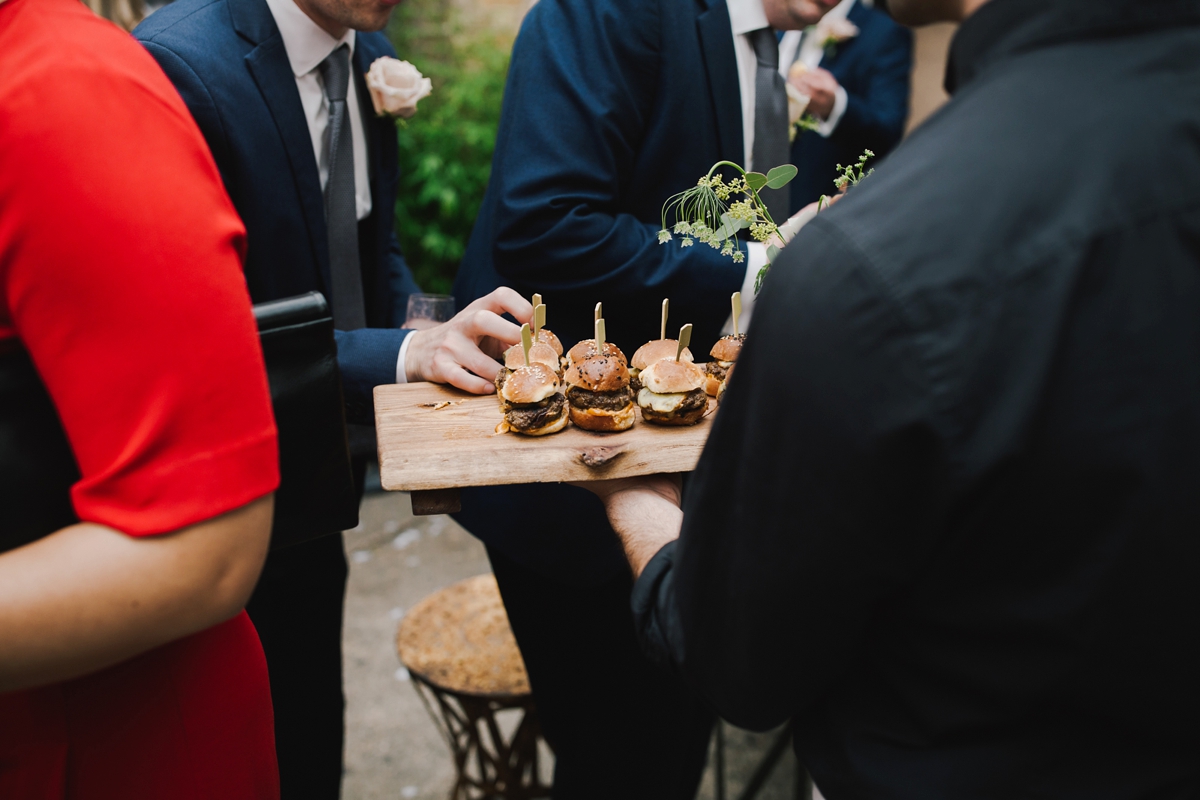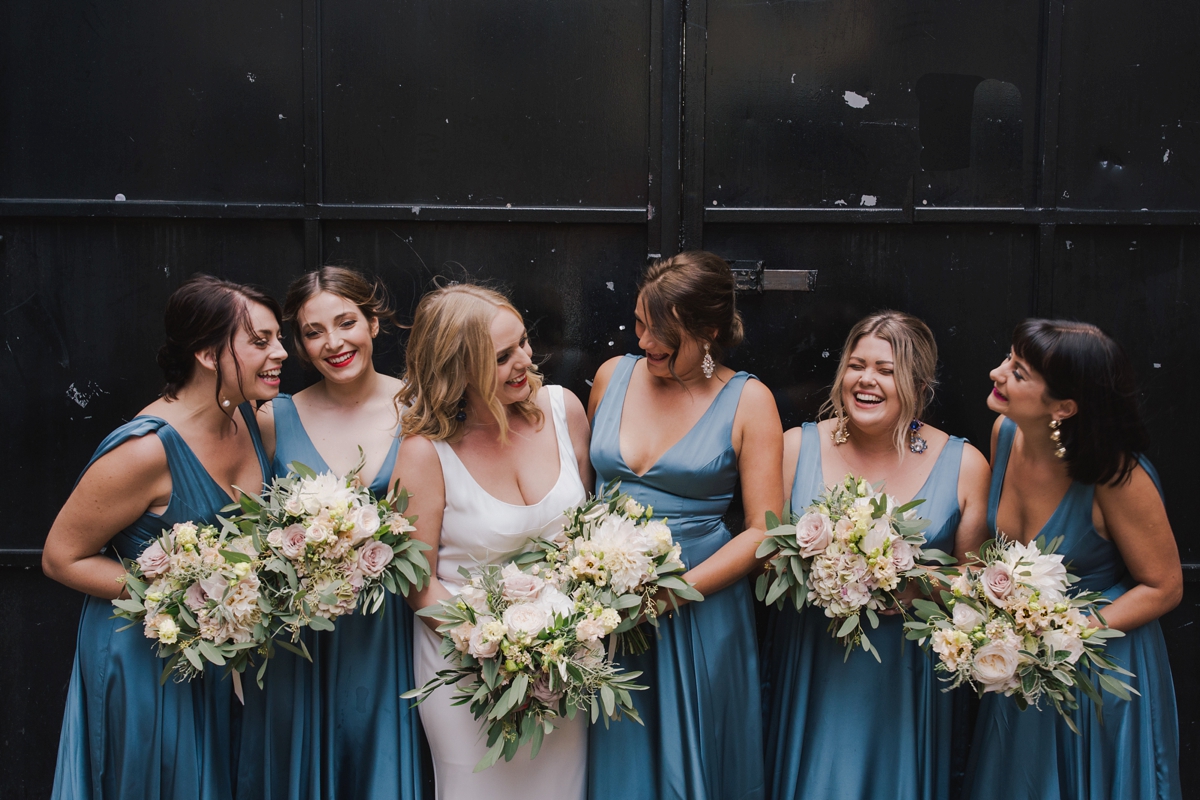 "We were able to provide an open bar for our guests and Elaina from Bibbers was so amazing at bringing this together. From the tasting (Uber-ing boxes of wine direct to our flat so we could try them all in the comfort of our home) to setting up the bar and providing everyone with an espresso martini shot when they came down from dinner to pick them up for the party – they were just incredible. Again, the staff they brought with them were also fantastic which makes all the difference."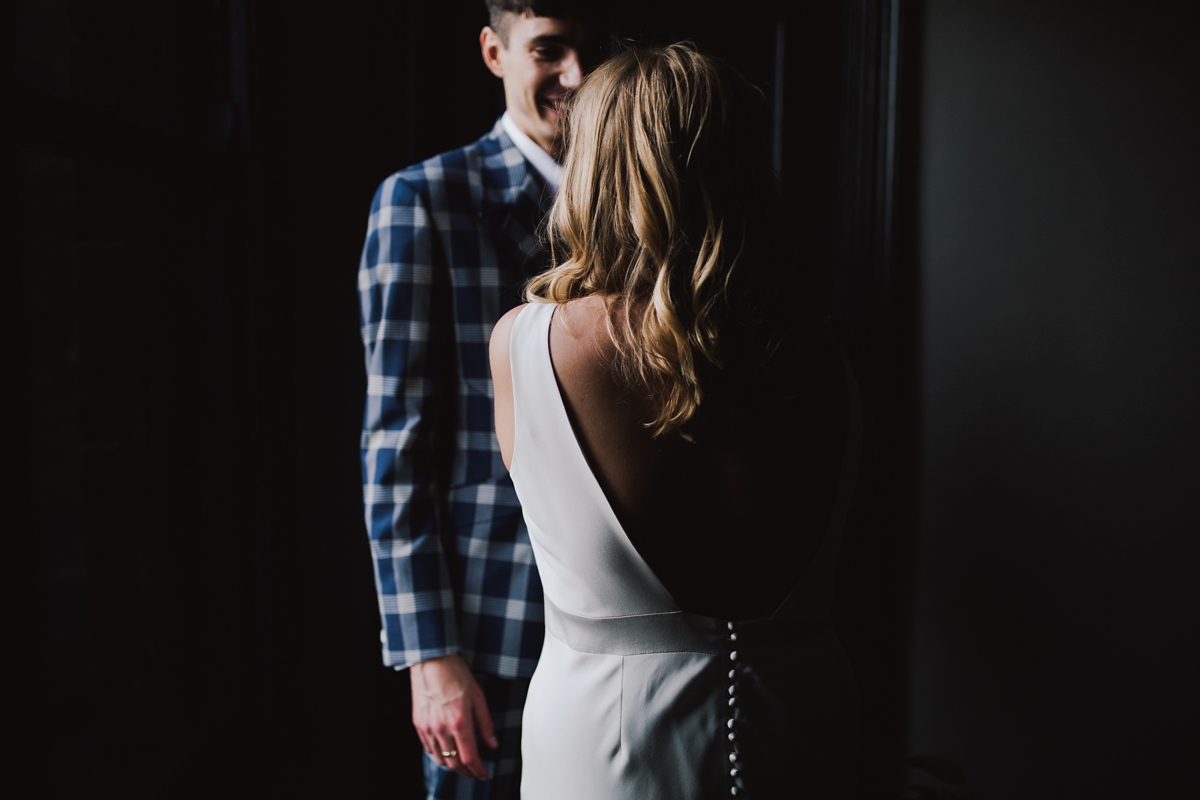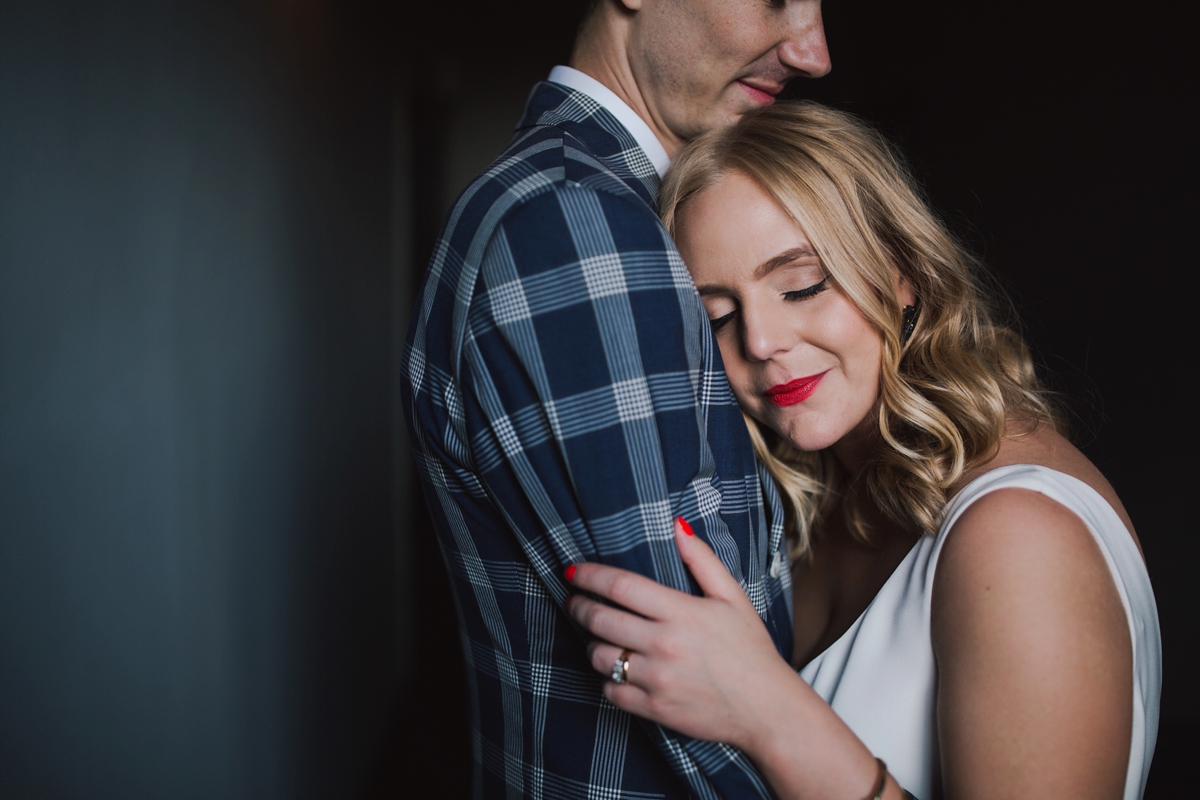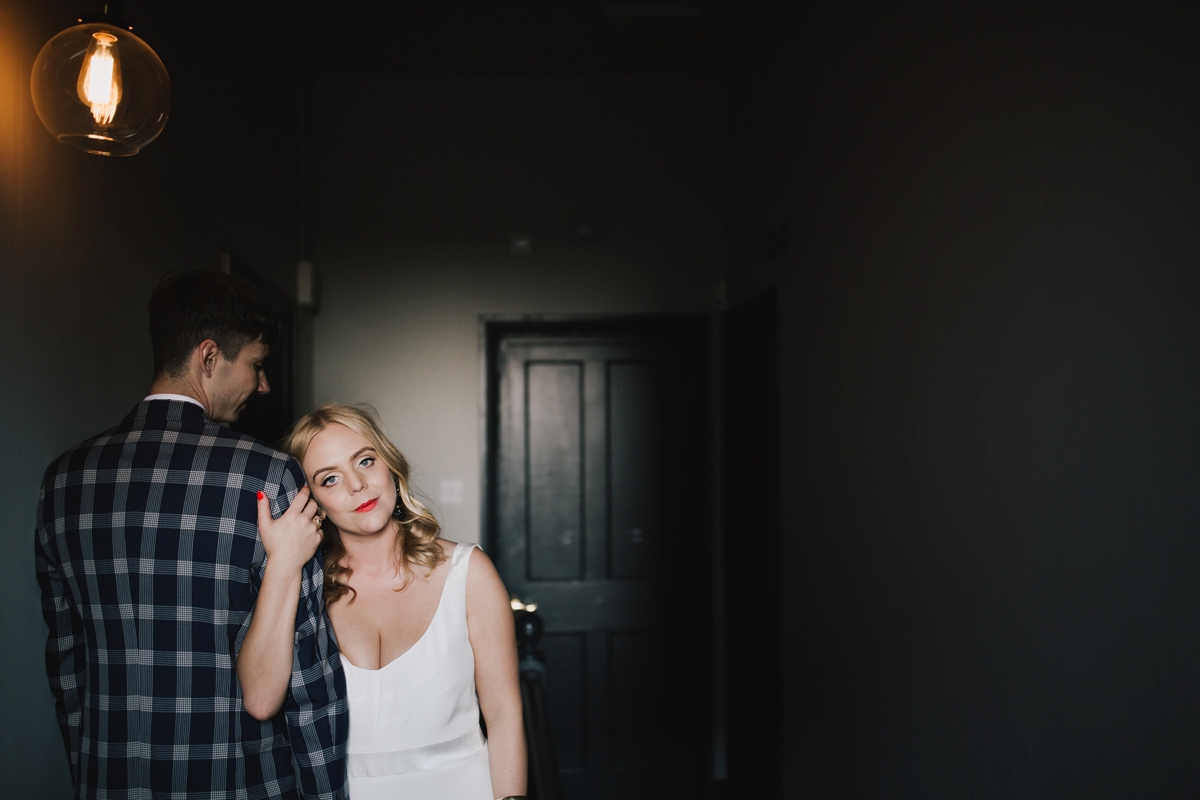 "We chose the venue because we loved the look and feel of the place and the freedom we had to make it our own while it maintained its own unique style."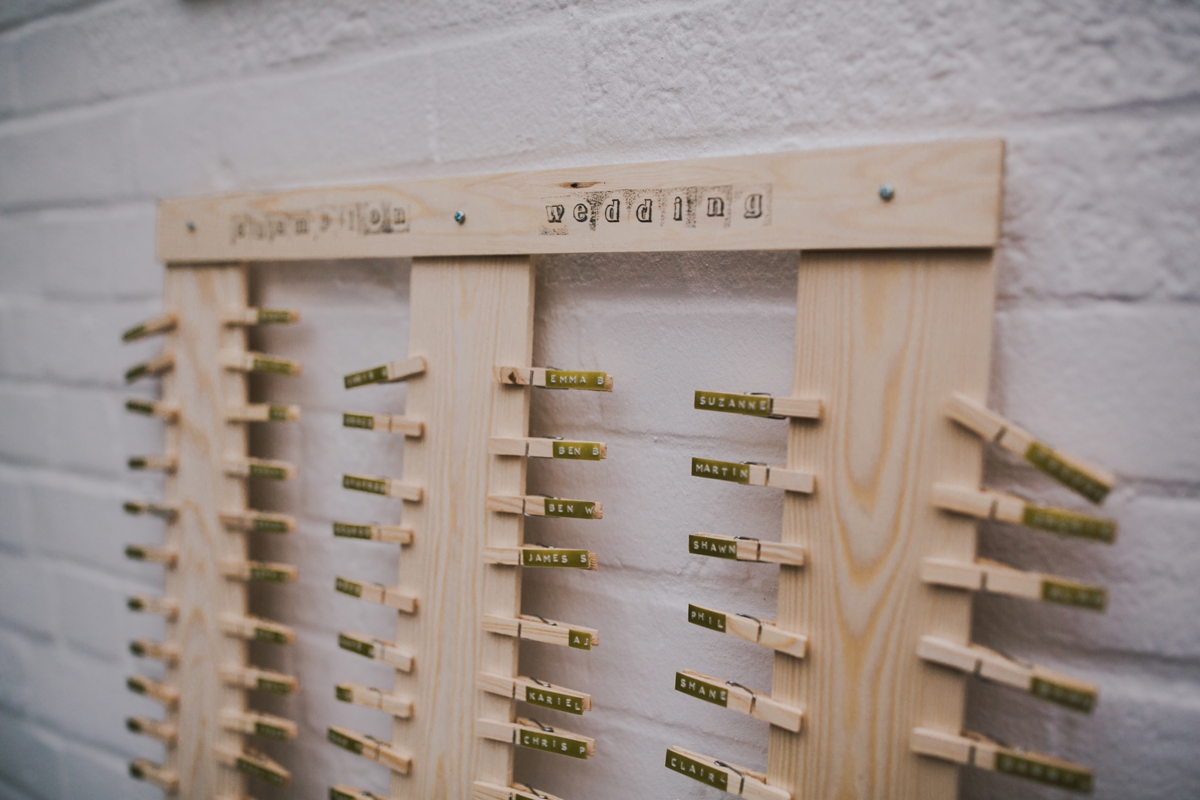 As well as the flowers, the tables were dressed with candles and the guests were kept in the loop with a simple pin board. The place names for the tables were written by the bride's mum, whilst The Golden Letter designed the wedding invitations.
"We collected gin bottles in the year before the wedding and had them on the tables as candle holders. Gin bottles are often so interesting and they really added to the tables without taking away from the flowers. We kept the other décor very simple as the venue was so stylish."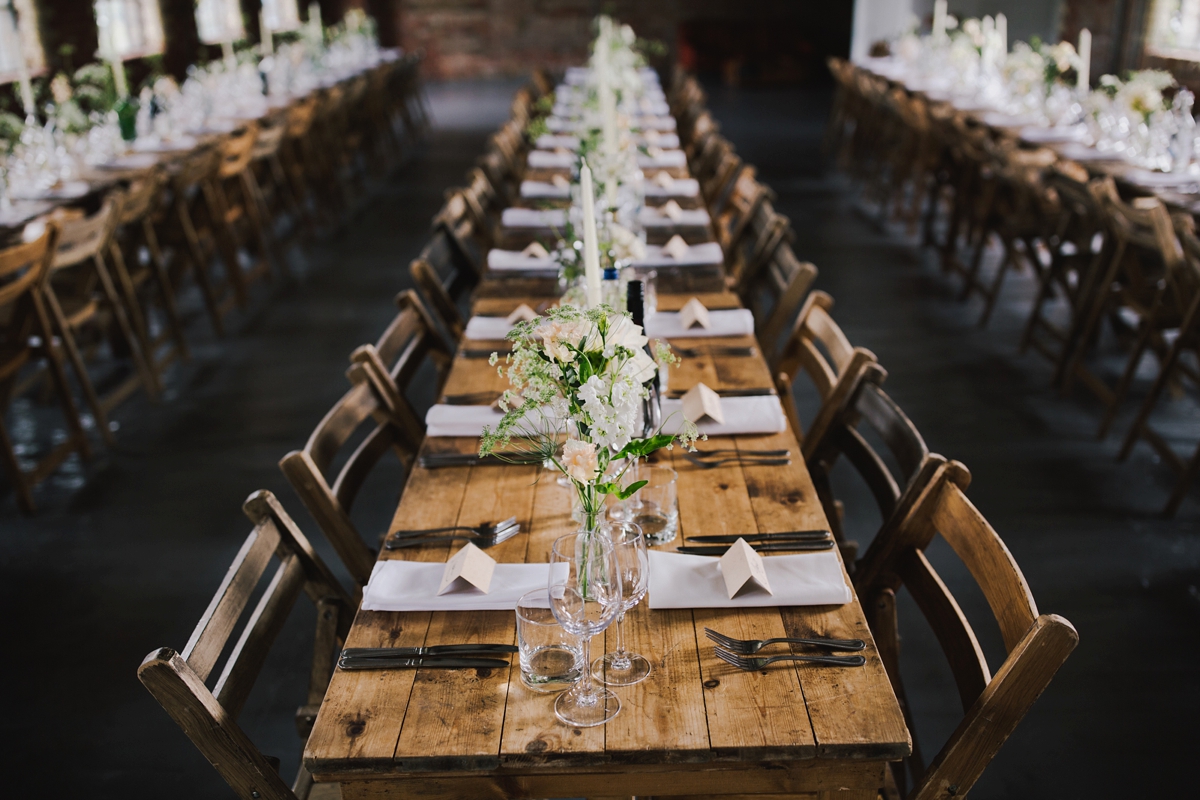 "Instead of order of the day cards, we used a barber pin board with timings which worked just as well. We had festoon lighting in the courtyard which transformed the place when the sun went down and then just relied on the flowers to soften the industrial feel of the venue. The disco ball was all we needed in the evening."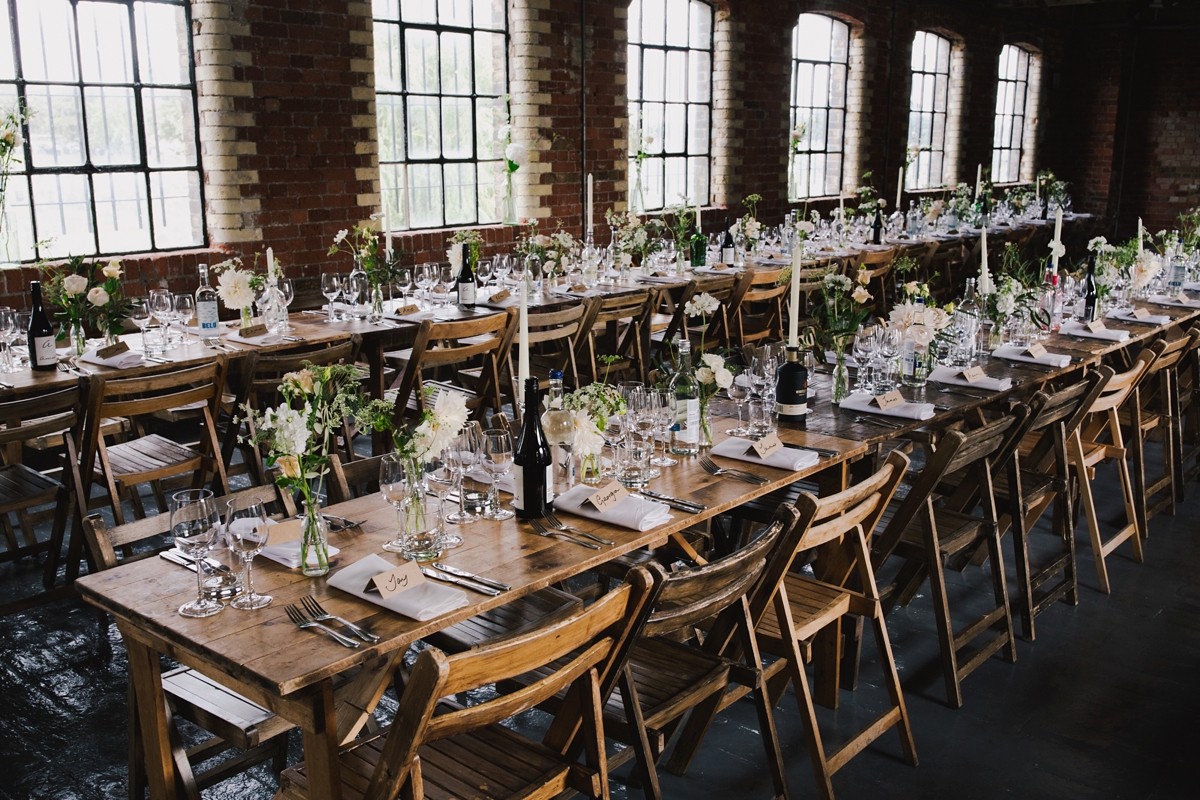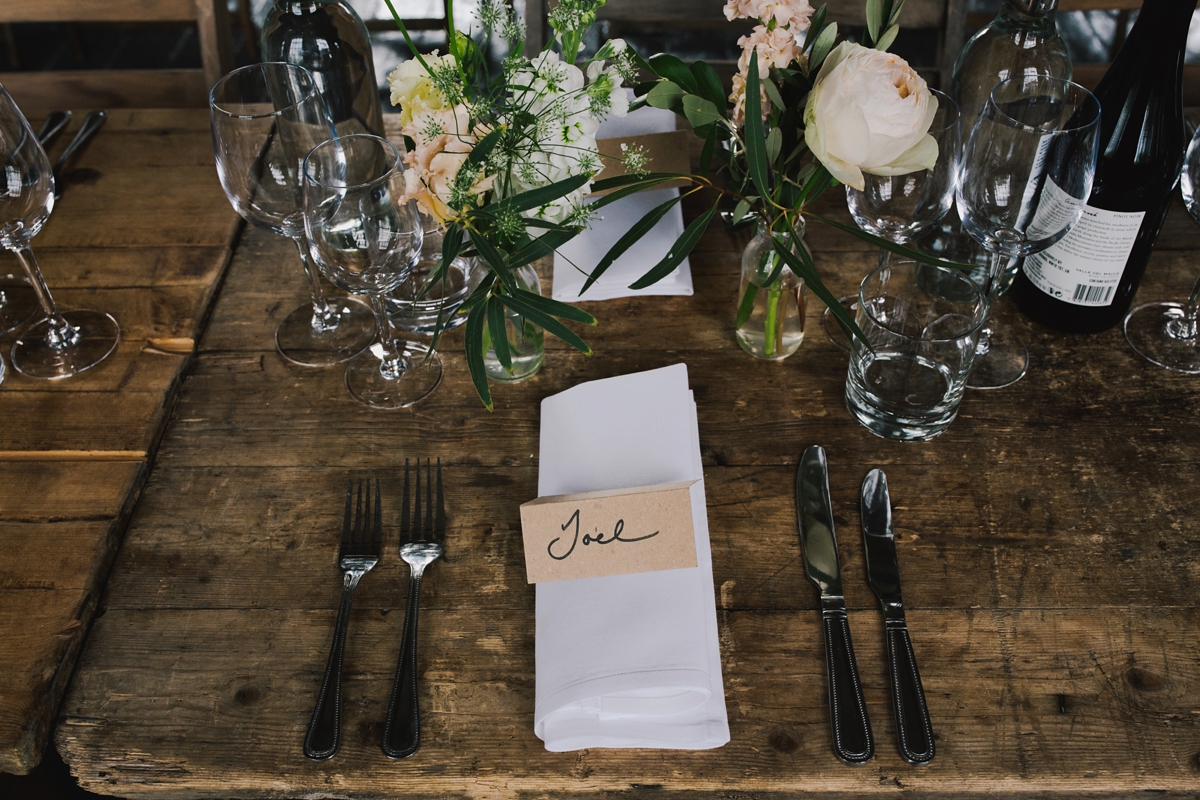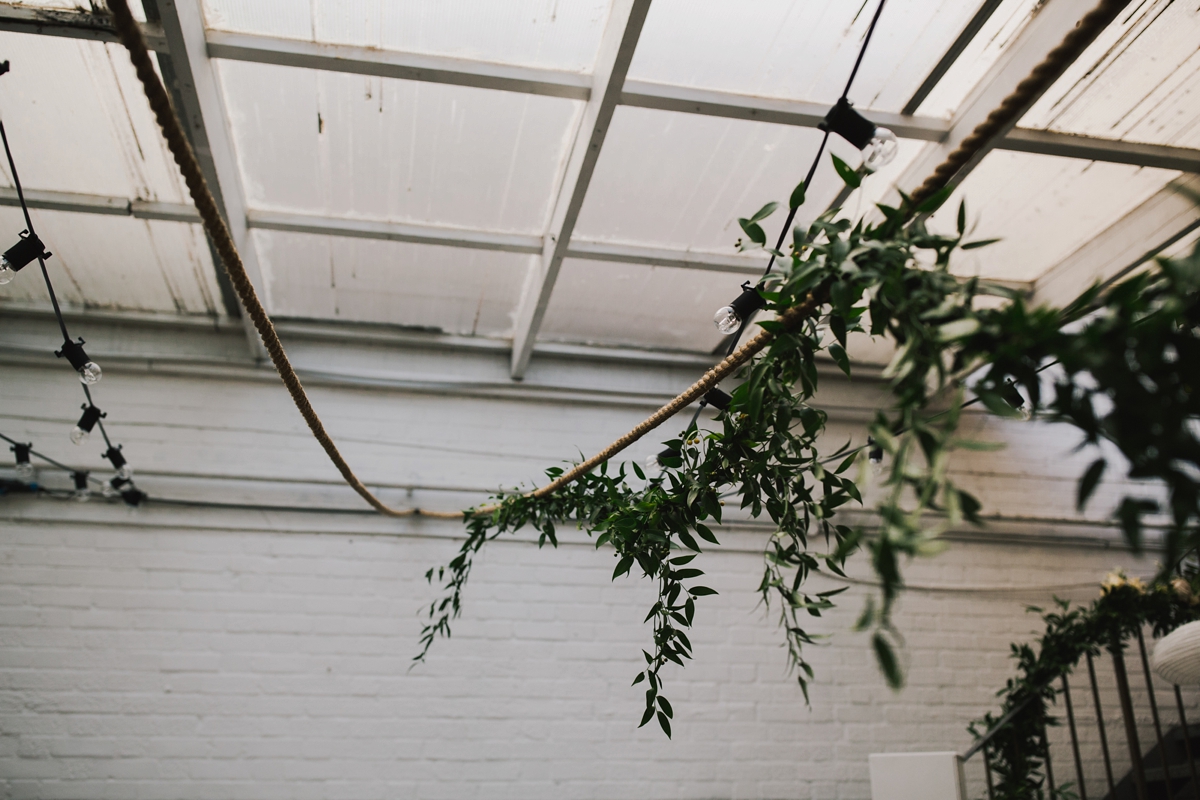 "We decided not to have a cake, Joel and I never find ourselves eating cake at other people's wedding so decided it was one place we could save a bit of money. Instead, for our dessert we opted for a tiered pavlova which we 'cut' like we would a cake. That way, it all got eaten so no waste."
The evening party looks amazing. The DJ came from Headliner, a regular wedding supplier of the venue.
"We had Giaco who was brilliant, he played everything we suggested and understood the atmosphere we were trying to create. He even endured the darker side of wedding DJing requests from drunk guests for 'Time Warp' (not on our original list!)."
"Our first dance was 'For Lovers' by Wolfman feat. Pete Doherty. Joel is a big Libertines and Pete Doherty fan so this was a great way of incorporating that."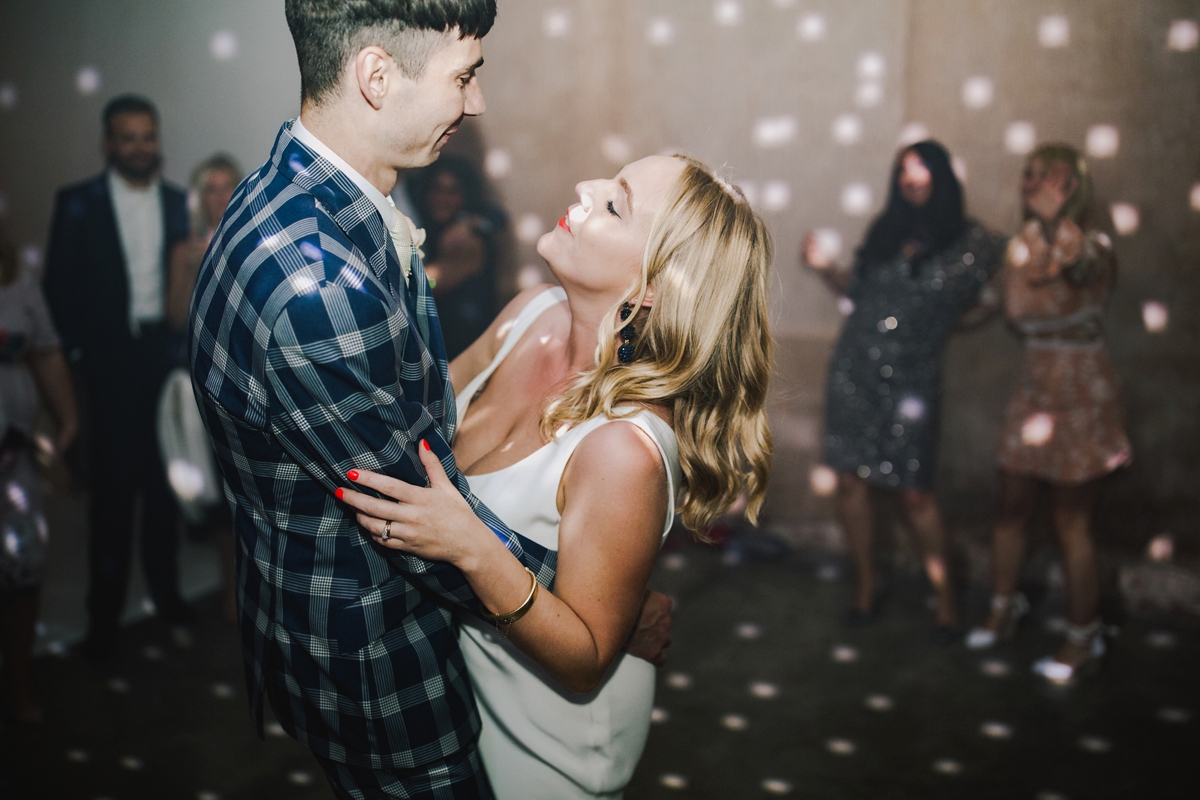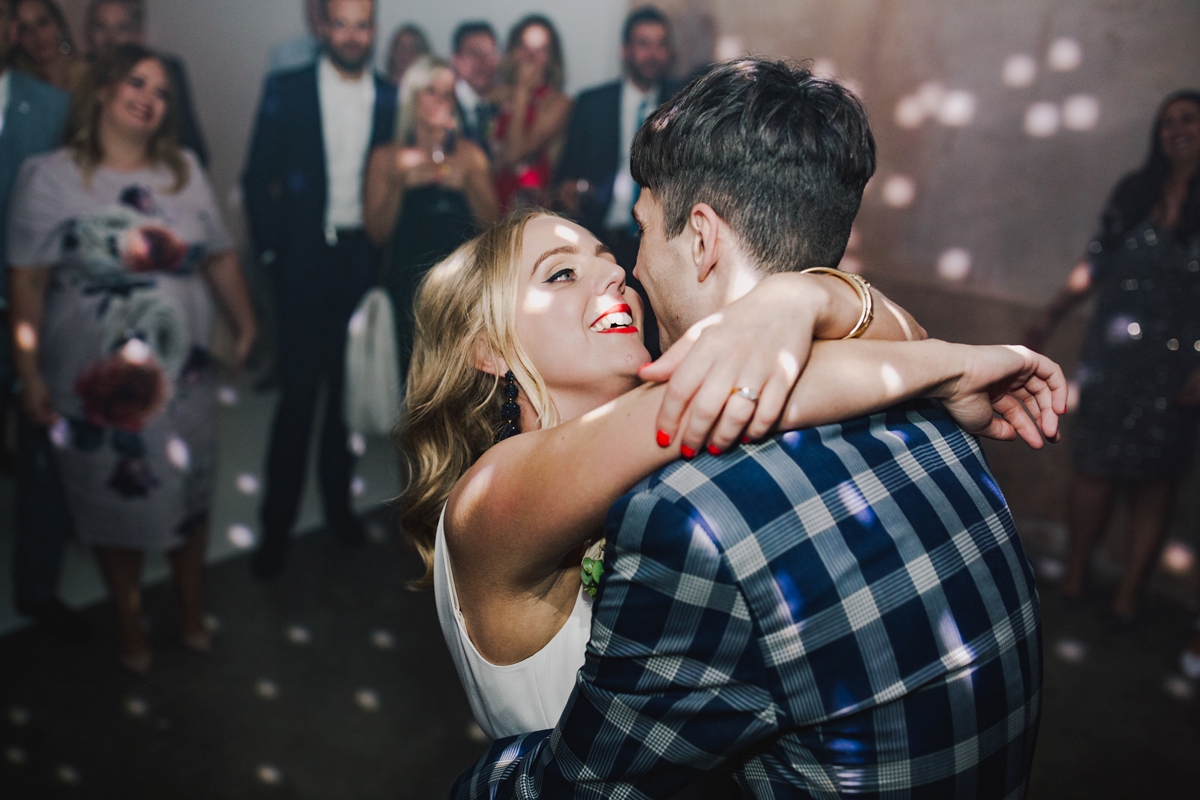 Words of Wedded Wisdom
"Enjoy it! I really enjoyed the planning process and got a huge sense of satisfaction seeing everything come together. Keep spreadsheets of everything, not necessary all budget related but they come in so handy to remind you of what you have done and what you need to do."
"Share all decision-making and involve each other, and try not to be influenced by anyone!"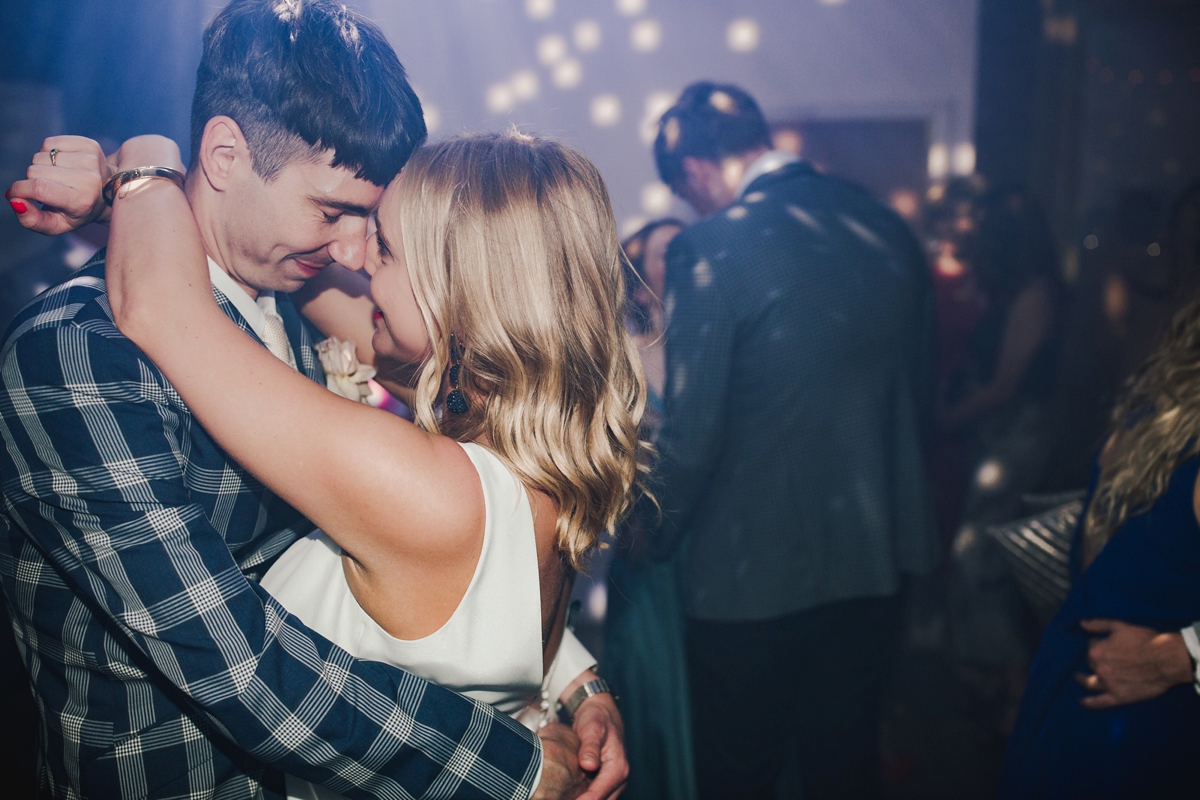 Ahh, what a beautiful wedding. Thank you so much Kate and Joel for giving us this insight in to your beautiful celebrations. I love how you kept things simple and totally 'you', and the party looks fabulous! And Lisa Jane, thanks for sending in your work today – it's been a real joy to share it on our pages.
Ele xx