This week I've been lusting over all things hair vine. Have you come across Debbie Carlisle's pieces before? If not, then you absolutely must take a look at her designs on our Collections pages here – they are ethereal, delicate, absolutely exquisite pieces that are so versatile.
Why is it not acceptable to wear a hair vine every day? Anyway, I digress. I'm actually here to share a super-chic, super-relaxed wedding day so let's begin. We're travelling to London for the wedding of Annie, a policy advisor working in Westminster and Phil, the chief executive of a small charity. They married on 23 September 2017 in a civil ceremony at the iconic Islington Town Hall with a pub reception afterwards at The Easton, Clerkenwell. Londoners through and through, they took the Capital as their theme and chose the venues for their informal, personal feel, adding lots of foliage and white flowers for a bridal look.
Annie's sleek auburn locks were swept back into an elegant bun, and her make-up was again very natural, with a strong dusky red lip to match her nail polish. She enlisted Laura Anne Hair & Make Up who is brilliant at creating the 'barely-there' look, and who we are super-happy to list on the pages of our Little Book Wedding Directory  (which, dear readers, we have been working very hard on behind the scenes ready to unveil a completely new design and look early next month – keep your peepers peeled!).
Miss Gen captured the day on camera – with a timelessness and sense of stillness which demonstrates how talented she is.
"Finding Gen was a pivotal moment for us. As soon as we saw her work we were hooked. On the day she was such a calming and unobtrusive presence, and her reportage style of photography really blew us away. It's so unique and really captures our love of London as we wandered around Clerkenwell snapping away!"
Photography by Miss Gen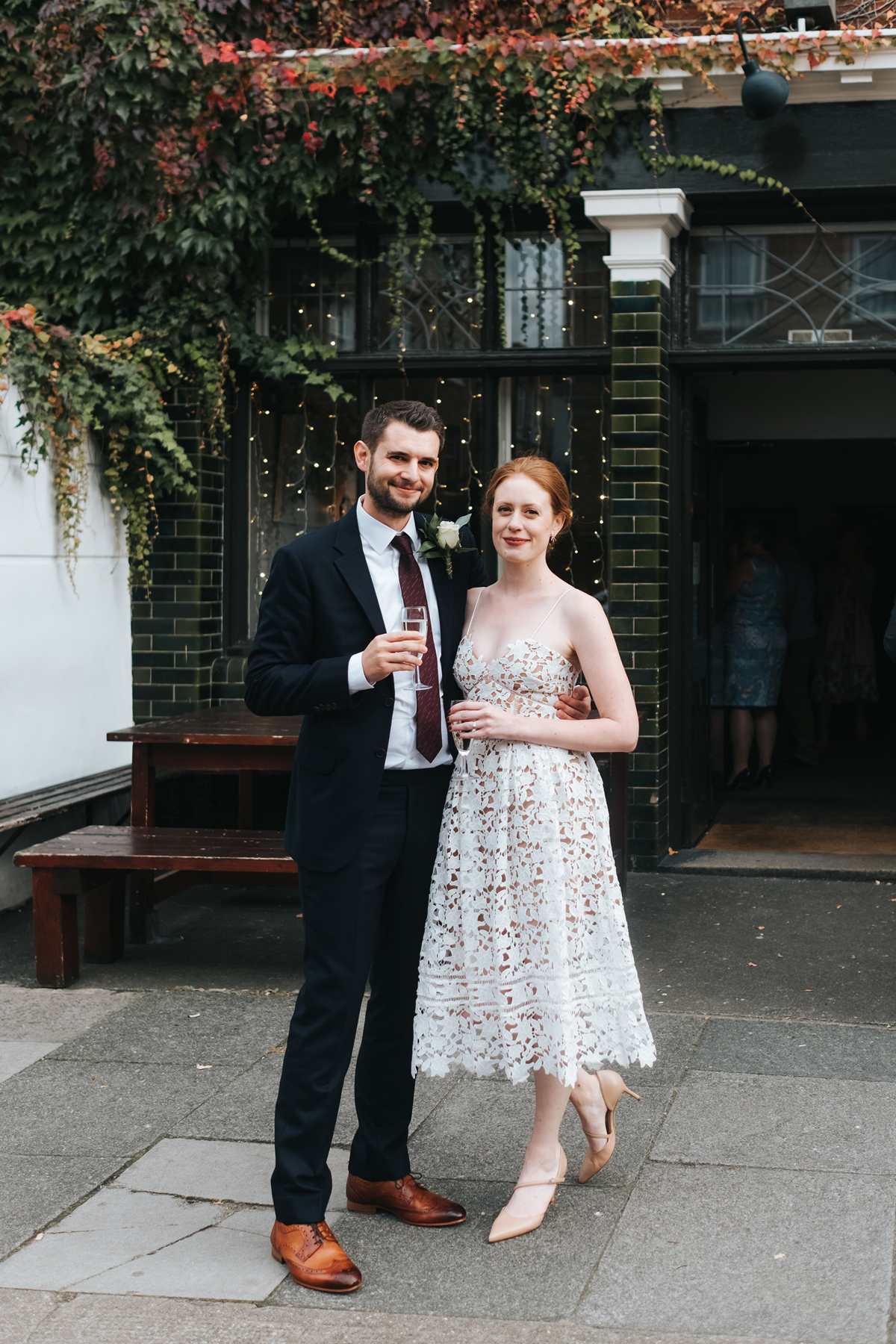 "Gen managed to capture the fun we experienced with our guests and the more intimate moments when it was just us. Needless to say the photos are beautiful and priceless. We are so grateful to Gen and highly recommend her."
"We wanted the wedding to be fairly simple – just a fun party-like reception in a pub we like drinking at, surrounded by friends and family. Fun and informal."
Annie looks effortlessly chic in her understated layered gown – a short, fitted mini-dress in nude beneath a bold, structured layer of pure white lace which hangs so beautifully. She found this Self Portrait gown at Selfridges and it suits the London backdrop and relaxed style of the day so wonderfully.
"At first I thought I wanted a typical wedding dress, but after trying a few on I didn't really think any of them were 'me'. After a bit of fretting, I just thought I would follow my instinct and find a dress I really liked – something simple, fun and modern. The dress I settled on made me feel totally amazing and it just happened to be white. As an added bonus, it had pockets so I could stash my lipstick! I was really able to just have fun and not worry about it, and I have plans to wear it again very soon."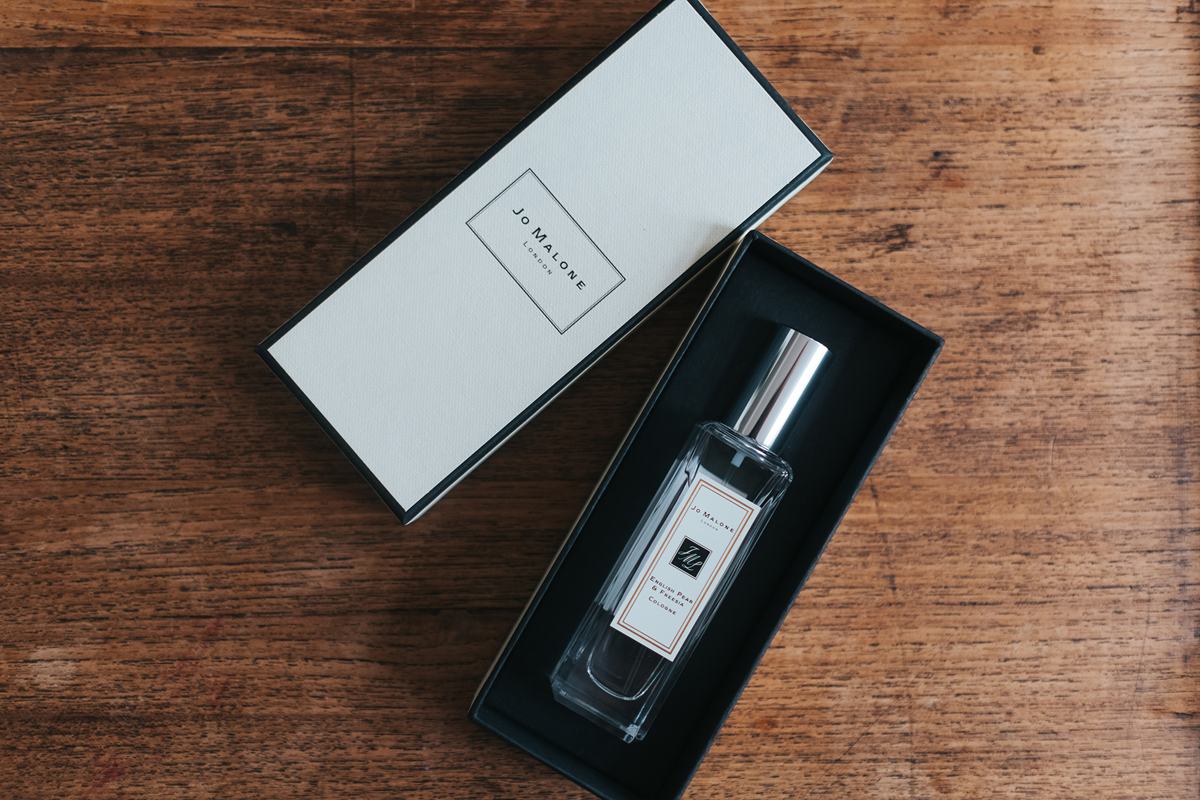 The wedding flowers are so luxurious and natural, looking like they've just been gathered – one of my personal favourite looks.
"Our good friend Jonathan Chien does amazing things with flowers in his spare time. He quite often begins a weekend with a 5am trip to New Covent Garden Flower Market! Unbelievably he doesn't own a floristry business, so he helped us out of the goodness of his heart and we were absolutely thrilled when he agreed to take on the challenge of not only doing my bouquet and all the corsages and buttonholes, but all the flowers in the pub too."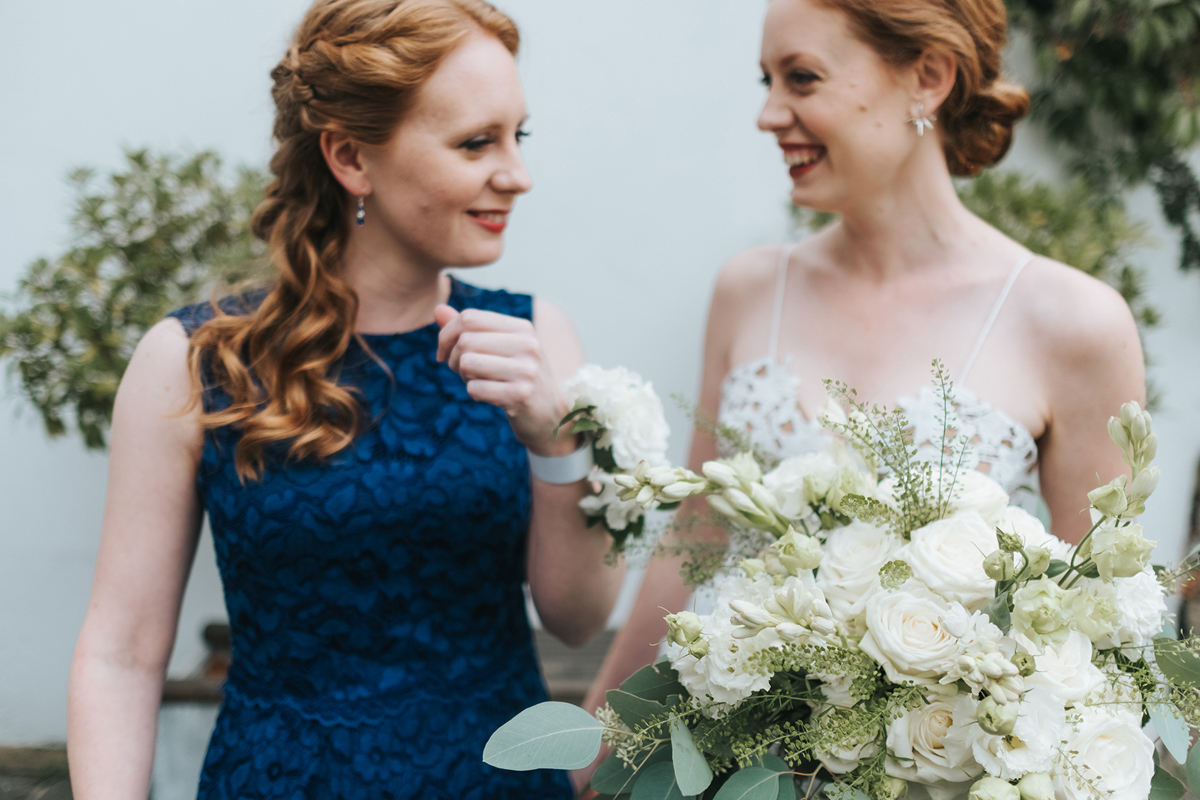 "He worked utter magic. We asked Jonathan for simple, modern but dramatic arrangements made-up of white flowers, like roses in my bouquet, and masses of green foliage. Phil's buttonhole included a white rose, to match my flowers, and others had thistles to add a subtle blue pop of colour."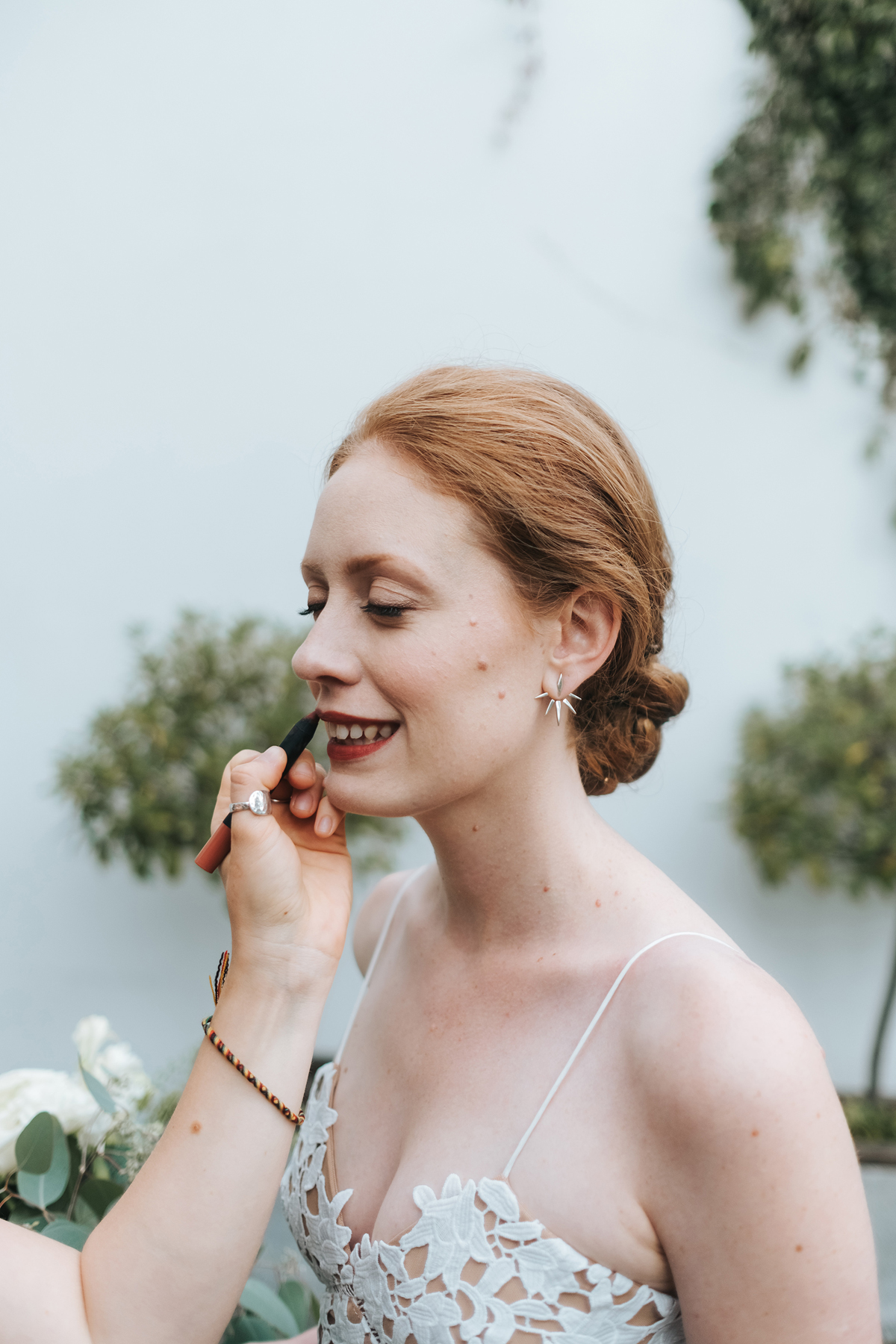 The bride's nude shoes were from L.K.Bennett and jewellery was super-simple and modern – spikey ear jackets from Etsy.
"They were very modern.  I didn't want anything that looked traditionally 'weddingy'."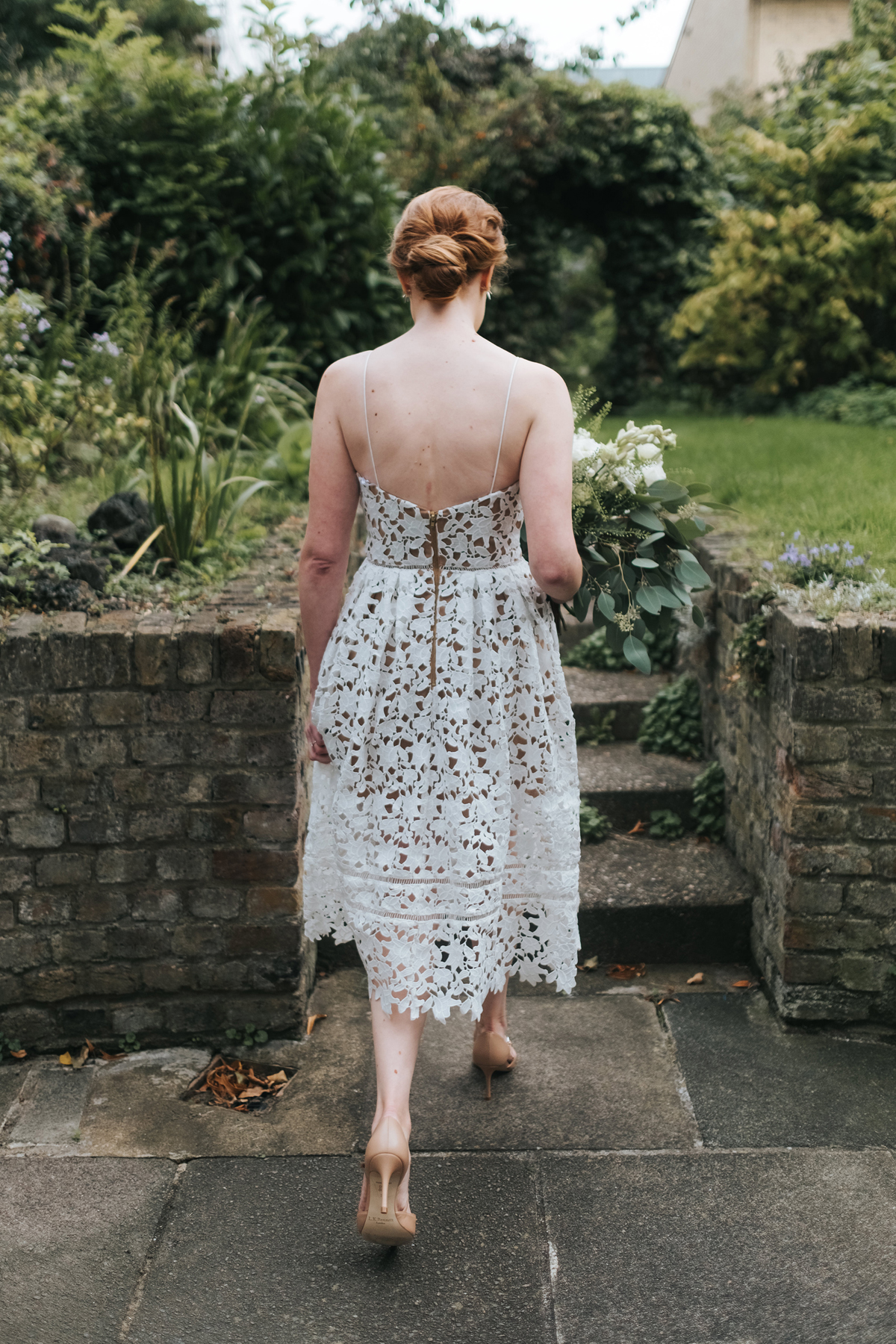 "We chose the venue because we're proud Londoners and couldn't conceive of being married anywhere but in our city! Phil lived North and I'm a south Londoner, but because Islington Town Hall is so beautiful I was very easily won over."
"We also really liked that our guests would sit 'in the round' in the Council Chamber, which made it feel a lot less intimidating. We wanted a really relaxed and informal vibe, surrounded by family and friends, so it worked out really well."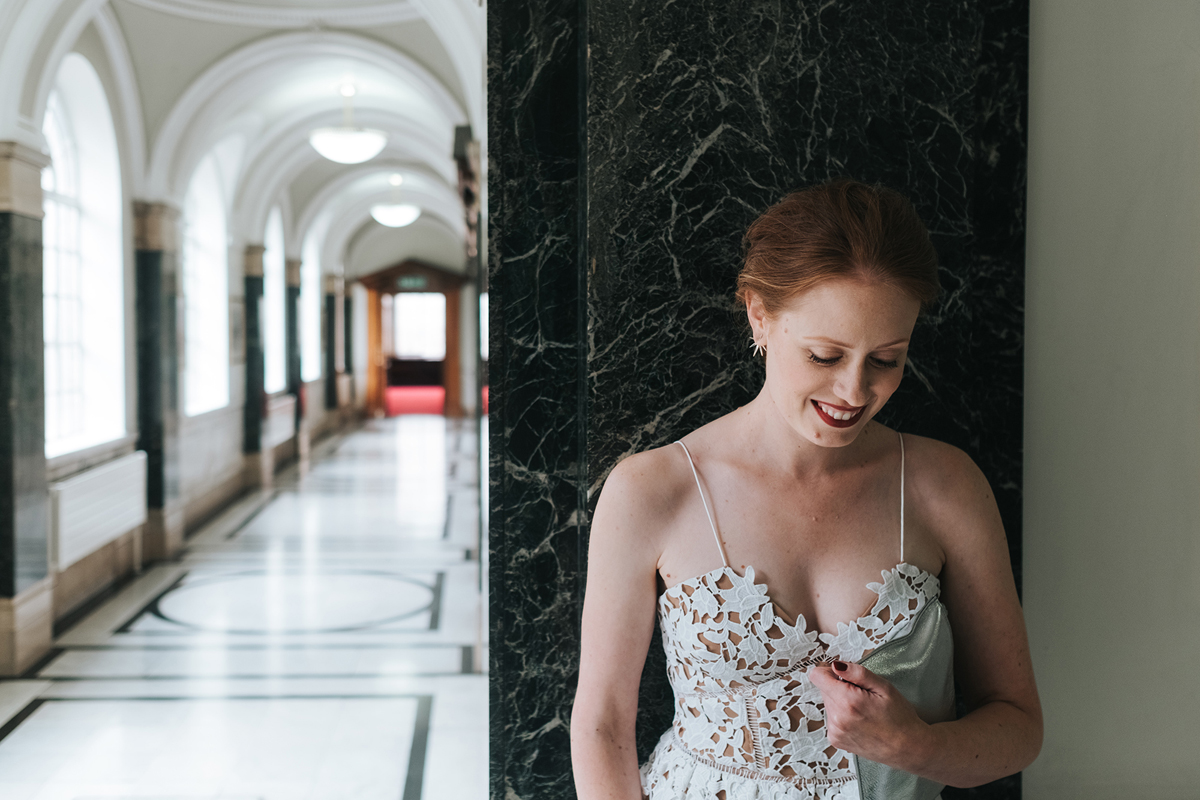 The couple met through their work in London.
"Phil and I met when we were both working in youth charities. Having seen each other a few times at work events, we finally got the chance to know each other better at pub drinks with mutual friends in Holborn."
"Phil made up a terrible excuse about his pint tasting bad (he later confided) as I was headed to the bar so that we could have a quick chat, and we just clicked. After that, we quickly bonded on long walks around London, cosy pub trips, and a mutual inability to play Scrabble, before making it official. We've been pretty much inseparable since. About two years later, Phil proposed to me on a fire escape in New York on a trip for my 30th birthday (and a few strong beers) which was perfect as I wanted something really intimate and low-key. Fifteen months after that we got married."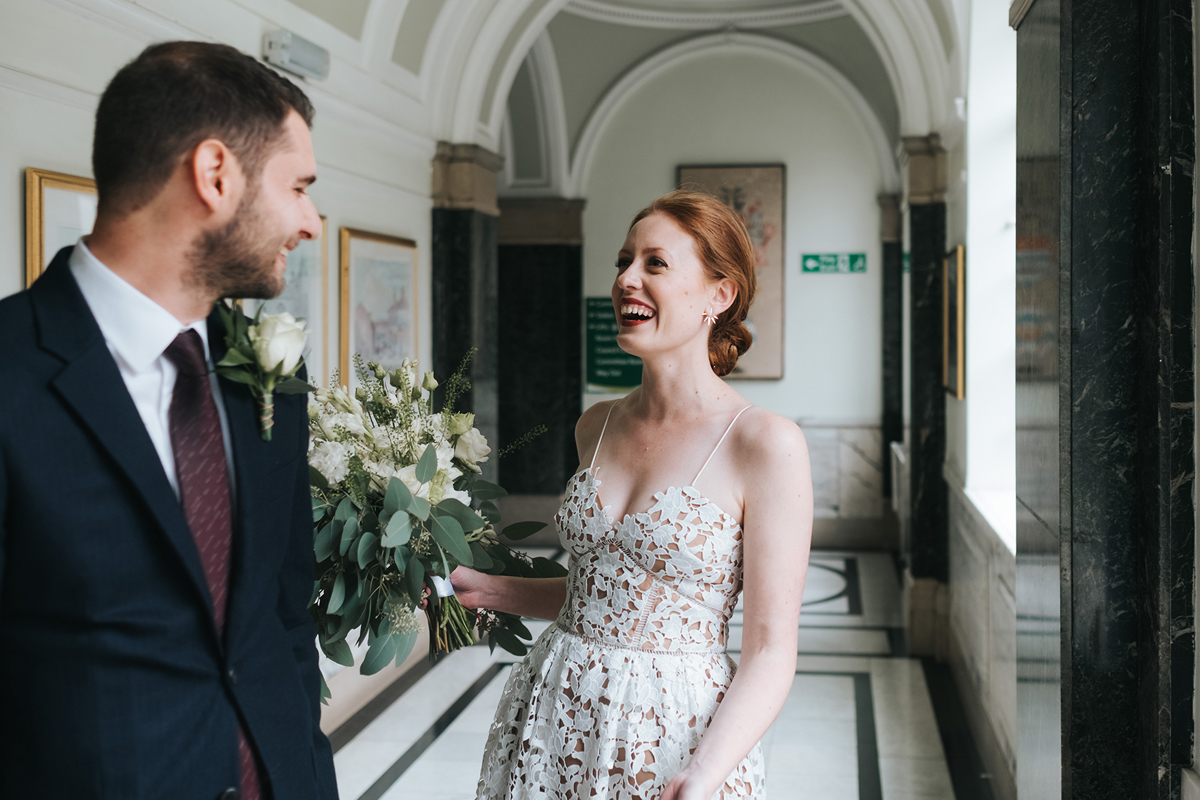 Annie and Phil opted to have a first look and enter the Town Hall hand in hand as 'Sweet Thing' by Van Morrison was played. The groom was smart and comfortable in a Beggars Run suit and handmade shirt with a Reiss tie and Ted Baker shoes.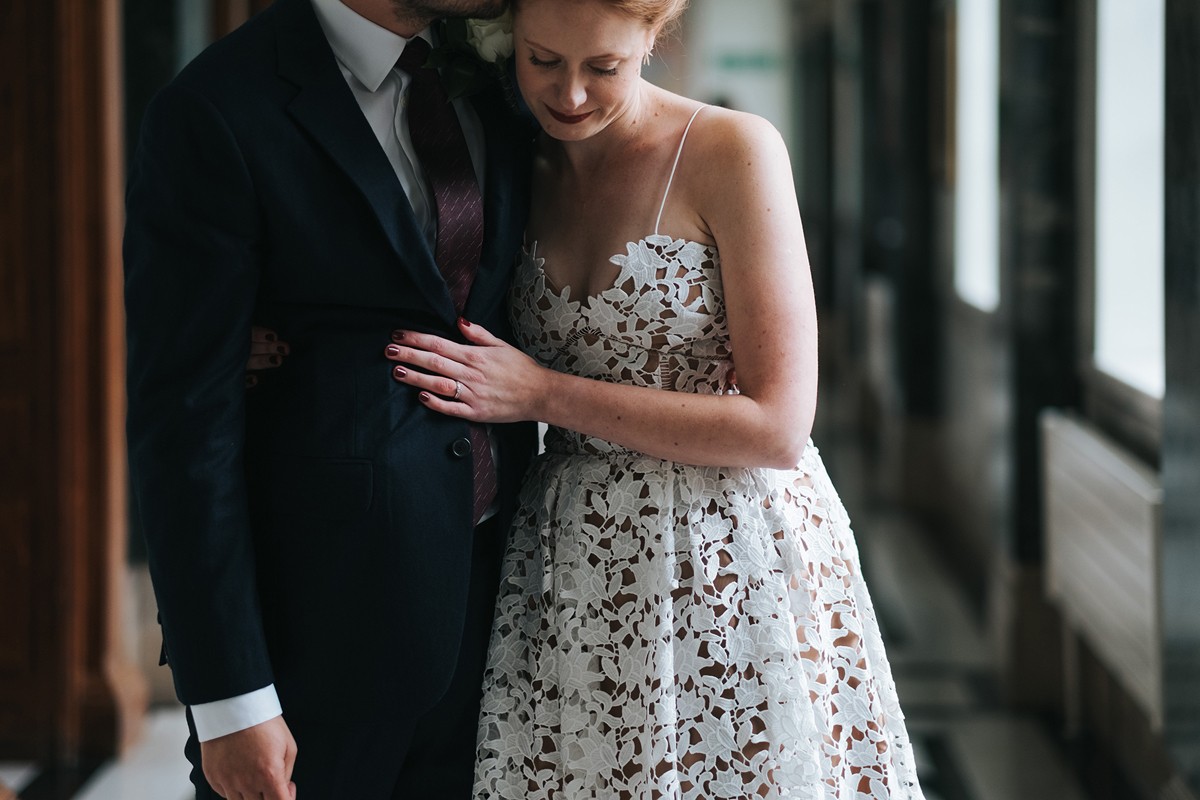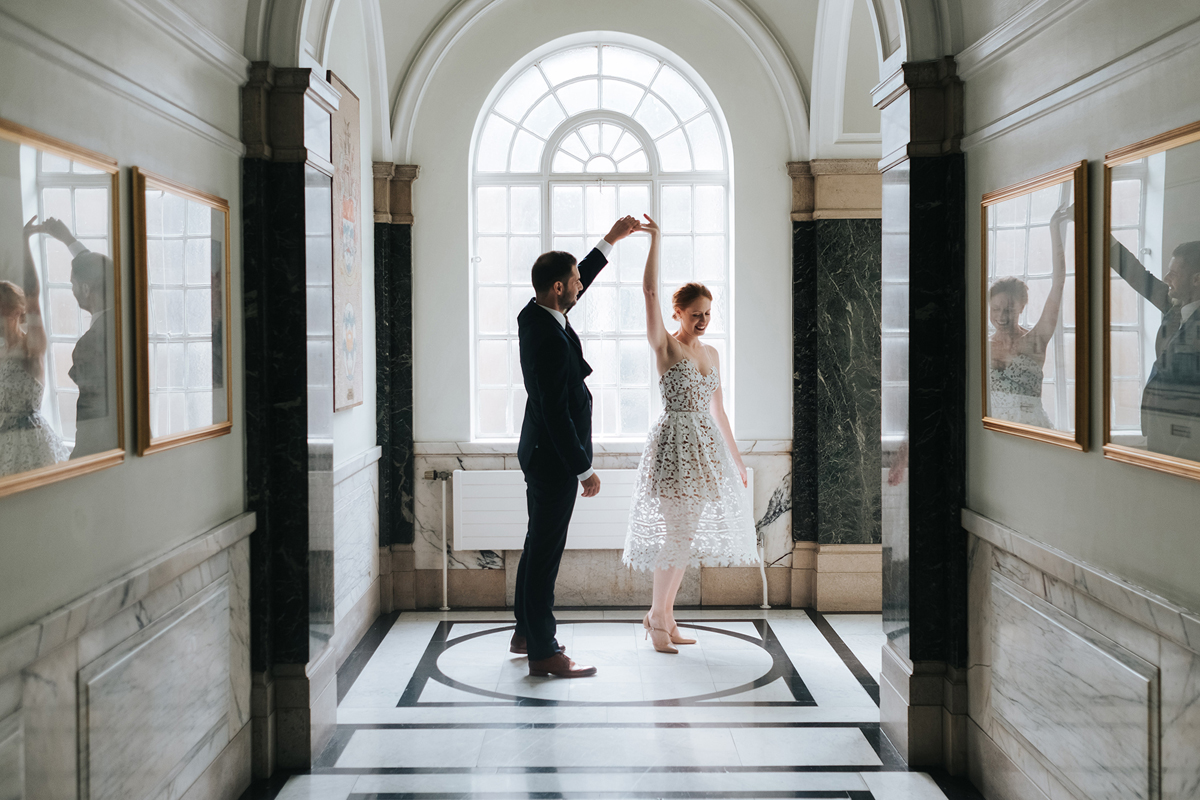 "We decided to walk down the aisle together after our 'first look' with our photographer. I'm so glad we did as I was a nervous wreck beforehand! It really helped calm the nerves."
"We're not conventional, and we wanted to begin married life as a partnership, so it just seemed like the natural thing to do."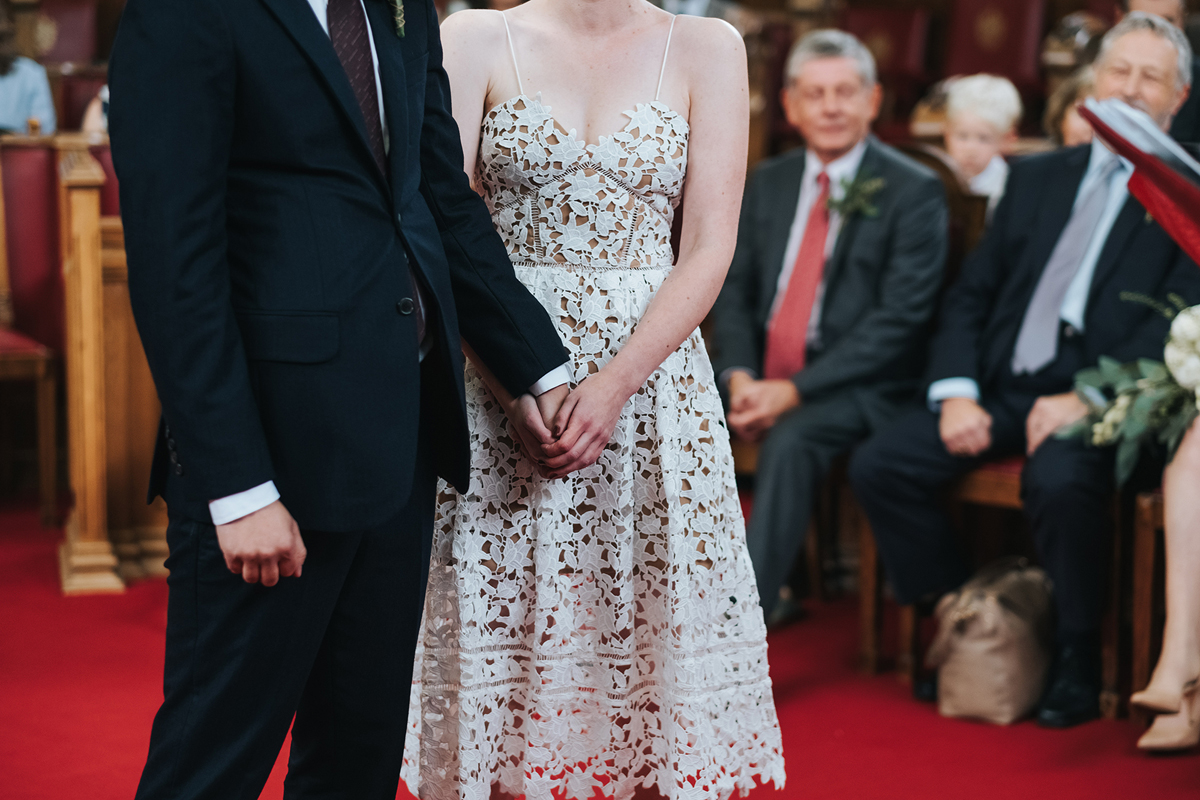 Phil's ring was bought at A&S Jewellers in Hatton Garden where he chose the engagement ring, and Annie's was handmade by Alison Macleod in Scotland.
"I have Scottish heritage so I wanted to try and reflect that part of me in my wedding ring. Alison's designs are unusual and modern; I opted for her double dotty platinum ring which she kindly inscribed for me."
The couple had a short and sweet ceremony, choosing to omit readings.
"Maybe we were too excited about partying with our friends and family and, of course, each other!"
After the ceremony it was time to celebrate in The Easton. The couple escaped for some time together, and some newly-wed shots too.
"We managed to sneak off for a cheeky half before joining our guests at the pub. It allowed us to just take a moment and let it sink in that we'd just got married. It was magical wandering around Exmouth Market with a beer in our hands."
"We picked The Easton, just off Exmouth Market in Clerkenwell, because we'd seen them featured on Love My Dress and really liked the laid back vibe. Andrew and his staff were absolutely wonderful – so accommodating and helpful all the way through the planning and on the day itself. The pub itself is relaxed and cosy, with twinkly fairy lights in the window once it gets dark. We decided fairly quickly that it would be perfect for the number of people we were expecting and the mood we were going for."
As you can see in these beautiful reportage-style photographs, little allusions to London ran through the entire day. I really like the bold table plan asking guests to 'find their stop'.
"Loving to wander around London and discover its little corners, we integrated a few London-themed bits and pieces into the day. I'd already decided I wanted to get to the ceremony in a black cab, and our invitations included London Underground logos – as did our table plan, which was based on the tube map. However, we didn't want to go too OTT."
The fantastic London-themed stationery was designed by Emmy Designs who comes extremely highly recommended by the bride.
"The hugely talented Emma of Emmy Designs did our London-themed invitations, menus, table names and ingenious seating plan. Emma was so flexible and responsive, and the end result was stationery that was so personal, with little pictures of us, but also totally reflective of our London theme with the London Underground motif. We did everything on email and she kept us updated each step of her design process. She even sent us a congratulations card after the big day. She was a pleasure to deal with."
I really like how the long pub tables have been adorned with swathes of foliage studded with cream roses, a beautiful way to dress the room and bring in a touch of softness and aroma.
The guests sat down at the long pub tables to tuck into a real feast, catered for by The Easton. It sounds simply delicious, especially the chocolatey pudding.
"We had canapes, including the best Scotch eggs with Bloody Mary sauce, while mingling, then sat down to their 'feast' menu, which consisted of beautifully-cooked beef, salmon, crispy roast potatoes and a warm broad bean salad – all served communal-style so it wasn't so formal – finished off with a rich and indulgent sunken chocolate cake with clotted cream. Vegetarians and vegans were spoiled too, with a roast butternut squash, chestnut and spinach pie. The food was top-notch."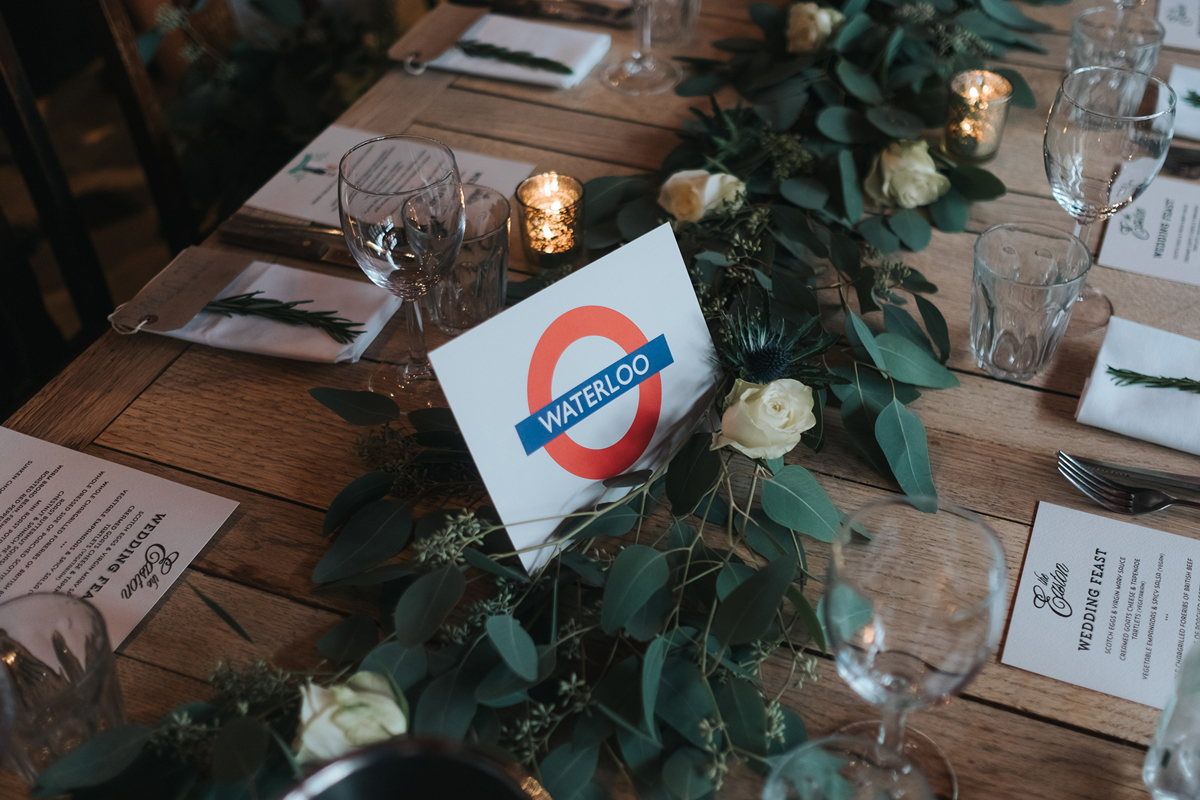 "I really love Spanish guitar music, and we were so lucky to find Edina Balczo who kindly agreed to play a set of  popular covers before the feast, then play a rousing flamenco set during dessert. It really woke people up after food and wine and got the party started. She was absolutely fantastic and I'd recommend her to anyone."
"Our favourite part of the day, looking back, were the speeches. We did a joint speech, then we said a few quick words about each other. I'm really glad we did as it was our way of sharing our love for each other with our friends and family. It was a bit of a tear-jerker! We also had speeches from the best men (Phil's friend from university Nick, and his brother Rob) and my childhood friend, Kay. It was great just to decompress with a glass of wine before the meal and share a good laugh. Phil was even given a blonde mullet to wear, which certainly livened-up proceedings."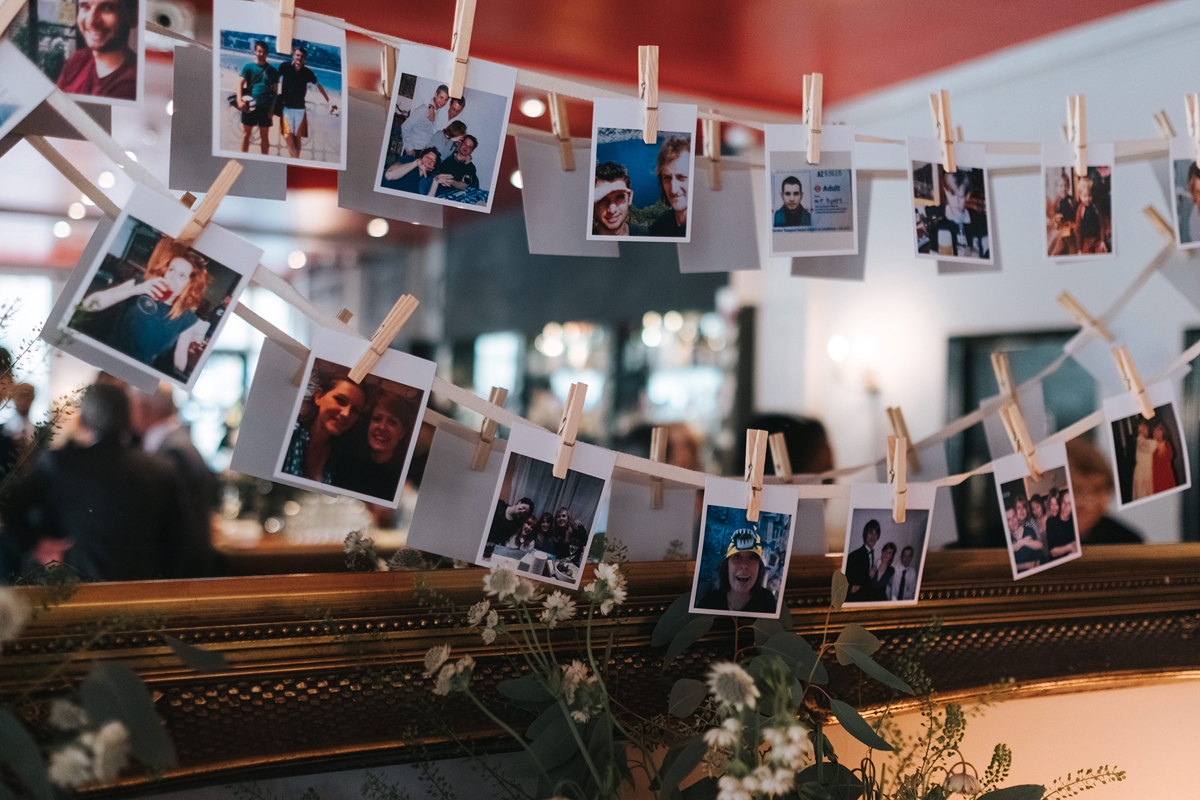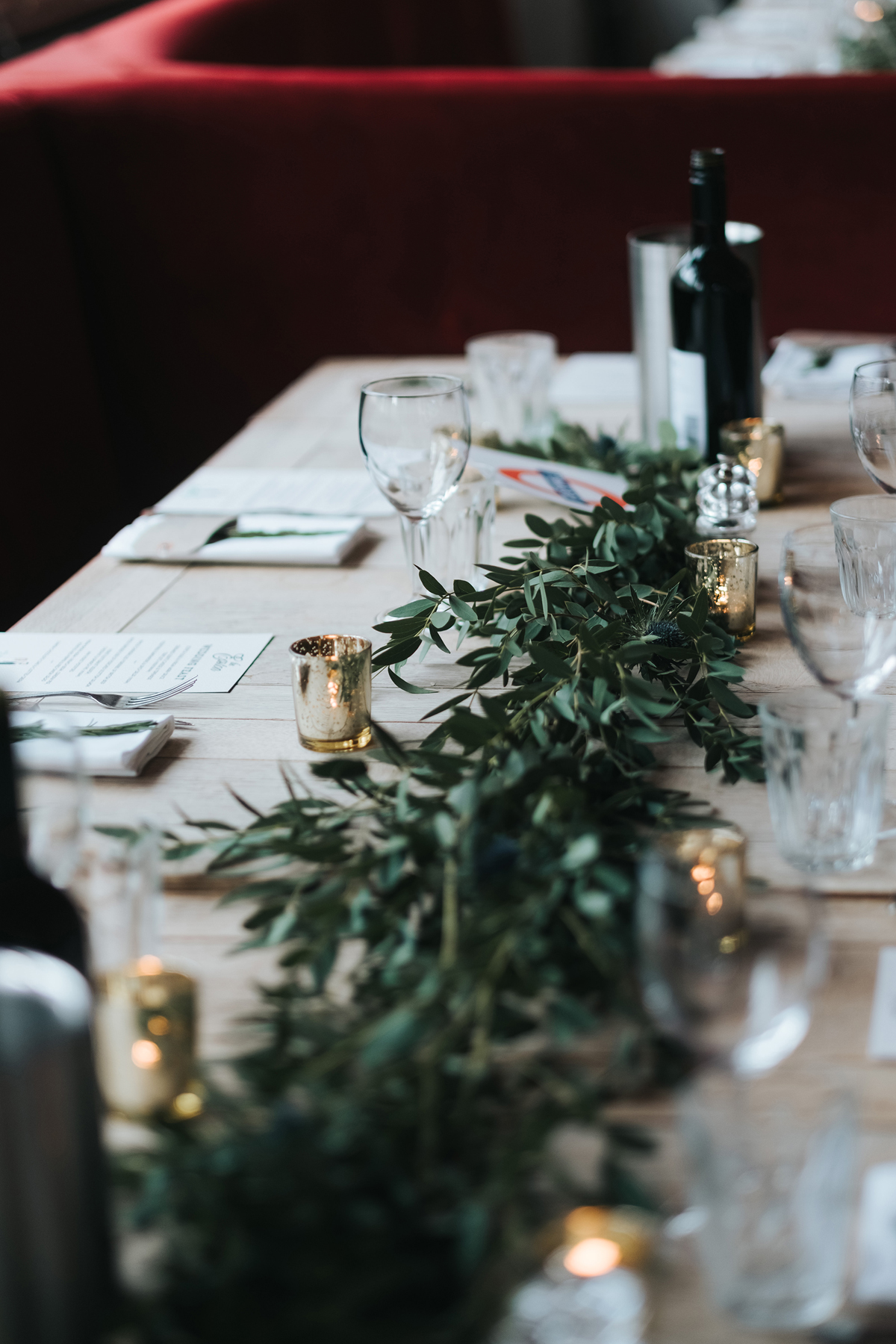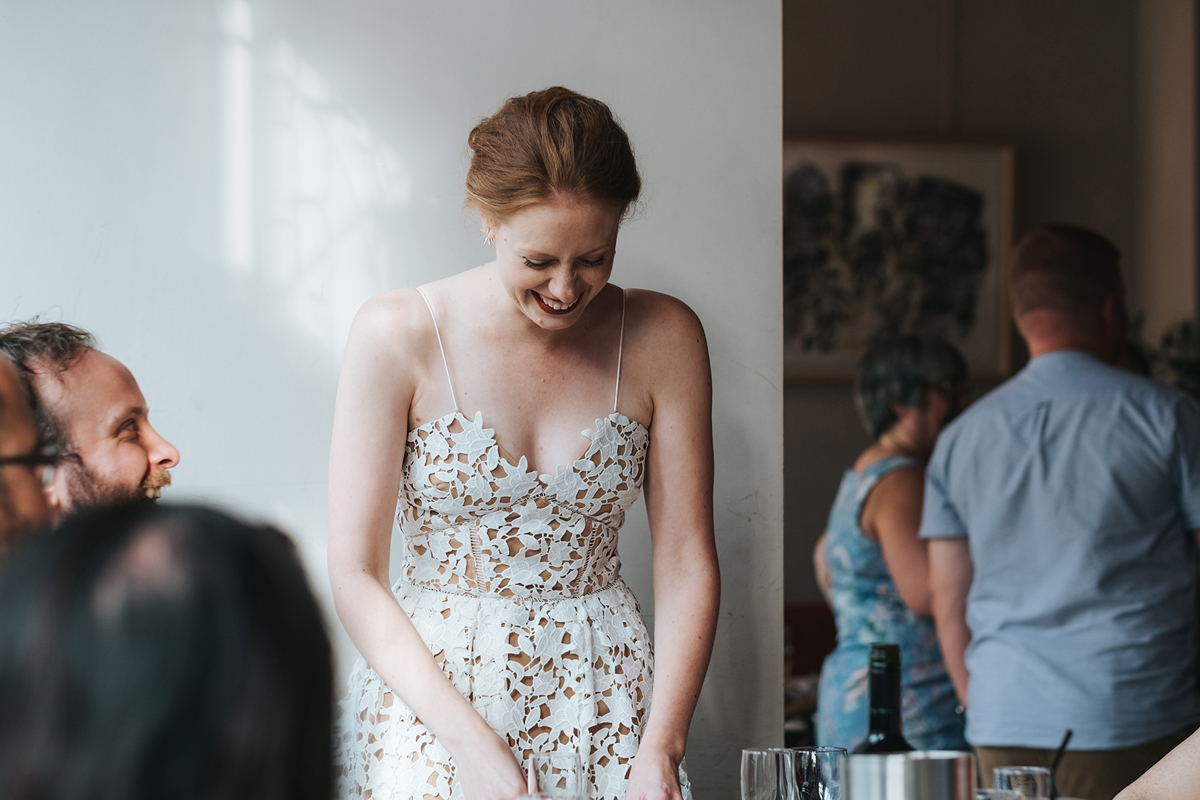 The tiered cake by Bea's of Bloomsbury looks sublime – three tiers of cake simply decorated with white frosting and fresh foliage.
"We opted for a three-tiered Hampstead cake from their wedding collection, made-up of rich chocolate, red velvet and lemon sponges with cream cheese icing and decorated with yet more foliage and berries. A number of our friends are vegan, so we also bought some vegan cupcakes which were absolutely divine! I wish we'd bought more (especially as neither Phil nor I got to sample much of our wedding cake in the end!)."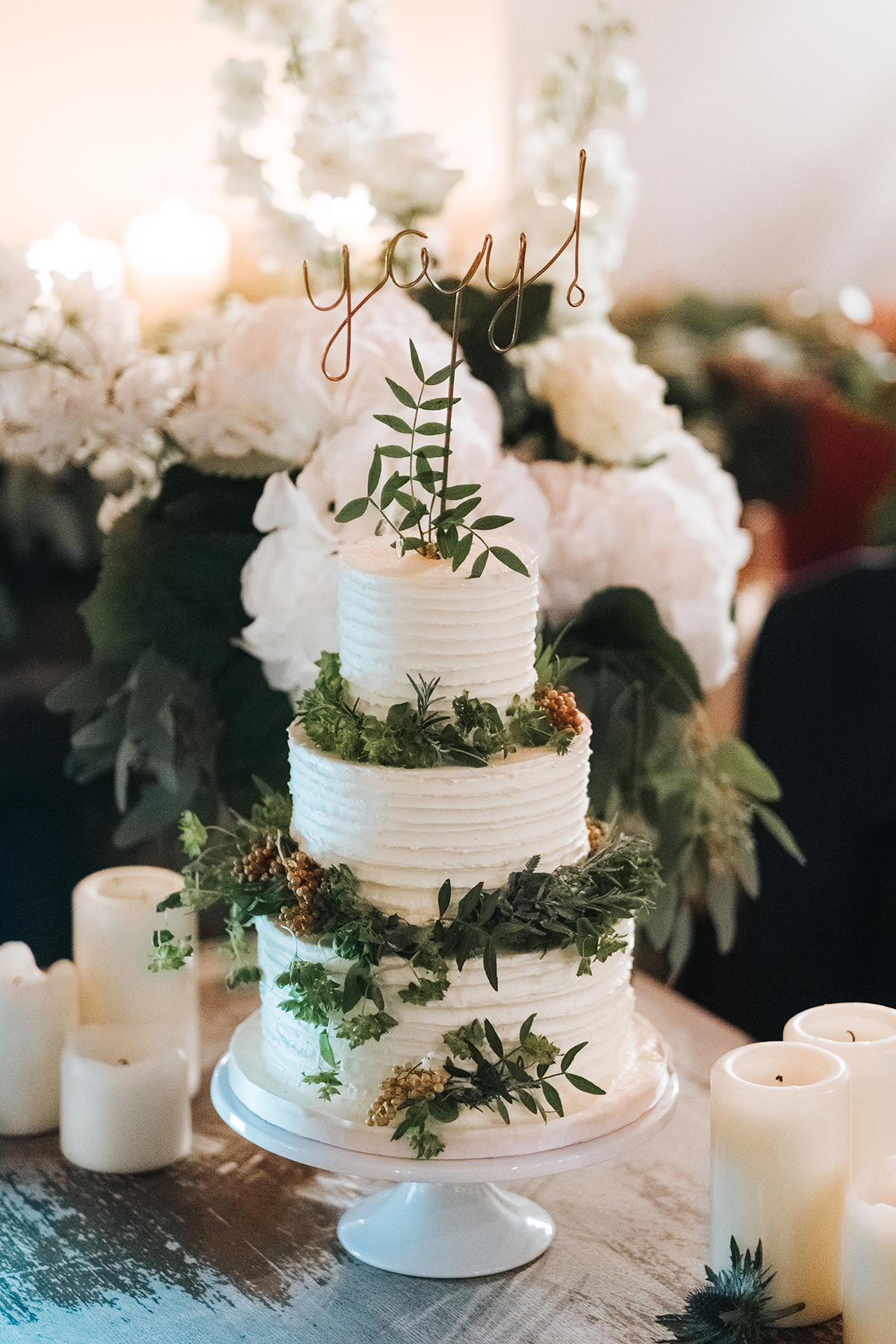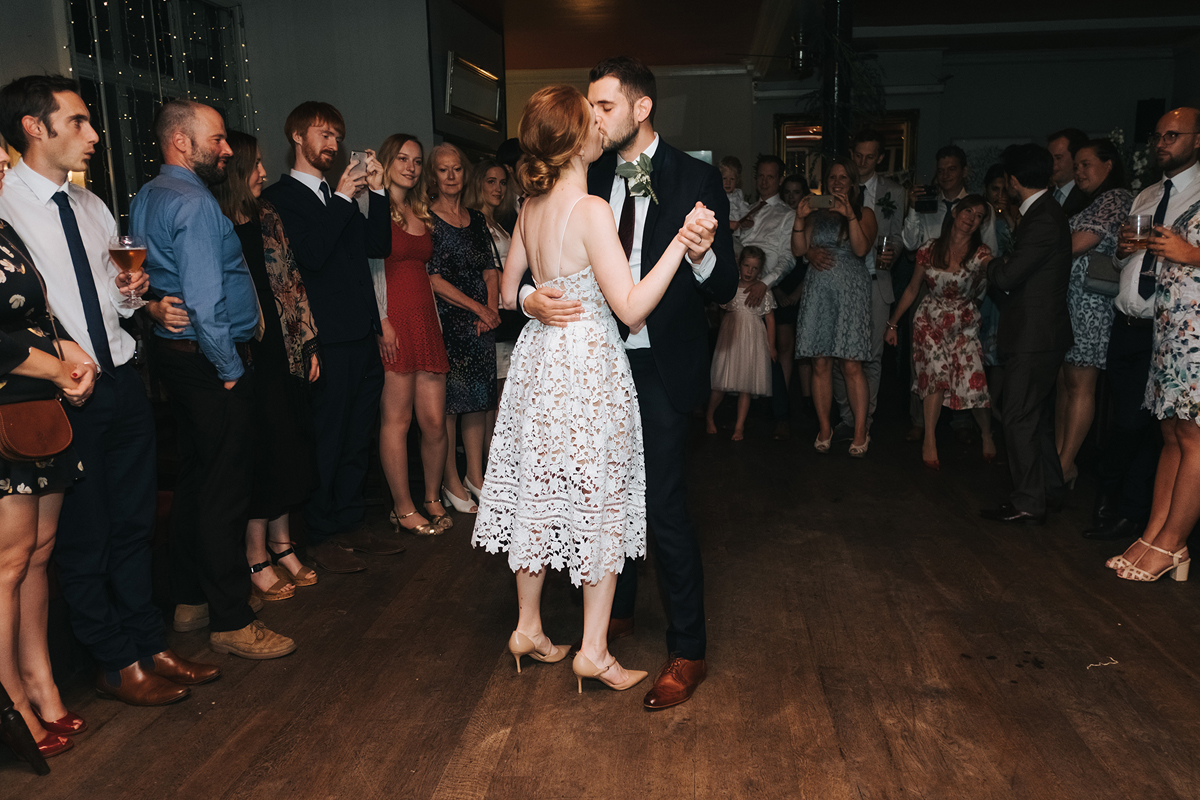 Words of Wedded Wisdom
"My advice to any bride-to-be is to make sure you share the planning with your partner. Thankfully Phil is more organised than I am, so together we took wedding planning in our stride and split out tasks that needed doing. I can honestly say that planning didn't stress me out in the slightest. It was actually really fun."
"Neither of us envisaged our wedding day as a big, white occasion. We wanted to stay true to ourselves throughout, and I think we achieved that. There's lots of pressure on how a wedding should be but don't let that sway your decision-making. It's your day, not anyone else's. Follow your gut and build the day you want!"
Annie and Phil, sending you so many thanks and congratulations on your marriage.It's been wonderful to see this London wedding, and your choice of gown is sublime – I do hope you get to wear it again and again. Thank you Miss Gen Photography for your work; it's been a real pleasure to share your photographs again on these pages. Brides, if you've loved this celebration then please head here for more city wedding inspiration.
Ele xx