Later this month the lovely husband and I are heading up to Scotland for the first time in far too long and I can't wait- I absolutely love this beautiful part of the world and can't wait to spend some more time there.
Today's gorgeous Scottish wedding has me wishing the time away until we go! Kirsty, an accountant, married Jamie, a primary school teacher on the 14th October 2017 at the beautiful Rowallan Castle, near Kilmaurs in Ayrshire.  I'm an absolute sucker for a castle wedding, especially in the autumn sunshine, so I'm very happy to be sharing this one with you all today.
Film by Erin Rose Films
"The feel of the castle is elegant and traditional so I didn't want to go too modern with the style for the day.  Whilst not intentional, the choices I made for my dress and the bridesmaids ended up feeling quite 1920's.  I love autumnal colours so knew straight away that we would go for burgundy tones.  Rowallan also has a lot of red and gold so I also wanted to keep in with the theme in the castle too."
Photography by The Gibsons Photography
Today's beautiful photos, absolutely packed with all the special moments Kirsty and Jamie will want to remember, come to us from the talented lens of The Gibsons, who we are delighted to be featuring again. Kirsty and Jamie chose to have their big day captured on film as well as in photographic form, choosing Erin Rose Films for the job.  You can see a clip of their film here if you have a few spare moments today (its well worth it- it's beautifully heartfelt)
"Chantal and Scott were really amazing; they were so friendly, laid back and easy people to be around.  They both made us feel so comfortable and we've not stopped looking at our wedding pictures.  As someone that hates getting my picture taken and looking back at photos of myself, I couldn't be happier."Kirsty wore her hair down and to the side in loose waves, which beautifully echoed the shorter waved hairstyles of the 1930's yet also gave her a modern twist with her straight fringe.  Hair styling was by Gillian at Pin Up Hair in Glasgow.  For make up, Kirsty chose a natural look with a soft pink lip, perfect for her soft, pretty style, by Cat Robertson Makeup Artist.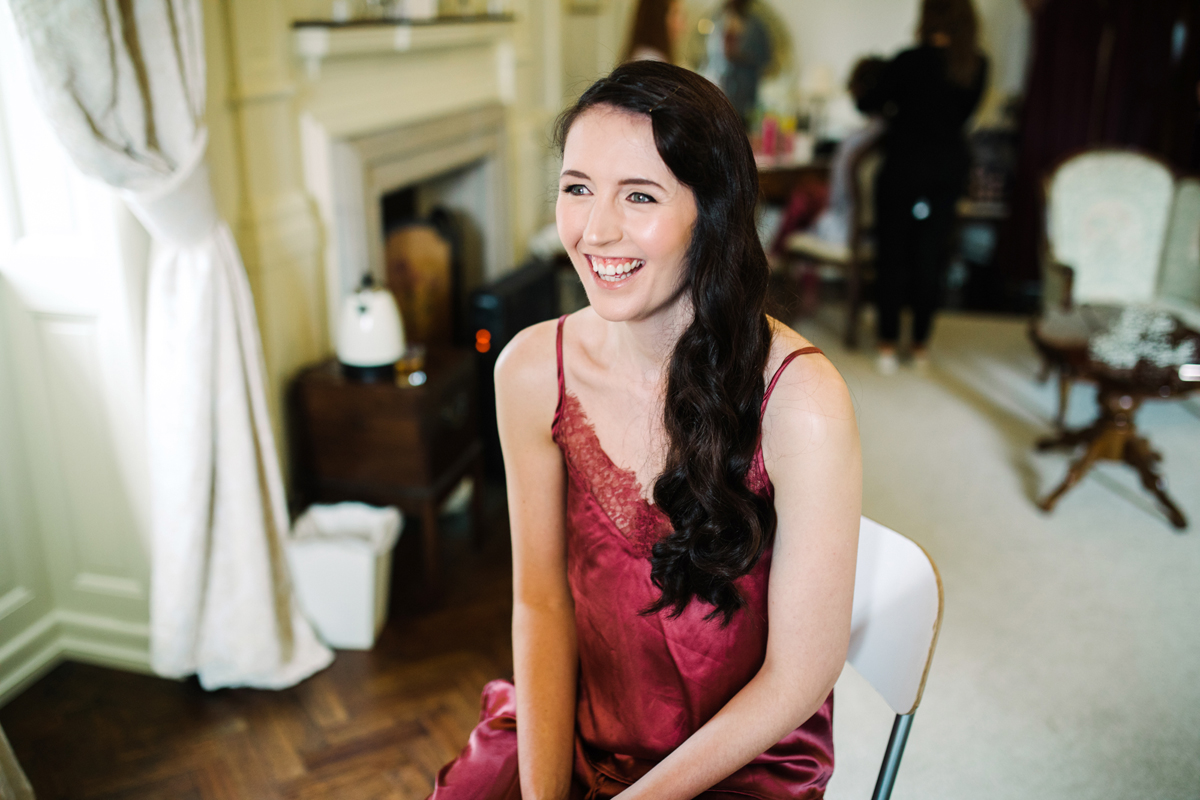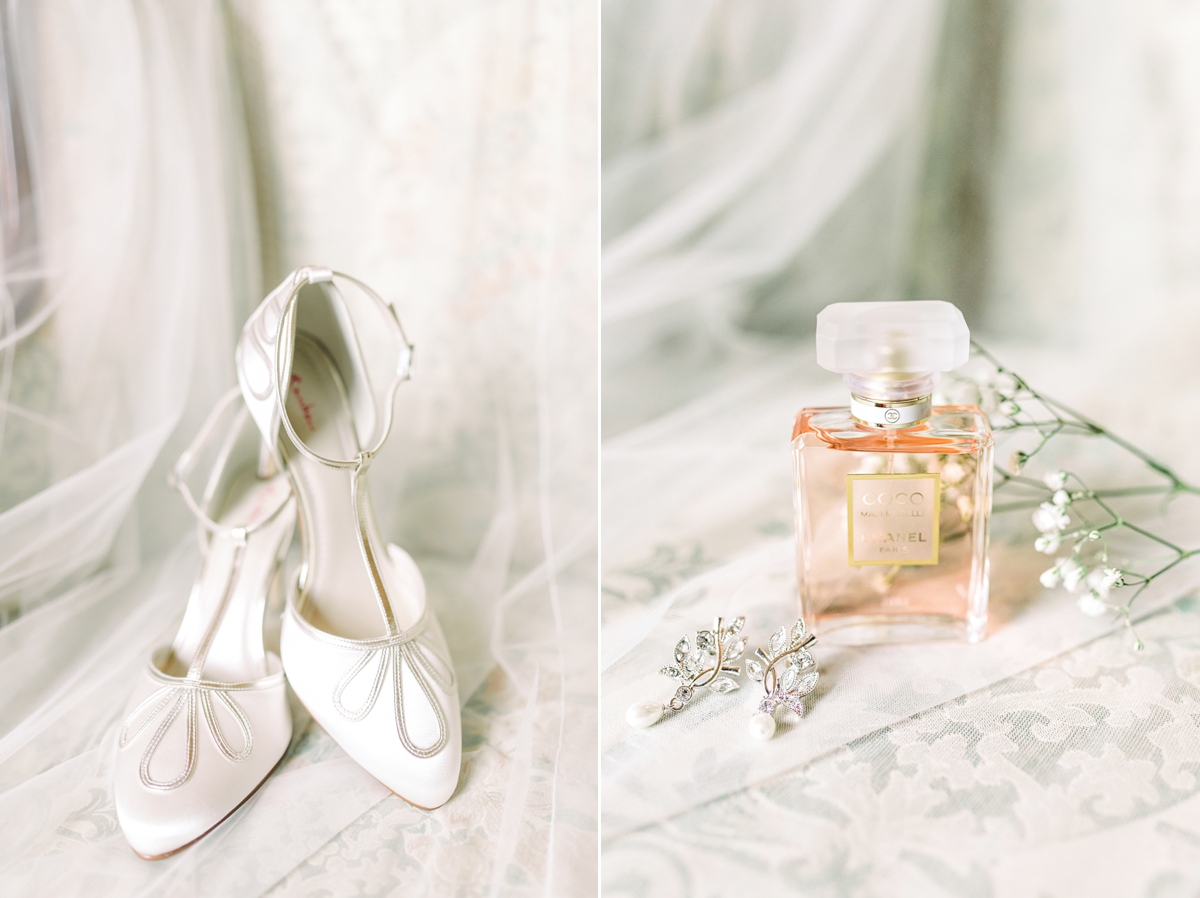 Kirsty looked beautiful in a long sleeved beaded gown by Rosa Clara with a 1920's/1930's feel, which she purchased from Ivory Pinks in Bothwell.  I just love the elegant simplicity of the shape and the surprise of the low back after the demure front neckline.
To accessorize, Kirsty chose a cathedral length veil from Rainbow Club, pinned in place with a fabulous sparkly clip from Debenhams.  On her feet, she wore a vintage inspired pair of heels (also by Rainbow Club), while for scent she opted for Coco Mademoiselle by Chanel.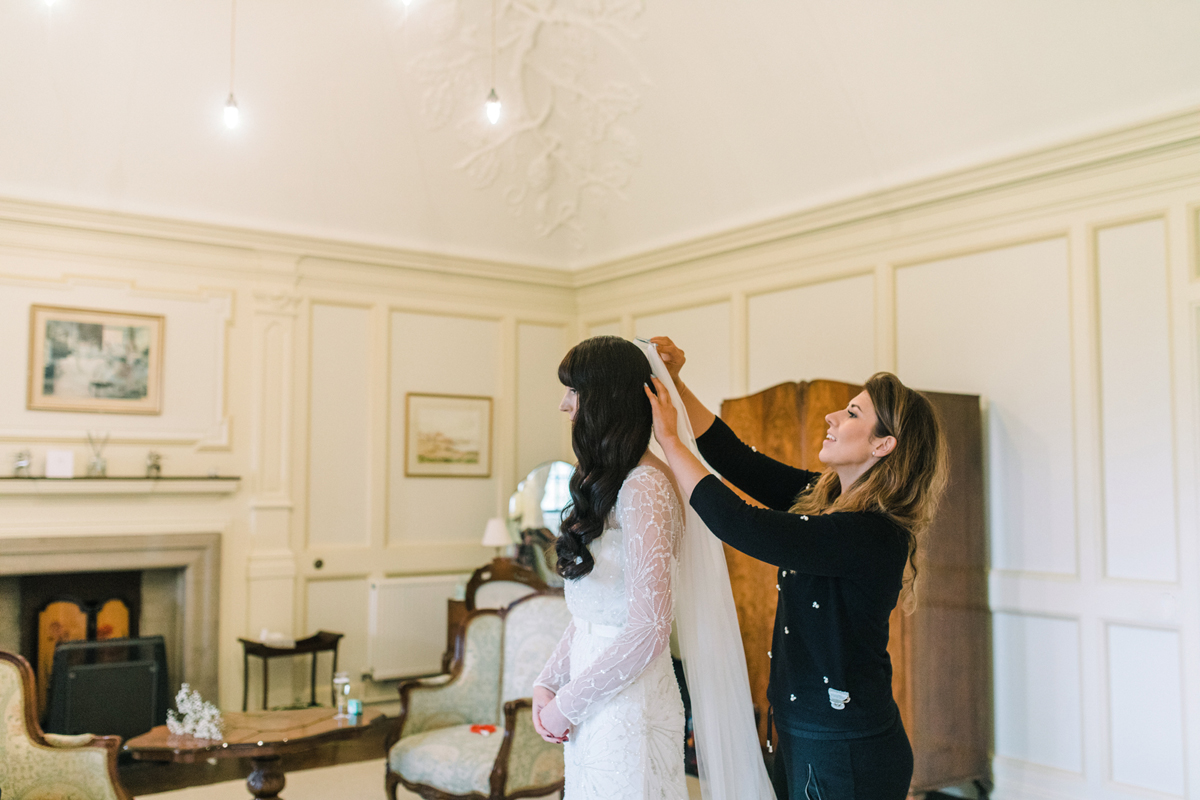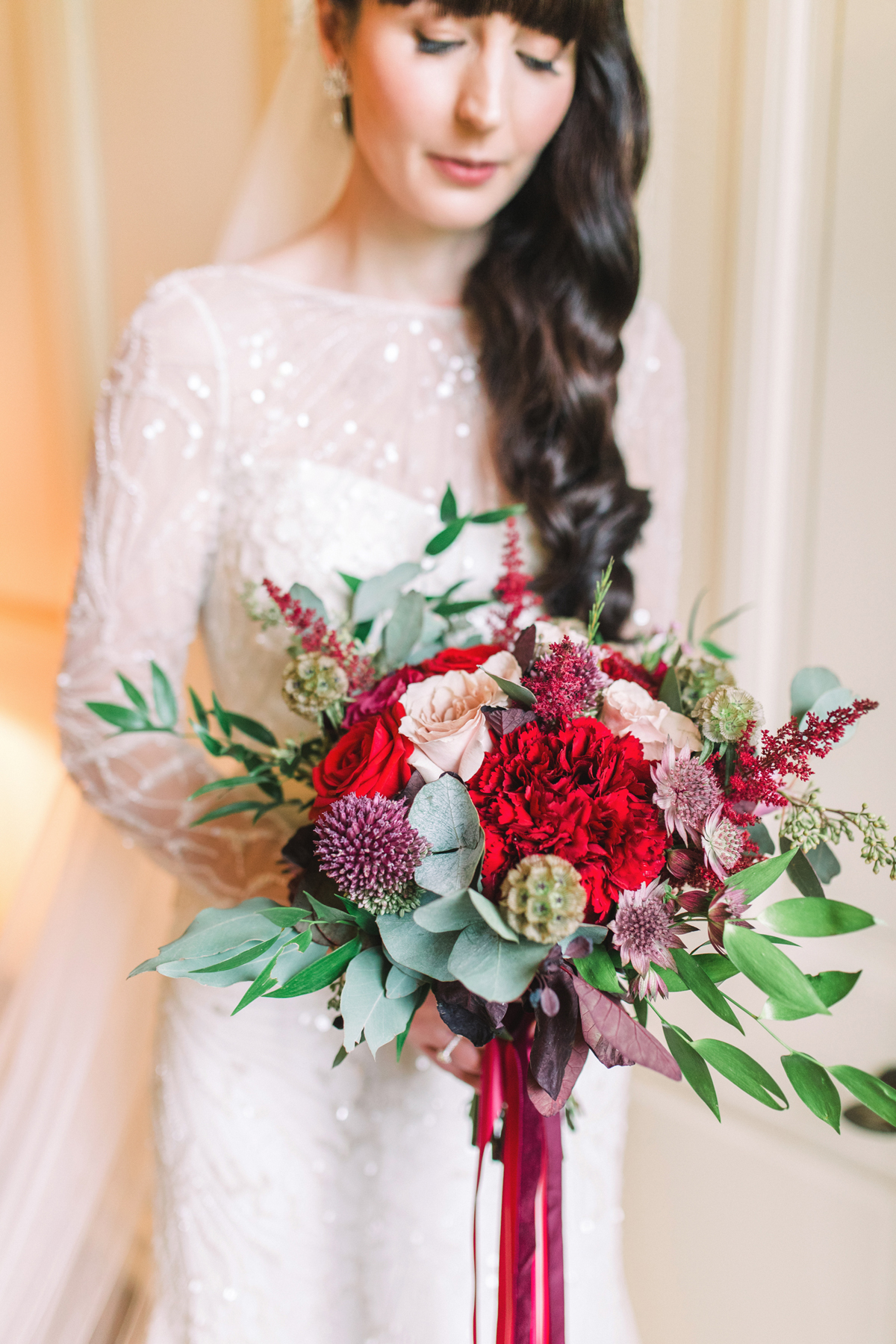 Kirsty chose flowers in reds and pink shades and Natalie Dalziel Flowers put together some really beautiful bouquets and arrangements, with lots of interesting shapes and textures.
"I saw a shoot the Gibsons had done with Natalie and instantly fell in love with the flowers she had created.  I loved the reds and pink tones and the burgundy velvet ribbon added some elegance to the bouquet."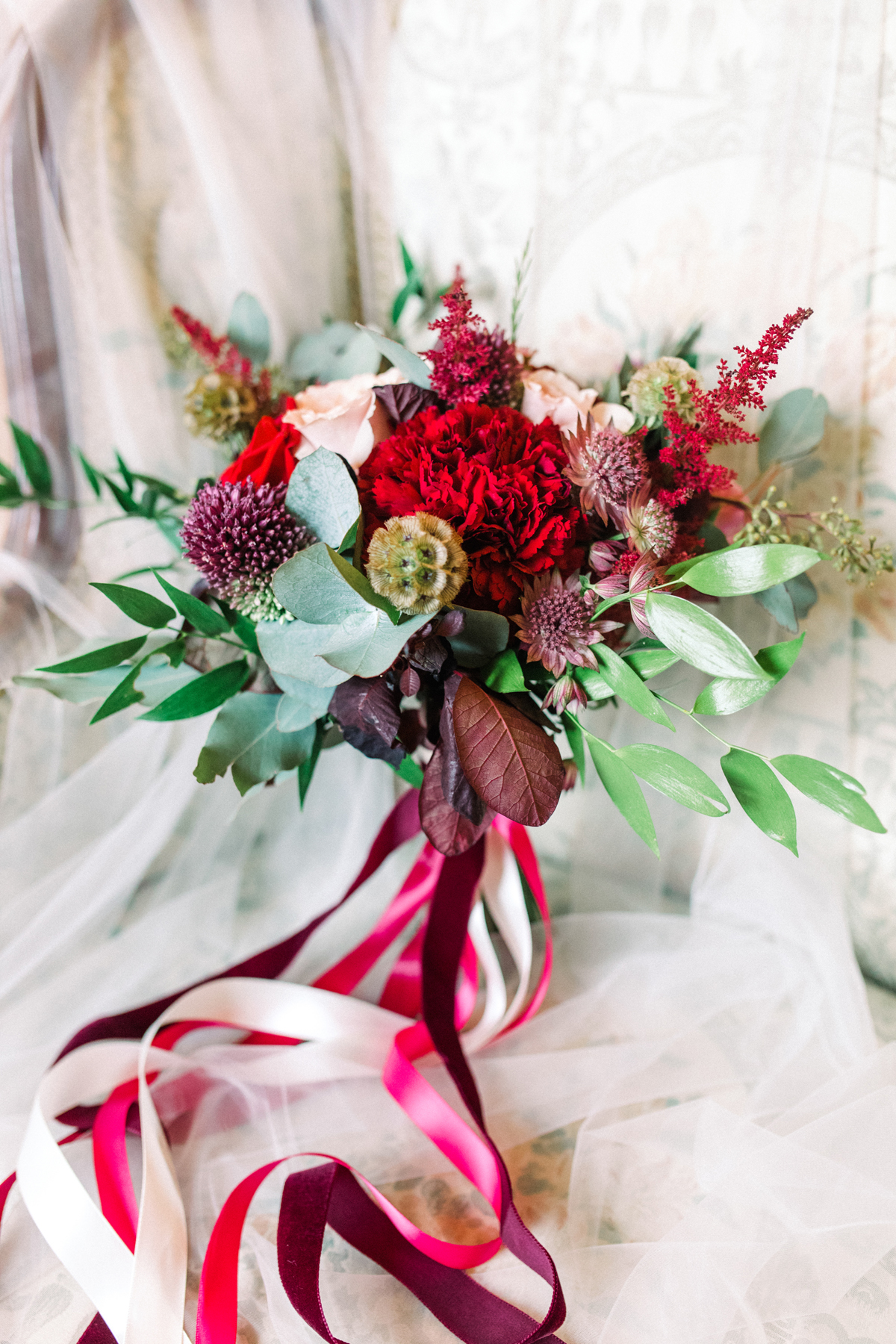 Jamie looked very smart in a kilt and soft green jacket by MacGregor and MacDuff, while his groomsmen wore their own family tartan.
"My grandad got married in the Crawford tartan trousers and continues to wear them to every special event.  My brother Tom was a groomsman and wore the same tartan trousers to keep the tradition going."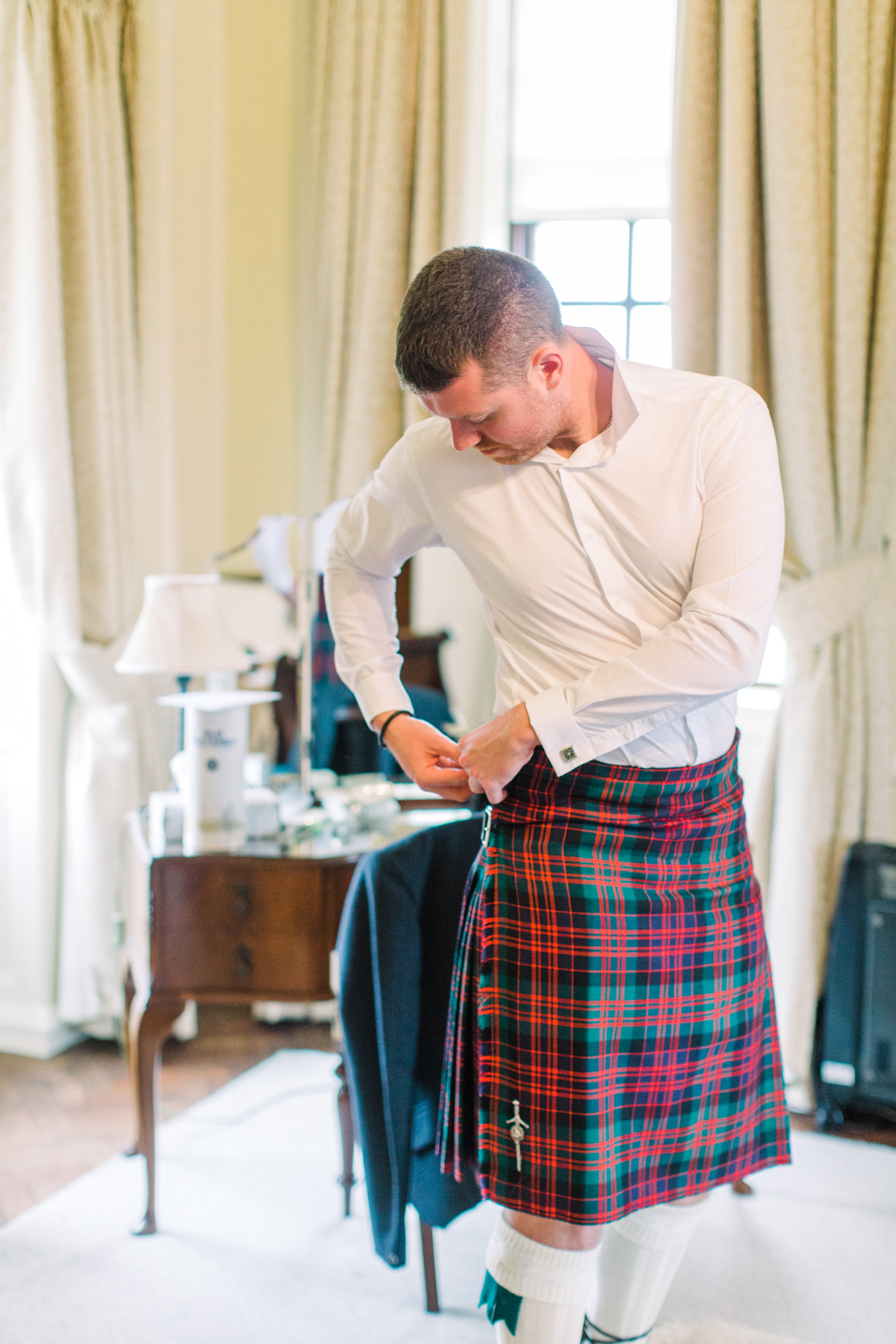 "We met at a friend's flat party in October 2011 and got engaged in October 2015 while on a weekend away at Dunkeld House Hotel.  Jamie covered the room in cut-out love hearts which had all the reasons why he loved me written on, with the last three asking me to marry him.  We had both come back up from the spa after a massage for myself and a swim for Jamie.  Jamie didn't think about getting changed before heading back up so ended up getting down on one knee in his wet swimming shorts, which added some humour to the proposal."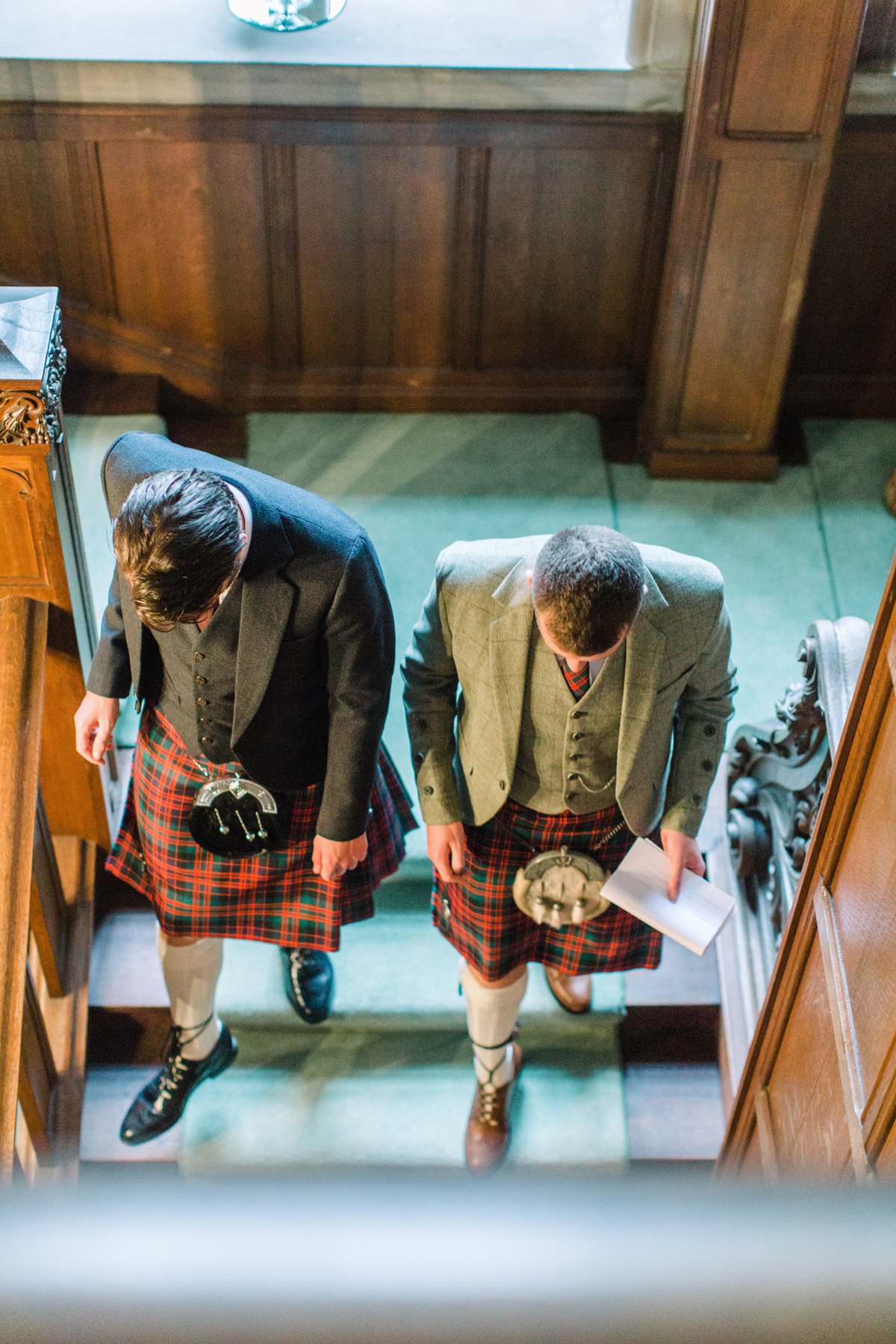 "Jamie plays golf at Rowallan and suggested we visit it as a potential option.  As soon as we entered the estate I knew it was the one with the stunning drive up to the castle.  The fact it had two castles on the estate kept me happy, and the fact Jamie would be able to golf on the weekend of the wedding kept him happy!"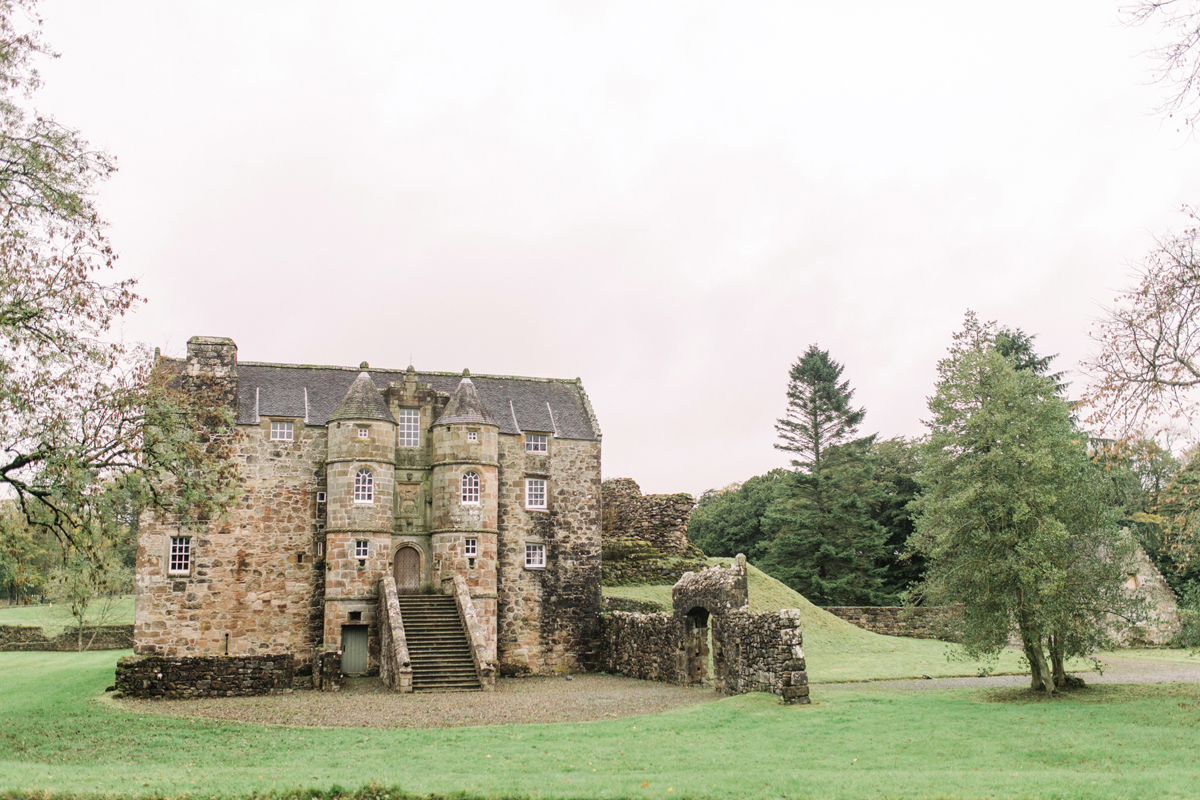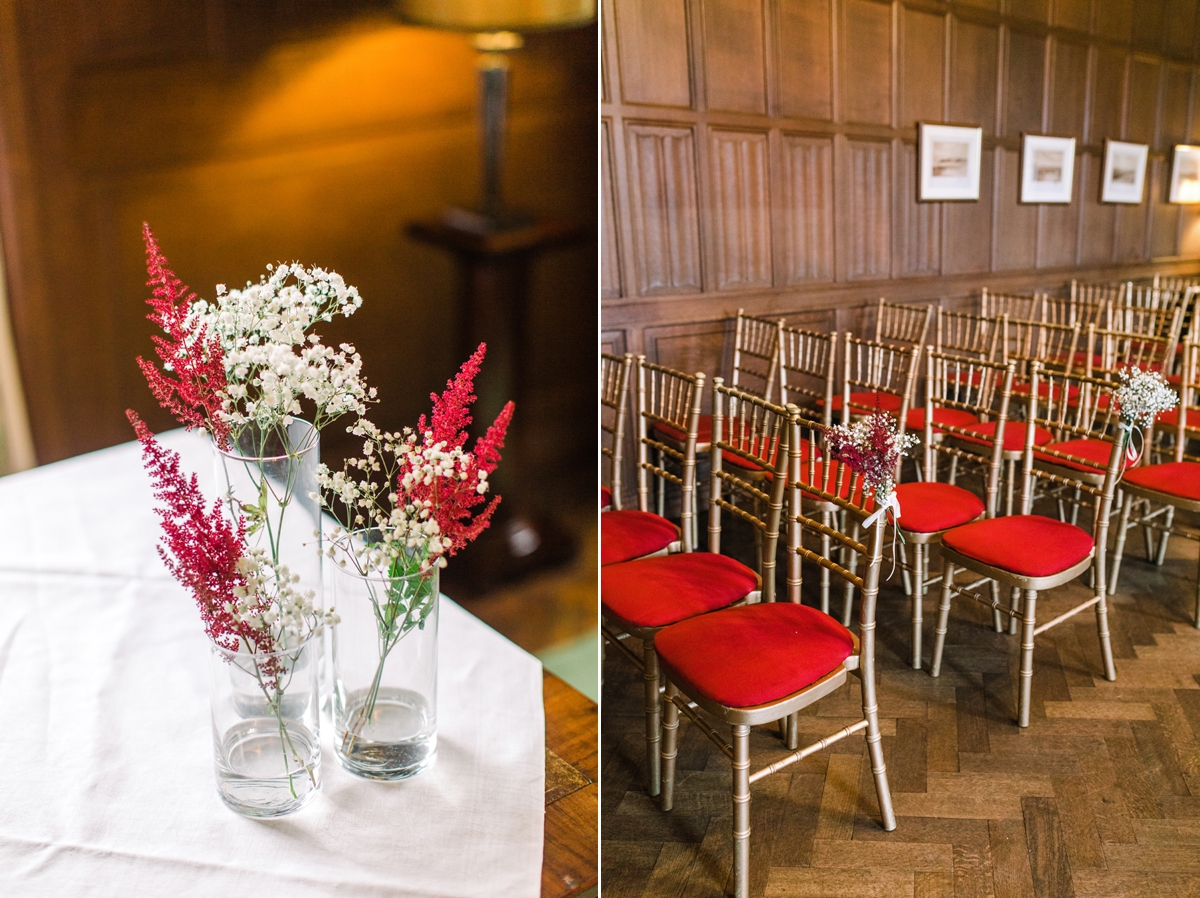 The bridesmaids looked lovely in red wine gowns from Biba at House of Fraser, which echoed Kirsty's own gown with the beading and higher necklines- very elegant.  In their hair they wore gypsophilia, while for earrings they wore sparkles from our Little Book for Brides members Monsoon.  They finished their look with a glamorous deep red lipstick from Charlotte Tilbury.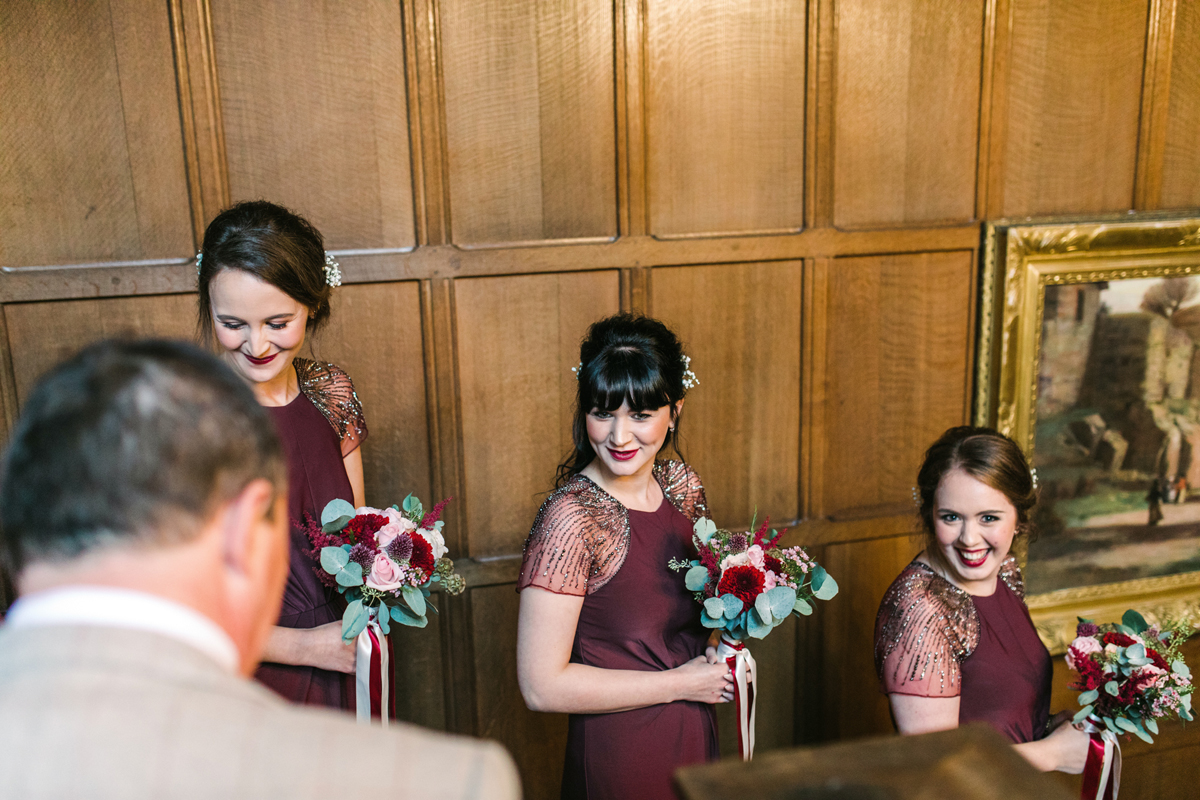 Kirsty's dad accompanied her down the aisle to 'Nuvole Bianche' by Ludovico Einaudi and the ceremony was taken by the Reverend David Ness.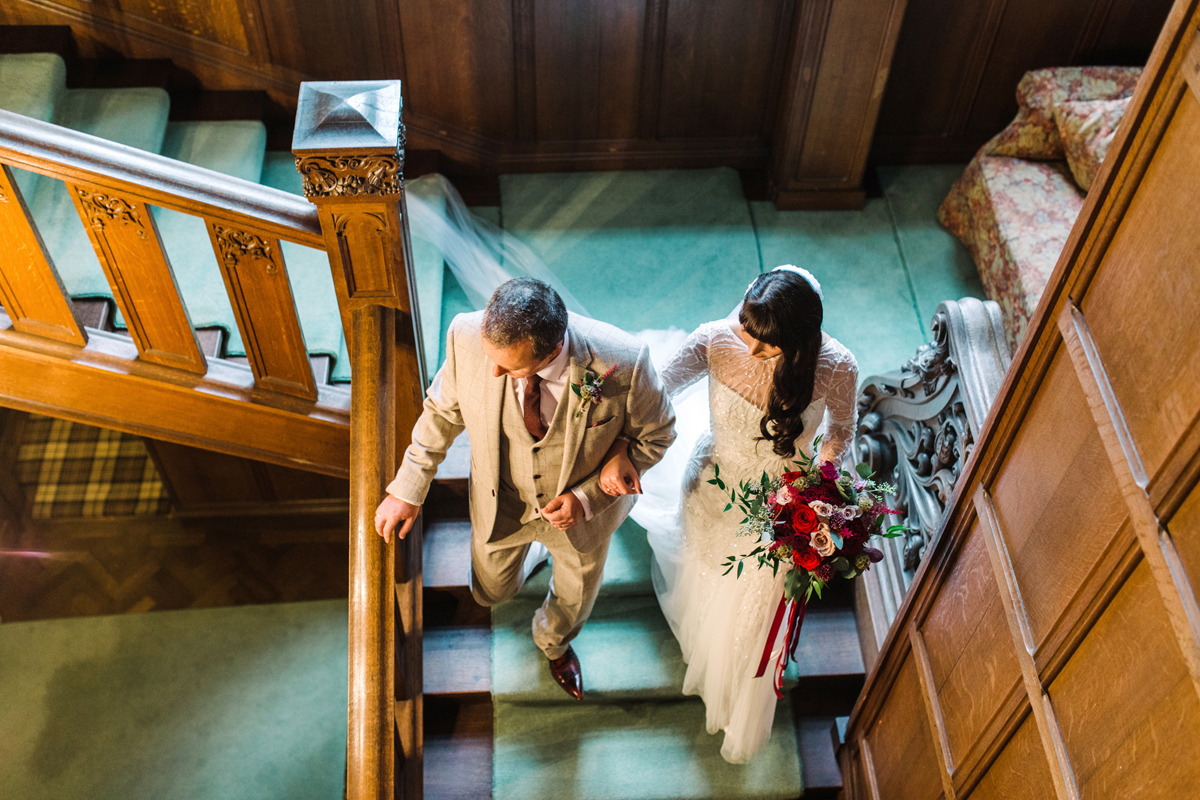 Jamie and Kirsty spoke the traditional wedding vows and chose two readings, 'Union' by Robert Fulgham and a personalised work put together by Kirsty from wedding advice she had been given at her hen do- I just love this.
"At my hen do everyone wrote down a piece of marriage advice which I kept. I then created a reading/poem out of the advice they gave me. My friend Rachel who read it then added a few funny verses herself to give it her own touch.  'Union' summed up how Jamie and I always spoke about our future and how as our relationship has grown we have been many things to one another."
"The whole day was great but if we had to choose a favourite part then it was probably the ceremony.  The room we got married in made the ceremony feel quite intimate and the minister was hilarious and had everyone laughing throughout.  In the run up to the wedding I worried so much about crying during our vows, but we were the opposite and had smiles from ear to ear.  The photos and video from our ceremony are one of my favourites as it just shows how happy we were."
To cement their vows, Jamie and Kirsty exchanged rings purchased from ROX.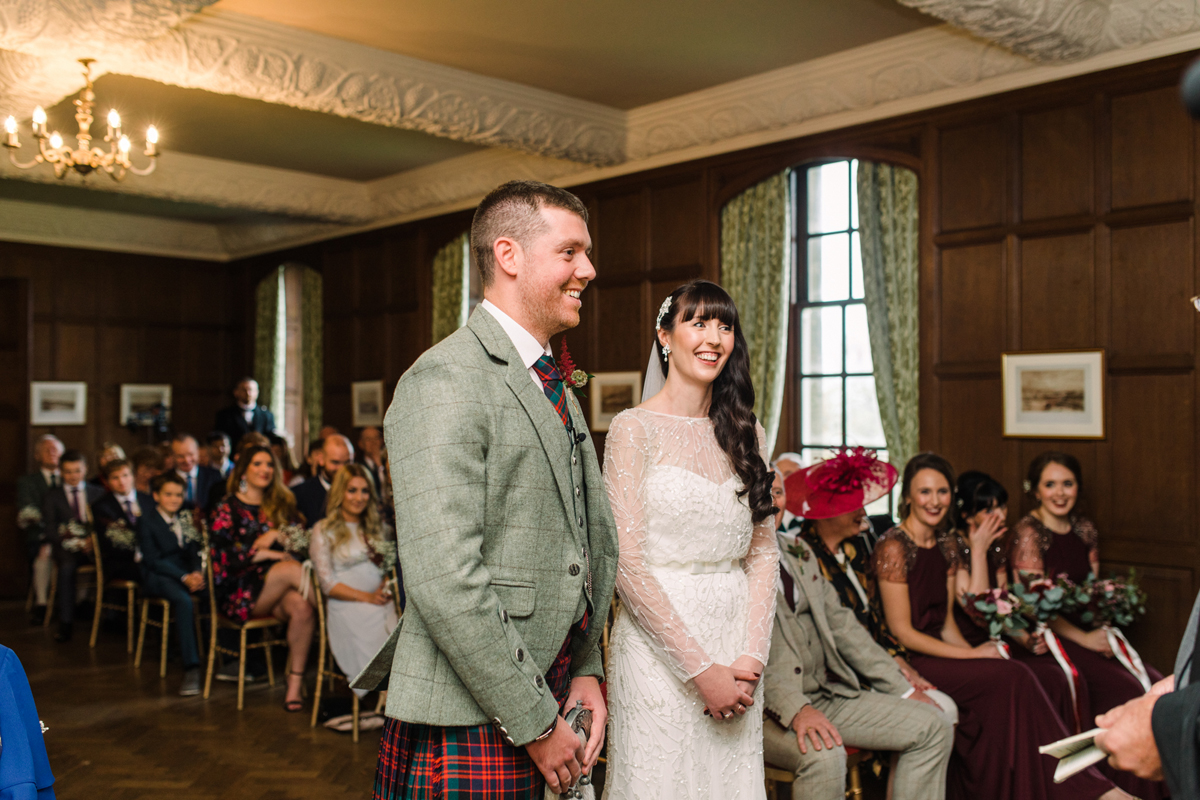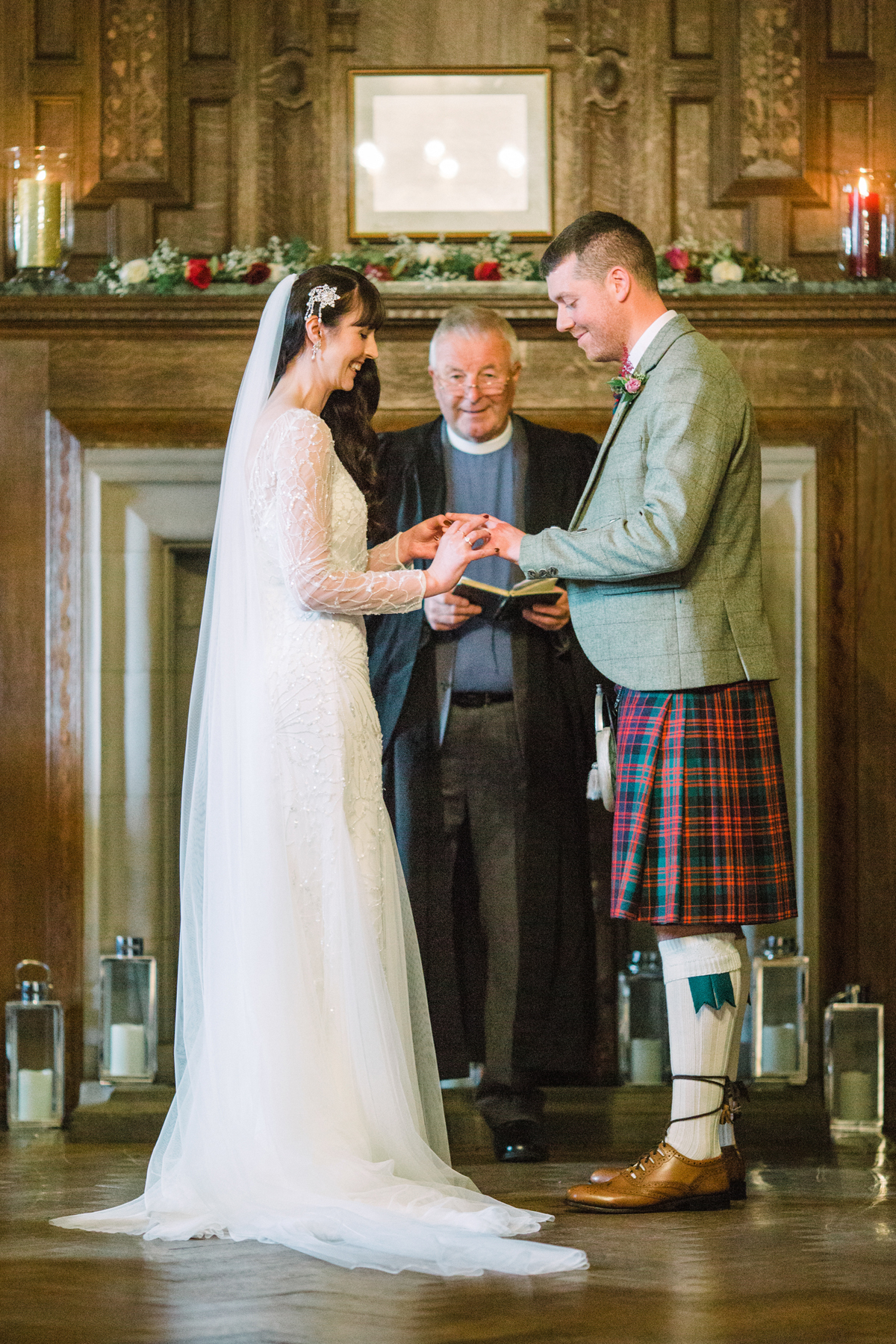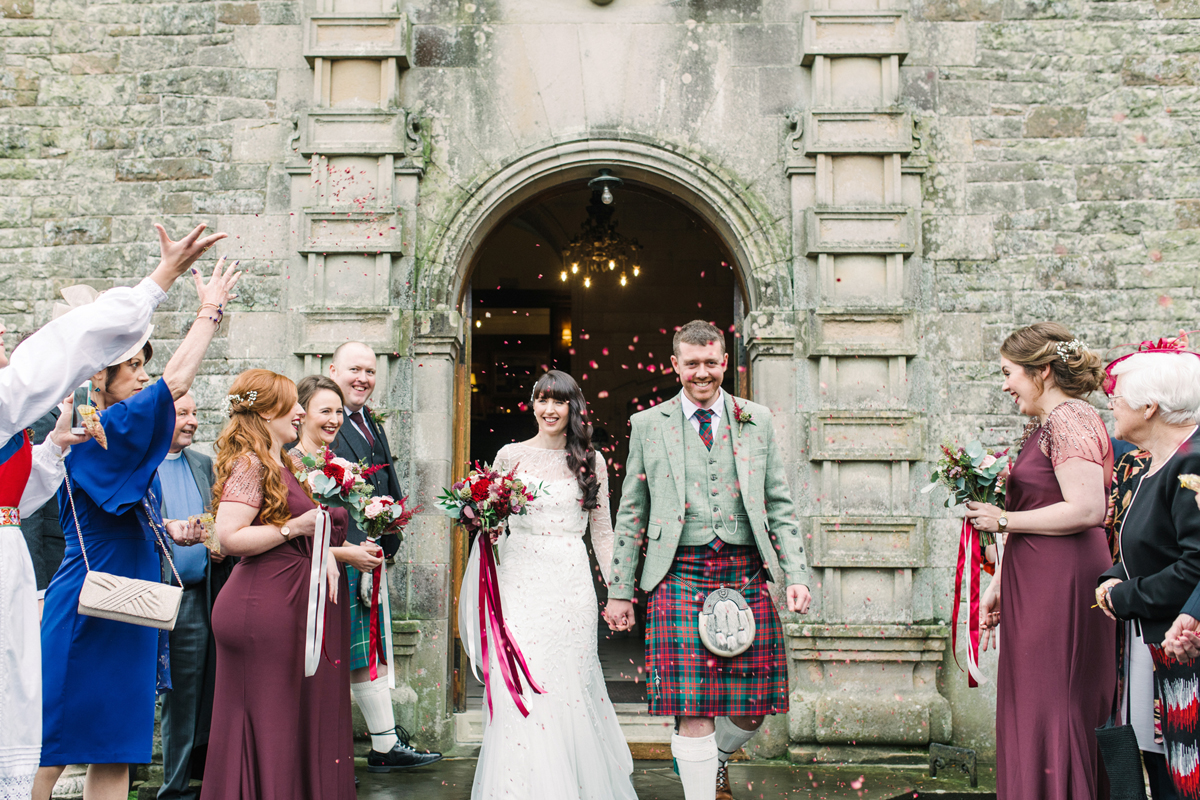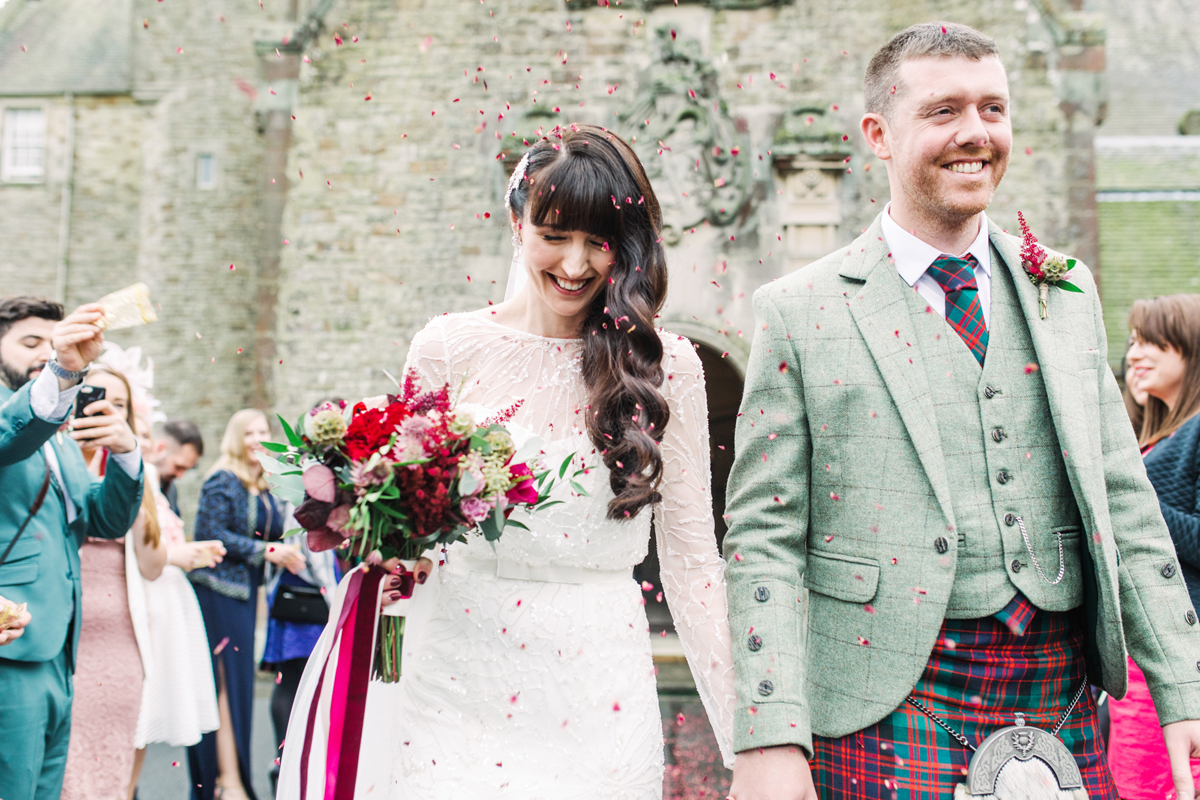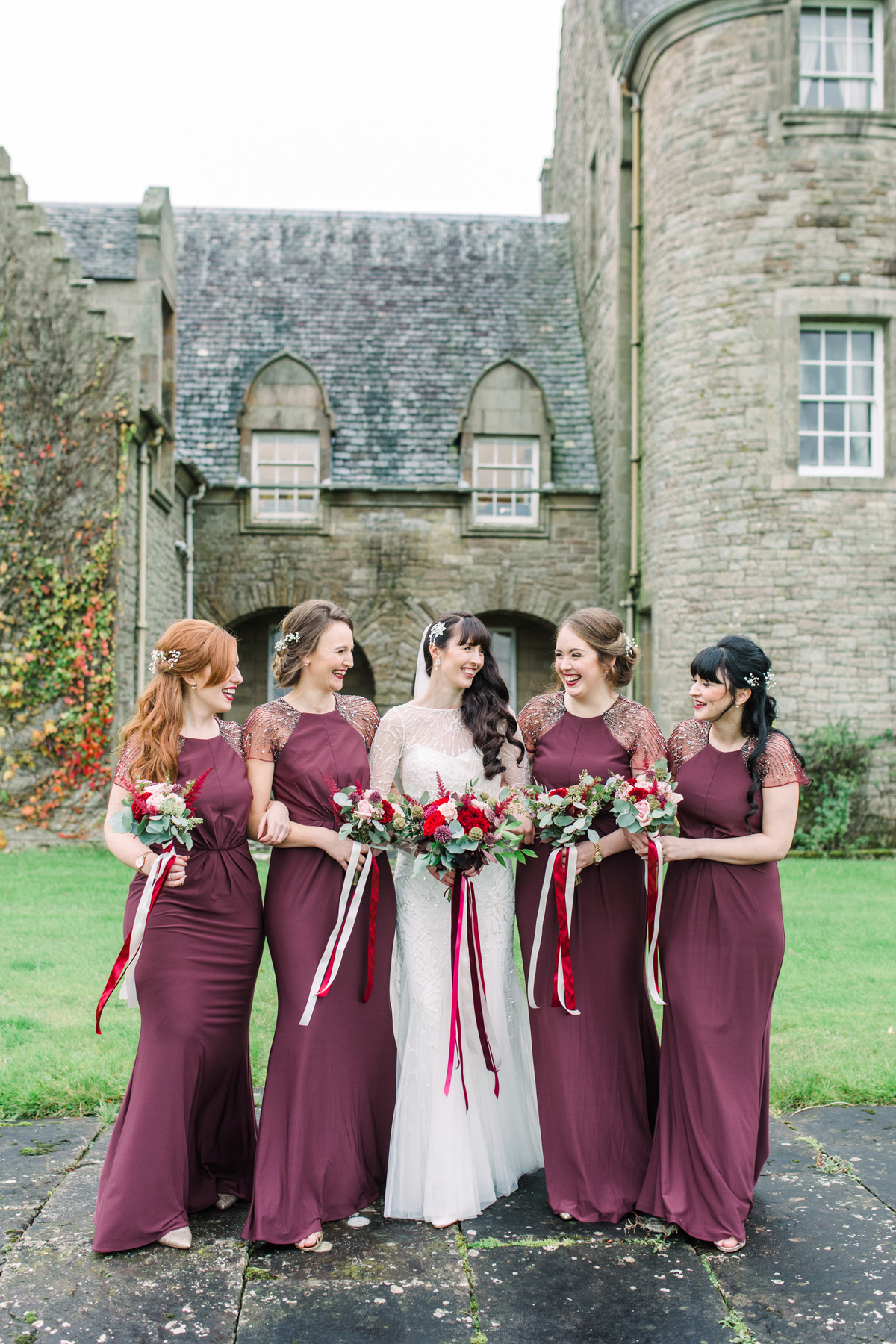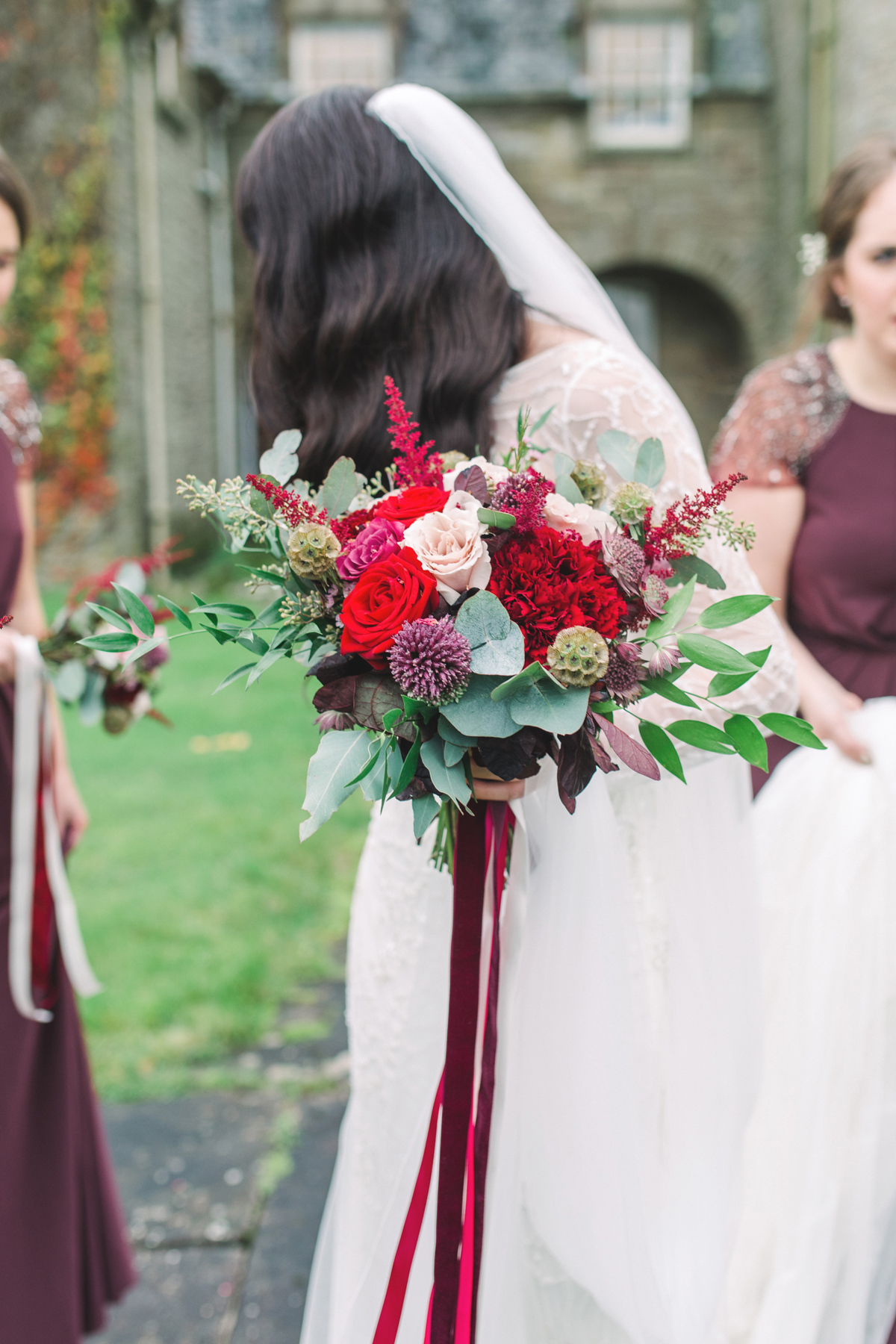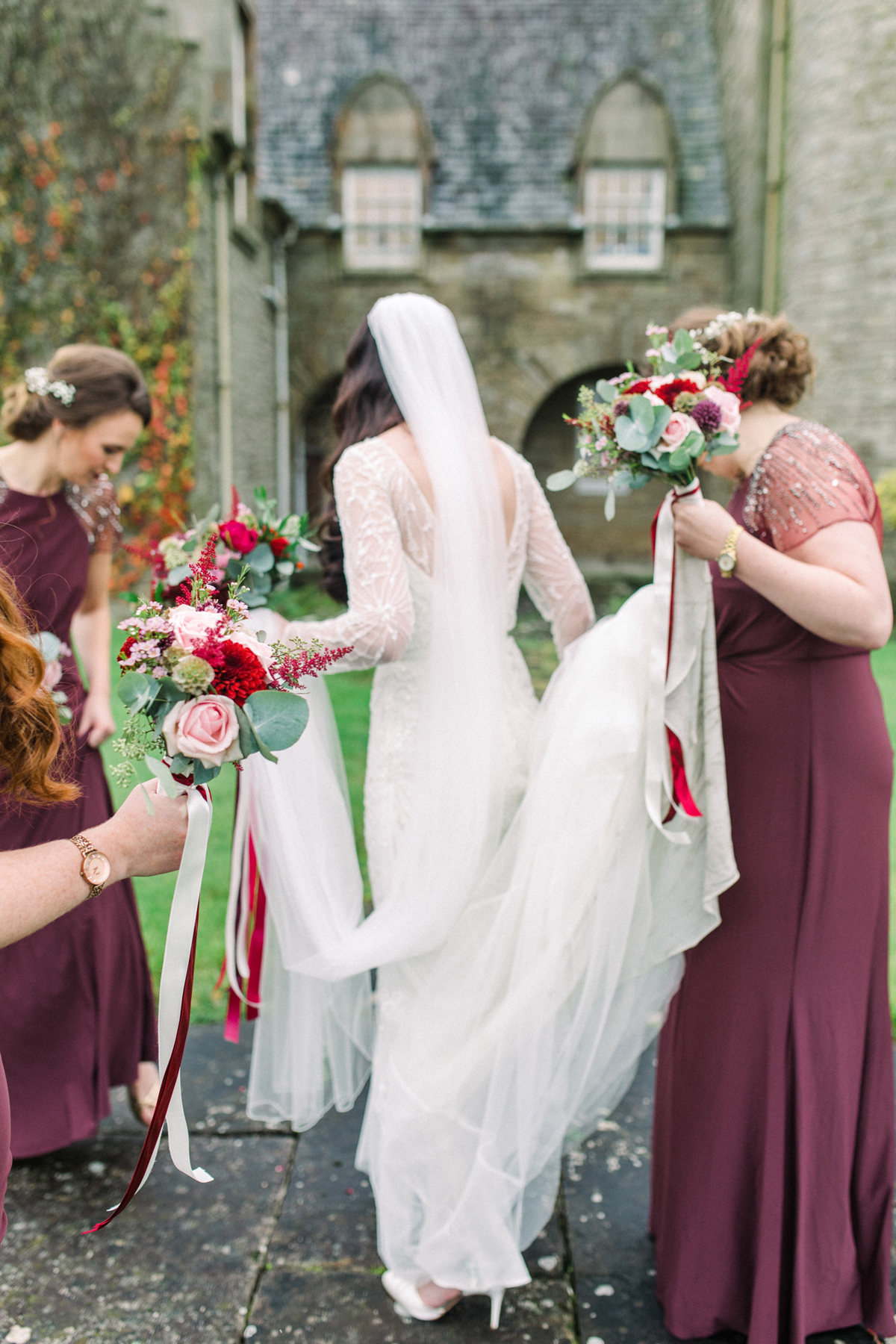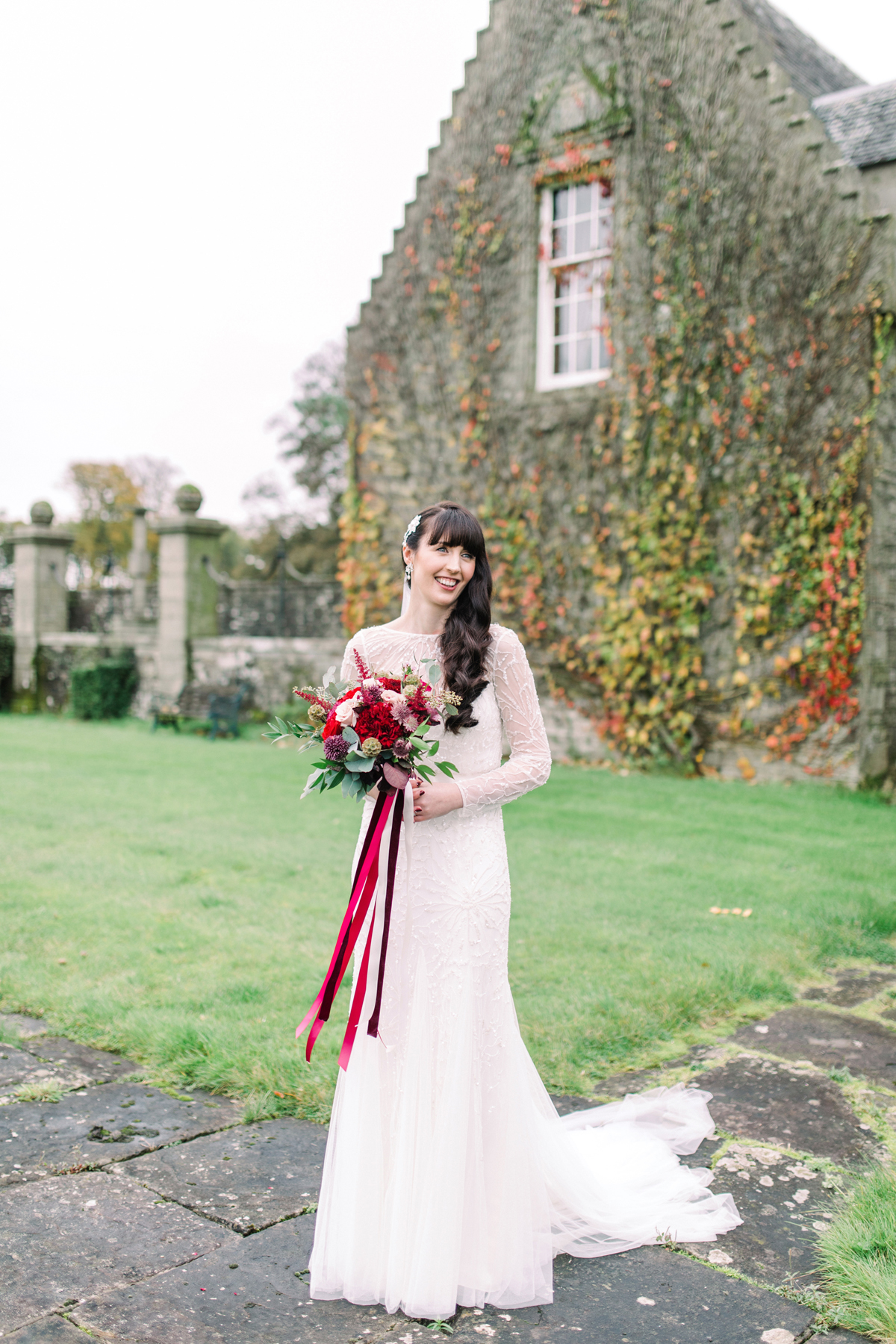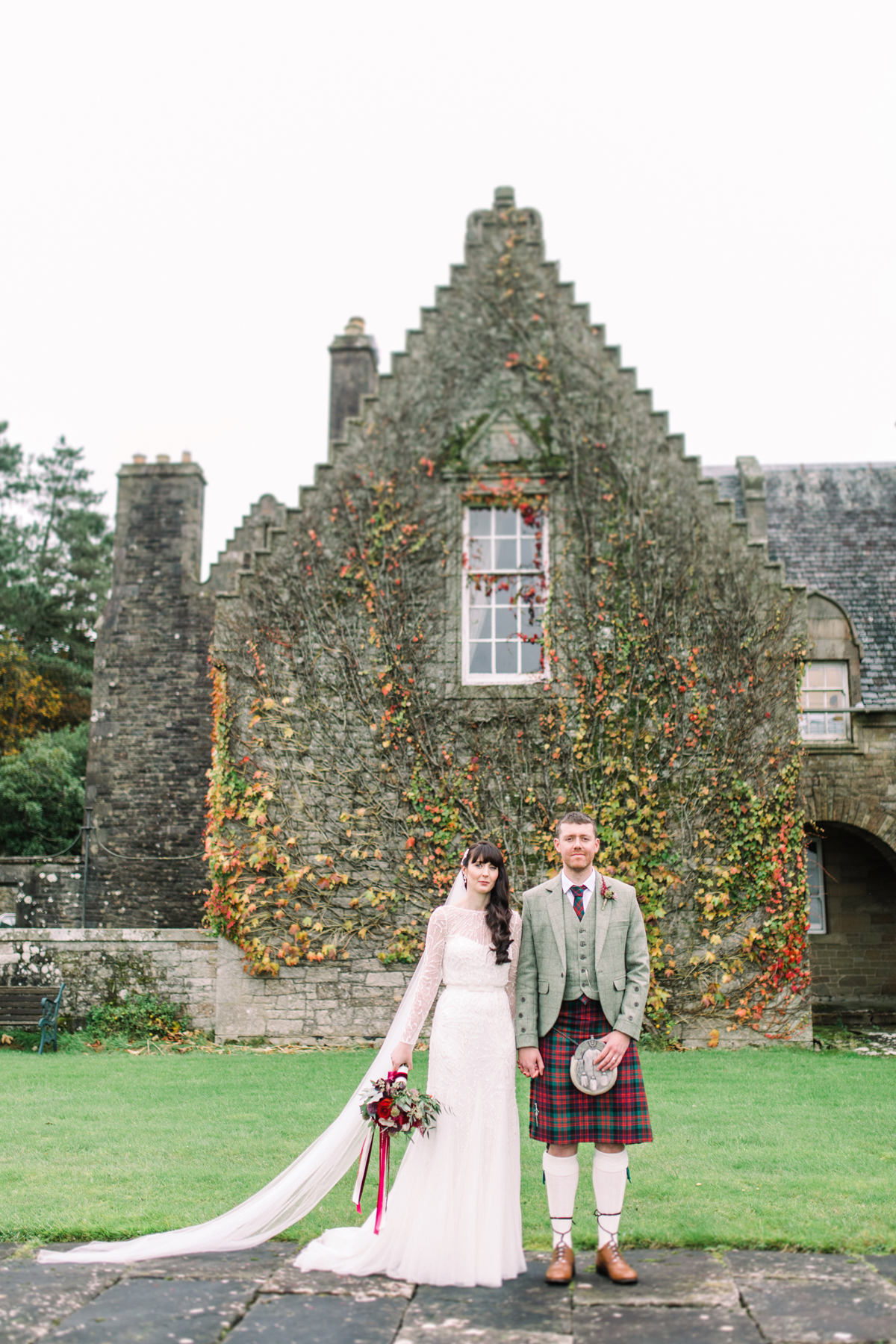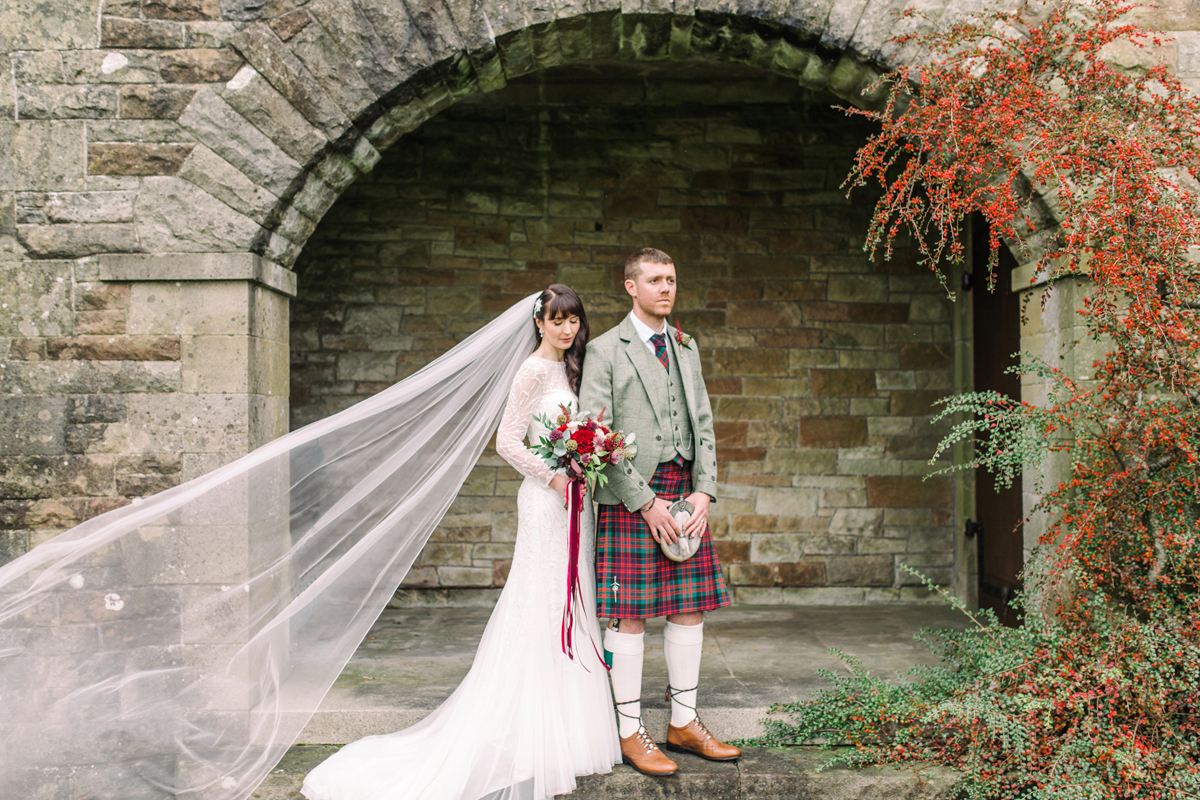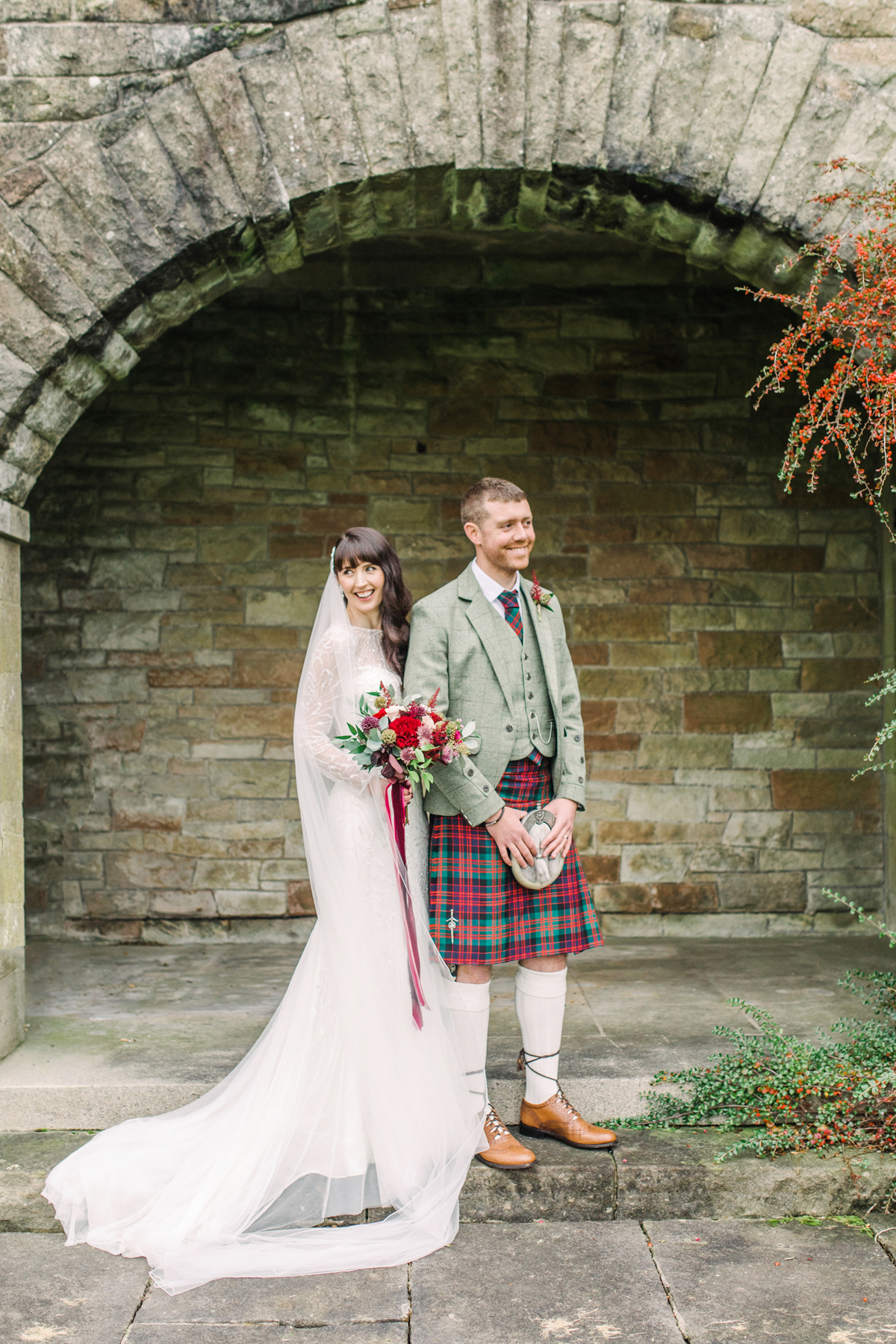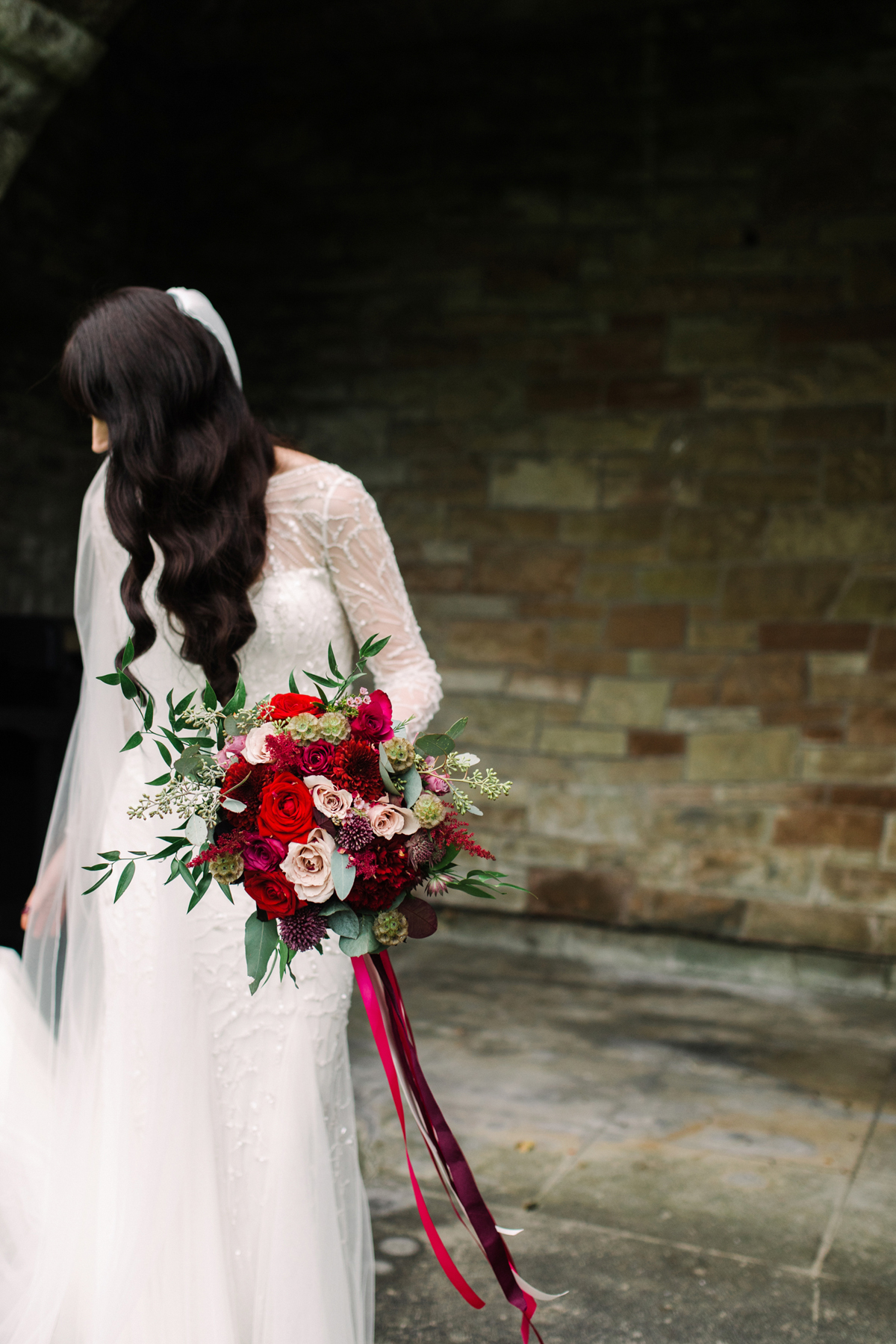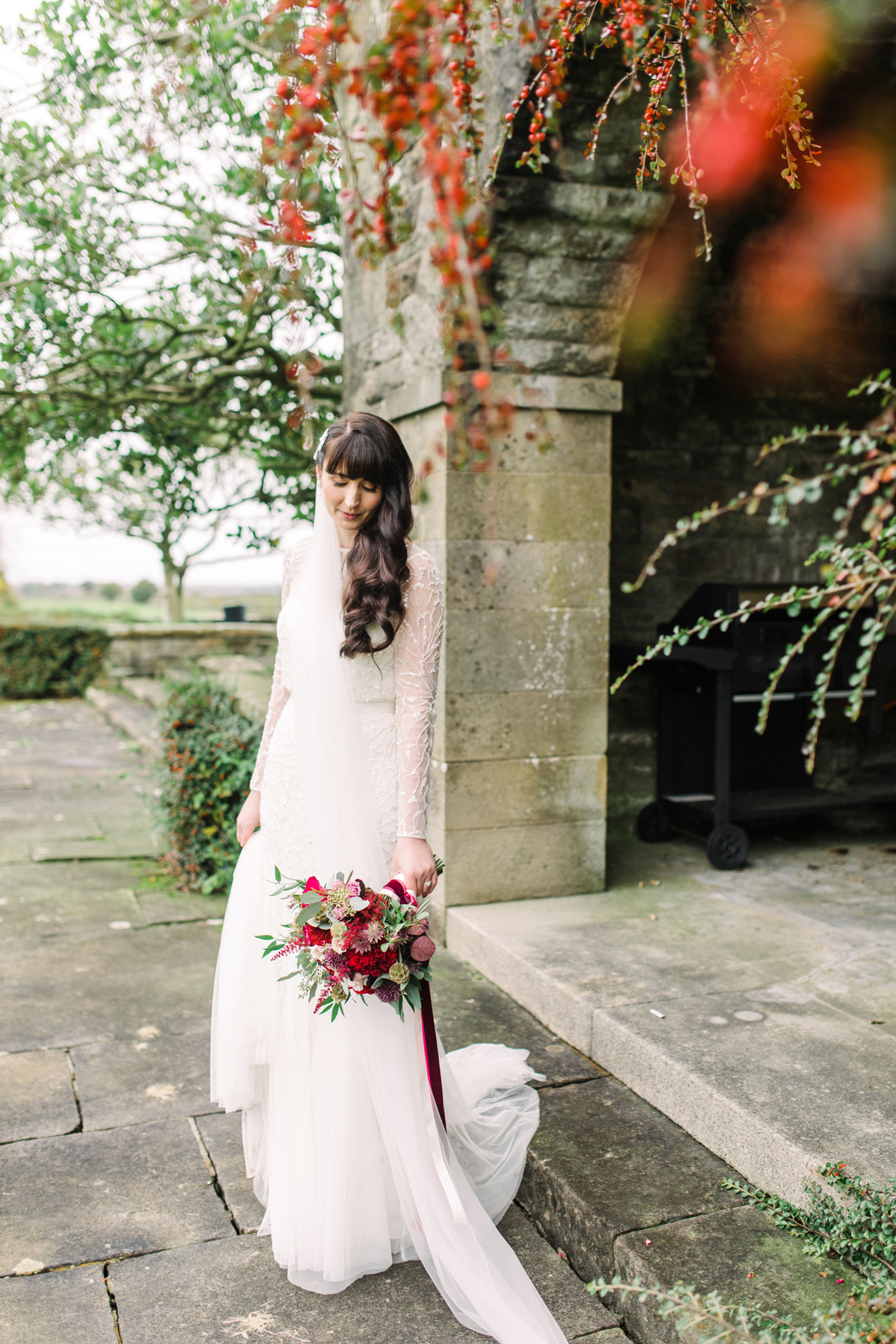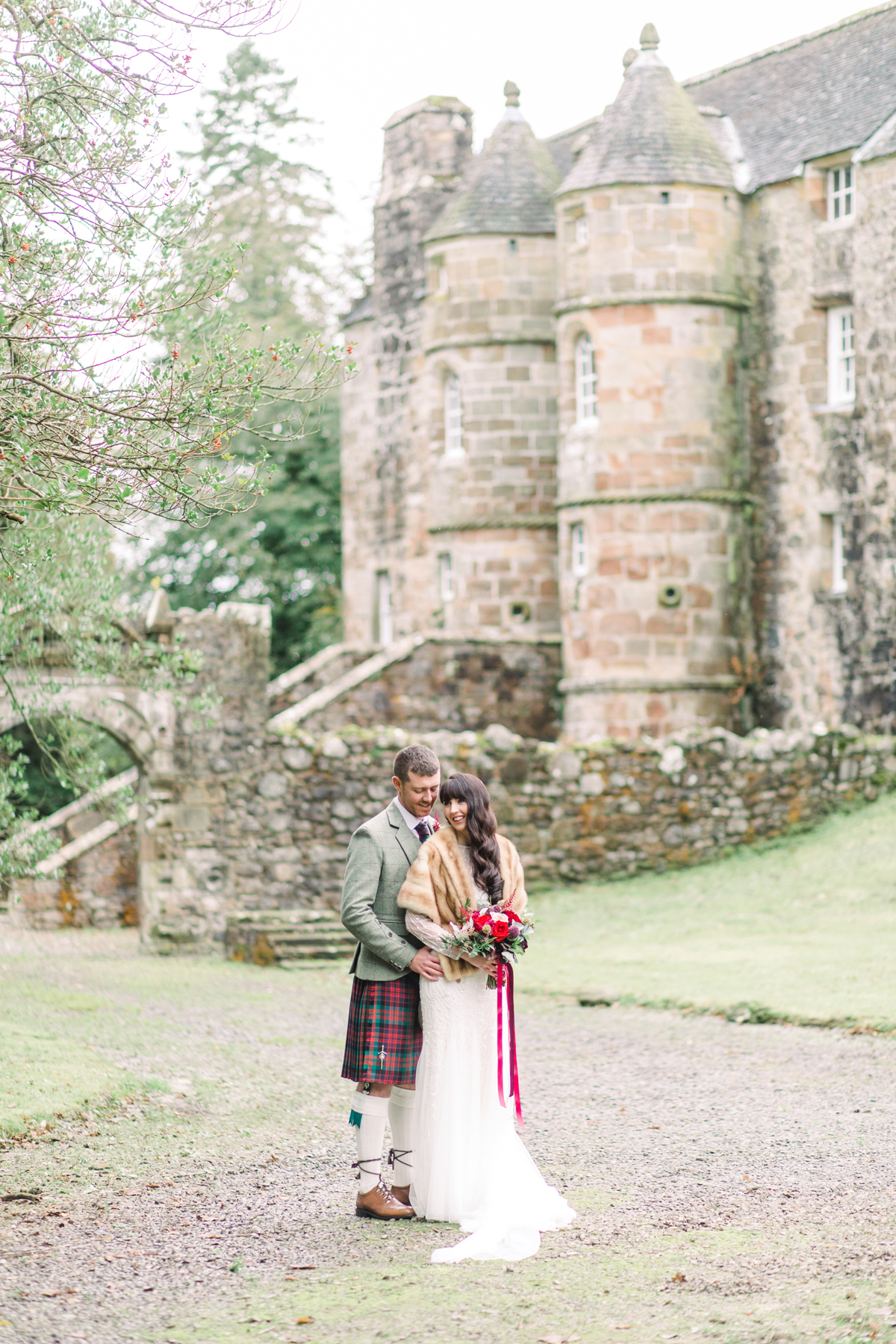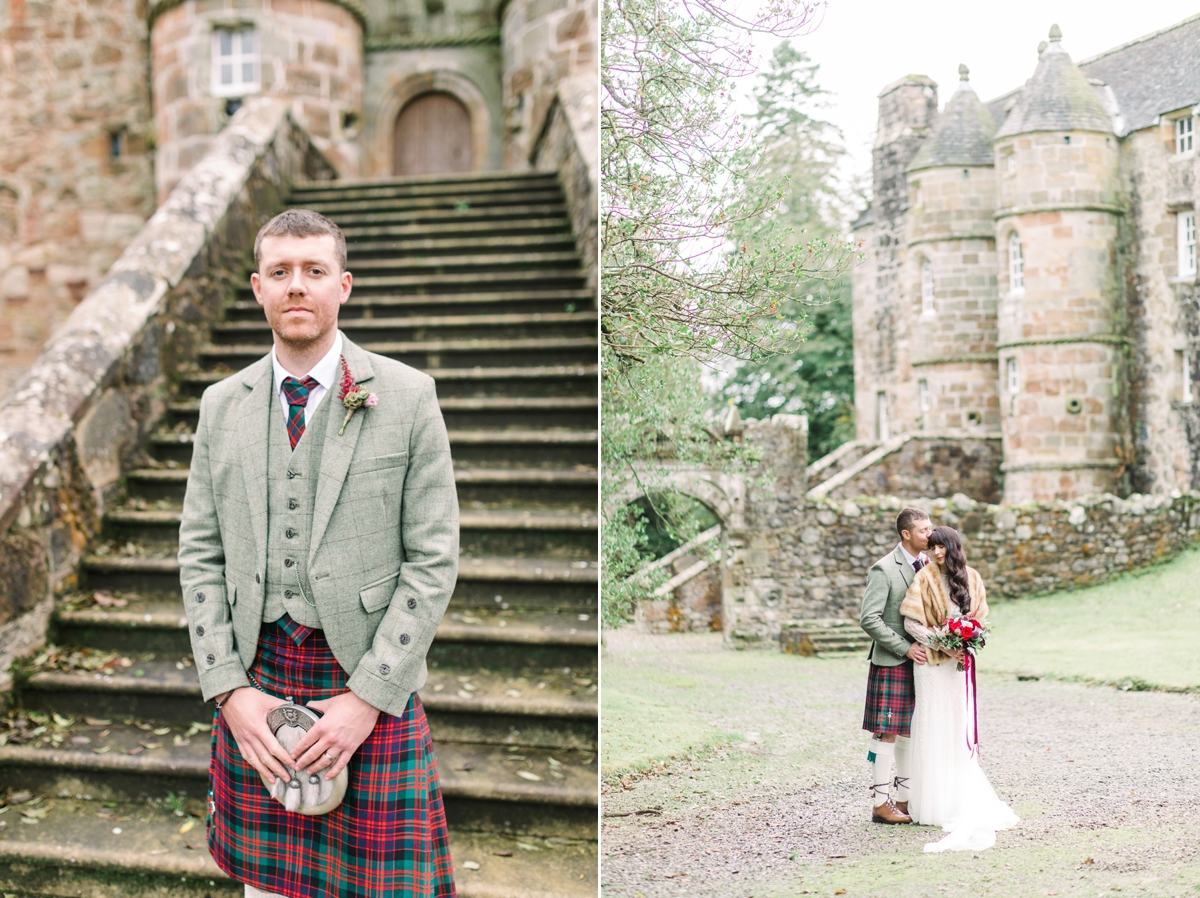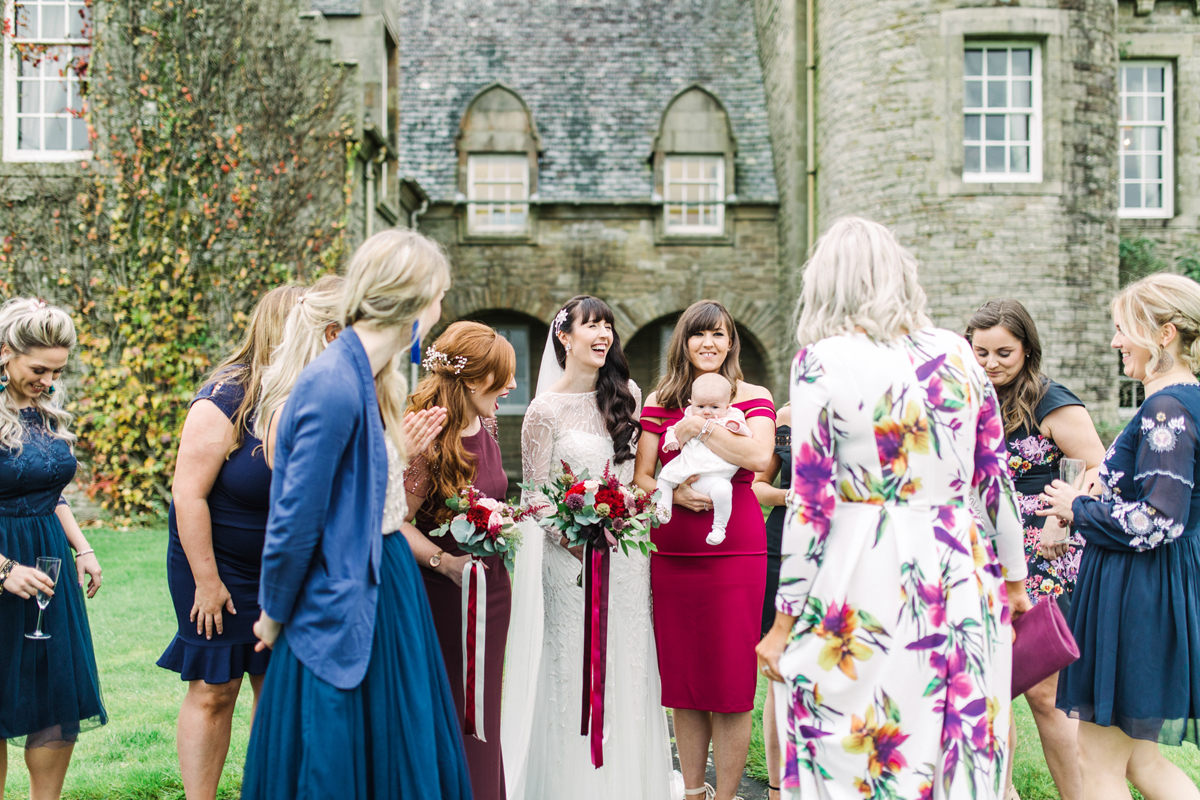 Invitations were from Hobbycraft while Kirsty created menus, table plans etc herself with the help of the bridesmaids.  Favours were lapel pins for various charities close to she and Jamie's hearts.
The interior of the venue didn't need much in the way of decor, with its wooden paneling and roaring fires to keep out the autumn chill, so Kirsty and Jamie simply added some flowers and a few accessories in gold, to pull their colour scheme together.
"I went to the flower market a few days before the wedding and bought the flowers to style the venue.  With the help of my bridesmaids and mum we decorated the venue the evening before the wedding.  We decorated the tables with garlands and fresh flowers and tall candlesticks."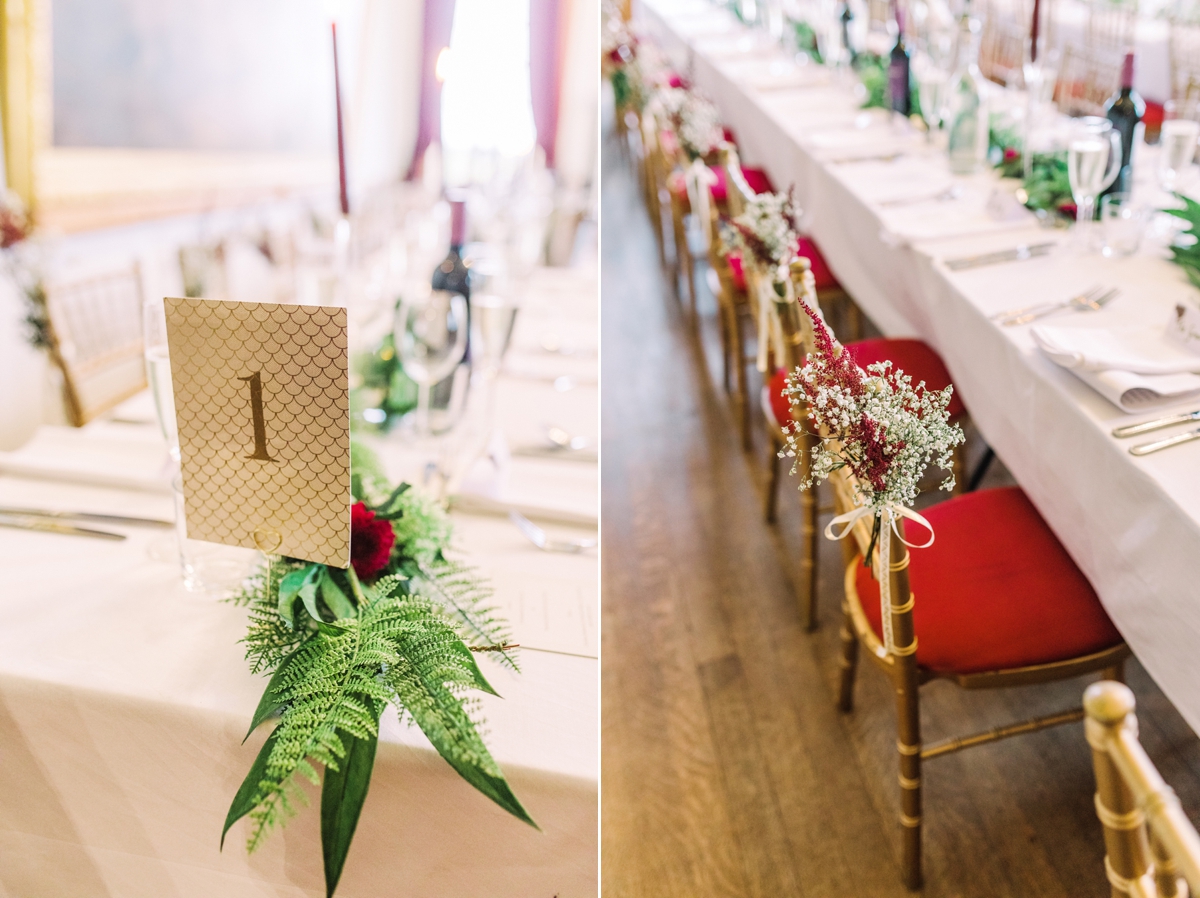 "We opted for a less traditional wedding cake and went for three individual cakes.  My parents live in Dumfries and there is a café called Nona Lou's which creates 'Fat Friday' cakes.  We opted for one of these cakes to be topped with my favourite Percy Pigs and the other to be topped to with Jamie's favourite Empire Biscuits.  The third cake we asked to be burgundy and gold to be in-keeping with the theme and decorated with flowers."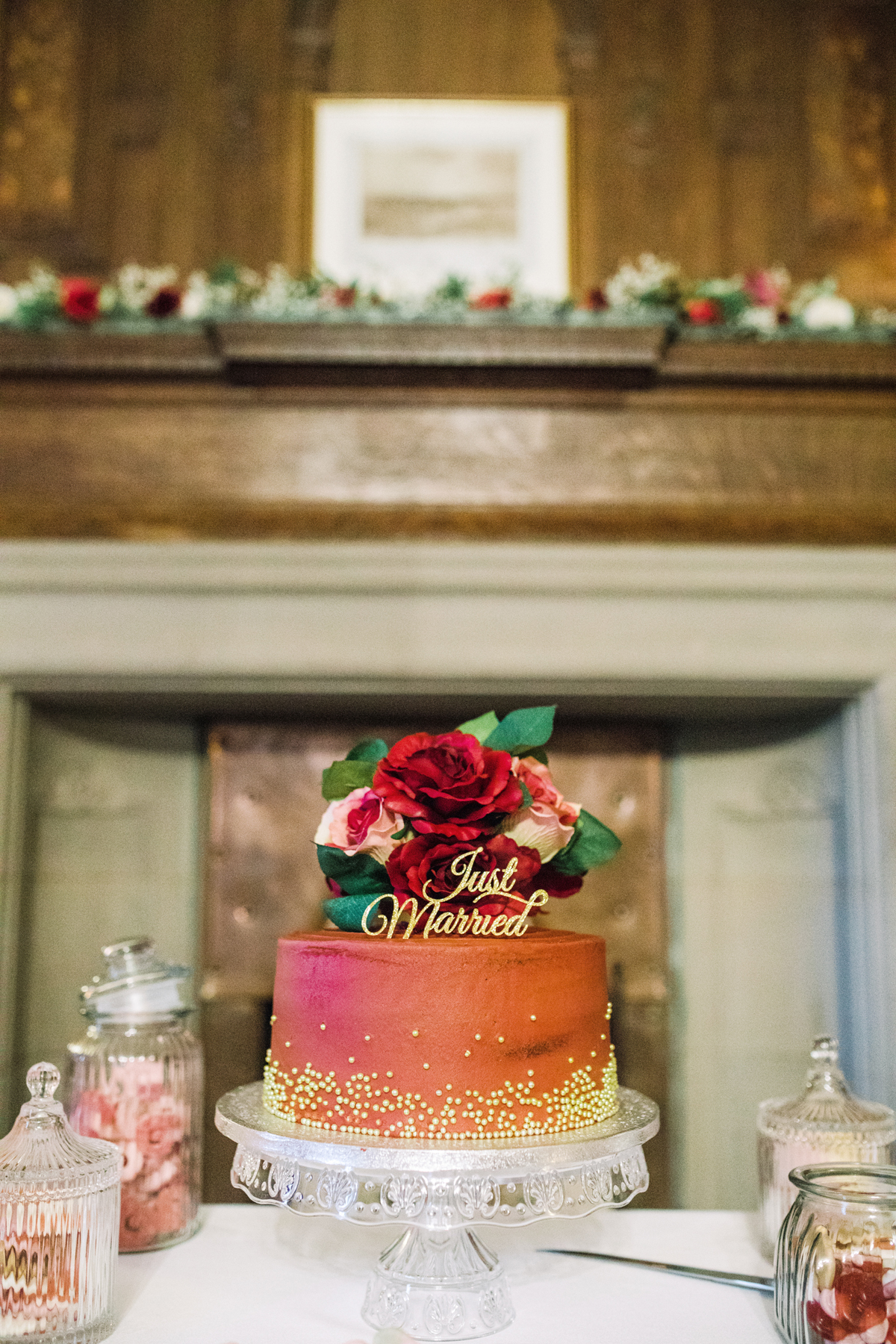 Words of Wedded Wisdom
"My biggest words of advice would be to take your time walking up the aisle.  Our timing for walking down the aisle did not go to plan, so I ended up hurrying down.  It became a bit of a running joke on the day, so I wished I had taken the time to enjoy that experience more."
"Also, nominate one of your bridal party to ensure people sign the guest book.  My brother Tom went round with the guestbook all night and made sure everyone got a chance to leave a message.  It was so lovely reading the messages back after the wedding, although he managed to get everyone to sign it but himself!"
Huge thanks to Jamie and Kirsty for sharing their beautiful day with us all.  If you've fallen in love with Kirsty's Rosa Clara gown too, take a look here at some more beauties by this pretty Spanish brand.
Much love,
Shona x