Thank the Lord for no plunge neckline, no lace and no illusion tulle. Before the world says we will now go crazy for simplicity and modern minimalism, the truth is that this is what British brides have been choosing from Luxe Bride boutiques countrywide for a while now.
These relentlessly simple styles have been cropping up in collections across the spectrum of established bridal designers so much so, that most Luxe Bride boutiques will be able to show you their 'Meghan dress' (the 'Geddes' dress by Suzanne Neville being the perfect example – as beautifully illustrated in the first image in this article on Love My Dress).
Interestingly, the appointment of Clare Waight Keller (designer of Meghan's gown) at Givenchy, was preceded with a quote from Hubert de Givenchy; "true elegance comes with a natural gesture, an attitude in simplicity." Given the label's historic association with Audrey Hepburn, an actress, humanitarian and iconic dress wearer, it seems a very natural choice to mix the gloss of an American star with a soon to be full time charity patron.
Designer Clare Keller is the second only woman to be appointed to head up a major couture house by LVMH and is Givenchy's first designer so I would love to speculate that this informed Meghan's choice.
Waight Keller comes from the classic sports-luxe background of Chloe so the design is not surprising and given our over familiarity with wedding dress images via Pinterest and Instagram there is more a sense of zeitgeist about the dress rather than it being a game changer.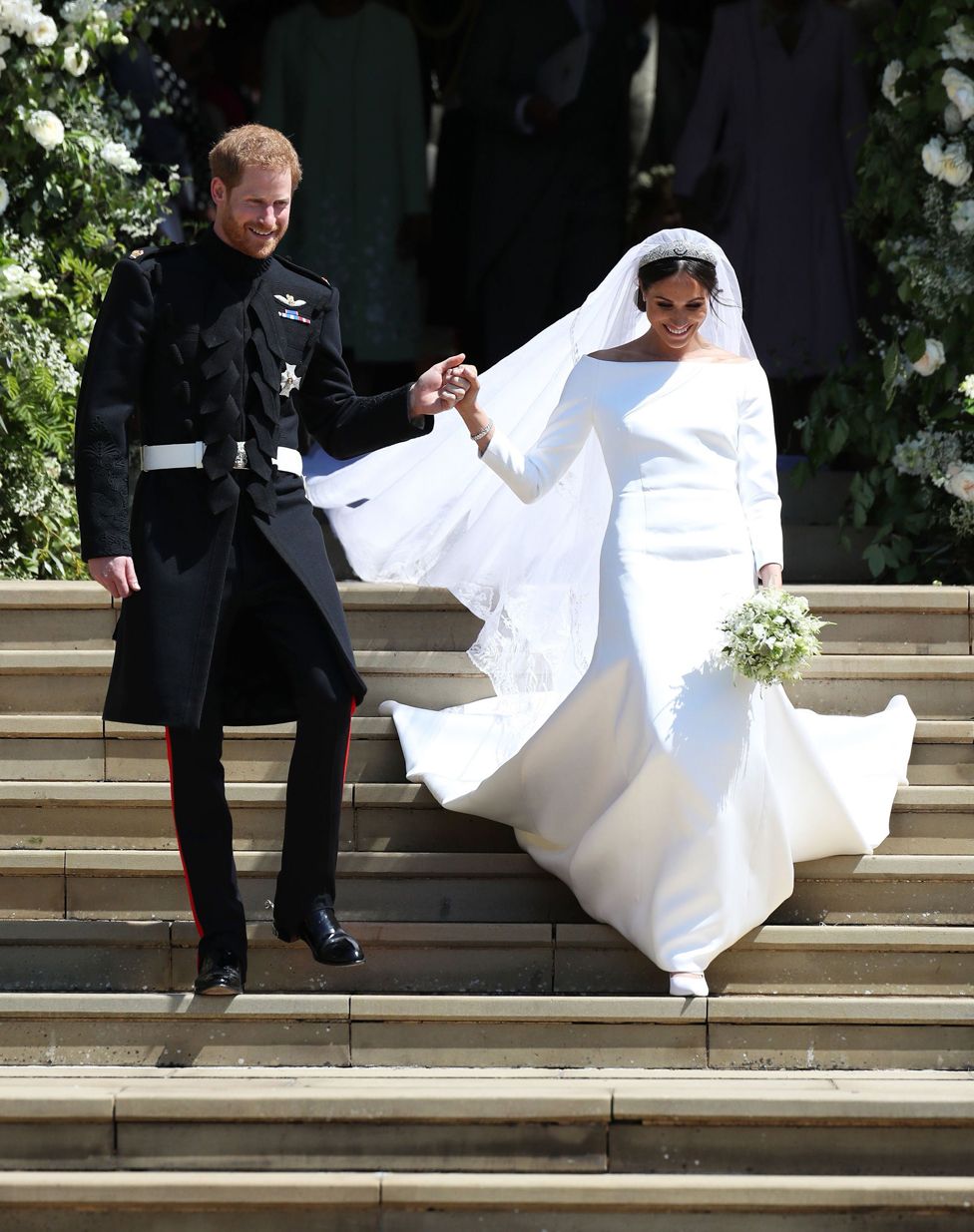 The veil is the heirloom piece, pure silk, incredibly detailed and decorative and the Queen Mary Bandeau Tiar (1932) is a fabulous statement set against a neat centre parting.
If we are to consider that a wedding dress should be a representation of your best self, you on a good day with the volume up to 11 then I think Meghan has completely and utterly nailed it.
Emma x
All images via The Guardian + The BBC and Copyright Reuters, PA