Today's beautiful wedding is such a feast for the eyes, and includes a gorgeous and striking Art Deco inspired gown dripping with beads. Do take some time to savour all of the amazing details, from the brightest summer florals to the funky, colourful venue decor, and a happy couple who are clearly having the very best time.
Textile designer Linsey married Restaurant Manager Matt on the 27 May 2017 in a relaxed celebration full of fun and colour. The couple chose Wedderburn Barns in Duns, Berwickshire as their venue, finding it an inspirational canvas upon which they could build their day.
"It was also important to me not to have anywhere old-fashioned as it wouldn't fit with my styling ideas! We also wanted somewhere that had some on site accommodation, and somewhere that was both indoor and outdoor but where there was enough inside space to do the whole day in case the rainy Scottish weather reared its head! We had a lot of guests, and I was adamant that I didn't want my meal to be in a marquee. This limits places considerably, and Wedderburn was one of the few that fit all these criteria."
Photography by Solen Photography
While the venue styling was modern, Linsey's gown was distinctly vintage inspired. Art Deco is one of my most favourite design movements, from architecture to fashion, and Linsey looks absolutely wonderful in her 'Primrose' dress by the talented Vicky Rowe Bridal, which she purchased from Luella's Bridal in Wimbledon. We've been fans of Vicky's opulent, era inspired designs at Love My Dress for a while now, and Linsey's gown is no exception. The 1920s style dropped waist suits her perfectly, and I love the way the intricate beads and sequins catch the light."I saw it in Luella's Bridal in Wimbledon when I was fulfilling bridesmaid's duties, shopping for my friend's wedding dress, and I knew it was the one. I was showing it to my sister online a few weeks later and they were selling the sample. I went that weekend and bought it before we even had a date set – I knew it was the one for me."
"I have always loved beaded dresses and I knew the 1920s style suited me. There are so many beautiful lace dresses out there, but I never felt myself – they were too girly and feminine for my style. This one was bridal enough with something really special about it too."
"Once I saw the cost of wedding veils, I very quickly realised I could make my own! I only wanted something really simple as the dress was so special, so I read a couple of blogs and watched some YouTube videos and whipped one up for a fraction of the price."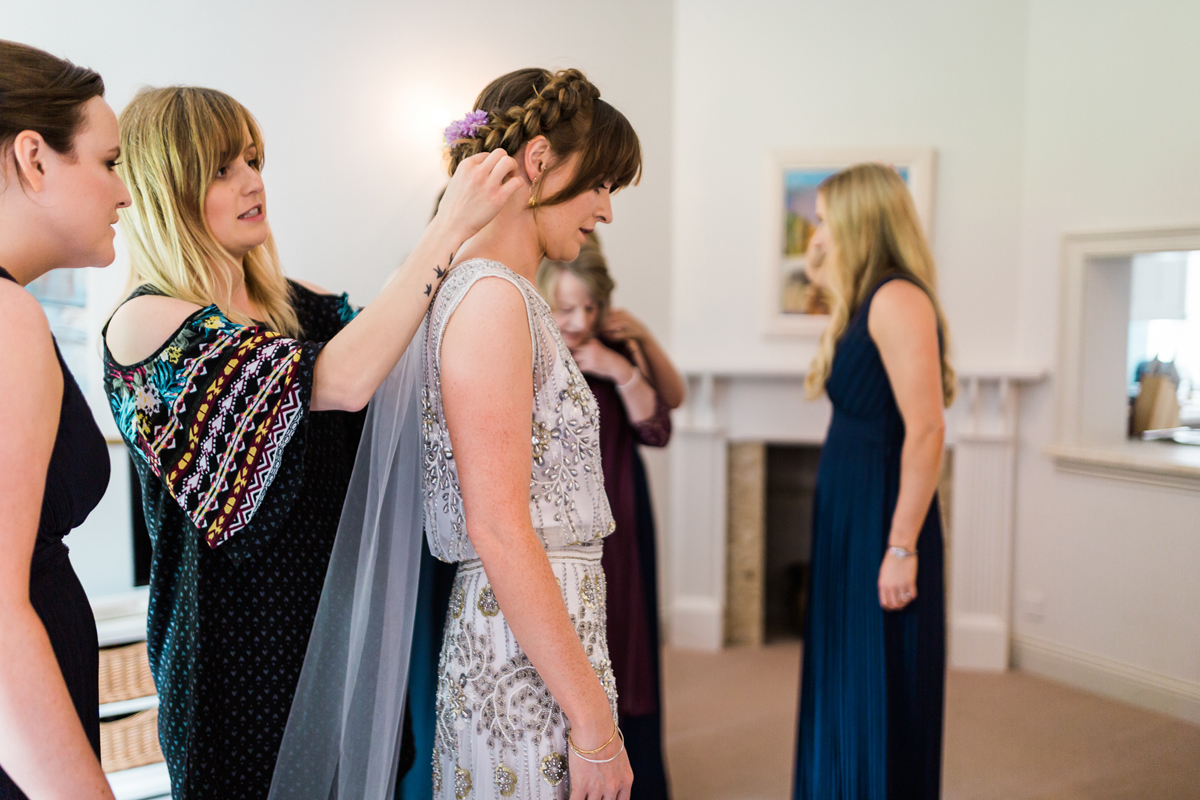 Linsey teamed her gown and veil with shoes from Office, and because her dress was so detailed, kept her jewellery simple. She wore silver bangles borrowed from her mum, pretty gold hoop earrings from Topshop, and a sapphire ring, which was her Gran's engagement ring.
Her amazing manicure with eye-catching gold nail art was created by Cheryl at Chez Paints Nails. The bride's beautiful braided hairstyle was by Danielle Hairdressing and looks great with her full fringe, decorated with fresh flowers. Jay Millar Make Up was on hand to create Linsey's pretty and romantic look with a soft pink lip and natural eye make up.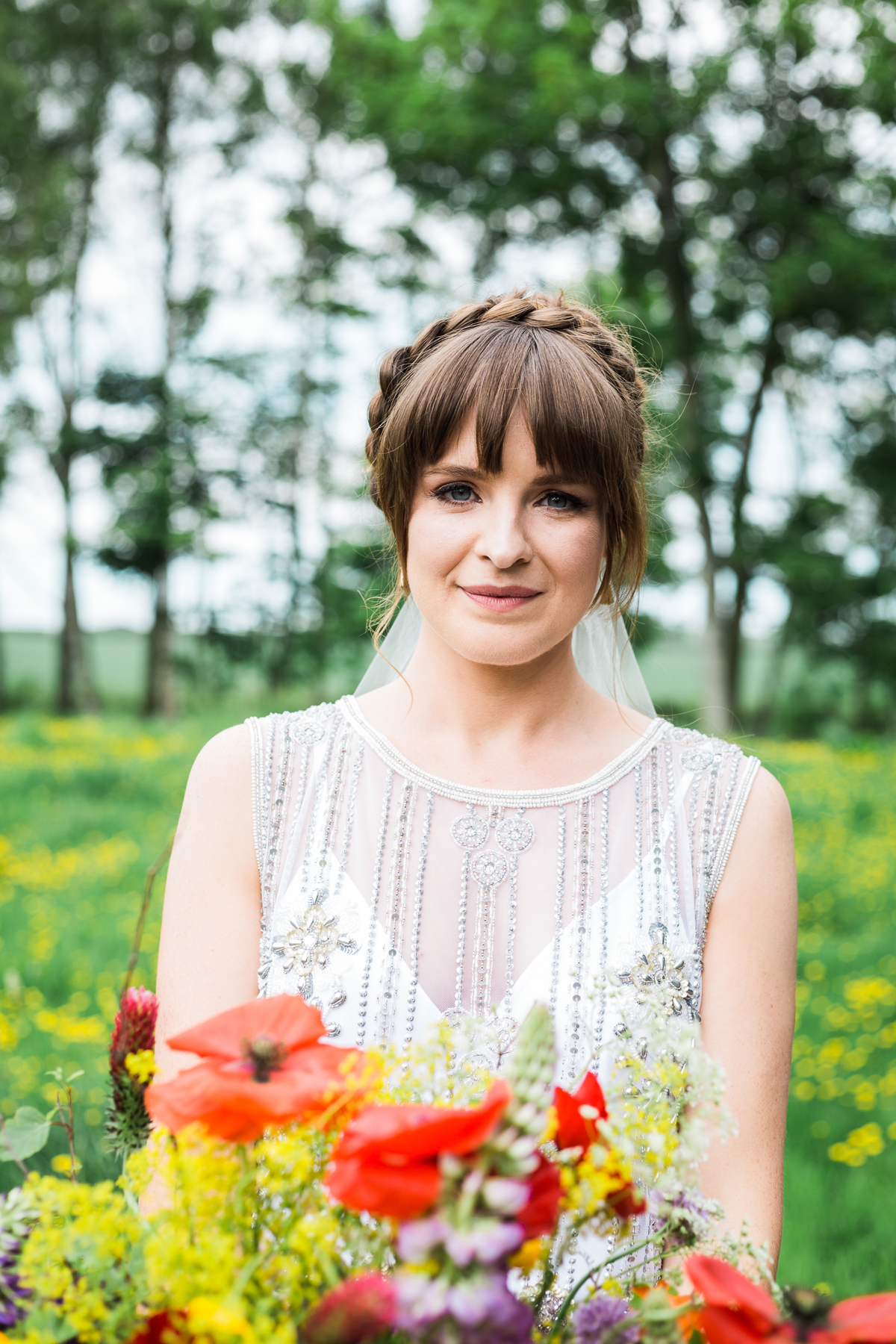 After initially spotting one another in a restaurant (Linsey was working there at the time), the couple met properly in February 2010, when Linsey came to waitress at the restaurant Matt happened to be working at. Within a week of that meeting they had shared their first kiss and the relationship blossomed from there. After living together in London for five years, they began to think about heading north again, and it was around this time that Matt planned to propose during a five-year anniversary weekend to the New Forest.
"…he decided that was the perfect time….unfortunately the weather did not agree. What should have been a lovely romantic walk in the woods ended up being an epic battle with the elements, with soggy feet and a touch of hypothermia thrown in for good measure."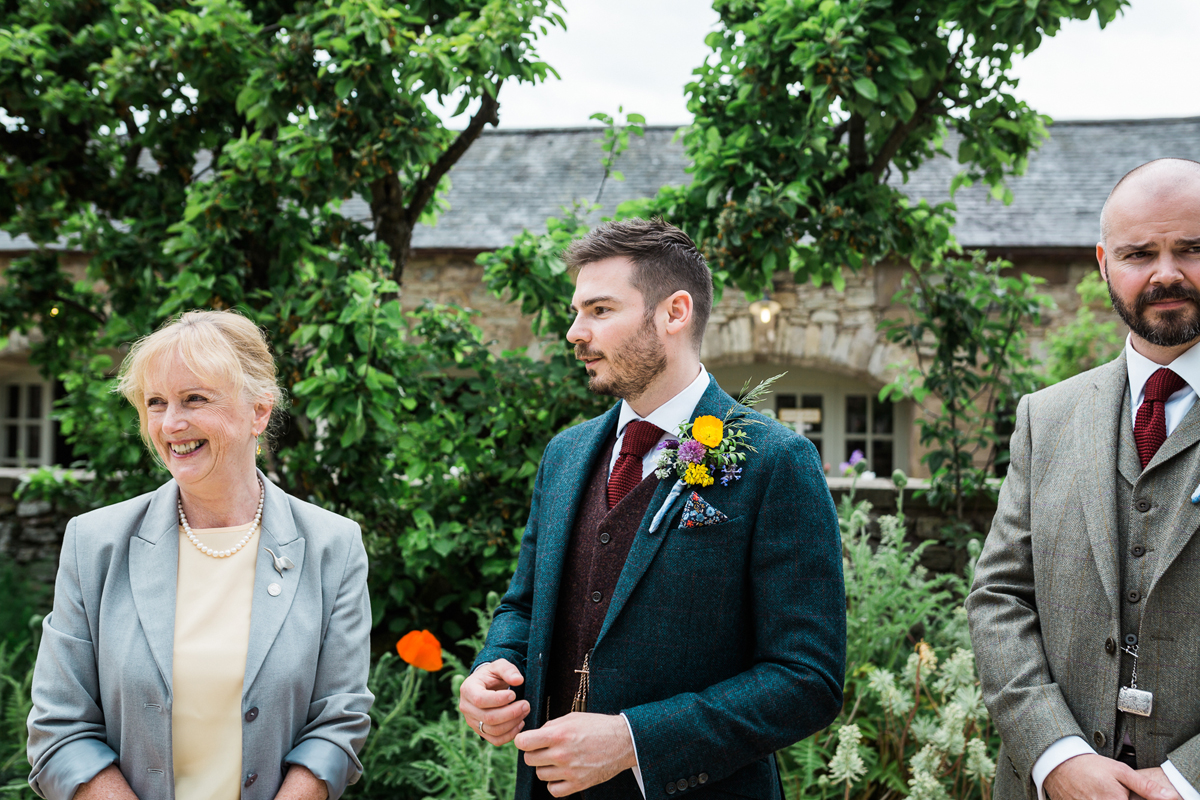 After returning to their base and drying off, Matt presented a slightly soggy ring box and asked Linsey to marry him and she said yes. They began to plan their day, despite discovering along the way that they belonged to rival Scottish clans – Matt is a MacDonald and Linsey is a Campbell. The two romantic souls look at the matter slightly differently, with the groom seeing their engagement as serendipitous, and bringing the two clans back together, while the bride is a little more dramatic and sees it more like Romeo and Juliet (without the untimely deaths!)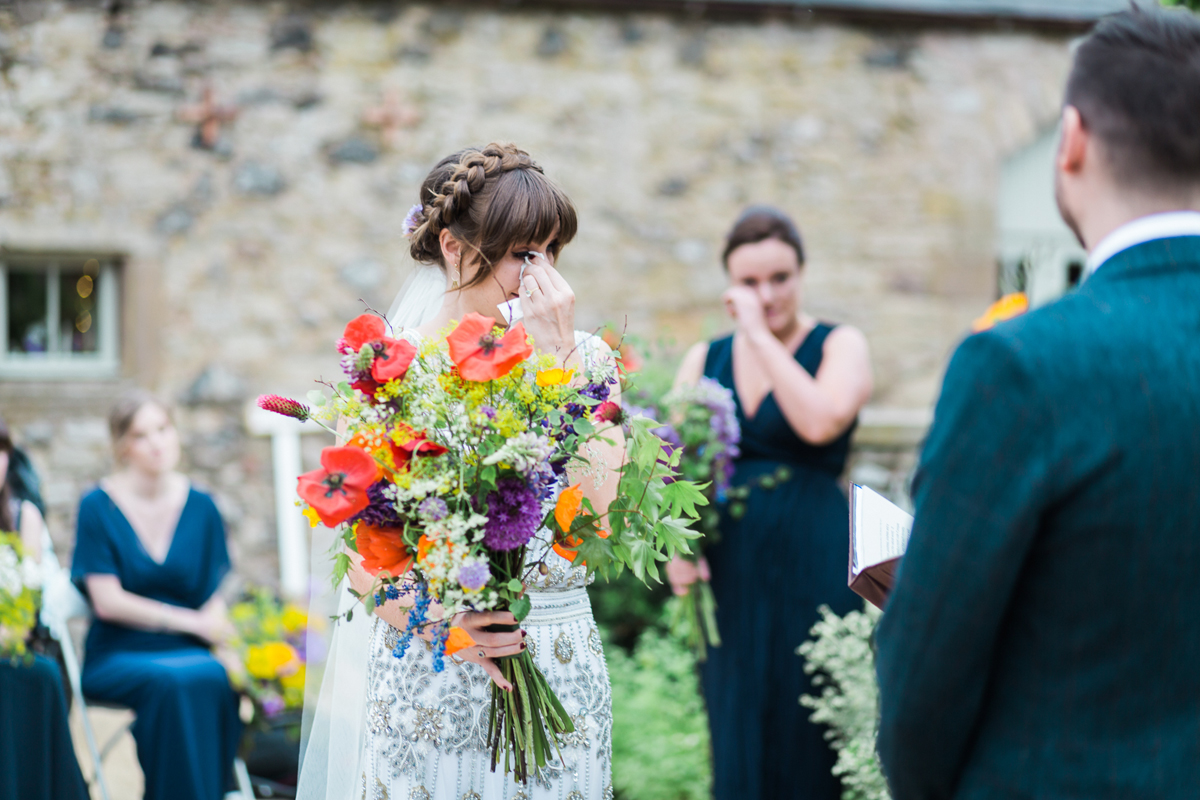 To an acoustic version of The Beatles' Here Comes the Sun, Linsey's mum and brother walked down the aisle, followed by Brodie the dog, the bridesmaids and then Linsey and her Dad. Penny Earle of the Humanist Society of Scotland oversaw the ceremony.
"We wanted this part to be really relaxed and fun! We wrote the ceremony ourselves with the guidance of Penny. There was one section where we shared what we loved about each other that was done separately. We both sent it to Penny separately and didn't know what the other had said until the day! That was quite special."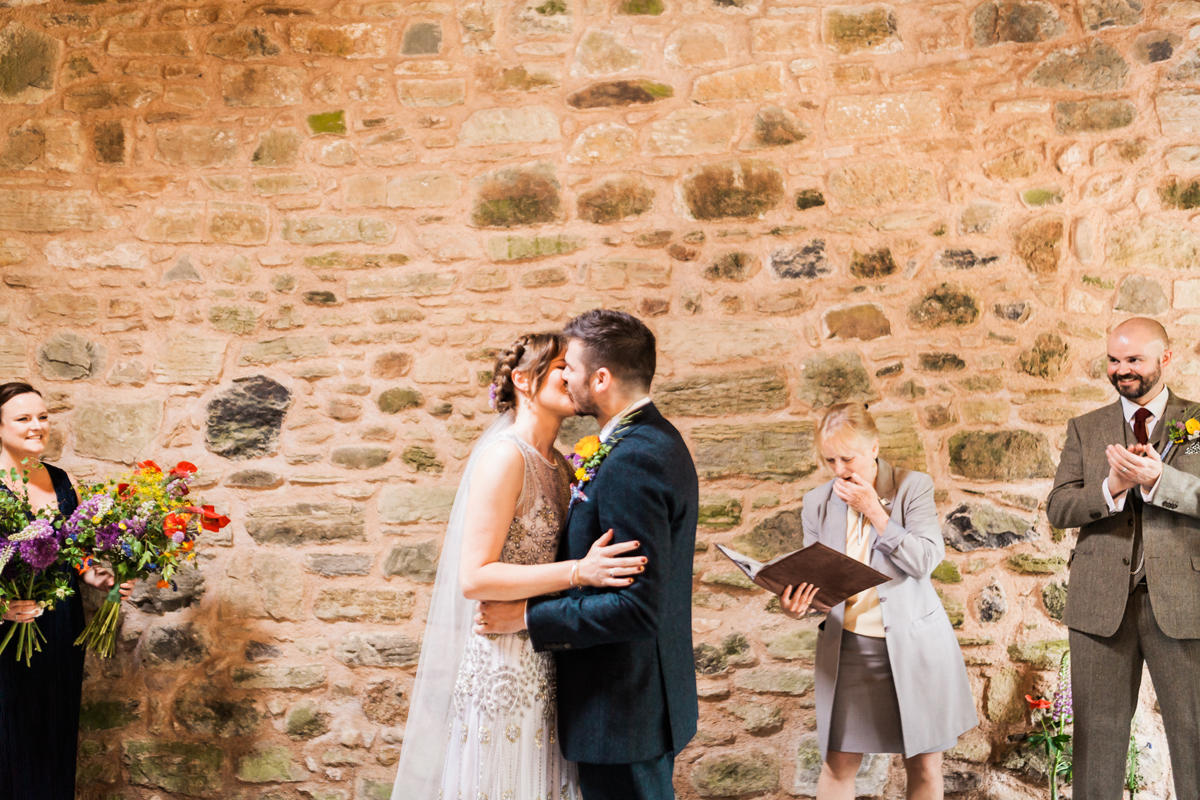 The couple exchanged rings, both from Katie Lees Jewellery.
"I spent a bit of time sourcing a ring that would fit round my engagement ring. It is very delicate but the base to hold the stone is quite large, so a straight band wouldn't fit. I found Katie Lees on Instagram and loved her stuff immediately."
Linsey and Matt's mums did a great job with the two ceremony readings, which the couple wanted to have meaning but not be too sentimental. They opted for the lyrics to the song All I Want is You by Barry Louis Polisar, and the popular A Lovely Love Story by Edward Monkton.
Matt wore a fabulous Scottish tweed suit in green, with a contrasting waistcoat in deep red from Walker Slater. He paired the suit with a burgundy knitted tie, floral print pocket square, shoes from Loake and a vintage pocket watch, which was a gift from his bride.
"The Groomsmen were all wearing the Hunting MacDonald tartan of Matt's clan. The kilts and jackets were all from a family friend's business, Geoffrey Taylor Kiltmakers, Edinburgh."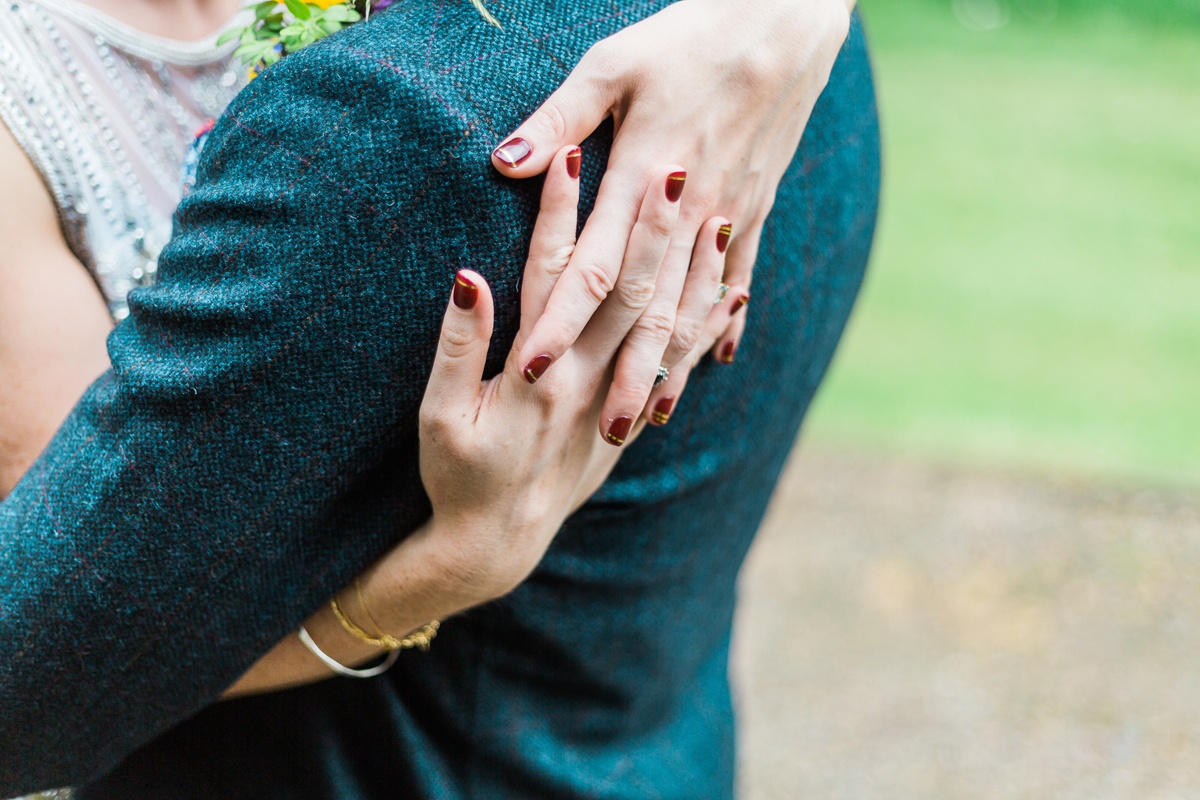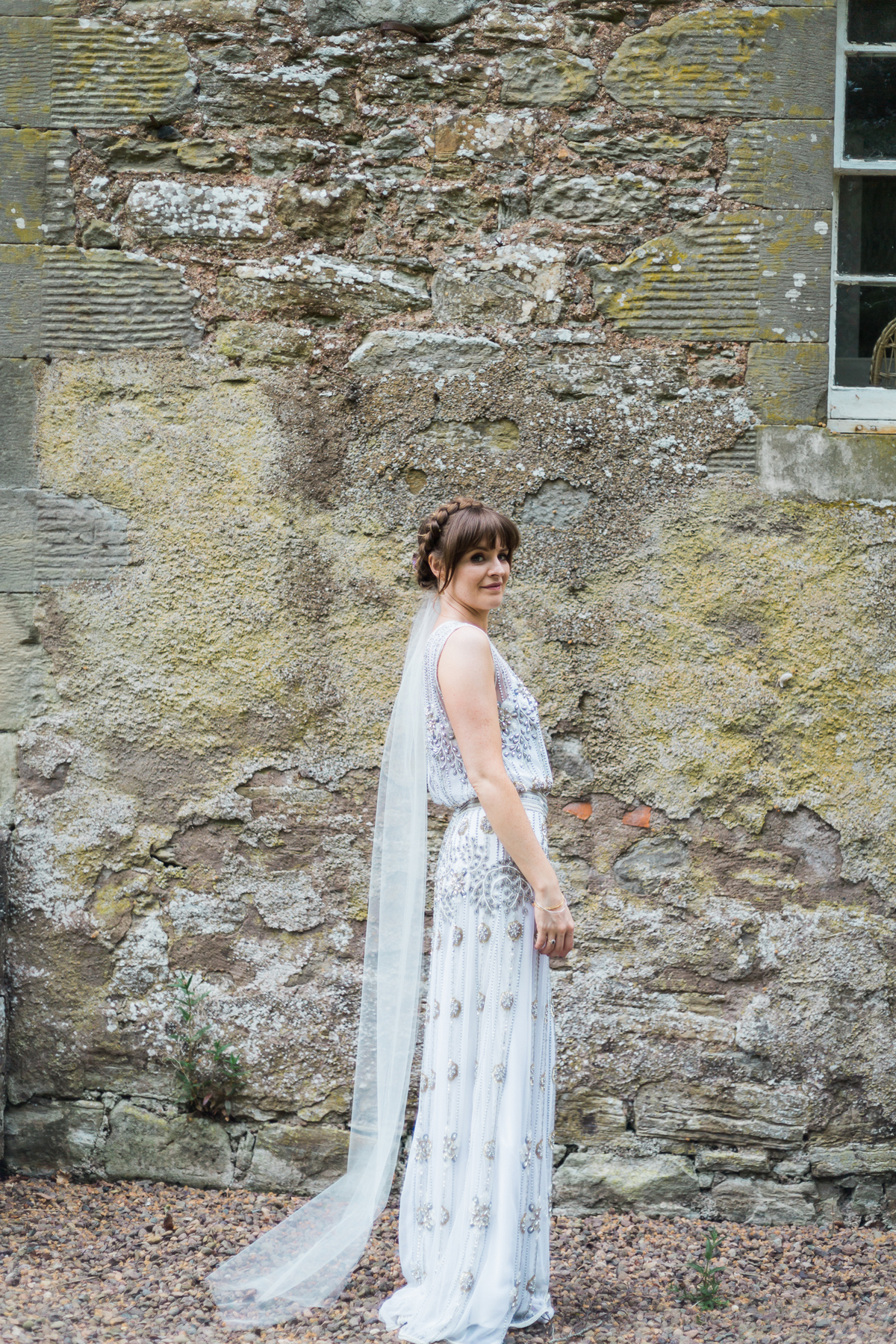 The bright signs and bunting are so cheerful and colourful against the stone and beams of the barn, tying in with the couple's idea of a fun and relaxed day. More colour also came in the form of the breathtaking blowsy, rainbow-hued flowers, which were the work of Linsey's mum, sister and a family friend, with seasonal blooms sourced from Mill Pond Flower Farm.
"My mum really wanted to take charge of the flowers and I was more than happy to let her! She arranged the bouquets and table flowers with the help of my sister and a family friend did all the buttonholes. The flowers were sourced from Millpond Flower Farm. It is just down the road from the venue, and all the flowers are grown there and they are truly beautiful!"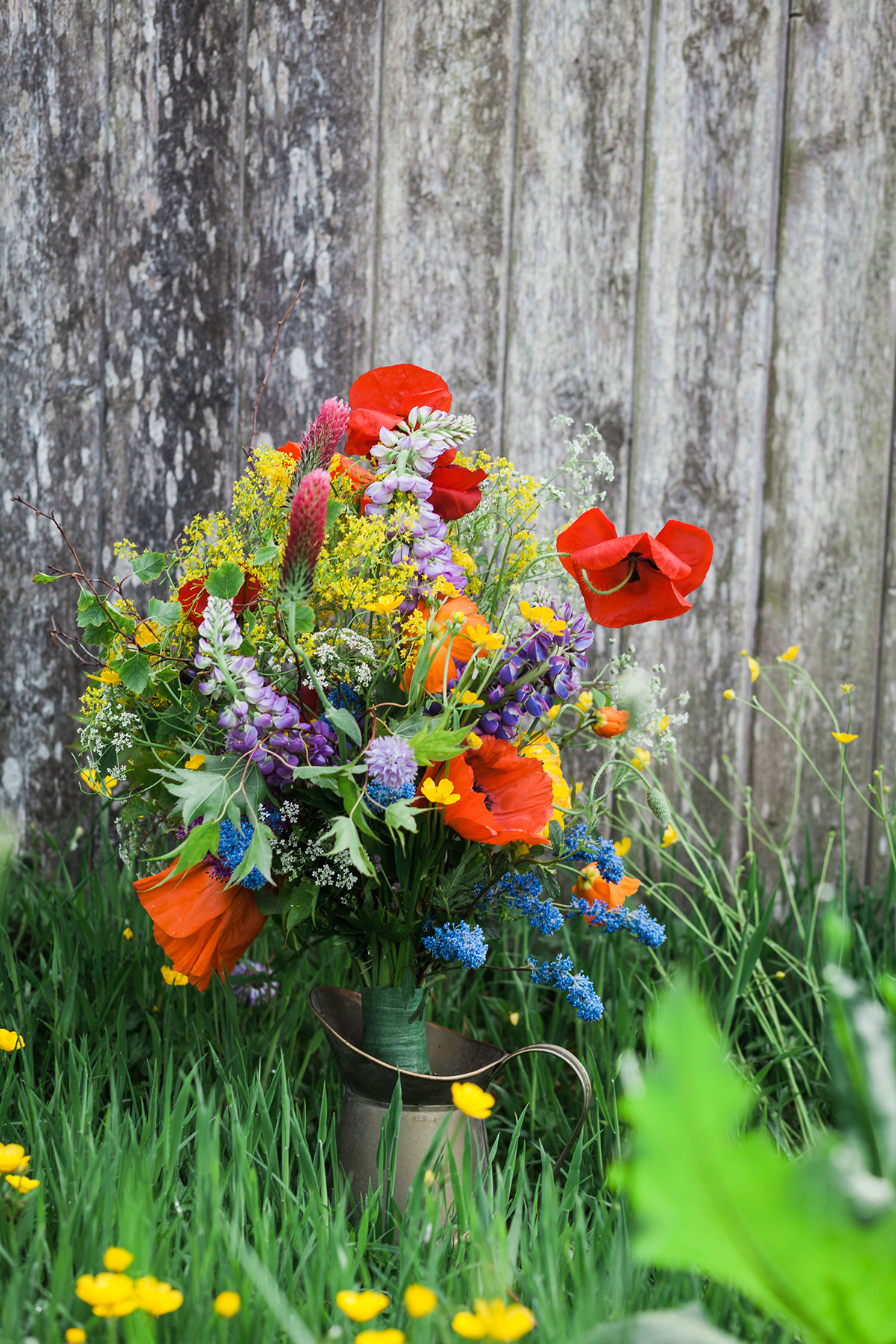 The stylish bridesmaids each wore different yet flattering dresses in navy blue from ASOS and Phase Eight with their own shoes and jewellery.
"They were all just instructed to buy a full length navy dress, as I wanted them all to be happy and confident in what they were wearing."
Today's bright, colourful and creative images come courtesy of Solen Photography, whose work we've proudly featured on Love My Dress before.
"We can't recommend Solen highly enough! I'd followed her on Facebook and Instagram for years, and after showing Matt her website we knew she would be a good fit. We liked the non intrusive candid approach she takes, and the beautiful light in her pictures. On top of that Solen and Alex are just really fun to have around on your big day!"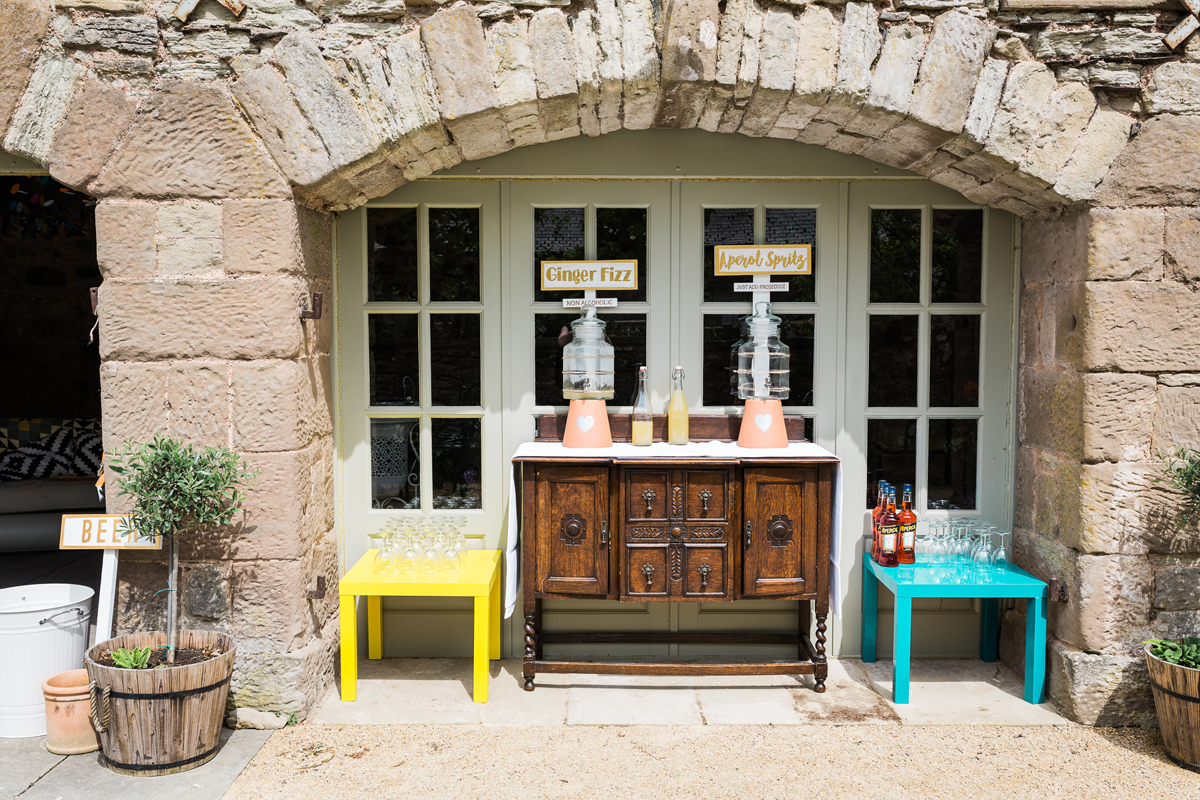 With the changeable weather evident during the day, Solen and Alex took it all in their stride, and whether photographing in sunshine or against stormy skies, delivered a beautiful set of images for Linsey and Matt to treasure.
"We didn't want to spend a fortune on décor, so I knew I had to get creative! We popped, I don't know how many thousands of circles out of coloured card, and then I sewed them all together in long strands of bunting, which was used to decorate the barns. Our biggest expense was helium for the giant balloons, but I think it was worth it to fill such a vast space. I also made all the balloon tassels, table name signs and the giant bar as well. Colour and fun was the motto!"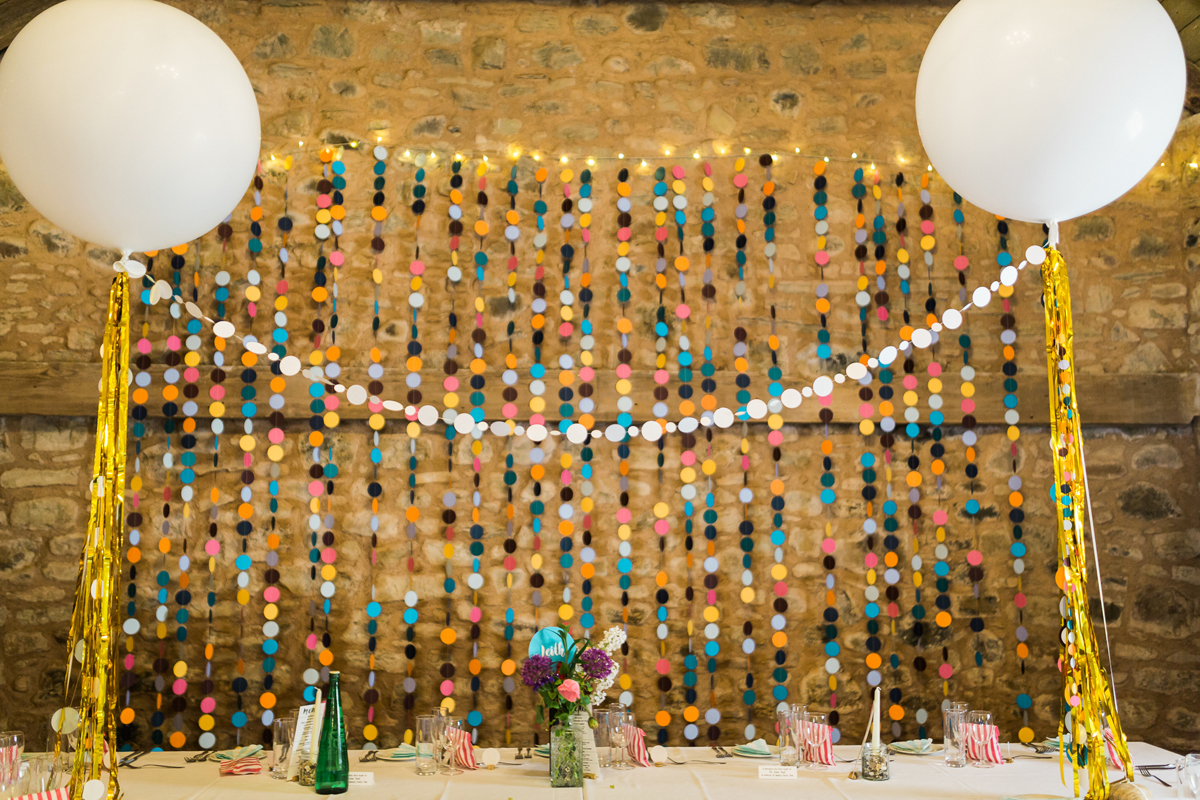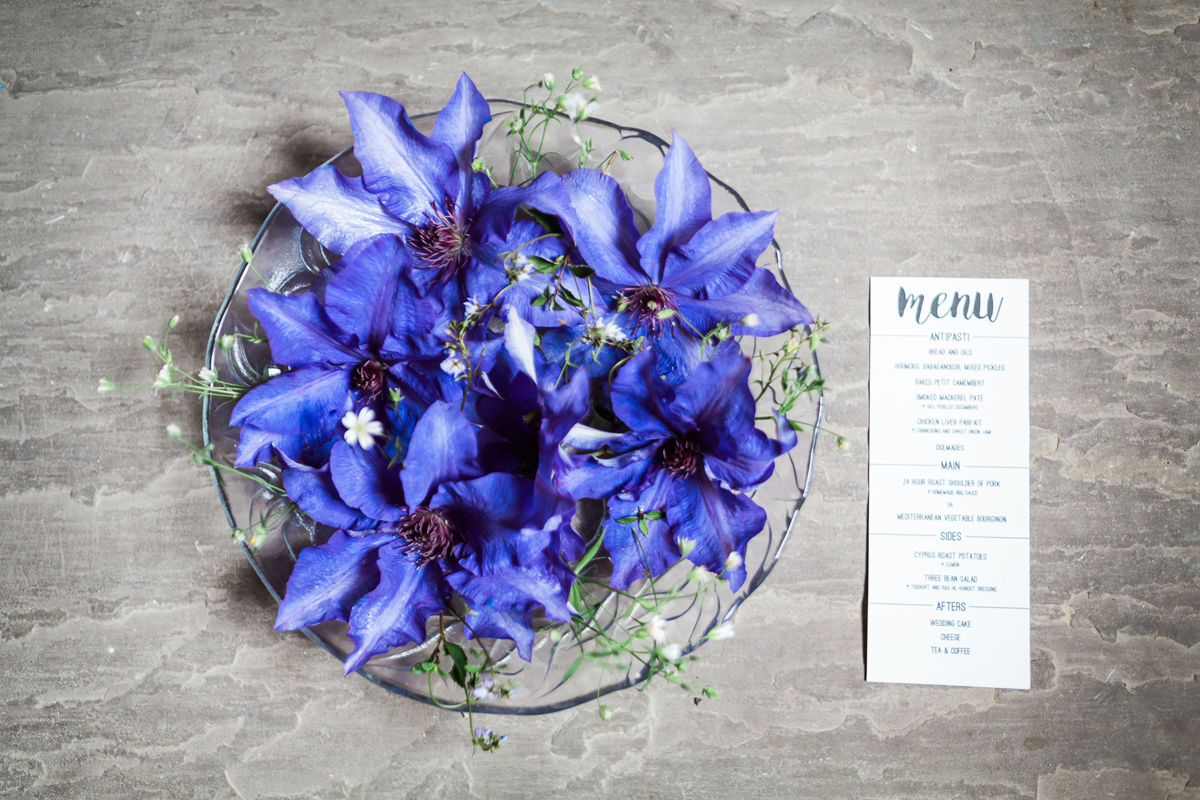 Stocks Events provided a delicious meal for Linsey, Matt and their family and friends, while friend Lauren made their cake, which was decorated with more bright, rainbow coloured flowers.
"She was like Cinderella still slaving away after midnight the night before our wedding! It looked amazing and must have tasted pretty good too – Matt and I didn't get a single slice!"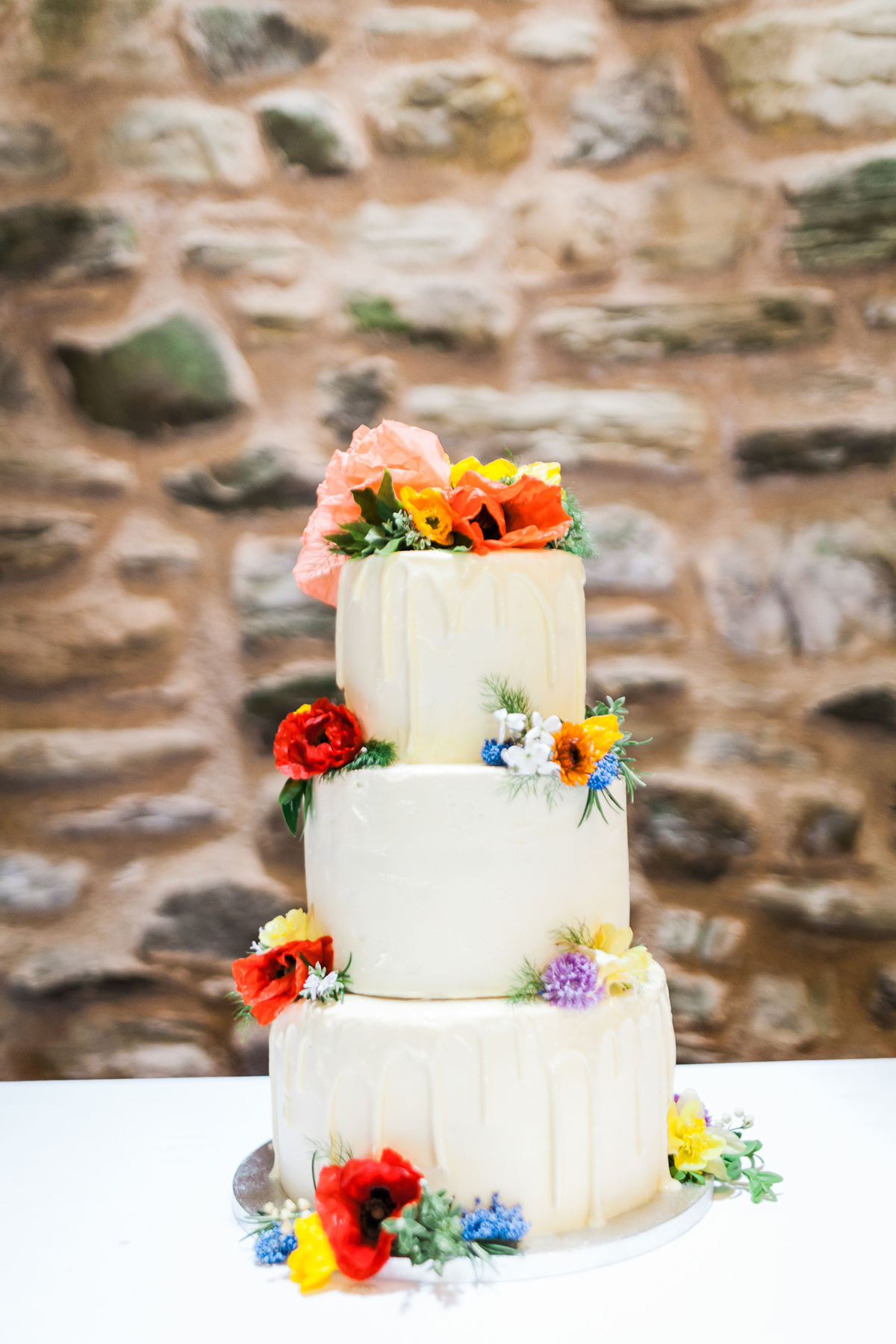 "Originally my uncle was going to make his famous tablet as our favours. Sadly he passed away just a few weeks before our wedding. It didn't feel right just replacing them with something else, so we made a charitable donation to The Sepsis Trust in his memory instead."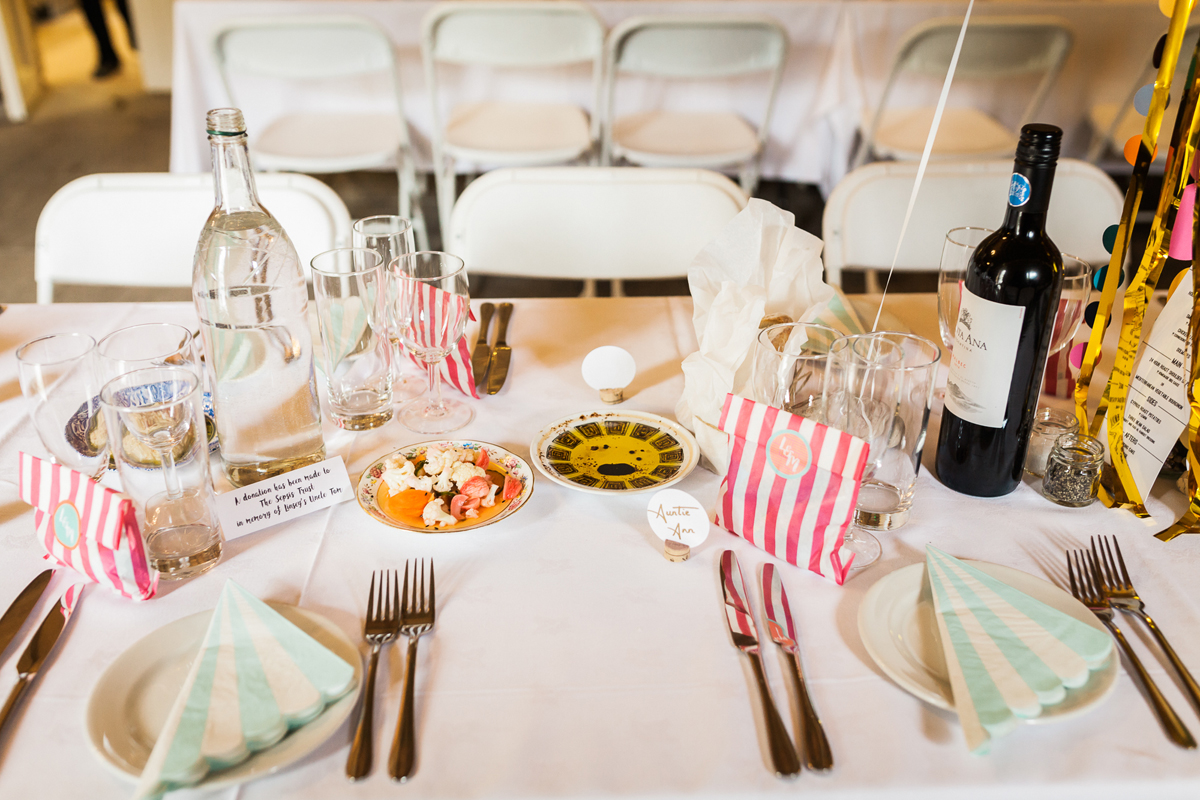 Although initially finding it difficult to land on a song for their first dance, Linsey and Matt eventually decided on a song they both enjoyed singing along to, and had a fun dance together – Home by Edward Sharpe and the Magnetic Zeros. Later, the Lomond Ceilidh Band kept everybody dancing, including the bride and groom.
"We also both LOVED the ceilidh; I hardly left the dance floor!"
Words of Wedded Wisdom
"Start setting up earlier – it takes longer than you imagine, and it would have been nice to be more organised! I also would have a better idea of what to ask when engaging with suppliers. Really find out what is included in pricing for every aspect of the day so there aren't any expensive surprises waiting ahead.
I would probably spend more time right at the beginning working out a realistic budget. I found that quite difficult though, and instead just tried to be quite strict as I went along.
Really try to take the time to enjoy the day. That sounds such a cliché, but it really is true that it is over in a flash!"
"When planning, each pick an area that you feel is important and prioritise it. For me, that was the wow décor, and for Matt it was the food.
Do you! There will be people wanting things done their way, but when all is said and done, it is your day and it is your memories. Granny will get over it if your ceremony doesn't have the local minister, and your Great Aunt Shona will forgive you for not inviting your second cousin twice removed eventually!"
What excellent words of wisdom! Thanks so much, Linsey and Matt for sharing your relaxed, joyful day with us. The handmade elements are beautifully creative and so colourful – especially those amazing flowers. Thank you also to Solen Photography for their lovely and natural images. You can see more of their work on Love My Dress here, and more sophisticated era inspired gowns by Vicky Rowe here.
With love,
Laura