Happy Tuesday lovelies! I do hope your week has gone off to a good start. Today I have a gorgeous fairytale inspired wedding – one of childhood dreams and what Pinterest boards are made of. It will kickstart some daydreaming about the perfect enchanted wedding I'm sure. So without further ado, let's get to it.
Primary school teacher Suzanne and Crossfit coach Luke said their I Do's on 27th July 2017 at a local church, followed by a reception at the Galgorm Resort and Spa in Northern Ireland.
"We live and work in Edinburgh but we're both from Northern Ireland and it holds a special place in our hearts. We knew from the beginning that we would celebrate our marriage in Northern Ireland. I had always loved the idea of a rustic wedding but understood many of our guests would be travelling overseas to celebrate with us, so we had to choose a venue that our guests could stay in as well as celebrate and rest in. Galgorm Resort and Spa was the perfect venue. Situated within beautiful grounds, it has a natural soundtrack of a peaceful river running right through it."
Images by Claire Fleck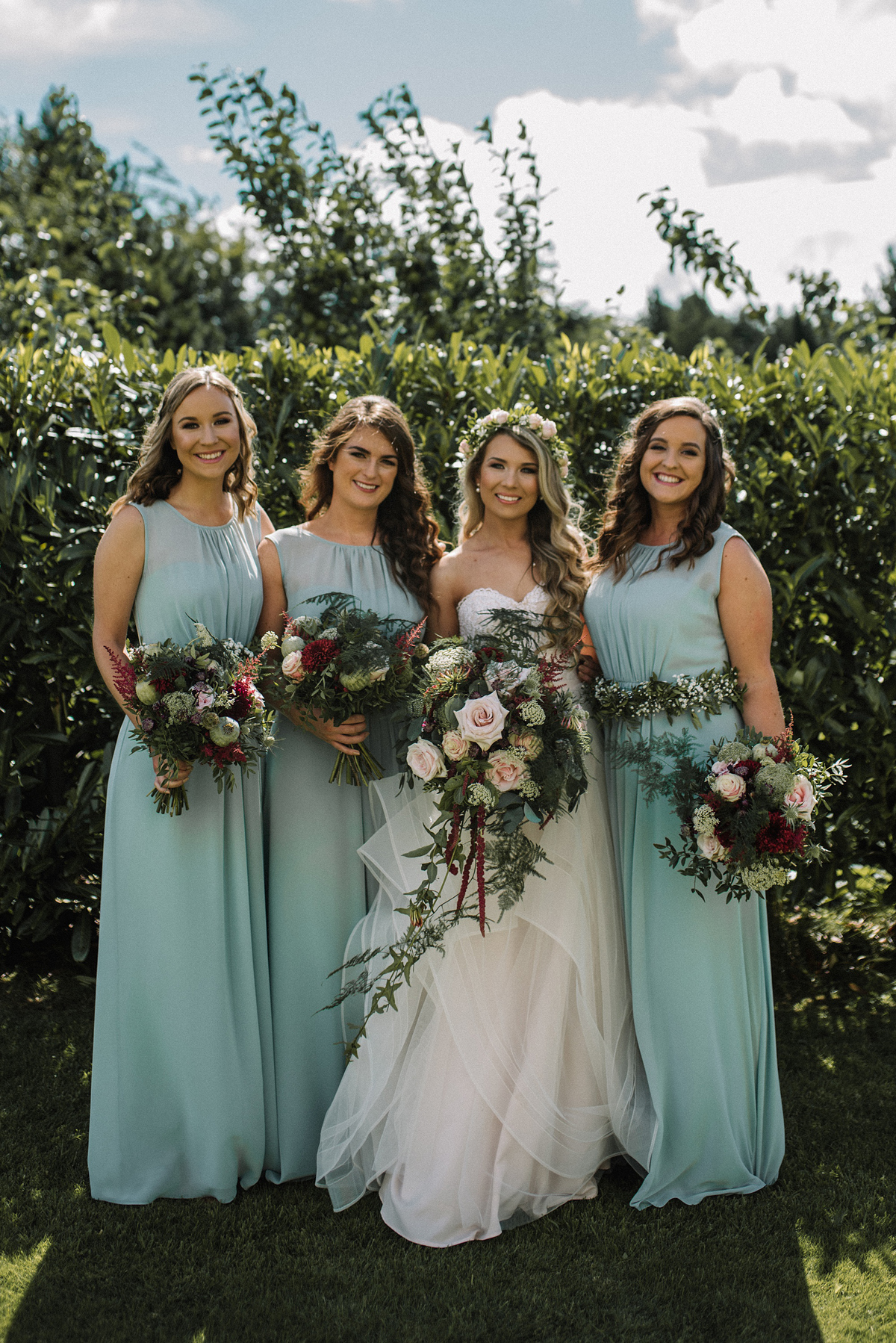 On hand to capture all of the emotional and special moments on camera was photographer Claire Fleck.
"I cannot praise Claire enough. I met her through my husband and his friend group at university and I have been a fan since day one! The first time I met Claire she told me about her Pinterest page so I followed her. I however at that time, found cat memes rather funny and sent her a meme accidentally instead of to my friend. I was mortified to say the least but Claire found it funny and that cemented our friendship."
"We were thankful that Claire and her husband did not only attend our wedding, but that Claire could also capture the day for us. She's exceptionally talented and has a true gift for capturing joy and love. She captured the moments I missed and looking through our photos, I feel the joy I felt on our wedding day all over again. In short, Claire is amazing!"
To walk down the aisle Suzanne chose a simply stunning ball gown style skirt and strapless top by Wtoo by Watters via the Jenny Lindop Bridal shop in Bangor, Northern Ireland.
"Jenny was so welcoming and friendly and I felt so relaxed in her studio. As a little girl I used to rummage through my mums old photo albums smiling at the hairstyles, fashion and joy that radiated from the images. I remember finding my granny's wedding photo and I was in love."
"Granny had worn a blush gown and I thought it was so brave! From that moment I had always imagined that if I were to ever marry, I would wear a blush dress. That decision really made dress shopping quite easy as I only wanted to try on blush dresses!"
"I tried on various blush dresses, but, ever the dreamer and fairytale believer, I fell in love with a whimsical two piece. I have struggled with self-confidence and self-worth for many years and as I stood in front of the mirror, for the first time in my life I felt beautiful and like the princess I've read about going to the ball. I knew I had found my dress."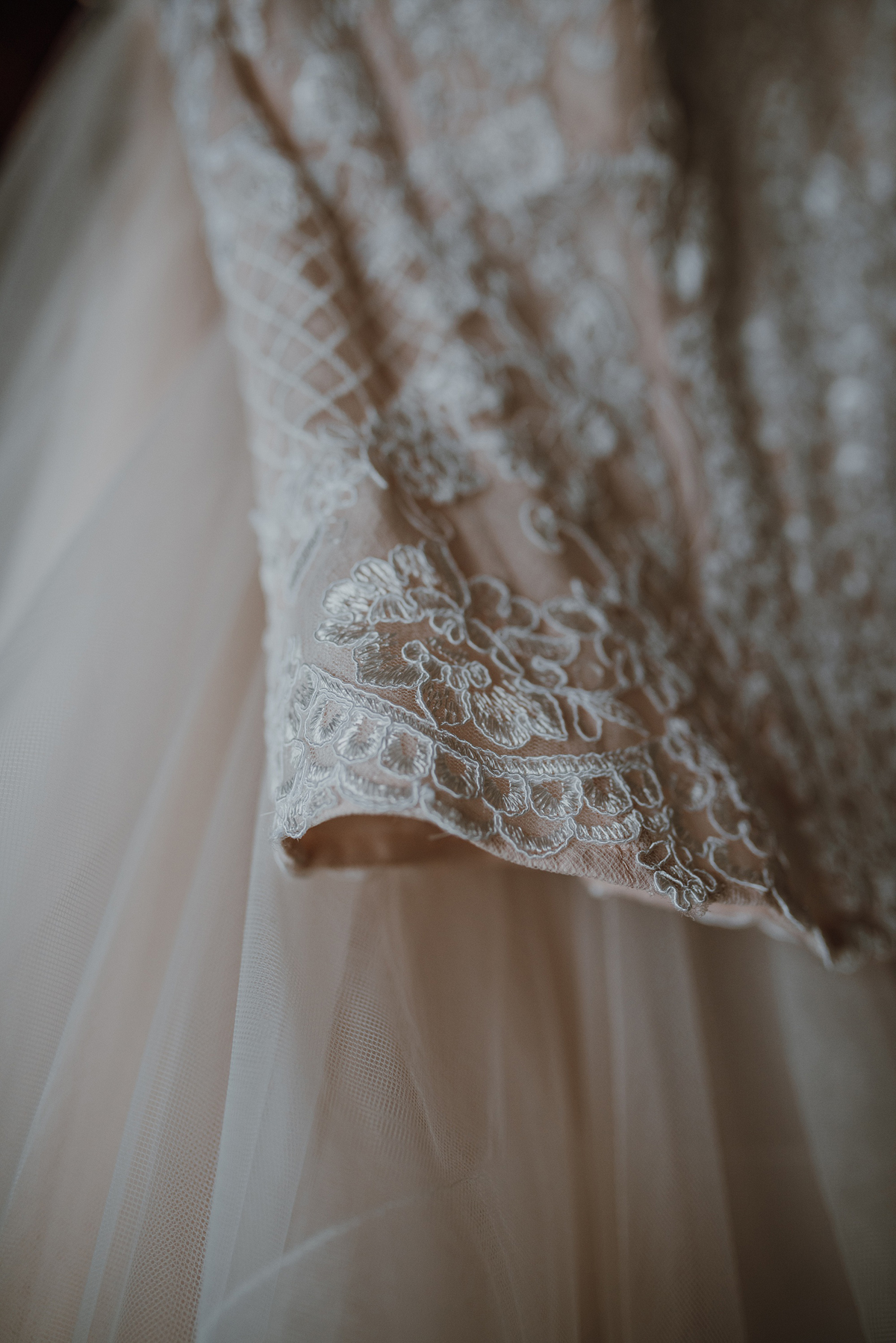 "I knew I didn't want to wear white shoes and that I'd want to wear them again. These burgundy shoes from Jimmy Choo seemed to be the perfect colour to compliment my flowers and floral crown which my florist and I designed together."
The pair met at school but didn't get together until their final year. After surviving a long distance relationship, Suzanne moved to Edinburgh to work and be with Luke.
"We met at school as we were within the same group of friends, but it wasn't until the final year of school I managed to talk to him! Shortly after we started dating, Luke left to study in Edinburgh and I began my studies at Queens University in Belfast. Long distance was tough but so worthwhile. We got to know each other so well and knew that problems or worries had to be discussed rather than swept under the carpet. I wholeheartedly believe that our long distance relationship has provided us with an excellent foundation for our future together!"
"After my degree I moved over to Glasgow to study my Post Graduate in Primary Teaching and eventually moved to Edinburgh to work. Luke and I took a short break in Trossachs Park during the October holidays and we talked about marriage. No less than 3 weeks later, Luke and I were standing in the pouring, if not torrential, rain on the Espionage outside Edinburgh Castle, when he got down on one knee, promising to cherish and love me for the rest of his life. We got married 8 months after we got engaged – it was fast paced but very exciting!"
"I love pearls and, with my flower crown, thought understated jewellery would be fitting. I found a trio of matching jewellery in a little boutique shop called The Bottom Drawer Store in a town near my home and wore Chanel Chance as my scent. My dad had bought it for me one Christmas and I'd only used it a couple of times prior to the wedding."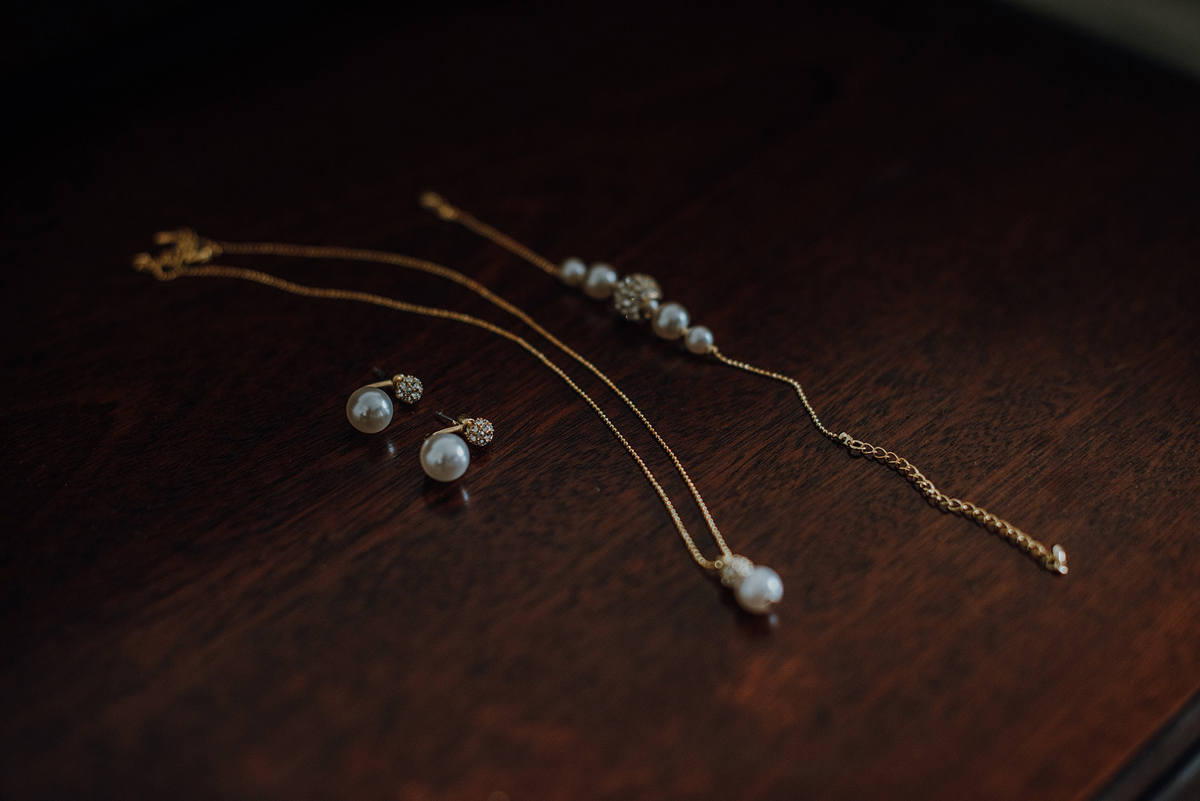 Suzanne wore her flower crown atop gorgeous soft, full waves done by hairdresser Julie Coulter, Suzanne's regular hairdresser from home.
"Julie is such a joy to be around, always laughing and chatting and my mum and I felt so relaxed with her. It was like a normal day at the hairdressers! Julie knew I wanted a soft curl in my hair and she did exactly that."
"I also had a make up artist, Nadine McLaughlin Professional Make Up Artist who, who was amazing! I don't wear much make up usually so the thought of having a full face of make up made me a little nervous. However Nadine gave me soft plum eyes to match my dress and kept my skin soft with a slight glow. I felt beautiful. Nadine is so creative and is so relaxed and chatty!"
Having dreamt of a forest wedding filled with flowers and greenery ever since she was a little girl, Suzanne's wish came true at Galgorm Resort and Spa when she paired up with florist Charlene from Elizabeth Rose NI.
"I've always been drawn to forests and I wanted our flowers to provide our guests with the illusion that they were stepping into a forest, and our reception had subtle reminders of the enchanted forests in Northern Ireland."
"Charlene was an absolute dream to work with. She is a visionary and so creative. I knew I wanted my bouquets to look relaxed and wild with greenery throughout. Charlene took my ideas and created what can only be described as masterpieces! She decorated the arch and it honestly looked like something from a fairytale. For the bridesmaids' belts I had asked her to use mainly greens and I was blown away by her creativity. Charlene has a wonderful gift."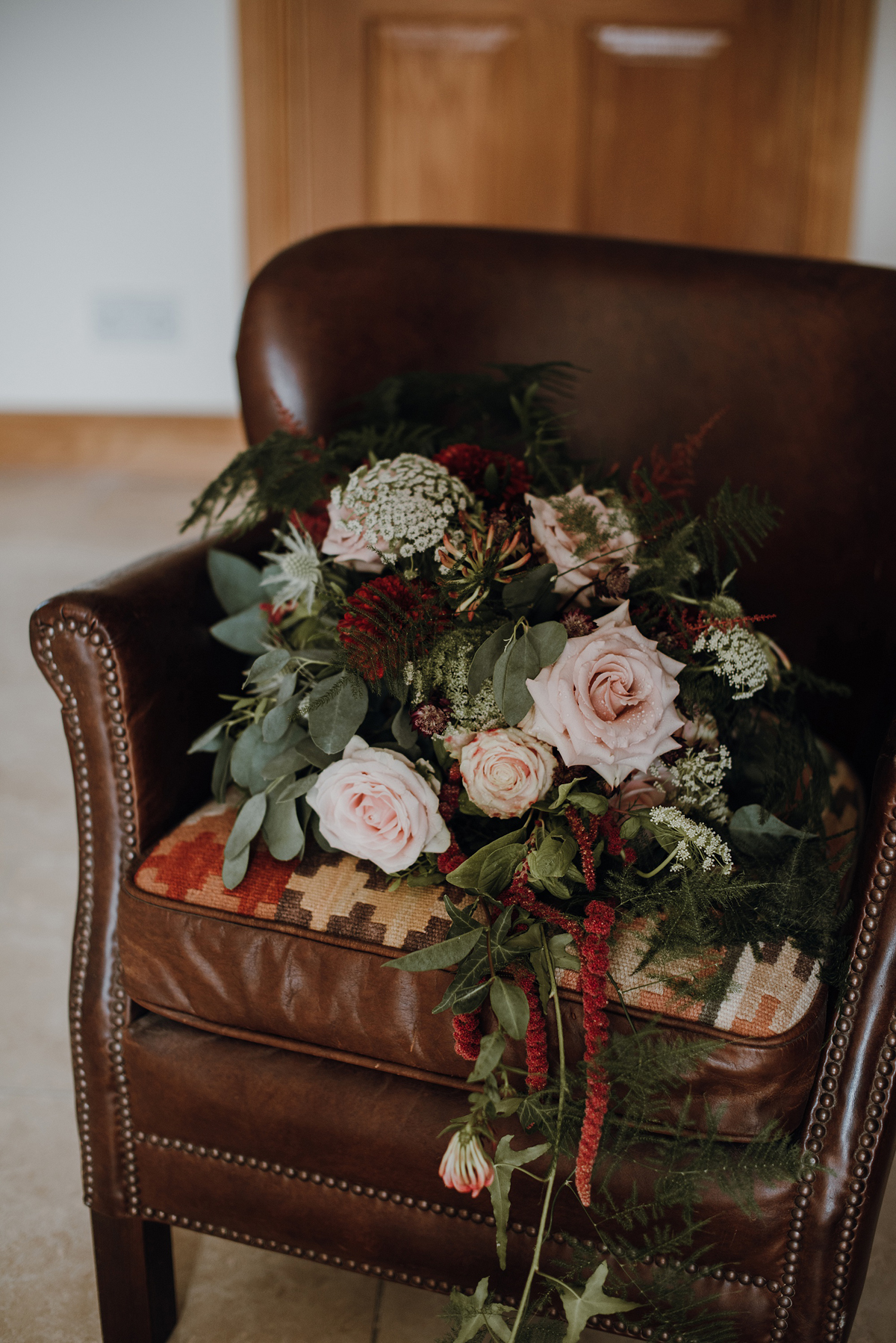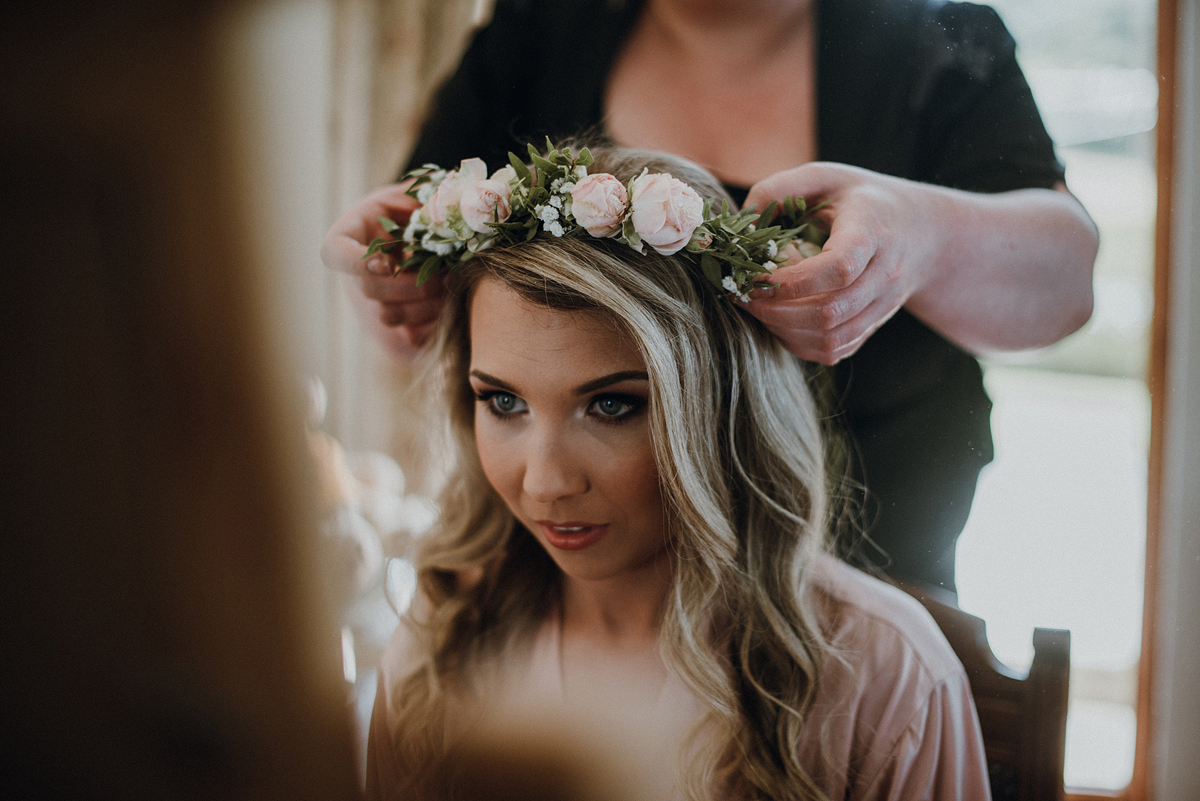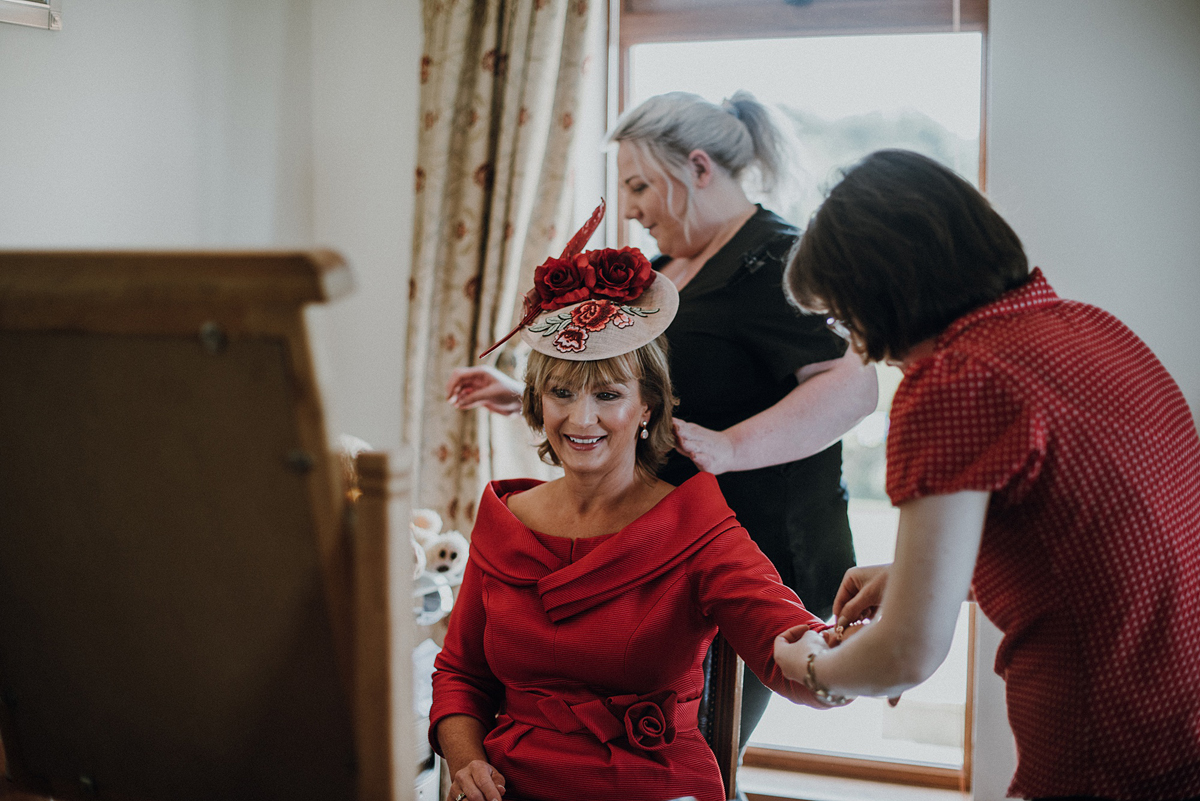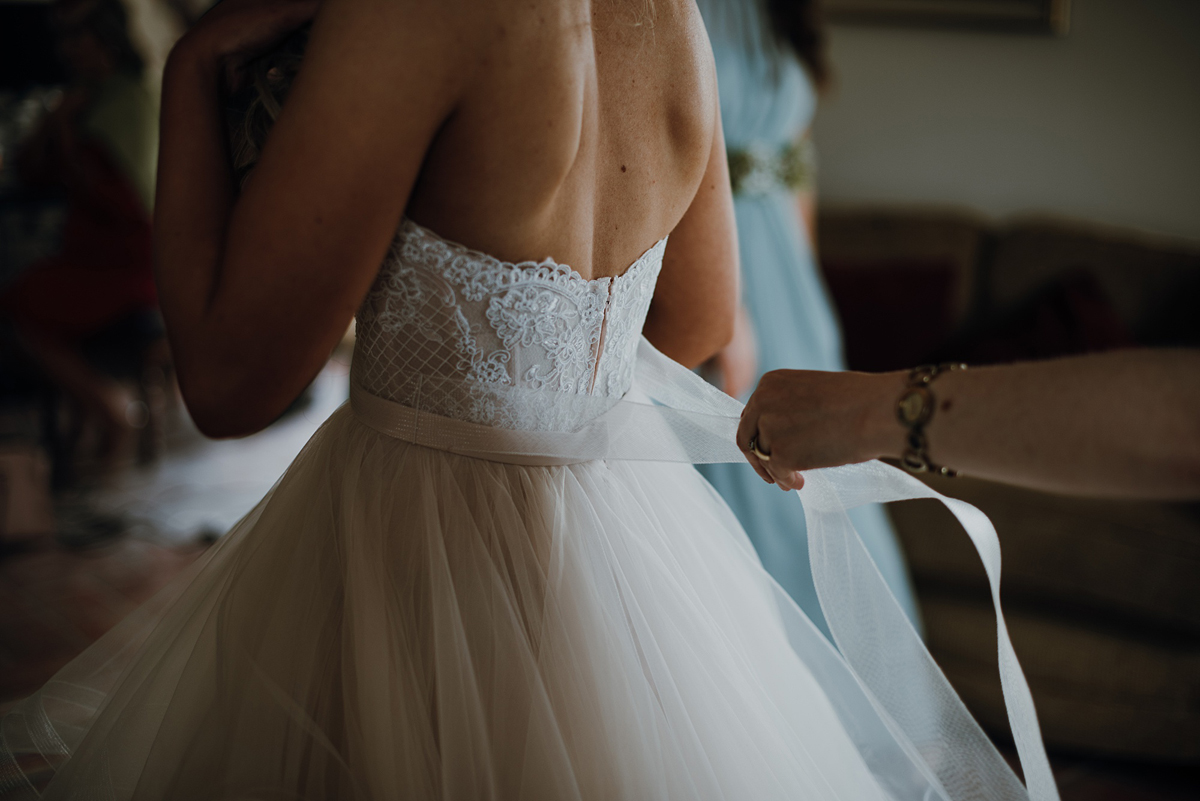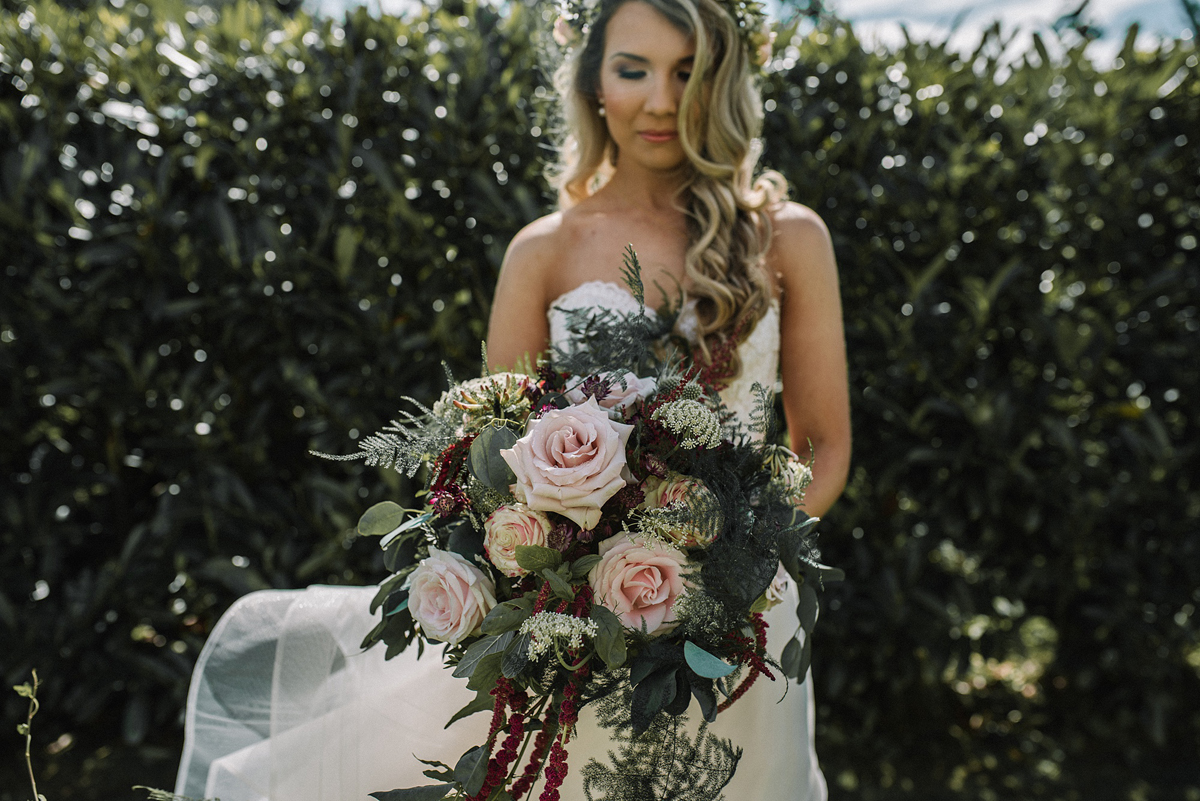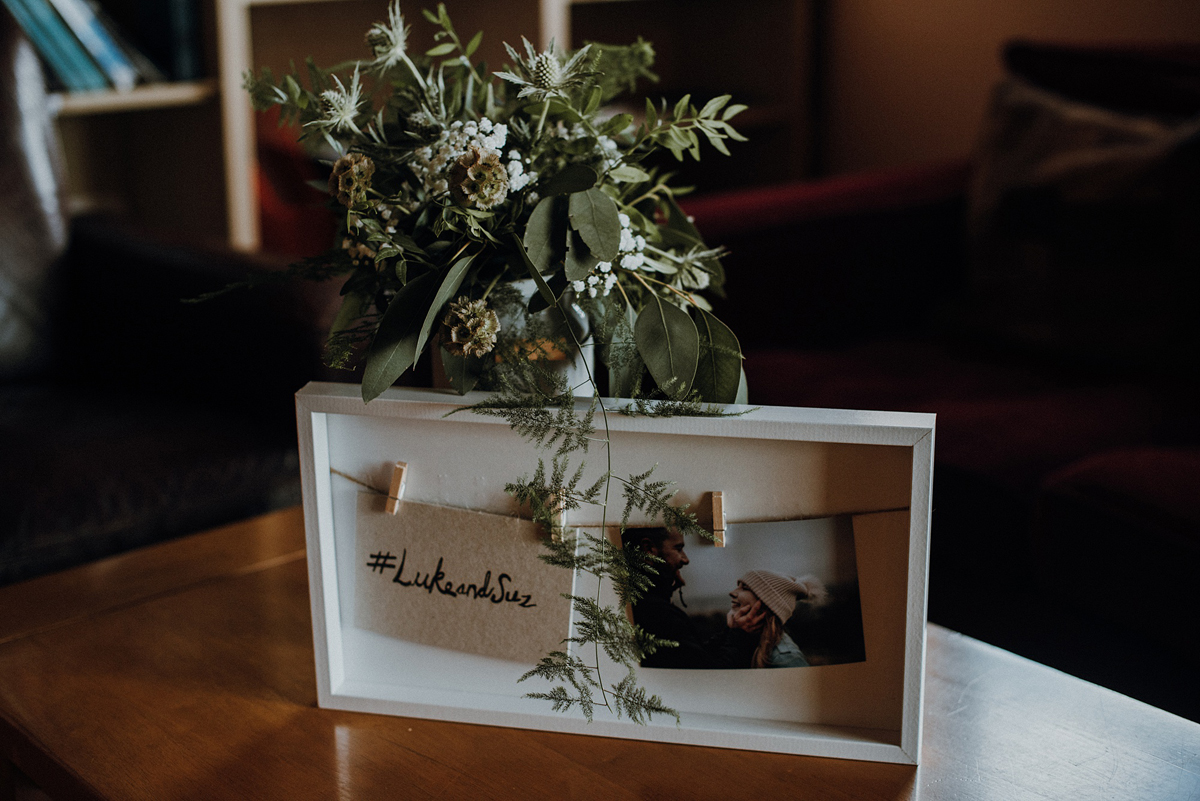 The bridesmaids looked straight out of a fairytale in full-length mint coloured sleeveless dresses from Phase Eight, bags from New Look and bracelets by Accessorize.
"I loved the colour of the bridesmaid dresses and thought it would compliment the greens, pinks and reds. Originally the dresses came with a satin belt and diamond cluster but I felt it didn't tie into my theme. So after discussing with my bridesmaids, we decided on flowers around the waistband instead. I asked my florist and she loved the idea!"
Luke and his groomsmen each wore a gorgeous floral buttonhole created by Charlene with the groomsmen wearing a matching blue trouser, grey waistcoat and white shirt combo, with either a berry coloured bow tie or tie.
"Luke had so many to include we opted for variations for the guys as we did not want 11 guys to all look exactly the same. The best men, Luke's older brother and Luke's twin, wore waistcoats and ties, whilst the groomsmen wore waistcoats and bow ties. The ushers wore braces and bow ties. All the guys apart from the groom wore navy chinos and tan shoes. All the groomsmen and usher attire was from Statement Menswear."
"Luke wore a navy tweed 3-piece suit by Walker Slater and a Hugo Boss watch. Shortly after he moved to Edinburgh he mentioned that he would one day buy a suit from Walker Slater and our wedding day was the perfect excuse to get one!"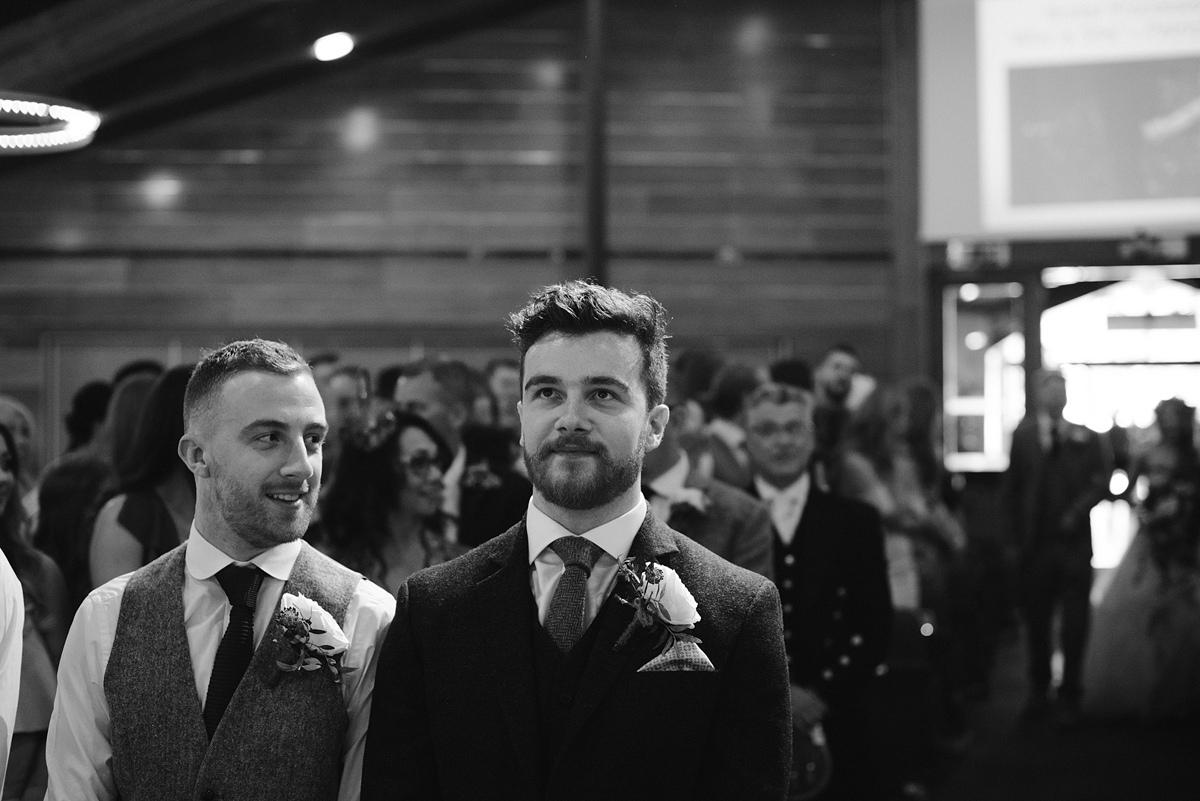 With their faith a prominent part of Suzanne and Luke's lives, it was important to them that the ceremony took place in a church before heading to their reception venue.
Suzanne was walked down the aisle by her dad to Who Is She by Patrick Doyle, an unforgettable and very special moment for the bride.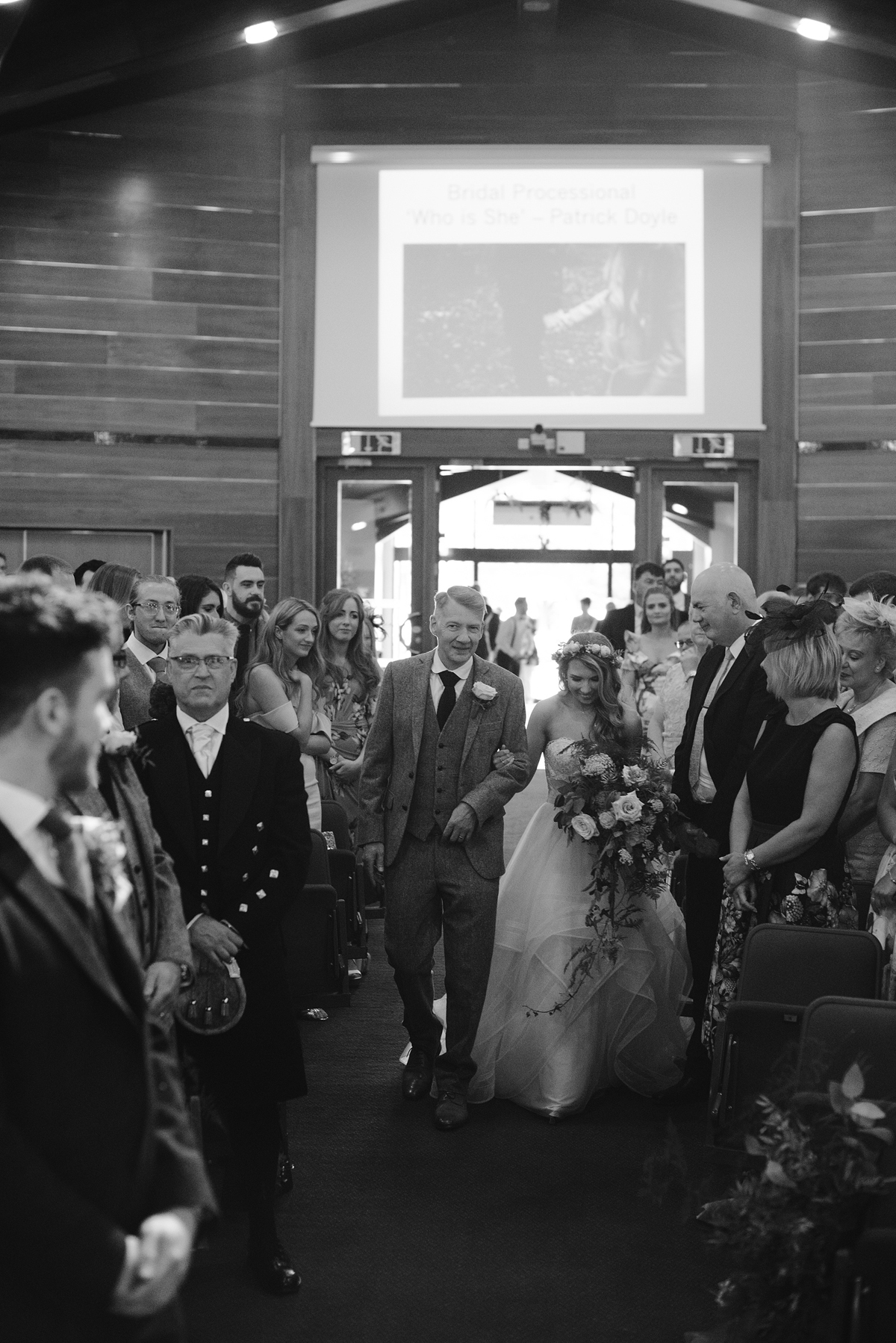 "This piece of music accompanied the latest movie adaptation of Cinderella and is played as she walks into the palace. I would encourage everyone to stop what they're doing and listen to that song as I simply cannot express in words how wonderful it is. Walking in with my dad to that song was a very beautiful moment."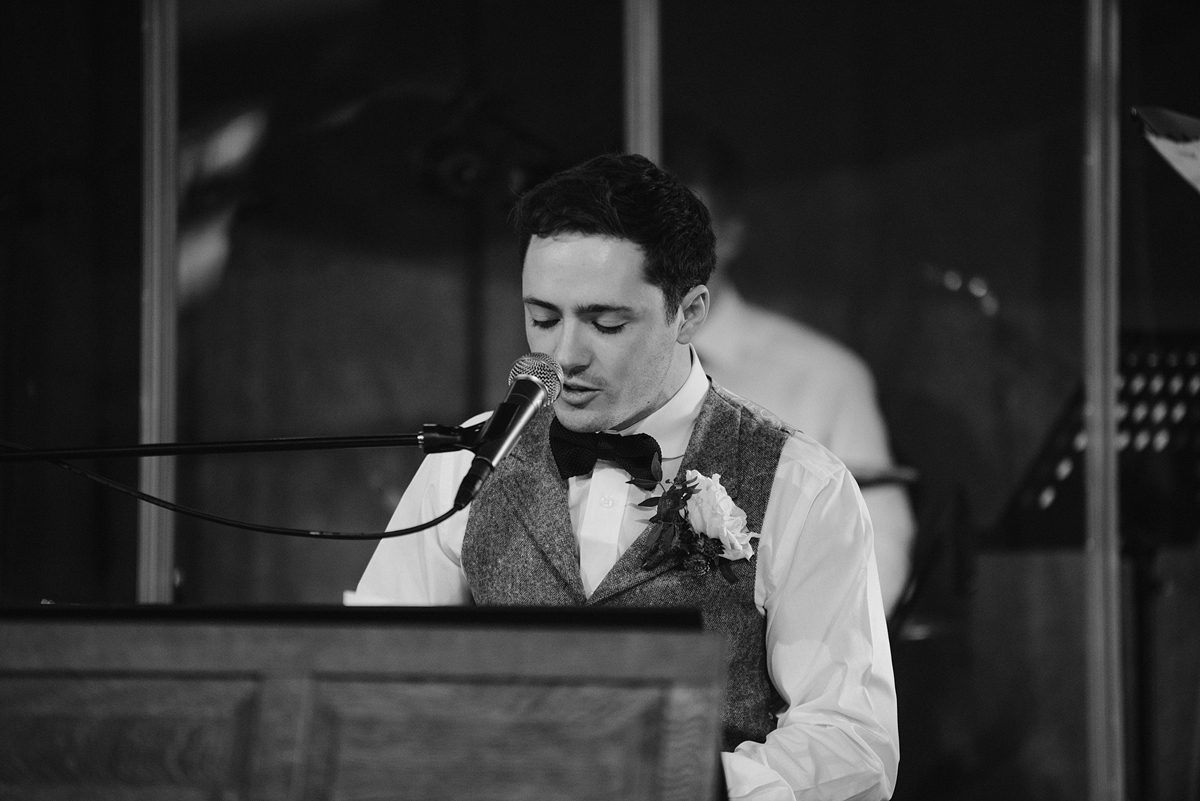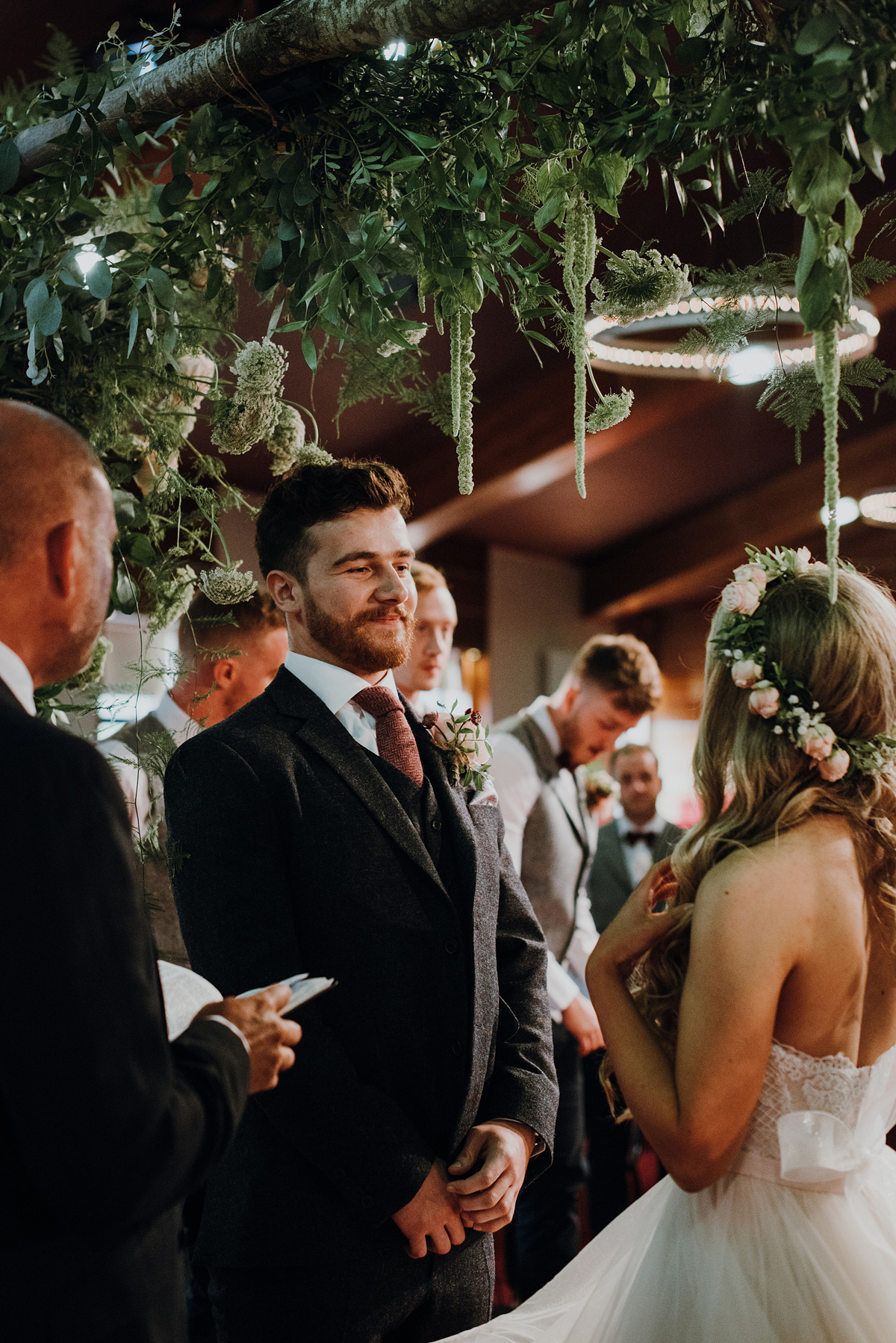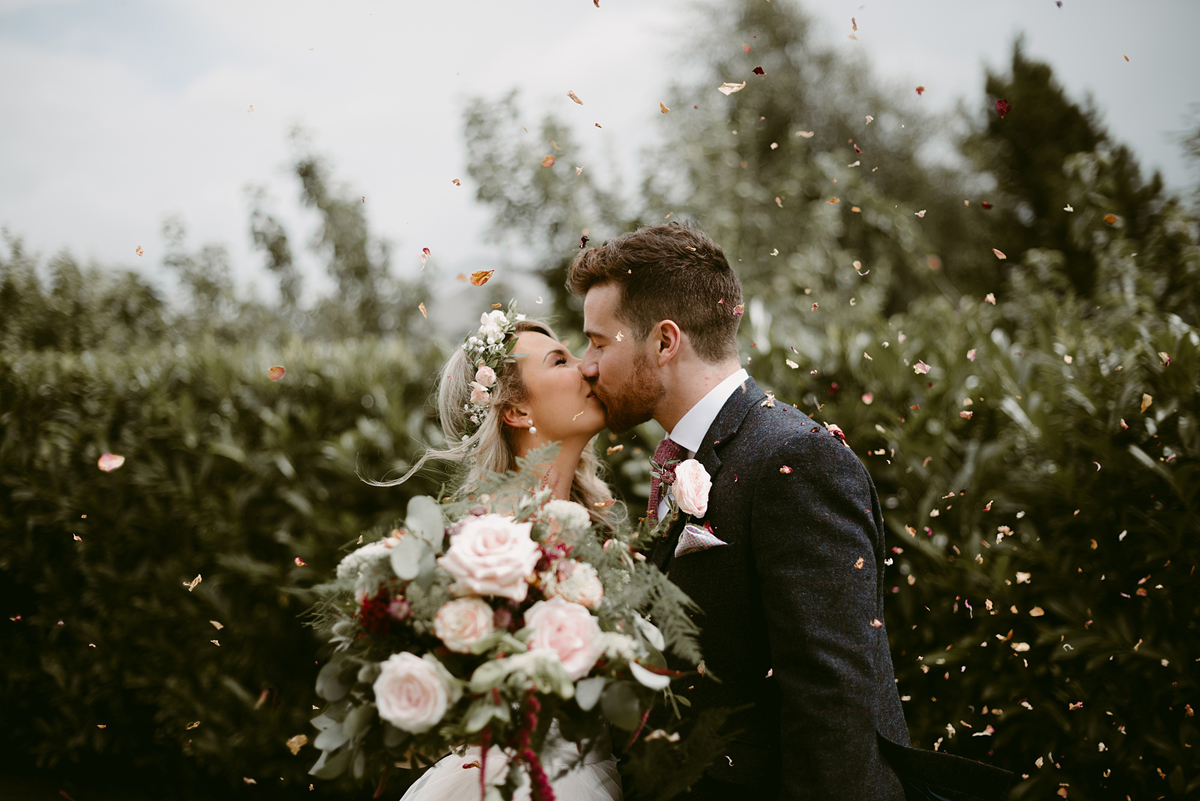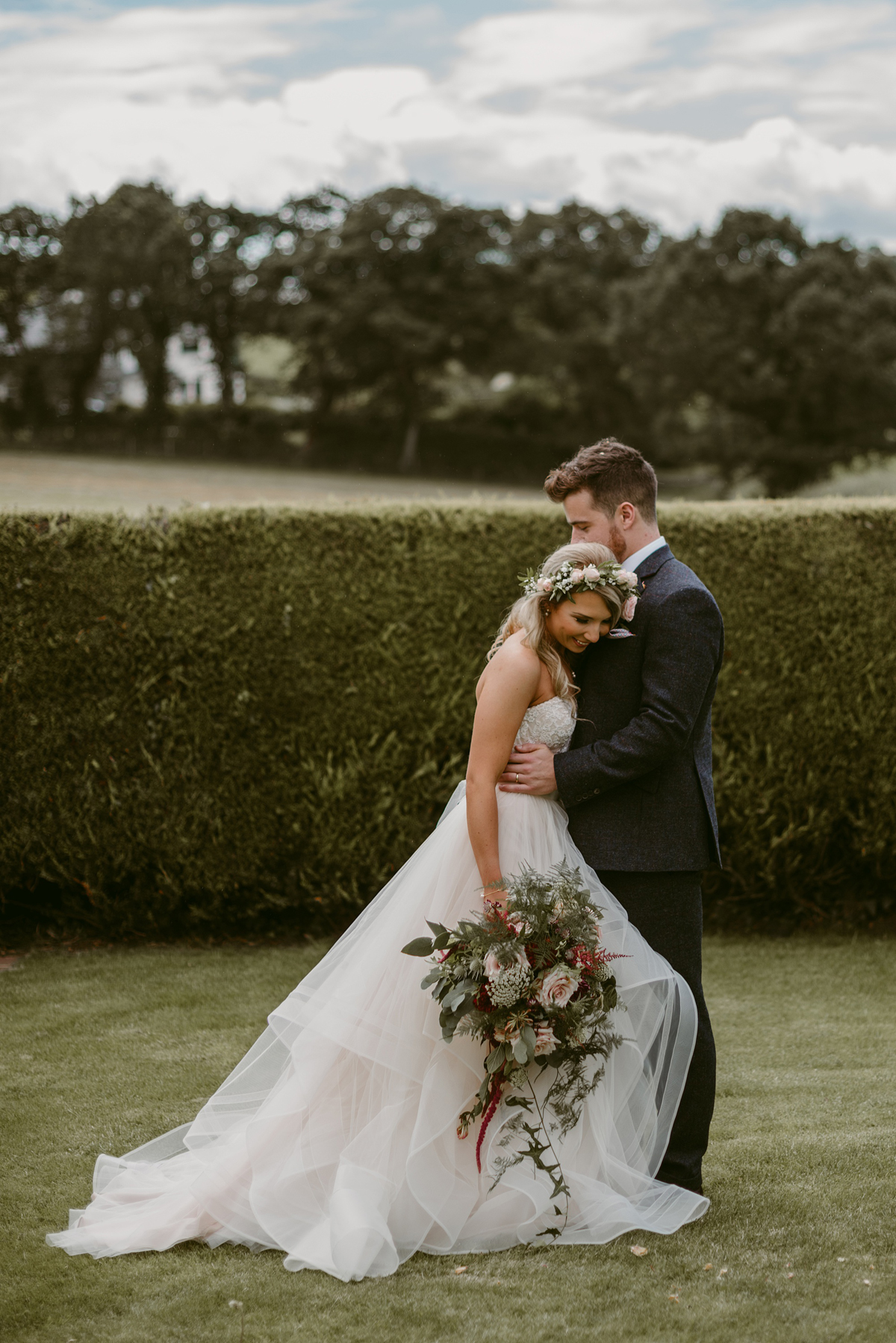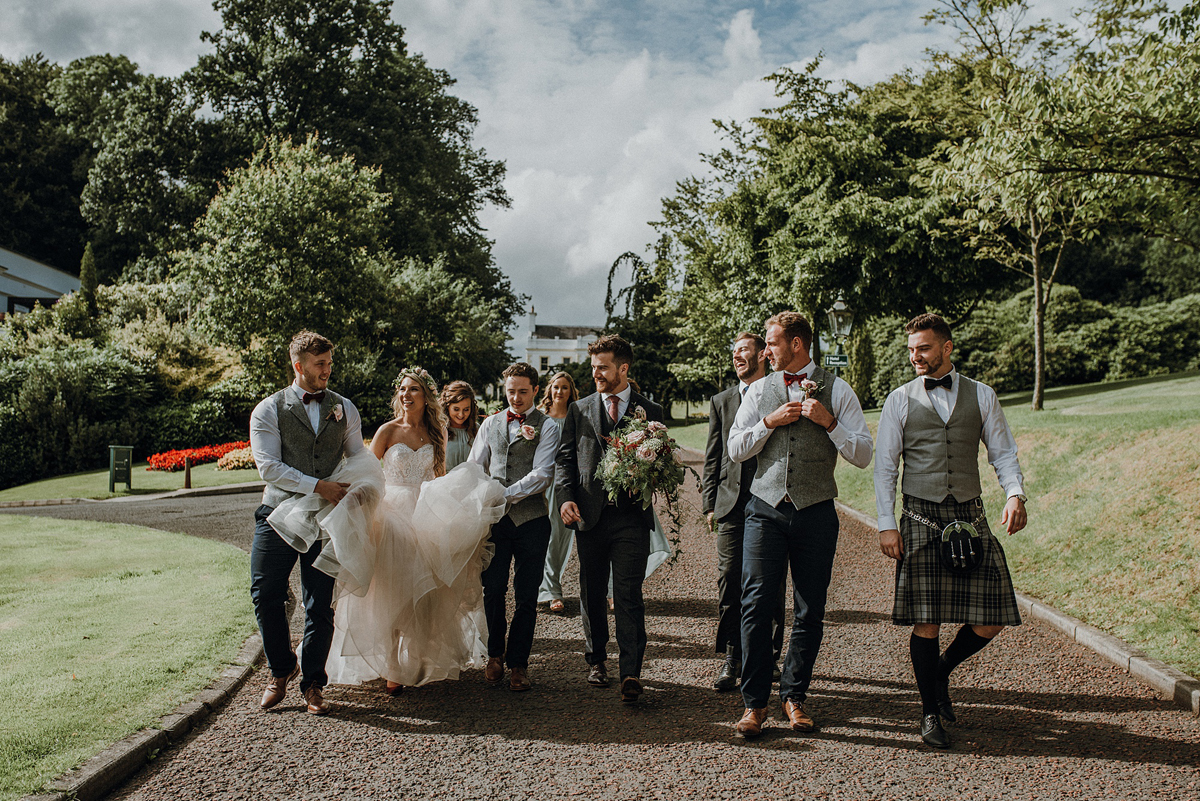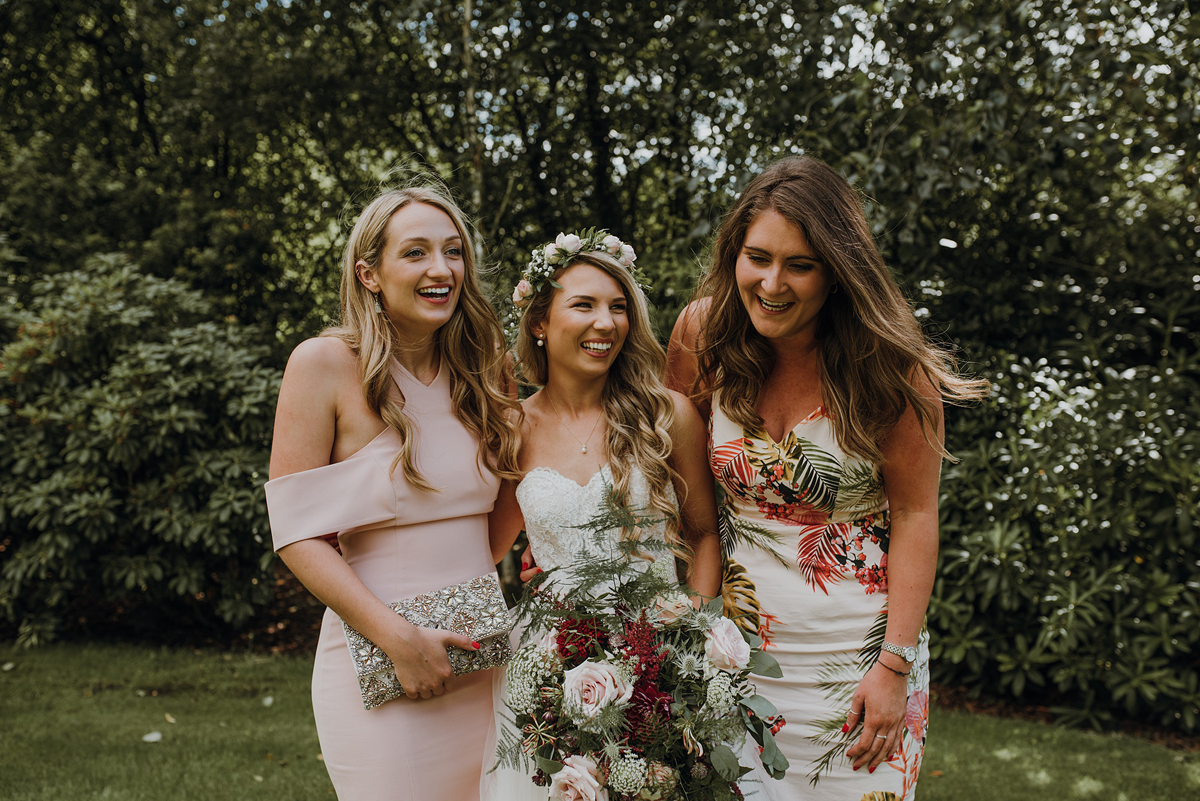 After the ceremony the newlyweds were driven from the church to the reception in a Rolls Royce provided by the venue. After the couples portraits and wedding party photo's in the stunning grounds of the venue, the couple and their guests sat down for the wedding breakfast and speeches.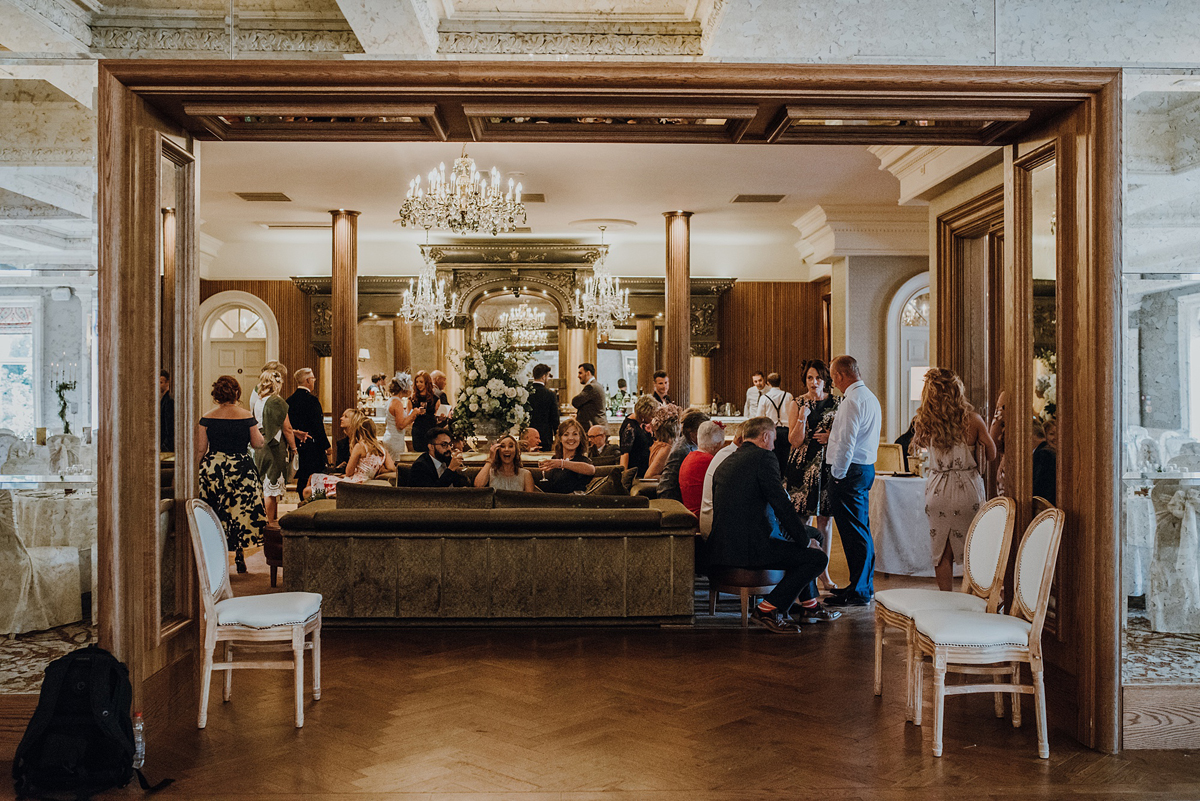 Their semi-naked wedding cake, created by Gemma's Cakes, was placed in prime position and was a really beautiful 4-tiered cake decorated with foliage and blueberries.
"I'm not a fan of icing which is why we went for a semi naked cake. Gemma was fabulous and catered to all the flavours we wanted. I had asked her to decorate the cake with blueberries and to leave room for the florist to add more details. The cake looked and tasted amazing!"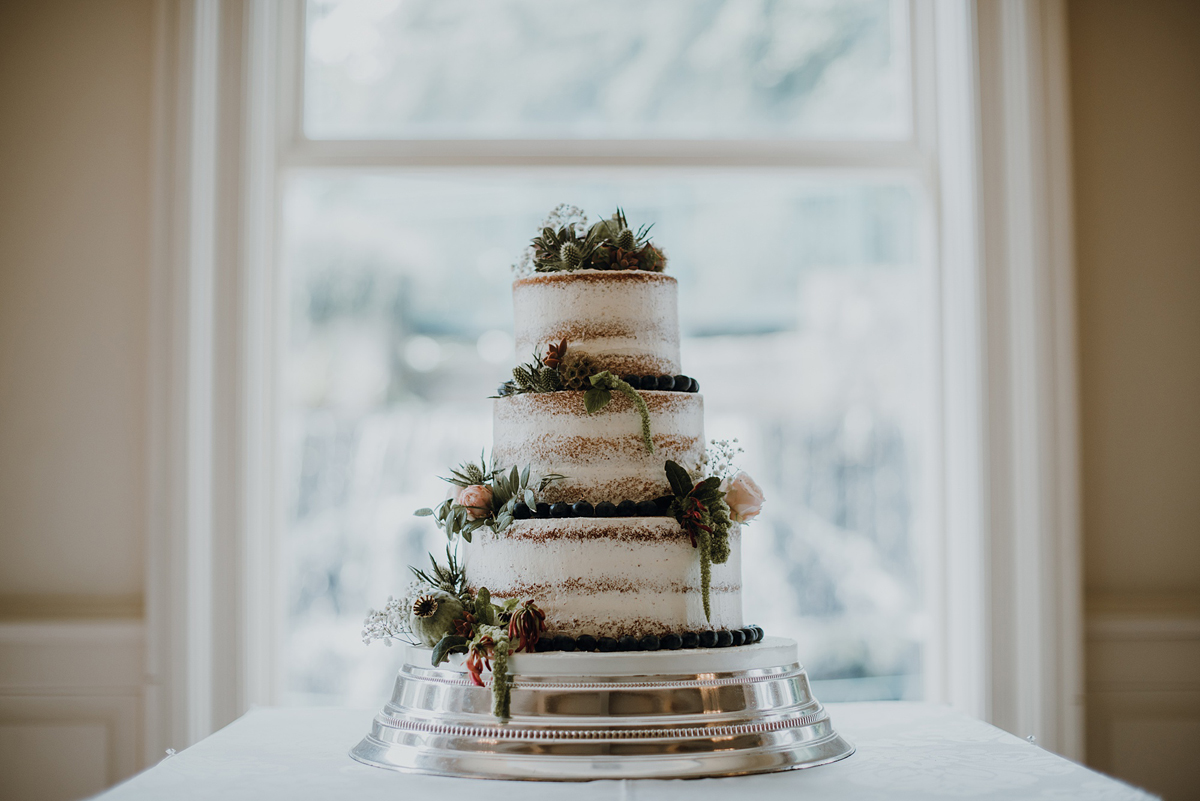 The stationery was created by one of Suzanne's extremely talented friends Emma, who had studied textiles at Edinburgh College of Art and who Suzanne knew she could trust with her invites and place cards. Guests were also given either a mini succulent (for the ladies) or a branch (for the men) as they sat down for dinner, a token of Suzanne and Luke's thanks and a little reminder of the day for them to take home.
After dinner entertainment which ran on long into the evening was provided by the lively 4-piece band The Coves.
"Oh my! This group was simply fantastic! They have a great balance of Irish and modern folk and they encouraged plenty of dancing and laughing and helped us create amazing memories."
"We also had our first dance to May I Have This Dance by Francis and The Lights and Chance the Rapper. It's an upbeat and joyful song so suited us perfectly. It has a particular line that really struck a chord with me, 'you've got your mother's eyes, you've got your grandmother's ring, you've got your daddy's discernment'. I believe that I have all three!"
"For me, every part of our day was perfect, though there are two moments in particular that stand out. The first was the moment my dad gave me away to Luke and this holds a very special place in my heart. As he turned to take his seat, I gave my dad a hug and will forever remember that moment. It's as if time stood still."
"The second moment was standing under the arch with Luke, promising to love and cherish one another in front of all of our loved ones. This was so important to us and to our faith."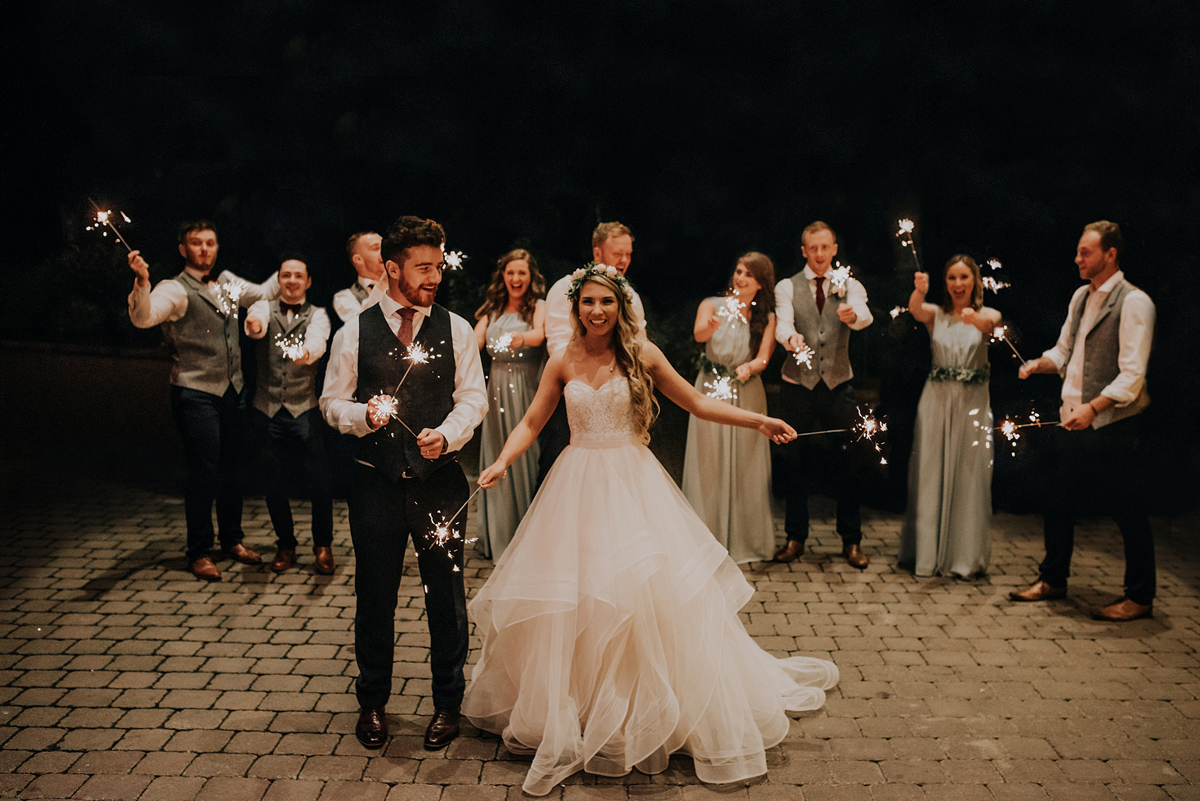 Words Of Wedded Wisdom
"Stop at every moment and take a little mental picture. I will always remember stepping out of the car and I caught the eye of my neighbour's granddaughter. She looked at me then looked at her granny and asked if I was a princess. What a lovely moment!"
"On a more practical note, I would also suggest that you buy heel protectors for your wedding shoes. I did and while everyone else sunk into the grass, I stayed on the surface and my beautiful suede shoes stayed in perfect condition."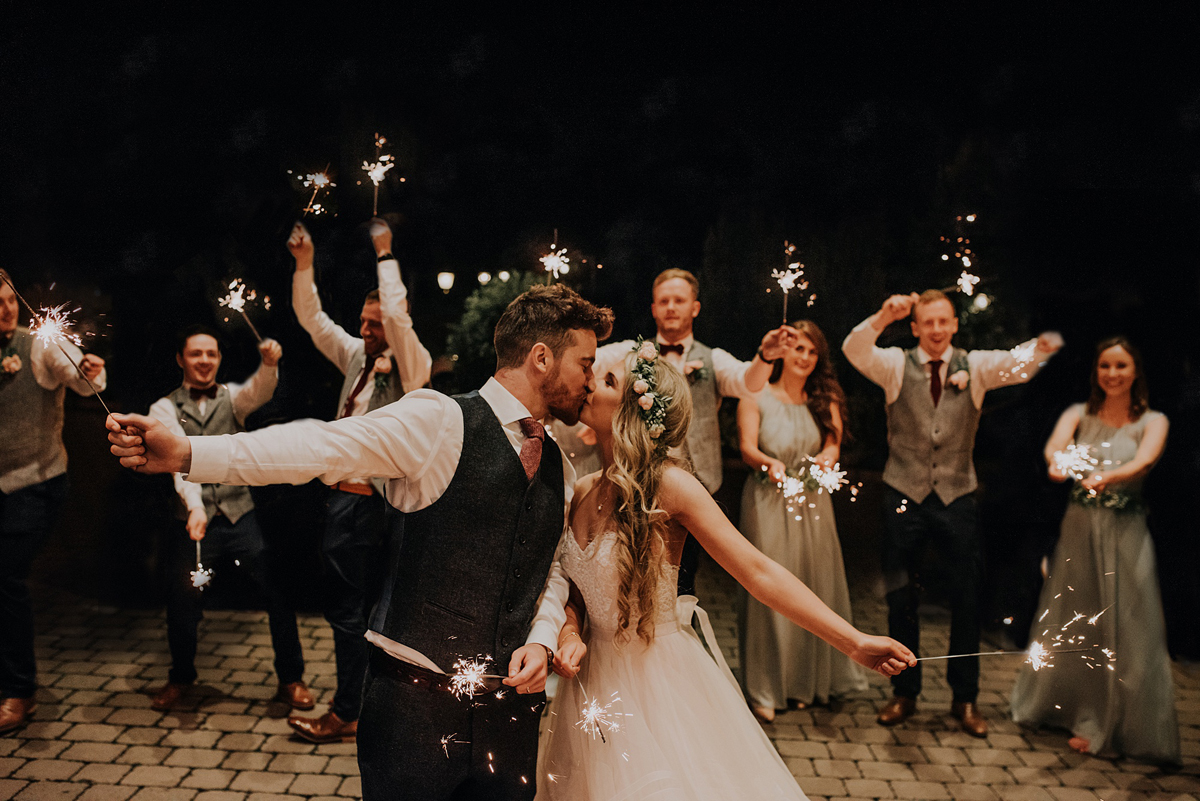 Congratulations to Suzanne and Luke for pulling off such a spectacular wedding straight out of a fairytale book. And special thanks also to Claire Feck Photography for bringing the magic of the day out in all the photo's.
Until next time..
Much love,
Holly x