You're going to adore today's wedding readers- it just has everything- amazing photography (by The Hendrys), fabulous styling, the most gorgeous gown and beautiful details everywhere you look.  Take your time, grab a drink and enjoy.
Meet Cameron, a tiler, and Kirsten, an oncology nurse, who married on the 21st of July 2017 at Dalduff Farm near Ayr in Scotland.  Kirsten actually first found Dalduff Farm on Love My Dress and the first wedding she ever saved took place here, so its lovely to come full circle and feature her own wedding at this beautiful venue. Kirsten and Cameron chose to have their day captured on moving film by Barry Best of The Worldy Nomads and were thrilled with his work.
"Barry's videos capture each moment in such a natural and beautiful way.  He was fun and enthusiastic, discreet and professional in his work and it was so emotional watching our day back. It's amazing the amount of moments or words you might have missed.  It is an invaluable gift."
https://vimeo.com/237734792
"I wanted to create a day that was intimate and relaxed with a bohemian feel and I wanted the day to reflect us both. We used quite a simple pallet of whites and greens with lots of wild foliage and eucalyptus and I took inspiration from the things that I love and have around me at home, from antlers to glass terrariums, weavings and lots of green plants.  I was also inspired by the Moroccan and bohemian styling of the runway show where I first saw my dress."
Images by The Hendrys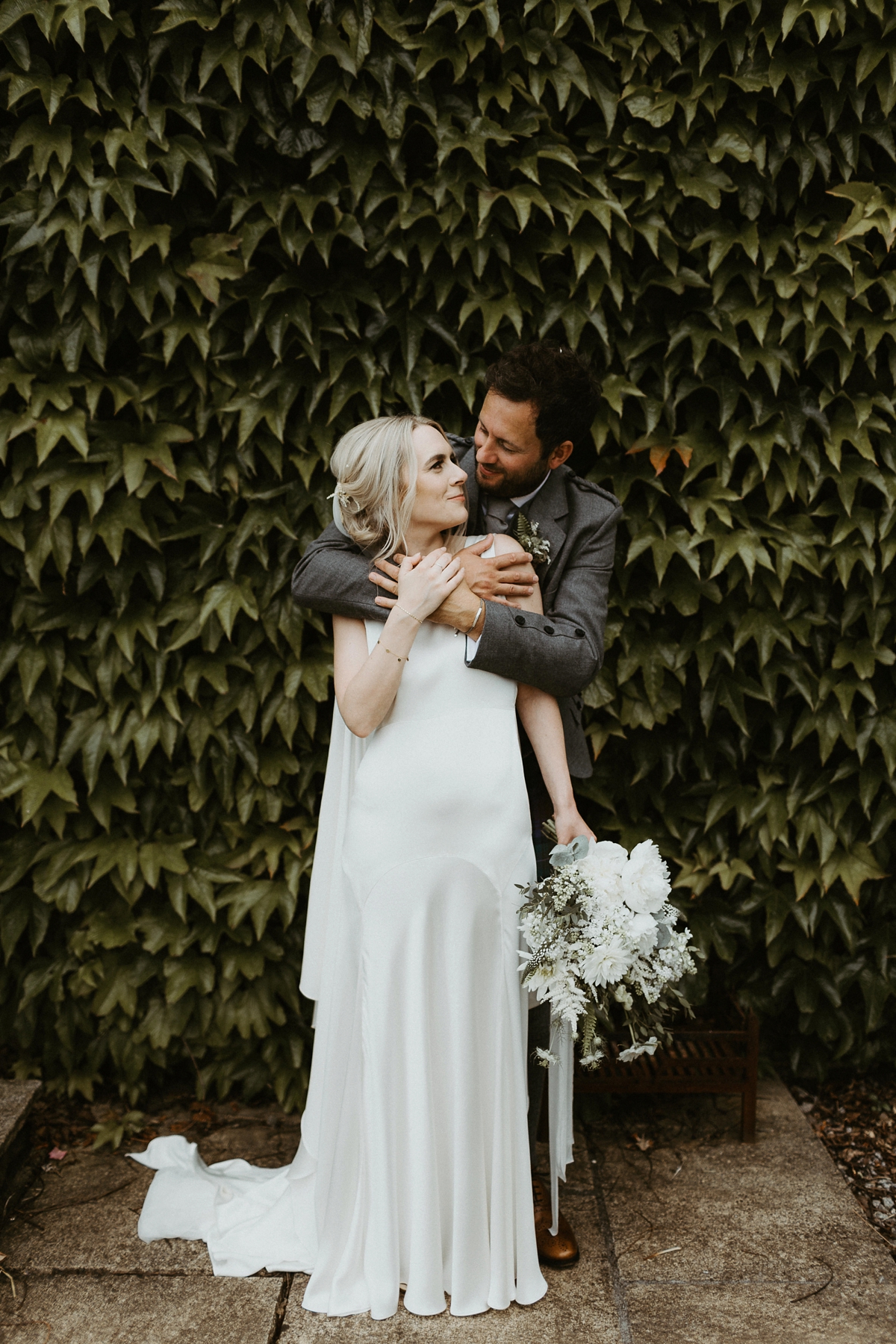 "For me, choosing the right photographer was really important.  I had followed The Hendrys for quite some time and I absolutely loved the way they captured a wedding with each picture so real, vivid and beautiful.  Sarah and Darren are such a cool and relaxed couple, they put us both completely at ease and I couldn't recommend them highly enough. We have so many amazing pictures which we will treasure always."Kirsten wore a fabulously bohemian gown by Houghton, New York which she purchased from Jean Jackson Couture in Manchester. Very sadly, Houghton closed their bridal fashion house just a few weeks ago, but you can find similar bohemian styles at the same boutique – ask for Flic Jackson and tell her we sent you her way!
"I had only seen my dress online but it made a huge impression on me.  The only problem was, it wasn't a style stocked here in the UK.  Felicity at Jean Jackson Couture was unbelievably helpful and offered to get the dress for me as part of her upcoming trunk show collection."
"After two months the dress arrived in Manchester and I was finally able to try it on.  It was quite nerve wracking, as after all of the effort I was afraid I wouldn't like it or it wouldn't suit me.  The silk of the dress was just stunning, elegant and soft and when Felicity pinned the silk drapes around my wrists, creating a winged look, my decision was made."
"Our amazing stationery was designed by Laura Elizabeth Patrick.  Laura sourced the most amazing rag paper from the company Fabulous Fancy Pants and drew a beautiful illustration of Dalduff Farm which headed each invite."
"I  finished each one with some paper twine and a personalised wax stamp from the Linen & Leaf collaboration with Back to Zero."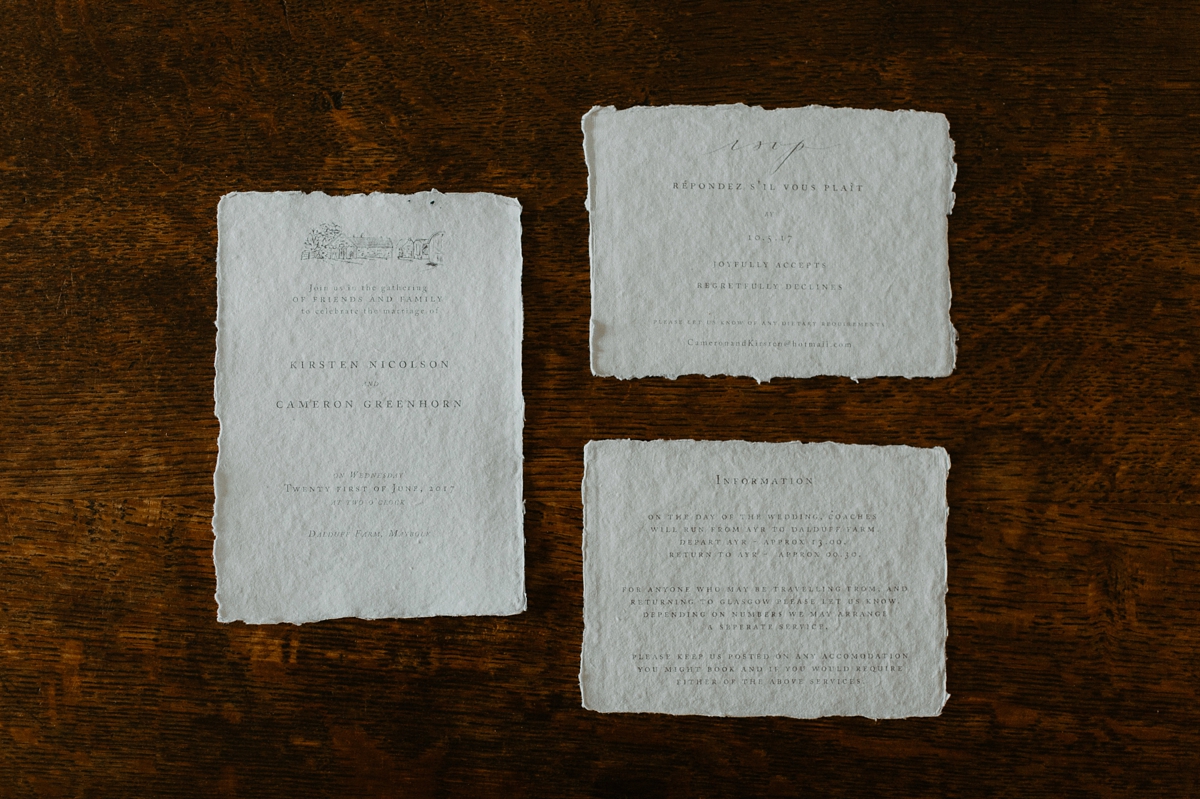 Flowers were the work of Floral Menagerie, who created the most beautiful floral arrangements and bouquets for the day.
"Lisa is the most amazing florist.  She is so enthusiastic about what she does and that shows in all of her work.  For me, the flowers were the thing I was most excited about.  I wanted them to be simple, white with lots of greenery and foliage and I was truly blown away as she created the most stunning floral features around the farm. I was quite emotional taking them all apart the next day."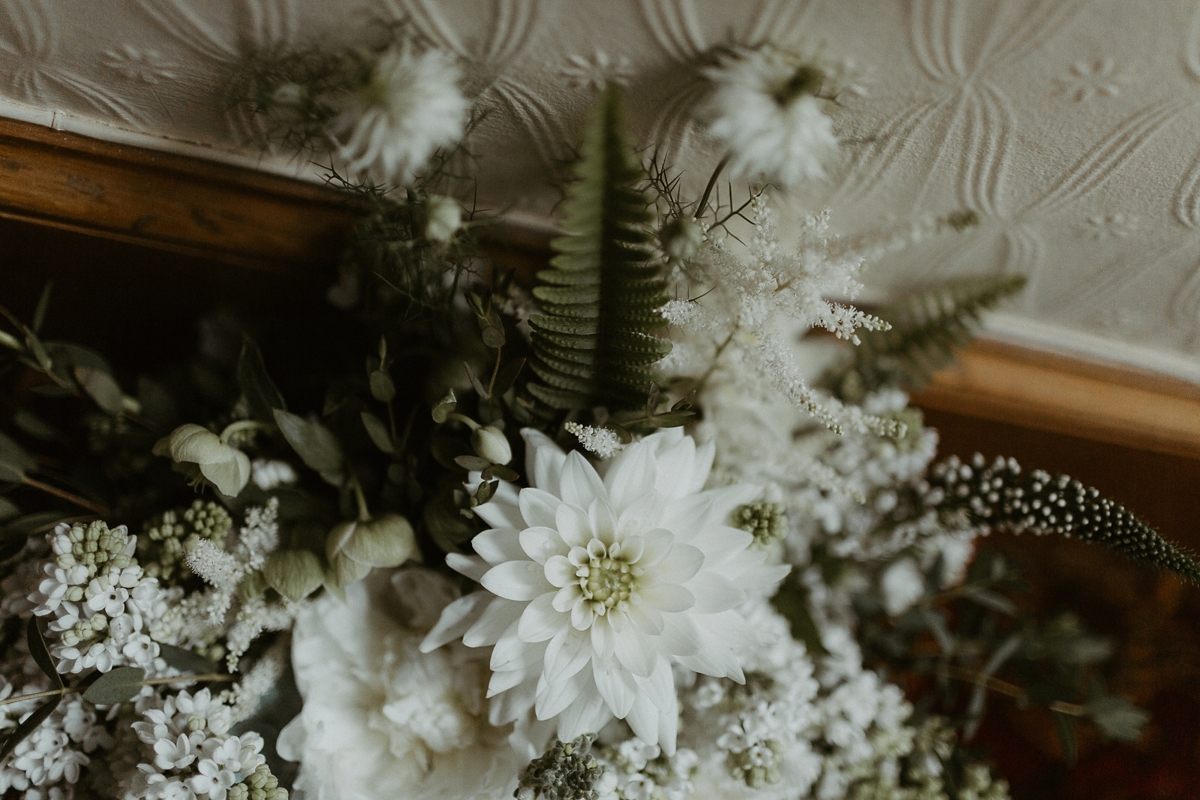 To accessorize, Kirsten wore a tulle veil from Bo & Luca, bought from The Lovers Bride in London, while for shoes she chose a fabulous pair of gold Carvela sandals by Kurt Geiger.  She kept her jewellery simple and delicate with bracelets from Louise Damas and earrings from ASOS and her make up was done by friend and make up artist Jade Colledge (no details).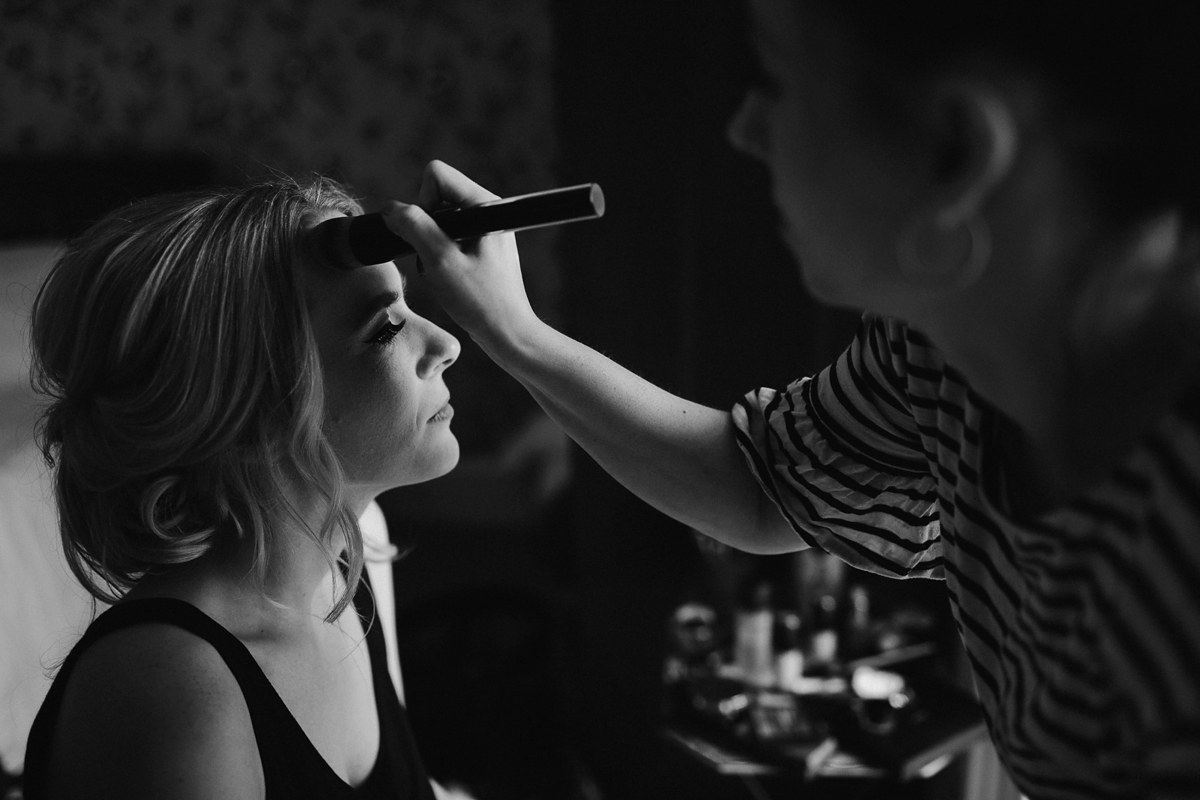 "Most days my hair is simply left to dry or tied into a messy top knot so I wanted to make a little more effort on the day but at the same time keep it simple.  Lana Cairns of Cameo Bridal Styling did the perfect job of styling my hair in a way that was relaxed but elegant, and finished with flowers and foliage gathered by our florist."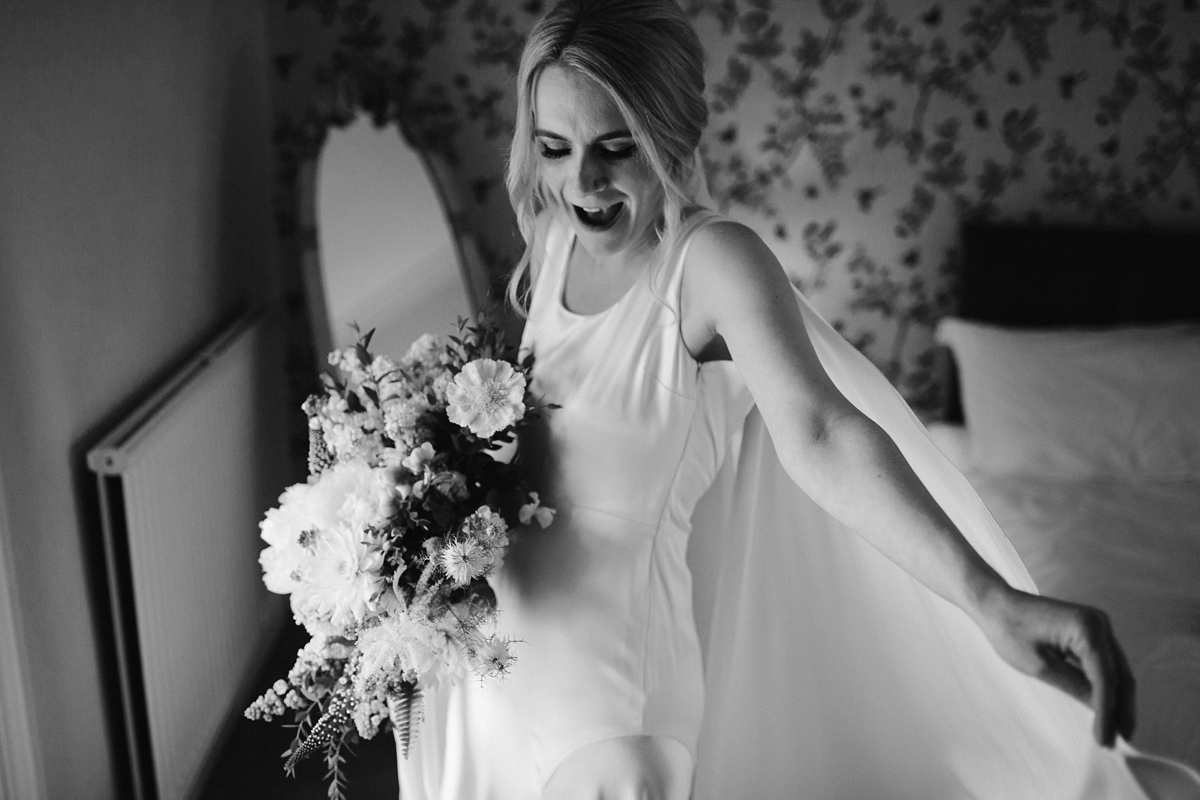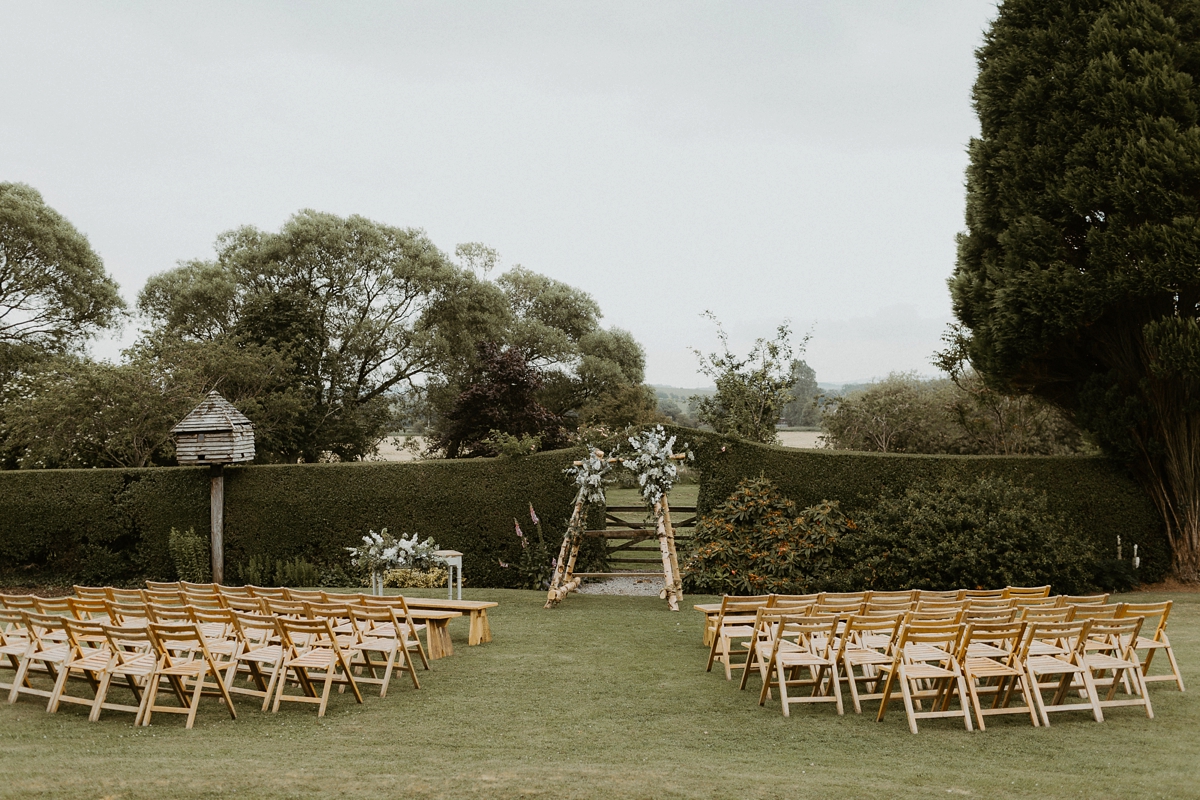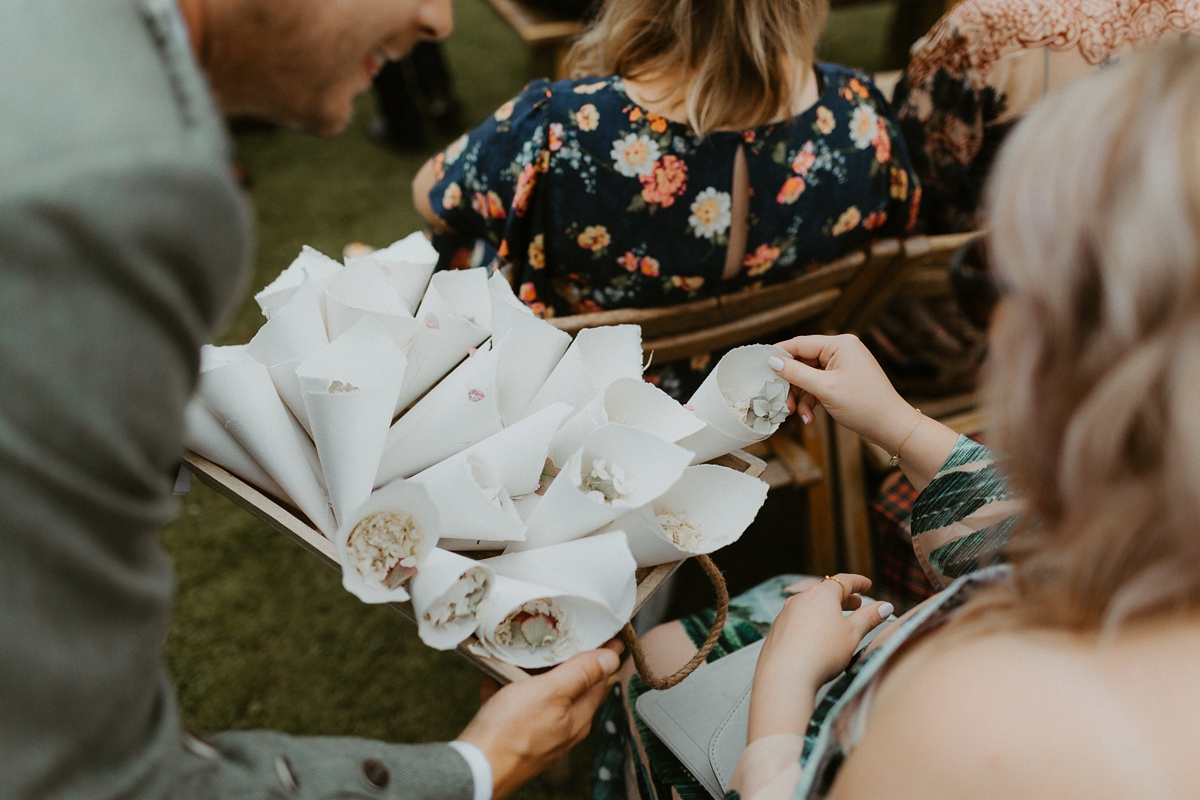 Kirsten walked down the outdoor aisle with her dad to 'I Giorni' by Ludovico Einaudi, played live by pianist John Rankin.
"My dad accompanied me down the aisle.  This meant the absolute world to me and as the youngest and last of three sisters to get married, I know it meant a lot to him too."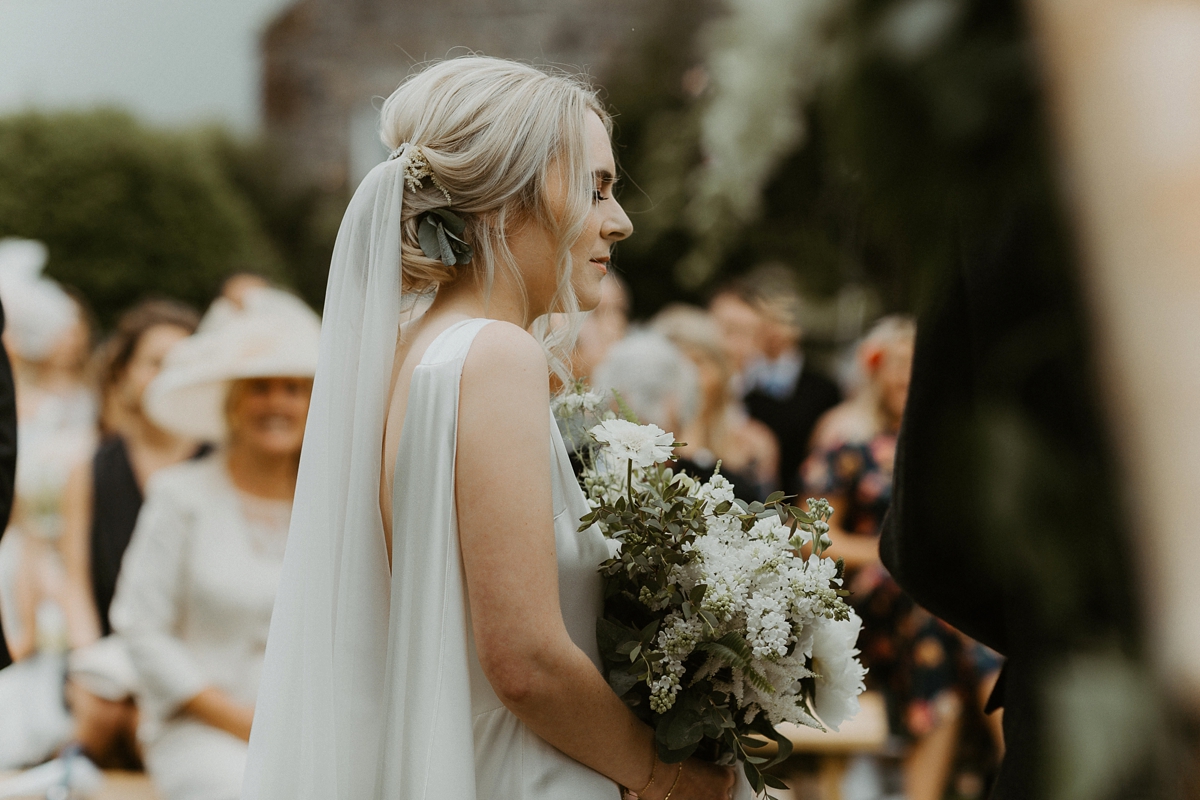 "Cameron and I wanted a humanist ceremony so visited Humanist Society Scotland. We found Craig Campbell through their directory and after reading a little bit about him, we got in touch.  His beliefs, sense of humour and personality was one that we were both drawn to and we knew from the offset that his ceremony would be relaxed but, most importantly, personal."
"We each wanted to write our own vows, allowing us to truly communicate our feelings for one another, our relationship and wishes for our future.  It also enabled us to add a little bit of humour and fun. We kept our vows to one another secret which made them even more special."
Kirten's sisters looked lovely in bridesmaid gowns from Mango, worn with wedged espadrilles from ASOS and Dune.  The flowergirl wore a similar pair from Zara Kids, paired with a vintage style gown edged with crocheted lace from Tea Princess, worn with a foliage halo.  The adult bridesmaids received a personalised necklace from Missoma and a bracelet from & Other Stories as gifts from Kirsten while the flowergirl received an adorable personalised star wand from Sesame and Lily.
Cameron's sister Sandie and Kirsten's best friend Rachael each did a reading; Sandie choosing 'A lovely Love Story' by Edward Monkton, while Rachael read 'On Your Wedding Day'.
"Walking down the aisle to Cameron, through all of our closest friends and family, each of them there to celebrate with us and with big smiles on their faces, was just amazing.  Telling everyone around you how much you love someone is quite daunting but when that person is standing right in front of you, it's only them you can see."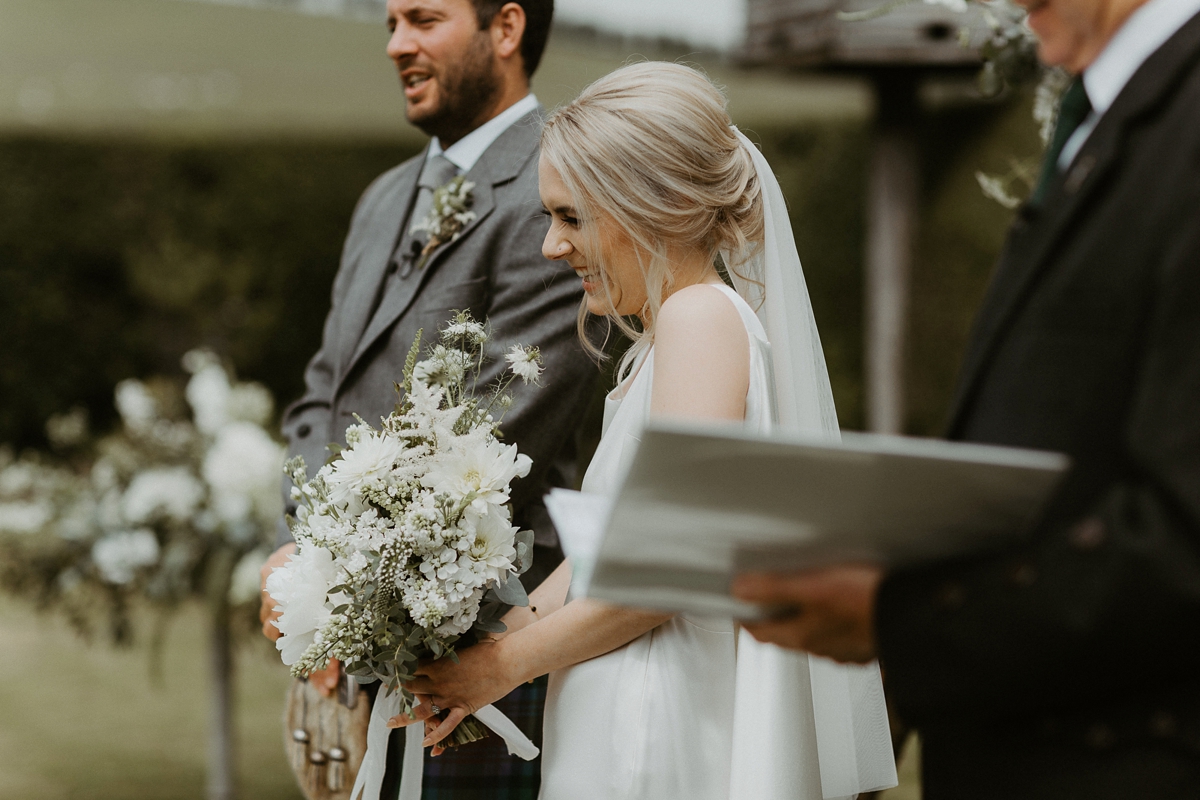 "My engagement ring was originally Cameron's mother's and I wanted to find an independent maker to create something to go with it.  I found Katie Lees via The Glasgow Wedding Collective.  Her designs were unique and beautiful and I loved the thought of having something a little different.  Cameron chose a lovely platinum ring from James Porter & Son, Glasgow."
Cameron wore a kilt in the Isle of Skye tartan (a nod to Kirsten's childhood), paired with a jacket and waistcoat in a light grey tweed, his own sporran and an engraved pocket watch, which was a gift from his bride.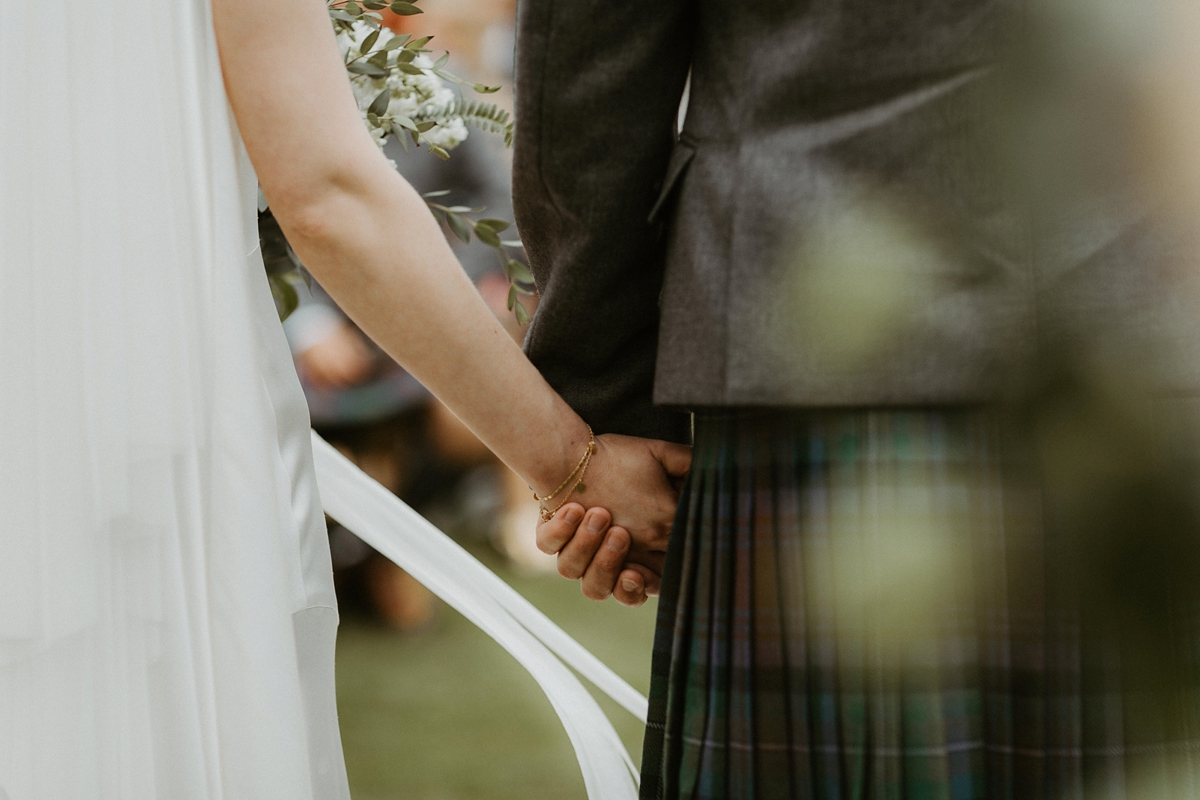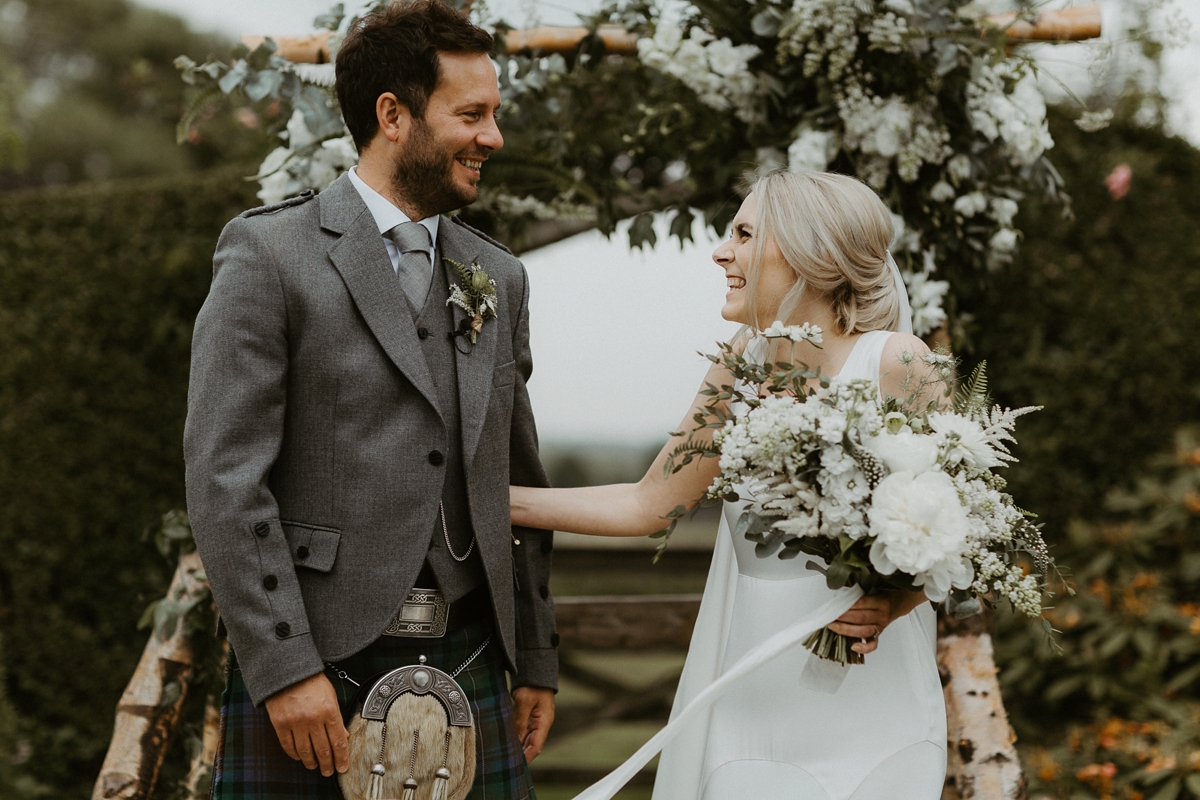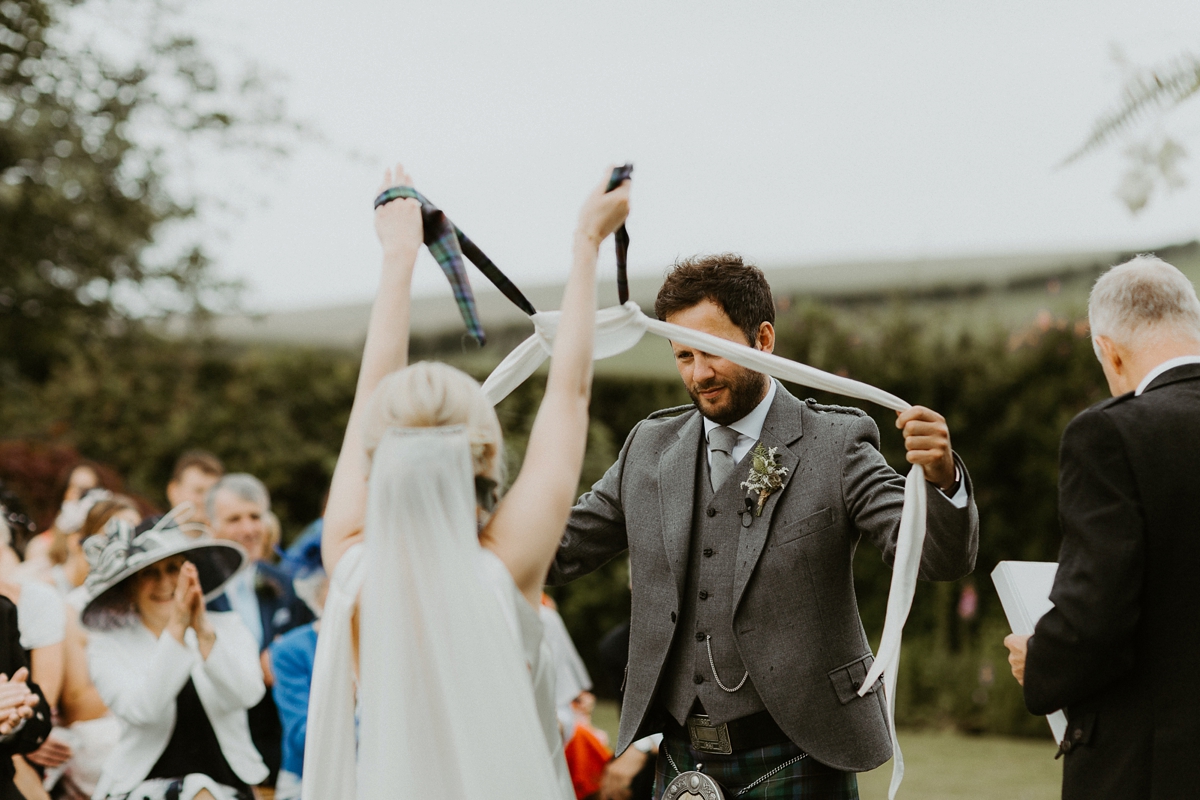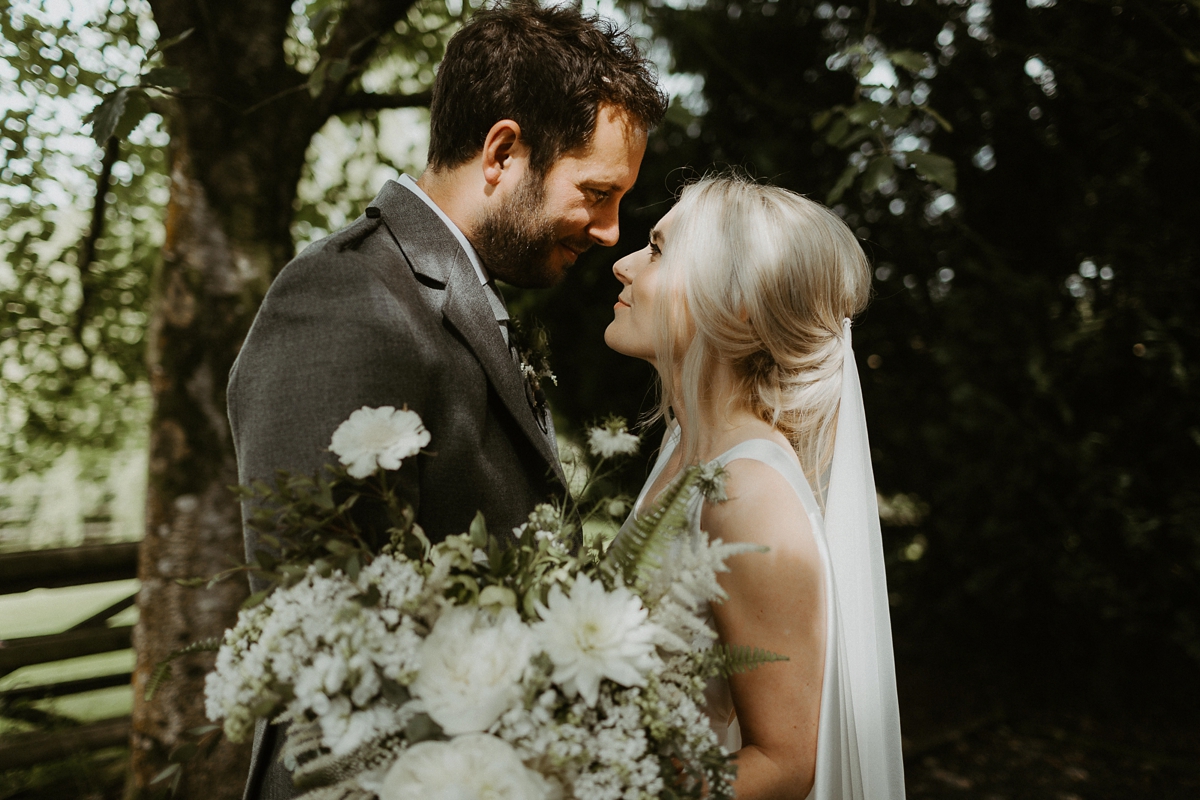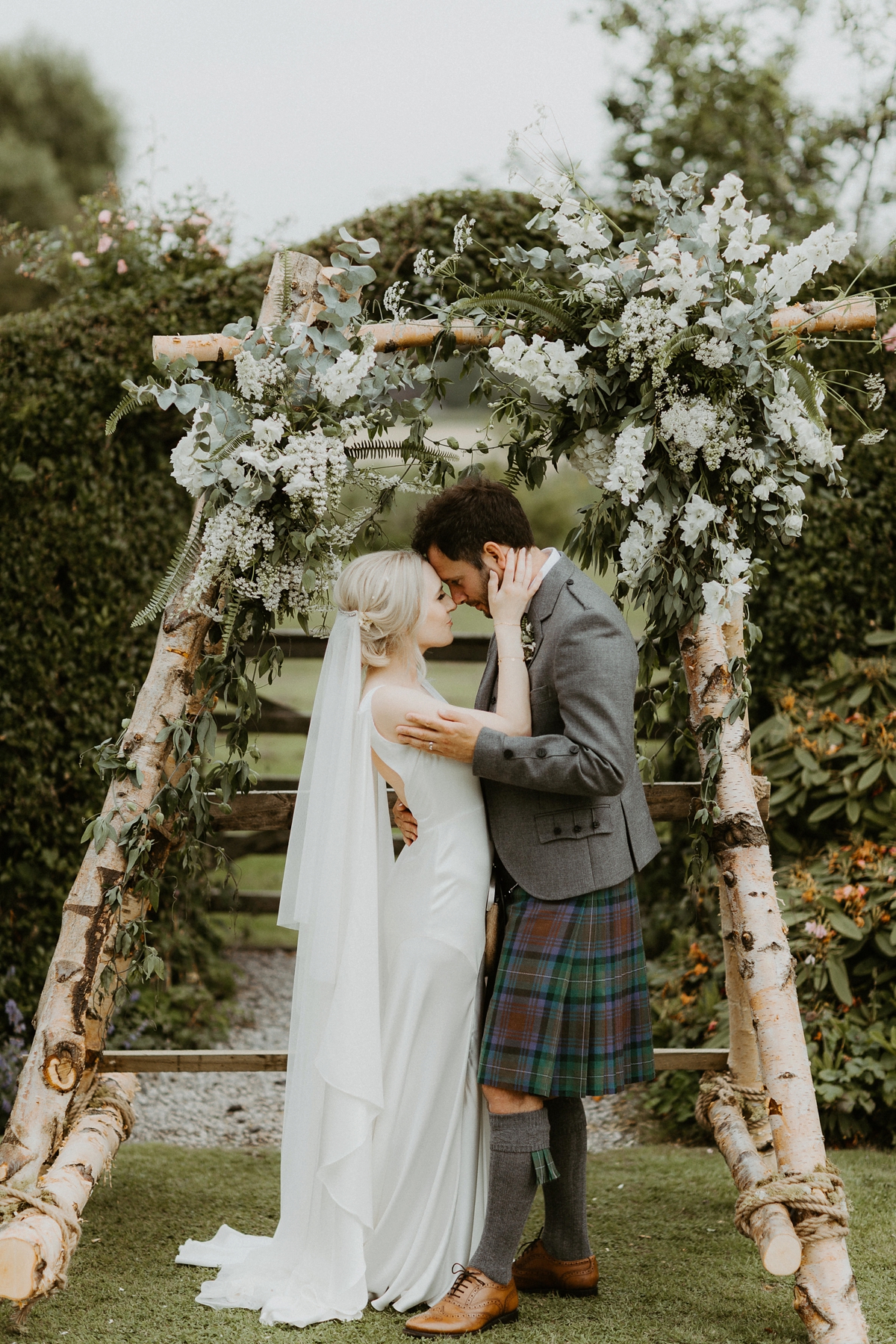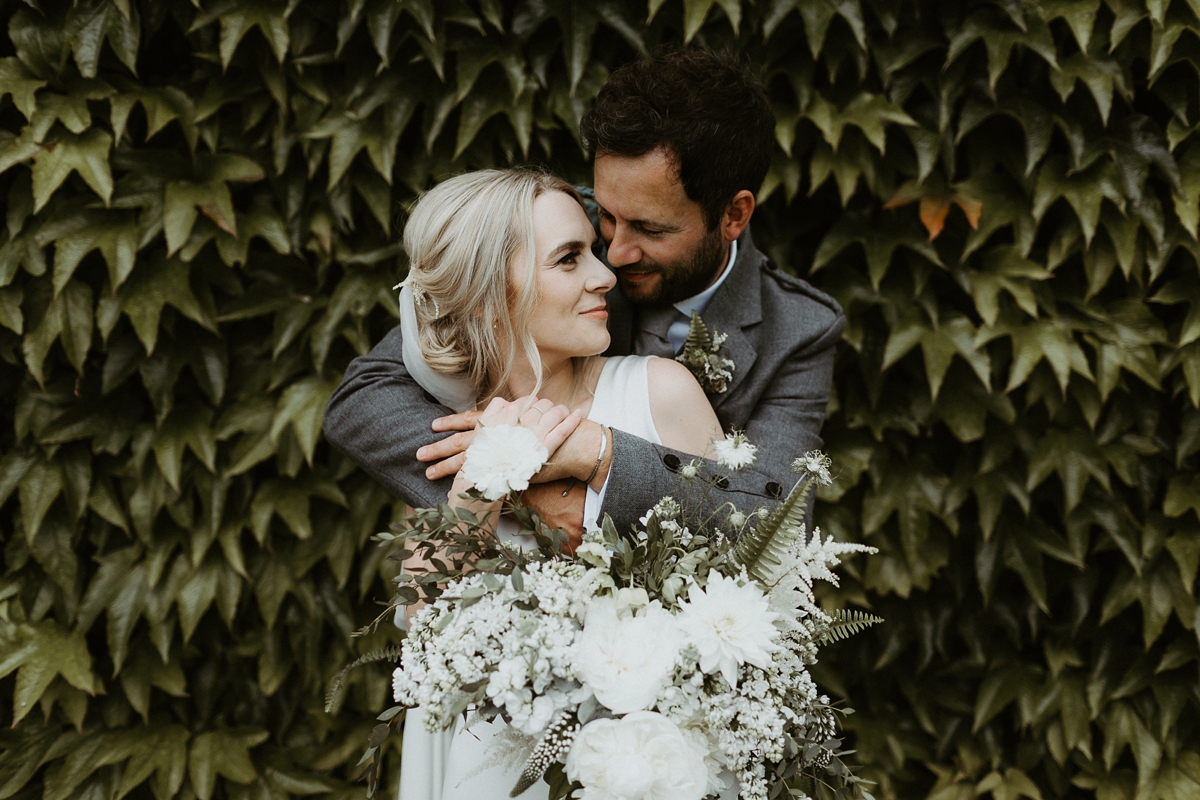 "There are so many talented, creative and skilled people in Glasgow and I was keen to use them to help me decorate the venue with their individual pieces.  Two of these people were Kirsty Porter of Oh So Hygge and Kimberly Armstrong of Kimberley Armstrong Glass."
"Kirsty makes the most amazing macramé hangings and created the most wonderful custom-made piece, which we used to decorate the Dutch barn."
"Our florist Lisa then dressed the hanging with lots of flowers and foliage which finished it off beautifully.  For our main centrepieces Kimberley made eight standing glass terrariums, which I filled with moss and a large pillar candle."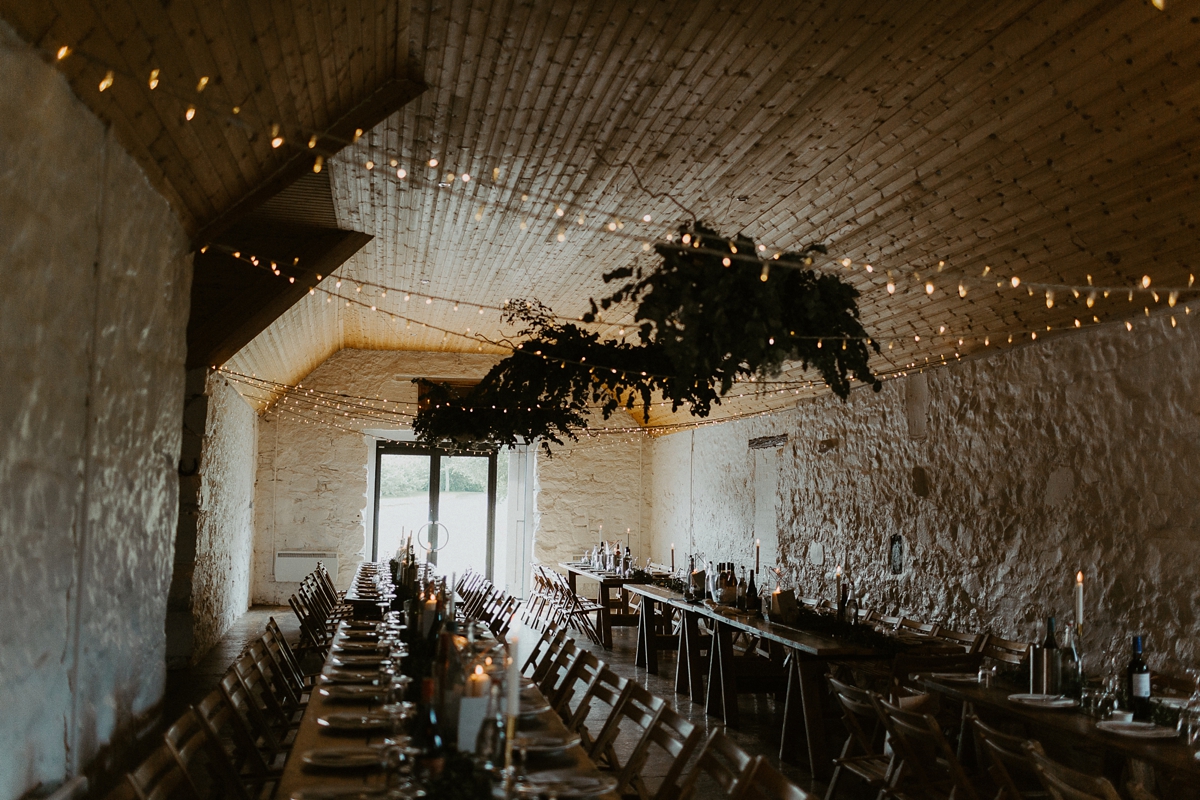 "The farm is well renowned for their amazing food and it is a reputation that is well deserved.  They use local produce and have their own on-site butcher and butcher shop. Their informal and relaxed sharing feast is so unique and it got all of our guests mixing together."
The beautiful cake was by Anna Luntley at Bakery 47, who also provided the cakes for the dessert table.
"I loved the rustic style of Anna's cakes and the way she decorated them with simple petals and covered them with beautiful flowers.  My favourite was our wedding cake.  Named by the bakery as 'Copper and Wolf', it was a sweet banana, pear and white chocolate cake, covered in white chocolate ganache.  It was amazing!"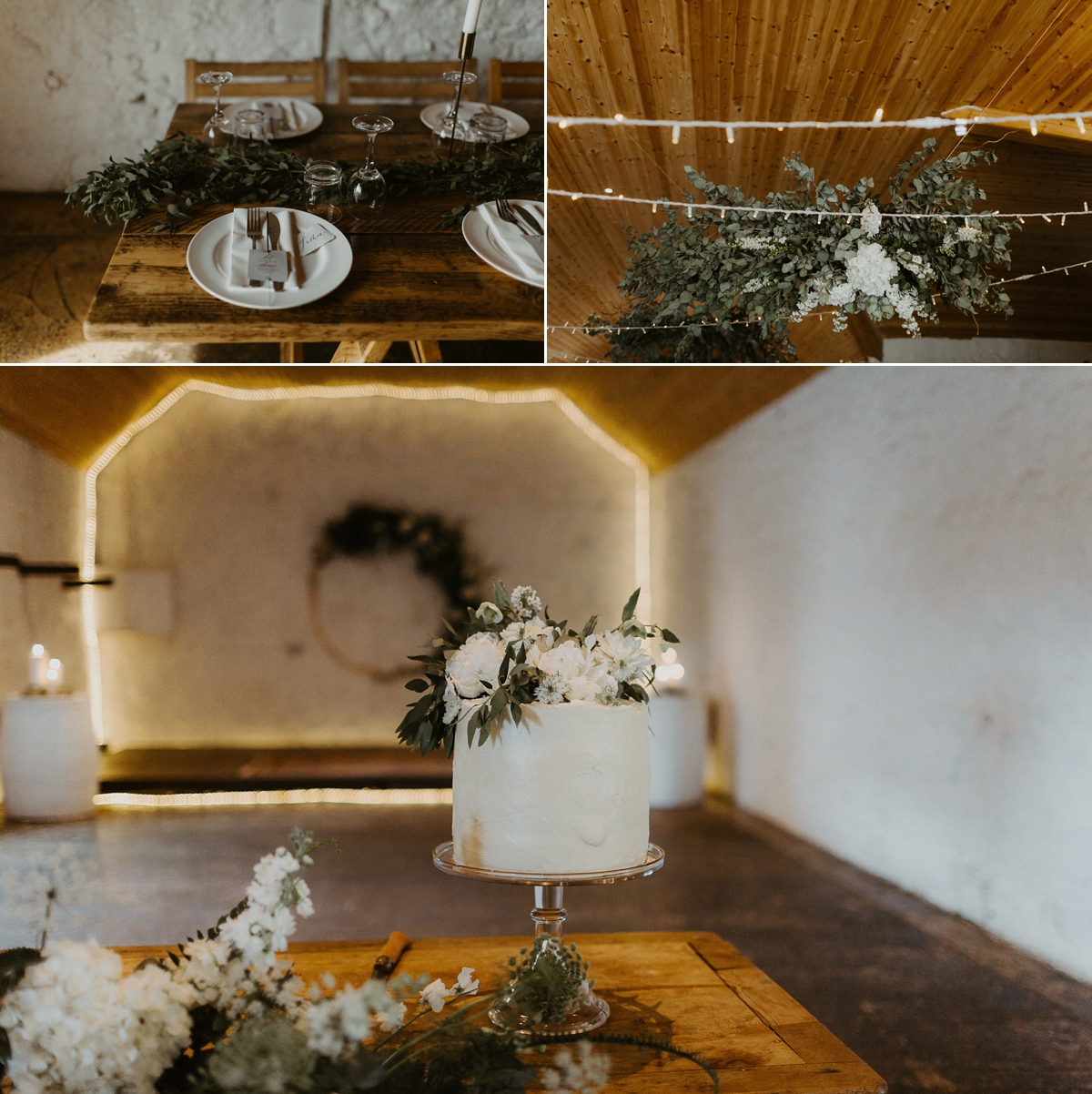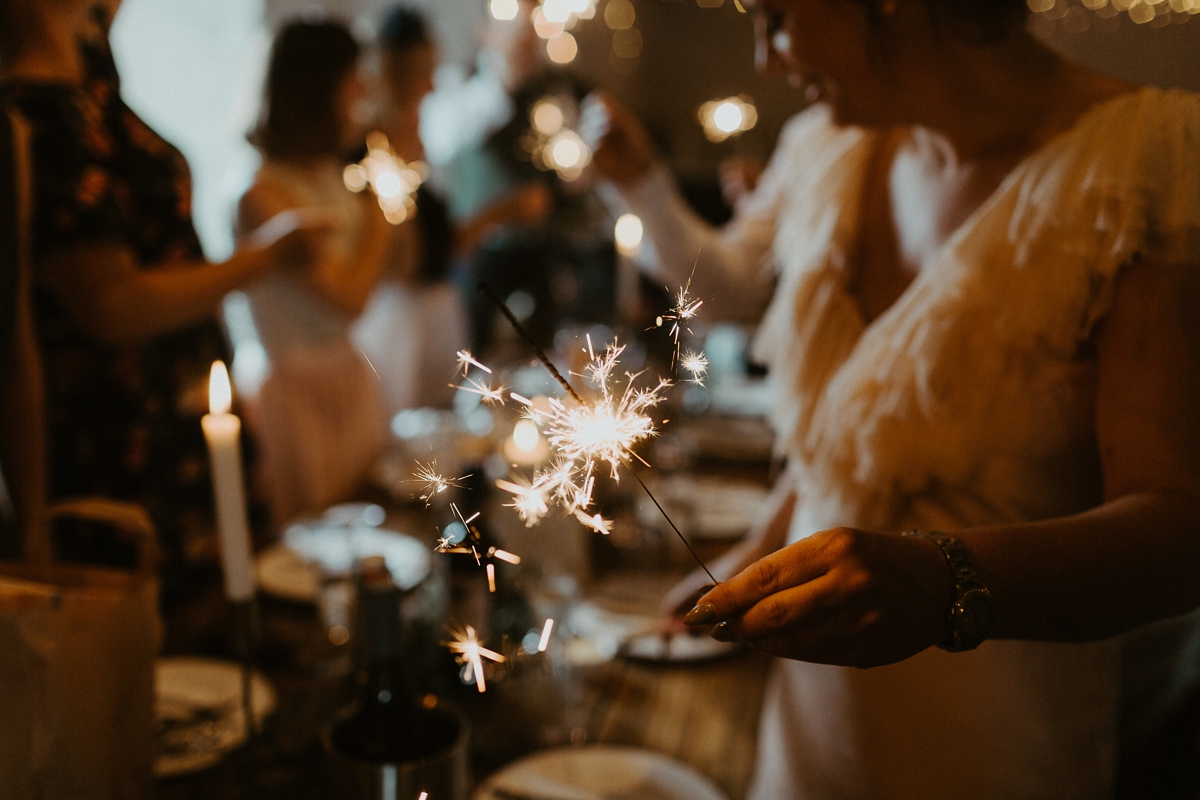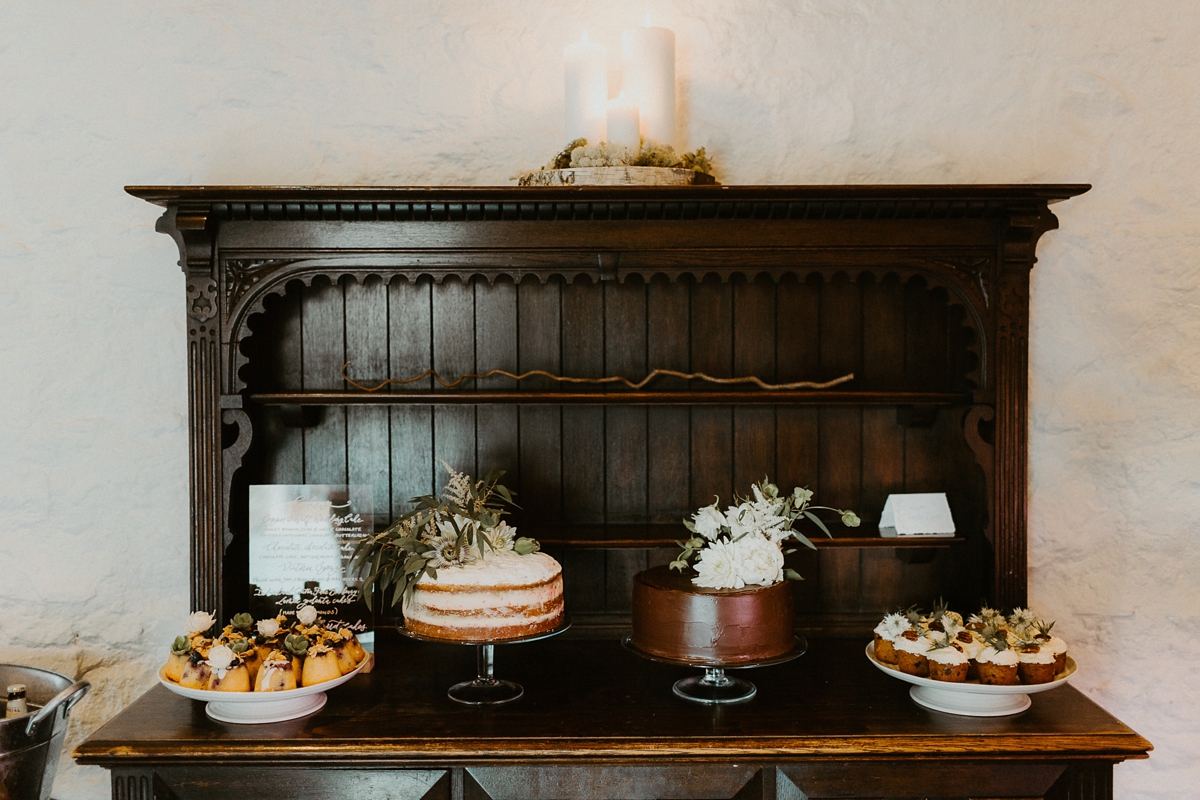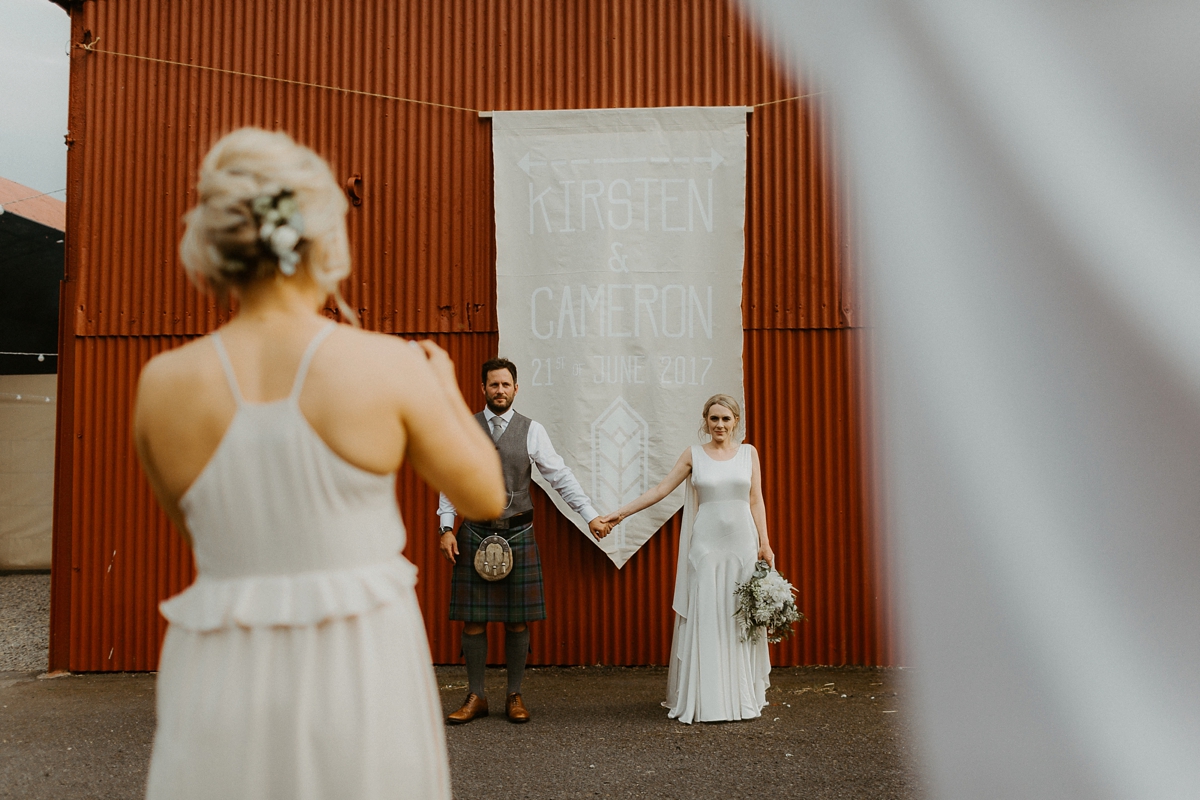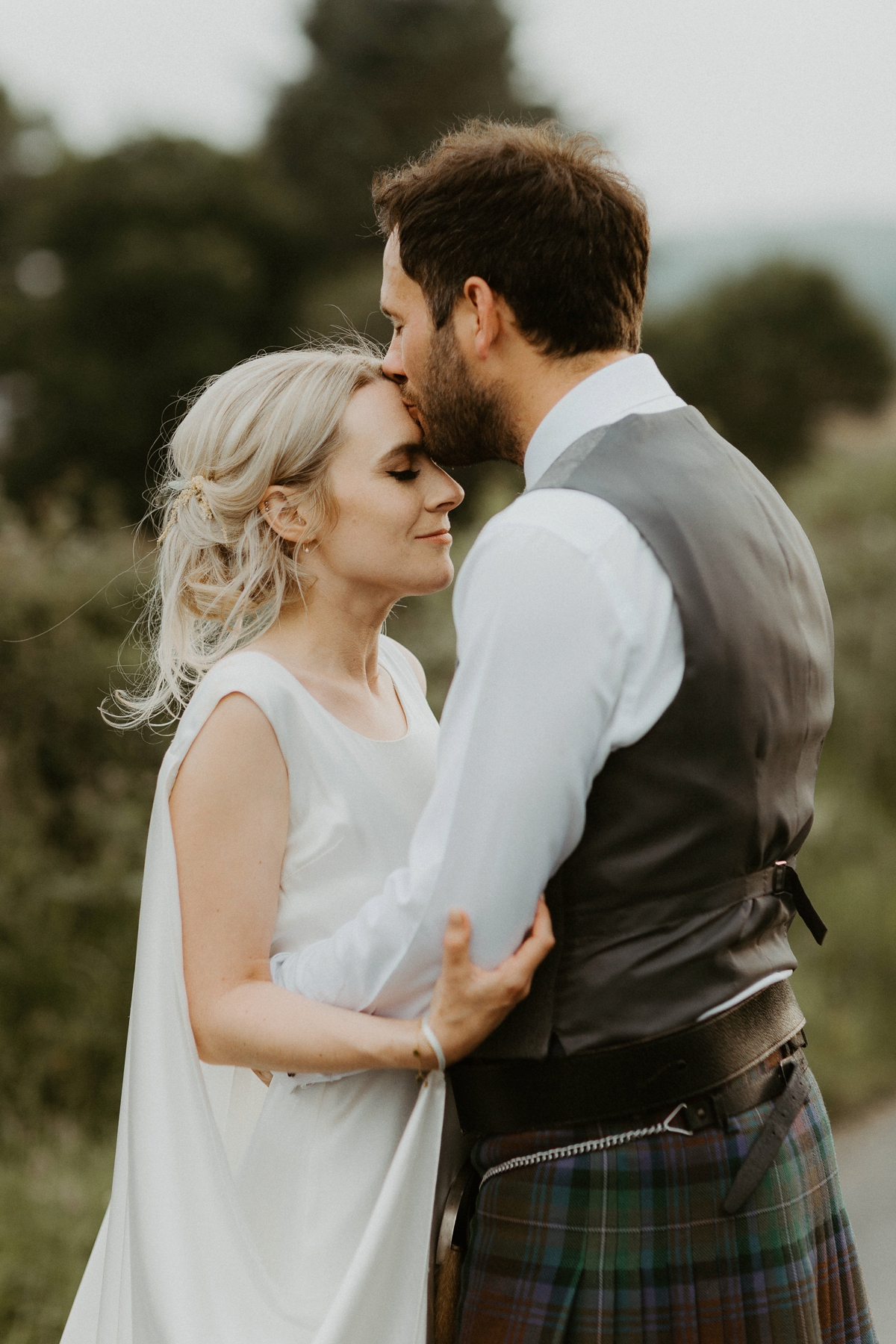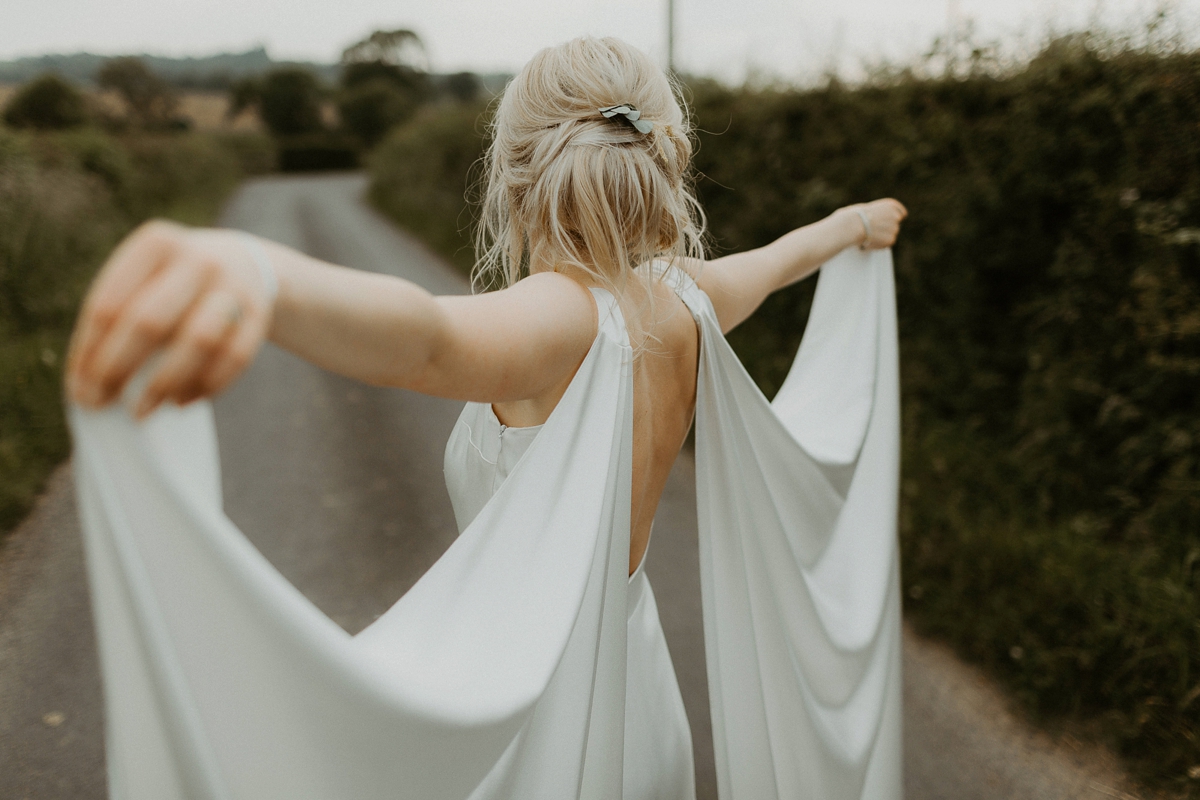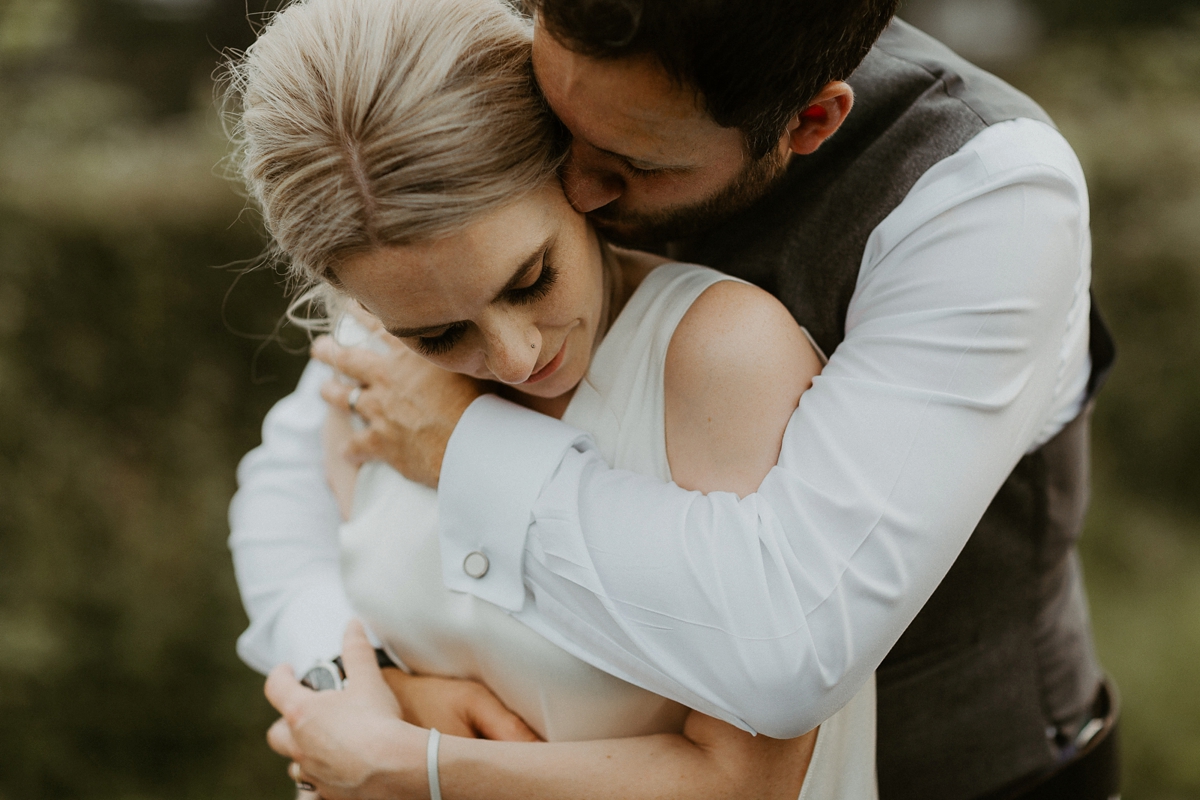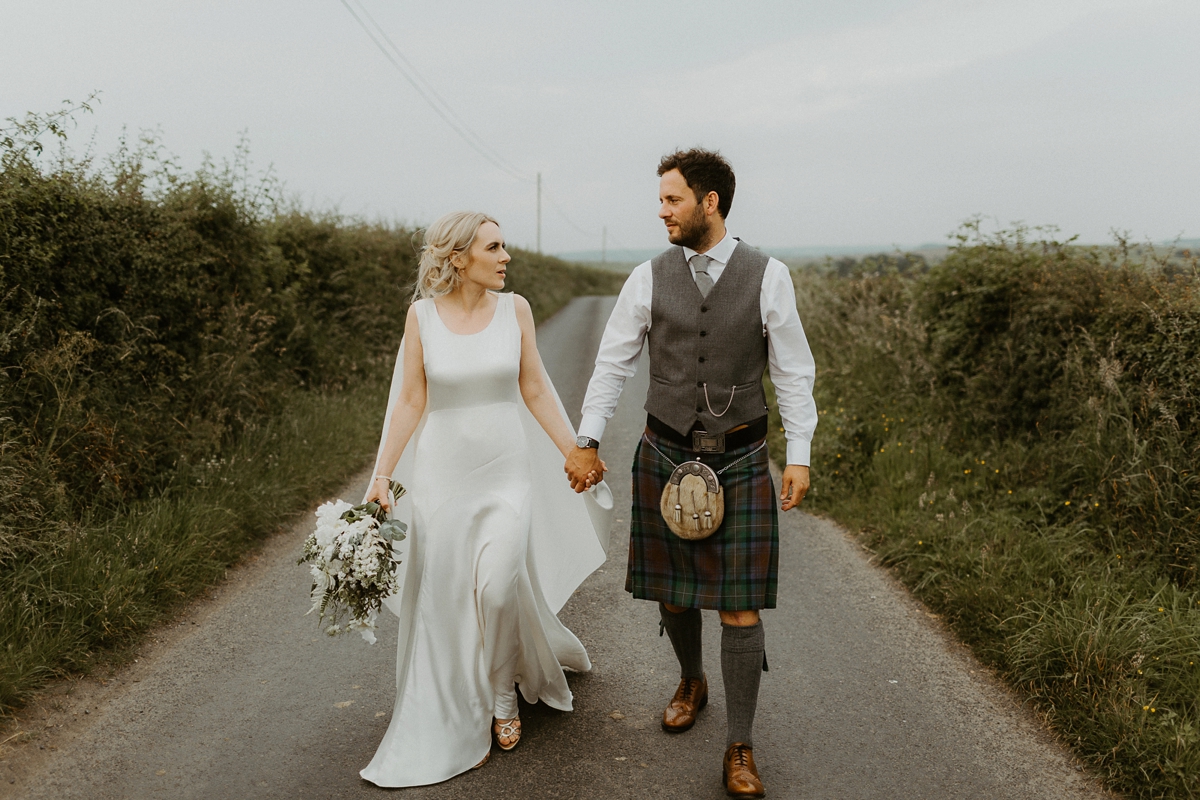 "For our evening entertainment we booked The Kicks.  These guys were great and played a mixture of ceilidh, rock and contemporary tunes."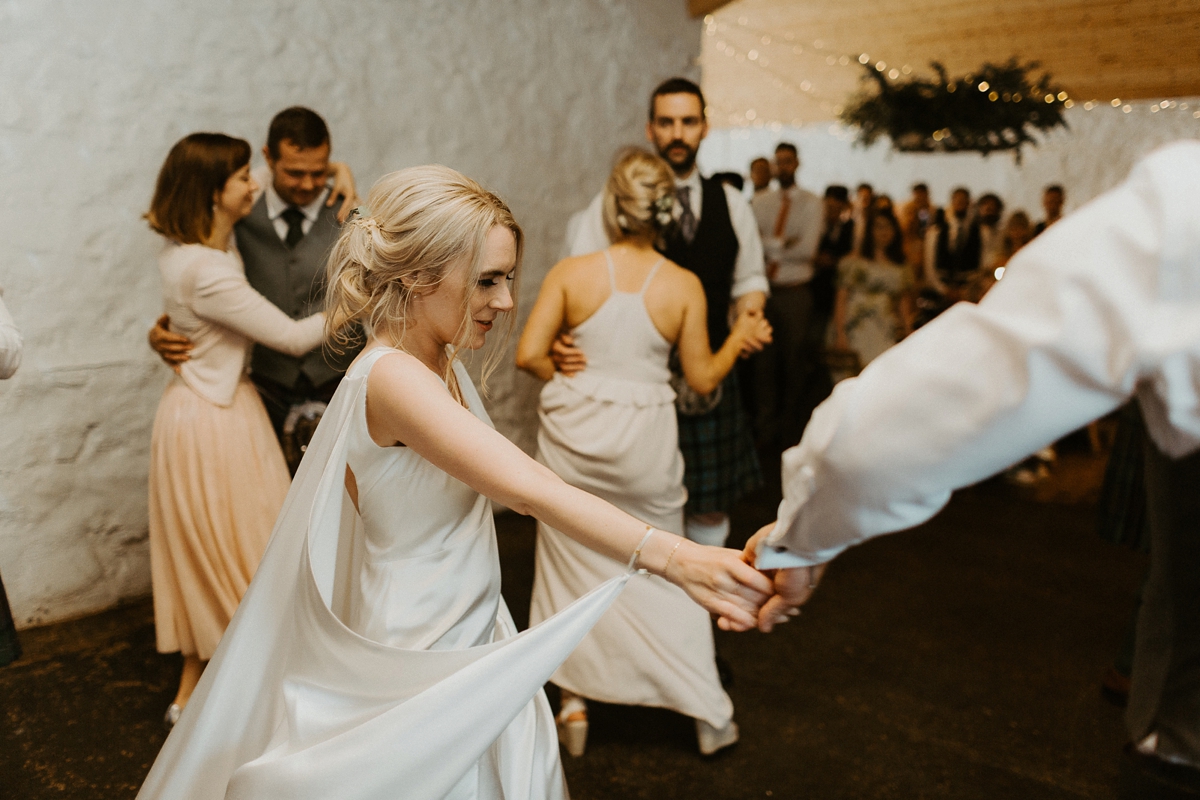 Words of Wedded Wisdom
"Enjoy every minute and surround yourself with those you love.  Whatever happens, you will have the most amazing day and so will they.  The day passes far too quickly so live in each moment. Take time to step back to watch and take in what is going on around you. Those moments are truly special."
Huge thanks to Kirsten and Cameron for sharing this beautiful day.  Its so packed with gorgeous details and special touches that I feel like I need to go back through the pictures all over again already, don't you?
Love, Shona x