I have such a soft spot for the city of Manchester, and I've spent many a happy hour wandering its streets and taking in all of the gorgeous industrial architecture. There's a real beauty to it, and it's brilliant that today's couple chose to be married in an old warehouse, now converted and used as a versatile events space.
Artist and designer-maker Lucy married data scientist Judd on the 28 July 2017 at Victoria Warehouse, Manchester, in a cool and eclectic day, reflecting all their varied passions and interests.
"There wasn't one style in particular that we stuck to, we just wanted to include all the things we loved so that the day would be a true reflection of us! A lot of our inspiration came from our favourite music, films and style eras and we just sort of mixed everything together!"
Images by Emma Boileau Photography
The colours we used were ones we already had all over our home and actually most of the props we used came from home too! We also both have a thing for old, worn industrial spaces and after seeing some of our favourite bands perform at Victoria Warehouse the year before, we were delighted to find out that they had recently become a wedding venue! It was the perfect canvas for us with more exposed brickwork than you could shake a stick at!"
Lucy and Judd had the brilliant idea of a time-lapse film for their day, which they set up themselves using a Polaroid Cube.
"We would have loved to have had a videographer, but our budget just wouldn't stretch that far, so we figured the next best thing would be to make a time-lapse! We bought a Polaroid Cube which was cheap, cheerful and super easy to set up! Not exactly the highest production values you can imagine, but seeing the whole day from set up to pack down in 6 minutes is quite a lovely thing! And time-lapse dancing is particularly amusing!"
Wearing a striking deep burgundy lipstick and her hair in a chic, pinned updo, Lucy completed her outfit with an olive branch and gypsophila crown, which she and her bridesmaid Jenny made, and a spritz of her perfume, Black Musk from The Body Shop.
Lucy has been designing and making clothes for her own label, Little Lost Soul for five years, and so it felt only right for her to design and make her own bridal outfit. She initially made five dresses before landing upon the idea of a jumpsuit instead, and what an inspired idea it was!
"I am just not a dress kind of girl! The day I admitted to myself that it was okay to not wear a dress was so liberating! There are no rules!" 
As well as designing and making her own wedding outfit, talented Lucy also did the same for her bridesmaids, with three being made by her, and three purchased from Debut at Debenhams. They wore a variety of soft, dove grey jersey wrap and infinity style dresses with their own choice of shoes.
"Comfort was high up on the agenda for my girls!! We all wanted to be able to fit a good meal in and throw some serious shapes on the dance floor! The plan was to make all of the bridesmaids dresses myself…Then on a chance visit to Debenhams, we found three infinity dresses by Debut in the sale which were exact colour and fabric we wanted – huzzah! That left me with three remaining wrap dresses to make and a few alterations to make to the bought dresses to tailor them to each bridesmaid!"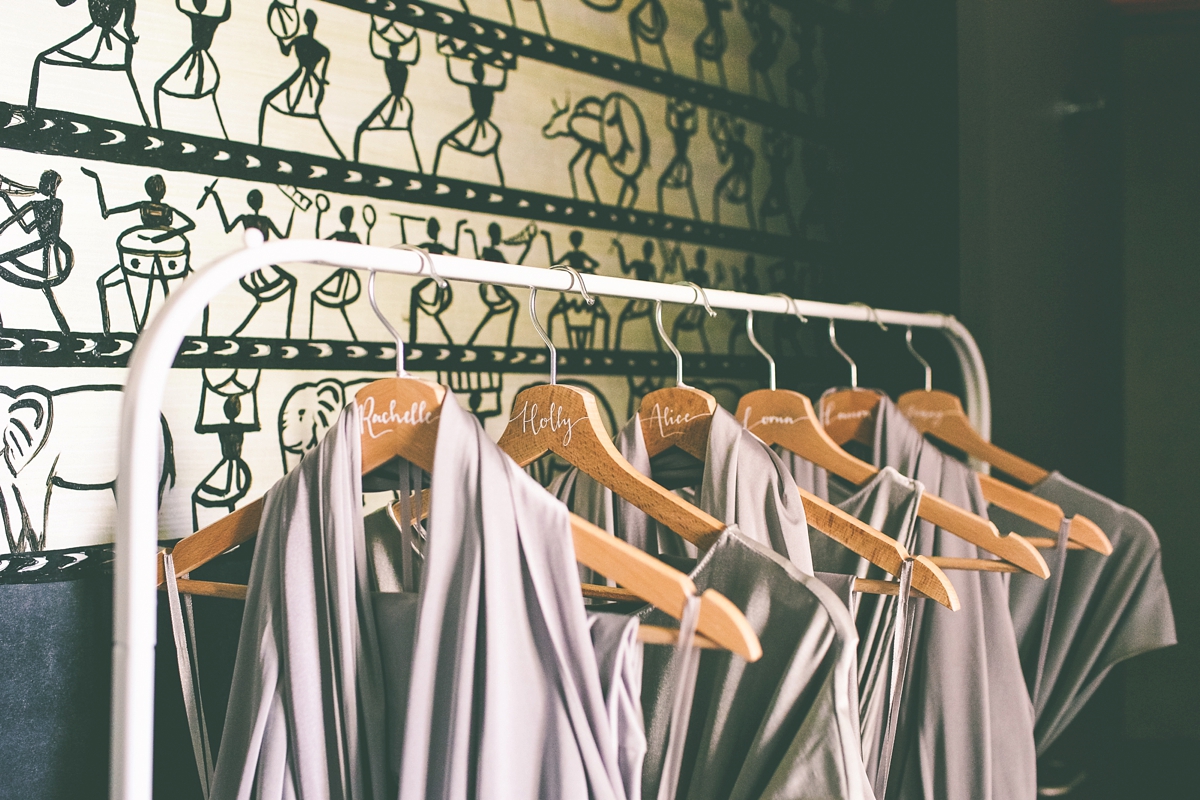 In their hair, the bridesmaids wore olive leaves, baby succulents and hebe, which had been picked from Lucy's mum's garden. Our bride also gifted her bridesmaids a gold ampersand bracelet each from Junk Jewels.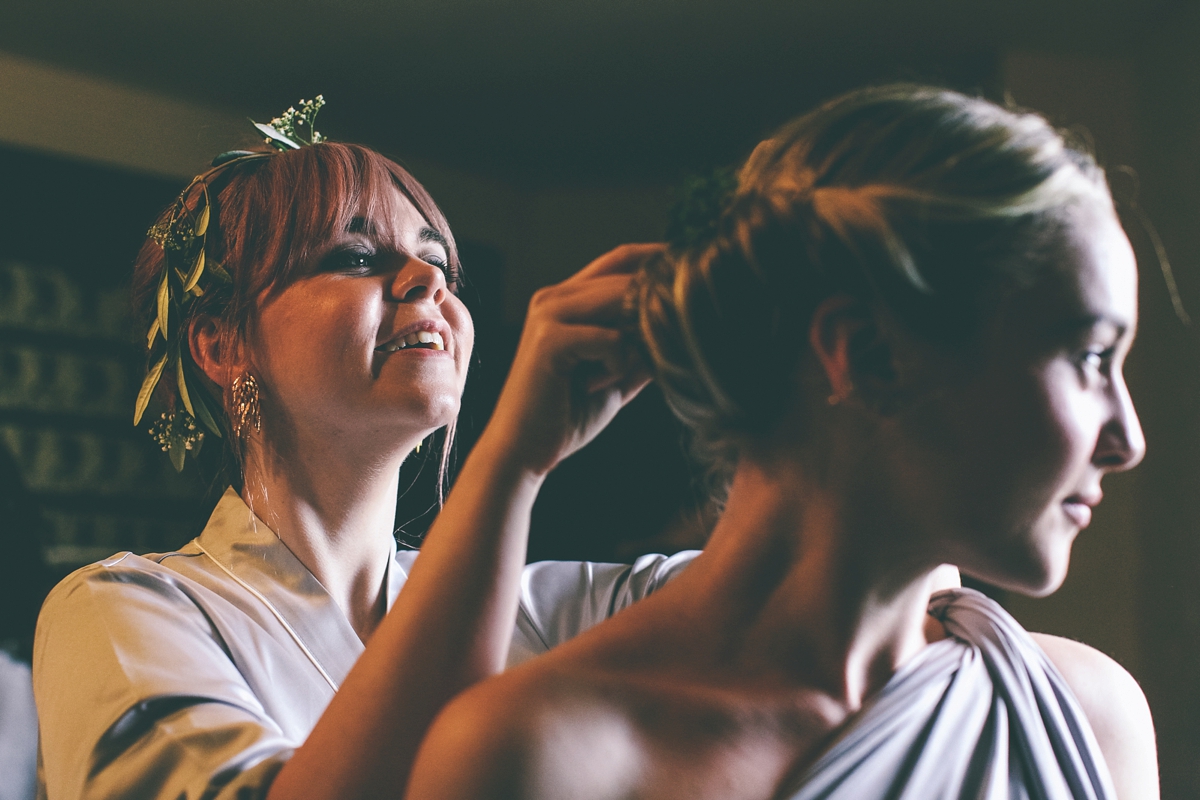 Lucy made her jumpsuit from duchess satin, with delicate spaghetti straps, a sweetheart neckline, keyhole detail and amazing palazzo trousers. She sourced the fabric from Bridal Fabrics, Fabrics For Sale and Super Luxe Fabrics. As well as the jumpsuit, Lucy also wore the most exquisite embroidered Italian tulle top to wear over the top.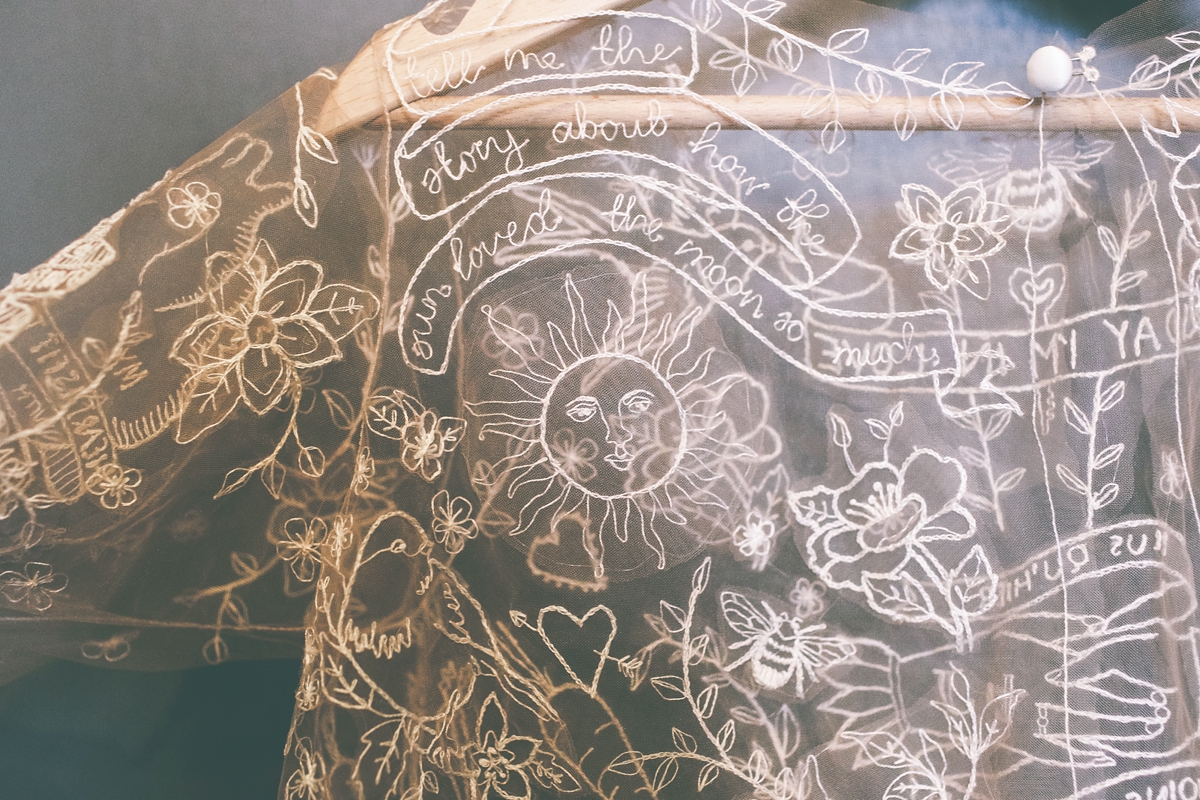 "The only design feature I'd been set on from the start was that I wanted to create something sheer, embroidered and "tattoo-ish". I also knew that I wanted my "tattoos" to include twelve carrots in homage to one of mine and Judd's favourite songs, 'Twelve Carrots Of Love' by Sweet Baboo. Oh, and I wanted these twelve carrots to be embroidered by my most favourite ladies… So I'd already given myself the task of learning to embroider on sheer Italian tulle and teaching a bunch of other very apprehensive gals to do the same!"
"Luckily I had the best advice throughout from RSN tutor and now mum-in-law, Pippa Foulds, who is also responsible for the stunning gold work carrot which I wore on my sleeve! I was still embroidering 4 days before the big day, but it was worth all the hard work! The finished top was covered in little symbols, pictures, song lyrics and all manner of things that represented our relationship and I was so proud to wear it – it's the best thing I've ever made and I don't expect I'll ever top it!"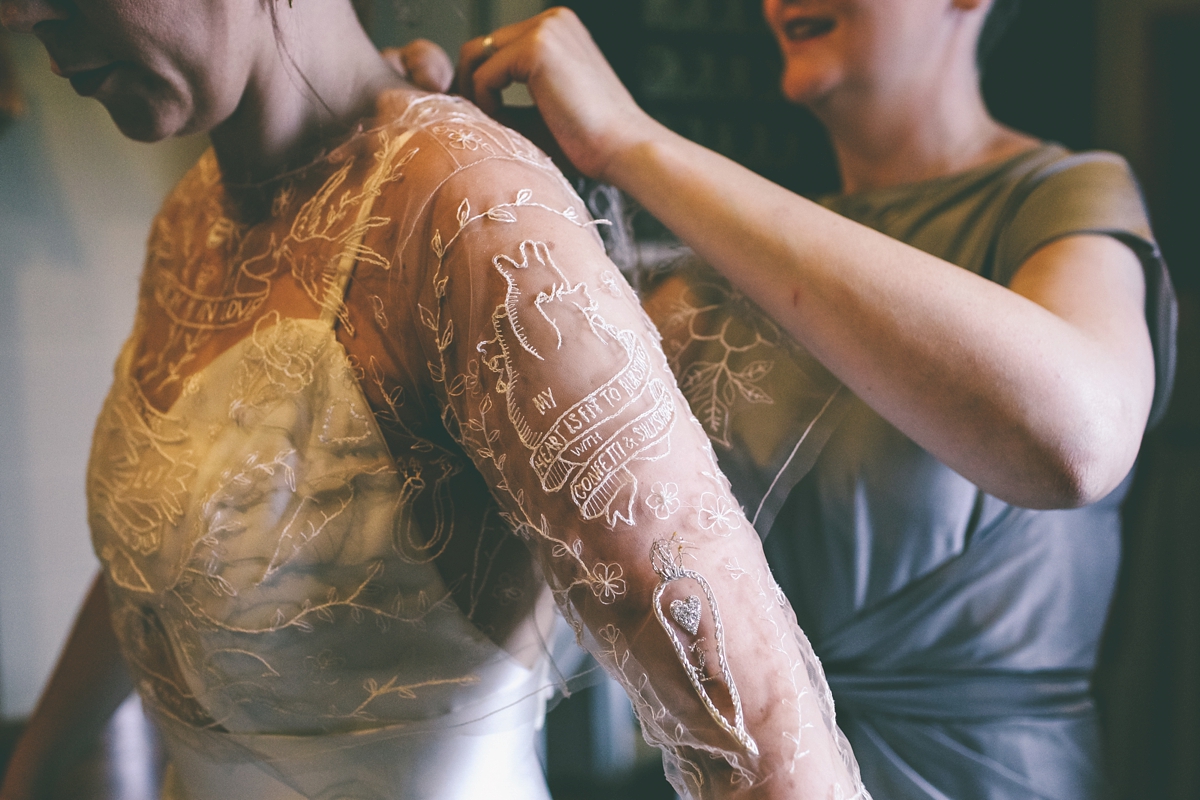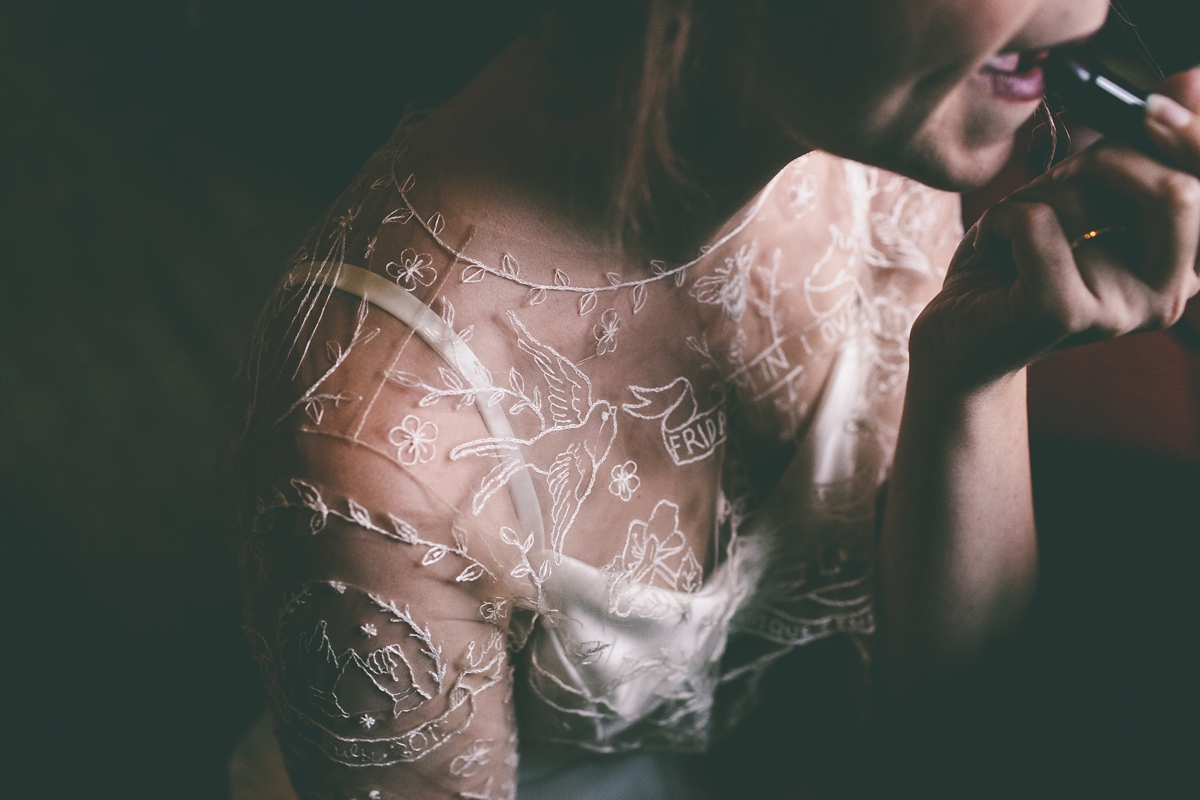 On her feet, Lucy wore shoes from Rainbow Club, which she purchased from Pink Paradox Shoes.
"I'd scrolled through hundreds of bridal shoes online before I came across a pair I liked and when I saw the name of them, I knew I didn't need to look any more! 'Lucy' by Rainbow Club. They are by far the comfiest heels I've ever worn, which, for someone who lives in boots and slippers, is an absolute miracle!"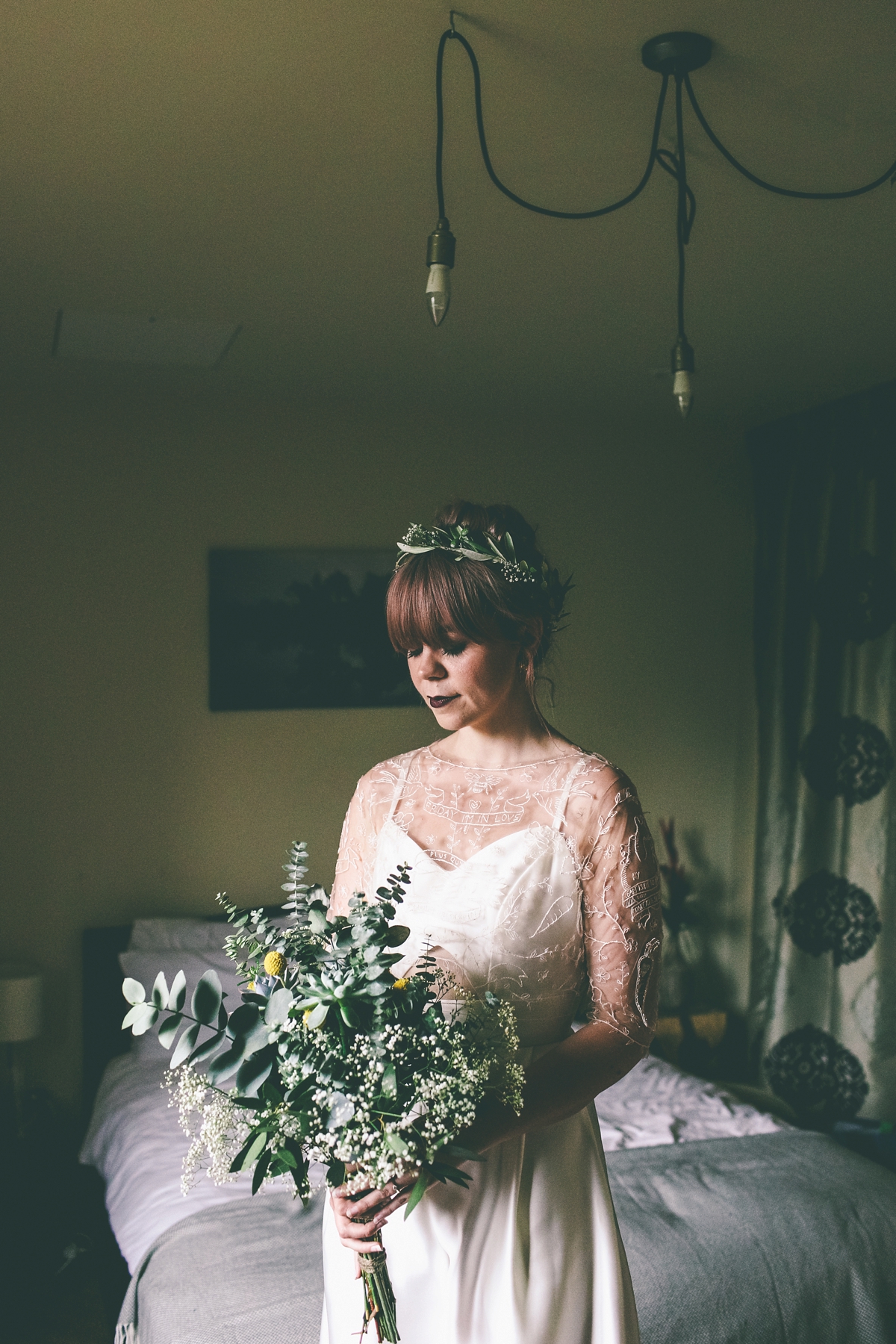 For jewellery, Lucy wanted to wear an antique locket necklace belonging to her grandmother, containing photos of her and her grandfather, but decided that the detail on her embroidered top meant the necklace would work better worn as a bracelet.
"I then went on the search for some vintage statement earrings and came across a rather marvellous pair of 1950s gold articulated wing earrings from an Etsy shop called Curious Tiger."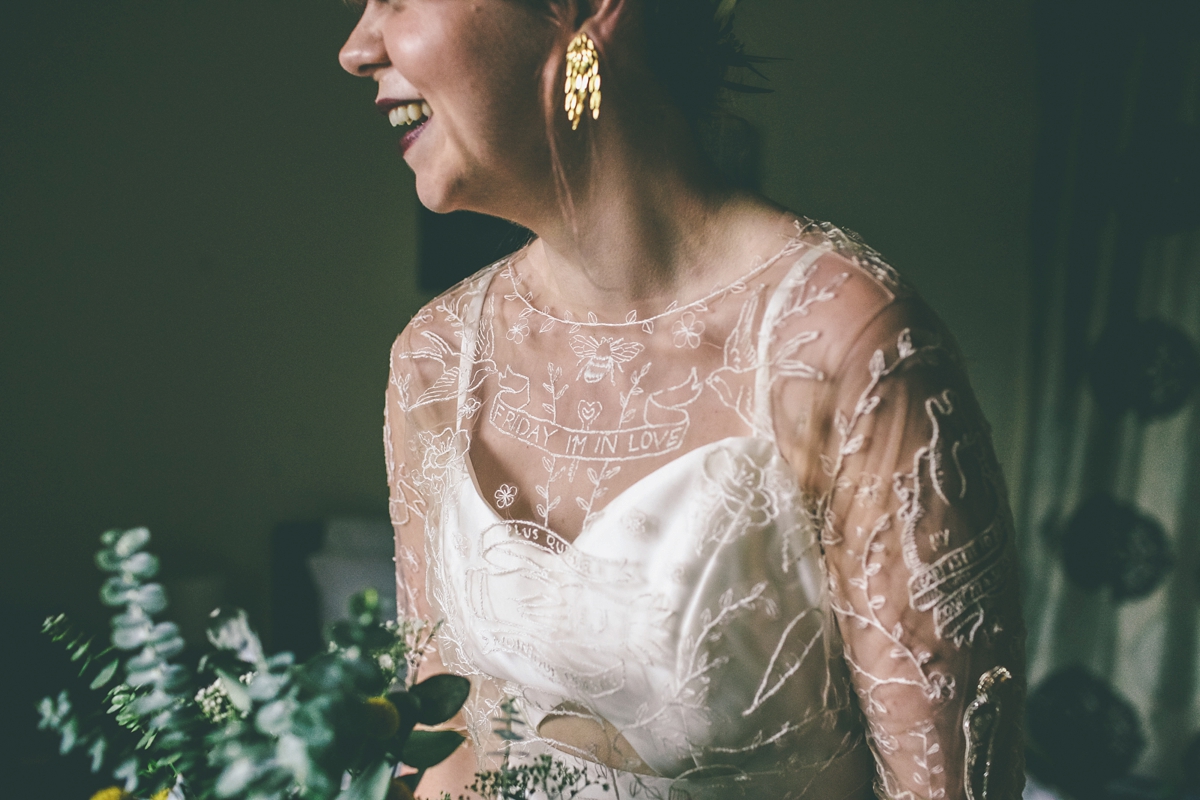 As well as designing and making her own wedding outfit, talented Lucy also did the same for her bridesmaids, with three being made by her, and three purchased from Debut at Debenhams. They wore a variety of soft, dove grey jersey wrap and infinity style dresses with their own choice of shoes.
"Comfort was high up on the agenda for my girls!! We all wanted to be able to fit a good meal in and throw some serious shapes on the dance floor! The plan was to make all of the bridesmaids dresses myself…Then on a chance visit to Debenhams, we found three infinity dresses by Debut in the sale which were exact colour and fabric we wanted – huzzah! That left me with three remaining wrap dresses to make and a few alterations to make to the bought dresses to tailor them to each bridesmaid!"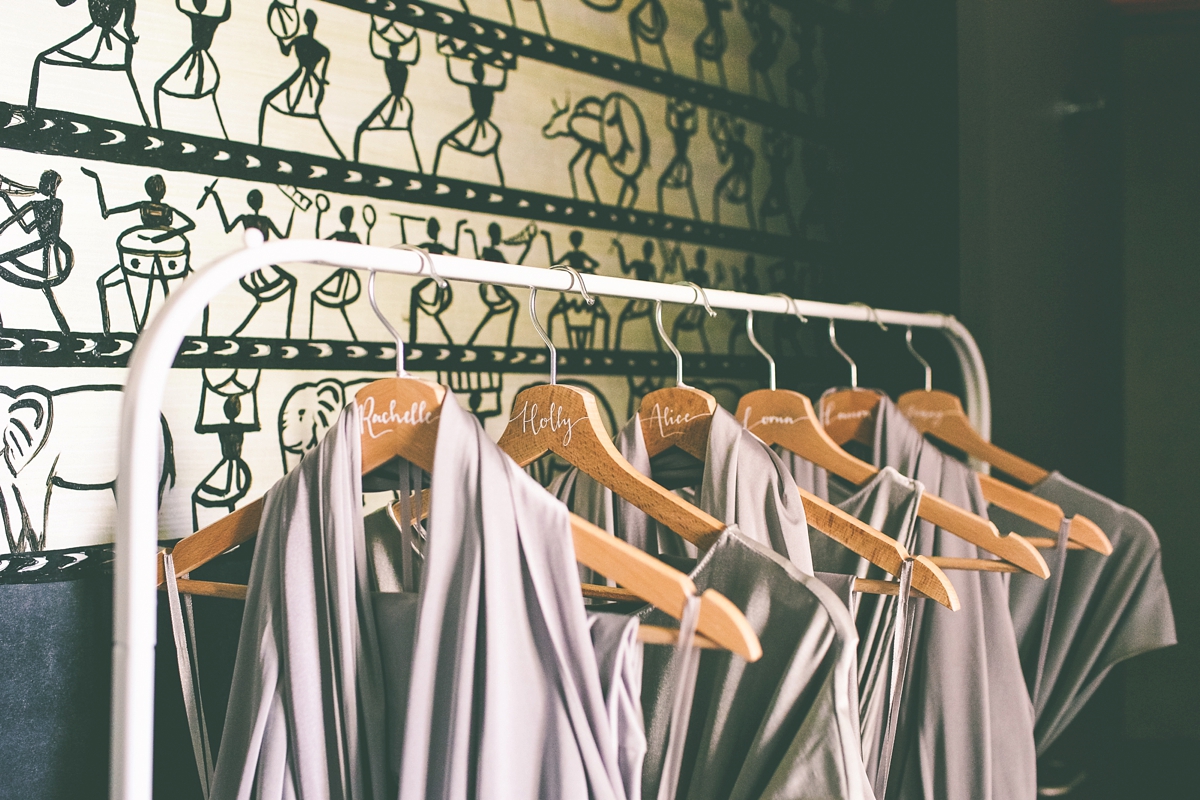 In their hair, the bridesmaids wore olive leaves, baby succulents and hebe, which had been picked from Lucy's mum's garden. Our bride also gifted her bridesmaids a gold ampersand bracelet each from Junk Jewels.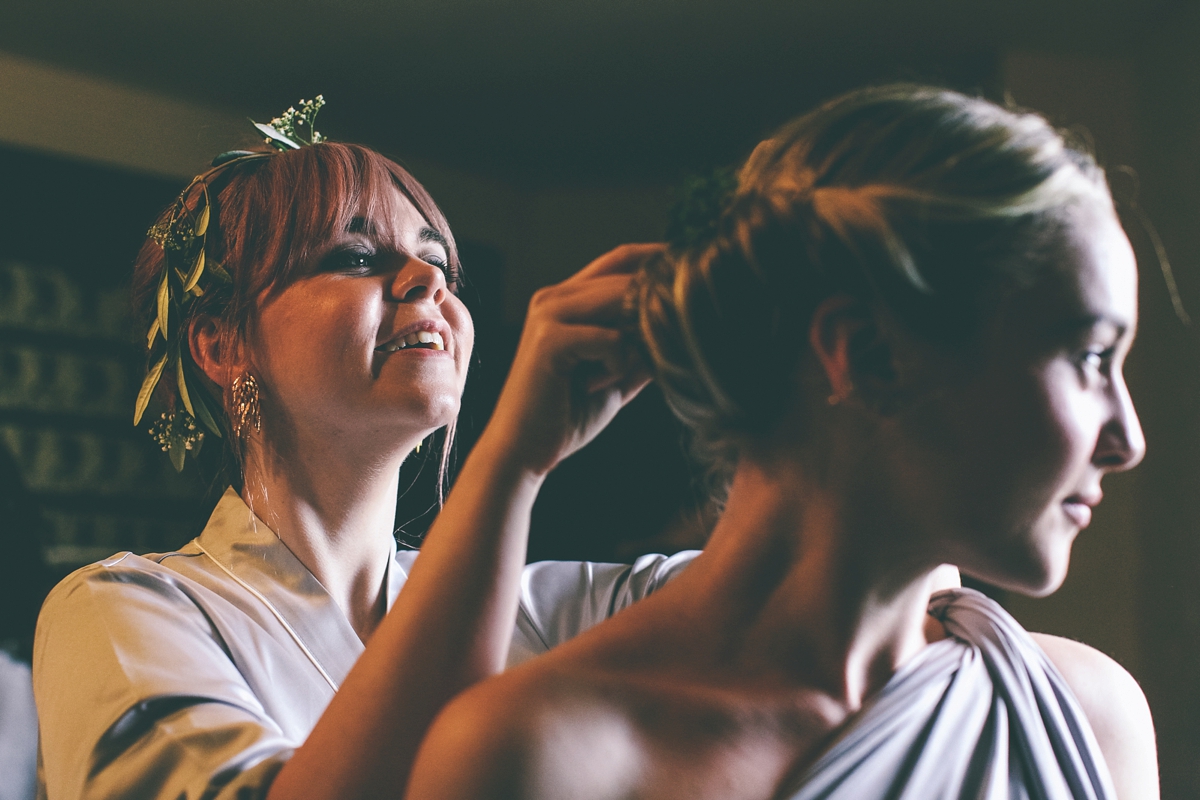 Groom Judd wore a stylish navy blue suit from Ted Baker, which the couple purchased from Moss Bros. Our groom also wore a smart mustard yellow tie, along with silk pocket square made by Lucy using material from Fabrics For Sale, and which she hand printed with the same carrot design from her own embroidered top. The groomsmen wore coordinating navy blue suits from Kin at John Lewis with matching ties. They were also each gifted a bumblebee lapel pin from Gamekeepers Gifts on Etsy.
"Judd knew from the get go that he wanted a dark blue suit, but we had to stretch our budget a little when we both fell head over heels for a three-piece suit by Ted Baker with the most beautiful mustard yellow lining in a honeycomb pattern with bumblebees! Bees already held quite a special place in our hearts so we just couldn't leave it in the shop! It came complete with a honeycomb lapel pin and embroidered bee under the jacket collar. Swoon!"
"Judd's shoes were from Oliver Sweeney and were a 30th birthday gift from me, which I 'tattooed' for him with a pyrography pen. At this point he had no idea that I'd be embroidering the same tattoo designs onto my outfit!"
"Judd and I met while we were both still at school and we started dating at 17. We moved to student halls in Lancaster together and were engaged by the end of our 1st year! Then started our long, long engagement – as an artist and a PhD student, we never had any spare funds to make a wedding happen, so it became a bit of a running joke with friends and family that we would be engaged forever! Because of this, when we were finally able to start planning, we kept it a secret and announced it as a surprise under the guise of a 'we've been engaged for 10 years' party!"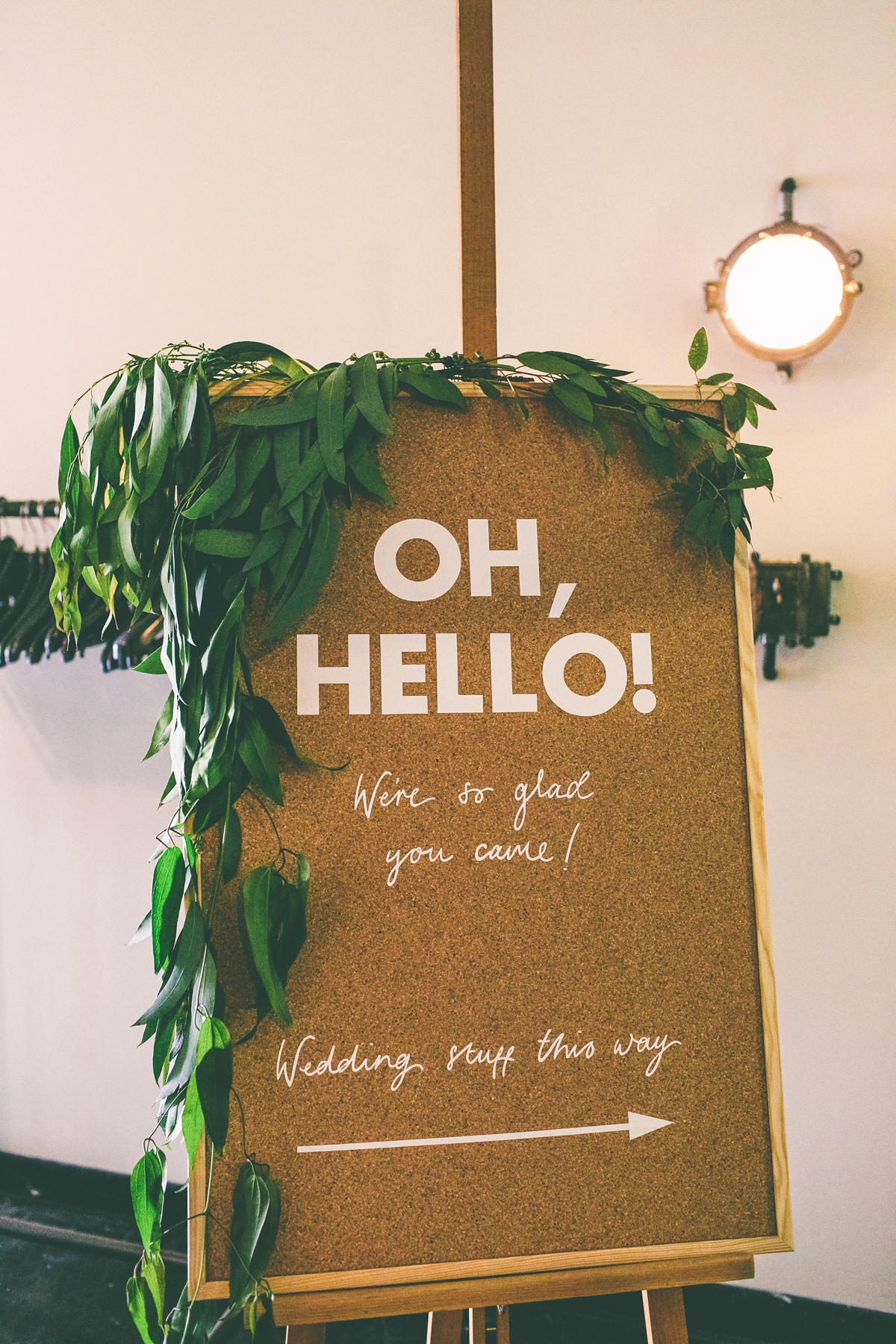 Within the warm brick walls of the Victoria Warehouse, Lucy and Judd made the space their own using a variety of handmade items and decor from trusted suppliers. Fairy lights were provided by Peter Lockwood and light-up letters and a cinema sign by Elite Sound and Lighting.
"We chose Victoria Warehouse because, as a venue, it is already the coolest blank canvas we could imagine! One of the things we loved was the 20 seat cinema in the lobby created using salvaged vintage cinema seats and we put together a short film using clips taken on our Sten party which our guests could sit and watch before heading through to the Bays where our ceremony was to be held."
"The Bays is already such an amazing space with so much atmosphere – think raw industrial gorgeousness, exposed brickwork, concrete floors, metal shutters and steel pillars – so we mainly wanted to find different ways adding in low, magical lighting that would show the space off to its full potential!"
"I designed all of our stationery myself, using the pre-shoot photos we did with our wonderful photographer Emma! Everything had a loose Wes Anderson feel (all fonts kept strictly in the Futura family!) and, as with all aspects of our day, was intended to raise a smile and a giggle! We don't really do sweeping, serious romantic declarations – we are far too silly – so when it came to any written aspects of our wedding, we couldn't help ourselves. From the 'Emotion Sickness' tissues for the ceremony to the ridiculous compliment cards we gave out as favours, we made the most of every opportunity to make our guests laugh!"
The stunning array of foliage and flowers were by a family friend, Christine (no details supplied), and were a lovely and fragrant mixture of olive branches, eucalyptus, craspedia, rosemary and gypsophila. I love Lucy's approach to the use of flowers for their day.
"We were so lucky that dear family friend, Christine, offered to provide the flowers for us – not only did this make our flowers incredibly special, but she is crazy talented and made the most stunning job! It was important to us that nothing went to waste – I didn't like the idea of so many flowers being used for just one day, to then be discarded, so we chose flowers that could be preserved or replanted…all of which we took home to dry or make oils with."
"The bouquets and boutonnieres had the addition of succulents which could be removed and replanted, leaving the rest in tact to be dried – my bouquet still looks as perfect as it did on the day! We also brought in as much as we could from our gardens – Christine collected all sorts of wonderful things, including some very impressive fennel which looked spectacular in glass bottles! Our garden had a particularly rampant clematis, which we waited until the day before the wedding to cut back, so we could bring it with us to decorate the stage with. It felt so good to be able to use so much home-grown loveliness!"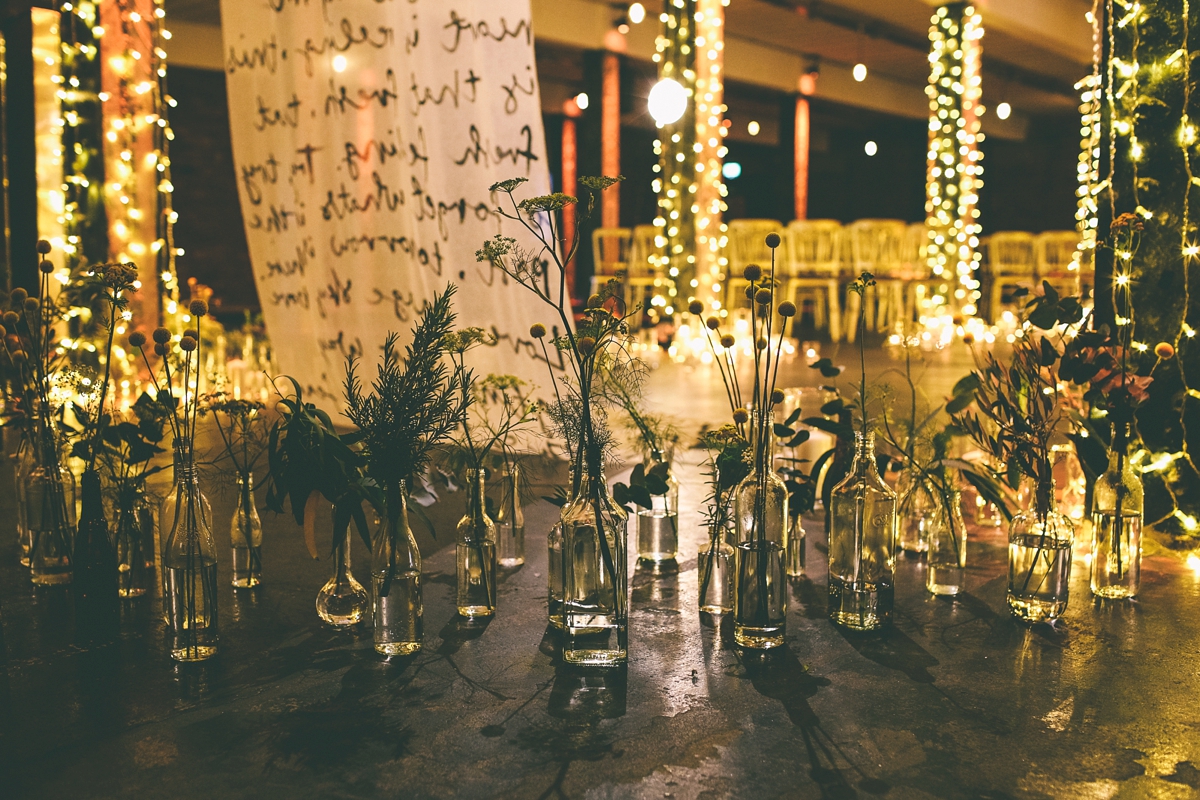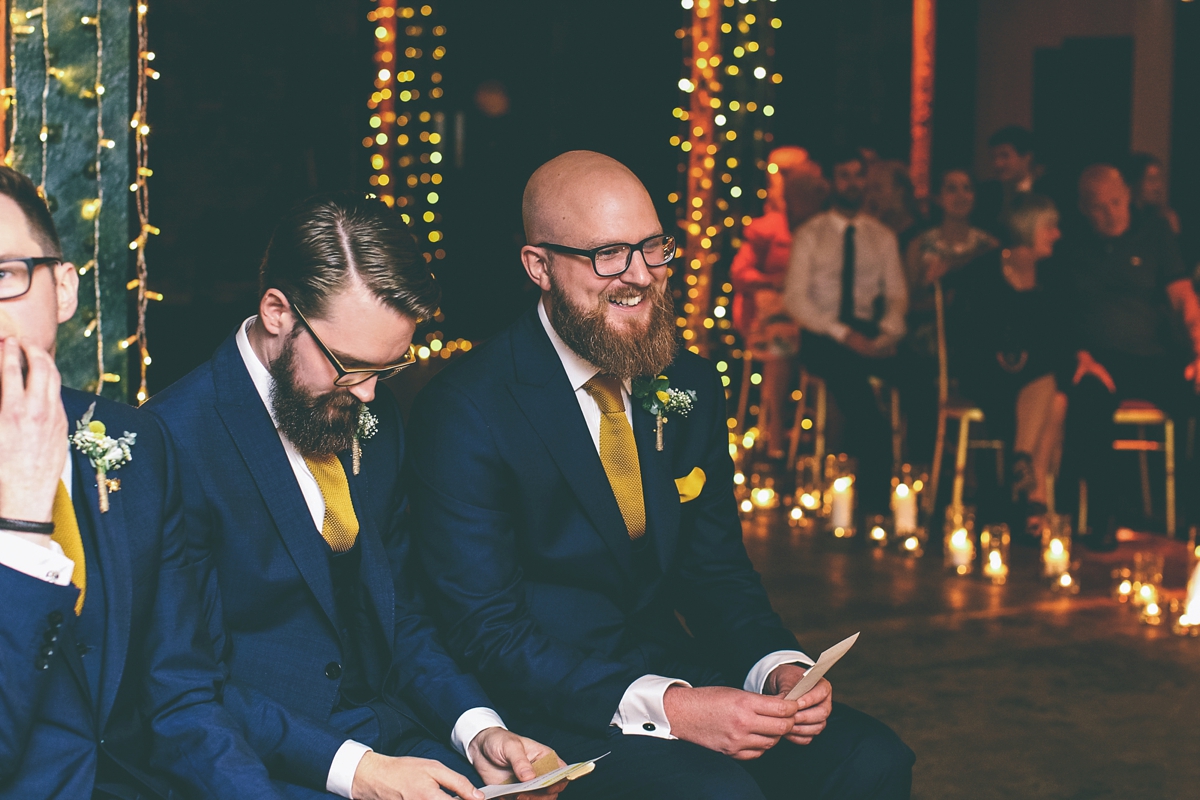 Lucy was accompanied down the aisle by her dad, to the song Fresh Feeling by Eels, and the couple said their vows against the backdrop of a beautiful banner with the same song lyrics handwritten over it by the bride. The aisle was lined with lots of softly glowing candles, all placed there the night before by the wedding party using candles and glassware collected over time by Lucy and Judd
"My brother and groomsman Rob read a quote from Caitlin Moran. Judd studied physics at Lancaster university where we made many treasured friends, so, with a good portion of our guests and wedding party made up of physicists, it seemed fitting to have something sciencey! We absolutely love Caitlin Moran too, so when we came across this, it was a no brainer!"
"Our second reading, given by bridesmaid Rachelle, was the translated song lyrics to a Japanese song, 'Blue Orb', from one of our favourite computer games, 'We Love Katamari'. For such an infinitely silly game, we were very surprised to find the translated lyrics were so beautiful!"
When it came to wedding rings, Judd opted for a simple band from H. Samuel, and Lucy's friend – jeweller and artist Rosie Deegan of Elouise Makes created a bespoke infinity cross ring for the bride, to fit perfectly next to her engagement ring.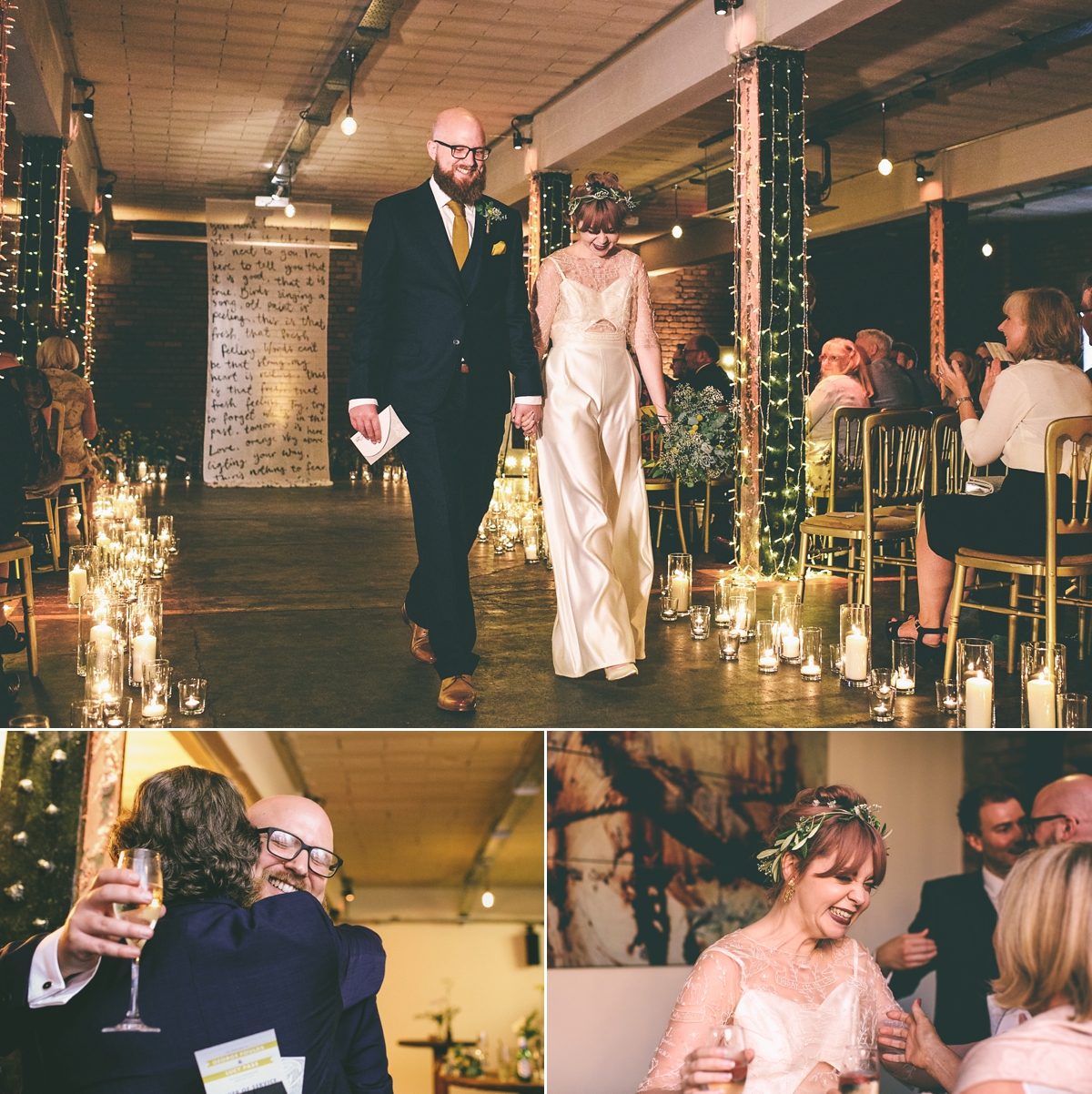 The gorgeous images here, by photographer Emma Boileau have a lovely vintage quality to them, making the best use of the magical light throughout the day, and capturing some beautiful, intimate moments between the bride and groom.
"I cannot recommend Emma enough! …We instantly fell in love with her work online and from the moment we spoke on the phone, we knew she was the perfect fit for our special day! Emma's talent is clear from her stunning photographs, but she is also friendly, fun, warm and has enthusiasm by the bucket load! I should also mention that the weather was utterly foul on our wedding day – surely, what else can you expect on a summer's day in Manchester other than driving rain and flat, grey skies? But Emma's positivity knows no bounds!"
"From the moment she arrived, she put me completely at ease to the point where I genuinely wouldn't have cared if the zombie apocalypse was starting out there – our photos were going to be beautiful and that was all there was to it! She is seriously some sort of bride whisperer!"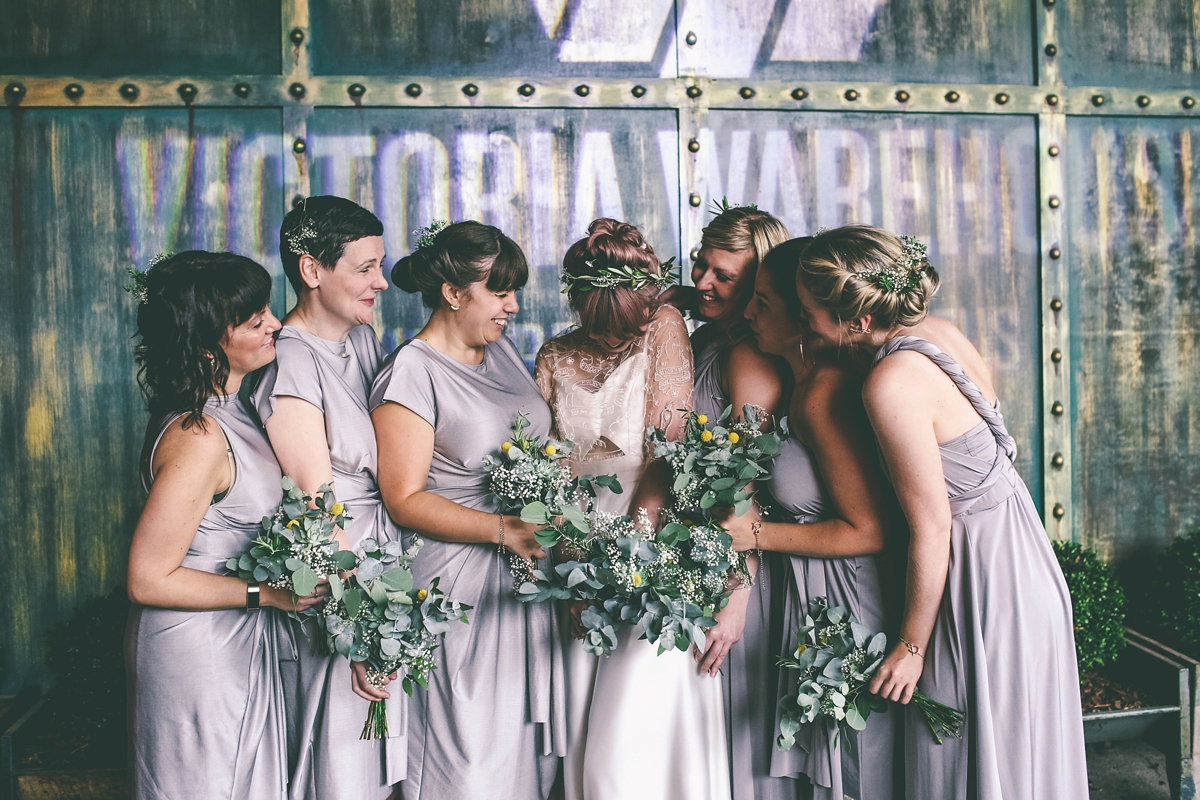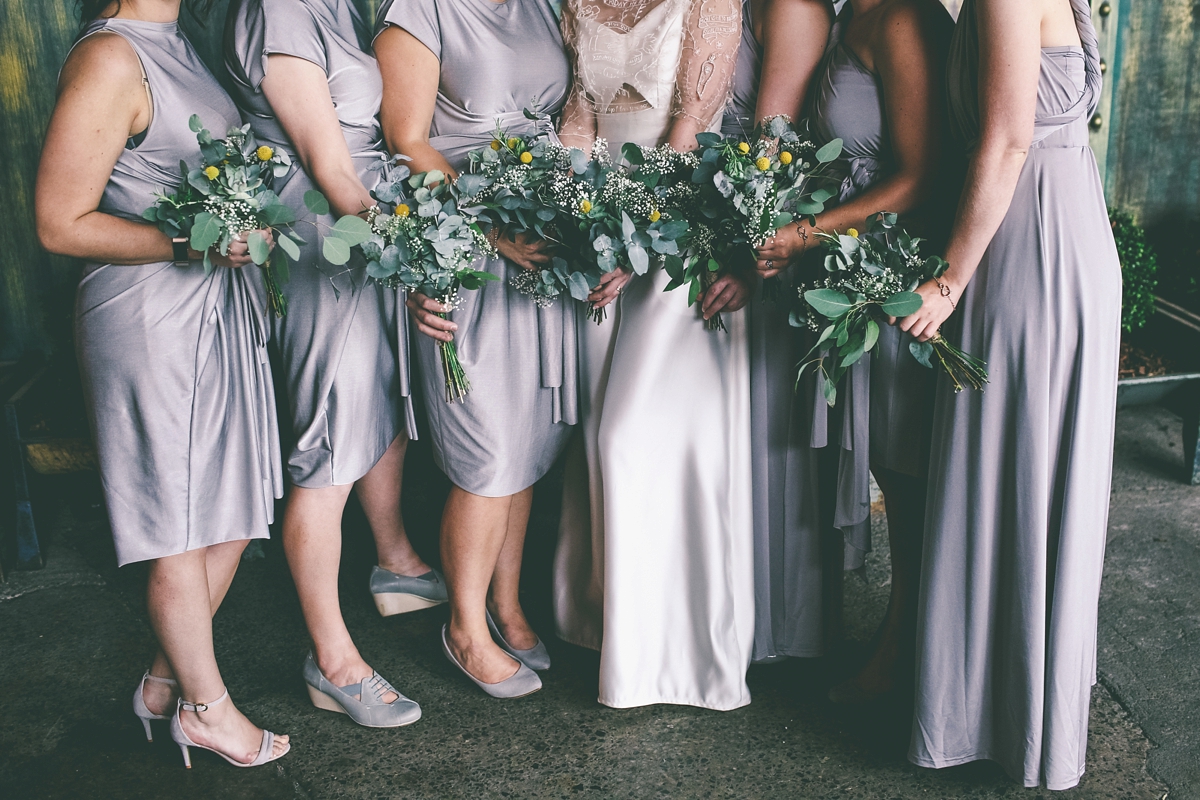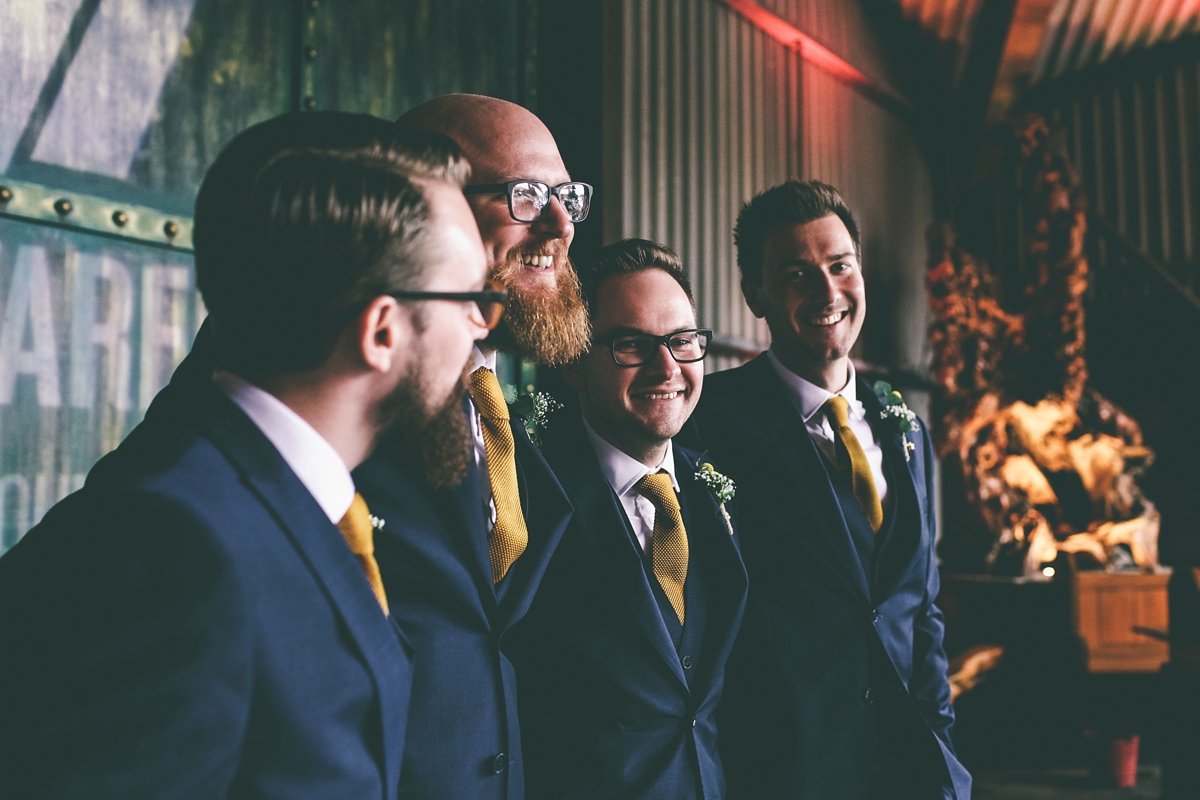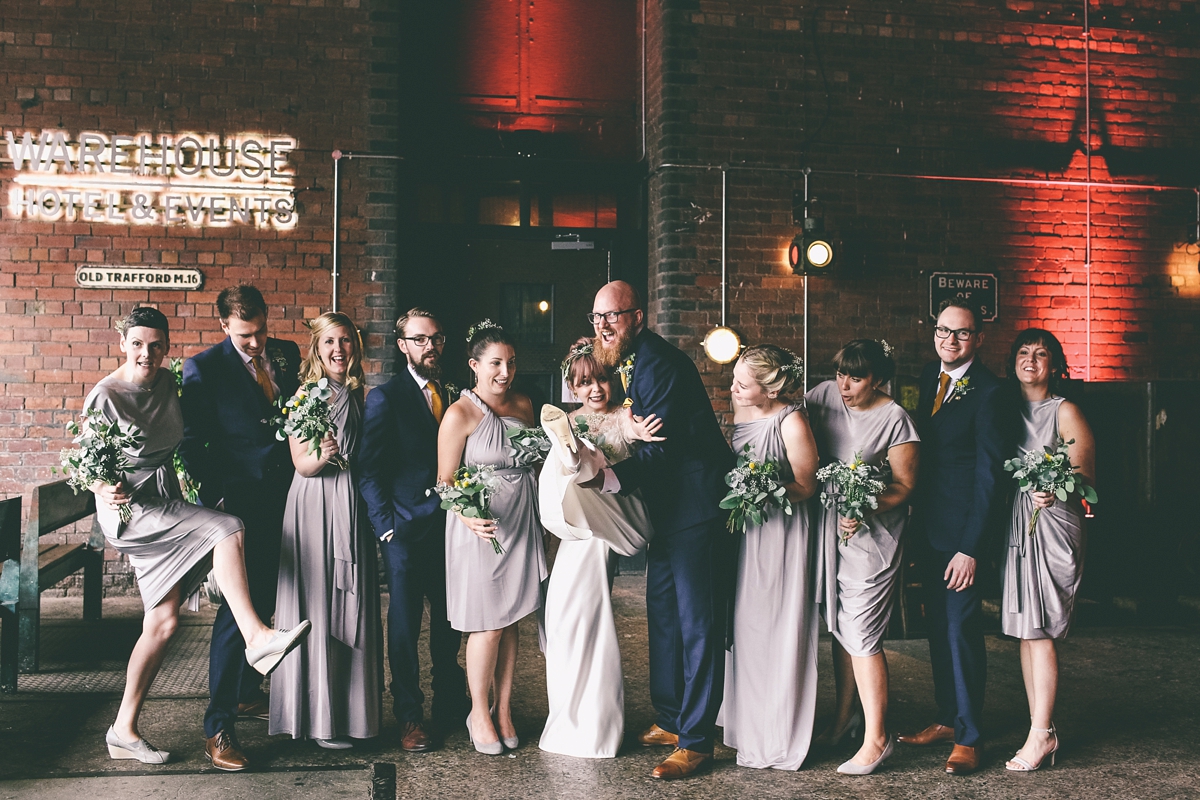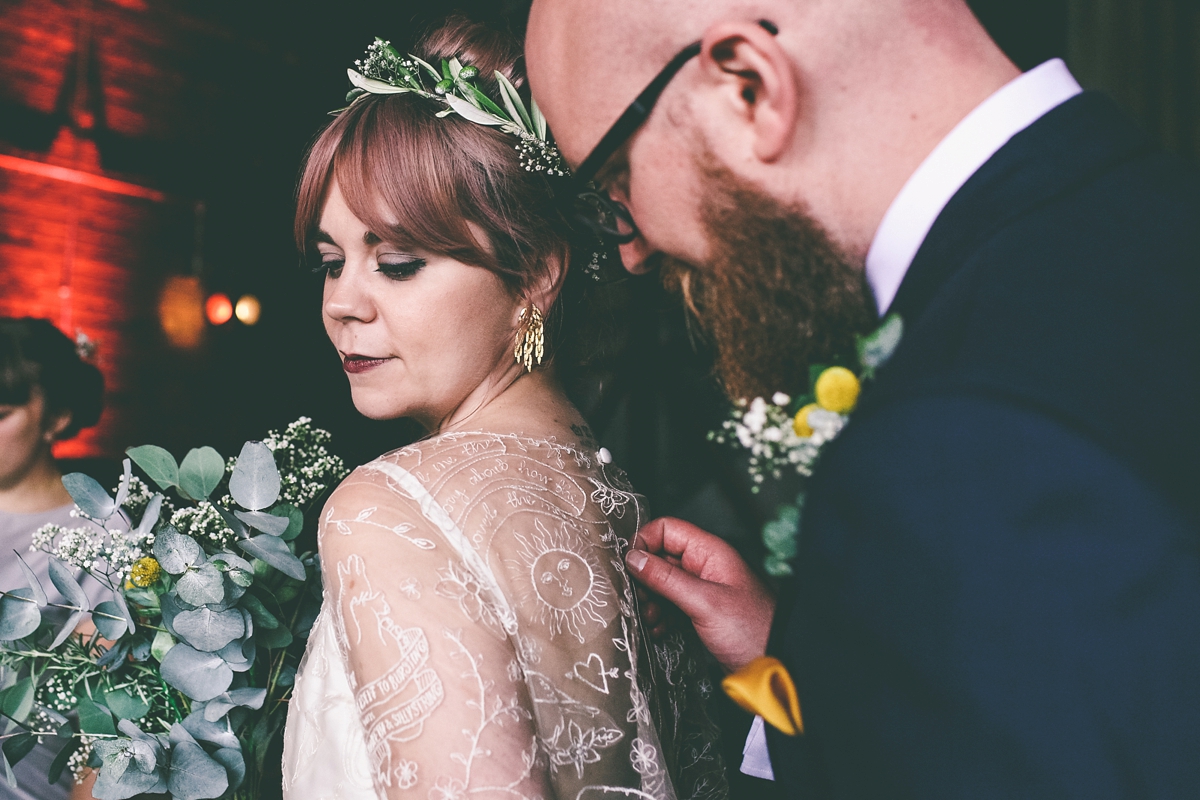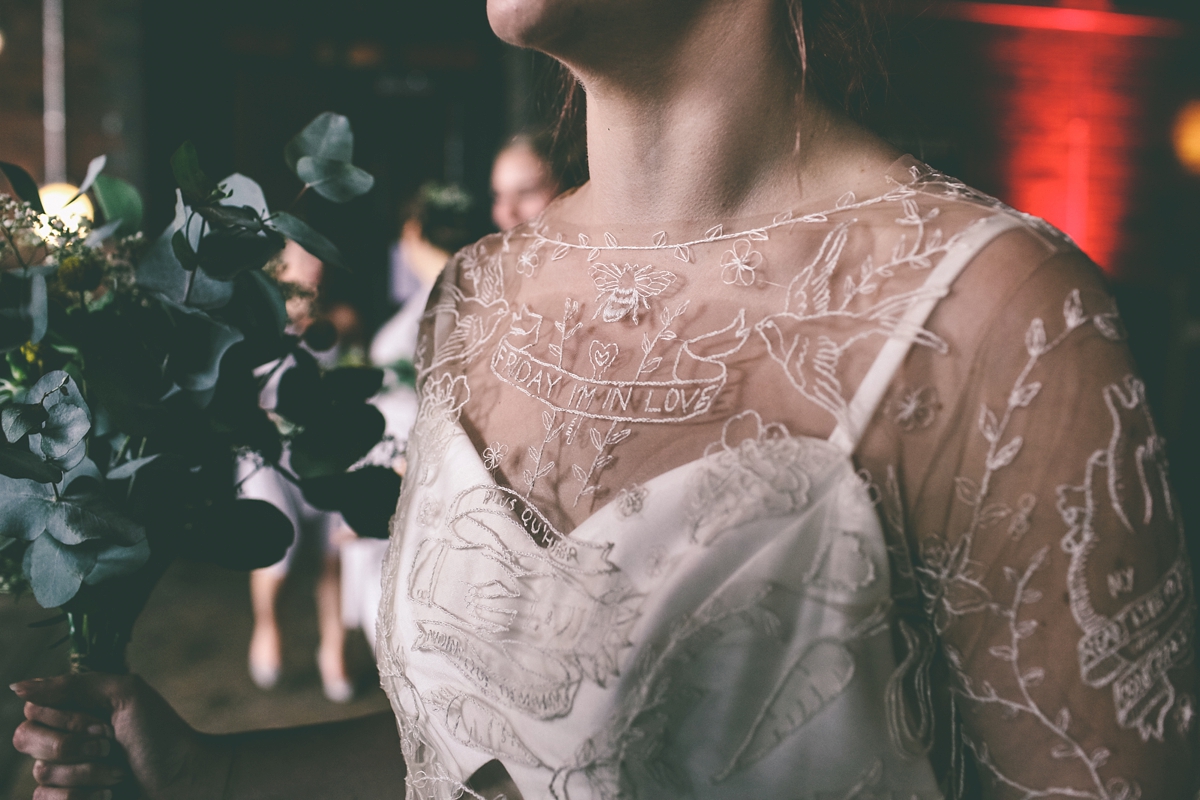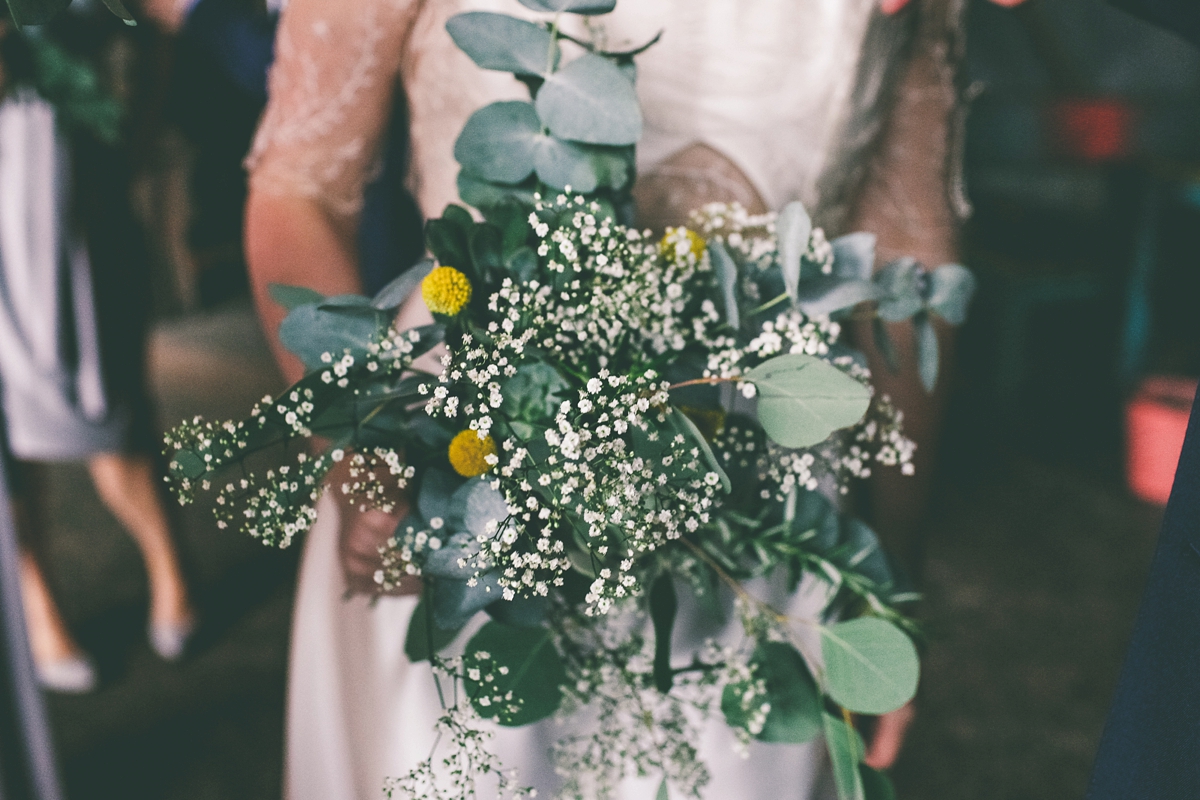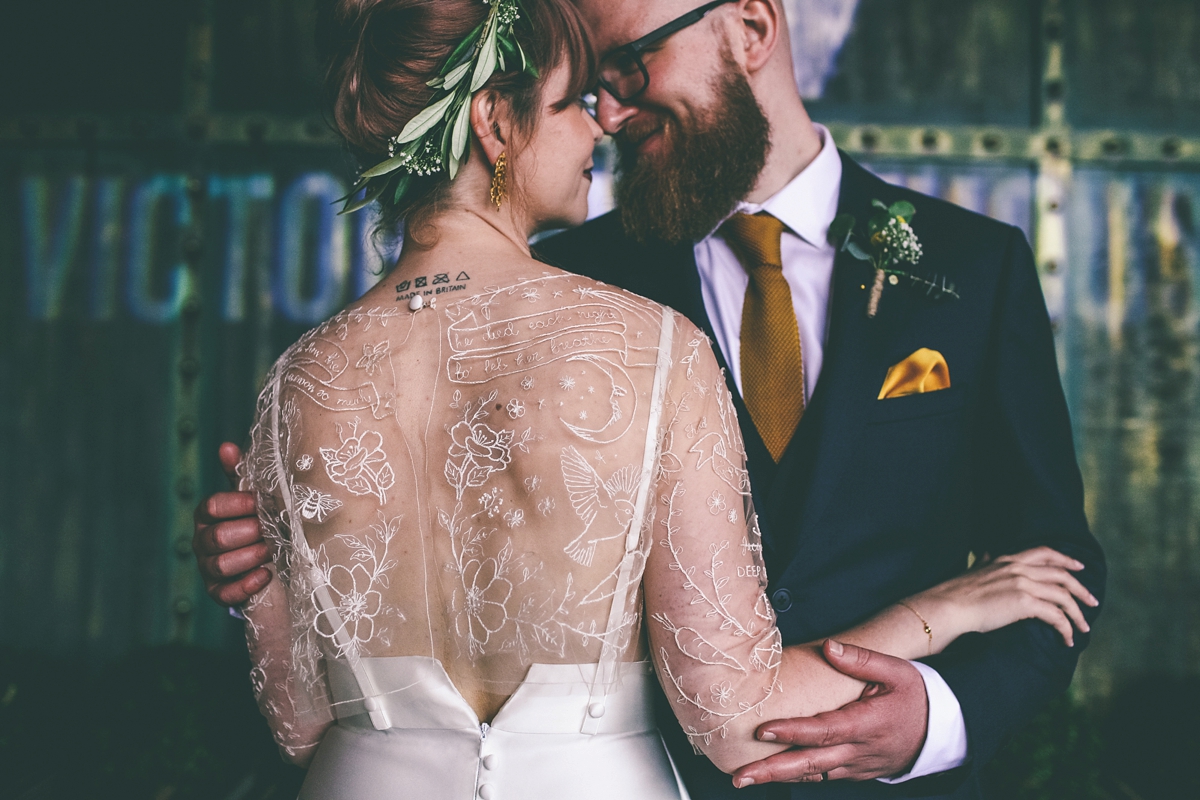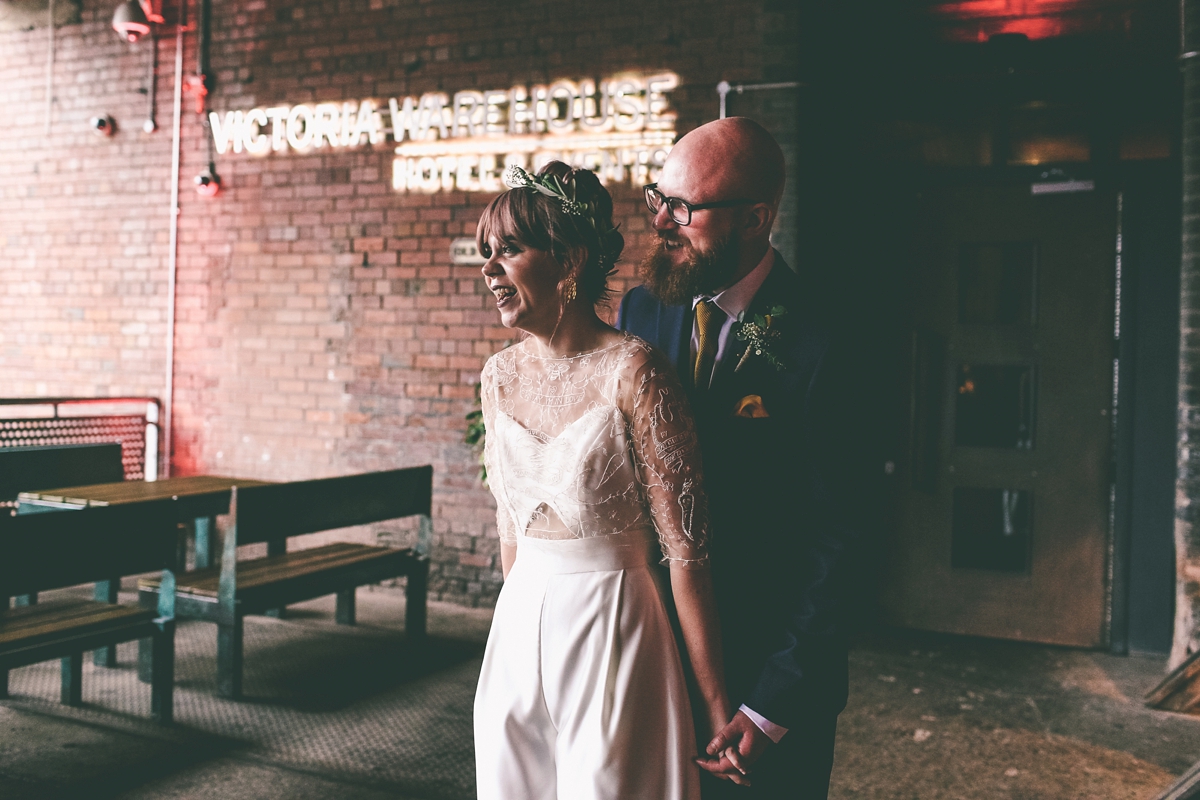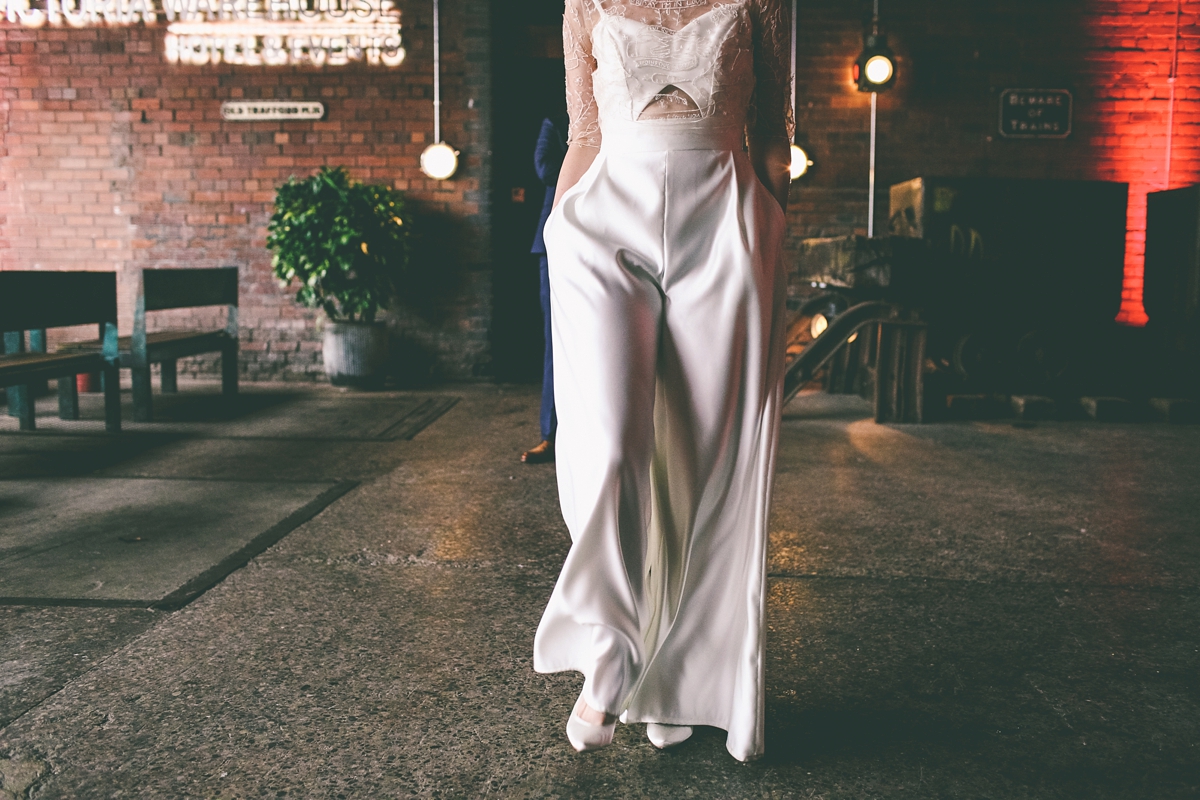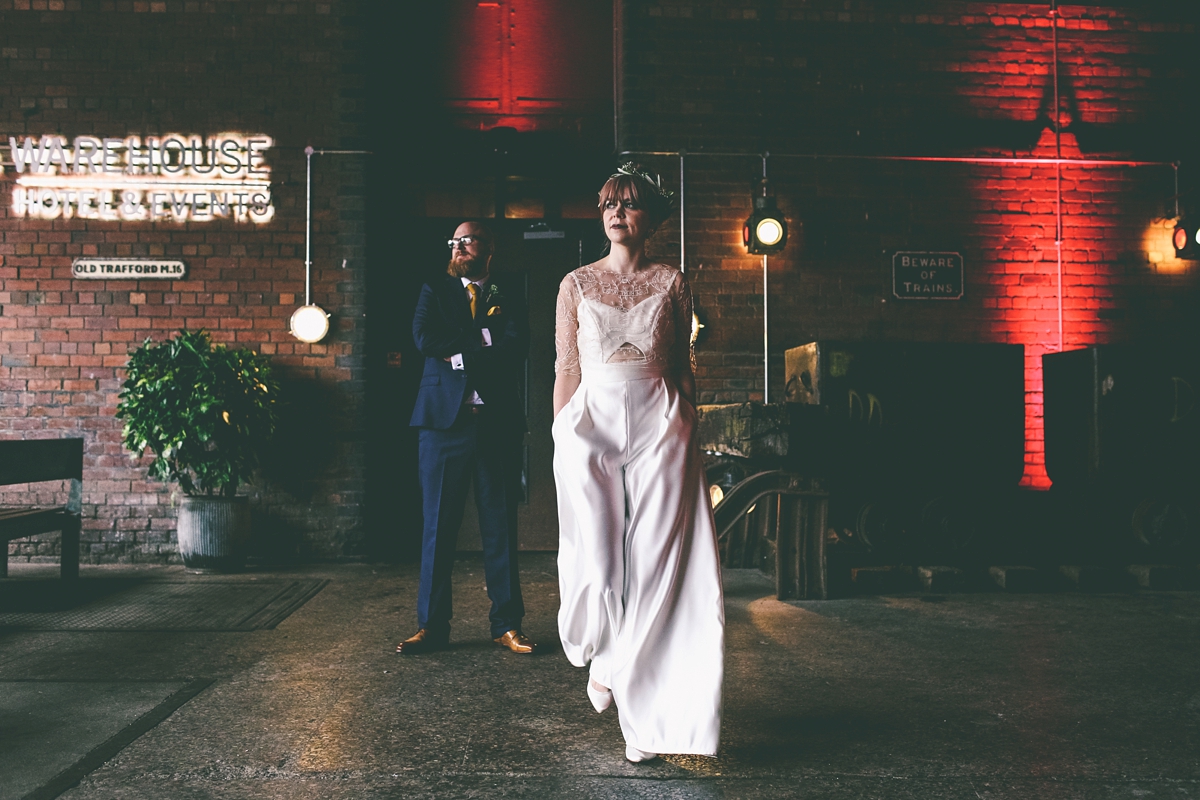 The aisle candles were moved to the dining tables after the ceremony, which were placed alongside bottles collected by friends and family and filled with individual stems of flowers and greenery.
"It was so worth all of the effort – walking into The Bays, all aglow, full of wonderful people and Judd looking back at me – I'll never forget that moment."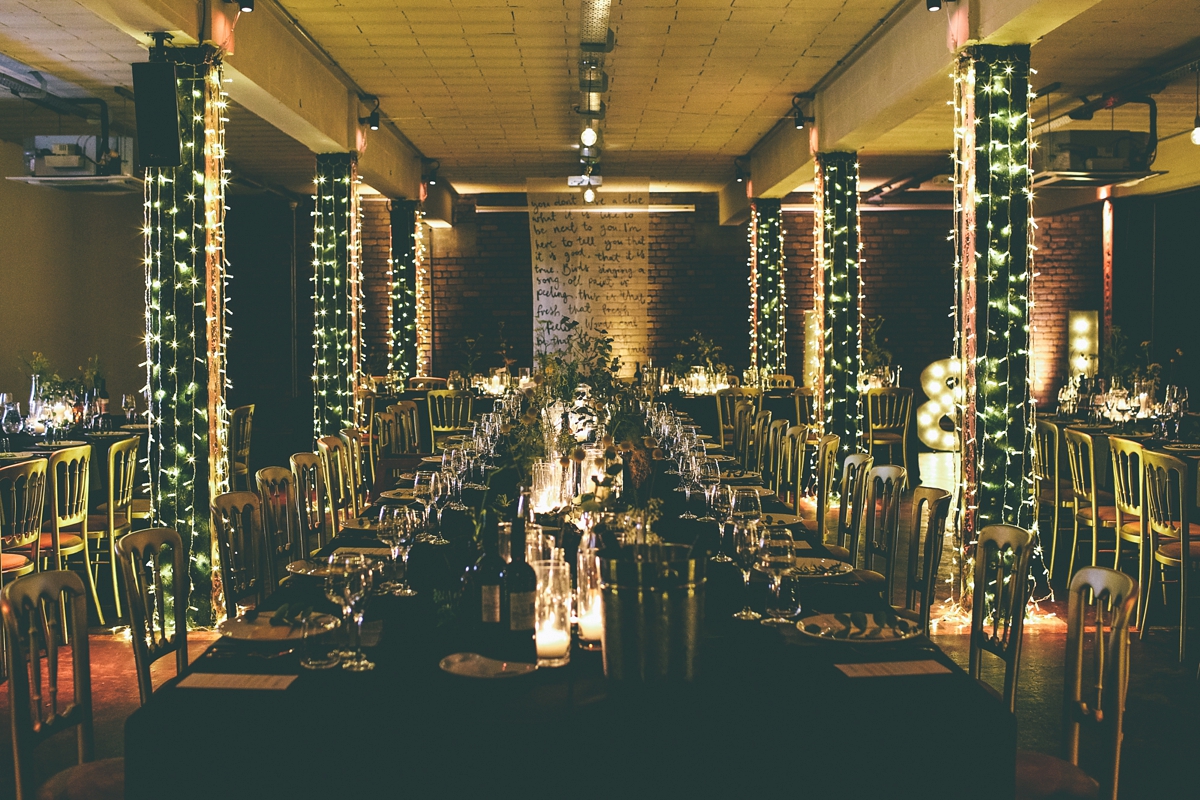 "Since we had such a particular idea of how our wedding breakfast would be presented, we wanted to get all the details just right! However, after doing a little costing research on tableware hire, we realised that, as with the candles, we would have to go the long way round to achieve the look we wanted! I had my heart set on grey linen napkins and vintage bronze and rosewood flatware and was determined to find a way to make it happen within our budget! I looked into buying fabric to make our own napkins and after searching many different avenues, amazingly the cheapest way to get the fabric I wanted was to buy 5 pairs of Ikea curtains! Some unpicking, cutting, stitching and pressing later, and – ta-dah! – 90 beautiful linen-look napkins!"
Vintage cutlery was sourced via charity shops, car boot sales and eBay, painstakingly collected and then cleaned by Judd! The couple's card and gift table was decorated with old books and vintage suitcases from home.
"We then added lamps, festoon lights, flowers and a homemade sign. Our guestbook was a retro style telephone which our guests wrote all over in white pen – at home we have shelves crammed with retro objects, artwork and ornaments so we wanted our guestbook to be something that would fit in and amongst our eclectic collection!"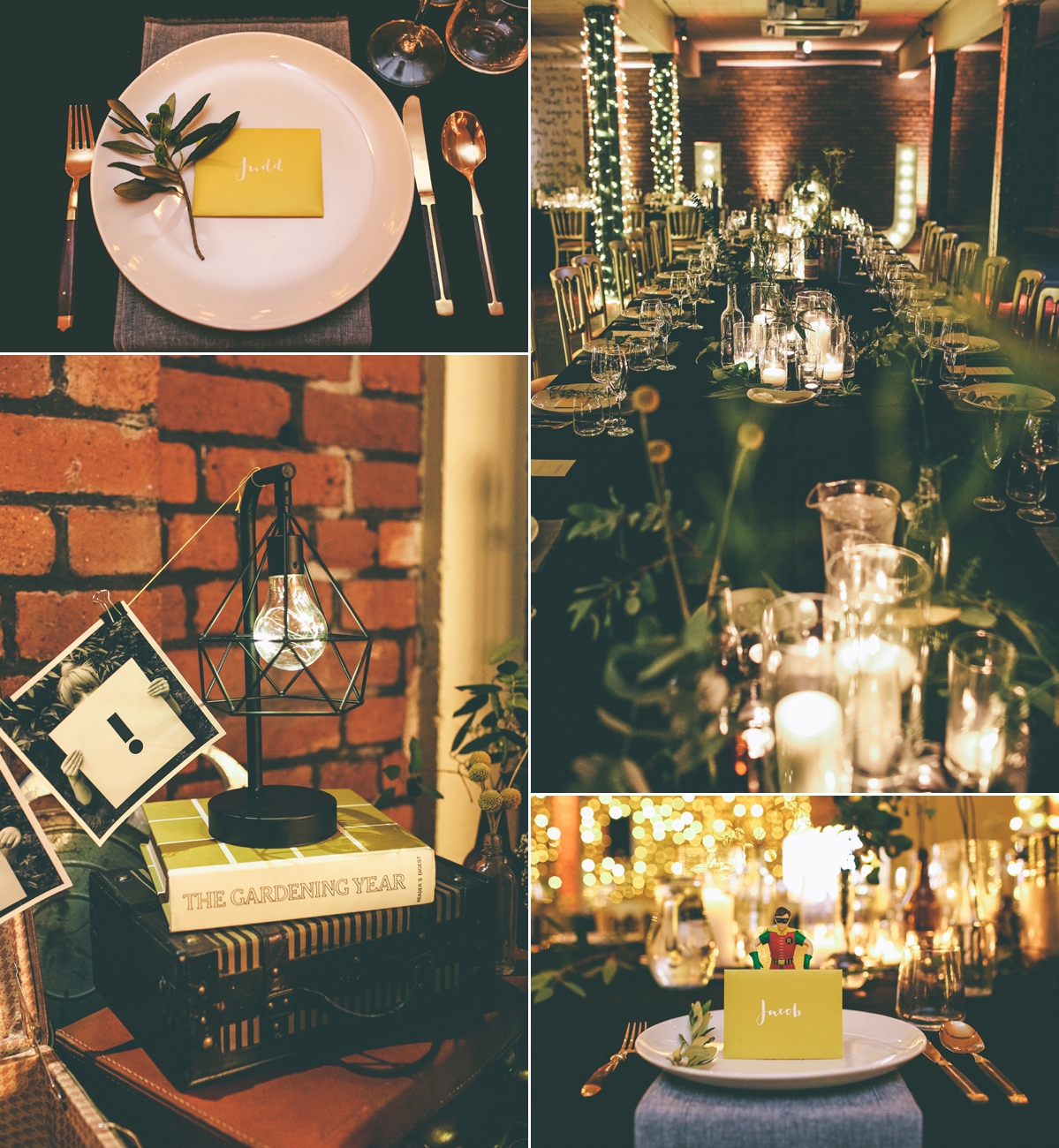 Guest favours also doubled as table place settings, and are such a lovely idea – envelopes containing five personalised acts of kindness.
"A thank you note, a compliment card, a compliment card to pass on to another guest, a words of wisdom card and a donation to cancer research UK. It was so lovely looking around the room at everyone opening their cards and seeing their reactions!"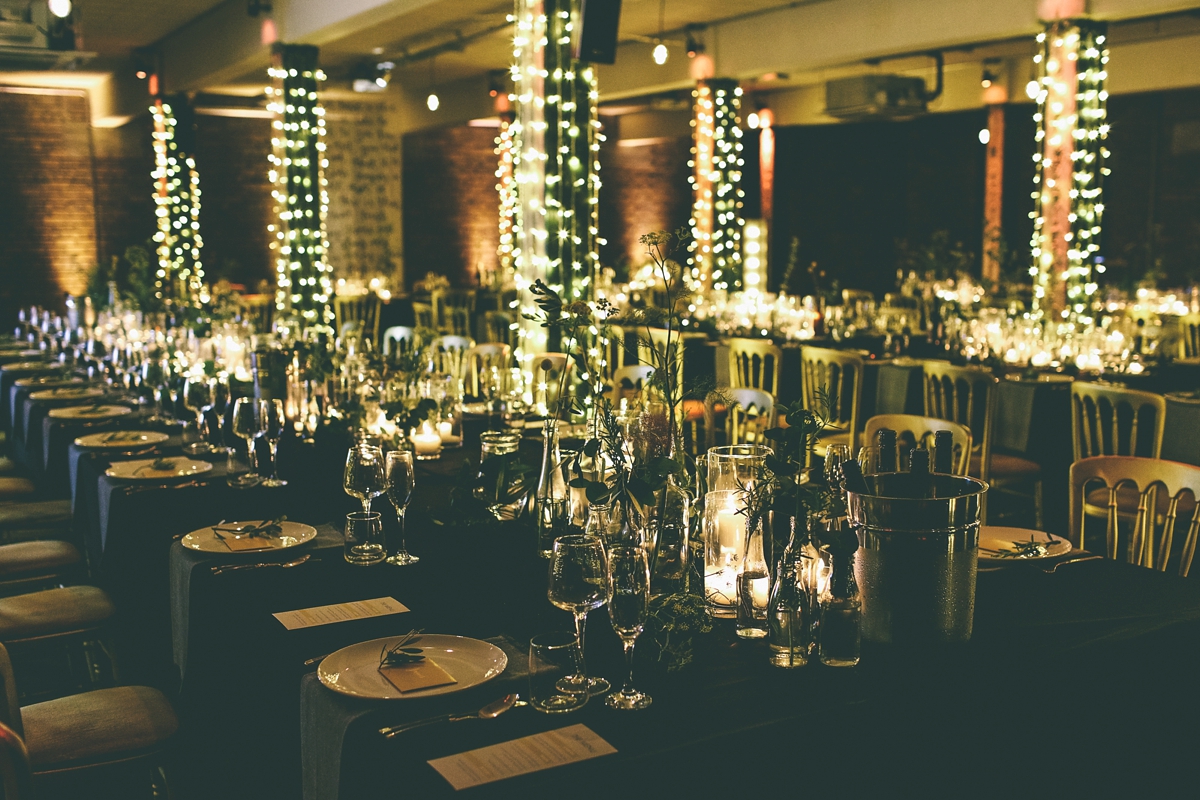 Delicious food was provided by the Victoria Warehouse's in-house catering team, Grape and Grain. They worked with Lucy and Judd to come up with a lovely, relaxed feast, with gluten-free sharing boards, platters, and even edible plant pots on the tables!
"We opted for a cheese cake for a few reasons – firstly, because we are lovers of savoury over sweet any day, secondly, because I'm coeliac, so the thought of going on the search for a gluten-free wedding cake supplier sounded like a nightmare and thirdly, just because… cheese! When we were first engaged we had stumbled upon Churchmouse Cheeses on a visit to Kirkby Lonsdale and promised ourselves that, when we eventually got married, we would have one of their amazing cheese cakes with our favourite Bowland cheese – We're so glad we kept that promise!"
"Our favourite part of the day was the wedding breakfast. It was so awesome to be announced into a room of the most lovely, smiling faces and it was extremely welcome to have a sit down! …No couples were split up for the sake of tradition and we could all see each other! Perfect! Also, our table was basically the naughty table, which was roaring fun! "
"Not only was this the first time Judd and I got to properly sit down and chill out with each other, but we had this moment where we looked around at everyone enjoying themselves – friends reunited, folks meeting for the first time, people opening their kindness cards… we were honestly blown away at the amount of joy beaming from every person and bouncing around the room. It felt pretty wonderful to be in the centre of all that."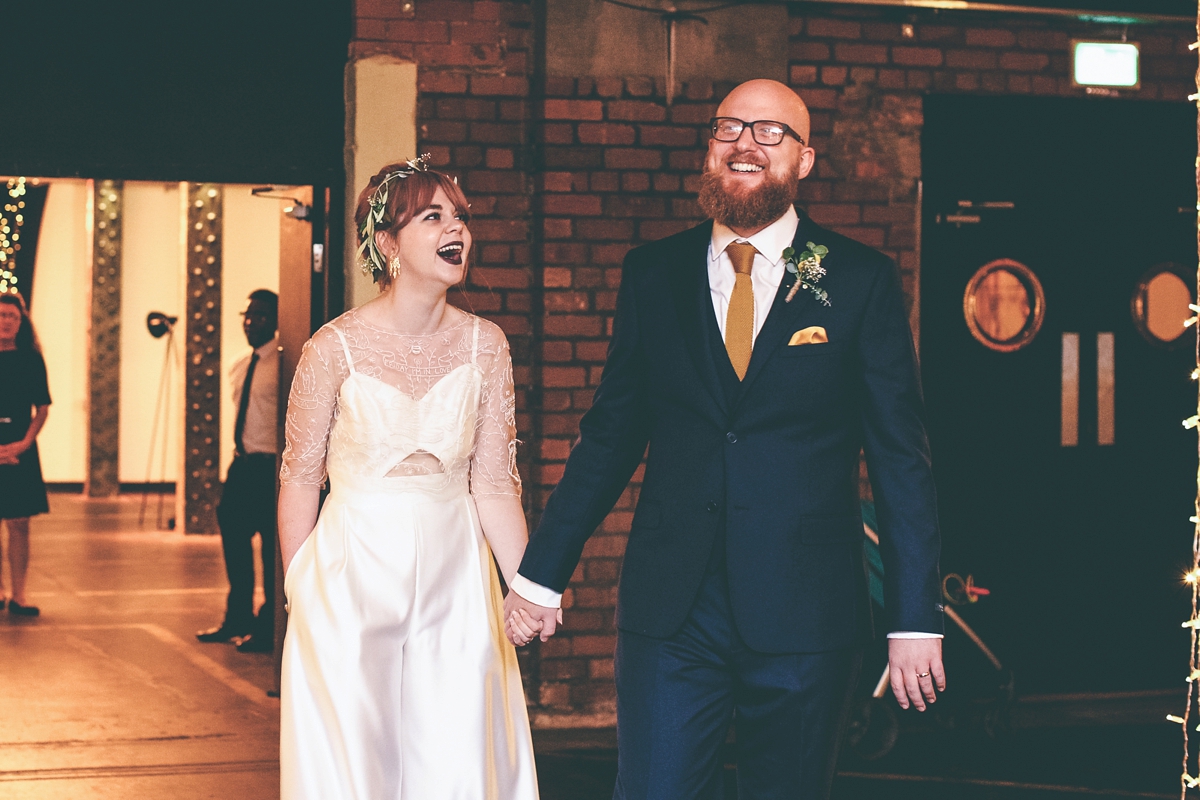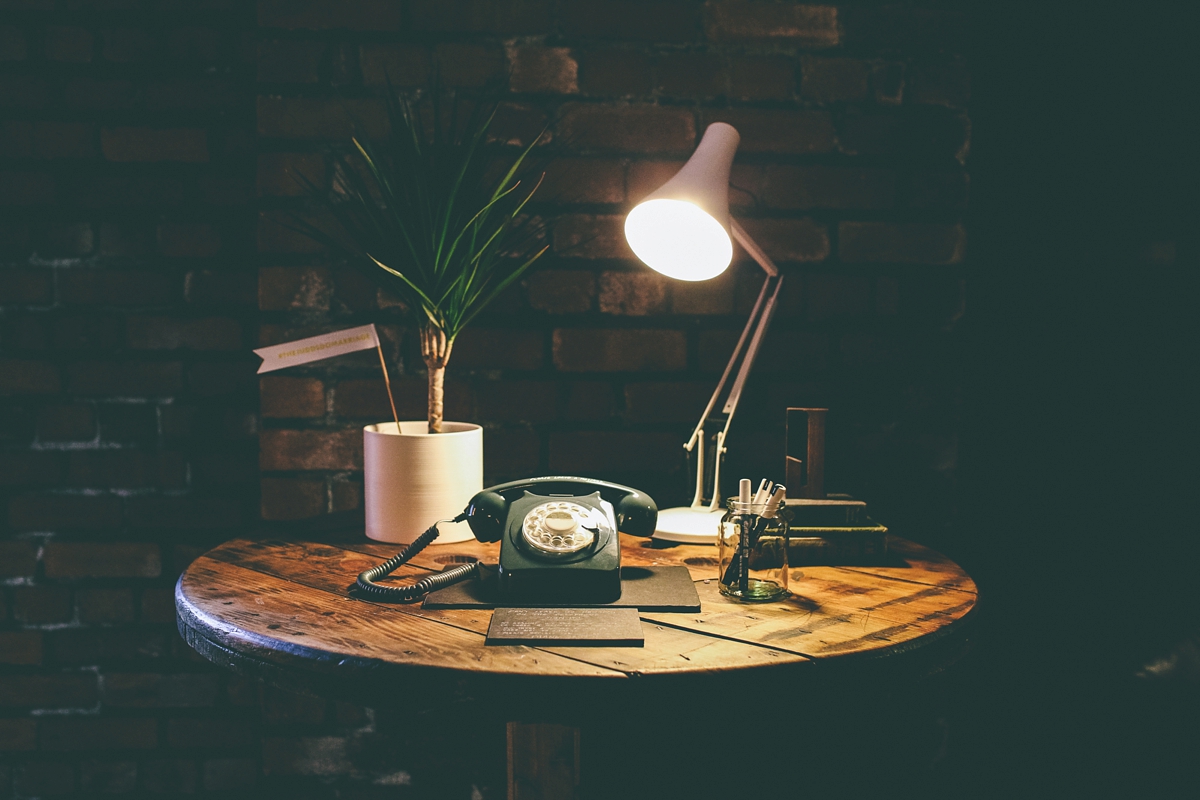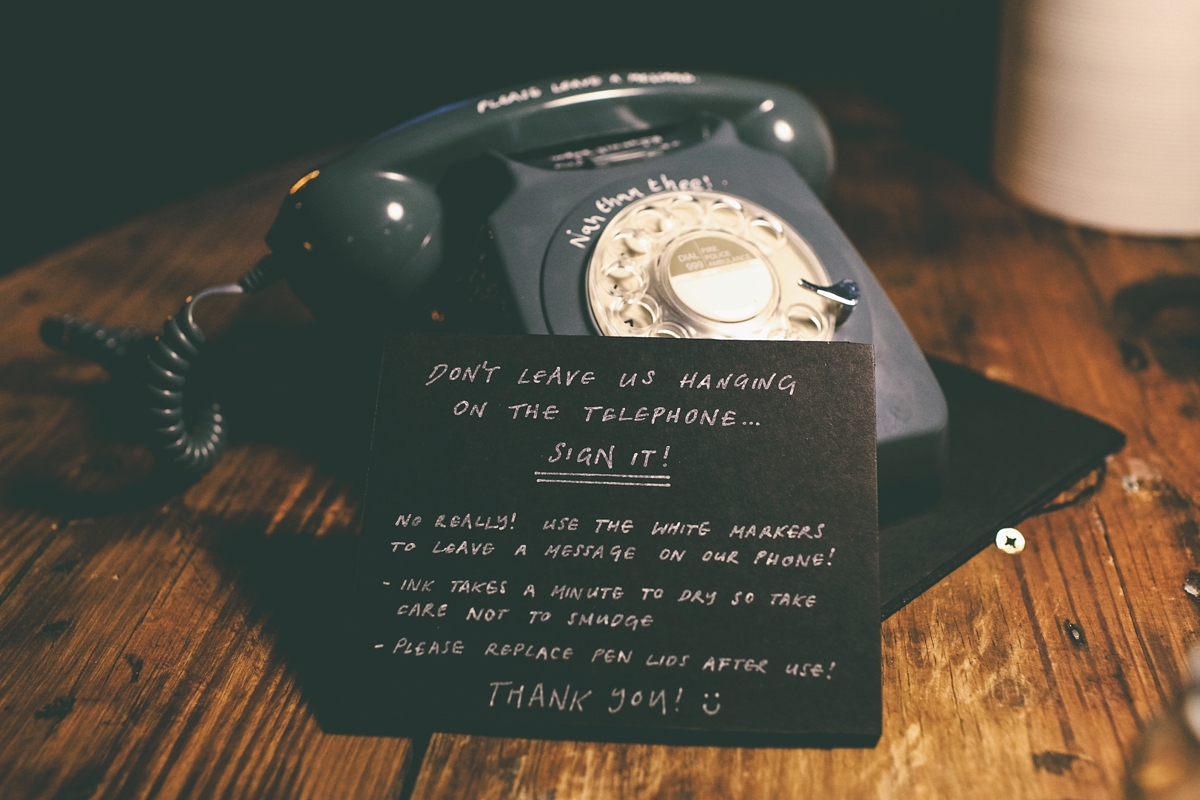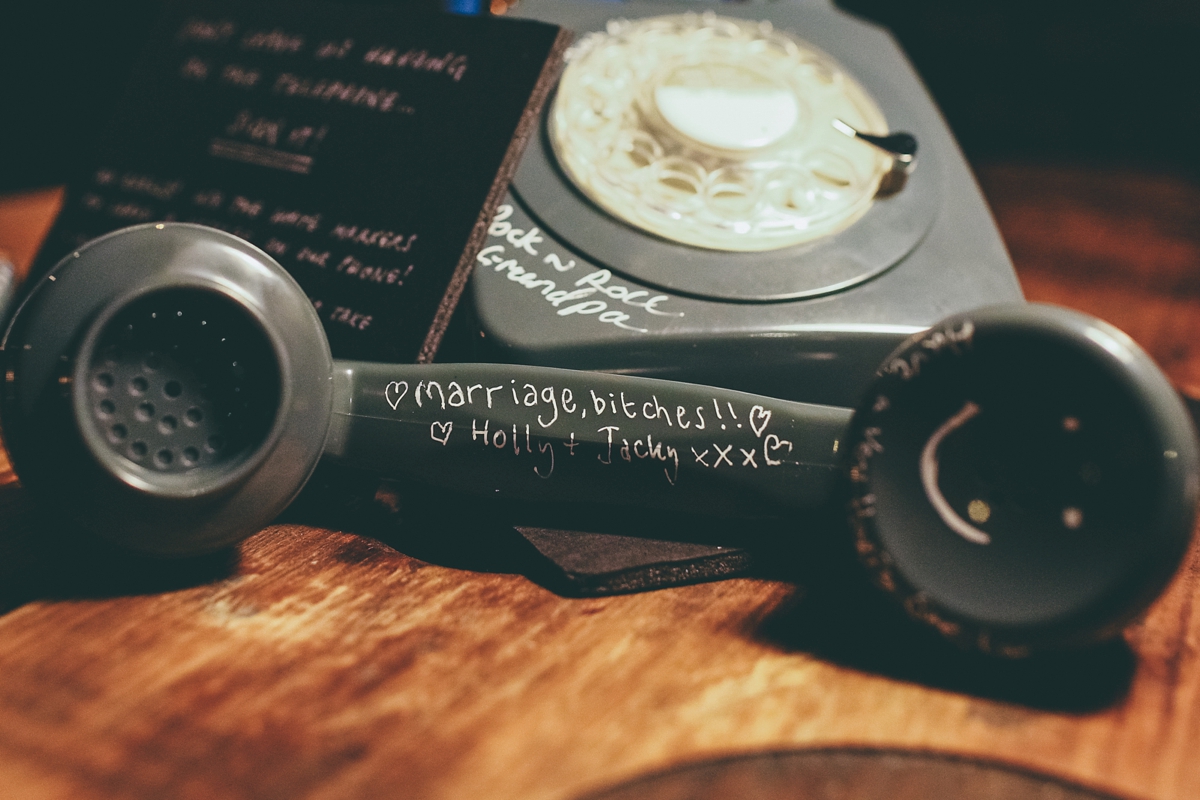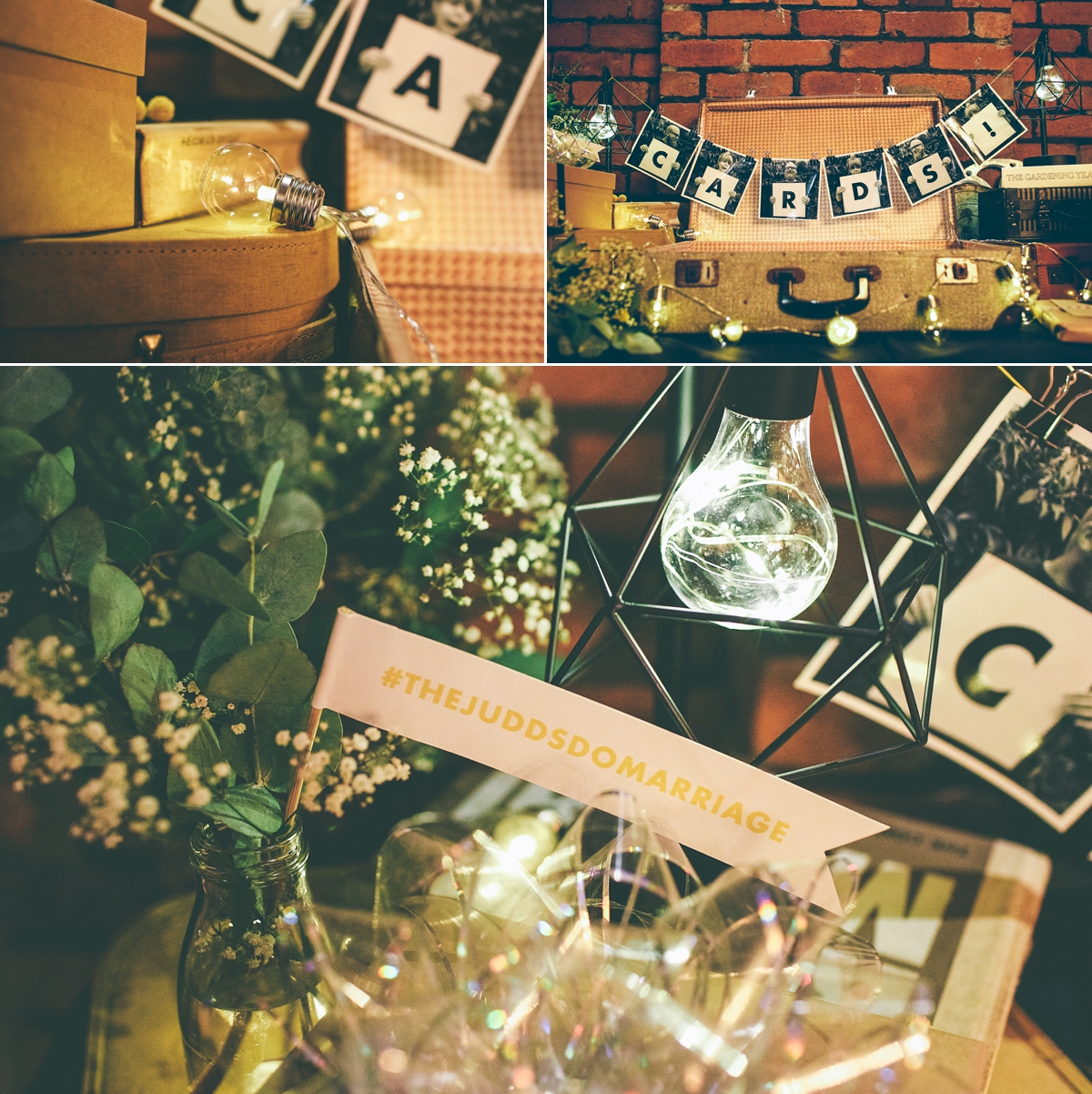 Lucy also counts the speeches as another favourite moment, and although they overran, it didn't matter in the end because they were so wonderful and filled with joy and emotion.
"After dinner, Judd and I kicked off a little open mic session which was overseen by our lovely pal Ben McCabe from More Music – It was an absolute delight to watch our friends get up and perform –Wonderful, chaotic, emotional and hilarious!"
Rather than a first dance, our couple chose to perform a first song as husband and wife – Two Moles by Sweet Baboo, followed by Vitamin C by Clean Cut Kid.
Lucy and Judd also constructed a photobooth for guests, complete with giant paper moon, stars and fairy lights.
"Looking back through the photos it's clear to see the people had a LOT of fun with it, especially towards the end of the night! We sent everyone's photos out with their thank you cards as a little extra surprise."
"We also chose a song for our 'last dance'! For the last folks standing at the end of the night, we played 'Hold On' by Wilson Philips (the song at the end of the film Bridesmaids). There was a lot of face stroking."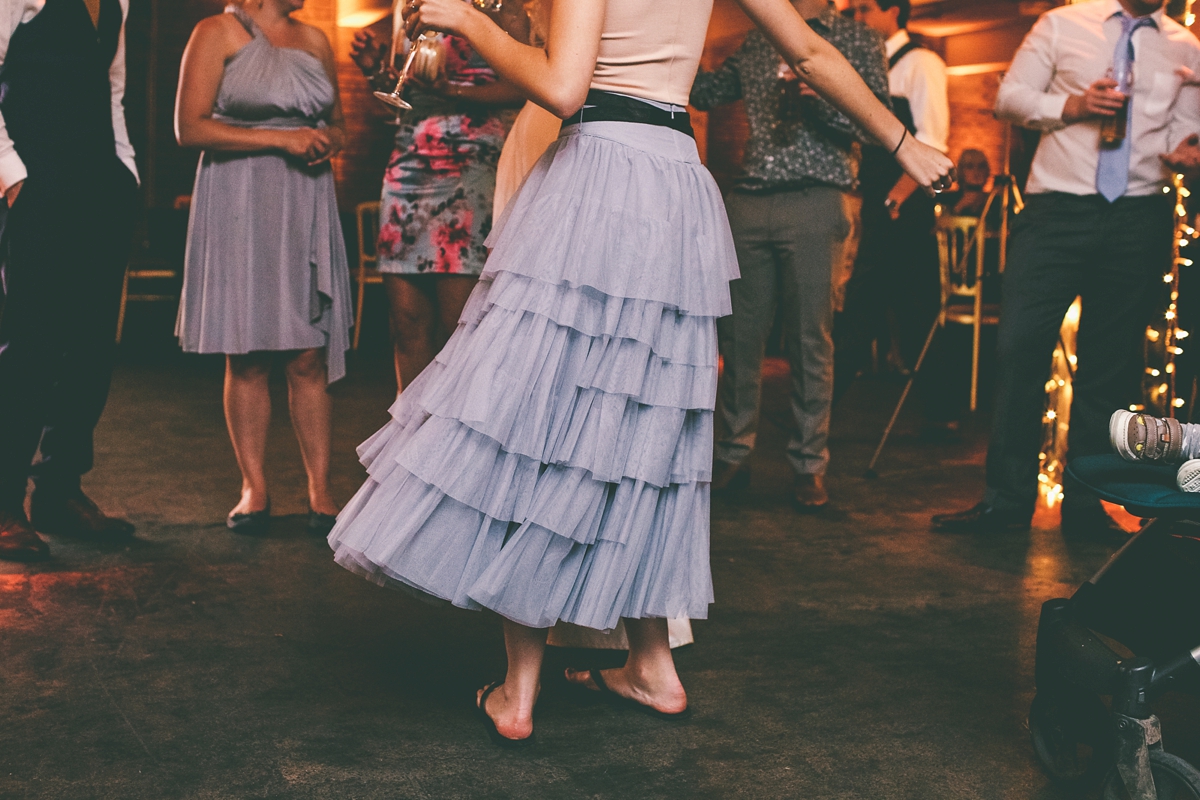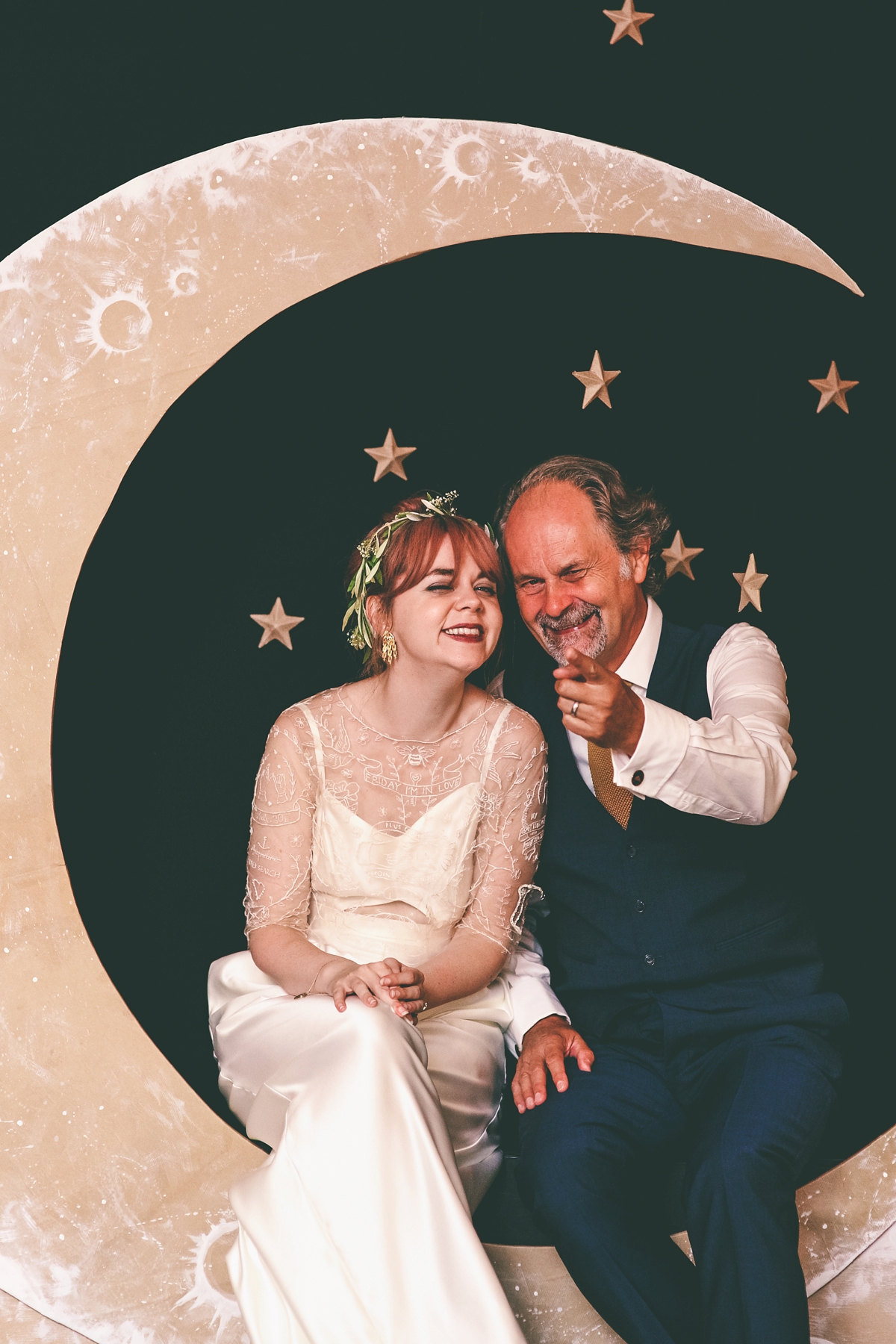 Words of Wedded Wisdom
"Hindsight is a wonderful thing! Sure, there were a couple of things that didn't quite go to plan or made things tricky… it definitely wasn't ideal to still be making my outfit four days before the wedding, and on the day timings went completely out of the window, my hair would just not behave and it was impossible to spend enough time with everyone we wanted to – but it was every bit as brilliant as we had hoped it to be and I wouldn't change a thing!"
"Don't give up your daydream! If you're working to a tight budget, believe me when I say that it's still possible to achieve the special details you've been fantasising about! It takes time and it's a lot of hard work, but it's amazing what you can create with smart time management, perseverance and a hefty tub elbow grease!"
"We had 18 months to plan so we made the most of each day, searching for bargains, slowly buying things as and when we could afford them and making as much as we could to keep our costs down. Figure out at the very start, what you can't avoid spending money on – There were things which we just couldn't have done ourselves and things we knew it simply wasn't smart to scrimp on! It was also very helpful for our budget that we were starting with a space which we adored, so we were essentially adding to an already wonderful venue, rather than having the daunting task of transforming one!"
"Forget traditions and rules! There's a lot of traditional stuff that goes along with wedding planning, some of which simply might not fit for you – if it doesn't feel right, don't do it! You'll figure out alternative ways of doing those things that are a much better reflection of you!"
"Don't forget about your guests! Of course your wedding day is a celebration of your love for each other, but there's a reason you've invited all those other folks – each of them has an important role in your lives! By the time we were married, we had been together for 11 years and while our relationship grew, we had the company of many wonderful people along the way. So the wedding of our dreams was not just a day for us, but a day for all our loved ones too! …The little details we worked so hard on were an important part in that and it made our hearts sing to hear what a wonderful day our guests had!"
"Be thankful! We are very lucky to have a lot of wonderful people in our lives who offered their help along the way. Without these people, parts of our wedding day either would have been a nightmare to pull off or simply wouldn't have been possible at all. If you are as lucky as we were, to have so many of these superheroes on hand to save the day, show them all of your love and gratitude – they are worth their weight in gold."
Thank you so very much Lucy and Judd. Writing about your beautiful, joyful day has been magical. Victoria Warehouse is an incredible venue, and Lucy, I'm in complete awe of your design and making talents. Thanks also, of course, to Emma Boileau for a gorgeous set of images.
Until next time!
With love,
Laura