To have children, or no children at your wedding? It's a question that weighs heavily on the minds of many a couple planning their celebrations, and for many, it can become a really contentious issues.
It's a topic we've explored in detail here on Love My Dress, and I encourage you to read this article and this one too. Whilst I respect everyone's choices, my personal preference will always be for children at weddings. I love the sense of riot and fun and unequivocal joy they can add to the sense of the occasion. A wedding through a child's eyes can be a marvellous, magical event. I know that our own wedding was for our then, 3 year old daughter Eska and I absolutely treasure the images of seeing her run around barefoot having fun.
Dressing the little ones for a wedding can be fun too, but knowing where to look for cute and stylish garb can be more challenging. Enter, Little Eglantine – a label who should absolutely, definitely be hanging in the wardrobes of any well dressed little one (and especially if their parents have a penchant for beautifully handmade clothes).
It being summer now (it is, right? We've waited long enough this year!), I know there will be many a delightful outdoor and beachside wedding taking place and so I was keen to share these beautiful images with you that showcase some of the wonderful little outfits created by Little Eglantine that would suit your little ones perfectly for such occasions.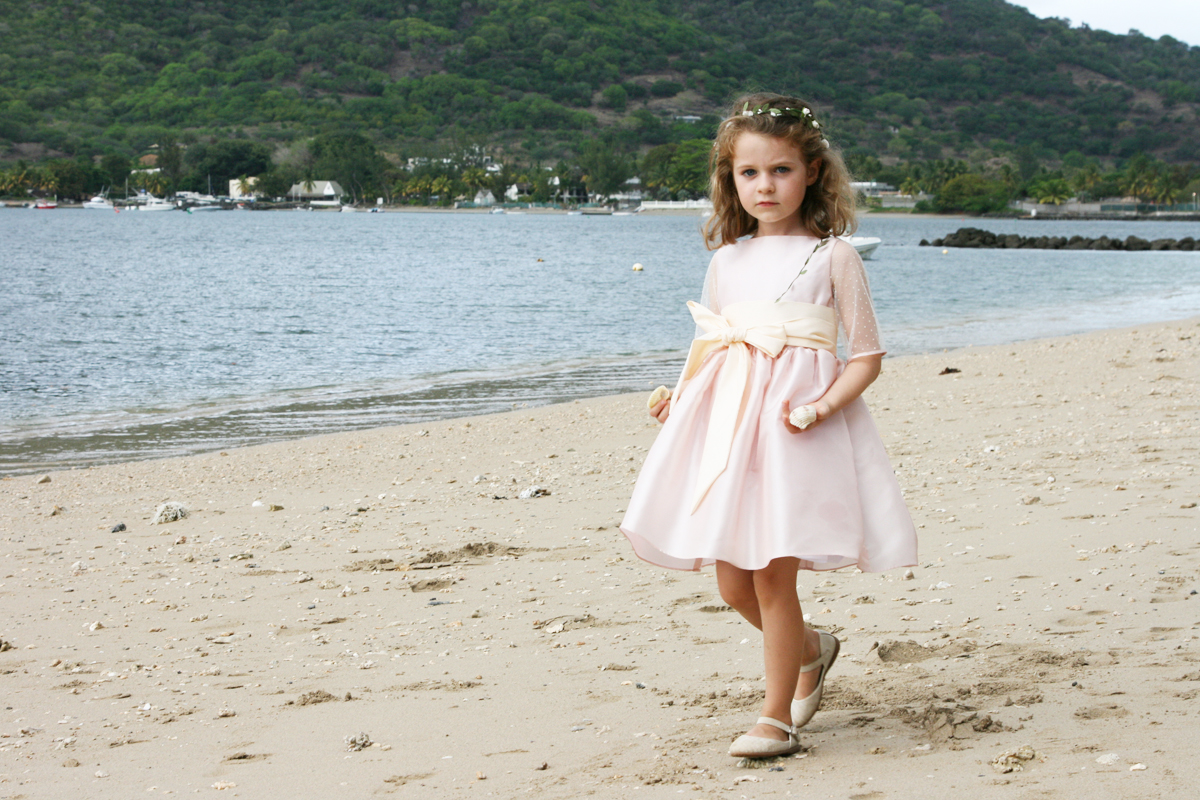 Little Eglantine is based on the stunning island of Mauritius, where founder, the French born Stephanie Staub, spends her days designing and handcrafting each of the divine little outfits you see on this page. This really is a business born from passion and led by someone who pours all her love into everything she creates.
A selection of delicate dresses for flower girls, and exceptionally sophisticated and stylish suits for pageboys is available.
Stephanie says "During the run-up to your wedding, we give our clients the opportunity to have creative input into the design of the outfits for the junior bridal entourage. Simply tell us about the design of your dreams and we will create it for you. We will spend as much time as each client needs to get a clear idea of their personal style, to discuss ideas and eventually to create a truly individual design for the little ones, be they tiny babies or teenage children. Our clients will then receive an appropriate estimate, with the fabric swatches they are interested in, enabling them with a much better idea of what the outfits will look like. Every client of ours will always have the opportunity to modify their designs along the way until they are just right."
"For those planning a magical ocean wedding, whether in the UK or on these most gorgeous tropical islands, Little Eglantine has the perfect flower girl dresses and page boy outfits. For an elegant laid-back wedding, our white fine cotton dress with golden spots is perfect, with its delicate mother-of-pearl button fastening – available in size 3 months to 18 months. Usually £54 but currently £27 in our sale."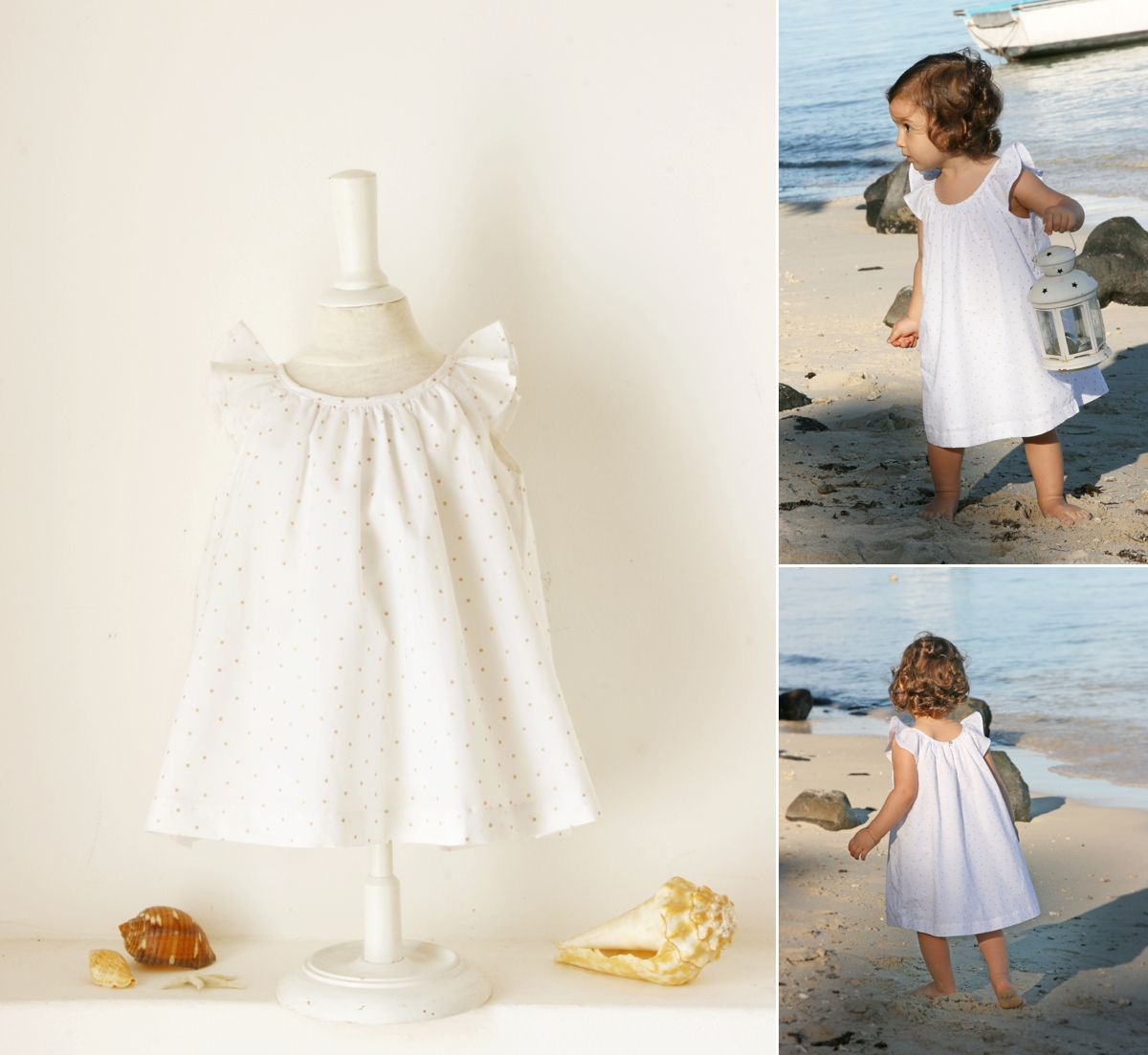 "For the cutest of page boys, we suggest an elegant shirt made from soft, grey, lightweight cotton with tiny stripes and smart Mao collar – usually £48 but currently £24 in the sale. You will also love the real sea-shell button fastening on the front. The long sleeves that can be turned up for a comfortable Summer Style.
The matching white cotton shorts are front pleated. We love the real sea-shell finish on the front and contrasting soft grey cotton lining inside the waistband. These shorts are usually £54 but currently £27 in our sale. Both items come in sizes 3 months to 18 months."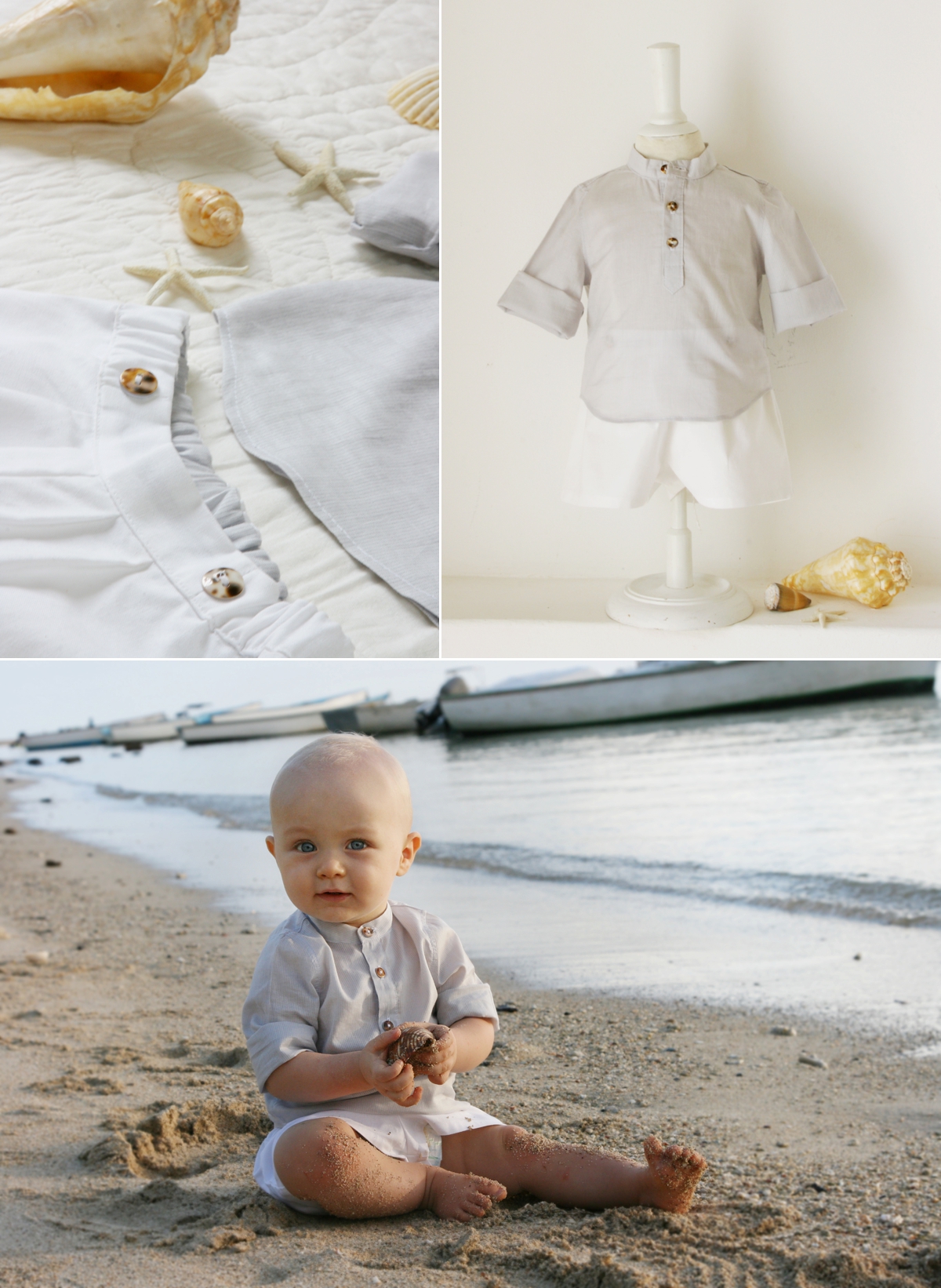 "What best than a sun-downer wedding on the beach? Especially when it is on a paradise island! Our Annabelle dress, made of a shimmering golden taffeta with a sparkling golden tulle overskirt and a burgundy velvet ribbon at the waist will be a vibrant response to any beautiful golden red sun. This dress is made to order in sizes 18 months to 9 years and costs £178. Made with love.
Our Ines dress is the cutest little maxi gown that we can provide in sizes 9 months to 9 years, £235."
"For those planning a romantic beach wedding, our Emmanuelle knee-length dress and our Celeste flower girl dress, with their elegant deep backs will be an enchantment for everyone's eyes. Mix them with adorable floral headdresses and you'll get the prettiest junior bridal party you could dream of."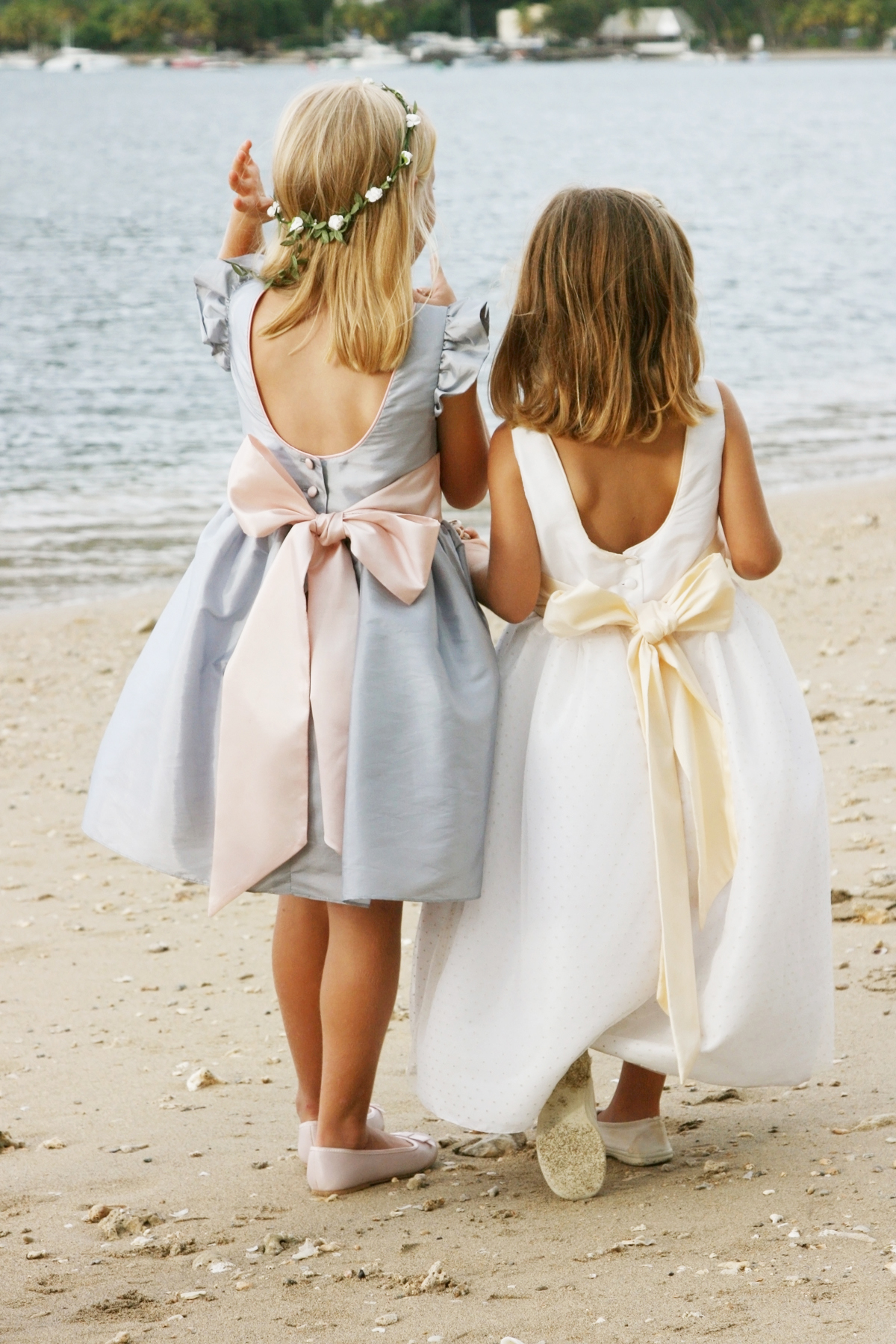 Stephanie would love to hear from you no matter what your requirements.  You can connect with her through email ([email protected]), social media or via this form on the Little Eglantine website.
And if you are extra quick lovely readers, you will benefit from the wonderful sale currently happening!
Love Annabel x