Today's wedding got me super excited when it landed in my inbox and I first saw the simply breathtaking images. It's a really true reflection of the couple's love for each other and just goes to show that a wedding day is all about the vows you recite to each other, and the true meaning behind them.
Today's couple braved the elements of a northern mountain for their vow renewal. Groom Ian, a Pharmacist and bride Rebecka, a part of Jean Jackson Couture, a bridal boutique based in Manchester, were actually married on 9th September 2009 but decided to renew their vows more recently on Mam Tor in the Peak District. The couple met many many years ago, had been together for 12 years and married for 9 when they decided to renew their wedding vows.
"It was a really wonderful experience renewing our vows secretly. We both feel it's important to celebrate how far we've come together. After spending so much time with someone you can start to take them for granted and we never want that to be the case. It's important to be excited by one another to get out of your comfort zone and to get to know that person even better. We are always evolving and changing, so to stand in front of Ian on the mountain top, the icy cold wind blowing through my hair, tears running down my face (from the cold wind!), it felt like something completely fresh and new – an exhilarating experience!"
Images by Sttilo Photography
"As we got married in Ibiza the first time around and had a 3 day party with all our friends and family, we wanted to do something completely different this time. Something really intimate with no fuss. We are always at our best surrounded by nature and one of our favourite things to do together is escape to the wilderness and explore. We wanted our vow renewal to reflect that. We wanted a natural and intimate day."The bride wore the beautiful leaf detail Avril dress by Rue de Seine via Jean Jackson Couture, and wrapped up against the harsh snowy weather in a thrift store hat and faux sheepskin from Pinko. Her boots were from vintage store Cow in Manchester and were the perfect choice of footwear for the mountain adventure.
"I love the earthy tones and the flora print of my dress. It has a very bohemian essence to it and is lightweight and easy to move in which makes it perfect for an outdoor wedding in the wilderness!"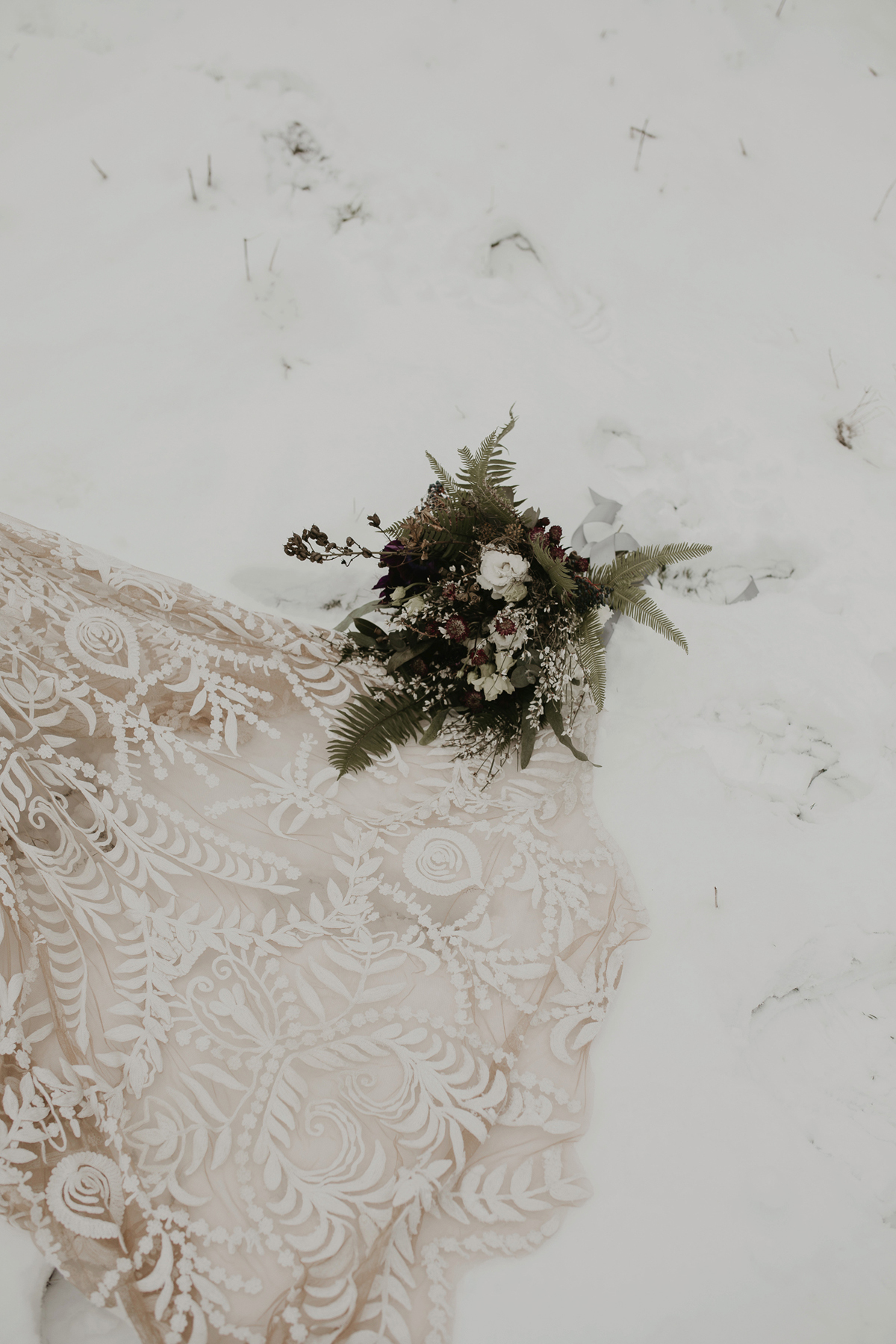 "We asked Opi from Open the Door Events to organise our adventure. We had worked together two years ago on a styled shoot in Spain and I just knew she would be able to organise us something low-key and relaxed as it fits OTD's style perfectly."
"Our budget was tiny, but Opi even managed to arrange the photographer, bouquet and veggie pub lunch with mugs of tea to celebrate (Ian and I don't drink), all within budget. It was perfect and all that we needed and wanted."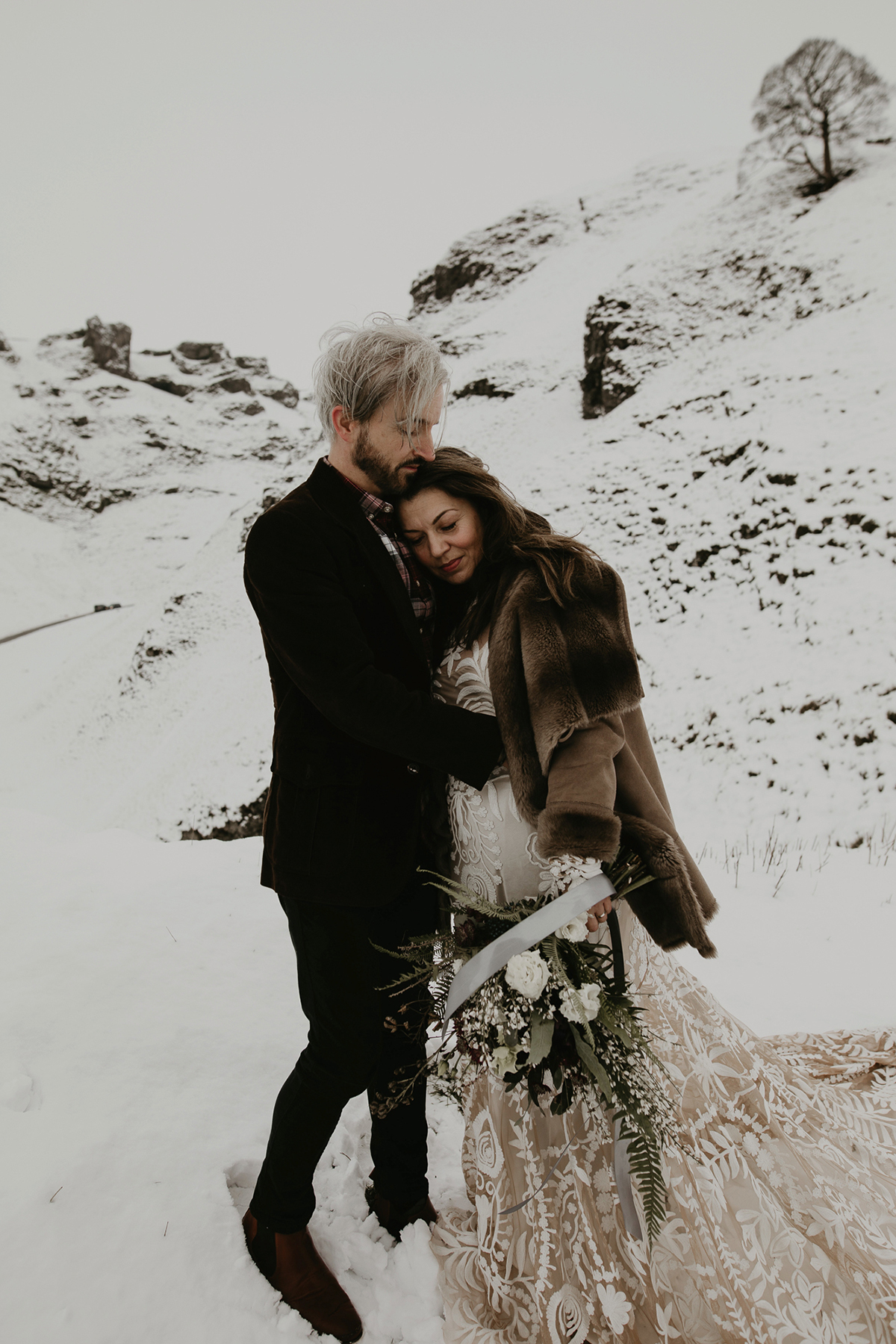 Wanting to keep the day between themselves and themselves only, the couple decided not to have any bridesmaids or groomsmen, preferring to keep they day just the two of them.
"We had no rings, no cakes, drove our own car, and no caterers. We had a vegetarian lunch in a traditional pun in Castleton with pots of tea! We had no entertainment either – sliding down the snowy hills was more than enough entertainment!"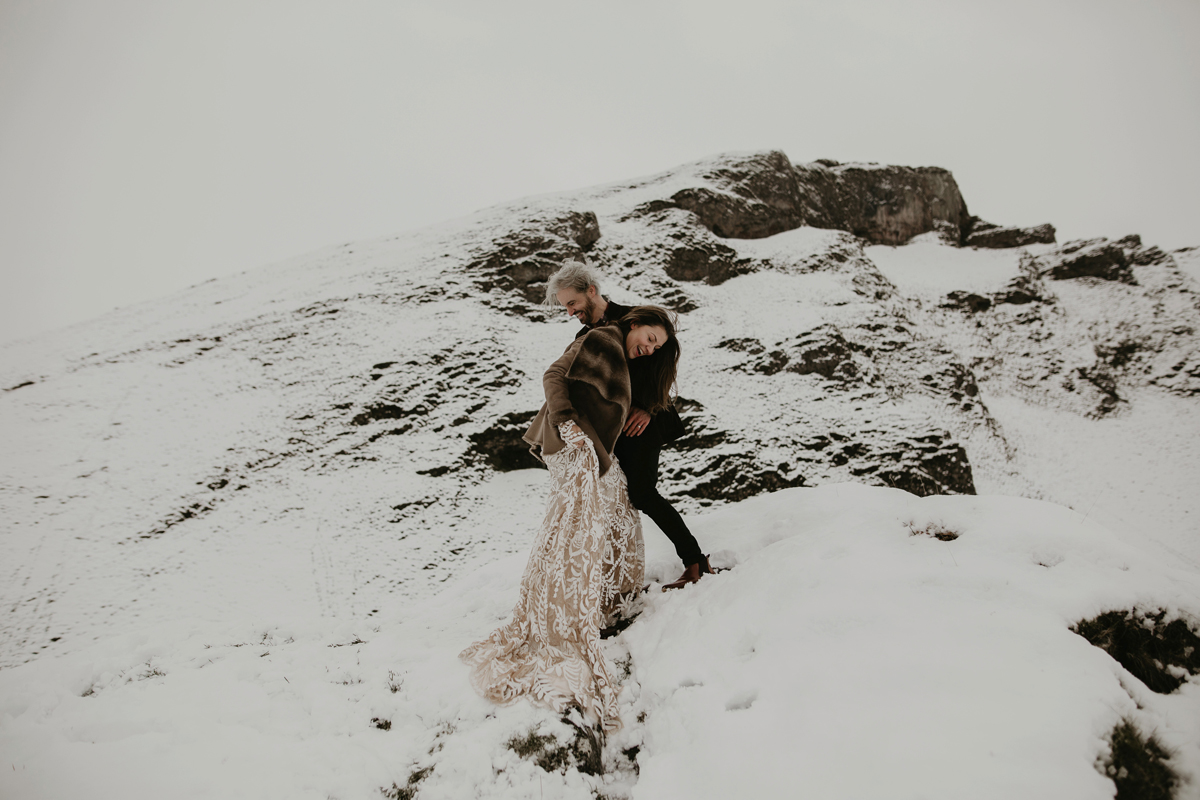 "For the ceremony we recited the vows we originally wrote for our Ibizan wedding. As we're big sci-fi fans, we included a quote we love from Star Trek; 'I have been and always shall be your friend'."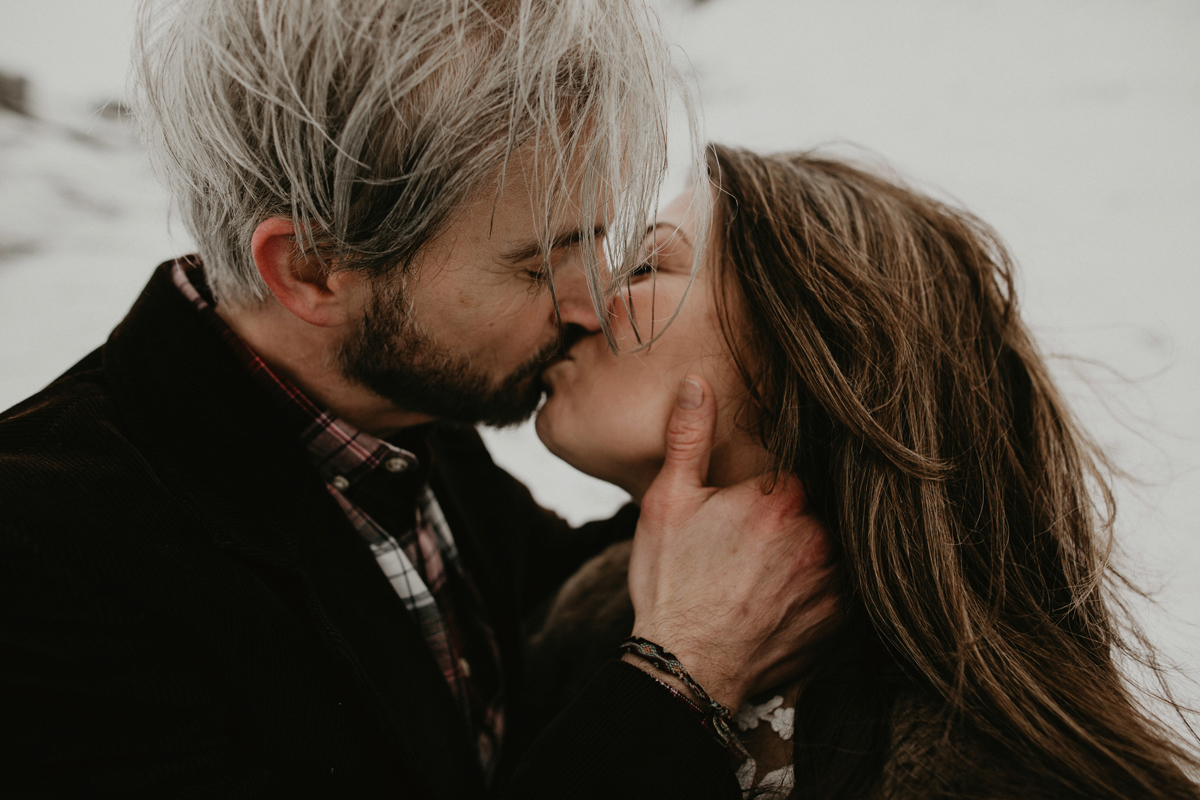 "We wanted an open space, amongst nature and just us. Manchester is surrounded by such wild countryside and we wanted to make the most of it. The reason we wanted an elopement style vow renewal was to make the most of the breathtaking views and mountainous backdrops. We didn't want anything else!"
"We didn't expect to have snow but the unexpected is always welcome. No matter how much we try to plan things in life, there will always be other factors that interfere. That is the beauty of life. So we wouldn't have changed a thing about our day."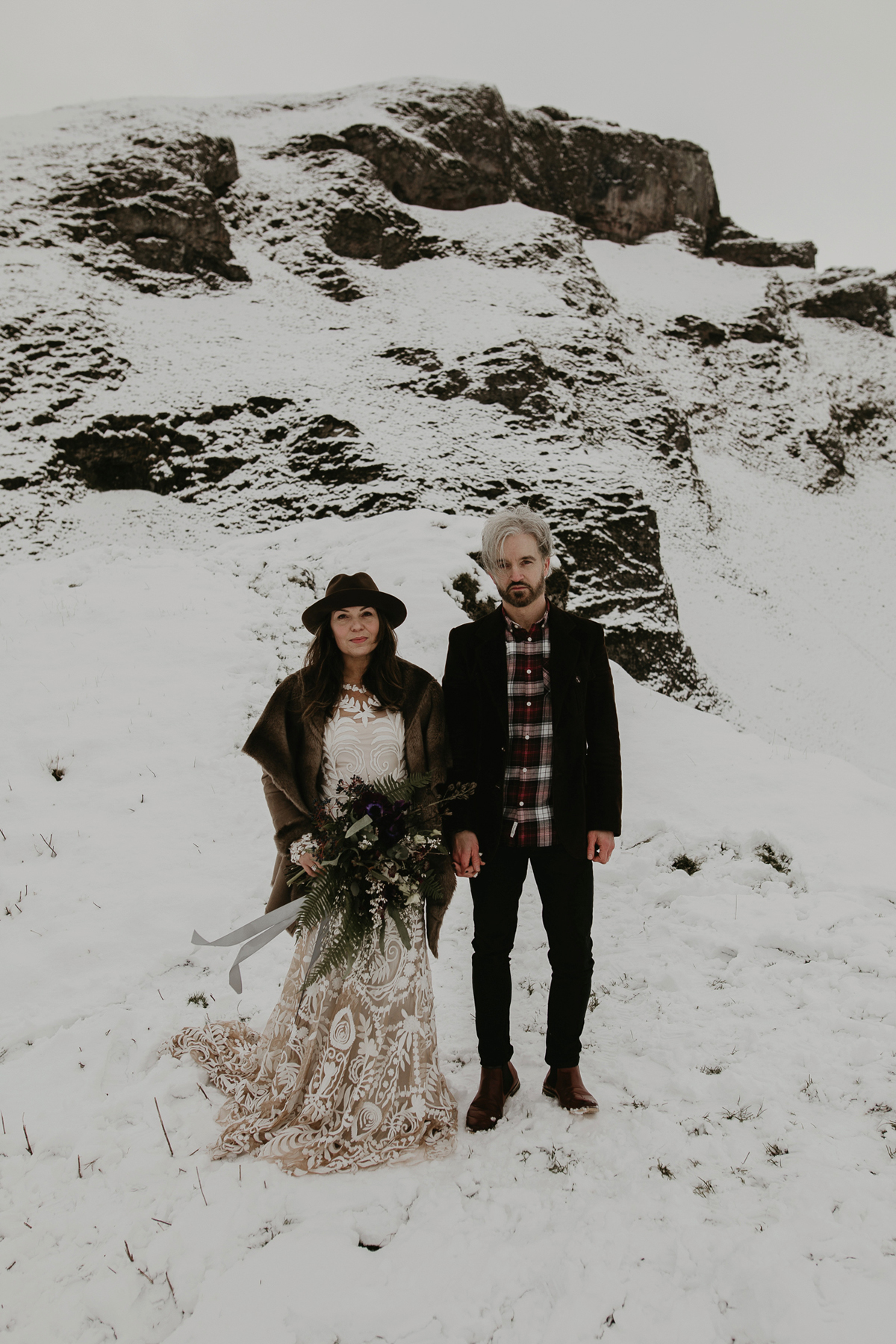 The stunning photography was by the Spanish based Joy from Sttilo Photography who captured the day so beautifully in the snow.
"Joy is the best and we were so lucky he was available. He totally captured the magic in an authentic way. We literally cannot stop looking at the photo's!"
Keeping the day fuss free as intended, Rebecka did her own make up using Charlotte Tilbury make up.
"Pillow Talk was the perfect lipstick. I don't wear much make up usually and really wanted to look like me still, wrinkles and all!"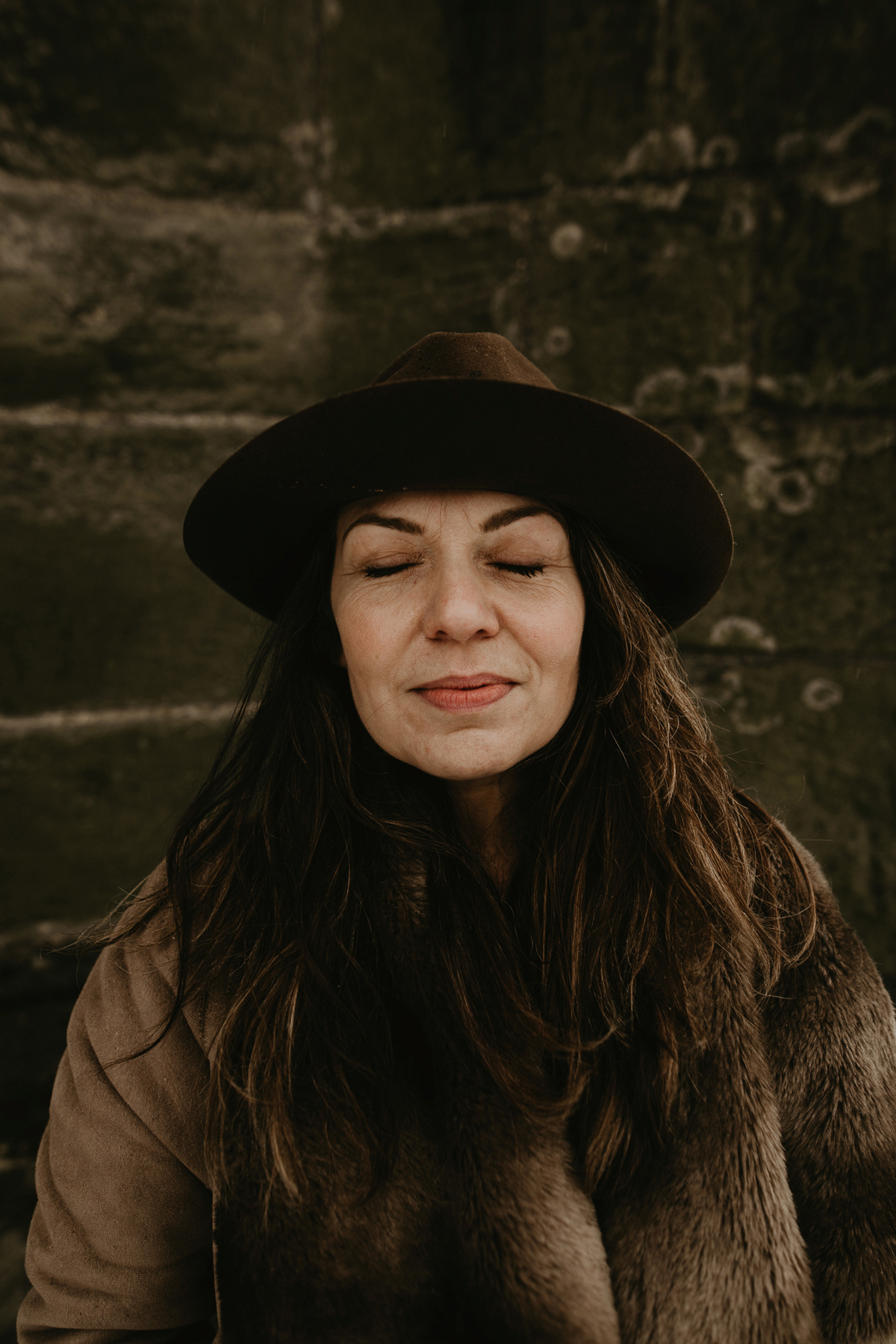 "Ian wore a vintage cord jacket with a checked shirt and black levi's, teamed with vintage Chelsea boots. We're not formal people and wanted to feel like ourselves still on such a special day."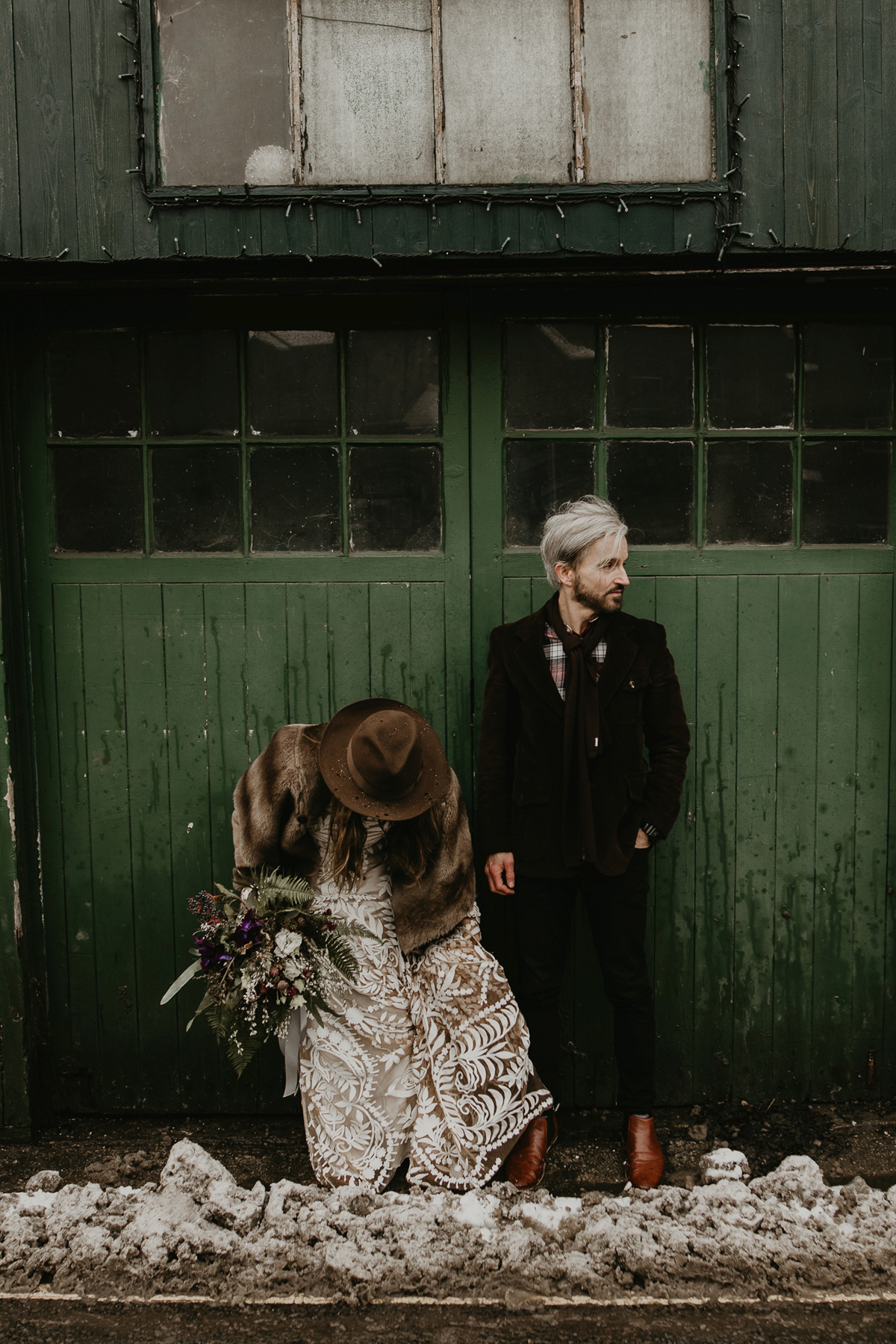 Rebecka's gorgeous bouquet was in keeping with the wintry surroundings and was created by Manchester based florists Frog Flowers.
"I wanted it to be wild with flashes of colour. Opi showed them some photo's for inspiration and they created the most beautiful bouquet ever."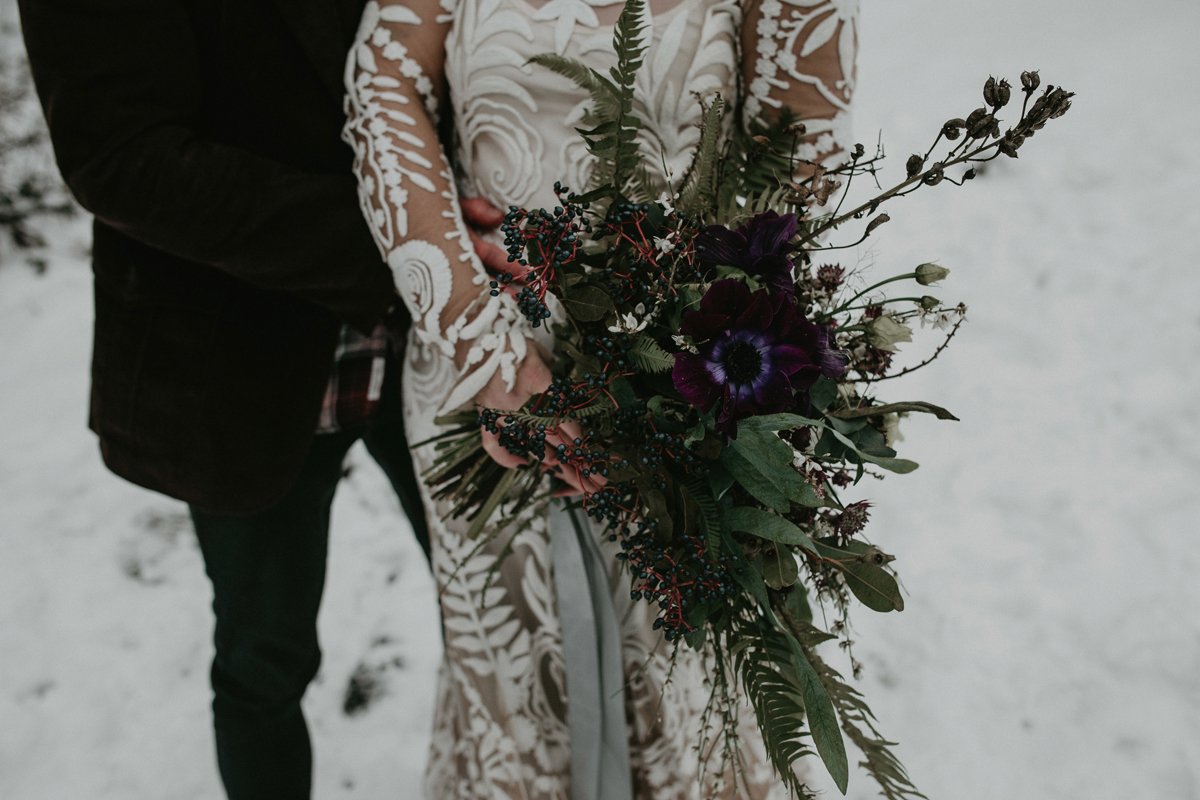 Words Of Wedded Wisdom
"Your relationship is unique and beautiful in ways maybe nobody understands. Incorporate your essence into your celebration and don't try to please anybody else."
"Also try to think about why you want to spend the rest of your life with your fiance and don't ever forget it throughout the planning process. Planning a wedding can be stressful but if you always remember the reason you're doing it, it really shouldn't be. Have fun!"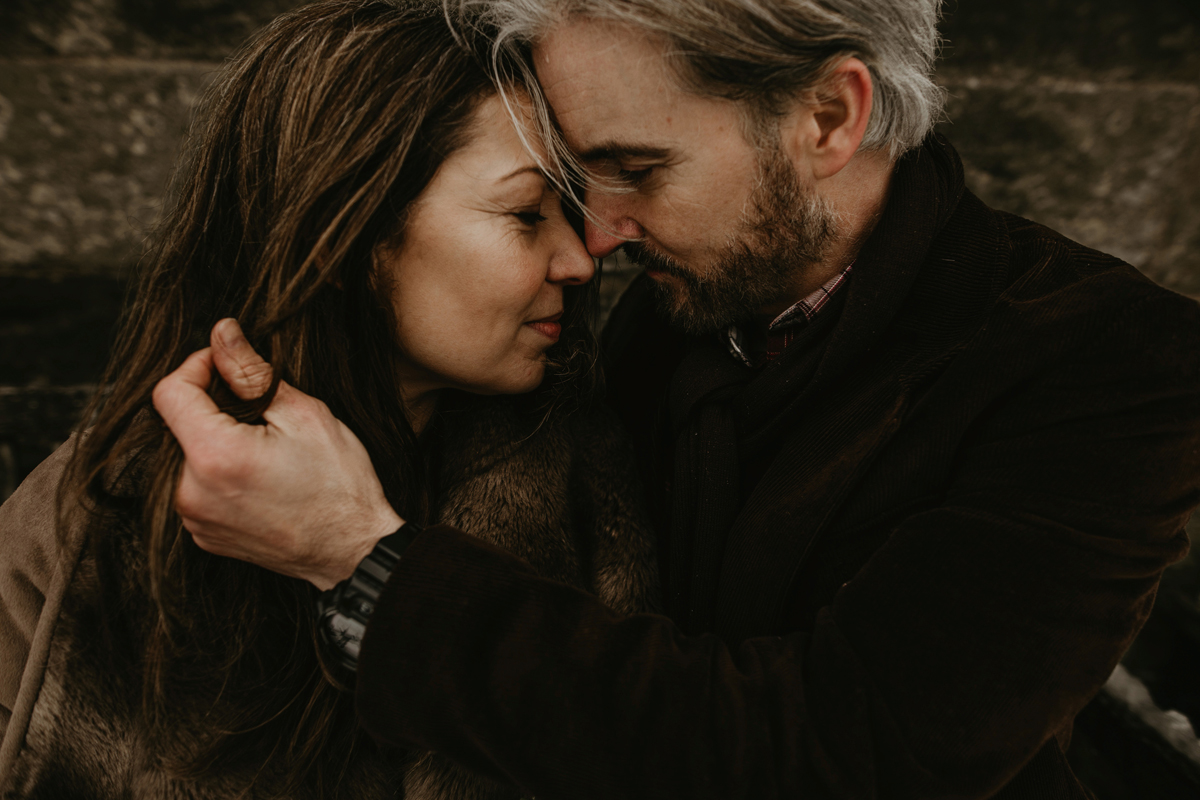 What a truly gorgeous day and so personal to Ian and Rebecka. It just goes to show that a wedding day doesn't need to be all singing and dancing to be special, it's all about marrying your very own special someone. A big congratulations to Ian and Rebecka for the past 9 years of marriage – here's to many more years to come! And thank you to photographer Joy at Sttilo Photography for capturing the pure magic of the day.
Until next time…
Much love,
Holly x