Happy Sunday darling lovely ones, I truly, truly hope you are finding time to enjoy this glorious weather that many of us in the UK are being treated to right now. It sends my spirits soaring it does!
This weekend we've been enjoying a somewhat less-traditional theme at Love My Dress – brides embracing their own, unique style and utterly rocking the hell out of it. Did you see this disused lighthouse wedding yesterday? It's been rather a hit over at Instagram! Following hot in it's bride who owns her own style footsteps, I can't wait to share this sublime Scottish wedding, featuring one of the most stylish brides I have ever seen, with you.
Katie, Partner and Head of Strategy at an Advertising Agency called Mother married her beau Joe, Founder and Creative Director of a PR Agency called The Romans, on 2 September 2017. Their ceremony took place at Inchcolm Abbey on Inchcolm Island, followed by a reception at Hopetoun House in South Queensferry in Edinburgh – two incredible venues and spaces, but it was that dress and that cape that turned heads all day at this wedding.
"Despite trying on dozens of dresses, I went with my heart and didn't go with a white wedding dress. Instead, I'm wore a vintage haute couture Christian Dior gown from the 1970's that's called 'Goldenrod',  because of its wonderful rich golden yellow colour, teamed with a beautiful vintage haute couture Cardin brocade evening coat from the 1960's. I found them both in an amazing vintage shop called William Vintage."
Images by Nigel John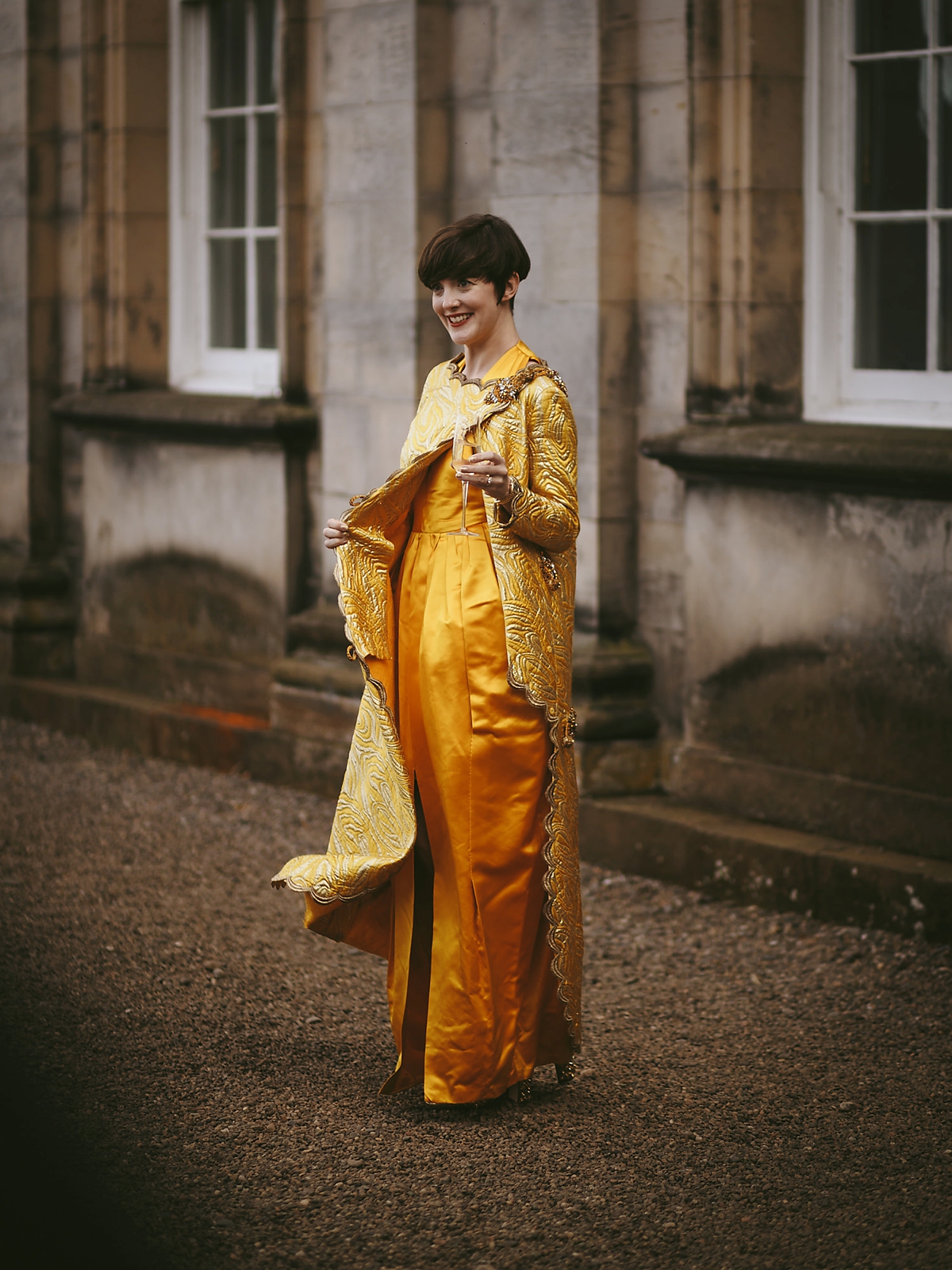 "I just knew it was the right dress the moment I put it on. The colour seemed to come alive against my skin, and I adored the shape and the bow on the back. The Cardin coat took my breath away, and looked like it had been designed to go with the Dior dress. I'd always thought I might not end up wearing white, but I don't think even in my wildest dreams did I imagine I'd be wearing such spectacular vintage couture on my wedding day.""We wanted our wedding to feel true to us. Scottish and colourful – with great food and great wine, surrounded by people we love. Not too overthought. And we absolutely didn't want to create a 'theme'.  I grew up in Charlestown in Fife, and while Joe grew up in Peterborough, he was born on Shetland so we knew we wanted a very Scottish affair."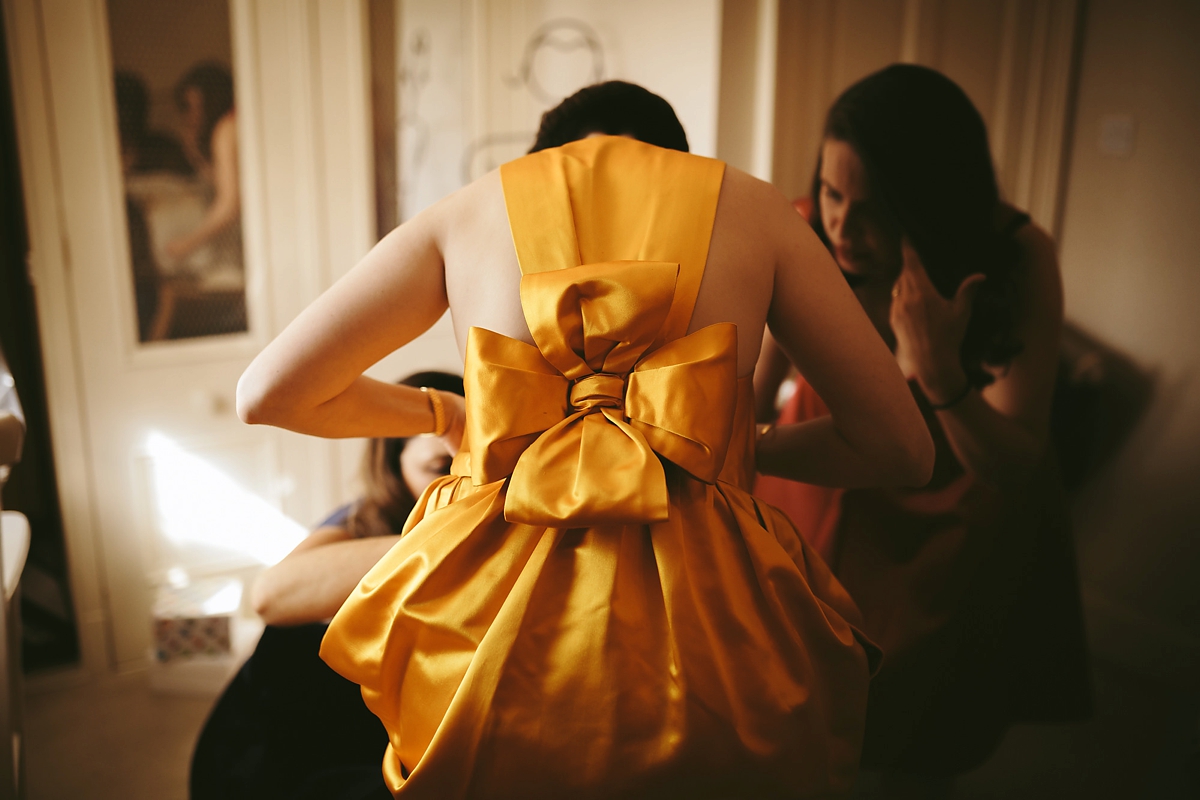 "We searched long and hard before we decided on Inchcolm Island in the Firth of Forth. We were both absolutely overwhelmed by the history that you feel when you step onto the island from the boat and even more so inside the monastery itself. We were spellbound. Hopetoun House has such a grand feel with the backdrop of the Firth of Forth that it felt like the perfect place to celebrate."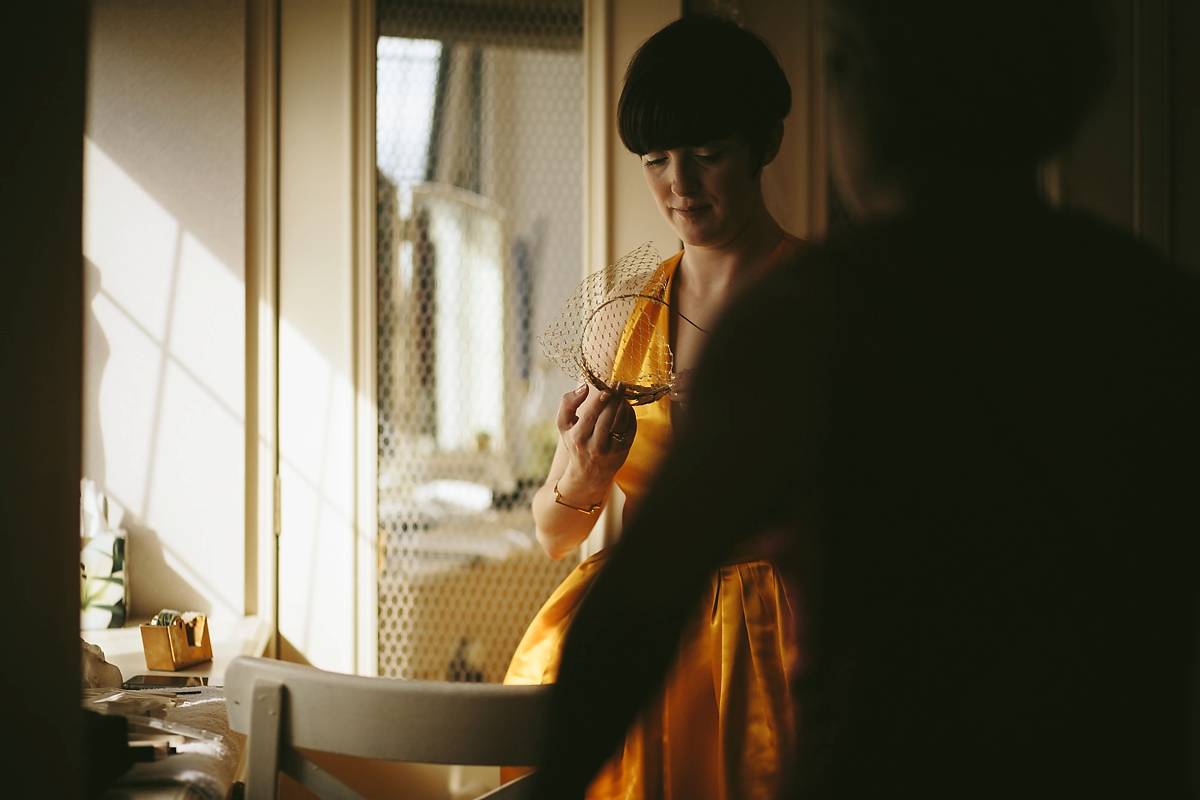 "My shoes were Dolce & Gabbana from Style.com just before it shut down – a real bargain!"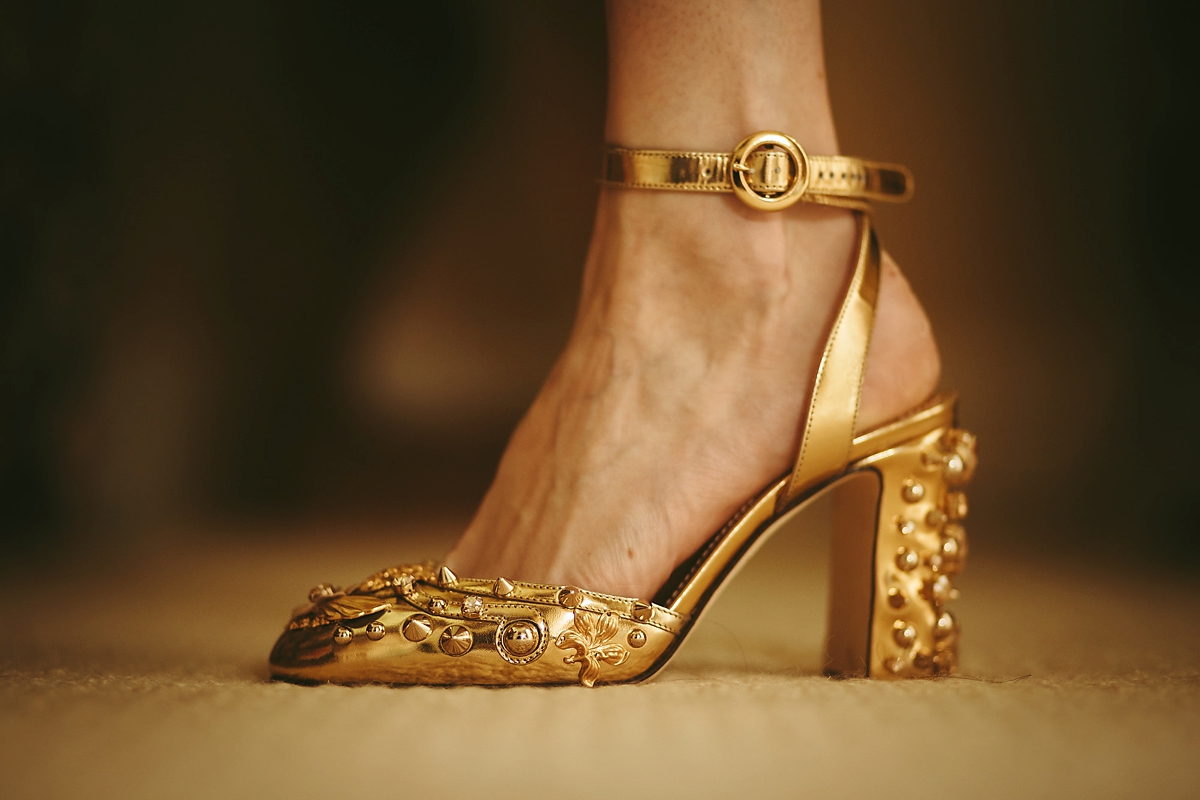 "For scent, I wore Guerlain Shalimar – it's been my perfume for about a decade. I also wore a 1970's Rolex watch that my parents gave me for my 30th birthday, a Monica Vinader gold signature thin bracelet that Joe gave me on Valentine's Day, my mum's engagement ring and her mum's wedding band as my something borrowed,"
"My hair had recently been cut by Ricky at Jones & Payne and was blow dried and styled by the girls from Brian Drumm that morning."
"My bridesmaid Dissy did a wonderful job on my make-up using Bobbi Brown make-up."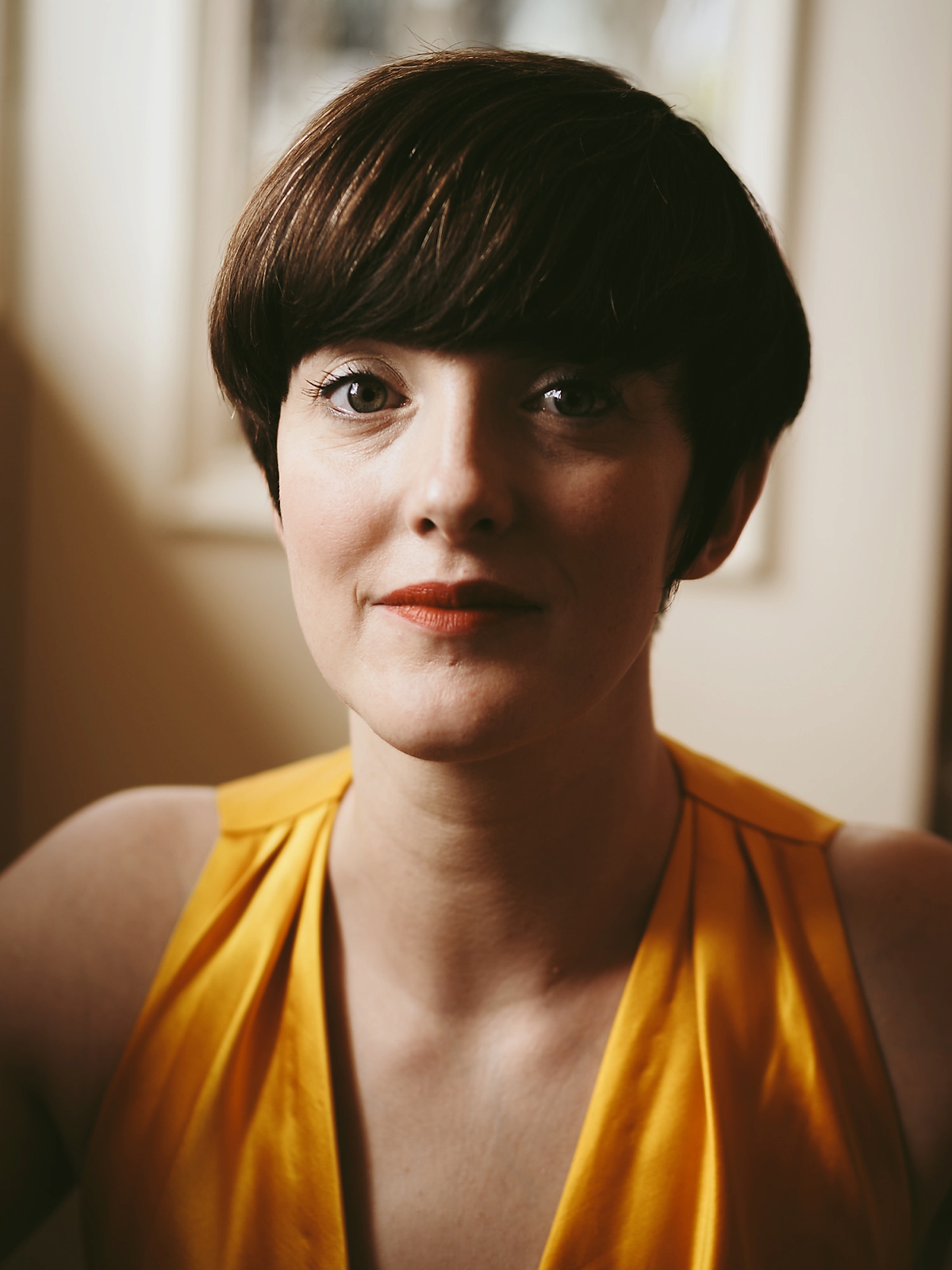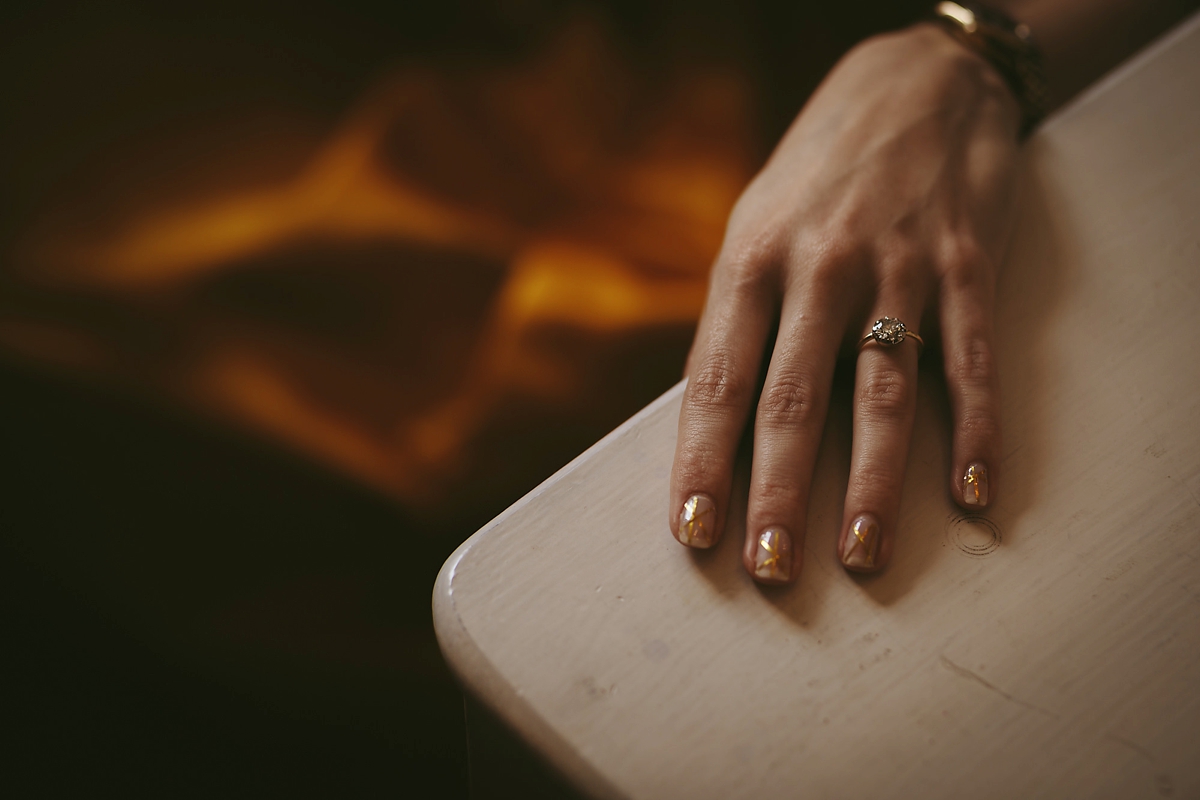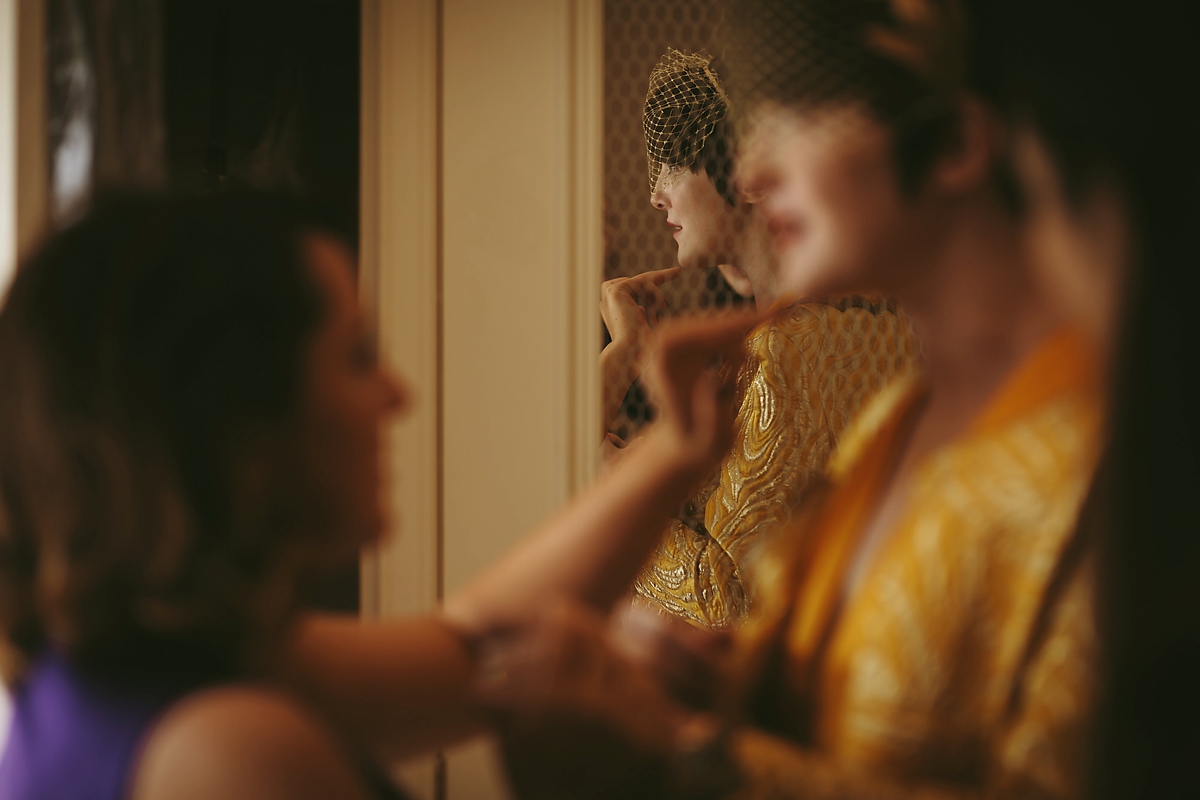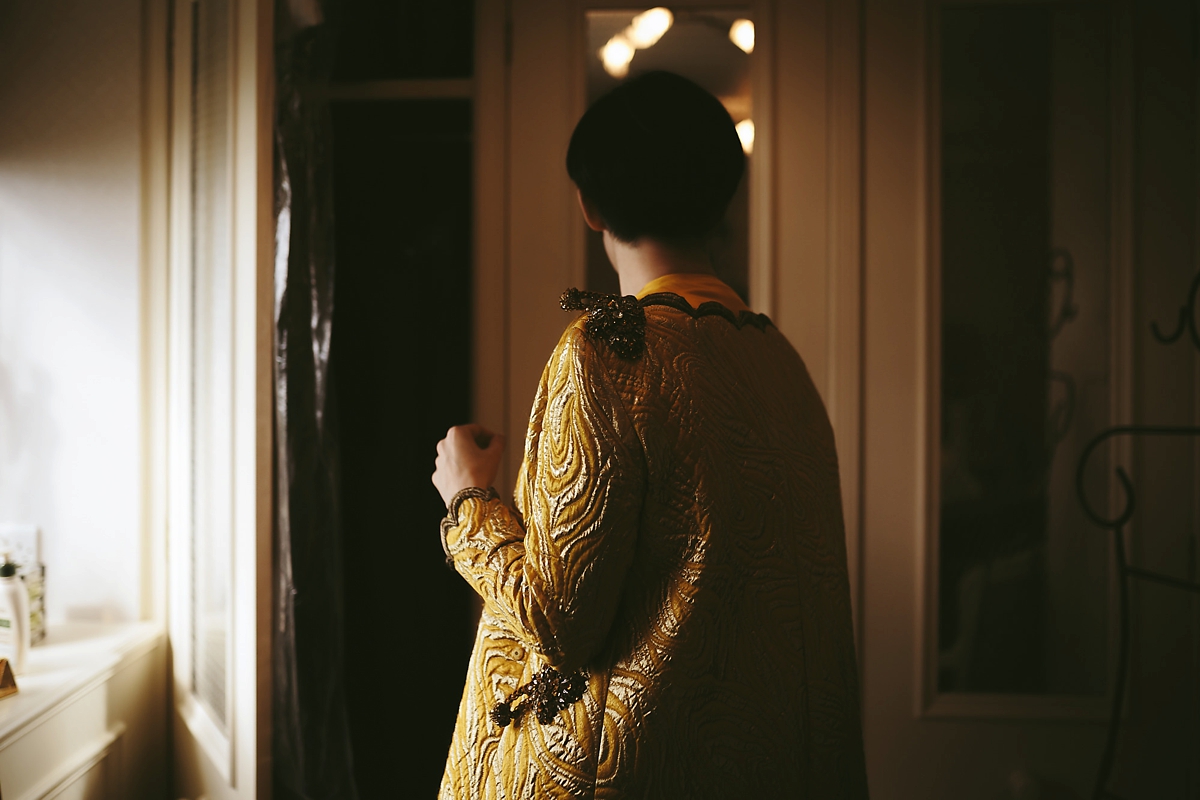 "My headband and veil were made by the dressmaker who designed and made my mum's outfit – Blues and Browns."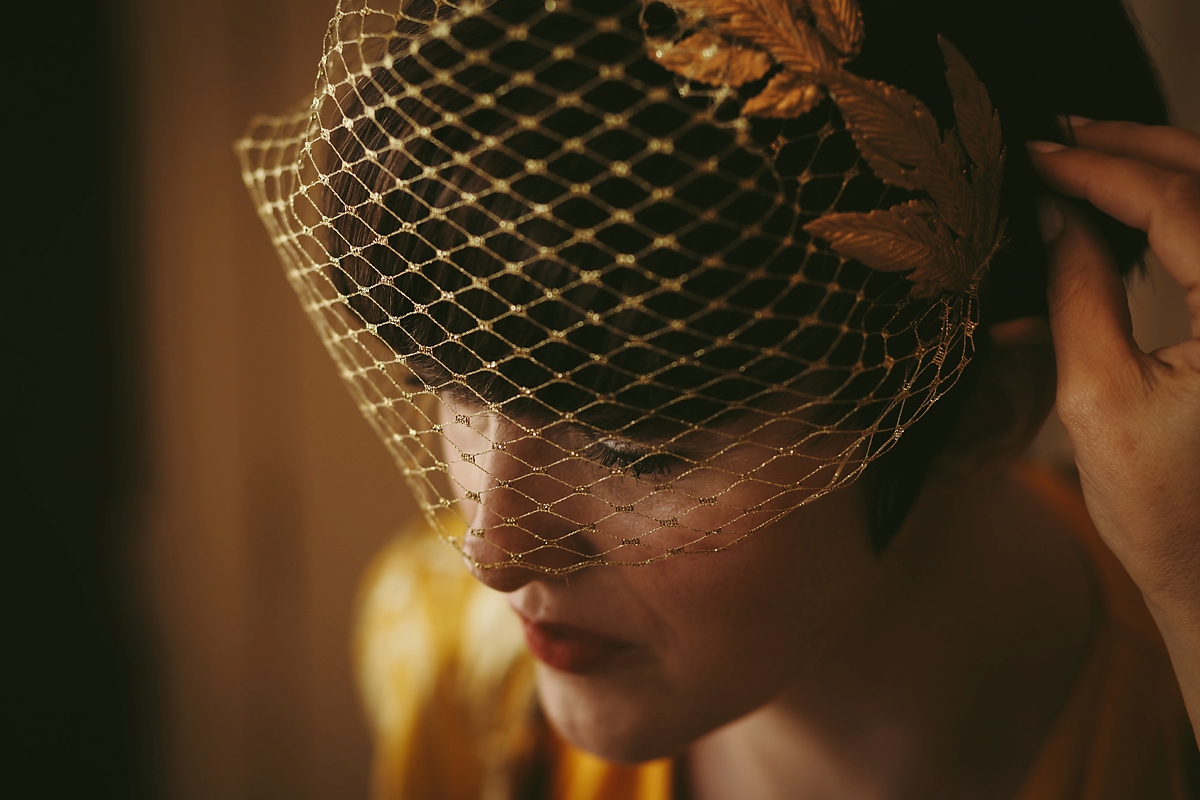 "We've been together for almost twelve years, so I think most of our family and friends had long given up on our wedding ever happening! A long time ago, we set up a fashion blog together that was part love letter, part celebration of playful style (it was called whatkatiewore.com) – Joe dared me to wear a different outfit every day and wrote the blog every single day to document it. I guess you could say this is the romantic conclusion to the fairytale of that blog – and so the anticipation and excitement for us and for the people we love was huge."
"We got engaged in February 2016 but didn't want to rush into setting a date or the wedding itself. We wanted to enjoy being engaged before wedding planning took over."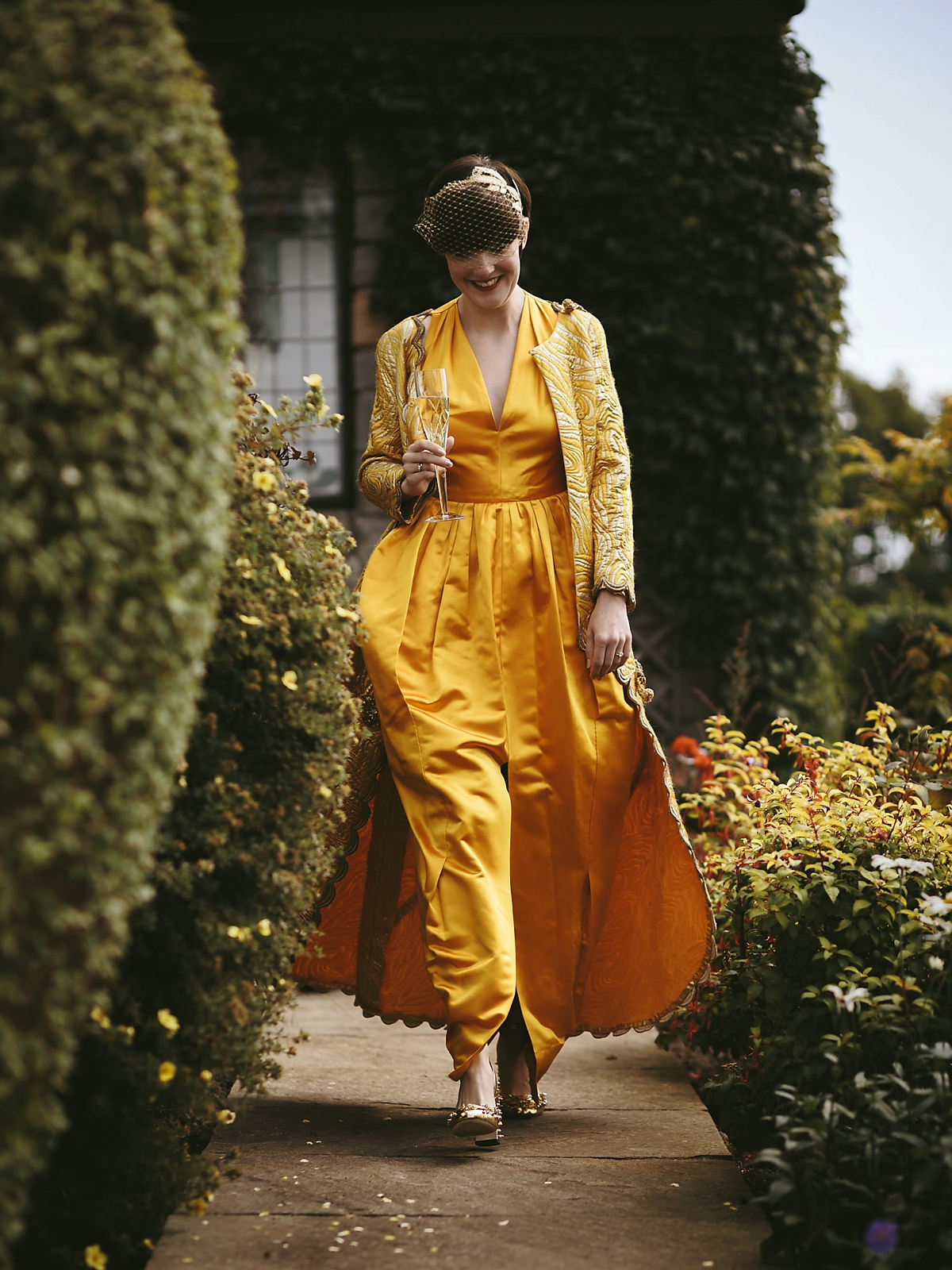 "My golden dress inspired a somewhat untraditional theme for my mum and bridesmaids. I felt that there was something a wee bit Quality Street gold toffee about my dress, and so I asked my girls to each wear a Quality Street sweet inspired jewel-toned dress, and my mum wore a multi-coloured outfit that pulled all the colours together. We couldn't find any dresses out there in the same style and the colours I wanted, so my bridesmaid Natalie who works in fashion designed the girls dresses echoeing elements of my dress. She sourced the silks and trims, and had the dresses designed and made to fit each of my girls perfectly. The girls all chose their own metallic shoes."
"The girls all wore their own jewellery. I gave them a Monica Vinader friendship bracelet with the cord the same colour as their dress as a thank you on the day."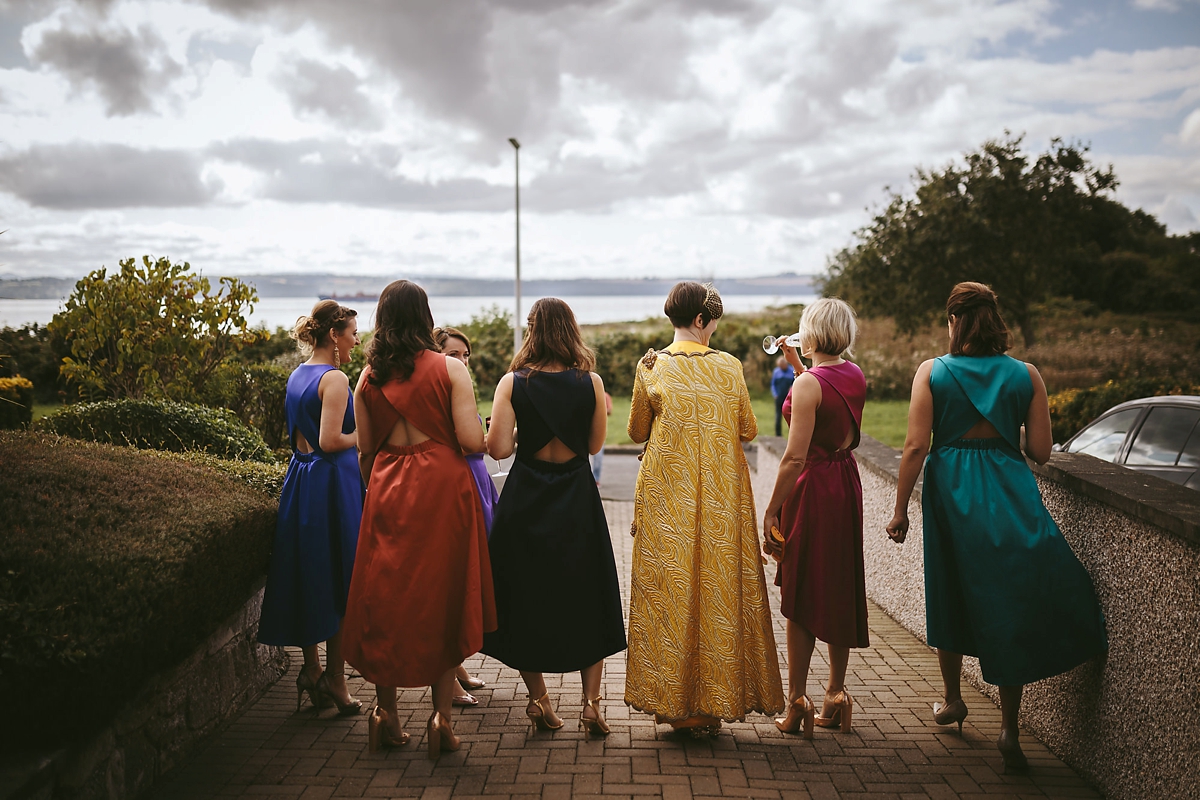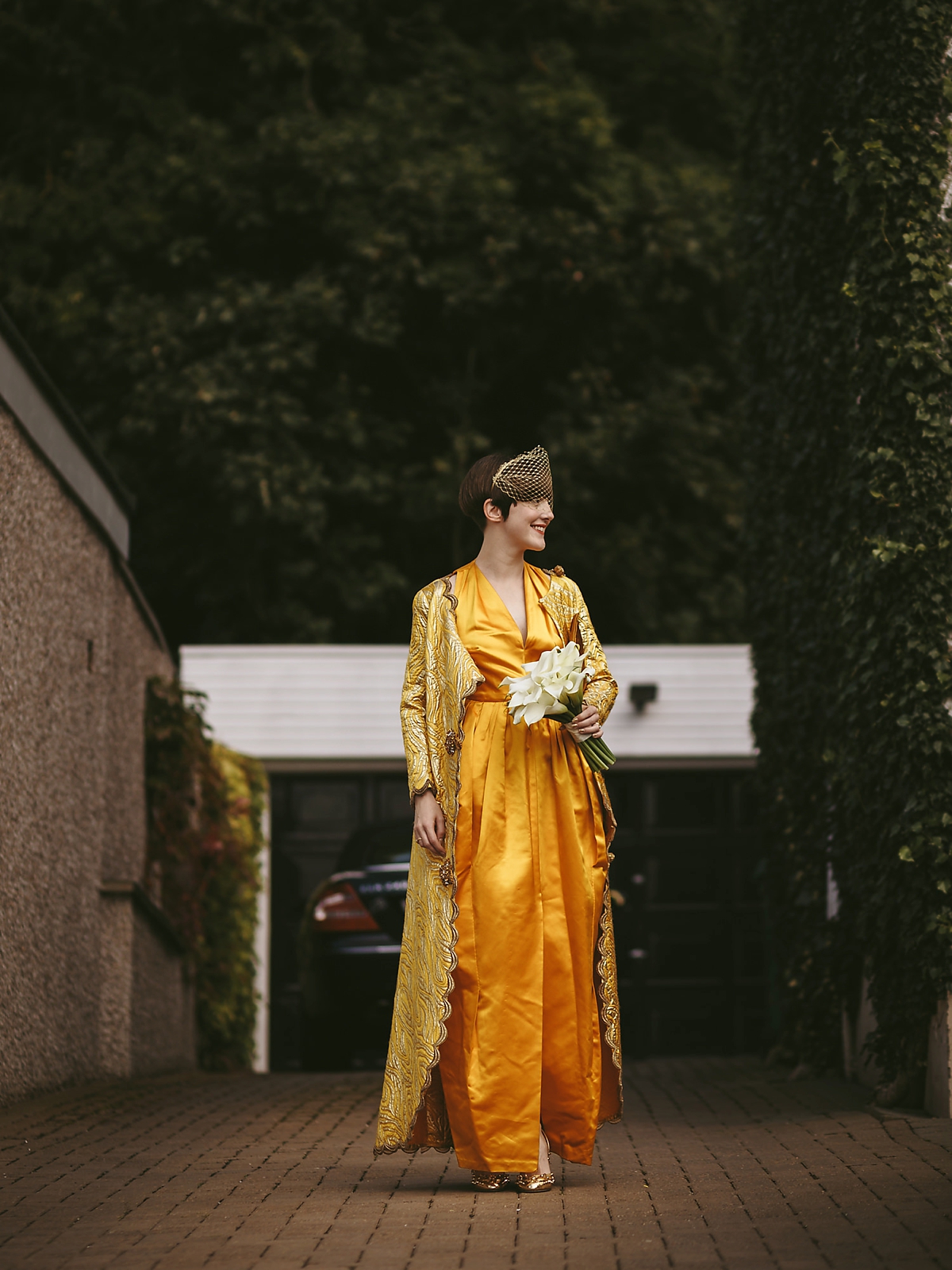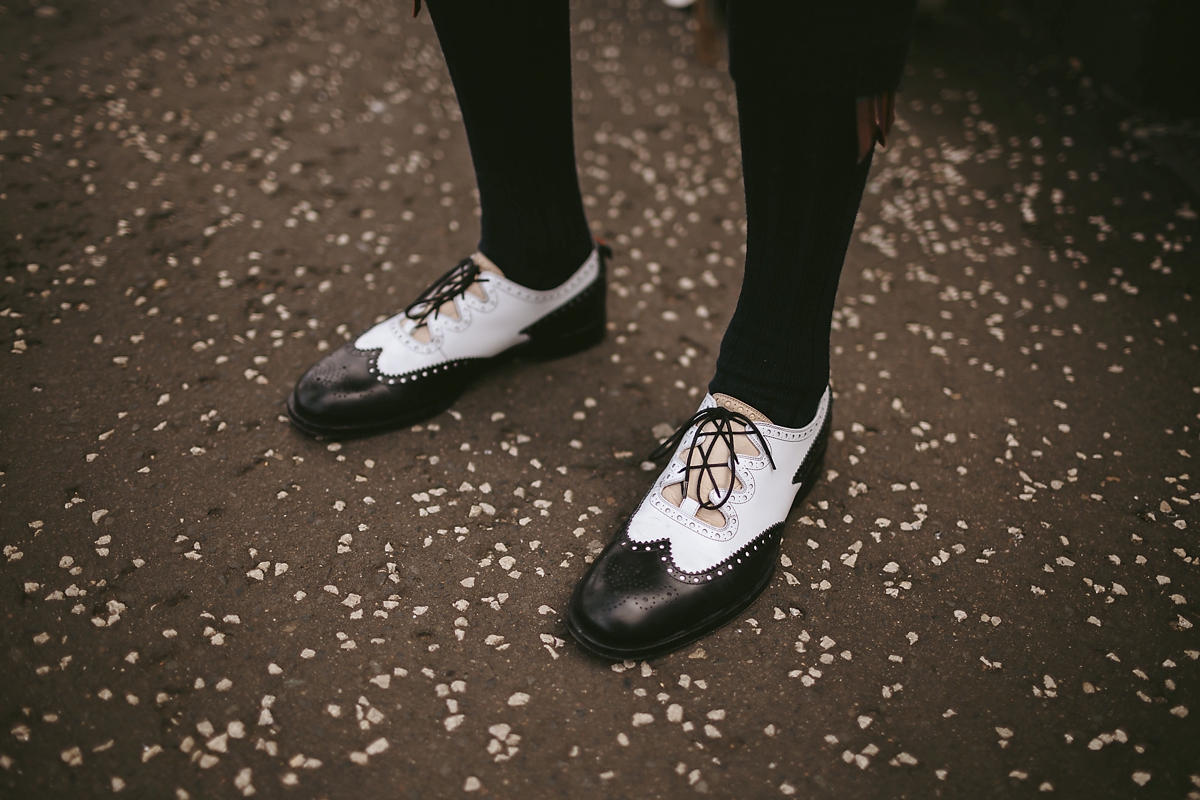 "Joe wore a Sinclair tartan kilt, a tweed kilt waistcoat and jacket from Kinloch Anderson and Gucci shoes. He also wore my Grandad's pocket watch on a vintage chain."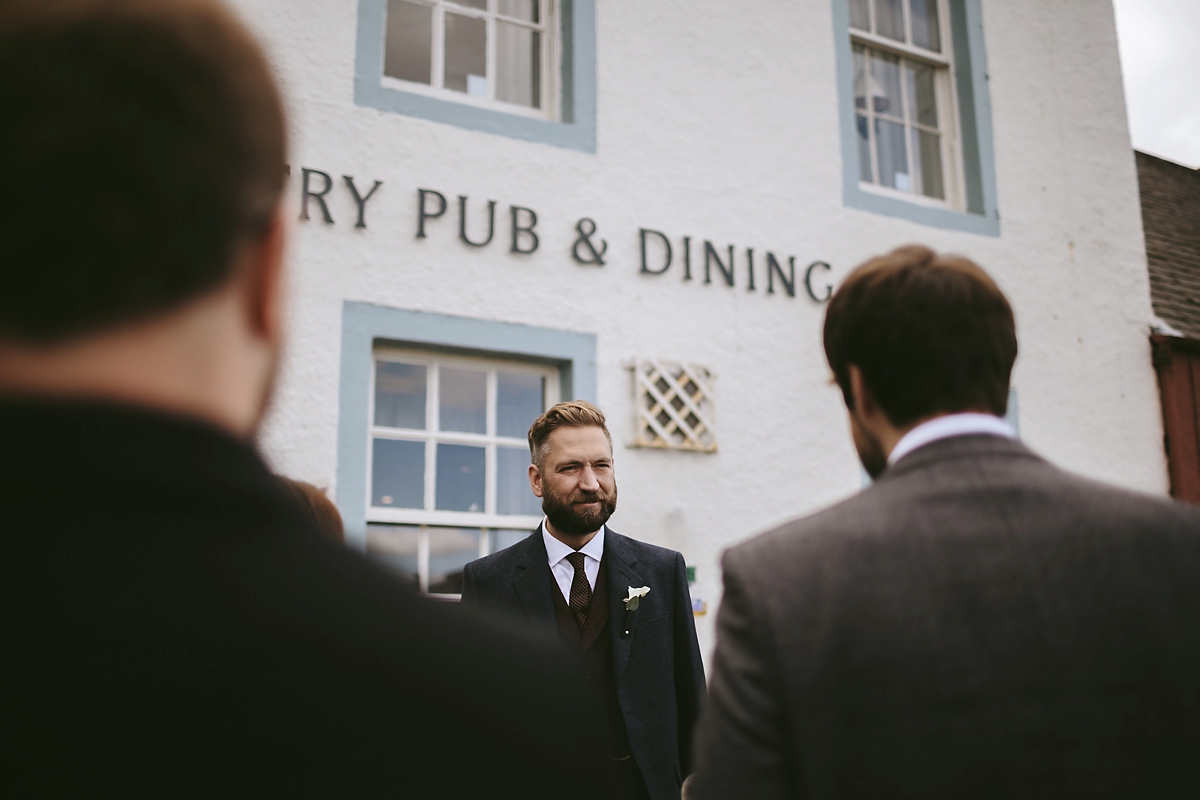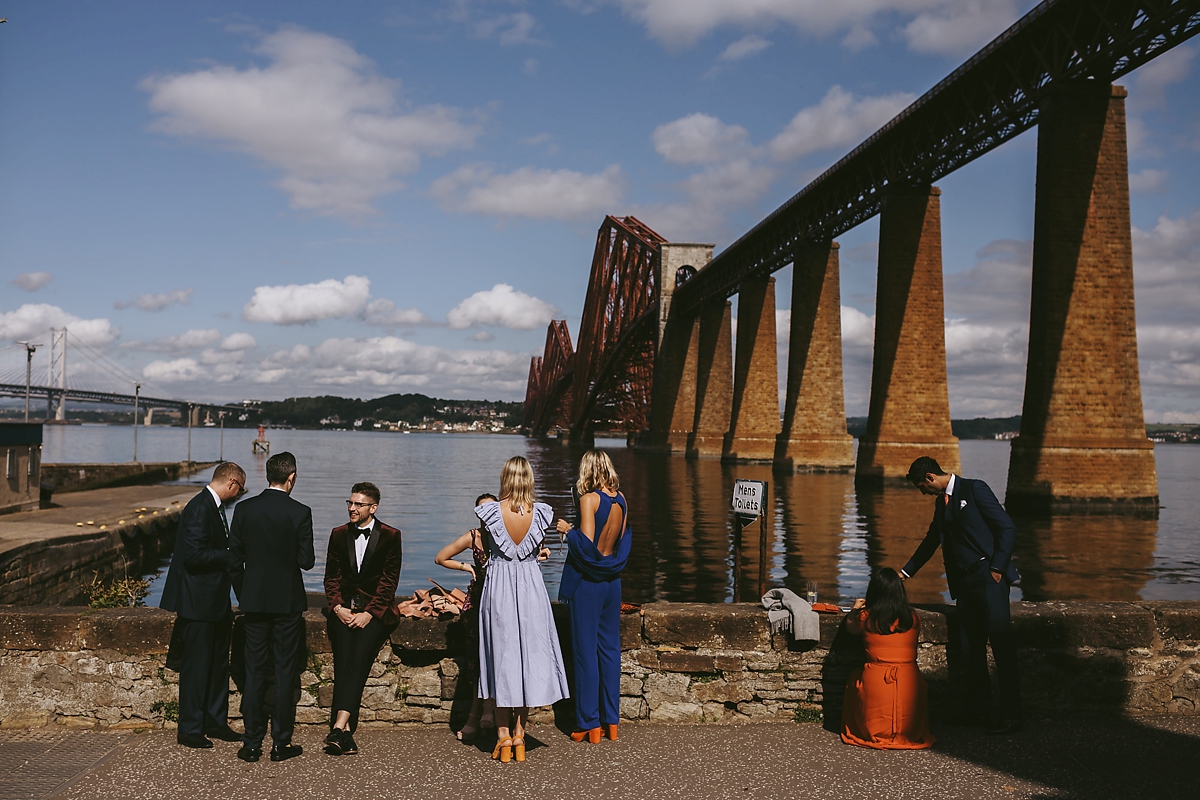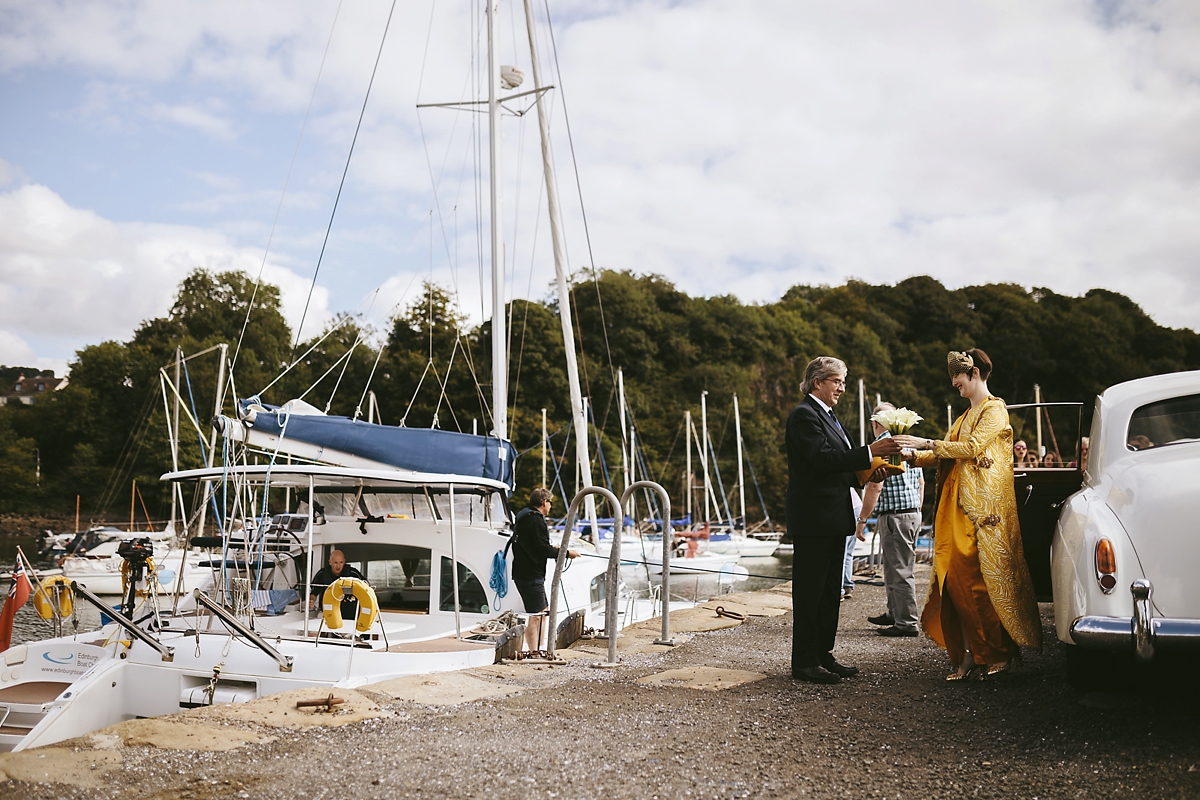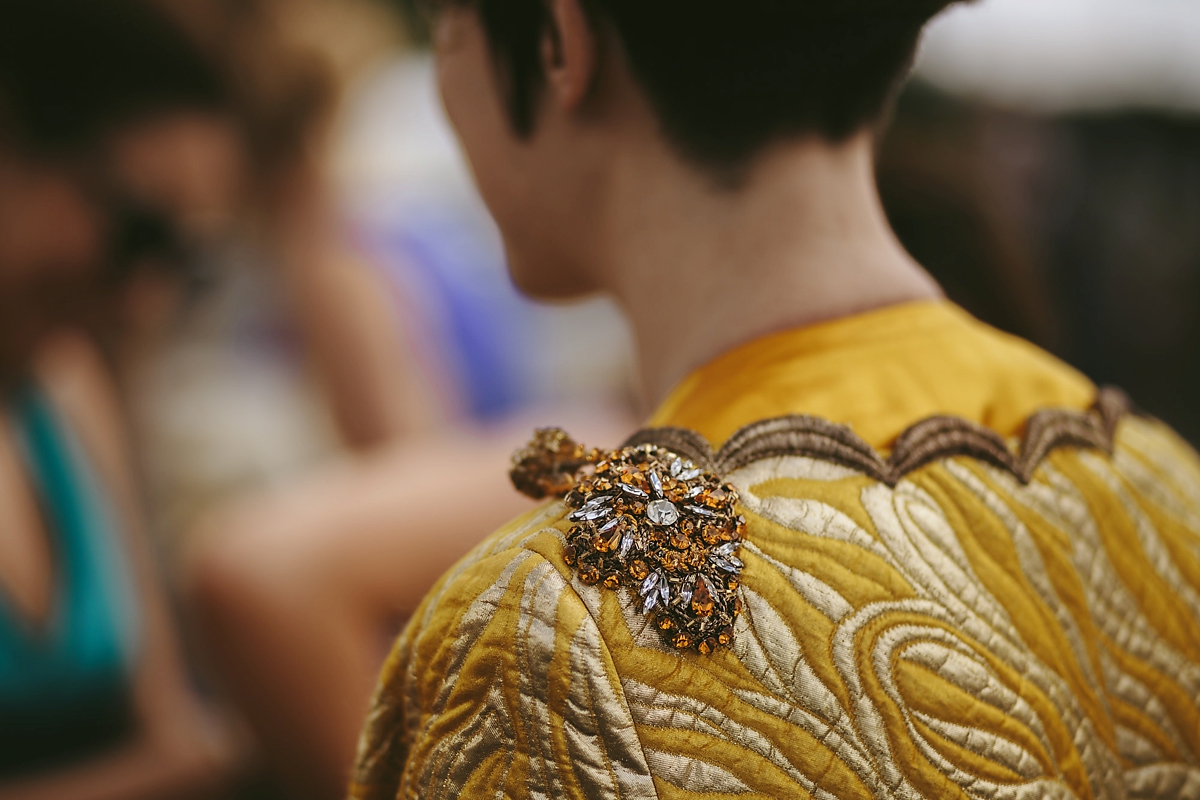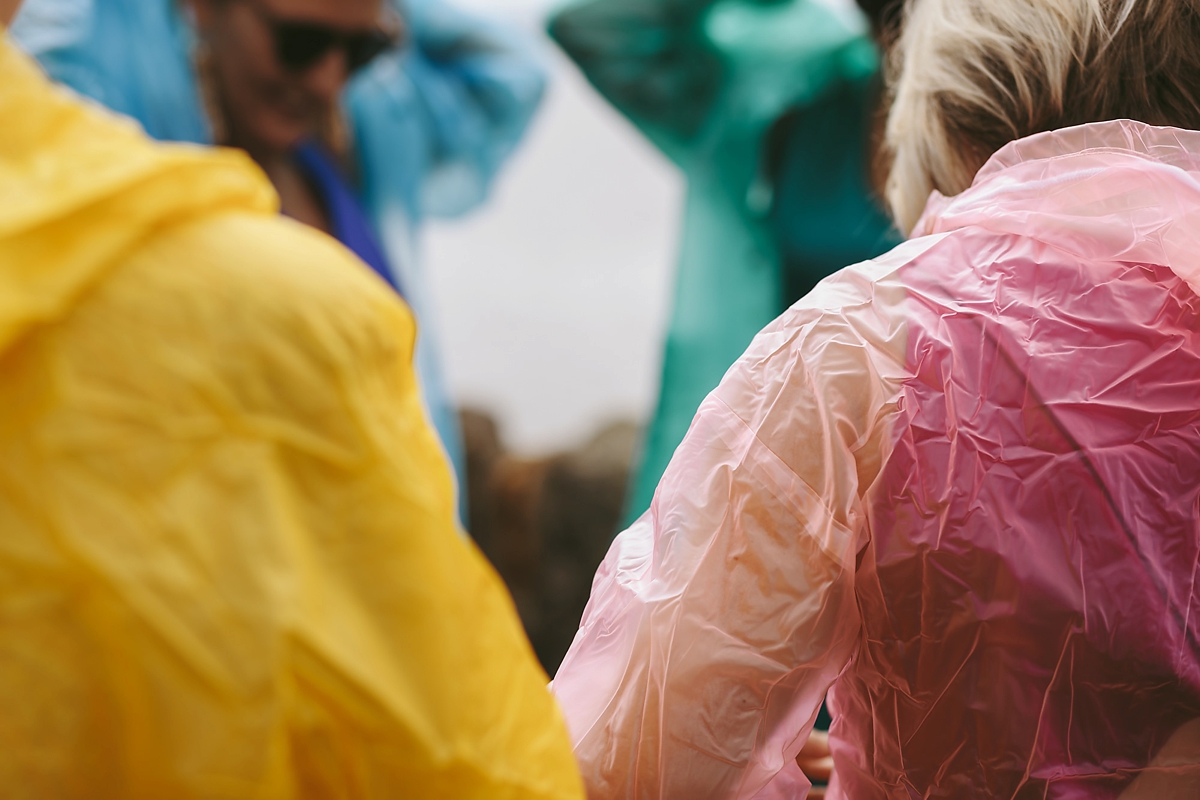 "As our ceremony was on Inchcolm Island, we also had a catamaran to take the bridal party to the island, and a boat to take the Groom, Groomsmen and guests. The catamaran private charter was booked with Edinburgh Boat Charters, and our guests were on The Maid of the Forth."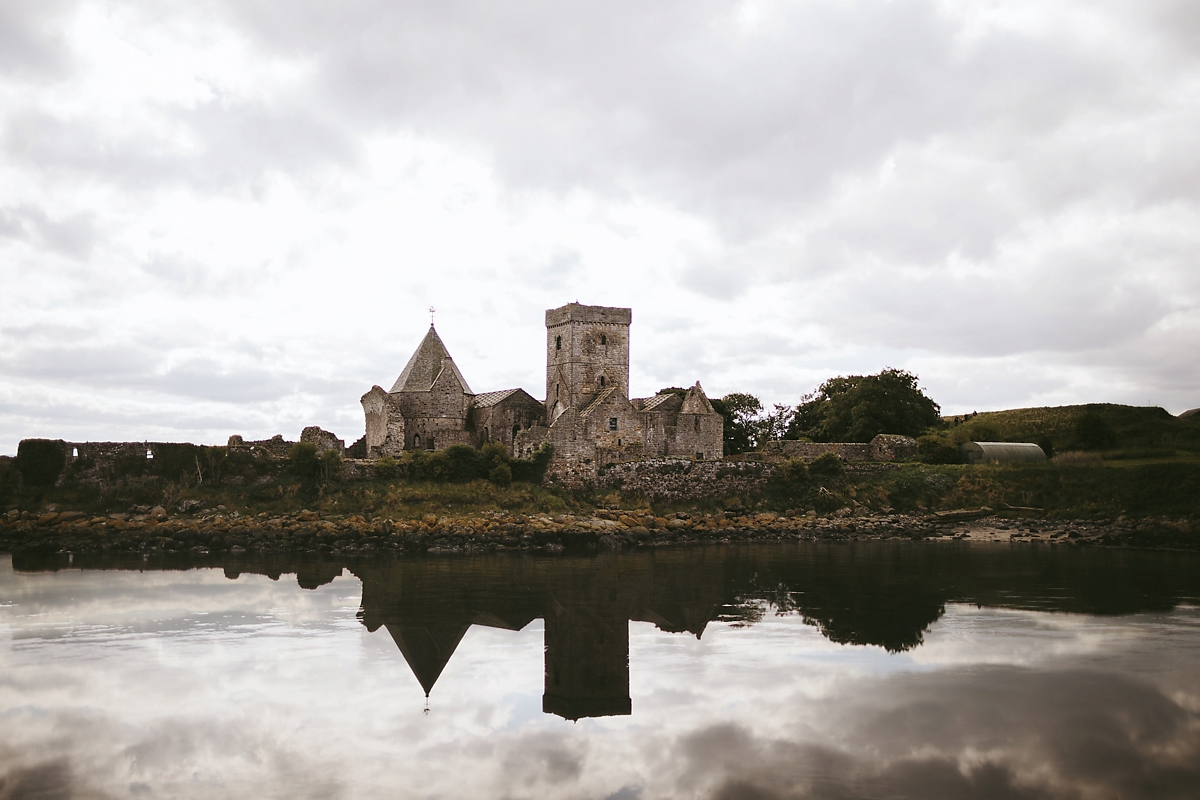 "On Inchcolm, we had a bagpiper and clarsach player. Our Piper was a family friend. The clarsach is the Scottish harp, and we were lucky enough to have the wonderful Robert Douglas Kerr play throughout our ceremony. Not only did he play 'Love is all Around' he also played The Game of Thrones theme. We booked our reception entertainment through The Entertainer's Agency. We also had a string quartet, ceilidh band and DJ. Finally, just before Joe and I left, we had a full pipe band emerge from the darkness for Beating the Retreat. A spectacular send off! "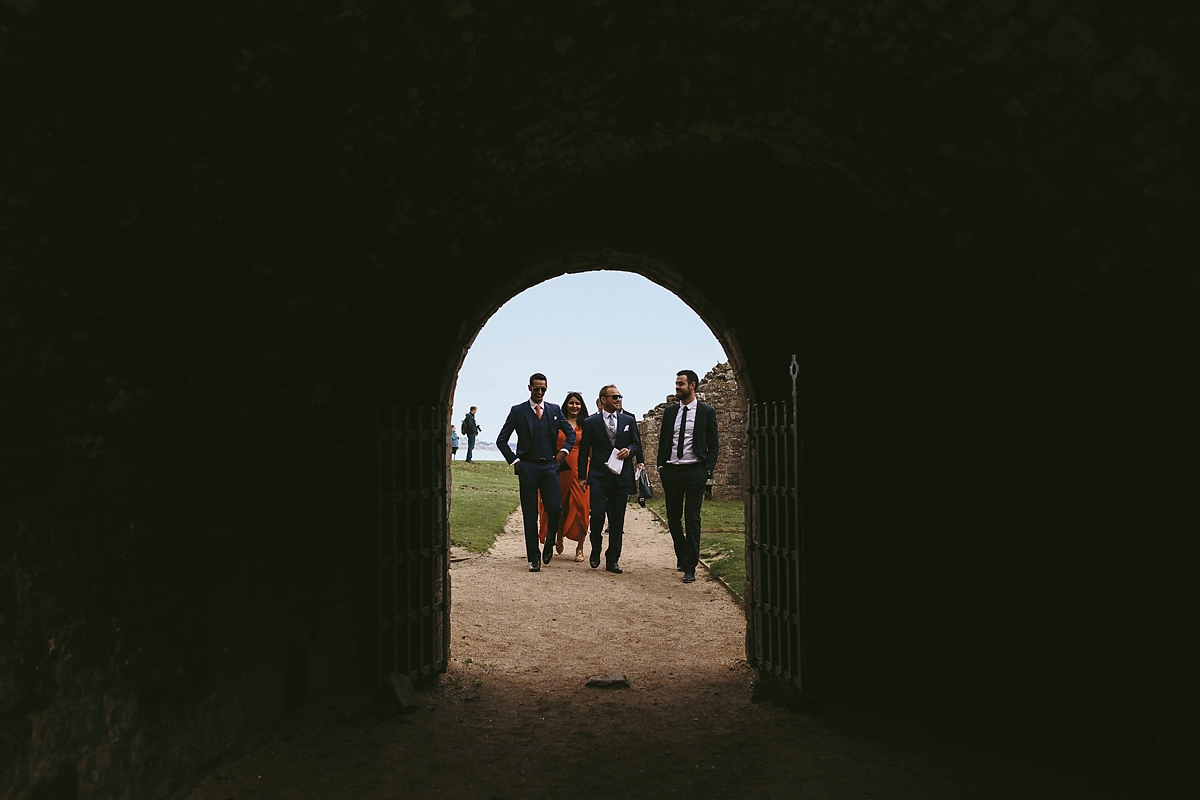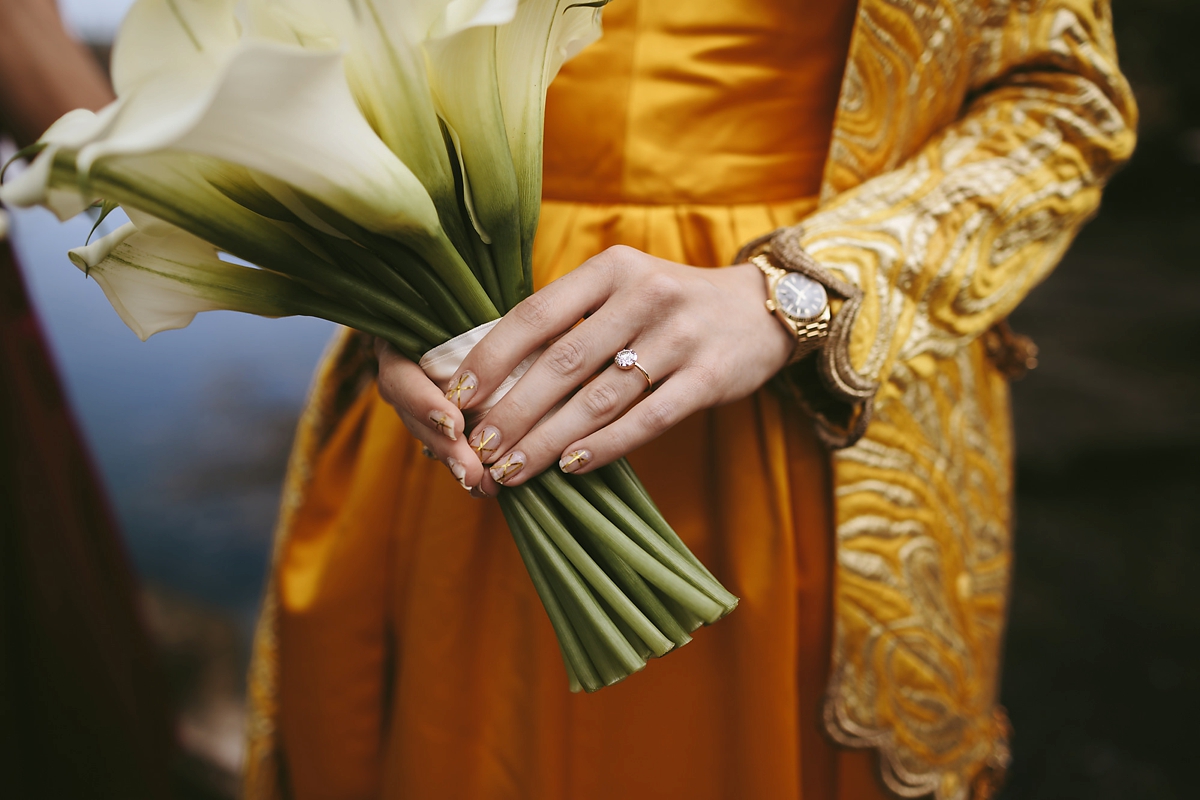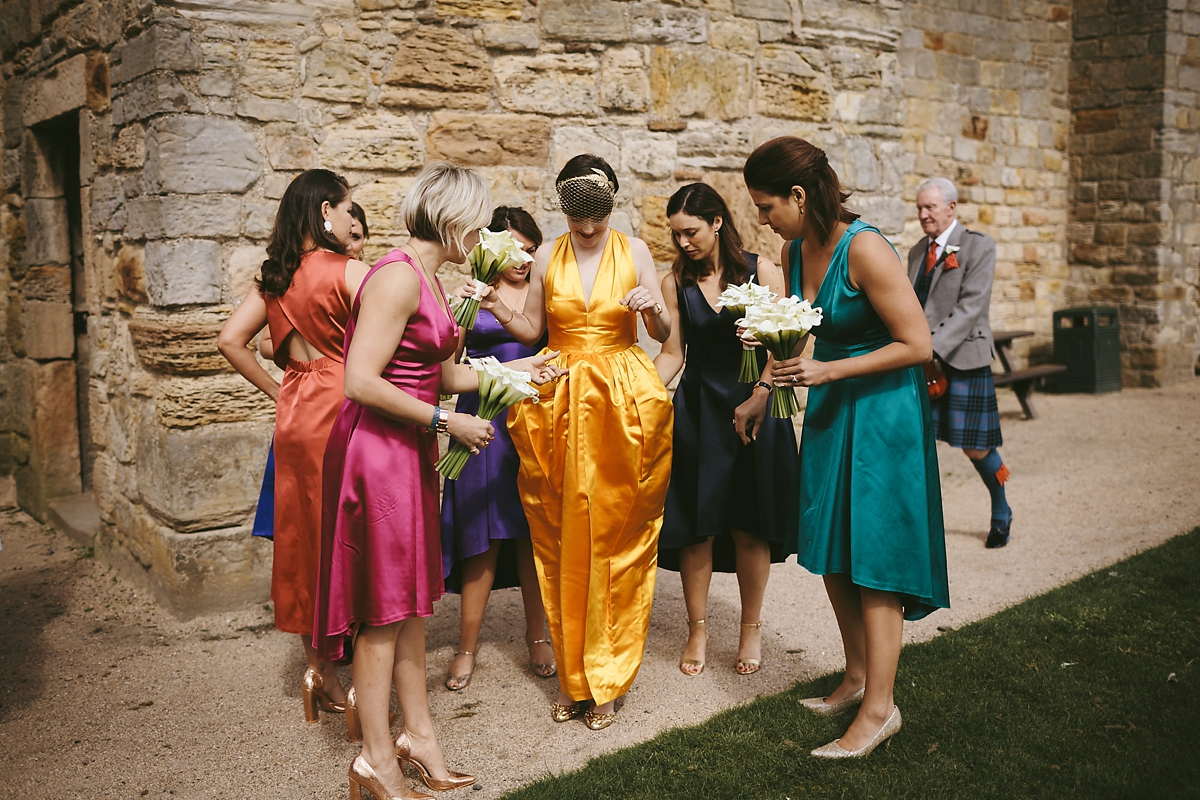 "My dad accompanied me down the aisle to Pachelbel's Canon, played by Robert Douglas Kerr on the clarsach ."
"We had a Humanist ceremony and found our Celebrant, the wonderful Janis Marshall Reilly, via Fuze Ceremonies."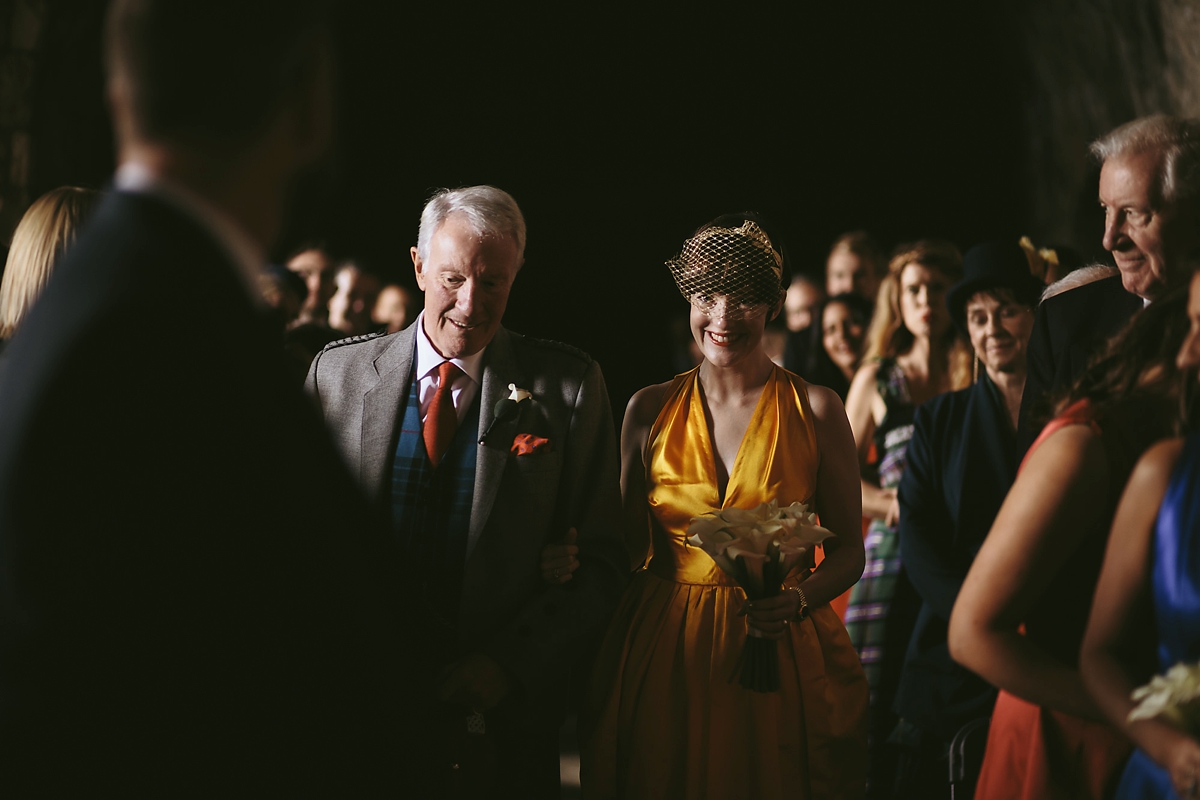 "We didn't write our own vows, but used a blend of traditional Scottish Humanist vows as well as an additional vow for the ring exchange. Our personalisation came in the form of The Three Reasons and the Quaich ceremony."
"We also had something called 'The Three Reasons'; our Celebrant asked us to each independently give her three of the many reasons why we love the other, or three of the many reasons that we are marrying the other. We didn't share our answers with one another so we heard them for the first time in front of our guests at the ceremony. We'll cherish the moment our Three Reasons were revealed by Janis forever."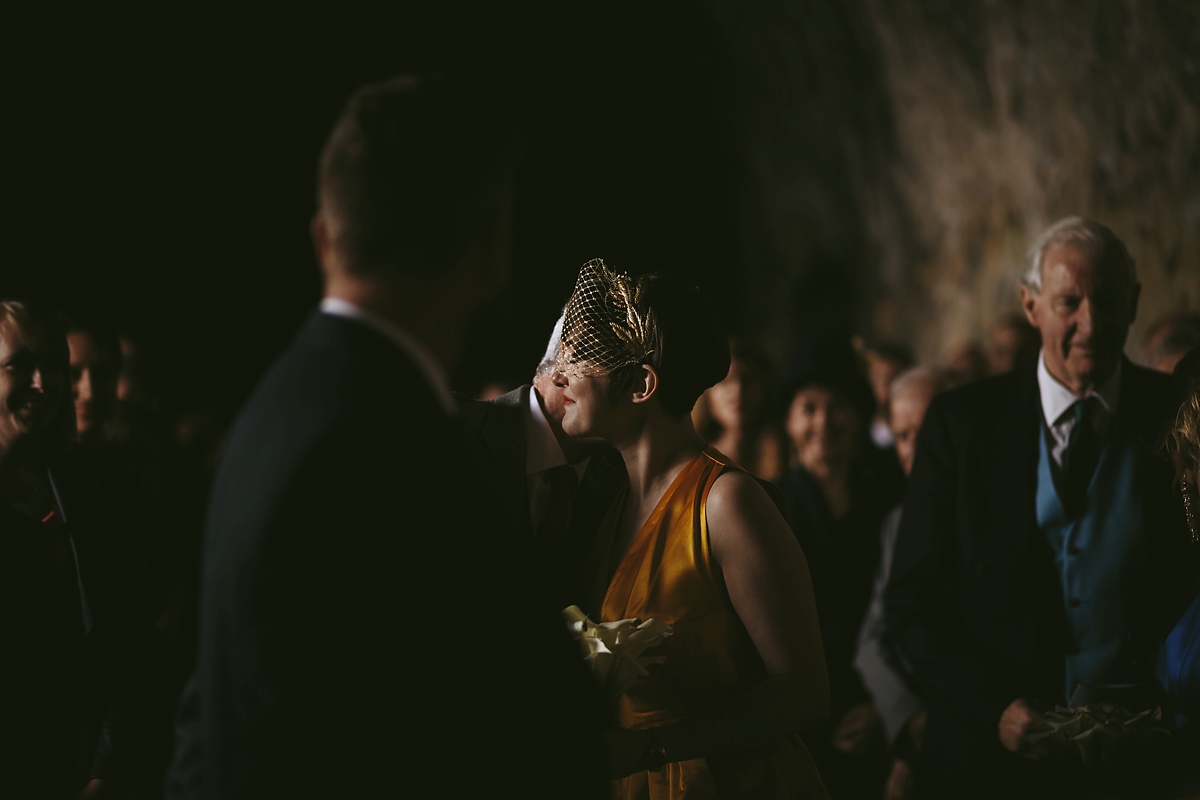 "Finally, we took part in the ancient Scottish ceremony of drinking from a quaich (as our Celebrant said, also known as 'any excuse'!). The quaich with its two handles is a symbol of trust, love and peace between two people. Drinking from a quaich is also part of the ancient tradition of hospitality from the Celtic honour system – whoever had shared a cup could not do injury to the other, hence the term 'loving cup'. King James VI of Scotland apparently gifted Anne of Denmark such a cup in honour of their marriage in 1589 and since then, many couples have celebrated their nuptials with a drink from the loving cup. Our first drink as a married couple."
"We had three readings, each chosen because it reflected the person we asked to read it, and because they weren't necessarily the most traditional of readings. We also had two songs. And after the ceremony, our friends Dan and Chris did a toast to us both, looking out onto the Firth of Forth. They had written a story about us in the guise of a piece of Scottish folklore legend – The Rainbow Princess and the Bearded Chieftain. It was spectacular!"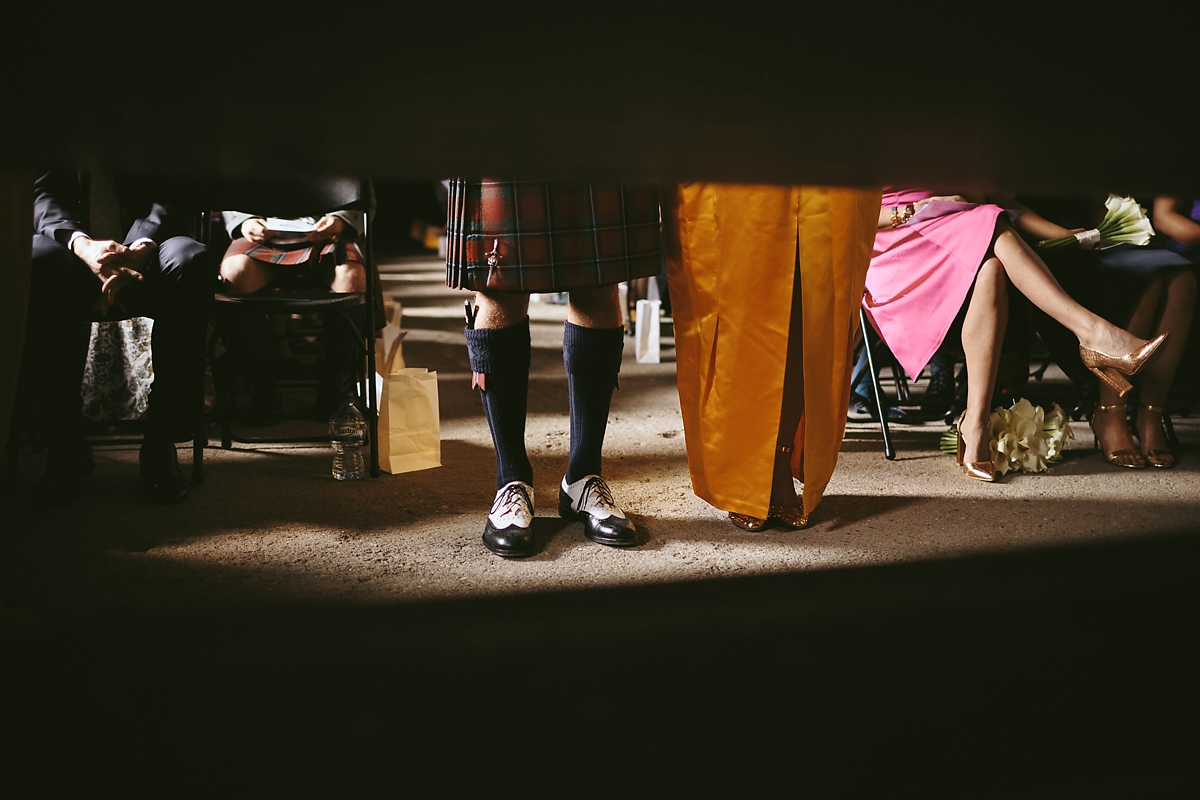 "Joe's brother Sam read advice Professor Stephen Hawking gave to his children: One, remember to look up at the stars and not down at your feet. Two, never give up work. Work gives you meaning and purpose and life is empty without it. Three, if you are lucky enough to find love, remember it is there and don't throw it away."
Our best friend Lotte read the lyrics of Grow Old with You, written by Adam Sandler and Tim Herlihy for the film, The Wedding Singer: 'I wanna make you smile whenever you're sad. Carry you around when your arthritis is bad. All I wanna do is grow old with you. I'll get your medicine when your tummy aches. Build you a fire if the furnace breaks. Oh it could be so nice, growin old with you. I'll miss you, kiss you, give you my coat when you are cold. Need you, feed you, I'll even let you hold the remote control. So let me do the dishes in the kitchen sink. Put you to bed when you've had too much to drink. Oh I could be the man to grow old with you. I wanna grow old with you'."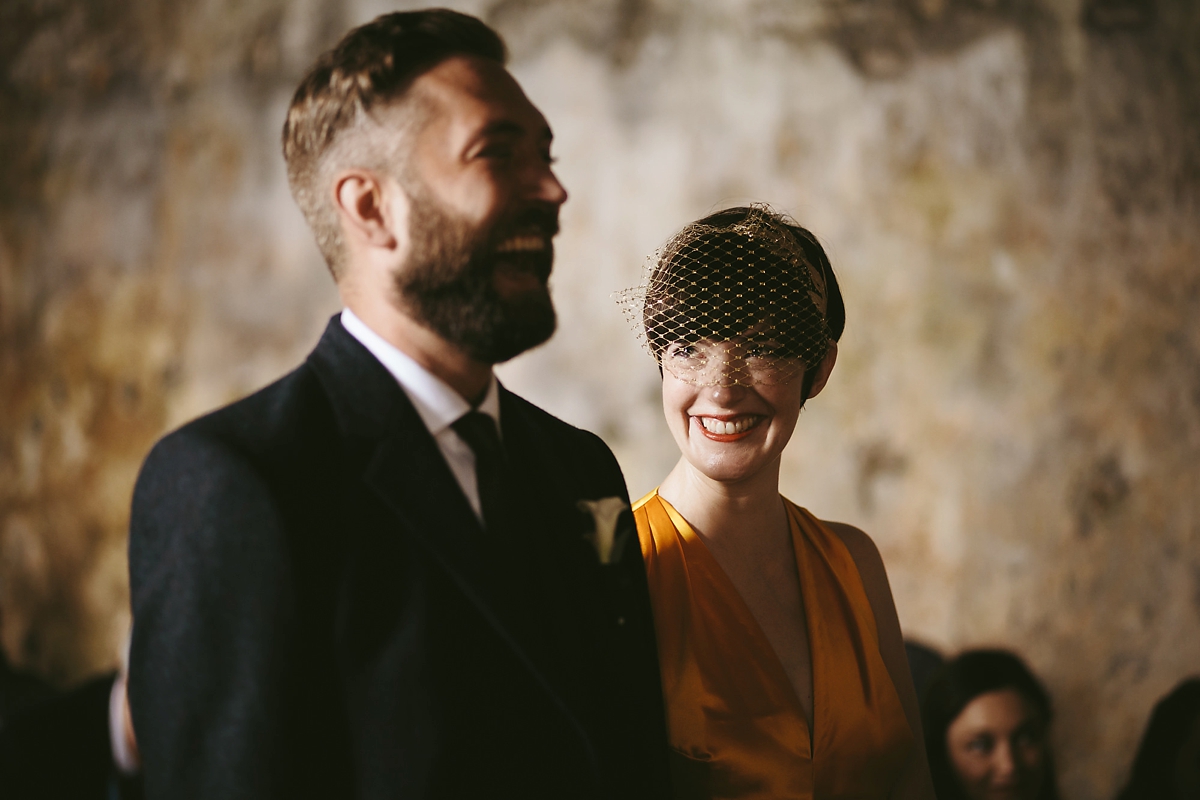 "As we signed the register, my bridesmaid Dissy sang Wild Mountain Thyme a cappella, and our guests joined in for the chorus."
"Our rings are from the wonderful designer Jessica McCormack. Joe had my wonderful engagement ring made by Jessica, and we wouldn't have thought about going anywhere else for our wedding bands. We both went for very simple, thin gold bands."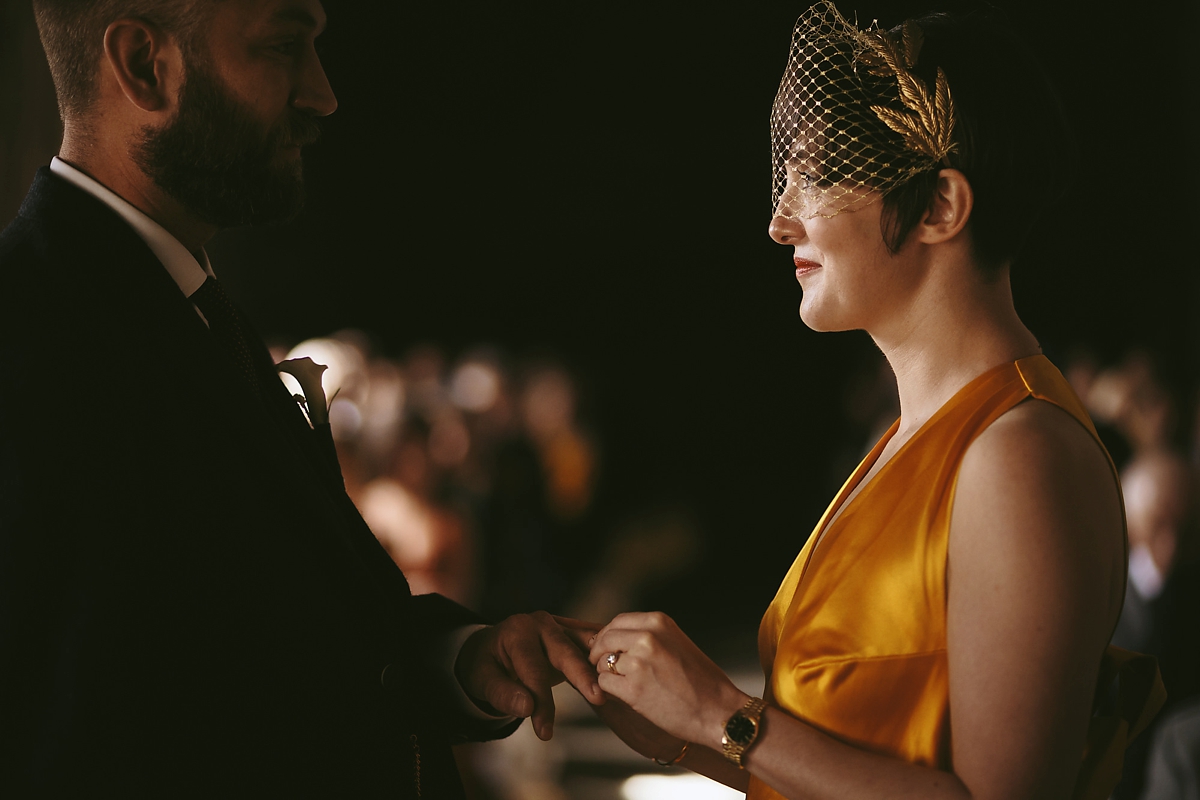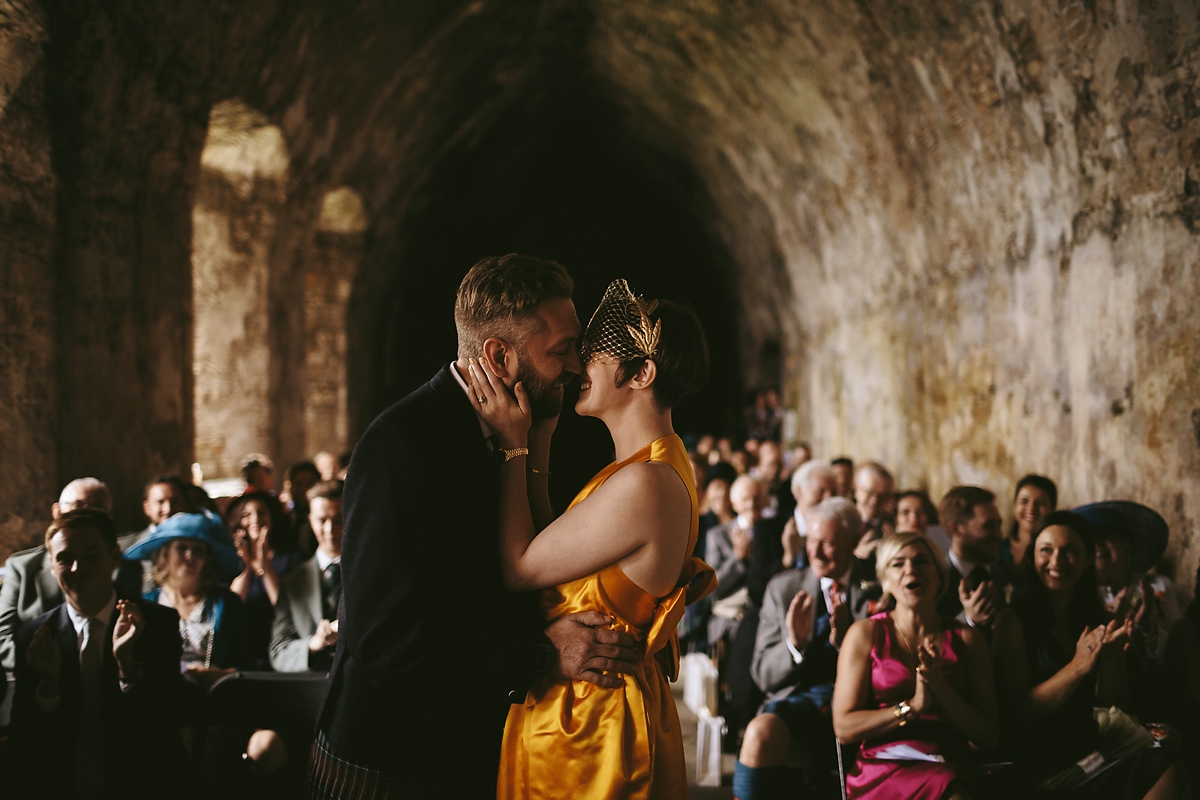 "The wonderful Nigel John was our photographer. I can't recommend Nigel enough! His photos are breathtaking and his eye for light is phenomenal. He so wonderfully captured a day that was more spectacular than we could have ever dreamed it would be – and every time we look at our photos we feel the joy of our wedding in every single one.

Also Chris Parkison of Beneath The Pines was second shooting."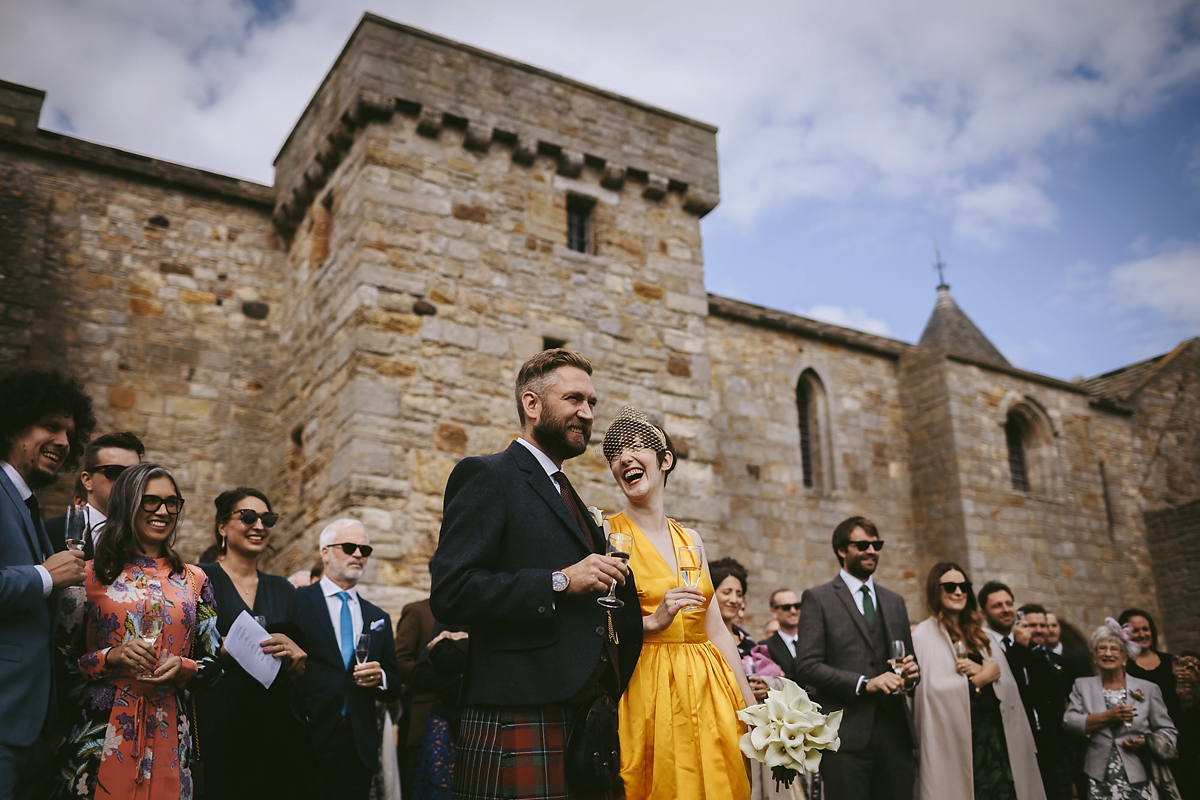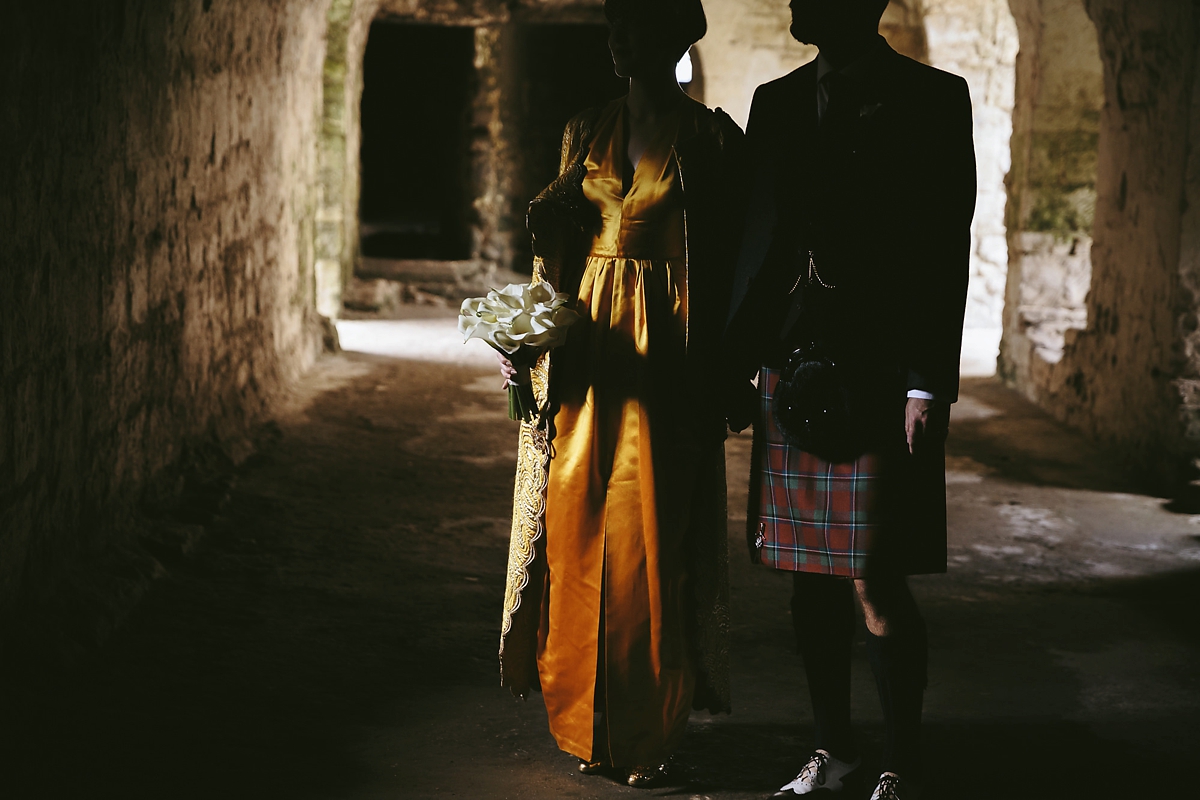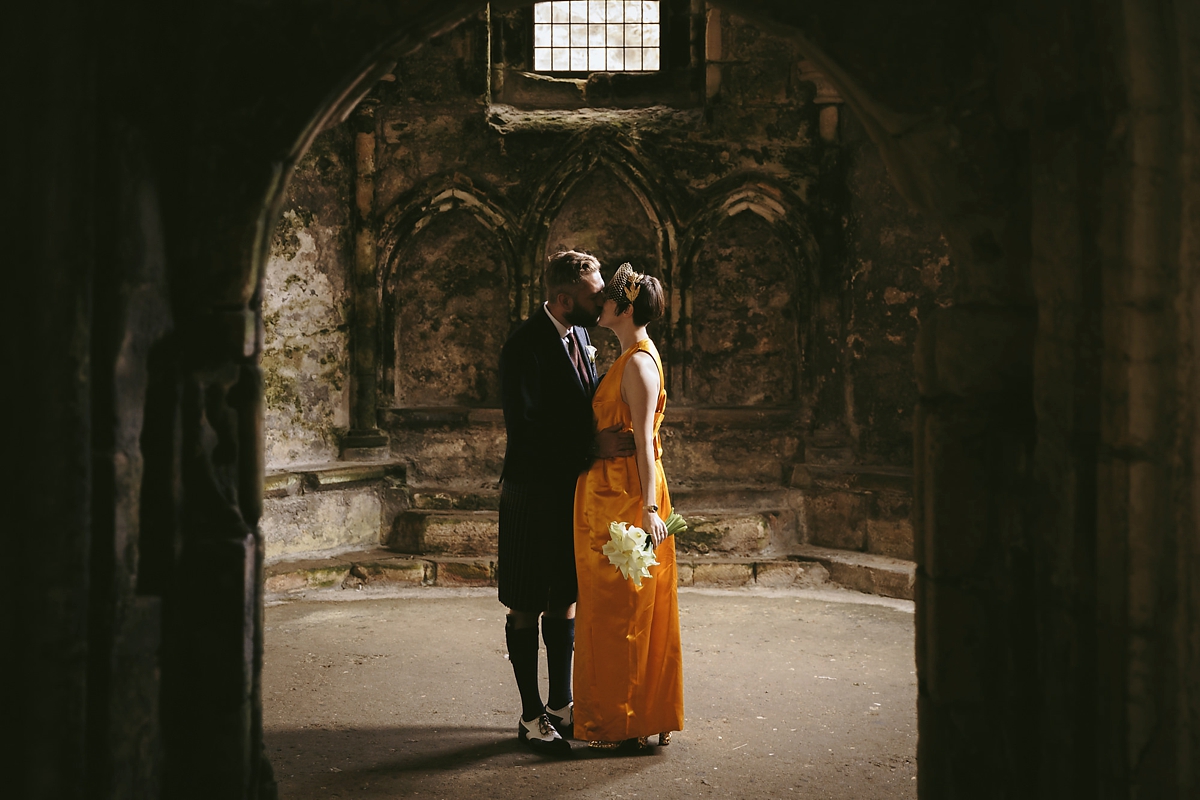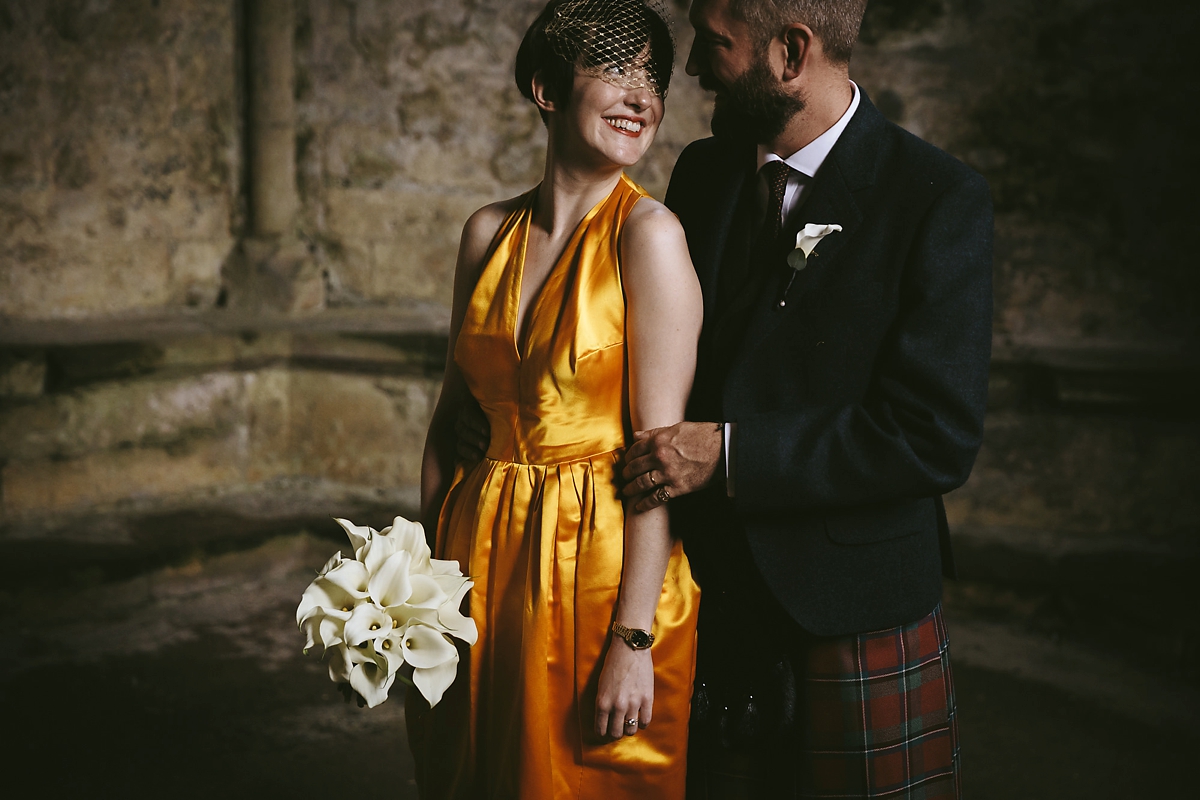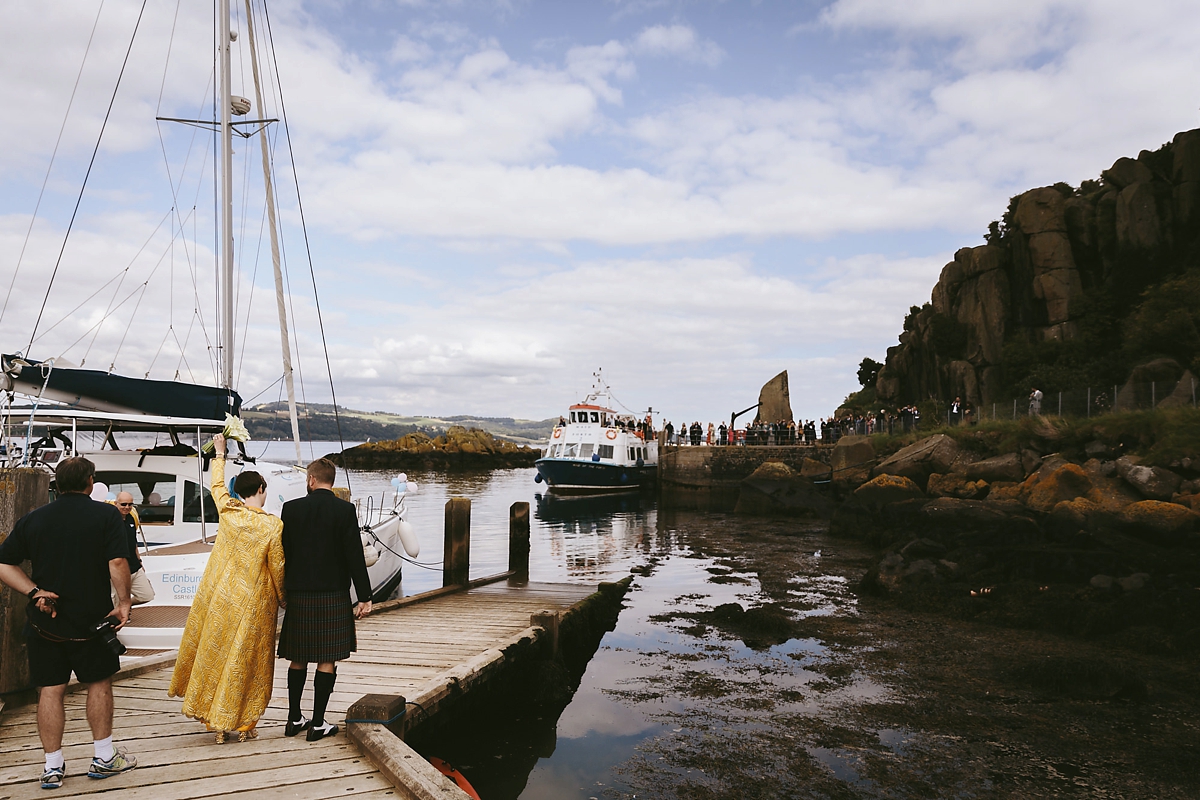 "Our vintage cars were booked through Ecosse Classic Wedding Cars. We had a vintage VW campervan for the Bridesmaids, a vintage Daimler for my mum and brother, and a vintage Bentley for me and my Dad."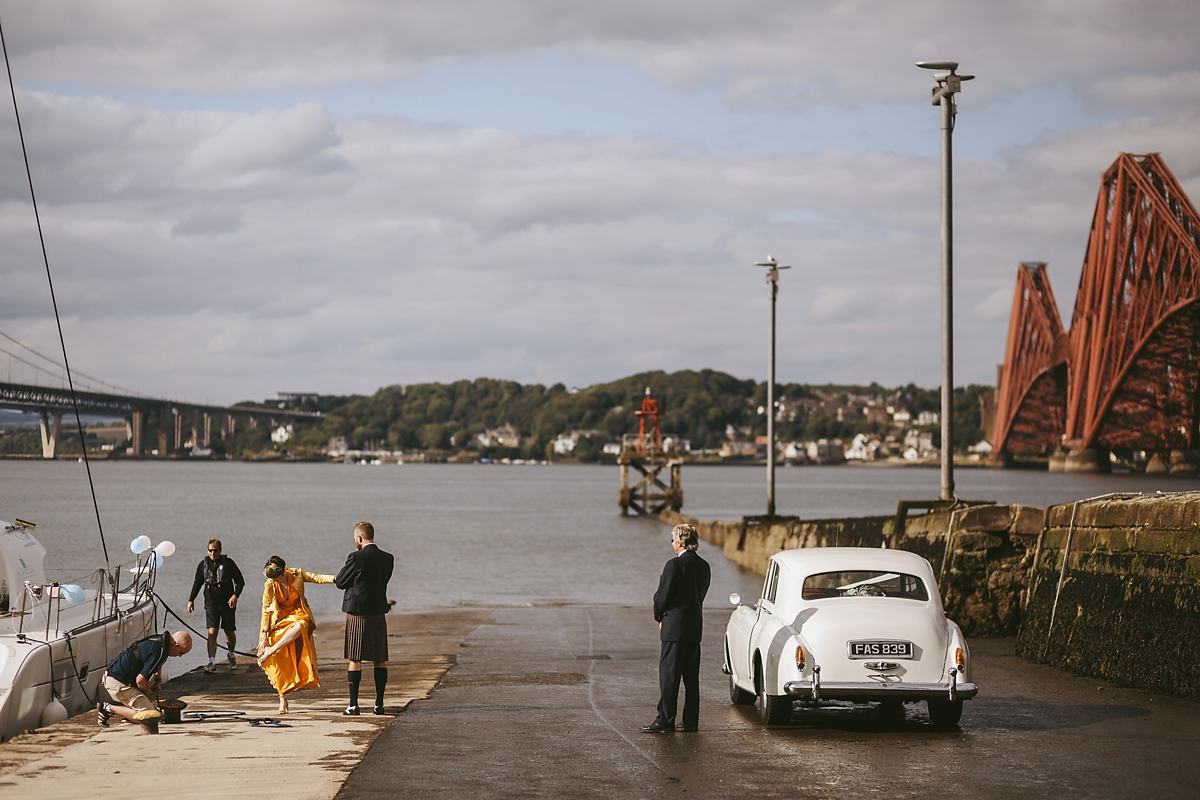 "Hopetoun House is so grand and beautiful, we felt that we needed to have striking but classic flowers to set off the venue. We didn't have a theme for the wedding, but were always really drawn to simple white and green flowers. We absolutely loved the sculptural moss and greenery that Planet Flowers created, and asked Planet Flowers to create a tumbling natural white and green piece to go on the huge fireplace behind the top table. I chose simple but striking white calla lillies for my bouquet and for my bridesmaids too – I loved that they tied together the different dresses."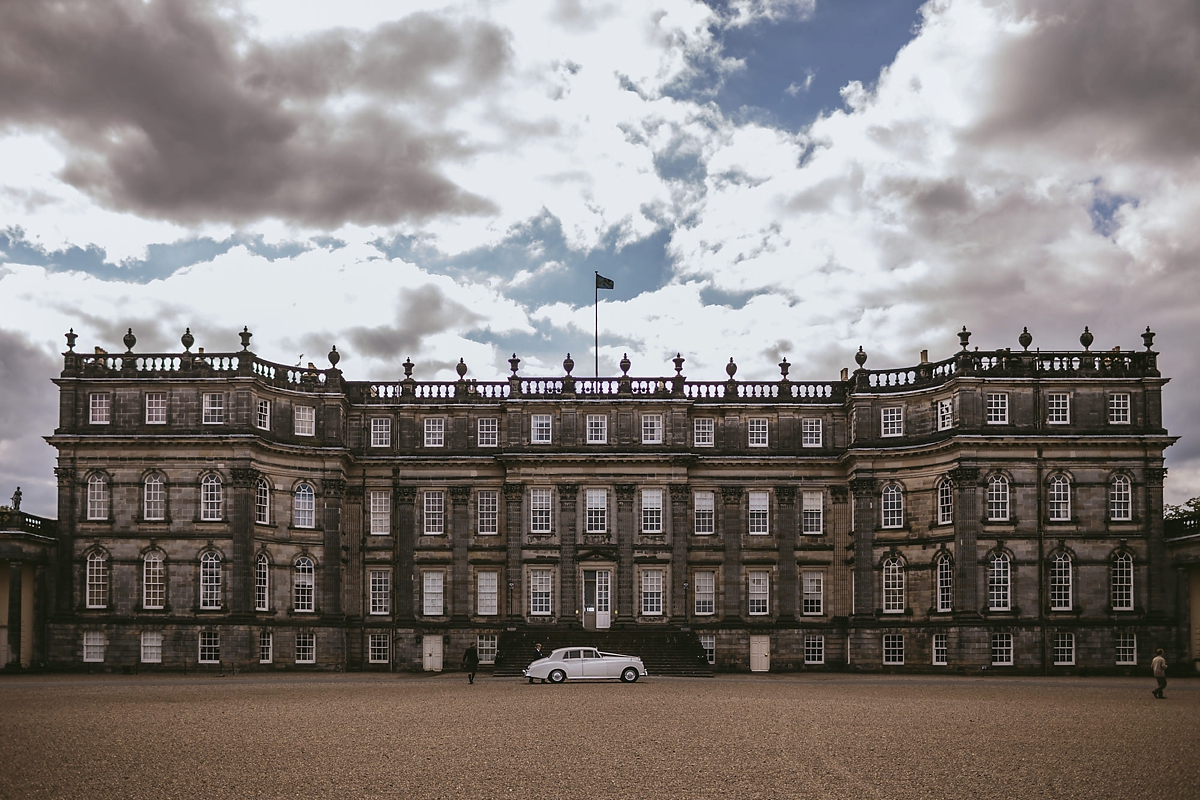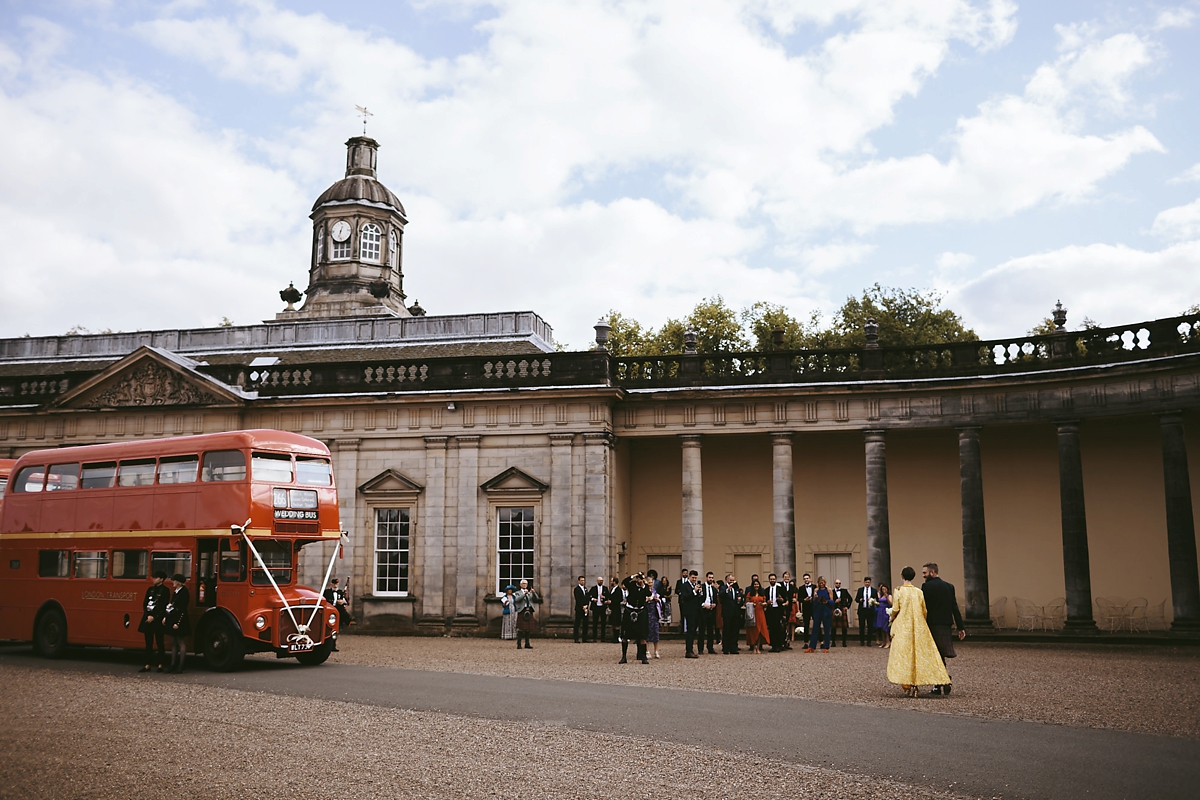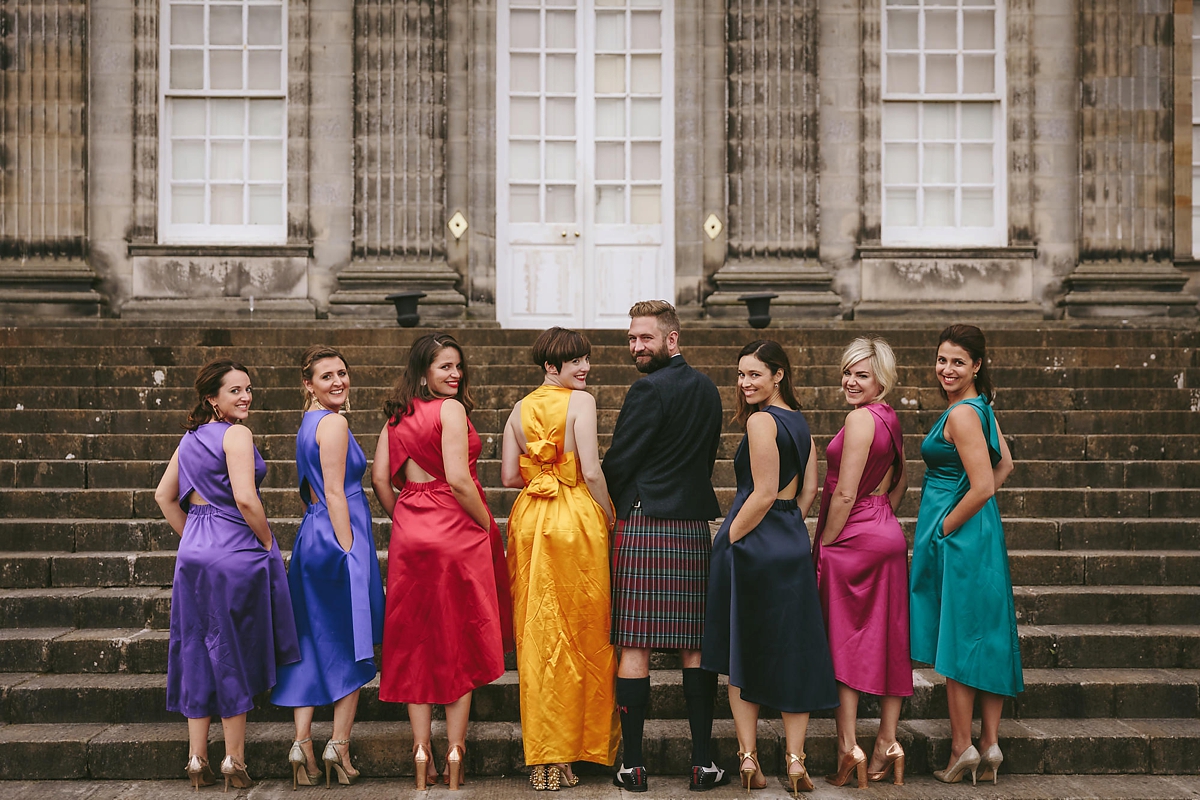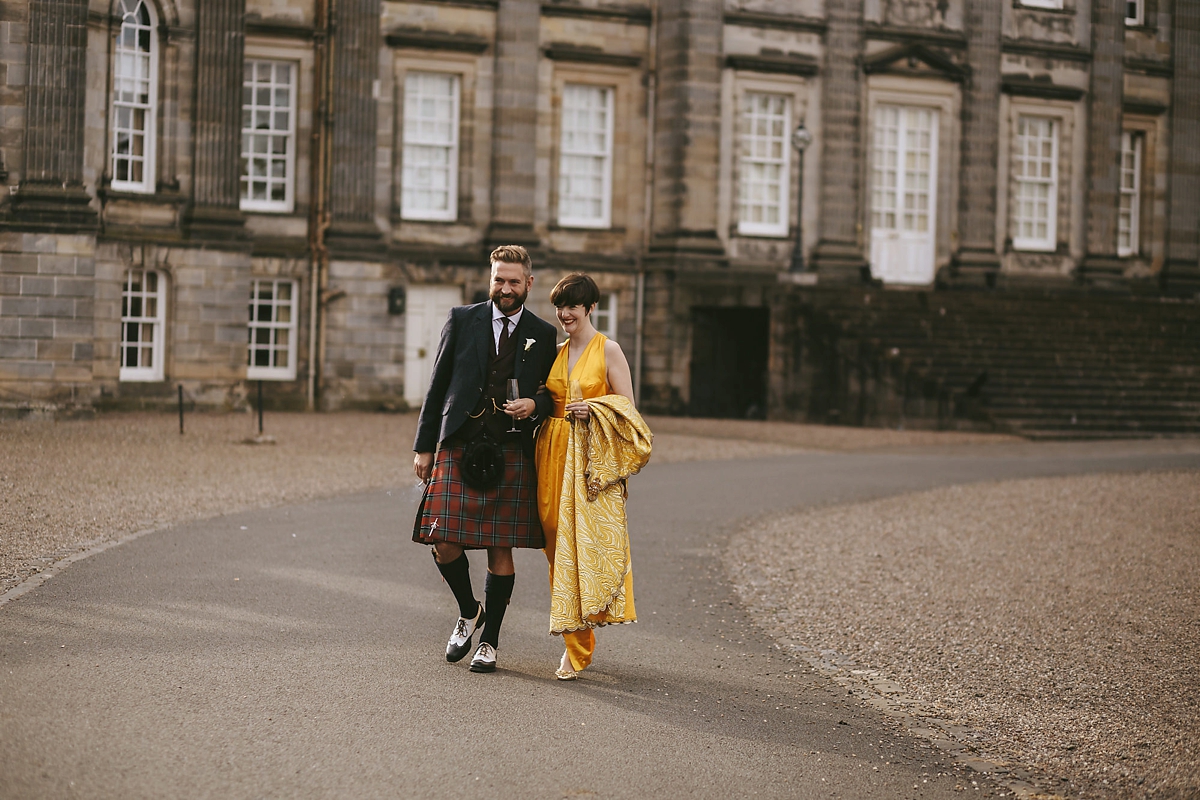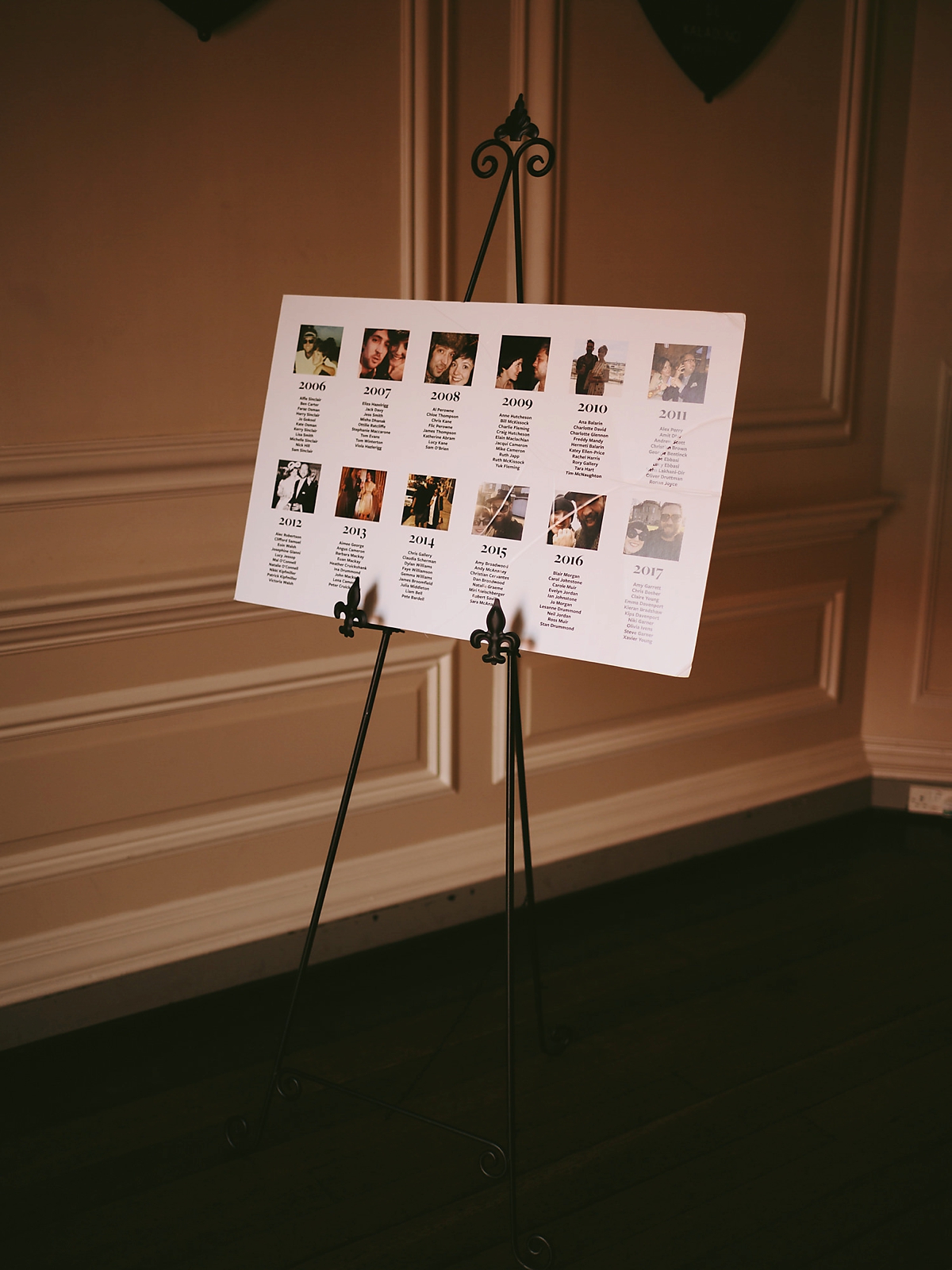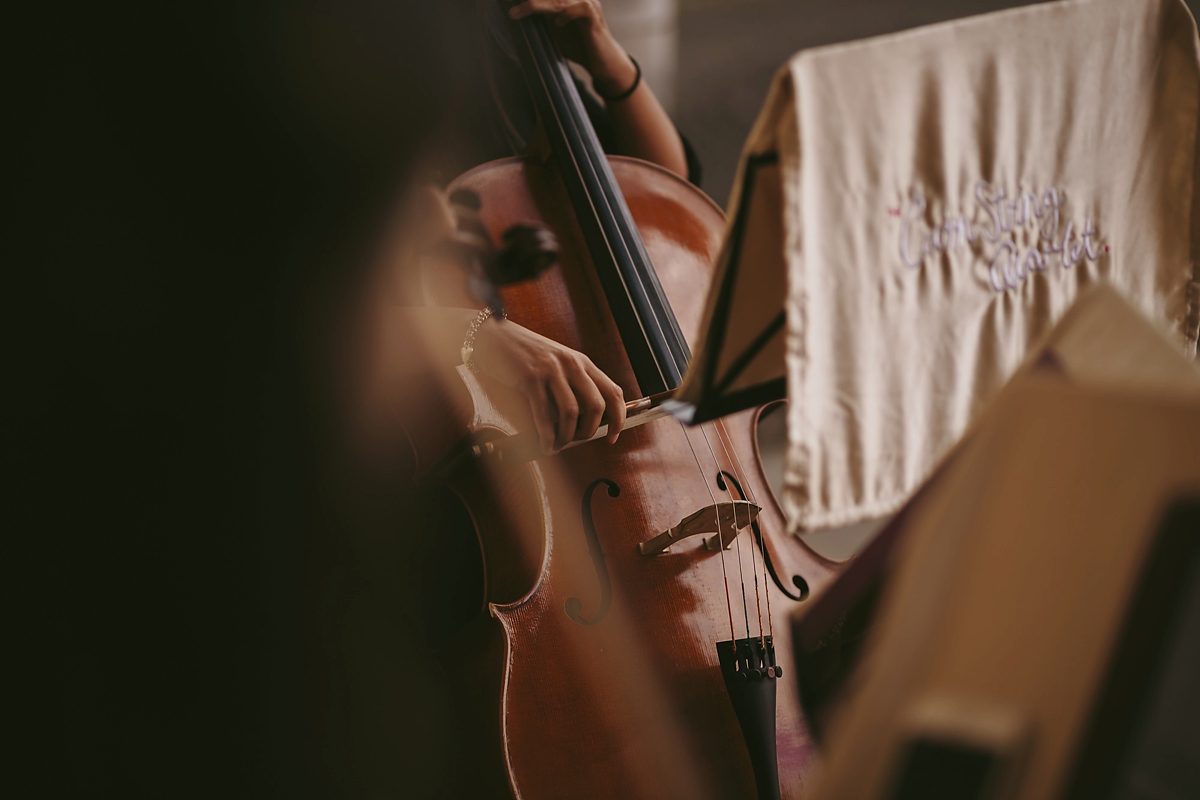 "Every guest had a whisky miniature, as well as a hangover kit. I ordered the hangover kit bags from Izzy & Loll on Etsy and stuffed them with irn bru sweets, plasters, mini bags of tic tacs and vitamin c hydration sachets."
"We worked with the Heritage Portfolio team to create a bespoke menu that made the most of seasonal Scottish produce, and were absolutely delighted with the result – especially the Irn Bru and Buckfast dessert. From the Loch, we had poached langoustine, seared scallops, crisp ox cheek served with a tomato consommé. Our vegetarian option was salt-baked heritage carrots, courgette ribbons and compressed cucumber with Trompette and red pepper arancini served with a tomato consommé. From the Highlands, we had tian of haggis, neeps and heritage potatoes with a seed mustard and aged barrel whisky cream sauce."
"The vegetarian option was tian of vegetarian haggis, neeps and heritage potatoes with a seed mustard and aged barrel whisky cream sauce. From the Glen, we had guinea fowl gremolata with sprouting spinach, pearl barley risotto, corn kernels, pea pods and Mull cheddar snaps. The vegetarian option was lemon thyme, cep mushrooms, and charred butternut squash barley risotto with parmesan crisp. From Girders, we had deconstructed cranachan with Irn Bru macaron and Irn Bru and Buckfast gels."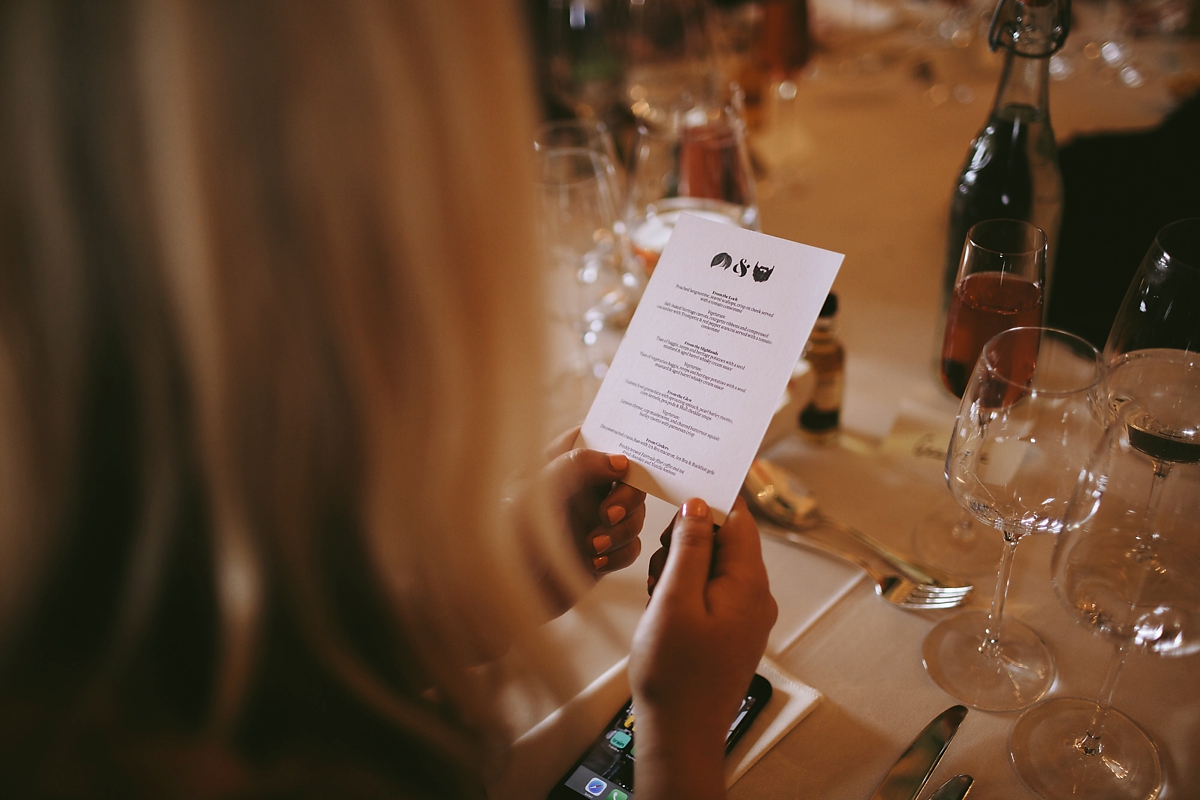 "We had a naked cake by Liggy's Cakes, simply decorated with flowers in the same colours as my dress and the bridesmaid's dresses. It was a classic vanilla cake with Belhaven raspberry jam & classic vanilla buttercream."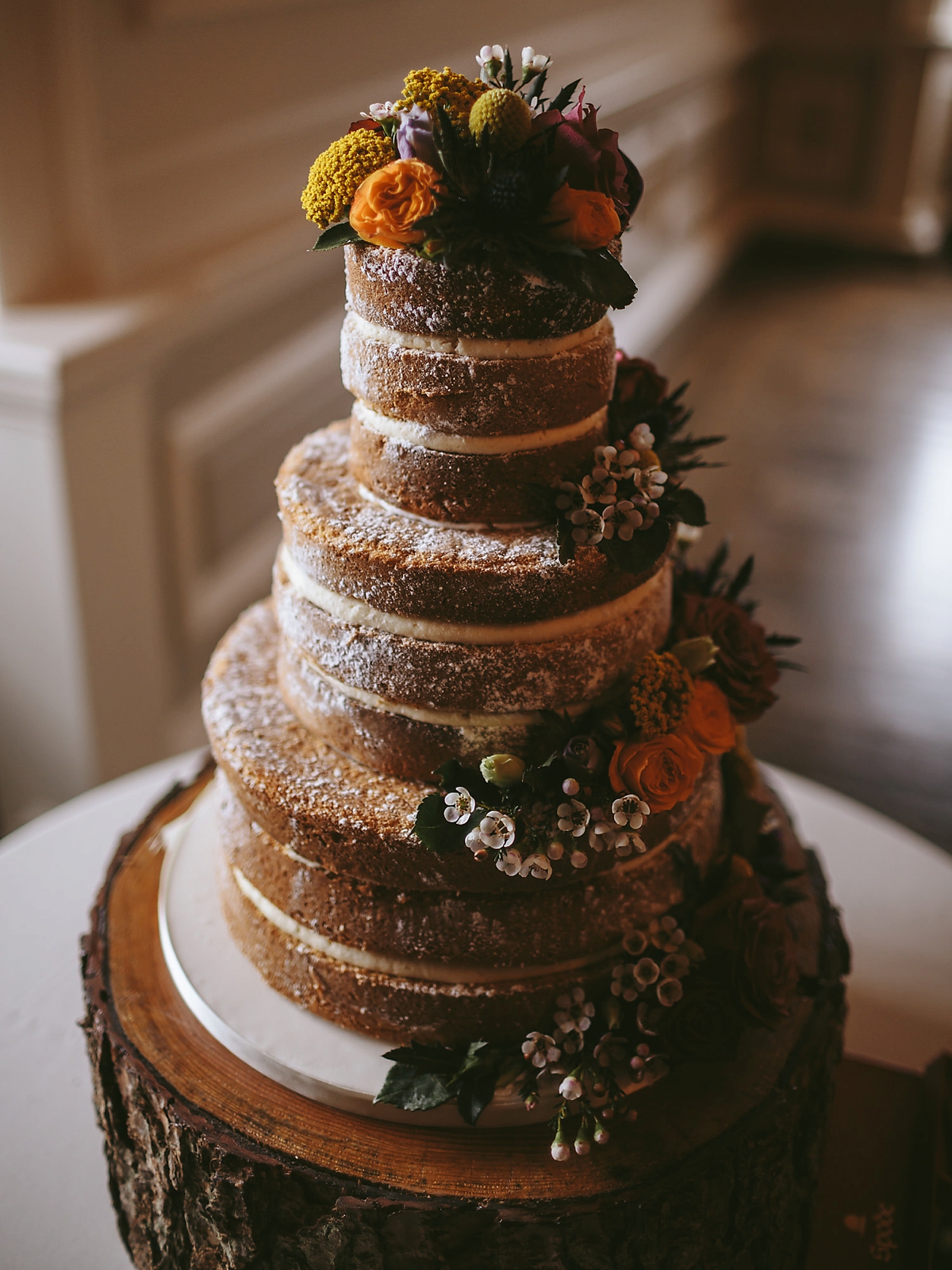 "Aside from a light curtain behind the stage, we let the beauty of the room in Hopetoun, our wonderful flowers and spectacularly dressed guests bring the decoration."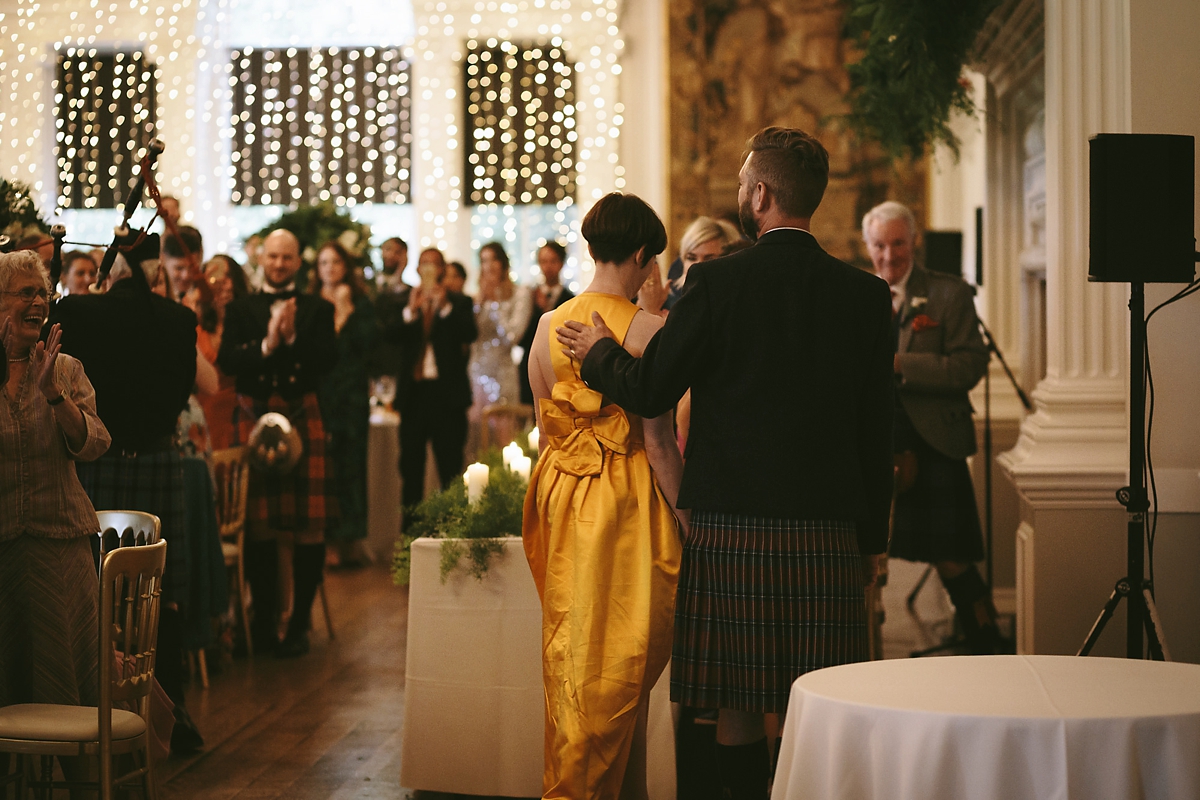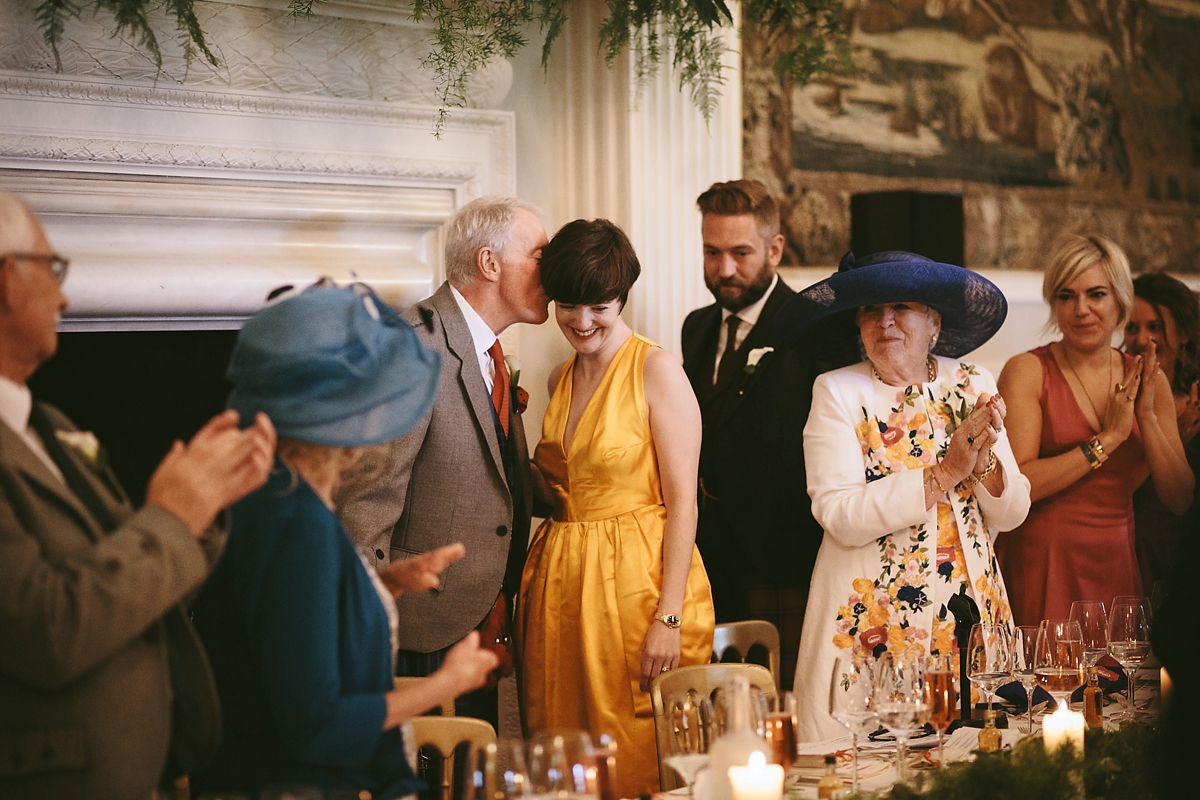 "My Uncle John read the opening speech from the Richard Curtis film Love Actually: Whenever I get gloomy with the state of the world, I think about the arrivals gate at Heathrow Airport. General opinion's starting to make out that we live in a world of hatred and greed, but I don't see that. It seems to me that love is everywhere. Often it's not particularly dignified or newsworthy, but it's always there – fathers and sons, mothers and daughters, husbands and wives, boyfriends, girlfriends, old friends. When the planes hit the Twin Towers, as far as I know, none of the phone calls from the people on board were messages of hate or revenge – they were all messages of love. If you look for it, I've got a sneaky feeling you'll find that love actually is all around. As he sat down, Robert began playing Love is All Around on the clarsach and we all sang the song together."
"Having been together for over 11 years before we tied the knot, it felt rather fitting to have At Last by Etta James as our first dance!"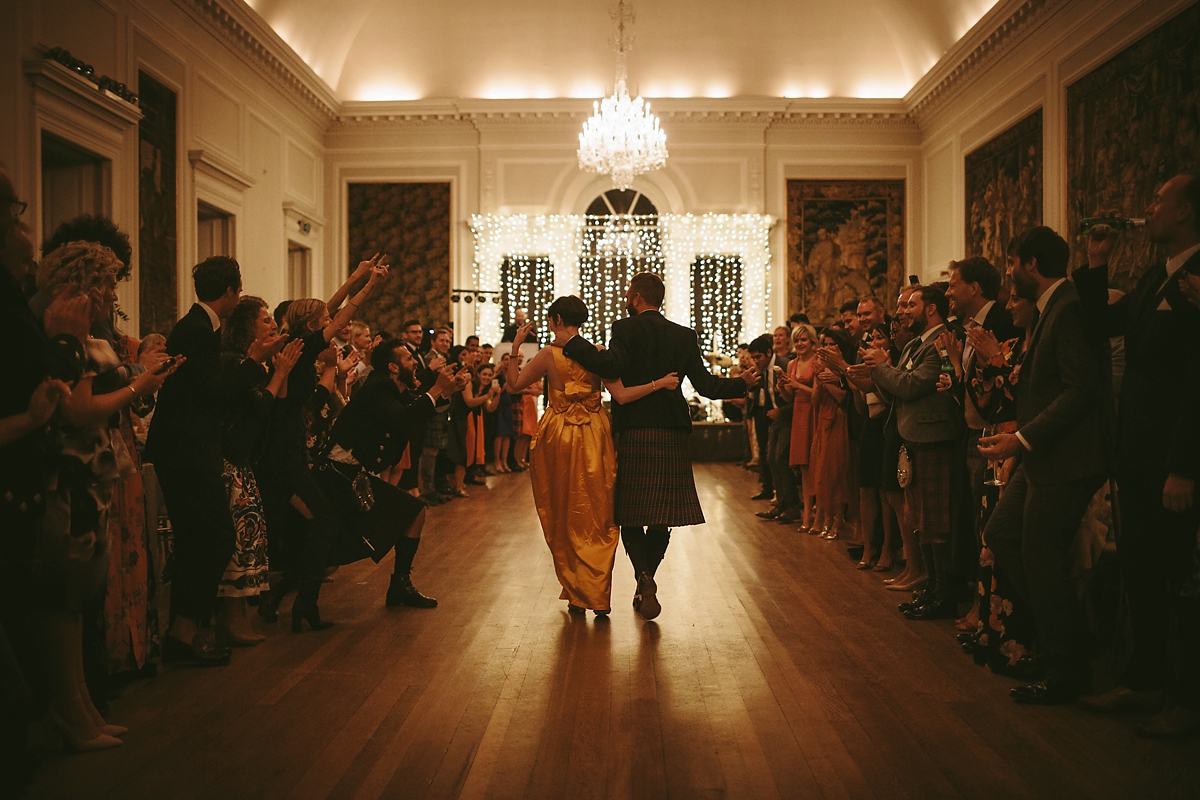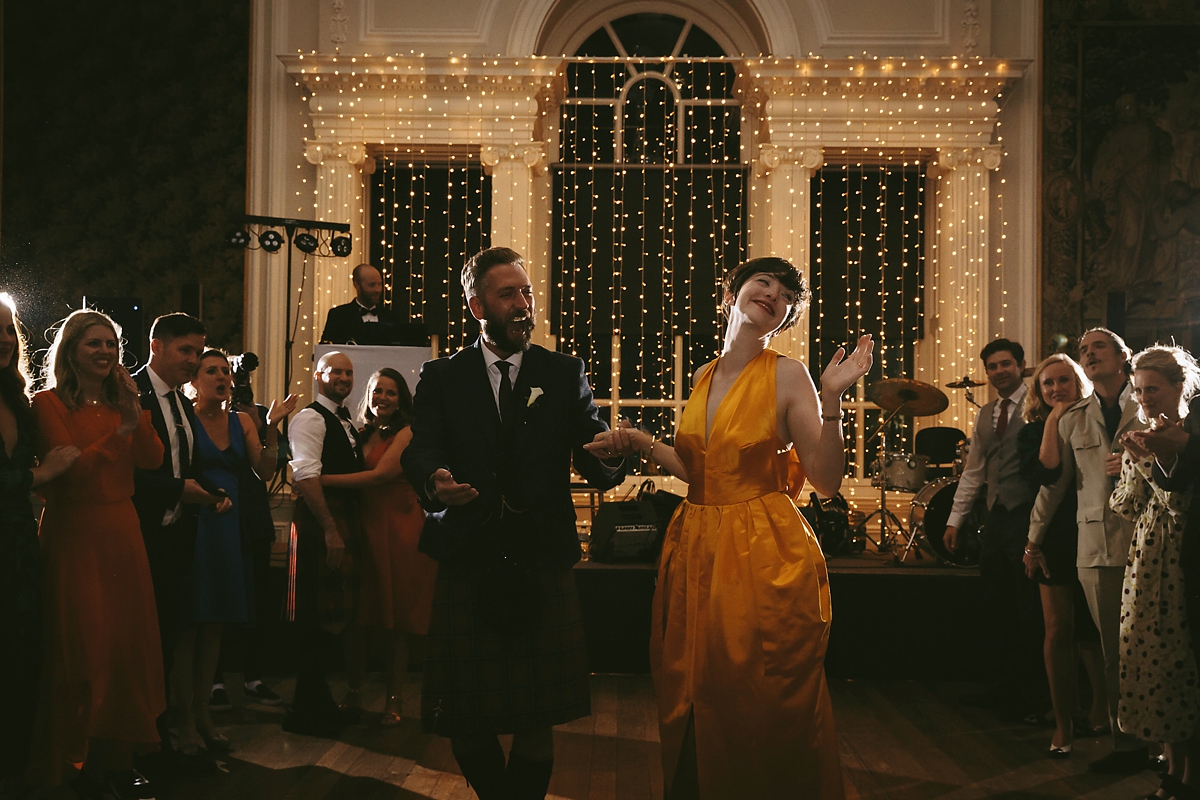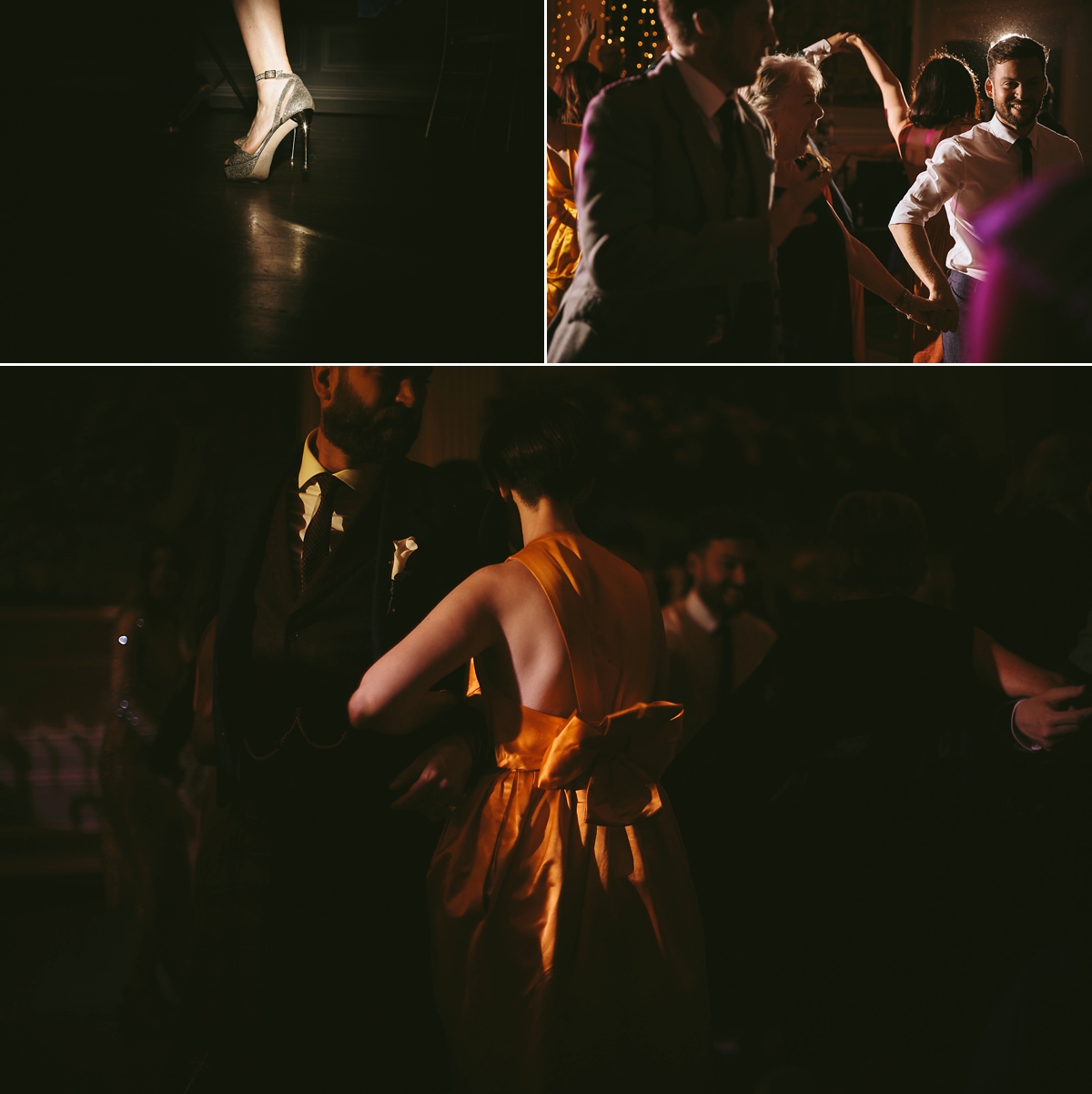 "I couldn't pick a favourite part. The whole day, from start to finish was even more wonderful than either Joe or I could have imagined. It really was the best day of our lives."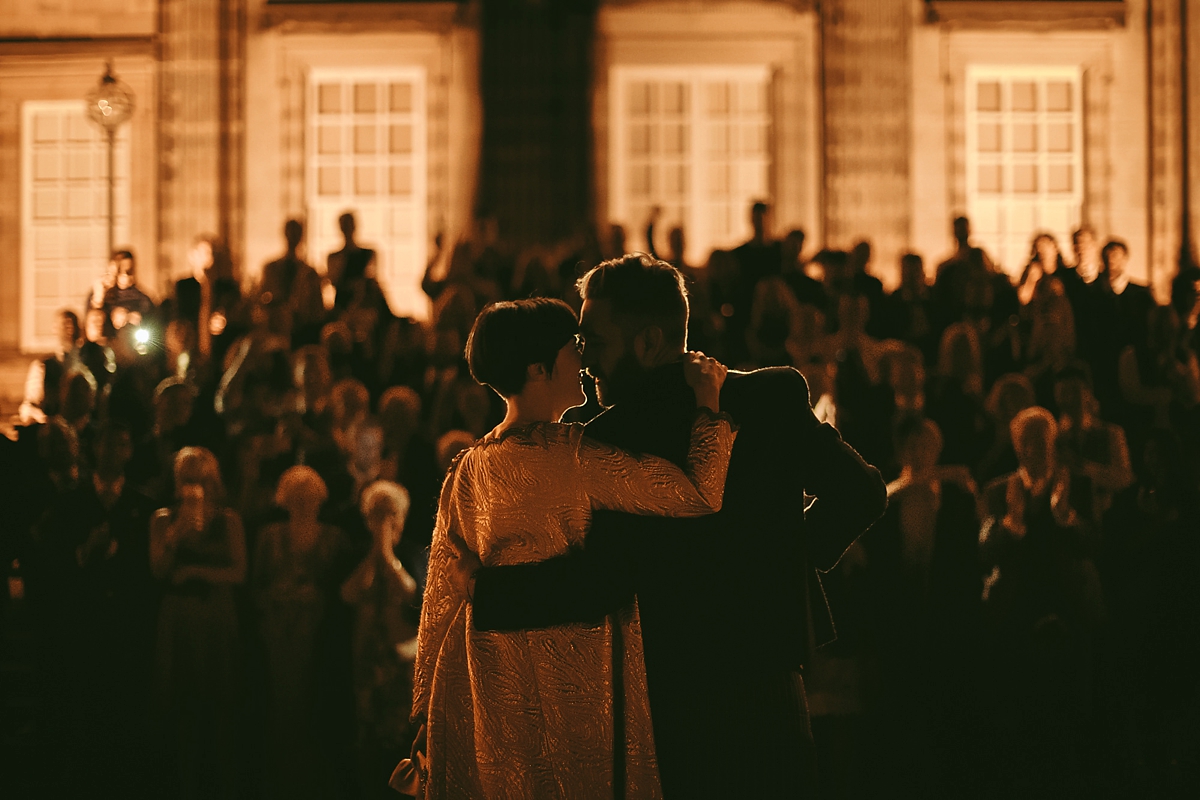 Words of Wedded Wisdom
"Make sure you and your husband take moments throughout the day to take a moment away from your guests and take it all in. And remember to have a photo with your mum – that's my only regret from the day, somehow we didn't get a photo together just the two of us either on Inchcolm or at Hopetoun.
And, I'd have hired a wedding planner to run the day!"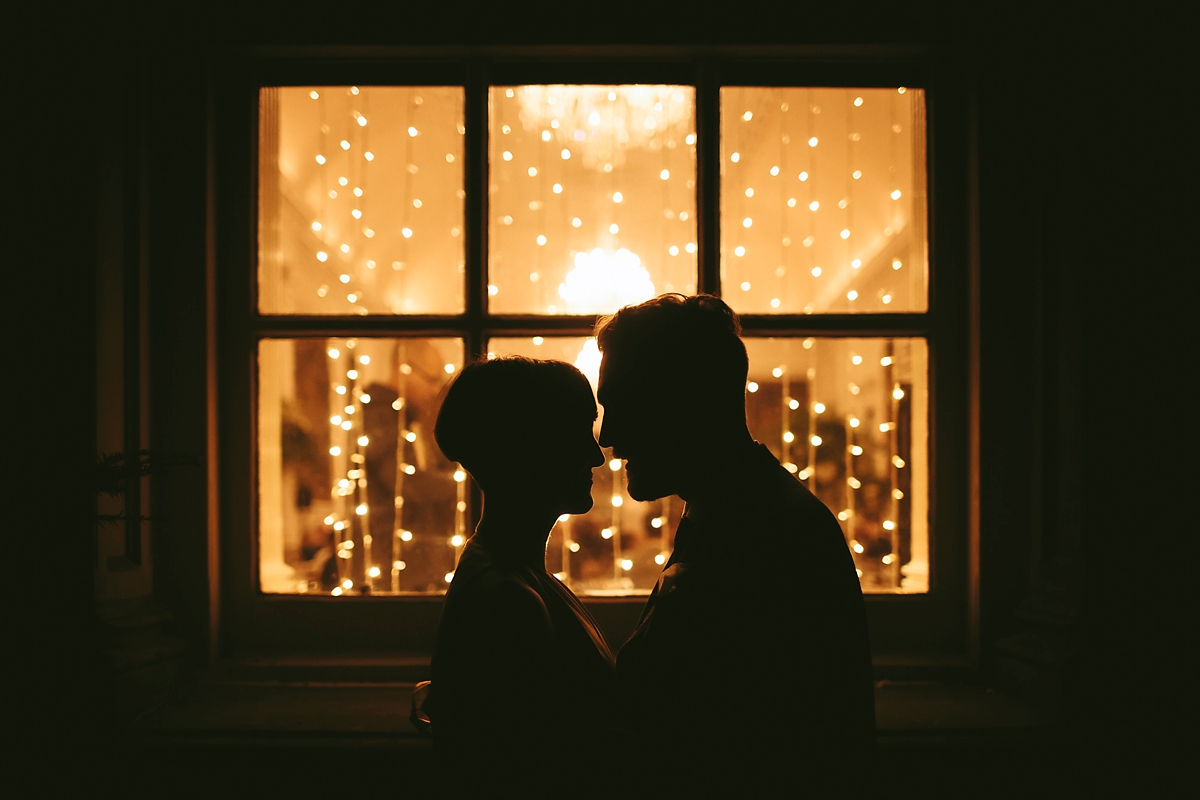 Breathtaking! An absolute stunner of a wedding. Thank you so much Katie and Joe for sharing your beautiful day with us. Wishing you a lifetime of happiness together.
Readers – use our search facility to discover more 1960's and 1970's inspiration, and explore all the yellows and colourful weddings you desire!
Love Annabel x