Hello gorgeous ones, I do hope this week is treating you well. Today's wedding is a gorgeous mix of an indoor ceremony and an outdoor party, with the reception taking place in a tipi (oh, I do love a tipi wedding!). It's one I recommend we dive right into, so grab a cuppa and let's go.
Coffee shop and bakery owners Julia and Rowan said their I Do's on 13th May 2017 at Newburgh Priory in Coxwold, North Yorks, a venue the bride first spotted on our very own Love My Dress.  On the ground to capture all of the love, emotion and joy of the day was photographer Tony from Photography 34 who Julia found via a recommendation from a member of the Little Book For Brides.
"We were really struggling to decide on a photographer and it was one of the last big things we eventually decided on. We both feel completely and utterly awkward in front of the camera and we didn't want any of our guests hanging around posing for endless photos, so when we found photographer Neil Jackson (also listed in Little Book!), we were thrilled as it looked exactly like what we had been looking for. However, Neil was unfortunately unavailable but recommended Tony and we were thrilled when we saw his work and booked him straight away. He has a very similar style to Neil and we couldn't have been more chuffed with our photos."
Video by First Sight Weddings
"We first met Tony on the day of the wedding so were very trusting that we were going to get along and feel comfortable with him playing such a big part in our day, but we were right to trust our instincts. He completely put us at ease during our couples portraits and helped with so much more than just the photography. Tony has since photographed the wedding of one of my bridesmaids and groomsmen and it was lovely to know they were in safe hands. I would recommend Tony to anyone, especially those who don't feel comfortable in front of the camera and don't want to spend the day posing."
"On Tony's recommendation we used First Sight Weddings as our videographer. We knew that having a wedding video was a bit of a splurge but after hearing other couples regrets in not having a video of speeches and other memorable moments, we bit the bullet. We are so happy we went for it and absolutely love our wedding video."
Images by Photography 34
"When it came to deciding the wedding style, it was quite a natural process. We definitely didn't have a theme or colour scheme in mind when we began planning. Once we knew we were getting married in spring and that it was going to be outdoors for most of the day, a natural colour palette of pale pink, ivory and green developed. We also knew that Rowan and his groomsmen would be wearing kilts in an assortment of colours so didn't want any bright colours that might clash with them. We also tried to keep the style very casual and our main focus for the day was that all our guests would be comfortable and enjoy themselves."
Julia chose a very fitting dress for their country house ceremony followed by tipi reception; a gorgeous sleeveless gown by Charlie Brear which she was able to remove the lace top of for the evening reception.
"My dress is the Charlie Brear Payton dress which I wore during the day with the Charlie Brear Augustine lace top and silk sash. Early evening I removed the lace top and switched my plain silk belt for a beaded one."
"I bought everything from Lamesley Bridal in Edinburgh was has unfortunately since closed. I was originally interested in the Catherine Deane dresses as I loved the boho vibe of them, but after trying a few on I realised they didn't flatter me."
"I had no strict ideas about what I wanted in my hair other than some flowers, so when my sister, who was also the florist, suggested a thistle for my hair on the morning of the wedding, I went with it. It actually ended up being one of my favourite things about my look and I loved how it was a little quirky and not the norm for bridal hair."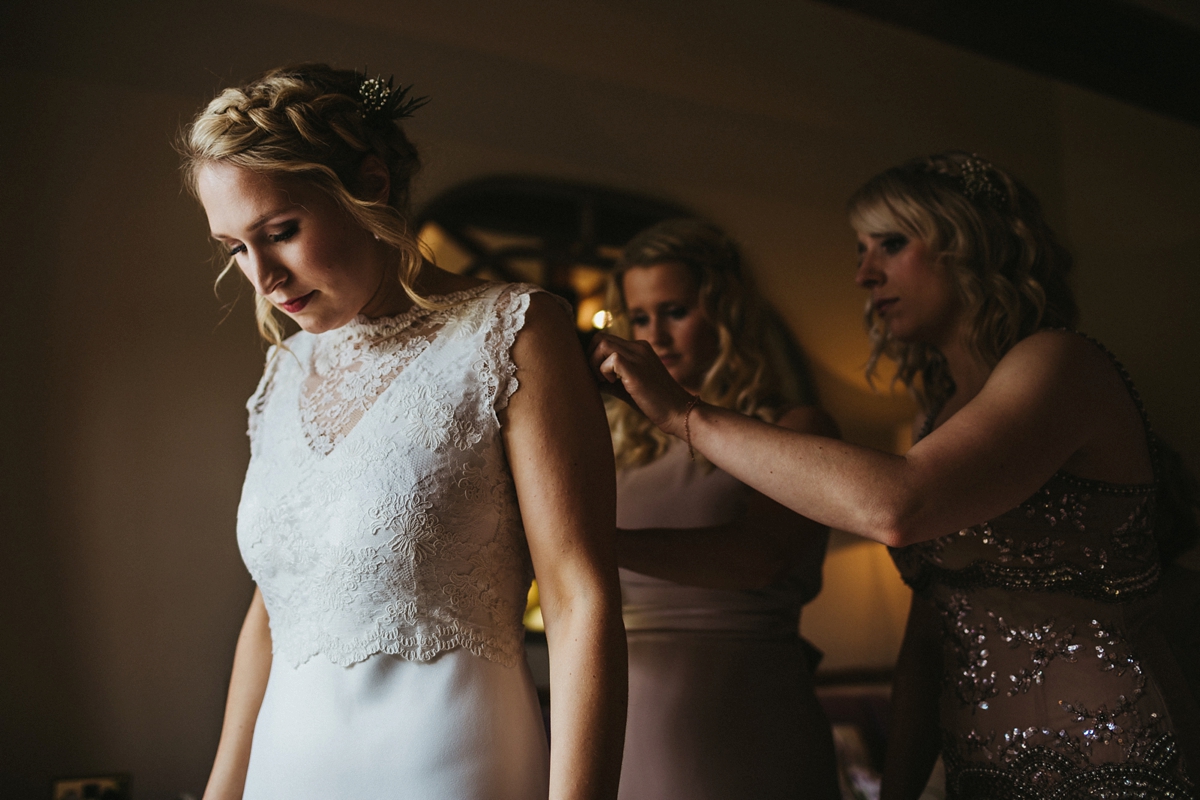 "On the suggestion of the bridal boutique, I tried the Payton dress on with a lace top, and then I knew I had found my perfect dress. It was not what I had planned to buy but it fit my style perfectly. It was very simple (which is how I dress anyway) yet was still bridal, and I loved the options of customising the dress with different tops and belts."
"I was initially unsure about wearing a veil but once I tried on the simple full length Charm sheer tulle veil from Joyce Jackson, I knew I wanted one."
"I wore a mix of Jo Malone's wood sage and sea salt and blackberry and bay as my perfume on the day, and Rowan wore a mix of wood sage and sea salt and amber lavender. I knew quite early on I'd like a Jo Malone perfume to wear as they feel luxurious and special, so when we came up with the idea to wear the same scent, but mixed with another perfume, it felt like a nice way to start our married life together; connected but also independent."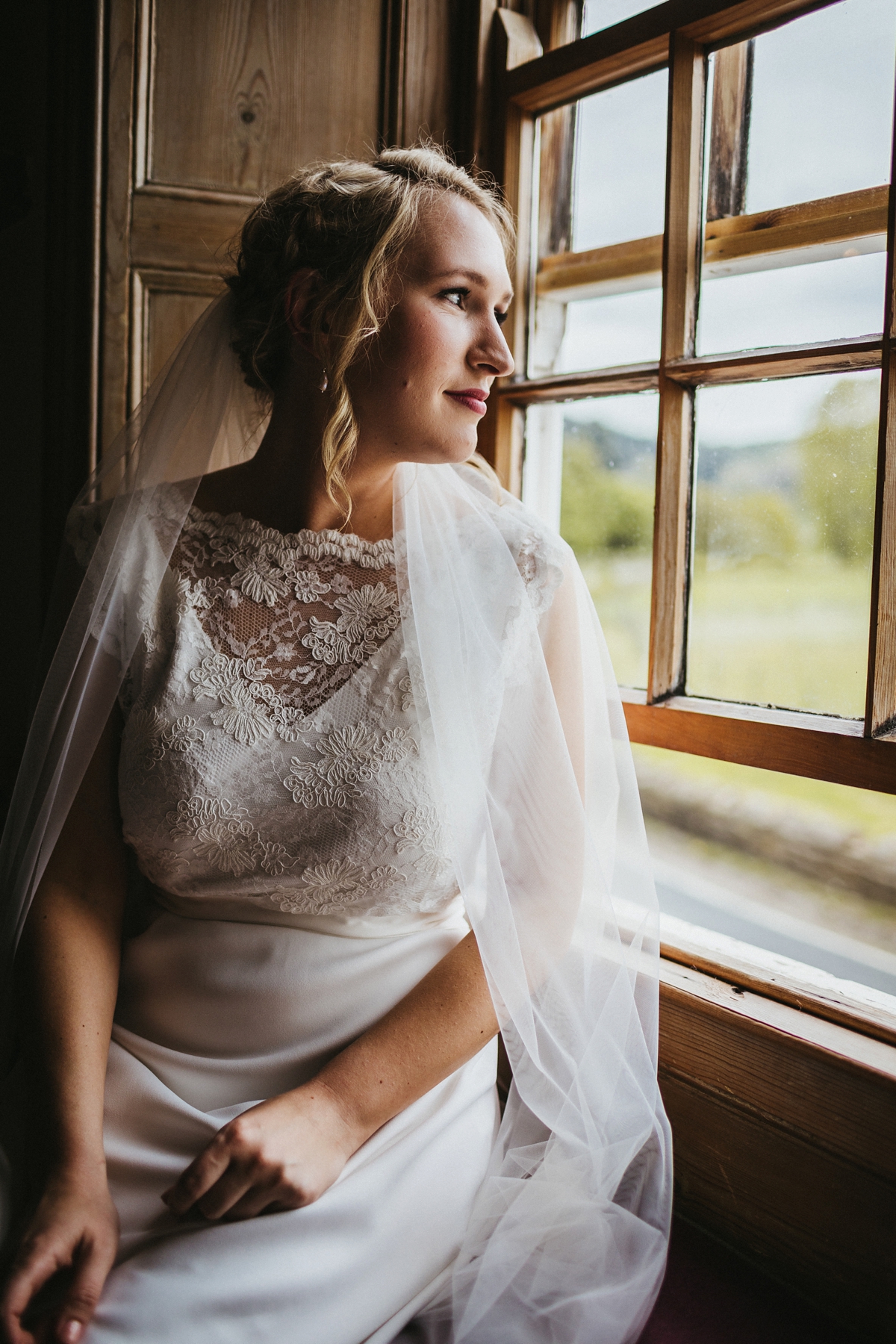 "I also wore a pair of Carvela by Kurt Geiger shoes. I bought them in the sale with my mum the day before my first dress fitting. I knew the dress just needed a pretty heel that I could wear again and would be comfortable in. These fit the bill perfectly."
The couple first met whilst at university back in 2012 and after being together for over 4 years, Rowan popped the question one summers night. The couple were then married 11 months later.
"We met through a mutual friend who would go on to become the best man at the wedding. Once I realised how great Rowan was, I couldn't believe he was single and promised to set him up and find him a girlfriend, not realising it wouldn't be long before I was charmed by him."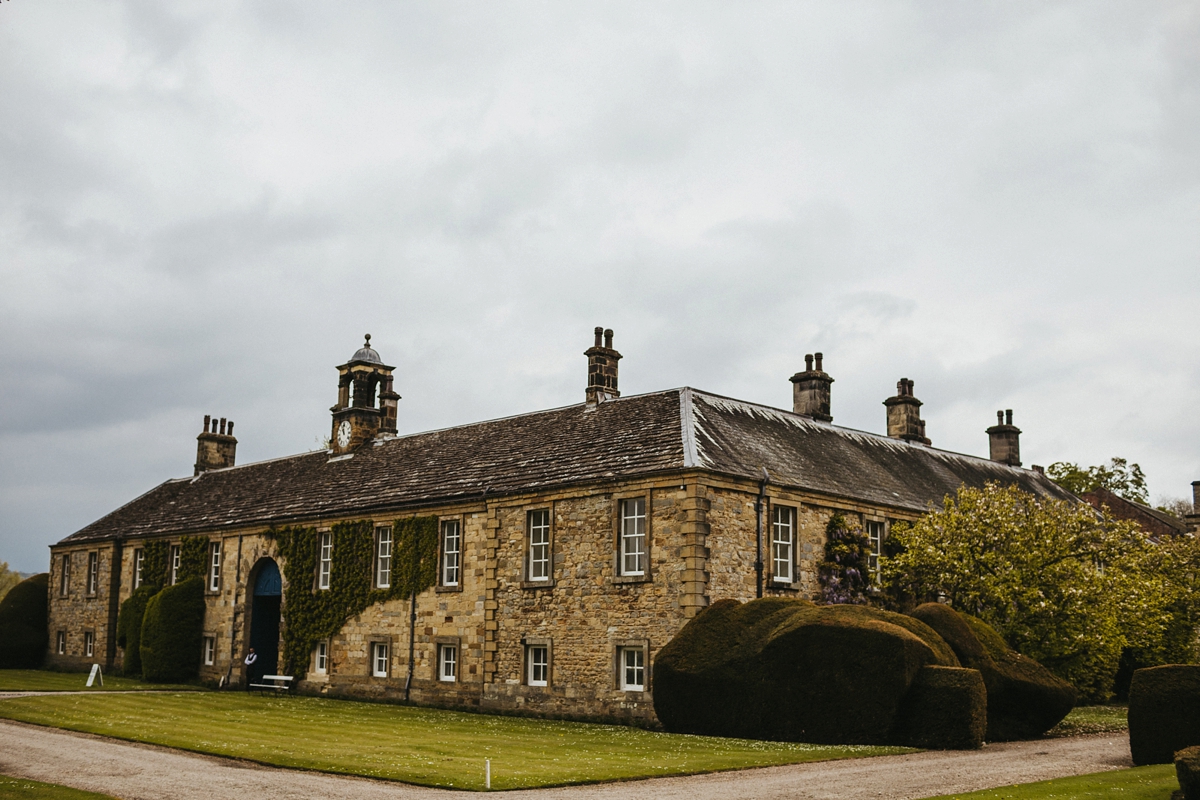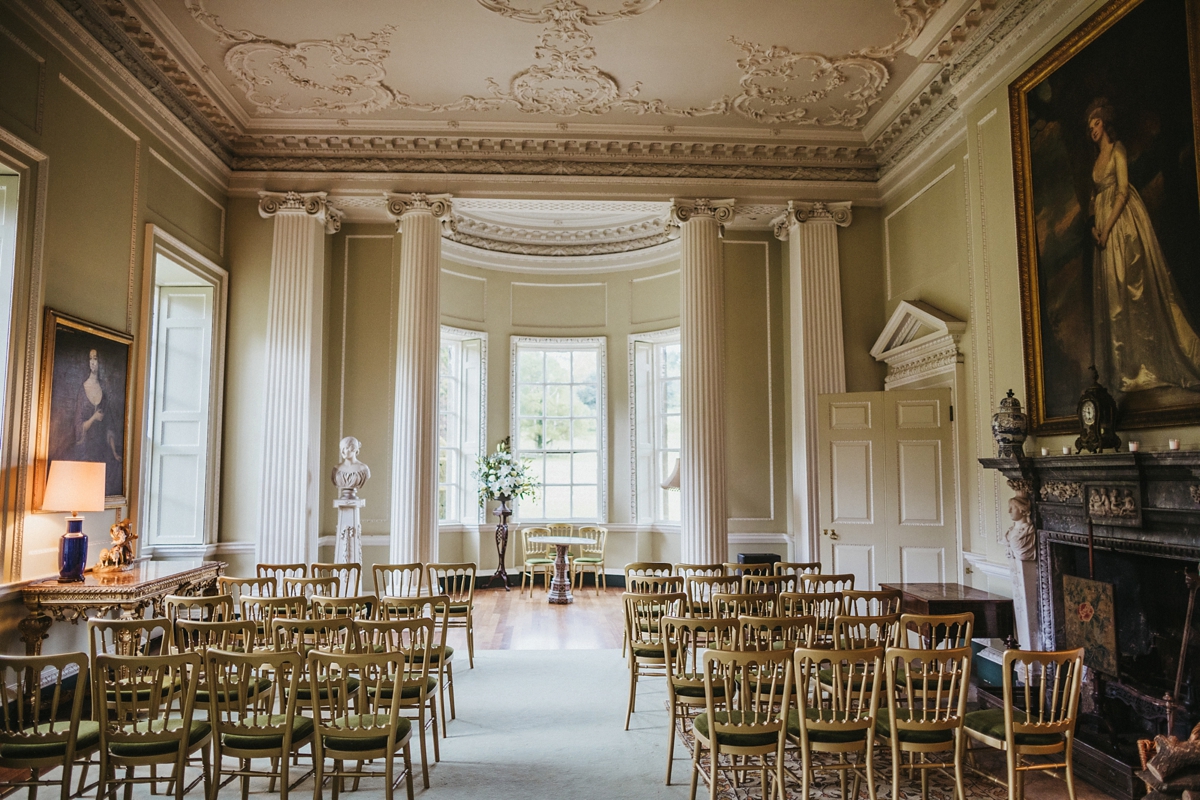 "We went on holiday to Sicily after 4 years together, along with some friends, and one evening over a game of Top Trumps and a glass of wine, Rowan proposed. Even though lots of friends knew it was going to happen (Rowan is the worst secret keeper!), I had no idea it was coming. We both knew from the offset that we didn't want an overly long engagement so we set about planning the wedding as soon as we got home."
"Rowan and all his groomsmen wore kilts to honour his Scottish heritage. Rowan wore his family tartan and then wore a Slaters jacket, waistcoat, socks and shoes to match with his groomsmen. The groomsmen all wore various tartans hired from Slaters. They all looked so smart and the English boys loved the novelty of wearing a kilt, although they had to be reminded by Rowan's dad that they couldn't sit with their legs open during the ceremony otherwise we'd all get an eyeful!"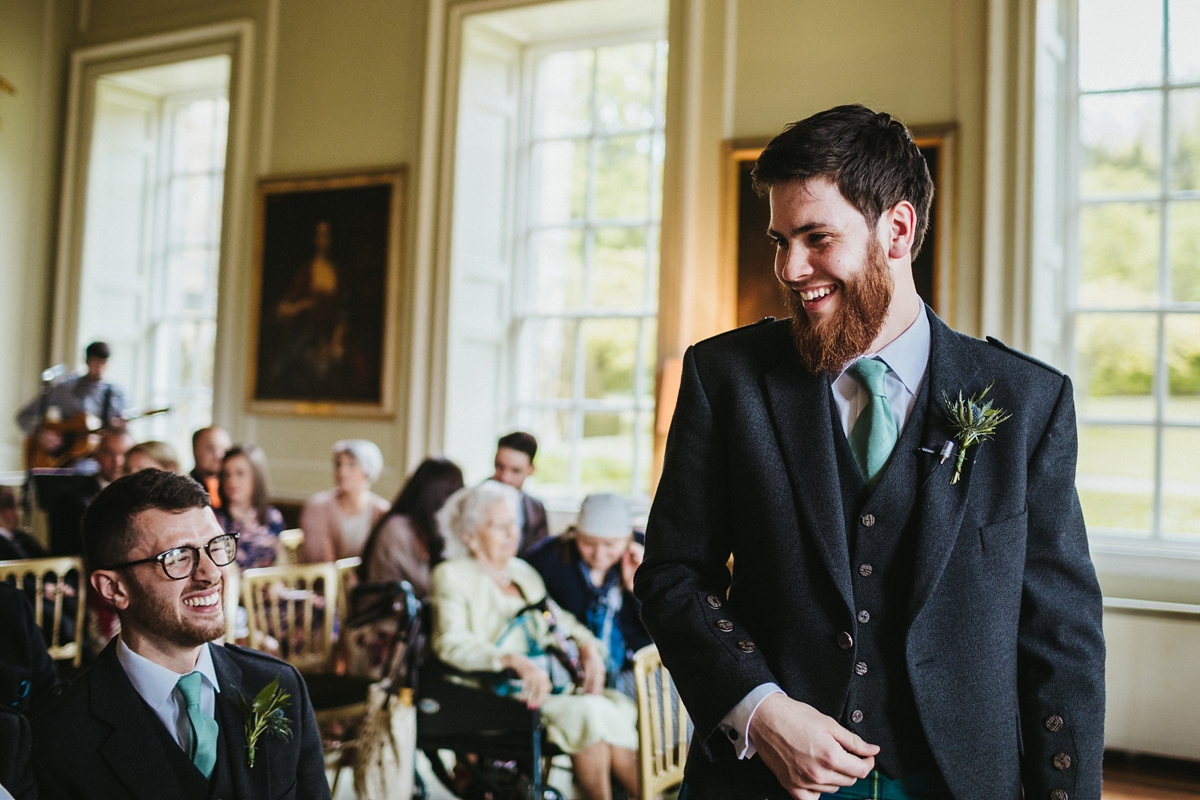 The ceremony took place inside the venue and Julia's mum walked her down the aisle to Here Comes The Sun by The Beetles.
"We wanted something that would be upbeat and set the scene for the day, whilst also being romantic, and this song fit that brief."
"We had two readings for the ceremony, The Lovely Love Story by Edward Monkton and Love Is A Temporary Madness from Captain Corelli's Mandolin. Both of these felt very fitting for our relationship and managed to strike the balance between being light-hearted and romantic."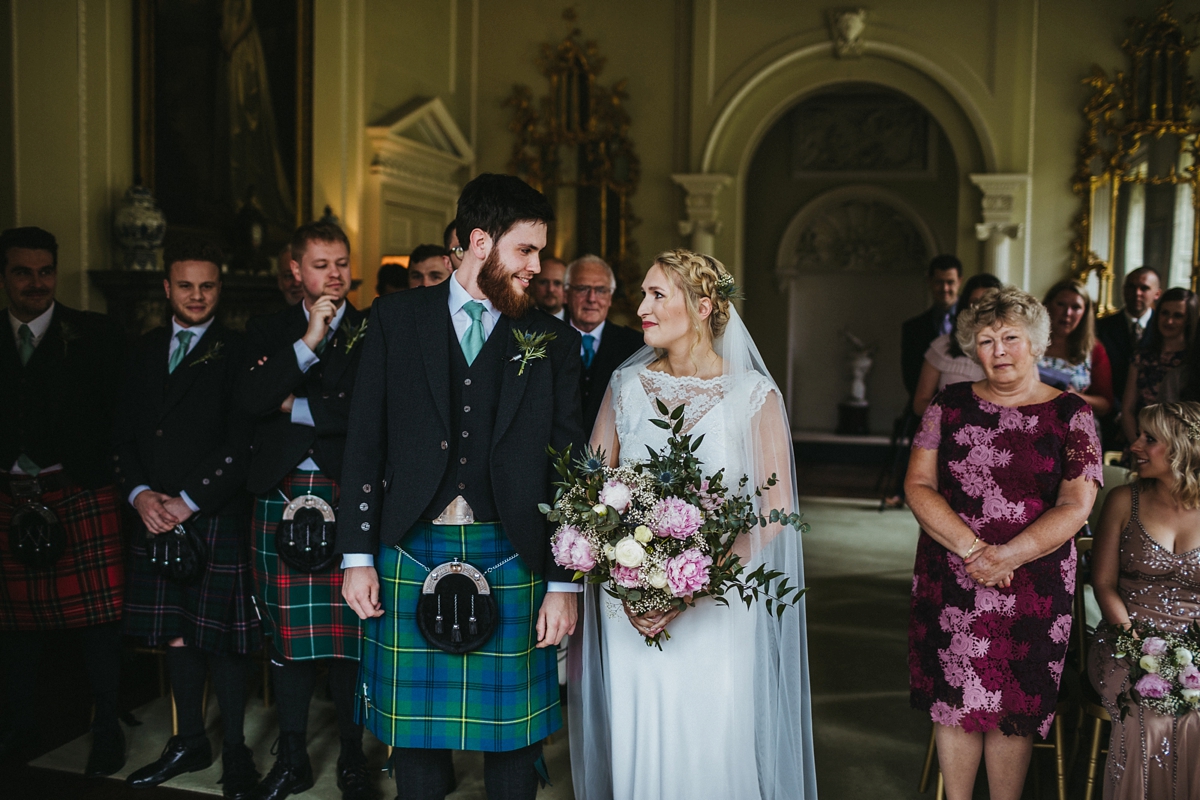 "We bought our wedding rings from Laings in Edinburgh, the same shop Rowan had bought my engagement ring from months before. They offered classic styles and good quality, as well as wedding bands which matched and complimented their engagement rings."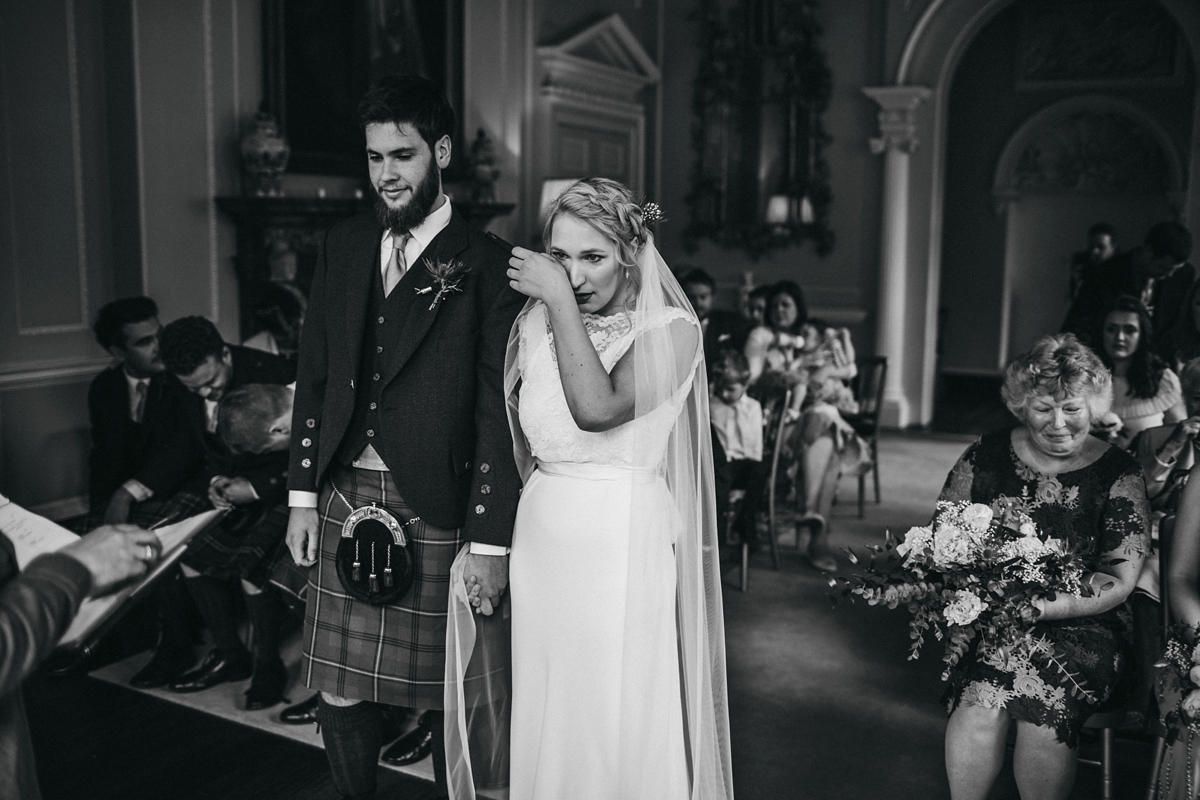 "It's so hard to choose just one favourite part of the day because there were so many, but one moment that stands out was immediately after the ceremony, just after walking back down the aisle. There was such a weight lifted from both our shoulders and such excitement for the rest of the day. It was also one of the rare moments it was just the two of us. The glass of Prosecco in hand helped too!"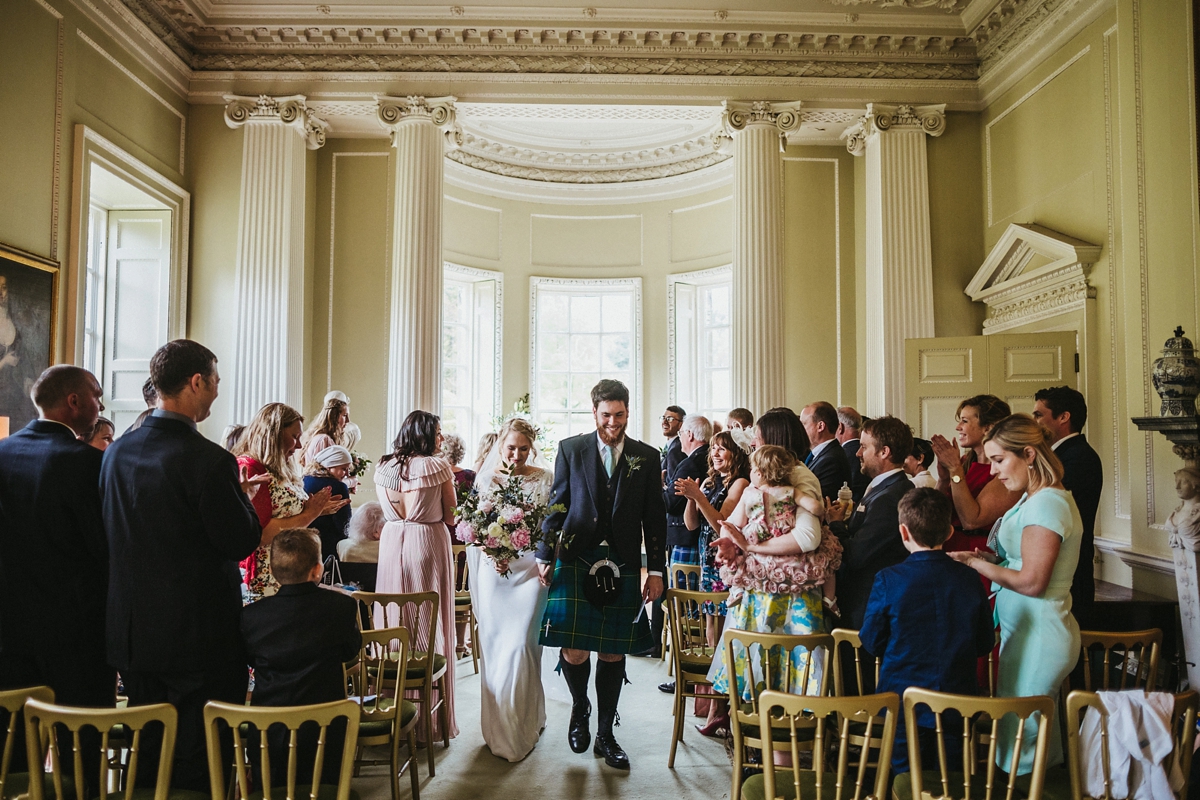 A drinks reception followed the ceremony in the grounds of the venue with acoustic music provided by Michael Mulholland, before guests moved inside the tipi, hired from TipiChic, for the speeches and wedding breakfast.
"One of the very early decisions we made was to go with The Hog and Apple Co. We loved their style of food, which was relaxed and focused on family style sharing without compromising on quality. We love our food and our friends know that so I think our guests were expecting a lot from whoever we chose as our caterer. Ged and his team didn't disappoint, providing an amazing service and food, which our guests still mention almost a year later!"
"As mentioned earlier, my sister Sarah was our florist and I was so chuffed when she offered to do our wedding flowers. It made choosing the flowers and planning what other decorations to have so easy and fun. I love peonies and as we were getting married during peony season, I knew I wanted these in my bouquet. Other than that I was happy for Sarah to take the lead and create bouquets that reflected the rustic, casual style of our wedding."
"The flowers at the wedding were amazing and I couldn't be more grateful to Sarah for all of her hard work in the days leading up to the wedding. I didn't know it at the time but Sarah was very worried I wouldn't like them whilst I couldn't have felt more relaxed and confident that they would be perfect! This resulted in what was probably a more emotional than usual flower drop off on the morning of the wedding."
"From the very beginning we both knew we didn't want a one size fits all wedding venue and were keen to customise as many aspects of the wedding as we could. We had also already chosen our caterers and had decided on having a tipi wedding before we started looking at venues, so we knew our chosen venue would have to accommodate for those factors. After trawling through Google and lots and lots of wedding blogs (including Love My Dress!), we found Newburgh Priory which looked absolutely beautiful."
"After visiting the venue for the first time we knew it was the perfect mix of traditional country house with all the flexibility we were looking for."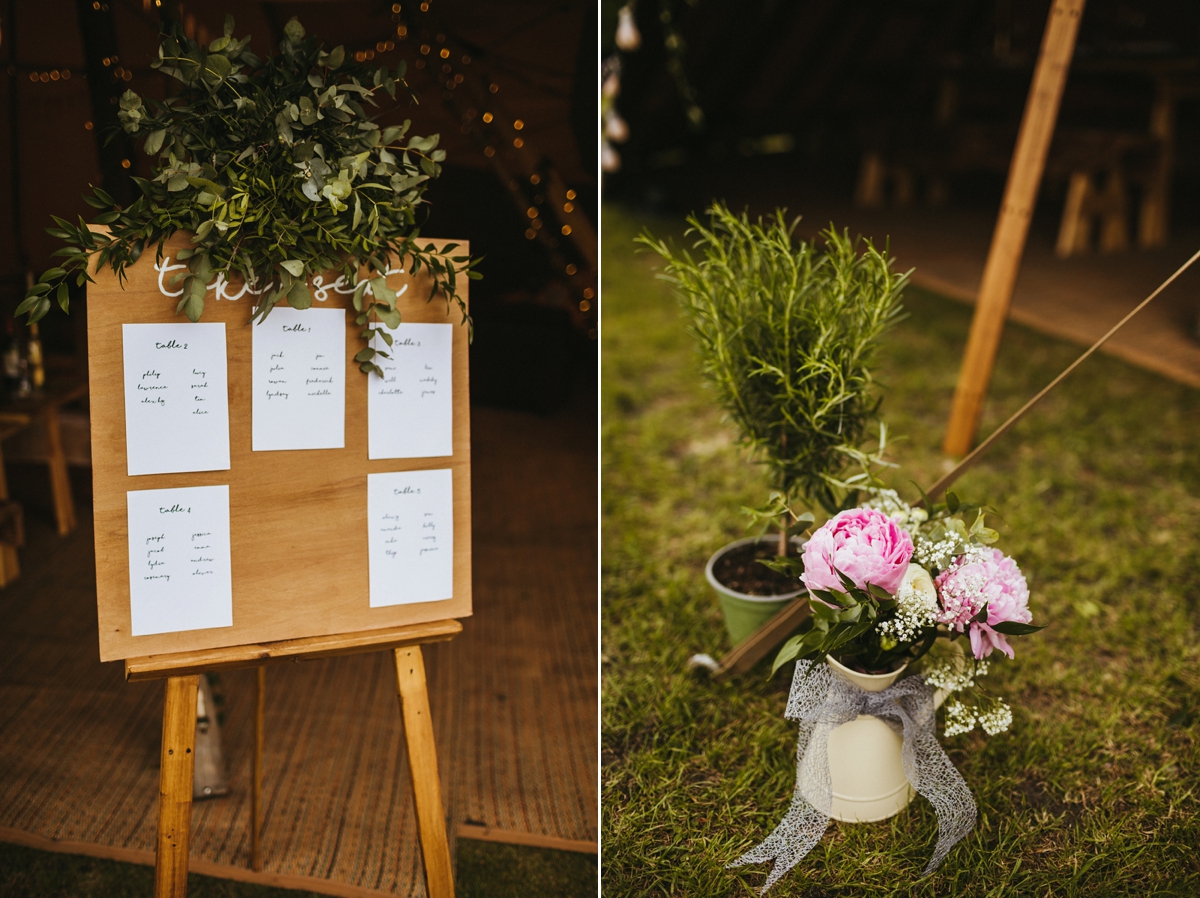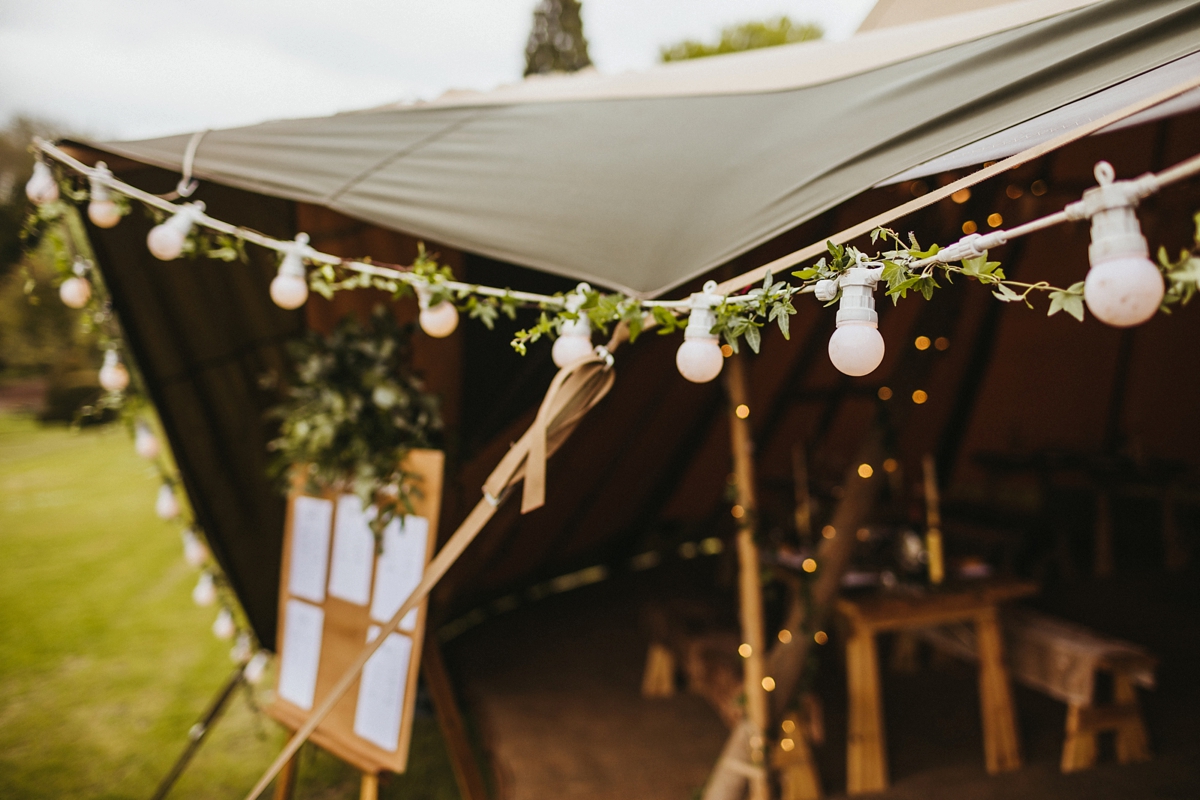 "Even though we own a bakery, neither of us have a massively sweet tooth so we decided to go for a cheese cake as out wedding cake in the end, made by George Mewes Cheese. It also doubled up as the evening food along with crackers and homemade chutneys which helped us save money too."
The stationery was all designed by Ruth at Kismet Weddings and included invites and save the dates which arrived with lovely handwritten notes. For the favours the couple gifted their guests with wildflower seeds from Ovo Bloom which were placed at each place setting for their guests to take home with them to plant in their gardens.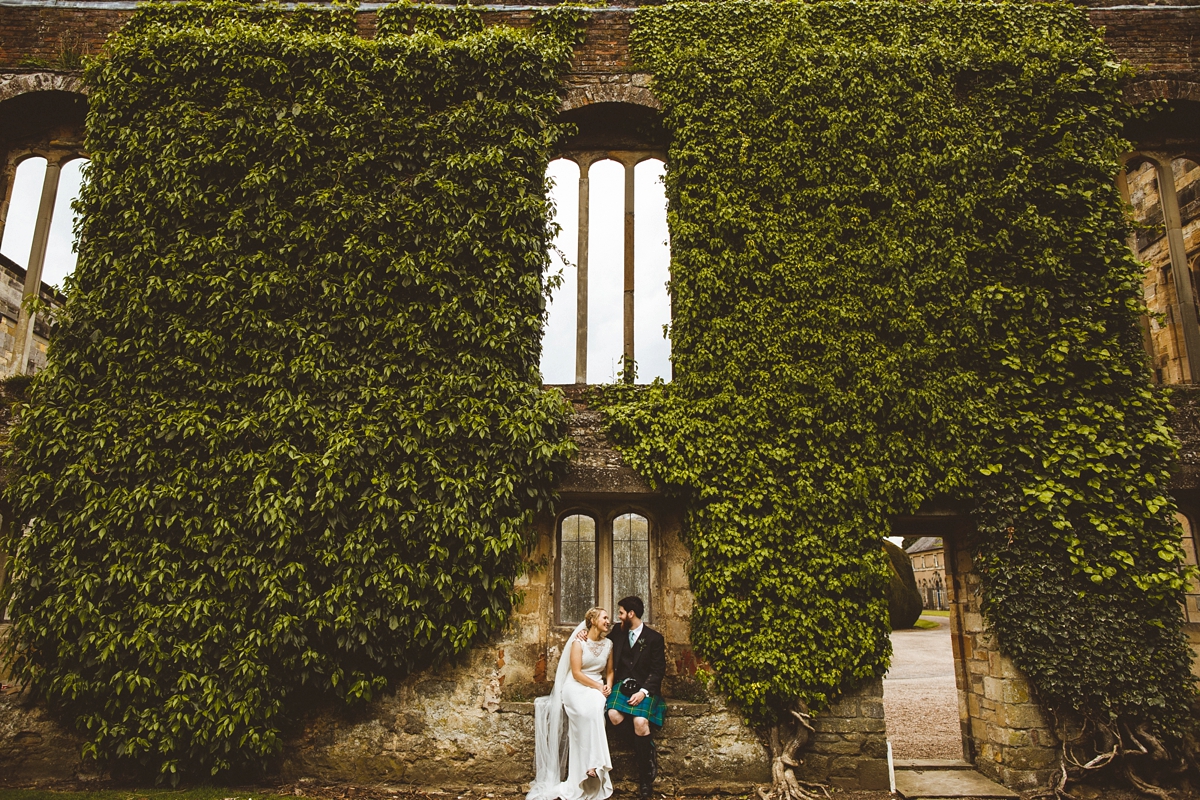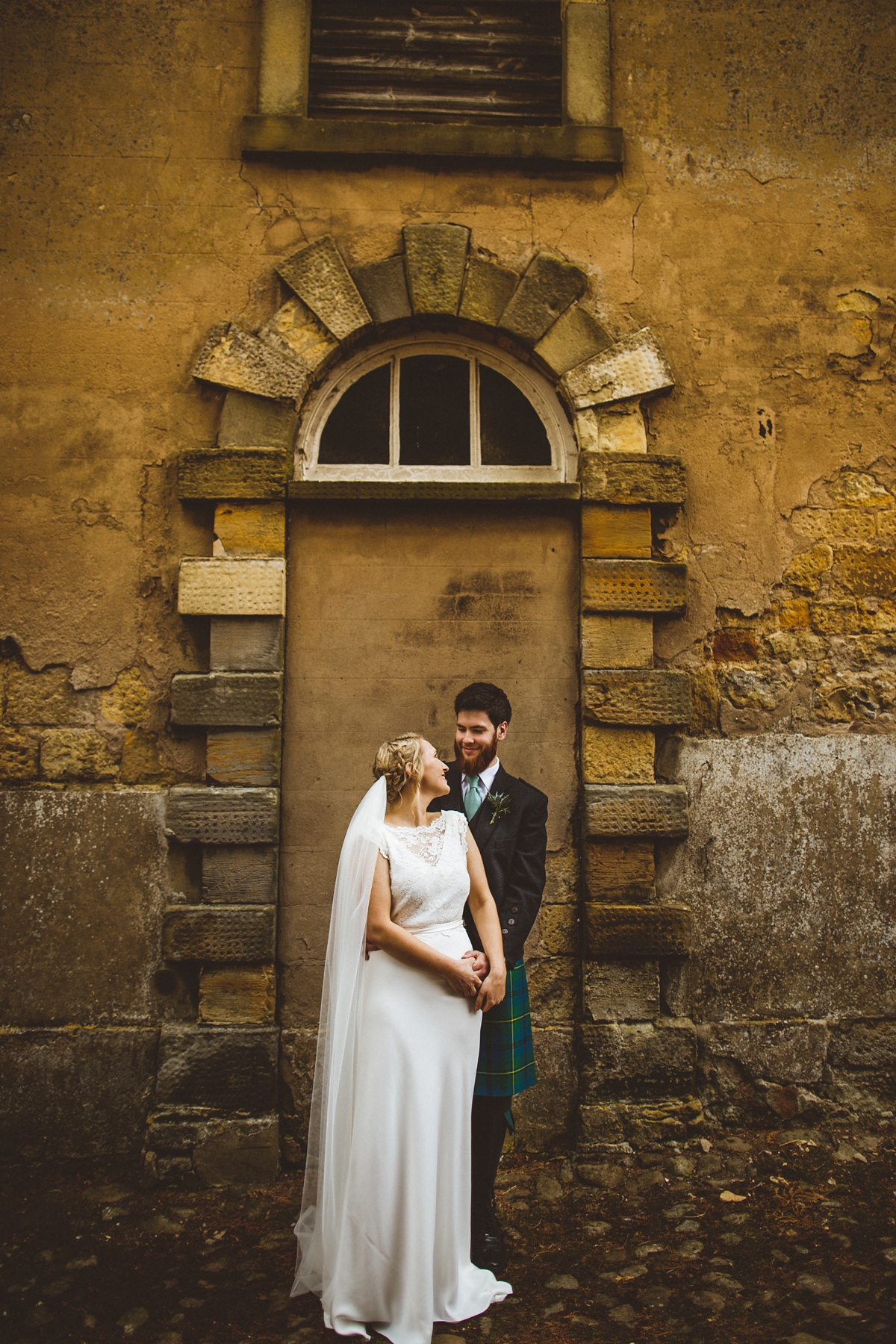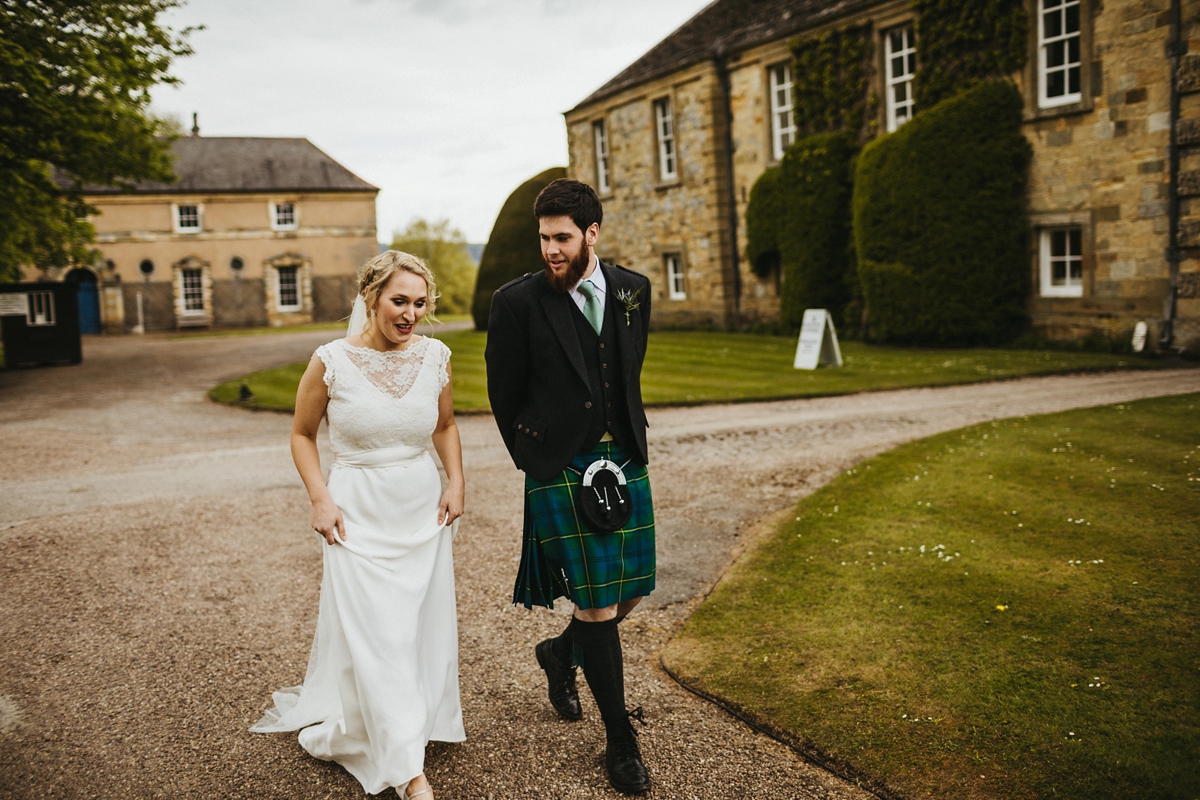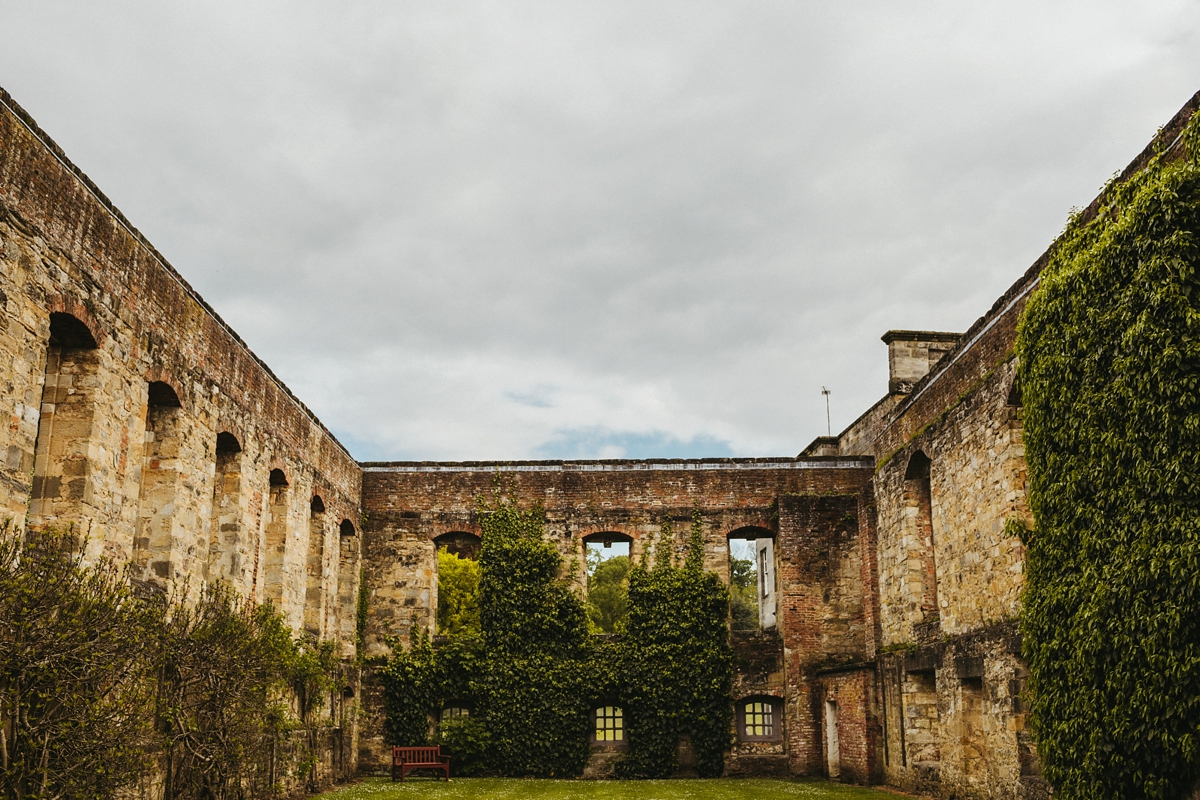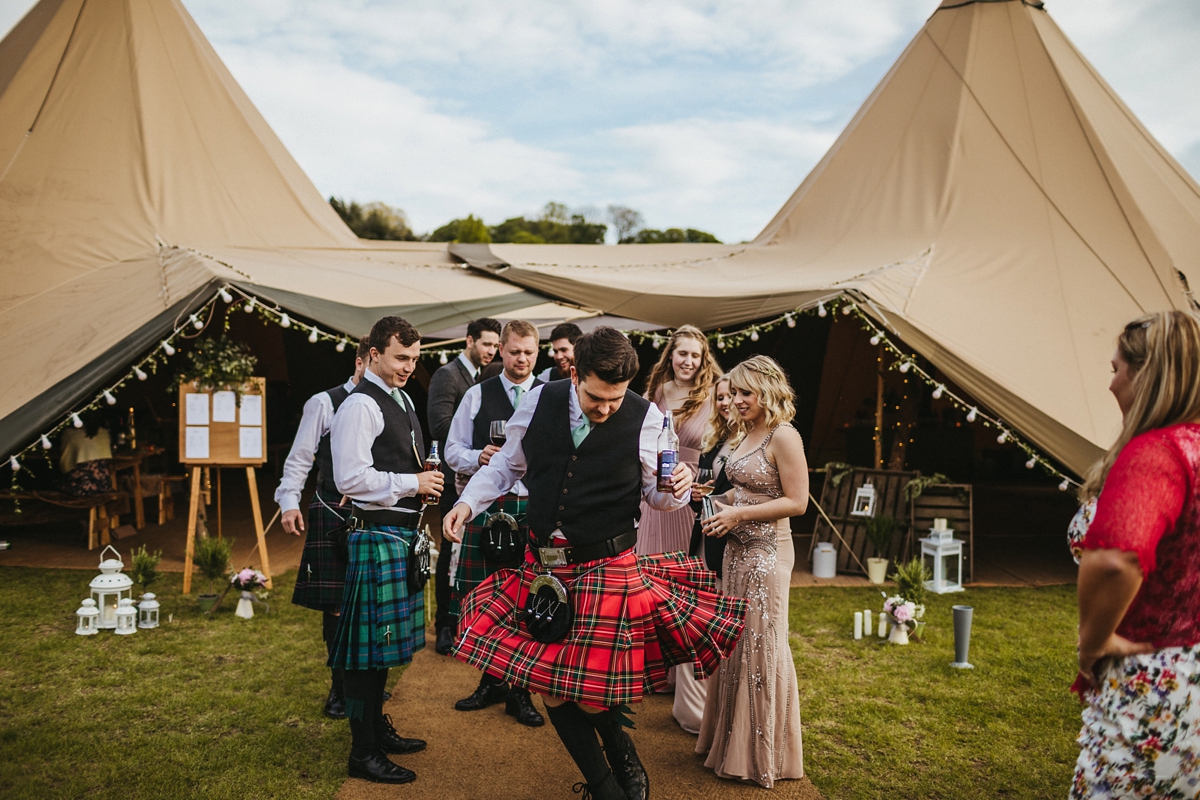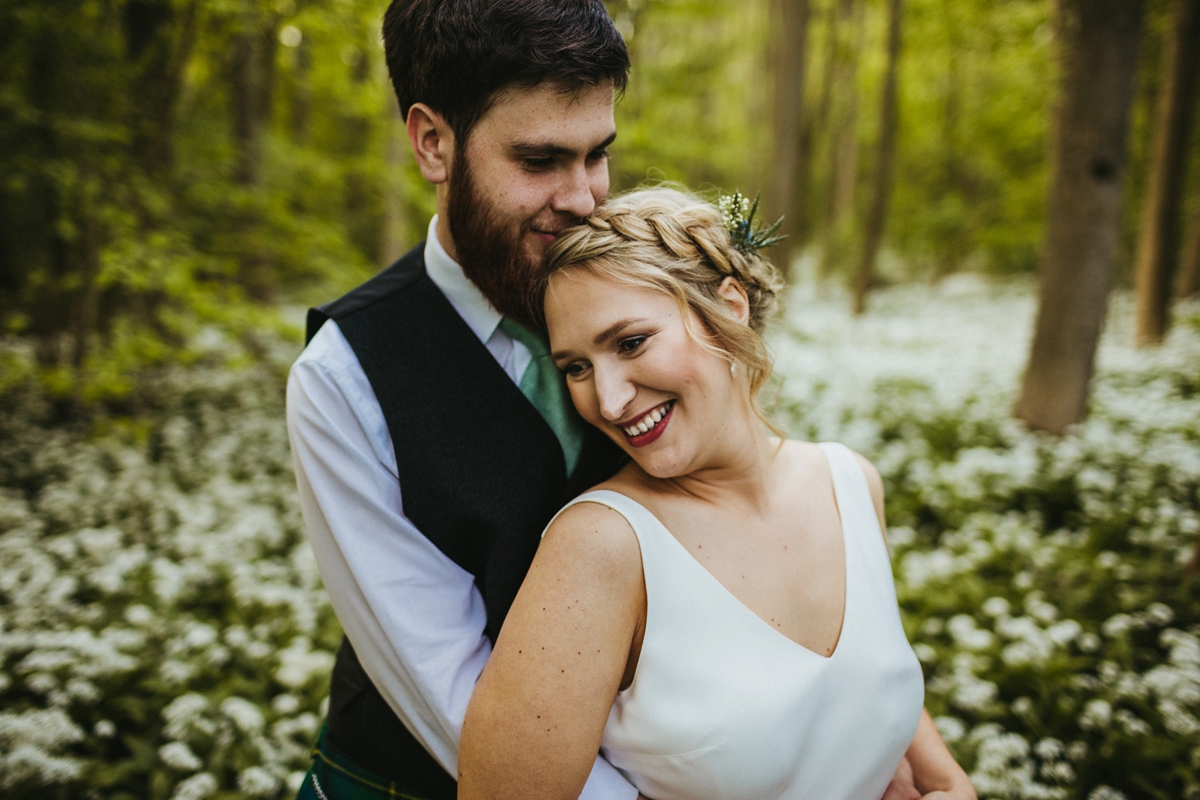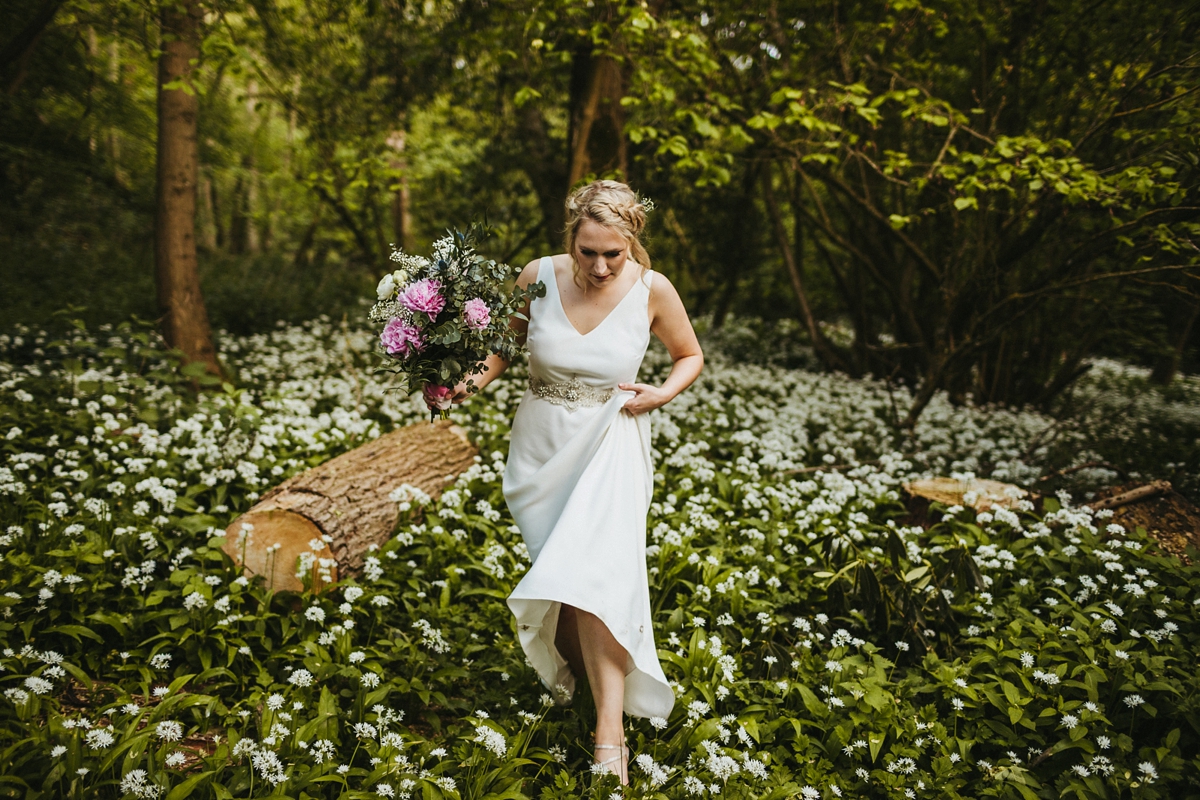 "Our musical entertainment was another relatively late decision. We knew we didn't want a typical wedding DJ or traditional string quartet but we weren't sure what we did want. After Google-ing 'non-cheesy' wedding DJ's, I found Michael who, without us realising, was exactly the kind of entertainment we wanted."
"He played acoustic sets during the ceremony, drinks reception and meal, and then DJ-ed for the rest of the evening. He did an incredible job and there was certainly no cheeseiness anywhere to be heard!"
Before Michael Mulholland switched over to DJ duty, the couple performed their first dance as newlyweds to How Long Will I Love You by The Waterboys, a song they found after watching and loving the film About Time.
"We both love the film and the song has a lovely message about enjoying all the small things in life. As with lots of things about our day, it was chosen as it fit us perfectly, wasn't overly soppy and romantic but still felt like it fitted the occasion."
Words Of Wedded Wisdom
"Don't feel like you have to go along with certain traditions because that's the norm, make sure your wedding is representative of you two as a couple and your friends and family will love it because they love you. Lots of our guests actually remarked on how much they enjoyed the wedding because it lacked some of the traditional features. For our speeches, it felt important to us that women had a voice on the day, so our best man and maid of honour both did a speech, and Rowan and I spoke jointly."
"I would have felt uncomfortable only having men speak but I know that this tradition works really well for other couples so my advice would just be to pick and choose the traditions that suit you."
What a gorgeous day indeed! A big thank you to Tony at Photography 34 for sharing these beautiful images with us, and to the happy couple for sharing their special day.
Until next time…
Much love,
Holly x