Hello lovelies! How are you today? Would you like to travel back in time with me for a gorgeous vintage inspired wedding (with a cameo appearance from the cutest little dachshund!)? I thought you might. Today's bride and groom took inspiration from their favourite past eras and their shared love of literature (and much-loved pooch!) for a truly unique day.
Social worker Lucy and communications officer Jonathan were married on 9th December 2017 during a ceremony at St Illtud's Church in Llantwit Major, Wales, followed by a reception at Rosedew Farm.
"We had a bit of wish list in terms of what we were looking for in a venue. We wanted our little dachshund Sabrina to be involved and we were looking for somewhere we could put our own stamp on. Rosedew offered both of these things and more. Gaynor, the owner, is very laid back and we were able to decorate exactly as we wanted. We also love how picturesque Llanwit Major is as well as the fact that there's a beach there. Both of us are originally from Swansea and the seaside played a huge part in both of our childhoods, so we knew we wanted some professional photos on the beach."
Video + Photography by Emily and Steve
In keeping with the vintage style of the day, Lucy chose the gorgeously delicate tea-length Rita gown by LouLou Bridal via Timeless Elegance.
"I was hoping to buy an original dress but being 5ft10 it was difficult to find a dress that fitted me well. A lot of the short dresses I tried on were just below the knee, which made my legs look like they were hanging out of a nest! I immediately loved the longer ankle length style of my dress. I also loved the lace sleeves that were actually really similar to my mum's wedding dress."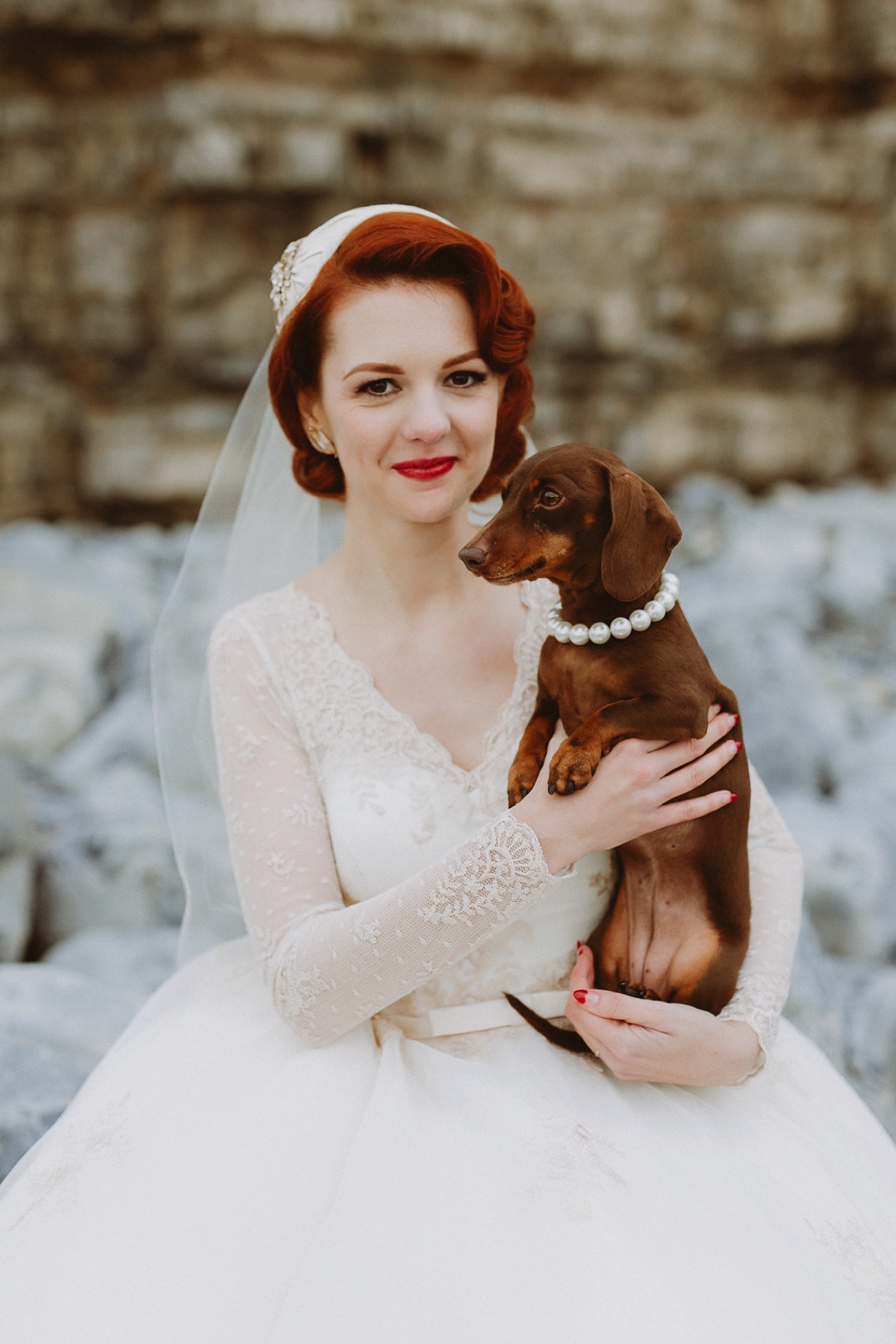 With a vintage theme running throughout the wedding, the photography style of duo Emily & Steve worked perfectly, capturing the detail and romantic vibe of the day.
"Steve shot a video for Jonathan's band a couple of years ago and we've been following his and Emily's work ever since. They are incredibly talented and we loved their relaxed, documentary style. They had such fun and creative ideas for our couples shots which was one of our favourite parts of the day. Everyone kept asking me if I was cold but I was on such a high I couldn't feel a thing!"
"Not even when I took my shoes off and walked barefoot along the rocks. Emily and Steve provide a very friendly and personal service and they captured our day perfectly. We know we will never tire of looking at our beautiful photos. Most of all, they made us feel comfortable. I think both of us were a little anxious about being the centre of attention for a while day but we needn't have been. We were in very capable hands with this charming couple!"
"The gold colour was something different to a lot of the dresses I tried on and was more complimentary of my skin tone than plain ivory, which washed me out. I found some of the private dress appointments a little intense! I really liked that there were other people in the shop the first time I visited Timeless Elegance. The staff have a lot of experience in the industry and my dress fit me so well."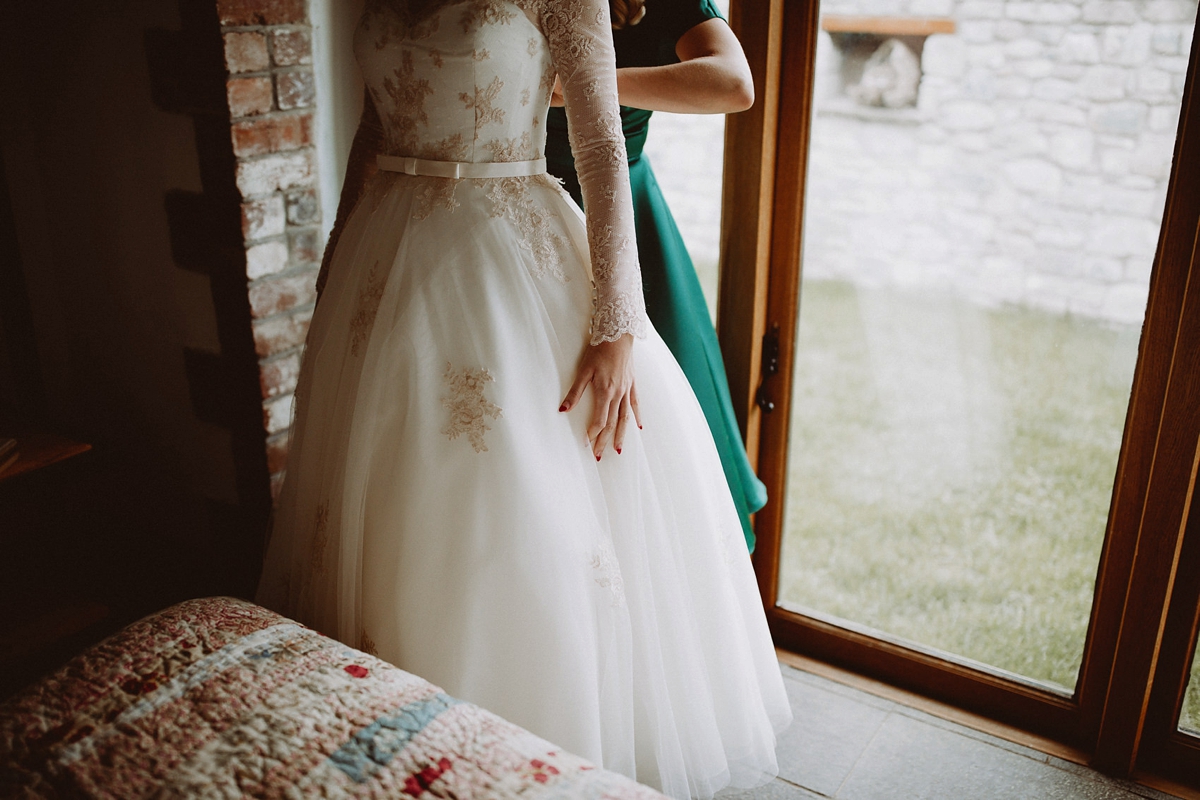 "My headpiece and veil were from Agnes Hart and were the first parts of my outfit that I bought. Rae hand makes all of her designs and was so helpful. I got to choose the colour, material and brooch and it arrived in the most beautiful box with gorgeous illustrated instructions as to exactly where on my head it should sit and how it should be secured. These came in very handy on the morning of the wedding!"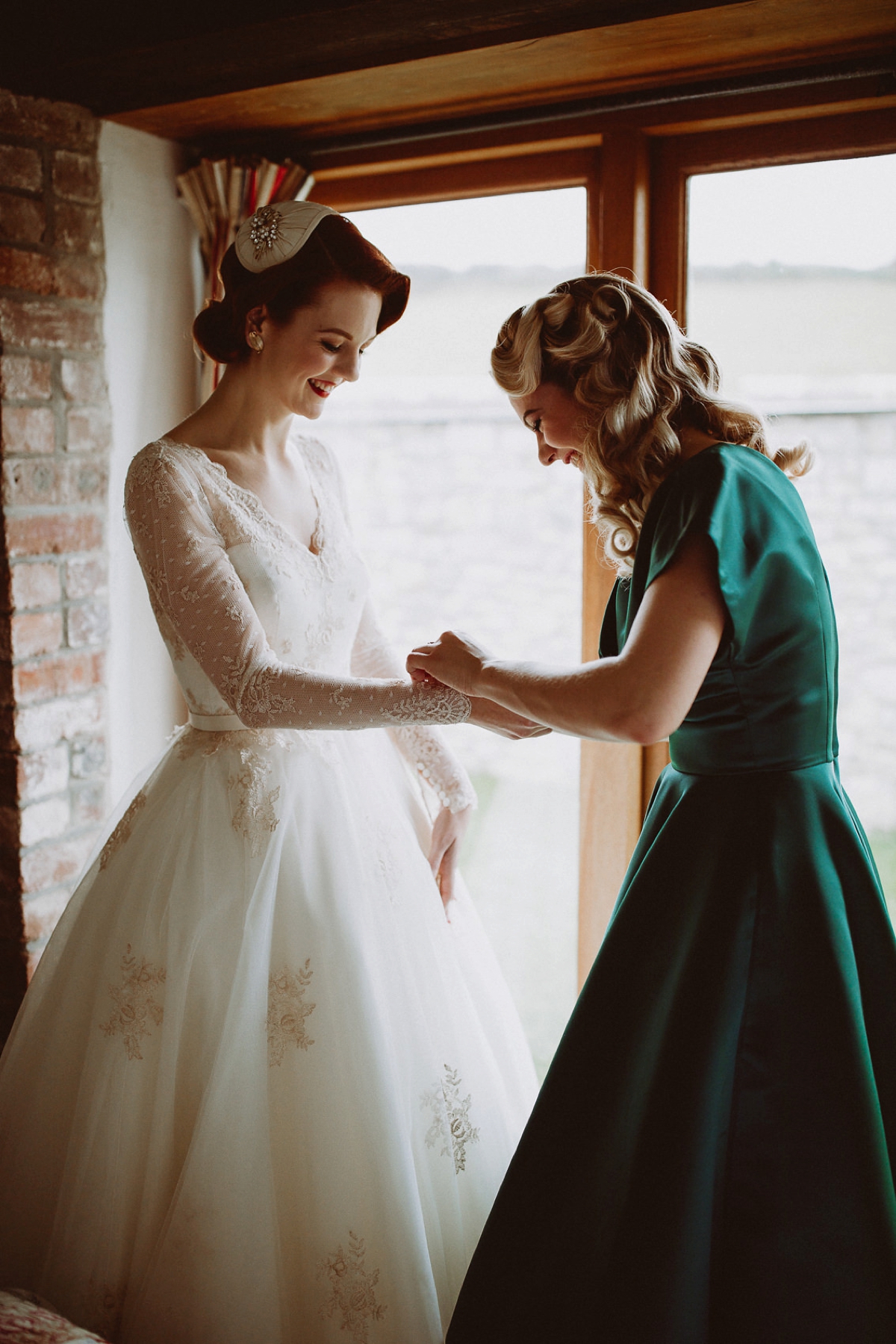 "My shoes were made bespoke by Harriet Wilde (Love my Dress favourite and Little Book For Brides member!). They had to be special because of the length of my dress. I fell in love with Harriet Wilde shoes when I saw them on Love My Dress. Unknowingly, Jonathan also went for red shoes which was a nice touch!"
Lucy also accessorised with vintage earrings from Etsy, an Olivia Burton watch, and a spritz of Flowerbomb by Viktor & Rolf.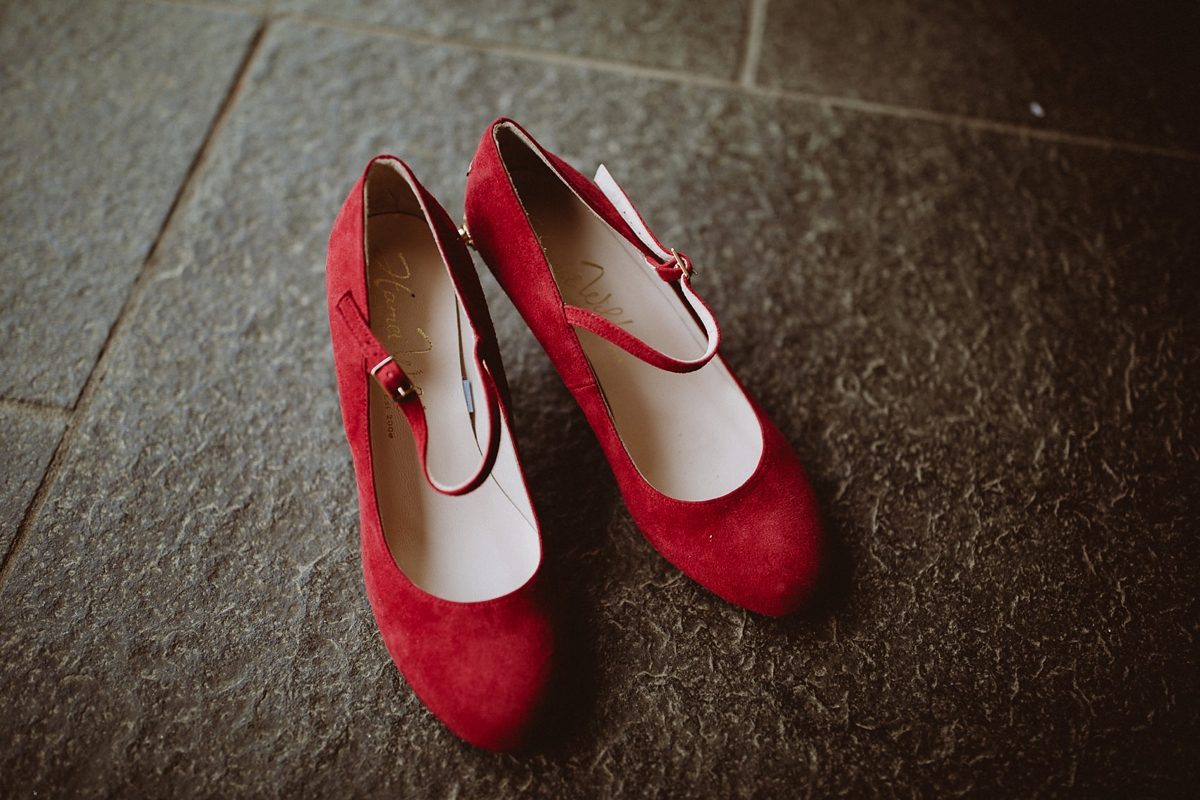 "Our florist was the wonderful Beth from Forbesfield. Flowers were such an important part of the day and we fell in love with Beth's work on Instagram and her website. She was an absolute dream to work with, took the time to get to know us as a couple and went over and above our already high expectations. Her eye for detail, design and colour is out of this world."
"We wanted the colours to be as rich as possible and the flowers had a wild and spontaneous feel with lots of seasonal foliage. We collected brass pots, jugs and trinkets for the table centerpieces which looked amazing with the deep tones of the flowers (a huge thanks to Mark, one of our dearest friends Laura's dad for his brass finding mission!). Beth also dipped apples and pears in gold and burgundy wax which we loved. The feel was autumnal without being typical."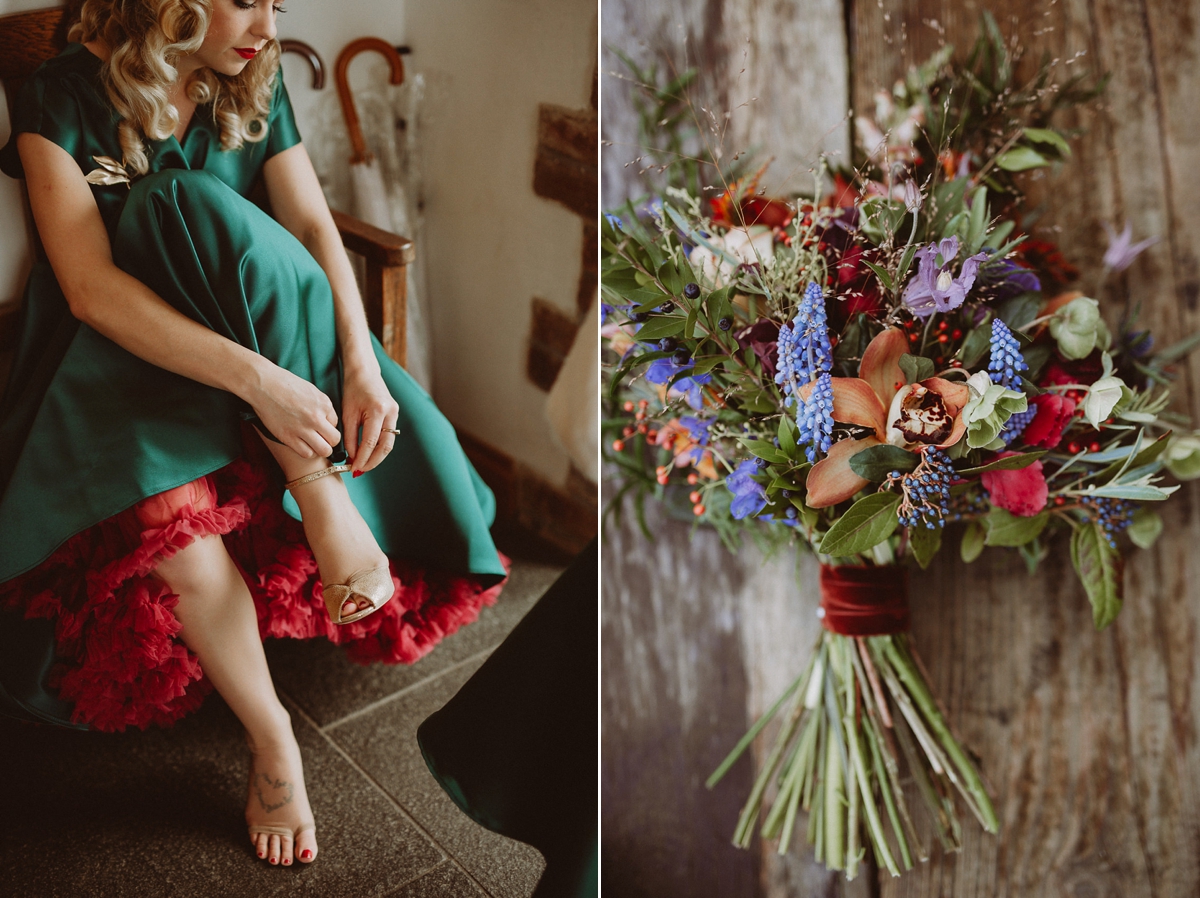 "The first time I was emotional on the day was when I saw my bouquet. I adored the shaped and all of the different colours and flowers. These included snapdragon, anemone, ranunculus, Delphinium and Fritillaria. Steel berries, eryngium, acacia and rosehips were used for different shapes and textures. The stems were kept long and Beth bound all of the bouquets in velvet ribbon. I didn't want to put my bouquet down and it looks glorious in all of the photos!"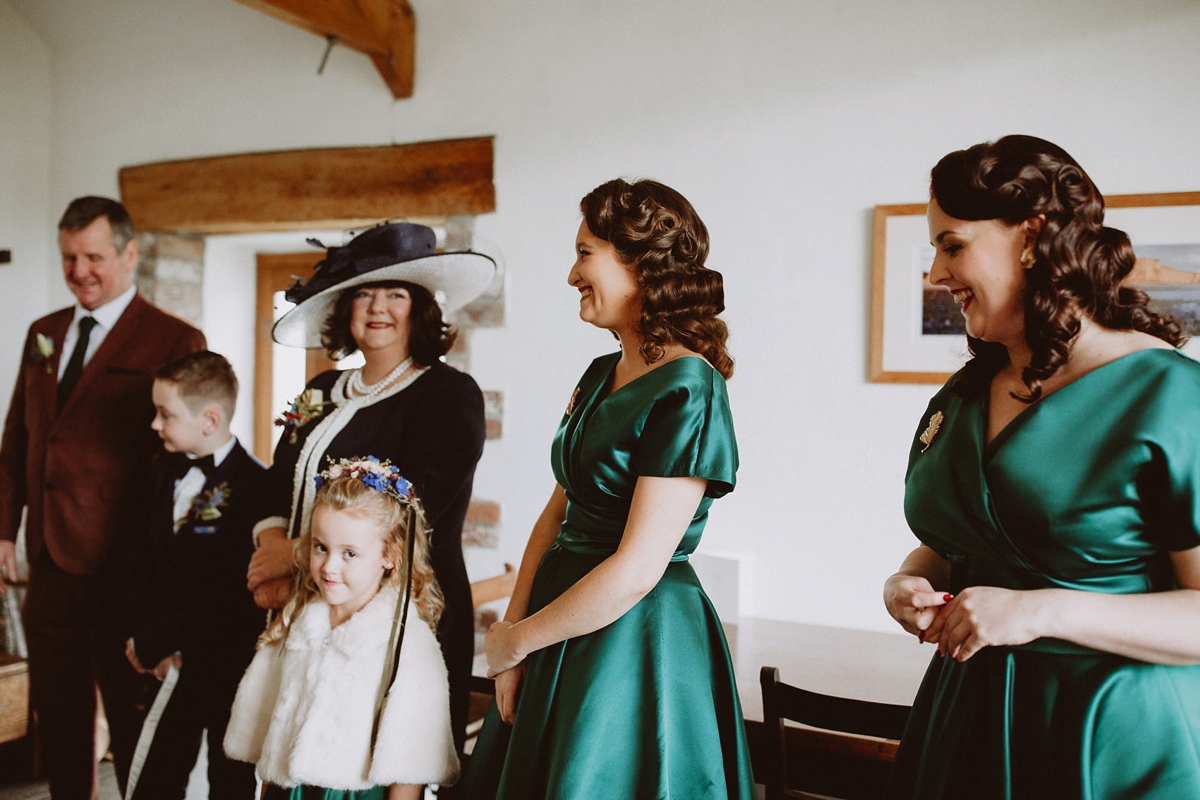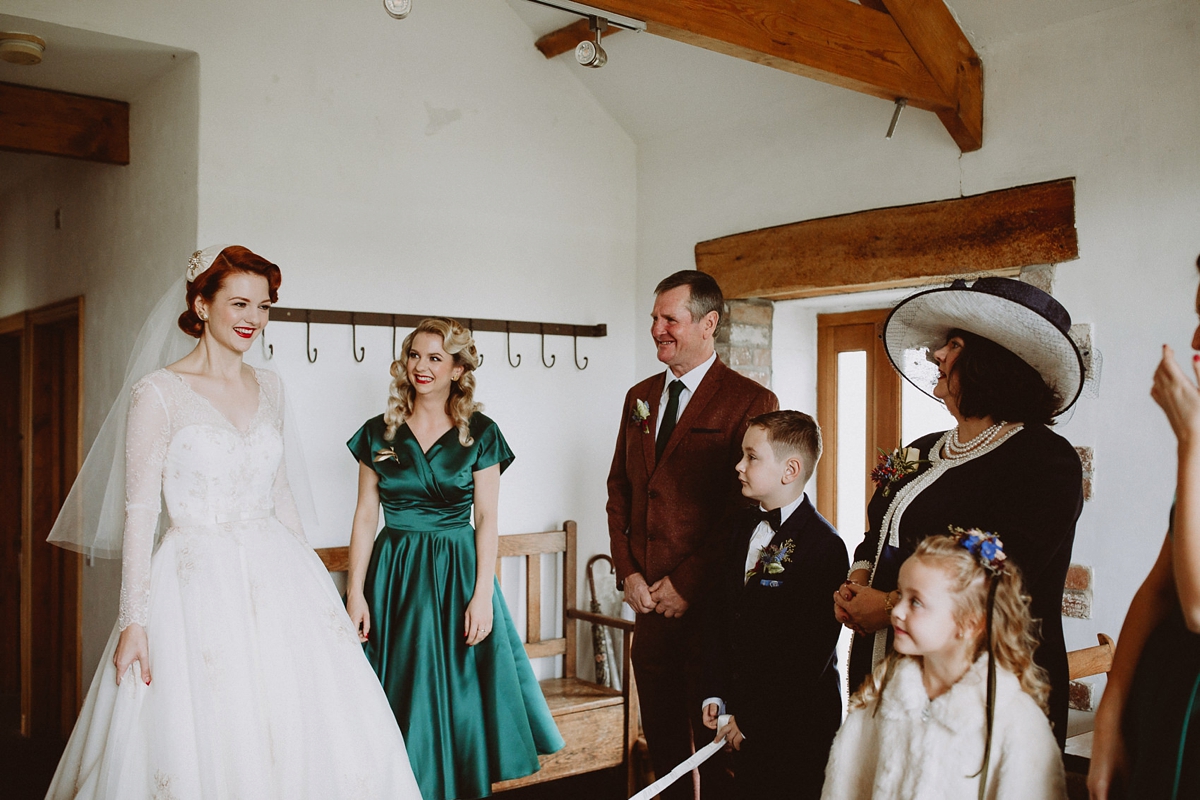 The bridesmaids striking silk green dresses were by Vivien of Holloway which they wore with a pair of Lola shoes by Chelsea Rose via Revival Retro. The flower girls looked beautiful in handmade dresses by Dig For Victory and the page boys looked dapper in smart black tie suits from Monsoon.
"I also bought Sabrina our dachshund a pearl collar which came all the way from Canada! It was the only one we found that we could attach a lead to. She looked so elegant and it really suited her personality: aloof, exquisite and fabulous!"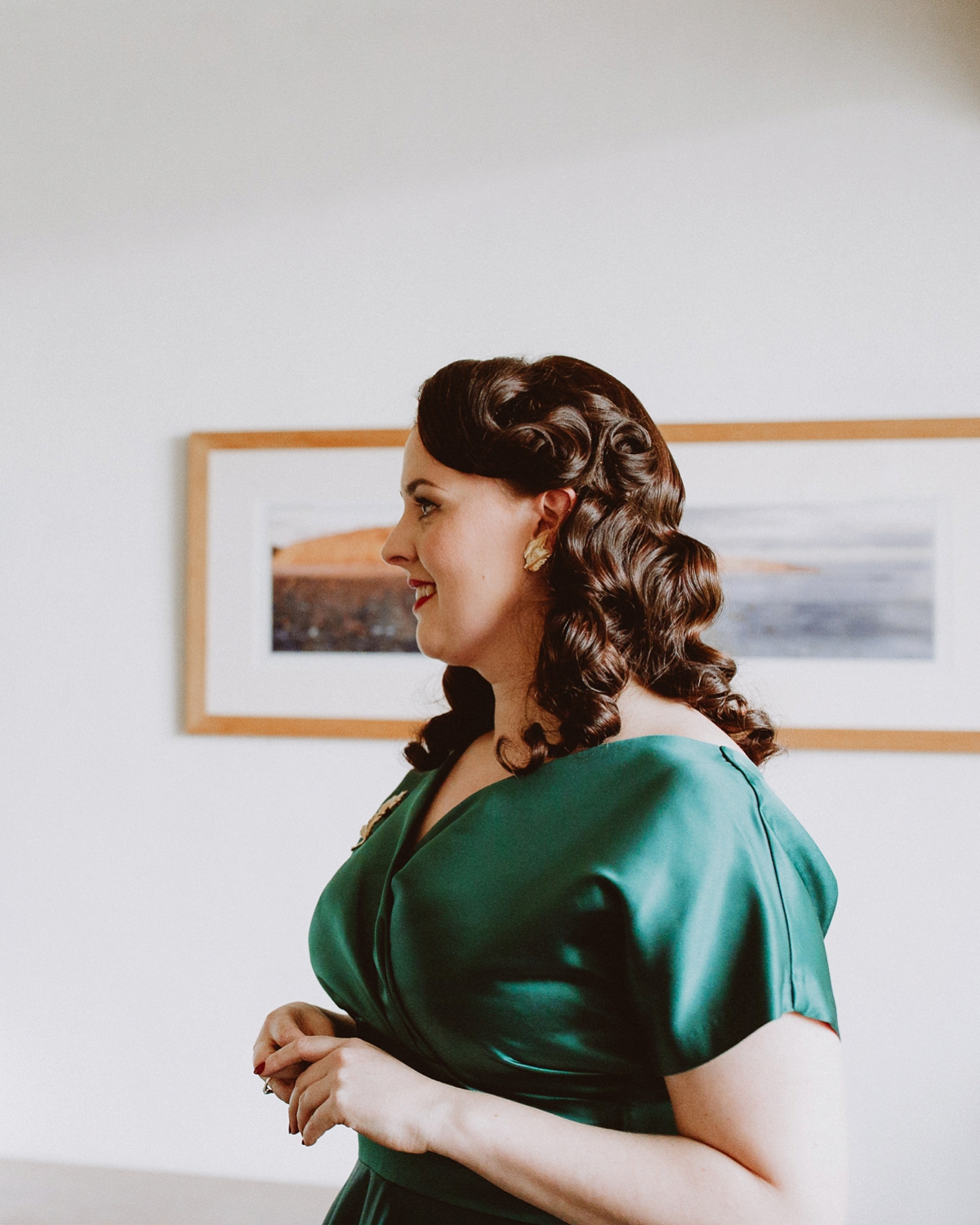 The bride's picture perfect make up was expertly applied by Emily Porter and vintage hair styled by Amy from Russell and Browns who I think you'll agree both nailed the vintage vibe.
[JP-VIDEO]
"I wanted my make up to fit with my overall look and I was thrilled with it. I went for a matte face, red lips and winged eyeliner and my bridesmaids opted for similar. Mother of the bride and groom were also made up by Emily and looked gorgeous. She has such a friendly, calming manner and is super efficient, exactly what is needed on the morning of a wedding!
"I've always been quite particular about my hair and coming home from the hairdressers and crying is an all too familiar experience for me! However Amy did not disappoint. My bridesmaids went for 50s style brush outs with kick fringes. I had a similar fringe but having shorter hair I went for a page-boy with waves at the front. We all felt so glamorous! Our hair stayed in all day but didn't have that over lacquered look that sometimes comes with vintage hair styling."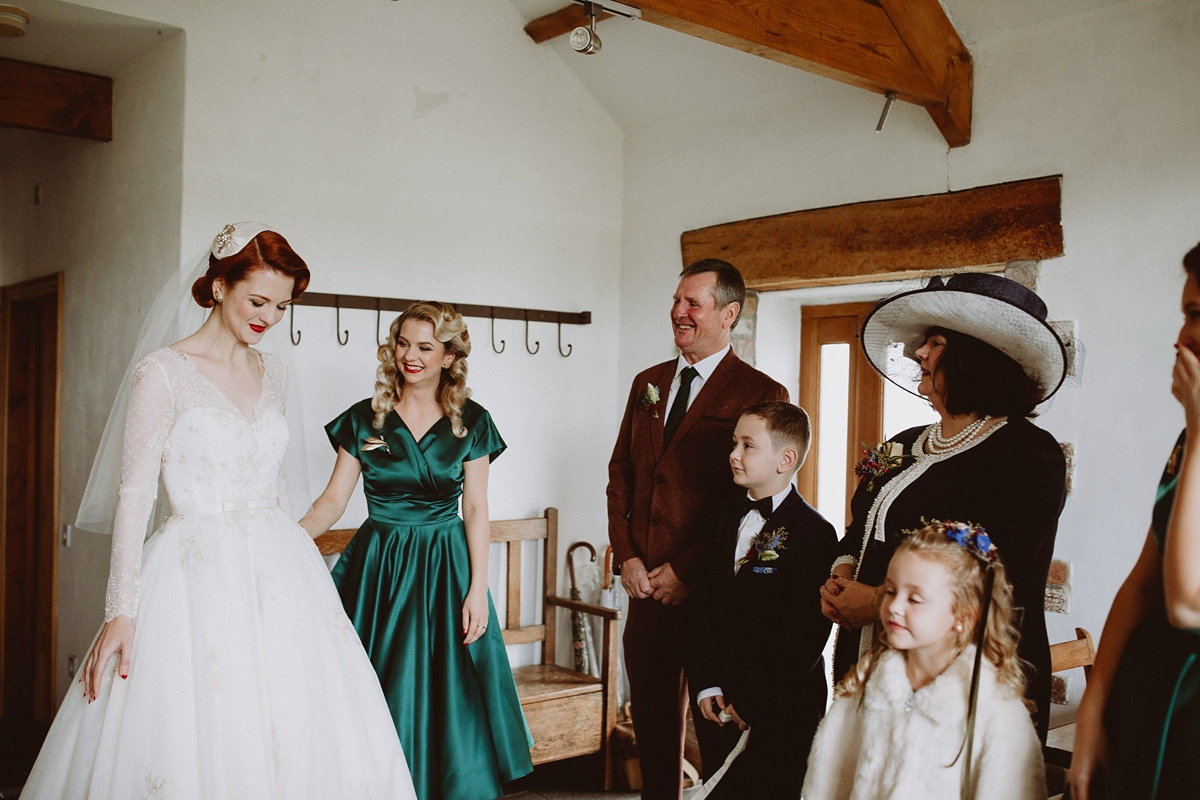 The couple first started dating in 2005 after being introduced by Lucy's best friend, before becoming engaged whilst on a visit to the Botanical Gardens in Oxford.
"We were together for 10 years before we got engaged. Our friends will tell you that we aren't in a rush to do anything! Jonathan proposed on Lyra's bench in the Botanical Gardens. His Dark Materials by Phillip Pullman is one of our favourite reads and there's a really special part of the book that takes place there. When we got there, an old lady was sat on the bench next to her family who were enjoying a picnic on the nearby grass. We sat alongside her and after reading a part of the book together, Jonathan popped the question with a 1950s emerald and diamond engagement ring."
"All this was going on whilst the dear old lady sat oblivious sipping from her can of G&T and working her way through a cucumber sandwich. It was like looking into the future seeing her sat there next to us! After a while, the family told her what was going on and she begrudgingly let us have a photograph together alone on the bench."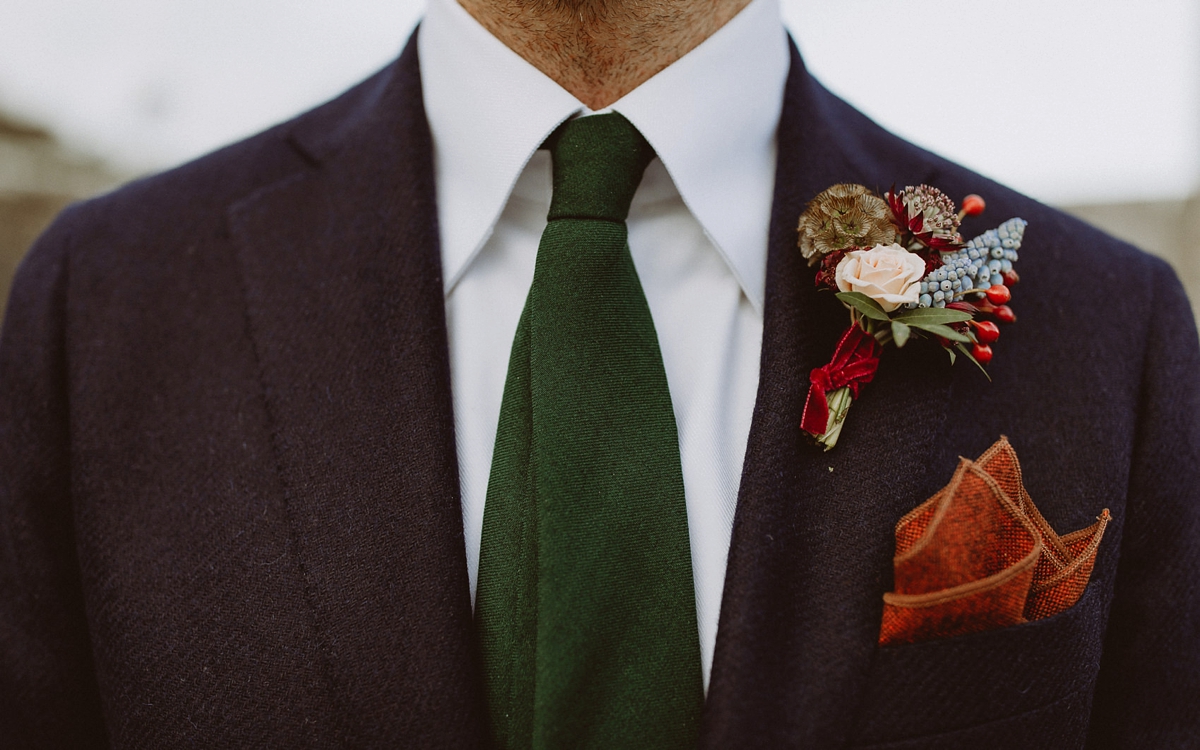 The groom complimented the 40s vibe perfectly in a bespoke navy tweed two-piece from Tailor Made London, worn with vintage gold cufflinks from Etsy, a Gladwin Bond emerald-green wood fedora hat from Hatts Emporium in Cardiff Market, Oxblood 771 shoes from Loake and Gamble Ollie Quinn glasses in mahogony.
"James and Dav who work at Tailor Made London were amazing throughout the consultation and fitting process. Jonathan was incredibly particular about the features he wanted on the garments. Being a slightly larger chap, he went for a 1940s wide lapel to broaden the chest which, combined with the unlined shoulders in the jacket, made for a relaxed finish across his top line. As usual he went for high-waisted cropped trousers (his signature look) which finished off the tweed suit beautifully."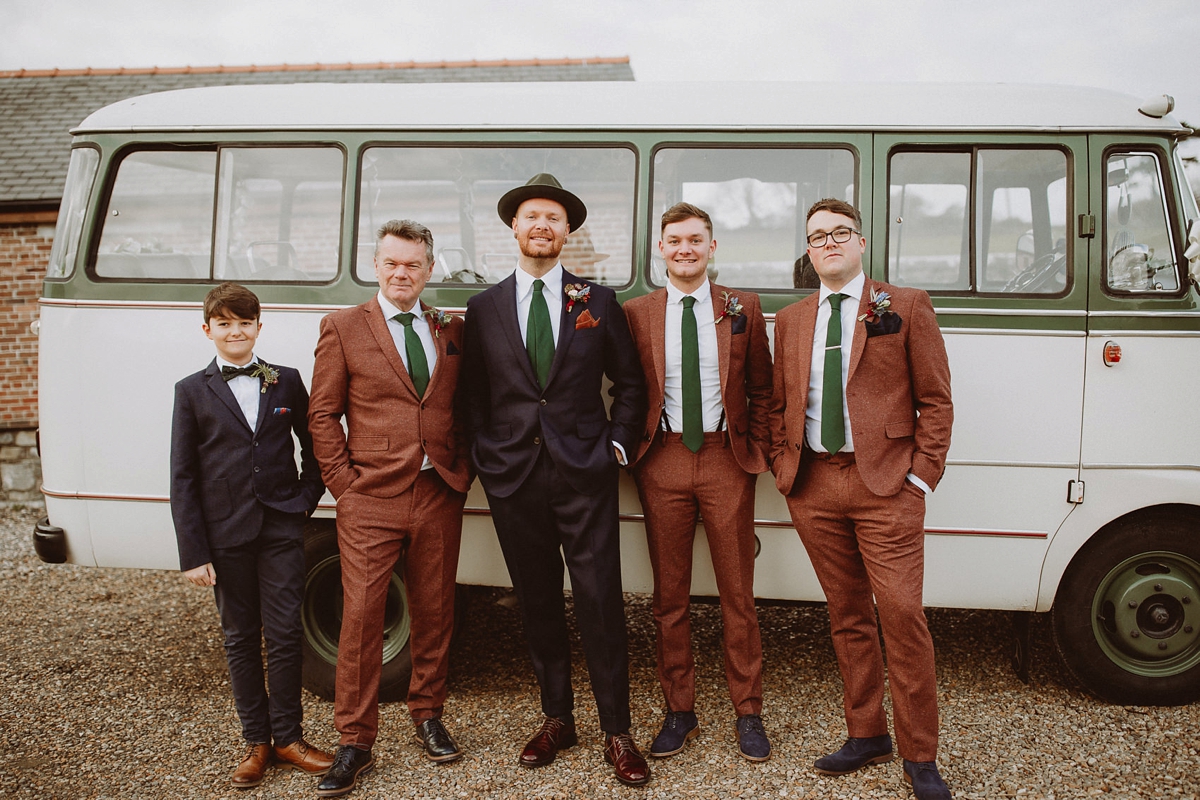 The bride hired a navy Jaguar MK11 from Nev and Stella Padfield to travel to the church in on the morning of the wedding, and hired a green Mercedes Panorama bus from Champagne Wedding Cars to take Jonathan, his ushers and his parents.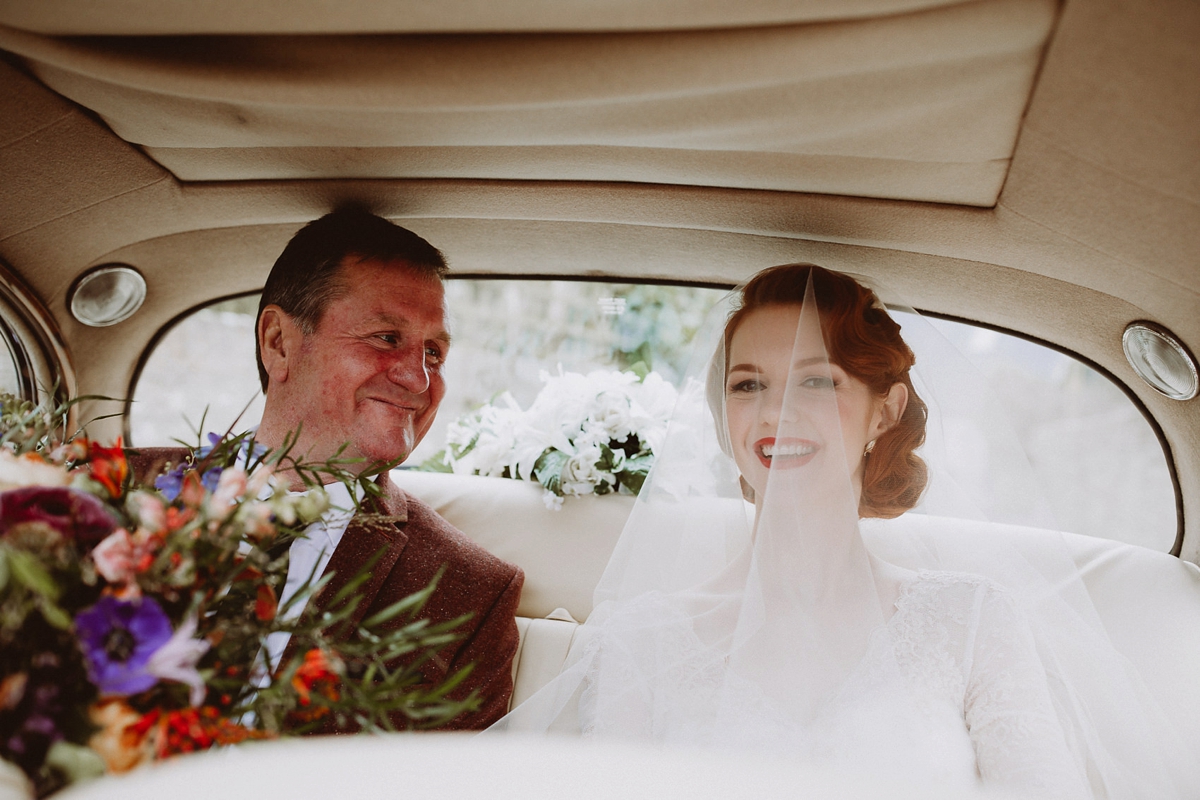 "We fancied the Jaguar MK11 after a friend had it for her wedding. It was absolutely perfect for the style and colour of our day. Unfortunately, Nev and Stella who used to own Perfect Day Wedding Cars, had retired by the time it came to us booking the cars."
"I contacted Rachel to enquire about it and she was aware that Nev and Stella still had the car. She agreed to get in touch with them on the off-chance they would consider the job. We were over the moon to hear they would!"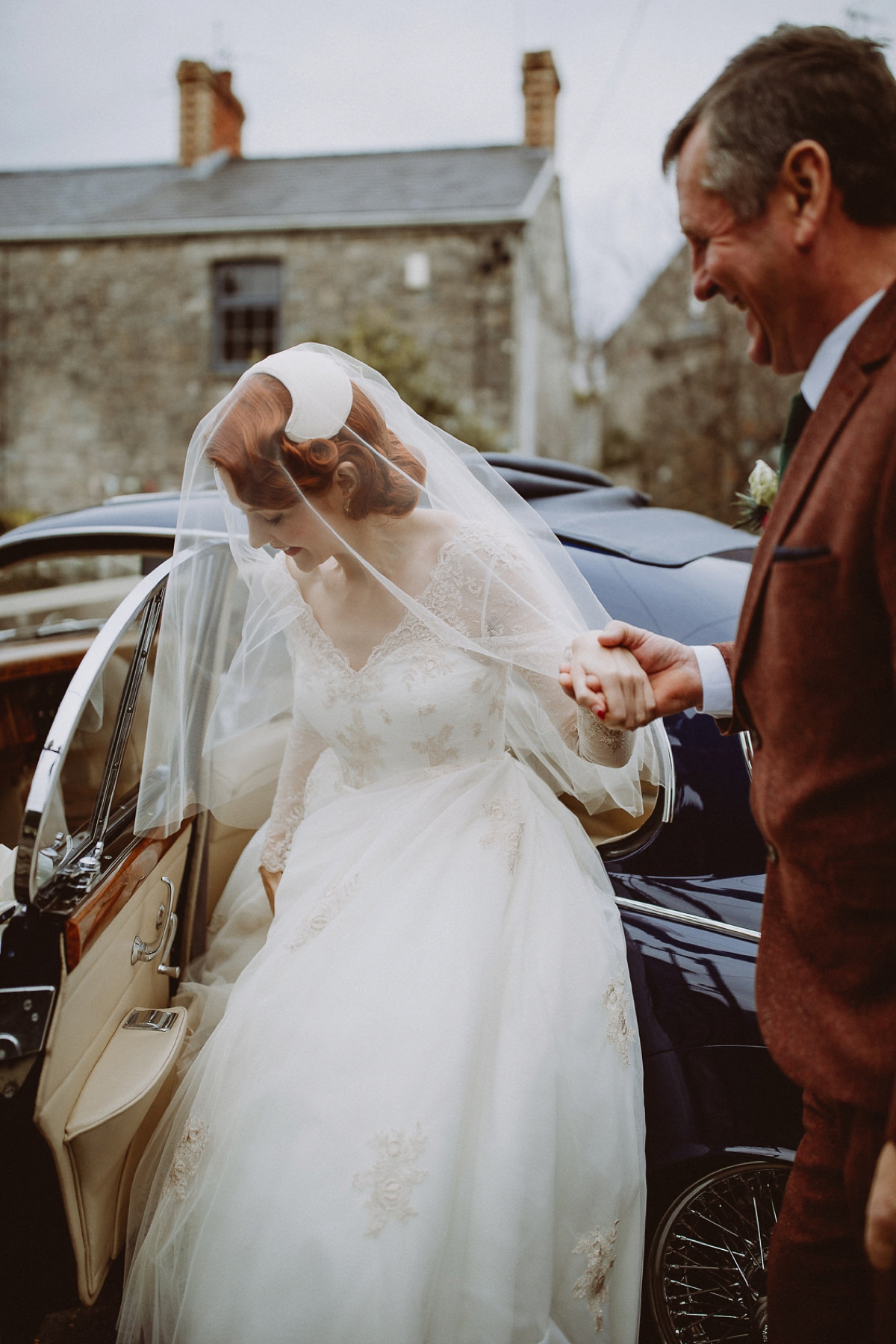 "I was unbelievably nervous on the way to the church and Nev was so bubbly. His friendly chat as well as Stella's bridal box (complete with snacks, sewing kit, mints and everything else you could possibly need) helped calm my nerves and rumbly belly."
"Following the ceremony Nev did a speech outside the church and popped a bottle of champagne for us to toast. It felt like the party had started and certainly helped with making us feel relaxed for our couple shots."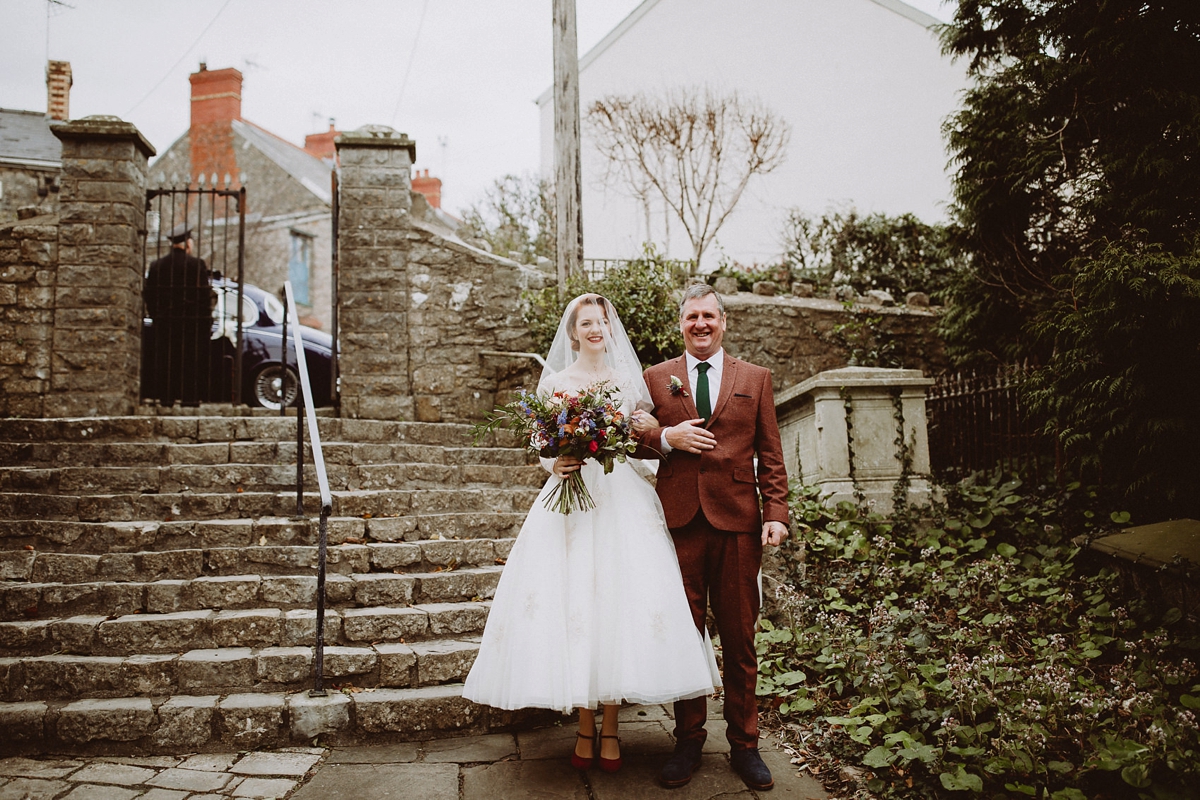 "St Iltud's is such a beautiful church, and we were delighted Sabrina was allowed to attend the ceremony. She walked down the aisle with my sister and maid of honour Jessica."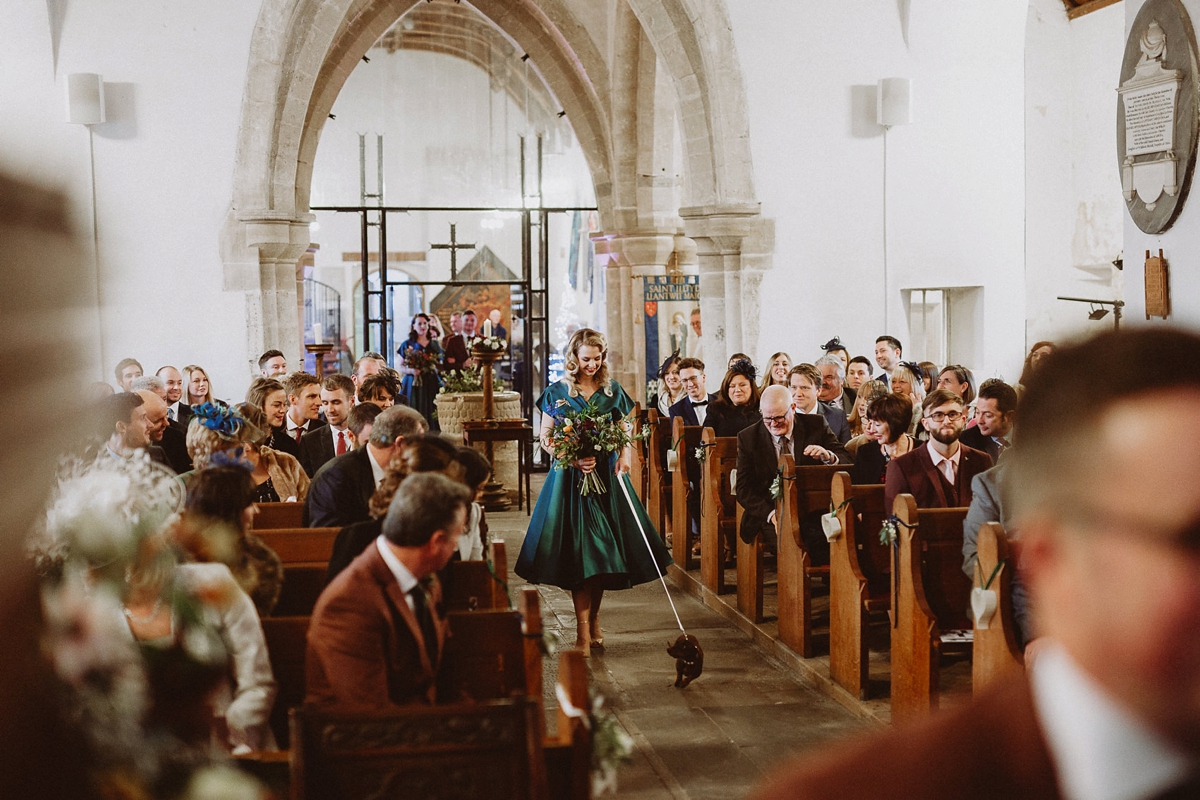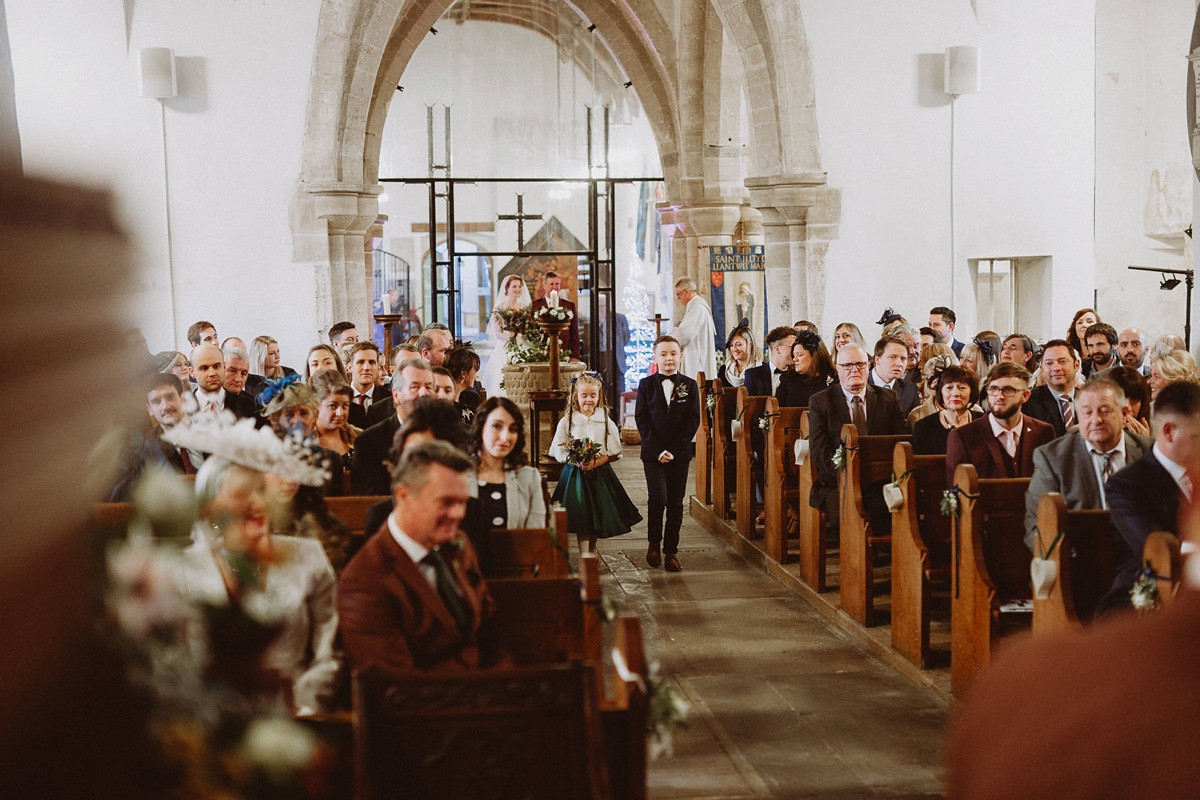 Lucy's dad accompanied her down the aisle to Just Like Honey by the Jesus and Mary Chain.
"The song, whilst about drug addiction, is really special to us. It's from one of our favourite movies, Lost In Translation. We used to watch it all the time when we started dating and on a trip to London one year, it was the last song to be played on a club night we'd gone to. A slow dance ensued!"
"We then had 3 readings. I Will Love You Forever from The Amber Spyglass by Philip Pullman was read beautifully by one of our closest friends Laura. It's from the part of the book that takes place at the Botanical Gardens where we got engaged. My brother Ben also read Love Is Patient…(1 Corinthians 13), a popular wedding reading but the words are so powerful."
"We'd accidentally sent him a version without any punctuation but you'd never tell! He nailed it and we loved hearing a strong Welsh accent during the ceremony."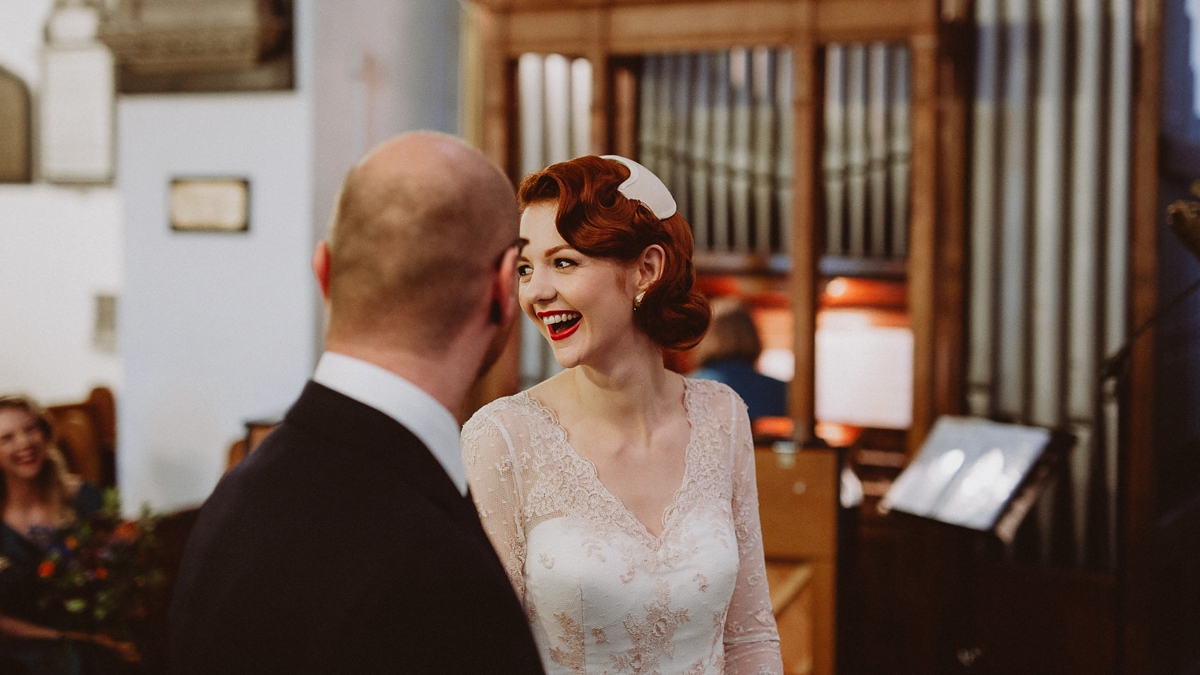 "We had the magnificent Cardiff Male Voice Choir to accompany the hymnal singing at the church and to entertain our guests back at Rosedew. Since our friends Beck and Rhys got married and we witnessed their incredible choir, we knew it was something that would be pretty high on our lists of wants. CMVC did not disappoint. They were so welcoming at the rehearsal we attended and looked and sounded amazing on the big day. Personal highlights were the Eli Jenkins Prayer, It's Not Unusual by Tom Jones and seeing Wayne cry to Band of Brothers."
The couple swapped rings from H Samuel, purchased during a buy one get one half price event.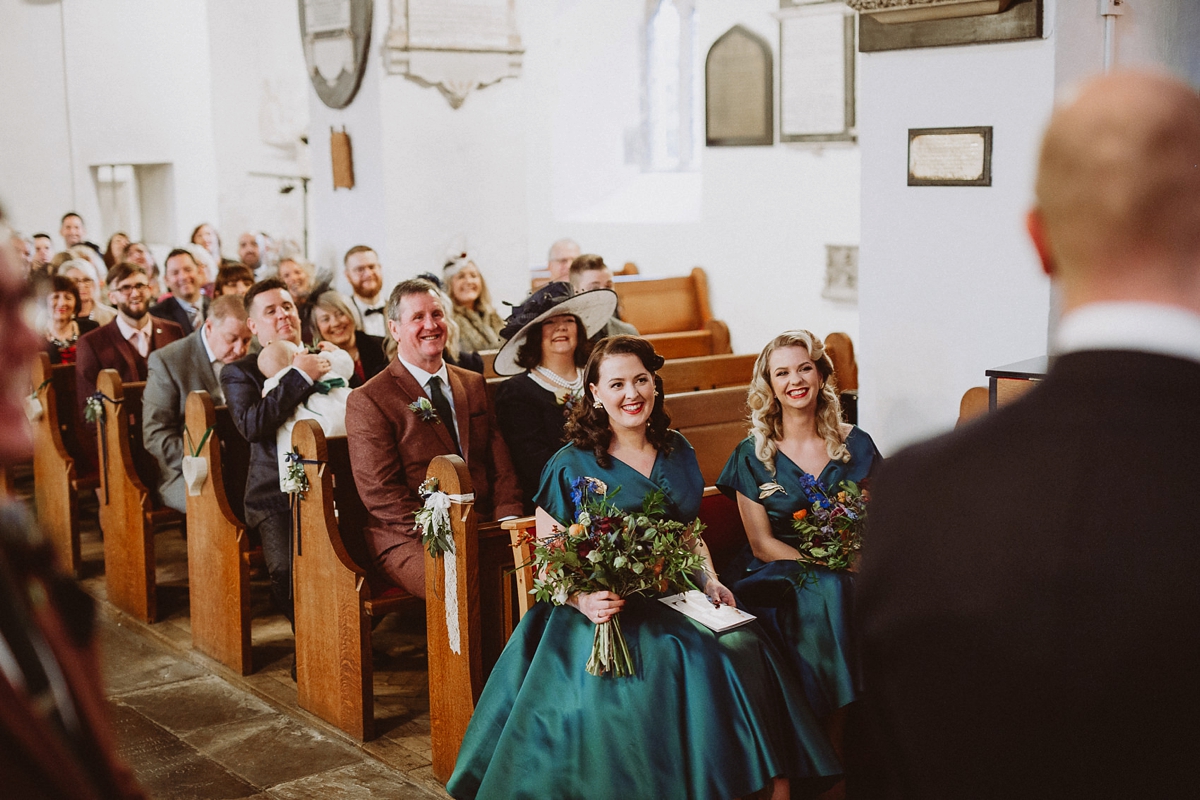 "I knew I wanted something quite plain, not to take away from my engagement ring. Jonathan doesn't wear jewellery day-to-day so also wanted something understated. We managed to get them during the event at H Samuel which worked out very well as there wasn't a lot of money left in our budget by the time we came to buy them."
"With help from our friends and family, we created hearts from pages of books for the church pew ends. We also painted bricks to look like books which lined the steps of the venue. My dad thought we were mad ruining perfectly good masonry! Instead of a traditional guest book we asked everyone to recommend us a read on old library cards we bought on Etsy."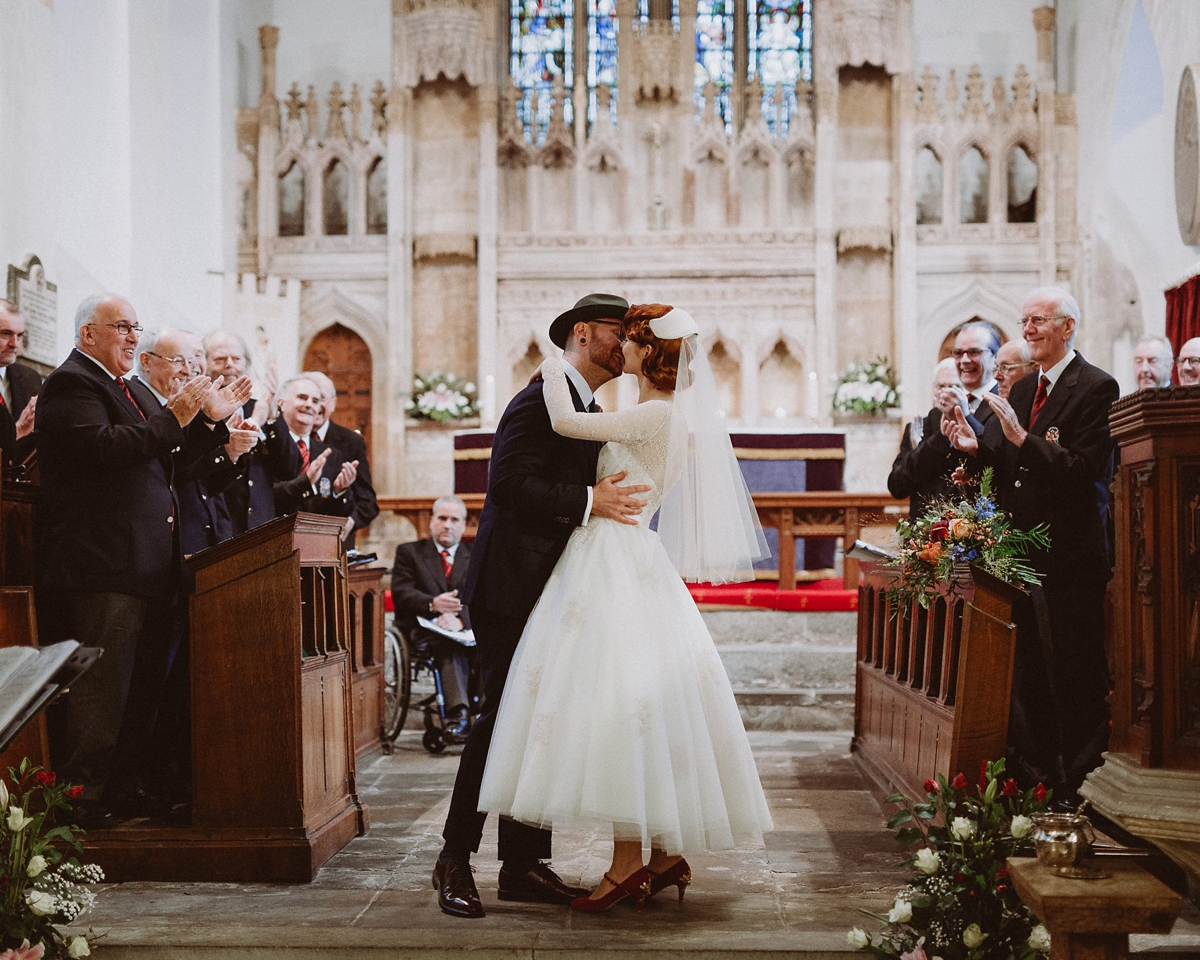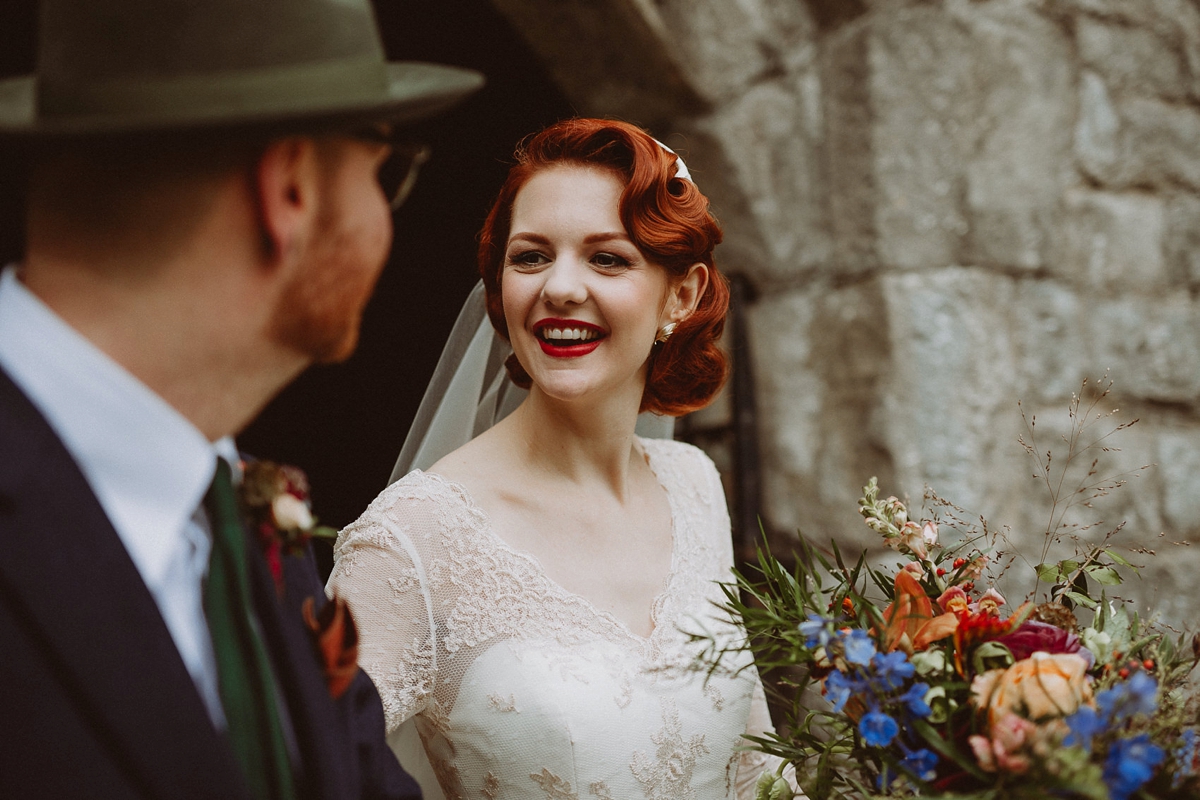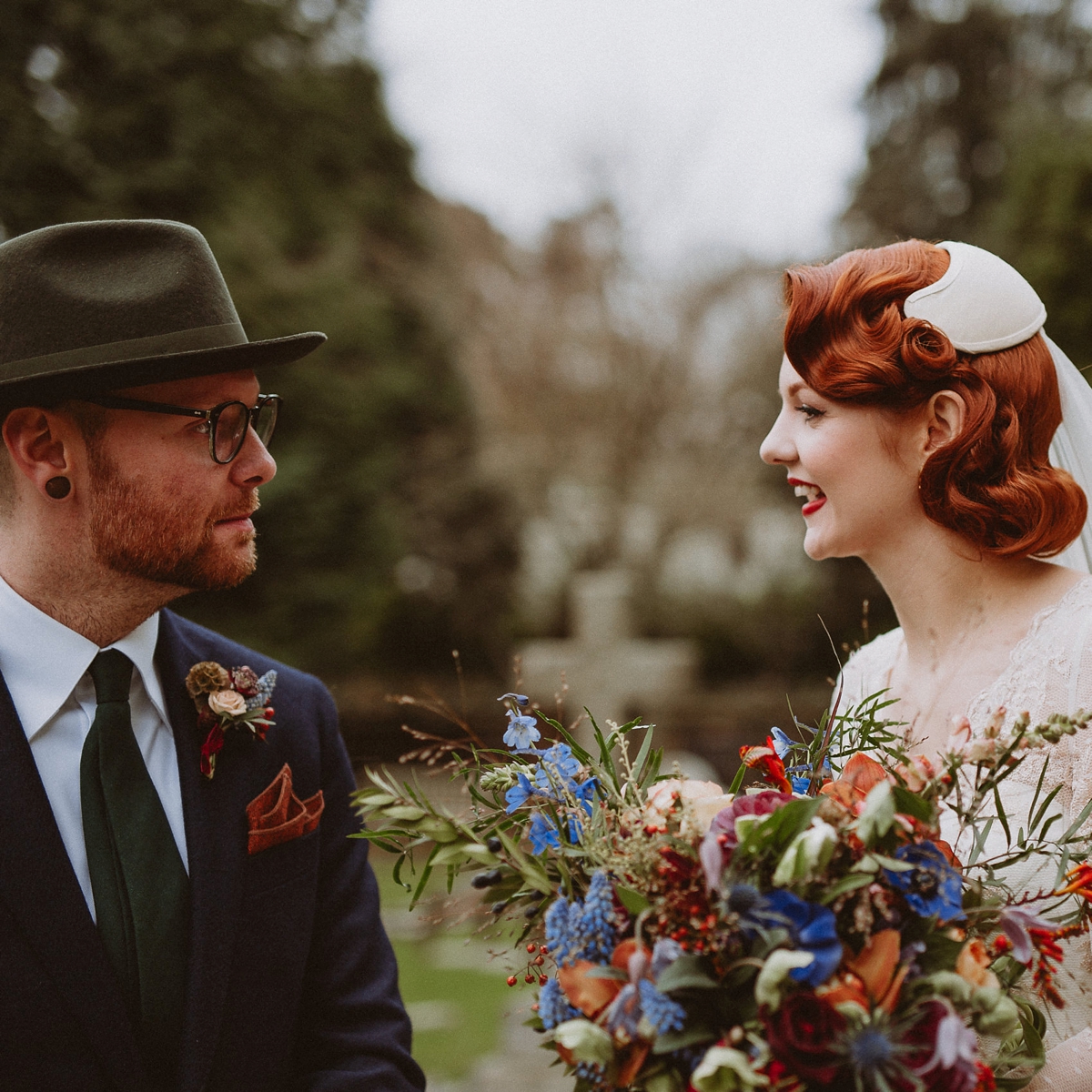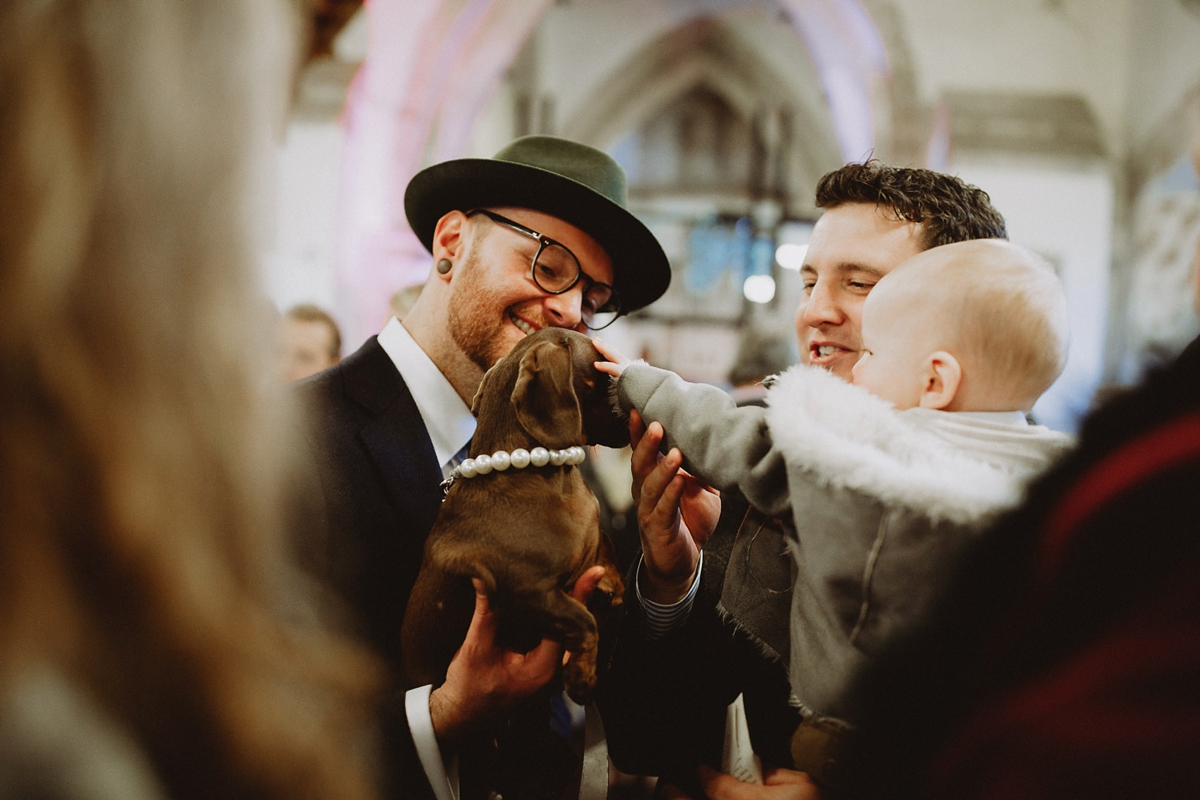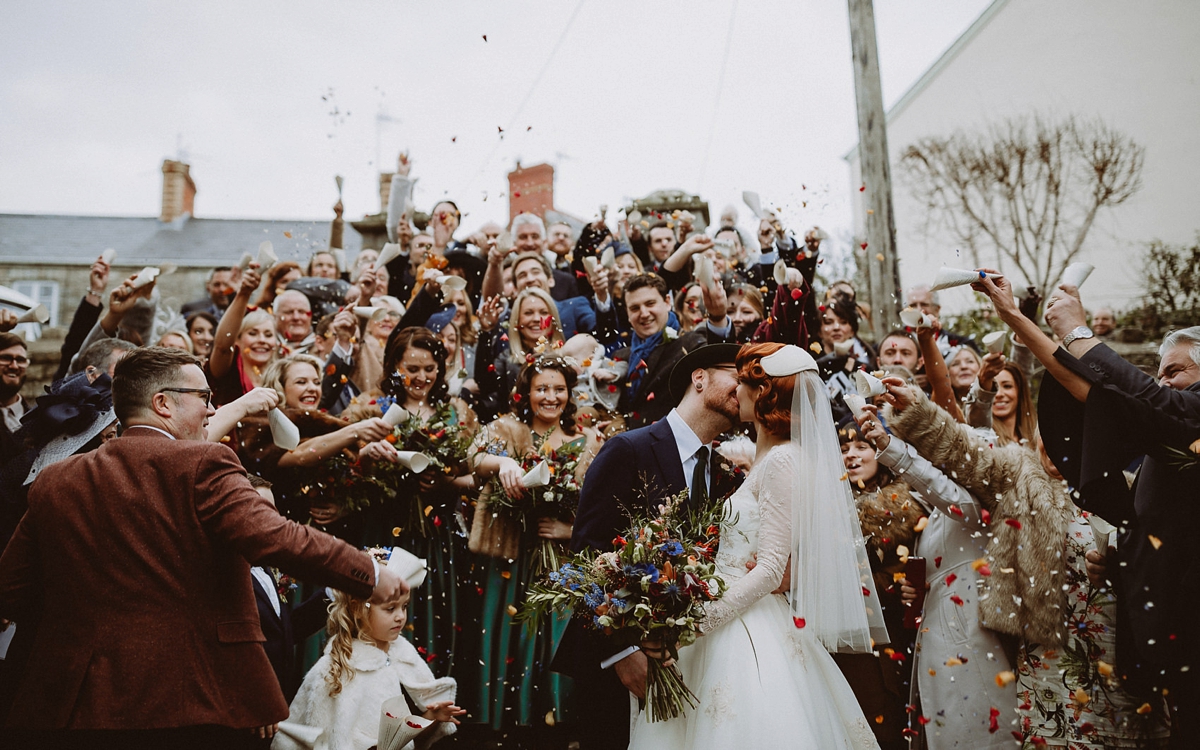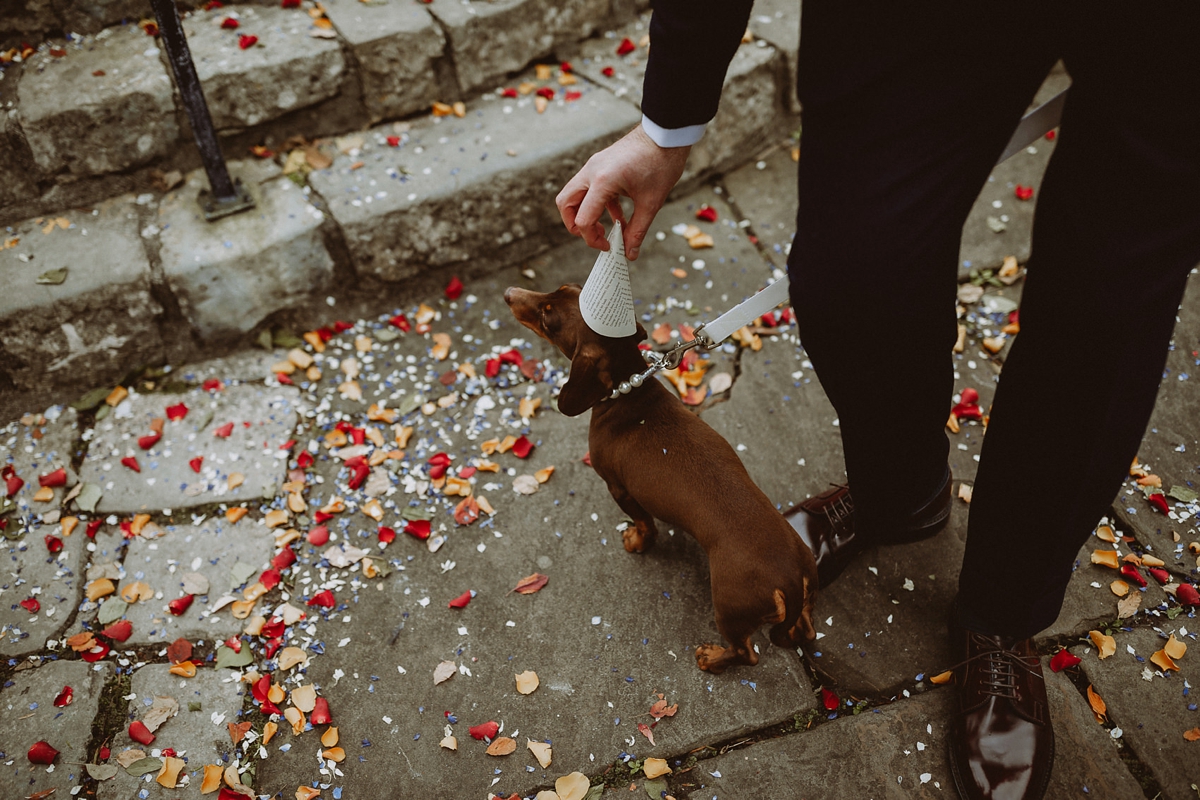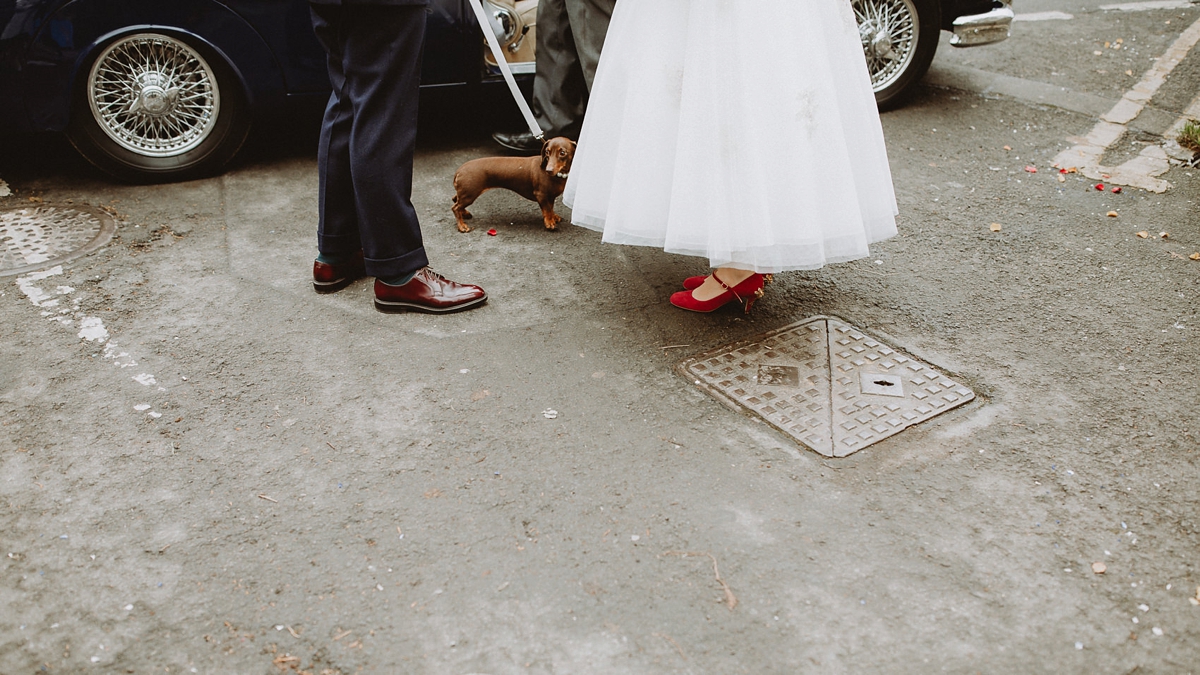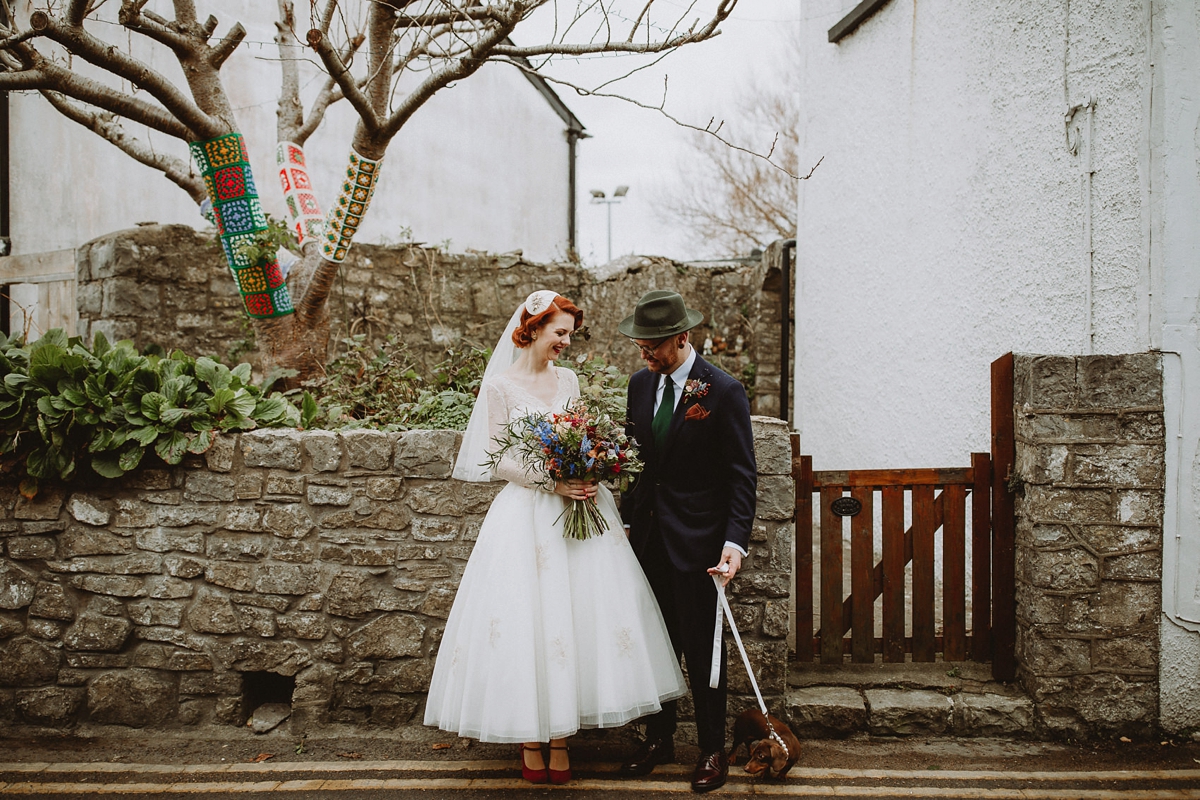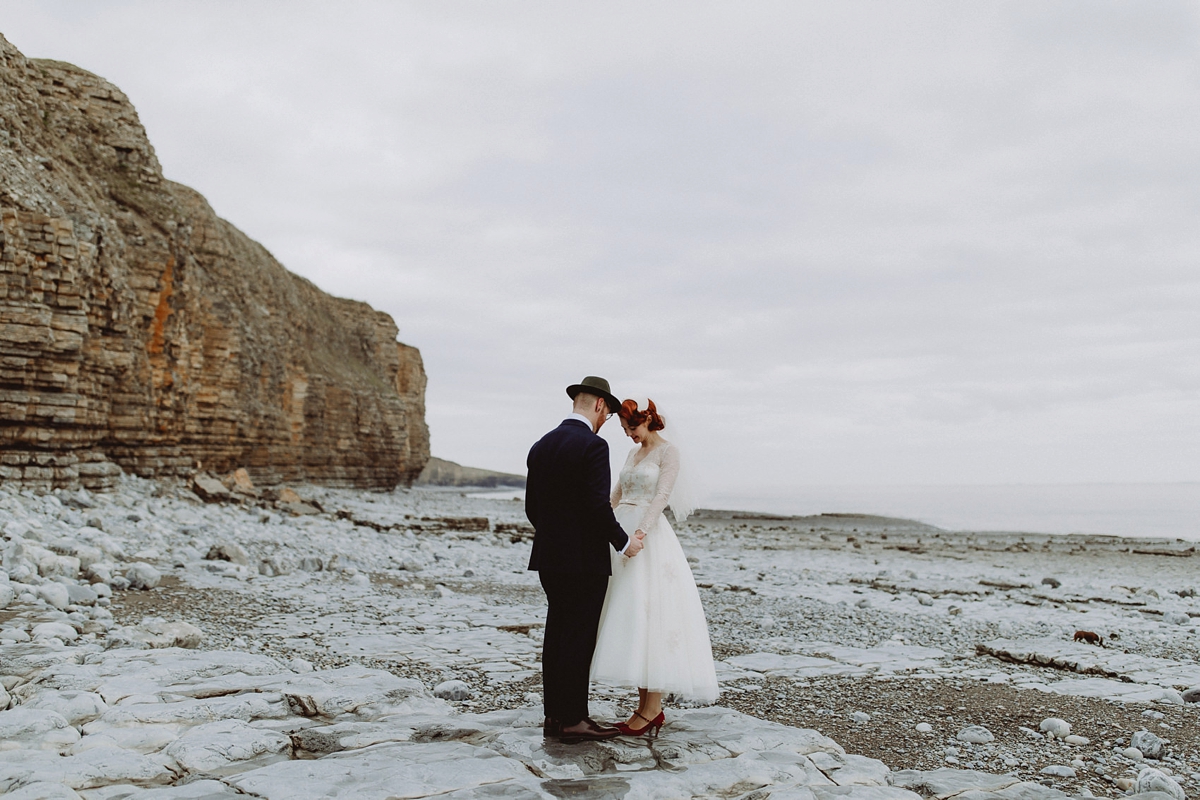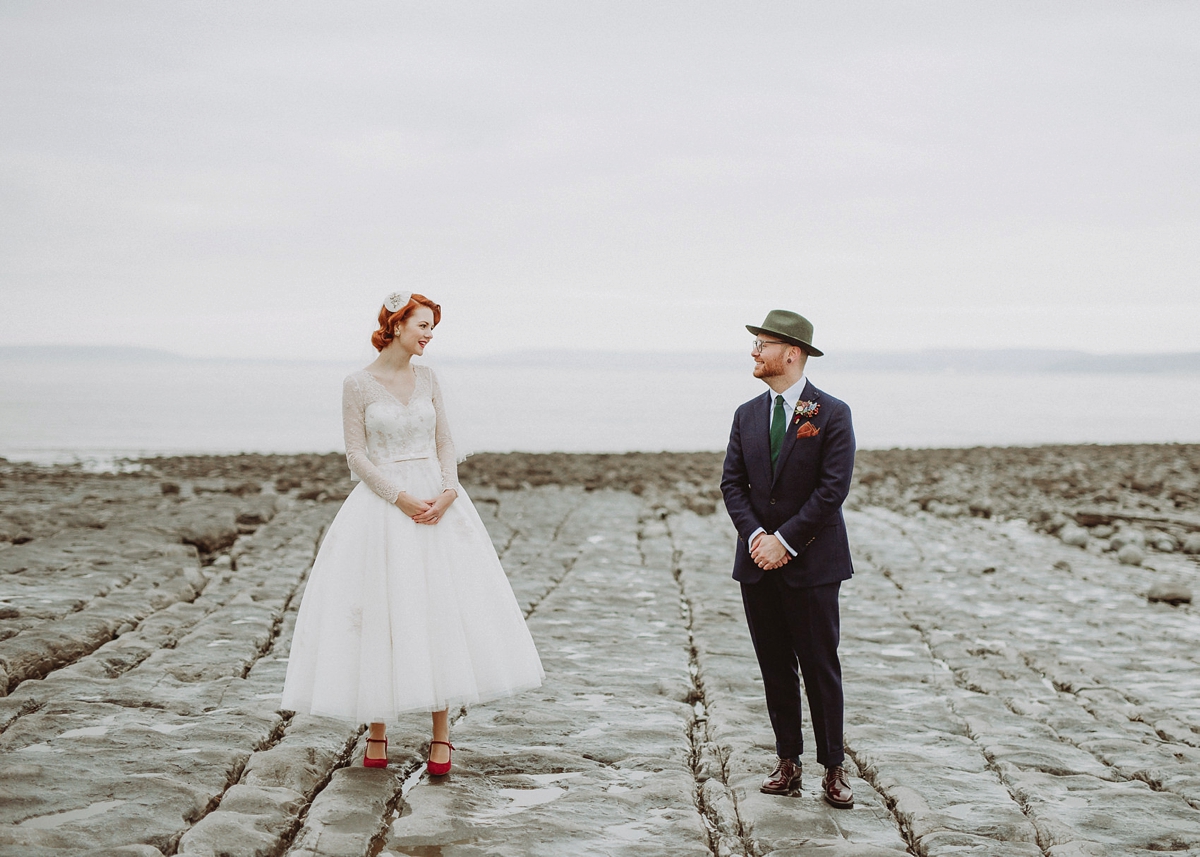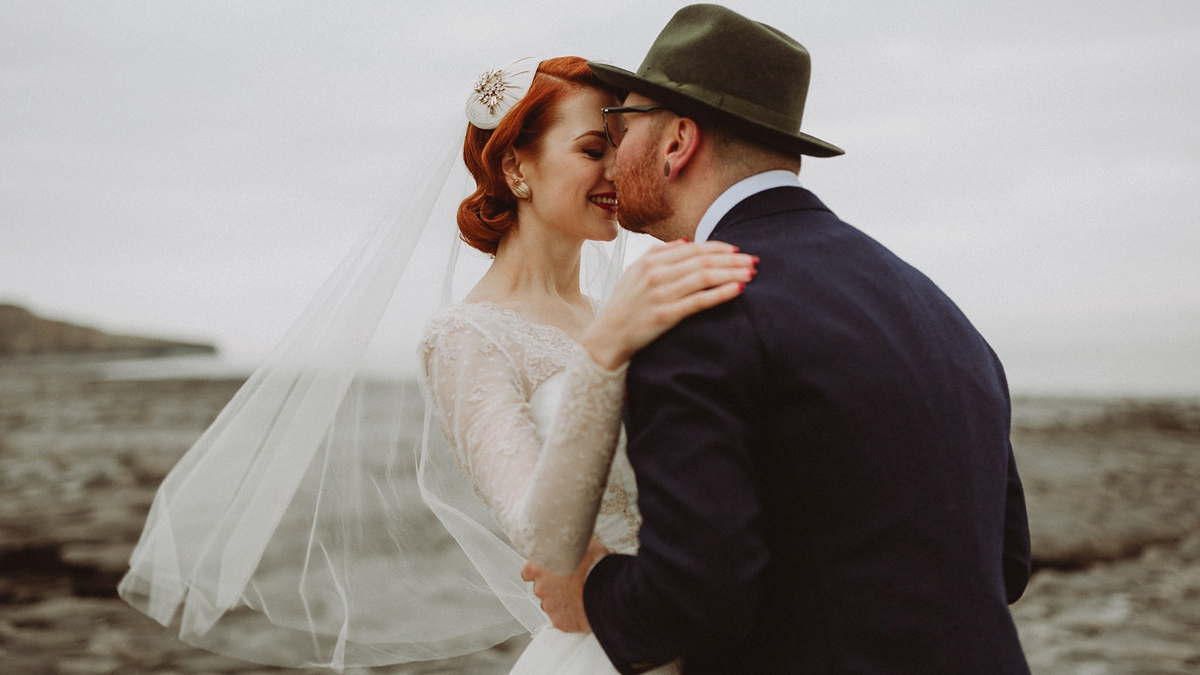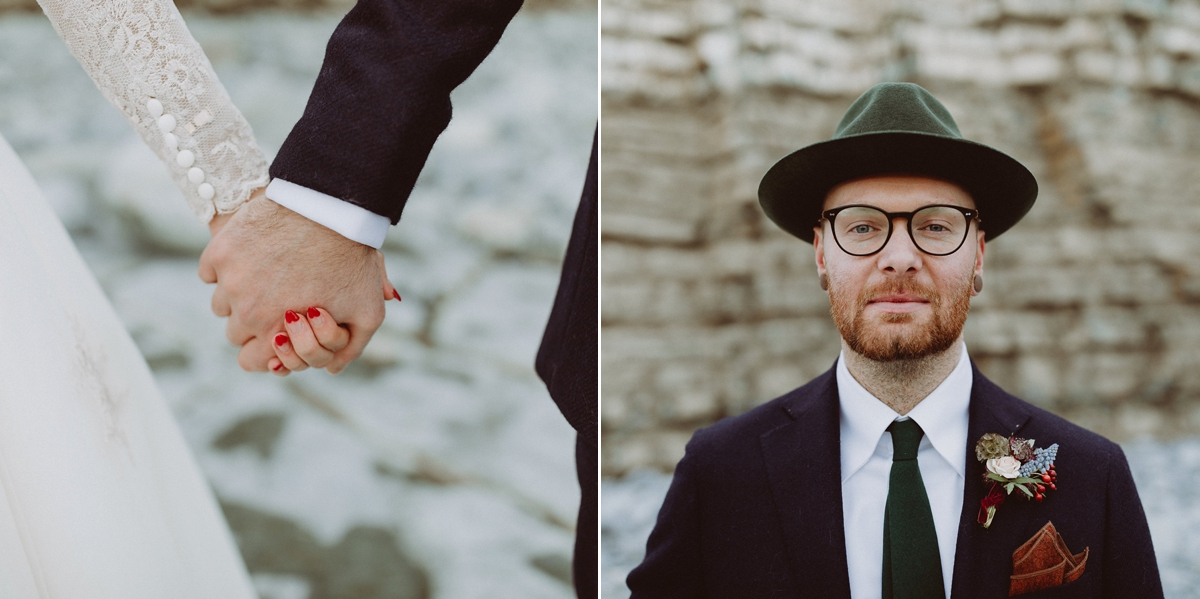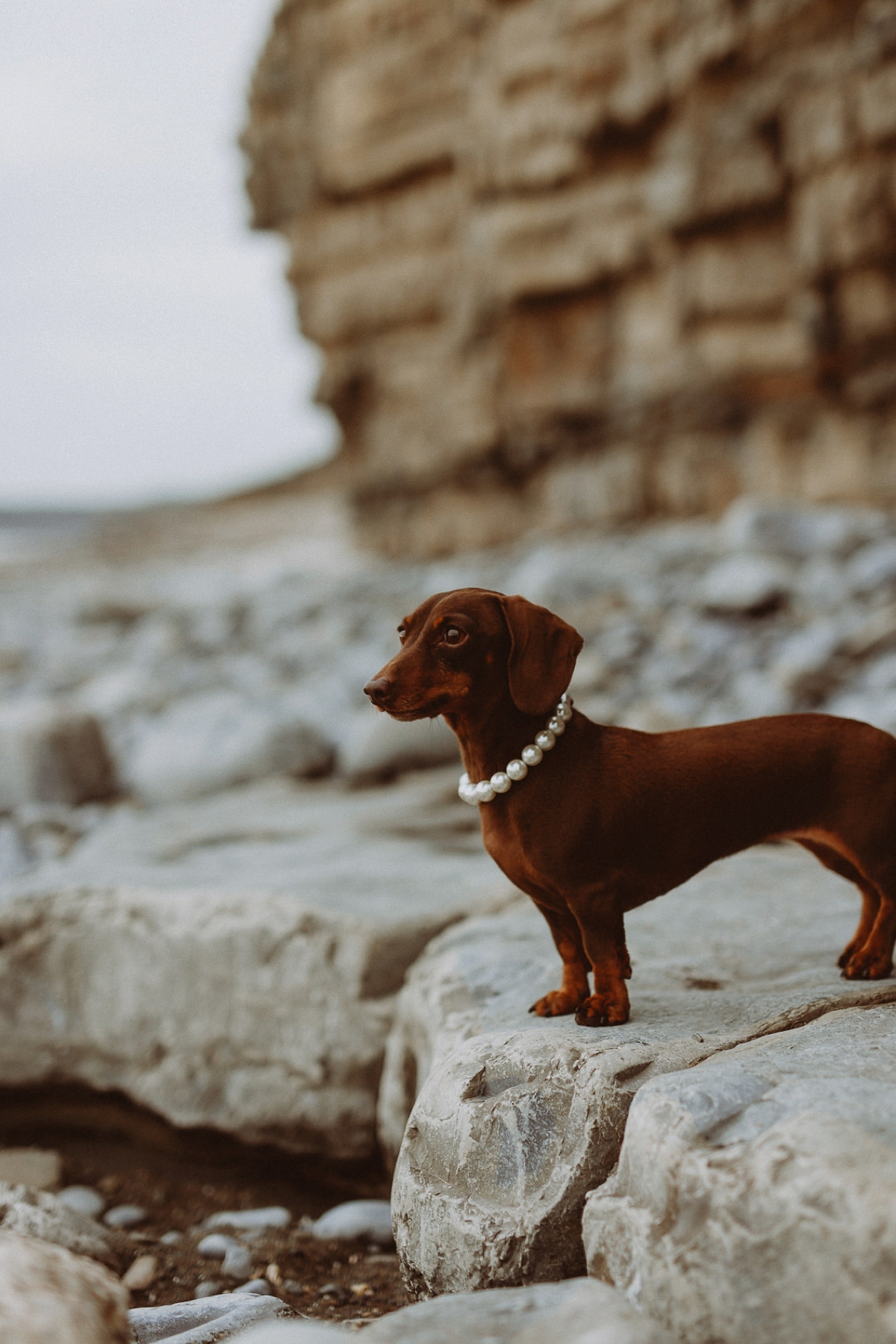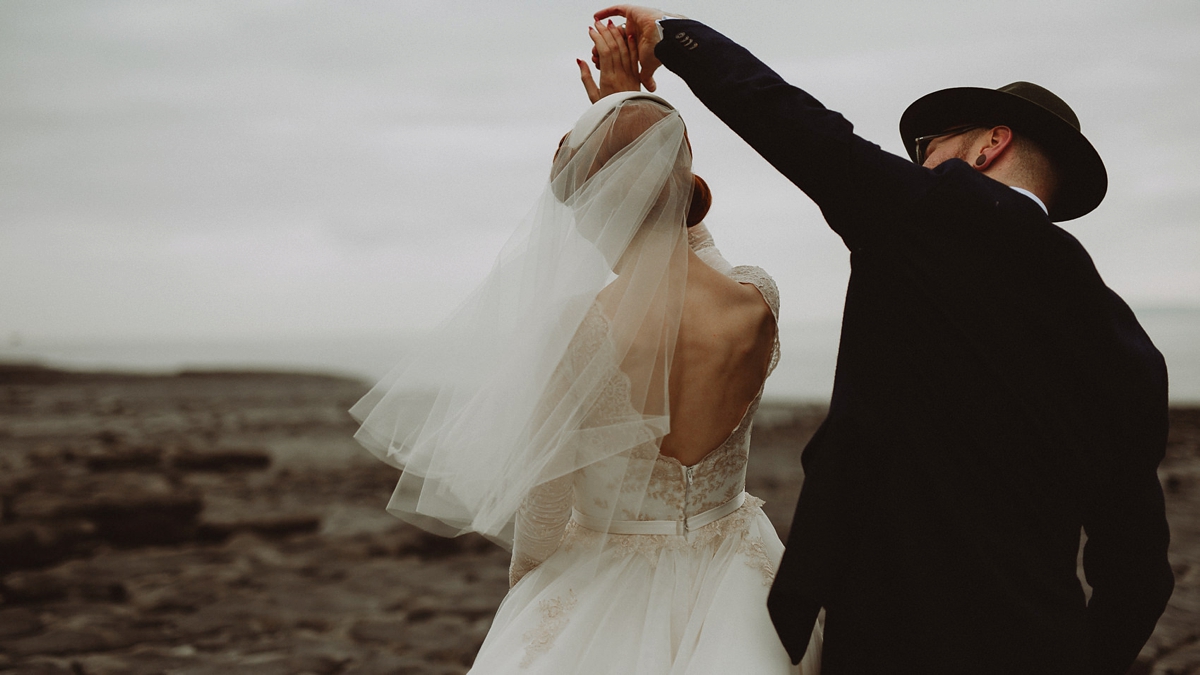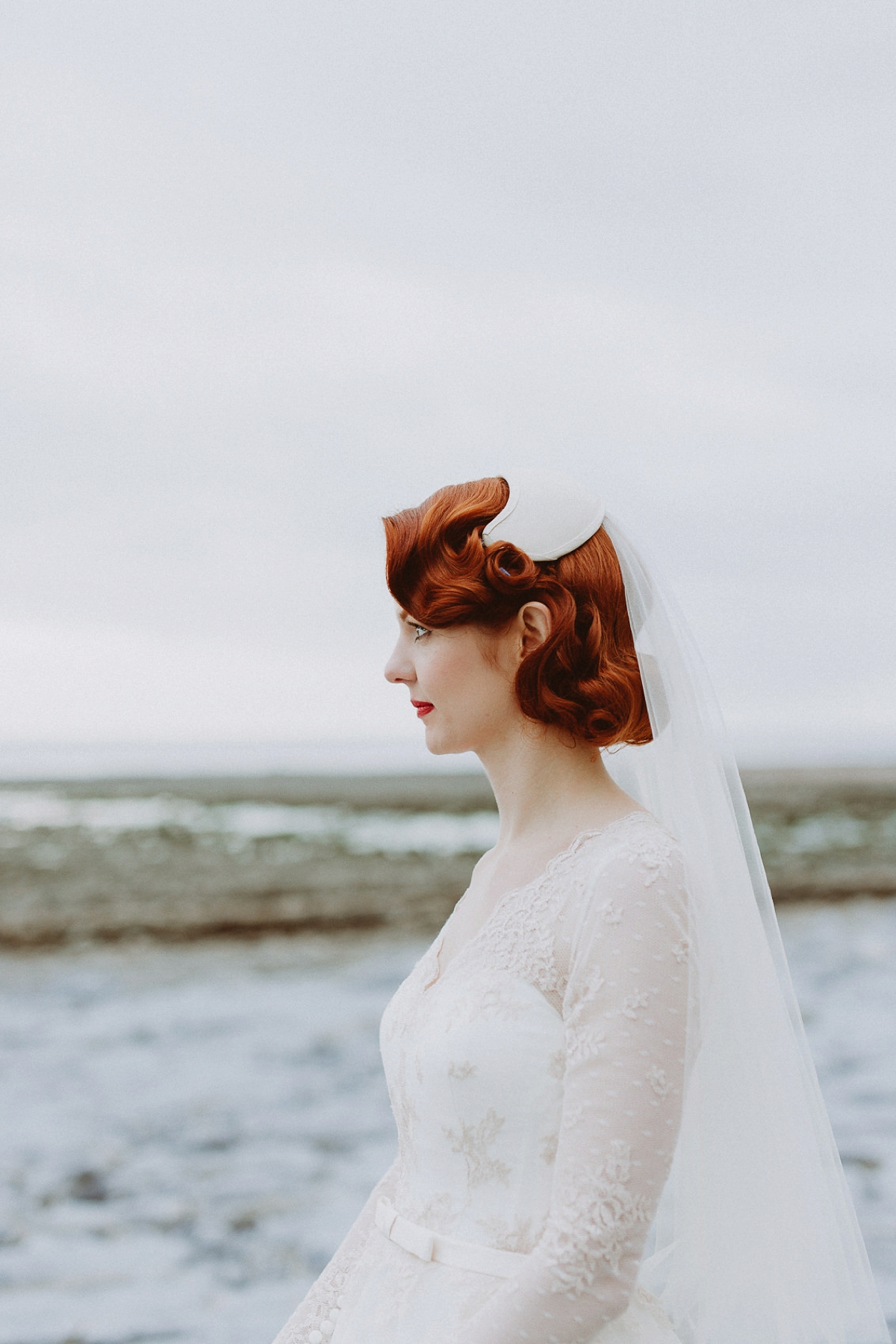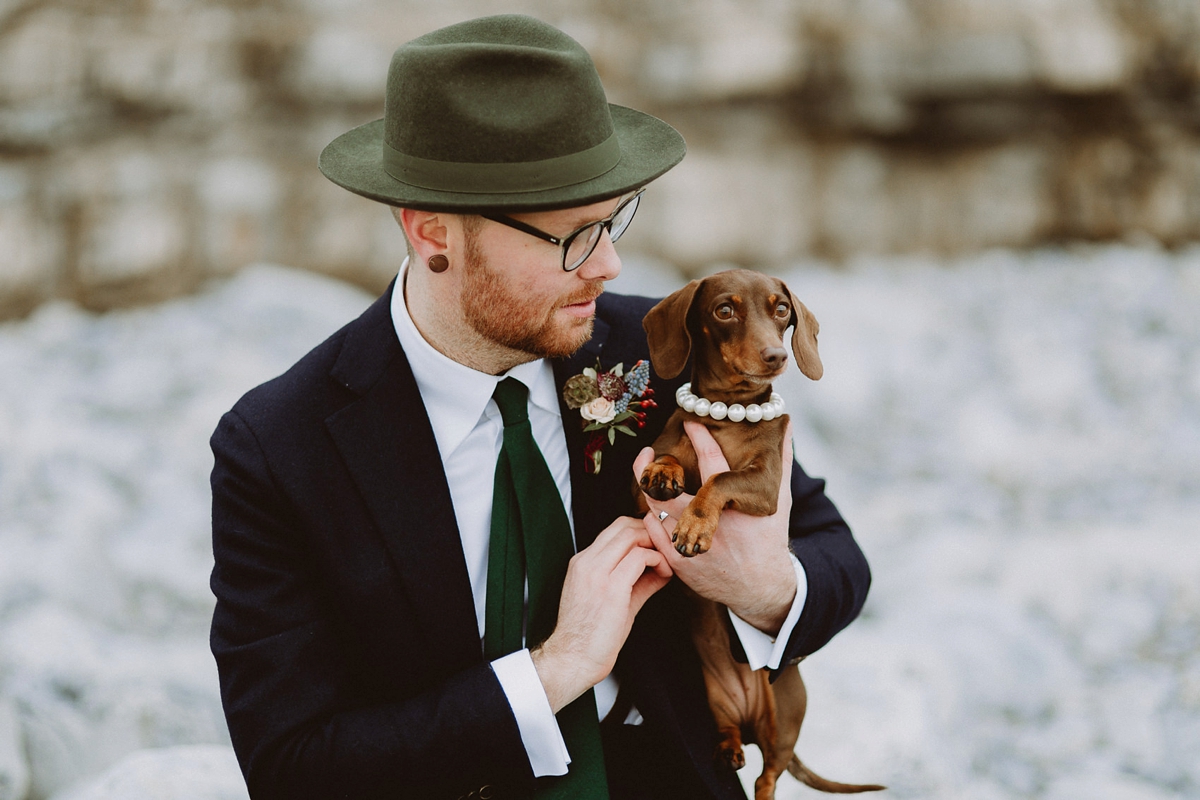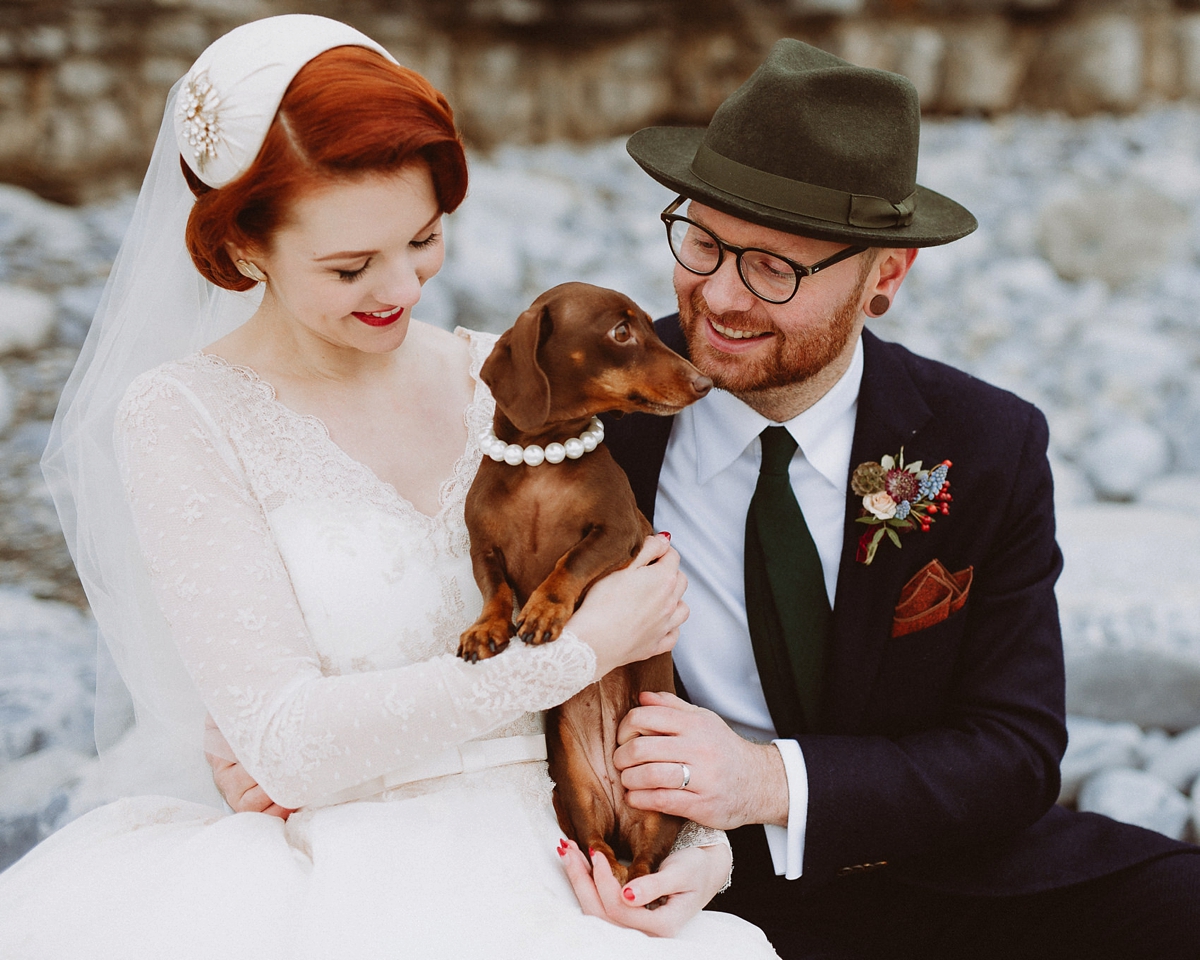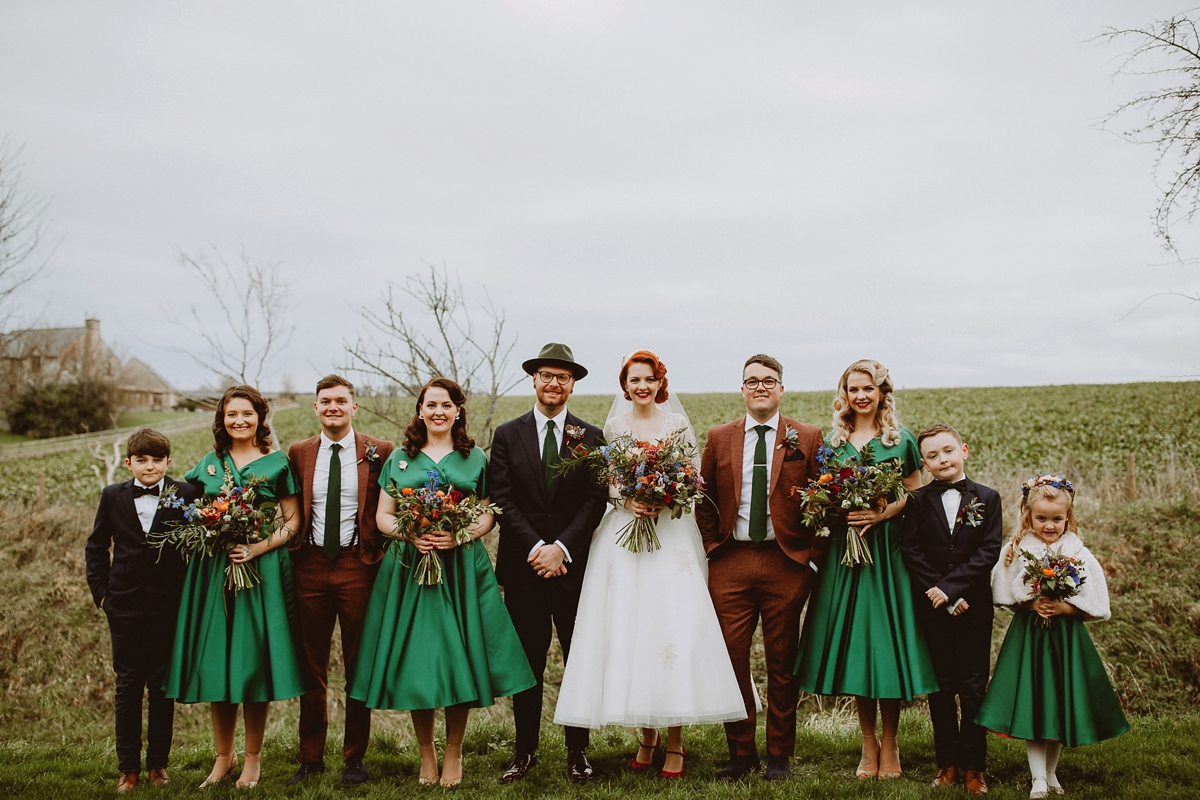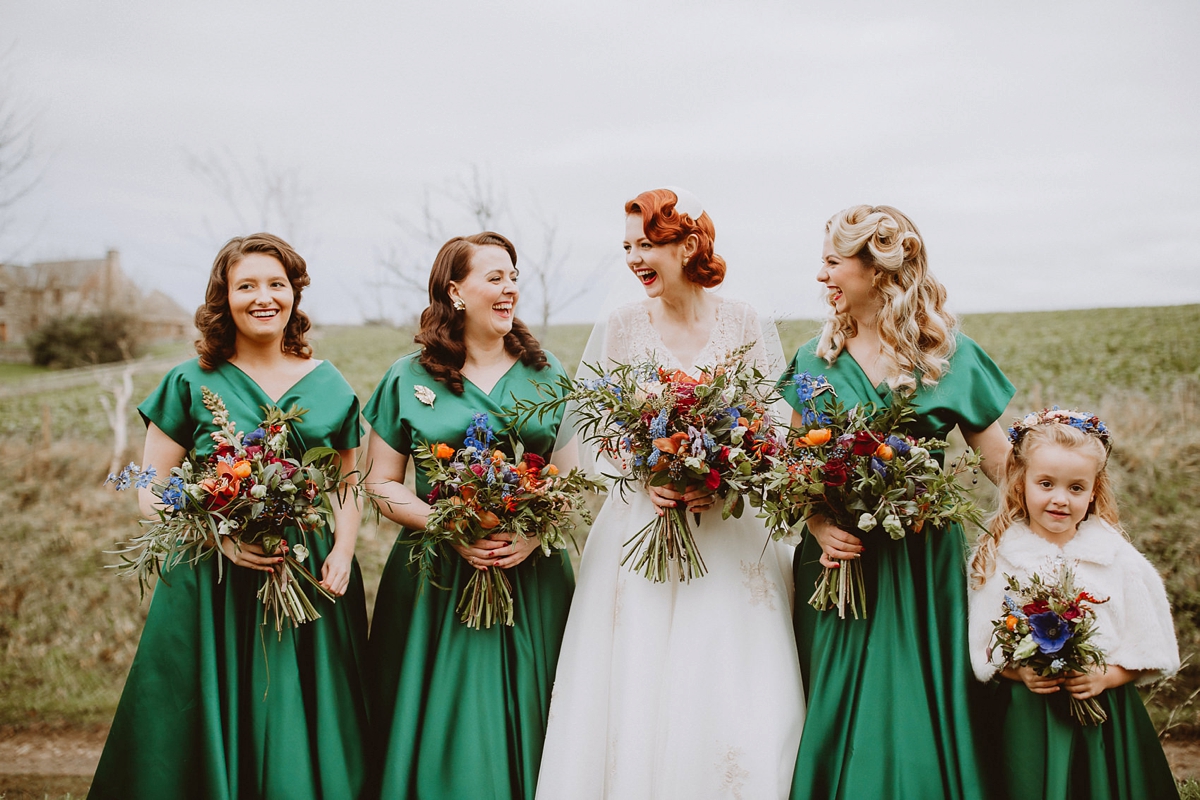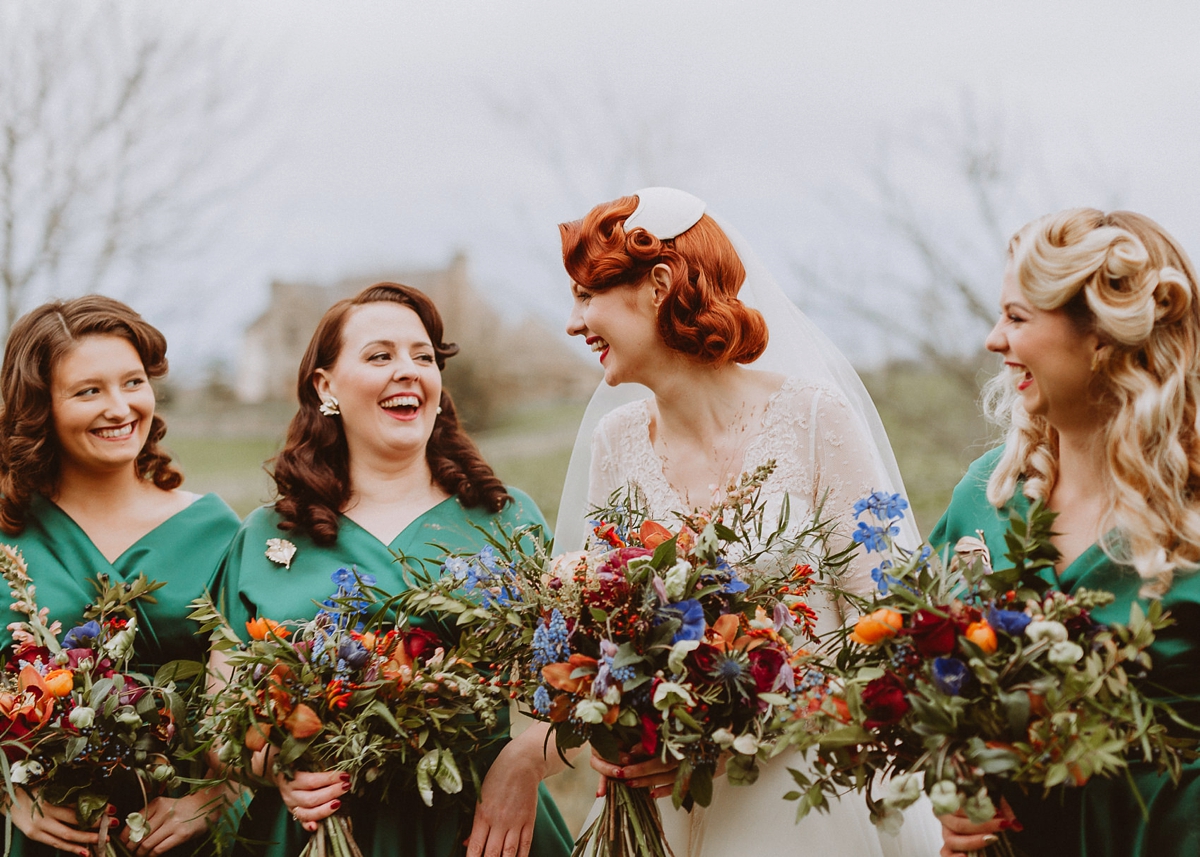 Once the ceremony was over and the bride, groom and their guests headed over to Rosedew Farm to continue their celebrations.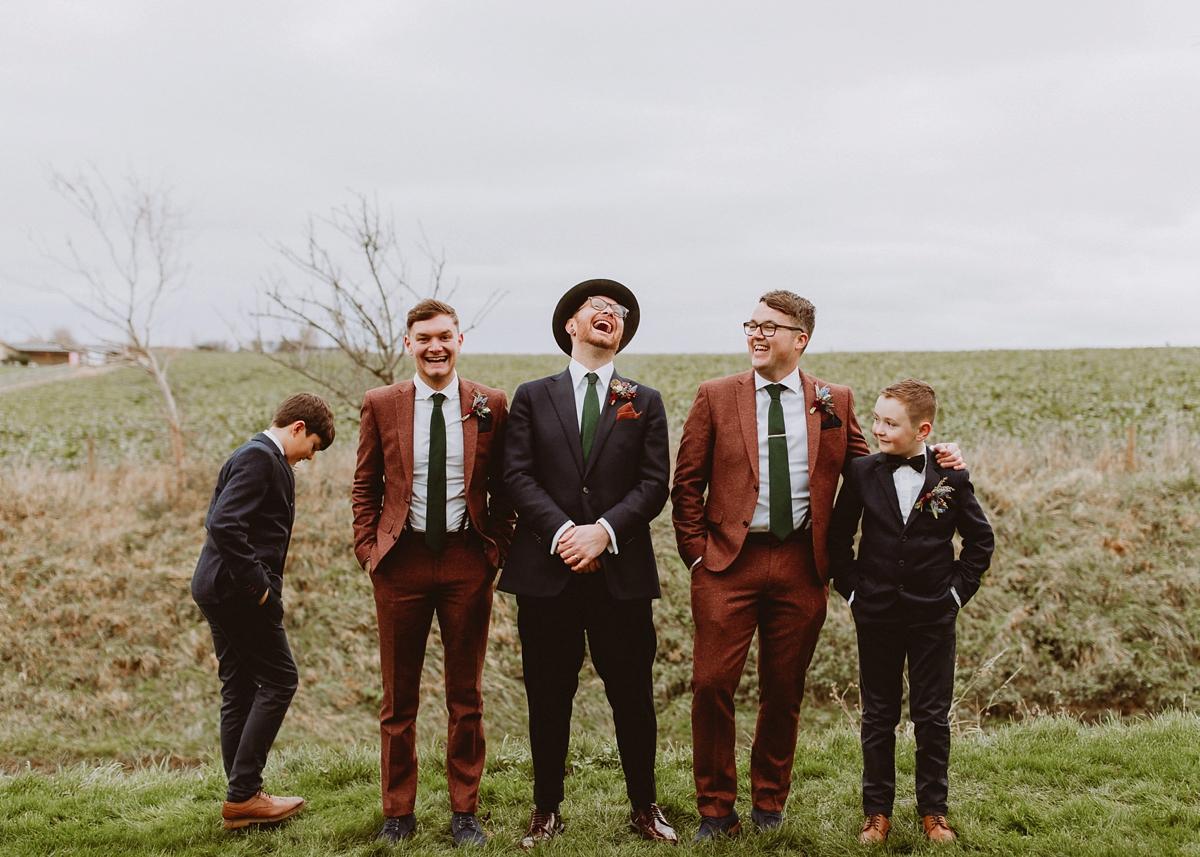 As well as a vintage undertone, the couple also took their love of books and reading and incorporated it where they could, from the decor to stationery.
"We both love reading and when we first got together we discovered that we'd read lots of the same books. We decided early on we wanted books and flowers to feature heavily as part of the decor. Forbesfield our florist created to amazing hanging designs with tumbling flowers, twigs, foliage, pinecones and books. We were blown away when we saw them! They looked absolutely magical, especially in the evening and we love that they're in the background of so many photos too."
"The table names were book titles and we picked ones that reflected the people on them. Jonathan's school friends were on The Secret Diary Of Adrian Mole and of course the top table was His Dark Materials. Our uni friends were on Starter For Ten and close family were on The Twits. We wanted the venue to feel like home so we used our own books and furniture to decorate. We also rented some pieces from My Vintage Flower."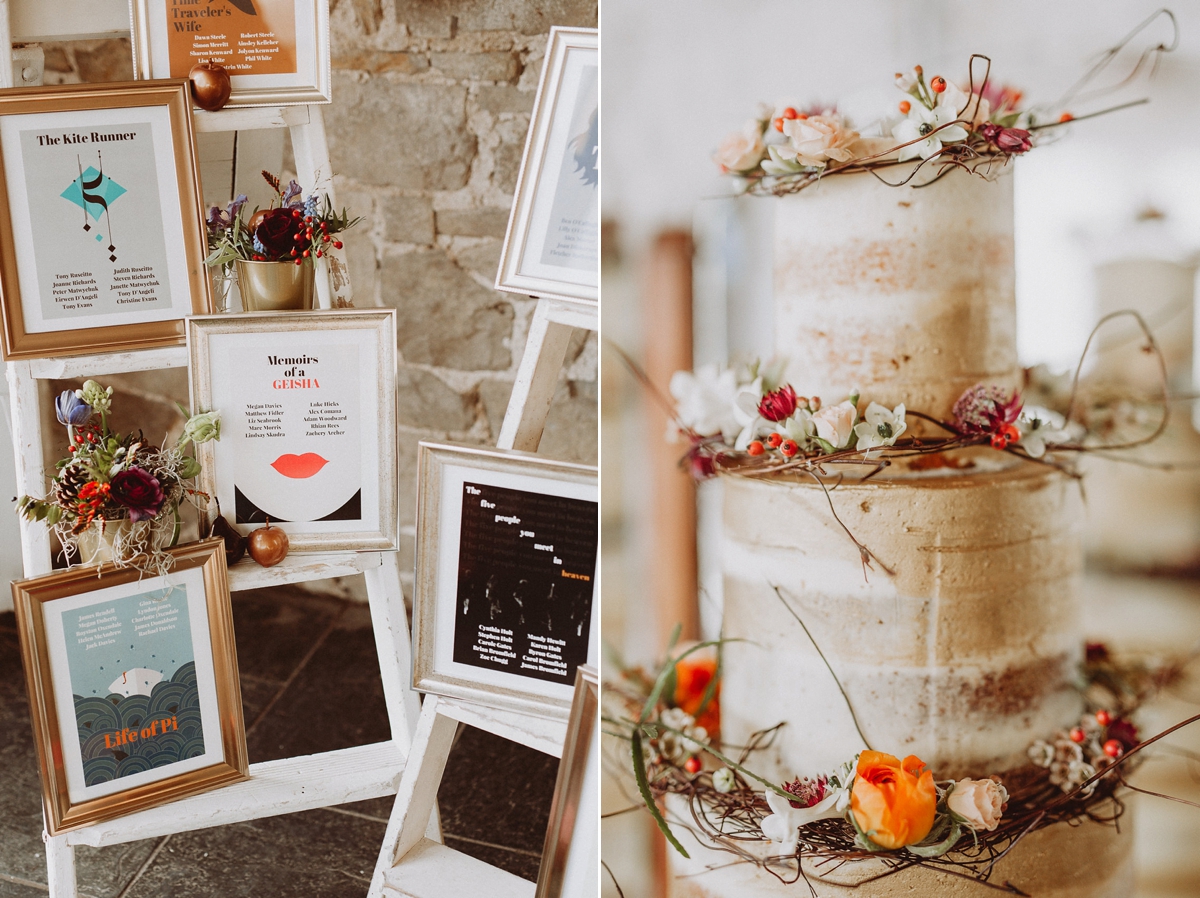 Guests were treated to favours of sausage dog christmas decorations from Crafty Keek, who customised them to look exactly like their much-love pooch Sabrina.
"We were a bit stuck on favours for a long time! Eventually Jonathan suggested a Christmas decoration. And whilst we really wanted to avoid ours being a Christmas wedding, we fell in love with the sausage dog decorations. Claire was delighted when we contacted her and she customised them so they looked exactly like our Sabrina – pearls, the lot! They went down a treat. We paired them with honey and cinnamon roasted pecan nuts that we made ourselves. These reminded us of the winter markets in Cardiff and allowed people to snack through the speeches which we did before the meal."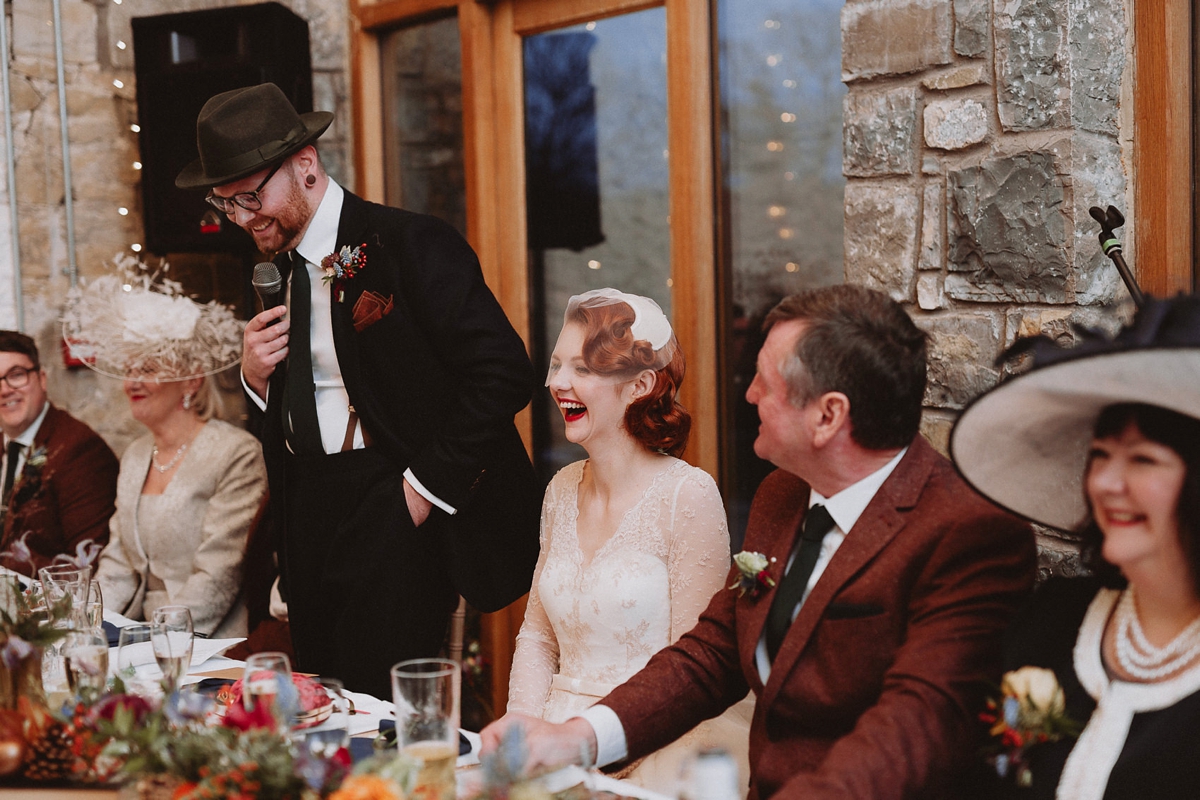 "There was a huge Welsh dresser at the venue which was the perfect backdrop for lots of the trinkets we have collected over the years. We also used it to display photos of our loved ones, some of whom are sadly no longer with us. I'm a bit of a hoarder and tend to hang on to everything including Valentine's, Christmas and birthday cards, plane and cinema tickets, notes we have left each other, festival wristbands and anything else which might be sentimental or remind me of a fun time! We decided to use these along with photographs and pin them to brass frames to create a memory wall."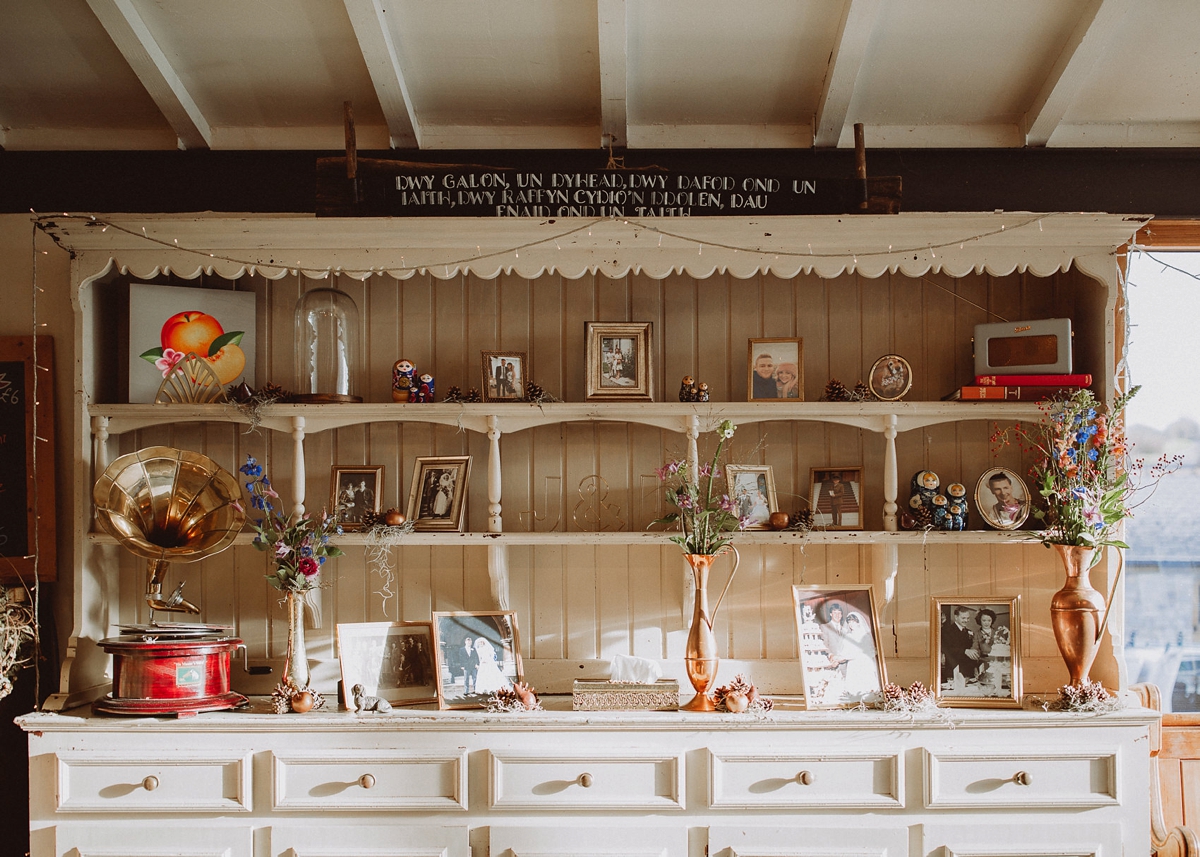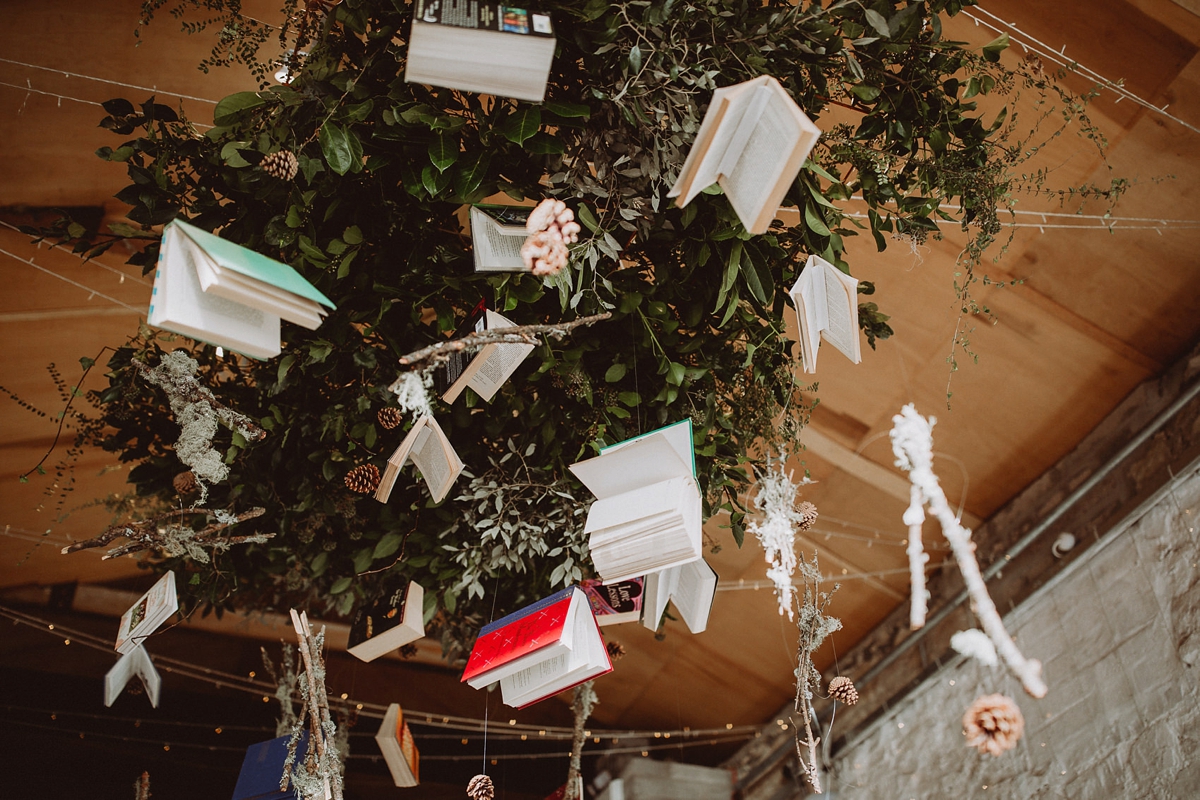 The delicious and extremely impressive looking 5-tier semi-naked cake was created by Zoe from the Vale Cake Boutique who came as a recommendation from Lucy's florist Beth.
"Zoe was a pleasure to work with! Particularly because we changed our minds about what we wanted as many times as layers we ended up having. Eventually we went for a semi-naked caked with gold leaf and Beth made floral circles which sat on each layer. We displayed it on a dressing table with flowers and foliage flowing out of the drawers. It looked fabulous! We chose a different flavour for each layer and they were all delicious! They were coconut and lime, lemon, Victoria sponge, chocolate and salted caramel and cherry Bakewell. There was enough left for us to enjoy a wedding cake breakfast in bed following the wedding. It's the stuff that egg, flour, butter and sugar dreams are made of, I'm telling you!"
After the wedding breakfast came the dancing and the newlyweds performed their first dance as Mr and Mrs to The Sound Of Settling by Death Cab For Cutie.
"We decided our first dance track years ago and Death Cab For Cutie are one of our favourite bands. We liked that it's quite short and isn't super slow. We made the mistake of looking up the meaning of the song a couple of months before the wedding and it's actually really cynical! We listened to lots of other songs but nothing compared. We decided to go with our original choice and interpret our own meaning – settling down rather than for!"
"For after the dance a friend of ours Martin, who has recently set up a wedding entertainment business called Music HQ, introduced us to Velvet Soul. We knew our playlists would cover a lot of the pop, rap and rock music we wanted to soundtrack our day, so it was important to have something very different for our evening live entertainment. We immediately liked the aesthetic of Velvet Soul: velvet suits for the lads and glamorous dresses for the ladies. And that's not even mentioning their sound. They are incredibly talented musicians who perform an eclectic mix of soul and Motown."
"And, Naomi's voice. Well, it needs to be heard to be believed. They really brought the party to the wedding at a point when our day and night guests were raring to dance. Their first song was Valerie by The Zutons/Amy Winehouse which became the song of my hen do after I sang the chorus of it on stage at a club we went to. Whilst dancing to it at the wedding, my friends ruffled the skirt of my dress whilst I twirled and Emily captured the moment on camera perfectly."
"Looking back on the day we loved having all of our favourite people in the same place at the same time. Due to the accommodation at Rosedew, we were able to make a weekend of it and go for a Sunday roast the following day to help the hangovers. It was snowing on the Sunday as we were saying goodbye to everyone which was such a special way for it all to end. At least it was for us as we were staying put for a few days after so didn't have far to get home!"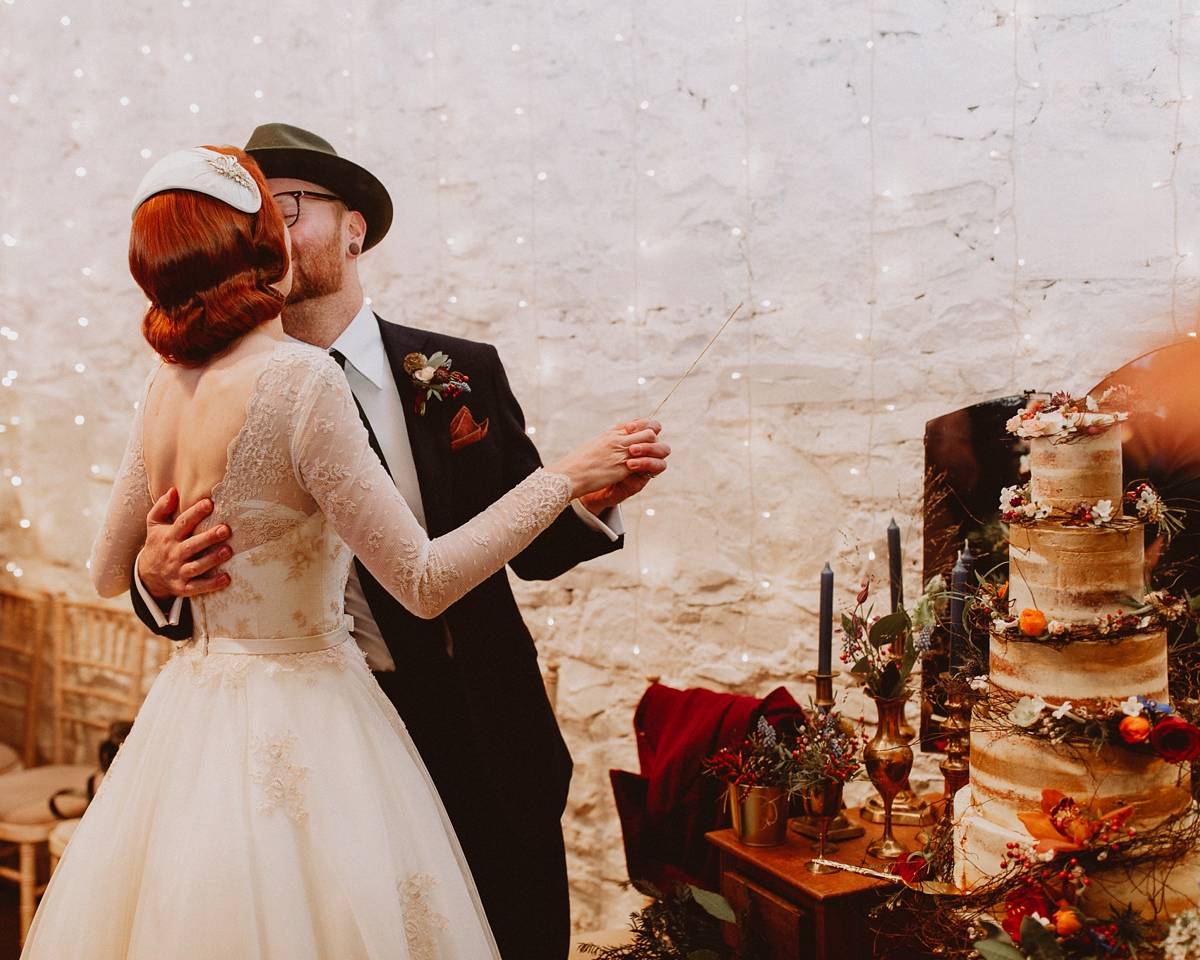 Words Of Wedded Wisdom
"Our advice would be to allow the things you love to inspire your day rather that what is in it at the moment. That way if it does become dated, it will always be special to you. We would also say book a few days away straight after the wedding whilst you're still in the bubble if you're not going on your honeymoon straight away. It was so lovely to open all of our cards and presents, take it all in and look at the photos."
"Try and relax on the day and allow the best man, bridesmaids and ushers to organise. Ours did a magnificent job. Far better than we could have done! A special mention here must go to Isaac and Wayne who were a formidable 1st and 2nd best man duo. Their combined efforts meant the world to Jonathan before, during and after the wedding!"
Wow, what a day! I'm so in love with how Lucy and Jonathan kept every little detail truly personal to their likes and tastes, and made the day really reflect them as a couple. Thank you to Emily & Steve for capturing it all so brilliantly on camera. It really is one of those weddings that you can look back on the photos and notice something different each time.
Until next time…
Much love,
Holly x