Today's wedding took place near to my home town in Cheshire and in a venue I'm quite familiar with – the gorgeous Iscoyd Park, so it was a lovely one to land in my inbox this morning.
And what a space it is; an all-inclusive country house venue complete with a rich history (some parts of the house date all the way back to 1700!) and interiors to make any Pinterest addict swoon over. Bride and groom Amy and James were married one sunny summers day on 18th June 2017 at Iscoyd Park in Whitchurch, Shropshire. The bride chose an incredible full-skirted dress by Naomi Neoh, bought from a bridal boutique in Knutsford, Cheshire.
Images by Andrew Keher
"I was drawn to Naomi Neoh after seeing the Fleur dress in a magazine. I tried on the Vivien dress first as I loved the lace detail on the corset. The dress (and I) were then completely transformed when Fiona at the boutique paired it with the Leigh jacket."
"I didn't recognise myself but at the same time felt completely comfortable and the most confident I had felt throughout the dress picking process. The silk chiffon skirt was like nothing I'd seen before as it rippled through the air. I was in love!"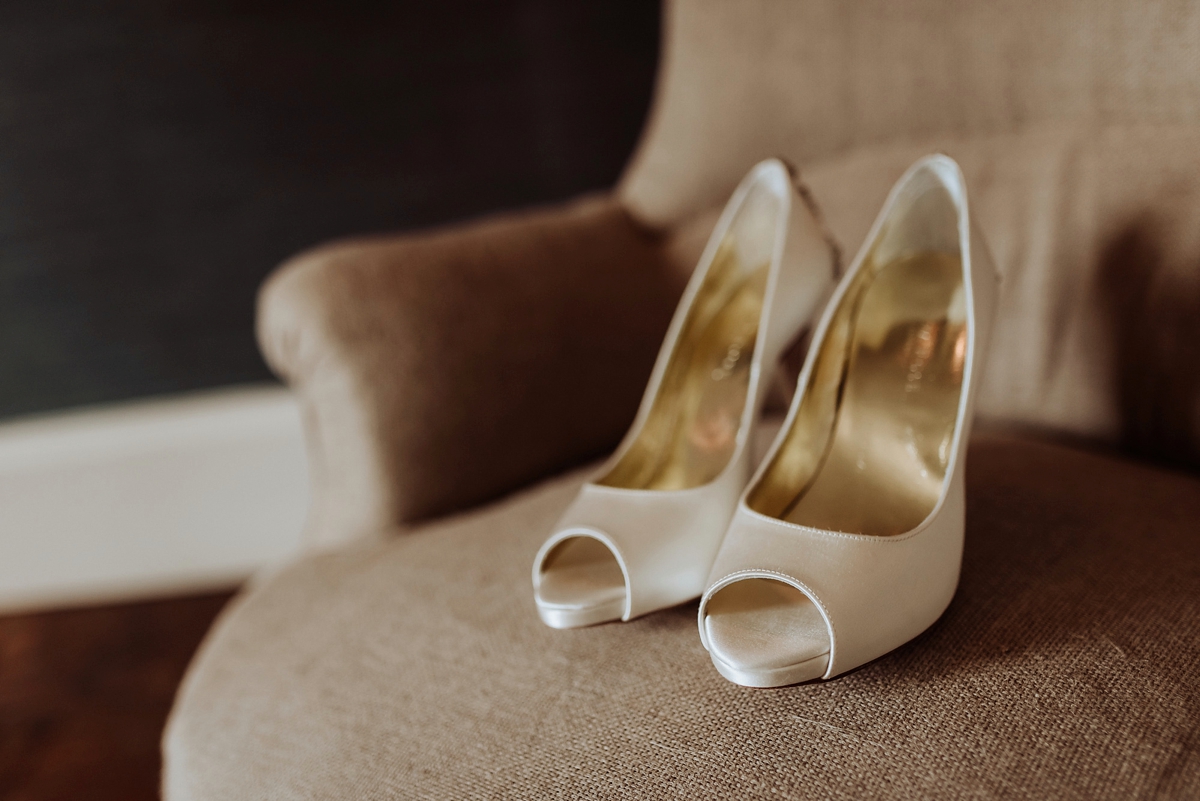 Amy also chose a long veil bought from the same bridal boutique as her dress, and a pair of beautiful handmade shoes by Freya Rose.
"I had a vintage inspired diamante hair comb also bought from the bridal shop but one of my favourite preparations for the wedding day was going to Jo Malone in Chester for a bridal consultation."
"We were made to feel so special and each greeted with a glass of Prosecco on arrival then treated to a hand massage whilst being talked through the scent combining. I opted for the limited edition Nashi Blossom scent as it was really fresh."
"James and I first met through a mutual friend who had arranged a May bank holiday night out in Manchester. After four and a half years of us being together, James proposed at the top of Mount Fiellheisen in Tromso, Norway on a trip we had taken to see the Northern lights. We then had 18 months of planning before the wedding in June 2017."
"There were multiple influences when it came to planning our wedding – the main one being Pinterest! However we loved Iscoyd Park so much that we felt it needed little styling. I initially said I didn't want a defined colour scheme, but one soon developed, partly because my dress had a gorgeous blush hue and partly because I gravitated towards all things navy and peach/pink."
"Carly Huggins of Hair in Churton did my hair on the day but she was so much more than just a hairdresser. She kept me calm, on time and took control of a chaotic bridal suite! I said it at the time and I'll say it again, every bride needs a Carly! I hadn't anticipated being the nervous wreck I was on the morning of the wedding and she was my guardian angel."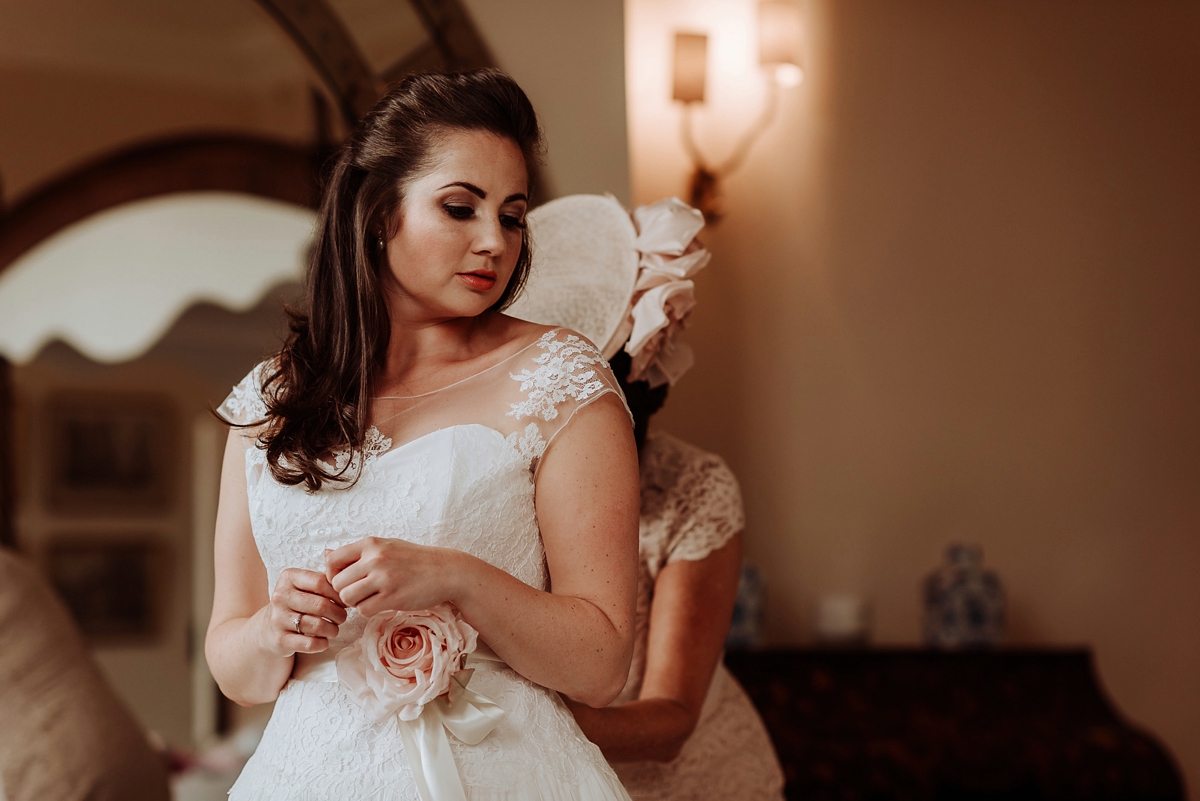 "Stephanie Swain was my make up artist and has been for all of the special occasions since. I was particularly nervous about my make up but during the trial, she applied everything step by step, checking each element with me before carrying on and I loved the end result. Steph felt like a friend instantly and I was immediately at ease in her company."
"Another calming influence in the bridal suite that morning!"
"I was incredibly spoilt on the day and received a Tiffany Infinity bracelet from James and a Tiffany bead bracelet from my parents to be worn as my 'something blue'. I had some dainty pearl studs with a diamante teardrop from Majorica and in the evening I removed the jacket on my dress and wore a Swarovski necklace as I loved the unusual shape of it."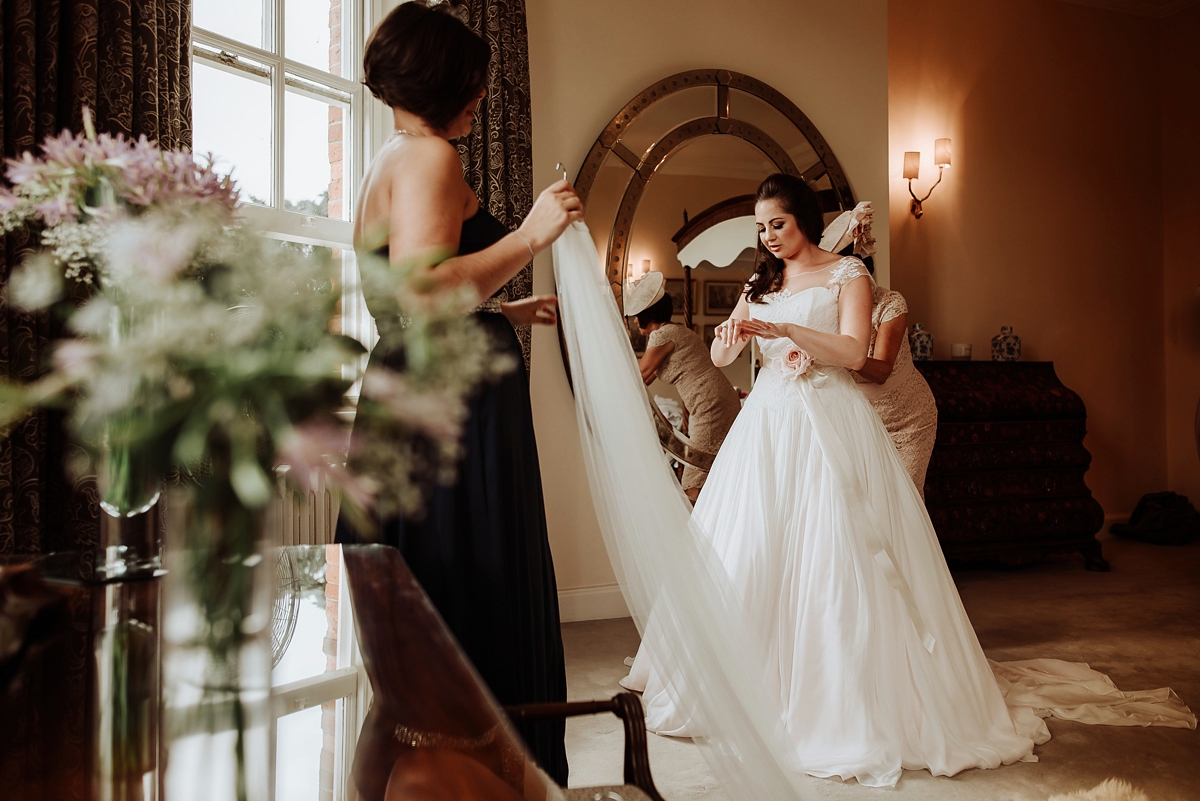 "Our florist was Wild Chester. I had Sweet William in my bouquet as James' middle name is William, but the rest of the flowers were chosen for their colour (peaches and pinks) and because peonies are my favourite flowers."
"Some of the peonies included in the urn arrangements for the ceremony were from my parents garden which was a lovely touch and made for a truly breathtaking backdrop for the ceremony. I particularly liked the coral peonies in the bridesmaid posies as they looked beautiful against the navy dresses."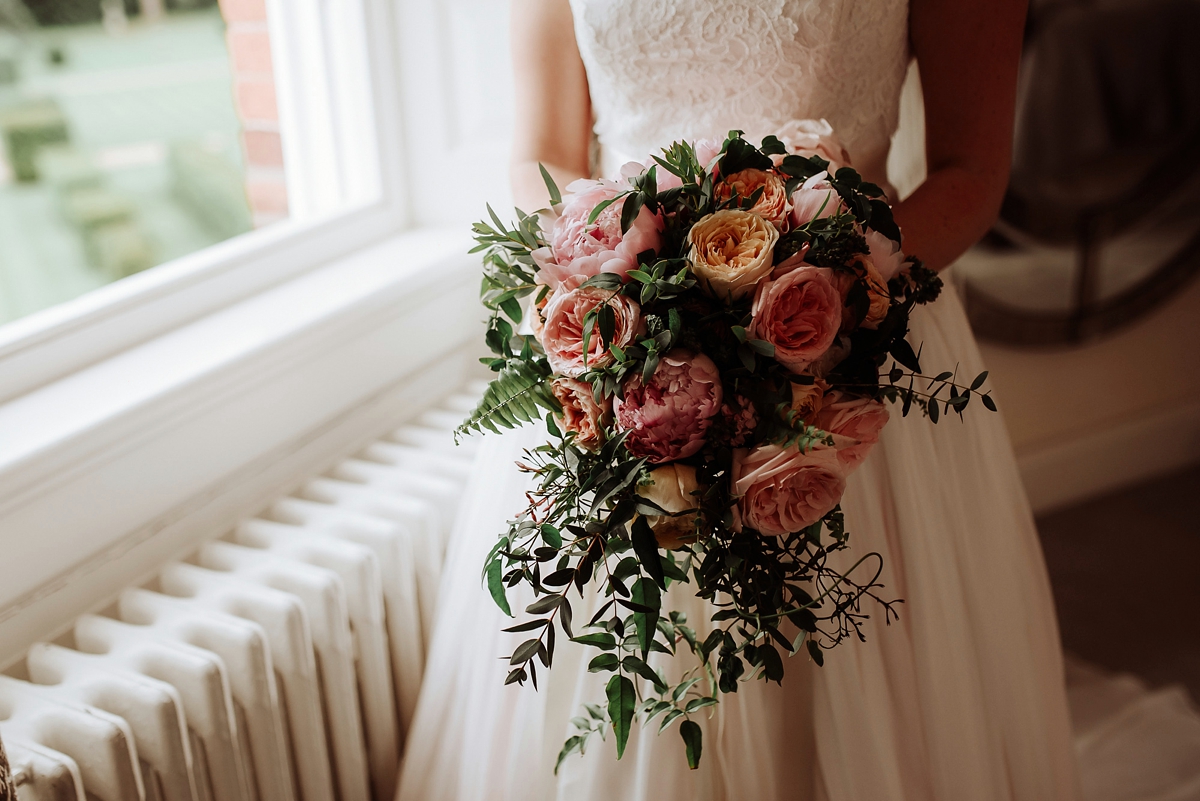 "Having studied Events Management at university, I thought I had a good knowledge of local venues, however I stumbled across Iscoyd Park following an Internet search. I knew immediately we had to go and see it! We were keen to find a ceremony room befitting of the occasion and fell in love with the garden room at Iscoyd Park."
"We couldn't have been married anywhere else! The venue really did make our day and will always be an incredibly special place to us. We have visited on a couple of occasions since the wedding day and all the emotions come flooding back."
"I fell in love with a particular image on Pinterest of bridesmaids wearing beautiful navy silk chiffon dresses with ivory sashes, which turned out to be from Australia. Slightly disheartened one evening I found myself scrolling through the Coast sale and sure enough, found a very similar design. I couldn't believe it and immediately ordered three. We were so pleased with them and I'd go as far as saying they were the best wedding buy in terms of value and vision!"
"My bridesmaids also wore a matching necklace and earrings set from the Alan Hannah collection at Debenhams. I chose them as they were similar in design to my earrings."
Amy's dad walked her down the aisle to It Could Only Be by Pachelbel's Canon, to an emotional groom, a moment she'd envisaged since being a little girl.
"James' sister then read The Art Of A Good Marriage by Wilfred A Peterson which we chose as we felt it represented what we must try to remember as we embarked on married life together"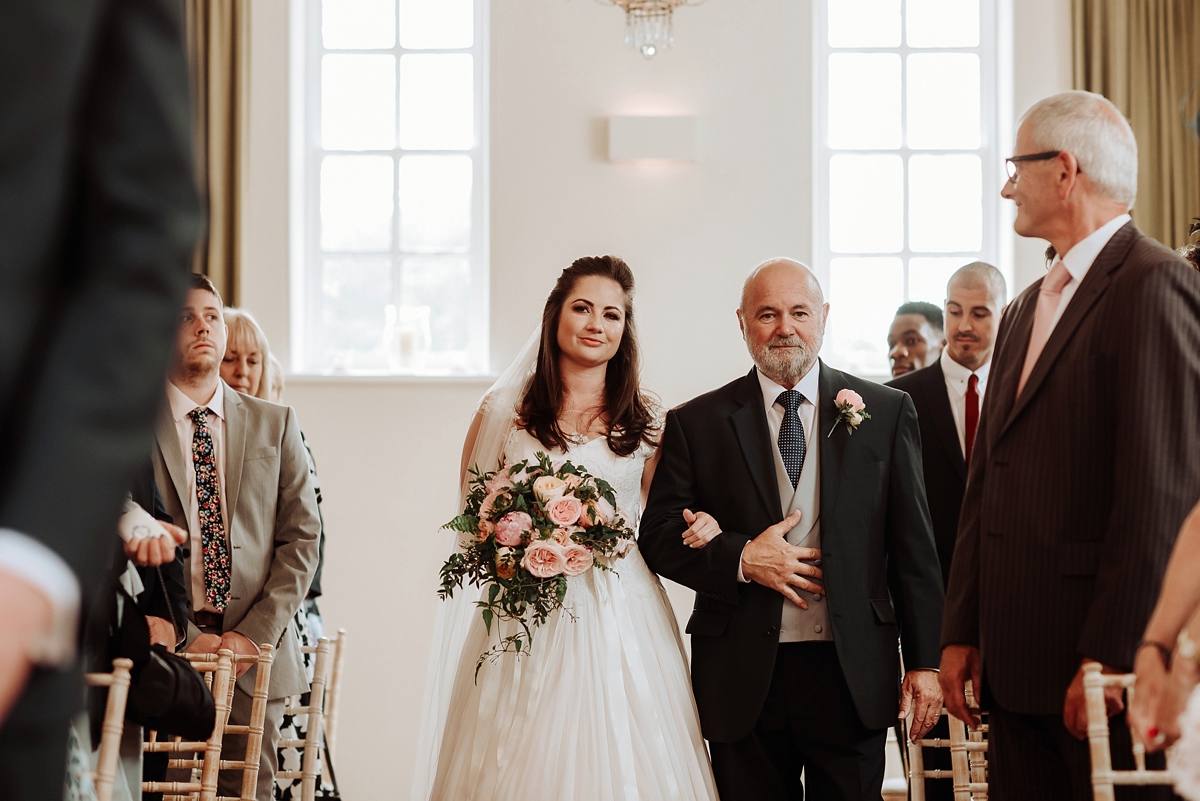 "Making another of my Pinterest dreams a reality was Jo at Papa's Tailoring in Nantwich, Cheshire. Jo was fantastic and I can't recommend her highly enough. At 6ft5, James struggles to buy clothes off the peg."
"Through Jo we were able to hire suits for the groomsmen but purchase James' suit, meaning although it was the same, it could be altered so it fit him perfectly. His pocket square was also from Papa's Tailoring and his tie, after a very long search for a navy tie with a white square pattern, was from TM Lewin."
"Our wedding rings were bought from Cheshires Jewellers in Chester. James' palladium ring was chosen for its hard wearing nature, and mine because I'd set my heart on a dainty diamond band. My engagement ring was purchased from The Diamond Store."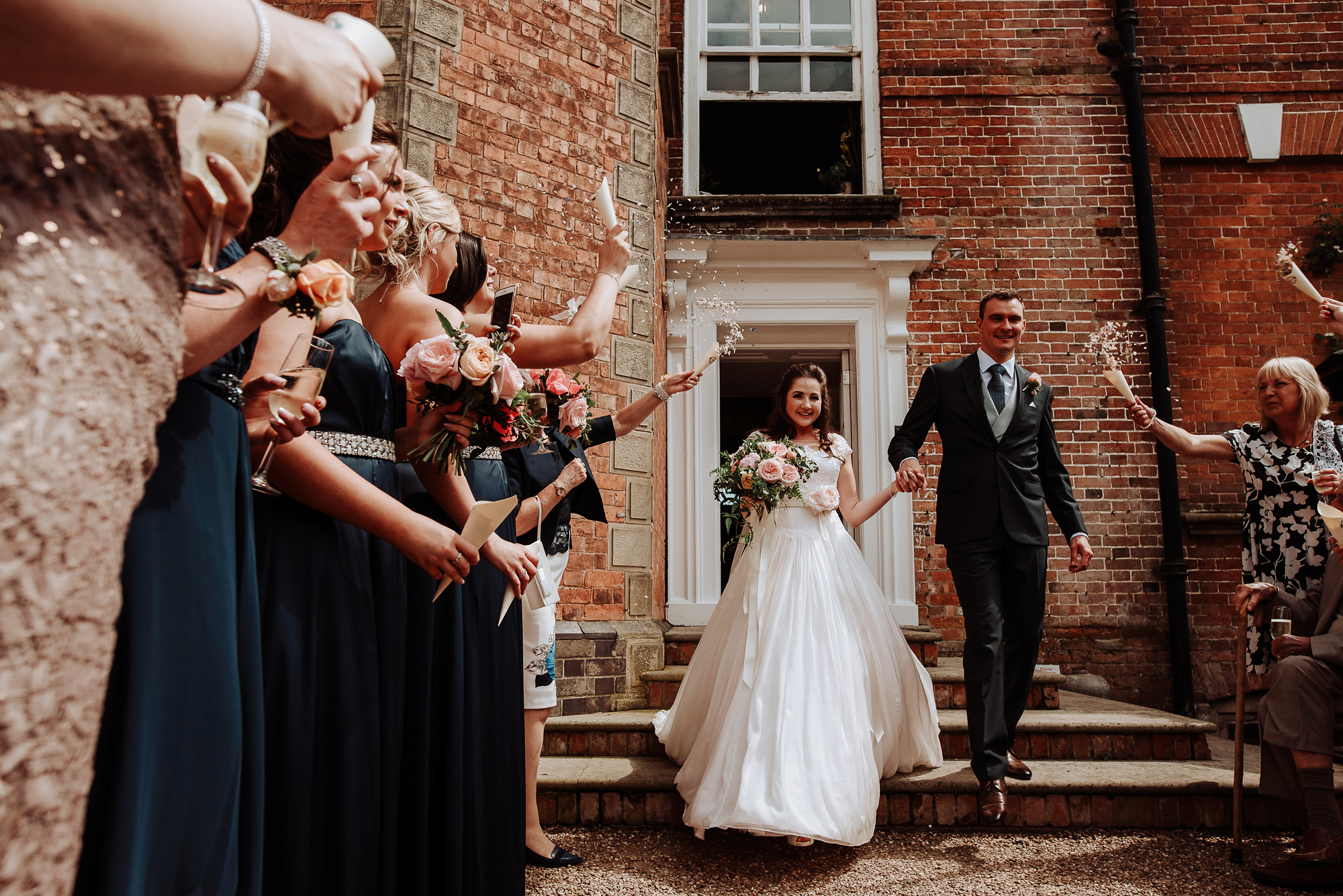 After the ceremony, the newlyweds were greeted outside the church entrance with a confetti shower before enjoying a drinks reception and lawn games within the grounds of Iscoyd Park.
"We had the Adagio String Quartet perform, who were mesmerizing. When I heard the demos of this band on their website, I knew we had to book them!"
Having fallen in love with Liverpool- based photographer Andrew Keher's naturally romantic photography style, the couple booked him, giving him the responsibility of capturing the day on camera.
"Andrew immediately put us at ease on our engagements shoot prior to the wedding. I was dreading having my photo taken and was convinced he had his work cut out. On the day he moved around in such a stealth-like manner we barely noticed he was there, yet he captured every significant moment, sometimes appearing to have been in two places at once!"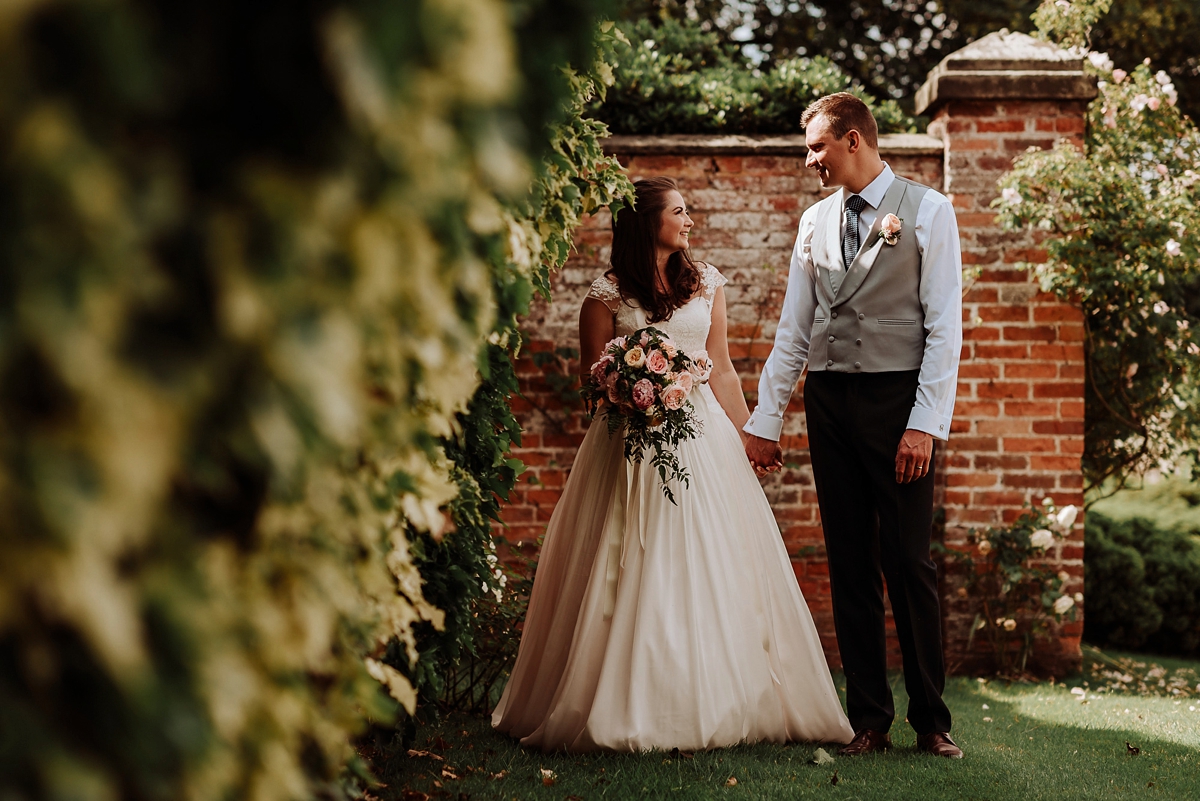 "We have such a beautiful record of the day in our photos including all of the intricate details. We loved Andrew's style of photography, his professional but light-hearted approach that put us and our guests at ease, and his willingness to try something a little bit different in the name of getting that perfect shot. I can't quite recall how I came across Andrew's website but I'm very glad I did!"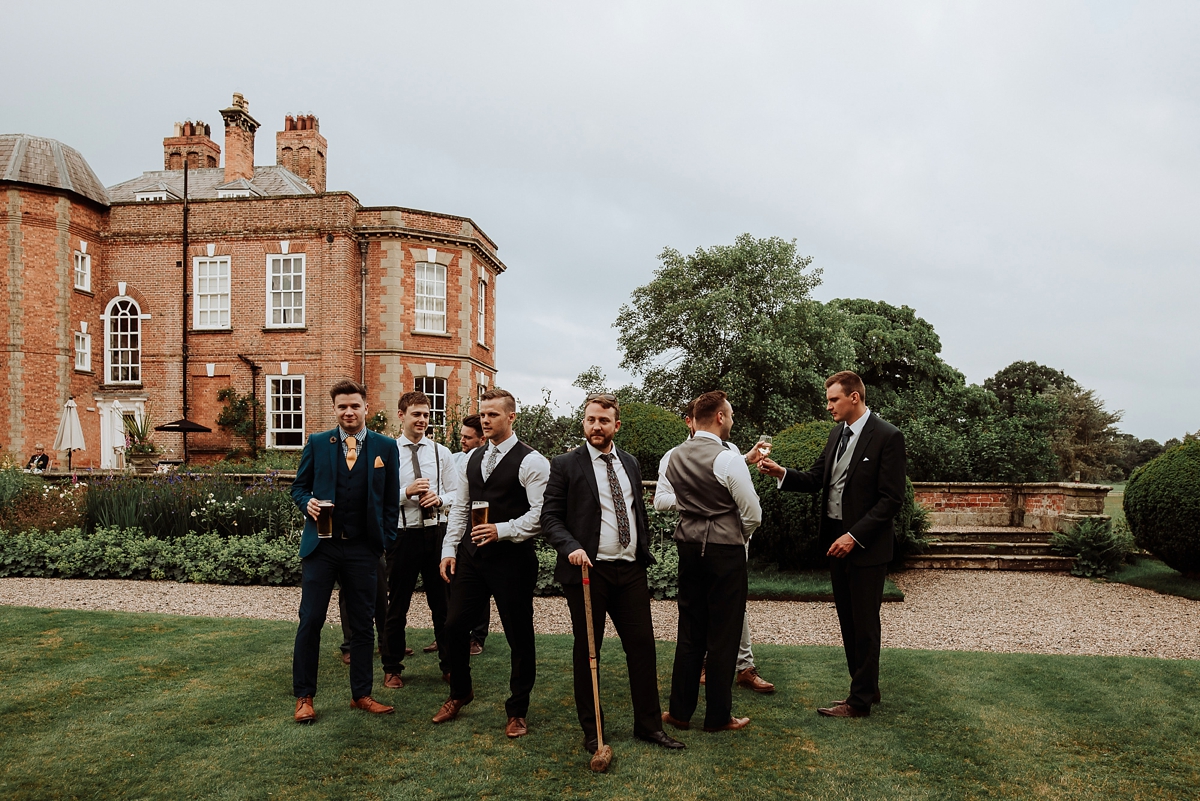 The wedding breakfast was served indoors and all provided by The Fine Dining Company who are the exclusive caterers for the venue.
"To this day people frequently tell us that it was the best food they've ever had at a wedding. The starter was a champ potato cake served with a poached hens egg, baby spinach, sweet cure bacon and hollandaise sauce. For the main course we had topside of local beef and for dessert our favourite, creme brulee!"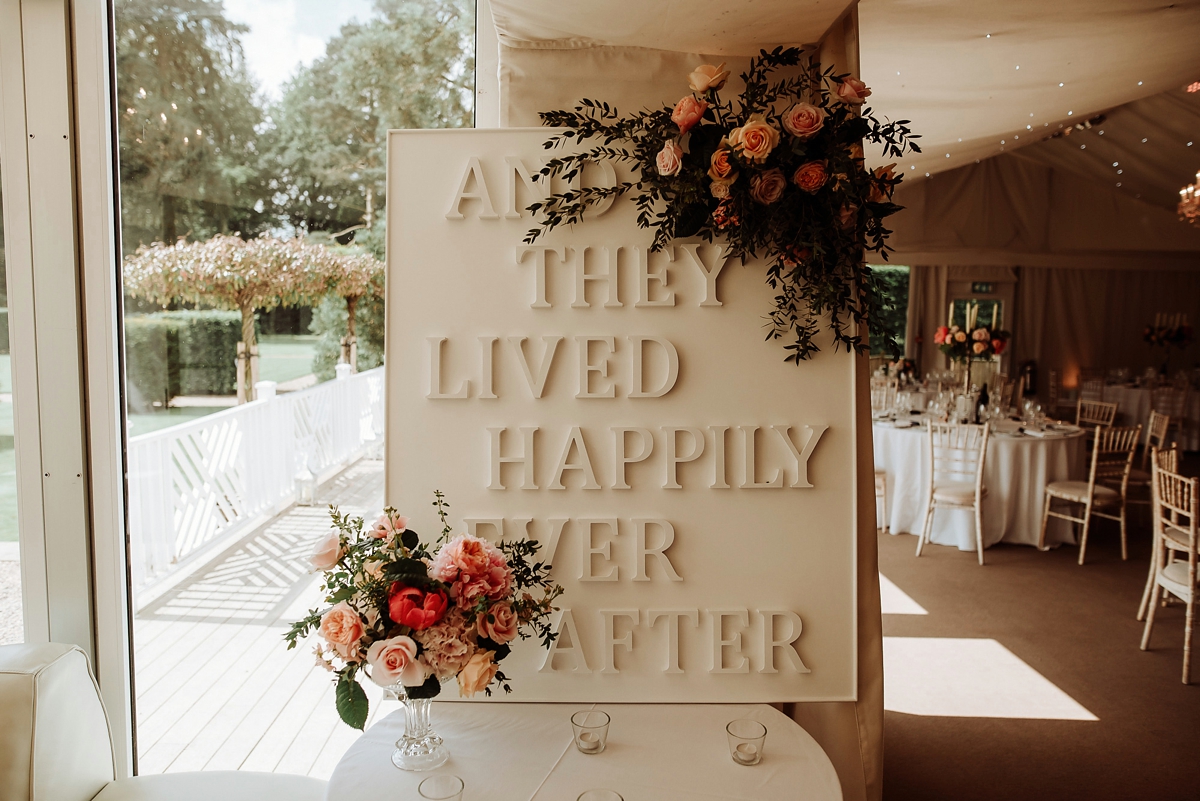 "A very talented lady called Jo Seal created our invitations following a Pinterest-led brief. I also found Polly & Me via Not On The Highstreet whilst searching for a different kind of guest book."
"Allie from Polly & Me was great and helped me personalise the design, incorporating the stamp Jo had created for the invites. I loved her work so much we also asked her to create our place cards. I had aspirations of learning modern calligraphy myself but decided to leave it to the pros instead! I did however create the menu's myself…"
"For the evening food we had chicken and chorizo paella served in large paella pans for added theatre. This was another roaring success and one of my regrets is not squeezing in a portion (my dress had an internal corset!). We were married at 2pm so when it came to choosing canapes we opted for Cheshire Farm ice cream as an alternative and a lighter option. It was only in the last couple of days in the run up to the wedding it struck me that ice cream served indoors on a rainy day was probably not the effect we'd been going for. Luckily for us (and really lucky considering in the days before the wedding we saw torrential downpours) we had a glorious sunny afternoon."
"Our wedding favours for the female guests were made by a friend who had just started up her own wedding business Feather And Twine. They were clay hearts threaded with navy ribbon, imprinted with the word love and with the date of the wedding day on the back. It was lovely to have personalised keepsakes and be able to support her in her new venture."
"The whole day was so incredible it's difficult to pinpoint favourite parts but for me, the moment just before and walking down the aisle with my dad was very special. There was a moment of calm as the day we had spent 18 months planning for was about to unfold. With Pachelbel's Canon playing in the distance, it was just as I'd imagined and I still had everything to look forward to in terms of the celebrations."
"Our delicious wedding cake was created by Baked In Bunbury. It was a vanilla sponge cake with peach buttercream and raspberry jam – divine! We'd initially said we weren't too bothered about having a cake but naturally did a complete 180 on this decision and I'm so glad we did. Inspiration for the filling you ask? An M&S swiss roll I'm quite partial to."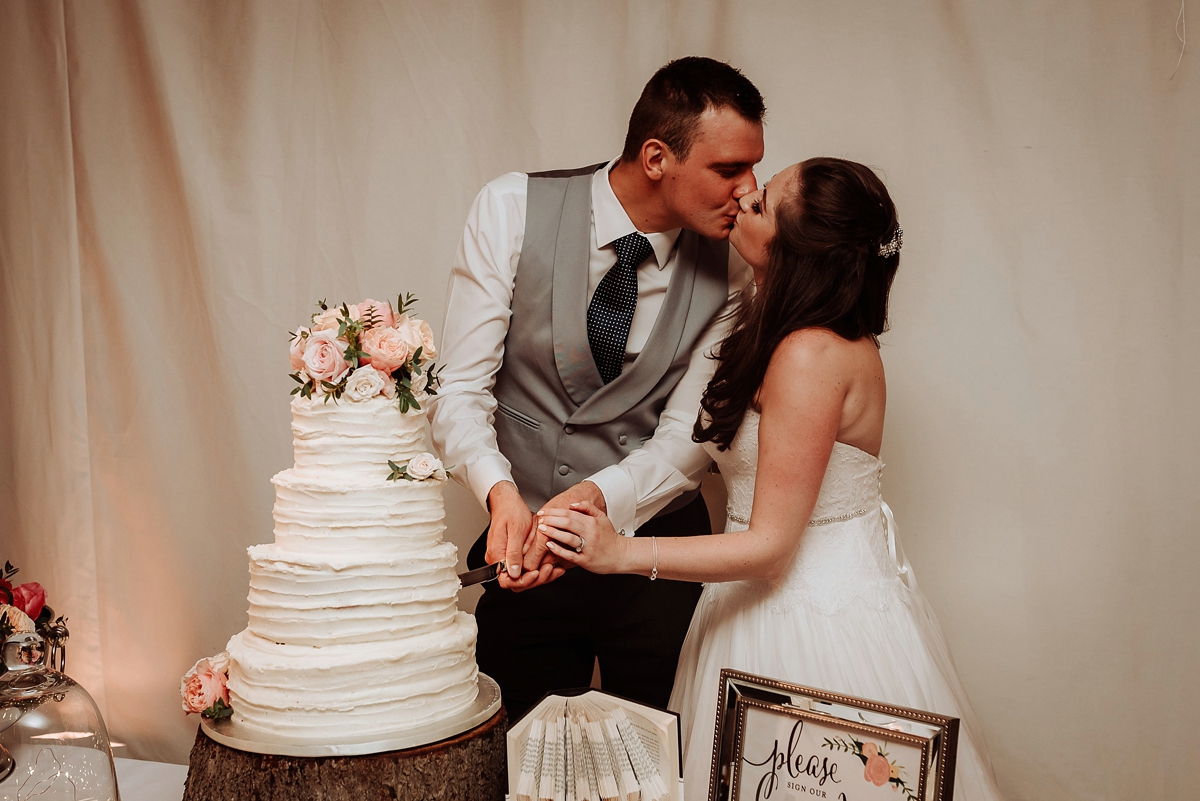 After the cutting of the cake following the wedding breakfast, came the couples first dance as Mr and Mrs. Soul Revolver are a Cheshire-based acoustic trio who performed the couples first dance song and who also continued entertaining guests until the early hours.
"We chose Nothing Really Matters by Mr Probz and Soul Revolver kindly learnt this in order to perform it on the evening. The version performed live at Red Bull studios in Amsterdam was what led us to choose it in the first place, along with the lyrics."
"Soul Revolver were fantastic! They learnt our first dance song and kept the dance floor packed all evening. It was brilliant to step back and see everyone enjoying themselves so much."
Words Of Wedded Wisdom
"If you have decided against hiring a videographer, I would implore you to reconsider and get some quotes. You invest so much in this day both financially and emotionally, having it captured in a video that you can enjoy time and time again has to be some of the best money you'll spend. Also, try to stay as mindful as possible in the run up to the wedding and on the day."
"I really struggled to sleep the night before the wedding. I was half way through my tea when it all seemed to hit me. We were staying in a hotel near to Iscoyd Park and had met up with everyone who had travelled up that day for a meal and drinks. It was lovely to catch up with people we wouldn't have had chance to otherwise but in hindsight, keeping some routine may have helped me relax more the evening before."
"I would also have allowed more time to get ready on the morning of the wedding. There were quite a few of us for hair and make up and the planned itinerary went completely out the window!"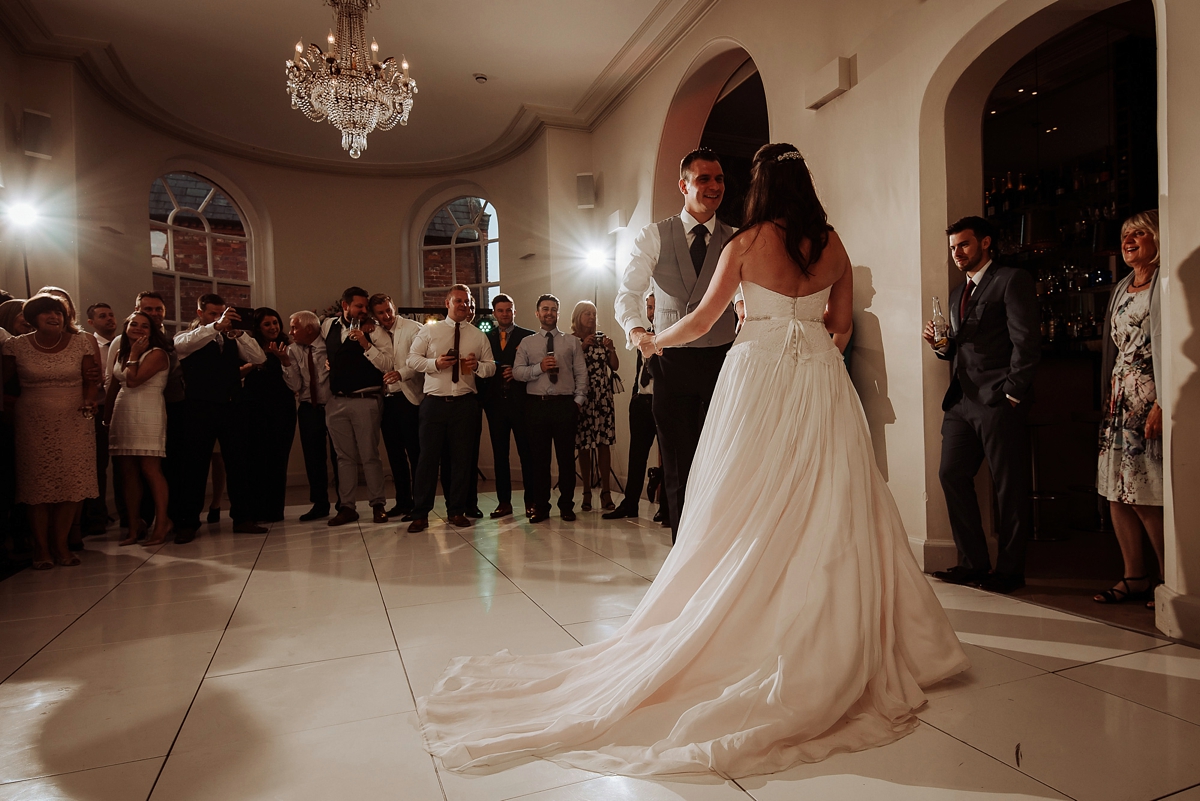 What a gorgeous day! And Amy, I think you did Pinterest proud with your gorgeous choices in both the dress and venue. A big thank you to Andrew Keher for sharing these gorgeous photos with us.
Until next time…
Much love,
Holly x