The past couple of weeks have been our annual summer slow down here at Love My Dress as our team have headed off on to their holidays and enjoyed a summer break. I really hope those of you reading this today have managed to squeeze in some restorative down time too, it's so vitally important to rest and catch up at this time of year.
Not that it feels like work whenever I'm producing an article like this one – it feels like an absolute pleasure and joy. I really do love my job and squeeze myself regularly that I get to share such lovely, inspiring content through these pages. Today's wedding has all the hallmarks of gorgeous Love My Dress wedding; Caitlin and Stu' tied the knot on 11th April this year at Anrán in Devon (more on this incredibly gorgeous boutique countryside accommodation and it's wedding ceremony spaces shortly).
I'm thrilled to see that the couple booked our talented Little Book Wedding Directory member, Richard Skins, to capture their day in images. I'm an enormous fan of Richard's photography and cannot recommend his work more highly – though the testimonial below speaks for itself.
"Wow! What a guy Richard is! Everybody, and I mean everybody, commented on how hard he worked all day. He was there at 8am and I didn't see him sit down until 10pm. He must have been exhausted. He wasn't intrusive at all. A fly on the wall. But so much fun, that you'd want him at your party anyway! He really put us at ease and we were so impressed with the beautiful candid shots. He caught so many moments."
Photography by Richard Skins
"My favourites are the ones of Stu's brothers and my new sister-in-law setting up the ceremony space. They worked really hard for us, so it's great that Richard caught that love and kindness on camera. With so many glamorous and staged wedding photos out there, it's so refreshing to see Richard beautifully captured all the humbling deeds and hard graft happening in the background. The man's an artist. He even had two edited shots in my email inbox by the time we woke up the next day."
"Stu and I met at a rugby match. I had been conned into a date with a fat bald 55 year old. I decided to kill an hour by walking to the portaloos, where I met John – a one legged pirate. Not a real pirate, just an amputee with a great sense of humour and a bottle of rum. After telling him about the awful date I'd been tricked into, John took pity on me and gave me the rum! I had too much to drink because I can't remember if I tripped, was pushed, or deliberately fell over (probably the latter), but when I looked up Stu was laughing at me."
"We got engaged in the national park in Thingvellir, Iceland. A beautiful spot by a waterfall and natural poo,l as the sun set – later discovered it was a site used in medieval times for drowning witches …very romantic! We planned the wedding in just 12 weeks."
Hair and makeup was styled by Jules West.
"Buffy Boreham of Lilybuff is a fabulous new florist on the scene with a fantastic eye for natural arrangements. She understood exactly what we wanted and was able to make recommendations. She even made a flower wand for the Flower girl – which she absolutely loved."
[JP-VIDEO]
"She was putting happy spells on people all day. She even put thistles in the arrangements as a nod to the Scottish side of the family – that was a really special touch. And all her idea."
"I especially enjoyed her consultative approach. I thought I knew what I wanted, but she suggested I needed some light colours in there too to really lift the arrangement.I wasn't sure at first, but I have to admit it – she was absolutely right. I loved the colours she put together. And she drove all the way from Newport for us."
Caitlin wore a most head-turning, long sleeved and fitted gown by designer Justin Alexander. The back detail was quite something.
"I knew I wanted long sleeves and loved the silhouette. We were also up against the clock so I knew we didn't have time to be too picky."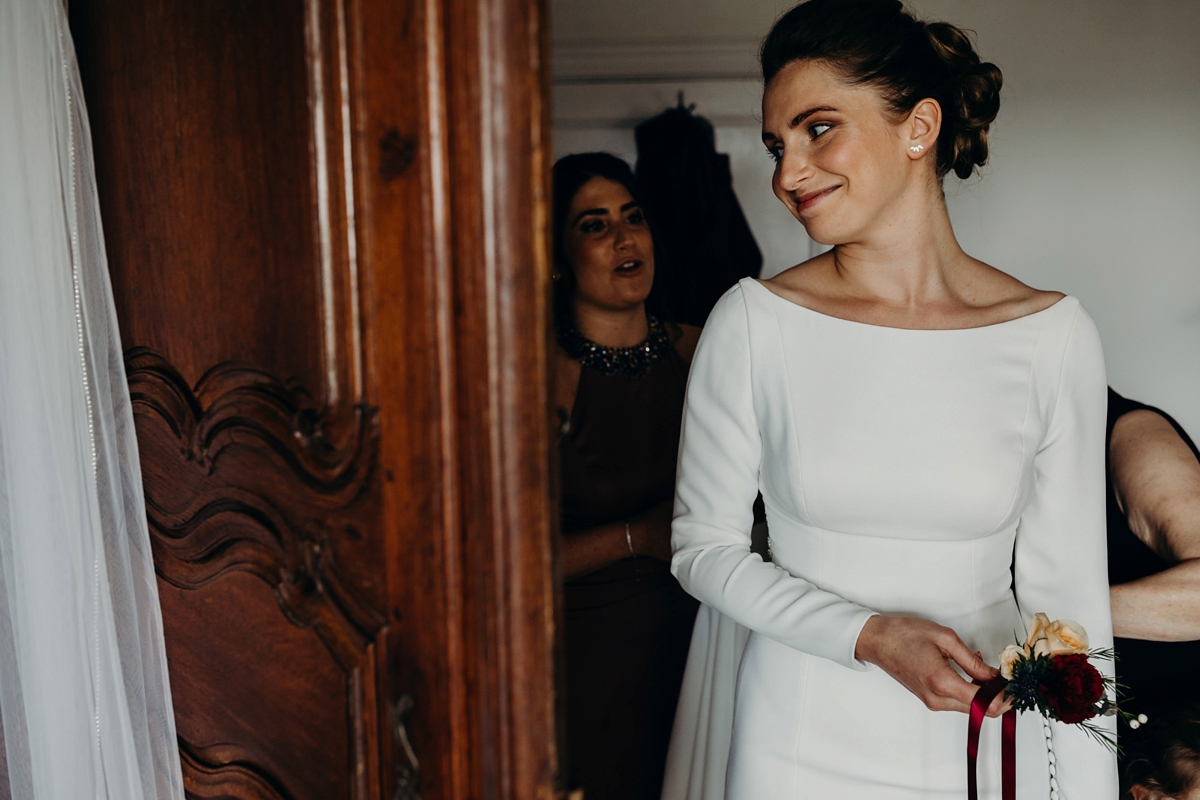 "I wore a cathedral length veil by Ivory & Co. I didn't actually want a veil, but my Mum and Mother in Law joined forces and twisted my arm. I agreed eventually, but have to say it did finish the look."
"Anrán in Devon is a quiet and rural venue – they've restored a beautiful farmhouse and barns. There are so many special spaces that can be used. Whether it's the Lily Pond for a private blessing, the Glasshouse for a stunning wedding breakfast, or the Nissen Hut for a unique after party. The owners, Mike and Edwin, are both so welcoming, you feel like you're at a friend's house. Very relaxed.
"We chose earthy colours to match the countryside. The venue was so beautiful, that we didn't need to decorate it much at all. Just a few white voiles and a couple of haybales."
"My dad collected me from the top floor of the manor house and walked me down to the foot of the aisle. Then he moved up and took his position at the top of the aisle with Mum. I waited at the bottom for Stu to come and collect me."
"We wanted to walk in as equals and I didn't much like the idea of being handed from one man to another. We were accompanied by the sound of Van Morrison's 'Into the Mystic', played live by Harbottle & Jonas."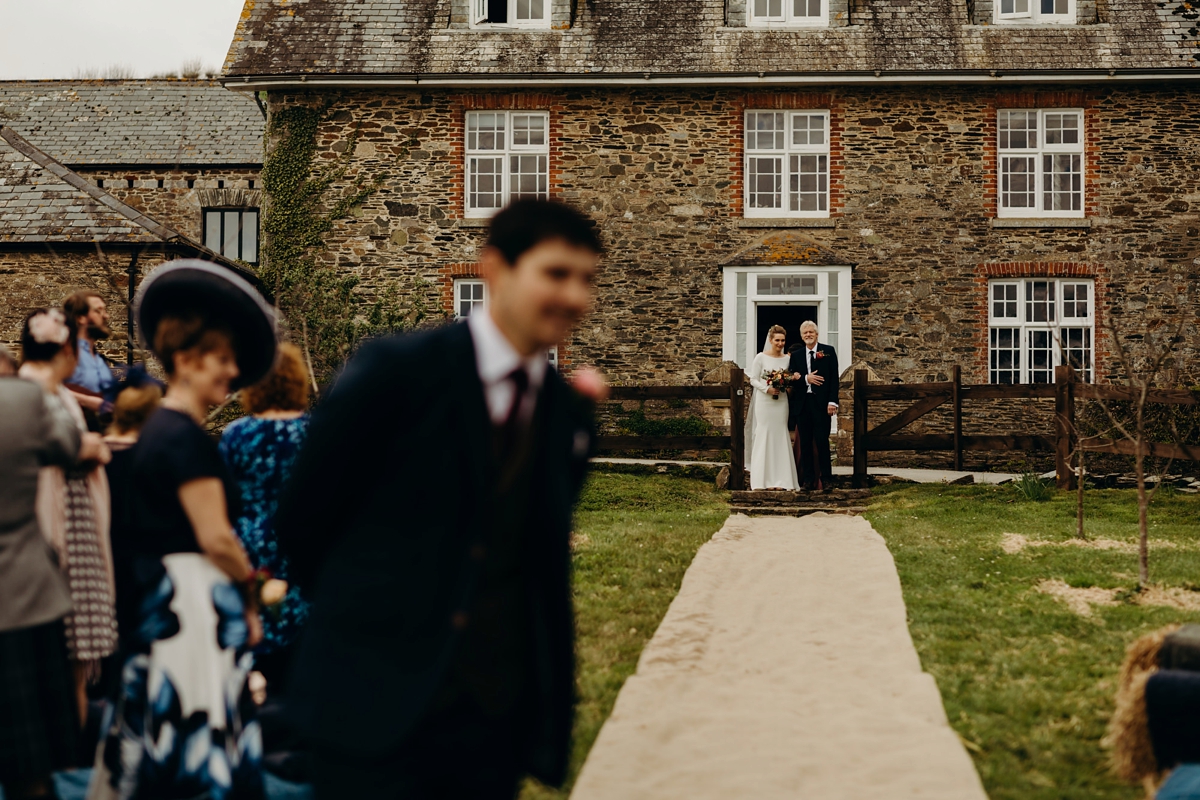 "We had a humanist ceremony. Neither of us are religious. We wanted to be married by a woman and our wonderful celebrant, Carol Smith (http://somersetcelebrant.com/), designed a bespoke service for us. We wanted it to reflect the values of equality. We had actually already married legally that morning so walked down the aisle together."
"Carol Smith, the Somerset Celebrant officiated our ceremony. We looked at lots of different vows and then drew all our favourite elements together.  One of my favourite lines was that we promised 'to encourage fulfilment as an individual throughout all the changes of our lives'."
"Our readings included E.E. Cummings' 'I carry your heart'. We spend a lot of time apart so the idea that you carry your loved one's heart with you no matter where they are really resonated with us. We also had Captain Corelli's Mandolin."
"We're not into big public displays of affection or cliché romance (despite picking one of the most cliché readings for a wedding!) so we really liked the reading when the father reminds the daughter that love is actually hard work."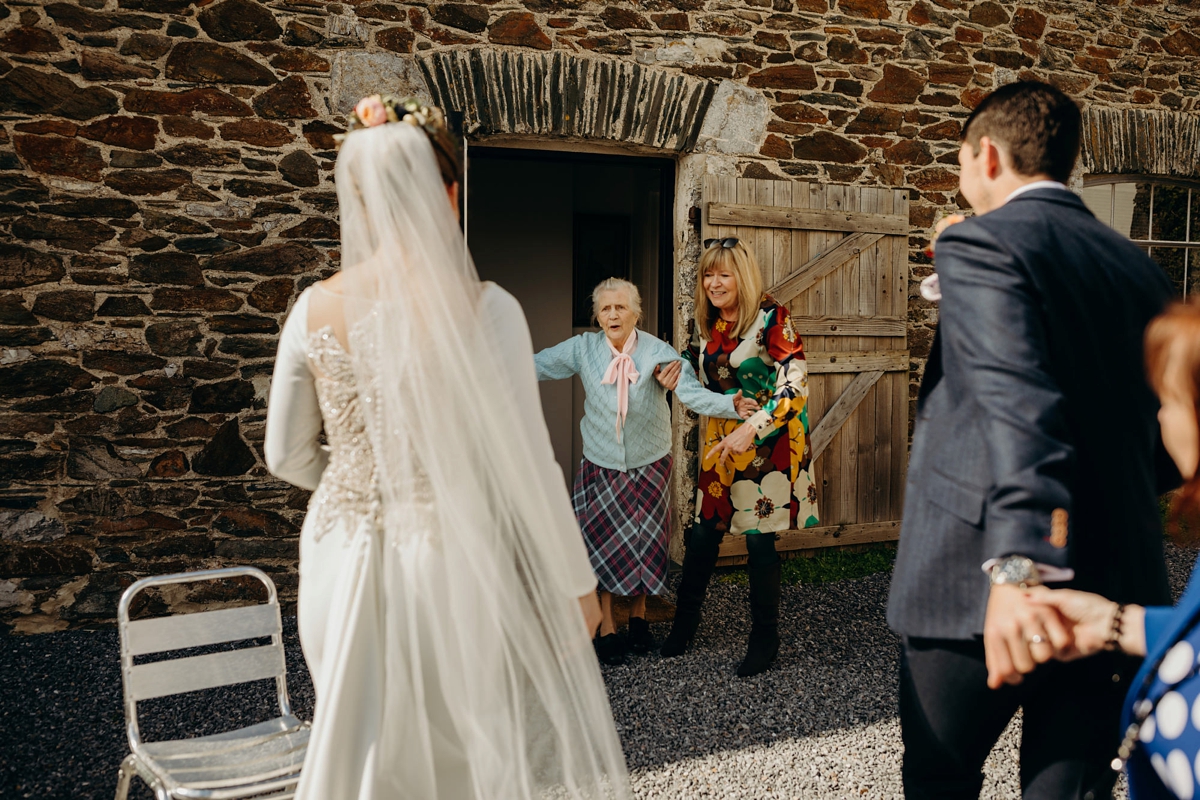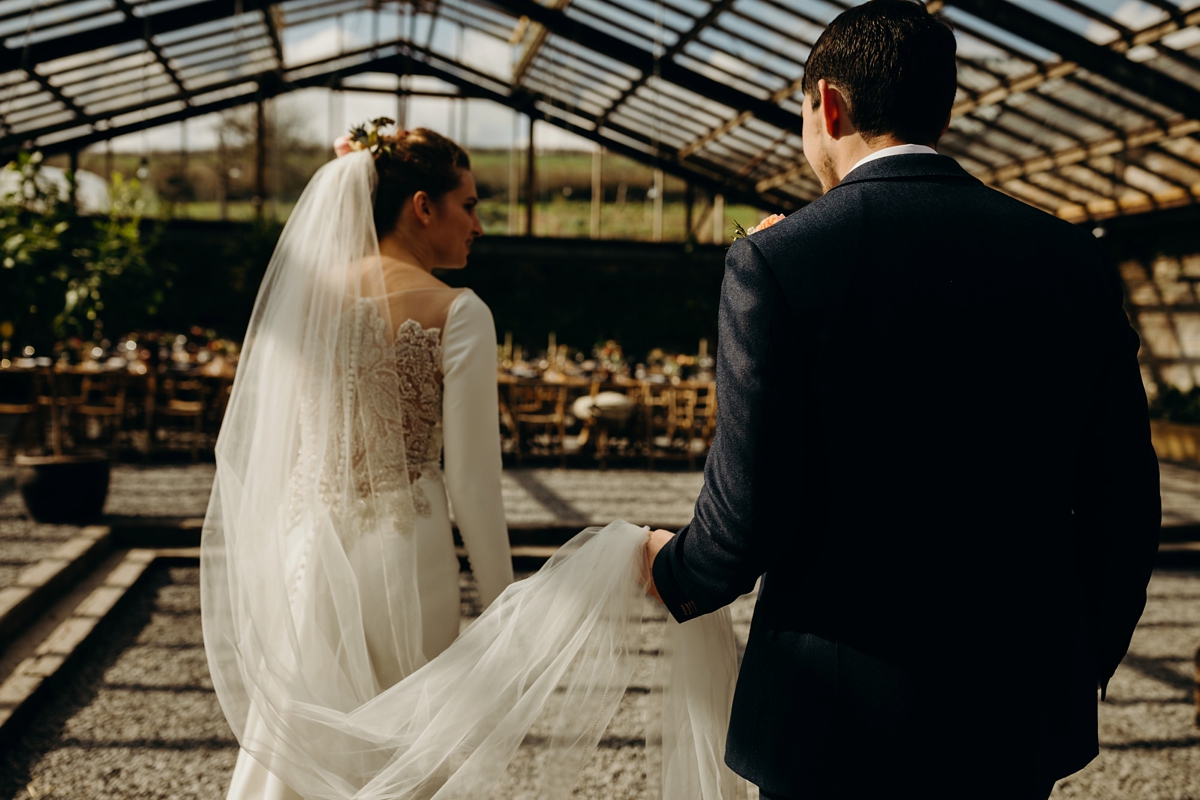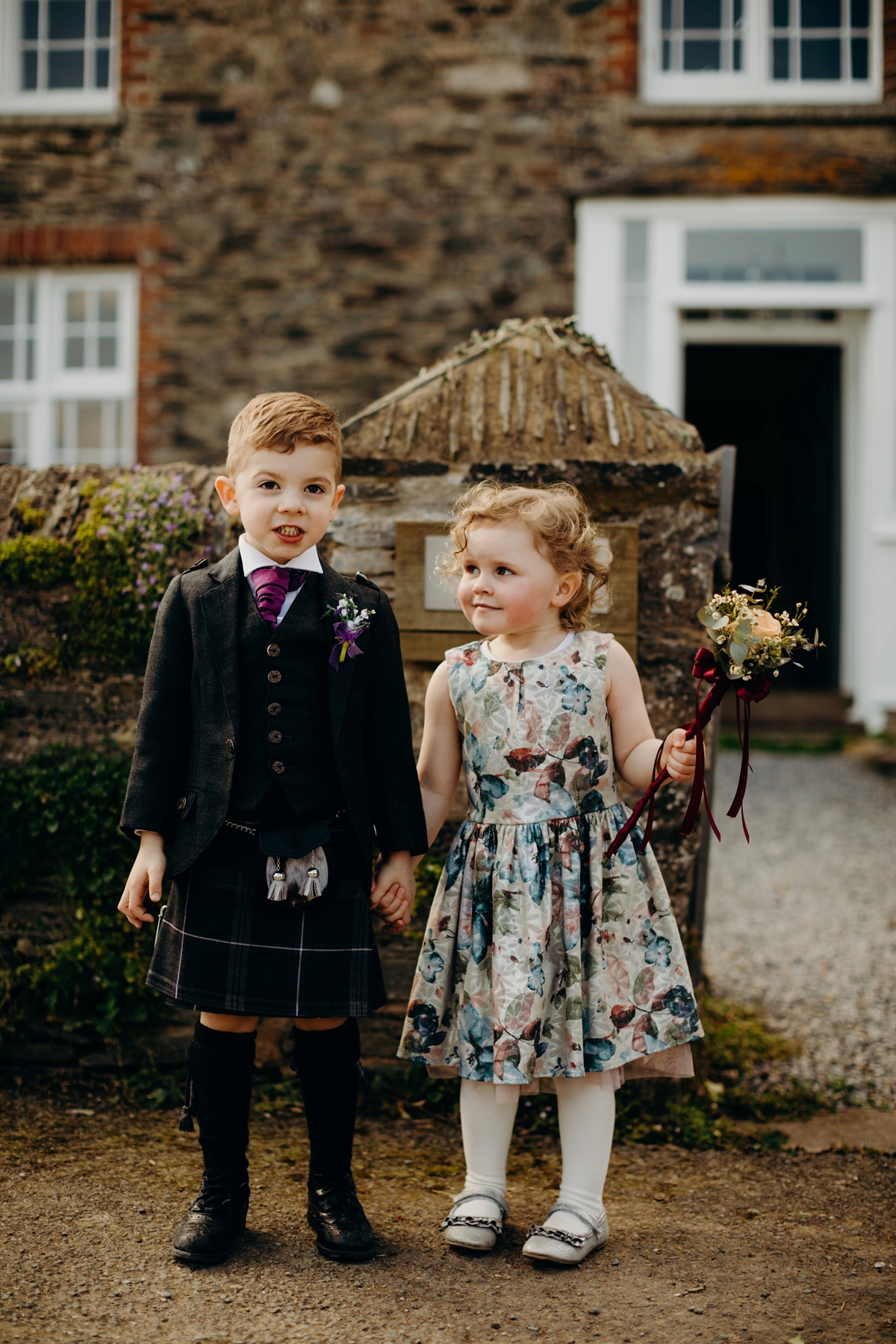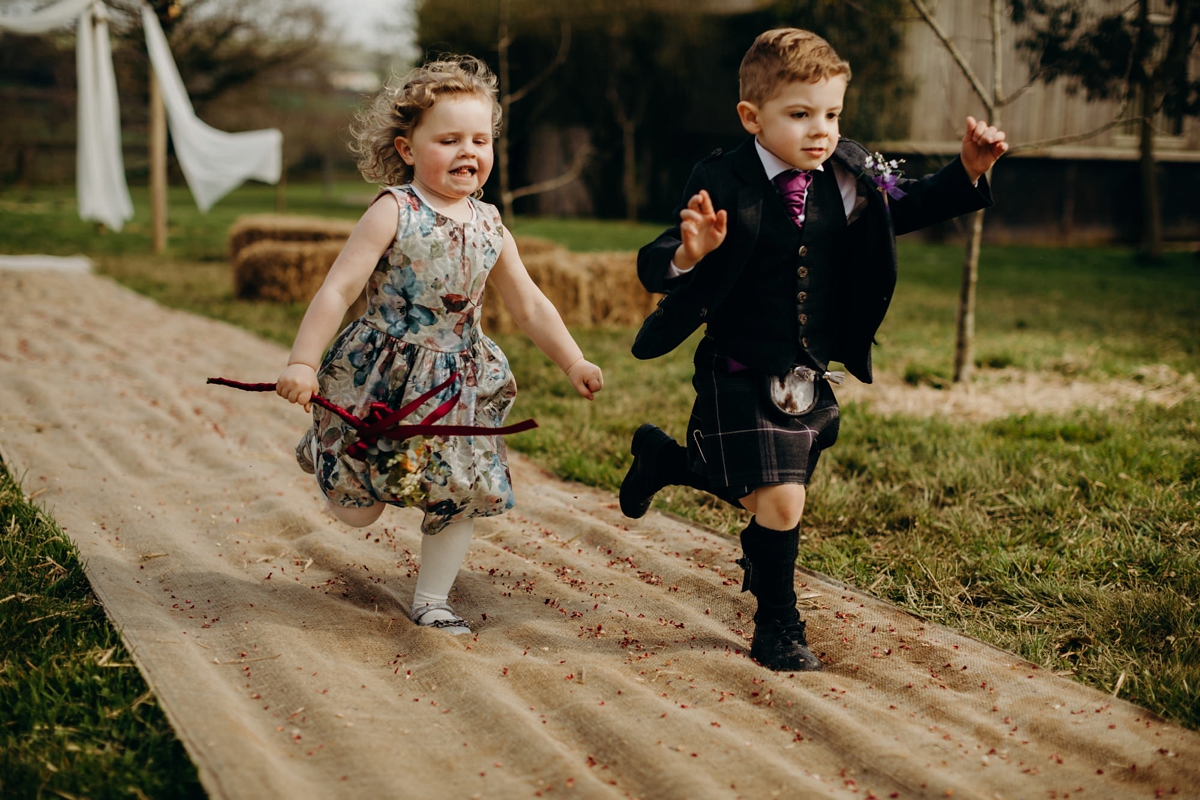 "We let the venue do the talking but used simple rustic furniture from Virginia's Vintage Hire for the wedding breakfast. Then everything else was bought on Preloved with the exception of a few blankets from Ikea and vases from B&Q."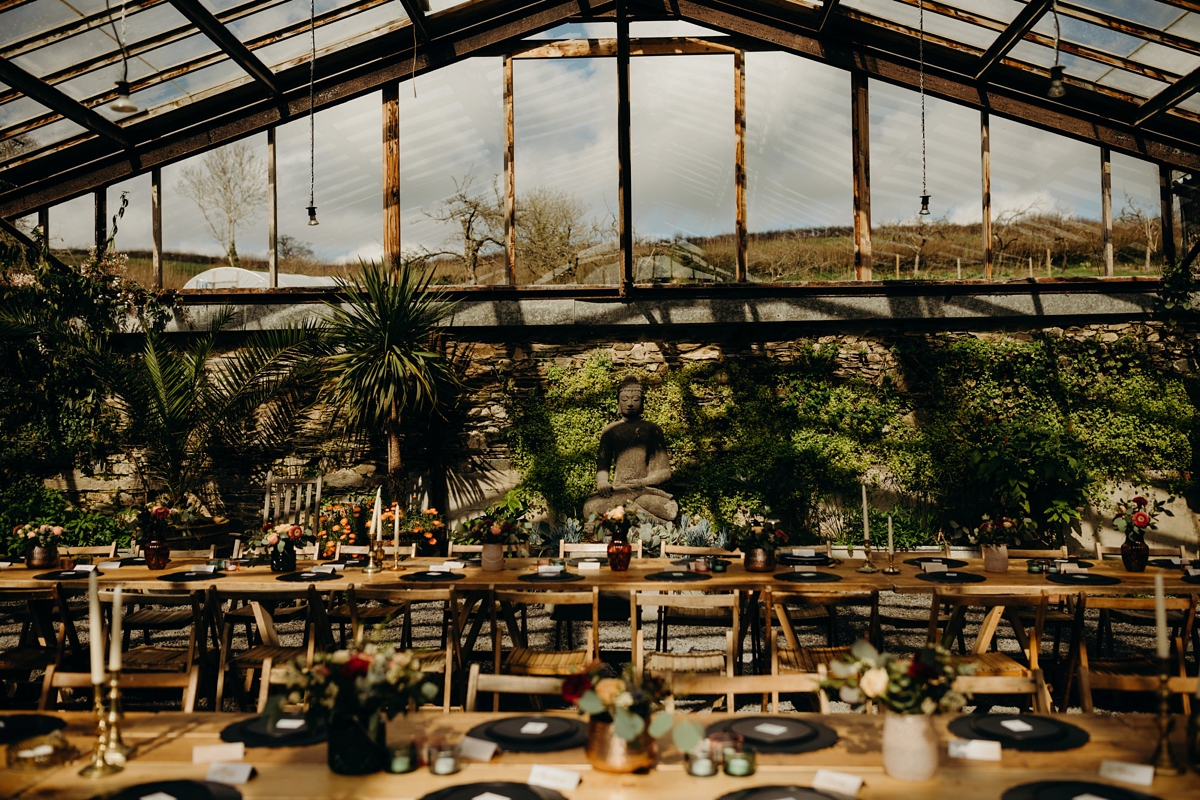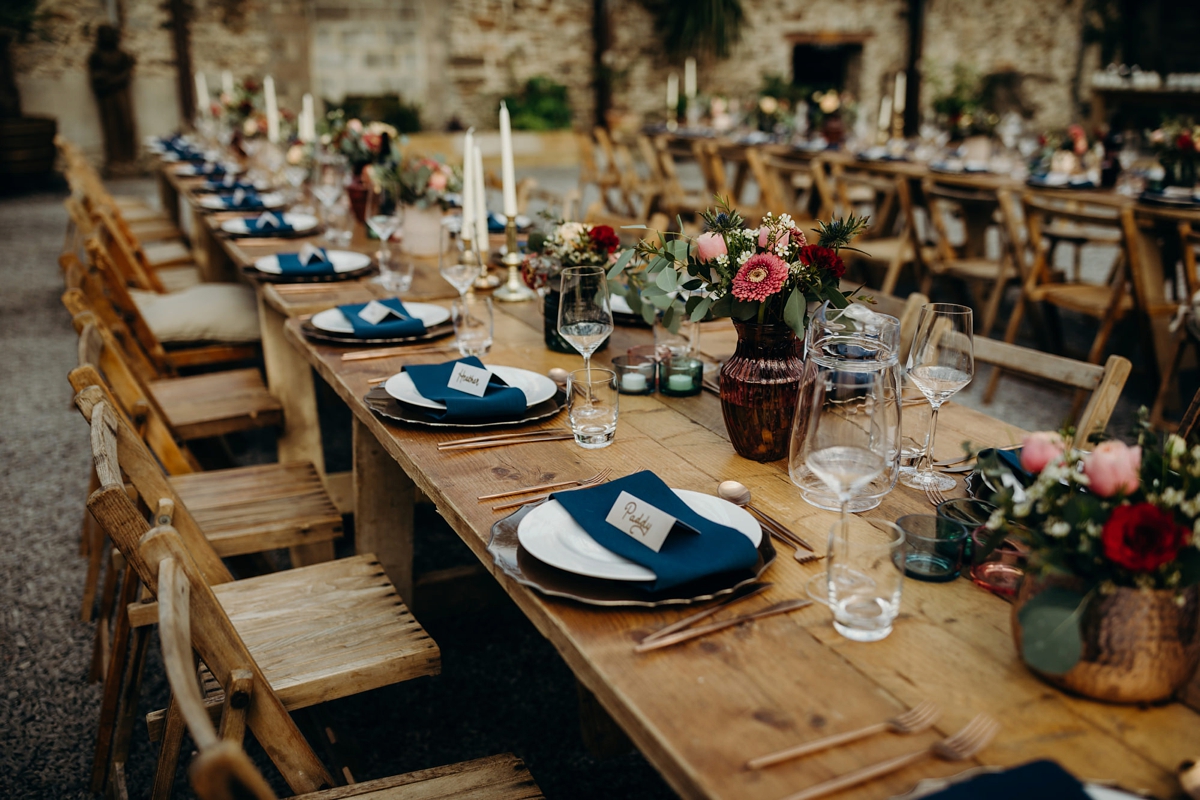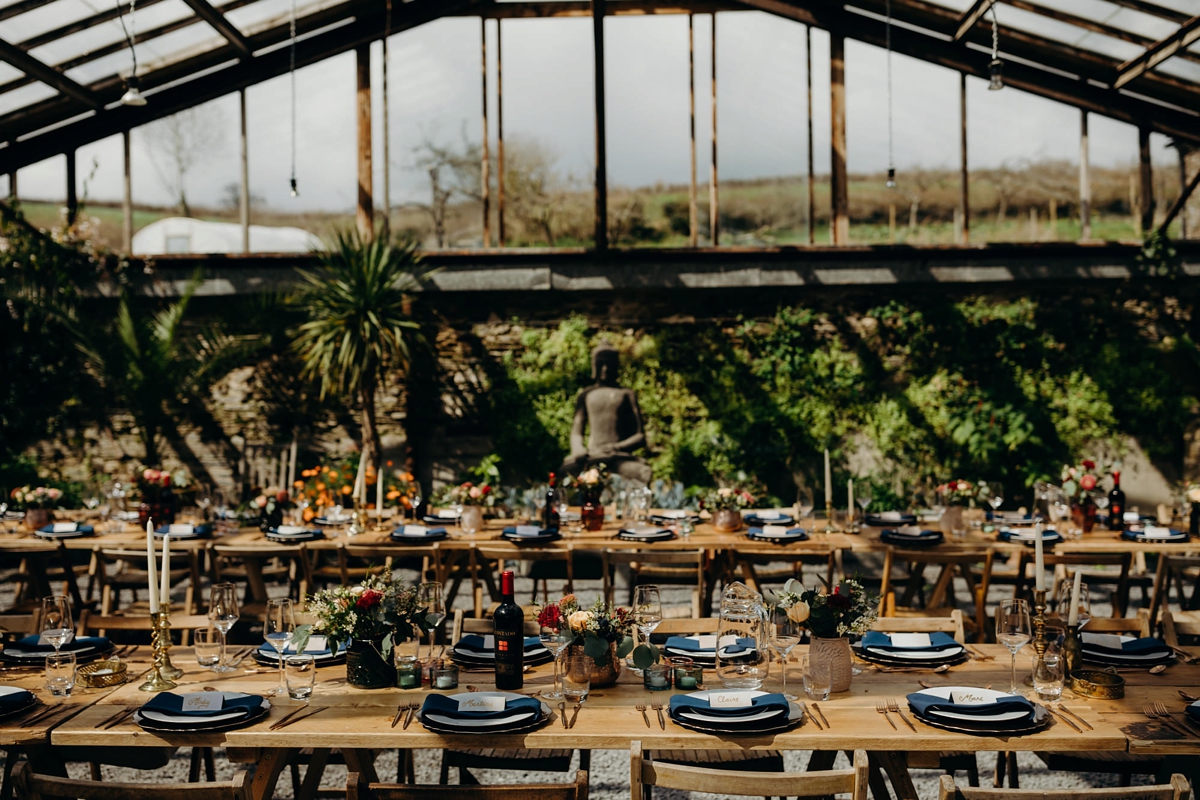 "Hayley Doidge of CruEvents is a godsend! She really was incredible. She fed us all week. Organising a curry in the pub the night before (Live and Let Live Inn – Landscove). It was a great idea to get all our guests mingling before the big day. People had travelled far and wide so were glad of a warm meal and it was so delicious. Even the one guest who hates curry, loved it. Then Hayley put on a beautiful table feast. It was a nice touch because we had a plated starter to begin with and give the afternoon a bit of structure."
"Then came the table feast. Braised beef brisket, the most delicious roast potatoes in the world (one guest thought they were so good, she raised a toast to them), and then the dessert…. Everyone ate every scrap. Don't even get me started on the pulled pork brioche buns that came out at 10pm. Thought fights would break out over those bad boys.  Hayley and her team worked really hard for us all and I know she was going above and beyond in the background to make things run seamlessly.  She also caters at Glastonbury in the VIP tent – so she knows how to please even the toughest critics!"
"I'd banned our dogs from attending the ceremony. I thought muddy paws and a white dress probably weren't a winning combo. But our lovely friend Clare, painstakingly baked over 500 ginger biscuits in the shape of a Rhodesian Ridgeback. It was a cute personal touch and they were bloody delicious."
"We had the most delicious cake I have ever eaten, byKonradi Cakes. I'm hoping someone has a birthday party soon so I can order another one. We had three tiers – lemon, ginger and chocolate, all finished in a white chocolate ganache and decorated with wild flowers. You can never please everyone by having just one cake. We both hated traditional fruit wedding cake, but couldn't agree on what we wanted so thought 'why choose, when you can have both?'"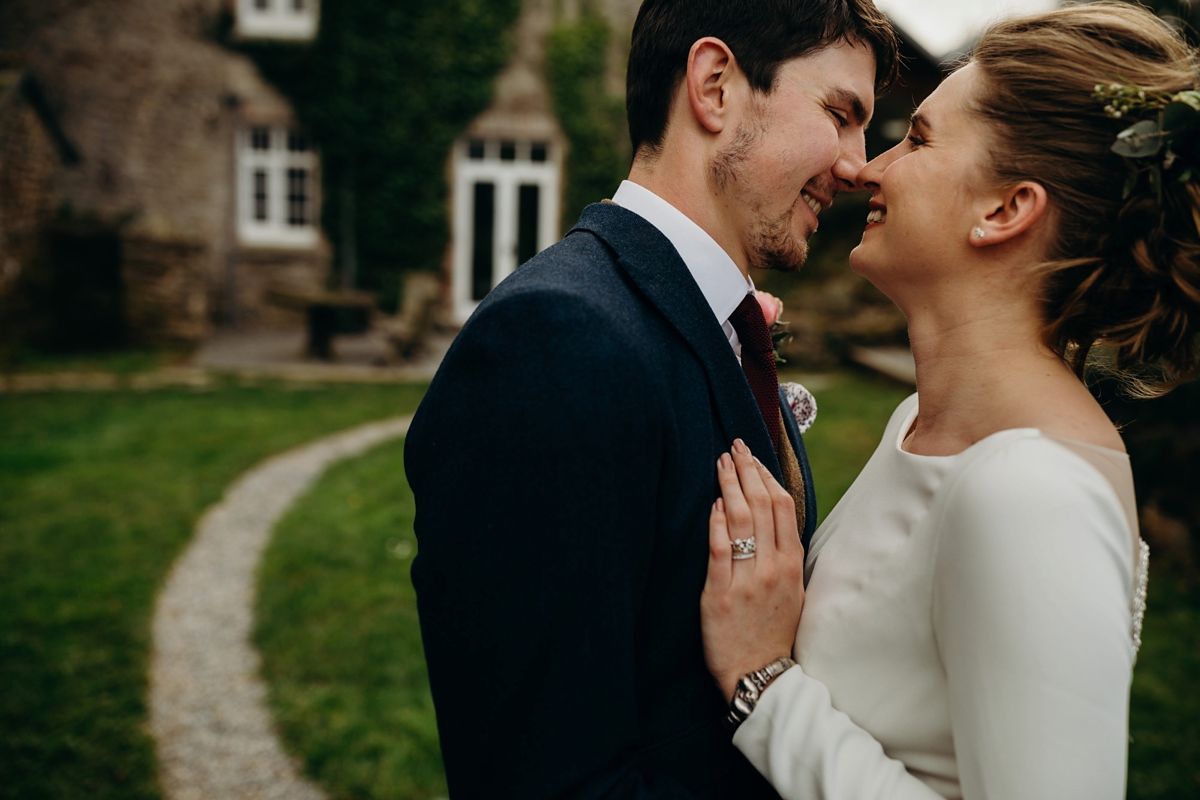 "Our rings were fromWhy Jewellery in Canford Cliffs, Dorset. They were nearby and really took the time to explain their process. All their jewellery is handmade, and I even learned about diamond clarity. Every day is a school day."
"One of my favourite moments was around 11pm – Stu had just run up to the manor house to get all the ladies some slippers. Our feet were killing us, our hair was down, so it was time to get the heels off and the comfies on. I sat on a hay bale and Stu put the slippers on my feet and then sat next to me. All our guests were up dancing."
"My sister was singing a duet with the lead singer of the band. One groomsman was in the Mother of the Groom's hat looking like a 17th century courtier, one was winking at us as he stole booze from the free bar, there were a few couples all loved up by the firepit and everyone had a huge smile on their face. We knew everyone had had as much fun as us. We wouldn't have changed a single thing."
"Our first dance was to an acoustic cover of Bruce Springsteen's 'I'm on Fire'. It's our favourite song."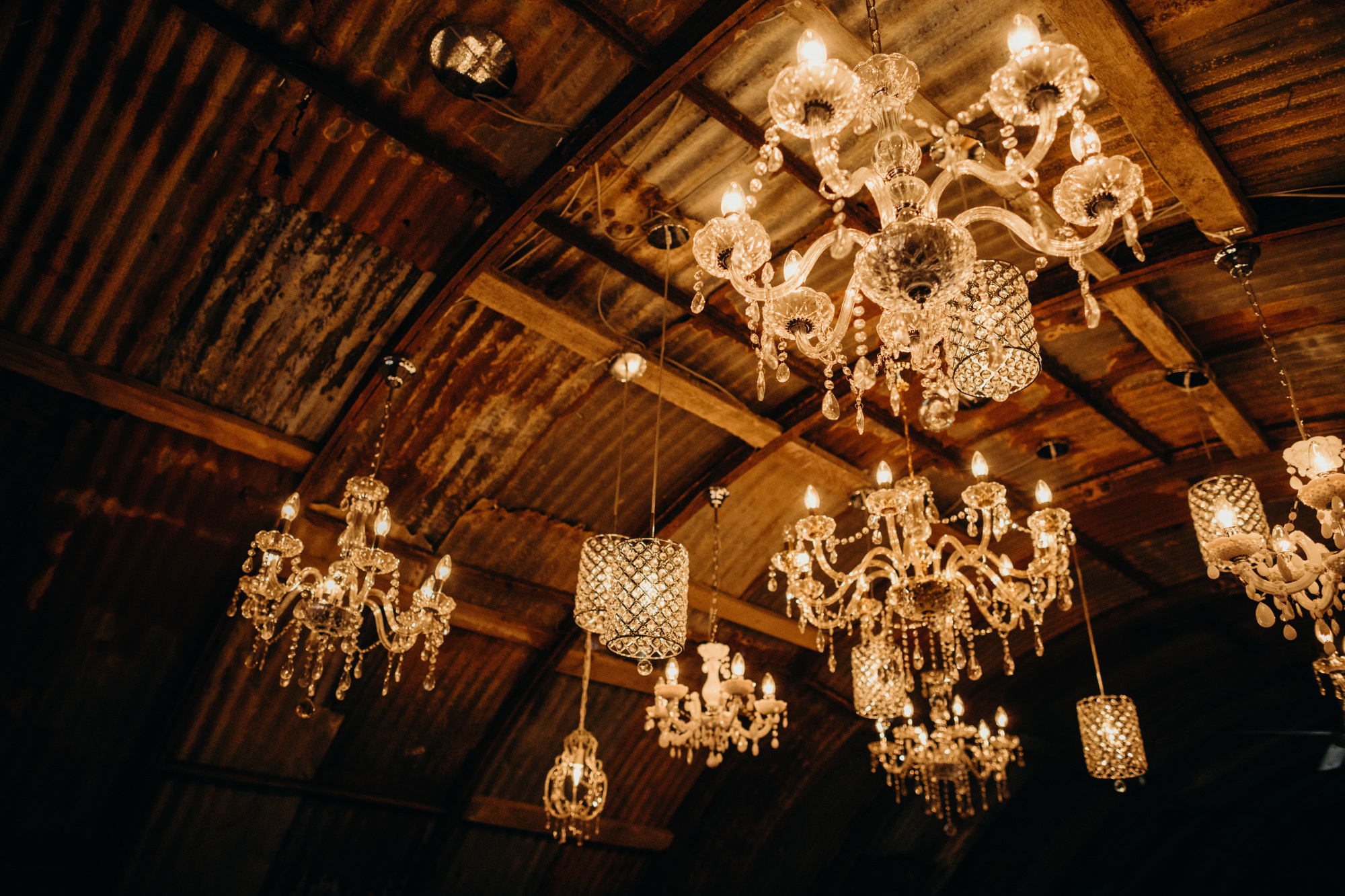 "We hired Harbottle & Jonas – a talented and soulful folk duet. They played during our ceremony but also kept people entertained as they were arriving and during canapés. They did a tailored setlist for us and even learned a few new tunes and arrangements for us. And they gifted us a CD at the end."
"We also hired Kudos – an evening band and incredibly talented bunch of musicians. Alex has such a powerful voice and there's nothing like live music and saxophone to get people dancing. My family are all musicians so they probably would have noticed if the entertainment wasn't spot on. The hit every note and their set list was great. It felt like we knew them. Everyone was up and dancing."
Words of Wedded Wisdom
"Plan everything and then invite people. Have one trusted person who you bounce ideas off, but don't try to keep everyone happy or get their opinion on everything. They might mean well, but they'll end up making it their day and not yours."
Don't worry about saying your vows out loud. I was quite nervous about this but there are so many options. You can memorise them, read them, or repeat after your celebrant. And in the moment, you'll be so wrapped up in your new husband or wife that you won't even realise anyone else is there."
"Enjoy it. Have someone else be the designated 'go to' person on the day. Just be present and take it all in. It's over in a flash, but you'll catch yourself smiling over your morning coffee as you think about your special day.
Finally – don't invite people for the sake of it. Weddings are expensive. You don't need to invite your second cousin once removed just because they invited you to their wedding. Focus on your nearest and dearest. We are both from big families so just invited grandparents, immediate family, and their partners and our closest friends."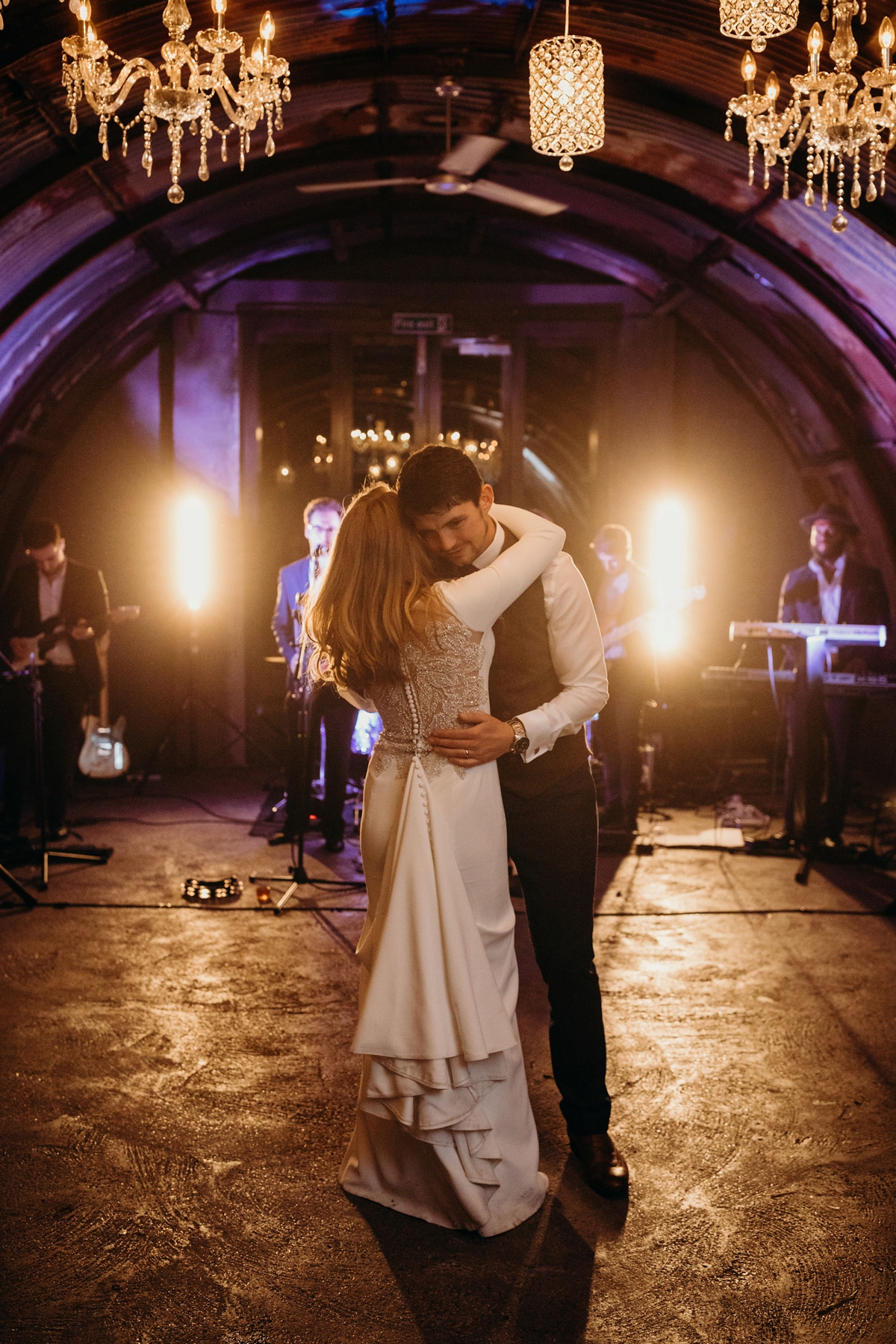 You can see more of photographer Richard Skins' work on Love My Dress here – and explore more Justin Alexander brides here too.
Have a most lovely Sunday everyone,
Annabel x