Hello lovelies! And how are we this fine Friday? Looking forward to the weekend I do hope. If there's one wedding that's going to get you in the mood for a party, i is today's.
With a huge love of music, this bride and groom shimmied their way into married life with music and personal touches at the core of the day. So without wasting any more time, let's introduce you to our music-loving duo. Digital Producer Stefanie and Radio Producer Derek were married one sunny Saturday 12th August 2017 at Knepp Castle, a 3500 acre estate south of Horsham.
"Our love of going to music gigs and festivals led us to opting for an outdoors, festival wedding which reflected us and our alternative tastes perfectly. As we're not religious, we had a humanist minister do our ceremony and had a private legal ceremony in the mayor's office at Islington Town Hall two days before the wedding with just our immediate family. Our festival wedding day is the day we consider to be our actual wedding day and we had lots of personal touches to make it special including having our friend Neal singing and playing guitar during the ceremony."
Images by Emily & Steve
Photography duo Emily & Steve were on hand on the day to capture the wedding on camera.
"Emily and Steve did a fantastic job for us, capturing the magic of the day in a very naturalistic style. Exactly what we wanted and we were delighted with our beautiful photos!"
"Personal touches included the cowboy boots I wore, as I wanted to wear comfortable shoes that I would wear again instead of uncomfortable girly shoes that would languish in a closet forever afterwards. I handmade the bridesmaids gifts of friendship bracelets with monogrammed gold charms. Derek bought each of the groomsmen a vinyl which he had signed by the artists (Huey Morgan of Fun Lovin Criminals, Jarvis Cocker of Pulp and Guy Garvey of Elbow).
For her big day, Stefanie chose a beautiful rock 'n' roll beaded sleeveless dress from Needle & Thread, paired with her beloved cowboy boots and a gold hair vine by Love My Dress favourite Britten Weddings.
"I liked the ombre pink tones in the skirt of the dress, the high neckline and the embroidered beaded detail running through the entire length of the dress. The price was extremely reasonable too and I fixated on it long before the time came to buy it."
"I did try on other, more expensive and fitted dresses in bridal boutiques, but nothing came close to suiting me as much as this dress did. It was so comfortable and flattering."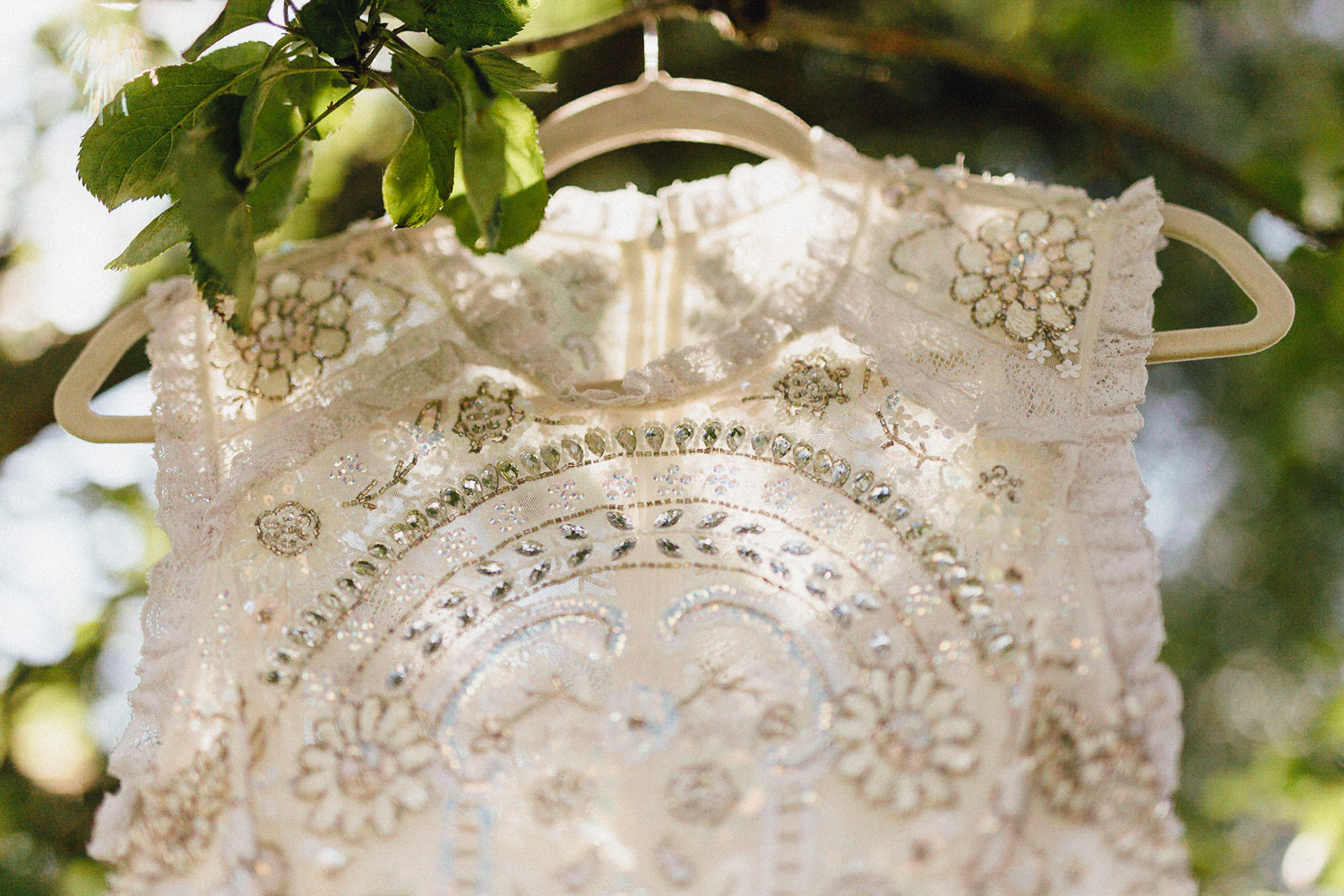 "My friend Abigail did the flowers. She's done several weddings and regular flower arrangements for local cafes and farmers markets. Her Instagram is @greentotheverydoor. She and I went to New Covent Garden Flower Market and I selected flowers I liked."
[JP-VIDEO]
"Together we brainstormed and she came up with plans around my budget. The flowers I chose were gypsophila, pink wax flowers, love in the mist, eucalyptus and mint. Bridesmaids bouquets were just bundles of gypsophila. The arch we had our ceremony in front of was covered in hops."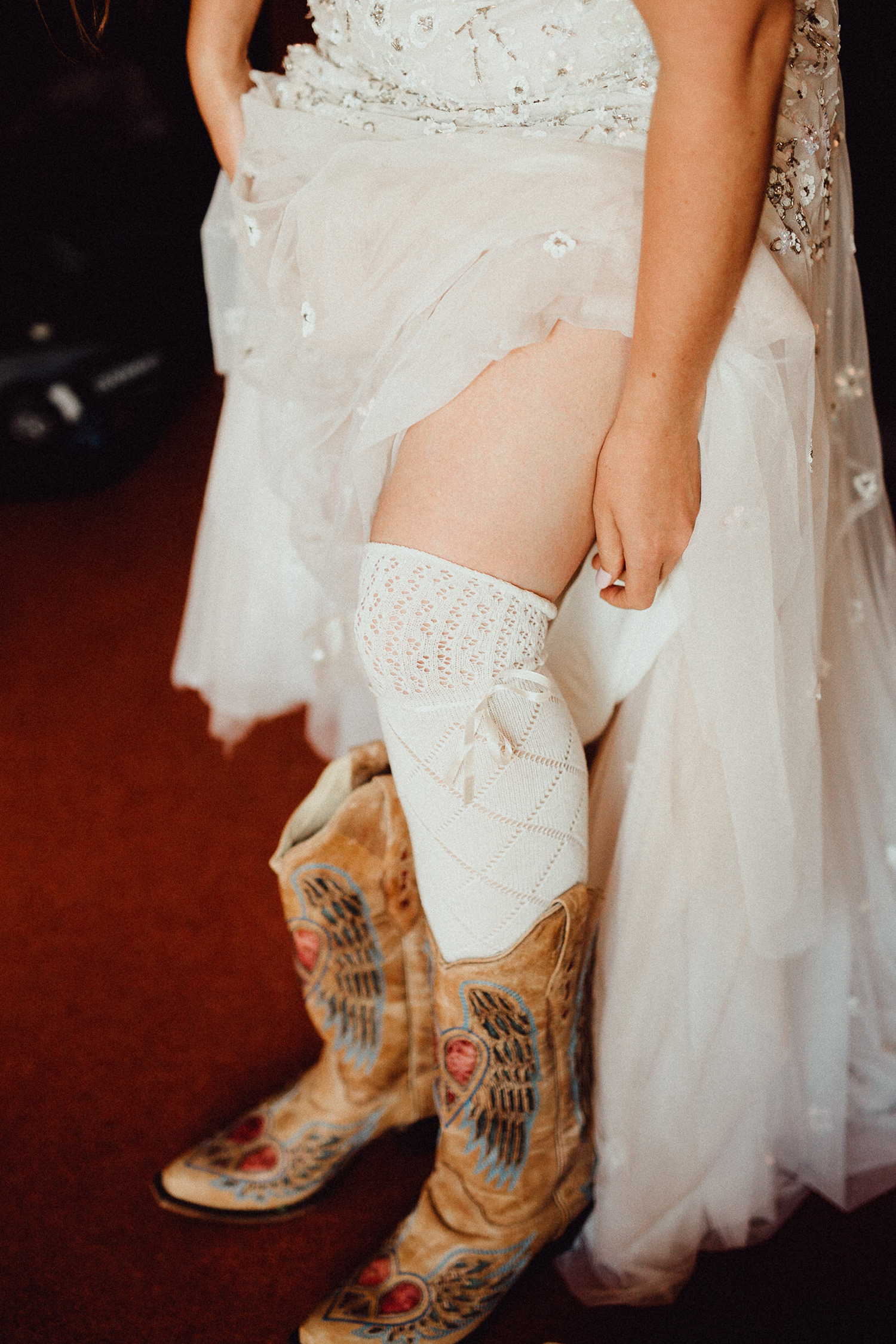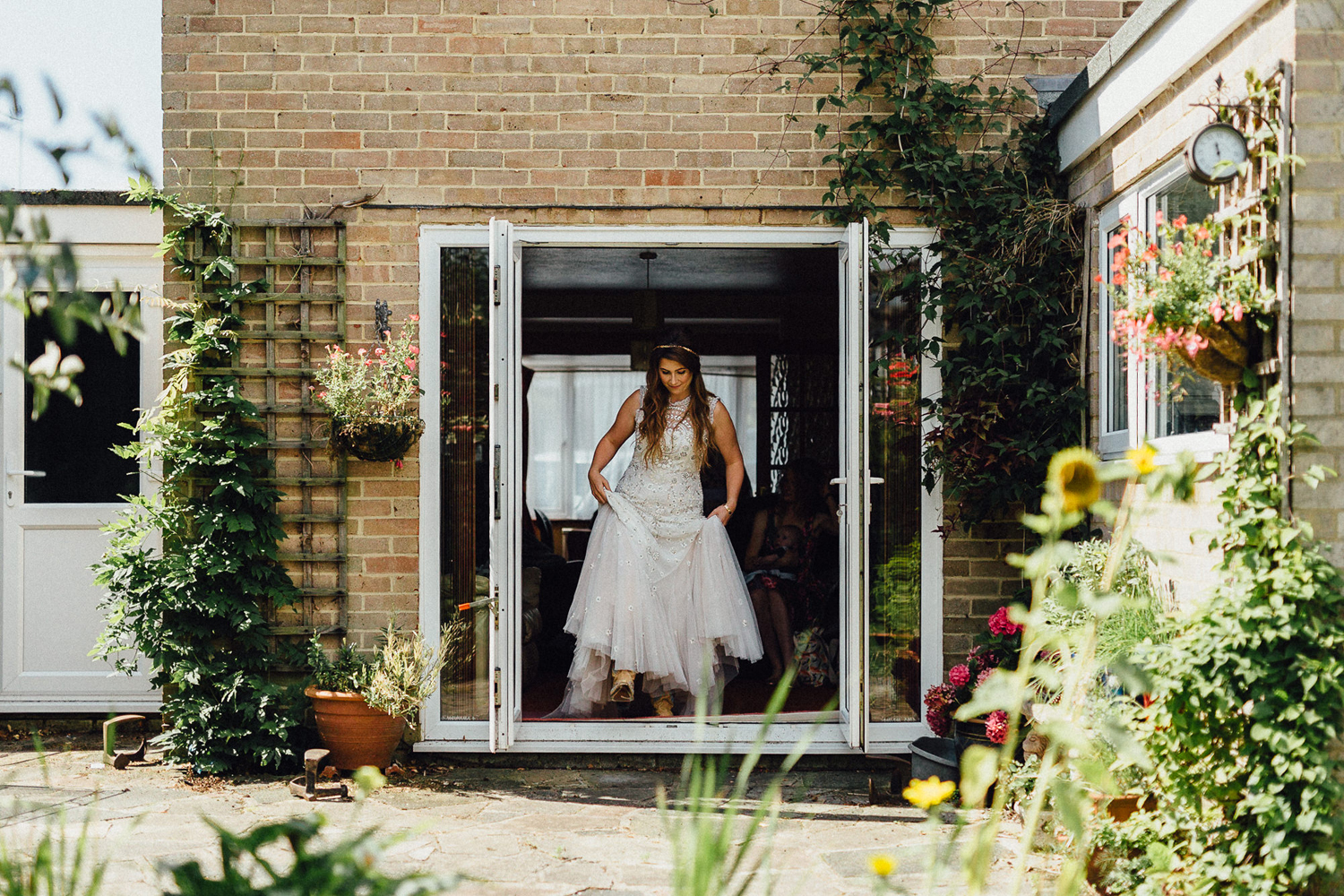 The music-loving pair first met at a DJ night in a pub in north London which Derek was DJ-ing and after becoming engaged on a visit to Japan in 2014, the couple gave themselves 2 years and 4 months to plan the wedding of their dreams.
"Derek and his DJ partner had a regular night playing vinyl indie, soul, 80s pop and disco tunes. I was brought to the night by a friend who knew Del and introduced us. We hit it off straight away and started chatting about Glastonbury, with me mocking the bands he'd gone to see, telling him they were rubbish. I told him about Masters of the Kazooniverse, the kazoo band I'm in that play Glastonbury every year, and it turned out he'd heard of us through our appearance on Radio 1 a few times. He also knew one of my band mates from his school days. A lot of drinking happened and I spent the rest of the night requesting my favourite tunes, all of which he dutifully played for me."
"We got engaged on our visit to Japan in April 2015. We were there for a friend's wedding and Derek proposed on the beautiful island of Miyajima just off the coast of Hiroshima. We had a 2 year, 4 month engagement as we knew we wanted a big wedding with lots of guests and that it would take some time to save up and plan!"
"We opted for Waterloo Sunset by The Kinks rather than a hymn and Paul McCartney's Silly Love Songs which the kazoo band joined in with wich was really funny! We wrote our own vows and instead of religious readings, we had poetry by Mary and Percy Bysshe Shelley (who was also local to the area), and readings from Jane Eyre and Pride & Prejudice. There is a running joke that in Derek, I found my Mr Darcy, as I've always loved that book."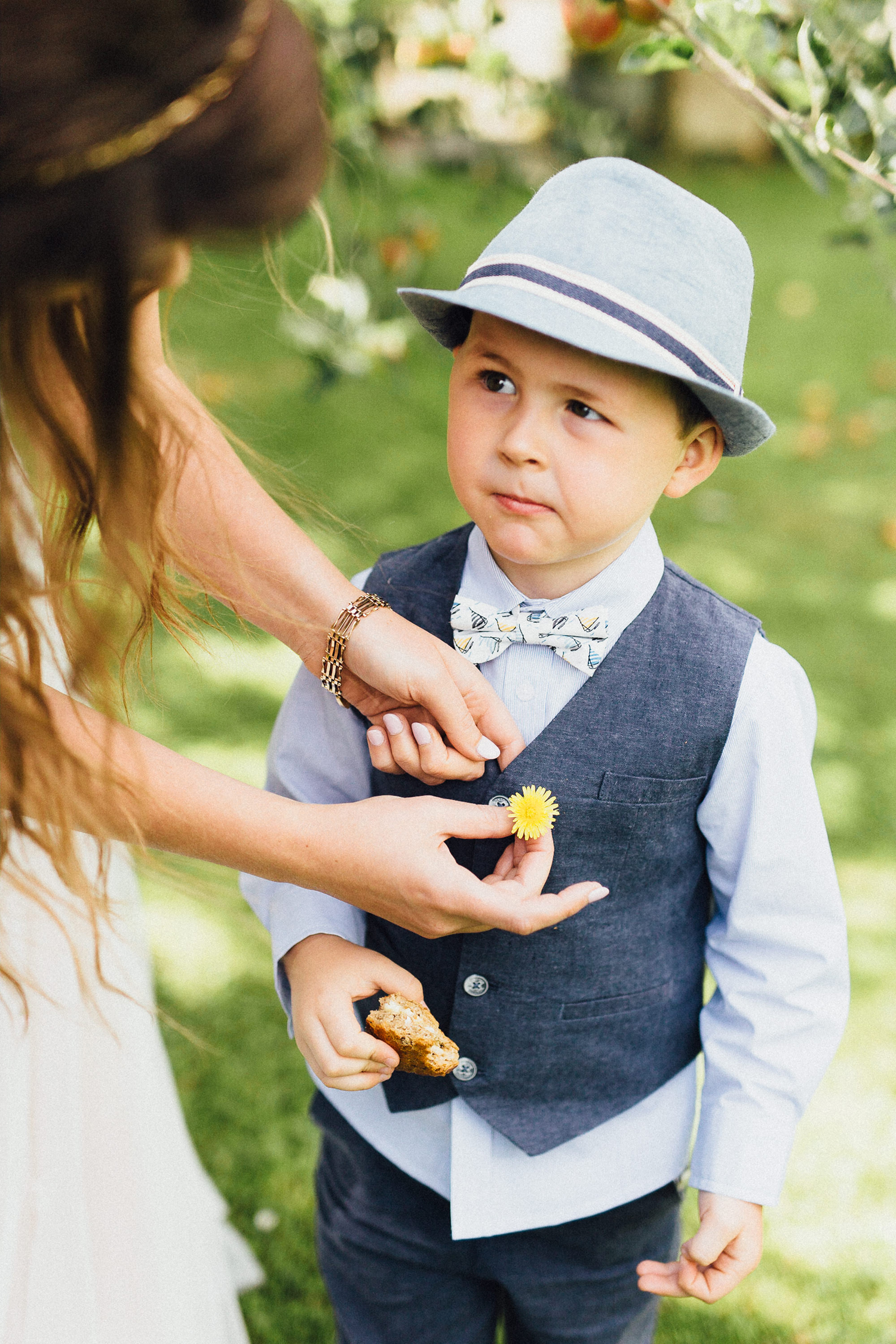 "I wore my mum's diamond earrings passed down from my grandmother, and also wore my nan's (on my dad's side) gold bracelet. My aunt gave me a beautiful garter to wear and I also wore high cream boot socks tied with a bow above the knee. My perfume on the day was Guerlain – Aqua Allegoria: Lys Soleia and I wore changed from my cowboy boots into a pair of gold Converse trainers for the evening."
"I had four bridesmaids and as they're all different heights and body shapes, I didn't want to make them all wear the same thing. They each wore different 1950s style dresses bought from Dolly and Dotty and Pretty Kitty in assorted green, pink, white flowery patterns. They wore whatever shoes they wanted to wear which turned out to be a mixture of ballet pumps, flat sandals and kitten heels as I wanted them to be comfortable."
"We chose Knepp Castle for many reasons, including the fact that it provided an idyllic outdoors countryside setting for our day. It had a bothy building which we were able to use in addition to our marquee by Beautiful World Tents which we erected on the grass by the lake."
"The toilets at Knepp Castle are permanent so we didn't need to hire any additional to go with the marquee, the venue is just a 5 minute drive from my parents house (which was also my childhood home) and many of our friends who live in London were able to travel the 1.5 hours to Knepp easily."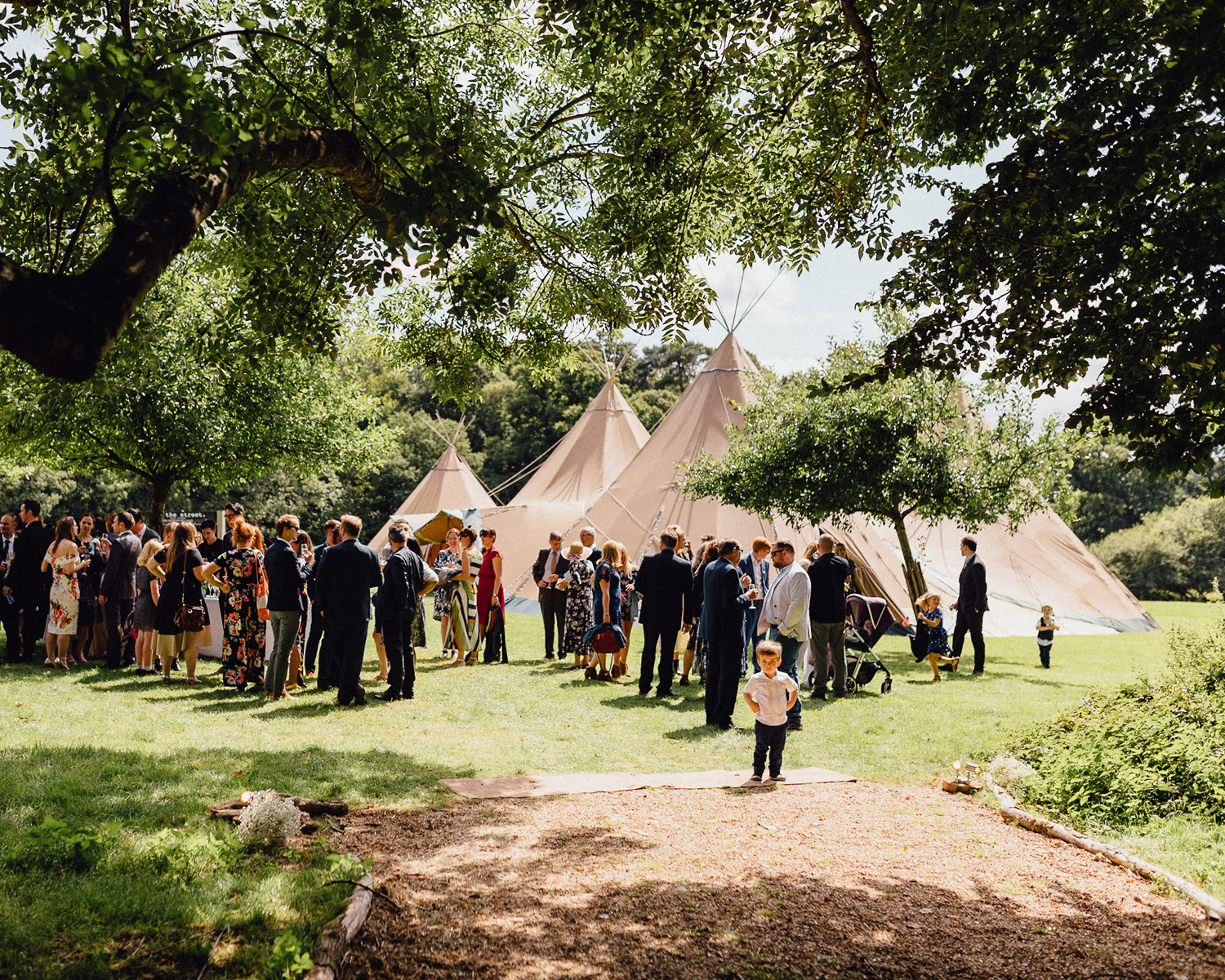 "Our flower girls dresses, page boys and bridesmaids hair accessories were all bought from Monsoon and the bridesmaids also had handmade gypsophila pomanders created by Abigail MacDougall."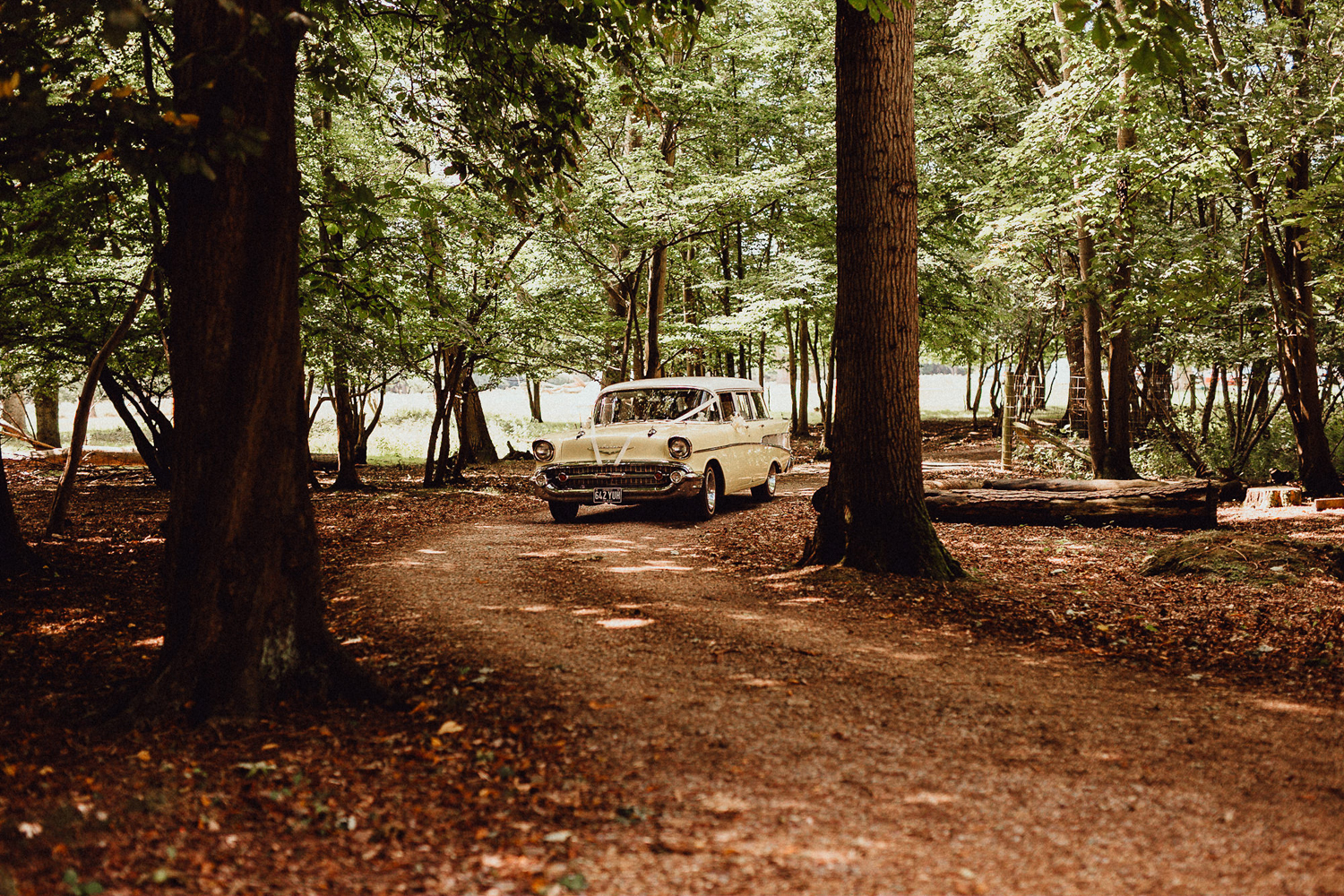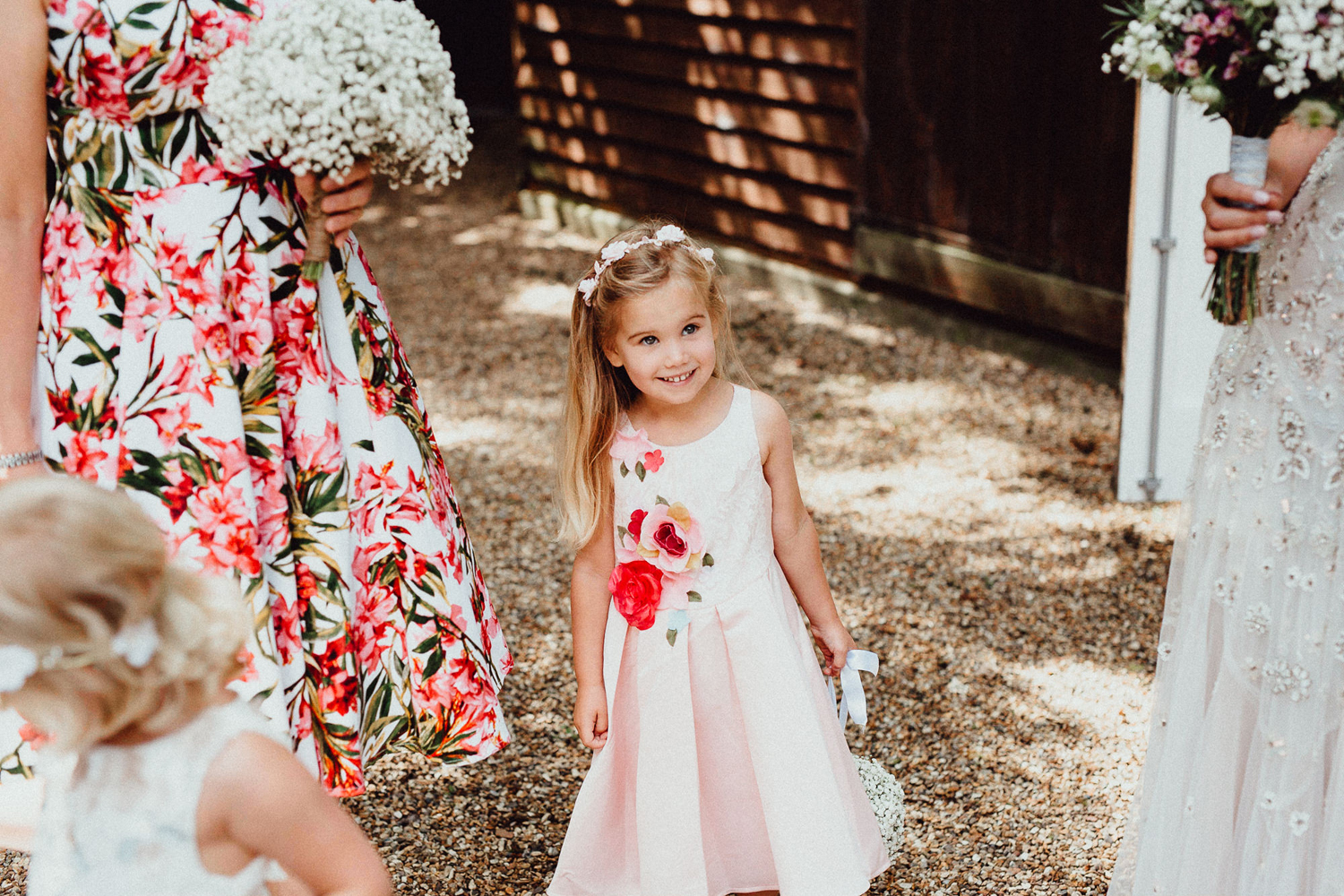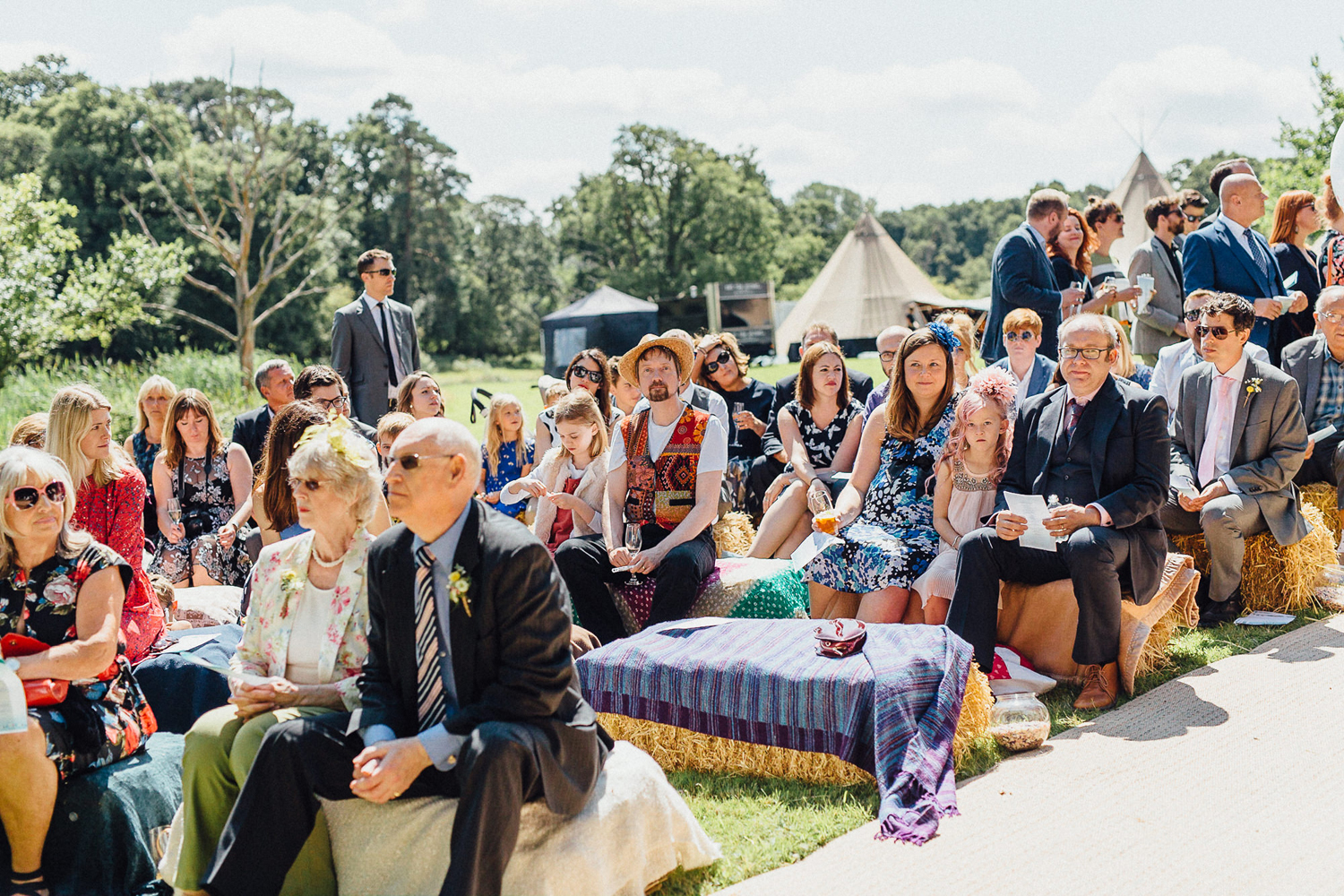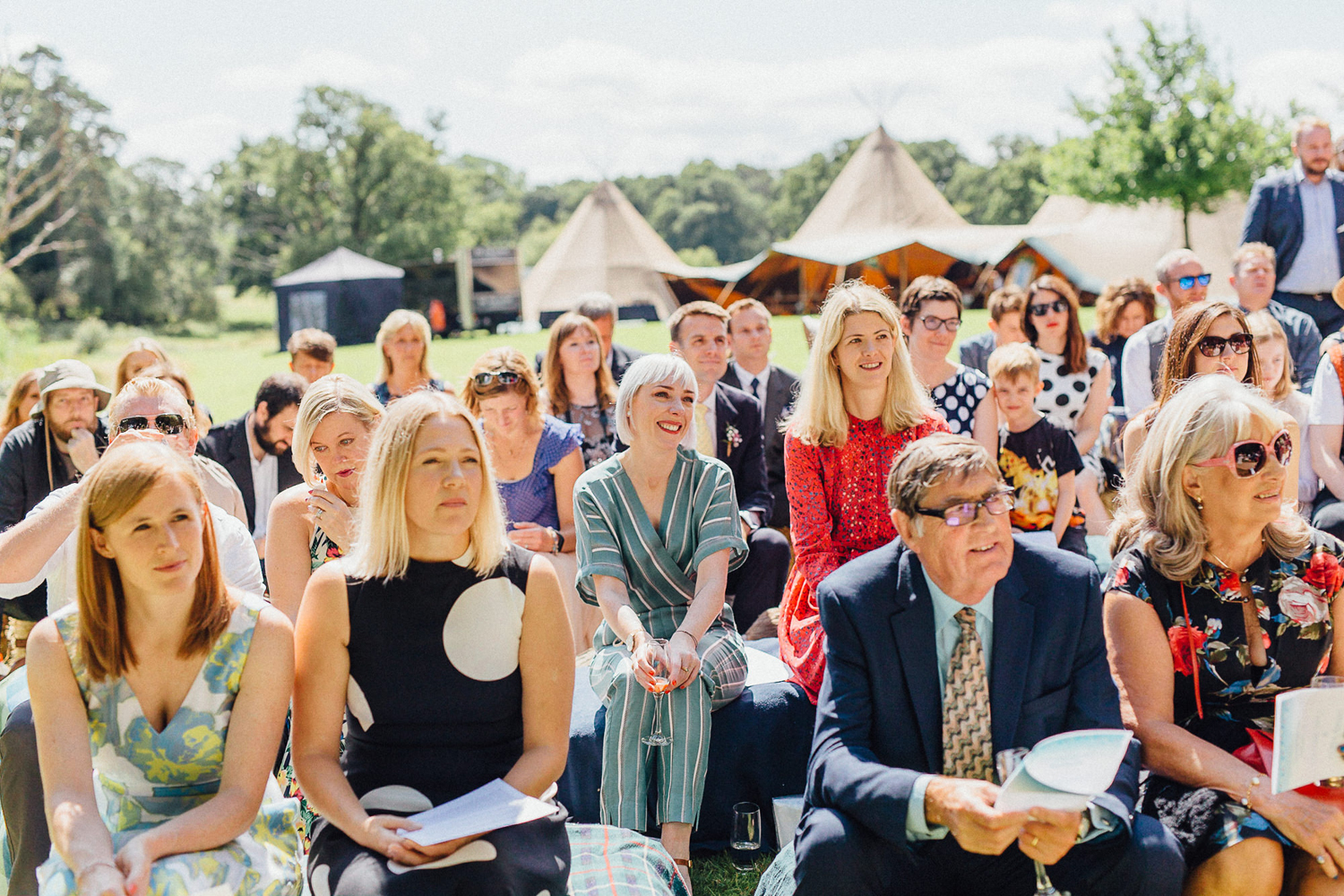 Stefanie's dad walked her down the aisle to a special instrumental version of Something by The Beatles.
"Del found a version with just the organ and guitars, which he refined the audio on so it was just perfect. Samantha Goodchild from Infinite Love was our celebrant and when asked who gives this bride away, I responded with 'I Do' as I'm a feminist."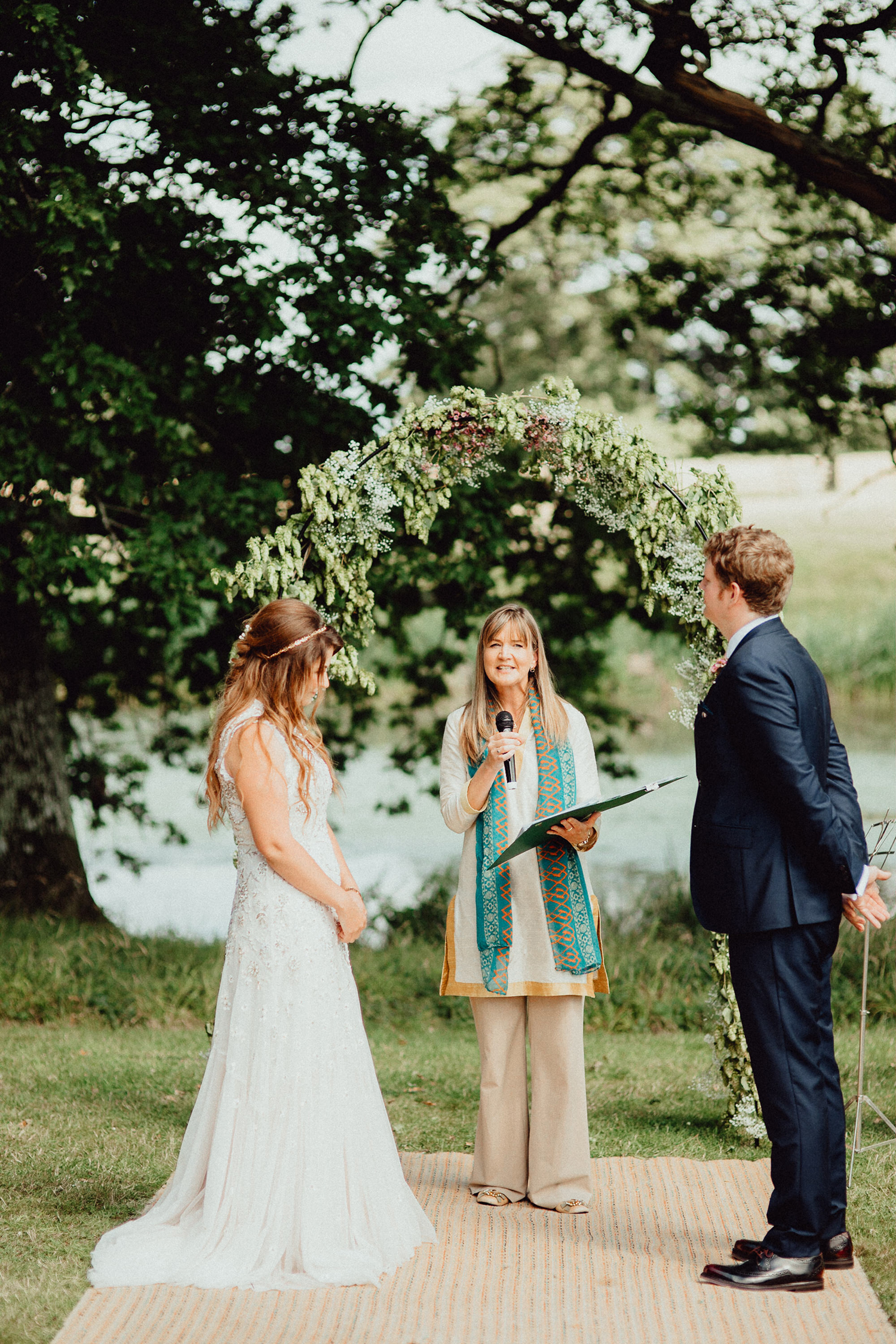 "As mentioned, we wrote our vows ourselves and rehearsed them with Sam, who was incredibly generous with her time in preparation of the big day. Although she gave us some sample vow templates, we didn't really use them, preferring to just write them straight from the heart in our own styles."
"Here's an extract of mine: With these words, in the presence of our dearest family and friends who've loved and supported us throughout our lives, I am permanently binding my future together yours and promise to be the fierce and loyal guardian of your heart forever and always."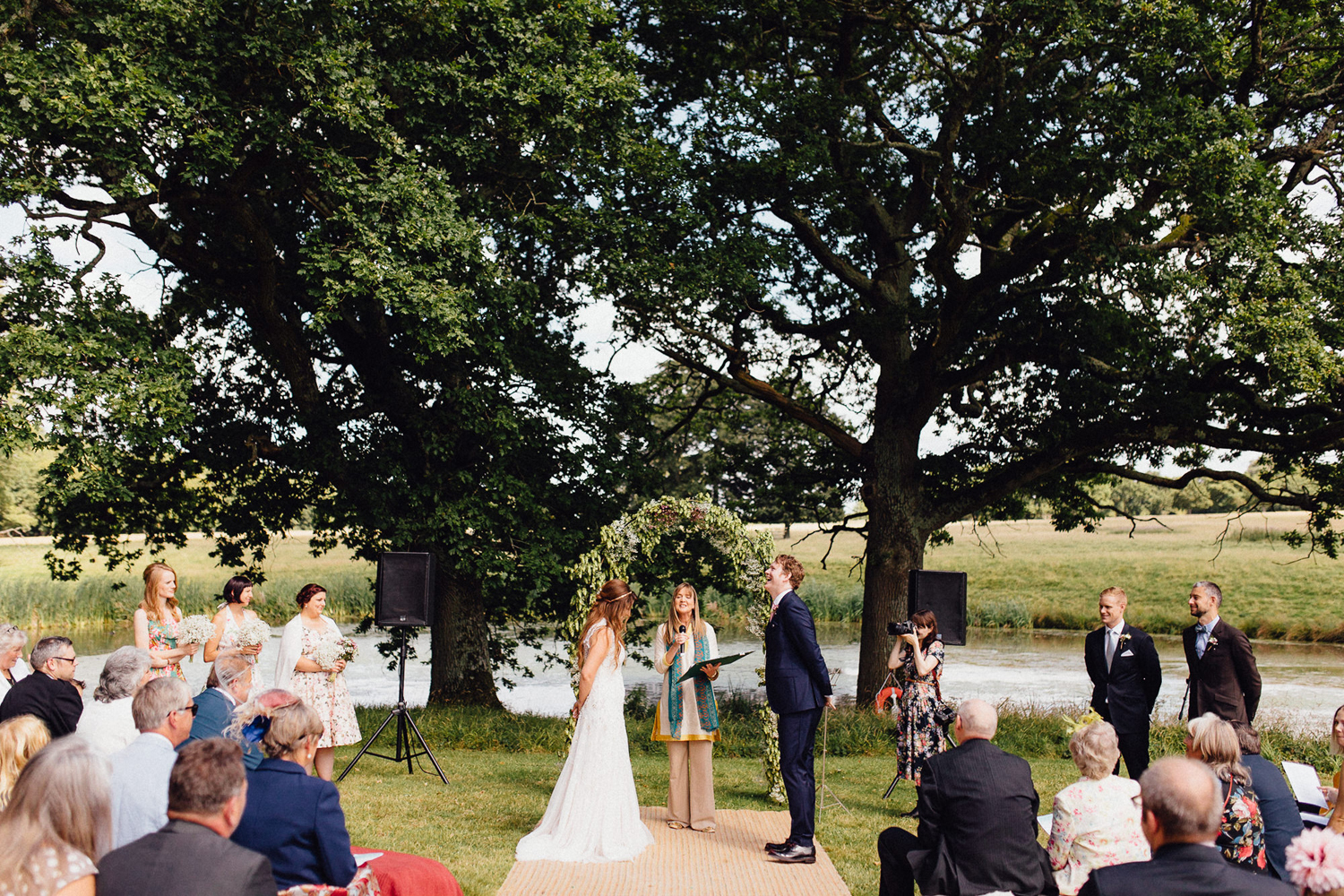 Derek looked the perfect groom on the day, styling a dark blue two-piece suit by Hackett with a pair of Ted Baker shoes, a pink Hackett tie, John Lewis grey waistcoat and a button-hole made by Abigail MacDougall who was also created the bouquets and floral decorations for the day.
The couple swapped wedding rings from Arabel Lebrusan who they chose via a recommendation.
"They're a small independent business and most importantly, produce ethically sound and beautiful jewellery. Our rings were both made from recycled gold."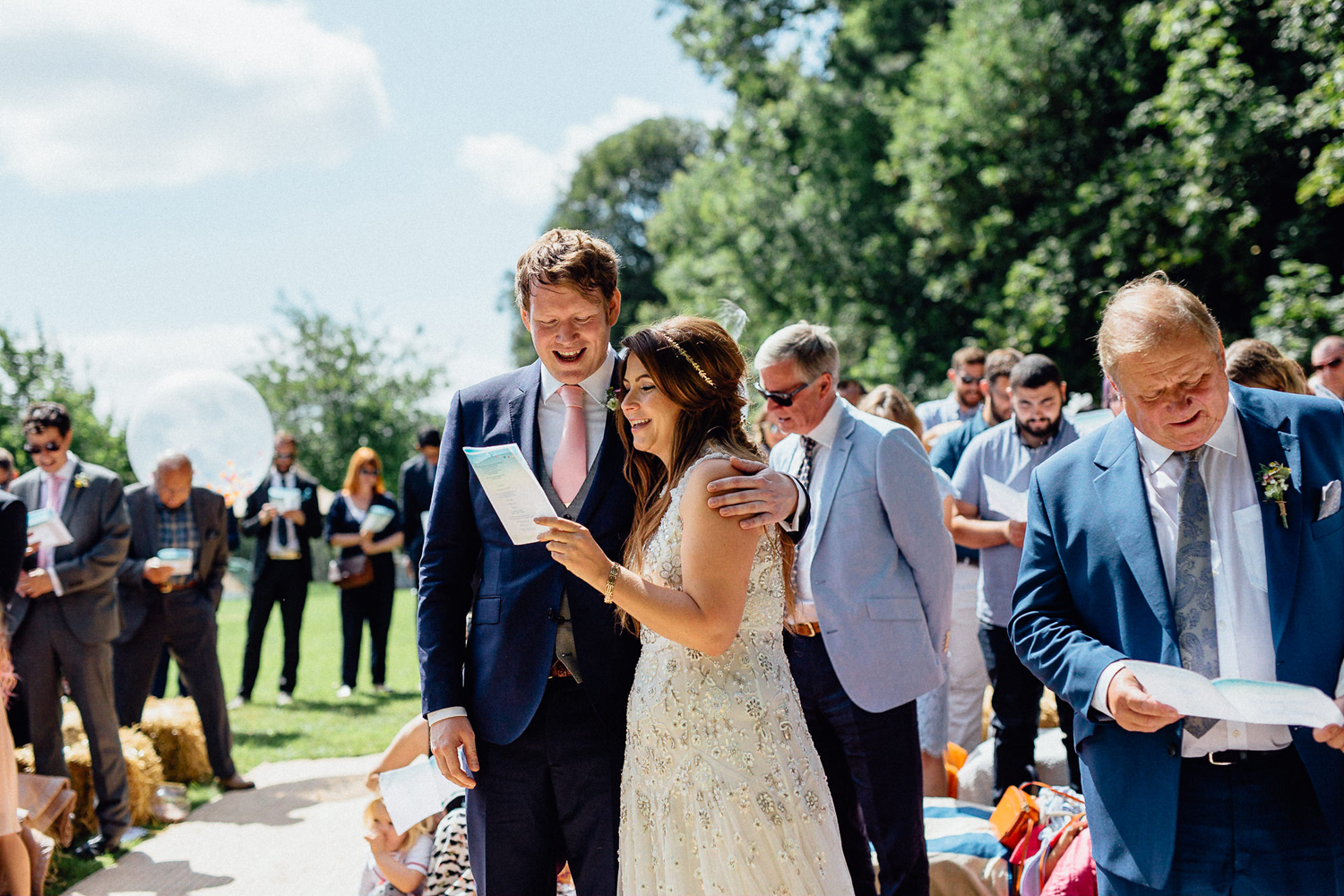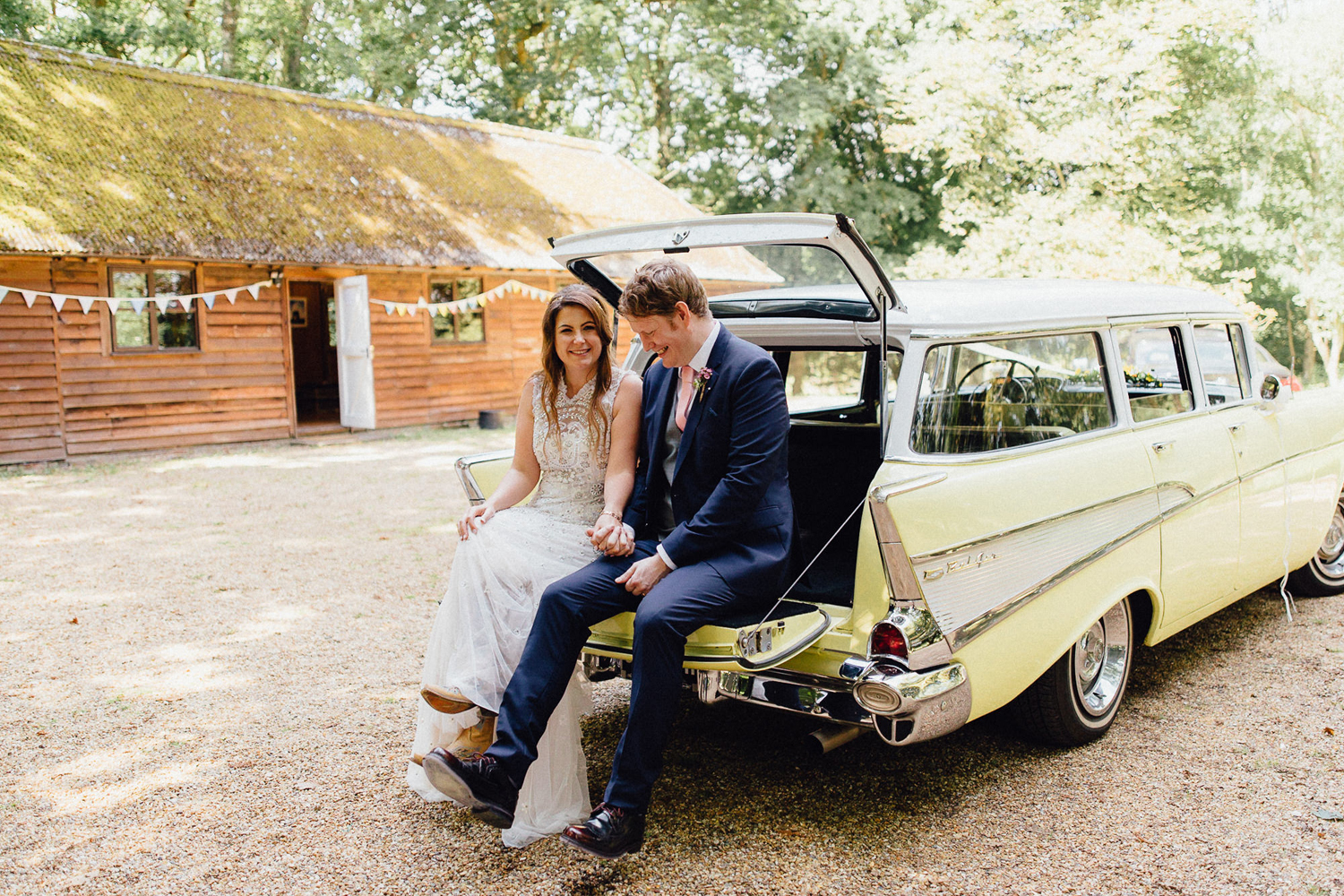 Following the outdoor ceremony, the couple provided a bouncy castle from All Star Bouncers, lawn games and even an ice cream van for the guests to enjoy. The wedding breakfast provided by Eat The Street was served in the marquee and the couple designed the table plan themselves by hand whilst Stefanie's aunt made the place settings.
"We wanted something that felt really DIY for our day and as a Project Manager, I didn't feel comfortable handing the planning and preparations over to someone else, so we did it all ourselves! Derek and I worked as a team, along with the help of our friends and family, and we're so happy we did do it ourselves as we had a massive sense of satisfaction and achievement on the big day when everything played out exactly as we'd planned and hoped for."
"All of the tables had the name of a gig venue in London and was marked with a handmade giant polaroid photo of a band onstage at a gig we'd been to together. The table plan was a a giant chalkboard with each table denoted by the logo of a London gig venue, painted in chalk paint."
"We decorated the marquee in homemade bunting made by my mum and bridesmaid. My mum used scraps of material from childhood clothing that she'd made for me and my sister, so it was very special. We collected jars and soaked off labels for over a year to use for the flowers and LED tealights. The bridesmaids and Del's mum spent hours wrapping them in lace, jute sacking and twine so they looked pretty on the tables."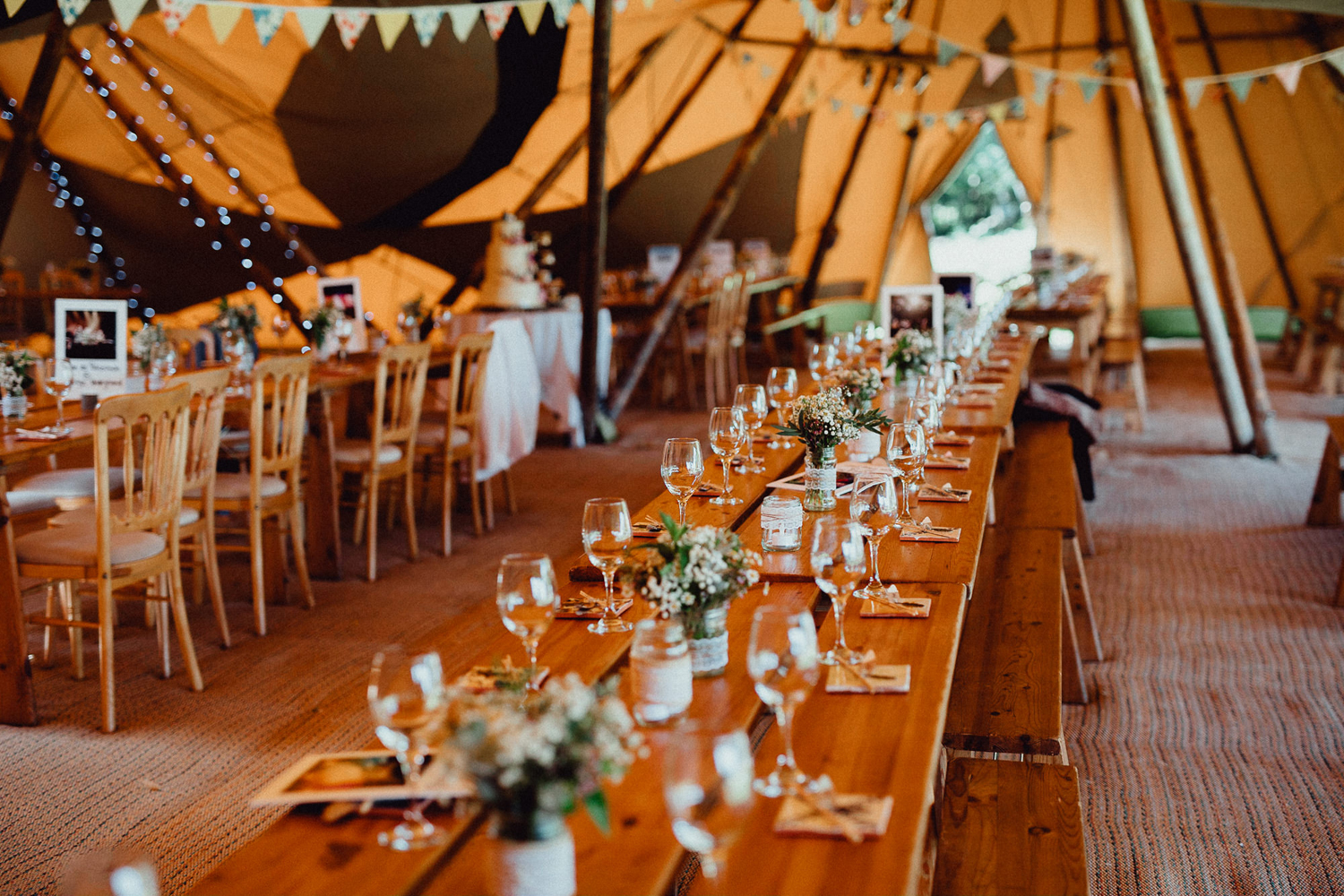 "We bought a large amount of the Mexican handmade tiles from Milagros on Columbia Road in London. We affixed rubber dots as feet to the tiles to turn them into coasters. We also bought a custom-made rubber stamp from the English Stamp Company, which included our names, the date and 'thank you for coming to our special day' on it."
"They were beautiful paper cut brown cardboard feathers dipped in pastel coloured paint. We hand wrote the names on the feathers which were tied to twigs with a feather charm, and set upon Mexican tile favours. It looked really effective!"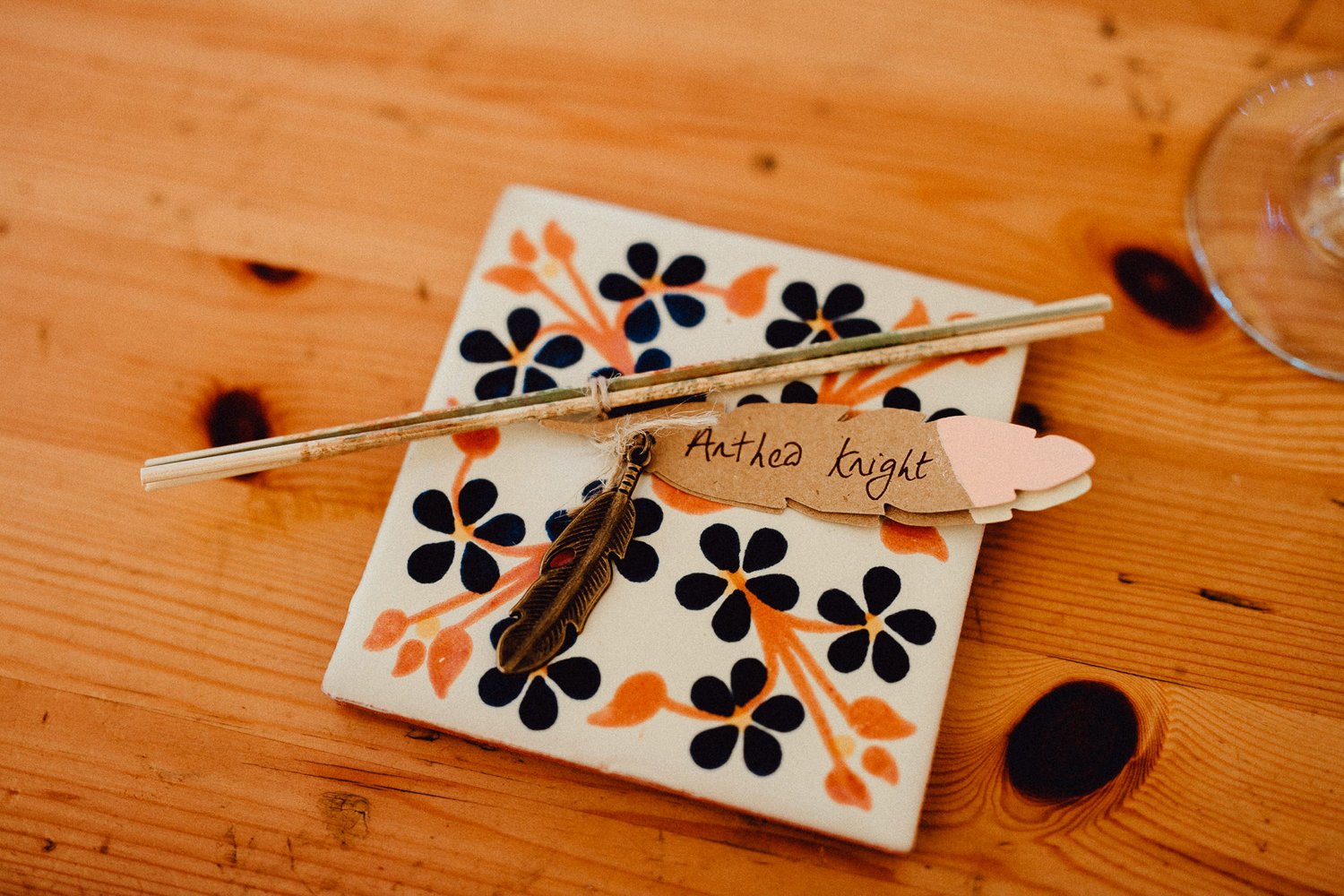 "My mum is a professional wedding cake maker and owns Sweet Dreams, so she also created our cake bespoke for us. We wanted something to reflect our love of Japan, the place we were engaged. We also love Studio Ghibli anime movies so we opted for Totoro bride and groom characters on top of the cake with cherry blossom creeping up the sides. It was four tiers tall with a different flavour for each tier."
"One double chocolate chip, one lime and coconut, one red velvet and one carrot cake. My mum also made a tower of anime-themed cupcakes with characters from our favourite anime movie, My Neighbour Totoro, for the kids – they LOVED them!"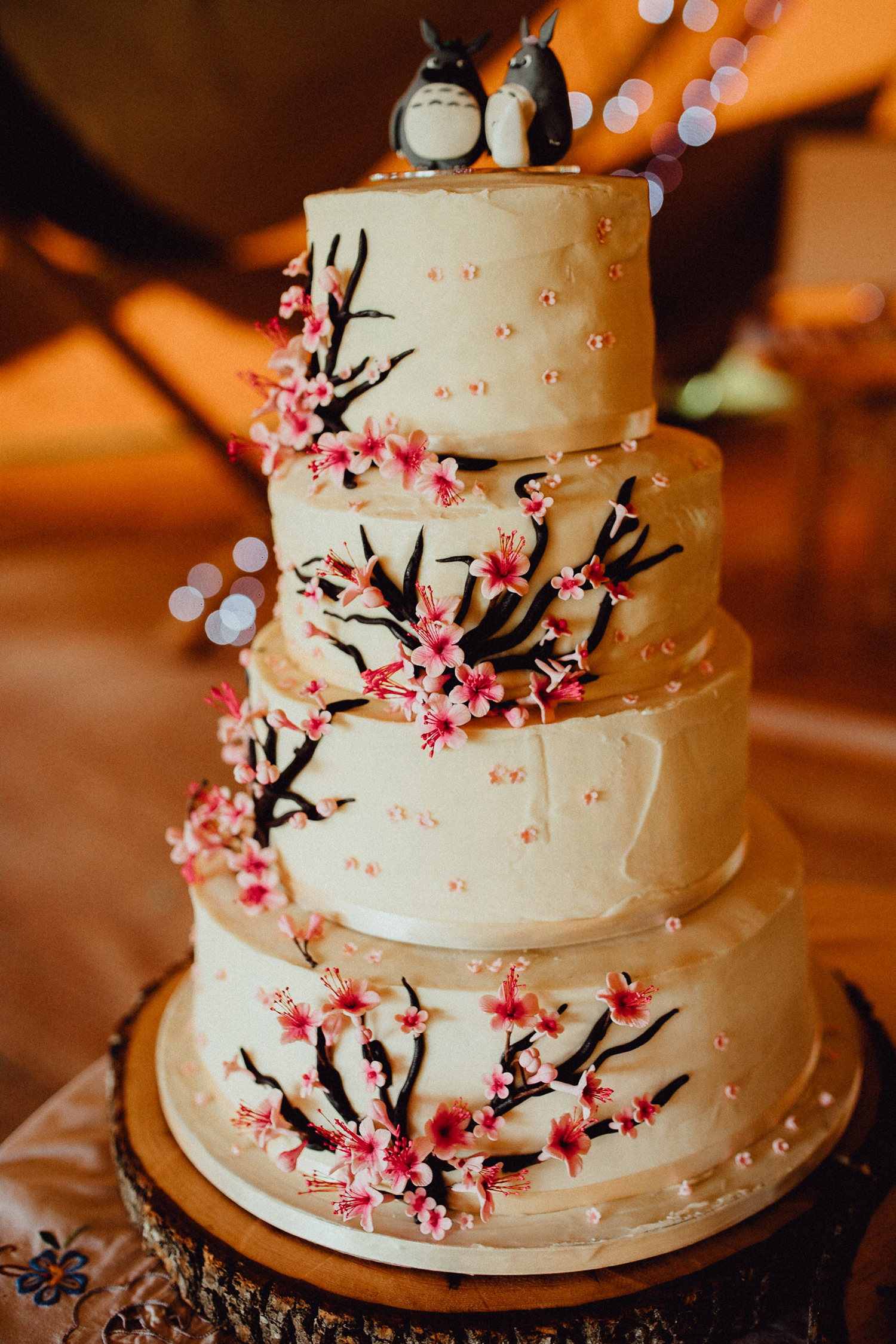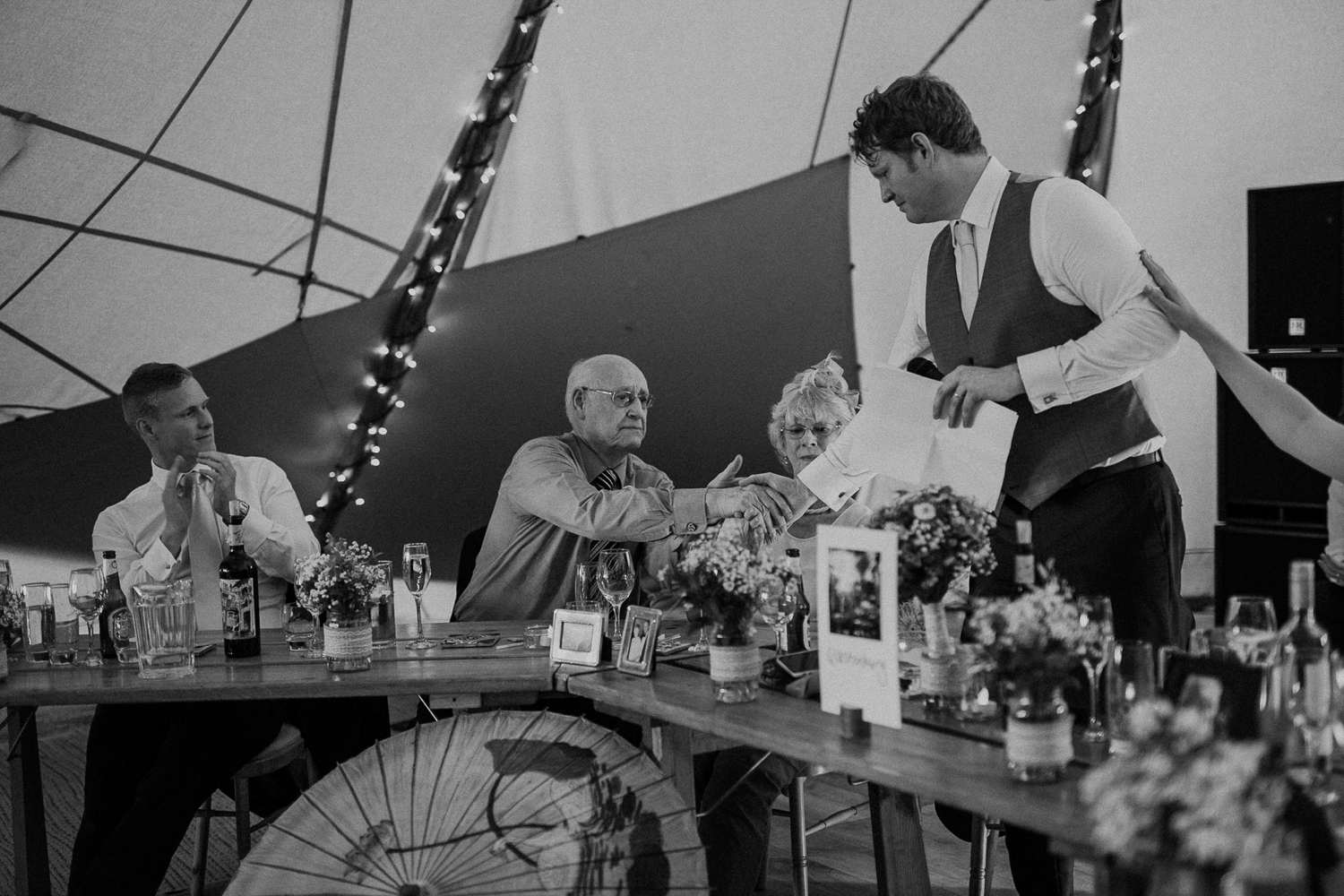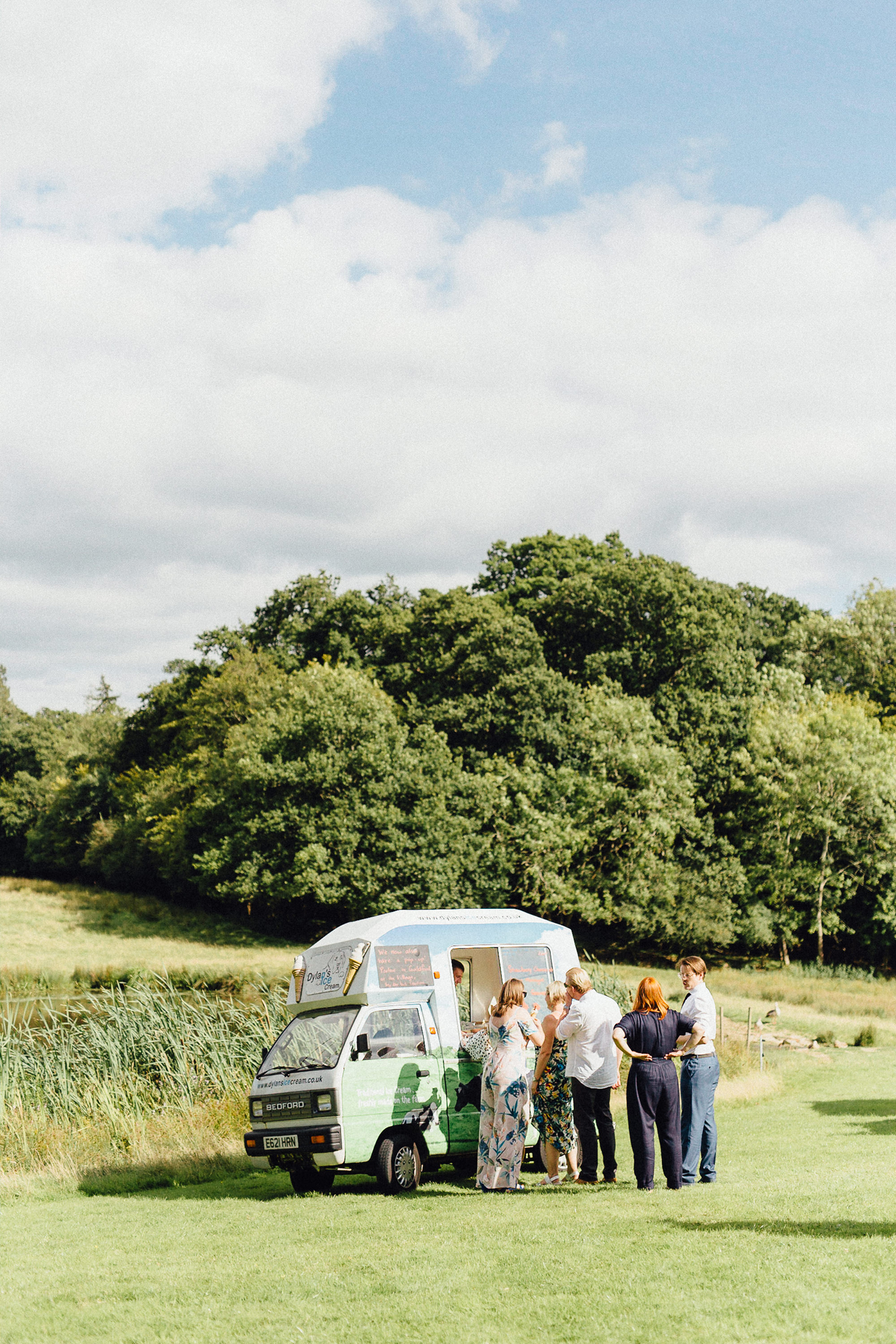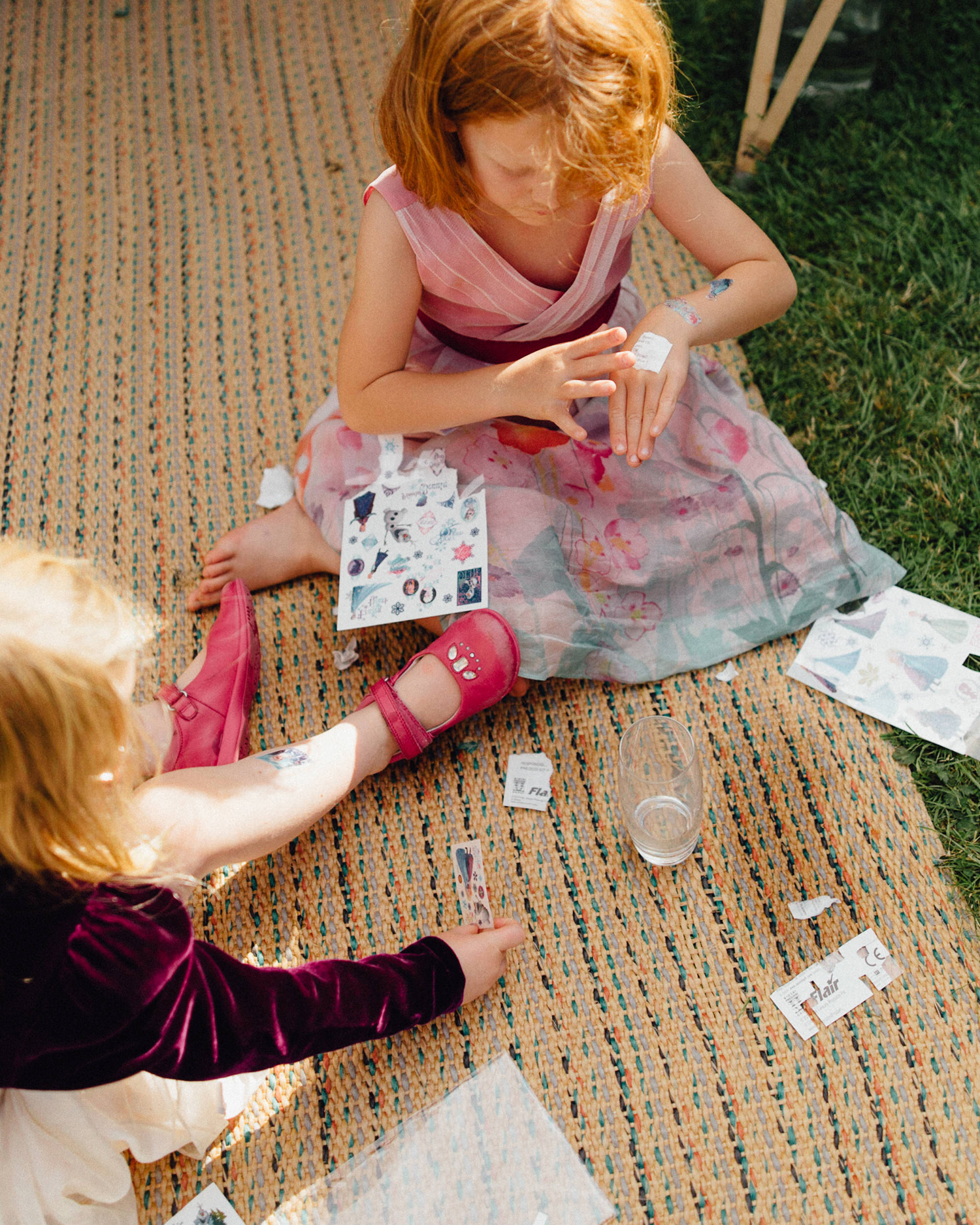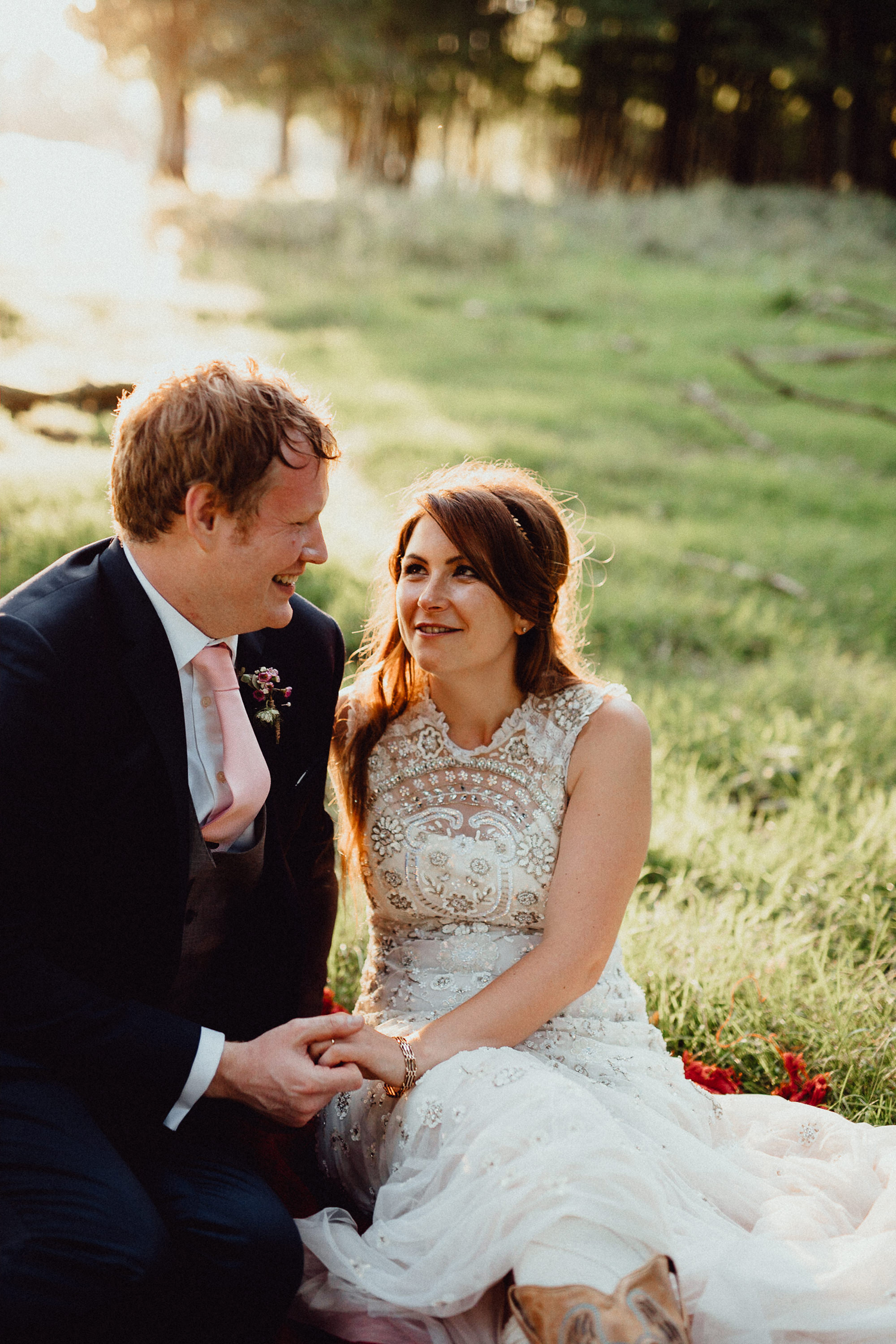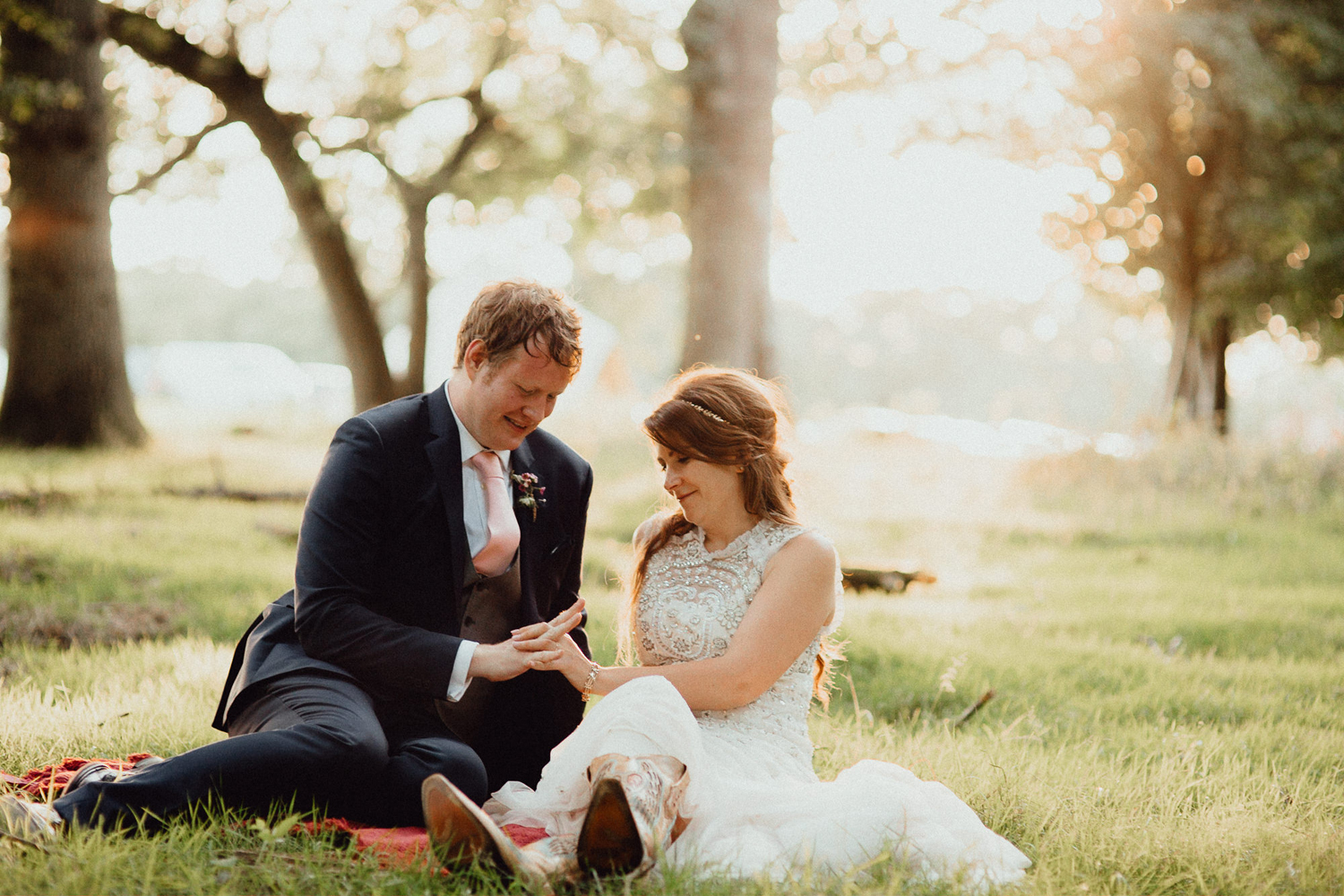 "Apart from the ceremony, which was a highlight of the day from start to finish, and the sunshine which we were hoping for but not expecting, I think I enjoyed my bridesmaids speeches the most. They were extremely nervous but were brilliantly delivered, thoughtful, hilariously witty and got the entire crowd roaring with laughter. It was very important to me that at my wedding, the women got speaking parts (it's very often just the men who do all the talking) and I was so proud of my sister and best friends for doing the sisterhood proud."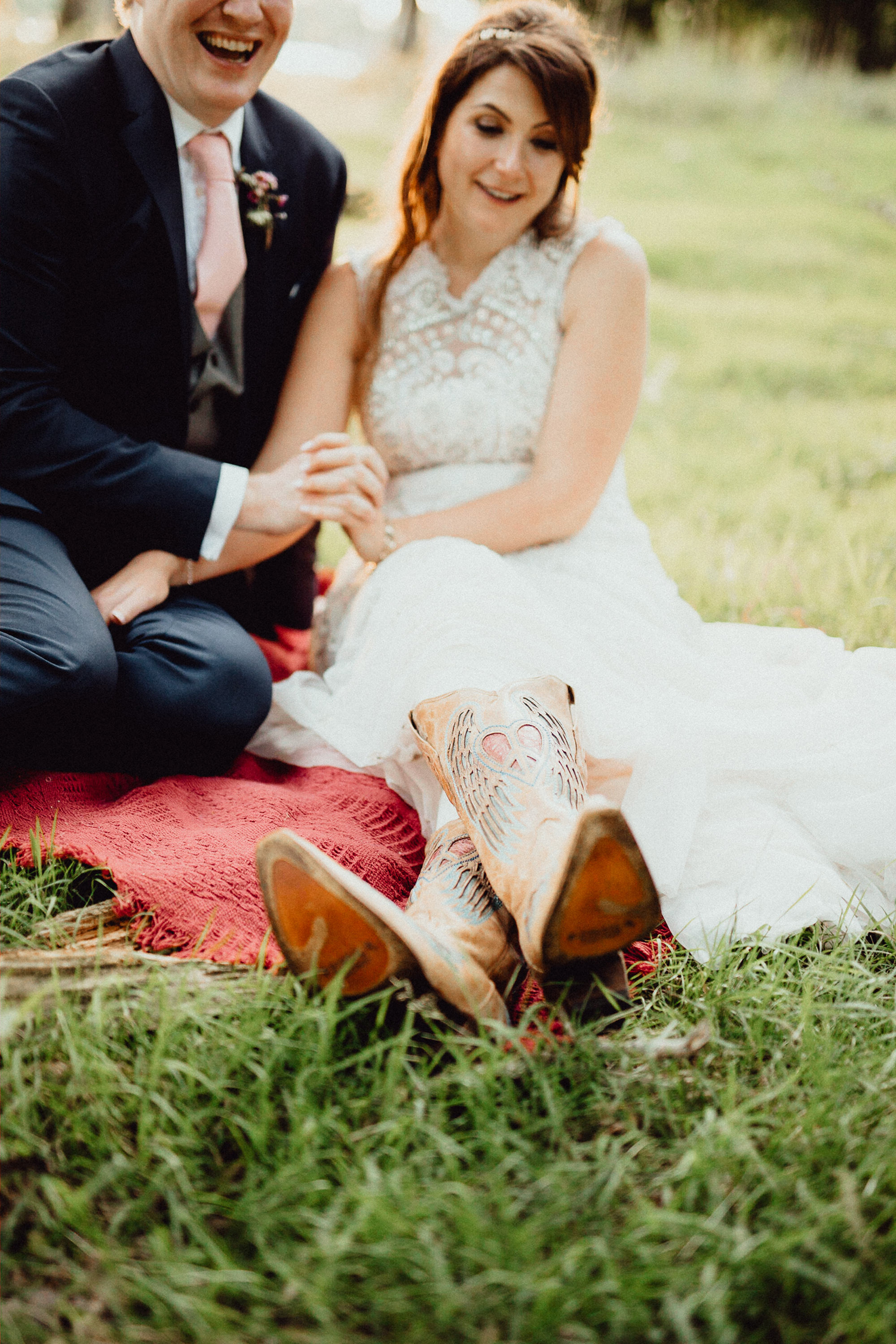 "We also booked a yurt at the Knepp Safari campsite for the night before the wedding (Del stayed there whilst I stayed at my parents house), the night of the wedding and the night after which I would really recommend. The glampsite was absolutely beautiful and gave us the perfect combination of camping and luxury accommodation that felt very special and fitting for the occasion. Several of our guests also booked there and we had a lovely time hanging out together in the sunshine enjoying the wedding afterglow and fell in love with the place."
"It's the best campsite I've ever been to – grownups only! It has open air showers and bathrooms with claw-footed bath tubs, hot running water and eco-friendly products from Green People. A yoga garden, fully equipped camp kitchens, hot water bottles, local produce provided in the reception along with firewood and local wildlife and trail information."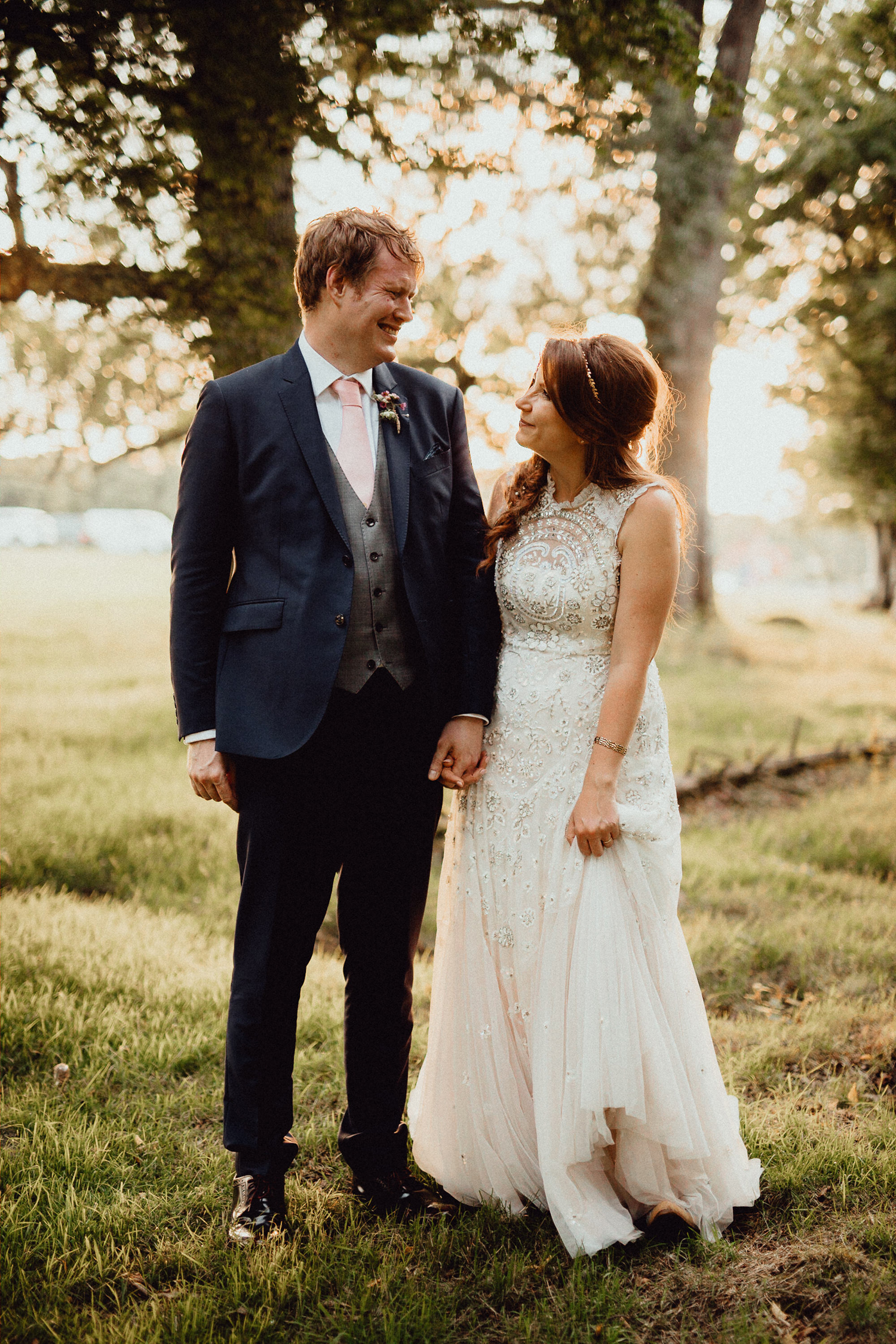 After the wedding breakfast, the couple performed their first dance to First Day Of My Life by Bright Eyes.
"We both love this song and Bright Eyes is one of our favourite artists. As music lovers, we both had lots of ideas and this was the one that felt just perfect for us. The lyrics are so sweet and it is so simple and beautiful."
"We organised the DJ-ing for the evening entertainment ourselves, hiring equipment locally so that we would have amplified music outside the tipi tents as well as inside (as well as having the ceremony mic'ed up!). We asked Del's DJ partner to run the DJ-ing which was mostly vinyl records being played. Other friends and family had a go too which was very special."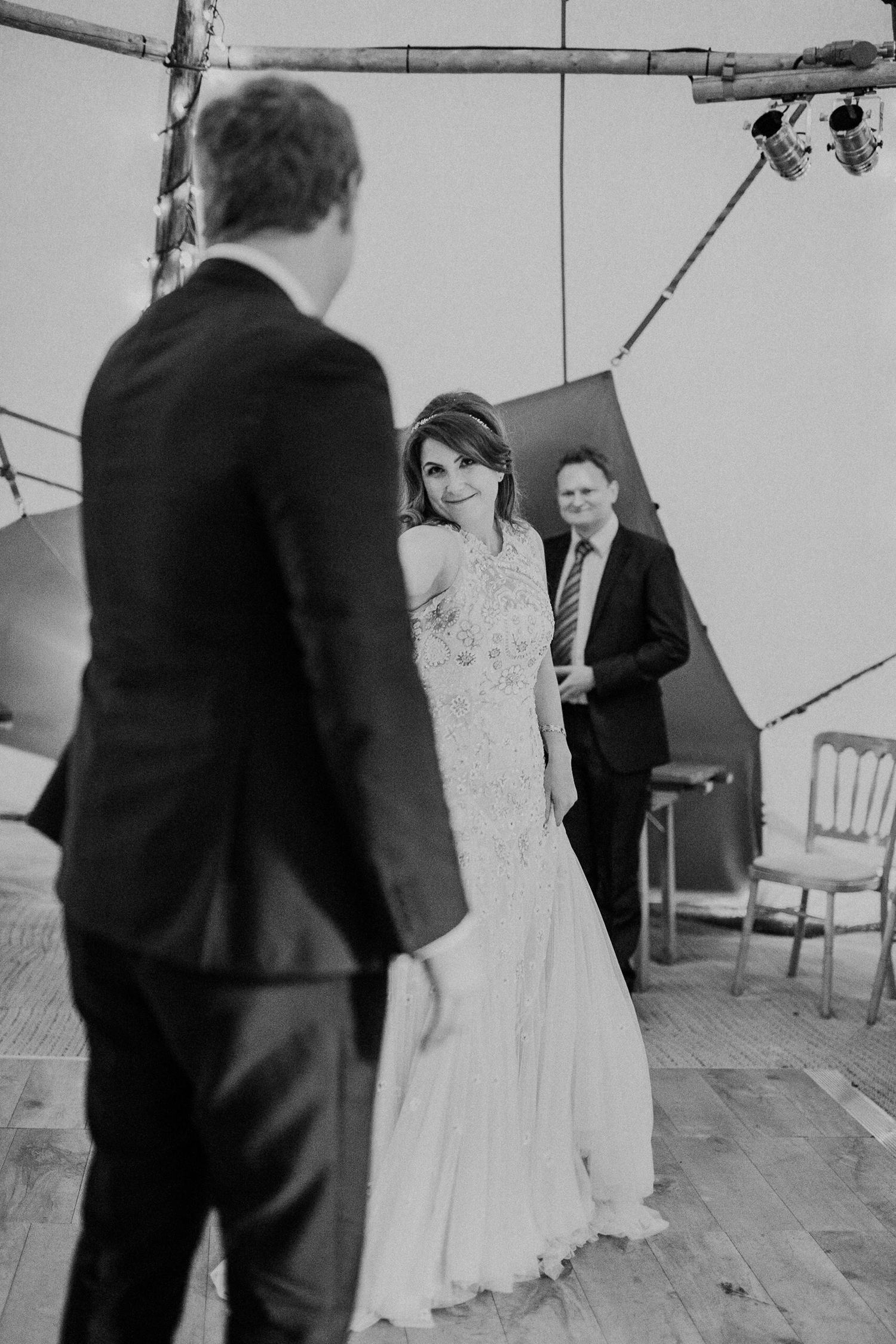 Words Of Wedded Wisdom
"Spreadsheets are your best friend – make one and keep it up to date so you can track spend and manage a budget creep!"
"Don't waste too much time arguing about table plans, they always have to change at the last-minute due to cancellations anyway. Best to leave this as late as possible to save yourself repeated versions."
"Don't let anyone outside of your partnership tell you how you should do it. It's your one chance to have the biggest and best party of your life that is exactly how you and your partner want it."
"Eat something in the morning and during the wedding breakfast! However nervous you might be."
"beautiful shoes can still be comfortable shoes. You don't need to hobble yourself around just because you're getting hitched."
"And lastly, kids love bouncy castles. It kept the little ones happy at ours. That, and packets of glow sticks were amongst the best investments of the day!"
"If I could have done anything differently , I would've made sure that the family went up to get their street food meals first. I would also try to have a longer conversation with everyone as I felt like I hardly got chance to speak to many people – it was such a whirlwind though I'm told that's completely normal."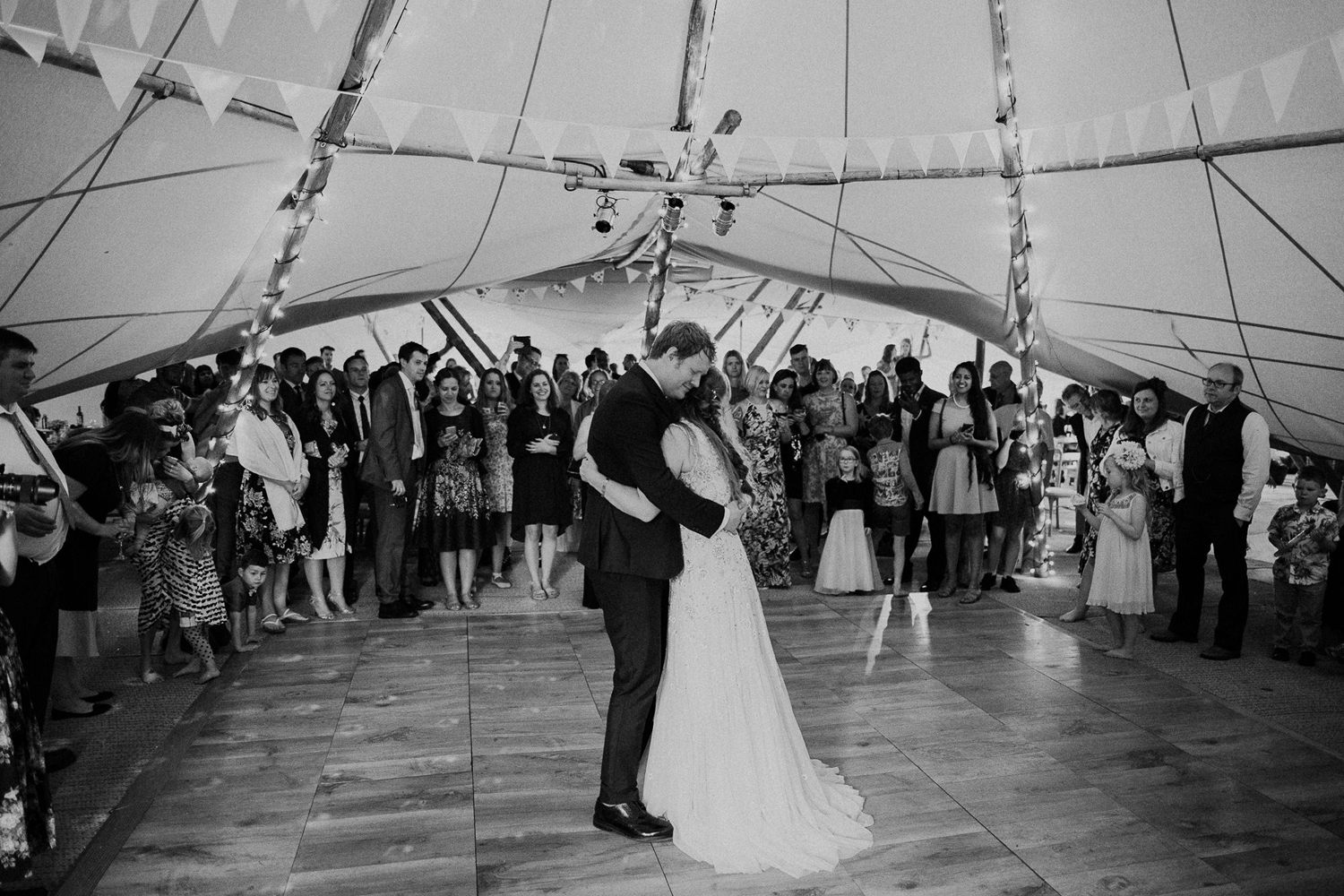 Wow – what a gorgeous wedding! I love how much music played such a large part of Stefanie and Derek's day and it's clear to see how deeply they both connect to it and together.
A big thank you to photographers Emily & Steve for the gorgeous imagery and also to the happy newlyweds for sharing their day so willingly.
Until next time…
Much love,
Holly x