I have such a sweet and heartfelt celebration to share with you today in the glorious English countryside in June – such a magical time of year as the seasons turn.
There are lots of lovely, personal touches too, which are bound to inspire those of you planning your own day, as well as stunning summer florals and a beautifully romantic bridal gown. Gabrielle, who works in business development at a consulting engineering firm, and Ben, an architectural assistant, were married in a traditional church ceremony at Rotherwick Church, Hampshire, followed by a reception at Rotherwick Village Hall in June.
"We live in London but wanted to get out of the city for our wedding.We liked the idea of a village hall reception because we wanted the flexibility it offered in terms of catering, drinks and decoration. After looking at what felt like every village hall in southern England, we found Rotherwick…"
Images by Julie Kim Photography
I'm delighted to be sharing the work of Julie Kim for the first time here on Love My Dress. She sensitively captured Gabrielle and Ben's day and the resulting images are enchanting.
"We are so glad we worked with her – our photographs really capture what I think was at the heart of the day – people coming together to celebrate and enjoy themselves. Julie's style is very relaxed and natural, and she was a pleasure to work with, even surprising us a couple of weeks before the wedding by telling us she was bringing a second shooter along. We wouldn't hesitate to recommend Julie to other couples."
For her make-up, Gabrielle wanted a natural look that would feel light and comfortable throughout the day, and chose hair and make-up artist Kayleigh Knox.
"Although I wear make-up most days, I don't wear loads, so I wanted a natural look that felt light and comfortable. Kayleigh came to my home for our trial, and she did an amazing job – it was simultaneously flawless, comfortable, and long-lasting. She also did a fantastic job of my hair – again, I wanted a fairly natural look, and was really pleased with what she did – all in spite of a disastrous haircut the weekend before the wedding."
The three bridesmaids wore pretty separates from Debut at Debenhams – cream lace tops paired with pleated tulle midi skirts in a fresh, mint green.
[JP-VIDEO]
"One of my bridesmaids lives in Athens and I only found out after the wedding that she'd had what was almost a complete disaster – she was at the airport before her flight over to London, and realised she'd left her outfit in her hotel room. Luckily, a combination of quick thinking and some extremely hasty colleagues dashing to the hotel, she had her outfit!"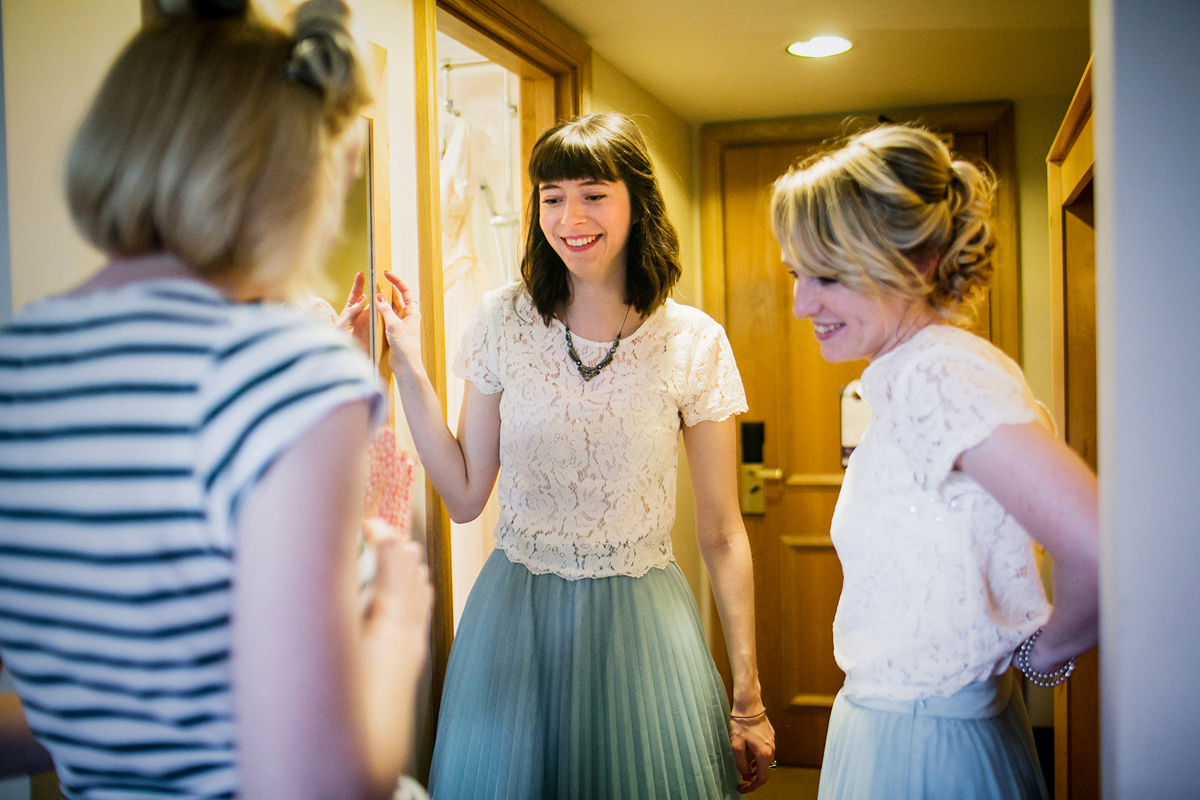 Choosing a wedding gown is a treasured memory for Gabrielle. Her mum lives in Scotland and flew in especially to go shopping with her daughter.
"It's one of my loveliest memories from the whole wedding planning process. It was a glorious, sunny few days and we had such a lovely time dress shopping and lunching together. I don't get to see my mum very often due to living quite far apart, so it was really special."
Together they visited Catherine Deane's Wapping studio, and she eventually settled on the 'Tamsin' gown in cream, with its romantic tulle overskirt, oyster silk sash, and floral embroidered bodice.
"I tried it on and it was like the gown had been made for me –it fitted more or less perfectly. It was incredibly comfortable (shout out to the inbuilt bra!), elegant, and neither too fussy nor too plain – which is pretty much where my usual style falls. It was also the one that made my mum cry."
"We went to the other appointments but I couldn't stop thinking about 'Tamsin'. I went back a week or so later to try the dress on again and went for it. The stylists at Catherine Deane deserve a mention – we were made to feel so welcome… and they were nothing but helpful and warm…"
She kept her other accessories simple and wore a pair of earrings from Accessorize, gifted to her by Ben some years before.
"I wore Diptyque's 'Eau Duelle' eau de parfum – it was a gift from my parents the Christmas before as I knew I wanted it as my wedding scent. No particular reason other than that I love it and it feels like me!"
On her feet, Gabrielle wore a pair of stylish block heel sandals in blush pink, from Massimo Dutti.
"What a job I had finding shoes! I must have looked in every shop in central London and on every website I could think of, but nothing was the right style/colour/heel height. Traditional wedding shoes are not my cup of tea, so I wanted something quite simple that wasn't white/cream."
Gabrielle also wore a simple, single layer veil for the church ceremony, which she purchased from The Wedding Veil Shop.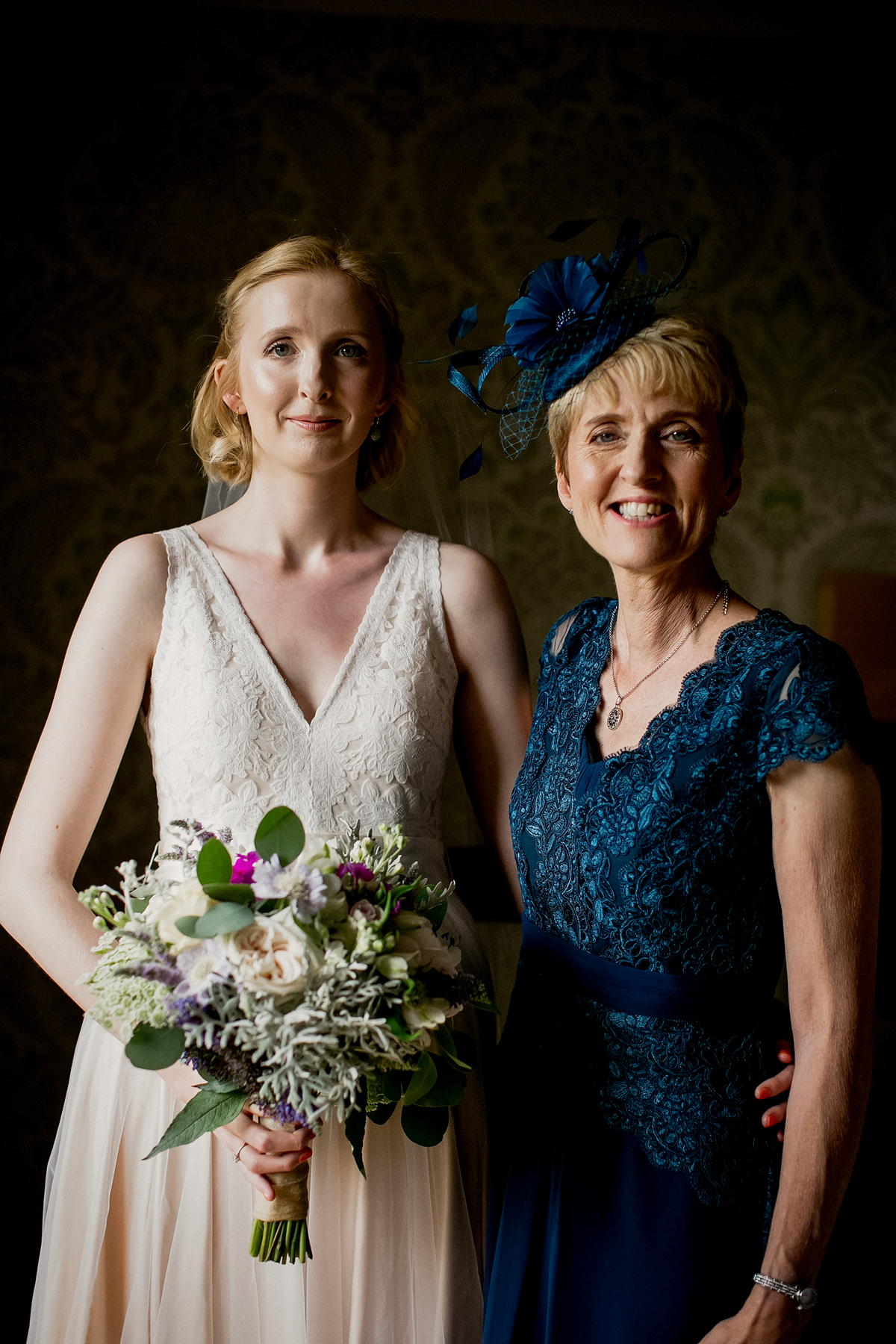 The floral arrangements were a family affair, with the couple choosing Lilyfee Floral Designs, ran by Gabrielle's exceptionally talented aunt Clare.
"We wanted relaxed, loose bouquets in creamy tones with a pop of magenta, with eucalyptus and greenery to match the sage tones elsewhere in the wedding. I loved my bouquet – featuring a gorgeous blowsy cream peony just edged with magenta."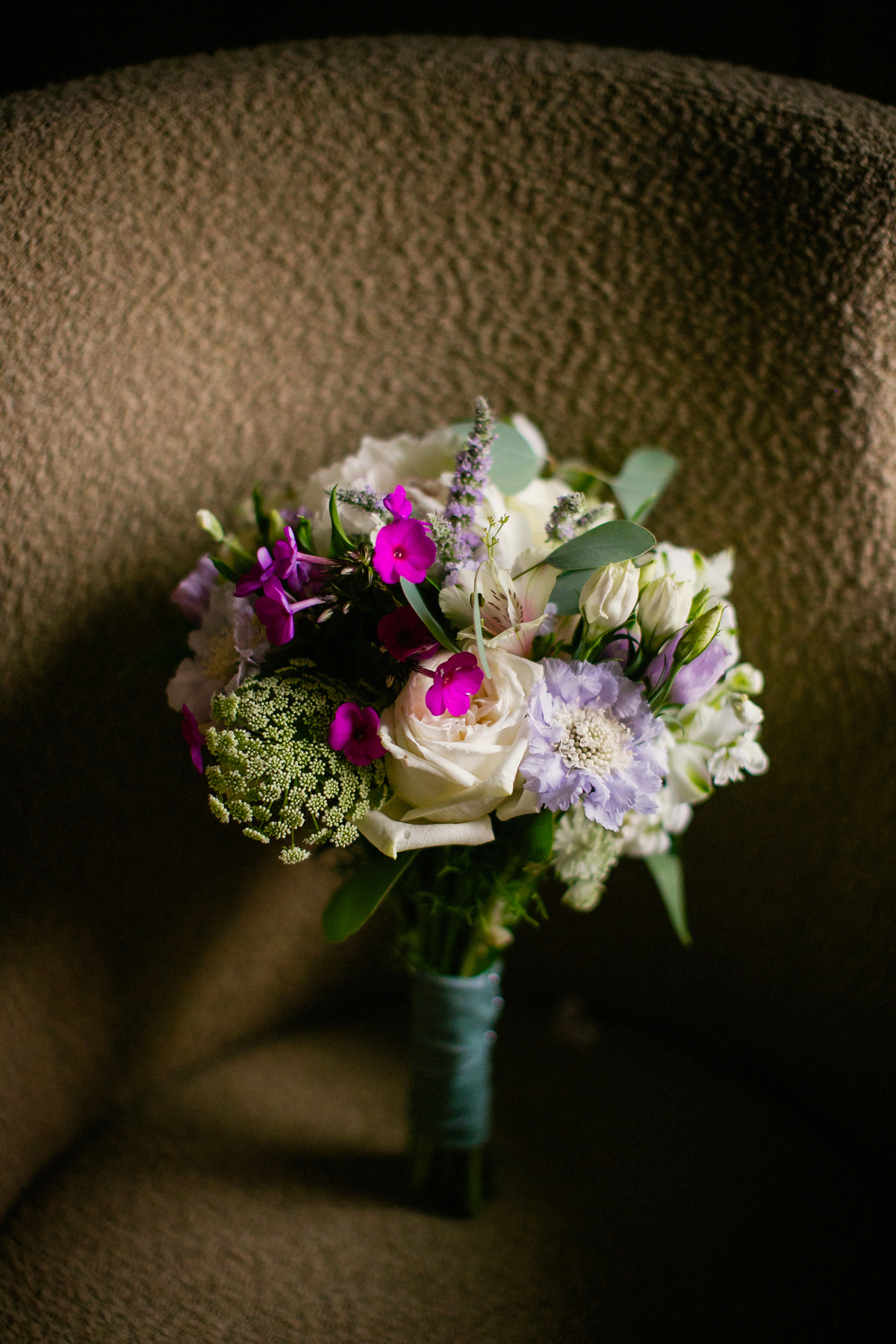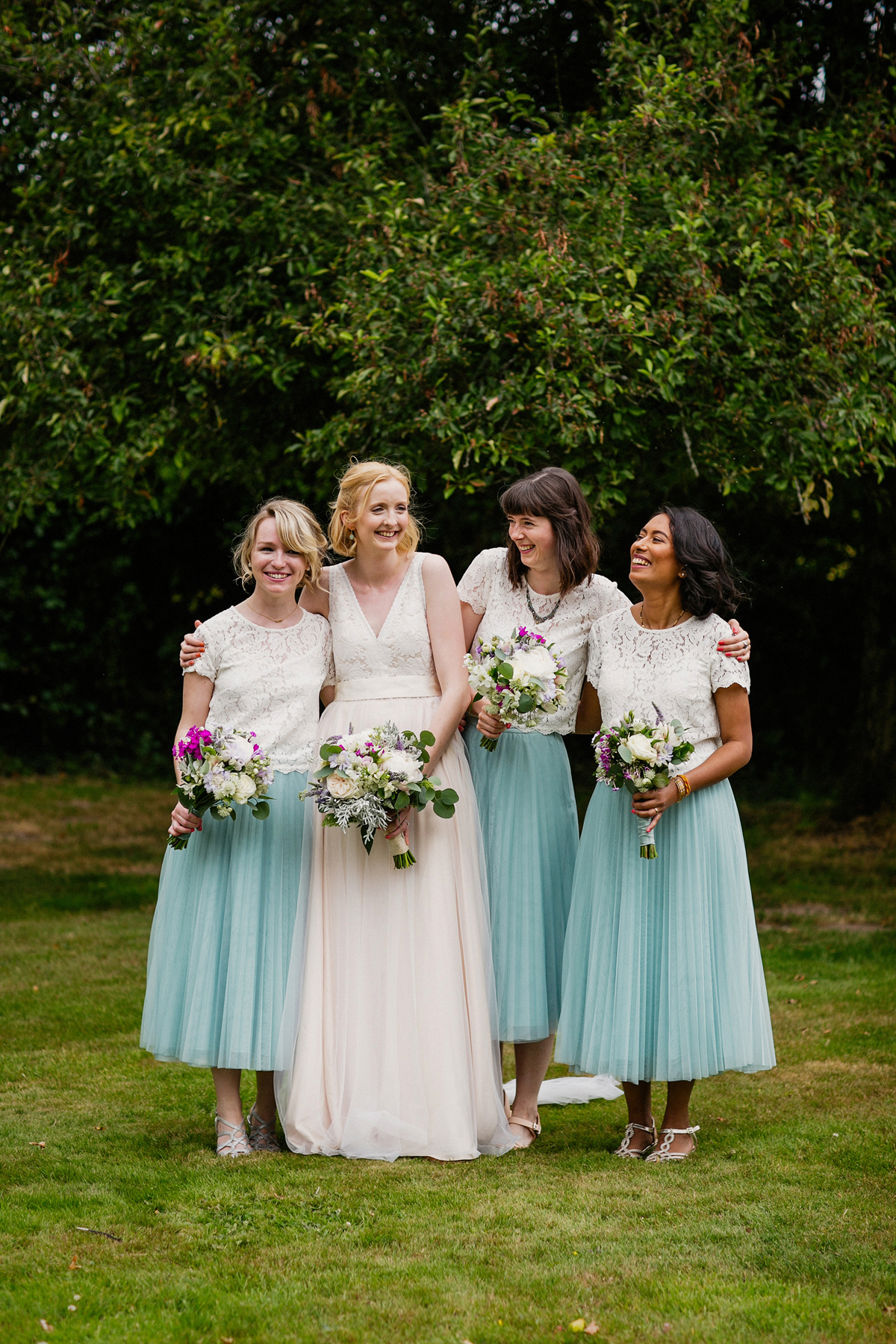 "We decided to do all our stationery ourselves. Ben has a designer's mind, and wanted the flexibility to achieve exactly what we wanted, to his exacting standards! We used the sage green colour scheme and a catalogue of watercolour-esque splodges as the basis of the design."
"We designed, printed, trimmed and finished our save the dates, invitations, orders of service, place settings, menu and table plan…and it was a lot of work. It was also expensive – Ben was very precise in his paper quality choices – however we were really pleased with how everything turned out."
Ben wore a smart, classic suit in a striking shade of bottle green from Paul Smith, paired with brown suede shoes, which he also picked up at Paul Smith's Soho shop, and a Liberty print tie from Catkin Jane.
"Ben particularly wanted a dark bottle green suit, which, as it turns out, is difficult to find. After…trawling many others which only stocked the traditional navy and grey, we had a look in the Paul Smith Sale Shop in Soho. Here, he discovered a suit in the perfect shade, right in his size with only minimal tailoring needed –it was such luck. I'd really recommend the store – it is full of suits, shirts and shoes from the simple to flamboyant."
The groomsmen wore their own navy blue suits together with Liberty print ties to match Ben's.
"Ben and I met at school – the true definition of childhood sweethearts! We bonded over MSN Messenger conversations and the school Battle of the Bands. At that time, he had long hair and wore a top hat to school and I thought he was the coolest guy ever. He's cut the hair now, but I still think he's pretty cool. We really grew up together – moving away first to Glasgow and then to London, where we now live."
"It was serendipity – Ben's parents had actually rented a house in the parish before buying their current home, which meant that we had the qualifying connection to marry in the church. Rotherwick is a very pretty little hamlet – the church is beautiful, with the oldest parts dating back to the thirteenth century. It is then just a short walk up the road to get to the village hall, which is a lovely arts and crafts style building."
The couple had been together for 10 years when Ben proposed on August Bank Holiday in 2015, while they were away for the weekend in Bath.
"We spent an afternoon walking round Victoria Park. We'd stopped on a bench to plan our next moves when a car and trailer drove in to the park with a basket and a big bag on it. I remarked that it was a hot air balloon and Ben asked, very casually 'would you like to go in one?'. Despite being a little afraid of heights, I replied that I would, to which his response was 'good, because you are!' In the end, he proposed as we walked across the lawn in front of the Royal Crescent."
"He had planned it all so precisely – calling my parents the week before, and even arranging the final arrangements for the balloon while I nipped to the loo in our hotel room. He isn't usually one for surprises, but succeeded in creating a truly special and memorable proposal. We got married nearly 2 years later – a little longer than we'd have liked but the hall was fully booked for the summer before."
The church organist played Pachelbel's Canon in D as Gabrielle and her dad walked down the aisle – one of the couple's favourite pieces of classical music.
"In line with tradition, my dad walked me down the aisle – I think he had been waiting for that moment since the day I was born! He has mobility issues and was worried he wouldn't be able to do it, but we took it slow and all was well. It was funny, I'd barely slept and had been up since about 6am feeling nervous – being the centre of attention is not my natural habitat! But I felt washed over with calm as I waited behind the closed church doors, arm in arm with my dad, and walking in was not scary at all."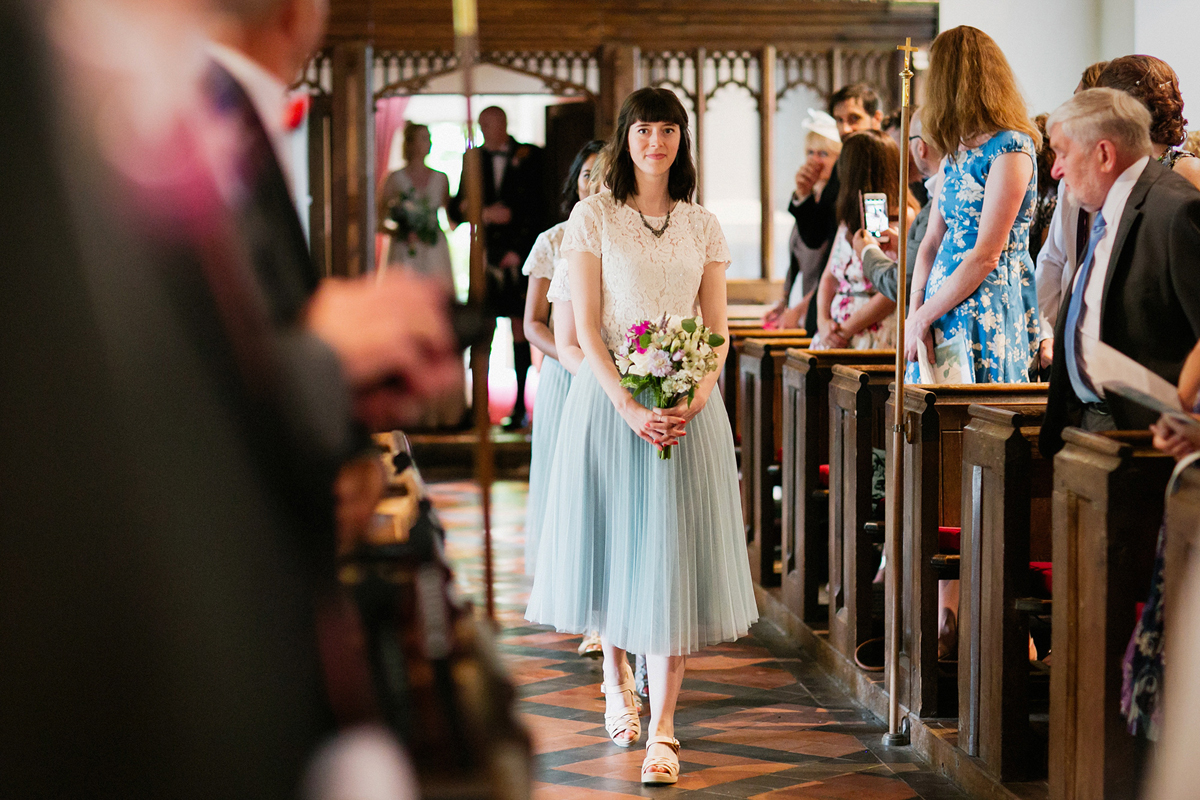 Gabrielle and Ben said traditional vows to one another, liking their timeless sincerity and beauty, and exchanged rings, which they had chosen together in Hatton Garden (no further details supplied).
"We chose my engagement ring together in Hatton Garden. It's a cushion cut diamond with halo, and small diamonds inlaid in a white gold band. I didn't expect myself to go for something quite so 'blingy' but it was so pretty, glittering away in the shop window."
"The trend continued when we bought our wedding rings, also in Hatton Garden – I'd planned to get a very simple white gold band but ended up getting an eternity style ring which matches the sparkle of my engagement ring. Ben is not a jewellery type of man, so he wanted something very unfussy and non shiny. He chose a flat court, matte rose gold wedding band."
As a literature lover, Gabrielle found it difficult to choose just three ceremony readings, but narrowed it down and made fitting and lovely choices. Their Bible reading was 1 Corinthians 13, read by Gabrielle's mum. Their next reading, delivered by Ben's dad is also a perennial favourite of mine, too – Shakespeare's Sonnet 116.
"At the last minute, we added a third reading, which I actually discovered on a real wedding post on Love My Dress – There Will Be No End by Anne McLeod. I love the words – and it's so fitting that it has a Scottish connection, as we grew up and met in Scotland, so it was lovely to reference that at our wedding. My lovely friend and bridesmaid Kay read it for us."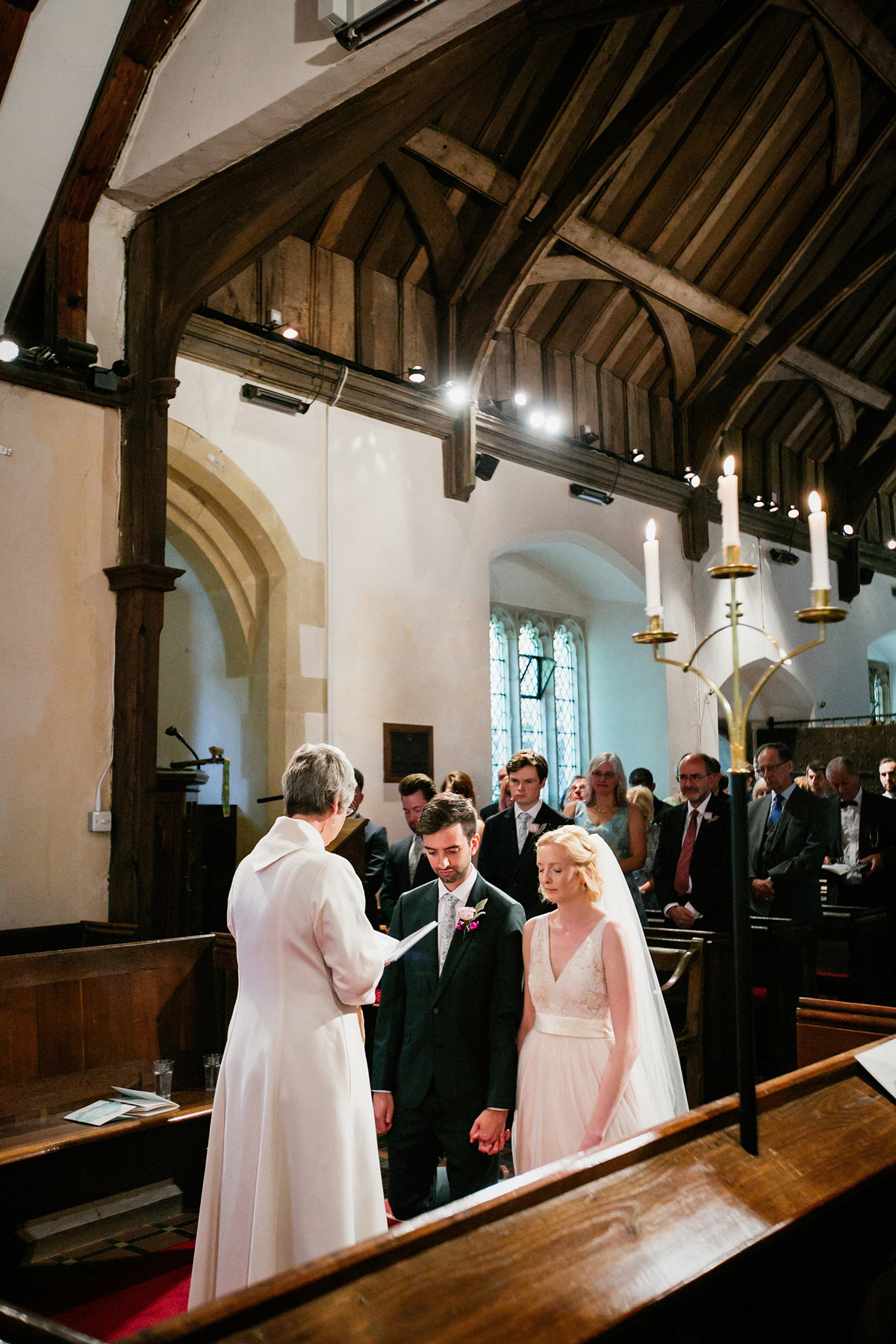 "I loved walking out of church, newly married – I'd purposefully not really looked at the guests when walking in because I was focusing on walking in and my nervous looking man waiting for me at the end of the aisle. So walking out and looking round at everyone smiling and happy for us was a lovely feeling."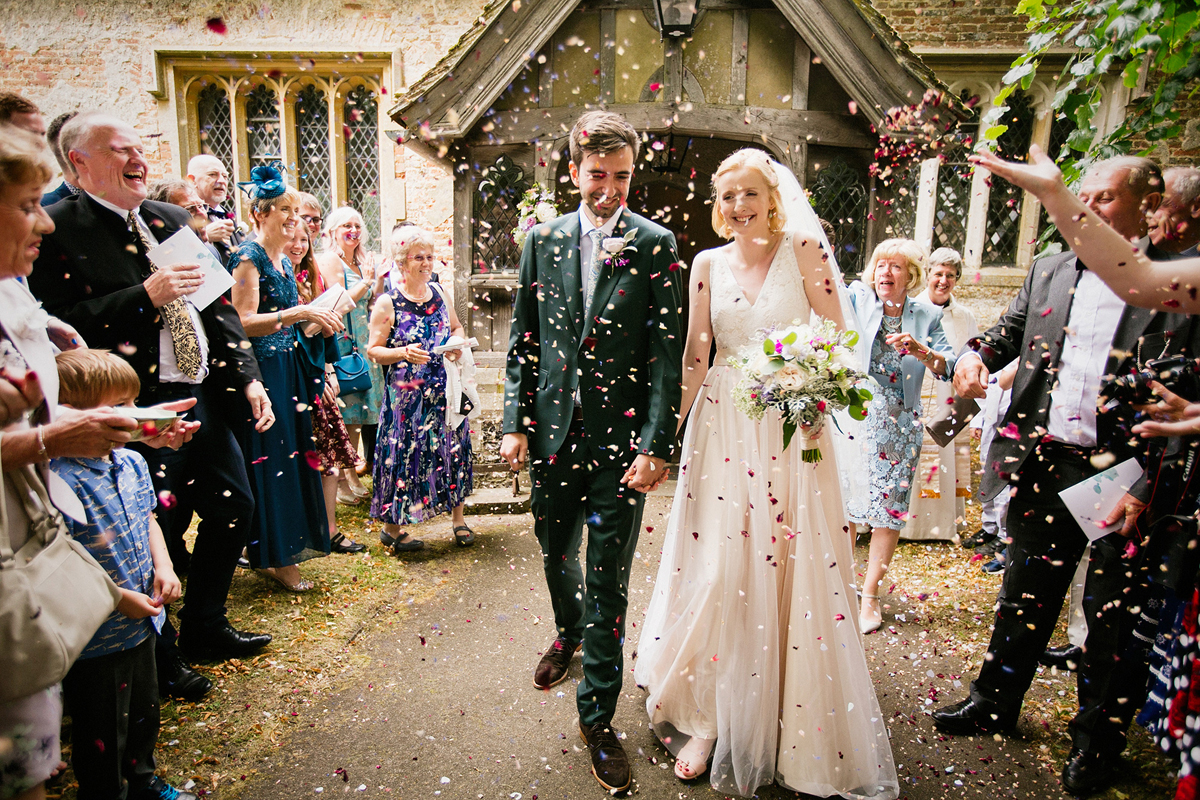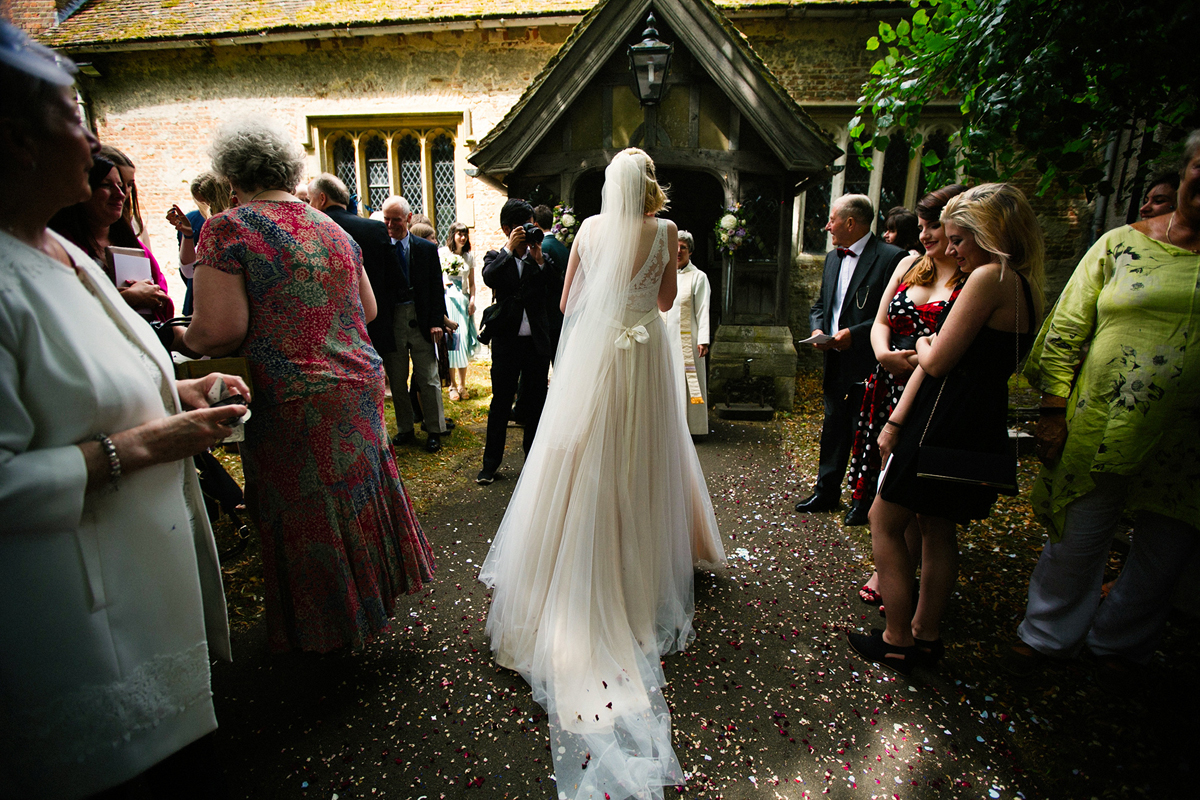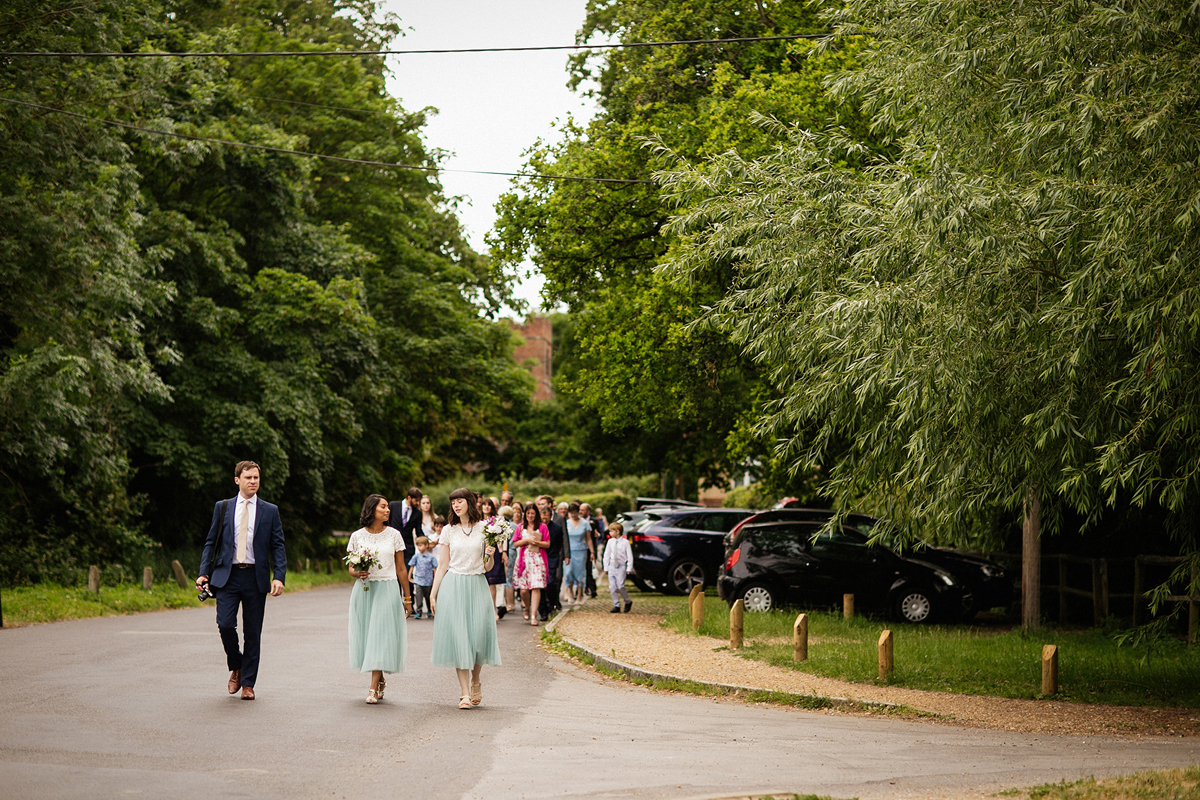 Guests enjoyed drinks and canapes on the lawn by the village hall, followed by a sharing feast prepared by Moodies Catering.
"Choosing our menu was tricky as we, and quite a lot of family and friends, are vegetarian, while others are staunch meat eaters, so it was challenging coming up with a variety of dishes to suit everyone. Nikki, our coordinator, was endlessly helpful and patient in dealing with our many menu changes and questions."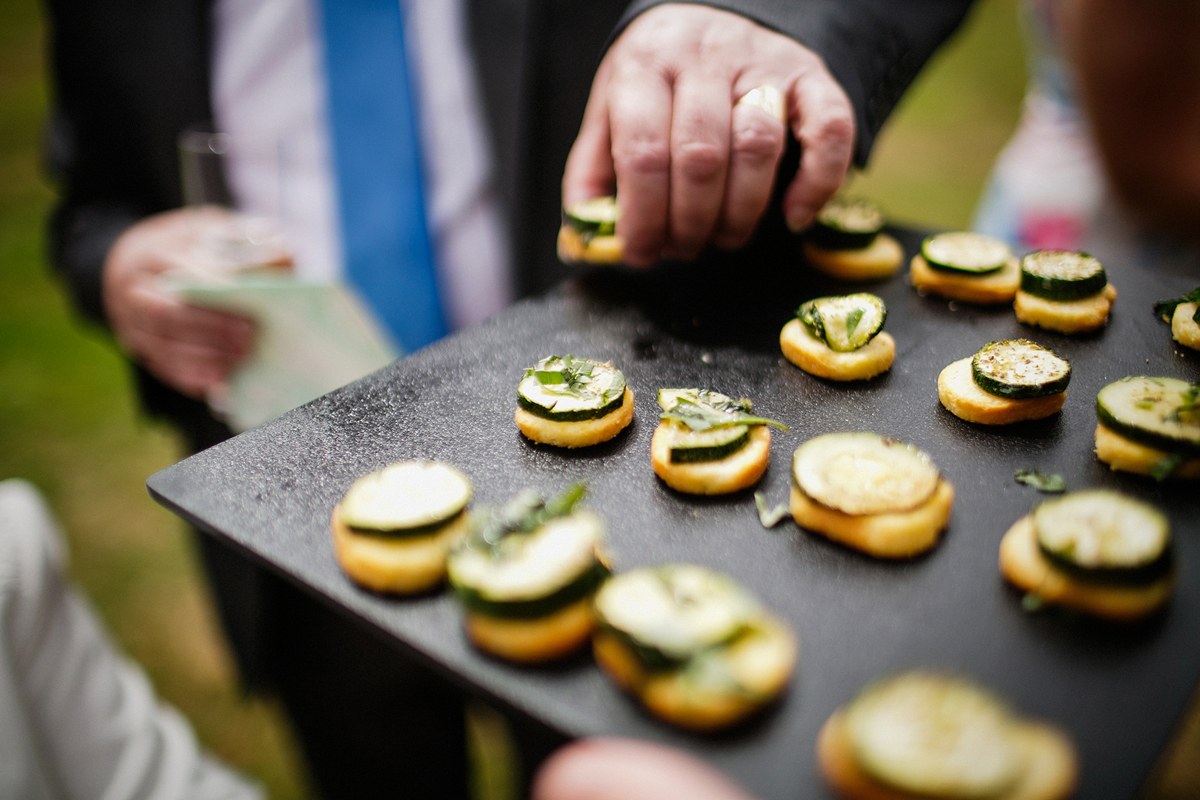 Another reason the couple chose the flexibility of a village hall reception was that they could also take care of drinks themselves. Ben and his dad Richard are keen brewers, and brewed a wide selection of beers and ciders for the day.
"We chose pun names for them, from 'Matrimoniale' to 'Beerly Beloved', and designed our own labels featuring things that are significant to us or that we both like. It was quite the operation but I think they looked fantastic! We also ordered a selection of wines from Majestic and did a massive Ocado order for soft drinks and spirits. We may have gone a but overboard, all in all, but it kept Ben's parents in beer and wine for a good few months afterwards!"
Paper pom poms were hung from the ceiling to brilliant effect, despite the fact that it took the combined efforts of six people several hours to get them sufficiently fluffy!
"We provided boxes of Pastiglie Leone as favours – they are little Italian hard sweets, and come in pretty boxes wrapped in pastel paper. We ordered a selection of flavours (including Aperol Spritz!) though Mediterranean Direct, who shipped them from Italy."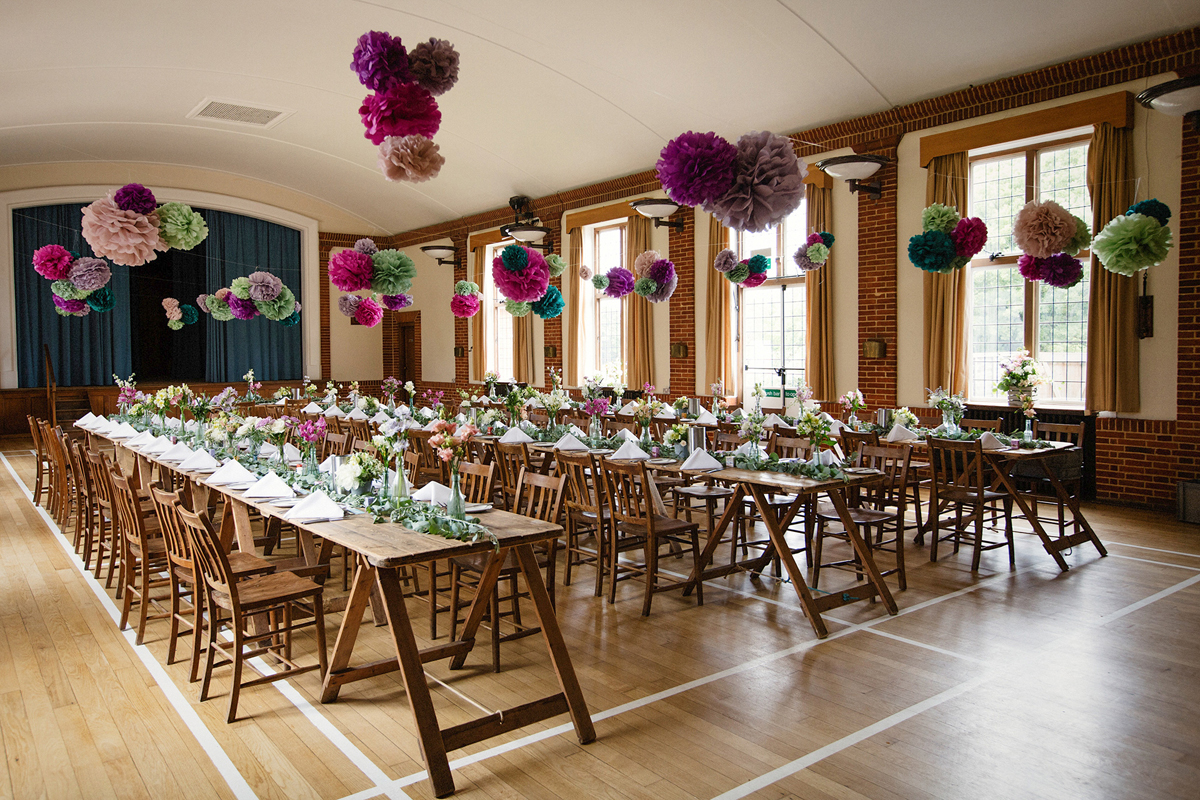 Floral arrangements from the church served double-duty, as they were moved to the village hall to complete the decoration inside. Along the dining tables, vases and bottles of pastel coloured blooms mingled with lovely trailing garlands of eucalyptus.
"We were absolutely bowled over by the flowers. I had been worrying that our village hall would look more 'PTA meeting' than wedding, but Clare did a superb job and completely made the venue – it looked better than I could ever have imagined."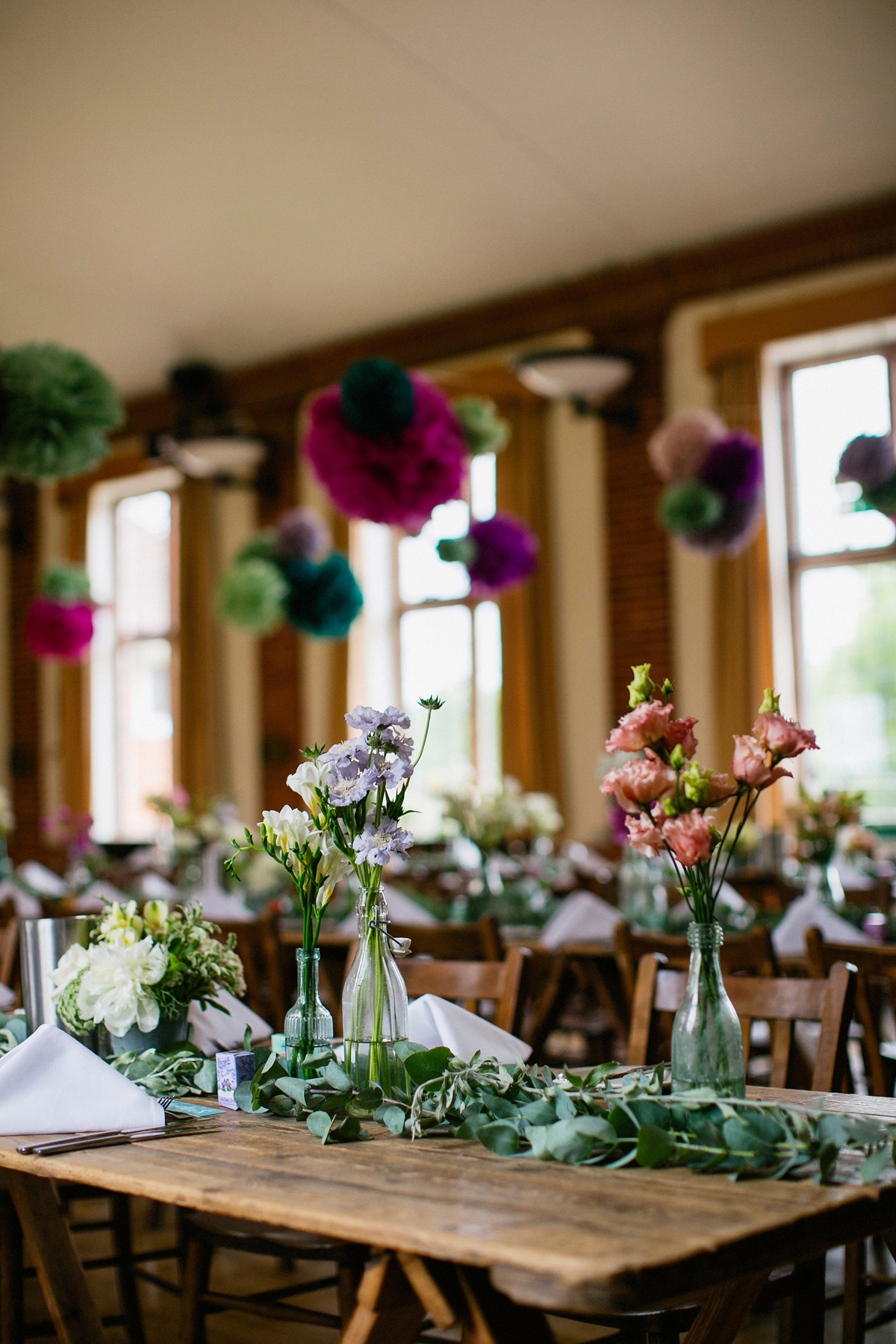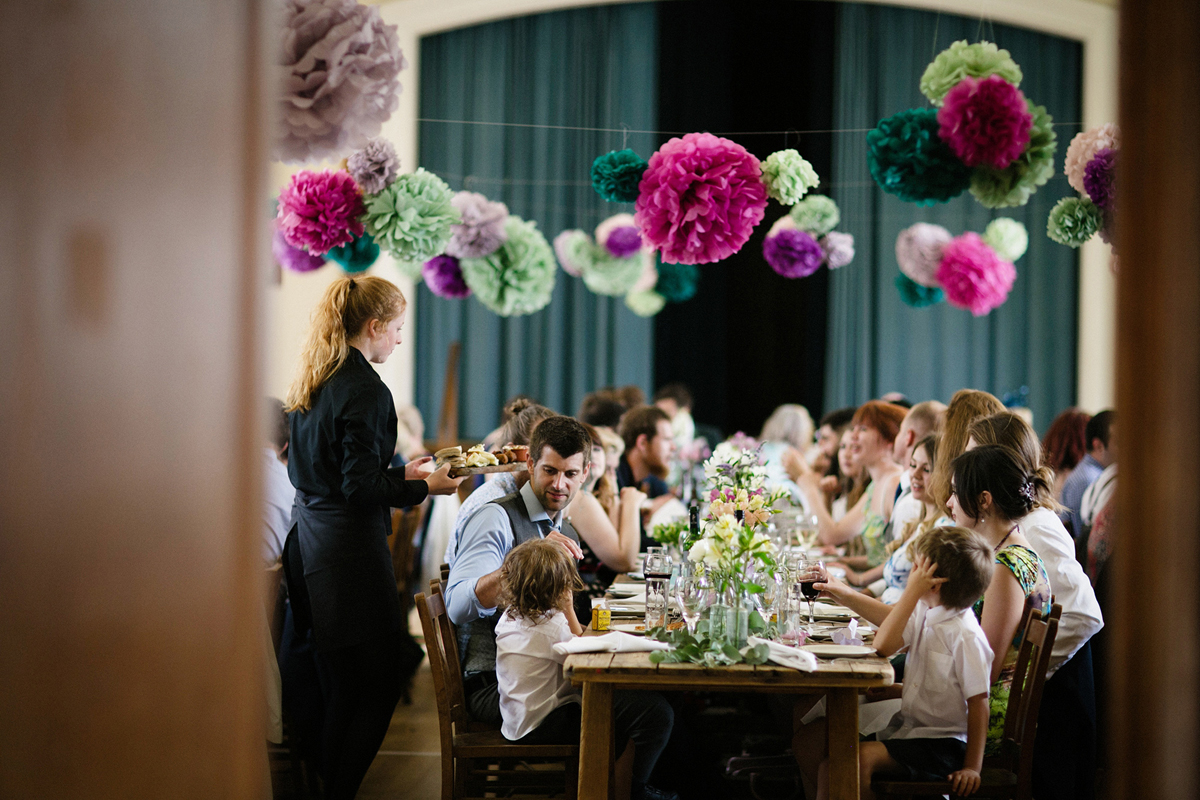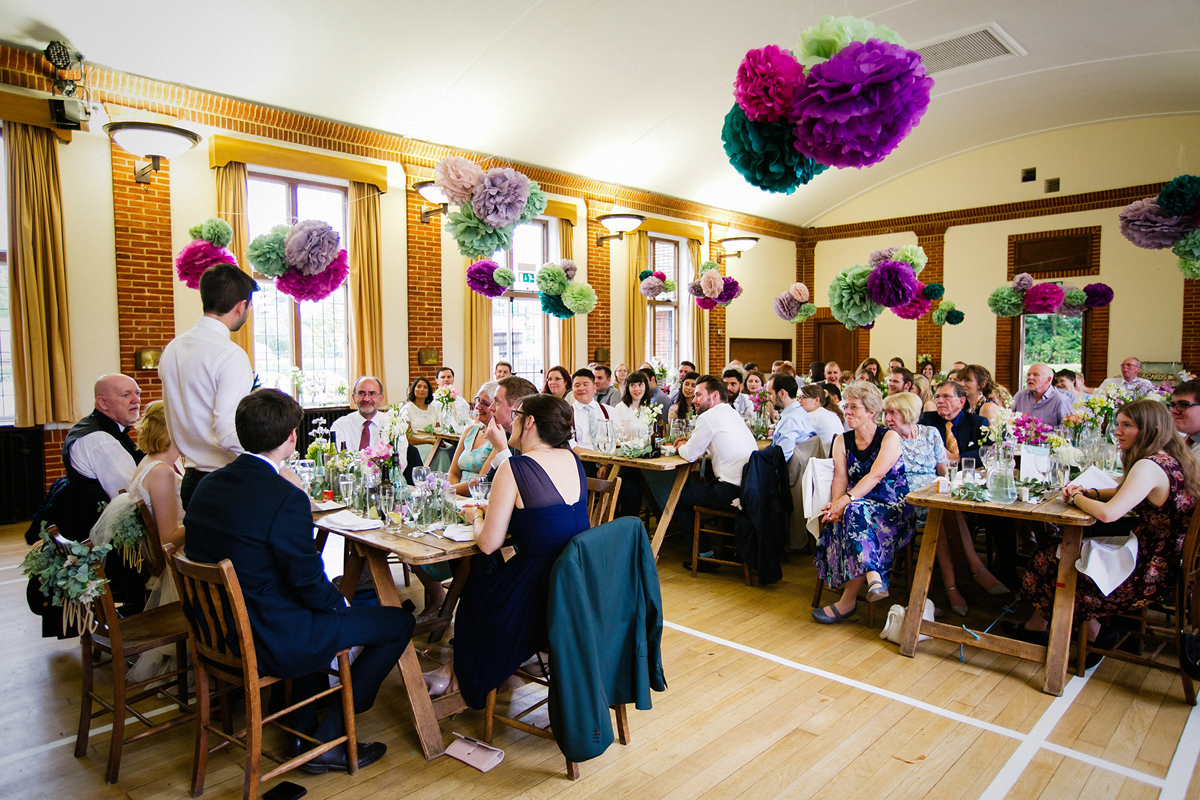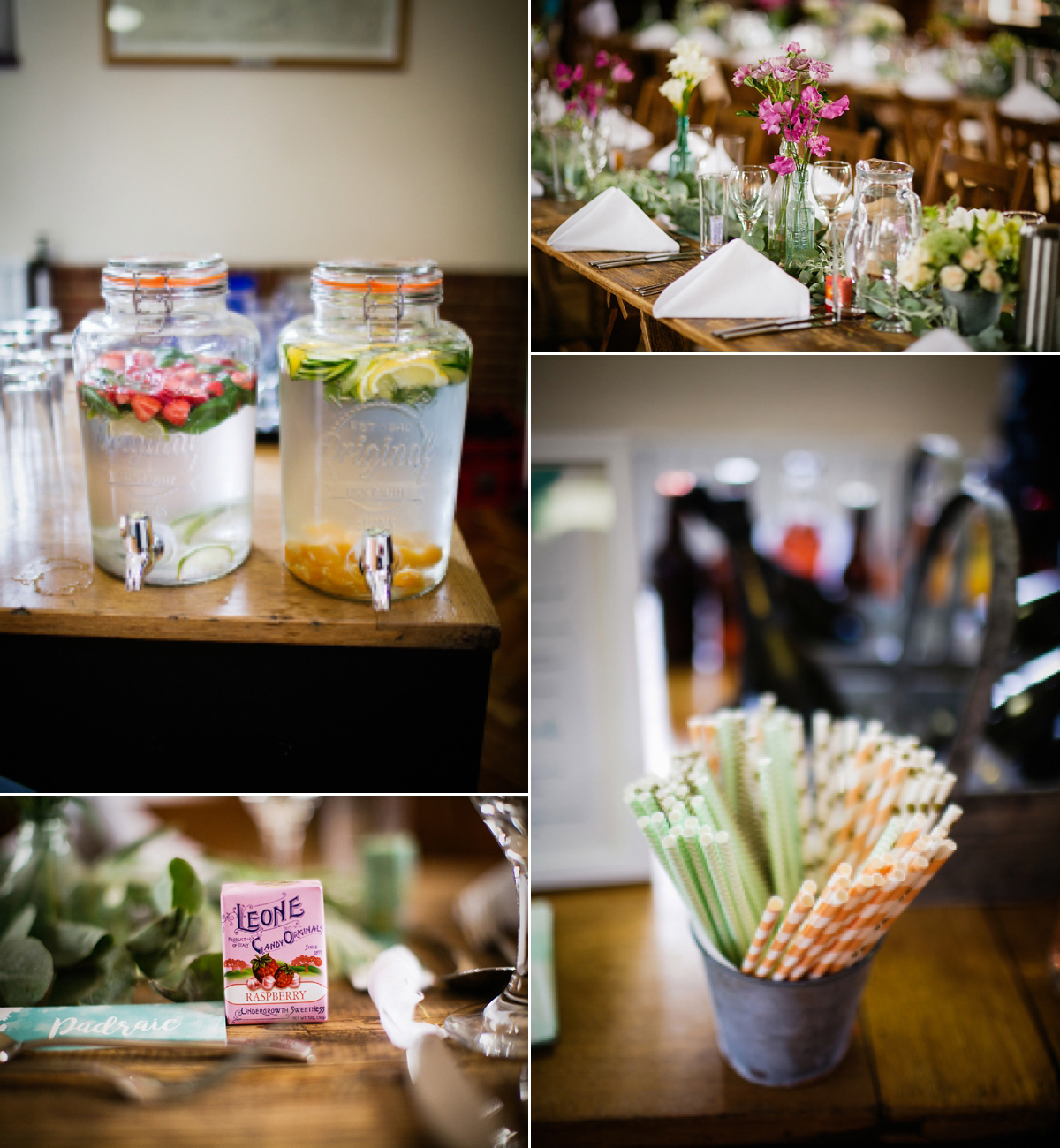 Instead of a receiving line, Gabrielle and Ben came up with a great way of ensuring they'd spoken with all their loved ones, by serving them a selection of delicious treats from a cake table.
"We ordered a selection of cakes from Lola's Bakery, which were delivered to Ben's parents' house the day before and very carefully transported over to the hall in the car. They went down a storm – although we were somewhat overwhelmed by all our guests descending for cake at once!"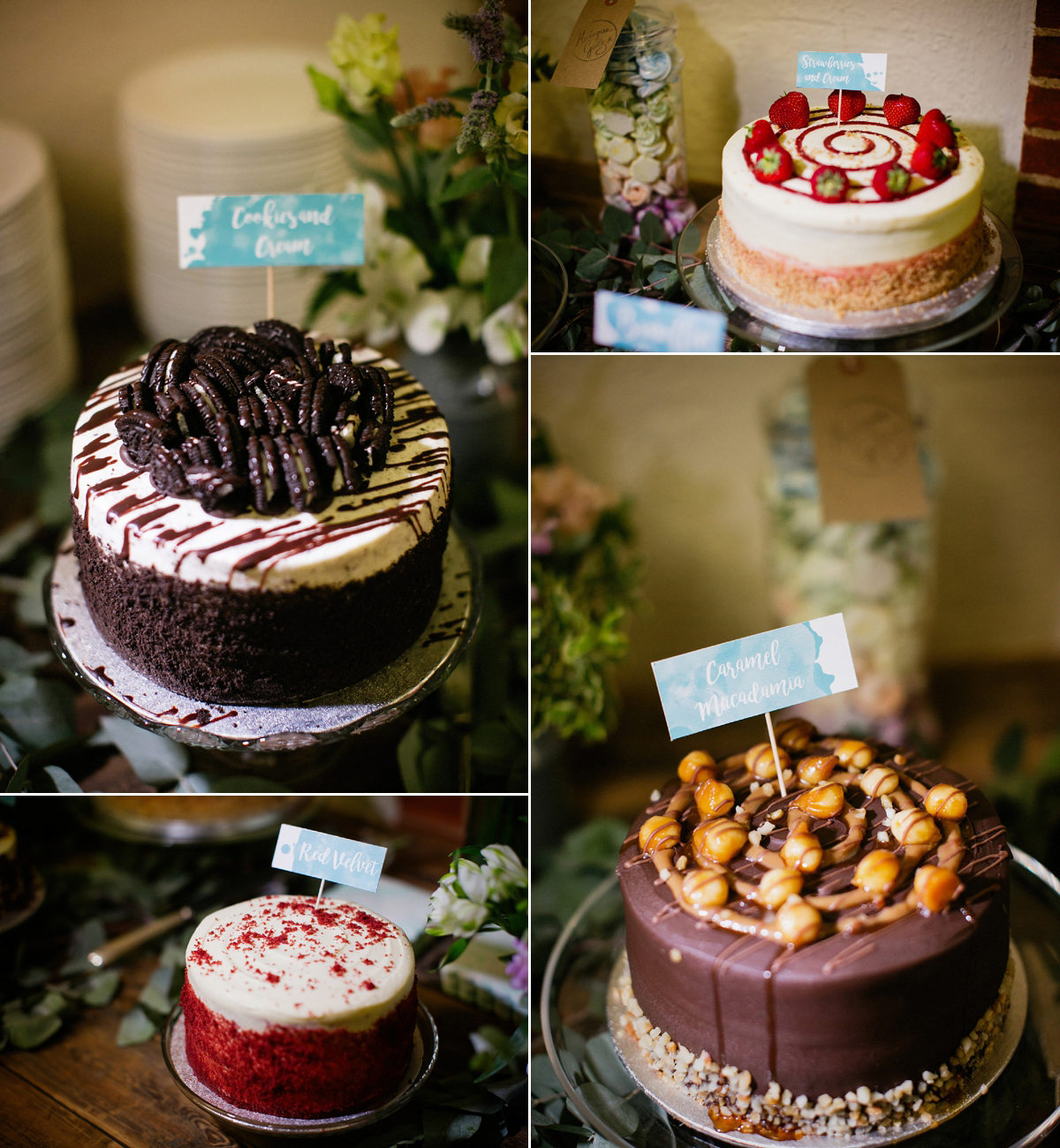 Brilliant Little Book Wedding Directory member Alive Network made it simple for the couple to choose their live entertainment for the evening.
"We really wanted a live band, and chose Jester through Alive Network. They were fantastic, and really brought the party, playing a range of favourites that got everyone on the dance floor, from our young nephews to some of the more mature guests! They also facilitated a girls vs guys dance-off to 'Play That Funky Music' – sensational footage of which emerged months after the wedding! Alive Network and Dave from the band were really easy to work with throughout, and the band delivered an excellent evening of music despite the stage lights not working at the hall."
Words of Wedded Wisdom
"A wedding is the coming together of two families and as such it's a family affair – people want to be involved and help so do let them! I found this difficult in some ways… but the support was invaluable. My mum helped with several key parts of the planning, Ben's mum ferried us to meetings with various people at the church and venue, my aunty did our gorgeous flowers, my sister-in-law Jenni played the viola during the signing of the register, and Ben's dad brewed our drinks."
"So many people put so much time and effort in to making our day special – and that includes the guests, which is why their happiness and enjoyment was always at the forefront of our decision-making. By all means, and absolutely, go for what you want and what is special to you as a couple – dispense with traditions that you're not in to, do things a little differently – but always keep those loved ones who've come to celebrate with you high on the priorities list. Oh –and factor in way more time than you think could possibly be necessary to fluff pom poms!"
Gabrielle and Ben, thank you so, so much for giving us this gorgeous glimpse into your wonderful day. It's lovely that it was such a family affair, and what a beautiful setting, too. Many thanks to the talented Julie Kim for these images, too. You can view lots more village hall celebrations on Love My Dress, here.
Until next time!
With love,
Laura