Picture the scene. A blue-skied paradise with tall palm trees swaying in the breeze, a calm, azure sea and deep green foliage scattered with vivid yellow and purple flowers. Add in a delicate Halfpenny London gown, a bridesman and a brass band, and that's just what you can look forward today, as we go to Oman for the wedding of Sophie and Matt. Be warned; you might have some serious travel envy after seeing these crisp photographs of this modern, beach side wedding venue.
Sophie, who is a jewellery designer (take a look at SOLT Designs) and Matt, a radiographer, married on 17 January 2018 at beach side venue The Chedi Muscat, in Oman. Sophie, originally from London, grew up in Oman as an expat and Matt is Australian, so the venue was a central point for them to bring their nearest and dearest together, with the phrase 'Meet Us In The Middle' as their theme. Cue a charming logo of two birds to signify the couple's roots and influences from Australia, England and Oman for this totally unique fusion wedding.
Sophie's parents still live in Oman, so the bride's mum acted as a main point of contact for organising the wedding day. The photographer of choice was Siobhan Amy Photography, whose work I've fallen in love with after seeing these sharp, crisp images. They display the beautiful venue and the softness and love of the day so well, and we are delighted to list her on our Little Book here.
"Siobhan is such a beautiful person to be around and somehow catches all the moments you want to remember from your day perfectly."
Photography Siobhan Amy Photography
Kate Halfpenny is a British Designer who we absolutely adore here at Love My Dress, so I was so delighted to see Sophie wear one of her gowns. We are so proud to feature her on our Style Files and also on our Little Book wedding supplier directory here, where you can see more of her sublime designs. Her gowns weave Brit cool with vintage inspiration, are completely romantic and, ultimately, very wearable. Sophie teamed her delicate lacy gown, with its feature high neckline and deep V-back with a fine tulle veil, also from Halfpenny London.
"I have quite a quiet nature and was dreading the thought of everyone looking at me on my wedding day so dress shopping felt a bit stressful. As soon as I tried on the Jessica dress at Halfpenny London I wished the wedding was the next day and I could show everyone. I think it was how comfy it was with the weight and hang of the lace; I could imagine scooping up the train after the ceremony and loving every minute of celebrating with everyone."
Sophie chose to wear ballet pumps for comfort, just as her own mum had done on her wedding day. As a jewellery designer, of course she had to wear something created by herself – and I absolutely love the sentiment behind her delicate necklace.
"A rose gold chain I made for myself that had my something old, something new, something borrowed and something blue on on it; a Mickey mouse charm I have from my grandma, the new chain, an Omani bead from my mum and a piece of blue agate Matt and I found in Byron Bay."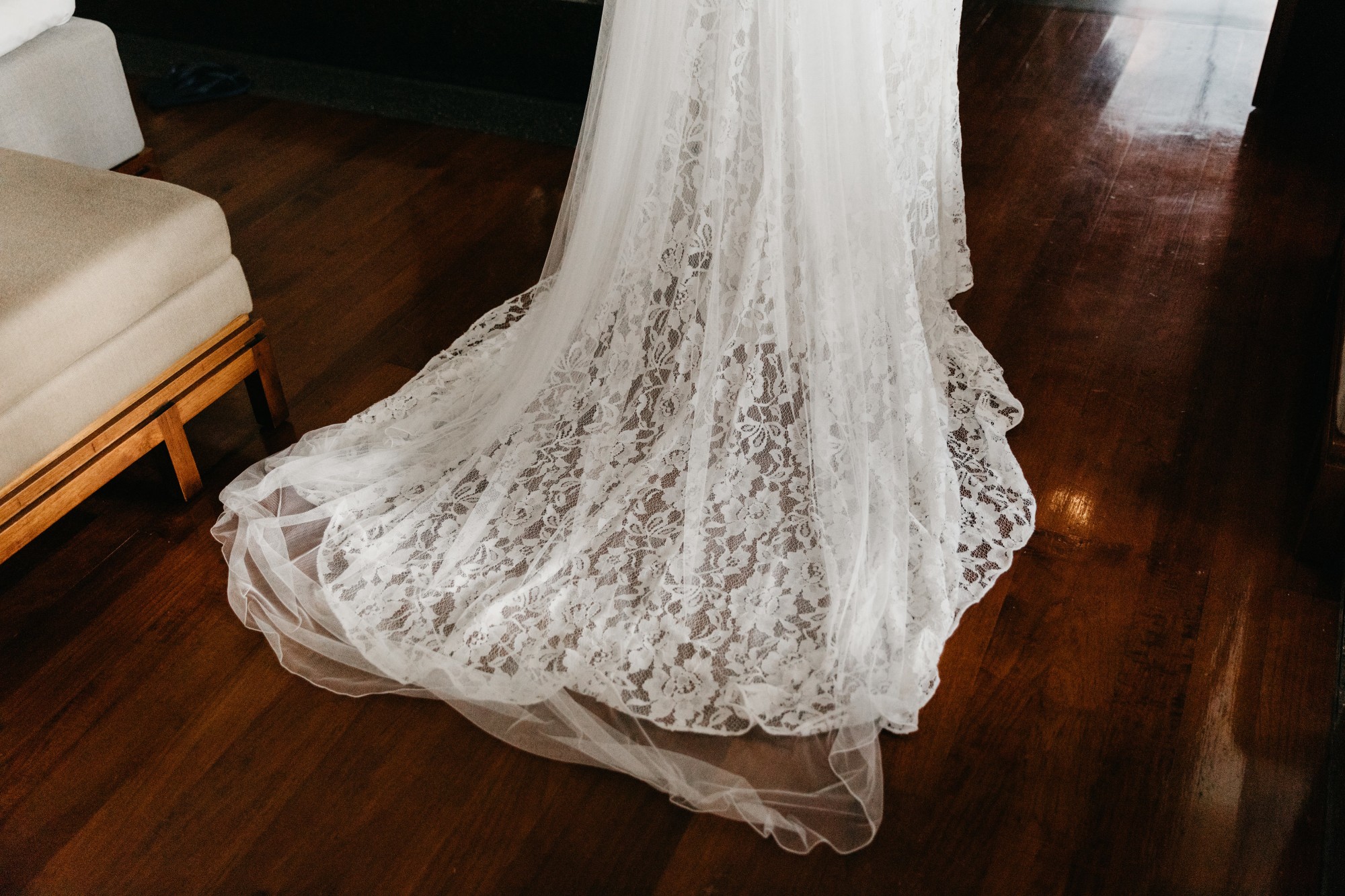 Sophie wore her long dark curls swept over her shoulder in glossy ringlets, and kept her make-up subtle and understated. For a gorgeous touch of drama, her bouquet was a wild, organic armful of foliage and blooms – featuring native Australian flowers in bright yellow and purple.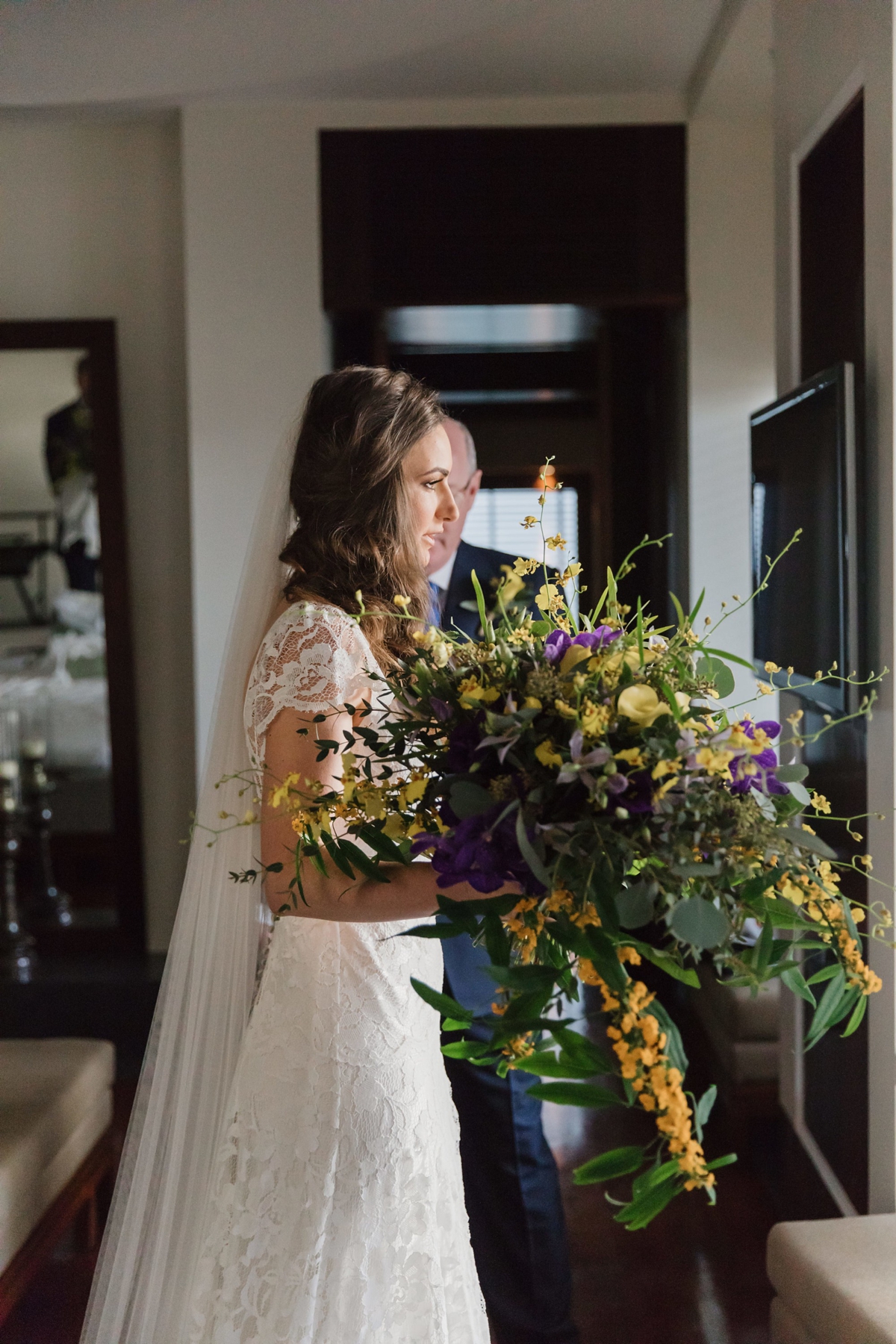 "We are split between London, Australia and Oman so our main aim and, in turn, theme was to bring all of our nearest and dearest together – probably for the one and only time. Our invites used the phrase 'meet us in the middle'."
"Our logo was two birds (an Australian kookaburra and British Robin) which was made by my best friend and 'bridesman' Steve. We had Australian native flowers and rustic Omani lamps and lanterns everywhere."
Despite growing up with miles between them, the couple were introduced by a mutual friend five years ago at Notting Hill Carnival.
"We immediately became great friends and were determined there was nothing else to it despite everyone around us trying to get us together. It took us a year to listen to everyone and make the scary leap from friends to a couple but it clearly all worked out. Matt's UK visa ended soon after and I moved to Australia with him. We didn't question it – it was what we had to do for our relationship but the distance did hit me on the plane over!"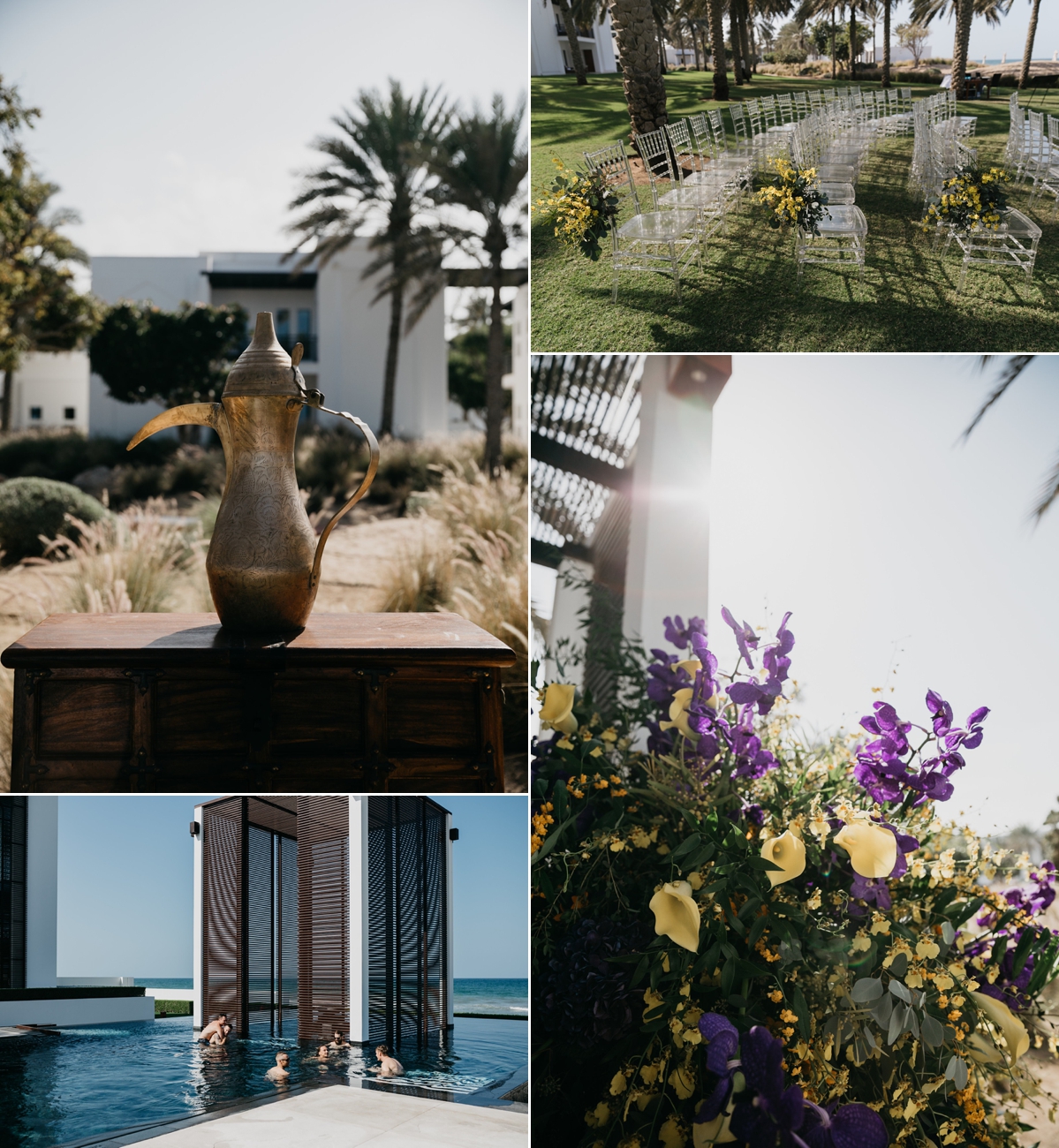 "Matt was on speakerphone to his brother Nick one night and, not realising I could hear him, Nick started talking about Matt's plans to propose the following weekend. It made for a funny couple of days pretending we didn't know what to do over the weekend and we carried on with our road trip along the Great Ocean Road where Matt officially proposed overlooking Bells Beach. We were engaged for just over two years before getting married."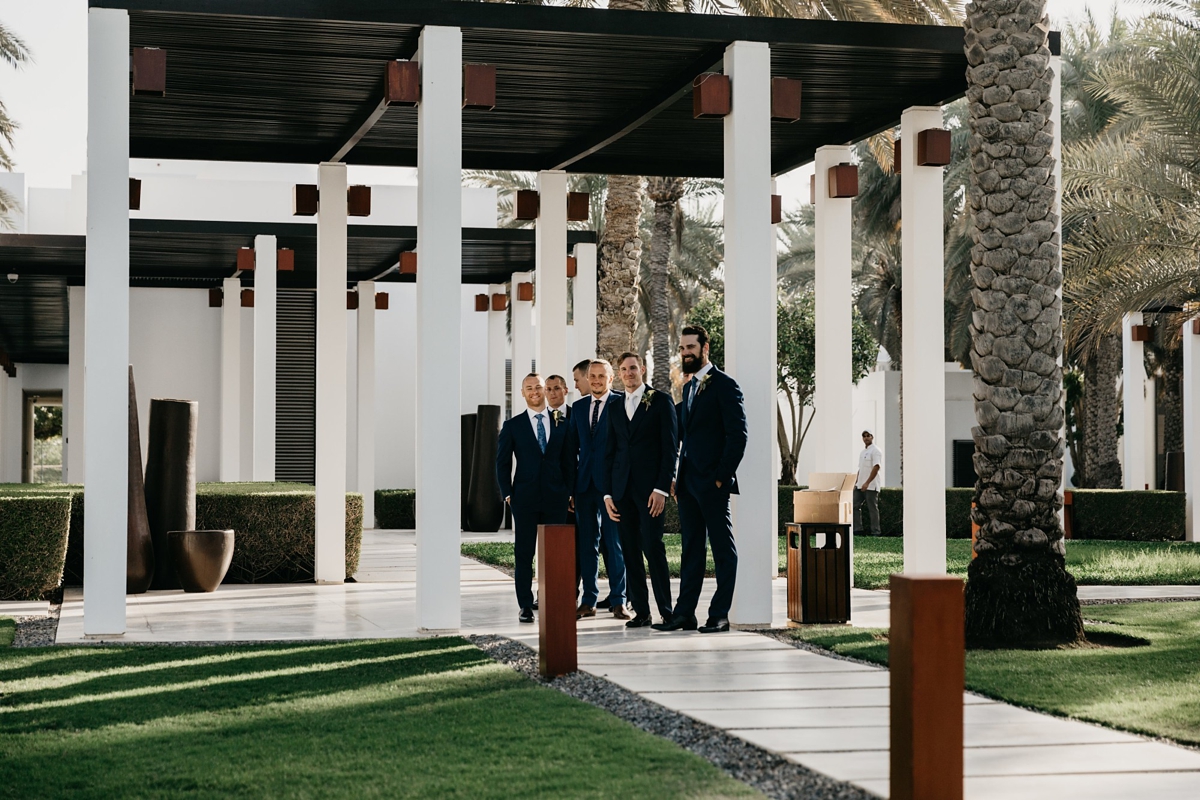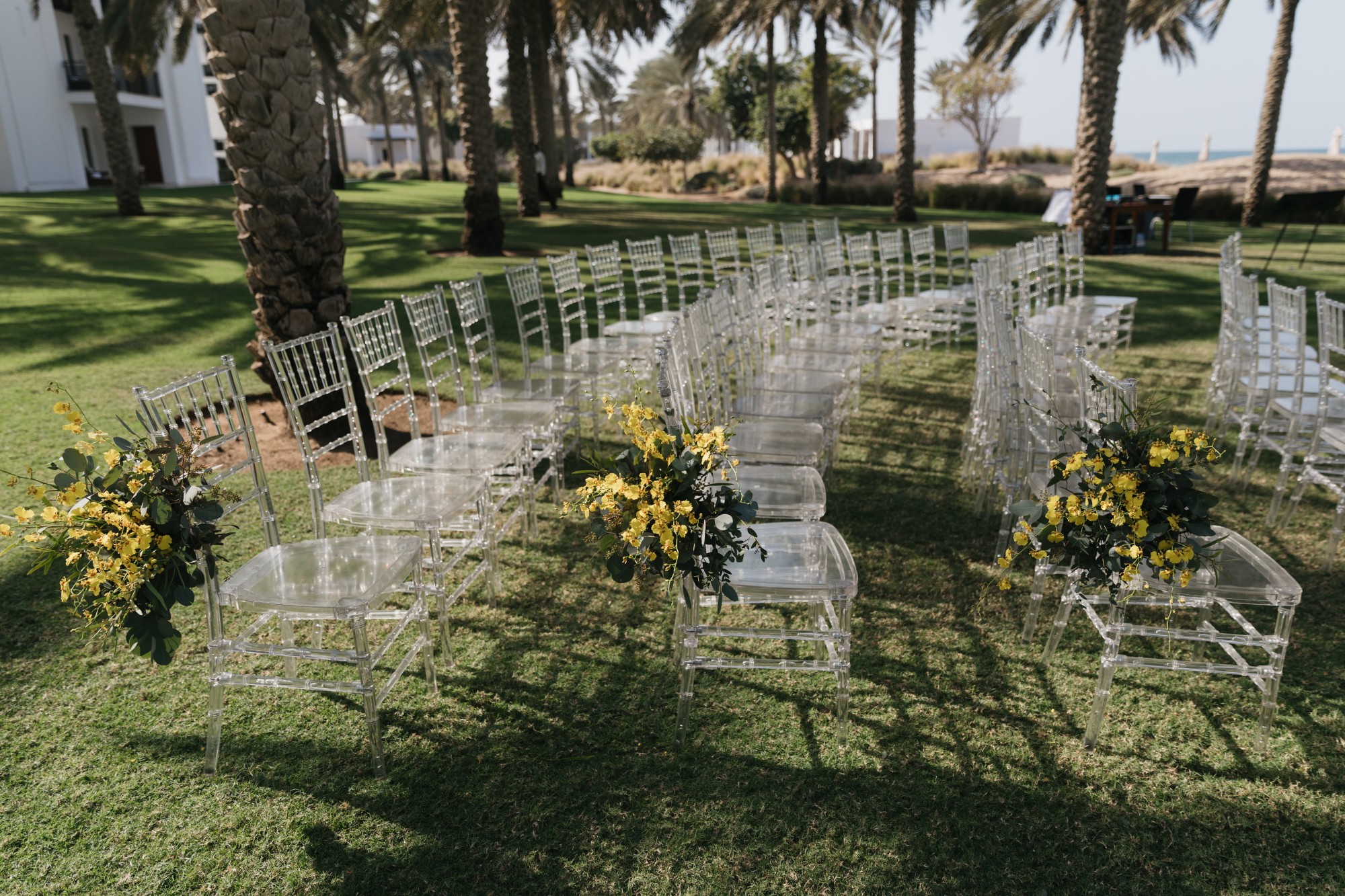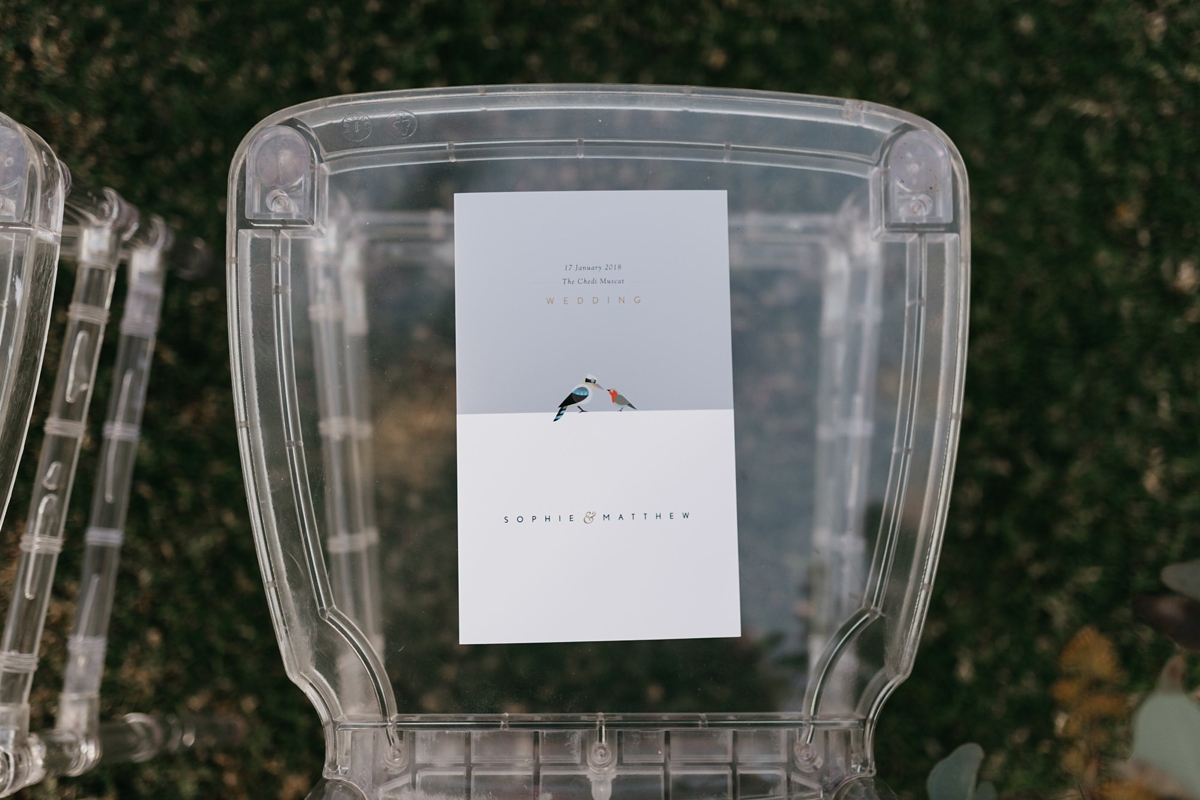 Matt chose his dapper suit from Australian tailor Wil Valor, and spent his morning with his best man and groomsmen.
"Matt's younger brother Nick was his best man. Despite being polar opposites of each other in personality they are so close and come as a package deal. Matt's brother-in-law Cam and close friends Adam and James were his groomsmen."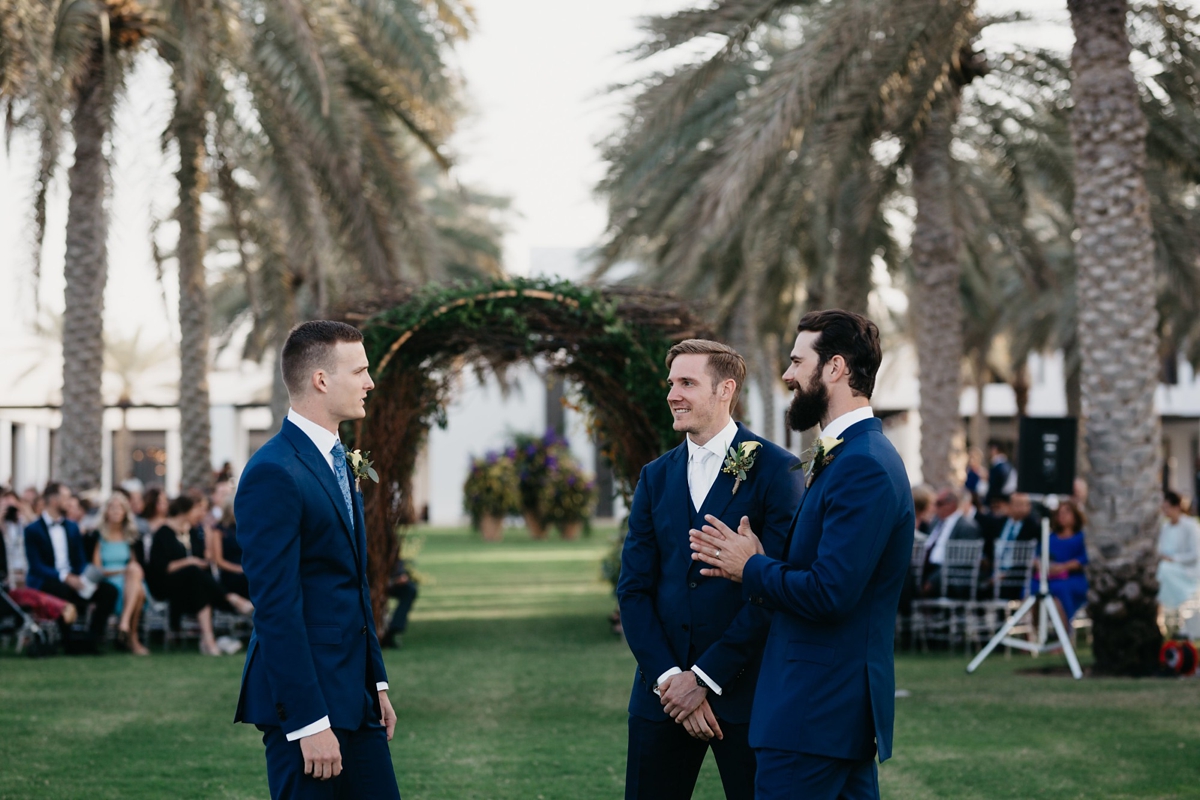 Sophie and Matt had attended an official ceremony a few weeks before in Brisbane, so were able to completely tailor and personalise their beach side ceremony at The Chedi Muscat.
"We actually signed our wedding documents at the registry office in Brisbane a few weeks before we did our ceremony (what we felt was our true marriage ceremony) in Oman. In Brisbane it was just the two of us with two buskers as our witnesses. Our main event in Oman was officiated by my brother Ben and great school friend Jess."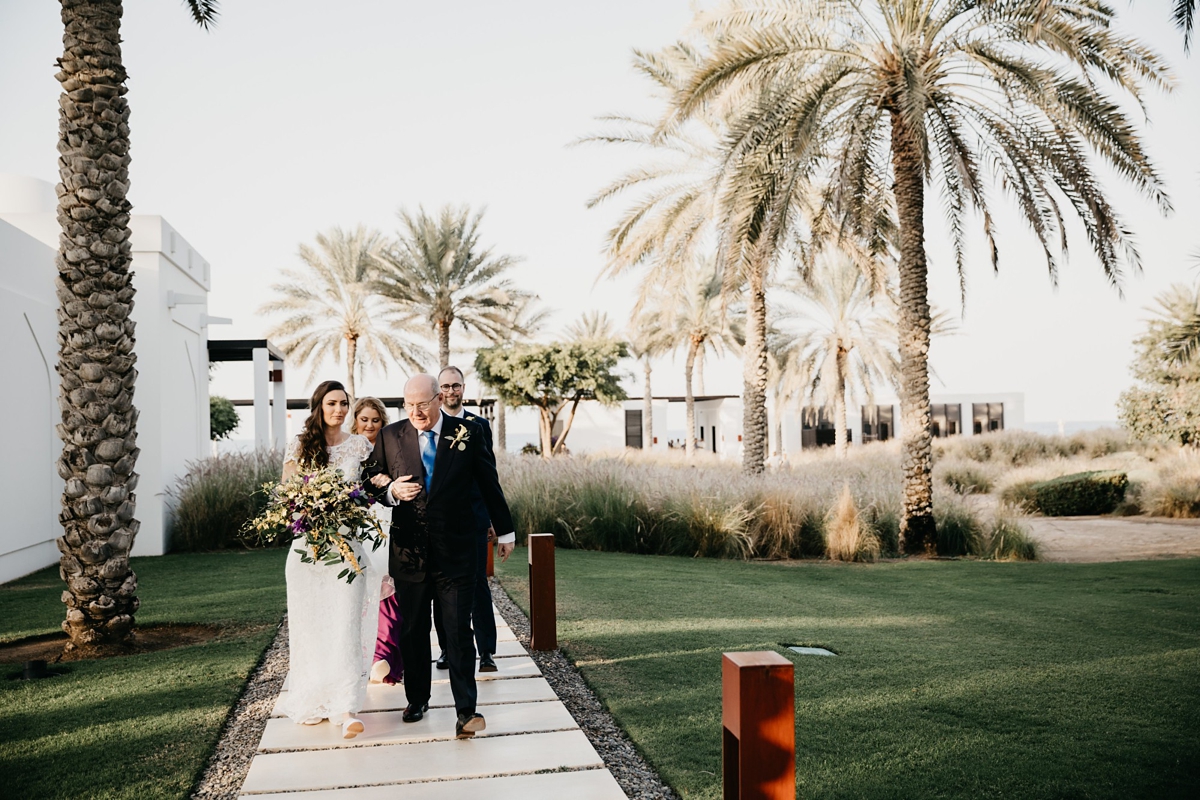 The ceremony was held outdoors, beneath the tropical palm trees which created a beautiful natural aisle. Sophie walked towards the floral and willow ceremony arch attended by her dad, bridesmaid and bridesman to the Krishna Das chant – 'Sri Agala Stotram' ('Show Me Love').
"My brother Ben and one of my closest school friends Jess officiated our ceremony.  We did very traditional vows and then added our own tailored section to the end of them."
"I love you, for all that you are, all that you have been, and all that you are yet to be. With this ring, I share my life with you."
[JP-VIDEO]
During the ceremony, Sophie's brother Ben read an excerpt from 'Captain Corelli's Mandolin' by Louis de Bernières, and her uncle Julian read 'The Master Speed' by Robert Frost. The third reading was an excerpt from 'The Prophet' by Khalil Gibran, read by Matt's dad.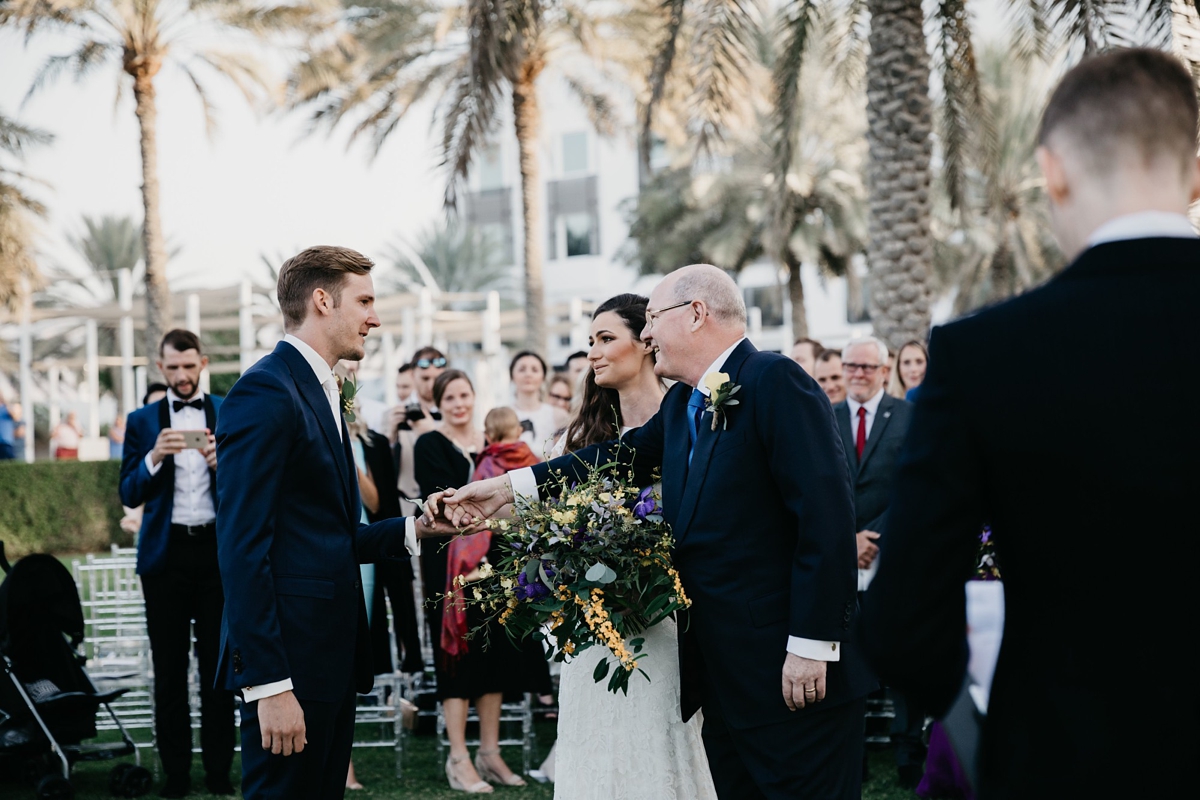 "I made our rings – they are very simple rose gold bands with facets all over to represent all the ups and down couples work through together."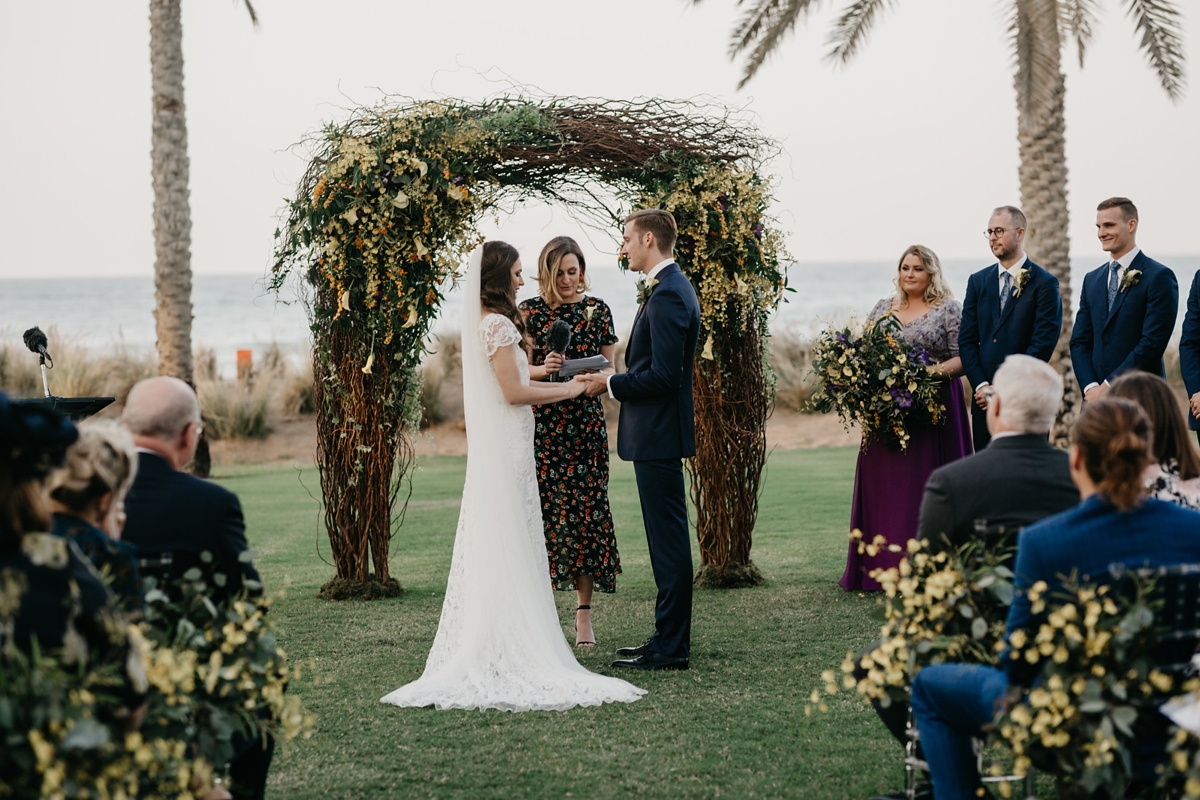 Lovelies, if you're taken with the idea of creating your own wedding bands then you can, even if you're not a pro jewellery designer. Visit our Little Book Rings & Jewellery pages here, where we list some fabulous jewellery workshops where you can design and make your own bands.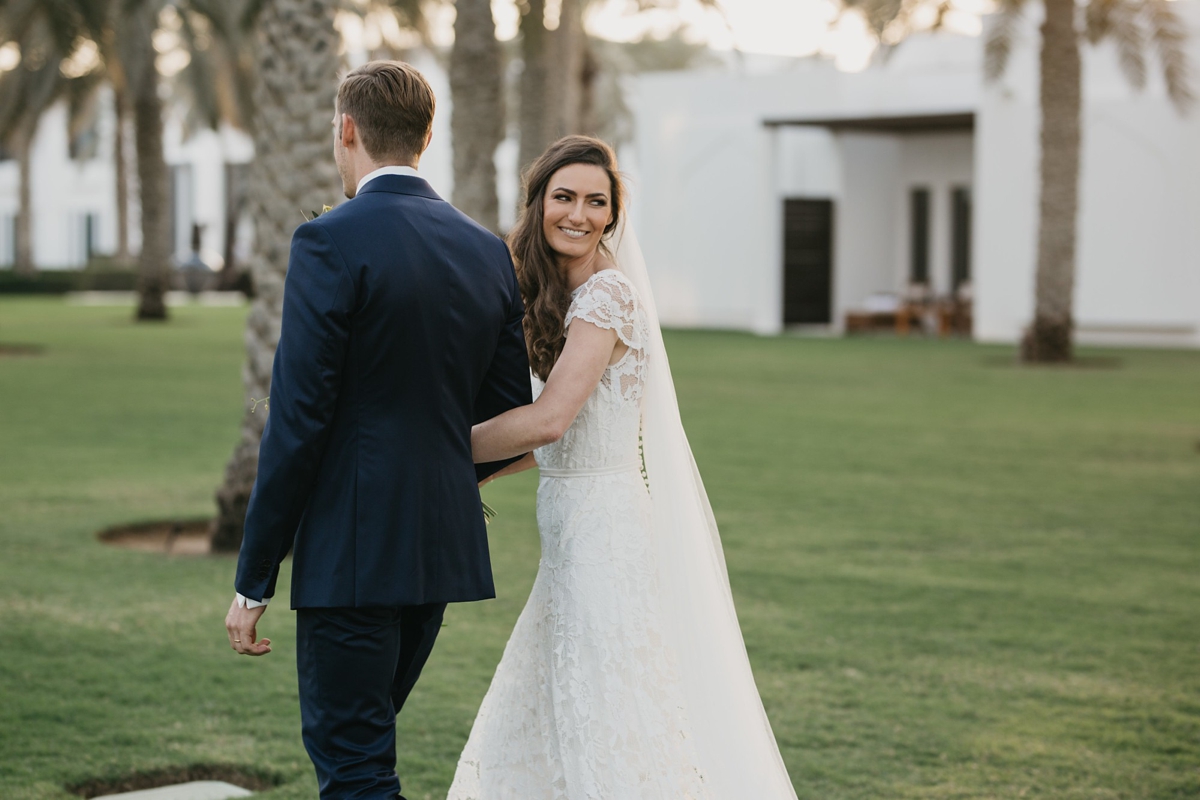 The colour palette was reflected in the bridesmaid's outfit which combined a strong fuschia purple skirt and multicoloured beaded bodice. I love how Sophie completely did her own 'thing' in terms of bridal party, something that we wholeheartedly celebrate and embrace at Love My Dress.
"Charlotte was my bridesmaid. We are childhood friends and she is to blame for our many London to Australia flights as she was the person who introduced Matt and I. I also had a bridesman, Steve. He's 'my person' if that makes sense and I couldn't imagine not having him around on our big day just because of the traditional 'bridesmaid' label. Also in my bridal party were my brother Ben and one of my closest friends, Jess, who both officiated our ceremony together. So it was me, Charlotte, Steve, Ben and Jess who spent the morning together getting ready and pretending we weren't all nervous together."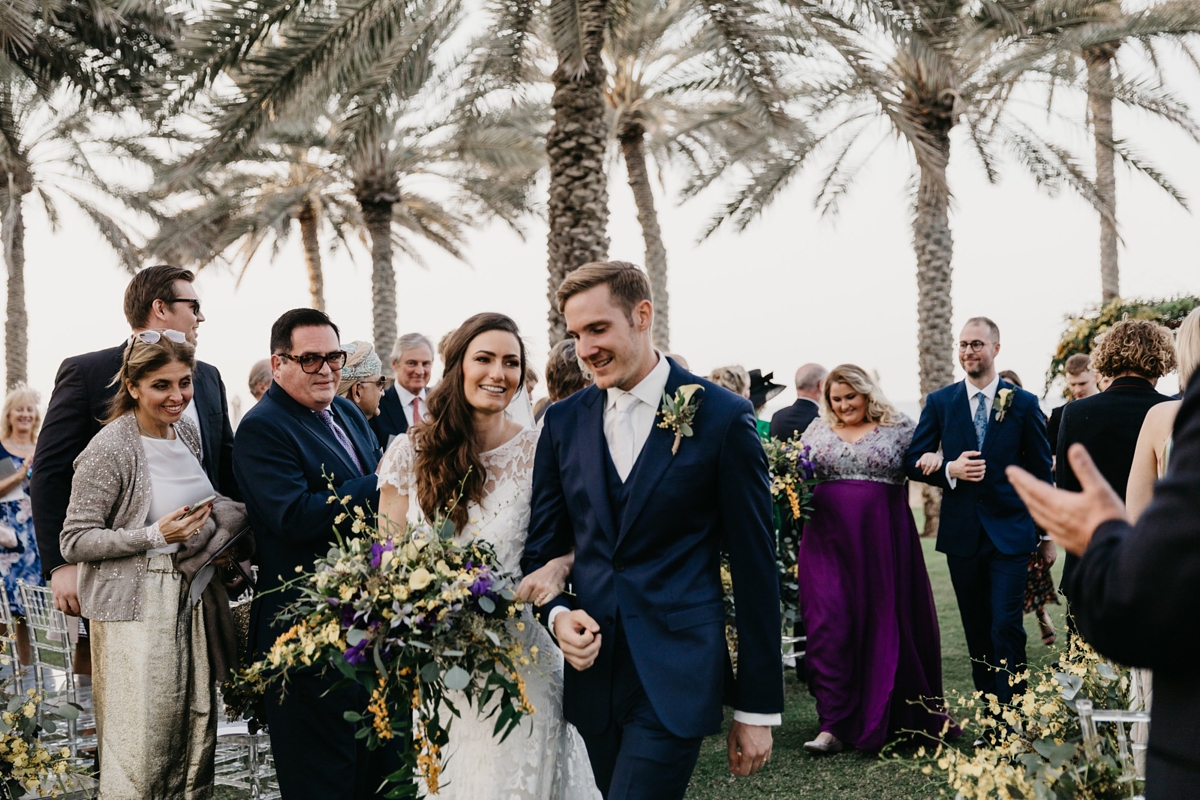 The incredible Omani weather meant that the entire ceremony and reception was held outside. The couple had dressed the clean lines of The Chedi beautifully to make it look simply spectacular.
"We used native Australian flowers. They were majoritively yellow with purple and orange highlights so quite colourful and celebratory. In Oman you get traditional clay pots used for all sorts of household uses and we made huge versions of them to put the flowers arrangements in from The Flower Shop, Oman."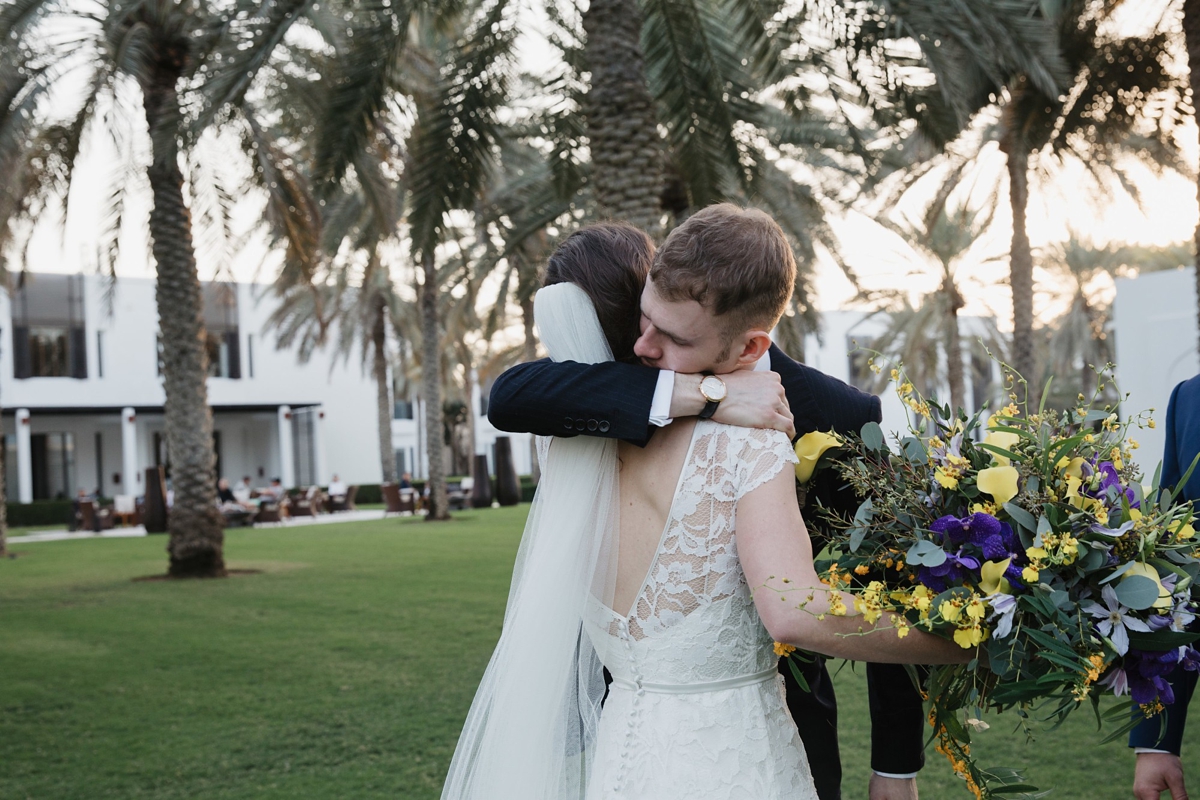 Music was a key feature throughout the day, with Muscat Brass playing at the ceremony and for the party later in the night,  as well as a harpist and violinist from the Royal Oman Symphony Orchestra playing during the drinks reception.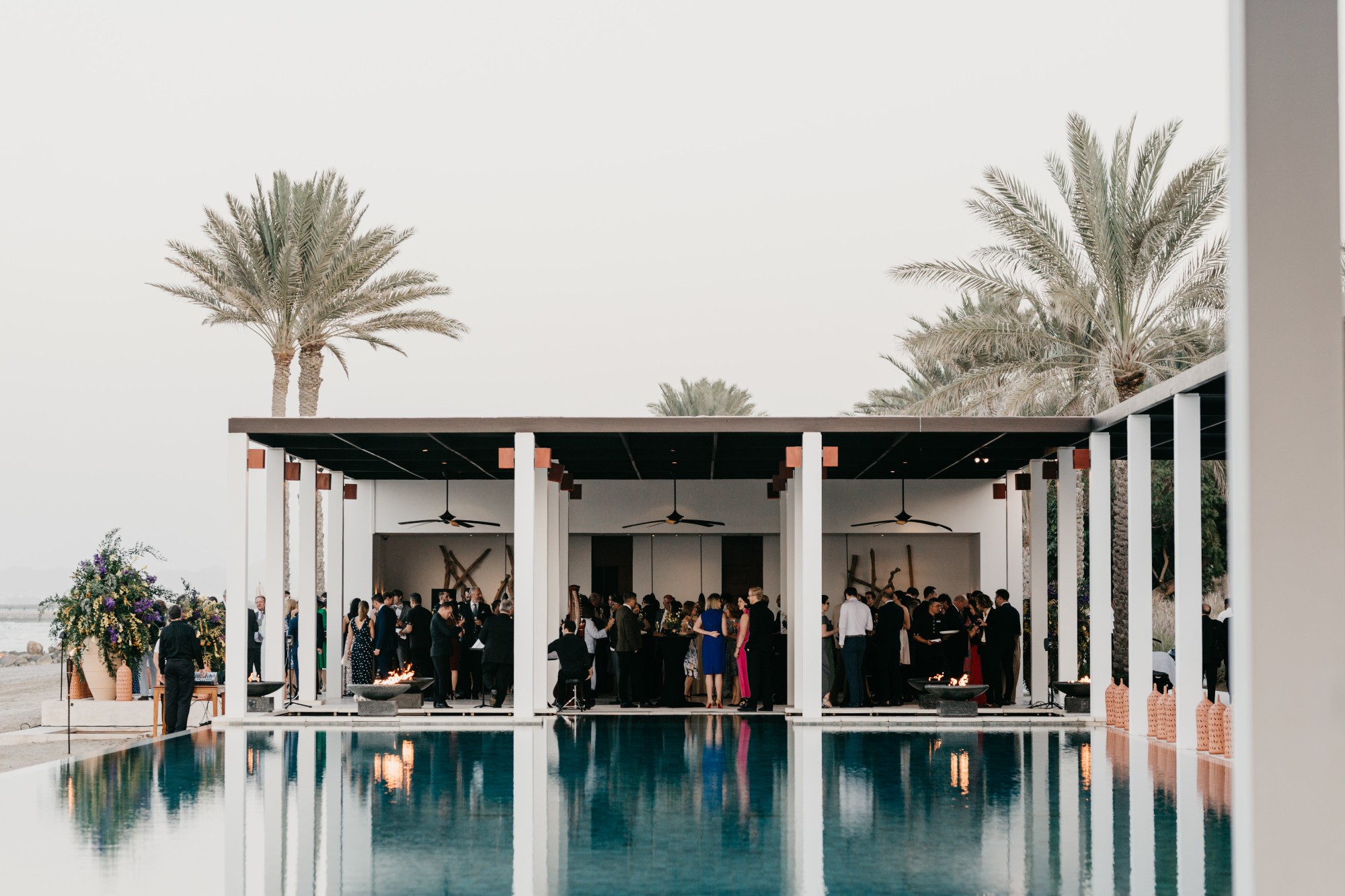 The etched wooden place names were sourced from The Make Lab, and the entire location was dressed with hundreds of fairy lights and candles in Omani lanterns and pots.
The wedding breakfast was prepared and served by The Chedi Muscat team, and there was an extra surprise for the newly-weds.
"I was very involved in every aspect of the wedding and thought I knew everything that was happening. But mum and dad surprised us with surprise singing waiters from Surprise Singing Encore Entertainment who were just brilliant."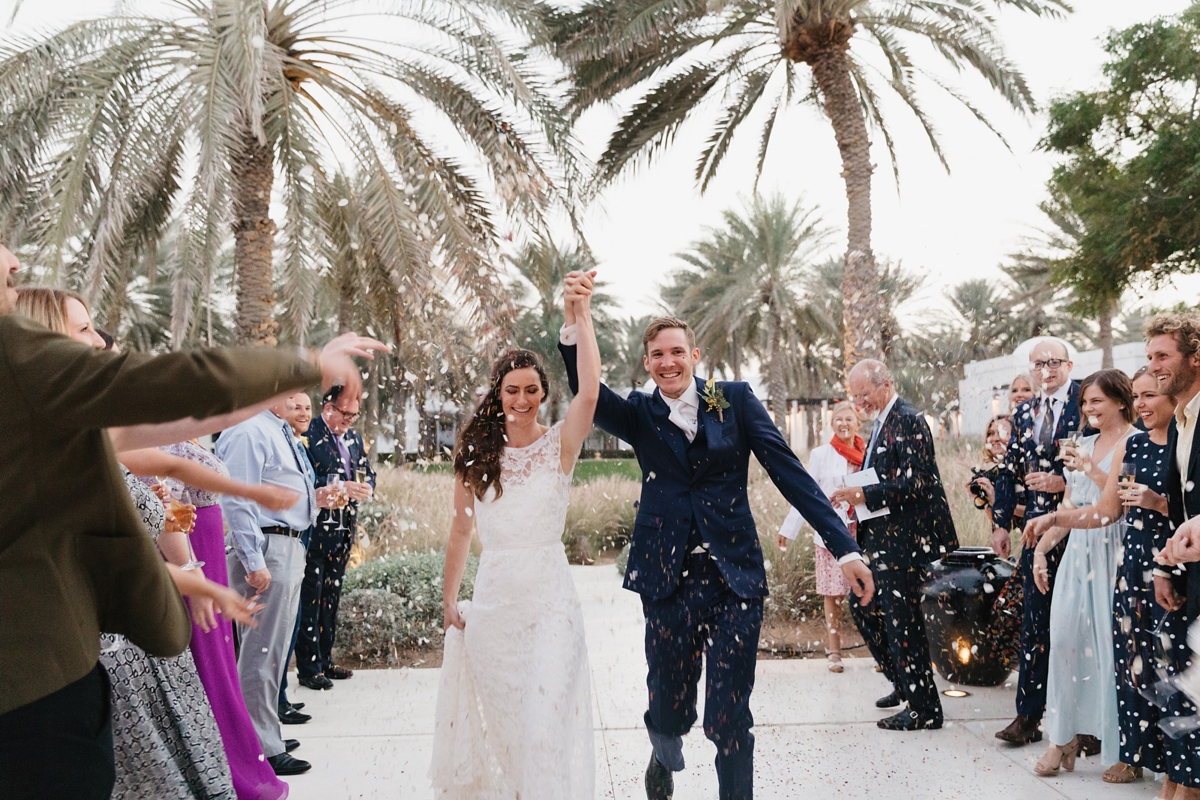 Are you looking for an alternative to the traditional wedding cake? How about a tower of fresh pink macarons, and a dessert table brimming with Omani sweets?
Words of Wedded Wisdom
"Write down your reasons for having your special day at the beginning and with any decision you make, check back that it aligns with your initial reasons."
"Plan a day you both will love, and chances are everyone else will love it as well."
"Plan as much as possible beforehand, and then the day before let it all just happen. Be present and enjoy the things that go completely unexpectedly. If you asked anyone before our wedding who would get emotional they would have said I would. I didn't at all; I just relished happily in it all, whilst Matt, Ben and Nick all completely lost it leading to lots of hankies, hugs and jokes throughout the ceremony."
Oh my. Each time I look at these photographs I fall more and more in love with this venue, and Sophie's Halfpenny London gown just looks so effortlessly elegant and a lovely contrast to the stark lines of the buildings. Thank you so, so much Sophie and Matt, and many congratulations too. Thank you also Siobhan Amy. If you are planning a destination wedding, or want more beach wedding inspiration, then be sure to have a peak at these weddings featured in the past.
Ele xau