As the nights draw in and the days get ever chillier, what we really need in our lives is weddings like this, to remind us of the warmth of summer.  I'm especially taken with this pretty, flower filled day, as it took place just a few miles from where I grew up- one of the most beautiful areas of the country, in my humble opinion!
Meet Becky, a primary school teacher, and Mark, a wine merchant, who married on the 26th May 2018 at St Peter's Church, Humshaugh, Northumberland, followed by a reception in Becky's parents' gorgeous garden.
"It was always my dream to get married there and the day after we got engaged my dad had already been on the phone to our neighbour to see if we could use their field across the road for the marquee."
Photography by Lucie Watson
"My parents' garden has always been beautiful and has an original walled section but my parents went to so much effort to make it even better.  My dad was concerned that even in the end of May there wouldn't be enough flowering so he built a polytunnel to bring on the flowers early."

Becky looked beautiful in 'Prunelle' by Pronovias, which she paired with a long tulle veil borrowed from a friend and an Ivory and Co headpiece from John Lewis.  She dressed in the converted dovecot in her parent's garden, which was also the place she and Mark shared their first kiss (at a teenage party) and where they were to spend their first night as a married couple.  Too lovely.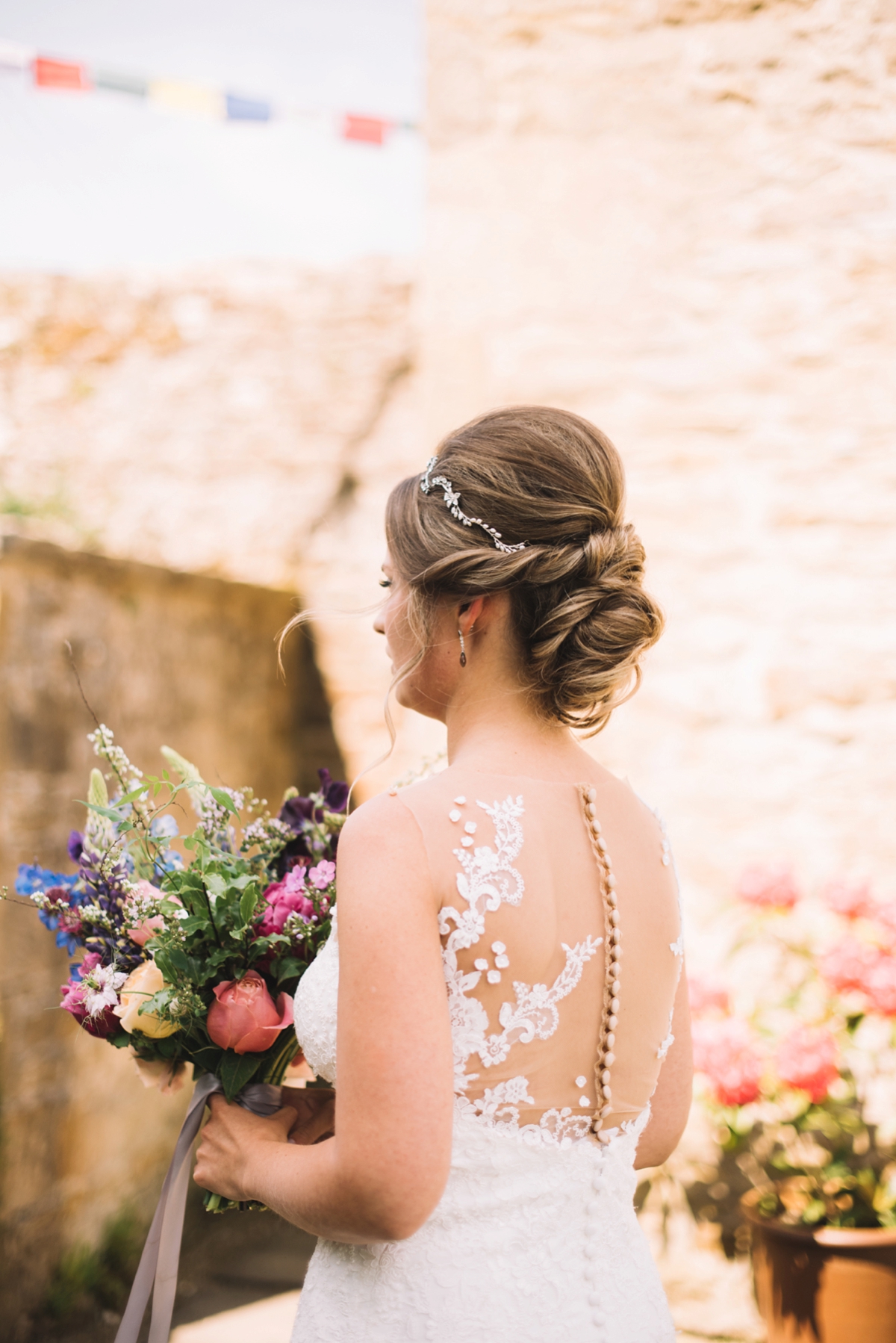 "It wasn't what I was expecting to like but I loved it when I put it on.  I loved that it was relatively simple down the front panel so when I looked down it wasn't 'too much' but that there were lots of tiny details that made it special, such as tiny flowers dotted all over with tiny beads inside.  I'm sure most of my guests didn't even notice them but I knew they were there and I loved them."
[JP-VIDEO]
On her feet Becky wore shoes by Rainbow Club from John Lewis, while for scent she opted for a perfume from Jo Malone, which was a Christmas gift from Mark's parents. For jewellery, she opted for a pair of earrings which had been a gift from her own parents on her sixteenth birthday.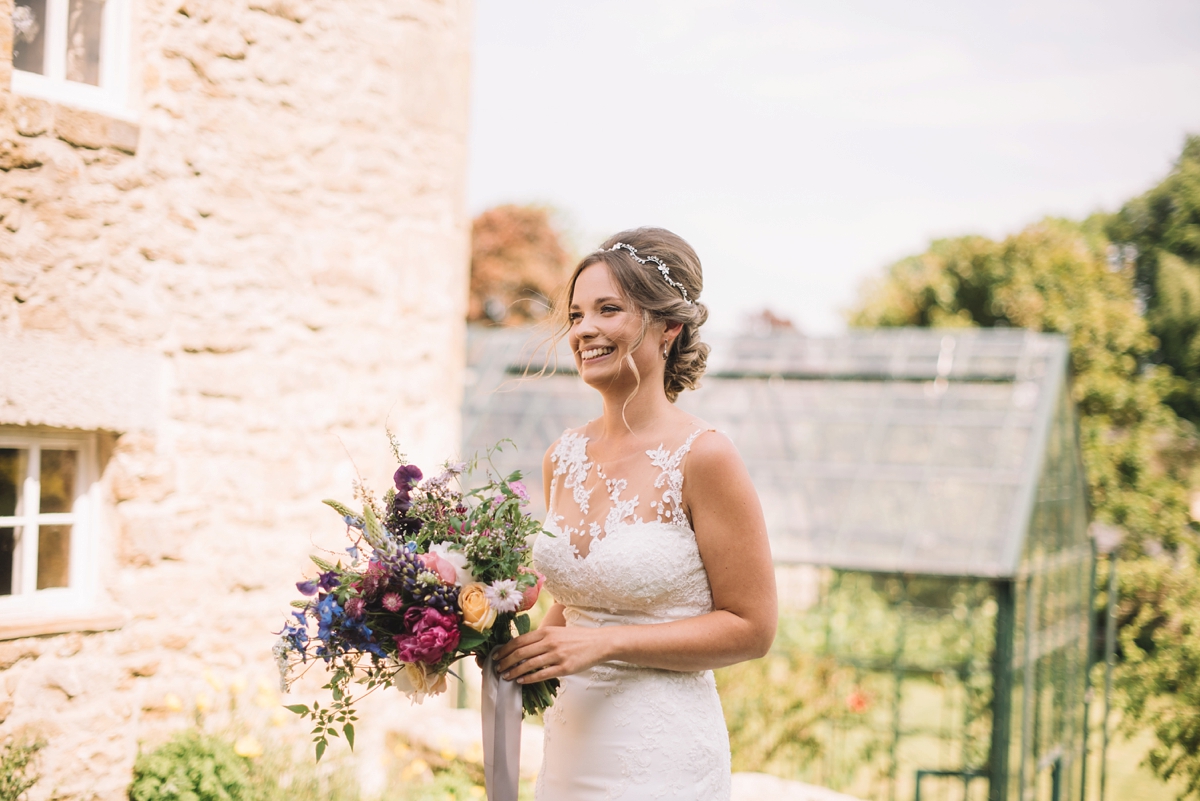 Becky chose to wear her hair in a soft up-do by Helen Gair at John Gerard (Hexham), while for make up, school friend Katie Hannant was on hand to give Becky a true English rose style, complete with pink lip.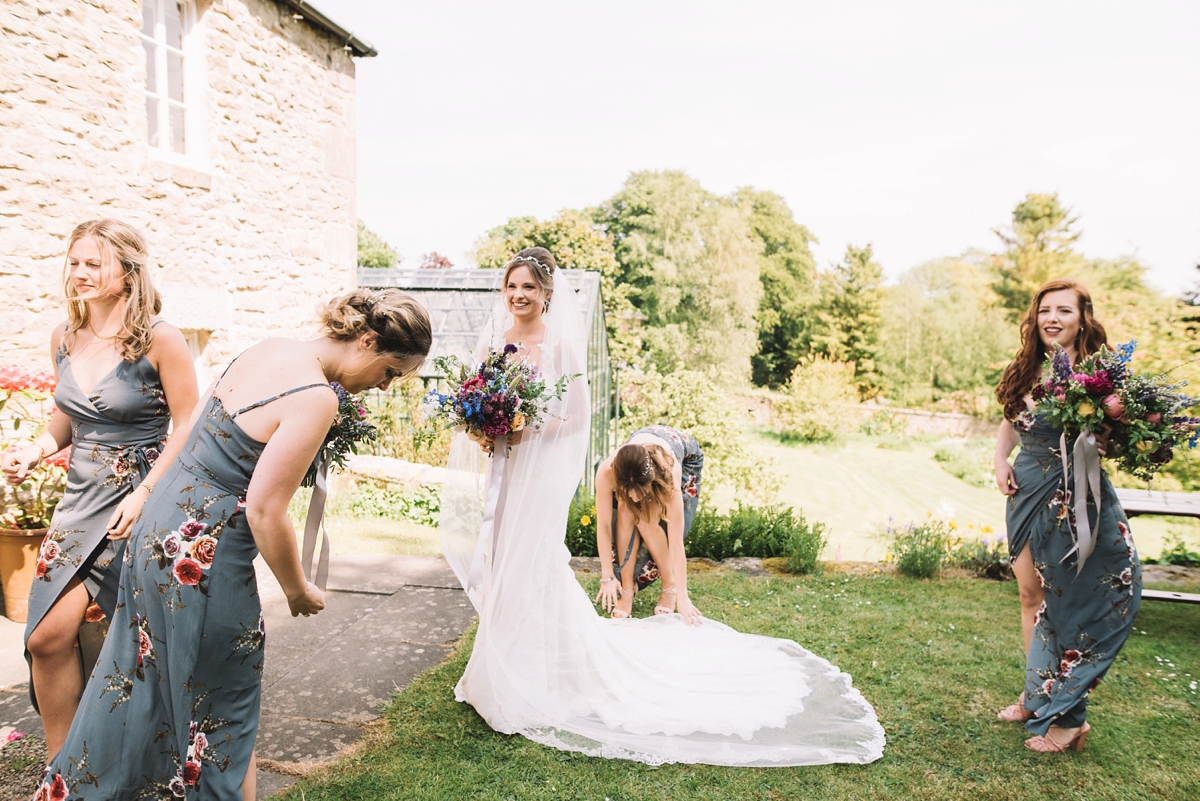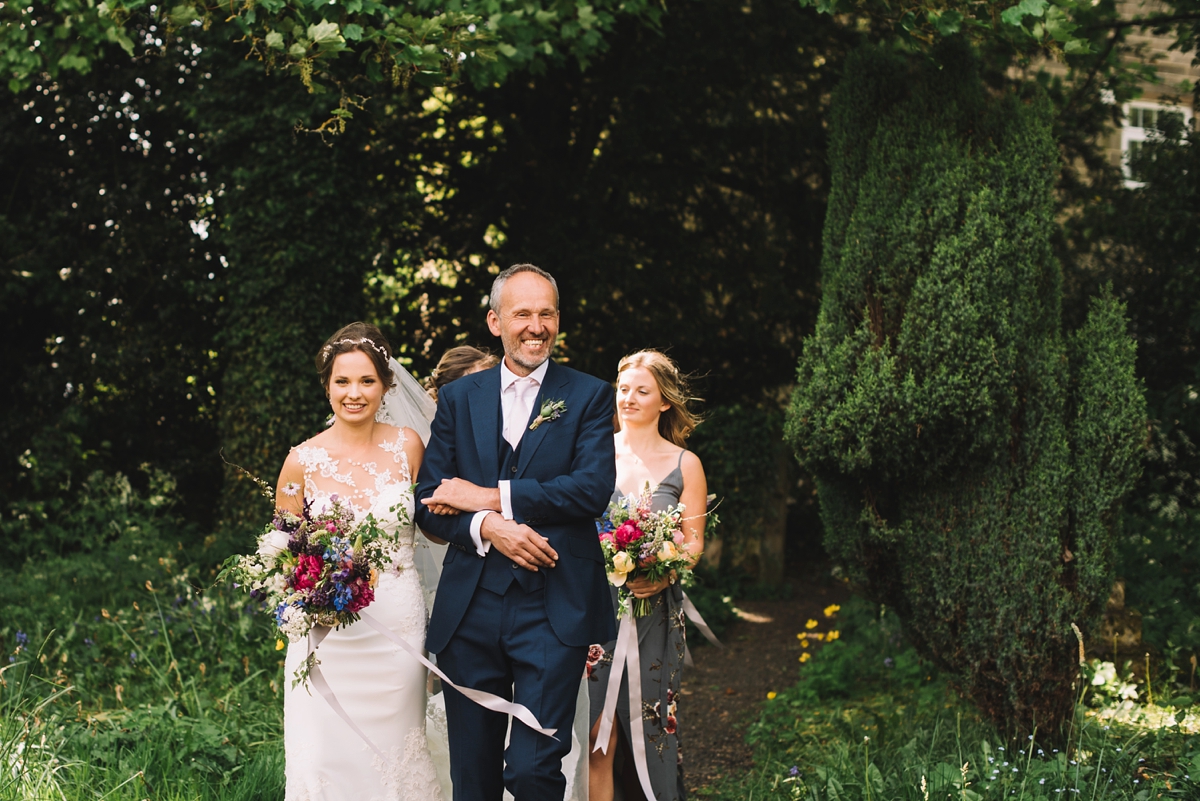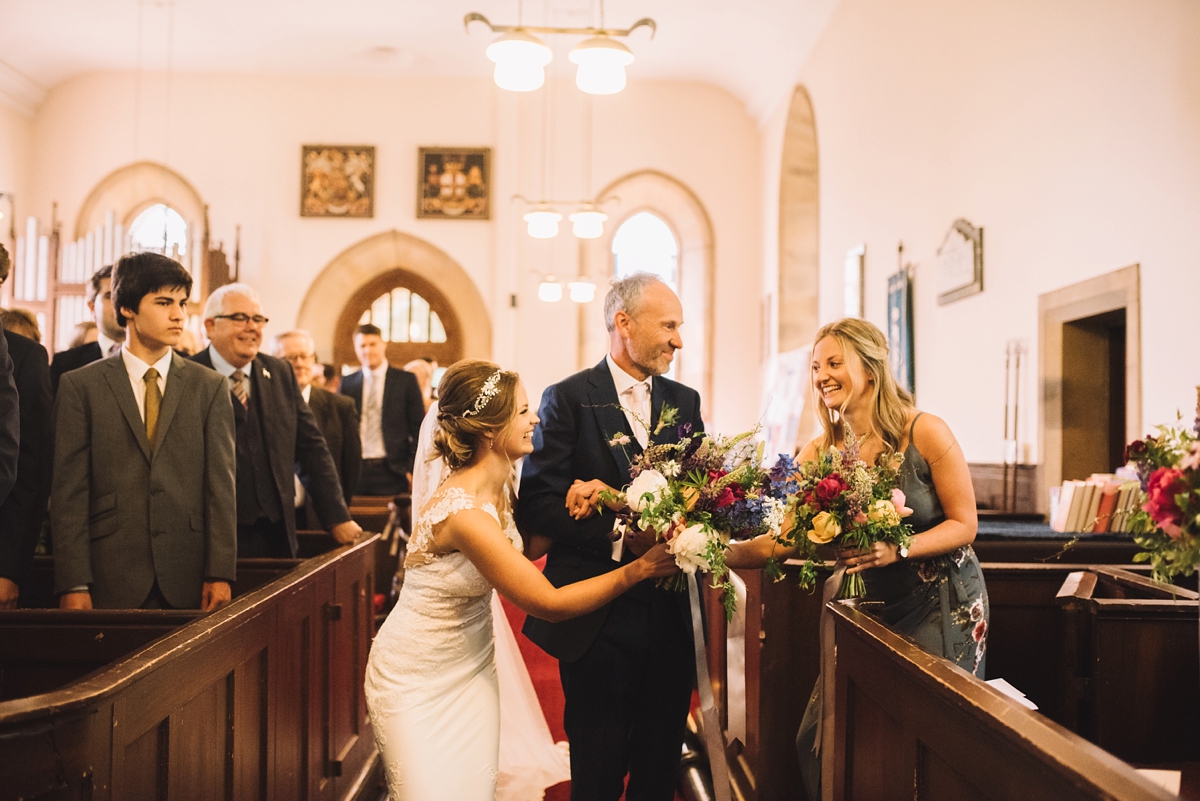 Becky walked down the aisle on her dad's arm, preceded by her four bridesmaids.  Becky and Mark chose two readings- Corinthians 13, read by Becky's sister, followed by 'That Still and Settled Place' by Edward Monkton, read by Mark's eldest sister.
Mark waited at the bottom of the aisle in a blue three-piece suit by Reiss, with complimentary pink tie from the same supplier.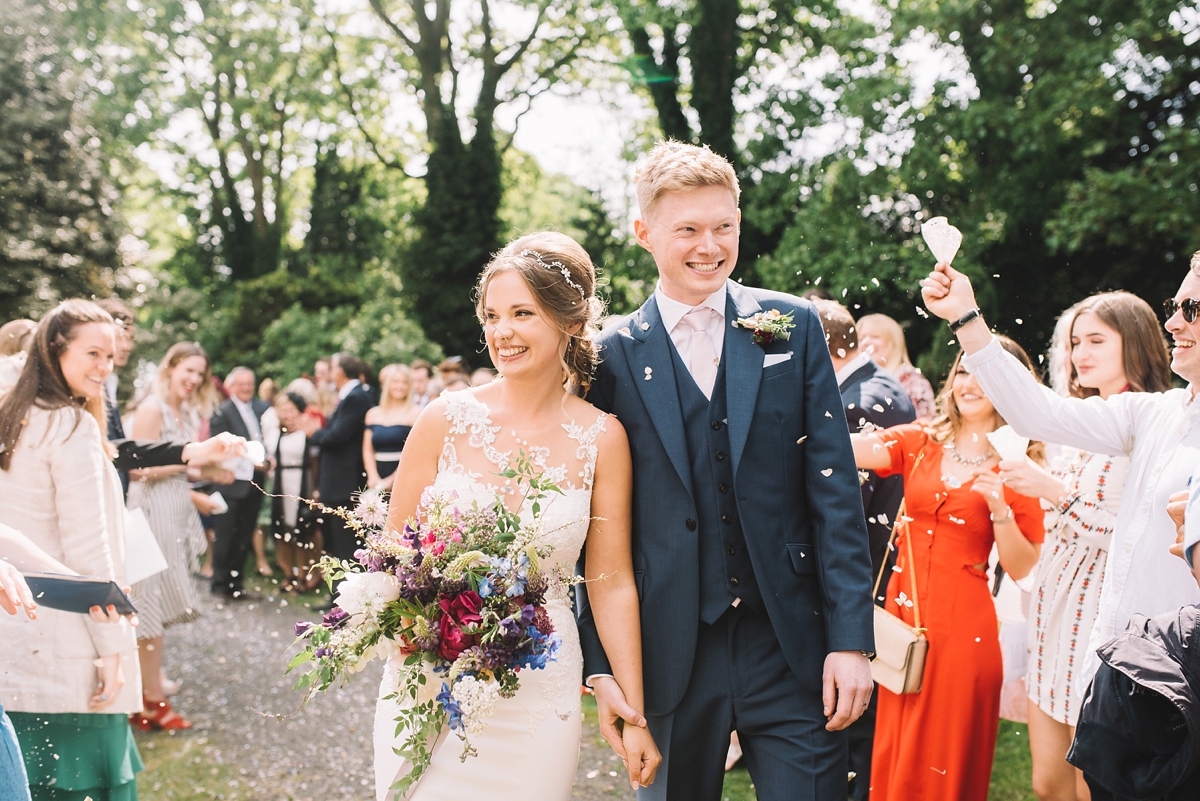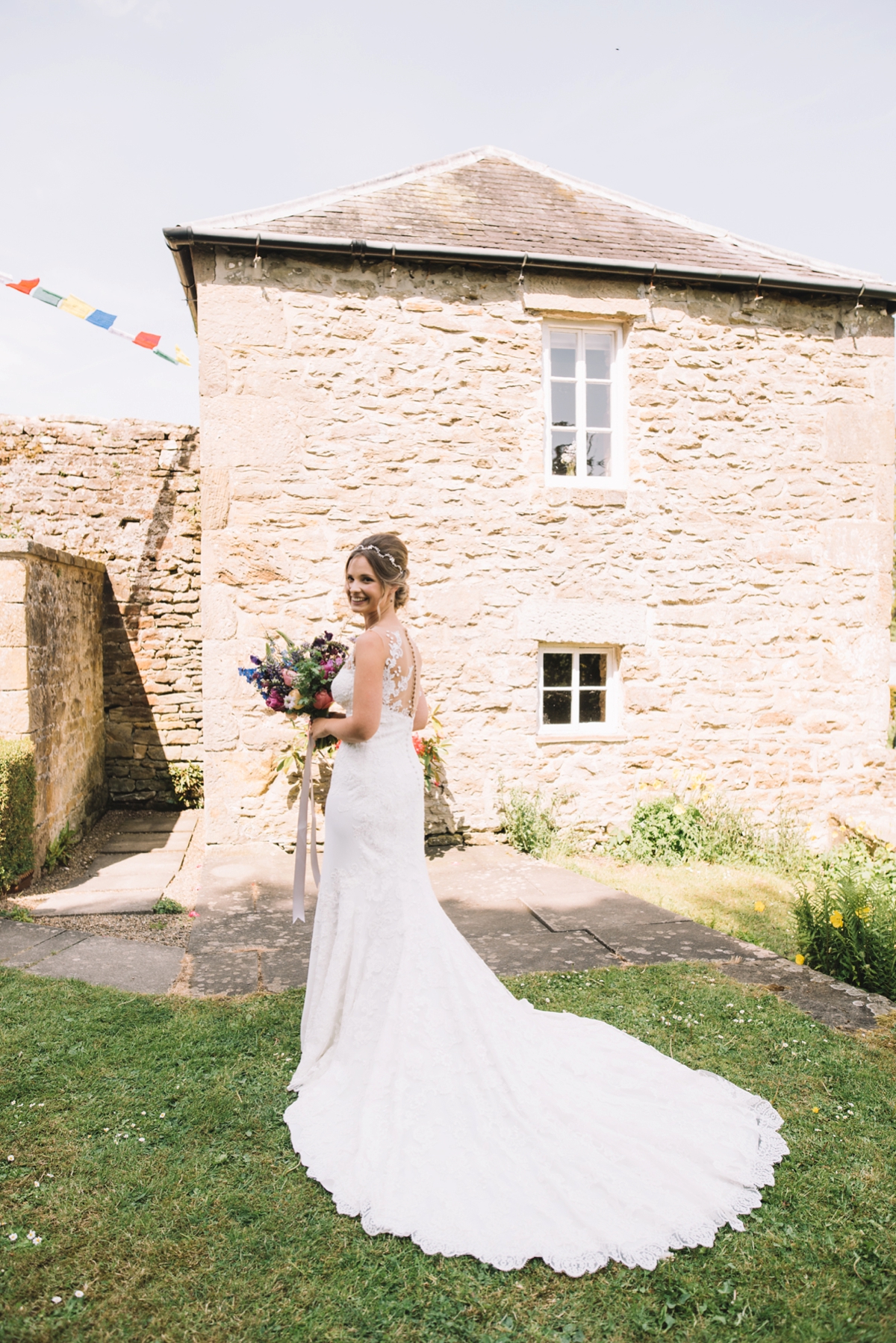 "One of our highlights of the day was being able to drive Mark's Dad's car back from the service.  It meant we had a bit of time out just the two of us and Lucie was able to capture that perfectly."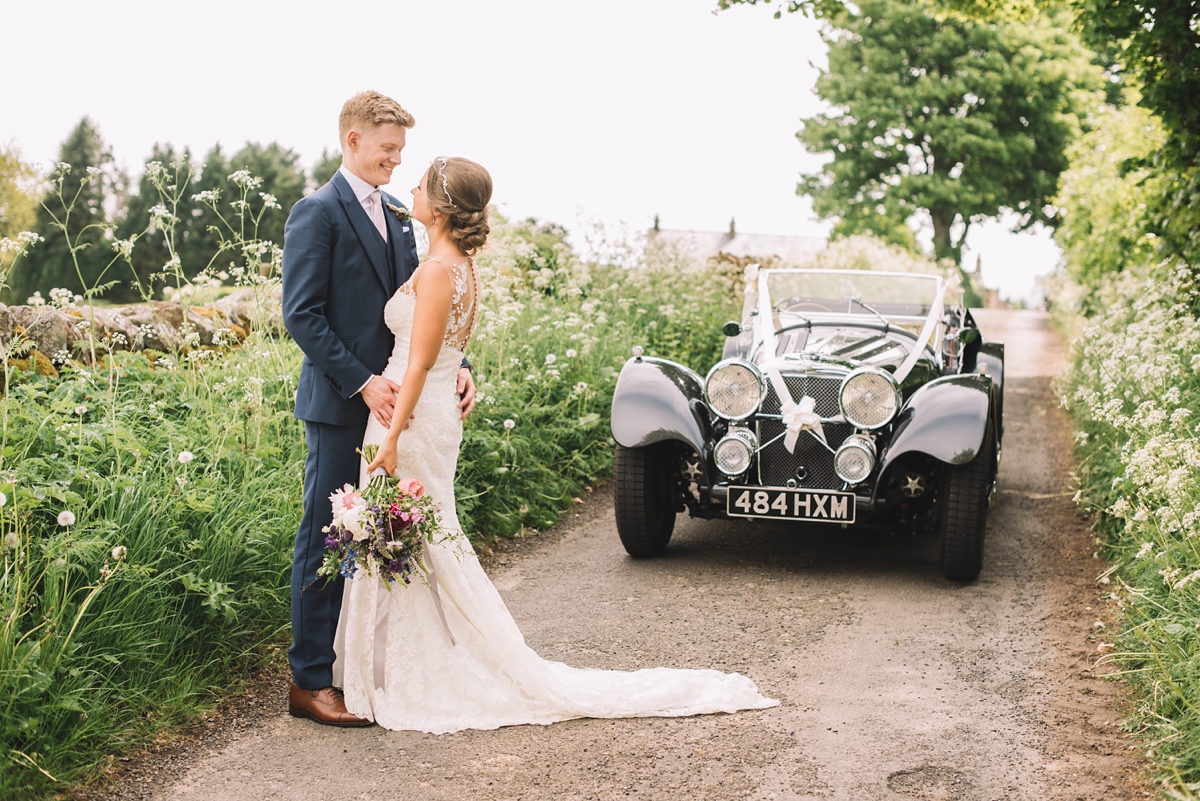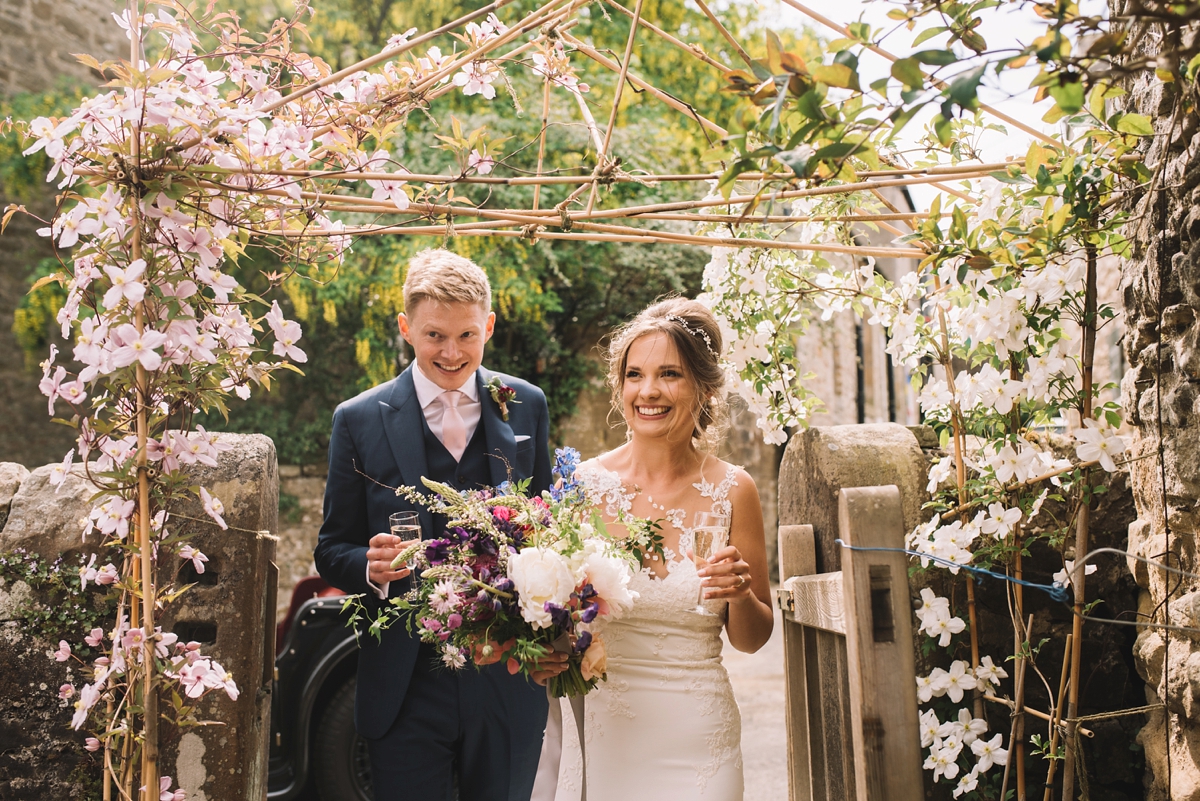 On returning from the ceremony, Becky, Mark and their guests enjoyed canapes, drinks and photos in the garden, before moving to the marquee for the wedding breakfast.
"We wanted our food to help create a relaxed feel. We both love pizza so we decided to hire a pizza company (Little Britaly) who cooked pizzas in their own oven. They also provided steak burgers in the evening.   Citrus Catering provided us with the canapes, salads and waiting staff."
Floral arrangements and bouquets were expertly crafted by Hannah of Wildflower in Ouseburn and really do set off the natural beauty of the garden to perfection.  I particularly love Becky's bouquet, with its amazing selection of colours and textures.
"Hannah did Mark's sister's wedding flowers a few years previously and she also used to babysit Mark years ago so that was a nice family link!  Hannah was amazing."
"I basically just described my dad's garden to her and explained that I wanted everything to be relaxed with a countryside theme.  I showed her the bridesmaids dresses and then after that, just said I trusted her.  She didn't disappoint.  We had so many compliments about the flowers and they really did make all the difference."
"I hunted for months for bridesmaids dresses and it was becoming the most stressful part of the wedding.  I must have ordered and returned about twenty dresses when I saw an advert for Silk Fred on Facebook and decided to give it a go.  My bridesmaids liked them straight away and they all looked stunning."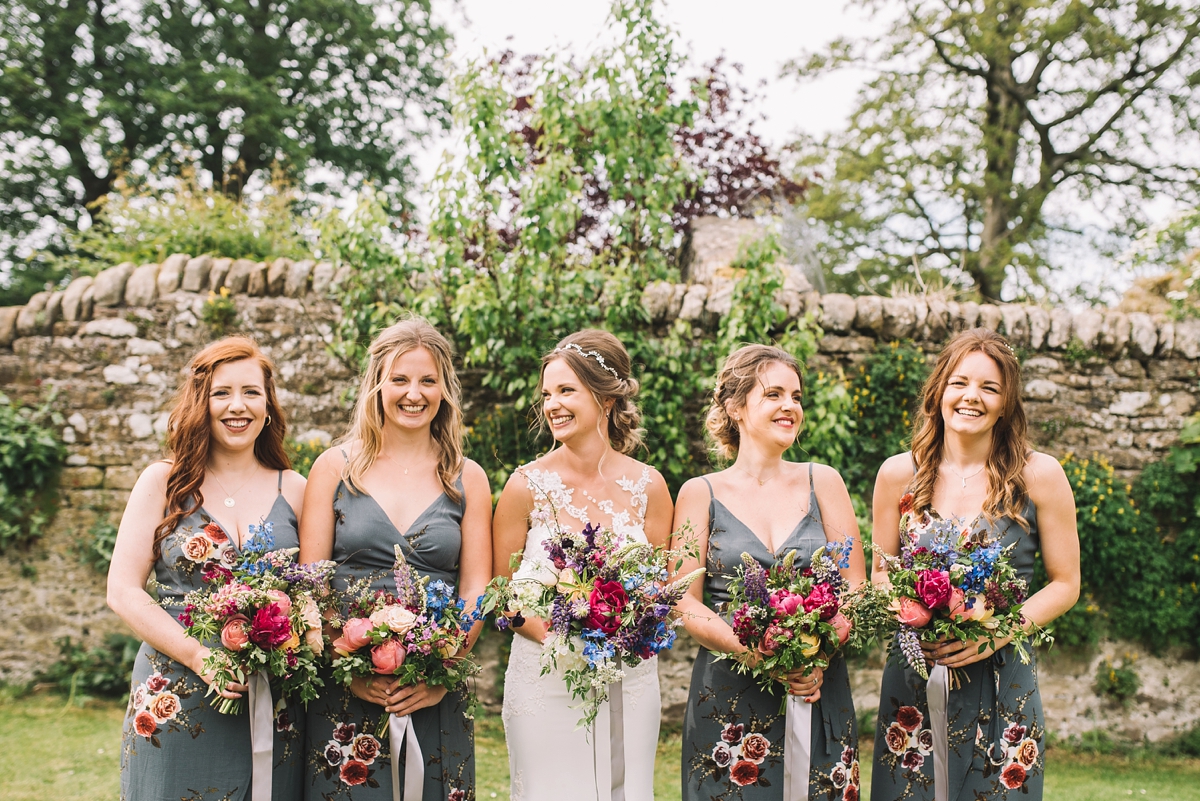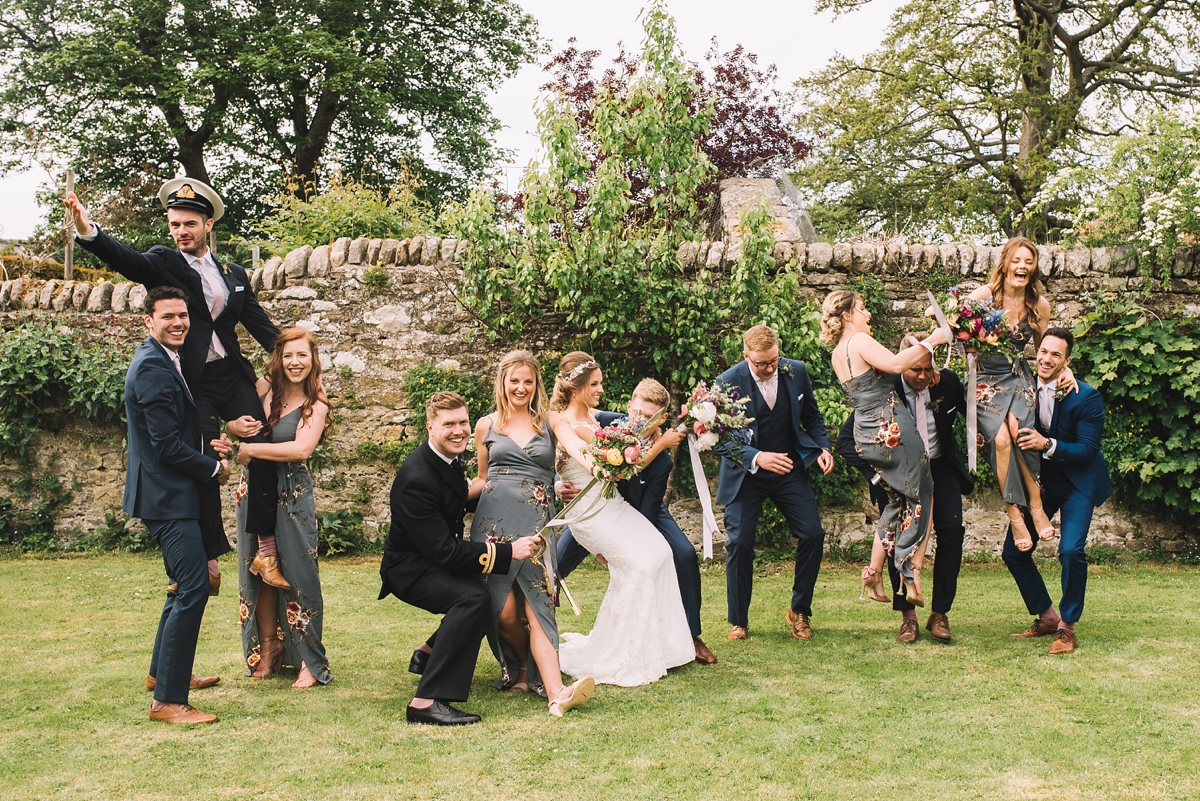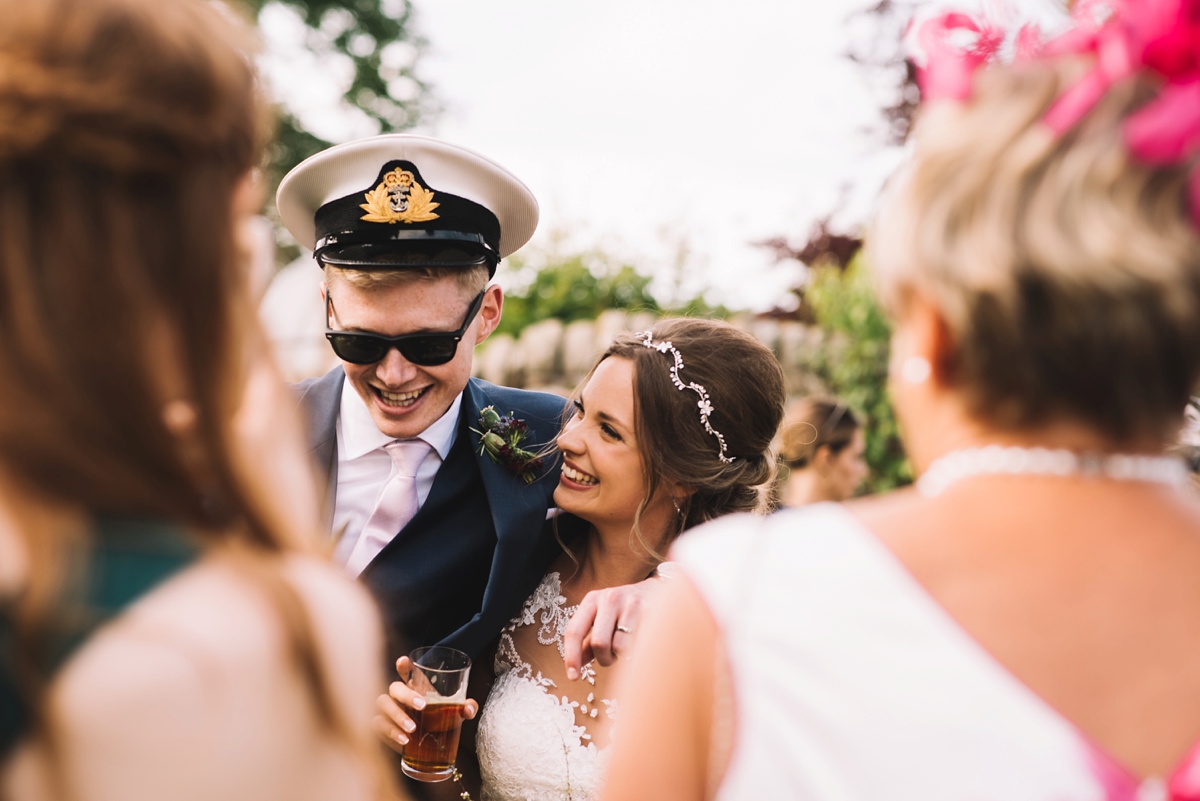 Lucie Watson captured the glorious sunshine and even more glorious happy smiles in her bright and light style and Becky and Mark also opted for a pre-wedding shoot to boost their confidence in front of the camera- a really excellent idea if your photographer offers it.
"Lucie was great.  She really blended in with all of the other guests and she wasn't at all intrusive and she got lots of natural, relaxed shots of our guests which is exactly what we wanted.  We are both a bit camera shy and posing didn't come naturally so being able to meet Lucie before our big day meant that we were far more relaxed and we ended up enjoying having the photos taken."
"My dad grew flowers in pots for inside the marquee but also made a huge wall of flowers to go outside the marquee to line the full length of the tent.  They helped make the day for me.  I was so proud of him and all his hard work and I was so pleased that it all paid off and they all flowered."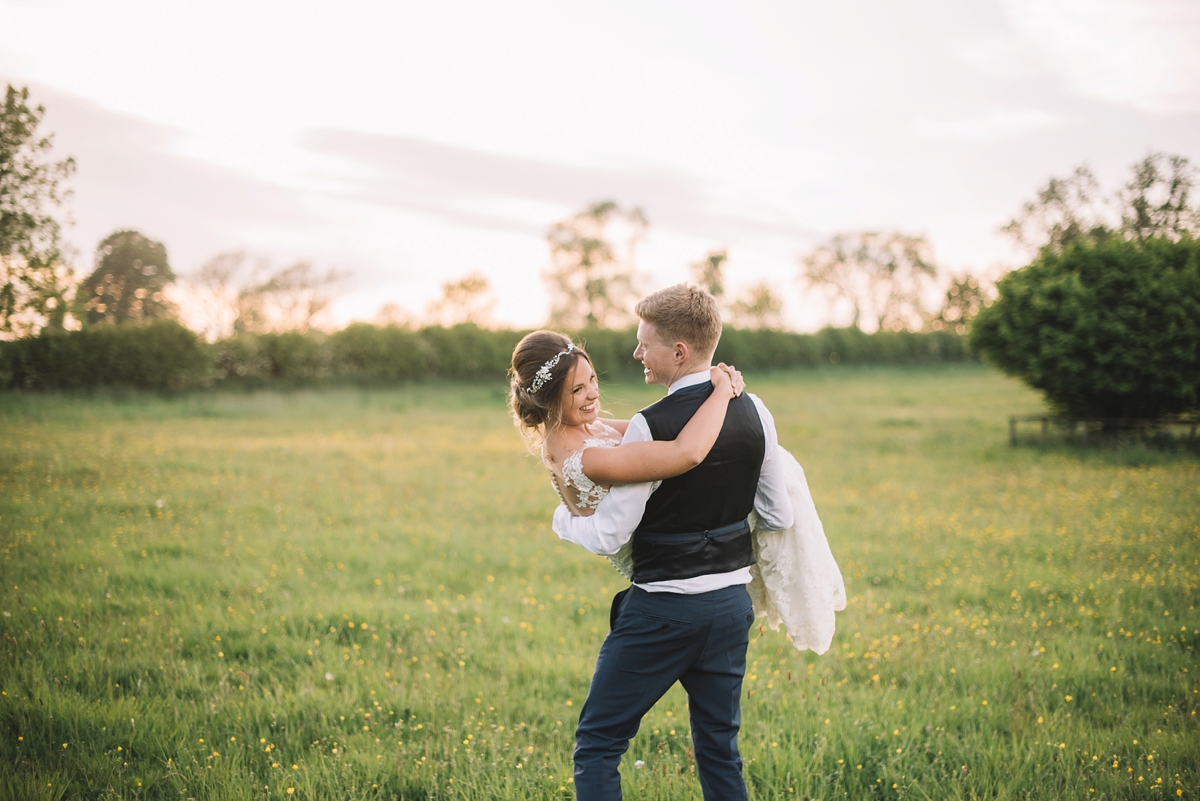 Becky's sister Jenny kindly offered to make the cake, which sat proudly among the other baked goods provided by family and friends.
"Before entering the marquee my sister pulled me over to one side and said she had a surprise for me.  She had put the cake decoration that had been on my mum and dad's wedding cake on top of ours!  Although it had slightly lost its colour, they had kept it safe all that time."
For favours, Mark's mum and sister made limoncello, which was served after the main course.
"One of my sister's best friends, Katie Winter, designed our invites and table numbers.  She was great and they were exactly what we wanted."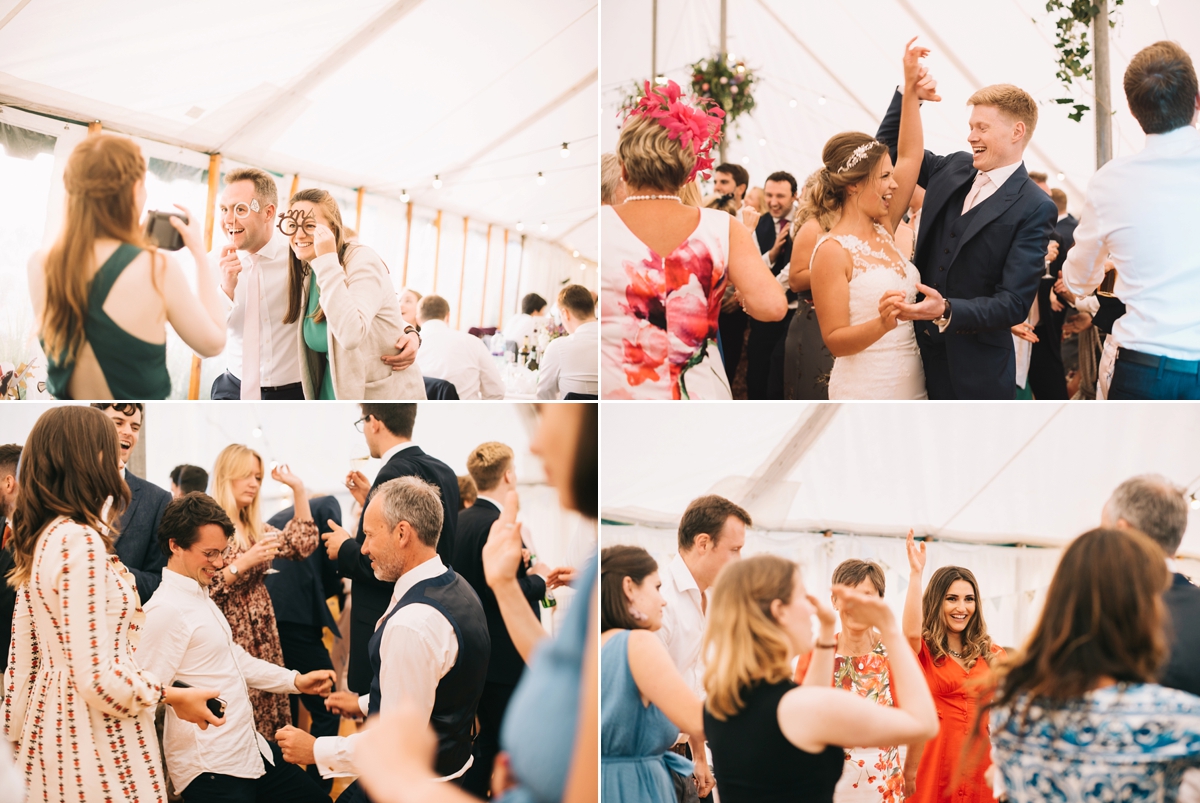 Evening entertainment came in the form of band Livewire (booked through AMV Live Music) while usher Ross sang the first dance song, 'Every time we touch' by Cascada.
"Mark was in a band with Ross for years during school and after university and Ross sang my favourite song they used to play.  I used to request it at their gigs and we joked that he would sing it at our wedding.  I didn't think it would actually happen!"
Words of Wedded Wisdom
"Dreaming big doesn't have to mean spending lots of money and don't underestimate the talents of your friends and family!  We did so many bits ourselves or we drafted in our amazing friends and family to help.  I made all of our signs, table plans, place names etc by hand and Mark and his family made all the larger creations."
So many thanks to Becky and Mark for sharing their beautiful day with us all, and to Lucie Watson Photography for the fabulous images.  If a garden wedding or a marquee reception appeals to you then we have lots of beautiful examples to share, so get exploring our back catalogue when you have a few moments spare.
Much love,
Shona x