As someone who studied history and archaeology at university in North Wales, I've spent a lot of time exploring Welsh castles, and they're all magical places to be. I'm thrilled then to be sharing a wedding celebration with a Welsh castle reception, and a lovely couple who were inspired by their mutual love of horticulture.
Sophie, a Learning Support Officer and Simon, an Engineer, were married on the 27 May 2018. Their ceremony was held at the local village church close to Sophie's parents followed by a reception at the stunning Fonmon Castle, near Barry, South Wales.
"We always knew that the only thing that really mattered to us was for our day to be relaxed, colourful and fun, so knew from the start that we would just go with what felt true to us as a couple. I am obsessed with the beauty of late springtime and so a May wedding was the perfect choice for us."
Images by Lewis Fackrell Photography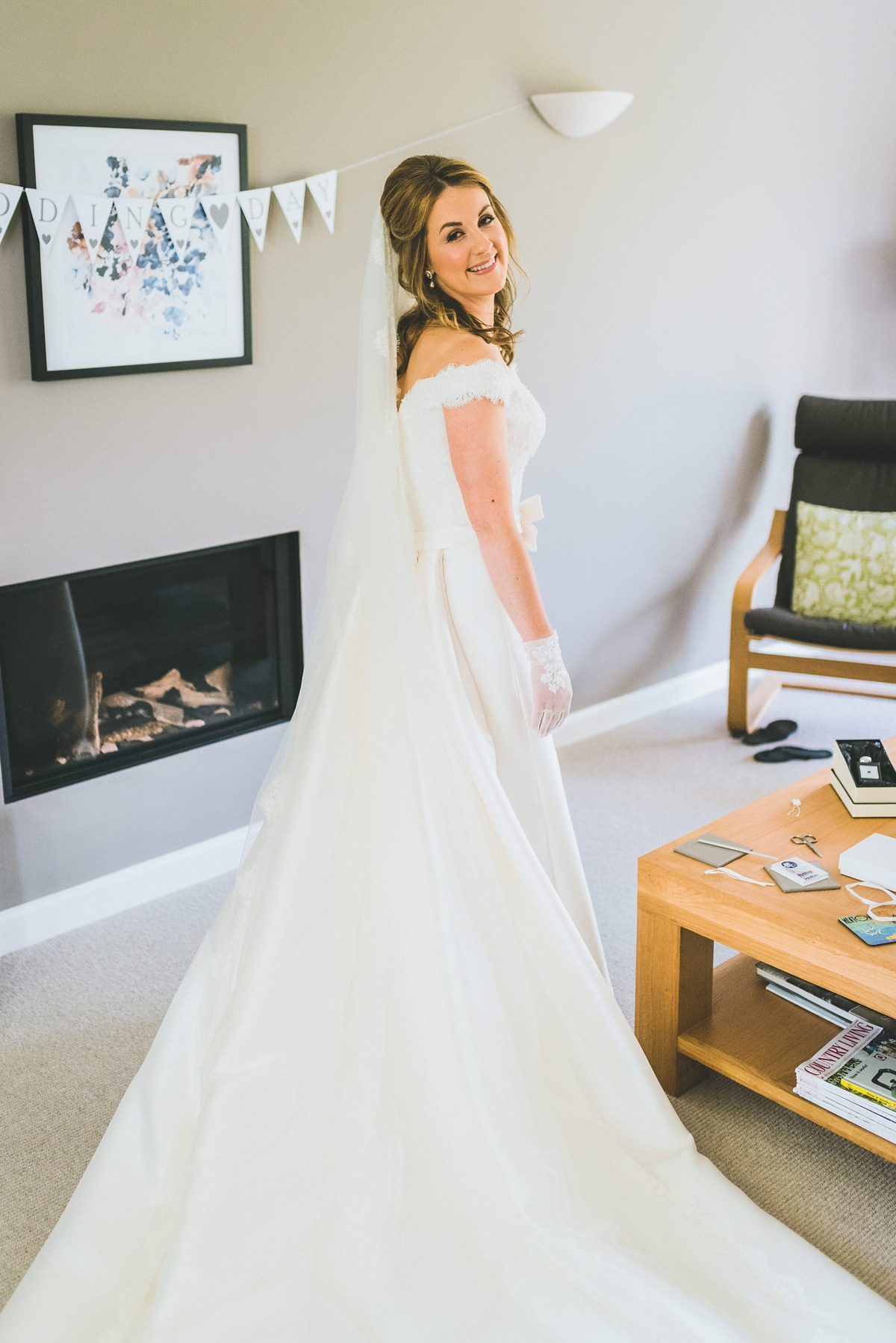 Sophie wore an antique gold and pearl necklace from John Lewis, sparkly drop earrings from Etsy, and a pretty gold and pearl bracelet, gifted to her by Simon the day before the wedding. She also wore the most amazing pair of ivory lace gloves!
"I fell in love with them as soon as I saw them and just had to treat myself – after all, when else do you have an excuse to wear exquisite lace gloves?!"
Sophie's pretty make-up look was created by Charlotte Joy Make Up, and in her softly curled hair she wore a beaded pearl hair comb from Etsy, together with a cathedral length veil from One1 Bridal. On her feet Sophie wore gold sandals by Roland Cartier, and as her wedding day fragrance, Jo Malone's Jasmine Sambac and Marigold.
"My mum decided she wanted to treat me to a fragrance for the big day so we spent a lovely girly  afternoon in Jo Malone where I fell in love with this one, the first I tried on. Just so feminine and floral and romantic."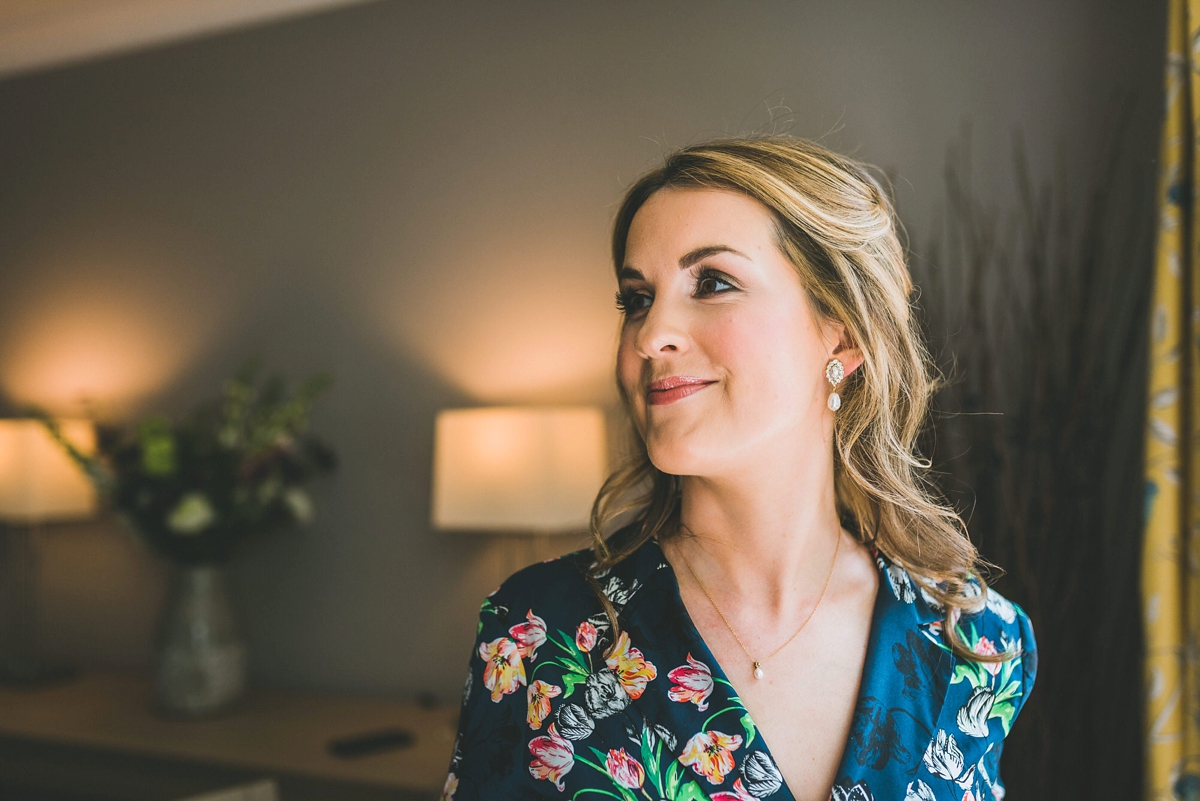 The gorgeous technicolour florals for the day were by The Flower Hive, and how incredible they looked! I love the bright poppies together with the soft pastel roses and cheerful daisies.
"Being green fingered myself I knew I wanted my wedding flowers to be locally sourced and look natural, colourful, loose and unstructured. Eva grows all her flowers organically very near where we live, so she was the perfect choice. The above was the only brief I gave her, and I knew I could rely on her to create something stunning. She didn't let me down- the bouquets, pedestals and flower girl's crown were absolutely breathtaking."
Together with the lovely flower crown, Sophie's sweet flower girl wore a classic white dress from John Lewis. The bridesmaids wore elegant satin dresses in petrol blue from ASOS with shoes from Oasis and gold necklaces of their choice. On the morning of the wedding Sophie gifted them each gold bracelets engraved with their initials (no details supplied).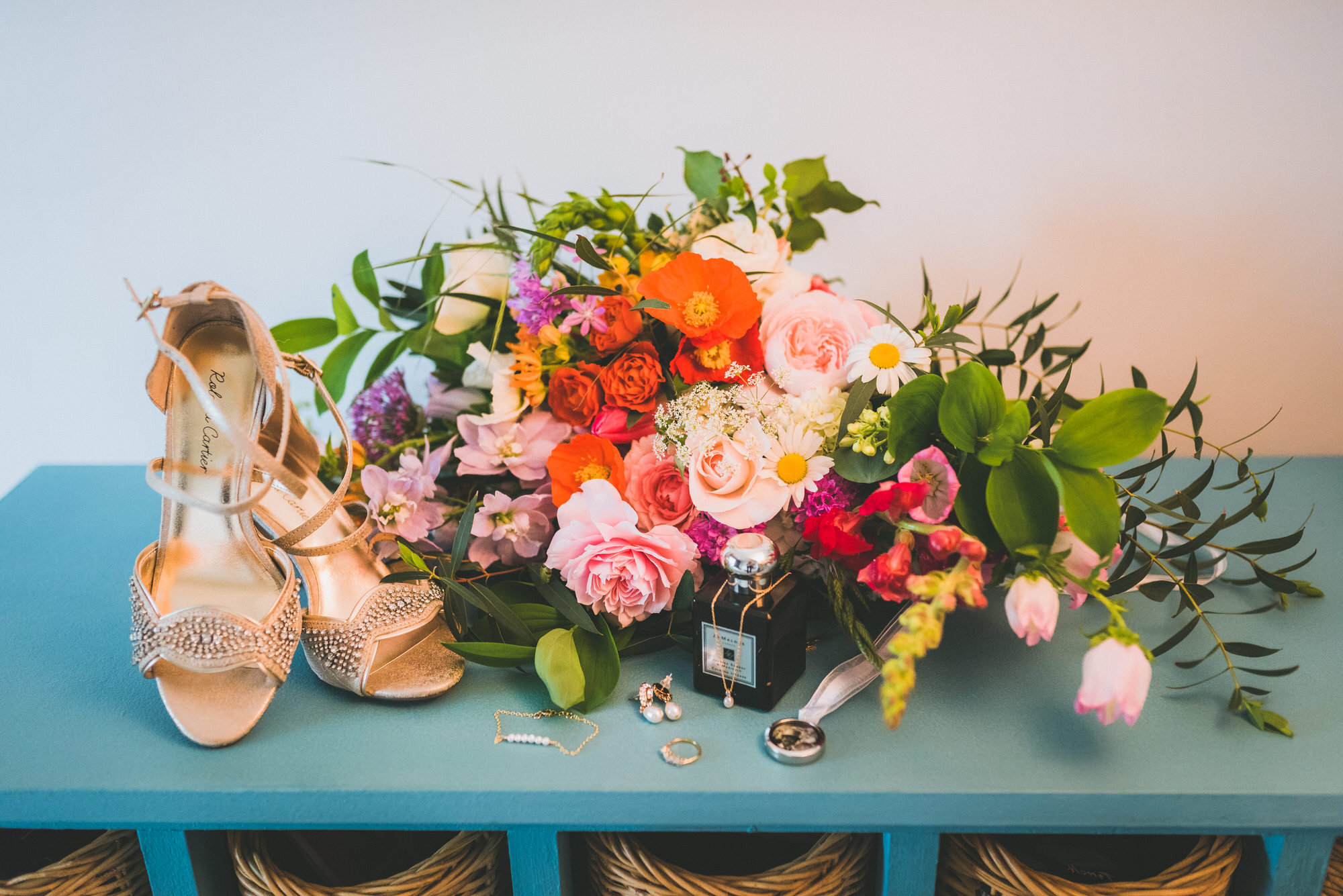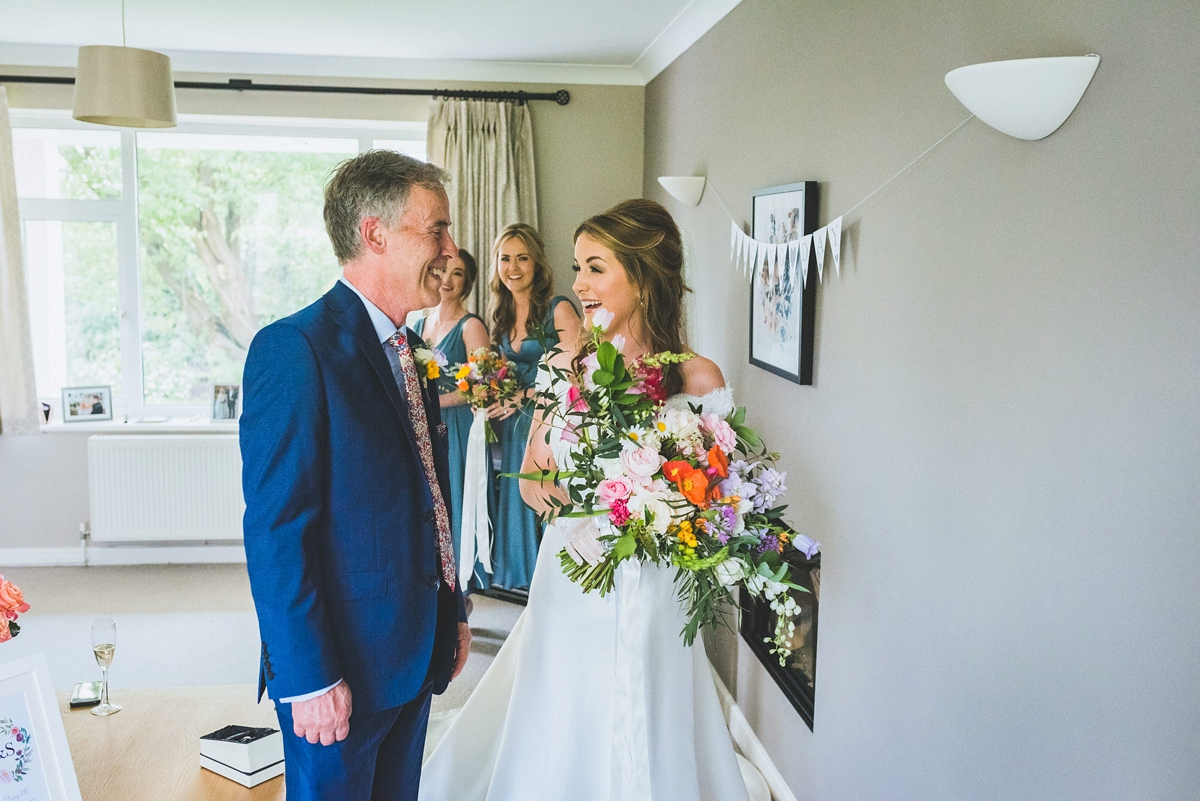 Sophie chose an exquisite gown by Rosa Clara, which she purchased from One1 Bridal in Cardiff, and the silhouette reminds me of the beautiful Belle Époque gowns of the Edwardian era.
"I didn't have any set ideas of what I wanted when I went shopping for my dress, and I had lots of fun just trying lots of different styles. As soon as I tried my dress on I realised it had so many elements which I loved all combined into one dress: a little lace, the tiniest hint of sparkle, off the shoulder, button up back and, best of all, a detachable train! It was classic yet different, which is just what I was after. The girls at One1 Bridal are simply amazing – so friendly and warm, and nothing was ever too much trouble."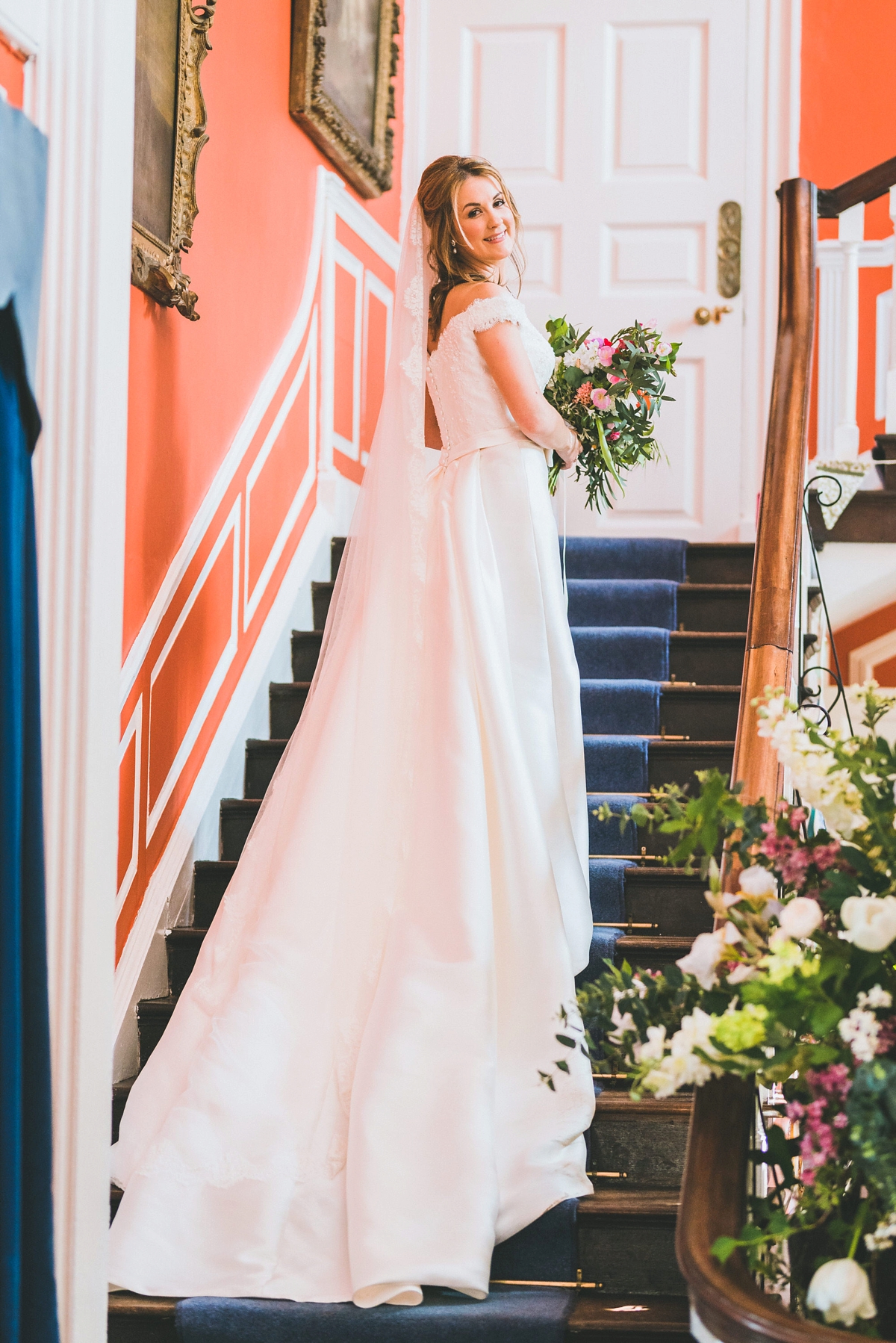 "We knew we wanted to get married at the church in my parents' village, and have a reception nearby too. As it turned out Fonmon was the only venue we looked at, because we were just blown away by its beauty and the stunning grounds and walled garden, but also the warm, friendly feeling there. It is a beautiful ancient castle yet has so much character and never felt imposing, and most of all it did not feel like we were part of a conveyor belt of weddings."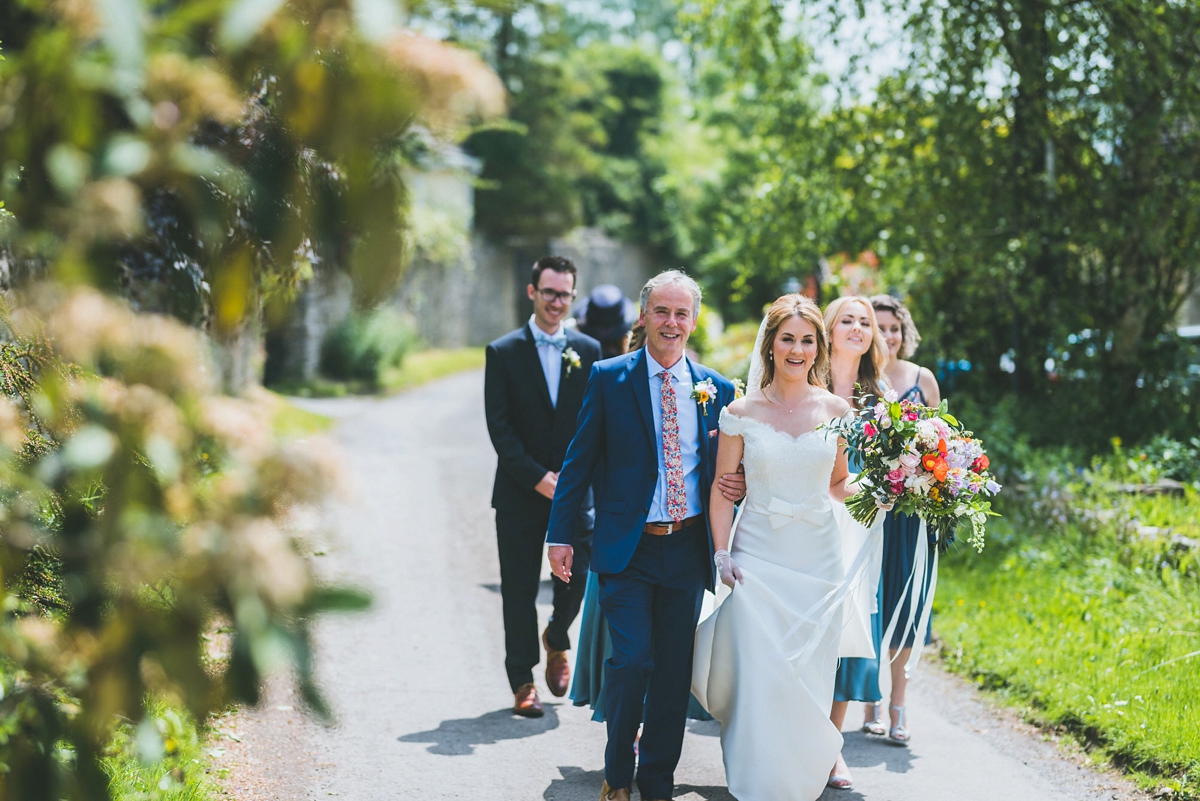 "It had rained throughout the morning and was still a little cloudy when we arrived at the church, but as we left the church (to Petula Clark's I Couldn't Live Without Your Love) and saw the glorious clear blue sky, I remember literally shouting 'And its sunny too!'"
The bridal party walked the short distance from Sophie's parents' house and around the corner to their village church for the ceremony. Sophie chose an instrumental version of the song Here Comes The Sun to walk in to, which seemed an even more apt choice when the sun began to shine through the rain clouds on the day.
"My father walked me down the aisle, with my sister and my best friend Amy, followed by my bridesman and Simon's niece and nephew as the cutest flower girl and pageboy."
Sophie and Simon are childhood sweethearts, meeting at school in 1999, and have been together for 19 years.
"We always knew we wanted to get married at some point, and had talked about it a lot, so it was more a matter of when, not if we would get round to it! Simon proposed on Christmas Eve 2016 with a beautiful antique ring hidden by a Haribo ring- the best of both worlds!"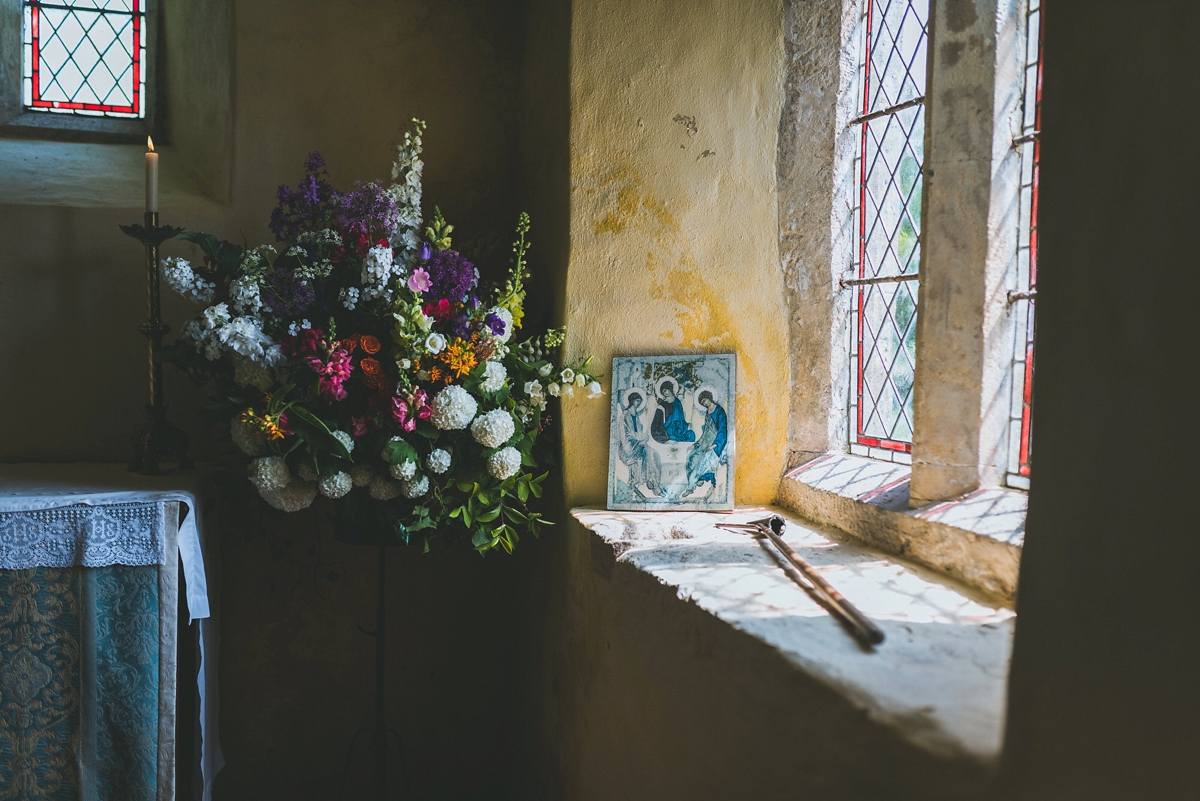 The couple chose two Bible readings, Matthew 6:25-34 and 1 Corinthians 13, as the messages of both rang true for them. Their third reading was Edward Monkton's sweet and quirky A Lovely Love Story.
"It is a sweet, lighthearted tale about two dinosaurs, and so many people commented 'That is SO you two!' when they heard it!"
Wedding rings were made from the rings of Sophie's two great-grandmothers (no details provided).
"It's a huge cliché but for us it was true: it really was the best day of our lives and we wouldn't change a thing. It is almost impossible to choose a favourite part of the day, but if I had to choose I would probably say walking down the aisle. I expected Simon to look nervous, but actually he was just beaming from ear to ear, and then I noticed my mother who was looking at me with a face of pure joy, and it was one of those moments where you feel ready to burst with happiness!"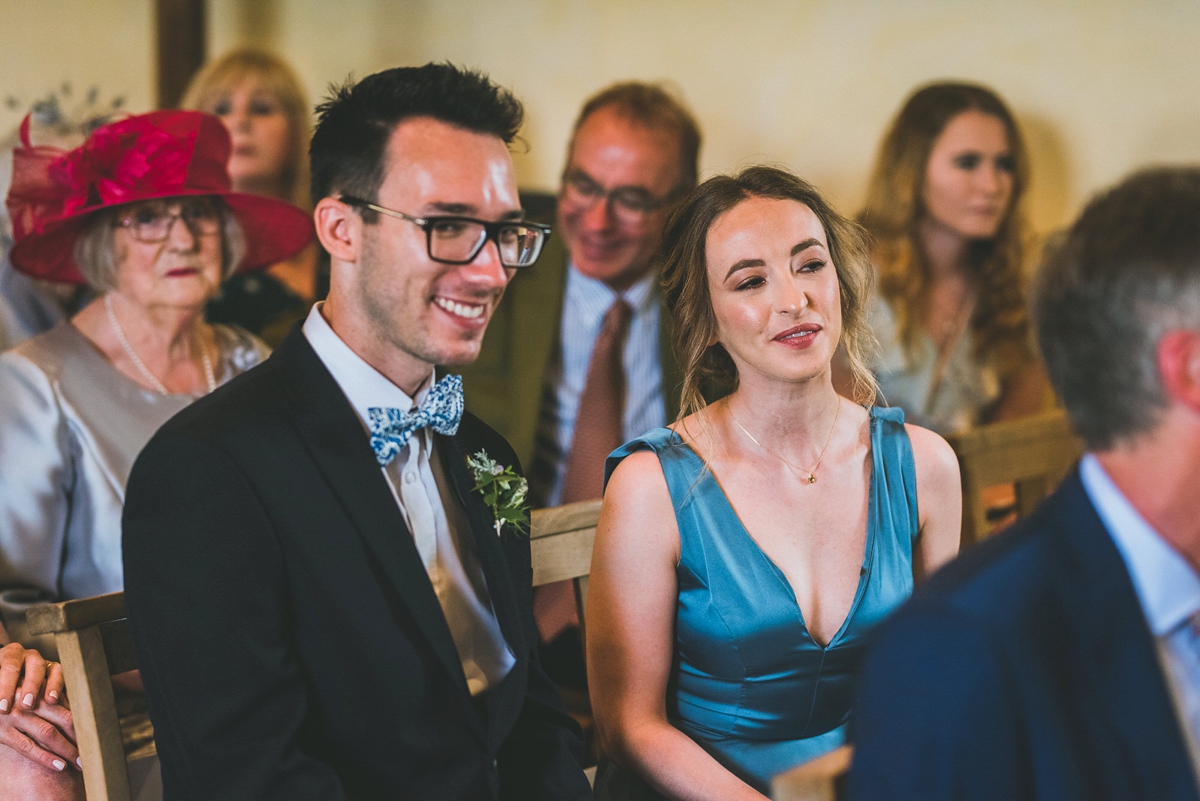 Simon wore a blue three-piece suit in a smart, classic check pattern from Moss Bros with a polka dot tie from Mrs Bow Tie.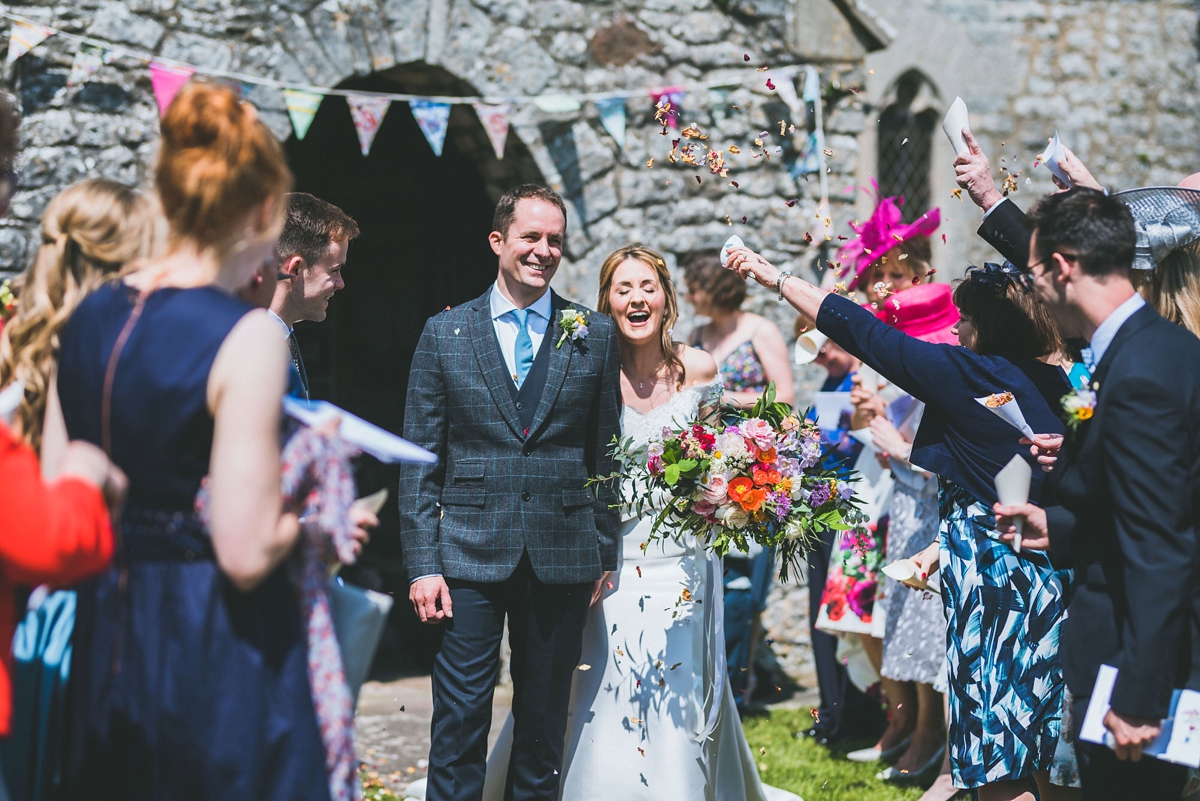 On hand to capture these lovely moments was photographer Lewis Fackrell and videographer Steve Ratcliffe.
"Lewis is just the loveliest guy, so easy to get on with, and he put us at ease the moment we met him. The images he creates are just stunning, capturing the true feel of the day, and you can tell Lewis really loves what he does for a living. After photographing my sister's and now our wedding, he feels like more of a friend than someone we hired! We would recommend him to anyone."
"Steve is another absolutely lovely person, and has produced the most beautiful film we could have ever imagined. When I first watched the highlights I sobbed throughout, as Steve has just captured all the details and all the happiness! He is an absolute genius. Again, we would recommend him in a heartbeat."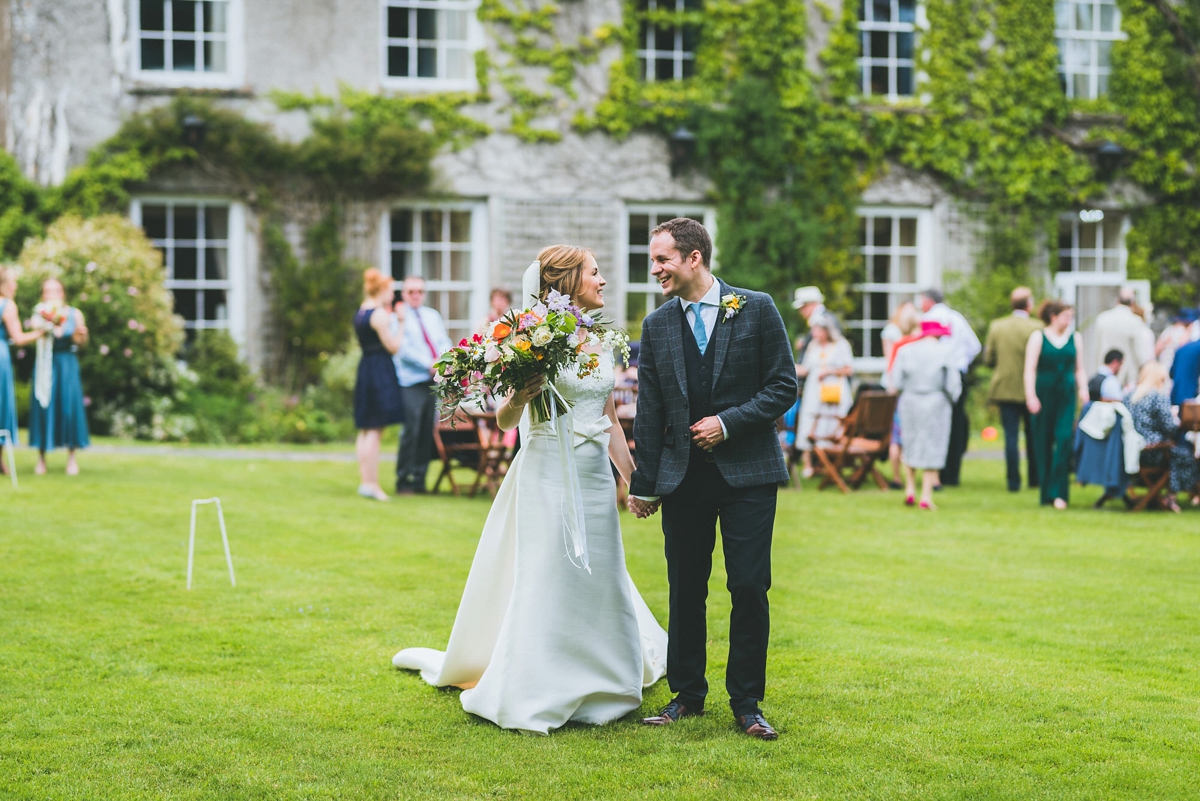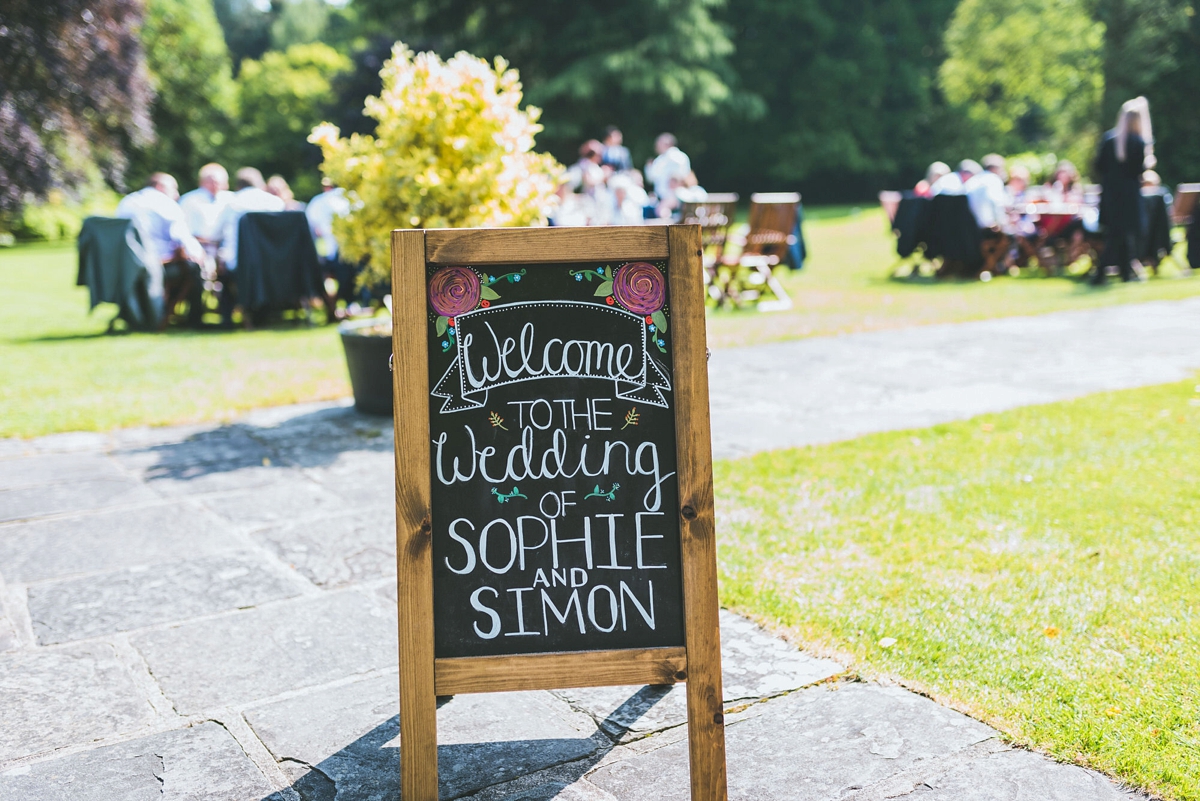 With its picture windows and historic elegance, the library at Fonmon Castle was the space the couple chose for their dinner, and they decorated the tables with colourful flowers and LED tealights.
"We had a relatively small number of guests (60) and the size of the library at Fonmon was perfect for our wedding breakfast – not too big, not too small. The staff there are absolutely incredible, especially Hannah who was always on hand to answer any queries."
"Because we both love time outdoors on our allotment and in the garden, we always knew there would be a lot of homegrown parts to our wedding, and as planning progressed this became a bit of a theme: edible flowers on the wedding cake, edible flower lollipop favours, pots of pansies displaying the table plan, and homegrown flowers on the tables."
Spiros Fine Dining and Events laid on a delicious feast for the wedding meal, while later in the evening there were more incredible treats from Bwydiful.
"I made our cake! After making my sister's three-tiered naked cake in September I knew I wanted to do ours as well. It was a four-tiered lemon drizzle cake with lemon buttercream and fresh edible flowers grown on our allotment. Mum and I spent an afternoon icing and boxing up cakes two days beforehand, and she and my sister added the flowers in situ at the last minute to avoid the flowers wilting."
As the enchanted golden evening light fell on the castle, the evening's entertainment began with games in the garden and a first dance to Natalie Cole's This Must Be Everlasting Love, followed by music from The Django Rags, Boutique Disco and magic from DJ Williams.
"We wanted something upbeat and not too cheesy but with the right sentiment, and we just love this song."
Words of Wedded Wisdom
"I am naturally a bit of a worrier, but when it came to our wedding I knew nothing really mattered at all except for having all our favourite people together enjoying themselves. This meant that I was able to enjoy the whole process, as I never had any rigid ideas of my vision for the day."
"The weather in the weeks leading up to our wedding had been beautiful, but the forecast for the day was a high chance of storms, torrential wind and rain- not ideal in a long train and cathedral length veil when you're meant to walk to the church. I also started losing my voice two days before the wedding, so thought I might well have croaked my way through the vows!"
"But despite all this, I was absolutely determined to make the most of our day and embrace whatever came our way! As a result, the morning of the wedding was incredibly chilled, and I did not stop smiling from start to finish, even when we were already 10 minutes late for the church and my mum and sister were battling to attach the train to my dress!"
[JP-VIDEO]
"Try to keep in mind what actually matters- making a lifelong commitment to the person you love most and making memories (in rain or sunshine!) with all your loved ones in one place. None will notice little things that go 'wrong', they're just there to enjoy the day and celebrate with you!"
"After speaking to other couples I was well aware before our wedding day how quickly it would go, and took their advice to take the time to step back and really let it all sink in. On those moments alone we just took the time to look at everyone enjoying themselves and all I could think was, 'I want to bottle this feeling of joy to enjoy it forever!' "
"Each time I remembered we had hired our photographer and videographer I felt a wave of relief because I knew the images they were capturing would last us a lifetime, so I would definitely advise hiring someone you can trust to do a fantastic job of this."
Sophie and Simon, thank you so much! What a venue, what colour and what joy! Thanks also go to Lewis Fackrell for his beautiful images, too.
Until next time!
With love,
Laura