One of my favourite things about writing wedding features for Love My Dress is the snapshot into different places in the England (and the rest of the world for that matter), and just how beautiful they are.
Today we're travelling to Le Petit Chateau in Northumberland, which has completely enchanted me with its quirky beauty and colourful gardens. If you're thinking about wearing a shorter wedding gown on your own special day, then I hope that you love the bride's choice of gown and divine plum shoes.  On 31 May 2018, Le Petit Chateau, Otterburn, Northumberland played host to the wedding of Abbie, a customer service representative and Tom, a software engineer, who have been together since their teenage years.  Abbie and Tom planned the day themselves, making a lot of the styling elements themselves. Keep an eye out for the 'cake table' at the evening reception which includes cake toppers made by the bride's dad.
Photography From The Smiths Photography
I'm so pleased to hear that Love My Dress was a source of ideas for this couple.
"Love My Dress is just so stylish, creative and well written. I found Love My Dress a little later on in the planning process so most of the suppliers had already been sourced beforehand but I did have some great suggestions for suppliers such as hair and makeup from the Love My Dress Facebook Group page. My favourite part are the 'real weddings' because it was amazing to see how different brides styled their venues; every wedding is so unique and beautiful so it gave us lots of inspiration."
The quirky, French-style venue was still being built when the couple booked their wedding, but the plans were enough to make them know it was the right choice for them. Drawing inspiration from its beautiful, warm interiors and verdant garden, they created a relaxed and informal day for their family and friends. A divine colour palette of plum, lavender and silvery-grey drew the overall look together.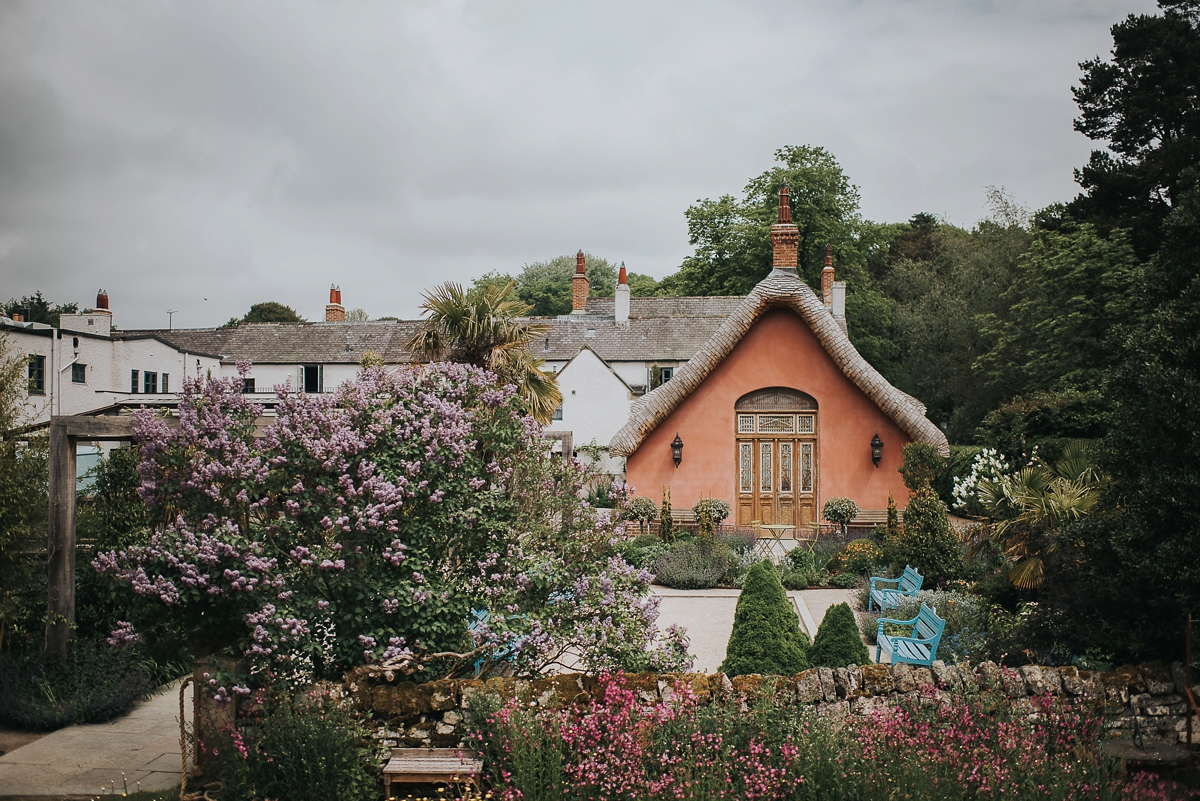 "We are originally from the North West of England and had booked a venue close to 'home' but after a few months we admitted that we weren't in love with the venue at all; we settled on it because we thought it was best to be closer to the majority of our guests. After searching the internet for venues in the North East we found Le Petit Chateau. At the time the website just displayed a plan of how it was going to look because it was in the process of being built!"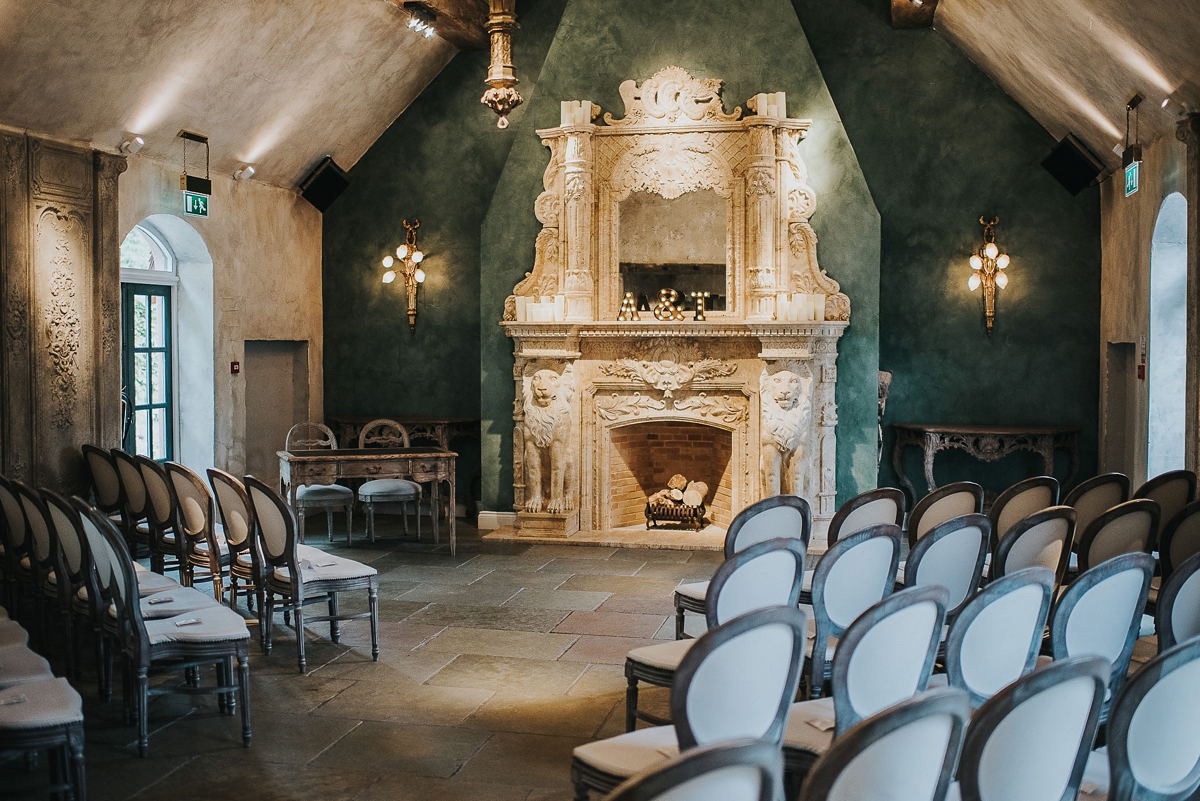 "We enquired and went for a meeting with one of the coordinators and we booked a viewing as soon as it was ready. We fell in love with the venue right away and just knew that was the one for us! It has accommodation so that our guests travelling up could stay which was ideal for us. What really sold the venue to us was the stunning décor and attention to detail, and how friendly and helpful all of the staff were."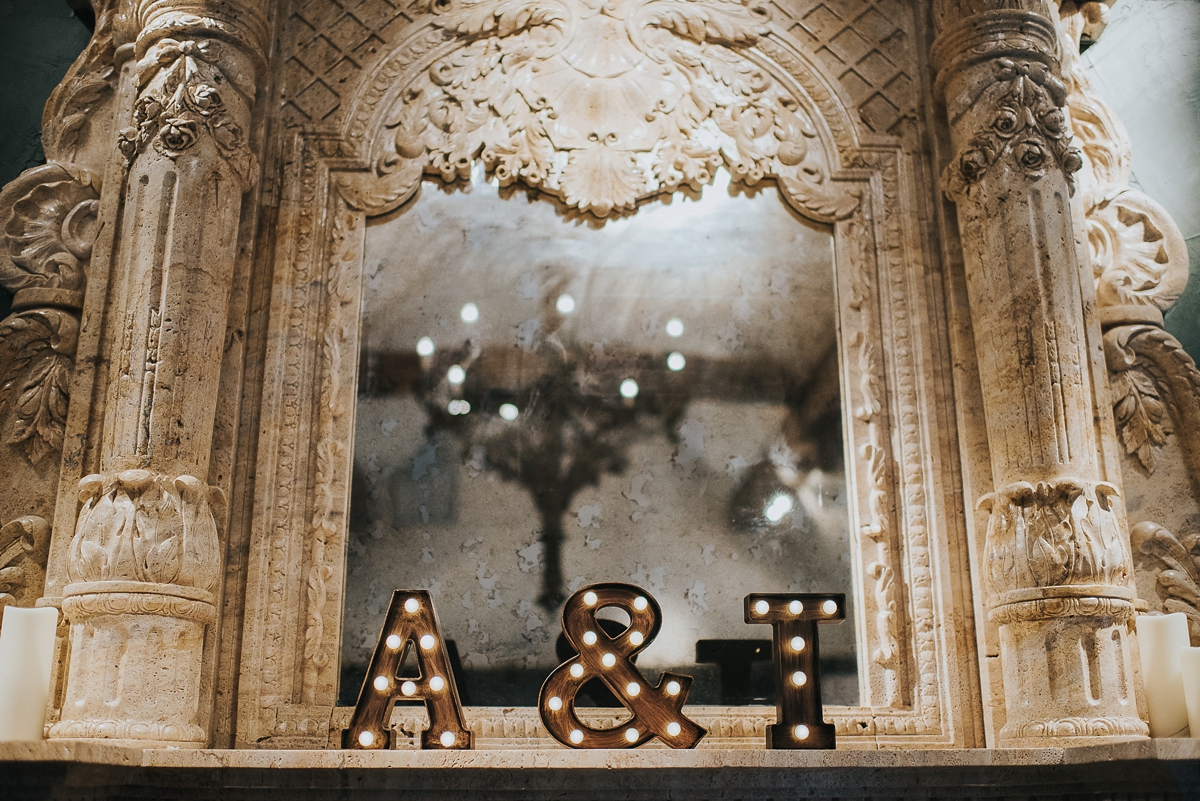 "We took a lot of inspiration from the venue itself. The décor is so stunning that it didn't need much styling at all. We wanted something really relaxed and informal. I chose my wedding shoes pretty early on which were a dark plum colour so we chose plum, lavender and grey/silver for the colour scheme."
"I also found lots of lovely ideas on the Love My Dress blog (real wedding features), and also on the LMD Facebook page – the main one was chalkboards which I found were actually really fun to create so we had a few dotted around. The last little source of inspiration was from Disney; I am obsessed and wanted a few subtle hints throughout the day."
The couple met in 2010 and had a three and a half year engagement, giving them plenty of time to plan their day.
"We met in 2010, I was 17 and Tom was 16. Tom got my phone number from his friend who I knew at college and texted me to say hi. Unsurprisingly, I was confused at receiving a text from an unknown number and responded to ask who it was. After finding out Tom's name, I looked him up on Facebook and thought he was cute. We spent the whole summer texting and getting to know each other and finally met up in September 2010 when Tom started studying at the same college."
[JP-VIDEO]
"In 2011 I went off to the University of Sunderland to study and as Tom still had a year of college left, we decided to stay together long-distance and remarkably it worked. In 2012 Tom decided that he wanted to study in Sunderland as well, so moved into a student house with me and some of my friends from uni. On Christmas day in 2014 Tom proposed; it was our first Christmas spent together, just the two of us, and it was perfect. We officially started planning the wedding around November 2015 when we both had started graduate jobs and could afford to start saving."
Abbie chose a charming tea-length True Bride gown with a lacy bodice, purchased at House of Bellas Bridal in Newcastle. It looks oh-so-elegant in the warm May sunshine; I love how it has such movement as she walks, and shows off her bold Irregular Choice shoes.
"After trying on a tea-length dress I knew this was the style I needed, I was comfortable and felt like me. I took my search to Pinterest where I found a picture of (what ended up becoming) my dress. I love lace and this has beautiful lace detail. I also loved the fact that it had an illusion neckline to cover up any redness on my chest which I sometimes get when I'm hot/flustered/anxious. I was so worried about this being in the photos, but the illusion neckline put me at complete ease!"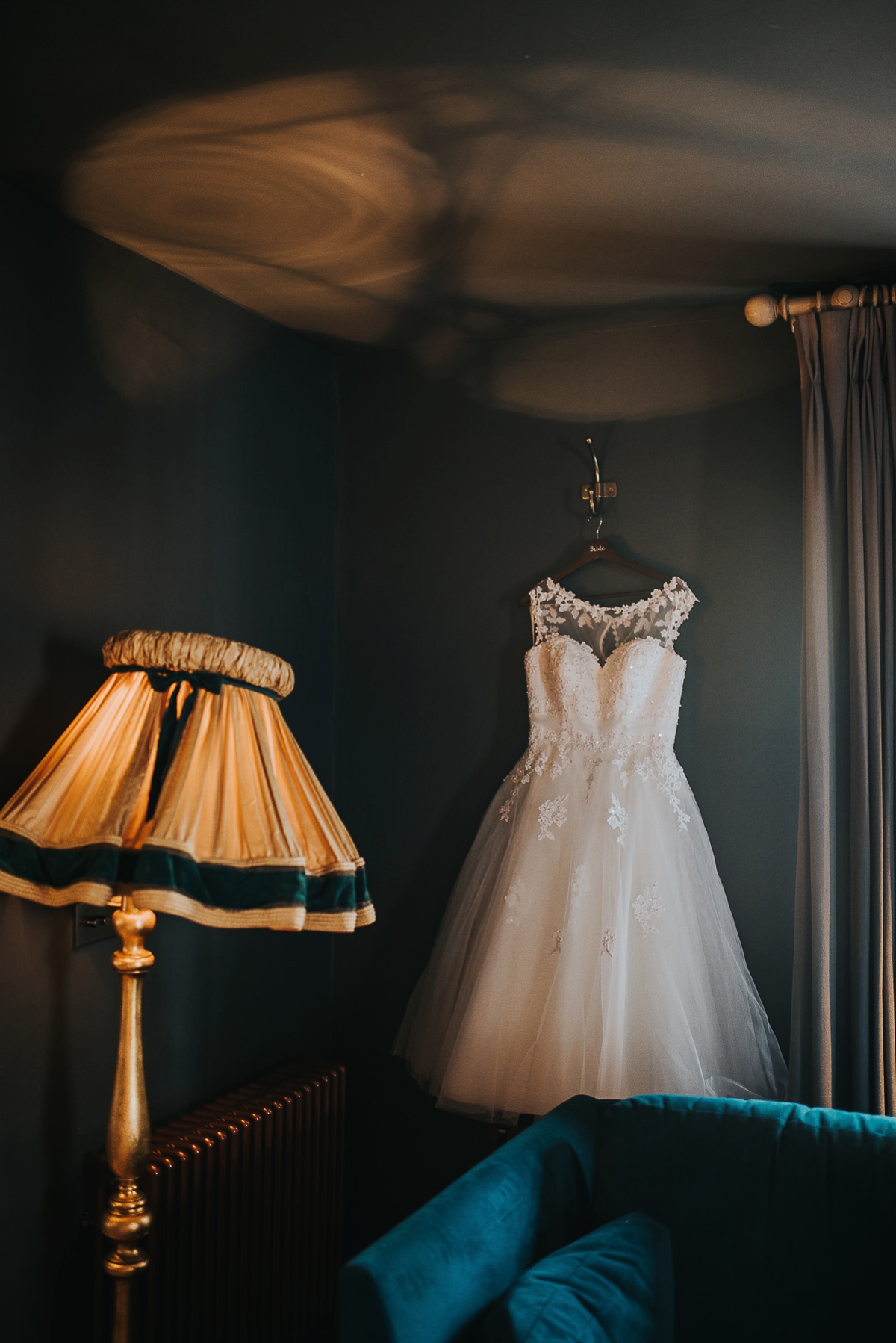 The bridesmaids wore a variety of tea-length gowns in silver and deep purple, from Pretty Kitty Fashion and Yours. They added fresh gypsophila to their hair, and wore a necklace and earrings from Next, gifts from Abbie.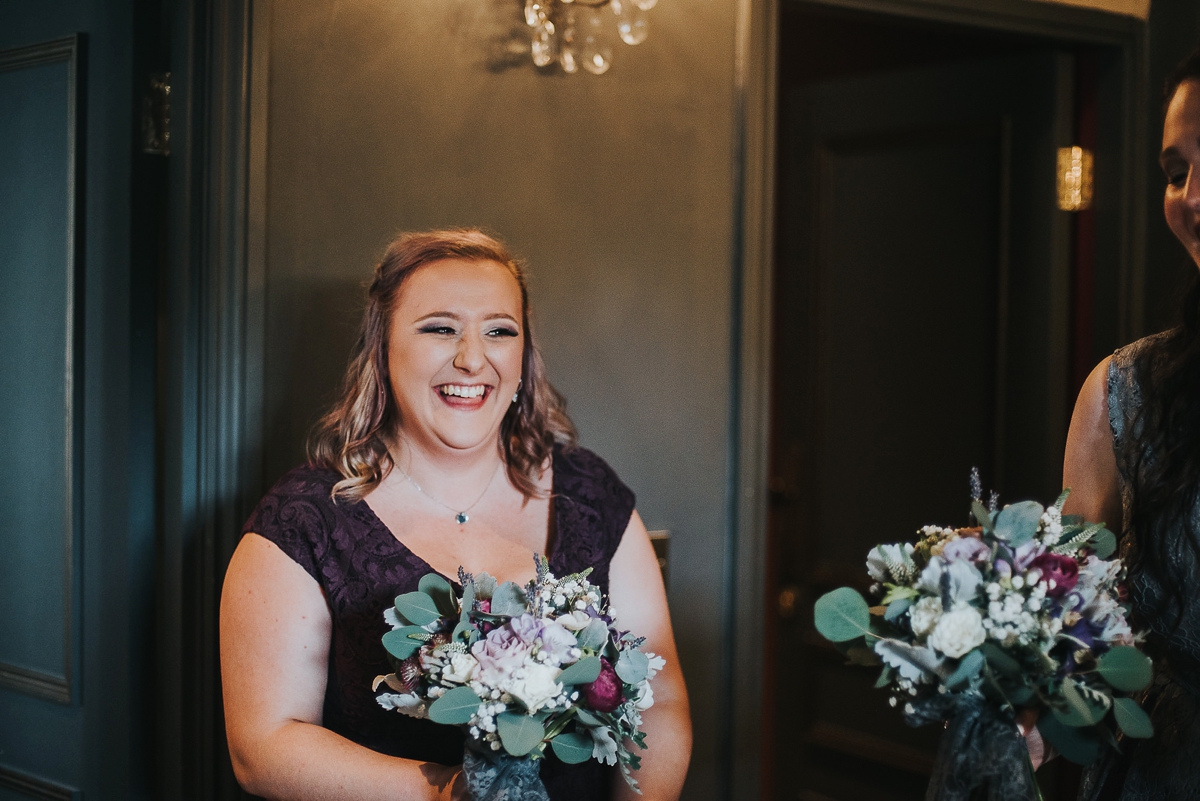 Abbie kept her accessories to a minimum enhancing the beaded detail on her elegant gown.
"The only accessory I wore was a pair of earrings from Warren James. I found them online and the colour almost matched the colour of my shoes so I went for these."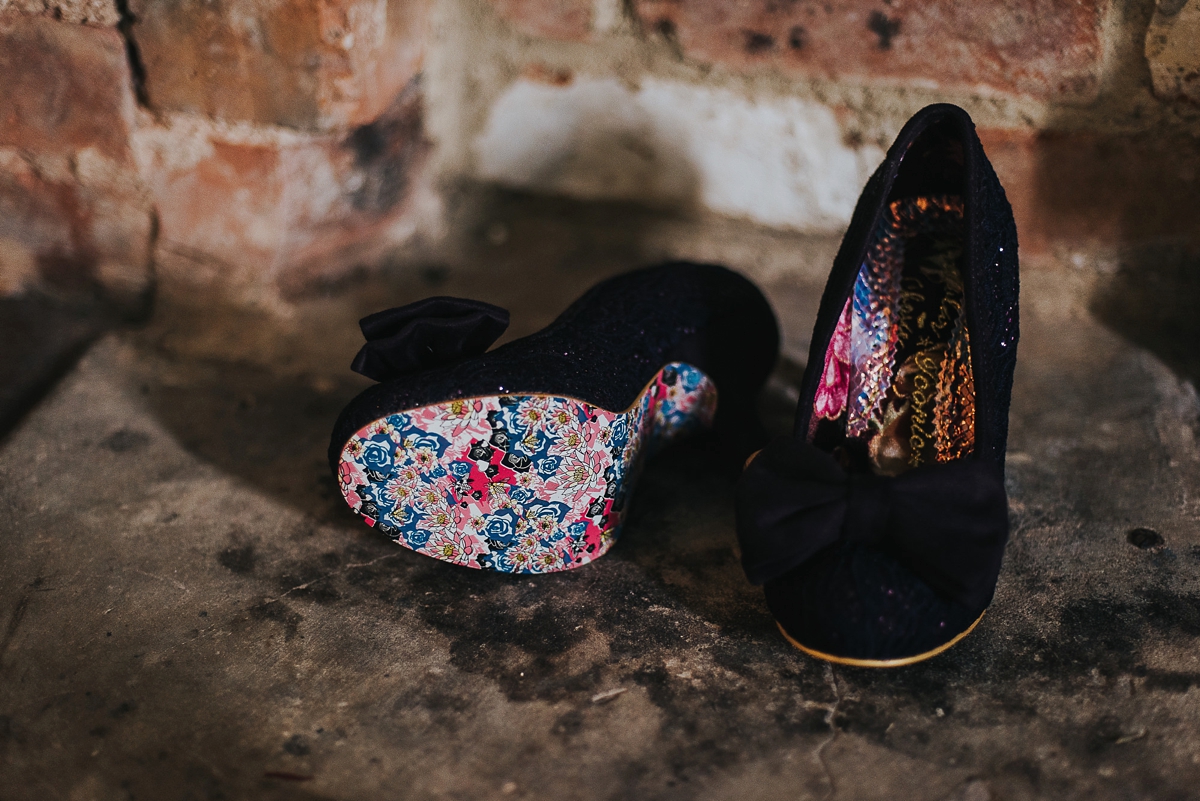 The bride's hair was styled into a braided up-do by Bridal Hair by Cheryl at Goldilocks Hairdressing. I love its slightly undone feel which looks bridal yet relaxed at the same time. Her pretty, subtle make-up was applied by Dominique. Makeup Artist.
As the venue has its own accommodation, the whole party had stayed there the night before. Whilst the girls prepared, Tom got ready in the company of his brother (and best man) Andrew. His dapper grey suit was from Suit Direct, and he accessorised with a pocket watch, found on Amazon.
Fresh flower head-combs are always so gorgeous, and I love Abbie's piece which combines soft green foliage with pure white flowers.
Le Petit Chateau is such a unique, beautiful venue in itself, enhanced by the addition of foliage and flowers from Becca at Charisma Florists, who also made the bouquets and Abbie's hairpiece.
"I knew that I definitely wanted anemones in my bouquet, along with lavender as we had this on the tables in small buckets as well. After that I just let Becca go wild with any flowers she thought were suitable along the purple and white general colour scheme, with lovely greenery mixed in. As a self-confessed control freak I wasn't one bit anxious about trusting Becca with the flowers, and on the day they were absolutely perfect and even better than I imagined."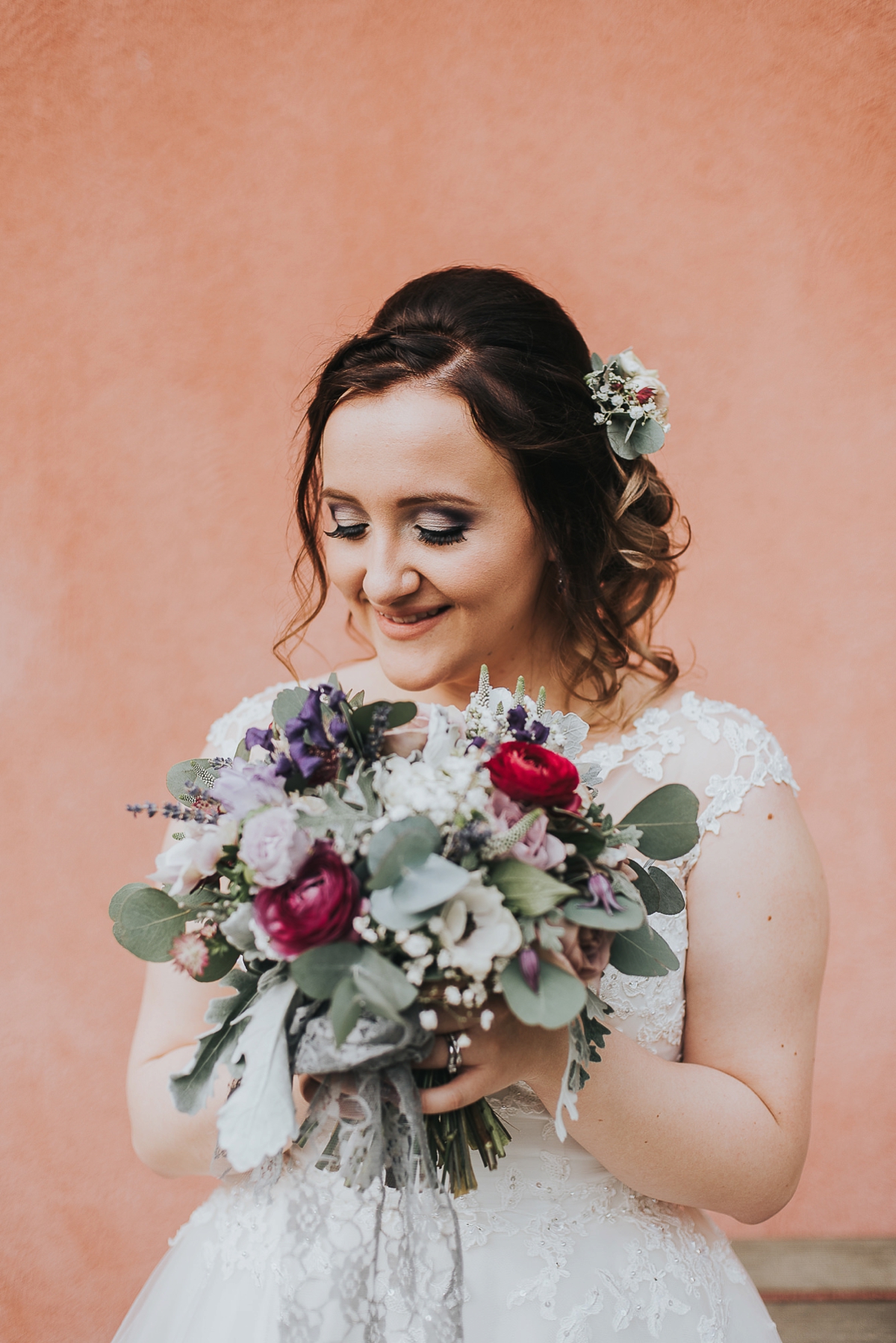 Her perfume was a bespoke blend that she created herself at a The Perfume Studio masterclass.
"I went with one of my bridesmaids to a perfume making class in 2017 at The Botanist in Newcastle. The class was run by The Perfume Studio and taught us about the base, heart and top notes and provided samples for each. We got to put together our favourite notes and create your own scent. I loved mine so much that I decided to use it as my wedding perfume. I named my perfume 'Ma Belle Jour' ('My Beautiful Day')."
"I wanted to play on the French theme of the venue and by chance there was a French teacher sat next to us at the class who helped me choose the name. After the class you can register online and upload the details of your scent, and you can buy this whenever you like, so I purchased a bottle shortly before the wedding."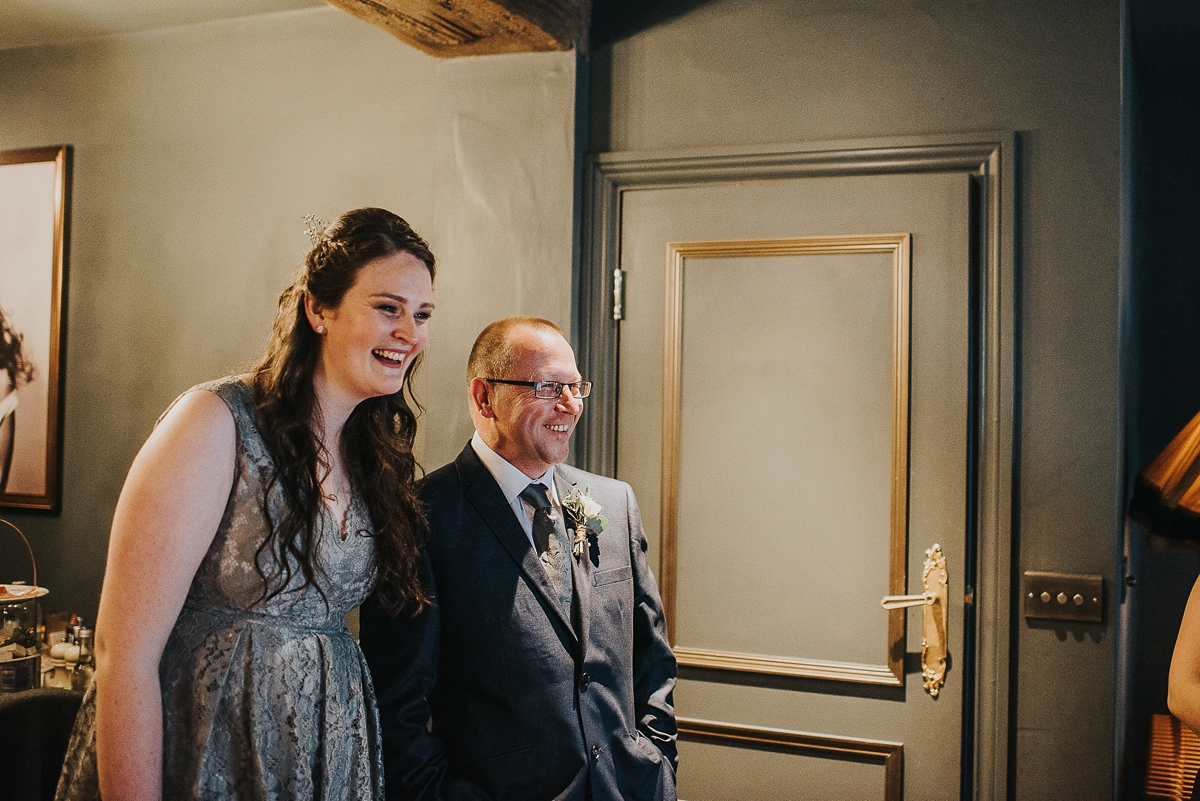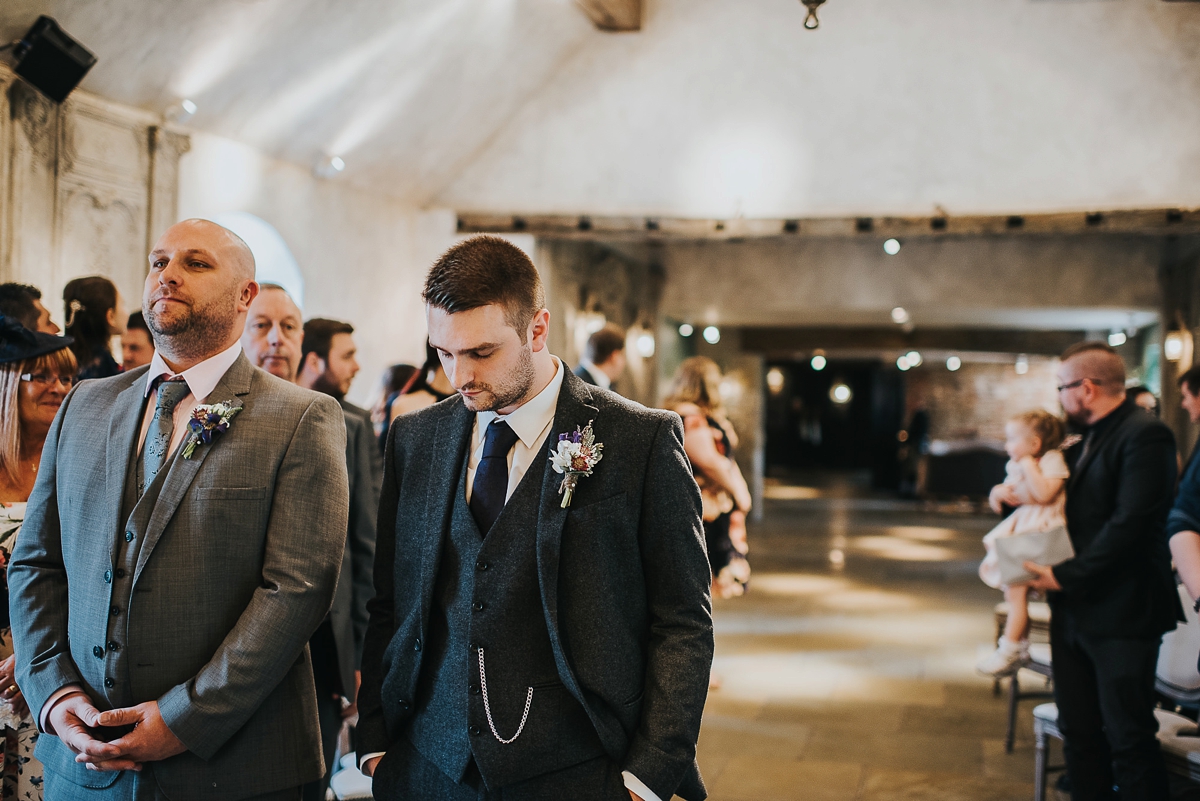 The Belle Epoque ceremony room at Le Petit Chateau is just spectacular. Look at the beautiful green wash, high ceilings and exposed beams which feel almost church-like yet so intimate. Abbie entered on the arm of her dad, to an instrumental version of 'Tale As Old As Time' from 'Beauty and the Beast'.
"One part of the day that really stuck with me was just before the ceremony when my dad came to meet us before the registrar arrived – the 'first look' so to say. My dad isn't an emotional person and I think I've only ever seen him cry once in my life, but as soon as he saw me he welled up, told me I looked beautiful and gave me the biggest hug. It was the sweetest thing!"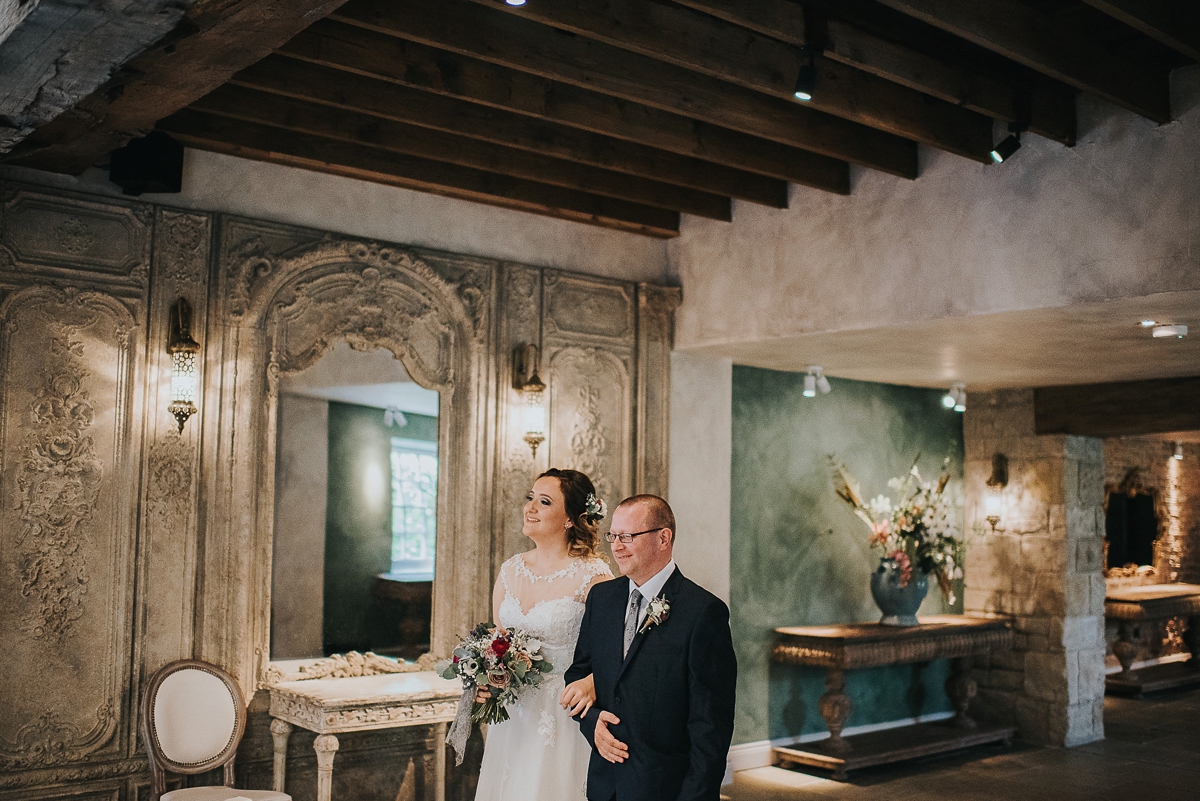 The civil ceremony was led by a registrar from Alnwick Registry Office, and the couple's vows were adapted from TV show 'This Is Us'.
"When we heard them on the show we just knew that the sentiment was perfect and we altered the wording slightly to suit. Our favourite part of the vows were:"
"I know things may not always be easy, but our love has always been worth it."(Tom's vows)
"In you, I have found my soul mate, my best friend, my partner, my safe place". (Abbie's vows)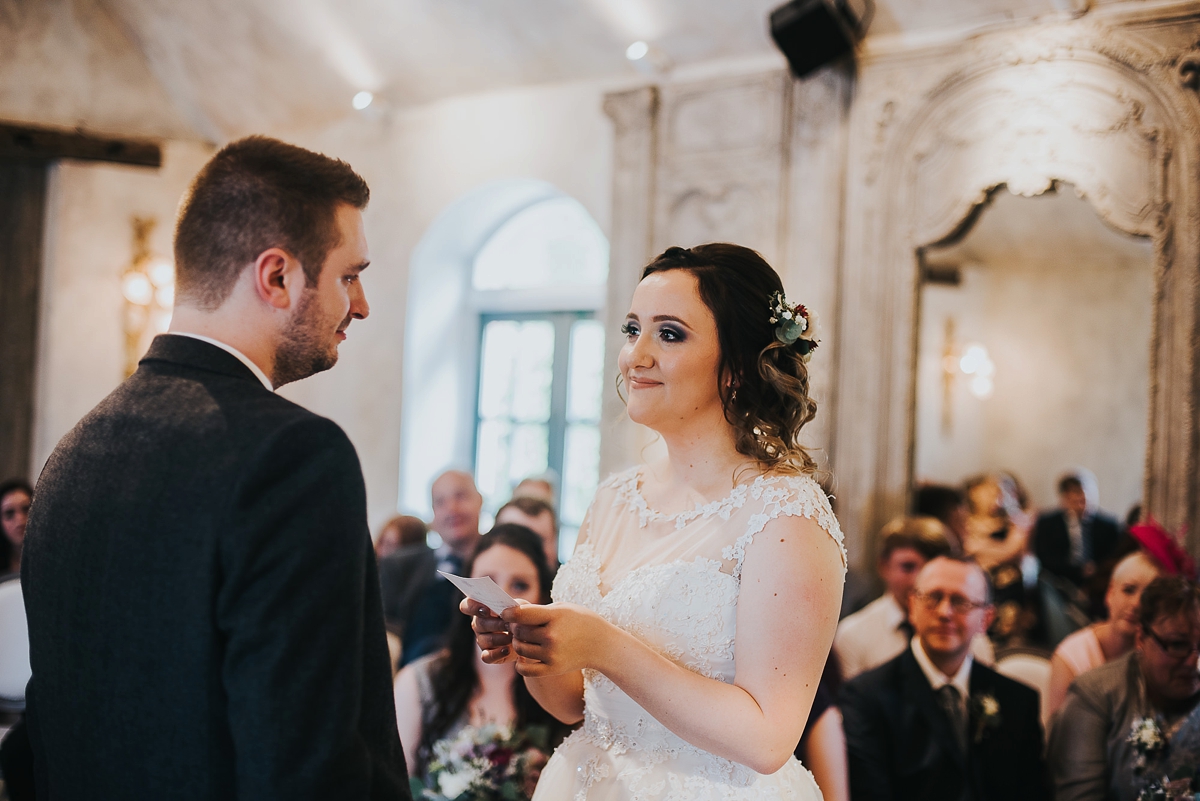 "We had one reading read by my maid of honour, 'Union' By Robert Fulghum. We're not religious people and we didn't want anything to suggest that today is the only day in our relationship that matters, because although it may be the biggest so far, we've already been through a lot, and grown so much in the past seven and a half years. When we saw this reading we just thought it was perfect."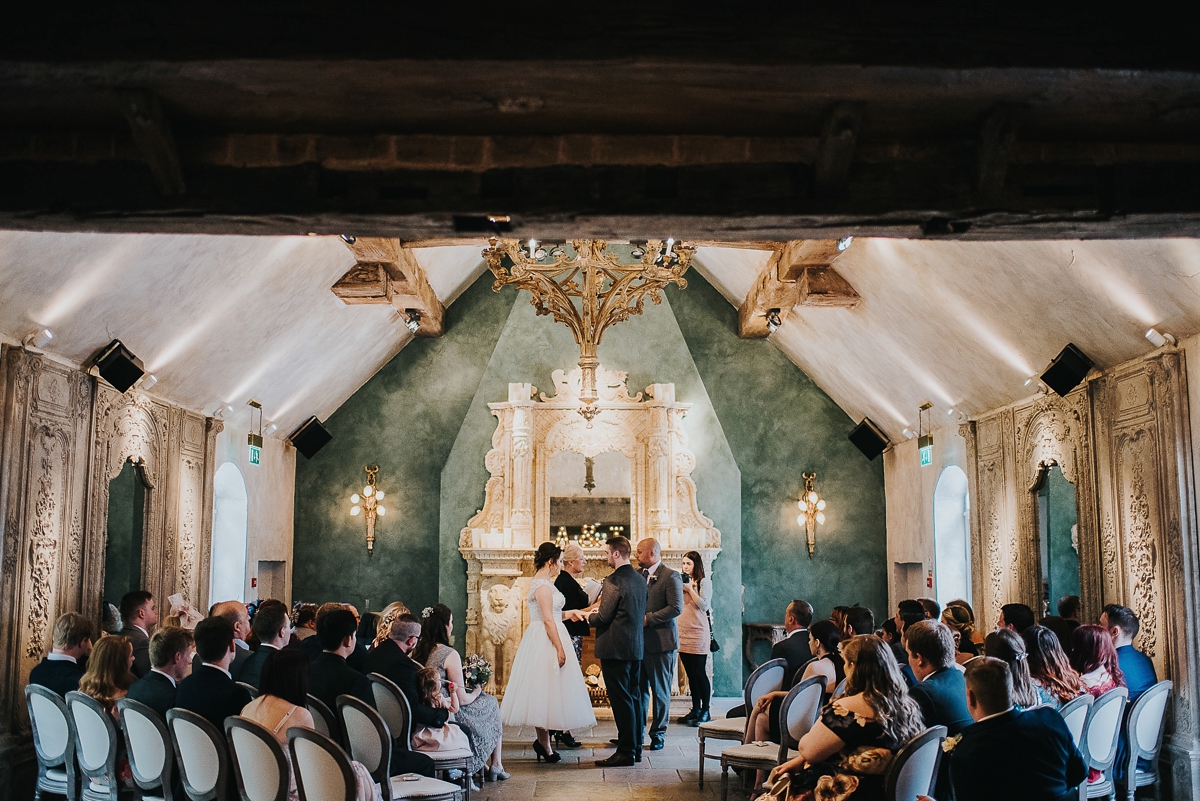 Abbie and Tom exchanged rings from Ernest Jones.
"We looked around online to get an idea of what we liked and both happened to find a ring we loved from the same shop!"
The gardens, which are designed into a series of 'outdoor rooms' made the perfect place for the guests to chat and catch-up, all against the incredible pink walls of the venue.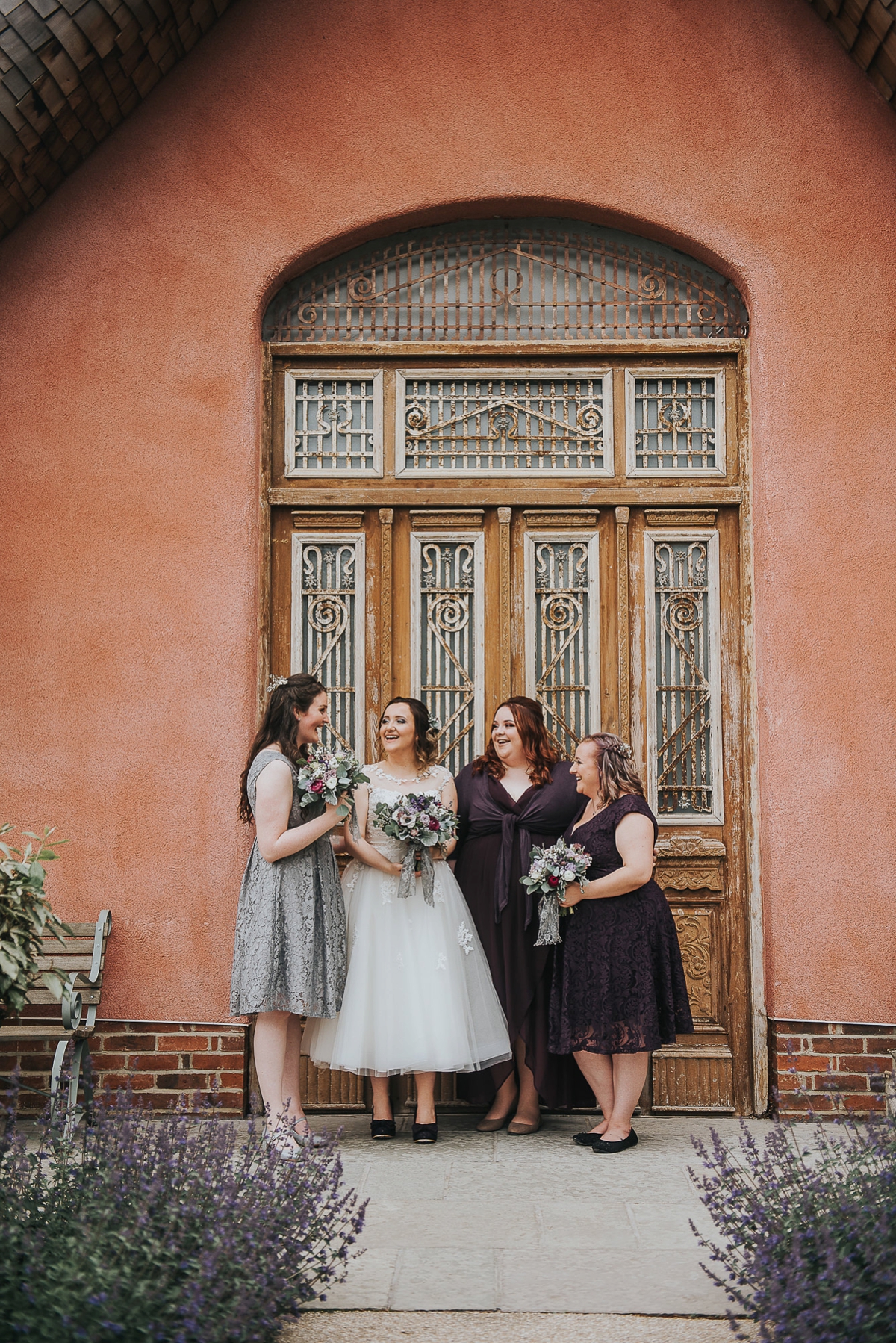 After being declared husband and wife, the newly-weds escaped into the grounds of Le Petit Chateau to spend some precious time together. These beautiful images are the work of From The Smiths Photography. I particularly like the vivid garden images, which capture the happiness of the couple and the beautiful soft colours of the flowers.
"We cannot sing the praises of SJ and Simon enough – they are the loveliest people and are so ridiculously talented. I have had an interest in photography for a number of years and so this was a really important part of the wedding for me, especially knowing that the photos would be our main keepsake from the day as well."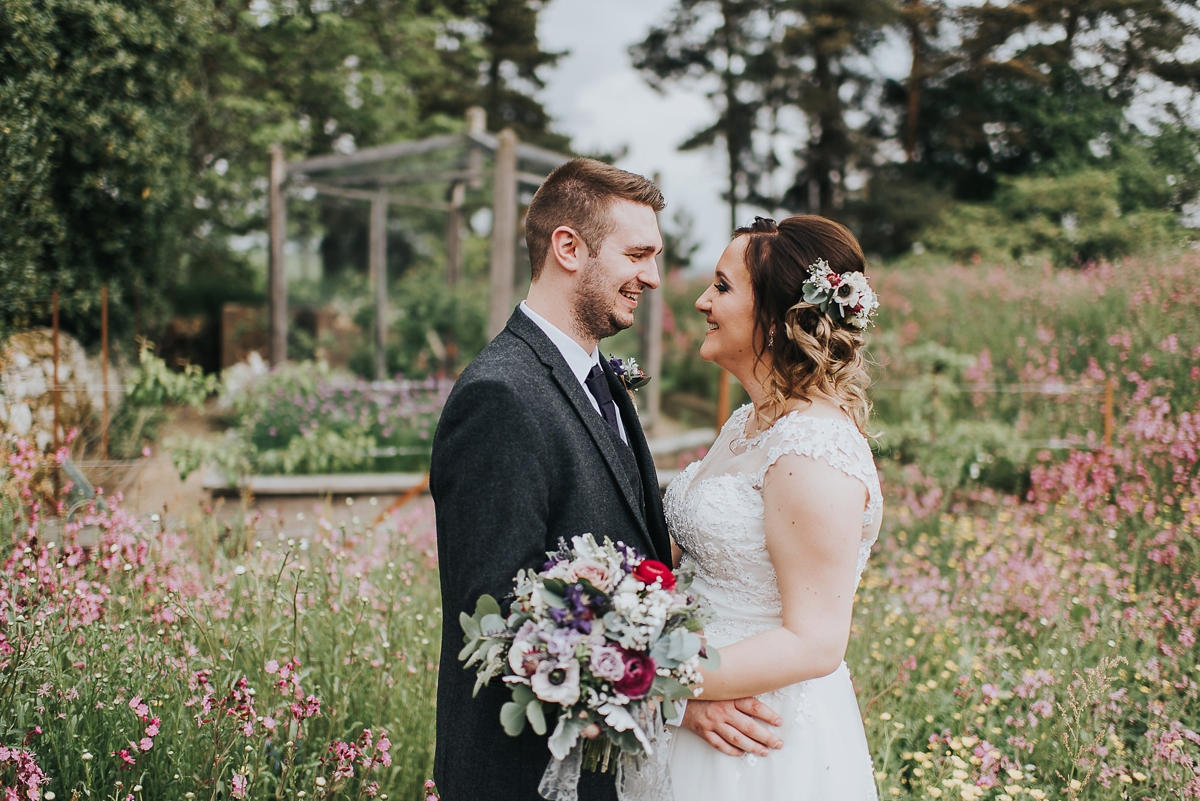 "SJ & Simon are so dedicated, kind, patient, and best of all FUN, they felt like good friends on the day and interacted with our guests seamlessly. We can't thank them enough for our incredible memories captured so perfectly, and we would (and have) recommended them to anyone that will listen."
"We didn't have a videographer – I started to get a little worried that we'd regret this after the day was over, but we are so amazed by our photographs that we don't regret not having a video one bit."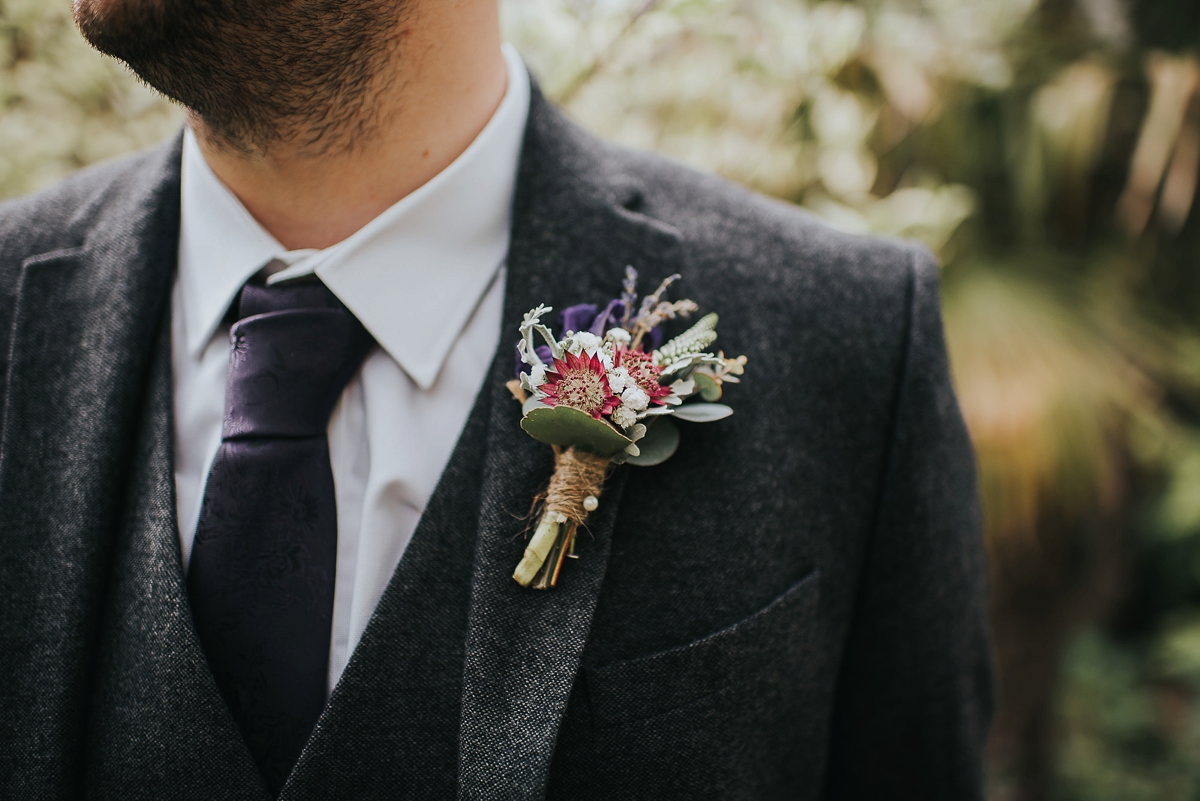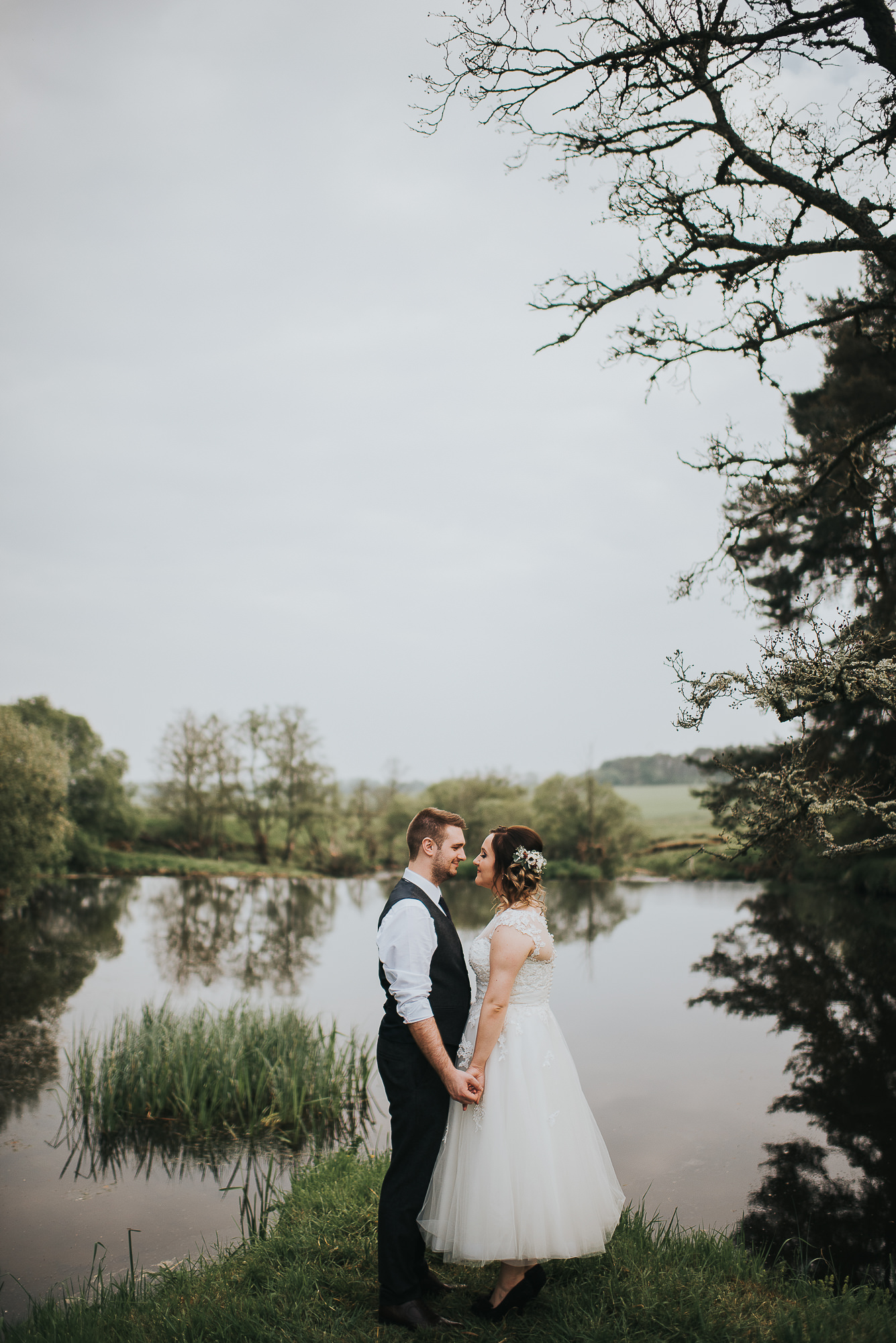 Abbie is so talented to design her stationery herself; the chalkboards look absolutely fantastic.
"I designed all of the stationery – the save the dates, invitations, menu cards and favour stickers. The table plan and order of the day were chalkboard signs that I also did myself."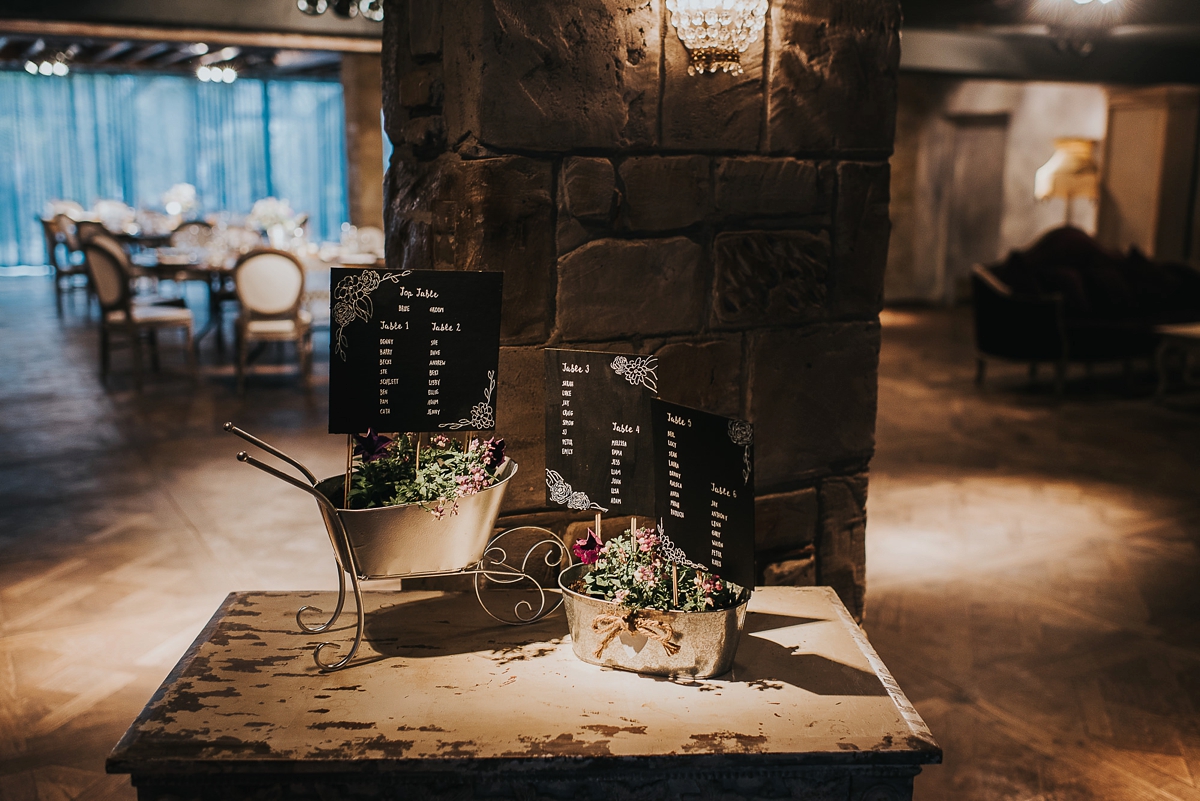 Back in the Chateau, dinner was served up in the stylish, glass-walled ballroom which overlooks its Mediterranean gardens. The food was provided by the Chateau's chefs, and served on tables carefully styled by Abbie with lace table runners and silver charger plates, finished with home-made favours and personalised place cards.
"I made homemade candles in small jars with the help of my maid of honour. We used soy wax, sourced the wicks from Amazon and scented them with lavender oil. I also had a stamp made for the tags which had a Disney quote from 'Frozen' on; 'Some people are worth melting for'. The quote actually gave me the idea for the favours."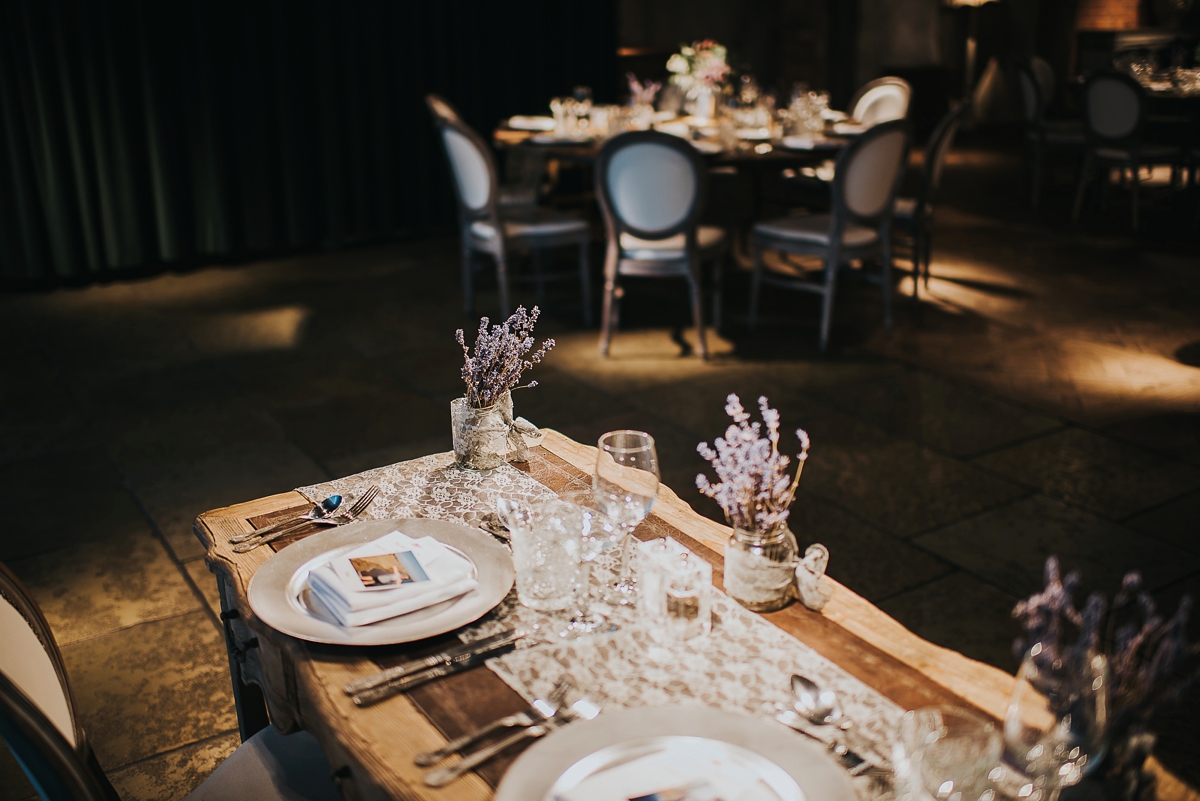 The tables were adorned with dried lavender and tea lights in buckets for the tables, and watering cans filled with fresh flowers as centre-pieces. Abbie and Tom chose to have a sweetheart table, separate from the guests.
"We think our favourite part was the wedding breakfast. We chose to have a sweetheart table so that we could just spend that time together, and we went around between courses to chat with the guests. Sitting together just talking about being married was the best, and we loved that we got to go round and chat to everyone, seeing everyone so happy. We had personalised Polaroid place cards for each guest and everyone raved about them – they were a huge hit. We got these printed by Super Snaps and they were great quality."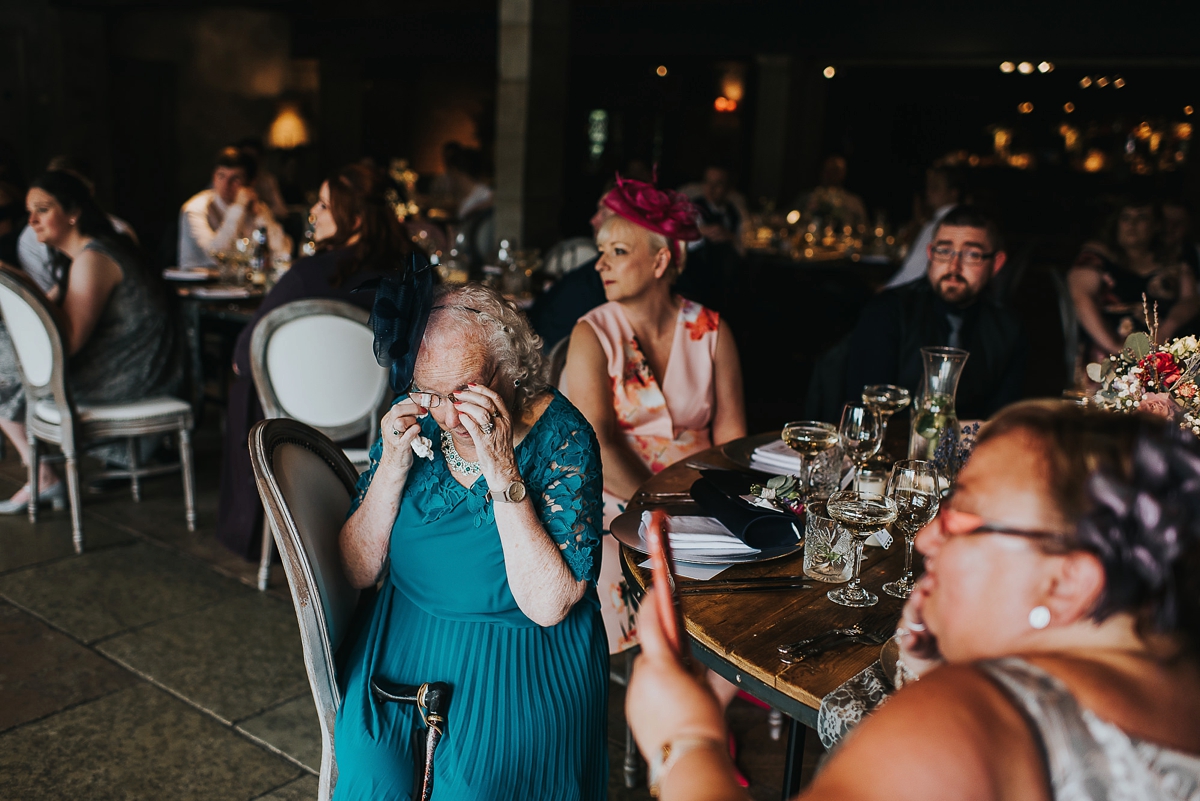 I'm really taken with the cake table that Abbie and Tom set up, to include their favourite sweet treats. This was enjoyed alongside fresh, trike-delivered ice cream from Ice Cycles – delicious!
"Not only did they supply delicious ice cream but they also provided fantastic customer service both in the run up and on the day."
"We didn't want a huge cake as we knew it wouldn't be eaten. We had a recommendation from a friend for our cake supplier and decided to enquire with Olivia Lilly Cake Company. We wanted a semi-naked cake, and we love Oreos so went with a chocolate sponge and cookies and cream buttercream."
"We decided on a single tier, tall cake. Tom also wanted to include his favourite treat (Tunnock's Teacakes) somewhere in the wedding so we had our favourite treat (French Fancies for me) either side of the single tier cake for people to eat. The cake toppers were handmade by my dad and were Carl and Ellie's chairs from 'Up!' – one of the subtle Disney elements we included."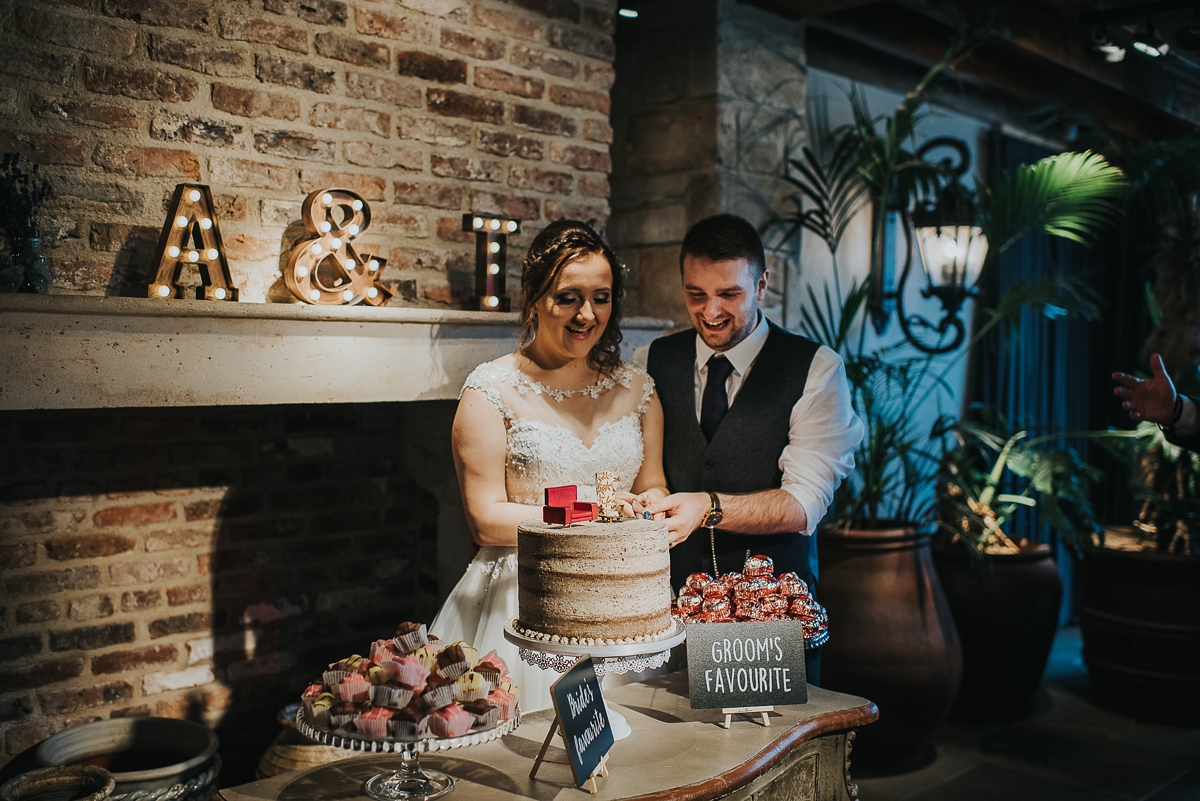 The evening entertainment included a photo booth and live music by Groove Central Station.
"The band was incredible, and provided DJ services in between their sets so it was super easy. We also booked Le Petit Chateau's photo booth which was a huge hit with the guests."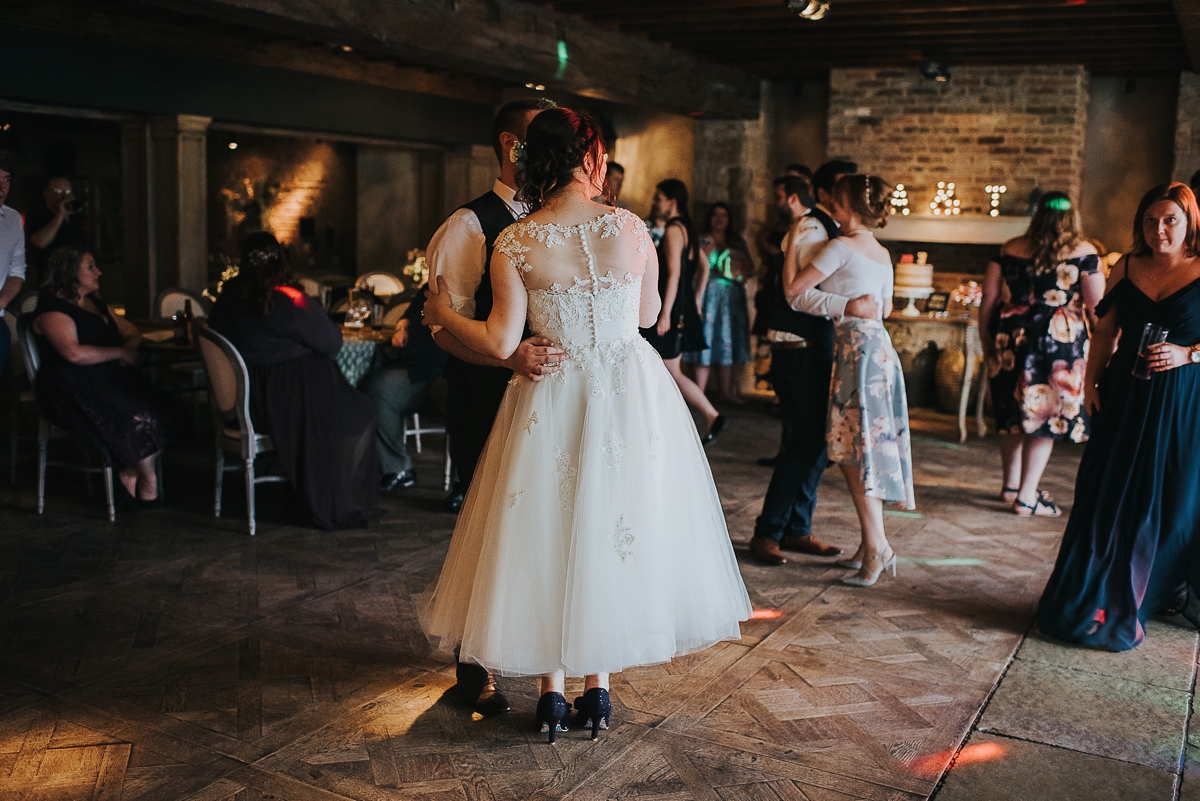 The emotional first dance was to 'Angel' by Jack Johnson.
"Jack Johnson is an artist that Tom loved even before we met and introduced me to. His songs are beautiful and the lyrics of this song just felt right, particularly the line 'We share the same soul'."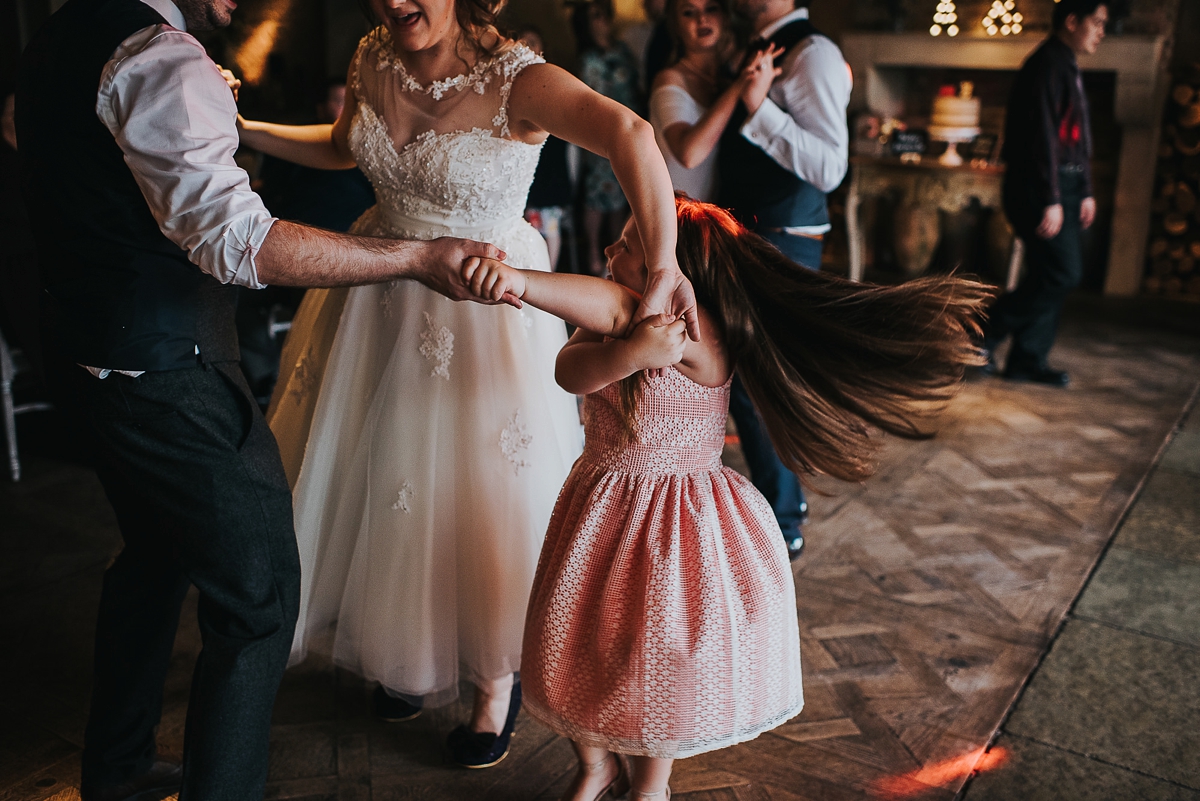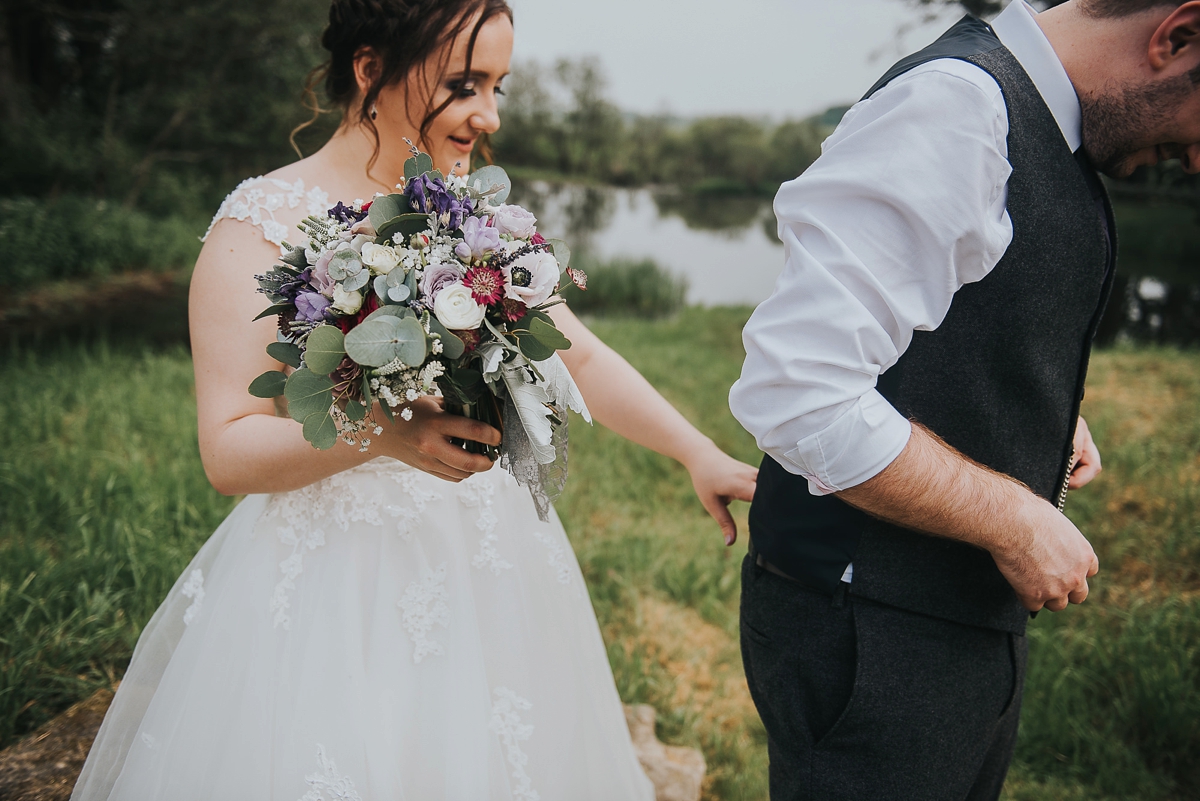 Words of Wedded Wisdom
"Book main suppliers early – we booked quite a few of the main suppliers early and it saved us a lot of potential stress closer to the wedding."
"Give yourself plenty of time for DIY – prioritise what you need to do, make the things that aren't going to change and leave things like the table plan until nearer to the time. Make a list of things you need to do and tick things off slowly but steadily, don't get too overwhelmed."
"Trust in your professional suppliers – I'm a huge control freak in everyday life and I thought the wedding would be a giant headache for me, but it was the complete opposite. Allow the professionals to do their jobs, trust their experience and just relax and make the most of the day."
"Allow yourself to feel all of the emotions that present themselves – I am someone that doesn't do big social gatherings, especially if I'm going to be the centre of attention. In the run up, I was quite anxious about the idea of so many people being there for us, and having to ensure that everyone is happy and enjoying themselves. I even had some tears on the night before because I was dreading feeling overwhelmed and felt guilty that I might just want to go and have time to myself on the day."
"I didn't experience any social anxiety on the day – perhaps my adrenaline, or the happiness of the day took over but it truly was the best day ever. This may not be true for every bride, so if you need to take yourself away somewhere to process everything, do it! Also, allow yourself to feel all of the love that's coming your way because there will be tonnes!"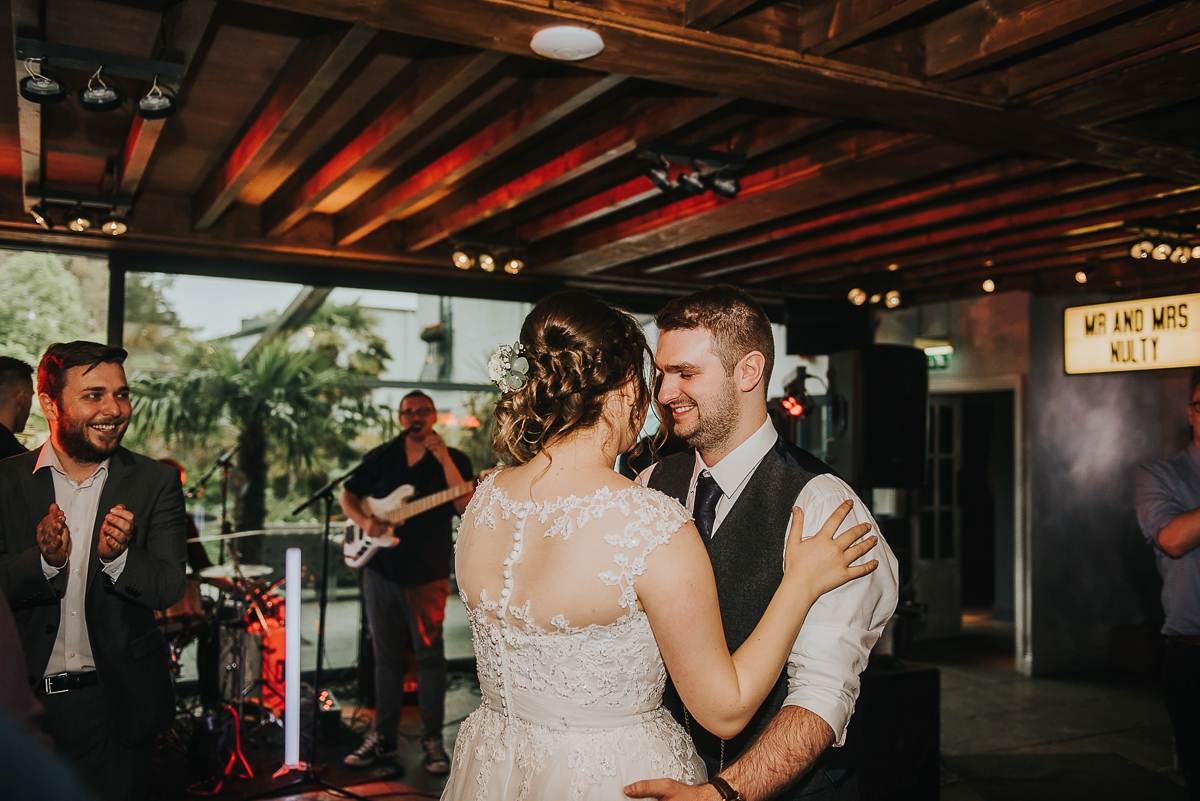 I'm head over heels for this unique, quirky venue which combines old elements with new so effortlessly, all in that beautiful Mediterranean-inspired setting. Abbie and Tom, thank you so much for letting us have a glimpse of your day, and congratulations to you two. Thanks also for your invaluable words of wisdom which I'm sure that many other brides will find useful. Finally, please join me in sending many thanks to From The Smiths for these colourful, vibrant photographs; such a treat.
Ele xx