Happy Wednesday lovelies – I hope you've had a good week so far? This beautiful wedding today features traditional and modern wedding elements all rolled into one and makes for one really beautiful affair.
There's one dreamy, princess-style gown, an air of old-fashioned romance and stunning photography captured by Jodie Chapman – I hope you love these images as much as I do. Education and events officer Kate and her groom, business analyst James chose 27th May 2017 as their wedding date. The couple were married during a ceremony at the Roman Catholic Church of St Mary in Hampstead, London, followed by a reception at the gorgeous Georgian Dartmouth House in Mayfair.
Wedding film by Moon and Back
"As someone who has always worked in the arts and cultural heritage sector, I knew that I wanted our wedding to be historic, romantic and traditional. The Georgian era is my favourite artistically, so I sought out a venue from the Georgian era for our reception. I also knew I wanted a dress that was equally as romantic as the venue, hence the full A line, princess style gown. After picking the dress and the venue, everything else just fell into place to compliment the two."
Photography by Jodie Chapman
One of Kate's main priorities for the day was to find a dress fit for the occasion, and one in keeping with the stunning Georgian surroundings of Little Book member Dartmouth House. She eventually settled on an utterly to-die-for beaded gown with a head-turning large tulle skirt from Allure Bridals via Madeleine's Daughter in Boston, USA."I loved how I felt when I was wearing my dress. I felt beautiful, confident, romantic and feminine, all at the same time. I really felt like a bride, especially with the large and flowing skirt, and the beautiful beaded top. I also found my two-tier cathedral length veil and diamond and pearl headpiece at Madeleine's Daughter and my shoes were Jimmy Choo."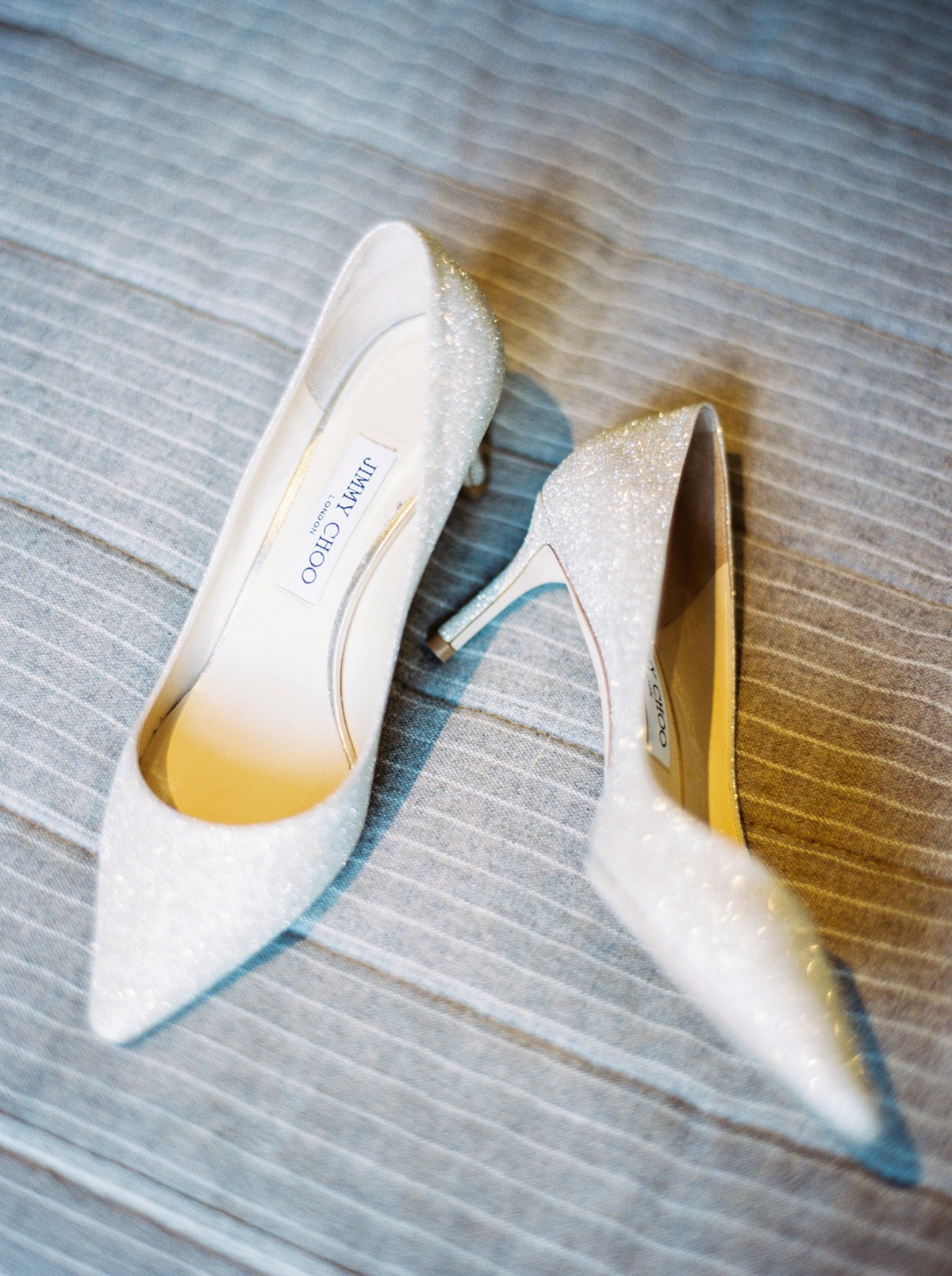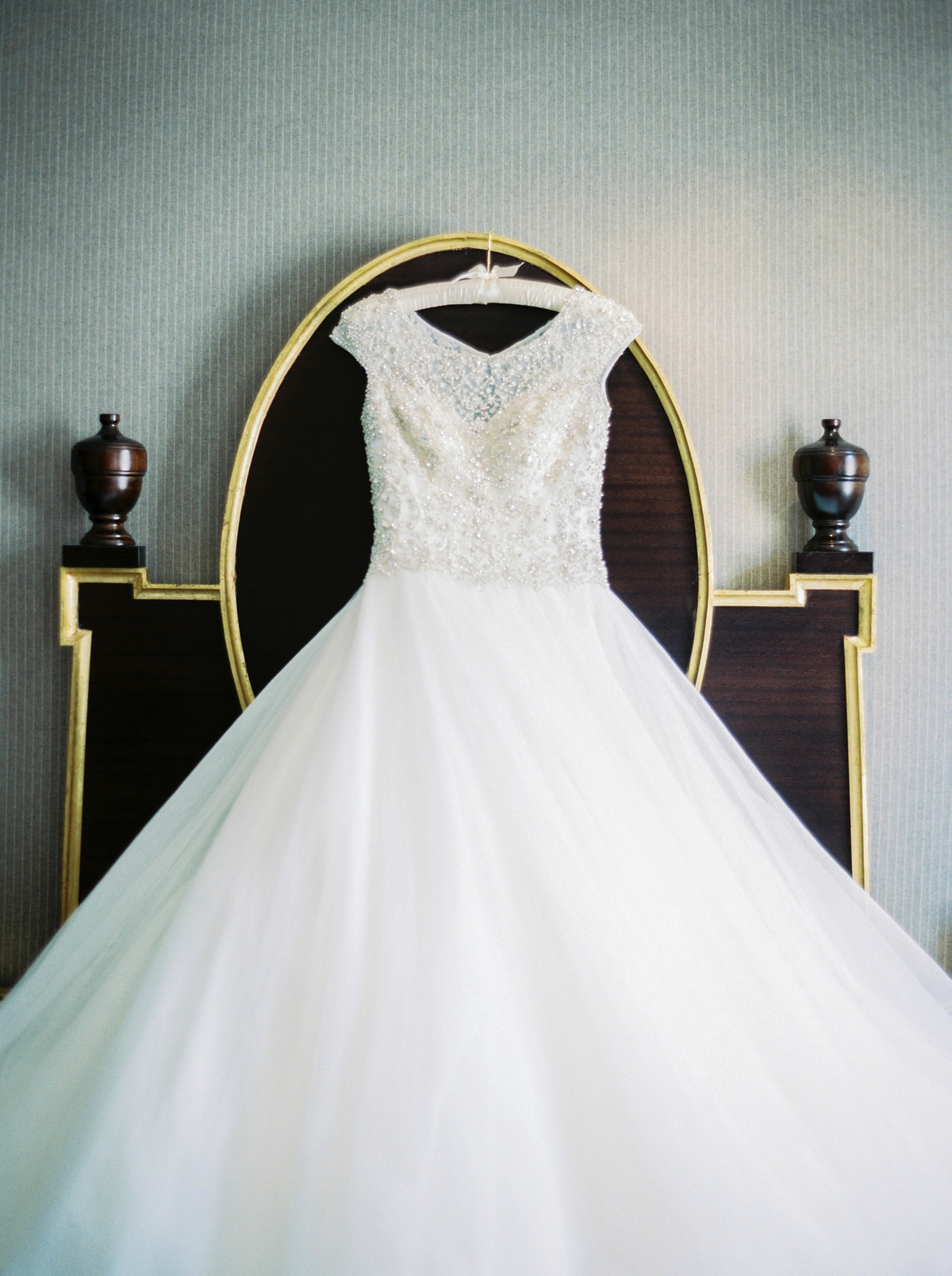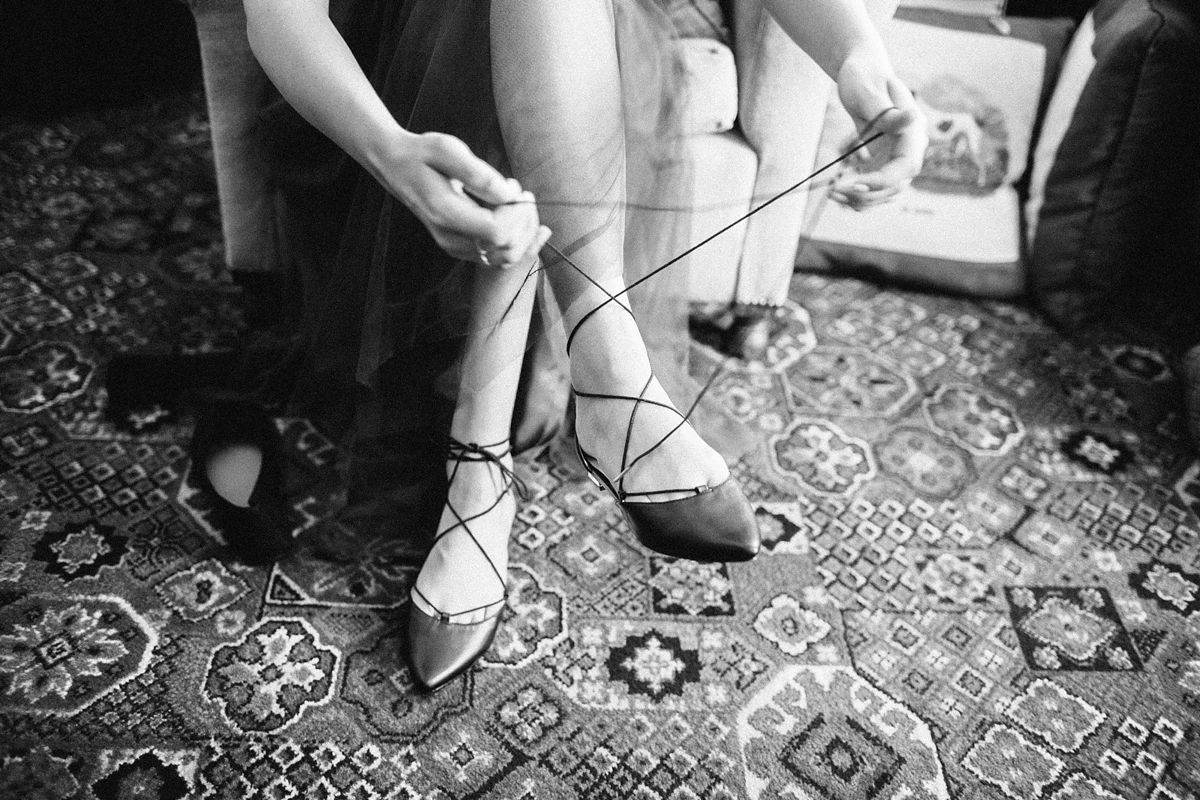 Kate's bridesmaids looked the dream in matching berry coloured full-length gowns from BHLDN. They each wore their own shoes and accessorised with a pearl pendant necklace from Tiffany & Co each, gifted to them by Kate's family.
[JP-VIDEO]
Each bridesmaid also carried a beautiful bouquet to compliment the brides own, created by long time family friend and garden designer Gill Schwartz.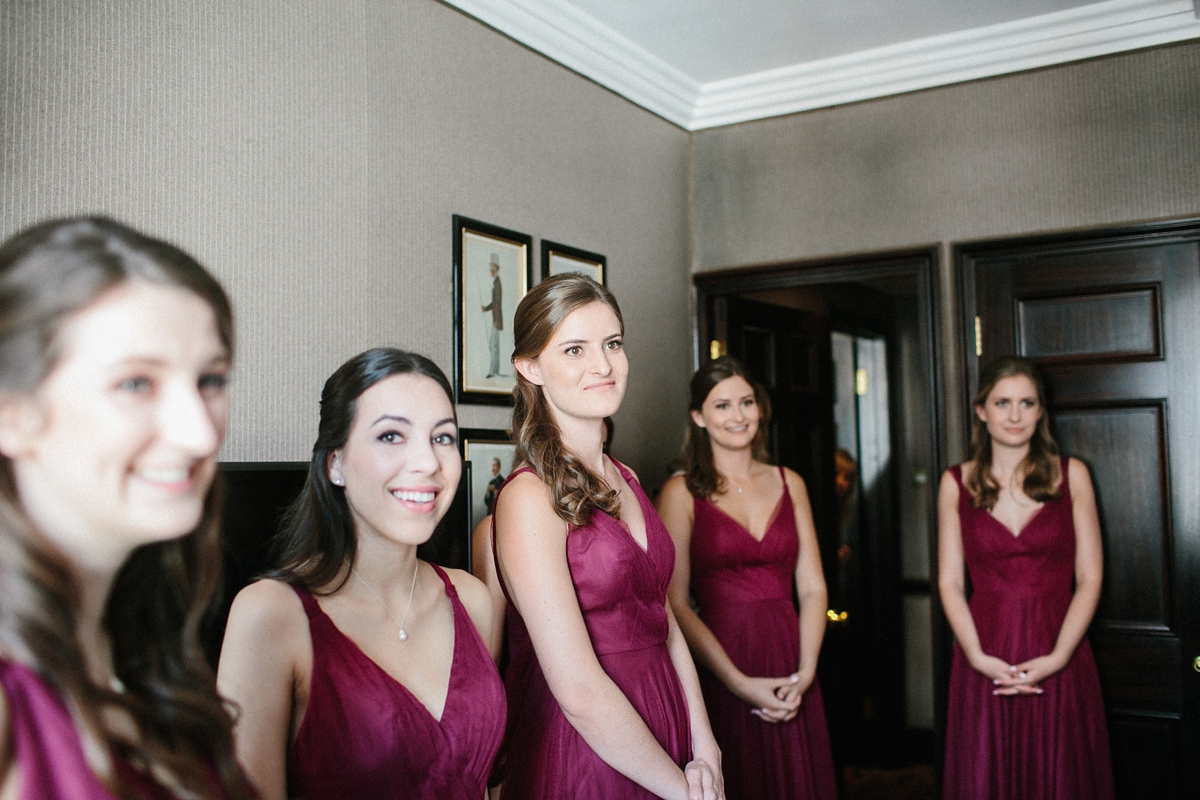 "Gill is normally a landscape and garden designer but loves doing the occasional wedding too. I wanted pinks and whites, with lots of greenery throughout – a classic and romantic combination. I also made sure that the colours complimented my bridesmaids dresses."
"I also wore Walking On Air from Kate Spade as my scent on the day as it was the first perfume my husband ever gave to me. My necklace was a choker of pearls that my parents kindly gave to me as my wedding gift, and my earrings were pearls that had belonged to my mother, which she then passed down to me."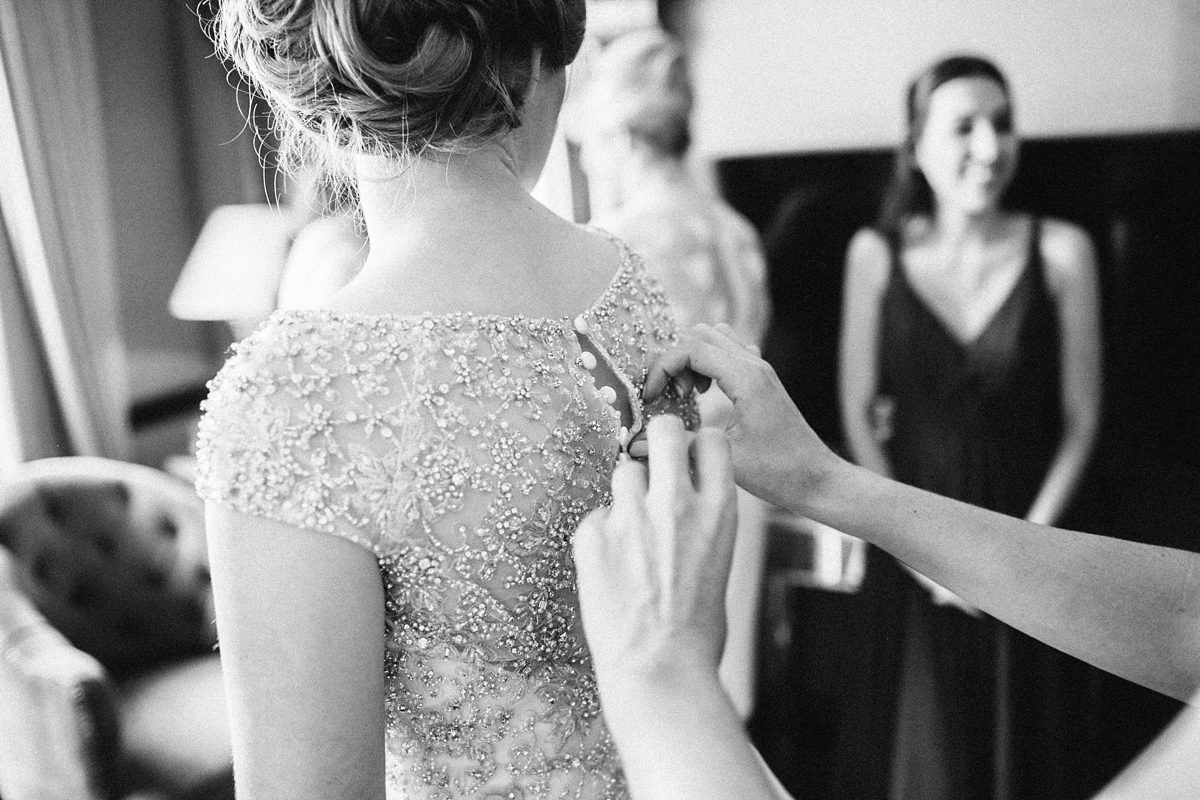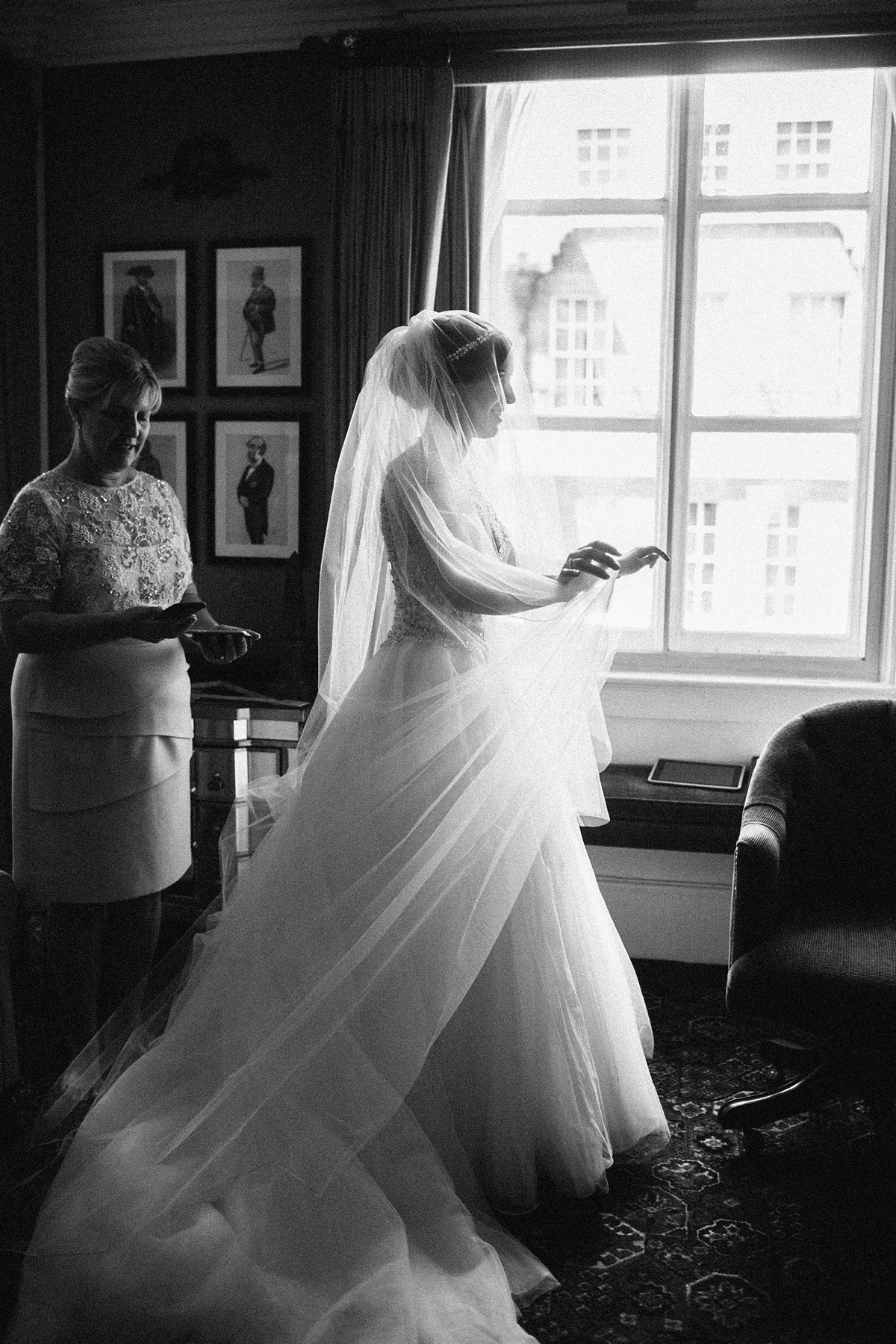 The bride and groom first met via social media app Tinder. Kate had recently relocated to London from California and in a wonderful twist of fate, found James after becoming a match on the app.
"We met in the controversially and least romantic way by matching on Tinder. I thought the app would be a great way to meet new people after moving to London. Once we realised we wanted to be together seriously, we were both too embarrassed to tell our parents how we met so made up a story that we had met on the bus! It wasn't until several months after becoming engaged that we told them the truth – which was a bit of a shock for them!"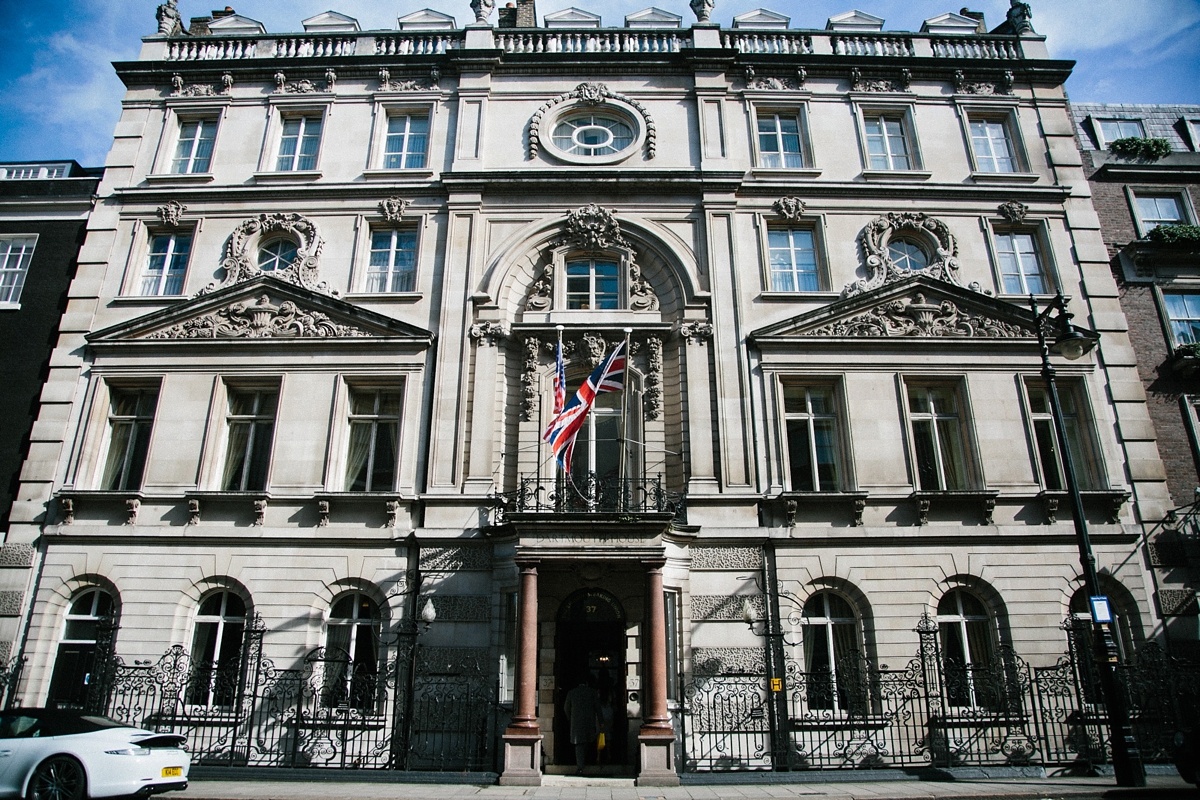 "James proposed to me in a somewhat equally non romantic way. He cooked a lovely roast dinner and popped a bottle of champagne. He was going to put the ring in the champagne flute but had a last-minute panic, thinking it might be too cheesy and overdone."
"He compromised by putting the ring in the gravy boat! Unfortunately, the ring sunk to the bottom so he sat through the whole meal sweating and continuously offering me more gravy. Finally he poured the rest of the gravy onto my plate (ruining my meal!) but it was definitely worth it! I found a sparkly ring mixed in with my mashed potatoes!"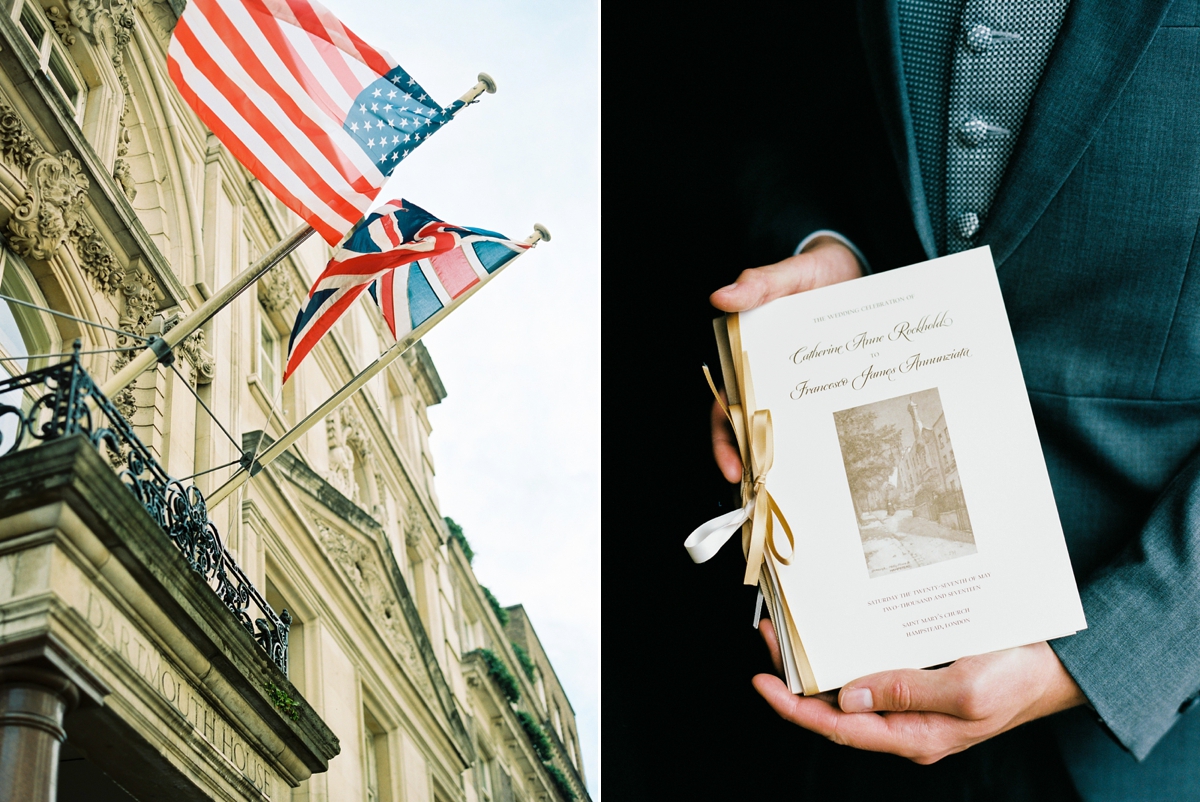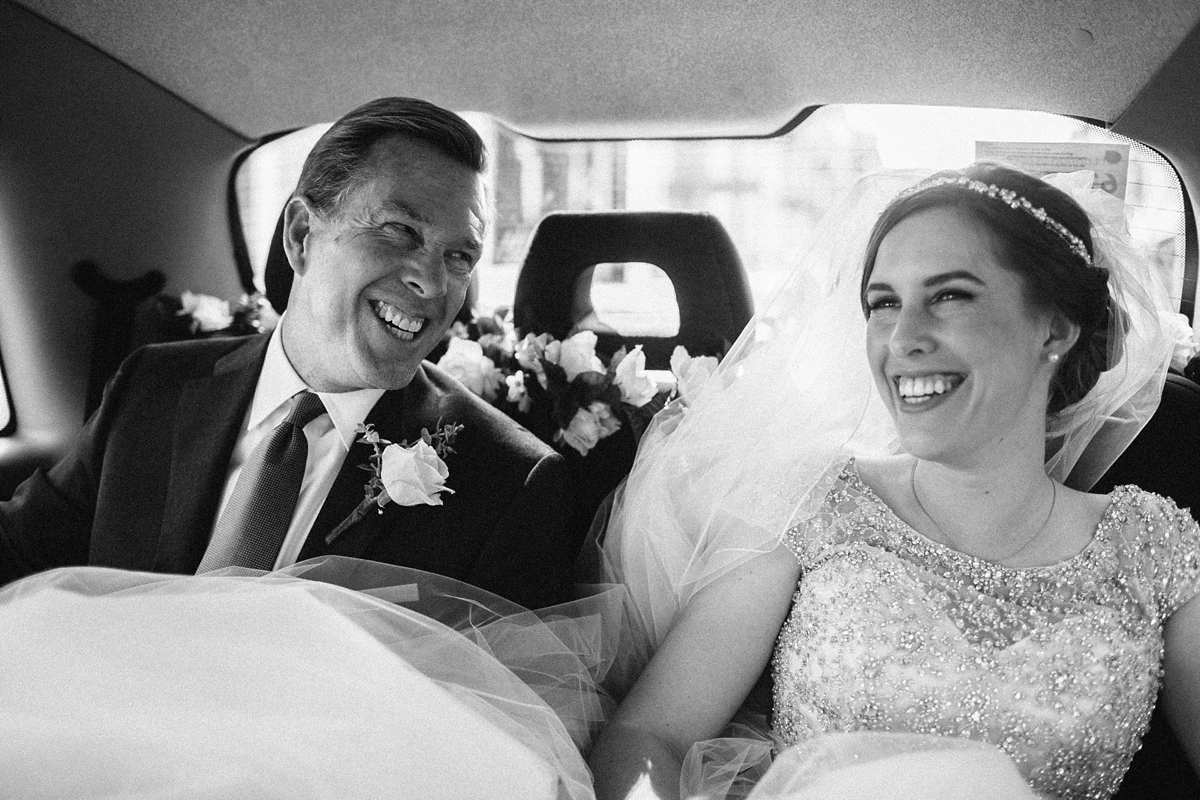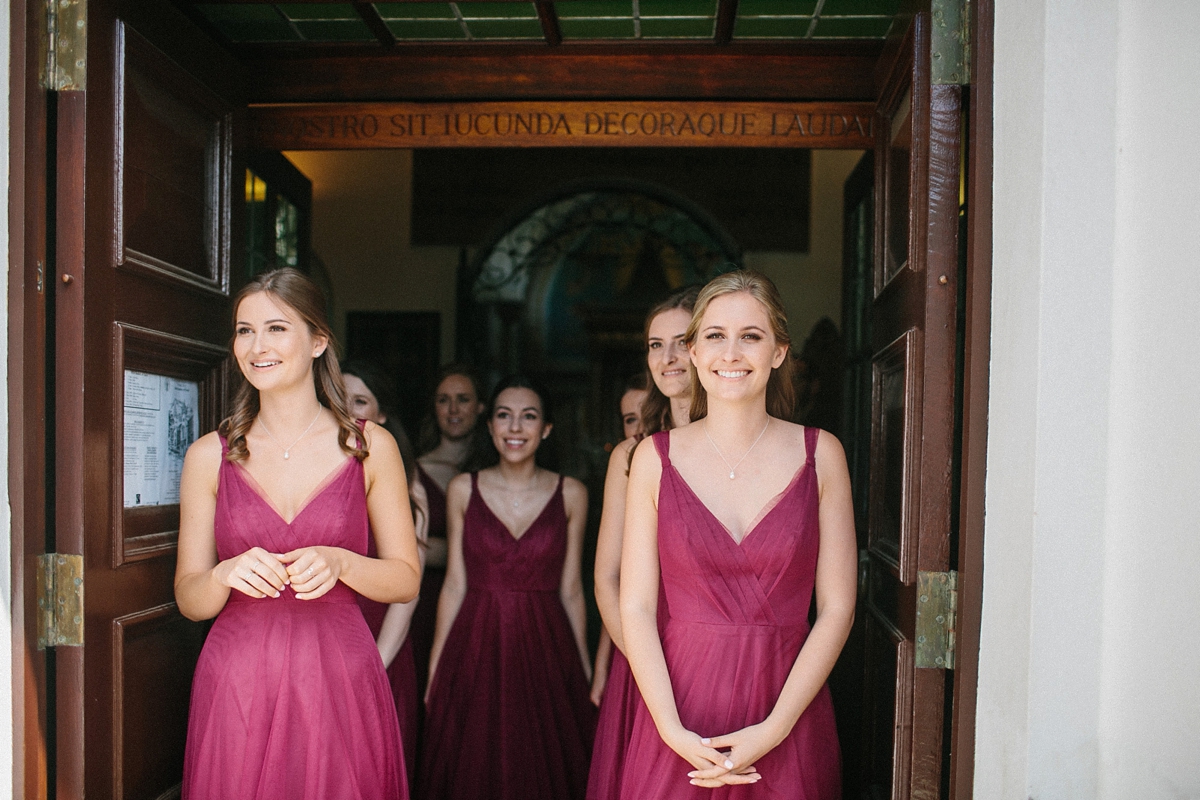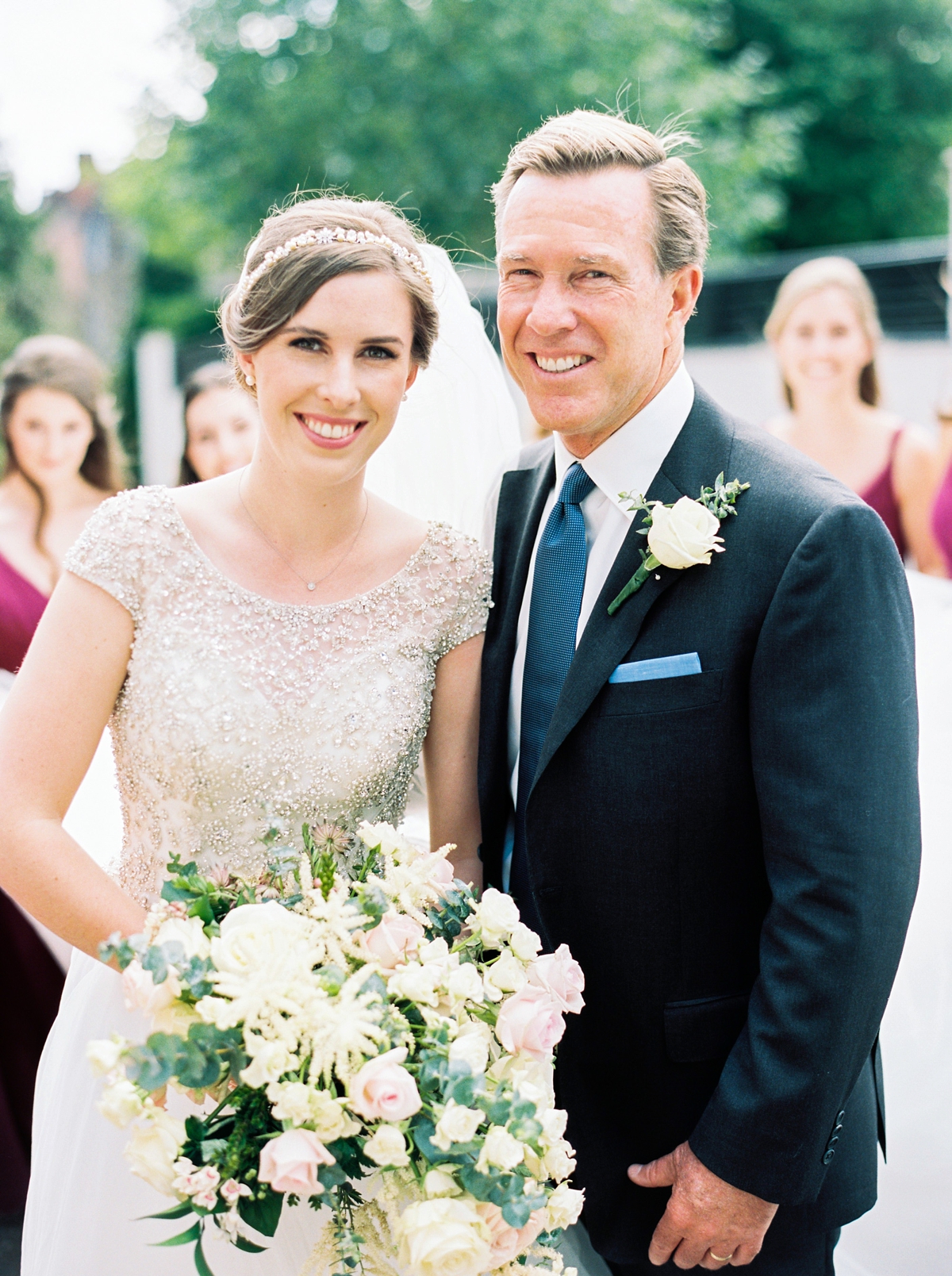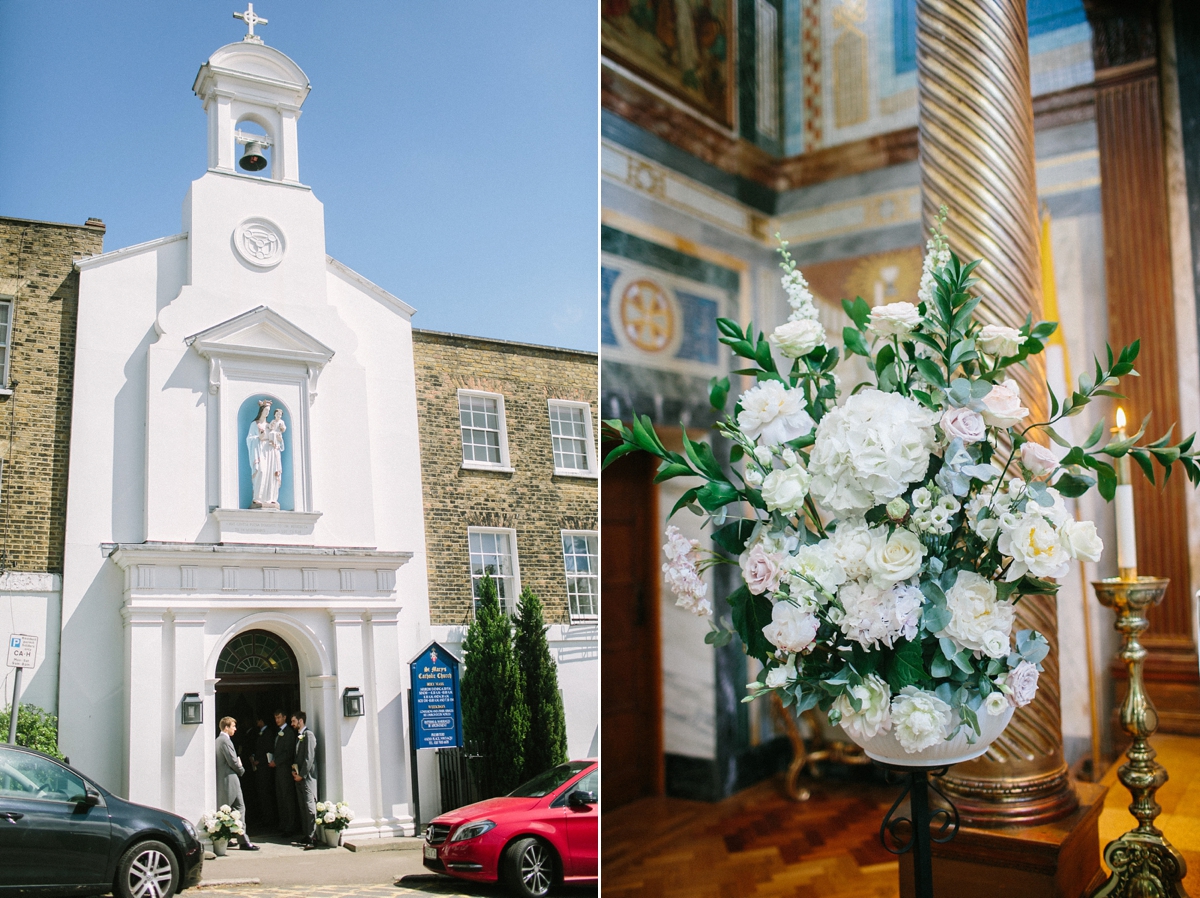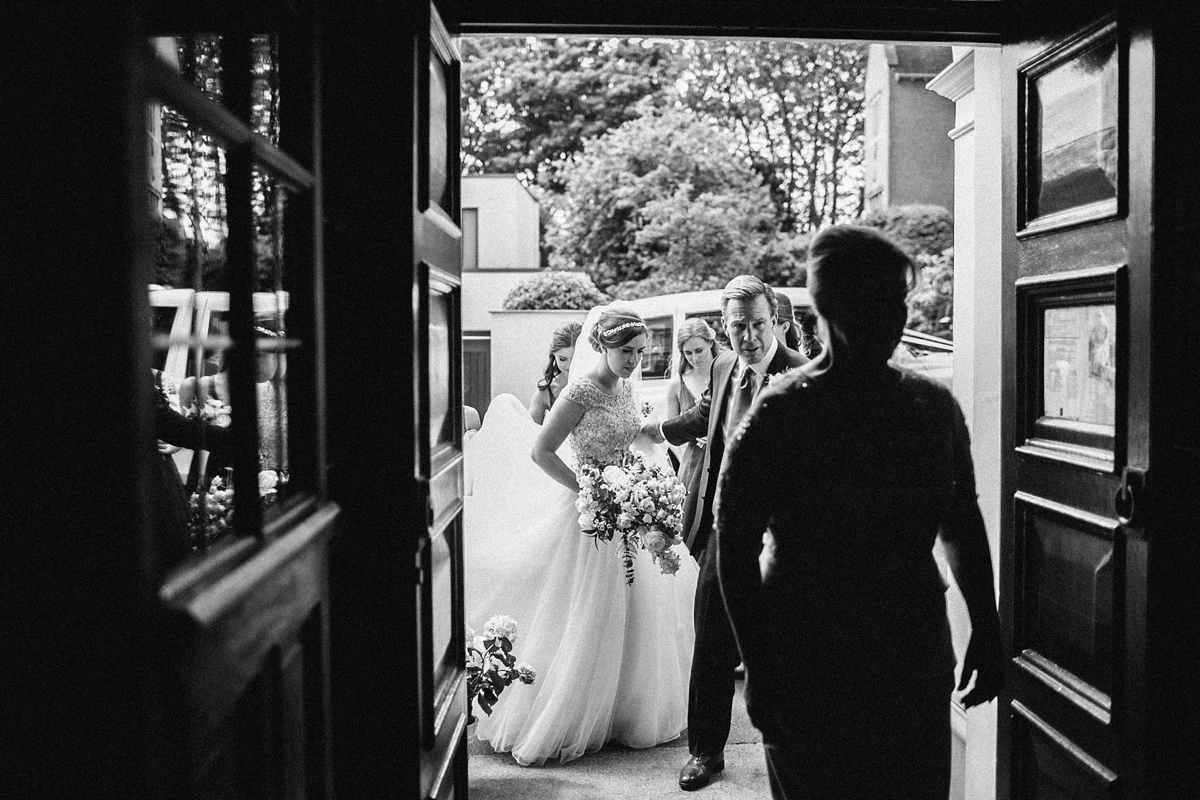 The groom wore a traditional grey and white three-piece suit by British tailors Neal and Palmer, accessorised with a blue and white polka dot tie.
For the ceremony, the bride asked her dad to accompany her down the aisle, to a piece of music by one of her favourite's G.F. Handel. The church's priest officiated the ceremony and the couple chose readings from a set of 10-15 given to them to choose from.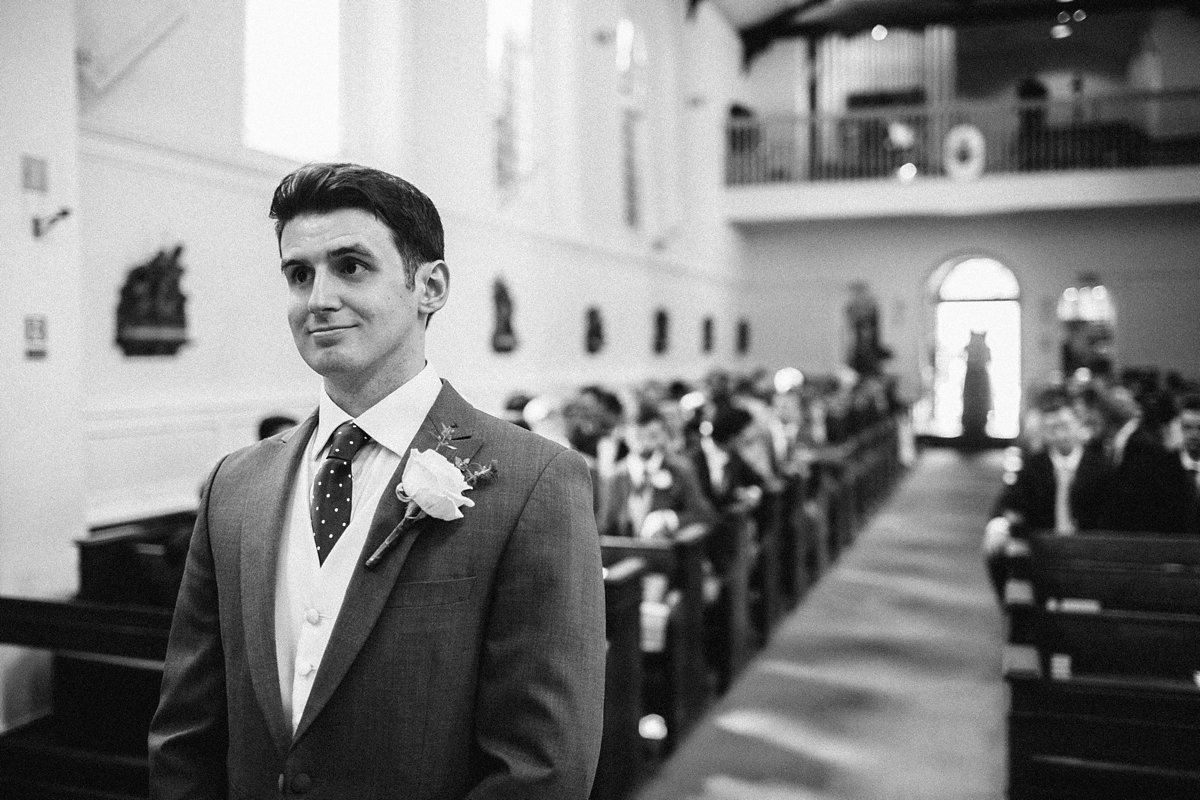 "Our wedding bands came from the same designer as the one who made my engagement ring, Taylor & Hart. They have tons of different designs, but it's up to the men to choose the diamonds and alter the design as they wish. It's sort of a combination between a custom ring design and a pre-designed ring. We made my wedding band to match the band of my engagement ring."
"Now when I look back, my favourite moment of the wedding was my dad walking me down the aisle. I was so nervous to have everyone looking at me but he was so reassuring and supportive as he held my arm and walked with me. Jodie took the most fabulous photo of him laughing as he brought me to the priest as we were all so happy. He passed away just before our one year wedding anniversary, making this moment even more special to me."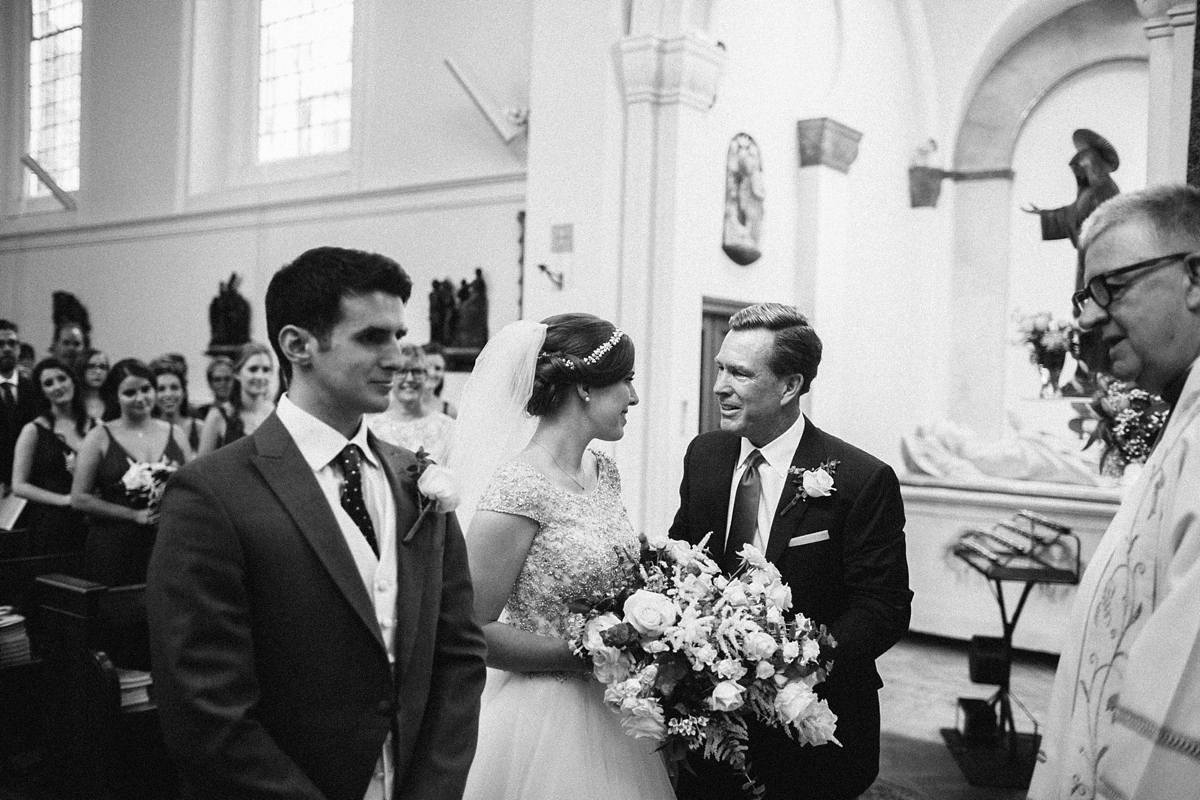 "My husbands favourite moment was when we went into the small altar room to sign our marriage certificate. It was a quite moment between the two of us, and the calm before the storm."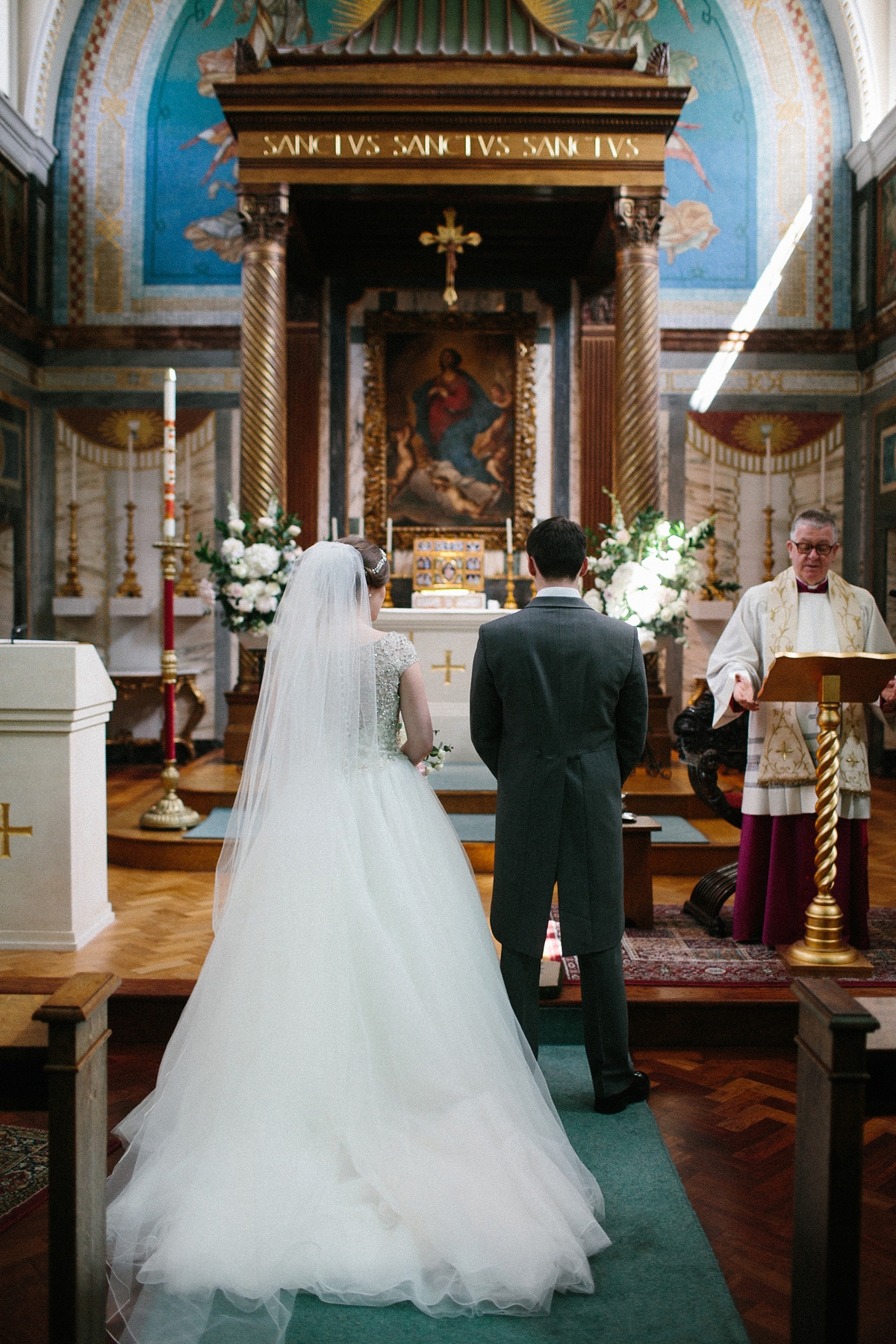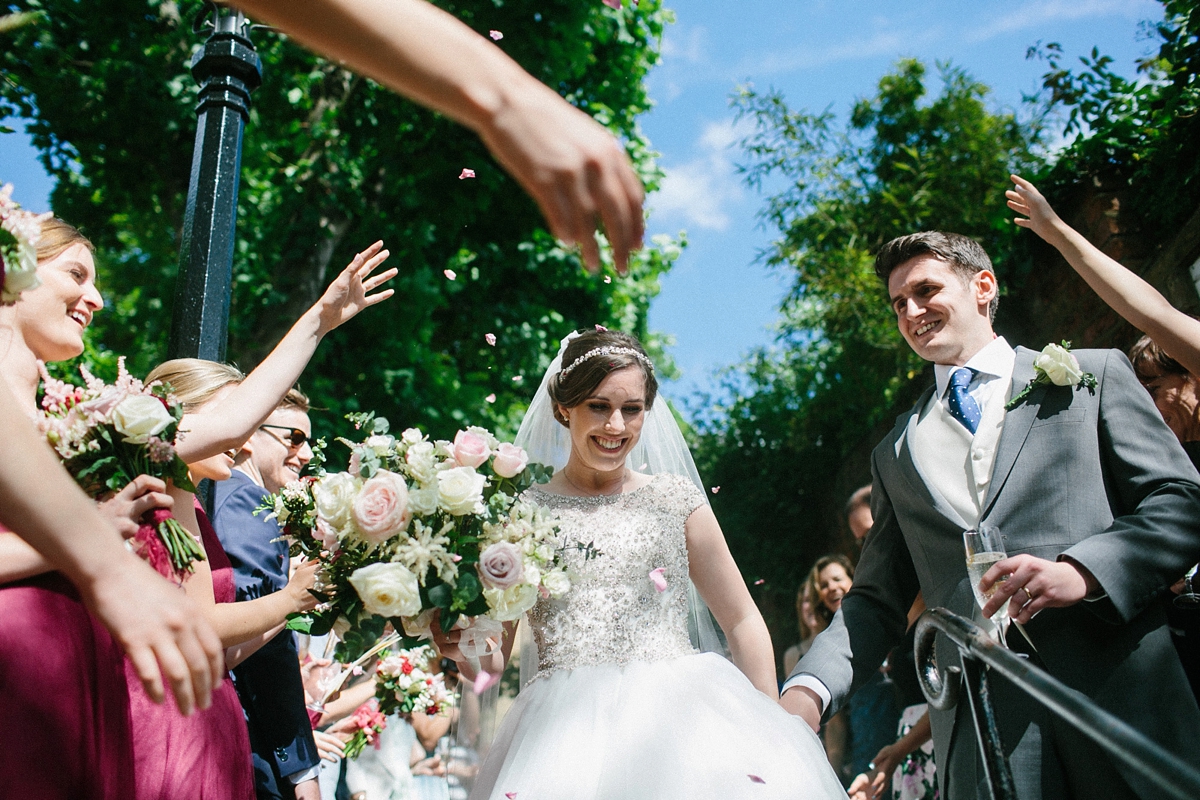 Following the ceremony, the couple and their guests made their way to Dartmouth House via a traditional red London bus, where on arrival, they were greeted with a drinks reception.
"Our wedding invitations were done by Vera Wang. The menus were created by myself and al hand stamped with gold wax (which took hours!). I also created our wedding booklets with my dad who is a graphic designer. Our favours to our guests were tea towels!"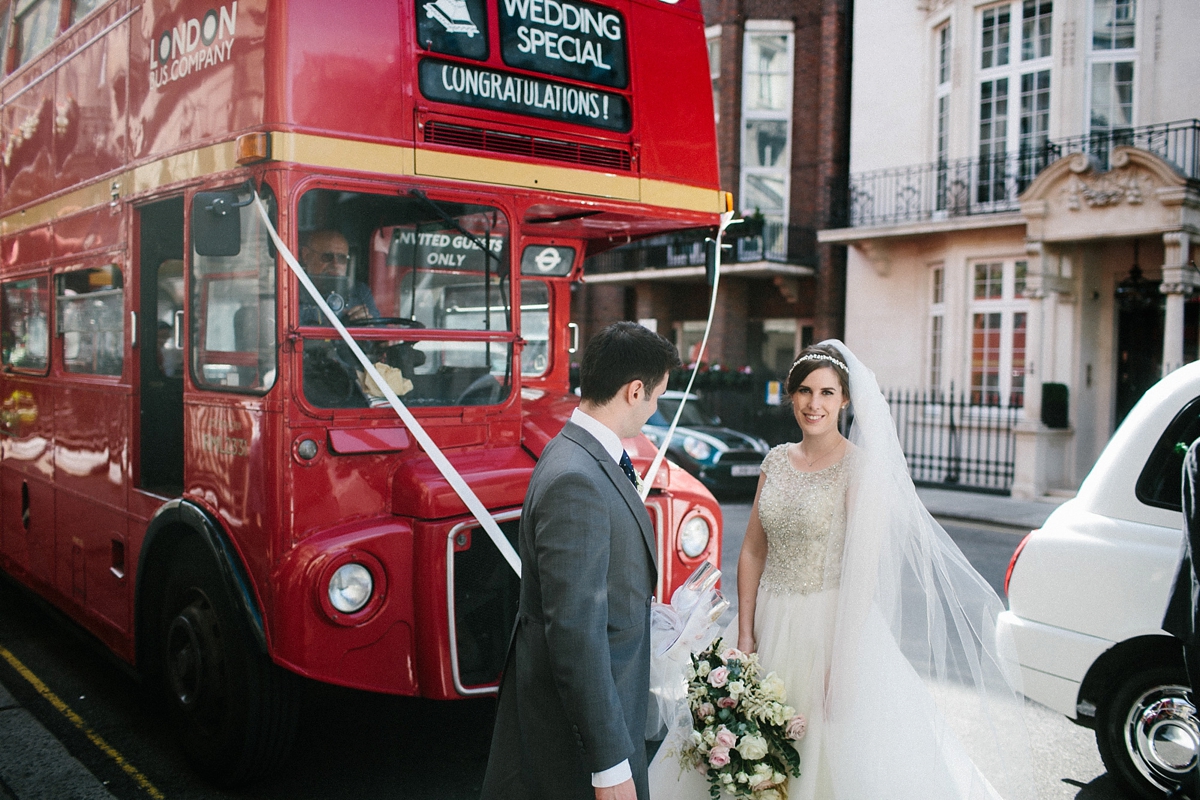 "I created a floral design that mimicked our flowers in colour and type with our names 'Catherine & James' plus the date of the wedding day on them. A, hopefully, useful favour! We also had little American and UK flag friendship pins where the flags of the two nations crossed each other."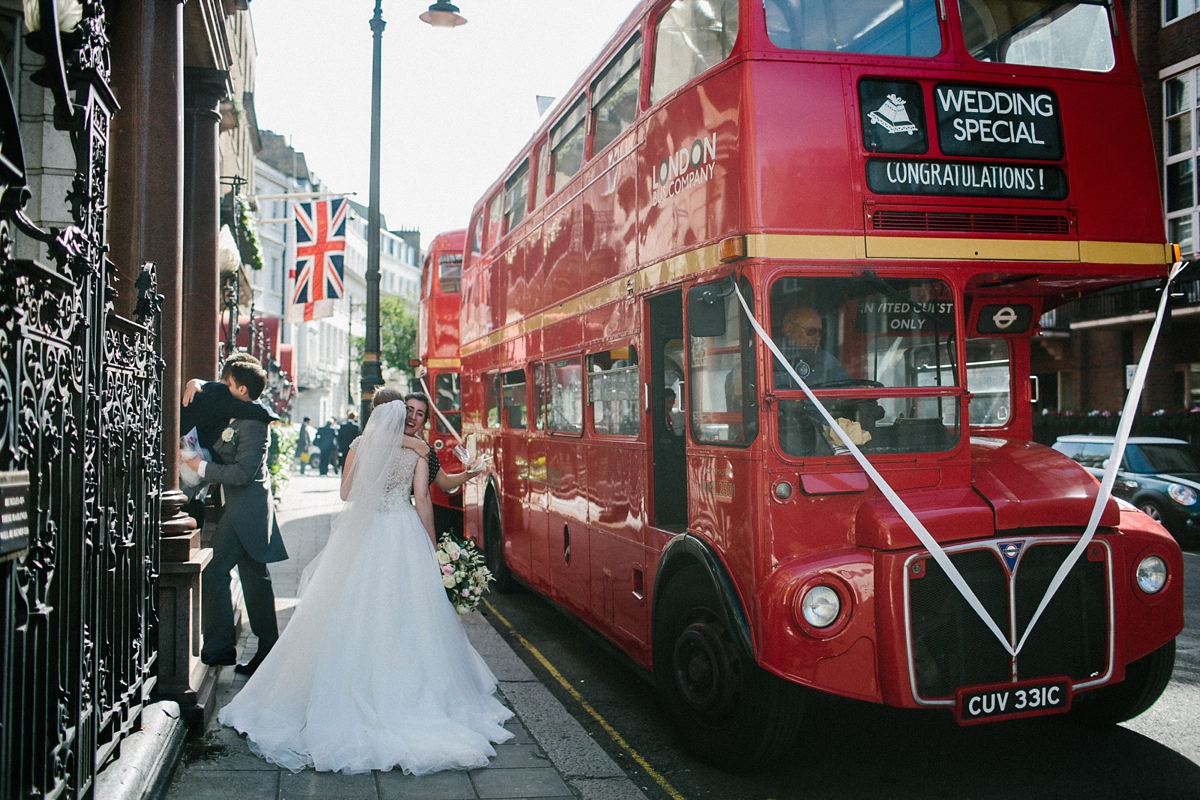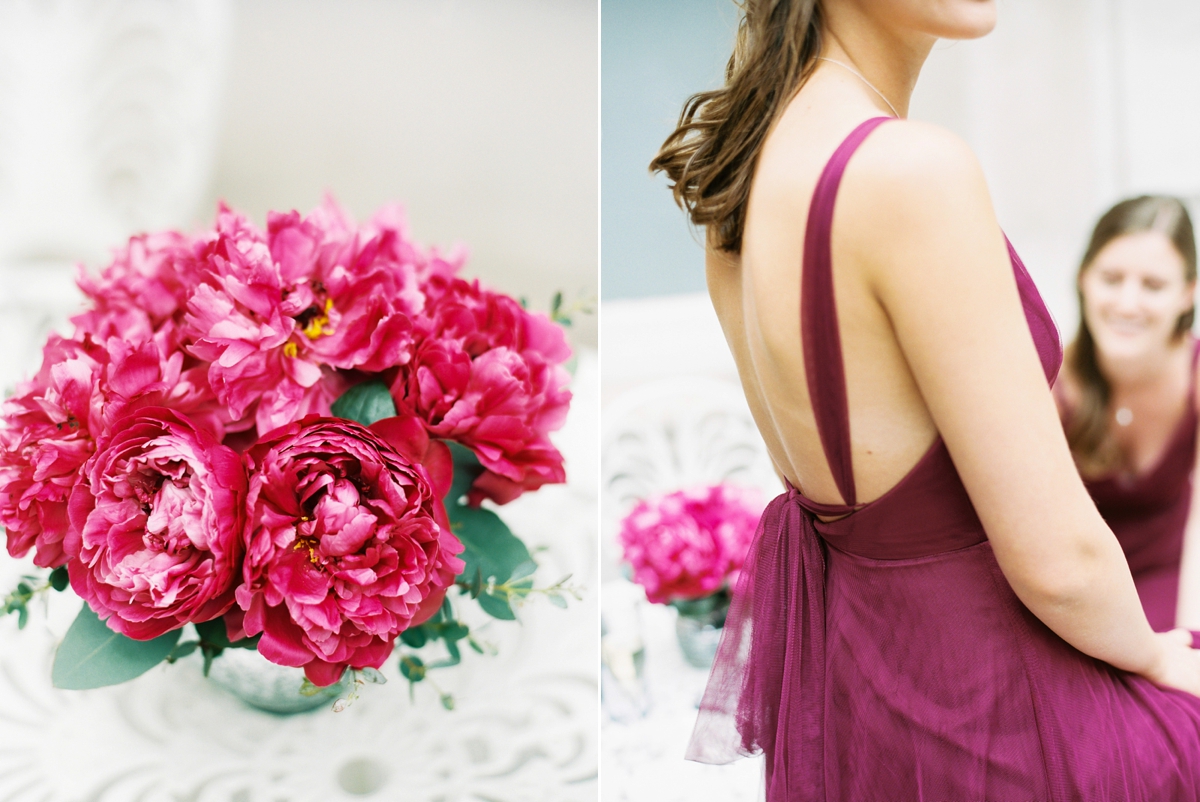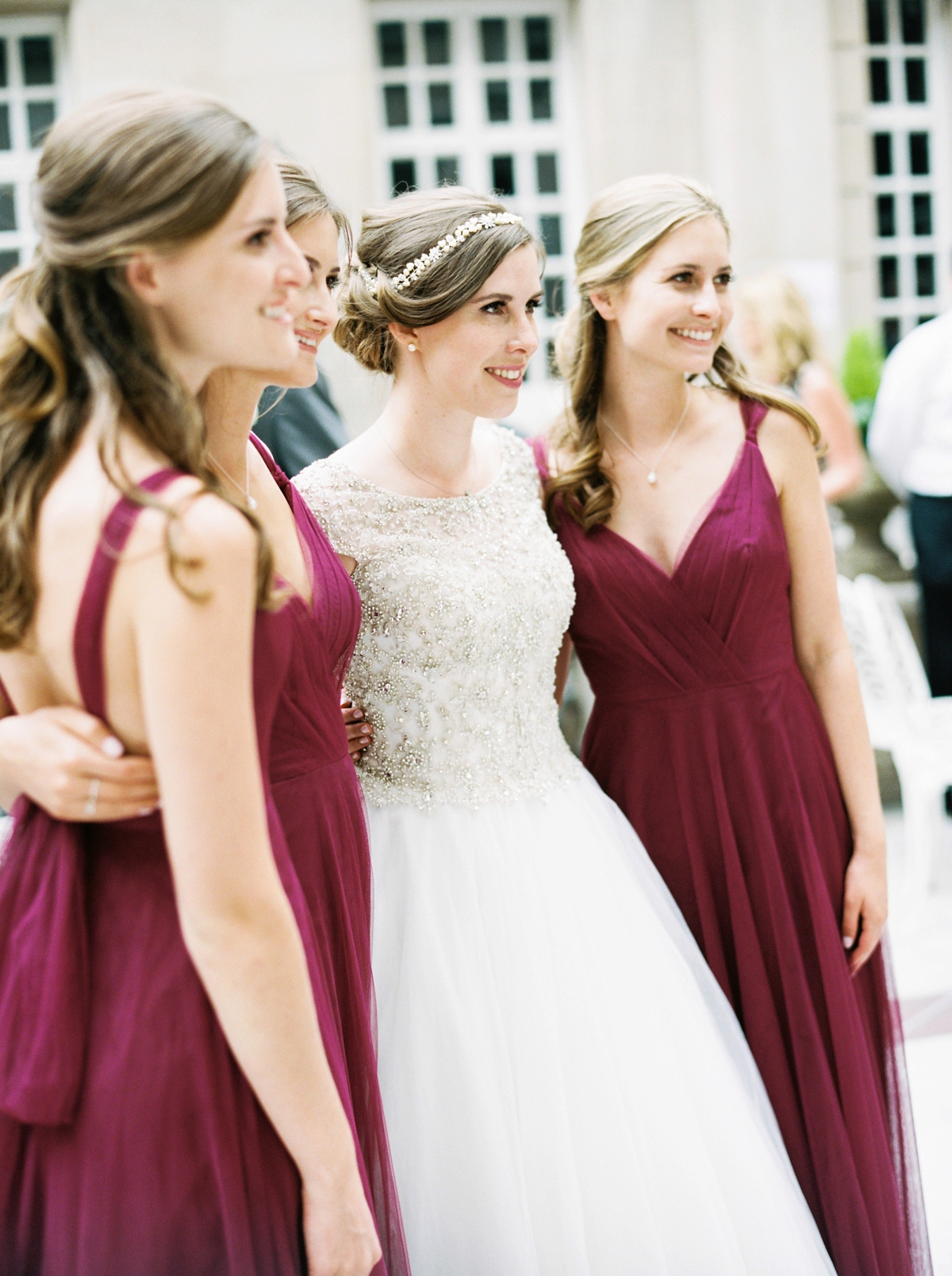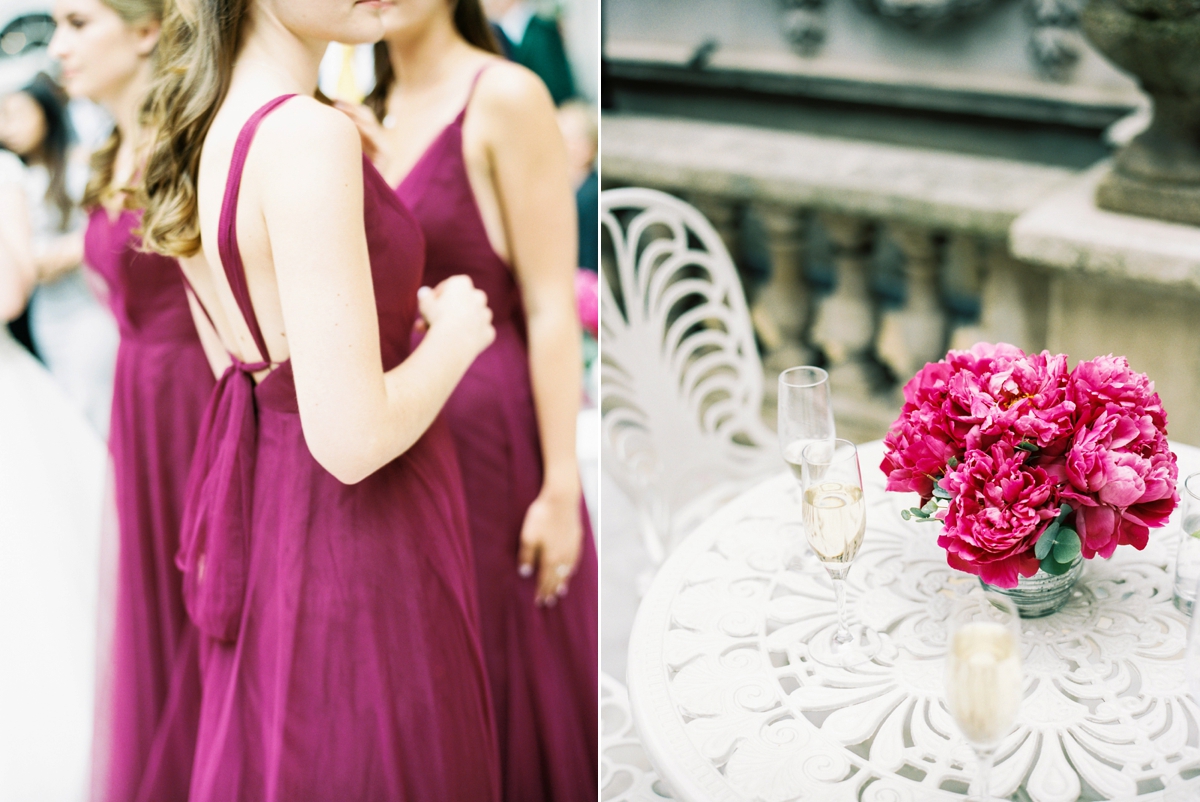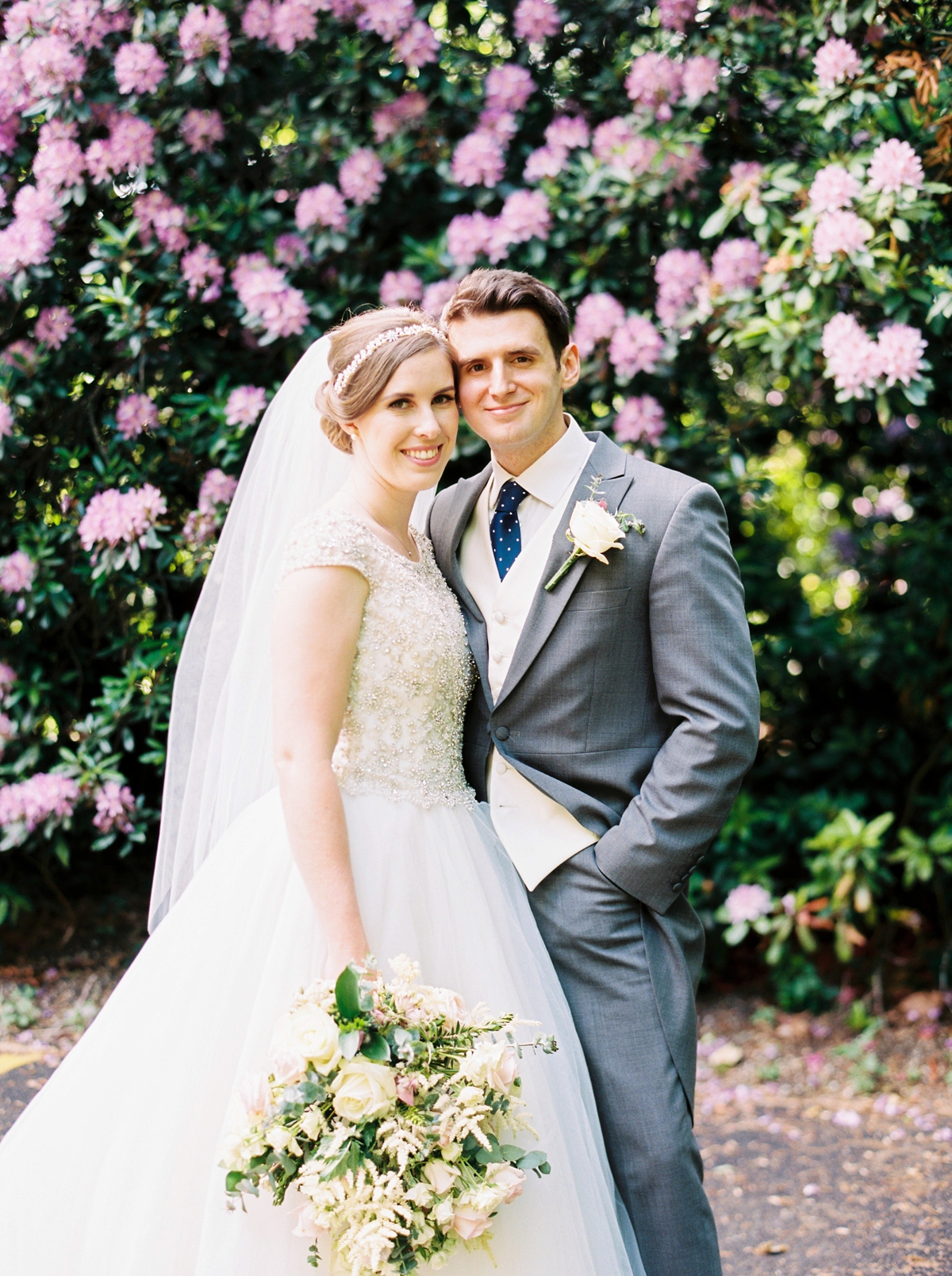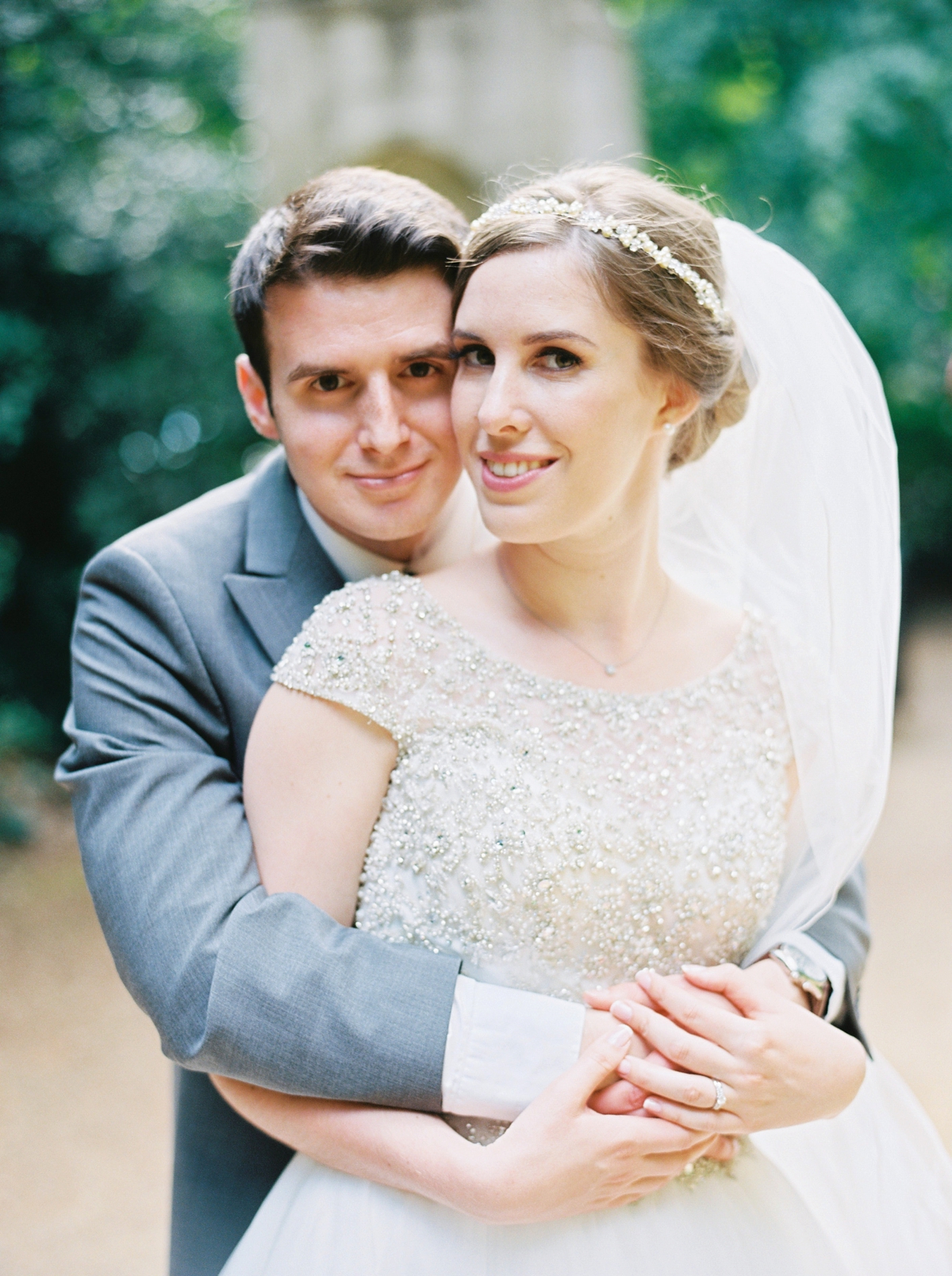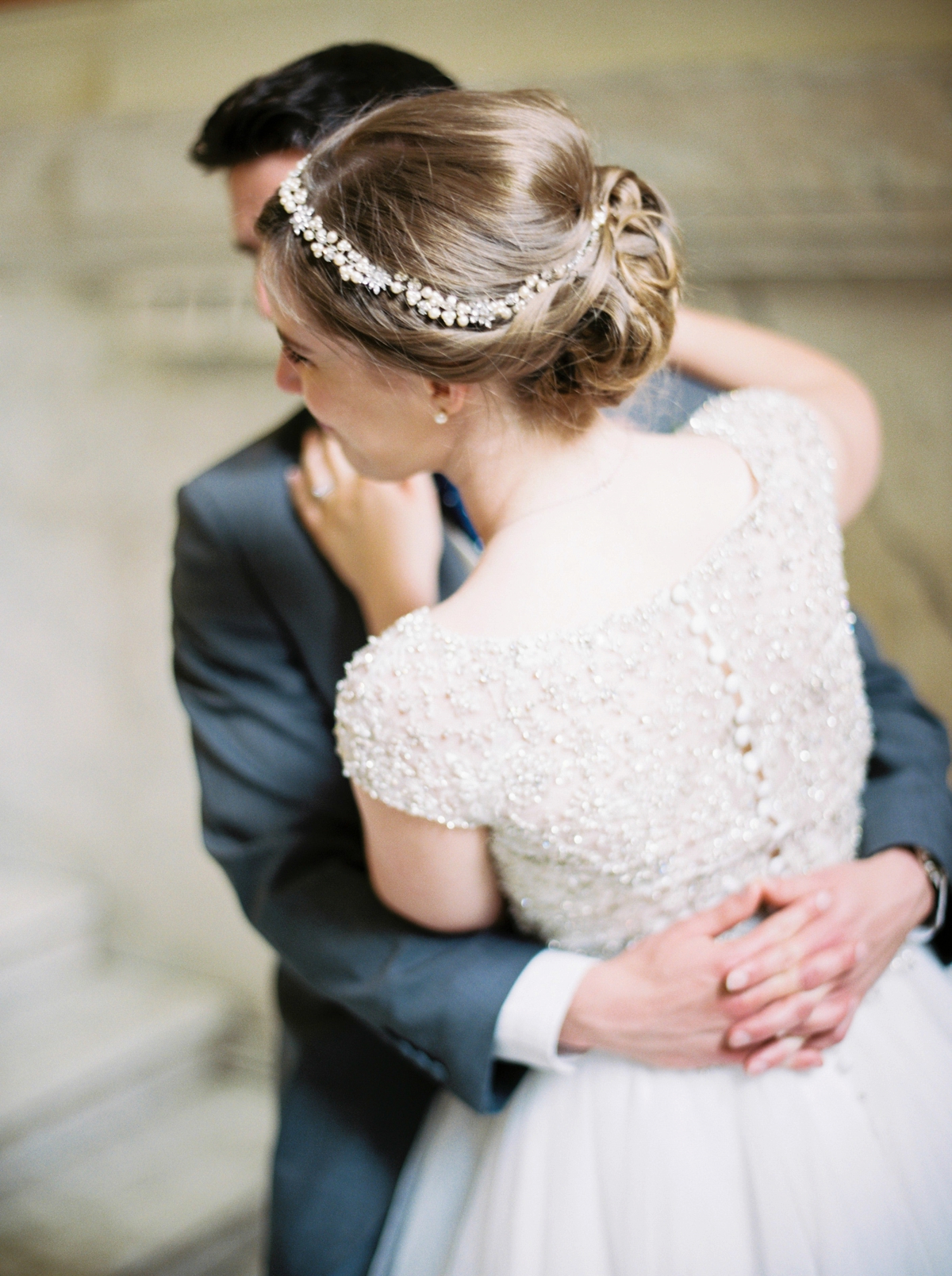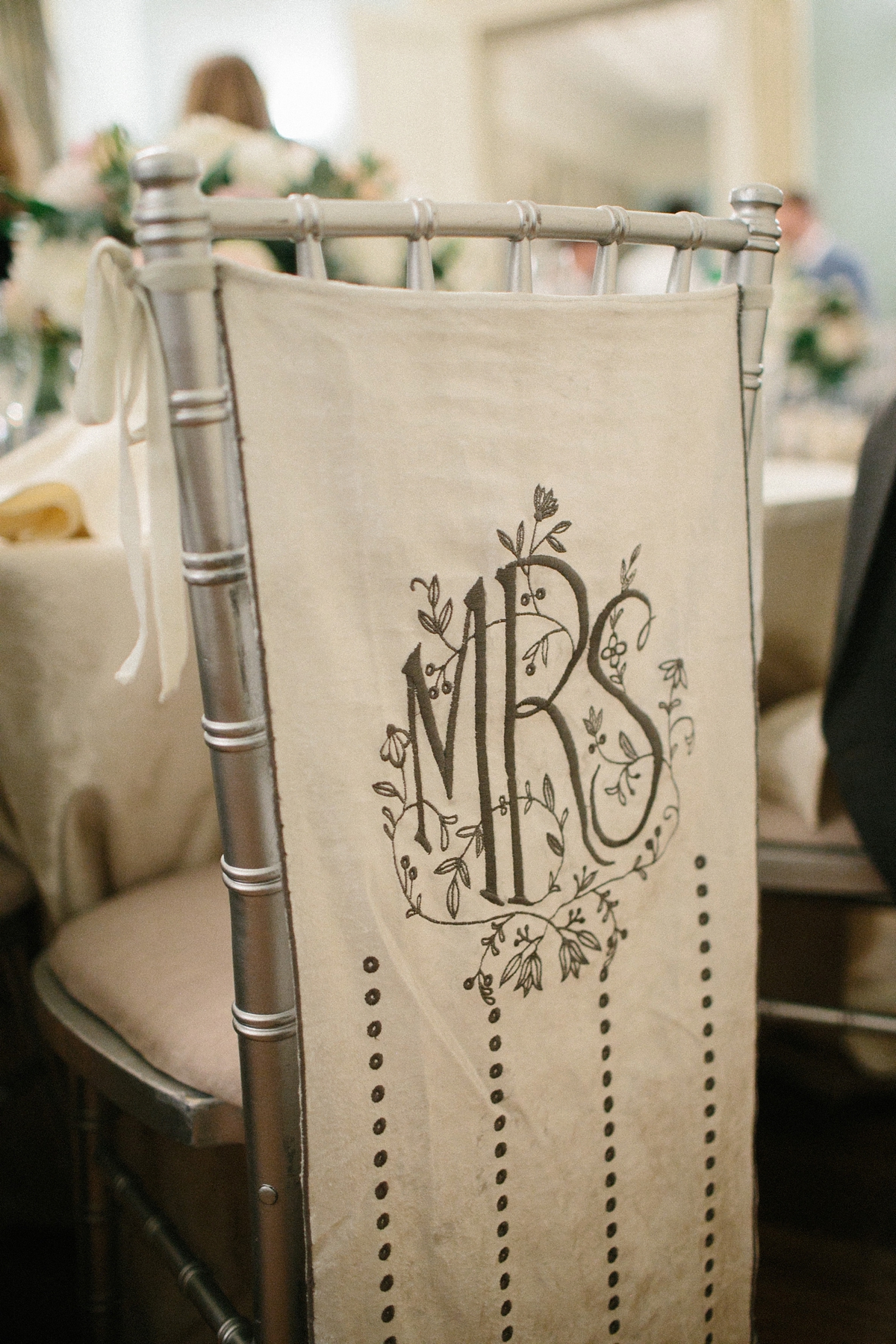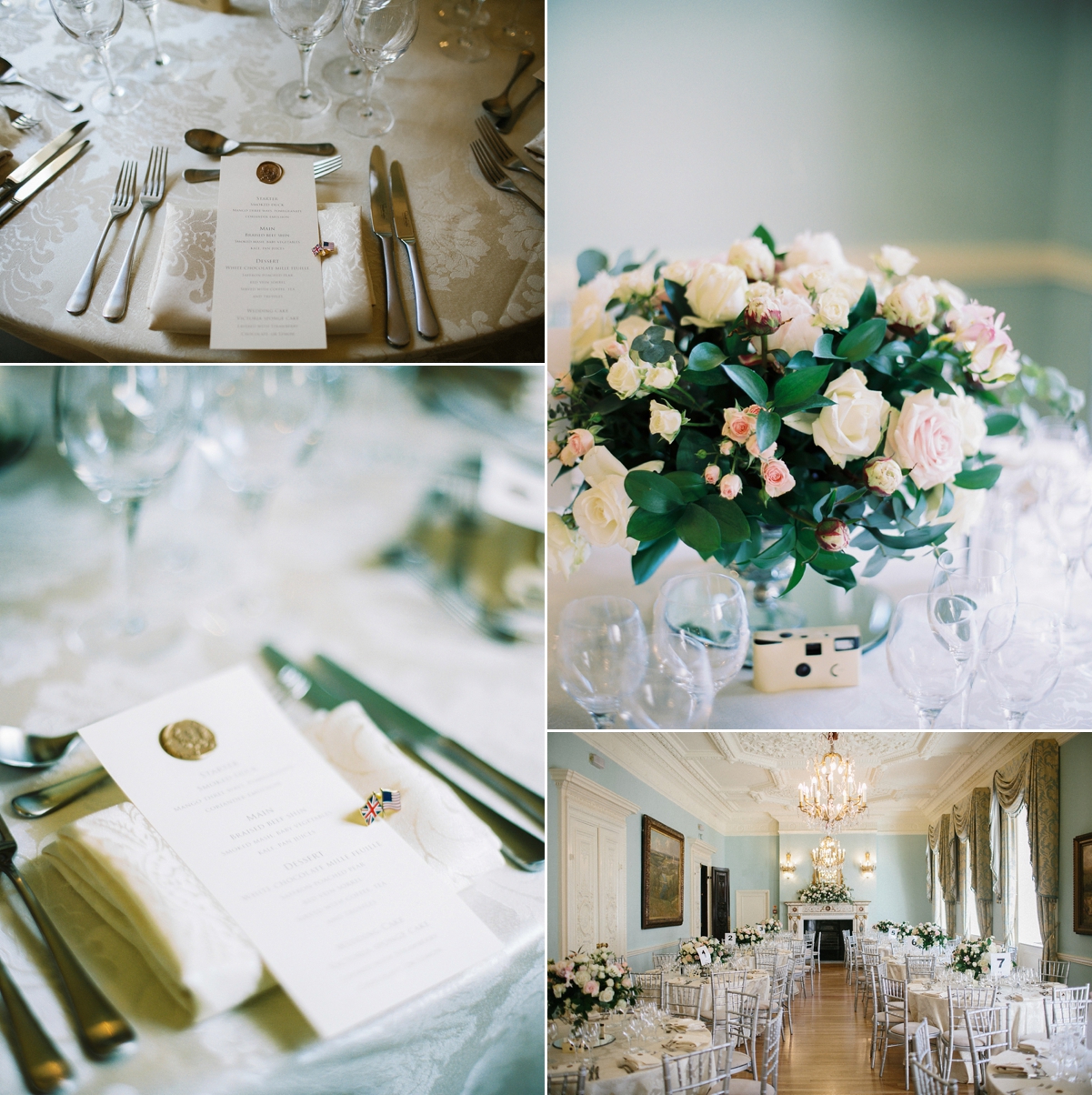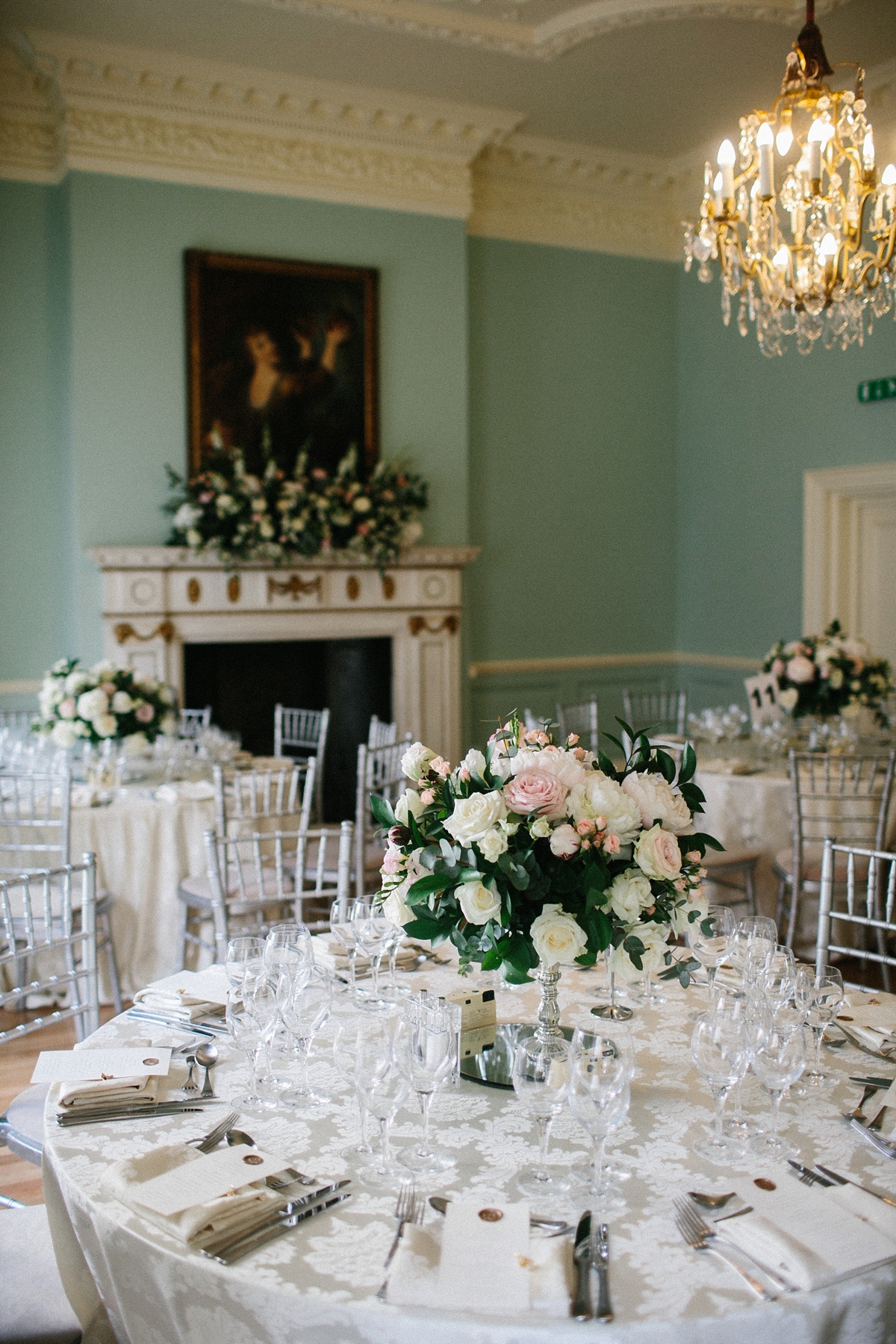 "Our cake was created by one of my close friends Amelia Gammell of Amelia-Anne Cakes. My favourite cake is a traditional Victoria sponge, so each layer of the cake was a different flavoured sponge. The bottom tier was the classic Victoria sponge, and the other layers were twists on it – lemon curd and chocolate."
"I wanted a buttercream on the outside as I hate the taste of fondant and I really don't like the sterile look it gives. In my eyes, cake should be fun and messy and not look so perfect and plastic! We then decorated the cake with flowers and ivy."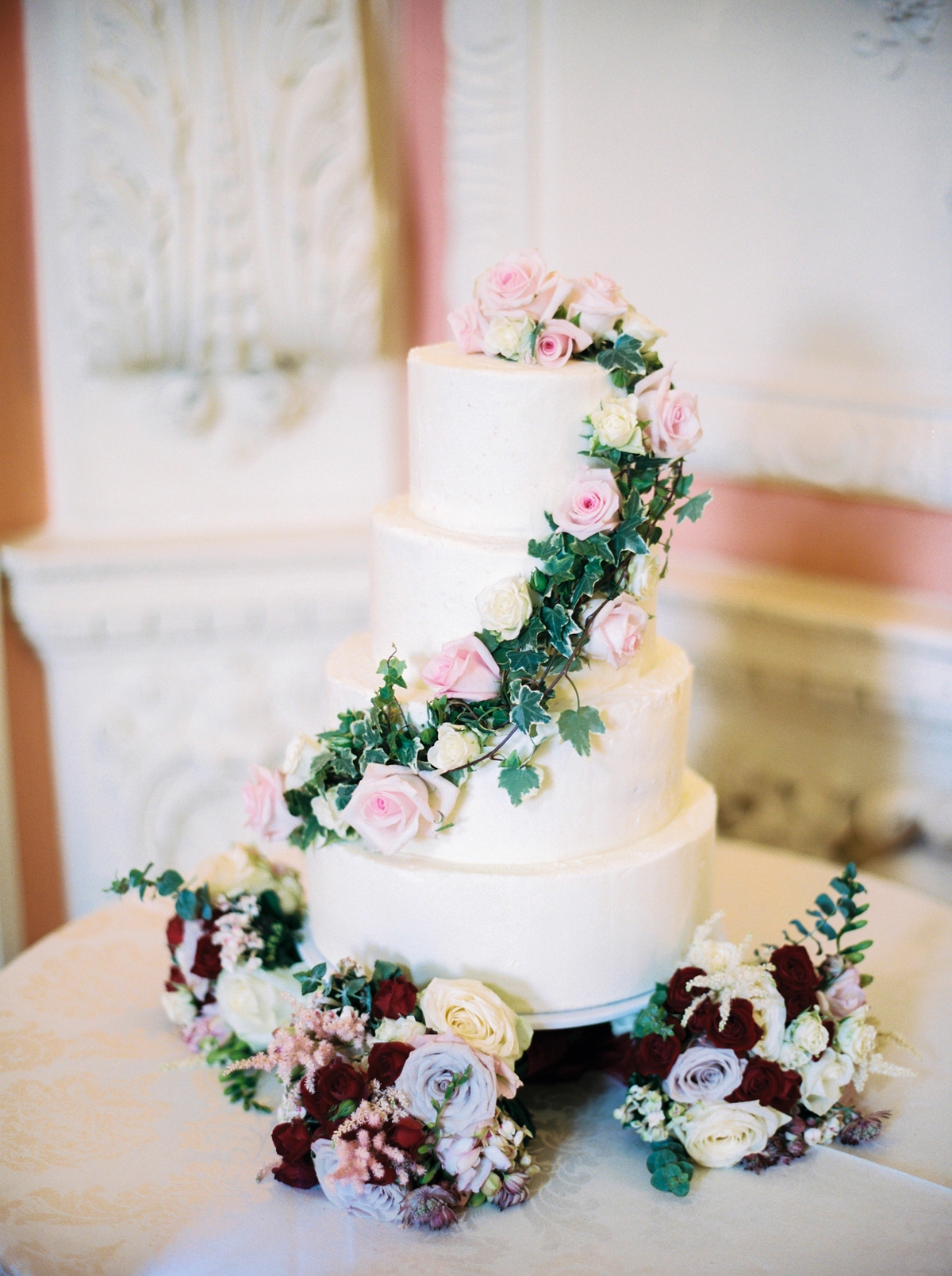 "For our first dance as a married couple we chose the song A Kiss To Build A Dream On by Louis Armstrong. Jazz is my favourite genre of music, so this was more my choice than James', but it's such a lovely and romantic song and I love the idea of building your dreams and life on a kiss. It relates back to when the priest said you can now kiss the bride!"
"It's so hard to choose a favourite moment from the day as the whole day was perfect! I loved spending time with my bridesmaids getting ready together on the morning of the wedding. To be surrounded by my closest friends and family really helped keep me calm. We were able to laugh together and have a nice time before everything got started."
"My other favourite moment was when we first walked into the reception as it was so nice to see everyone! We had a medium-sized wedding, 130 guests, which was manageable enough for us to speak to everyone. You could really feel all the love in the room when we walked in and saw everyone's faces."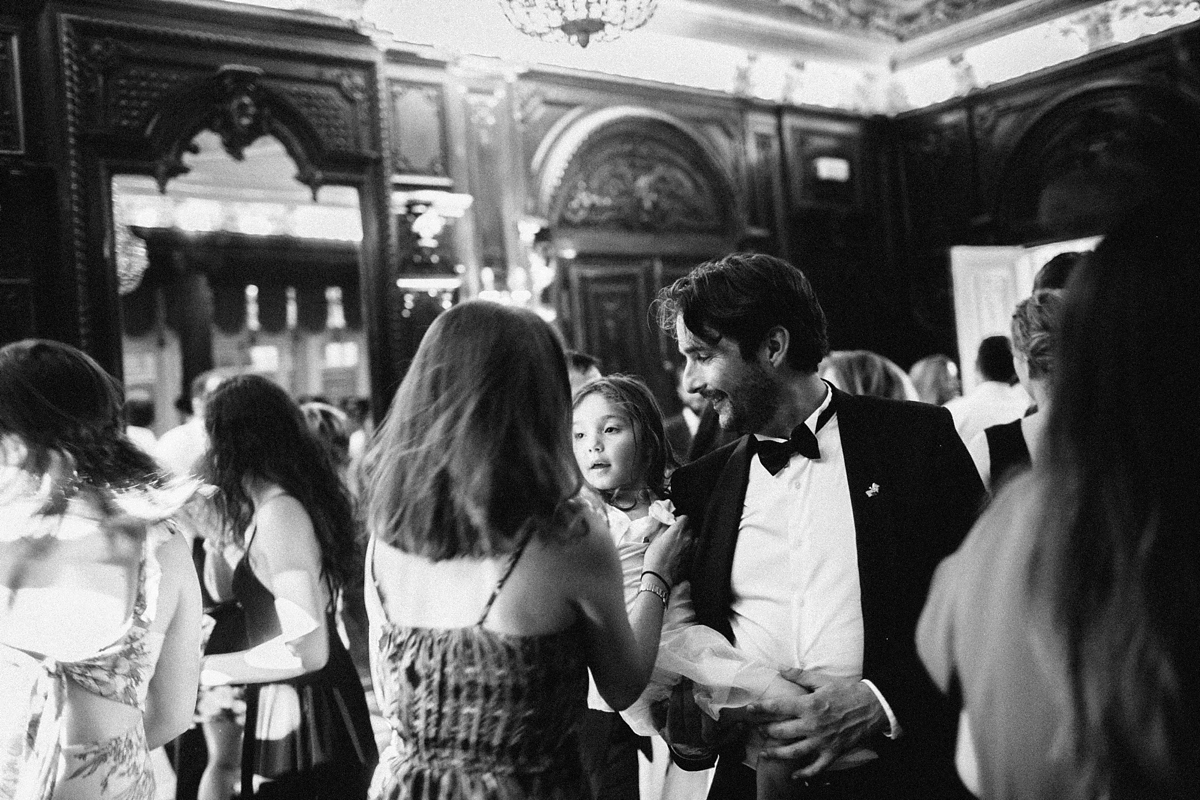 Words Of Wedded Wisdom
"When planning your wedding, it's easy to get caught up in all of the little details and stress about planning everything to be just perfect. Something might go wrong on your big day, whether it's that you forgot to bring the table numbers (guilty!) or something else, but remember, no one will know of all the little things you've planned and if something does go wrong, no one will notice!"
"Everyone is at your wedding to support you and your partner – they won't realise that the candles weren't lit in time or that the napkins weren't folded as you had requested. The most important thing is to focus on why you're there in the first place – you're marrying the person you love and are surrounded by the people who love and support you both the most."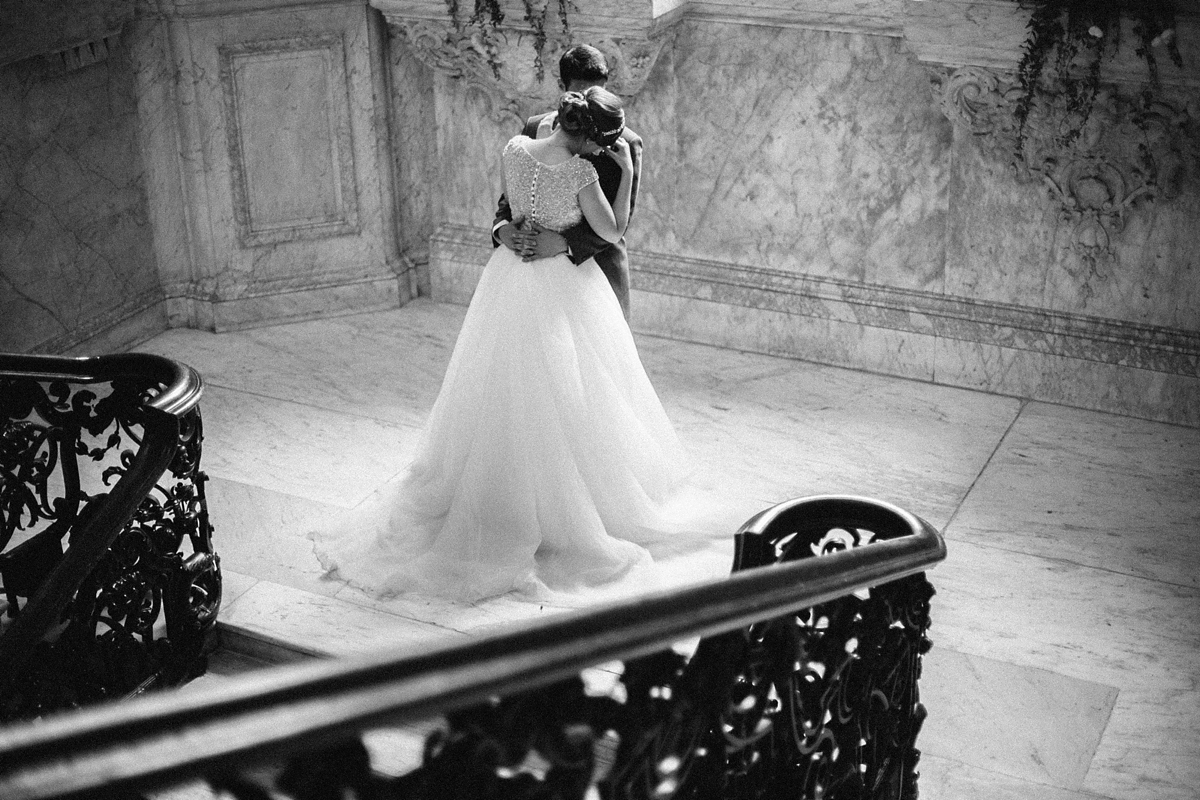 What a truly beautiful wedding day! A big congratulations to Kate and James, and a big thank you to Jodie Chapman for capturing all of the details so wonderfully on camera – what a dream of a day!
Until next time…
Much love,
Holly x